The next internship opportunity was in Hyderabad India, and so after five months in Japan, it was time to leave.
Just as they say "All good things come to an end"…it was time to leave Japan (the land of the rising sun) and head for Incredible India.
Having slept quite late, I was not able to wake up on time to catch the train from Namba to KIX. Since I was staying in Uehonmachi for the last month of my stay in Japan, a walkable distance to the Miyako Sheraton, I had to use plan B to get to KIX. And do I took the arport Limousine to the airport which departed at about 7.15Am for KIX.
After approximately 50 minutes of magnificent views of Osaka city and all the neighbourhoods, we arrived at KIX on time to check in.
Check-in was quite crowded for CX since the two flights of CX to HKG depart one hour apart. I had adjusted my flight to take the earlier one in order to avoid the layover in TPE and have some ample time to visit a friend in Hong Kong city so thatwe can tour Hong Kong for the few hours I was there.
After checking in, I toured the airport, spotting the cool interiors with friends and I must say KIX is really nice and organized. I loved it.
There were quite a few other international flights also checking in such as TG and LH.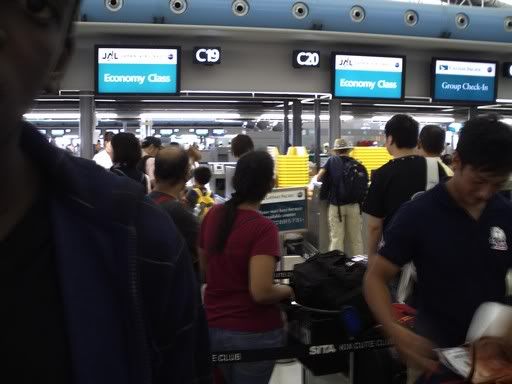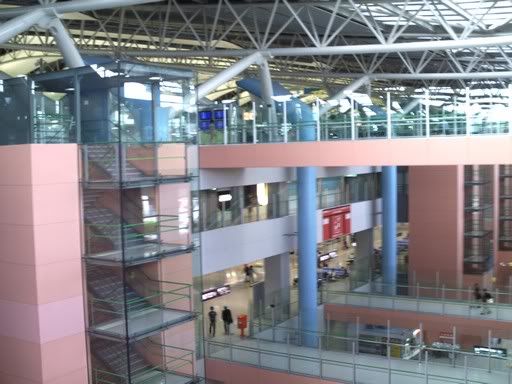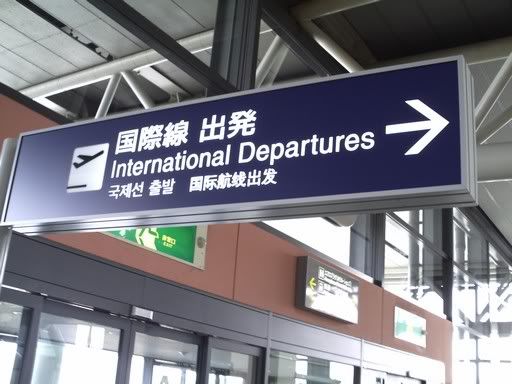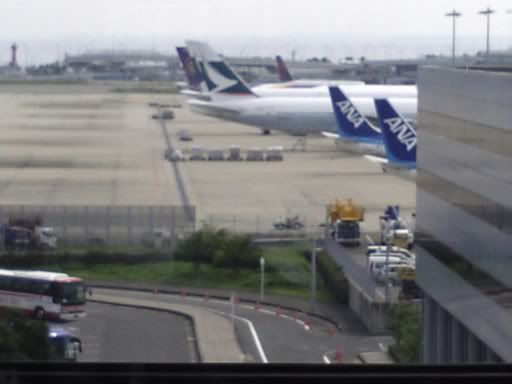 I proceeded to clear immigration about 15 minutes to time for boarding and when I found there a line, I was thrilled by the idea of missing my flight.
I decided to go to a rather reserved counter and told them I was late for my flight and the gentleman was kind enough to let me clear immigration ahead of others. After which I proceeded to the security check and it was smooth and quick. (I Love the Japanese efficiency).
I was shocked to find that I had to board the mini-train to get the gate, but it came and by the time I reached the gate, I was the last passenger and I saw the man cross out my name from those that hadn't showed up, So it was the last to be crossed out.
They had actually been announcing my name, though I never understood it, they pronounce it differently from what am used to.
Anyway, as soon as I entered the aircraft, I heard the announcement from the cockpit, "All passengers on borad, Cabin Crew please take your seats." EHhh :O , Was I really the last???
Cathay Pacific
B777 - 300ER
KIX - HKG
29th July 2011
Load 100% for Y
I never miss the window seat...
We took off some 10 minutes behind schedule, (I am not sure if it was because of me), and the pilot announced we would land in HKG ahead of schedule because of good wind speed. And KIX wasn't so busy at the time of the morning.
They served breakfast and I watched the movie, "Unknown" and I must say, it was sooooooo nice to watch such a new movie by then on board. I think I hate the CX seats in their regional aircrafts, they look so old and not so cool, but they are quite large and confortable.
After the movie, I tried to watch some other programs on the PTV, which weren't so nice but I finally settled for the pre-recorded CNN news to pass time as we prepared for descent into HKG.
Arrival in HKG was good and nice, we deplaned by the stairs (I love using the stairs) and boarded the bus that took us to the terminal building. I wonder why some people kind of rush way too aggressively when trying to get off the aero plane and get into the bus. Anyway, while in the bus, I heard some two men (Probably Indians) talking about me in Japanese, I wonder why they thought that an African with whom they have come on the same flight from KIX wouldn't understand Japanese. One suggested to the other that I look Nigerian and the other argued that I must be Senegalese, and their "gossip" continued on until we got into the building to clear immigration.
One of the male FAs as we left the plane...
I just wish all immigration guys were like those of Hong Kong, so fast and hassle free.
Soon I was out to clear customs of Hong Kong, and as always, I was subjected to a long search of my two cabin bags and asked if I had drugs. (I wonder what they expected me to answer in case I had them). After re-packing my bags, I was out to meet my friend who was waiting already to take me around this small but Big city in just hours. We bought Octopus cards and got into the bus and were on the way already.
I am sure there are loads of pictures of Hong Kong all over the internet, and I must say it was a great time. I was so exhausted at the end of the day. Though it rained which kind of ruined the sky, but I still had fun and enjoyed it. Though, when it comes to convenience and customer care in shops, no place beats Japan and the Japanese people's kindness.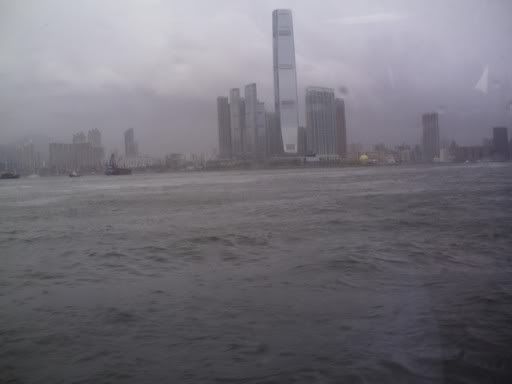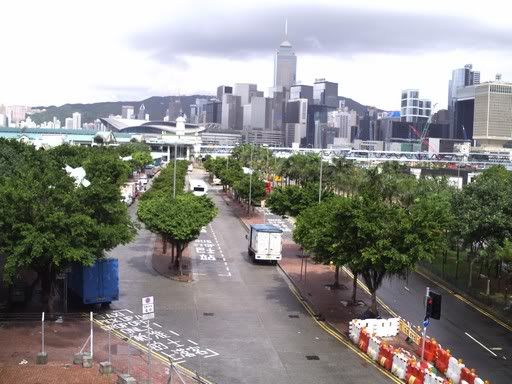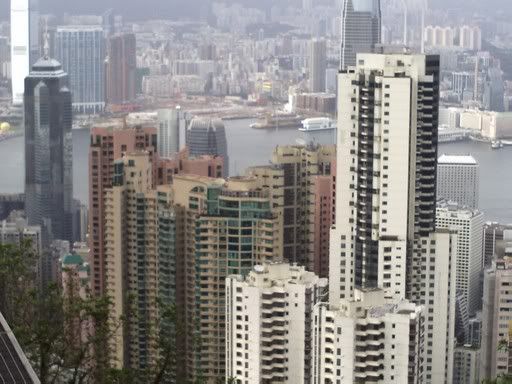 After an exciting day, it was time to bid farewell to my friend and get on the way again to India. HKG is so huge to walk, and at the end of the tour of the airport, once again, all I needed was to get into my seat and sleep all the way to India.
Cathay Pacific A330
HKG - BOM
29th July 2011
Boarding was quite chaotic, so I waited to be one of the last to board and soon we were set to go. The flight to BOM was about 99.8% full with only one empty seat that I saw. I guess CX Is doing well on its flights to BOM and Indians do really travel.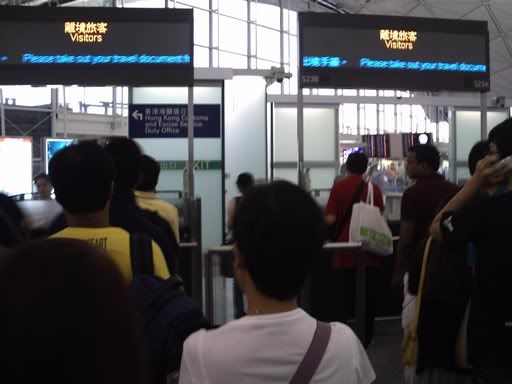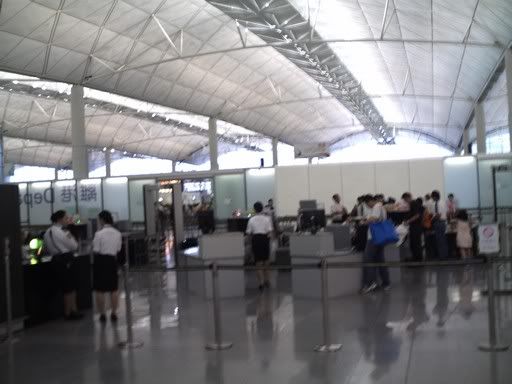 The flight was quite bumpy with a heavy storm over Vietnam, but we made to BOM safely. I watched an indian movie, whose title I dont remember and then tried to sleep. However, my neighbour didnt give me any peace as he violently snored right in my ear and so I decided to poke him all the time pretending it was by accident so that he wakes up ans stops snoring.
BOM was the usual, chaotic and people running up and down. Long immigration lines and then I was out to meet the friend who picked me up.
Next day, time to fly to Hyderabad. I had booked Indigo online and they were on time.
Indigo A320
BOM - HYD
30th July 2011
Load 100%
Quite a line before check in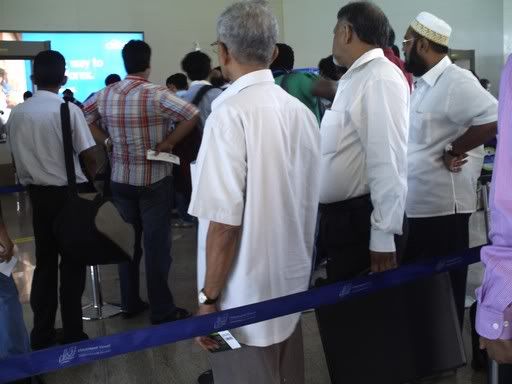 Serious security checks
As Always, I never miss the window seat ( I would do anything to have it).
This flight was rather basic, since it was on a low cost airline....but they had good service on board, really beautiful Indian girls...
Arrival at Rajiv Gandhi International airport was smooth and I loved this airport. Very new, modern and spacious.
Got into the AERO express bus and headed for the city. Hyderabad was my home for 5.5 months and I must say, India was much more than I expected, very WONDERFUL experience working in Hyderabad.