TRIP REPORT

Flying from Braunschweig to catch the Tu-134
22-23Dec11

Introduction
This trip was a combination of two things I wanted to do for much of 2011. First was my desire to try the odd and only scheduled from Braunschweig (BWE/EDVE), which was a twice weekly flight by Air Berlin (AB/BER) to Moscow-Vnukovo (VKO/UUWW), which first appeared as scheduled flights operated by Embraer 190 in the May 2011 issue of the OAG Pocket Flight Guide. Second was my desire to get once again, and maybe for a last time, on the Tu-134, the classic two engined Soviet-engineered jet. (With a seating capacity of around 80 this would be called a regional jet nowadays.)
Two things seemed odd to regarding the flights from BWE to VKO when I first saw them appear. Firstly, no other flights from BWE were existing, secondly, AB was already flying to Moscow-Domodedovo (DME/UUDD), therefore it seemed strange that they now also served VKO. Some further research revealed that these flights were employee shuttles for Volkswagen, which is based in neighbouring Wolfsburg. There is also a Volkswagen plant in Kaluga, Russia. As VKO is situated on the road from Moscow to Kaluga, the choice for VKO made sense. The flight was published as a scheduled flight to sell surplus seats to the public and the flight was made bookable over AB's website. To get the aircraft to BWE, it was necessary to operate empty sectors from VIE to BWE and back, as I found out.
With some accidents in Russia with the Tu-134, Yak-42 and An-24, in a knee-jerk reaction the Russian government said they will ban those aircraft (plus the Yak-40) by 01 January 2012 if they are not equipped with GPWS (ground-proximity warning systems). This added some urgency to my plans to fly those aircraft types again. I fortunately had flown on all of them previously but my desire to experience it all again was very strong.
Several planning attempts failed during the summer of 2011 failed, the most advanced one in September, when I attempted to wrap this flight into a journey also comprising the Tu-134, Yak-42 and An-24.... So when I heard that the BWE-VKO flights will stop in December 2011 I knew it was time to finally go ahead. It also became clear that the last Tu-134's (and Tu-154's) were disappearing fast, with UTair (UT/UTA) replacing them with Canadair Regional Jets (for the Tu-134) and Boeing 737's (for the Tu-154).
When I learned that the BWE-VKO route would be given up before Christmas 2011, it was now urgent to find a suitable date in December to do it. With the holidays approaching, most of the dates were already quite full with private and business appointments. The schedule for the BWE-VKO flight was Friday evening (BWE-VKO-BWE) and Sunday evening (BWE-VKO) and Monday morning (VKO-BWE). So it was inevitable that I would have to use at last part of any weekend to make the trip. And all my weekends were already booked up! Fortunately, a closer inspection of the schedules revealed that the very last flight would not be on Friday, 23 December but already - as an exception to the schedule presumably because of the Christmas holidays - on Thursday, 22 December. Now this was the opportunity I was waiting for.
To get to BWE - and I wanted to be there more than 1 hour before departure to prevent an early departure without me (me not being on the passenger list traveling on a staff ticket) - I had the option of flying from Zurich (ZRH/LSZH) to Hamburg (HAM/EDDH), Hanover (HAJ/EDDV) or Berlin-Tegel (TXL/EDDT) and take the train from there. I finally settled on the HAJ option, giving me more buffer should something go wrong and also resulting in a shorter and therefore less expensive train ride. Now the question of what to do from Moscow remained. It was clear that I wanted to fly on a Tu-134, Yak-40, Yak-42 or Tu-154, or possibly the Sukhoi Superjet 100. First I analyzed whether I could take a domestic flight to somewhere from VKO immediately after my arrival there. Unfortunately there were none on Russian-built equipment that fit. Another option was spending the night in Moscow and then do a Moscow-somewhere-Moscow flight and fly back home from Moscow. However I had to make sure I was back on Dec 23rd as Christmas eve on the next day was already fully planned with family commitments. After investing a lot of time and analyzing all the possibilities, I found three options which appealed to me. First, continue VKO-GOJ with UT on the ATR 72, spend the night in GOJ, then continue the next morning on with UT on the Tu-134 to St. Petersburg (LED/ULLI), from there I could take a number of flights back to western Europe. Second, spend the night in Moscow, then take Aeroflot (SU/AFL) on the Ilyushin 96 to Tel Aviv-Ben Gurion (TLV/LLBG) and from there take Swiss International Air Lines (LX/SWR) to Zurich on the Airbus 340-300. The third option was also take UT AT7 to GOJ but from there fly SU with the Superjet 100 to SVO and from there SU to Istanbul (IST/LTBA) on the Il-96 and LX back home. After discovering that the GOJ-LED flight on the Tu-134 was the second last flight operated by the TU3 on this route and the CRJ would take over two days later, it was clear to me that I'd go for the first option. I booked both UT flights over UT's website, which was easy to use. VKO-GOJ was RUB 1990 (approx. EUR 51 / CHF 62) and GOJ-LED was more expensive at RUB 3590 (approx. EUR 92 / CHF 112).To get home from LED I settled on SAS (SK/SAS) via Copenhagen-Kastrup (CPH/EKCH) to ZRH, one sector on McDonnell Douglas MD-87 and the next one on an MD-81 - resulting in a day using only classic twin jets all the way from GOJ to ZRH. For the SK flights I again used a stand-by ticket. So my routing finally looked like this: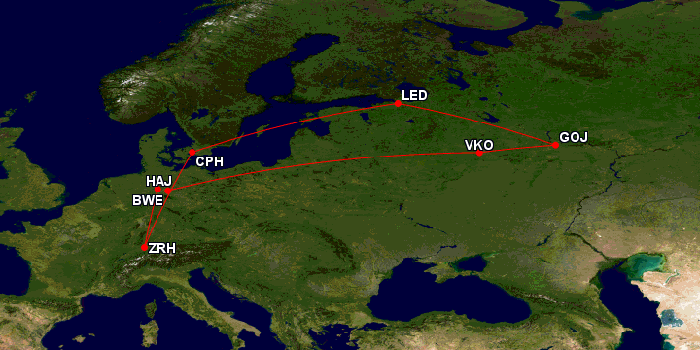 map generated by the Great Circle Mapper - copyright Karl L. Swartz
Flights

Date: 22Dec11
Route: Zurich (ZRH/LSZH) - Hanover (HAJ/EDDV)
Flight number: LX 814
Schedule (local times): ZRH 0730 - HAJ 0855
Scheduled block time: 01:25
Airline/Operator: Swiss European Air Lines (--/SWU) operated for Swiss International Air Lines (LX/SWR)
Aircraft type: British Aerospace/Avro RJ100
Registration: HB-IYS
83rd flight on subtype AR1/143, 148th flight on ARJ/146 family, 3rd flight on HB-IYS, 1310th flight overall
I was at the airport around 6:20 and went to check-in area 3 (located above the railway station) to check-in. Holding a stand-by paper ticket (yes, they still do exist!) I was not able to use any machines but rather had to queue at a counter. After maybe a 5 minute wait it was my turn and I was issued a boarding pass with a confirmed seat number. I then slowly made my way to the new centralized security control area, located in a newly erected building between check-in areas 1 and 2. There was no wait at all and I was through in a matter of seconds. From this new security control building you are dumped into a duty free shop - not the way I like it. When checking the screens for my gate, I noted it was gate A53. Now that seemed odd as these gates had not been used for quite a while. To my surprise however I found out that the airport had renumbered the gates, what were previously the 50-series gates hat become A01-06 and what were previously the A01-08 gates now were gates A50-59.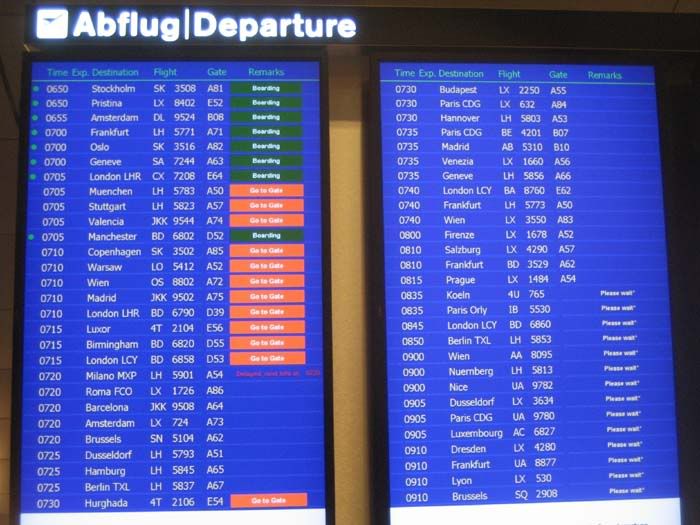 typical morning departures from ZRH
the gates now designated as A01-06, accessible but not used this morning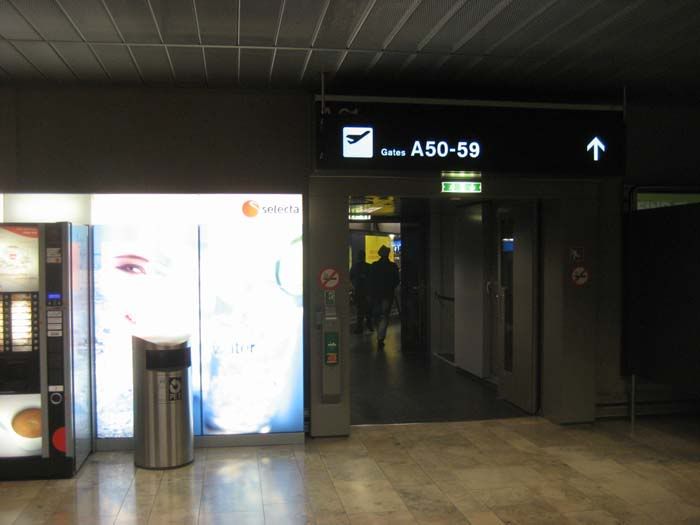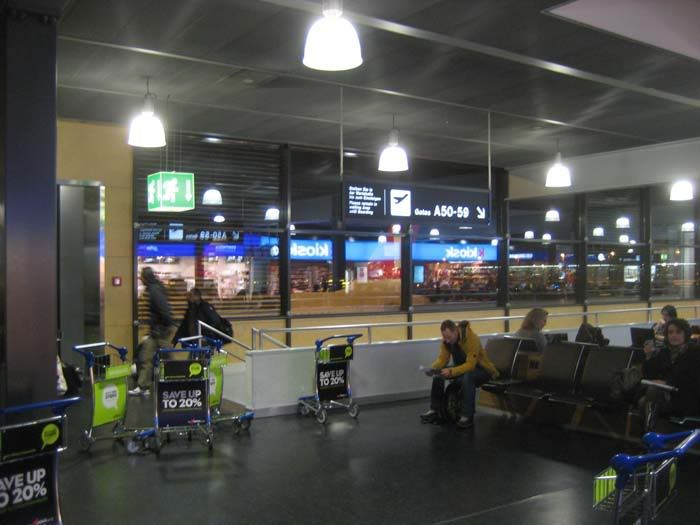 and the gates now designated A50-59, previously A01-08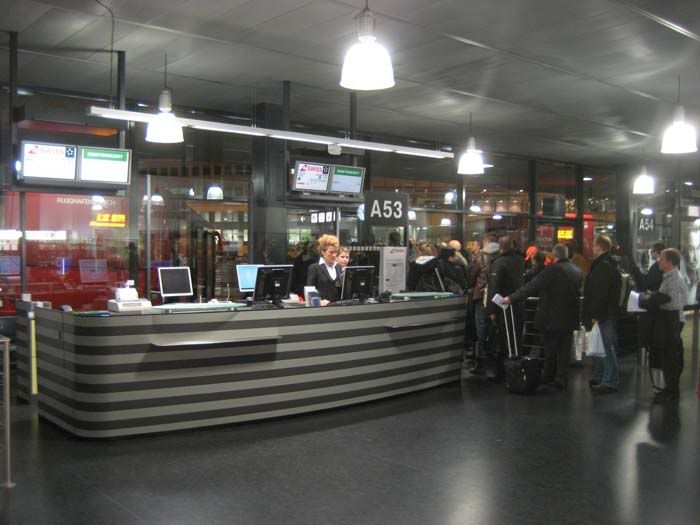 boarding for an exciting trip via Germany to Russia
Boarding was on time by bus and it was nice to get HB-IYS, painted in "Zurich Airport Shopping Paradise" special colours. During boarding I noticed a technician carrying a ladder around the aircraft - not a good sign. Anyway I boarded last so that I could pick my seat among those remaining empty - I was not satisfied with my window in the front, as my view would be blocked by the engines hanging down from the wing. I took a seat in the rear, which was quite empty. The load factor was maybe 50% in total.
the Zurich Airport Shopping specially-painted RJ100
The cabin crew consisted of a male maitre de cabine and a female flight attendant and both were quite friendly. All preparations went normally, but somehow the engines were not started but instead chocolates were distributed. After a while, the captain came on and informed us that the aircraft had a slight technical problem with an engine indication. They would have to make a short check to rectify the problem. After maybe 10 minutes the captain came back and informed us that the problem could not be solved and that they had to test something by switching on and off the troublemaking engine twice and that this would take maybe 15 to 20 minutes. During that time, passengers were allowed to stand up, use the toilets or make phone calls. The events somehow mirrored those experienced a year ago when trying to get to MUC on a LX RJ100 - back then the flight had to be cancelled (see
report
. Fearing the worst, I began to think about alternatives, but basically the only option would be a flight to TXL departing at 08:50 for which I had no ticket... this would have allowed me to still reach BWE by train just in time. Oh well, by now it was already 08:20 and I was still sitting on the flight to HAJ. So that was not really an option anymore. Meanwhile, one could hear the engine started and switched off again twice. Well, we got lucky, after a while the captain informed that all was well now and we could go on our way to HAJ. Phew, that was close!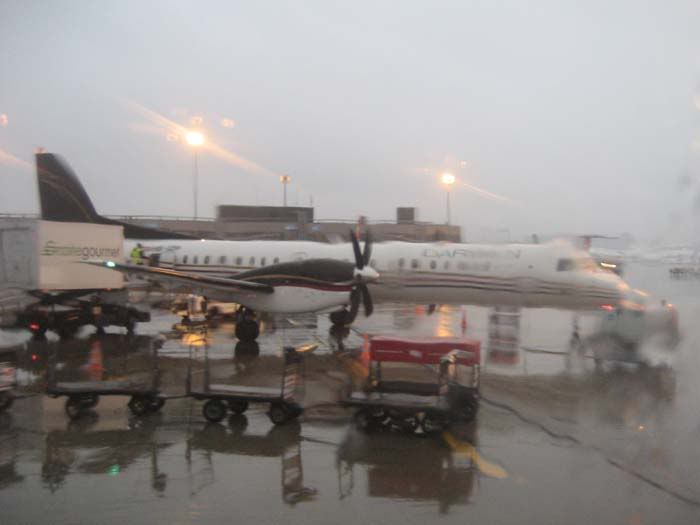 nasty ZRH weather, at least some daylight now due to the delay
We took off from runway 28 and within a couple of minutes were above the nasty weather. Food service consisted of a croissant and drinks, I chose coffee plus a ham sandwich lovingly prepared by my wife at home. It couldn't get any better!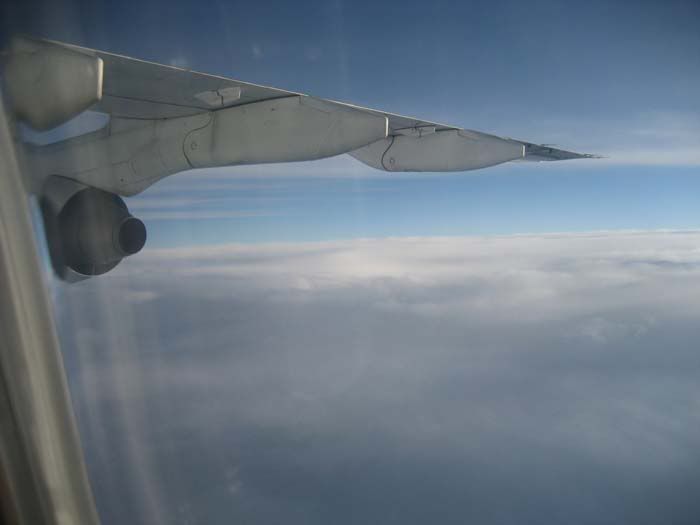 breaking out of the clouds
croissant and coffee were on offer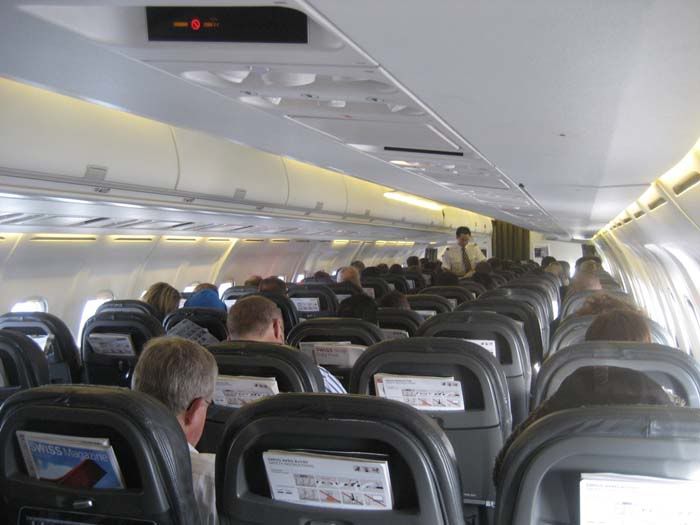 the rather roomy cabin, thanks to 5-abreast seating
After a seemingly short flight we descended towards the clouds into HAJ. We landed on runway 27R, followed by a lengthy taxi to the terminal, where we docked with a delay just a bit above 1 hour at around 10 o'clock. The weather in HAJ was as miserable as in ZRH.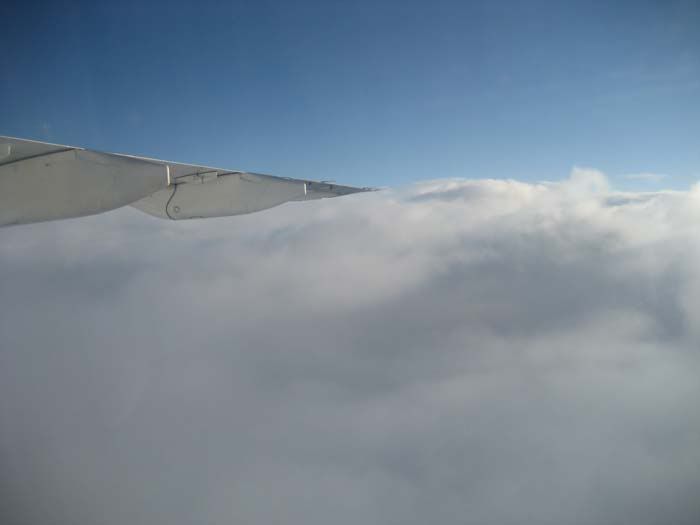 back into the murk again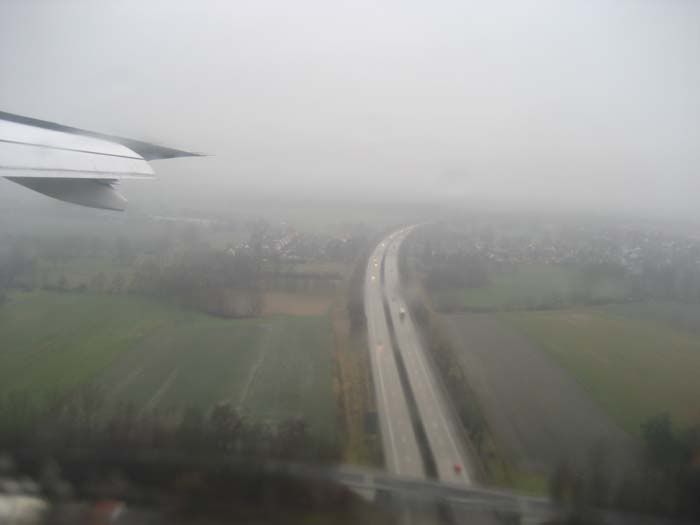 short final runway 27R in HAJ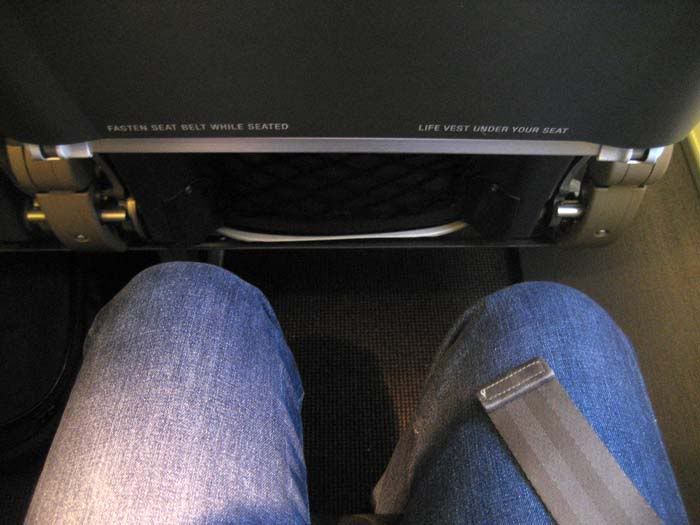 oops, almost forgot the leg room shot
plenty of room sideways, too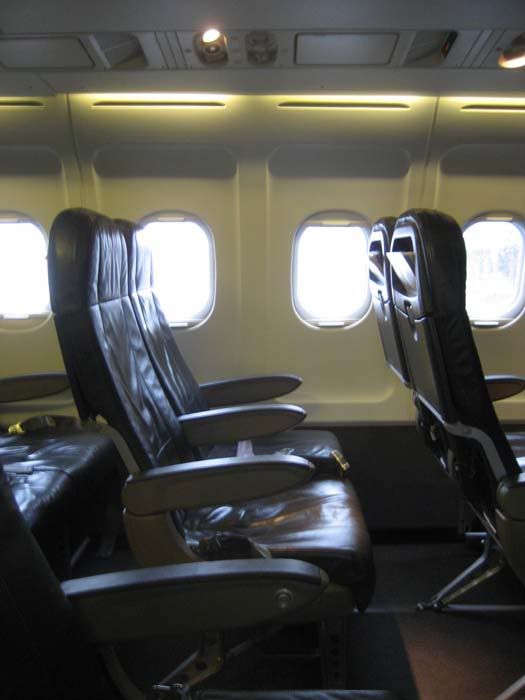 same seats on LX AR1as on mainline LX 32S, I like those seats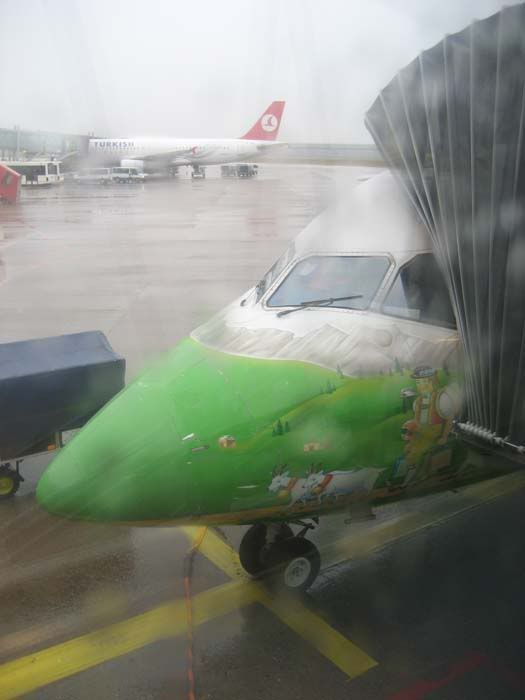 goodbye green nosed HB-IYS
departures from HAJ, hey tiny Arvidsjaur (AJR/ESNX) seems to be a popular destination; I took that AB flight last year, guess to go fly which aircraft type from AJR...
HAJ airport model on the way to the airport train station
Despite the delay, I still had plenty of time to get on the train at 11:06. I decided to go to the airport train station first anyway to get the ticket. This proved to be a good decision. When I arrived at the train station at around 10:20 there were huge queues at the two ticket machines (a third one was out of service) with people trying to get tickets for the 10:36 train. As I needed only to take the 11:06 train, I let people go ahead of myself in the queue so that they would not miss it. Almost everybody managed to get on by 10:36. The train started to roll on-time but suddenly stopped again abruptly. Apparently a door was not closing properly and the train was now stuck. I now bought my ticket and decided to jump onto this train. If something similar would happen again with the 11:06 I would miss my connection in Hanover main station to Braunschweig. After about a further 10 minutes, the train finally departed for good.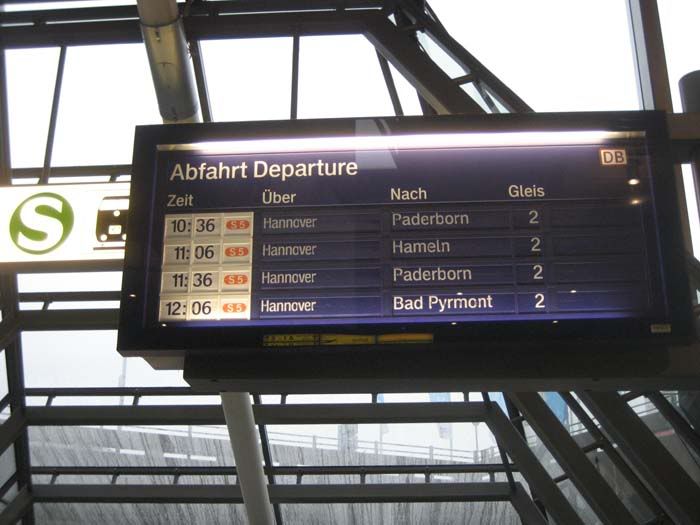 half-hourly trains to the city
still a small queue at the ticket machine
In Hanover I had 30 minutes time before my train to Braunschweig would depart. I quickly explored the square in front of the station. There was a Christmas market taking place but apart from that there's not much to see except the statue of British-born Ernst August I., King of Hanover.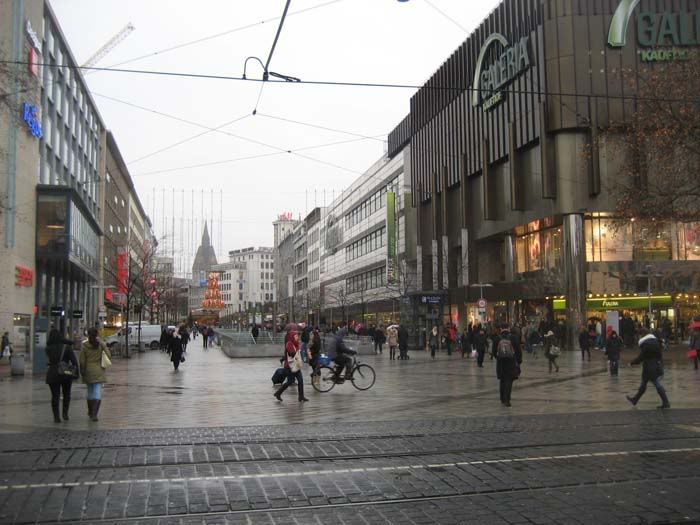 scenes from just outside Hanover main station
Soon it was time to board my train to Braunschweig, which was running approximately 5 minutes late. After 32 minutes, the train pulled into Braunschweig's main station. I had enough time to buy a bus ticket. I took the half hourly bus line 436 to the airport.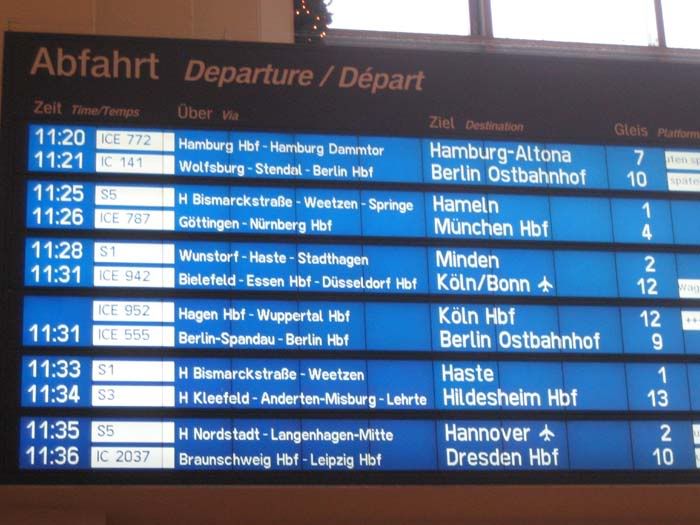 TIDS, my train is the one on the last line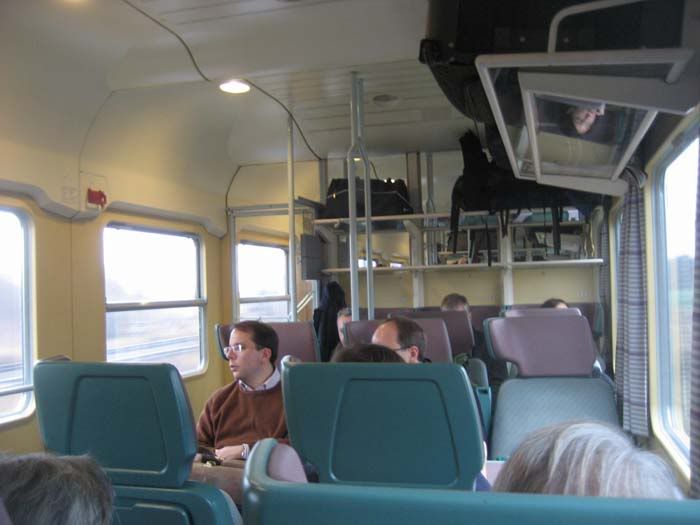 old-fashioned train carriage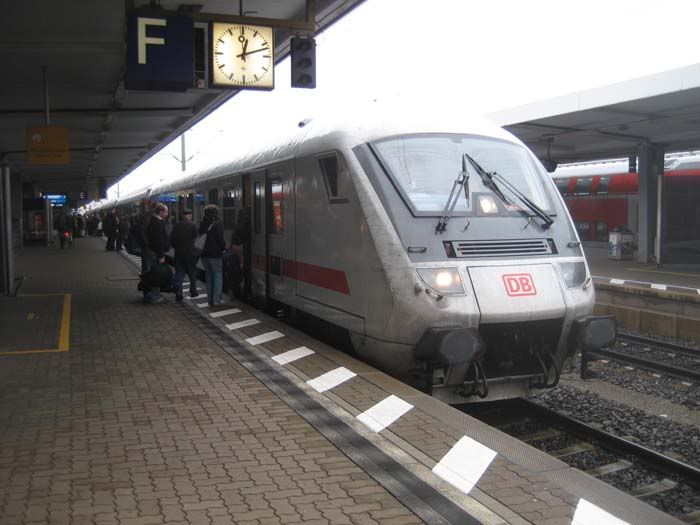 my train at Braunschweig's main station
"city of research" - Braunschweig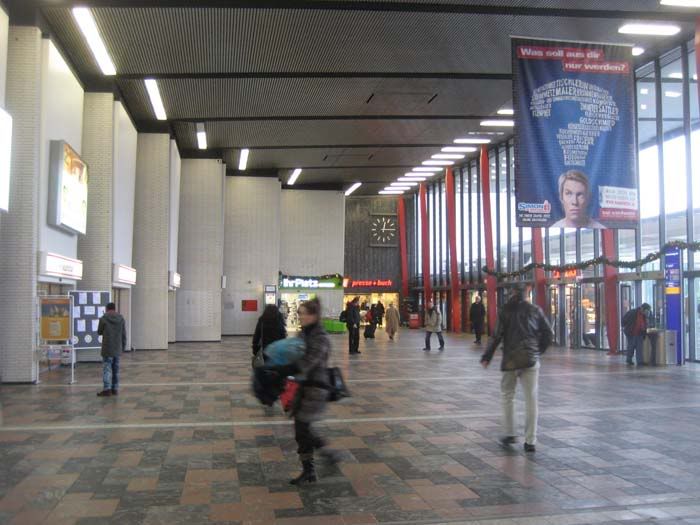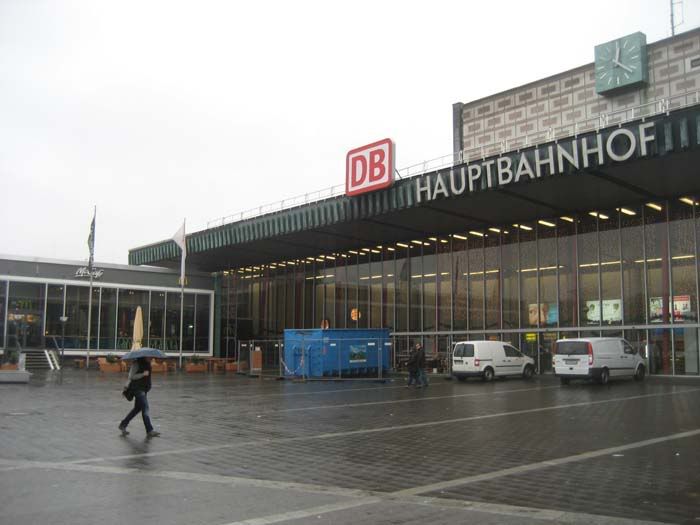 Braunschweig's train station from inside and out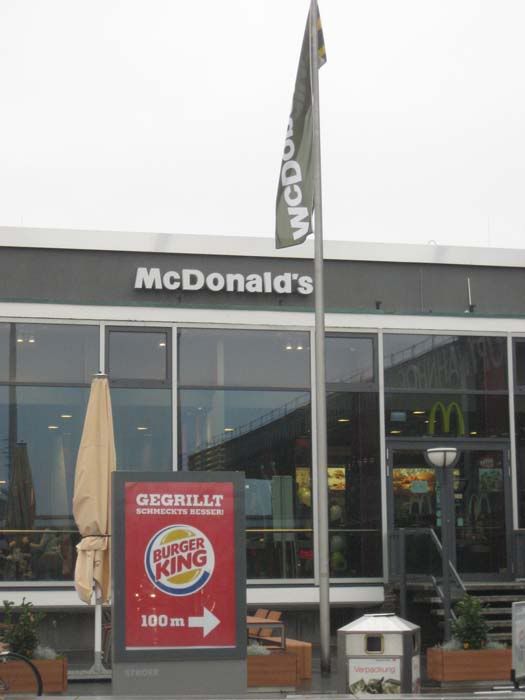 BK or McD?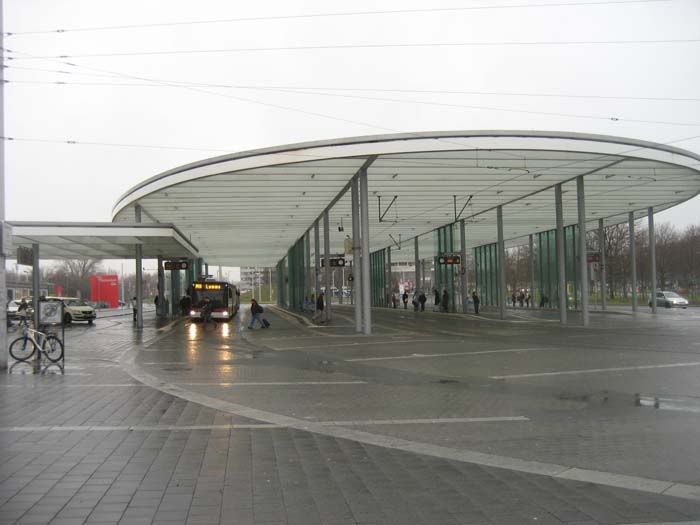 the futuristic tram and bus station
my bus to the airport pulling in
Date: 22Dec11
Route: Braunschweig (BWE/EDVE) - Moscow-Vnukovo (VKO/UUWW)
Flight number: AB 1990
Schedule (local times): BWE 1420 - VKO 2005
Scheduled block time: 02:45
Airline/Operator: Niki (HG/NLY) operated for Air Berlin (AB/BER)
Aircraft type: Embraer 190LR
Registration: OE-IHE
4th flight on subtype E90, 12th flight on EMJ (E70/E75/E90/E95) family, 1st flight on OE-IHE, 1311th flight overall
The airport's main building is looking rather like an old office building, were it not for the tower on top of the roof. I entered the main entrance to find a desk used as a check-in counter and two security points behind. Nobody else was there and the counter was unmanned. I found a Czech Airlines (OK/CSA) board on one of the walls showing the schedules for the two flights taking place today.
BWE airport main building. reminds me somewhat of THF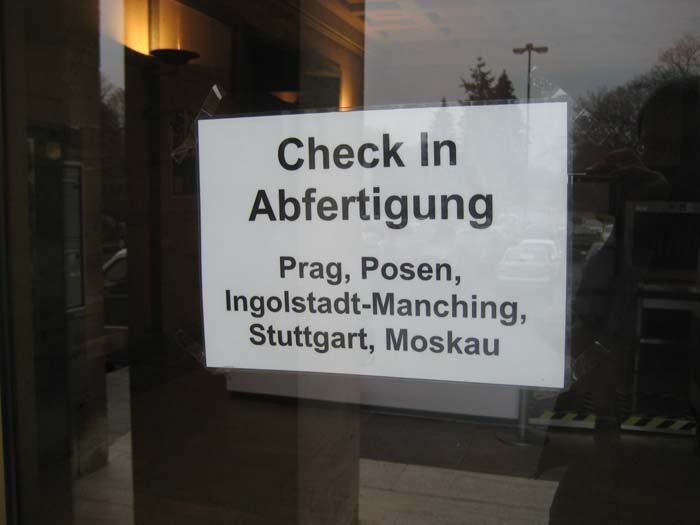 sign at the main entrance door
check-in, security and immigration facilities in one shot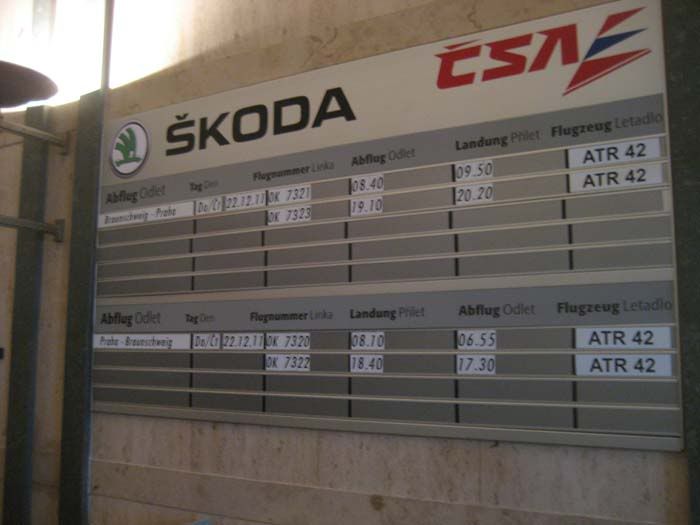 today's two OK movements on a rather old-fashioned version of FIDS
In a corridor leading sideways I found a friendly lady working in an office. I asked her about the check-in for the flight to VKO and she said it would open about 1 hour before departure. I took the time to wander around the airport. There is a restaurant and above it a viewing terrace. An unmarked Dornier 328 (D-CATZ) was there and a Swiss-registered Canadair Challenger was being refuelled. Other than that there was no activity.
another view of the main building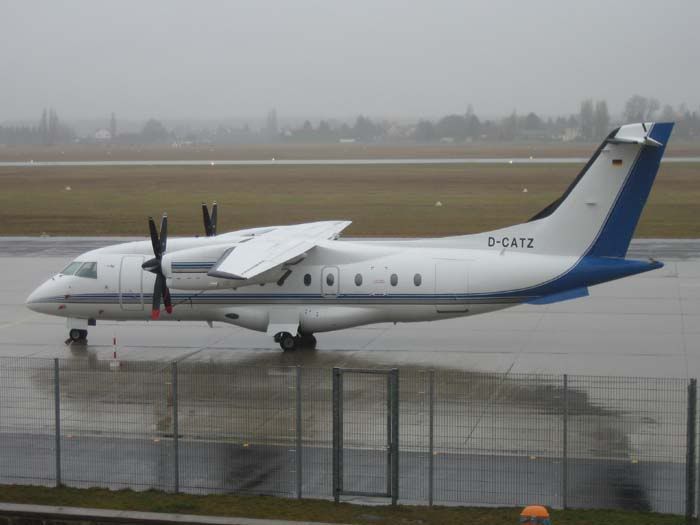 a Do328 in the rain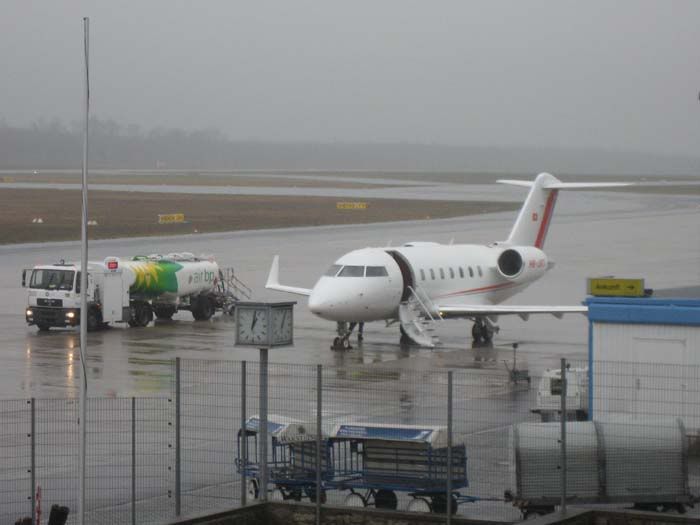 typical BWE traffic
The weather was quite nasty and I went back to the terminal. After a while they set up the check-in counter. I made myself known to the check-in agent, which had not seen a stand-by ticket before but after some phone calls with AB's headquarters was able to accept it. According to her there were just 5 passengers booked. When I heard a jet arriving, I once again went to the observation deck to witness the arrival of the Niki (HG/NLY) Embraer 190 operating this flight.
my aircraft just arrived empty from VIE
After taking a couple of pictures I went back to the terminal where I was given a boarding pass for free seating. I then went through security and immigration and on request got an exit stamp in my passport by the friendly policemen acting as immigration officers. Load was indeed light, only 3 passengers plus myself finally boarded.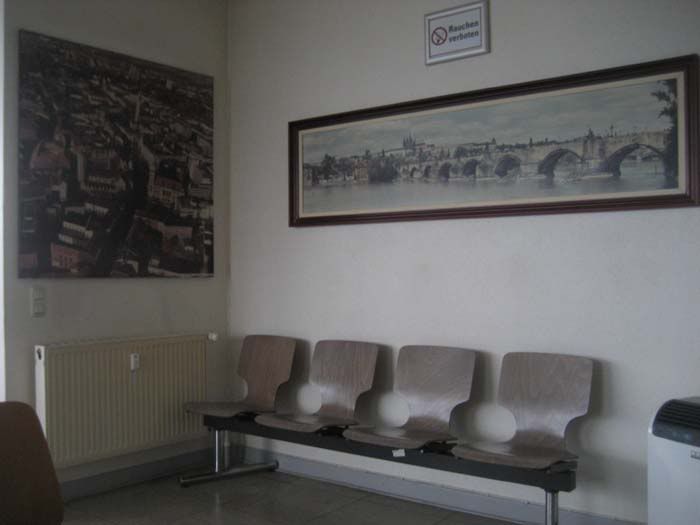 waiting rooms after security, judging from the pictures on the wall no question what is the main destination...
...or who is the main customer using these facilities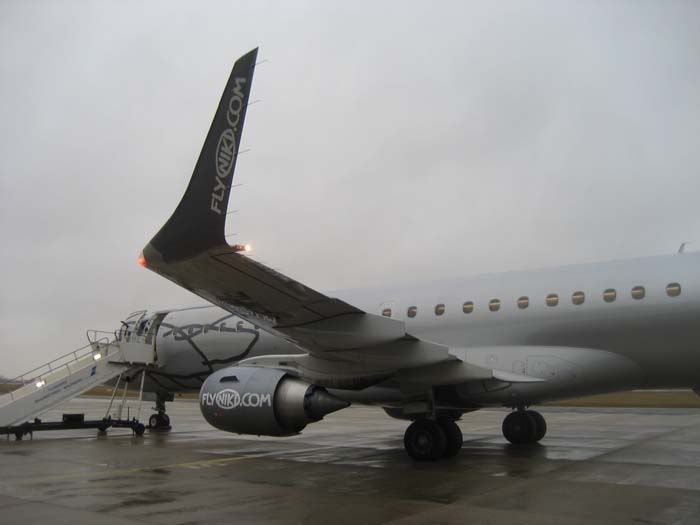 that winglet sure looks nice
traditional under-wing shot
after entering the cabin, which seat should I choose?
I took a seat somewhere in the first half of the aircraft, just before the wing. The other 3 passengers, a lady and her two teenage daughters took the first row. The friendly cabin crew consisted of three girls from Austria. Doors were closed quickly and we were on the way on-time. We taxied to runway 26, followed by an immediate take-off.
view from my seat
their work is done
on our way to the runway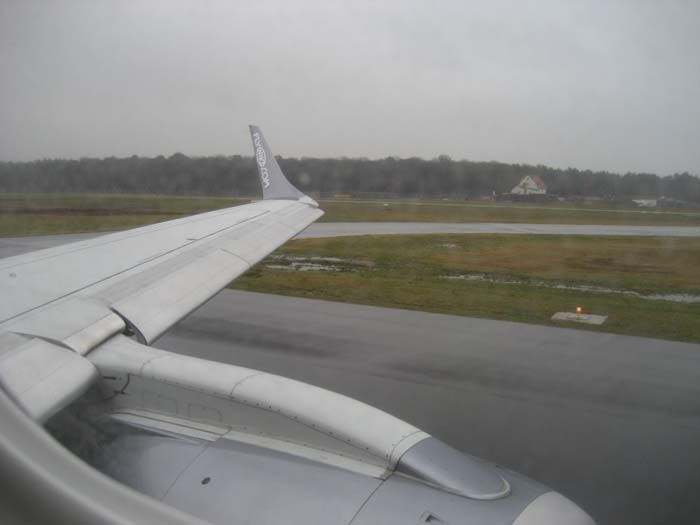 ready for take-off on runway 26
bye bye BWE, I'll probably never see you again from the window of an airliner...
After a while, we were above the clouds and had some sunshine, followed by a nice sunset. The crew took turns in serving drinks and a double decker sandwich. Unfortunately, they did - not unexpectedly - not have any buy-on-board food available.
breaking free of the clouds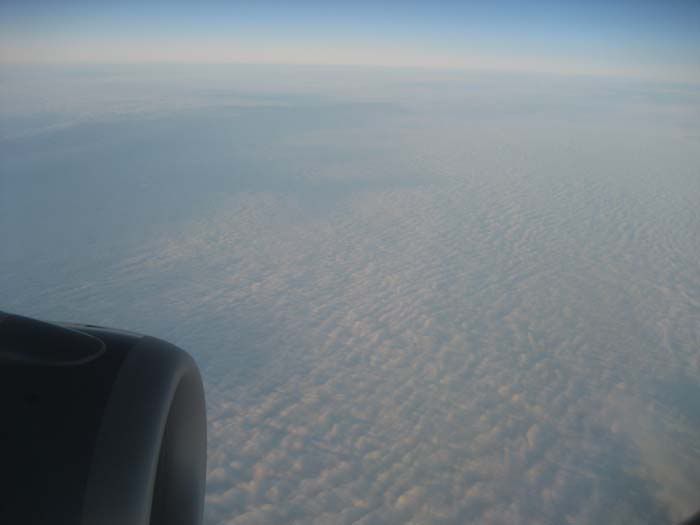 nice cloud shapes
empty cabin, the crew is spending time in the last row, not much to do on this flight for them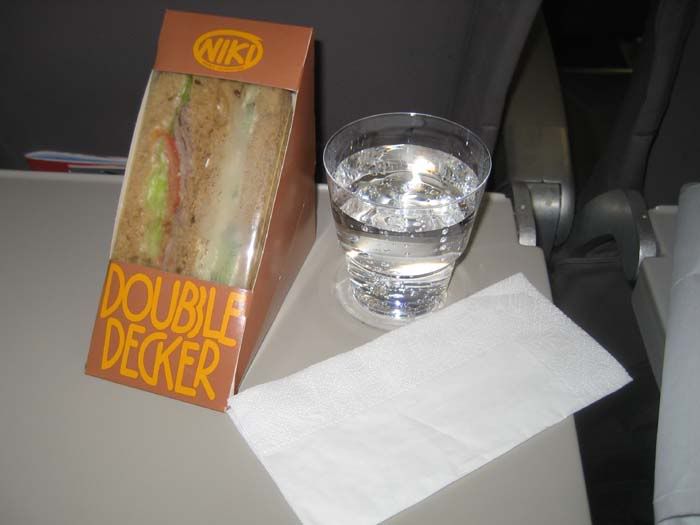 Niki's double decker sandwich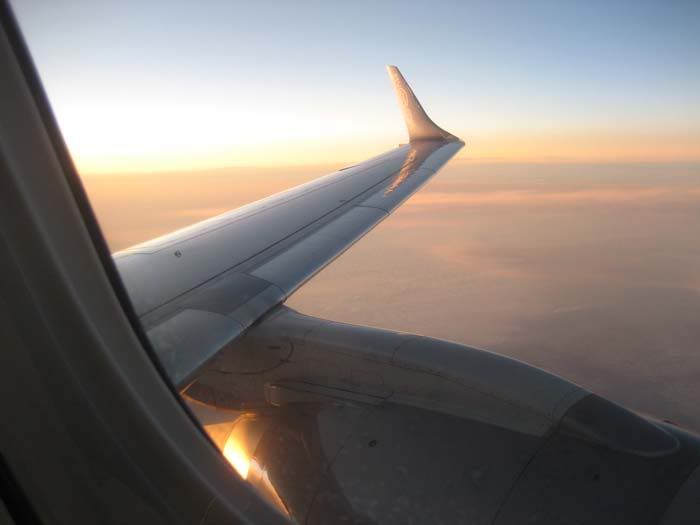 nice sunset
As it got dark, the crew also switched off the cabin lights for the remainder of the flight, so I had to use the reading lights. They came around asking if I wanted more water several times. I was asking for Russian landing cards, which they did not have. After a while the engines were slowing down and we descended on our way to VKO. There was not much to see outside as we were above clouds. Once we came out underneath, I could see some streetlights but unfortunately, photography did not really work due to the low amount of light. We landed on runway 01 and I was able to spot an unexpected Yak-42 in UT colours (I didn't know they had them, but as I found out they have some operated by Tulpar Air) and I also got a glimpse of the Russian government fleet of Il-96's.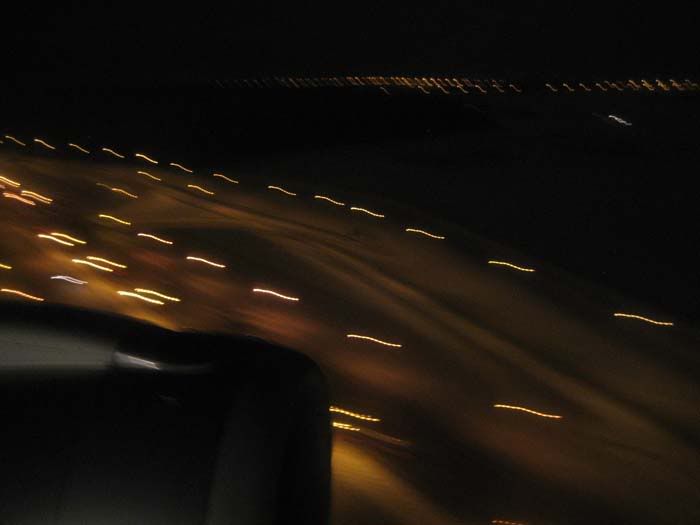 crossing a motorway just before touching down
After we left the runway, we taxied over snow-covered taxiways for a while, but then had to stop for about 10 minutes. According to the pilot, who came over the PA system, our parking position was still occupied. Time between this flight and my connection was only 1:55, so this worried me a bit, not knowing what the situation would look like at immigration. After a while, we finally parked and were able to disembarked.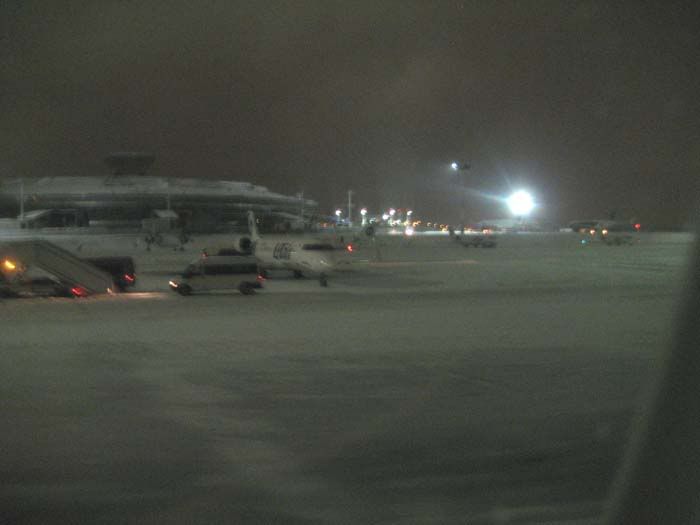 VKO tarmac scene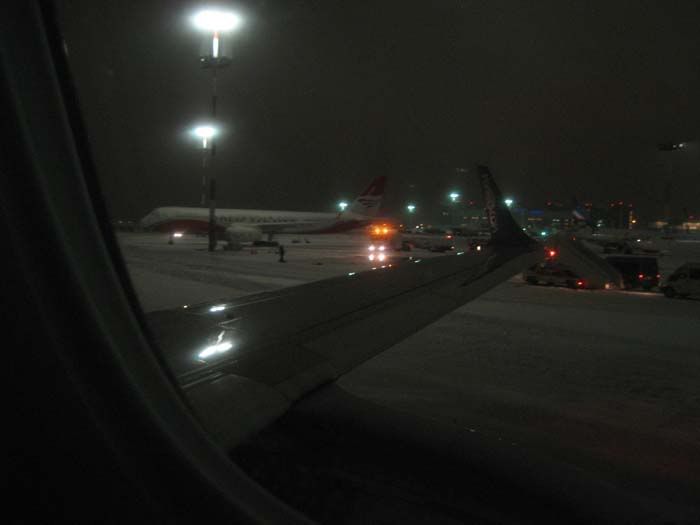 a Red Wings Tu-204 in the distance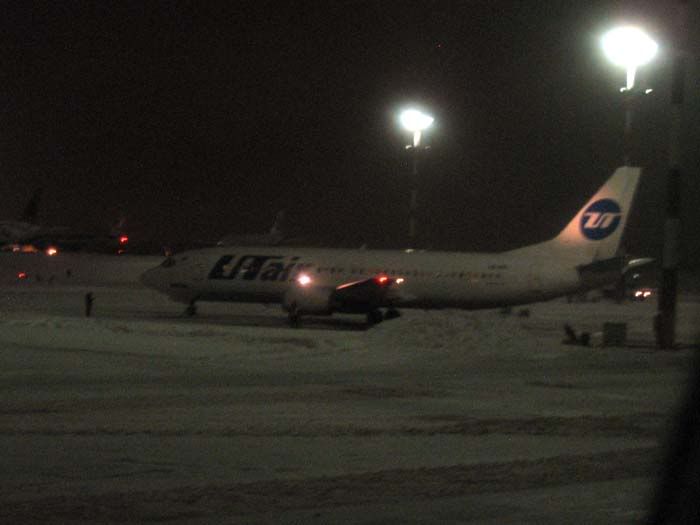 UTair with boring and exciting equipment at VKO
almost forgot the leg room shot again
the seats on Niki's E90, I love the view of the Red Wings Tu-204 through the window
A minibus waited for us and what followed was a nice, long tour over the VKO apron. Among others, the following aircraft were visible: A330-300 of Vladivostok Avia, Tu-204 of Red Wings, Tu-154 of UTair and an unidentifiable An-24. When we were arriving at the international arrivals door, it was locked and the minibus driver had to radio that we were there. He had to confirm several times that we were only 4 passengers. After a couple of minutes, the doors were unlocked and we were able to proceed to the absolutely empty immigration hall. I wanted to fill in a landing card, but there were none available, so I went to the immigration counter regardless. They scanned my passport and visa and the landing card was automatically printed with the date from my scanned passport and visa. I only had to sign. This process took maybe 2 minutes and then I was able to continue to the baggage hall (empty, of course). I did not have any baggage so I was out in a minute.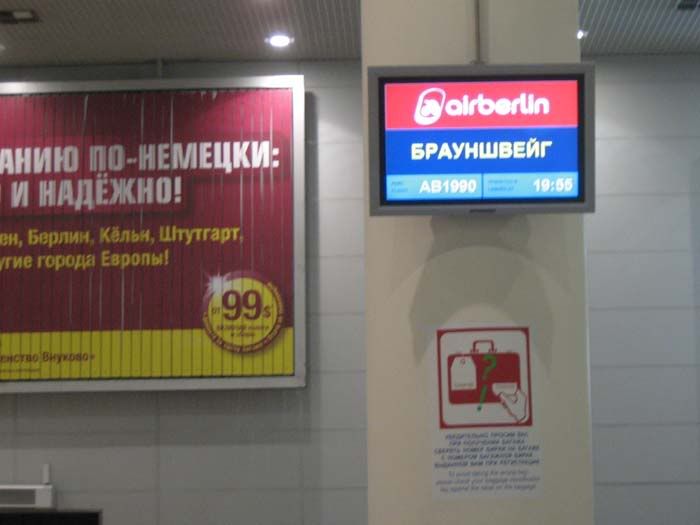 that's how you spell Braunschweig in Russian
I then had to walk outside from the international terminal B where we arrived to the newly built terminal A, where check-in for UT was located.
Date: 22Dec11
Route: Moscow-Vnukovo (VKO/UUWW) - Nizhniy Novgorod (GOJ/UWGG)
Flight number: UT 159
Schedule (local times): VKO 2200 - GOJ 2330
Scheduled block time: 01:30
Airline/Operator: UTair (UT/UTA)
Aircraft type: Aerospatiale/Alenia ATR 72-500 (72-212A)
Registration: VQ-BMA
9th flight on subtype AT7, 18th flight on ATR family, 1st flight on VQ-BMA, 1312th flight overall
View Large
View Medium


Photo © T.Laurent
still in wearing test registration F-WWED, no pictures as VQ-BMA in a.net database yet...
I first had to go through the security check just at the airport entrance door. I then found the UT check-in counters upstairs in the new terminal A quickly. After queuing for a couple of minutes it was my turn. UT offers online check-in from 23 hours before departure, so I had already checked in on that flight, but of course wanted a regular boarding pass. This was dealt with in a matter of a minute or so. I had to show my handbag and was given a handbag label for it.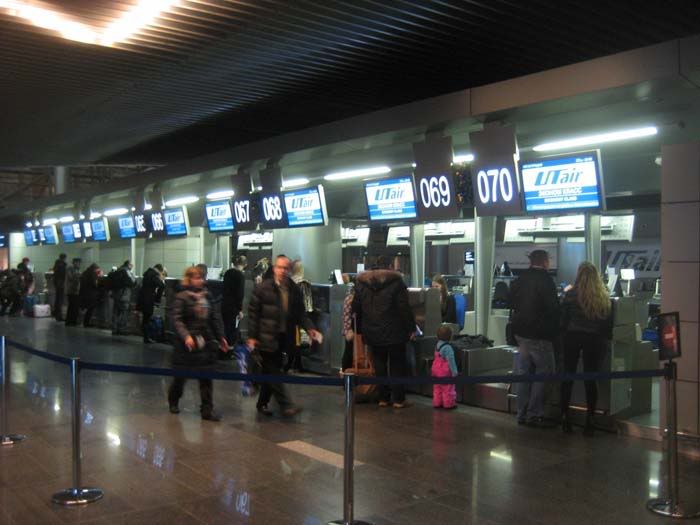 UT check-in desks
FIDS in check-in area: minus 22°C in Magadan... it could be much worse!
After that I went through the security control point immediately. In Russia, the norm is that shoes have to be taken off in all cases, blue plastic oversocks are provided and being used by everybody. Once I was through, I found myself in the newly built terminal A gate area. According to a orientation monitor, only a quarter of this new, big building was in use. There were a couple of shops and cafés and a restaurant. Apart from that, there was not much to do except to marvel at the size of this building.
orientation map, showing the green area in use, the rest is not yet finished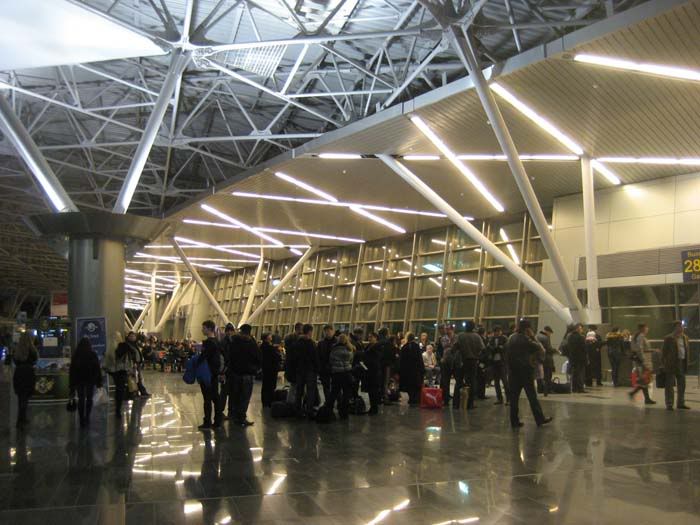 impressions from the new terminal A
Most gates were occupied by UT flights, some were delayed because of the weather conditions (it was still snowing). The most exotic gate was used by Vologda Aviation Enterprise flight BG2389, a twice-weekly flight operated by Yak-40 to Vologda (VGD/ULWW). Something to try on a later trip. The FIDS showed some other rather exotic destinations such as Makhachkala (MCX/URML), Novy Urengoy (NUX/USMU), Yamburg (no known IATA or ICAO codes, Gazprom's private airport) or Beloyarskiy (EYK/no ICAO code).
quite interesting destinations on these monitors!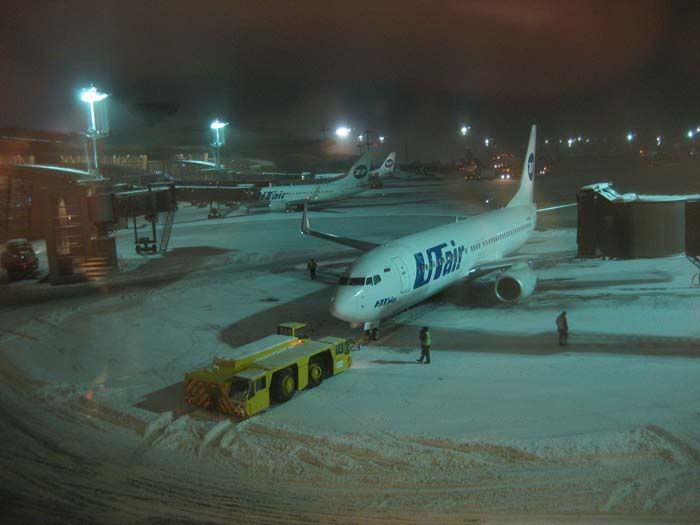 UTair territory.... and maybe Star Alliance soon??
My flight was from gate 31A, a bus gate. Boarding took place at around the scheduled departure time, so only a slight delay for me today. I saw an An-24 being prepared for a flight and so had just a faint hope that we would have to use it.... but our bus pulled up to an ATR 72, VQ-BMA.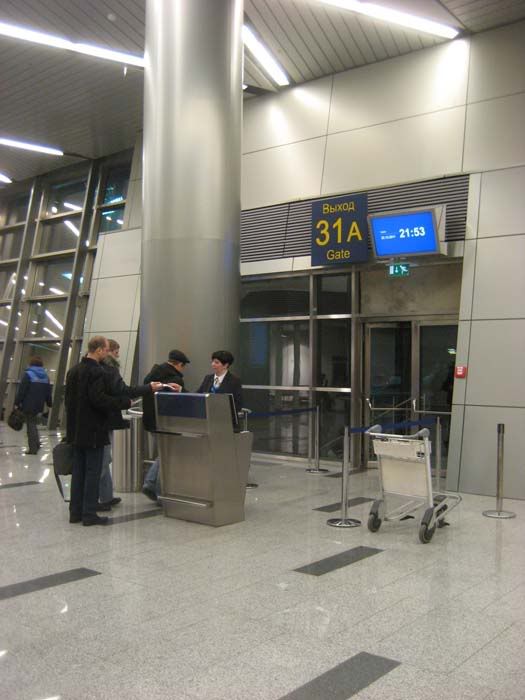 gate for my flight to GOJ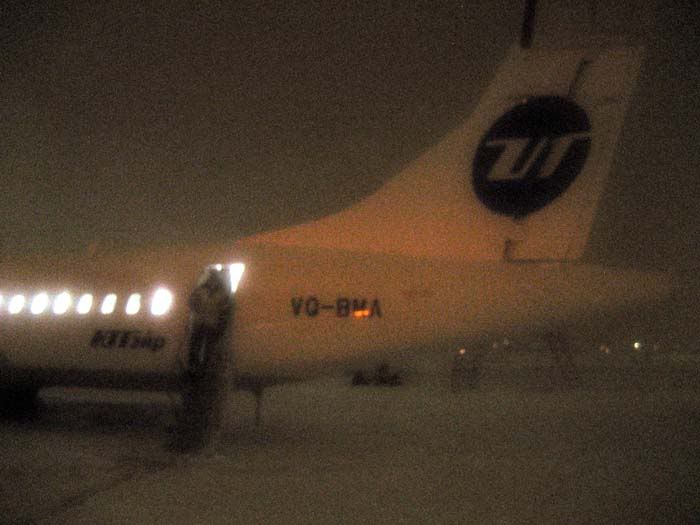 first look at the brand new VQ-BMA
There were maybe 5-10 centimeters of snow between the bus and the aircraft, and I was glad I was wearing sturdy winter shoes. We boarded from the back door, as is usual on the ATR's. When entering the aircraft, I was immediately surprised by the new look of this cabin, there was even a new-car smell still lingering! It must have a brand new aircraft, and research after my trip showed it indeed was. The delivery date was given as 20 December, two days before my flight. I settled in my window seat, but directly behind me was a UT positioning crew, so after boarding was completed I decided to go two rows forward since I wanted to make some pictures during the flight and did not want to get caught.