Introduction
We always try and get away somewhere between Christmas and New Year, and this year, Tromso in Northern Norway was the chosen destination.
We travelled to Ivalo, Finland last year, with BA and Finnair. This year, we had a choice of direct from STN with Norwegian, or via OSL, and then the OSL-TOS leg on SK.
In the end I opted for LHR-OSL-TOS-OSL-LHR (BA, SK, SK, BA).
We had a five hour layover on the way back down. This meant I could use the layover in Oslo for a bit of spotting.
I booked it through BA, and got all the flights on one ticket which was good. I was hoping that I might earn Tier points and miles on the SK flights, but unfortunately it was not a oneworld codeshare.
Leg 1
28th Dec, 2011
LHR-OSL
BA 762
A319-100
G-EUPJ
Gate A7
Seat 22C
SDT: 07.35
We arrived at Heathrow at 06.15, parked at the T5 Business Parking, and then took a "Pod" into the main terminal building.
We were greeted by the Heathrow information staff, who were offering advice about how to clear security faster. We were checked in within 5 minutes of leaving the lift from the Pod Station, which is always very impressive. Our bags were checked right through to Tromso, although we would still have to collect them at OSL to clear Norwegian customs at our port of entry.
We cleared security by 06.40 - now 25 minutes from parking to airside is fantastic! It's the fastest I've ever been through terminal 5, so I was happy! This meant I had time to do a little bit of shopping.
I grabbed a coffee at Starbucks, and then had a look around Dixons travel. Boarding started promptly at 7.10 from gate A7. We headed for the gate, and were the last ones to board (we had the last two rows of seats so this didn't really matter). I couldn't see the aircraft registration from the gate, but as I boarded I saw it was G-EUPJ, second time on this aircraft for me. I flew back from CPH on her in April.
Sorry for not taking any photos up until this point - it was too early!
We left the gate 4 minutes early and taxied and took off after about 7 minutes. This meant we should arrive into Gardermoen about 20 minutes early.
I'd say the flight was about 70% full, quite good for between Christmas and New Year.
This morning we were in the hands of Captain Paul Hunter and First Officer Anthony Cook.
It was still dark as we climbed away from runway 27R, and there was a bit of light turbulence because we were very close to a BA A319 departing for Zurich. We reached cruising altitude by the time we headed out over the North Sea.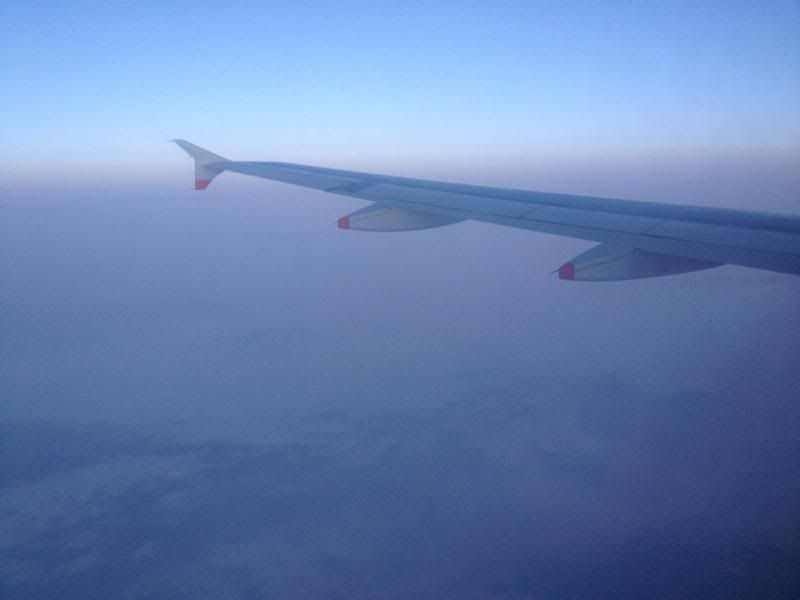 Flying above the clouds over the North Sea at FL350
Breakfast was served, and being at the back, we were served last. By this time the cabin crew had run out of the vegetarian option, which wasn't good news for me! So I just had another coffee and a packet of biscuits.
The BA cabin with in flight information screens
We began our descent into Oslo, and entered the cloud layer. It was quite turbulent for most of the descent. We left the cloud at about 1,500 ft, which meant that the cabin crew had secured the cabin by the, so I couldn't take any approach photos.
There was a good covering of snow on the ground. The approach was very scenic, I think one of my favourites behind Jersey.
We landed 23 minutes early, and the taxi to the gate took just 2 minutes. We left the plane by jetway, and went straight through passport control.
The best photo I got of G-EUPJ at OSL
We had only an hour to make the connection, so I didn't take any photos at Oslo on the outbound leg.
Our bags were waiting for us at baggage reclaim to take through customs to a Star Alliance bag drop. From plane to bag drop took 15 minutes, including a toilet stop.
The bags already had labels on from LHR, so we could just drop them off, and there were no passport or boarding card checks. Security was literally a 10 second walk from bag drop, and the queue was only about 4 people long. We were airside again within 3 minutes, and we headed for domestic departures.
Leg 2
28th December, 2011
OSL-TOS
SK 4416
737-700
LN-TUK
Gate 17
Seat 18C
SDT: 11.45
We headed to our gate, which was Gate 17, and our 737-700 was waiting there for us. Today it was LN-TUK, one of SAS's newer aircraft at 7 years old.
Ready for boarding
We were called to board by seat numbers, but in the end it was an "Easyjet Scrabble", because no-one paid much attention to the seat number boarding system. We were seated in Row 18 and 19. We were greeted by the friendly Norwegian cabin crew, who directed us to our seats, towards the back of the aircraft.
We took our seats, and we left the gate a few minutes late.
The Captain taxied to the runway what I would describe as faster than usual, then performed a high power takeoff from 1/3rd of the way down the runway. It's what I would describe as an impatient takeoff.
We climbed away from Oslo through the cloud again, and reached a cruising altitude of FL3X0 (PF). I had forgotten how quiet the 737NG is compared with the A320 series. It was quite nice to fly on a 737 because it's been a fair while since I last flew on one.
The cabin crew served free tea and coffee, and charged for food, so I had a coffee and a toblerone. The flight was relatively smooth, and as we flew further north, the clouds dissipated revealing some fantastic views of the Norwegian Fjords and mountains.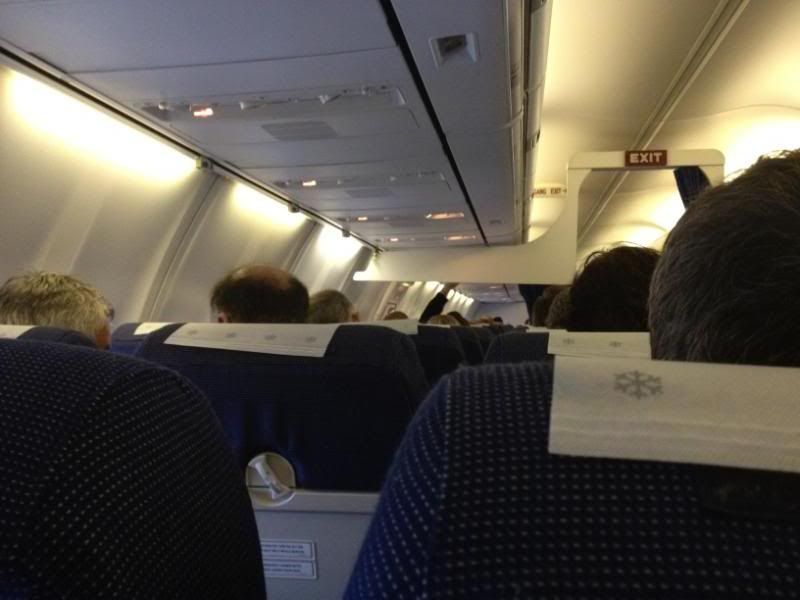 We disembarked via the rear air stairs, and walked across the apron, around the fuel truck, snow plough and push back tug - no 'ealth 'n safety up there!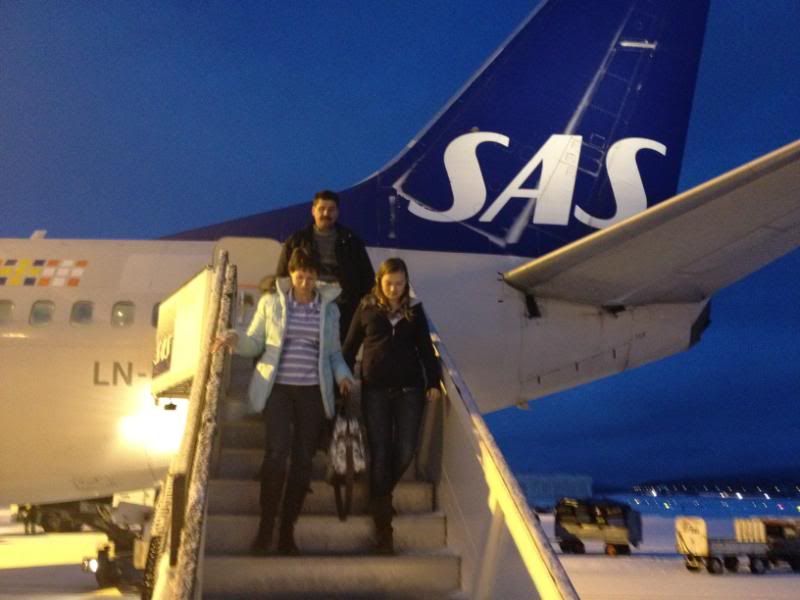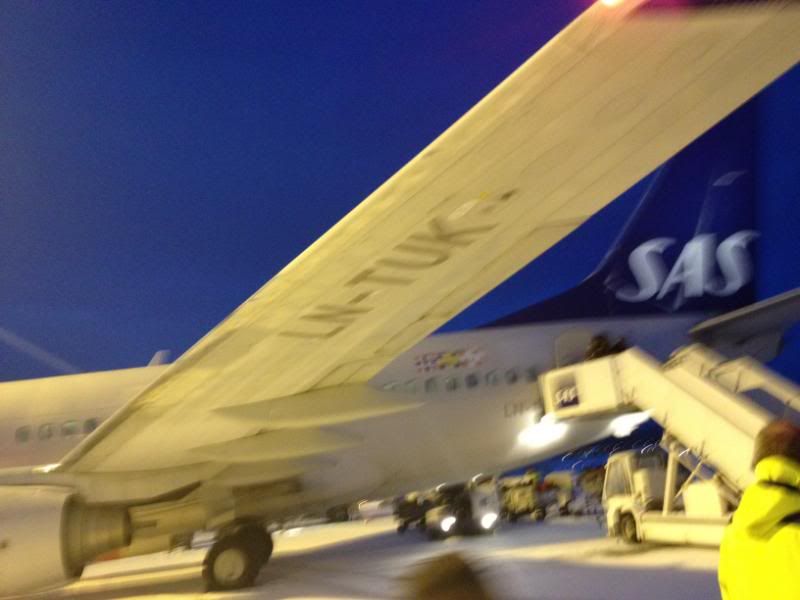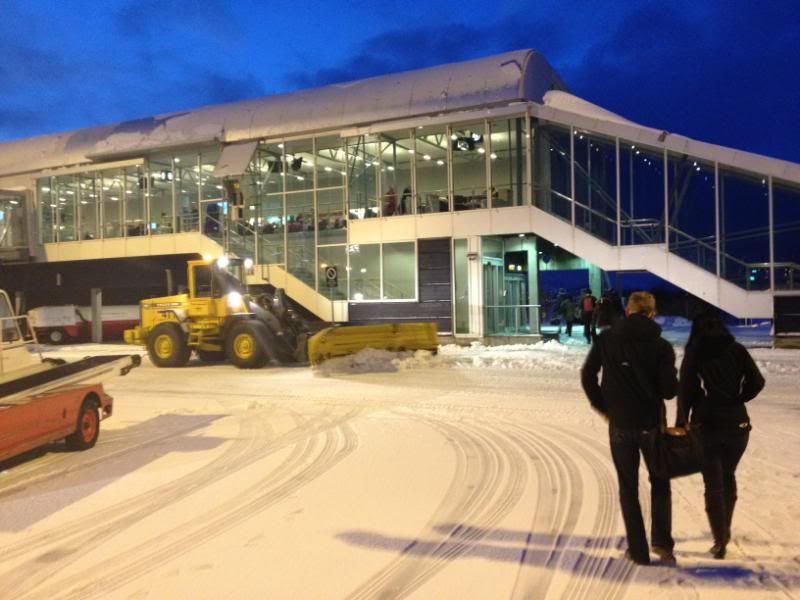 We walked into the terminal building, and straight to baggage reclaim, where we waited, and waited, and waited...
There were two reclaim belts
Eventually, I spotted our bags on the other belt, number 2. This was supposed to be for the bags from a Widero flight... We did find our bags eventually (about 15 minutes of waiting). They looked like they had been thrown from the aircraft onto the apron because they were covered in snow.
The airport was very small, but not as small as IVL, that I travelled to last year.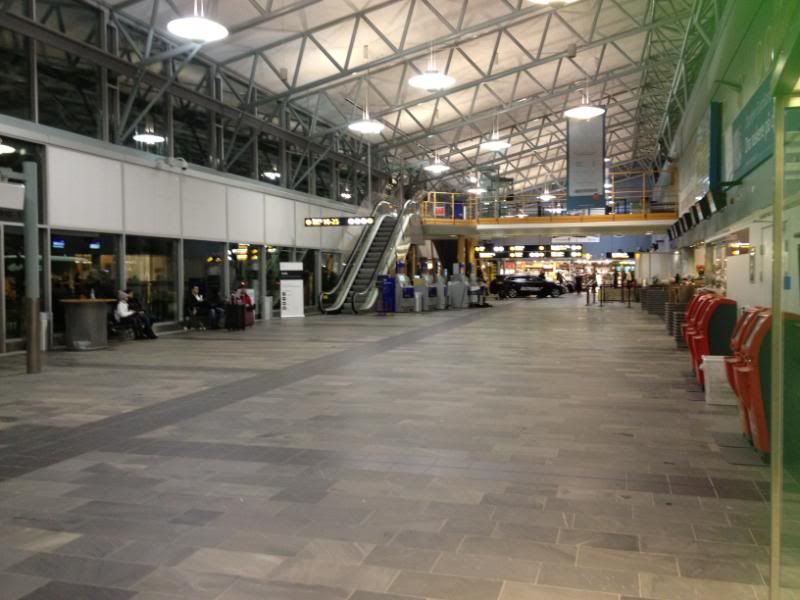 We picked up our Ford Transit, and headed for Malangen, where we were to stay for the next four days.
The fishermans cottage we stayed at
Whilst we were here we saw the northern lights, and went dog sledging. Both of these are things I've done before, and in short, the Northern lights were much better this time, and I did not enjoy the dog sledding so much, because last time I was able to drive, but this time we had a "musher" to drive us round.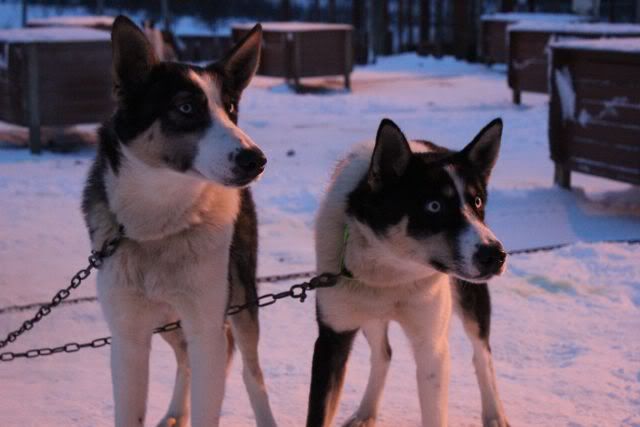 Huskies in the snow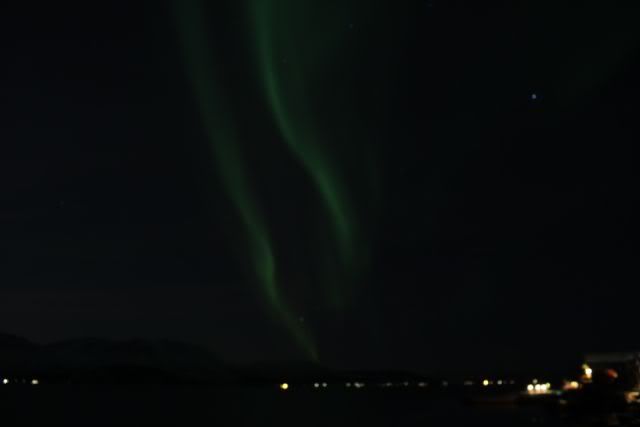 The Northern Lights
On New Years Eve, we went to the hotel restaurant, where they laid on some food for the guests, followed by a very well organised firework display. The Norwegian people were very friendly, and some other English tourists had made the long journey up north.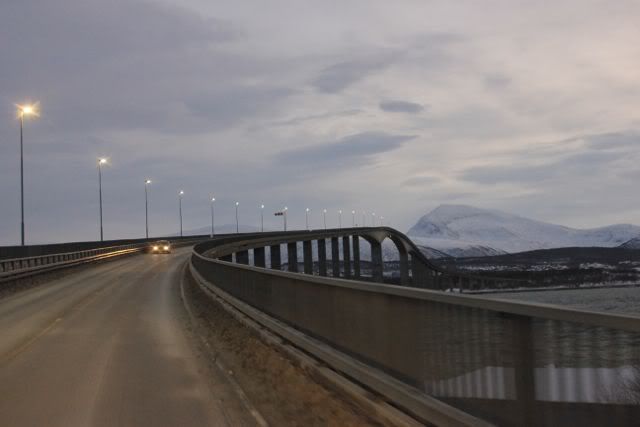 Tromso's Bridge
Leg 3
1st January 2012
TOS-OSL
SK4417
737-400
LN-BRI
Seat 19D
Gate 22 (actual 25)
SDT 14.00
It was about a 1.5 hour drive back to Tromso airport. We left in good time for our flight at 2pm, and arrived back at the airport at just past 1pm. I had flight track on my phone, and could see that by this time, the outbound flight had not yet left the gate at Oslo. This was to be the start of the delays to come!
We checked our bags through to LHR, and were given our boarding passes for the first flight. We proceeded to departures, which was up the stairs and through one of three security lanes. It's nice to go through such a small airport sometimes, the staff are friendly, and it just seems much less of a commercial operation and more of a community.
We went and got some lunch, I personally bought a baguette from Upper Crust, one of several cafes to choose from once airside. There is also a newsagents, but that's about it. There is plenty of seating, and most of the gates are in one line, with the exception of some of the Wideroe gates, that are a bit like gate 55 at Gatwick if anyone knows it (the BA gates).
Our flight, which by now was showing "New info at 1440", was originally scheduled to depart from gate 22, right in the middle of the terminal building.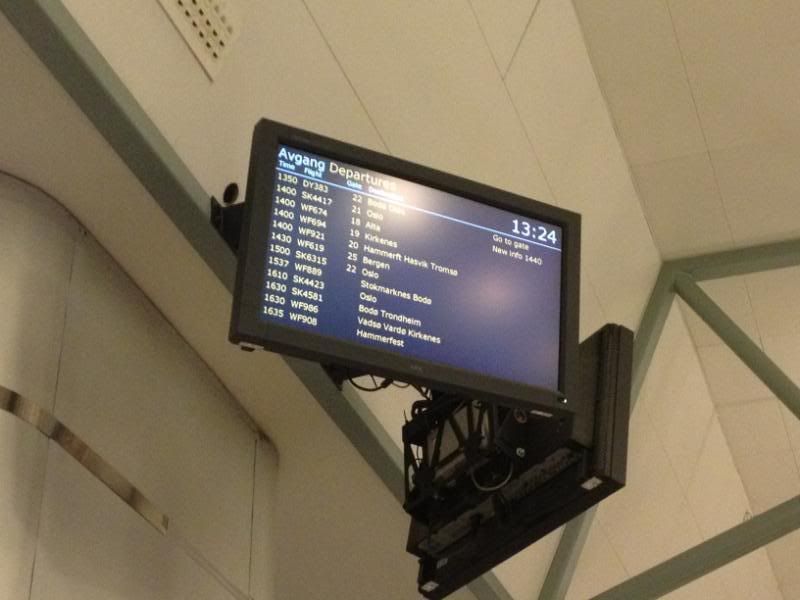 Delays - couldn't be the weather surely?!
I had a wonder round the whole airport. To get to the Wideroe gates, you had to walk down a staircase, and through a long corridor. There was only one flight departing, but a few aircraft on stand.
One of Wideroe's Dash 8's
For those who don't know, Wideroe is a small regional airline, who have a base in Tromso, operating a fleet of Dash 8's to places such as Hammerfest, and occasionally as far away as Oslo! I quite like this airline for some reason, I would very much like to fly with them one day, as they don't seem to just be your regular airline.
I had a wonder round and tried to take a few photos of the aircraft on stand - it is very difficult when you have the terminal lights reflecting in the window!
I went and sat down with the rest of my family, and bought another coffee. Literally, 5 minutes after I bought my coffee, guess what - it's meal vouchers time! I went to the gate to collect our 6 vouchers, and returned to our seats with £50 worth of meal vouchers. This was effectively the cost of one of our return flights. Nice! I thought it was very good of SAS to offer the vouchers, the delay at this point was still under two hours.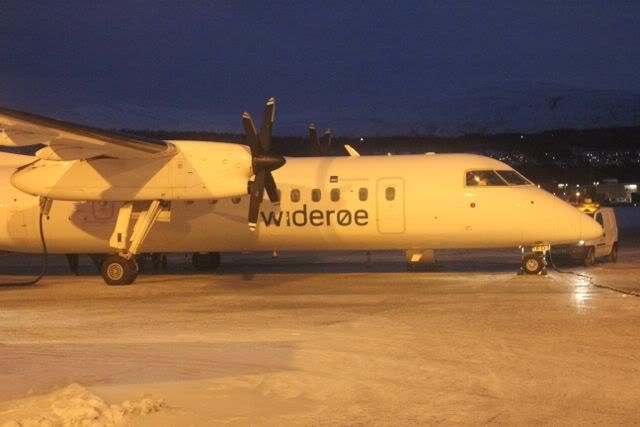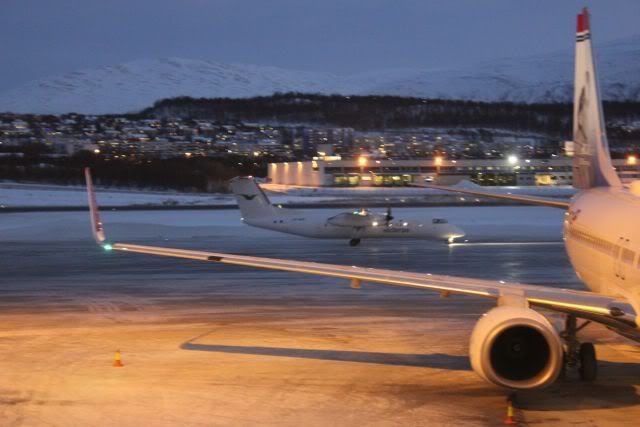 Eventually it was announced that our plane had left Oslo, and there would also be a gate change. We would now depart from gate 25. At 15:00, flight SK4419 departed to Oslo, the flight after ours! This was scheduled to be operated by a 737-400, but was in fact a 737-700.
Eventually our plane landed. The plane was SAS's 22 year old 737-400, LN-BRI, one of just 3 734's left with SAS.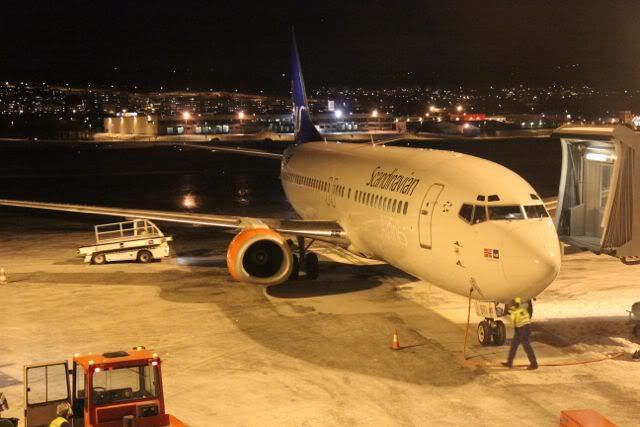 LN-BRI - our ride back to Oslo
It taxied to the gate, and boarding began very promptly - just 10 minutes after gate arrival.
We were told at the gate the flight had been delayed by weather at Oslo. This seemed odd, because Gardermoen is supposed to have quite a good reputation in snow clearance.
We took our seats, and we were airbourne after another 15 minutes, so a 25 minute turnaround wasn't bad. We backtracked down the runway at Tromso, and took off. The seat belt sign wasn't turned of for about 20 minutes, because it was quite turbulent. Eventually drinks and food service started, and I took my complimentary coffee (in case you're wondering - I don't like saying no to a freebie!). SAS coffee is actually very good, considering its free.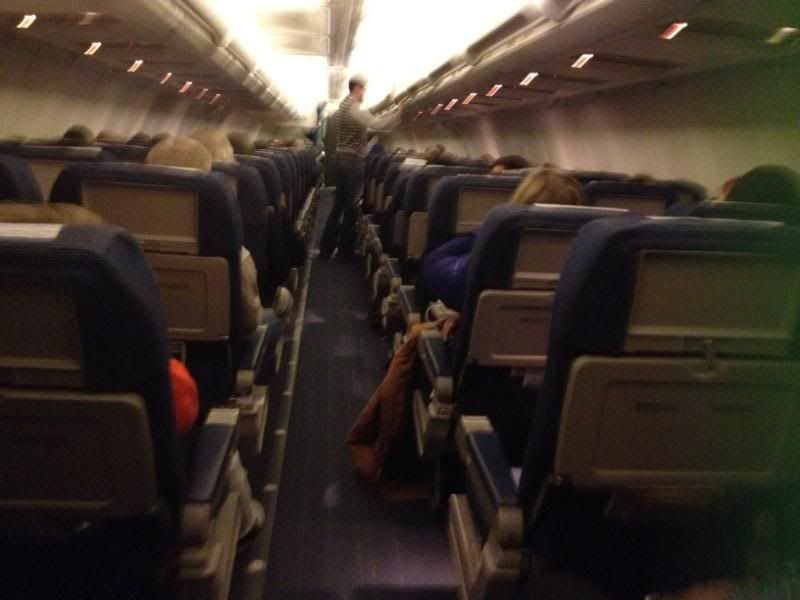 SAS cabin
The rest of the flight was quite uneventful. We began our descent into a very foggy Oslo. Visibility I would say was less than 0.25 miles when we landed. I saw some runway lights about 3 seconds before touchdown. It's where ILS comes in useful! Taxi to the gate took about 3-4 minutes.
Overall, the delay was 1hr52min, which wasn't too bad - we had had a 5 hour layover in Oslo anyway, so this reduced it to just 3 hours.
Oslo airport itself is one of my favourite airports. It's not busy, it's always very clean, and it's not "over-cluttered" with shops. I like most of the Scandinavian airports, and I have always been a fan of Helsinki Vantaa. The building is a long thin structure, with gates either side. It is divided in two; international and domestic departures. They are both similarly sized.
We walked from our domestic arrivals gate, straight back down some stairs into departures, and then into the international departures area. Here, we found a seating area in a quiet corner over looking one of the gates. Dinner was supplied by Pizza Hut, interesting to see that here pizza is sold by the slice - not the pizza!
I took the opportunity to try and take some night shots of aircraft at the gate - see below.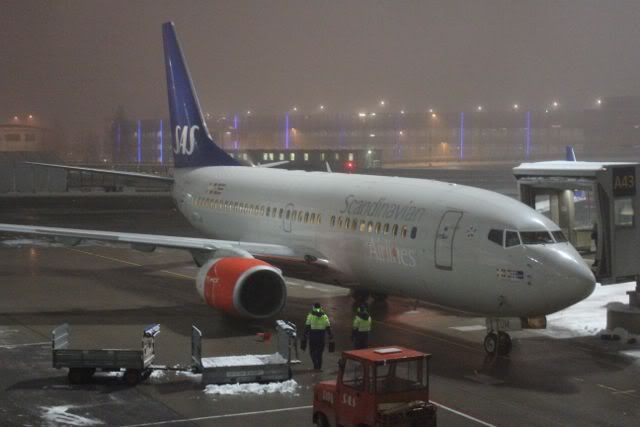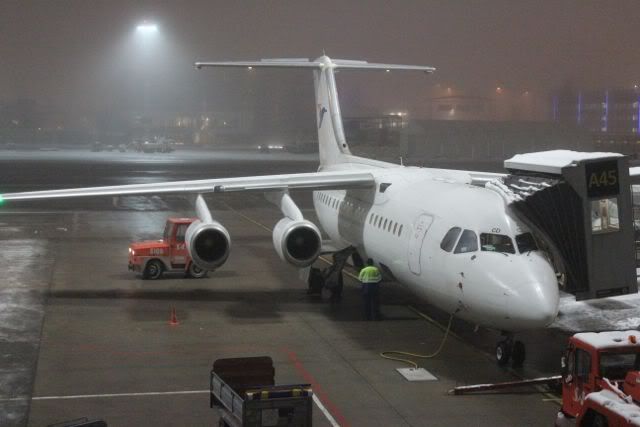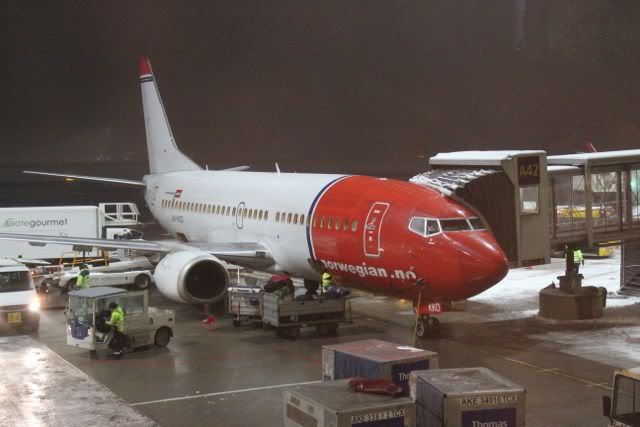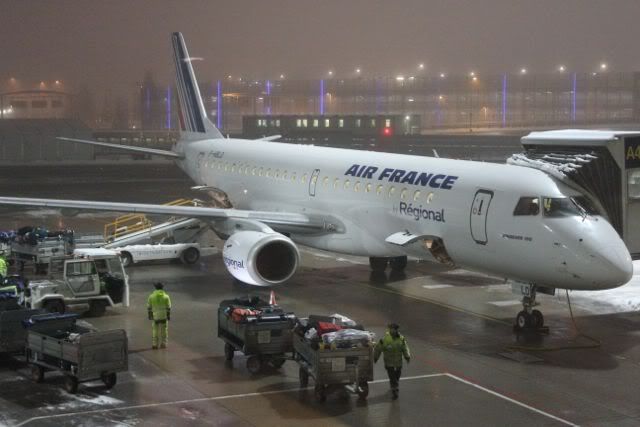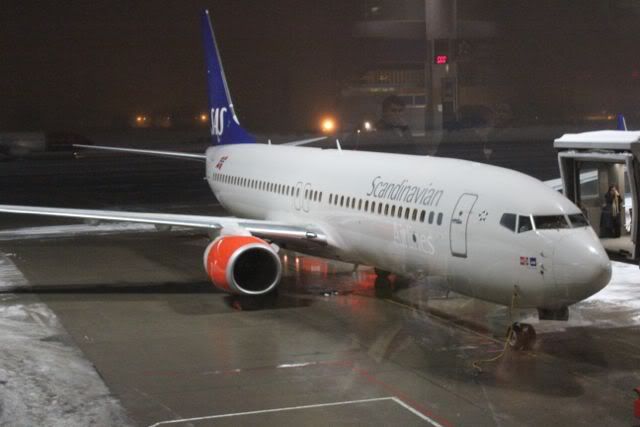 Leg 4
1st January 2012
OSL-LHR
BA769
A320-200
G-EUYH
Seat 26A
Gate 53
SDT 20.55
The final leg of the journey began with a bit of confusion with the bags and boarding passes - Tromso had only given us boarding cards to Oslo, and our bags had been checked right through to LHR. Luckily the very charming norweigian lady working at the gate was able to assign our bags to our boarding cards and issue them to us.
We boarded about 10 minutes early - I'd say the plane was around 40% full. Club Europe was full, right back to row 10, so I suppose this makes up for the poor load.
Flying us back to London this evening would be Cpt. James Hall, and First Officer Peter Morgan.
We didn't de-ice at Oslo, I don't think it was cold enough for any ice to accumulate on the wings. We pushed back into the fog and taxied to the runway.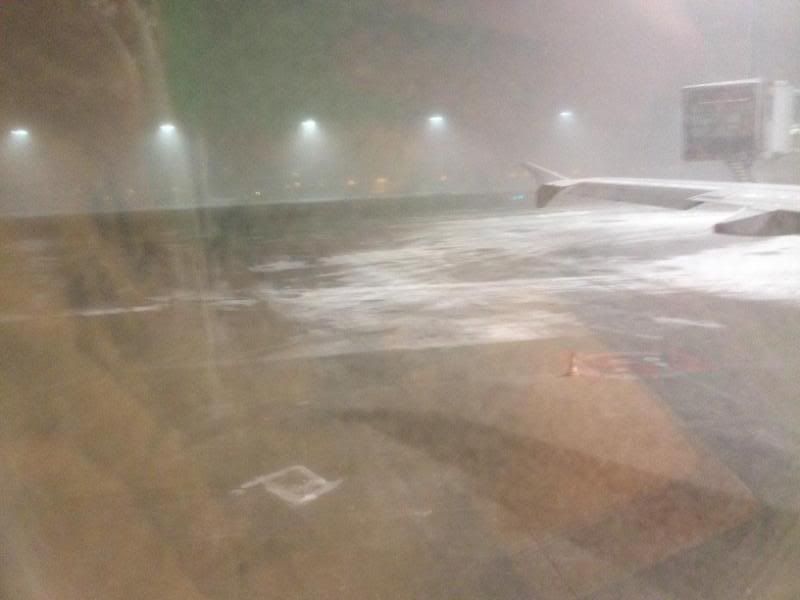 Fog at Oslo
The flight was about two hours long - so just long enough to get some sleep after what had turned out to be quite a long day! About midway through the flight, BA served their new curry floavoured crisps snack, and the usual free drinks.
By the time we were back of British soil, it was a lovely clear night, so we got some good views of London. I'd like to have taken some pictures - but I don't like breaking the rules! We landed on 27R at Heathrow, and from 26A i got some good views of the airport. We taxied down the runway pretty much the full length - presumably to save time taxiing. I looked behind us as we turned off the runway and could not see any landing lights on approach which was extremely unusual for such a busy airport.
I'd not been very pleased with turnaround times at Heathrow recently, but tonight we were at baggae reclaim within 15 minutes of touchdown, which compared to nearly 1.5 hours last time - it was pretty good. I do admire Heathrow really - and it is a good airport in general.
I took a few photos on my phone, I like to try and do this at every airport - even though Heathrow T5 is probably familiar to everyone here!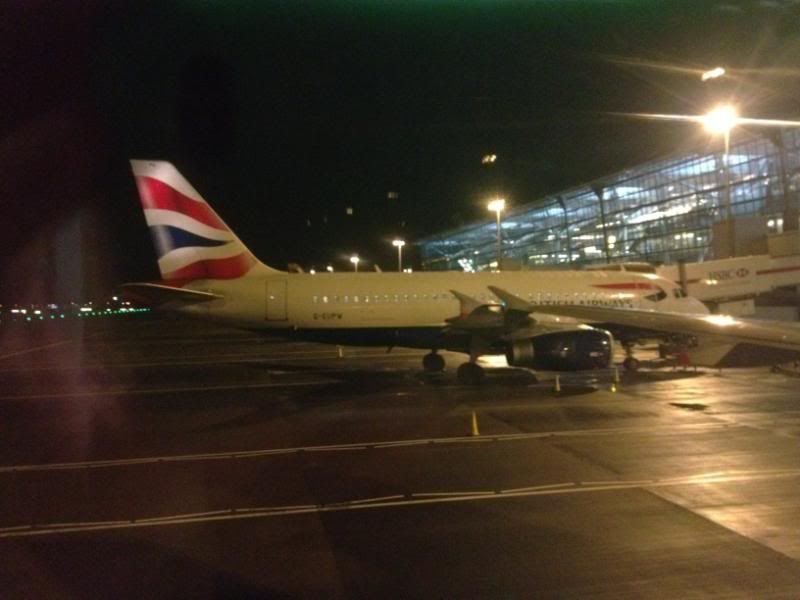 We headed back to the Pod, and to the car park. A five minute trip and it was all over. I enjoyed the whole trip, and was reasonably impressed with SK, and O