Feedback always appreciated.
I > Background:
The life of a consultant involves being away from home quite a lot - however, one of the perks is to be able to go to "random" places during weekends near "engagement" sites. In April 2011, I was working in Frankfurt on a Star Alliance project and since Frankfurt was suffering through some depressing weather, I decided to do a weekend trip to the island nation of Malta.
There has been several reports on Air Malta, but I believe this may be the first one on MLA-FRA? Perhaps our resident KM expert, > can clarify?
II > Pre-Flight:
a) Before Airport:
Air Malta is the national airline of Malta, headquartered in Luqa. It operates services to around 36 destinations in Europe, Middle East and North Africa. A traditional destination carrier, Air Malta has struggled recently with the influx of no-frill competition from its main tourist-sending markets of Europe (particularly, U.K.), and the presence of large Mid-East carriers such as Emirates who have choked off any access to the emerging markets.
Air Malta's website at
http://www.airmalta.com
was my first stop and it left me pretty happy. It has a clean design and was a breeze to use. Within a few minutes, I had my FRA-MLA-FRA ticket - after some well placed upselling attempts and a fee-based seat selection mechanism - though, a little amusing that the fee for exit row and regular seats were both 10 Euros. Finally, as any website should have, full access to viewing the reservation, but no ability to modify the same. This is fine with me as the later happens at a much later date in any airline's life.
b) At Airport:
I have to be honest - I was a little apprehensive about visiting Malta. Several colleagues in Caracas had told me of horror stories about racism, and my simple Google search on "racism Malta" returned several tales of horror. Moreover, my copy of the Lonely Planet for Malta had a whole page on racism in the country. This is rare, and I was a little uneasy paying money in a country with such a track record. As a white man, I wasn't nervous about myself - but had no desire to support such a country. In the end, I was swayed by a crazy Indian friend who decided to join me from Delhi for a quick 3 day weekend.
Anyways, I must report I was pleasantly impressed and glad I went. Everyone was superbly nice and I really enjoyed Malta's unique combination of sun and culture. It was very different than Cyprus which was not my liking - obnoxious locals coupled with really tacky tourists. My extremely well traveled Indian friend also noted that he did not feel any weird looks like he consistently got in Cyprus and was also pleasantly surprised. Maybe, if I was black, I would feel differently?
So all good quick vacations must come to an end, and I soon arrived at Malta's airport. After giving up the rental car, I entered the very 1980's style terminal and walked to one of the several KM check-in desks. Like in the 1980's, there are dedicated desks for each destination, and I went to the one for Frankfurt. The lady at the desk was not having a good day and was yelling at the passenger in front of me that his hang baggage was overweight and it was not her fault that he did not fly often! Seriously?! Can someone remind her that it is attitude like hers that prevent airline loyalty? Anyways, after a good 10 minute of that drama, and aforementioned man having to check his luggage, I was summoned. During the entire check-in process, the lady did not look at me once ... except when I said, "no luggage". Then she looked up, and asked me to show my hang-bag. I think she was taken aback at how lightly I travel, and went back to her computer and issued me a boarding pass.
In the meantime, my Indian friend (who was returning on LH: MLA-FRA-MUC-DEL in JCL) had already checked-in and was wondering what was up. Since our flights were together, we decided to have lunch where my Indian friend was super amused seeing one of the food chains. See picture below. Quick security later, we explored the basic terminal prior to going to the boarding gate. Boarding through the tarmac is always fun and I was greeted at the door by a smiling KM FA. J load was around 60%, and Y load was 90%.
Airport - External:
(Malta Airport)
*
Check-in: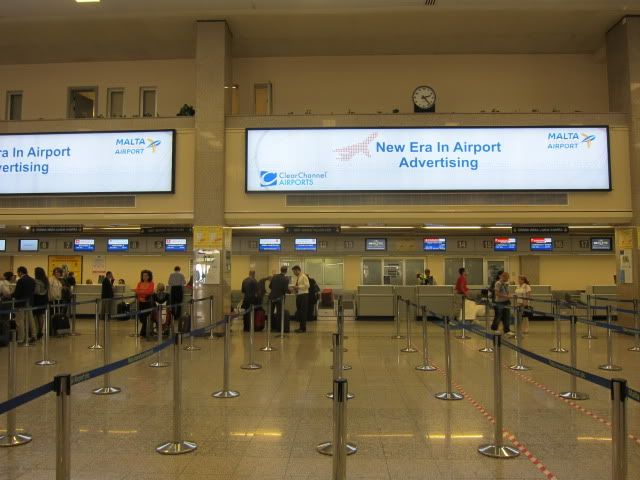 Airport - Internal:
*
(What got my Indian friend all amused)
(FIDS)
*
(Post Security @ MLA)
*
Scenes of the tarmac:
NONE
Lounge
NONE
Boarding:
(Gate Area)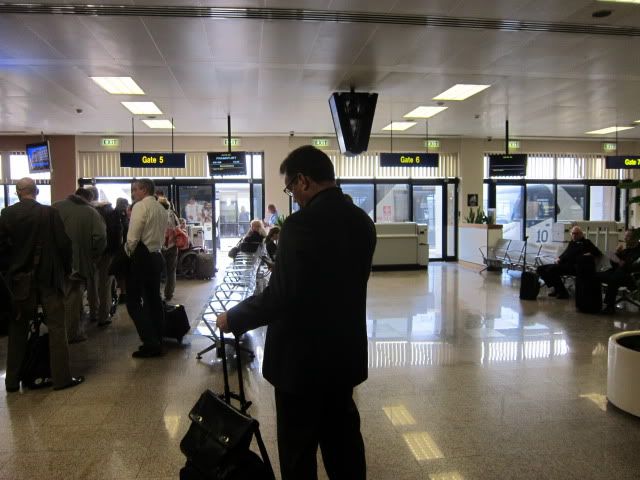 III> In-Flight:
a) Service Schedule + Impressions:
This is Economy class on a type of route that mostly competes with LCC's ... so my hopes were not too high. In the end, surprisingly, service delivery involved a drink and lunch service after take-off, and sweets prior to landing.
b) Aircraft + Seats:
Air Malta uses the Airbus A-320 for its Frankfurt rotation, though I am told that the smaller 319 often replaces it. This particular aircraft was well kept and I thought KM's simple cheat lines looked smart. I am not a huge fan of Euro-white, so anything that spruces it up is welcome. Inside the KM 320, we find relatively comfortable leather seats. With a lot of padding, they are significantly more comfortable than the slim-line Recaro seats that Lufthansa has on this route. Recline was generous as well ... though, I will never understand the point of the coat hook this YCL seats have. Does anyone actually use it? The only drawback of the seats were the extremely tight pitch. I reckon it was around 30". Does anyone have the right statistic?
The bathroom was spotless ... without any amenities however.
Aircraft:
(Thought this was ours - 319 to MUC)
Views from Aircraft: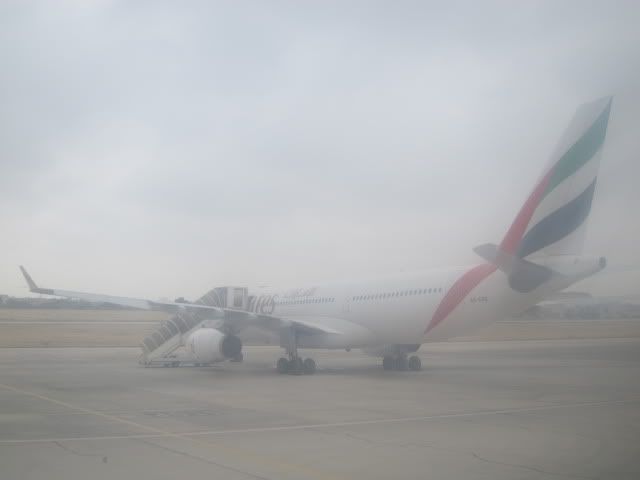 *
*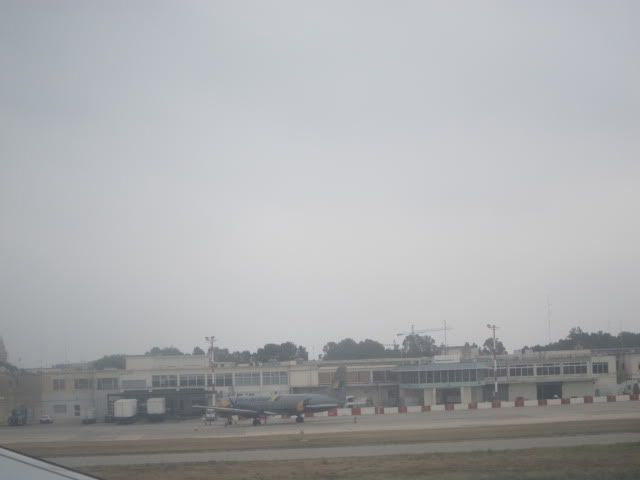 *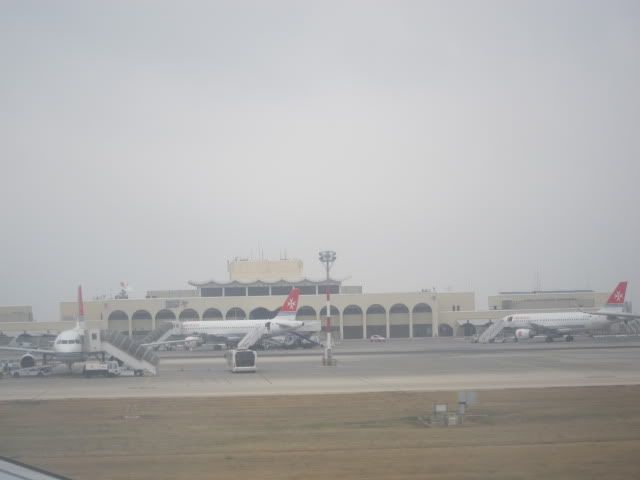 General Seat Views + Seat Legroom
(Seat)
*
(Front of seat)
NONE
*
(Seat controls)
NONE
*
(Around Seat)
NONE
*
(Legroom)
Seat Recline + Angle View:
*
Cabin:
(One of the rare pictures on A.Net with me in it - let's see if you can spot? Hehe.)
*
(Blanket ++)
NONE
(Bathroom)
NONE
c) Meal + Beverage:
This is where the first surprise of the flight occurred. Given the pseudo LCC nature of KM, I did not really expect there to be significant catering ... especially given the relatively short stage length of the flight. Imagine my surprise when service consisted of a full beverage service with a glass of wine. Choice of meals included either the pasta or a burger along with some incredibly fresh fruit, a nice piece of pre-packaged cake, and a rather indifferent cake. I am almost always surprised by these type of offerings on intra-Europe legs, and so this was a treat. Accompanying the meal was a nice cup of tea. Entire service served with a smile.
Prior to landing, the crew member came by with some sweets.
(Lunch)
*
(Lunch - other option)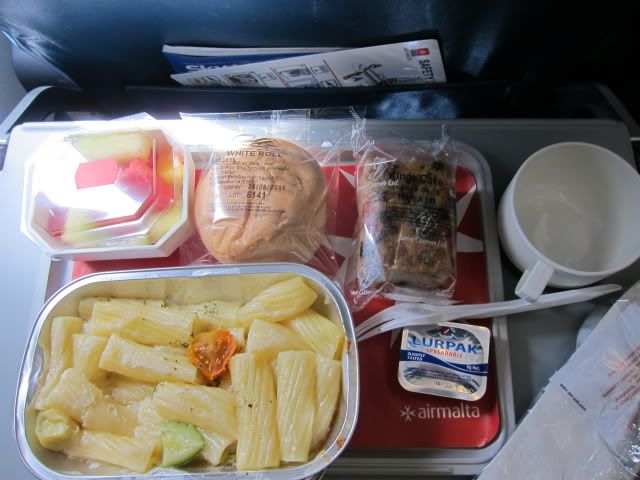 *
(Tea)
d) Inflight Entertainment:
As with many airlines plying such routes, Air Malta's IFE consisted of the drop-down screens that played some "random" cartoon. Throughout the entire flight, I could not figure out if it was a movie or a set of TV shows. Besides the video entertainment, KM also had a rather informative in-flight magazine called "SkyLife".
(IFE Screen)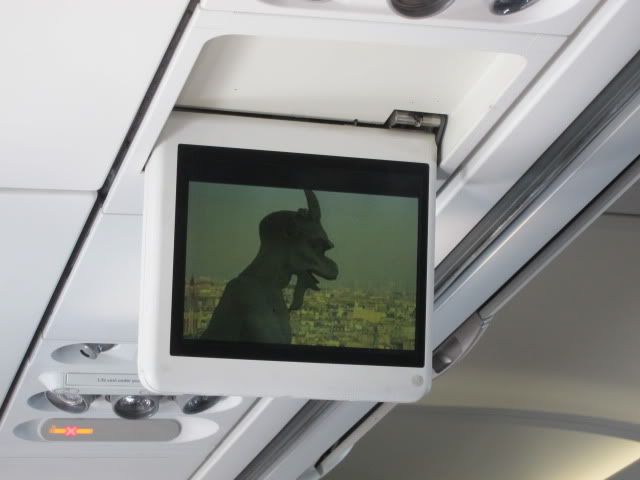 *
(Controls)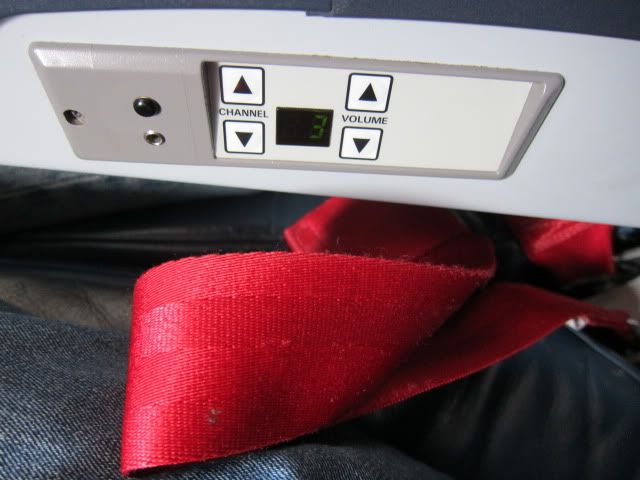 ("In-flight magazines", Boarding Passes, etc.: I found some old KM timetables ... and the random AH jacket given to me by the KM airport office in MLA. Didn't even know AH flew there!)
e) Crew:
This was the other big pleasant surprise of my flight. The crew on the Air Malta flight were really nice and generous people. Upon boarding, they welcomed us with a genuine smile and were helping several of the older passengers with their bags. During the meal service, they were nice and served with a smile. I asked for a sweetner for my tea and the crew did not have any. He asked me to wait and searched the entire aircraft for the same. Then, he said: "let me get you another cup of tea as I am sure the one I served you is cold by now".
. COOL!
After meal service, I went to use the bathroom - and had a funny exchange with another crew member. The Indian friend came out of the bathroom and I snapped a picture of him. The crew member without missing a heartbeat said, "Isn't it better to snap the picture inside?". I said, "aah ... you have a lot of experience" ... she said, "oh, the stories I could tell." Haha. All in good humor and speaking of members who clearly seem to enjoy their job.
At landing, they wished me good-bye and requested that we stay out of trouble. Not bad!
IV> Post-Flight:
Landing in FRA was flawless, but I am getting a little tired of these bus-gates. It took a good 30 minutes to reach landside - what really happened to German efficiency when FRA was created is beyond me.
V> Impressions + Scores:
I was positively surprised by Air Malta. What was a mundane 2,45 hour flight intra-Europe turned out much better than I anticipated. While a lot of things were rather average (seats, IFE, etc.), the meal service was generous for an European airline and most importantly offered by a tremendously generous set of crew. It even made me forget the hostile airline worker at MLA.
I truly hope Air Malta survives the current state of crisis it is in. It has served as in important link for Malta and would be a tremendous blow to the national economy. KM would never have registered on my radar to check out - but from now on, I will go and check their website to see prices. I would definitely fly them again. Overall, a thumps up.
VI> Other Trip Reports:
PREMIUM:
9.27: JET AIRWAYS **FIRST** (110): LHR-BOM: 10/2010
9.27: THAI AIRWAYS **FIRST** (108): BKK-LHR: 07/2010
8.66:
Brussels Airlines (93): FIH-BRU: 01/2010
8.64:
Turkish Airlines (59): JFK-IST: 11/2008
8.63:
Jet Airways (88): JFK-BRU: 10/2009
8.61:
Air Canada (49): YYZ-SCL: 06/2008
8.54:
Turkish Airlines (77): GRU-DKR-IST: 04/2009
8.36:
Kingfisher (98): BOM-HKG: 01/2010
8.30:
Jet Airways (74): KWI-BOM: 04/2009
8.23:
United Airlines (72): SFO-SYD: 03/2009
8.11:
Aeroflot (33): MOW-DEL: 09/2007
8.05:
Air India (80): CCU-JFK: 06/2009
8.04:
Korean Air (40): NRT-ICN: 10/2007
8.02:
Delta Airlines (24): JFK-CDG: 08/2007
7.82: UNITED AIRLINES **FIRST** (110): SFO-ICN: 10/2010
7.82:
Singapore Airlines (06): EWR-SIN: 09/2006
7.66:
Sri Lankan (104): DEL-CMB: 07/2010
7.64:
Royal Jordanian (91): AMM-YUL: 12/2009
7.61:
China Southern (103): LOS-DXB: 04/2010
7.57:
Pakistan Airlines (102): ORD-BCN: 06/2010
7.46:
LAN (55): YYZ-JFK: 09/2008
7.38: AMERICAN AIRLINES **FIRST** (112): LHR-JFK: 10/2010
7.38: CATHAY PACIFIC **FIRST** (109): HKG-LHR: 10/2010
7.25:
Iran Air (88): BOM-IKA: 12/2009
7.23:
Air Pacific (120): NAN-APW-HNL: 01/2011
7.23:
Virgin Atlantic (81): BOS-LHR: 07/2009
7.14:
Swiss (52): SCL-GRU: 06/2008
7.11:
Aer Lingus (105): MAD-IAD: 05/2010
7.11:
Austrian (79): VIE-JFK: 06/2009
7.07:
Privatair (84): BOM-FRA: 08/2009
7.02:
Qatar (68): DOH-JFK: 01/2009
6.96:
Etihad (61): JFK-AUH: 12/2008
6.93:
Delta Airlines (18): SEA-JFK: 11/2006
6.88:
Egypt Air (123): LHR-CAI: 03/2011
6.84:
ConViasa (65): CCS-DAM: 01/2009
6.82:
Air Burkina (106): BKO-OUA: 06/2010
6.81:
Air Canada (17): ICN-YYZ: 10/2006
6.75:
Afriqiyah + Libyan (113): CAI-TIP: 11/2010
6.70:
KLM (32): EBB-AMS: 08/2007
6.52:
Emirates (99): LHR-DXB: 02/2010
6.39:
South African (97): EZE-JNB: 01/2010
6.36:
Privatair (60): MUC-BOS: 12/2008
6.29:
TAM Brasil (96): POA-EZE: 02/2010
6.25:
Korean Air (45): NAN-ICN: 10/2007
6.21:
Iberia (87): BOS-MAD: 10/2009
6.11:
A SKY (107): OUA-COO: 06/2010
6.11:
TAP Portugal (53): GRU-OPO: 06/2008
6.00:
Gulf Air (75): BOM-BAH: 04/2009
5.88:
African Express (89): DXB-NBO: 11/2009
5.75:
Singapore Airlines (16): CCU-SIN: 10/2006
5.64:
SATA Azores (101): BOS-PDL: 04/2010
5.64:
NorthWest (46): ICN-NRT-SEA: 10/2007
5.54:
Ethiopian Airlines (95): ADD-BOM: 01/2010
5.46:
Icelandair (83): KEF-BOS: 08/2009
5.39:
LOT (54): WAW-JFK: 06/2008
5.21:
Egypt Air (73): CAI-IST: 02/2009
5.11:
Tunisair (115): TUN-ORY: 12/2010
5.07:
TACA (66): JFK-SAP: 01/2009
4.89:
TAAG Angola (117): TMS-LAD: 12/2010
4.42:
Air France: CDG-JNB (25): 08/2007
ECONOMY: Long + Medium:
9.26:
Air India (48): JFK-DEL: 02/2008
7.38:
Avianca (01): BOG-LIM: 07/2006
7.07:
Sri Lankan (62): KWI-CMB: 12/2008
7.00:
LAN (94): IPC-SCL: 01/2010
6.81:
STP Airways/Euro Atlantic (116): LIS-TMS: 12/2010
6.67: Air Malta (124): 04/2011
6.41:
Avianca (78): JFK-BOG: 05/2009
6.41:
American Airlines (58): LHR-BOS: 11/2008
6.39:
Condor (85): SEZ-FRA: 09/2009
6.26:
Jet Blue (21): CUN-JFK: 02/2007
6.11:
Caribbean Airlines (119): POS-FLL: 01/2011
6.06:
Air Canada (04): YYZ-YVR: 09/2006
5.89:
USA 3000 (19): PUJ-BDL: 01/2007
5.85:
Spanair (69): MAD-LPA: 02/2009
5.79:
Air New Zealand (42): RAR-NAN: 10/2007
5.52:
Aerolineas (86): USH-AEP: 10/2009
5.46:
TAP Air Portugal (23): OSL-LIS: 05/2007
5.19:
Air Europa (70): LPA-MAD: 02/2009
5.16:
Iberia (71): MAD-BOS: 02/2009
5.11:
Air China (82): FRA-PEK: 08/2009
ECONOMY: Short
8.56:
Paramount Airways (38): BLR-MAA: 09/2007
8.56:
Kingfisher (64): HYD-CCU: 12/2008
8.24:
Kingfisher (14): IXA-GAU: 10/2006
7.87:
Indian (34): BOM-MAA: 09/2007
7.72:
Alliance Air (13): CCU-IXA: 10/2006
7.57:
Indian Airlines (10): DEL-CCU: 09/2006
7.23:
West Jet (03): YYC-YVR: 09/2006
7.15:
JetLite (37): BOM-GOI: 09/2007
6.98:
Air Koryo (100): PEK-FNJ: 04/2010
6.70:
Spice Jet (09): CCU-DEL: 09/2006
6.63:
Air Fiji (44): NAN-SUV: 10/2007
6.63:
Jazeera (67): DAM-KWI: 01/2009
6.58:
Air Tran (02): EWR-MDW: 08/2006
6.48:
Air India Express (63): CMB-MAA: 12/2008
6.44:
CO Micronesia (39): ROR-YAP: 10/2007
6.41:
Pacific Sun (43): NAN-SUV: 10/2007
6.37:
Skybus (47): SWF-CMH: 02/2008
6.33:
Kenya Airways (29): NBO-BJM: 08/2007
6.33:
Sky Europe (56): LTN-BTS: 10/2008
6.31:
Indigo (15): GAU-CCU: 10/2006
6.31:
easyJet (57): BUD-LTN: 11/2008
6.22:
Air Link Swazi (28): MTS-JNB: 08/2007
6.22:
Air India (36): HYD-BOM: 09/2007
6.13:
Adam Air (07): SIN-CGK: 09/2006
6.13:
Air Rarotonga (41): RAR-AIT: 10/2007
6.04:
Suriname Airways (118): PBM-POS: 01/2011
6.00:
Transairways (27): INH-MPM: 08/2007
5.95:
Air Canada (05): ALB-YYZ: 09/2006
5.85:
SAS Norge (22): OSL-AES: 05/2007
5.81:
LAM Mozambique (26): JNB-MPM: 08/2007
5.69:
Air Deccan (12): IXZ-CCU: 10/2006
5.67:
Rwanda Air Exp (30): KGL-NBO: 08/2007
5.52:
Sevenair (114): TOE-TUN: 11/2010
5.37:
Felix Airways (92): SCT-SAH: 12/2009
5.11:
Aero Republica (76): BOG-CCS: 04/2009
5.07:
Go Air (35): MAA-HYD: 09/2007
5.04:
Biman (121): DAC-CGP: 01/2011
5.00:
Sky Airline (51): IQQ-SCL: 06/2008
4.96:
United Bangla (122): CGP-DAC: 01/2011
4.96:
Valuair (08): CGK-SIN: 09/2006
4.78:
Air Comet Chile (50): SCL-IQQ: 06/2008
4.74:
Fly 540 (31): MYD-LAU: 08/2007
4.33:
Viva Aerobus (20): ELP-MTY: 02/2007
4.11:
Air Sahara (11): CCU-BOM: 09/2006
(Note on Codes: Y – Economy, J – Business, F – First :: I/D – International/Domestic :: SR/MR/LR – Short/Medium/Long Haul)
(Note on Date: Dates are modified to be +/- 3 days from actual flight date to not reveal actual flight pattern)
VII> Other Pictures:
(Some pictures from Malta)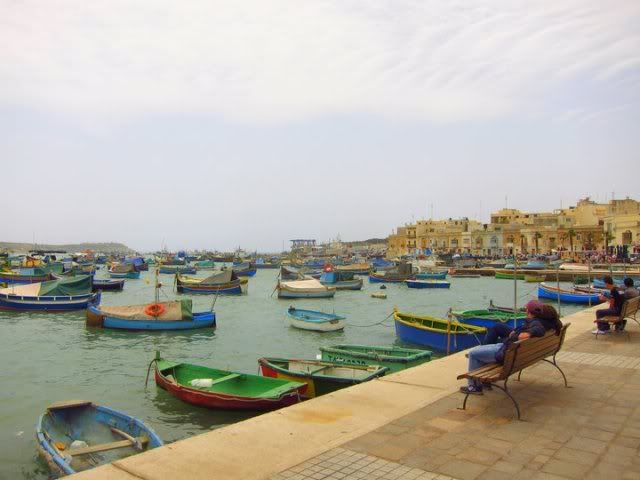 *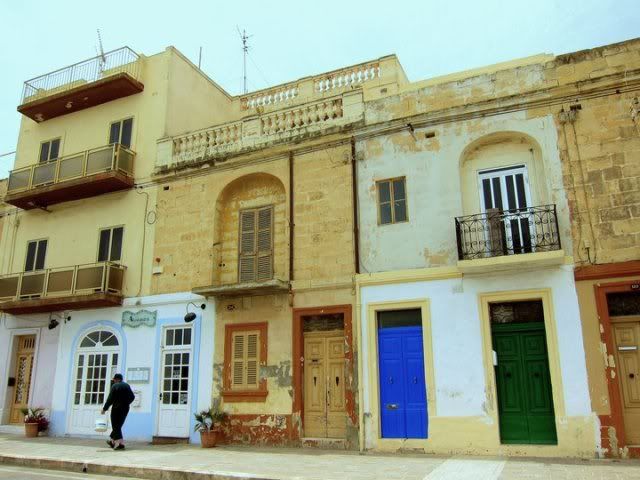 *
*
*