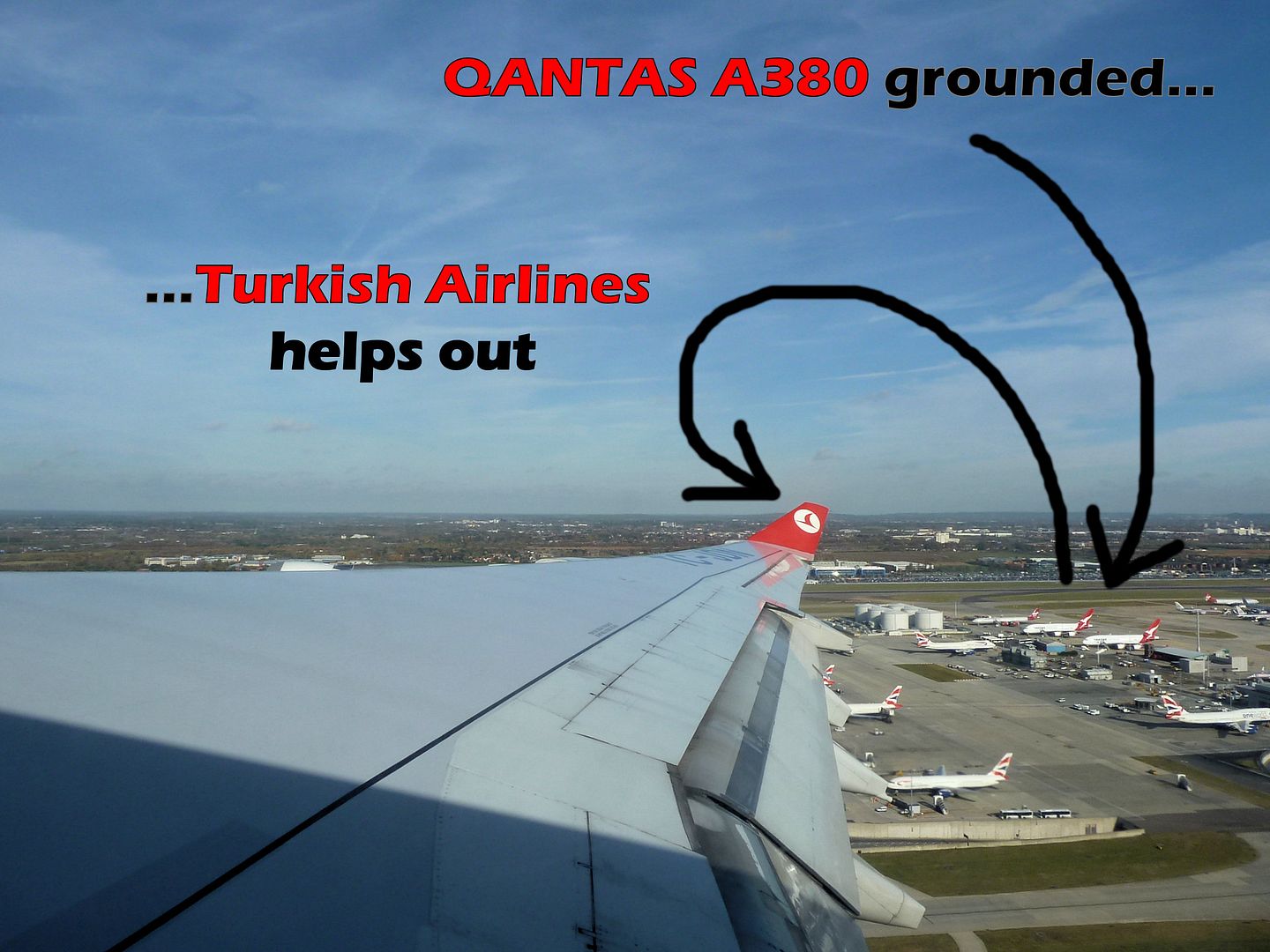 Map generated by the Great Circle Mapper - copyright © Karl L. Swartz
Intro
In response to ongoing industrial unrest over failed negotiations involving three unions, Qantas grounded its entire domestic and international fleet from 17:00 AEDT on 29 October 2011 to 20:00 AEDT on 31 October 2011. The grounding came into effect while my friend
Satchmo
and I were heading from Munich to London Heathrow on British Airways in order to connect to Qantas flight QF032 to Singapore...as a result, we had to book new flights on Turkish Airlines, arrived at the destination much later than planned and even lost our luggage. If you want to know all the details and the outcome, keep on reading.
Background
I early 2011 my friend Satchmo and I decided to go on a spotting trip to Asia in late October. We had been planning to visit Singapore and Kuala Lumpur from the very beginning and focused on getting on Qantas' A380 between LHR and SIN. I had flown Qantas before, but I wanted to increase the number of A380 carriers in my log to five. At a later date, we also decided to include Jakarta where we had never been before. Of course we tried to get as many new airlines and interesting types as possible and it took a while to create an exciting itinerary. Finally, we booked 10 flights operated by 8 different carriers (including four new ones) and reserved hotel rooms in Singapore (one night), Kuala Lumpur (one night), Jakarta (two nights) and Bangkok (one night). We exclusively combined one-way flights and one-way combos, so we had eight different flight reservations in the end. Here's what the preliminary itinerary looked like:

Munich-London
London-Singapore
Singapore-Kuala Lumpur
Kuala Lumpur-Jakarta
Jakarta-Singapore
Singapore-Phuket
Phuket-Bangkok
Bangkok-Mumbai
Mumbai-London
London-Munich

While Satchmo was planning to use our entire time at Jakarta for taking pictures, I decided to squeeze in a domestic day trip. I found an interesting combo on two new carriers and added three more flights:

Jakarta-Semarang
Semarang-Surabaya
Surabaya-Jakarta

Now I was looking forward to 13 flights on 10 different carriers - including 6 new ones - and 4 widebodies (details to follow in the next parts). At that point of time I couldn't imagine that I would end up on 14 flights, 7 new airlines and 5 widebodies.
Saturday, 29 October 2011
London (LHR) - Singapore (SIN)
Qantas QF032
Scheduled times: 12:05-08:05
Actual times:
CANCELLED
The early morning flight from Munich to London on British Airways A320-232
G-EUUN
(new registration) was totally eventless. We had already checked in online for both flights, so we simply had to drop off our luggage. After our arrival at Heathrow, we decided to do some spotting from the Terminal 5 entrance area.
About two hours before departure, we took the train to Terminal 3. After leaving the underground walkways and before entering the terminal building, we had a look at the departures screen. And we stared in disbelief when we read
"QF032 Singapore/Sydney cancelled"
.
"Do you see the same as me?"
,
Satchmo
asked after a few seconds.
"Yes"
, I simply replied. Remarkably, I didn't feel angry and remained totally calm. I immediately assumed that there must be a technical problem with our Qantas A380 because we had seen both planes parked in normal positions during taxi. At the same time I started fearing that we would have to spend at least one night at Heathrow and therefore would miss our independently booked flight from Singapore to Kuala Lumpur.
Then we entered the terminal building and noticed that all Qantas check-in counters were closed. A British Airways employee approached us and asked if we were BA passengers booked on a Qantas flight. We denied and told him that we were Qantas passengers, but we took the chance to ask what happened. The man explained that Qantas had stopped operating due to strike action. We were surprised, but remained optimistic and assumed that such a strike would be limited to a few hours as it had been the case several times in the past months. Then the BA employee directed us to a group of Qantas agents who were handing out badly printed sheets of paper. We tried to talk to them to find out what exactly was going on, but they shook their heads and just referred to the hand-out.
"We don't know more about the situation."
No more explanations, no assistance - it was a shame that passengers were entirely left to themselves.
Here's what we got: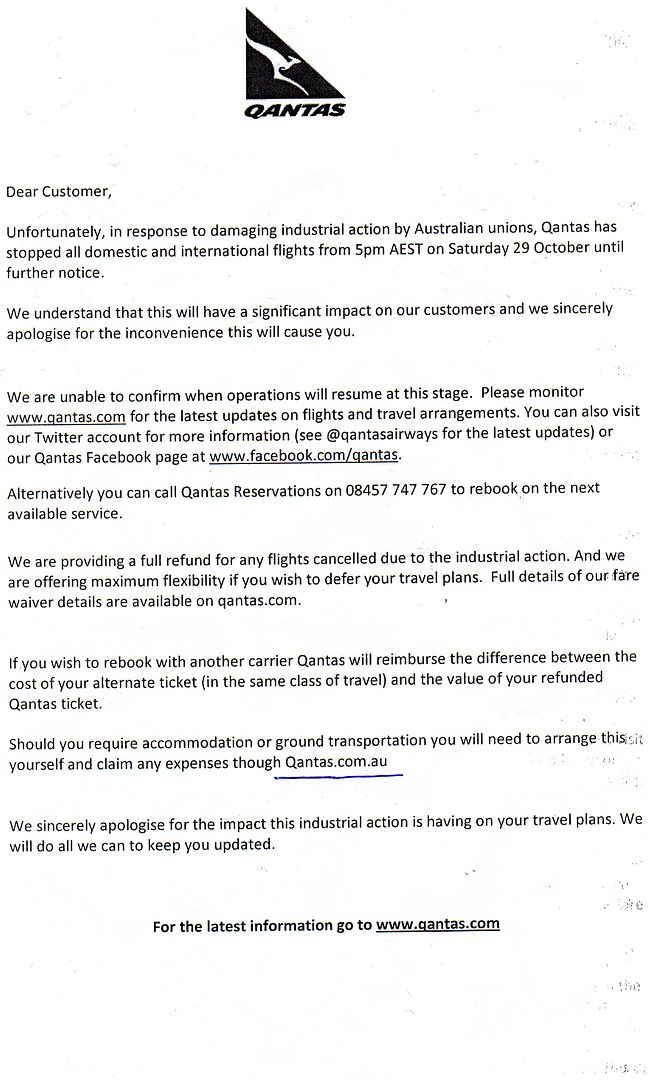 It was shocking to read that it was unknown when operations would be resumed. However, what caught our special attention was the remark that we could book a new flight and would get reimbursed afterwards - everything else on the sheet was totally useless. Then we went to a desk with Qantas staff in another corner of the hall and asked them to confirm the suggestion on the printout. They did so and we started thinking about possible flight options.
Satchmo
suggested to go straight to Singapore Airlines, but that's what many others had already done - there was a huge queue consisting of countless people in the SQ area. Apart from that, I had already flown on SQ's A380 and 77W.
While walking through the check-in hall, we passed a Turkish Airlines sign and I immediately said:
"Why not try Turkish?"
It was a carrier which both of us hadn't flown on yet.
Satchmo
wasn't as euphoric as me and suggested to try Etihad Airways first. Unlike
Satchmo
, I had already flown on Etihad (A330-200), but a trip on the carrier's A340-500/600 or A330-300 from Heathrow would have been acceptable. However, we soon found out that Etihad Airways was operating from Terminal 4 and we concluded that we would lose too much time by moving over there.
So we went to a Turkish Airlines ticket counter, shortly explained our awkward situation and asked:
"Can you fly us to Singapore today?"
A friendly young agent quickly checked the possible options.
"Of course!"
, he said and smiled. We were surprised to hear that the flight to Istanbul would already depart in about an hour - earlier than our Qantas flight would have left! However, the journey on Turkish Airlines would involve a transfer time of several hours and we would arrive in Singapore in the afternoon - more than seven hours later than originally planned. Anyway, it was still better than being stranded with all negative consequences. The agent also told us that we could leave Heathrow in the late afternoon, but the transfer time at Istanbul would shrink to about an hour.
"I wouldn't recommend that"
, he said.
Of course we were expecting that TK would charge an astronomical sum for such a one-way ticket, but we were positively surprised that it would cost "just" £792 (roughly €950) per person.
"What aircraft types are involved?"
, I asked.
"It's an A340 to Istanbul and an A330 to Singapore"
, the agent said which sounded really good to me. The agent asked if Qantas hadn't offered to rebook us and we denied, referring to the sheet of paper. He was really surprised about that:
"We would never do that!"
We finally agreed to buy the ticket, but then it suddenly sprang to mind that we didn't have our (through-checked) luggage! The agent told us to pick it up first and promised to hold our reservation for the time being. So we headed back to the Qantas desk where we had been before and explained our situation. The staff members told us that it would be impossible to get our luggage out of the storage area immediately. However, they said that Turkish Airlines should just enter our luggage tracking numbers into the system and the bags would be transferred. That didn't sound promising, but what would have been the alternative?
So we went back to the Turkish Airlines counter where another agent was on duty now. We shortly explained our situation and the agent confirmed that it wouldn't be a problem to get the luggage transferred to Turkish Airlines. Then we finally bought the new tickets and the agent told us to check in immediately. For the first time ever, we had paid a walk-up fare - and I guess the Turkish Airlines agents were happy about selling these full fare tickets at the last minute.
Saturday, 29 October 2011
London (LHR) - Istanbul (IST)
Turkish Airlines TK1980
Scheduled times: 11:25-17:15
Actual times: 11:41-17:51
Flight duration: 03:39 (hrs)
Distance: 1565 miles
Economy Class, seat 19K
Airbus A340-313X
TC-JDN (MSN 180), named "Adana"
Delivered in 08/1997
1st flight on TC-JDN
11th A340-300 flight
16th A340 flight
124th airline
We must have been among the last passengers to check in for flight TK1980, no other people were present in that area. The friendly agents quickly issued our boarding passes and I was surprised that we still got a two-seater (window and aisle) on the A340 to Istanbul. Unfortunately, a center seat and an aisle seat had been assigned to us on the A330 to Singapore, but we were confident to get that problem solved at Istanbul.
The check-in agents looked a bit confused at first when we showed them our British Airways luggage tags. They entered the numbers into the system, but told us to contact the dispatcher at the gate to ensure that the bags make it onto the plane.
We had no time to lose and immediately headed to security. However, numerous checkpoints were staffed, so we could pass relatively quickly. The gate was totally crowded, but we didn't want to sit down anyway and kept standing near the service desk, awaiting the arrival of the dispatcher.
A340-313X
TC-JDN
, delivered in August 1997, was being prepared for flight TK1980: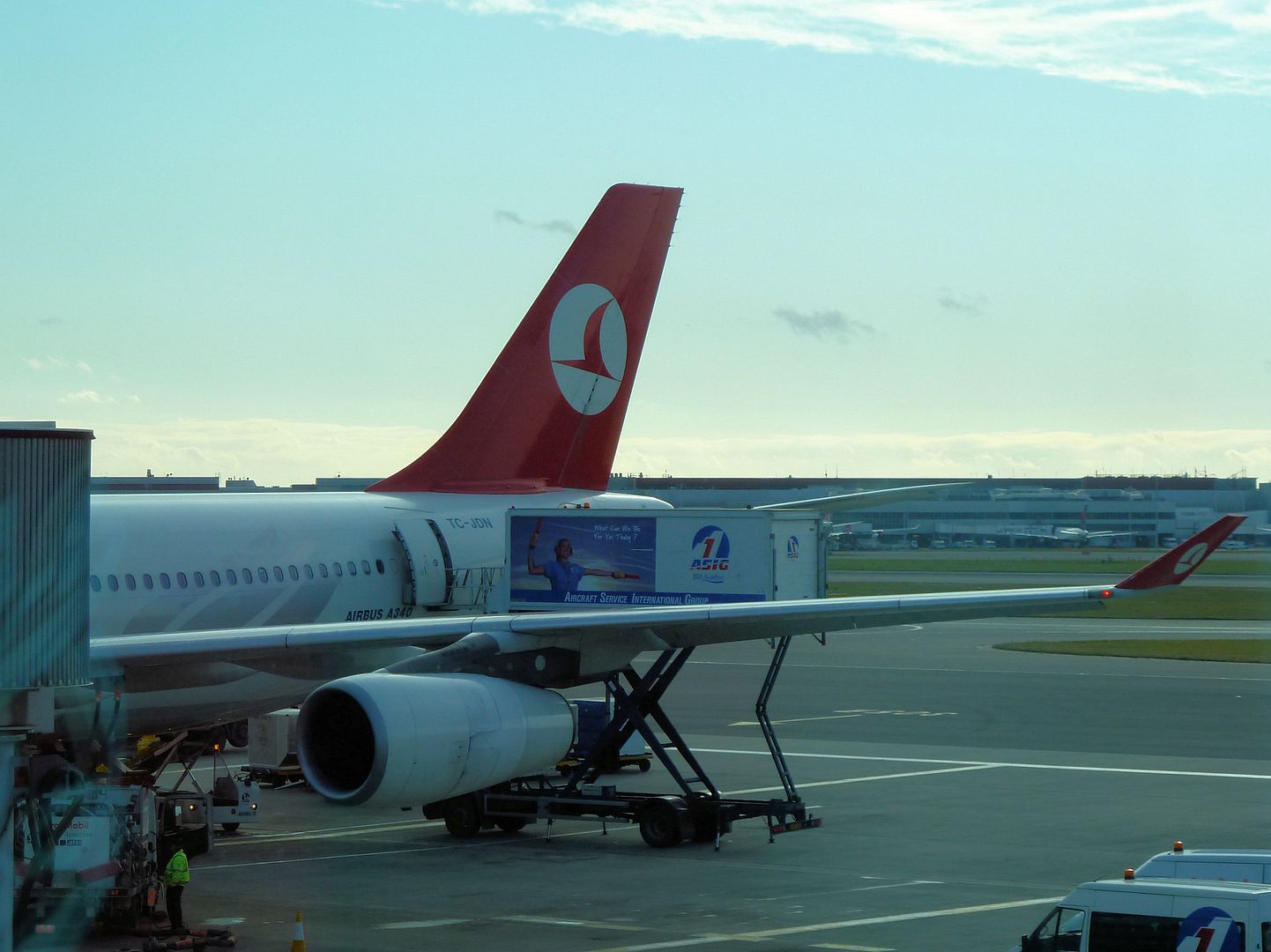 "Adana"
is one of eight active A340-300s in the fleet: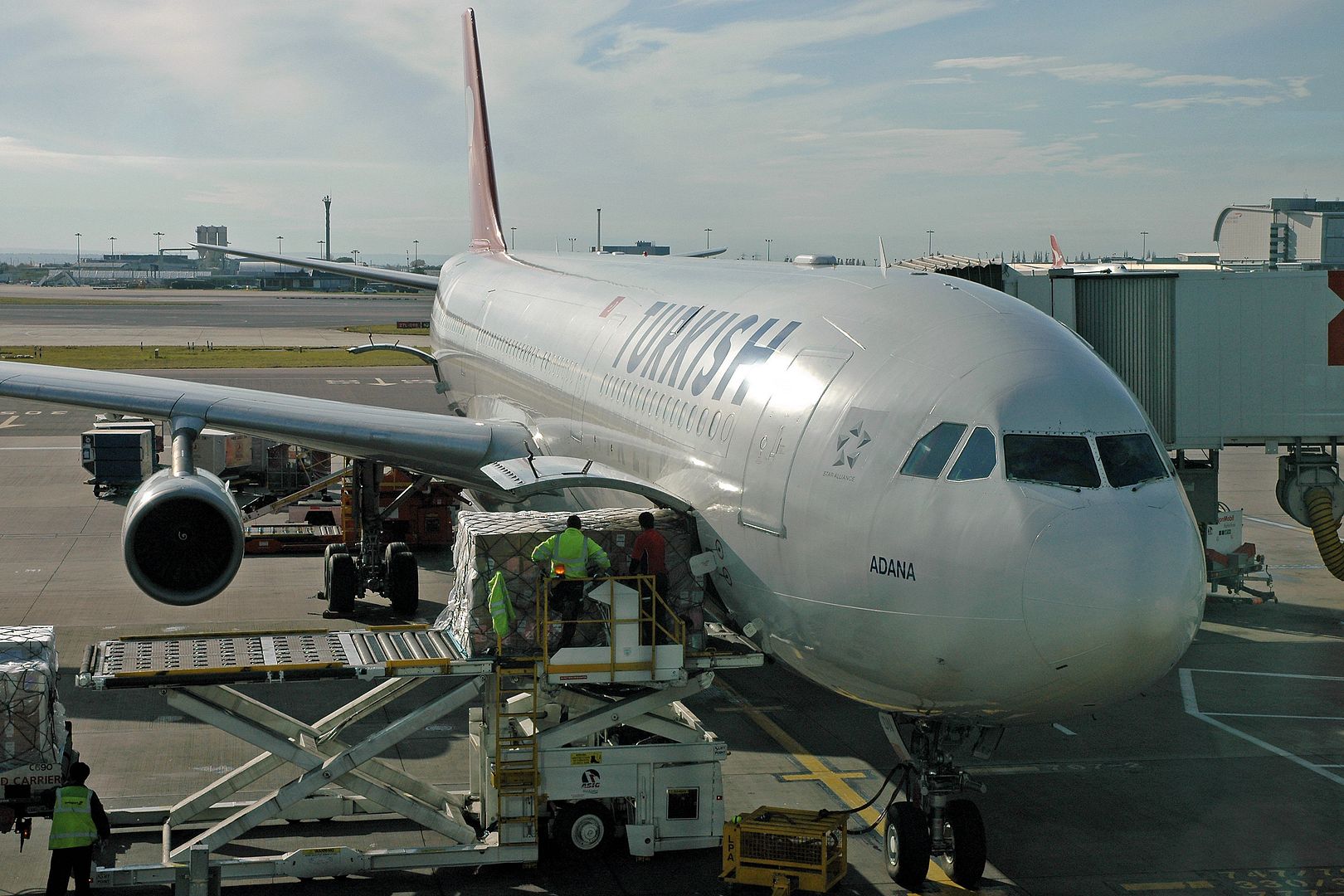 Picture by Satchmo
TK1980 also operated as UA7778: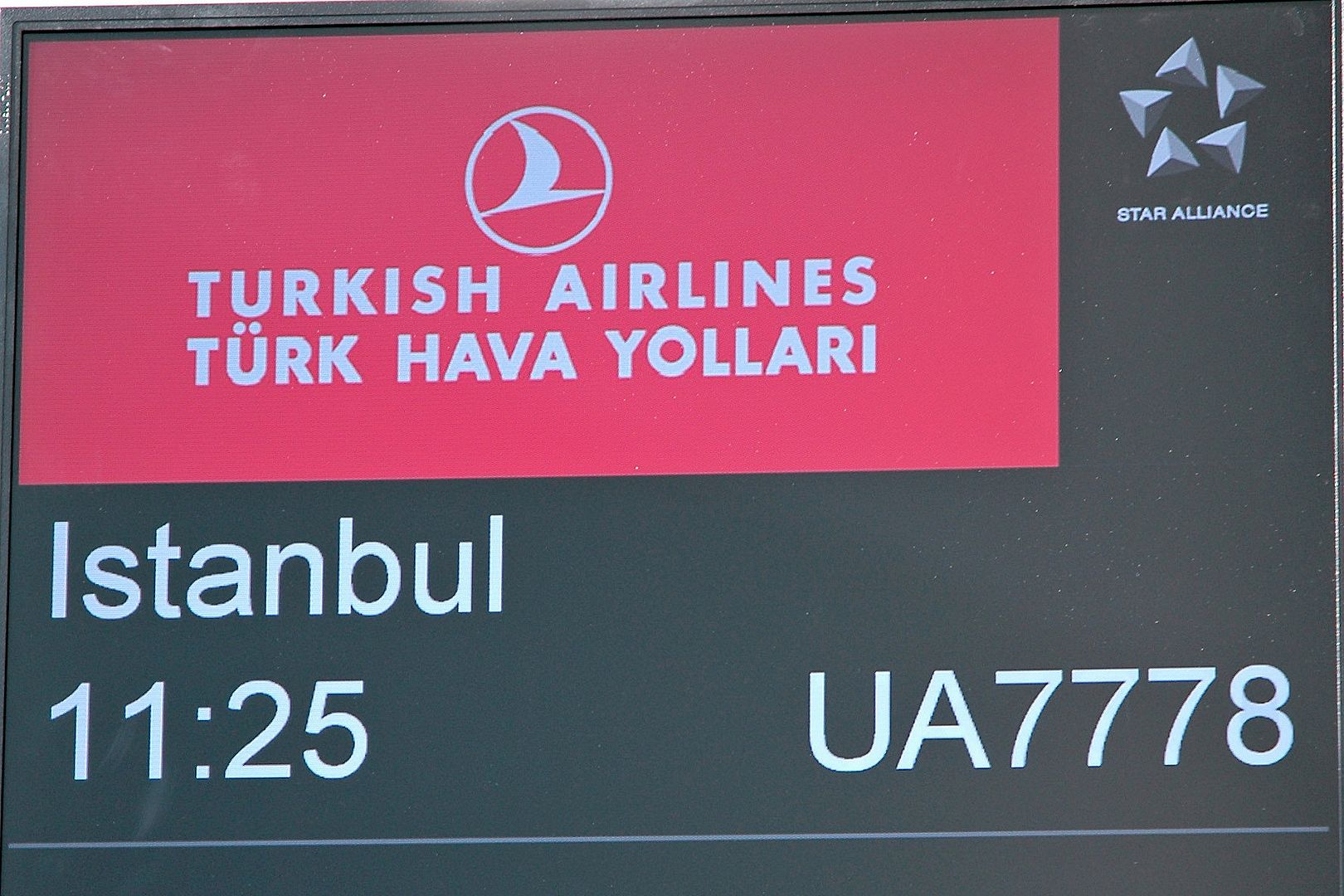 Picture by Satchmo
The dispatcher - who turned out to be the nice guy from the sales desk - finally showed up and explained that our bags wouldn't fly to Istanbul with us on the same plane.
"It's not enough time to get them"
, he said and added that the bags would be loaded onto one of the next flights to Istanbul. I wanted to know more about the procedure and the dispatcher explained that British Airways ground handlers would have to deliver the bags to Turkish Airlines due to an entry in the "worldwide system". Well, that didn't make me overly optimistic.
Business Class passengers and Star Alliance Gold members were invited to board first, but numerous Economy Class passengers were either trying to get on board immediately or blocking the way. The situation only improved after a second announcement and interference by the gate agents.
Friendly flight attendants provided a nice welcome when we finally stepped on board. The plane was equipped with modern and comfortable seats: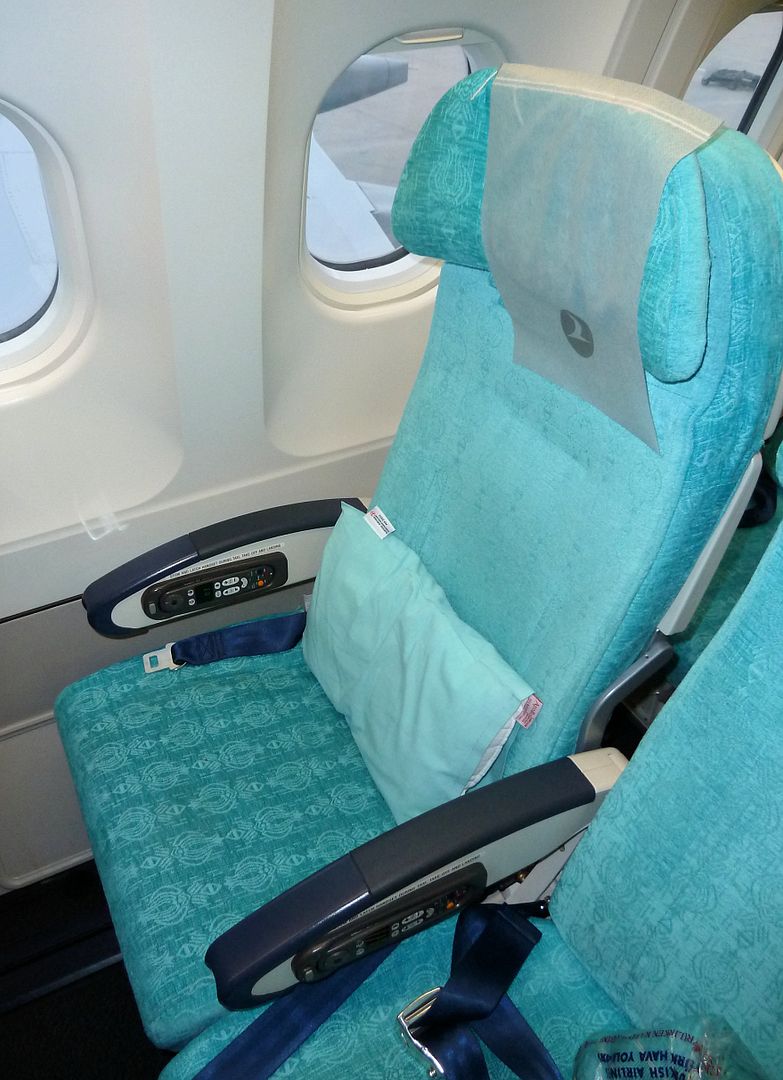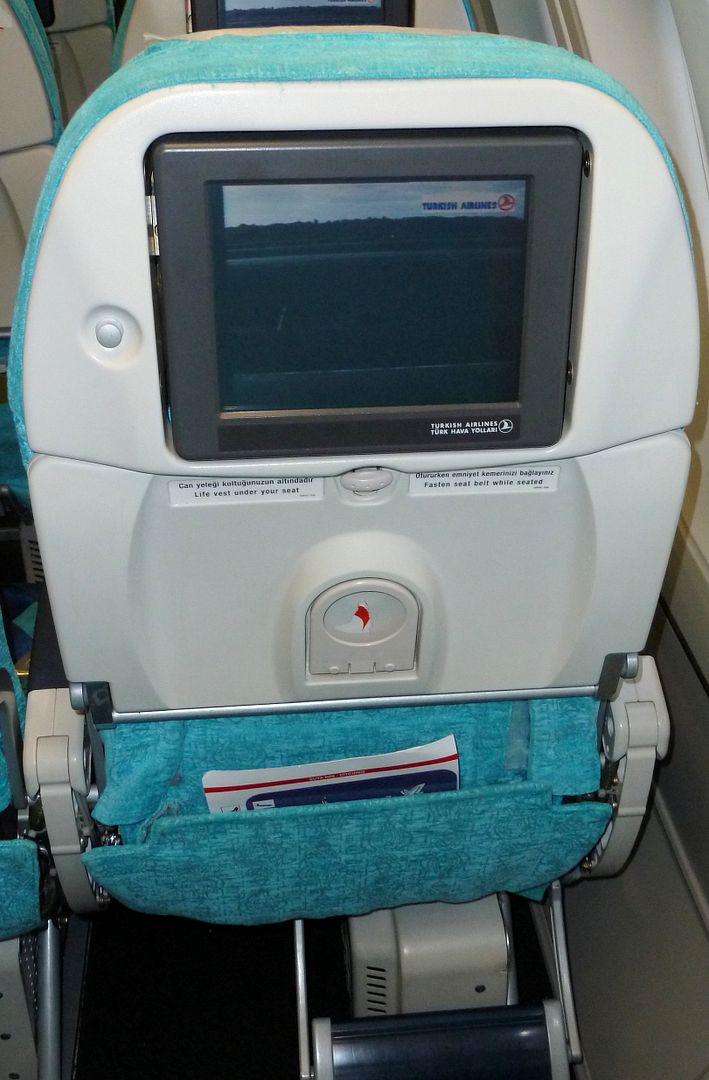 Legroom was sufficient despite the presence of a legrest and a large IFE box: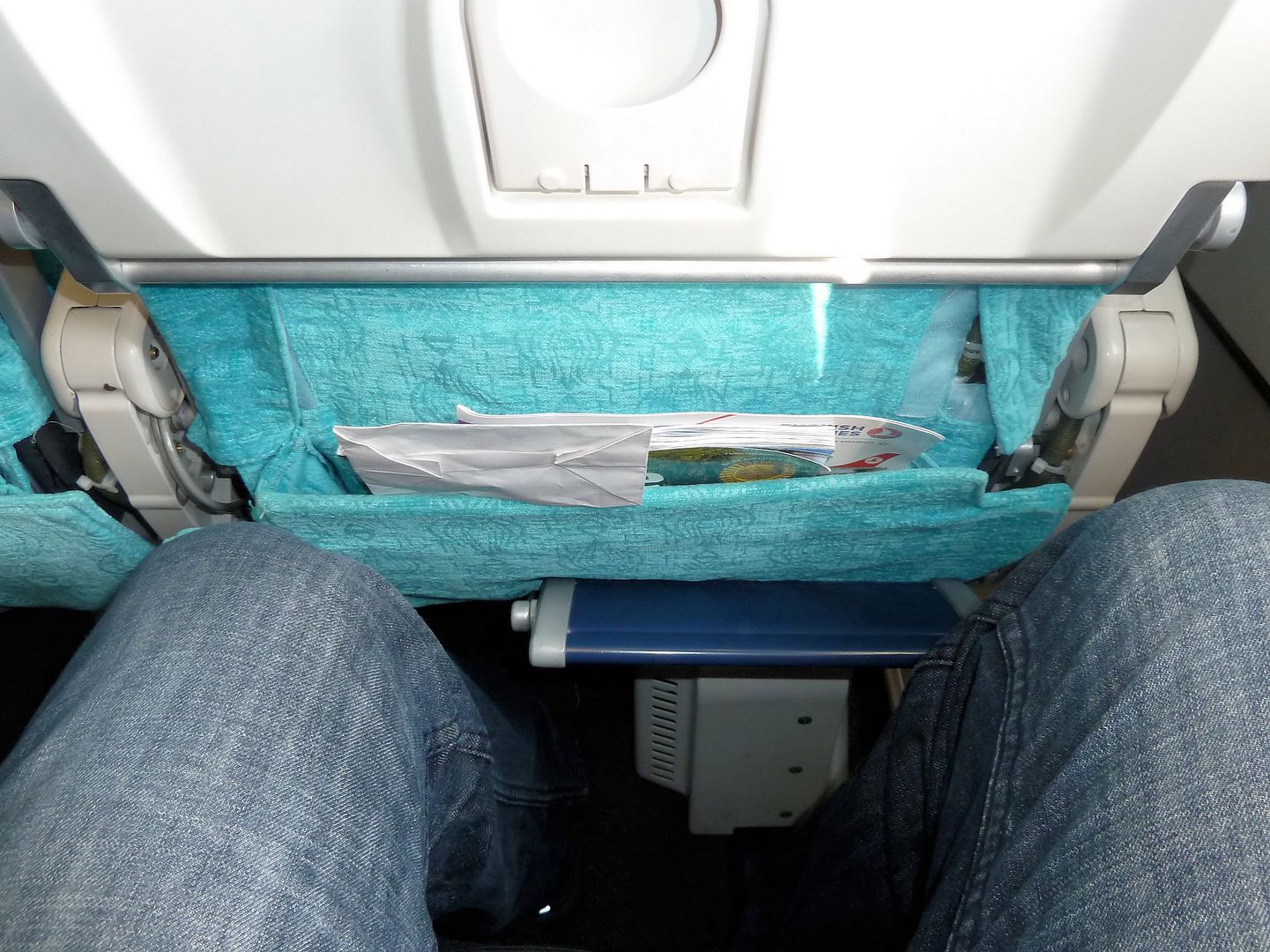 Old-style handset - but it was working well: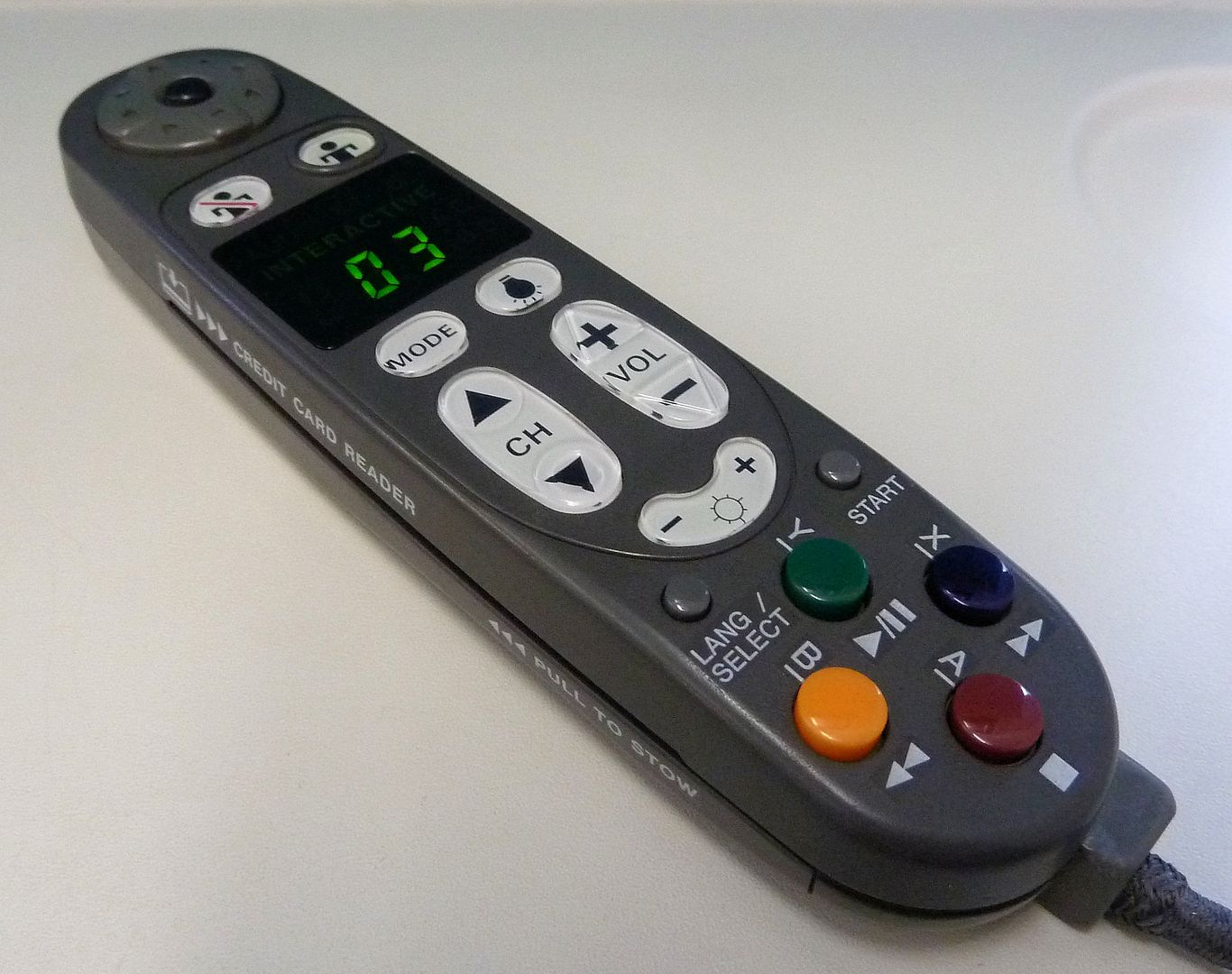 Headphones: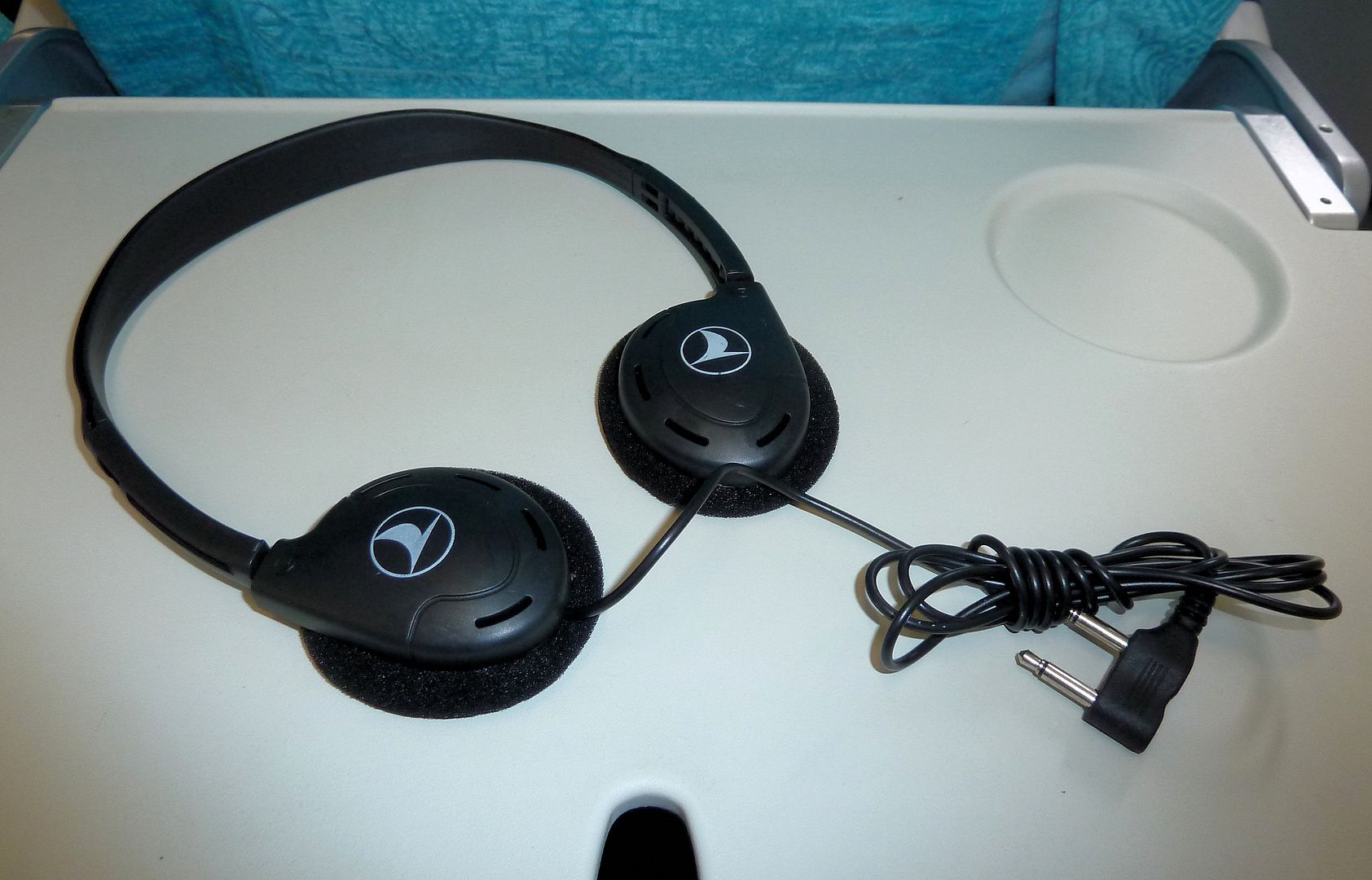 The flights attendants passed through the aisles with trolleys and offered English and Turkish newspapers, but I didn't take one. Safety card and inflight magazine (which also contains an IFE guide):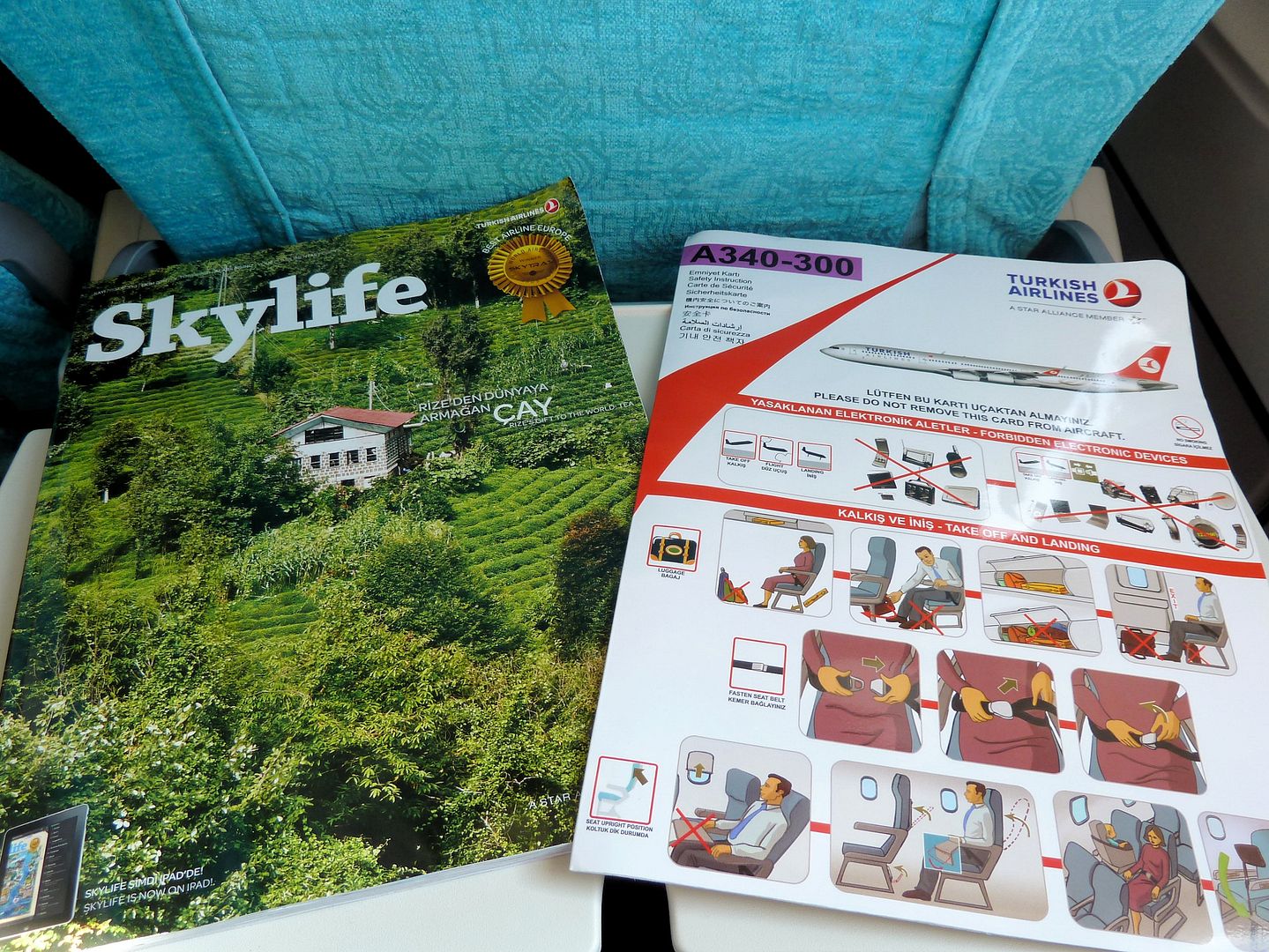 That's what enthusiasts really appreciate - but I found some minor mistakes, as usual: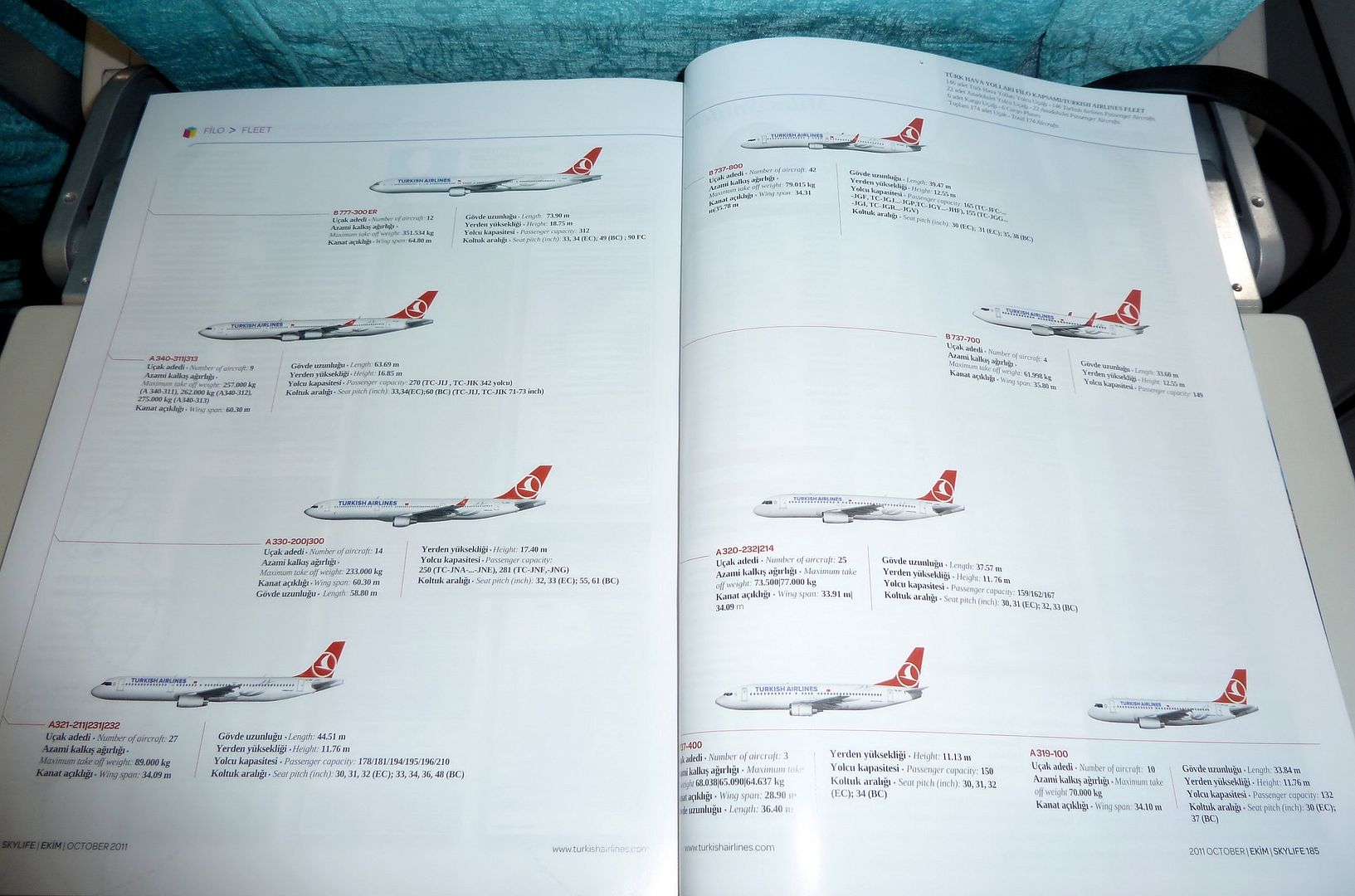 According to its inflight magazine, the carrier has introduced an advanced 727 model - amazing, isn't it?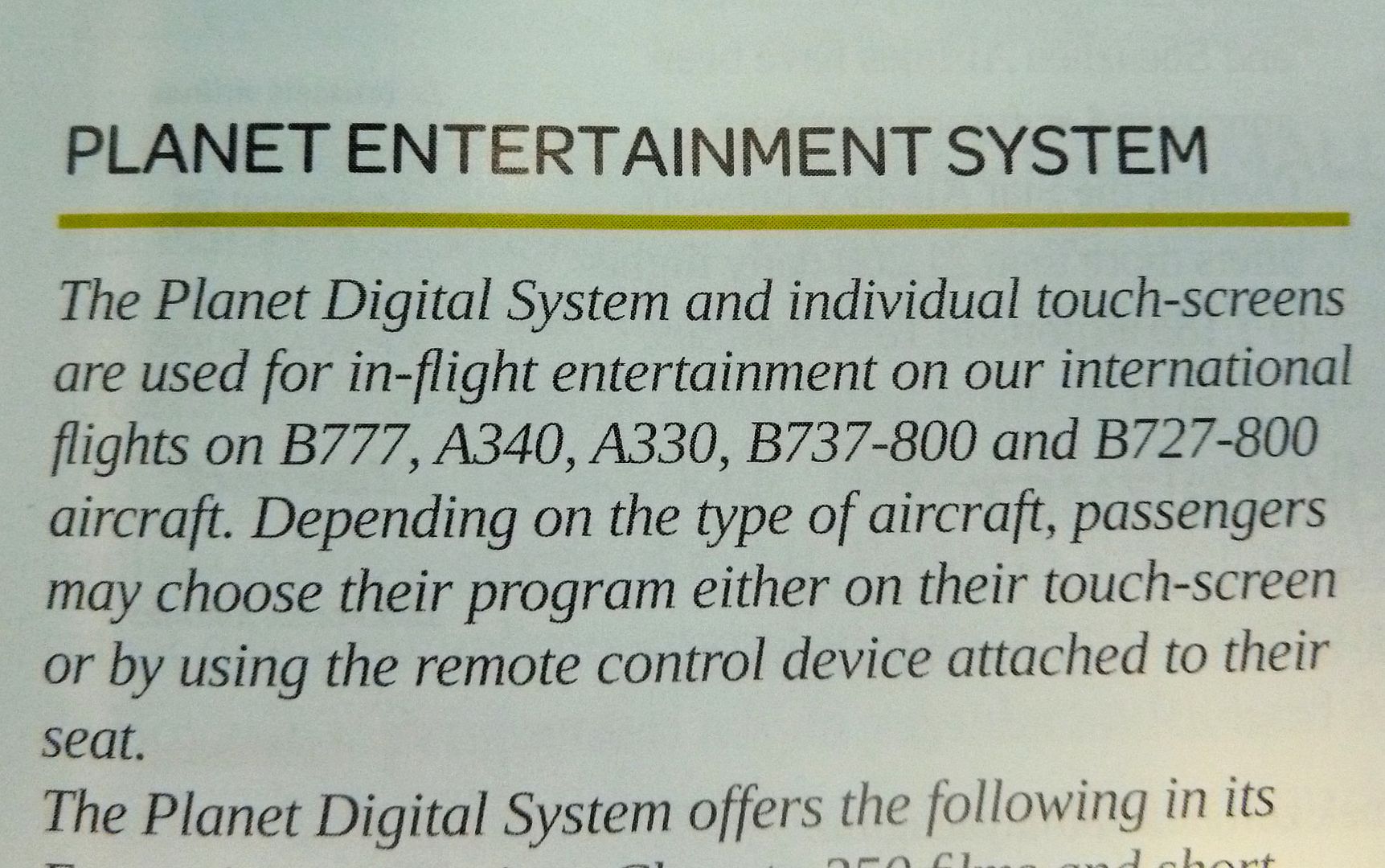 What's meant is the 737-900ER, of course. The information was correct in the Turkish text, by the way.
Singapore Airlines A380 9V-SKE left the gate a bit earlier than us - it would be interesting to know how many Qantas passengers secured a seat on that bird: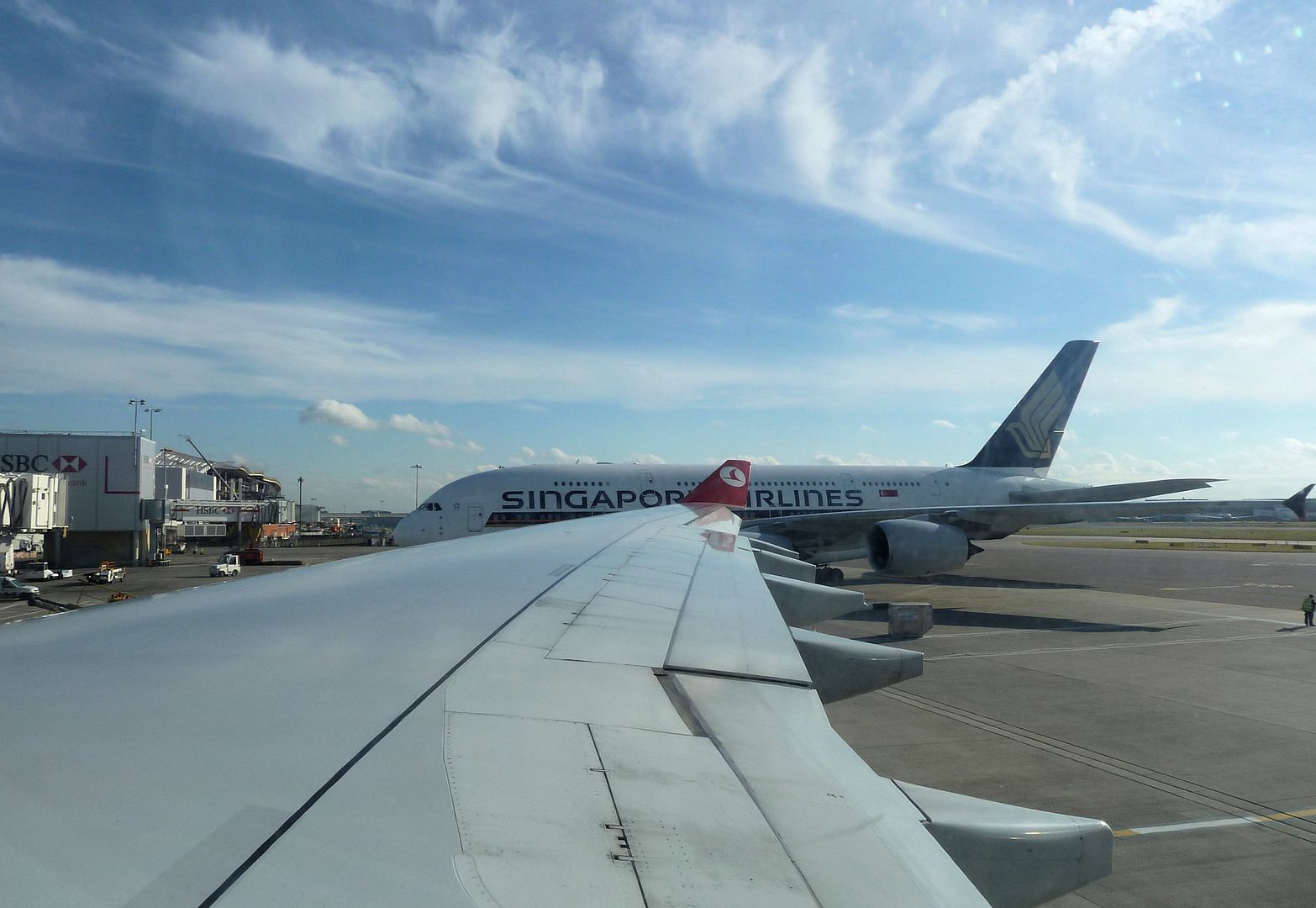 We were pushed back 16 minutes behind schedule and soon met 9V-SKE again: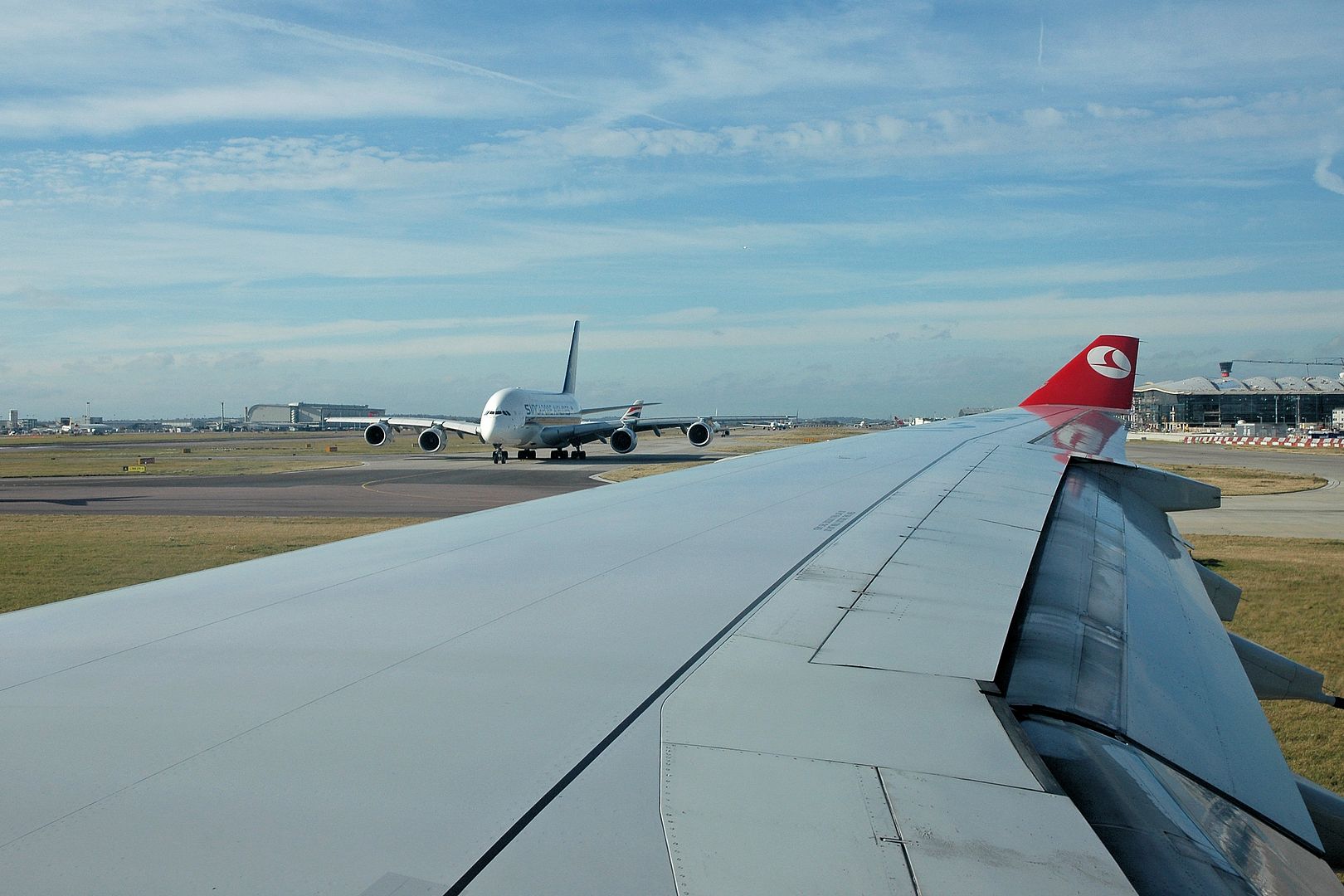 Picture by Satchmo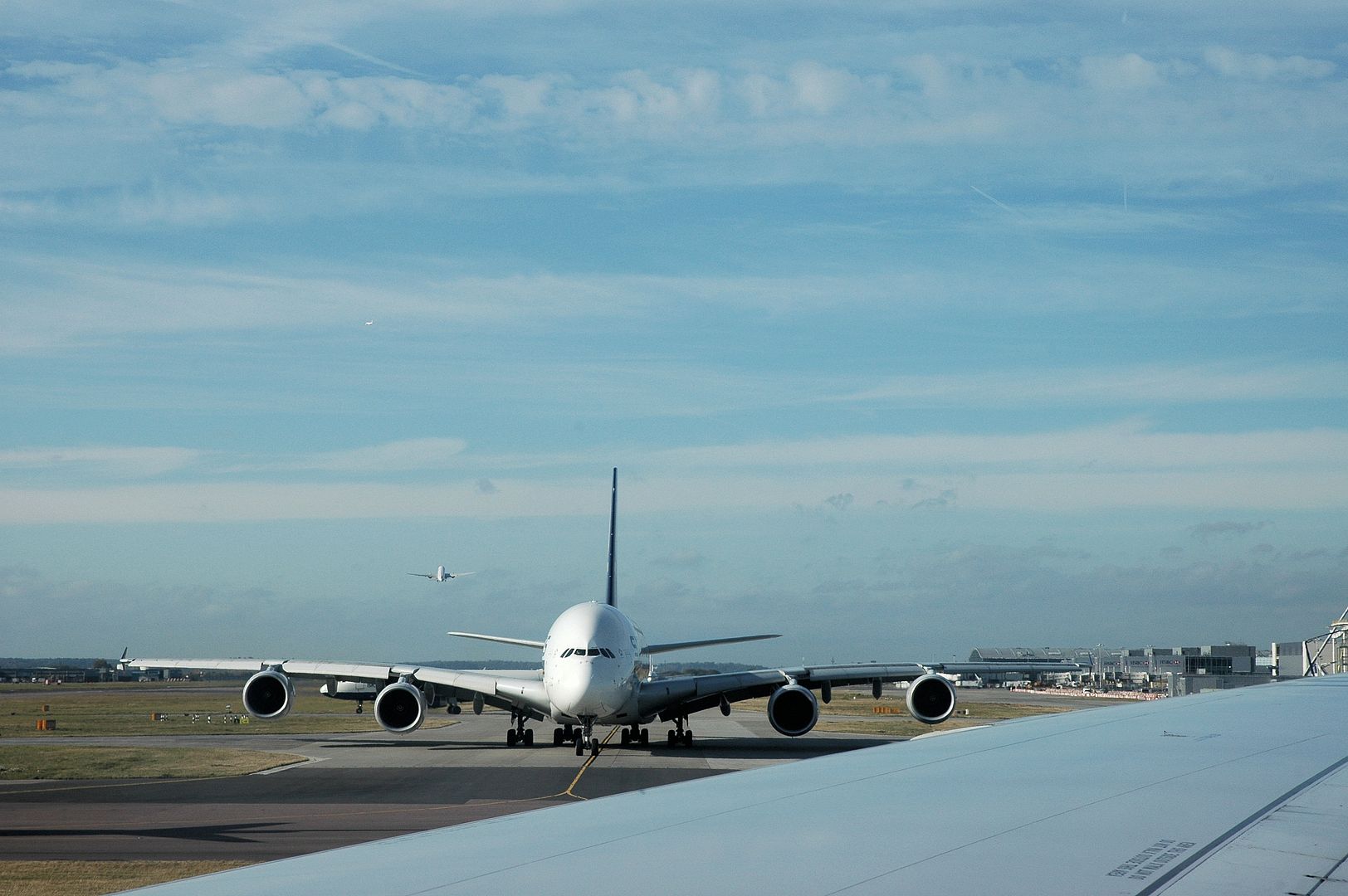 Picture by Satchmo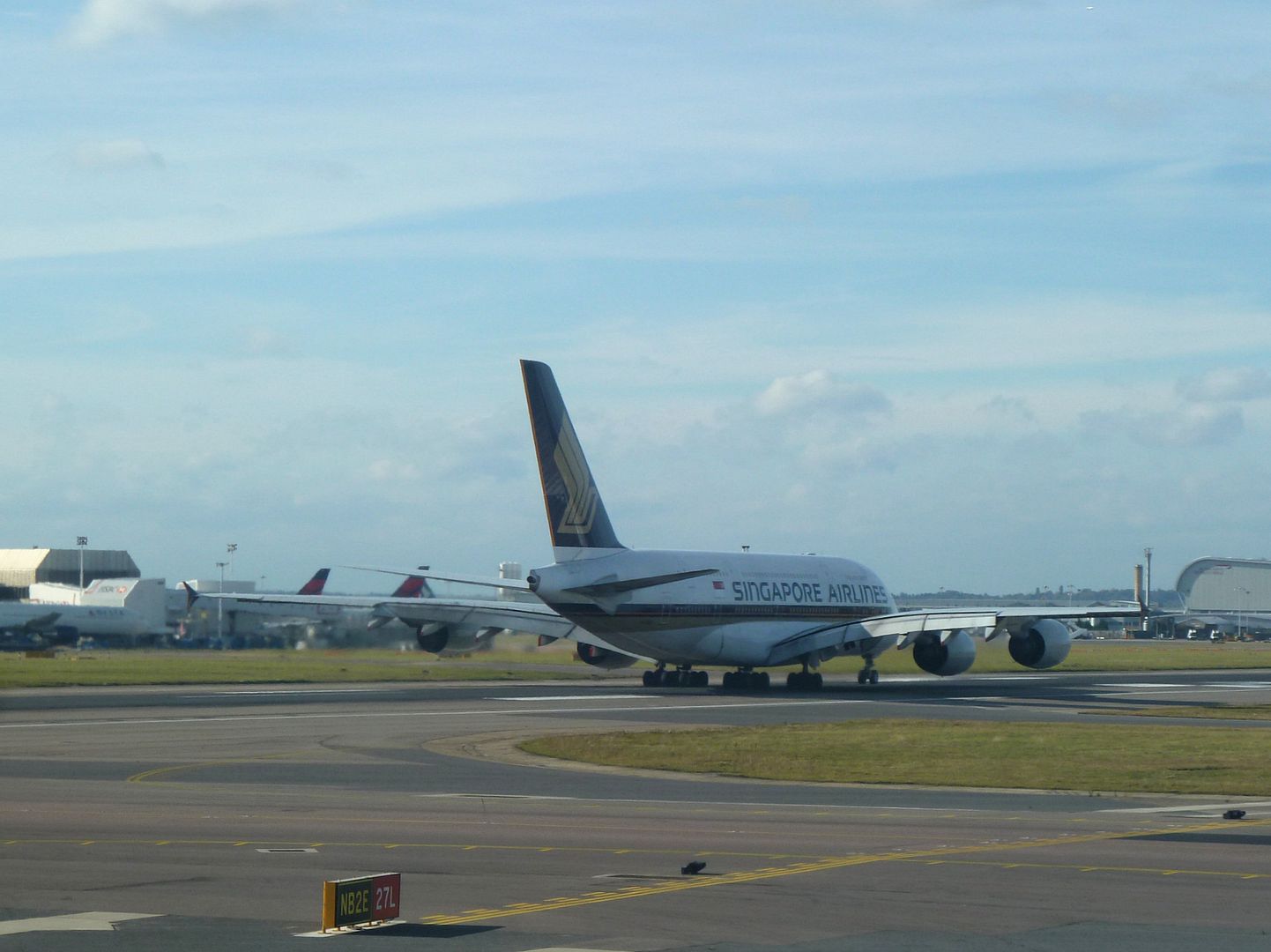 One of several grounded Qantas planes in the background: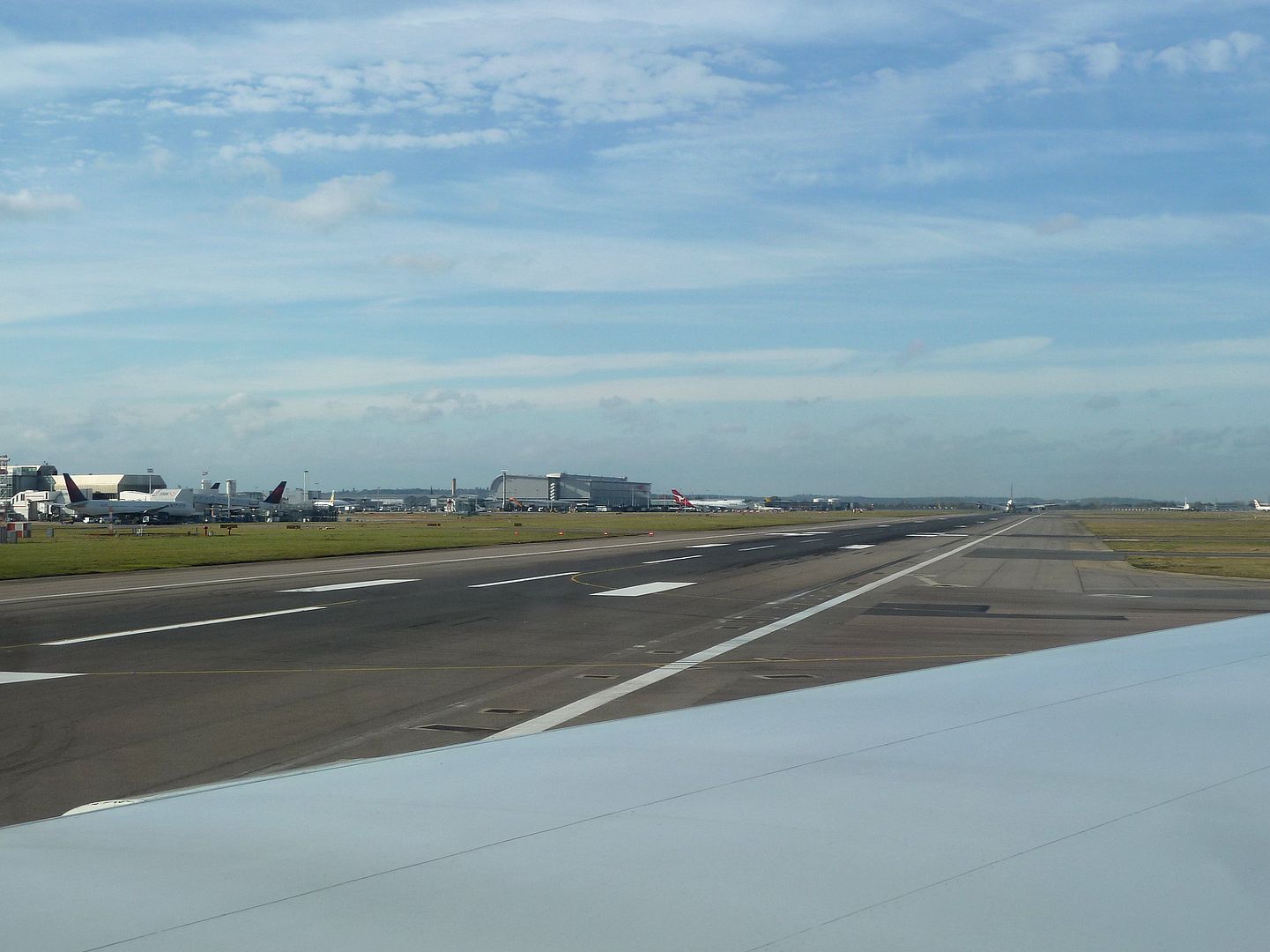 Typical LHR lineup: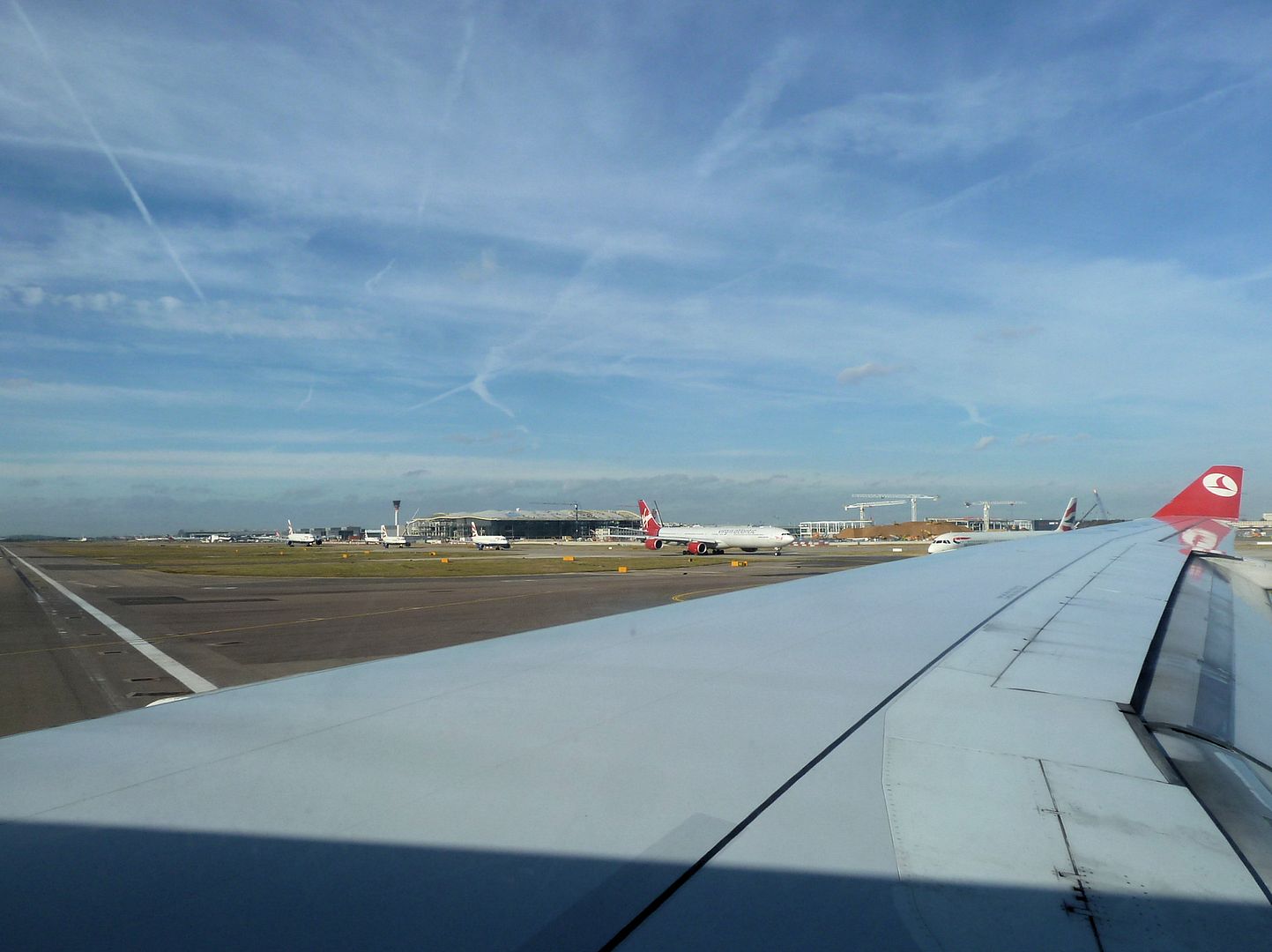 Airshow data shortly before takeoff: 2509 km in less than a minute - Star Trek technology?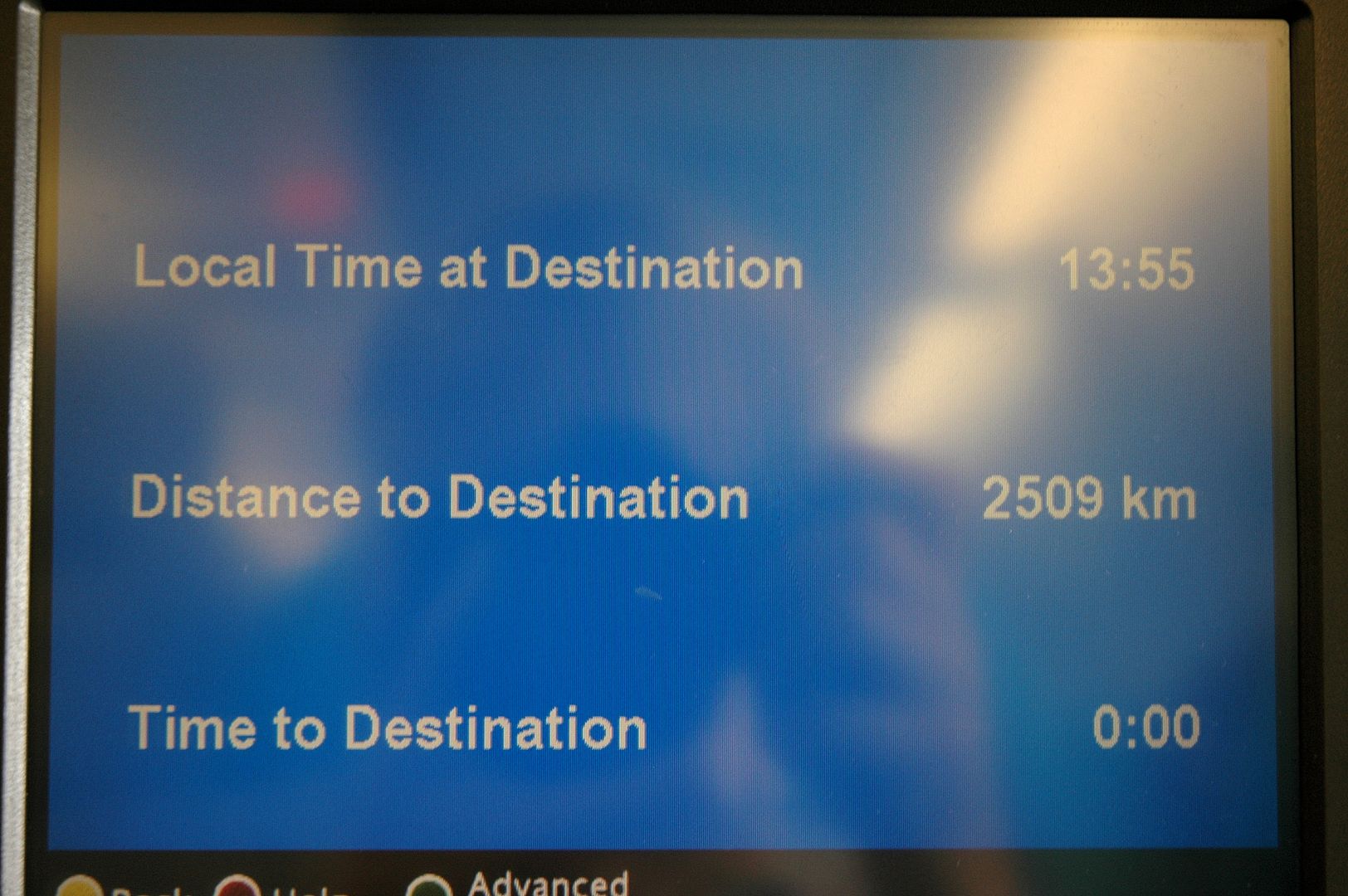 Picture by Satchmo
This IFE feature is much better:
TC-JDN
lifted off gently after a typical A340 (classic) takeoff roll. Ah, there are the two grounded Qantas giants:
British Airways everywhere: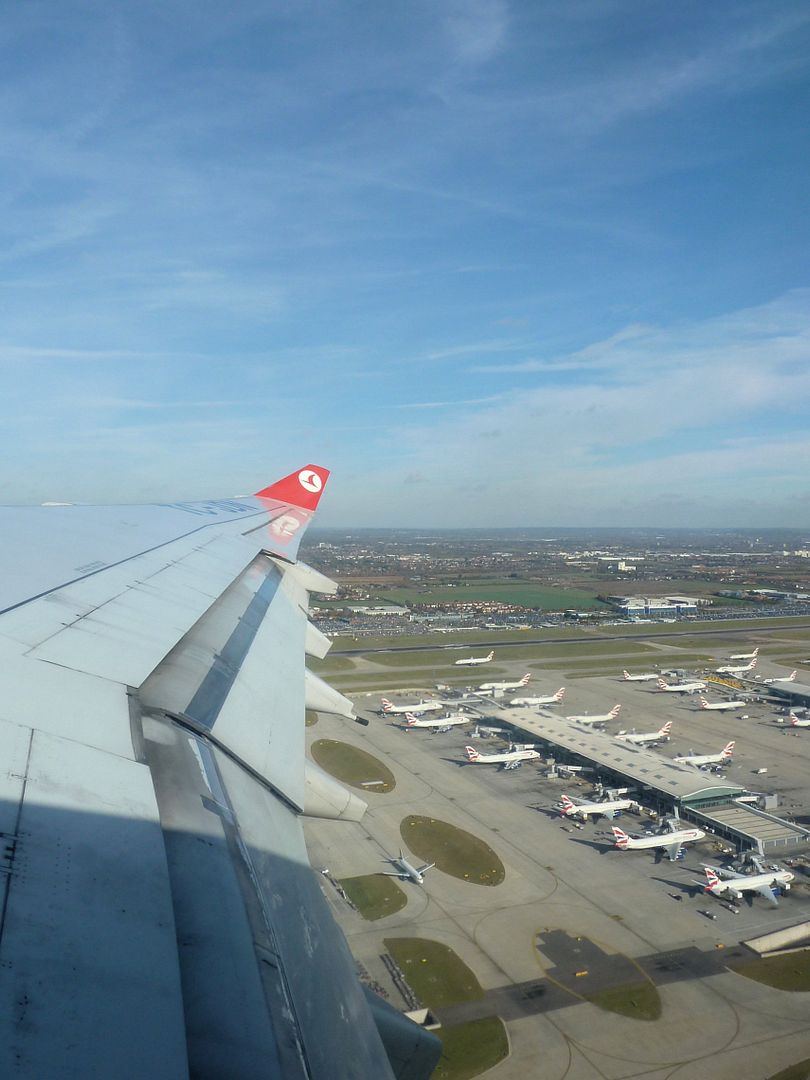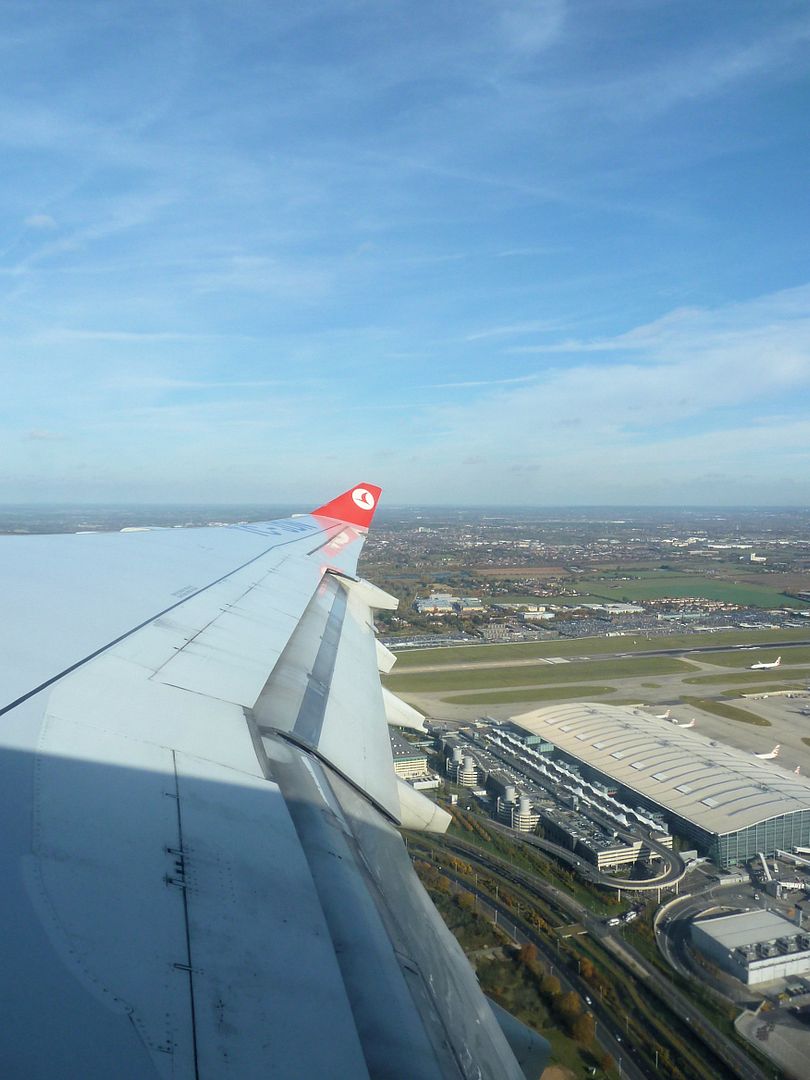 Now it was time to explore the
Planet
entertainment system. Main menu: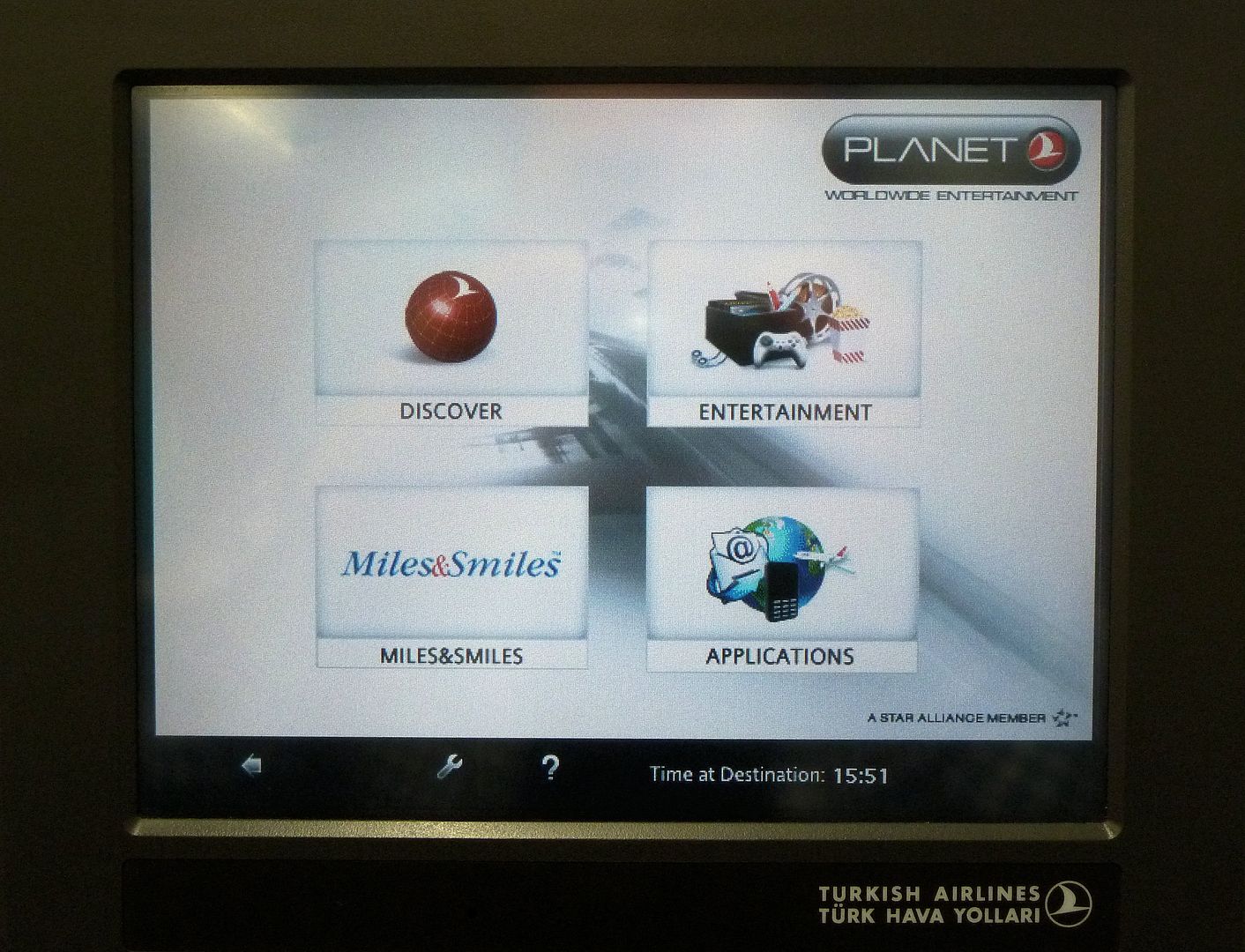 The audio/video on-demand system offers a choice between up to 350 films and short programs, a children's channel, an audio book channel, a news channel, an airshow channel, 20 games and some 600 music CDs. Numerous features inform about the company, its fleet and destinations. Additionally, you can watch takeoff and landing on two cameras. Inflight connectivity enables passengers to send and receive text messages and e-mails. Even more options are available on the A330-300s and the 777-300ERs.
The weather forecasts on the news channel were totally outdated, but other news were updated every hour. Here's an article about a turbulent showdown between Qantas staff and management before the grounding: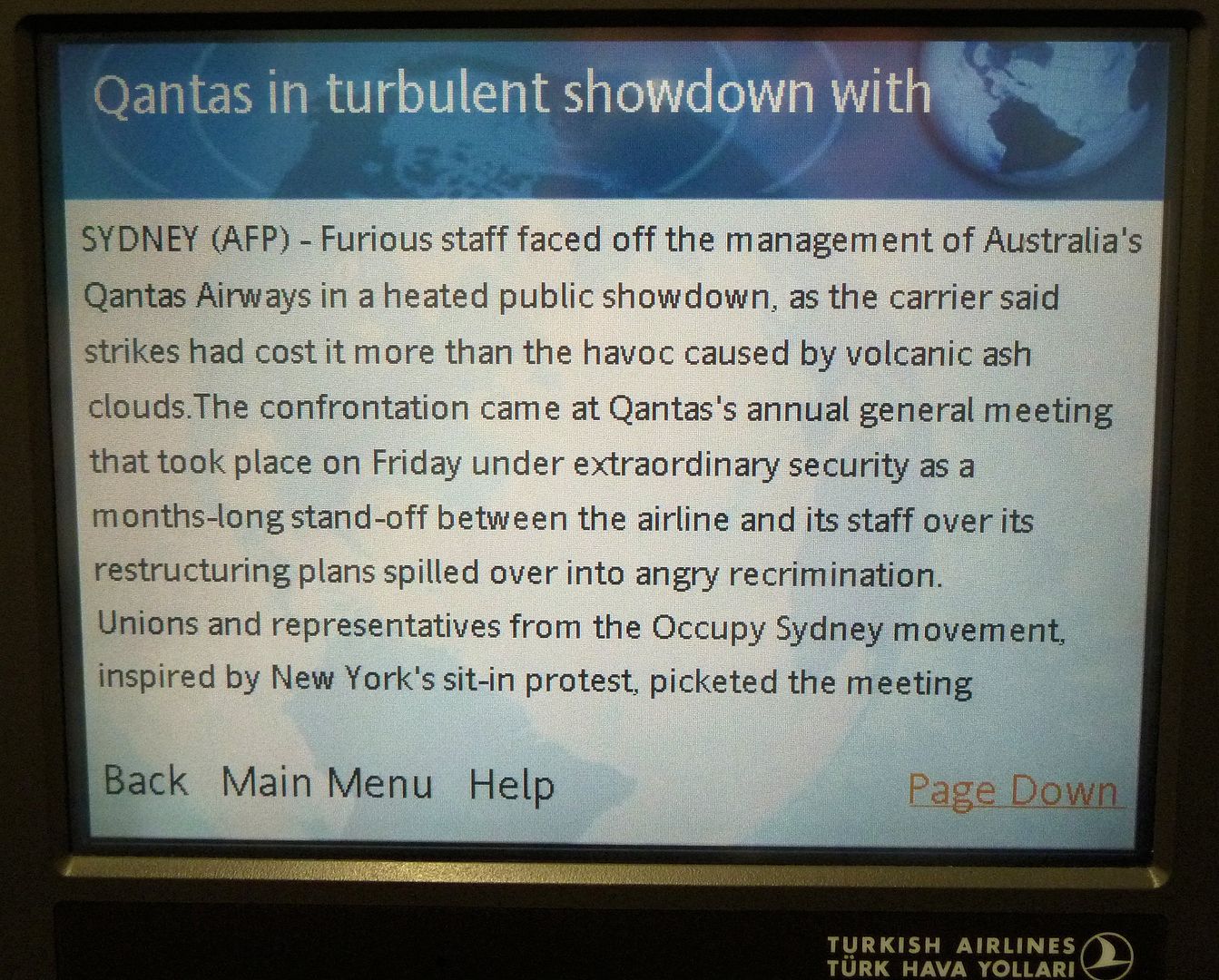 Of course I watched the airshow channel most of the time. We were cruising not very far from my hometown when I took this picture: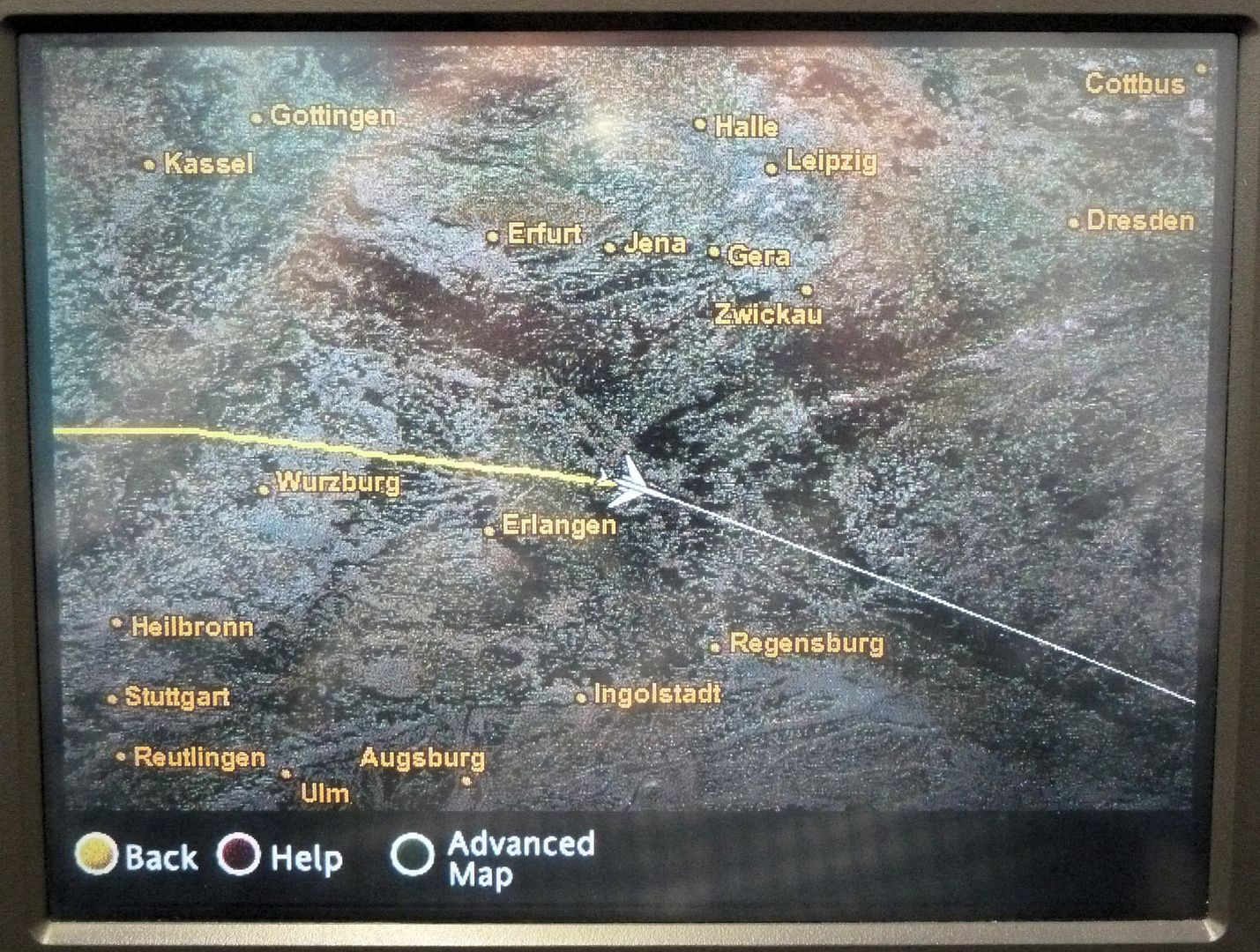 Drinks were offered for the first time almost an hour after takeoff which was too late in my opinion. Directly afterwards, lunch was served. Unlike most other carriers, Turkish Airlines distributes menu cards on intra-European flights: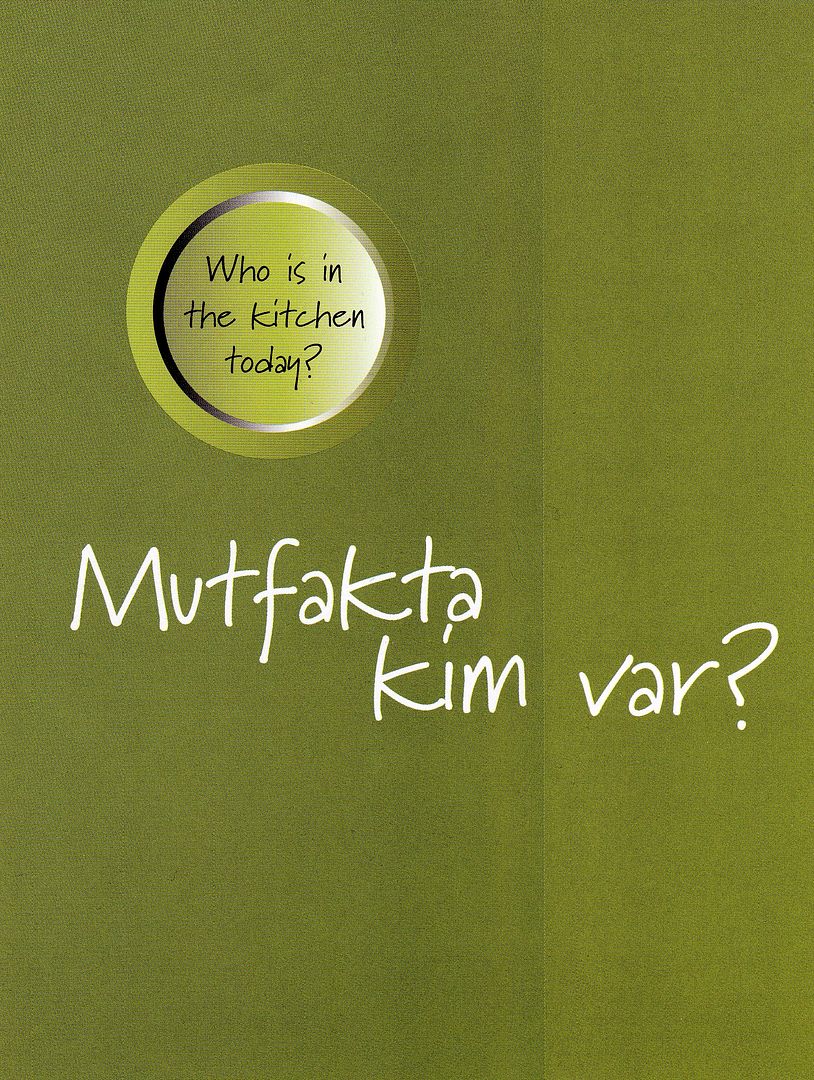 Famous caterer
DO&CO
calls itself
"The Gourmet Entertainment Company"
- and the options on the card sounded indeed very promising: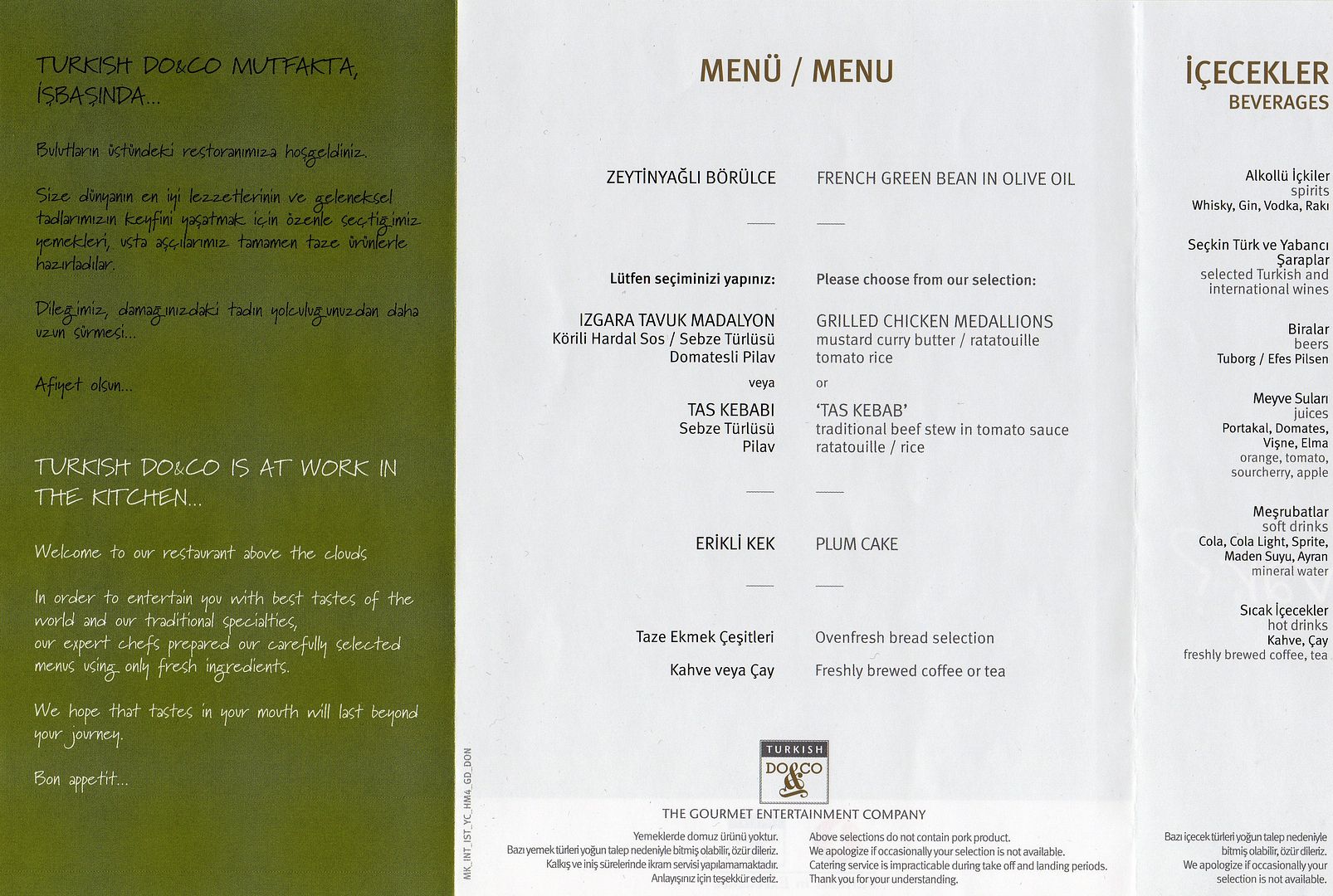 I ordered the chicken medallions and got a great looking tray - the box on the right contained butter, cream cheese and crackers: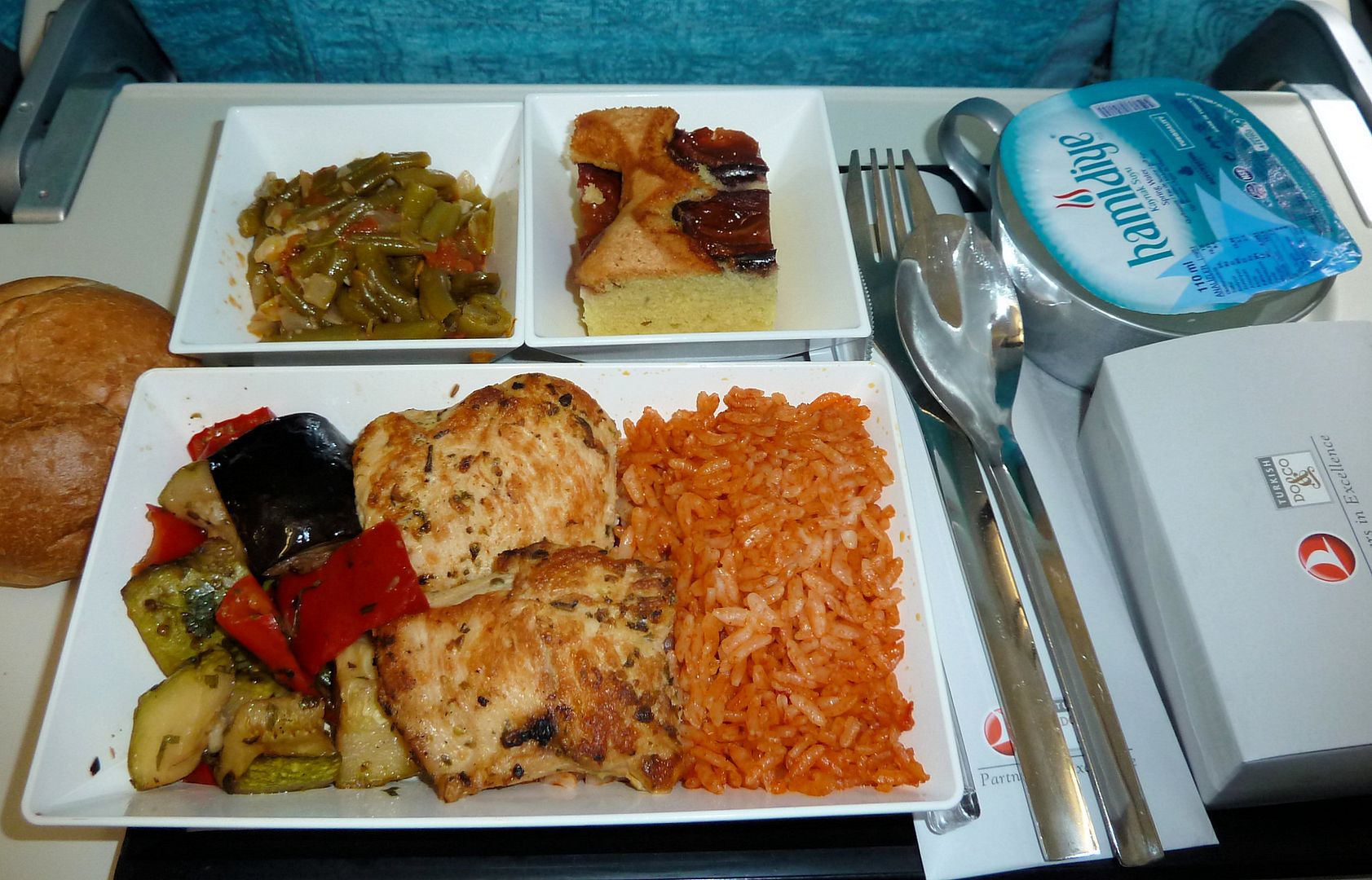 Even though I didn't like the beans in olive oil, everything else tasted very good. Unfortunately, the chicken was too dry. Anyway, it was an impressive meal.
Satchmo
ordered the kebab and had no reason to complain:
Picture by Satchmo
Coffee and tea were offered after lunch, but when a flight attendant was about to serve us, she ran out of supply. She returned some minutes later, but left us out. We stopped her some time later when she was passing again and told her about that. She immediately apologized and finally served us tea. Unfortunately, lemons weren't available any more now.
Only few seats had remained empty in Economy Class: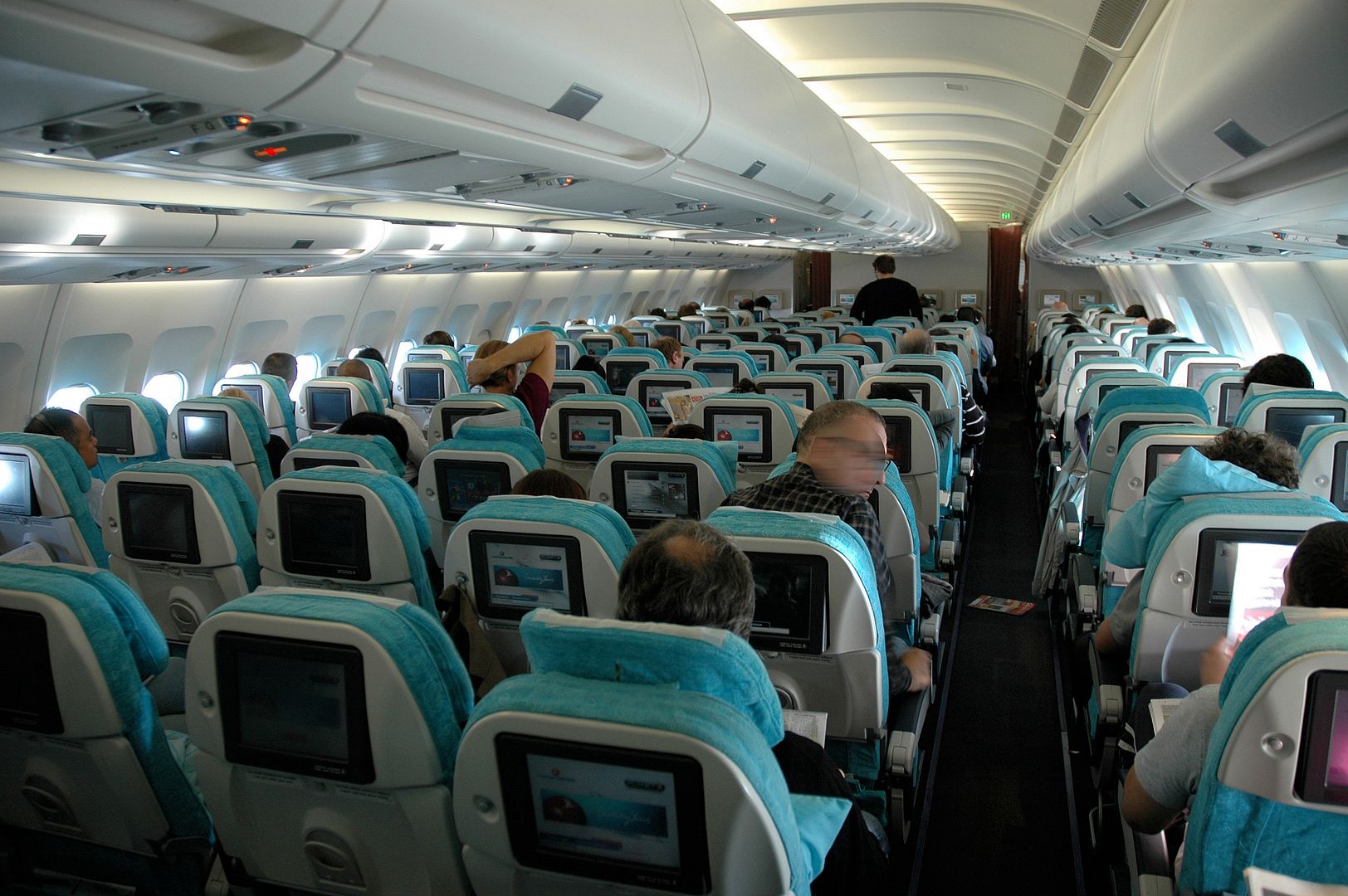 Picture by Satchmo
The plane's interior was in good condition and the cabin had been cleaned well before departure, but later in the flight I discovered paper towels lying on the floor in front of a rear lavatory. Probably the crew members simply hadn't noticed that yet.
More than an hour before landing, the flight attendants served more drinks and tasty nuts: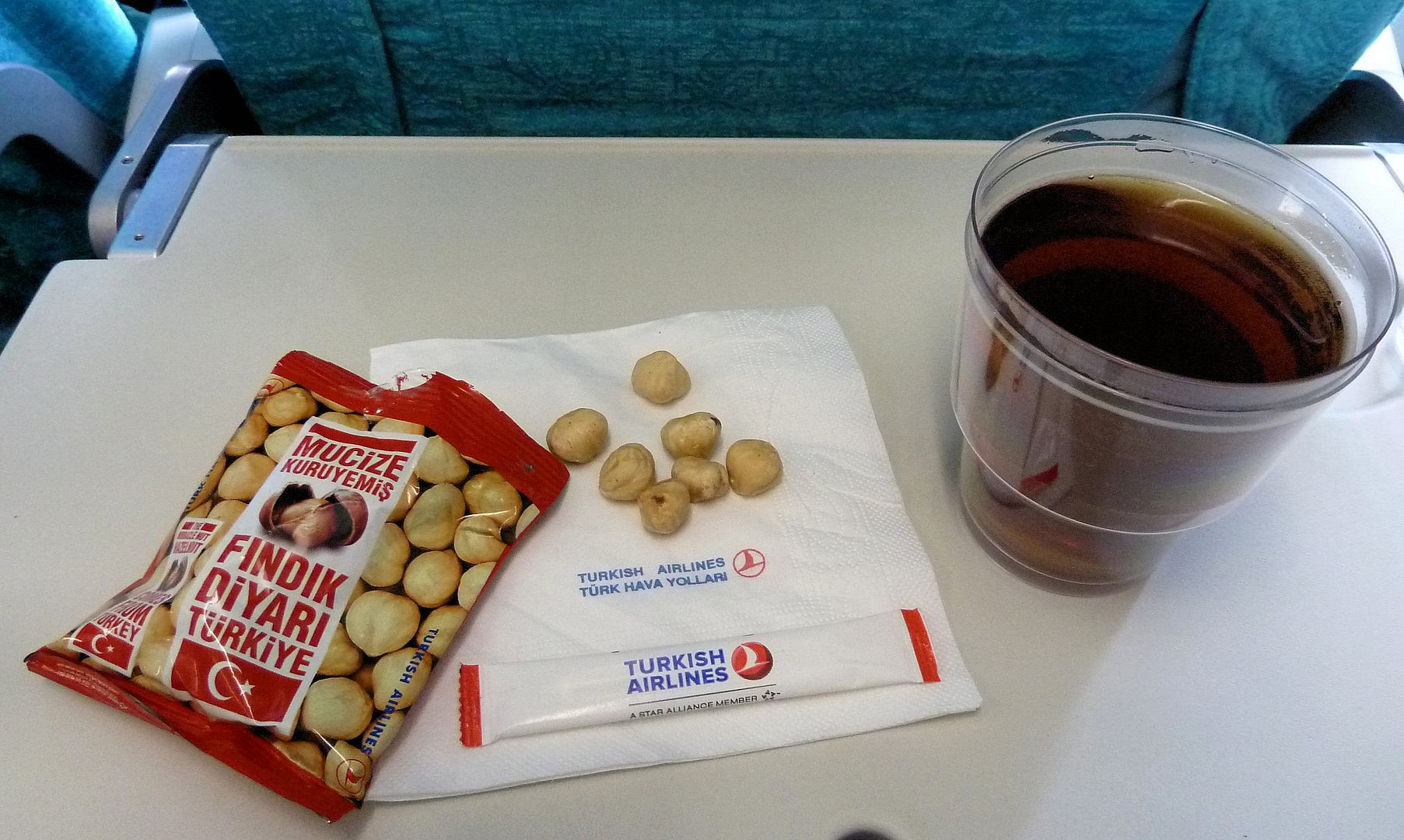 By the way, Turkish Airlines didn't pass the
"PlaneHunter Ginger Ale Test"
- that drink was neither available on this flight nor on the longer one.
Blue sky, dense clouds and a nice reflection...
...well, "double reflection", to be precise: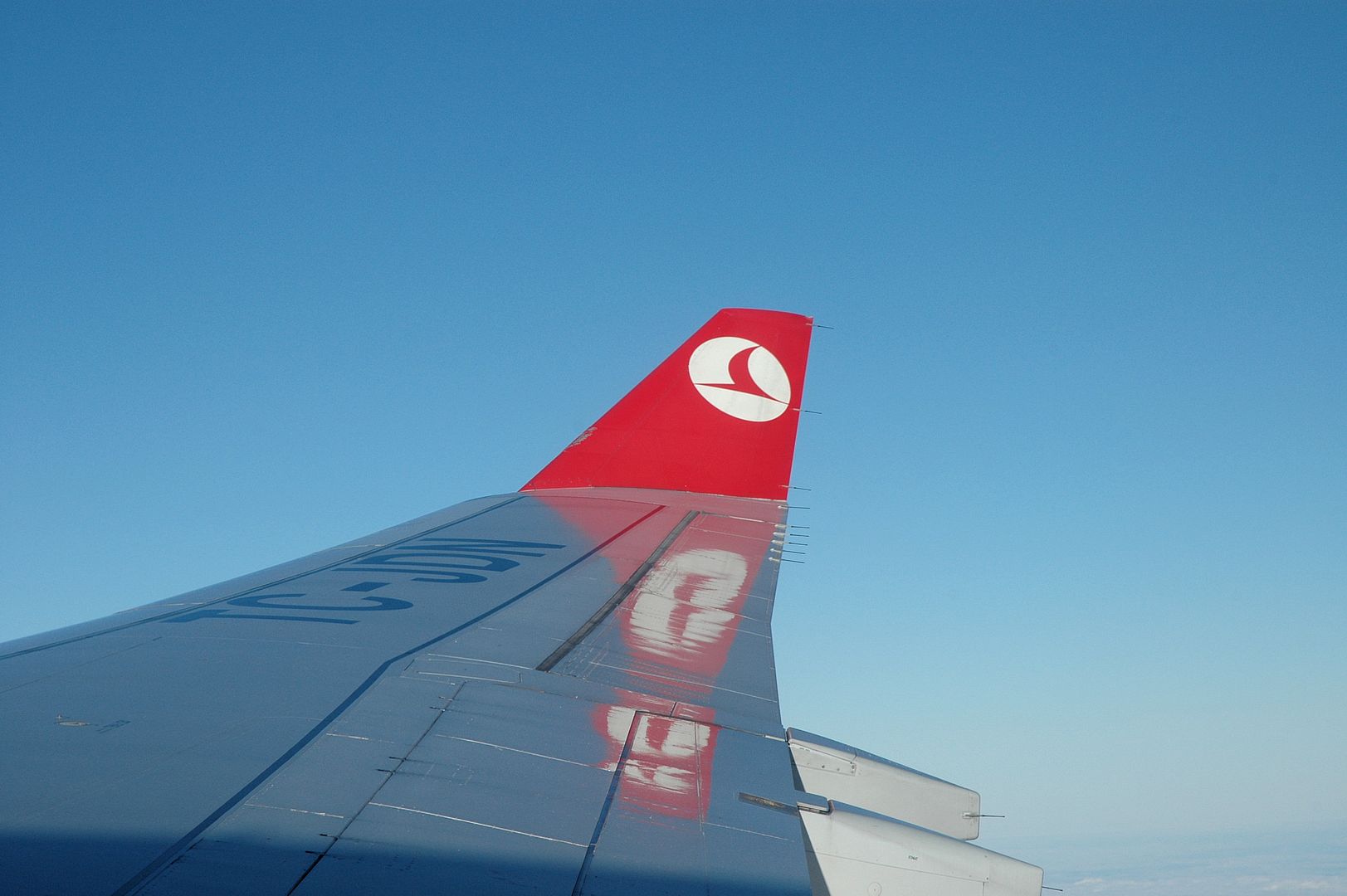 Picture by Satchmo
After we had started descending, we had to circle for a while...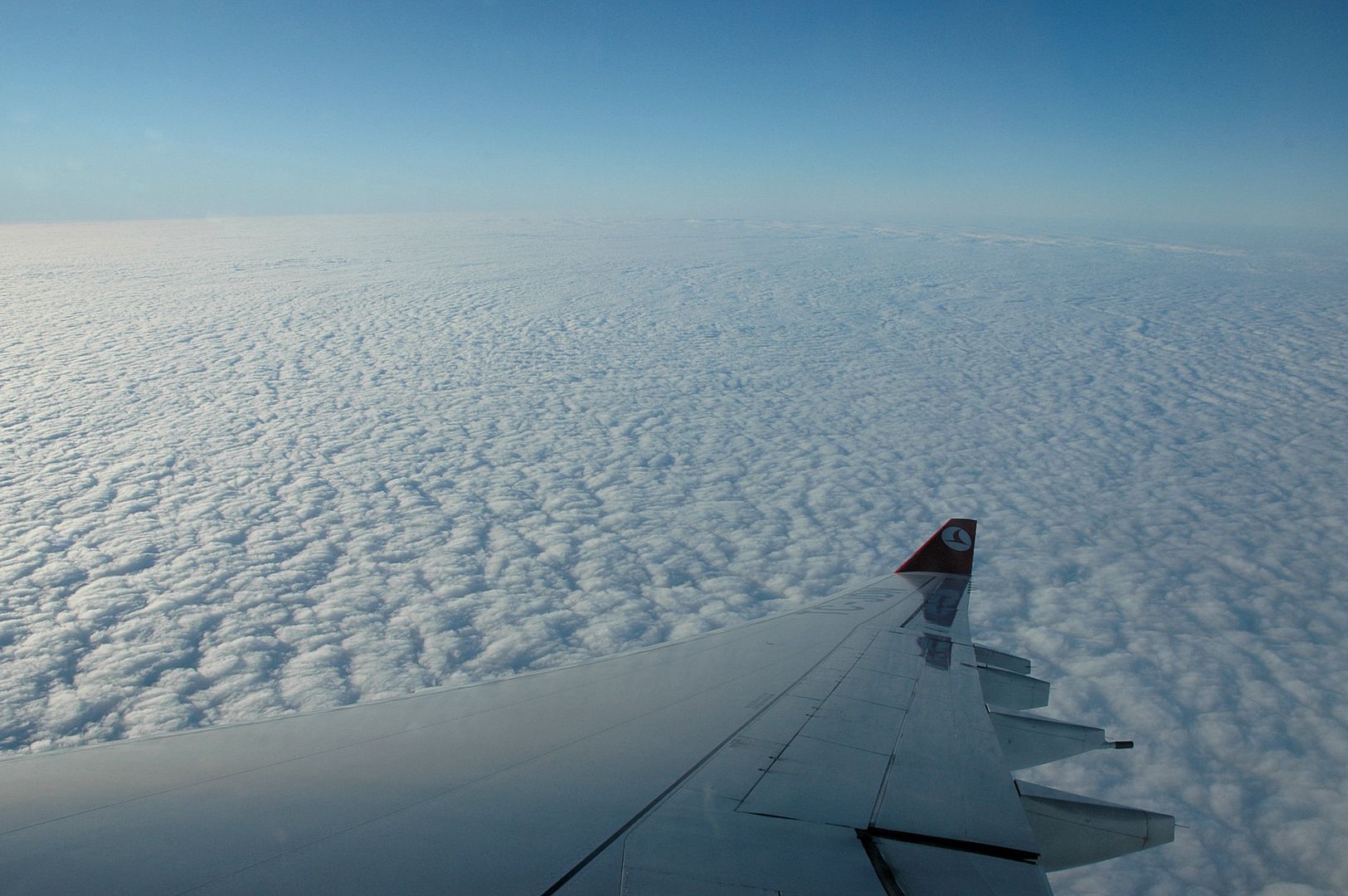 Picture by Satchmo
...before we were finally allowed to break through the clouds: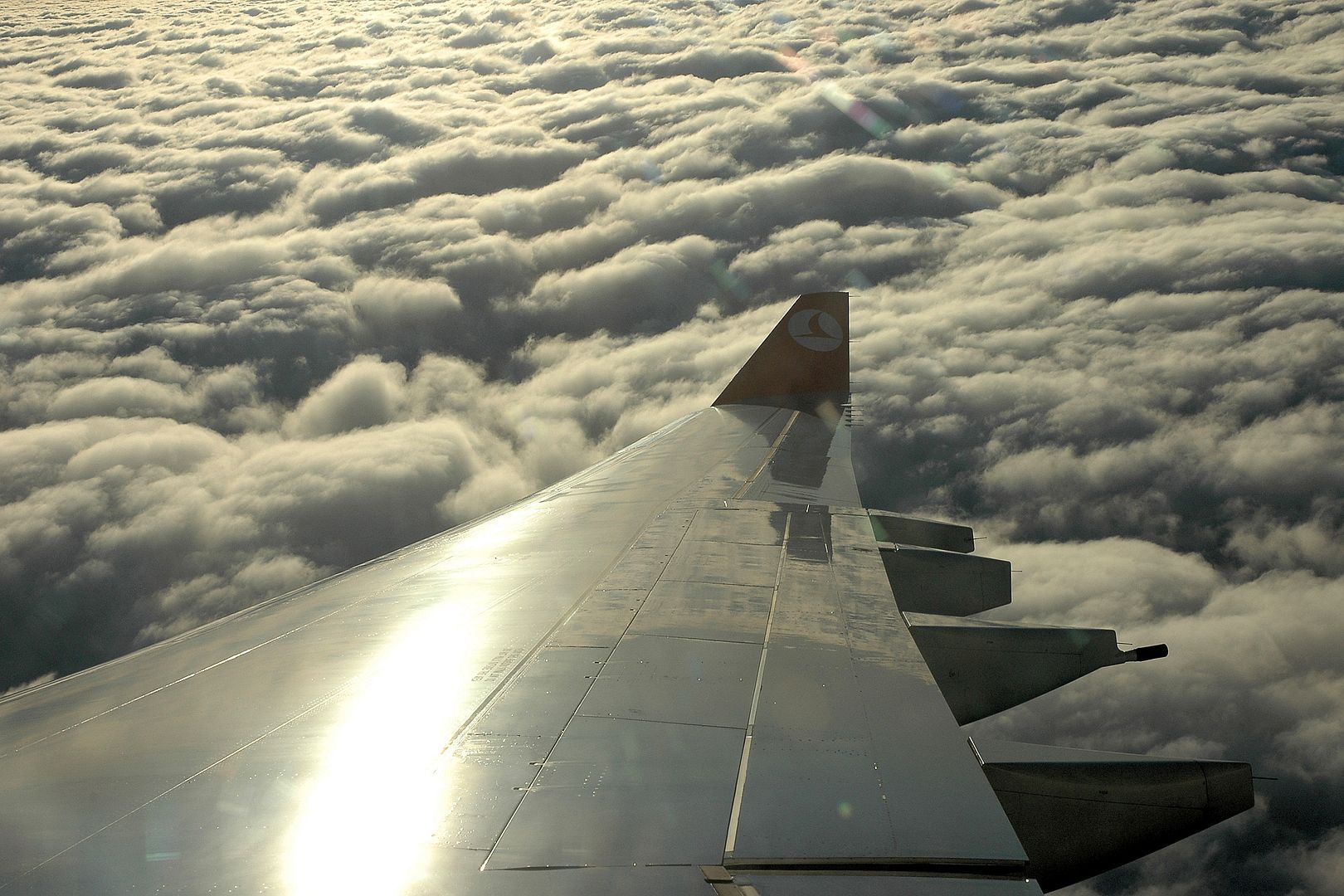 Picture by Satchmo
Now it was time to switch to the camera view again: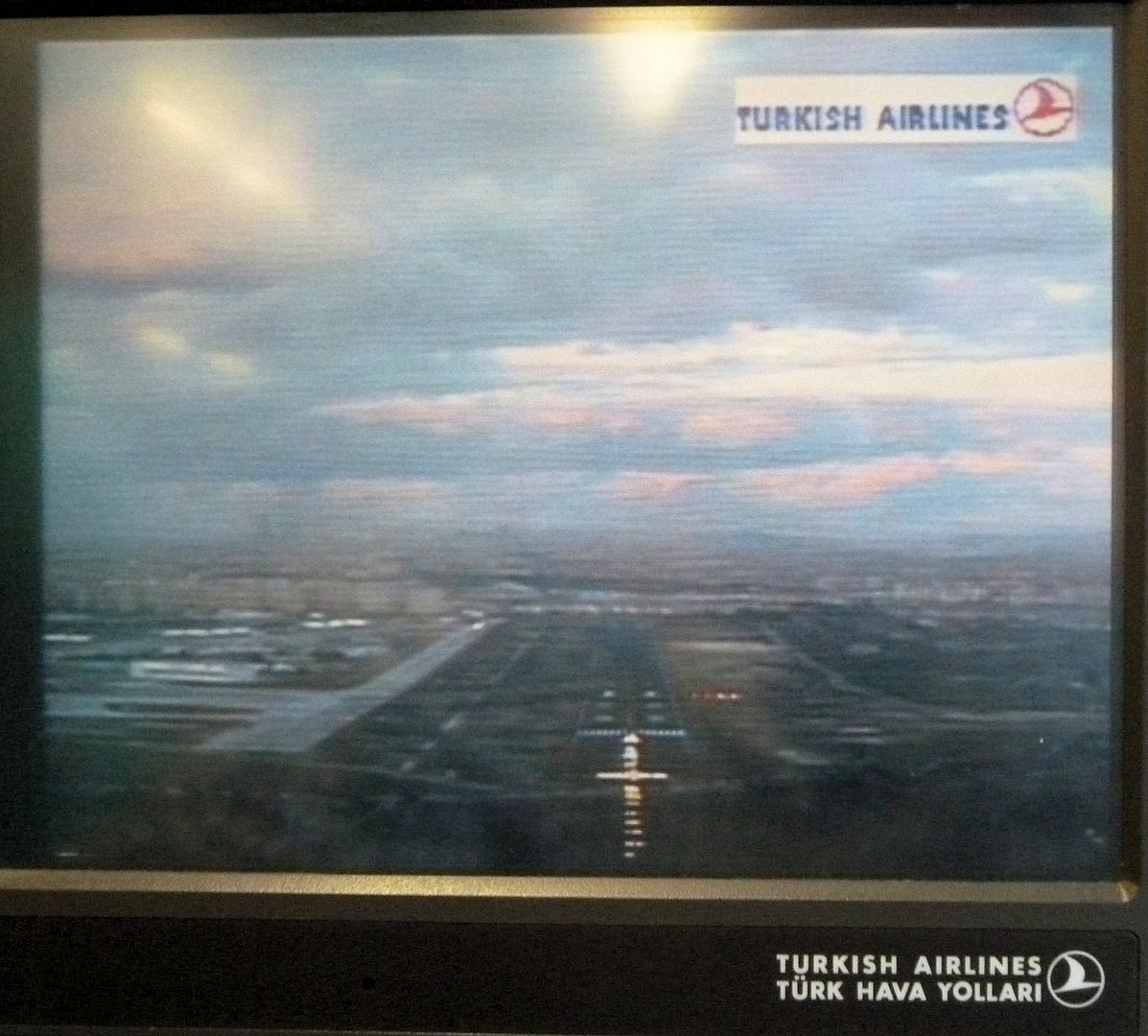 Only seconds from touchdown:
TC-JDN
touched down smoothly after a flying time of 3 hours and 39 minutes and taxied to a remote parking position. There weren't any empty gate positions during the early evening rush at IST: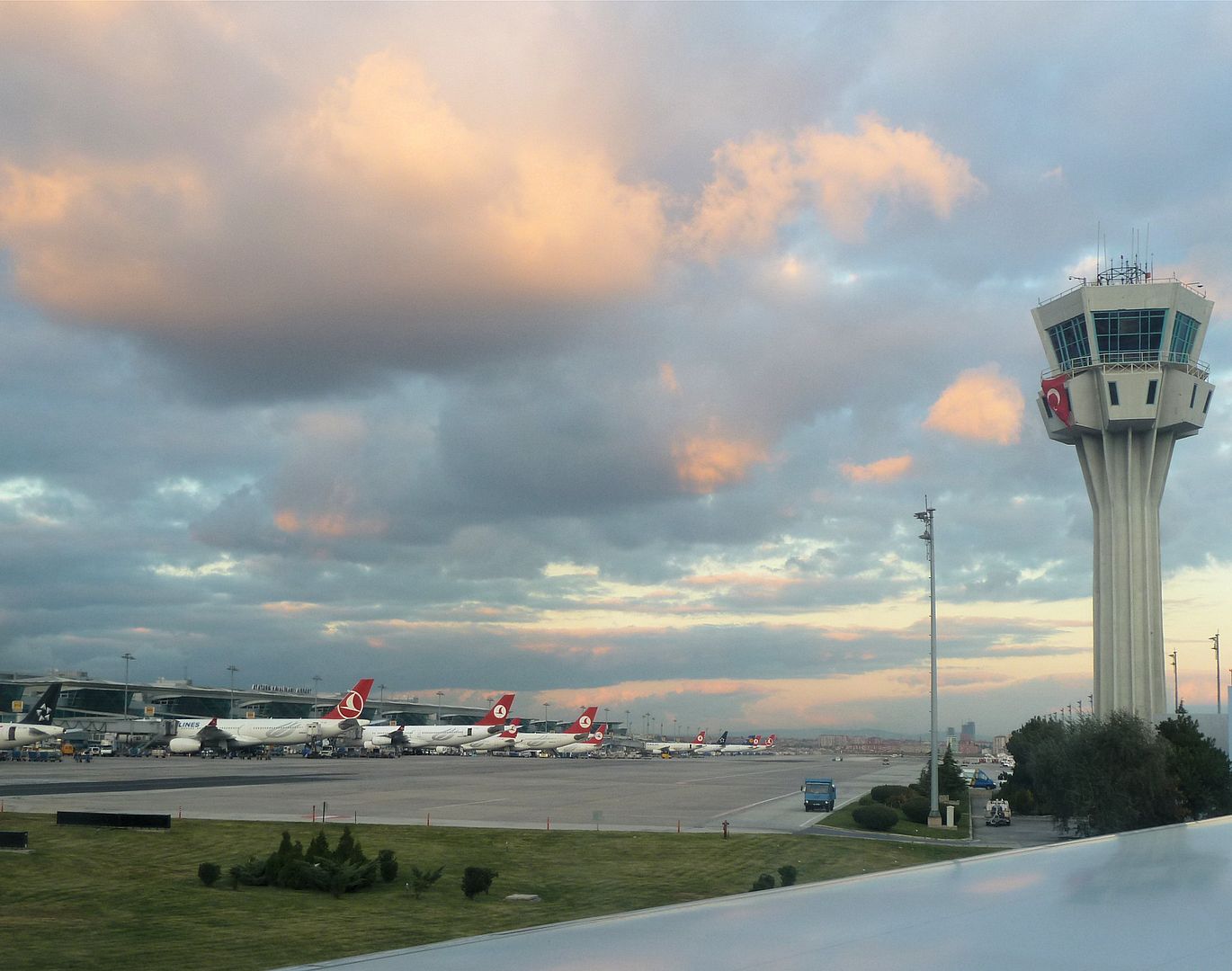 Sister ship TC-JIJ has meanwhile been taken out of service: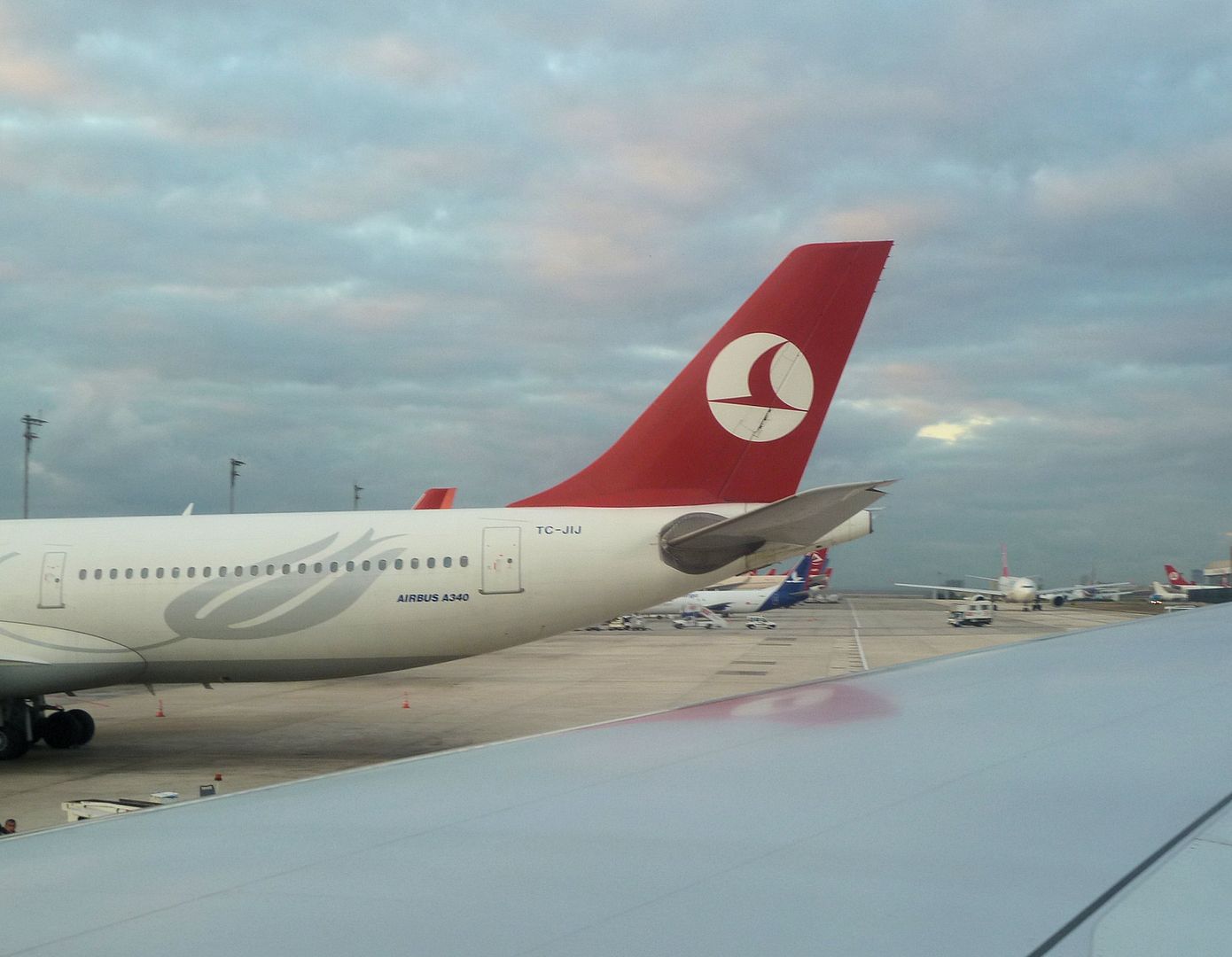 We came to a stop 36 minutes behind schedule, but that didn't matter - we still had more than five hours left for the transfer to TK066.
One more cabin shot - I really like this color tone: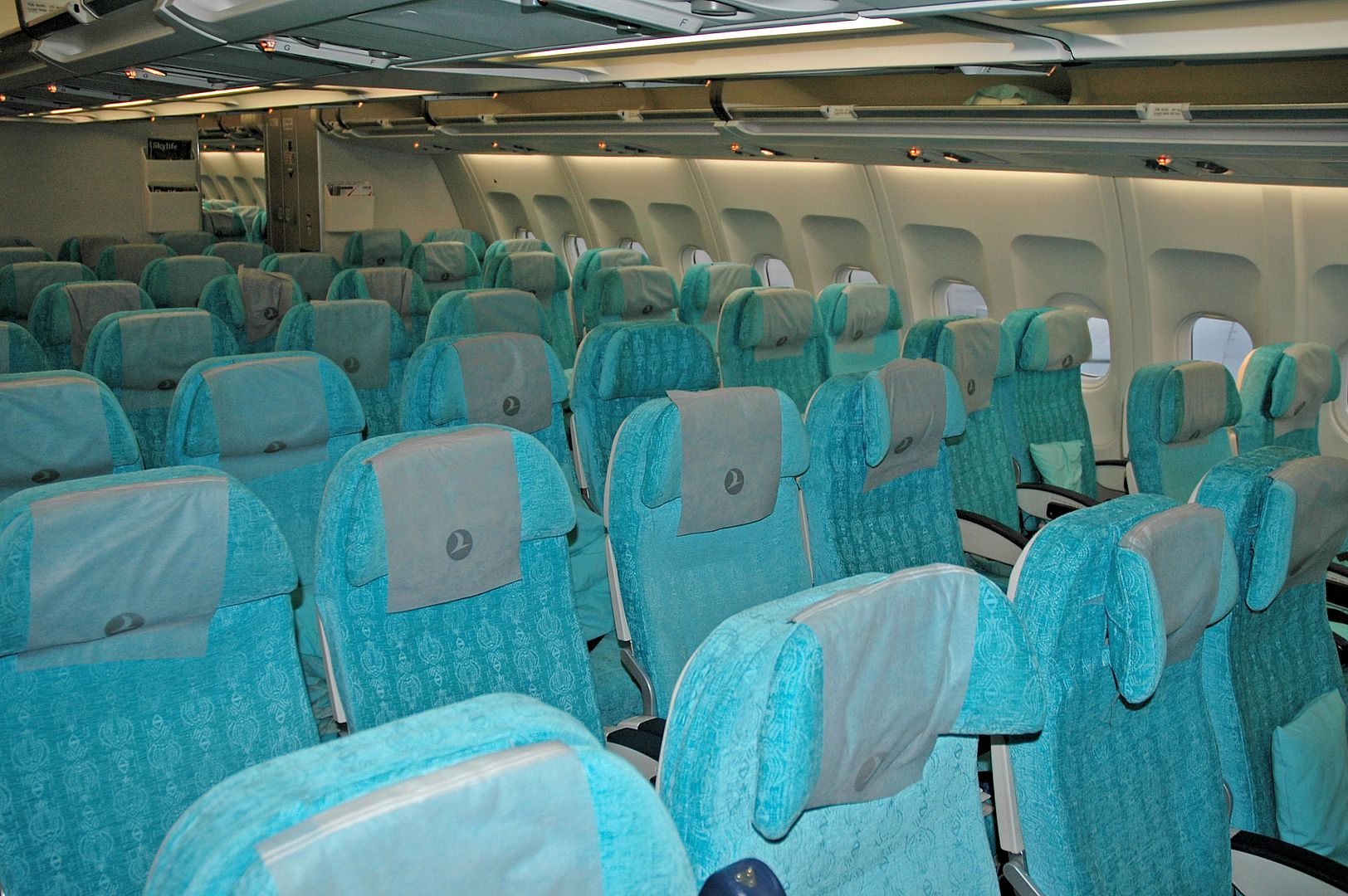 Picture by Satchmo
Beige meets white: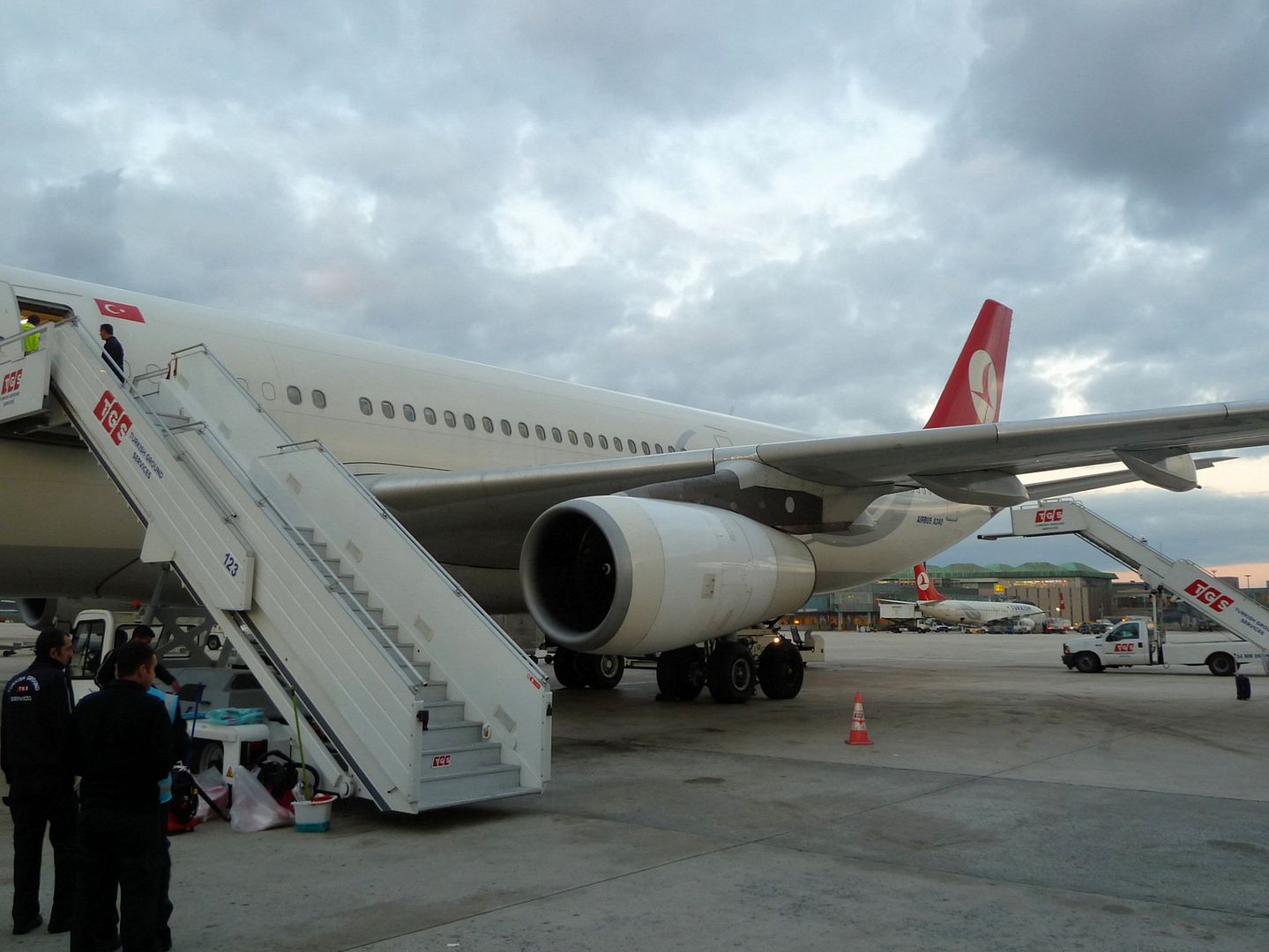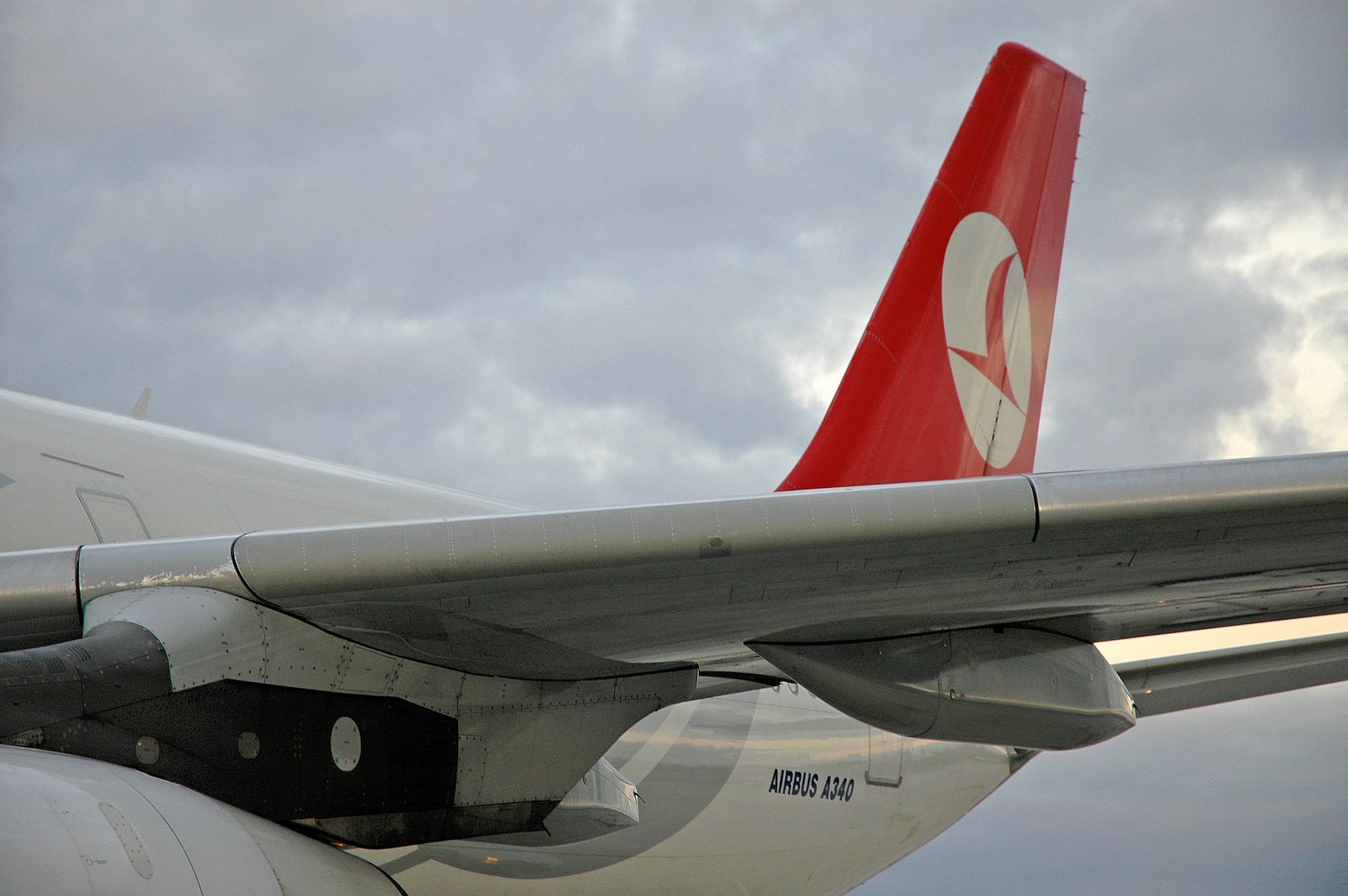 Picture by Satchmo
Goodbye,
"Adana"
!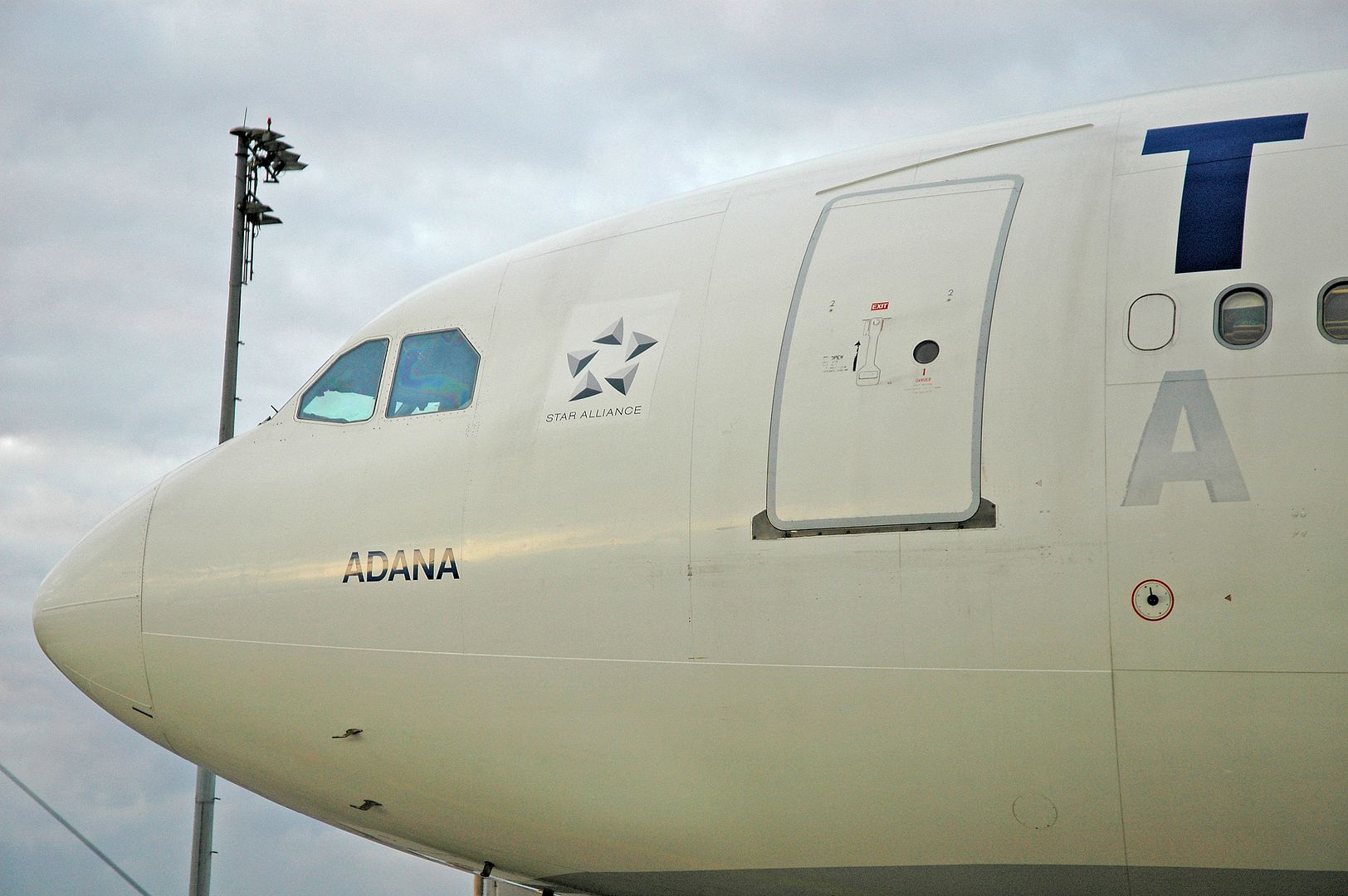 Picture by Satchmo
Transfer at Istanbul Atatürk Airport
After leaving the bus, we went straight to a transfer desk in order to check the status of our luggage and to ask for better seats on the flight to Singapore. The rather indifferent mid-aged agent told us that there were no two-seaters (window and aisle) left, so we asked for two aisle seats and gladly accepted 12G and 14G (row 13 doesn't exist). We were hoping that the agent would tell us that our luggage was already on the way to Istanbul, but he simply said
"It's in the system."
Finally, I explained our situation and asked whether we could get lounge access during our long layover - I even offered to pay a fee.
"No"
, the agent simply replied.
The transit area and all restaurants were totally crowded, so we started searching for lounges accessible for a fee and indeed discovered several ones. The TK agent could at least have told us about those.
After a quick comparison we decided to visit the
Millennium Lounge
which is used by numerous airlines. We had to pay about €20 per person, but it was worth it.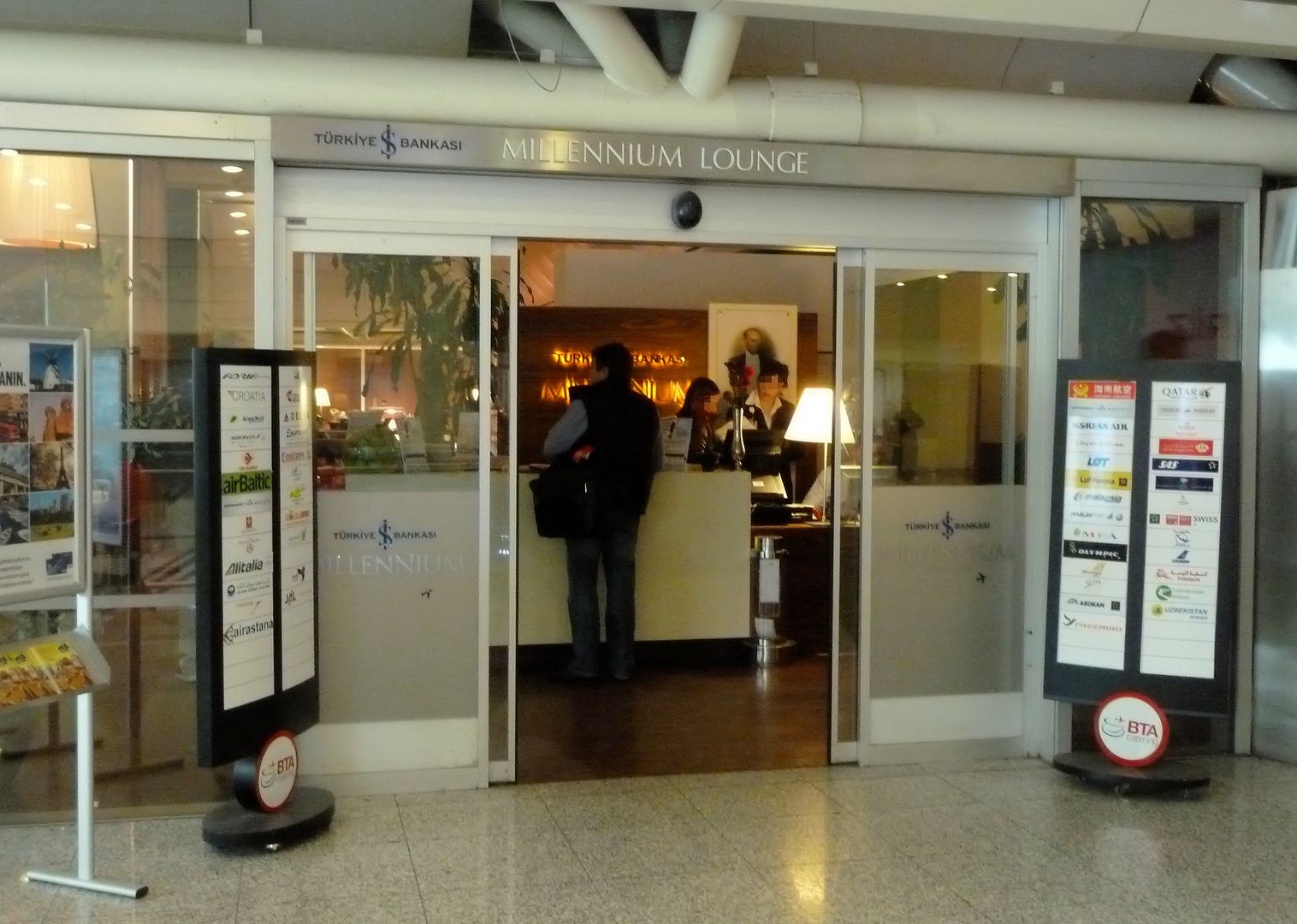 I liked the calm atmosphere and the comfortable seats: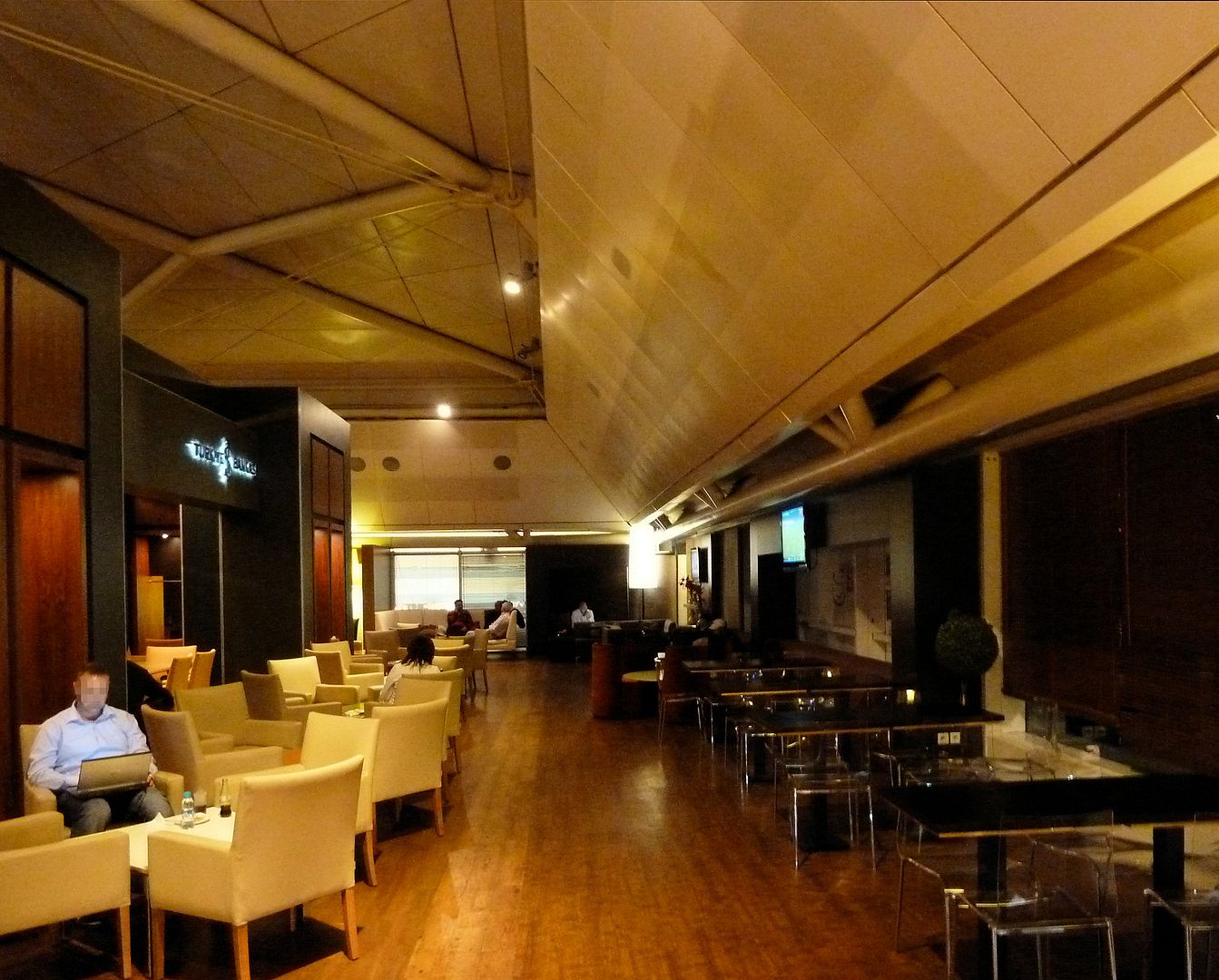 A wide range of drinks and tasty snacks was available, including soups and pizza: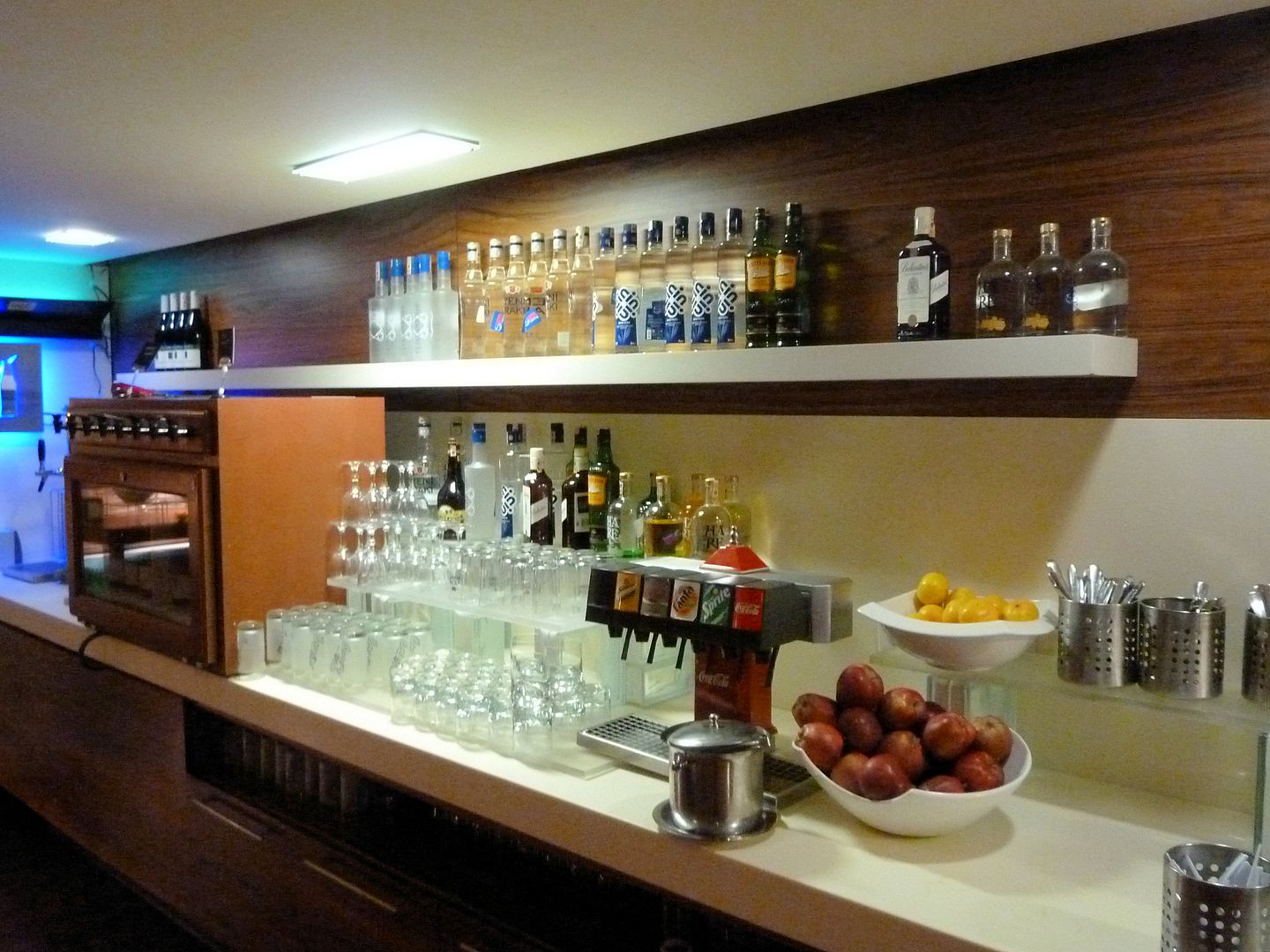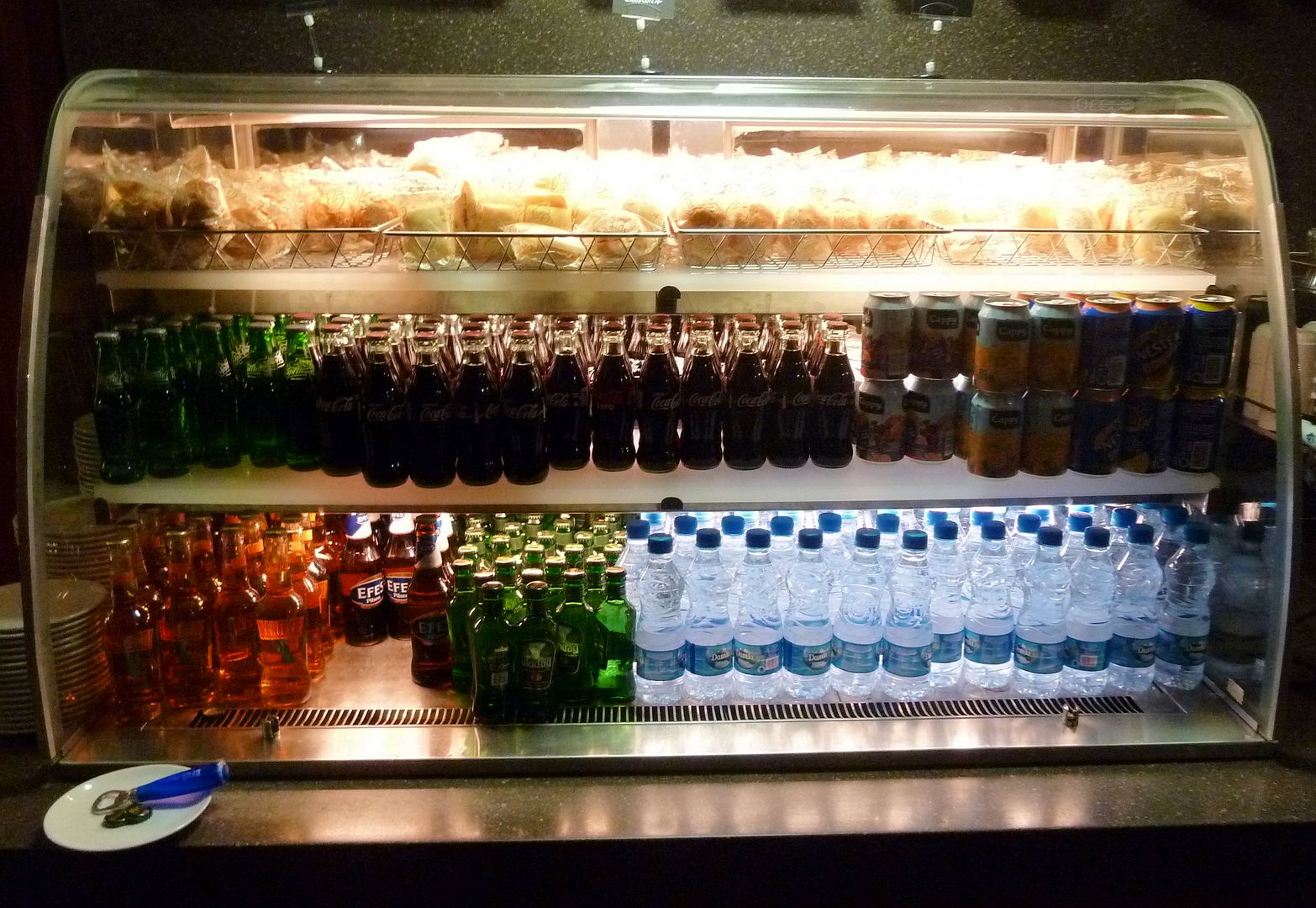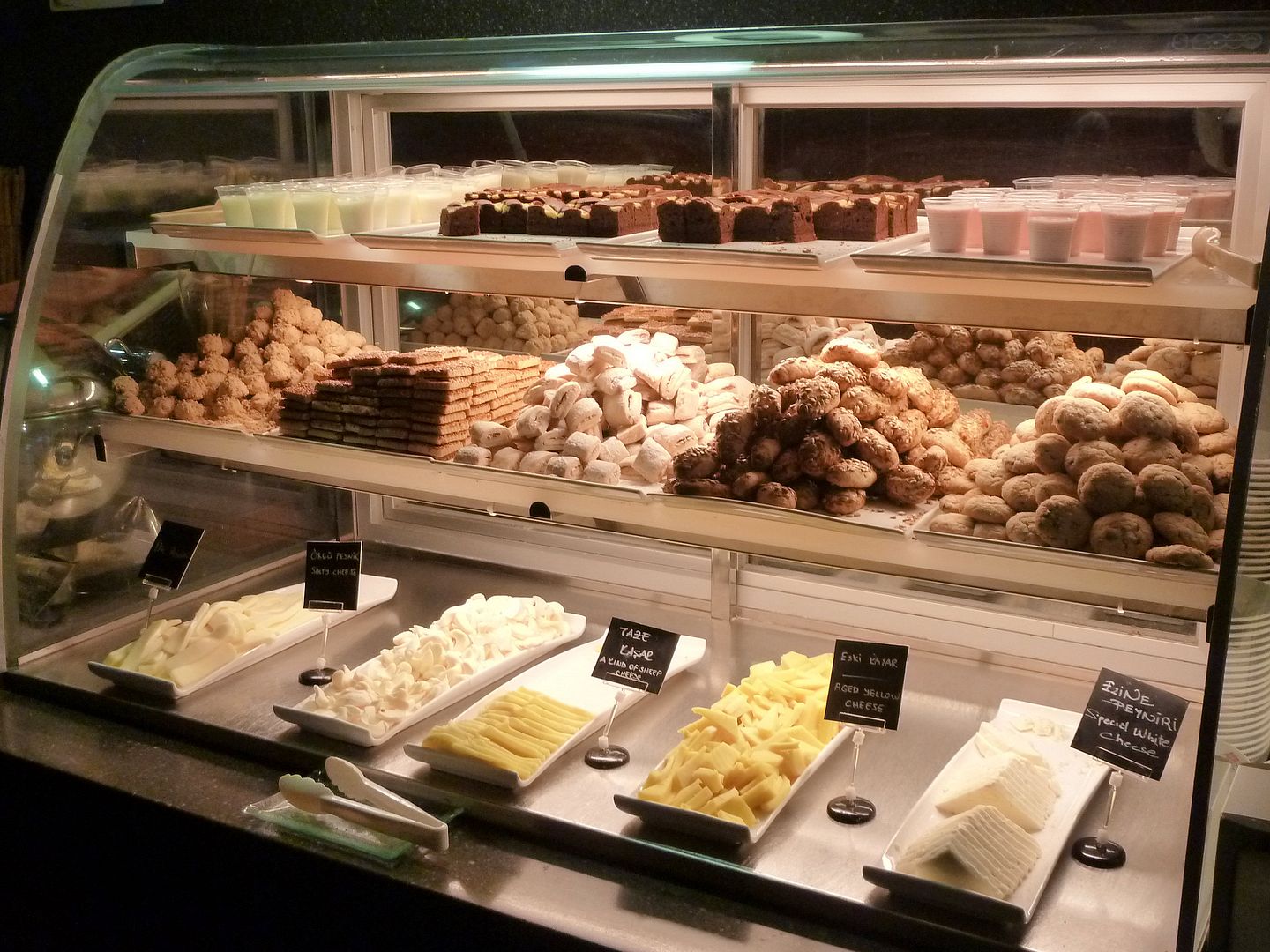 One of several "courses":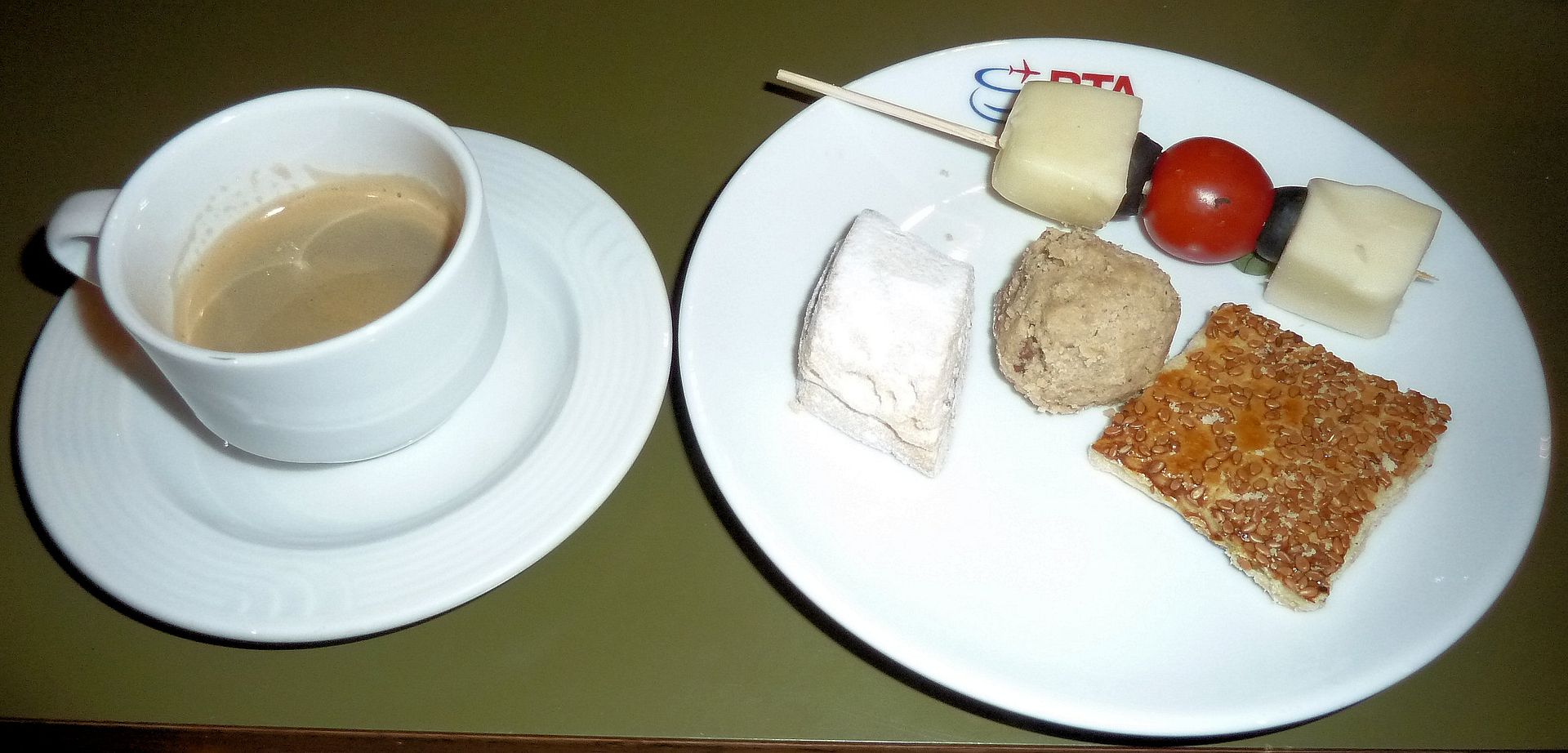 We were indeed able to relax for a few hours after all the hassle. Later in the evening I returned to the transfer desk to find out whether our luggage had meanwhile arrived at Istanbul. Another agent was on duty now, but he didn't show more interest than his colleague.
"It's in the system"
, he simply replied to my question. I asked for the exact location of the bags, but only got the same answer again. So either he really didn't know or he didn't want to tell the truth.
[Edited 2012-01-30 10:12:26]