Feedback always appreciated.
I > Background:
Seldom am I intrigued by a flying opportunity that requires a strong lobbying effort to change pre-destined plans with a bunch of friends that had been worked on for ages. Last year, a group of us did the trans-Siberian railways. I had done the loop from Mongolia to Vladivostok via Irkutsk, and the plan was this time around was to go all the way from Moscow to Vladivostok.
A week prior to the flight, an eclectic group of 10 amigos representing 10 countries had met in Moscow, drank a lot of vodka, and stocked up on more (previous experience taught me that it is almost impossible to buy vodka on the Trans-Sib). We had left Moscow and had reached the town of Irkutsk. After a great couple of days which involved a side trip to the beautiful Lake Baikal, it was time to head back on the train and continue our trip to VVO
On the road back from Lake Baikal, I noticed a weird billboard with an Antonov 24. I had never technically flown them (in Cambodia, I once flew the Xian on Phnom Penh Airways) and was intrigued. More importantly, I was keen on flying an airline that I had never heard of ... IR AERO, and was intrigued by where this airline actually flew to.
Señoras y señores, I proudly welcome you to my 125th report on A.Net - the first on IR AERO's milk-run Antonov 24 connecting Irkutsk (IKT) with Vladivostok (VVO) with stops in Chita (HTA) and Blagoveshchensk (BQS). I am pretty sure this is the first of its kind on A.Net.
II > Pre-Flight:
a) Before Airport:
IR AERO is an airline based on Irkutsk. Little is known of the airline except that it has traditionally flown Antonov AN-24's on the most bizarre milk-run network I have encountered in my life. Those little propellers connect pretty much Kaunas in Lithuania all the way to Vladivostok in the Russian Far East. Recently, they acquired some CRJ's ... that must represent a huge leap forward for the airline.
Ir Aero's route map:
Anyways, back to my story
.
After we returned to Irkutsk, all the rest of the group of friends went out to explore some more of the city. My Israeli other-half and I decided to track down the offices of this mysterious airline. Using basic Cyrillic that the Israeli knew, we tracked an address down and found a great taxi driver willing to take us there and wait around. We were nearly convinced we were lost as we ended up in a rather dodgy neighbourhood of Irkutsk. After stopping several times to ask direction, we found a rather innocent looking building which apparently housed the global headquarters of Ir Aero. So off we went to the least secure airline HQ I had been to - and was directed to the "office". Here the Russian agents were all pretty shocked on why we were there. None of them spoke any English so we used hand gestures to understand their route network. After 30 minutes of confusion, I spotted a cigarette smoking man on a old computer and tried o see his screen. Looking at the map on the wall, I pointed to VVO and motioned him to type it on his screen. VOILA! There was a flight leaving tomorrow and there were 10 open seats. Additionally, it stopped at Chita and Blagoveshchensk - a town I had never heard of. I told my Israeli that we had to convince the group of the change in plan - working to my advantage were two things - one, some of them were getting tired of the train. Two, they all kind-of knew I was crazy
. Keeping the Israeli at the office to guard (air force duty has perks), I rushed back to our taxi and told him to take me to the center. Several "urgent" SMS later, I found the rest of the 8 who knew something was up when I excitedly told them what I wanted to do. Mark of great friendship is always when each of them basically gave a resigned sigh, found some more cabs, and headed back to the Ir Aero office. It was quite a sight as 9 of us from different parts of the world walked in back to the "reservation room". A crowd had formed along with us and now we all wanted the 10 seats on the plane. As with all such events, more drama followed. I had initially thought the price was around 100 USD per person - only payable in Rubles of course. However, the screen clearly showed that the booking class had 1 associated seat at that price - the next up (think, last minute Y fare) was around 350 USD and we definitely did not have that money. After a lot of discussion and begging, and offers to put the entire thing on credit card ("nyet"), the cigarette smoking man who I am convinced was a 1970's porn star (complete with the floral shirt) yelled something to the young woman. He said, "OK. 100 USD. Russia great"! WHAT?! For the first time in my life, I had been able to haggle an airline ticket price. It felt absolutely wonderful as the young woman started writing manual tickets (took a while - they had never seen such an eclectic group of passports) and in an hour after a profuse round of "spazeeba's", and my Israeli parting with a bottle of vodka, we left the ticket office.
That evening, over many drinks, I thanked my crazy friend circle, and looked forward to the adventure that was to follow.
b) At Airport:
I could not sleep that night and the group woke up at around 6am to arrive at Irkutsk airport at around 730am. The airport itself had two components - an old Soviet style building - impressive, and reminiscent of Budapest's old terminal, and a much more "modern" generic Ikea-type newer terminal. My SD card failed in this moment and many of my terminal pictures were inadvertently deleted. Oh well. The check-in lady was a little confused with our group of 10 explorers - or maybe, she was confused because we were the only ones making the long trek to VVO. Everyone else was either headed to HTA or BQS. Anyways, boarding passes in hand, and being viewed by the entire Russian community (they don't see much diversity here), we quickly cleared security and went to the security hold room. We clearly stood out and when the door opened, all the pushing and shoving clearly indicated that our flight was boarding. No announcement was made one way or the other.
It seems that all boarding is by staircase at IKT, and a UT Air TU 154 was boarding in front of us for the flight to Moscow. It was an interesting sight to watch as the staircase had been pushed out only to see two passengers run to the aircraft and have it pushed back in. From the airplane door, the crew shouted at them to run faster (well, that is what it seemed). In our case, Ir Aero being not cool enough meant a hidden aircraft in an obscure part of the airport using a 1960's bus. I was actually relatively excited seeing the airfield strewn with various Soviet aircraft of yesteryears.
As I tried to control my sense of excitement, my friends started getting a little nervous at the state of the Antonov and I remember one particular Mexican telling me, "No ma**s Alex". Haha. We were greeted by probably the most stereotypical image of an erstwhile Soviet airhostess. Stern and blonde sans smiles or any pleasantries whatsoever. There was zero exchange of words. I wondered how she would react flying on a Singapore Airlines, Jet Airways, or All Nippon. Y load was around 70%.
Airport - External:
(Irkutsk Airport)
*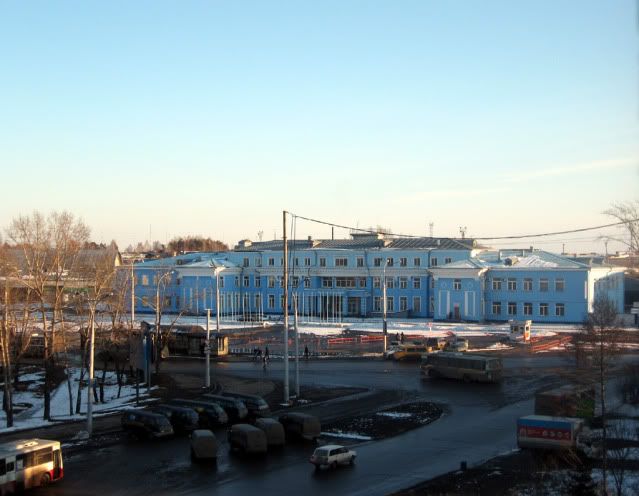 *
(More modern current terminal)
Check-in:
NONE
Airport - Internal: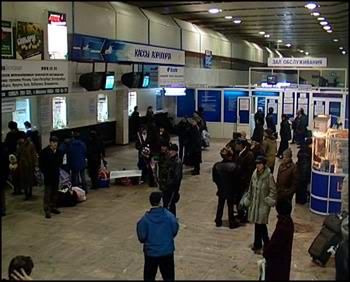 *
(Airport art-work at boarding gate)
(FIDS)
NONE
*
(Post Security @ IKT)
NONE
*
Scenes of the tarmac:
(UT Air to Moscow)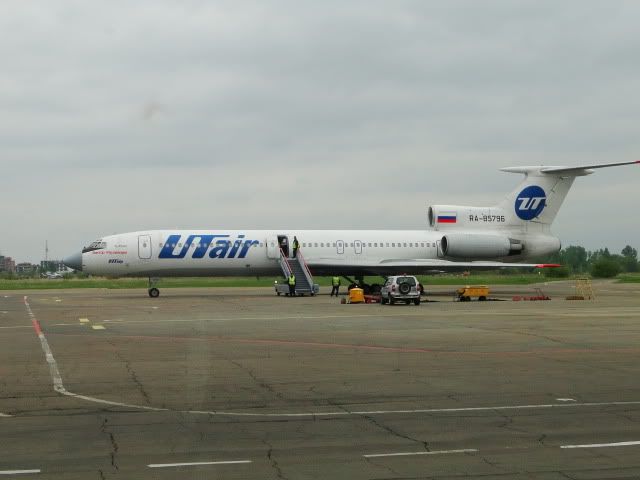 Lounge
NONE
Boarding:
(Gate Area)
NONE
III> In-Flight:
a) Service Schedule + Impressions:
Nothing distributed while on ground. On the IKT-HTA, I was surprised to receive sweets prior to take-off (done on each leg - guess the noise is rather bad) and a choice of newspapers. Water was served post-take off along with a snack. On HTA-BQS, meal service. Nothing on BQS-VVO.
The highlight of the flight … and the reason I took it was of course the experience of stopping in random places like Chita and Blagoveshchensk. Of course, it did not disappoint. As the pictures would show, each airport was an amazing graveyard of Soviet airplanes. At each stop, we had to get off the plane, go to the terminal, wait, then get bussed back to the plane. I was yelled at several times to not take pictures - but I seem to never learn. Oops. The entire country seemed frozen in time - this was DEFINITELY not Moscow. Some of the people I encountered also were amazingly rude - a few of us got into several mini yelling fights with locals who would push and shove you at the airport - especially during the bus rides. My "darker" Mexican friend especially struggled as people who just give him really mean looks. In fact, a part of me just wanted the experience to be done with.
In terms of terminals, it seemed that Blagoveshchensk had recently undergone a renovation and was significantly more modern than the airport in Chita.
b) Aircraft + Seats:
The main reason for the trip was of course to fly the Antonov - and what an experience it turned out to be. Like the surroundings it served, Ir Aero's AN4 was stuck in a different era. While the seats were comfortable enough and provided decent legroom and recline, the entire aircraft was very poorly maintained. A few highlights included:
+ Garbage literally strewn across the aft galley and near the bathroom
+ Rust on various parts of the aircraft
+ Luggage that was supposed to be "secured" that never was
Also, at frequent interval, the aircraft would dip below 6,000 feet and I am convinced Oxygen was cut off - every one of us got nausea and sick - it was the first flight in my life where I got sick and went to the bathroom to throw up ...
... and of course, speaking of the bathroom was the highlight. The bathroom had "poop" all over it. I kid you not! Check the pictures - it was absolutely disgusting. And, not having any running water did not help. All that there was, was a water bottle with some liquid soap mix. All in all, rounding of an incredible experience, and probably the most bizarre one I have encountered in my life. One, I shall never forget.
Aircraft:
(Our good old Antonov)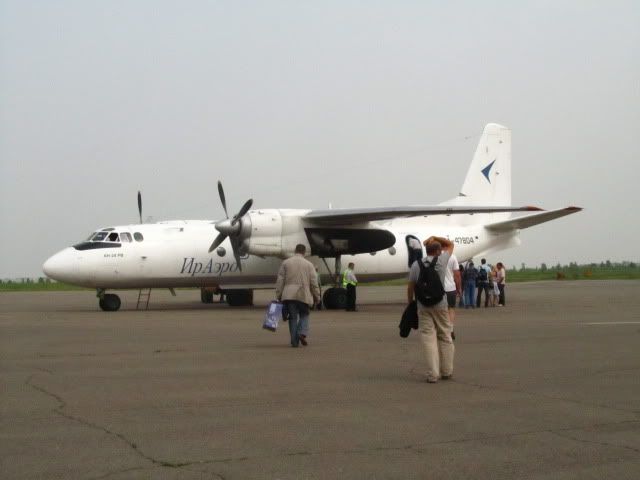 *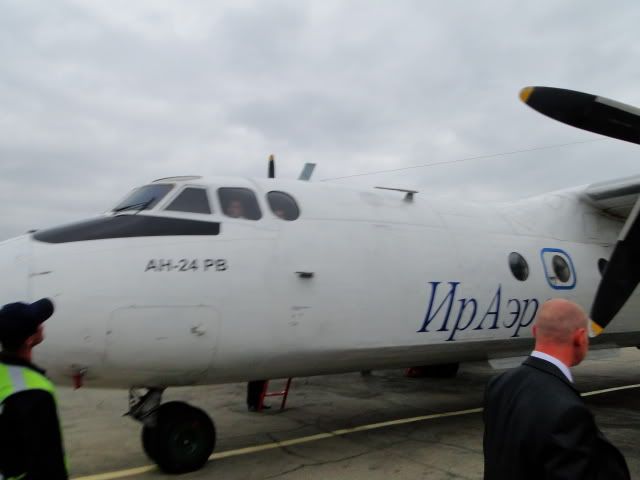 *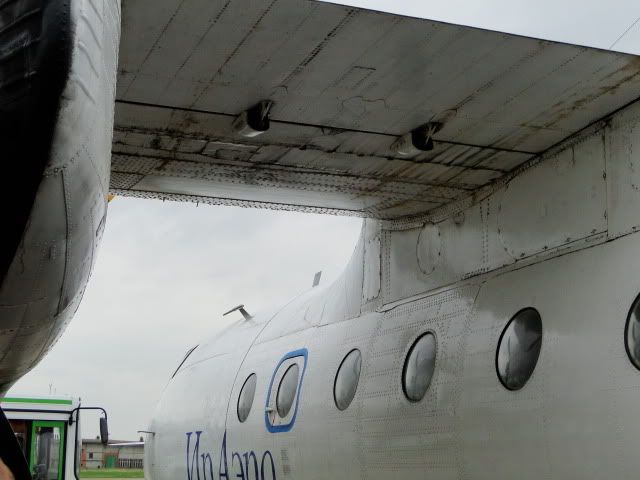 *
*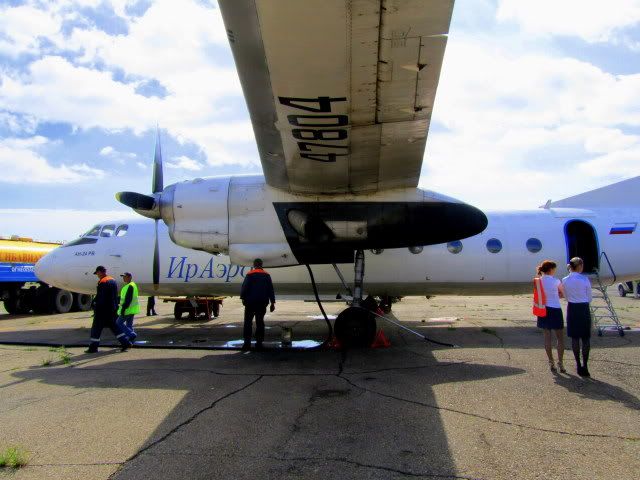 Views from Aircraft:
(Irkutsk Airport)
*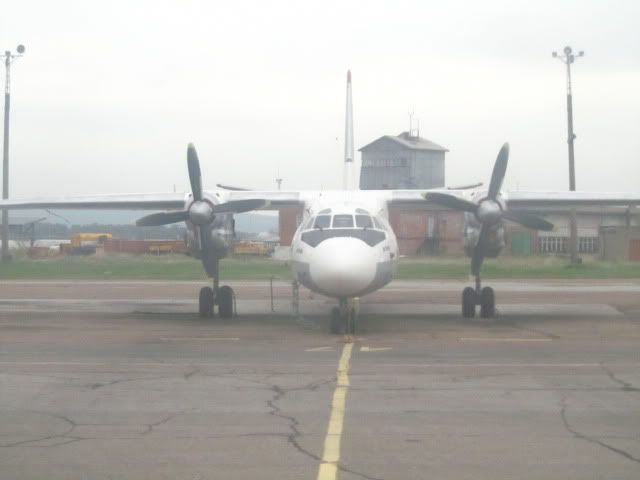 *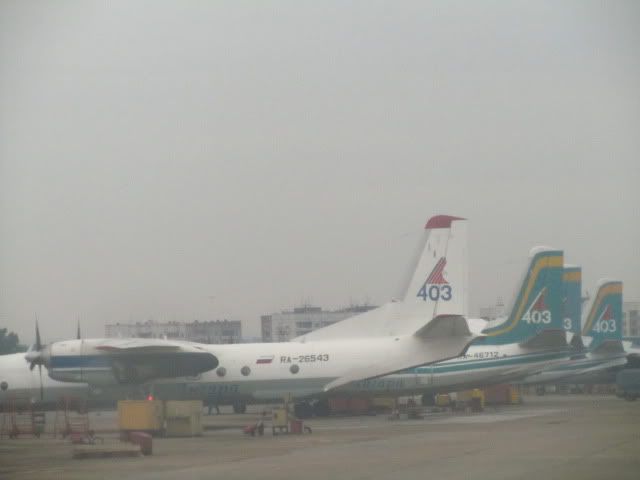 *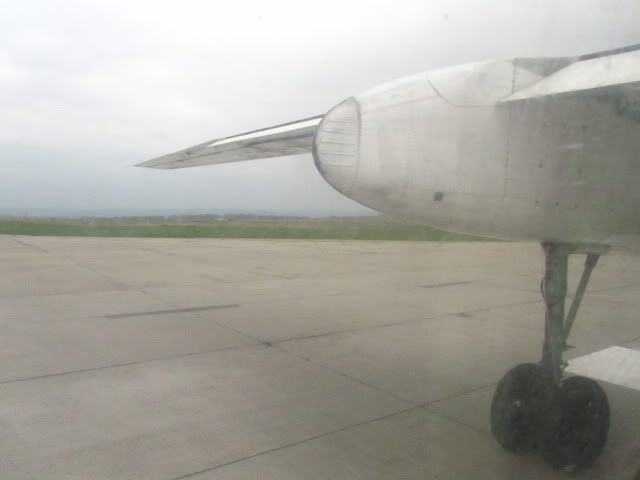 *
*
*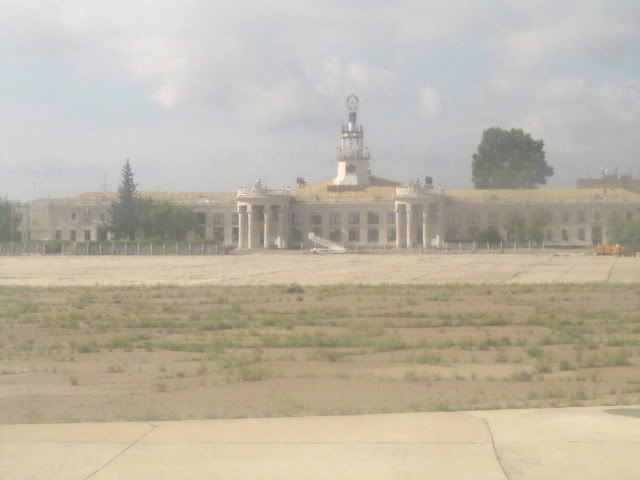 *
*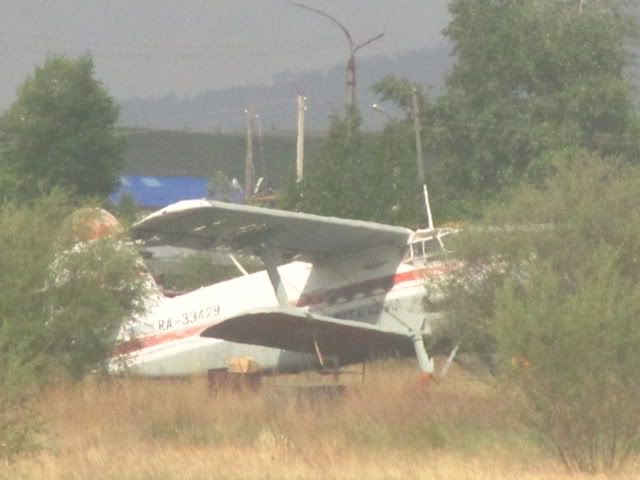 *
(Chita Airport)
*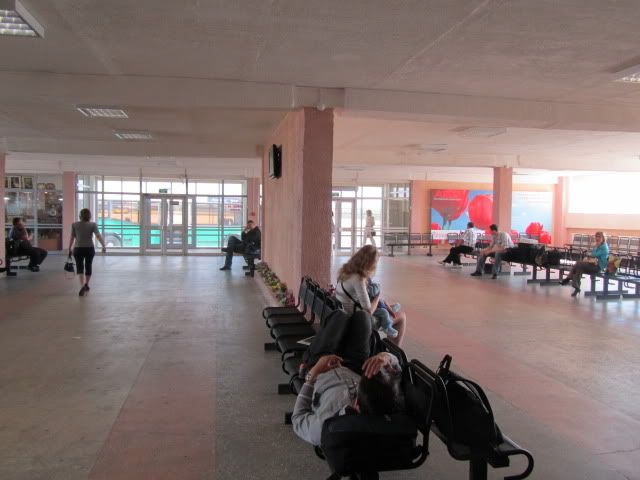 *
*
*
(Post take-off from Chita)
*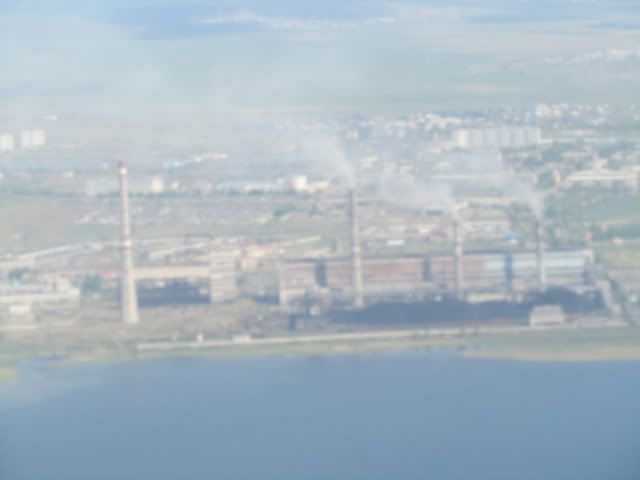 *
*
*
(Blagoveshchensk Airport: Unlike Chita, we were allowed to leave the airport terminal)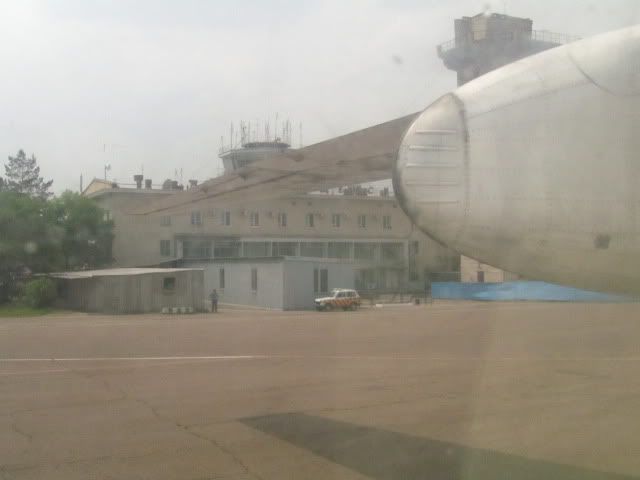 *
*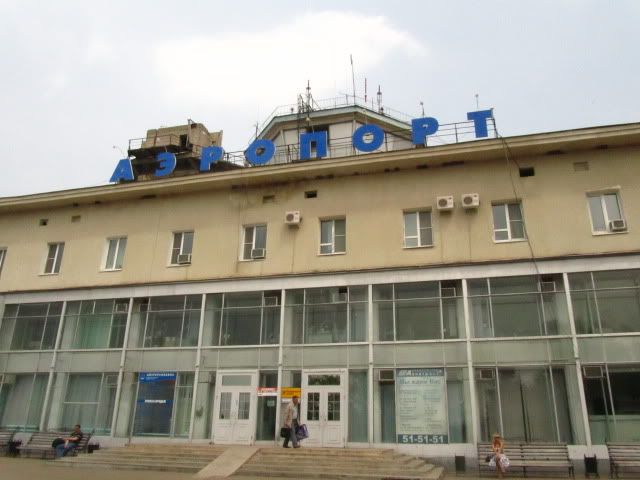 *
*
(Near Vladivostok - and, Vladivostok)
*
*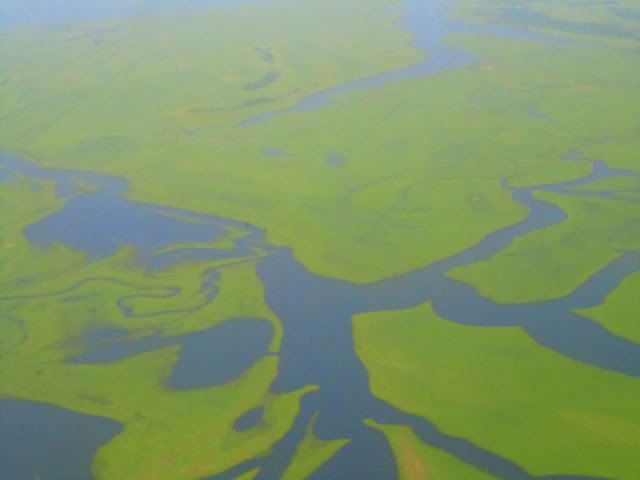 *
(As I mentioned, the plane flew very low)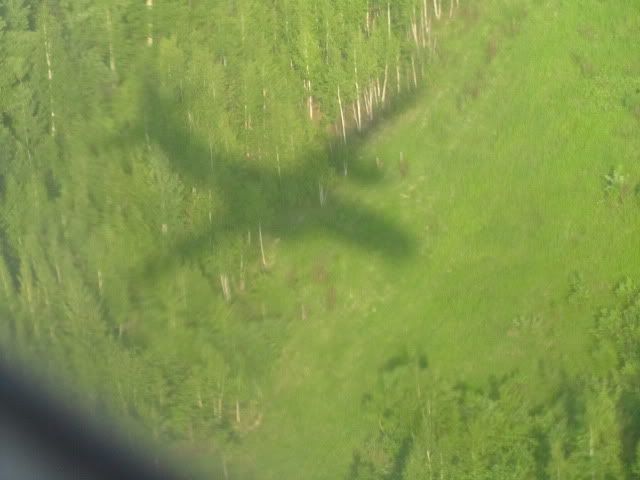 *
General Seat Views + Seat Legroom
(Seat)
*
(Front of seat)
*
(Seat controls)
*
(Around Seat)
NONE
*
(Legroom)
NONE
Seat Recline + Angle View:
NO RECLINE
*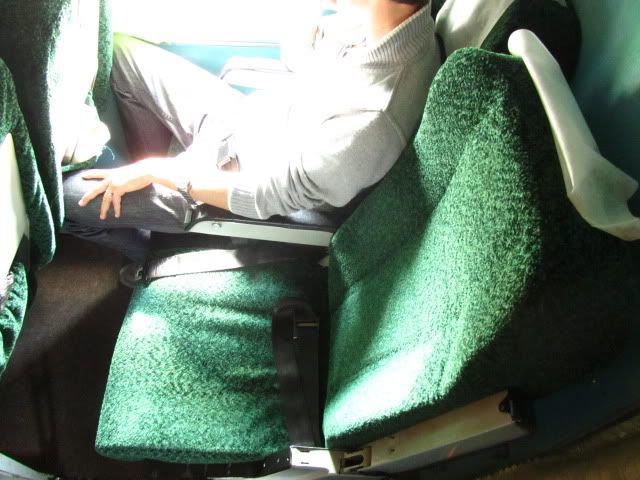 Cabin:
(Notice the guy was on his mobile phone, while on air - due to low altitude - who says you need expensive internet?)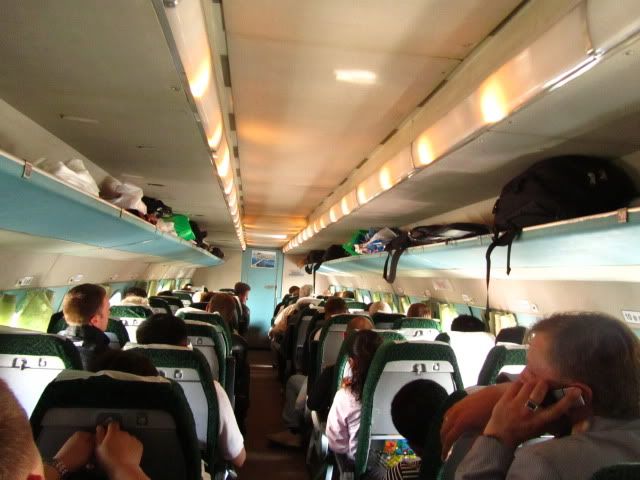 *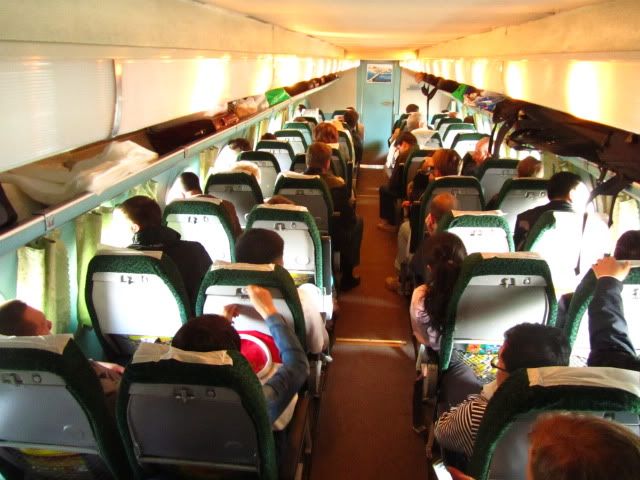 *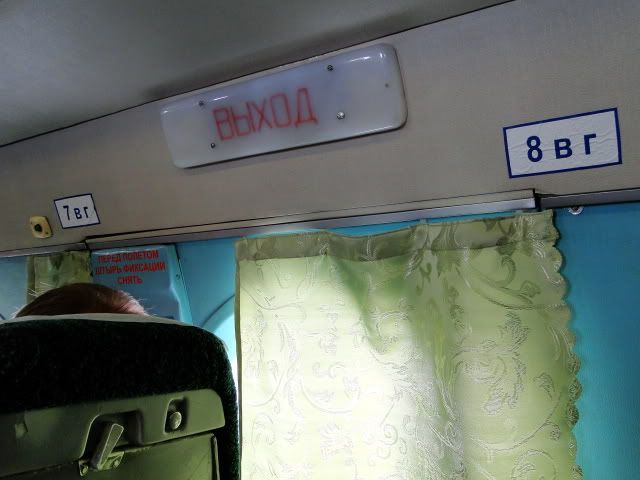 *
*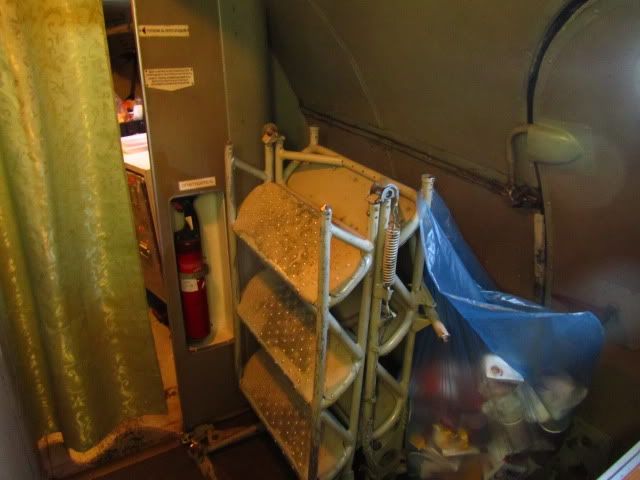 *
(Blanket ++)
NONE
(Bathroom: ready for my favorite pictures?)
*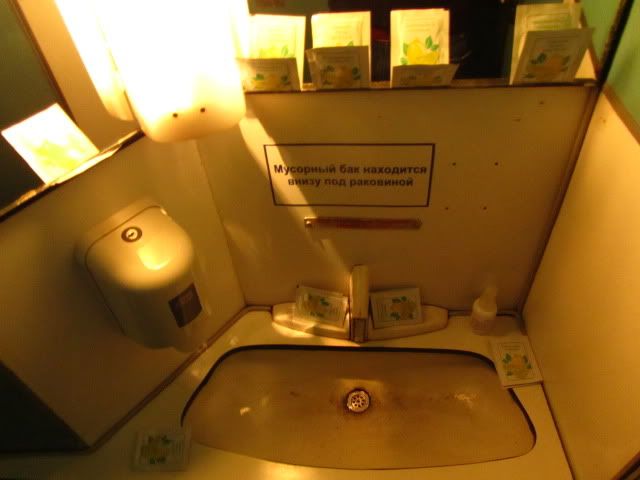 *
(Wait a minute ... is that what I think it is?!?)
*
c) Meal + Beverage:
I was surprised by the sweet and water run after each take-off, and a part of me was looking forward to seeing what is served on each leg. Between IKT and HTA, we were served probably the nastiest sandwich I have EVER had. It was a combination of cheese (gone bad) and meat (gone bad). Two members of my group fell sick immediately. Between HTA and BQS, we were served a snack box that contained a mystery brown meat (see picture) which I first thought was spam. It tasted like (what I'd imagine) was cat food - and one bite and I was in the bathroom. The bread was OK and the café served with it passable - but the chocolate with the haunting face of a child was a little too disturbing for me. On the final leg, between HTA and VVO, nothing was served.
(Pre-takeoff @ IKT)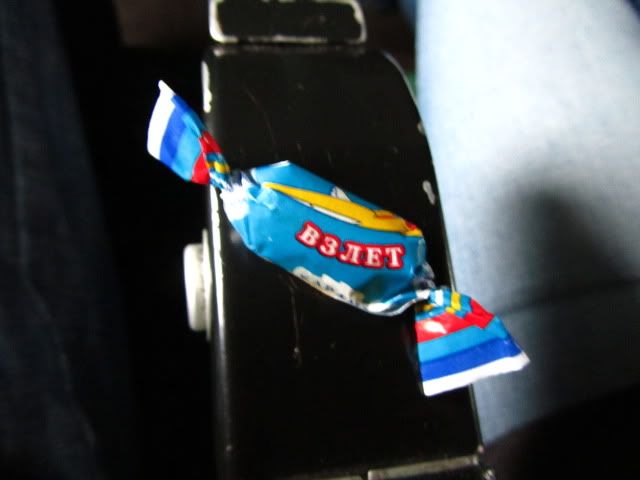 *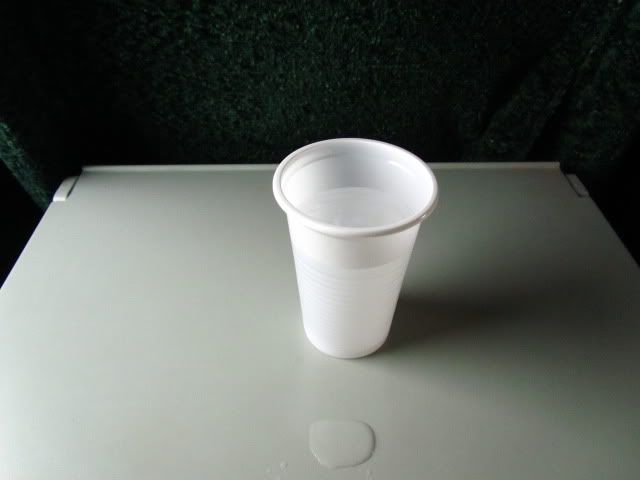 *
(Just disgusting - rotten cheese and meat between IKT and HTA got some sick)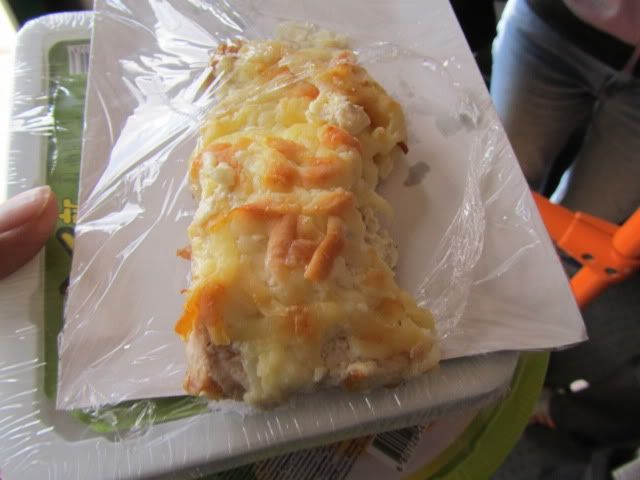 *
(And the nasty main meal featuring cat food between HTA and BQS - with the creepy looking kid on chocolate)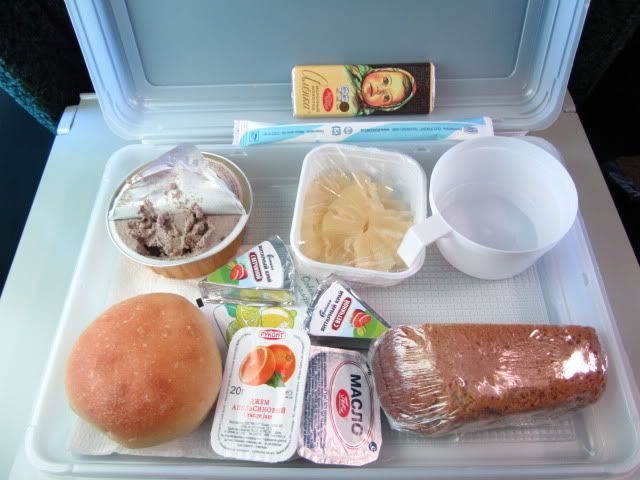 *
(Highlight was the tea service)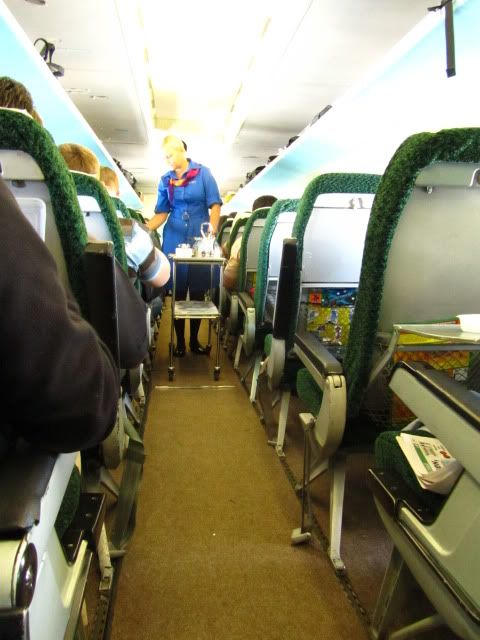 d) Inflight Entertainment:
Ir Aero's Antonov's come equipped with the next generation AVOD IFE - better than 1,000 movies is the ability to do unique things like read a book, chat with your seatmate (if you can hear them over the noise), and enjoy the vistas below. In-flight magazines are not provided as they would be rather bourgeois. I was surprised that they handed newspapers however ... too bad my Russian was nonexistent.
("In-flight magazines", Boarding Passes, etc.: No magazine - these were given @ take-off @ IKT)
e) Crew:
I wish I could say much about Olga - our seemingly appropriately named crew member. Olga did not smile during the entire journey. In fact, I don't think I hard Olga ever talk to anyone during the entire journey. Like in the military, she had a routine, and followed the entire thing to the dot. In some strange way, I felt comforted by Olga. If there was a terrorist incident, or safety issue, I have a feeling Olga would do very well. Really don't know what more to say - Olga was part of the whole "exotic" element to this trip, and soon (sadly) became a caricature. I tried not to stereotype her, but my polite conversations were met each time with a blank stare.
Just like I type this and pass judgment on Olga, a part of me wonders what (if?) Olga thought of us. And, if she did, what did she think? Sadly, I will never know.
Olga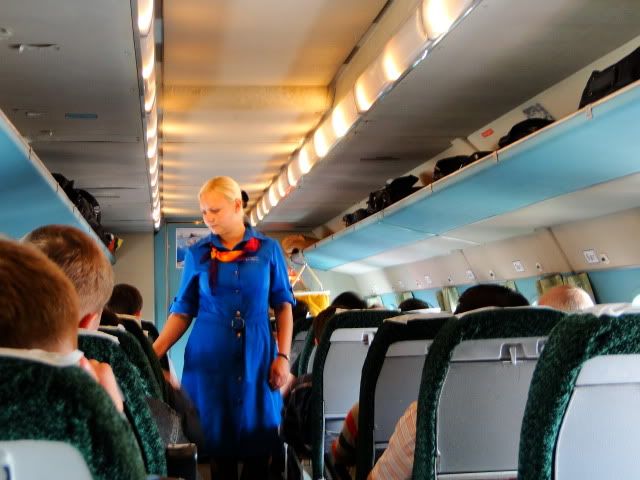 IV> Post-Flight:
Arriving into VVO was a much needed relief. A bunch of us were sick and were happy when our bags appeared within minutes of reaching the baggage claim area. We knew it had arrived as they were right behind us unsecured during the entire flight
.
V> Impressions + Scores:
I did not fly Ir Aero to mark its candidacy as a vetted airline for the general public. I took it to experience an exotic carrier and that took me to places I never knew existed. In this respect, Ir Aero (do they even have an IATA code?) did not disappoint. It was an amazing experience that took me back to an age where multi-stop flights were normal, and IFE involved talking to your fellow passengers and observing the scenario out of the window.
Unlike a similar journey on African Express, Ir Aero did not have any form of human interaction that I would look back on fondly. In fact, the standards on board leaving me sick is not something I can recommend for everyday passengers. However, just for the experience ONLY, a two-thumps up.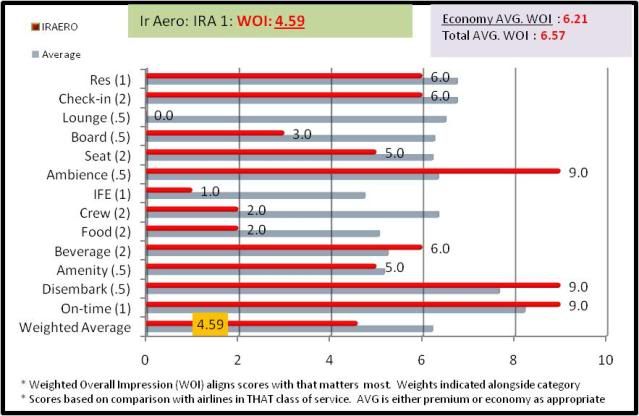 VI> Other Trip Reports:
PREMIUM:
9.27: JET AIRWAYS **FIRST** (110): LHR-BOM: 10/2010
9.27: THAI AIRWAYS **FIRST** (108): BKK-LHR: 07/2010
8.66:
Brussels Airlines (93): FIH-BRU: 01/2010
8.64:
Turkish Airlines (59): JFK-IST: 11/2008
8.63:
Jet Airways (88): JFK-BRU: 10/2009
8.61:
Air Canada (49): YYZ-SCL: 06/2008
8.54:
Turkish Airlines (77): GRU-DKR-IST: 04/2009
8.36:
Kingfisher (98): BOM-HKG: 01/2010
8.30:
Jet Airways (74): KWI-BOM: 04/2009
8.23:
United Airlines (72): SFO-SYD: 03/2009
8.11:
Aeroflot (33): MOW-DEL: 09/2007
8.05:
Air India (80): CCU-JFK: 06/2009
8.04:
Korean Air (40): NRT-ICN: 10/2007
8.02:
Delta Airlines (24): JFK-CDG: 08/2007
7.82: UNITED AIRLINES **FIRST** (110): SFO-ICN: 10/2010
7.82:
Singapore Airlines (06): EWR-SIN: 09/2006
7.66:
Sri Lankan (104): DEL-CMB: 07/2010
7.64:
Royal Jordanian (91): AMM-YUL: 12/2009
7.61:
China Southern (103): LOS-DXB: 04/2010
7.57:
Pakistan Airlines (102): ORD-BCN: 06/2010
7.46:
LAN (55): YYZ-JFK: 09/2008
7.38: AMERICAN AIRLINES **FIRST** (112): LHR-JFK: 10/2010
7.38: CATHAY PACIFIC **FIRST** (109): HKG-LHR: 10/2010
7.25:
Iran Air (88): BOM-IKA: 12/2009
7.23:
Air Pacific (120): NAN-APW-HNL: 01/2011
7.23:
Virgin Atlantic (81): BOS-LHR: 07/2009
7.14:
Swiss (52): SCL-GRU: 06/2008
7.11:
Aer Lingus (105): MAD-IAD: 05/2010
7.11:
Austrian (79): VIE-JFK: 06/2009
7.07:
Privatair (84): BOM-FRA: 08/2009
7.02:
Qatar (68): DOH-JFK: 01/2009
6.96:
Etihad (61): JFK-AUH: 12/2008
6.93:
Delta Airlines (18): SEA-JFK: 11/2006
6.88:
Egypt Air (123): LHR-CAI: 03/2011
6.84:
ConViasa (65): CCS-DAM: 01/2009
6.82:
Air Burkina (106): BKO-OUA: 06/2010
6.81:
Air Canada (17): ICN-YYZ: 10/2006
6.75:
Afriqiyah + Libyan (113): CAI-TIP: 11/2010
6.70:
KLM (32): EBB-AMS: 08/2007
6.52:
Emirates (99): LHR-DXB: 02/2010
6.39:
South African (97): EZE-JNB: 01/2010
6.36:
Privatair (60): MUC-BOS: 12/2008
6.29:
TAM Brasil (96): POA-EZE: 02/2010
6.25:
Korean Air (45): NAN-ICN: 10/2007
6.21:
Iberia (87): BOS-MAD: 10/2009
6.11:
A SKY (107): OUA-COO: 06/2010
6.11:
TAP Portugal (53): GRU-OPO: 06/2008
6.00:
Gulf Air (75): BOM-BAH: 04/2009
5.88:
African Express (89): DXB-NBO: 11/2009
5.75:
Singapore Airlines (16): CCU-SIN: 10/2006
5.64:
SATA Azores (101): BOS-PDL: 04/2010
5.64:
NorthWest (46): ICN-NRT-SEA: 10/2007
5.54:
Ethiopian Airlines (95): ADD-BOM: 01/2010
5.46:
Icelandair (83): KEF-BOS: 08/2009
5.39:
LOT (54): WAW-JFK: 06/2008
5.21:
Egypt Air (73): CAI-IST: 02/2009
5.11:
Tunisair (115): TUN-ORY: 12/2010
5.07:
TACA (66): JFK-SAP: 01/2009
4.89:
TAAG Angola (117): TMS-LAD: 12/2010
4.42:
Air France: CDG-JNB (25): 08/2007
ECONOMY: Long + Medium:
9.26:
Air India (48): JFK-DEL: 02/2008
7.38:
Avianca (01): BOG-LIM: 07/2006
7.07:
Sri Lankan (62): KWI-CMB: 12/2008
7.00:
LAN (94): IPC-SCL: 01/2010
6.81:
STP Airways/Euro Atlantic (116): LIS-TMS: 12/2010
6.67:
Air Malta (124): MLA-FRA: 04/2011
6.41:
Avianca (78): JFK-BOG: 05/2009
6.41:
American Airlines (58): LHR-BOS: 11/2008
6.39:
Condor (85): SEZ-FRA: 09/2009
6.26:
Jet Blue (21): CUN-JFK: 02/2007
6.11:
Caribbean Airlines (119): POS-FLL: 01/2011
6.06:
Air Canada (04): YYZ-YVR: 09/2006
5.89:
USA 3000 (19): PUJ-BDL: 01/2007
5.85:
Spanair (69): MAD-LPA: 02/2009
5.79:
Air New Zealand (42): RAR-NAN: 10/2007
5.52:
Aerolineas (86): USH-AEP: 10/2009
5.46:
TAP Air Portugal (23): OSL-LIS: 05/2007
5.19:
Air Europa (70): LPA-MAD: 02/2009
5.16:
Iberia (71): MAD-BOS: 02/2009
5.11:
Air China (82): FRA-PEK: 08/2009
4.59: Ir Aero (125): 06/2011
ECONOMY: Short
8.56:
Paramount Airways (38): BLR-MAA: 09/2007
8.56:
Kingfisher (64): HYD-CCU: 12/2008
8.24:
Kingfisher (14): IXA-GAU: 10/2006
7.87:
Indian (34): BOM-MAA: 09/2007
7.72:
Alliance Air (13): CCU-IXA: 10/2006
7.57:
Indian Airlines (10): DEL-CCU: 09/2006
7.23:
West Jet (03): YYC-YVR: 09/2006
7.15:
JetLite (37): BOM-GOI: 09/2007
6.98:
Air Koryo (100): PEK-FNJ: 04/2010
6.70:
Spice Jet (09): CCU-DEL: 09/2006
6.63:
Air Fiji (44): NAN-SUV: 10/2007
6.63:
Jazeera (67): DAM-KWI: 01/2009
6.58:
Air Tran (02): EWR-MDW: 08/2006
6.48:
Air India Express (63): CMB-MAA: 12/2008
6.44:
CO Micronesia (39): ROR-YAP: 10/2007
6.41:
Pacific Sun (43): NAN-SUV: 10/2007
6.37:
Skybus (47): SWF-CMH: 02/2008
6.33:
Kenya Airways (29): NBO-BJM: 08/2007
6.33:
Sky Europe (56): LTN-BTS: 10/2008
6.31:
Indigo (15): GAU-CCU: 10/2006
6.31:
easyJet (57): BUD-LTN: 11/2008
6.22:
Air Link Swazi (28): MTS-JNB: 08/2007
6.22:
Air India (36): HYD-BOM: 09/2007
6.13:
Adam Air (07): SIN-CGK: 09/2006
6.13:
Air Rarotonga (41): RAR-AIT: 10/2007
6.04:
Suriname Airways (118): PBM-POS: 01/2011
6.00:
Transairways (27): INH-MPM: 08/2007
5.95:
Air Canada (05): ALB-YYZ: 09/2006
5.85:
SAS Norge (22): OSL-AES: 05/2007
5.81:
LAM Mozambique (26): JNB-MPM: 08/2007
5.69:
Air Deccan (12): IXZ-CCU: 10/2006
5.67:
Rwanda Air Exp (30): KGL-NBO: 08/2007
5.52:
Sevenair (114): TOE-TUN: 11/2010
5.37:
Felix Airways (92): SCT-SAH: 12/2009
5.11:
Aero Republica (76): BOG-CCS: 04/2009
5.07:
Go Air (35): MAA-HYD: 09/2007
5.04:
Biman (121): DAC-CGP: 01/2011
5.00:
Sky Airline (51): IQQ-SCL: 06/2008
4.96:
United Bangla (122): CGP-DAC: 01/2011
4.96:
Valuair (08): CGK-SIN: 09/2006
4.78:
Air Comet Chile (50): SCL-IQQ: 06/2008
4.74:
Fly 540 (31): MYD-LAU: 08/2007
4.33:
Viva Aerobus (20): ELP-MTY: 02/2007
4.11:
Air Sahara (11): CCU-BOM: 09/2006
(Note on Codes: Y – Economy, J – Business, F – First :: I/D – International/Domestic :: SR/MR/LR – Short/Medium/Long Haul)
(Note on Date: Dates are modified to be +/- 3 days from actual flight date to not reveal actual flight pattern)
VII> Other Pictures:
(Some pictures from Irkutsk and the beautiful Lake Baikal region)
*
*
*
(Irkutsk: our hotel - am sure there was ton of real spy action)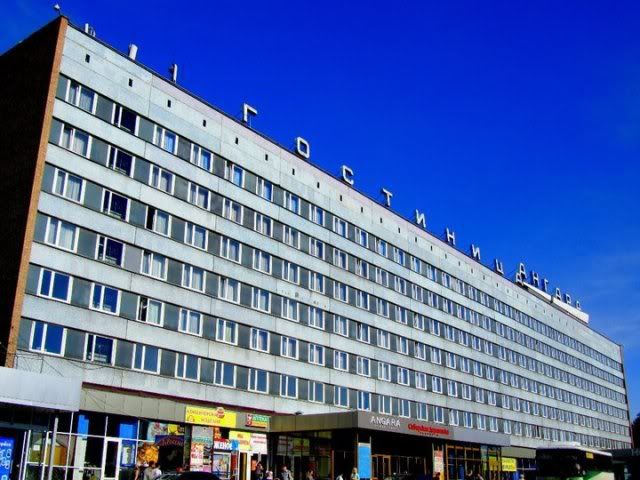 *
(We all need direction)
*
(Mayor candidate)
*
*