Dear all,
Here is my recent trip traveling SQ's 747-400 between HKG-SIN-HKG in Business Class, hope you will enjoy!
Reason for the trip: Need a trip during Chinese New Year holiday, was planned to go BKK because TG fly their A340-600 to HKG, however, just before booking, I discovered that SQ would send the 747-400 to HKG instead of 772 during the CNY period, so it is the best opportunity to travel on it before they retire in March 2012.
On the day, I took the Airport Express to HKIA, and found the QF advertisement for their new A380 service to Sydney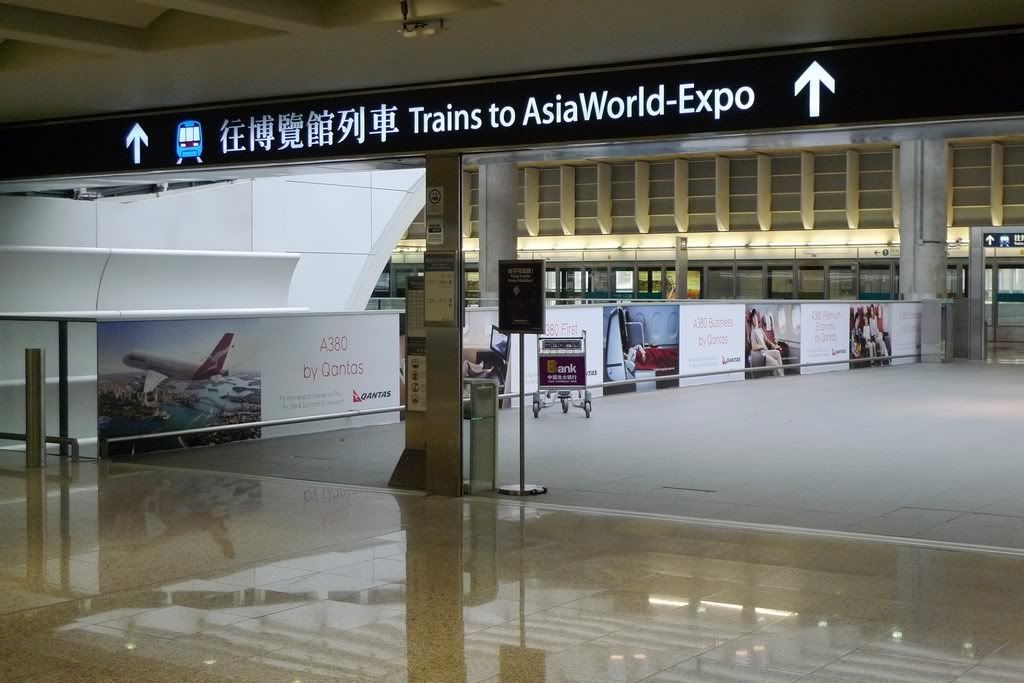 CNY decoration in HKIA
SQ check-in counters are in aisle F
No queue for Business check-in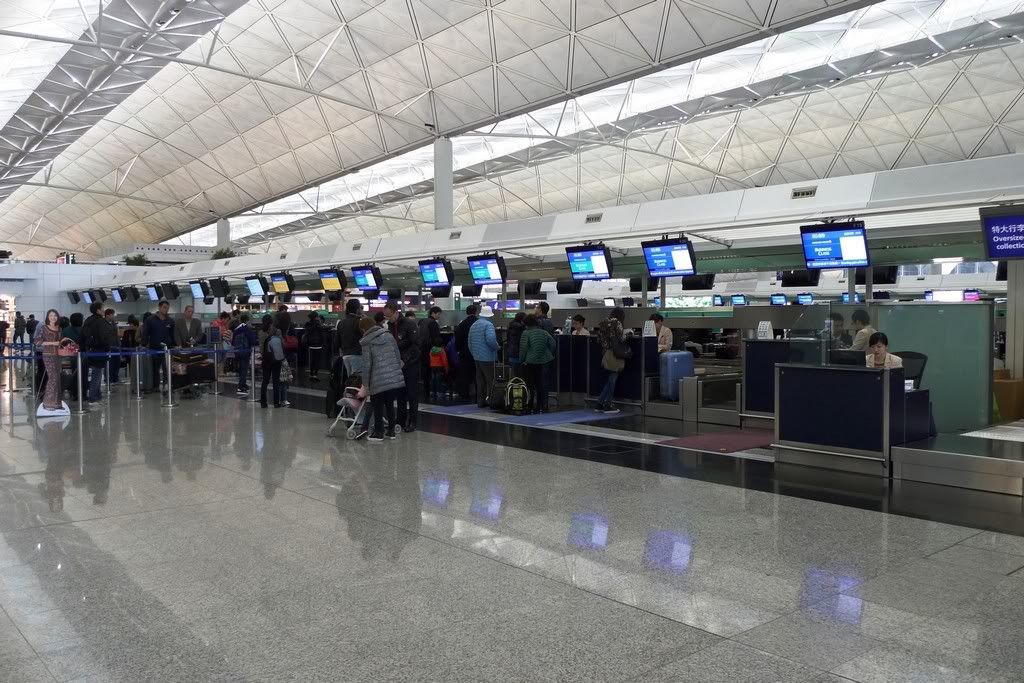 After the immigration, I looked out the windows and found the 747 was still parking outside, it stayed overnight in HKIA
It would be nice to visit the lounge for breakfast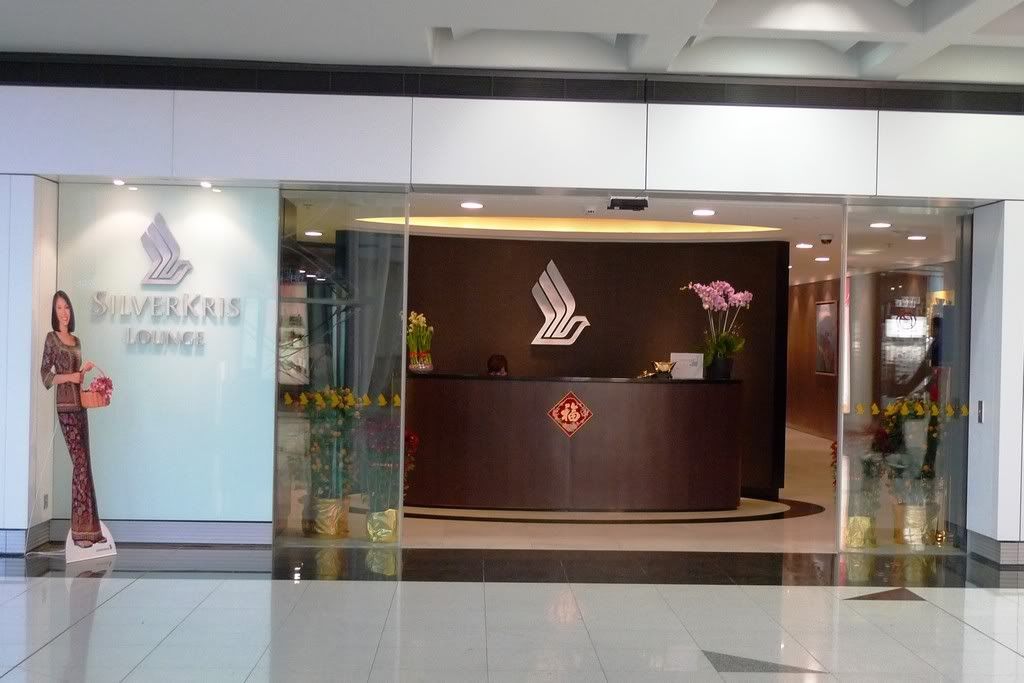 The lounge was so quiet with only few people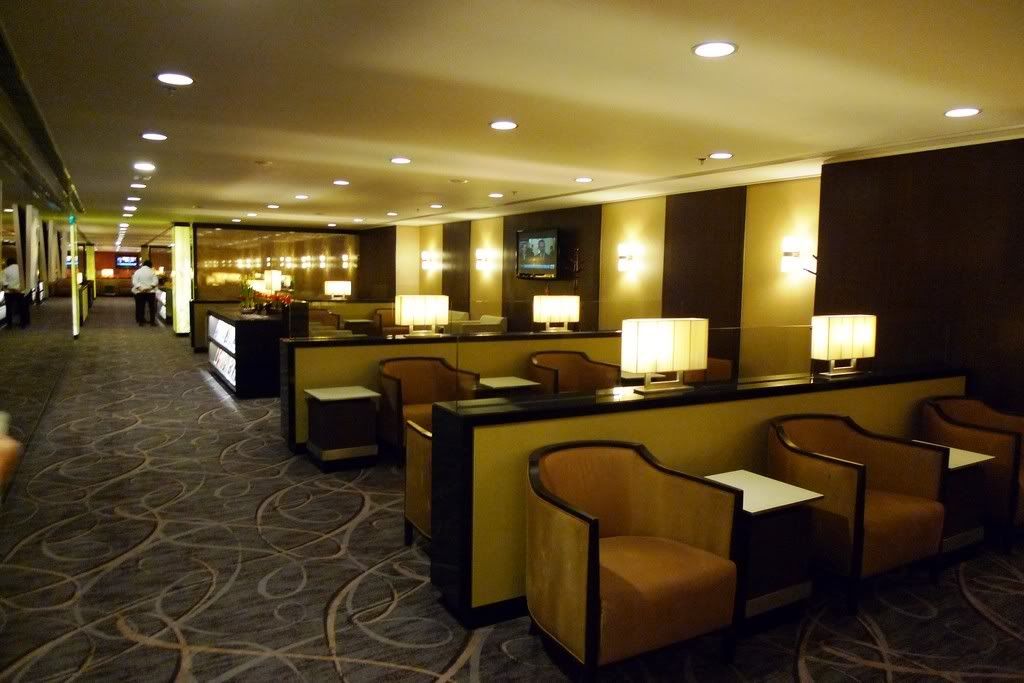 Food and Drinks counter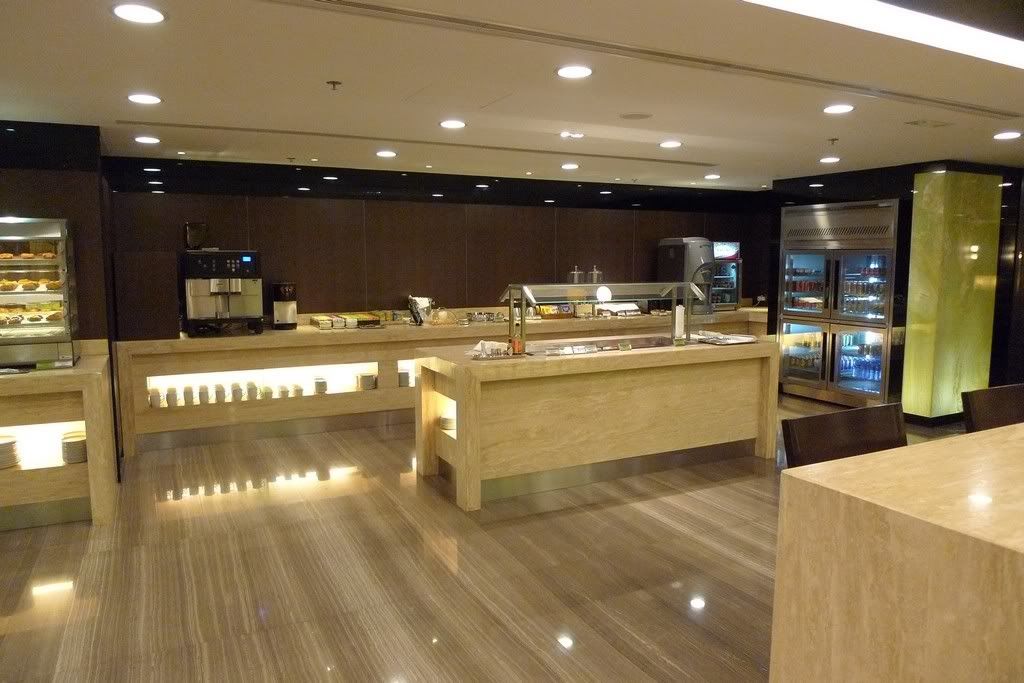 My choices, the food quality was good and the choices was more than enough!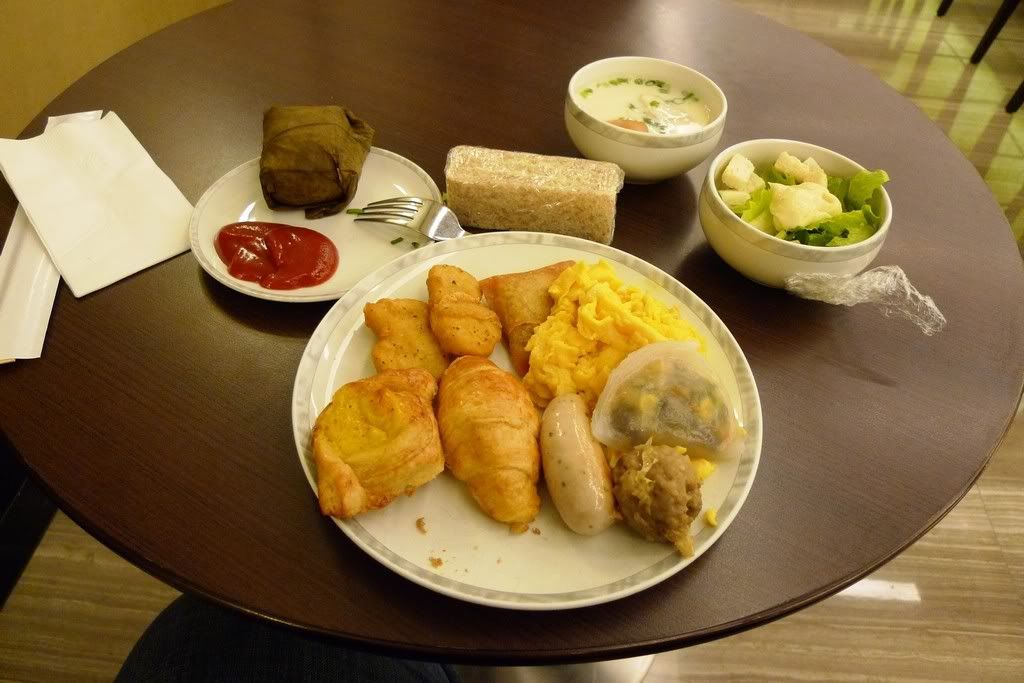 After the breakfast, I headed to the Gate 23
26 January 2012
Hong Kong (HKG) – Singapore (SIN)
Airline: Singapore Airlines
Flight: SQ 859
Aircraft: 747-400
Registration: 9V-SPJ
Seat: 20K (Business)
Gate: 23
Arriving Gate: B3
Gate 23
My boarding pass
9V-SPJ
Boarding was about to start, the queue for Economy Class was so long, that's the reason SQ use the 747-400 rather than 777-200 during the period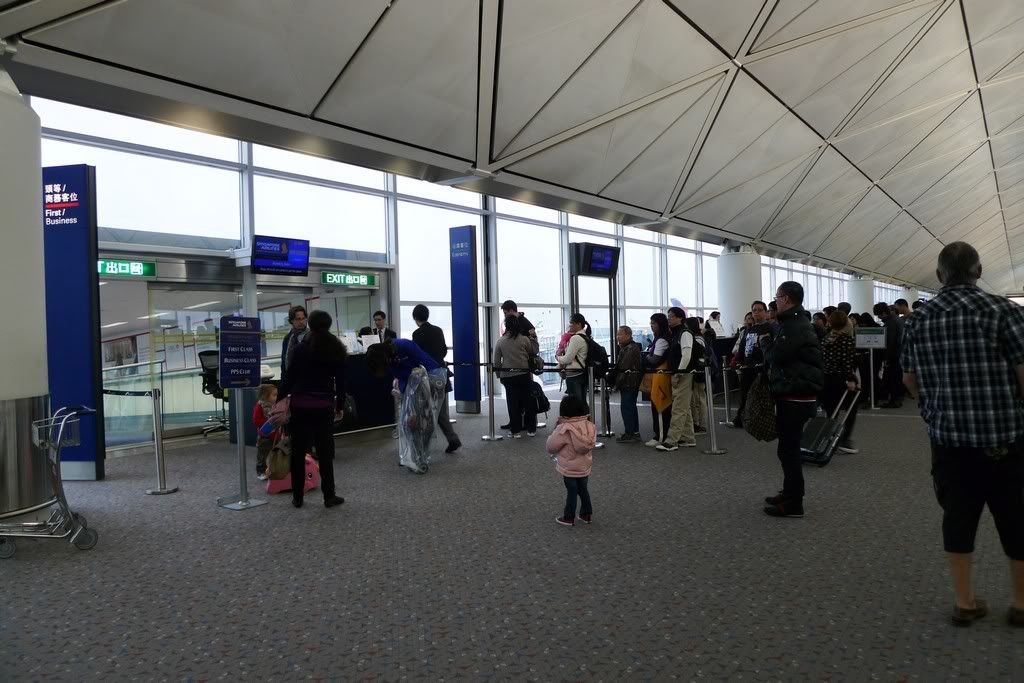 Door 1L
Dedicated Bag for 9V-SPJ
First Class cabin, not open for this flight
View from my seat 20K, the last row of upper deck
Overhead bin
Welcome drink, I chose water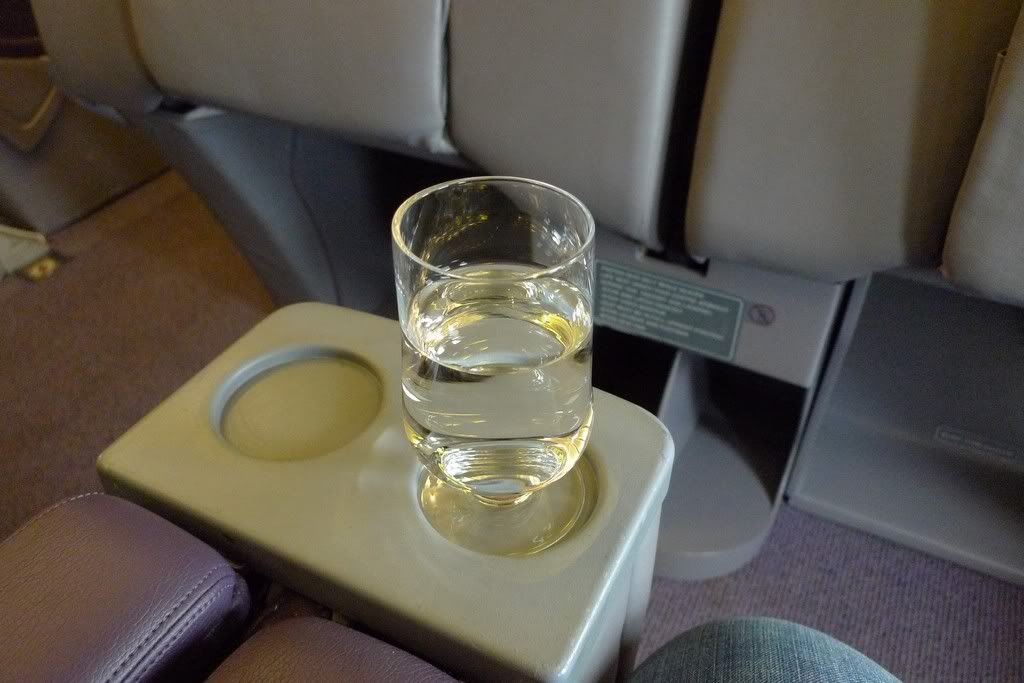 Legroom
Safety Information Card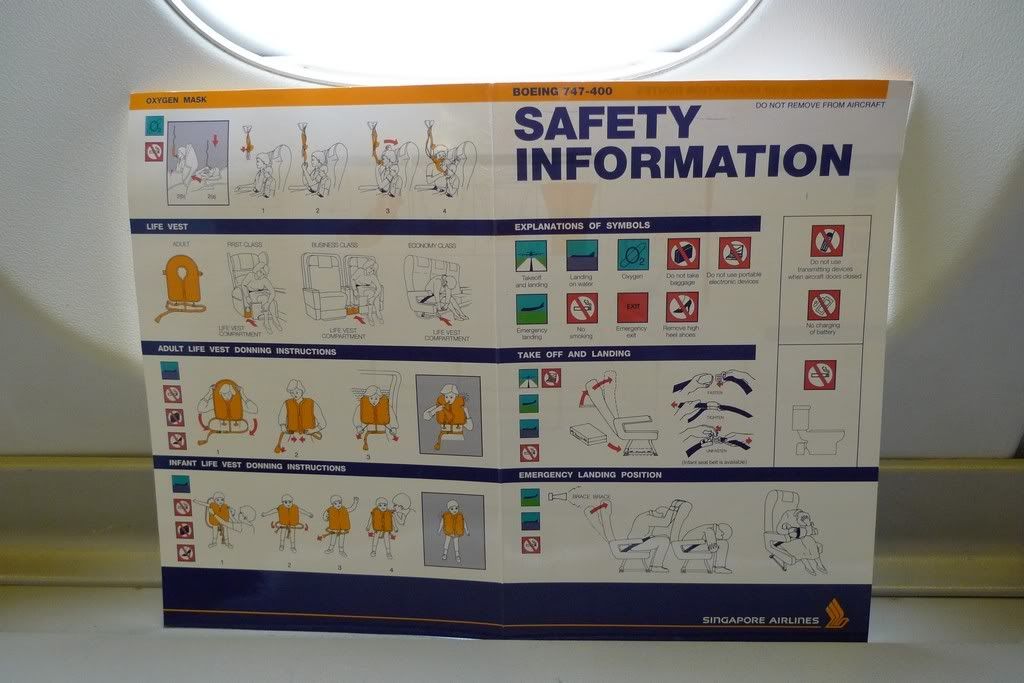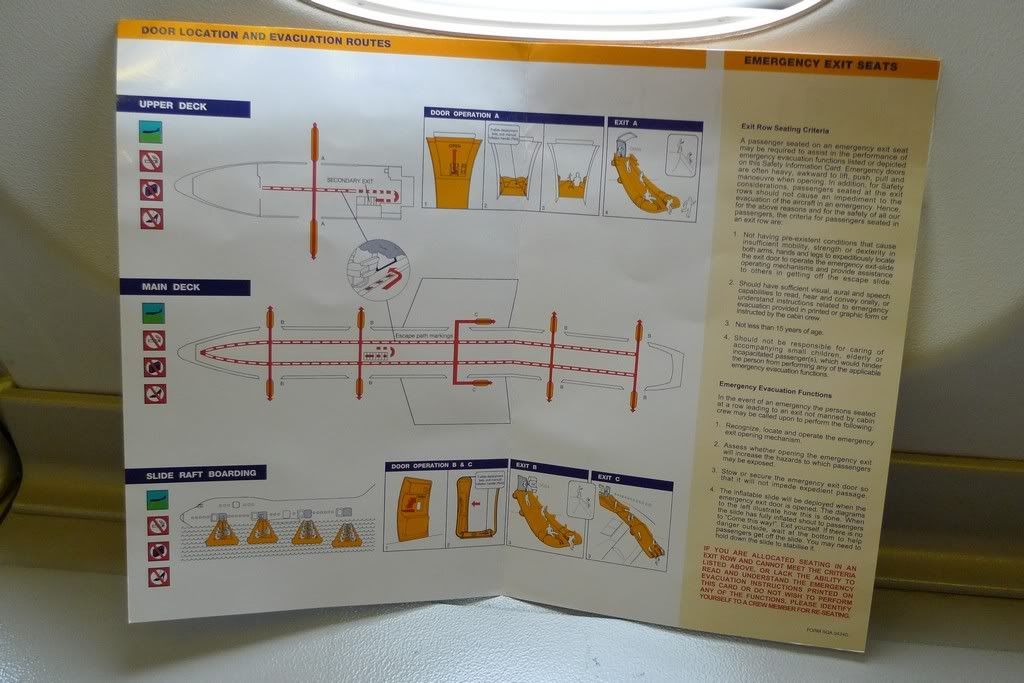 Side bin
Another angle
Engines
Pushed back was on time, during taxiing, saw the all white OX 747-400 heading to BKK
And the one I wanted to see for long, the Hong Kong Trader 747-8F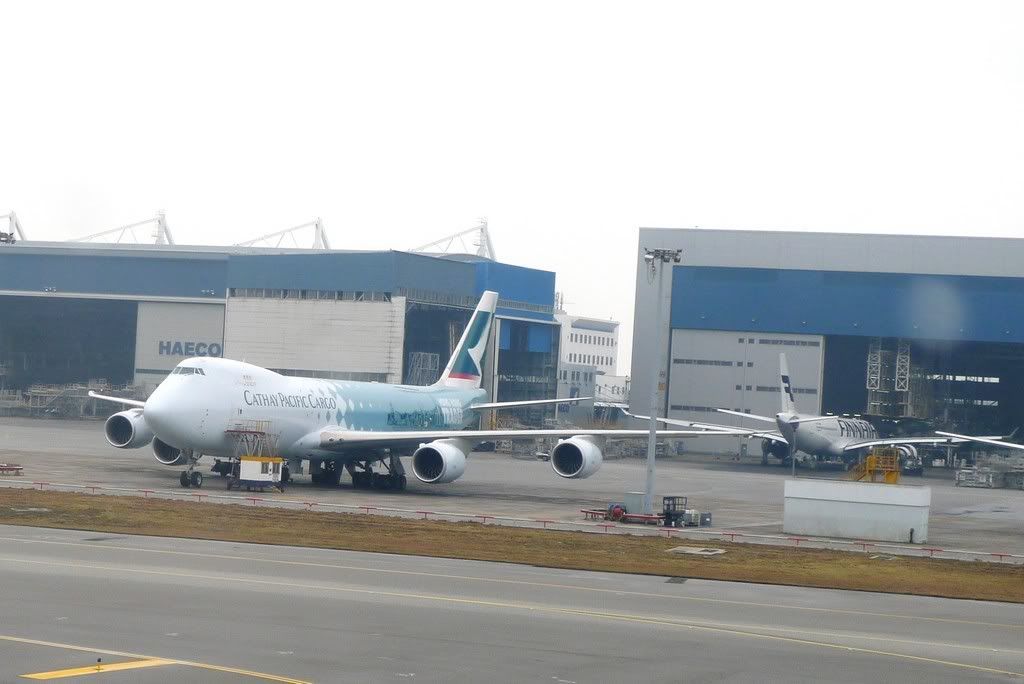 Takeoff was fast and we used only half the runway
The IFE was turned on afterwards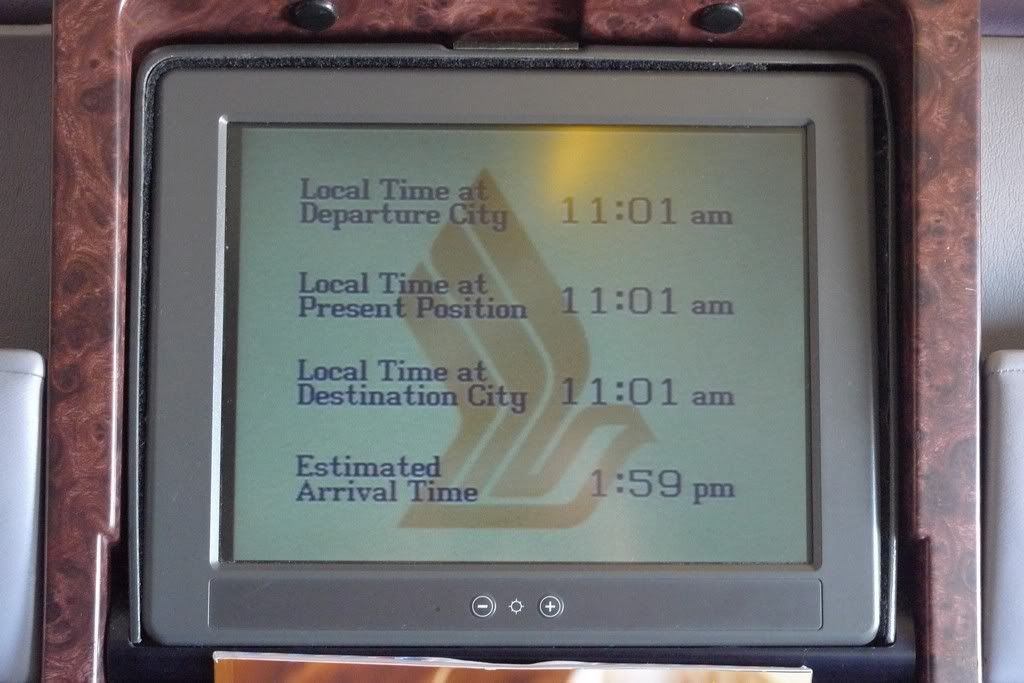 Post-takeoff drink and nuts
The seat was comfortable and wide enough, but it was not easy to control
The seat control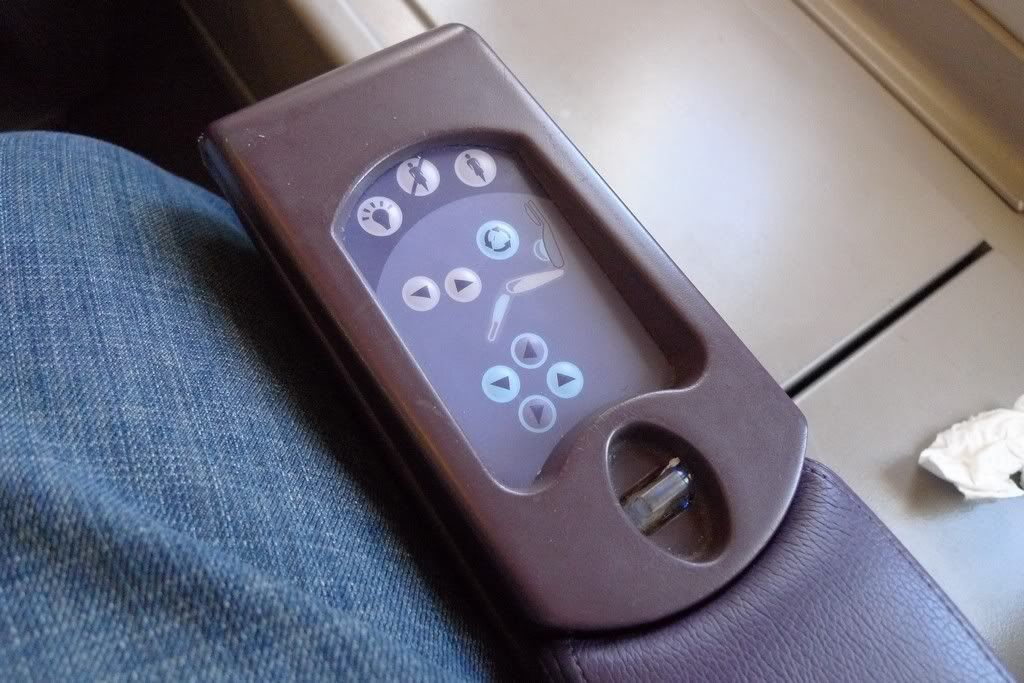 IFE handset
Noise Cancelling headphones
Meal started very soon after takeoff, here is the menu, nicely design for Chinese New Year!
Starter
Smoked duck breast with dried apricot compote with Mustard vinaigrette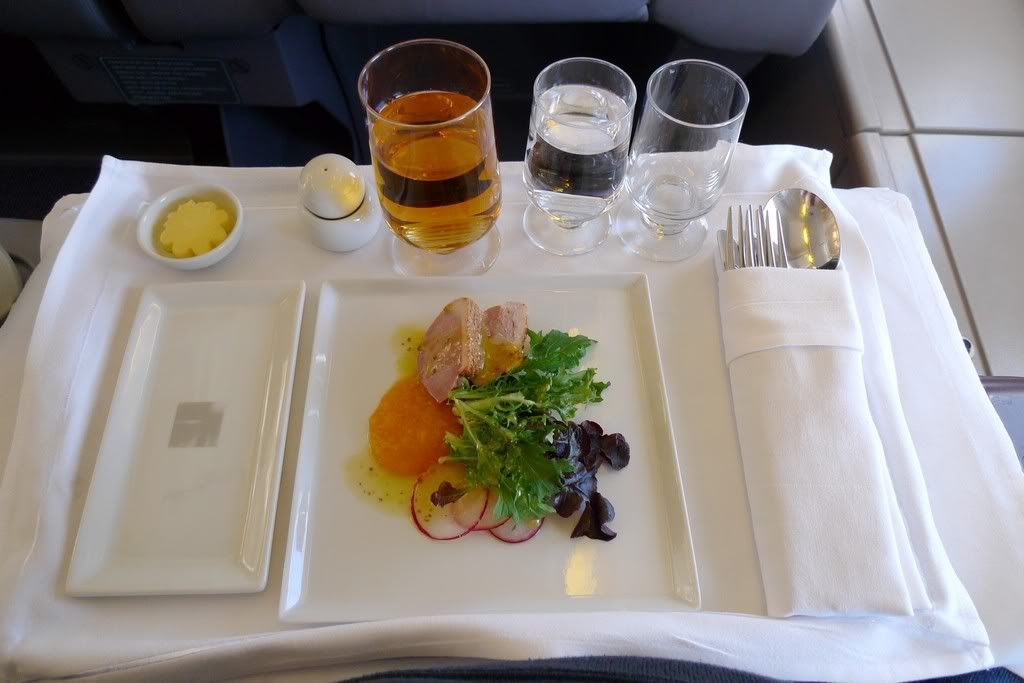 Main
Book the Cook - Stir-fried prawns and scallops with braised beans in leek and red wine vinaigrette with vegetables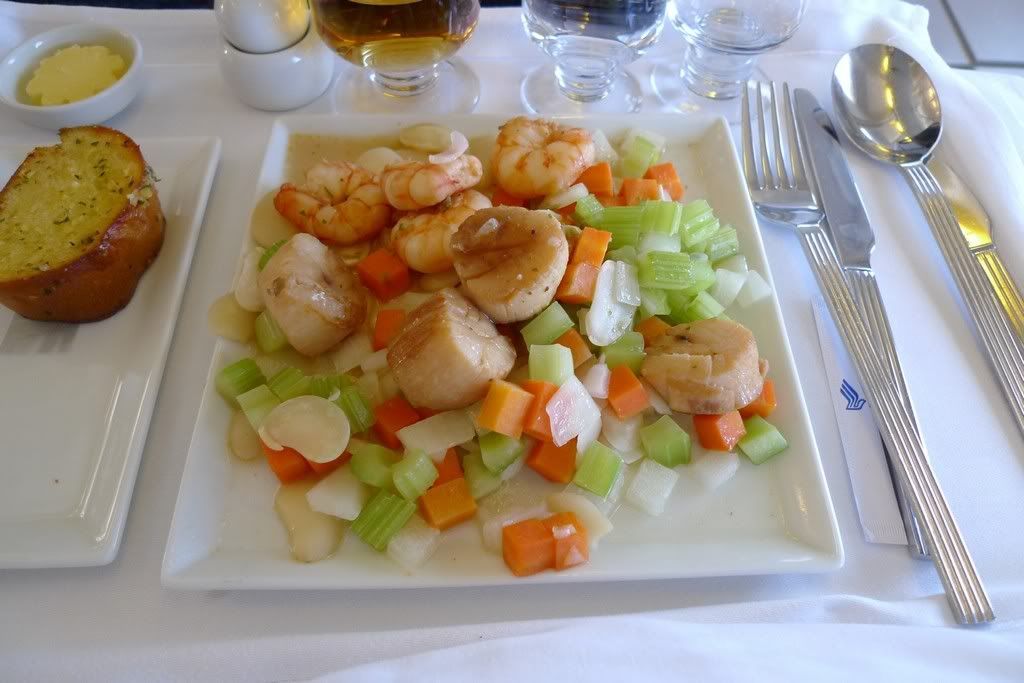 Dessert
Peach crumble flan with vanilla sauce
Skipped the cheese, just some fruit
After the meal, visit the washroom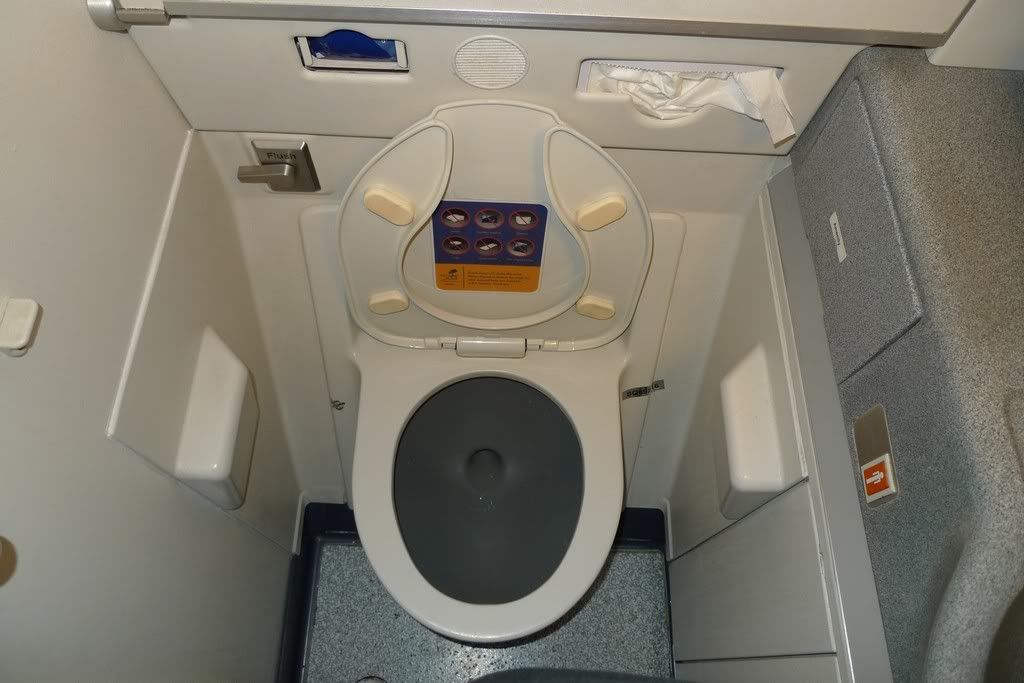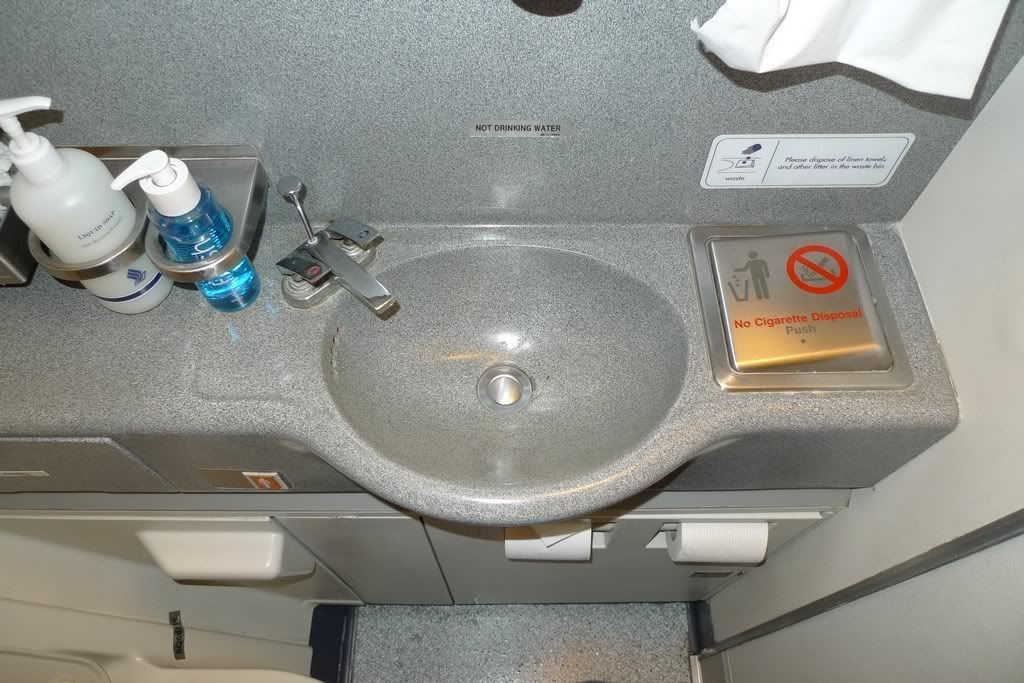 The load was very light in Business class today, only 5 upper deck, a very peaceful cabin
Cabin view
The famous Row 17 with many legroom
The near flat seat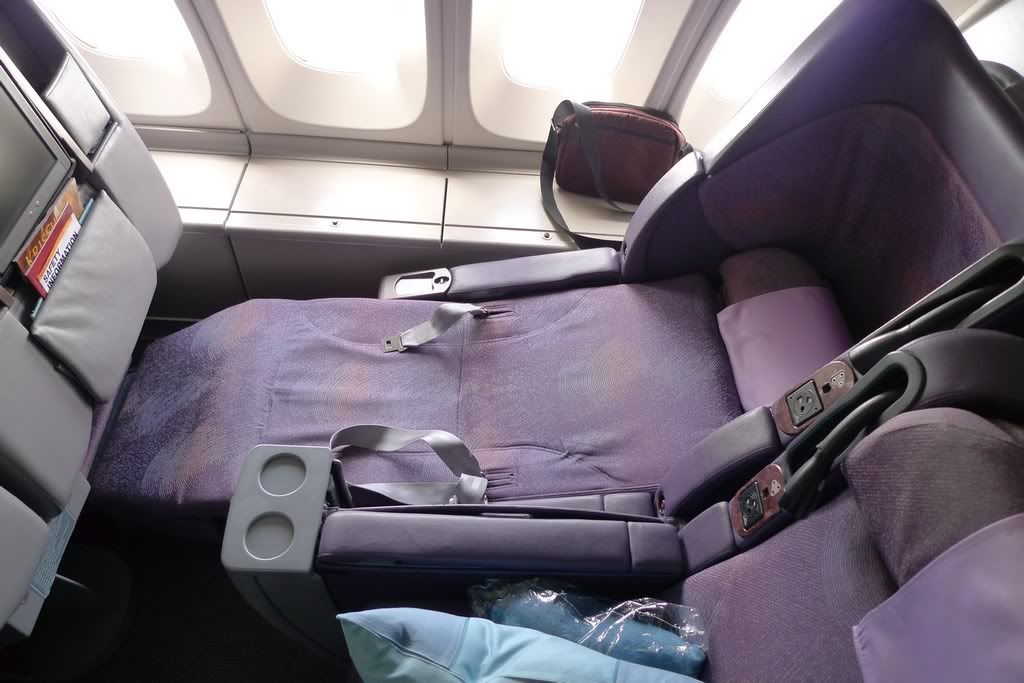 Stair to main deck
After 3 hours of flying, we were going to descend to Singapore, at this moment, some passengers moved to upper deck with their bags, I was wondering were they going to visit the flight deck after landing, but the answer was due to the flooding in Economy Cabin, the passengers have to move to somewhere else, ooops!
Anyway, landing was smooth and thank you 9V-SPJ!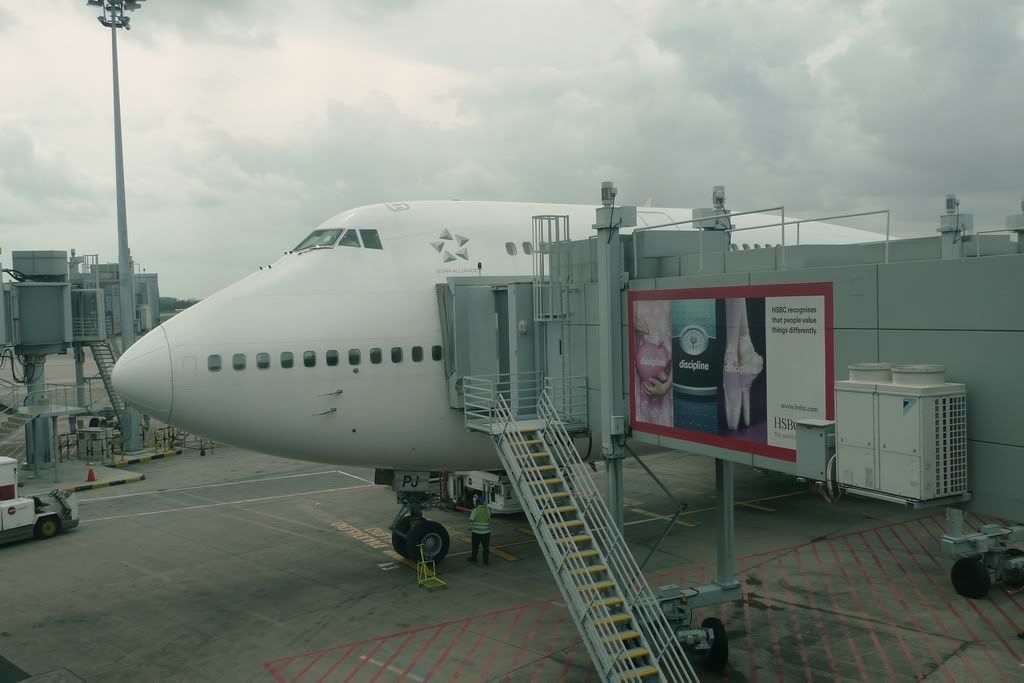 Passed the immigration in no time, took the MRT to Novena to the rather new hotel called Oasia Hotel Singapore
Club room in 25/F, it was nice but a bit too small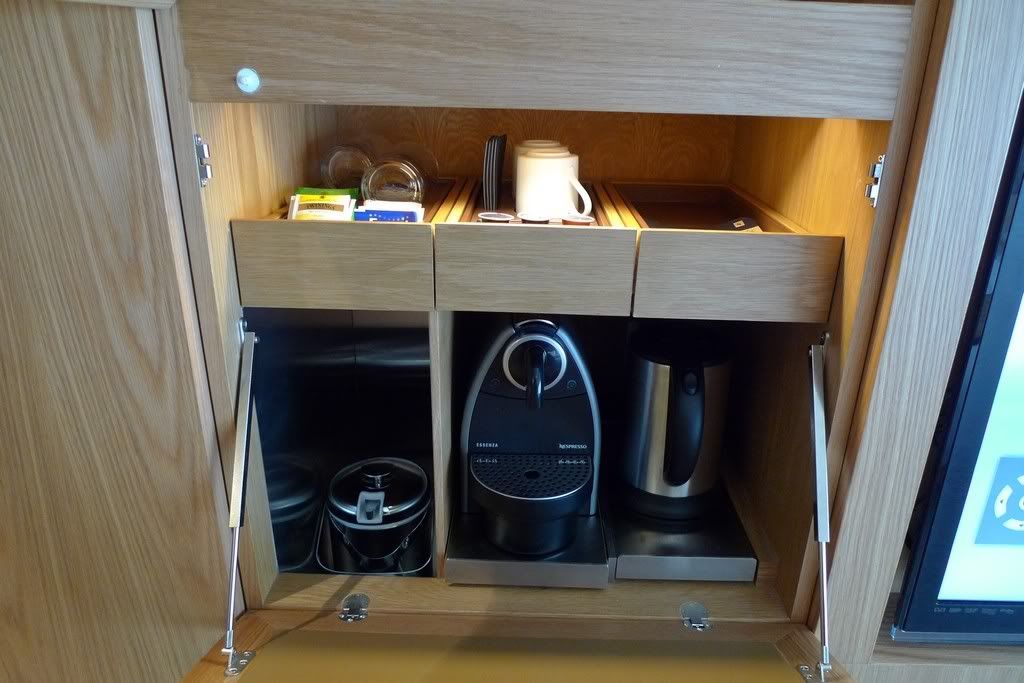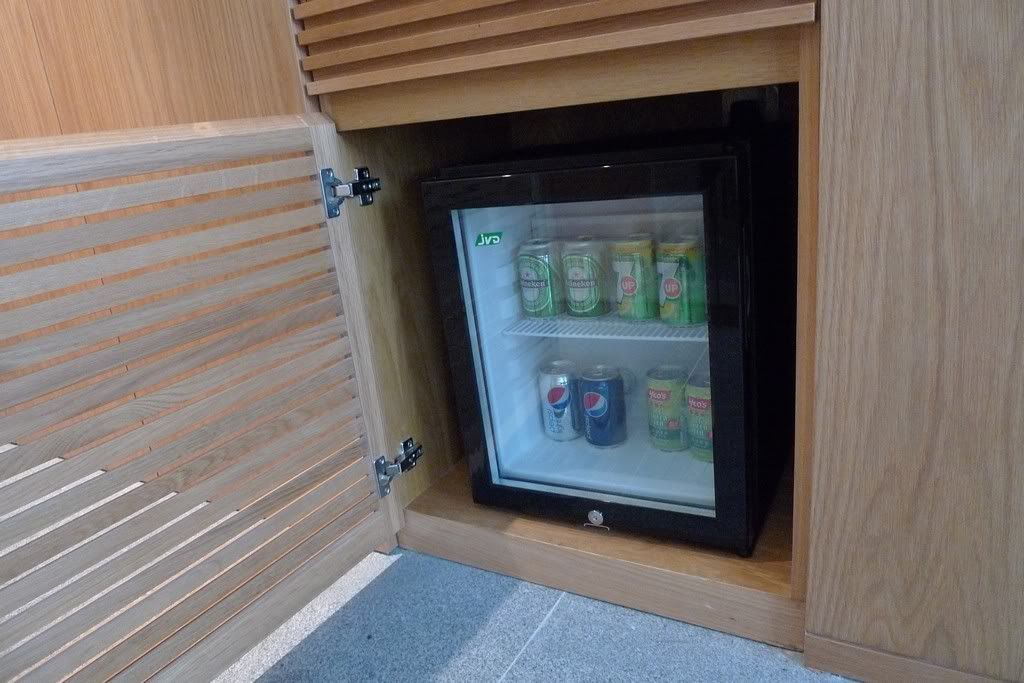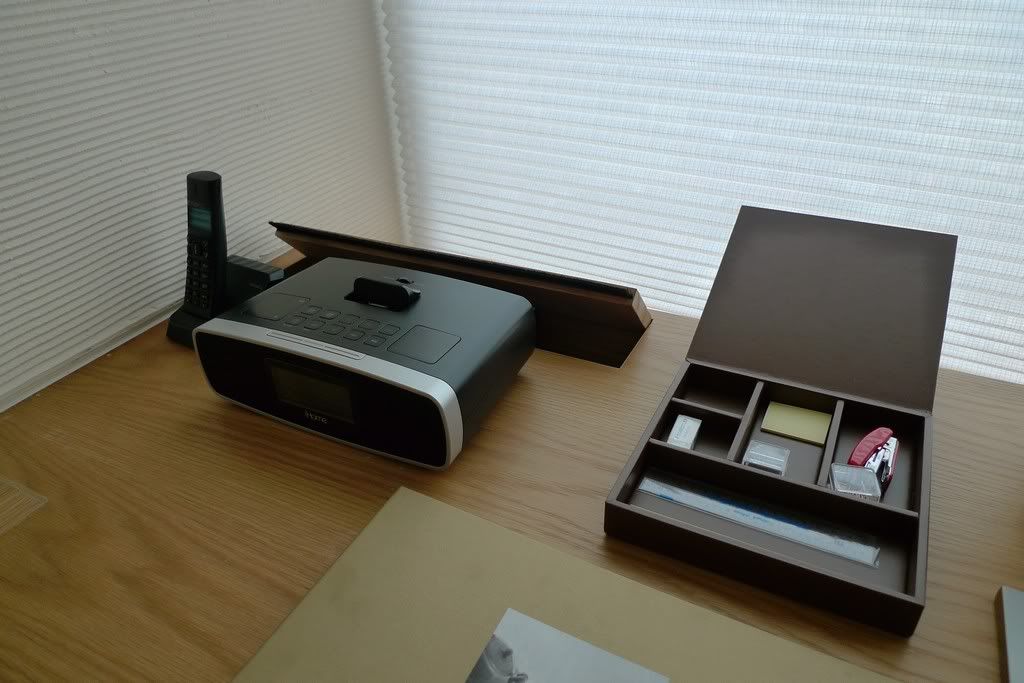 View from my room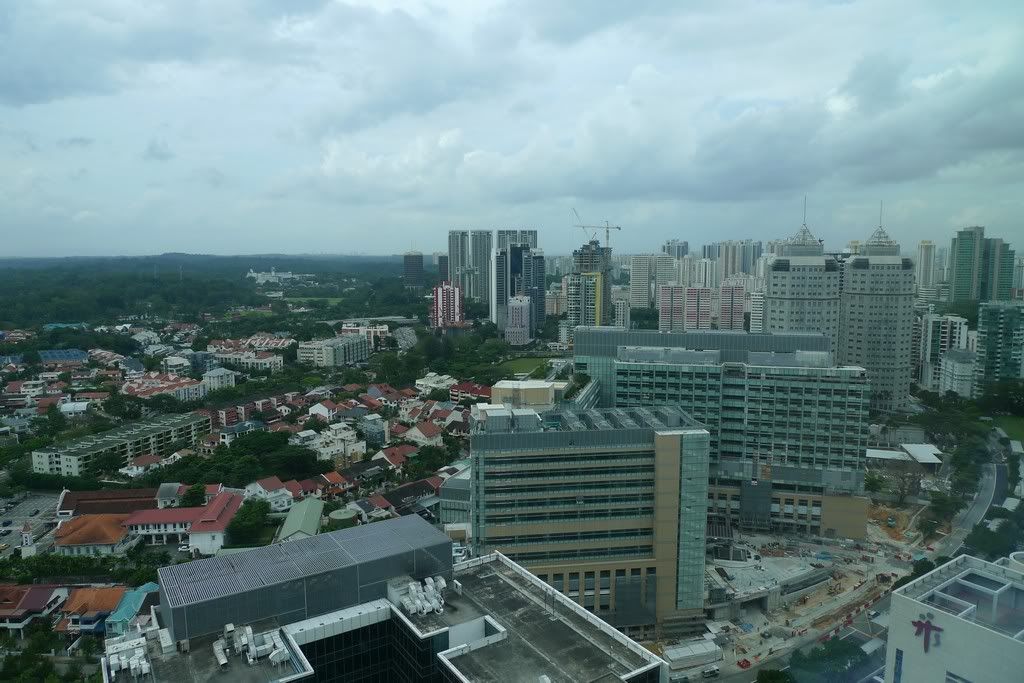 The service was very good and the Club floor was very nice, the only cons were the size of the room and the not so centered location
After 2 nights, I was in Singapore Changi Airport Terminal 3 again
FID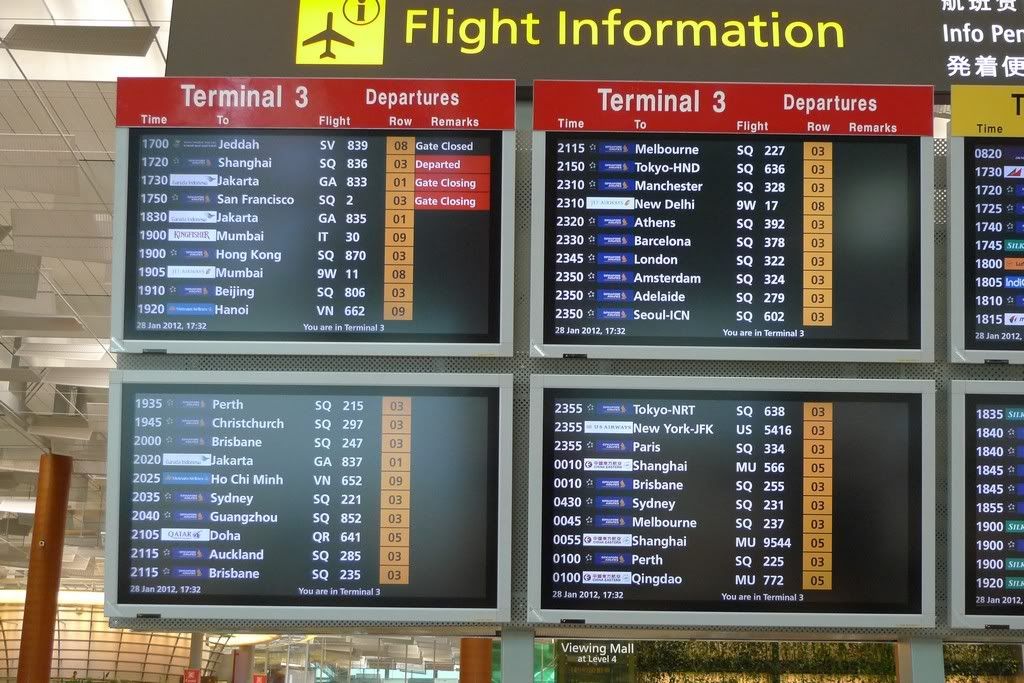 Business Class check-in at Aisle 6
So quiet at that time
For Chinese New Year?
There was quite alot of people at immigration today, so it took about 10 minutes to clear
Head to the Silverkris Lounge
Entrance
Food area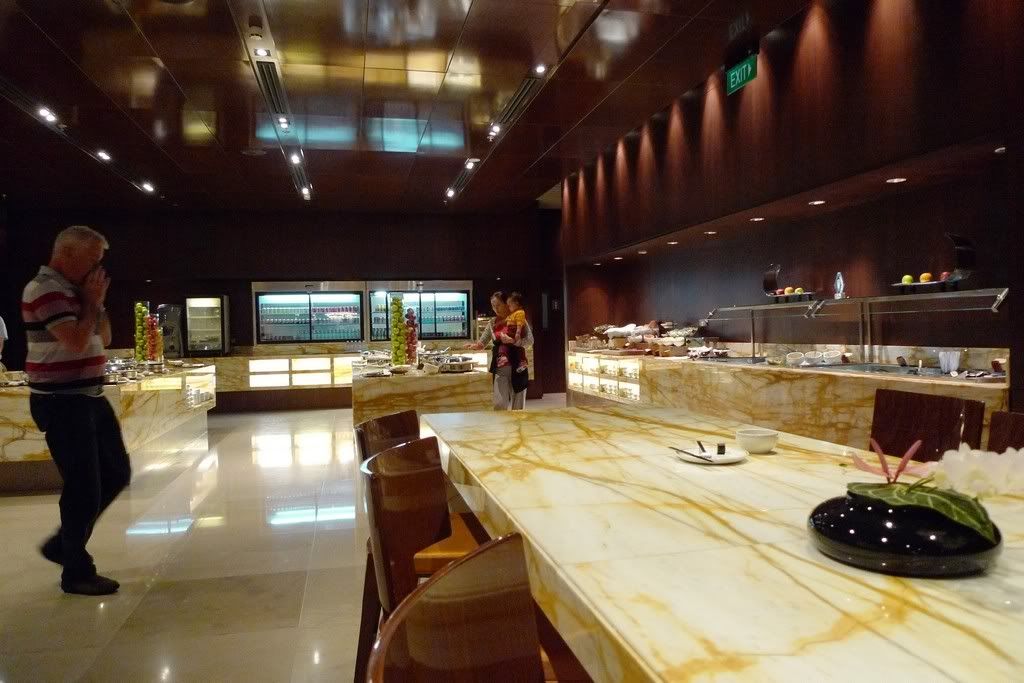 Many choices, but not in my taste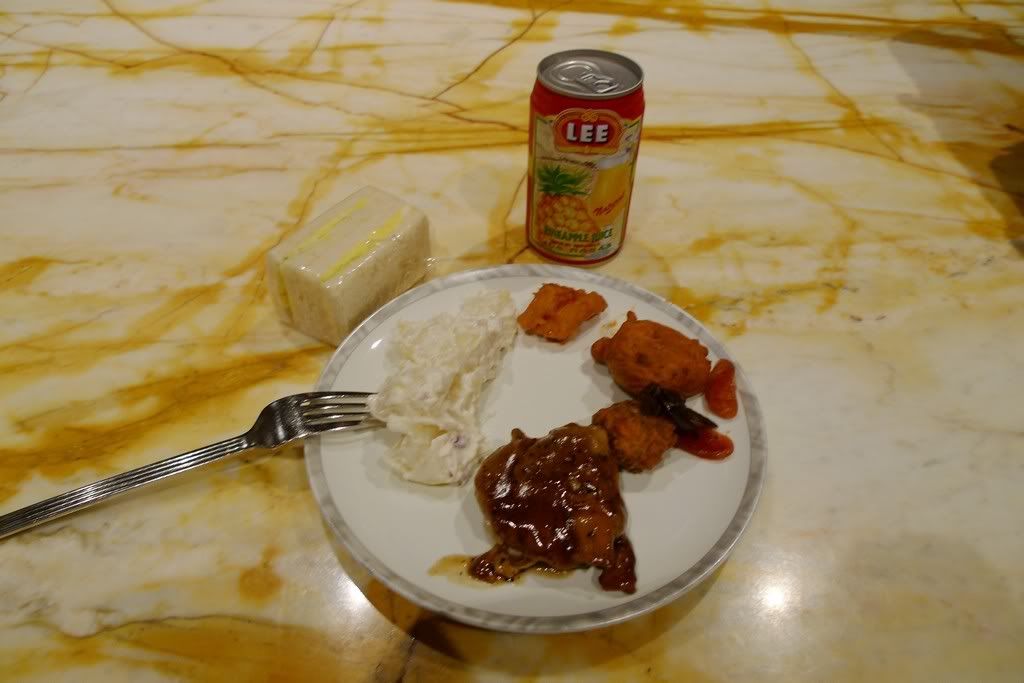 It's time to proceed to the gate, and I found that I will be on 9V-SPQ
28 January 2012
Singapore (SIN) – Hong Kong (HKG)
Airline: Singapore Airlines
Flight: SQ 870
Aircraft: 747-400
Registration: 9V-SPQ
Seat: 24K (Business)
Gate: B2
Arriving Gate: 43
Gates B1,2,3,4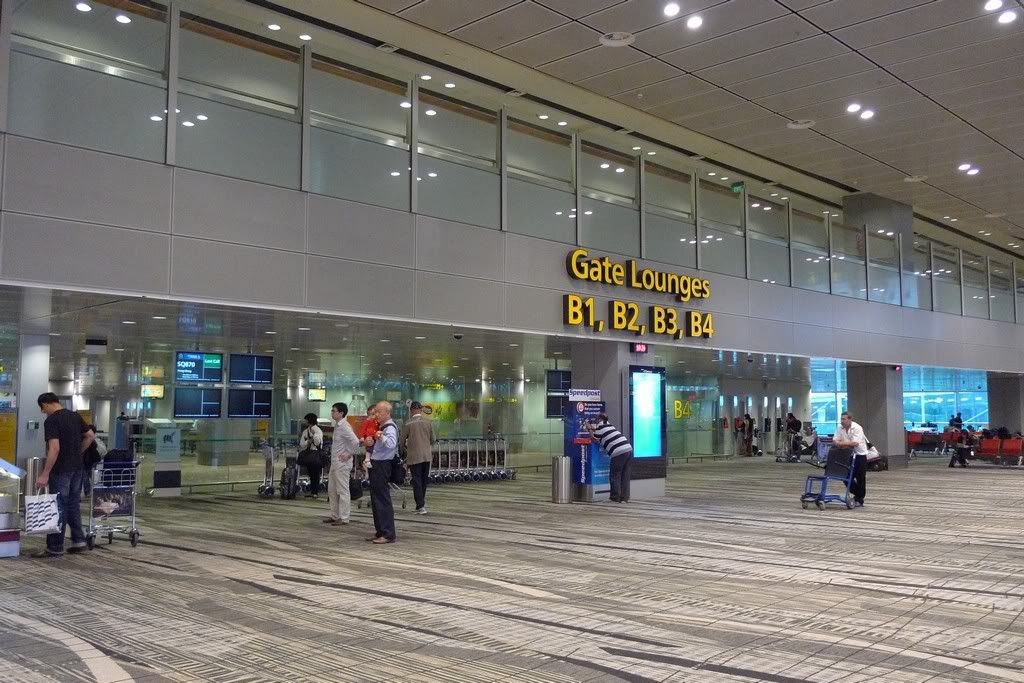 Last Call already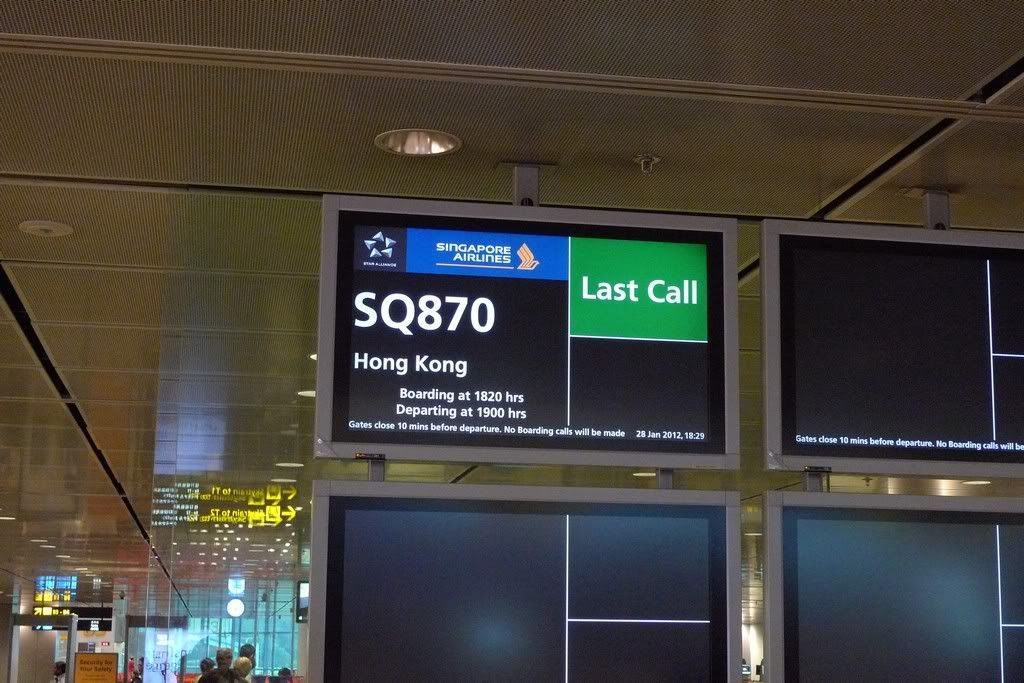 Boarding Pass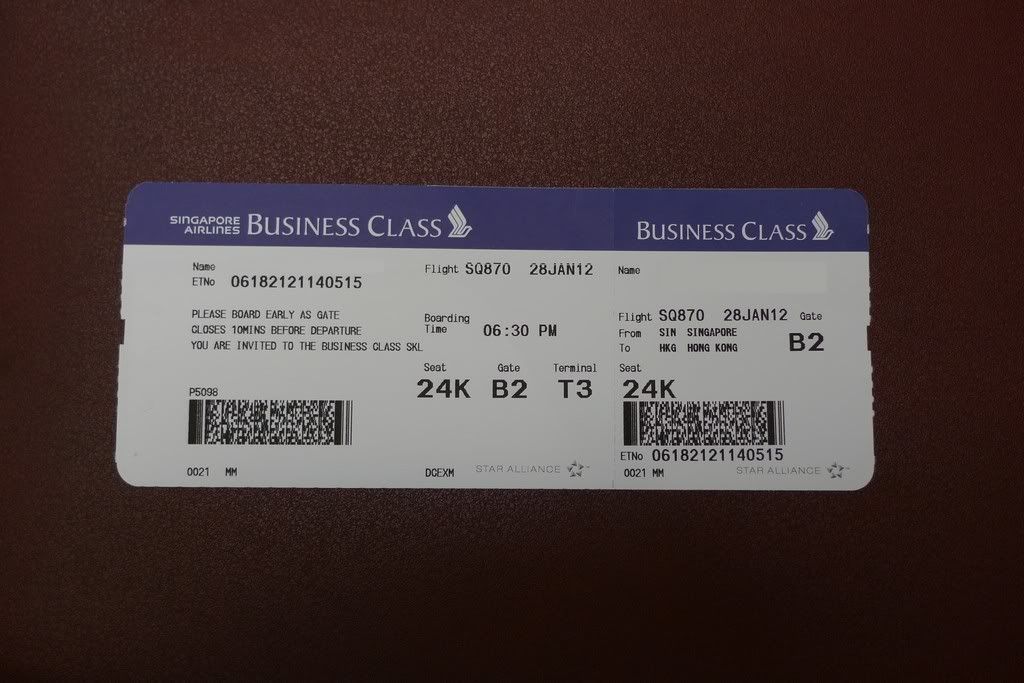 Gate B2
9V-SPQ
Seat 24K at main deck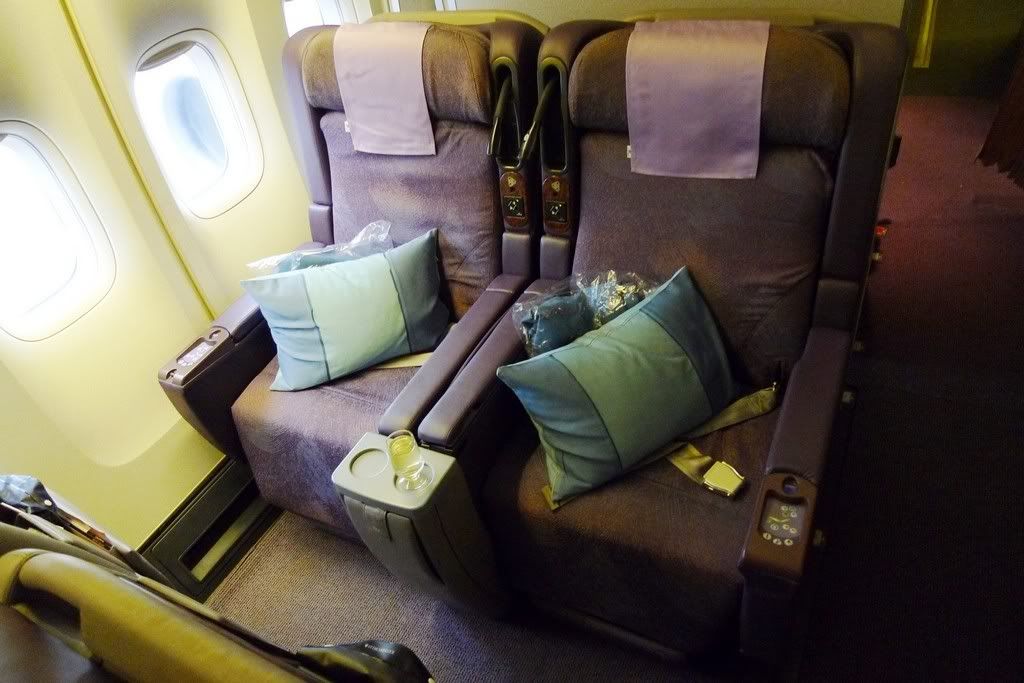 Last row
View from my seat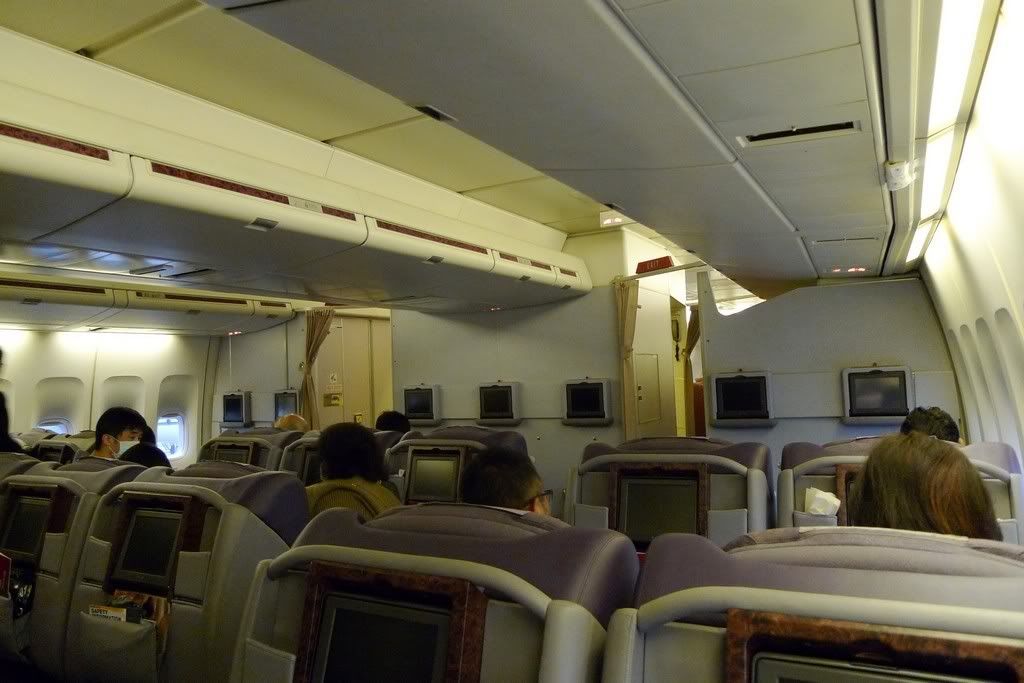 Seating pitch
Engines and Wing
Our neightbour have to change her flat tire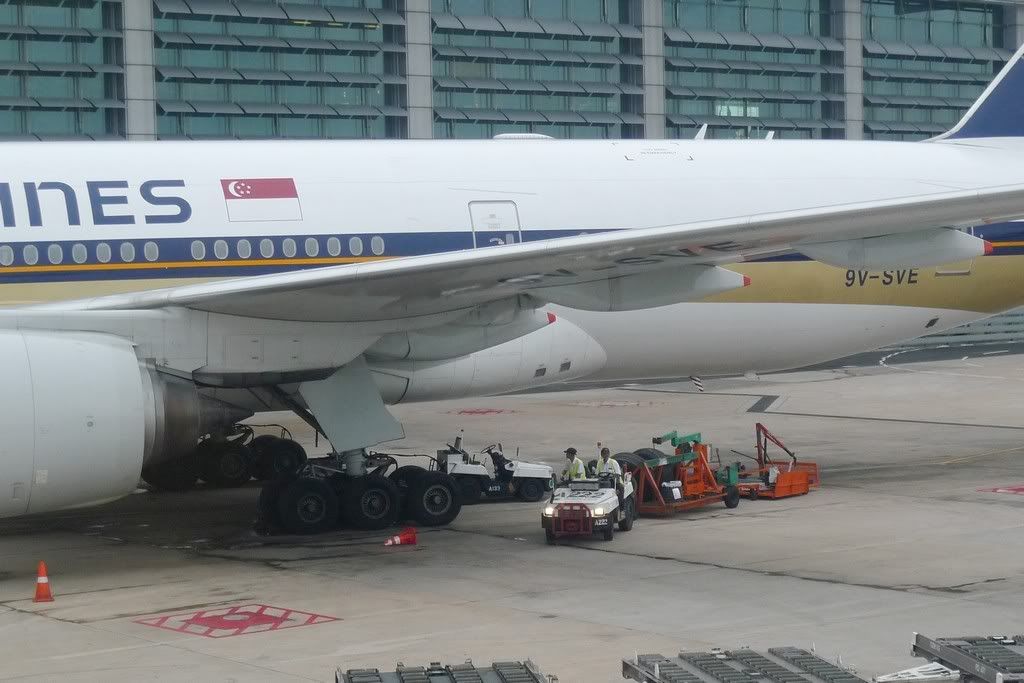 Pushed back was on time, the Business and Economy class cabins were fully packes, but the First Class left empty
Meal service commenced after takeoff
Starter
Fa Cai Yu Sheng (Singapore CNY dish) - Prosperity New Year Salad with Salmon to usher in the "Year of the Dragon"
Main
Book the Cook - Duck with Yam Rice
Dessert
Chocolate and Cherry cake with raspberry sauce
Cheese and fresh fruit
I was so full after the meal......and this is the toilet time!
Descend started afterwards, the three hours journey finished in no time.
The landing was a bit hard, and it took ages to taxi to the Gate 43. It should be the last SQ's passengers 747 landing in HKG
When everyone rushing to leave, I took the opportunity to take some more photos of the First Class cabin
The famous seat 1B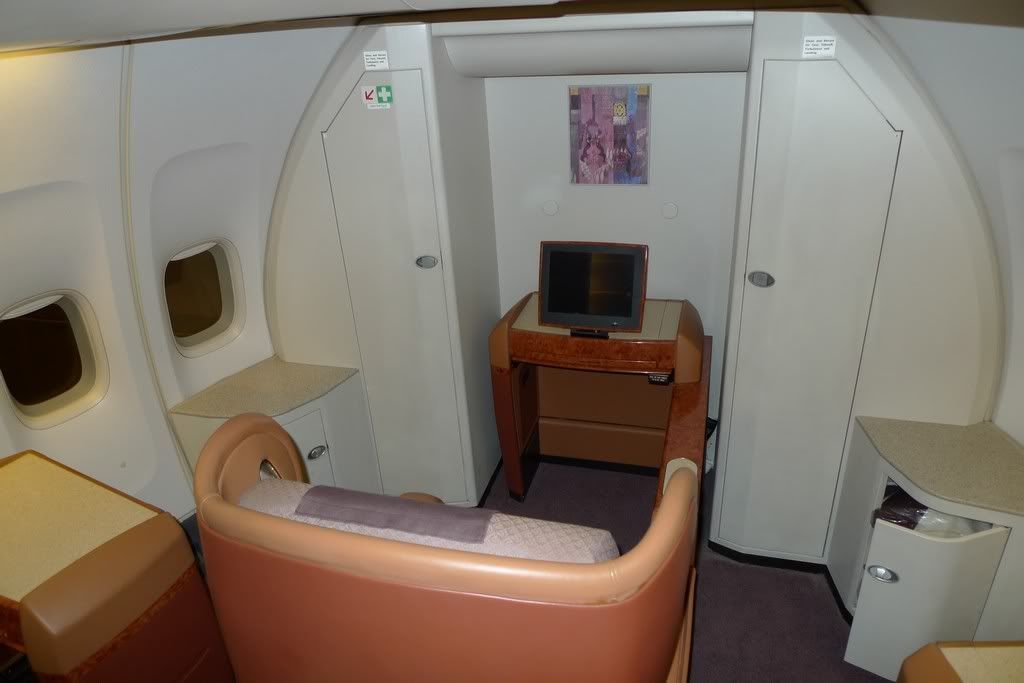 Thank you very much 9V-SPQ!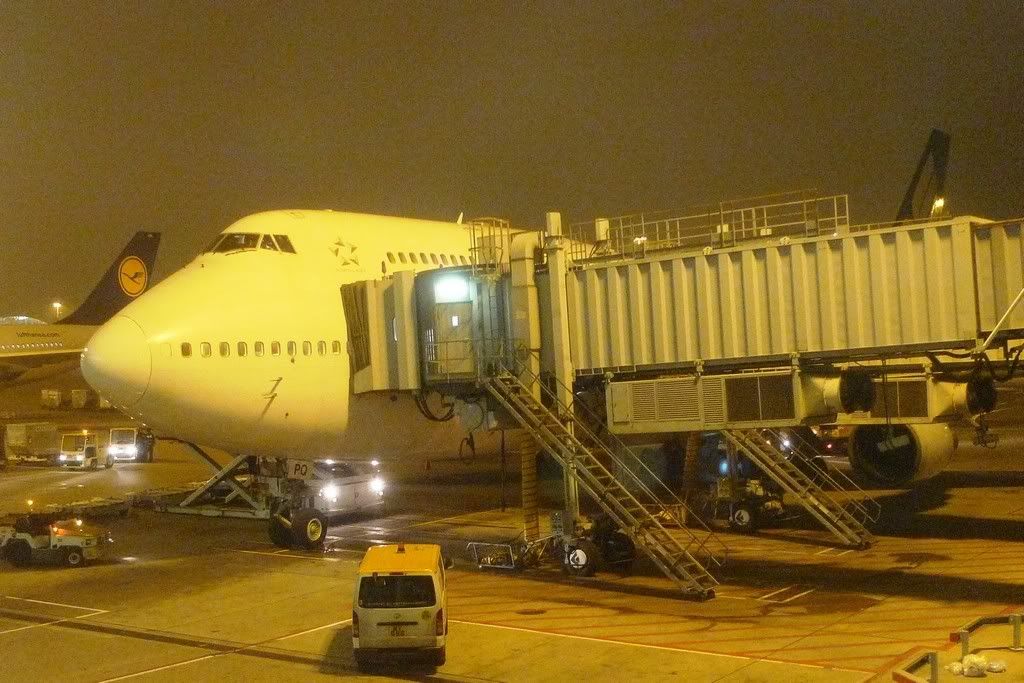 It is a bit sad the Queen will leave SQ this year, but they are really tired especially the problems about water, wet floor and flooding on 9V-SPJ, water dripping on 9V-SPQ.
Hope they will find a new home in the future! For those who would like to farewell the SQ's 747-400, you can still find them in SIN-MEL-SIN until late March
Thanks for reading ^^
My past TR:
Three 5-Star Airlines In 8 Days (102pics) (June 2008)
First Touch Of China Southern MD82 (31 Pics) (August 2008)
China Airlines HKG - TPE (47 Pics) (August 2008)
HKG-BKK With China Airlines In C (61 Pics) (November 2008)
HKG-BKK F On Emirates' 777-300ER (67 Pics) (May 2009)
HKG-TPE Turnaround On TG's A340-600 (33 Pics) (June 2009)
HKG,MFM,TPE,SIN,BKK In CX C And BR Y (201 Pics) (August 2009)
SQ Y HKG-SIN In 2009 w/MH And 1st A380(128 Pics) (Year 2009)
Ooop! I did it again Part 1 EVA Air MD-90 (May 2010)(50 Pics)
Ooop! I did it again Part 2 CX HKG-SIN run (May 2010)(116 Pics)
Photo Report: My Trip For BG's DC-10-30 (June 2010)(63 Pics)
First Time To Japan Part I: AI HKG-KIX In F (August 2010)
First Time To Japan Part II: JL KIX-HND In J (August 2010)
First Time To Japan Part III: OZ NRT-ICN In C (August 2010)
First Time To Japan Part IV: OZ ICN-PEK In NEW C (September 2010)
First Time To Japan Part V: IR PEK-NRT In C (September 2010)
First Time To Japan Part VI: NH FUK-ITM In C (September 2010)
First Time To Japan Part VII: AI KIX-HKG In F (September 2010)
EK A380 Inaugural Flight HKG-BKK In F (107 Pics) (October 2010)
Europe Trip 2011 Part I - HKG-BKK On TG F (June 2011)
Europe Trip 2011 Part II - BKK-SIN On SQ J (June 2011)
Europe Trip 2011 Part III - SIN-LHR On SQ F Suite (June 2011)
Europe Trip 2011 Part IV – LHR-ZRH-MLA On LX/KM J (June 2011)
Europe Trip 2011 Part V – MLA-ZRH-LCY On KM/LX J (July 2011)
Europe Trip 2011 Part VI – MAN-CDG-SXM On AF J (August 2011)
Europe Trip 2011 Part VII – SXM-AMS-LHR On KL J (August 2011)
Europe Trip 2011 Part VIII – LHR-SIN on SQ Suite (August 2011)
Europe Trip 2011 Part IX – SIN-BKK-HKG SQ J & TG F (September 2011)