After visiting airlines.net regularly for 10 years, I decided it is high time I contribute. I have been clicking many photos, but never got the time to compose a trip report. Hope you enjoy it. Apologize my amateur photography and no Photoshop photos. I would appreciate feedback so that I can improve on future trip reports. So here goes….
BOM-HYD
27th December 2011
9W453 Jet Airways
Economy class
Boeing 737-800NG VT-JGU
STD: 0625 STA: 0745
ATD: 0640 ATA: 0805 delayed due to air traffic congestion
Background to the trip
It was Christmas season and I was visiting India to meet up with family and friends. My plan was to fly in to Mumbai from Madrid, spend a few days there, then fly to Hyderabad, then to Delhi and finally back to Madrid. I booked the legs from Spain to India and back on Qatar Airways. I was wondering which airline I should use for domestic flights in India.
I am a Jet Privilege member and a Jet Airways Citibank Platinum Credit Card (JACC) holder, and wanted to earn some miles, so I decided to go with Jet Airways. It has been a while since I took Jet Airways for my domestic trips, most of the time it has been Jet Konnect, their low cost airline.
I booked the flight on www.jetairways.com. It was very intuitive and in minutes the e-ticket was emailed to me. They even accepted my international card.
Initially while in Spain, I planned to fly out of Mumbai to Hyderabad on 26th December evening. But due to slight changes in my schedule, I had to change to 27th December. I made the changes at the Jet Airways office in the international airport after arrival from Madrid. The changes were done in seconds and I paid the fare difference. Considering this is peak season for travel and most flights sold out, I got a good deal only INR 2500.
Tele check-in
With no internet at the place I was staying in Mumbai, I decided to use the Tele check-in option. I called the Jet Airways call center. After holding on the call for about 5 minutes, I was transferred to the call center agent, who after taking many details checked me in. The agents are very professional while being extremely cheerful. I even got an opportunity to select a seat and I chose the exit seat for more leg room.
On the day of the flight
The flight was at 625am, so I left my house at 430am to reach the airport around 5am. The ride was quick because of no traffic at this early hour.
Check-in
Having a Platinum credit card, I proceeded to the Business class check in counter. All the premier counters had a queue due to the morning rush hour flights and I had to wait about 15 minutes in the queue. The lady at the check-in counter was very cold, seemed grumpy probably because of the early hours and the rush. She printed my boarding pass and tagged my bags with the priority and fragile tags.
With the Platinum card, I also get lounge access at select airports in India, so I asked where the lounge is. The lady told me that the lounge was shut down by the service provider and I couldn´t use any other lounges. This is not good since Jet Airways and Citibank advertise the lounge access at domestic airports in India like crazy!
Boarding
After a very long queue at the security check area, I decided to relax a bit at the benches near the boarding gates. Most Jet Airways domestic flights out of Mumbai operate out of ramps, so you´ll have to board a bus to reach the aircrafts.
Around 525am boarding was called and I proceeded to the boarding area with my boarding pass. There was no line, but we had to wait for the bus to take us to the aircraft. In a few minutes a bus came and picked people up.
The aircraft was parked at the International area and so we took around 25 minutes to reach the ramp due to air traffic and the distance between the domestic and international terminals. At around 6am, I finally boarded the aircraft a Boeing 737-800 NG.
I was not sure of the photo policy at Mumbai, so I quickly took a few shots of the aircraft: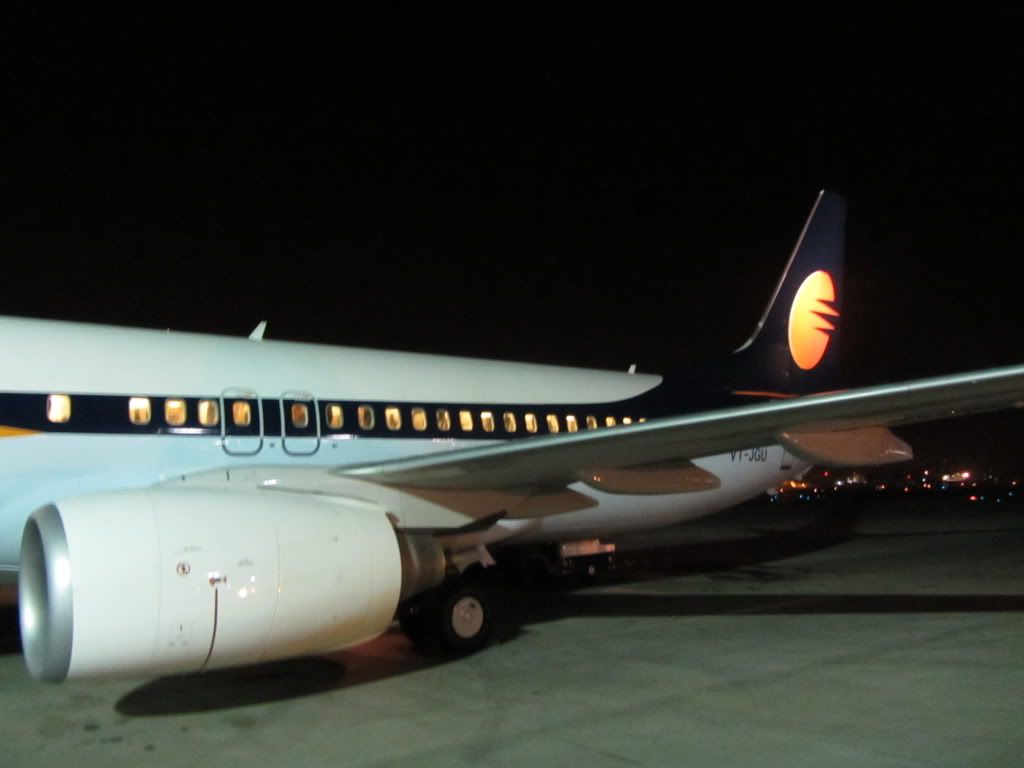 At exit door, a young female FA greeted each one of us with our name after looking at the boarding pass. This is a good gesture by the FA.
I had chosen the window exit seat 21A. It had wonderful leg space but found the seat to be a bit hard.
I was not sure of the photo policy at Mumbai, so I quickly took a few shots of the aircraft: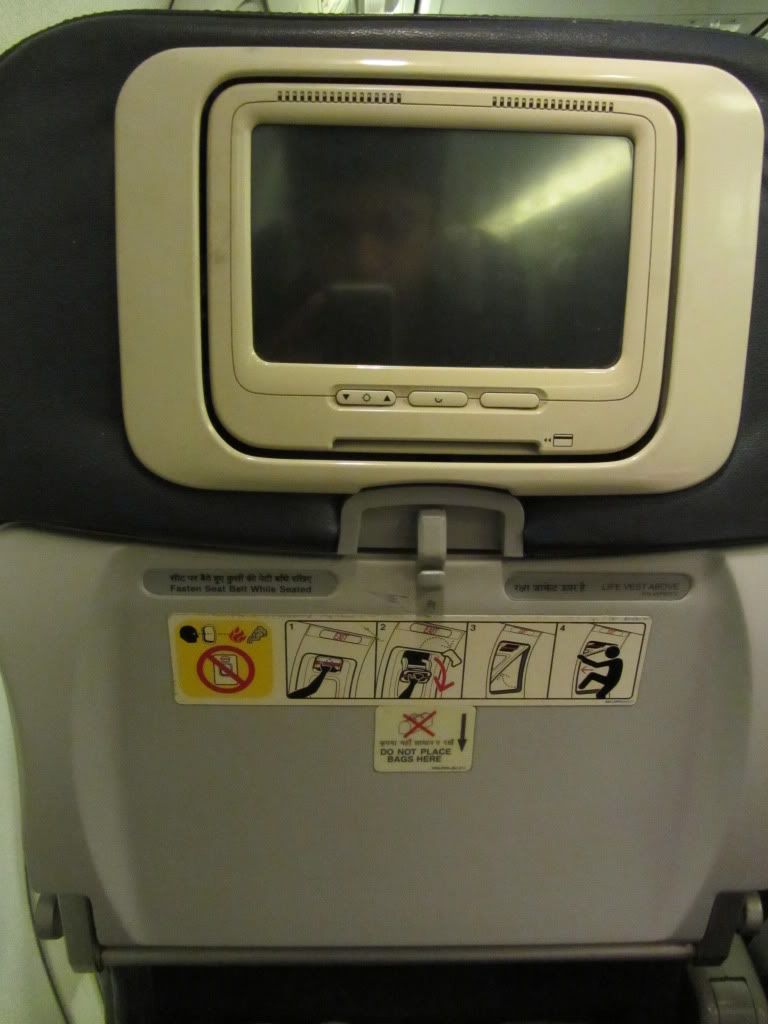 The guy sitting next to me seemed very grumpy and was busy reading a newspaper the whole flight. We were almost fighting for the arm rest between the seats – whoever puts their arm first takes it J
We waited for another 10 minutes for more buses to arrive with remaining passengers. Finally boarding was complete at 625am and doors closed. Meanwhile, the crew performed a manual demo of the security features of the aircraft in spite of PTVs present (later I realized that the PTVs are turned off for domestic flights! I have no clue when Jet Airways took this decision).
The captain came on the PA system and announced that we´d be a bit delayed due to air traffic control. We pushed back 10 minutes later and taxied to the runway for takeoff. Fortunately, we weren´t delayed any longer and we performed a rolling took off at 645am. I managed to capture the takeoff on video and a few photos of Mumbai. The view of Mumbai at dawn with the smog and the light glow of the rising sun are just wonderful. Pictures follow: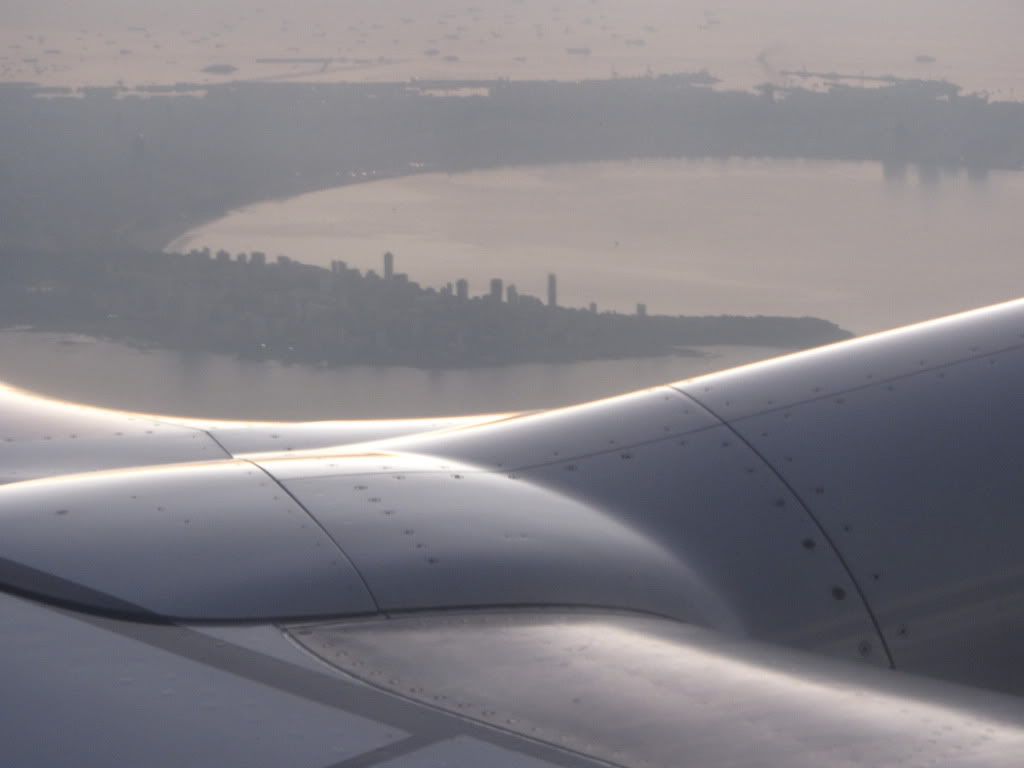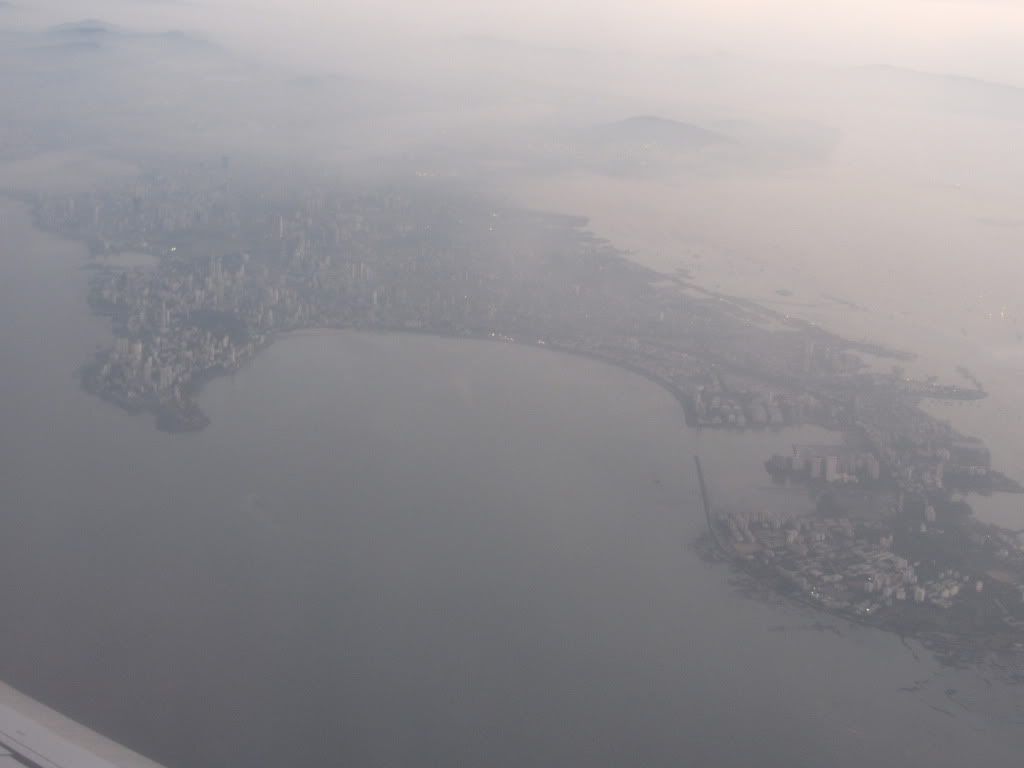 For all Mumbai lovers: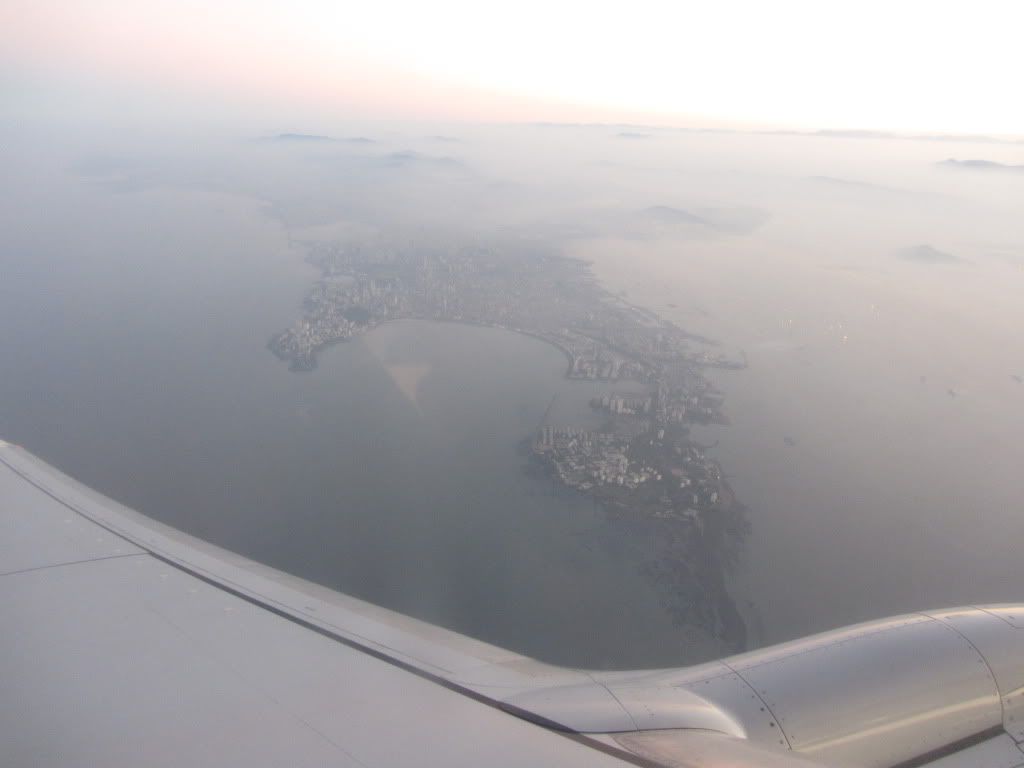 In-flight
We reached a cruising altitude of 37000 feet after about 15 minutes and seat belt signs went off and the crew sprung to action for morning breakfast. 20 minutes later, the crew came with breakfast – standard vegetarian and non vegetarian options. I am not a fan of in-flight breakfast, but was a bit hungry, so I took the non vegetarian option which was a standard scrambled eggs with potatoes and a chicken patty served with fresh tropical fruit, some really stale bread and with condiments. It was very average, though presentation was good. I was too sleepy due the jet lag from flight a few days back so I slept off immediately after breakfast.
Landing
I awaken by the pilot´s voice saying that we shall be landing soon. We began our decent soon, but went into holding for a good 15 minutes somewhere west off Hyderabad. At 805 we finally touched down. The landing was very hard in my opinion. I have never experienced any Jet Airways flight with a smooth landing – wonder is it the airports, weather or the pilots! We stopped at a ramp in spite of a few empty gates at HYD. Almost all domestic airlines and one BA aircraft were visible. I also got a picture of Spice Jet's new Q400 VT-SUE.
Air India, Kingfisher, Jet Airways, Indigo, SpiceJet:
The daily BA flight to HYD, all ready to depart to LHR: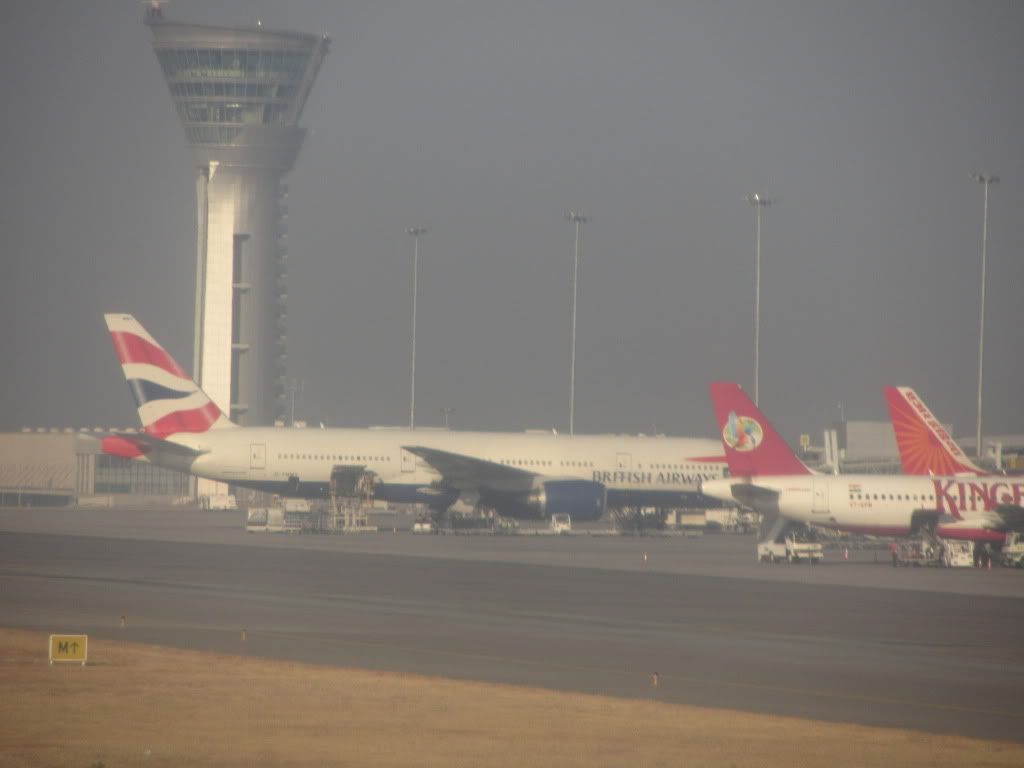 SpiceJet's new addition to their fleet: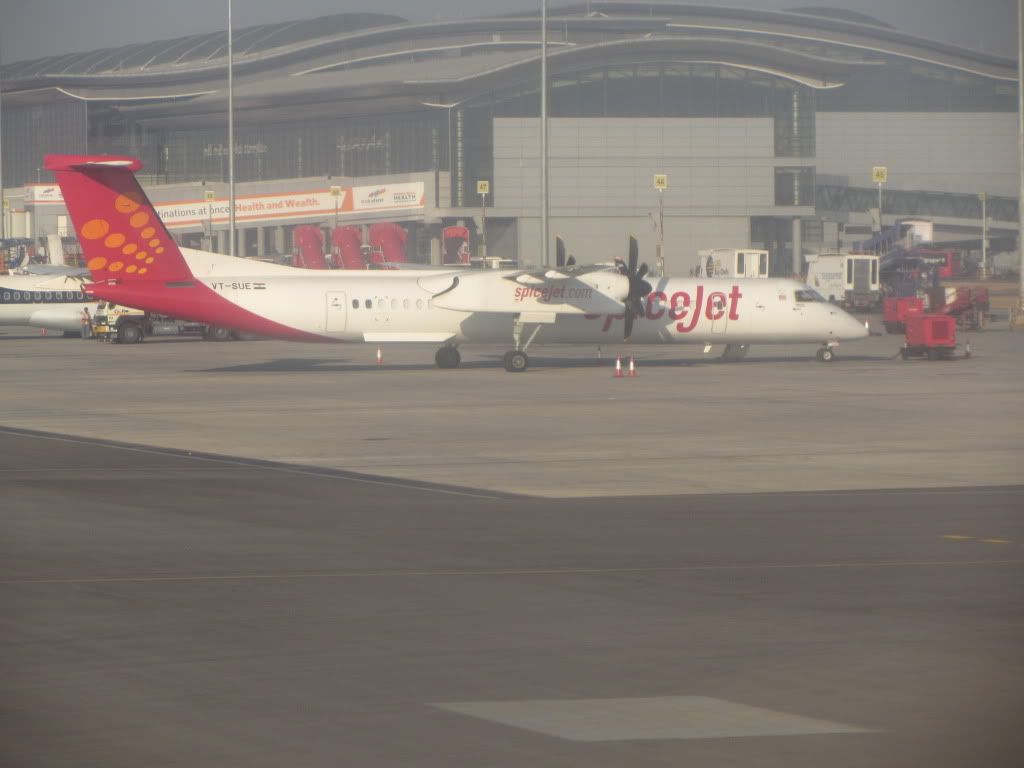 I was one of the last few to exit the aircraft because of being exactly in the center of the aircraft and people getting off from the front and back exits. In no time we were bussed to the airport terminal where we waited for a few minutes for my bags.
Hyderabad airport has a policy of delivering fragile baggage physically by the ground staff and not through the conveyor belts. This is irritating because, they get delivered at the end when all the bags are delivered through the conveyors. So there is really no use of the "priority tags". Surprisingly, as I waited near the conveyor, one of my bags appeared – first! I checked if anything was damaged, luckily everything was fine. My other bag came a few minutes later on the conveyor belt itself but in a plastic container to prevent any damage. So I was off in about 10 minutes after arrival.
Conclusion
Jet Airways is a good domestic airline in India that is striving to be a world class airline. I think they are far better than most full fare airlines in Europe or the US for domestic flights, though there are inconsistencies in their service between flights. While some flights on economy have a wow factor with an excellent combination of great crew, good food and brand new aircraft, others, are not up to the mark with old aircraft and unfriendly crew.
In this trip, the clear negatives were the check-in process which took which took a lot of time even from the business class counter; second the baggage delivery was inconsistent (though this may be due to the Hyderabad airport rules).
Overall, I would recommend anyone to take Jet Airways next time for a domestic flight. I do not have any sophisticated rating system, but if I were to rate them between 1 and 5, they would get a 3.5 for this flight. I think they need to work on making the check-in process more efficient, delivering consistent service across their flights and improve friendliness of ground staff.
-----
Two years back, on the 27th of December, I had reserved the same morning flight. But this was a bit more interesting, and I thought I´d share it: On the previous day of the flight, I received a call from Jet Airways saying that my flight was delayed by over 4 hours due to operational reasons and that I could change or cancel free of charge. I reached the airport about 2 hours prior to departure. Boarding was called about an hour in advance. Again we were bussed towards the international terminal. I was expecting yet another normal domestic flight on a 737, but this wasn't the case. The bus stopped in front of an Airbus A330 (VT-JWG). I was shocked at first, but then I thought that the bus must be waiting for traffic to clear and proceed forward towards a ramp adjacent to it where a 737 would be parked. Well that wasn't to be the case, the doors were opened and everyone went out! This was an excellent surprise for me and I had never taken a Jet Airways A330 on economy before. This would be a short wonderful flight. Later, while I saw my boarding pass for the seat number, I saw it was written 17K, and I thought why didn't I see this before
Below are some pictures of the flight. Apologize for the poor quality, but these photos were taken from a phone camera.
Massive wing of the Airbus A330: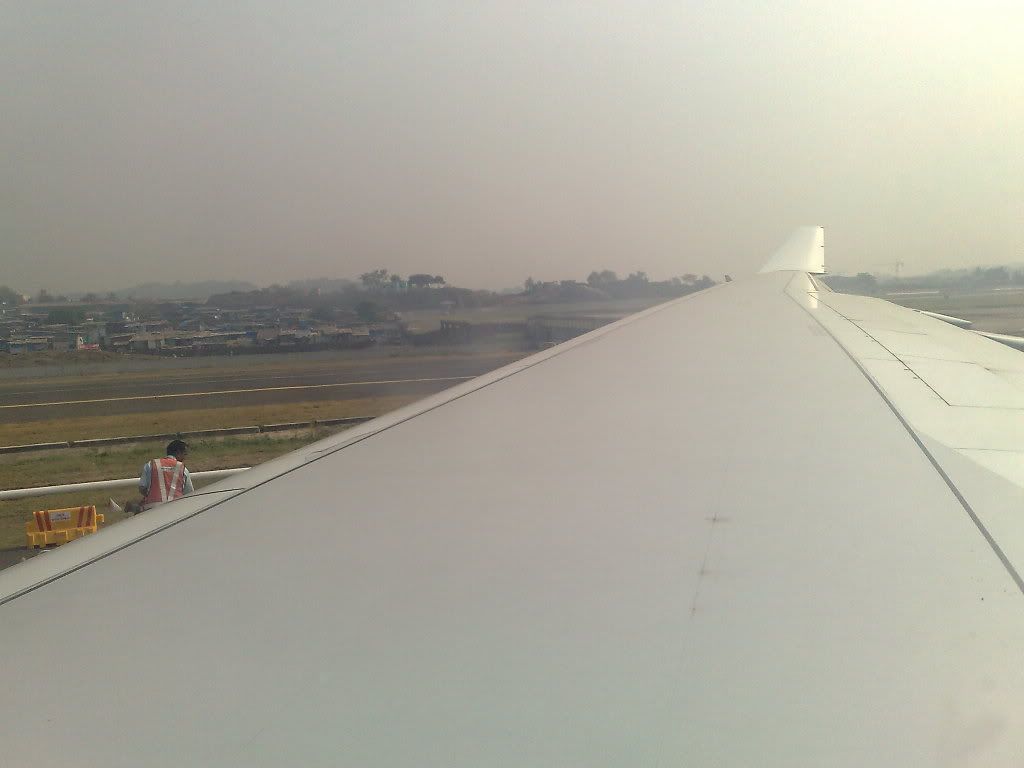 Legroom is great!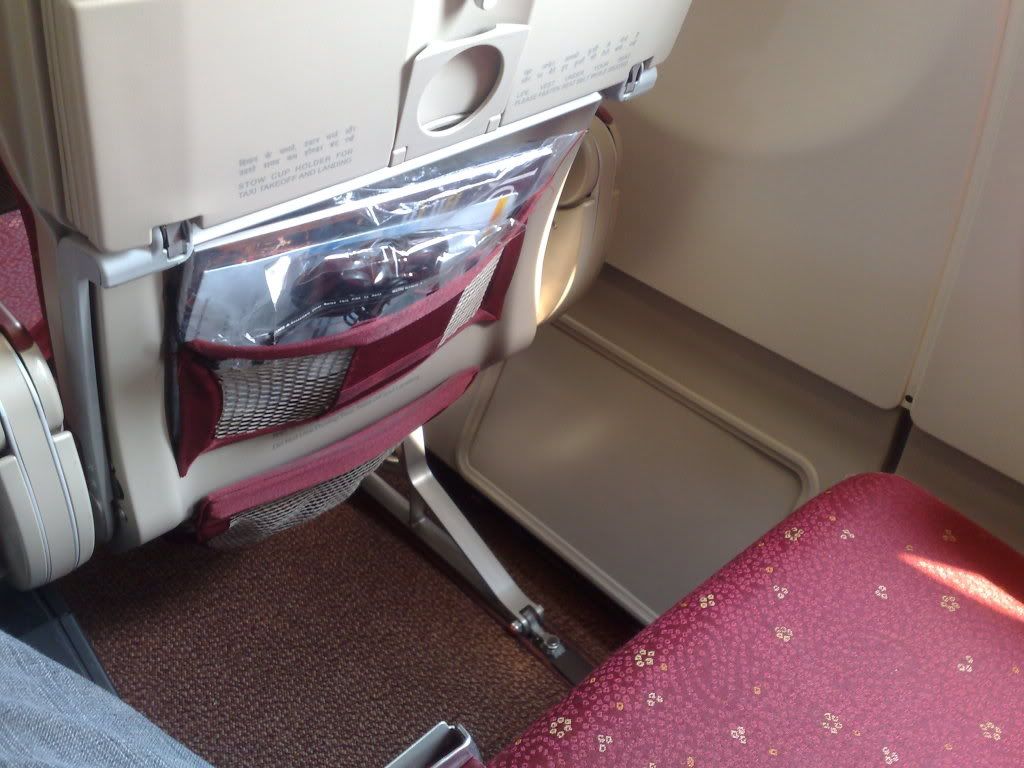 ----
Thank you for reading. Coming up next in the series, HYD-DEL Jet Airways Business class