Africa 4: Fly 540 ZNZ-DAR. Hopping across from Zanzibar to Dar
Hello, and welcome to Part 4 of my African series.
Part 3
left off on arrival in Zanzibar after my very pleasant flights with Ethiopian Airlines from Kigali to Addis Ababa via Entebbe then Addis Ababa to Zanzibar via Dar es Salaam, both in Business.
This reports flight is the short (45 miles) hop from Zanzibar back to the mainland: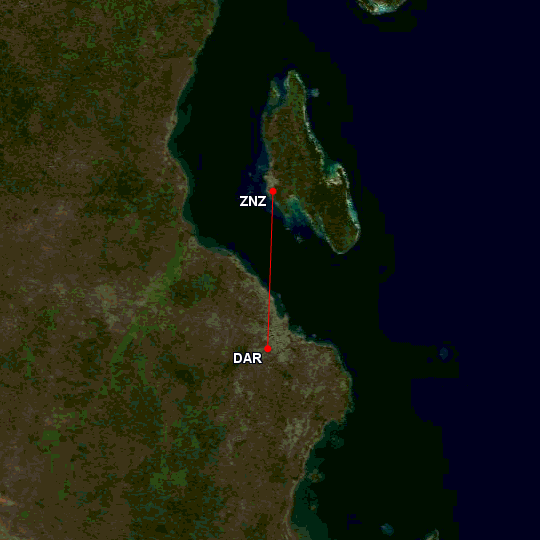 And zoomed out a bit, including some other cities I've visited (will stop at) this trip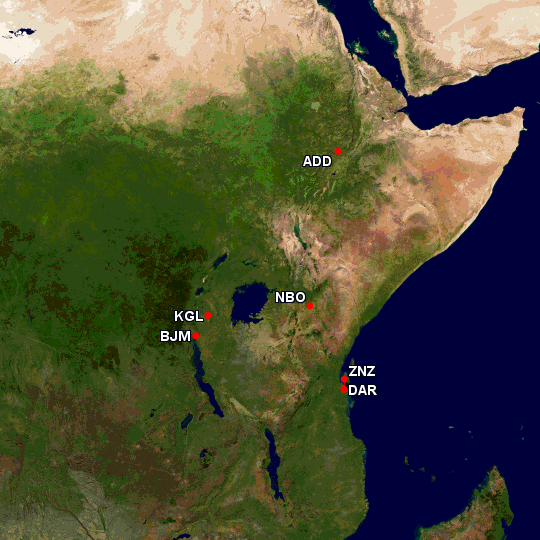 To start from the very beginning though, you'll have to check out
Part 1
which explains what I'm doing.
Part 2, coving my Brussels/South African Airlines business class flights from Brussels to Burundi and Rwanda is here
The full map:
The next parts:
Africa 5
Swiss, Dar es Salaam-Nairobi-Zurich, First A333
Africa 6
Swiss, Zurich-Athens, Business A320
Aegean, Athens-Larnaca, Business A320
Africa 7
British Airways, Larnaca-London, Business B767
So, first some photos of Zanzibar….
The lovely Danish/Zanzibairan guesthouse I stayed in in Jambiani, Dudes Guesthouse (the guy was called called Dudé)
The beach – it's not all white sand, but had a lot of character. There were very few tourists, and lots of locals, giving the place an authentic feel.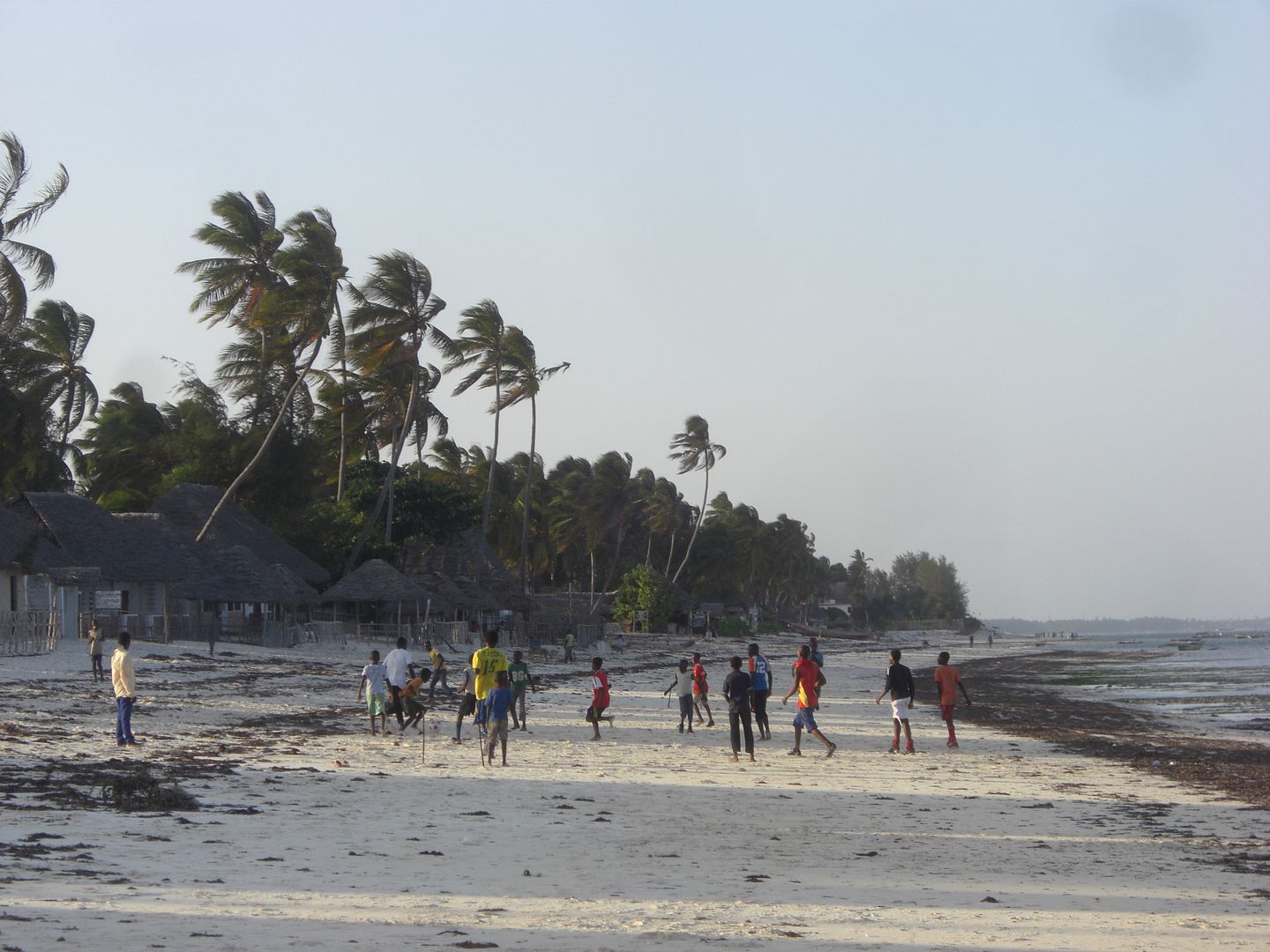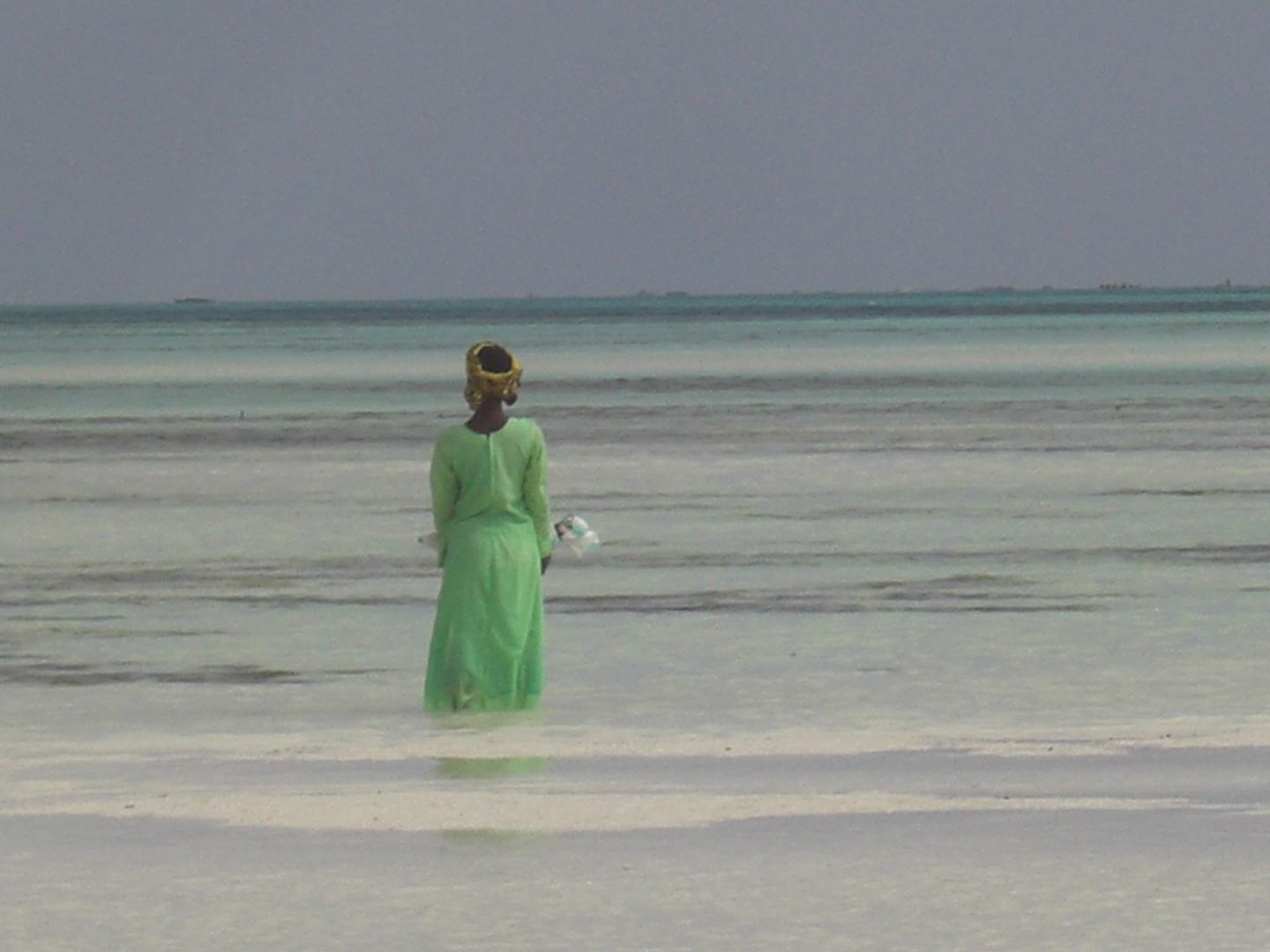 Unfortunately not my hotel pool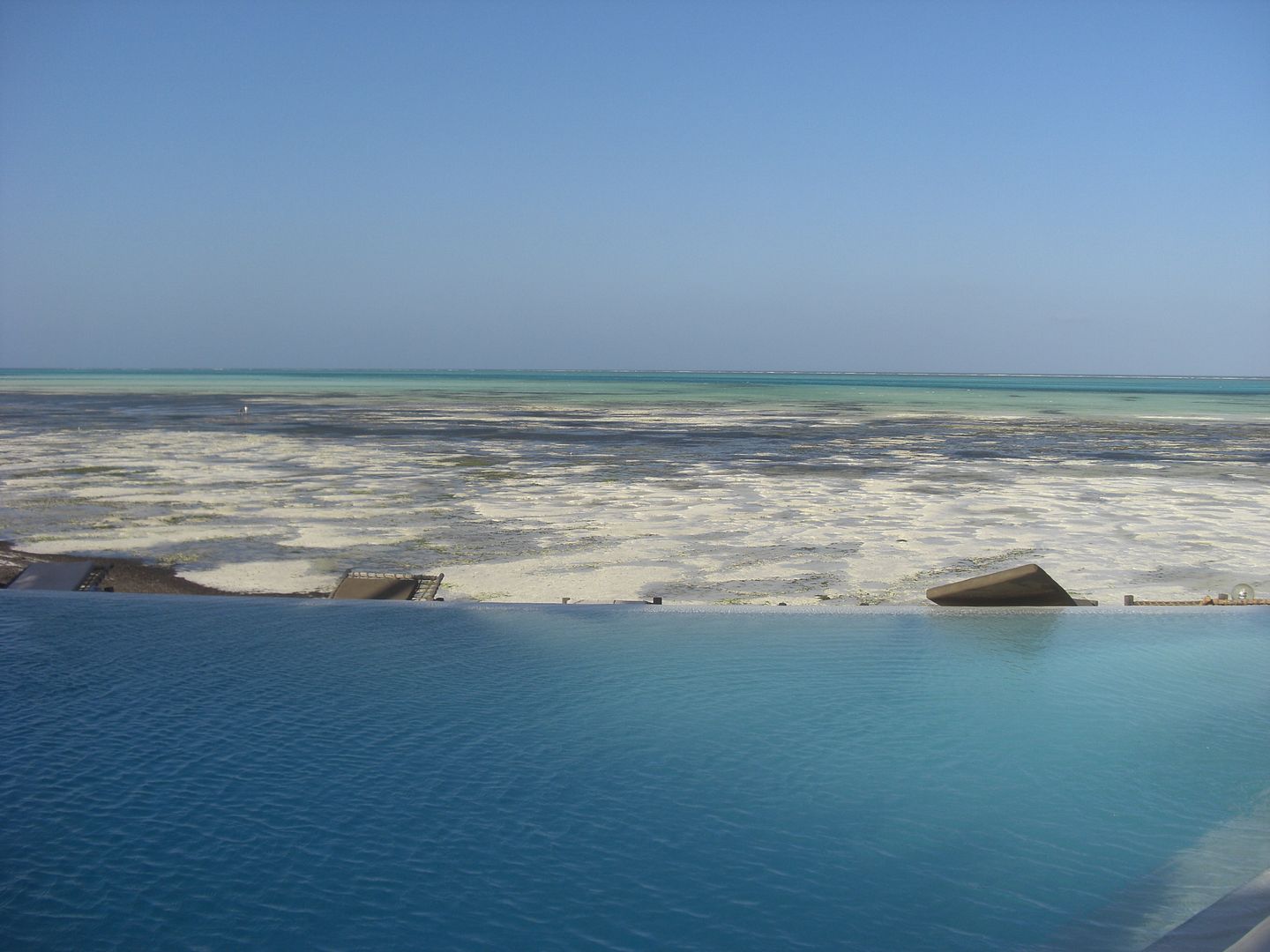 The best place I found for food was the Pink House – very tasty stuff there! Lots of fresh fish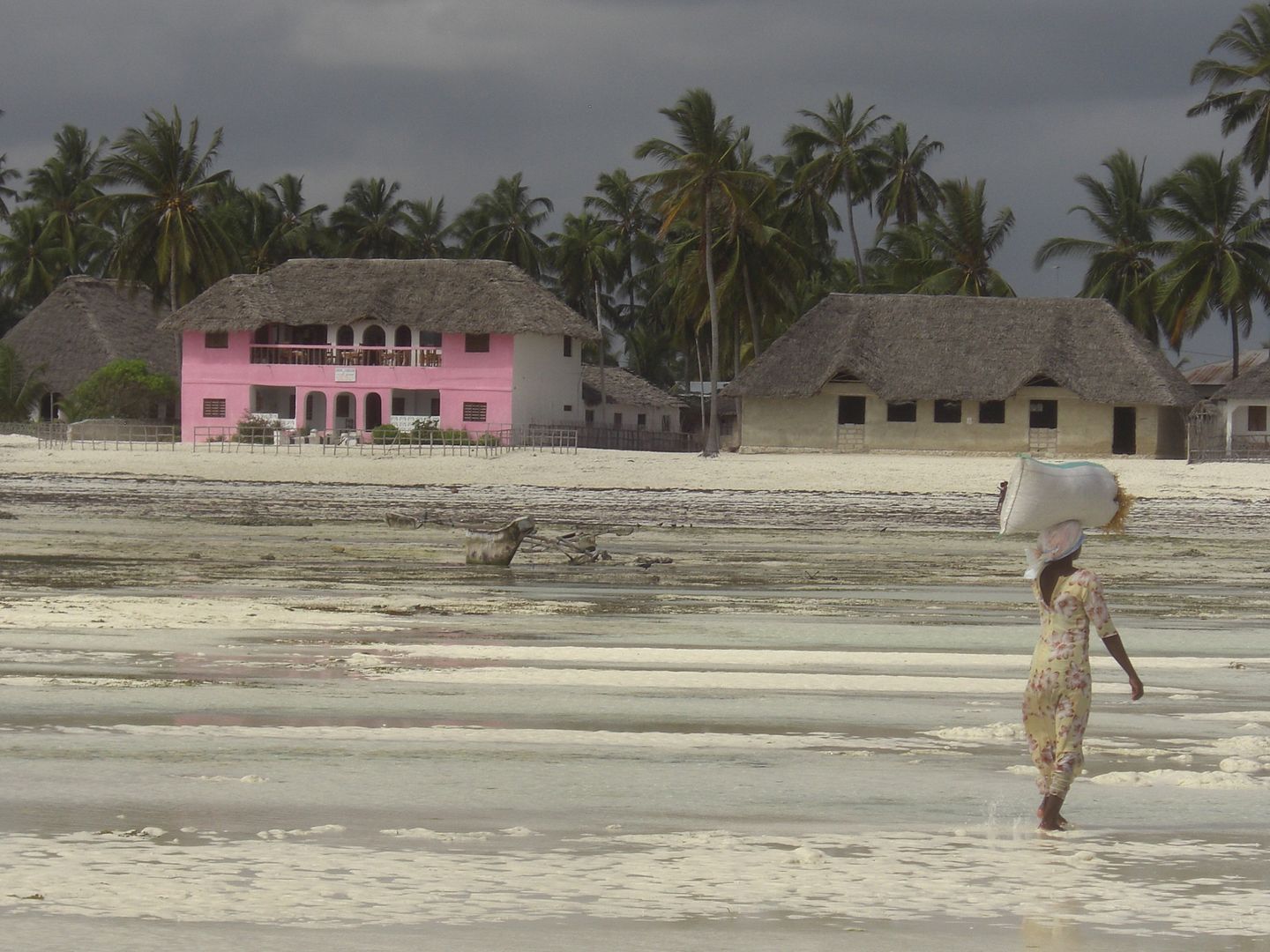 Night-time on the beach. There were frequent power cuts, but this only added to the amazing ambiance. One evening I went moonbathing, which was a pretty cool thing to do. The stars were also really clear (and thanks to Google Sky Map on my phone, I was actually able to tell what they were)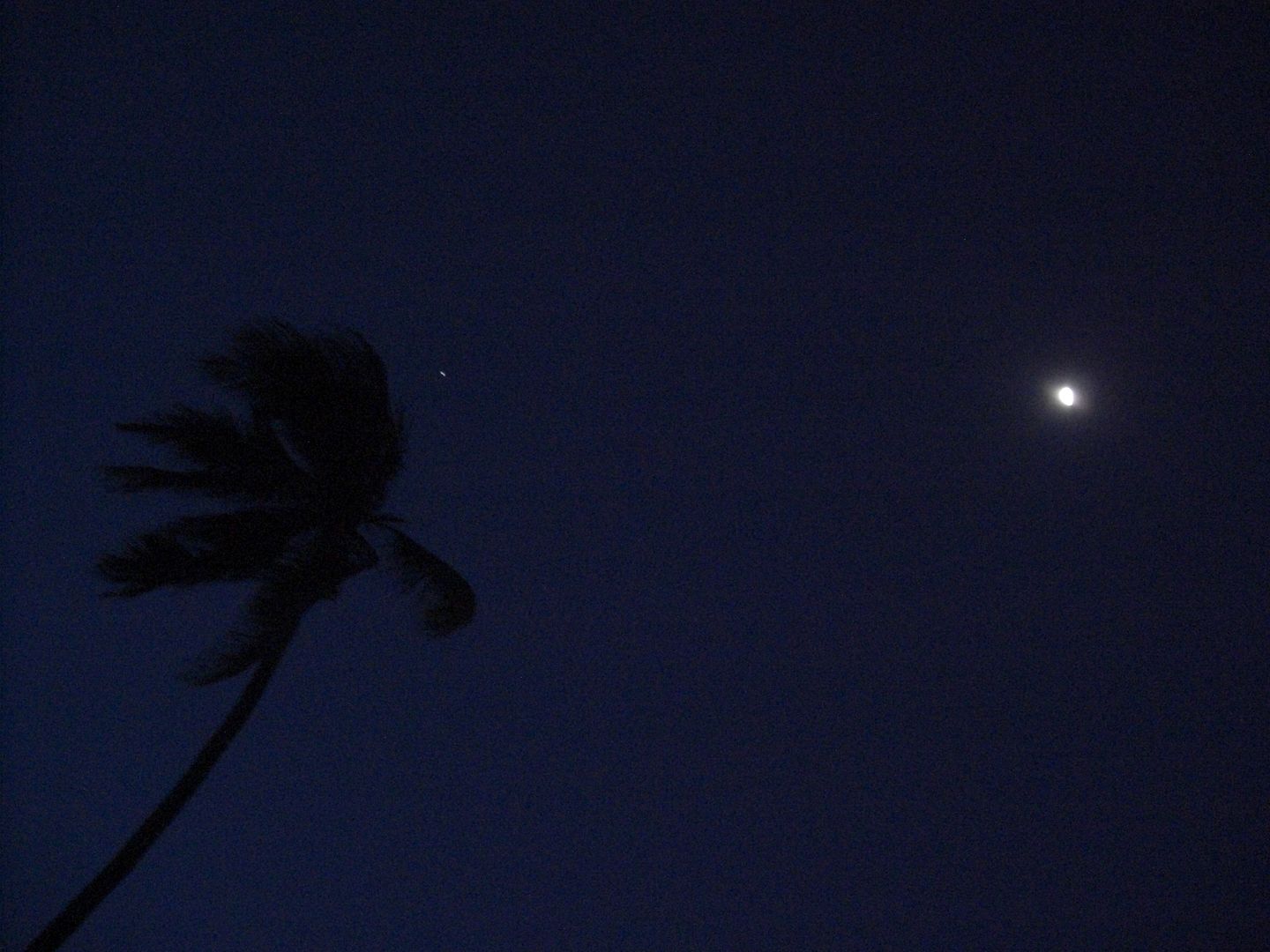 One day, I did the obligatory "Spice Tour"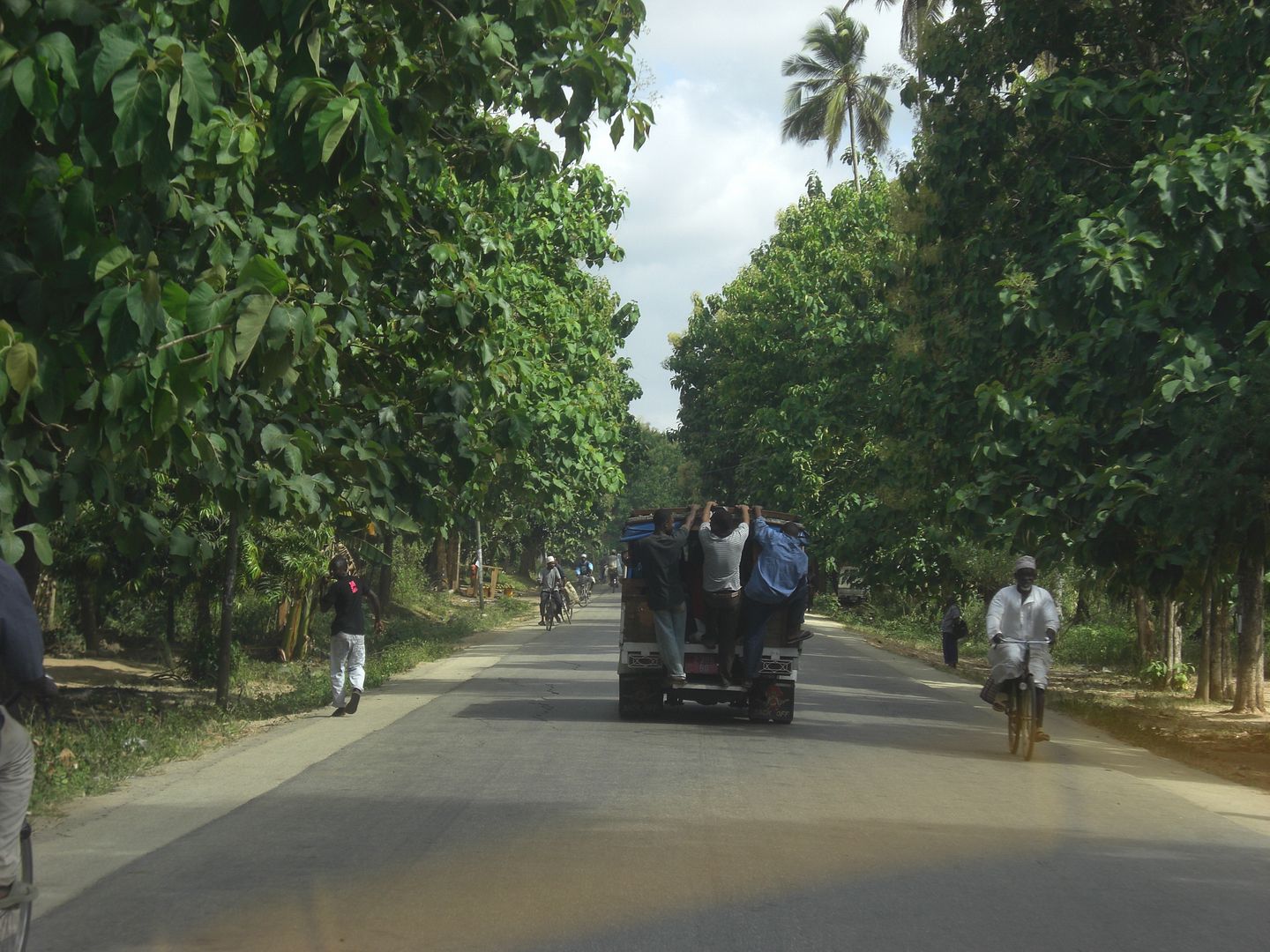 Natural lipstick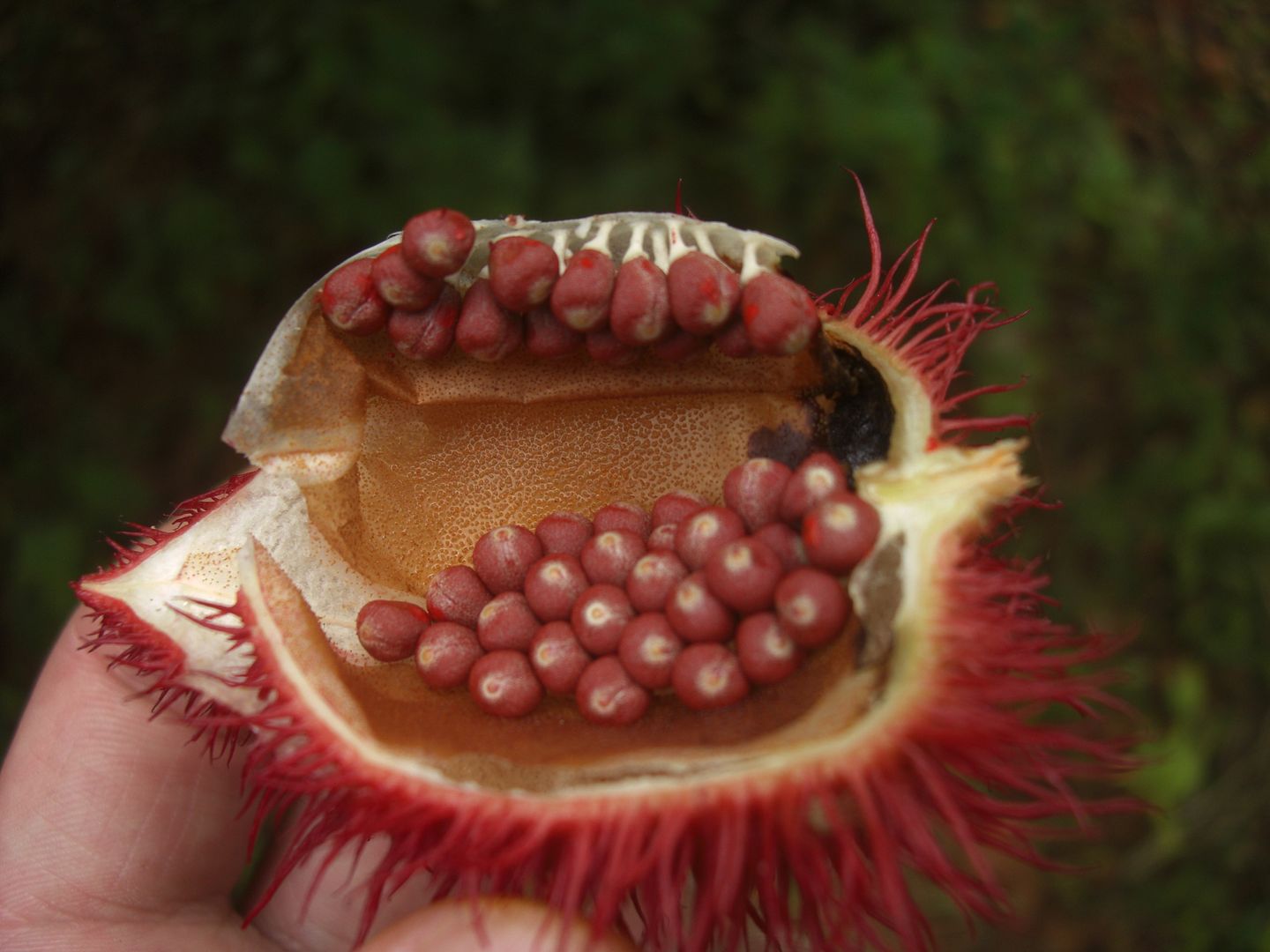 Half eaten guava and cinnamon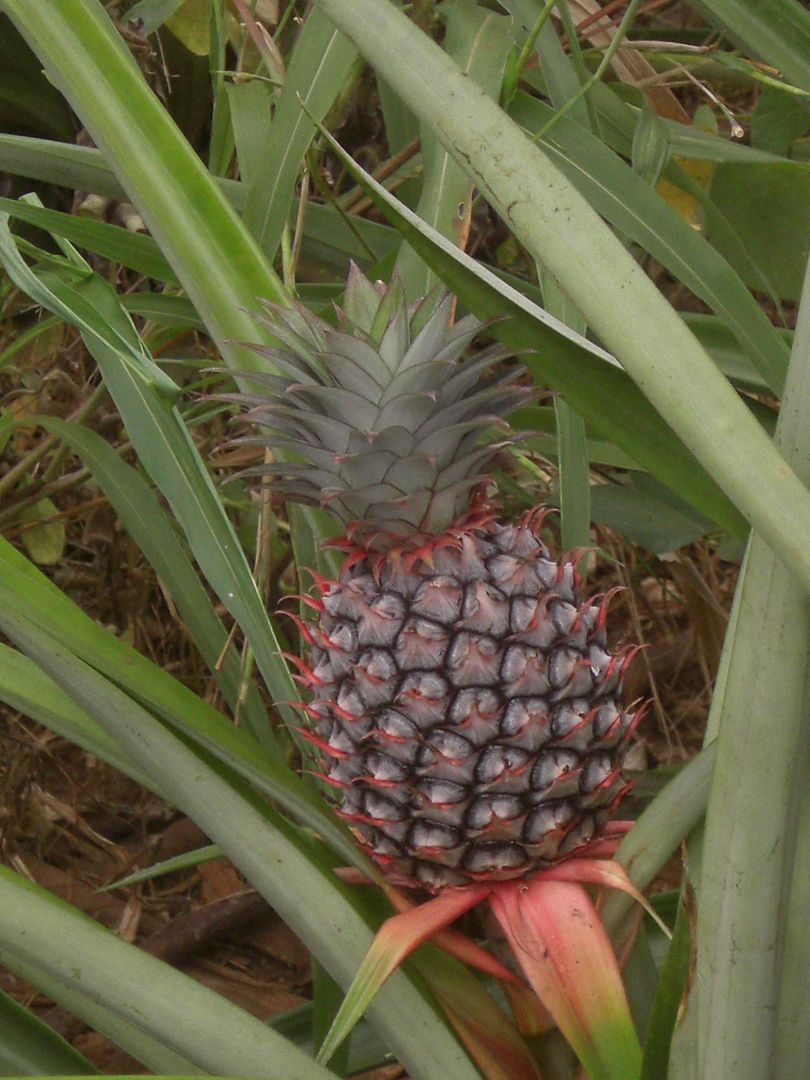 This guy was great at making things out of leaves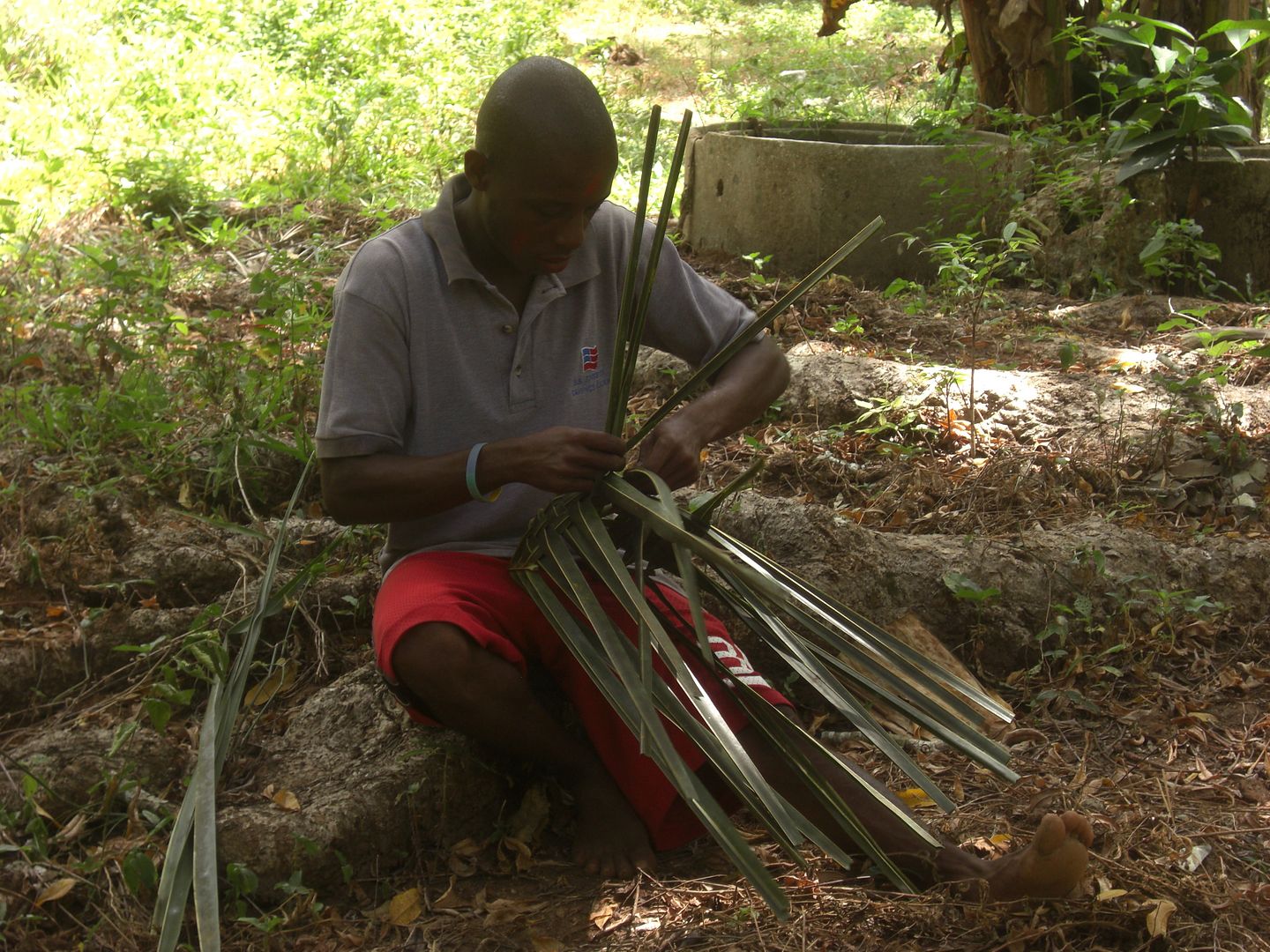 My crown and jungle tie!
Nutmeg
A local 'spice' lunch
The next stop was the Jouzani National Park to see the red backed Colobus monkeys. This was the 3rd set of monkeys that I'd met on my travels, and like the others, they were friendly and non-threatening (and unperturbed by humans)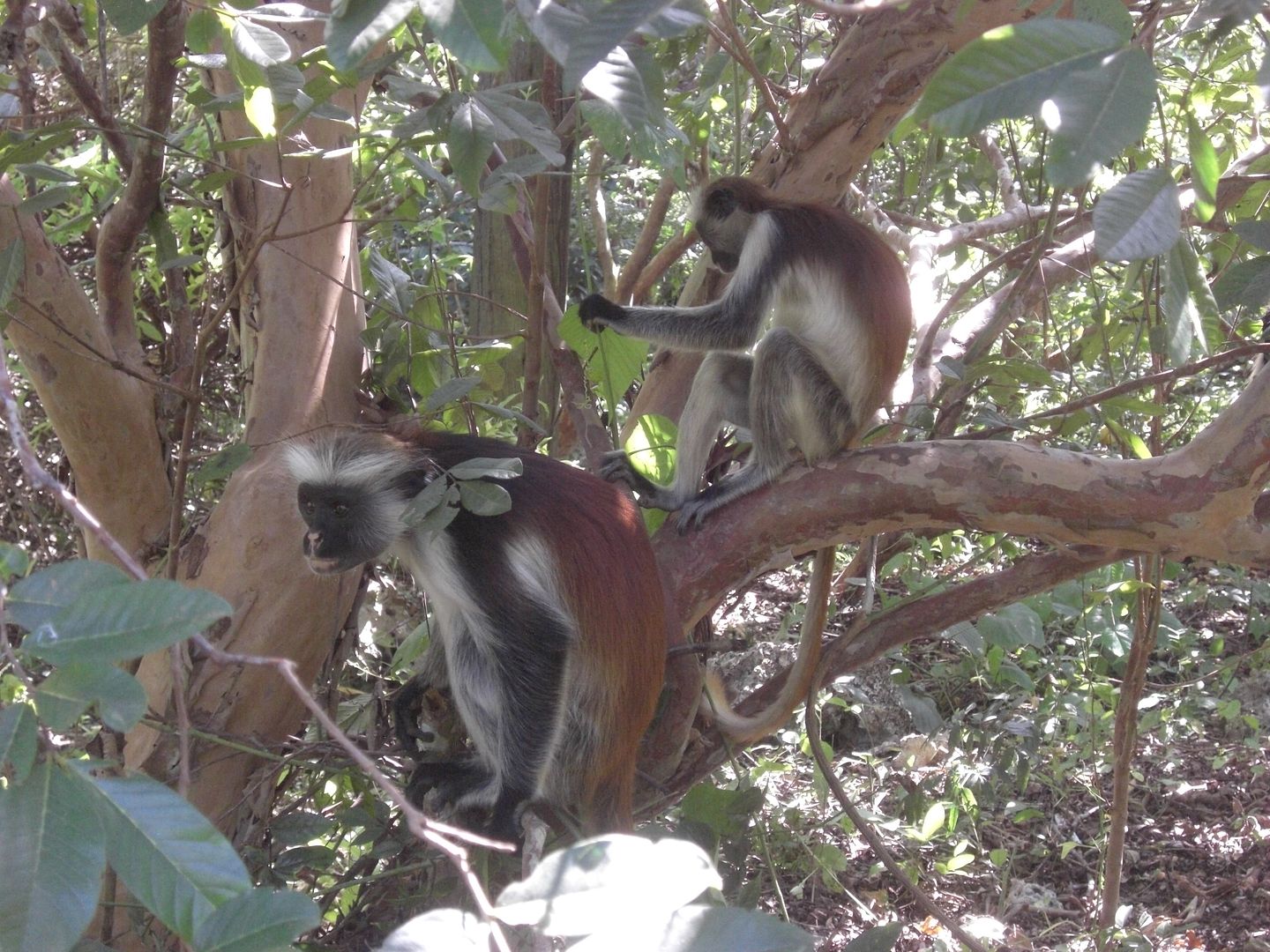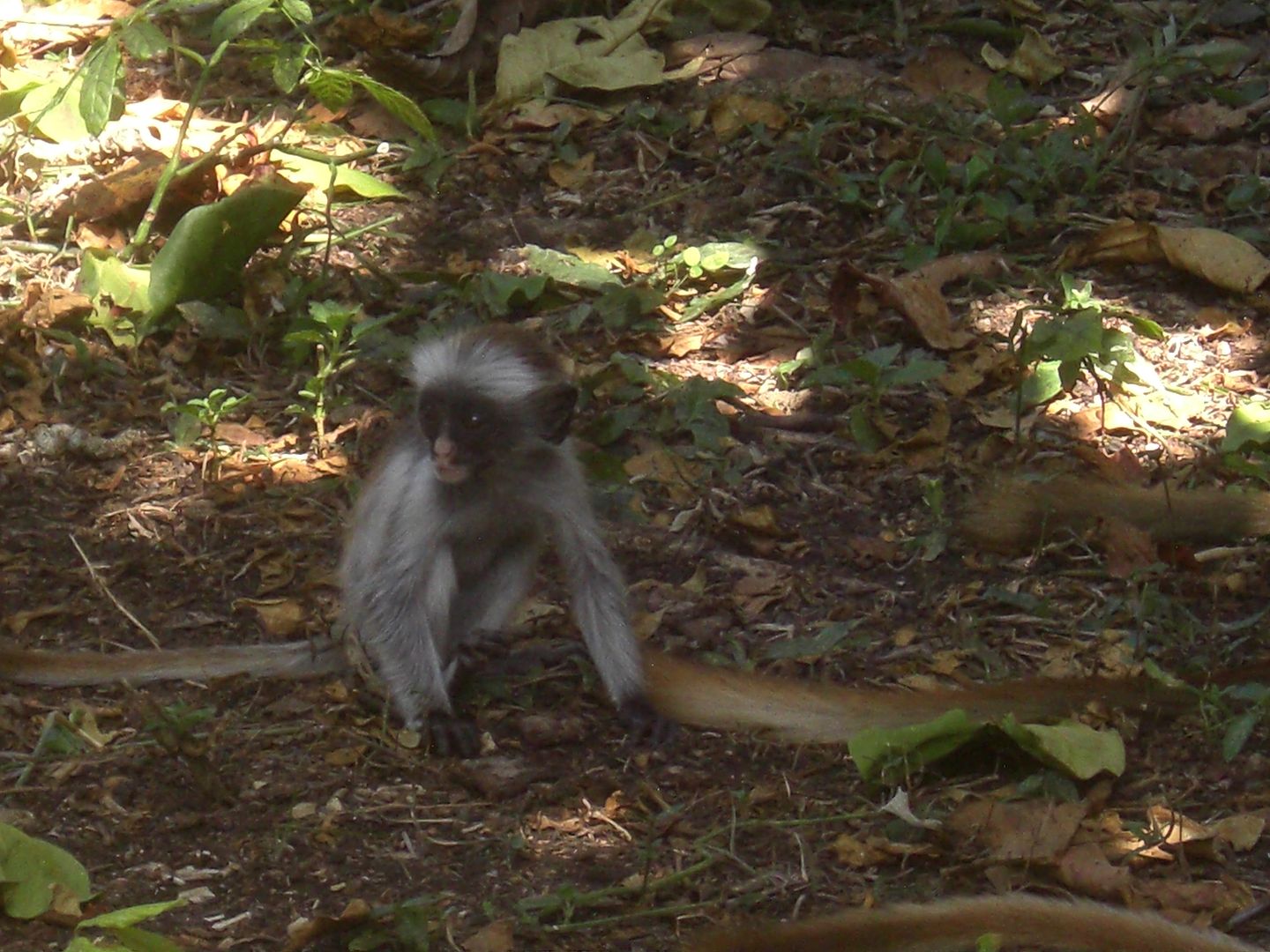 And a quick stop at a mangrove swamp too
After a few idyllic days on the beach, I went over to the capital Stonetown – not quite as nice, but had an interesting Middle Eastern feel to it. Stonetown is Freddie Mercury's birthplace
How's that for a GBP 12/night hotel? 4 posterbed!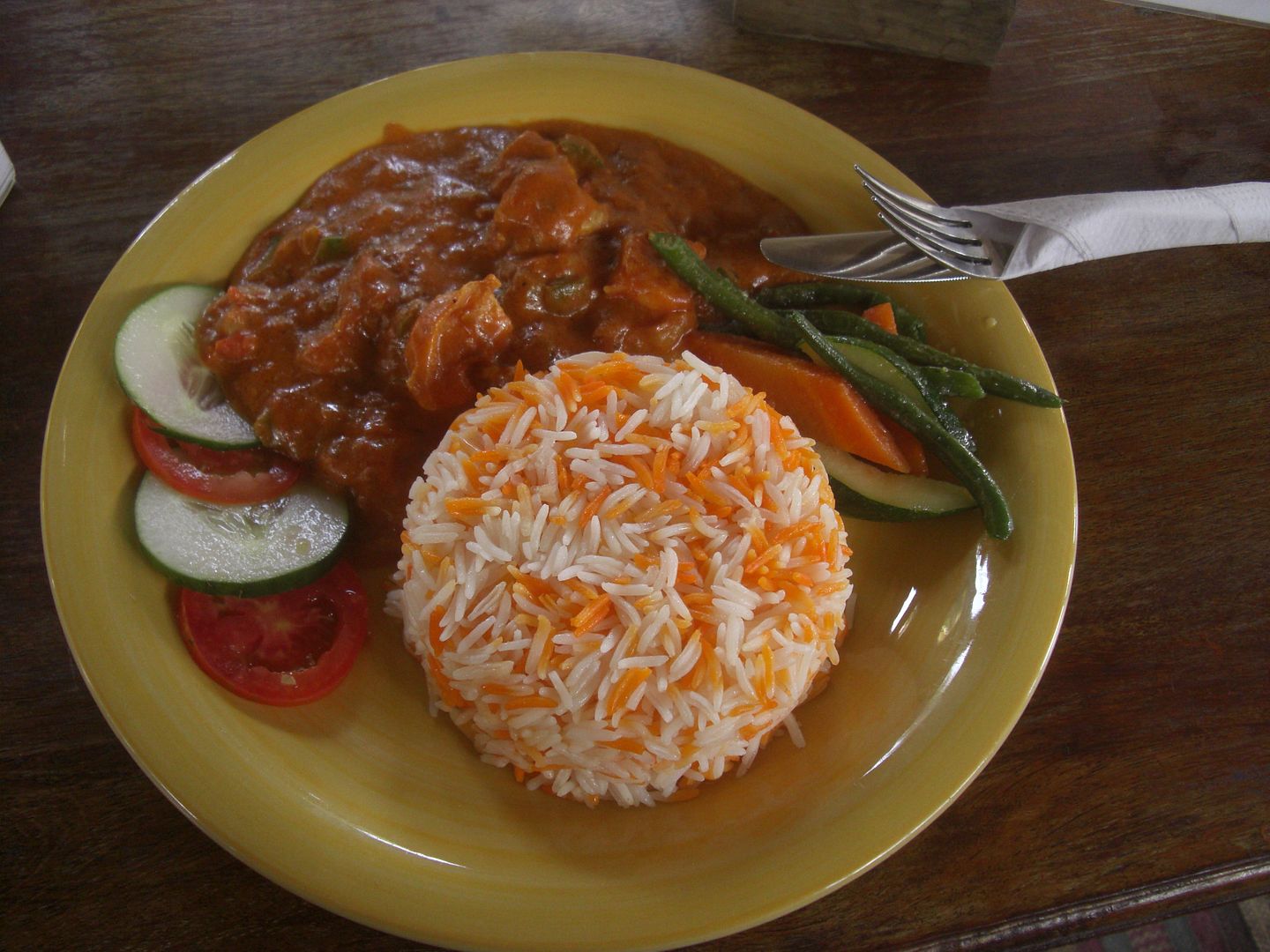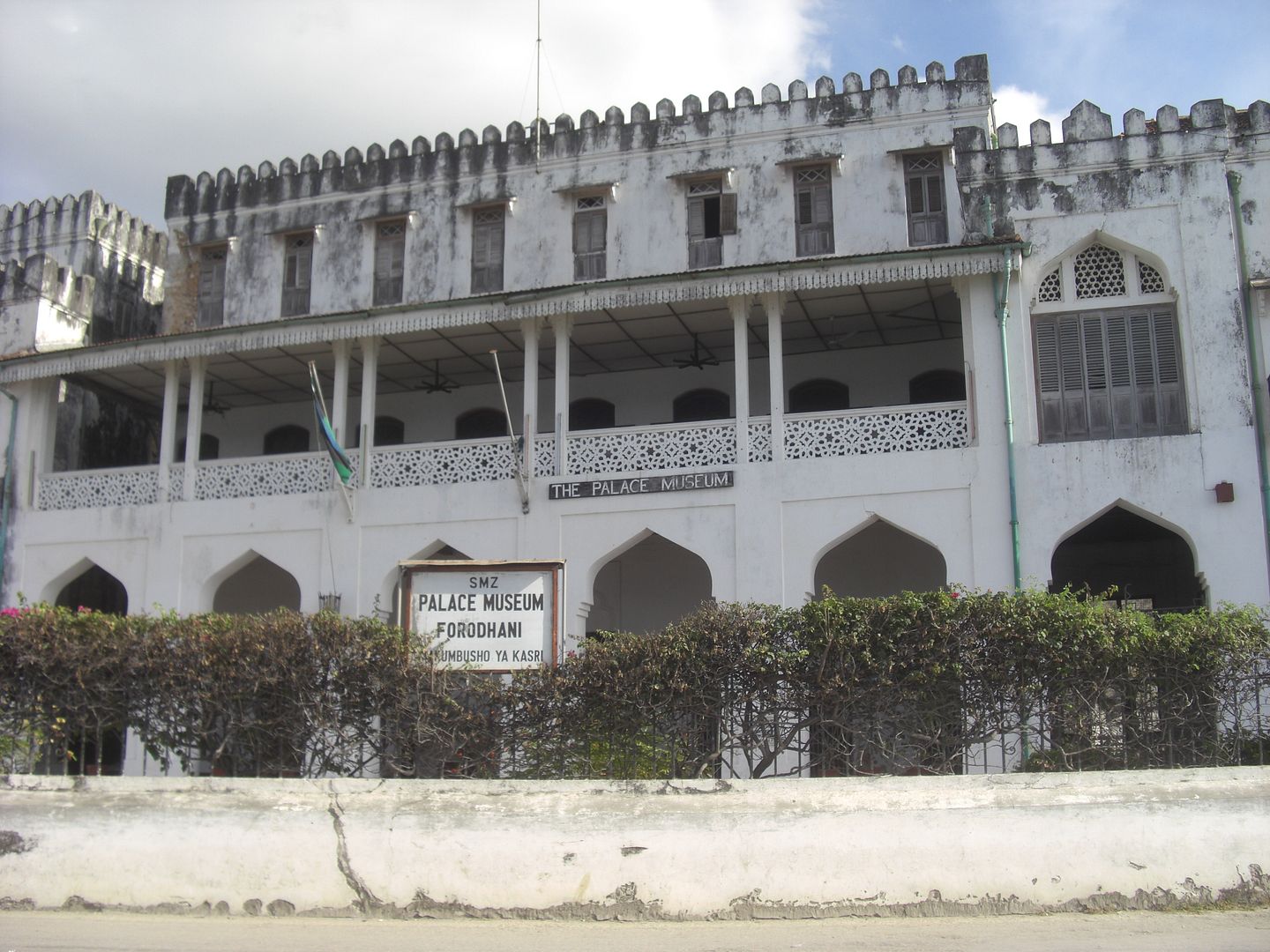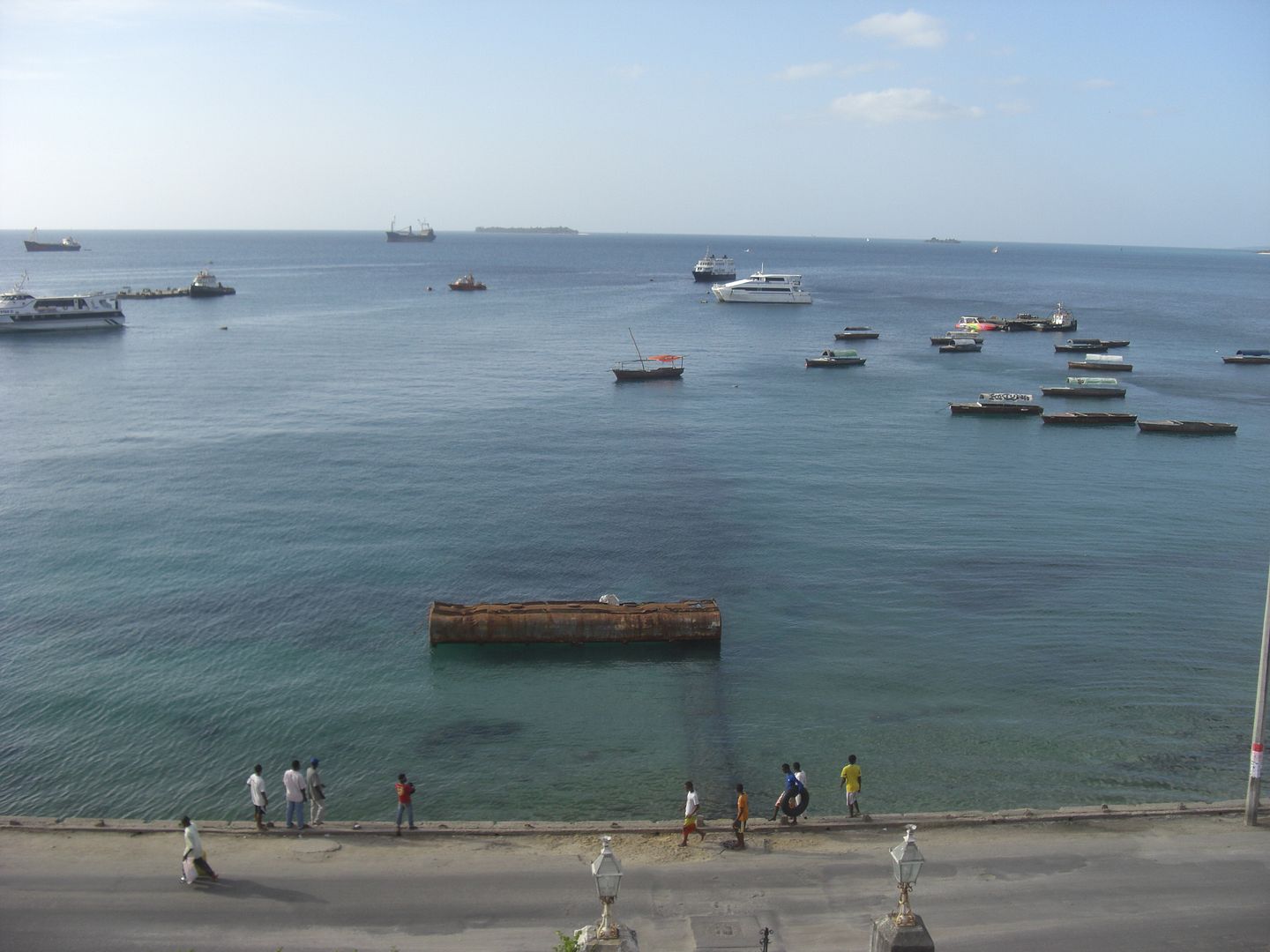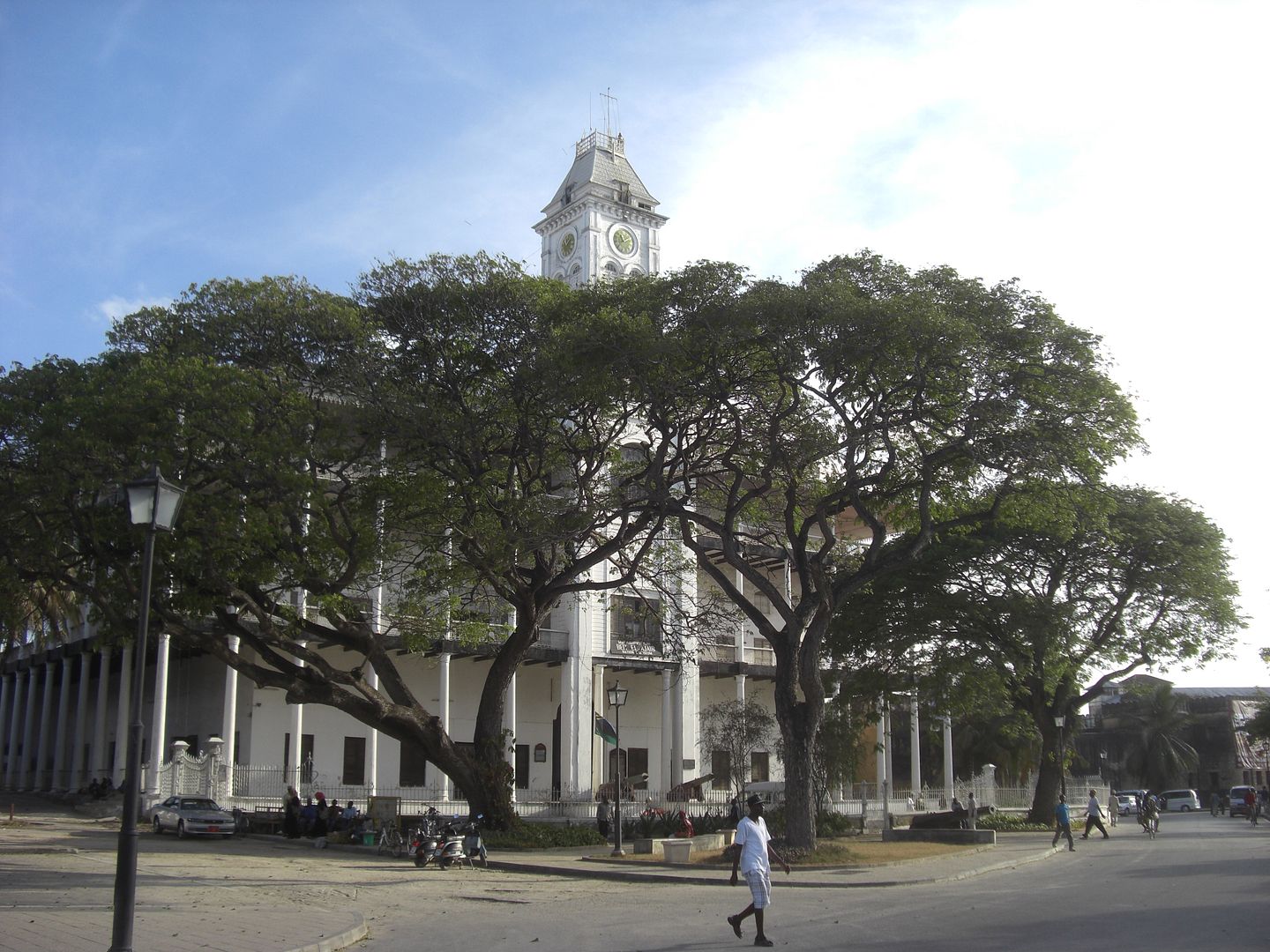 Reminds me of the Malecon in Havana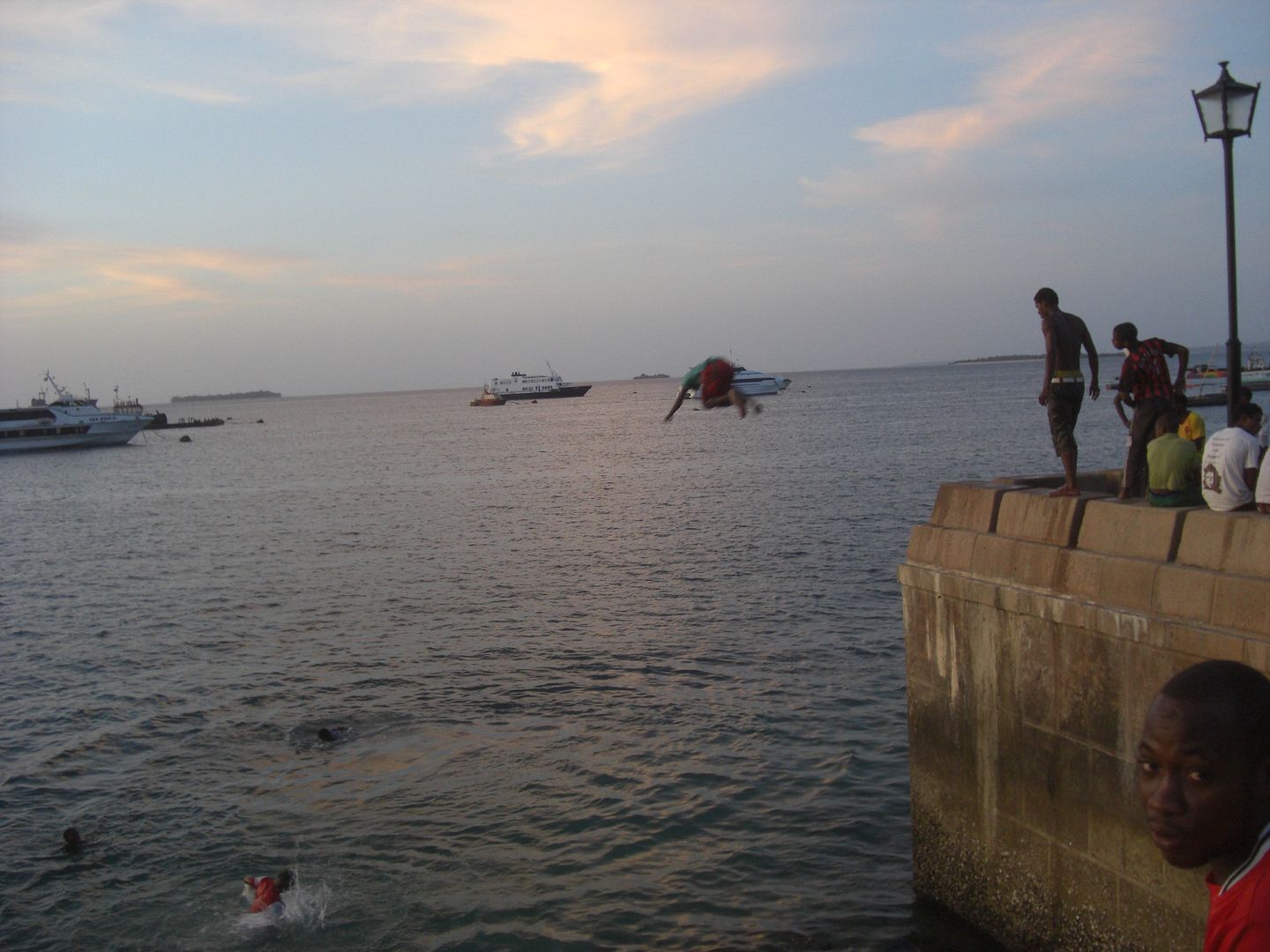 Time for one last drink before heading to the airport for my flight to Dar es Salaam
Whilst I had the internet, I thought I should check in for my flight back to Zurich. A nice empty cabin (for now)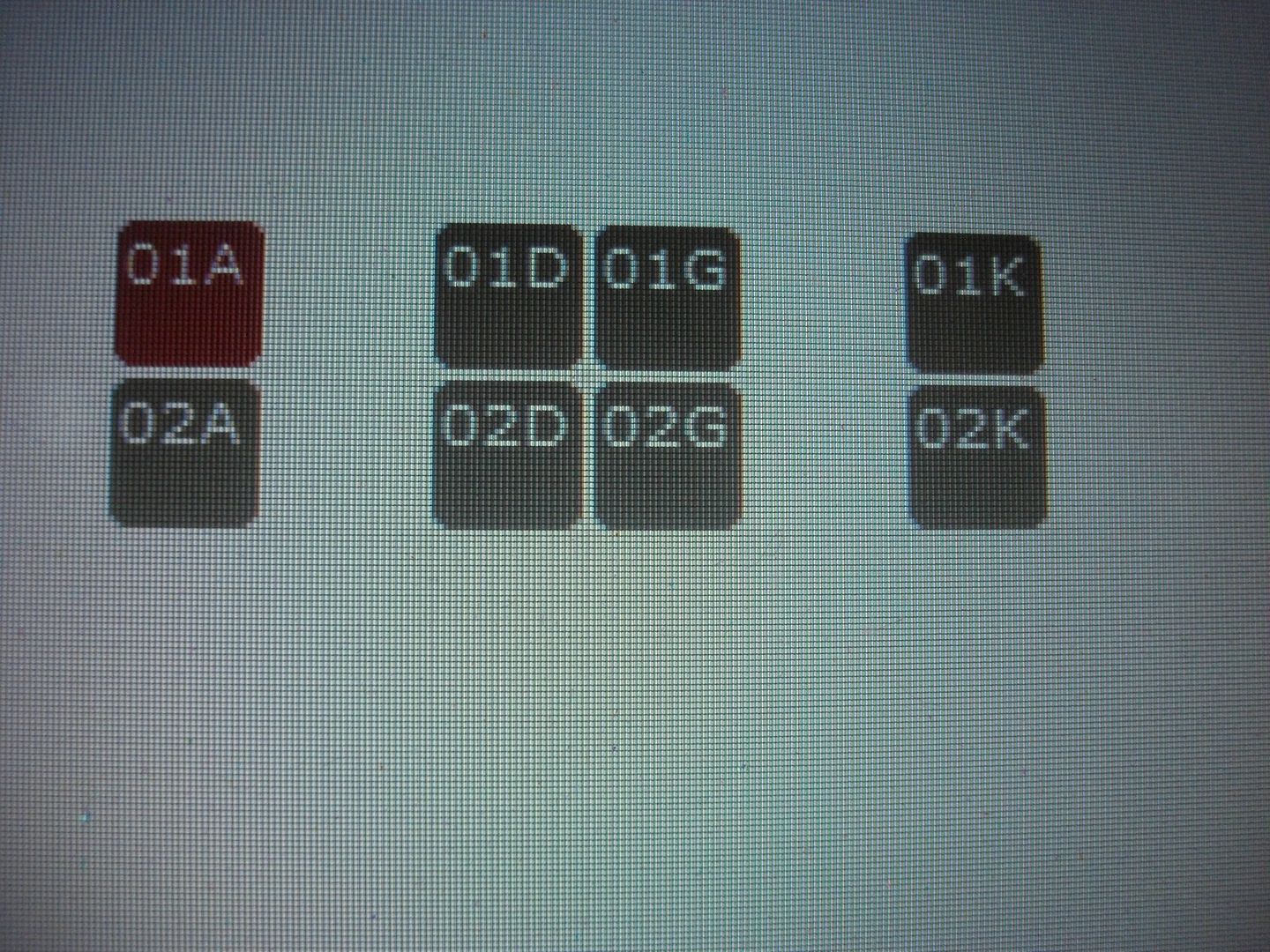 I had been umming and ahhing for way too long, and even the day before I had to head back to Dar, I was undecided about airline, or even if I should take the boat. The flights were all relatively expensive, except for the one daily flight on Fly540 (who named that airline??). It was scheduled to be a CRJ (although a -100 series), and was only $60. It also had a more generous luggage allowance than others (23kg not 15kg). I had close to 30kg. after a few misses on the website, I was finally able to get my e-ticket.
I finagled a taxi driver into giving me a lift to the airport. After a document check, I was allowed through to check in. I saw the manifest – I was 1 of 9 people to check in just under 2 hours before the flight. I was charged $6 for my excess baggage, which seemed reasonable.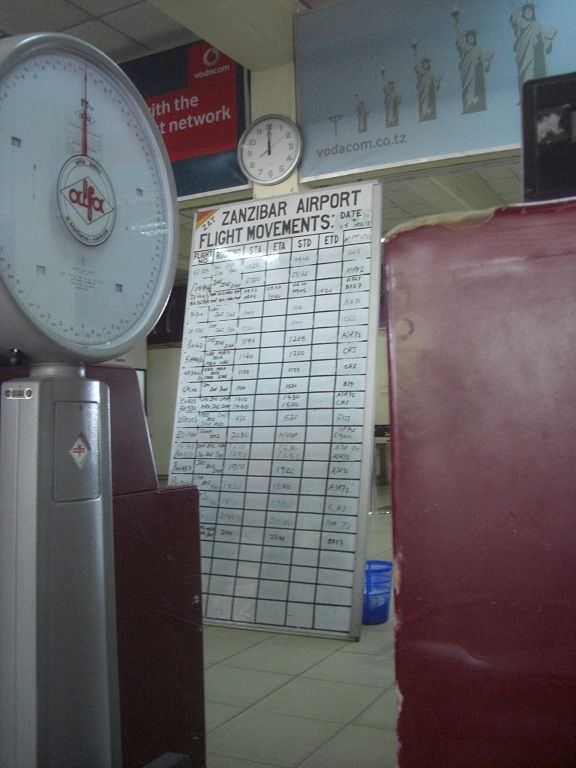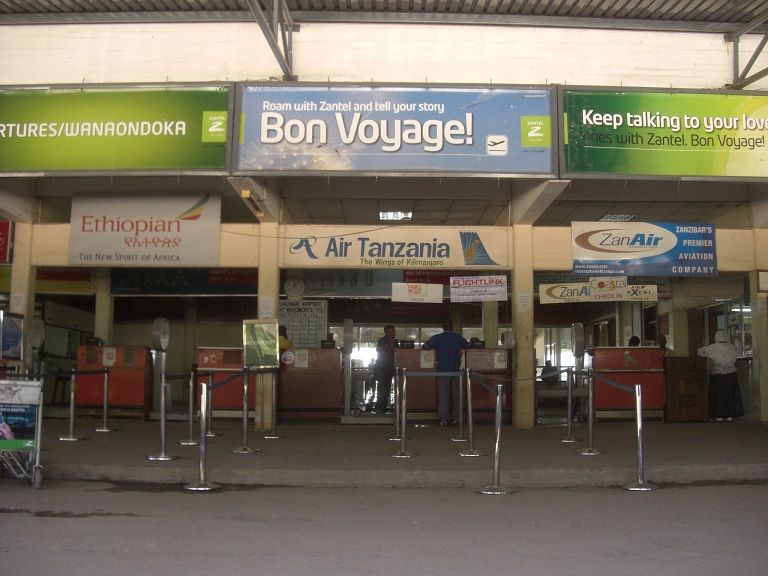 After security, I was let into the (freezing cold) departures lounge. The views were reasonable though:
Good job?
The terminal
I fear my bag would have been too big to fit in a Cessna
The Presidential Fokker arriving
The back of my boarding card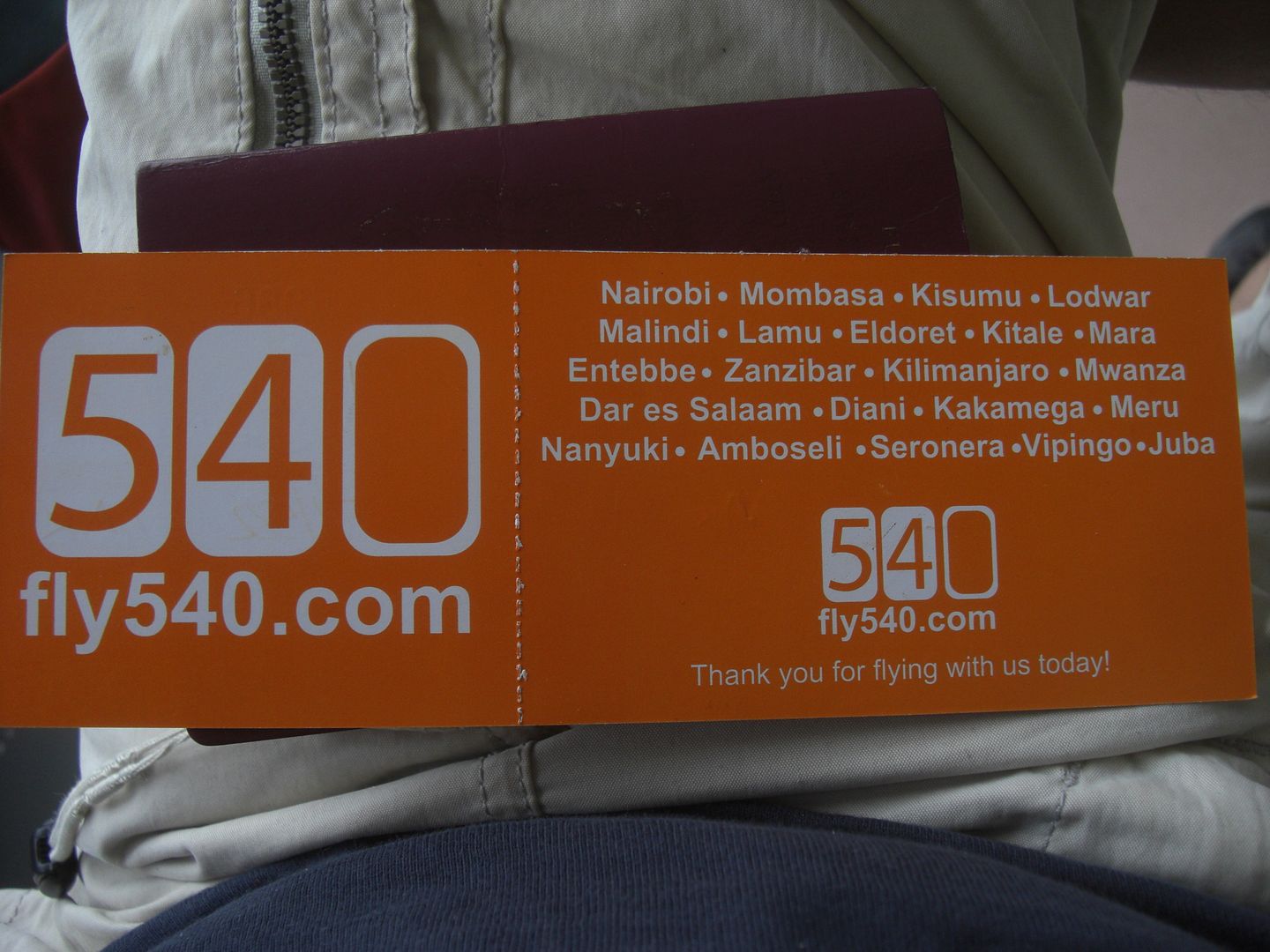 The wait was getting a bit boring now, so I got a chicken pie from a stall – tasted ok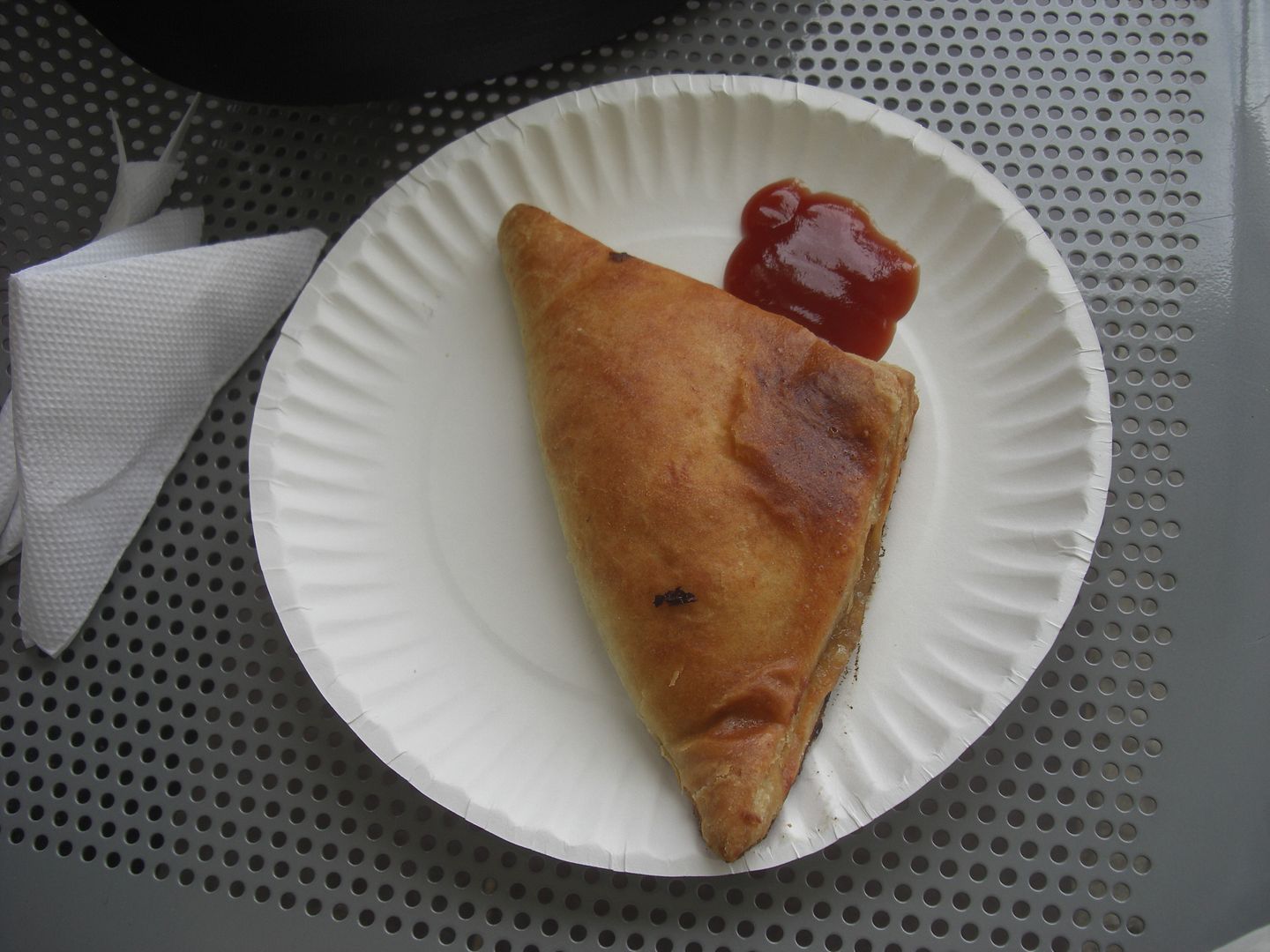 Meanwhile the ET flight from ADD had arrived, along with a Precision Air ATR. By this time it was 1440, over an hour after our ETD. I saw quite a few other orange boarding passes. Others were asking questions, so I guessed if they stayed in the departure area waiting, the flight was just delayed. There was no FIDS.
I did, however, recall seeing a sort of FIDS at check in. I zoomed in and saw that the flight was now (2 hours ago) expected an hour late at 1440, departing at 1500. Nice that the ground crew didn't say anything!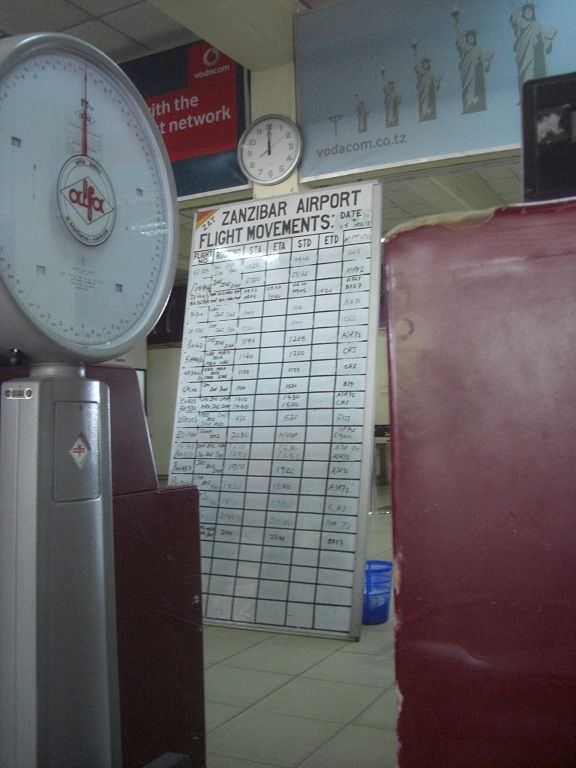 Finally at our plane landed, and we were allowed onto the tarmac at 1446. To avoid the Precision Air ATR we had to walk very close to the ET plane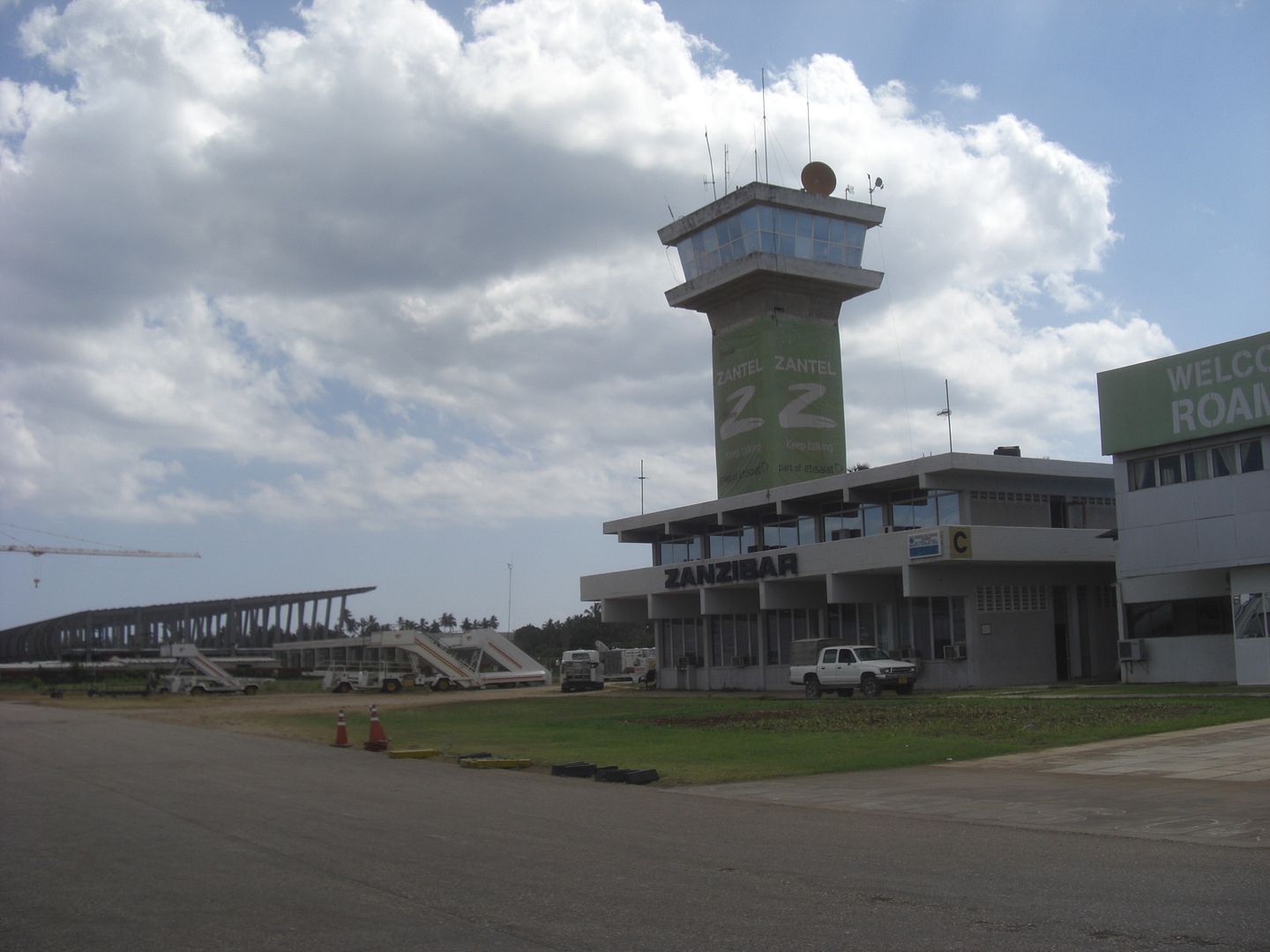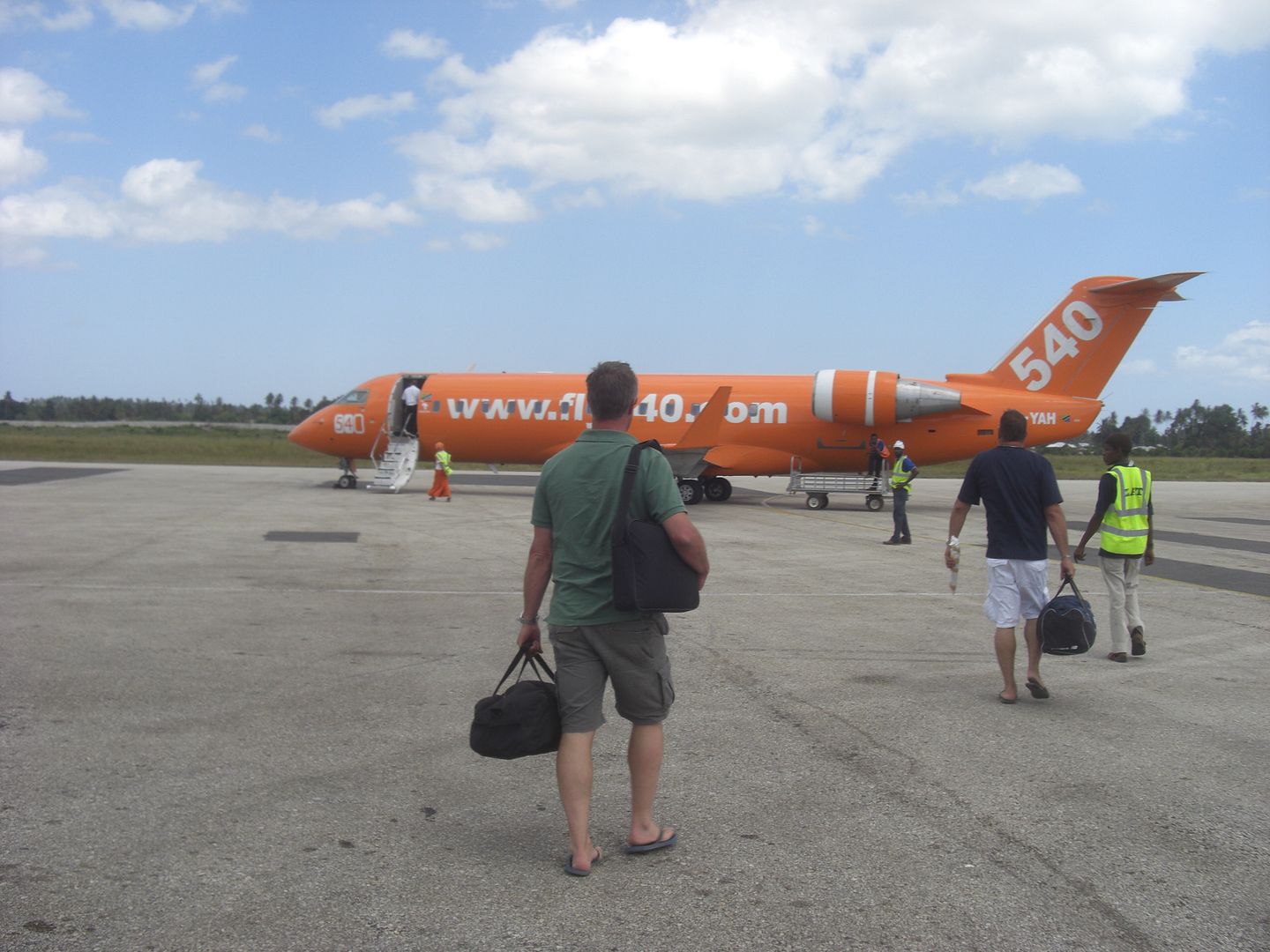 January 2012
Zanzibar (ZNZ) – Dar es Salaam (DAR)
Fly540 5H 532
Scheduled: 1340-1500 (0h20m)
Actual: 1501-1518 (0h17m)
Canadair CRJ-100 5H-YAH
Economy
I was welcomed aboard, and told to take a seat. There were already a few people on board, so I guess they flew in with the plane from ….Mobassa? Not sure. I took an empty pair in front of the wings. Load was about 30%. With not much ado, the safety demo was done, and we pushed off.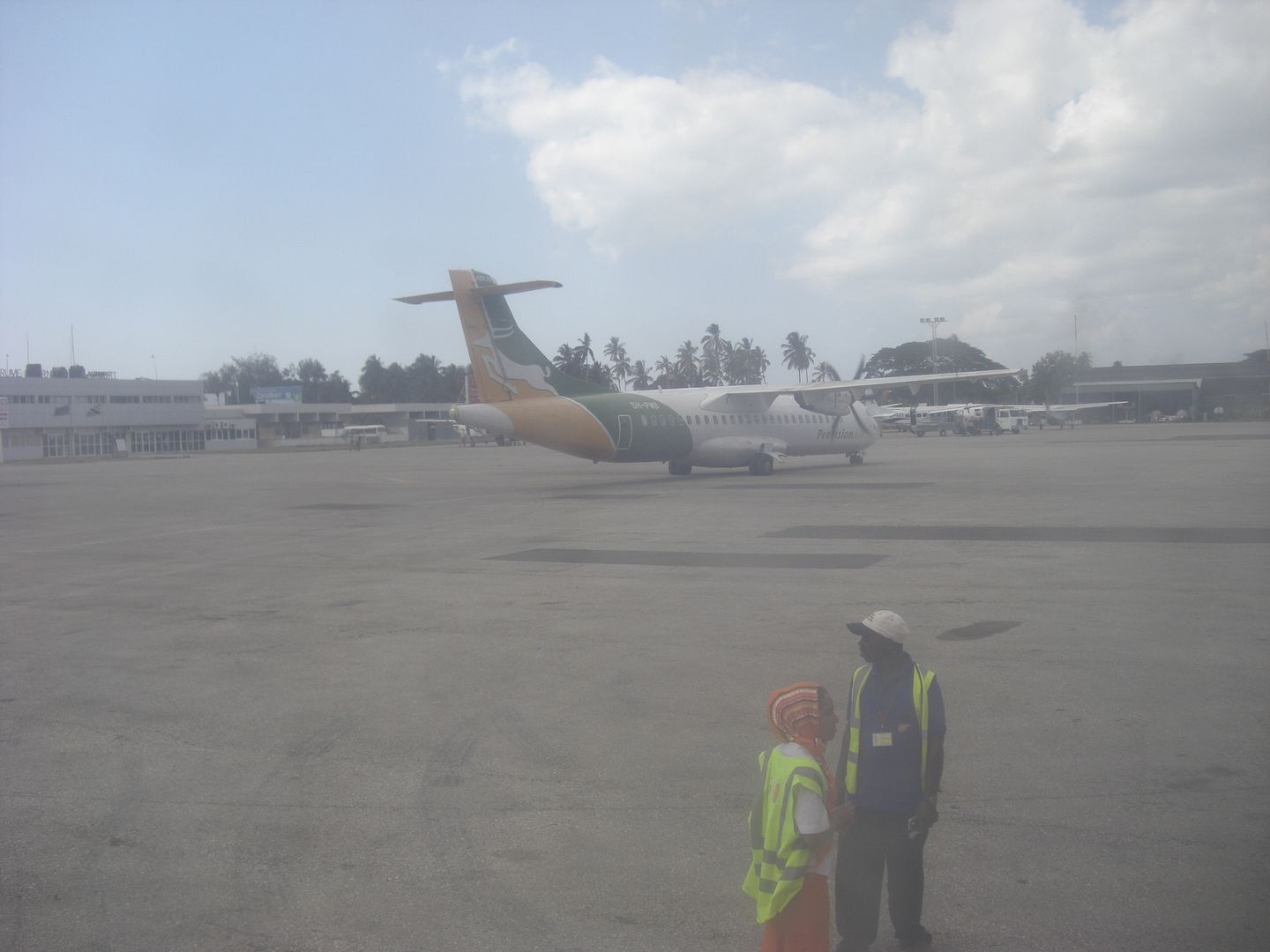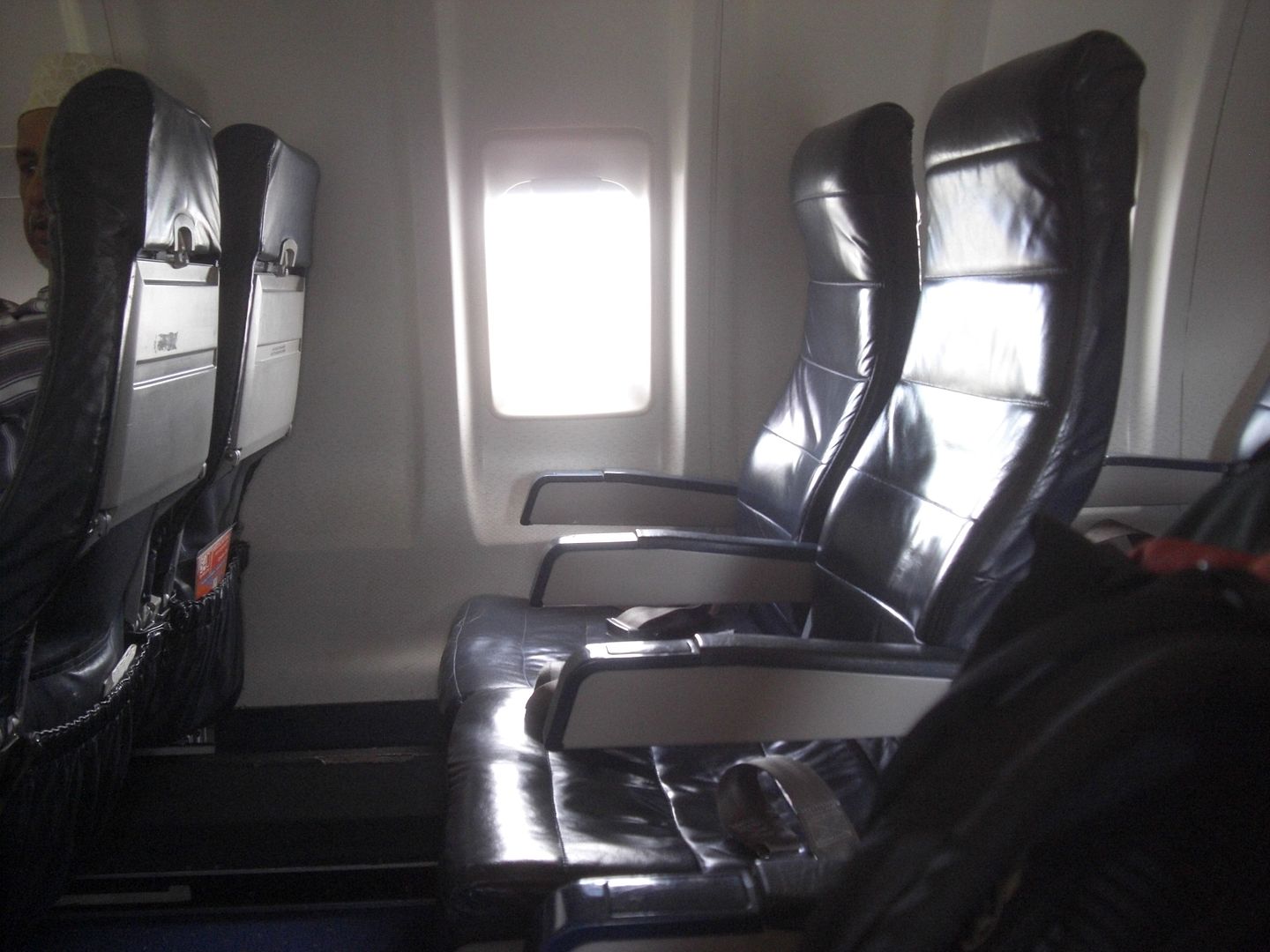 My bag belted in
Legroom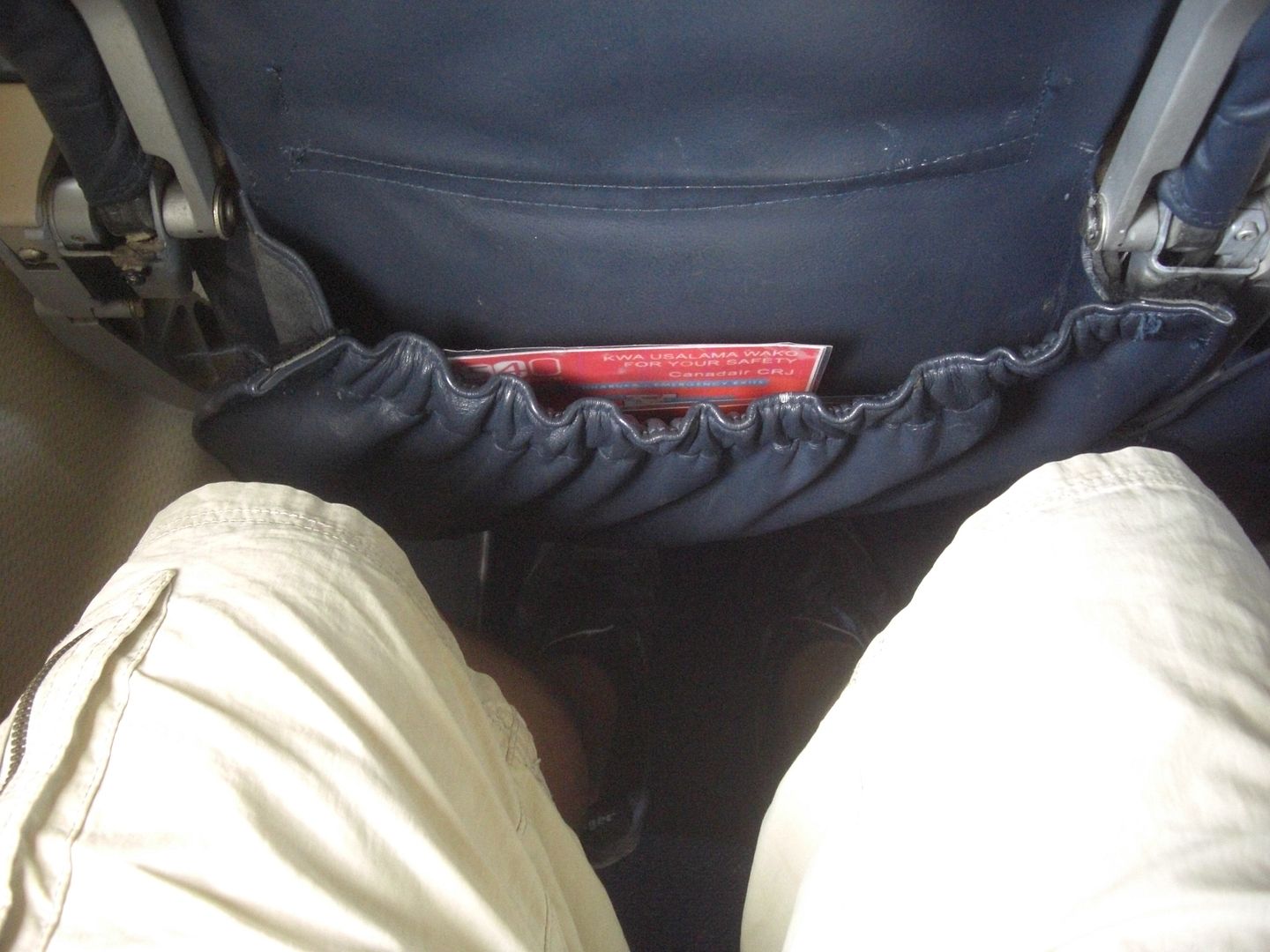 Safety First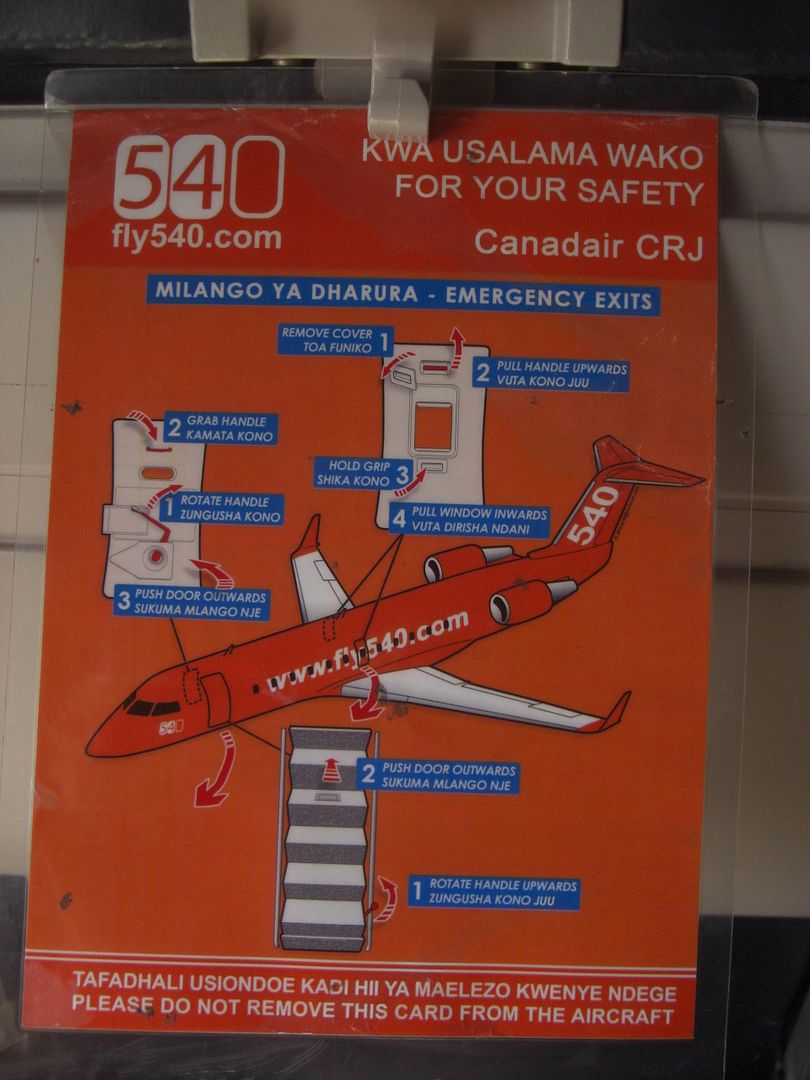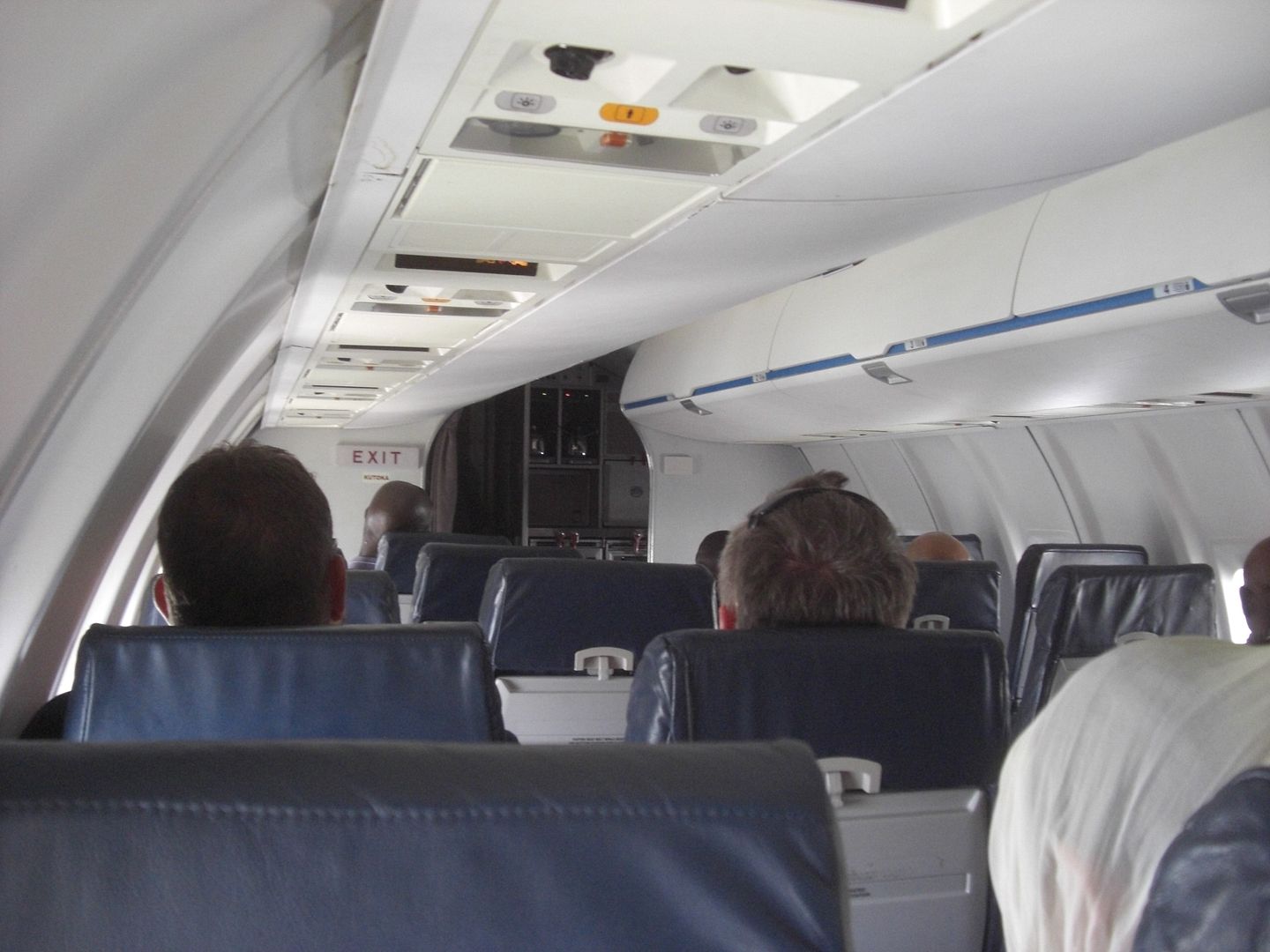 Off we go, over an hour late
Obligatory DC3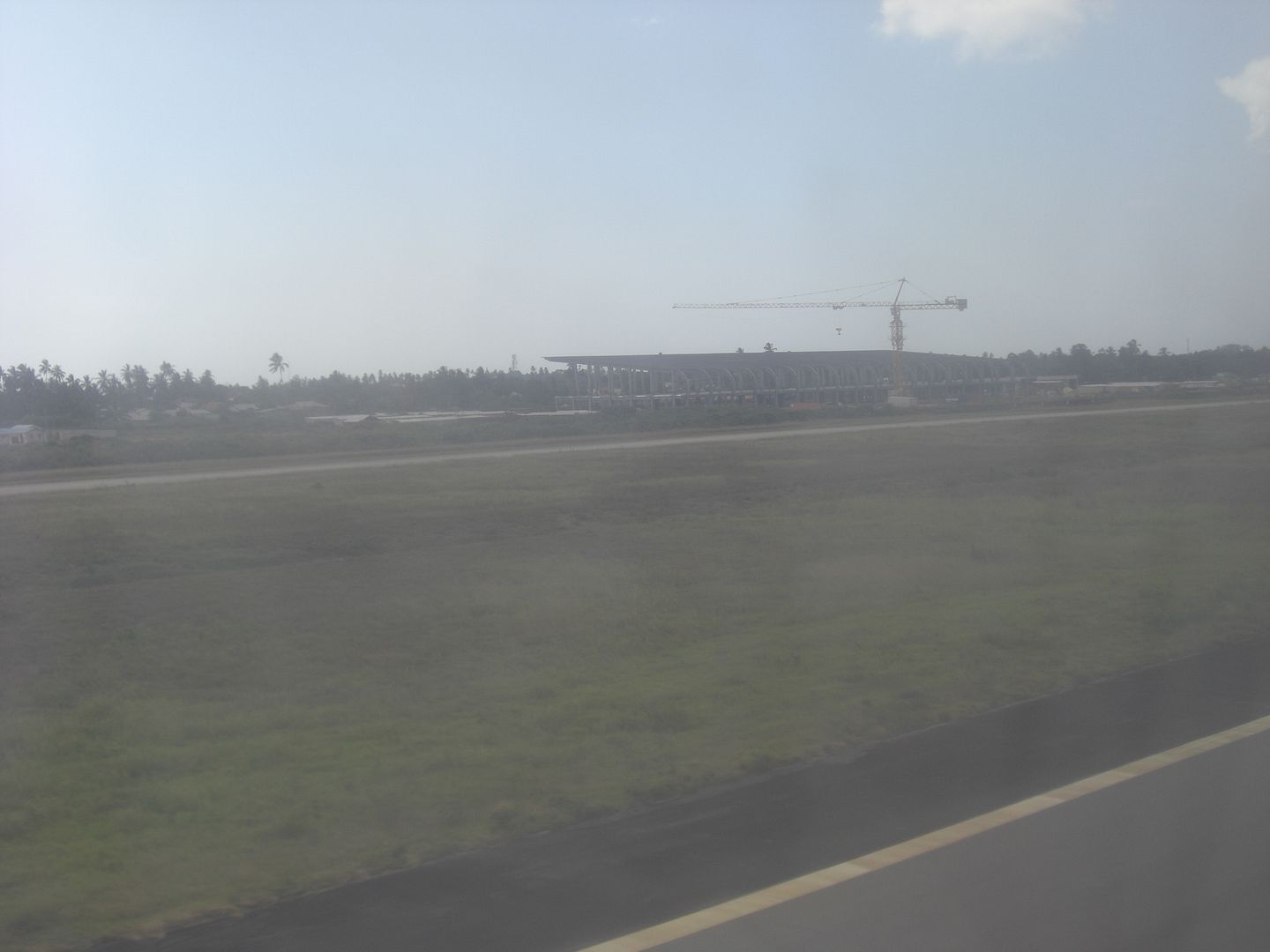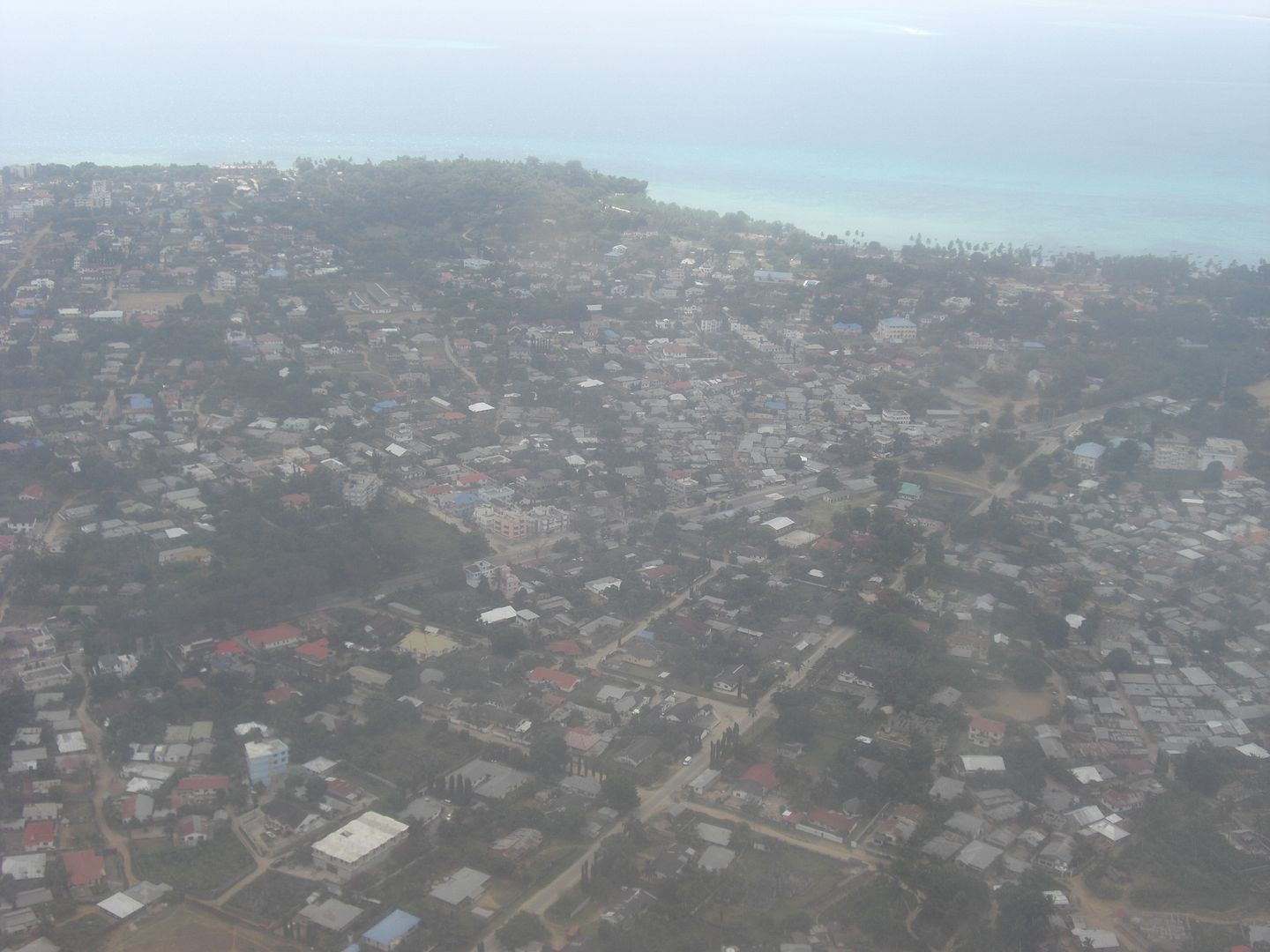 Stonetown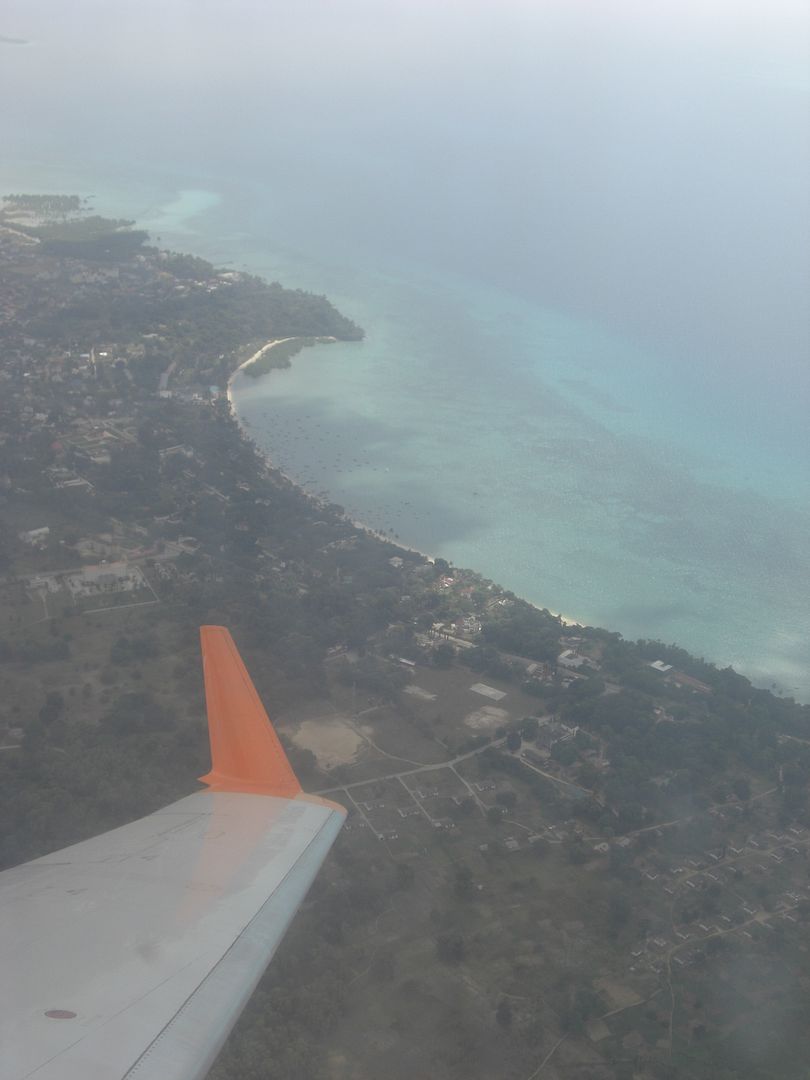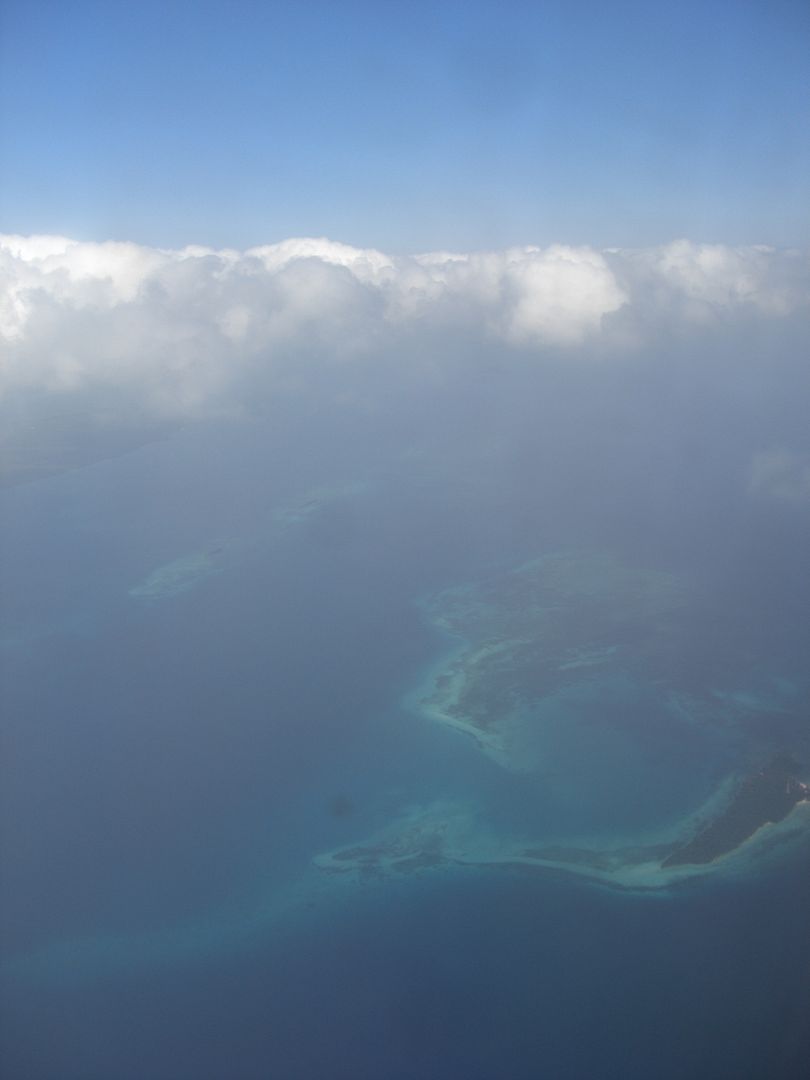 The kettle's on, but no service today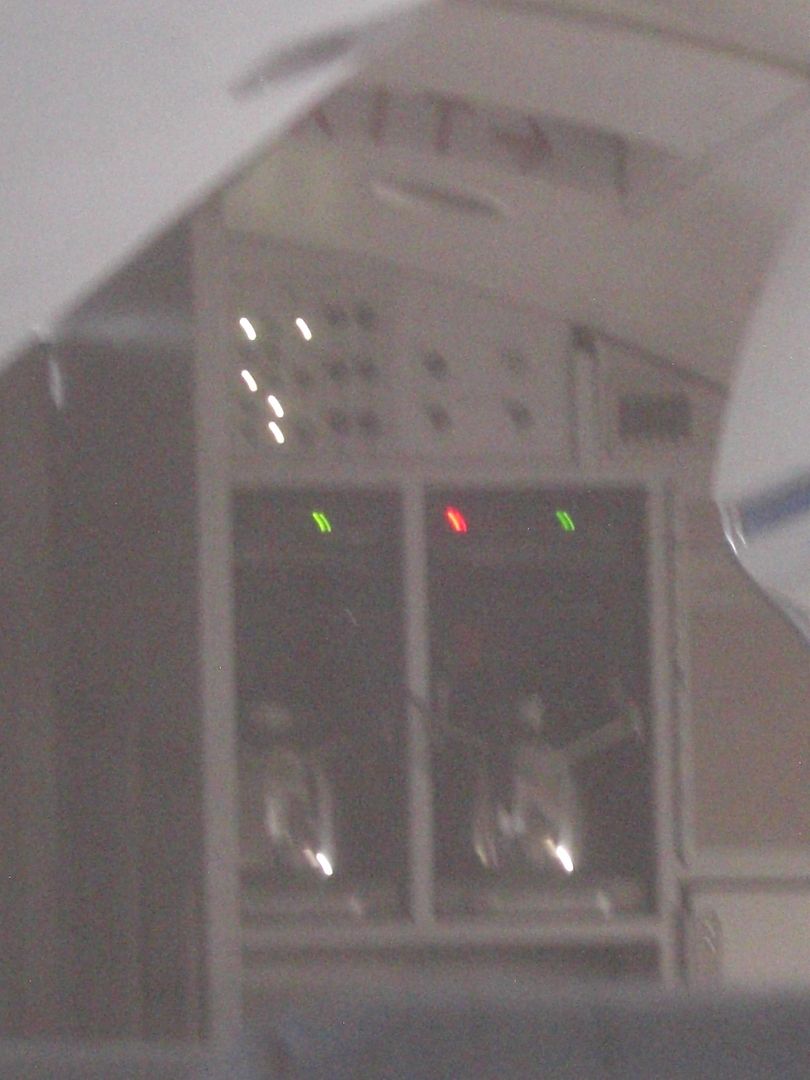 Before long the mainland came into view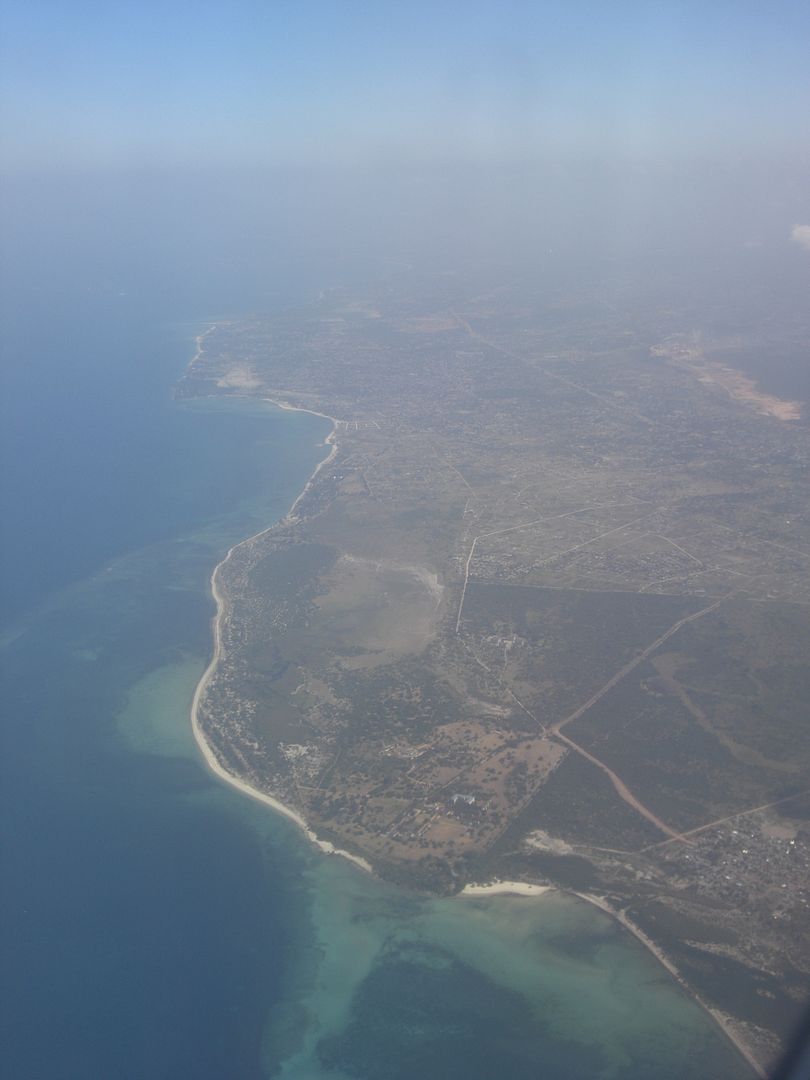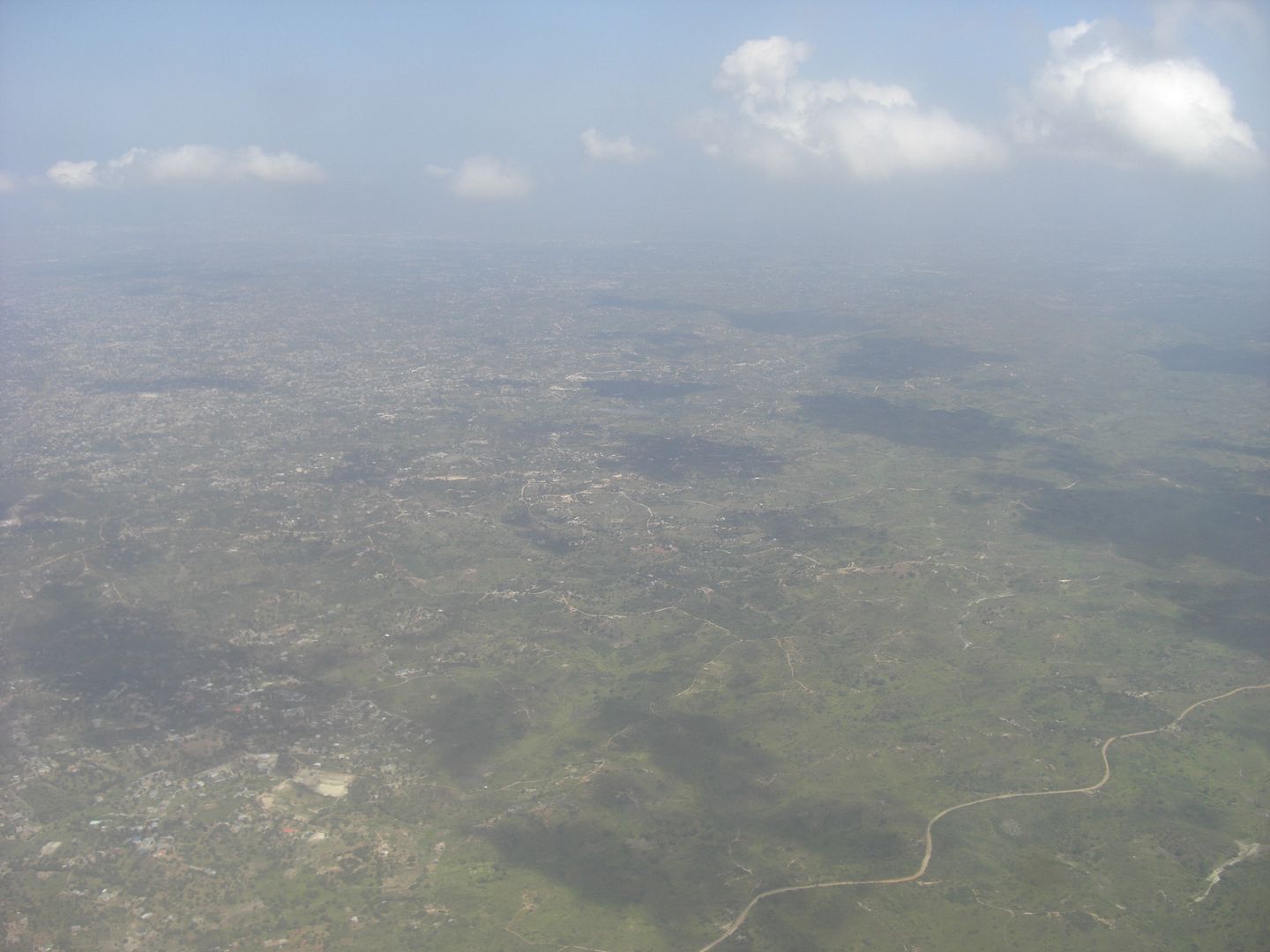 Not the newest of planes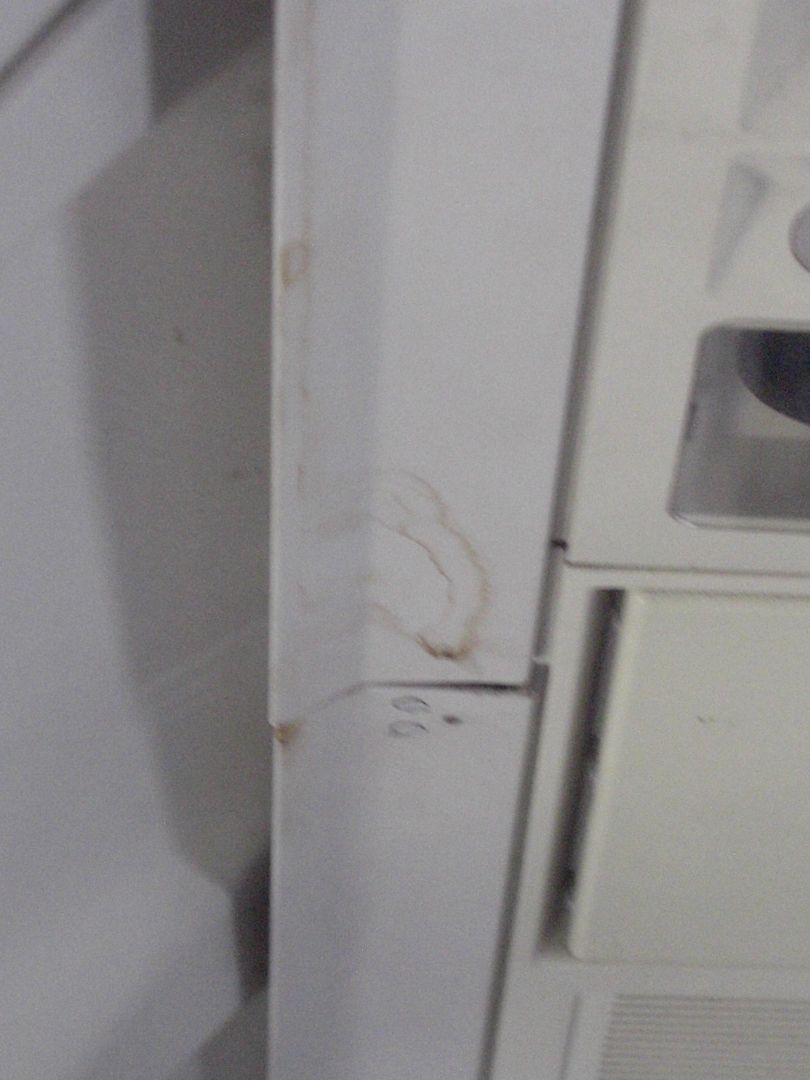 Approach. A good 25% of properties seem to have only have the walls built. Is there a reason why so many buildings are unfinished?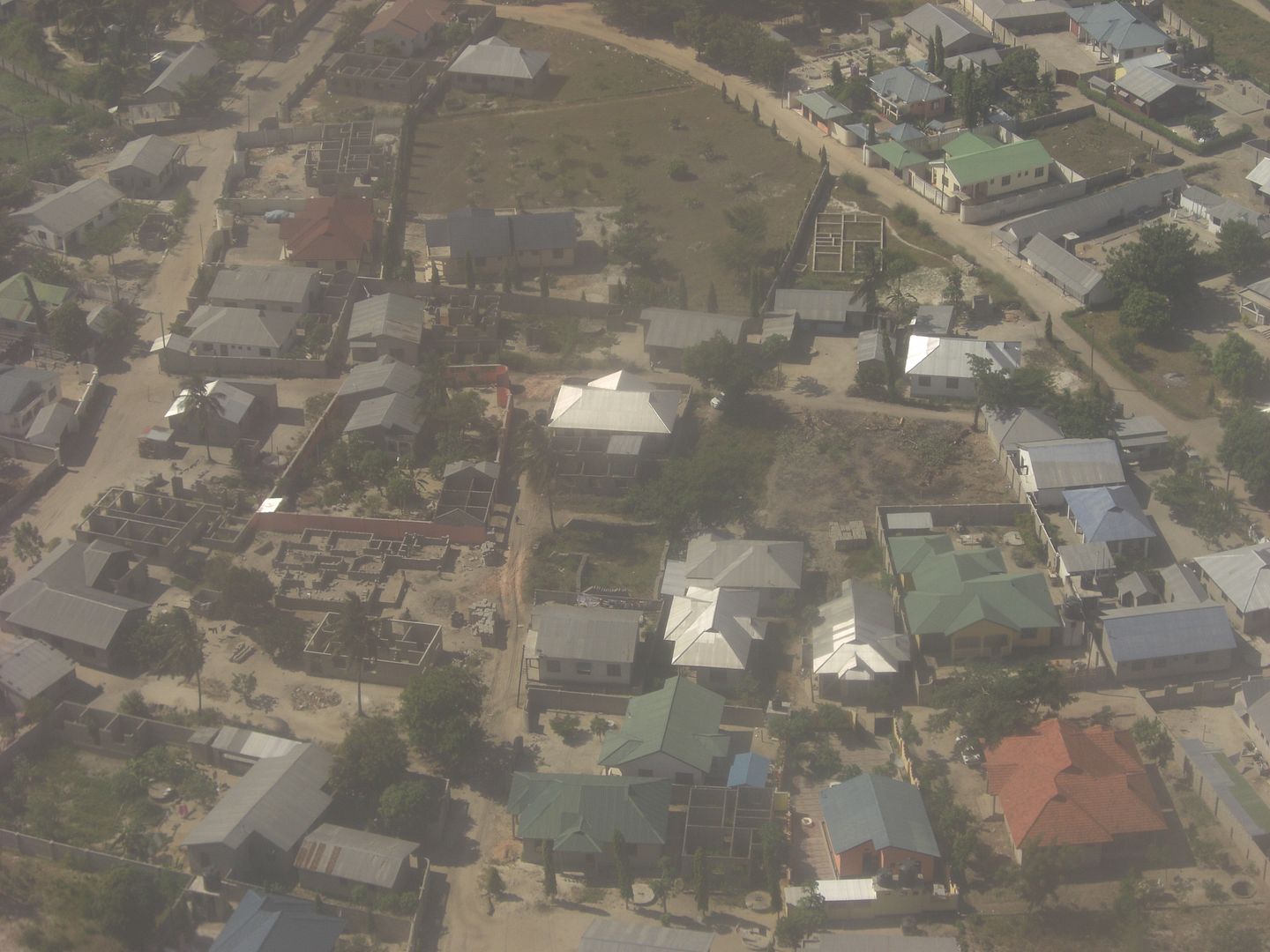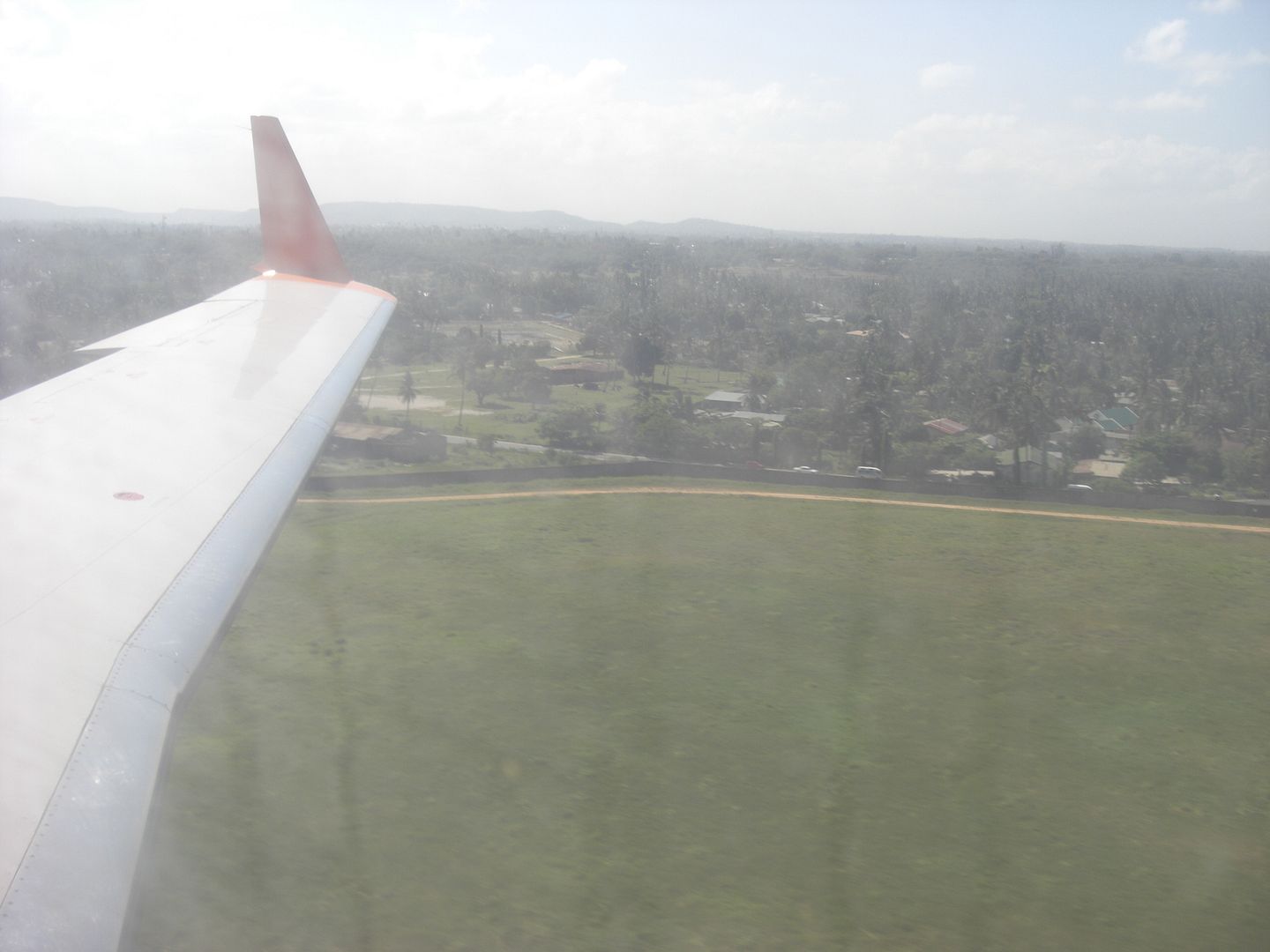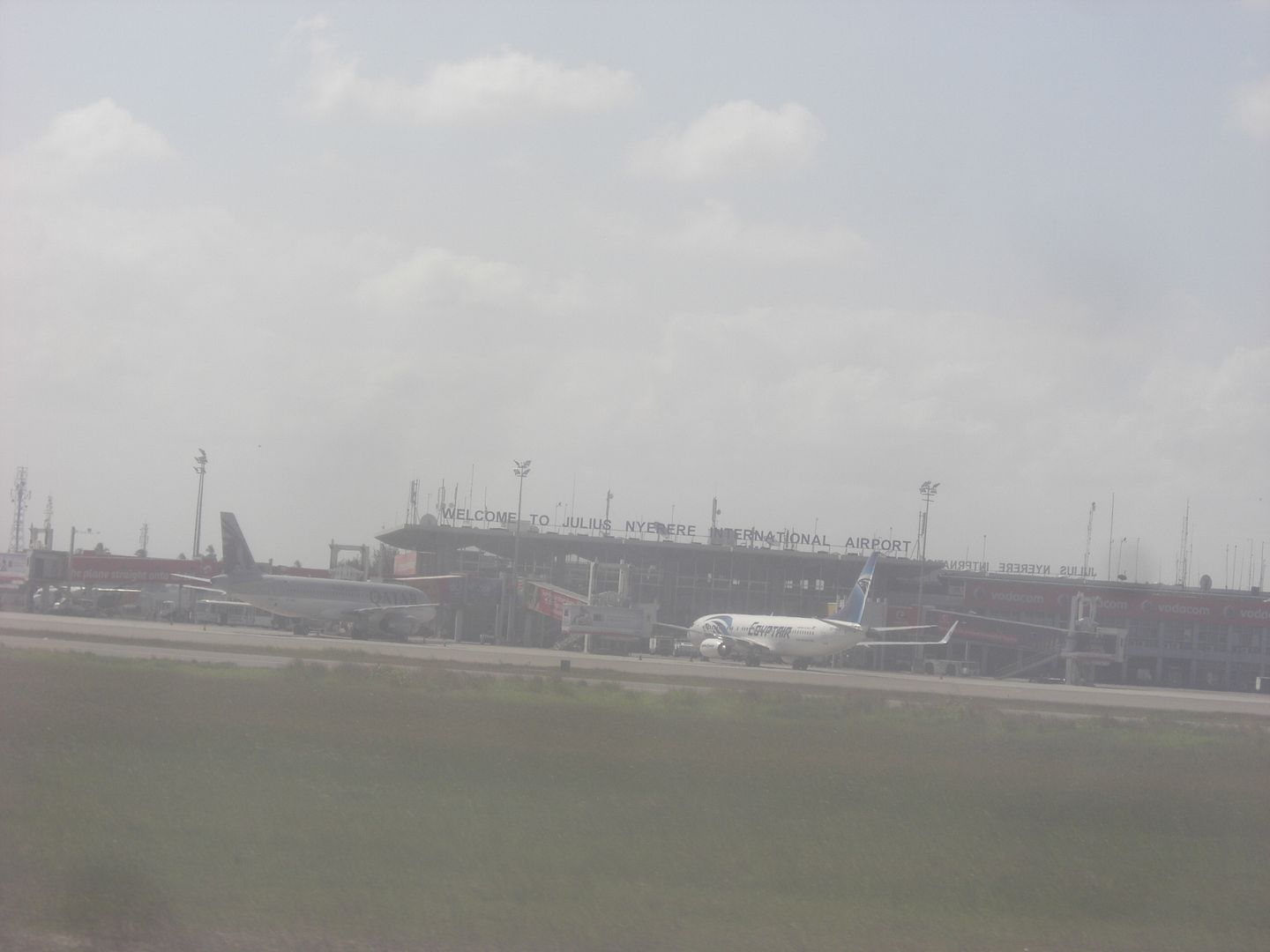 I was very surprised to see a BA 767 on the tarmac. BA usually operate LHR-DAR overnight, with the return departing DAR around 0900. This was obviously a technical issue.
Another DC3
Another surprise, LAM
We disembarked, and then waited around 10 minutes for a bus to come, affording some nice shots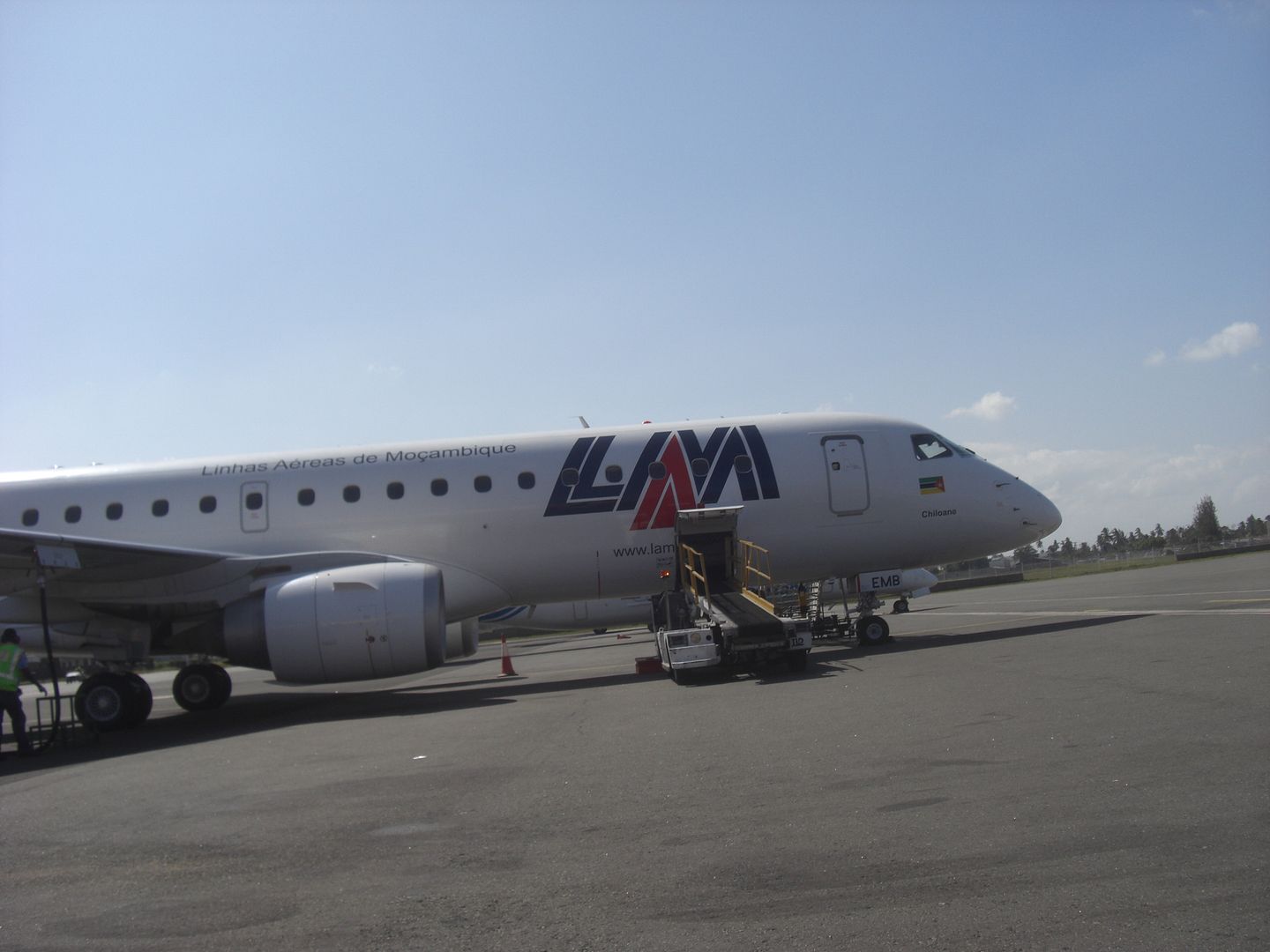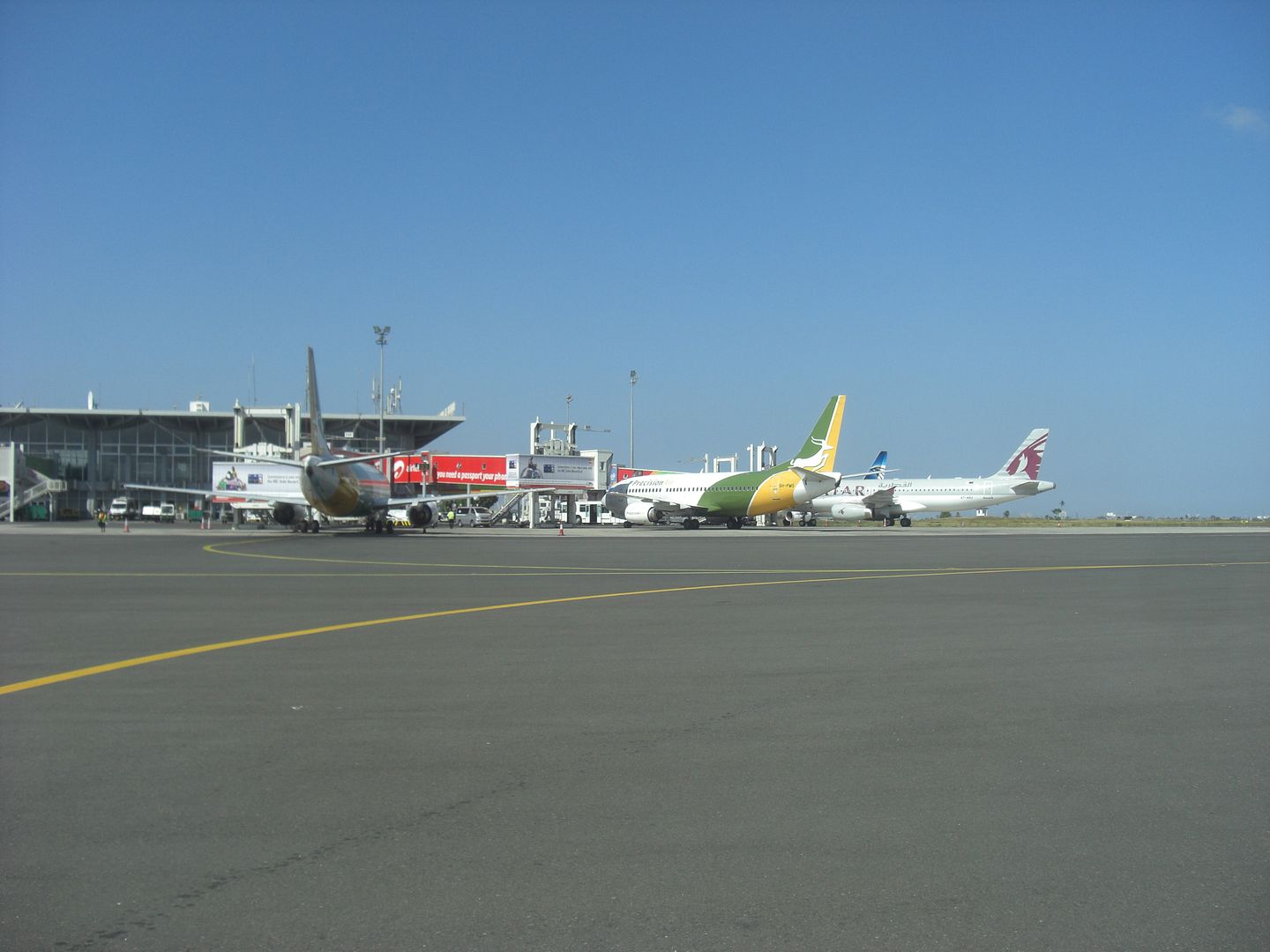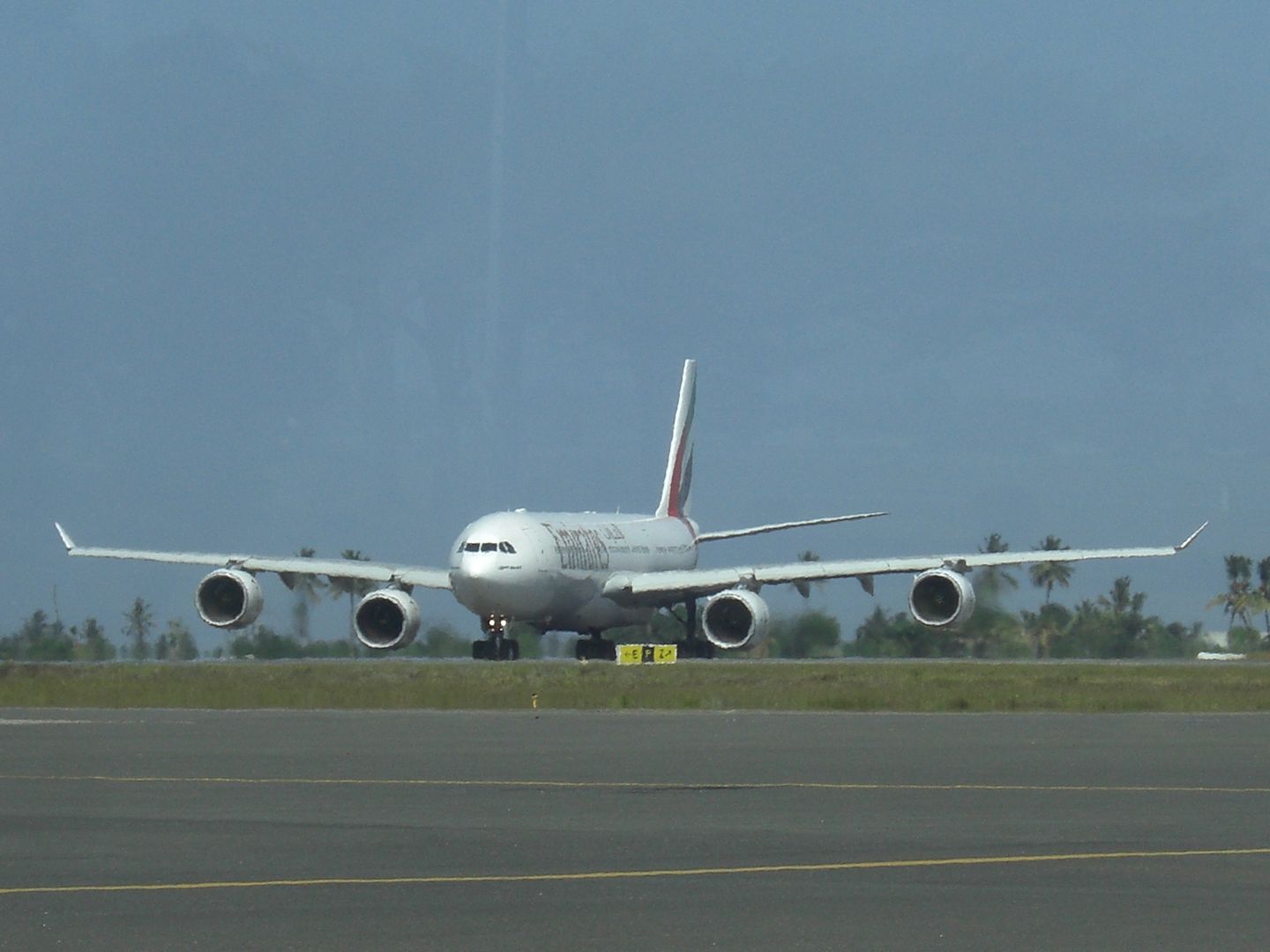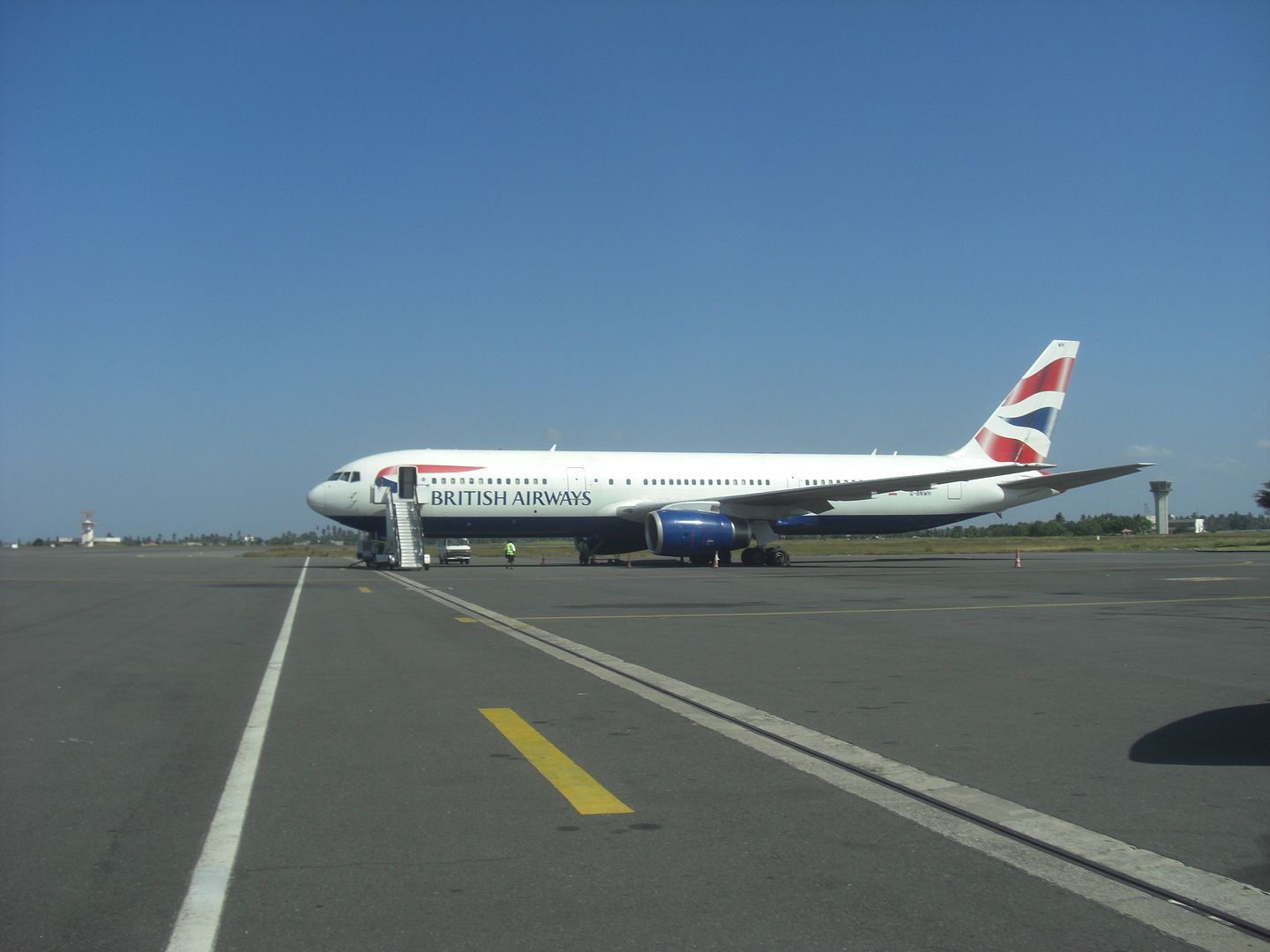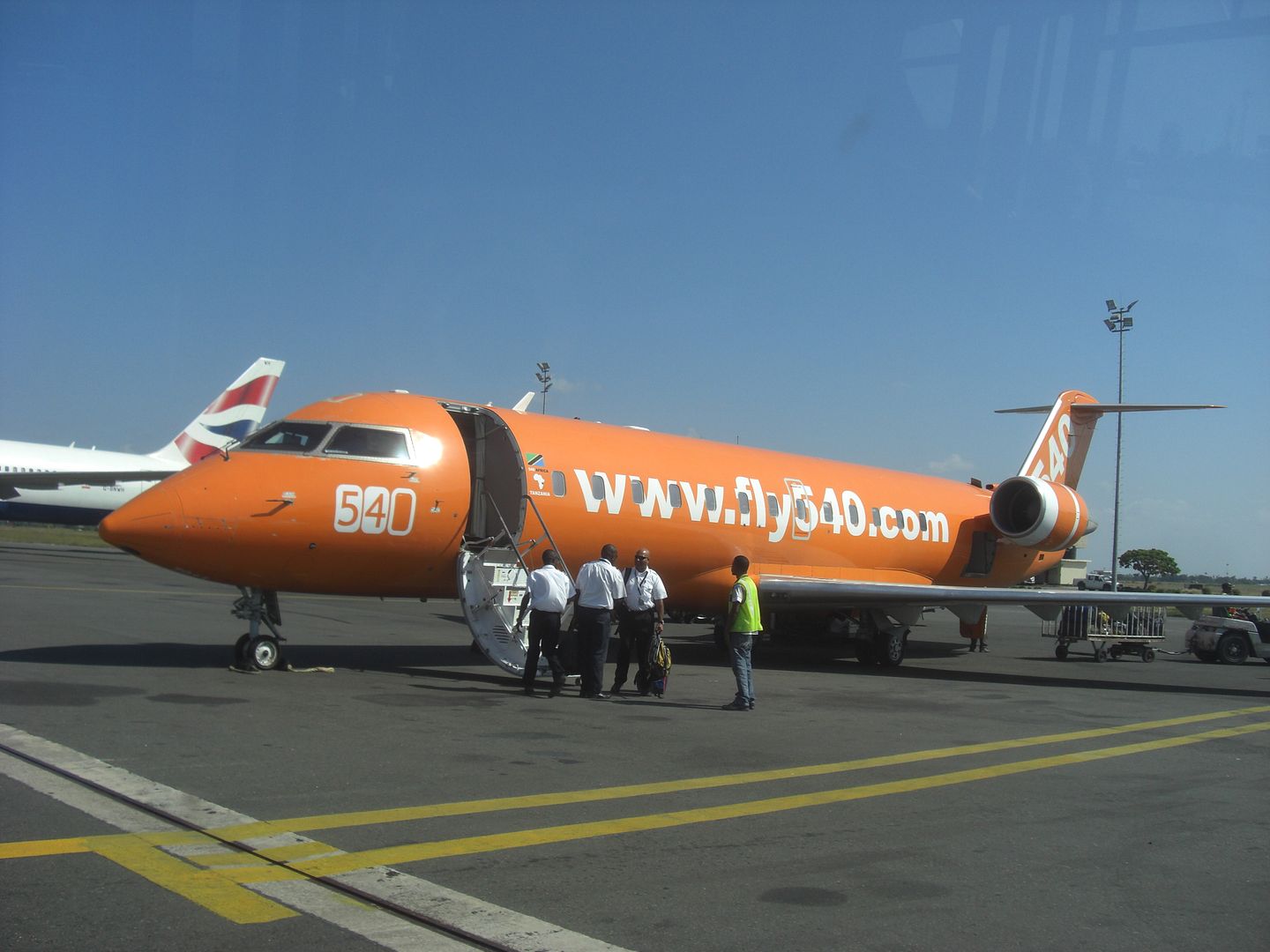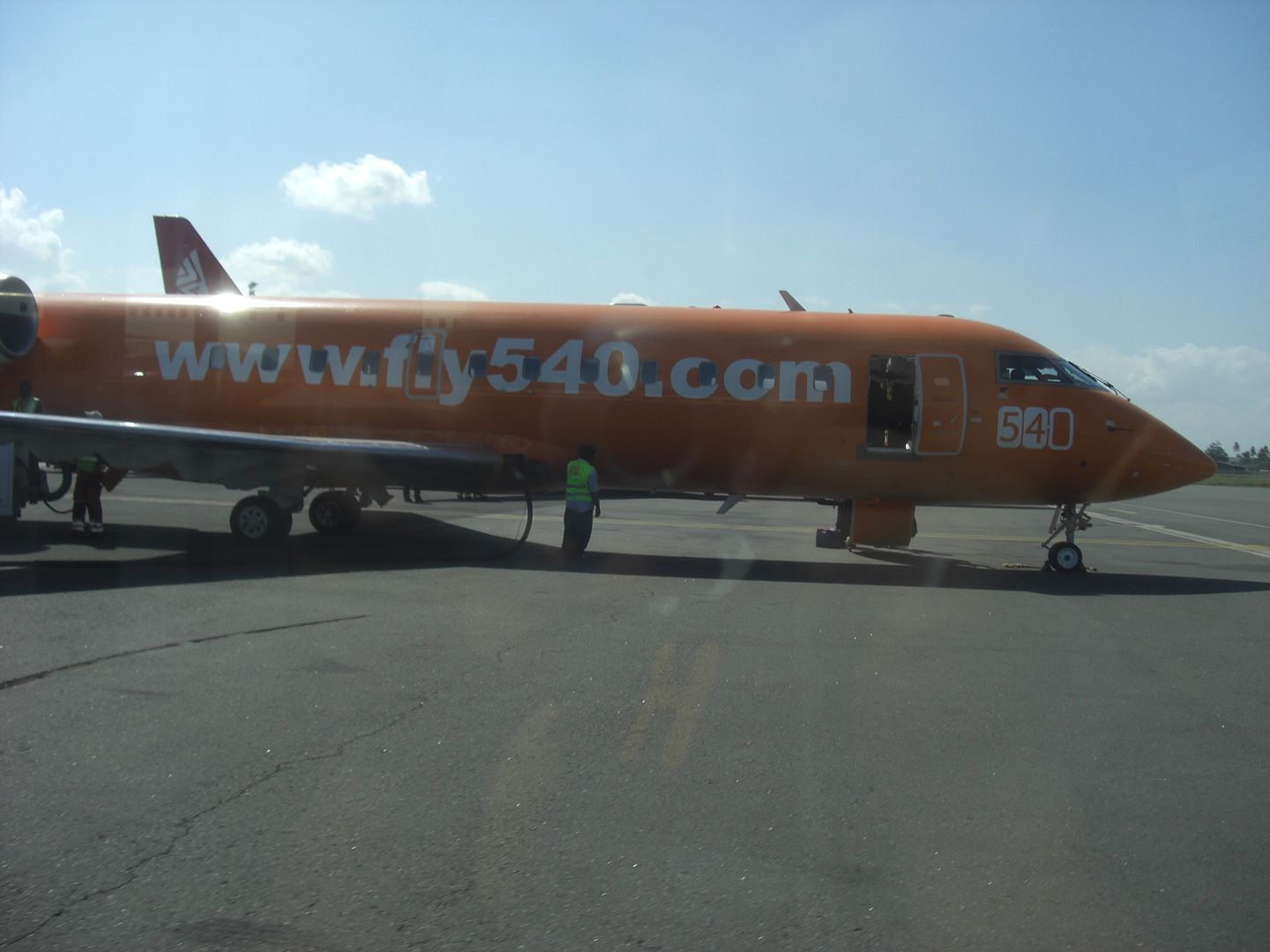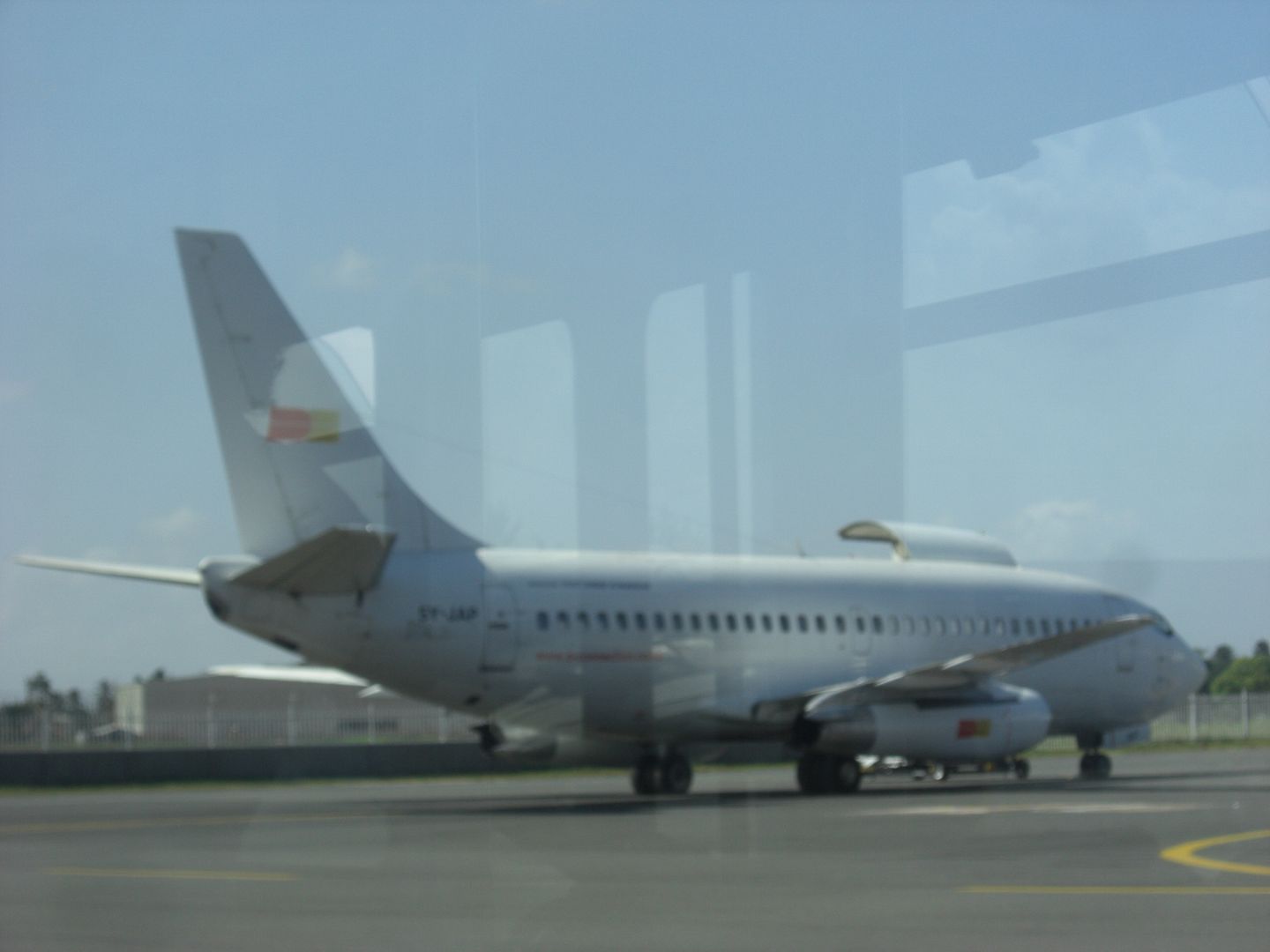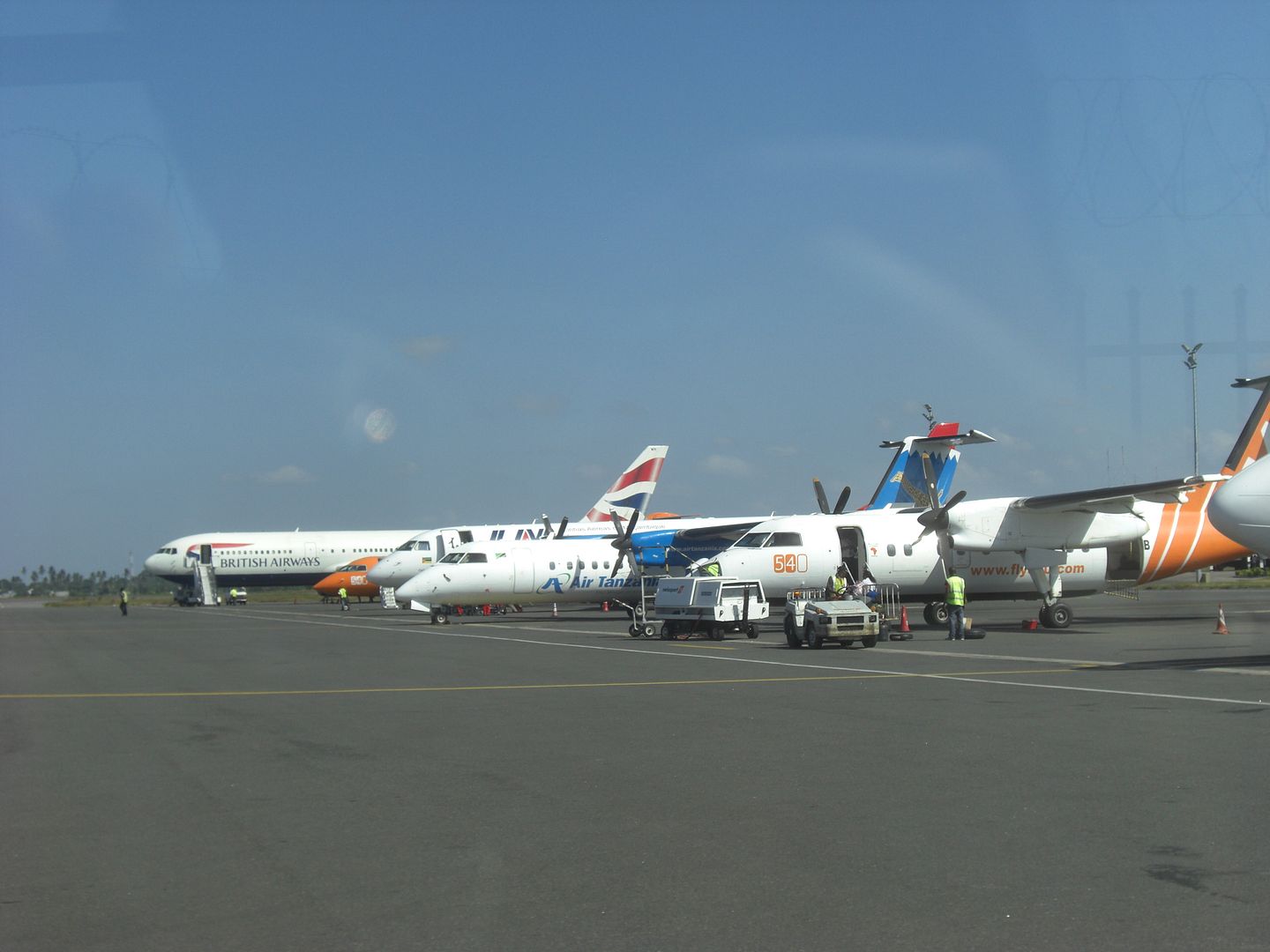 Finally, the bus arrived
The Precision Air that left ZNZ before us, had already dumped her load at arrivals. Our bags came out first though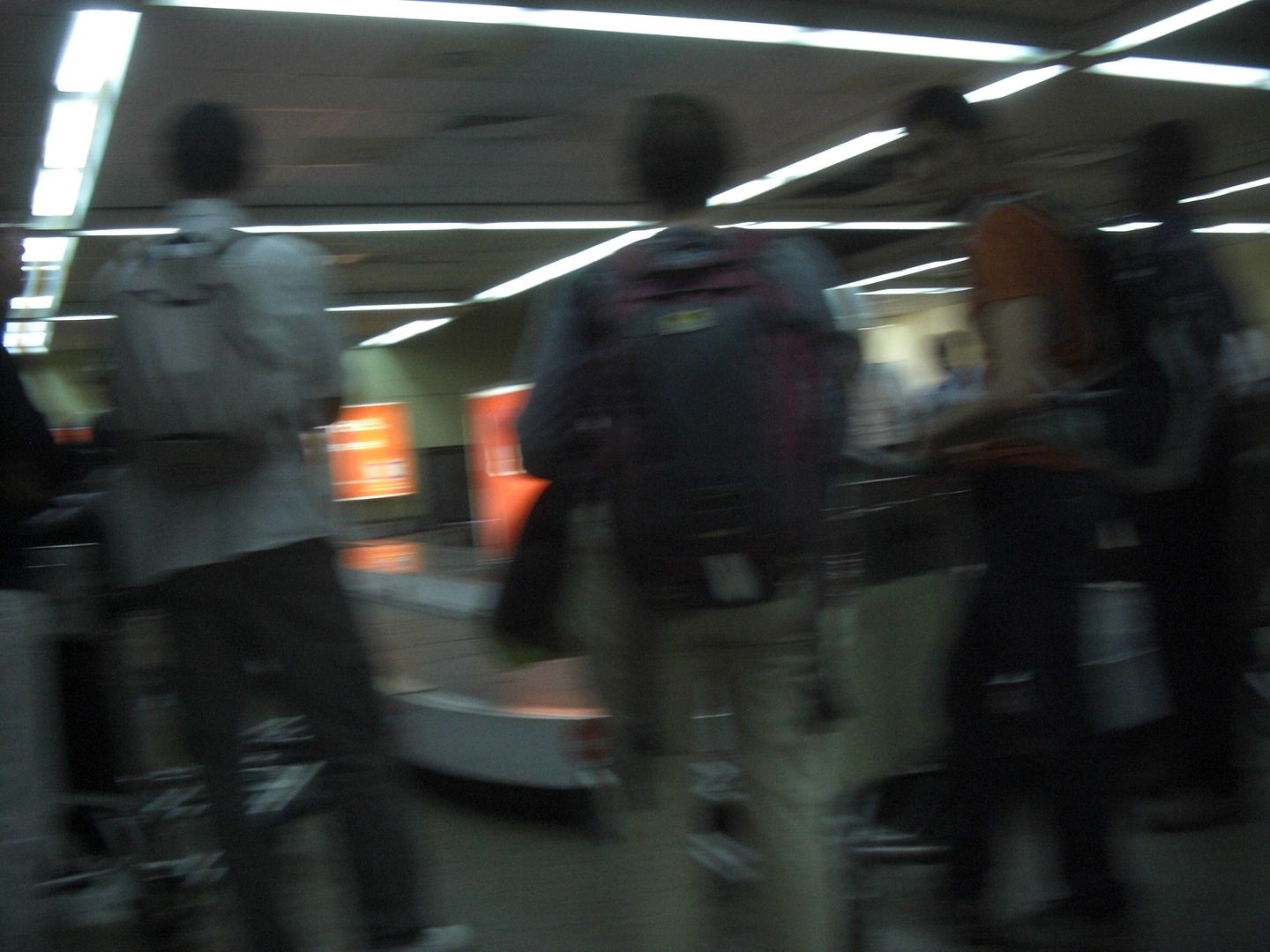 Once I'd picked up my bag, I found a travel agent office to look after it (there's no left luggage office), and caught a taxi into town.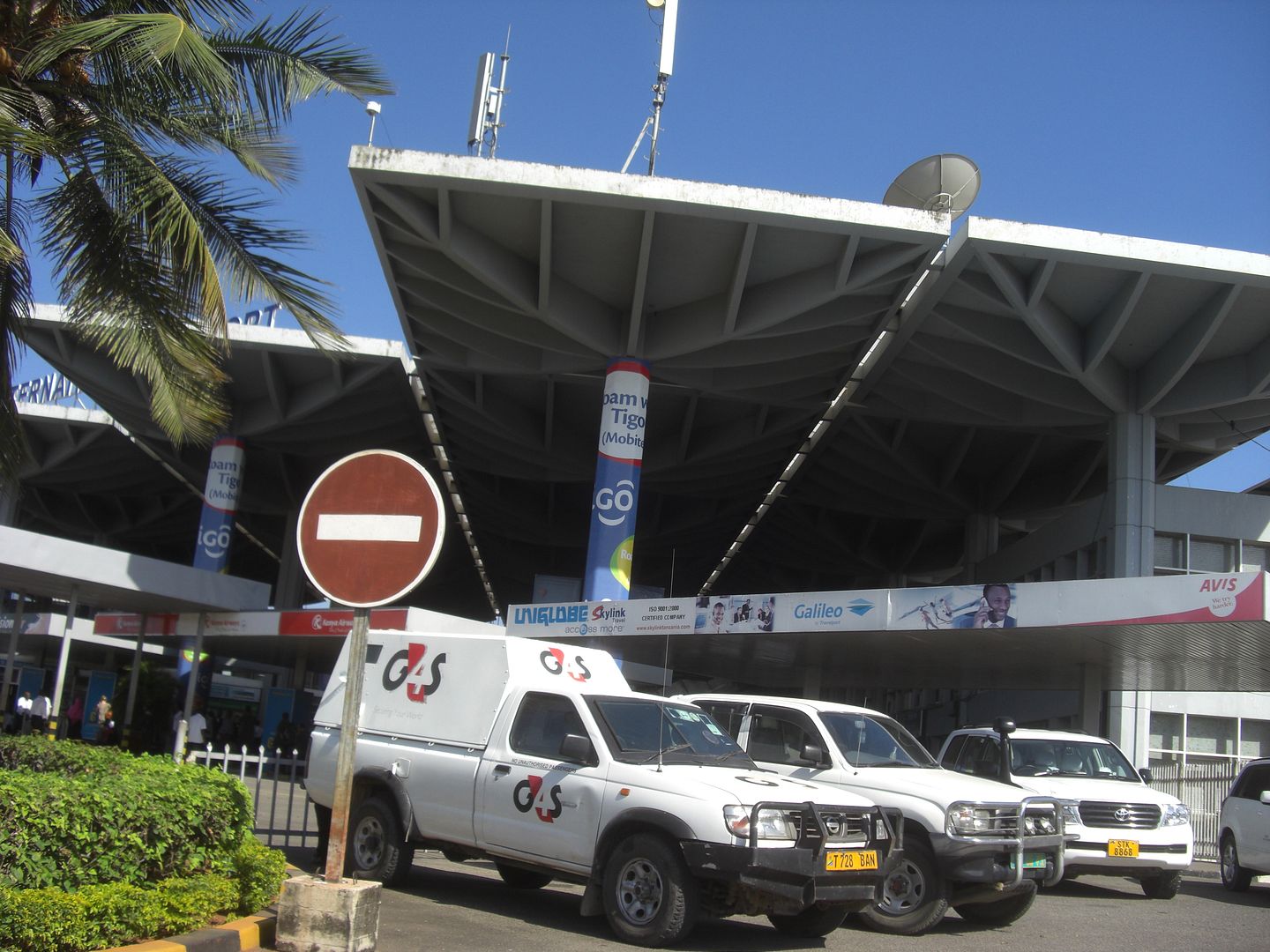 I was expecting a sea-facing beach in Dar – got this instead. Not the best.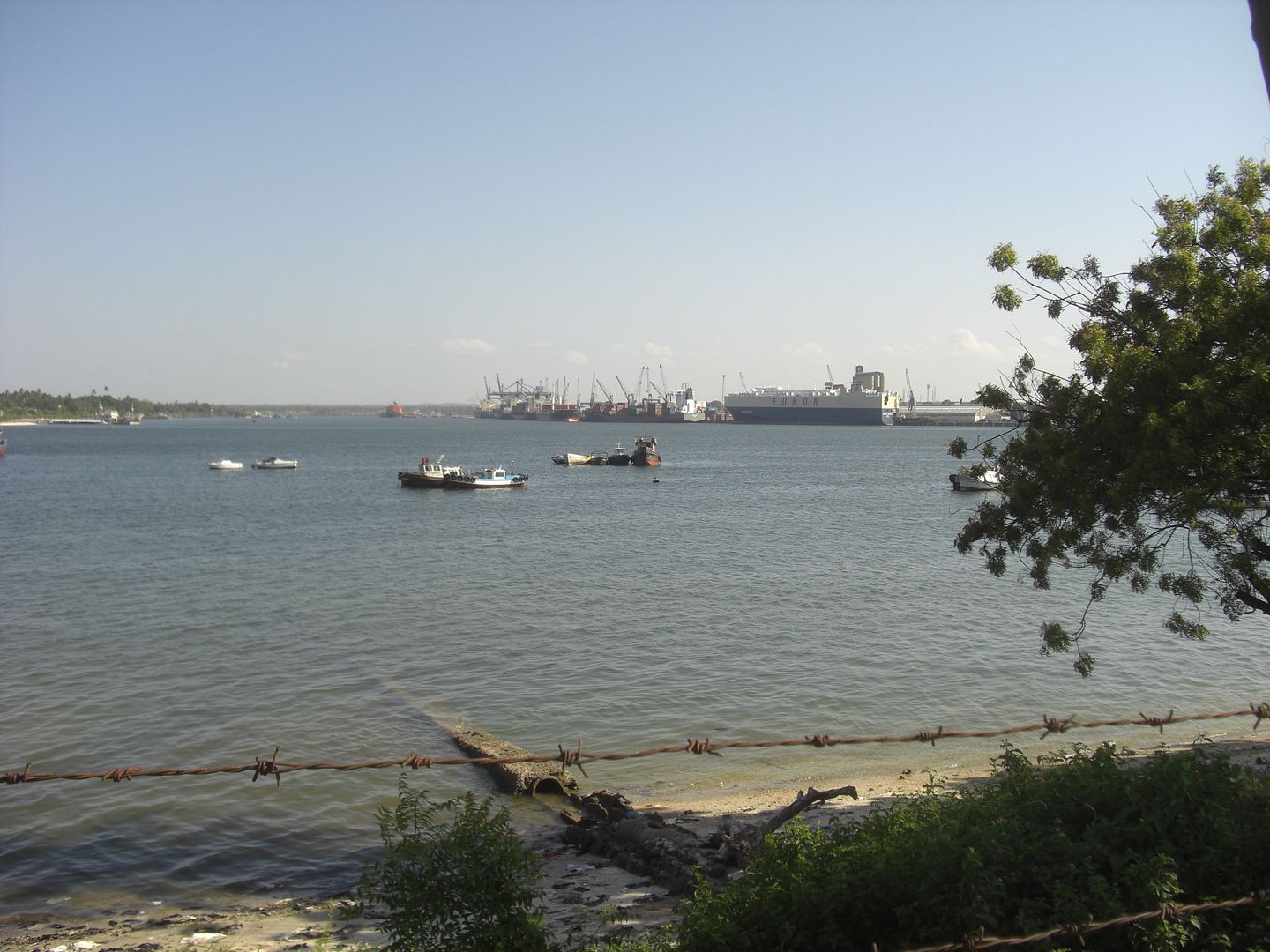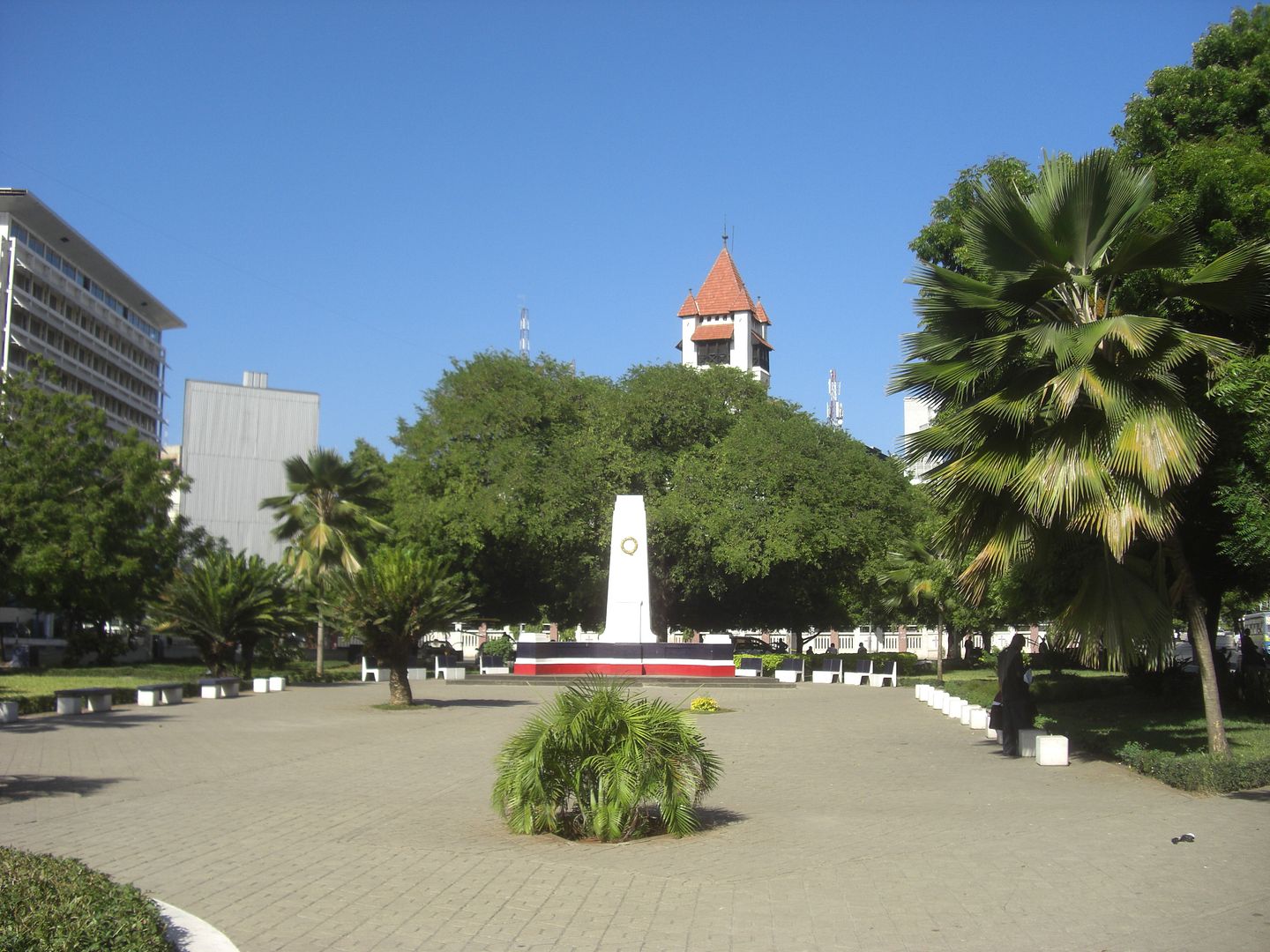 After about 10 seconds of walking down the road, I was accosted by lots of locals waiting to "talk". I ended up spending quite an interesting few hours walking about the local travel industry over a few Tuskers.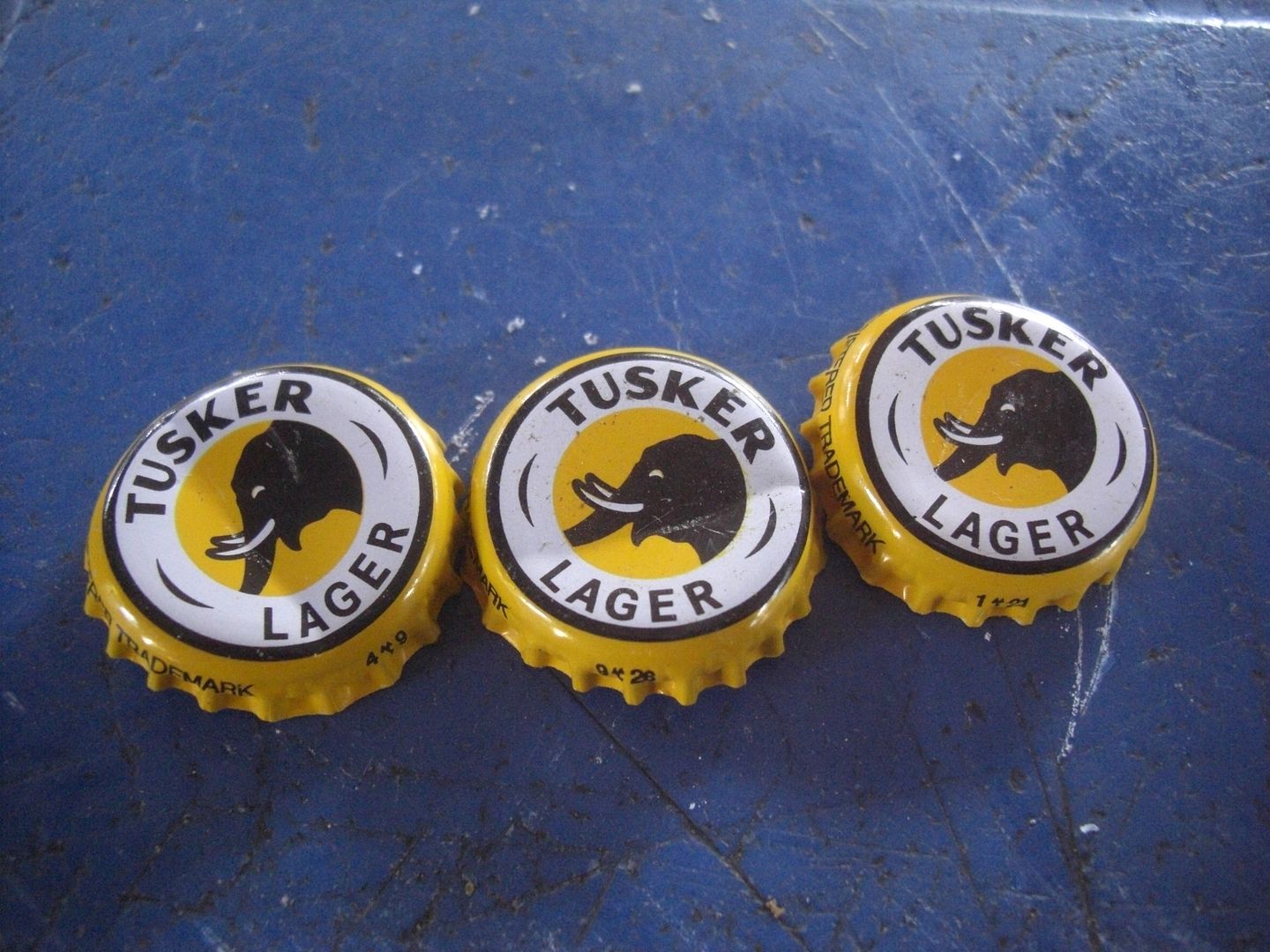 With the Tuskers gone, I bid adieu to my friend, and went across to the Kempinski Hotel for a slightly nicer, and much more expensive "last drink in Africa".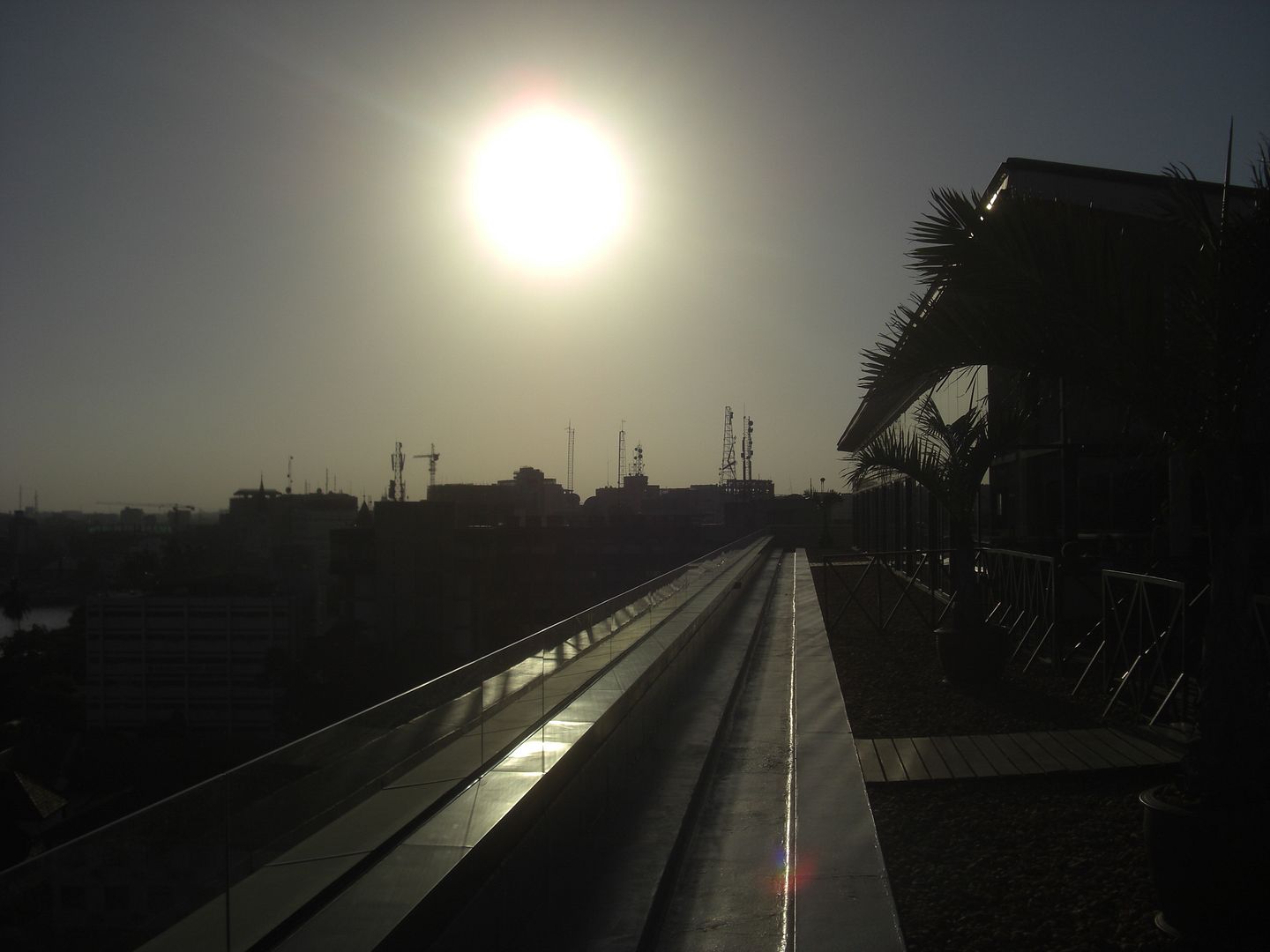 And some chips
My last sunset in Africa. It was 32C when I took this. The next time I saw the sun the next morning, I was walking around Zurich and it was -17. That's a 49C difference overnight, quite a shock to the system!
I'll leave this part here. The next bit will be up in a few days (hopefully) covering my very comfortable flight with Swiss in First from Dar es Salaam back to Zurich via Nairobi.
So, what of Fly 540? Well, they were cheaper than the competition, but they were late, and didn't do anything about it. The flight was so short I couldn't really comment on it, other than I arrived safely, and with all my luggage.
All comments and questions welcome!
Some of my other TRs:
Africa Part 2: SN BRU-BJM, SA BJM-KGL, Business to Burundi and Rwanda
Africa Part 1: BD LHR-CMN, TP CMN-LIS, SN LIS-BRU in Y and C
A.net meeting in snowy Tallinn. U2/FR STN-TLL-LTN
easyJet and bmi up to Aberdeen, LTN-ABZ-LHR
The Costa del Sol with British Airways. LGW-AGP-LCY
Mysterious Moldova (and Transnistria). Lufthansa LHR-MUC-KIV
BA to the Austrian Alps. LHR-MUC, INN-LGW
I can't get no Jetisfaction: LH LGW-FRA inaugural
Colombia Part 4: Colombia to London via FRA/MUC/HEL on LH & BA
Colombia Part 3: Colombia with Avianca (AV). SMR-BOG-MDE-BOG
Colombia Part 2: Colombia with Avianca (AV). BOG-MDE-CTG
Colombia Part 1: London to Colombia via ARN/MUC/FRA on BA & LH
USA and Mexico Part 4, British Airways Mexico City – London, World Traveller Plus
USA and Mexico Part 3: Around Mexico with Aereo Calafia Cessna 208B & Viva Aerobus B733
USA and Mexico Part 2: Sightseeing tour of San Diego Airport, and American Airlines San Diego - LA – Dallas - San Jose Cabo
USA and Mexico Part 1: easyJet Luton to Paris, and BA Paris to San Diego via LHR in World Traveller Plus
British Airways to Scandinavia (LHR-CPH,GOT-LHR)
Where's my bag? British Airways, Milan to London
What airline am I flying again? Bmi/Lufthansa Italia LHR-MXP
Albania and Macedonia: Austrian LHR-VIE-TIA, Macedonian Airlines SKP-ZRH, Swiss ZRH-LCY
Part 1, Lufthansa London-Munich-Frankfurt-Nanjing, Economy Class A321 and A343
Part 2, Cathay Pacific Shanghai to Tokyo via Hong Kong, Business Class A330 and B747-400
Part 3, ANA Boeing B767 Tokyo to Shanghai, & Air China Airbus A340 Shanghai to Beijing, Business Class
Part 4: Chinese domestics, inc. Joy Air Xi'an MA60, Tianjin Airlines ERJ, and China Express Airways CRJ
Part 5: Lufthansa Beijing-Frankfurt-London City, Economy Class A388 and E90
5 Countries, 5 Flights, 5 Days, with Ryanair (FR)
bmiFriday: Welcome to Sunny Norway, London to Bergen, A319)
Royal Jordanian, London to Aqaba via Amman. A330 and A320
Royal Jordanian, Amman to London, A330
London City to Antwerp with Cityjet and the Fokker 50
Croatian Airlines, LHR-ZAG,PUY-ZAD-ZAG-LHR, A319 and Dash 8
British Airways, Iberia & Binter to Tenerife and Gran Canaria, LHR-MAD-TFN-LPA-MAD-LHR, A320,ATR, A321
British Airways, London To Amsterdam, LGW-AMS-LHR, B737 & A321
British Airways up to a snowy Glasgow, with a change of flights and delay, LHR-GLA-LCY A321 and E90
Turkish Airlines Business Class from London to Istanbul. From Terrible To Fantastic
Turkish Airlines Business Class from Istanbul to Batumi (Georgia). Not again!
bmi Business Class, Tbilisi to London via Azerbaijan
Tallinn to London, with Estonian Air and BA, via ARN
Cuba! BA/IB London-Madrid-Havana, Business Class
Aerocarribean, Baracoa to Havana
Asia Trip, Pt 1: Qatar Airways Business Class (LHR-DOH-ICN)
Asia Trip, Pt 2: China Southern and Hainan Airlines (A321/A346)
Asia Trip, Pt 3: Malaysia Airlines, Hong Kong to Penang
Asia Trip, Pt 4: Qatar Airways Economy (HKG-DOH-LHR)
A weekend in Transylvania with Blue Air (LTN-SBZ)
Helsinki for the weekend on BA and KF
Easter in Ukraine with Austrian
UAE and Oman with BA and Air Arabia. Y & Y+
HKG-LHR-HKG Air New Zealand, Premium Economy and Economy
US Airways LGW-DCA-MSP-LGA-LGW
London Heathrow - Zurich - Venice on Swiss Business for the weekend
Chasing the Eclipse on China Eastern
Taiwan: EVA Air (HKG-TPE rtn), UNI Airways (TSA-HCN), Daily Air (TTT-KYD rtn)
UA HKG-SIN-HKG Y Class, SQ KUL-SIN C Class
Bangkok to Beijing, Egyptair Business Class
Air China Beijing to Harbin, B777 Economy outbound, A330 First Class return
Tiger Airways, Singapore to Darwin return
A selection of Chinese Domestics; China Eastern, Air China and Shenzhen Airlines
Hong Kong to London on Singapore Airlines (744/380/77W)
Qatar Airways Beijing-Doha-London Heathrow (A330/A340)
Air China First Class. Beijing-Guilin via Xi'an
Round Asia Trip. URC-HTN,OSS-FRU,ALA-URC-LHW-KMG-JHG-KMG-SYX,HAK-NKG-PEK-NRT-LHR,
Hainan Airlines, China Eastern, China Southern, Lucky Air, ANA, Economy and Business Class.
SAS and Lufthansa Business Class, LHR-OSL-FRA-FRA, B73G and B744