VS006
MIA-LHR
8th June 2008
A340-600 – G-VGAS
Yet another trip report from the past! Thought id share this one as I have quite a few Trip report style photos to share from this one.
Originally, this trip started out as a week in Las Vegas in September 2008, however due to unforeseen circumstances this trip had to be cancelled in early May. My dad mentioned that he would be going to Florida at the end of the month and that if I could get a cheap flight, I could stay at my aunt's house in Orlando. Luckily I managed to get a flight to MCO in premium economy and back from MIA in economy for £550. This was in the days before all the fuel surcharges, green taxes etc etc.
Can't say I remember an awful lot from the VS015 from LGW to MCO, other than sitting in a Café Metro at LGW watching the various movements on the runway. This has since become Café Rouge.
These are a few pics that I took from my flight to MCO: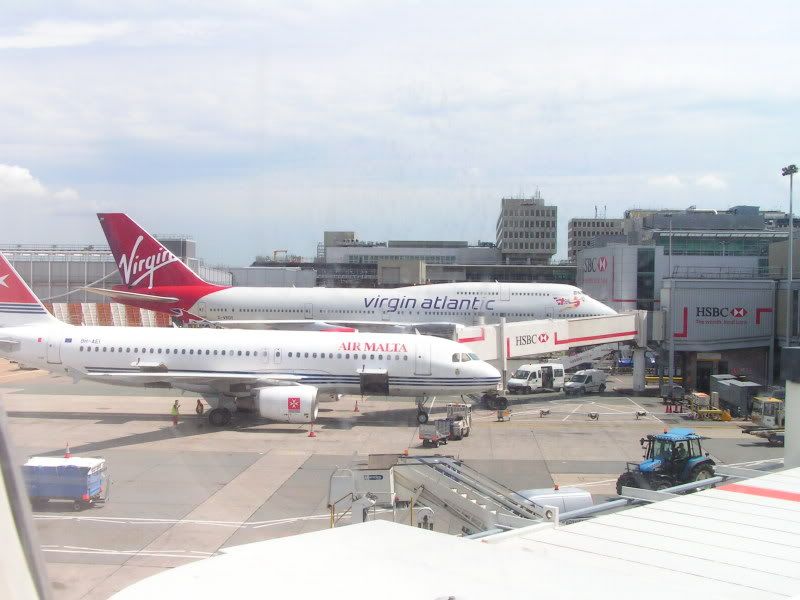 G-VROY operating the VS027, also to MCO – Very Delayed!
My seat – and I didn't have a neighbor either.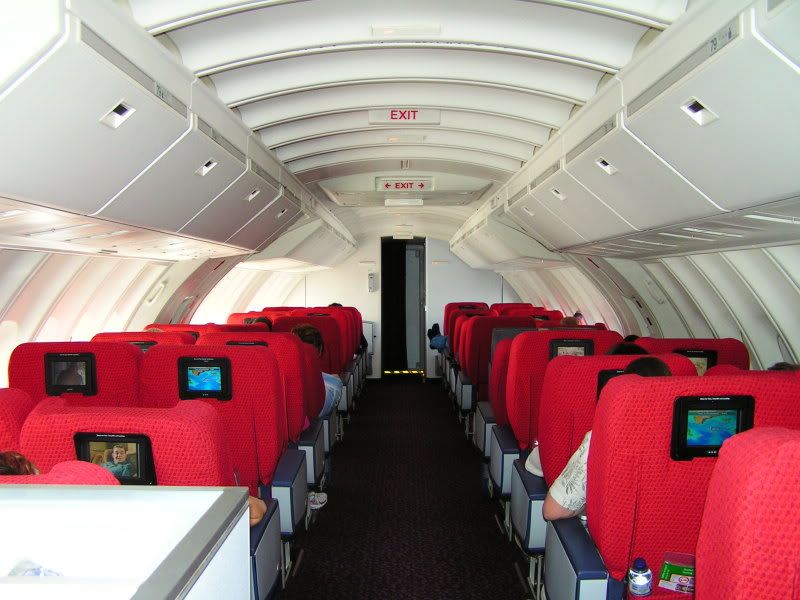 Premium Economy on the Upper deck of G-VROM.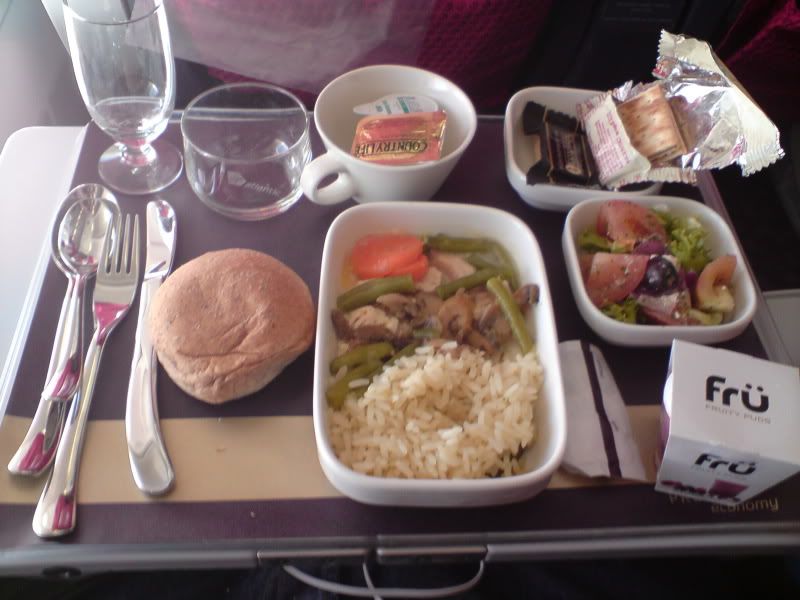 Doesn't look like bbq chicken to me… still tasted good though.
Parking up next to G-VROY again.
And, my ride, Barbarella
One of the highlights, seeing space shuttle Discovery lift off.
After a few days at my aunts, we took a drive down to Miami and stayed at the Marriott Hollywood Beach for the final 3 nights. Not too bad for £50 a night, plus it was right on the boardwalk/beach.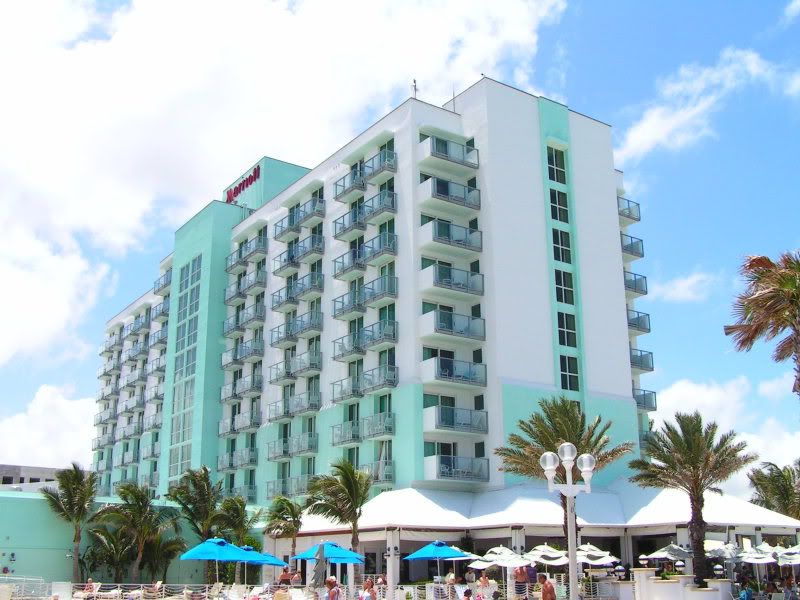 One of the fanciest beds I've seen! Shame to sleep in it really.
At 11:00am on the day of departure, we had to check out of the hotel. Always a problem when you have an evening flight I find. We sat at the hotel bar for an hour or so then took a slow drive to the airport.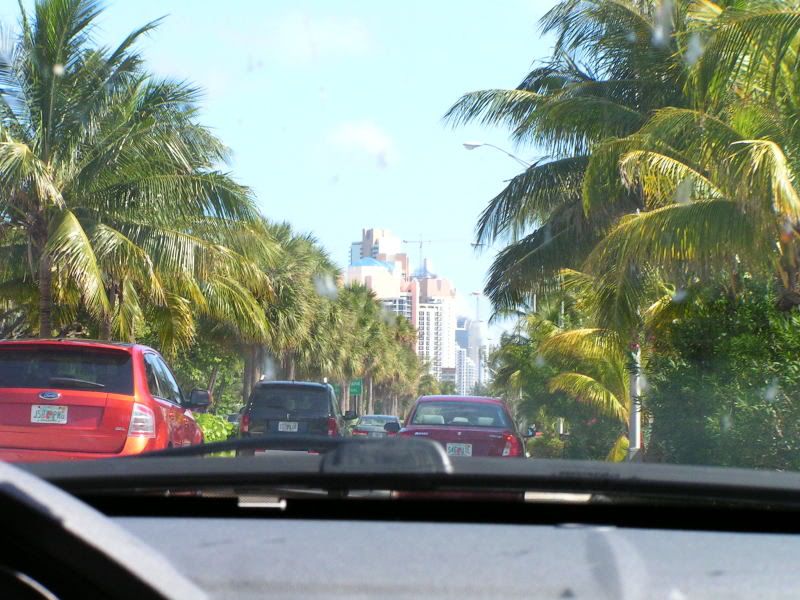 Lucky we were early…
We stopped off at the Sunny Isles and took a walk around the area where I stayed the last time I was in MIA. Seems to have been regenerated in the 18 months since I was last there. A few buildings have been painted and a couple of others have gone up.
About 3:00pm we arrived at the airport, dropped our bags off and headed off for something to eat. My dad knew of a restaurant at the top of the hotel in MIA and knew I would love the views – and he was right! Out came the camera at the dinner table.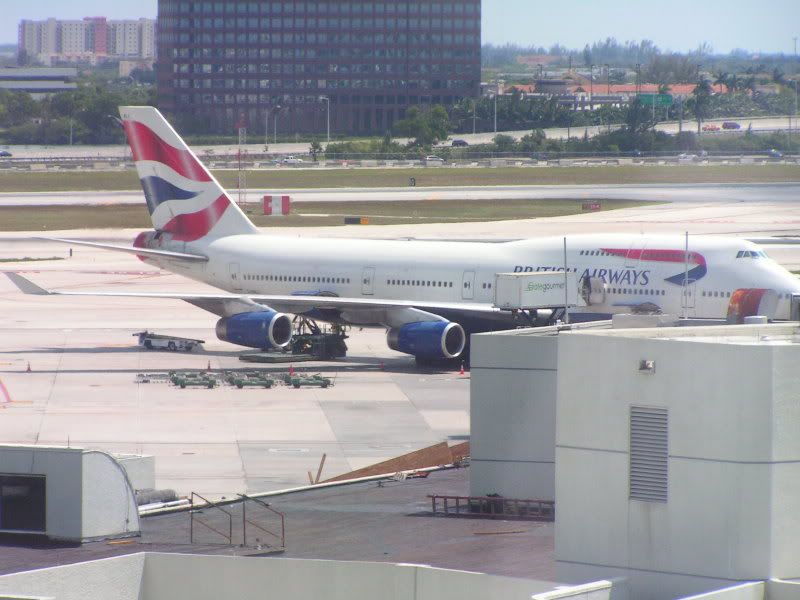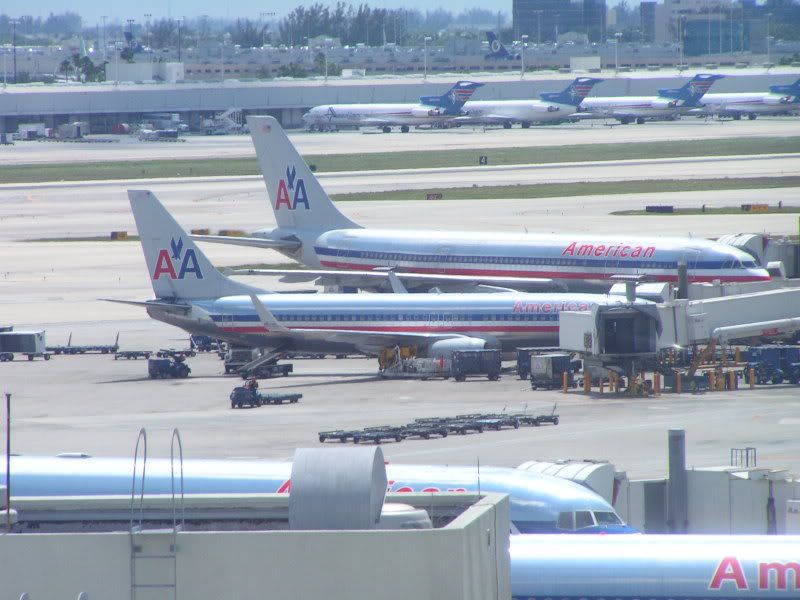 The VS flight used to go from here, but has since shifted to concourse F.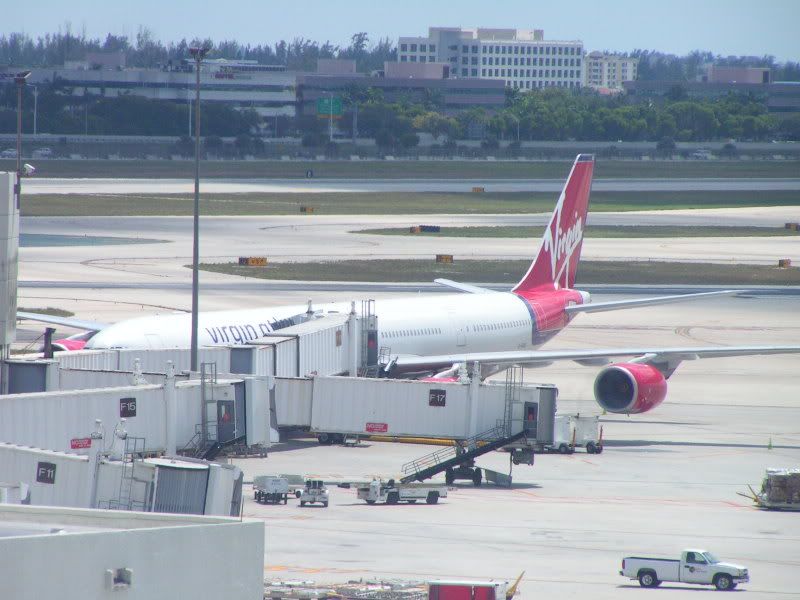 Our lift for tonight.
Once we had finished eating, we headed down through security and to the gate area. There were very few windows around here and I couldn't see what aircraft would be operating our flight. All I could really see was an IB A340 pushback. Other than our flight and the BA, there were no other flights departing. Shortly afterwards about a dozen women in bright red uniforms came walking along and headed off down the airbridge. So that would mean we would be boarding shortly. About half an hour later boarding was called, starting with the Upper Class, Premium Economy and Gold cardholders. Then it was our turn as being seated in row 57 we were the 1st of the economy cabin to board.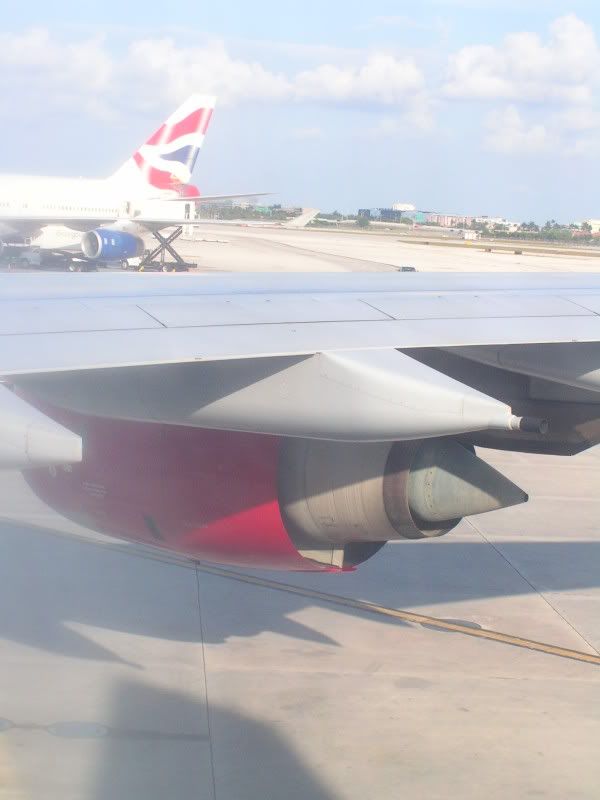 The Trent 556
The distinctive VS winglet – sadly no more.
My first impressions of the A340-600 were that it was very fancy compared to the 747-400 id been on a week previously. Chrome window blind handles, Chrome Air Con nozzles and a drinking fountain in the middle of the economy section. We sat on the tarmac for quite a while but pushed back on schedule. We made our way out to runway 8R and with no real delay we were off.
http://youtu.be/Li01lr0hX04
Once airbourne, it really struck me how quiet the A346 was. After takeoff there were some pretty aggressive looking clouds around:
Not long after that shot was taken, the sun set and the meals were brought round.
Looks bad, tasted worse…
Still not knowing what aircraft I was on, after dinner I took a walk to the big galley at the rear and asked one of the cabin crew. She didn't know either, but one of the others pulled out a bit of paper that had G-VGAS written on it – "ahh Varga Girl"! They seemed quite impressed I knew that, and I told them that this was my 1st trip on a VS A346 after years of flying on their 747's. I then settled down in my seat to watch Top Gear on the v-port ife then went to sleep. Although a couple of hours later I was woken by some very severe turbulence. So severe in fact, the cabin crew were even told to take their seats. Amazing now much a jet can take and yet fly on as normal. After that excitement, it was back to sleep. About 2 hours or so before landing, I woke up and took a quick video – being near the back, it was good to see the contrails forming:
http://youtu.be/kNRwfIFdveI
Then came breakfast – the now traditional and unappealing ham and cheese muffin. No thanks… Descent started to the North West of LHR and initially I thought we would be landing on 9L. I remember overflying Blackbushe and Farnborough, then doing a few laps in the hold over OCK. Managed to get a pic of Guildford, just a few miles up the road from me. Unknown to me at the time, I would go on to work in the building between the 2 train tracks.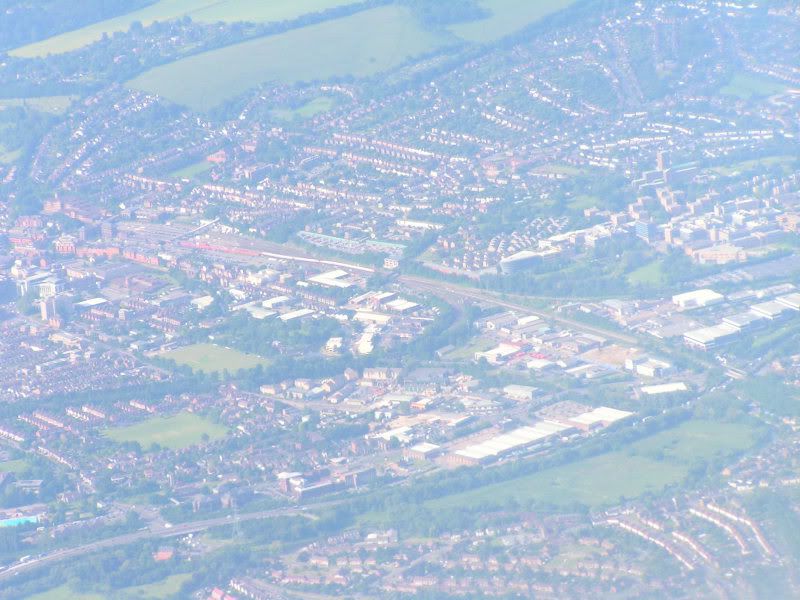 Almost immediately after overflying Guildford, we did a left turn and were over London – I was surprised to see how close I actually live to London. Quite glad it was a nice clear summers morning and managed to get some good pics on approach.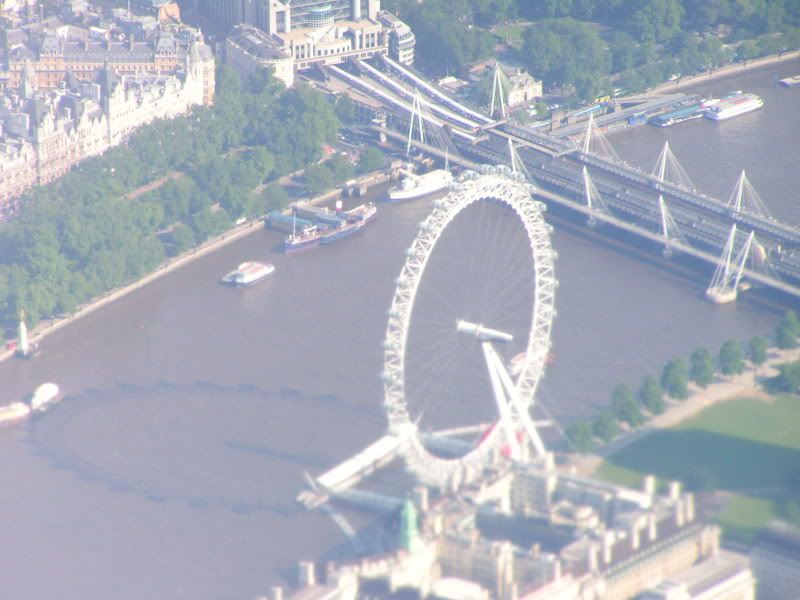 A couple of minutes later we were down on to 27R. We pulled off to the left and pretty much straight on to stand 32 next to 2 VS 747's. One came in from JNB while the other operated the early morning arrival from JFK.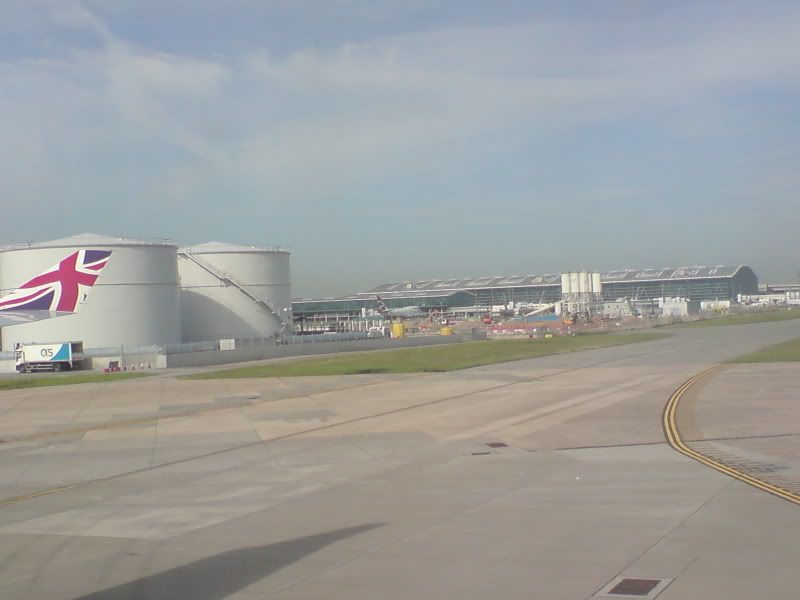 The then newly opened T5.
G-VFAB, now the oldest member of the VS fleet.
And sister ship G-VHOT, the 2nd oldest.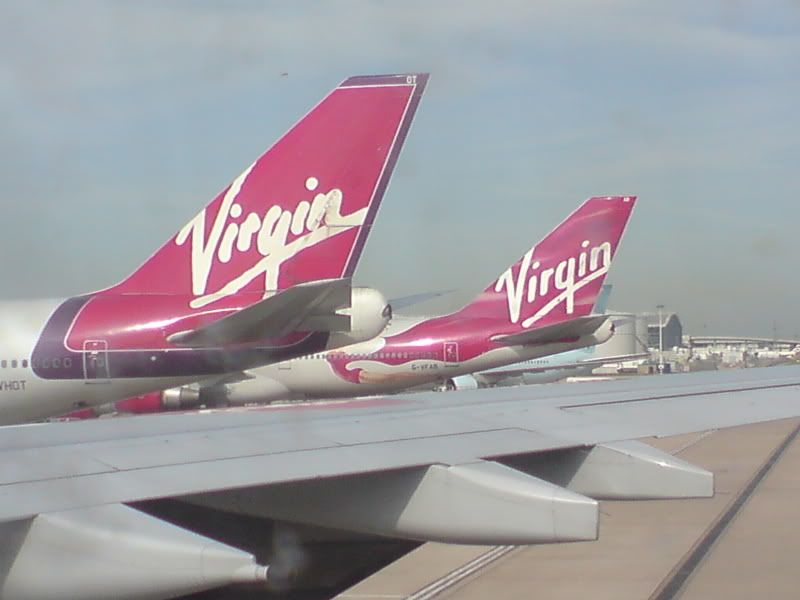 Pulling on to stand.
Immigration, baggage claim etc was done in a reasonable time and we were shortly on the bus to the car park.
While the car was being sorted I stood outside with the camera, snapping the mornings arrivals on to 27L – although the jetlag meant only 1 came out any good!!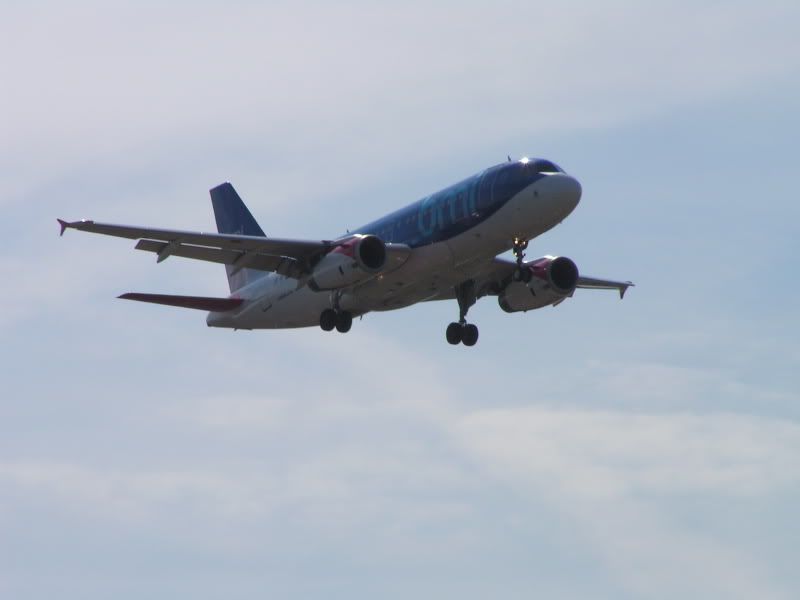 So that was that for my 2008 trip – apologies if the details are a bit hazy, but it was nearly 4 years ago!
The 2010 version can be found
here