Sado Island on an Islander – New Japan Aviation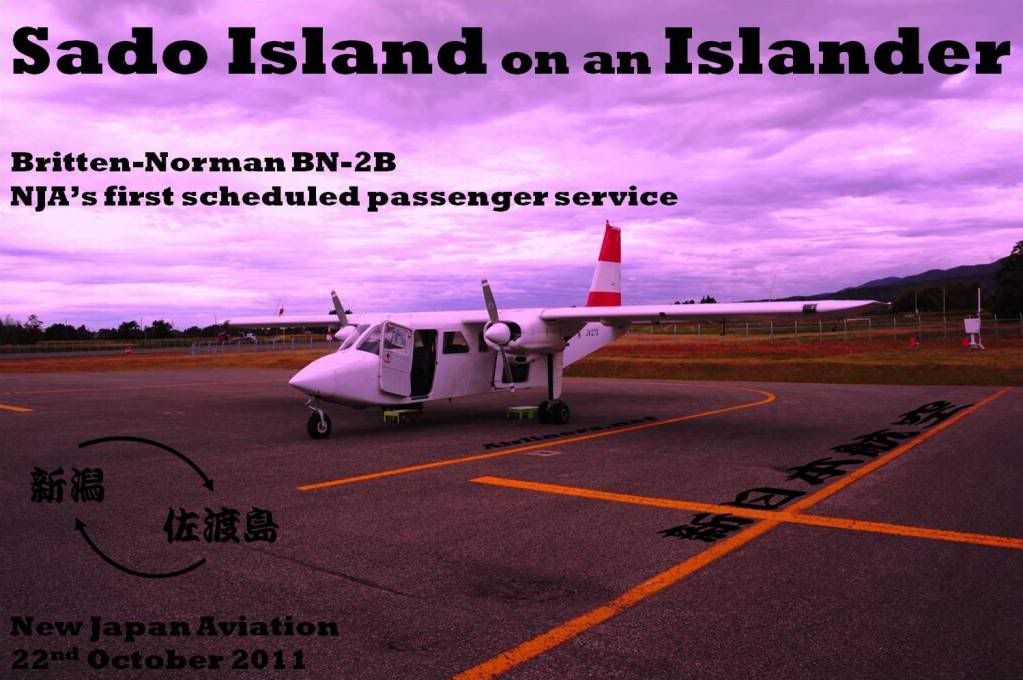 INTRODUCTION
Greetings!
This trip report is for a trip last October, so some of the content may be a little old. It highlights another little player in Japan's airline scene and the airline in question is the smallest yet. No IATA codes here! This is also the first time I have gone on a journey for no other reason than to fly a specific route with a specific carrier without any other objective and no idea what I was going to do once I arrived at the destination. I think it all just about turned out well…
BACKGROUND
After buying the September issue of Airline magazine here in Japan for the first time in several months and I was pleased to find an article about the air link between Niigata and Sado Island having been restored after a hiatus of a few years without service. The route had previously been served by Kyokushin Air (旭伸航空), but unfortunately they went under. The new schedule will now be flown by New Japan Aviation (NJA) and I wish them better luck than their predecessor. There was a slight route launch discount until the end of October, so I decided immediately that this route was going to be my next trip.

NJA are actually based in the south of Japan and their primary business is charter flights on small aircraft as well as pilot training. This route is the first time that they have ventured into the realm of scheduled service.
THE TRIP
Airline: New Japan Aviation (NJA) [新日本航空]
Flight: 101
Depart: Niigata Airport – RJSN/KIJ
Arrive: Sado Airport – RJSD/SDS
Departure time: 09:15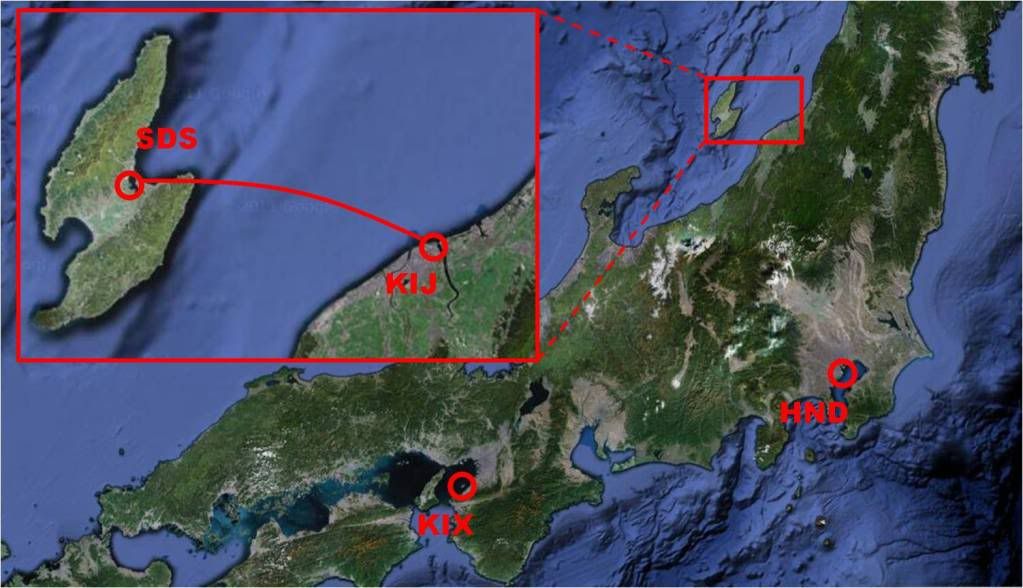 Sat. 22nd Oct 2011 – The trip had actually begun the evening before with a mad dash in the rain through Shinjuku to the bus station. It was an overnight service from Tokyo to Niigata leaving just before midnight. How I had managed to become late for a departure for which I had hours to prepare for is quite beyond me! Despite the rain I was in too much of a rush to be able to actually use the umbrella I was carrying. So when I made it to the bus with only a minute to spare, I climbed aboard soggy, out of breath and a little miserable. Not exactly the start I had been hoping for…
Nevertheless, I tried to dry off and get some sleep.
We arrived in front of Niigata station early in the morning. After hanging around a little while jumped on the bus to the airport.
The sign above the entrance written in Japanese, English, Korean, Chinese and Russian. The announcements on the bus had been the same.
Once inside the terminal building I started look around for an NJA check-in desk but couldn't seem to find one. Asking some of the staff on the ANA desk, they didn't seem to know either. I suddenly got a terrible feeling I had made some huge mistake. Maybe I came to the wrong airport!!?? Fortunately a member of airport security was able to point me in the right direction. If you happen to come here looking for the same airline you need to look for this service counter which faces the main stairs/escalators leading up to departures.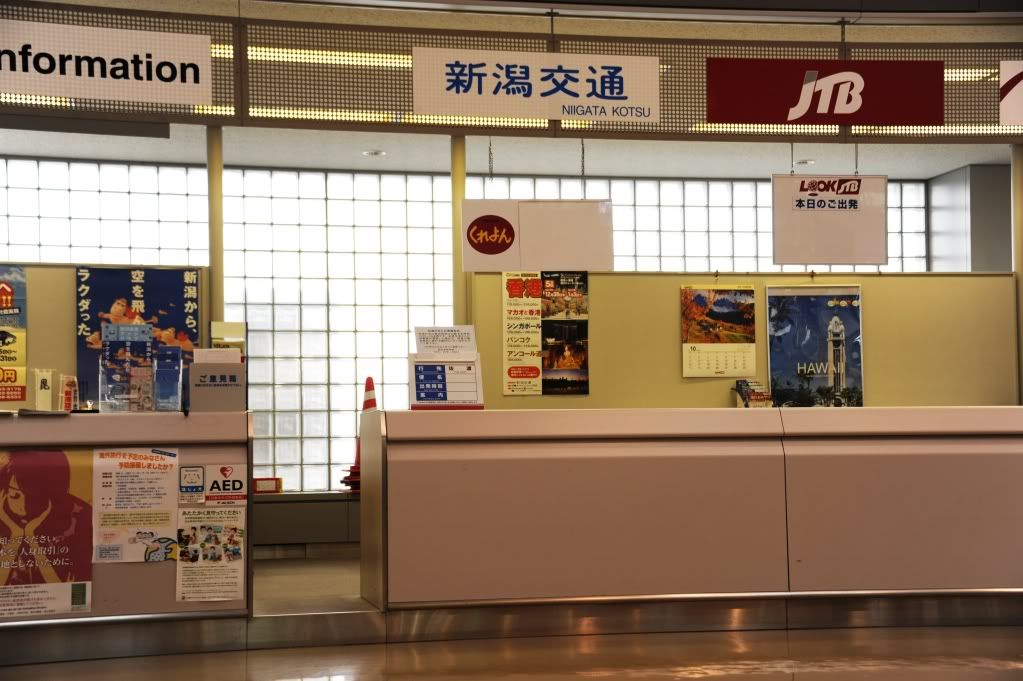 On the counter should be this small sign. The only thing in the terminal hinting at the existence of this little airline. It would normally be giving the flight information for the next scheduled flight but it was early in the morning and nobody had added in the info yet.
I was told by a lady working at the counters that I needed to congregate by the sign about 15mins before departure, and someone from the airline would come to collect us. It was still quite early and I had some time to burn so I went and got breakfast at a nearby café. Very traditionally Japanese as you can see.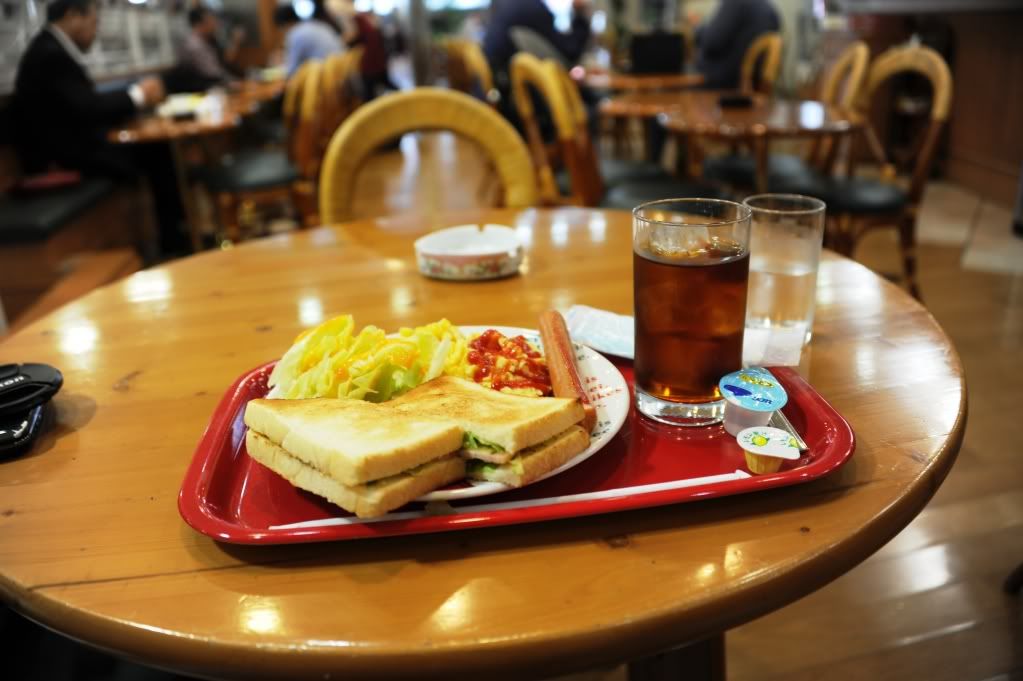 As departure drew nearer I headed back to wait near the sign and soon enough a guy appeared with a clipboard. In total there were only going to four of us on that morning's flight, and the guy with the clipboard guided us outside.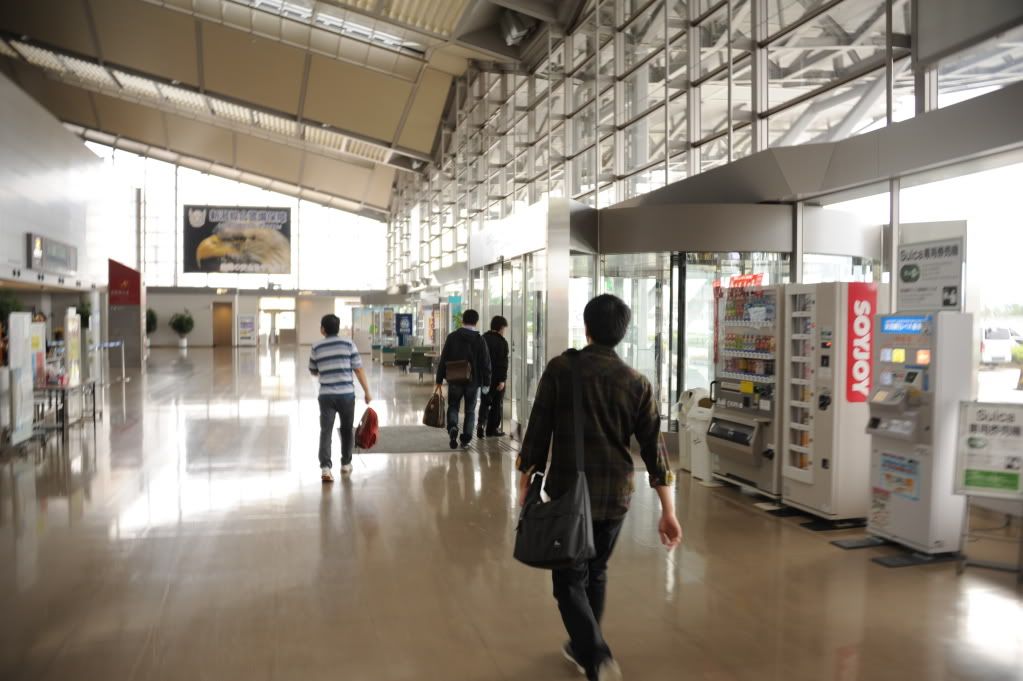 There was a mini bus waiting for us and we jumped inside for the very short trip to the other side of the airport.
We pulled up outside NJA's own little office.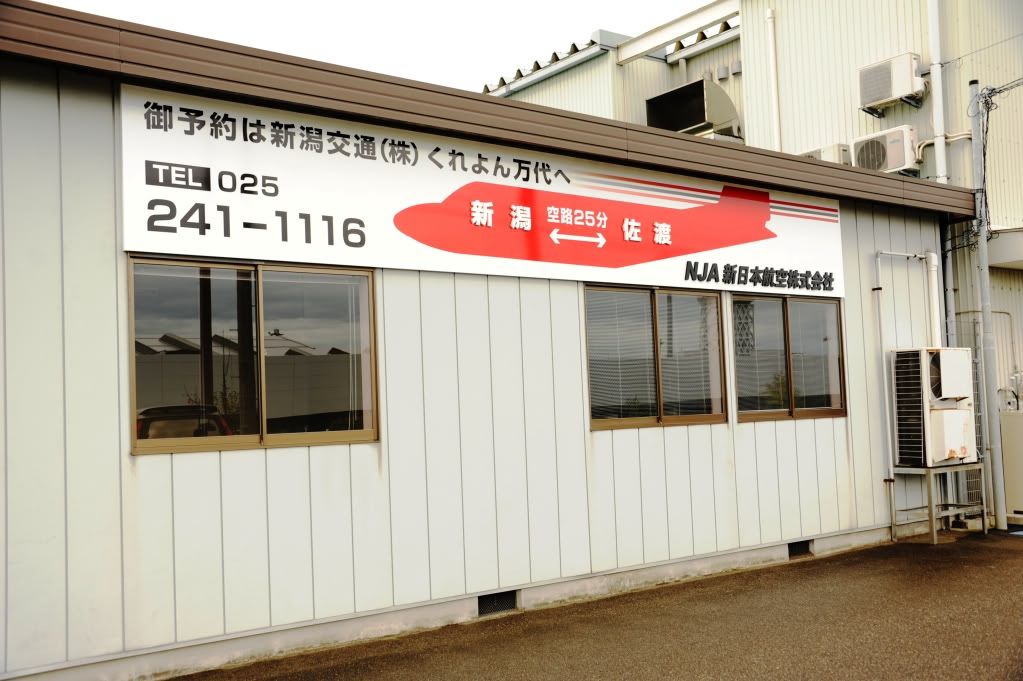 Inside was the check-in counter / departure lounge with a TV with the days schedule displayed.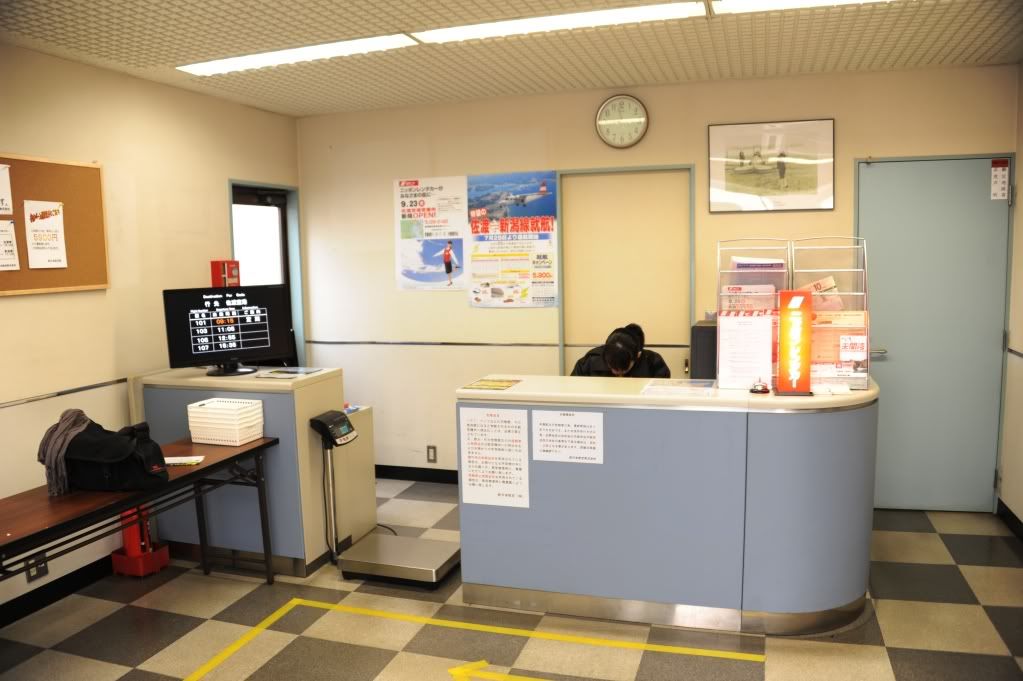 At this point you pay for your flight. To be honest I didn't even bother asking whether they accept cards. But booking is by phone only and you pay at check-in, so come prepared and bring cash.
After check-in we were given our boarding passes. I am in Row D. Anyone had a boarding pass even simpler than this??
The flight safety demo was given on the TV.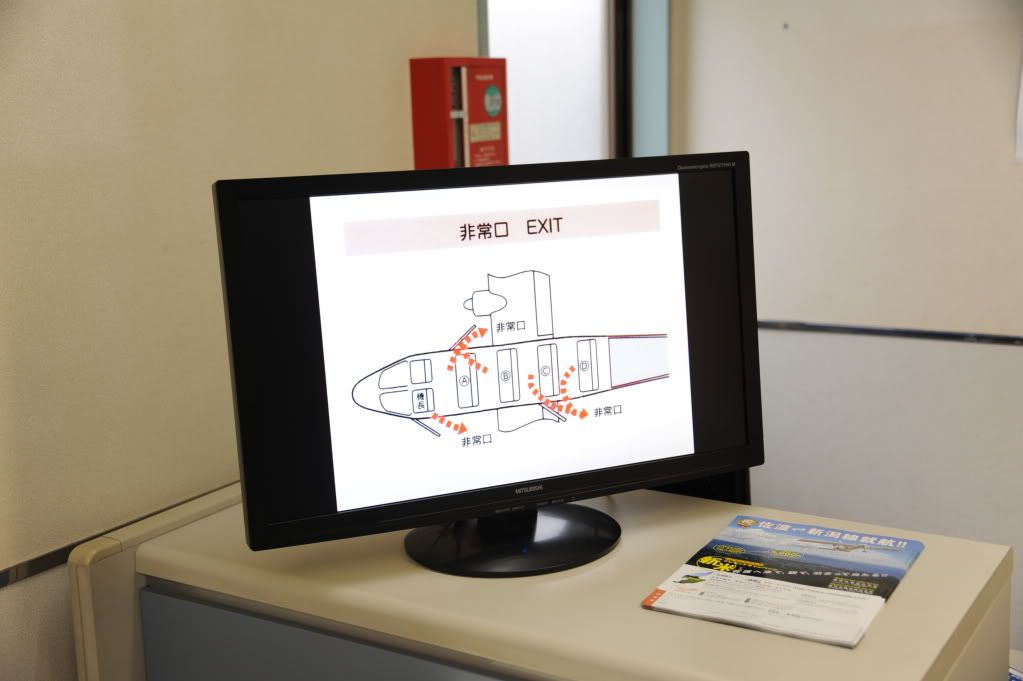 And once that was done we were led out the back through a small hangar to where our aircraft was waiting on the ramp.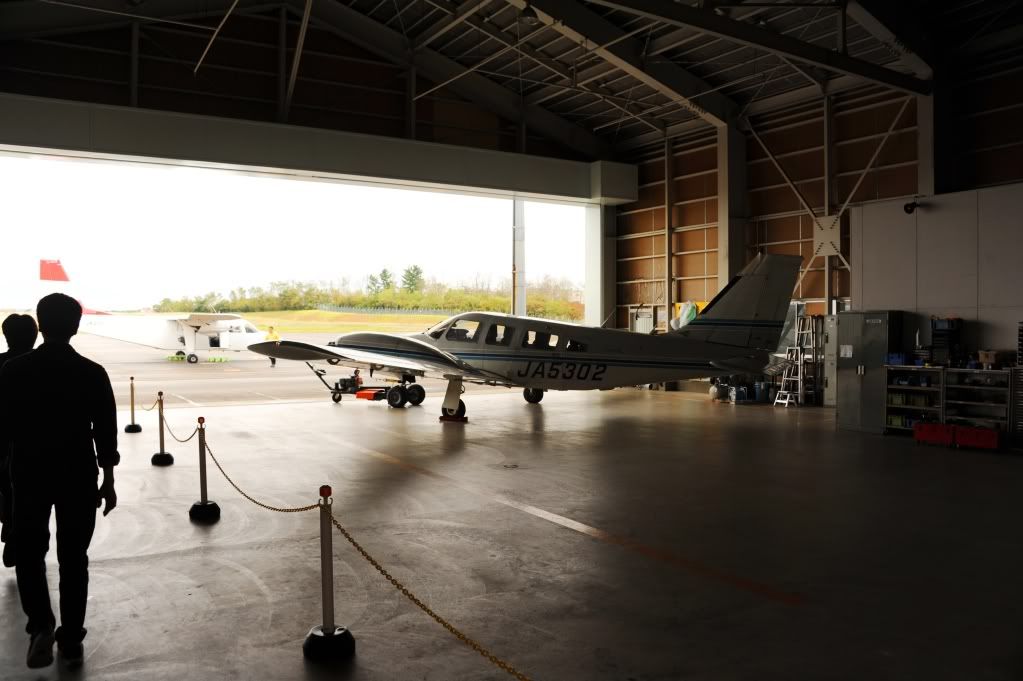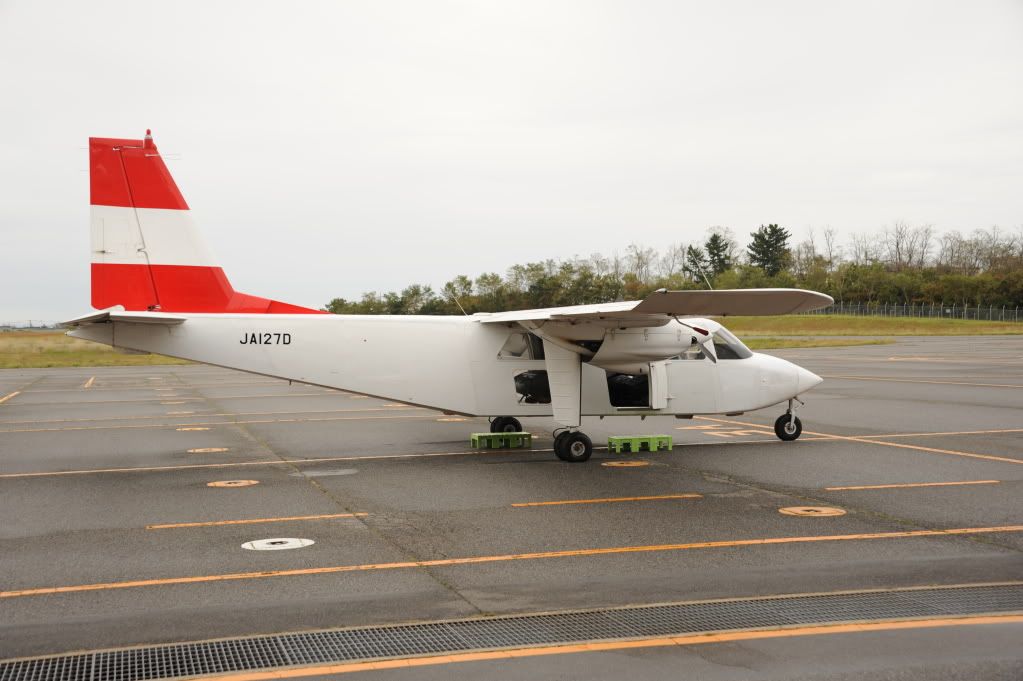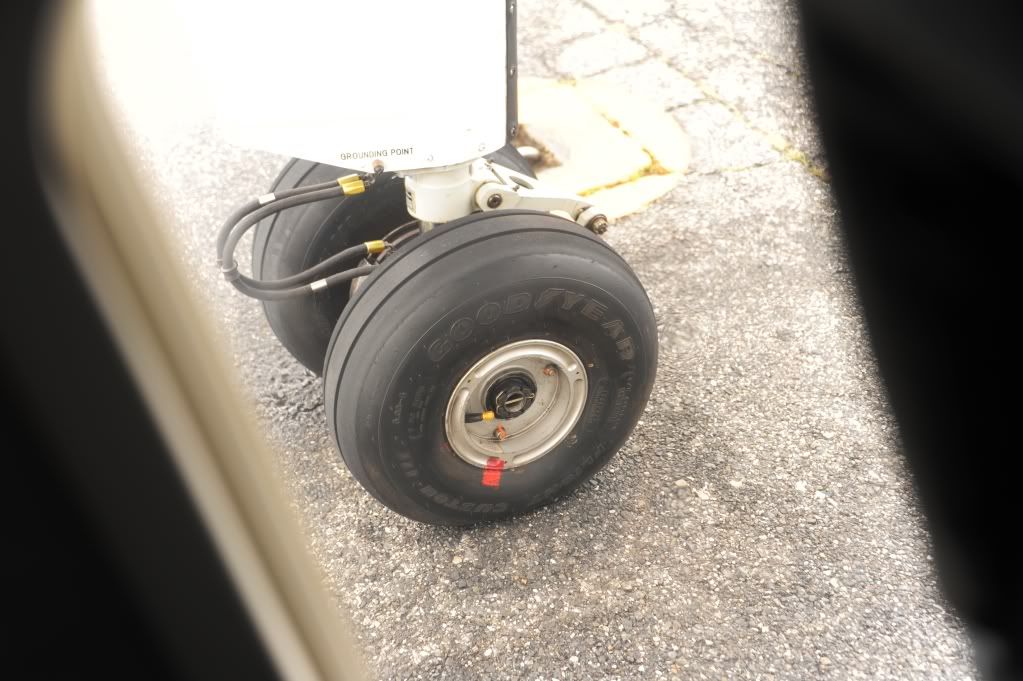 This was my first time on such a small aircraft. The seatbelt was a three point design but not like you would find in a car.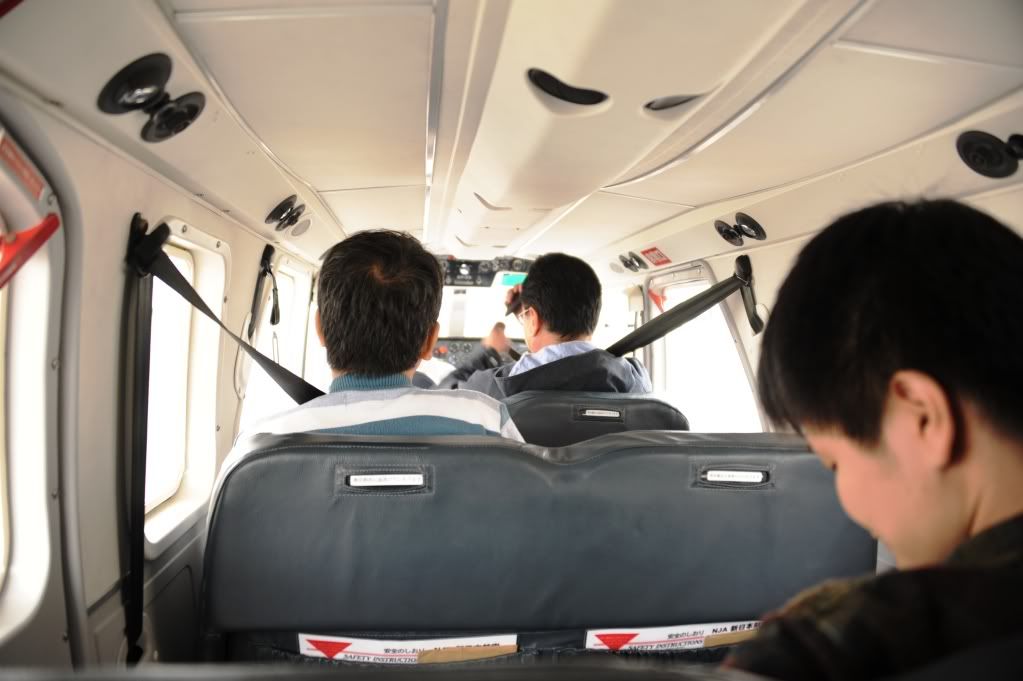 We taxied out and in no time we were up in the air leaving Niigata behind.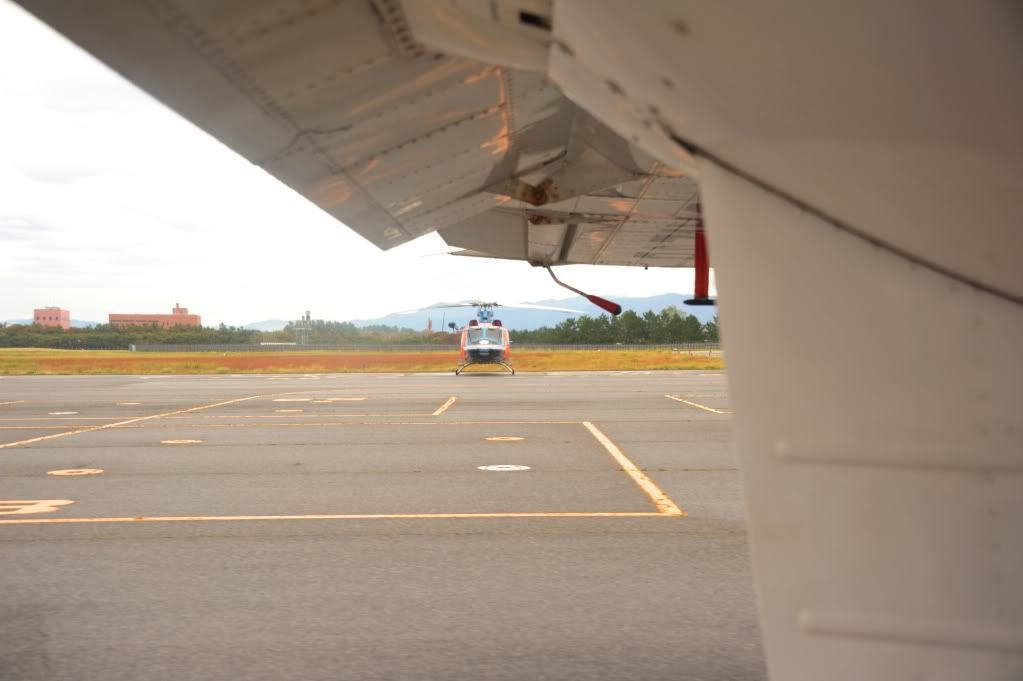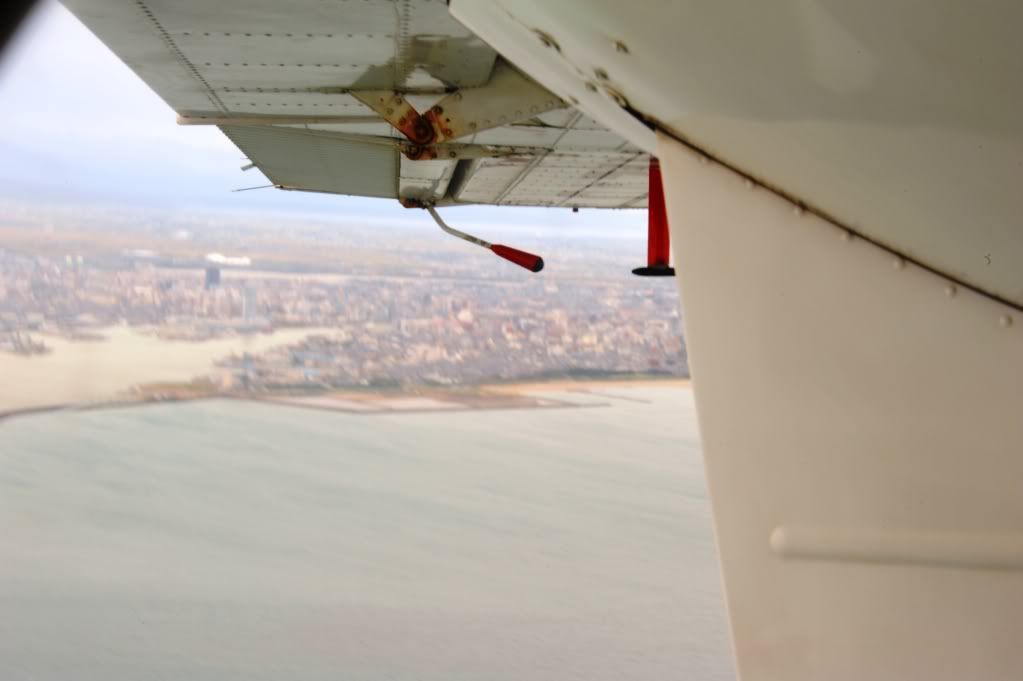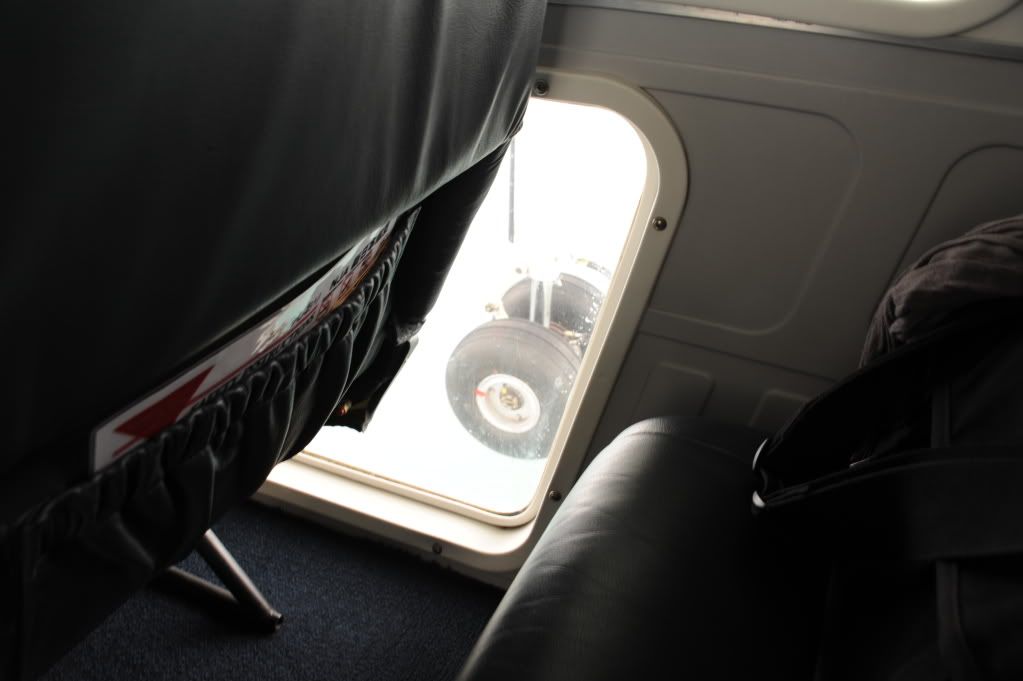 The weather was a little overcast and was threatening rain. The calm picturesque view hides the bumpy ride. We were getting thrown around a little. Nothing extreme but it made taking pictures a little difficult.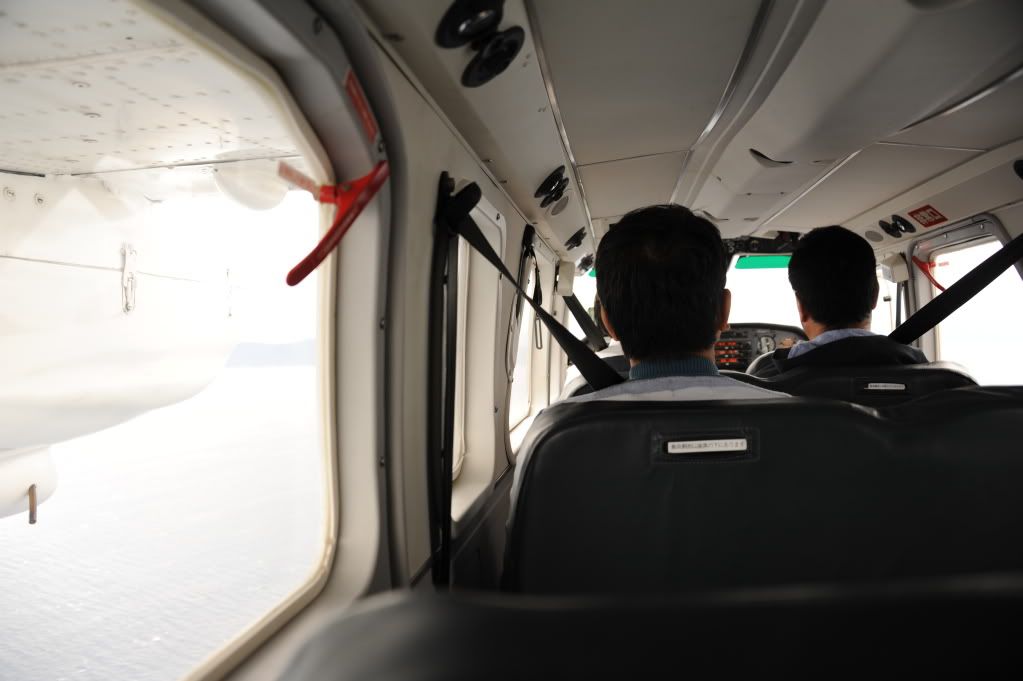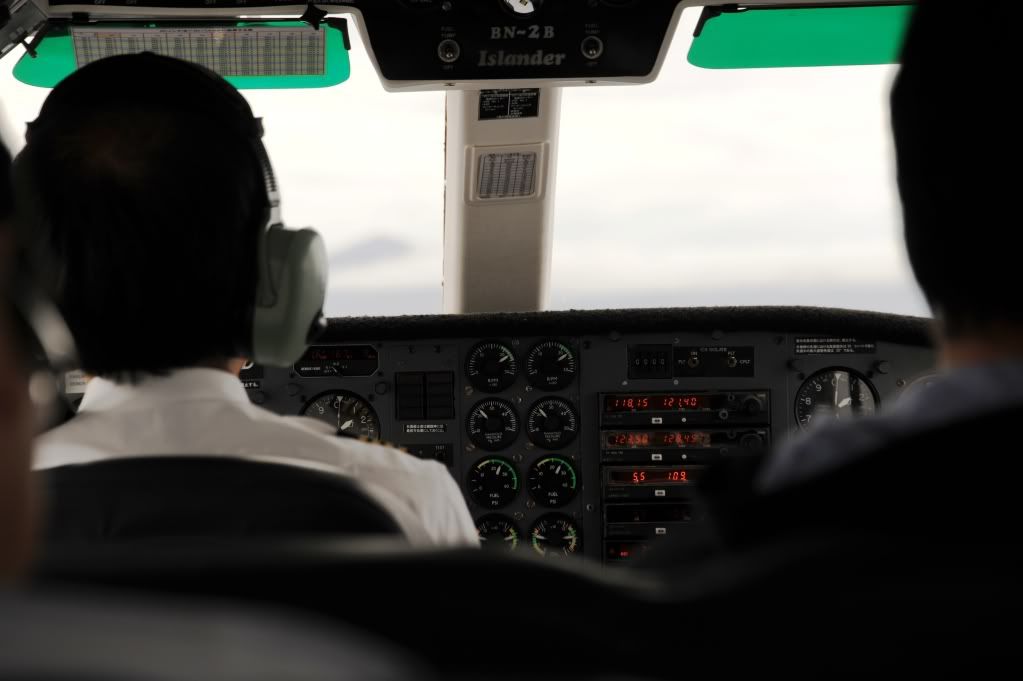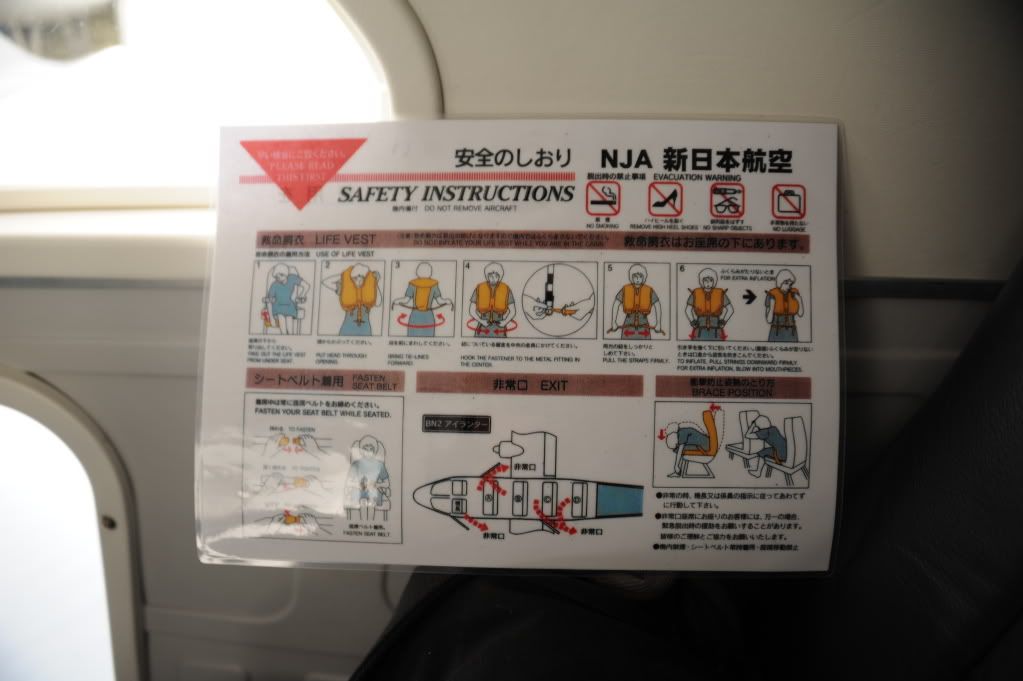 It wasn't long at all before we were already approaching Sado island.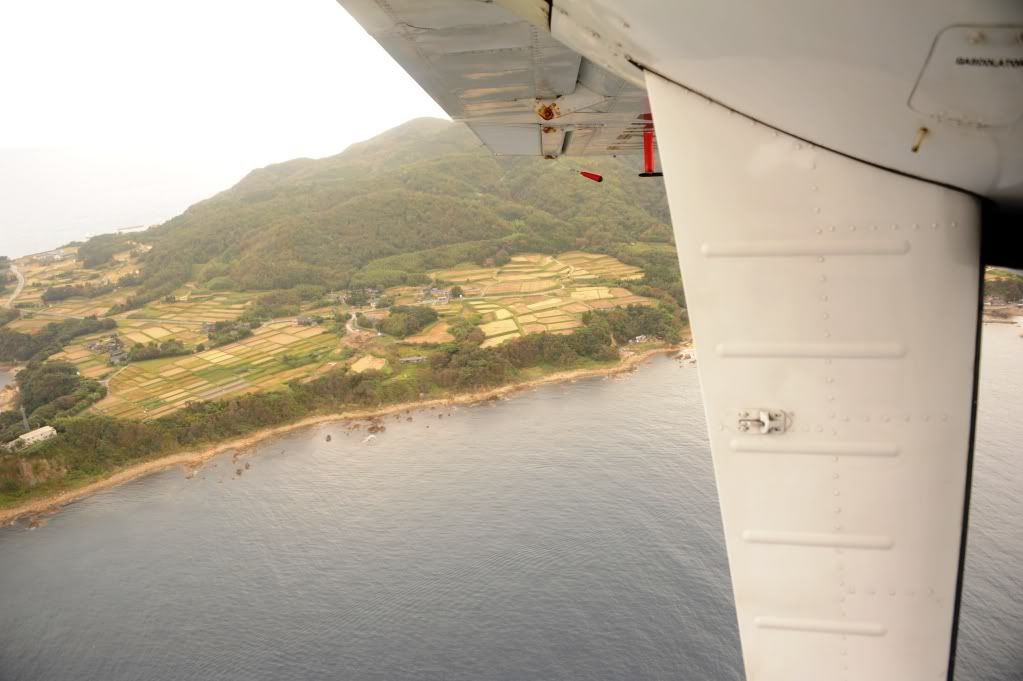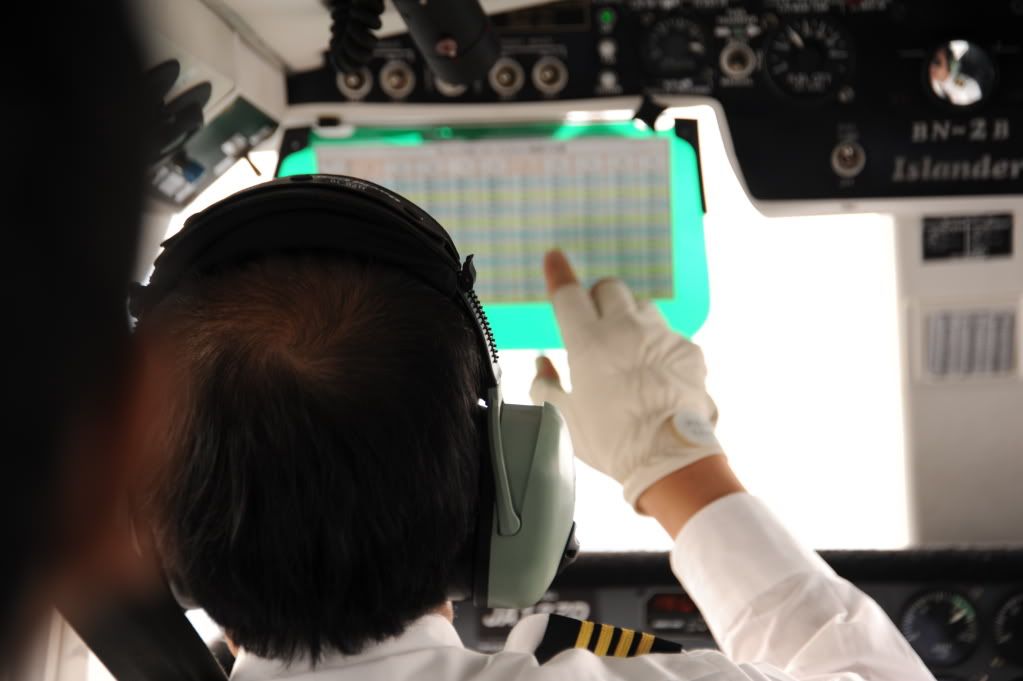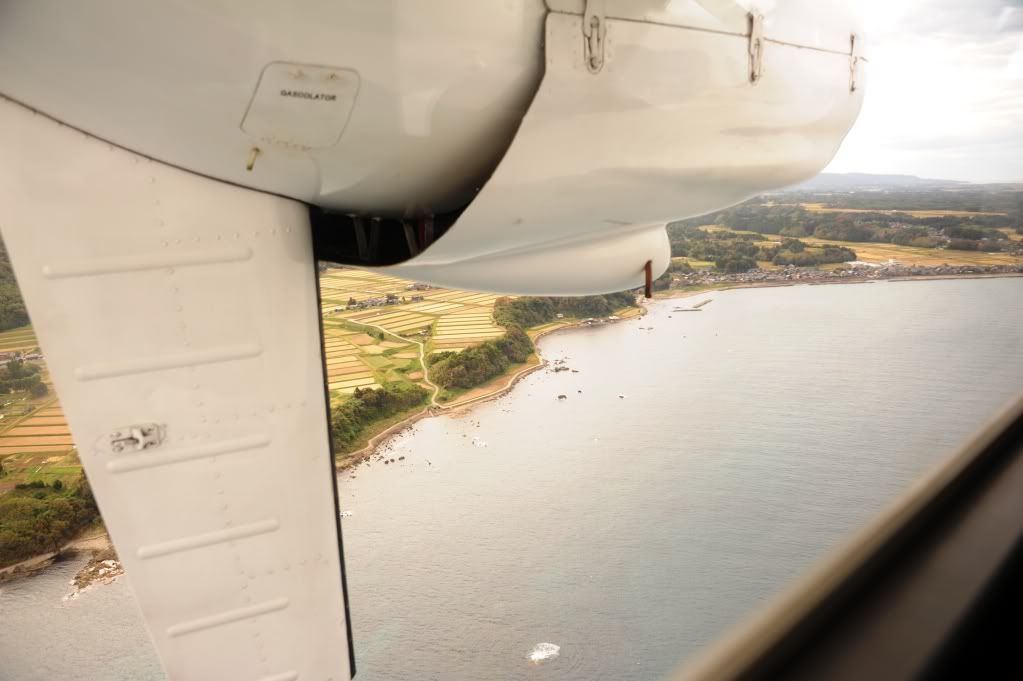 As we lined up on final, the pilot held up a sign saying LANDING! A nice photo moment. He had actually done the same just before starting the take-off roll, but I had put my camera down as I had been asked not to take pictures during landing or take-off -----Why???? Because of possible interference?? Is there even any electrical equipment on this aircraft?? I am not sure what they are afraid of, but orders are orders so I didn't get that picture.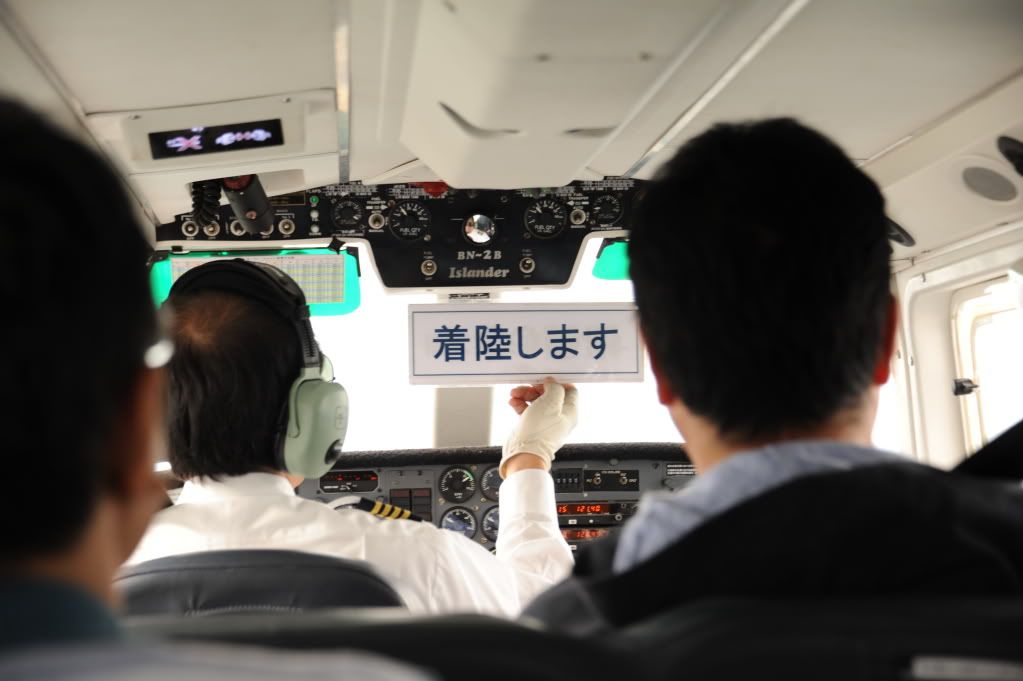 Once down on the ground I hopped out and took a walk around the aircraft.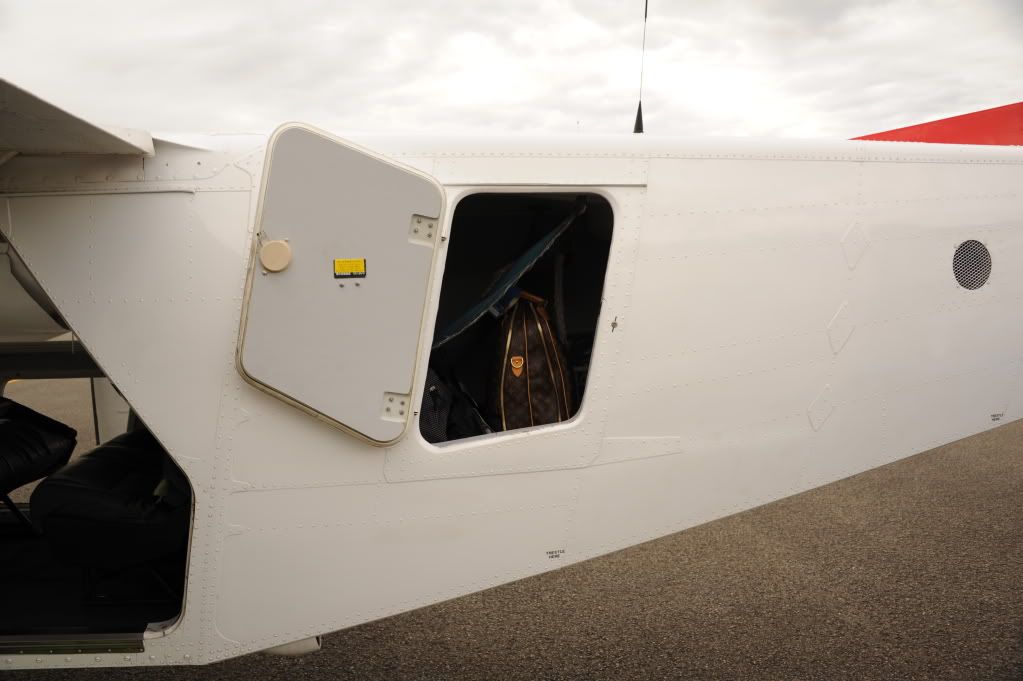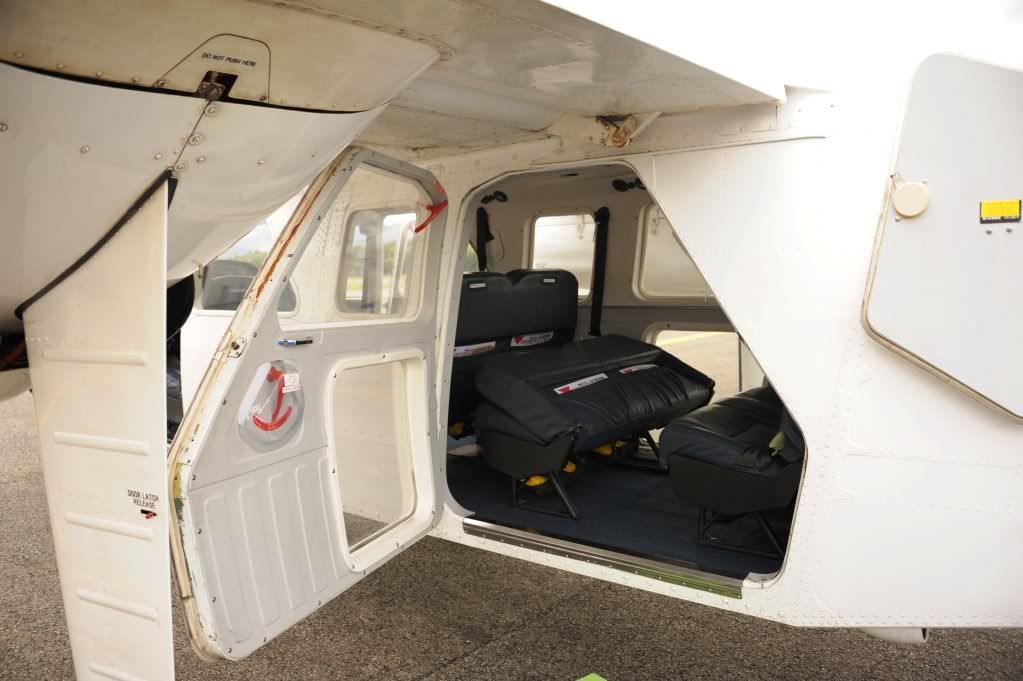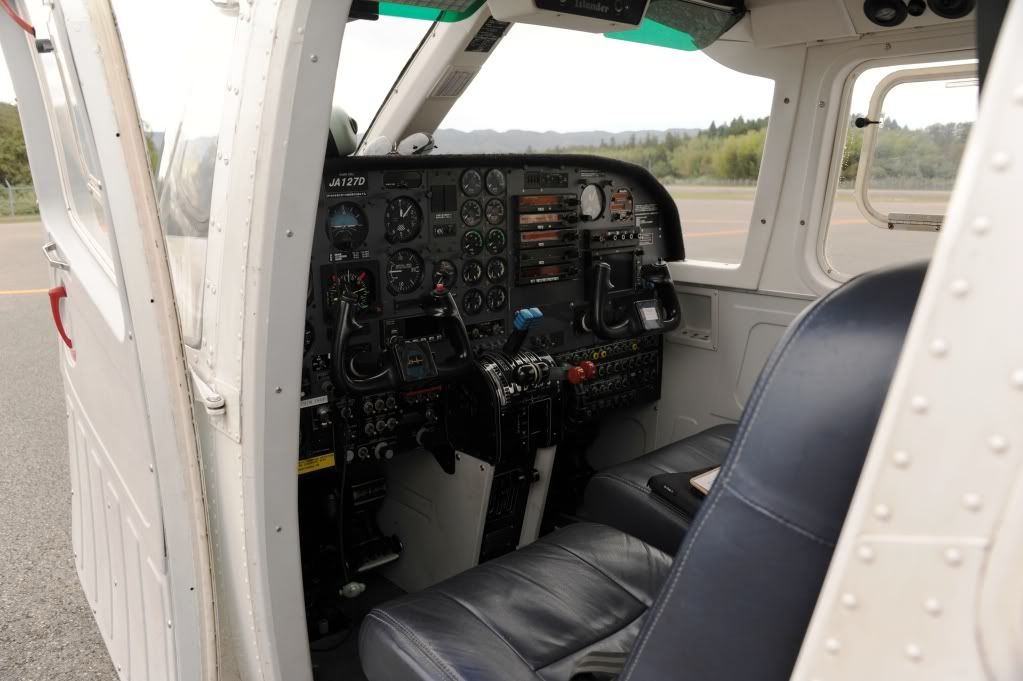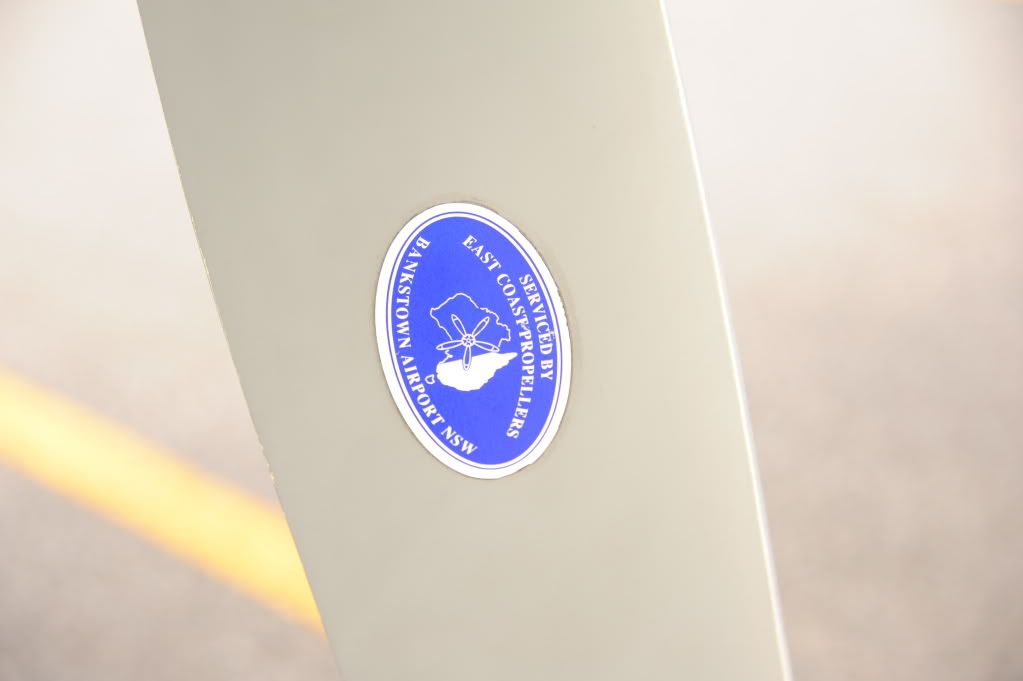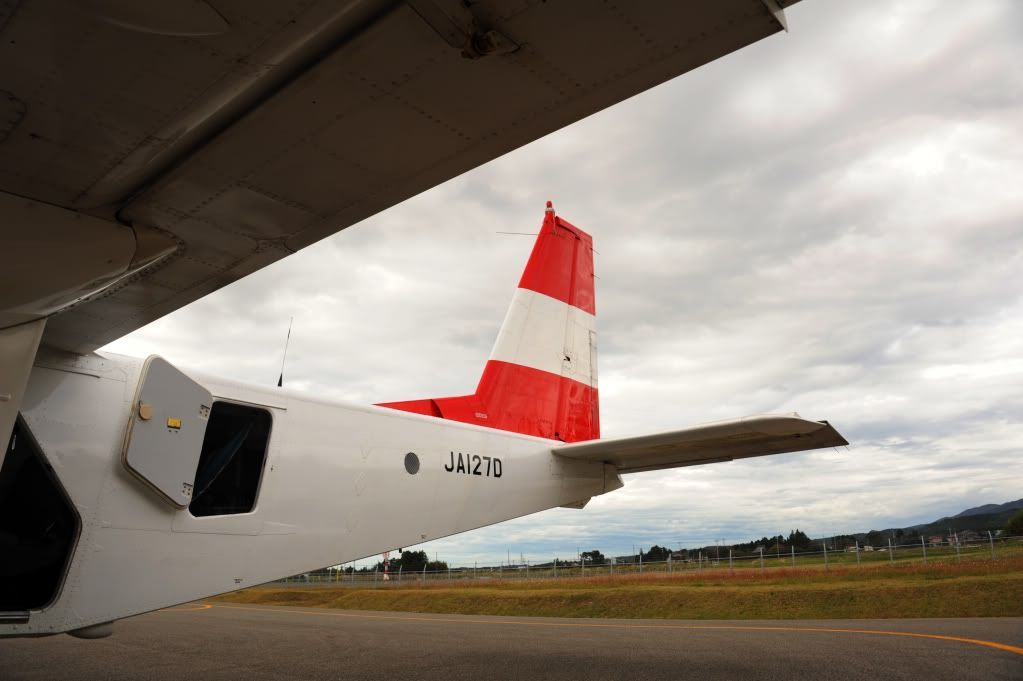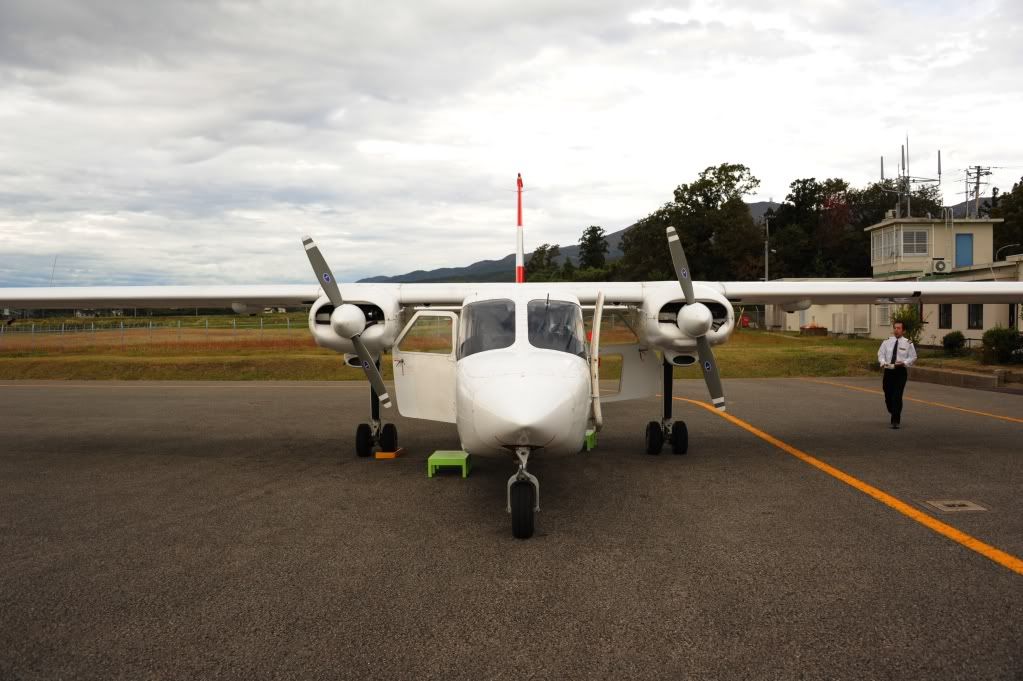 Sado Airport Airside.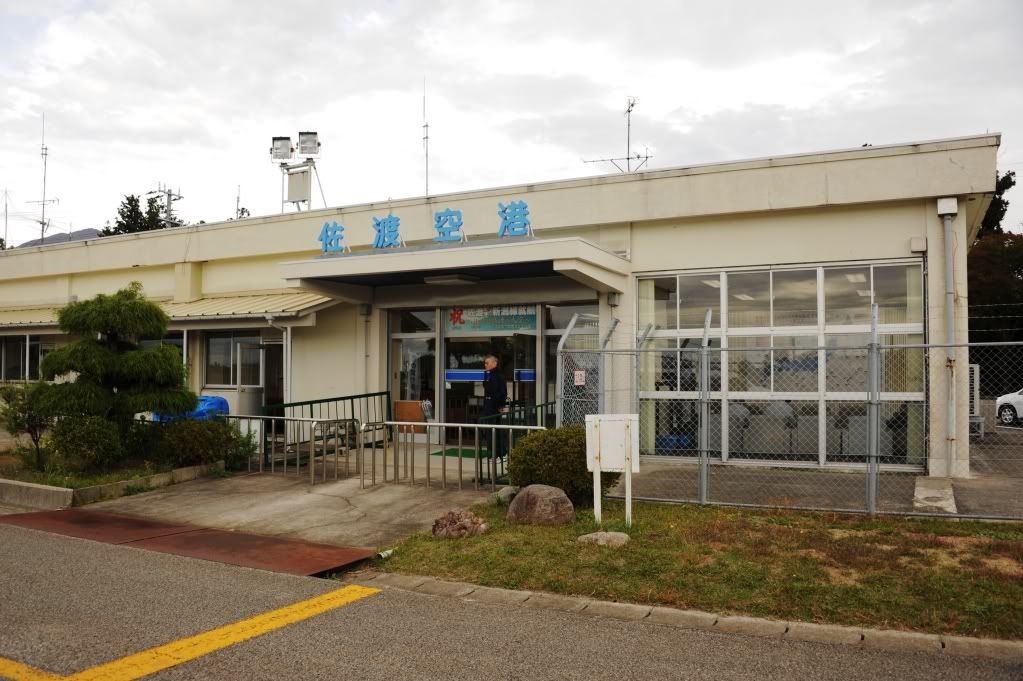 The Check-in desk.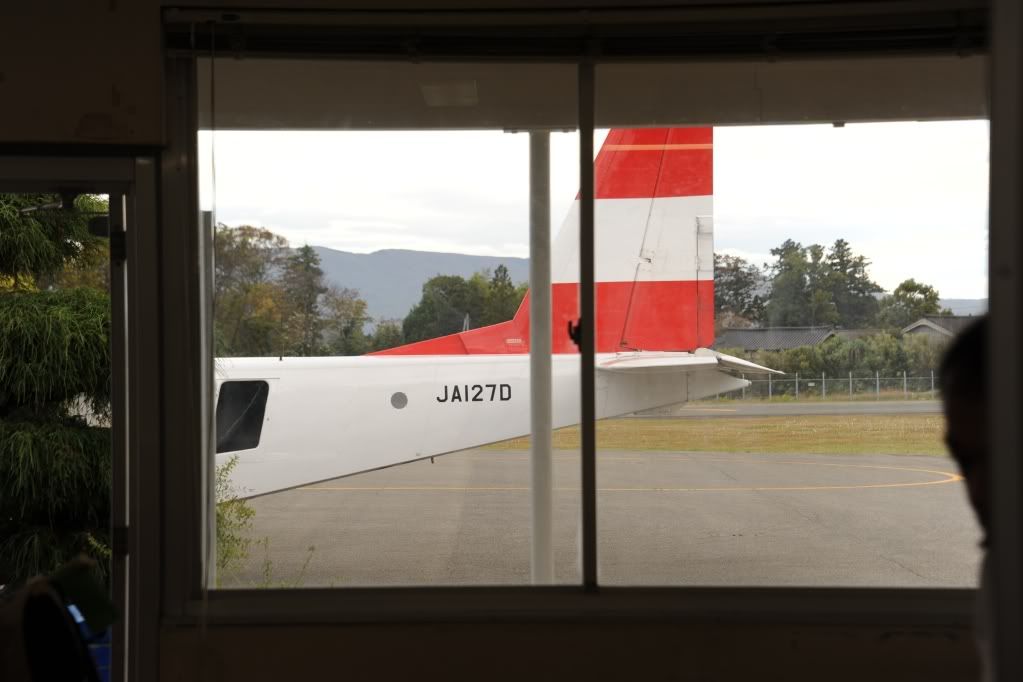 Outside.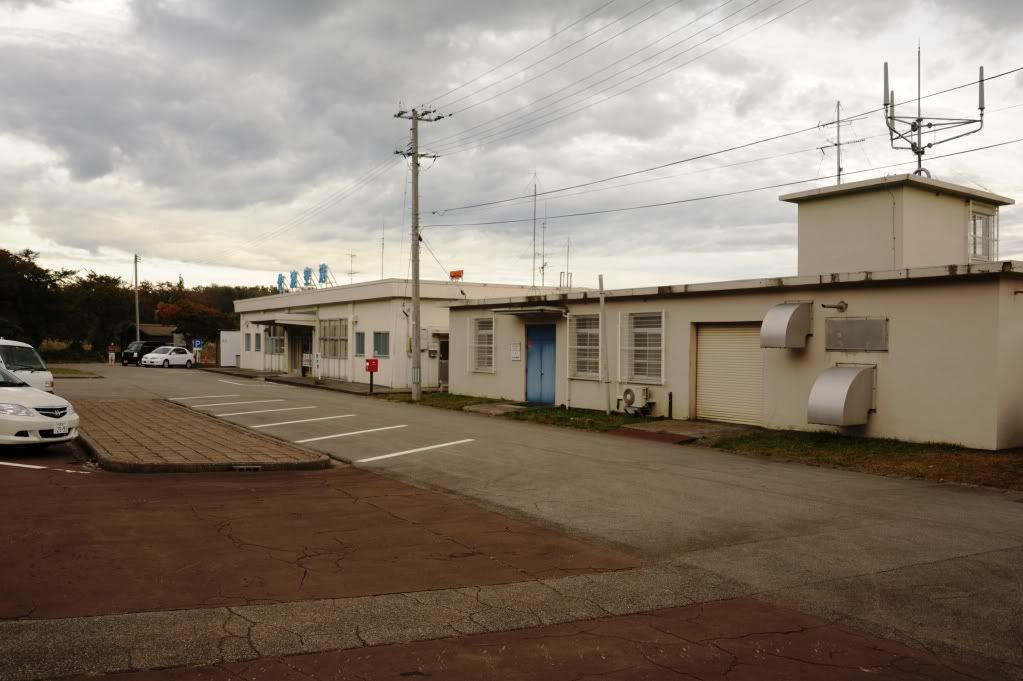 I was now faced with the issue of what to do for several hours before catching the last flight back in the afternoon. I had done no prior research so I negotiated a deal with a taxi driver for him to take me around for a few hours to see a few local sites. First up was the Ibis sanctuary. These birds used to be common in Japan.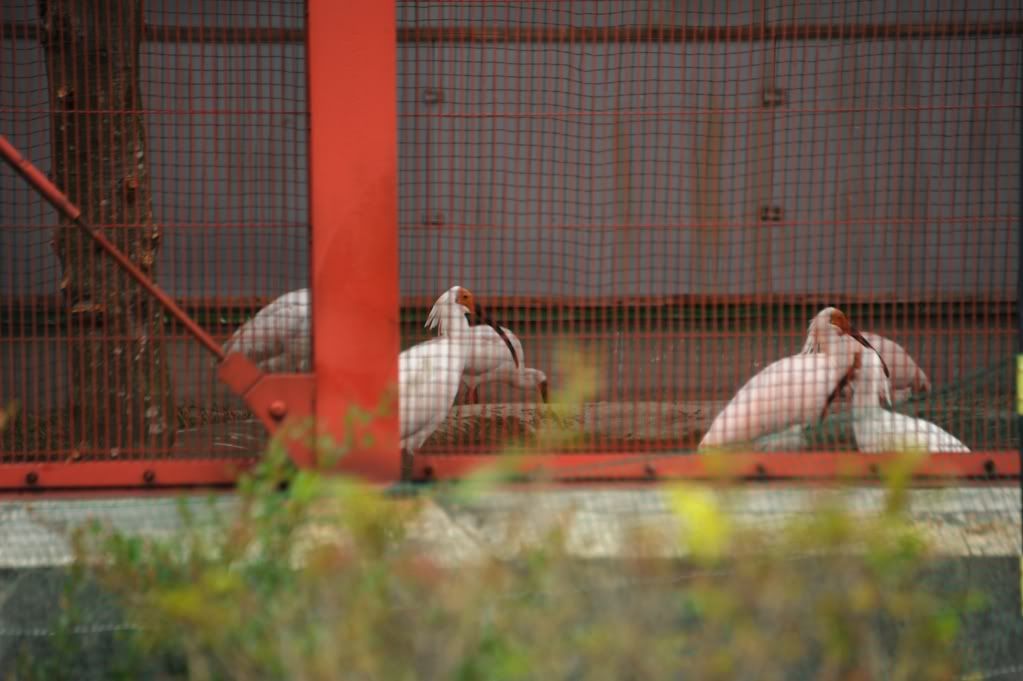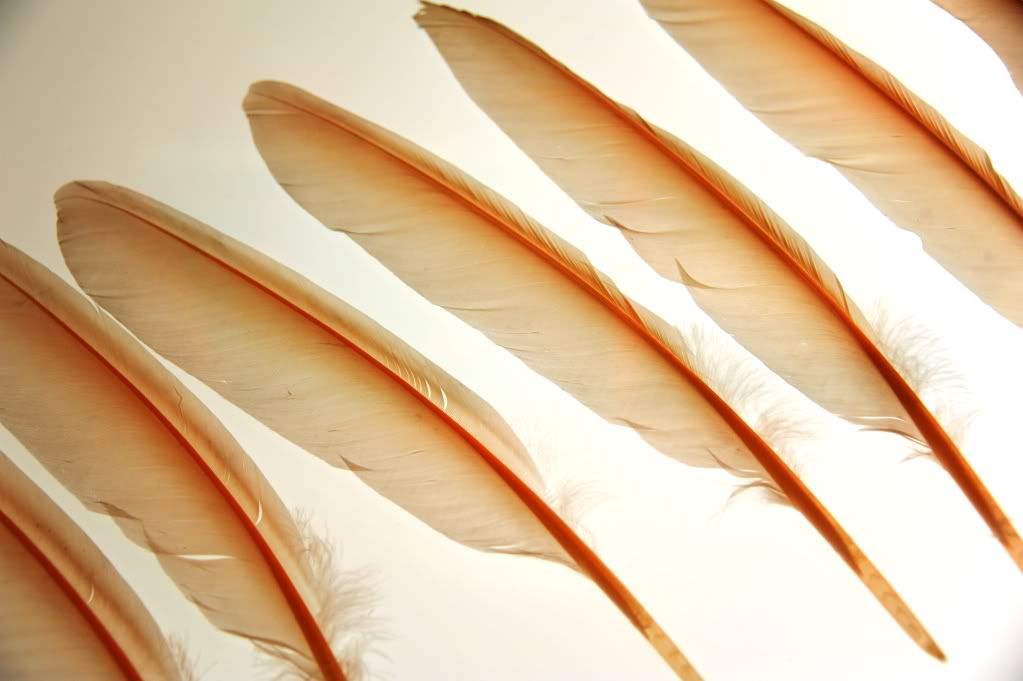 Unfortunately the last indigenous Japanese bird died several years ago. Here he is poor chap.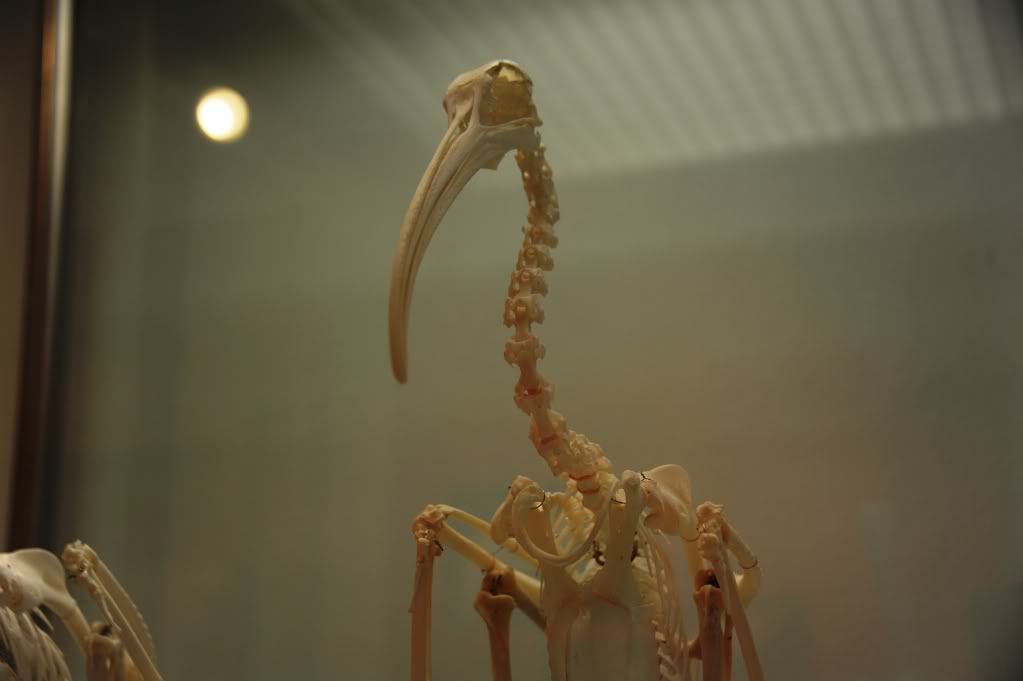 This sanctuary received birds from China and is breeding and reintroducing them into Sado. I wish them well.
This little island is very pretty.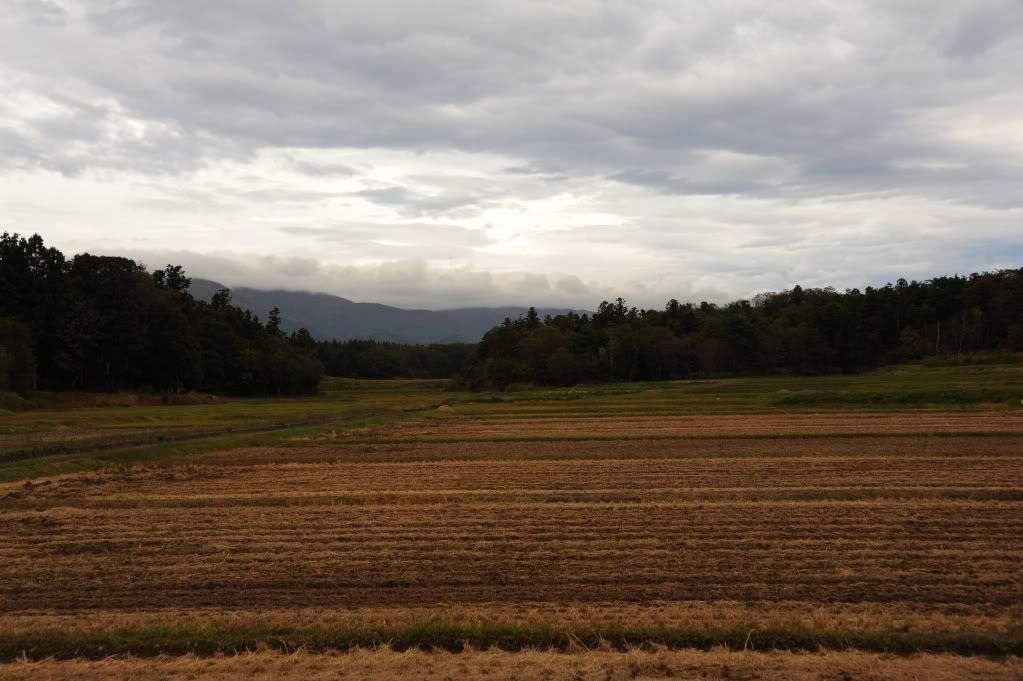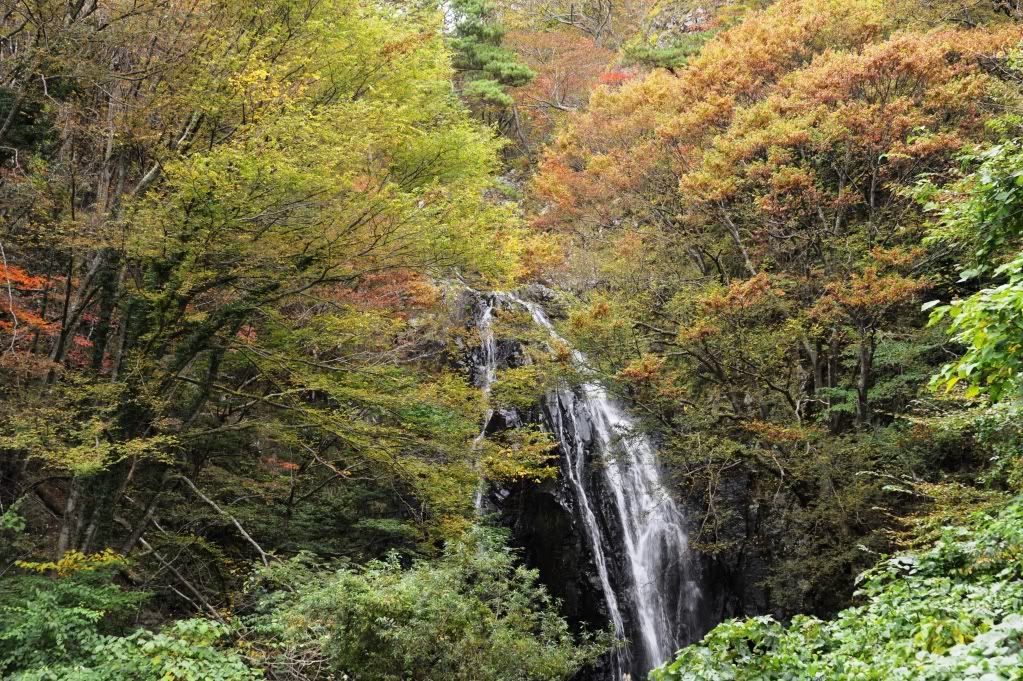 These rice fields would look much better in spring when they are full of water.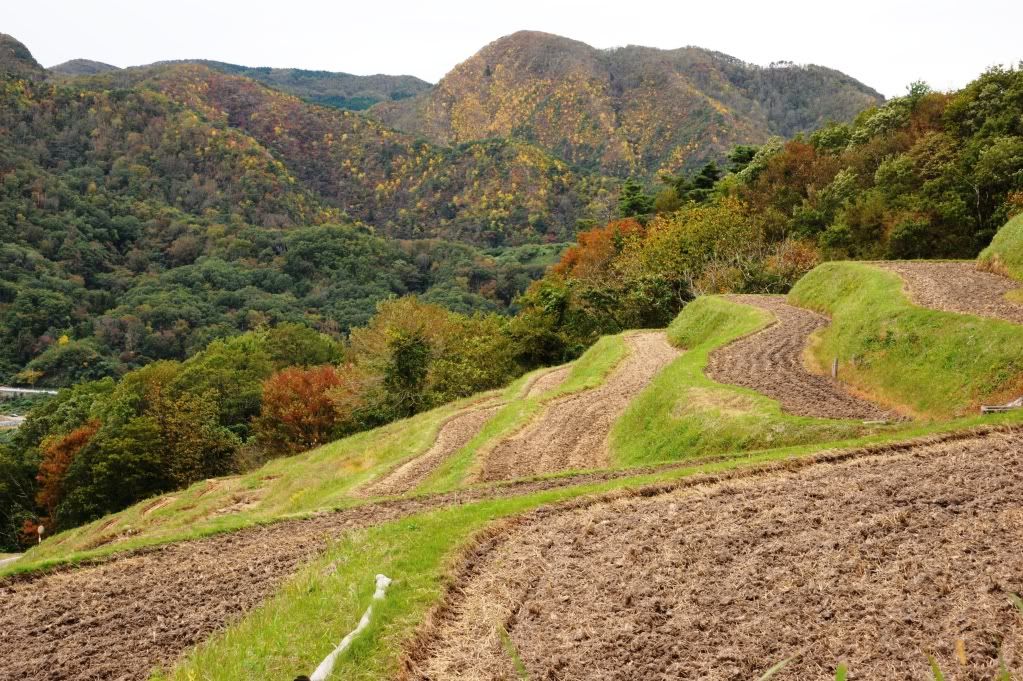 This tree is said to have miraculously grown from the walking stick of the guy who founded Nichiren Buddhism; more about him later.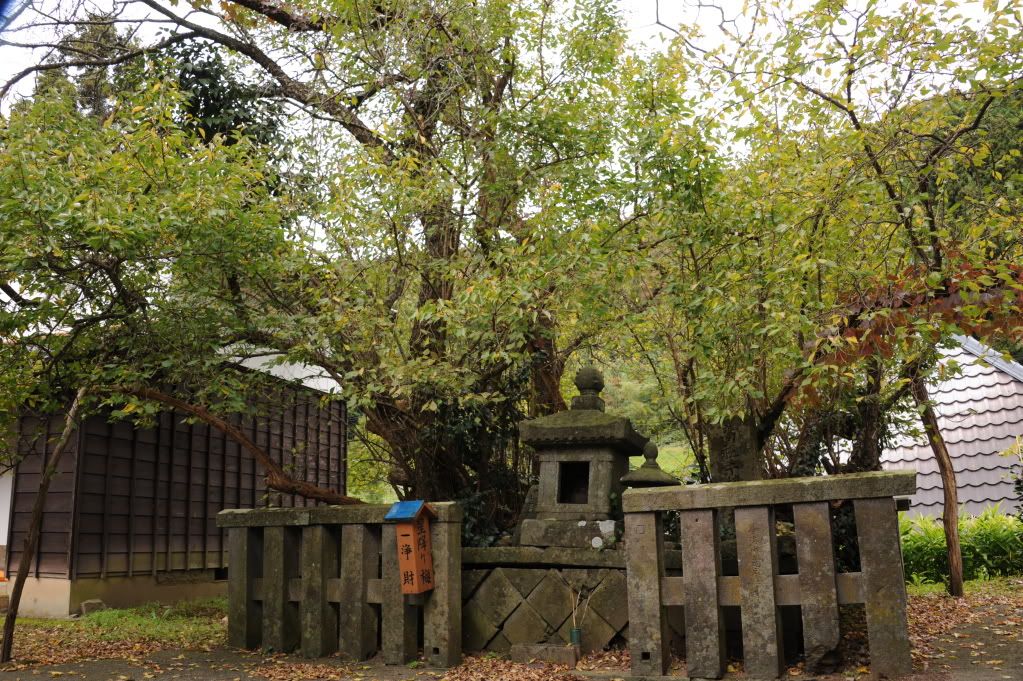 This is the entrance to Chokoku temple.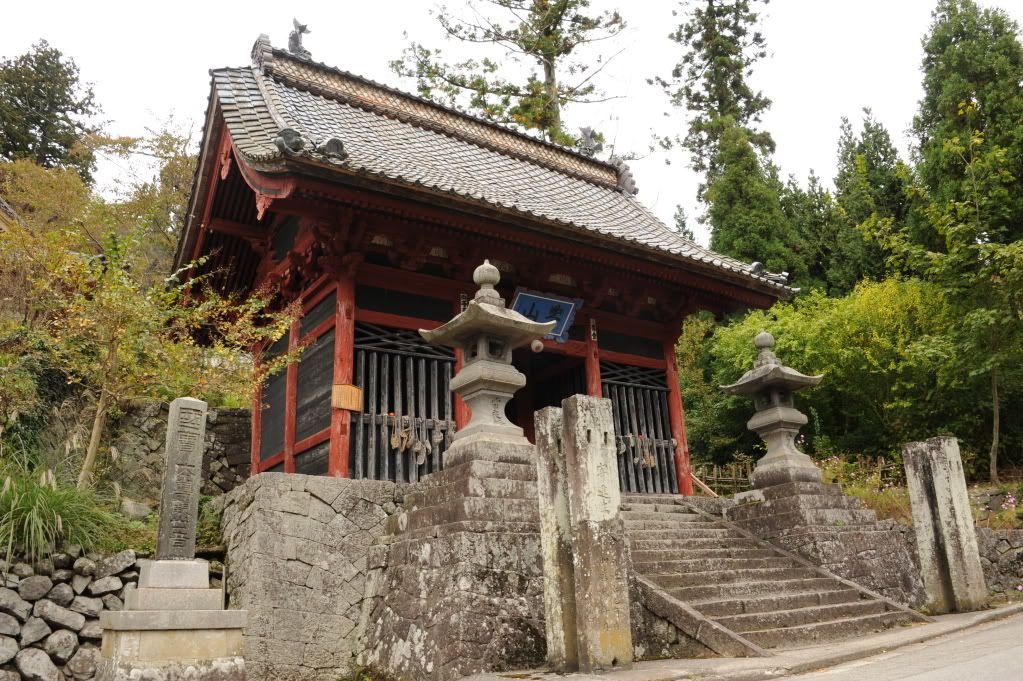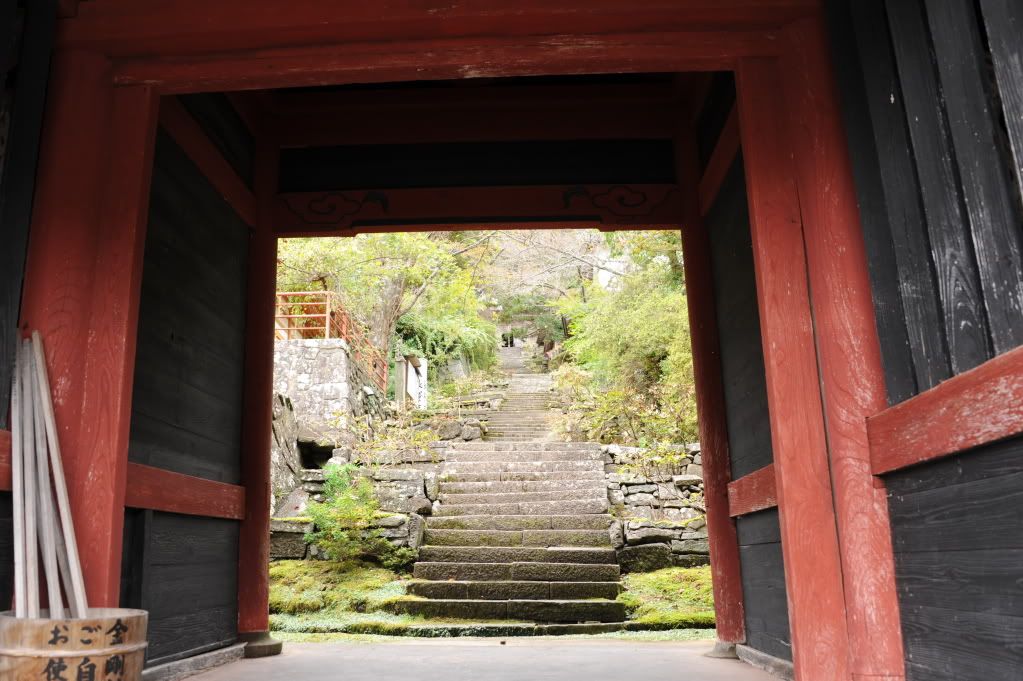 Housed at the top of the steps are three wooden statues of a goddess which are only unveiled to public view once every 33 years.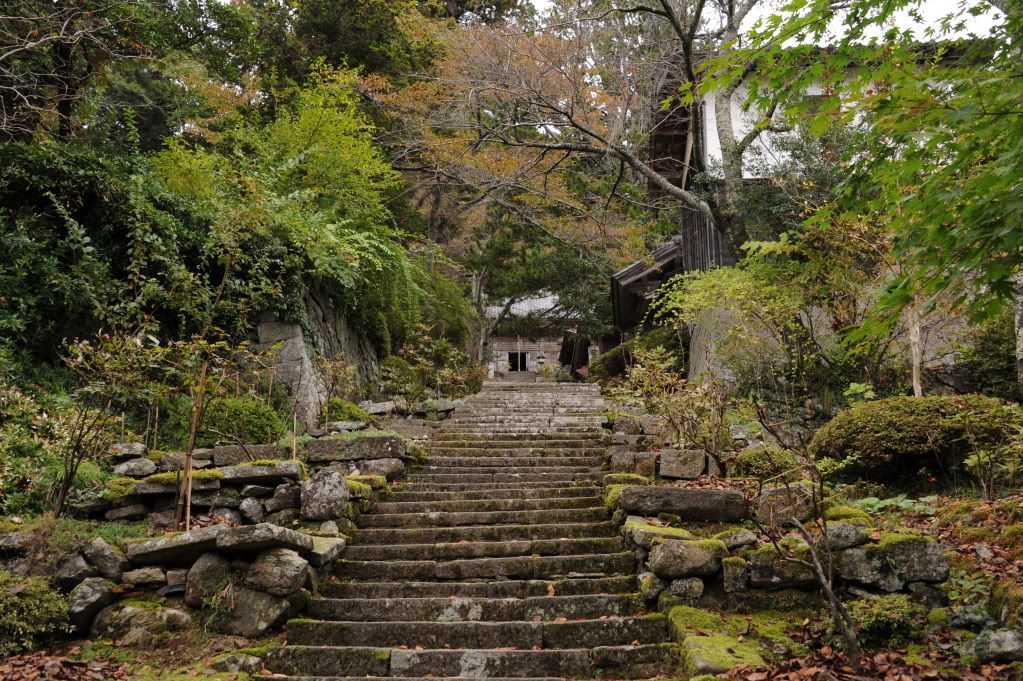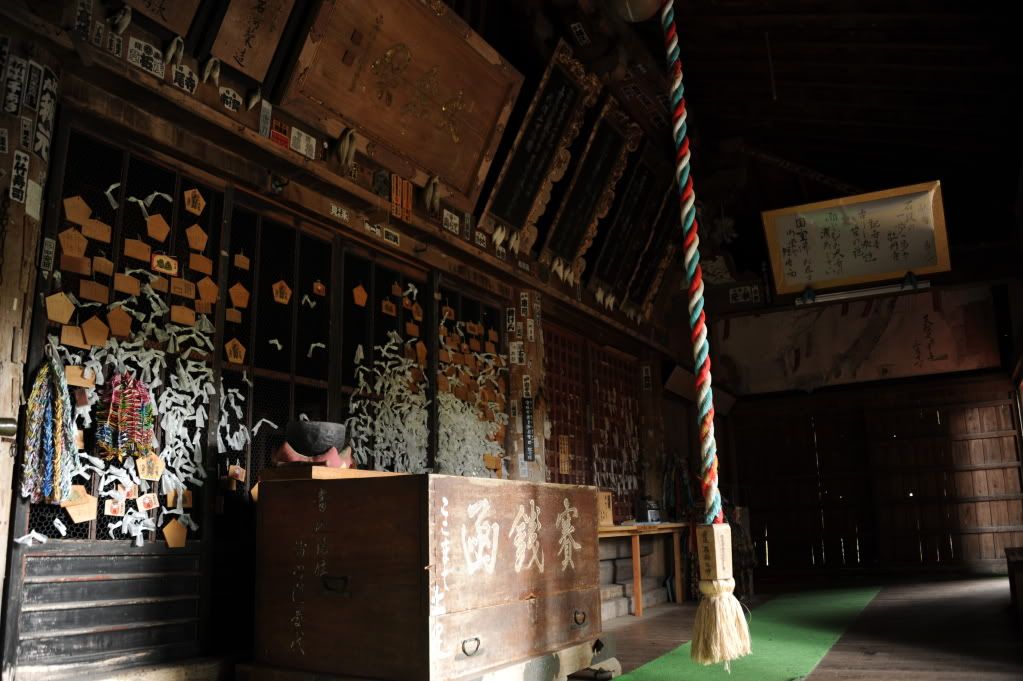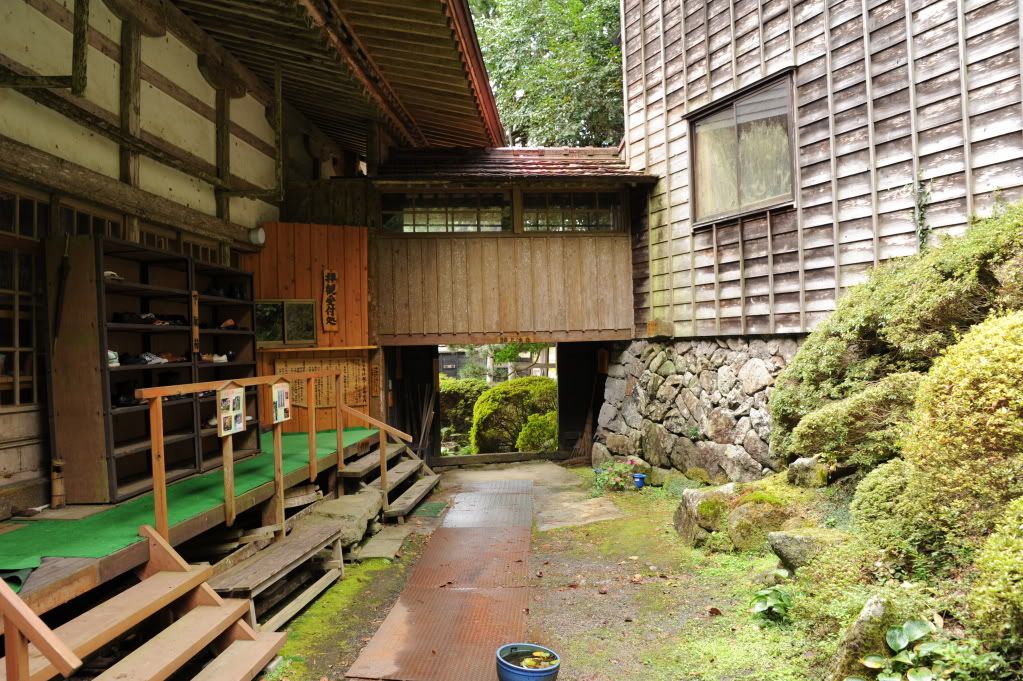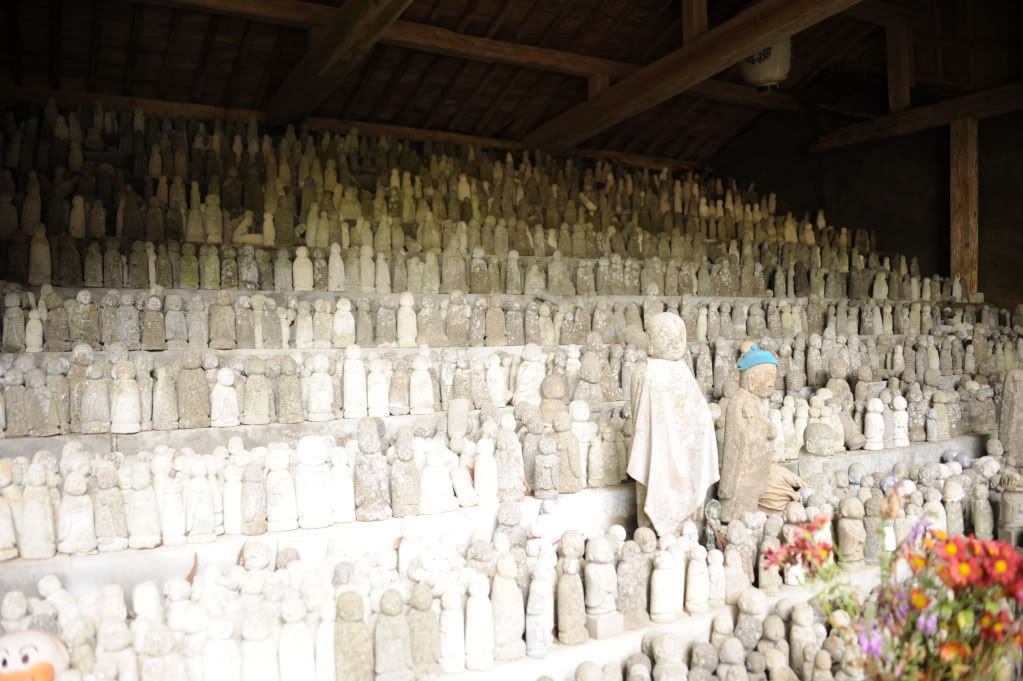 There is a tale of a man who came here once and forced the resident monks at the point of his sword to show him the statues. Following this, the man was struck with blindness. Afterwards he came here repeatedly to pray and atone for his actions. He donated land to the temple and erected this pagoda.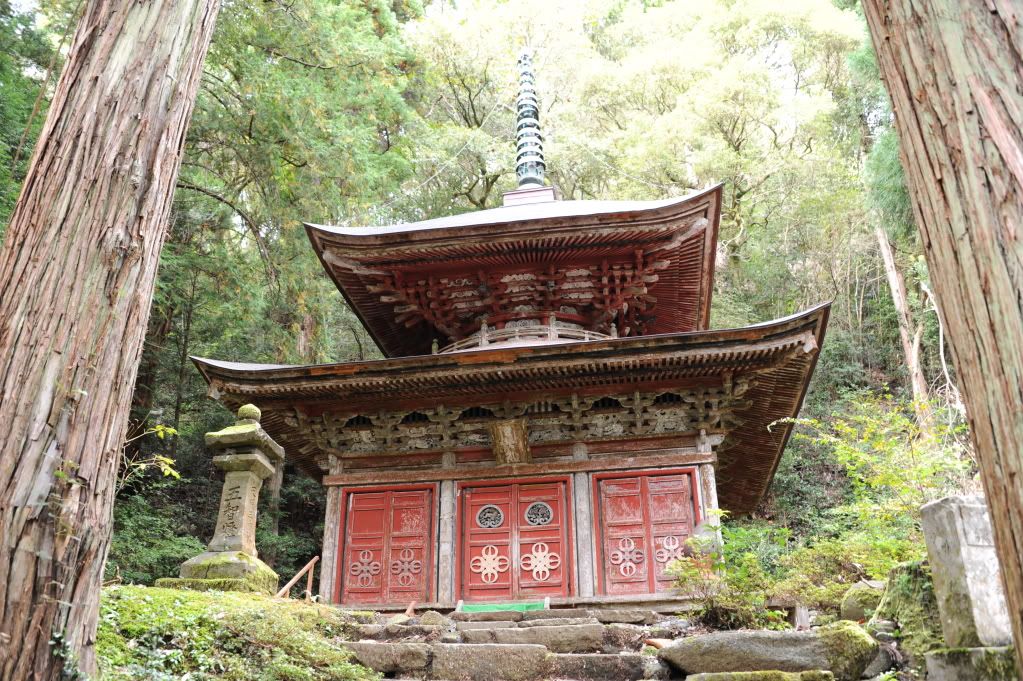 Eventually his sight returned. Large stones mark the spot where he is buried nearby.
Not so far away is another temple, Konpon-ji, which honours Nichiren, founder of Nichiren Buddhism. He was banished to Sado and while here wrote some of his most important works.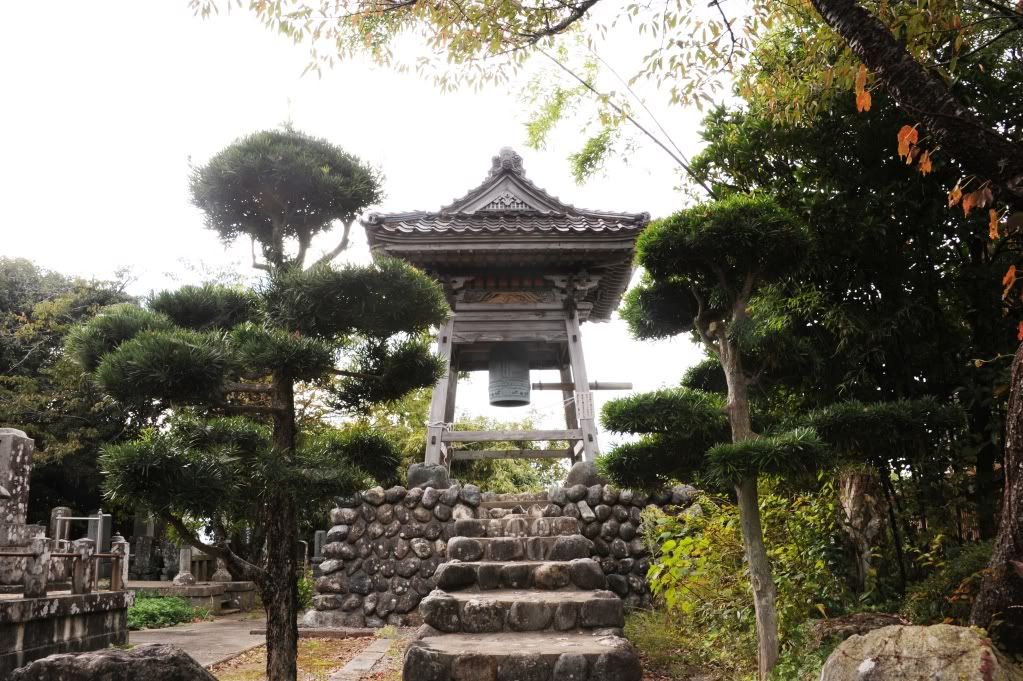 And here he is himself.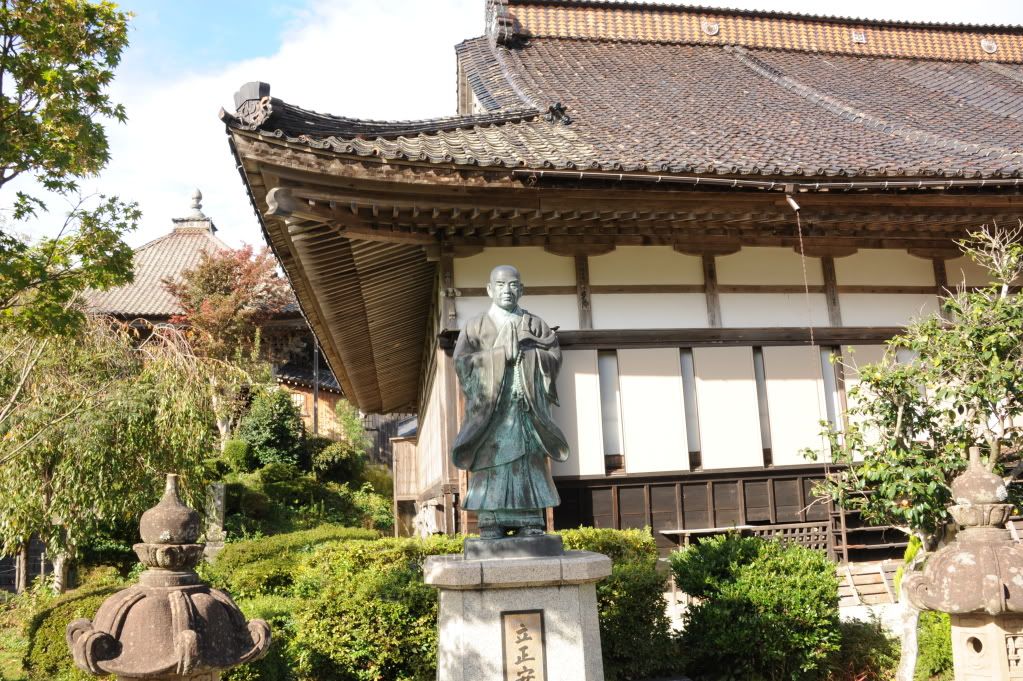 And the spot he spent much time in meditation.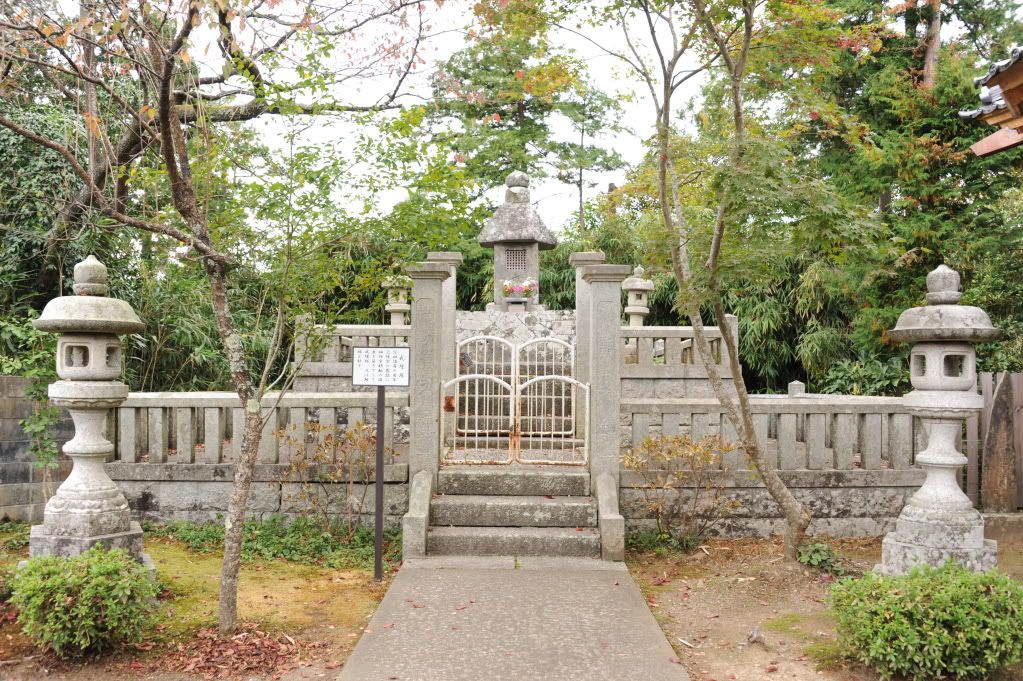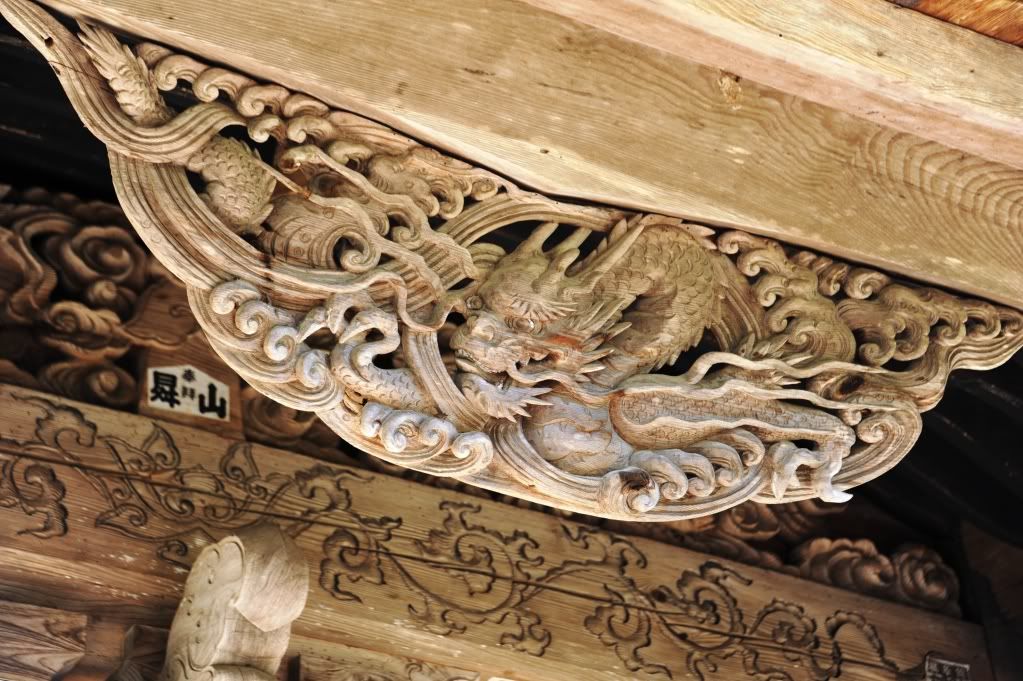 The chap on the right is my taxi driver. Any history I am relating here is what I remember of what he said. Very nice man.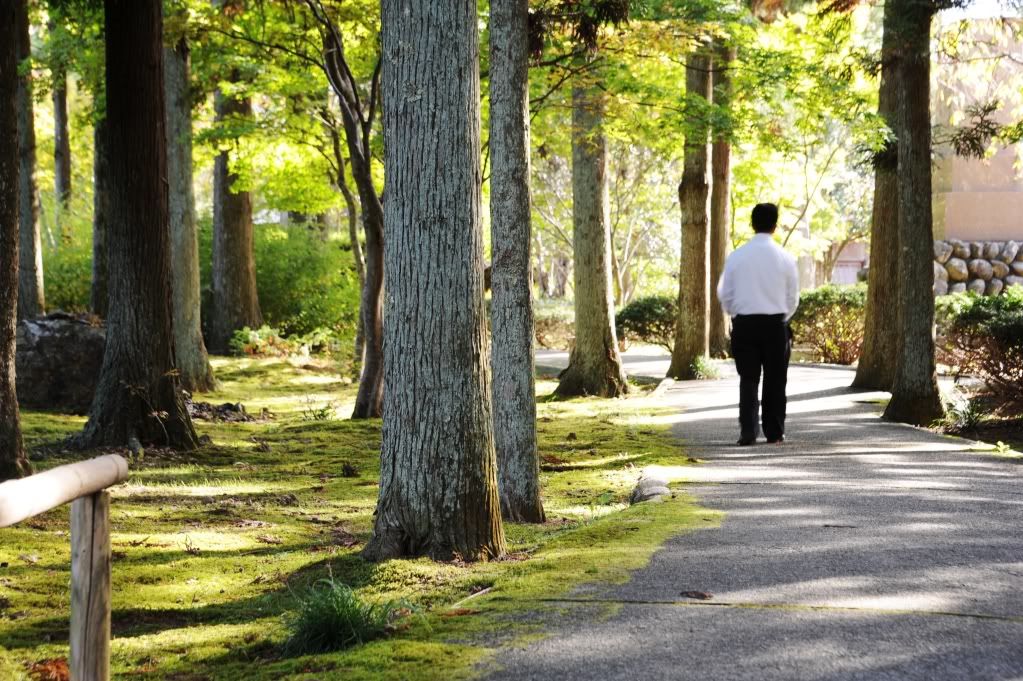 Some other temple visitors.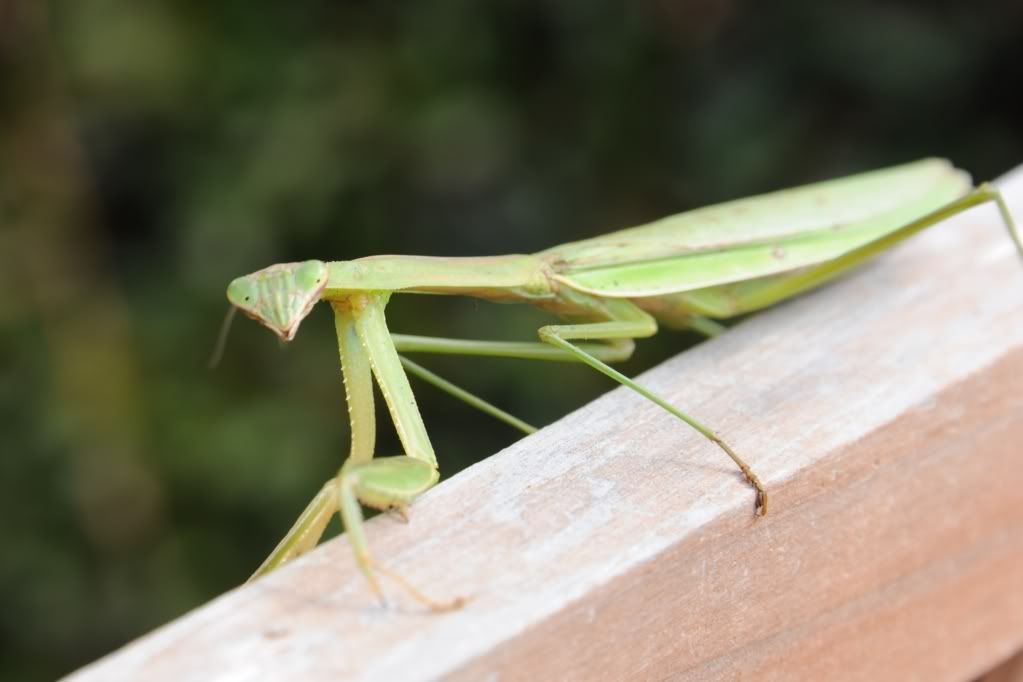 It was now time to be heading back to the airport.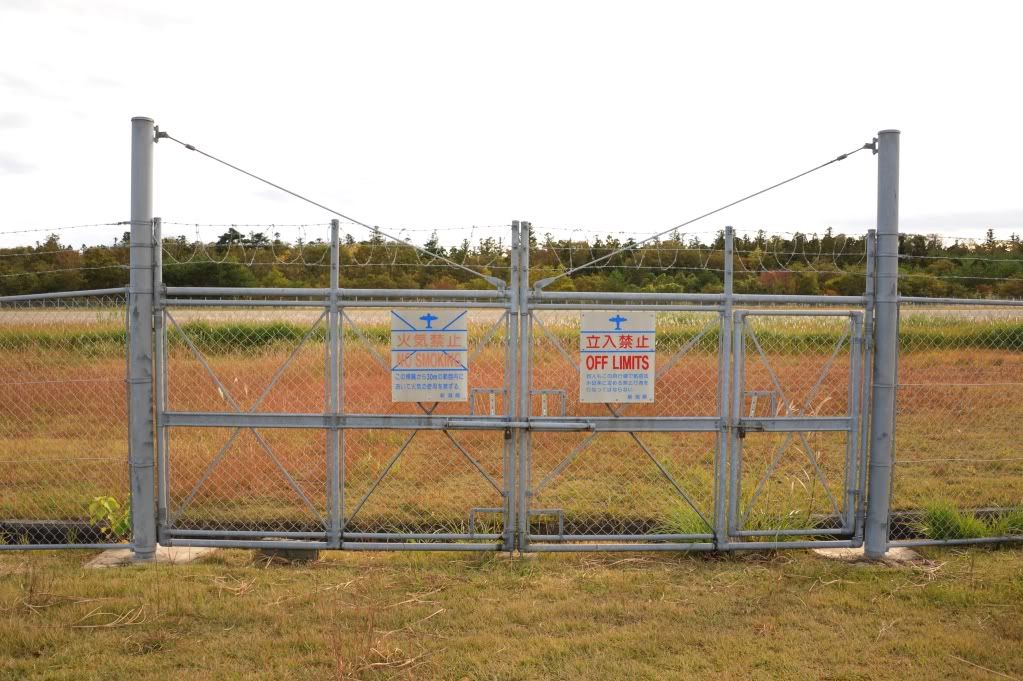 I was a little early so I decided to take up position at the very end of the runway to get a good shot of the Islander coming in to land.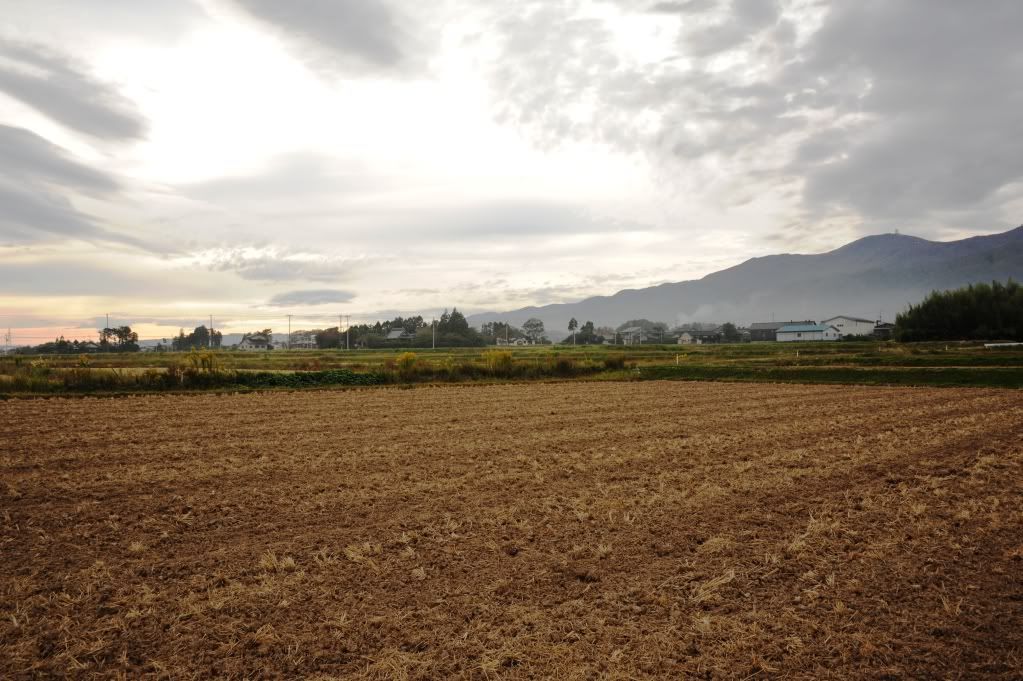 At about this point, a local farmer started burning stuff in a field nearby. It doesn't come across well in the picture but the smoke drifting across the runway was getting so thick that a guy came out to check whether a landing would be possible.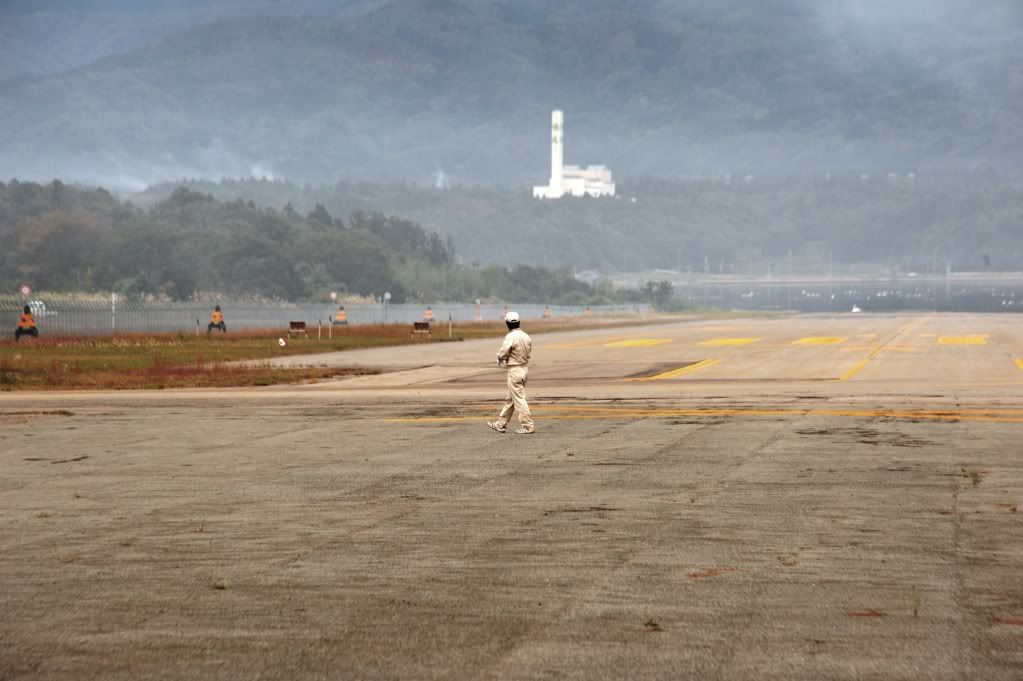 The all clear must have been given and a few minutes the little Islander was crossing the threshold. I don't know why I bothered to wait though because even fully zoomed to 300mm I could barely see it.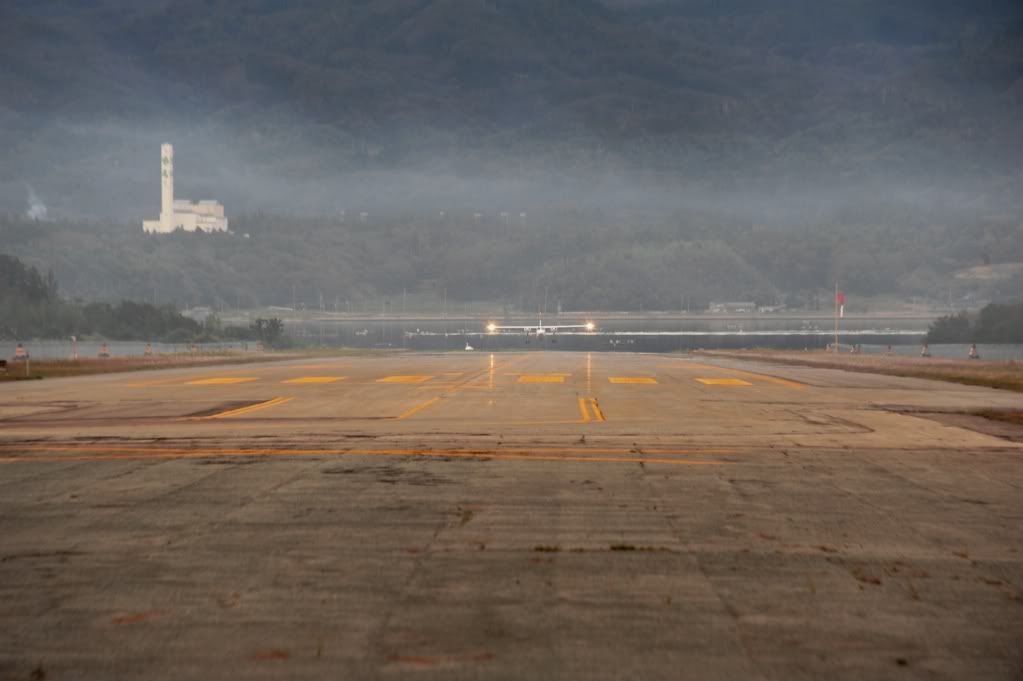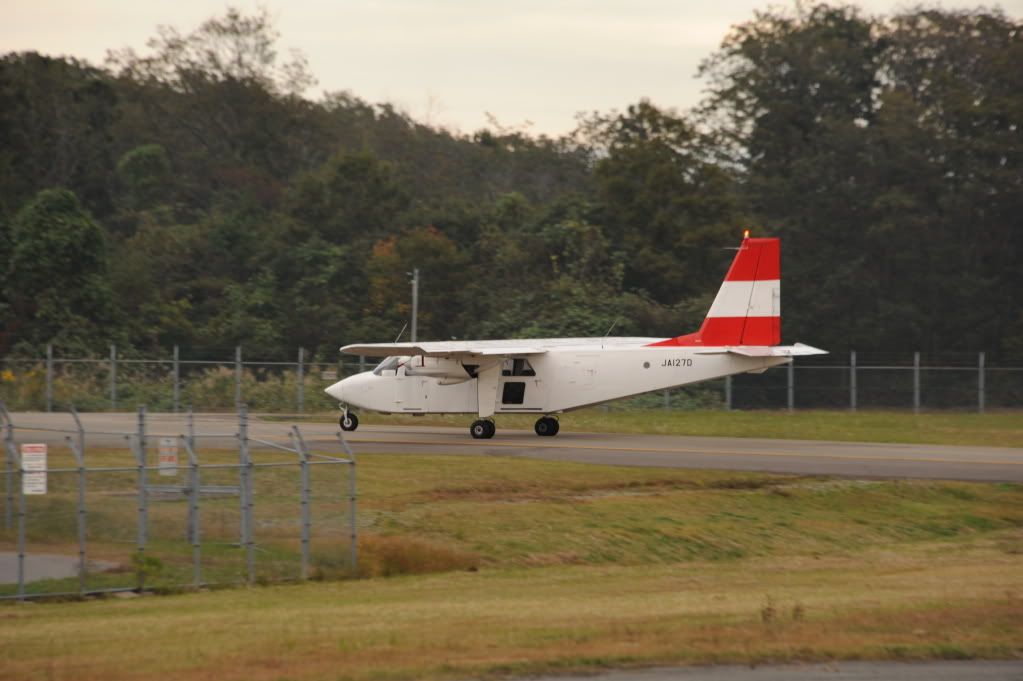 Towering above the area; a JASDF radar station, hints at the sometimes tense relations with our neighbours. People have famously been kidnapped from this island by the North Koreans.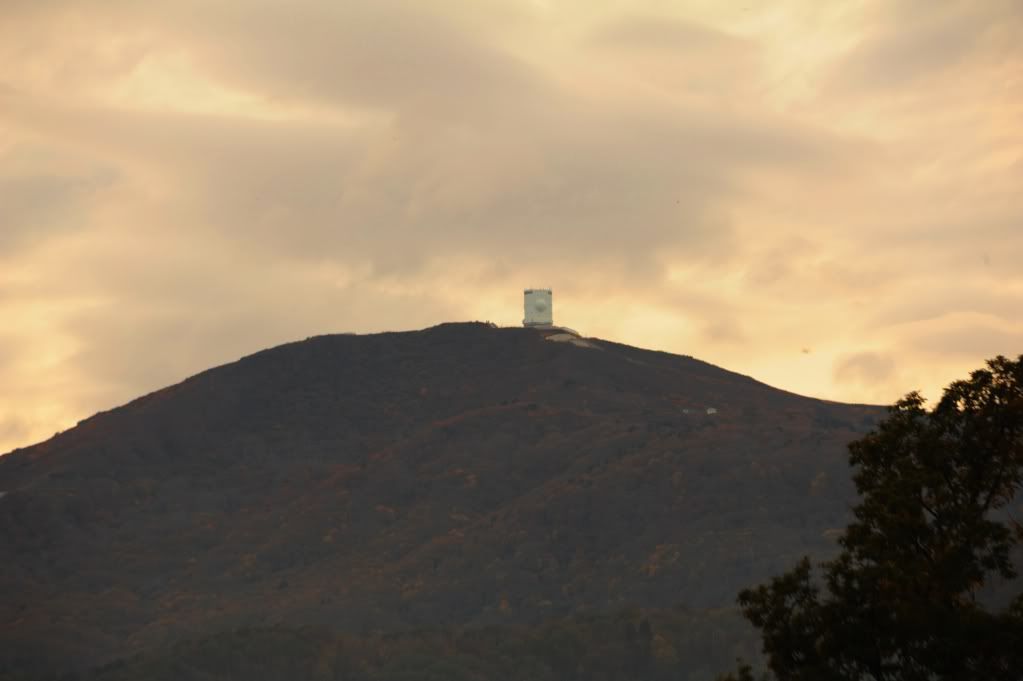 Dashing back now to catch my return flight, it turned out due to a couple of cancellations I would be the only one flying. I pleaded to be allowed to sit up front next to the pilot but alas to no avail. So I sat one row behind. They didn't even bother giving me a boarding pass this time.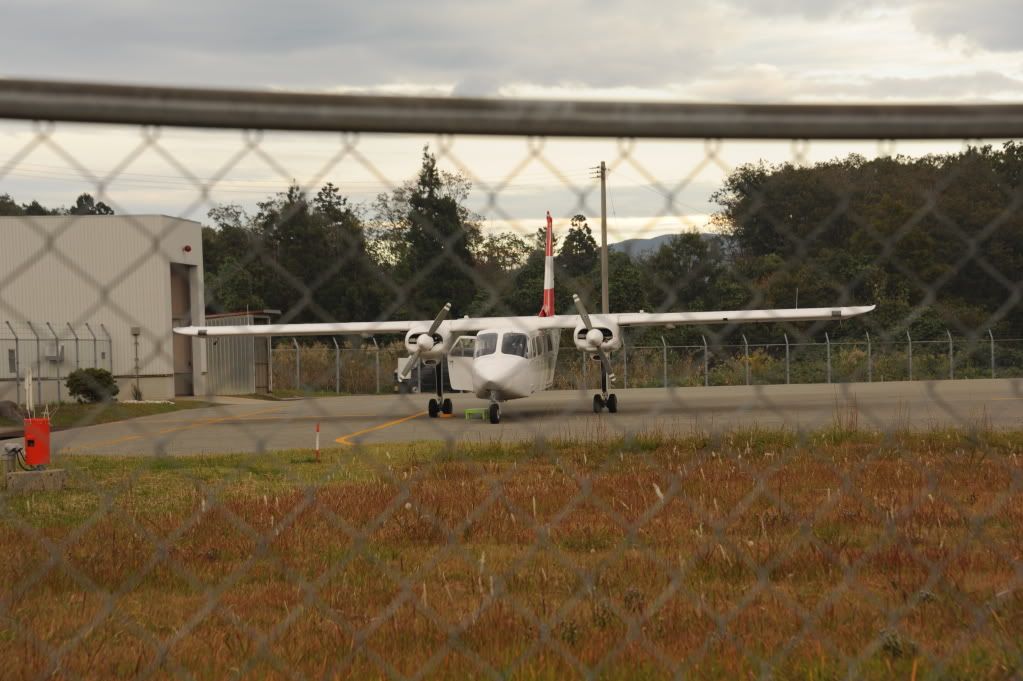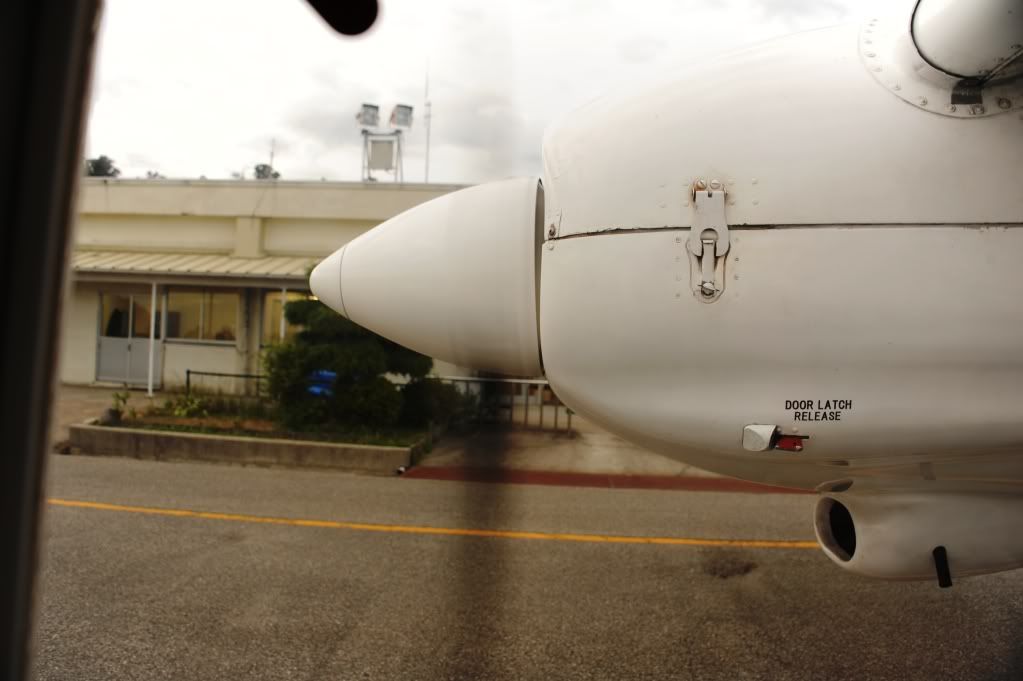 No these are not golfing gloves!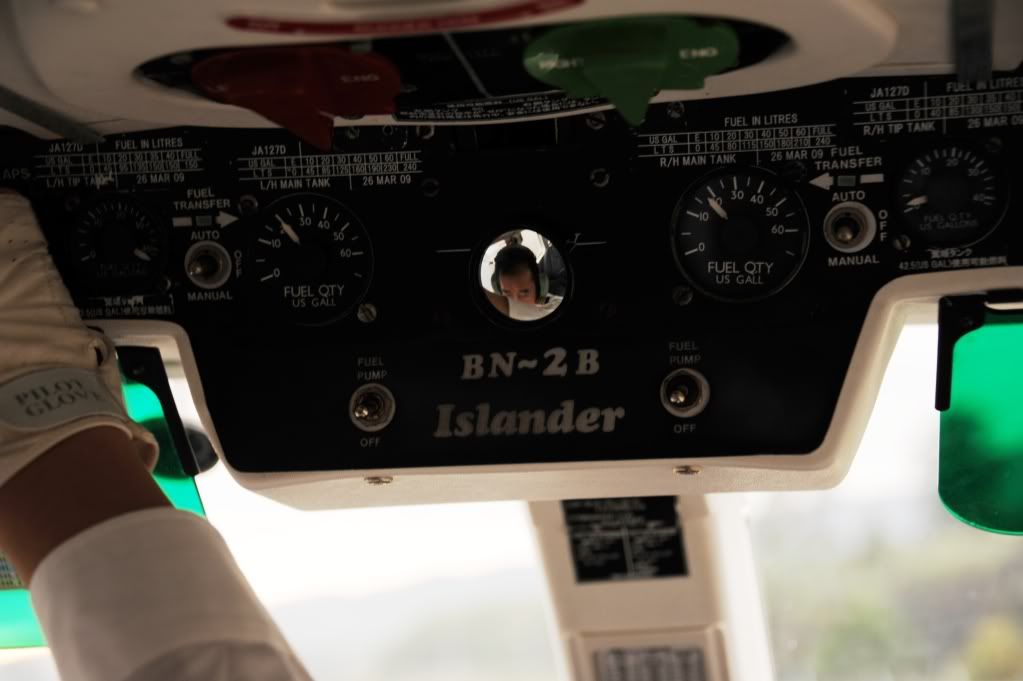 As we pulled on to the runway, I got ready to get my shot of the take-off sign. But as he was about to do it, he paused, looked at the sign, put it down, turned round and just shouted TAKE-OFF in Japanese at me. Ah well I kind of got the shot.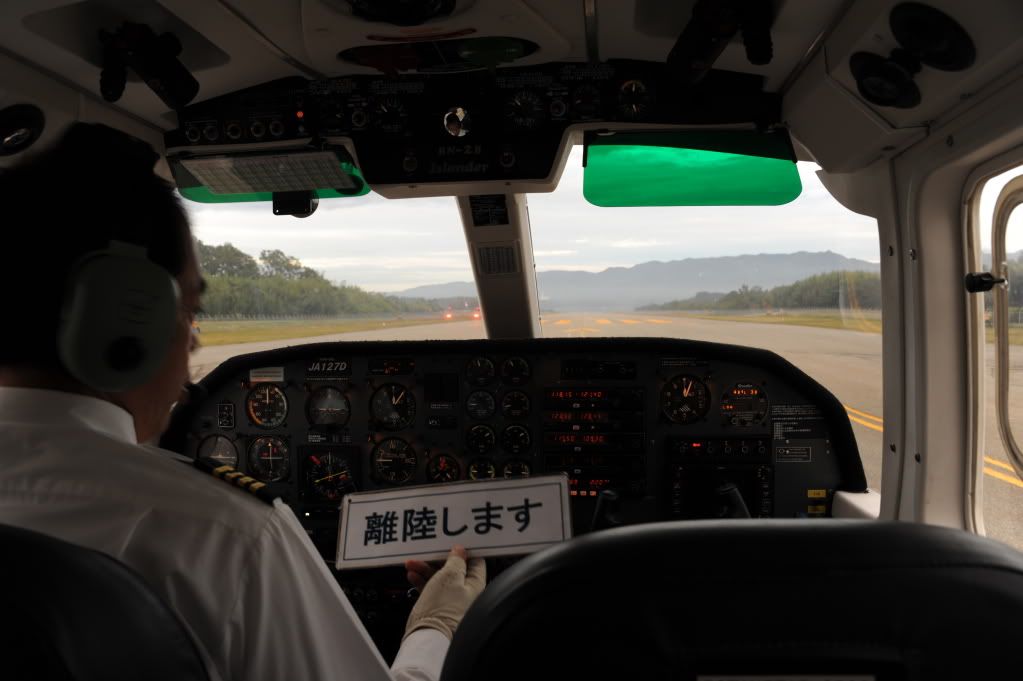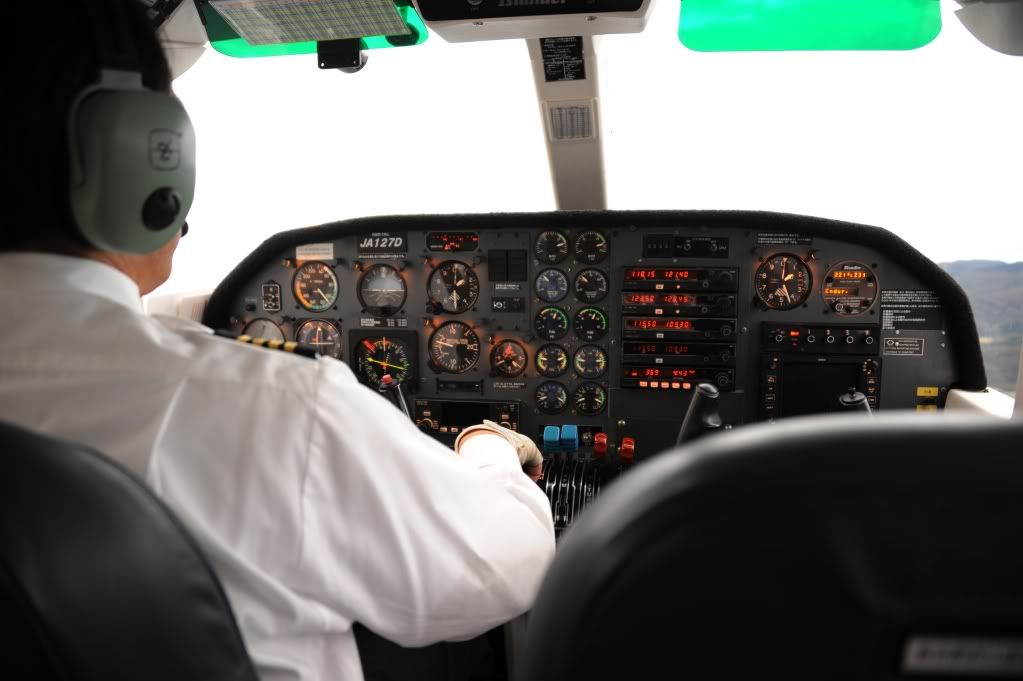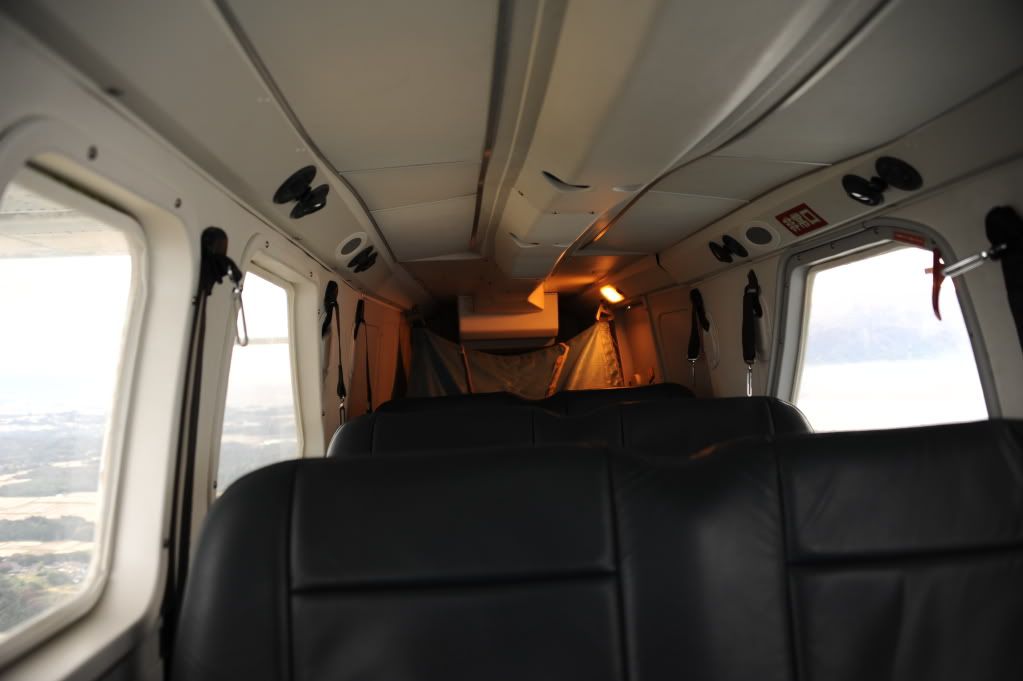 The sunset was truly beautiful, but unfortunately we were flying almost due east, so I couldn't really get a shot of it.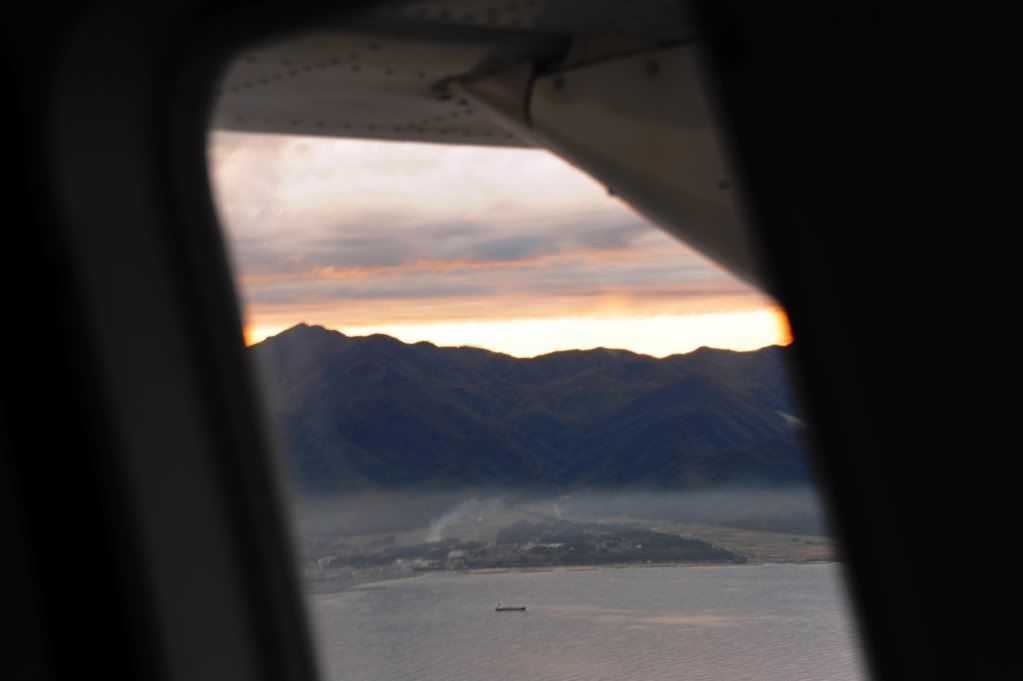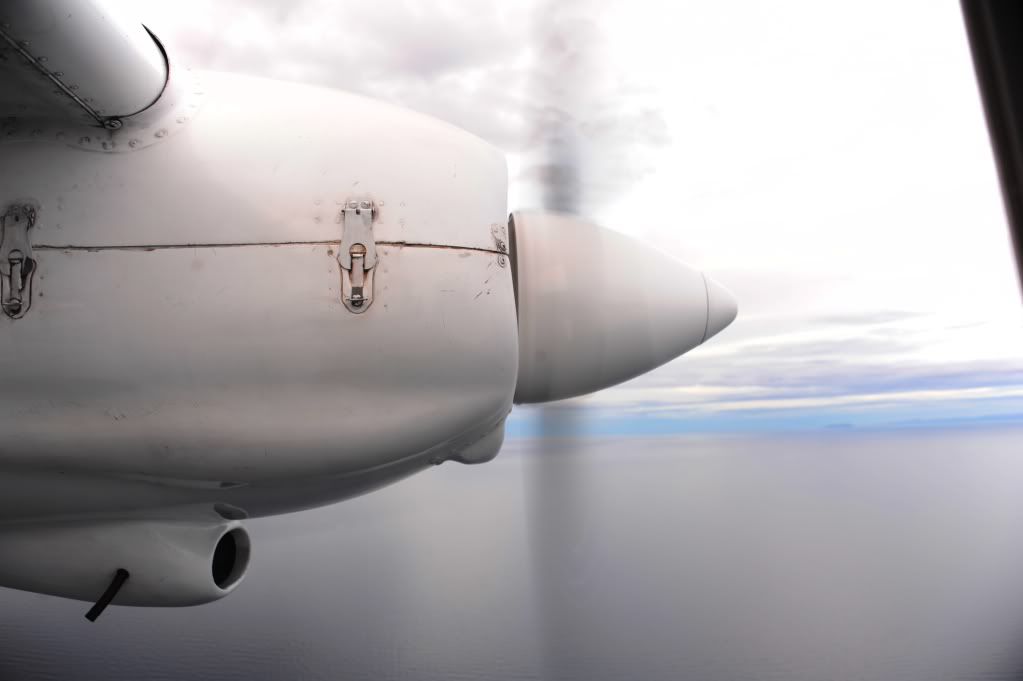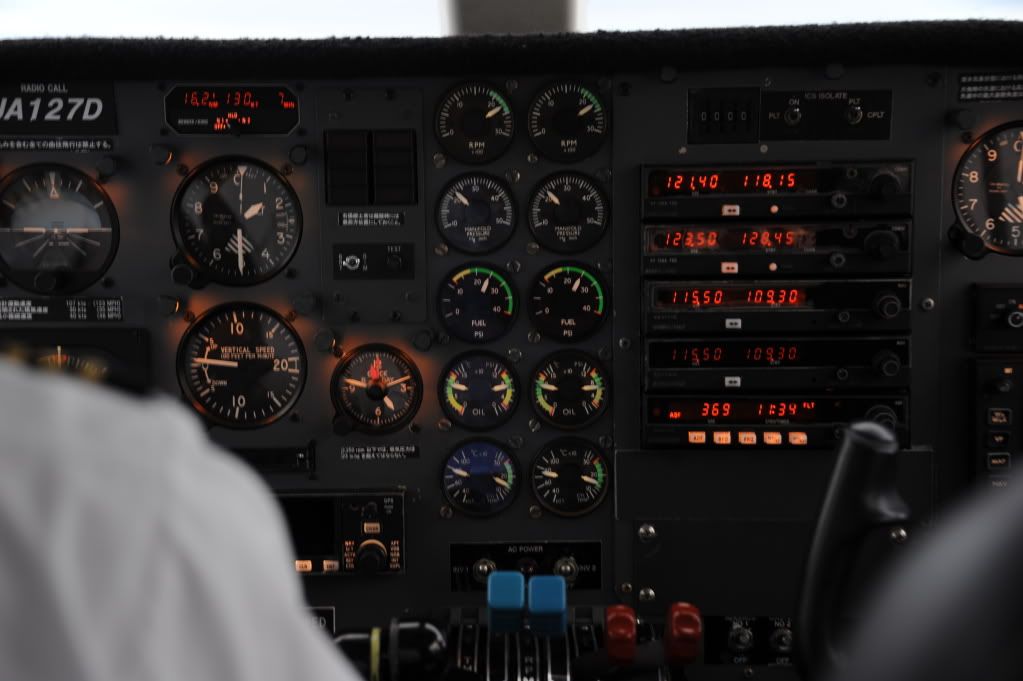 Landing at back at Niigata.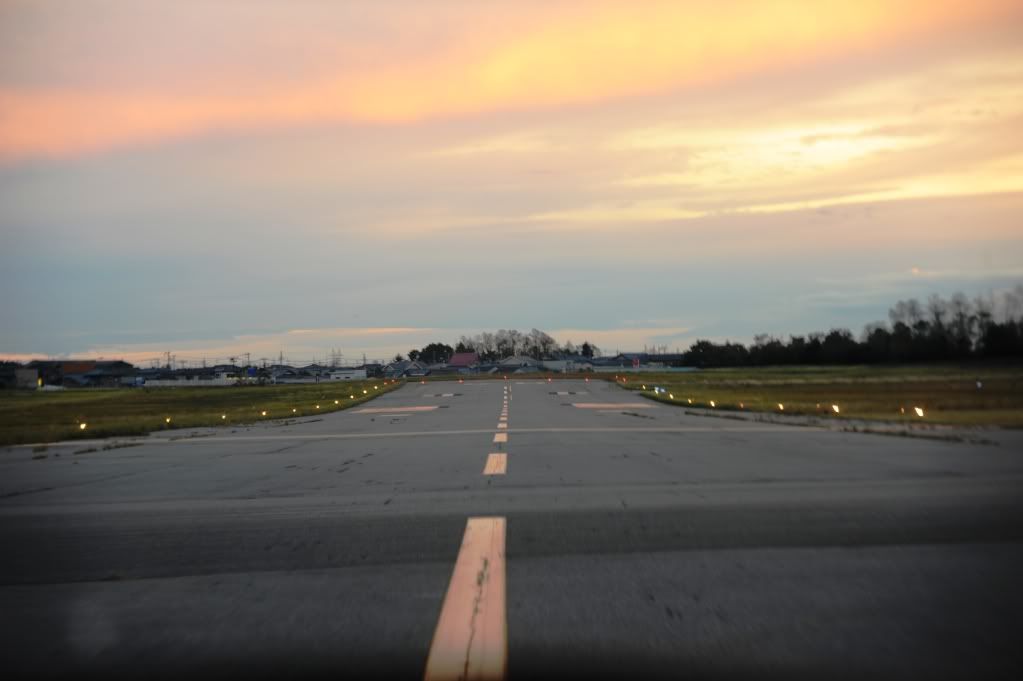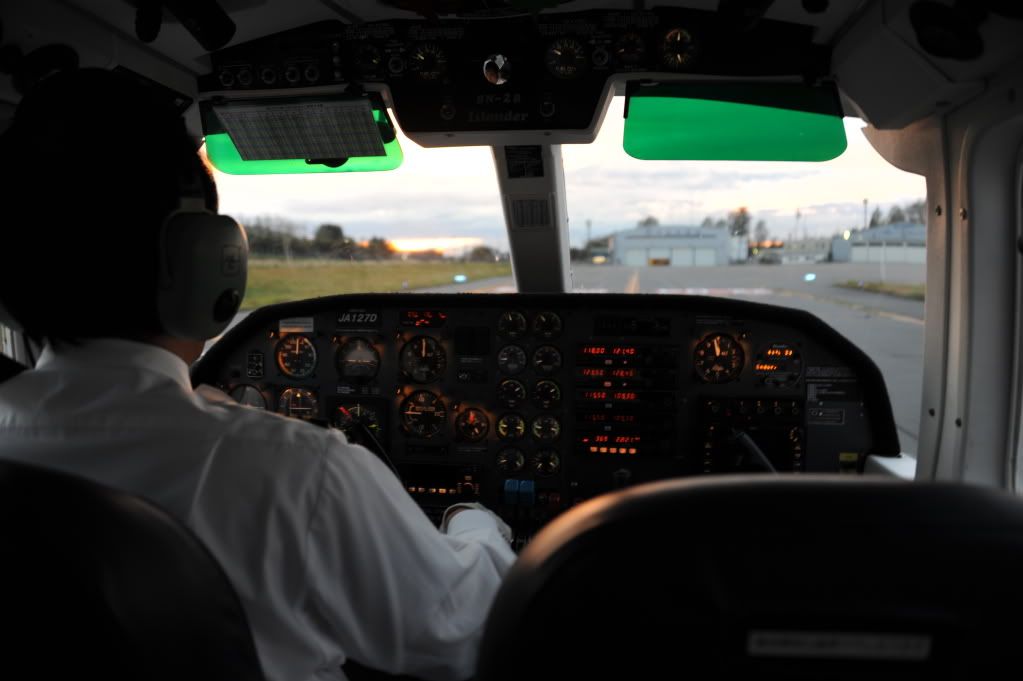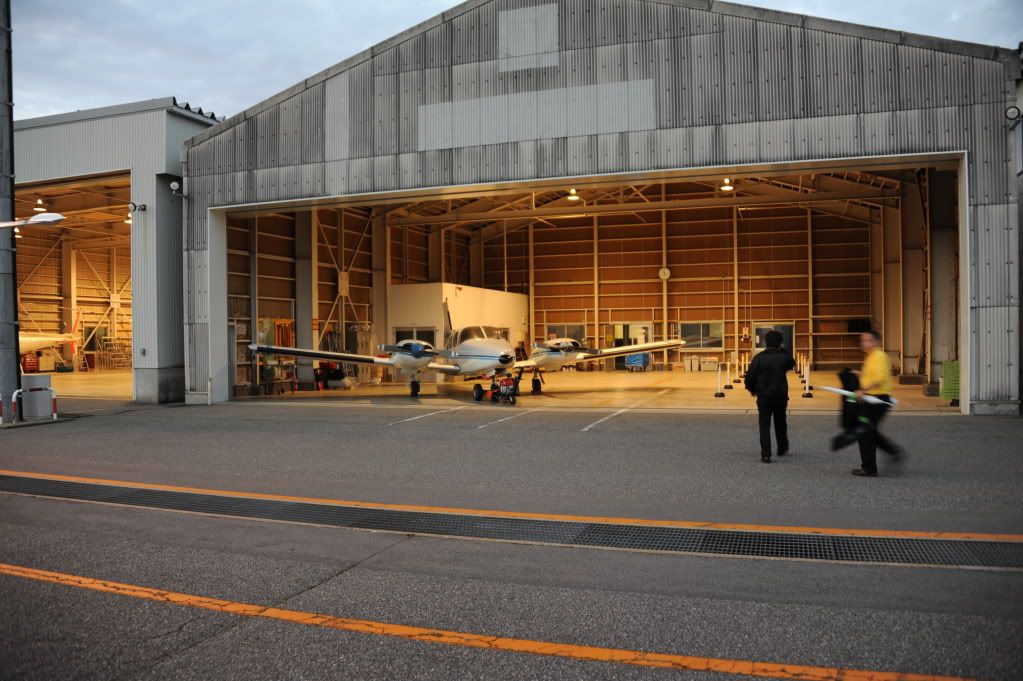 Good bye little plane.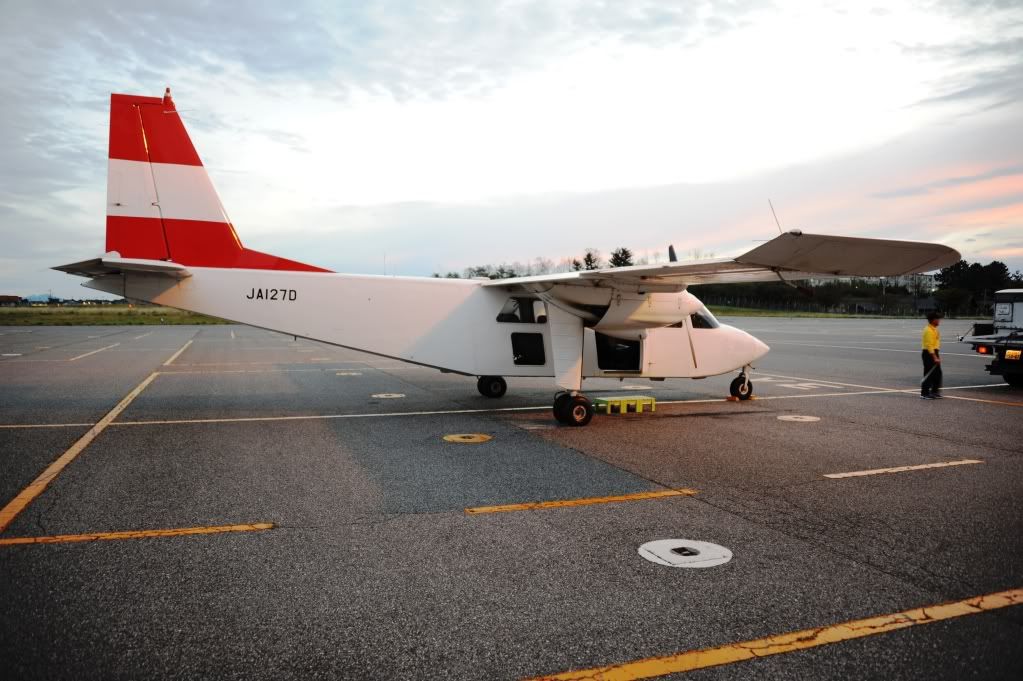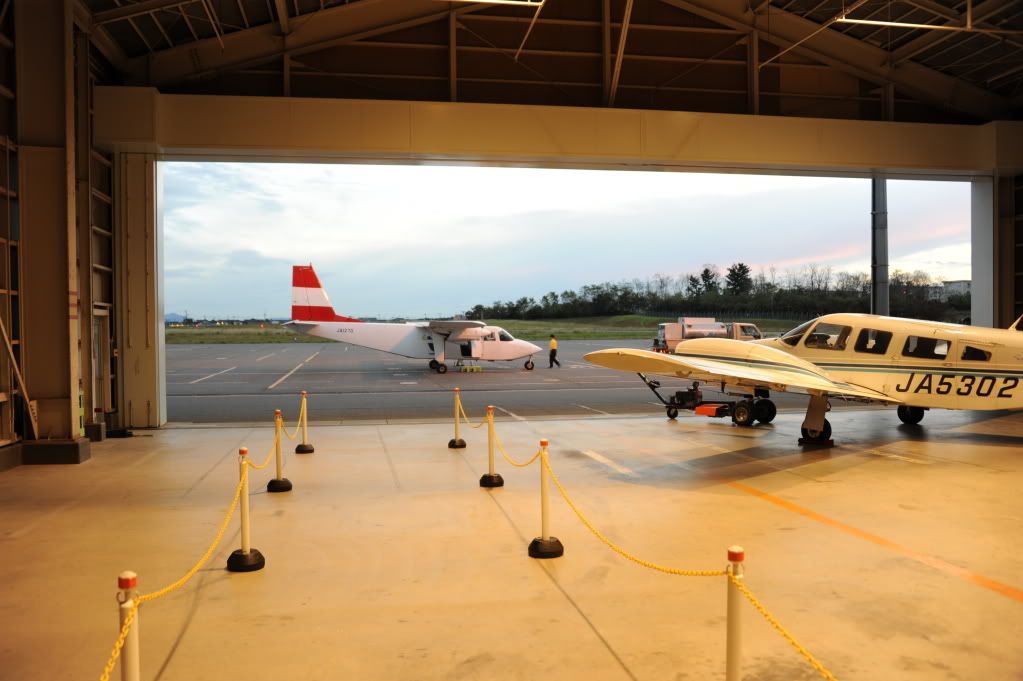 A one minute ride on the mini bus and I was back at Niigata main terminal. There was still a lot of time before the bus back to Tokyo, so I went up to the viewing deck to get some pictures in the last of the light.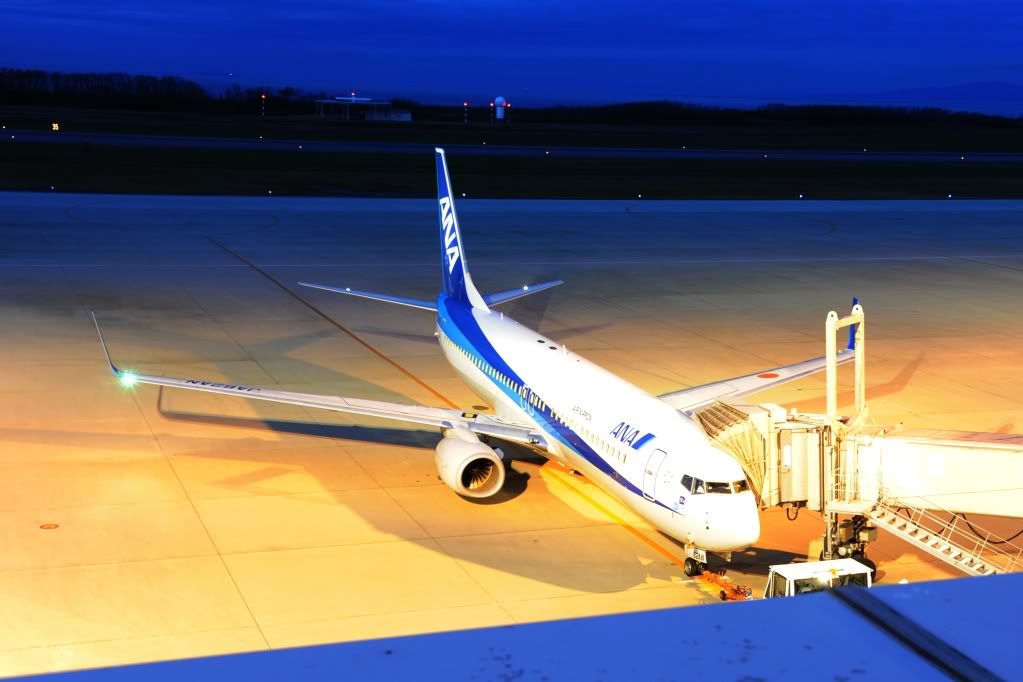 The sun fades over the hills on Sado.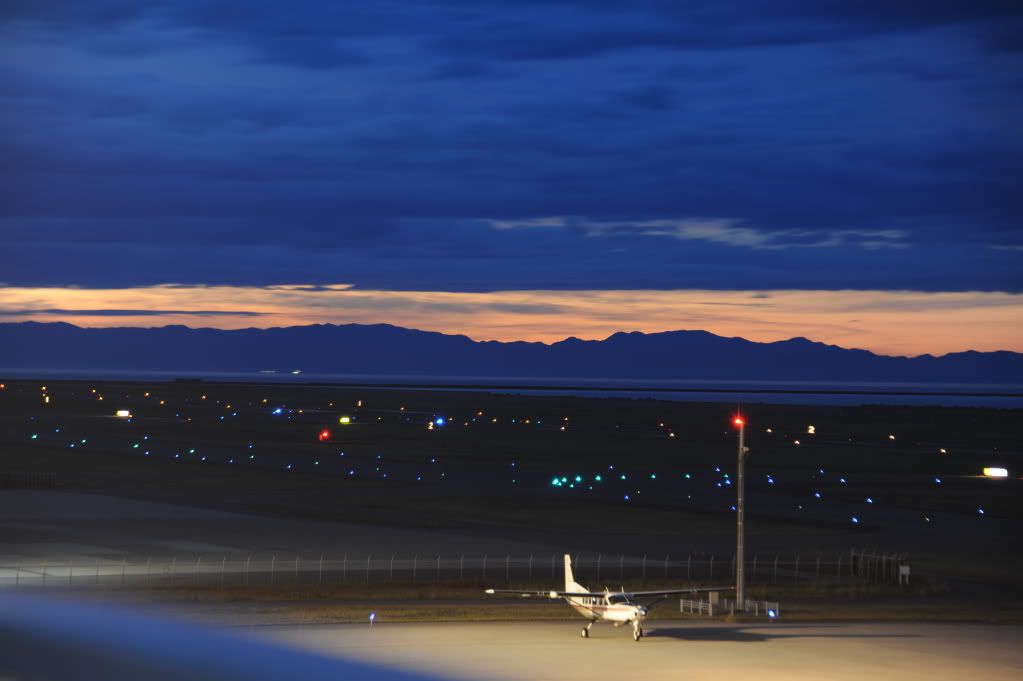 Tower.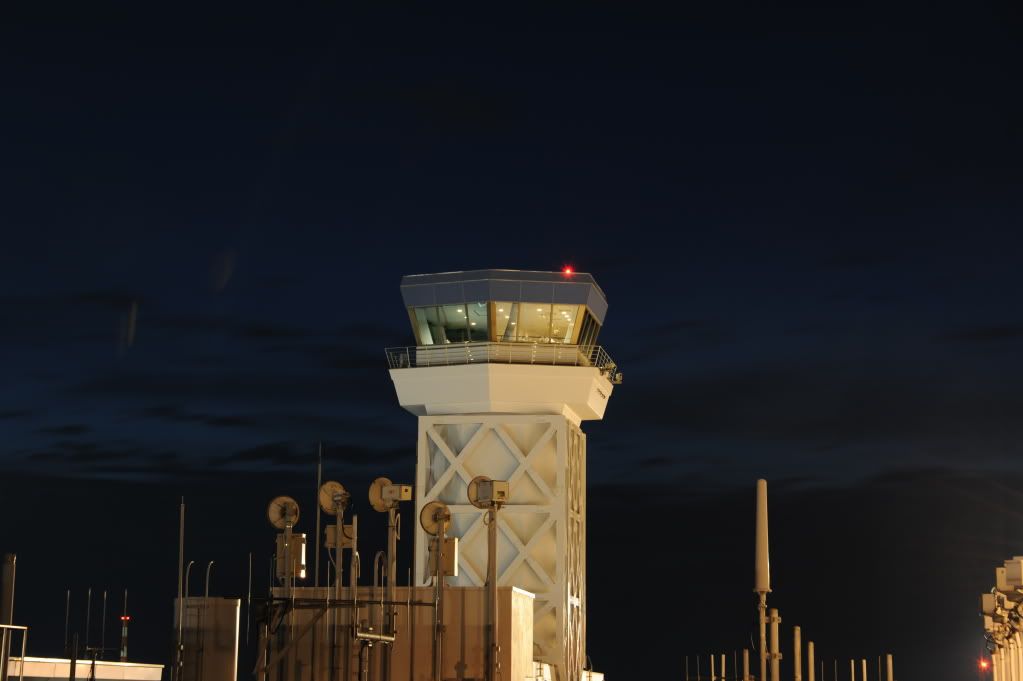 Viewing platform.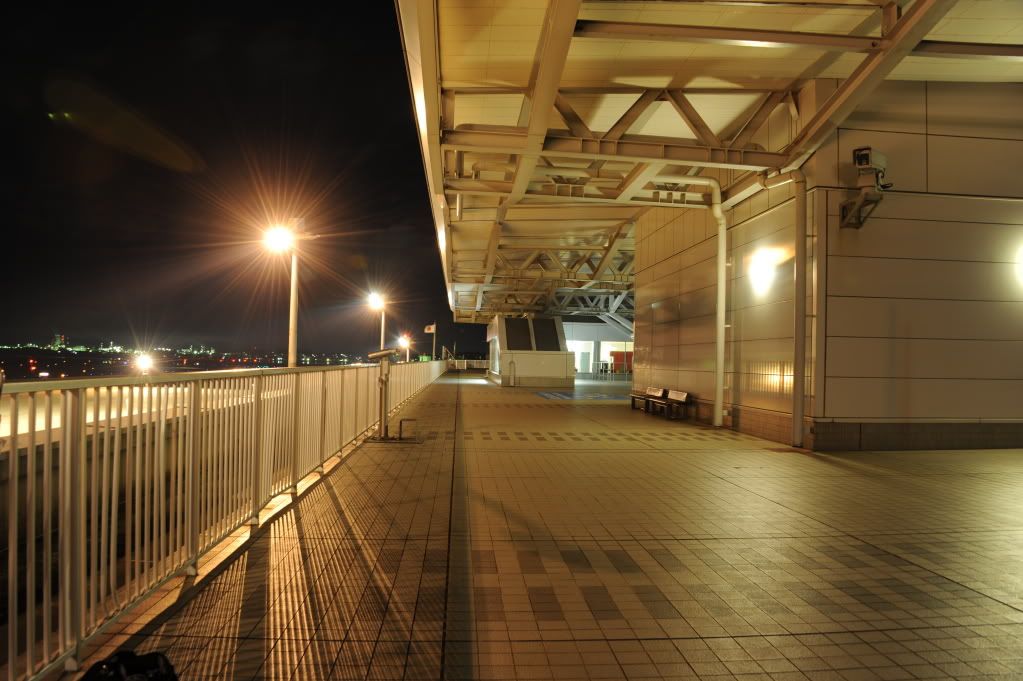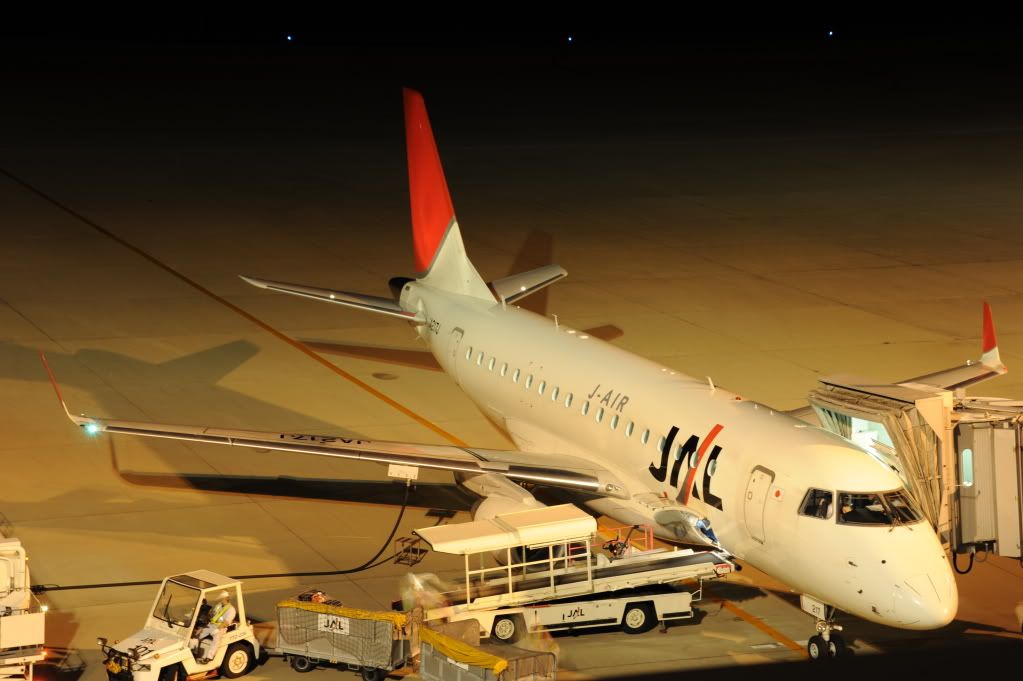 CONCLUSION
Another nice little trip that can be done over a weekend from Tokyo. Flights cost JPY 6,500, and the overnight bus to Niigata is around JPY 3,000 ~ 4,000. To make it more worthwhile it would be best to stay a night on Sado. My taxi driver was a nice guy and cut me a good deal, but it still ended up being the most expensive thing. So probably best to rent a car.
Hope you enjoyed it.
Regards.
Tokyo Hop – Ruag Do-228NG First Revenue Flight
(by
britjap
Jun 5 2011 in Trip Reports)
Hop, Step, Jump Tokyo – Inter-Island Shuttle
(by
britjap
Aug 22 2011 in Trip Reports)