Feedback always appreciated.
I > Background:
As many of you know, I had cut my trans-Siberian short to take an interesting adventure on board Ir Aero (http://www.airliners.net/aviation-forums/trip_reports/read.main/209040/) to Vladivostok. We had to somehow get to Beijing and it seemed the only flight available was from relatively nearby Khabarovsk (KHV). None of us wanted to do another short flight on a regional airline, so we settled for an interesting road trip.
Khabarovsk was a pleasant town and we actually had a great time. It is an interesting city, and a pleasant escape from the rest of Russia. I really enjoyed the Asian influence on the city as it seems to have mellowed the residents, and made them more "open" than their counterparts inland.
So the ticket we found to get us to Beijing was on Vladivostok Avia (aka: Vladavia) - I am actually surprised that this might be the first report of Vladavia on A.Net on its KHV-PEK run. As an additional bonus, the flight was supposedly on a Tupolev Tu-204 - a type, I had never flown before.
II > Pre-Flight:
a) Before Airport:
Vladivostok Air (aka: Vladavia) is the largest carrier in the Russian Far East and Siberia, with scheduled domestic flights within Russia and international flights to Asia, and Europe, as well as charter flights - all the way to Africa. With a modern fleet of 320, 330, T20 among others, XF flies from its main hub at Vladivostok International Airport, and secondary hubs at Moscow Vnukovo International Airport and Khabarovsk Novy International Airport.
Unlike all the excitement of booking with Ir Aero, ticketing with Vladavia was very simple. In fact, I though Vlad Avia had the smoothest booking engine of all Russian airlines. Located at
http://www.vladivostokavia.ru/en/,
I was amazed at the clean design and efficiency of use. Within a few minutes, I had booked the group KHV-PEK tickets - for the first time, I got no errors or anything at a Russian site. Moreover, since there was no ability to request seats, I took the moment to email their reservation desk and was shocked when an English speaking agent called my Russian mobile phone and confirmed the group and what seats we wanted. Who would have thought?
b) At Airport:
After a last night of debauchery in Mother Russia, it was time to head back. Most of us ended up sleeping well past noon as our creaky "30's bodies" moaned the effect of partying like we were in our 20's. Very sad indeed. Anyways, it took us around 2 hours to pack and checkout, and wearily make it to KHV airport. Now, KHV airport is like other airports in Russia, a fascinating construct of how you forget local culture and embrace uninspiring Ikea-like airport infrastructure that seems to be mushrooming everywhere in the world. Seriously people, these generic airports are beginning to get on my nerves.
Thankfully, the inside of the airport was more like Ma-Russia, and we were welcomed at the Vladavia counter by a rather nice lady. She was very intrigued by our "tour group" and developed an affinity for my Indian friend (and fellow A.Netter). Apparently, Bollywood movies are huge in Siberia (go figure) and she went off on this long conversation and even sang some sing to him in Hindi. He just rolled his eyes and apparently said that he is getting a lot of these random comments (in Brasil, the top TV "telenovella" is some Indian love story) ... but either way, what was a 5 minute check-in process turned out to be an amusing 20 minutes or so. None of us cared, but I think the people in the queue behind us had other opinions
.
After check-in, we had some time to kill, and went upstairs to the "fine dining" restaurant - some of us got a bite to eat while others plane spotted. A new Airbus A-320 had just pulled in, and the crew were all taking pictures of the aircraft with them in it. I was amused because I find the 320/737 so generic and here it was an exotic commodity. As I began wondering where the T20 was, a bad feeling crept through me of an equipment swap.
Quick immigration and security later, we pulled into the rather uninspired waiting area. There really was not much going on and we waited until boarding was called 45 minutes prior to the flight. There was the usual Russian madness to join the boarding process ("ILBST" is fully in gear here), and we fought our way to the gate ... and to my sheer disappointment, the brand new 320. Oh well. I think the disappointment would be greater and unbearable if it was some historical aircraft! Boarding was via staircase and we soon found ourselves in the most generic 320 cabin. It was such a huge contrast from days earlier. Y load was around 90%.
Airport - External:
(Khabarovsk Airport: Old)
*
(New)
Check-in:
Airport - Internal:
(FIDS)
NONE
*
(Post Security @ KHV)
*
Scenes of the tarmac:
(I was severely reprimanded after taking this picture)
Lounge
NONE
Boarding:
(Gate Area)
NONE
III> In-Flight:
a) Service Schedule + Impressions:
These days, I have moderate expectations from Economy Class on a medium haul flight - service consisted of a drink and meal service as soon as take-off.
b) Aircraft + Seats:
One of the highlights would have been flying my first Tupolev 204 - but as mentioned above, this was not to be. The Airbus 320 was as generic as you could get. Being new, the aircraft was clean and sterile - reminded me of a flight I once did on a new indiGo 320 a few years back - the entire white fuselage with generic blue seats looked a tad too boring for me. The positive side was clean bathrooms - with no "poo-poo". Small gains huh
?
The seat itself was actually OK - the pitch was very tight, but the recline was generous. Now, that worked well until the person in front decided to put her/his seat in recline.
Aircraft:
(Our aircraft)
Views from Aircraft:
(@ KHV Airport)
*
*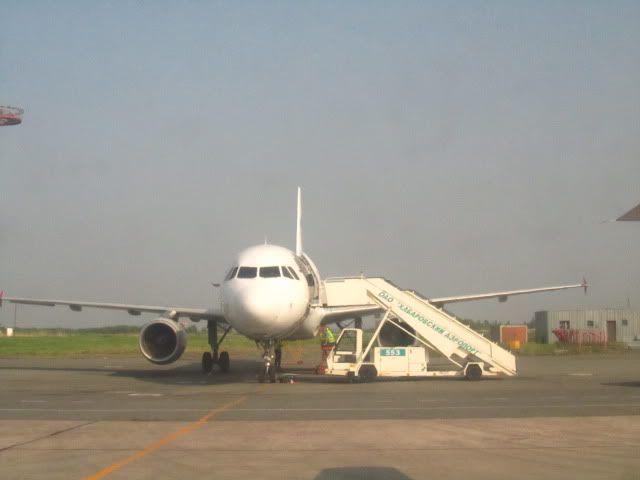 *
*
*
General Seat Views + Seat Legroom
(Seat)
*
(Front of seat)
NONE
*
(Seat controls)
NONE
*
(Around Seat)
NONE
*
(Legroom)
Seat Recline + Angle View:
(Notice the difference between these seats, and say LH's slim-line)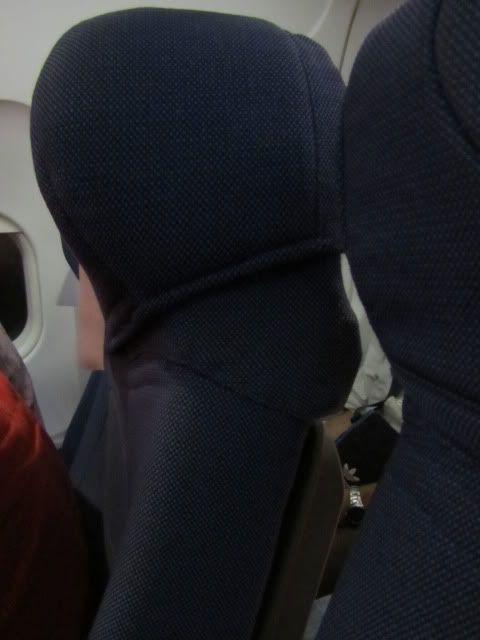 *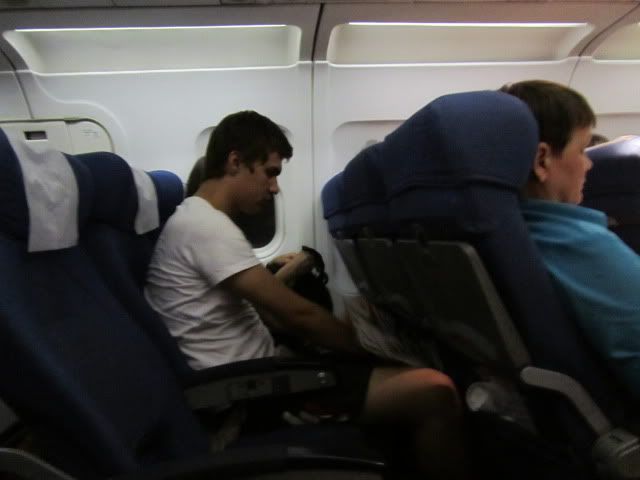 Cabin:
*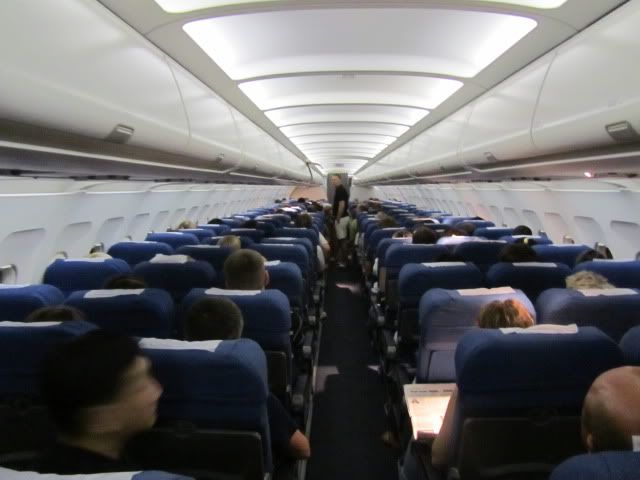 *
(Blanket ++)
NONE
(Bathroom)
c) Meal + Beverage:
30 minutes into the flight, the meal service commenced. This consisted of first a drink service where I proceeded to take a ginger ale (still nursing that hungover) and some water - they were served in those frat house party glasses. Then, dinner was served. I was actually positively surprised to see the offering - first a plate was given to me with bread, some cold cuts, couple of sushi, and a rather nice looking dessert. I thought it was decent offering for a 22,30 flight - so imagine my surprise when I was asked what I wanted for my main course?! Taken aback slightly, I chose the salmon over the chicken. While served with a rather uninspiring rice and corn, it was fresh and juicy. I have had far worse salmon in JCL.
Topping up the surprisingly good meal service was nice café. Overall, I felt really satisfied - though as my Israeli other half said that it could have been because my benchmark had been so lowered after the "meals" on our last flight ...
(Pre-takeoff @ KHV)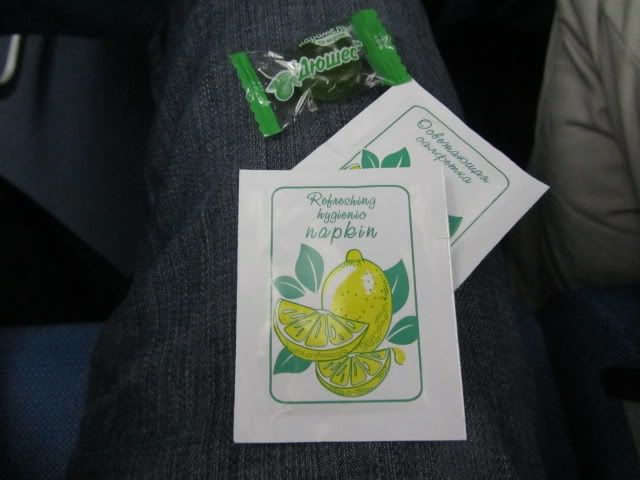 *
(Beverage & Dinner)
*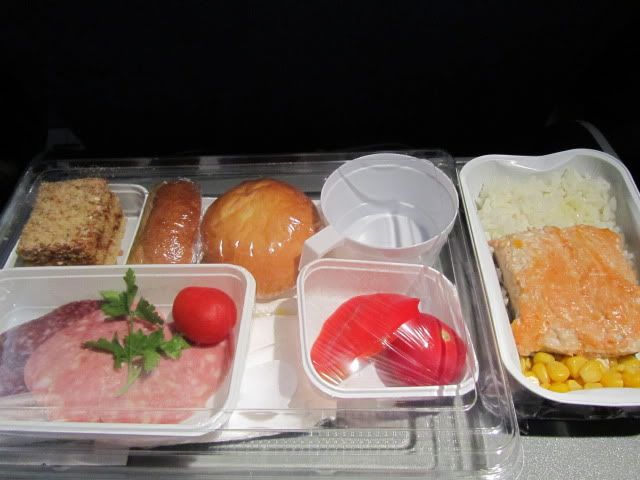 d) Inflight Entertainment:
Perhaps the single biggest disappointment on the flight was the lack of any IFE. Now, this was a brand new 320 with drop-down screens and safety briefings using these screens. Would it have been too hard to actually use them. For a flight of this length, I found this very poor. Their in-flight magazine was fairly informative - too bad I seem to have lost it along the way.
("In-flight magazines", Boarding Passes, etc.: No magazine - these were given @ take-off @ IKT)
NONE
e) Crew:
Well, there was no Olga on this flight. However, the crew were not particularly charming either. There was no real attempt to be warm and hospitable when I boarded the aircraft, during service, or when I disembarked. They did their service efficiently and without any drama. I guess that is what I had to settle for.
IV> Post-Flight:
Unlike most carriers who use the Norman Foster designed T3 @ PEK, Vladavia uses T2 - so as I have said before - swap the beautiful terminal filled with white people with a functional basic building with people who look as diverse as China's increasingly fascinating foreign policy. Tons of flights to the "Stans" and those random other routes. Landing was smooth, and we were done with immigration and the like in a flat 15 minutes.
(Beijing - Terminal 2 Arrivals - depart AND arrive at 2230)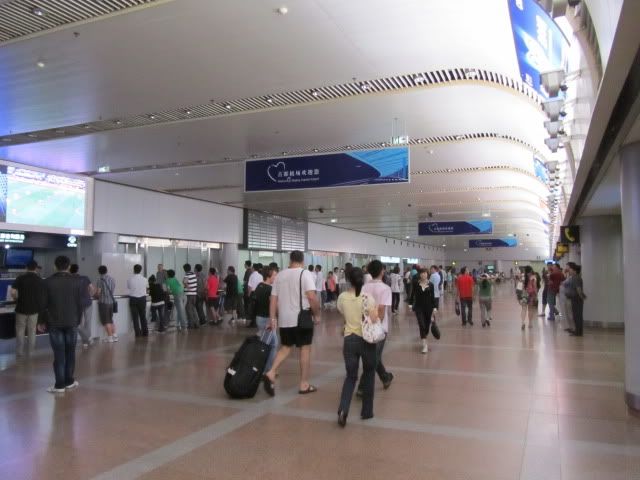 V> Impressions + Scores:
Vladavia gave me a no non-sense approach to getting me from point A to B. On these type of flights, I do not have major expectations, and I guess XF went ahead and matched what I thought of. I was pleasantly surprised by the ease of their online booking engine and customer service, and also by the nice dinner on board. This was balanced by a non-existent IFE, and a crew that seemed to display a notion of hospitality, I was not aware of
...
Overall, neither a thumps up or down. If offered the choice, I would fly XF if the price and schedule was right again. I would not go out of my way to avoid it; nor, fly it.
VI> Other Trip Reports:
PREMIUM:
9.27: JET AIRWAYS **FIRST** (110): LHR-BOM: 10/2010
9.27: THAI AIRWAYS **FIRST** (108): BKK-LHR: 07/2010
8.66:
Brussels Airlines (93): FIH-BRU: 01/2010
8.64:
Turkish Airlines (59): JFK-IST: 11/2008
8.63:
Jet Airways (88): JFK-BRU: 10/2009
8.61:
Air Canada (49): YYZ-SCL: 06/2008
8.54:
Turkish Airlines (77): GRU-DKR-IST: 04/2009
8.36:
Kingfisher (98): BOM-HKG: 01/2010
8.30:
Jet Airways (74): KWI-BOM: 04/2009
8.23:
United Airlines (72): SFO-SYD: 03/2009
8.11:
Aeroflot (33): MOW-DEL: 09/2007
8.05:
Air India (80): CCU-JFK: 06/2009
8.04:
Korean Air (40): NRT-ICN: 10/2007
8.02:
Delta Airlines (24): JFK-CDG: 08/2007
7.82: UNITED AIRLINES **FIRST** (110): SFO-ICN: 10/2010
7.82:
Singapore Airlines (06): EWR-SIN: 09/2006
7.66:
Sri Lankan (104): DEL-CMB: 07/2010
7.64:
Royal Jordanian (91): AMM-YUL: 12/2009
7.61:
China Southern (103): LOS-DXB: 04/2010
7.57:
Pakistan Airlines (102): ORD-BCN: 06/2010
7.46:
LAN (55): YYZ-JFK: 09/2008
7.38: AMERICAN AIRLINES **FIRST** (112): LHR-JFK: 10/2010
7.38: CATHAY PACIFIC **FIRST** (109): HKG-LHR: 10/2010
7.25:
Iran Air (88): BOM-IKA: 12/2009
7.23:
Air Pacific (120): NAN-APW-HNL: 01/2011
7.23:
Virgin Atlantic (81): BOS-LHR: 07/2009
7.14:
Swiss (52): SCL-GRU: 06/2008
7.11:
Aer Lingus (105): MAD-IAD: 05/2010
7.11:
Austrian (79): VIE-JFK: 06/2009
7.07:
Privatair (84): BOM-FRA: 08/2009
7.02:
Qatar (68): DOH-JFK: 01/2009
6.96:
Etihad (61): JFK-AUH: 12/2008
6.93:
Delta Airlines (18): SEA-JFK: 11/2006
6.88:
Egypt Air (123): LHR-CAI: 03/2011
6.84:
ConViasa (65): CCS-DAM: 01/2009
6.82:
Air Burkina (106): BKO-OUA: 06/2010
6.81:
Air Canada (17): ICN-YYZ: 10/2006
6.75:
Afriqiyah + Libyan (113): CAI-TIP: 11/2010
6.70:
KLM (32): EBB-AMS: 08/2007
6.52:
Emirates (99): LHR-DXB: 02/2010
6.39:
South African (97): EZE-JNB: 01/2010
6.36:
Privatair (60): MUC-BOS: 12/2008
6.29:
TAM Brasil (96): POA-EZE: 02/2010
6.25:
Korean Air (45): NAN-ICN: 10/2007
6.21:
Iberia (87): BOS-MAD: 10/2009
6.11:
A SKY (107): OUA-COO: 06/2010
6.11:
TAP Portugal (53): GRU-OPO: 06/2008
6.00:
Gulf Air (75): BOM-BAH: 04/2009
5.88:
African Express (89): DXB-NBO: 11/2009
5.75:
Singapore Airlines (16): CCU-SIN: 10/2006
5.64:
SATA Azores (101): BOS-PDL: 04/2010
5.64:
NorthWest (46): ICN-NRT-SEA: 10/2007
5.54:
Ethiopian Airlines (95): ADD-BOM: 01/2010
5.46:
Icelandair (83): KEF-BOS: 08/2009
5.39:
LOT (54): WAW-JFK: 06/2008
5.21:
Egypt Air (73): CAI-IST: 02/2009
5.11:
Tunisair (115): TUN-ORY: 12/2010
5.07:
TACA (66): JFK-SAP: 01/2009
4.89:
TAAG Angola (117): TMS-LAD: 12/2010
4.42:
Air France: CDG-JNB (25): 08/2007
ECONOMY: Long + Medium:
9.26:
Air India (48): JFK-DEL: 02/2008
7.38:
Avianca (01): BOG-LIM: 07/2006
7.07:
Sri Lankan (62): KWI-CMB: 12/2008
7.00:
LAN (94): IPC-SCL: 01/2010
6.81:
STP Airways/Euro Atlantic (116): LIS-TMS: 12/2010
6.67:
Air Malta (124): MLA-FRA: 04/2011
6.63: Vladivostok Avia (126): 06/2011
6.41:
Avianca (78): JFK-BOG: 05/2009
6.41:
American Airlines (58): LHR-BOS: 11/2008
6.39:
Condor (85): SEZ-FRA: 09/2009
6.26:
Jet Blue (21): CUN-JFK: 02/2007
6.11:
Caribbean Airlines (119): POS-FLL: 01/2011
6.06:
Air Canada (04): YYZ-YVR: 09/2006
5.89:
USA 3000 (19): PUJ-BDL: 01/2007
5.85:
Spanair (69): MAD-LPA: 02/2009
5.79:
Air New Zealand (42): RAR-NAN: 10/2007
5.52:
Aerolineas (86): USH-AEP: 10/2009
5.46:
TAP Air Portugal (23): OSL-LIS: 05/2007
5.19:
Air Europa (70): LPA-MAD: 02/2009
5.16:
Iberia (71): MAD-BOS: 02/2009
5.11:
Air China (82): FRA-PEK: 08/2009
4.59:
IR Aero (125): IKT-VVO: 06/2011
ECONOMY: Short
8.56:
Paramount Airways (38): BLR-MAA: 09/2007
8.56:
Kingfisher (64): HYD-CCU: 12/2008
8.24:
Kingfisher (14): IXA-GAU: 10/2006
7.87:
Indian (34): BOM-MAA: 09/2007
7.72:
Alliance Air (13): CCU-IXA: 10/2006
7.57:
Indian Airlines (10): DEL-CCU: 09/2006
7.23:
West Jet (03): YYC-YVR: 09/2006
7.15:
JetLite (37): BOM-GOI: 09/2007
6.98:
Air Koryo (100): PEK-FNJ: 04/2010
6.70:
Spice Jet (09): CCU-DEL: 09/2006
6.63:
Air Fiji (44): NAN-SUV: 10/2007
6.63:
Jazeera (67): DAM-KWI: 01/2009
6.58:
Air Tran (02): EWR-MDW: 08/2006
6.48:
Air India Express (63): CMB-MAA: 12/2008
6.44:
CO Micronesia (39): ROR-YAP: 10/2007
6.41:
Pacific Sun (43): NAN-SUV: 10/2007
6.37:
Skybus (47): SWF-CMH: 02/2008
6.33:
Kenya Airways (29): NBO-BJM: 08/2007
6.33:
Sky Europe (56): LTN-BTS: 10/2008
6.31:
Indigo (15): GAU-CCU: 10/2006
6.31:
easyJet (57): BUD-LTN: 11/2008
6.22:
Air Link Swazi (28): MTS-JNB: 08/2007
6.22:
Air India (36): HYD-BOM: 09/2007
6.13:
Adam Air (07): SIN-CGK: 09/2006
6.13:
Air Rarotonga (41): RAR-AIT: 10/2007
6.04:
Suriname Airways (118): PBM-POS: 01/2011
6.00:
Transairways (27): INH-MPM: 08/2007
5.95:
Air Canada (05): ALB-YYZ: 09/2006
5.85:
SAS Norge (22): OSL-AES: 05/2007
5.81:
LAM Mozambique (26): JNB-MPM: 08/2007
5.69:
Air Deccan (12): IXZ-CCU: 10/2006
5.67:
Rwanda Air Exp (30): KGL-NBO: 08/2007
5.52:
Sevenair (114): TOE-TUN: 11/2010
5.37:
Felix Airways (92): SCT-SAH: 12/2009
5.11:
Aero Republica (76): BOG-CCS: 04/2009
5.07:
Go Air (35): MAA-HYD: 09/2007
5.04:
Biman (121): DAC-CGP: 01/2011
5.00:
Sky Airline (51): IQQ-SCL: 06/2008
4.96:
United Bangla (122): CGP-DAC: 01/2011
4.96:
Valuair (08): CGK-SIN: 09/2006
4.78:
Air Comet Chile (50): SCL-IQQ: 06/2008
4.74:
Fly 540 (31): MYD-LAU: 08/2007
4.33:
Viva Aerobus (20): ELP-MTY: 02/2007
4.11:
Air Sahara (11): CCU-BOM: 09/2006
(Note on Codes: Y – Economy, J – Business, F – First :: I/D – International/Domestic :: SR/MR/LR – Short/Medium/Long Haul)
(Note on Date: Dates are modified to be +/- 3 days from actual flight date to not reveal actual flight pattern)
VII> Other Pictures:
NONE