Overview
Last summer, I had the opportunity to travel to Europe to reunite with some buddies from college. We had all studied/lived abroad previously in Santiago, Chile for a semester. One of them, originally from London, was living in Stockholm at the time and invited us to travel around Europe as a group. Since we are all spread out now, living in Atlanta, Boston, New York, and with myself in Chicago - we thought it was a fantastic idea to take our group travels to a different continent.
So, I began planning my itinerary to Europe. Our intention was to team up in Stockholm, make our way down to Andalusia, on the Southern Coast of Spain, then work our way up to London before flying back to the States. As such, I began searching for the ideal itinerary to fly from Chicago into ARN, and return from LHR. Our inter-European hops were done via ARN to Malaga on Norwegian, then from Malaga to London-Gatick on EasyJet.
When it came down to it, my options varied between flying Air France/KLM, via Paris on the outbound and Amsterdam on the return, or flying with Star Alliance: LH to DUS, SK to ARN, and return AC to UA back to ORD.
Well, even though I've switched to Star Alliance primarily, I bit the bullet and said what the heck, let me fly some new airlines for a change. So, I booked the AF/KLM itinerary on Delta.com and waited for the departure date on August 2nd.
This flight covers the outbound journey on Air France; to read about the return trip on KLM, you click
here
.
Arrival at Airport:
Departure day arrived and I stepped into Terminal 5 at O'Hare, nearly five years after having the opportunity to fly Int'l from T5 on my Air India flights in 2006. I must say, that in spite of the diversity of foreign flag carriers serving ORD, and the clean non-sterile corridor where the check-in counters are located, T5 is highly underwhelming. As a Texan native from Dallas, if only ORD had an International terminal just like Terminal D at DFW...but that is neither here nor there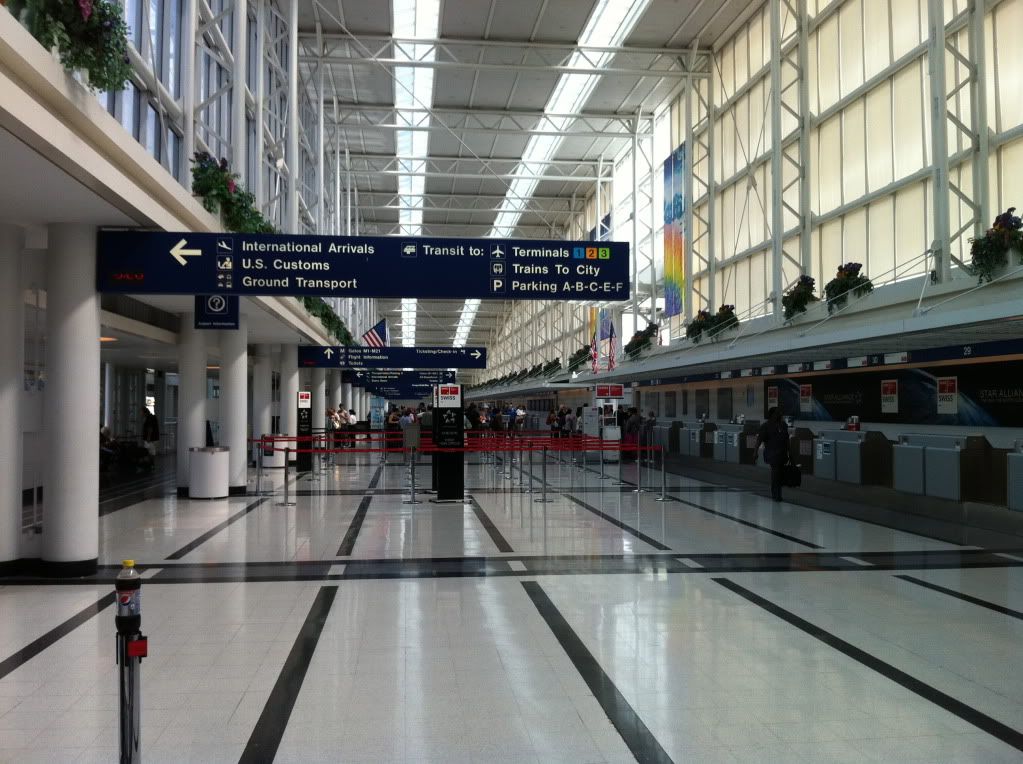 At the time, KLM and AF had two separate check-in counters at ORD, but they appeared to be the exact same - albeit are separated by a few other airlines in between. This led to much confusion for passengers checking-in, including myself - because they were not reciprocal...you have to look for a smaller sign at the entrance of the check-ins to see "Check in here for KLM-operated flights," etc. Because the AF and KLM flights left within an hour of each other, there was a decent overlap to the point where several people had to step out of line after realizing they were in the wrong check-in area!
**Note: This has since been re-corrected as Delta has temporarily taken over the AF flight, and check-in for both the Paris and Amsterdam flights have been consolidated into one check-in counter. COPA now has spankin' new real estate space at T5 at ORD!**
At any rate, check-in was very quick - perhaps because I checked in slightly later than most other passengers? I also enjoyed seeing the new counters for the Cathay Pacific flight to Hong Kong, all ready to go
Again, the sub-par diversions of T5 at ORD reminded me that there are no concession stands on the sterile side of T5, so I sat down and filled up on some grub before moving through security - all fairly painless, standard procedure. Afterwards, I walked around the Terminal to see all the various international flights. Seemed like the lineup for the evening included EI to DUB, BA to LHR, SK to ARN (heh, too bad it was out of my budget to take this one nonstop) KL to AMS, VS to LHR, LX to ZRH, AF to CDG, EY to AUH, RJ to AMM, TK to IST, etc.
I remembered that I had to buy some duty free at ORD to give my friend as a gift in ARN; besides, after hearing about the liquor prices in Scandinavia I figured why not take advantage. However, much to my surprise, I found out that I was cut-off since it was less than an hour till my flight to Paris was boarding - apparently, EU Duty Free laws require you to make purchases at least an hour before your boarding time if you are transiting to another EU country? Bizarre. I alerted my friend in ATL, who was taking KL via AMS, so that I could reimburse him later.
Journey:
Date:
Tuesday, August 2, 2011
Flight:
Air France 667
Depart:
Chicago O'Hare Int'l (ORD) 17:10
Arrive:
Paris Charles DeGaulle (CDG) 8:20 +1
EQP:
Airbus A340-300
Boarding was very swift and efficient. I was one of the last to board and I walked to row 42, window side of the aircraft. The AF Y cabin is very blue, 2-4-2 seating configuration, equipped with AVOD PTVs, albeit the monitors were slightly older on this Airbus 340-300. I was lucky to have an empty seat near me.
The seats alternate as such, and this guy seemed set for the journey!
Pushback, taxi and takeoff were uneventful and punctual. I had some stunning views of the Chicago skyline and Lake Michigan as we flew north of the city and immediately turned north-ward to fly over Lake Michigan onto the state of Michigan, over Detroit, Toronto, then Montreal and over the St. Lawrence river.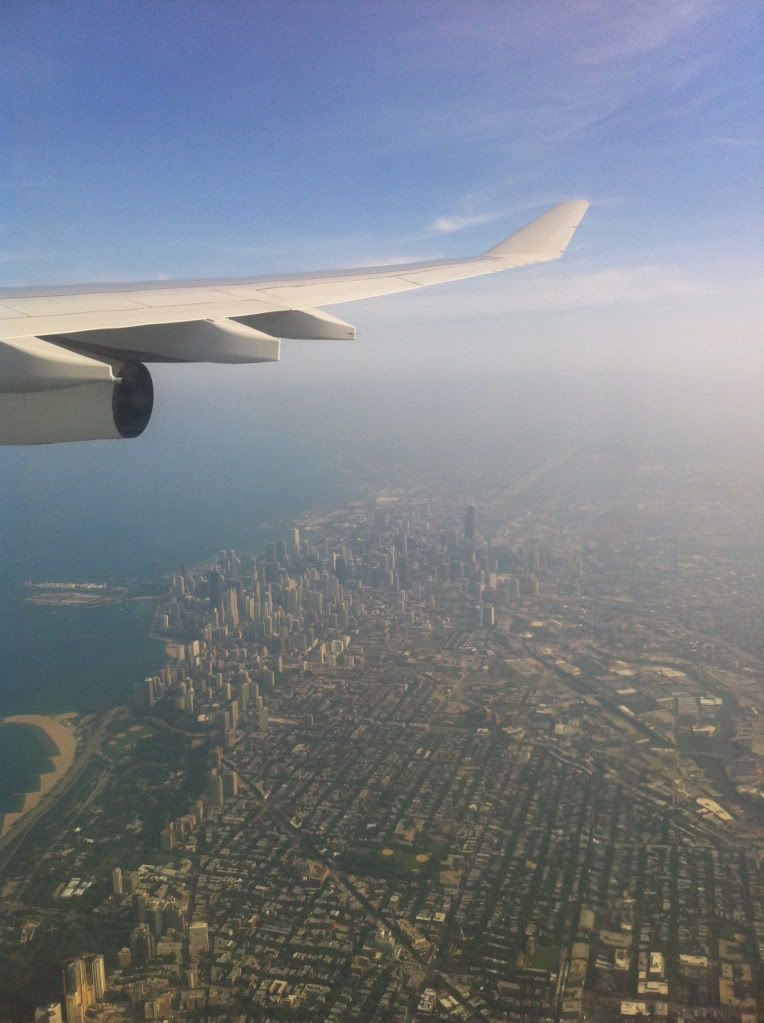 Per usual just like any aviation nut, I took advantage of the PTV on the empty seat adjacent to me to display the moving map continuously throughout the flight so I could steal glances periodically. I took note that Air France alternates between showing a topographical map and an actual satellite view of what is below! I found that to be so cool - as we floated over Toronto, for example, it showed a satellite image of Mississauga and Toronto City Centre. Granted - the quality of the monitor was slightly outdated, but I still found it tolerable, quick, and easy to navigate.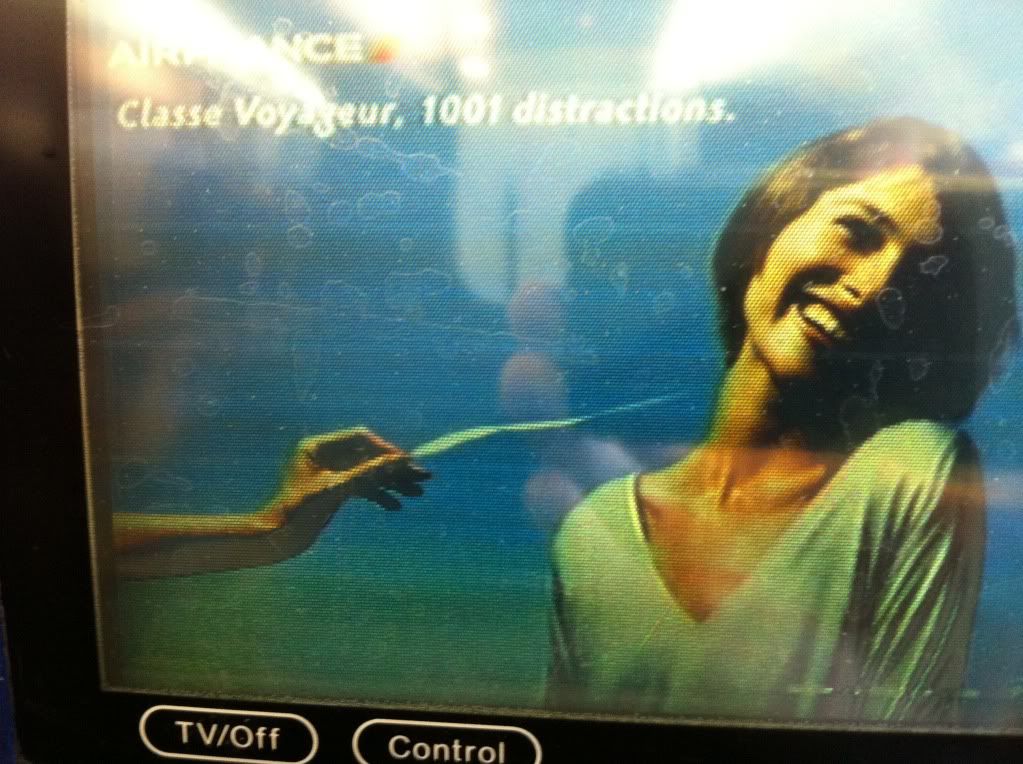 Soon after take-off, flight attendants came around with a miniature amenity kit for passengers to use throughout the flight - I thought this was a great touch. It included ear plugs, eye shades, headsets, and a towelette. In addition, we received the menu cards for the first meal service of the flight, as well as the beverage selections.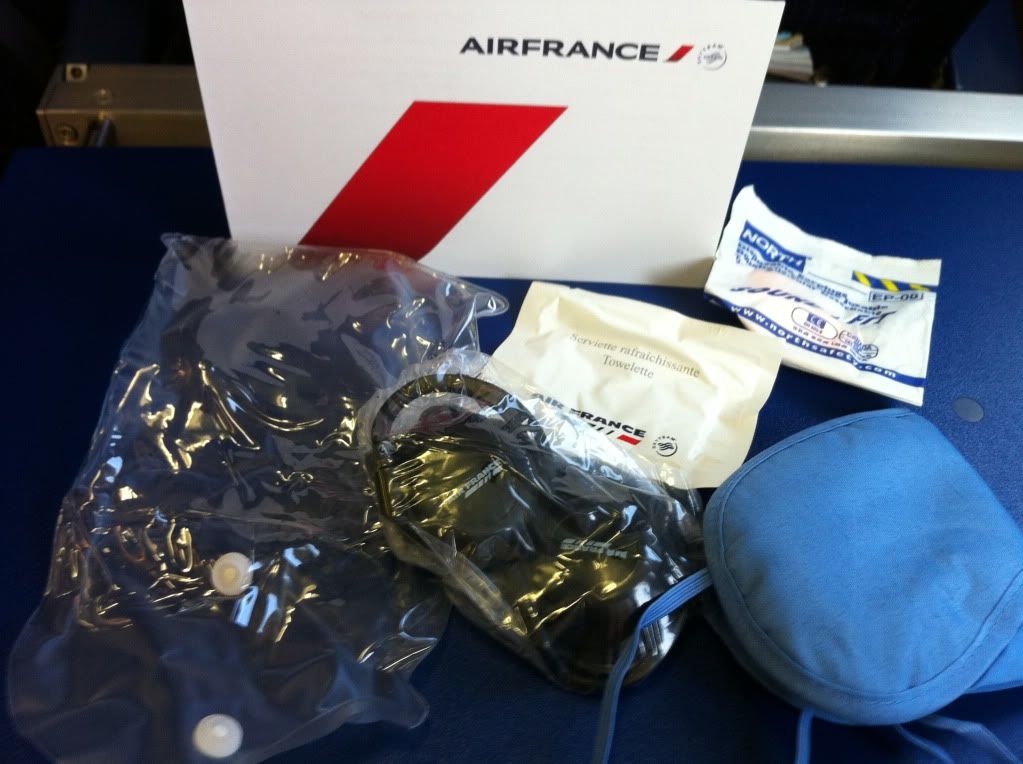 As my PTV booted up and I tuned it to watch some of my favorite TV shows, I browsed the menu and decided to try out some of Air France's aperitifs, where else can you get free champagne in coach these days? I enjoyed my bubbly with some almonds and watched the sun set as we cruised over Canada, relaxing and enjoying myself at 37,000 feet.
Around 2 hours into the flight, the air hostesses began distributing the first rounds of special meal orders, indicating dinner was on its way. Interestingly, we had some horrendous turbulence at this point whilst flying over Nova Scotia, and on not just one, but several occasions during the meal service distributions, the captain had to come onto the PA system and mandate that the crew and all passengers take their seats. We had one shrilly FA who seemed to be demonized by the turbulence - literally would run down the aisle with her hands above her head as though the apocalypse was near!
Anyways, fast forward a bit, and I was inspecting my selection of Beef with wild mushrooms and mash, which I had obviously chosen over the Penne. Alongside it was and Orzo salad as a starter, tapioca pudding as an entremet (French for "between meals") strawberry lemon cake, cheese, ciabatta and some red wine. How French I felt at that moment!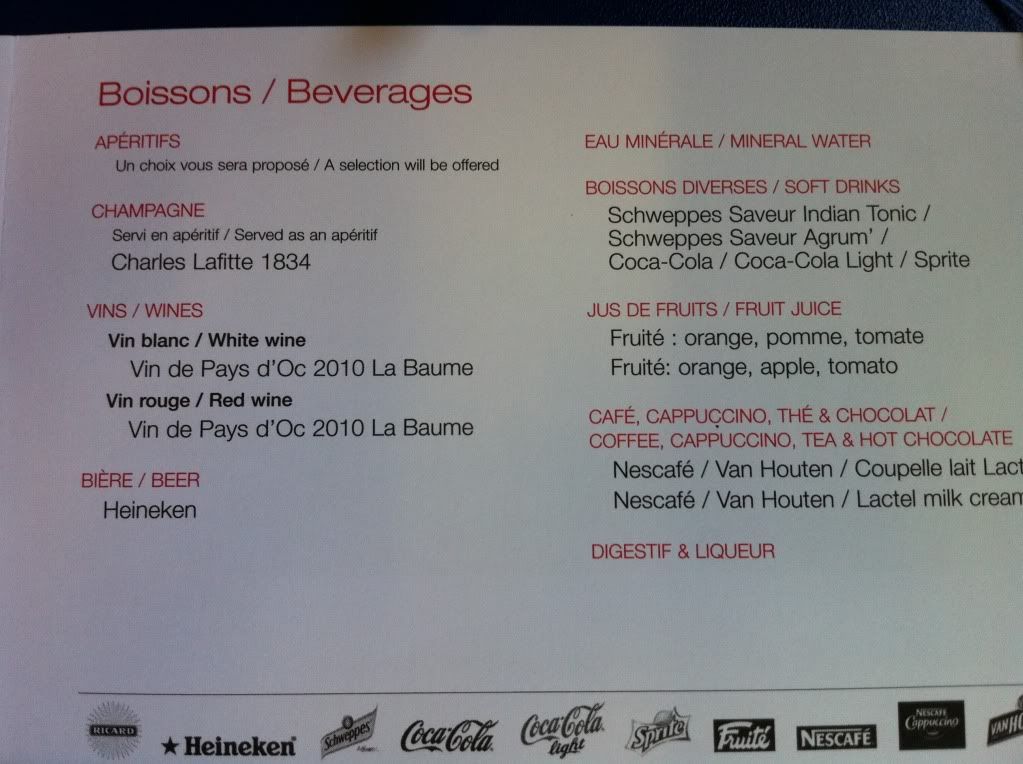 I must say that the Orzo salad was one of the best dishes I have ever had on an airplane, complimented with raisins, spice, chicken, and carrots. The beef and mash were tasty enough, nothing too far removed from what I probably would have received on Lufthansa or any other standard coach meal on a major European carrier. However, it was a wee bit oily and salty for my liking. Nevertheless, I tucked in. All of the other items on the tray hit the spot and left me feeling reasonably satisfied and full. No need for tinkering here, unless AF feels the need to upgrade its Y meals (always welcome even in times like these).
Crew service was relatively average. Nothing over-the-top, but certainly met the standards. The cabin crew were all unmistakably French citizens. Another round of coffee/tea/drinks were available post-meal service, along with beverage runs (mostly just water) throughout the duration of the flight. Again, perfectly suitable for a medium haul segment in coach class. I suppose Air France is strict on allowing the booze to flow freely unless one specifically requested it.
The film selection on this flight was very adequate and had something for everybody. Air France did a great job picking out an ample blend of French and American films to keep many different tastes satisfied. I finished a film after dinner service and attempted to just get some rest/shut eye, even though I knew that was ambitious. I have to be VERY tired or VERY comfortable in order to sleep on a flight; plus, a flight that leaves at 5 PM local time and lasts a bit over 8 hours isn't necessarily going to fall primarily within my standard sleeping window. At any rate, I think I got what I would qualify as a "light nap/doze" for roughly an hour towards the tail end of the flight. During such time, I sampled the Audio selections on Air France - again, there were some great options in there that kept me a happy camper.
I would say the seat on the A340 is comfortable enough. Although the aircraft itself was not very clean. I recall seeing more crumbs and elements of leftover garbage on this plane, moreso than I would have liked to see. The seat pitch of 32 is great for my height, but then again, having an empty seat next to me makes a world of difference on a longer haul flight.
Around 3 hours or so remaining in the flight time, I switched on another film and sort of just stared blankly and allowed time to pass by. With around an hour or so left in the flight, the cabin crew turned on the lights and began distributing the pre-arrival meal service, as well as immigration forms. For a relatively short flight, I did not expect much more than a small snack/light meal, and per usual the tiny tray contained drinkable yogurt, a cold muffin, and a dixie-cup size of orange juice. I got some coffee as well, seeing that i would need to be awake and alert for the next three hours navigating my way through Charles De Gaulle as a first-timer.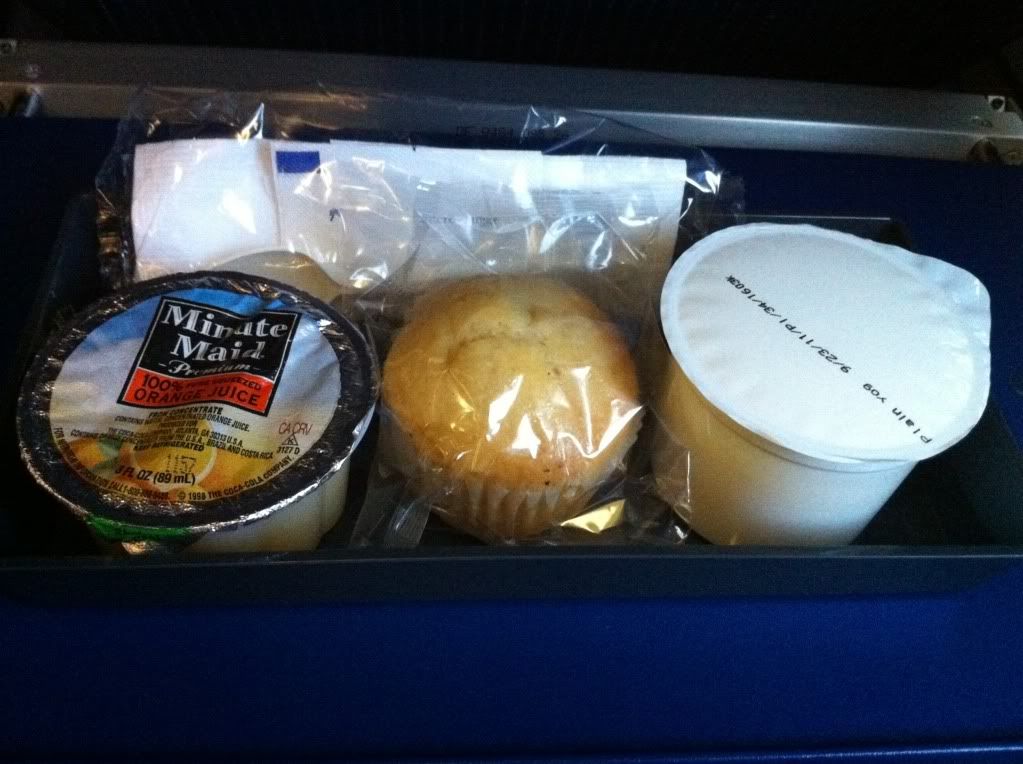 The upside to transatlantic flights that fall within the 6-8 hour range is that they pass by relatively quickly; the downside is that you often get jipped out of a second meal in Y. Knowing that I had a few hours of travel ahead of me, this only meant I'd have to shell out for an overpriced snack at De Gaulle. Oh well.
Other than that, not much else left to report other than some shots I took during the landing. Even though I have been to Paris before, I have not flown into CDG ever, and failed to remember beforehand how far from the city the airport is. We flew over Paris on a less-than-desirable rainy day, and sort of meandered throughout various holding patterns over the French countryside before we became visibly near Charles De Gaulle and made our landing. To no surprise, the Airbus 340 landing was shaky and course as it always feels like on an Airbus, and we taxied around until we arrived at terminal 2F.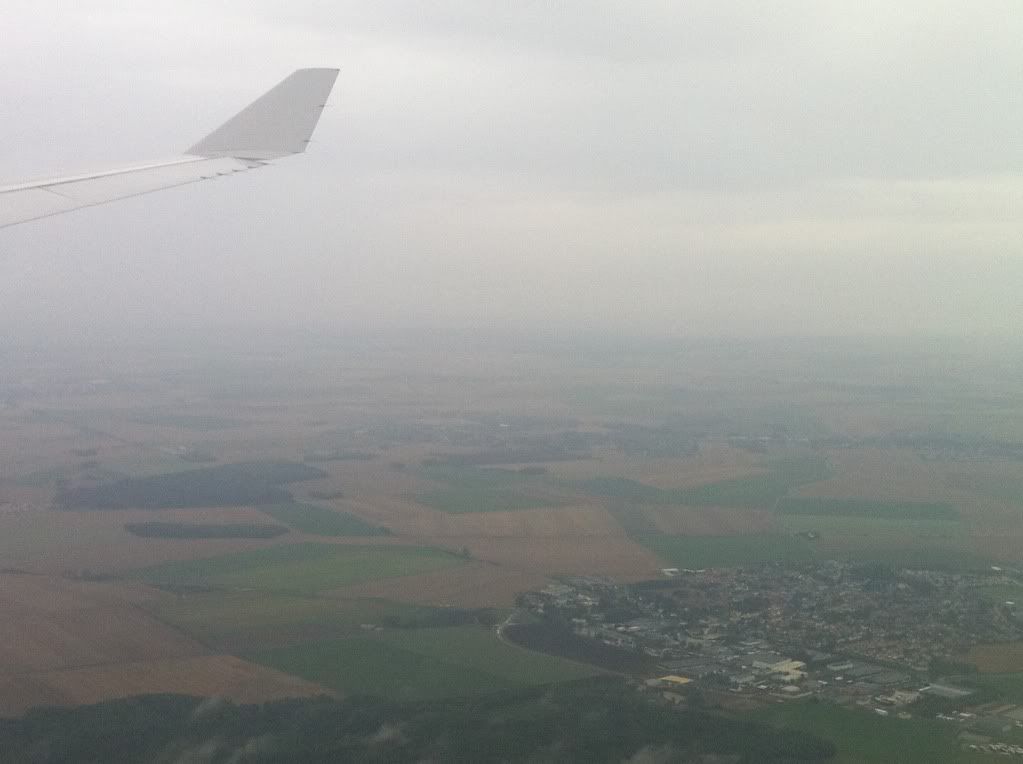 Connection at CDG
Now, I had retrieved some transfer information cards on board the aircraft, but I nevertheless braced myself for my CDG adventure ahead. After disembarking the aircraft, I entered into the terminal and made my way down to the lower level, beneath the gate, to take the transfer shuttle bus to Terminal 2D. The ugly weather remained outside at CDG, but hey, it's Paris, what can you expect? I did find it cool to be able to transfer underneath the Airbus we had rode in on.
Regardless, this was a really unattractive and unappealing way to transfer, in my opinion. The bus sort of whittles you through all of the ground ops at CDG which, while cool to see from an operations perspective, isn't really all that fun to see when you're on a layover. Or maybe I was just exhausted and apathetic at that point? When I arrived at 2D, I entered passport control to get the stamp and proceeded through the convoluted terminal setup to board my Schegen flight to Stockholm.
The interior design of CDG is pretty nightmarish. Immigration almost felt like I was going through a maze. Quite possibly one of the most confusing set-ups I have ever experienced. I can imagine how horrendous a tight connection would be at this airport, but fortunately, I had 3 hours. When you get to the departures level, the spacing is wide open, but you also feel somewhat suffocated and claustrophobic since you more or less cannot walk around ANYWHERE! It is so quarantined, not to mention it seems like AF just dumps all of the EU pax into a single area with 15 gates, 30 flights leaving all at once, and you have to fight for your own space. I paid $18 USD for a bottled water, a quiche and a small yogurt to hold me over until I boarded my flight to Stockholm. Might as well get into the habit of "letting it bleed" with the wallet since I was headed to Scandinavia.
Let's just say I didn't care for CDG all that much after that. Granted, the actual transit experience wasn't so horrendous as I had heard before, but the airport itself left too much to be desired to categorize it into the "I dig it" department. Perhaps it was the weather, or the fact that I felt tired, but I just found the overall ambience of Charles De Gaulle to be quasi mood-depressing. I felt like I was on the drones of some downtown Public Library or a Museum whose interiors hadn't been updated since the 1980's. I was lucky that my wait at the gate lasted a mere 30-45 minutes before my flight to ARN boarded. By now, it was about 4 or 5 am Chicago time, and my fuel was running low.
Outbound sector: Conclusion
Our A319 flight to ARN boarded and pushed pack on time. After having the luxury of an empty seat next to me on an 8-hr widebody on the Chicago-Paris flight, I was spoiled and put to the test as I sat next to some skinny dude who smelled like he hadn't showered in weeks, and wore a blazer that screamed chainsmoker. Yikes. At any rate, soon after take-off, I was dozing in and out all the way to Stockholm. I did wake to collect my "ham sandwich" meal which was hard and unappetizing. Hit the veto button, this meal was free and horrendous for all the same reasons. Two bites and I left it, opting for sleep instead.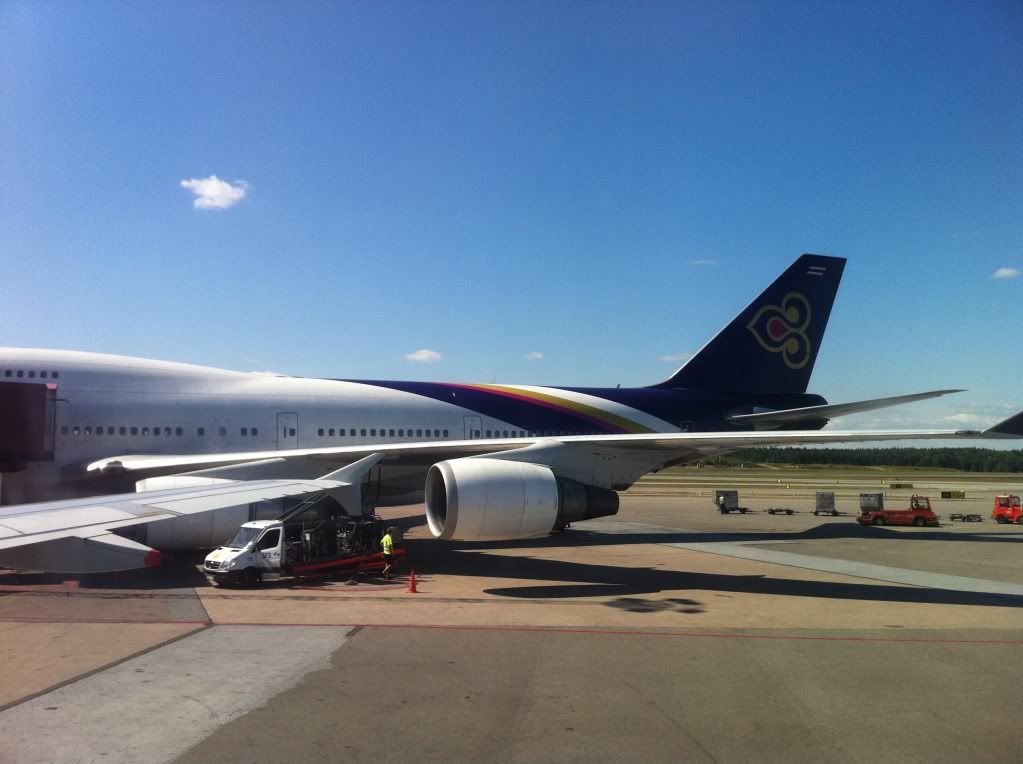 We descended and landed into sunny Stockholm and I was greeted by my friends at the baggage belt. My initial views of ARN were that it was a very quaint, IKEA-esque airport haha. I was too tired to notice. We then boarded the Arlanda express and were in the city within 20 mins. And the Eurotrip began!!!
Photos from the journey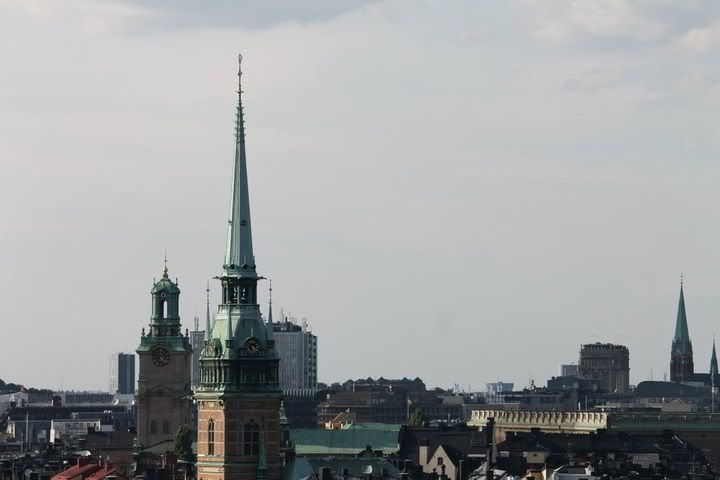 Stockholm
Vaxholm
Vaxholm
Vaxholm
JumboHostel outside ARN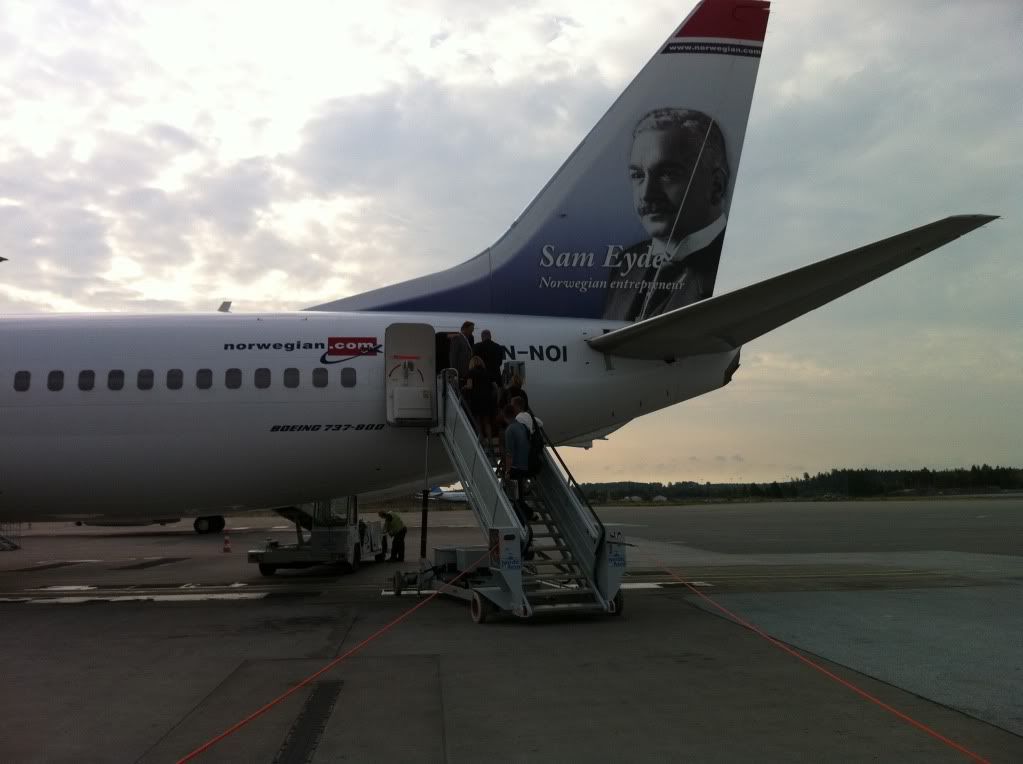 DY 4223 from ARN to AGP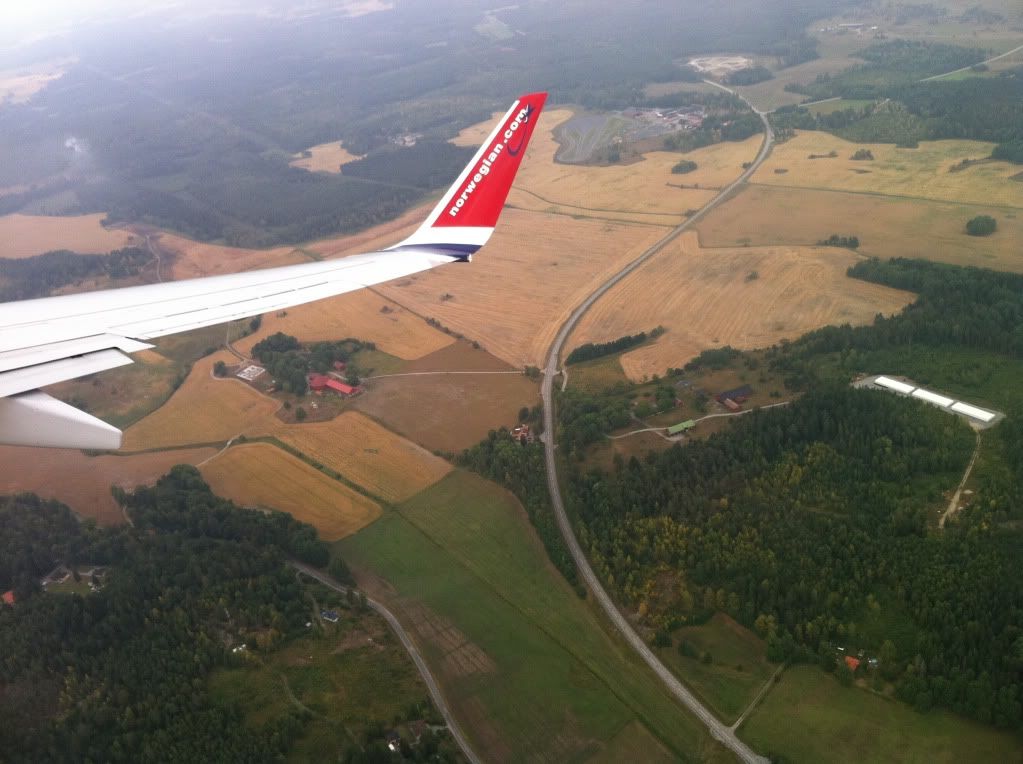 DY lifting off from ARN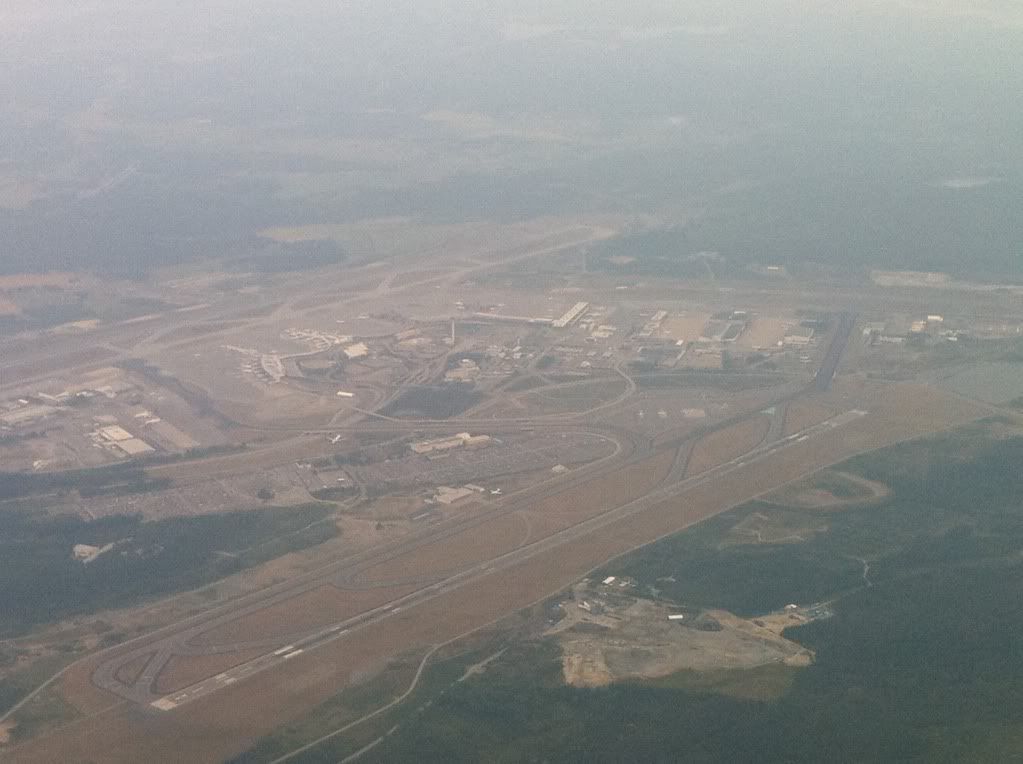 ARN from the air
Approaching Andalucia, one of my favorite regions in the world
landing in AGP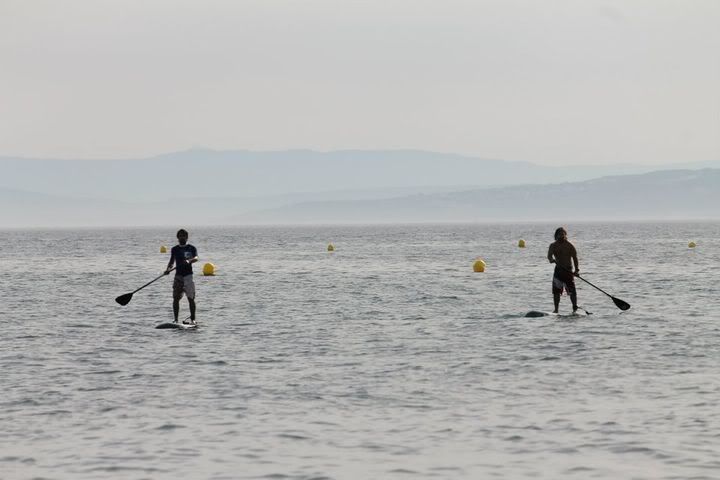 Puerto Banus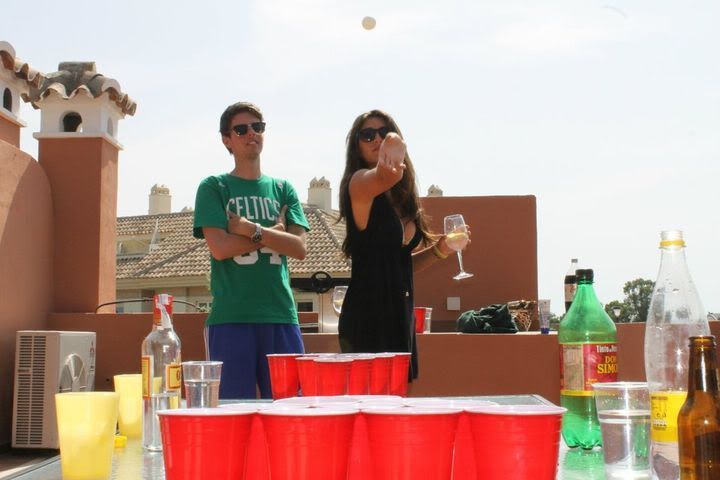 My friends in Puerto Banus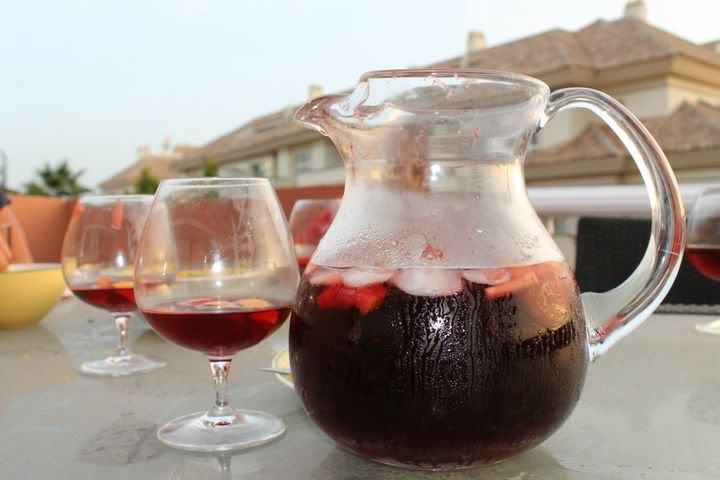 Our perfected Sangria
[i]Granada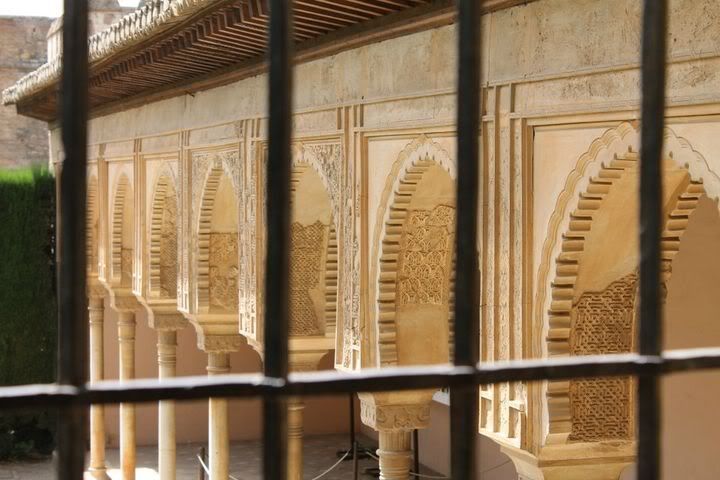 La Alhambra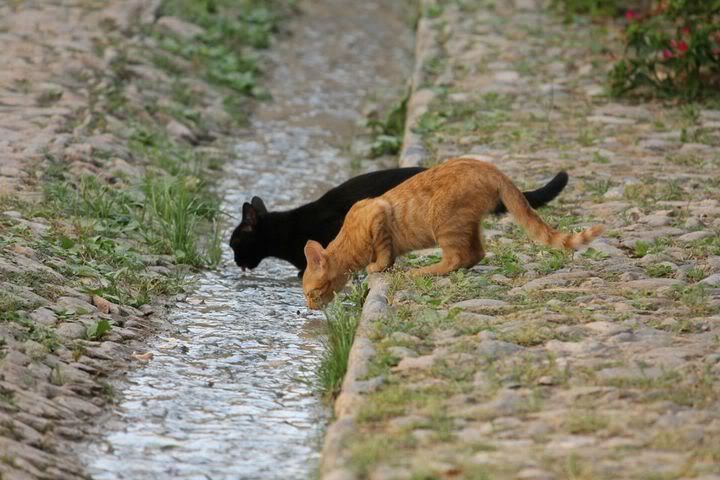 Gatas
Sevilla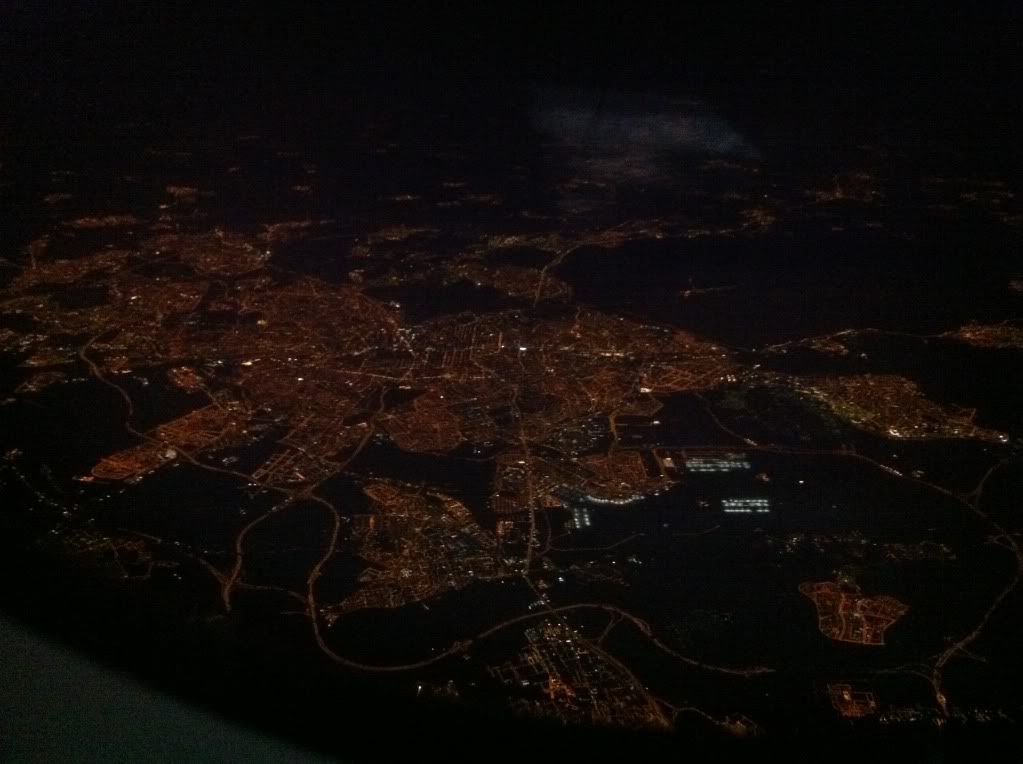 Onboard EasyJet 8616 from AGP to LGW. You can see Madrid at night here
Barajas lit up at night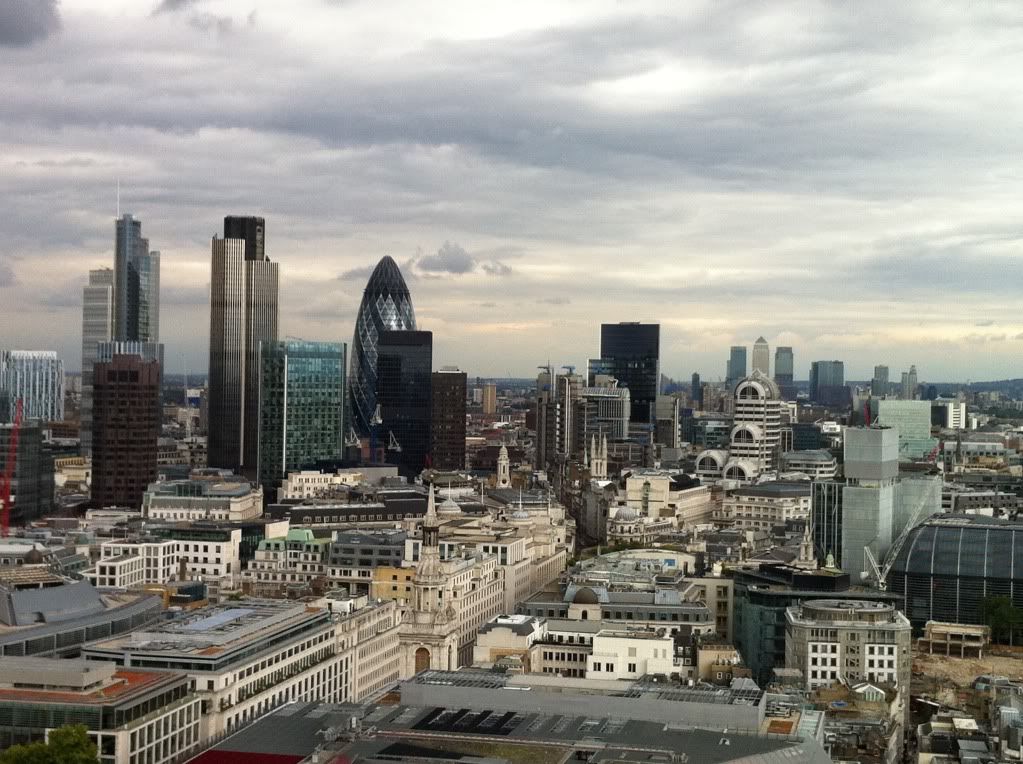 London
Icebar London
[Edited 2012-02-13 21:59:23]