Africa 5: Swiss First Class, Dar es Salaam-Nairobi-Zurich
Hello, and welcome to Part 5 of my African series. Sorry about the delay between this and Part 4 – the day after I got back from Africa, I had to go straight off to Ireland, and have only just got home.
Part 4
left off after my arrival back in Dar es Salaam after my short flight on Fly540 from Zanzibar.
This report covers my return flight from Africa (Dar es Salaam) to Europe (Zurich) in First Class on Swiss International Airlines. Of all the flights, I was looking forward to these two sectors the most. I've flown First Class a couple of times before, but they were either when I was very young, or were short sectors. This would be my first longhual First flight as an adult. Once again, the booking was made thanks to BD miles thus saving me the potential $4,187 cash one way fare.
To start from the very beginning though, you'll have to check out
Part 1
which explains what I'm doing, and flights from London to Brussels via Casablanca and Lisbon.
Part 2, covering my Brussels/South African Airlines business class flights from Brussels to Burundi and Rwanda is here
Part 3, covering my excellent Ethiopian flights from Kigali to Zanzibar via Entebbe, Addis Ababa and Dar es Salaam in Business Class
The full map:
The next parts:
Africa 6
Swiss, Zurich-Athens, Business A320
Aegean, Athens-Larnaca, Business A320
Africa 7
British Airways, Larnaca-London, Business B767
I was dropped back at DAR 2 hours 25 minutes before departure. I went to find my bags, then headed through the security check to the check in desk.
First stop was the document check woman, who did not smile or speak. Not a very warm welcome.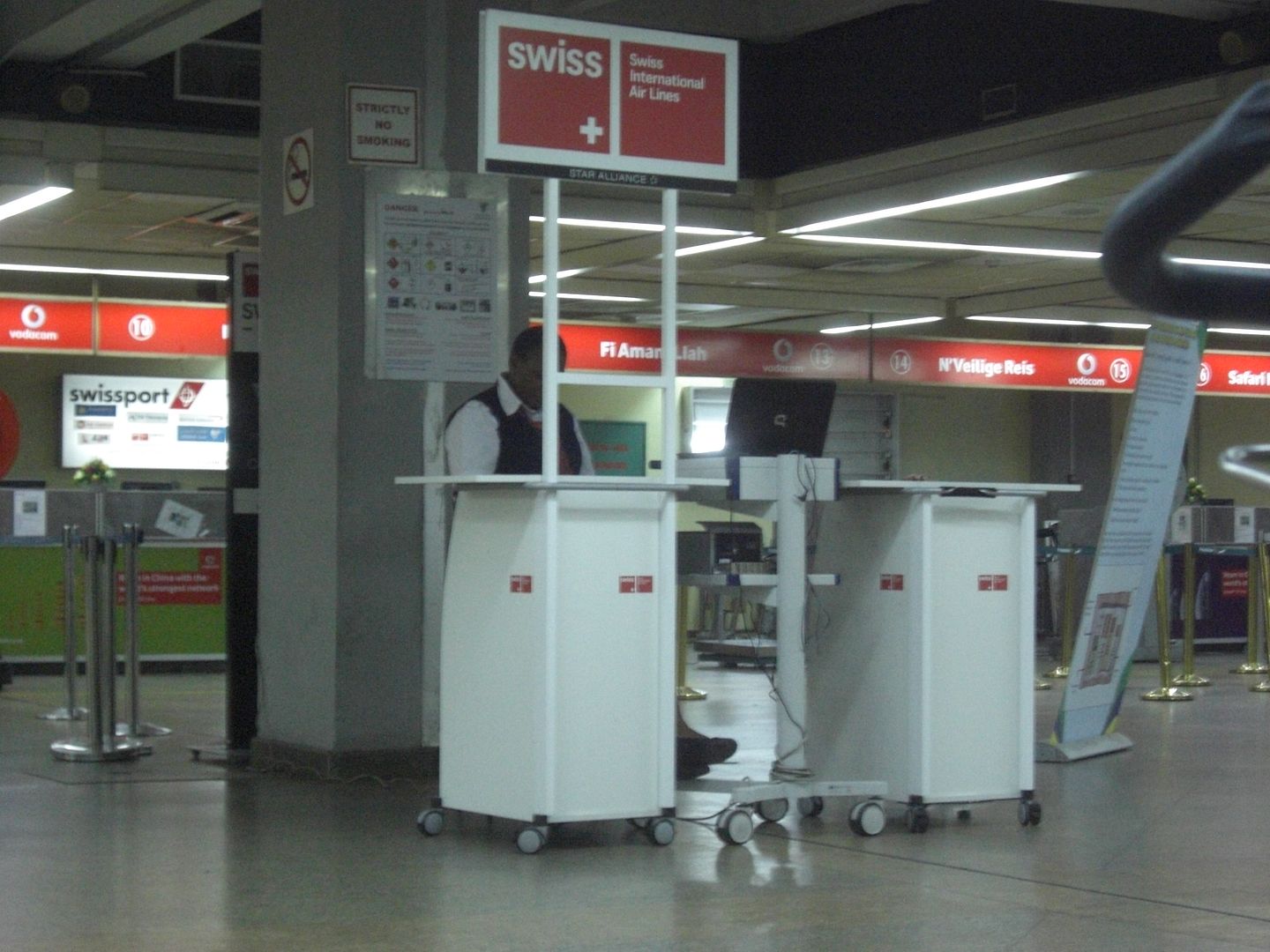 There was one F, on C and one Y desk. There was no one working at the F desk, and one person being served at J, so I headed to the Y desk (so much for using my F benefits!). as soon as they realised I was in F, the station manager drifted over to supervise. I asked for one bag to be sent to ZRH, and the other to ATH. After a lot of conferring, I was told that it was impossible. I reasoned that CA did it in PVG, and ET did it in KGL. I asked for them to try again, but the final answer was "no". Never mind! I was given my two boarding passes (DAR-ZRH, and ZRH-ATH, which will be in the next part), and then asked a question I'd never been asked at check in before: "Would you like to board first or last". Ooh, what a choice! "First please". I was given a lounge pass, and headed off.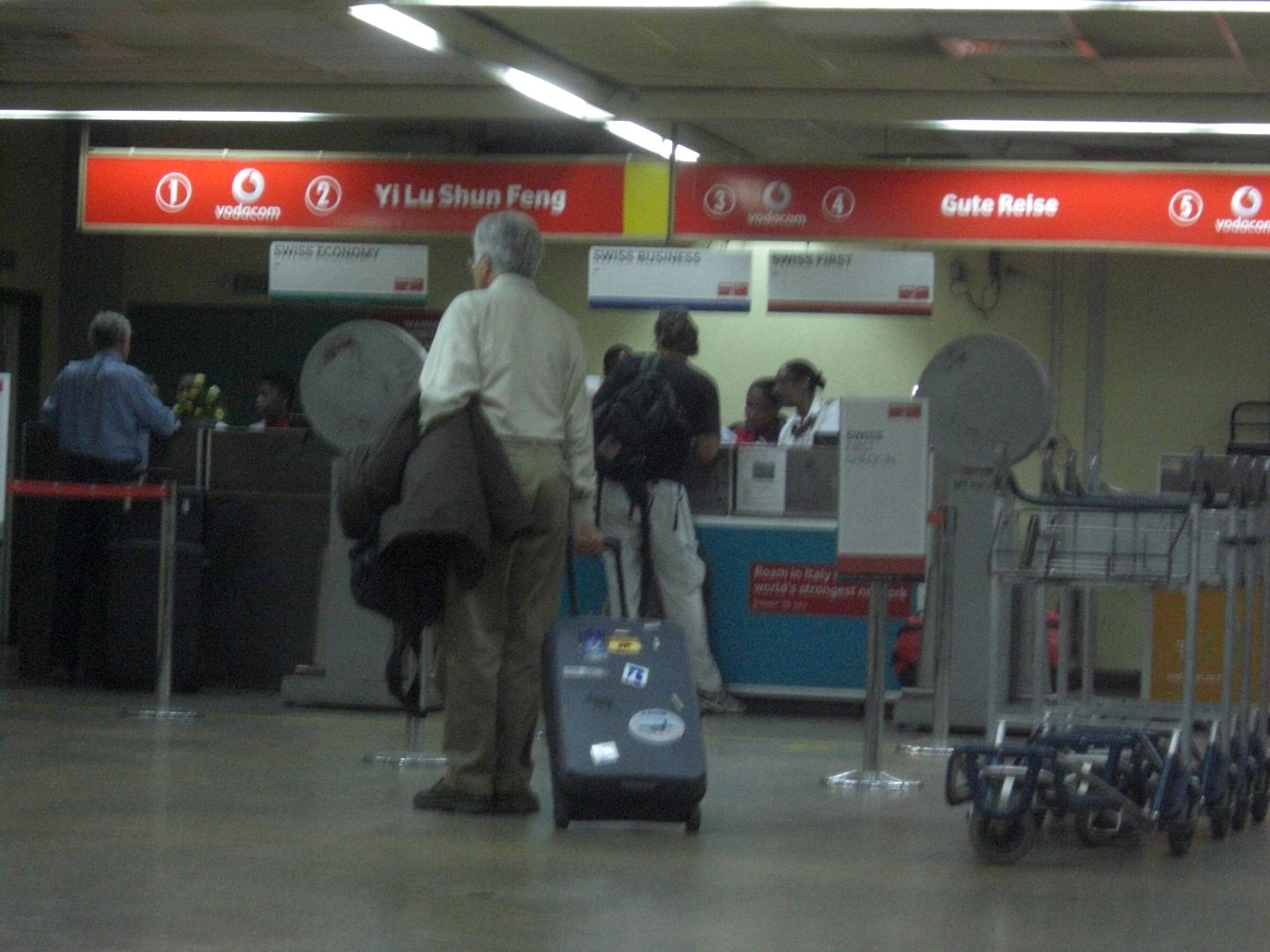 There was no queue for immigration, but the officer on duty was obviously on a "go slow", so it took a while before I was able to proceed through security (fairly fast) and on to the departures lounge. Ours was the only flight departing for the next two hours. Two hours after us a KL flight from JRO to AMS would be passing through.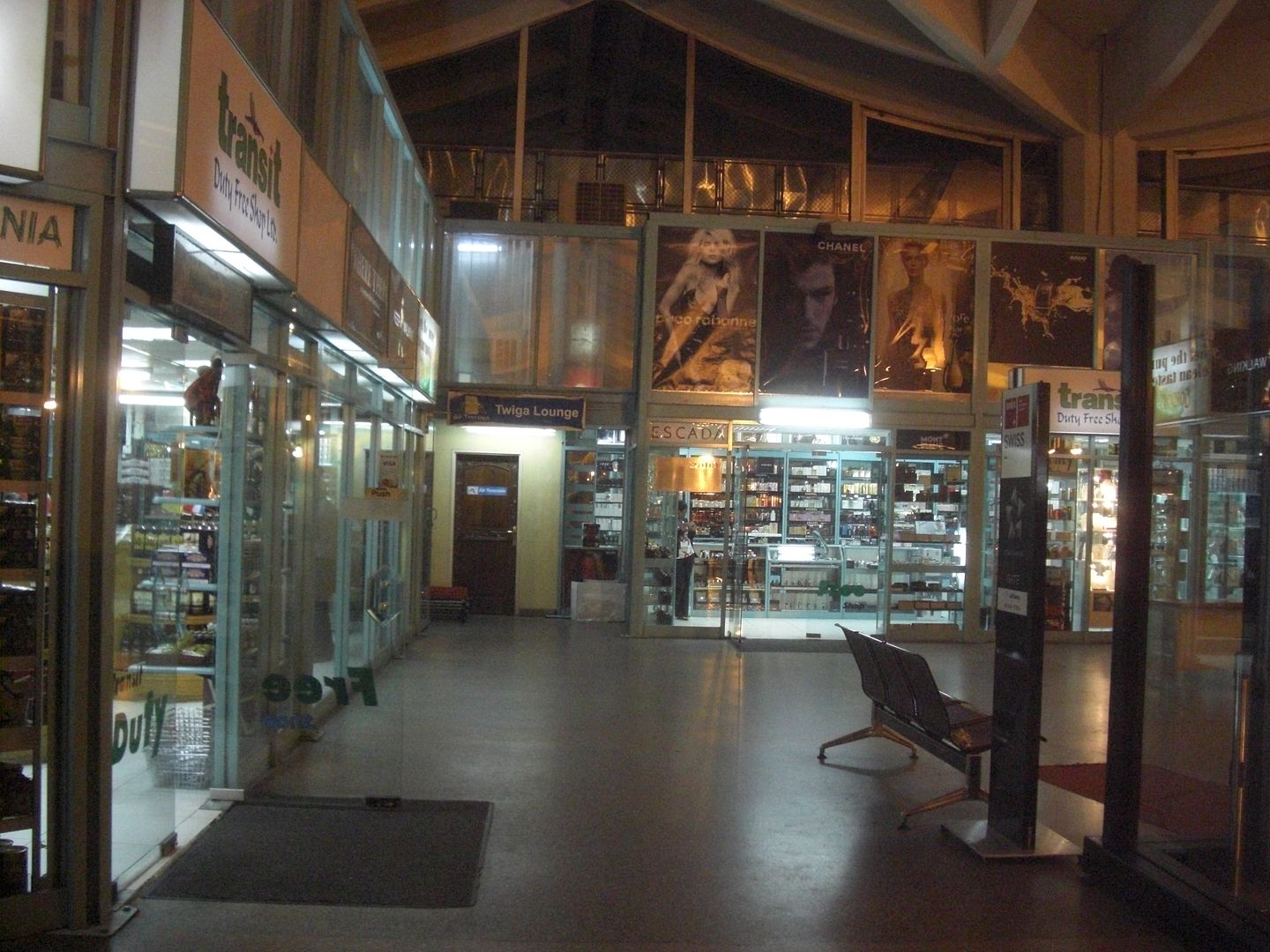 There is just one lounge in DAR, the Tanzanite Lounge. Unfortunately it was a mediocre C lounge at best – there wasn't even a token roped off area for F pax, so I just joined everyone else.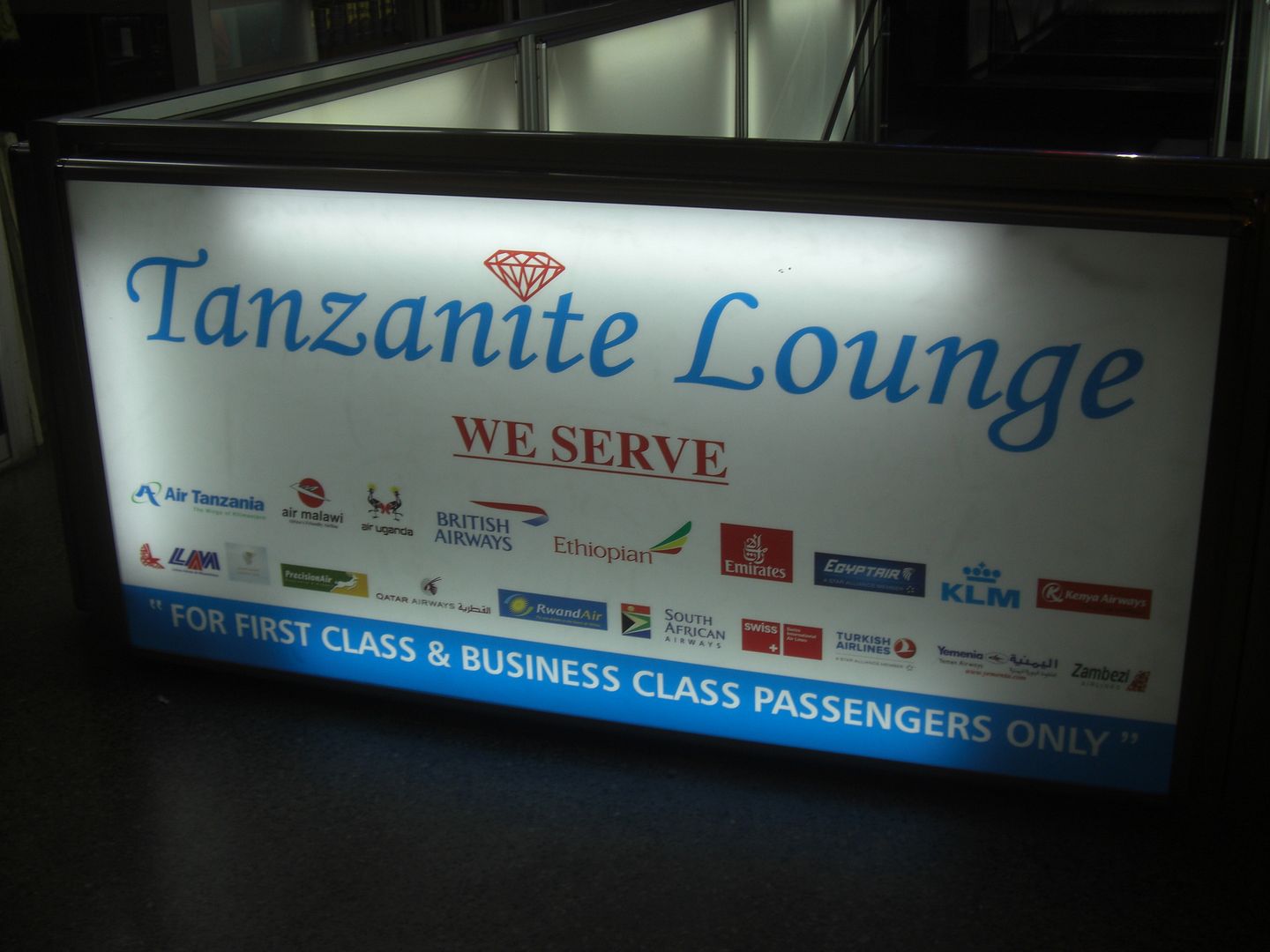 In an effort to make the most of the catering onboard, I stuck to sparkling water only. It looked like there was a reasonable selection of food and drink, although the layout/design was a bit too school cafeteriaish for my liking.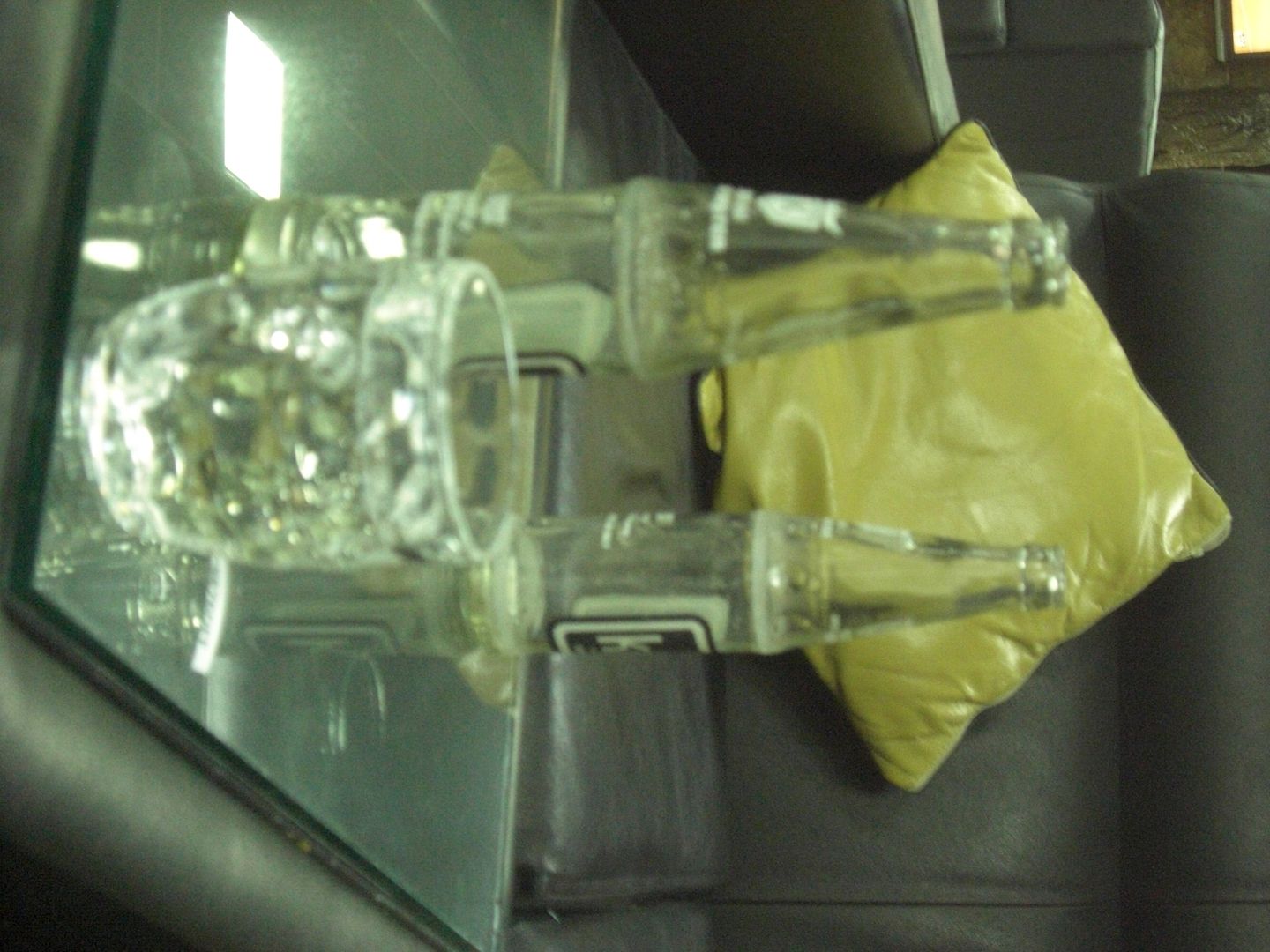 There was some European football match being placyed on all the TVs (with sound). As the lounge was actually on tarmac level, there were a lot of ramp staff peering in through the lace curtains, hollering at the TV. Nice décor:
After an hour in the lounge, I was fairly bored, so went for a walk around the poorly lit terminal. The duty free options were no great, so I just headed for the holding pen. I managed one bad photo before boarding commenced.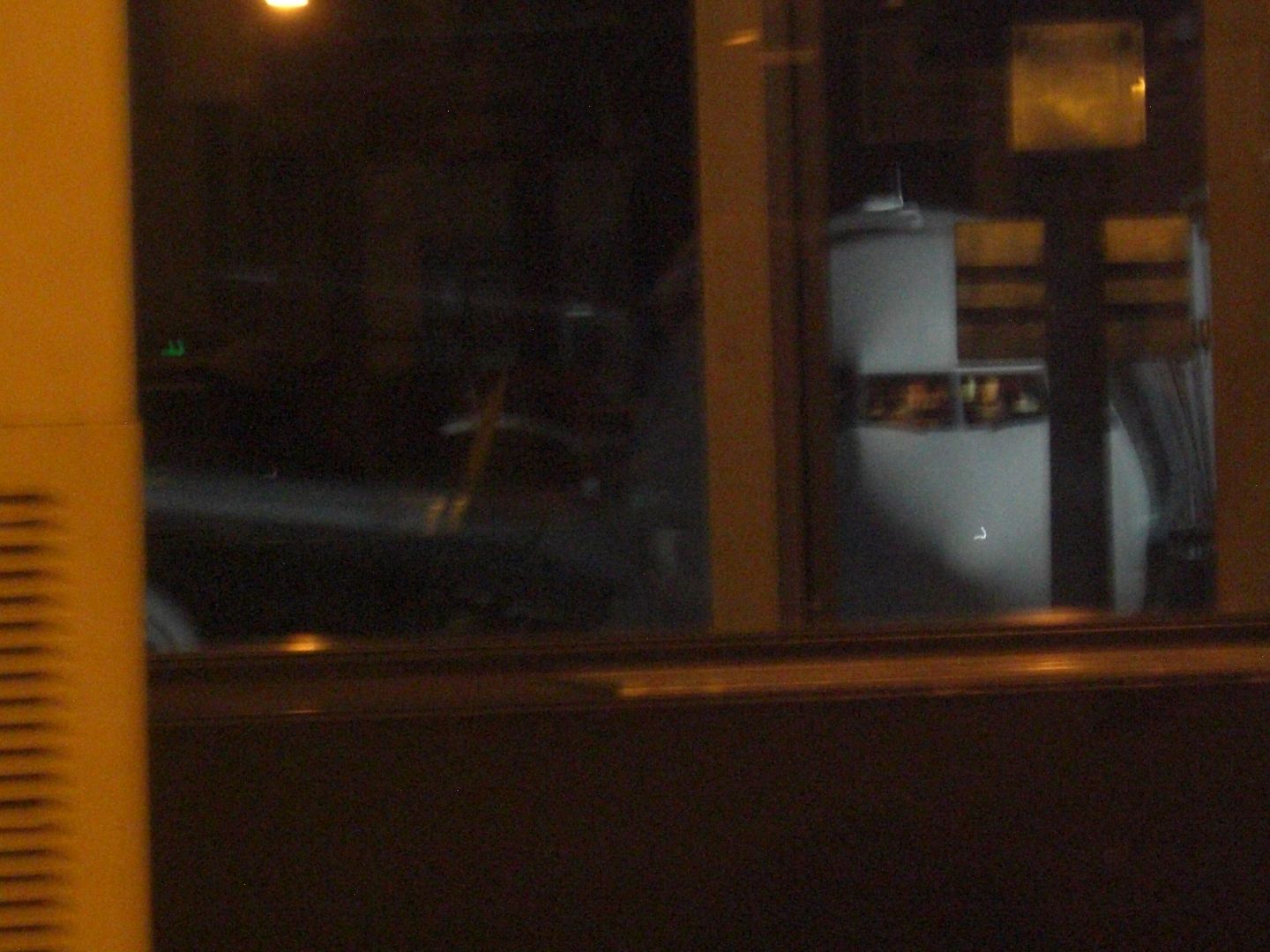 Judging from the number of people waiting in the departure lounge, this leg would have around 60 pax.
February 2012
Dar es Salaam (DAR) – Nairobi (NBO)
Swiss LX 293
Scheduled: 2210-2330 (1h20m)
Actual: 2209-2306 (0h57m)
Airbus A330-300
HB-JHK "Herisau" (the newest A330 in the fleet, having only been delivered some 20-odd days before my flight. It's also the first aircraft to have the new revised colour scheme)
First Class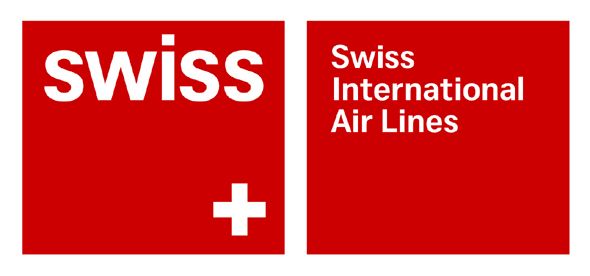 I was a little disappointed that there was no priority boarding announcement in the holding lounge (just a generic "flight 293 to Zurich is now boarding") – perhaps if I had stayed in the dingy Tanzanite Lounge someone would have collected me, but then again, then might not have, and left me running to the gate.
After I snapped this picture, the guy behind asked "does the plane look ok?". My reply of "well, it's got 2 wings" brought a chuckle from him, although, of course, I had no way of telling it did actually have 2 wings from this shot. Luckily it did. It turns out him and his wife were (unfortunately) also in First Class this flight, so a grand total of 3 out of 8 seats taken, shattering my dream of having a cabin to myself.
First impressions of the cabin were excellent. Spacious, yet warm and cozy.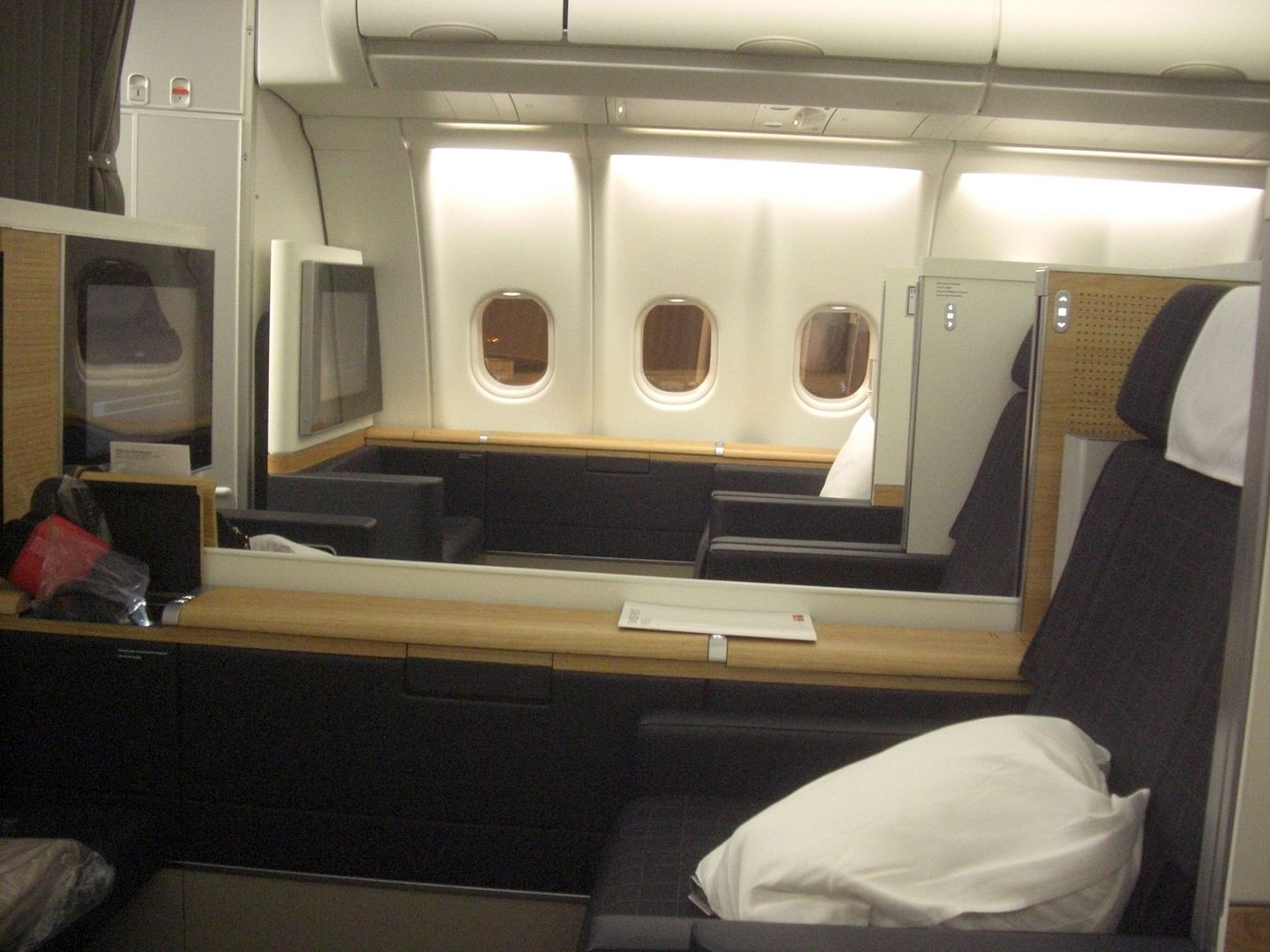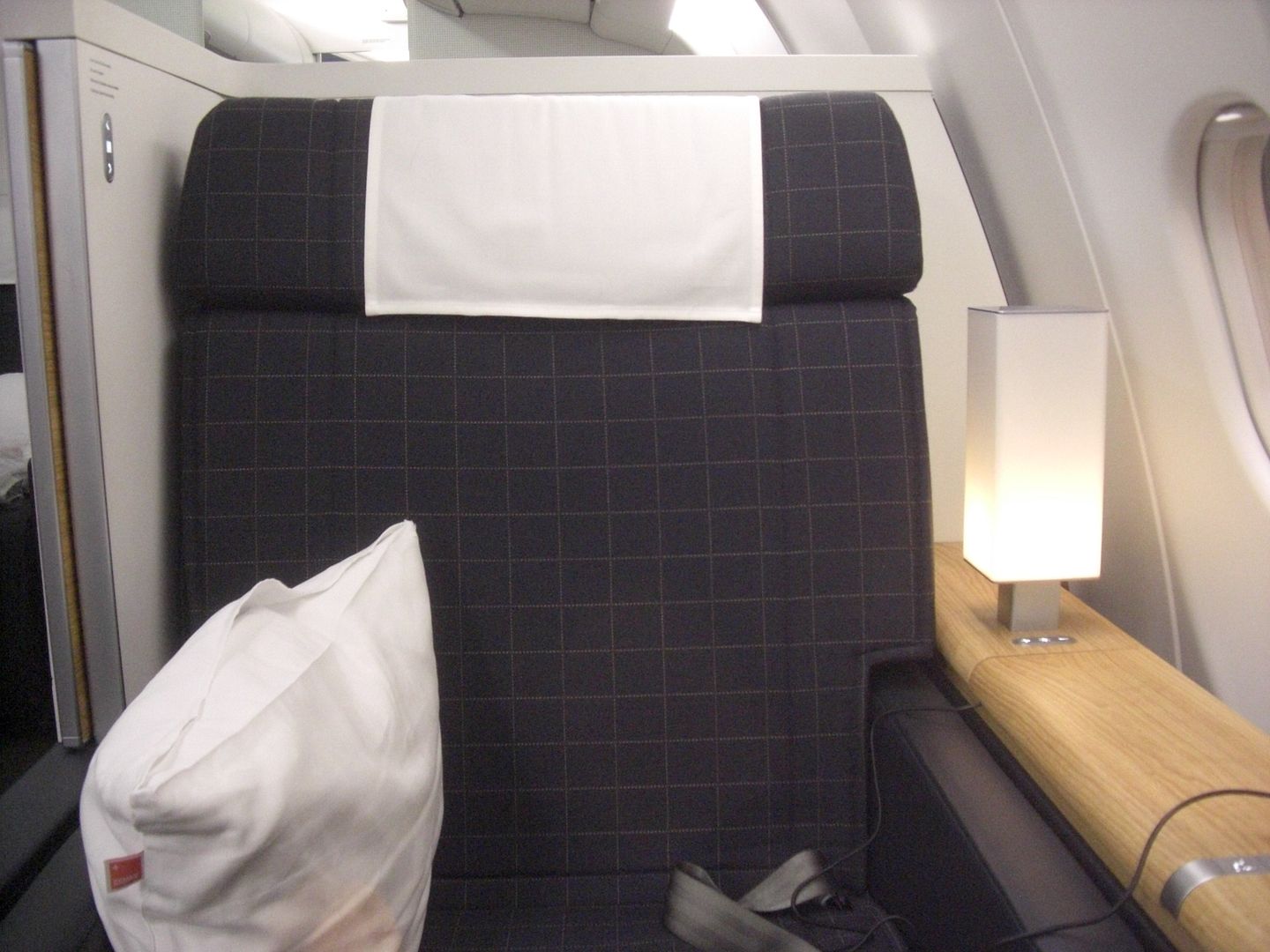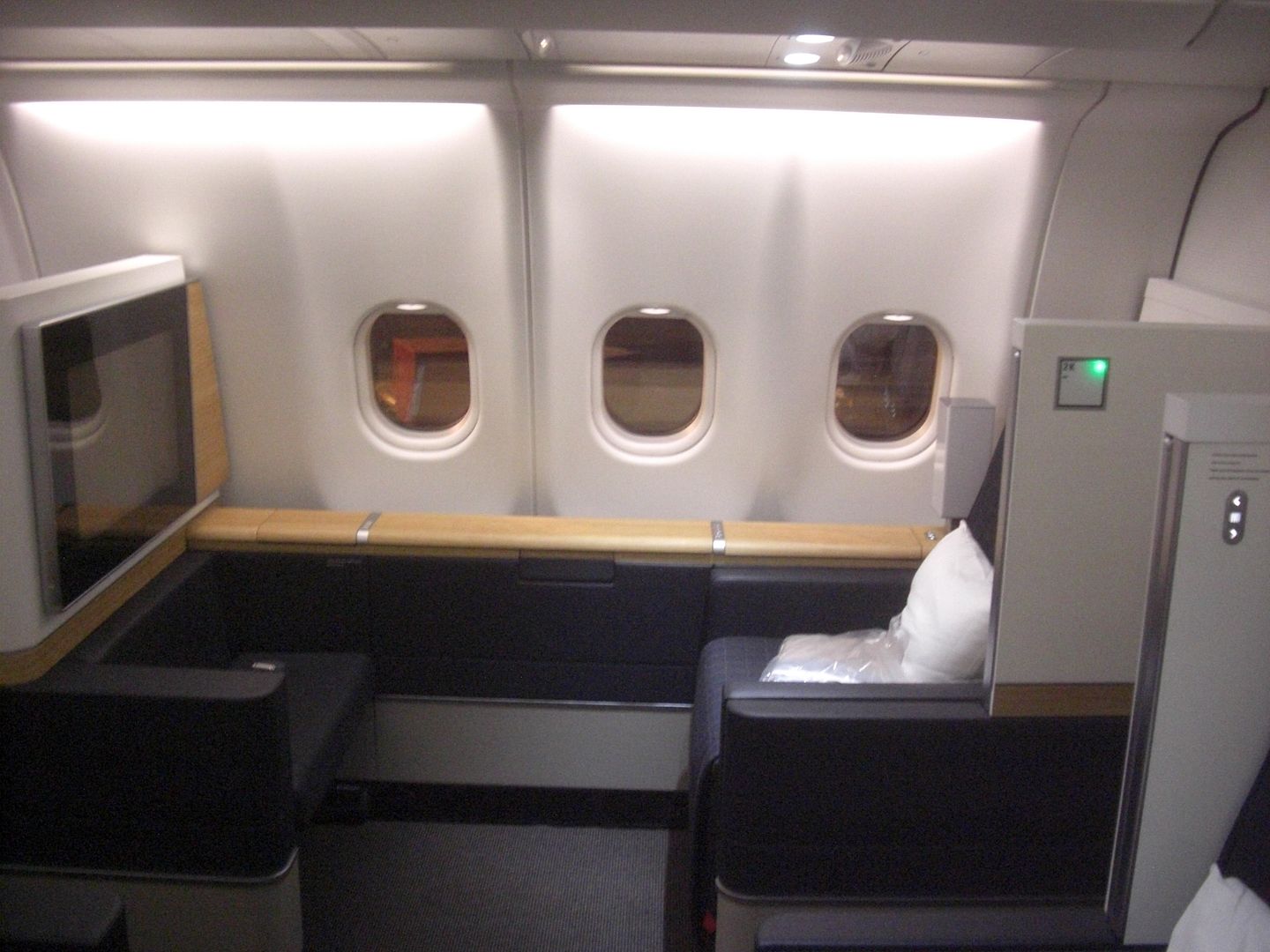 Moving map here in DAR
The classic legroom shot
Amenity kit – had everything you could want, although the eyeshade was not great (I fear airlines have stopped making decent ones – my NZ Premium Economy one is still the best one in my collection)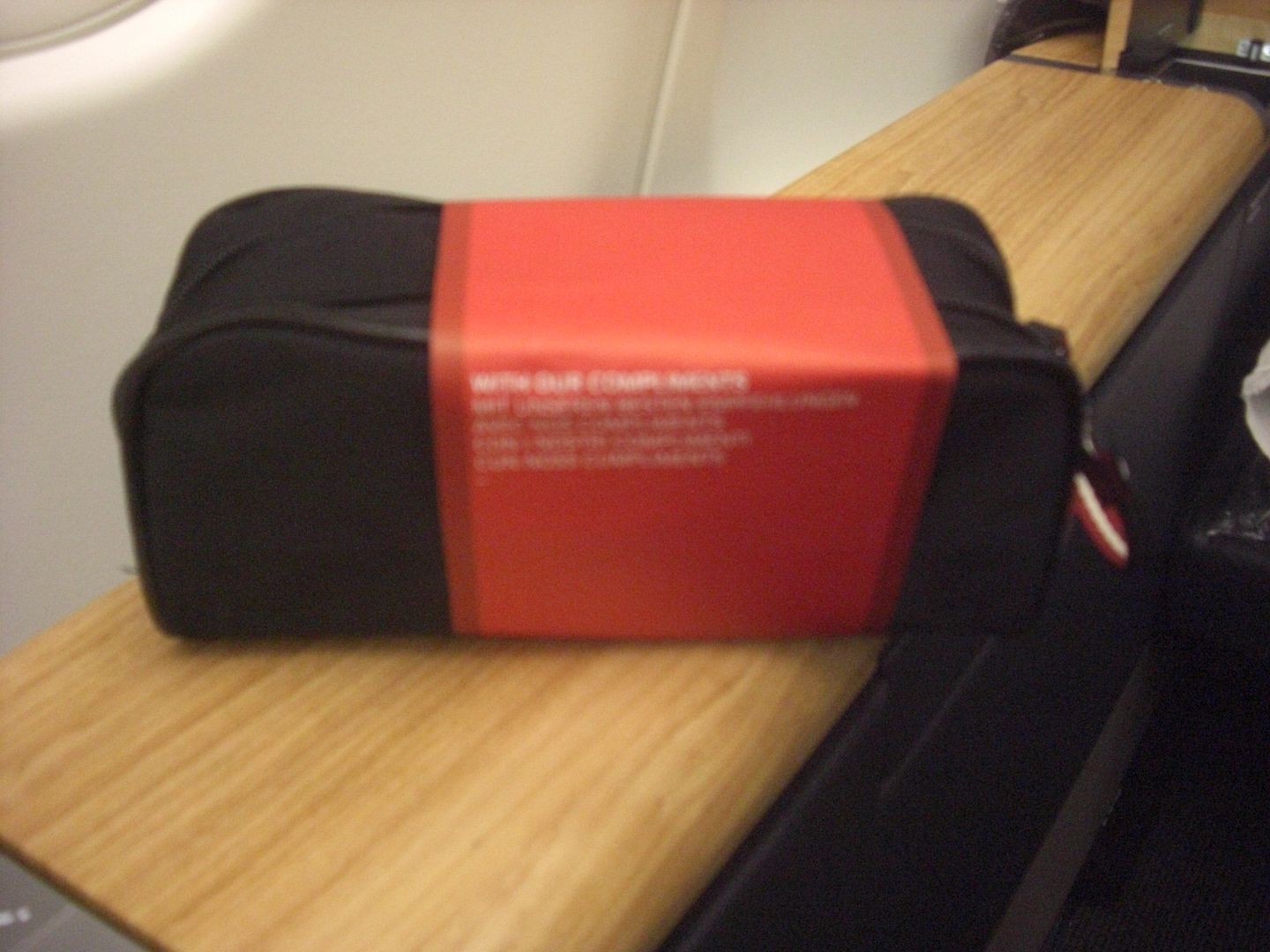 Later in the flight I requested a metal business class one as well – shame it was an RJ one, not an A330 – the contents were rather meagre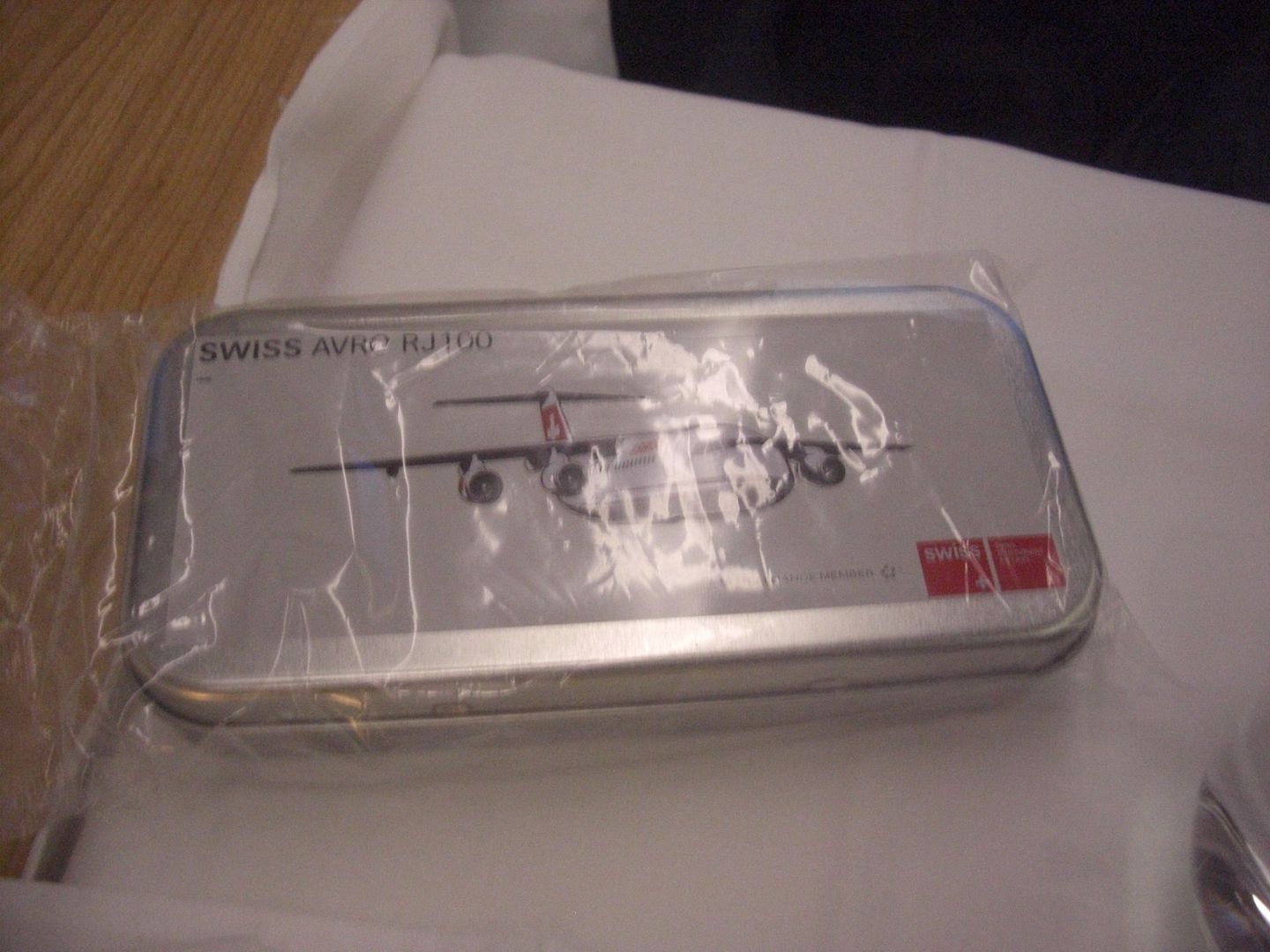 View out the window – not much happening tonight. Sorry about the reflection – those lamps were very nice, but didn't aid photos!
Boarding was all done via door 1L, so there was a constant stream of passengers walking by eliciting comments like "oooh, looks very nice", and "I think this is where we should be sitting".
A welcome glass of champagne. I'm not a champagne connoisseur by any means, but this glass was absolutely delicious putting every other champagne I've tried into the shade. For the record, it was Laurent-Perrier Grand Siècle, and retails at around GBP100 a bottle. Truly decadent, and wins the prize of the best tasting thing of the holiday. Oh yes, also had a glass of sparkling water, which was also nice, but not quite as pricey.
A nice big pillow, and my pyjamas
There were plenty of controls to fiddle with – the suite can be modified in any number of ways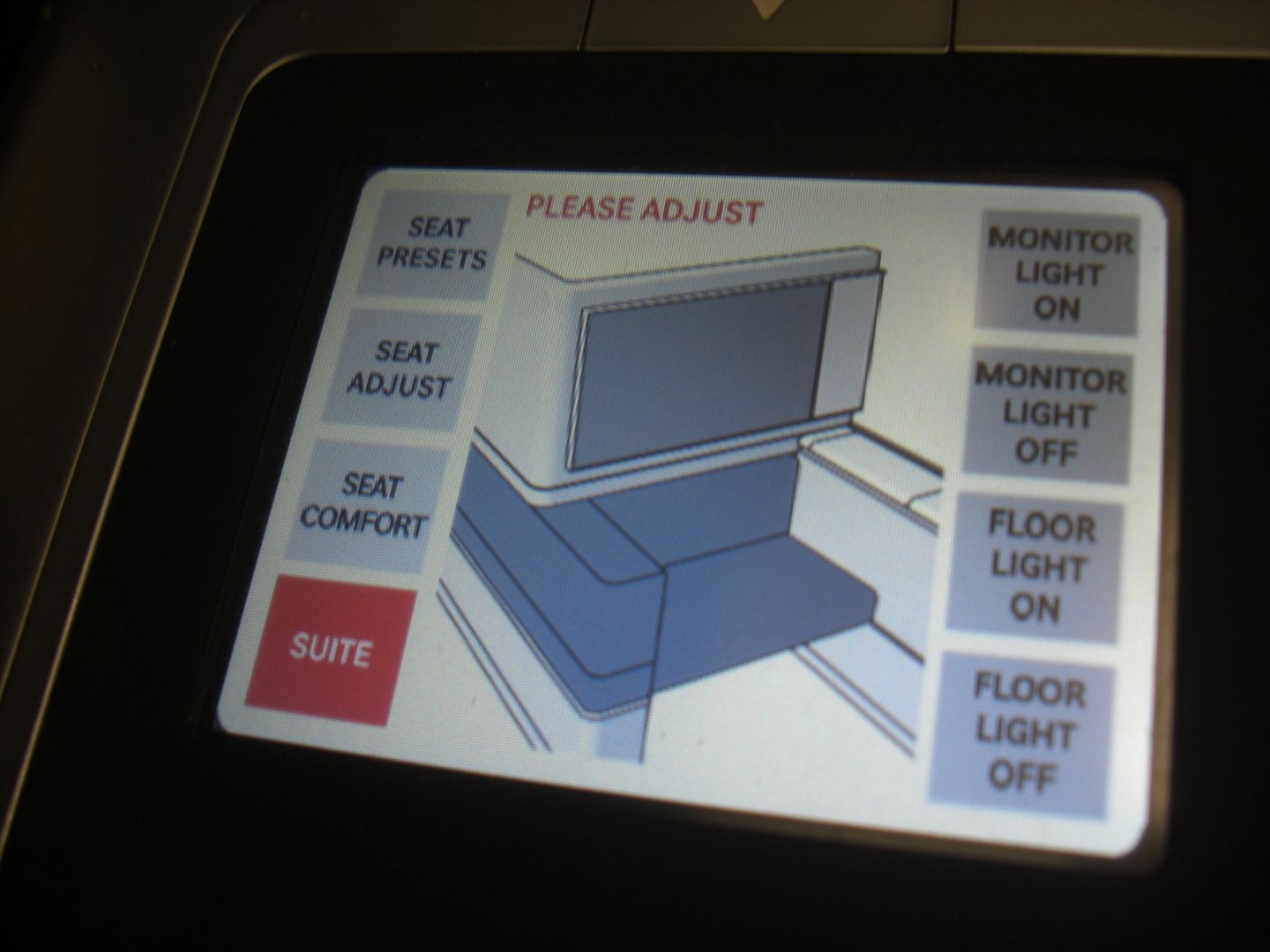 The handy side pocket
An oshibori, as they say in Japan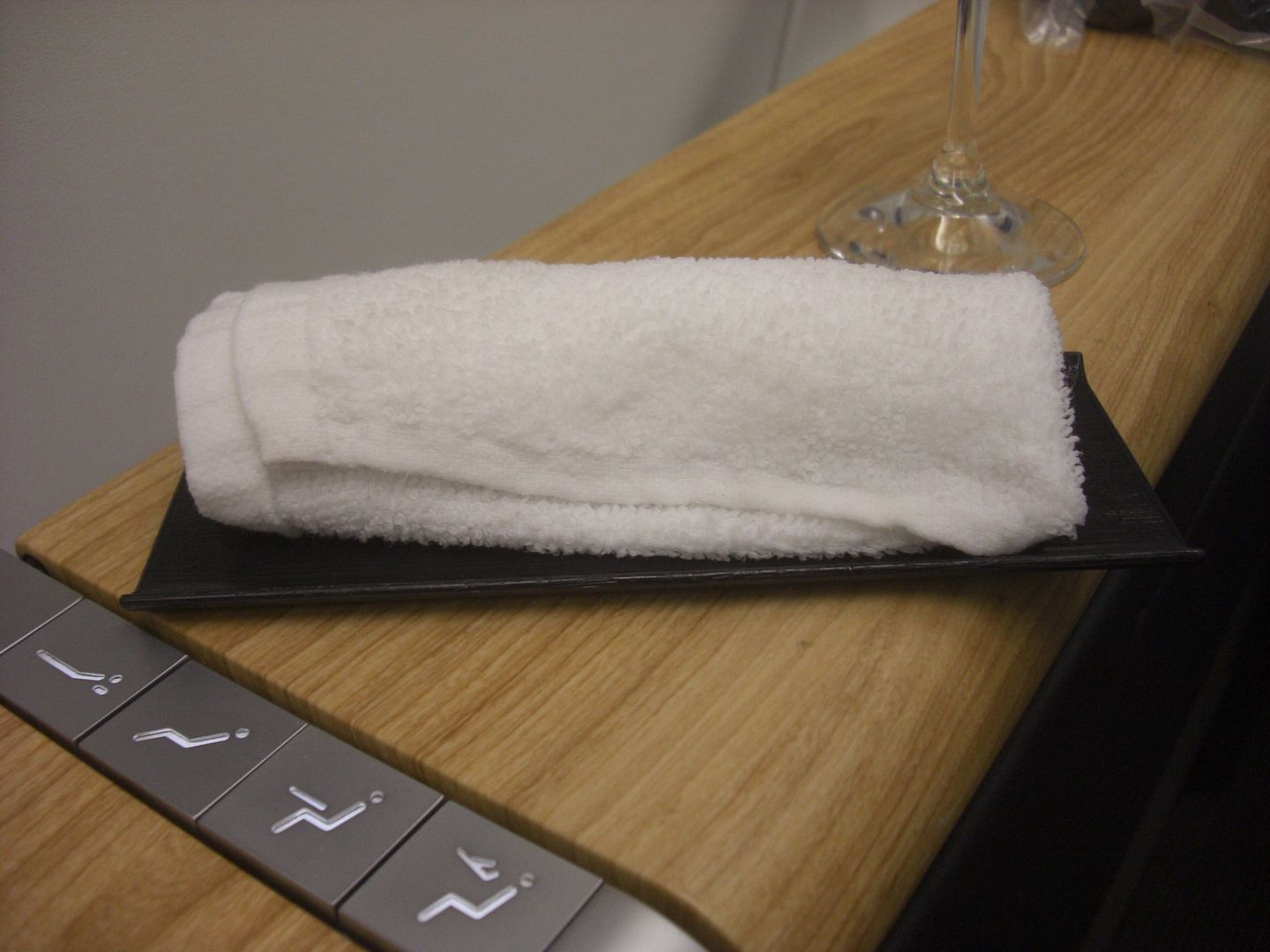 Safety demo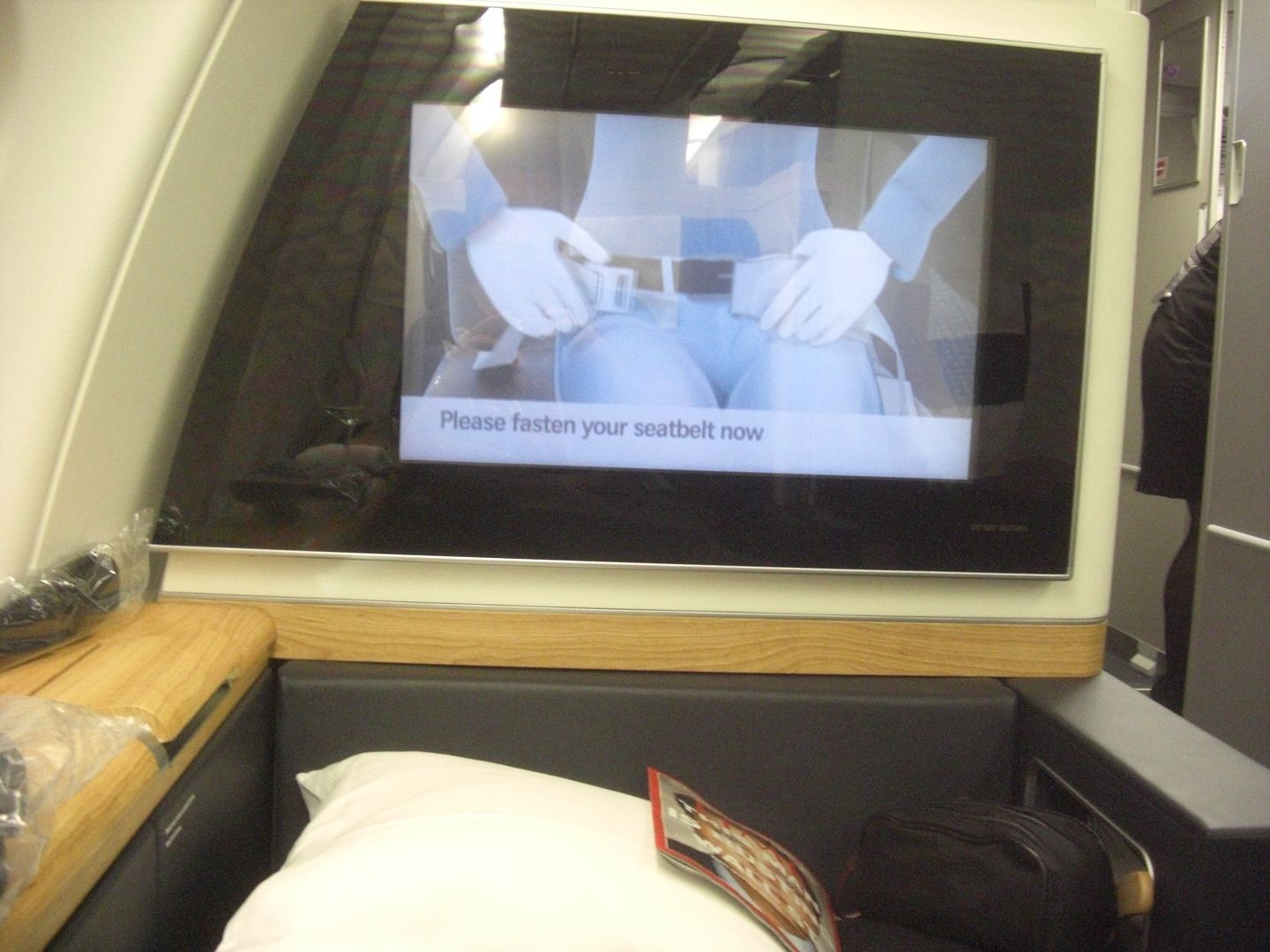 We pushed back ontime, and headed off to Nairobi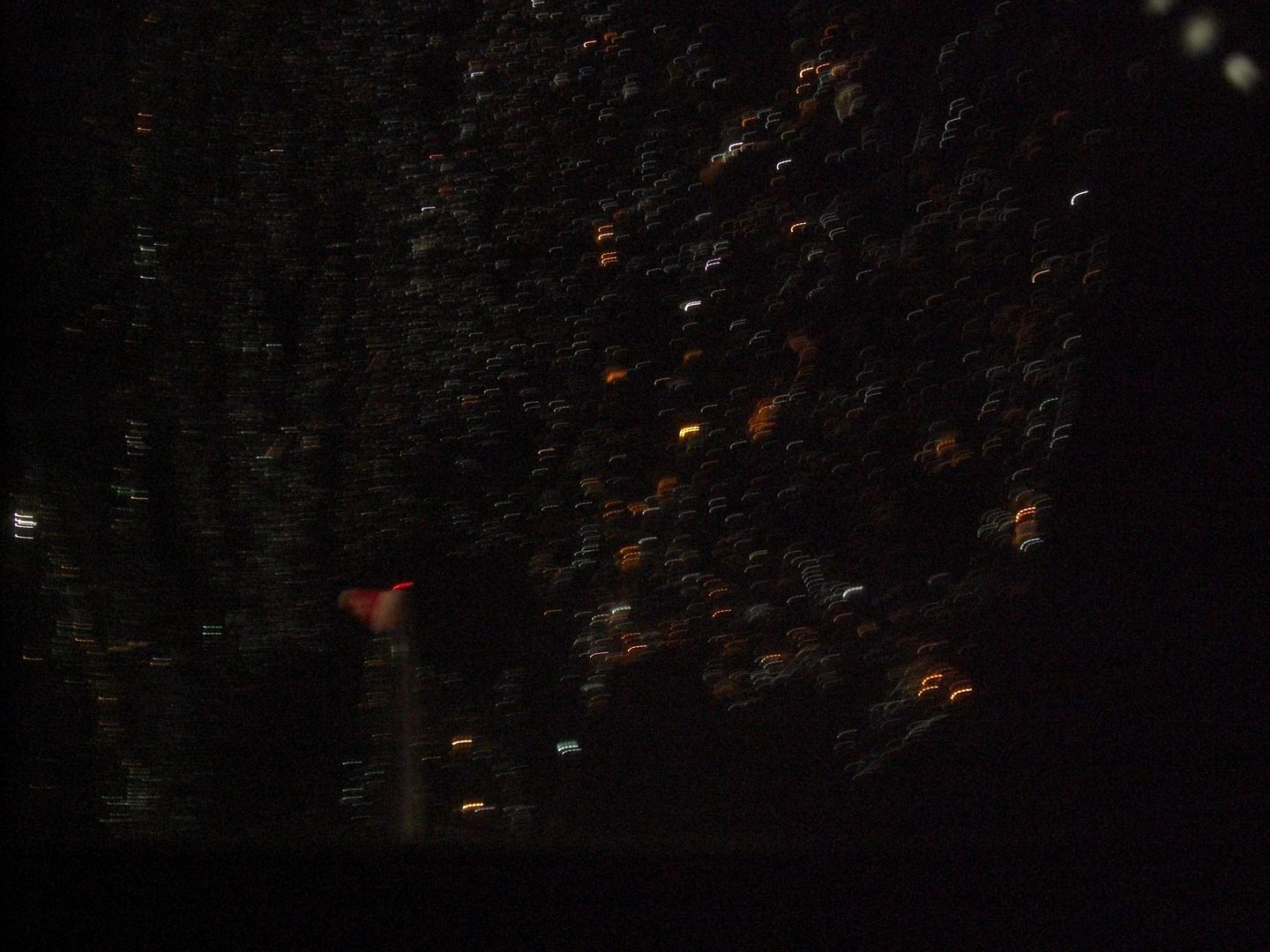 Catering on this leg consisted of more expensive champagne and water, together with some little sandwiches. The tray table is only half open here – the full sized thing is really quite large – plenty of room for two to dine spaciously.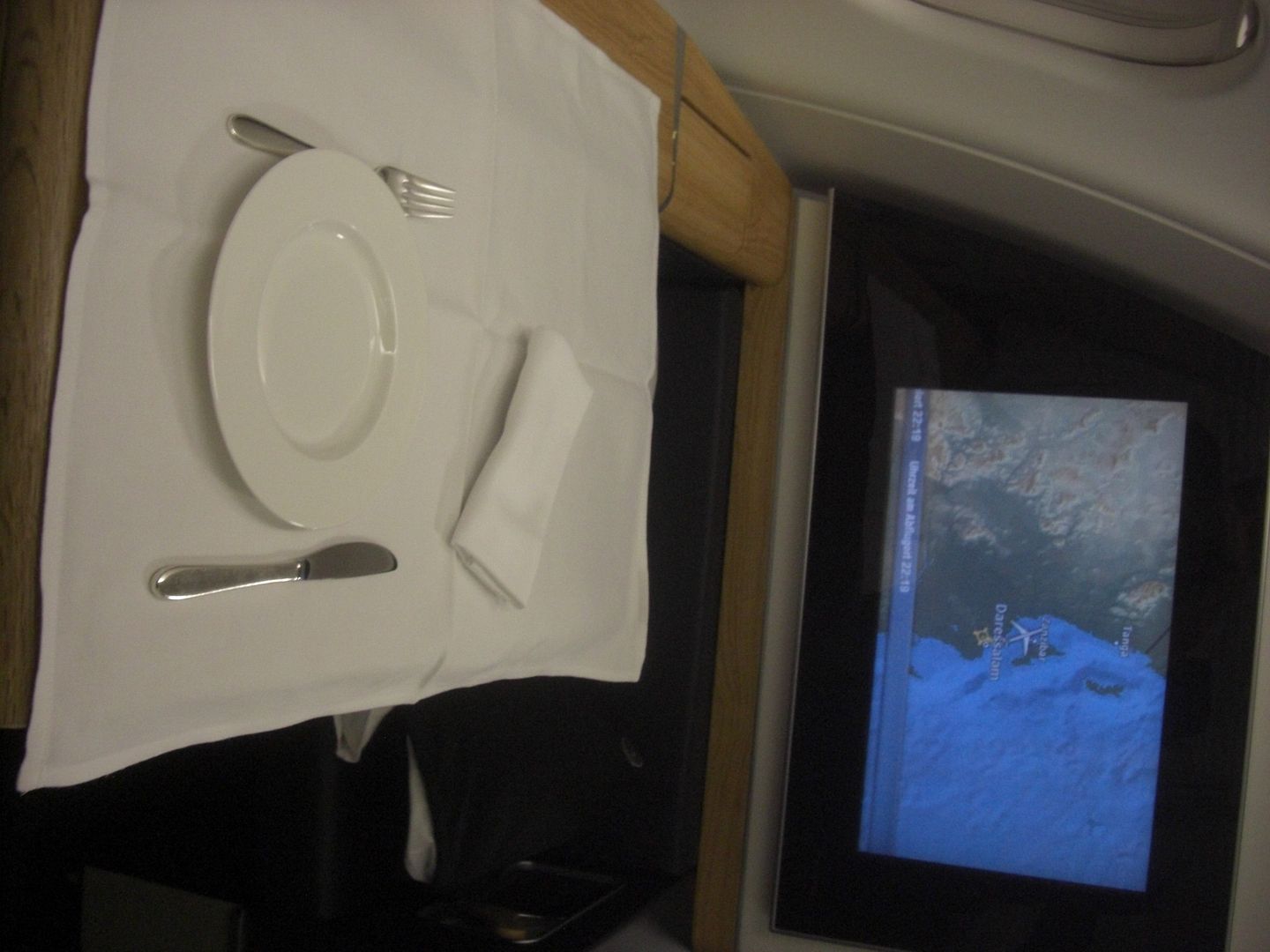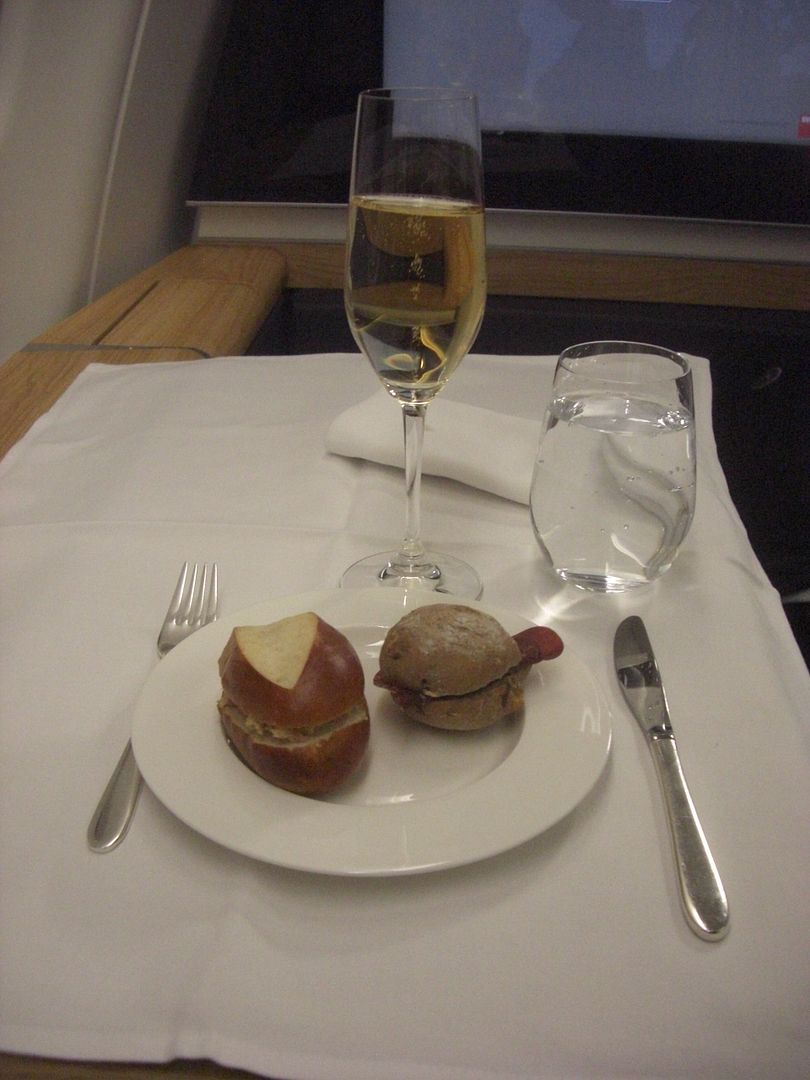 I had a quick look at the AVOD selection – seems like a nice system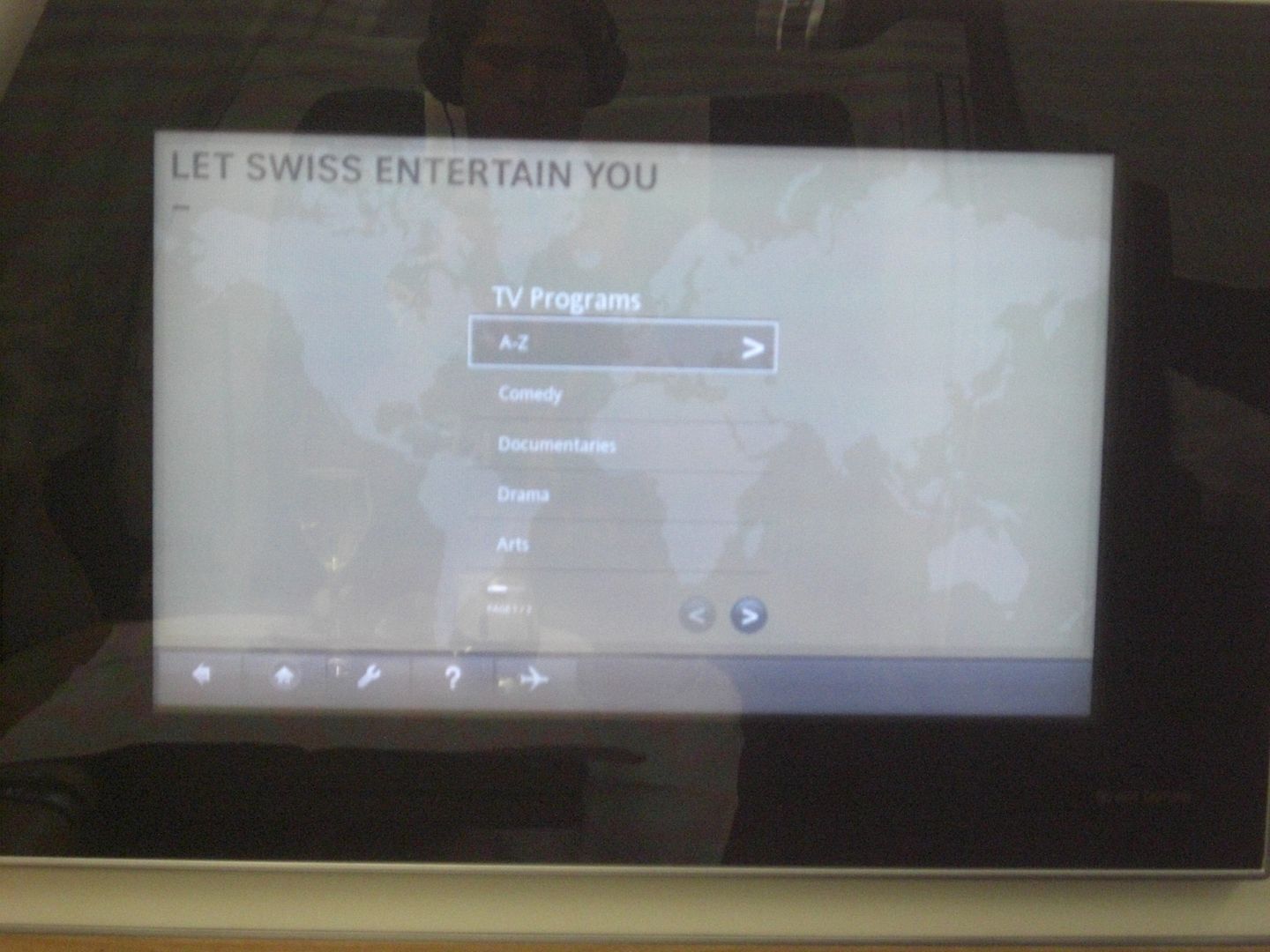 Menus were handed out after out snack service – time for another top up
Nearly in Nairobi
Approach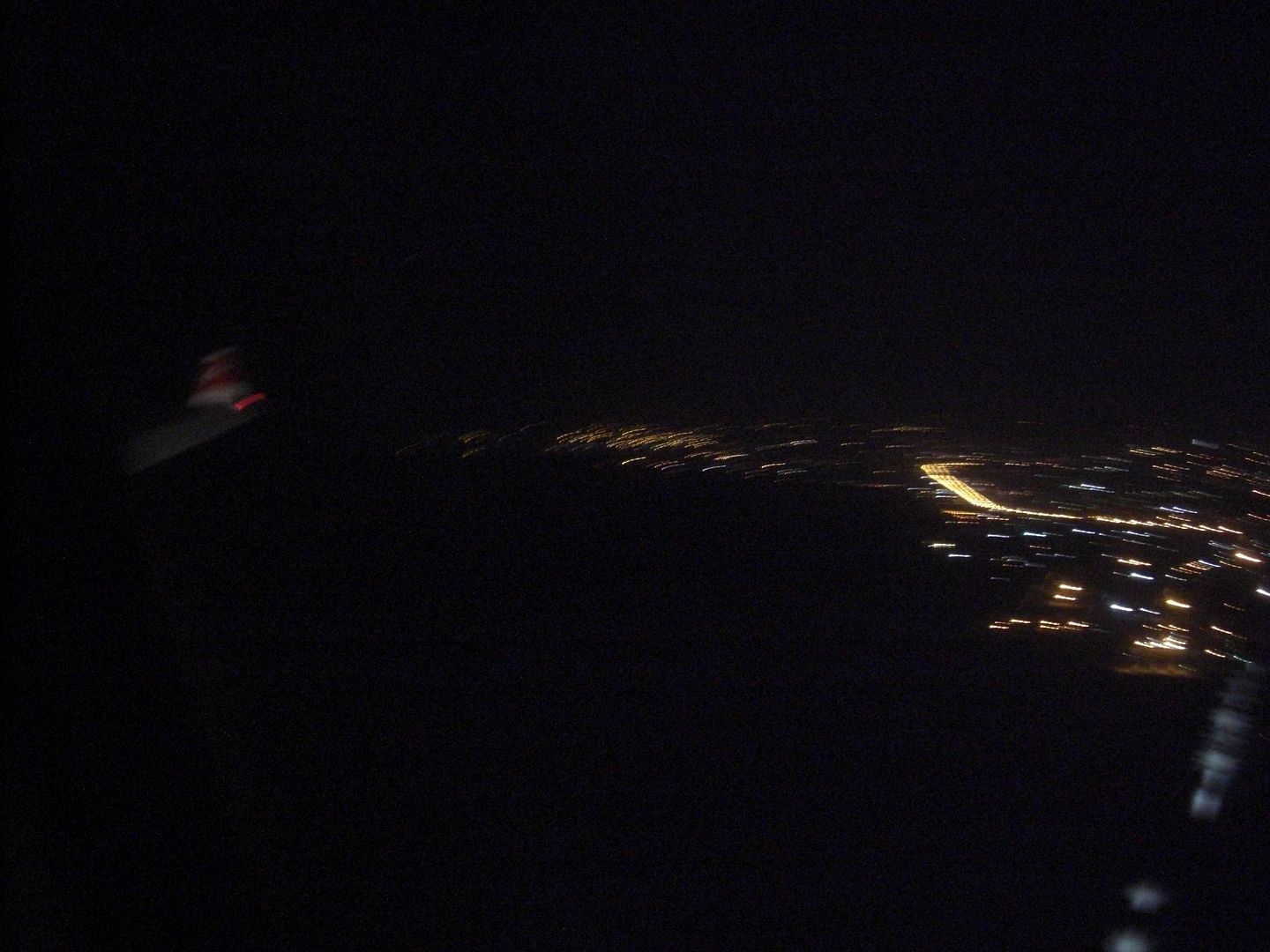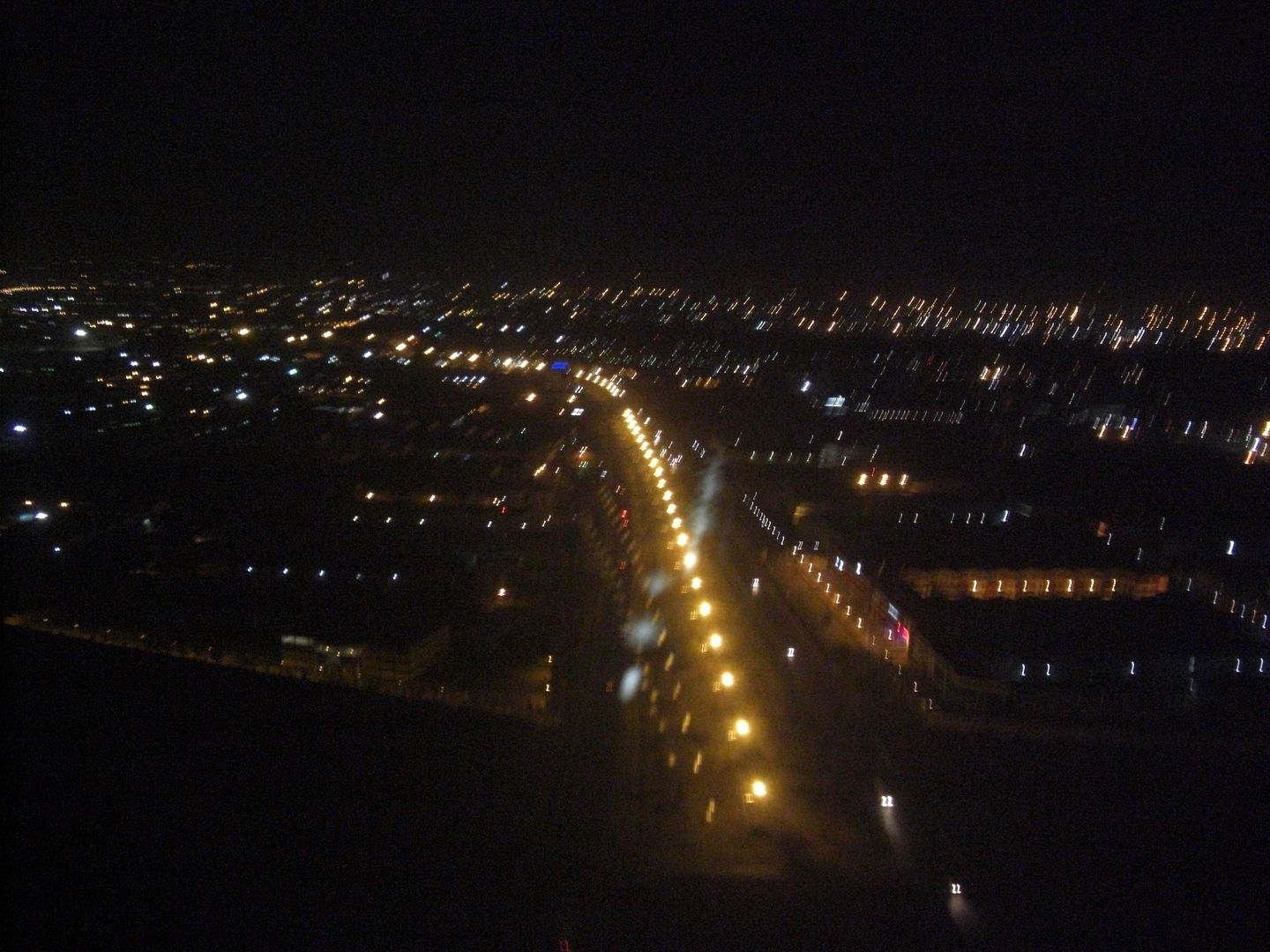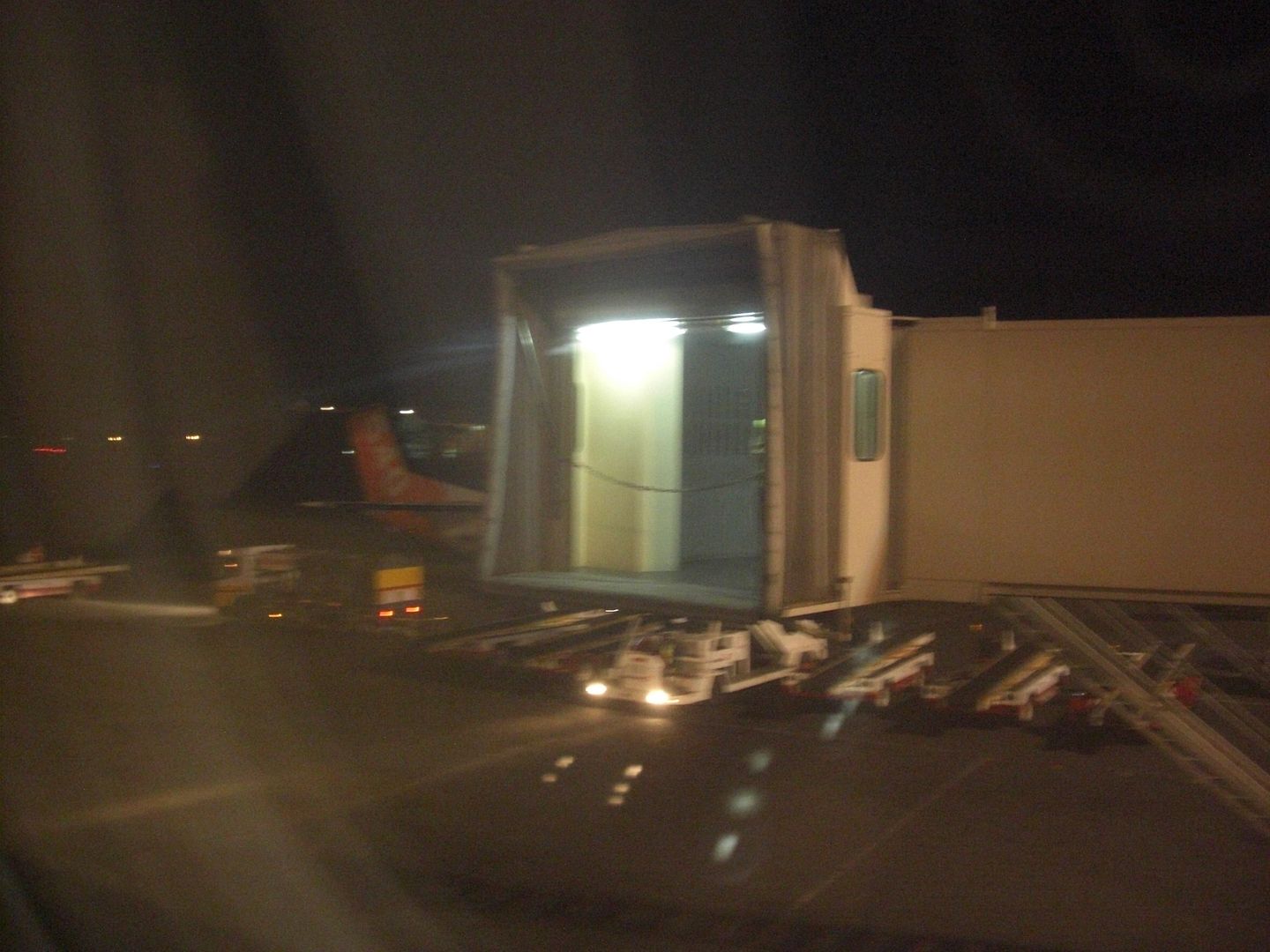 Nairobi was a lot busier than DAR was, with plenty of action from Europeans (BA/SN etc) and from the incumbent Kenya Airways. Thankfully any new passengers boarded via door 2L, so the F cabin was quite peaceful. I took the opportunity to change into my pjs in the very nice, but cramped toilet area. There is a nice folding leather seat in there.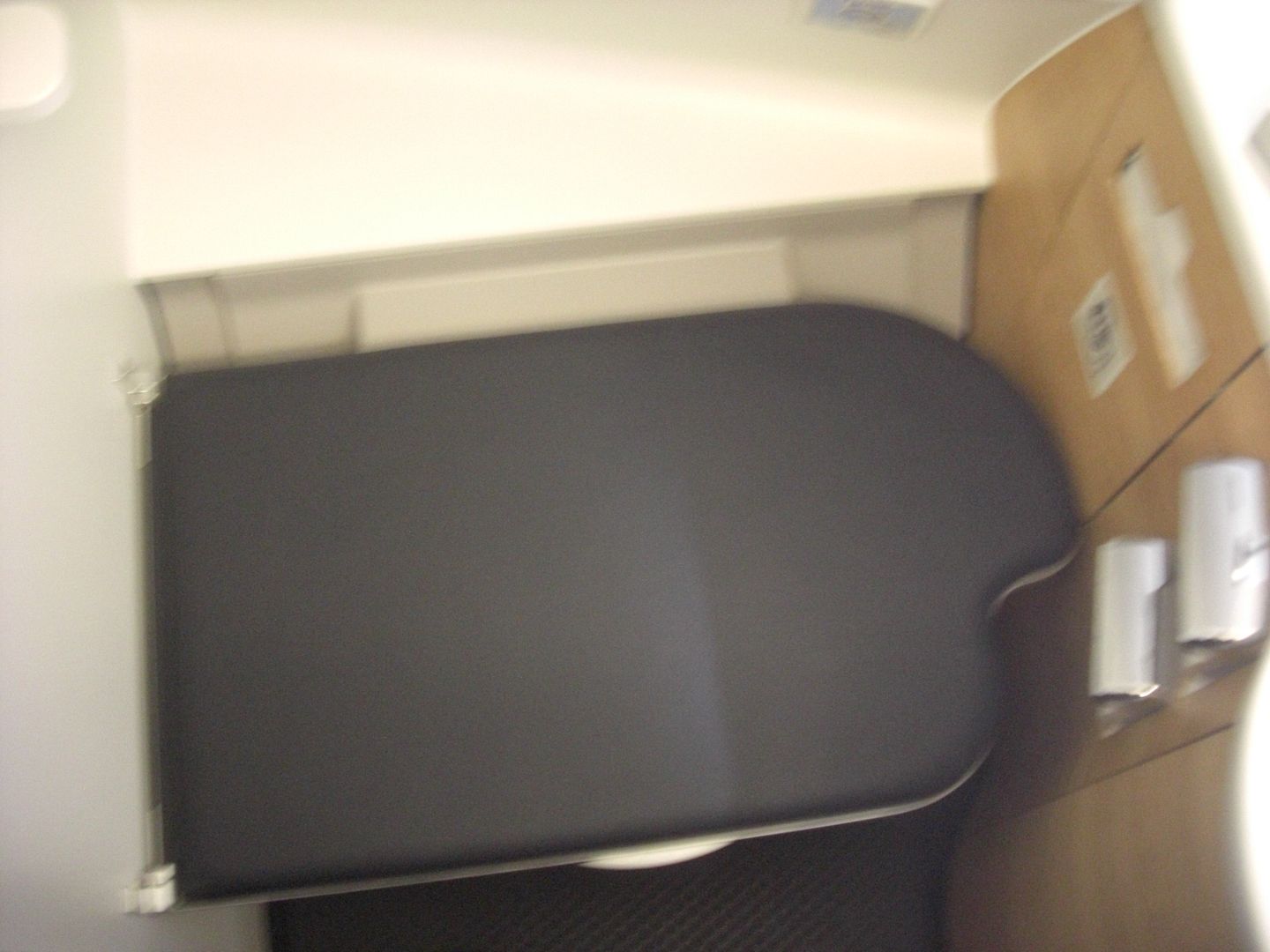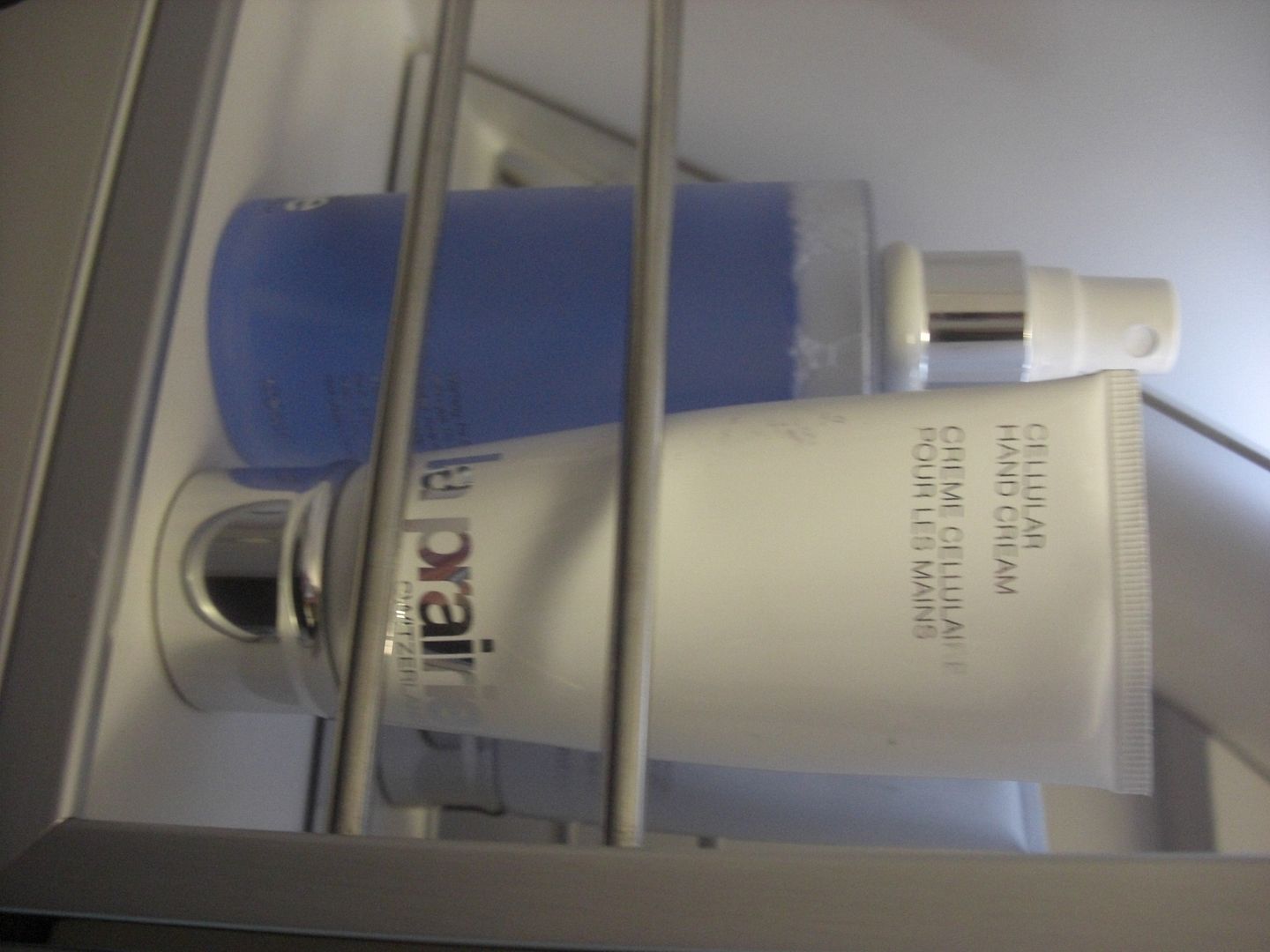 Once changed, there was an FA waiting outside with a hanger to hang my clothes up – never had that happen on a plane before!
In my cosy pyjamas and slippers, I headed back to my area. I took the opportunity of having a nice wide seat to snuggle up cross legged with the blanket and a magazine, with the soft glow of the dimmable lamp creating some atmosphere. Wonderful! The cockpit crew changed here (they operate ZRH-NBO, NBO-DAR-NBO, NBO-ZRH with hotel stops in NBO, whilst the cabin crew do ZRH-NBO-DAR,DAR-NBO-ZRH with just a hotel stop in DAR), so there was quite a lot of handover activity ahead. We got a female first officer on this leg. Thankfully no one joined us in First, so they'd be plenty of space on the longhual leg. No idea about loads of C or Y, sorry.
The Maître de Cabine came around during the stop to say hello, and give some details on the flight, which was nice.
During the stop the PTVs weren't usable, but there were lots of scenes from the Antarctic
Before departure there was a canapé service.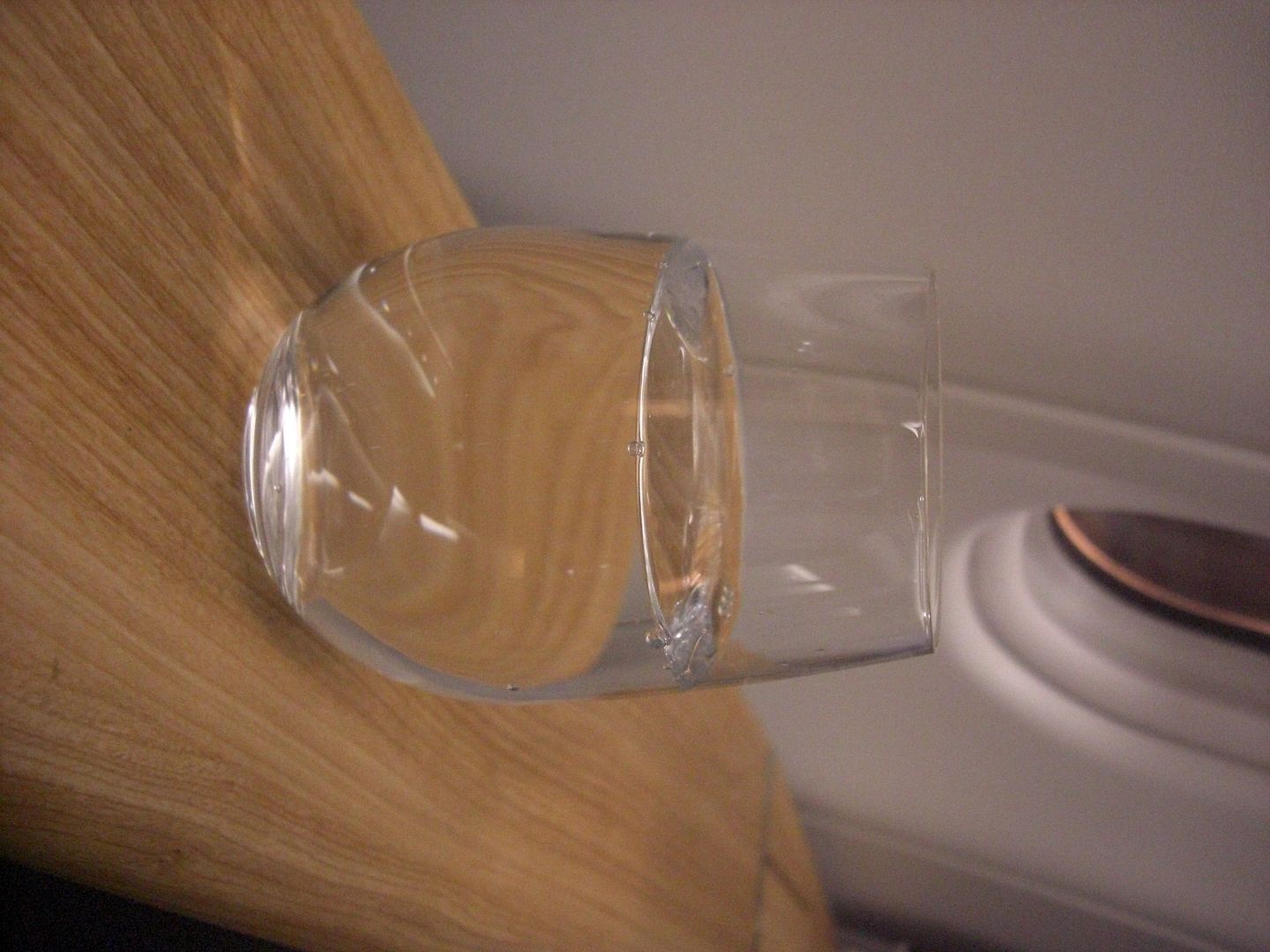 Oh yes, two big fat lumps of lobster in seafood sauce with asparagus and some warm cheese sticks. Yum!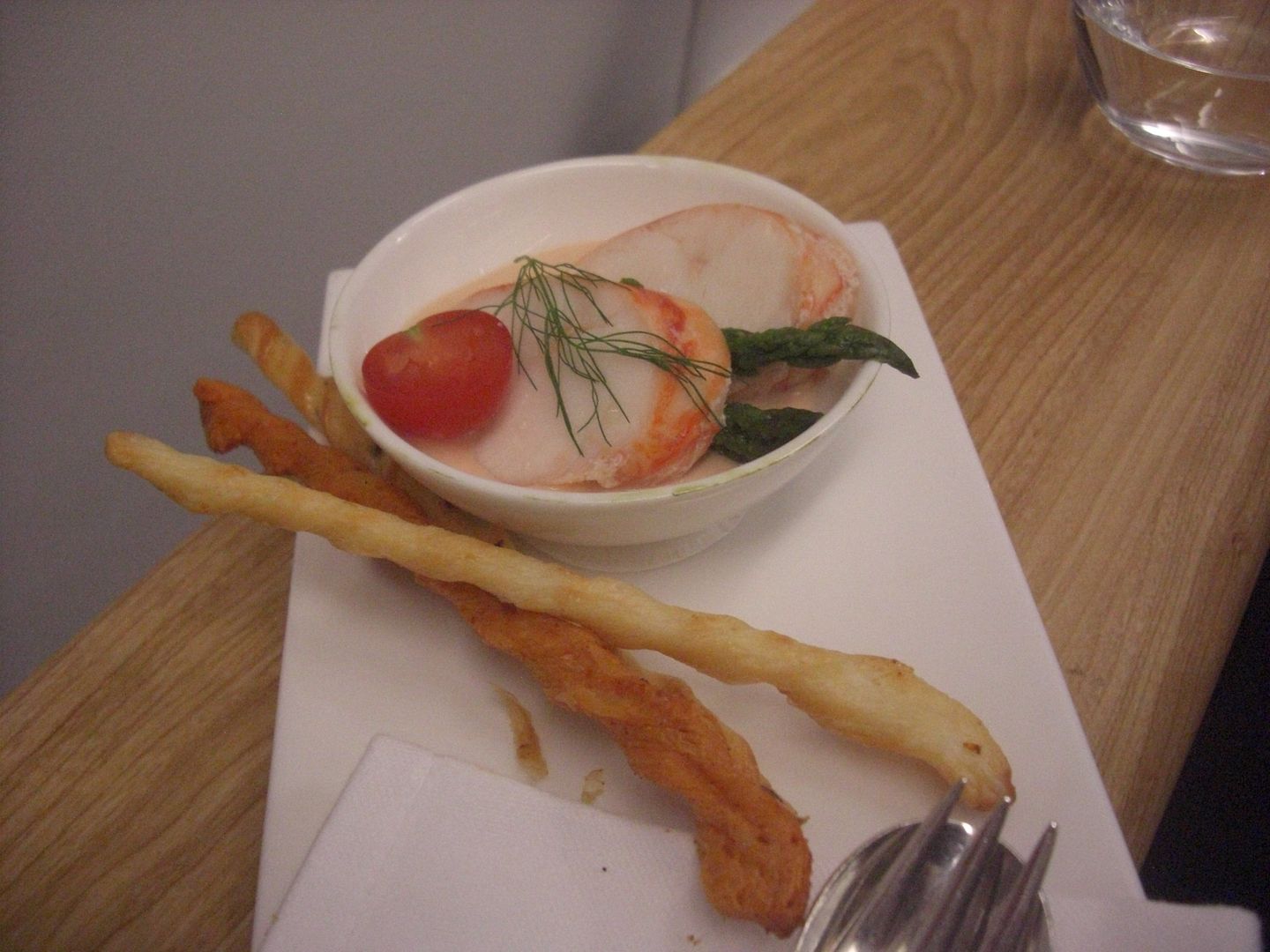 My headphones, and what's this?
Eugh, a bloody tissue that the cleaners missed down the side of the seat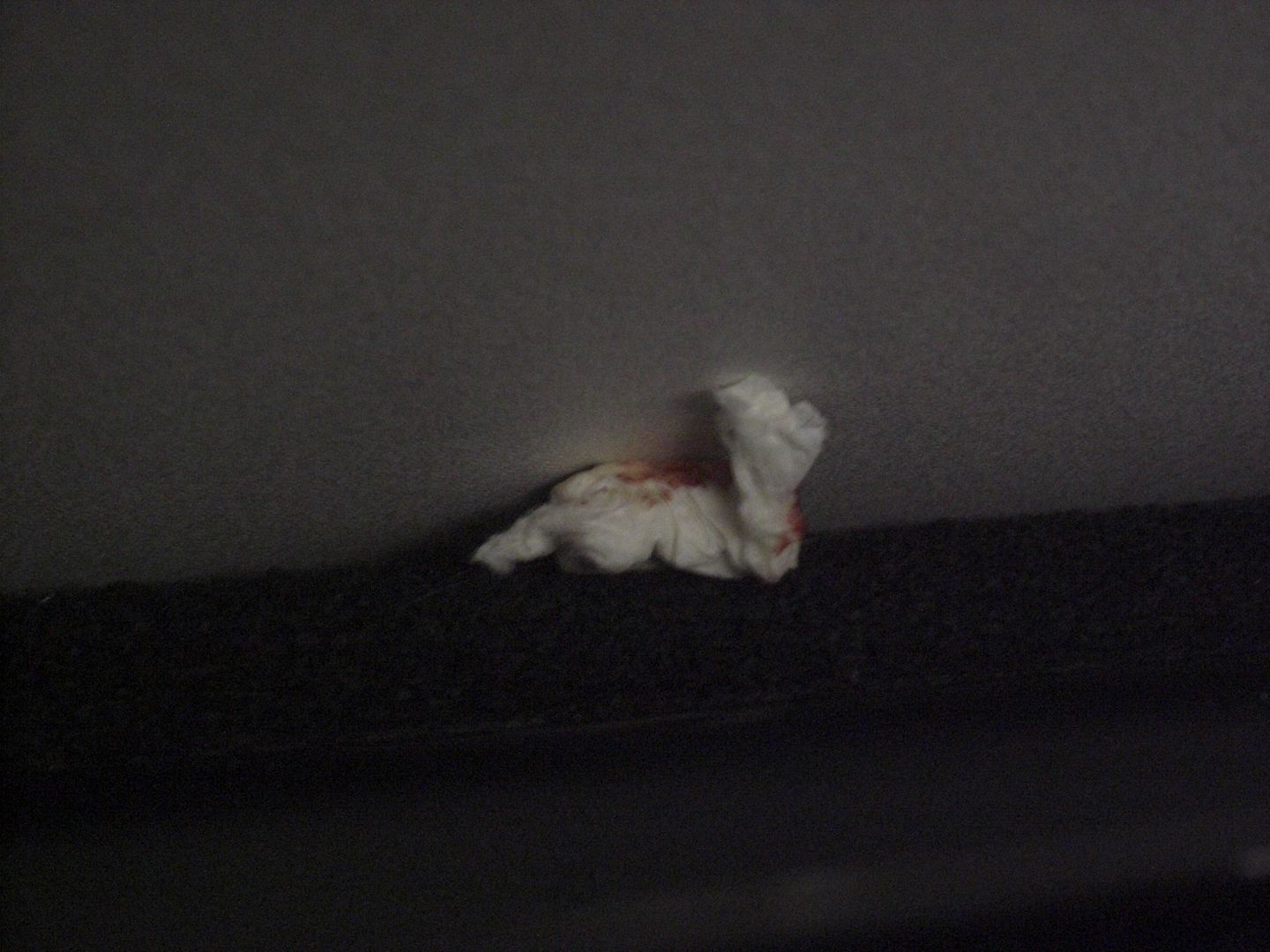 For tomorrow morning's temperature, you can add a "-" sign in front of the 17C.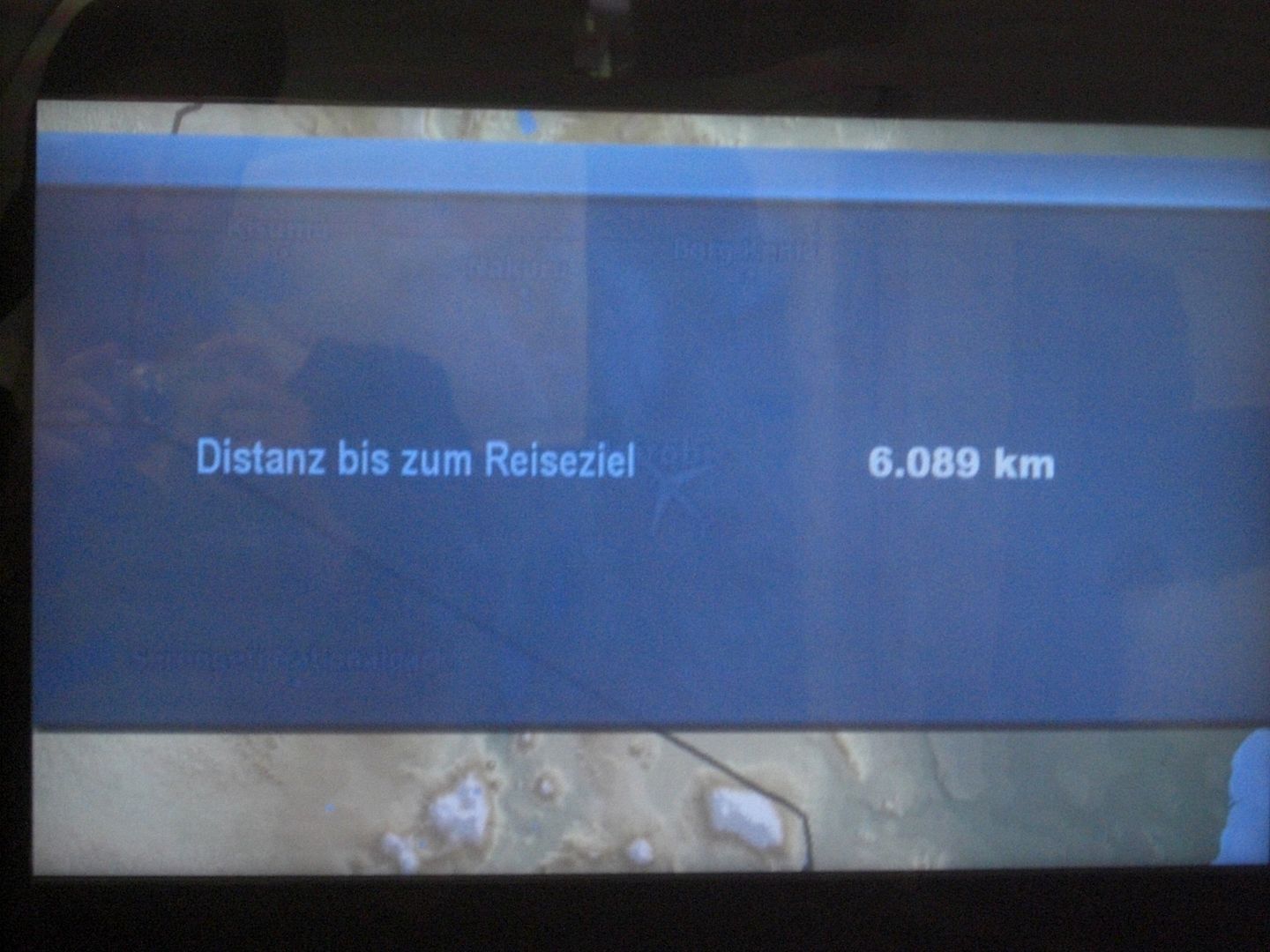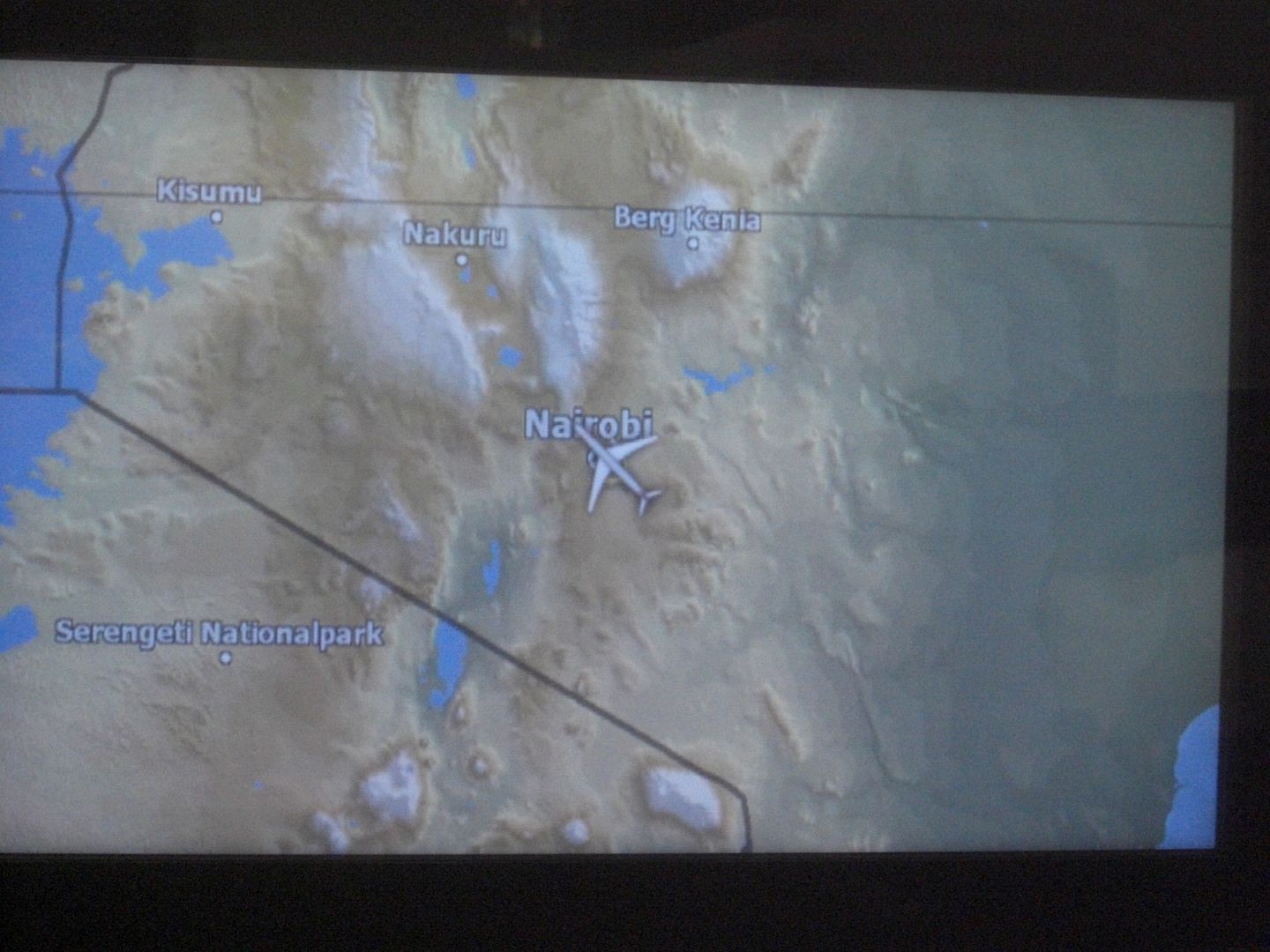 February 2012
Nairobi (NBO) – Zurich (ZRH)
Swiss LX 293
Scheduled: 0020-0625 (8h05m)
Actual: 0019-0610 (7h51m)
Airbus A330-300
HB-JHK
First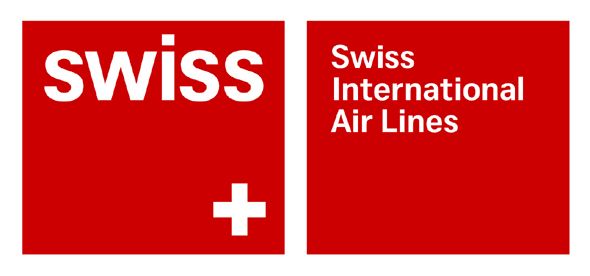 Some blurry scene of NBO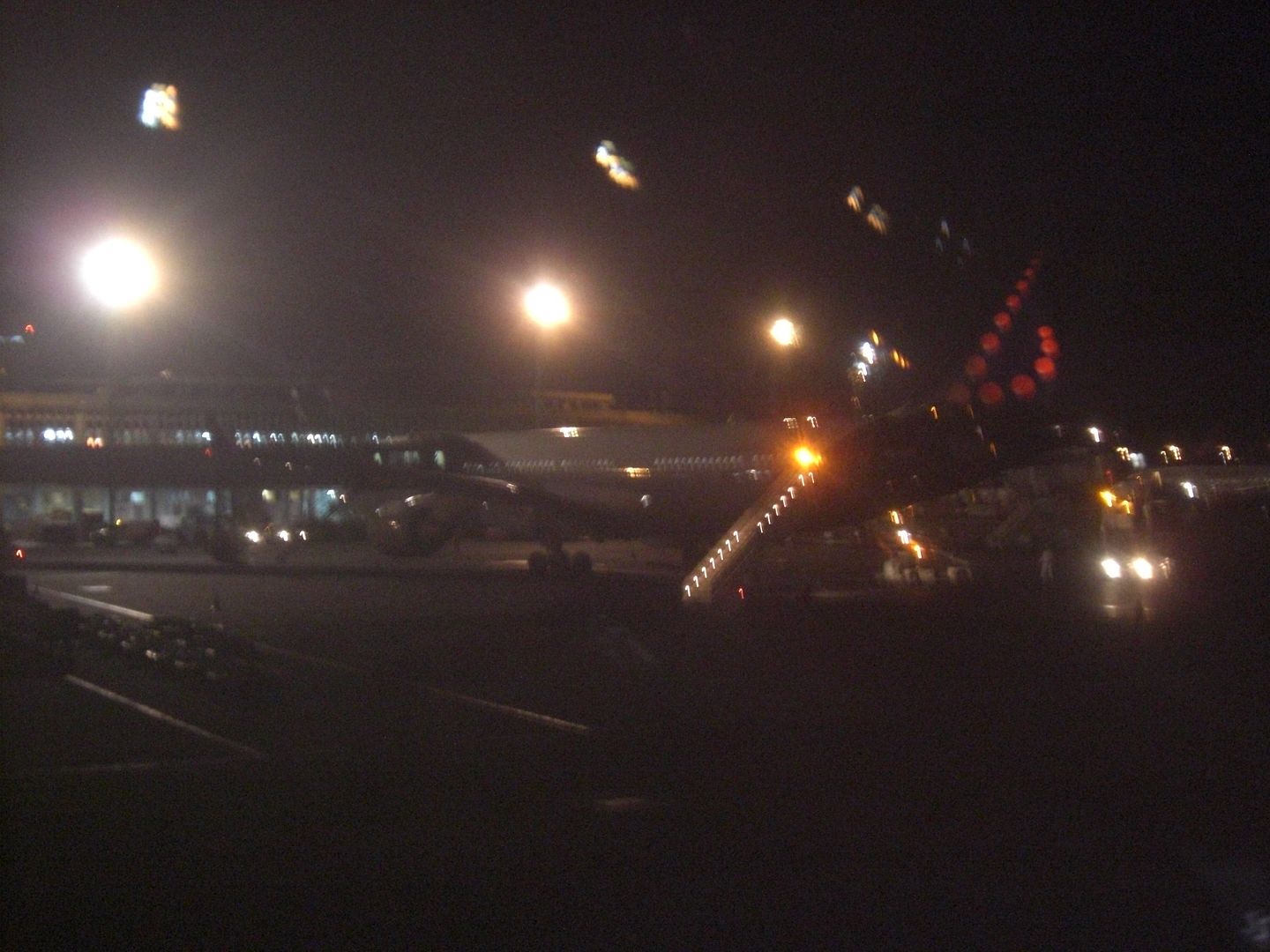 The Bundesrepublik A319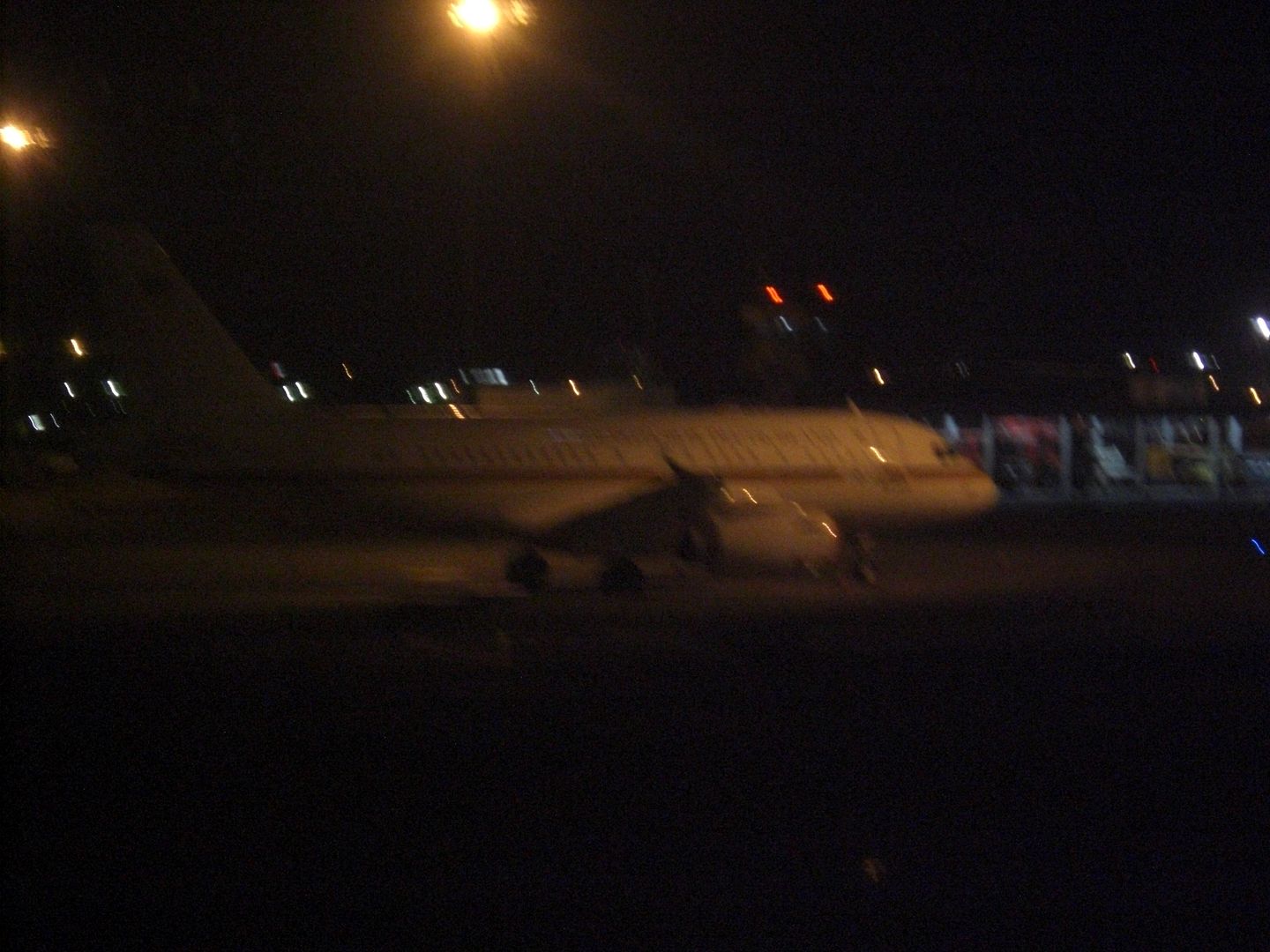 BA beat us to the runway, but we eneded up taking off first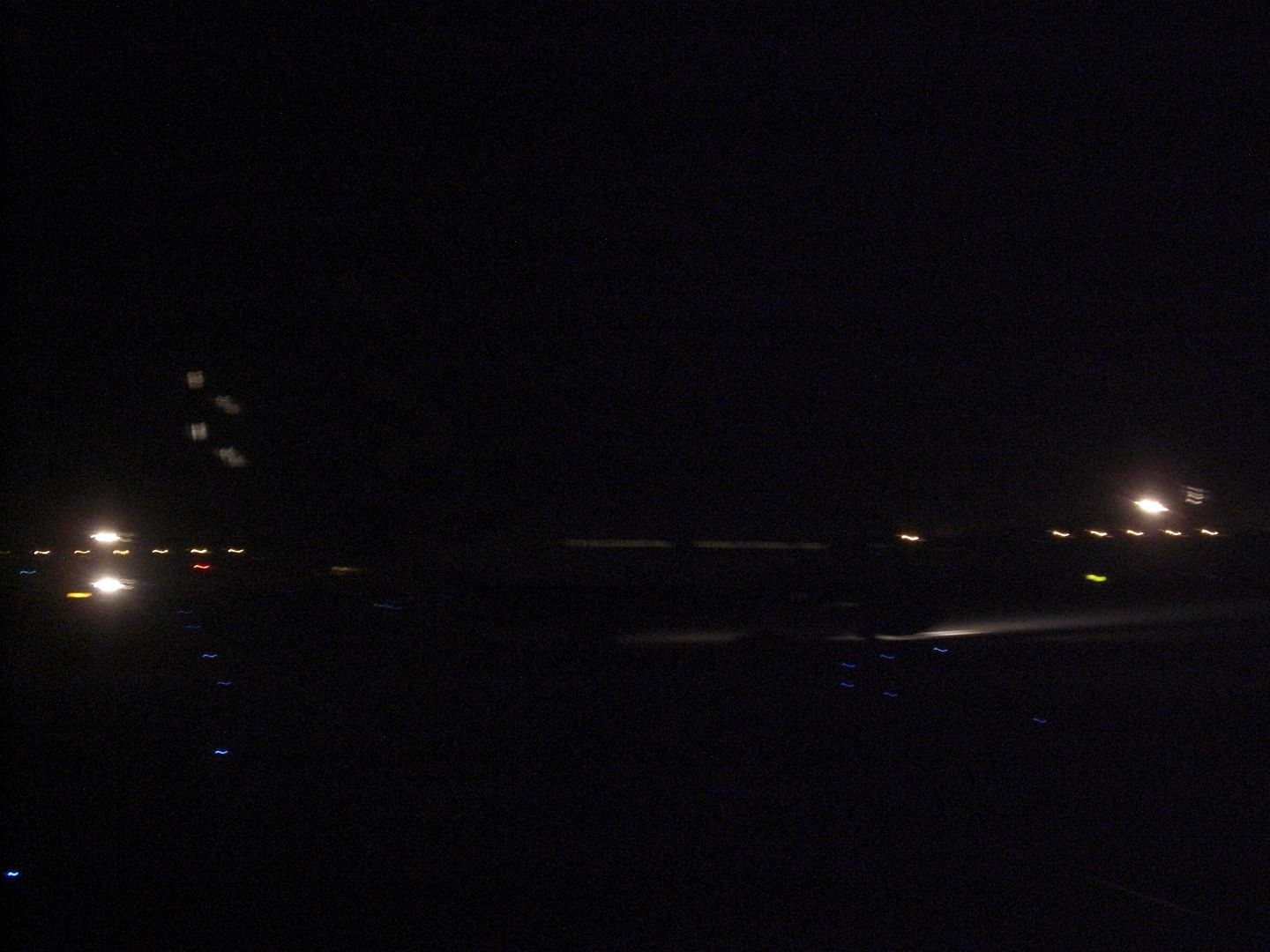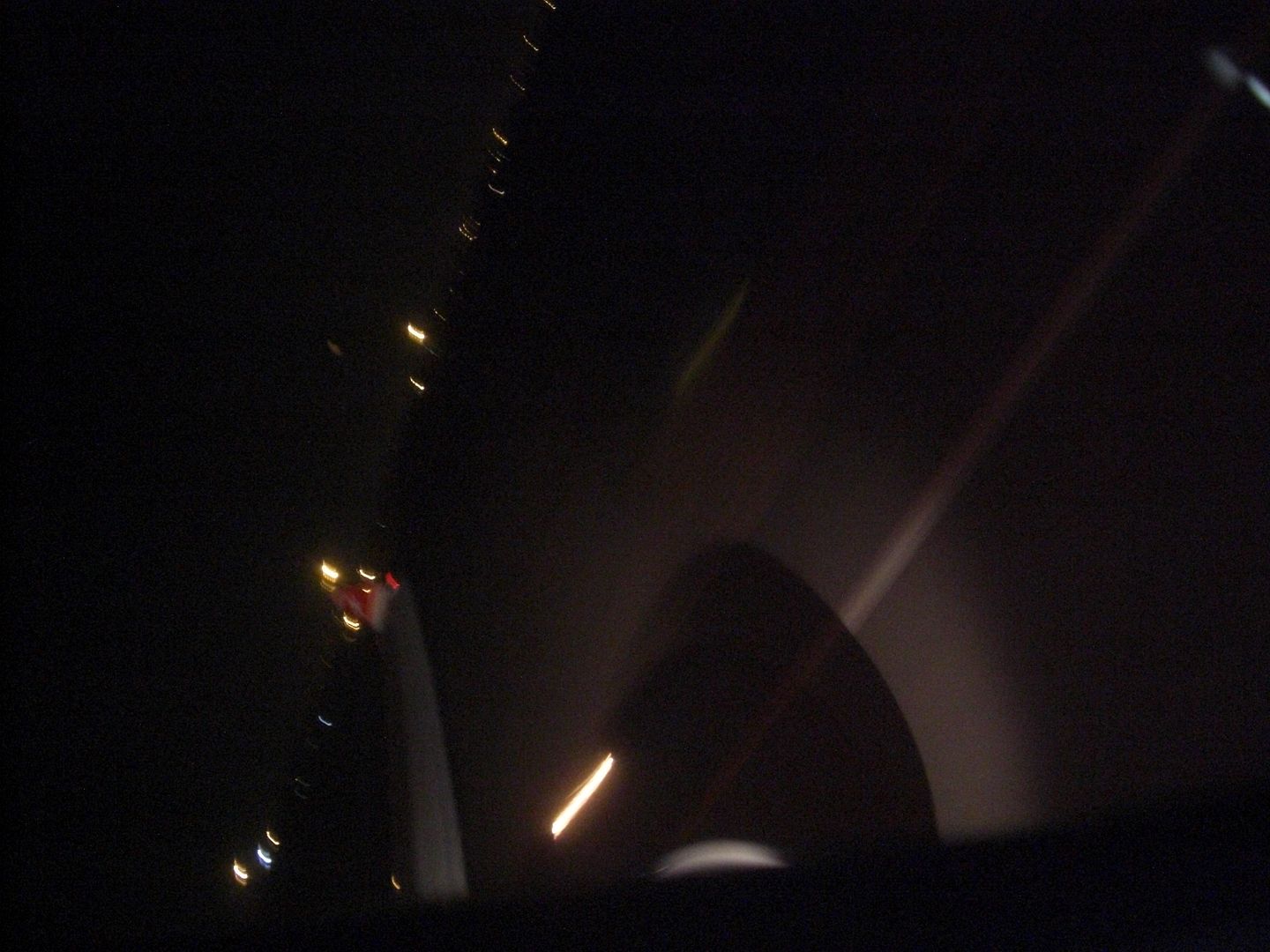 The lovely bedside lamp. I started off in seat 1A, but after take off moved back to 2A so the American couple could have row 1 to themselves. For those of you interested, they were connecting to CLT via MUC.
They've even updated the livery on the IFE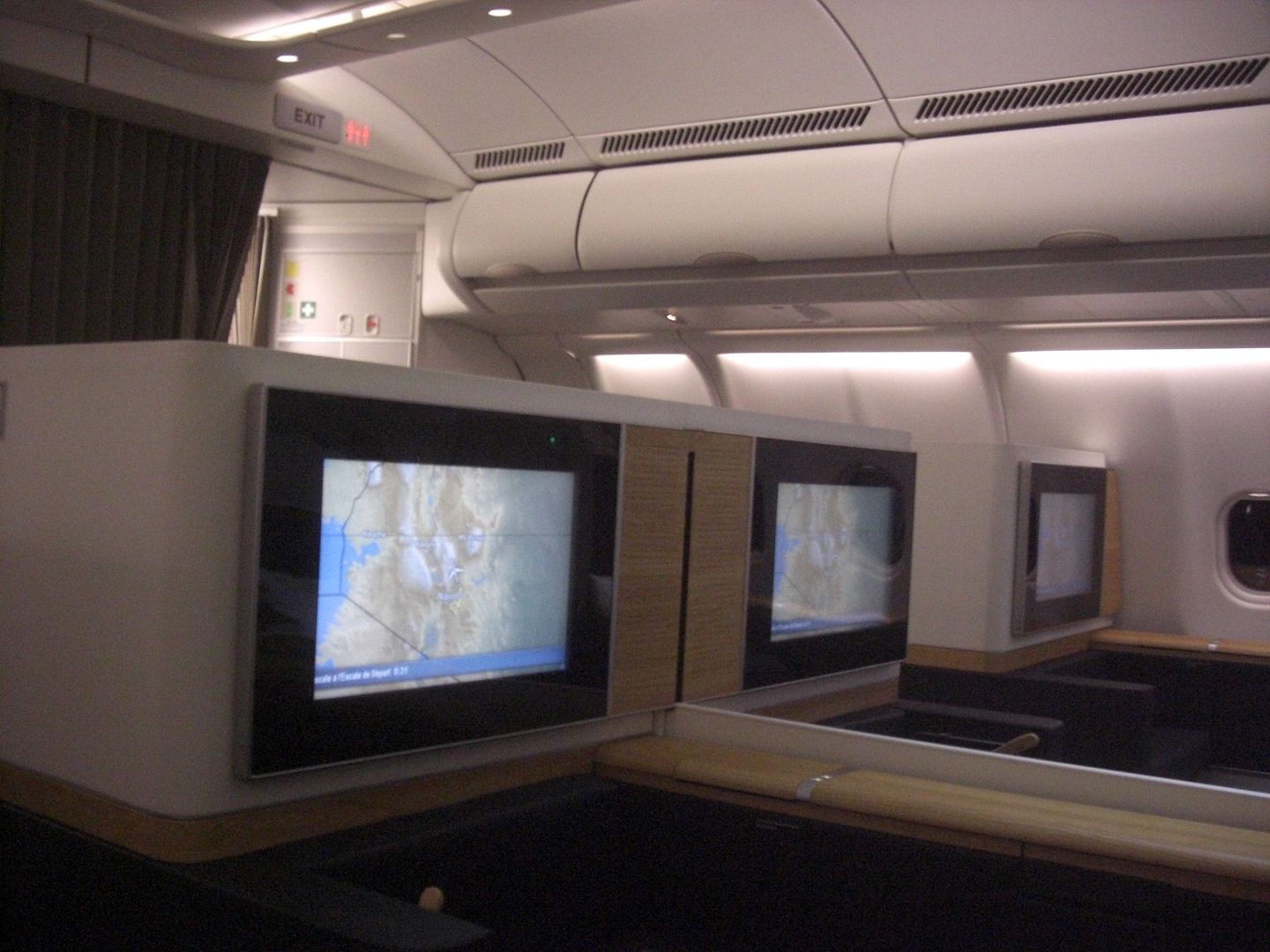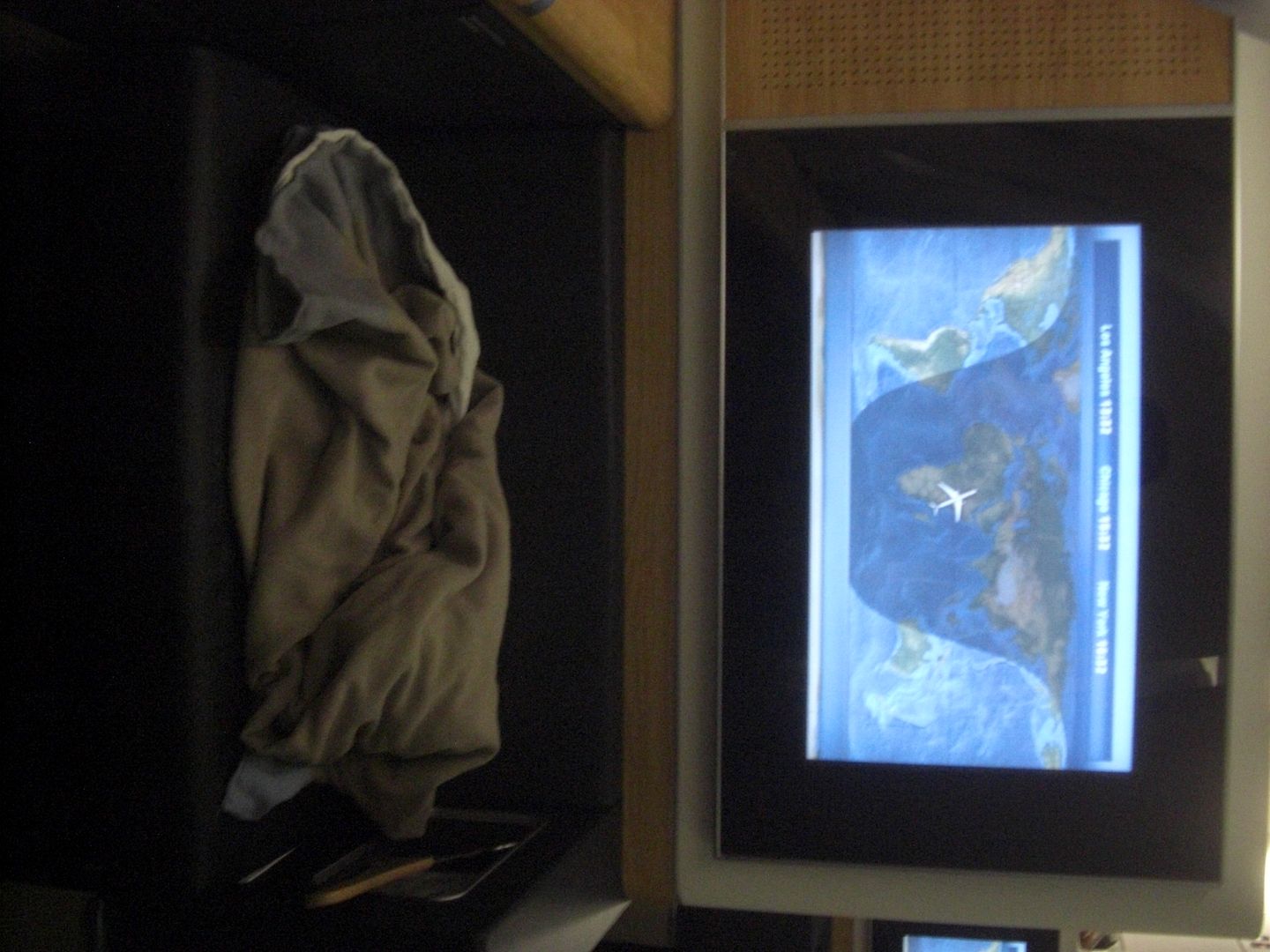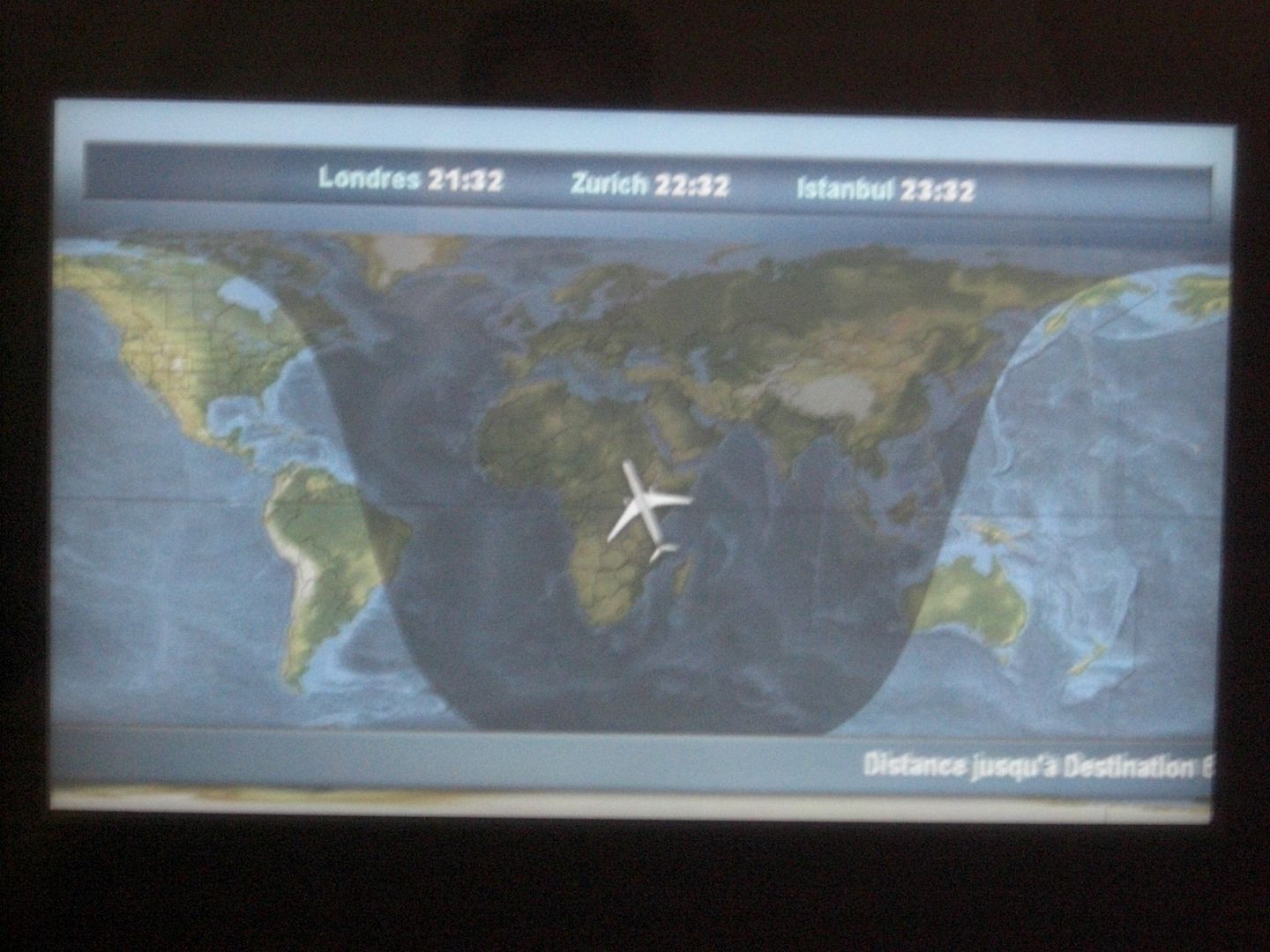 About fifteen minutes after take off, I was asked if I wanted dinner (of course), and my table was set up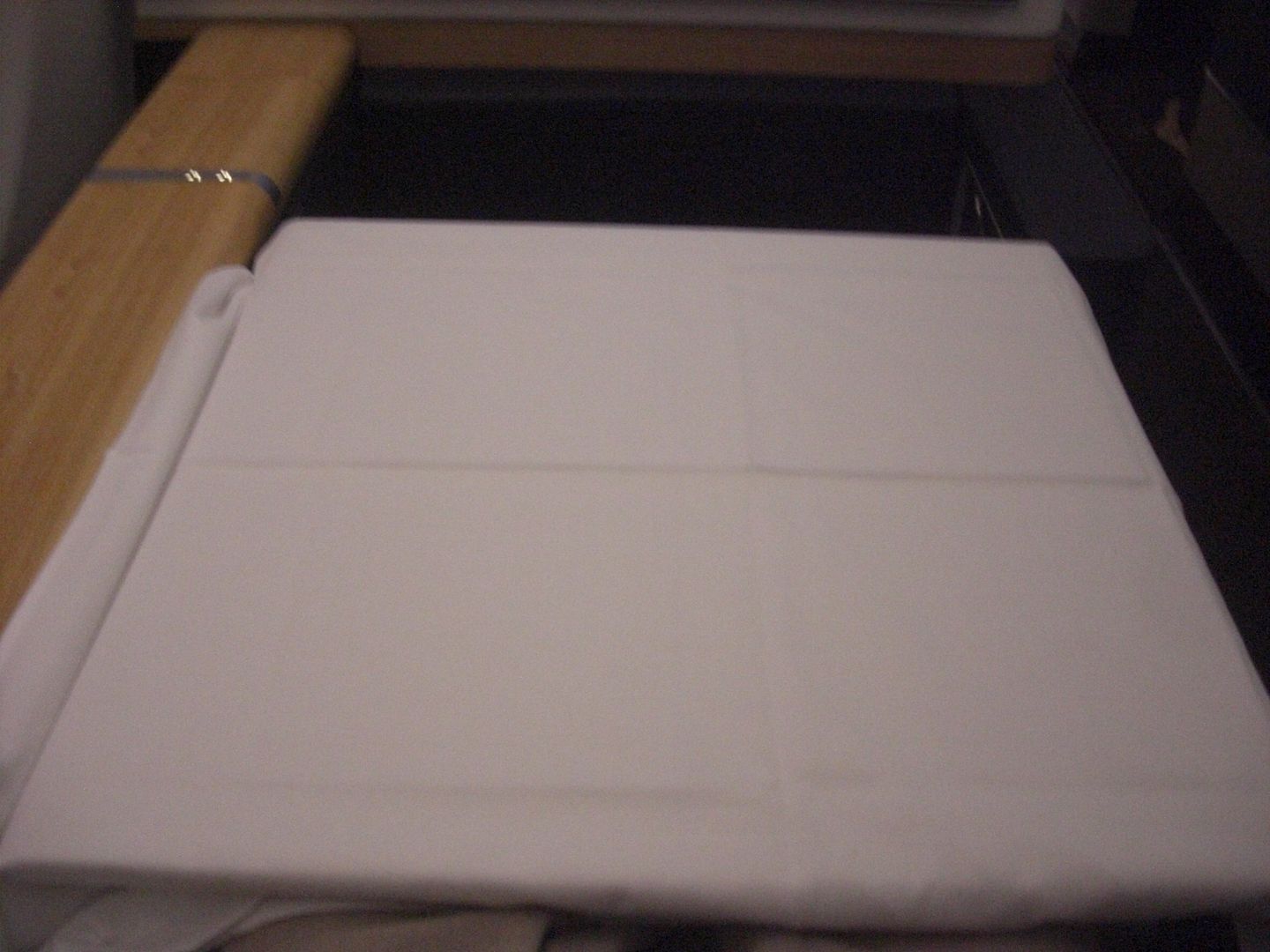 Over dinner I watched some thriller about something to do with time….wasn't great and fell asleep before it ended
More "pound a sip" champagne please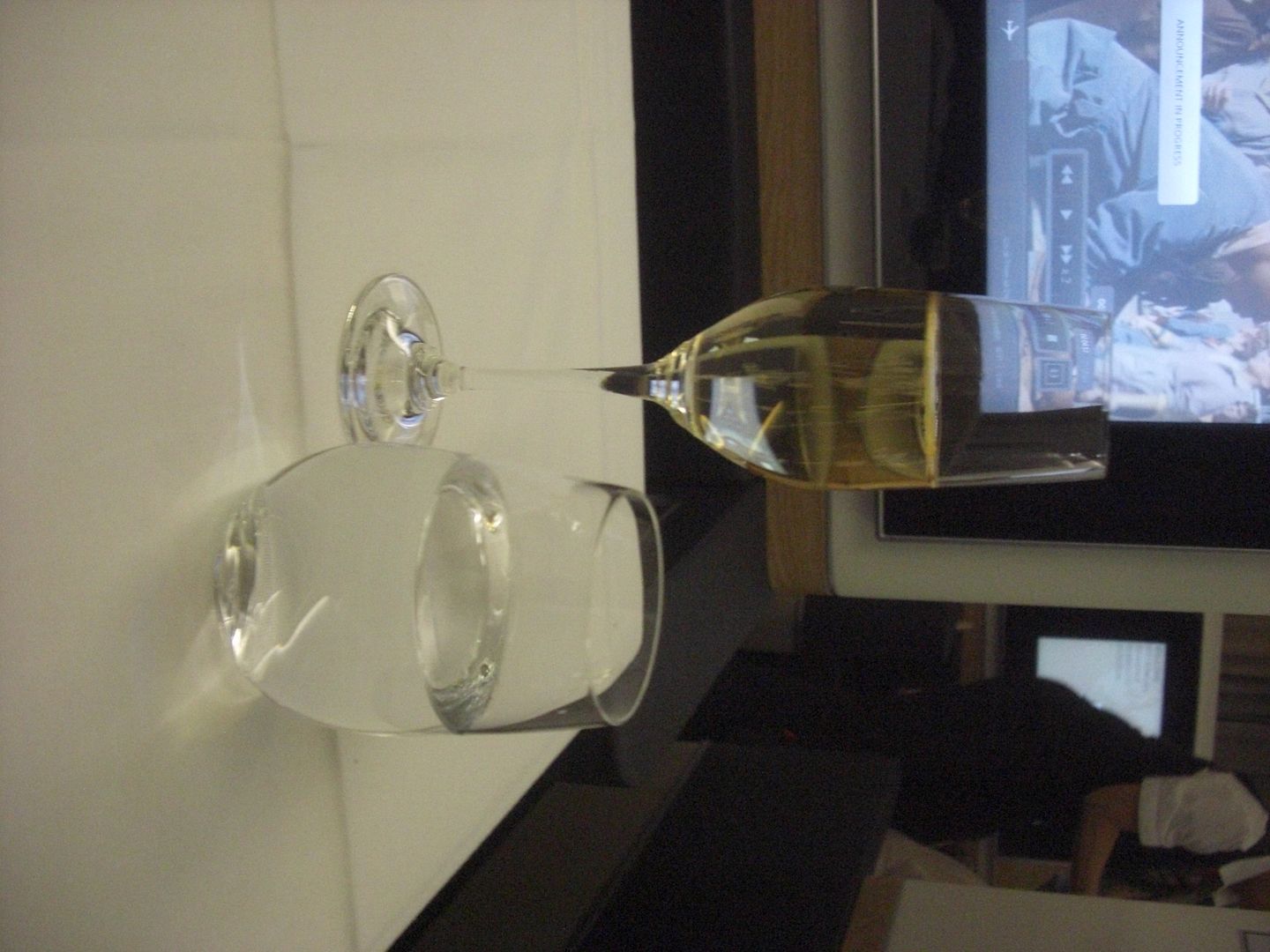 Lovey table setting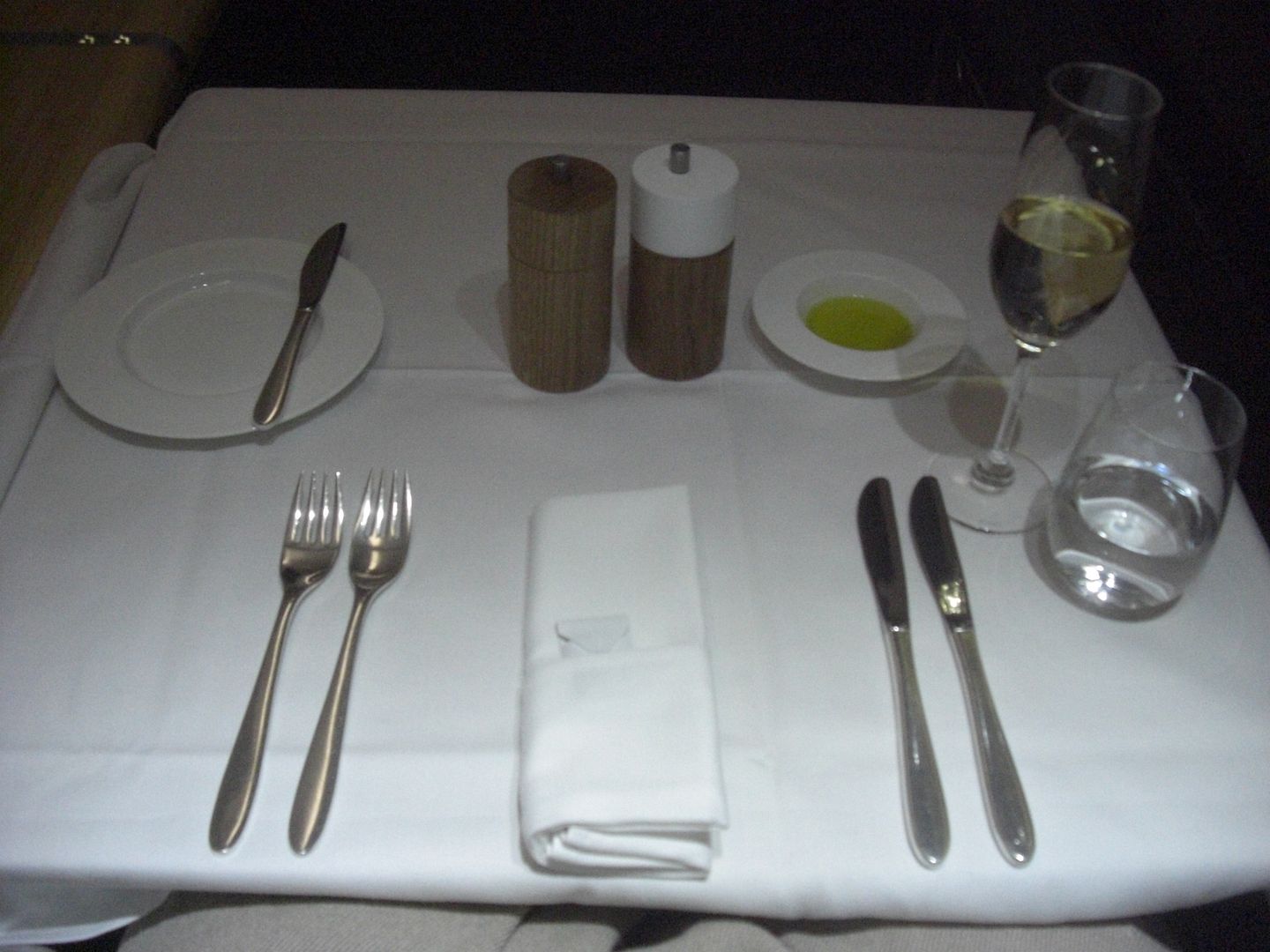 Lots of bread
Lets have a look at the menu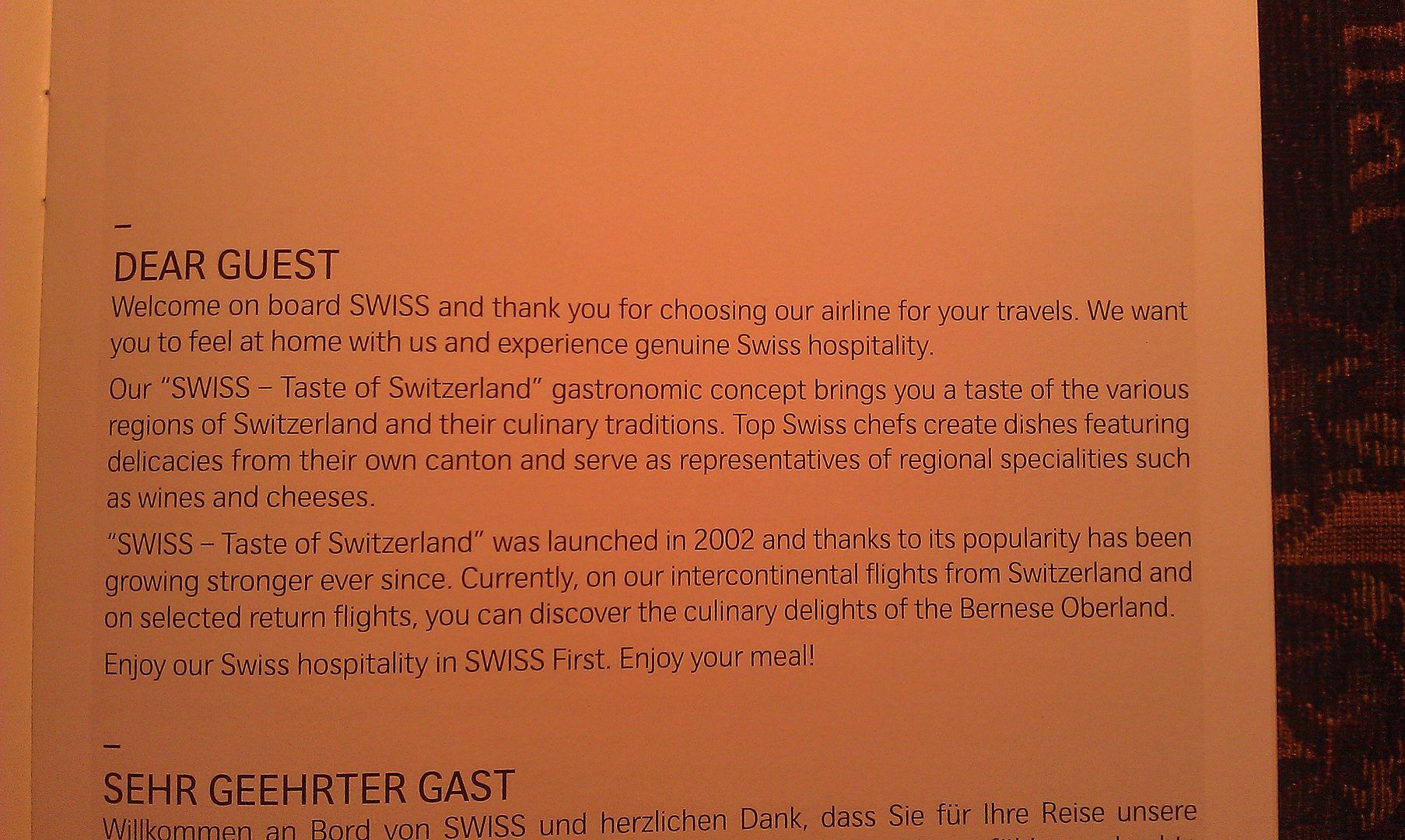 Plenty of choice for dinner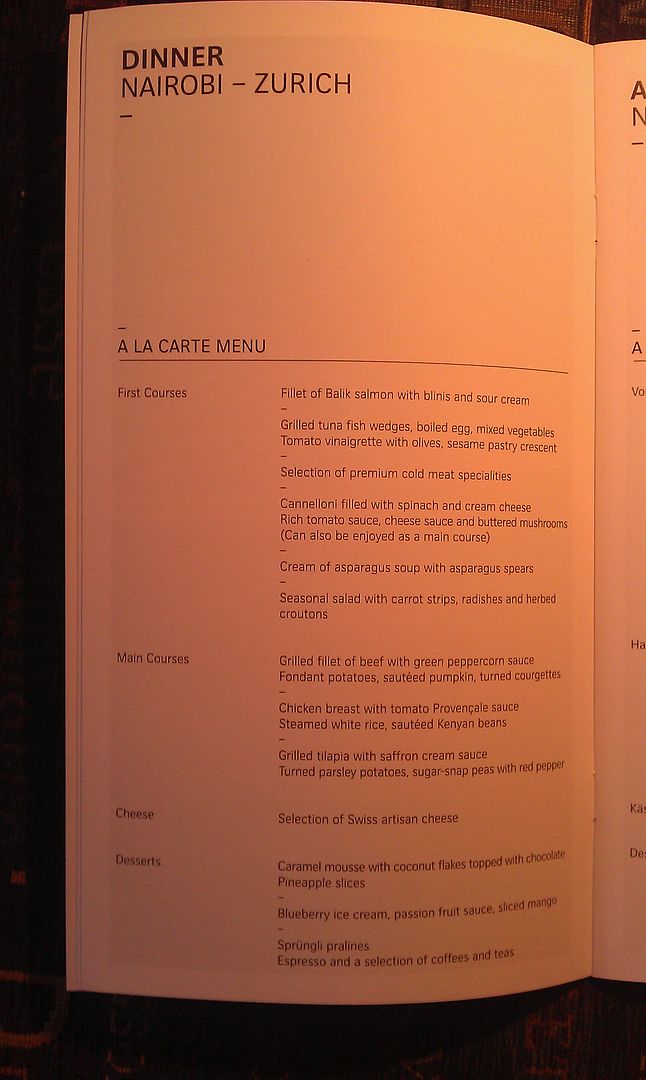 For starters, you can choose as much as you like from the list – there's no "either/or" here.
I had heard great things about the balik salmon, so went for that to start. As expected for a salmon lover, it was excellent. I could have eaten this all evening.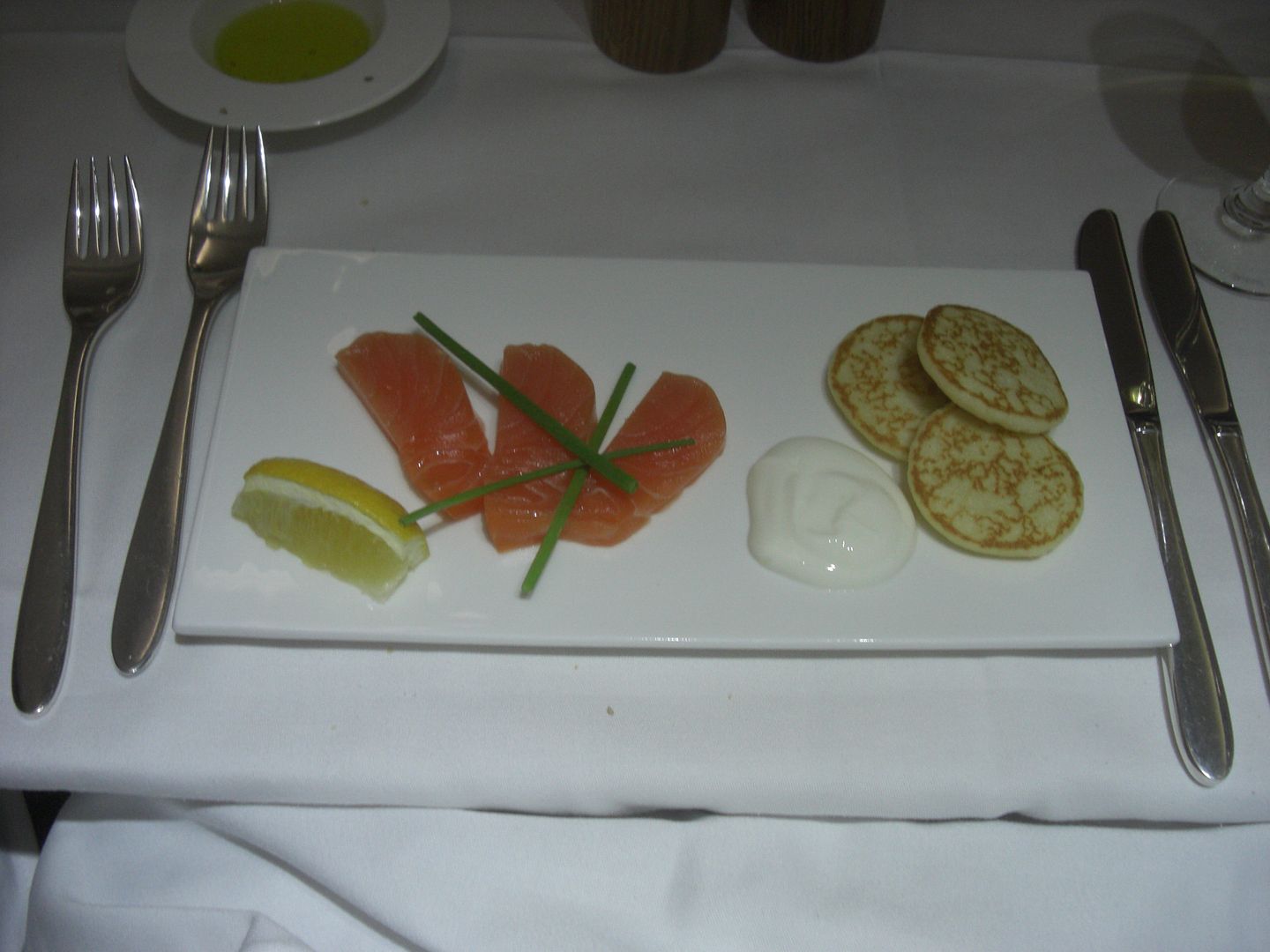 The soup also sounded very nice, so I got some of that too. The plate was nice and hot. Again, very tasty.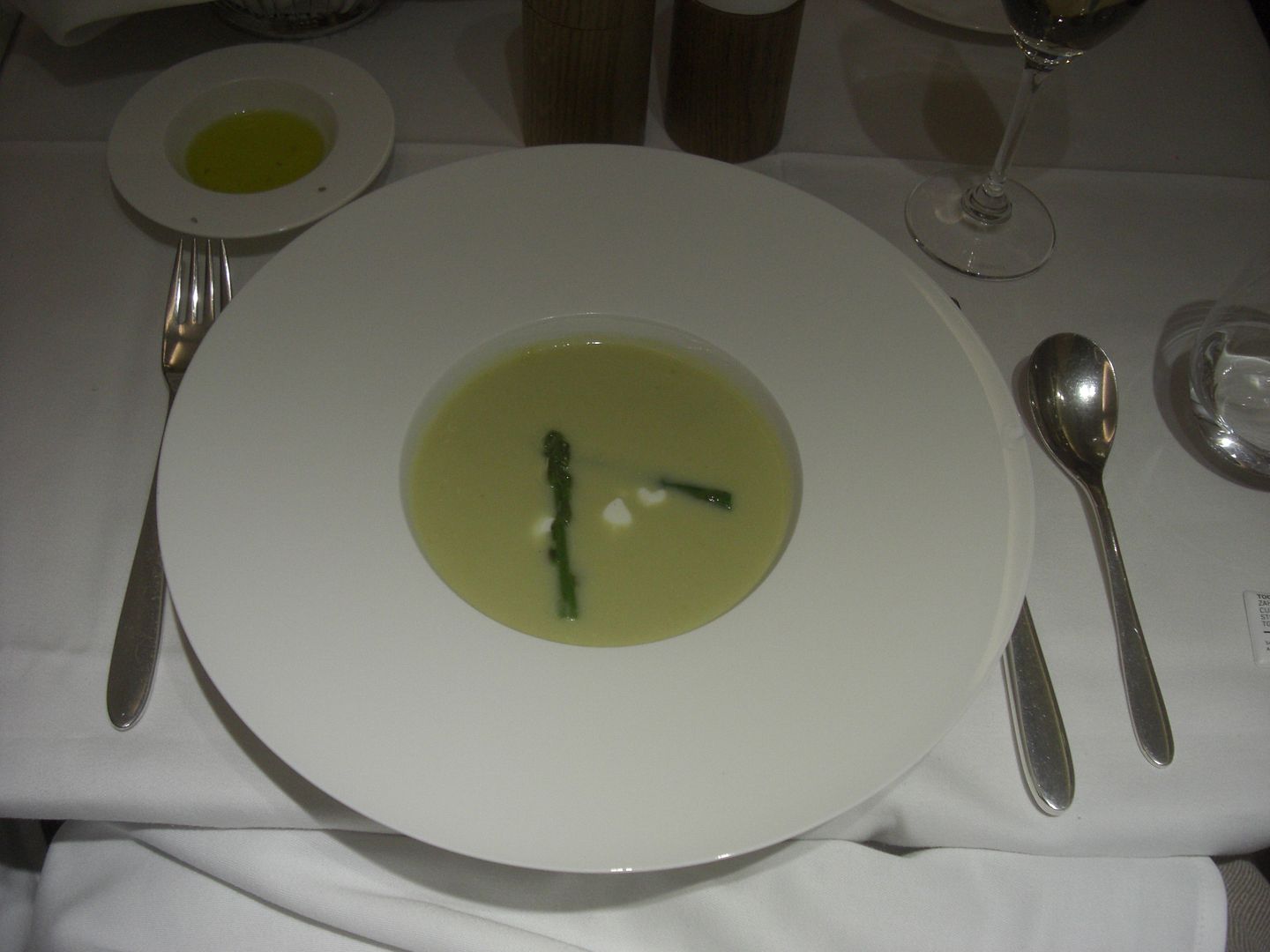 Mains
I was also offered a speciality dish from the Berne region which sounded good, so I went with that. It was nice, but didn't seem particularly special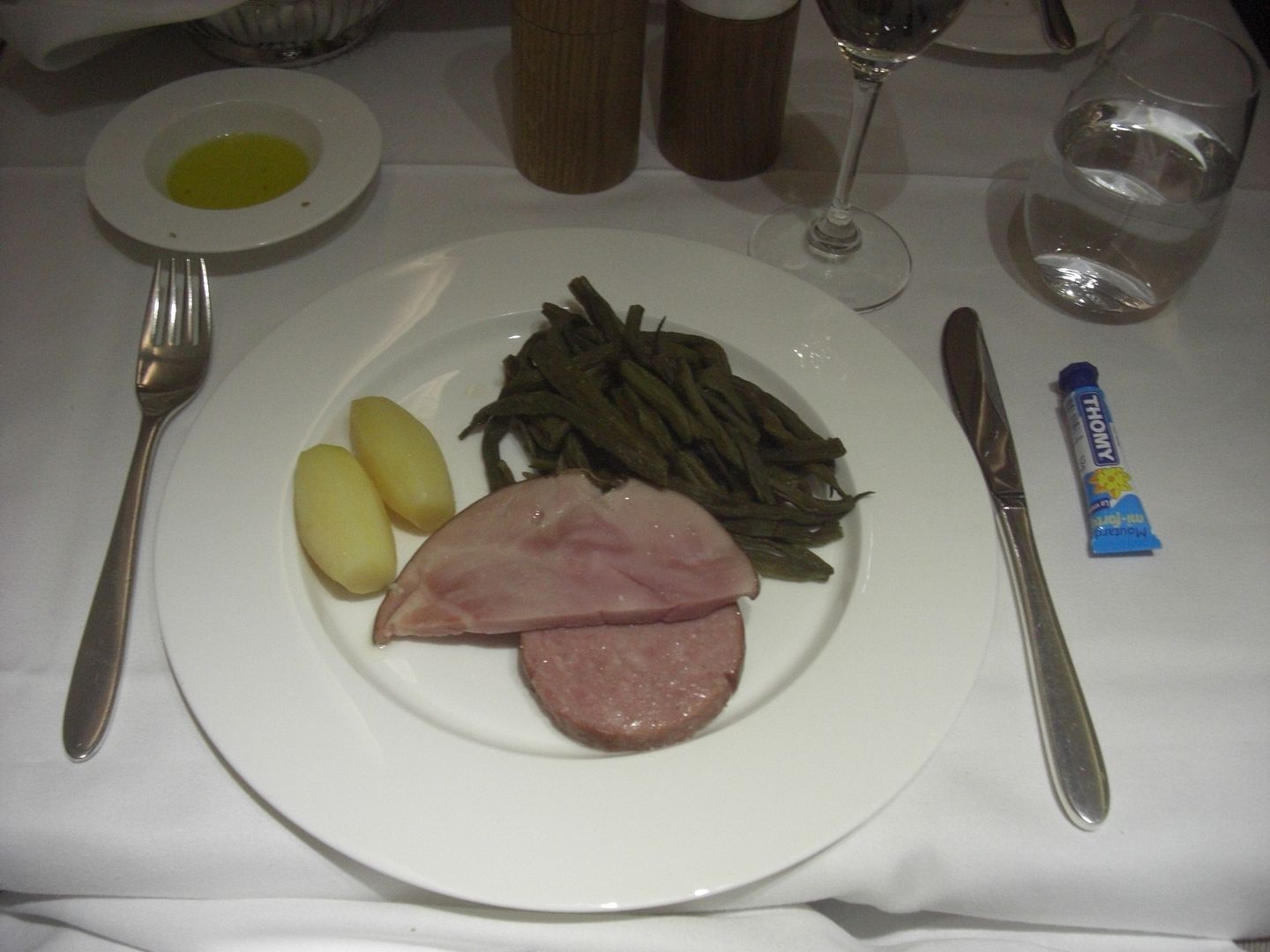 Half way though, the lovely FA came through with more vegetables
I'm not a big cheese eater, but I'd also heard good things about the cheese course, so thought I'd try a little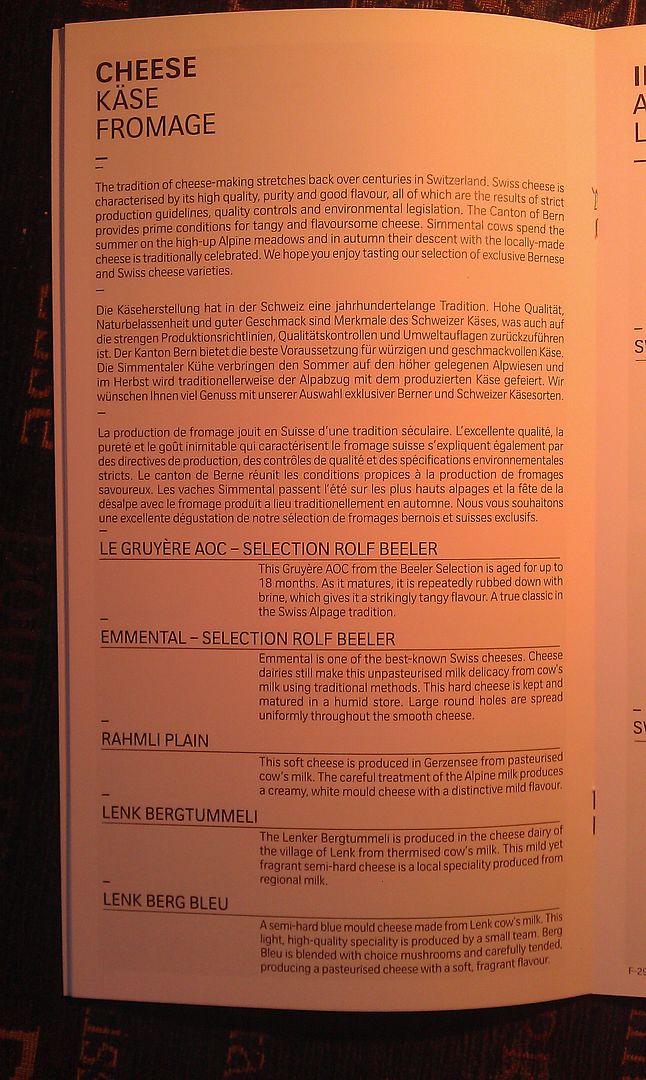 And some blueberry ice cream for dessert – very tasty. By this time I was so full I couldn't even finish the ice cream. I have never eaten so much food on a plane before.
Time for some peppermint tea before bed
The FA came up whilst I was sipping on my tea with a very nice looking box of Sprüngli chocolates. They looked wonderful, but I was on the verge of exploding, so only took one. The FA stood there, stern faced, and shook the box at me. I took another. She didn't move at all, her face passive until she shook the box for the third time. Ok, ok, I'll take another. We both burst out laughing as she finally smiled, and walked off. Very amusing, and a great example of the excellent level of service, anticipation of needs, and interaction between crew and customers. I was a bit miffed to see the rest of the box of chocolates delivered to the table of the American couple, but then quickly remembered by own incredibly indulgent dinner, and settled down to enjoy the three I already had.
Plenty of toothpicks
Obviously I was taking a lot of photos throughout the flight. The wonderful FA asked if I wanted a photo taken, which of course I said yes to – sorry it's not on here though!
Wine, champagne and drinks
A feast of the senses indeed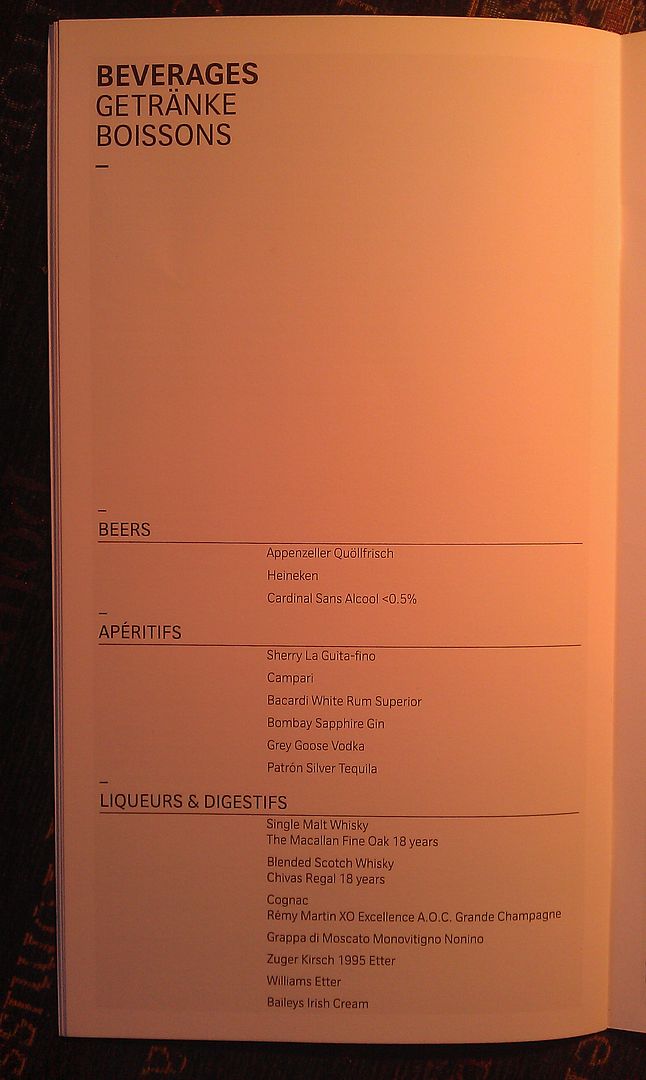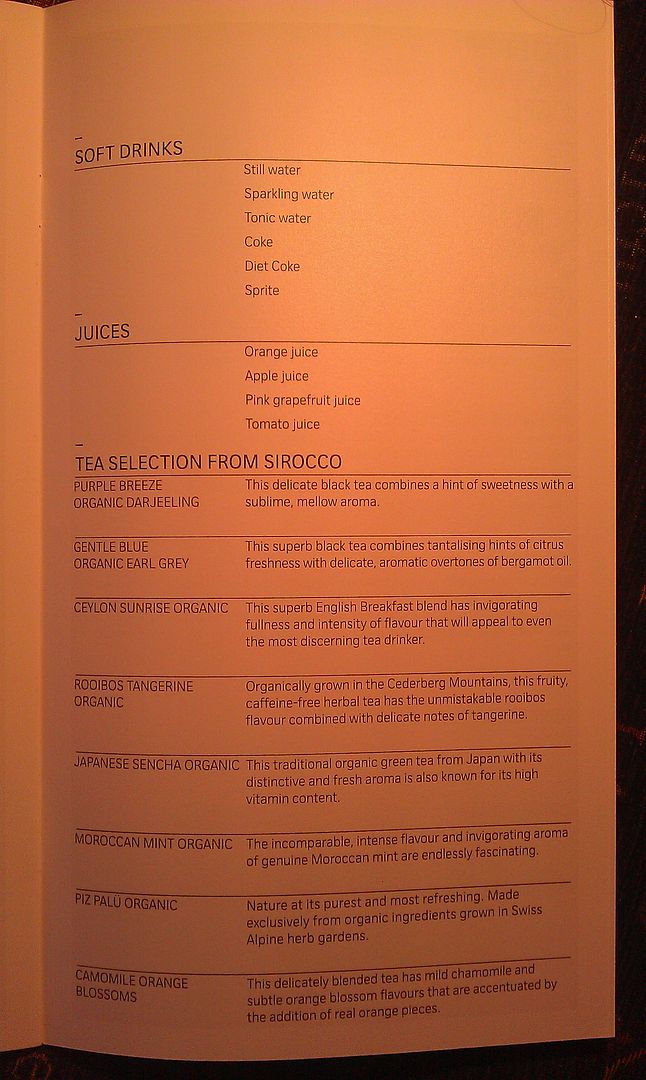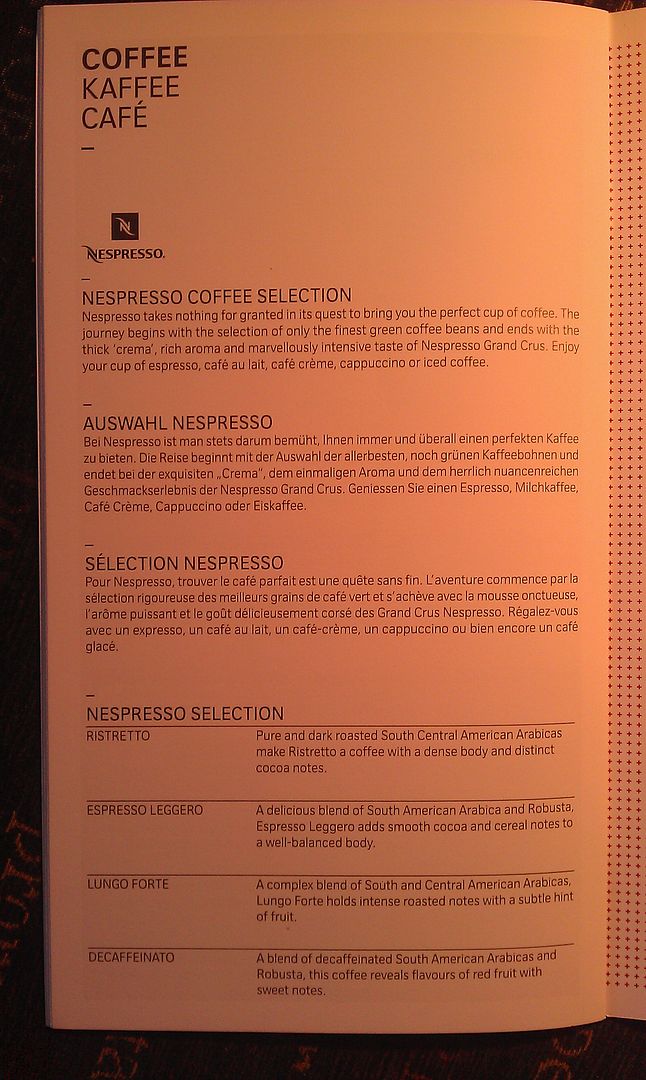 With the feast over, it was time for bed. During my dessert, I was asked if I wanted my bed made up after dinner. I asked for 2D for be made up instead, which was met with "excellent idea".
As you can see, there are no centralised luggage lockers, giving the cabin a very spacious feel to it.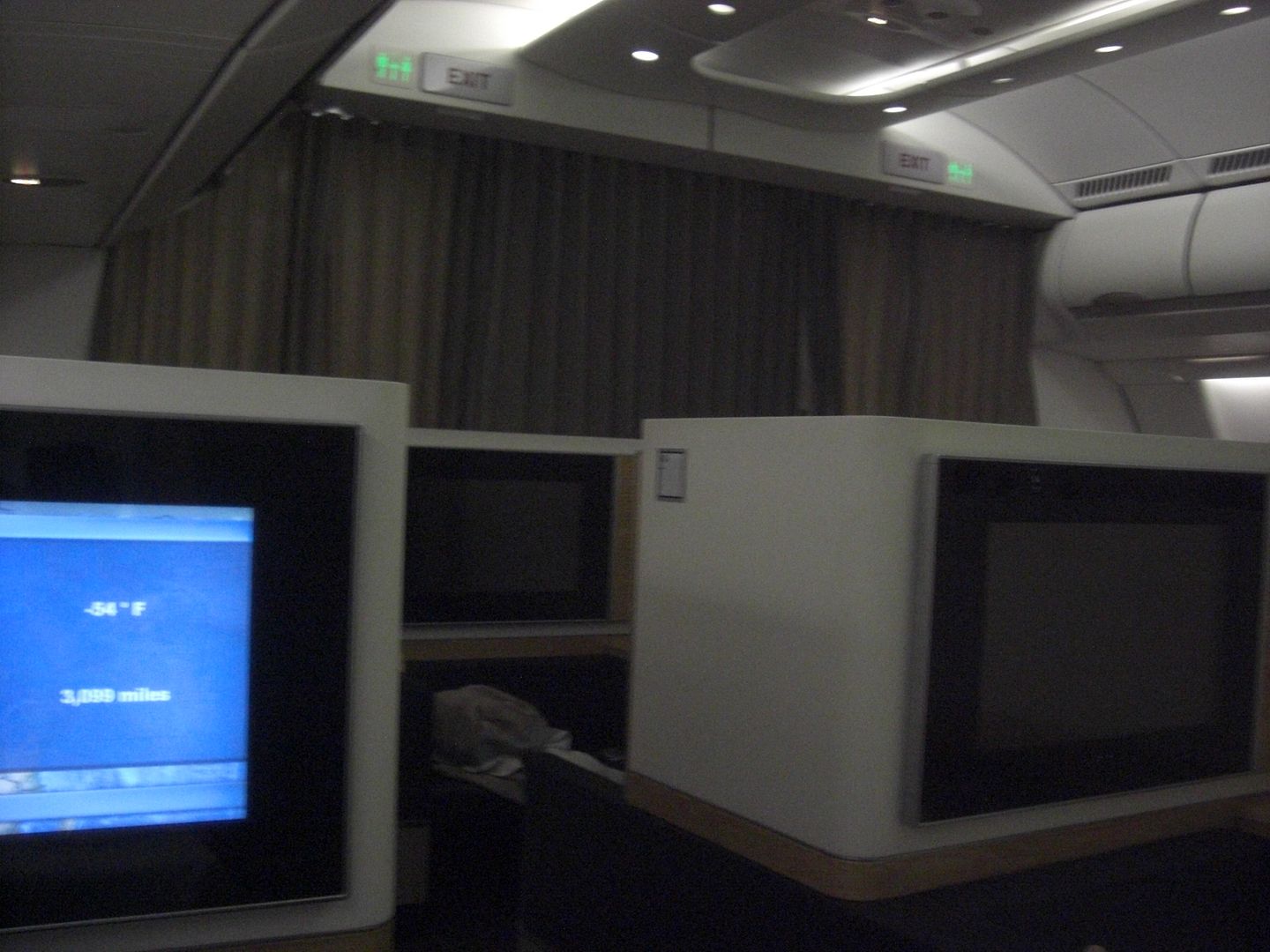 How welcoming is that? The privacy screens between seats, and to the aisle are both extended.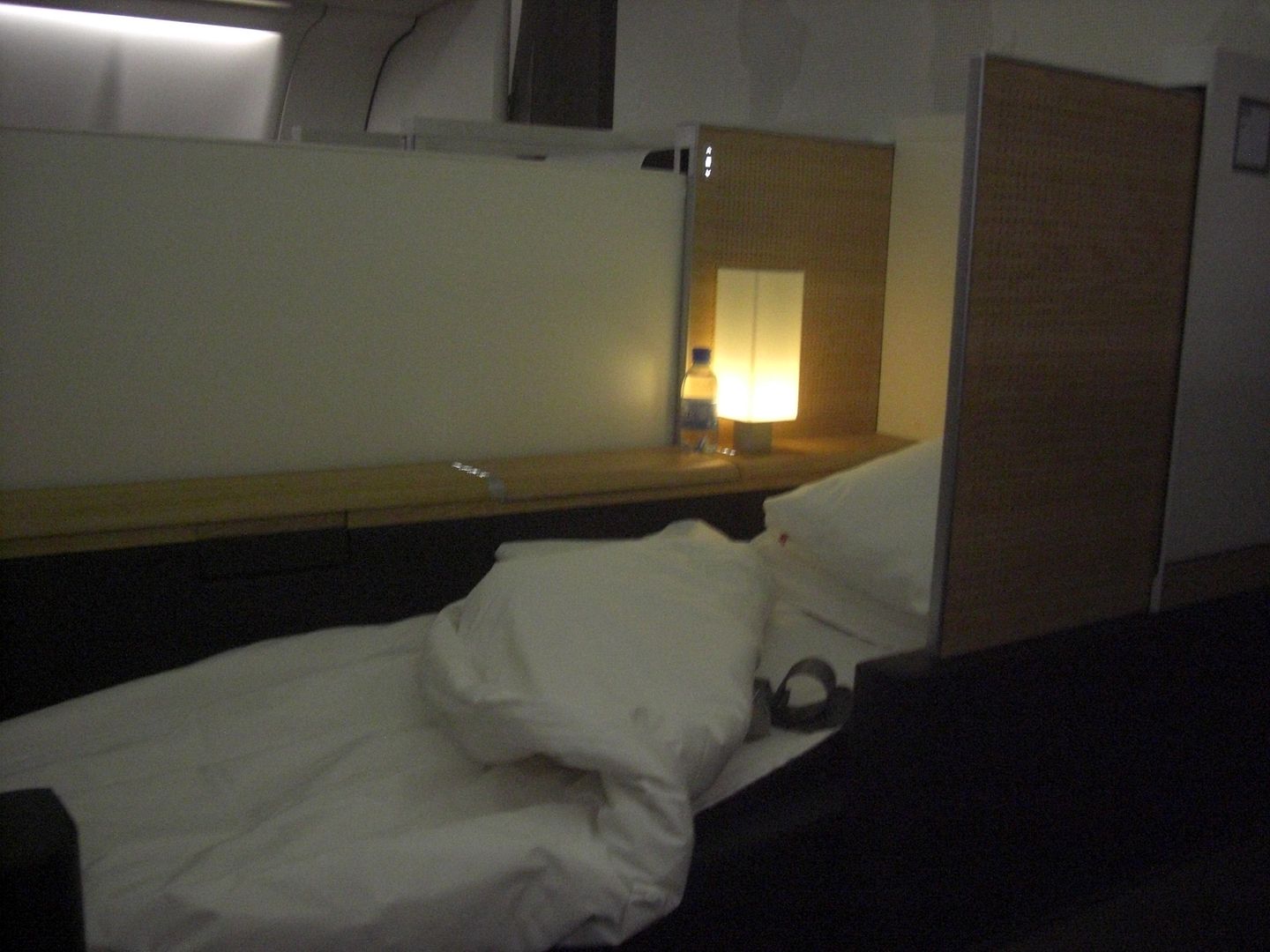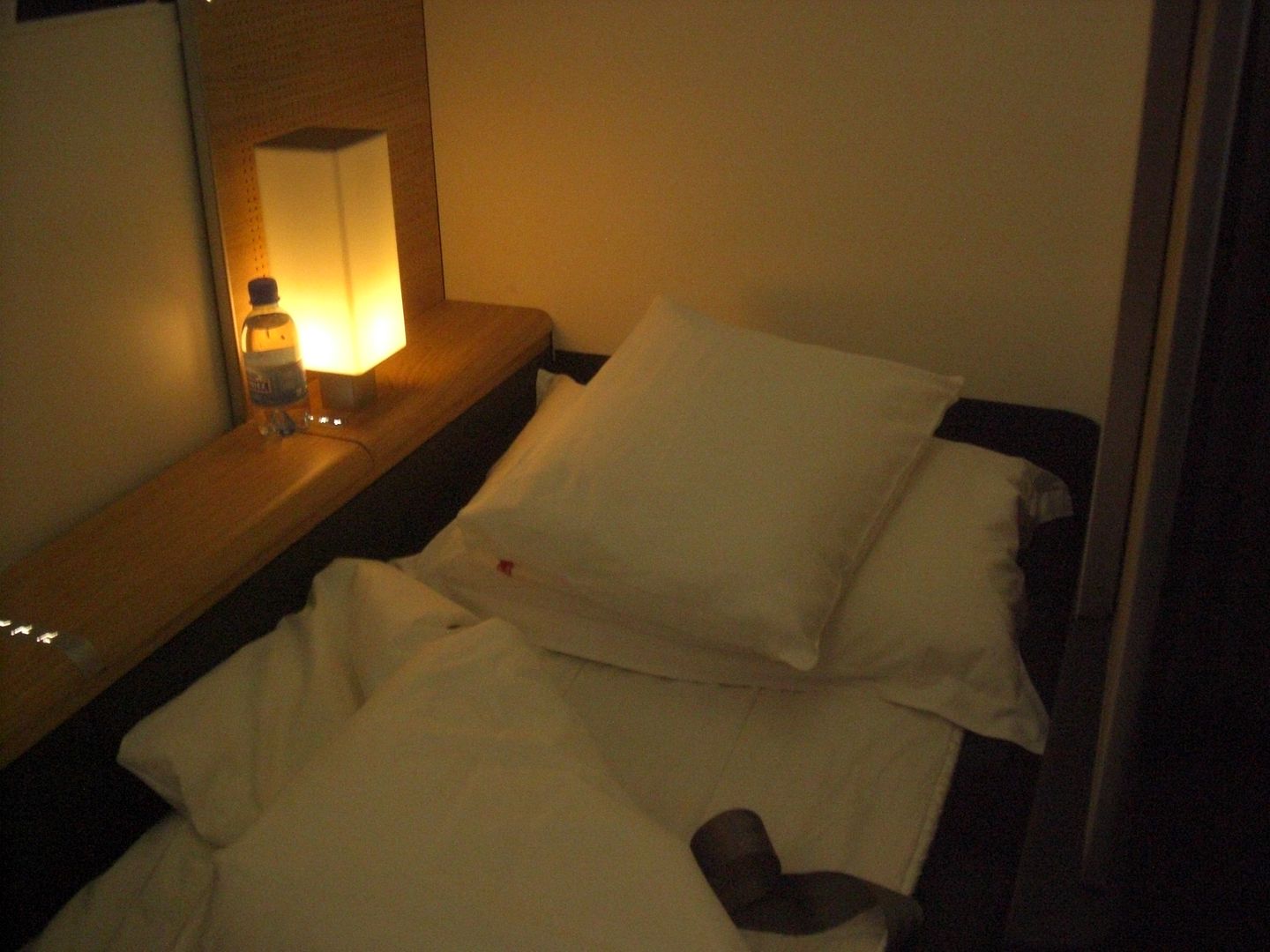 My slippers on the floor
I must say it felt VERY good to slide under the duvet. The bed was soft and comfortable. Unfortunately I paid the price for my gluttony, and was feeling a bit sick after the excesses of dinner. I powered through though, and managed to get some sleep.
I woke up just after leaving the coast of Egypt. The cabin was dark, but with some atmospheric plane lighting from the seat belt signs. It felt very cosy staring at the ceiling, whilst wrapped up in a proper bed whilst on a plane. I pondered doing a lap of the plane to check out the other cabins, but decided instead to take a short talk to the bathroom (too much vintage champagne). One of the FAs was sitting in the galley doing Sudoku. She gave me an indulgent smile as I walked past, the kind reserved for you by your favourite aunt.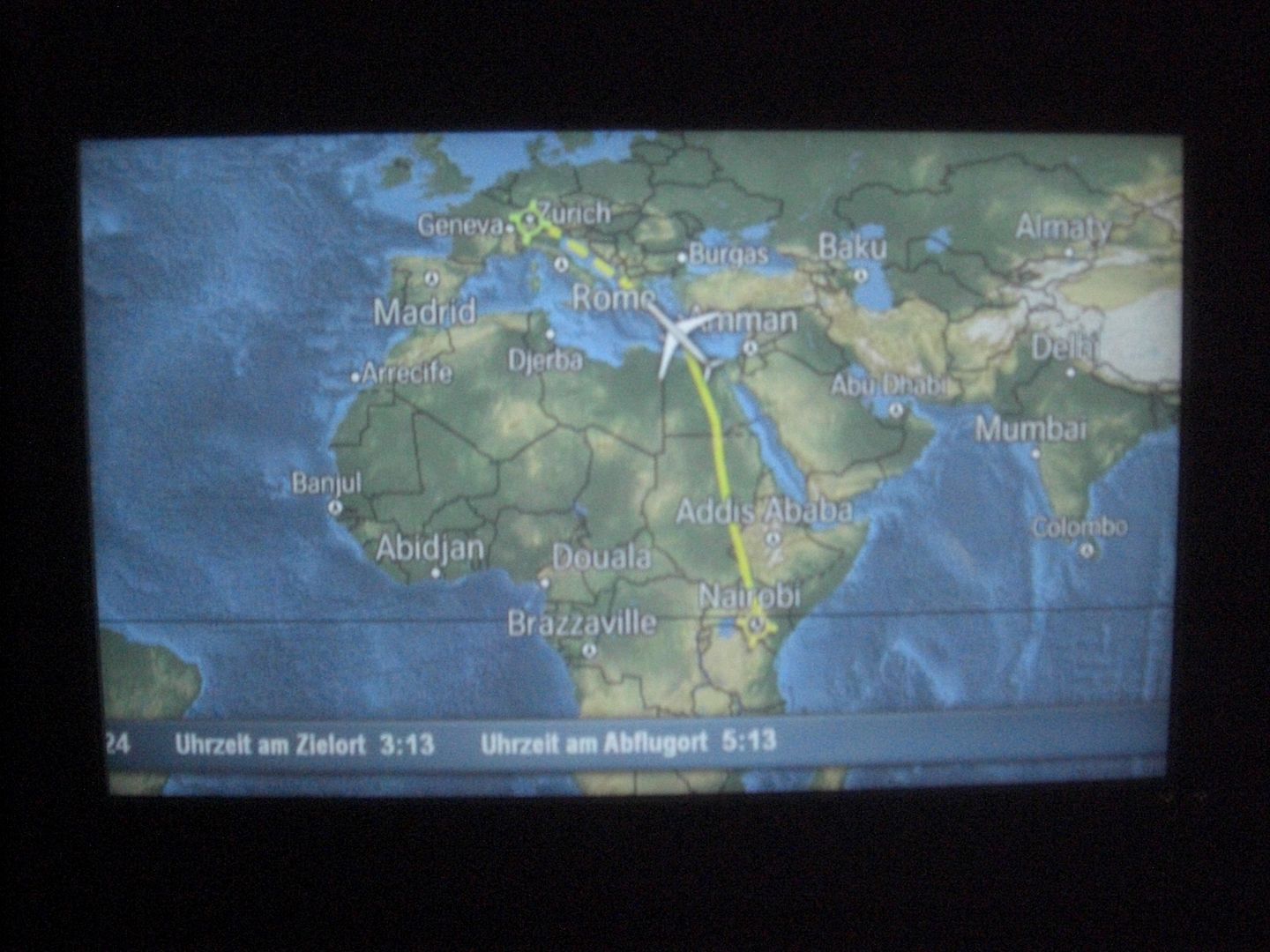 http://my.flightmemory.com/shefgab
Upcoming flights: AMS-RIX-BUD-VDA,ETH-TLV-FCO-LHR,STN-TXL-LCY,LTN-CPH-LTN,LGW-SZG,MUC-LHR