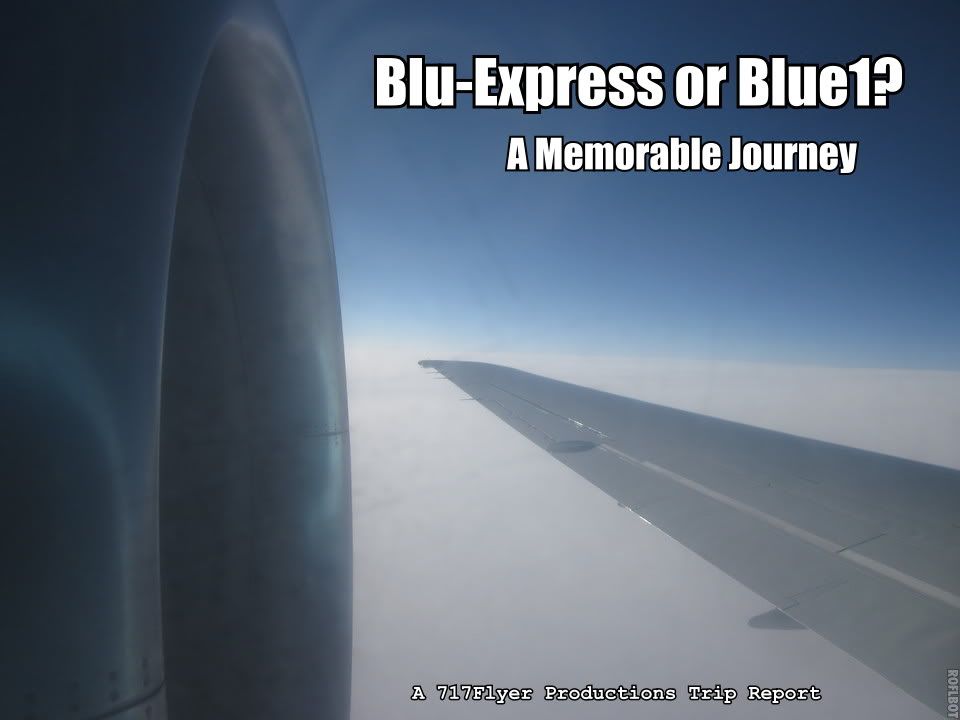 This trip report is dedicated to my grandfather who is now at a better place.
Hi all,
and welcome to my seventh trip report (see, I am getting used to writing these things!).
As you may notice this trip report really is a
trip
report, not a flight report. And it may not be very special. But for me it ended up being a journey I will not forget. And I would also like to warn you that a large percentage of the pictures in this report have Boeing 717s as their motif.
Chapter 1: The original plan
blu-express
is an Italian low cost airline owned by Italian charter airline and tour operator Blue Panorama that has its hub at Rome-Fiumicino Airport (FCO). The airline operates a fleet of 737 classics, one Boeing 737-300 and two Boeing 737-400s. Meanwhile, aircraft of the mother company Blue Panorama Airlines are occasionally also used to operate the airline's flights. As of January, 2012, this intriguing airline had an on time time performance of 20 % in departing flights. Needless to continue, I knew this was an airline I had to fly on.
blu-express offers some international routes in the Mediterranean area (such as FCO-NCE). They mostly operate national flights within Italy and I knew this was the best opportunity to catch the airline. But wait, this wasn't the first time I was about to make a booking at their confusing website. Let's go back in time shall we?
My first attempt to log blu-express
took place about two years ago. I had put together a nice itinerary to visit Rome for the first time. On the return journey, my intention was to fly blu-express on FCO-MXP (a route that blu-express has since shut down). Unfortunately, I had to cancel this trip because of family reasons.
Had I logged blu-express? No, I had failed.
My second attempt to log blu-express
took place some months later. My family had planned to visit the island of Sicily and visit the city of Palermo. We had booked flights via Rome on the way out (including FCO-PMO on blu-express) while returning via MXP from CTA, logging Lufthansa Italia (that has also been shut down since that). blu-express notified us some weeks before departure that our flight had been cancelled and the only other available flight on the route was impossible to connect to. Ironically, Finnair, that we had planned to fly HEL-FCO on also made some drastic changes to their flights to Rome, notified us about them - and - allowed us to rebook the outbound journey via MXP. From there, a cheap easyJet ticket saved us. This meant we both landed and took off from CTA and we grounded our plans about spending our week in Palermo.
Had I logged blu-express? No, I had once again failed.
My third attempt to log blu-express
got started a Saturday night in the middle of October. I remember the weather being horrible, it was pitch dark outside and I was browsing various airline websites, dreaming about escaping from the Finnish climate. As I was about to open the Blue1 website (that's a nice airline, by the way!) my web browser suggested
blu-express.com
instead. I had to do something about it.
After a quick chat with my parents we came to the solution that leaving on holiday to some nice location in the beginning of 2012 would be ideal. Someone suggested the island of Malta, it was tempting to catch a flight on Air Malta, but flights were quite expensive. So I suggested "What about Italy? Let's say Palermo where we did not make it last time". Indeed, it worked, we all liked the idea, we looked at the dates and settled for a week in the middle of February.
"Well, could you search the flights?". Some moments later I heard the words I wanted to hear so badly. And indeed I found very interesting flights, also priced within an acceptable range, returned to my parents and presented the schedules to them. "This looks good", was their response, "but wait, blu-express, what is that for airline?". It had come to the crucial moment.
As the saying goes, the customer is always right. As I was due to reply the question my parents had asked, I remembered the customer reviews I had read on Skytrax.
I flew on an extremely old and very badly kept 737-400. Seats in terrible condition. Toilet too.
It was supposed to be a 10.30am flight however at check-in, the girl said there was a schedule change and was now a 3.30pm flight. This made our connection tight but still ok. In the afternoon at check-in, we were told the flight was delayed a further 1.5 hrs. We had a 7.5 hr delay with no apologies.
To add insult to injury the only company representative kept telling lies, we were told several times that the plane was on the ground but since as the airport was busy there was no bus to pick us up. The price was only marginally lower than easyjet. I only took that flight because I could get to Rome earlier (supposedly).
So I told them it is an Italian low cost airline, offering flights from Rome to Palermo for an unbeatable 19 EUR. The schedule also fitted our travel plans perfectly, and I added, it would bring some excitement to our travelling as well.
The sound of the price was enough - "well, 19 EUR, that sure sounds too tempting to let go. Go ahead with the bookings!".
Had I logged blu-express? No, but I was closer than ever.
Well, an order was to be sent to the guy (see, only one, well that's because of the economic downturn) at the booking department. But wait? Why doesn't he answer on the phone? Because he has the same phone number as I have? Great, so now I need to be an office guy that has to work 15 hours per day and being very much underpaid. Fine, I kinda like his job anyway. So I attached a name tag to my shirt...
Booking Assistant
717 Solutions
... and started my work.
Norwegian Air Shuttle (I wonder about their name every time I hear it!) was willing to sell me a HEL-FCO ticket for 59 EUR, their cheapest advertised fare. Quickly grabbed without any optional extras. Then came the interesting part - the next segment to be booked was FCO-PMO on blu-express. A 14.45 timed flight fitted our plan perfectly and was quickly booked for 19 EUR.
The return journey was an interesting one. I could have booked PMO-FCO on blu-express (no thanks, not a second time) or Alitalia and continue FCO-RIX-HEL on air Baltic for 80 EUR but nope, perhaps it was the need to add another new departure airport to my log or my sympathy for the SAS Group - I soon found an evening connection LIN-ARN-HEL with SAS for some 85 EUR. As a bonus the LIN-ARN was scheduled to be operated by the MD-80 (yes, I love t-tails!) and ARN-HEL on the "drunkyard flight" was on the 737-600, a new type for my log.
Finally to connect the dots, Alitalia happily sold me a PMO-LIN ticket for 45 EUR. To add insult to the injury, or to add some excitement (you pick which one you desire!) the remark "Code Share Alitalia – Compagnia Aerea Italiana S.p.A."?/Alitalia Express - Air One aircraft and crew" was written on my booking confirmation. So was I going to fly on Alitalia? or Air One? or Alitalia Express? Or perhaps a mix of all these? I had no clue.
Knowing me and my booking department, the composed itinerary was very exiting already until I remembered that approximately 200 kilometers south of Palermo is an island called Malta. That has an airport. And a national carrier I hadn't flown on. It didn't take long before I had booked a CTA-MLA on Air Malta for 45 EUR. For the return trip I wanted to add another new airport and indeed I found a late night flight on Ryanair (an airline I am proud to say I had never flown on before!) for the grand total of 11 EUR routed MLA-TPS. This also left me with around seven hours in Malta.
This is what my route ended up looking like:
With credits to Karl L. Swartz and Great Circle Mapper.
Of course this was too good to be true, and only some weeks after booking, I received an email from blu-express (in very bad English) saying the timing for my flight had changed from 14.45 to 16.00. Not a big deal, but sure giving a good hint of what was to come later...
...as another dark and rainy Saturday night this email had landed in my mailbox: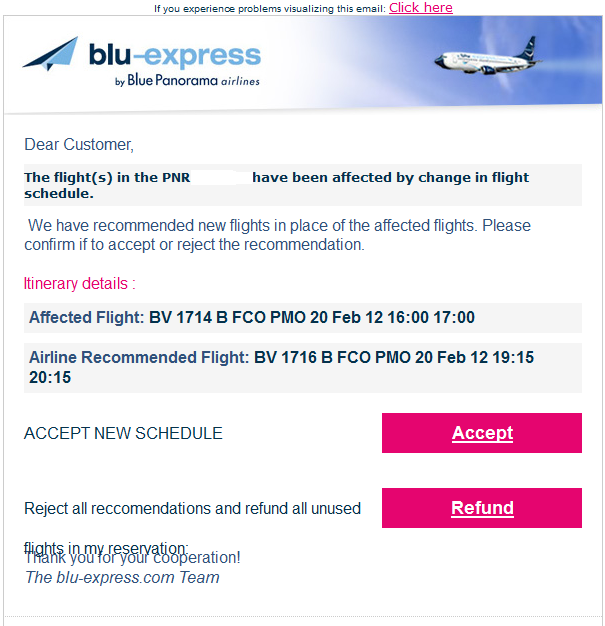 Damn. A quick check with my parents revealed a couple of hours change in schedule wasn't a very big matter and a city visit to Rome (or perhaps the smaller town of Ostia, also explored by another A.netter) was a good option if the time between the flights grew too big.
Moments later the booking department had clicked on the big and red button accepting these changes.
My mind spoke to me. "What have you done?"
Did I want to fail once again logging blu-express? No, they had caused me too much trouble already.
"I'm going to log that airline no matter if it forces me to wait for 10 hours in an airport without electricity to catch a smelling 737-400 with an inoperative lavatory. Yes.".
Chapter 2: Change in plans
Sometimes life takes quite surprising turns. I experienced one of these moments early evening on Sunday as I received a phone call from some close relatives of mine. Losing a dear one is never easy, but it is part of life. Hearing that my grandfather had passed away some moments earlier was of course a very chocking message.
Moreover, as my father had left on a business trip some days earlier I knew I did not want to spend my holiday alone. The first thing I did was of course to postpone my trip to Sicily & Malta as well as cancel my hotel there.
What came next was too much. As I learned that the father of my best friend was in a very critical state we decided to spend the next days together. Without any doubt, the best way of getting over such sad memories is by talking. And the next days spent together with my friend were very relieving. And as we got news that his father already felt much better I decided to visit Lapland and talk to friends and relatives there.
Initially, I had planned to travel together with my father, but he left a couple of days earlier, taking a night train from Helsinki to Rovaniemi. As I started looking for option close to midnight on Tuesday I discovered that VR (our train company) had already shut down their online booking facility for the night and that all flight options were horribly expensive. Flybe wanted around 200 EUR for a one way ticket HEL-KEM and Finnair wanted me to pony up some 400 EUR for a return ticket to Rovaniemi, which was the most comfortable option. Of course I was prepared to pay a higher fare this time as the reason of the trip was so important, but when I logged onto
www.blue1.com
and found a 45 EUR youth ticket for a very comfortable 14.40 departure the next day on a flight to Oulu I could not help but smile.
It was only after I had booked the flight and I wanted to check in online that I discovered the seat map was showing a Boeing 717. I could not think of a more appropriate way of flying up North to share memories and thoughts with family and friends.
Because of very steep fares, scheduling reasons (and fine, a bit of financial reasons as well) I decided to take the train home on Sunday. An older express train for 2 hours and after that a 7 hours ride on an InterCity train cost my wallet 58 EUR. Sure, if I would have paid double the price (plus a train ticket plus a taxi ride) I could have flown home on Flybe but after my experience in December (see here:
Flying North On The ATR! HEL-OUL/KEM-HEL
(by
717Flyer
Dec 30 2011 in Trip Reports)) I decided it would be a better choice to save that money for some other flights instead (for example on intriguing Italian low cost carriers!).
Chapter 3: A flight I will remember
Wednesday 22.02.2012
During online check in the evening before I noted I had flown all too many flights on the 717s without having the real experience. I had never been sitting far back in the 717 cabin, fully enjoying the thrust and power of the RR engines. So I quickly selected seat 22A. Needless to say, now I was really eagerly looking forward to my flight.
Despite having tried hard to convince my family that I knew public transportation to the airport better than my own wardrobe my mother insisted on driving me to the airport. And I am sure you all know that it is hard to overtalk caring parents. And so I arrived and stepped outside terminal 1 after a comfortable car drive of around 30 minutes.
Driving conditions were better than expected and we had arrived at the airport a bit too early for my taste, around 1 hour 20 minutes ahead of departure. So we had a final nice chat before saying goodbyes.
I was expecting quite a big rush at the airport this afternoon as this particular week was the Winter holiday of all scools in Southern Finland - but it seems like everyone had already left on vacation (just as I had planned to do on Monday!) as I stepped into an empty Terminal 1:
I quickly printed my receipt, oh sorry, I mean boarding pass from a kiosk. As I looked up on the wall besides me I saw something that made me feel at home:
And the slogan,
Let's do
, that has by the way attracted some critical words by British passengers on the KF Facebook page as it apparently doesn't have any meaning, later proved right, at least on my flight.
My thinking was interrupted by the sound of a group of 20-30 German teenagers just leaving the Blue1 check in counters. They did not exactly look like very experienced travellers, so I climbed the stairs to the security control quite fast to get there first (hey, those German fellows should be happy to see someone showing them what to do at the security checkpoint!).
Surprisingly, the security agent was in really good mood. A loud greeting and when he says
You should appear on those videos showing step-to-step instructions what to do in security control - have a great flight!
I am completely sold. Perhaps Finavia isn't so bad after all?
As I exit the security checkpoint with a smile on my face I see this Lufthansa bird, dedicated to Jonas:
I don't need to look at a monitor because as I turn my head to the right I see my flight is departing from gate 12 some meters away. Total walking time from security to gate? 20 seconds. You've got to love T1 at Helsinki.
My timing was perfect as just as I arrive and sit down I see a beautiful, blue, yet colorful thing landing on runway 15 just in front of my nose.
It is arriving some 10 minutes early from ARN (that by the way had experienced some heavy delays that morning due to weather conditions) and I am delighted as it pulls up to my gate.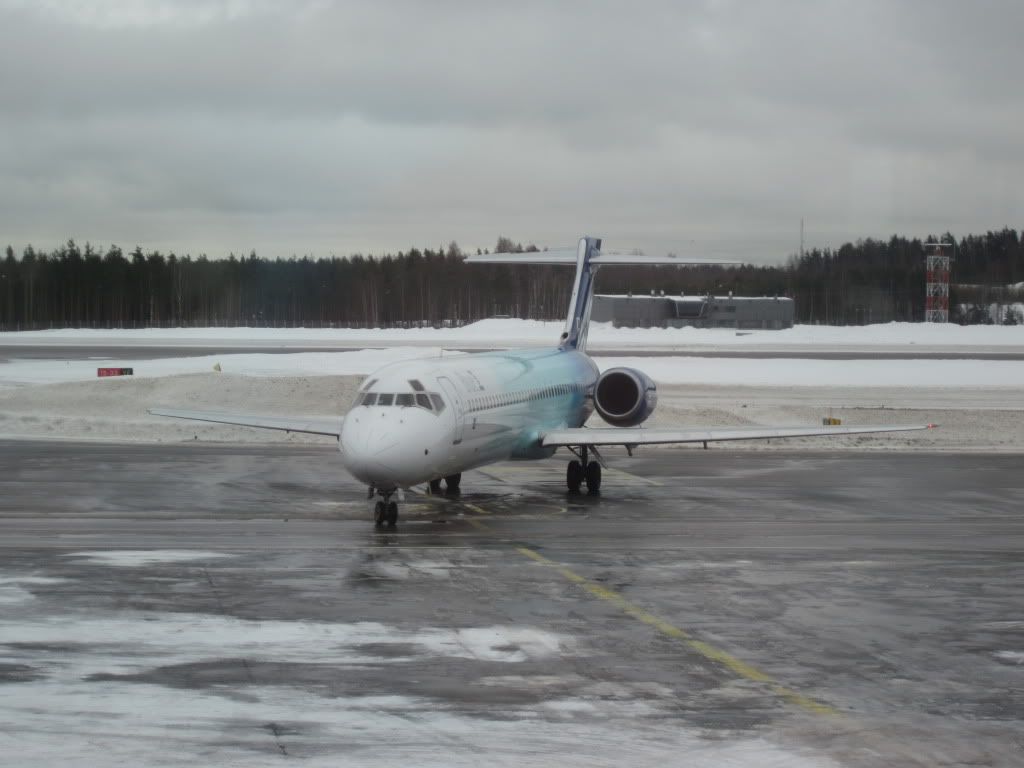 Don't be afraid to come closer: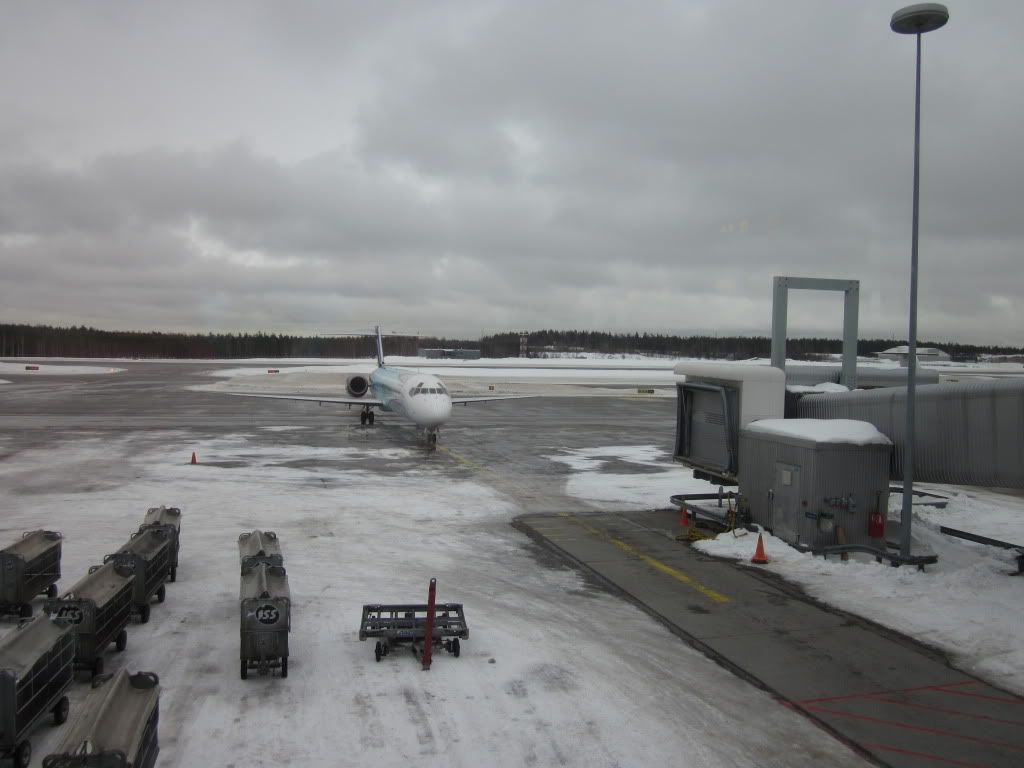 It is OH-BLO. She is so gorgeous. And she is a new one for my log as well. At this stage a certain A.netter was almost jumping of joy...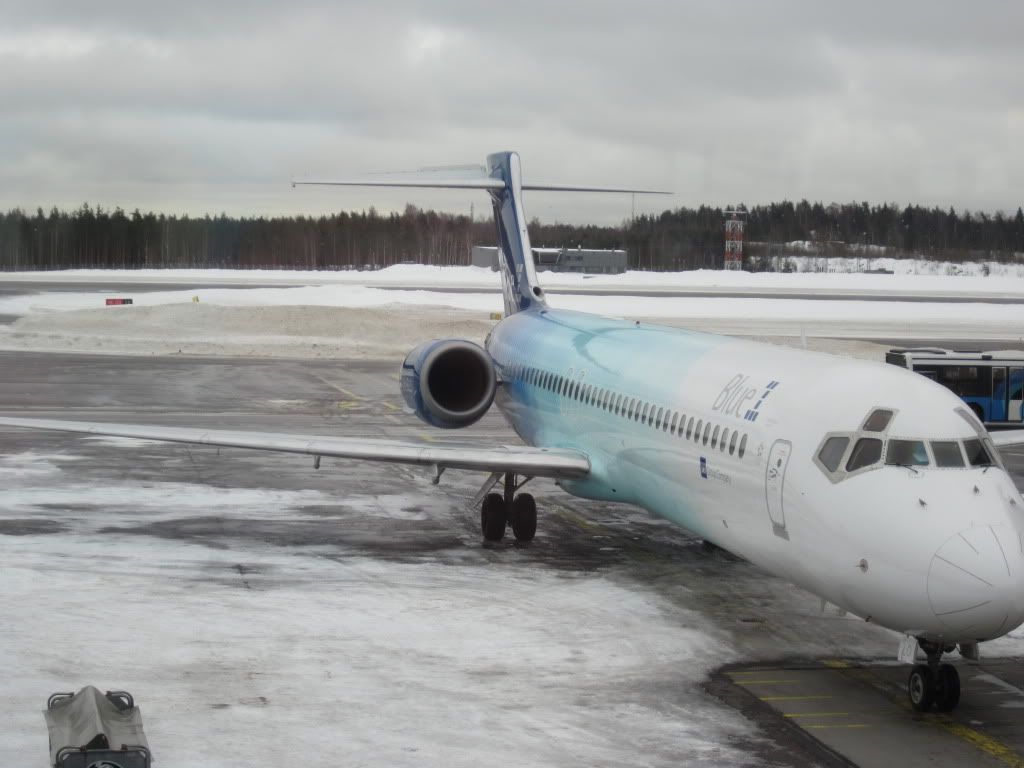 Despite the early arrival they waste no time in turning the plane and after the usual crossfeeding has taken place (come on, a Finnair catering truck simply CANNOT feed a 717!) boarding is called 10 minutes early.
Wednesday, February 22nd, 2012
Helsinki (HEL) - Oulu (OUL)
Airline:
Blue1
Flight:
KF205
Scheduled times:
14:40-15:45
Actual times:
14:25-15:24
Seat:
22A,
window
Class:
Economy
Equipment:
Boeing 717
Reg:
OH-BLO, Morning Dew
As always, a friendly welcome from our purser Jaana upon boarding (sorry PH, I did not get a shot of the name of the aircraft when boarding, it was blocked by a trolley...).
As I reach 22A I am delighted with the view I am teased with: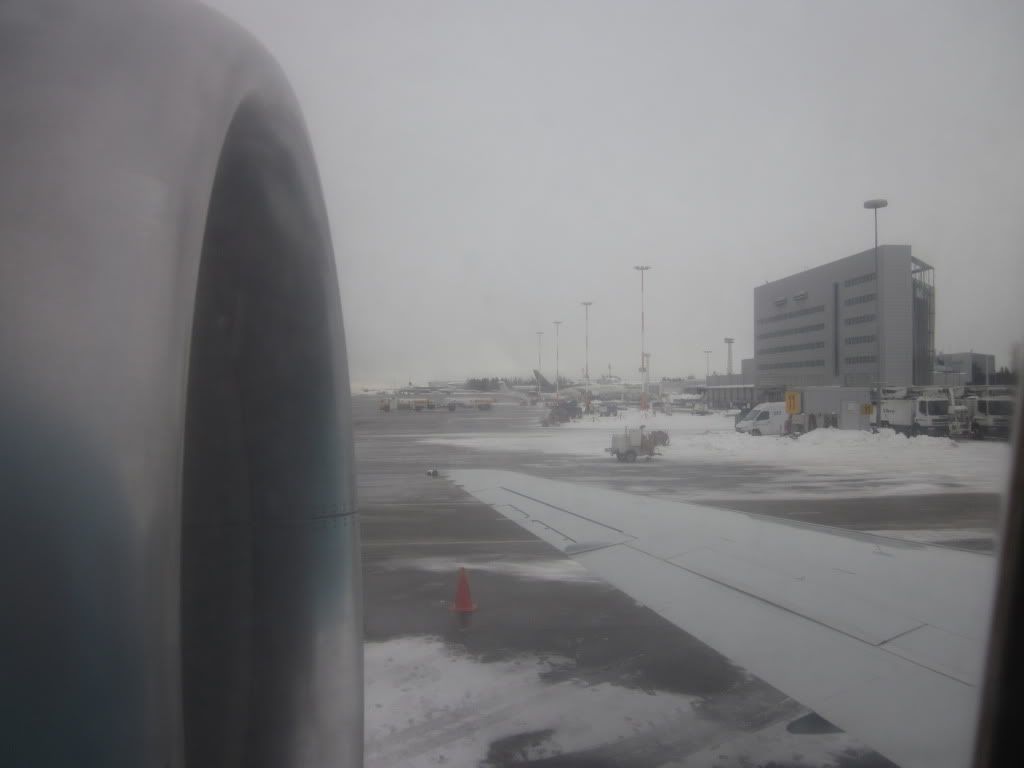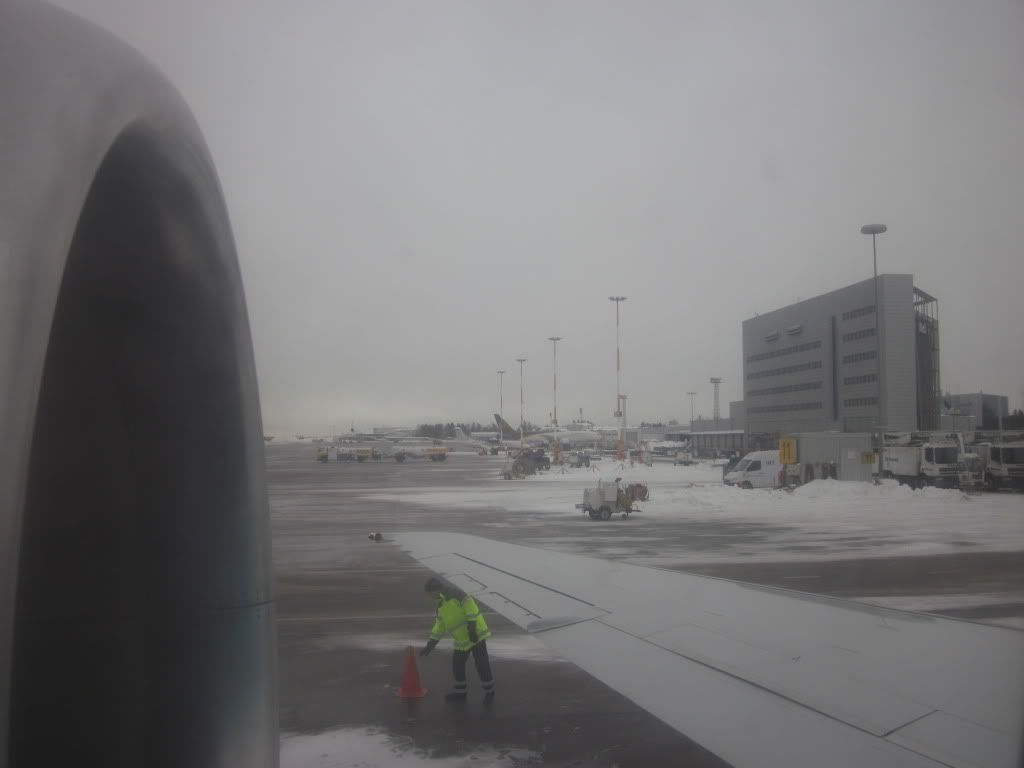 After taking this shot I am approached by a male crew member.
Hi, I am Ari and crew on this flight. After boarding is completed you are free to move to another row upfront to have a better view and less noise from the engines.
. I tell him that no way Jose, I specially chose this seat to get the full experience. I also mention something about my love for the 717 and other stuff. Joni just answers that
I like you!
as he leaves to assist other passengers during boarding.
Boarding is completed early (that is the privilege you get for flying on these business-oriented routes; despite a pretty good load everyone takes their seats in a matter of minutes) and we push back at 14.25, 15 minutes early, now that is Scandinavian punctuality for you.
Flight time is announced as 1 hour and the crew is introduced as "Jaana, Jaana (yes, there's two of us) and Ari".
The grey house on this picture is by the way the headquarters of Blue1.
Hello Petteri('s airline), at least until we get Estonian Air Saabs here: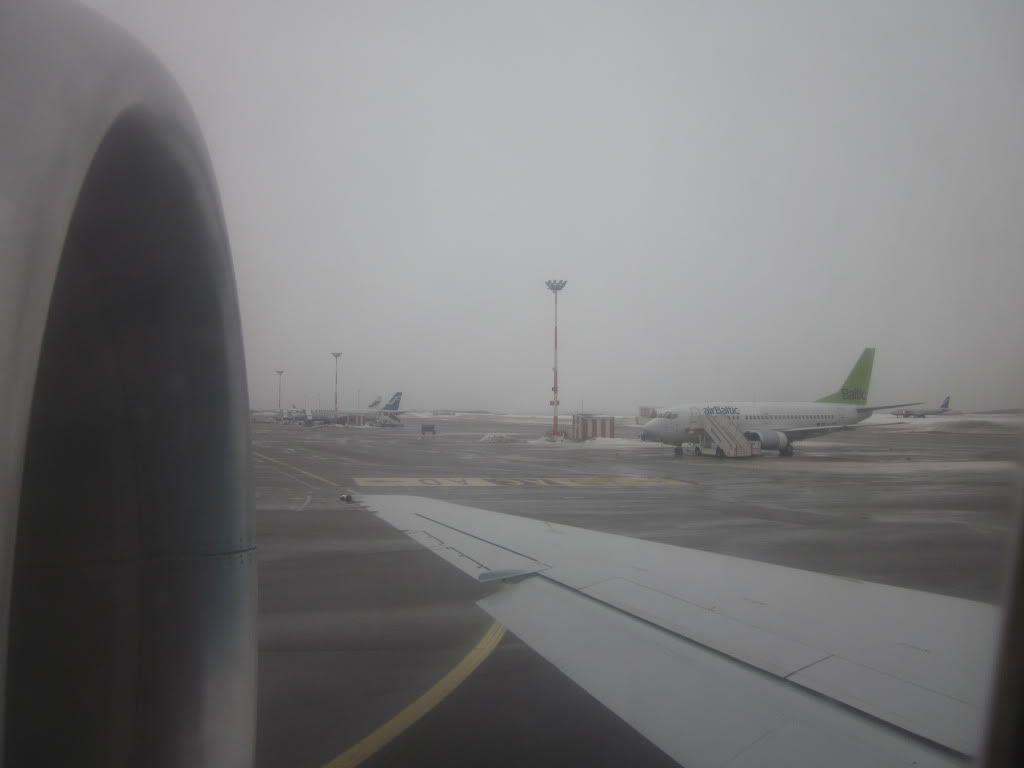 Our taxi to runway 22R (seems like no other runway ever is used for takeoff when I'm in town) is very fast.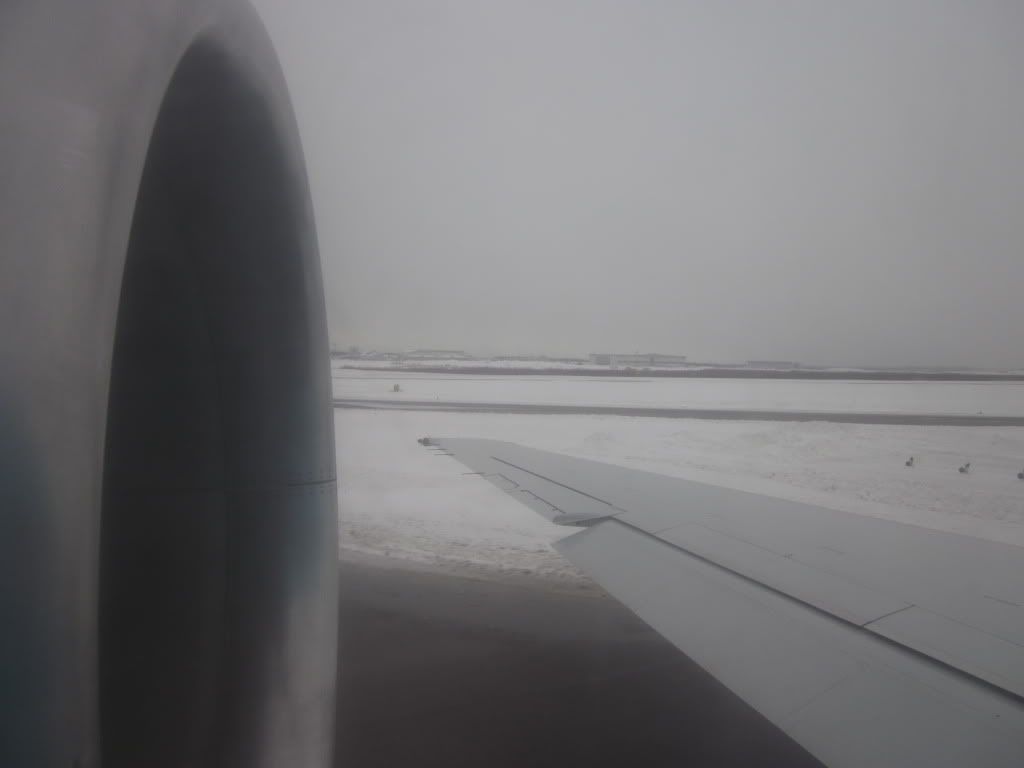 And we take off 10 minutes ahead of scheduled, now that is good performance!
Despite leg room is worse here than in the front rows of the 717 the pitch is sufficient for a man with my measures: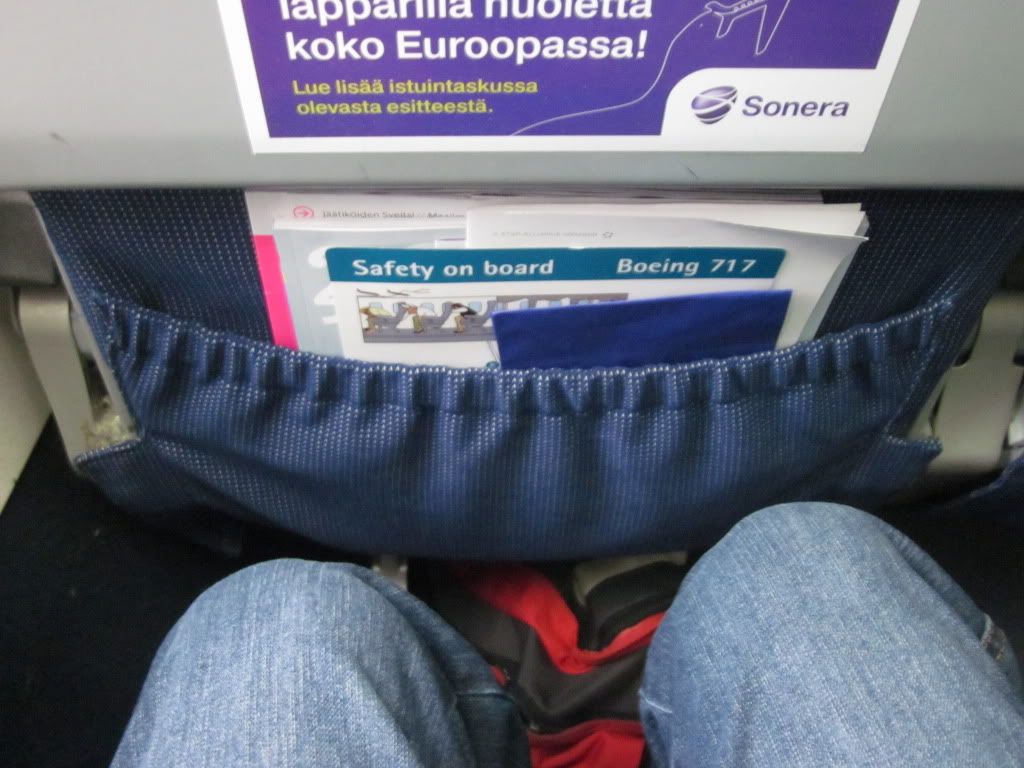 A look in the comfy 717 cabin. The load was some 70 % I'd estimate, with the seat next to me remaining empty.
Looking back at the last row I could not help but thinking of Markus and others: the whole row was empty. But do take my word of advice: never choose row 24 on a 717 (at least on KF) as that row is missing a window and on row 23 all you get is a lovely RR engine blocking the view. So if you ask me 22A and 22F, window seats on row 22, are the best seats in town.
I must say that I had thought the roaring of the engines would have been much more disturbing. Sure they sounded powerful (and the takeoff was a signature 717 one, always nice) but I would happily choose this seat again. Maybe it's just me and my 717 obsession...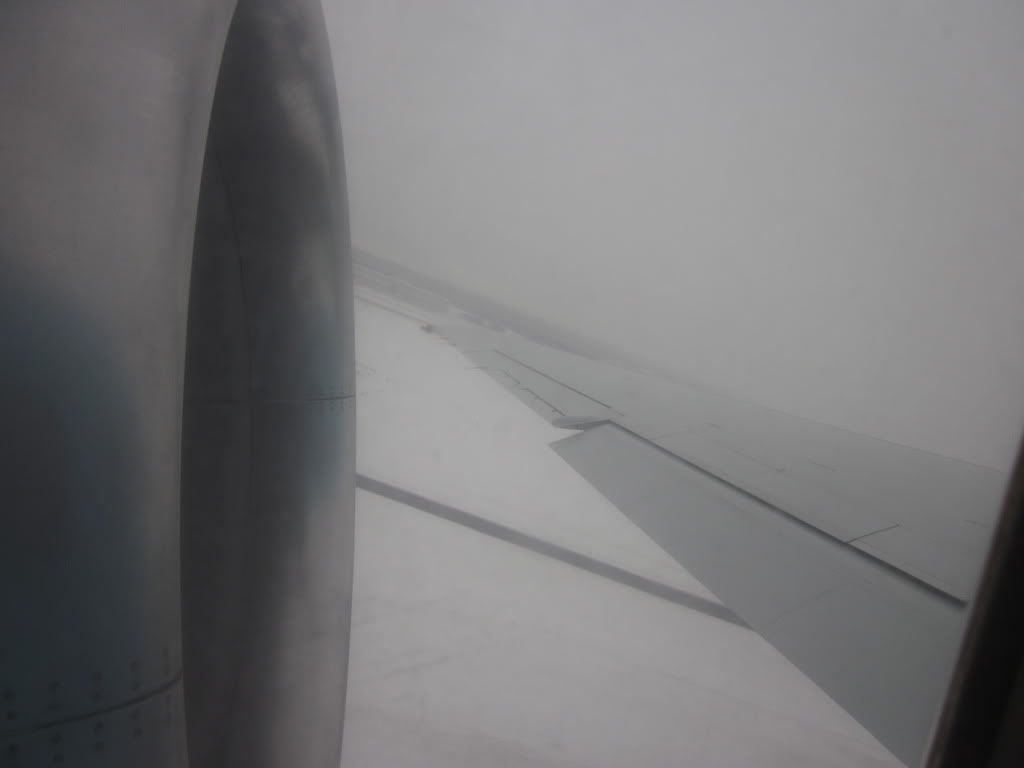 We experience some turbulence immediately after take off so it takes some time for the seatbelt sign to be turned off.
Safety card (and nope, I did not liberate it, because it is already part of my collection):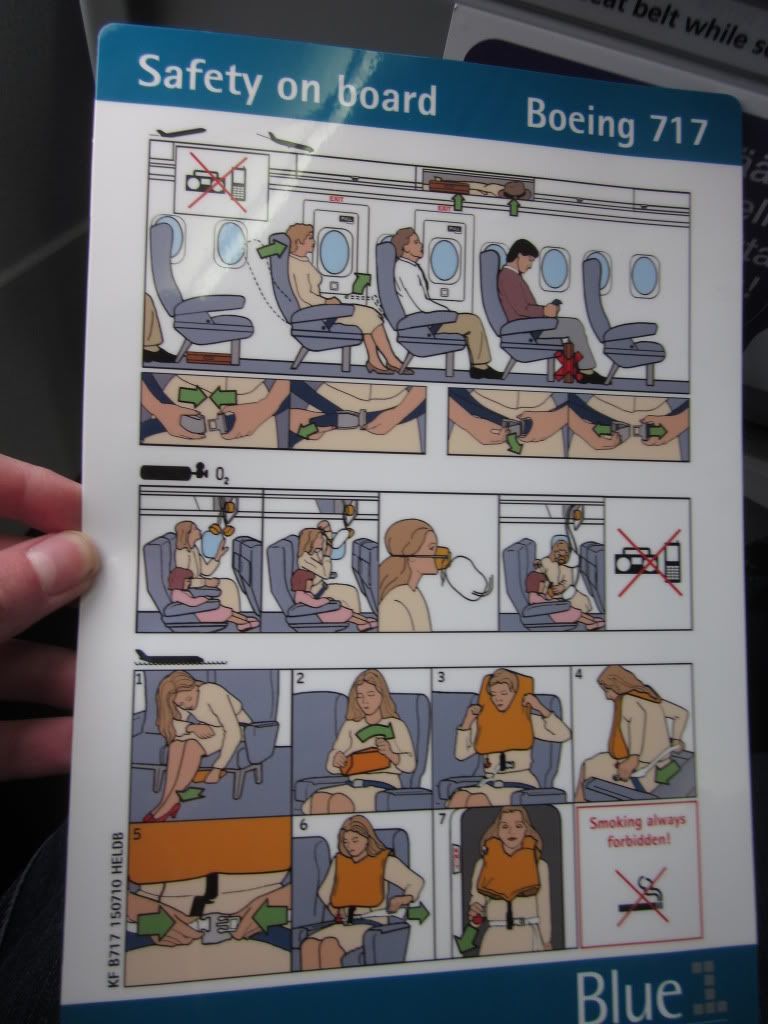 And a spicy looking Blue1 magazine (that I took with me as reading material perhaps mostly because it contained a very interesting feature on Belgium). And don't worry Hannah, there was an icy feature on Switzerland as well. They did not mention anything about chocolate though.
Now dear readers, feel invited to learn something new about what makes the Boeing 717 so superior: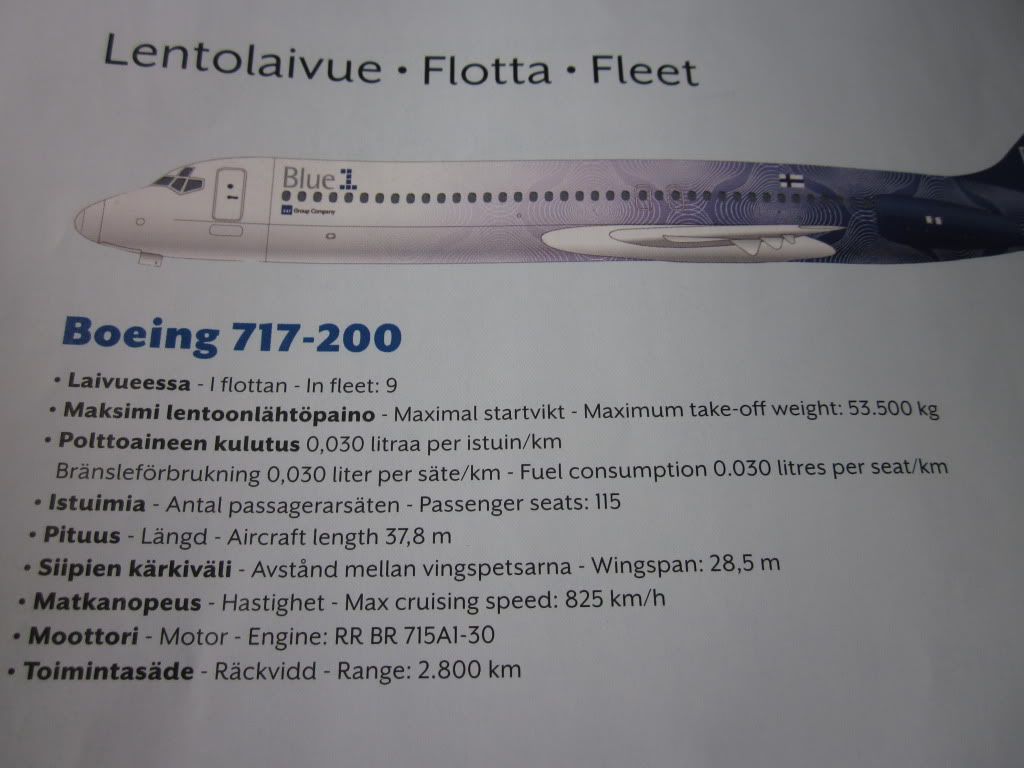 Despite being a Finn, I must admit that I am not a big fan of coffee. And when our lovely steward reaches my row with the drink trolley I only ask for a glass of water. But nope, Ari is sure to go the extra mile as he tells me
Why don't you have a cup of coffee to go with that? I can pour you half a cup of coffee rich with milk and sugar. I am sure you will like it.
. And before I have any time to turn down the offer I am presented with a rather generous cup of coffee. That is proactive service for sure.
Must have a witty remark in a TR: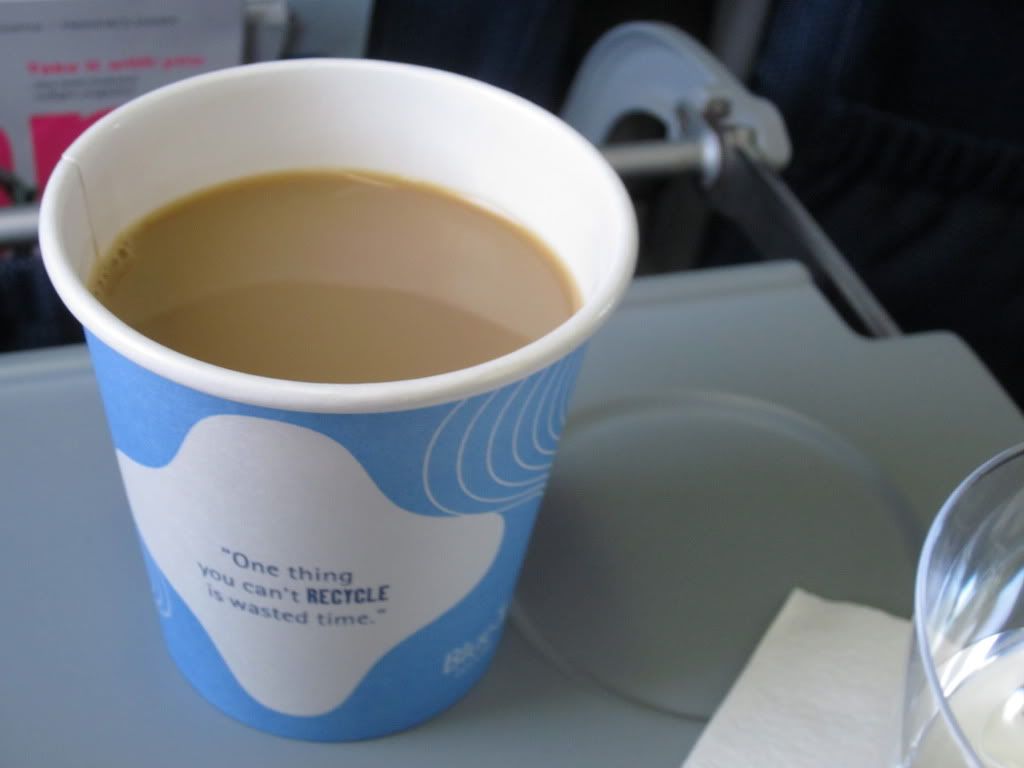 The rest of the flight is spent wondering about the largest mysteries of life and of course, enjoying the IFE: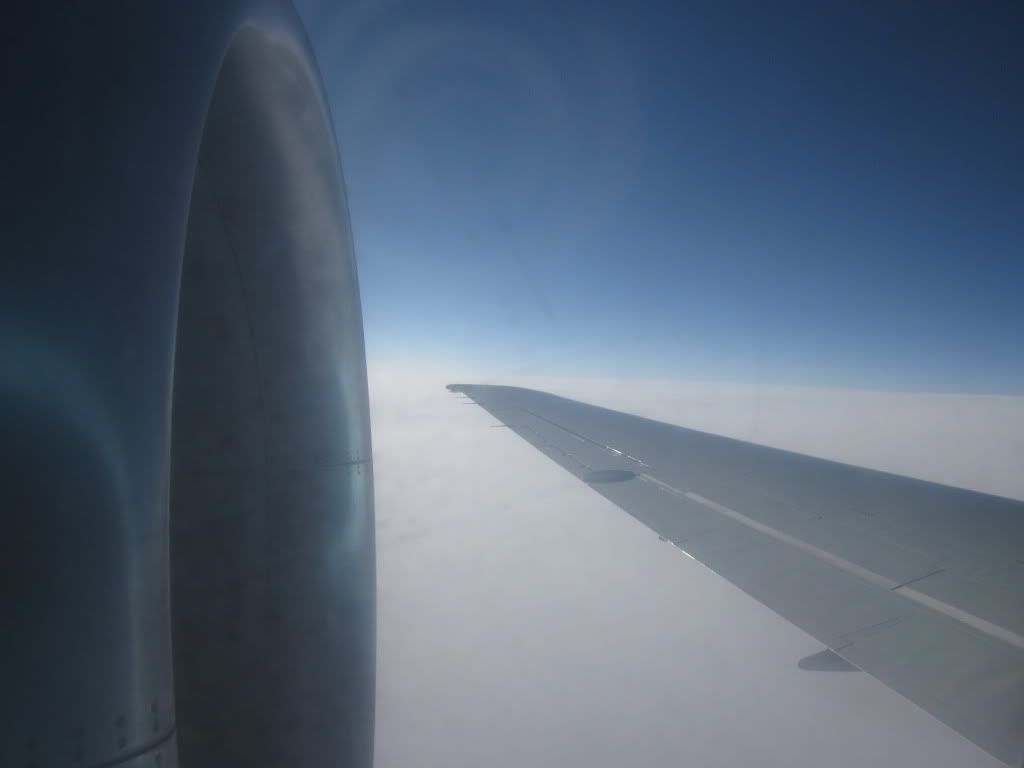 Listening to the powerful engines I have very mixed emotions. Most of all, I feel safe. And remembering how my grandfather always shared my enthusiasm for aviation he always used to distinguish a clear difference between aircraft and flying machines. That moment I knew I were flying on the latter one.
Sure, there may have been a few scratches on the window, there were no dropdown screens, not even to talk about an IFE (or actually it had the best of all IFEs: Window(TM)).You could see the fabric on the seats wasn't brand new and sure, the plane was lacking the "new car smell".
But the crew had genuine smiles on their faces. All in all the flight reminded me of flying back in the good old days. Perhaps with the exception of online check in, last minute youth tickets and witty remarks.
Needless to say these thoughts, most of all the memories of my grandfather, made me quite emotional. I was woken up from my thoughts by one of the Jaana's collecting trash. Apparently I must have looked a bit out of order because she immediately asked me
Are you alright?
. Those are details that I really appreciate. And they also made up a little bit of the fact that I was flying alone.
Soon captain Koljonen is on the speaker. I recognize both his name and his voice (see here if you don't believe me:
Edinburgh, Blue1 And The Boeing 717! HEL-EDI-HEL
(by
717Flyer
Jul 9 2011 in Trip Reports)). He tells us we are starting our descent with landing expected within 15 minutes. The weather in Oulu is expected to be half cloudy, -3°C with arrival on time (that's hardly a surprise thinking we took off 10 minutes ahead of STD!).
Look! There's snow!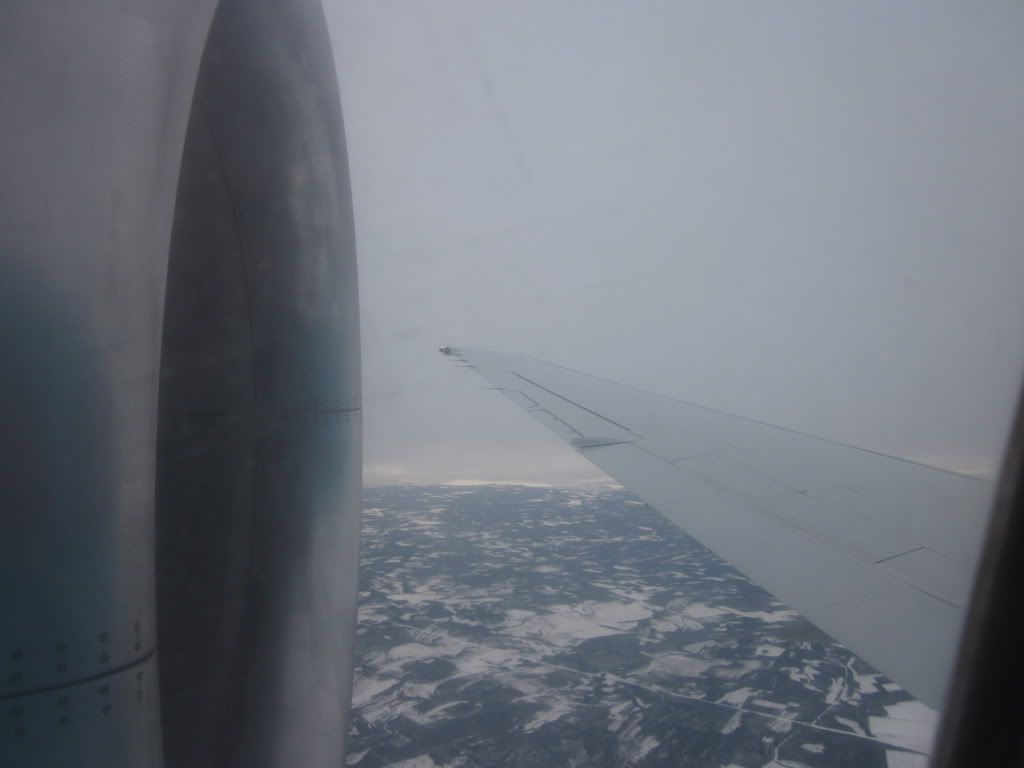 Window scratches preventing you from seeing the island of Hailuoto:
Touchdown on runway 12 at 15.21 is after a flying time of 51 minutes:
Hello Norwegian: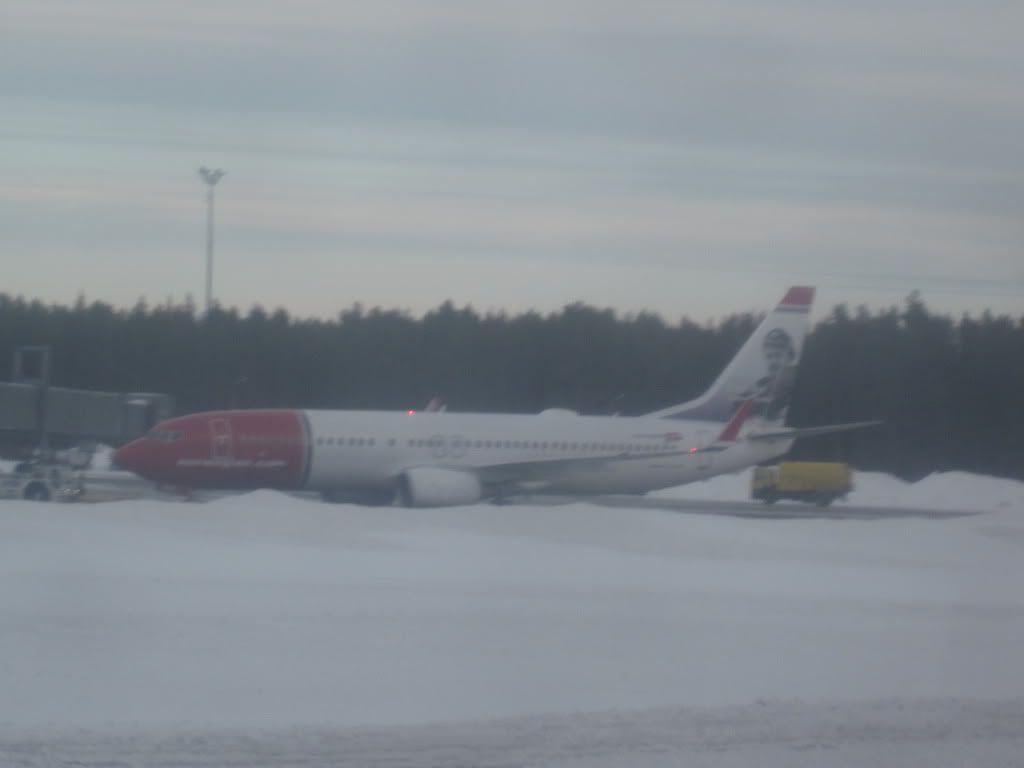 We dock to a jetway at 15.24, 21 minutes early (and noone even mentions anything about it - apparently this is business as usual). After this it takes a good five minutes for the jetty to be adjusted.
Petteri's favourite airport owner: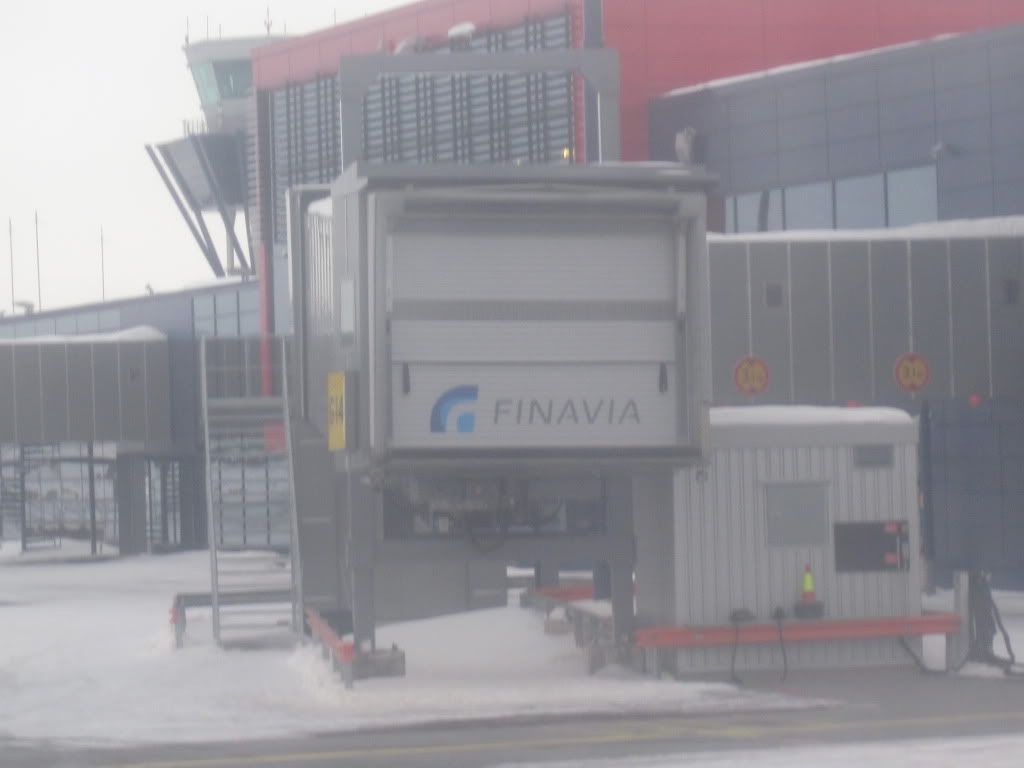 It is amusing to hear two businessmen complaining about our early arrival "The car won't be here until quarter to four to pick me up. Typical". Other passengers seem more grateful about our early arrival. Waiting for the door to be opened I take this chance to thank Ari for this great flight. Apparently they don't hear the t-word (thanks) very often because he is really surprised.
Really?? Well I'm super happy to hear that.
.
Walking up the aisle I get an idea of what would be the perfect finale for this flight: a cockpit visit. Therefore I decide to ask Jaana (don't know which one!) at the door. First she doesn't say anything but then she cra