Hello everyone and welcome to my very first trip report,
As I've been reading lots of trip reports here, and enjoying every one of them, I thought it is about time to start writing my very own trip reports.. As this is my first report bear with me here, and comments/tips/suggestions are very welcome and much appreciated!
Today's report will cover a day trip that I made on Thursday the 1st of March: AMS-CPH-FRA-AMS. AMS-CPH-FRA with SAS Scandinavian and FRA-AMS with the ICE International train. Today's map: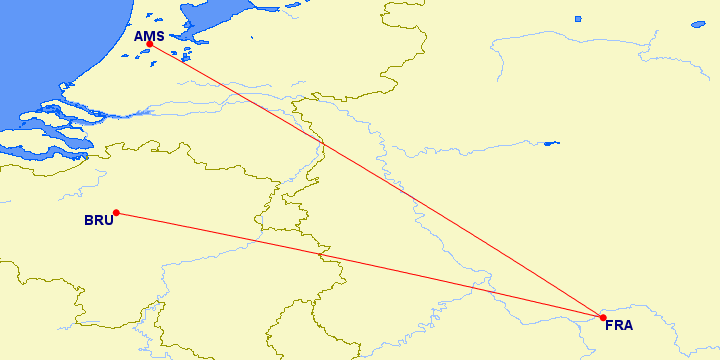 AMS-CPH
SK552 // 23A
MD81 SAS Scandinavian Airlines // SE-DIN
10:25 - 11:30
It all starts in Amsterdam. I live in the west side of Amsterdam. A 10 minute walk will take me right to station Amsterdam Lelylaan:
Upon arriving at a packed Amsterdam Lelylaan station and waiting for the train it occurs to me that I forgot my passport! Stupid me! So a quick walk to the house takes me back at the station just in time to catch the 08:13 train to Hoofddorp via Schiphol airport. It is about a 7 minute ride with the train. With a little delay on the way 12 minutes later I was at the airport exactly 2 hours before my departure time. As I had already did the online check-in the night before all I had to do is go to the self-service kiosk to print my boarding pass:
After printing my boarding pass I headed straight to security. Security was pretty busy with lots of passengers, after the security agent checked my binoculars in my bag I was through security after 10 minutes. I then walked around through the different terminals.
CSA Czech Airlines // OK-LEF to Prague:
Some of the C-gates:
KLM // PH-EZD to Hamburg:
KLM // PH-EZA to Frankfurt:
KLM // PH-EZG to Marseille:
Departure FIDS:
Austrian // OE-LBP nice looking retro jet to Vienna:
Some of the B-gates:
Air France // F-GTAD to Paris CDG:
KLM // PH-BXB to Barcelona:
Gates C21-C26:
Edelweiss // HB-IHY to Zurich:
It was then time to proceed to my gate. Gate for today is C13. Scheduled boarding time was 09:55, I got there at 09:50. After waiting for a while the FIDS showed boarding at 10:05. Boarding finally commenced at 10:15. I was nicely greeted by our Purser. The view from my seat:
This Rossiya antonov taxied by:
Boarding was completed after 10 minutes and we pushed back right on time:
3 BAs at the gates:
It was a very quick taxi to the "Kaagbaan". Starting to roll:
And up we go!:
Straight into the clouds:
Above the clouds, we right away made a right turn:
Leg room was ok considering I am about 2 meters tall!:
Still climbing:
The flight crew consisted of 1 female purser and 2 male stewards. All we heard from the cockpit was a welcome upon boarding and that we we're on our final descent. Nothing about which routing or flight level we we're flying. The flight was pretty full, I would say about 90%. I had a Danish guy sitting next to me. Flight time was announced: 1 hour.
Safety card:
Cloudshop magazine spring 2012:
Scanorama no. 03:
The BOB passed by. I got myself a can of Sprite for 3EUR. Upon opening my table I saw that 1 side was broken. So I had to hold my table up with my knees and couldn't let go of my Sprite as it would then slide off. In front of me there was a dutch guy who asked for a Coca-Cola zero. Upon getting it the steward asked 3EUR. The dutch guy was very surprised about that, saying that it wasn't announced (which was) and asked for the purser. Meanwhile he opened his coke and started drinking out of it. Once the purser arrived she explained that it has been like this for a while now, that she had announced it, but also said that she understood the circumstance as on other airlines you do get something for free. Very professionally done by the purser. In the end the guy gave the coke back.
Cruising:
At this time the Purser started collecting everbodys waste. She stopped half way and walked back, my waste wasn't picked up so I just put it in the seat back pocket in front of me:
Getting closer to the clouds:
Through the clouds:
Under the clouds, over the water into final descent:
Nice rays of sunshine:
Almost there:
Only 1 DHL A300 at the cargo apron:
And touchdown!:
SAS A340 Star Alliance scheme at the gate:
Taxiing to gate B9:
Upon deplaning I decided to go landside for a bit to check that out. First through the baggage claim area. I changed 15 EUR at the exchange desk and got 75DKK back for it instead of 111DKK. Don't know why actually must be tax or something like that:
Check-in information FIDS Terminal 3:
I went to the Burger King but as there was a very long line there I decided not to wait and eat airside. As there wasn't much more to do I decided to head back through security:
SAS MadDog Star Alliance scheme with Thai Airways 747 and SAS A340 in the background:
Icelandair // TF-FIX to Keflavik:
Got these 2 slices of cheese pizza with a bottle of sprite for 75DKK. Pretty expensive as it would be 15 euro. They were a little on the cold side:
This is my plane to Frankfurt: SAS // OY-KBP with SAS // OY-KFH behind it:
SAS // OY-KFF with Finnair // OH-LVC behind it:
Departure FIDS: Gate B2 for me later:
Lufthansa // D-AIDJ to Frankfurt:
Finnair // OH-LVC to Helsinki:
Sterling // OY-MRH with Cimber Air // OY-RJF:
Some A-gates:
My Boarding Pass:
SAS // OY-KFF:
The very inspiring F-gates:
Emirates had just arrived:
Some D-gates:
CPH-FRA
SK675 // 20F
A319 SAS Scandinavian Airlines // OY-KBP
14:45 – 15:55
I then proceeded to my gate, gate B2. Boarding commenced at 14:20. I was one of the last ones to board. No greeting from the Purser as he was busy talking to the pilots. I made my way to seat 20F. It was a very light load, I would say about 40% full. Had the seat next to me empty and 1 guy sitting in the aisle seat. Flight crew consisted of 1 male Purser and 2 female Flight Attendants. Nice greeting from the flight deck, scheduled flying time was 1h15min at a cruise level of 39,000 feet. Safety Demo was played twice on the overhead screens, when it started a third time the Purser finally shut it off.
View from my seat:
Pushback:
Nice looking Blue1 // OH-BLH:
Vueling // EC-JFG taxiing to its gate:
Starting to roll:
City of Copenhagen:
Through the clouds:
Safety card:
Top