Background
Hong Kong Airlines will start the All Business Class flight from 7 March, 2012 between HKG-LGW-HKG. Before the long haul service start, HKA use the specific all-business A330-200 in regional routes to demonstrate the products and services, and they chose Shanghai (SHA) be the first port to receive the inaugural flight on 14 February, 2012.
As HKA use the all-J A332 on that day only, so I managed to do the same day return as well – to try their new service and taste the smell of the brand new aircraft.
Reservation
Booking wasn't easy to be honest, especially my original plan was booking mixed-class return ticket which cannot do online. So I tried the reservation hotline, problem started…… I called the hotline 4 times, here are the results:
1. Cannot connect
2. Diverted to Hainan Reservation Hotline (Putonghua)
3. Cannot connect
4. Finally connected to Hong Kong Airlines Hotline, but they said they cannot issue the ticket for me, please use the travel agent……I was shocked
After all, I used the easiest way, booked online and do single class only
On the day of travel
On 14 February morning, I headed to the airport and arrived 3 hours before the flight
HX check-in counter in HKIA aisle K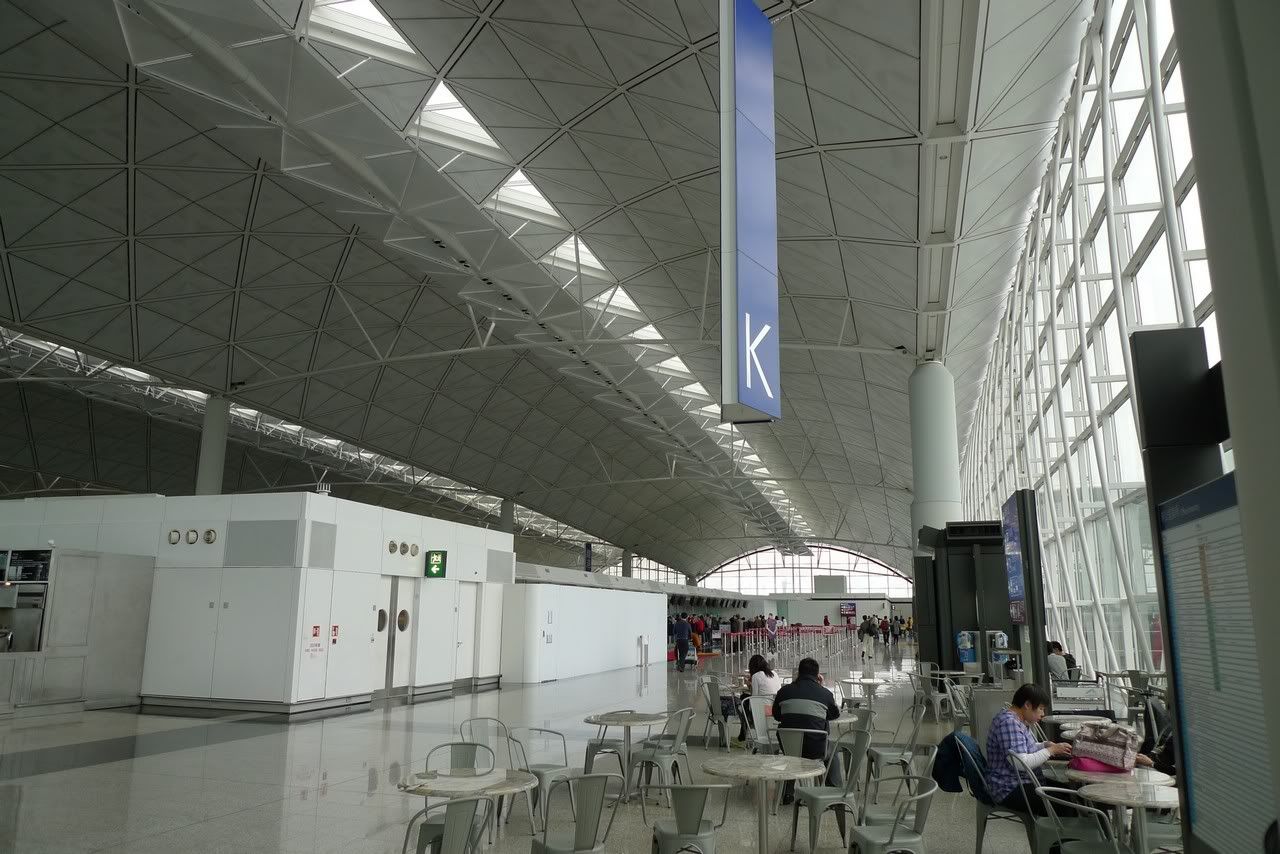 Check-in counters
Dedicated counter for the flight
Upgrade for every passengers
Time to go through the security and immigration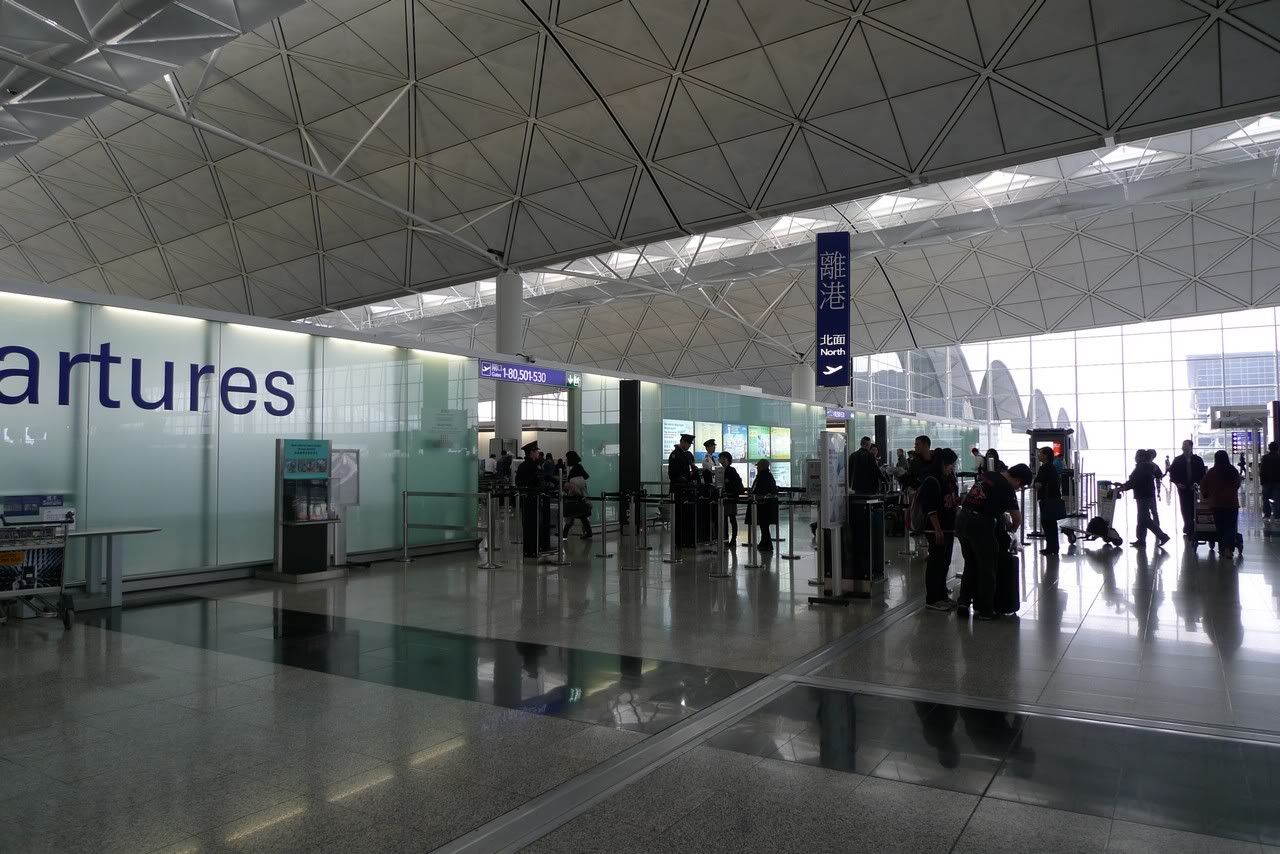 Narrow bodies at one side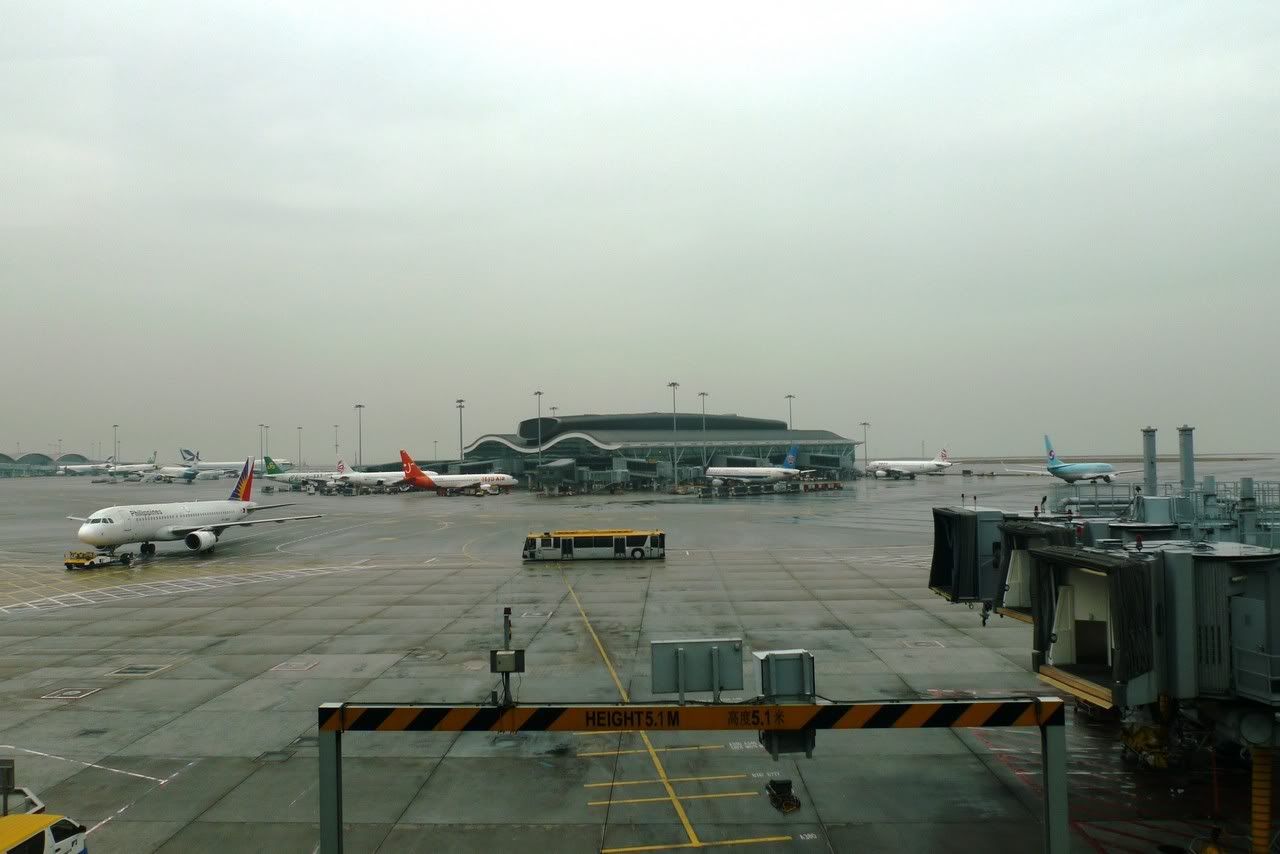 Head to the lounge for some food, lounge invitation
You can choose to use the stair
Or the lift to access the lounge
Entrance of the lounge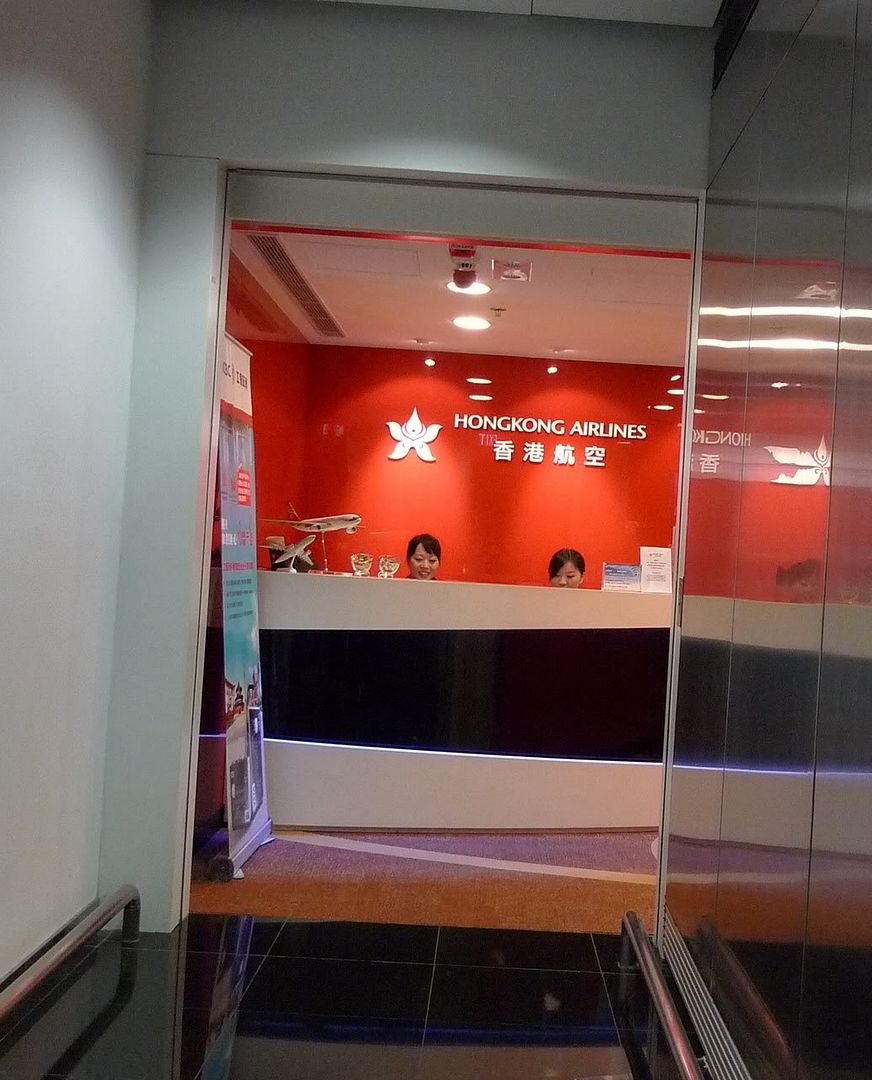 Seating area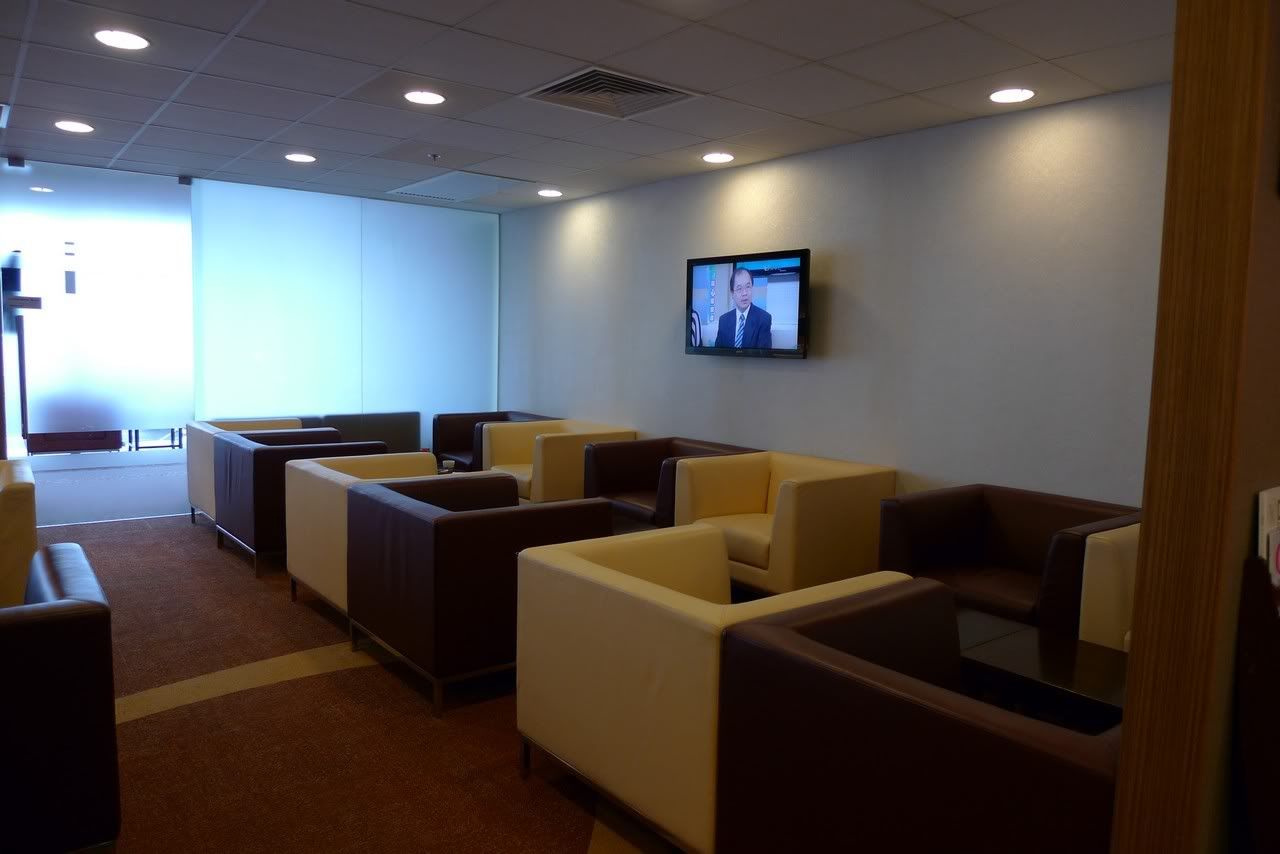 Business corner
View from the lounge – MH 77E at Gate 23
Food corner
Hot dishes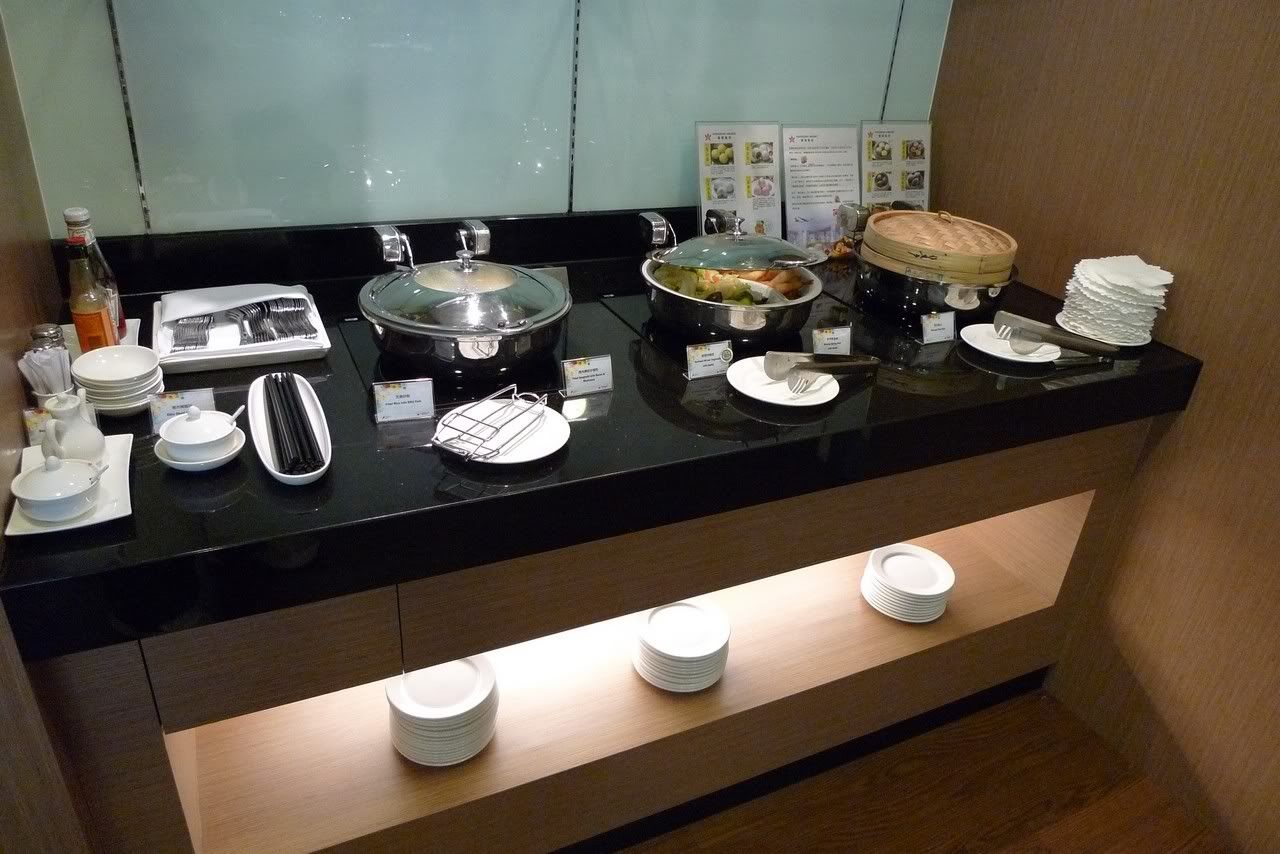 Several kinds of Dim Sum is offering, nice!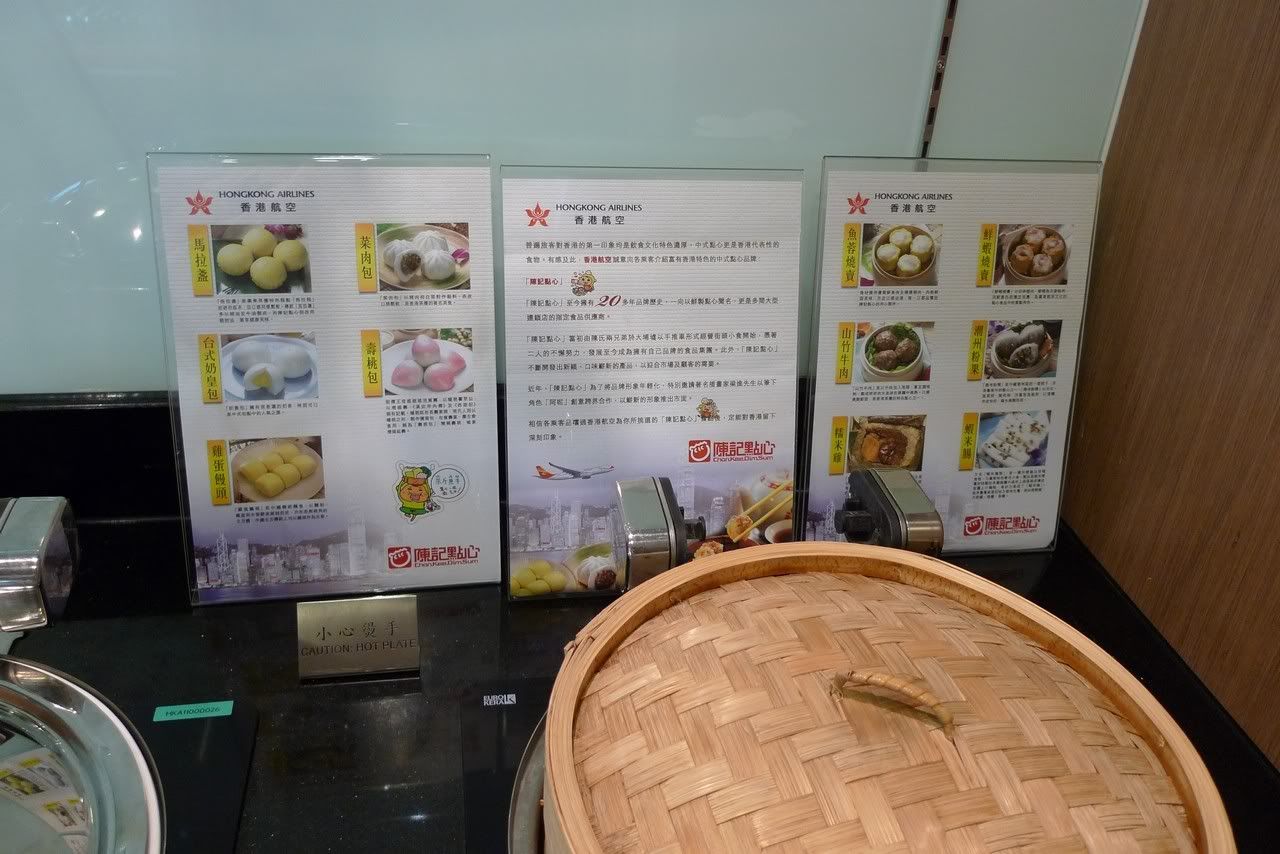 Or you can choose cup noodles on the list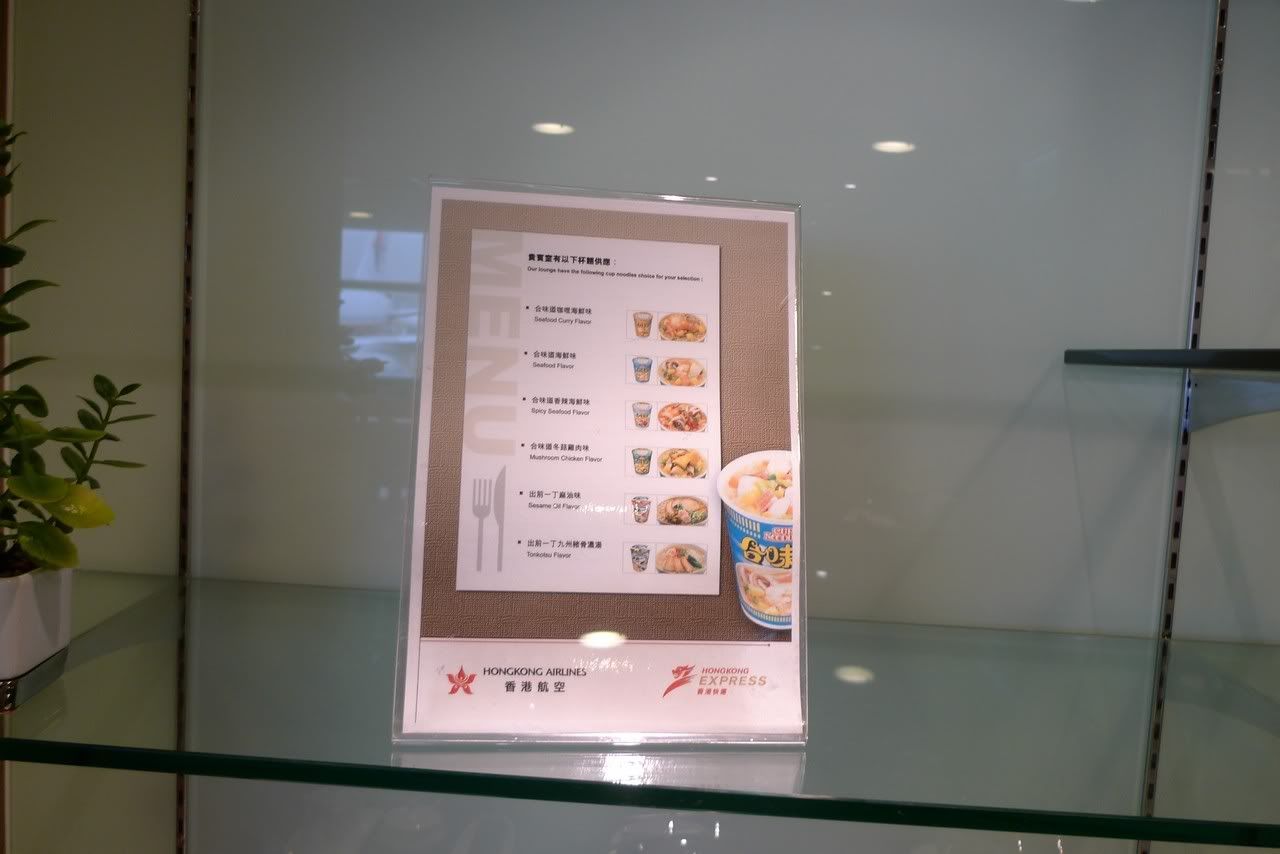 Drink corner
My choice
Washroom
The lounge was tiny but adequate, however I think HKA need a bigger lounge if all the business class passengers visit the lounge at the same time.
I left the lounge to take some more photos about the event that day.
Focus for the day, the first HKA All Business Class A330-200 B-LNJ, at Gate 25 loading the meal already
14 February 2012
Hong Kong (HKG) – Shanghai Honqiao (SHA)
Airline: Hong Kong Airlines
Flight: HX 238
Aircraft: A330-200
Registration: B-LNJ
Seat: 9K (Club Premier)
Gate: 25
Arriving Gate: B10
Gate 25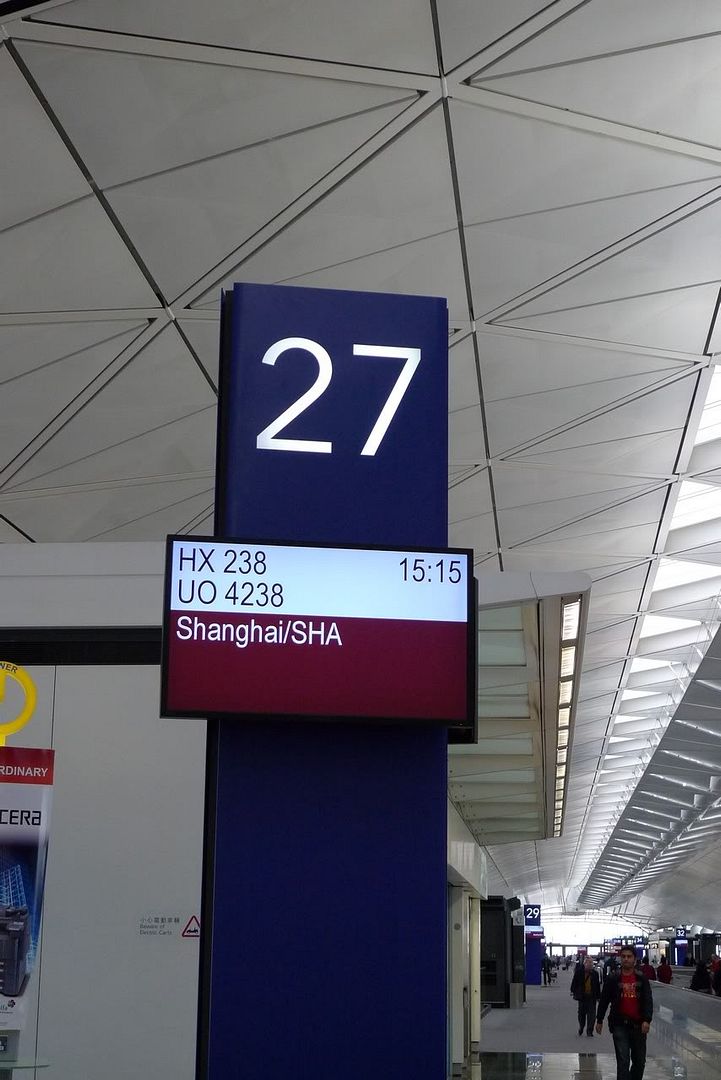 Boarding Pass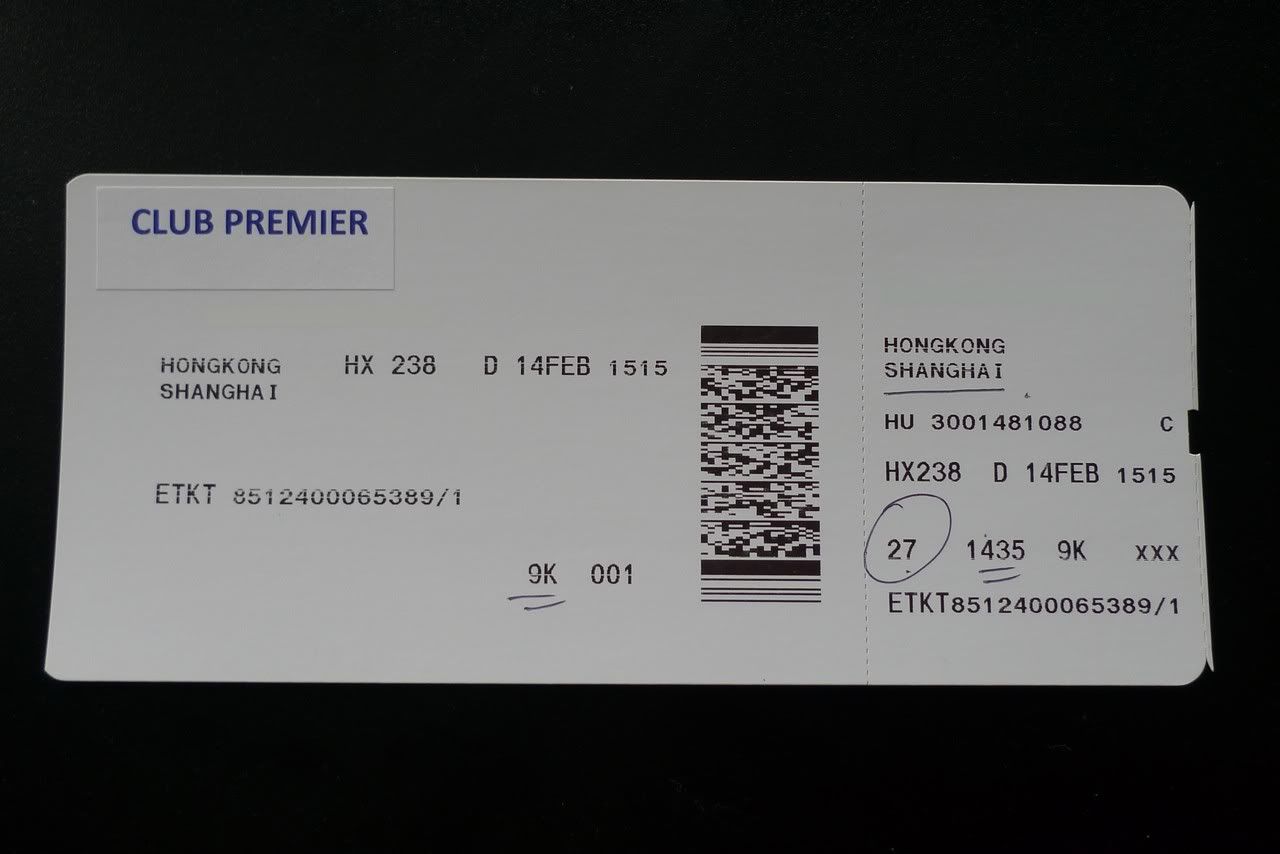 Expected departure at 15:15
Gate area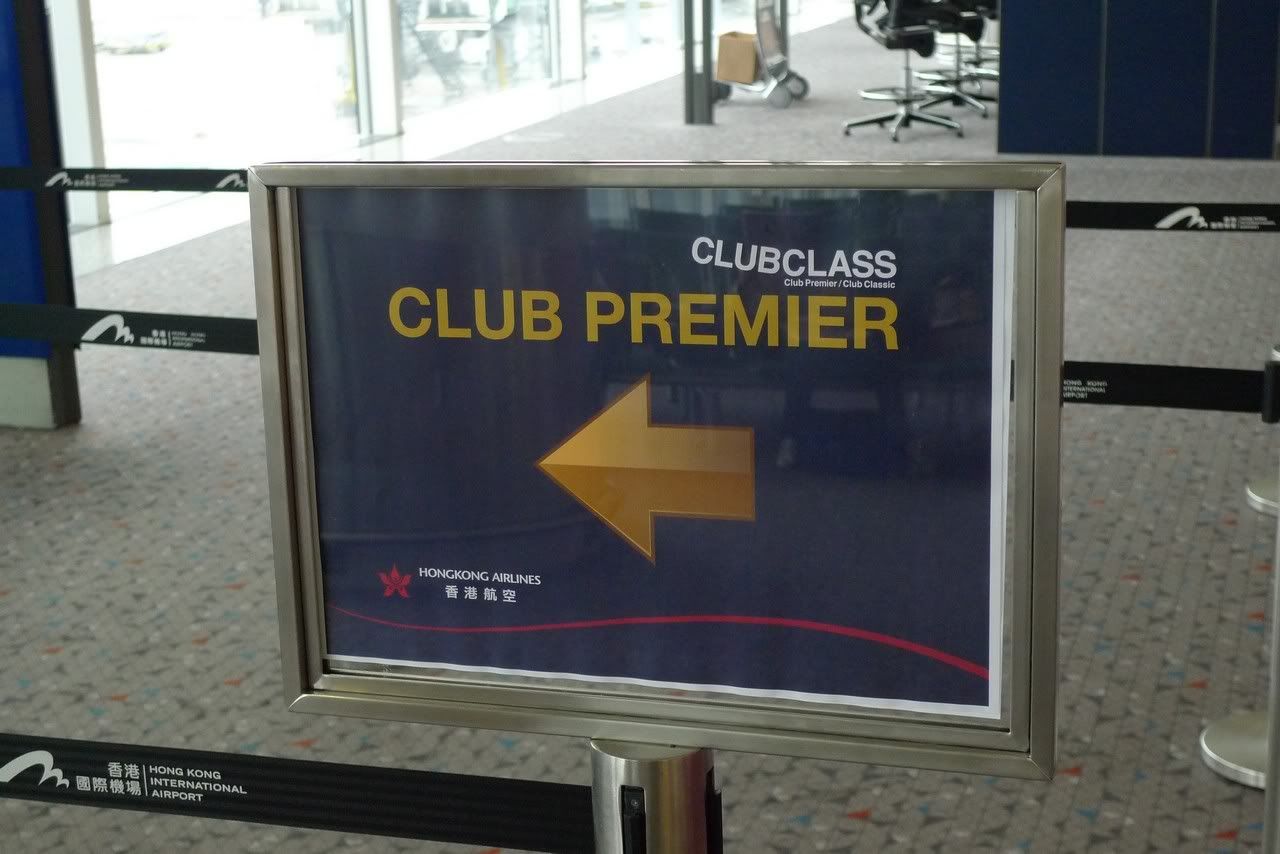 Flight crew and attendants board the plane
Once again, B-LNJ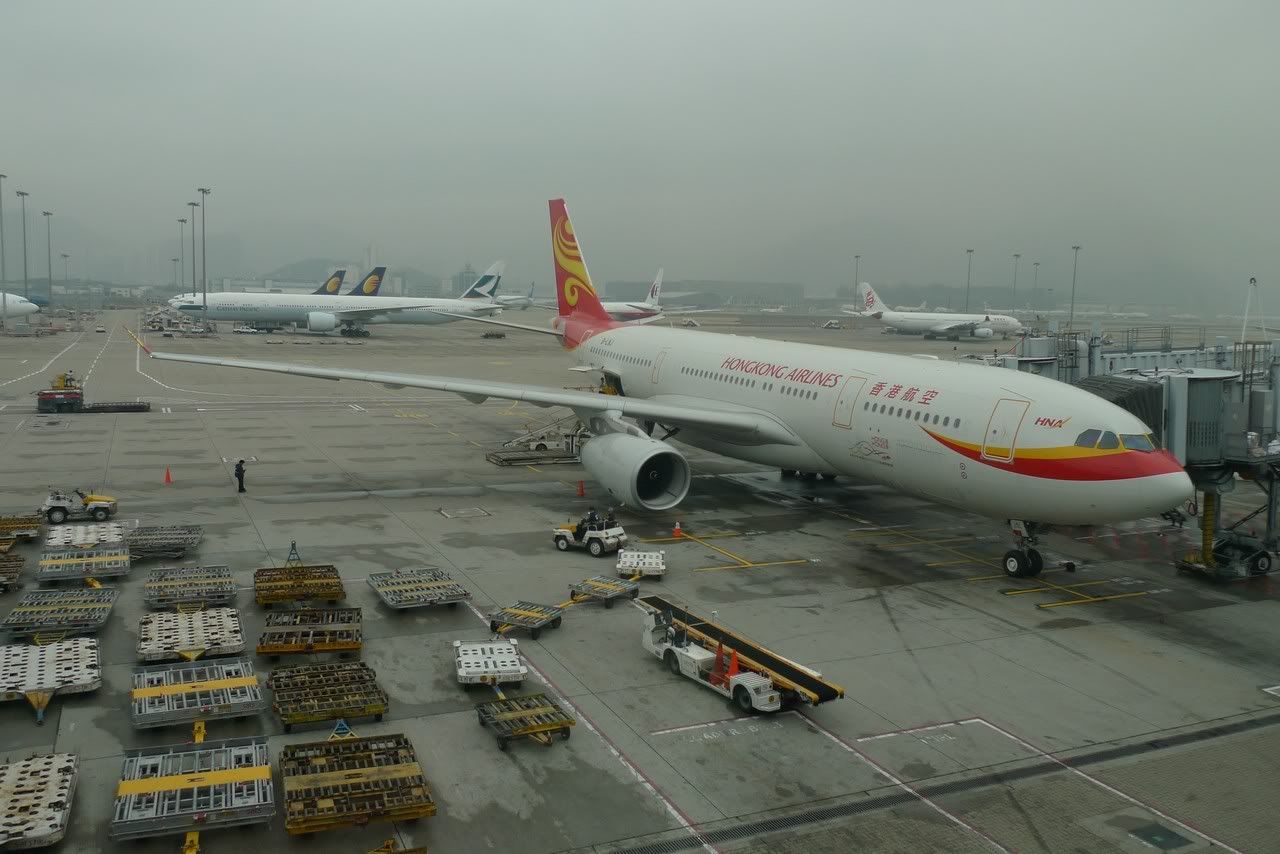 Boarding started at 15:00, everyone got a certificate for the inaugural flight
Once I was onboard, photos here and there
First Cabin – Club Premier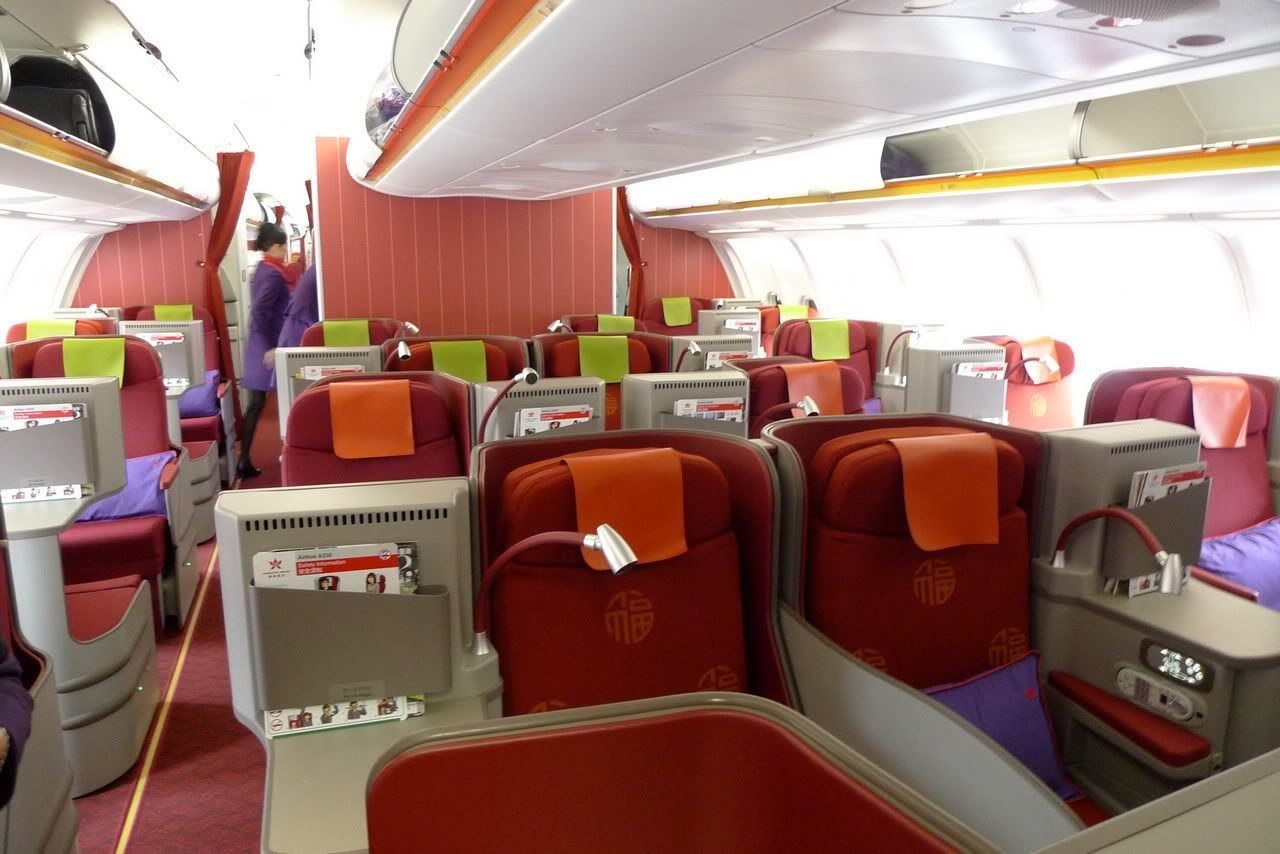 Second Cabin (Front) – Club Premier
Second Cabin (Back) – Club Classic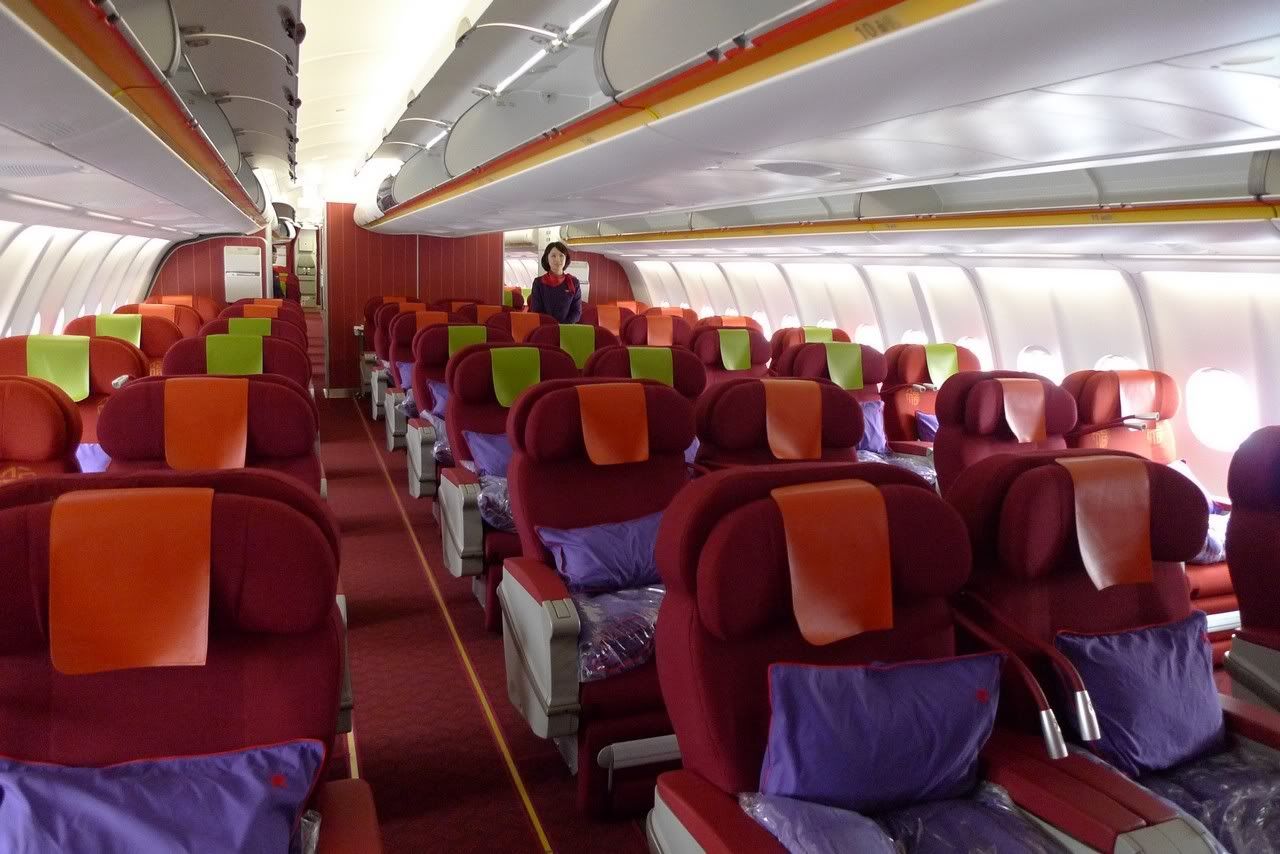 Third Cabin – Club Classic
The single Club Classic seats at the rear – K side
A side
The back of the Club Classic seats
Bar area for Club Classic
Bar area for Club Premier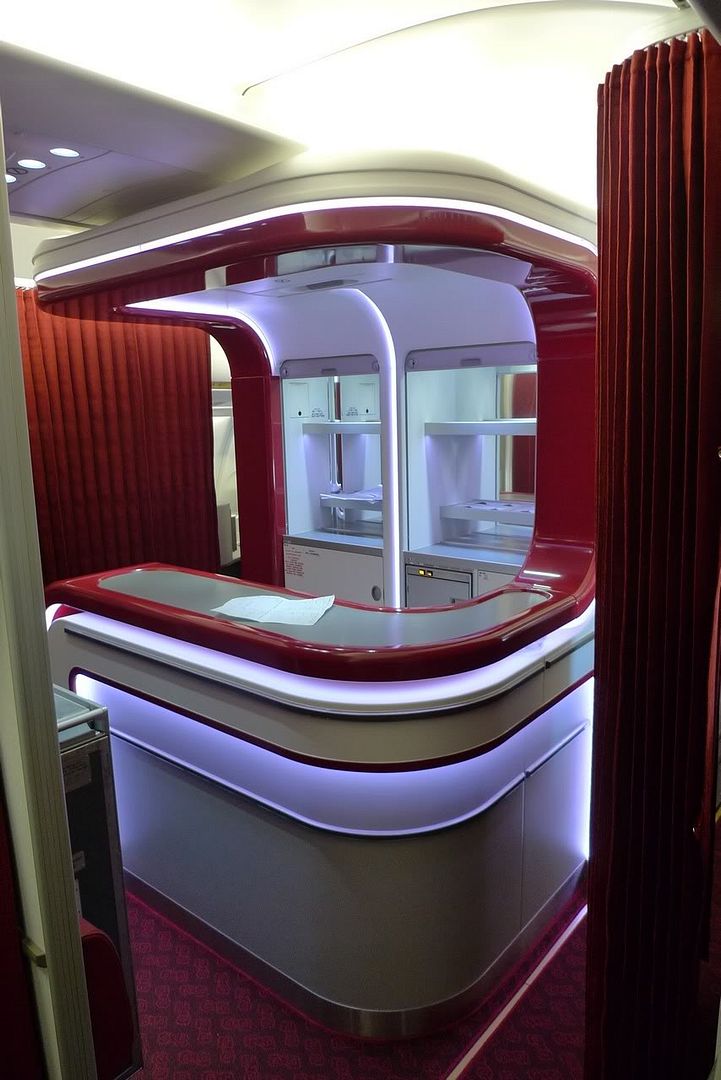 My seat 9K, the last row of Club Premier
Look private, right?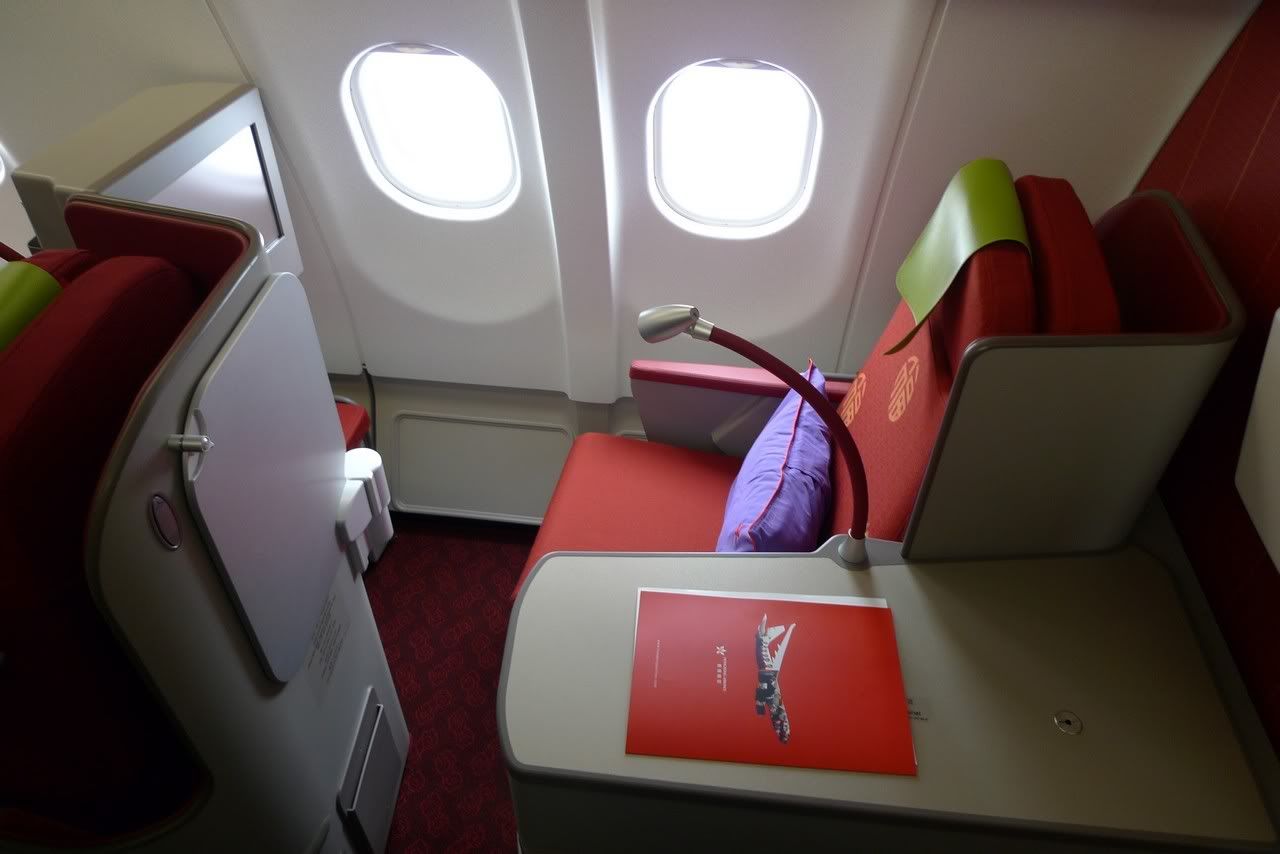 View from my seat
Seat pitch is good
Seat control
Table
Same problem as OZ
Overhead panel
15.4 inches IFE screen
Some reading materials
Safety Informartion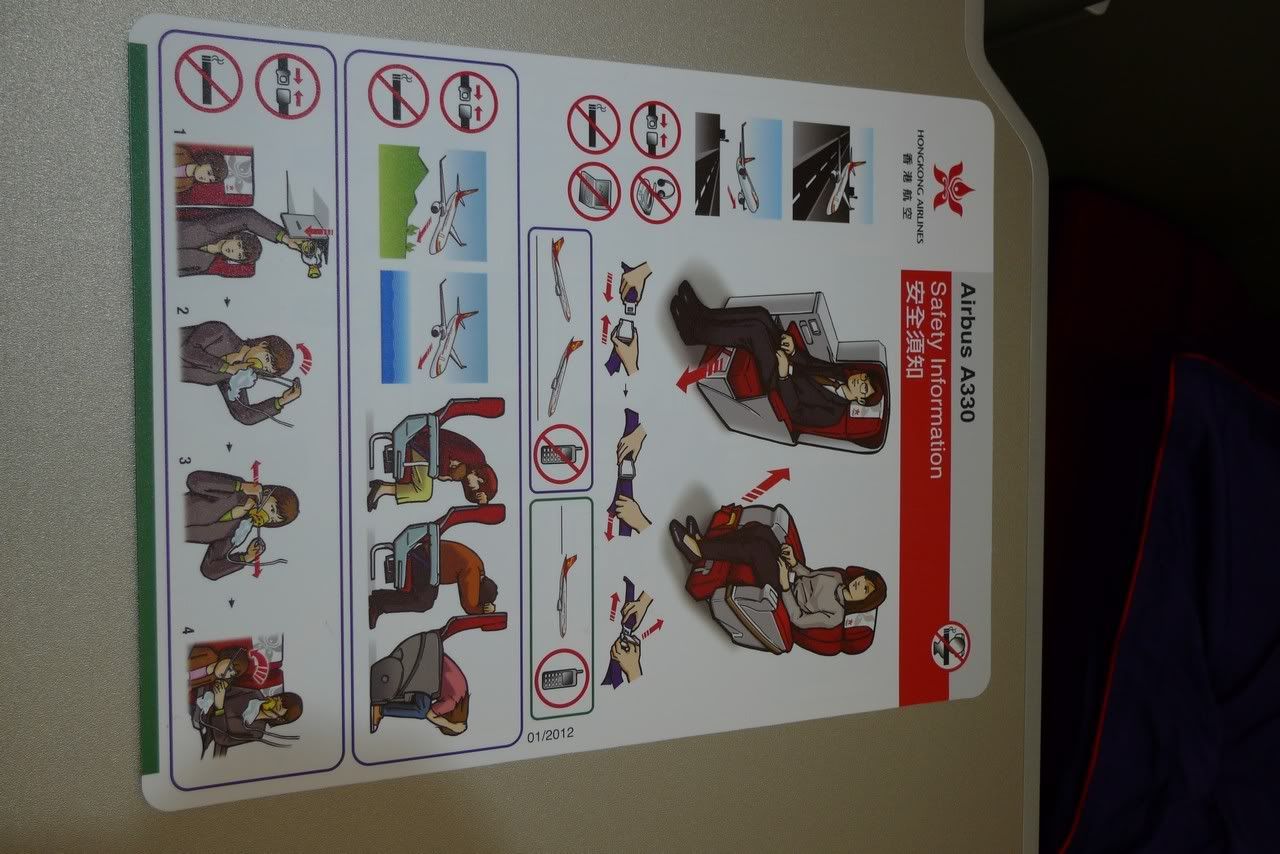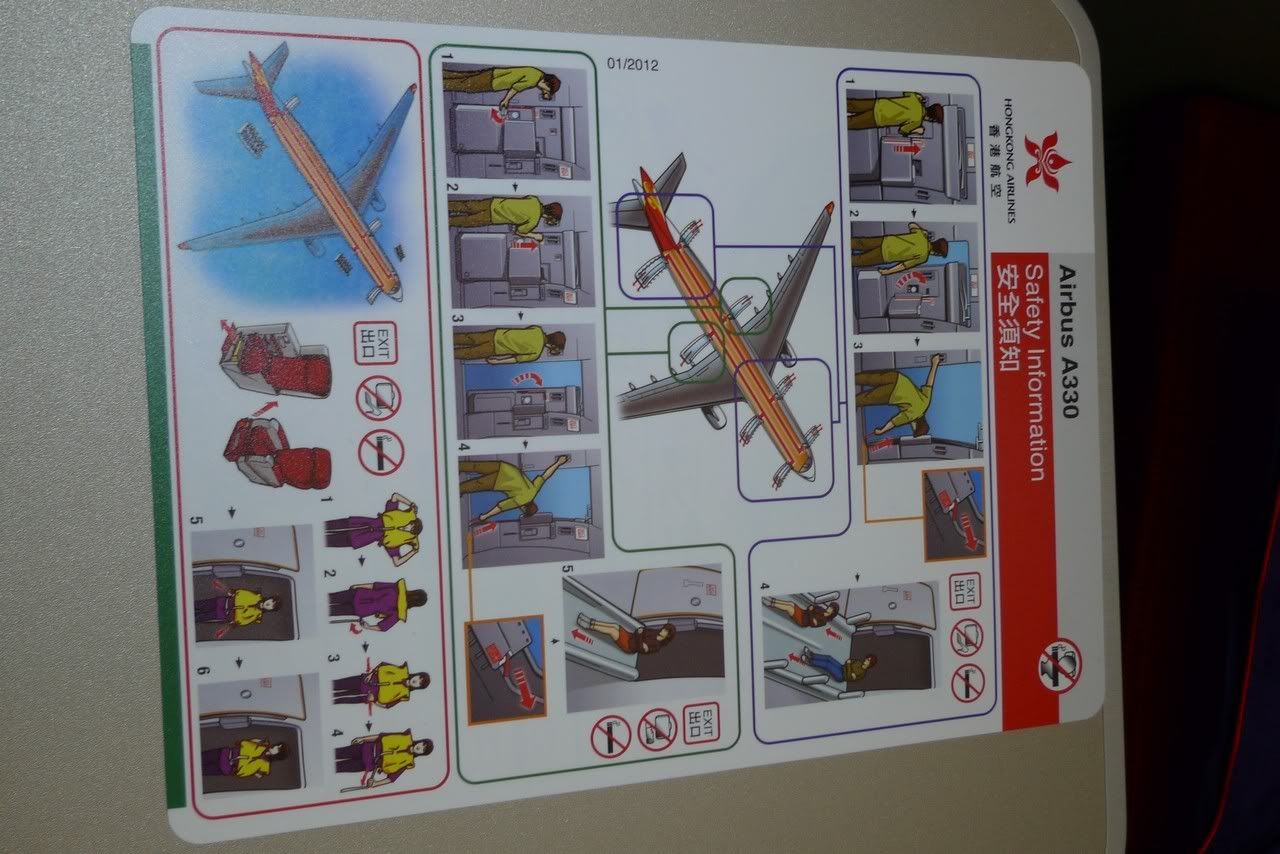 Sickness Bag
Location of the seat control, IFE control, headphone plug, power socket
Welcome drink and towel was offered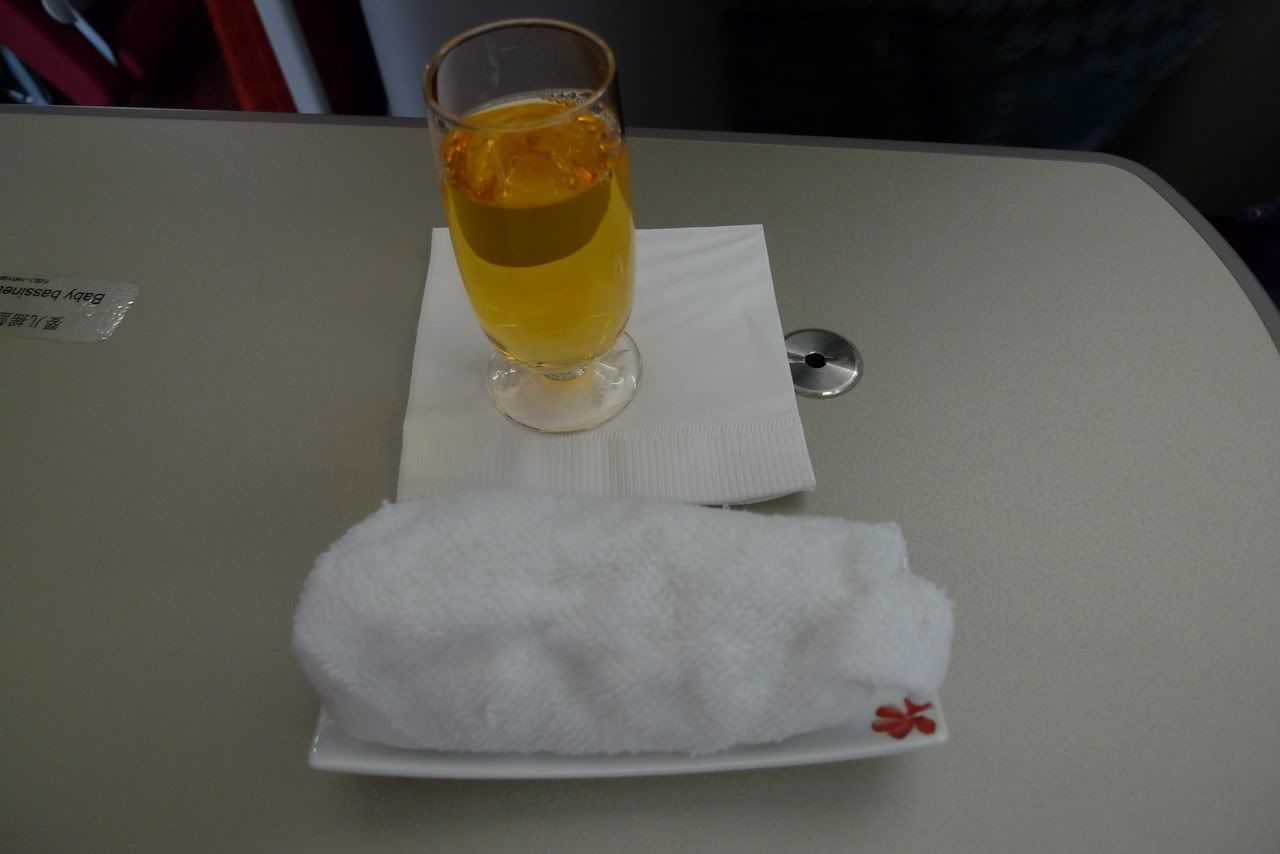 Push back at 15:30, and airborne after the powerful takeoff
Let's have some entertainment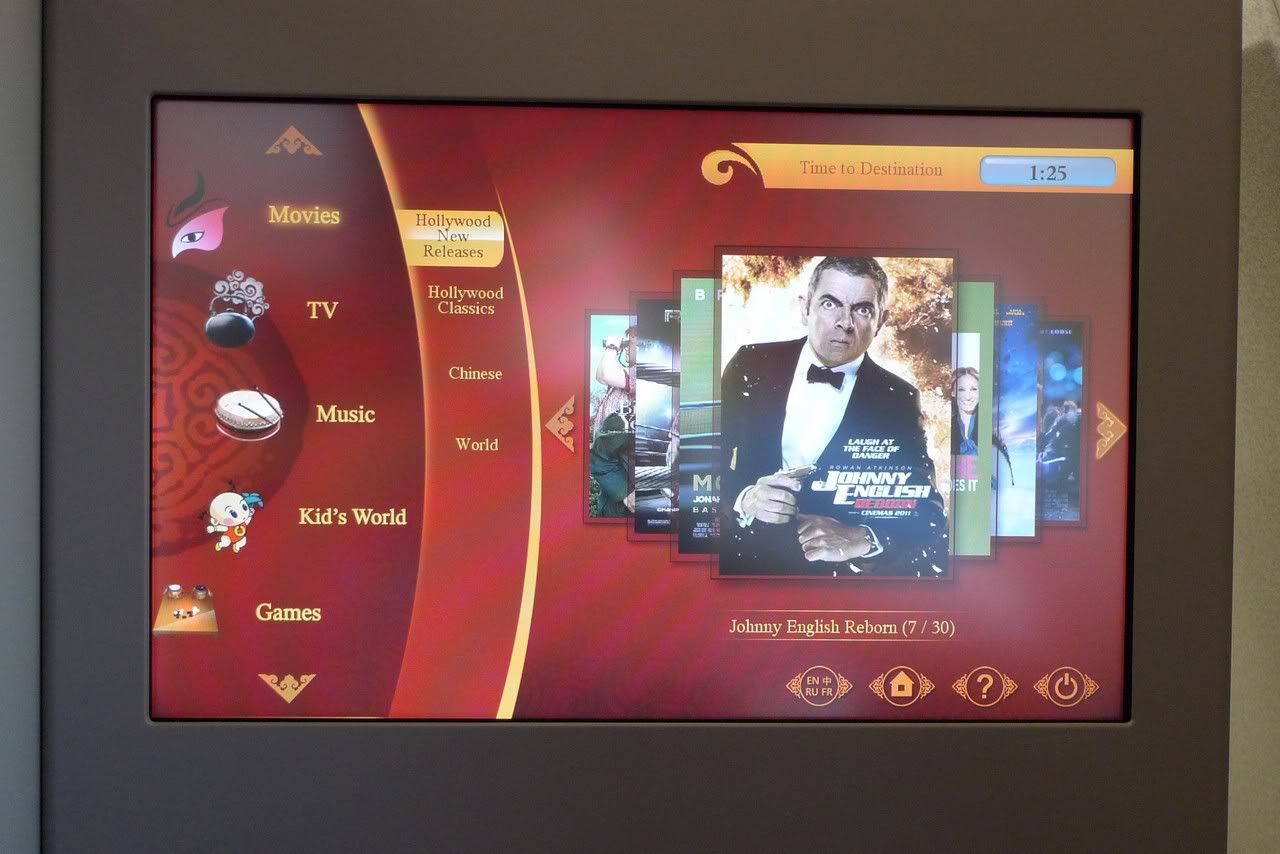 IFE remote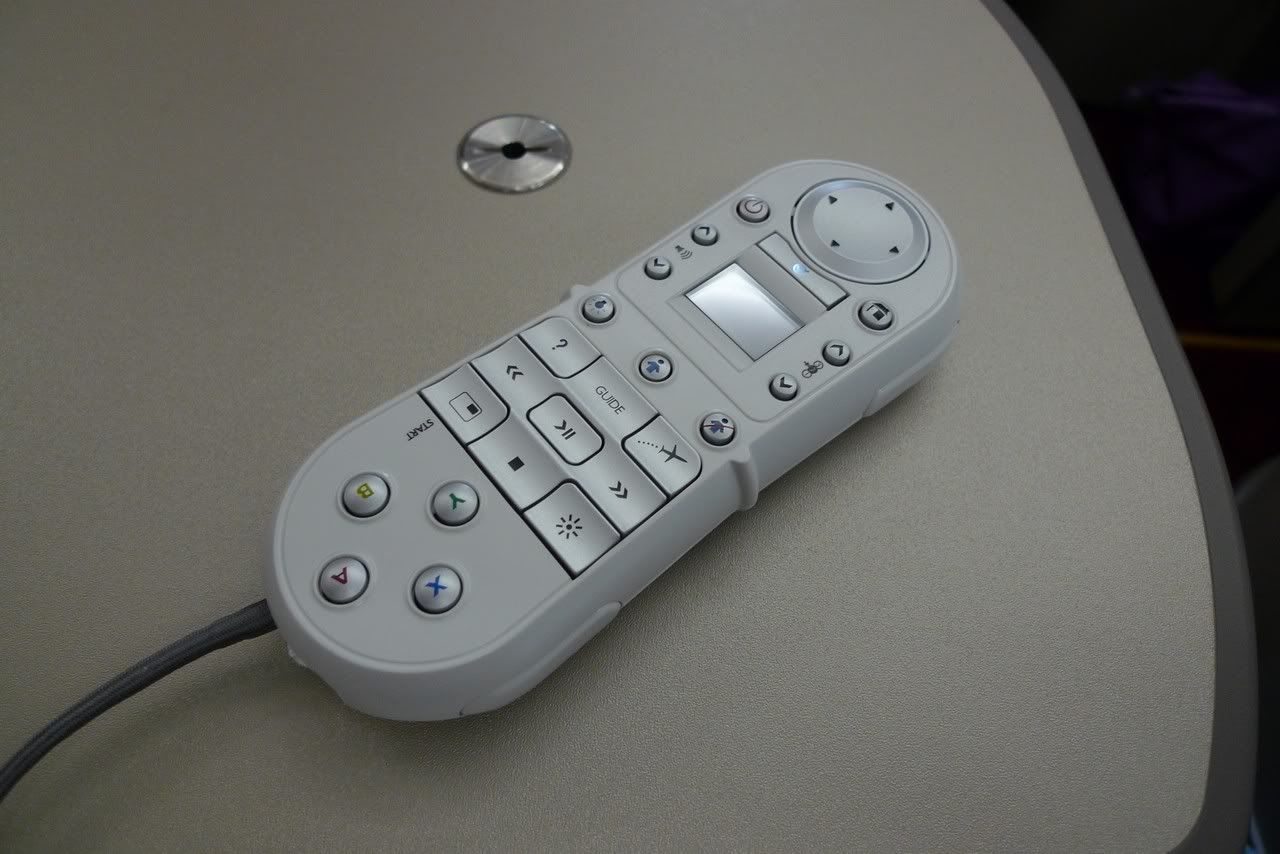 Headphones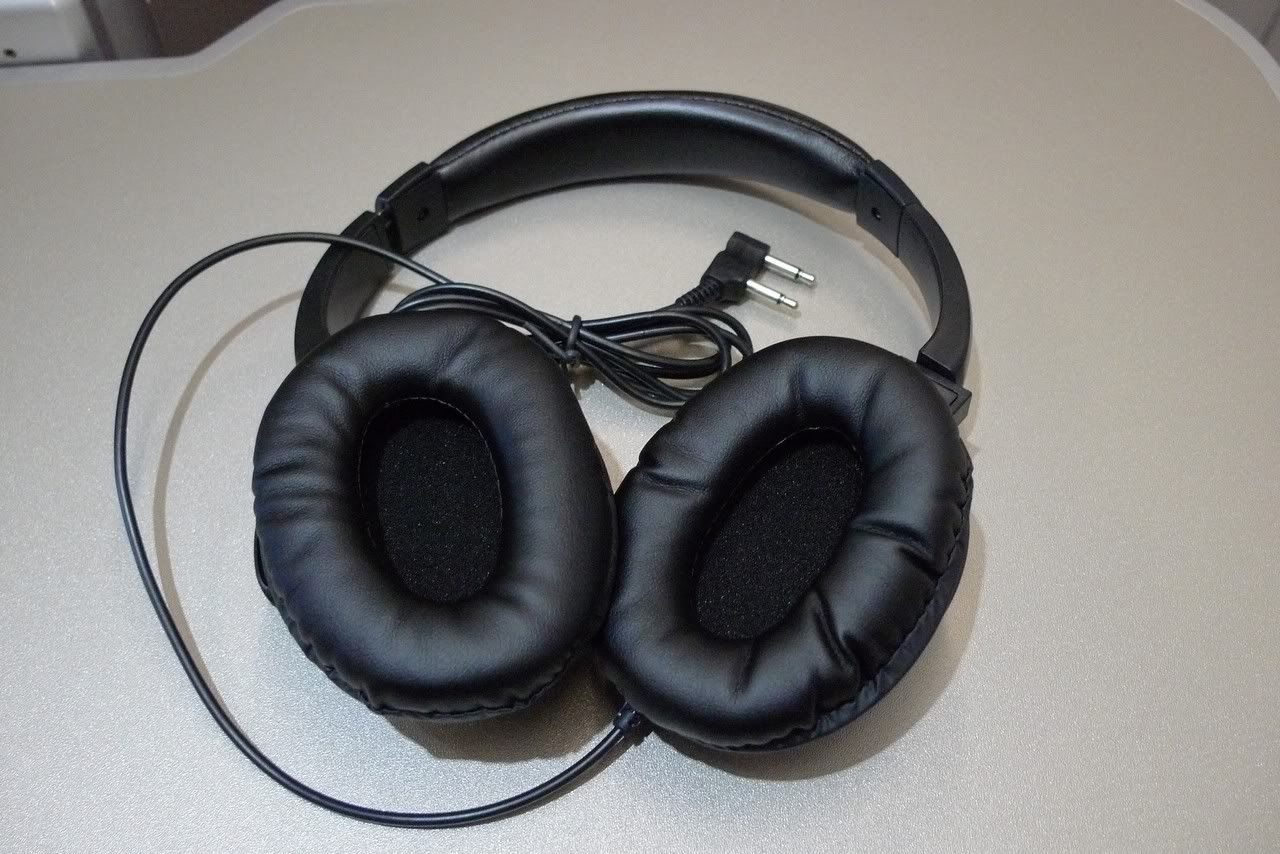 Cruising above the clouds
Meal service started and my table was set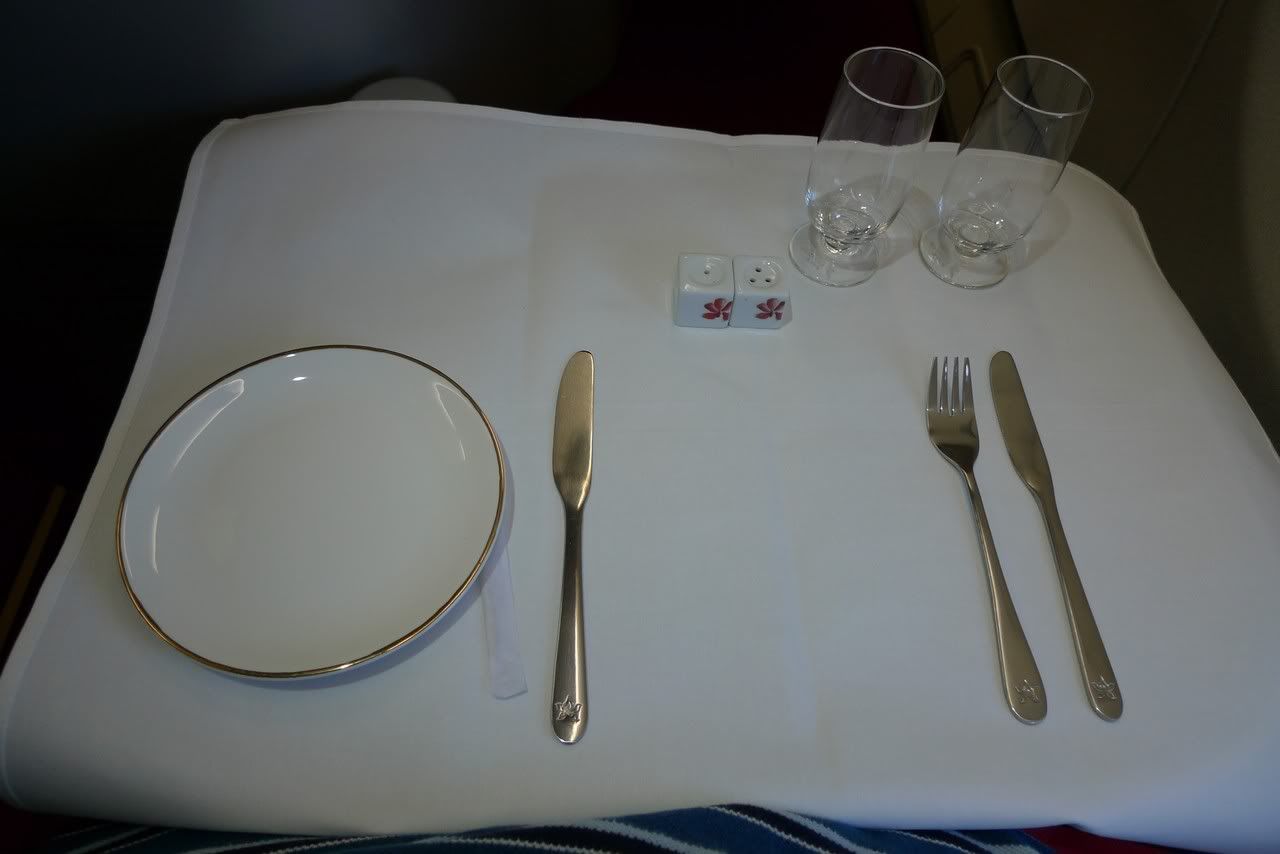 Starters
Crab Meat Salad with Horseradish Dressing, it was incredible, very delicious and good quality!
Main Courses
Beef Steak in Red Wine Sauce with Roasted Potato Wedge and Western Vegetable, the steak was tender, juicy, and the sides was nice also
After the meal service, let's visit the washroom
Although not much time left, I manage to try out the flat bed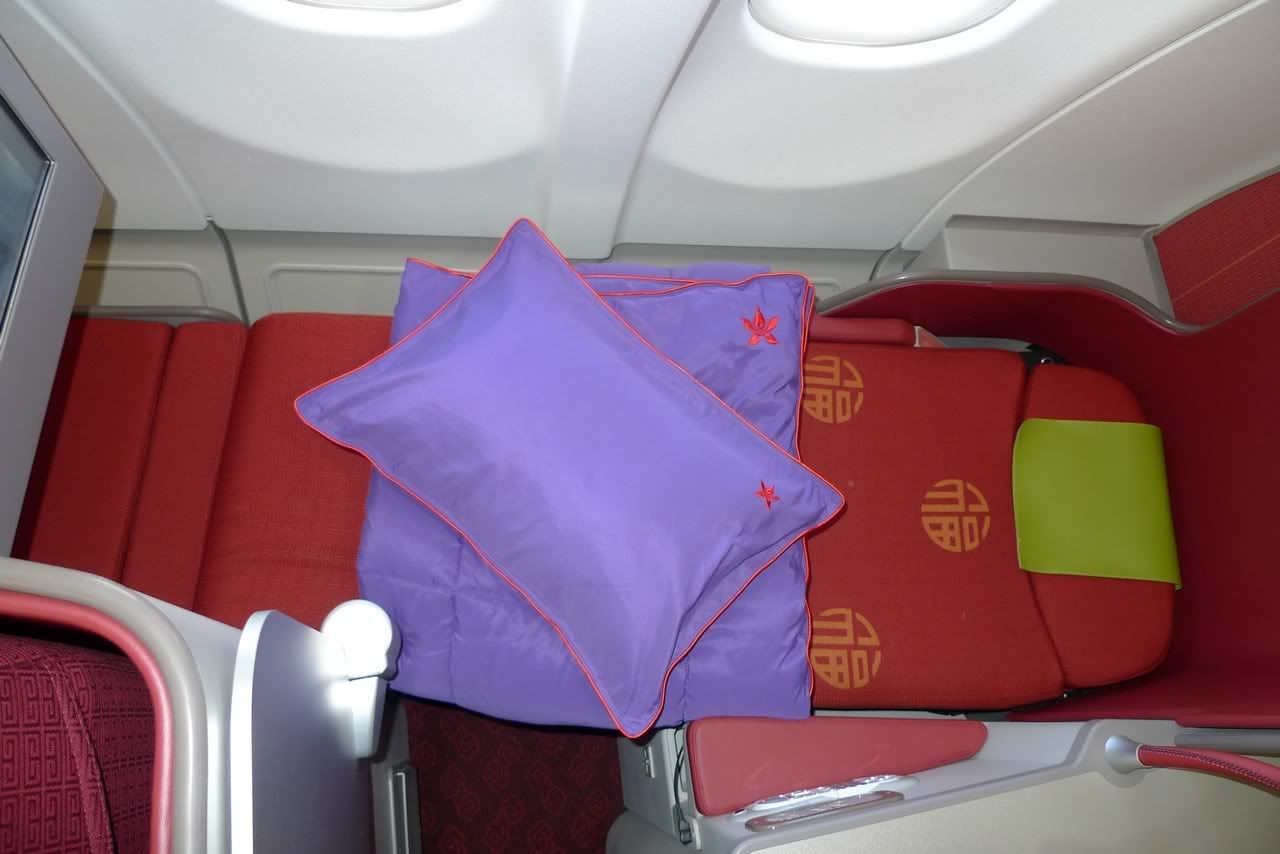 The pillow is supportive and the duvet is really comfortable, soft, warm and light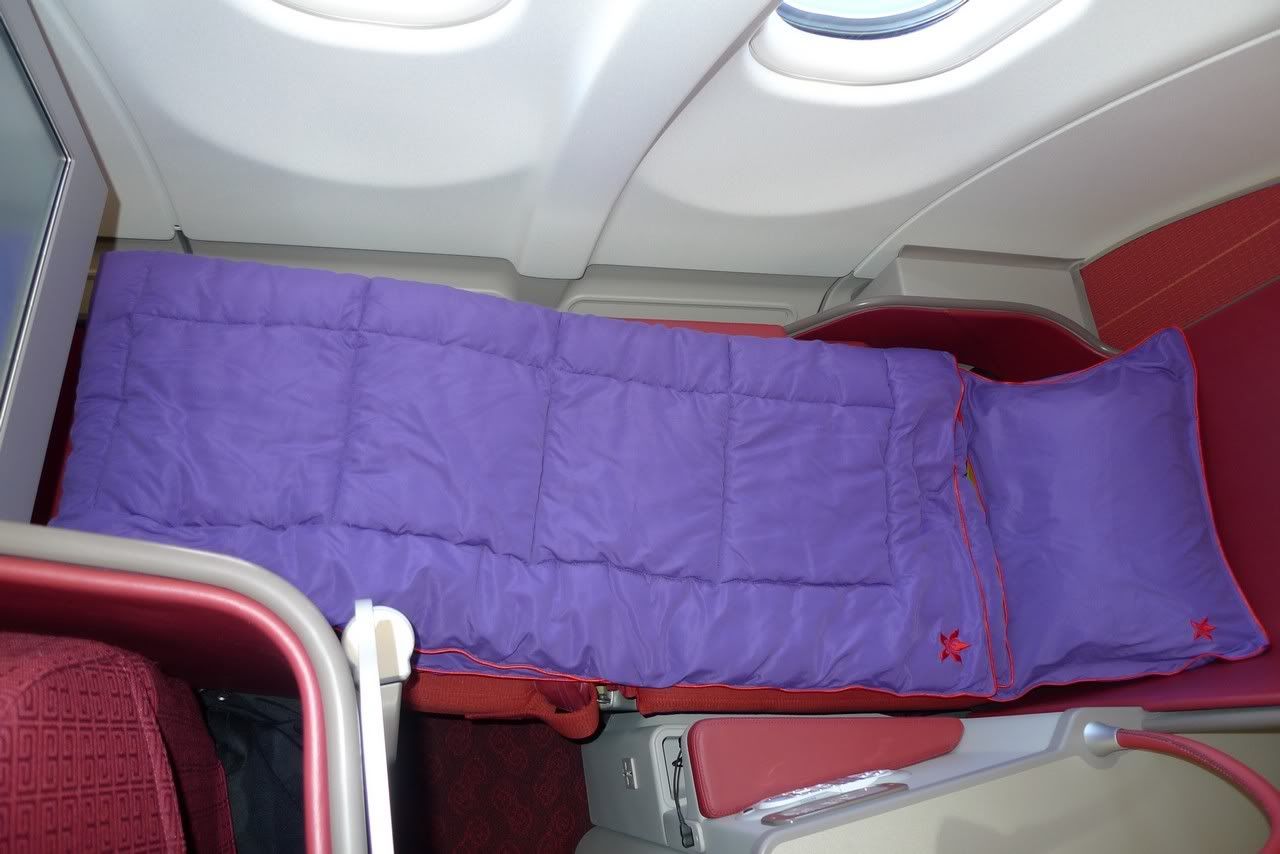 1 hour 50 minutes passed quickly, and it is time to deplane
One more, first cabin during deplane
Docked at Gate B10 in SHA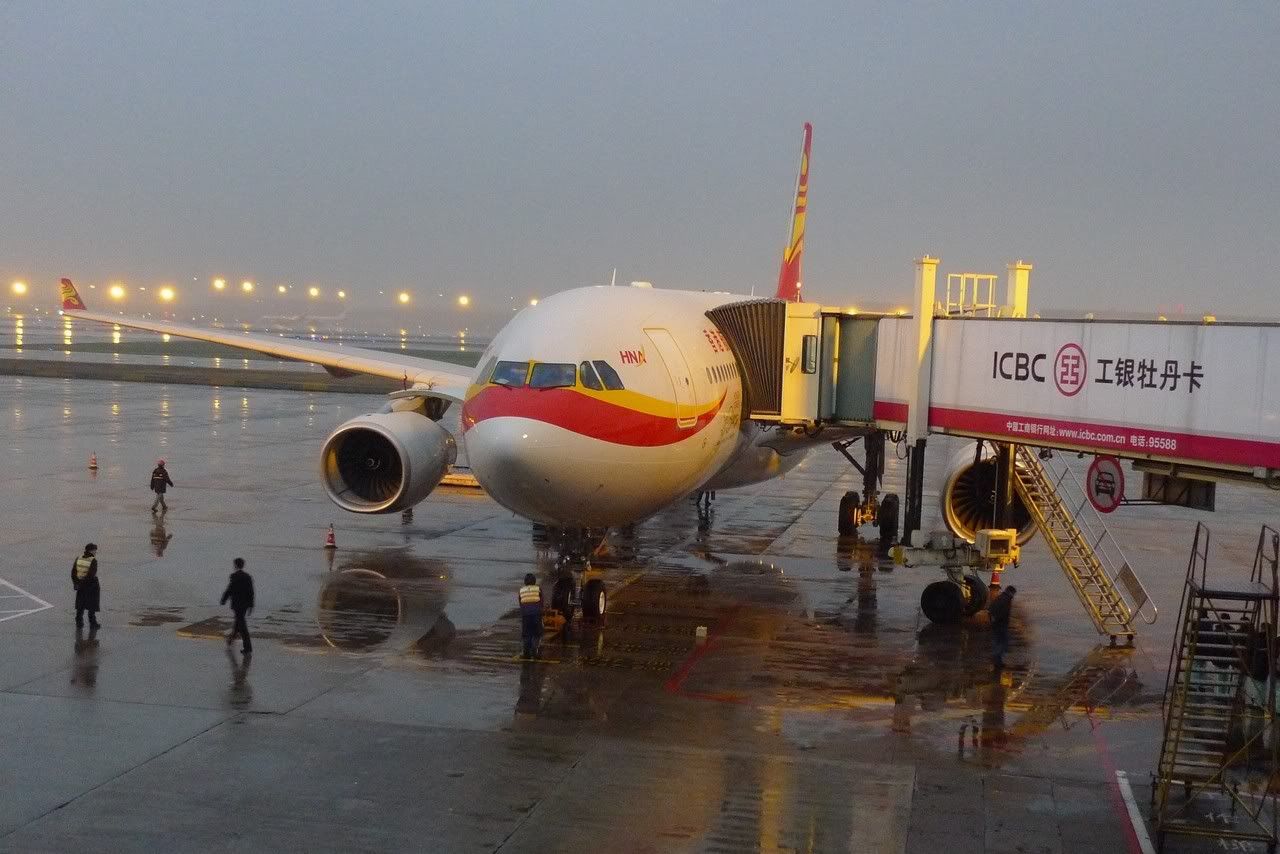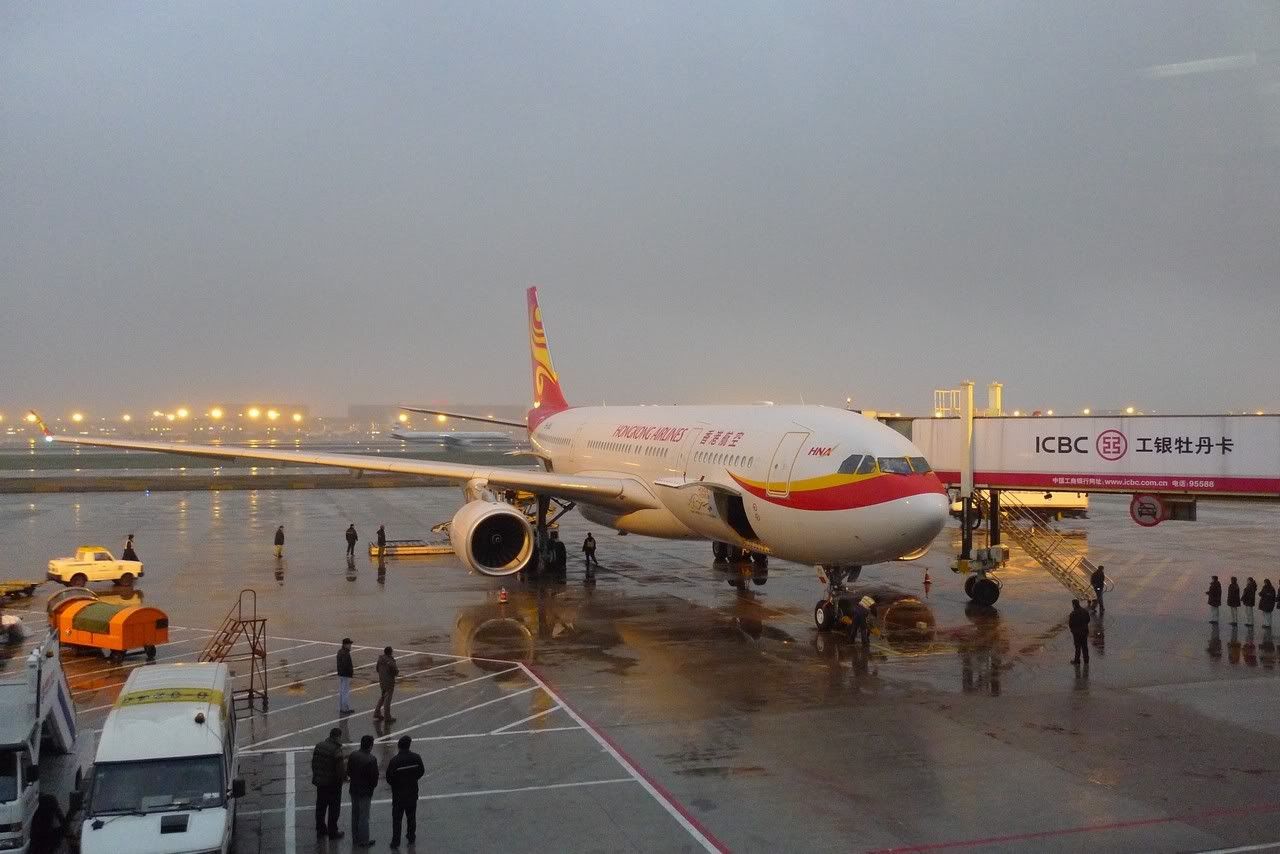 Passed the immigration in no time as we only have 110 passengers, and some are waiting their check luggages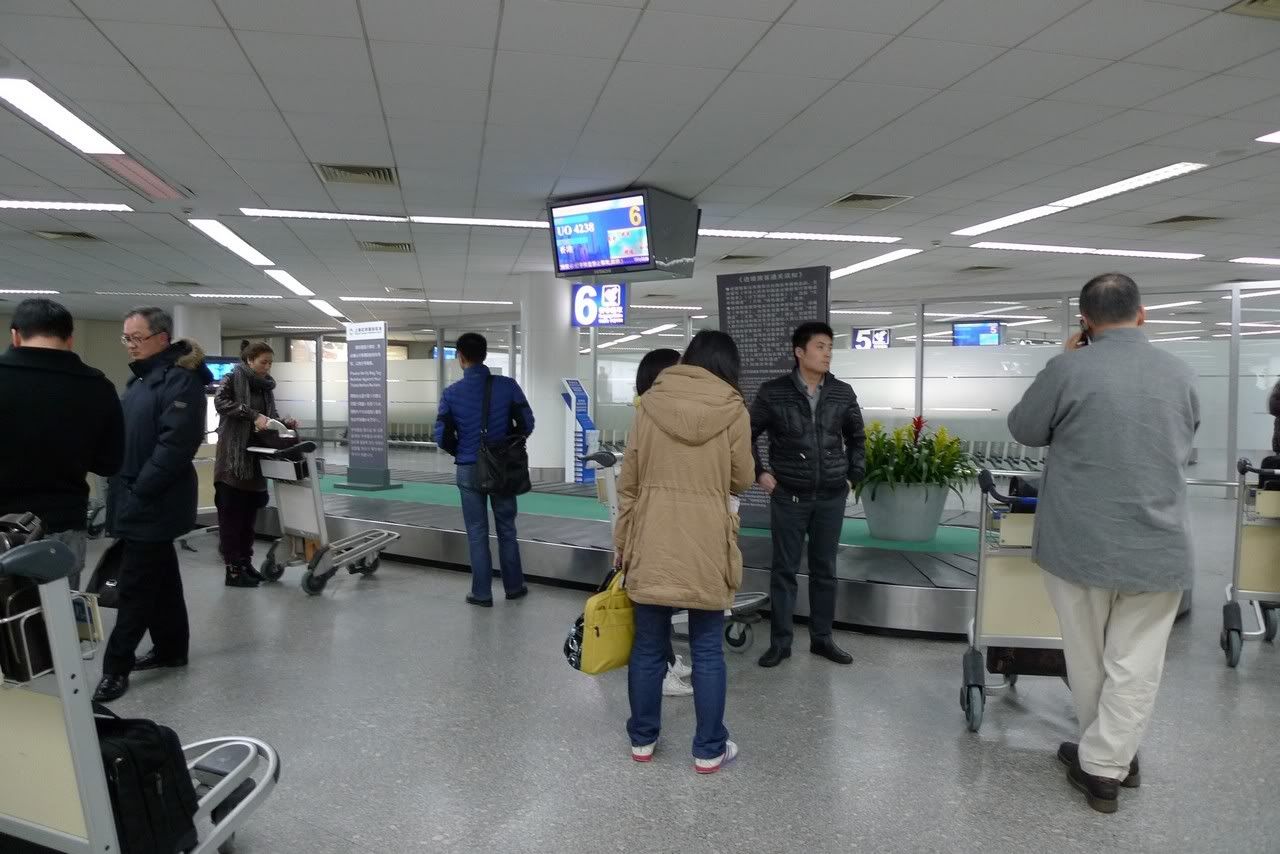 HKA have extended the turnaround time at SHA to 2.5 hours rather than the normal 50 minutes (737) for media activities, so I take the time to visit the Terminal 2 – which is 15 minutes bus ride from Terminal 1
Terminal 2 – Airy, Modern and New
Terminal 2 is connected to Shanghai Rail Station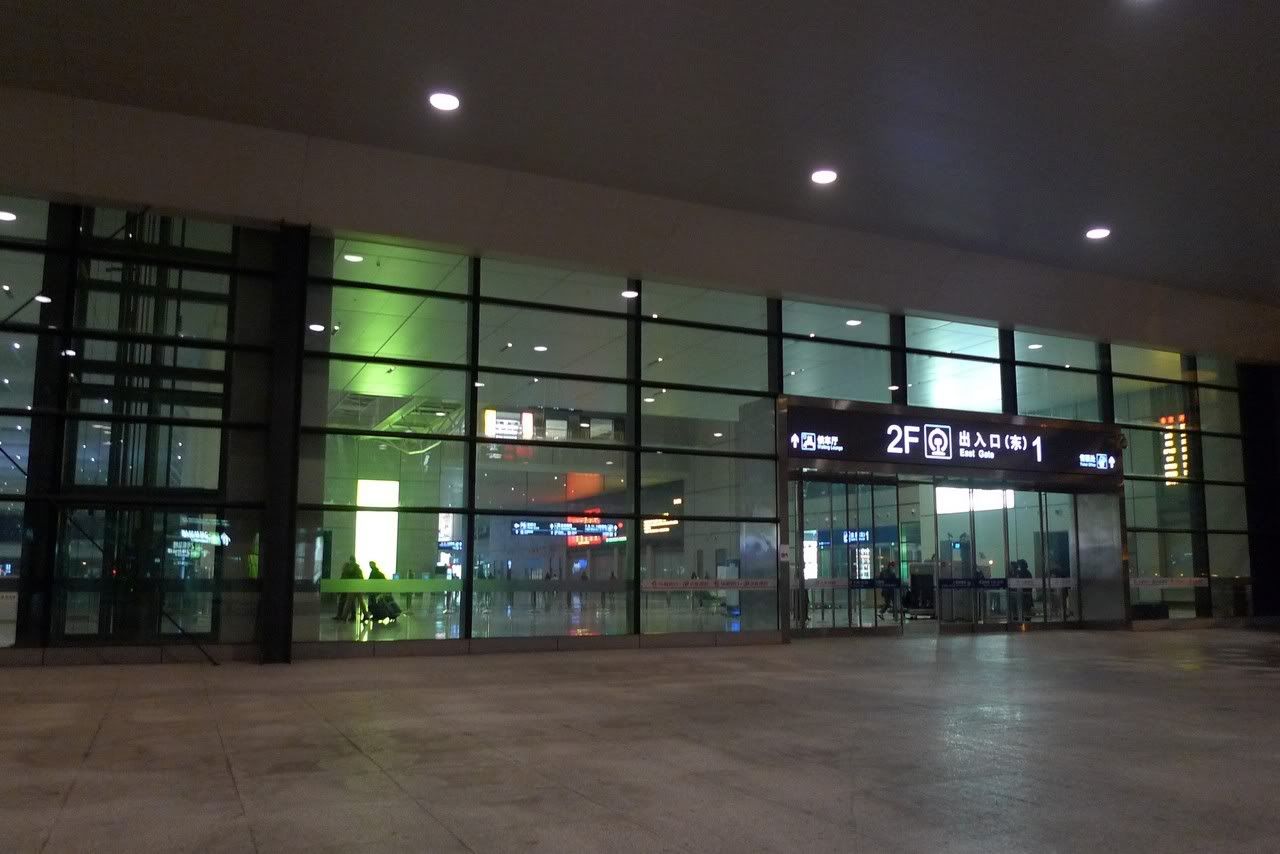 Back to Terminal 1, our flight is the last international flight for the day
Check-in area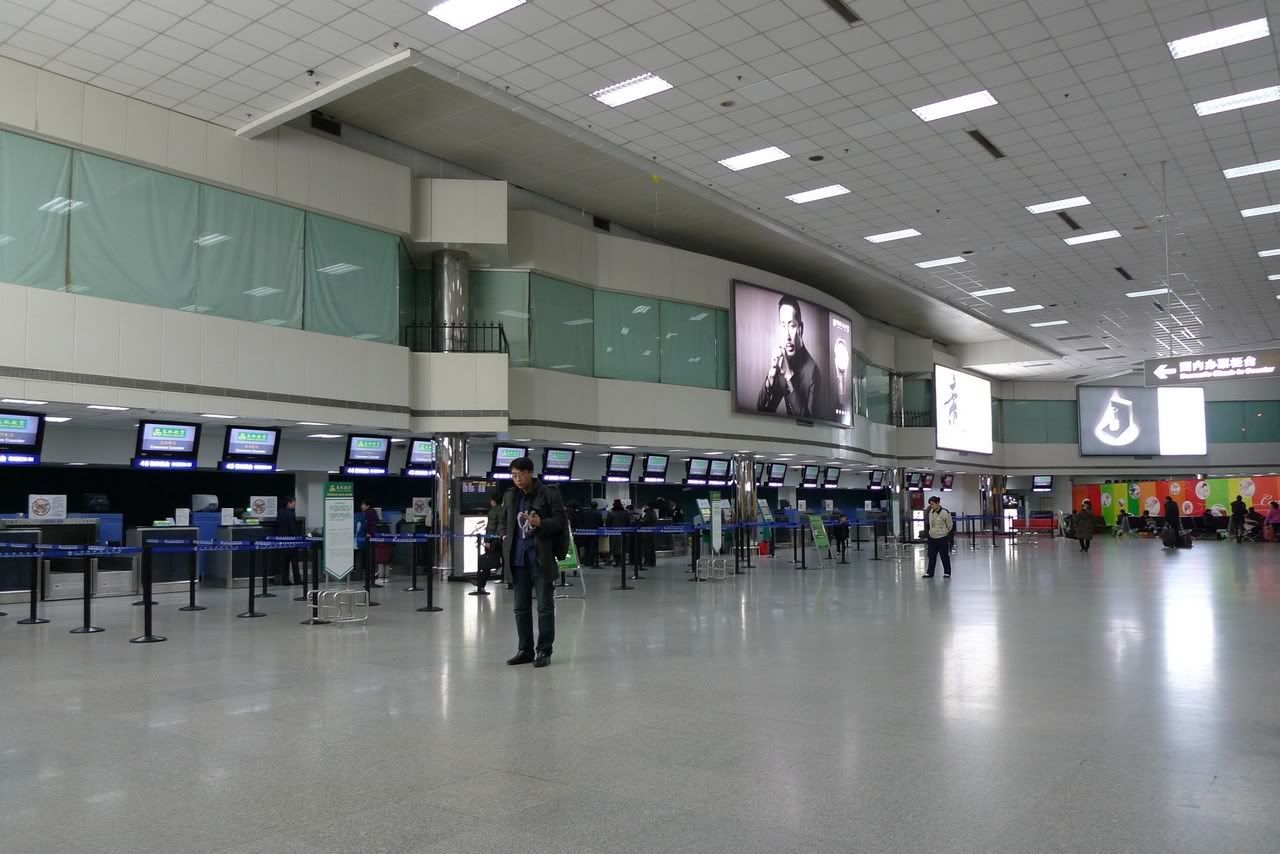 HX check-in counters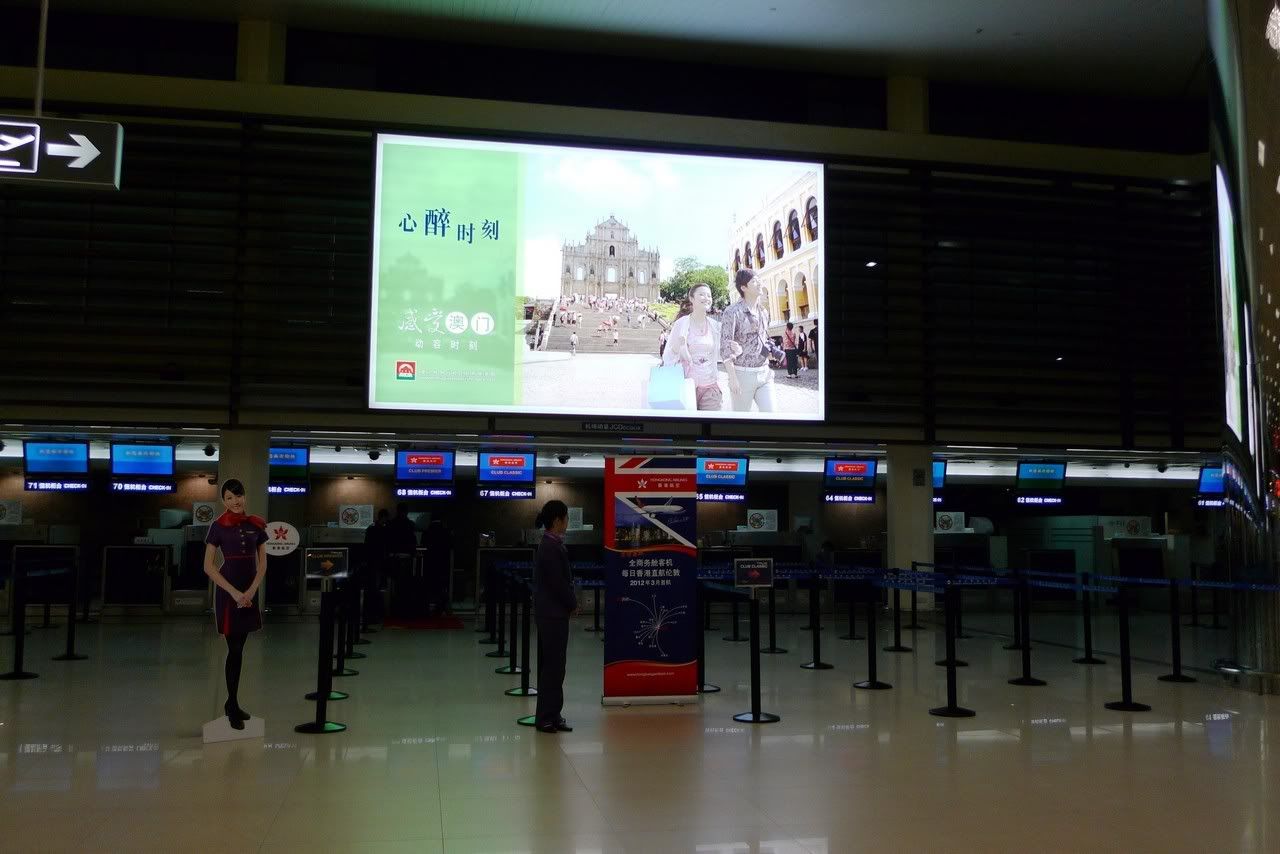 Advertisement for the all Business flight to London
Although it was the one-off flight, HKA still have full set of signage in SHA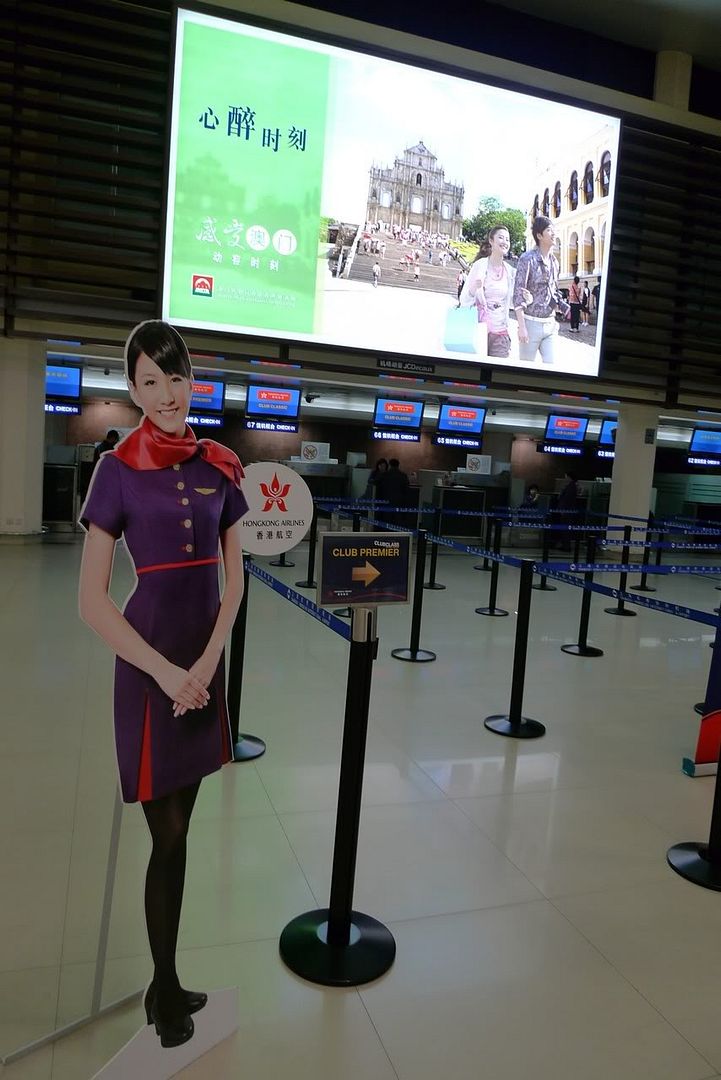 Counters
Again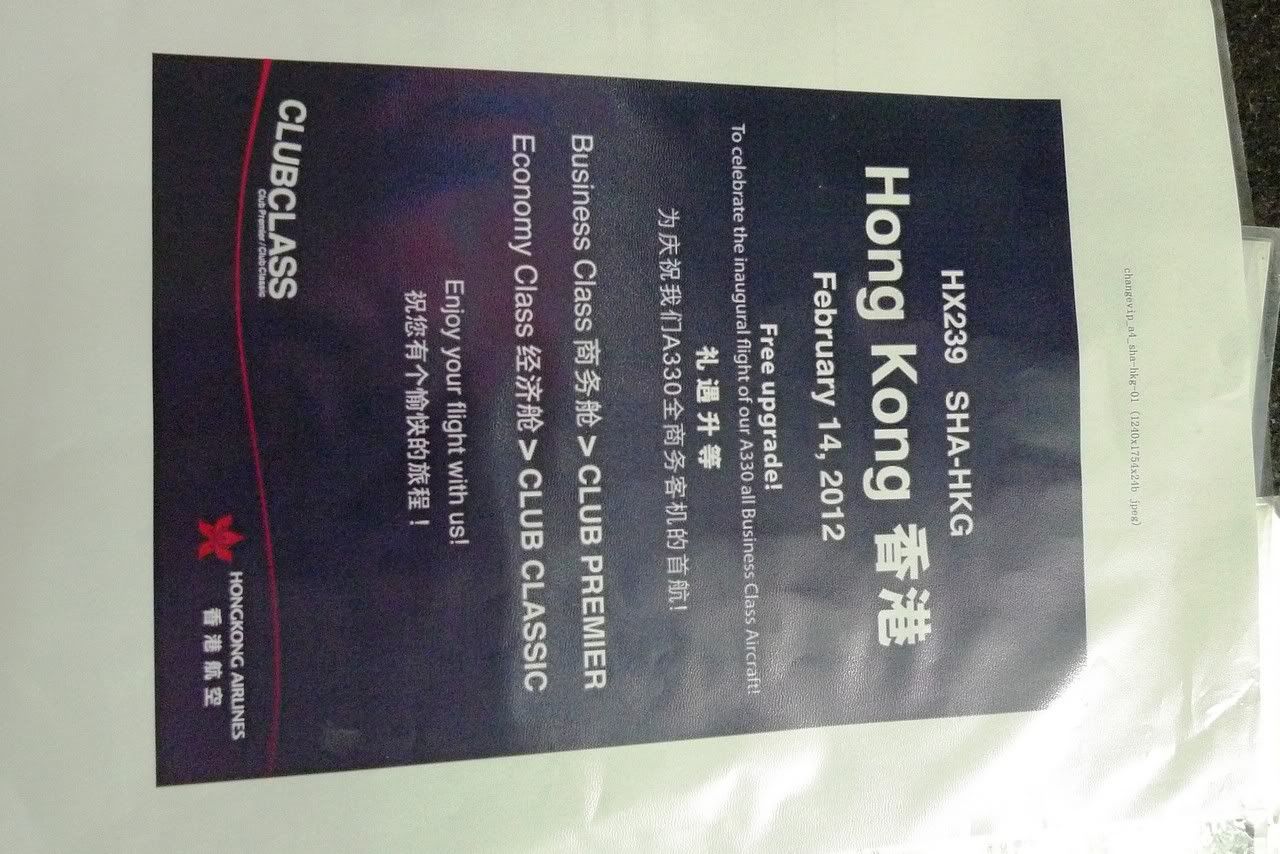 Customs/Immigration
At airside again, some decorations at Gate B10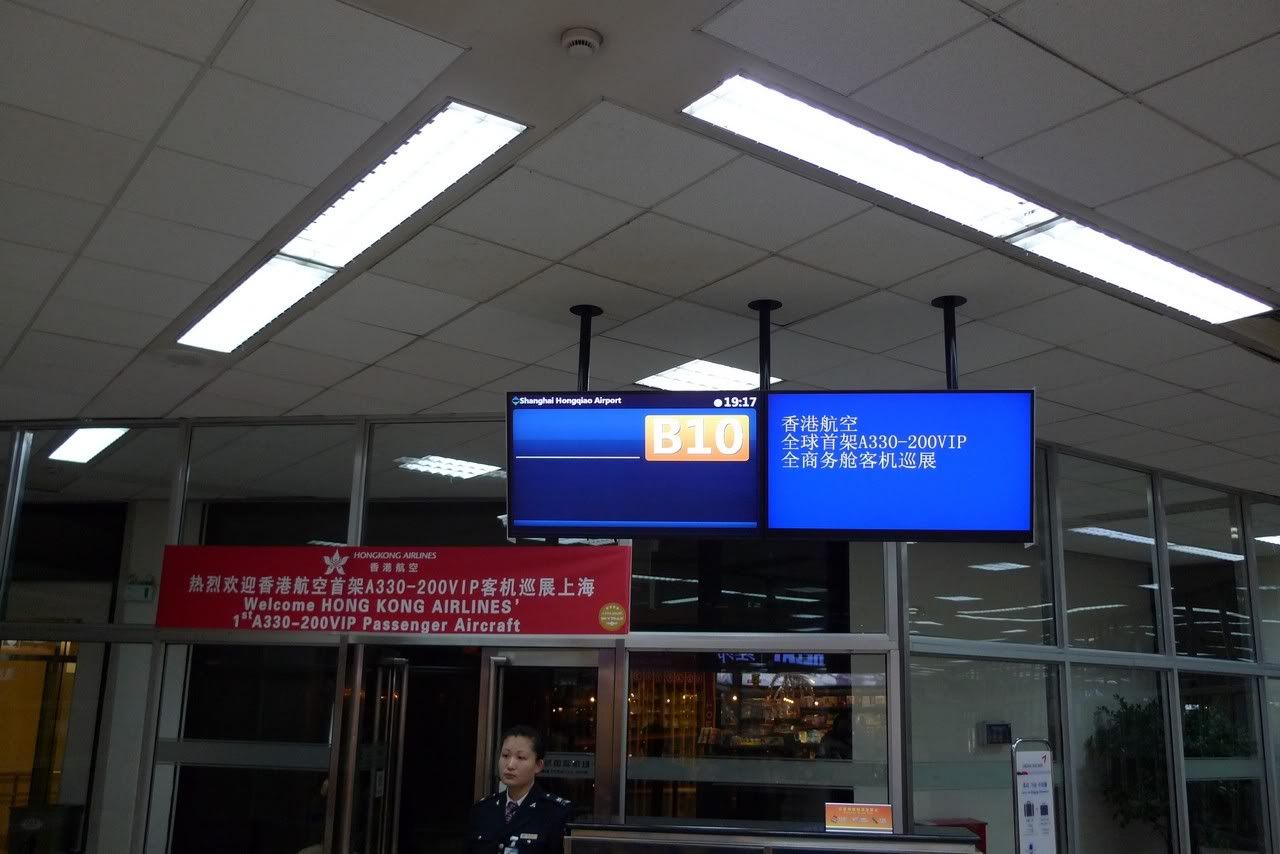 Press conference was over already
Lounge invitation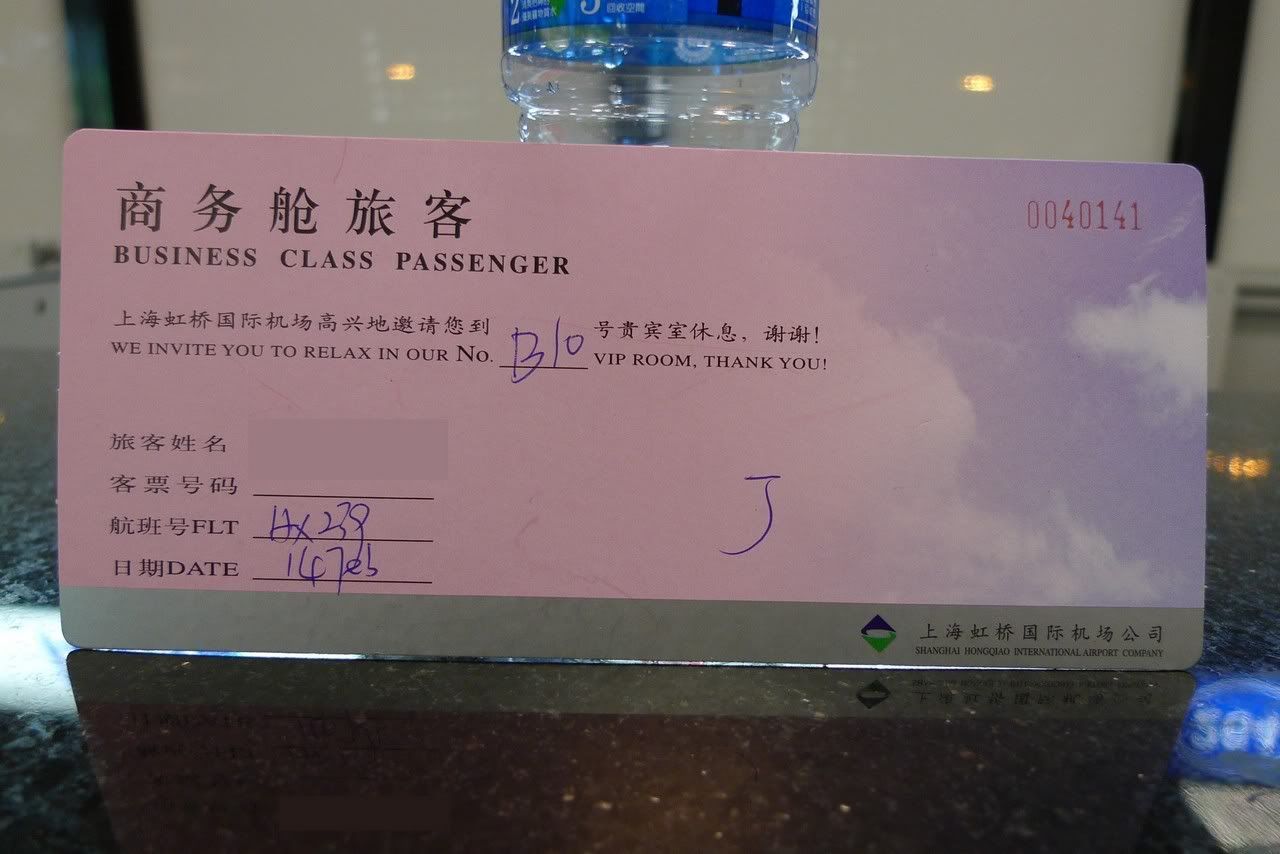 Lounge near Gate B11
Inside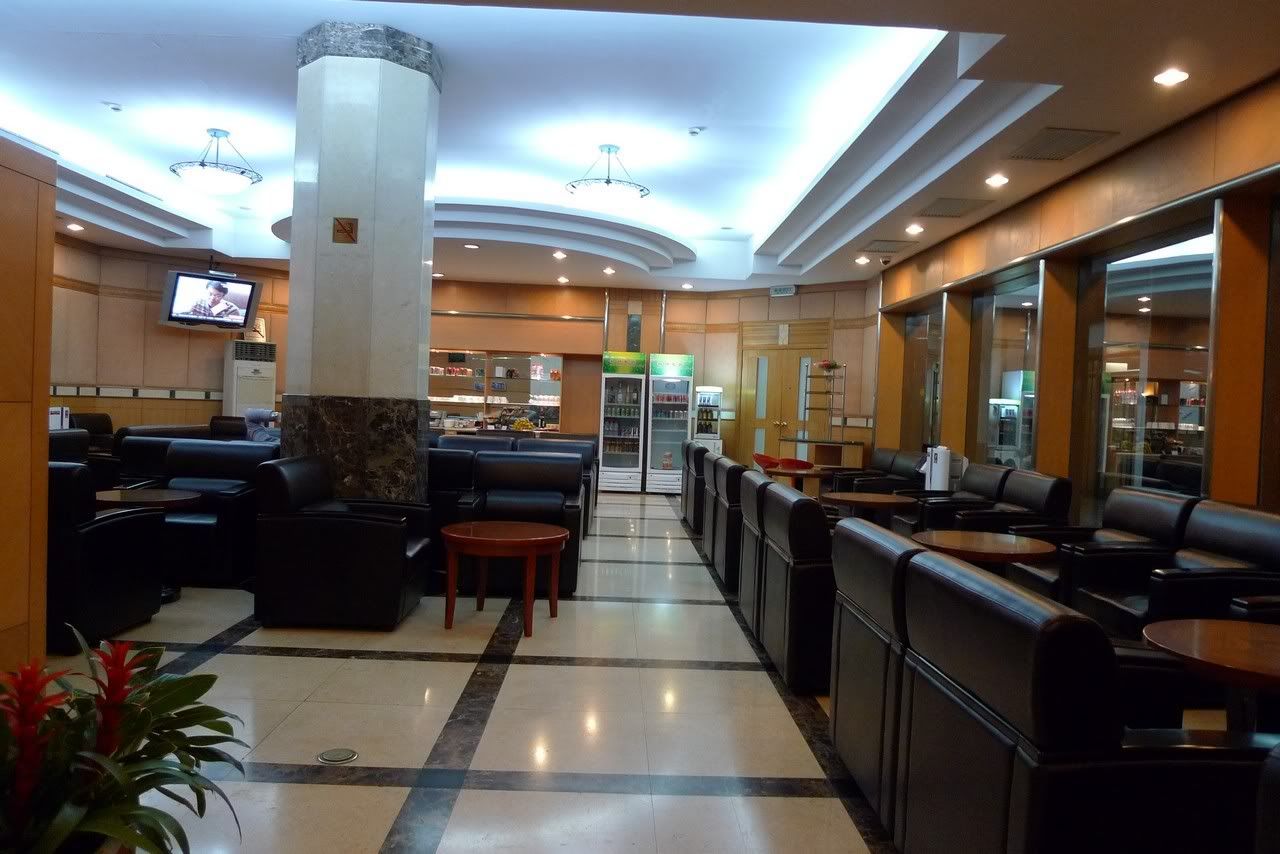 Hot food
My choice
14 February 2012
Shanghai Honqiao (SHA) – Hong Kong (HKG)
Airline: Hong Kong Airlines
Flight: HX 239
Aircraft: A330-200
Registration: B-LNJ
Seat: 4A (Club Premier)
Gate: B10
Arriving Gate: 43
Gate B10
Boarding Pass
The load was light for the inbound flight
Boarding started at 20:15, and I was onboard B-LNJ again, this time in the first cabin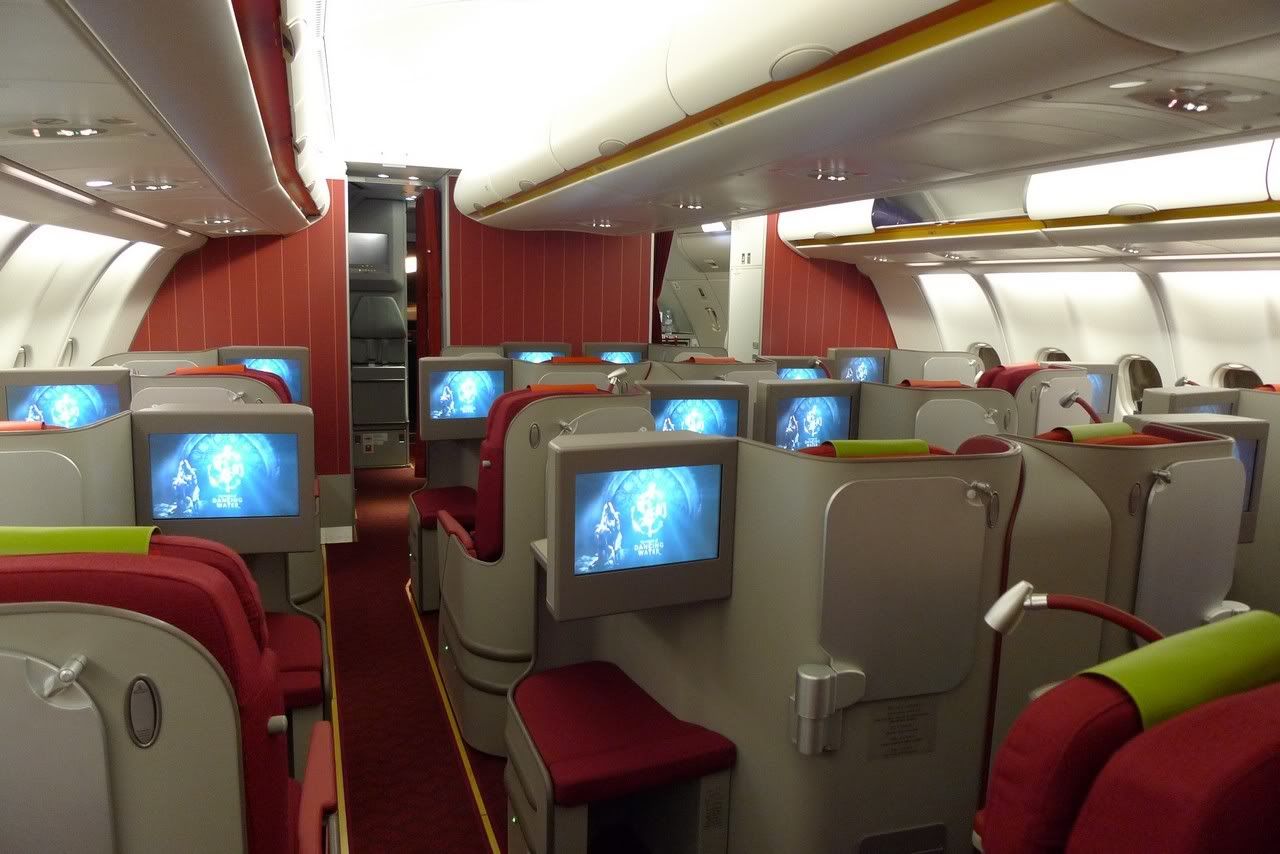 Seat 5A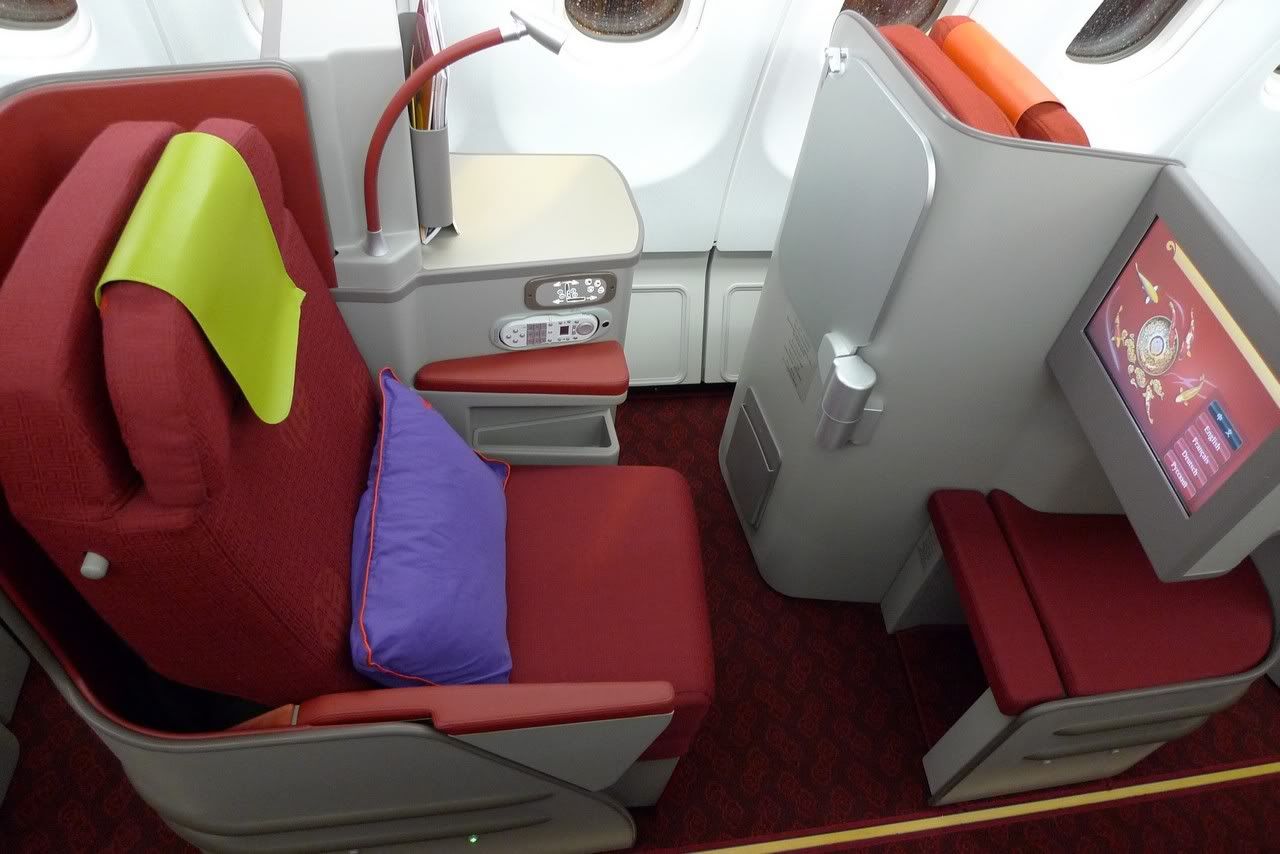 Middle seats of row 3, the divider can be raised for privacy
My seat 4A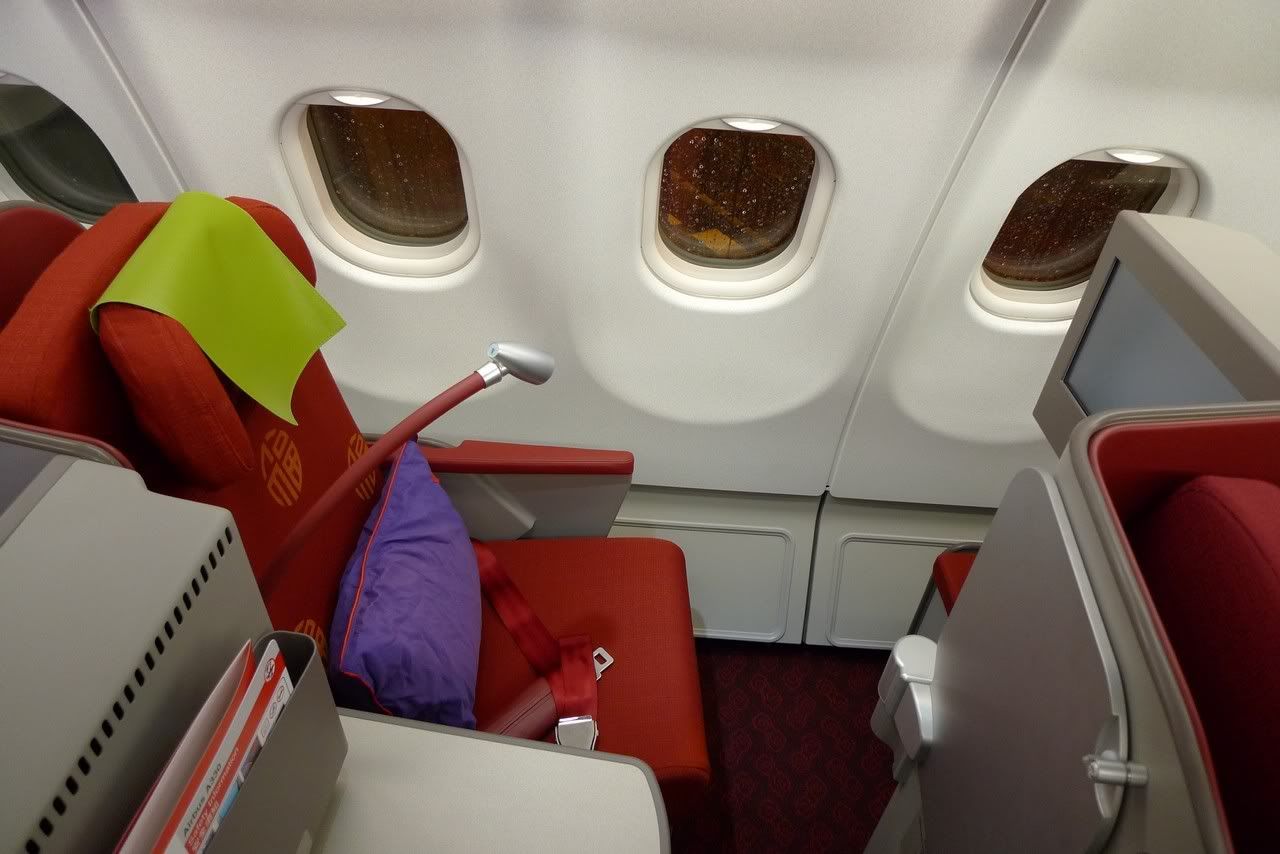 Door closed at 20:30 thanks to the light load, and I have the first cabin all to myself.
When taxiing to runway, changed to mood lighting
766 miles to go
Dinner service started soon after takeoff
Starters
Phoenix Tailed Shrimp with Mixed Mushroom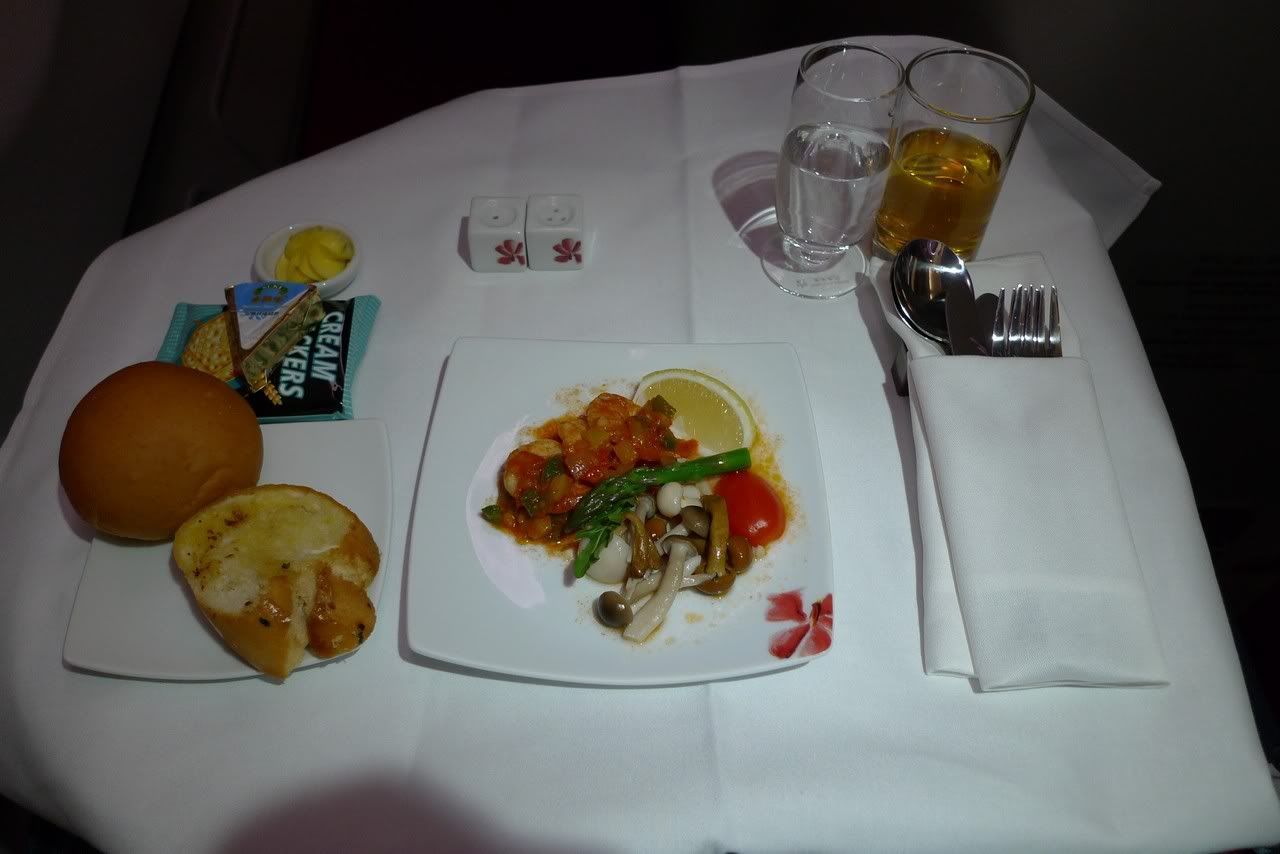 Main Courses
Pan Fried Port Stuffed with Creamy Vegetable with Anna Potato and Western Vegetable, my best pork dish in the air so far
Dessert
Haagen-Dazs Ice Cream
Seasonal Fresh Fruit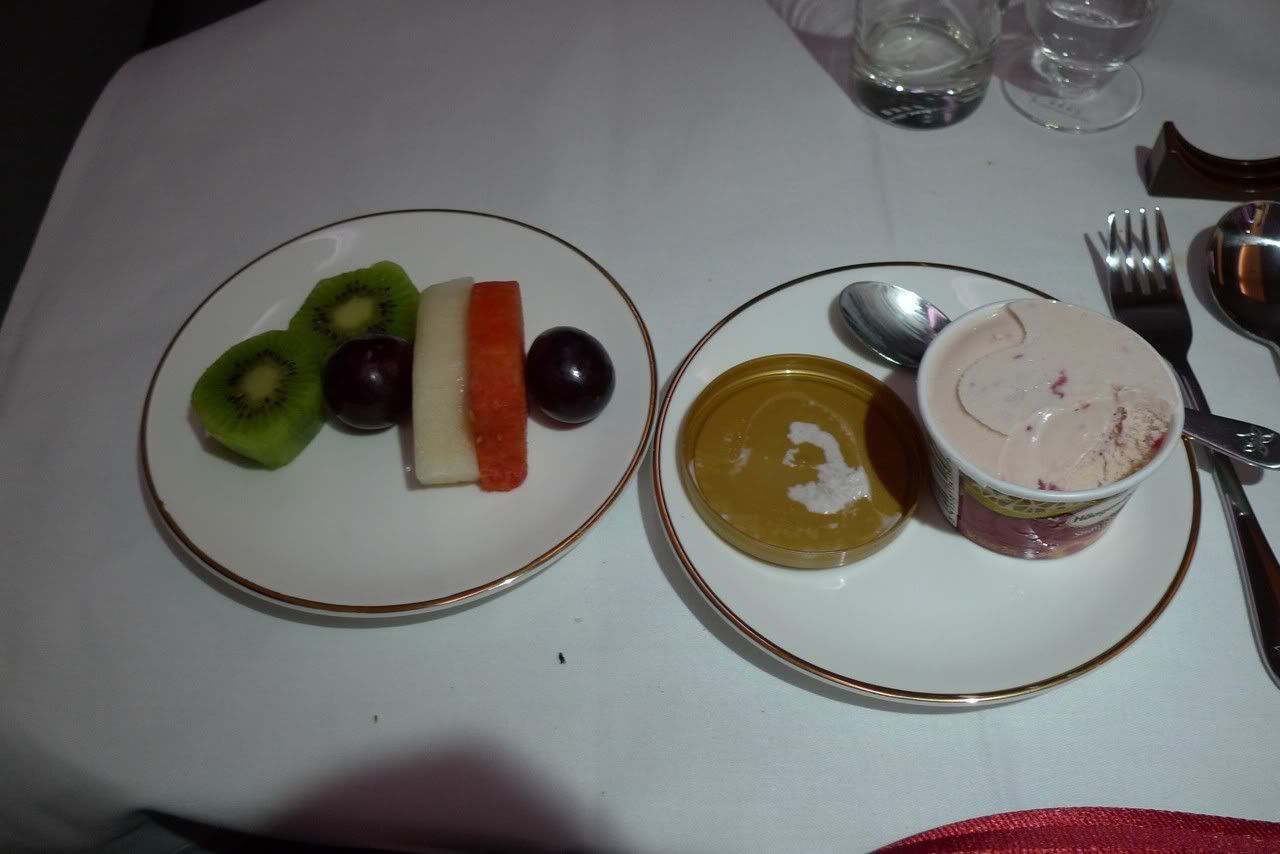 Washroom visit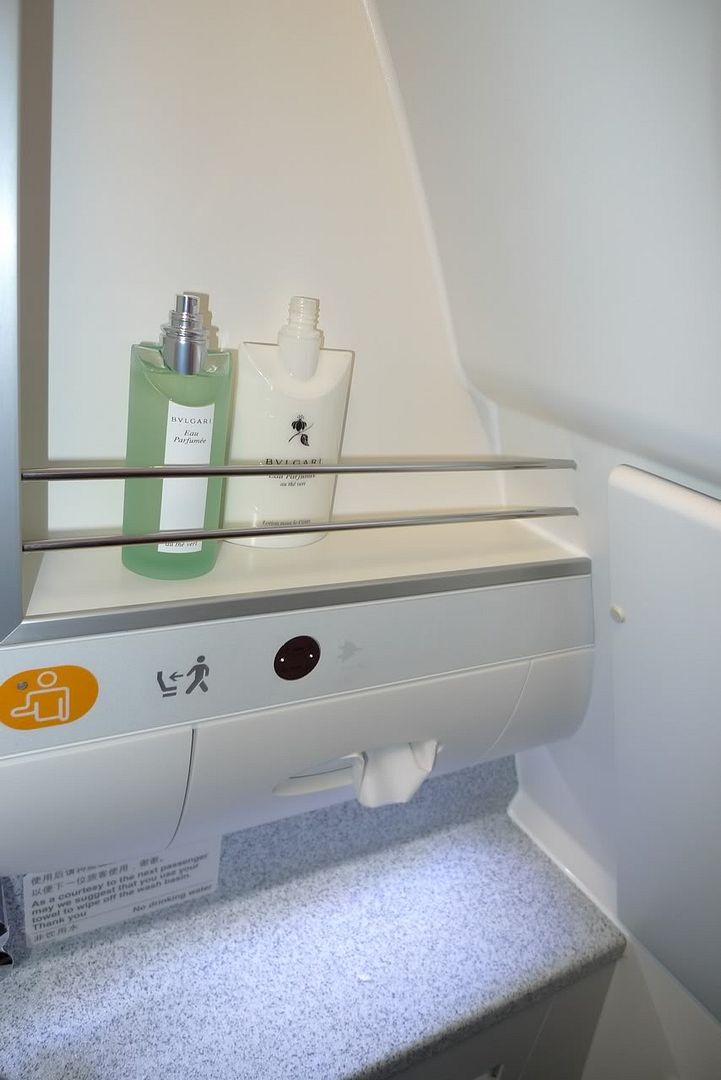 First cabin from the front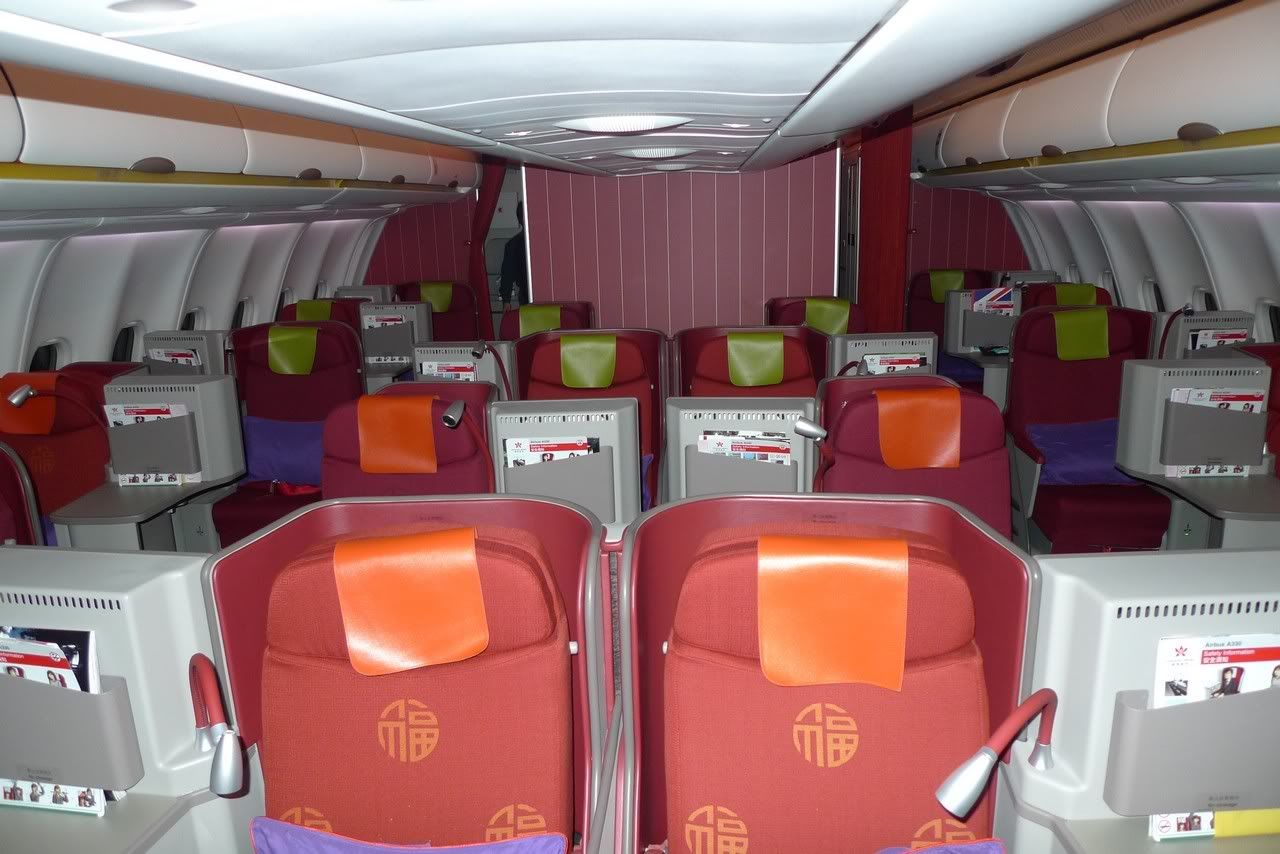 Seat 4D in flat bed mode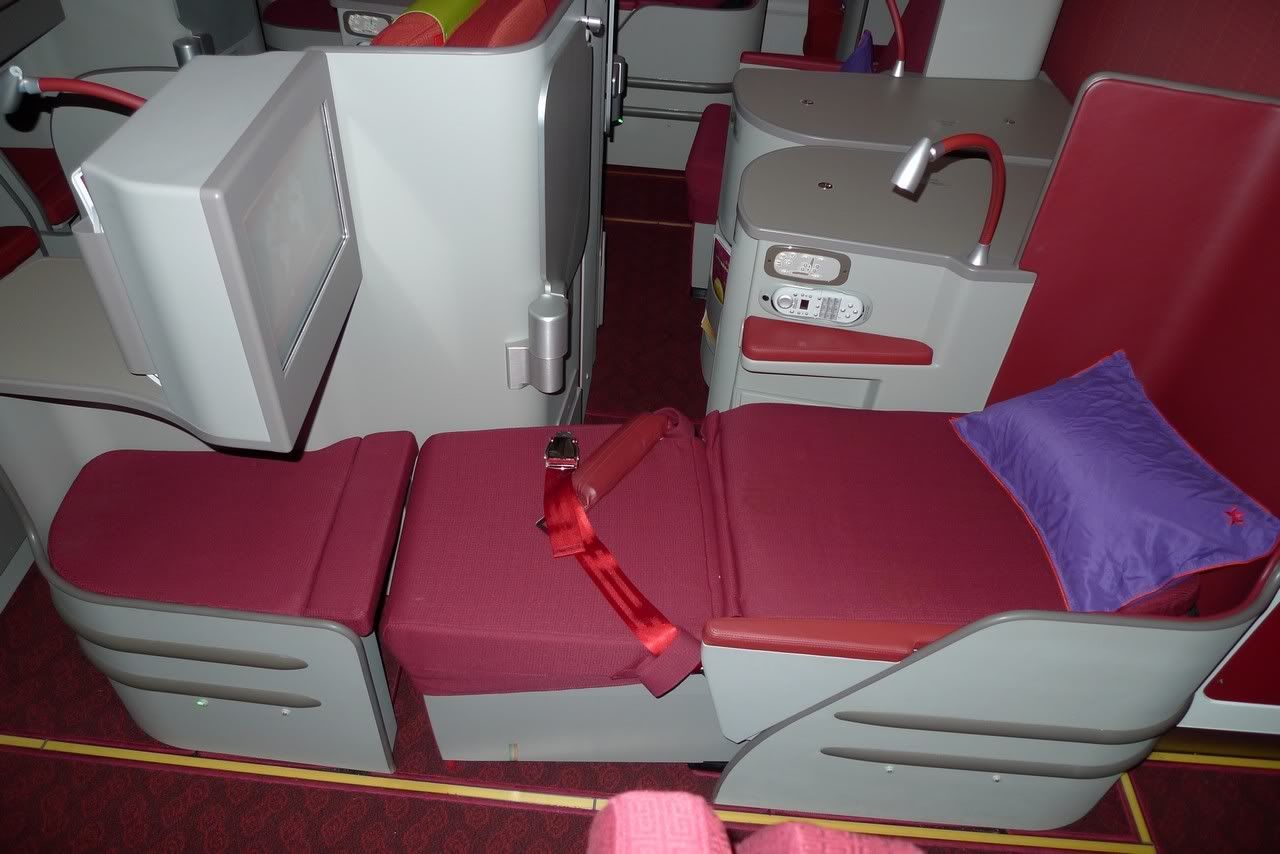 With mattress
Club Premier bar, will have some snacks during London flight
The senior FA lead me to try the Club Classic seat
The Club Classic seat in fully reclined mode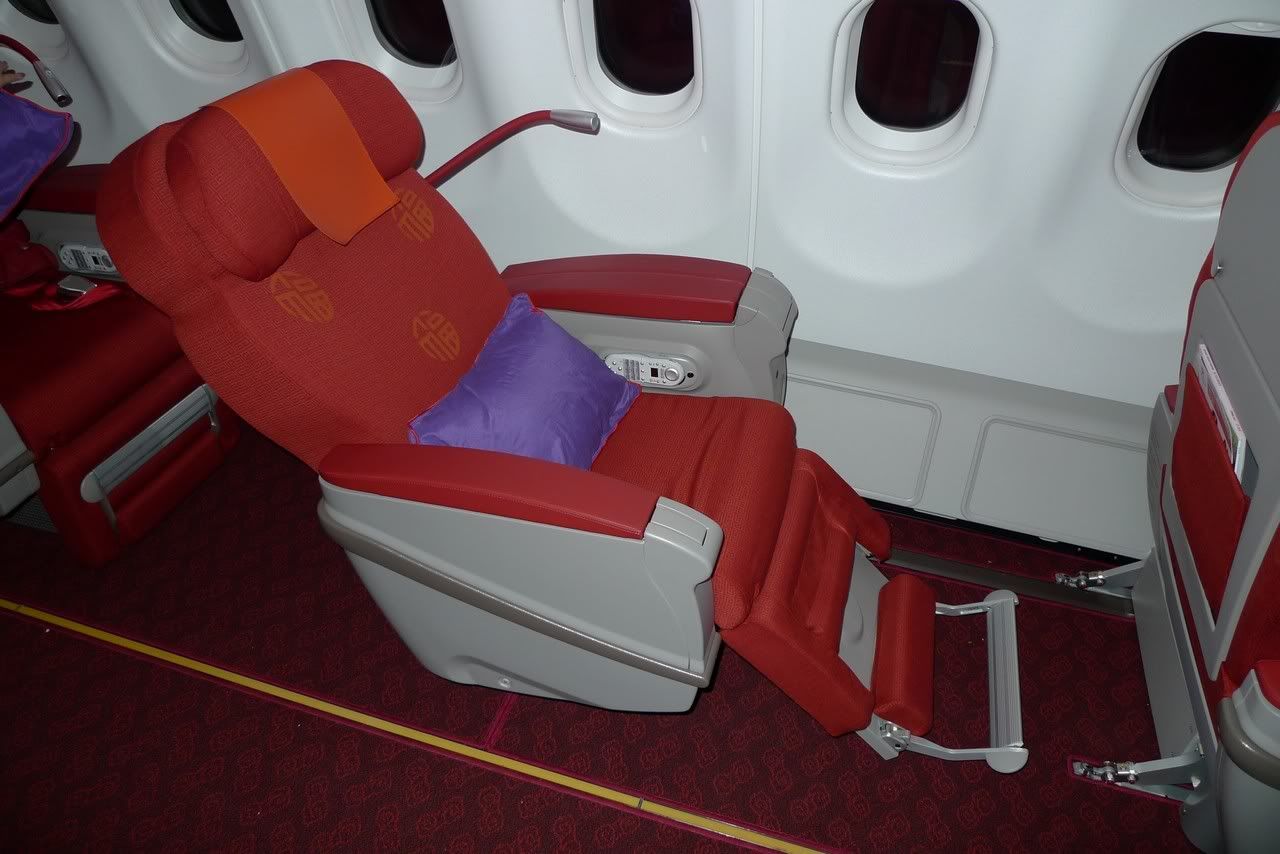 Seat pitch is very good!
Rear cabin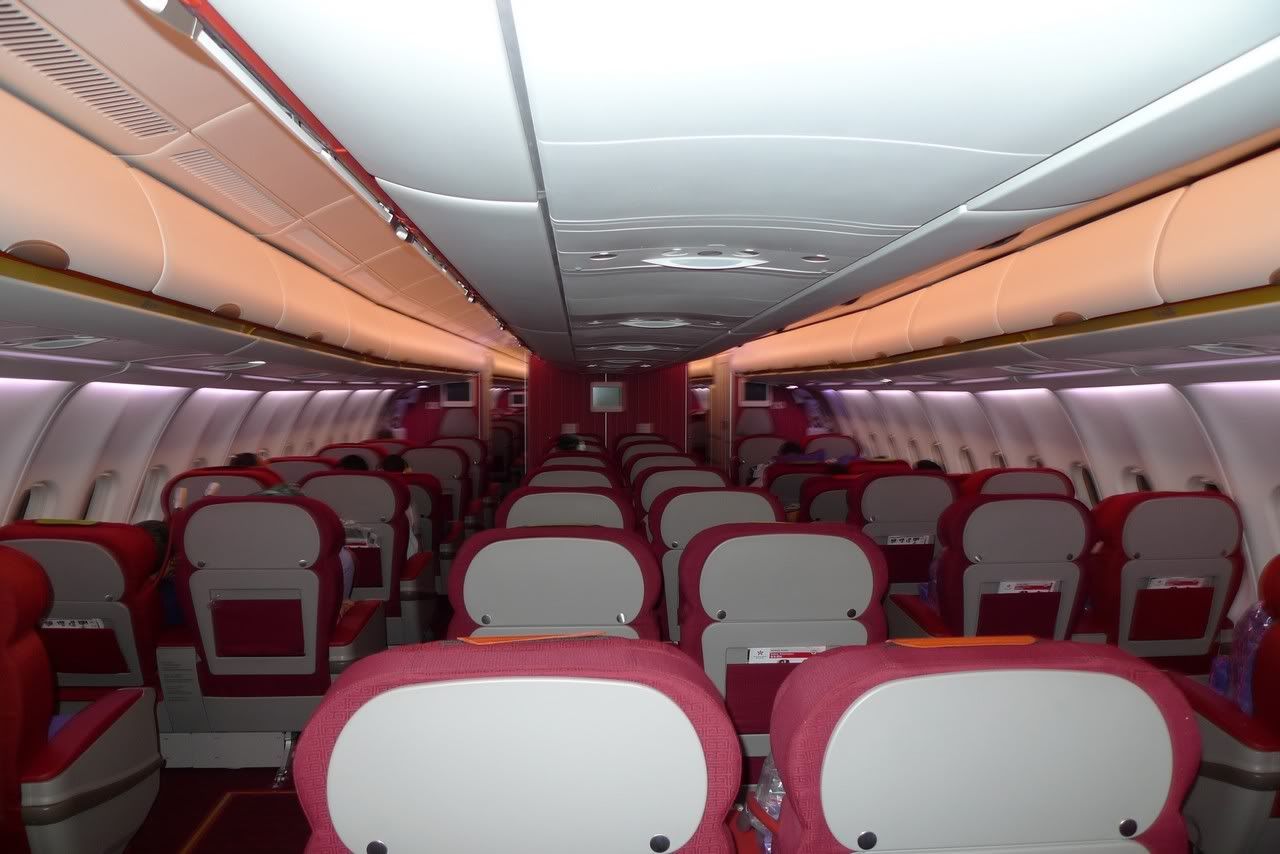 Menu, [Left]Club Premier [Right]Business Class
The flight touched down in 2 hours 10 minutes and the FA wish all the passengers have a happy valentines day!
Comment:
Lounge:
Lounge in Hong Kong was tiny, but with everything we need. One worry is that if the lounge can accommodate all the 116 passengers at the same time but rumors stated that HKA is finding the new place for the bigger lounge now. Serving Dim Sum in lounge is smart and easy way to make customers happy, good touch HKA!
Service:
Service was great, from check-in, at gate and even onboard, the staffs were nice and helpful. For this special flight, HKA have 18 FAs onboard to serve the customers and make the service very good. FAs in HKA is very young, but I found that they are cheerful and they really love their job in HKA, I found their service may even better than the major players in the world.
Hardware:
Seats:
Club Premier – The flat bed seats are the nearly the same as EY or OZ, I agreed that the seat on A330-200 is a bit narrow, but as a big man like me, I found it is still comfortable is seat and sleep with, the only problem is that the leg area is too open especially at the aisle seats, add a cover will be better.
Club Classic – The reclined seats are actually the regional business class seats on SQ and CX, but with more seating pitch, it makes the seating comfort upgraded a lot! Seating there for long-haul flight should be a joyful experience.
Entertainment:
The touch screen IFE offering is great with many choices of movies, TV and music. On the other hand, free onboard internet will be offered (with limit) on the LGW service, it is good for both leisure and business travelers to spend their time during the flight.
Price:
Club Premier is near the same price as other carriers, including Chauffeur service in LGW, I think it is value for money.
Club Classic is another tier, I can say this is a very good J minus product, which have a great seat, good meal and a dedicated onboard bar for 12 hours. For the price at around HK$13,000 round trip HKG-LGW-HKG, it believe it is a very good choice for the customers which can pay a bit more than Economy Class. Especially CX is offering Premium Economy Class (Y+) from April with the nearly the same price as HX, I would definitely choose HX over CX, for the 2-2-2 seats on A330 rather than 2-4-2 seats on 747, onboard WiFi, better seating pitch.
Good luck and hope Hong Kong Airlines will success for the new LGW route!!
Extra – Good Seats/Not so Good Seats
Club Premier – 9A, 9K Good inside seats at the back, but in case of no infants around you. 5A, 5K are aisle seats just next to the onboard bar, which can be avoid
Club Classic – 22-24 A,K Good single seats with lots of room, I would rate row 22 the best!
Thanks for your reading!!
My past TR:
Three 5-Star Airlines In 8 Days (102pics) (June 2008)
First Touch Of China Southern MD82 (31 Pics) (August 2008)
China Airlines HKG - TPE (47 Pics) (August 2008)
HKG-BKK With China Airlines In C (61 Pics) (November 2008)
HKG-BKK F On Emirates' 777-300ER (67 Pics) (May 2009)
HKG-TPE Turnaround On TG's A340-600 (33 Pics) (June 2009)
HKG,MFM,TPE,SIN,BKK In CX C And BR Y (201 Pics) (August 2009)
SQ Y HKG-SIN In 2009 w/MH And 1st A380(128 Pics) (Year 2009)
Ooop! I did it again Part 1 EVA Air MD-90 (May 2010)(50 Pics)
Ooop! I did it again Part 2 CX HKG-SIN run (May 2010)(116 Pics)
Photo Report: My Trip For BG's DC-10-30 (June 2010)(63 Pics)
First Time To Japan Part I: AI HKG-KIX In F (August 2010)
First Time To Japan Part II: JL KIX-HND In J (August 2010)
First Time To Japan Part III: OZ NRT-ICN In C (August 2010)
First Time To Japan Part IV: OZ ICN-PEK In NEW C (September 2010)
First Time To Japan Part V: IR PEK-NRT In C (September 2010)
First Time To Japan Part VI: NH FUK-ITM In C (September 2010)
First Time To Japan Part VII: AI KIX-HKG In F (September 2010)
EK A380 Inaugural Flight HKG-BKK In F (107 Pics) (October 2010)
Europe Trip 2011 Part I - HKG-BKK On TG F (June 2011)
Europe Trip 2011 Part II - BKK-SIN On SQ J (June 2011)
Europe Trip 2011 Part III - SIN-LHR On SQ F Suite (June 2011)
Europe Trip 2011 Part IV – LHR-ZRH-MLA On LX/KM J (June 2011)
Europe Trip 2011 Part V – MLA-ZRH-LCY On KM/LX J (July 2011)
Europe Trip 2011 Part VI – MAN-CDG-SXM On AF J (August 2011)
Europe Trip 2011 Part VII – SXM-AMS-LHR On KL J (August 2011)
Top