Feedback always appreciated.

I > Background:
In consulting, once in a while, engagements get postponed last minute due to a variety of factors. In the case of big projects that you want to be on, I decide to stick it out as I don't want to take on "lesser" projects. This happened to me right after coming back from my Siberian adventures. With 3 weeks to kill, I decide to spend it somewhere new - after spending an agonizing night over lots of wine at a favorite CCS haunt, a call from a friend in Canada and the subsequent discussion led me to an executive decision --- I was going back to Canada for the first time 2008. The next day was spent deciding where to go, and how to maximize the trip by going to places in Canada where I (or, other Canadians) had never been to.
1 day later, I was on a flight departing CCS for YVR - CM to LAX, and then WS to YVR. I intended to write a report on WS LAX-YVR, but my battery died - irrespective, WS were great and they might come up sometime soon ...
So the first report in this "CANADA SERIES" is how I went from Vancouver to one of the most northernmost habitats in the world - Inuvik (YEV). Inuvik (YEV) is past the Arctic Circle and would afford me the opportunity to fly one of the last remaining Hawker Siddley HS-748 aircraft in the world. I tried A.Net searches and it seems like this is the first HS7 report - could that be possible? Anyways, it is definitely the first Air North report featuring YEV and intermediate stops for the first time.
From YVR, I took Air North (4N) to Whitehorse (YXY) - after that, it was the epic journey on HS7 from Whitehorse (YXY) to Inuvik (YEV) via Dawson (YDA) and Old Crow (YOC).
II > Pre-Flight:
a) Before Airport:
Air North (IATA: 4N) is an airline based on the northern Canadian territory of Yukon with a base in Whitehorse and serving destinations all across Yukon, the Northwestern Territories (NWT), Alaska, Alberta, and British Columbia. It has a mix of 737's (200/400/500) and the legenday HS 748's.
Their functional website at
http://www.flyairnorth.com
was my first stop and with a few clicks I was able to book my ticket and receive e-tickets in the mail. I was not able to select a seat and wondered if the same could be done on the 737 mainline flights. Anyways, the fact I could revisit the site to view my itinerary made me happy. The airline did not have features such as flight modifications, but those really are advanced stuff and I was rather impressed by how this small airline had all the basics down.
b) At Airport:
After 2 days of sightseeing in Whitehorse, it was time to leave - really don't think there is much to do beyond that. Took a taxi very early AM to the small airport in Whitehorse which seemed to have been developed by an Ottawa bureaucrat. It had absolutely no form factor and I was disappointed that it did not incorporate the rich native culture and design cues. Instead, it was a small facility that showed its 1970's roots.
The HS7 flights are handled by a small counter next to the main counter and the young ladies at the counter was a little surprised to see me and my desire to fly the HS7. She said only 1 other person was going all the way to Inuvik, handed me a boarding pass, and told me to "be comfortable and grab a coffee". She would come get me when boarding started
. This was new! It was going to be an interesting experience for sure - and reminded me of my 2 stop turbo-prop experience on the AN4 a few weeks earlier in Siberia. After all, these two lands were right in the same latitude!
So 15 minutes prior to departure time, the girl "found" me in the small YXY airport terminal and basically walked the group of us to the gate. Apparently, flights going to the "North", do not need to do security clearance. How quaint ... an ironic. I mean, Canada is pretty "North" itself. But within Canada, a place like Whitehorse in not considered "North". Haha. Perspective, I guess?
As I walked into the tarmac, there she was. The HS748 glowed in the morning colors and I tried to control my sense of excitement. Entry was through the aft door (for those of you familiar, has this always been the case?), and I was greeted by the sole 4N FA. She was rather professional and nice - not Olga - but not full of energy and spirit either. Y load varied between 50% and 80% depending on the leg.
Airport - External:
(Whitehorse Airport)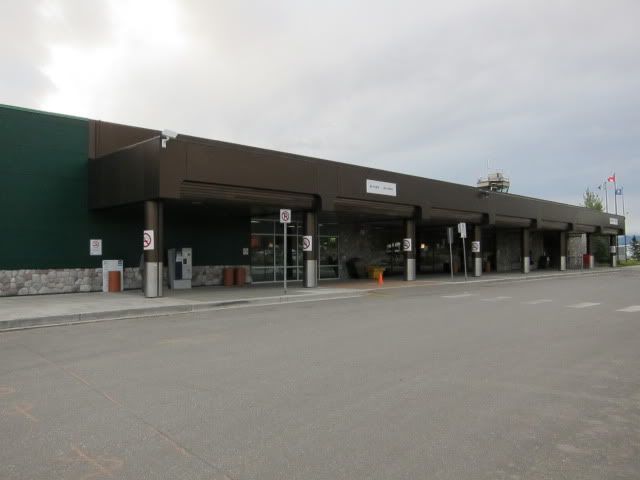 Check-in:
(Special desk for HS7 flights)
Airport - Internal:
*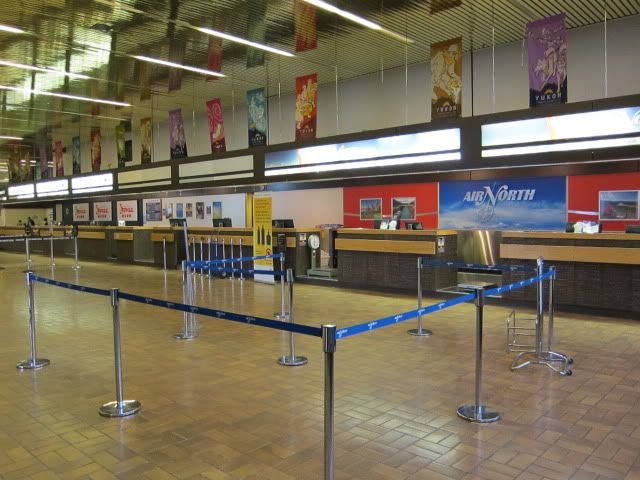 *
(FIDS)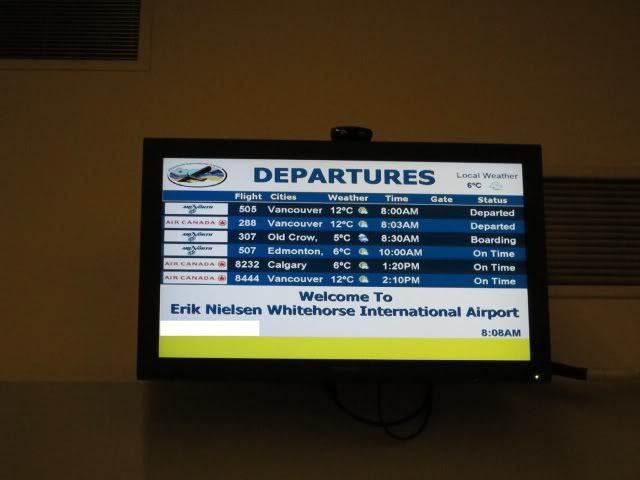 *
(Post Security @ YXY)
NONE – There was no security ☺ -
*
Scenes of the tarmac:
(4N's fleet)
*
*
(Company's "new" 737's)
Lounge
NONE
Boarding:
(Gate Area)
NONE
III> In-Flight:
a) Service Schedule + Impressions:
Nothing distributed while on ground. On the YXY-YDA, coffee was served along with a muffin type stuff. On YDA-YOC, more coffee and biscuits. Nothing on YOC-YEV.
The highlight of the flight … and the reason I took it besides the HS7 was stopping in places like Dawson and Old Crow. Of course, it did not disappoint. As the pictures would show, each airport was an amazing and an incredible glance at life in some of the most remote places in the Northern world. At each stop, we had to get off the plane, go to the terminal, wait, then get walk back to the plane. At each stop, it felt like the entire town came to greet the plane - though it was summer, people came in ATV's to the airport. It was amazing - like I was in another world. Unlike in Russia, I was never yelled for taking pictures and people were generally very nice and Canadian. The other thing I noticed is how segregated the indigenous Canadian people are in their own country. Pretty sad for a country that calls itself so progressive.
The northern airports also incorporated native design better - though, the airports in Siberia actually looked more modern.
b) Aircraft + Seats:
The main reason for the trip was of course to fly the HS7 - and what an experience it turned out to be. Like the surroundings it served, the HS7 was an exotic bird in an exotic land. The seat was actually comfortable enough with decent legrom. However, unlike the AN-24, the HS7 did not provide any recline - now, I don't know how much of that was a factor of 4N's modification versus that had already been the case.
The aircraft seemed to be well maintained, though having the rows in front occupied with target and strapped in took some time to get used to. The other highlight - just like with IR Aero was the bathroom. And this despite their being no poo-poo around. The bathroom area was "open" and exposed the door - I felt I was more like in a WW2 plane than a commercial aircraft. It felt like a completely different era - very hard to explain. Just take a look!
Oh, an one more thing about the HS7 ... it is L O U D. Probably, the loudest aircraft I have been on thus far!
Aircraft:
(Our aircraft: the beautiful – and LOUD - Air North HS7)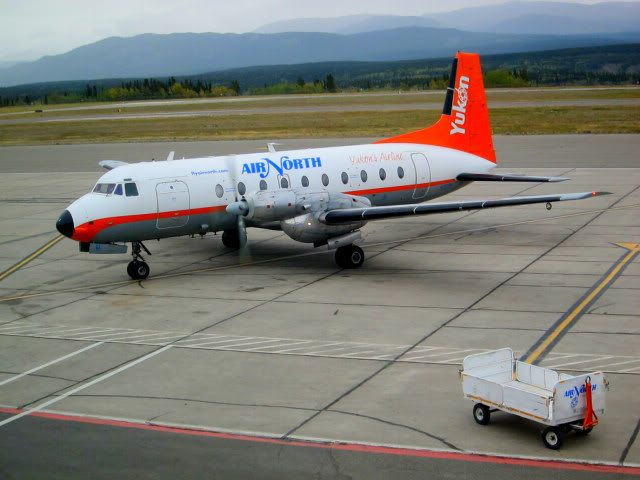 *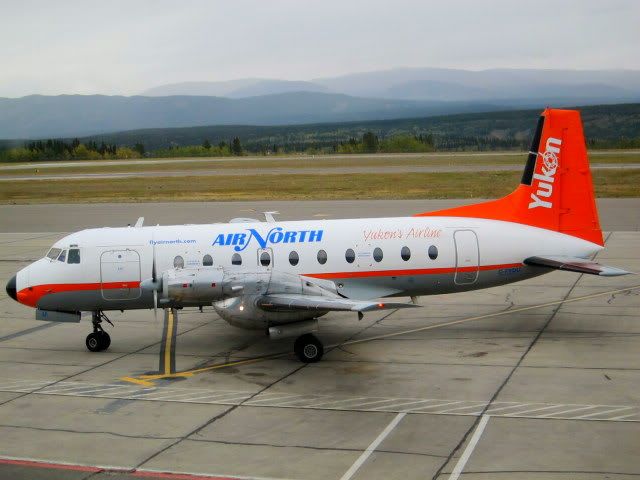 *
Views from Aircraft:
(@ YXY Airport – look at that engine)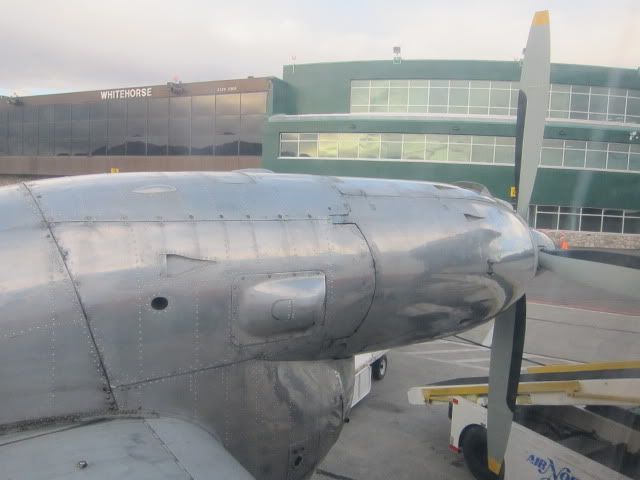 *
(Flight to Dawson – Scenery)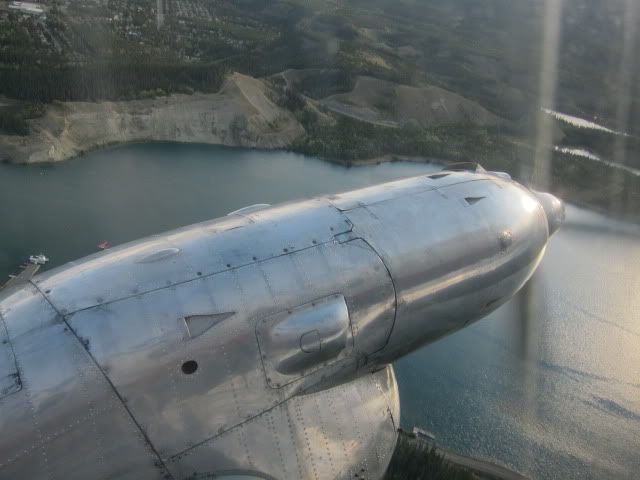 *
(Aircraft @ Dawson)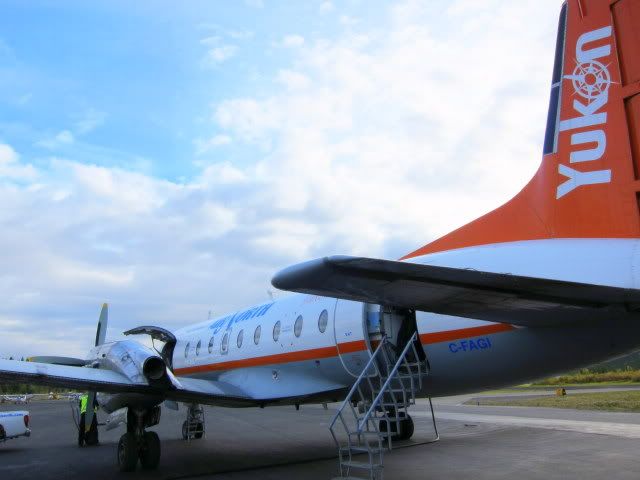 *
(Dawson "Airport")
*
(Dawson baggage claim)
*
(Dawson "Airport" Outside)
*
(Boarding the HS7 – love this shot, and feeling)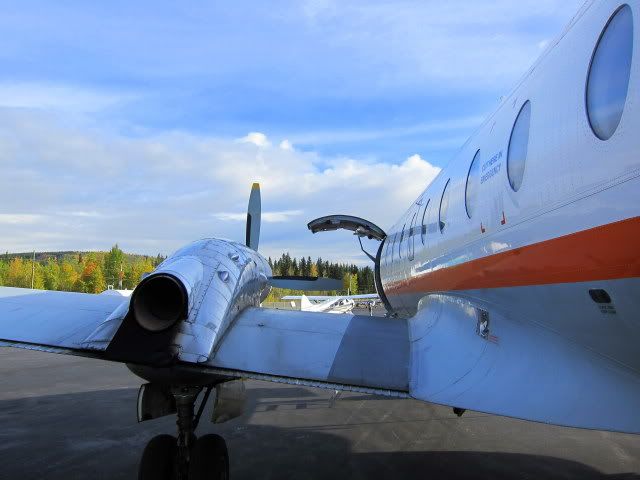 *
(Flight between Dawson and Old Crow)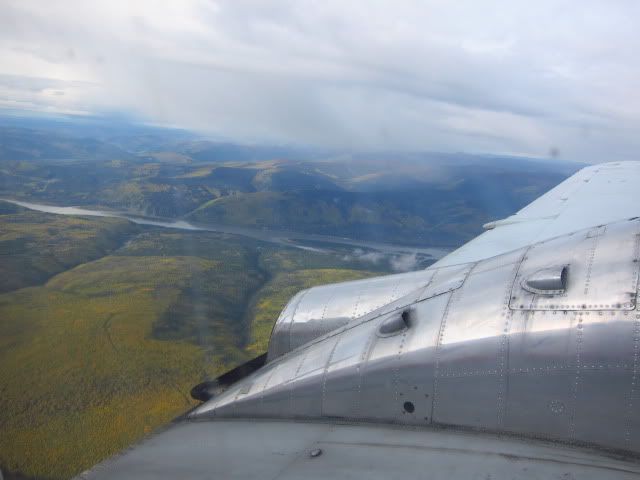 *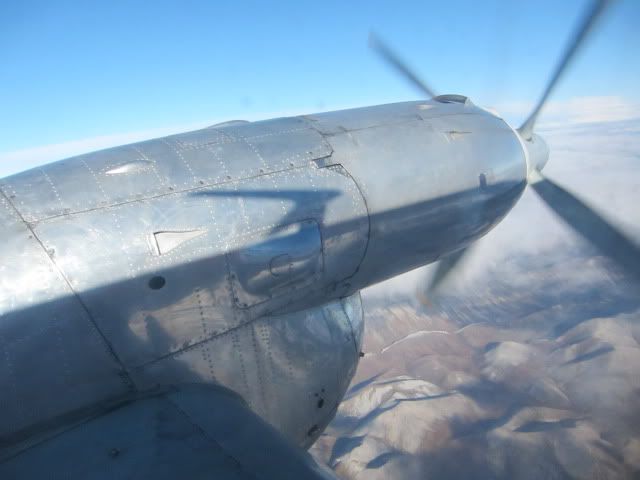 *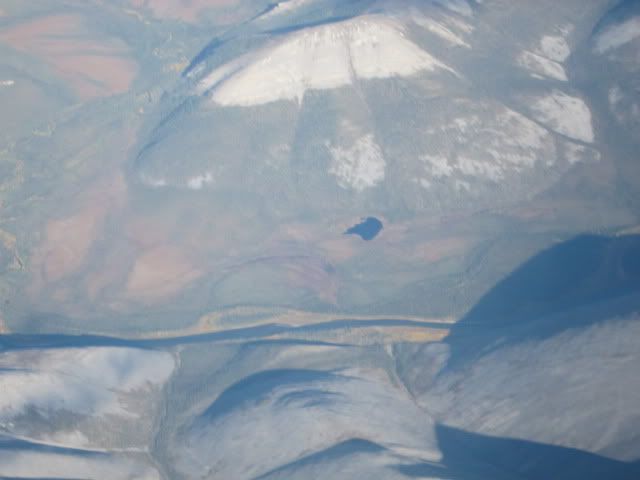 *
(Old Crow "Airport" – arrival was a big deal locally)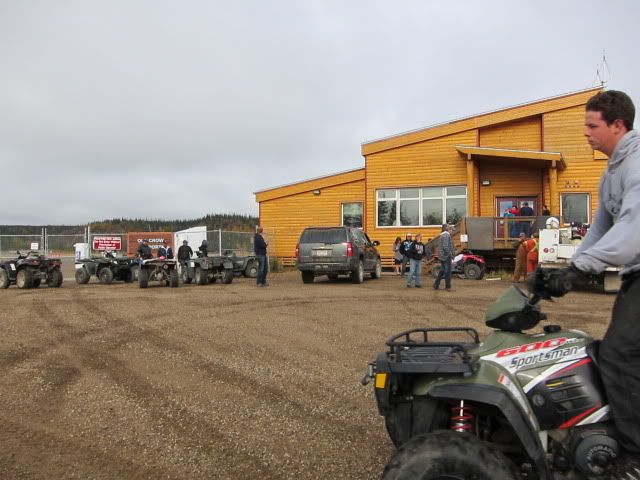 *
*
*
(Inuvik Airport)
*
(Inuvik Airport: 737 of First Air)
General Seat Views + Seat Legroom
(Seat)
*
(Front of seat – this is new for me – luggage strapped up)
*
(Seat controls)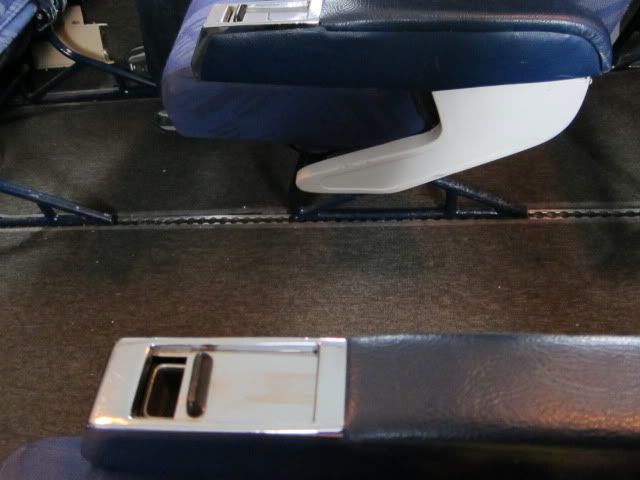 *
(Around Seat)
*
(Legroom)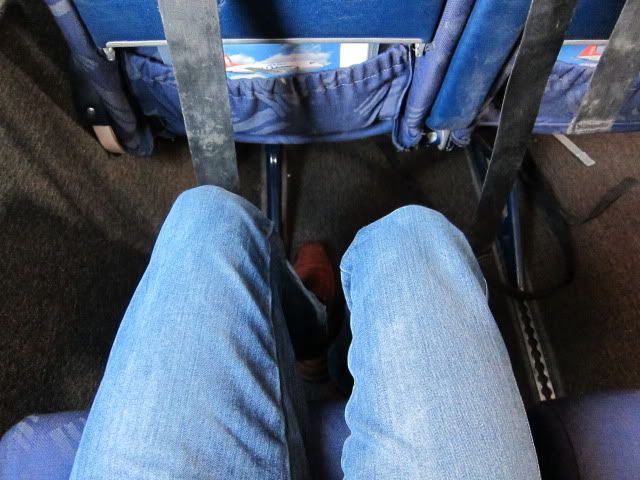 Seat Recline + Angle View:
NO Recline
*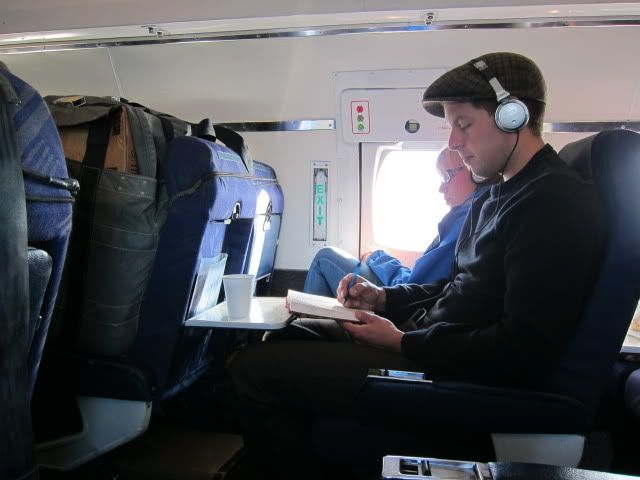 Cabin:
*
*
(Blanket ++)
NONE
(Bathroom – something unique for sure)
*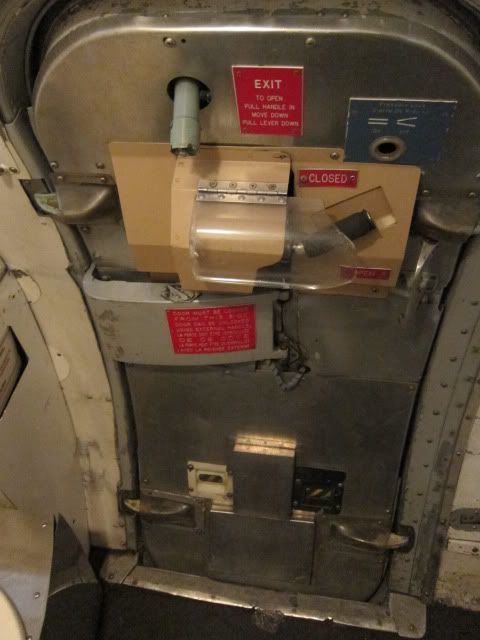 *
*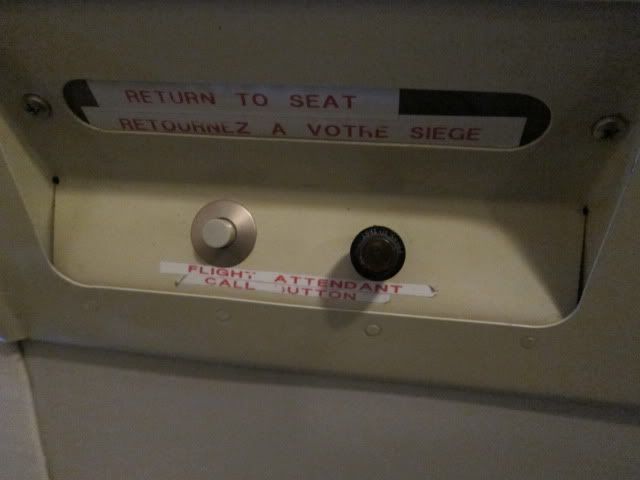 *
*
*
(Take that 787 – large windows)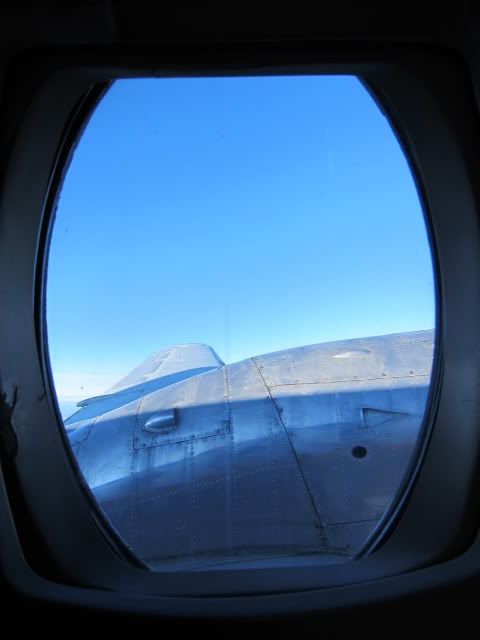 *
(The journey via cargo to the cockpit)
*
c) Meal + Beverage:
Unlike my IR Aero flight, no one got sick or anything from the meal service - probably because there was so little on the offer. On the first leg to Dawson, there was coffee and some beverages accompanied by a bread roll/muffin type thing. The later was hard and not too nice. Between YDA and YOC, we were served more coffee and other beverages and an assortment of biscuits which was much nicer. On the final leg, between YOC and YEV, nothing was served. Apparently, this is because of the short stage-length and because of low demand and poor weather. I was told that if the weather was short, the HS7 just flies nonstop from YDA to YEV.
Either way, I felt a tad hungry and thought they could have provided at least a box or something - or, done a onboard sale.
(Between YXY and YDA)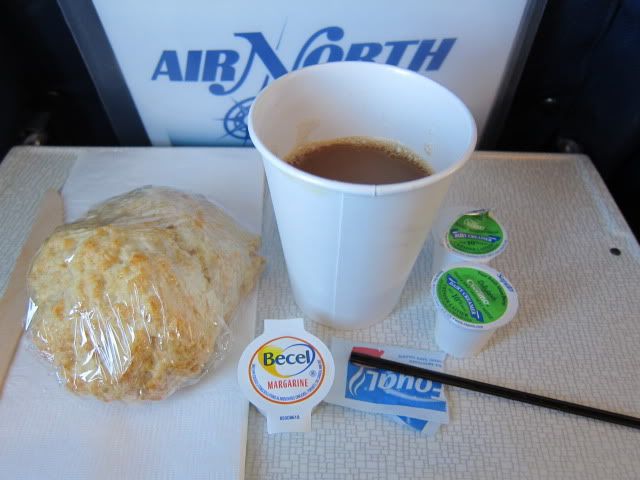 *
(Between YDA and YOC)
d) Inflight Entertainment:
Of course, the HS7 does not come with any form of IFE. Again, you are left catching up with your seatmate, enjoy the views, and read a book. Have to say though, the in-flight magazine was rather good and gave me a glimpse into life in Yukon.
("In-flight magazines", Boarding Passes, etc.: Not too shabby – loved the postcards in the magazine)
*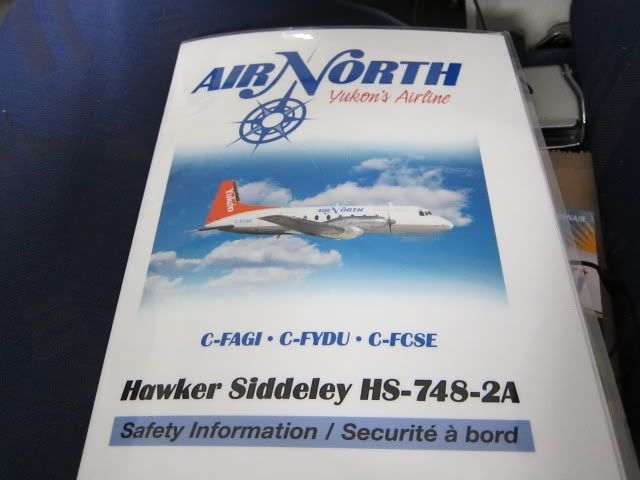 e) Crew:
As I alluded to, my flight definitely did not have anyone as memorable as Olga. In fact, the attendant was rather generic - she was there with the beverages, cookies, etc., but made no significant effort to get to know her passengers or be particularly warm during any leg of the flight. Overall, I found her very BLAH - hard to find a fault with her, but someone who I cannot recall at all right now. I didn't remember her being overtly helpful with luggage and stuff - so perhaps, this an area of improvement for 4N.
IV> Post-Flight:
Arriving into YEV felt good. It was like I had accomplished something. As the HS7 flew away, I bid adieu on an aircraft that I will probably never fly again.
(Goodbye HS7 @ YEV)
V> Impressions + Scores:
Like any of my other reports on segments such as this, I did not fly Air North to see whether it was the NH/9W/SQ of the North. I took it to experience an exotic carrier and that took me to places I never knew existed. In this respect, Air North did not disappoint. Just like on Ir Aero, it was an amazing experience that took me back to an age where multi-stop flights were normal, and IFE involved talking to your fellow passengers and observing the scenario out of the window. The HS7 is a beautiful aircraft - something primal about the amount of noise that filled its cabin.
However, while it was not as bad as Ir Aero, it did not have the warmth I found on an airline such as African Express. The mediocre human element on board and food offerings could definitely be improved. Perhaps give their ground personnel duties in the air?! So in the end, a truly memorable experience - but something remembered for the setting and the equipment. Just for this, a two-thumps up.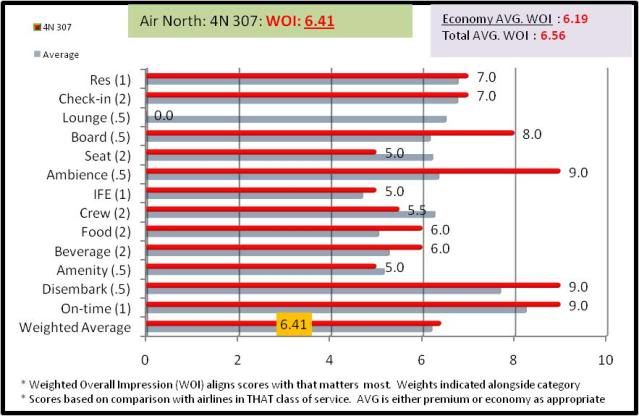 VI> Other Trip Reports:
PREMIUM:
9.27: JET AIRWAYS **FIRST** (110): LHR-BOM: 10/2010
9.27: THAI AIRWAYS **FIRST** (108): BKK-LHR: 07/2010
8.66:
Brussels Airlines (93): FIH-BRU: 01/2010
8.64:
Turkish Airlines (59): JFK-IST: 11/2008
8.63:
Jet Airways (88): JFK-BRU: 10/2009
8.61:
Air Canada (49): YYZ-SCL: 06/2008
8.54:
Turkish Airlines (77): GRU-DKR-IST: 04/2009
8.36:
Kingfisher (98): BOM-HKG: 01/2010
8.30:
Jet Airways (74): KWI-BOM: 04/2009
8.23:
United Airlines (72): SFO-SYD: 03/2009
8.11:
Aeroflot (33): MOW-DEL: 09/2007
8.05:
Air India (80): CCU-JFK: 06/2009
8.04:
Korean Air (40): NRT-ICN: 10/2007
8.02:
Delta Airlines (24): JFK-CDG: 08/2007
7.82: UNITED AIRLINES **FIRST** (110): SFO-ICN: 10/2010
7.82:
Singapore Airlines (06): EWR-SIN: 09/2006
7.66:
Sri Lankan (104): DEL-CMB: 07/2010
7.64:
Royal Jordanian (91): AMM-YUL: 12/2009
7.61:
China Southern (103): LOS-DXB: 04/2010
7.57:
Pakistan Airlines (102): ORD-BCN: 06/2010
7.46:
LAN (55): YYZ-JFK: 09/2008
7.38: AMERICAN AIRLINES **FIRST** (112): LHR-JFK: 10/2010
7.38: CATHAY PACIFIC **FIRST** (109): HKG-LHR: 10/2010
7.25:
Iran Air (88): BOM-IKA: 12/2009
7.23:
Air Pacific (120): NAN-APW-HNL: 01/2011
7.23:
Virgin Atlantic (81): BOS-LHR: 07/2009
7.14:
Swiss (52): SCL-GRU: 06/2008
7.11:
Aer Lingus (105): MAD-IAD: 05/2010
7.11:
Austrian (79): VIE-JFK: 06/2009
7.07:
Privatair (84): BOM-FRA: 08/2009
7.02:
Qatar (68): DOH-JFK: 01/2009
6.96:
Etihad (61): JFK-AUH: 12/2008
6.93:
Delta Airlines (18): SEA-JFK: 11/2006
6.88:
Egypt Air (123): LHR-CAI: 03/2011
6.84:
ConViasa (65): CCS-DAM: 01/2009
6.82:
Air Burkina (106): BKO-OUA: 06/2010
6.81:
Air Canada (17): ICN-YYZ: 10/2006
6.75:
Afriqiyah + Libyan (113): CAI-TIP: 11/2010
6.70:
KLM (32): EBB-AMS: 08/2007
6.52:
Emirates (99): LHR-DXB: 02/2010
6.39:
South African (97): EZE-JNB: 01/2010
6.36:
Privatair (60): MUC-BOS: 12/2008
6.29:
TAM Brasil (96): POA-EZE: 02/2010
6.25:
Korean Air (45): NAN-ICN: 10/2007
6.21:
Iberia (87): BOS-MAD: 10/2009
6.11:
A SKY (107): OUA-COO: 06/2010
6.11:
TAP Portugal (53): GRU-OPO: 06/2008
6.00:
Gulf Air (75): BOM-BAH: 04/2009
5.88:
African Express (89): DXB-NBO: 11/2009
5.75:
Singapore Airlines (16): CCU-SIN: 10/2006
5.64:
SATA Azores (101): BOS-PDL: 04/2010
5.64:
NorthWest (46): ICN-NRT-SEA: 10/2007
5.54:
Ethiopian Airlines (95): ADD-BOM: 01/2010
5.46:
Icelandair (83): KEF-BOS: 08/2009
5.39:
LOT (54): WAW-JFK: 06/2008
5.21:
Egypt Air (73): CAI-IST: 02/2009
5.11:
Tunisair (115): TUN-ORY: 12/2010
5.07:
TACA (66): JFK-SAP: 01/2009
4.89:
TAAG Angola (117): TMS-LAD: 12/2010
4.42:
Air France: CDG-JNB (25): 08/2007
ECONOMY: Long + Medium:
9.26:
Air India (48): JFK-DEL: 02/2008
7.38:
Avianca (01): BOG-LIM: 07/2006
7.07:
Sri Lankan (62): KWI-CMB: 12/2008
7.00:
LAN (94): IPC-SCL: 01/2010
6.81:
STP Airways/Euro Atlantic (116): LIS-TMS: 12/2010
6.67:
Air Malta (124): MLA-FRA: 04/2011
6.63:
Vladavia (126): KHV-PEK: 06/2011
6.41: Air North (127): 06/2011
6.41:
Avianca (78): JFK-BOG: 05/2009
6.41:
American Airlines (58): LHR-BOS: 11/2008
6.39:
Condor (85): SEZ-FRA: 09/2009
6.26:
Jet Blue (21): CUN-JFK: 02/2007
6.11:
Caribbean Airlines (119): POS-FLL: 01/2011
6.06:
Air Canada (04): YYZ-YVR: 09/2006
5.89:
USA 3000 (19): PUJ-BDL: 01/2007
5.85:
Spanair (69): MAD-LPA: 02/2009
5.79:
Air New Zealand (42): RAR-NAN: 10/2007
5.52:
Aerolineas (86): USH-AEP: 10/2009
5.46:
TAP Air Portugal (23): OSL-LIS: 05/2007
5.19:
Air Europa (70): LPA-MAD: 02/2009
5.16:
Iberia (71): MAD-BOS: 02/2009
5.11:
Air China (82): FRA-PEK: 08/2009
4.59:
IR Aero (125): IKT-VVO: 06/2011
ECONOMY: Short
8.56:
Paramount Airways (38): BLR-MAA: 09/2007
8.56:
Kingfisher (64): HYD-CCU: 12/2008
8.24:
Kingfisher (14): IXA-GAU: 10/2006
7.87:
Indian (34): BOM-MAA: 09/2007
7.72:
Alliance Air (13): CCU-IXA: 10/2006
7.57:
Indian Airlines (10): DEL-CCU: 09/2006
7.23:
West Jet (03): YYC-YVR: 09/2006
7.15:
JetLite (37): BOM-GOI: 09/2007
6.98:
Air Koryo (100): PEK-FNJ: 04/2010
6.70:
Spice Jet (09): CCU-DEL: 09/2006
6.63:
Air Fiji (44): NAN-SUV: 10/2007
6.63:
Jazeera (67): DAM-KWI: 01/2009
6.58:
Air Tran (02): EWR-MDW: 08/2006
6.48:
Air India Express (63): CMB-MAA: 12/2008
6.44:
CO Micronesia (39): ROR-YAP: 10/2007
6.41:
Pacific Sun (43): NAN-SUV: 10/2007
6.37:
Skybus (47): SWF-CMH: 02/2008
6.33:
Kenya Airways (29): NBO-BJM: 08/2007
6.33:
Sky Europe (56): LTN-BTS: 10/2008
6.31:
Indigo (15): GAU-CCU: 10/2006
6.31:
easyJet (57): BUD-LTN: 11/2008
6.22:
Air Link Swazi (28): MTS-JNB: 08/2007
6.22:
Air India (36): HYD-BOM: 09/2007
6.13:
Adam Air (07): SIN-CGK: 09/2006
6.13:
Air Rarotonga (41): RAR-AIT: 10/2007
6.04:
Suriname Airways (118): PBM-POS: 01/2011
6.00:
Transairways (27): INH-MPM: 08/2007
5.95:
Air Canada (05): ALB-YYZ: 09/2006
5.85:
SAS Norge (22): OSL-AES: 05/2007
5.81:
LAM Mozambique (26): JNB-MPM: 08/2007
5.69:
Air Deccan (12): IXZ-CCU: 10/2006
5.67:
Rwanda Air Exp (30): KGL-NBO: 08/2007
5.52:
Sevenair (114): TOE-TUN: 11/2010
5.37:
Felix Airways (92): SCT-SAH: 12/2009
5.11:
Aero Republica (76): BOG-CCS: 04/2009
5.07:
Go Air (35): MAA-HYD: 09/2007
5.04:
Biman (121): DAC-CGP: 01/2011
5.00:
Sky Airline (51): IQQ-SCL: 06/2008
4.96:
United Bangla (122): CGP-DAC: 01/2011
4.96:
Valuair (08): CGK-SIN: 09/2006
4.78:
Air Comet Chile (50): SCL-IQQ: 06/2008
4.74:
Fly 540 (31): MYD-LAU: 08/2007
4.33:
Viva Aerobus (20): ELP-MTY: 02/2007
4.11:
Air Sahara (11): CCU-BOM: 09/2006
(Note on Codes: Y – Economy, J – Business, F – First :: I/D – International/Domestic :: SR/MR/LR – Short/Medium/Long Haul)
(Note on Date: Dates are modified to be +/- 3 days from actual flight date to not reveal actual flight pattern)
VII> Other Pictures:
(Whitehorse)
*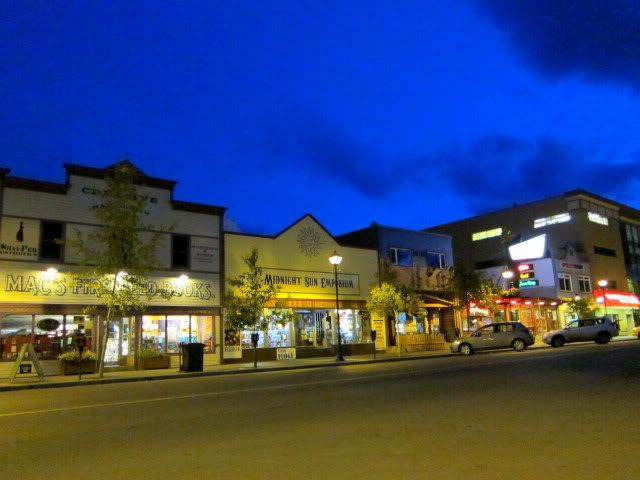 *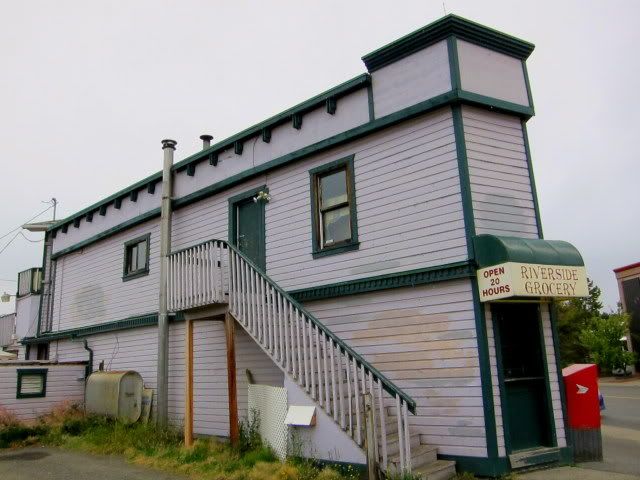 *