Background
From 2011, China Southern Airlines receive their first A380 and using it in PEK-CAN-PEK route, I always want to try the service but never finalize. Heard that CZ would start using A380 to Hong Kong in January, I think I must take this opportunity to check this out, and start my "Chasing the A380 project"
Booking
Called the CZ's Hong Kong reservation hotline, but found their price was higher than their website, so I go for the website booking. Generally, mixed class cannot be done online but luckily, First Class on the outbound flight was zeroed out so the system changed my request to Business + First. CZ online booking is quite user friendly, however when I pay by credit card, their third party payment agent said the payment was success but CZ's system said failed. I called the card center to make sure my card is charged so I call CZ's 24 hours hotline at 3 a.m. with my not-so-fluent Putonghua, the staff was very friendly and sorted out the problem in no time, they said they have to issue the ticket manually but that department would not start working until next morning. The agent asked me to e-mail my details like passport number, contact number, and tell me not to wait for them and go for sleep first, a very heart-touching gesture!
I woke up in the next day, I found my e-ticket in my mailbox already (sent at 8:01 a.m.!), and I call the Hong Kong reservation to assign the seats. The experience was wonderful, the lady in Hong Kong office was very polite and asks whether I would like to enter the frequent flyer number, and do I need special meal, and most importantly, she thanks me many times for supporting their company, something that I never happen to me.
On the day of travel……
I parked my car at car park 4 in HKIA
Aisle J for CZ Check-in
Check-in counters with decoration
Should be a great event today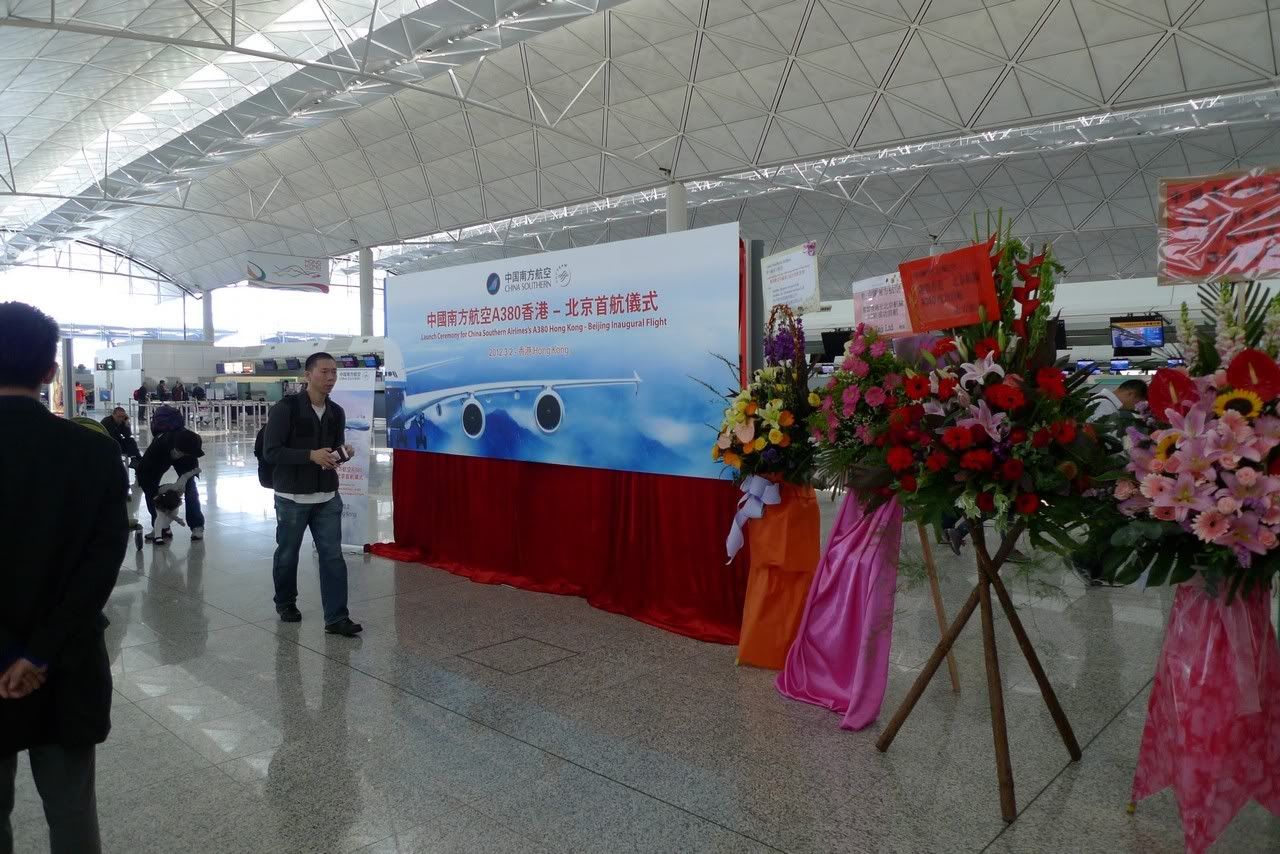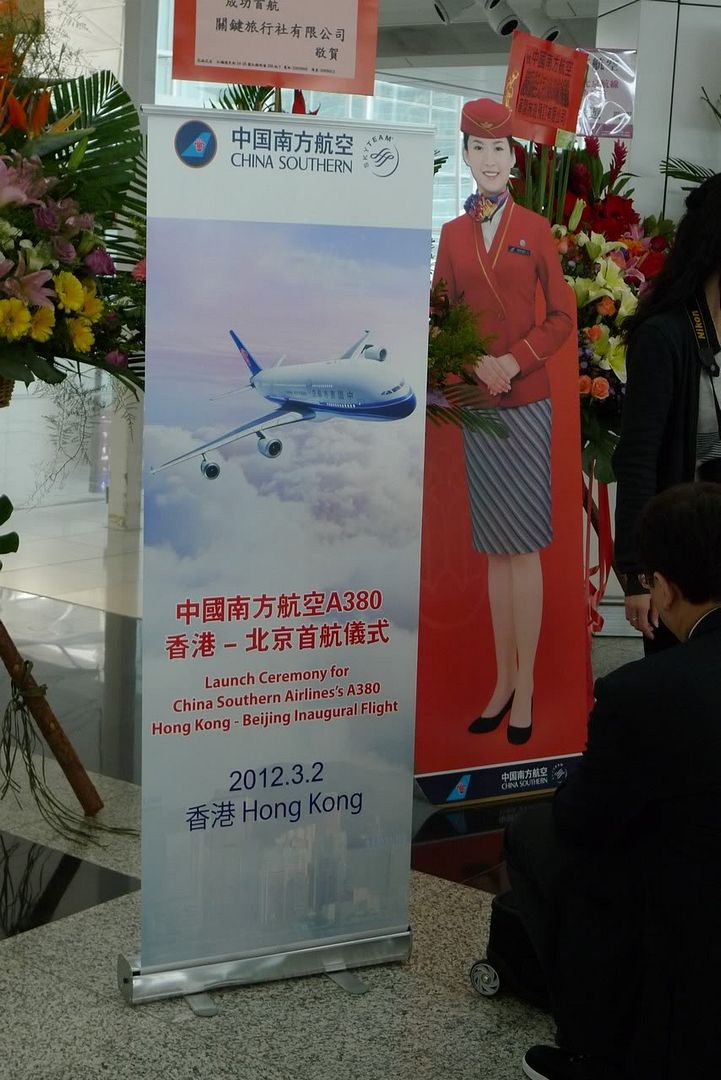 I passed the immigration quickly as I wanted to see the A380 as soon as possible.
Ahhh….she is there! No……it is SQ's one. She looks sad today as she cannot park at Gate 15 today. Gate 15 is dedicated to SQ's A380 since it is closest to SQ's lounge and it is the only A380 gate with 3 bridges in HKIA.
Oh yes, she is arriving!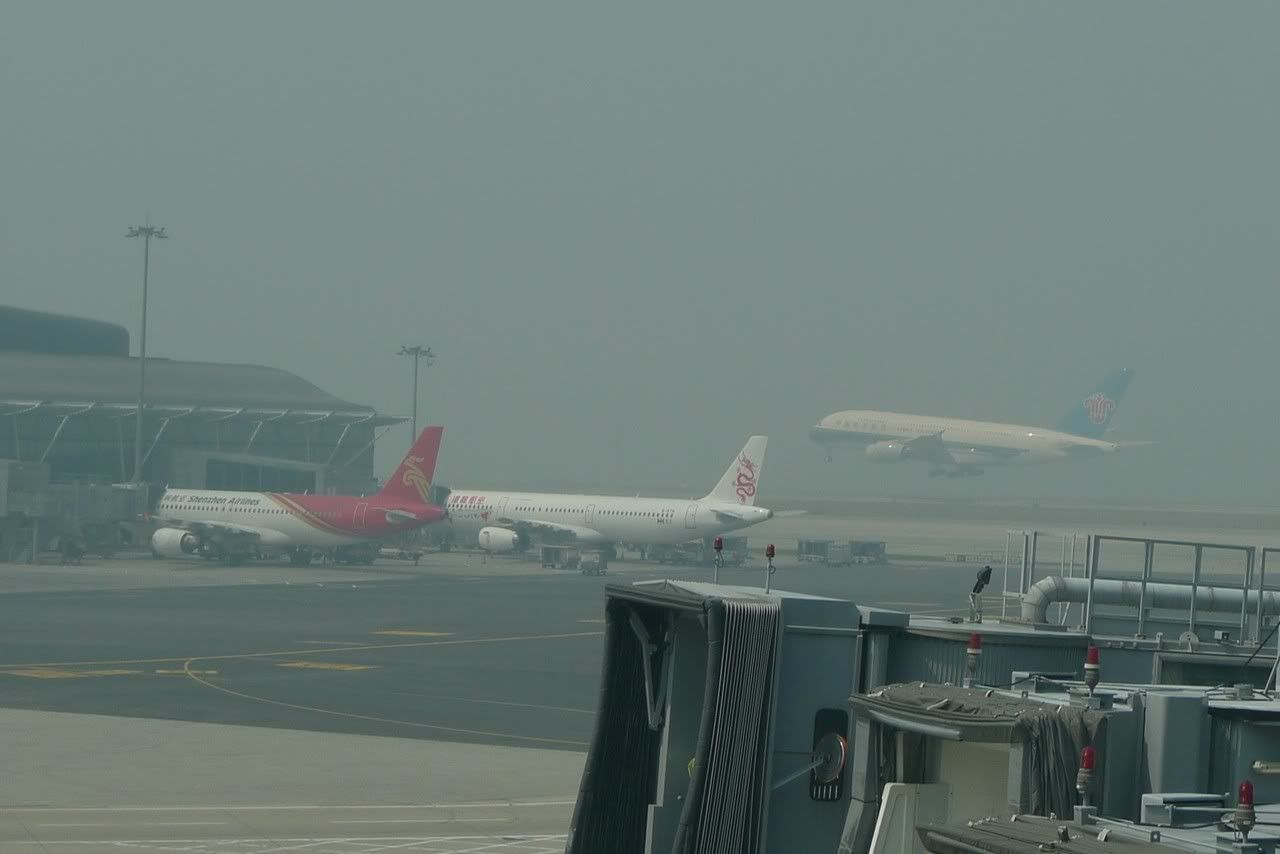 Around the corner now
1 day-old B-6318 looks smart, right?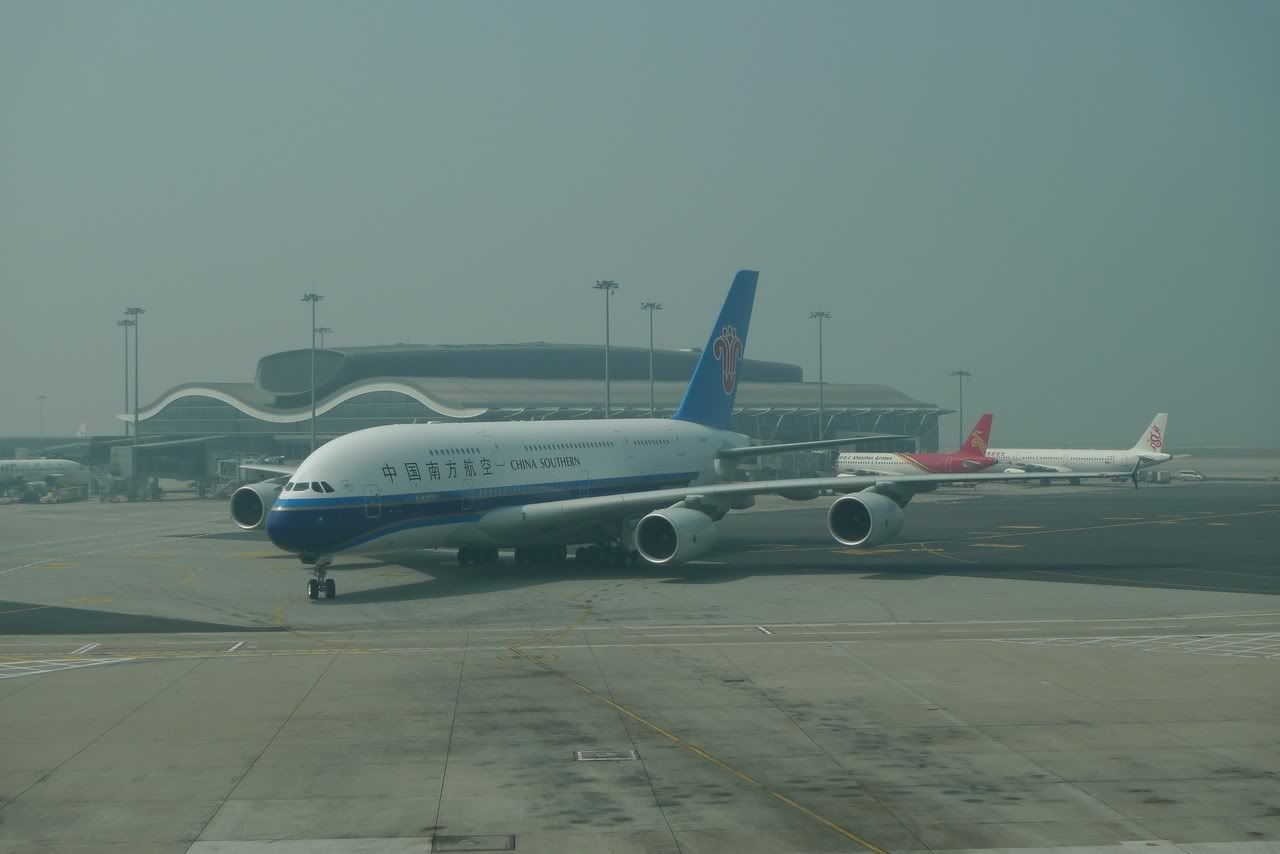 Once B-6318 docked at the gate, the ground started to be very busy, including the catering truck
I walked to the Gate 15, it's full of decoration for the first flight.
And ceremony also, the participants are all VIP!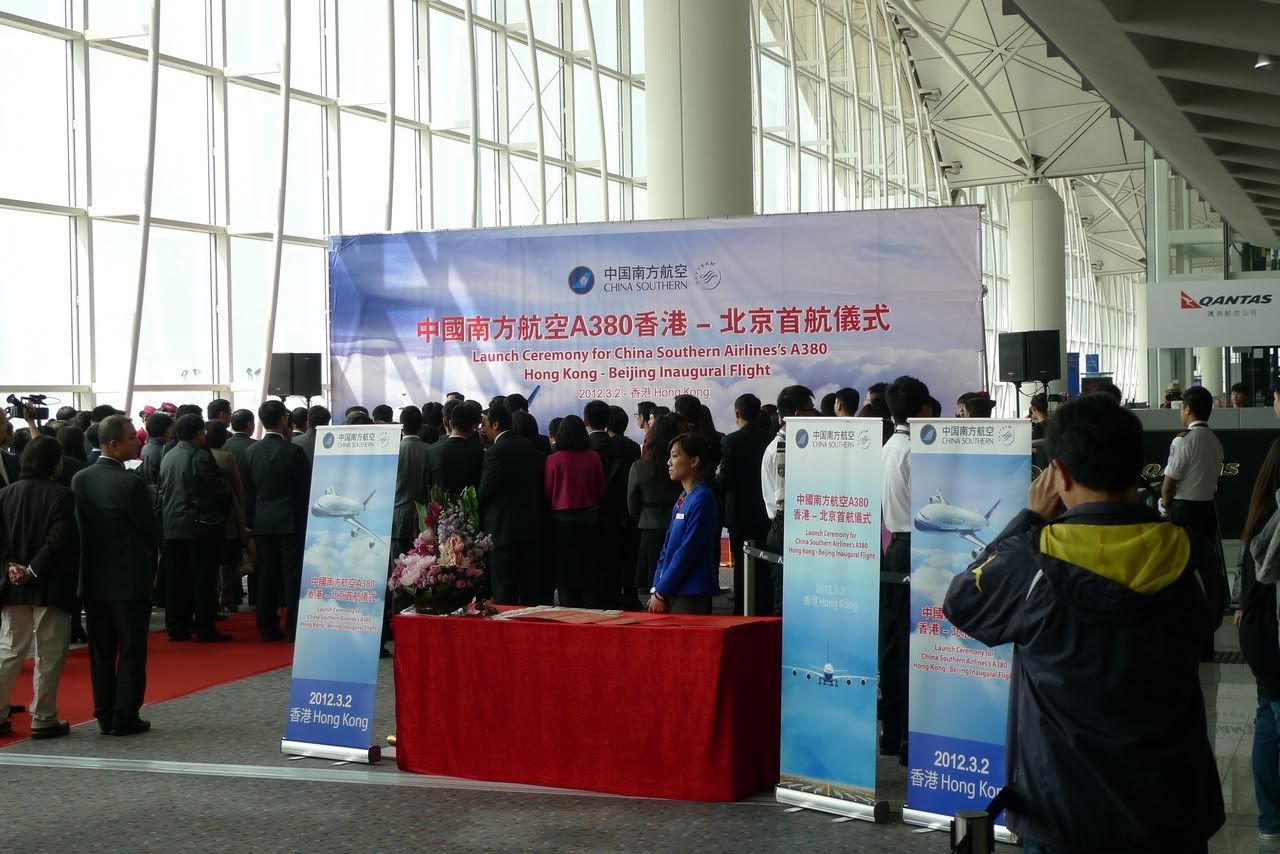 So I take the time to visit the lounge
Lounge invitation
It's so old-fashioned…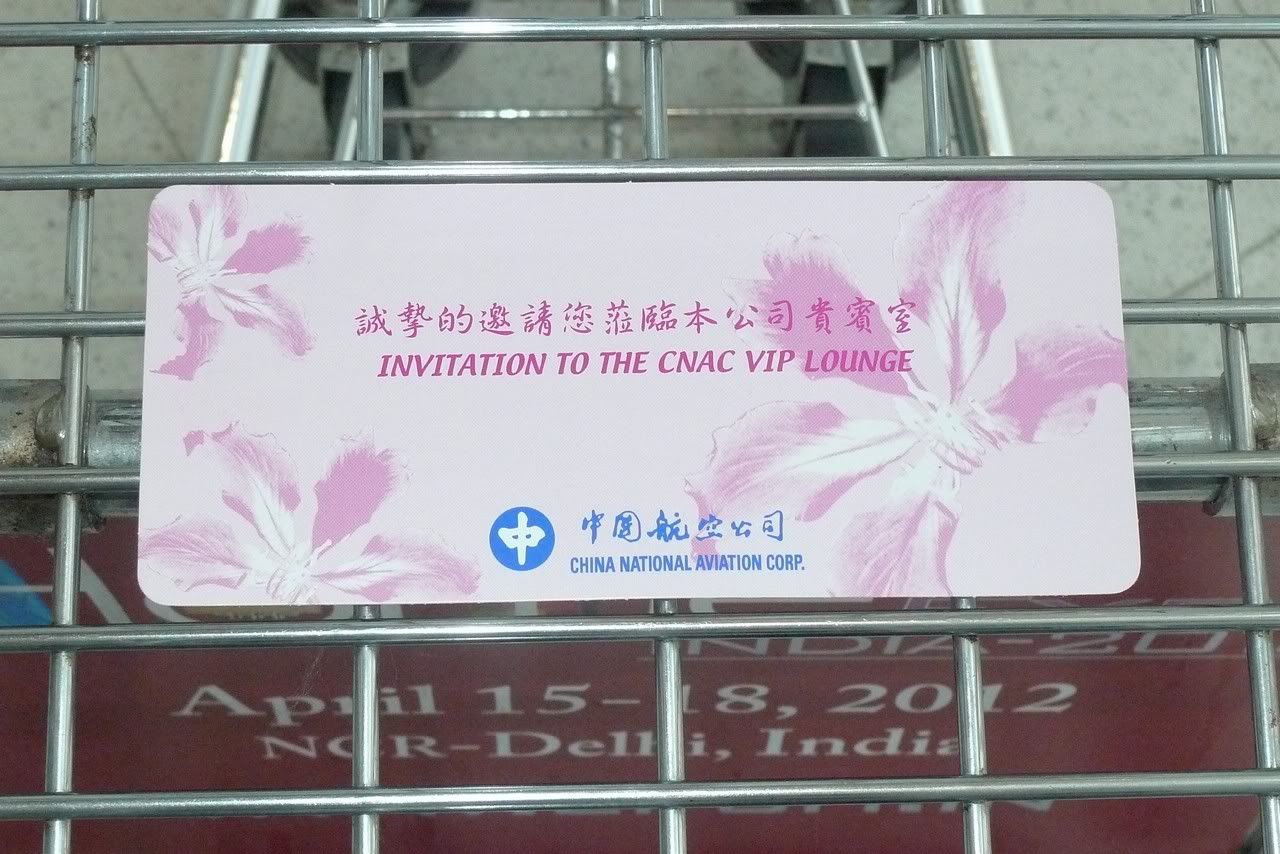 The lounge is located at upper level near Gate 16, opposite to KA's lounge
A380…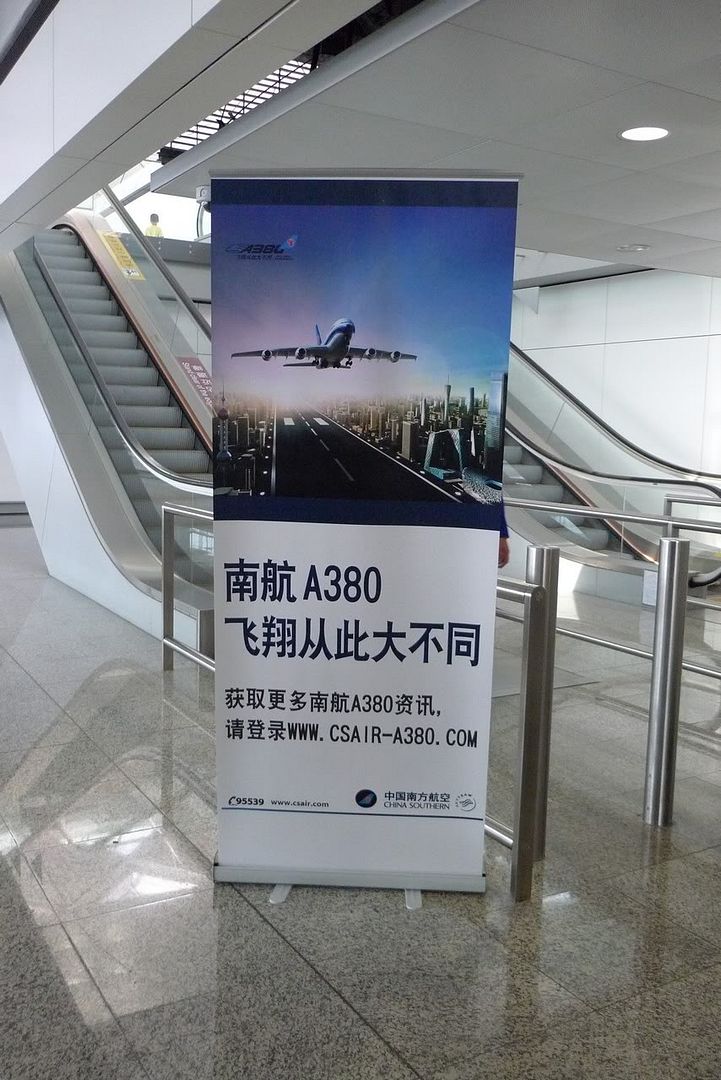 Lounge entrance, A380 again
The lounge is a Star Alliance lounge
Most of the Chinese airlines use this lounge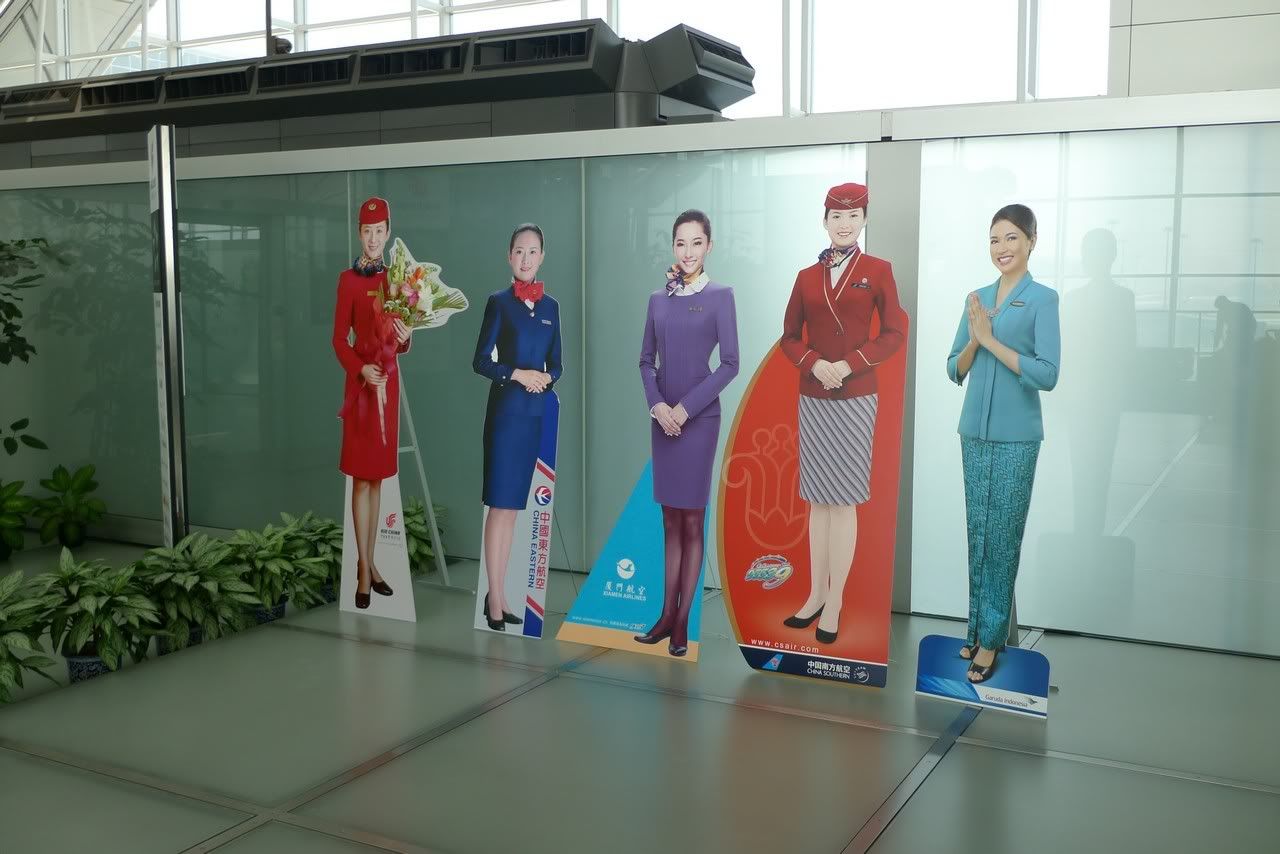 View from the lounge
Seats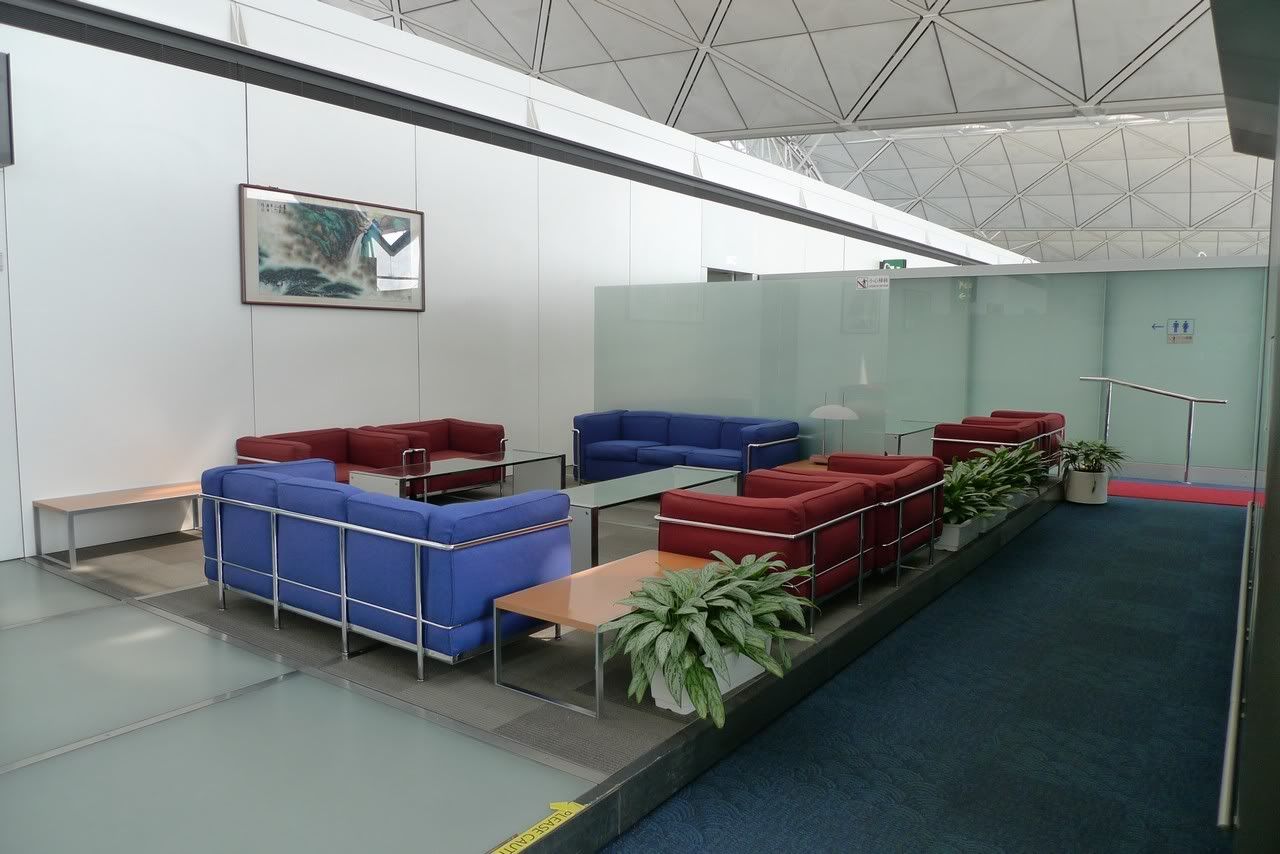 Food in the middle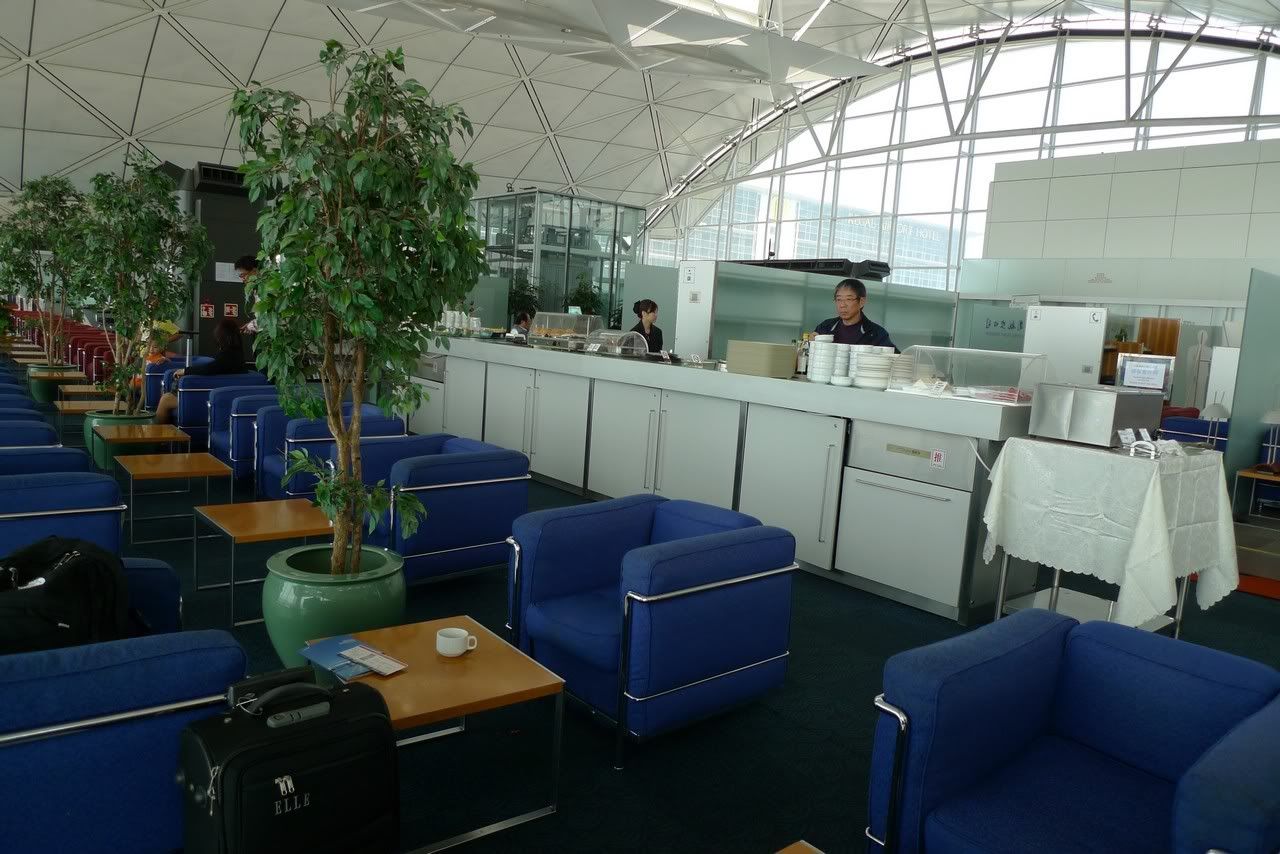 My breakfast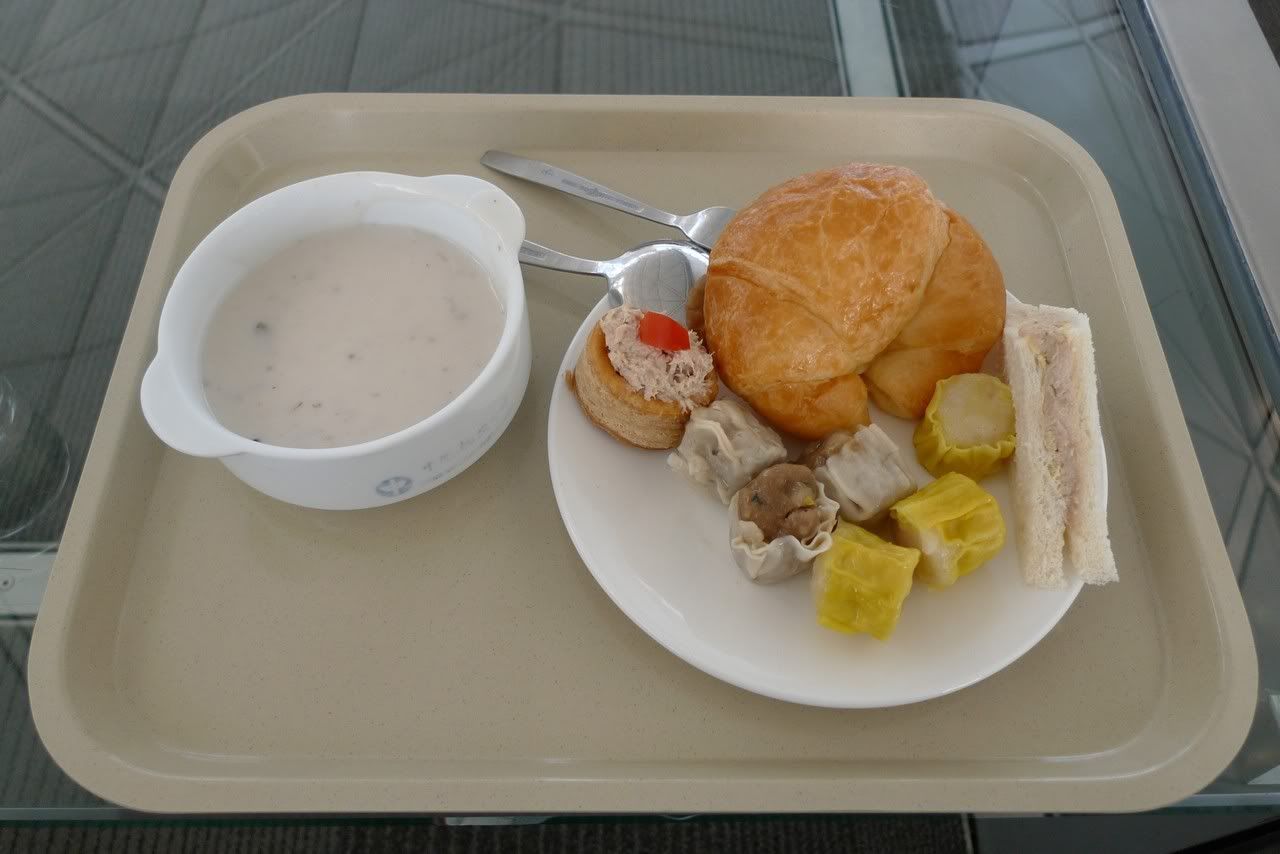 Strange that the ice-cream was served in the bowl
The ceremony was over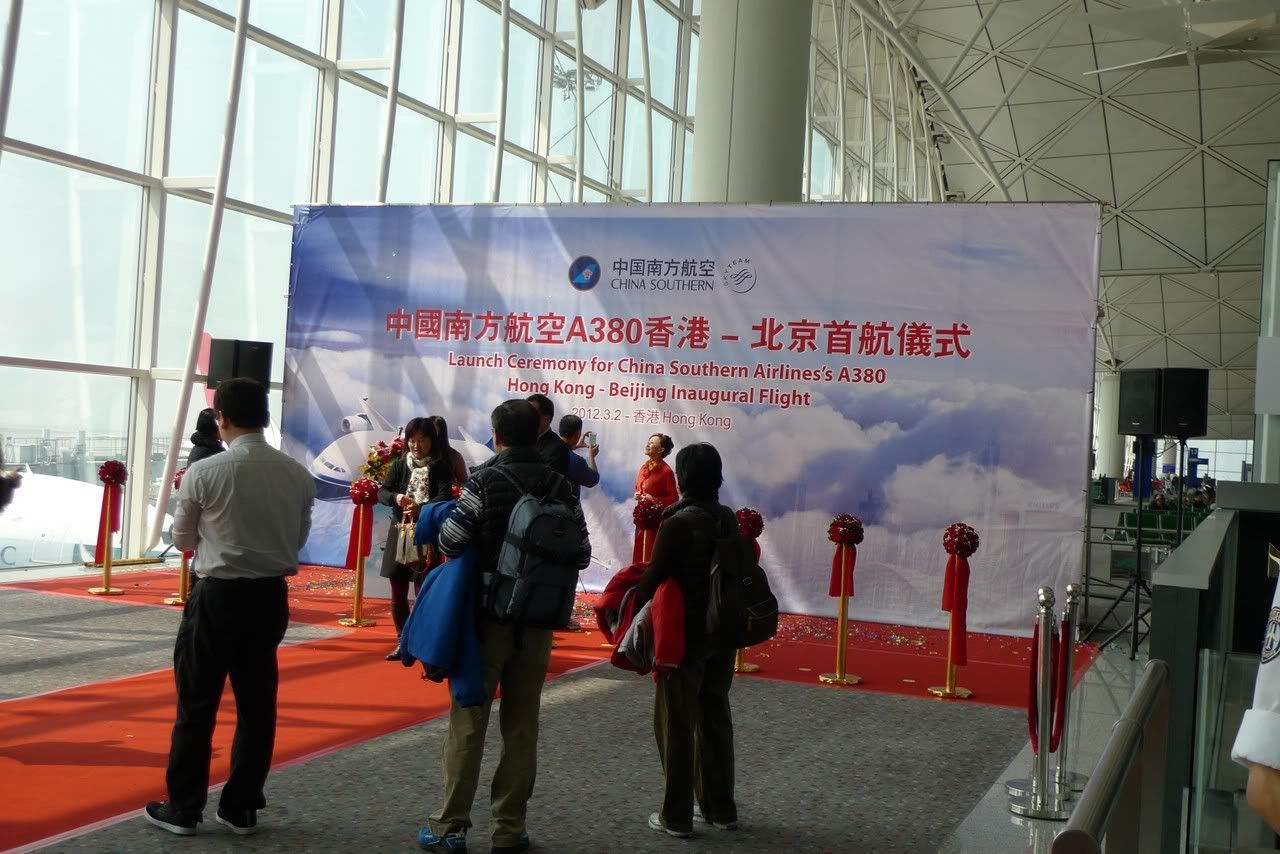 And the VIP was having cocktail
2 March 2012
Hong Kong (HKG) – Beijing Capital (PEK)
Airline: China Southern Airlines
Flight: CZ 309
Aircraft: A380-800
Registration: B-6138
Seat: 28K (Business)
Gate: 15
Arriving Gate: 212
Gate 15
Boarding Pass
B-6138
I should follow this
Look like this is so important for CZ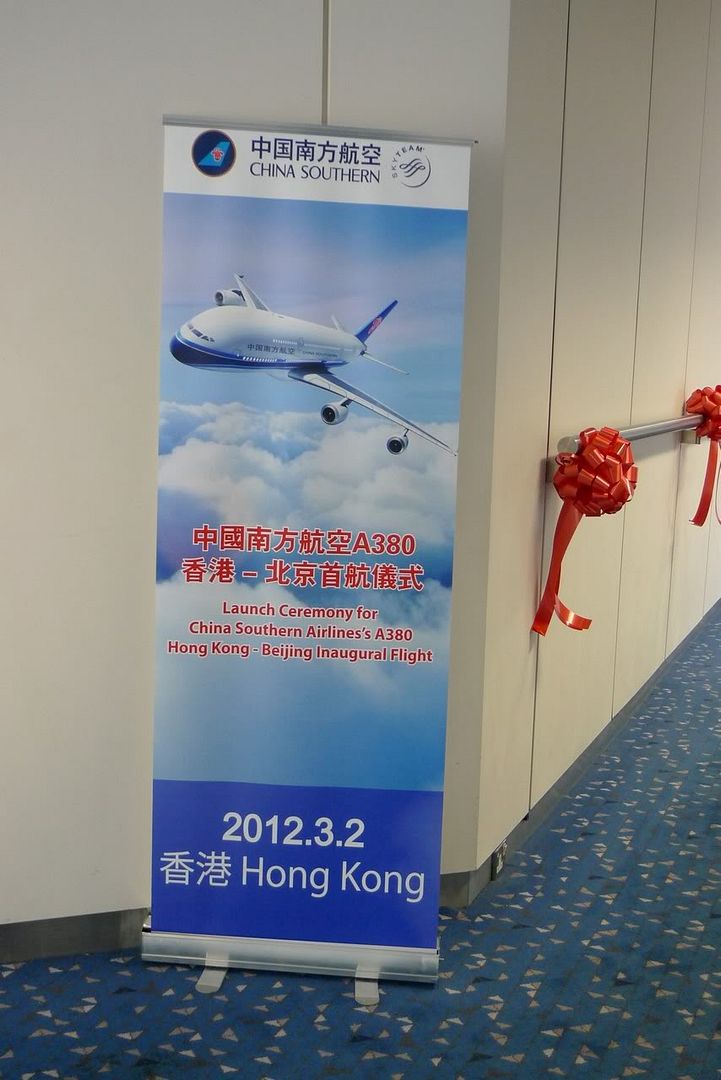 My first time using this new bridge at Gate 15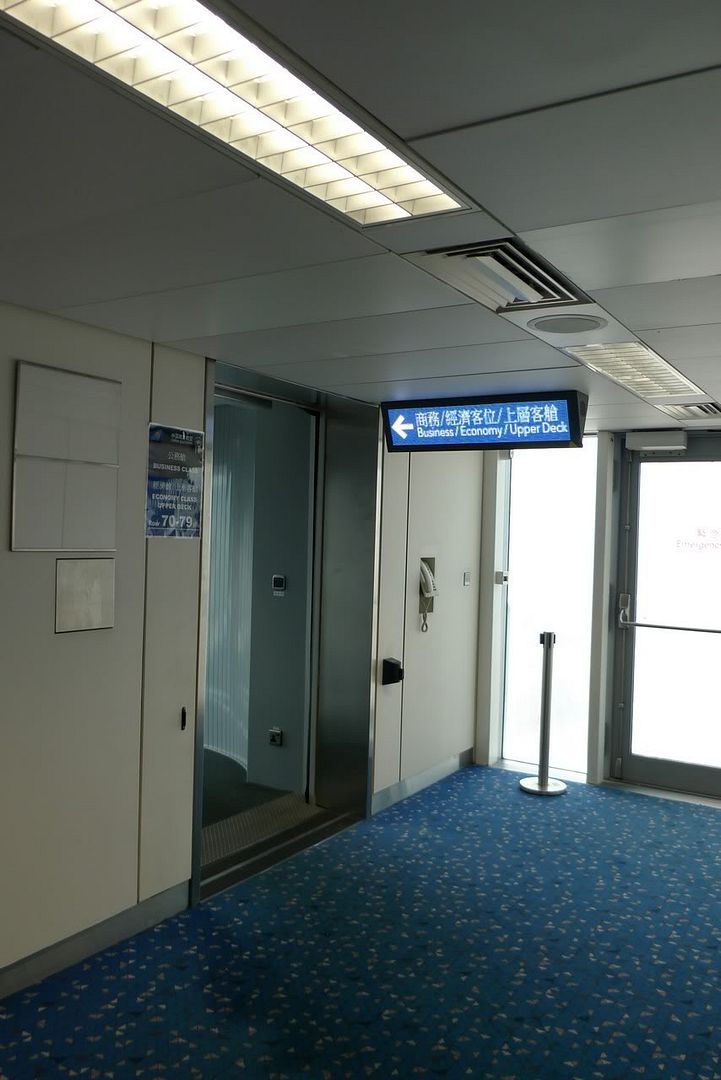 Almost there
The second Business cabin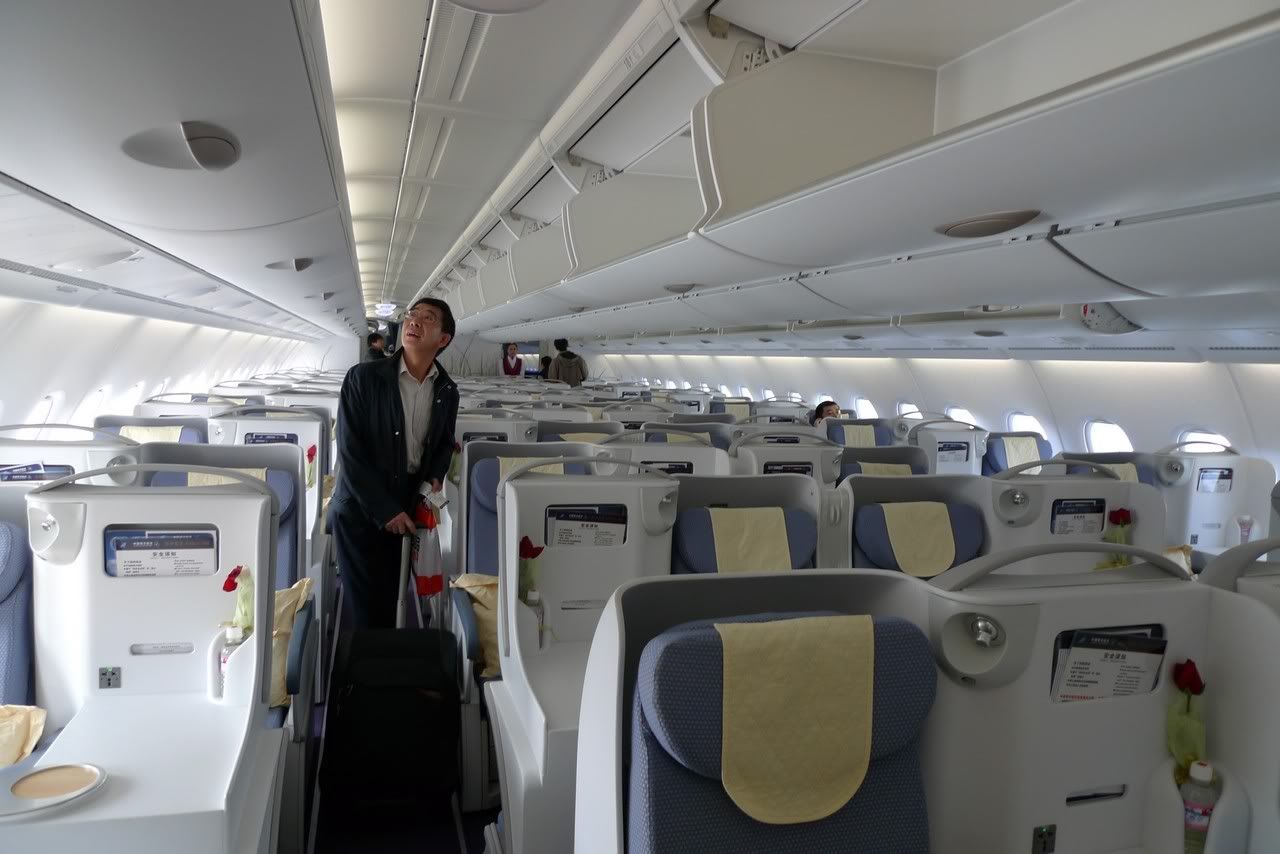 My seat 28K
Seat pitch
Side bins, I have two
Details of the seat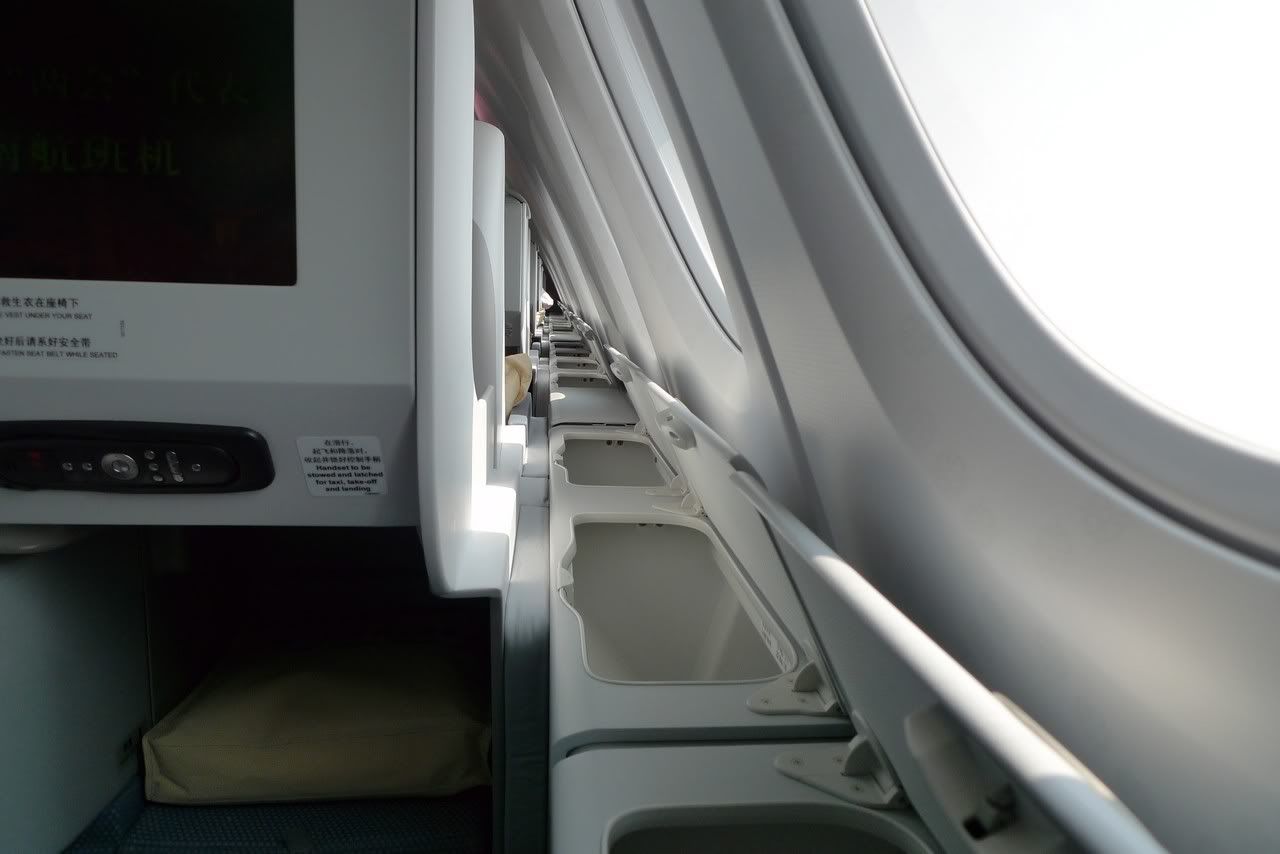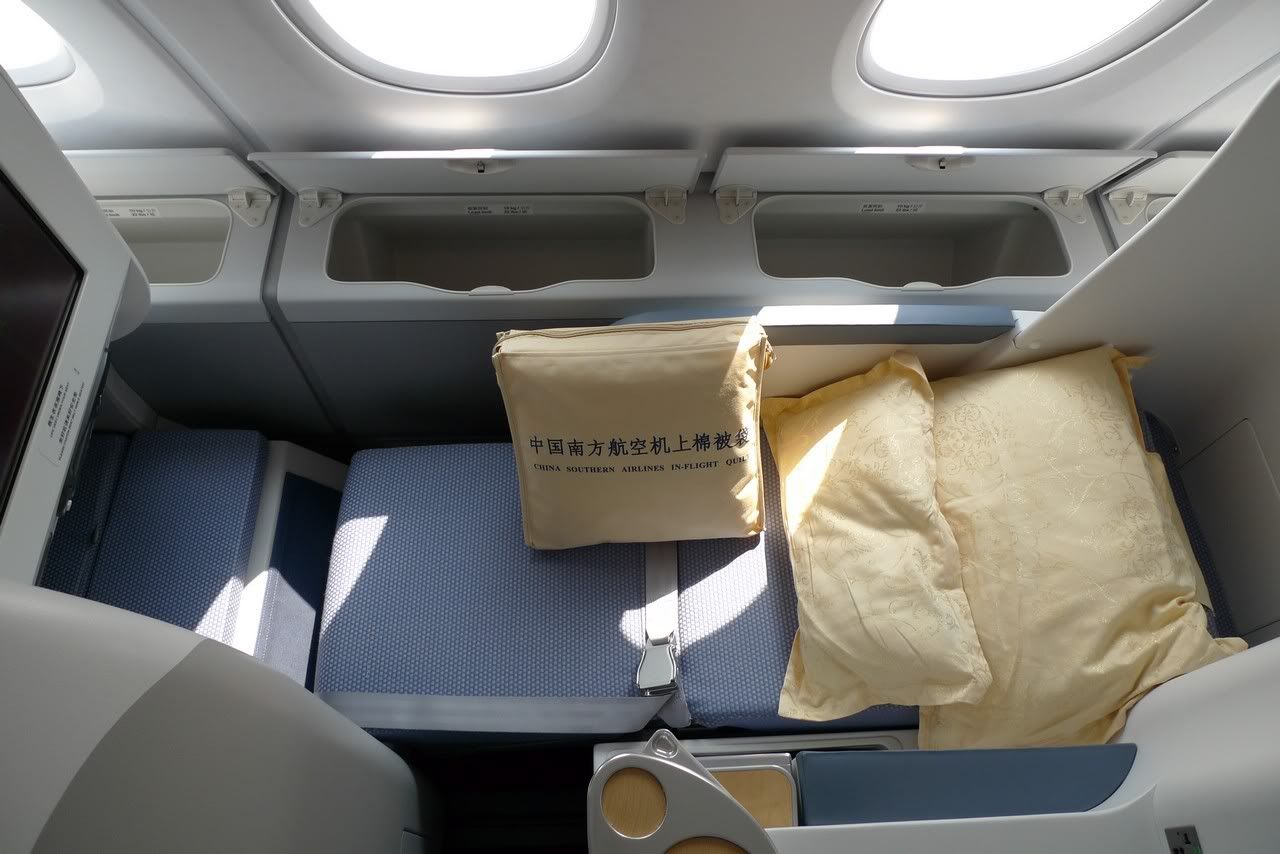 The IFE control and the earphone plug is at the front, not so good design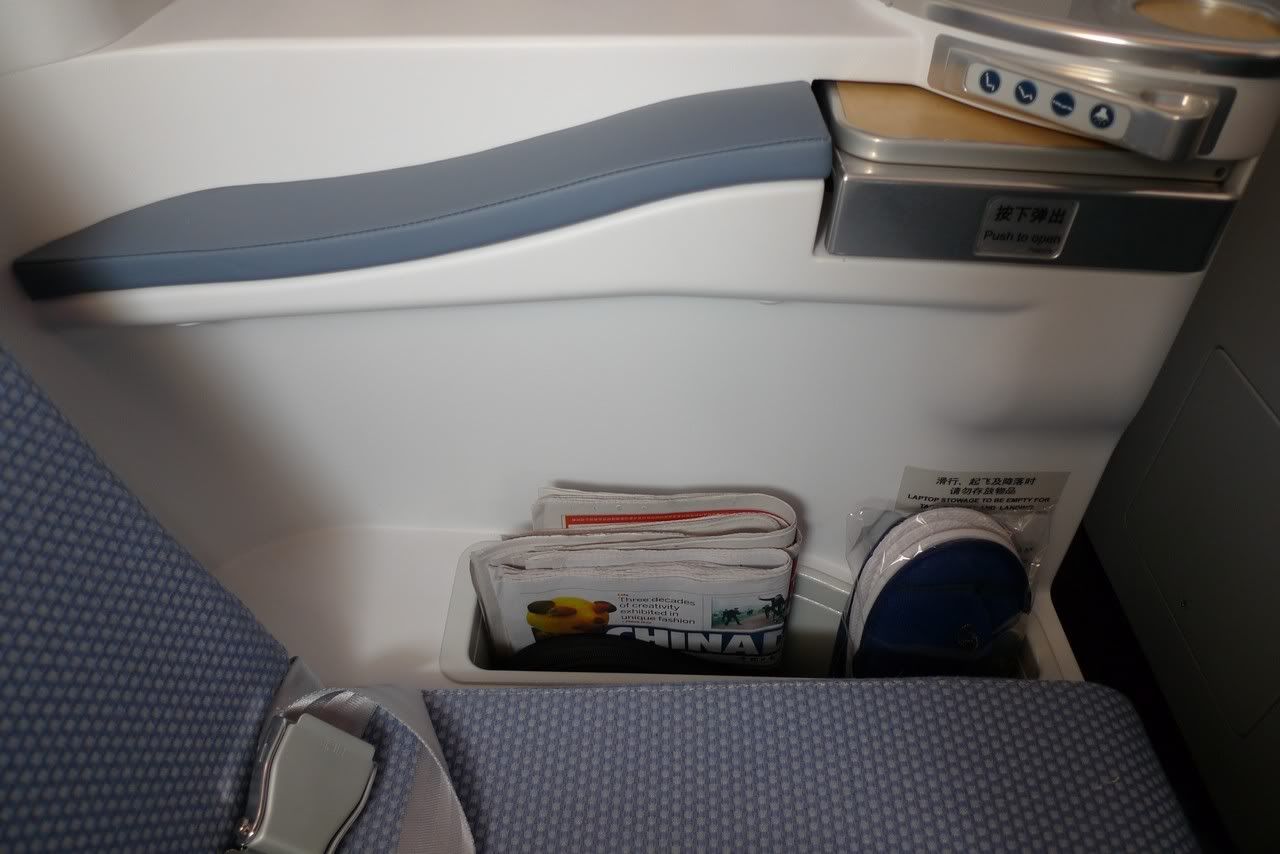 Welcome drink and towel was offered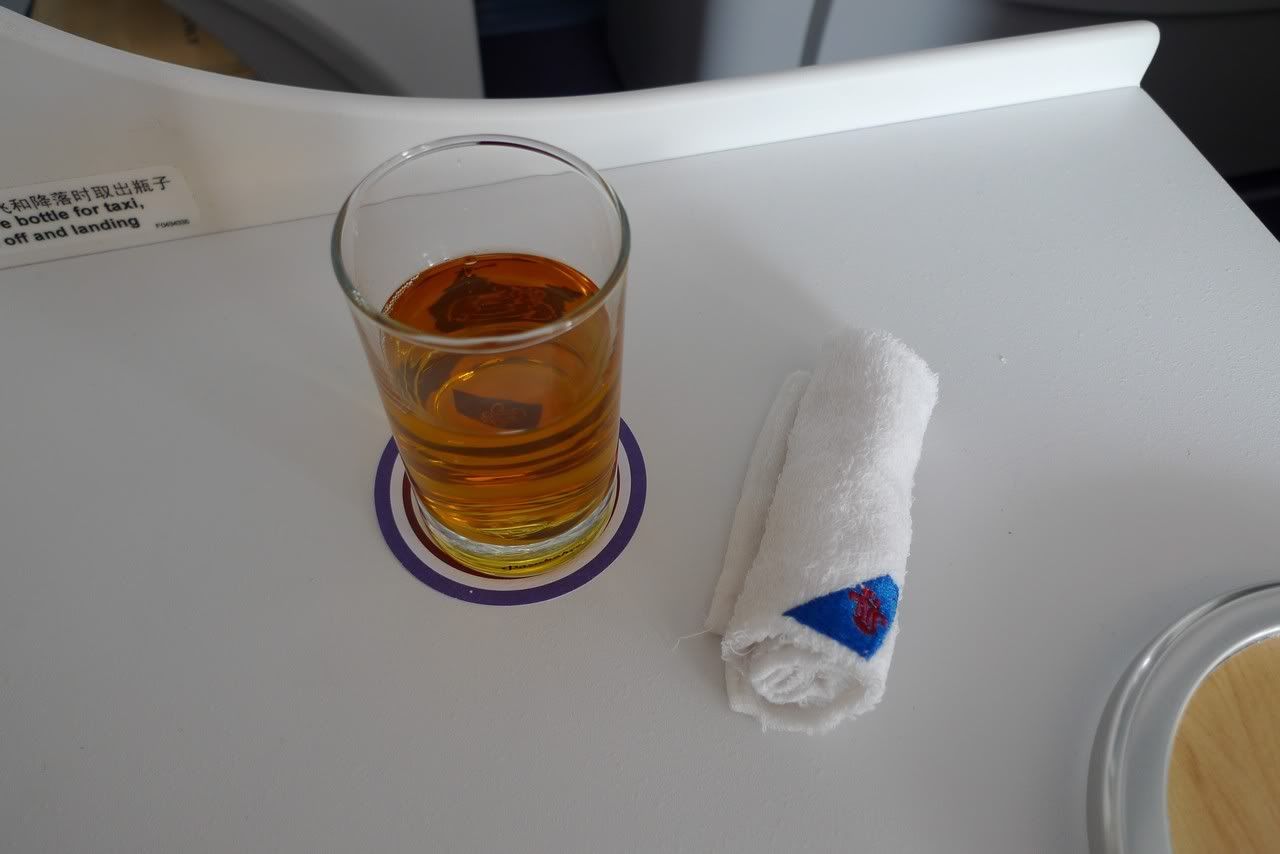 28K is at the edge of the wing
View from my seat
Reading materials
Back of the magazine
User guide for the seat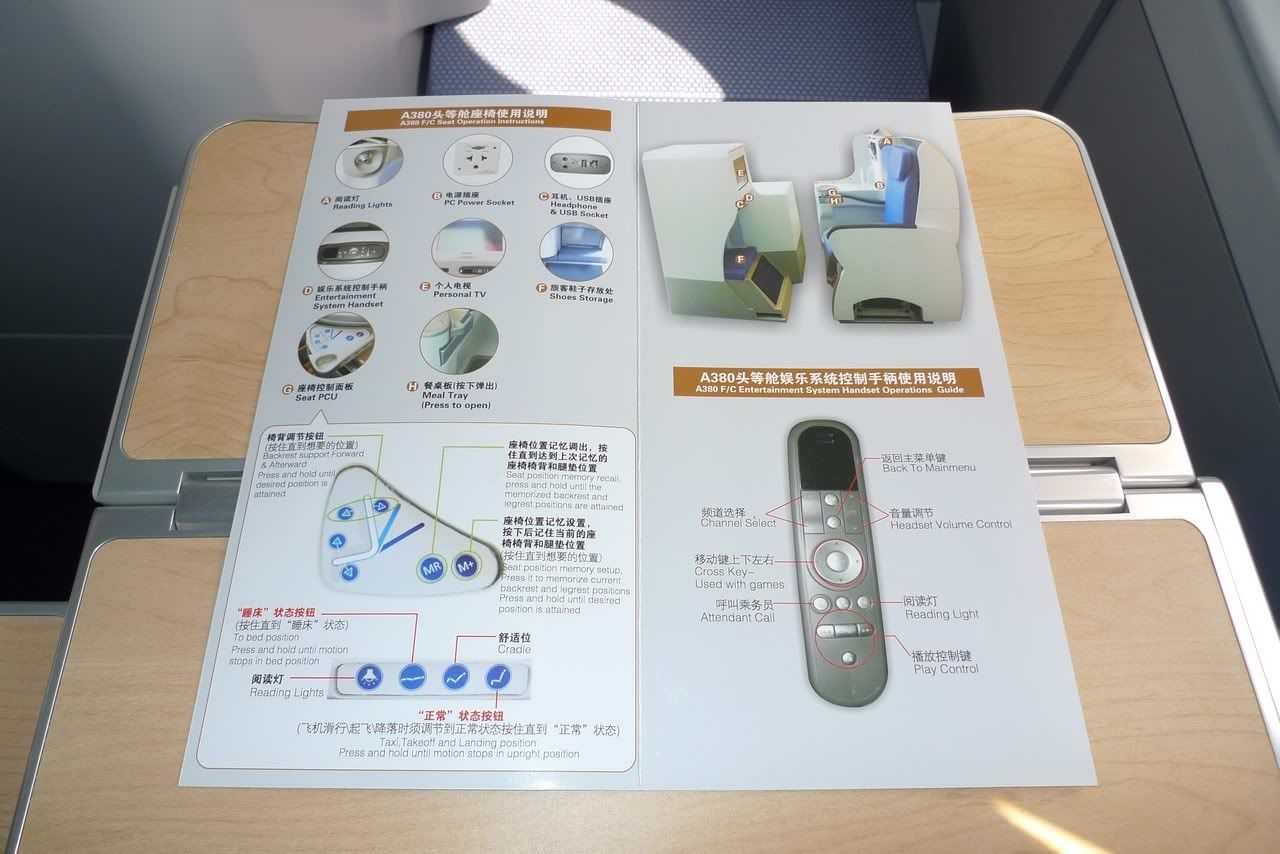 Safety Information
Booklet introducing CZ's A380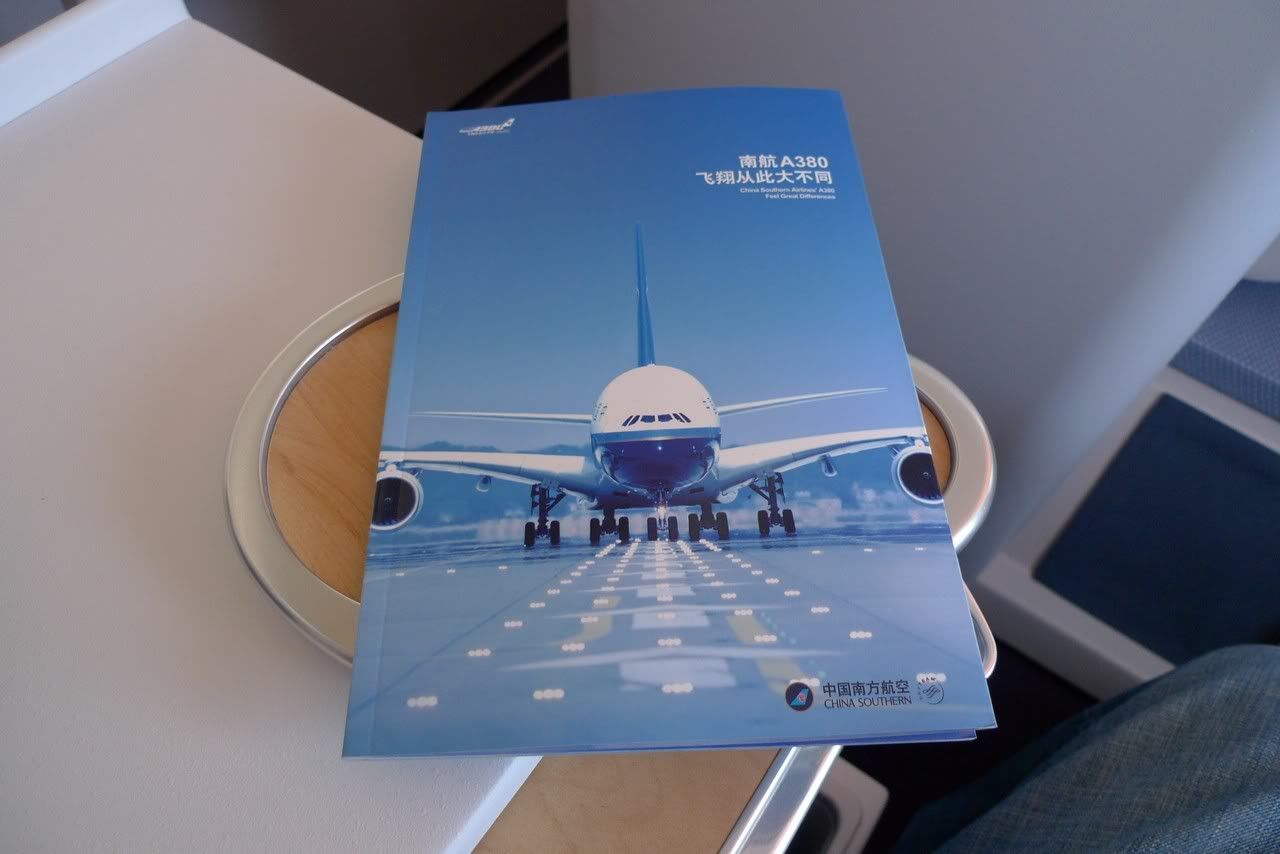 Slippers
While waiting for the VIP, let's walk around, and soon I discover a washroom setting that I never seen before.
The disabled toilet with 2 doors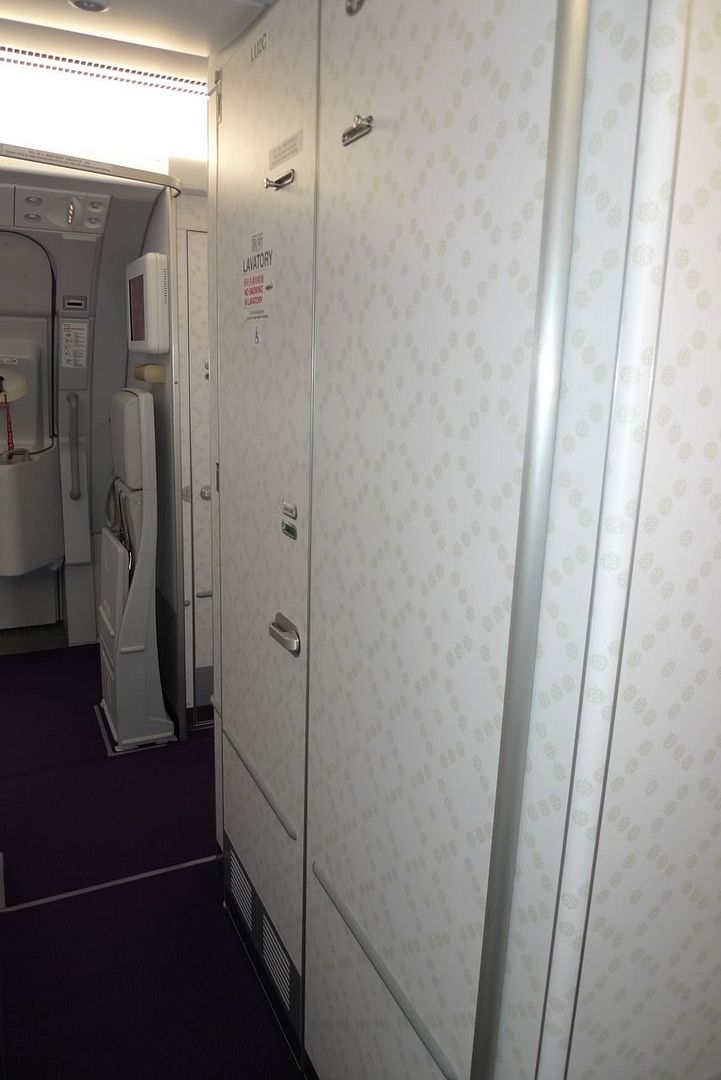 Main door opened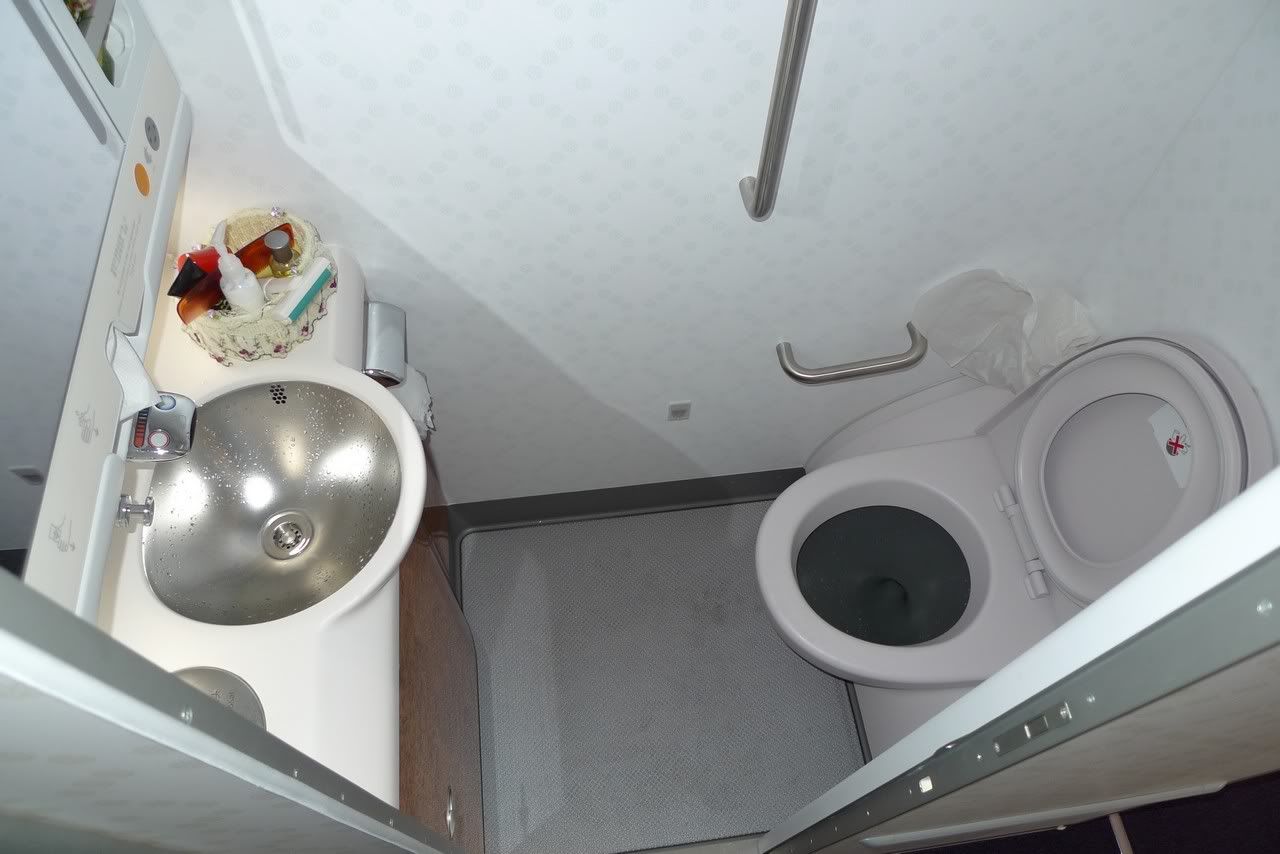 Both door opened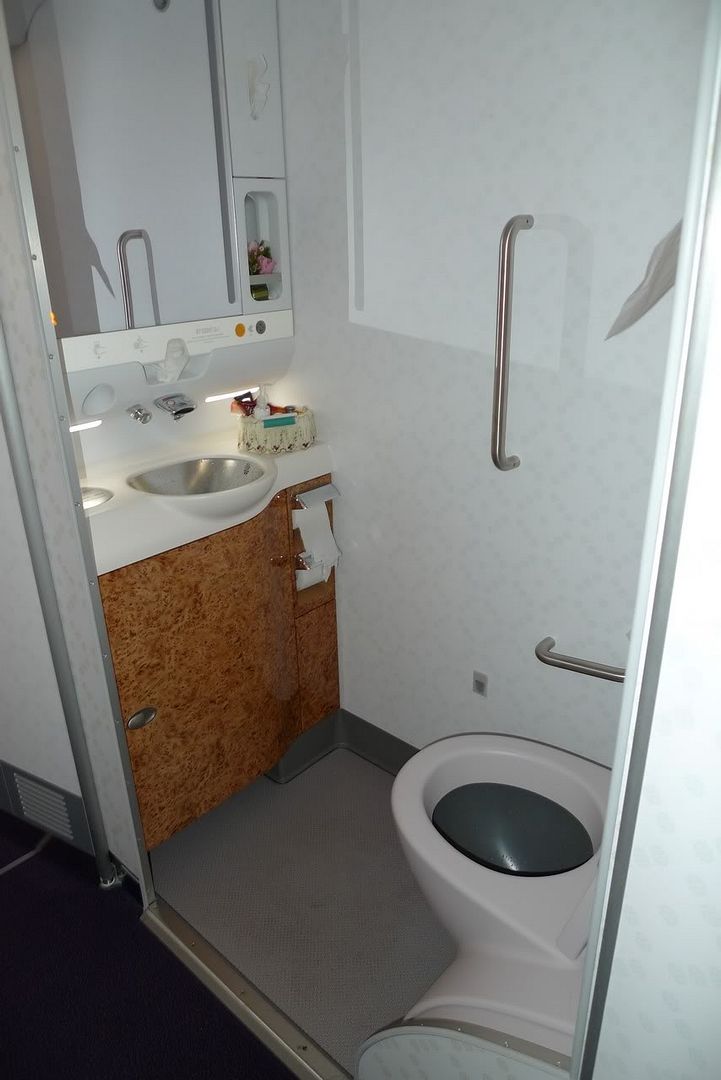 More photos, second business cabin
Let's use seat 29K to do some demonstrations
Table out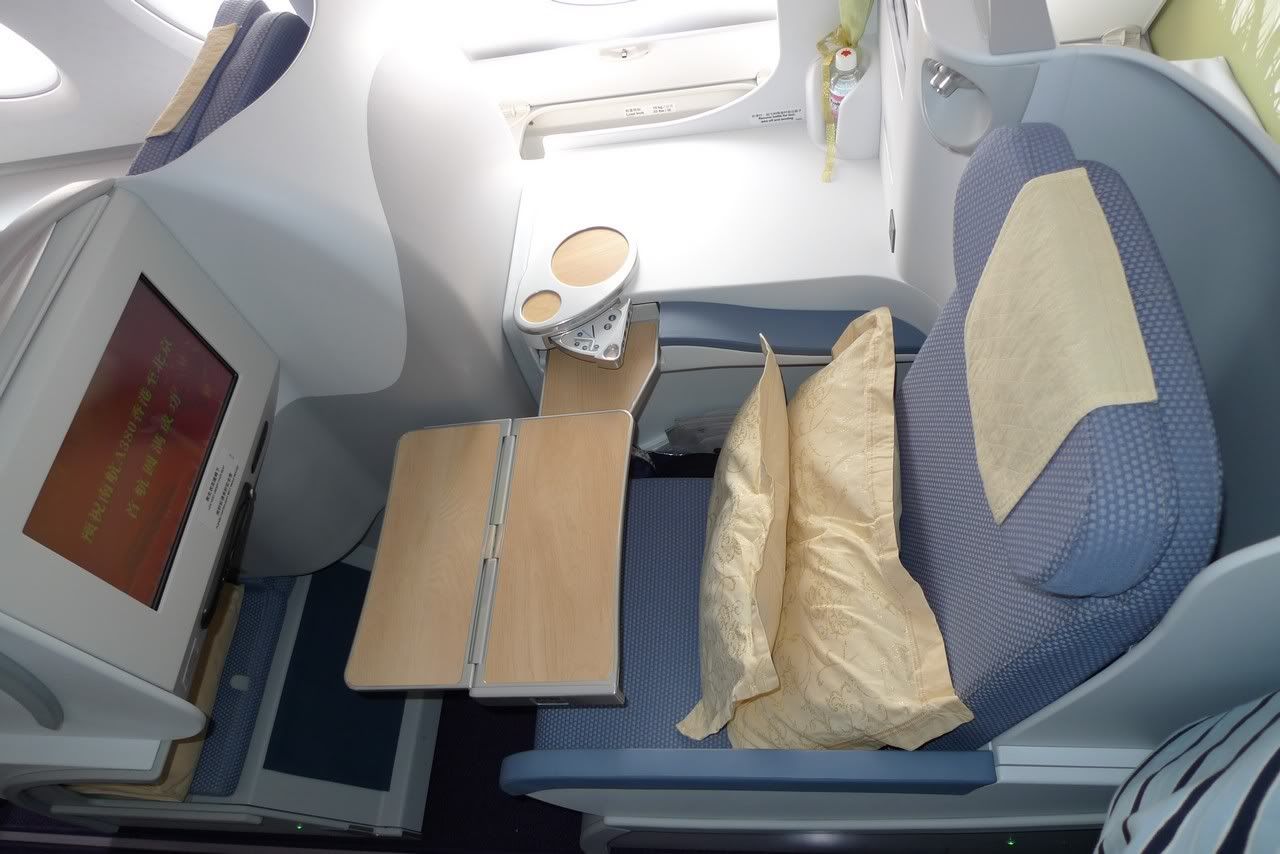 Fully flat
The doors closed at 15:10 and we started push-back
Takeoff roll was long as always, the flight duration would be 2hr30min
The Wingtip
IFE contains about 80 movies and 100 TV shows, but I want to try to use the USB port, yes, the system can read the mp3 files
Noise cancelling headset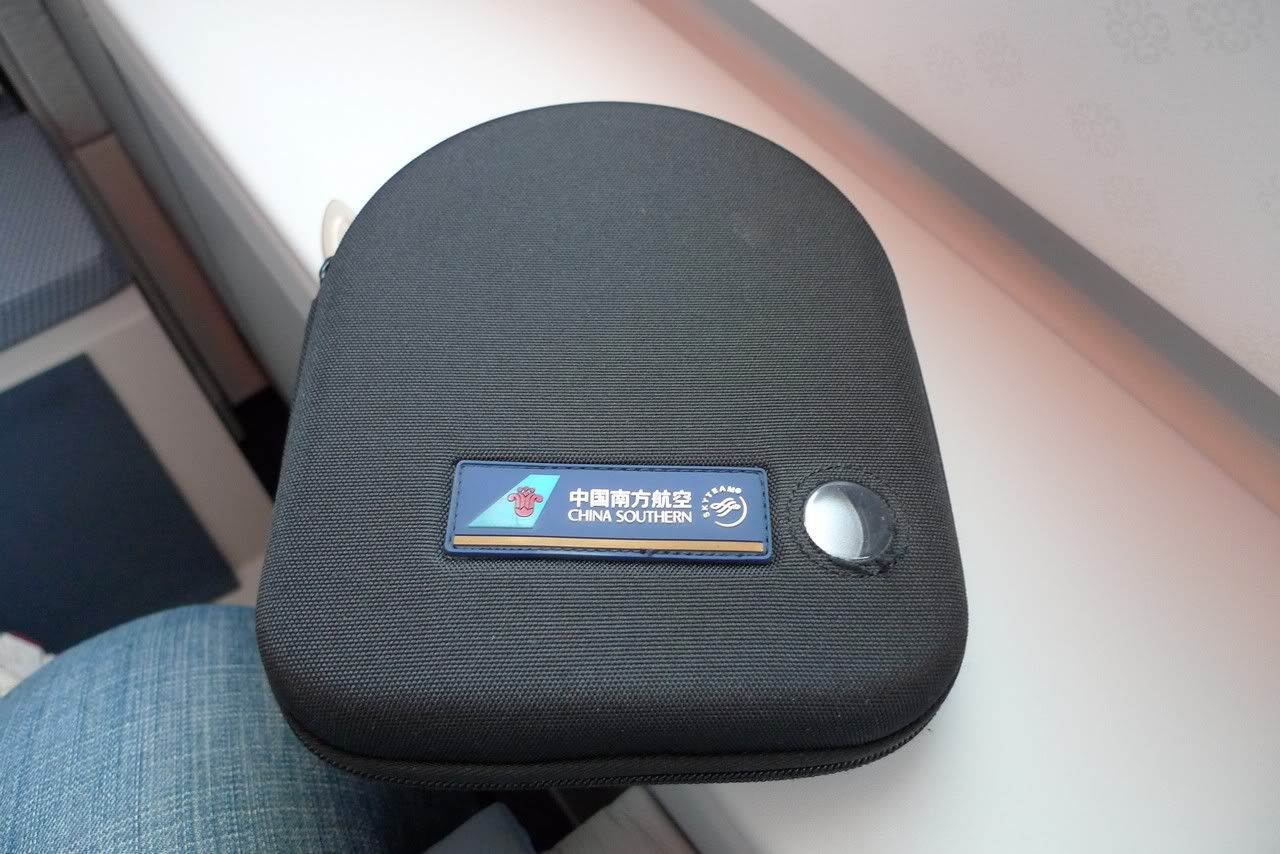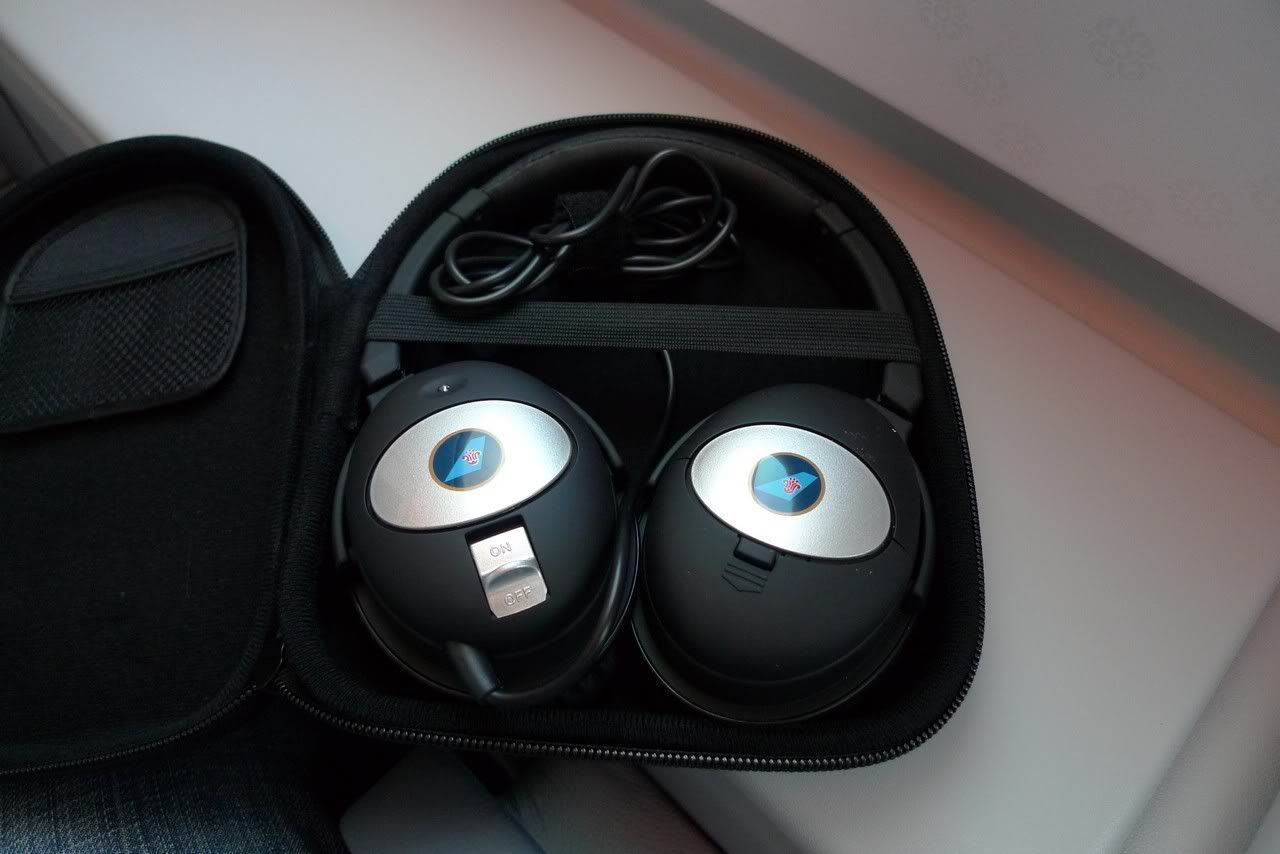 Remote control
IFE replaced the duty-free booklet
Drink service after takeoff, if you ask for water, the FA will ask you to drink the bottle water at your seat
Chinese tea with nuts
Table was set for meal
All on a tray
Appetizer – Pork Belly Slices Chinese Marinated
Cold Veg Snack – Asparagus Pencil with Cherry Tomato/Mesclun
Soup – Red Date & Beef Shank Soup
Main Course – Yu Hsiang Chicken with Fungus, Steamed Rice
The meal was very nice, especial the main course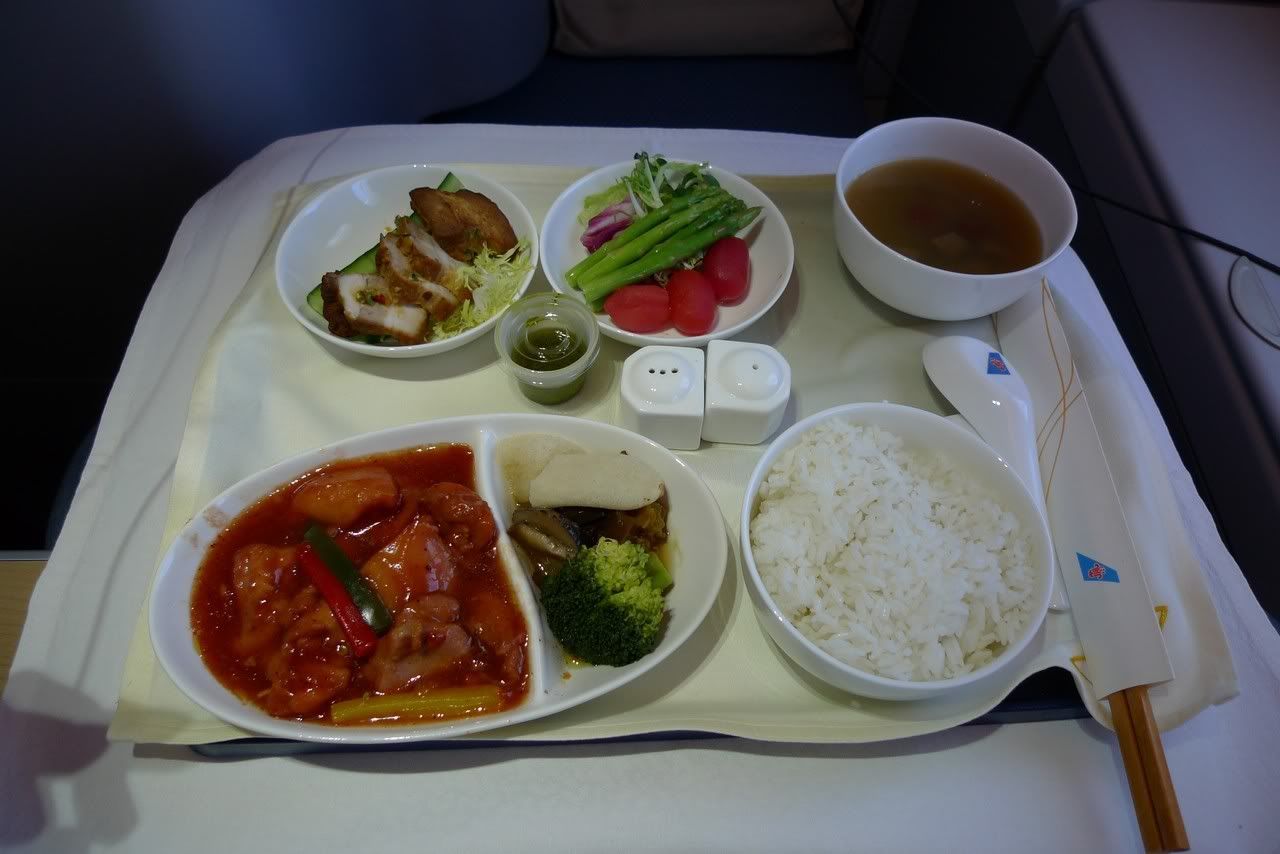 Like the logo on the spoon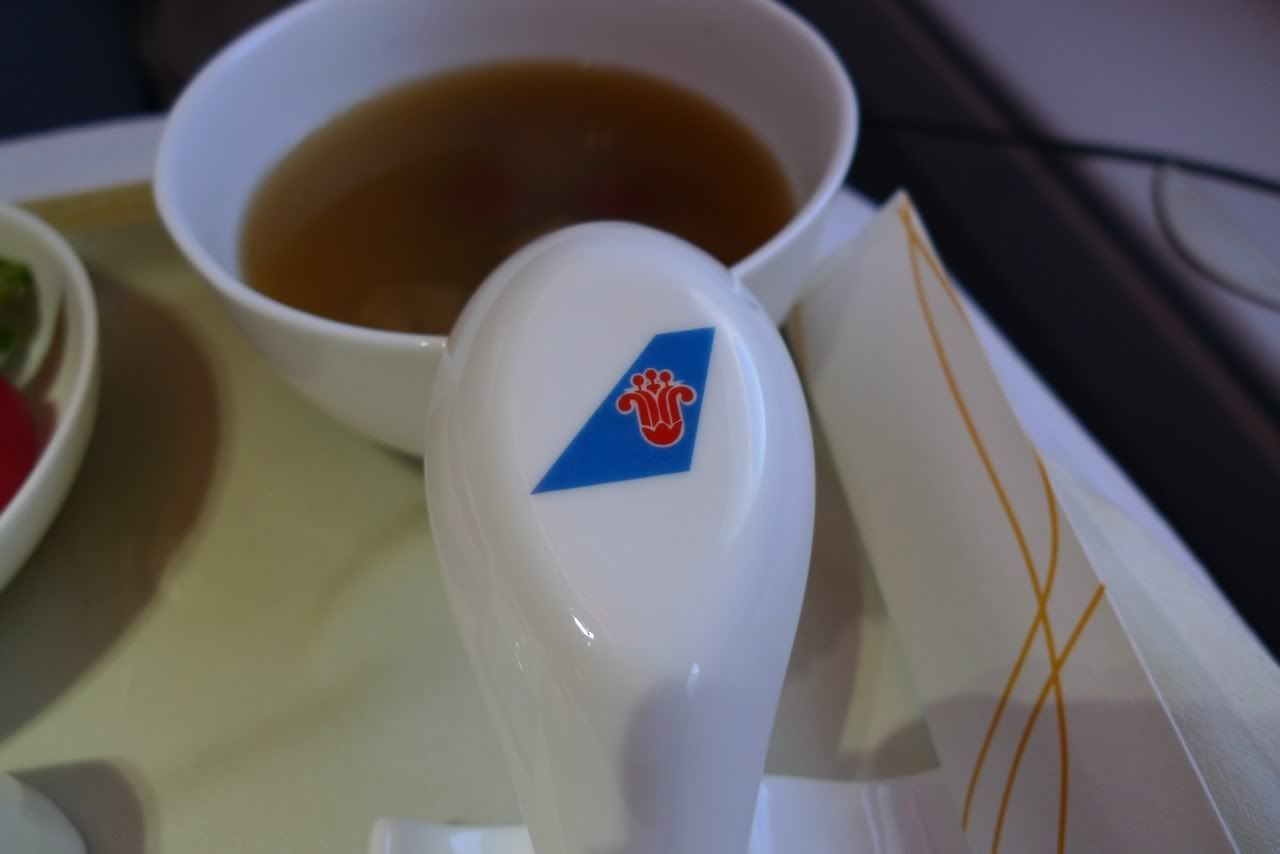 Dessert – Clafoutis Raspberries Cake, Fruit Plate
After the meal, time to explore more
Upper deck economy cabin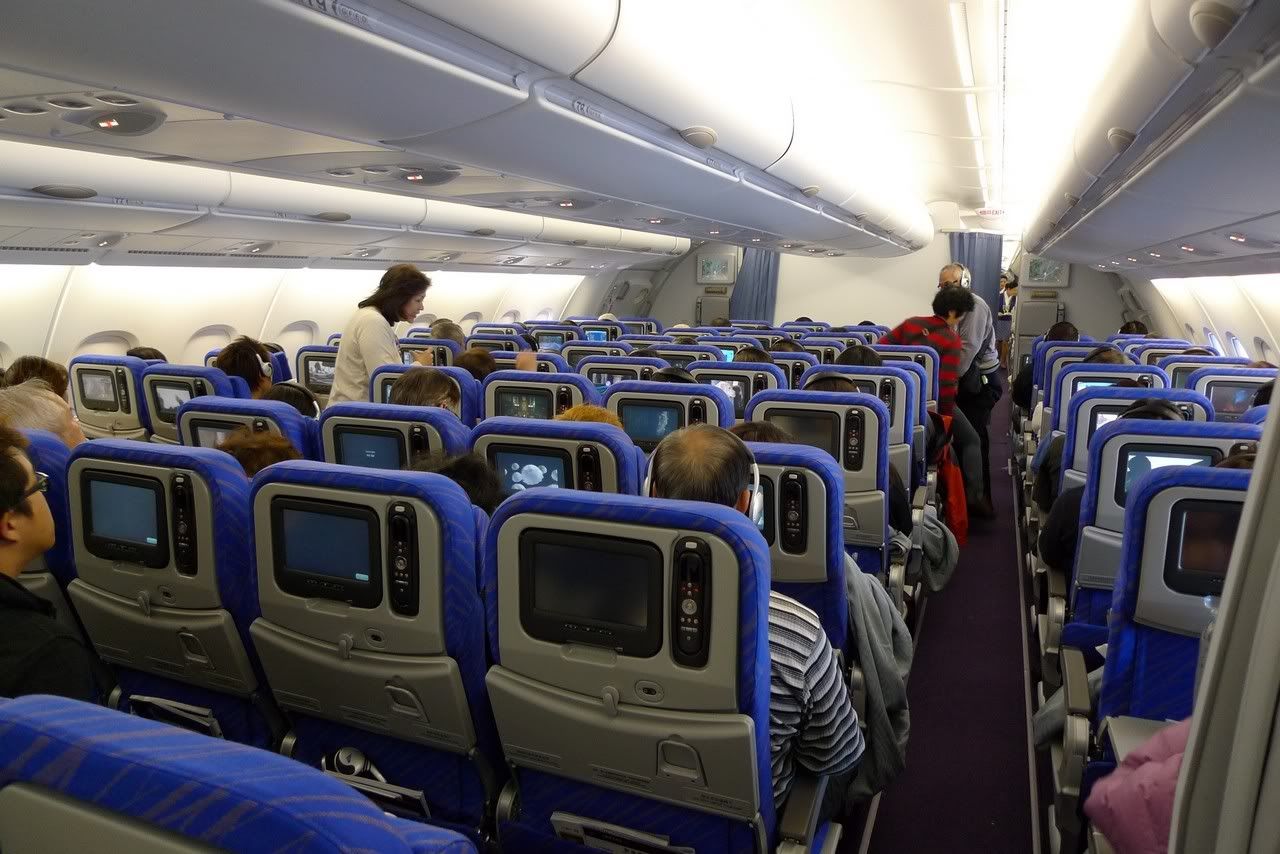 2-4-2
Last row
Emergency exit row
Door L3 of the upper deck, crew rest on the left
Crew rest area
Not open for visit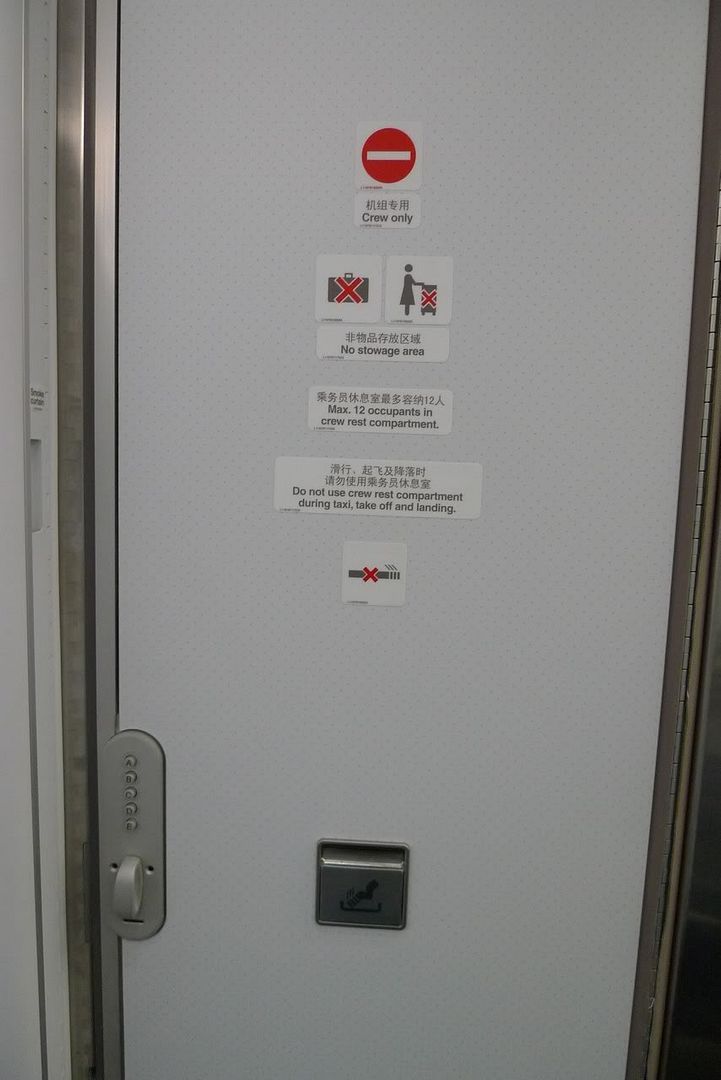 Stair to main deck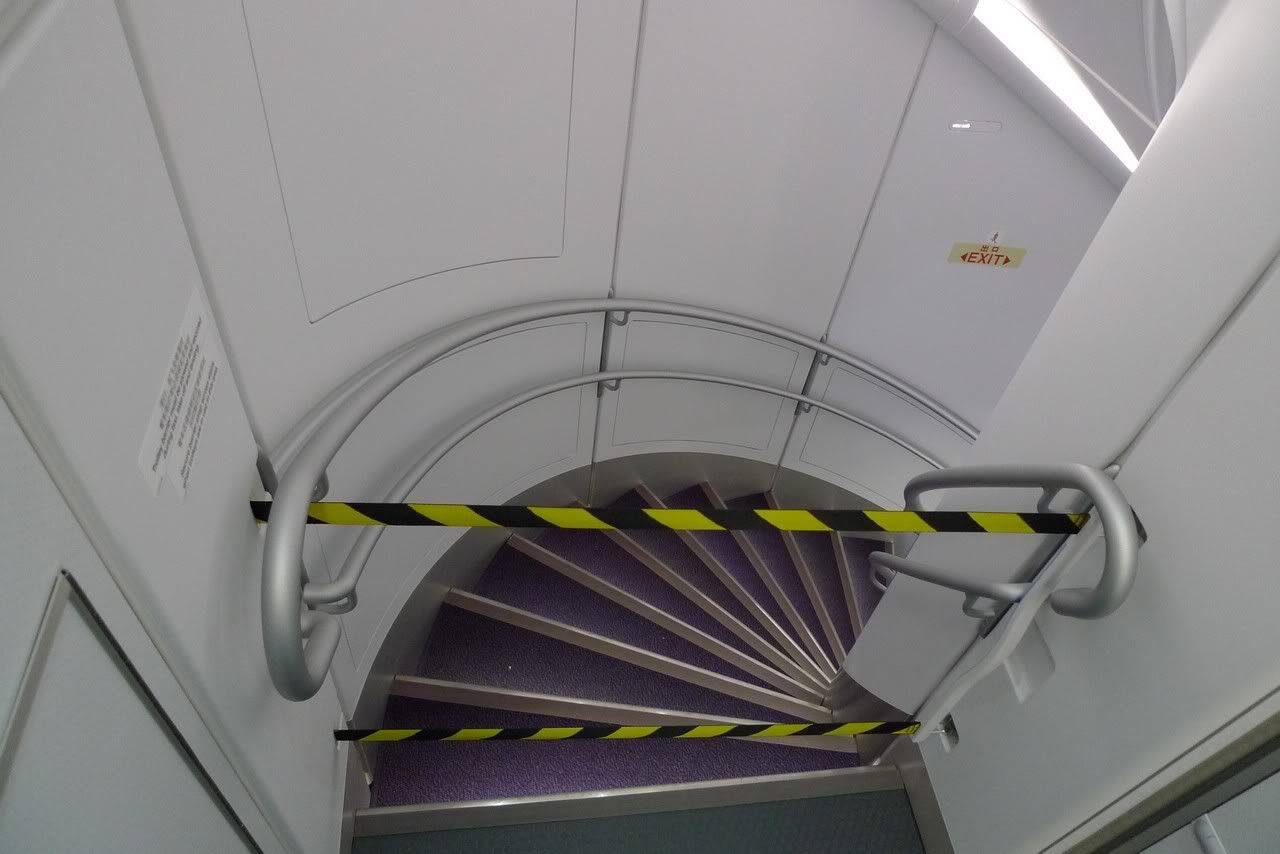 Lift for cart
Rear galley opposite to crew rest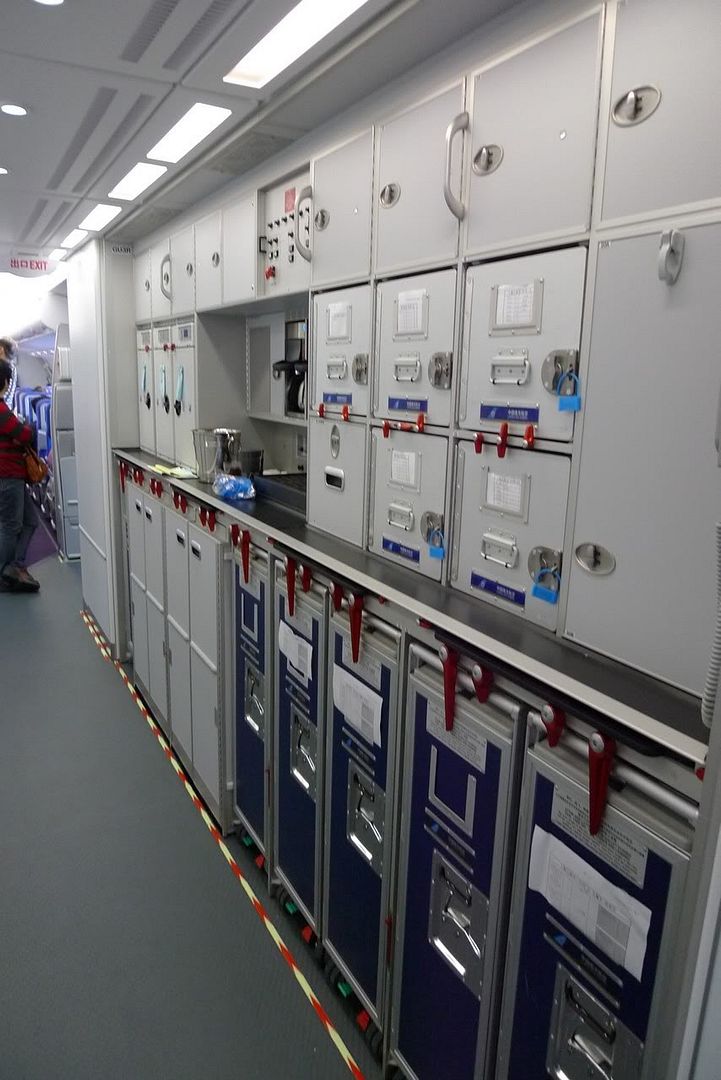 Some events were happening in the front, a VIP was reading a poem, another giving a speech and followed by a song from a FA
Like the wall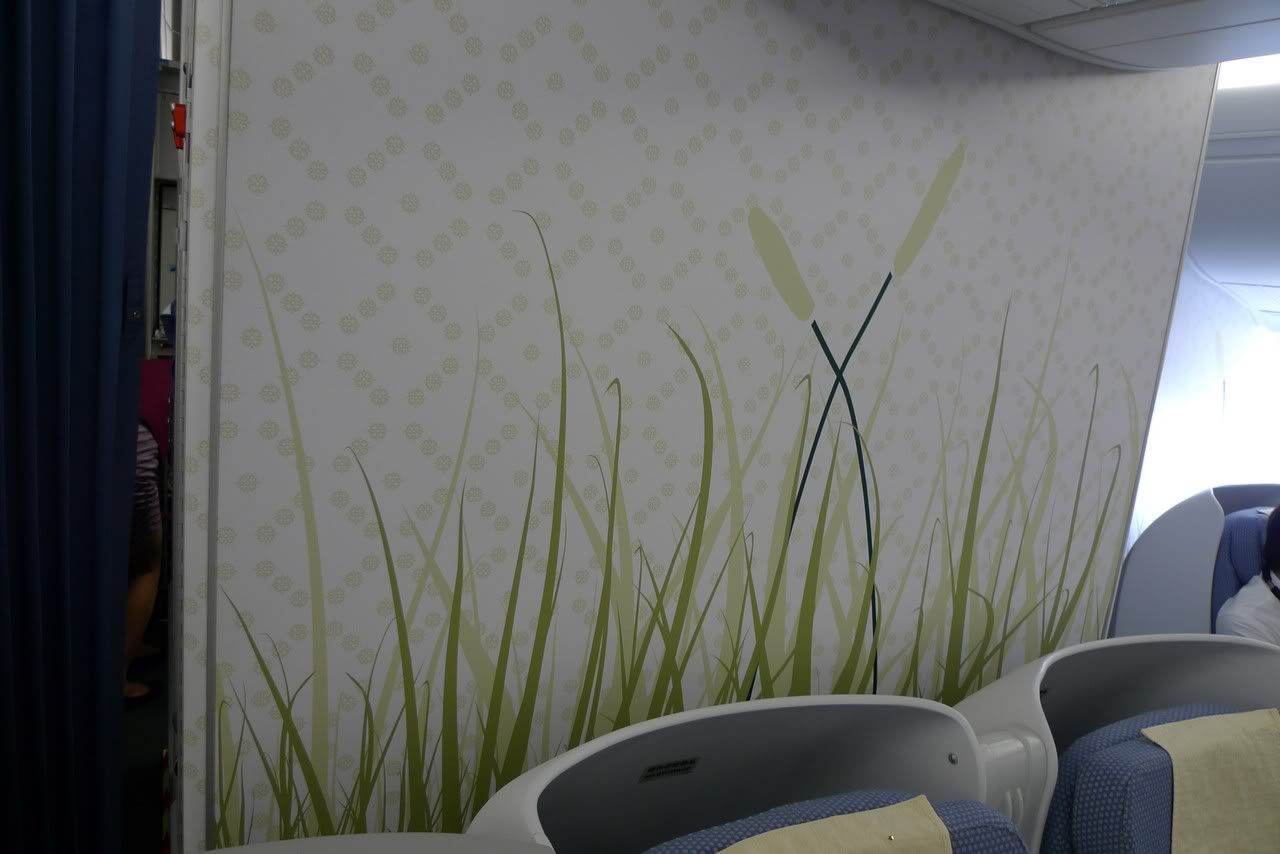 Champagne after the events
Galley around Door 1 upper deck
Stair to the main deck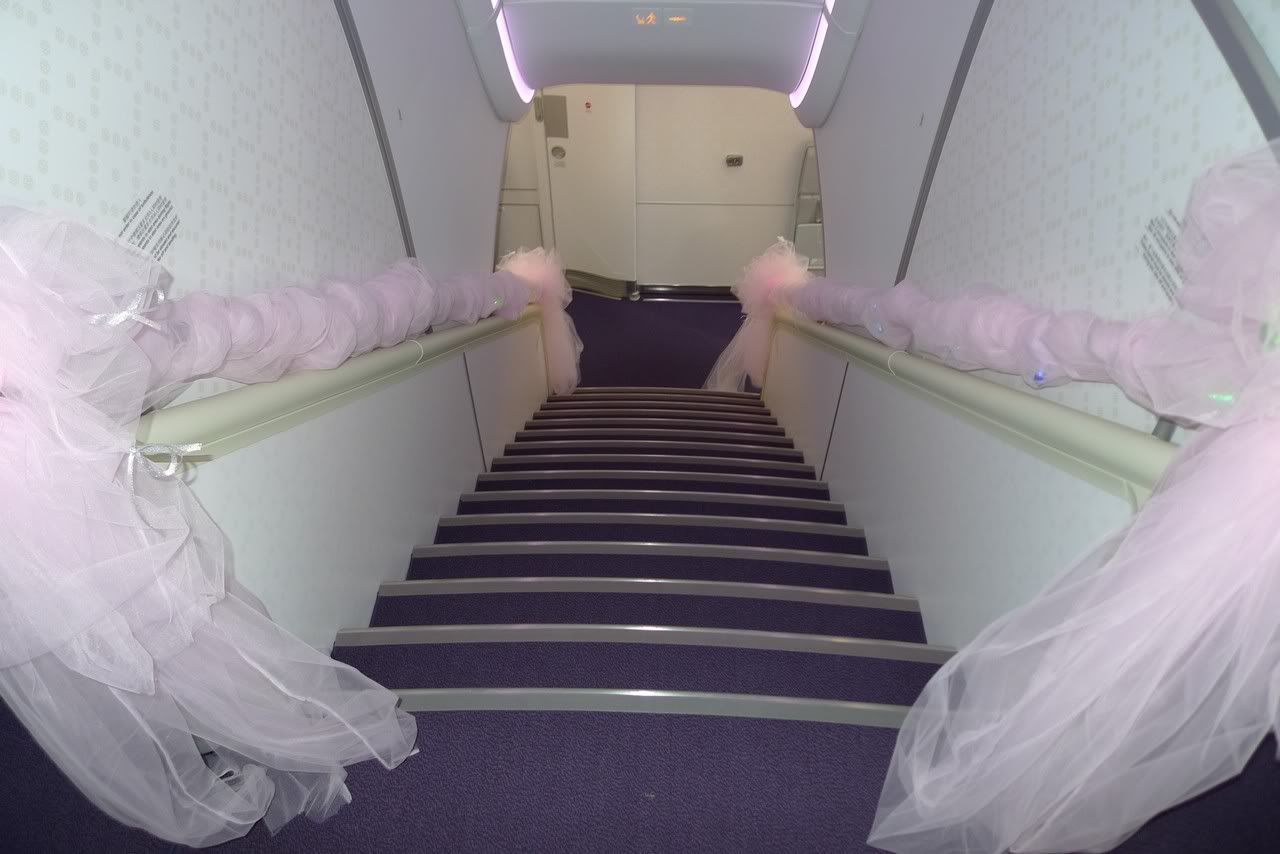 The Best Business seat 11K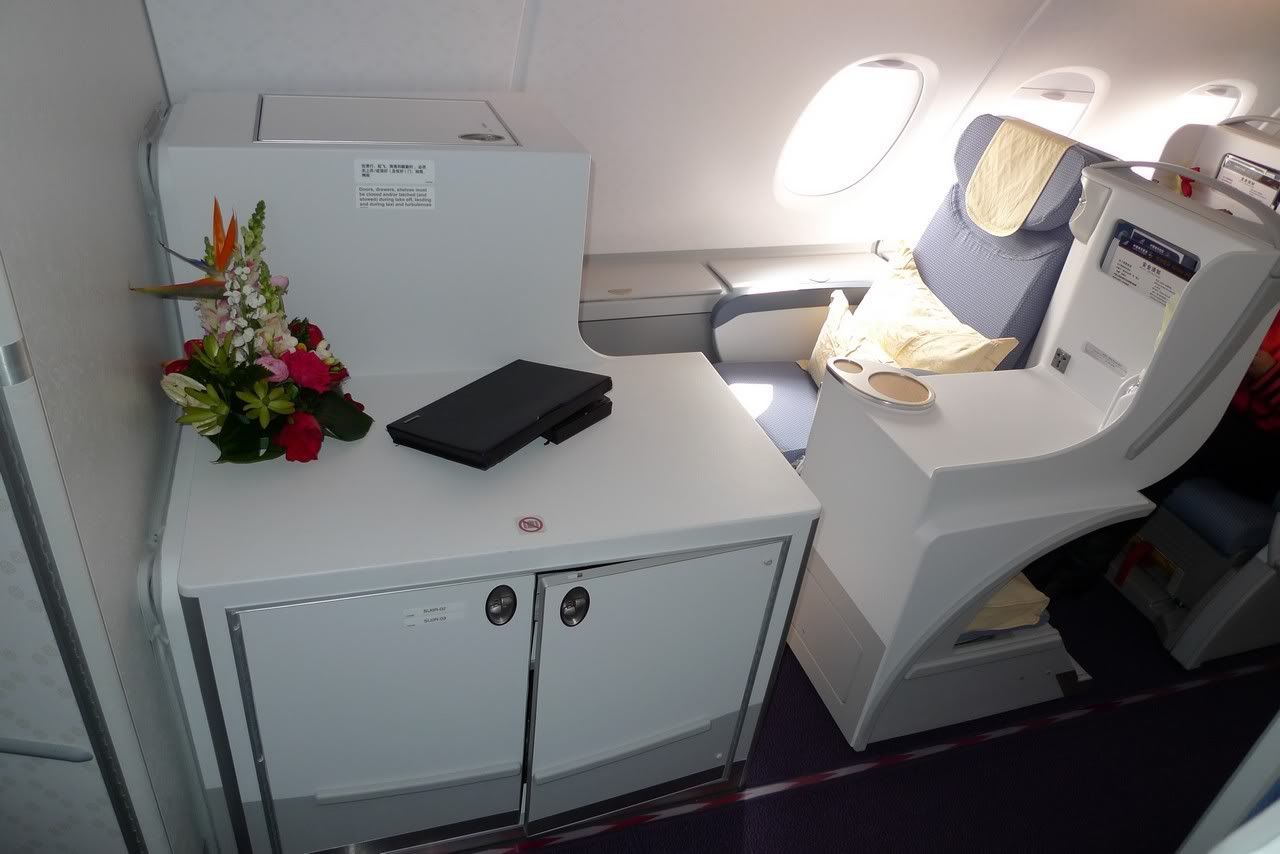 Front Business Cabin
Storage in front of Seat 11K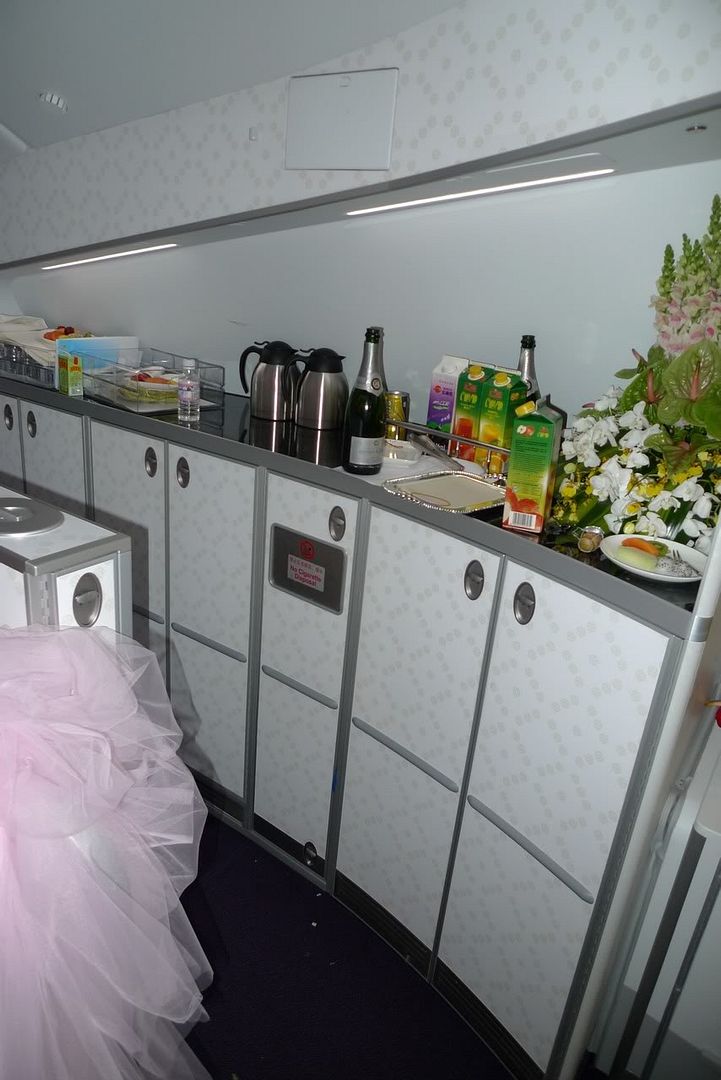 Cake for celebration the inaugural flight
Bar
Washroom in front of Seat 11A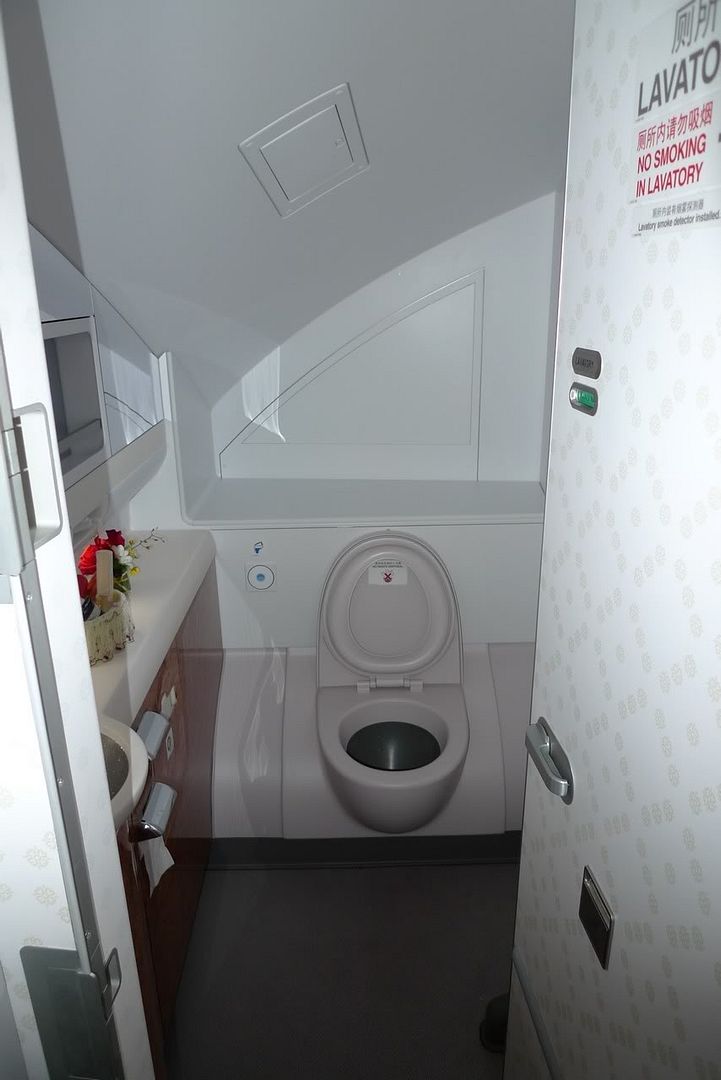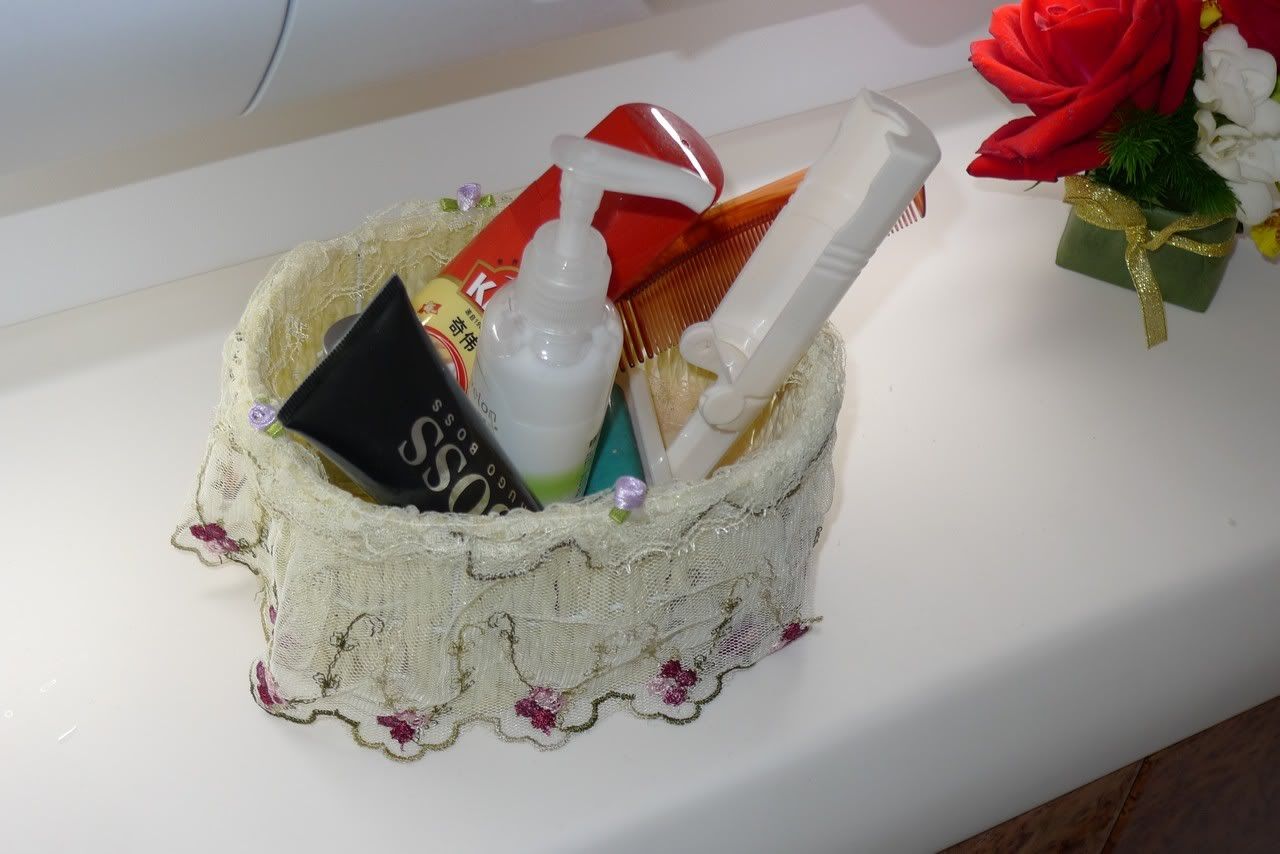 Middle pair seats
Blanket
Start descending to Beijing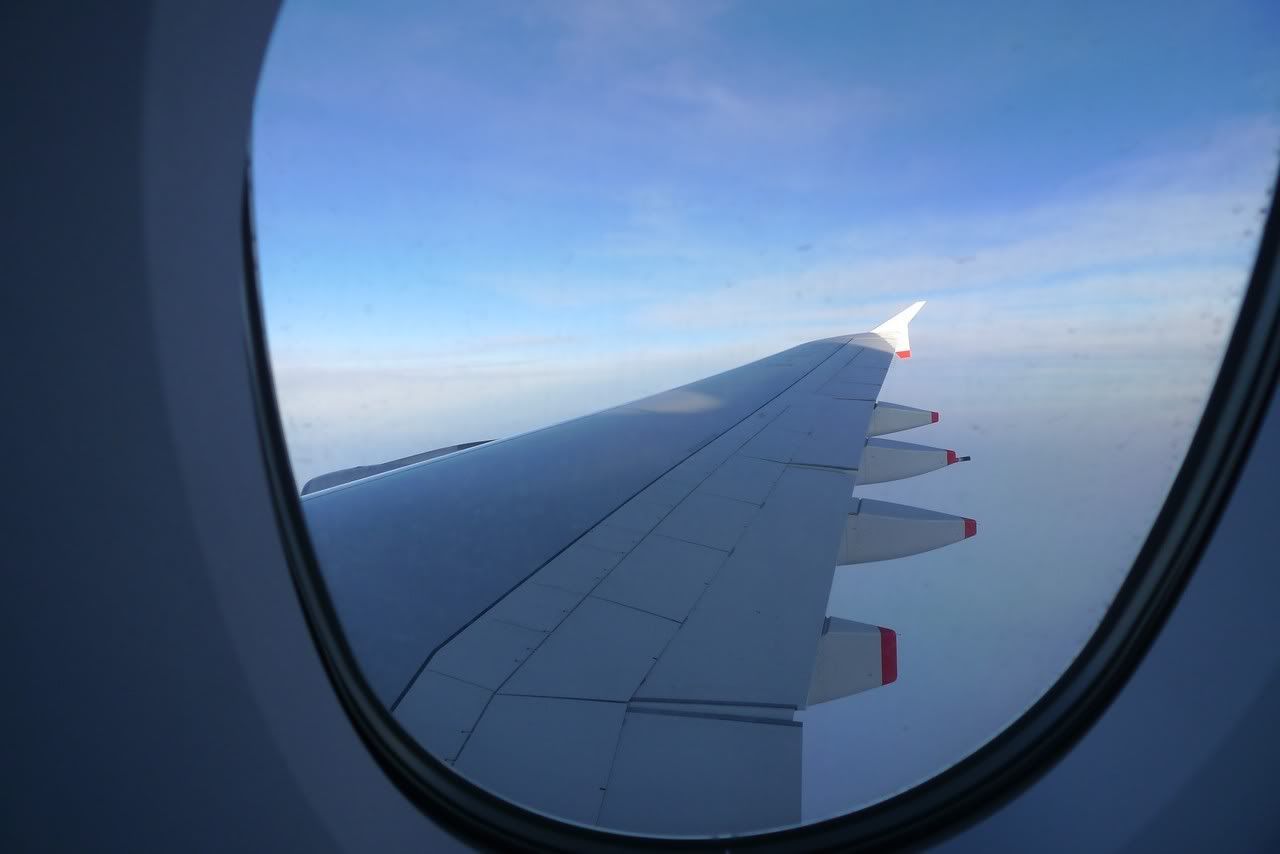 Landing was smooth, and there was a screen said celebrating the success of the inaugural flight
B-6318 docked at Gate 212 after 10 minutes, and I arrived the Airport Express Train Station 10 minutes after deplane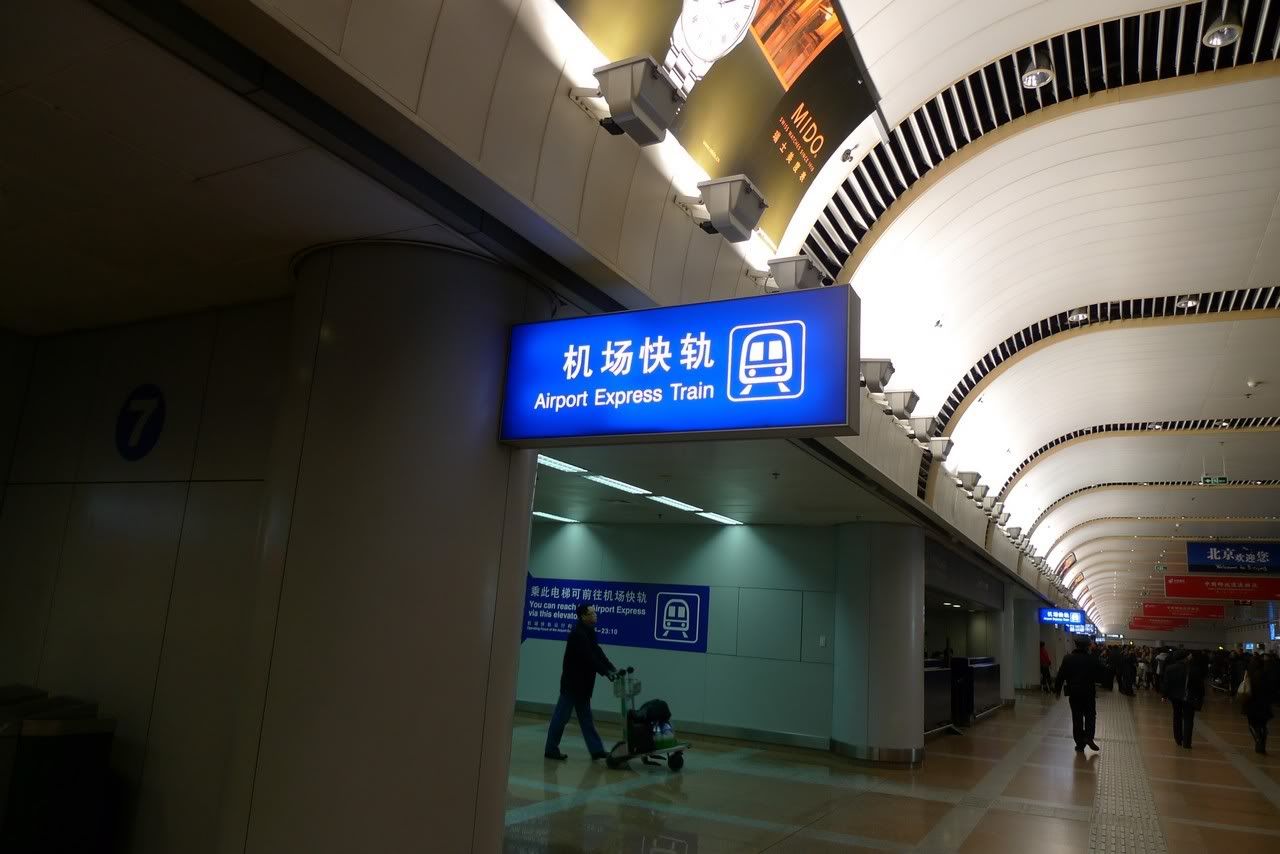 Train to the city
Dinner with a friend in "Hua's Restaurant", nice food and live performances
Stayed at the Langham Place, Beijing Capital Airport just next to PEK Terminal 3
Room was big
[Edited 2012-03-04 13:25:01]