Hi all!
This is my third trip report on the forum and it will be my 1st flight of the year. My trip to Australia consist of 4 segment,
1 -EK 432 from SIN-BNE
2 -QF 505 from BNE-SYD
3 -DJ 981 from SYD-BNE
4 -EK 433 from BNE-SIN
Background
Australia is a vast vast country, with spectacular views and exotic animals. Kangaroos, Koalas, Platypus, Black-widow... Planning however, was headache. To be honest, I was tasked to do the itinerary for my stay in Australia with my mother and the subsequent days without her. But I left it to my cousin to do it, who was studying in Brisbane. (I felt irresponsible for doing this and there were tension during my stay, cousin, if you're reading this, I am sorry for pushing my responsibility to you.)
The flight plan was simple. Emirates provide a direct flight from Singapore to Brisbane, at SGD$750. SQ was offering their flights at SGD$1000+, which was ex. Also, my cousin wanted us to help her to earn skywards, so I didn't consider other airlines.
Flight-plan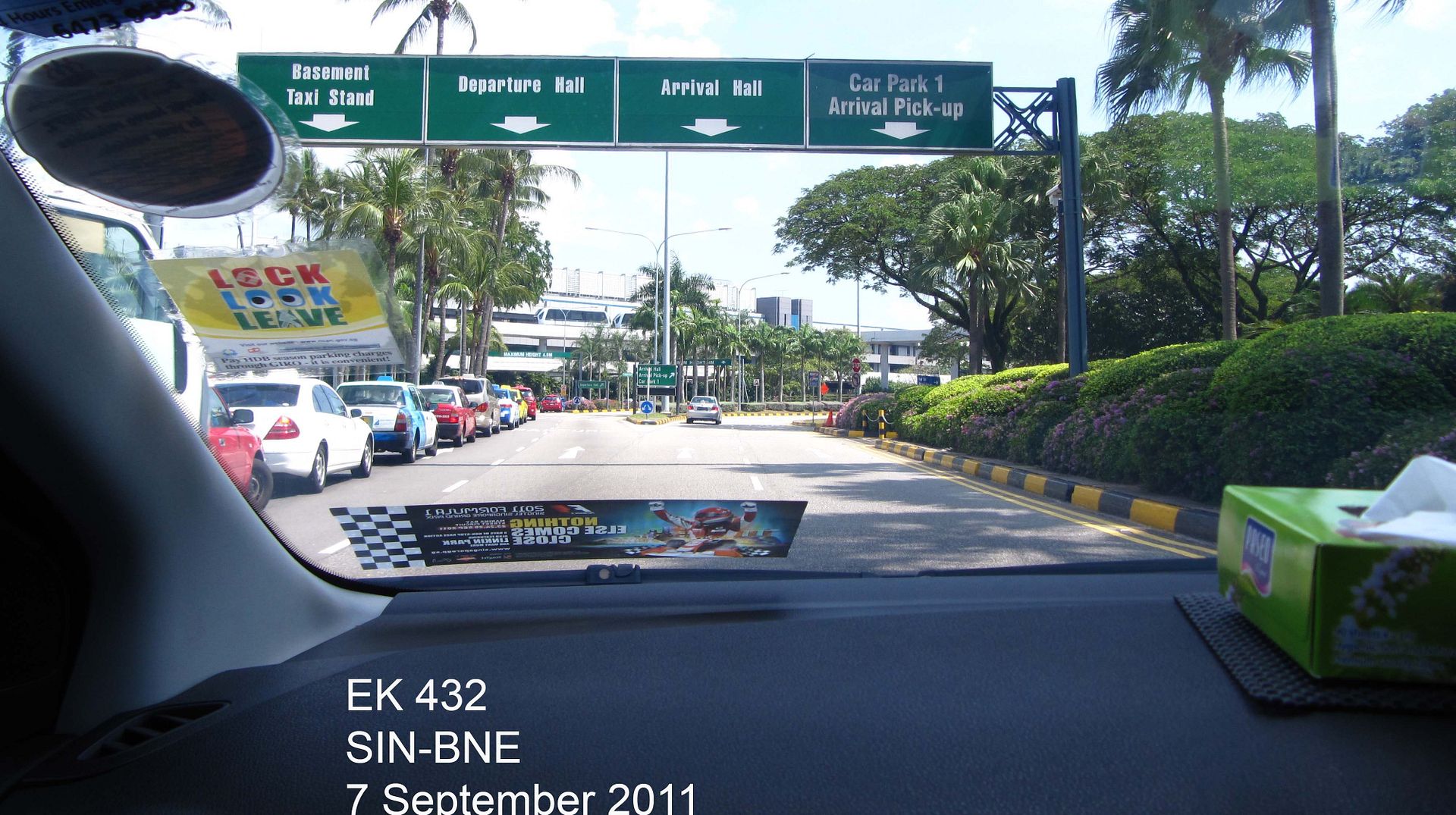 7 September 2011
EK 432
SIN-BNE
Depart: 1520, Changi Airport Terminal 1
Land: 2230, Brisbane International Airport
BOEING 777-300ER (A6-ECA)
We came to the airport 2 hours earlier and had our brunch at Astons. The restaurant serve affordable western food and is located above the check-in counter at terminal 1. At 12pm, EK's check-in counter were open and we went to check-in our belongings.
Not much queue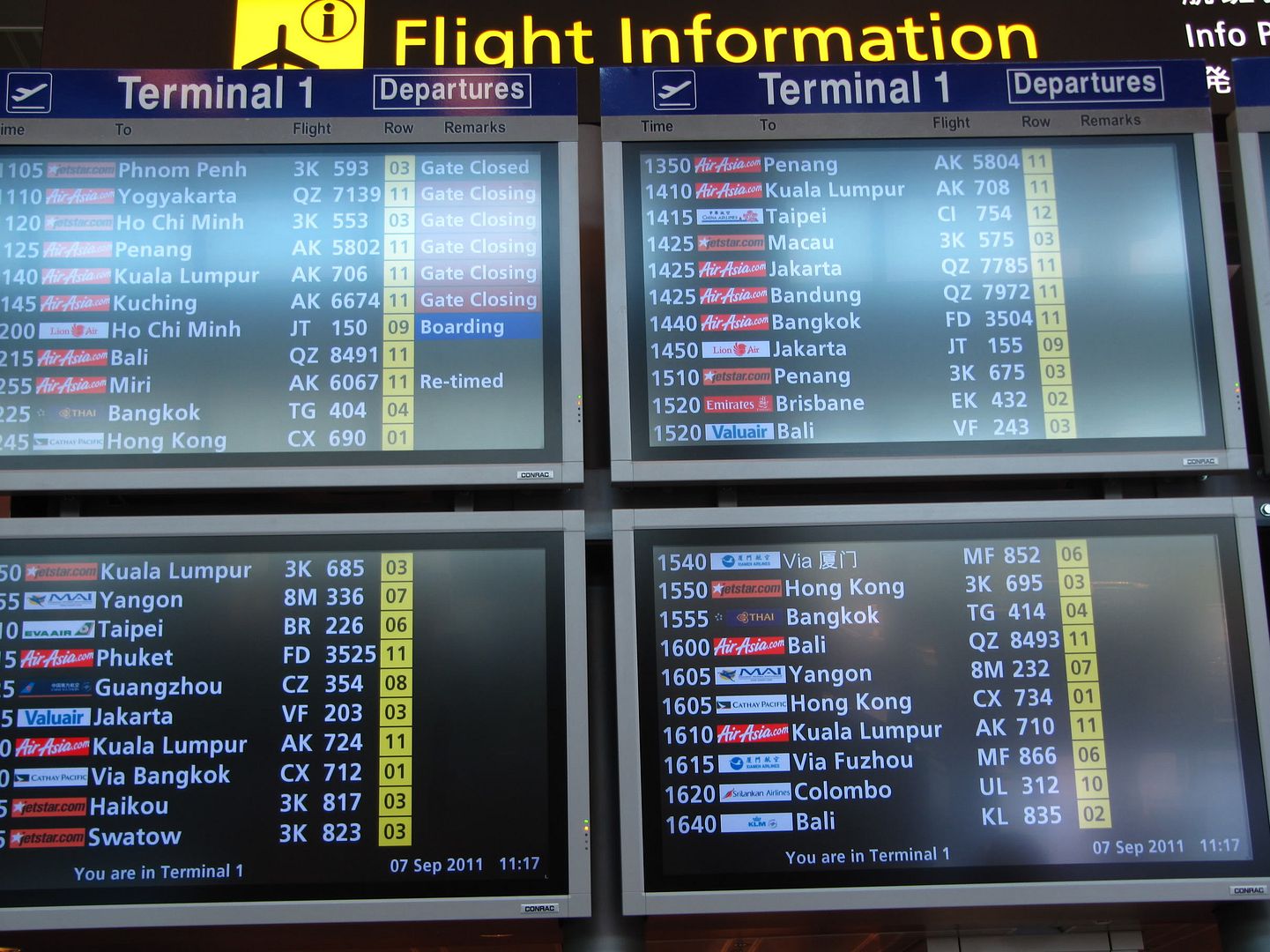 Flights departing from T1
We passed immigration in less than 5 mins and had 1:30 hours to spend inside the airport. This was a good opportunity to use the tax-free shopping that Changi Airport offers. Firstly, we went to the RL shop which was just beside the immigration counter. Thankfully, mum knew her friend that was working there and had discount on the hoodie I wanted!
The revamped RL store at T1
After that, we took the sky train to T2 and T3 and shopped around. Goods are really really cheap considering that there's no 7%GST incurred!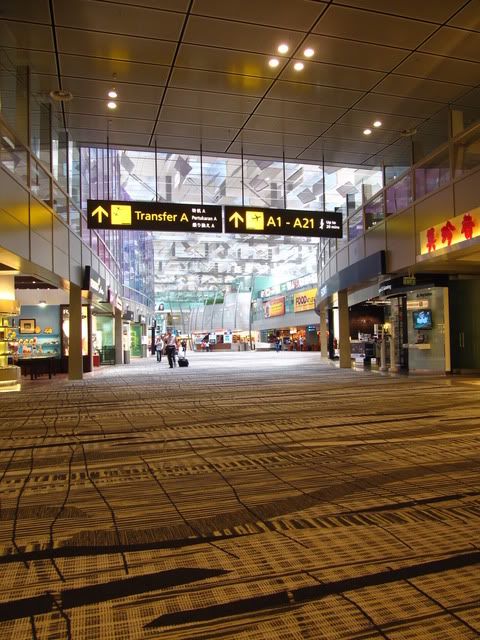 T3, big but empty
Mum needed a rest from shopping! Thankfully, she chose the seat that was hidden away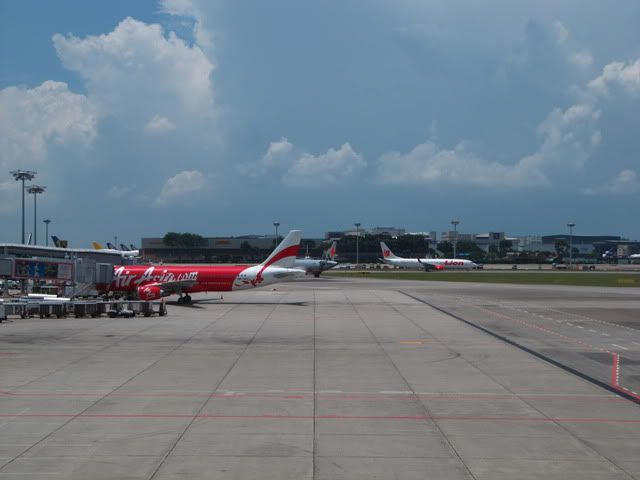 Scene on the tarmac
At 3pm, we made our way to the Gate, where on the screen, it was flashing "GATE CLOSING SOON", which my mum panicked.
We ran like running a 400m race, panting and sweating only to realise that there was a long, long queue at the security counter.
After the security check and boarding pass scanned, I took out my camera and snap the registration on the aircraft, it was a -300ER flight, and it was a -CA. Delivered in 2007, this plane is pretty new considering EK bought a lot of them in recent years.
Loading up... let's go!
Boarding calls were made shortly and I was the first few to board... after Biz and First class...
On the booking, I chose the last two seat (49A and 49B). While we were on our way to the airport, my mum made sure that I didn't chose the last seat, which I was confident enough to assure her. When we got to our seat, *deng deng deng*, mum's face turned sour. She was so pissed that I had to calm her down so that she won't raise her voice, loud enough for the FA nearby to hear us.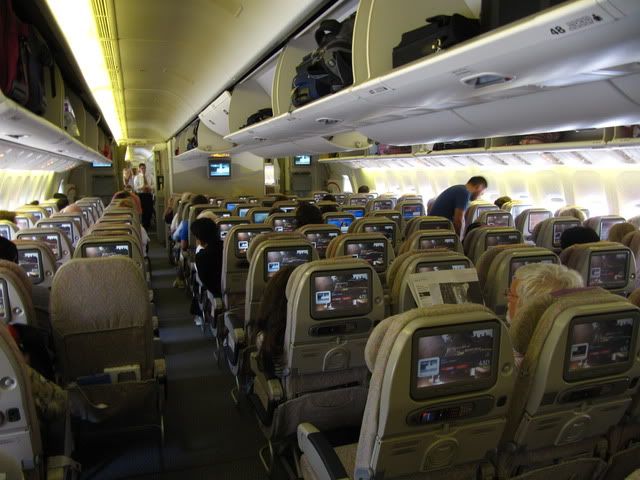 EK's 10 breast seating, however the last few rows had 8 breast seating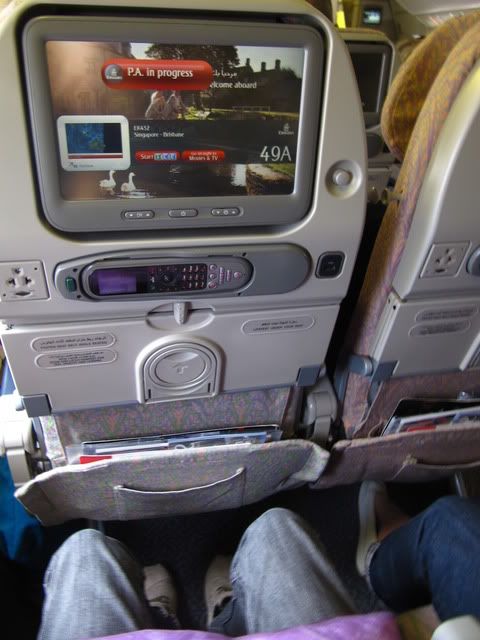 Pitch, width and legroom was really great for this flight considering I'm 170-ish m tall (Though, mum muttered killer words that sounded like *Idiot, why chose the last row, I can't RECLINE*)
Excellent flight to begin with nonetheless, I was served by Jackie, an Aussie FA whom was very friendly. Pushed back was delayed for about 15 mins.
Jetstar International plane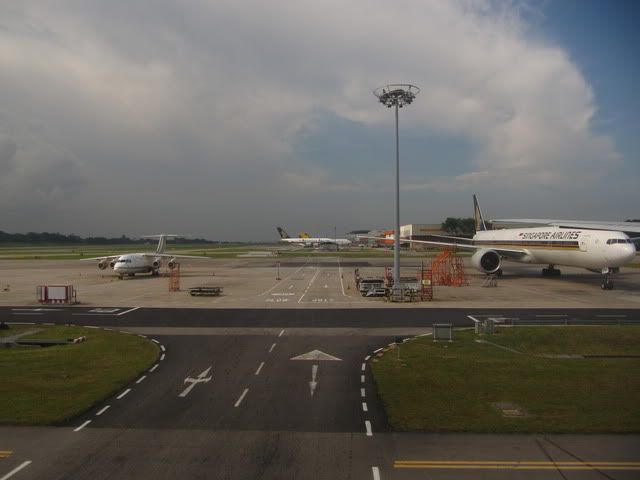 SQ bird parked, beside a Bae 146
FX A310 taxi after us for take off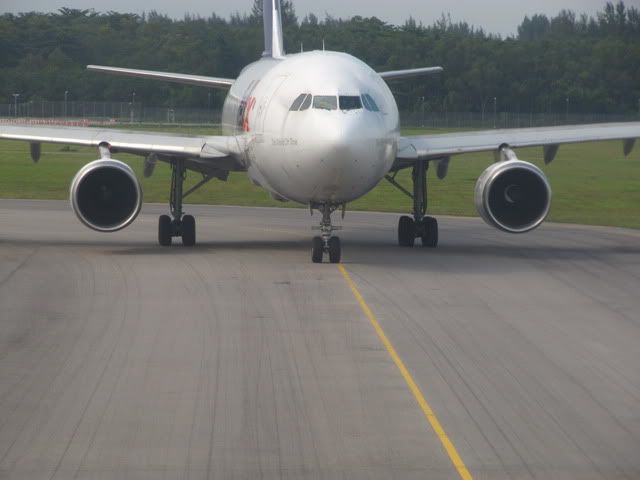 Noticed the right engine was running and the left remained shut! I guess FX isn't doing well lately
Lined up, take off was uneventful. Moodlight was turned on, and we had a powerful takeoff.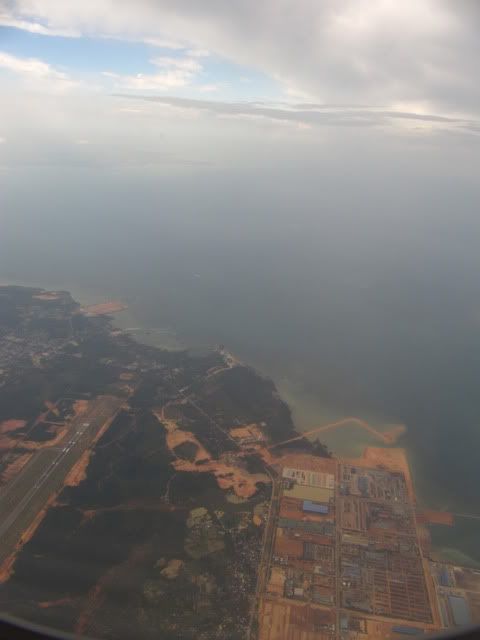 Construction on the eastern side of Singapore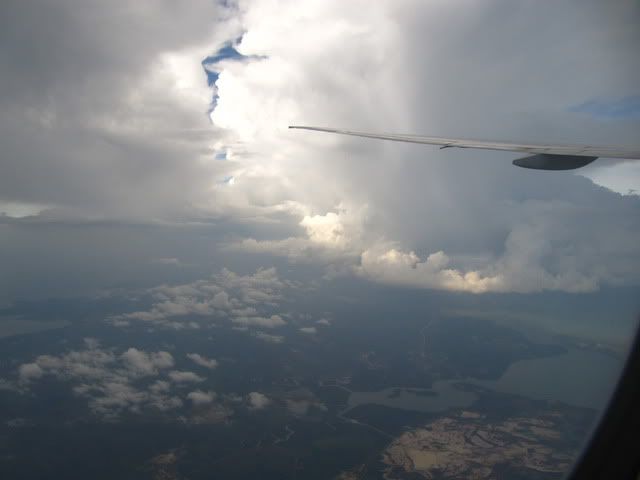 We hit turbulence shortly after take off!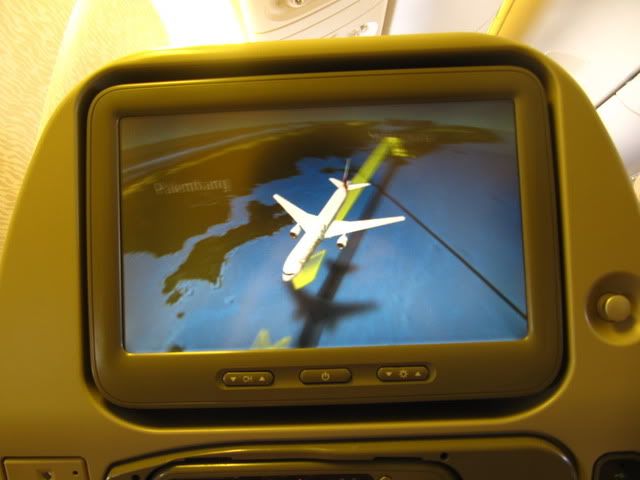 IFE system on board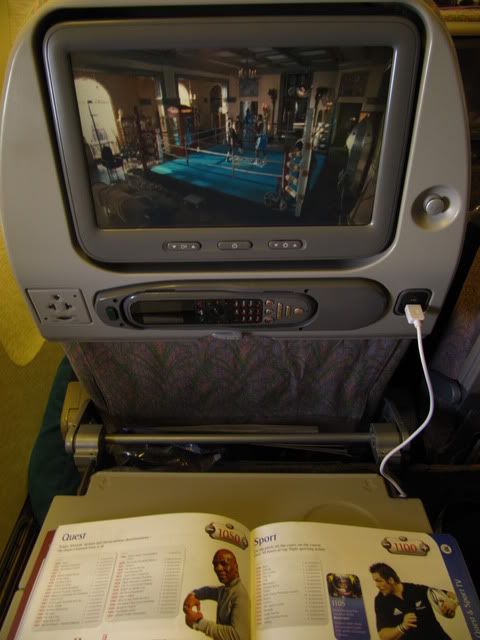 First movie that I watched
The audio headset I was given wasn't functioning properly as I could only hear one side... Nvm, the service from the FA compliment it.
In flight, cruising around Indonesia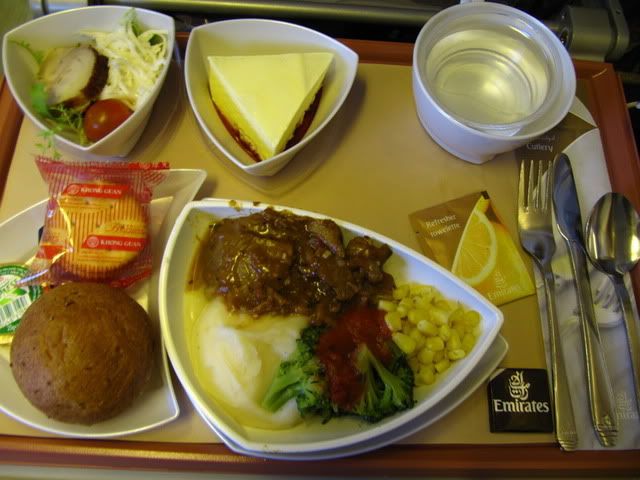 Dinner, pretty much the standard for a Y class meal. Nonetheless, Yummy!
After dinner, I wanted to interact with the FAs, where most of them were having a conversation behind the toilet. It was abrupt for me to join their conversation but I soon found myself laughing with them. Many of the passengers were asleep at this point, and they were just bored. We had a chat on Singapore, the place they came from, how long they stayed in the island before flying again and how long they had worked. All of them were really kind, and of course, being first time in Aussie, I asked the Aussie FAs about the weather, culture and places of interest.
The next thing I know, I found myself talking to Vonas, a male FA from Ethiopia. He was really kind and easy to talk to, and since everyone left (as the chief pursuer asked them to prepare for another meal cart for the biz class), we had a conversation about Ethiopia. He turned to the storage cart and asked,
"Are you 18 yet?"
"Err.... erm.... yes?"
"Oh ok, here you go, an Australian wine, enjoy"
"Wow, thanks"
"Oh here, you will need a cup"
Just then, another FA came back and opened the storage cart. She grabbed chocolate biscuit and biz-class desert and told me "You can have them"
They are really really kind, and I really had a great impression of the crew's service. But, I was also quite confused as I did not know that EK serve alcohol drinks. But nonetheless, the wine made me slept for awhile on the plane.
Then... 2hours before landing
"Hey, hey, wake up, there's a bush fire over there"
"Huh?! Where?"
"Look, that red spot, that's the fire!"
"WOAH"
"It's hot and dry season here!"
The FAs woke me up during my sleep to tell me about that! It was around Alice Spring when we saw that red, burning light on the ground. Which I just stared at the glowing red light. It was impressive! Even more impressive is that the FAs were fantastic to tell me about it! (THANKS GUYS, you were GREAT!)
Awesome red wine Bushfire in red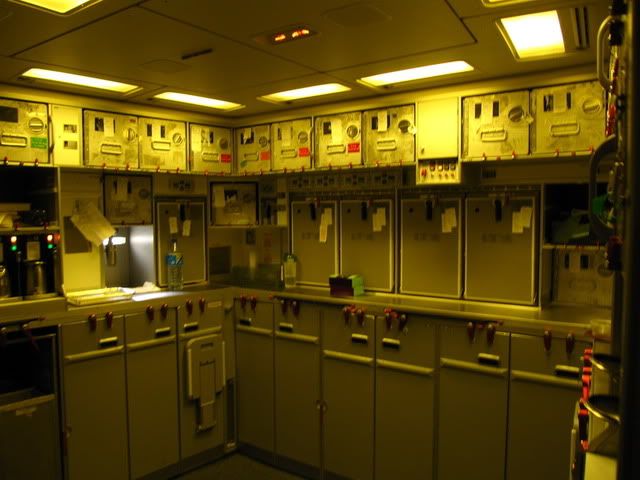 Awesome back galley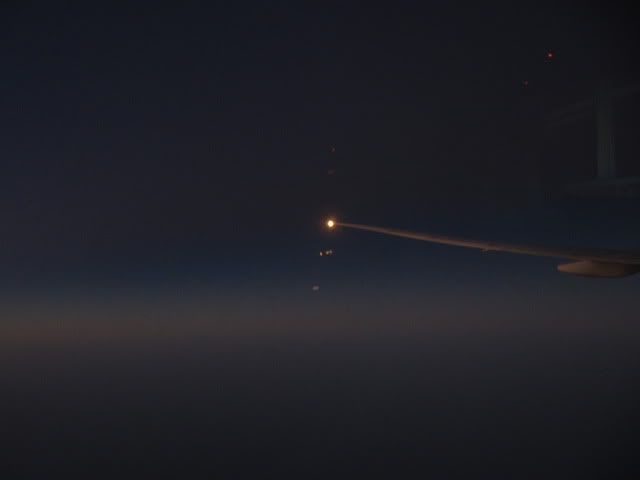 Last ray of lights!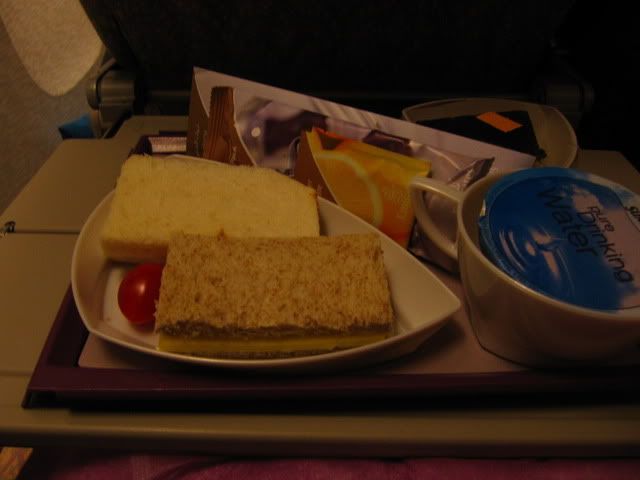 Last meal before descending
At 2206, the captain made a announcement saying that the aircraft is descending towards BNE. Shortly afterwards, EK began to play a message from the Australian Government warning us to declare prohibited goods like dried plants and animals. The regulation was really strict and followed us all the way through the Customs&Declaration goods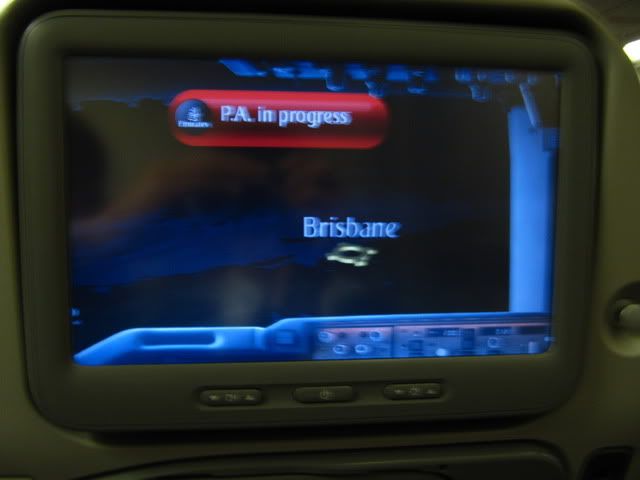 BNE!
Landing was uneventful and we touched down around 0030 (Local Time). We taxi to our gate and I sincerely thanked the flight crew for their excellent service.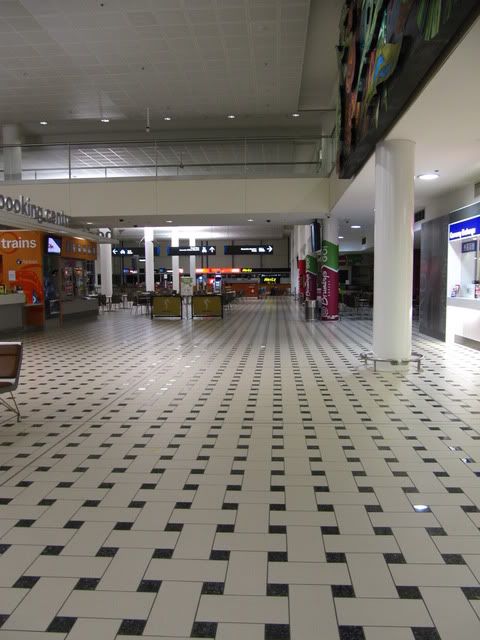 BNE! Most of the shops were closed as it was midnight!
Then, I had to wait for my cousin to fetch us to her hostel!
Conclusion
EK provides another alternative to SQ to BNE and at a great price. Although it may not be a 5 star airline, in my mind, that flight was beyond a 5 star experience. What matters is the attitude of the FAs, which was warmth and comfort. I really appreciate their effort to make EK a 5 star airline, even the FAs said that they are trying to compete with SQ in terms of service. I could see that this crew really made an extra effort to do it! (At least for me that is
)
Other Trip Reports
1 -
To Jakarta (CGK) With AirAsia QZ7783 (09Sept09)
2 -
"Thank You For Flying Cathay Pacific"