Disclaimer: This is report is from an event on Boeing property and there were many signs saying cameras not allowed. Because of this I did not want to risk using my own camera but used my phone to take pictures. Sadly the picturec quality is not too good. I do sincerely appologize for that.
Thanks to fellow Airliners.net user and friend, Abrelosojos, Boeing found out about my 777 flying hobby and my website about the 777 aircraft. I got an email from the person running Boeing's Commercial Airplanes website in early January and he said he was very impressed with my 777 flying and that many others at Boeing were too. He wanted my phone number and a few days later he called and we talked for perhaps 30 minutes. He said he would be in touch again but time passed and I did not hear from him for a while. About two weeks ago, I received this email :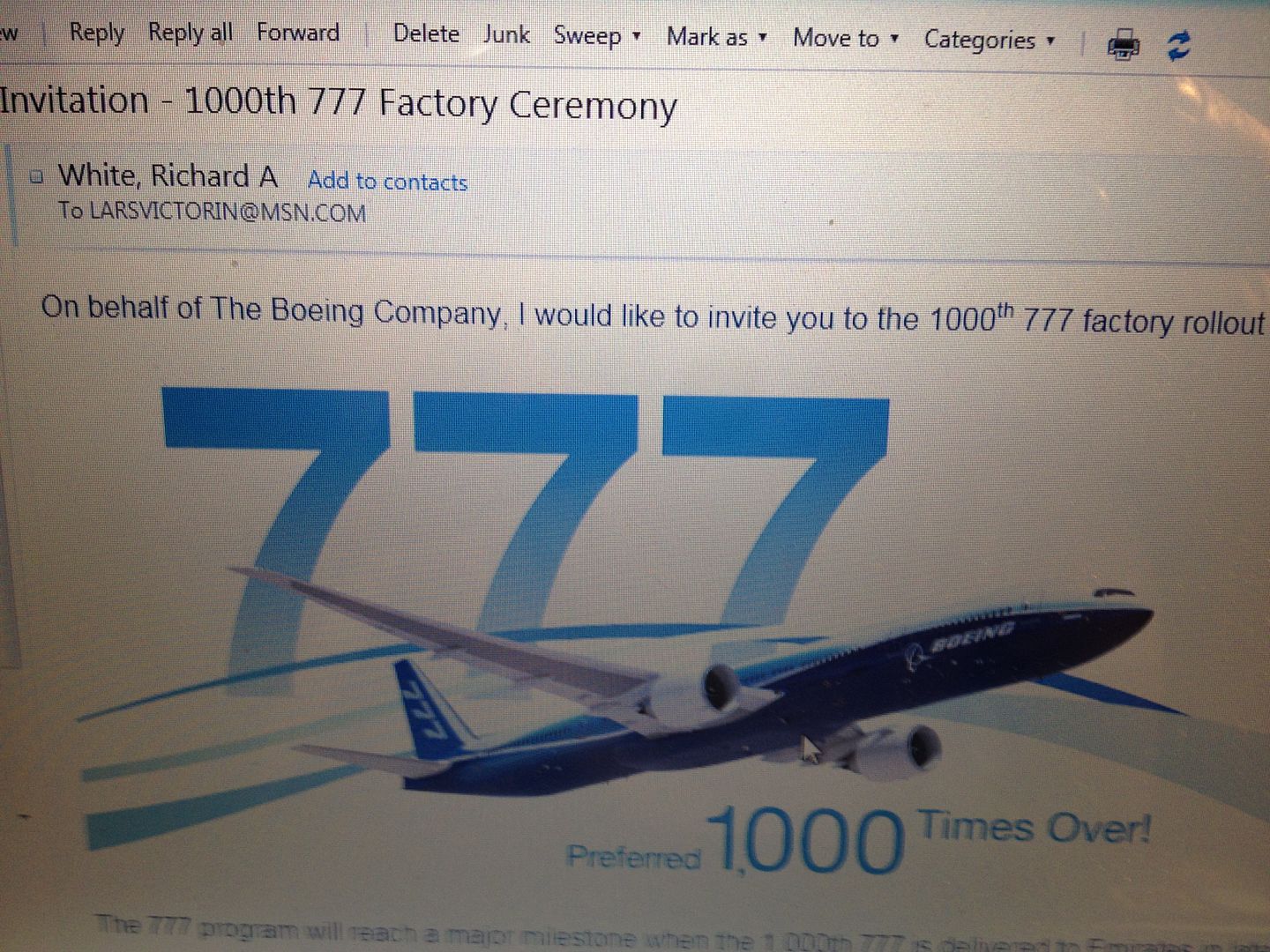 I was very surprised and very happy but I was in class that week at work and was not sure if I could get it off. I actually forwarded the email to the person who could give me the day off and it worked; I was off and ready to go. I emailed my contact from Boeing Commercial News, Tristan, and he wanted to meet me since I was in the area. I flew Alaska there since that would get me in earlier and get me plenty of time to get to Everett. AS was a new airline and I was even lucky that they had plane change so I had my first flight on a 737-900!
I briefly stopped by the Hard Rock Café in downtown Seattle to get a pin and then continued to Everett.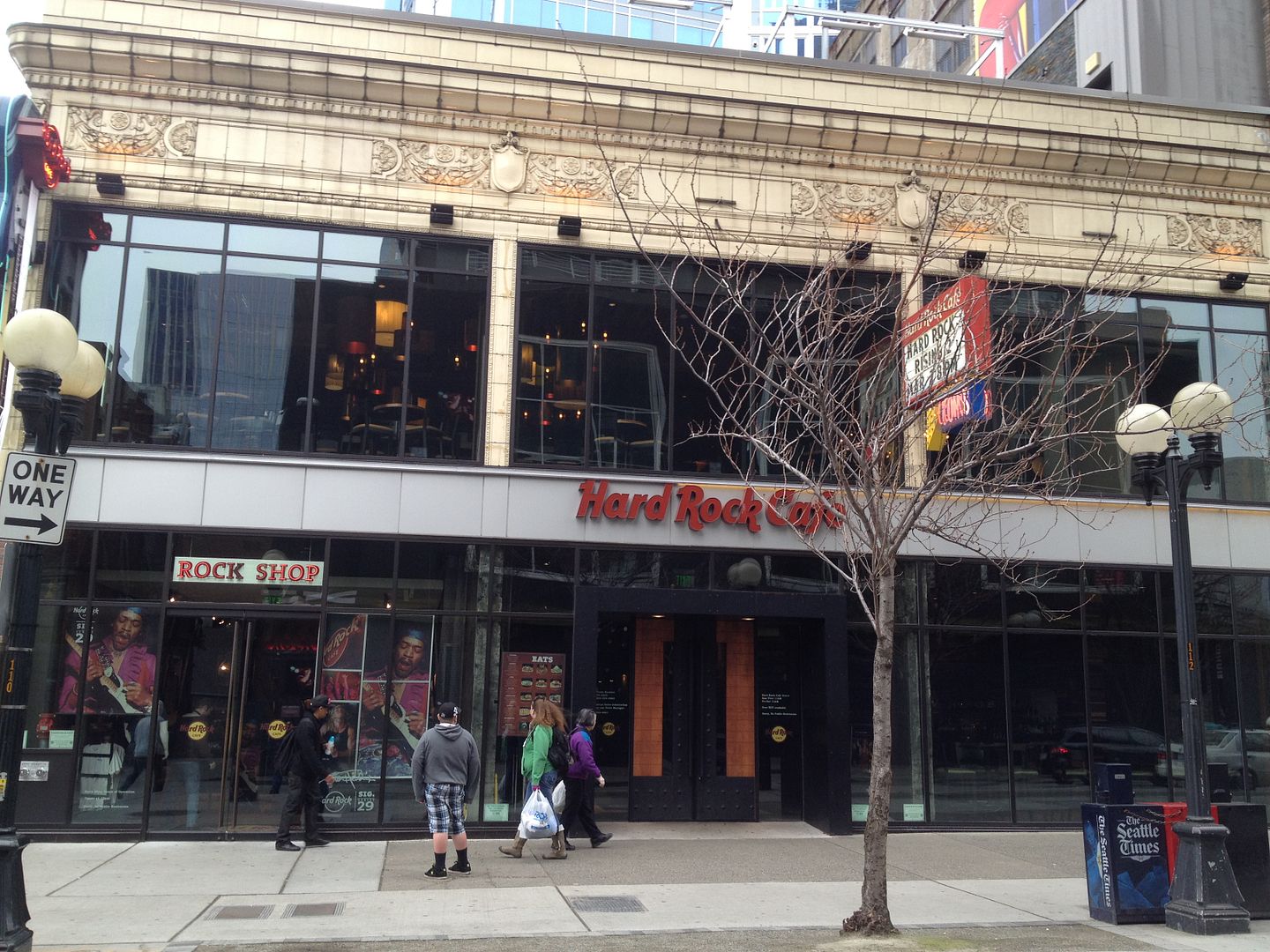 I arrived very early and first stopped by the meeting place to see how I would get there. Next stop was the Future of Flight building where I bought some Boeing souvenirs. Then I drove around the perimeter of the field to see the different aircraft up close and get the registration numbers.
I took my time and called Tristan who told me to call back once I got inside. I got to the lobby early and met the person responsible for us VIPs. He gave me my badges and we waited for more people to show up. Everyone except me were dressed up in a suit and I felt a little bit out of place but considering I had my branded The777Man hat and sweatshirt on, I still felt good about myself and about going to this special event.
When everyone was there we took a bus to the building where the event was taking place and we went inside. It was part of the huge Boeing assembly building and it was great to be there on the floor where you normally don't get to go as a visitor on the tour of the Boeing Everett plant.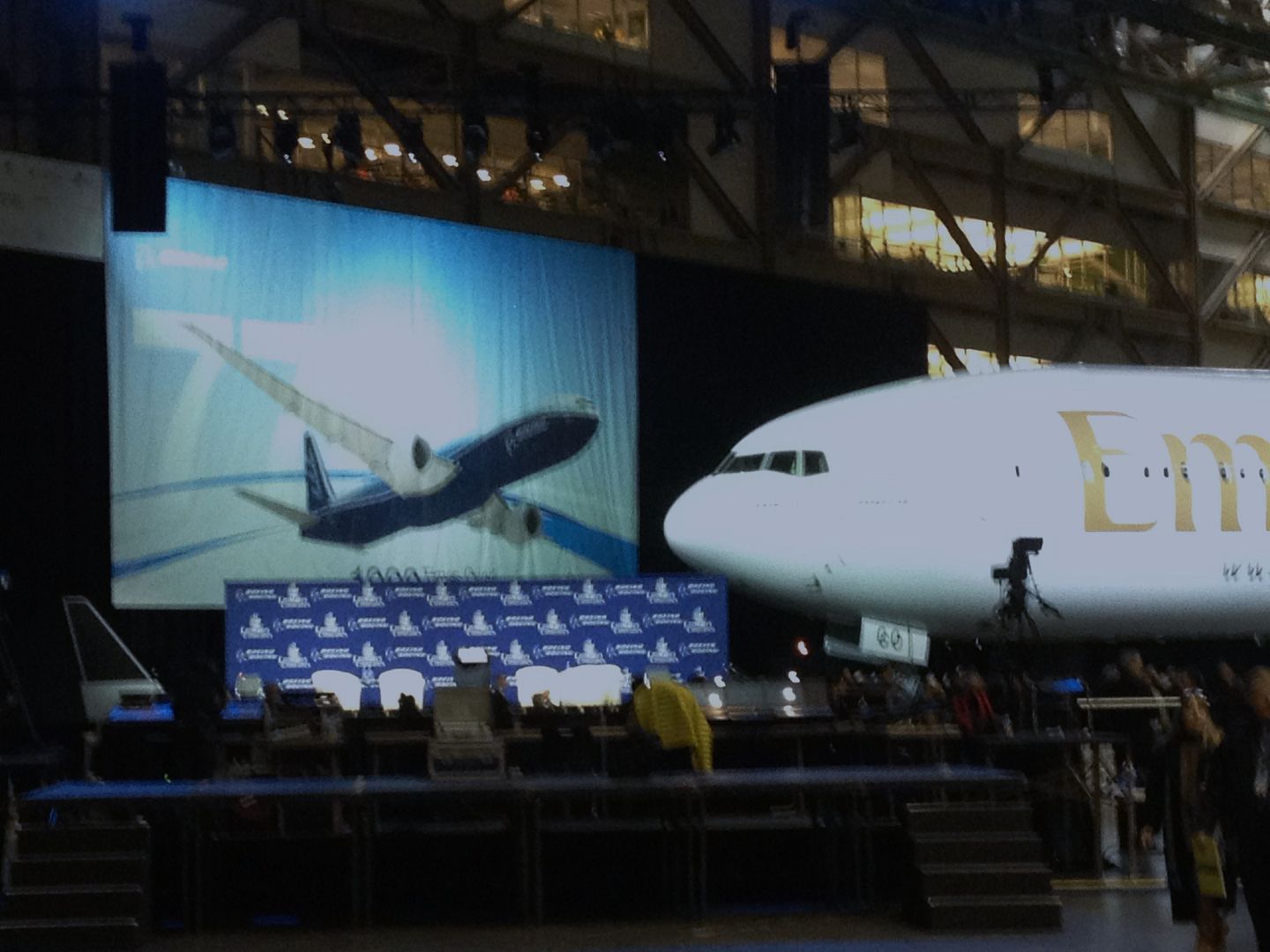 We were told to go to the VIP area just behind the nose wheel and I followed along but I didn't go inside that area. Instead I called Tristan and he came right over with another co-worker and we talked for perhaps three minutes before he had to go. I went inside the VIP area then but right away we were told to take our seats as the event was about to start.
There was a big stage with some chairs on the stage. I got a seat in the fifth row from the front and I had a great view of the stage, a screen and of course the aircraft.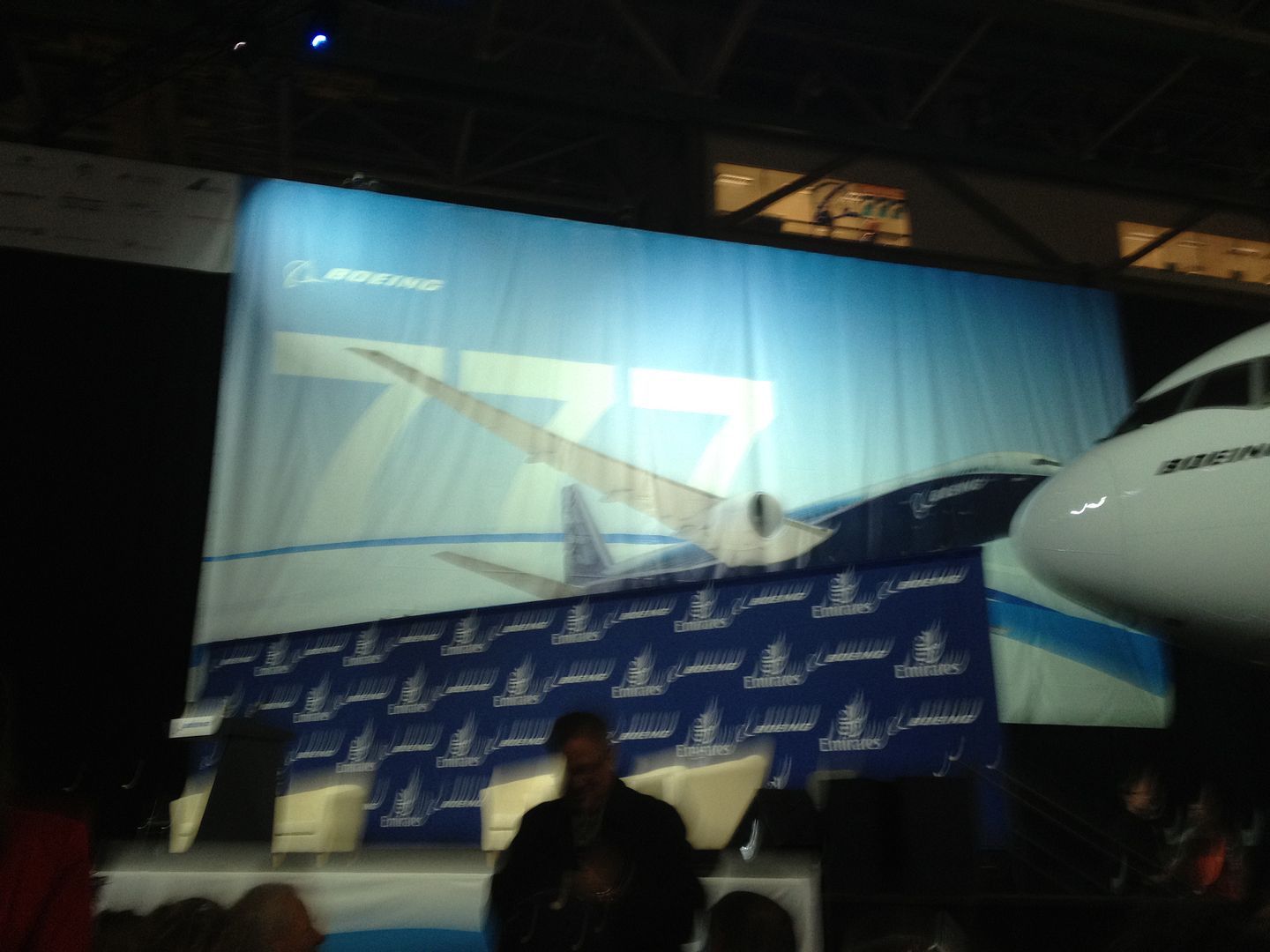 There were two banners above and behind the aircraft; one showed the logos of all airlines that have fly the 777 but also leasing companies. The other had the branded banner for the event just like the one in my email.
At the left hand side of the stage was a tail on which was projected the different tail colors of the different airlines flying the 777. It was difficult to get a good picture of it. There were many people standing behind us and most of them were Boeing workers assembling aircraft.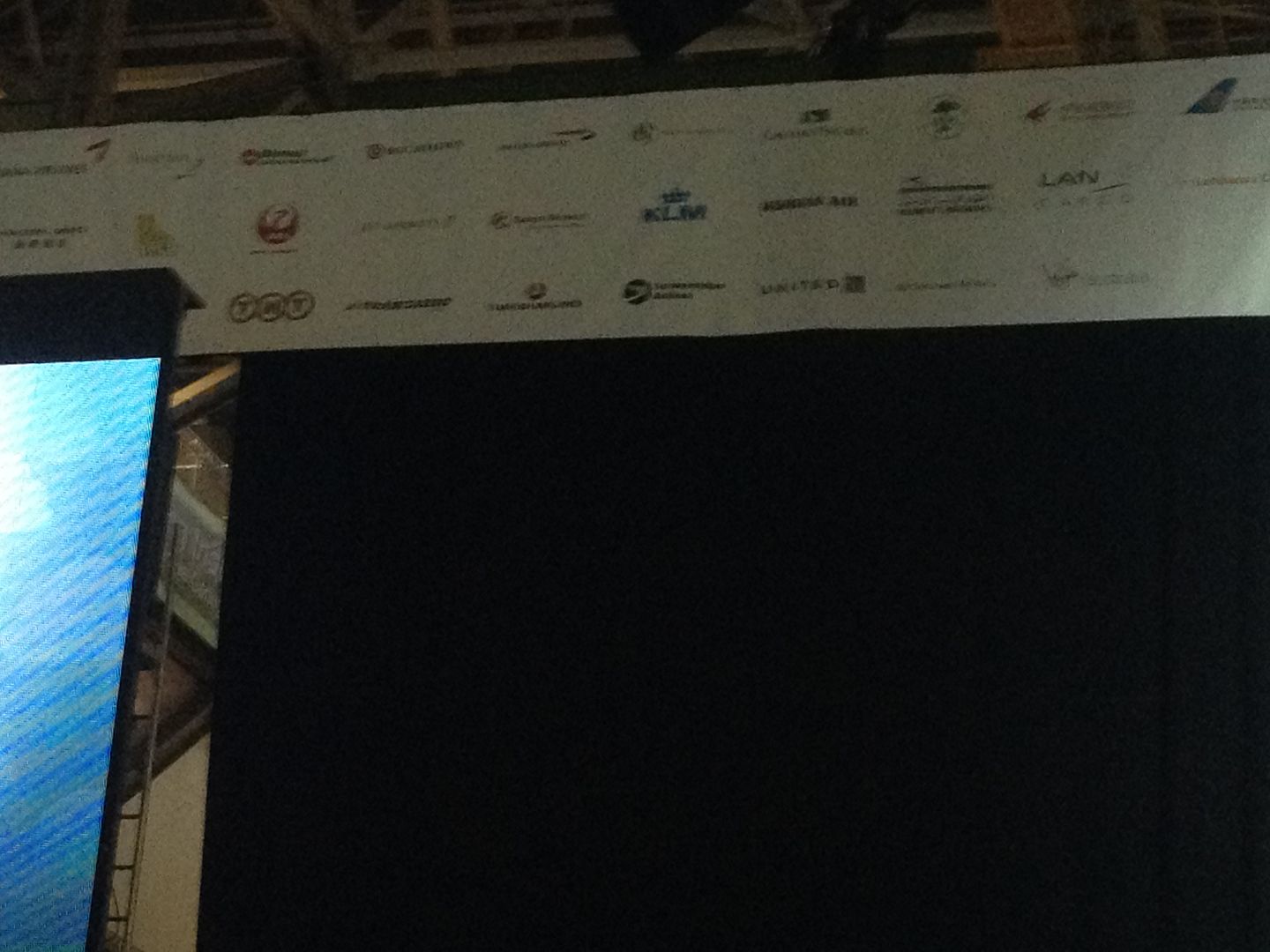 An Emirates flight attendant led a group of people onto the stage. We were soon welcomed by someone which name I sadly forgot. He introduced the people on the stage which included Al Maktoum, Chairman of Emirates, Tim Clark, CEO of Emirates, Maurice Flannigan, Managing Director of Emirates, the head of Boeing Commercial Airplanes and the 777 Program Manager.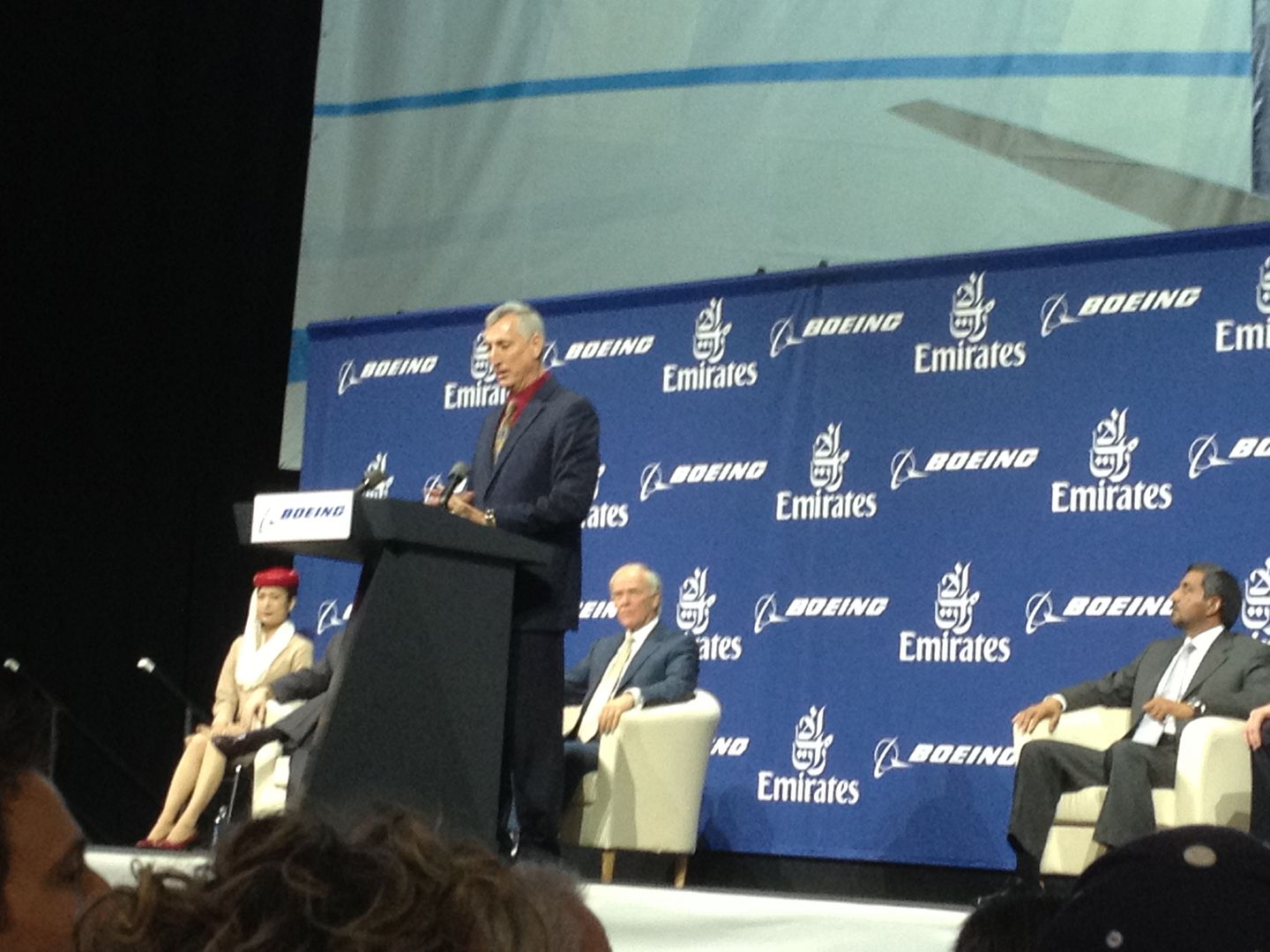 The 777 Program Manager was introduced and he said a few words and then a video was shown. He introduced the Manager of Boeing Commercial Airplanes who gave a speech. Then another video and then Al Maktoum from Emirates was introduced and he gave a speech as well.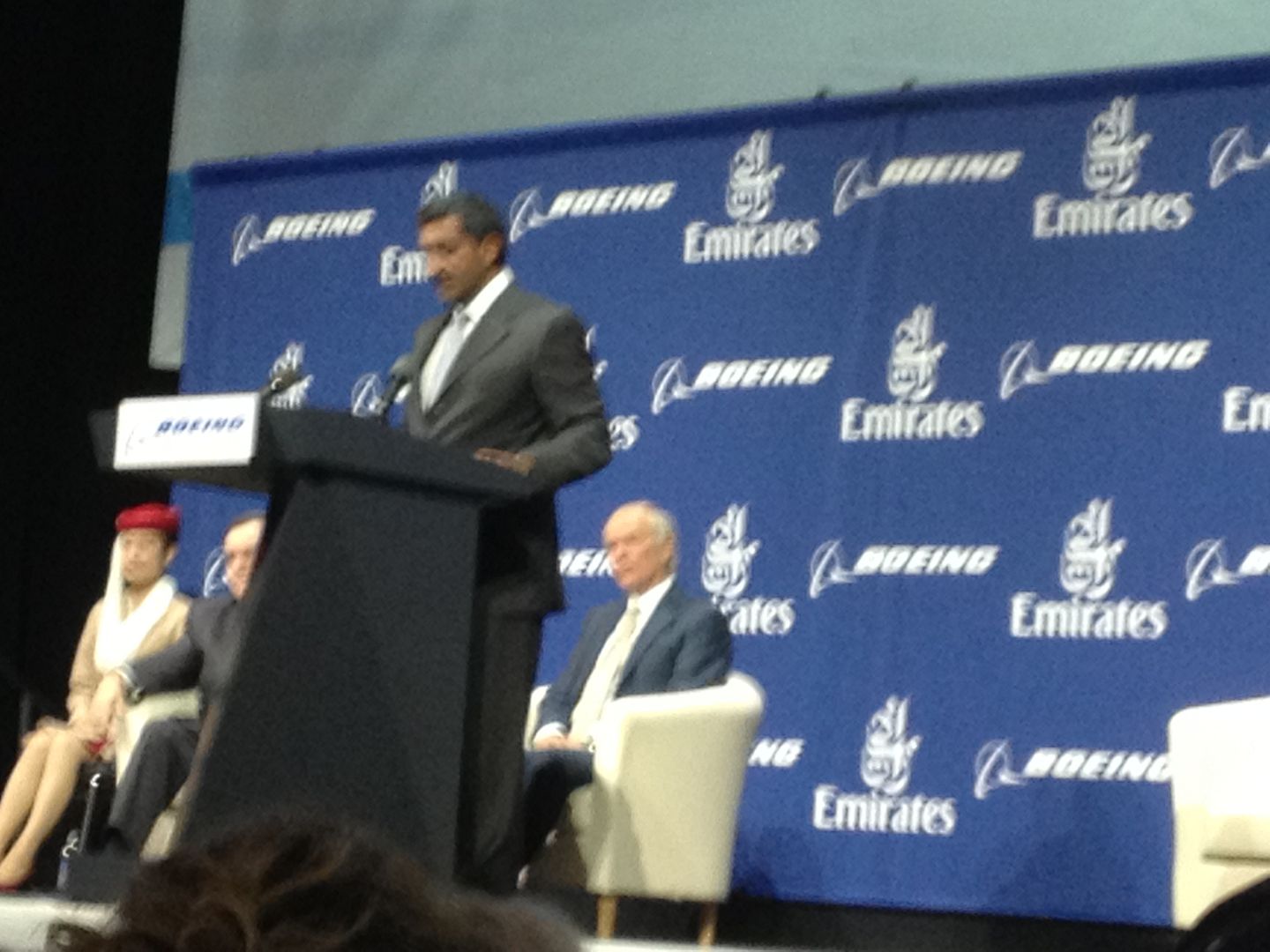 Another video and then about six employees of Boeing came up on stage and talked about their experience on the 777 program. That was the end of the program and I took some more pictures of the aircraft and was trying to get someone to get a picture of me in front of the engine but it was time to go already and I had to leave.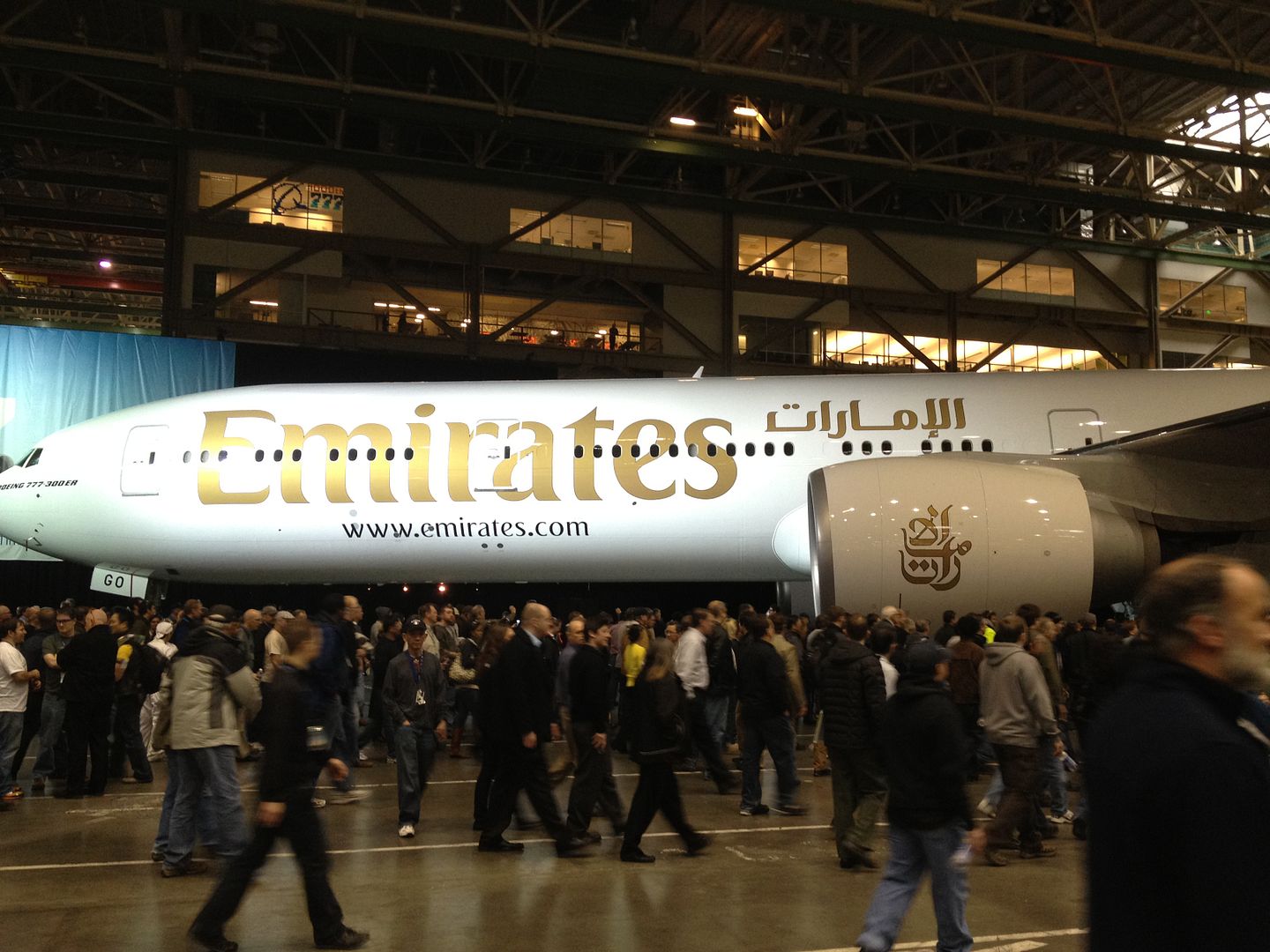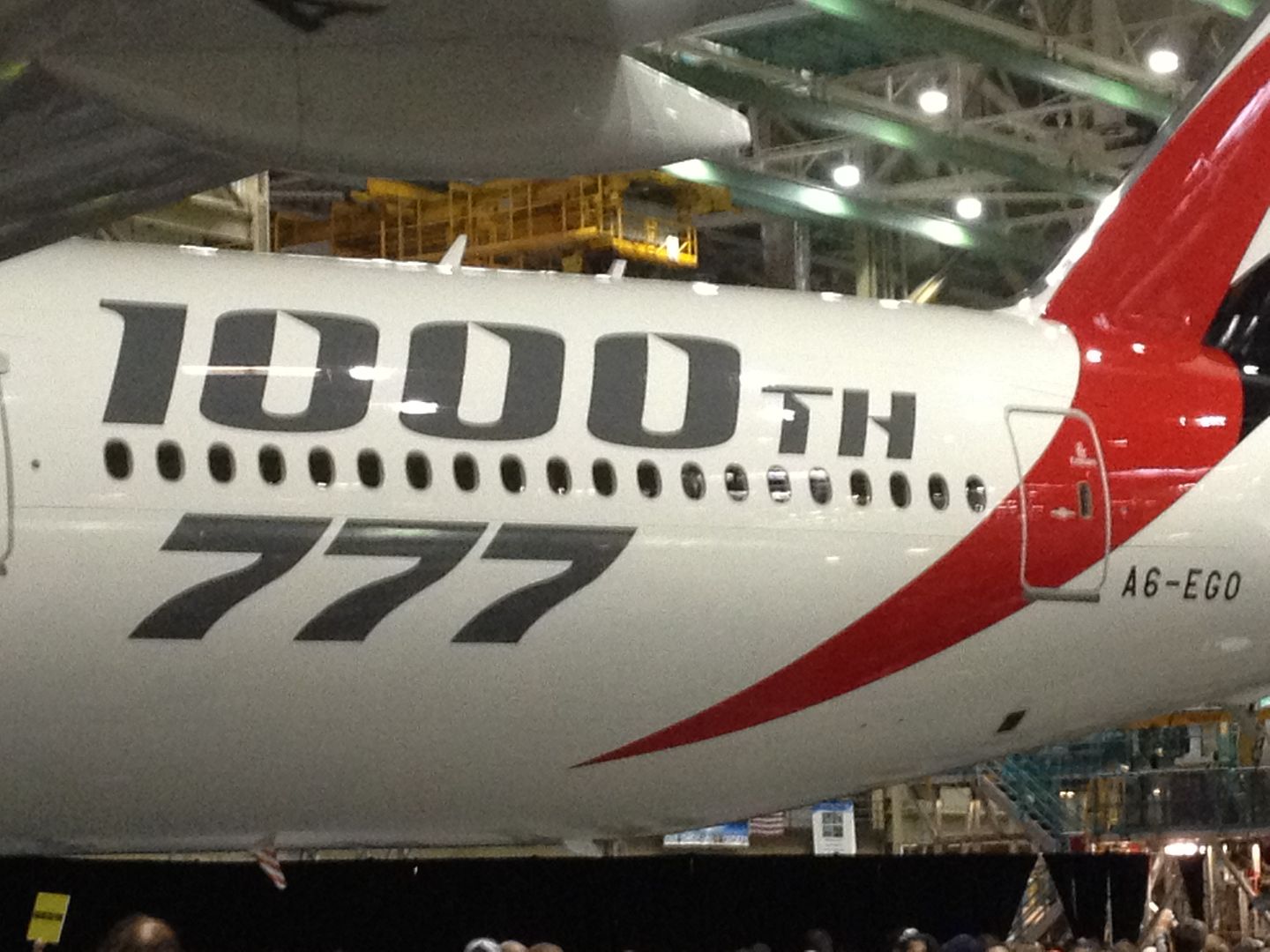 There was a banner with the event logo that Boeing employees were signing.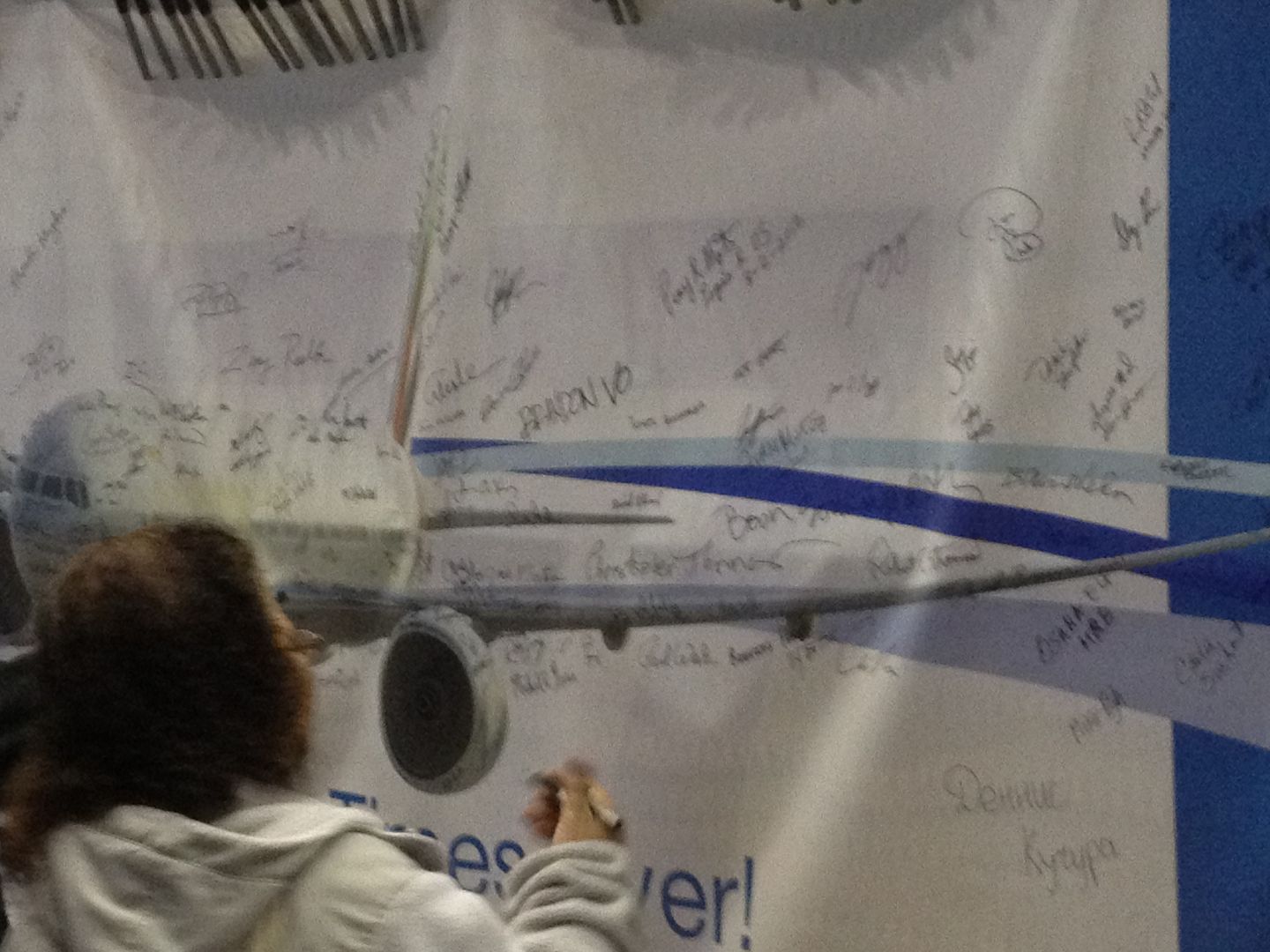 There were also water bottles with the event logo and I grabbed one as I was leaving.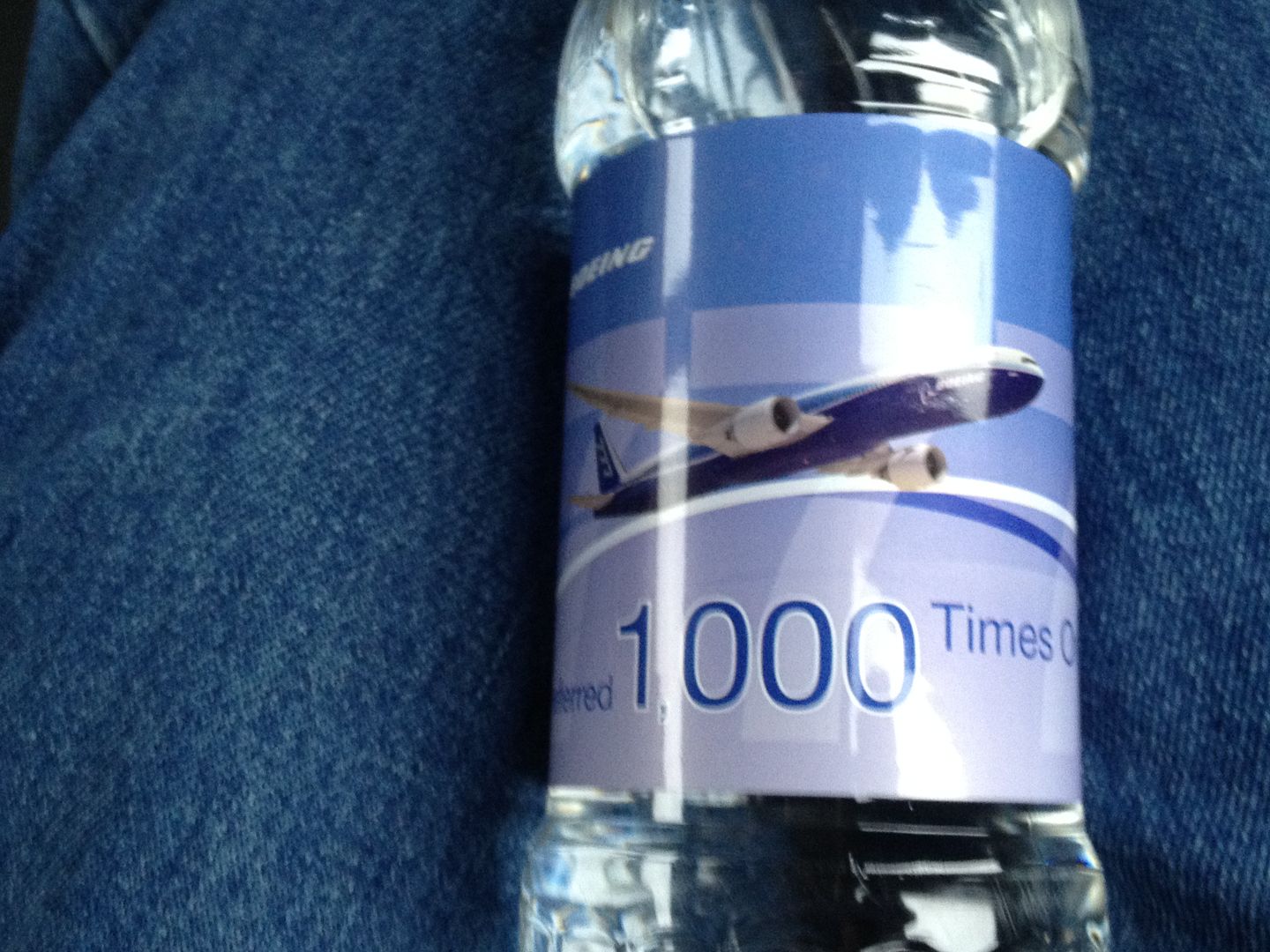 I was almost the last one to get on the bus back to the parking lot. There must have been a shift change about the same time we left since there was a lot of traffic so it took us a while to get back to the visitors lobby. I drove back to Sea-Tac and got on another AS flight home to Los Angeles.
All in all, a very special day and really great to be a part of this milestone!
Many special thanks for Abrelosojos, people at my job for giving me the day off and Boeing for making me be able to attend this special event.
Souvenirs from this very special day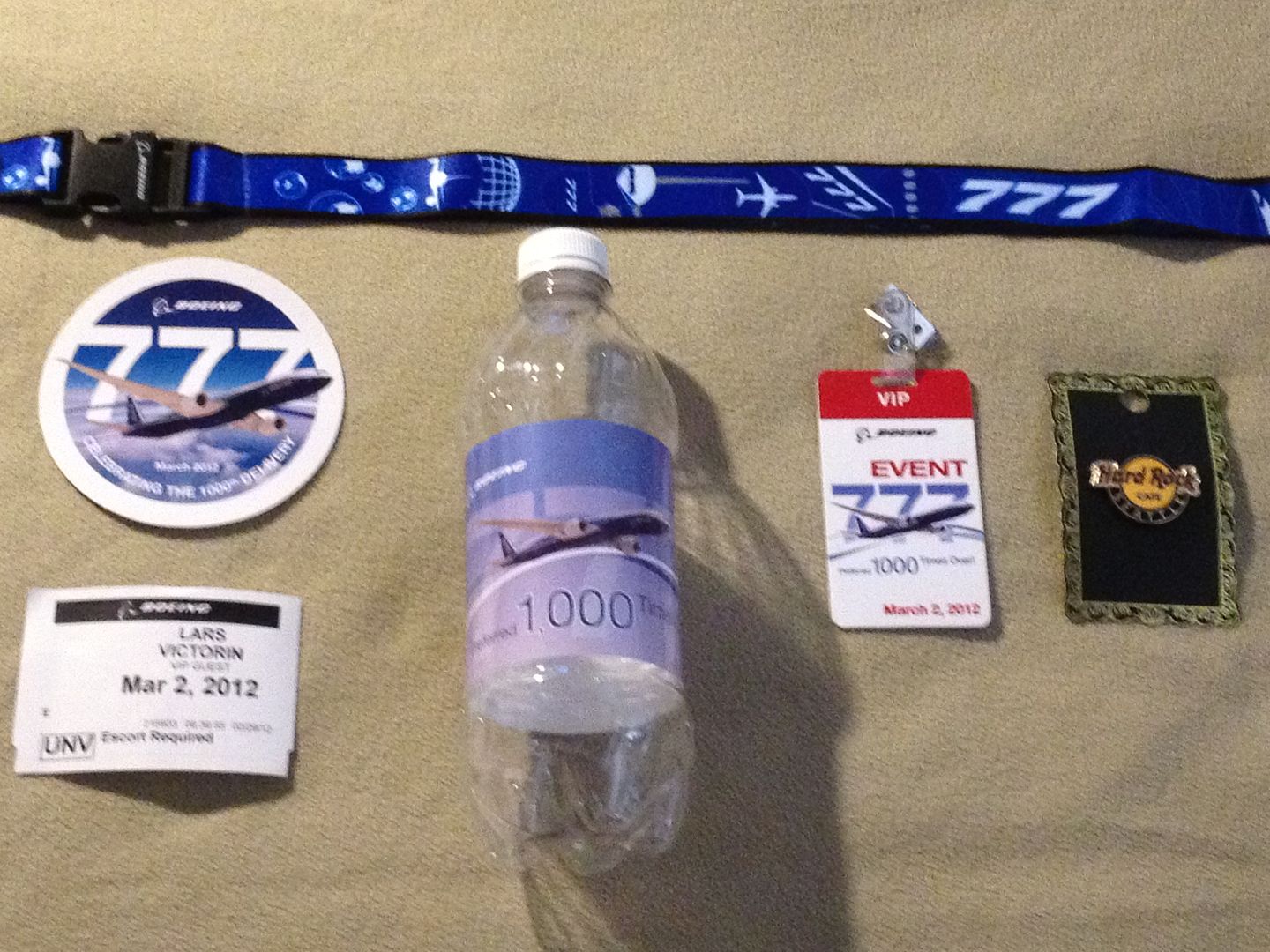 The777Man