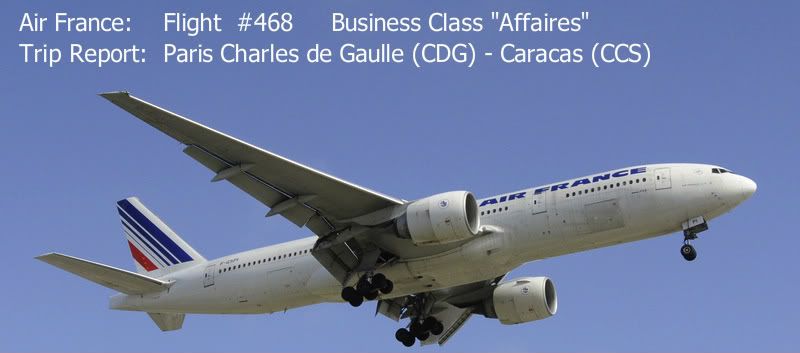 ROMA-FIUMICINO – PARIS-CHARLES DE GAULLE - CARACAS: AIR FRANCE 468 TRIP REPORT
by 797
Introduction
Living in Rome doesn't only allow one to have exceptional opportunities for sight-seeing and endless tourism. The city is full of surprises and most of all, incredible food. As a nice addition to this list, traveling is perhaps at the top of the list.
Rome-Fiumicino is some 50 minutes outside of the city and has several carriers which can almost take you anywhere in the planet. My beloved Alitalia, which is doing incredibly well, has revamped its services and offers one of the best service in and out of FCO, with great connections and transfer timings.
Having recently written a trip report on Lufhtansa's Business Class product from CCS to FRA (with not much satisfaction as the end result), it's time to make a nice comparison on the inverse routing with a big competitor, both in the route and overall: Air France. So if you'd like to make your own comparison and understand this TR better, please have a look at:
Lufthansa Business Class Long Haul CCS-FRA (+pics)
(by
797
Jan 8 2012 in Trip Reports)
The reason for my trip back to my hometown is quite unique. One of my good friends is getting married and I was literally forced to go. Not that I mind, though. The drawback is that, taking a Masters requires ridiculous amounts of studying and dedication, for which I'd have to be back in FCO as soon as the wedding ends. So, please any of you tell me what could be better than flying Business Class and going to a huge party with excellent food/drinks, and seeing family and friends? Well here it is. I hope you enjoy this trip report, being written on-the-go, in-flight.
Leaving Rome for a Great Trip!
Usually waking up at 4am is unthinkable. For this occasion, though, I managed to do it like an enlisted soldier. The previous night I had a soccer match and I got my left leg nailed quite badly by one of the opponent team's defender. After an overdose of Tylenol, I got to get out of bed in one piece and prep up for a rather long and fun day.
By 04.30 I was out of my apartment walking to the bus stop which takes me directly to FCO for a cheap €8. The stop was 15 minutes away from home, so hopping on one leg, I got to the nearly-frozen rendezvous point at 04.55. Scheduled departure for the ride to FCO was 05.10.
Unusually on-time for an Italian - or even more - Roman service, the bus driver picked me up and drove me a-la Michael Schumacher, ehm - my bad - I'd better use Sebastian Vettel, since Schumi isn't doing so good lately... Anyways, the guy drove like a mad bastard, changing lines and giving the light changes to Audi and Mercedes cars. I was in awe!
I got to the airport at 05.50. Unfortunately, Vettel dropped all the passengers off at the very-far bus stop located at the opposite corner of the Terminal 1, which I was supposed to go to. I cursed at Vettel since my leg was going to give me a hard time from the very moment I stepped out his the F1 Red Bull coach.
After the rather long walk along the relaxed terminal, I got to the beautiful T1, which serves as the operating hub for the domestic and Schengen Alitalia and SkyTeam Partners Air France and KLM.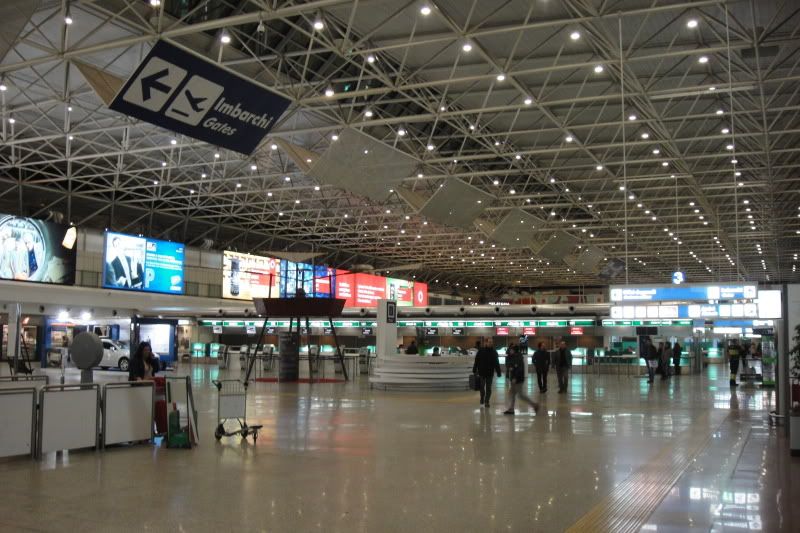 A few minutes later, I checked in at the dedicated Alitalia desk for my AF flight to CDG. It took less than one minute for me to get my boarding pass. I guess not checking any luggage also helped.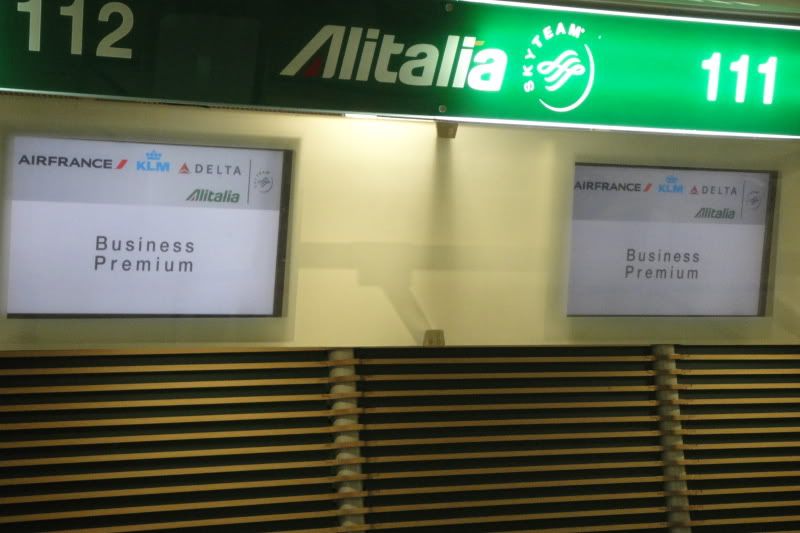 The check-in kiosks for AF-KL-AZ
With my two boarding passes in hand, and an invitation to FCO's and CDG's VIP lounges, I went to check out the Alitalia
Freccia Alata
Lounge at T1.
Curiously enough, the lounge is located outside the security checkpoint. There I realized premium passengers may also check-in at dedicated counters inside the lounge.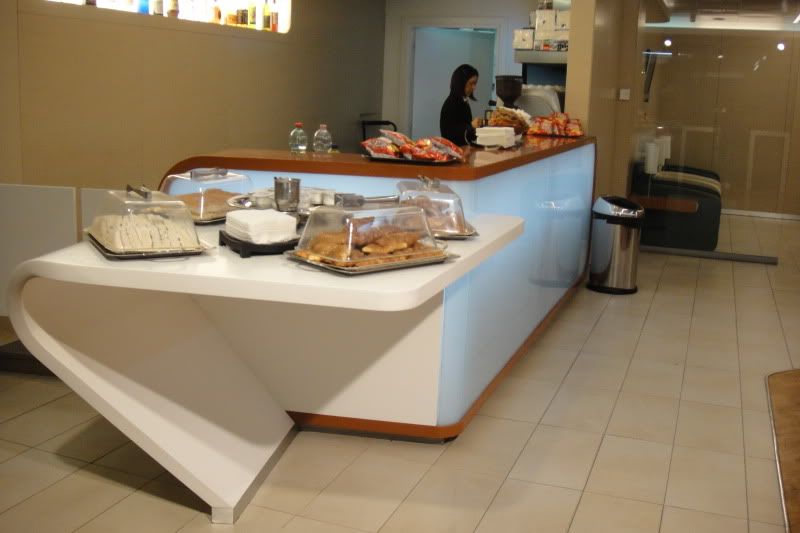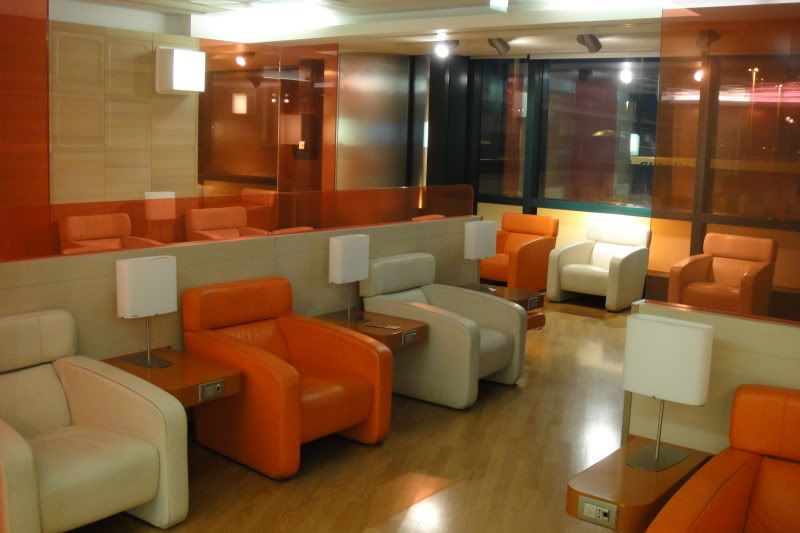 The small Business Lounge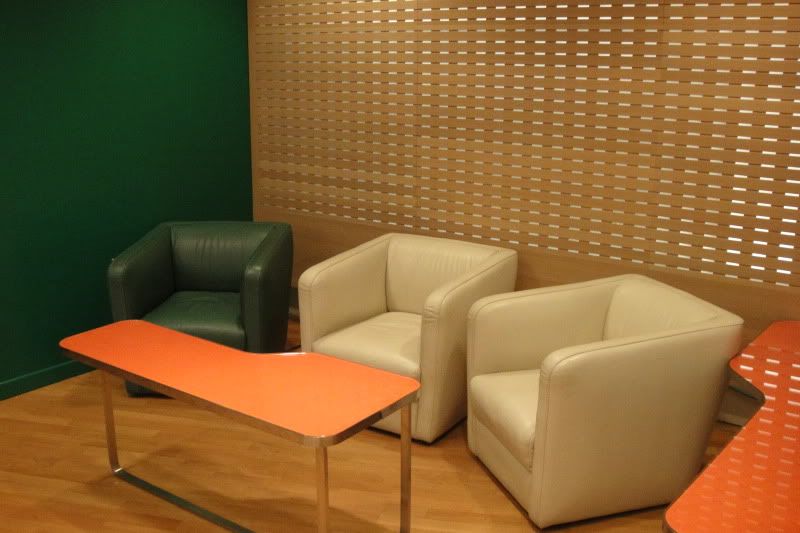 Note the Milano-Linate departures every 15 minutes for the ROMAMILANO service
Alitalia recently launched a branding campaign where they dress Barbies in their old Flight Attendant uniforms. Here are some samples exhibited at the lounge: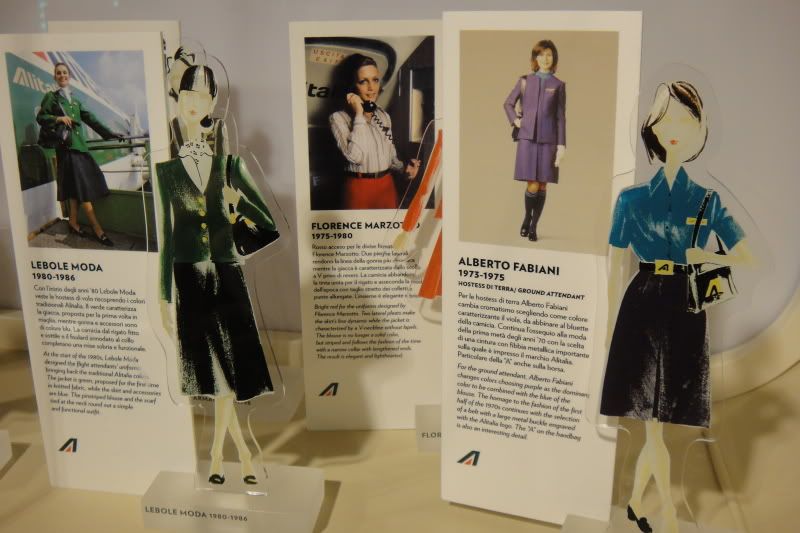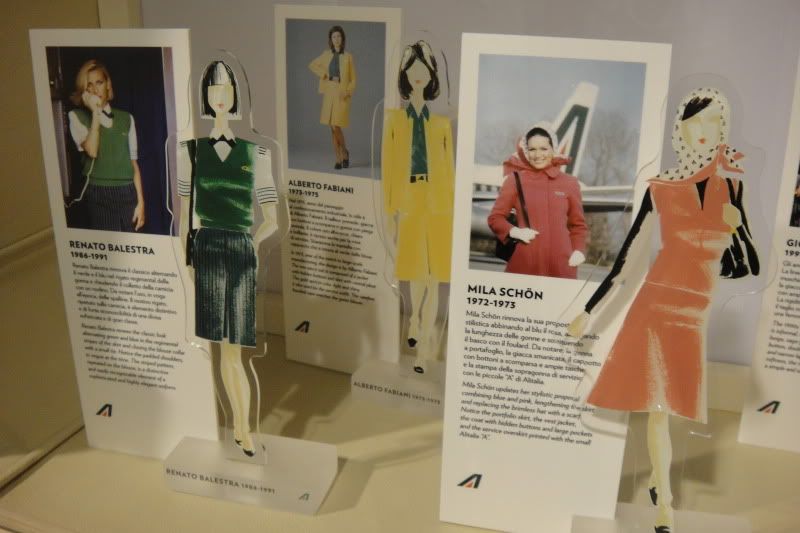 After taking some photos of the very nice lounge, I went for a real Cappuccino. I say real because there are endless imitations around the world of this incredible invention...
With the nice kick of caffeine, I decided to head over to the gate and see if my aircraft was indeed an A321. The last 8 times I had flown with AF, I booked flighs with A321 equipment, and was ultimately changed to A319/320. Therefore, I had never flown on AF's A321s and I was eager to add it up to my profile list.
Once past the security lines, which took me less than another minute
(Business PAX have a dedicated line to go through, and seems like I was the only one by then)
, I went directly to the gate. On my way there, I took some pictures of the nice terminal 1.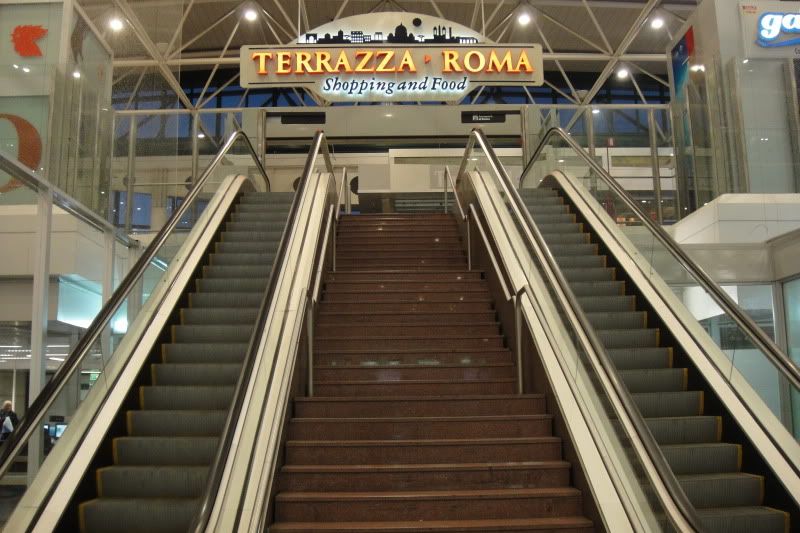 Note the dedicated ROMAMILANO desks, which power Alitalia's backbone strategy.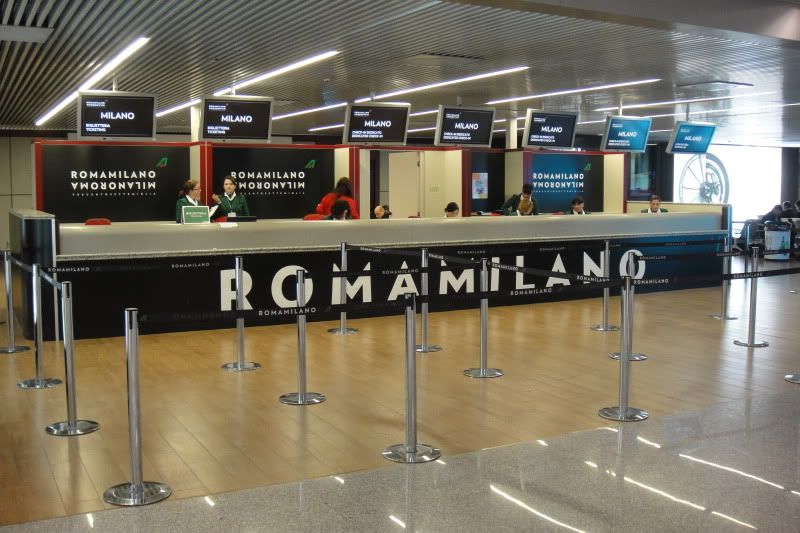 And... here it is! My first Air France A321 after 8 attempts!
Finally at Gate B8, my flight o CDG was almost ready to board. Even though I was certain my flight was to Paris, France, I could have easily confused it with a flight to Seoul, Tokyo or Beijing. A tour of funny-looking Asian girls were rambling around taking photos at themselves with these stupid sanitary masks which were used back at the International Flu days... I think it's kind of moronic and it just looks awful...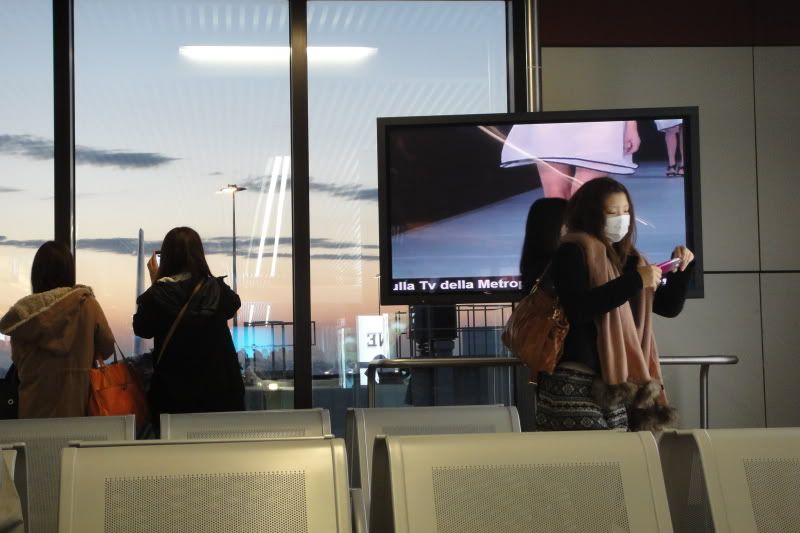 Anyways, the Asian girls took photos of pretty much anything that moved. I bet I'm in one of their shots too.
A quick view of my boarding passes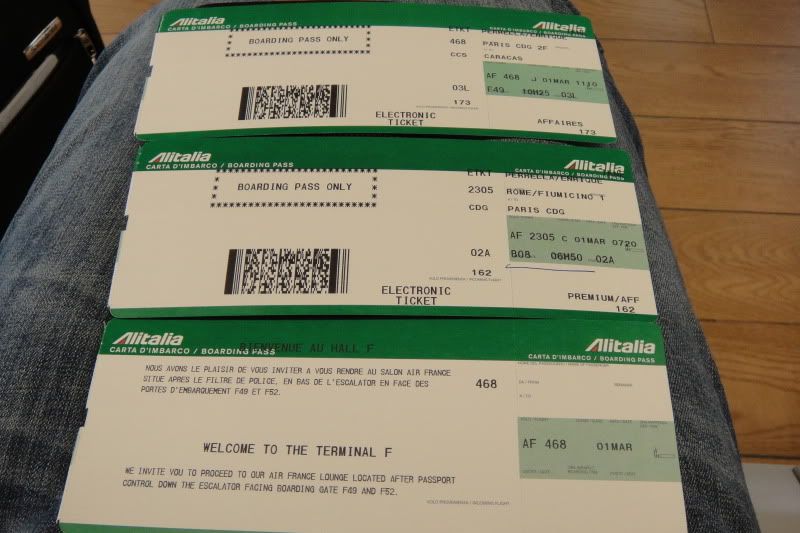 The flight hadn't been filed on Flightaware.com
When the sun came out, at least 20 of them ran a-la Hussain Bolt toward the window to catch the sunrise. As they did their 100-meter run, they yelled and screamed, which I thought to be quite funny. They sure do know how to catch attention don't they!
Blocking my view!
...And here it's what they were trying to catch:
The First Flight: Intra-Europe Feeder
Anyhow, back to the topic. Boarding was called at 06.50 and all passengers stood up and went to the queue... The thing became a big mess, which I honestly wasn't expecting...
Premium passengers were boarded first
(unlike Lufthansa!)
, so I was soon on my way to my long-hunted A321.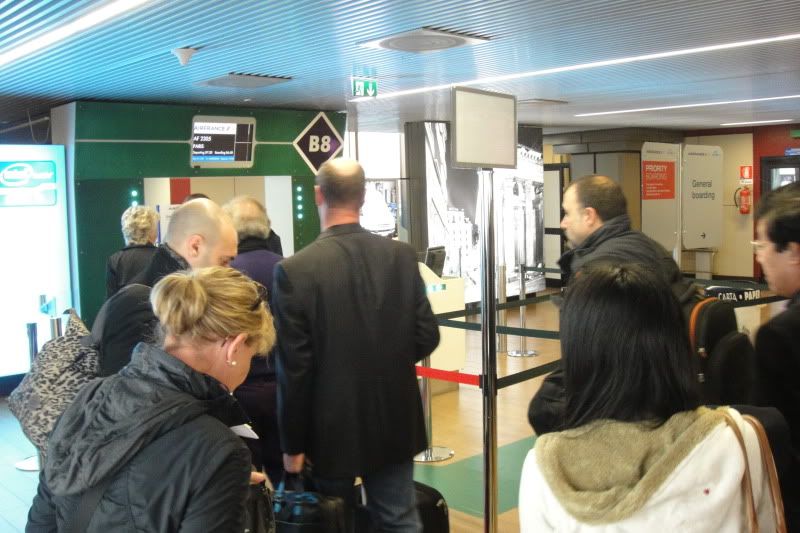 Newspapers available on the jet bridge
As I approached the door, the nice lady FA greeted me at the door with a smile... And yes, this is Air France!
She was nice enough to let me have a look at the cockpit of this beautiful A319 on steroids and then I took a couple steps down the aisle to reach my 2A seat.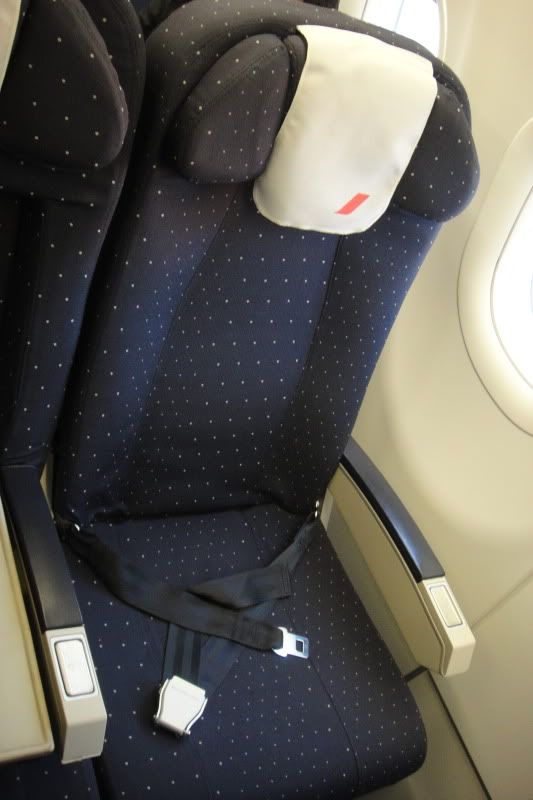 My new safety card!
Impossible to miss: the A.net Legshot.
Just to feed my junkie needs...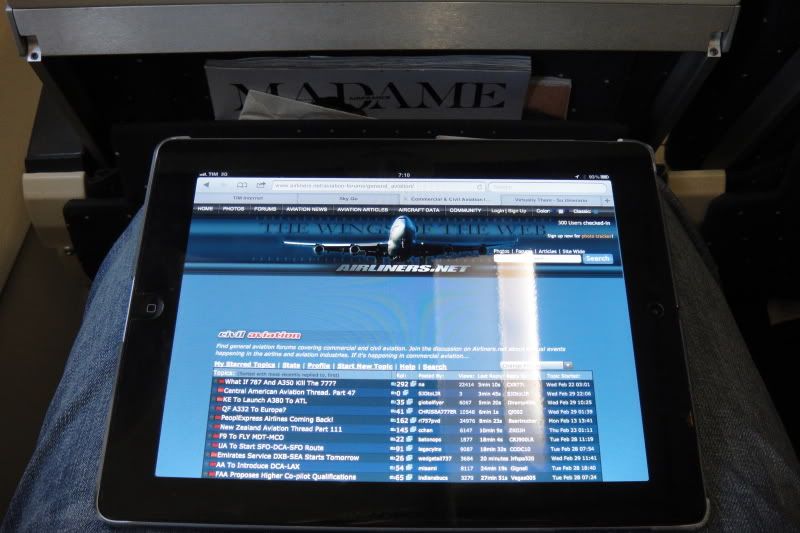 With all passengers on board, the Captain came out of his office and stood in the middle of the aisle (showing off a bit), grabbed the PA system and explained both in French and English how our flight was going to be delayed for 50 minutes due to
heavy fog at CDG
... If I recall correctly, my last flight to FRA with LH was ahead of schedule and we landed with near-zero visibiIlity... Just saying...
This is the point where I feared for my connection to CCS... But then the Captain came out again saying he personally called the AF connection personnel at CDG so that they could organize a smooth transition for us as soon as we landed.
FCO's departure runway 25
At the end we ended up being delayed for 35 minutes, took off at 08.12 and on our way to Paris we had a small surprised announced by the Captain:
Quote:
Ladies and Gentlemen, if you look out the left side of the airplane, you can clearly see the Giglio Island and the Costa Concordia
I freaked out! Looked out, and here there it was. Truly impressive!!!!! Such a sad sight!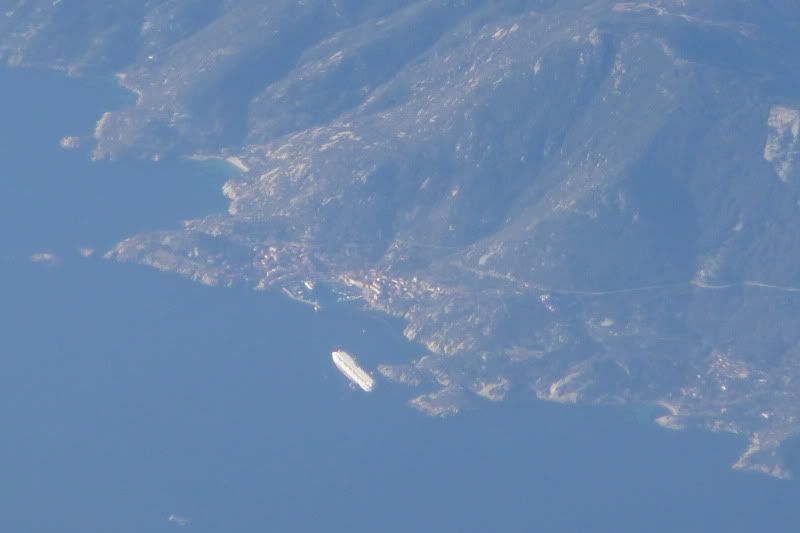 Here's a look at the meal I was served.
Prosciutto Crudo with two cubes of Provolone Cheese, Croissant, Bread, Butter, Strawberry Marmalade, and a Fruit Salad.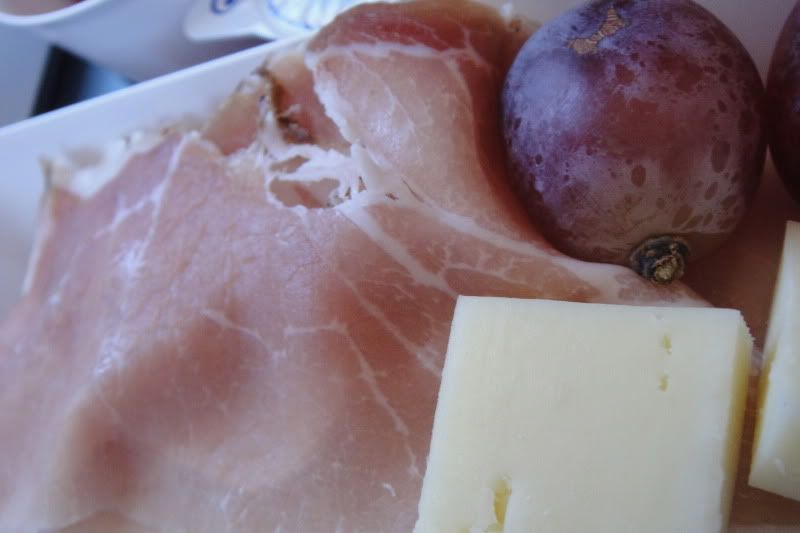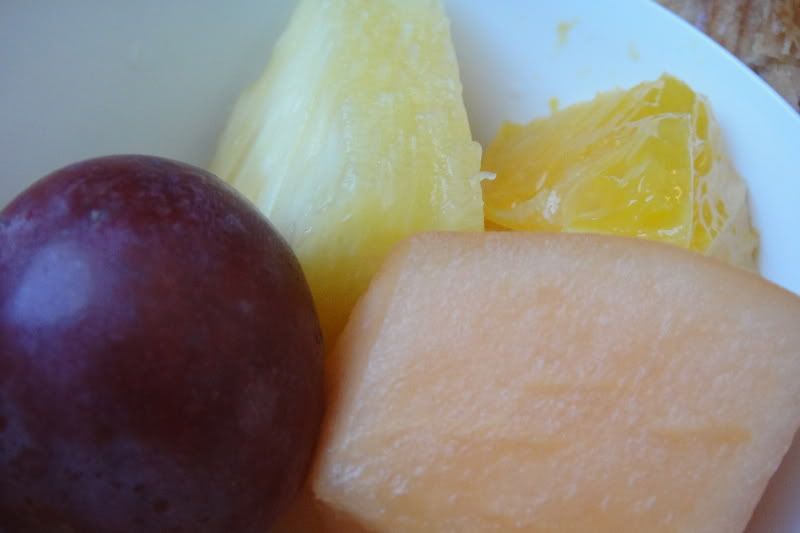 The Croissant - Intimate shot:
The meal was quite good, I was pleased with it. I had a Nescafé just to help not passing out...
Soon later we began our descent into "foggy" CDG. The clouds were so low that we deployed the landing gear just above them. A few seconds later, blind touch down... which according to the captain on the PA was "automatic" - meaning, CATIII auto land!
I noticed the landing was quite strong, and the breaking even harder! I'm guessing is the auto-brake function taking place. It was very cool. If you feel like watching it, here's the video.
http://www.youtube.com/watch?v=oiRNb8Dt-GM
Here's more evidence of the dense fog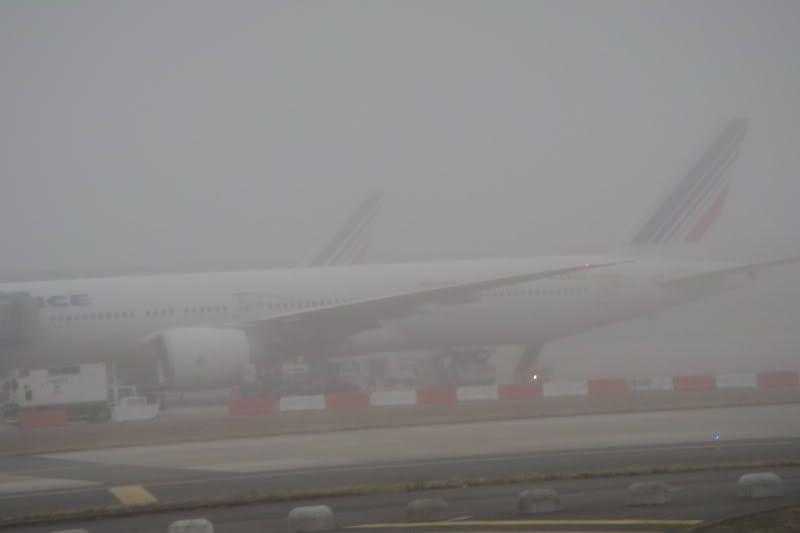 When we reached the gate, I had to run. But not like the Asian girls back at FCO
Following the indirect advice from fellow a.netter abrelosojos, I feared the connection would be a cup of hell on the rocks. Therefore I ran like the devil was chasing me from terminal 2D to terminal 2F.
It was quite a long walk and had to go out of security - something that I wasn't to keen on doing. Anyways, as soon as I reached gate 46F, I was perhaps one of the last passengers to be expected on board... Scary stuff...!
Can't stop loving this terminal's architecture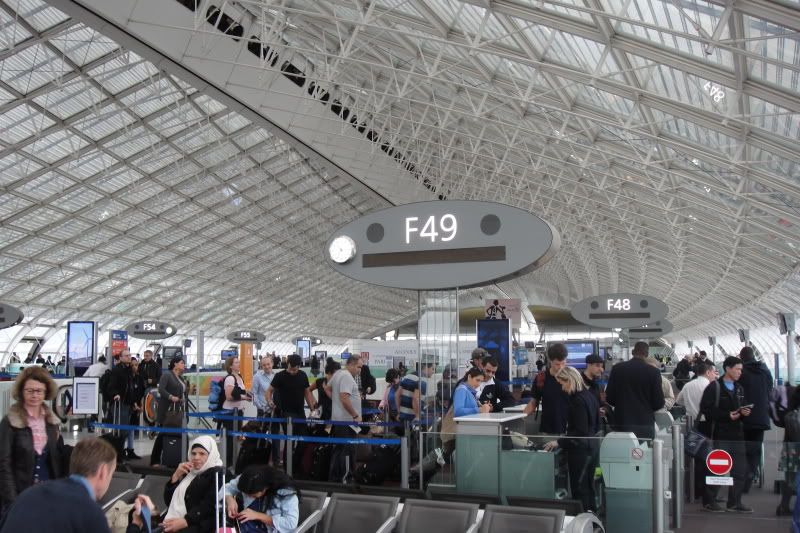 I managed to grasp the aircraft's registration and immediately noticed is one of AF's veteran 772s. Delivered in 1999, the 777 was [not surprisingly] very dirty on the outside, wearing its old pajamas. I wasn't expecting otherwise...
Oh, and yes. Dirty, Old, and Outdated Paint Job...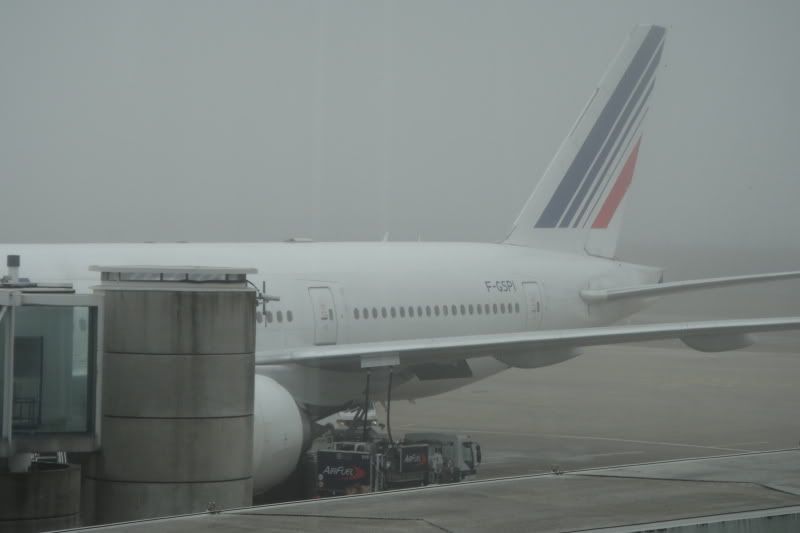 The Star of the Show: Long-Haul Business Class

Flight: Air France 468
Date: March 01, 2012
Route: Paris Charles-de-Gaulle (CDG) - Caracas Simon Bolivar Intl. (CCS)
Flight Duration: 9h35m
Altitude: FL350
Aircraft: Boeing 777-228(ER) (CN 29008 / LN 258)
Registration: F-GSPI
First Flight: 18/11/1999 - Delivered: 06-12-1999
Load Factor: 87%

Going through the jet bridge brought me that awesome feeling of excitement I have every time I board a 777. I can't stop loving this aircraft.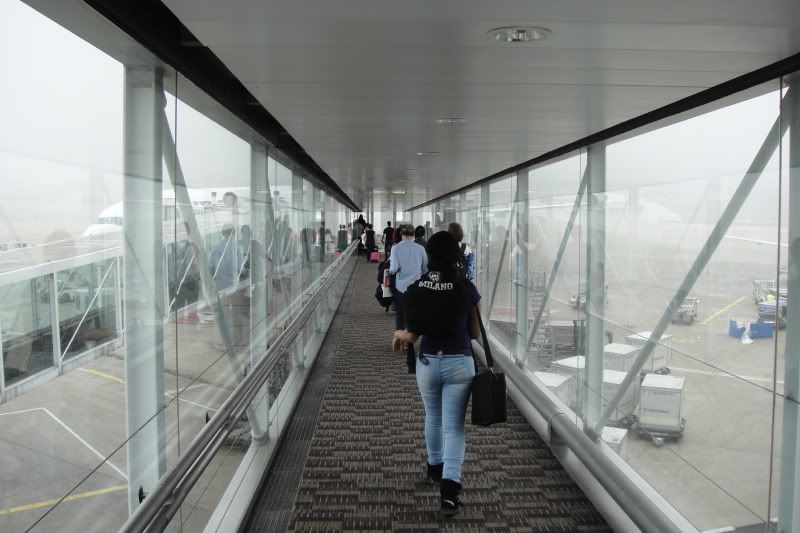 Then, I got to the point where the jetbridge divides into two - a first timer for me. The
coach
bridge was jam packed with people, whereas the up-front bridge was a breeze way. I was the only one going through it!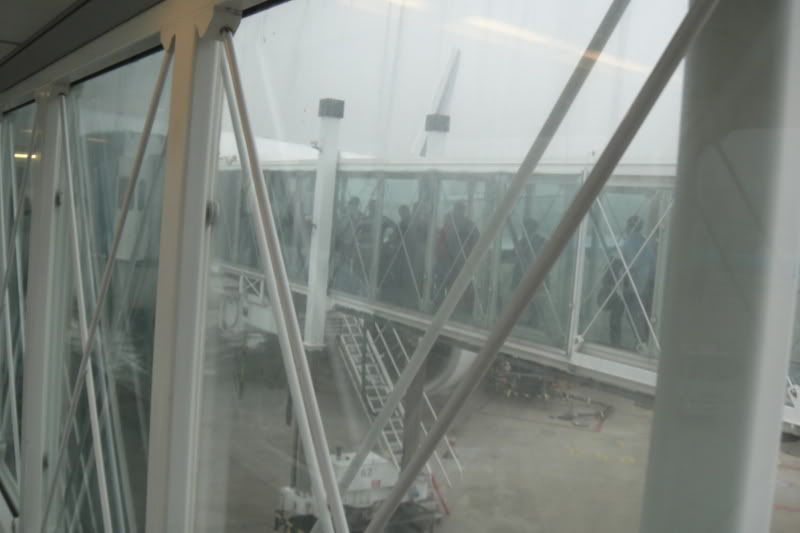 The gateway to the mighty Triple Seven!
Beautiful nose... the best, I'd say...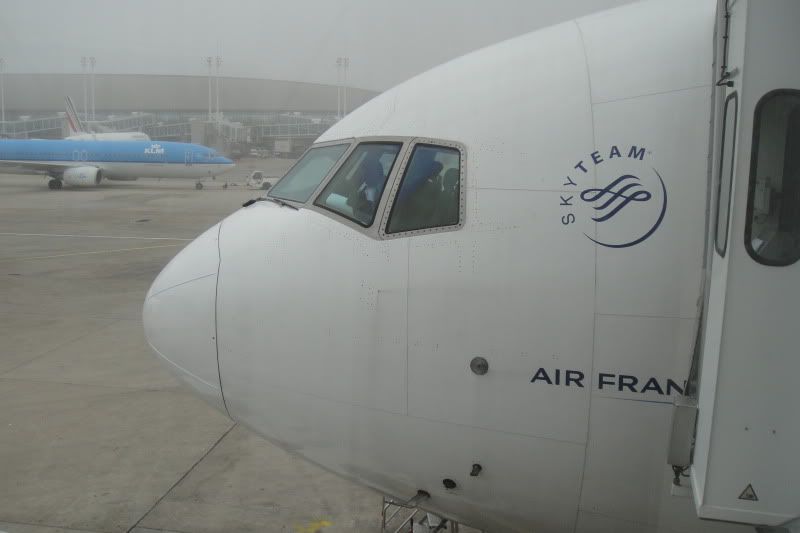 Then I finally reached the entrance of the beautiful triple-seven... and there I was, inside, finally!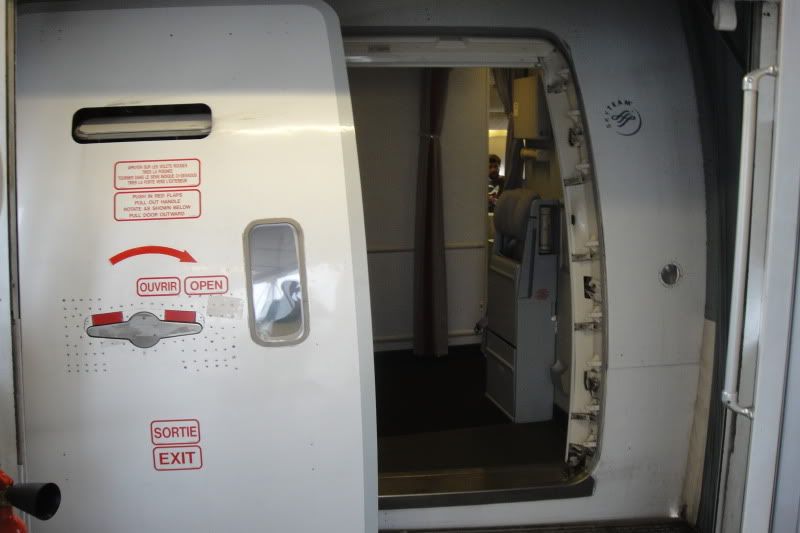 The first impression I had was great. The cabin looked very nice... the colors were my favorite part, and the 777 cabin is just great!
My seat for the next 10 hours!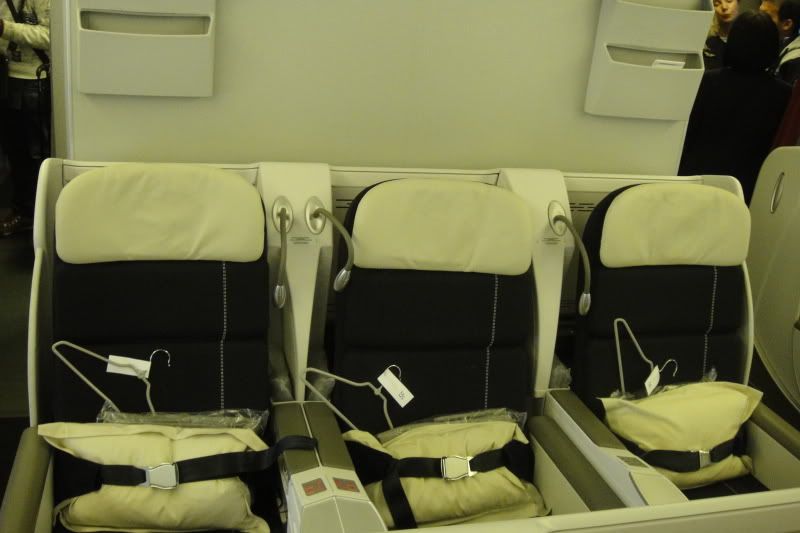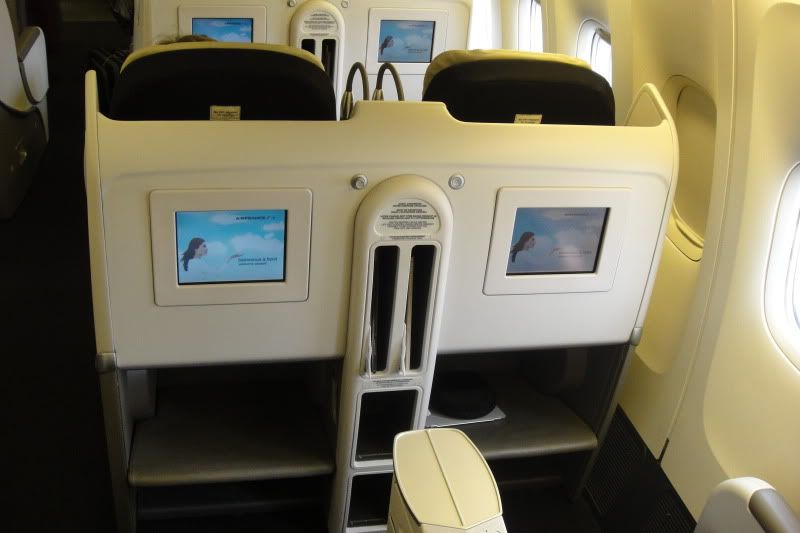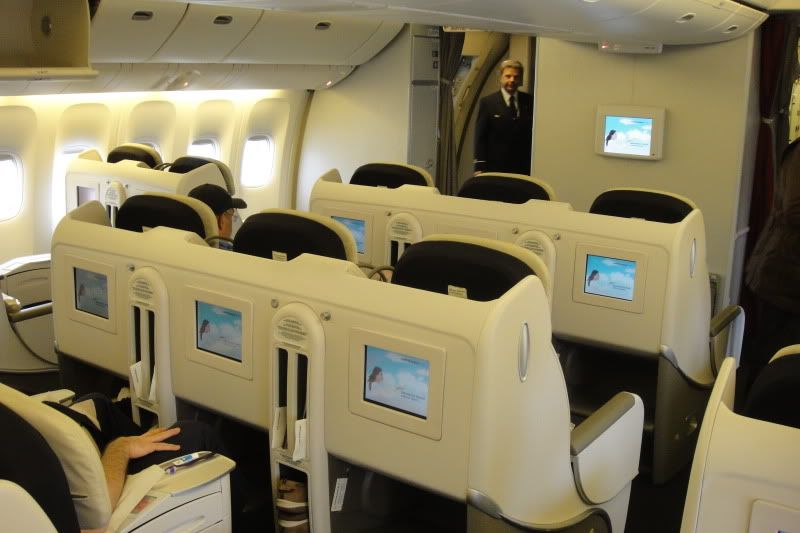 Never choose seat 5A! NO WINDOW!!!
Just by comparing the A340-600 from my previous report, I already can tell the 777 beats the living crap out of it. Just don't ask me why...
Excited, to say the least, I went to my seat on the right side of the cabin. Seat 3L, strategically chosen so that I could have the best view of the engine and wing
(hence, awesome video!)
, and also chosen because until a day before the flight, the seat next to it was empty.
Since everyone was so relaxed and waiting for the rest of passengers to board, I decided to snap some shots and play around with the much-criticized business class seat. Here are the configurations.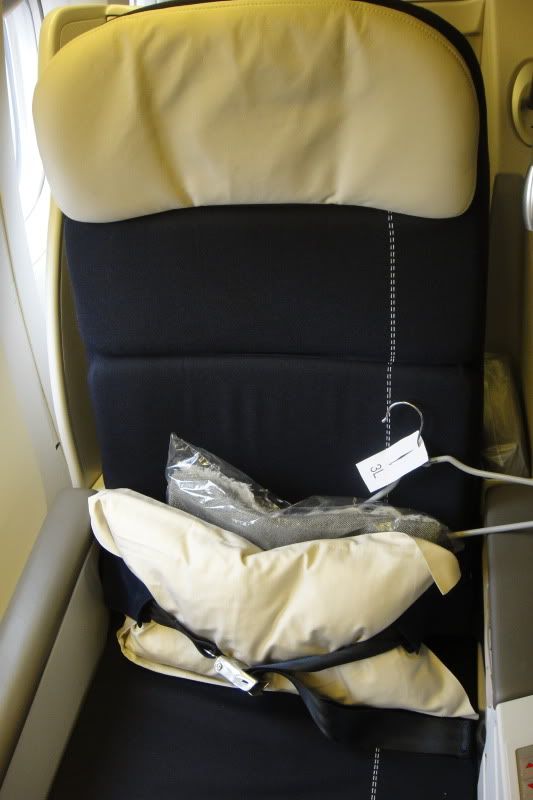 The presentation was astonishing. The detail of the pillow and blanket wrapped under the seatbelt, and the coat hang... Yet again, the colors are beautiful...
Another leg shot, just for A.net. Please note my shoes are not brown!
Just another sunny day in the Caribbean... ugh, sorry... not there yet.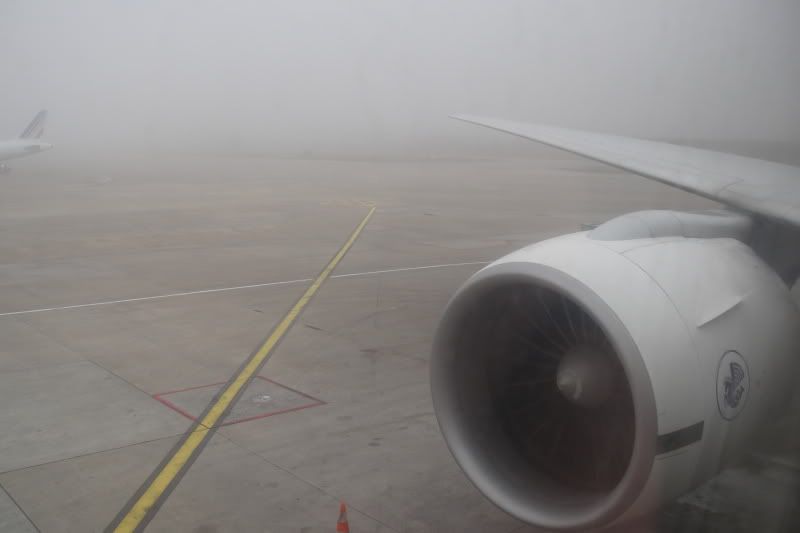 IFE Controls and Storage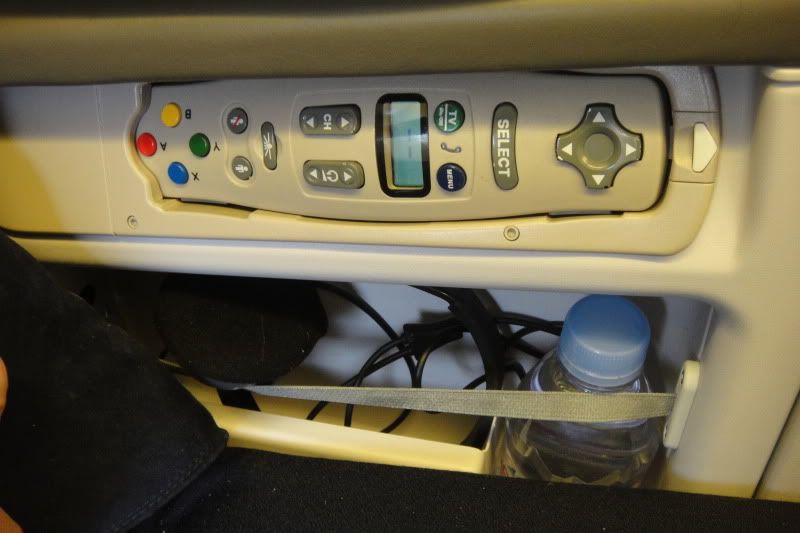 Amenity Kits
No time after I finished glancing at the cabin, the Purser said the magical words:
"boarding compled!"
this meant I would be sitting alone, which is definitely a huge added value to my trip!
I finally decided to settle and begin to enjoy this unique cross over the pond.
The captain came on the PA announcing a small delay due to the relentless fog sitting outside... Not a problem, since it was a 20-minute delay.
I had never seen the push-back cart being attached to the main landing gear before!
Soon later, the doors were finally closed and the heavy elder 777 pushed back, cranking up it's #2 power plant first. The sound is always exciting; I love to hear these engines roar. On the A346, though, I couldn't hear a thing... Talk about boring!
Doors closed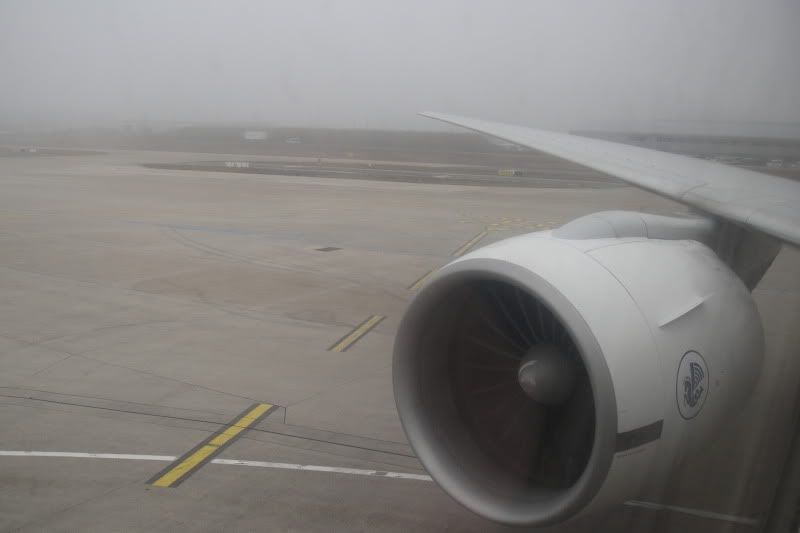 Meanwhile, I was given the best champagne I've had on board an aircraft. If you read my previous trip report on LH, you should know my champagne was served as warm as broth... Here instead, it could have NOT been more perfect! This would be the prelude to an excellent flight!
The best of the very best on the entire trip
Flaps down, slats down, before-taxi checklist complete...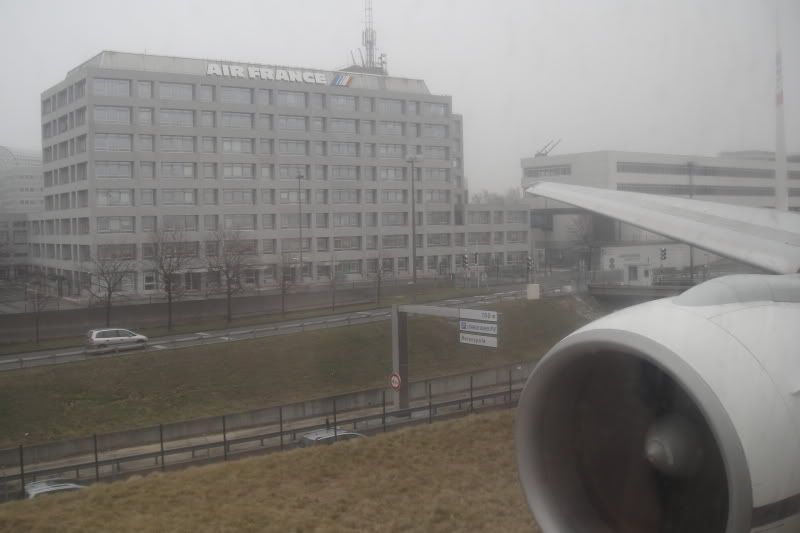 We slowly rolled down the taxiway for a 25-minute tour over CDG's taxiways until we finally reached the holding point of Runway 26R. There, the boss called on the PA asking to prepare for takeoff. (that's been one of my dreams, to be able to get that mic and proudly scream out loud,
"Cabin crew, prepare for departure"
- maybe some day!)
Anyhow, the 777 beast lined up with the runway and... Well, what can I say.
The music coming out of those GE masterpieces
... Why don't I just spare the words and you all look and LISTEN to it yourself!? Please use the
VOLUME
option on your computers and enjoy the concert:
Cleared for Takeoff!
http://www.youtube.com/watch?v=JT-1JF69NJ4
A few seconds after liftoff, we cleared the dense fog and we were airborne towards South America.
On our way to the high altitudes, I checked out the Amenity Kit for this flight. See it for yourself. Not bad at all! So much better than Lufthansa's!
The Air France Affaires In-Flight Service
20 minutes after leaving the ground, the in-cabin service began. I must say, today I brought only a carry-on bag and a very critic attitude. My father flew this same route a month ago and he said the food was bad, the FAs were not kind, and that he wouldn't choose AF again for the CCS option... So, here I am, testing it myself and I will describe everything to perfection so that you all can draw your own conclusions... Fair enough?
La Carte for today's flight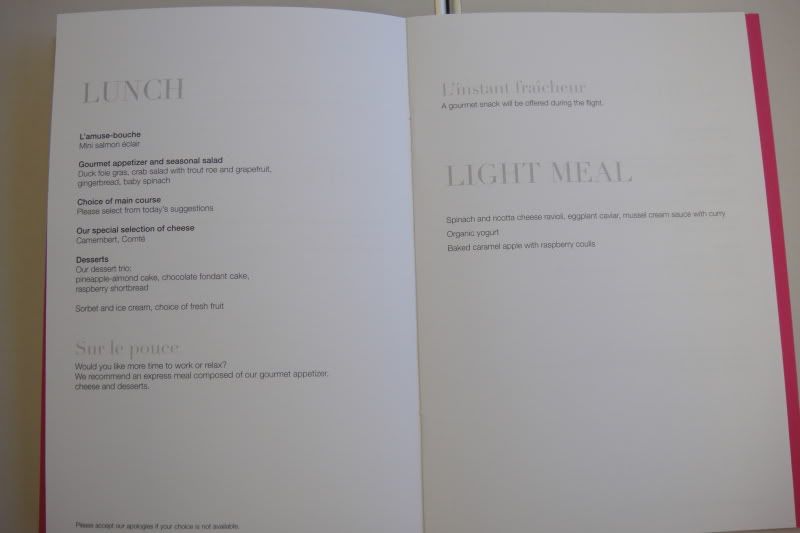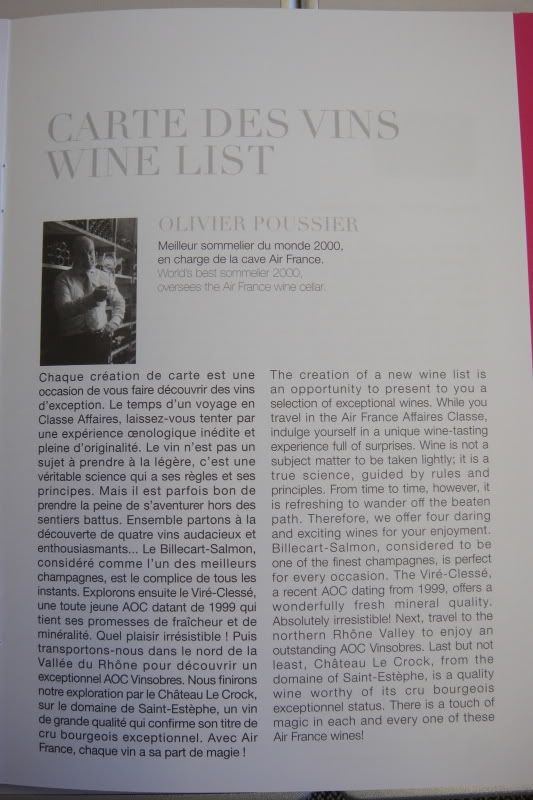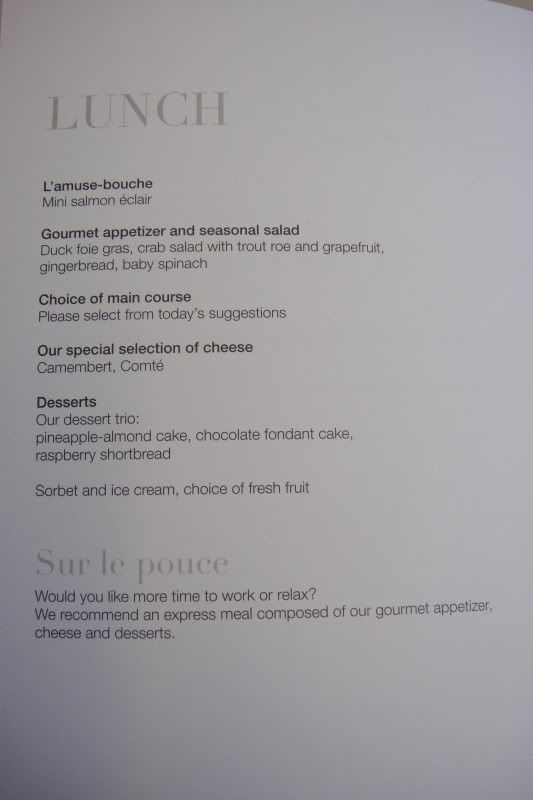 Logos are often more important than the airline itself...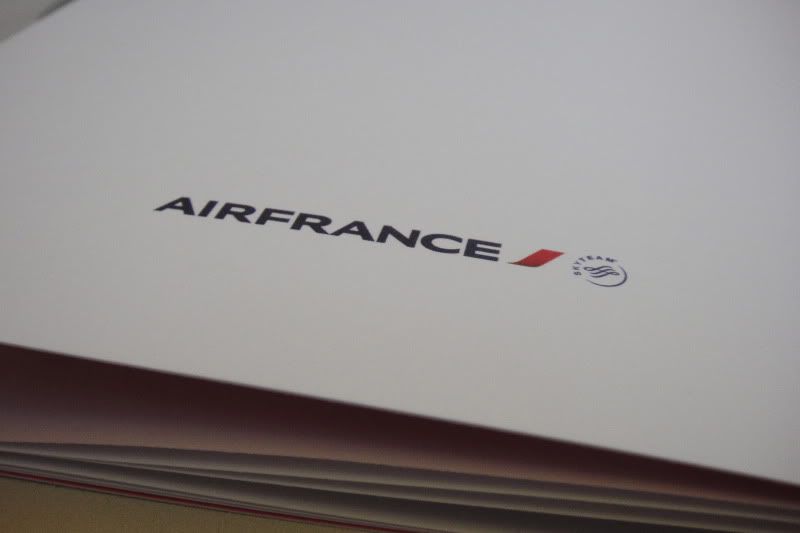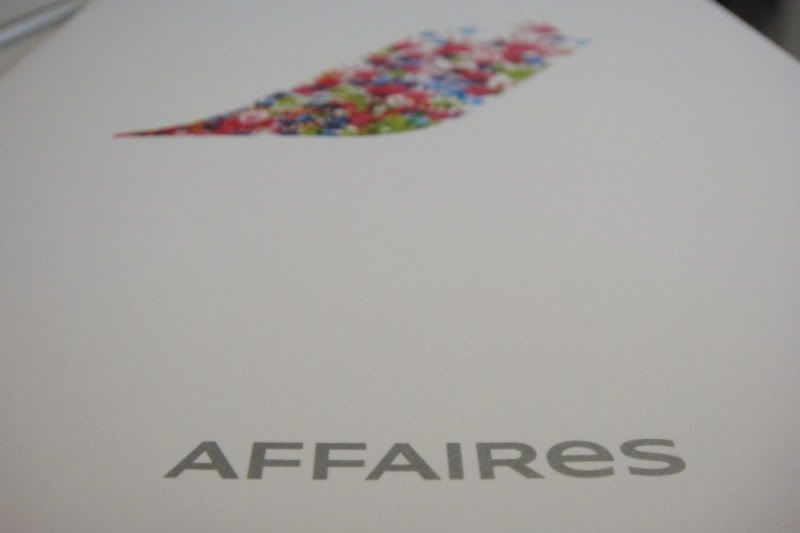 The first event was the [very] hot towels, which had a magnificent scent on them, and the aperitif cart rolling down the cabin. The exceptional lady FA, who spoke English, French, Spanish and Italian to perfection, served me more of the Billecart-Salmon Brut Reserve champagne, as cold as the arctic ice, without even asking. She already knew what I wanted, something Lufthansa didn't even care to dream about.
The trolley was perhaps as old as the plane...
Later on, the same lady came with a tray full of Mini Salmon éclair, of I which I grabbed a pair and tasted with the great champagne. Later on, she came back with a crepe snack stuffed with Comté cheese, oh boy! I had to ask for it again after I finished the small bag of goodness.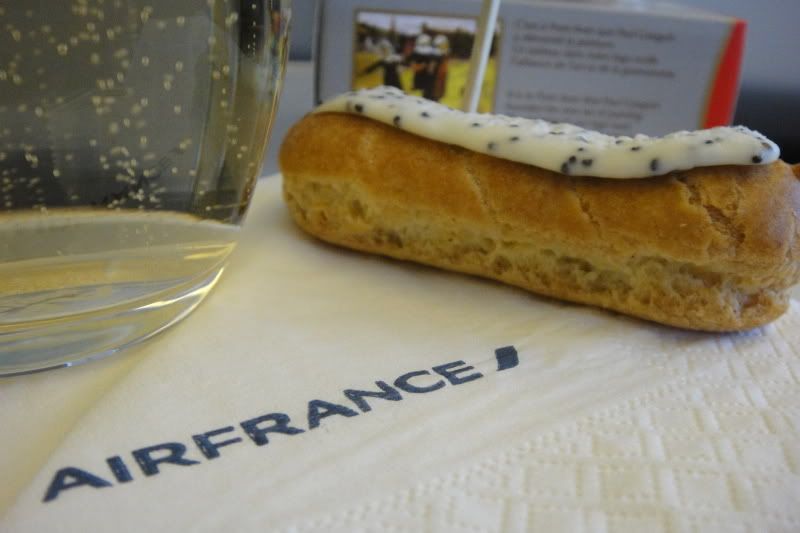 The mini crepe snack with the incredible Champagne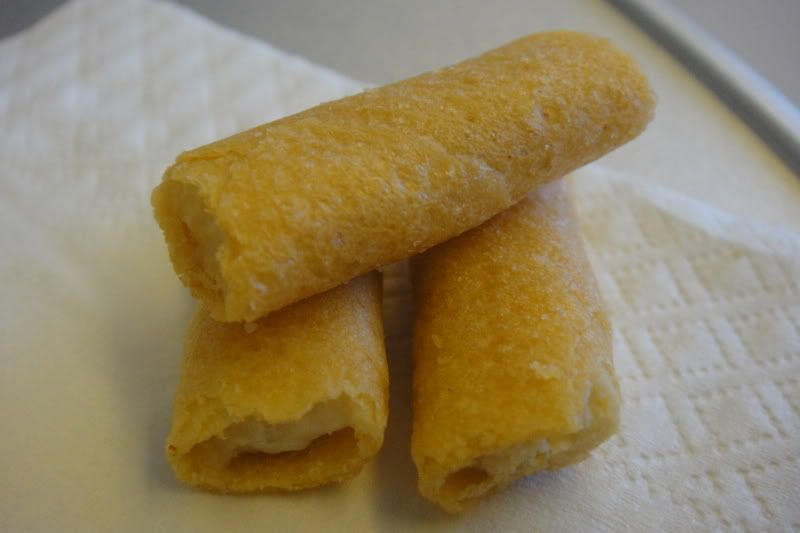 The Wine List [which I ignored, due to the perfect sparkling goodness]
The Appetizer
About 10 minutes later, the appetizer came to my table. It consisted on a Duck Foie Gras, Crab Salad with Trout Roe and Grapefruit, Gingerbread and Baby Spinach.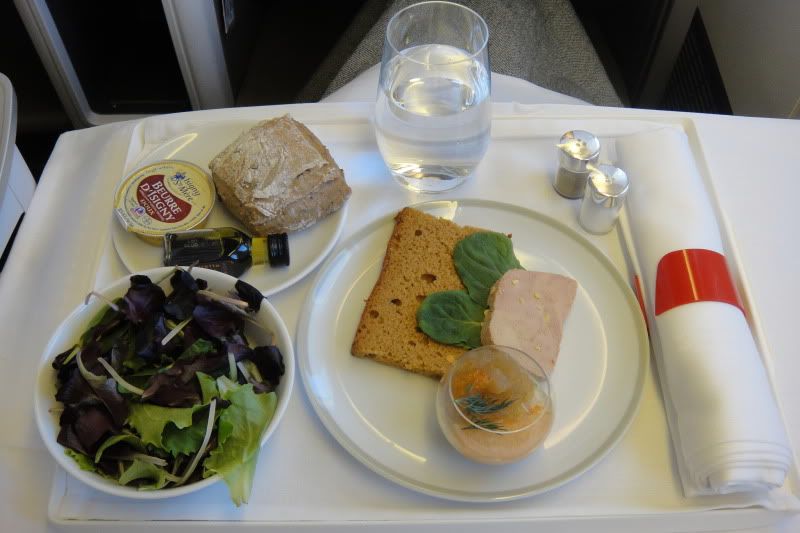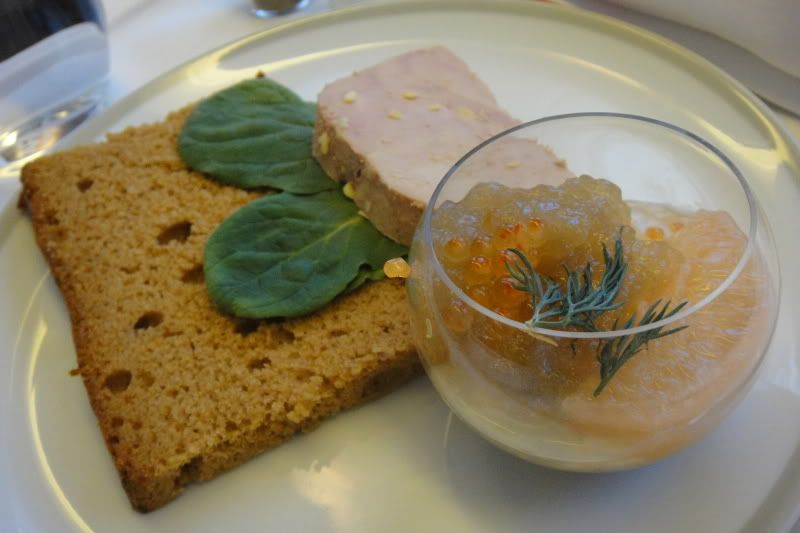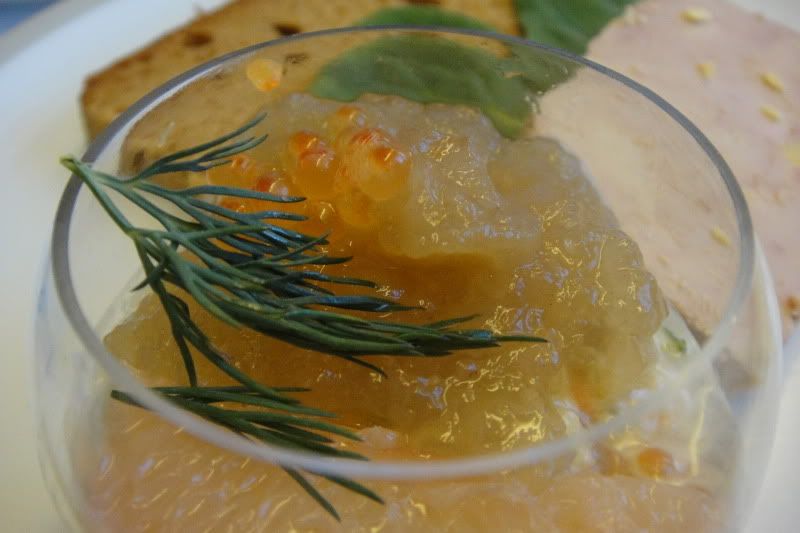 The plate looked gorgeous but unfortunately I don't like seafood or elaborated dishes too much. However, since I'm a big fan of cooking, and my favorite TV shows are related to cooking (i.e. Top Chef) I decided to go for it. I tried everything and guess what? I ended up loving the Pâté. It was superb, and it came with a seasoned piece of bread, which made the pairing super. The crab salad, however, I didn't like. I tried at least 4 bites and couldn't get passed it... But there it goes!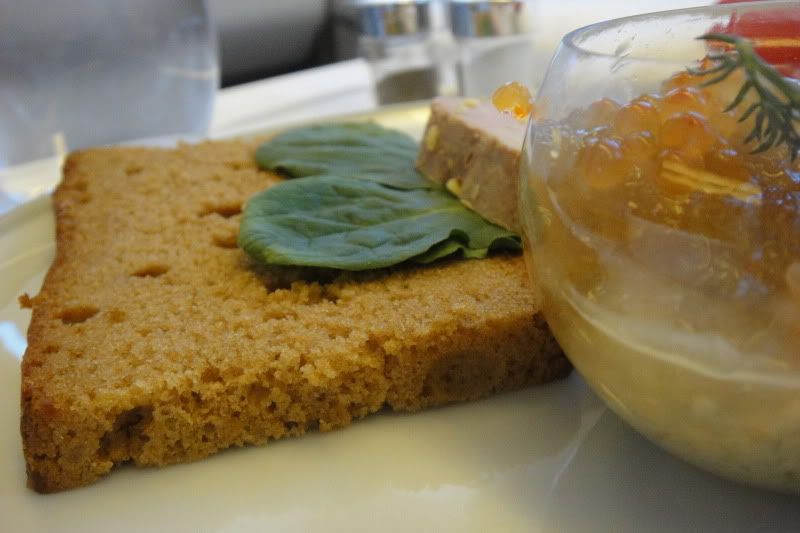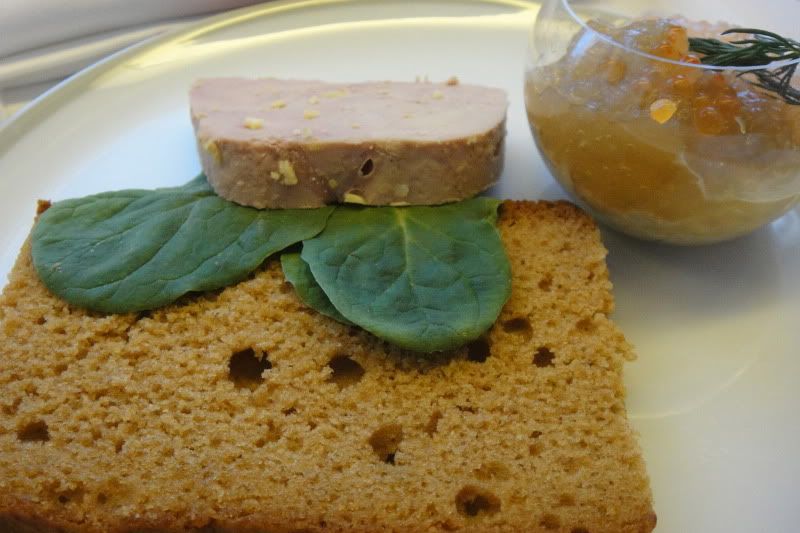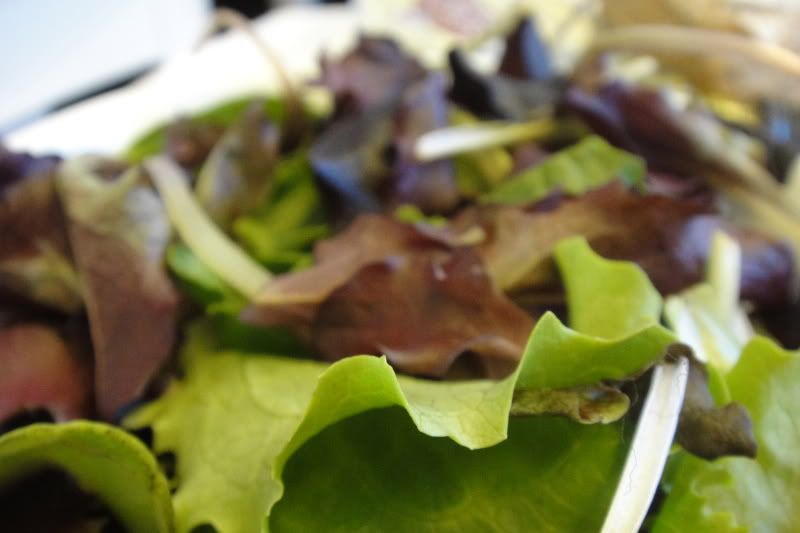 Superb wheat bread!
Perrier Water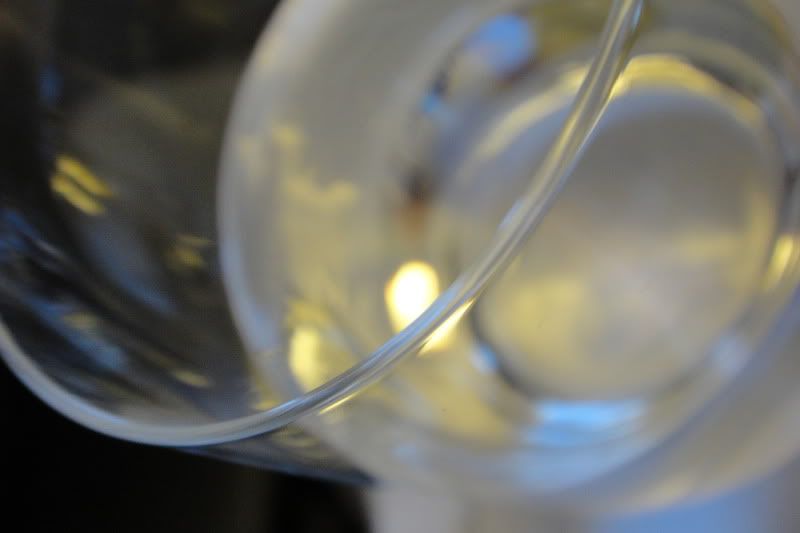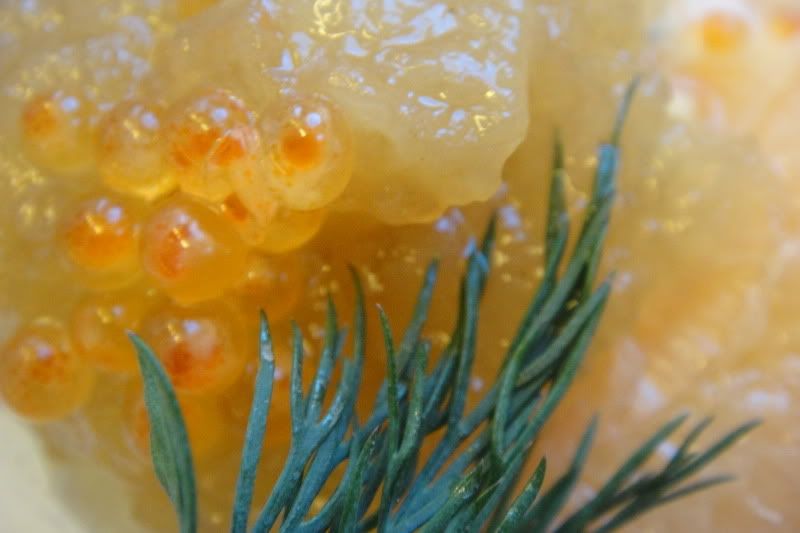 Gorgeous Silverware...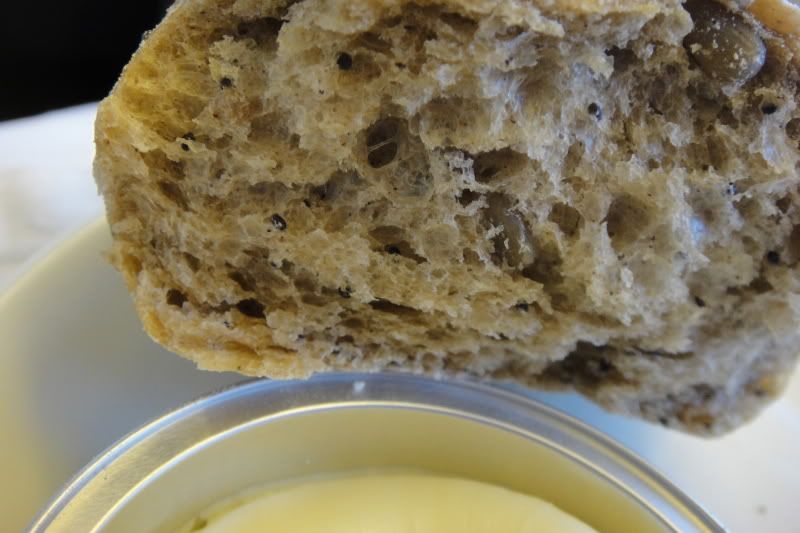 The Salad Dressing: Balsamic Vinaigrette...
Meanwhile, some wingflex at FL350...
[Edited 2012-03-07 17:57:40]