Dear fellow A.Netters, welcome to the last installment of my trip to catch the Korean Air A380,the previous threads can be found here:-
Around The World With OW & ST - Part I - BA
(by
ba319-131
Feb 5 2012 in Trip Reports)
Around The World With OW & ST - Part II - KE
(by
ba319-131
Feb 19 2012 in Trip Reports)
Here is a route map of the entire trip:-
After less than 24 hours in Hong Kong, it was sadly time to head home, my last 2 trips hear have had me confined to the airport spotting, hopefully next time I have more time free to visit the city again, wonderful place.
View of my hotel and the taxi's all lined up by colour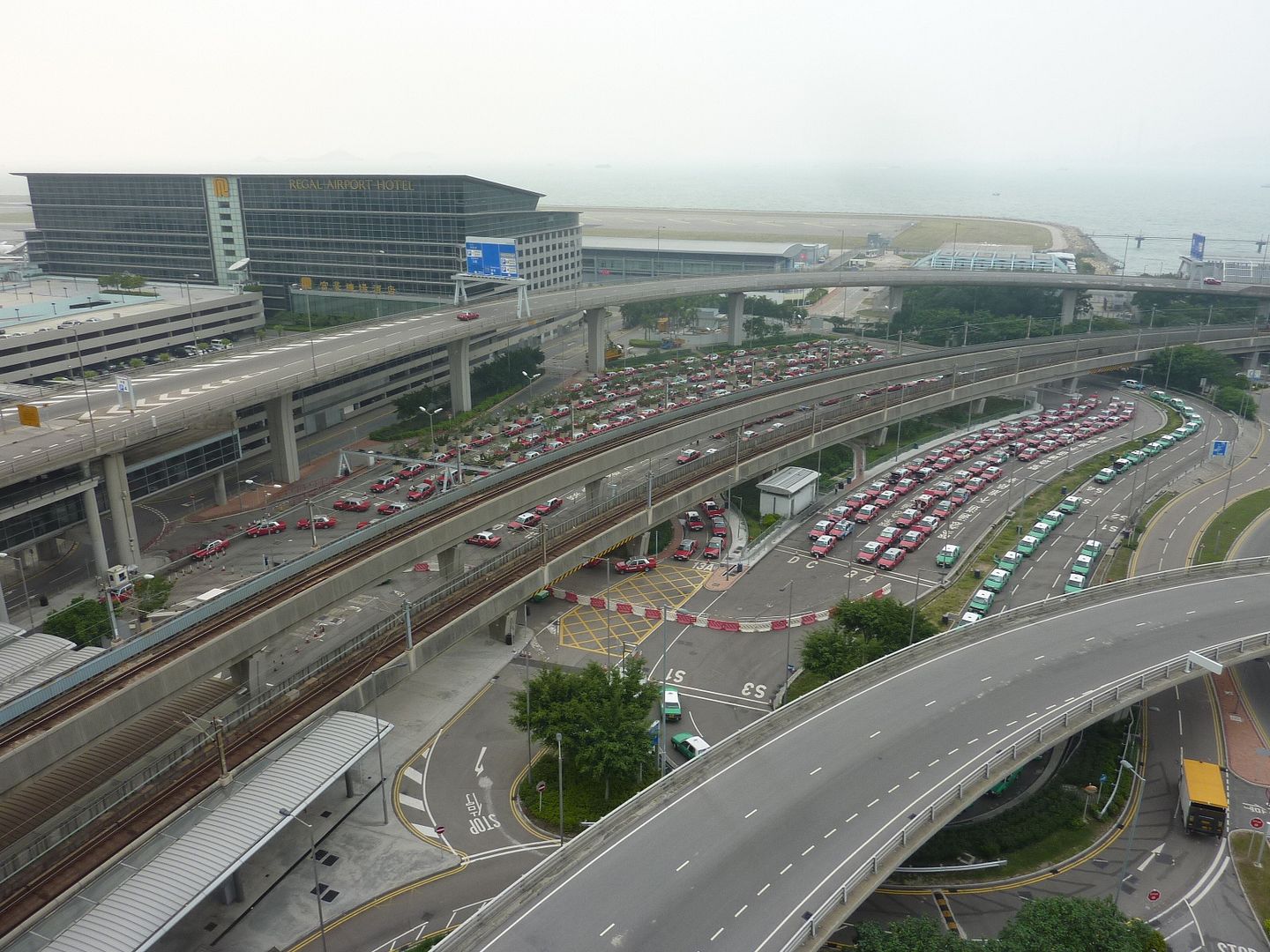 The visibility had been really poor, quite a contrast to my last visits, the locals blame China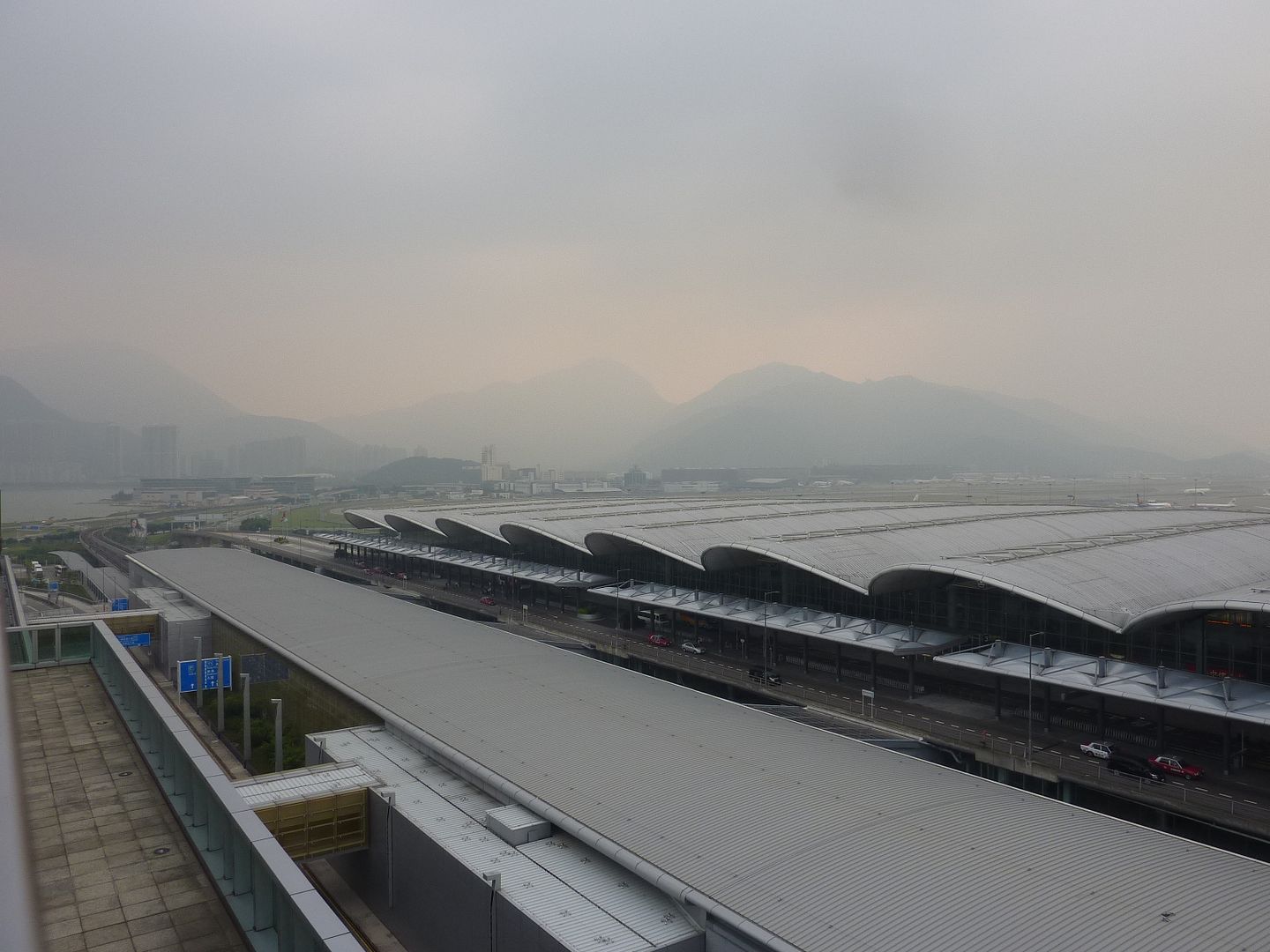 After parting company with Brewox after 6pm, I headed back to my room, did the usual jobs in the hotel and checked out, I could hear many Australian voices in the hotel lobby,though it a bit odd, later discovered this was the Qantas grounding, something that would affect Brewox the next day, PH was too affected, though thankfully TK came to his rescue, LH saved Brewox.
A short walk and I arrived at terminal 2 just after 8pm. Check-in for RJ183 was in zone N tonight, both business class counters were busy, I was directed to an empty economy check-in counter.
The check-in process was painless and conducted by a pretty disinterested contract employee, both boarding passes and lounge invitation in hand I headed off to clear security.
Normally I give myself plenty of time, especially so when having to go via terminal 2 as it takes longer, what with getting the train etc, however today was not the case and because I was running later than I usually like, everything seemed to be taking longer, like clearing security etc etc.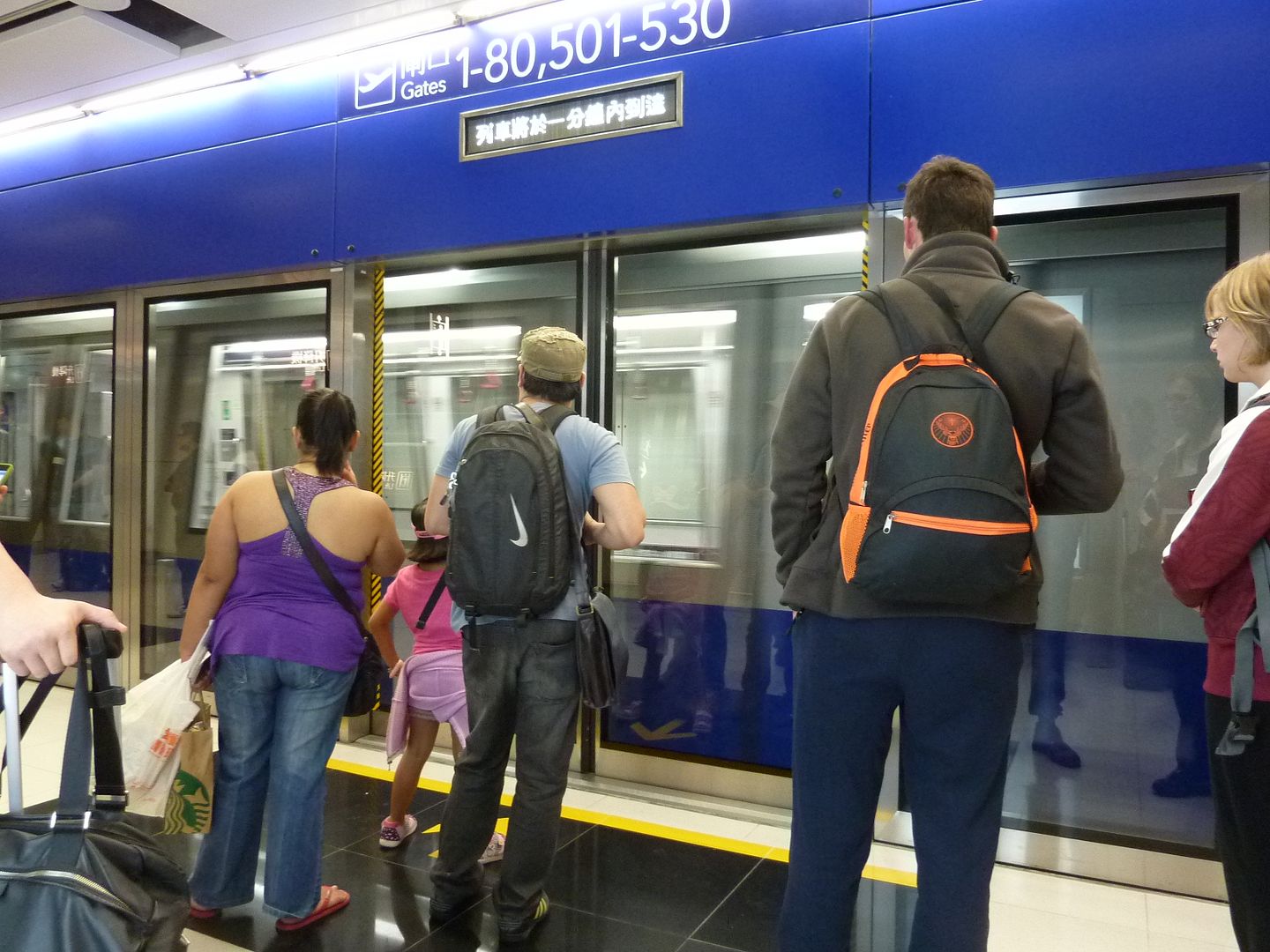 Arrival into T1 was done by 20:30, with boarding starting at 20:45 that gave me just a few spare minutes to check out the lounge and grab a drink before heading to the gate.
FIDS
RJ use the Travelers Lounge, I guess because it is cheaper than using a OW partner lounge.
The lounge has a cash bar, however I have a stamp on my boarding pass which allows free drinks.
Lounge pass
Entry is quick and I find somewhere to drop my bags before taking a wander.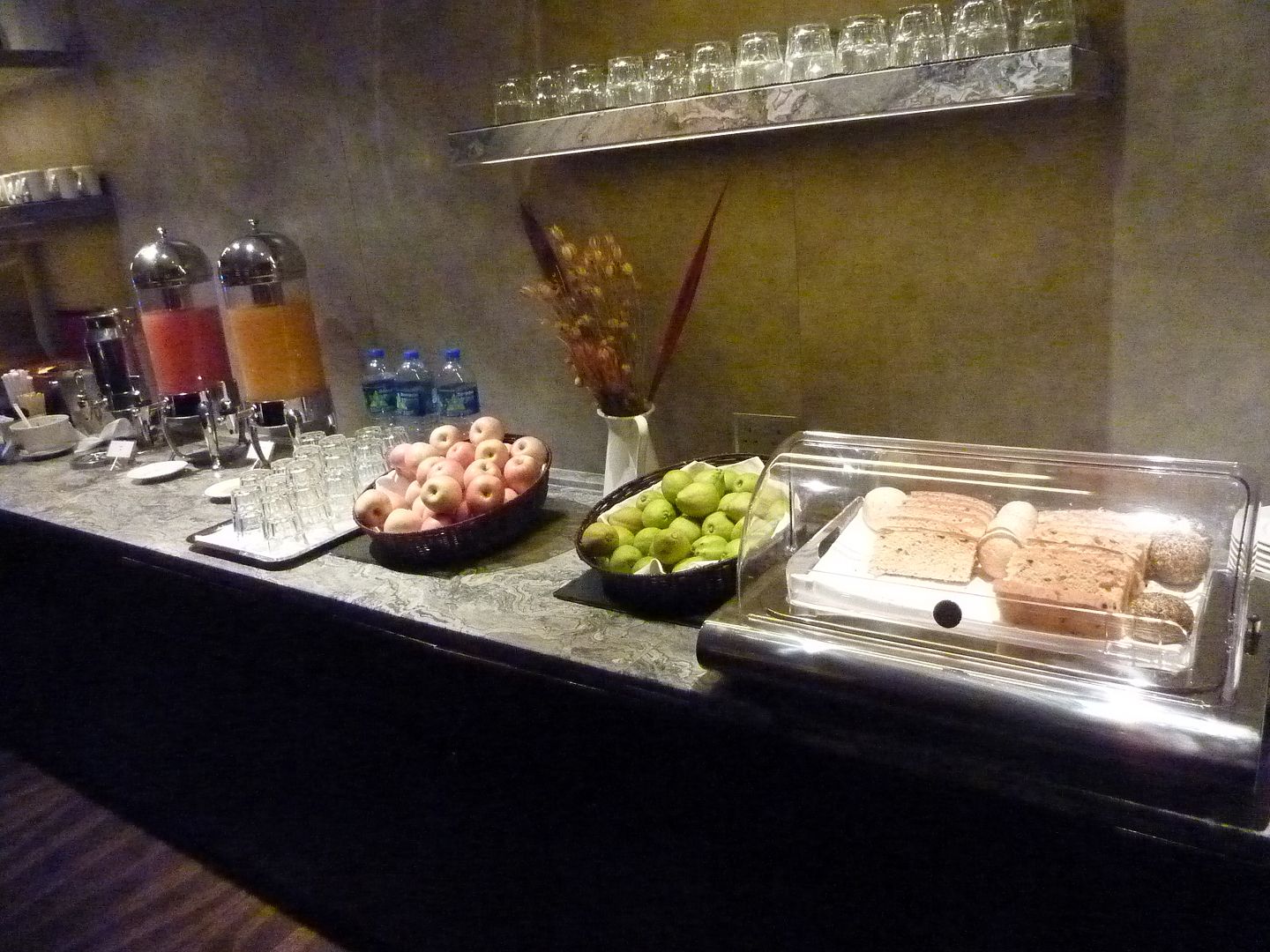 It's a cash bar for booze but I found some in a fridge towards the rear
Hot food section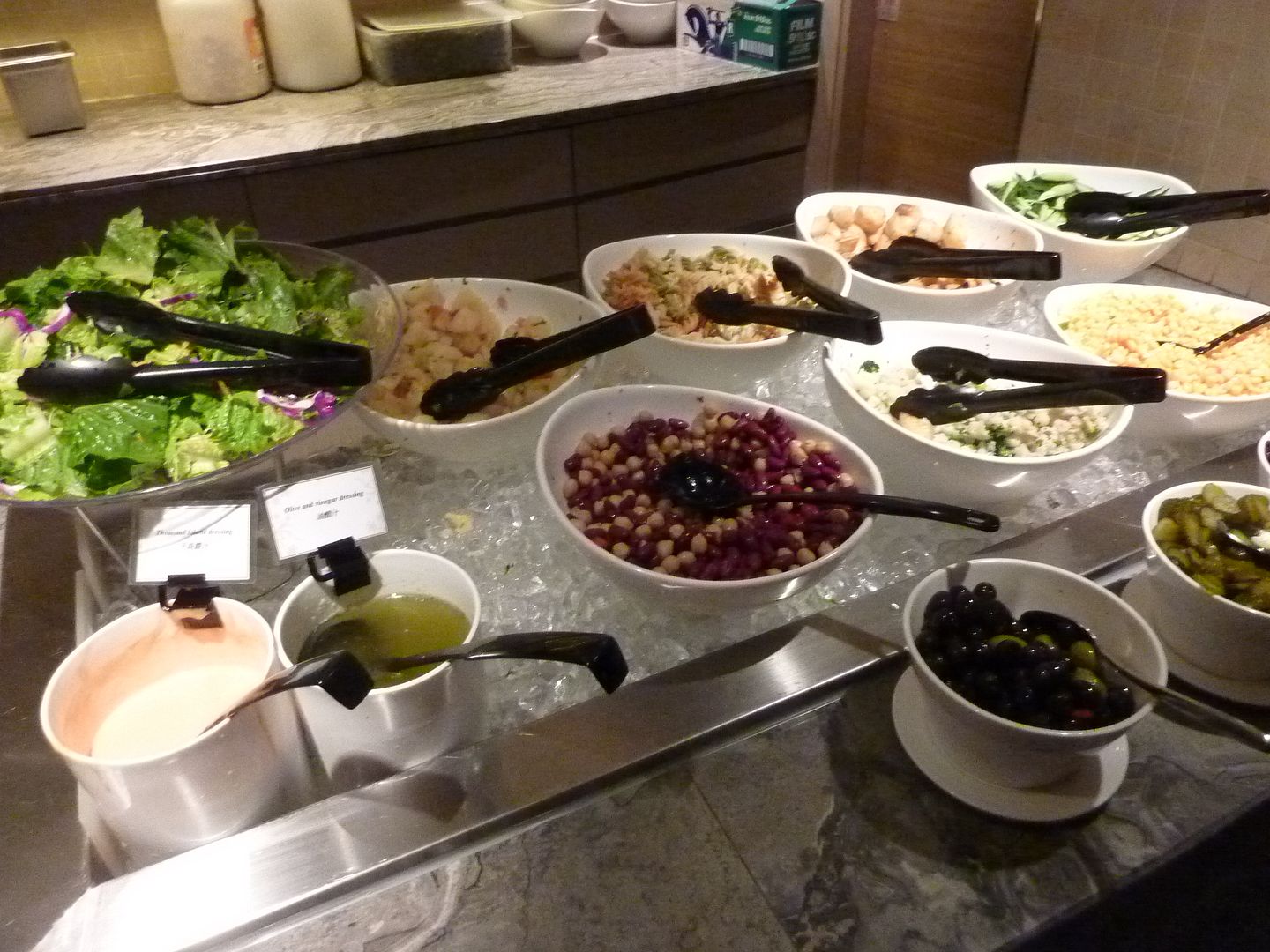 I had a quick drink before heading off to the gate, not much lounging time unfortunately so I can't really comment on the lounge apart from it seemed quite poorly lit and lacked any views of the ramp.
I passed an A380 gate on the way, this evenings KE flight would use this later, it's not arrived yet, too early.
I'm sure this would have been a better lounge
29-10-2011
RJ183
HKG-BKK
A330-223 JY-AIE Built 2008
Seat 3A BusIness Class
1st Flight on this aircraft, 7th A330-200 flight flight
Sch Dep 21:30 Sch Arr 23:25
Act Dep 21:24 Act Arr 23:16
View Large
View Medium


Photo © Manny Gonzalez - Thrust Images
My bird this evening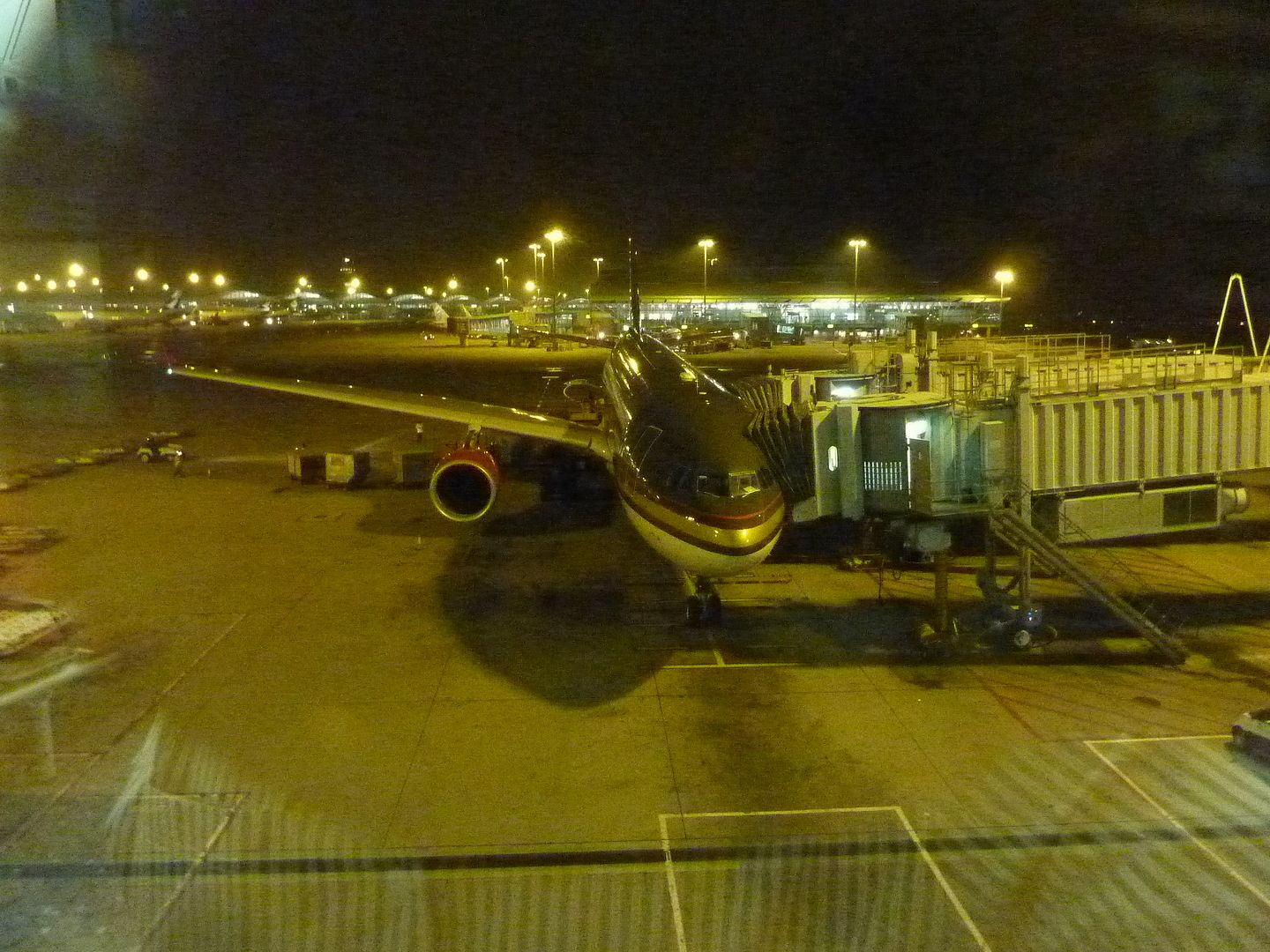 JY-AIE is was not delivered to RJ factory fresh, she was delivered new to Air Comet in December 2008 as EC-KXB
View Large
View Medium


Photo © Antonio Camarasa - Iberian Spotters
in December 2009 she was stored before entering service some 5 months later with RJ.
I arrived at gate 17 at just the right time, passengers were already forming queues for the two respective business and economy jetways, there were just 2 passengers ahead of me in the business class line.
I had been in line just moments when the business class boarding started, I was halfway down the jetway before the actual boarding call was made.
Stepping aboard JY-AIE I was kind of greeted by a FA, no smiles or warmth felt, through the flight she gave the feeling of being just slightly aloof. Also of note, her outfit was not like the rest of the crew so I assume she was the top dog so to speak, if so, not so great, more on this later.
Turned right and headed down the very narrow aisles to row three for my seat, 3A.
My seat to BKK and on to AMM.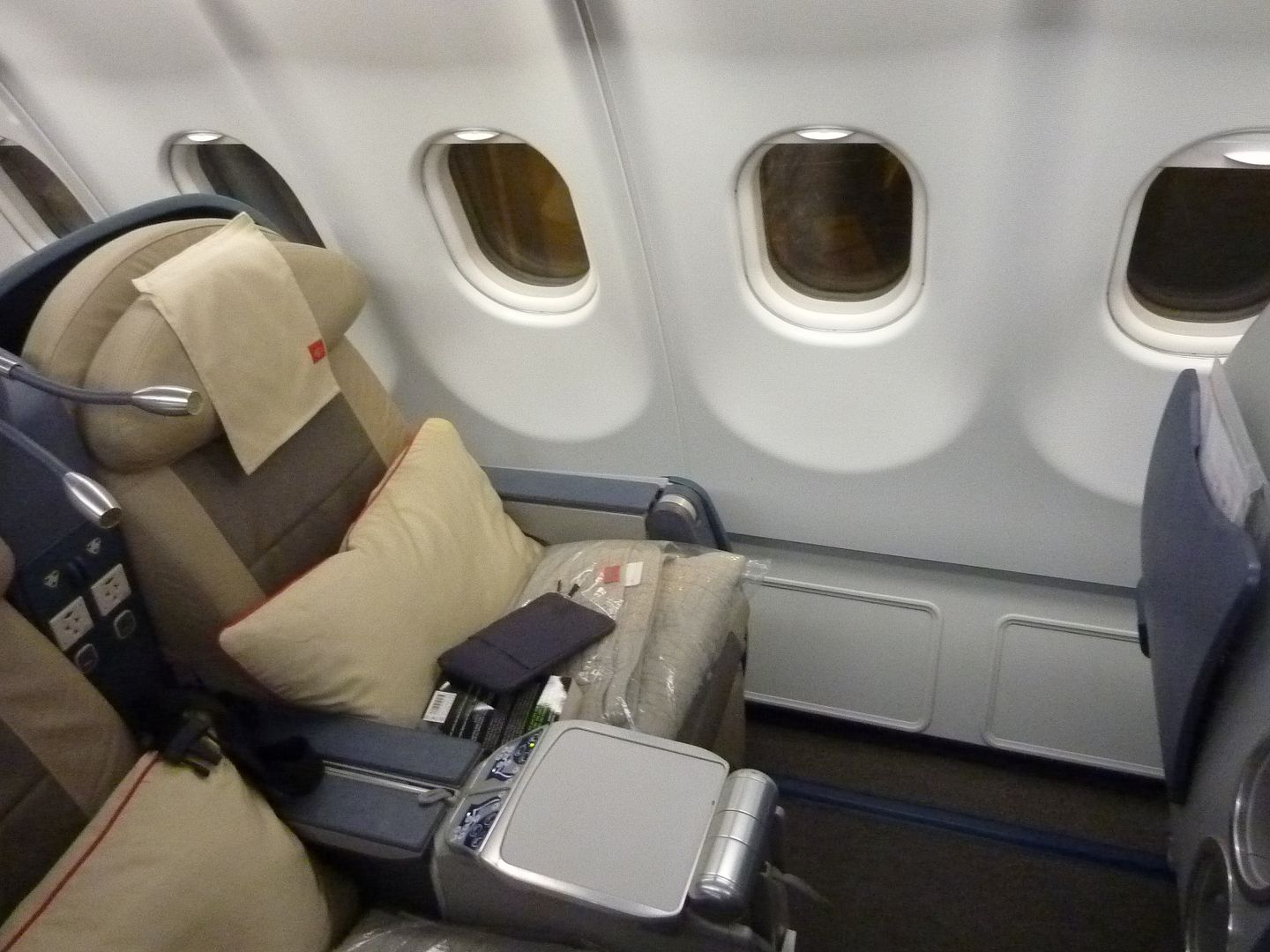 Legroom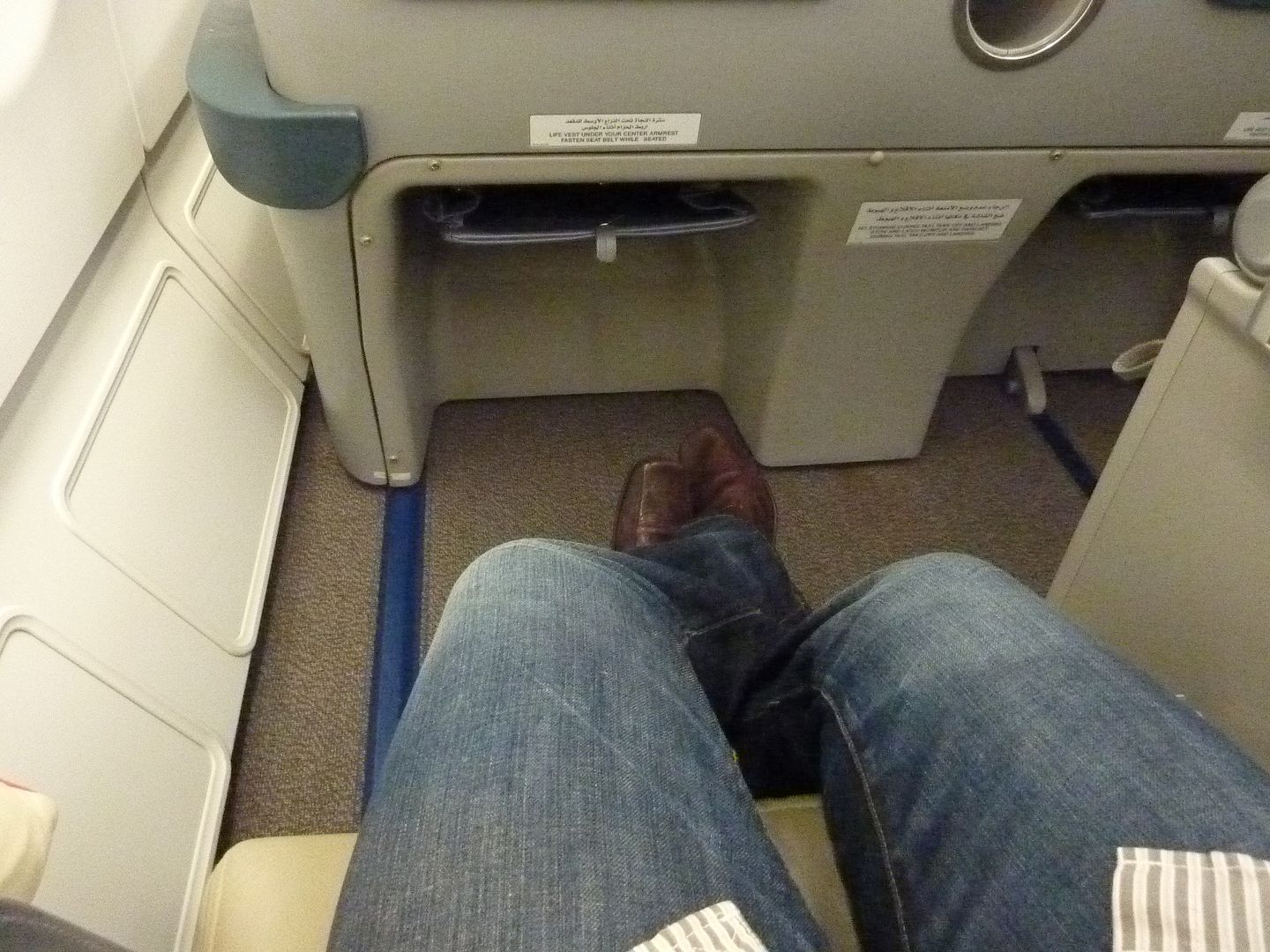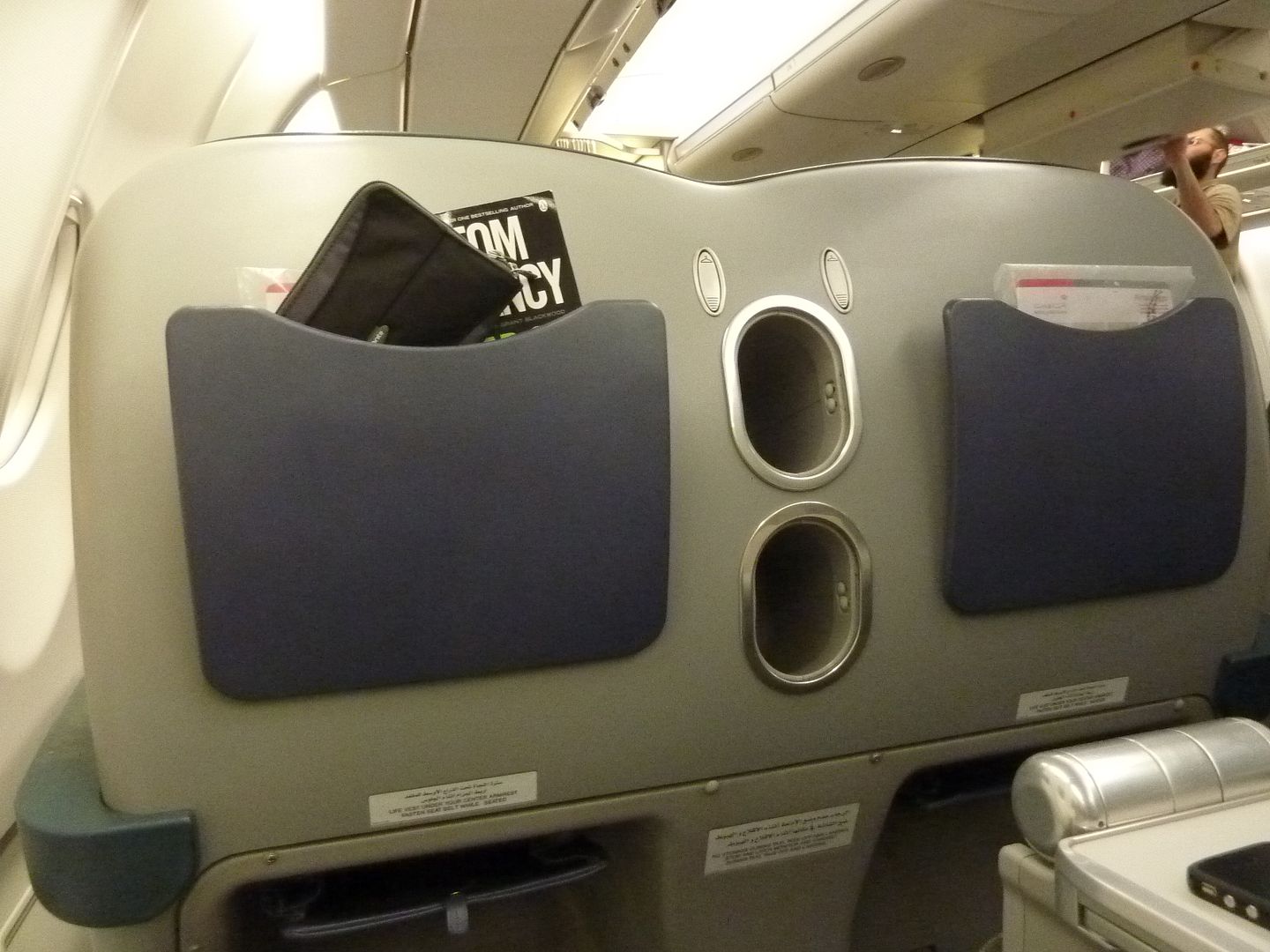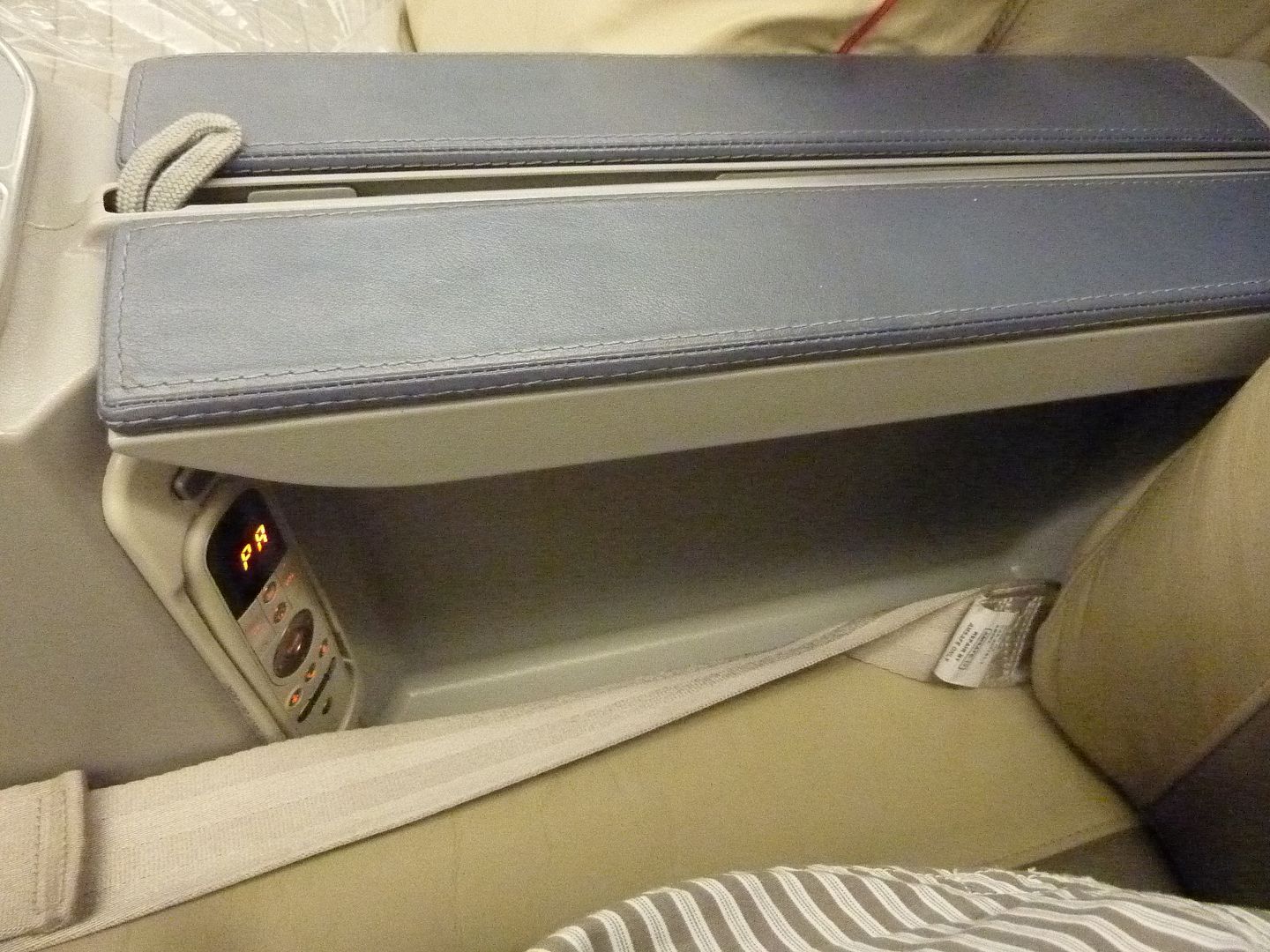 Power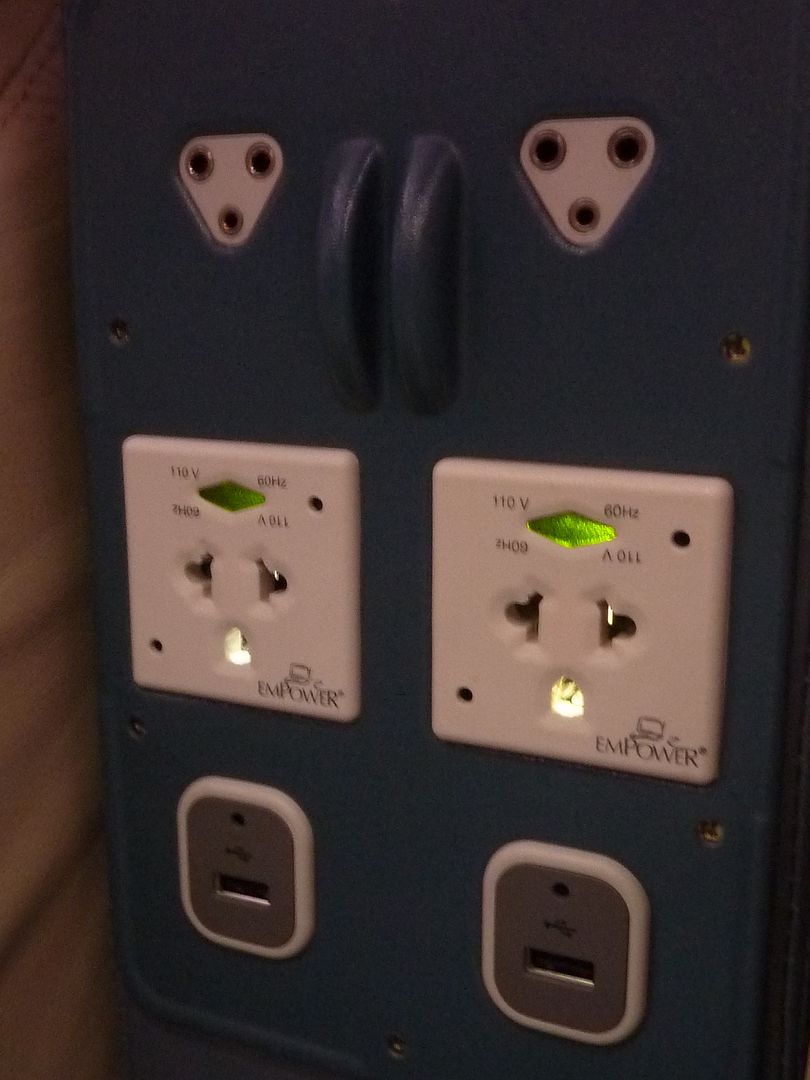 Limited view outside
Across the cabin
RJ's A330 fleet are kitted out with 24 JCL seats in a typical 2-2-2 layout. The seats themselves are not flat bed, but recline into an angled bed when put in bed mode. The seats themselves are quite comfortable and the cabin ambience overall is fine, not bright and flashy more dull calming mixes of earthy tan and browns with blue and gray too, quite relaxing.
I have to point out that the aisles are very narrow which makes it quite difficult to wheel your bag behind you, it's easier to pick it up and carry it sideways.
On each of the seats a good sized pillow could be found along with a decent blanket, the quality looking pretty similar to the ones BA provide in Club World.
Safety card and various magazines are protected in this plastic cover, similar to LH
After a few more J passengers entered the cabin, welcome drinks of OJ, water and I assume apple juice were offered, these again by the none too friendly FA.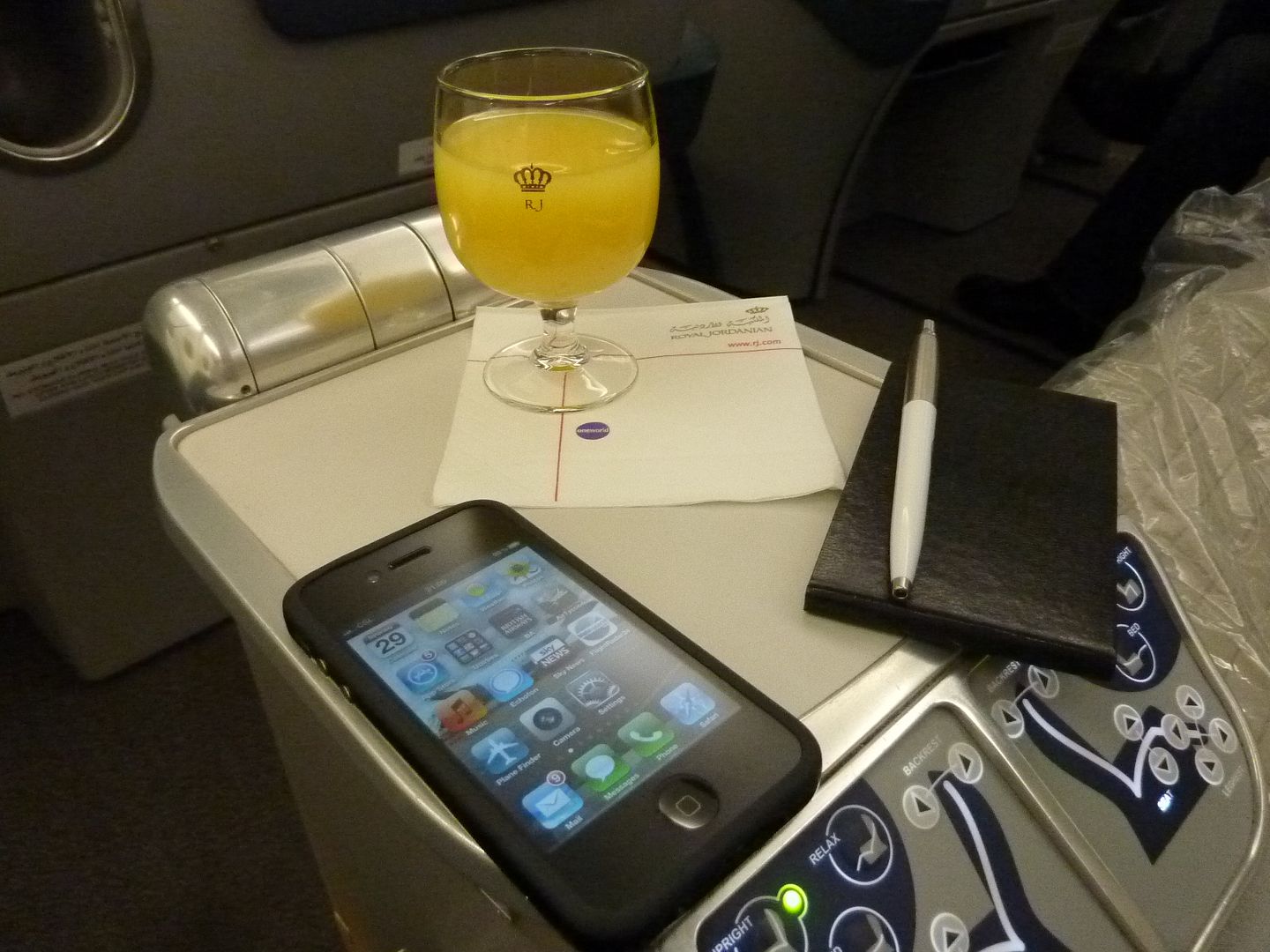 The last cabin door closed at 21:17, the passenger count in J being 15 of 24 seats.
Prior to push the crew came around to take post departure drinks orders, I ordered a glass of merlot, menu's were also distributed.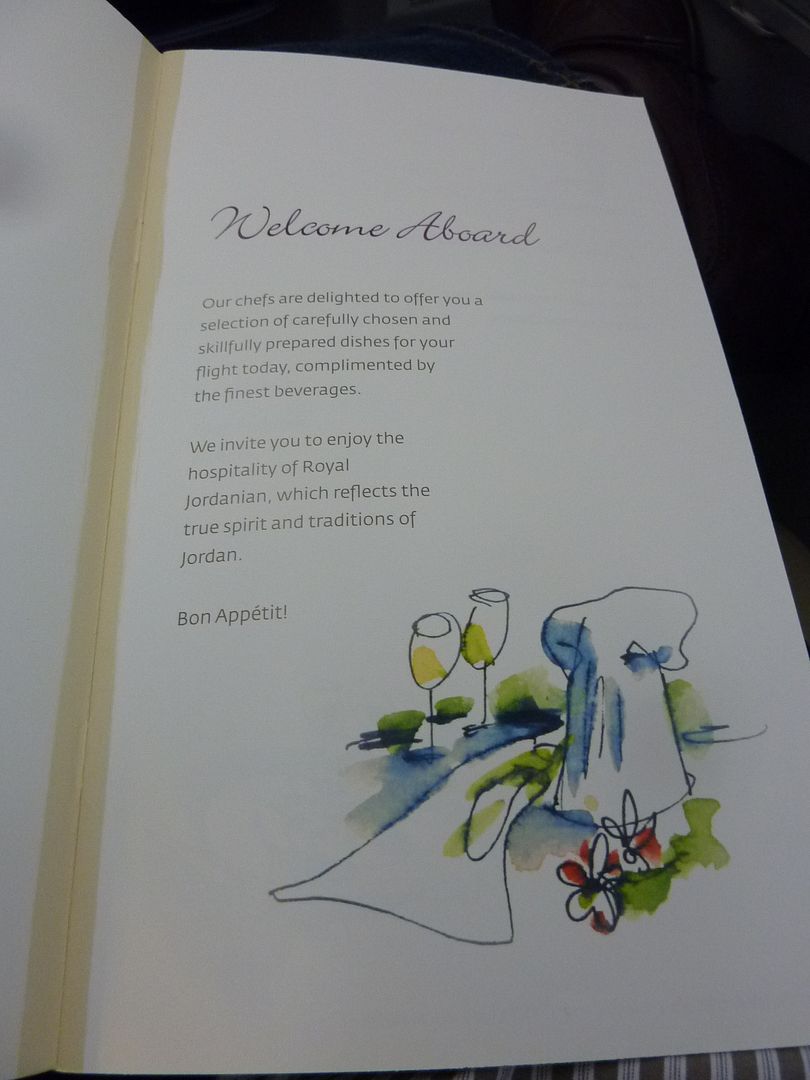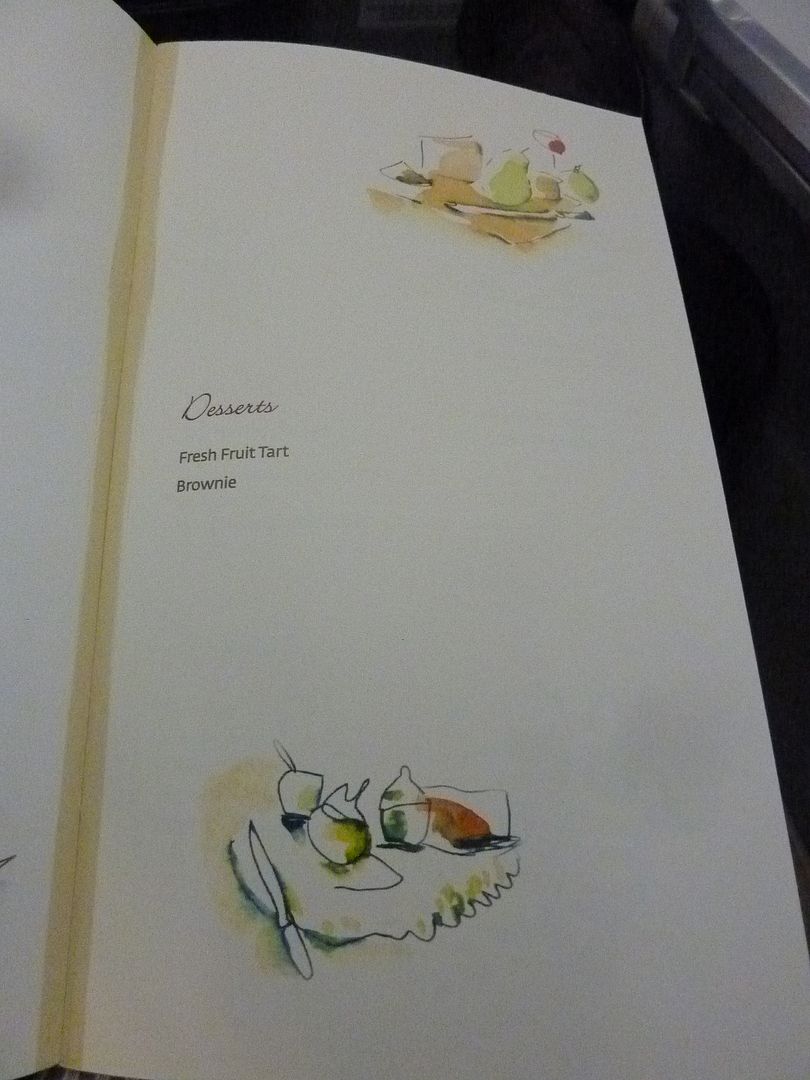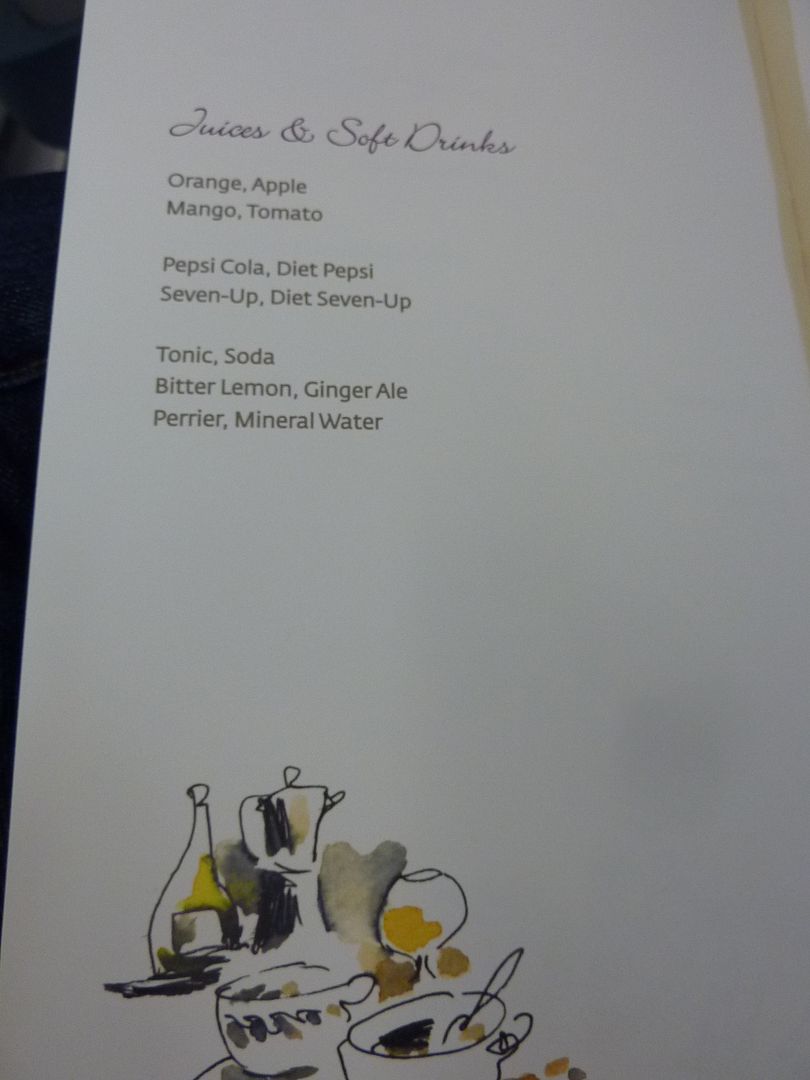 Those that travel this route frequently will know the meal well!
New overhead signs
Push back occured a few minutes ahead of schedule at 21:24
One for our many Finnish friends
a fairly lengthy taxi out but no holding, we turned onto the active and accelerated down the runway. The take off run was pretty rough, very bumpy and the cabin fixtures and fittings shook a great deal, wheels up @ 21:41.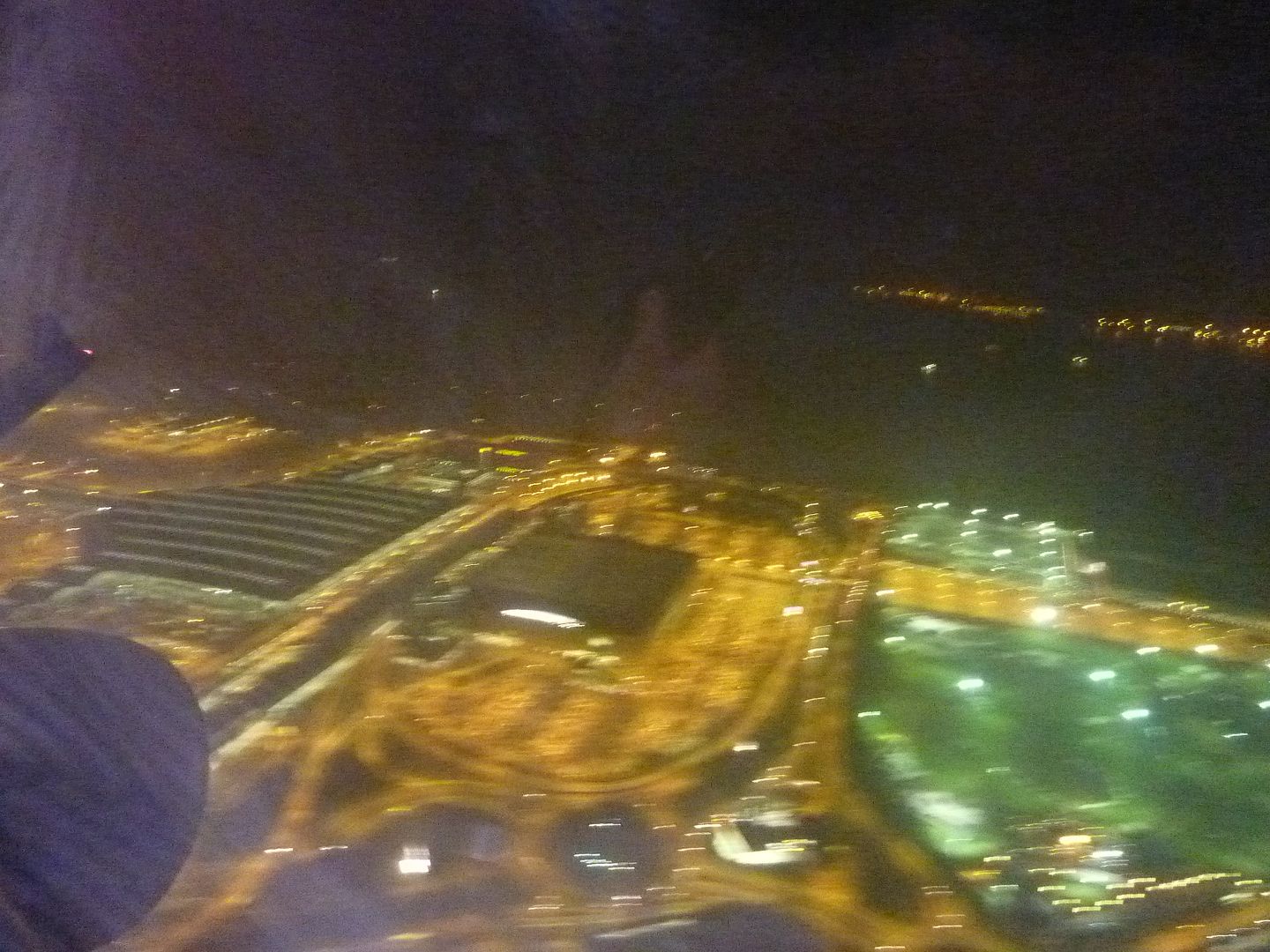 One thing to comment on was the cabin lights were not dimmed for departure, it always seems a little odd when this does not happen plus it plays havoc on trying to take pictures outside.
Quick look at the IFE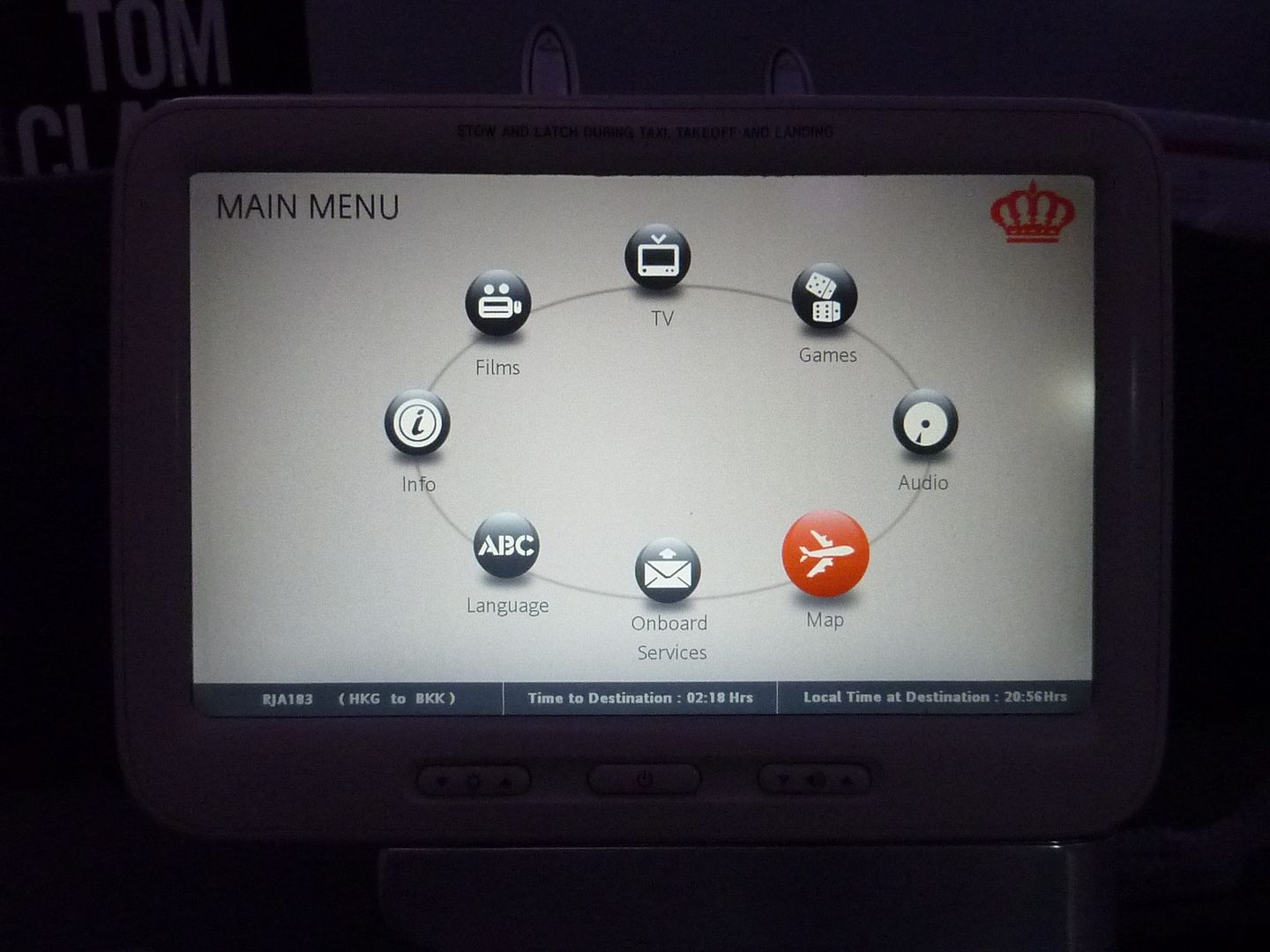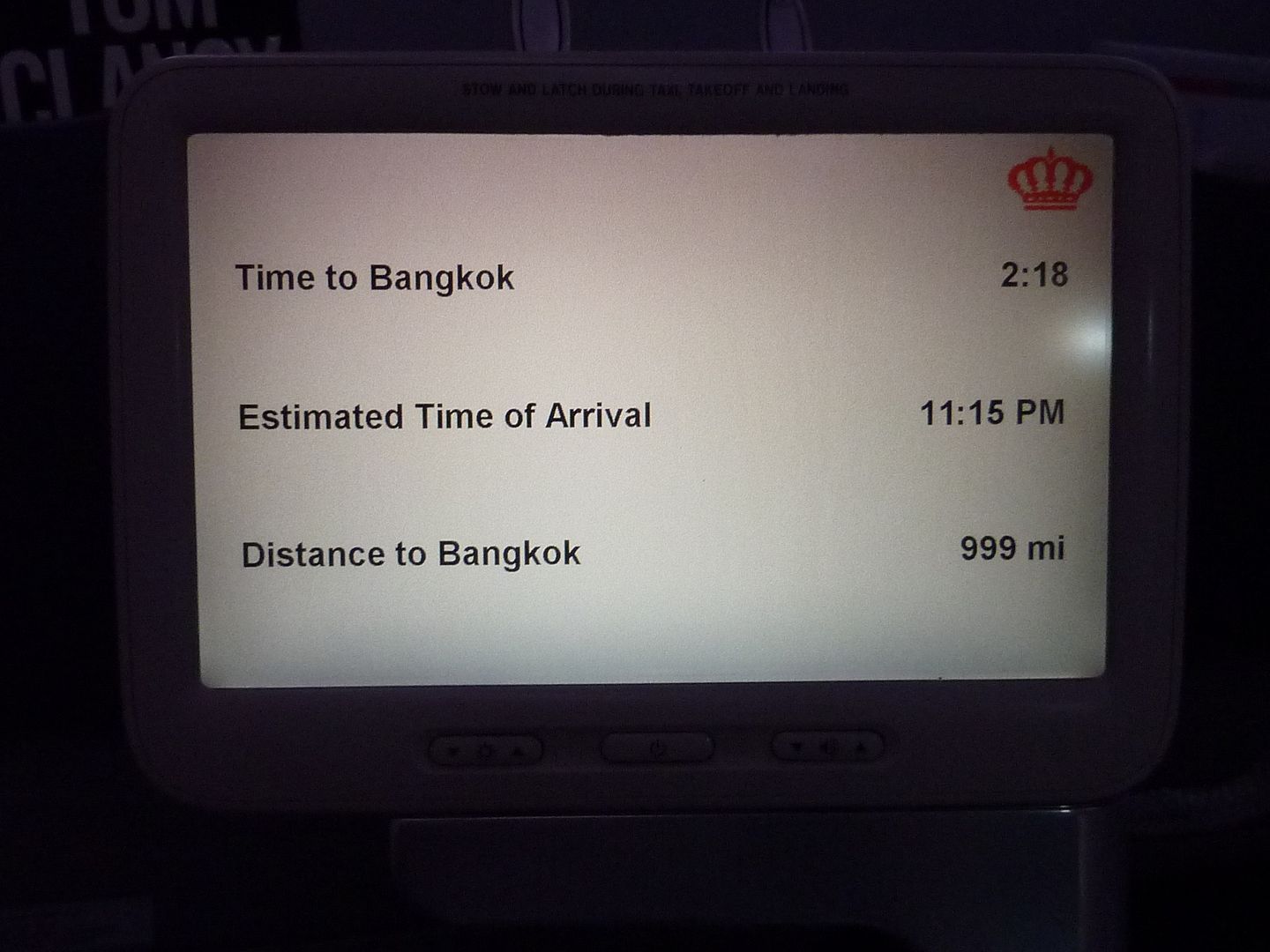 Just after 10pm our drinks were distributed along with a small bowl of nuts, I do like the way the RJ crown is featured on the glasses and dinner ware.
Headsets were passed out, cheap looking I must say, hot towels were passed out after this, they we a bit more 'fluffy' than the BA ones I am used too, nice.
Table linens were placed for those wishing to take the snack on this short hop, meal trays then placed.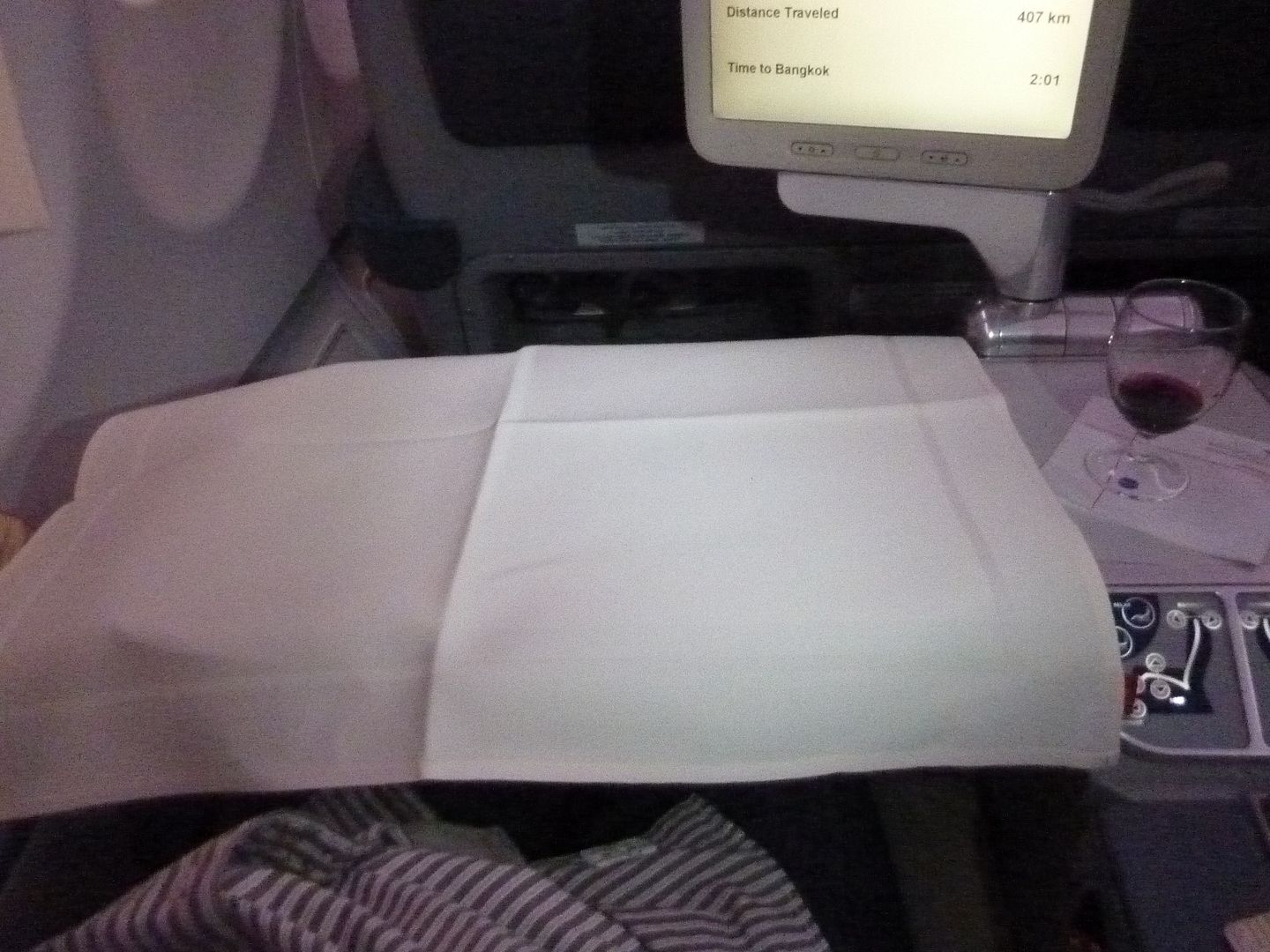 One of the FA's came around offering white wine then the lead FA came around offering top ups of the red. I had decided the red was corked and suggested she opened another bottle, it was clear she had no idea what corked meant,she explains to me it was a fresh bottle! I did dry to explain but to no avail, I asked for champagne to replace the red, after that she continued to offer top ups with the same bottle to the other side of the cabin, hmm.
The champagne arrived a few minutes later, I'd pretty much finished the meal by then.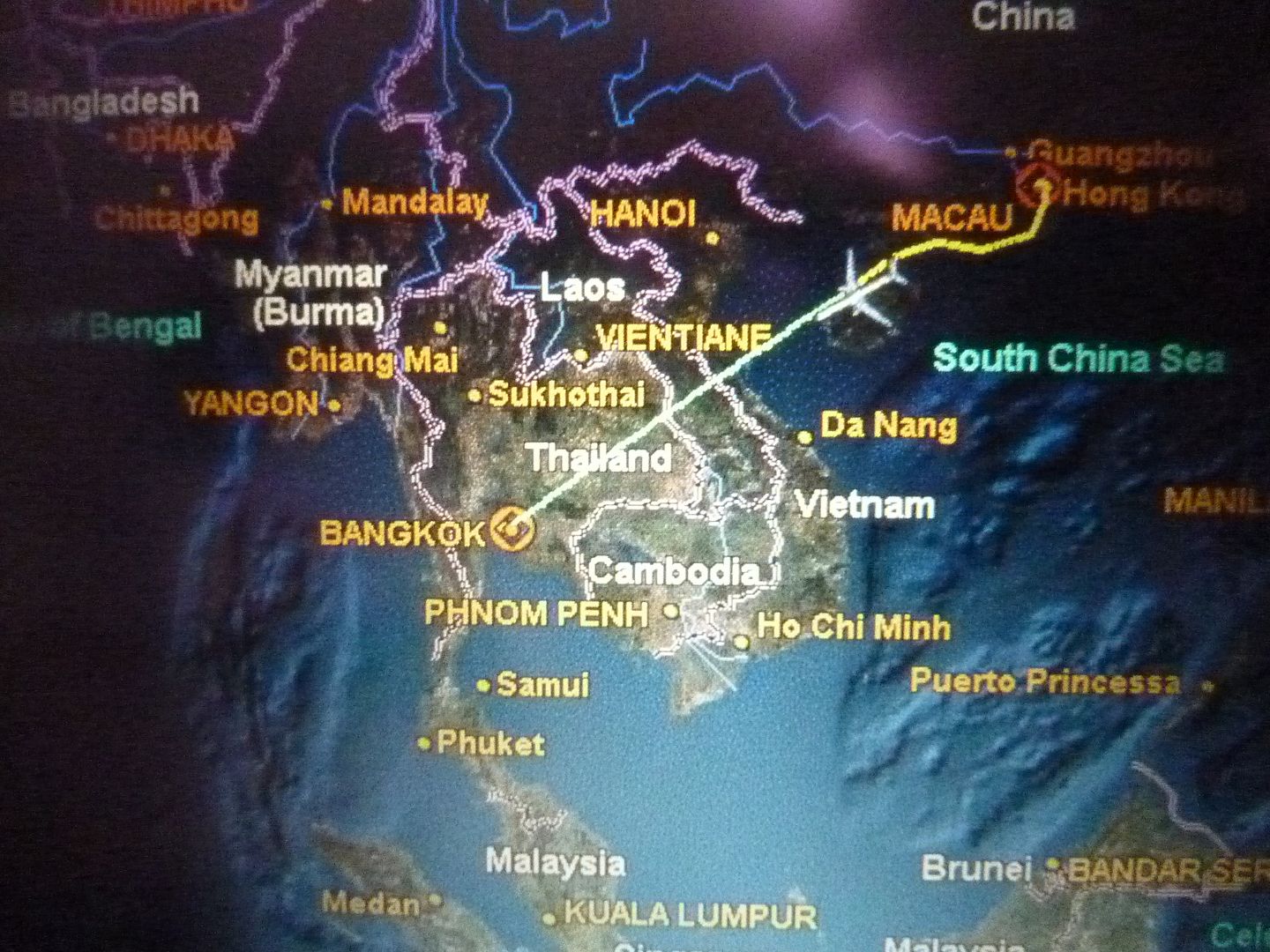 The meal itself was only a snack but was ok, I left the prawn thing as I'm not into those, buy the rest went down well.
Meal trays were soon cleared away, the FA tried to take my water and champagne too though I managed to save the these.
The glasses were almost empty but I had to ask for them to be topped up, she was looking to remove them, I did get top up's in the end.
Galley area, not keen on these fake wooden floor finishes on planes
I must have dropped off as next thing I recall was a crew call and decent start.
Wheels touched down at 23:16, some 4 minutes later we pulled up gate E9.
Once on stand passengers who were continuing to Amman were asked to remain on board and if they had changed seats to return to the one printed on their boarding pass.
It was also advised that there would be a crew change, hopefully that bode well for a more friendly crew on the next leg, I had found this set to be rather reserved, lacked any warmth or charm and were not particularly attentive to their passengers.
The cleaning crew came aboard and did their usual sweep and tidy of the aircraft where required, to be fare they had little to do in J as nobody had made a mess or changed seats, I must add most of the female cleaners were really hot!