Hello and welcome to my 15th trip report that will feature my flights with Lufthansa from Munich to Dubai in business class. MUC-DXB was operated by the A340-600 and on the DXB-MUC sector the A340-300 was on schedule.
We were in the middle of planning a trip to Dubai for some friends and family when A.net user Jonas/LH4116 posted about some very low LH business class prices. Indeed, they were going to have a special 11/11/2011 sale and thanks to Jonas, who posted about it the afternoon before, we had enough time to plan a quick DXB trip for six people from Munich.
For a long while we planned on just driving to MUC with a van (it takes around four hours from Ljubljana), but a few days before the trip the weather report looked great and we were able to get a very good deal on JP so we added a LJU-MUC-LJU round trip with around two hours of transfer time on both legs. It worked perfectly.
As every trip this one started with the cat wanting to tag along: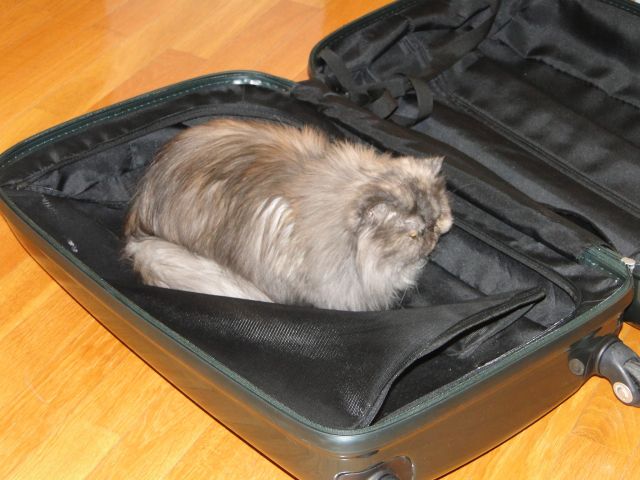 Check-in at LJU was simple, our bags we're checked all the way to DXB, but our LH boarding passes would need to be collected at the transfer center in Munich. A visitor from Turkey: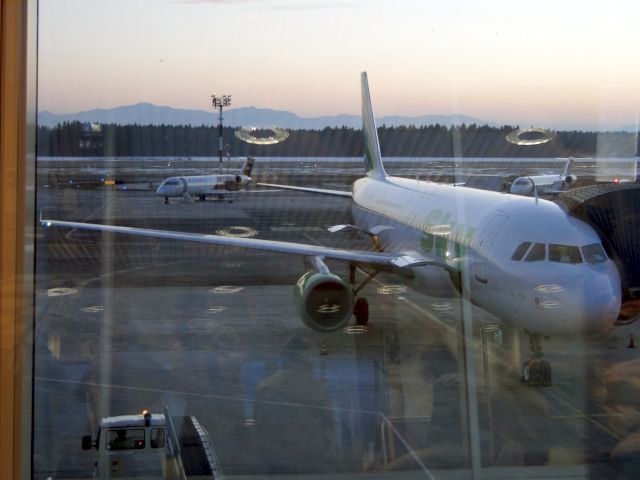 Bus boarding as usual for the CRJ2 at LJU.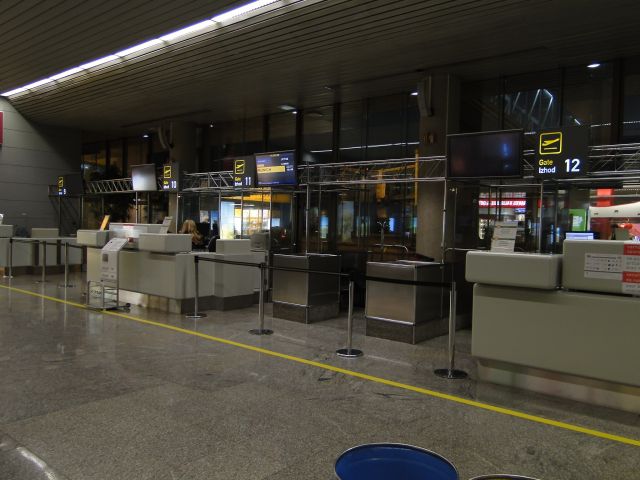 JP108 LJU-MUC 18:40-19:40 CRJ2 S5-AAF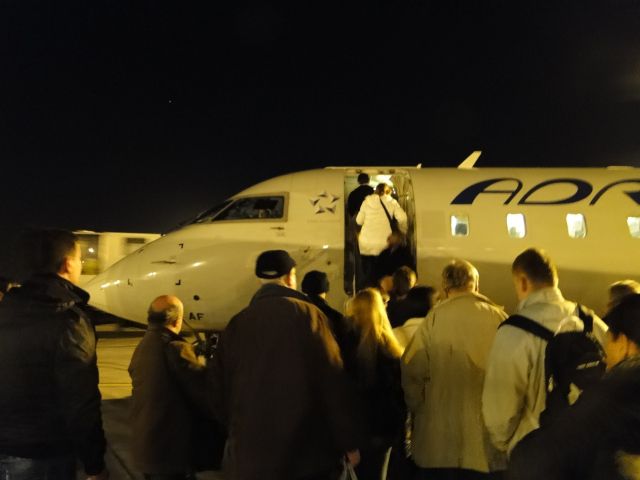 Not much to say about this flight, it was a standard JP hop and it was my third time flying this same 18:40 flight and my fifth time flying on this route. Since it was carnival Saturday we were given an appropriate snack: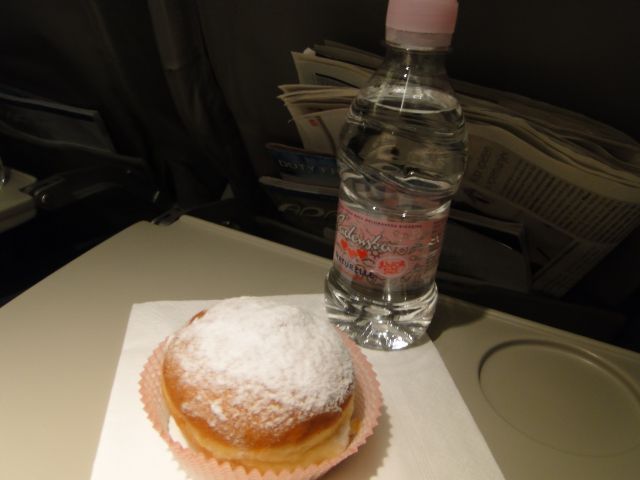 We had great views over some ski areas glowing in artificial light.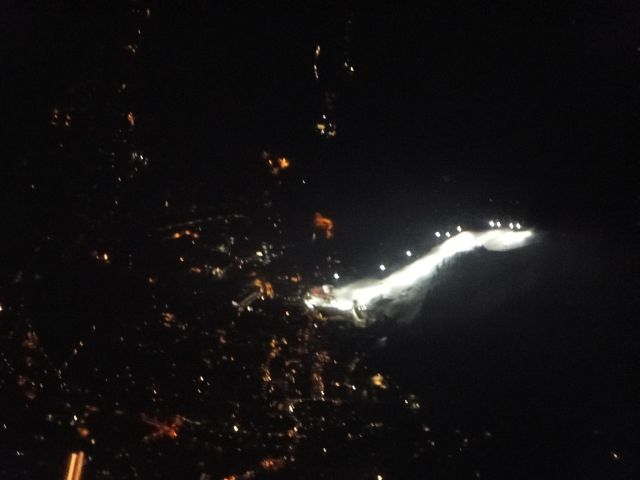 Arrival into MUC was quick and after a bus drive to the terminal and a quick stop at the transfer center to pick up our boarding passes the first place to visit was the non-schengen lounge.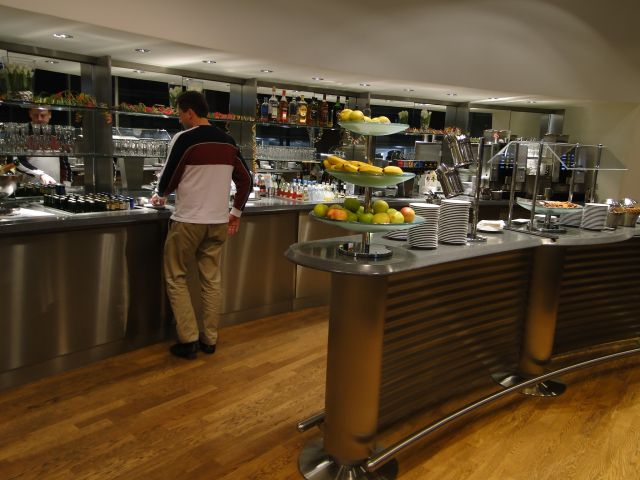 Gate H24 for our LH flight to Dubai.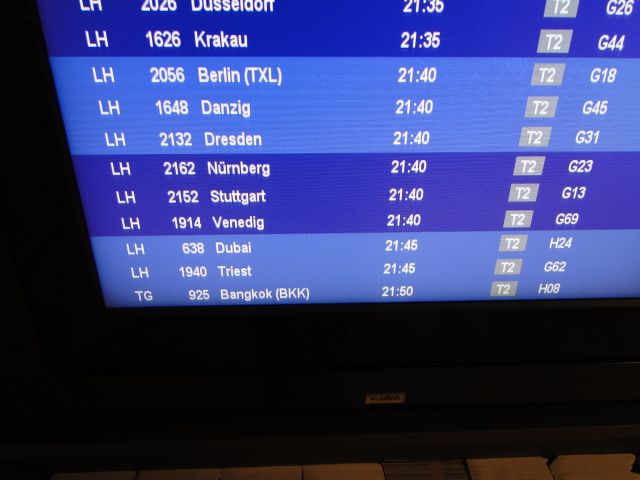 Another view of the lounge.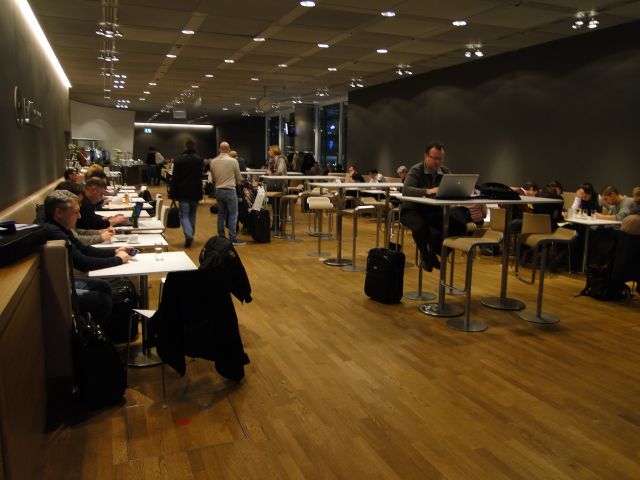 Newspapers and mobile phone chargers.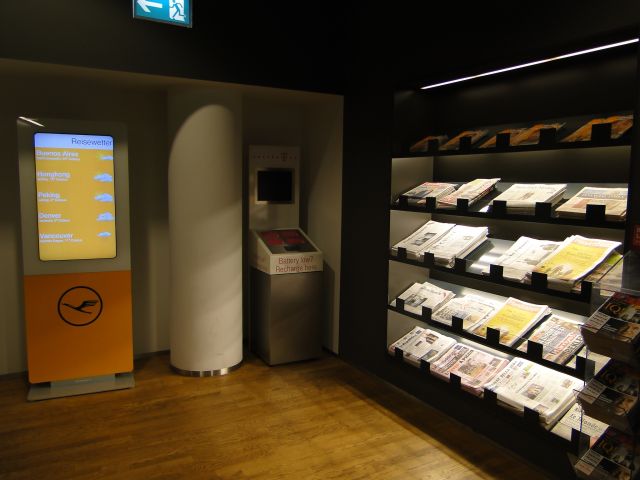 Some very good hot food choices. Chicken wings and Munich meat loaf if I remember correctly.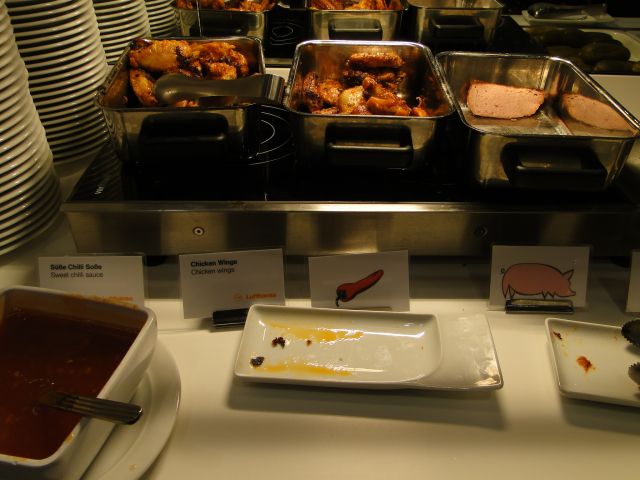 Some oversized pickles and potato-pickles salad.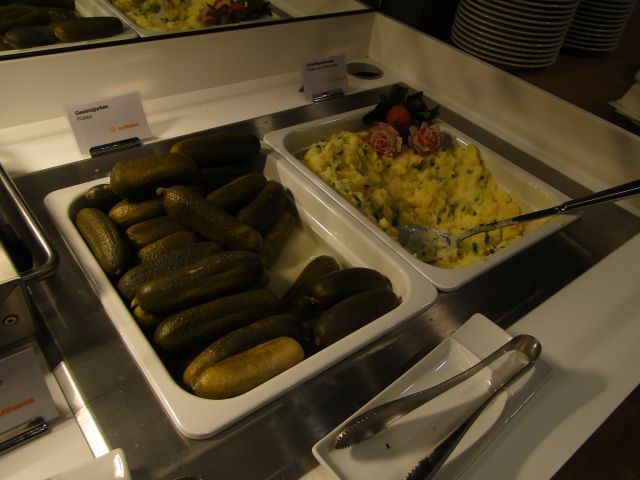 And some sweets…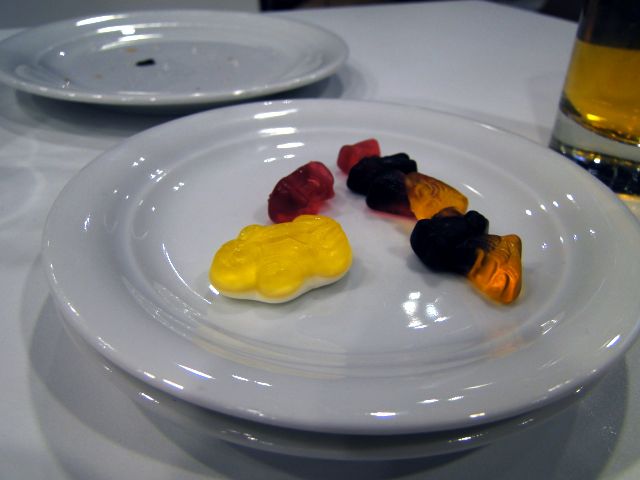 Gate H24 was used for economy class passengers, gate H23 was used for priority boarding.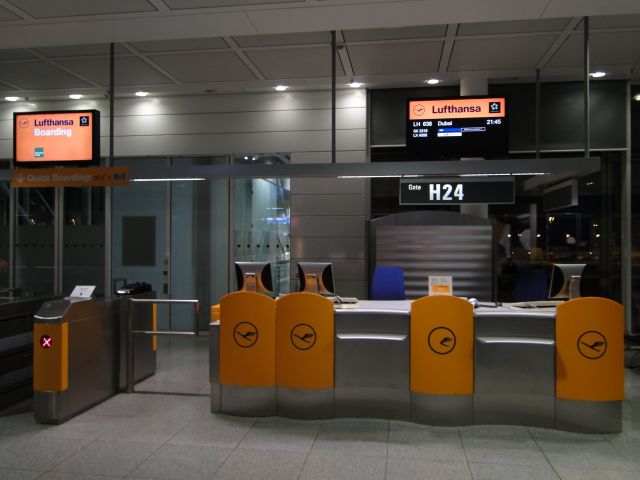 LX and SK code share.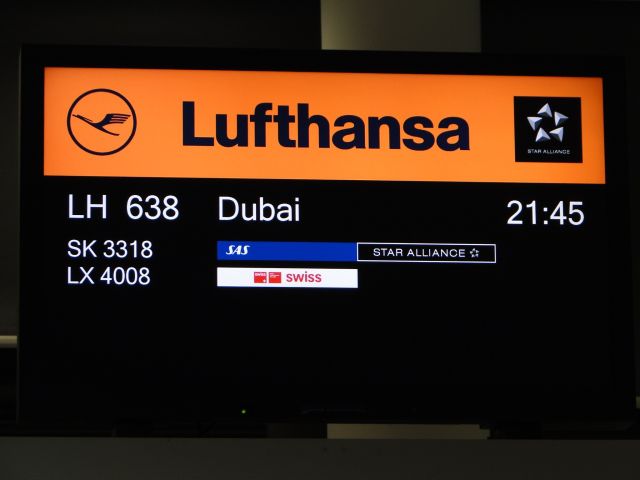 And our beautiful A340-600, my favorite Airbus.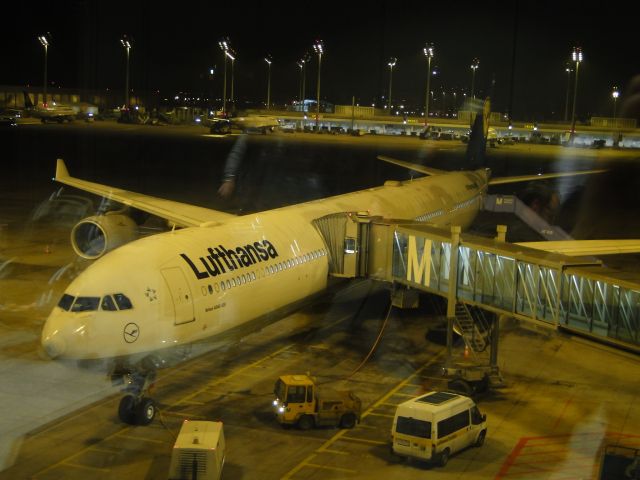 D-AIHW will operate our flight tonight. There were quite a lot of people taking pictures and admiring the plane form the gate area.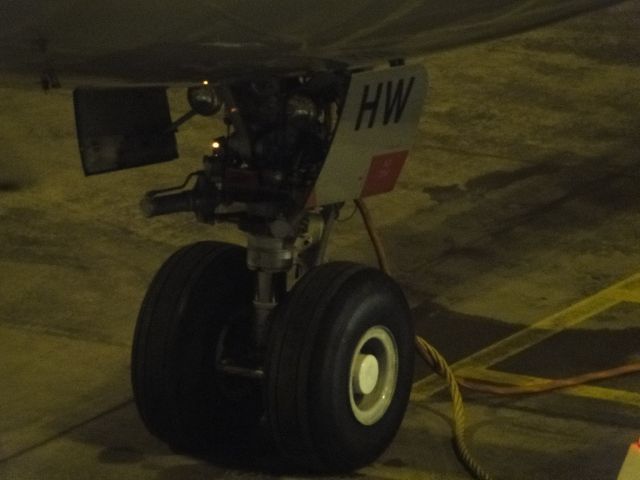 This will be my 5th A340-600 ride, all of the on LH (MUC-JFK 2x, FRA-YVR, YYZ-FRA).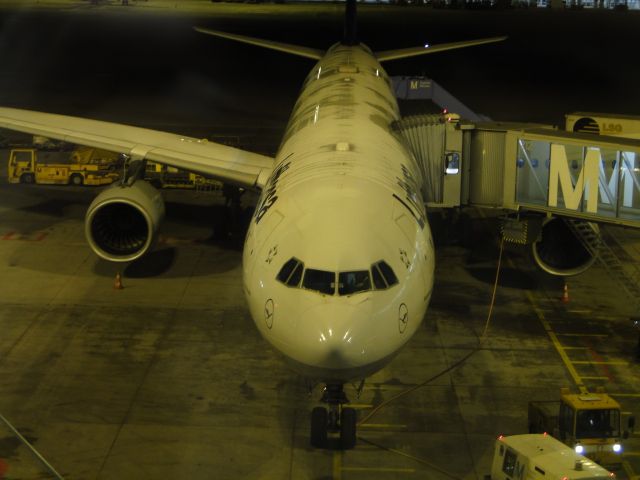 Mostly empty MUC T2.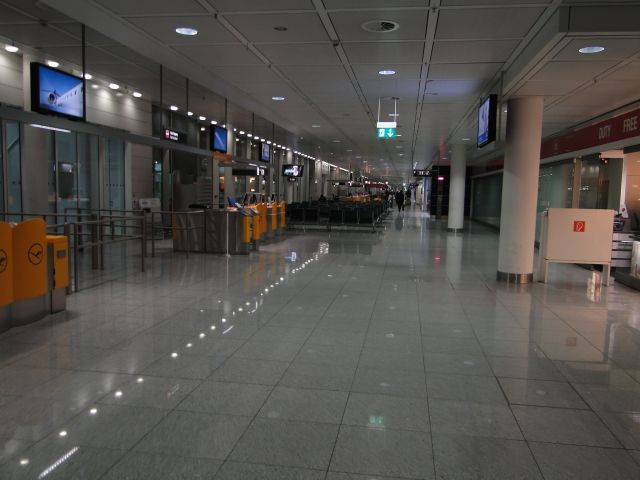 Another A346 was going to Shanghai.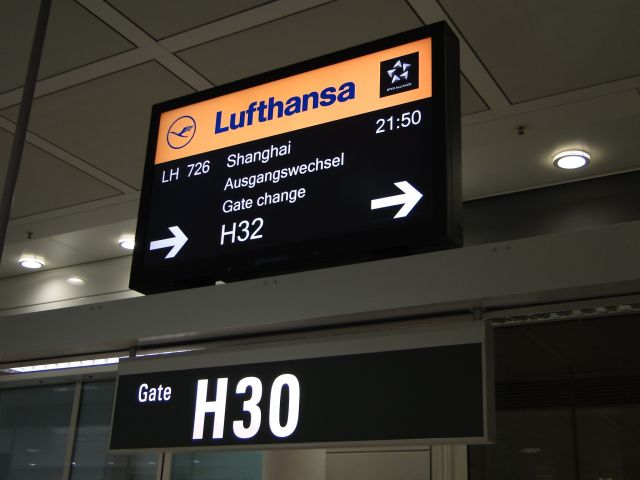 Boarding started right on time. But there was no priority boarding call, no call for passengers travelling with small children, everyone just flooded the gate area, it was quite a mess actually, not something I would expect at MUC.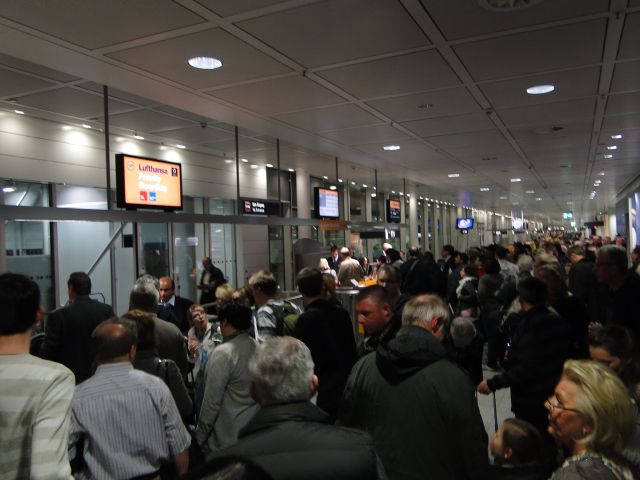 LH638 MUC-DXB 21:45-06:45+1 A346 D-AIHW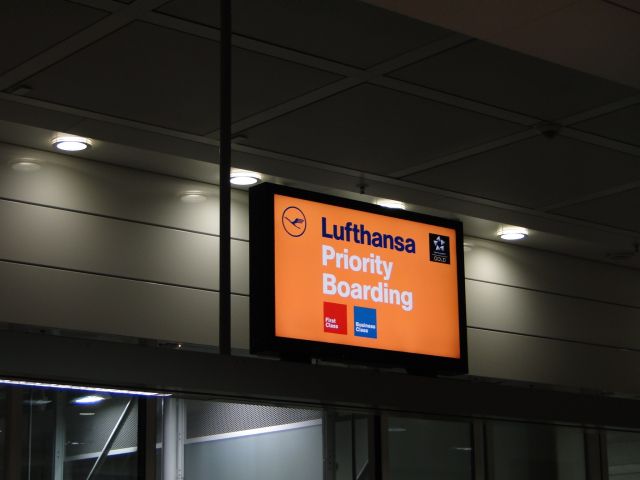 Down we go towards the plane. There was only one jetway connected.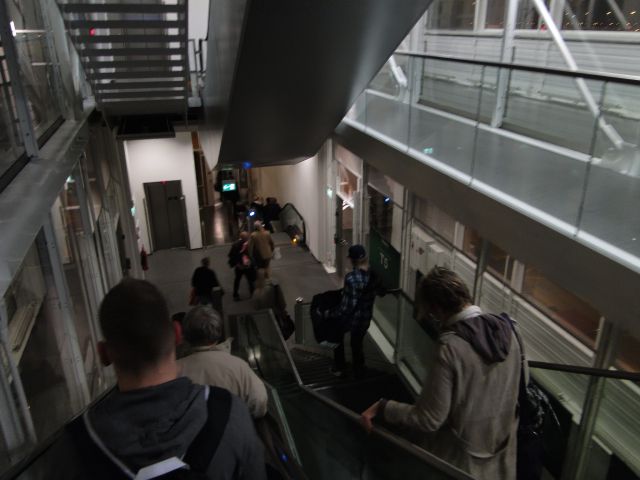 I know this is the favorite part for many of us, the time just before boarding the aircraft.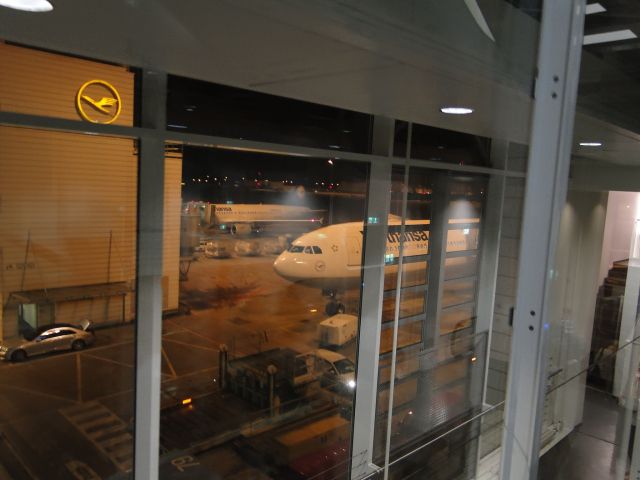 This was probably my last time boarding the A346 as the longest passenger jet in service, the B748 will take that title if I'm not mistaking.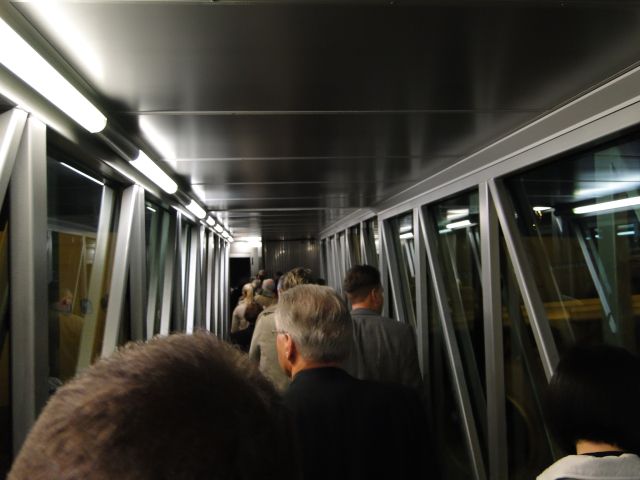 I was able to see through the windows that it was fitted with the new LH first class.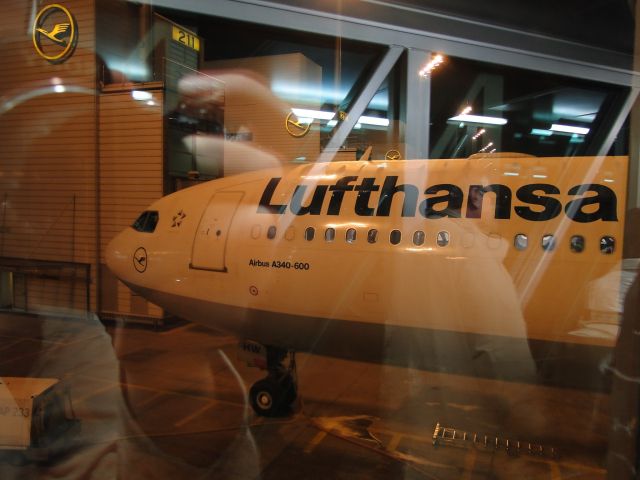 The fresh looking cabin awaited us, just a few steps more.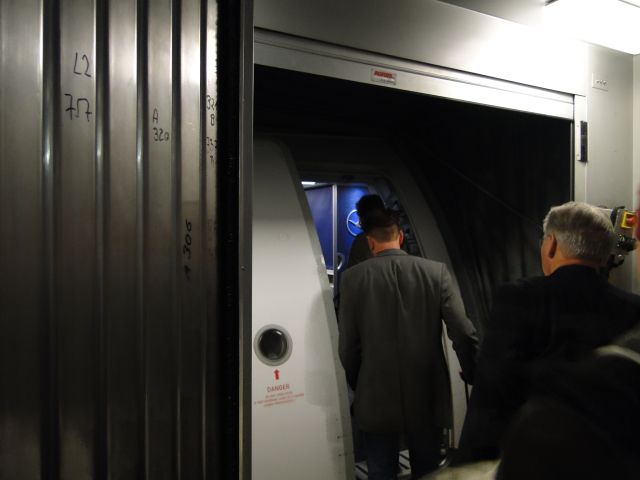 The aft business cabin.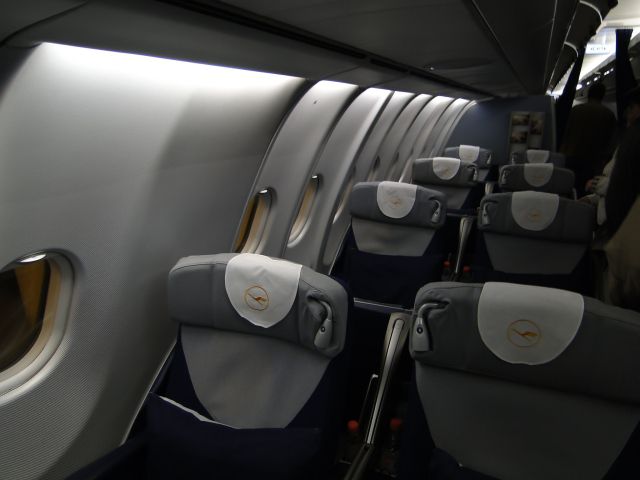 A view across from my seat.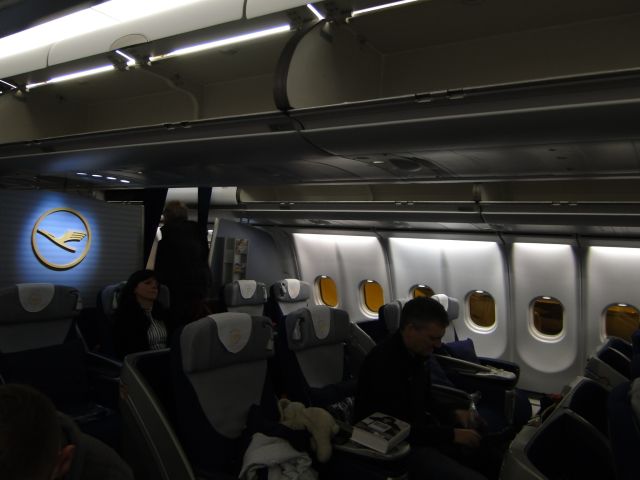 Bottles of water at every seat.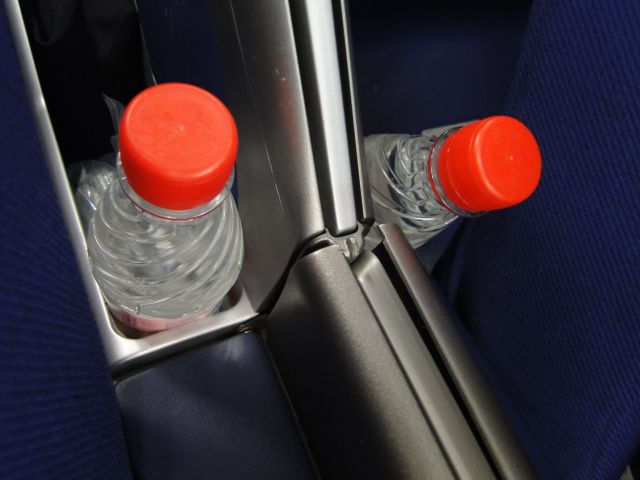 A view outside, two LH short-haul Airbuses and a long-haul one to HKG, at the end of the terminal you can see the B744 from BKK.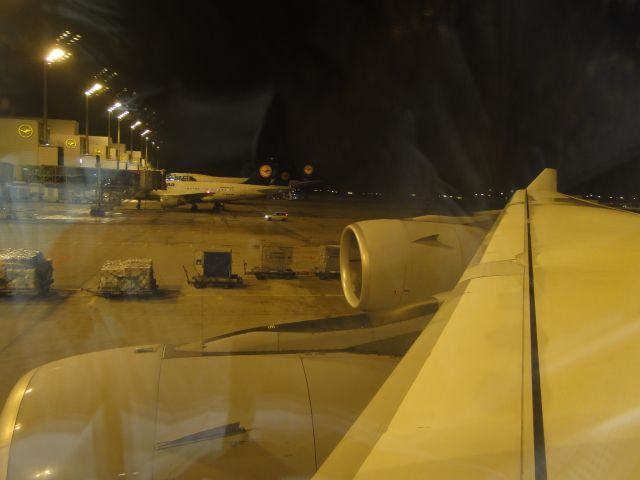 The amenity kit, the bag one on the return flight looked better for me.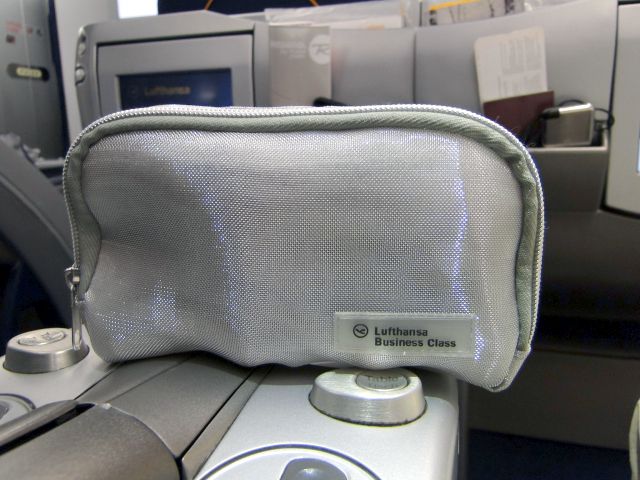 The usual content inside – a pair of socks, eye shades, toothbrush, ear plugs…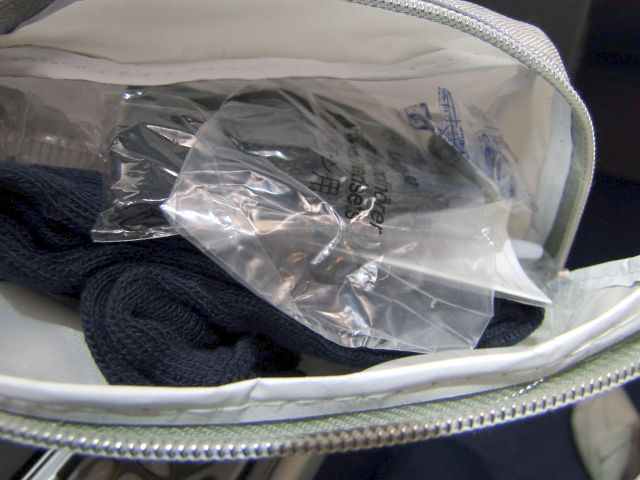 The captain came on the PA, a flight time of exactly 5 hours was announced and our routing would be Austria-Hungary-Romania-Black Sea-Iraq-Kuwait-Dubai.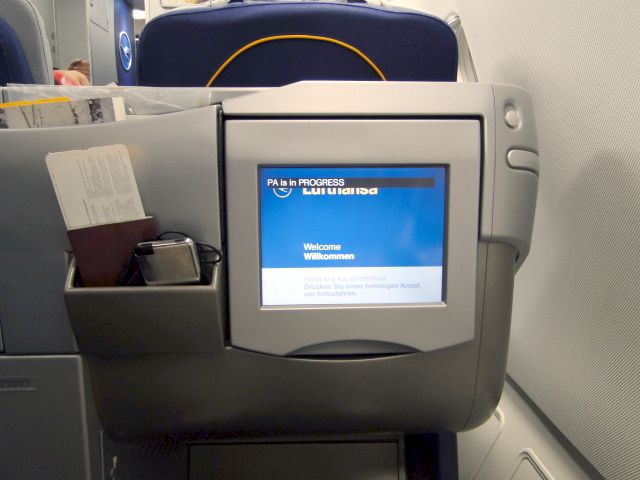 Orange juice was served before pushback.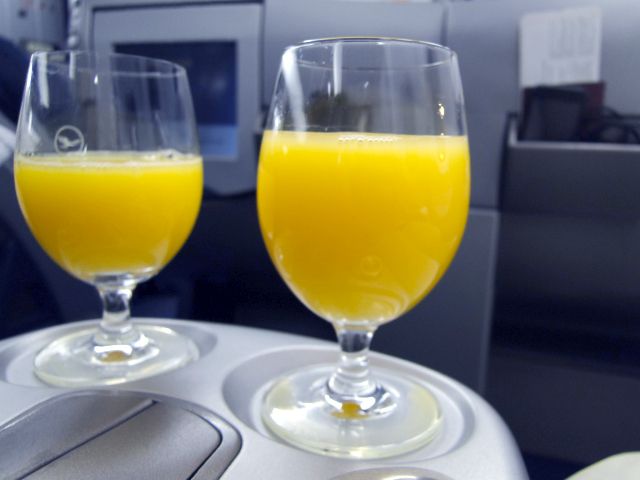 Our aircraft was parked for quite a while so we had to stop for de-icing.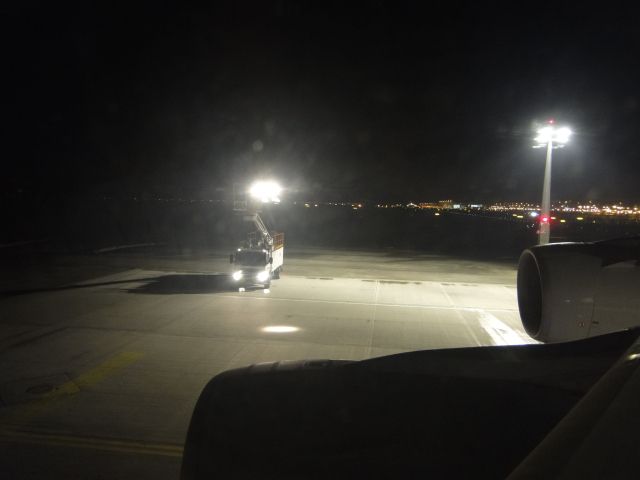 My first time being de-iced onboard a widebody a/c.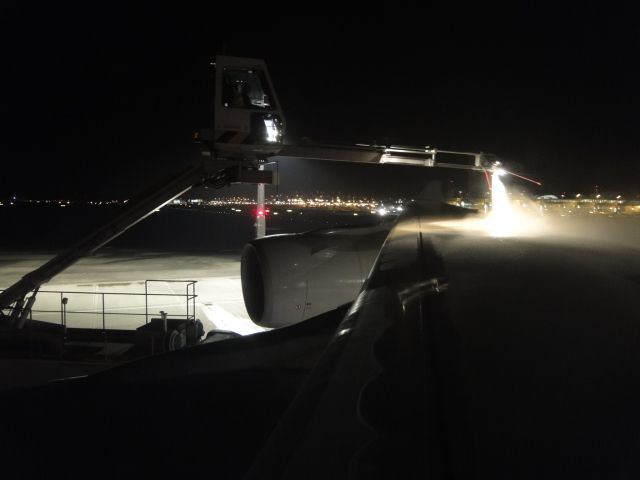 The Thai 747 did not need de-icing and started its takeoff roll before us.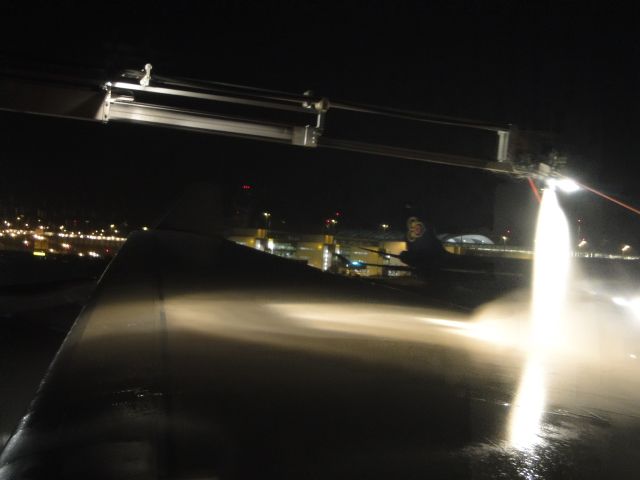 Here we go, just after takeoff from runway 26L.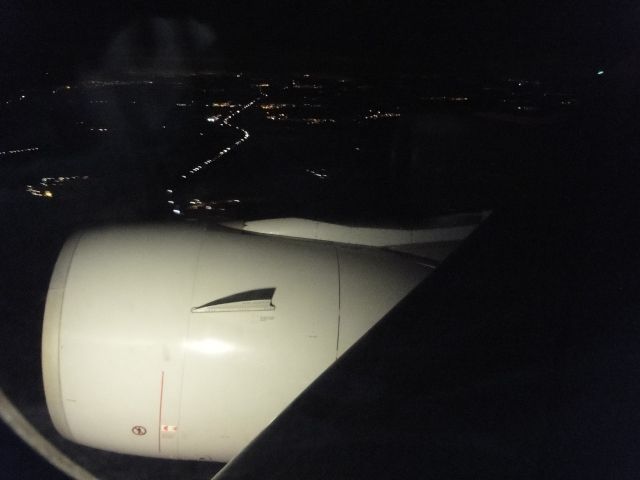 Nice views of Munich as we made our turn in the other direction towards DXB.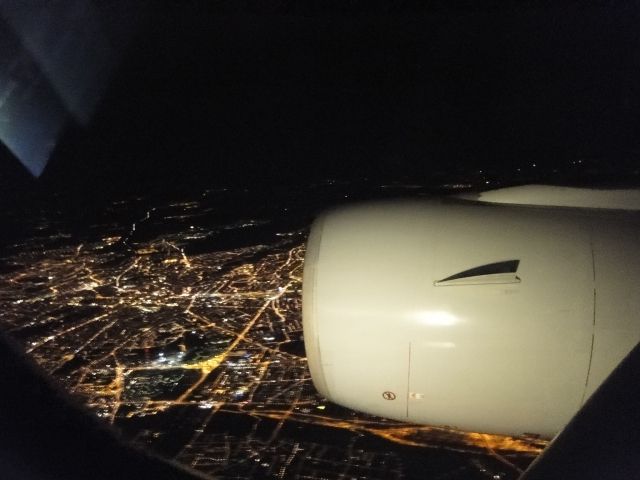 I decided to wait for dinner service, even though my plan at first was just to get as much sleep as possible. But I also wanted to enjoy the most of this LH A346 C experience.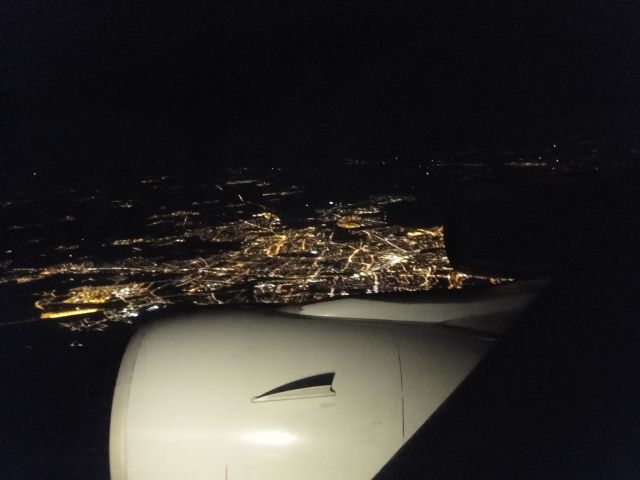 A very short flight time for this night flight, it was going to be a long day ahead of us.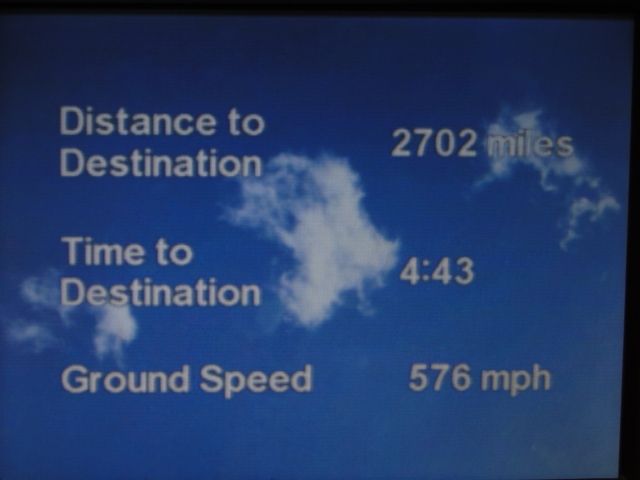 Entrees for the dinner service.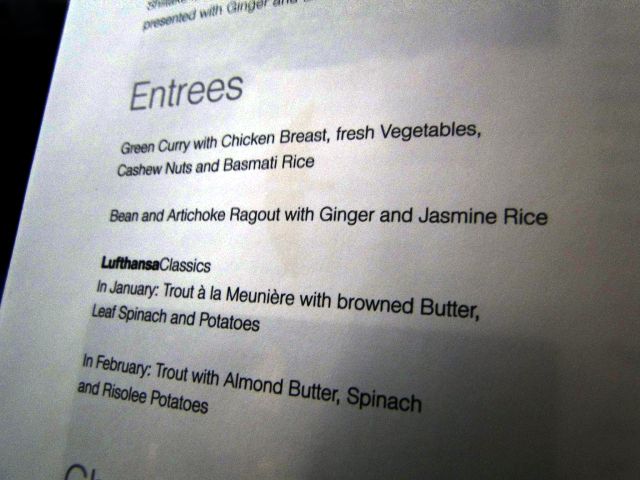 We were served drinks first along with some 'Mandeln'.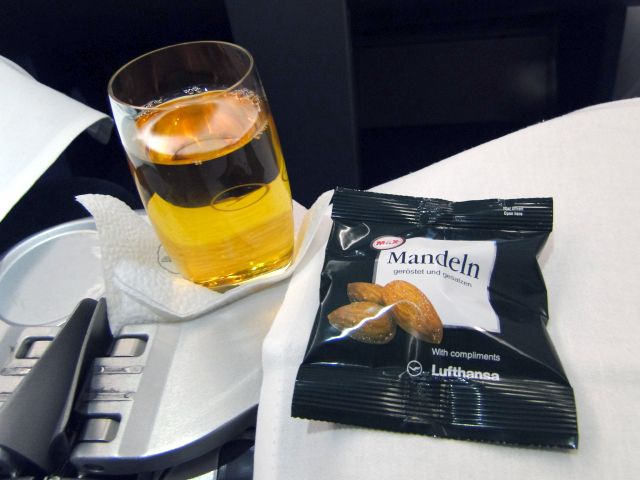 It took the crew more than 1 hour after takeoff to distribute the meals, way to slow on such a short night flight, when you are just looking to get at least some rest.
During the meal service there was a lot of passengers from Y, mainly kids that came running through the cabin to use the toilets, two even fought a bit who will use it first. I remember when I accidently used the F class toilet on CX B747, I was politely reminded by the FA 'Mr.SloAir, just to let you know there is a business class toilet at the back of the cabin and you are welcome to use that one.' But the crew was nowhere to be seen from after takeoff to an hour later.
But other than that all crew members were very friendly and nice, one of the best LH crews I had the pleasure of flying with. Specially the young FA that was serving my side, she paid attention to her passengers and engaged into conversation with them.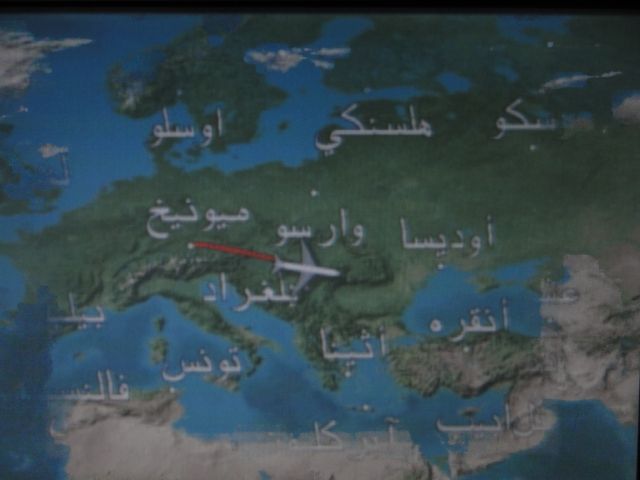 Finally with less than 4 hours to go I received my meal, at least the starter and the main course were on the same plate.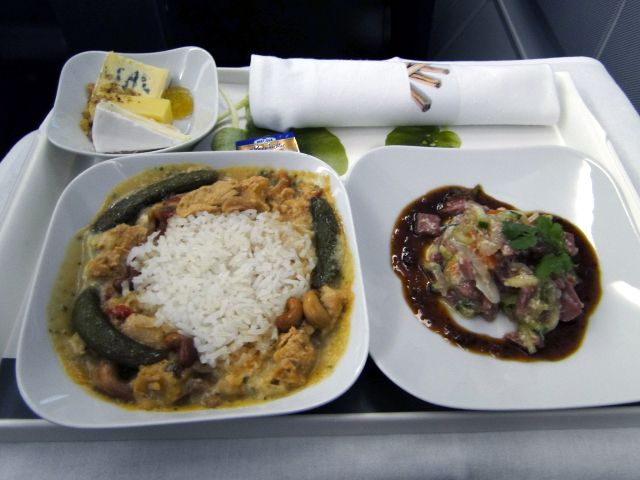 My main course, Green Curry with Chicken Breast, fresh Vegetables, Cashew Nuts and Basmati Rice.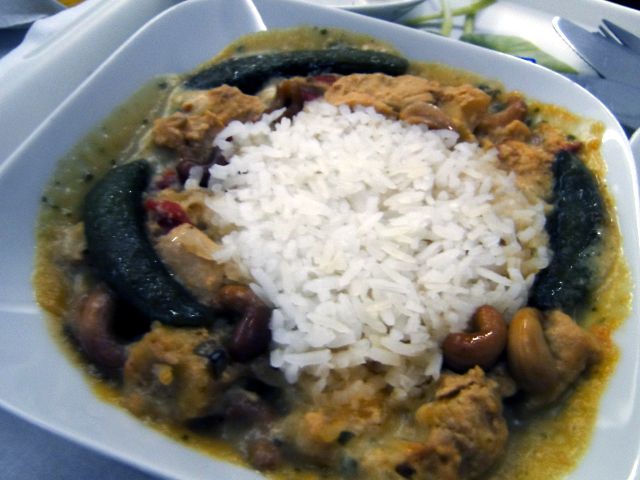 After that I put my seat in the (angled) lie-flat position and I was able to get around two hours of sleep.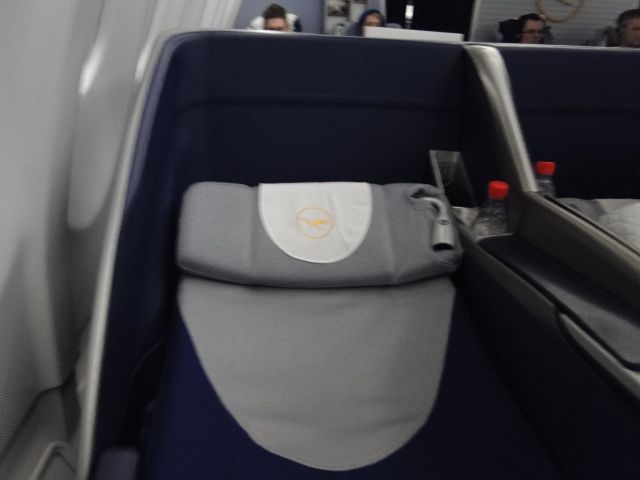 As usual I did not have any problems with sleeping or sliding down the LH business seat and was able to get enough rest to make it to the hotel in Dubai in a decent state 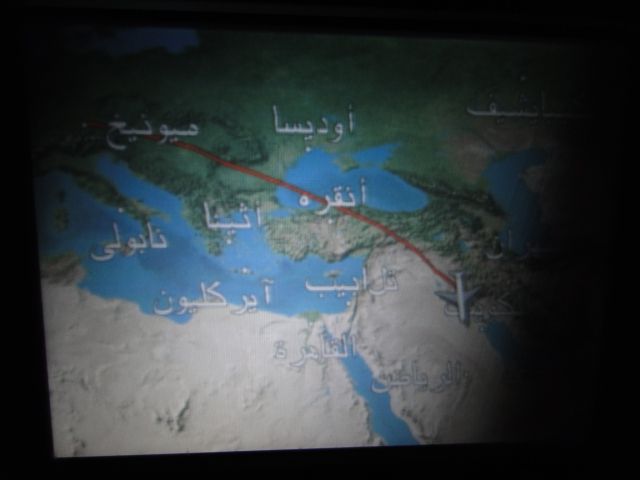 Snacks set up in the galley.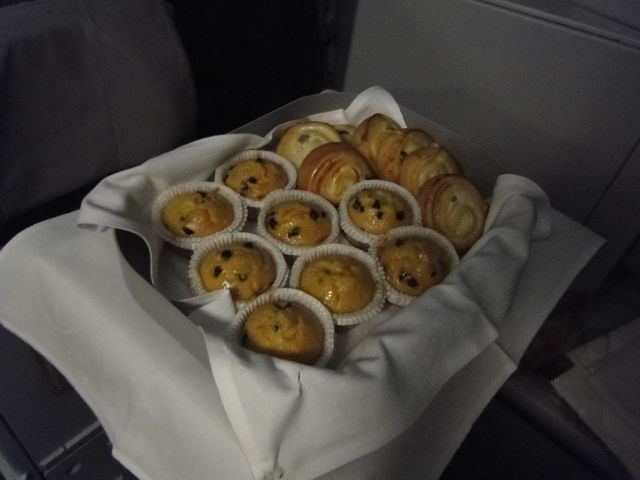 Stairs to the lower deck economy toilets, great idea.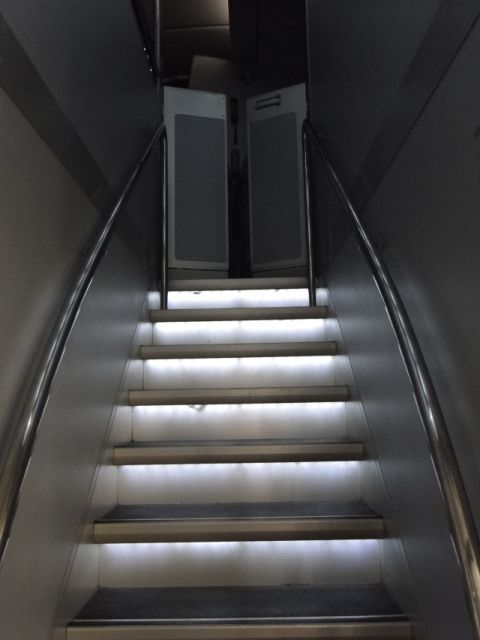 I've seen a few reports on LH A346 when snacks and drinks were seat up down here, but nothing on this flight.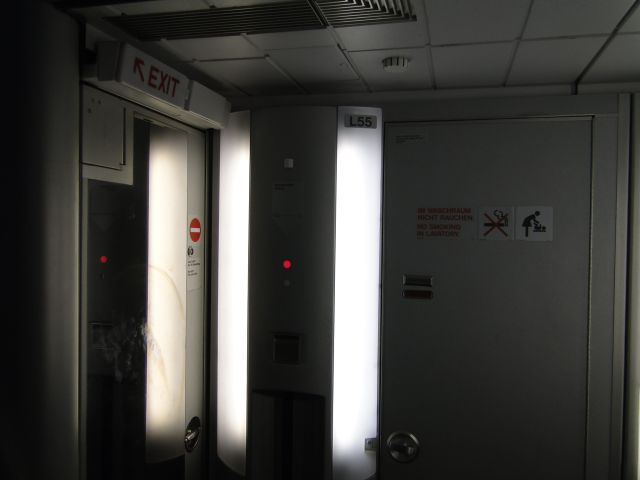 A picture form the back of the looong Airbus.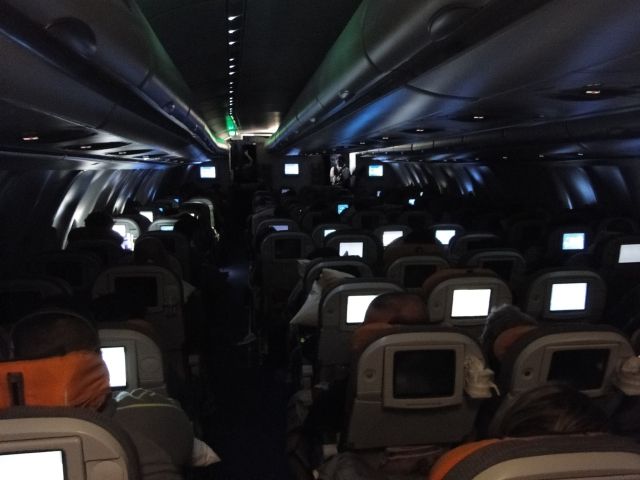 And the first economy section.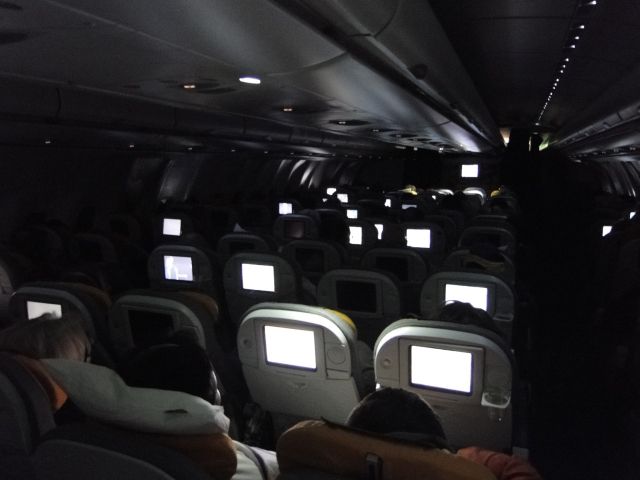 Our progress.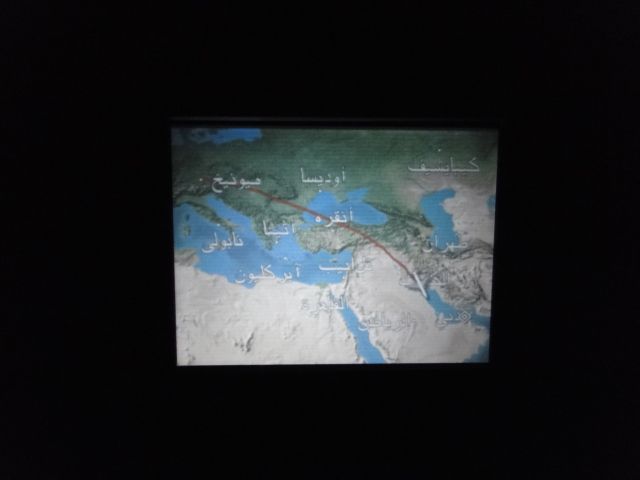 Can you guess what this is?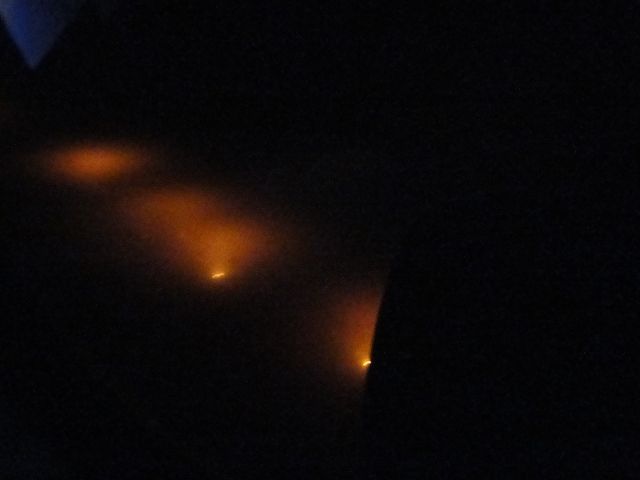 These are the Kuwait oil fields. I asked one of the cabin crew who also came by to appreciate the view. It was quite spectacular and my pictures can't do it justice.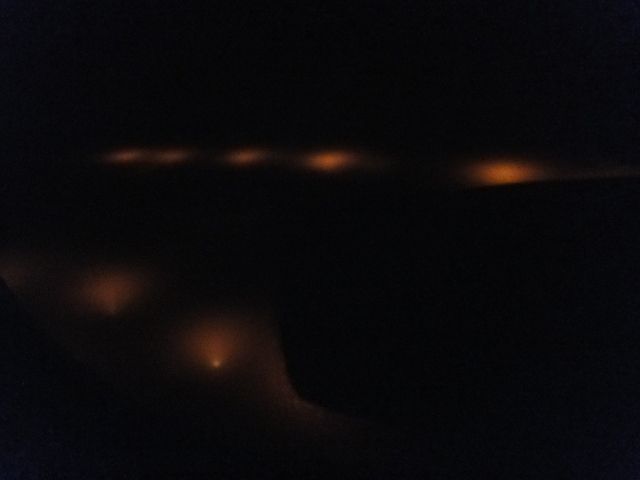 Here's the safety card to confirm the plane type.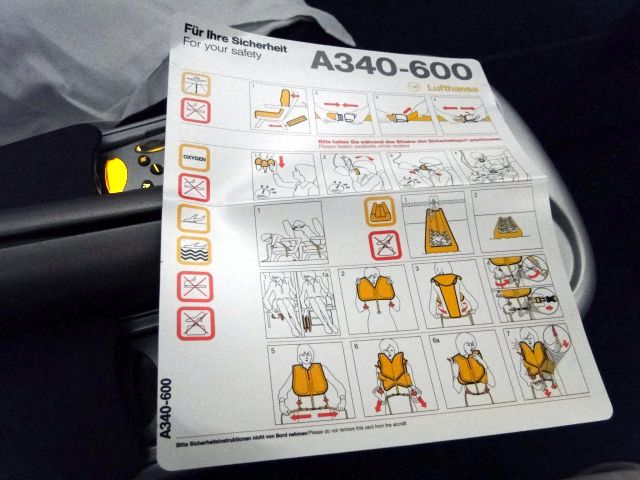 And the back side…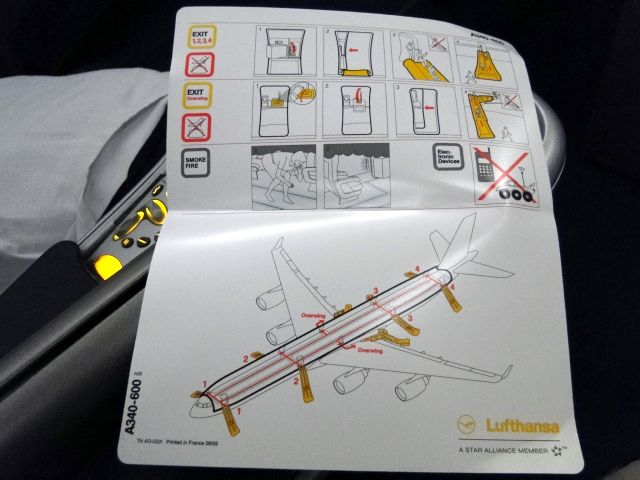 Prior to landing, a light snack will be offered. Well, here it is: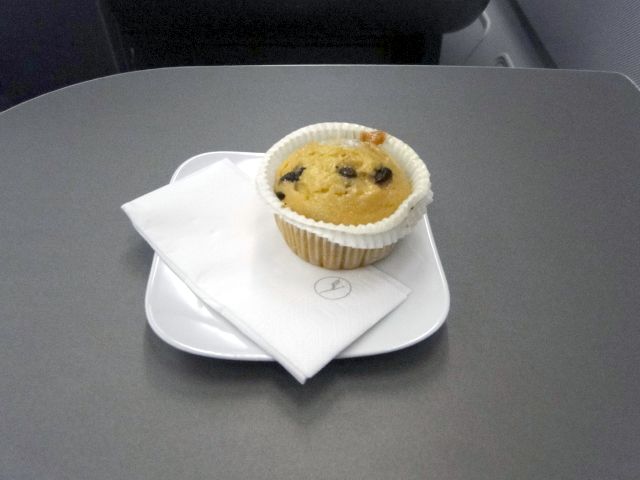 Both toilets occupied.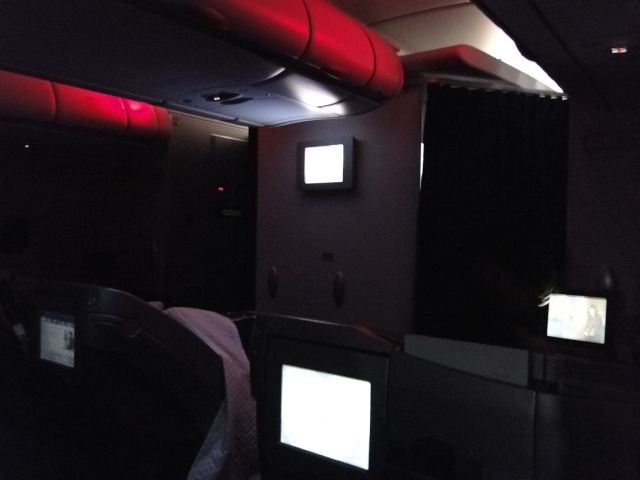 We're getting closer and closer. The captain came on the speaker and gave some info about our flight so far and the weather in Dubai.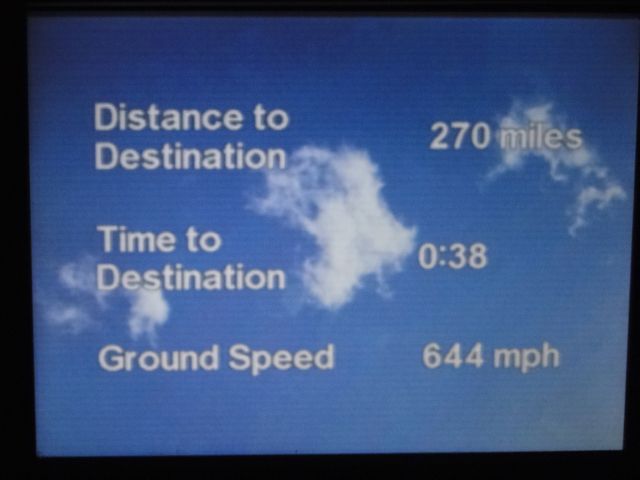 Soon after he was on the speaker again. He said that we might have saw some other planes outside that were waiting to land at DXB and that we will be put into a holding pattern for the next 40 minutes.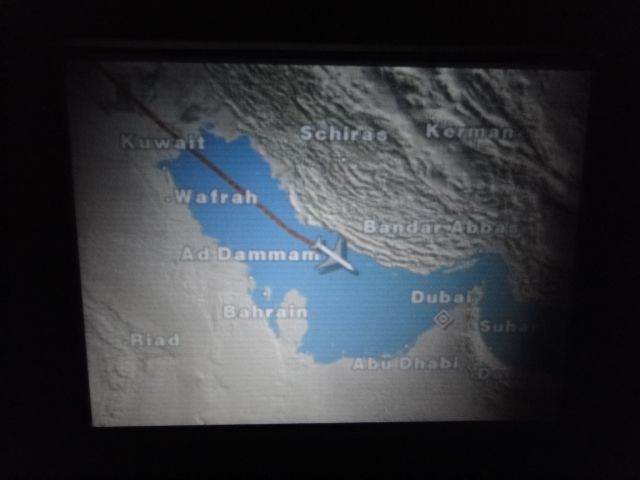 I couldn't see any other planes, but I did not mind the holding as we would still arrive on time and hopefully the sun will rise by the time we land so we would get some nice first views of the UAE from the window. And I was just saying how I would not mind spending some more time onboard this great A346 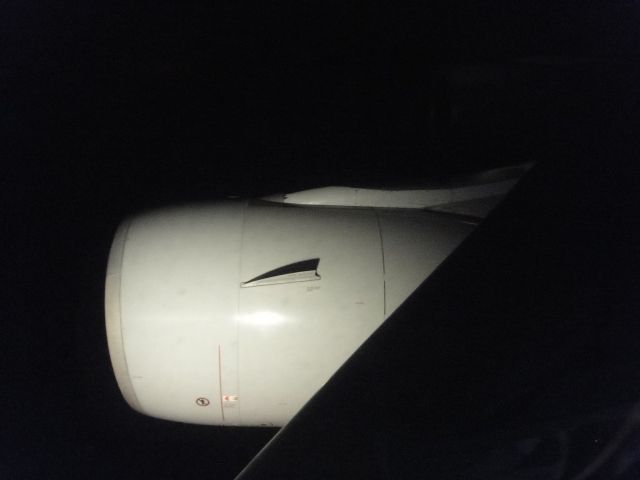 I was able to see the sunrise on the other side.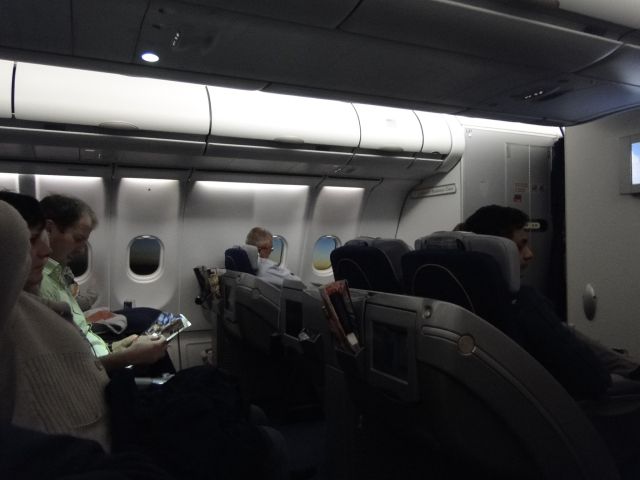 And as we made a turn in our holding pattern I was able to admire it on the right side of the plane, a very beautiful sight but hard to take decent pictures of it.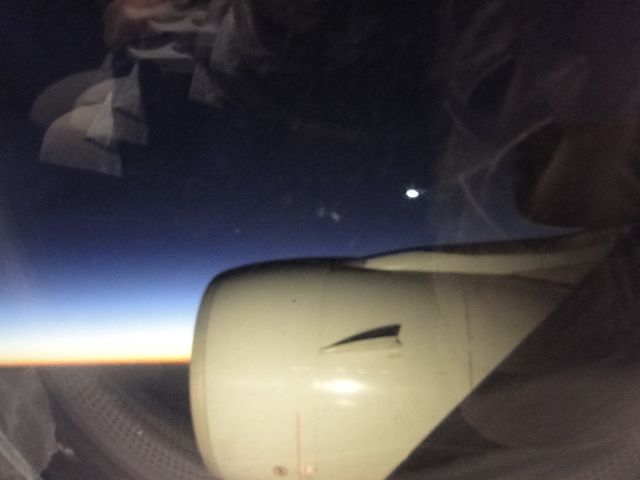 Sunrise again.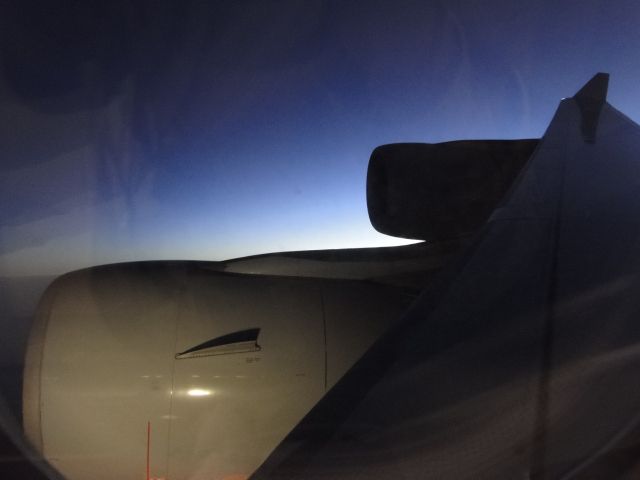 Here we go, out form the holding and into DXB runway 12L.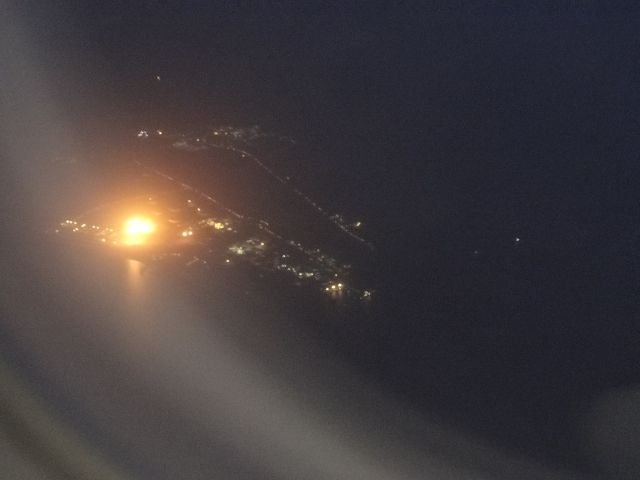 As I hoped it was not dark anymore during our final approach.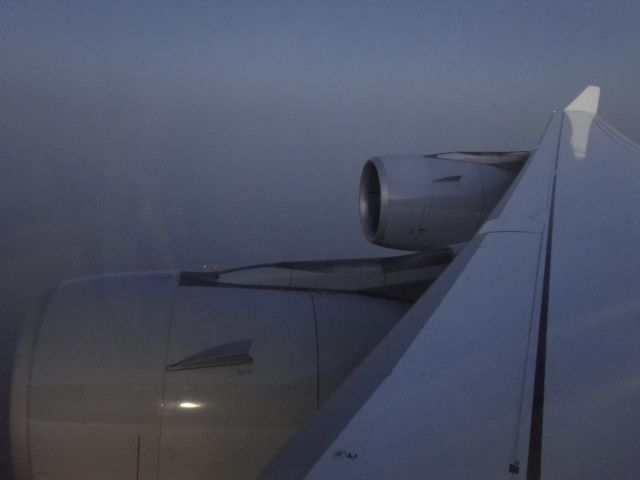 We made quite a few circles.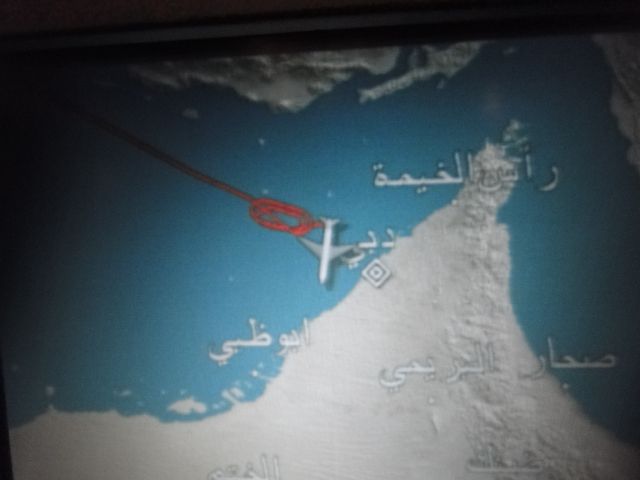 I'll just let the pictures do the talking now, we had great views of the Dubai skyline and Burj Khalifa.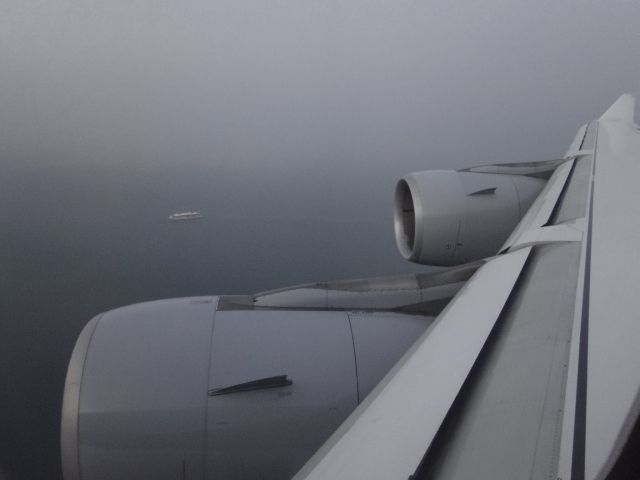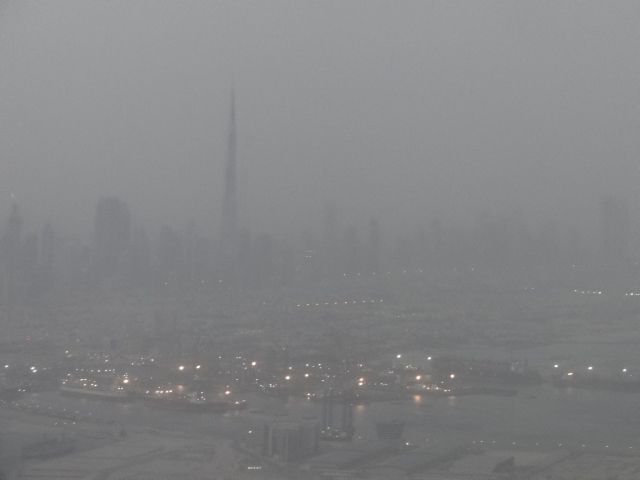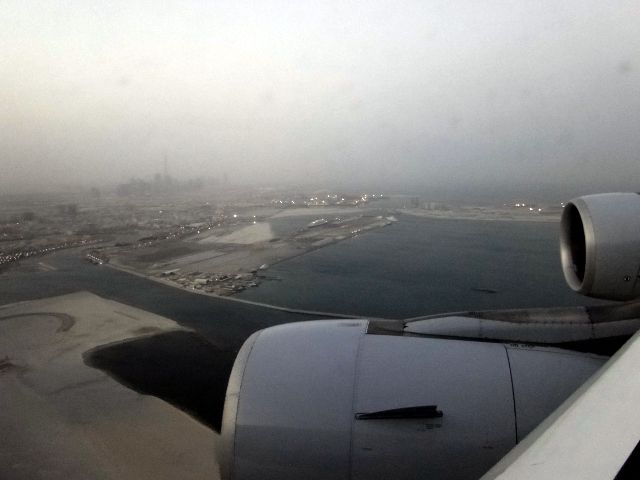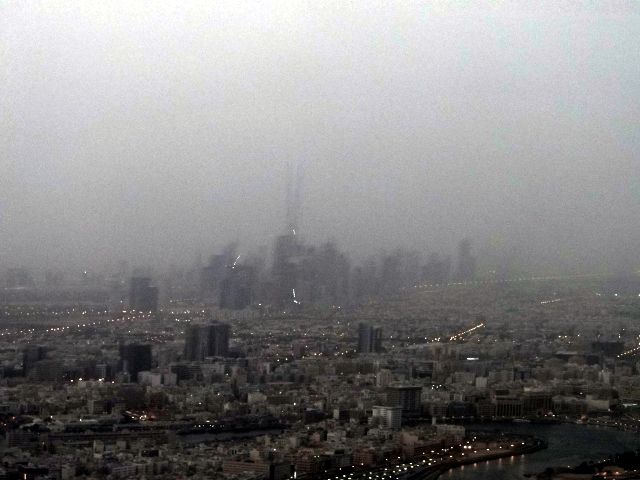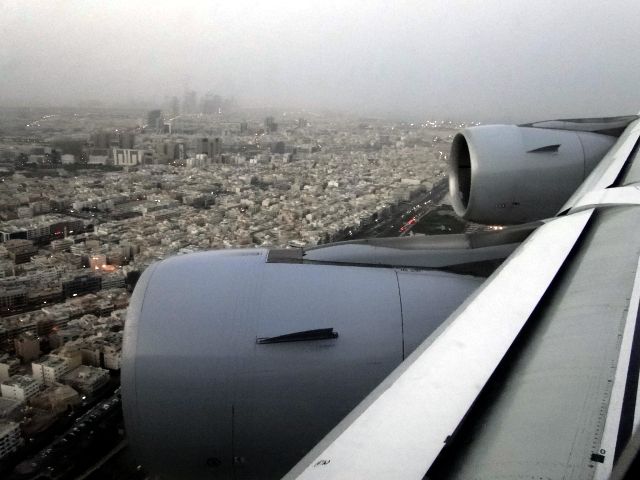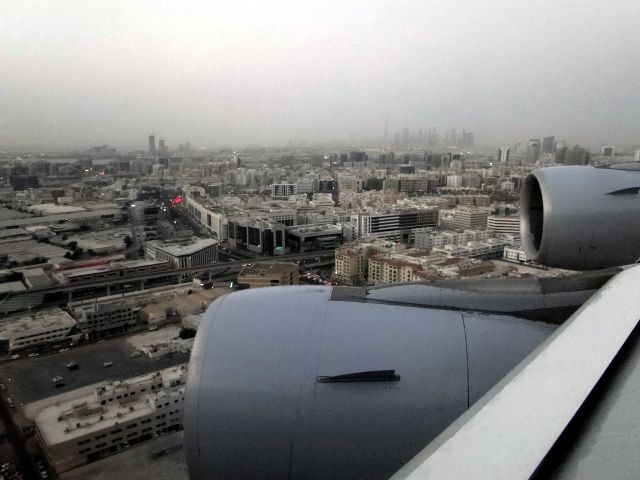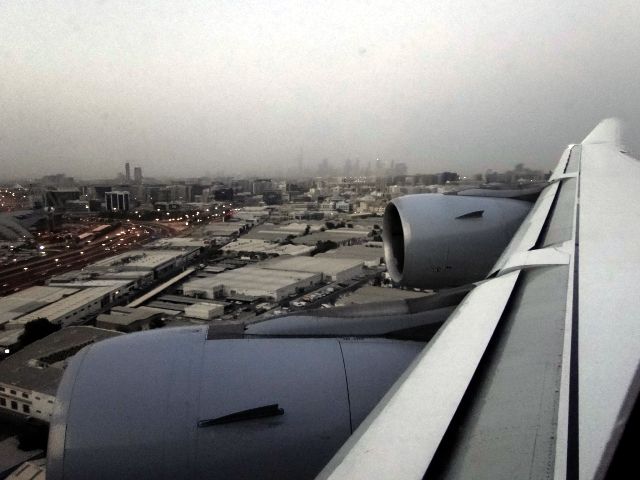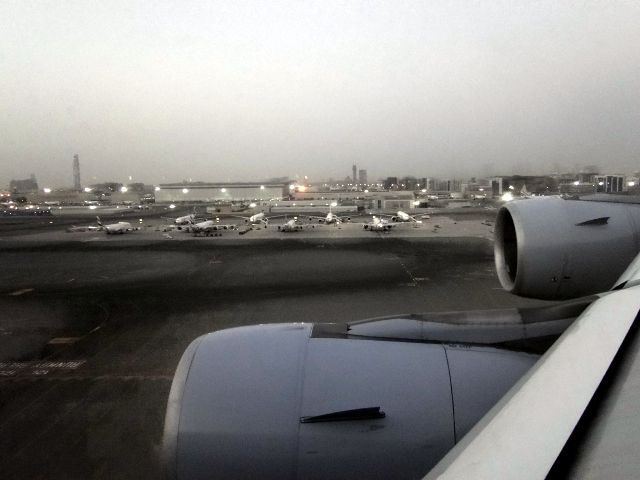 Landed! So many EK planes and so many A380s!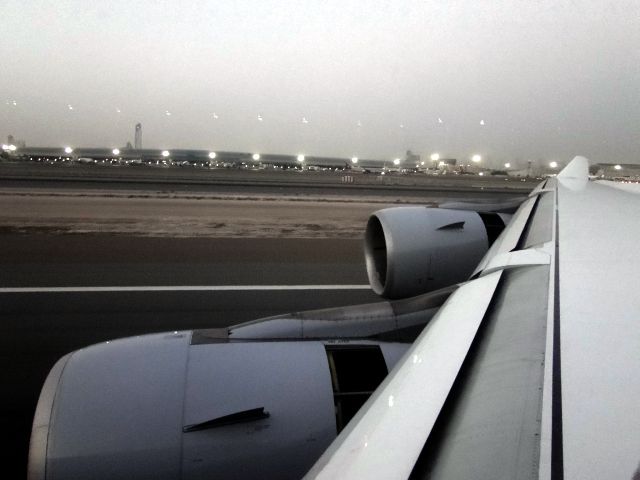 Reverse thrust and DXB terminal.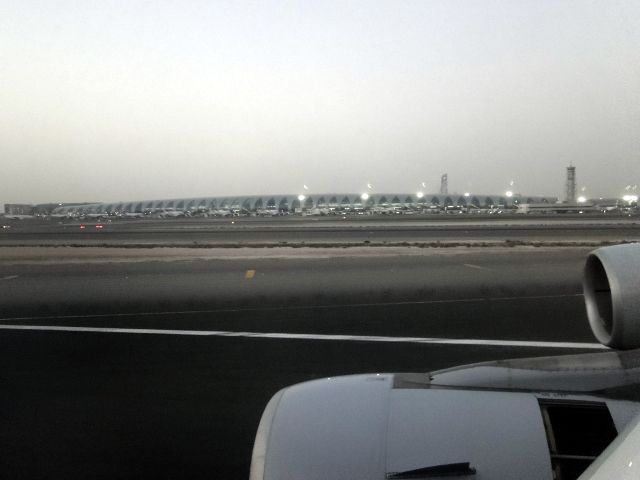 Crossing 12R.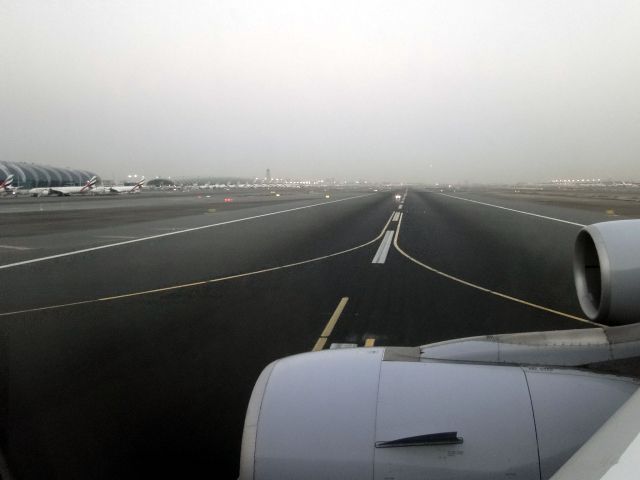 On stand next to a CX A333 to our left.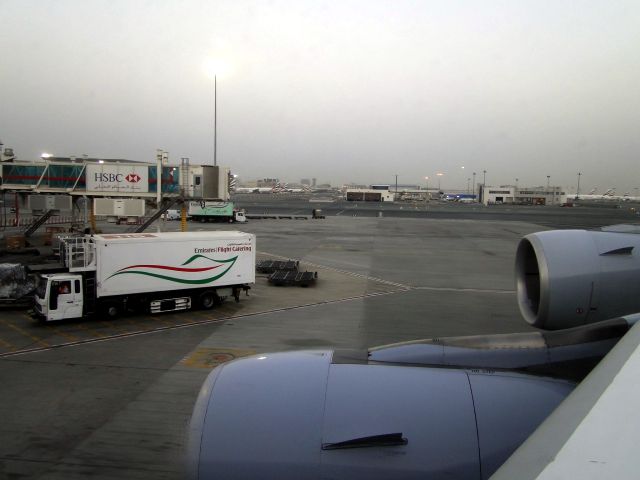 LH new first class taken upon leaving the aircraft.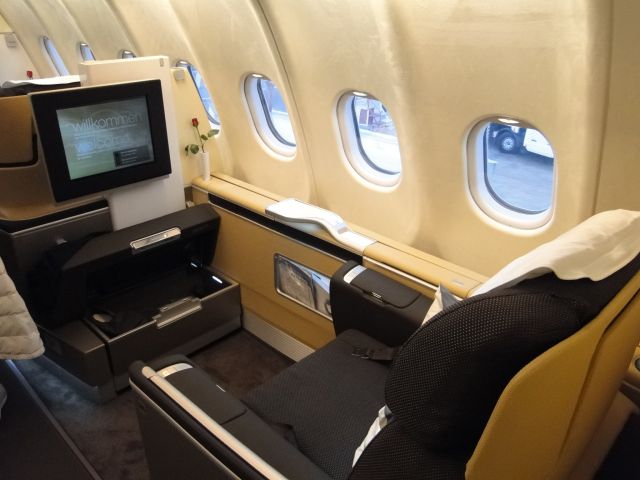 Another view of the F seat.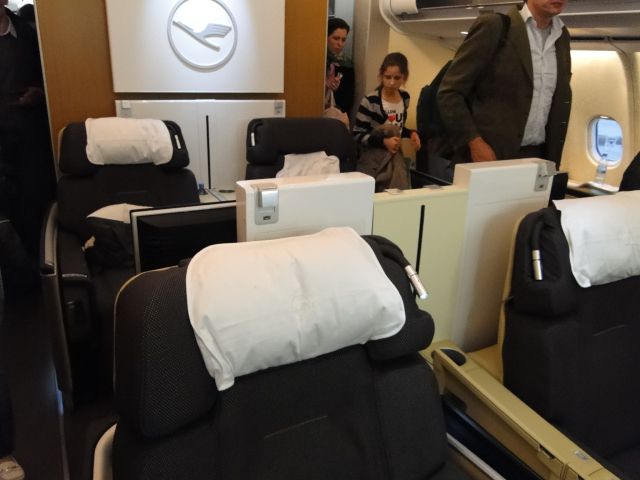 So after almost an hour long immigration process that involved eye scanning, visa checking and not so friendly or nice looking officers we were cleared to enter the UAE. By some interesting coincidences a well known trip reporter FlyingFinn was also in Dubai at the same time connecting from an Emirates flight to a Flydubai flight to EVN on one of his epic flying adventures. You can follow his story on the links below, some very nice reading entertainment:
Armenia To Arabia: EVN-DXB-MCT
(by
FlyingFinn76
Feb 26 2012 in Trip Reports)
Bling Bling Vs. Low Cost: MCT-DXB-EVN
(by
FlyingFinn76
Mar 7 2012 in Trip Reports)
We discussed the idea of a possible meeting somewhere around DXB, but at the end there was simply not enough time so we'll leave the next meeting for Berlin in June. If you haven't noticed it already take a look at the BER opening meeting, quite some A.neet members have already confirmed their participation, should be a lot of fun.
BER: The Grand Opening Meeting
(by
FLIEGER67
Jan 27 2012 in Non Aviation)
Back to our little group, we decided to take a taxi to our hotel and we were soon on our way. A nice first impression of Dubai driving along Sheikh Zayed Road.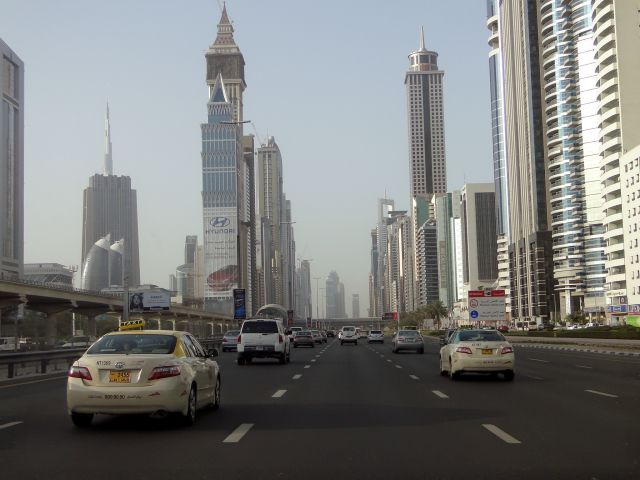 The stunning Burj Khalifa, hard to get a good shot of this building.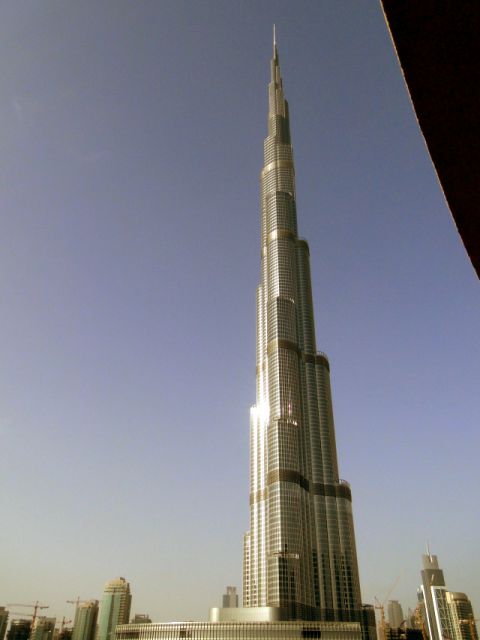 The weather was nice, a light breeze and between 22-27 degrees of Celsius during our stay.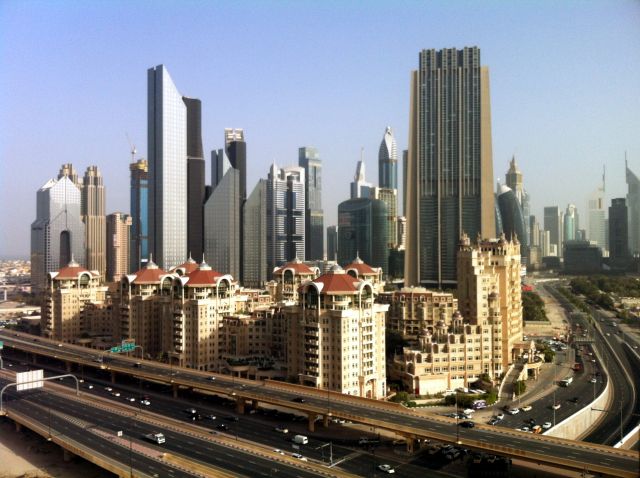 This picture just had to be in the report.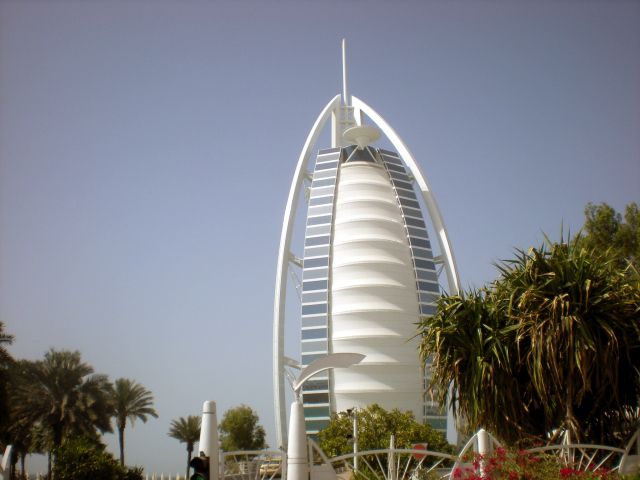 Before visiting the Dubai museum.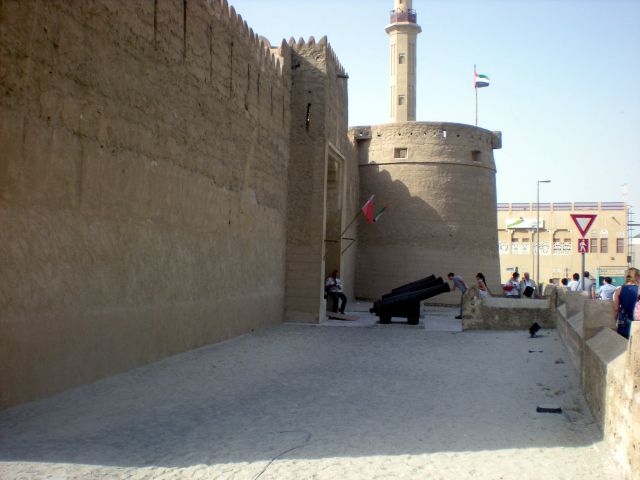 Abra in the front and the smoke from a burned down ship carrying supplies to Africa in the back.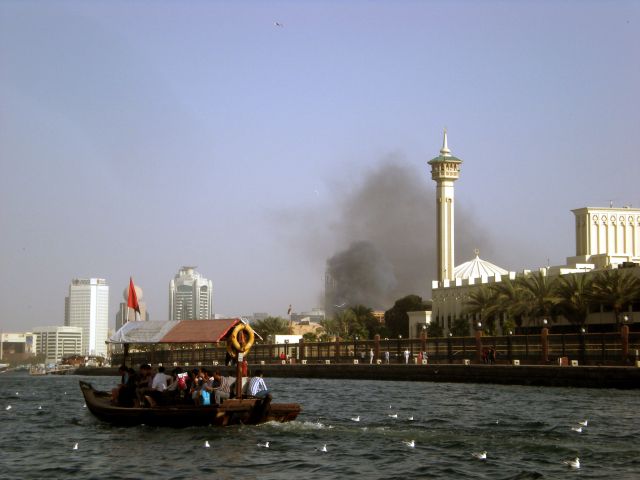 Ice rink in the Dubai Mall.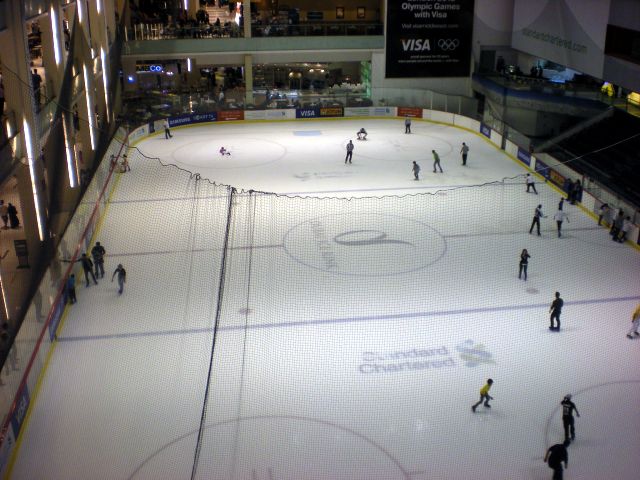 We went skating for around an hour, it was good fun.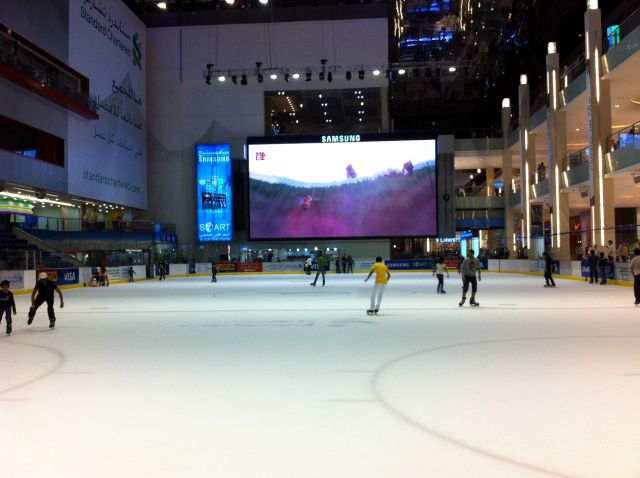 Dubai Mall is huge.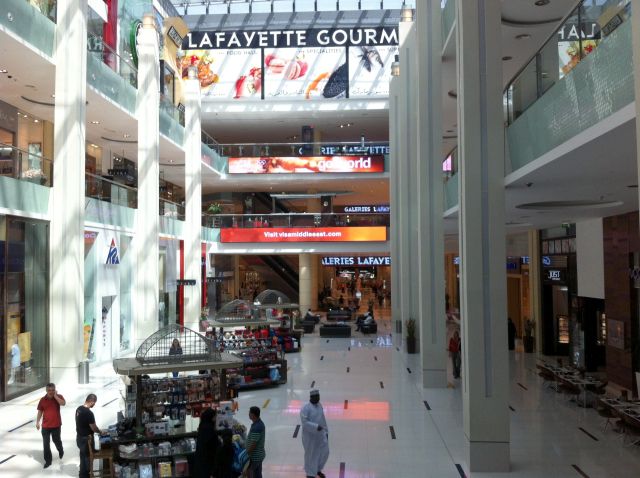 The Address Downtown hotel in the evening.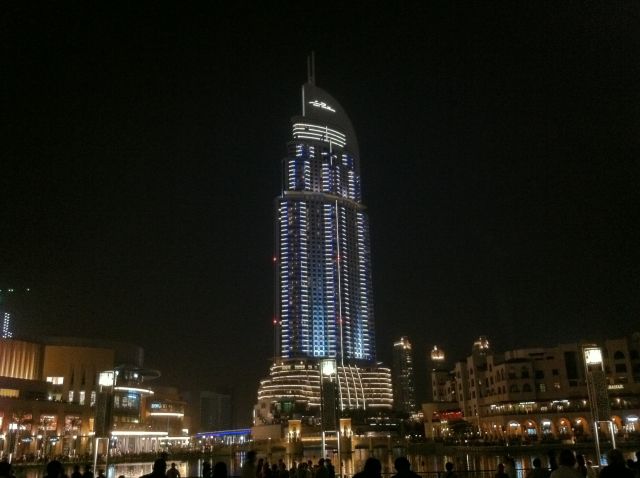 Fountains dancing.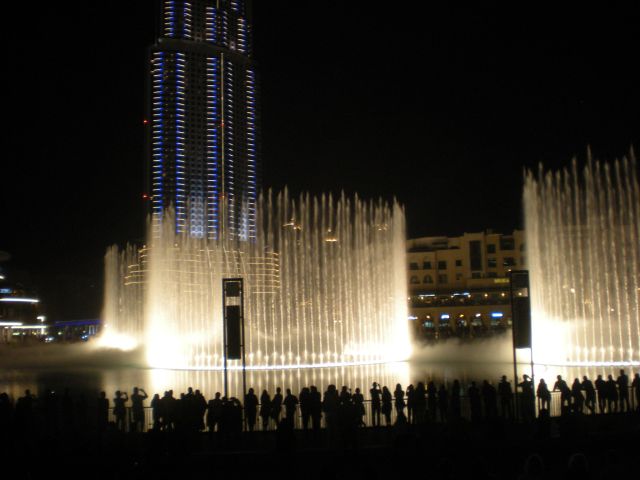 Sand all over the road.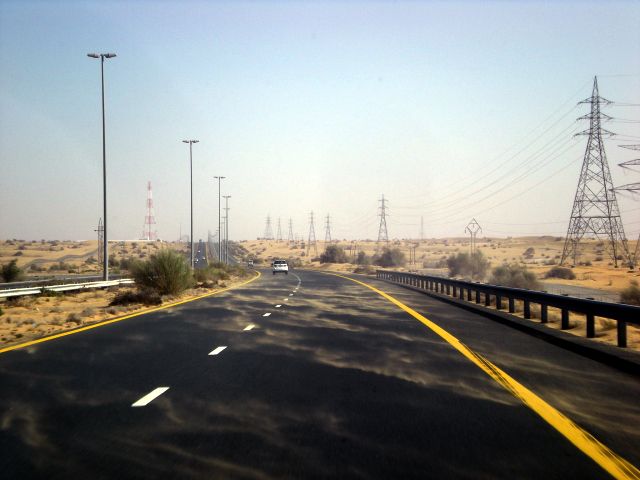 The dessert. We went on one of the organized tours when you drive around for a while and then have dinner in a camp at the middle of the desert.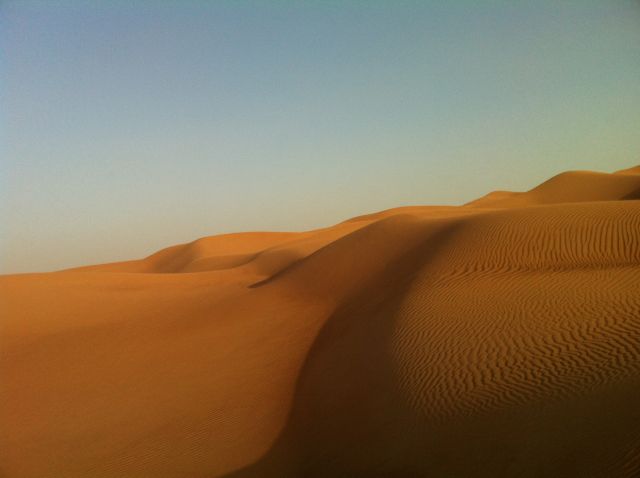 I'm not used to this kind of scenery.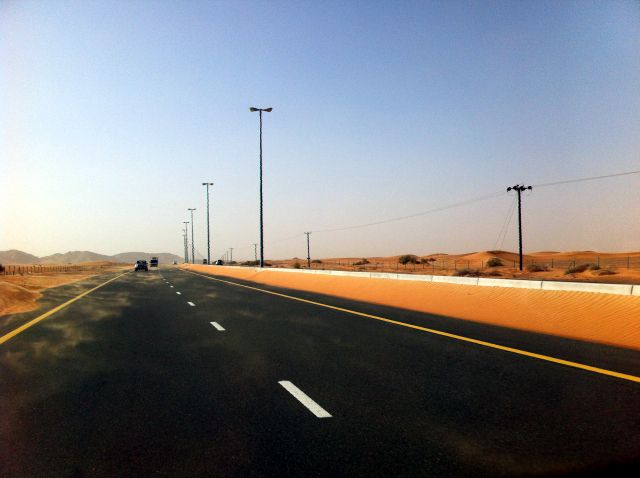 And of course a visit to 'At The Top Burj Khalifa' was a must for our first time in Dubai.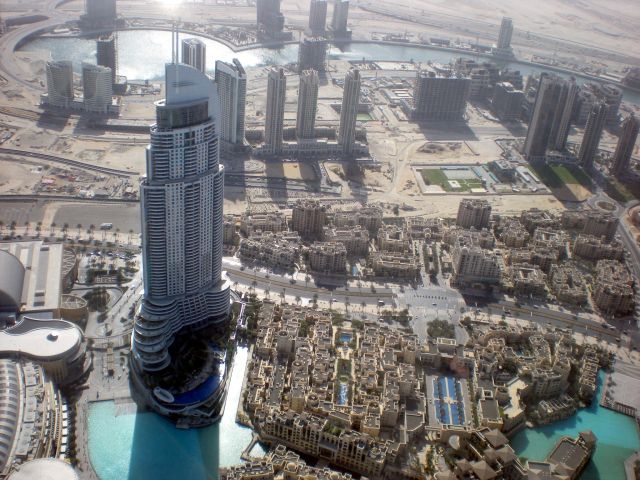 Dubai Mall. Told you it is huge.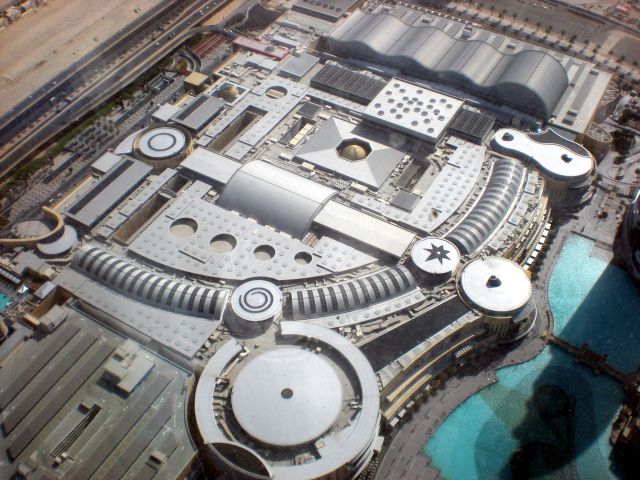 One side of Dubai…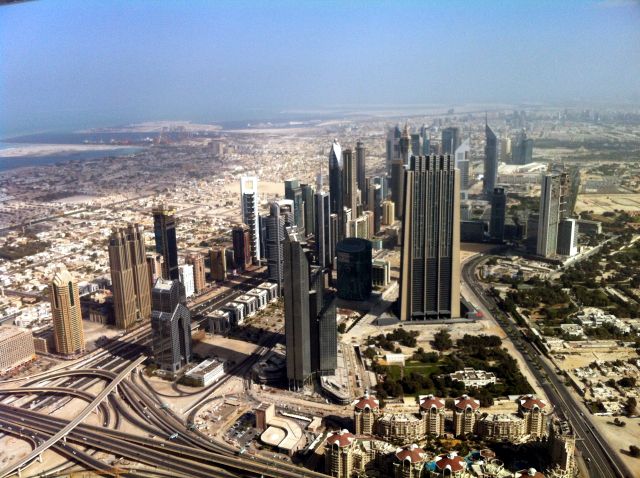 …and the other. Still a lot of room left for new buildings.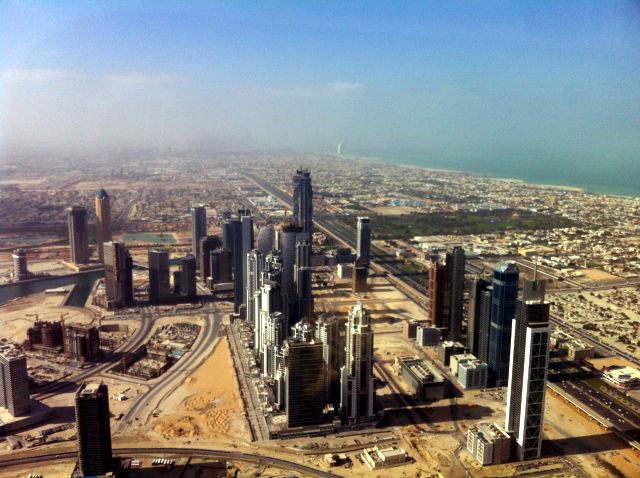 Nice to have a pool instead of grass in between places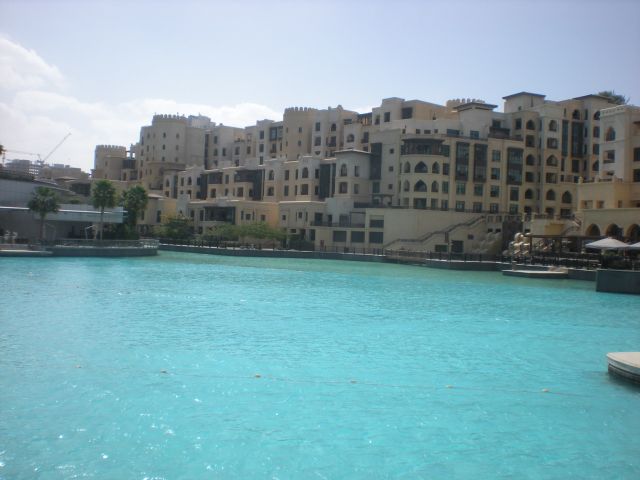 We also visited Ski Dubai in the Mall of the Emirates and went skiing for two hours. An interesting experience.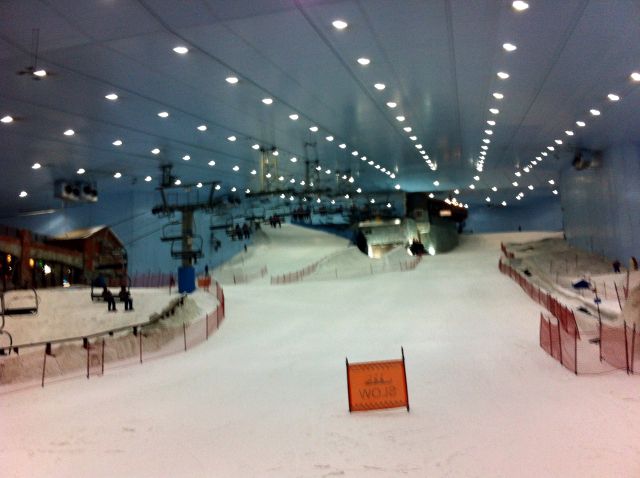 Penguins entertaining kids.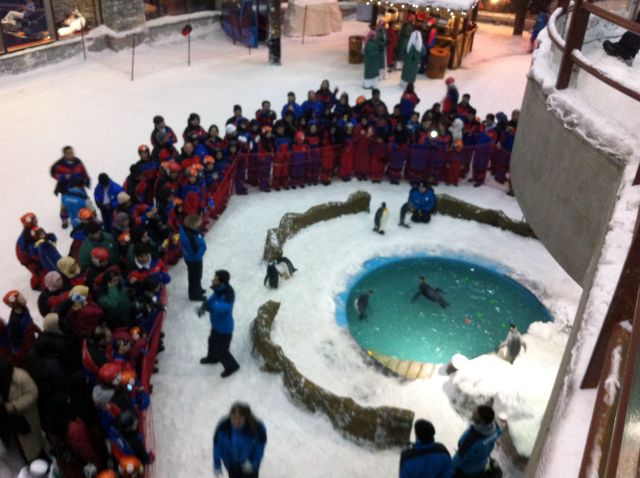 A view down from the ski lift.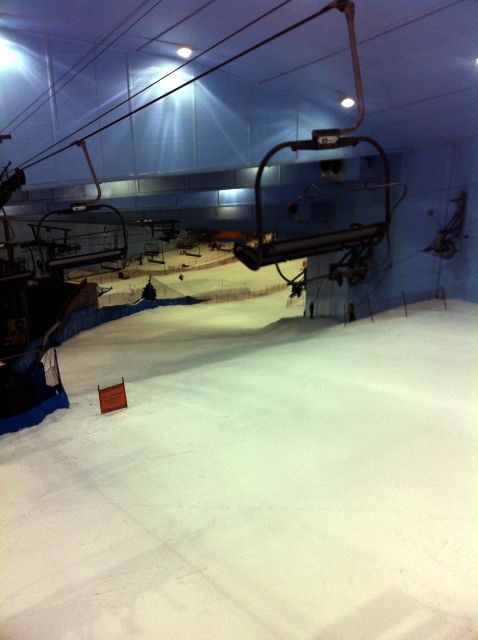 A blurry picture of me skiing.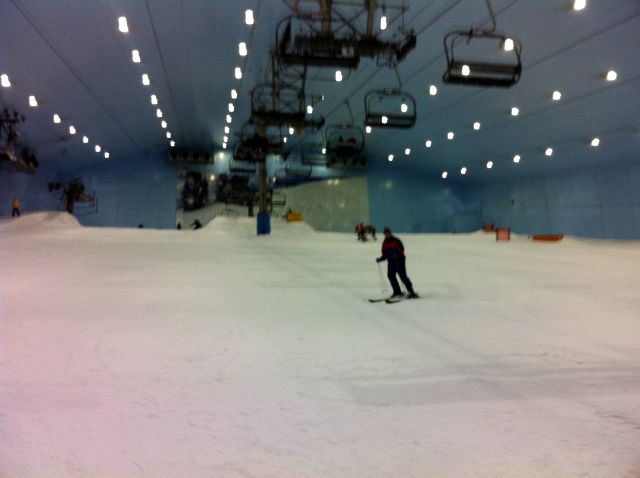 Taxi and the entrance to the metro. For six people taking a big taxi was cheaper than going with the metro.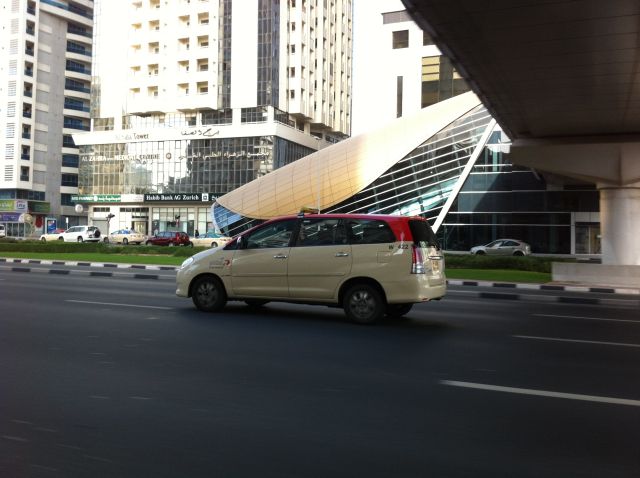 Our time in Dubai was quite short but we had a lot of fun. On the day of departure we had to get up pretty early and after a quick taxi ride we arrived to T1 around 2 and a half hours before our flight. Check-in area F for LH, but it was nowhere to be found in the building. A quick word with one of the employees revealed that you need to go out and into the next building just around the corner.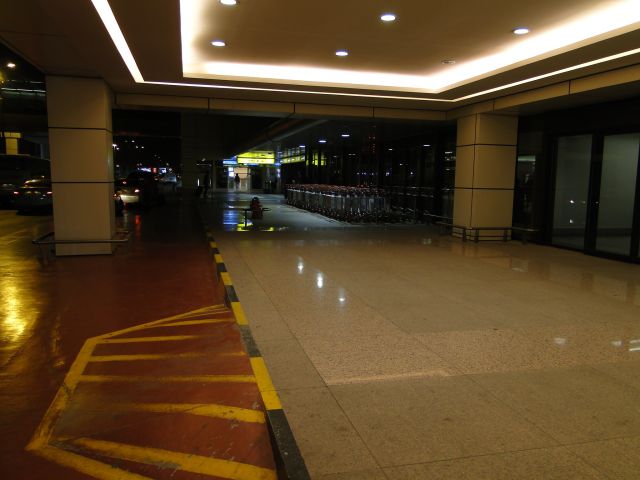 Interesting to note that this is the only part of the terminal I have seen where you do not need to screen you're baggage before entering the check-in area.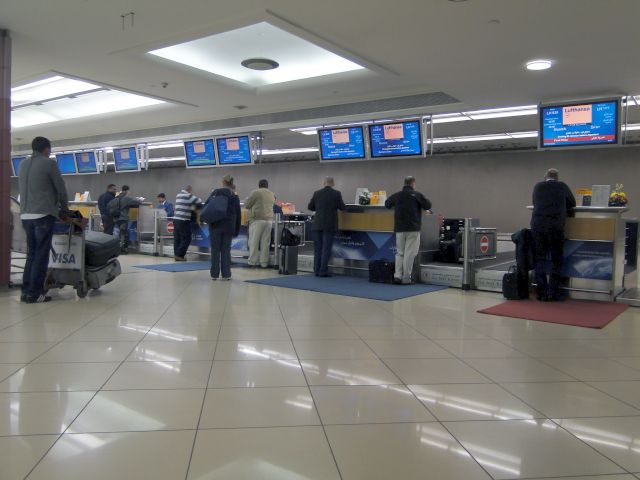 A very quick and efficient check-in followed by an even faster immigration and security control procedure with no lines at all.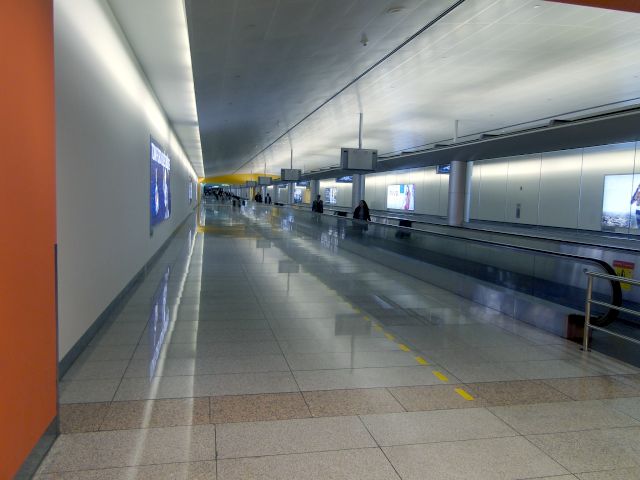 After a long moving walkway ride we arrived back at Sheikh Rashid Terminal.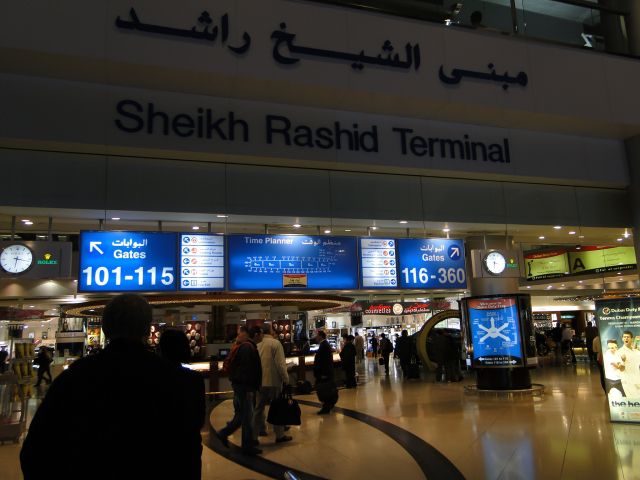 At check-in we were advised that we can use the Marhaba lounge near gate 124 if I remember the number correctly.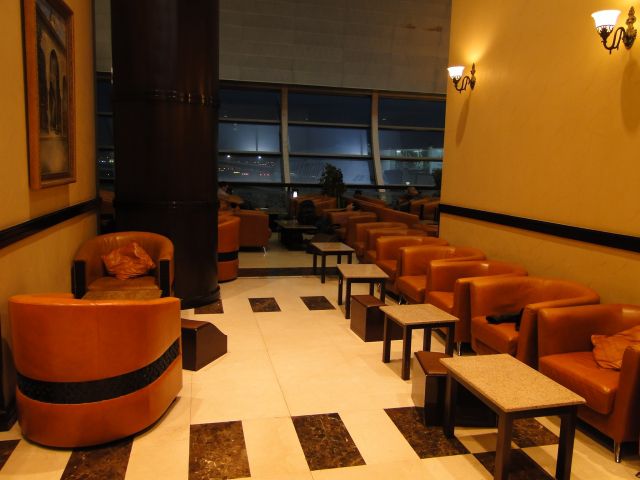 Every lounge where there is an A380 parked outside is a good lounge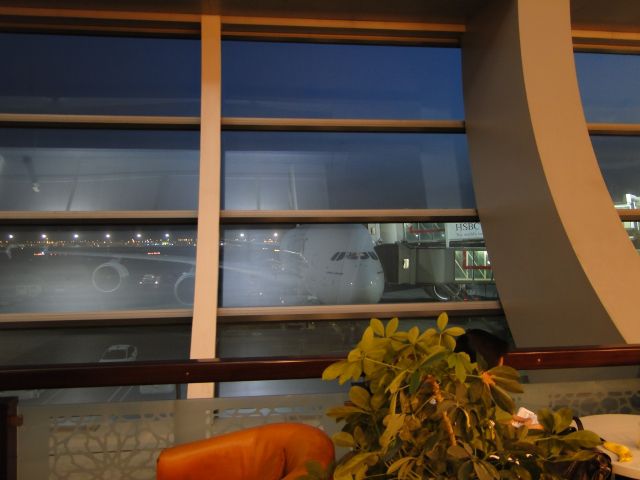 This morning departures.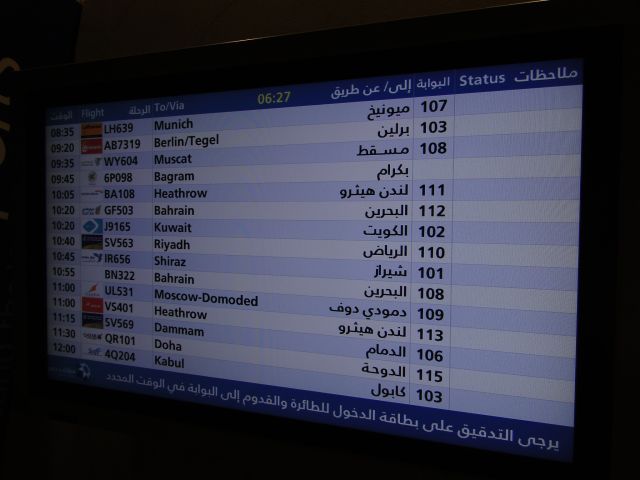 And a nice selection of hot…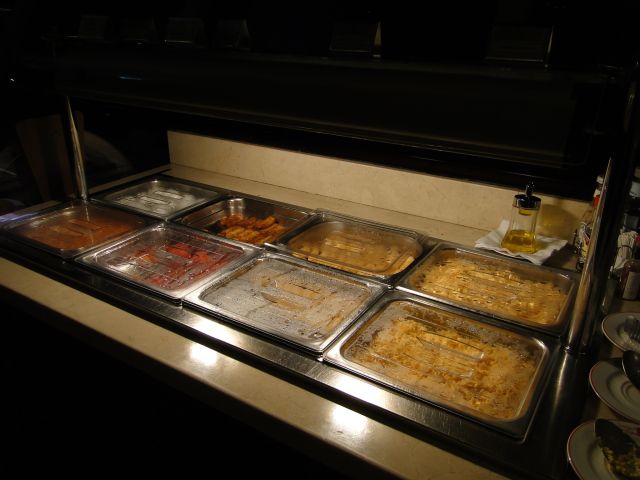 … and cold food offerings. The only downside of this lounge we're the small toilets.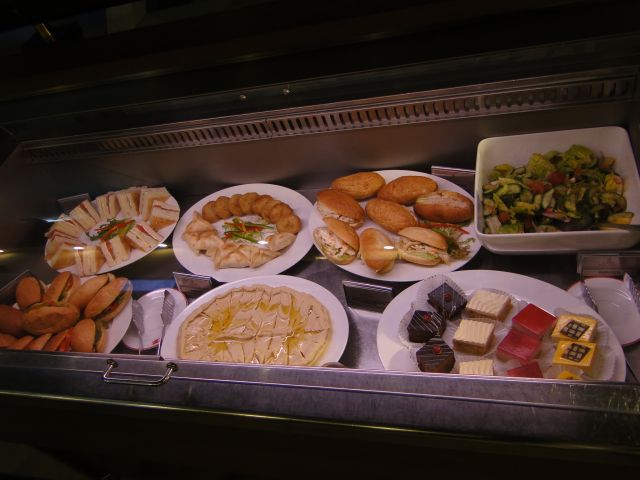 Some more food.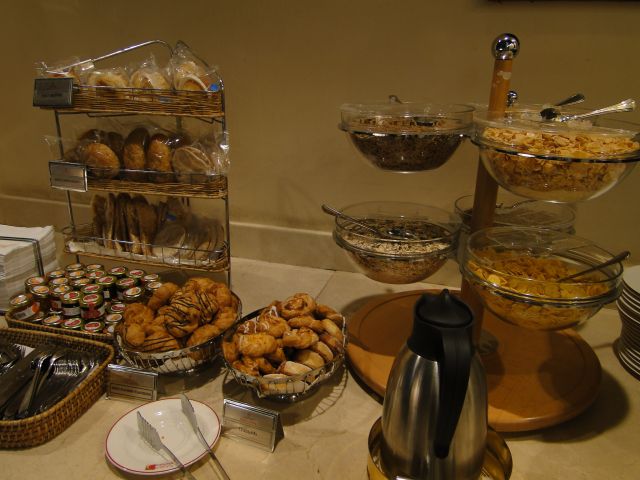 Fruit and drinks.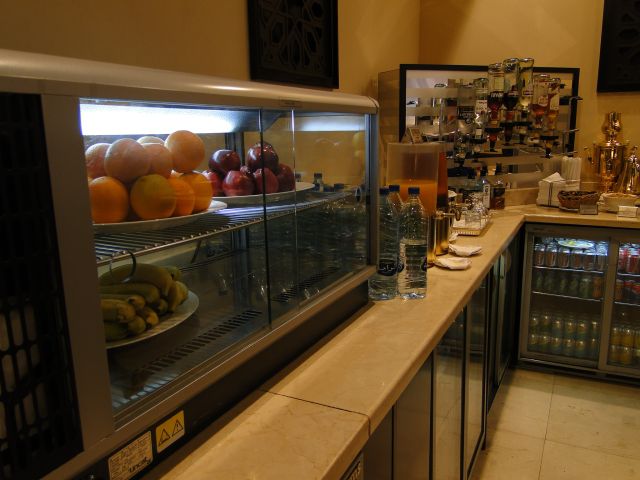 Computers with internet access.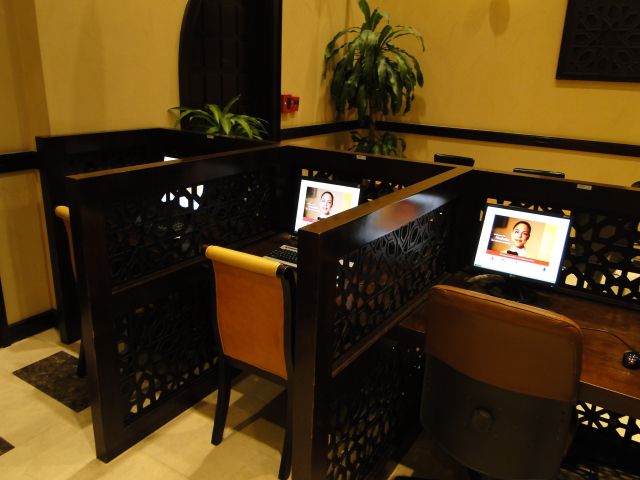 Time went by quite fast and we had to make the trek to our boarding gate at the other side of the terminal.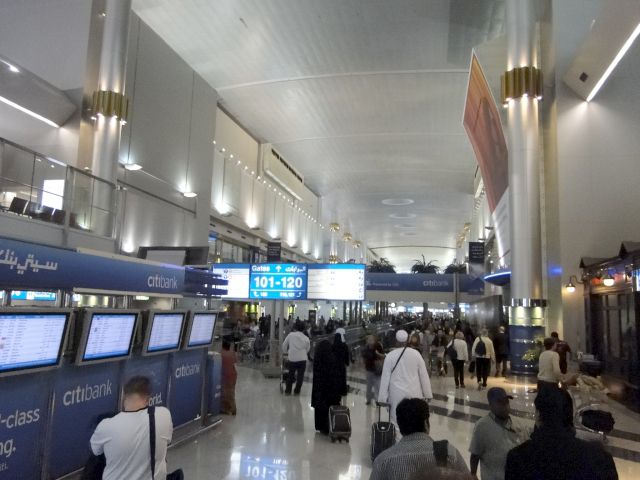 EK lounge.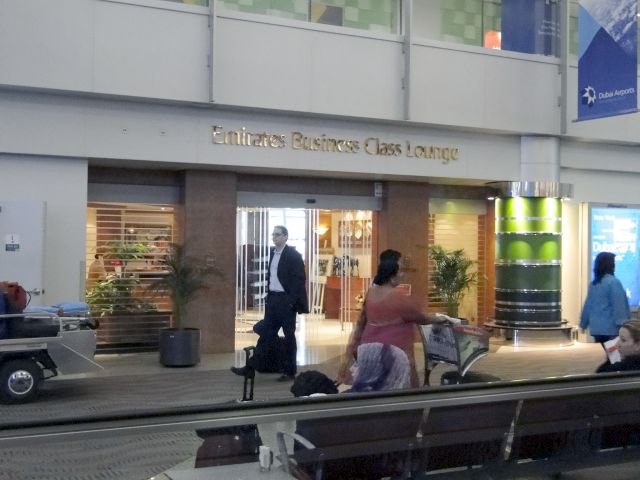 I liked the palms, but other than that I did not find DXB T1 a nice place, way too crowded with transfer PAX sleeping everywhere.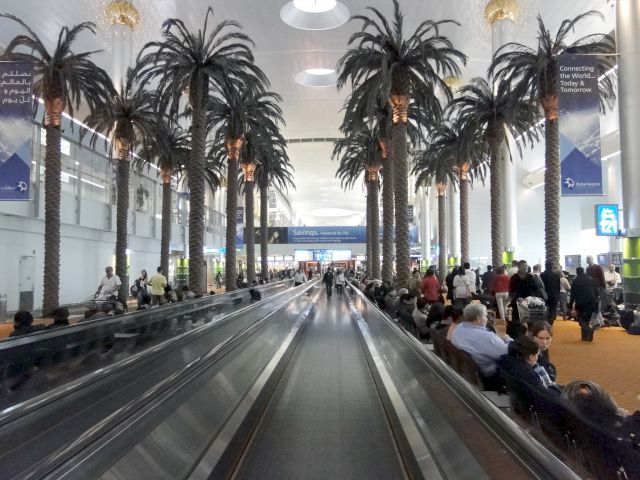 Useful information, I've only seen this at SIN.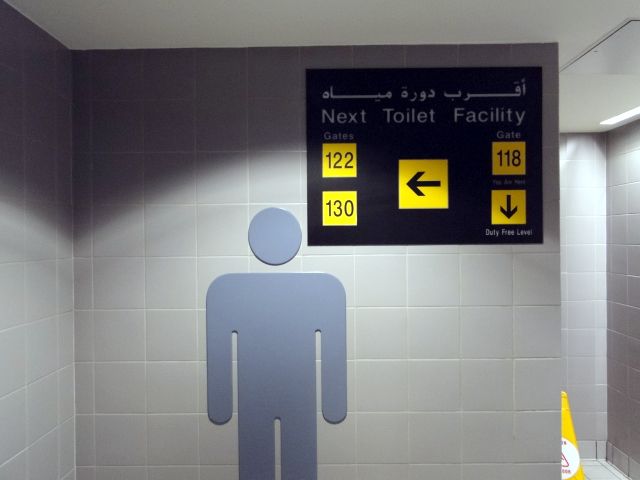 It was bright and clean though.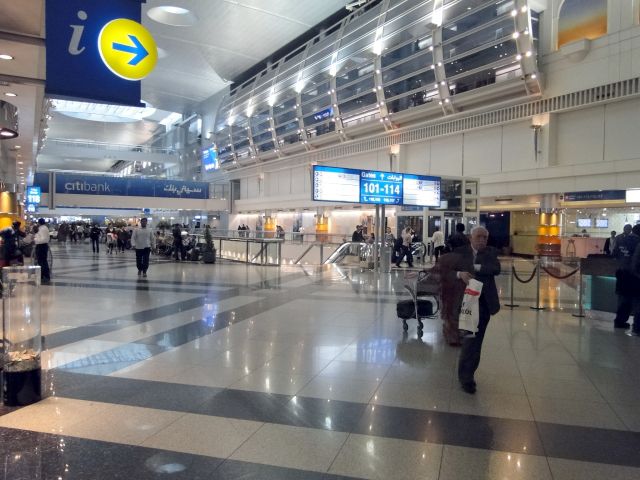 Duty free area.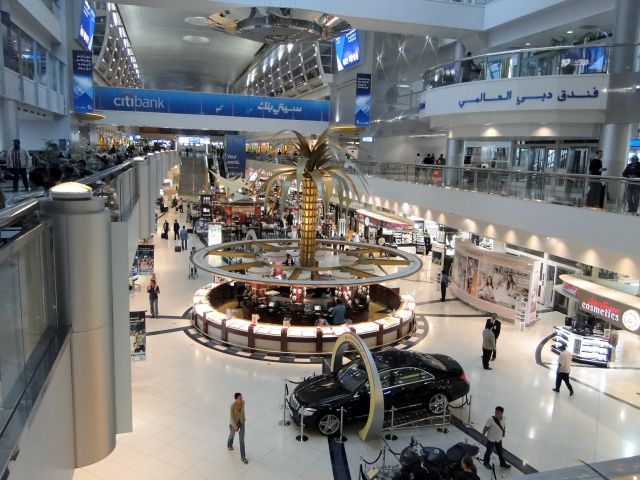 I don't like the concept of holding pens, but what can you do. We were inside about 10 minutes before boarding.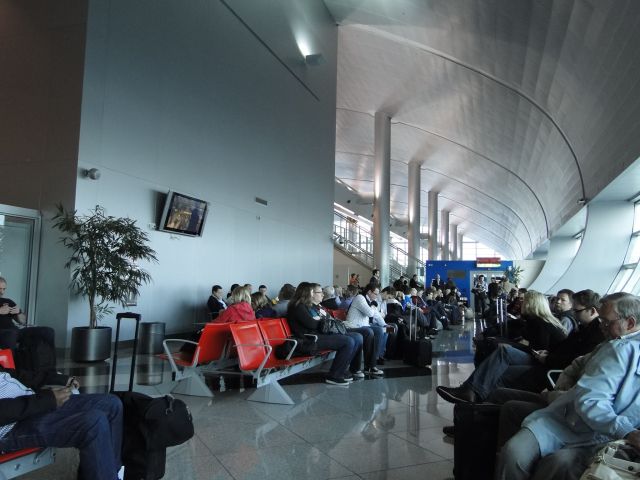 D-AIGS will be our ride today.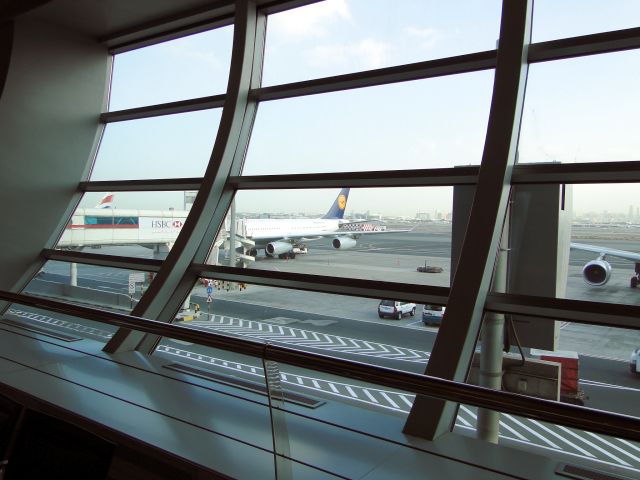 This will be my second A340-300 flight, following my recent SIN-MUC trip.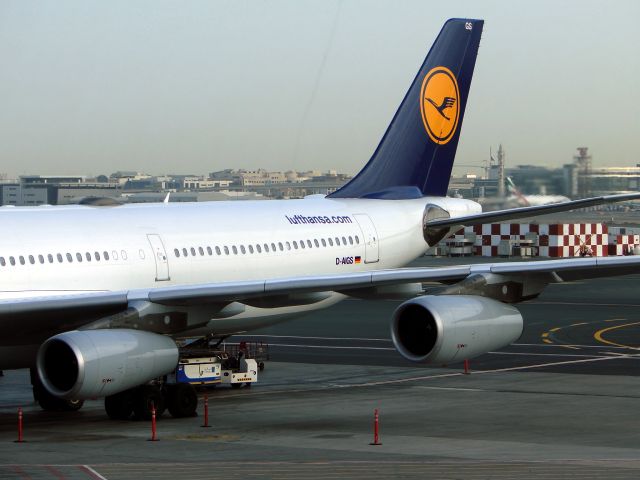 CX OW logo jet.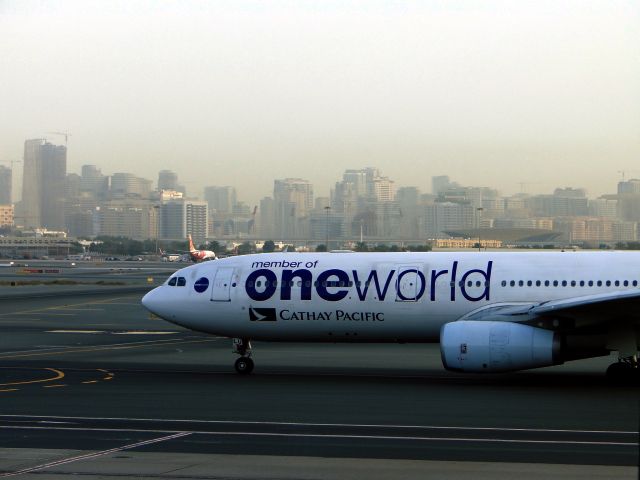 Boarding started with some mention of priority groups but nobody checked anything.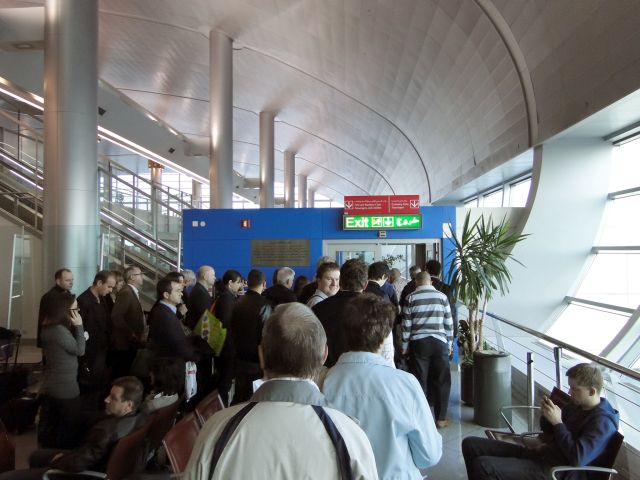 At door 1L.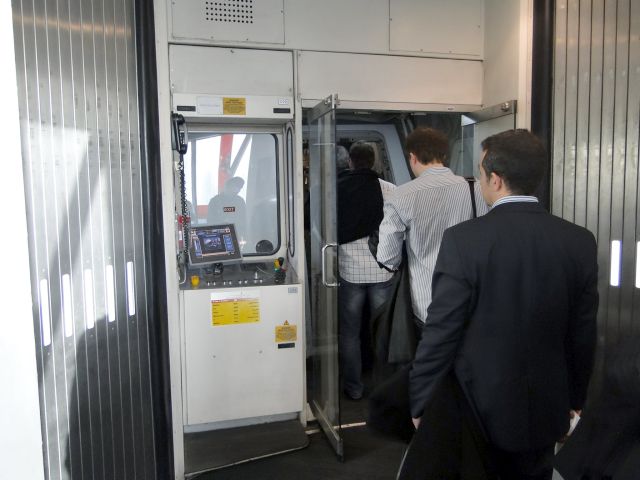 Older first class seats.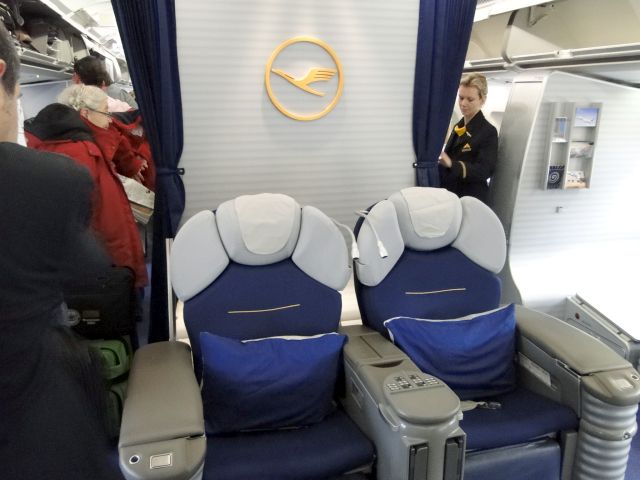 Pre-departure drinks already ready.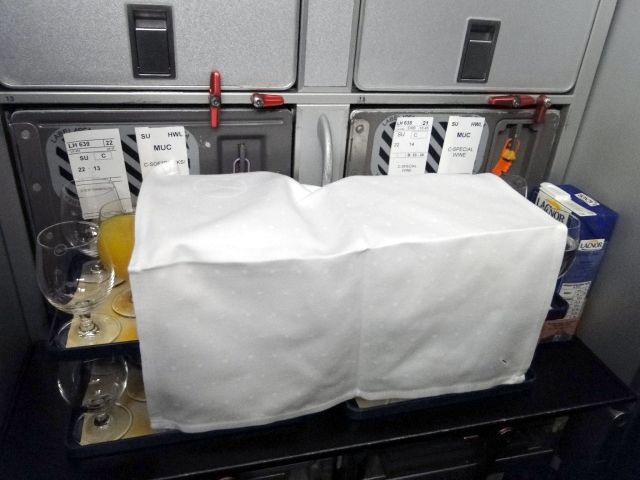 This does not seem right? Wouldn't mind ending up at NRT though.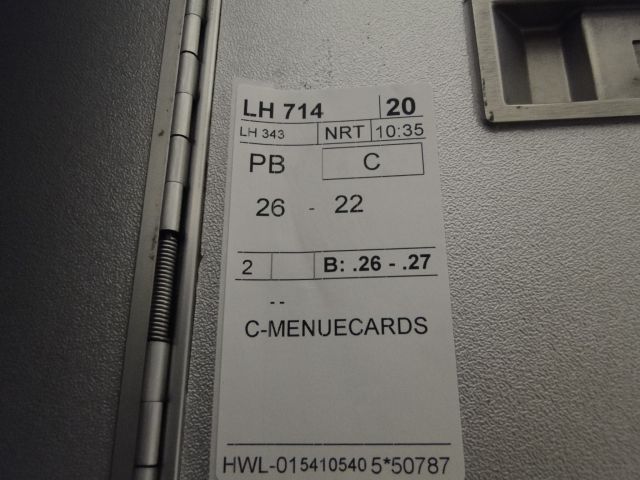 The seat.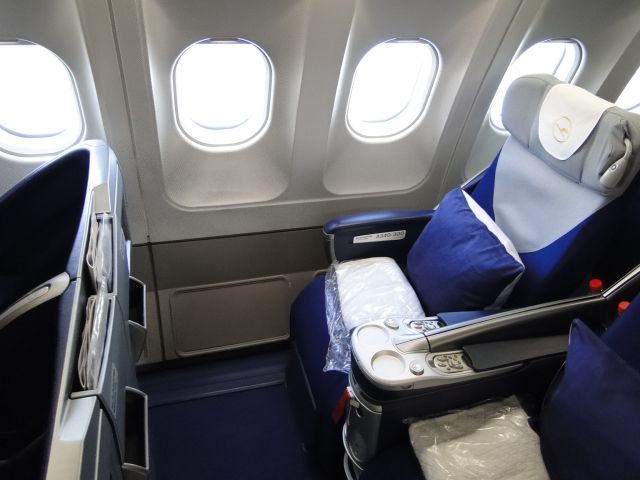 BA B763 next to us.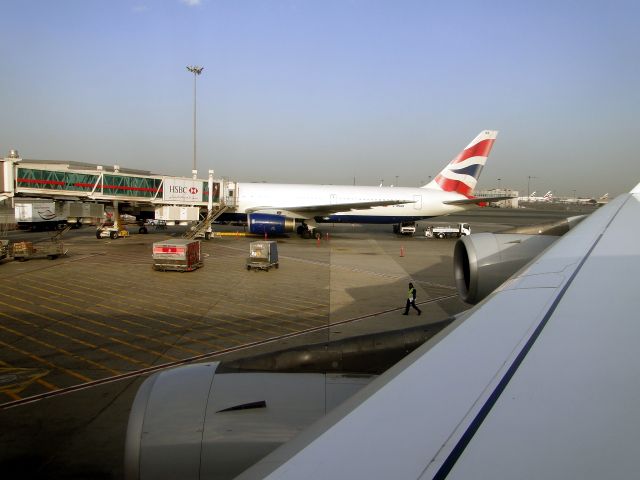 Compared to the A346 on the flight to DXB this A343 showed its age a bit as you can see from the controllers. And the cabin did not have that fresh feeling to it.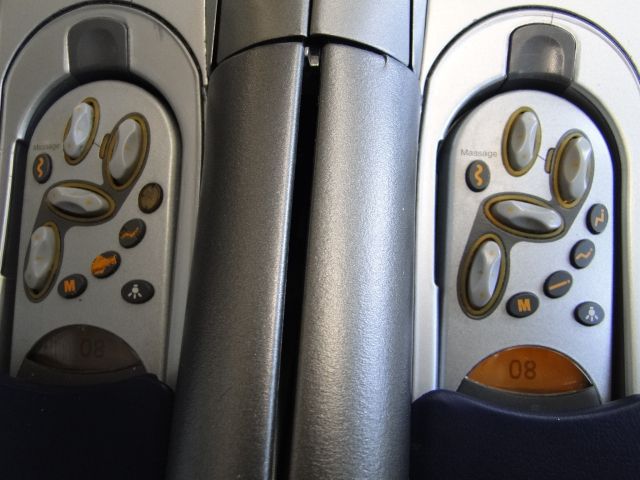 Push-back commenced on time.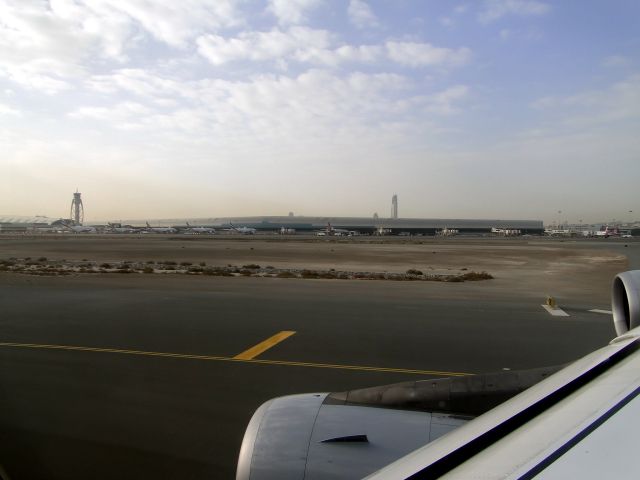 EK A380, what else at DXB!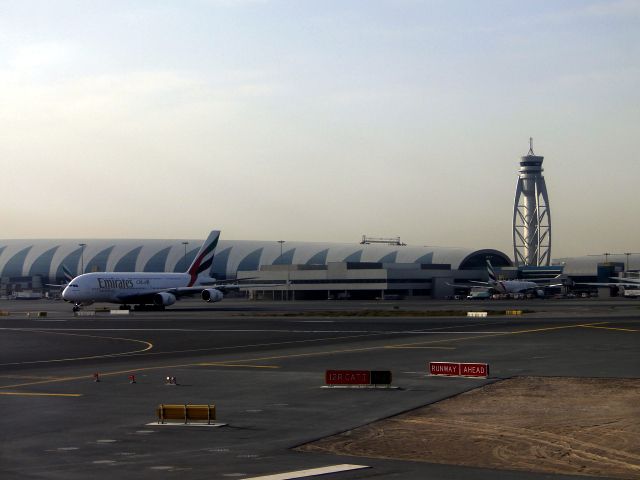 Here we go, starting our takeoff roll back to MUC.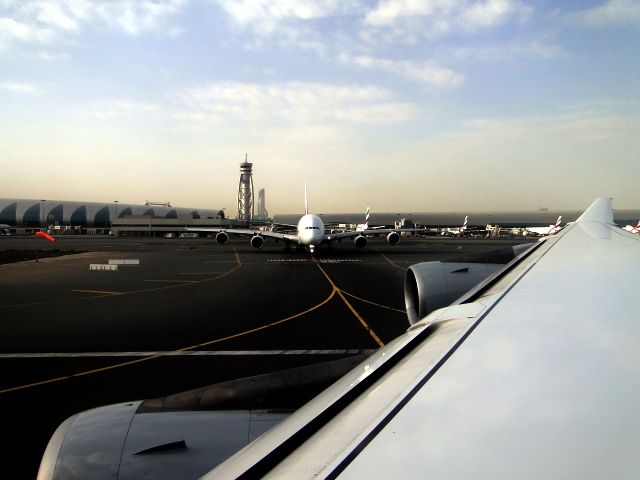 Long terminal building.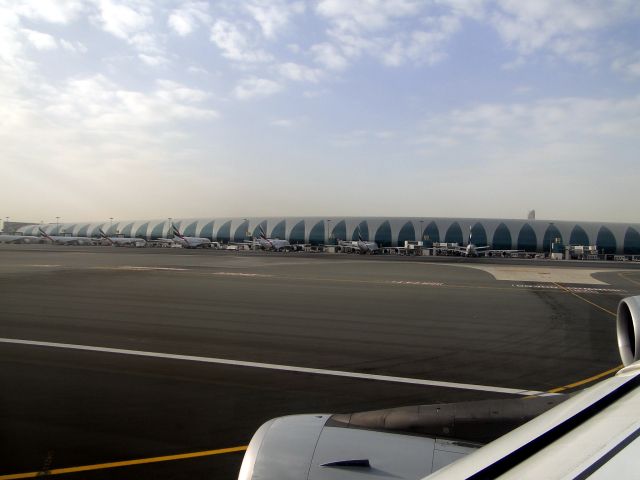 In the air again.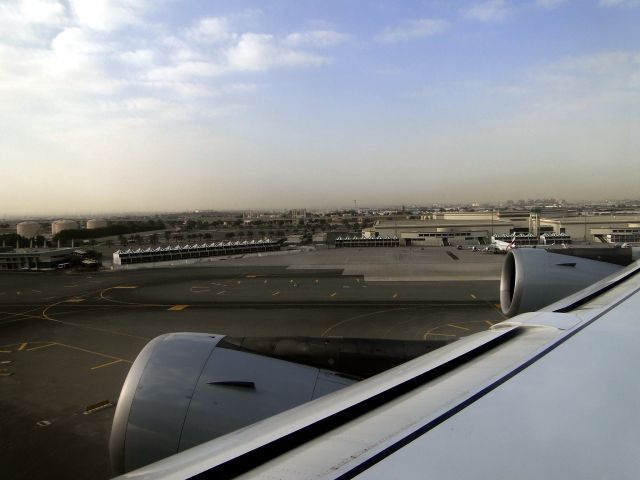 Some nice views after takeoff.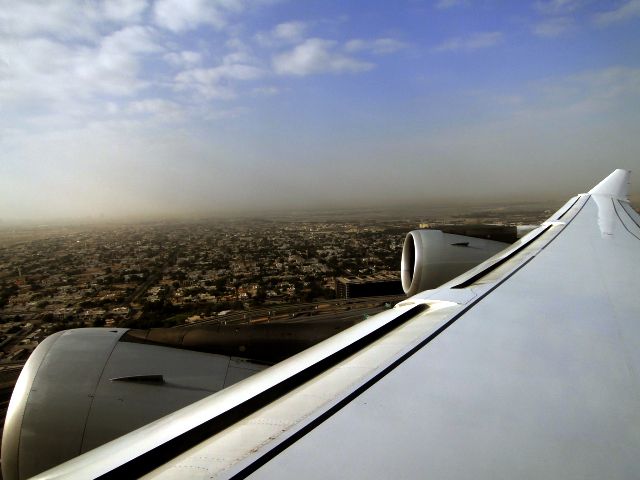 Dubai down below.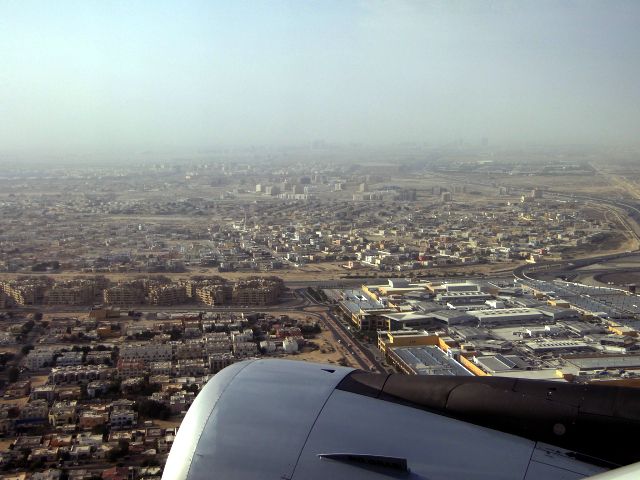 From warm Dubai back to cold Munich.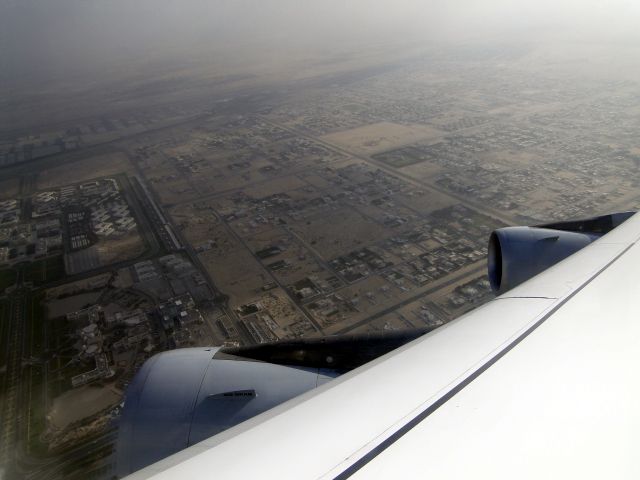 Interesting buildings.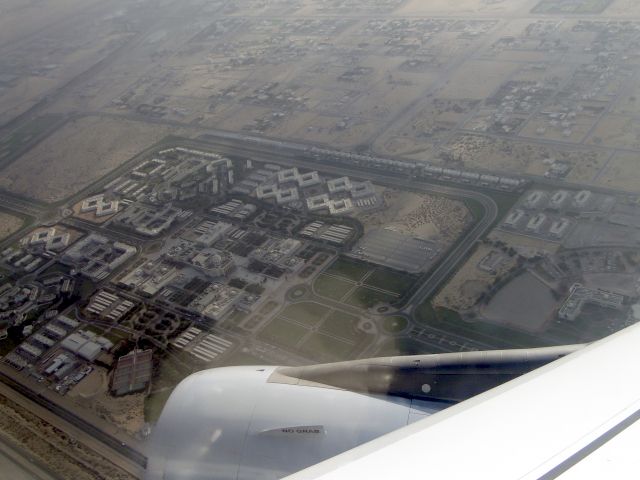 Airshow was on my screen most of the flight.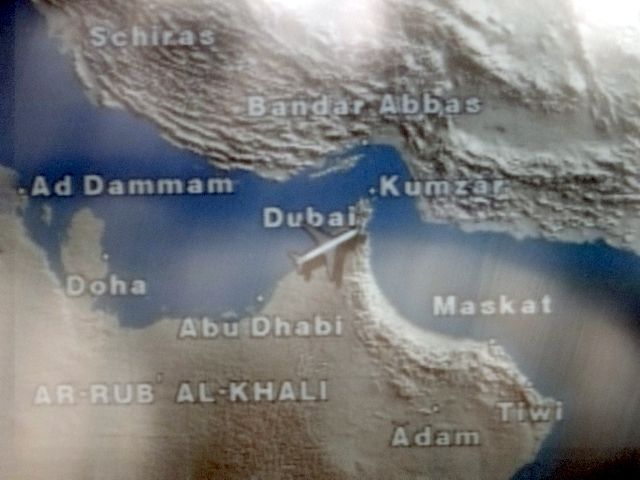 Over the clouds, breakfast service was starting.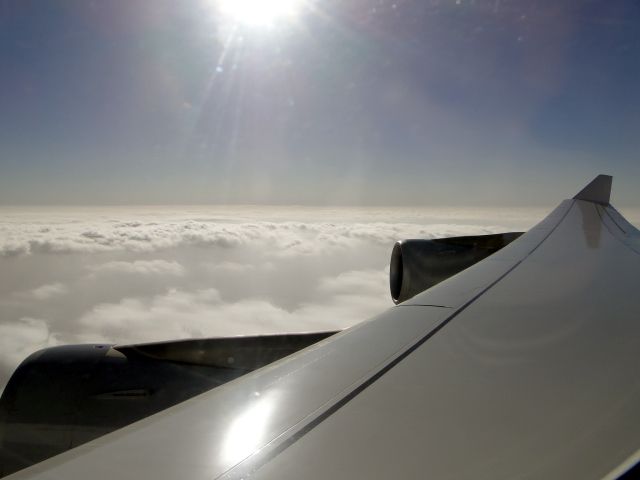 Because of the early wake up I almost fell asleep.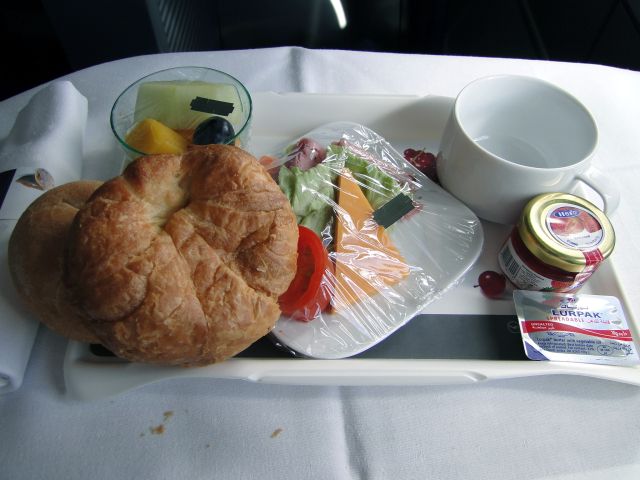 Not bad, but not very filling.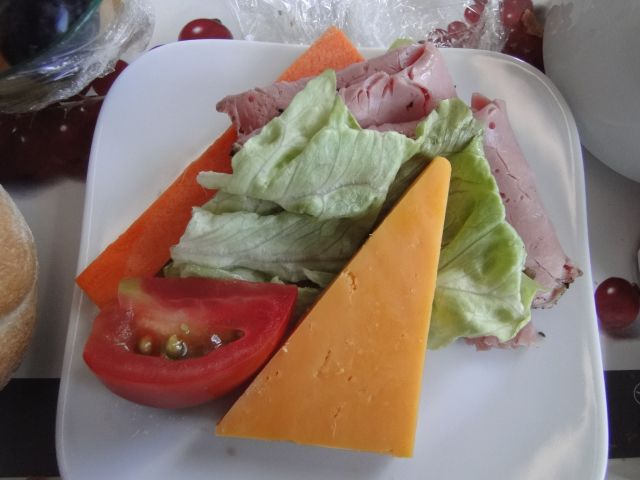 As you have probably discovered from FlyingFinn's reports Iran is a very interesting country to fly over.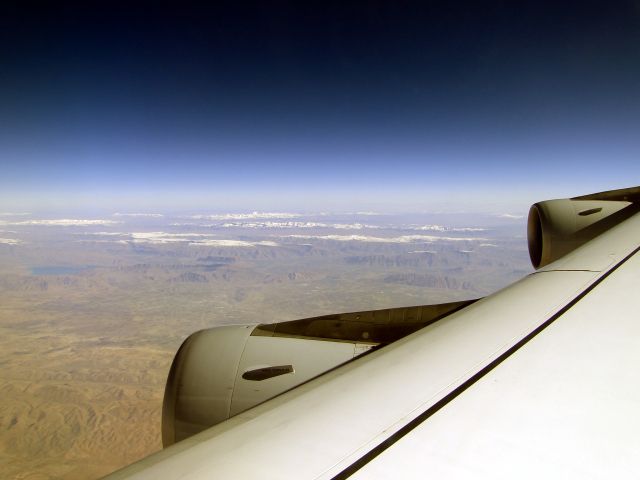 Here are some of my impressions.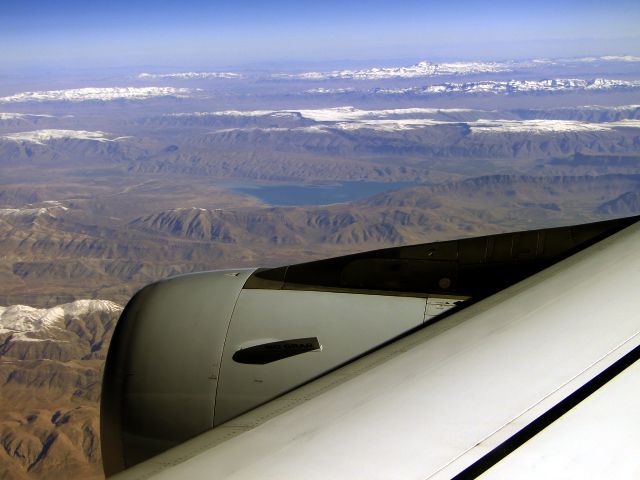 Snow!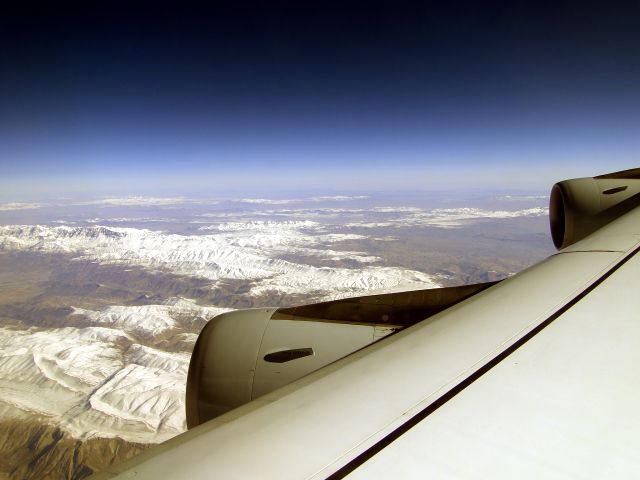 Great landscape.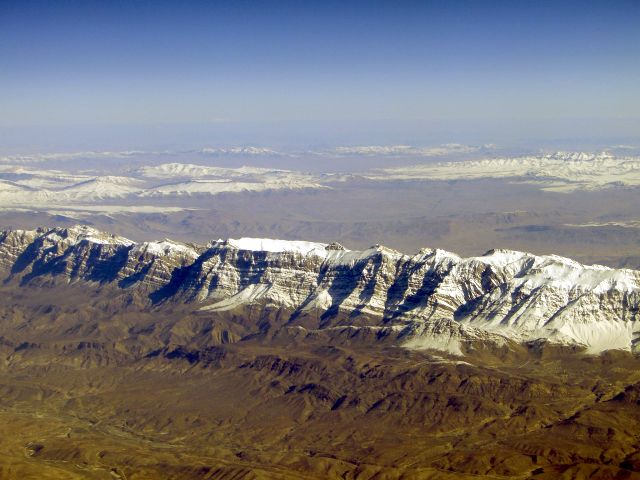 The early wakeup call took its tool and I went to sleep for around two hours and missed some more fantastic views probably.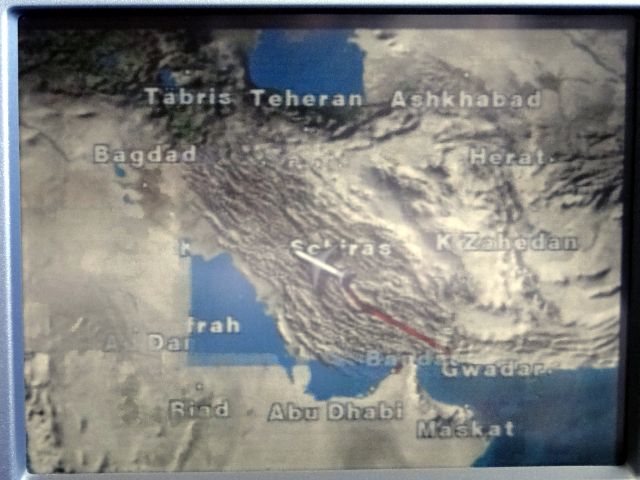 One row behind me my brother and mother were seating and having some difficulties with their seats. The controller was unresponsive and they were not able to move their seat without a help from a crew member.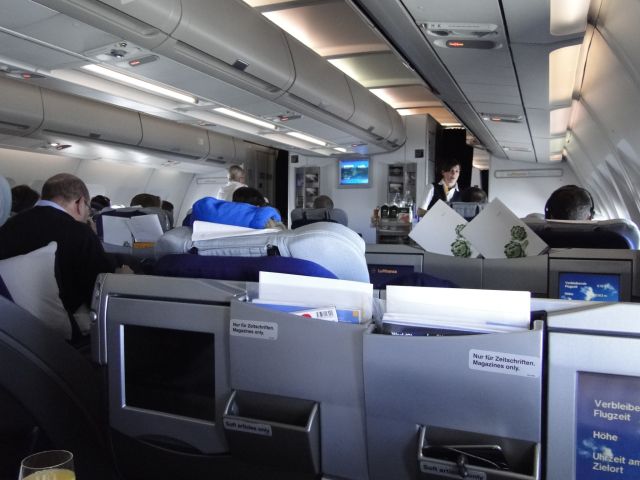 So every time they would want to change position they had to hit the call button and the FA would come with a screwdriver and move the seat into the desired position. This was not that big of a problem on this short day flight, but it could be unpleasant on longer flights. They did bring my mother a first class amenity kit as compensation and a thank you gift for not making too much fuss about it. I wrote about it in the LH survey but I haven't gotten any feedback from LH yet.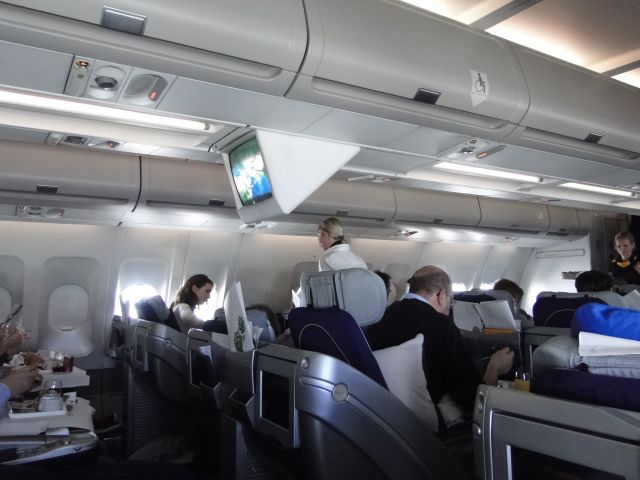 I woke up again when we were over the Black Sea.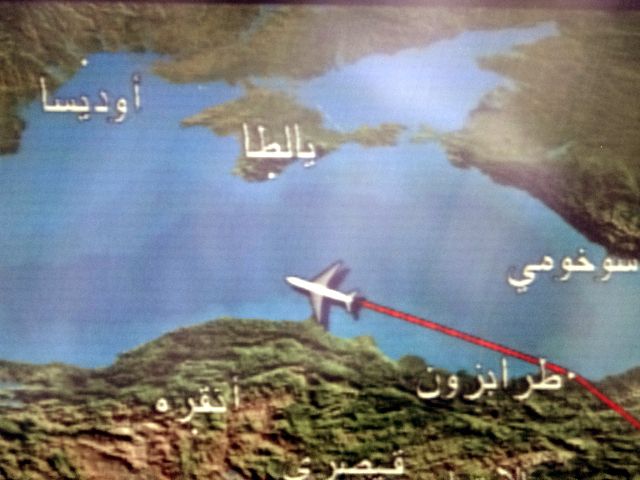 2:30 left of this flight.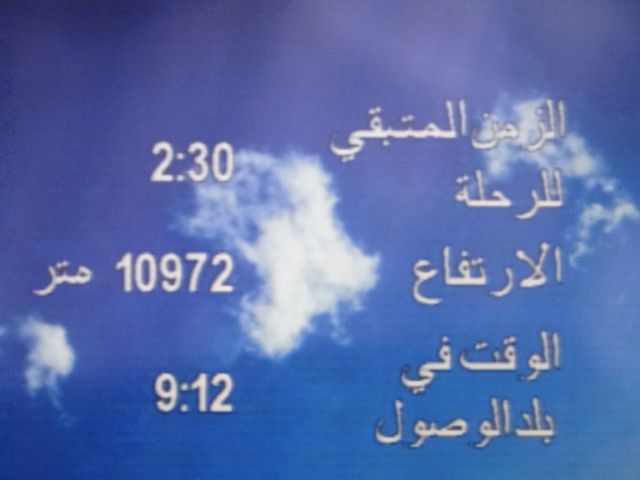 Almost back in Europe now.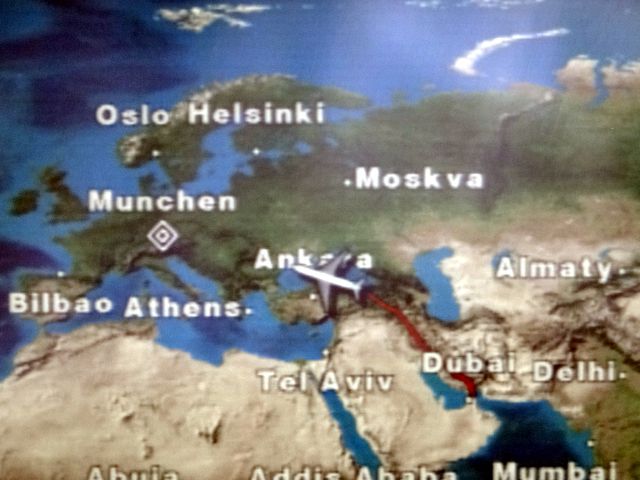 A look to the front of the cabin.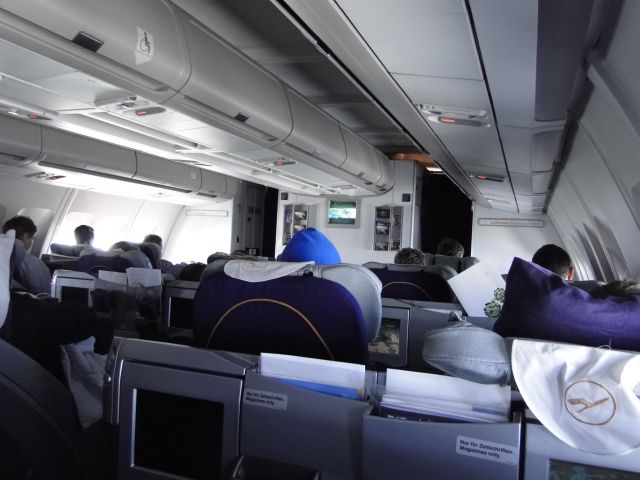 Business class menu.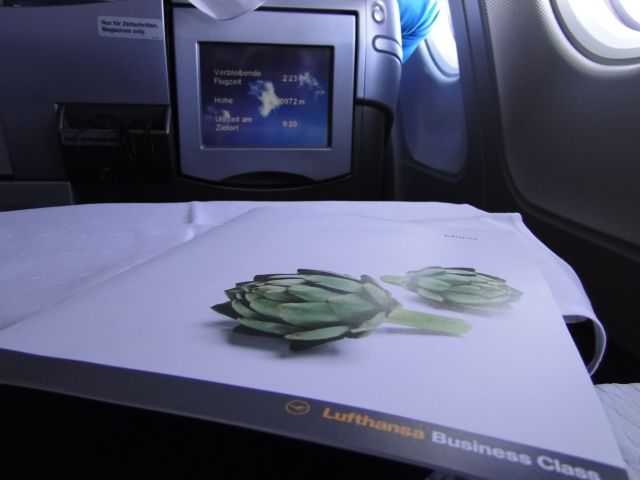 A black contrail from a plane that passed underneath.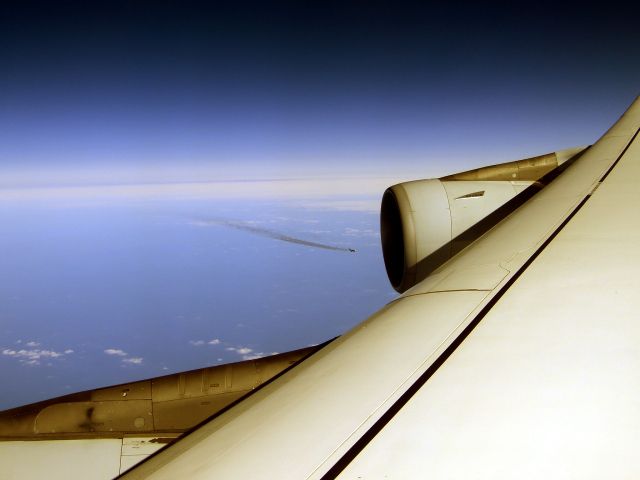 Lunch was served, this time the usual way, first the starter (or salad in my case) and then the main course.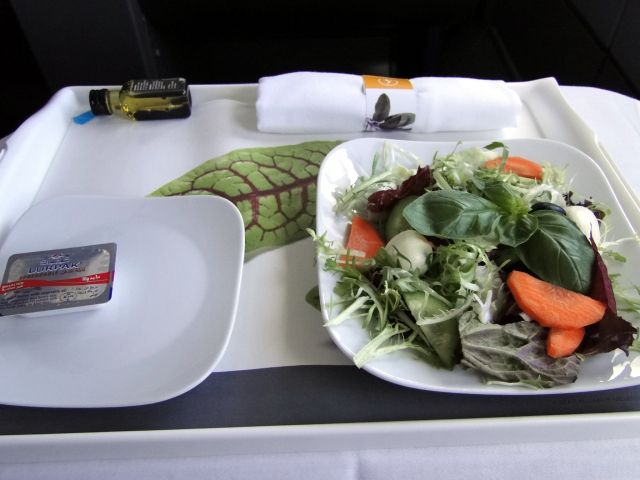 The Salmon starter.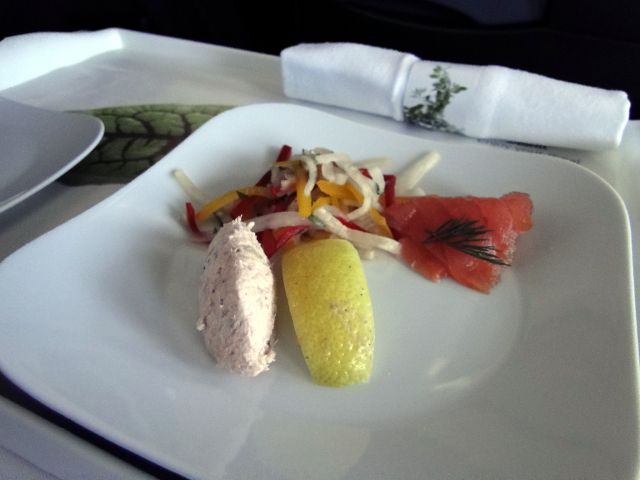 The somehow reserved FA that looked a bit disinterested before could not stop smiling after I asked for a picture of the bread basket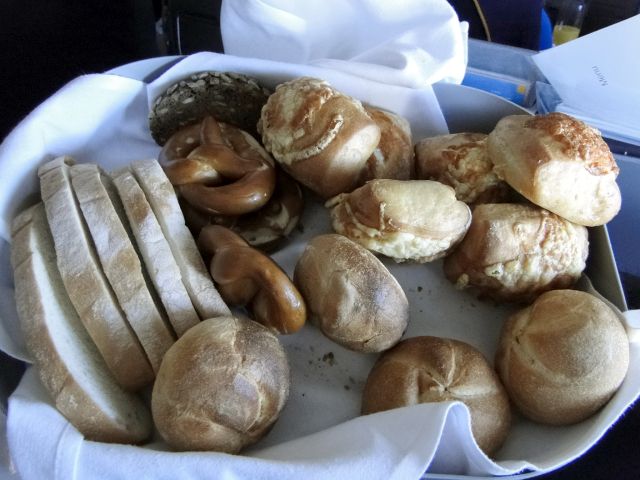 Snow in Romania.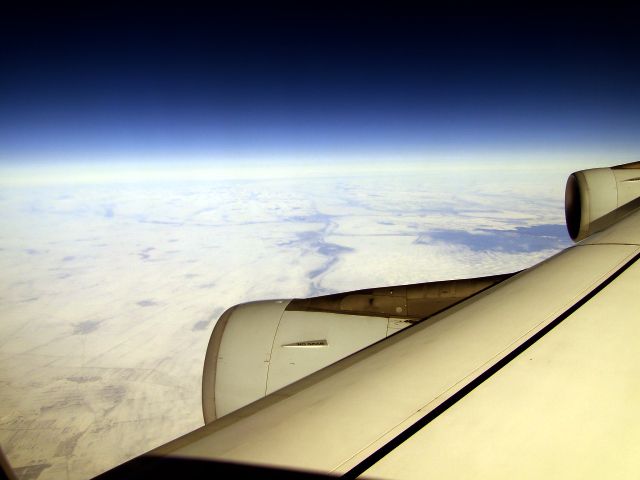 I forgot to take a picture of my main course, sorry about that, I had the lamb and it was OK.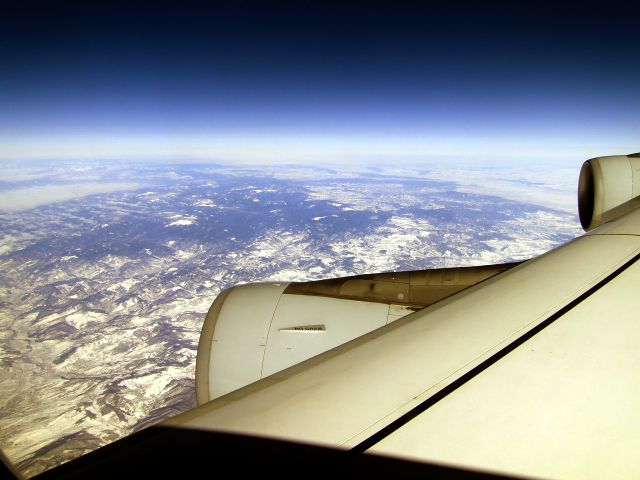 Some chocolates.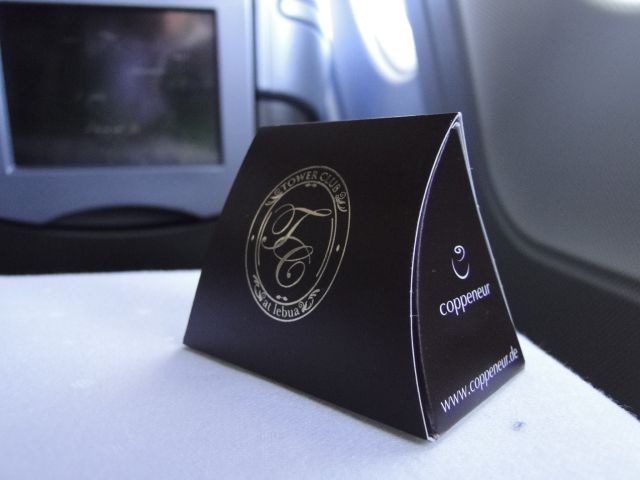 Survey about this flight. I wrote all the best about the crew, because they did a good job, and a wish for a good new C product on the B748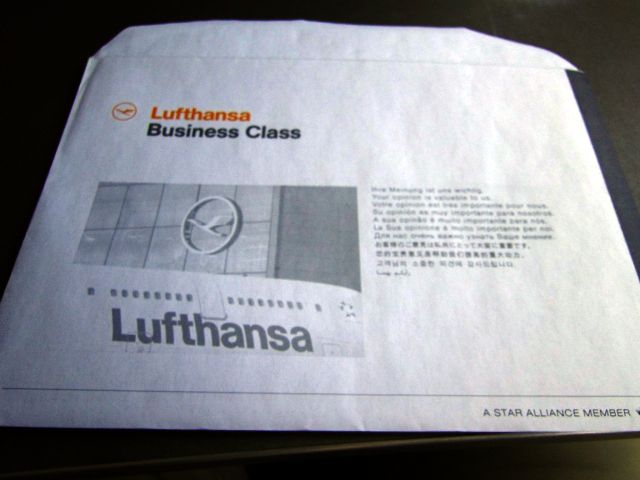 Our flight coming to an end.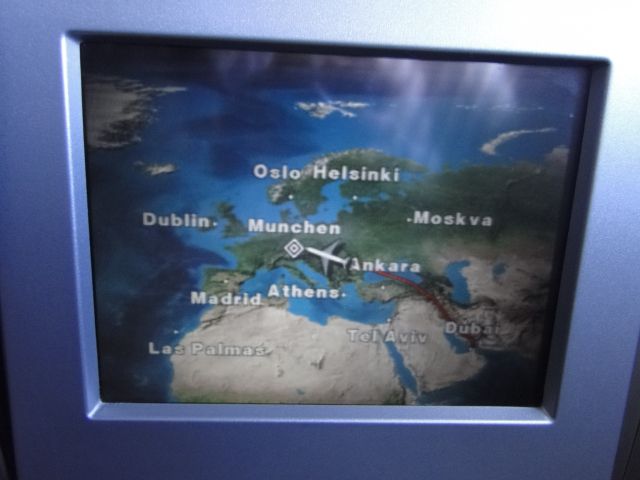 Familiar cities coming up on the Airshow.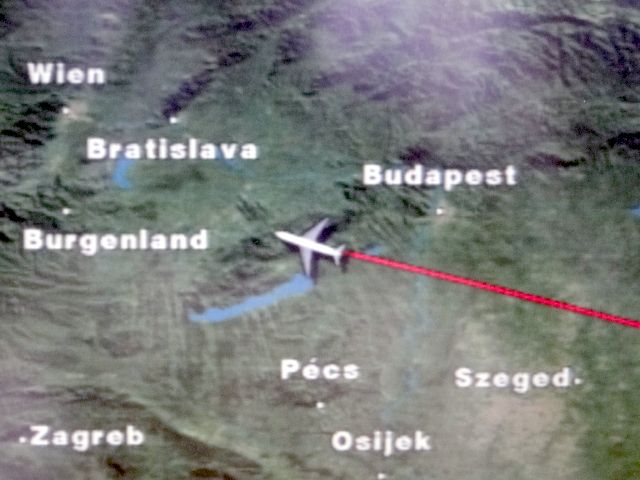 Descent.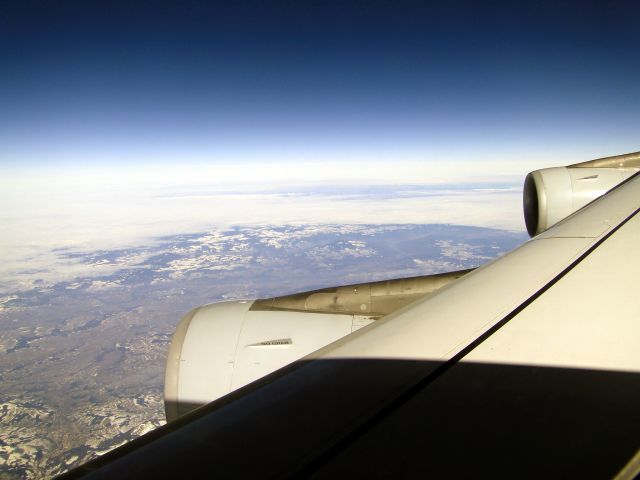 It was again a very nice LH flight.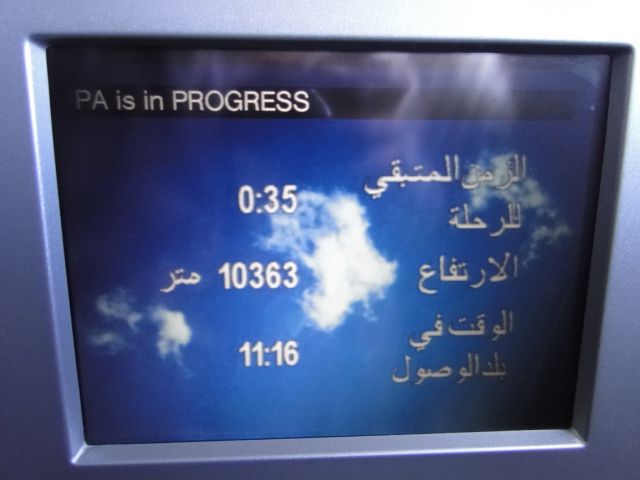 Austria below!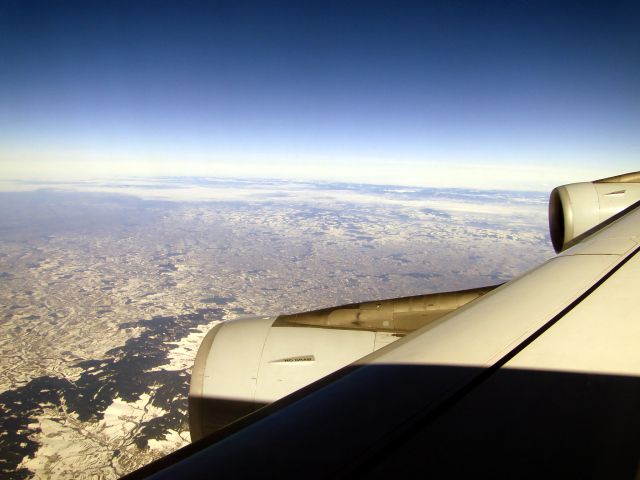 Interesting scenery.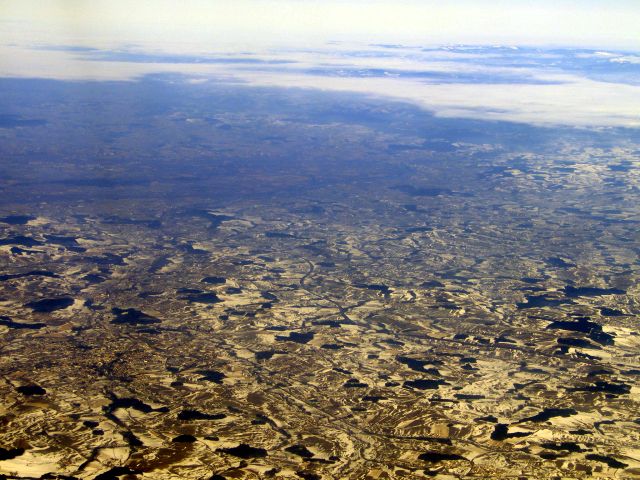 Flying past MUC airport.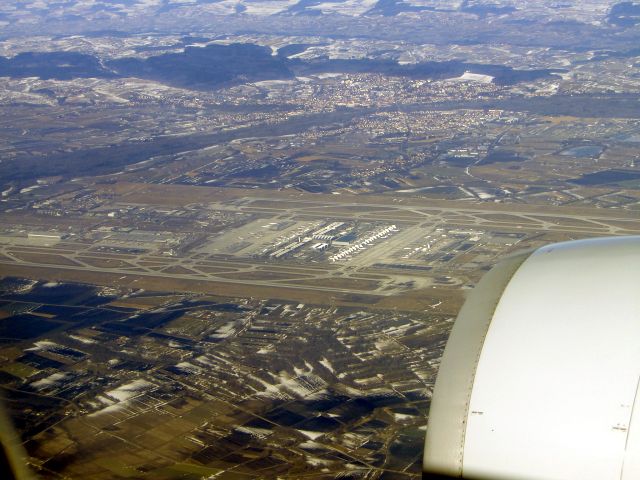 Making a right hand turn back.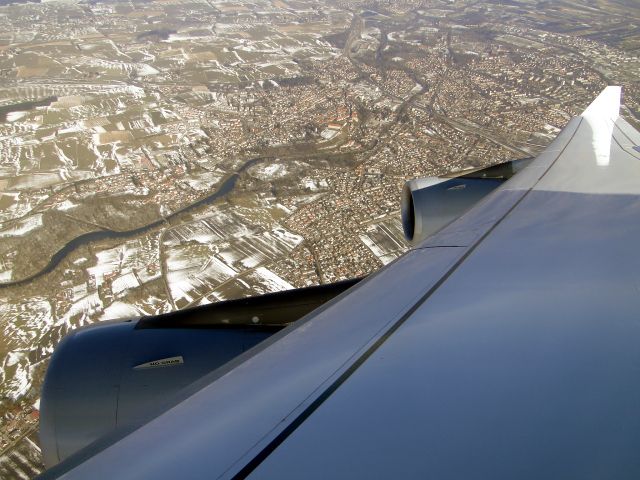 It was a gorgeous sunny day.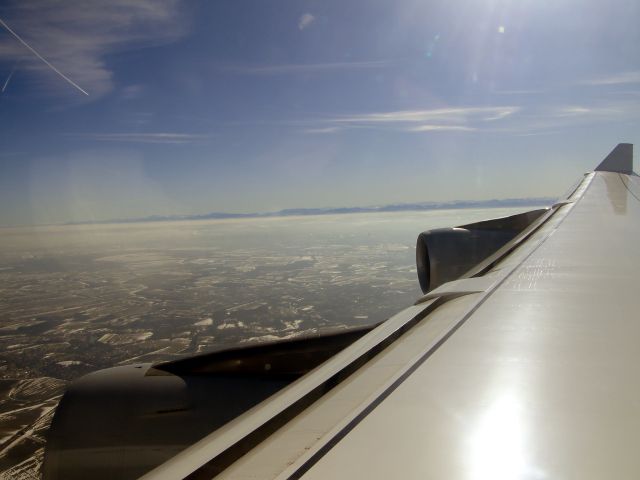 Bavaria.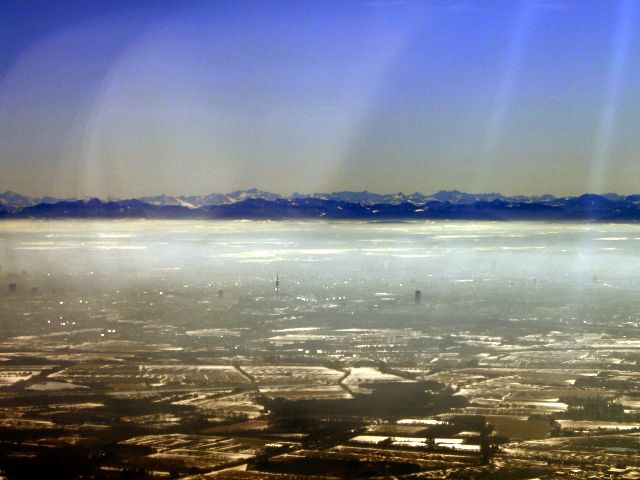 Final approach.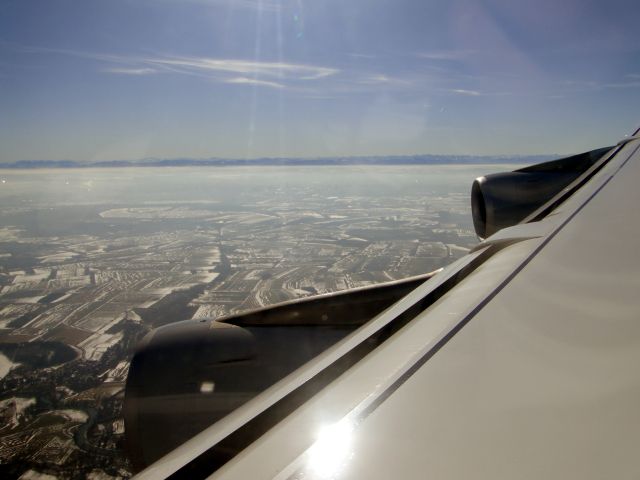 And here we are…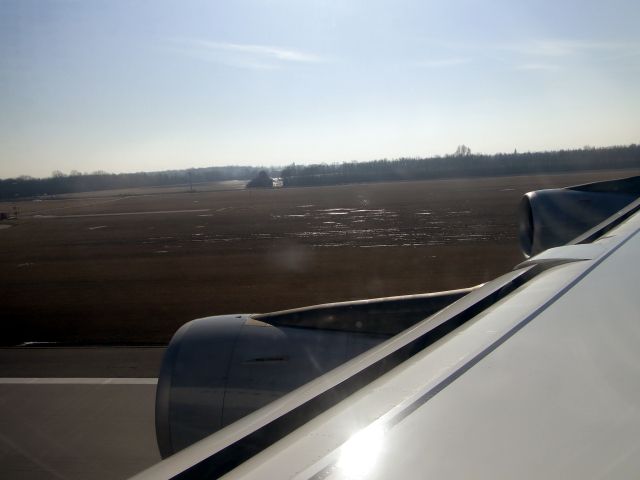 Reverse trust.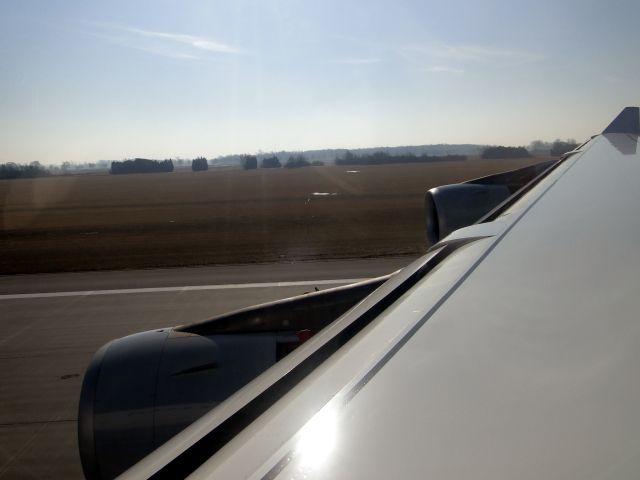 In detail.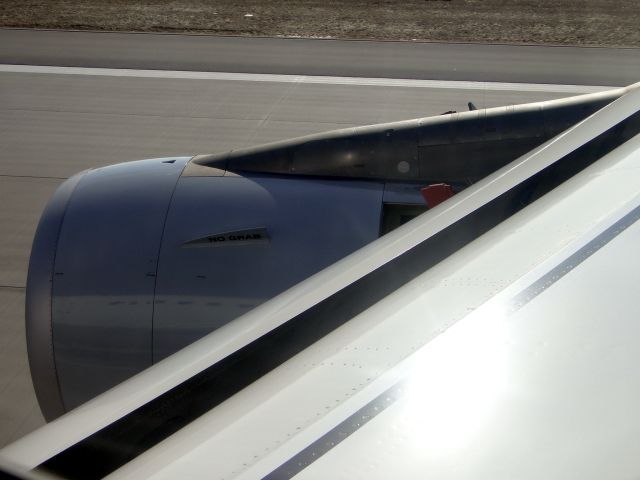 Another A343 at MUC.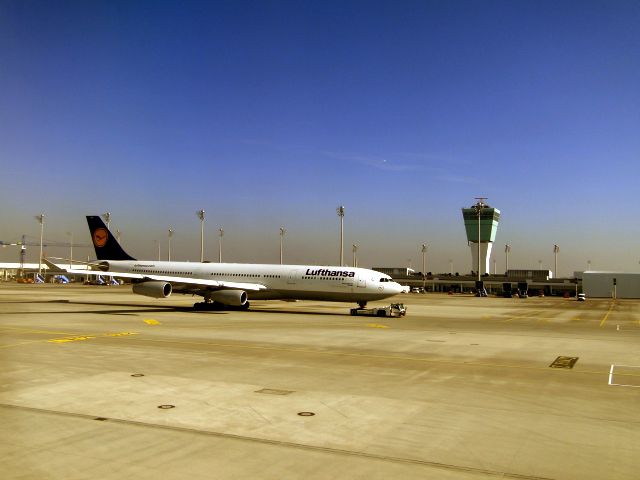 A gate at the end of the terminal meant a long walk to immigration.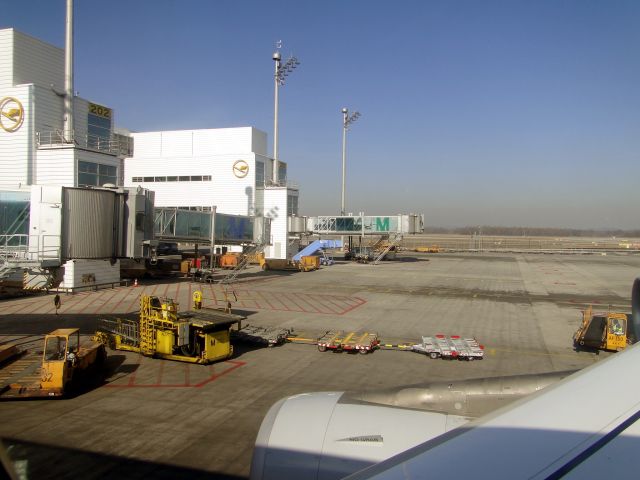 A visitor from the States.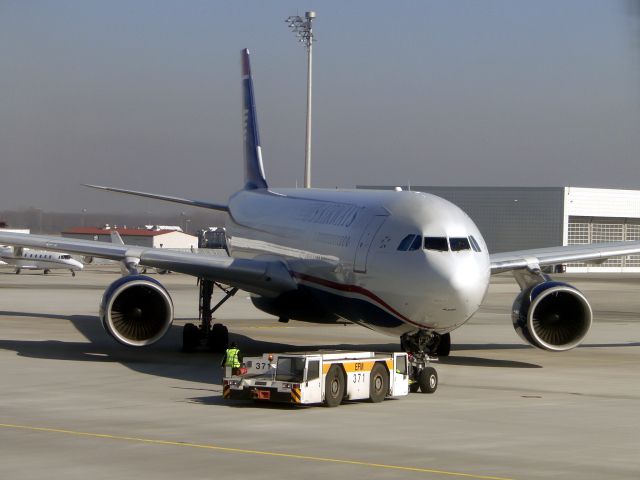 A visitor from Singapore shaking the whole terminal during engine start and producing some smoke.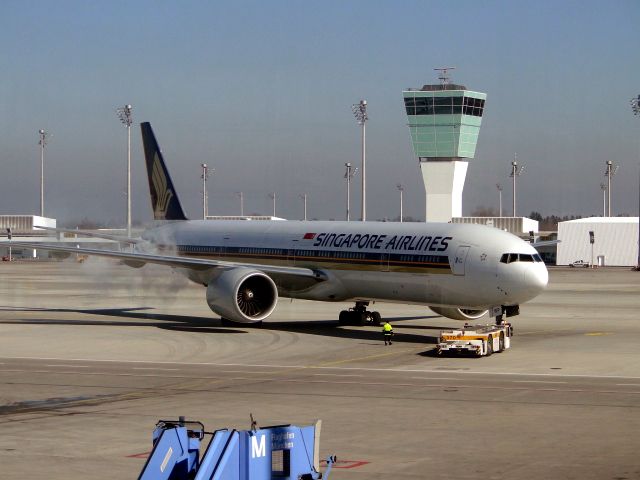 That's it, the flight home was a regular JP CRJ2, I had an aisle seat, too bad because we did an interesting visual approach and it was a beautiful day. The girl next to me took a bunch of nice pictures.
Thank you for reading,
Blaž
My previous reports:
Singapore-Munich Lufthansa A340-300 Business
(by
SloAir
Nov 28 2011 in Trip Reports)
Lufthansa Inaugural A380 To Singapore Upper Deck
(by
SloAir
Nov 7 2011 in Trip Reports)
Chasing The B736, MD82 And A321 Around Scandinavia
(by
SloAir
Sep 29 2011 in Trip Reports)
Adria Retro And Austrian B738 To And From Istanbul
(by
SloAir
Aug 31 2011 in Trip Reports)
To The A.net Meeting At Frankfurt With Adria CRJ2
(by
SloAir
Jul 11 2011 in Trip Reports)
LX Upgrade! Montreal-Zurich In First On The A333
(by
SloAir
May 4 2011 in Trip Reports)
Swiss A330-300 Zurich-Montreal In Business
(by
SloAir
May 1 2011 in Trip Reports)
Singapore B777-300ER Munich-Manchester And JP,U2
(by
SloAir
Apr 6 2011 in Trip Reports)
One Of The Last CO Trip Reports? IAH-LAS B753
(by
SloAir
Feb 14 2011 in Trip Reports)
My LX A333 C Flight Cancelled LJU-ZRH-JFK-ZRH-LJU
(by
SloAir
Dec 27 2010 in Trip Reports)
CO B767-400 BusinessFirst From Houston To Paris
(by
SloAir
Nov 24 2010 in Trip Reports)
Houston, We Have A Problem! 12 Hour Delay On CO 5
(by
SloAir
Nov 14 2010 in Trip Reports)
Adria Airways New Airbus 319 (LJU-MUC-BCN-LJU)
(by
SloAir
Aug 30 2010 in Trip Reports)
LJU-CDG-LHR-CDG-FRA-LJU On JP, AF(A380) And LH
(by
SloAir
Jul 5 2010 in Trip Reports)