Introduction
This is the final part of my February trip to the Gulf via Moscow and Yerevan, Armenia. It is a bit overdue, sorry for that buy many things have conspired to require most of my attention and time these days...
For the events leading up to this point, please refer to the earlier two parts:
-
Russki Way To Armenia: HEL-SVO-EVN
(by
FlyingFinn76
Feb 23 2012 in Trip Reports)
-
Armenia To Arabia: EVN-DXB-MCT
(by
FlyingFinn76
Feb 26 2012 in Trip Reports)
-
Bling Bling Vs. Low Cost: MCT-DXB-EVN
(by
FlyingFinn76
Mar 7 2012 in Trip Reports)
Sunday 19.2.2012
So I will pick up right where the previous episode left me - half way up the elevator from the arrivals level to the departures level at Yerevan airport:
Upon reaching the upper level I take a look around - the place looks just as deserted on Sunday early afternoon as it did two days ago early on a Friday morning. The only people I see happen to be queuing in front of the (thankfully already open) Aeroflot check in counters, so that's where I head to join the small queue.
Supervising the queue is none other than the same guy who warned me about taking photographs to days ago. He looks at me and says: "I can't believe it! Two days ago you fly to Dubai and now you are back here!" - I just have to crack my usual joke: "It was too sandy there for me, I'll head north now" which makes him laugh. We have some small talk and in no time at all it is my turn at the counter.
The young guy there is not able to print me a boarding pass for the SVO-HEL leg, explaining that it is operated by another airline (I know, I know - it is Finnair but under an SU codeshare...). Fair enough. After I ask about the lounge and whether I need an invitation there's a bit of confusion - apparently they've never seen a Flying Blue card before. Finally an older, large guy who I think must be the Aeroflot station manager grunts the younger agents something, which cause them to hand my passport, boarding pass and FB card over to him. He mutters something about "Air France" and takes extra time to carefully jot down my details. Eventually he hands me the filled lounge invitation and my documents plus the boarding pass and wishes me "a good flight" - his English seems to be rather limited.
I say good bye to my new friend the supervisor (shaking his hand) and head off towards the security check process. It is just as absurd as the last time with finger prints scanned and multiple document checks, but at least the immigration officers seem all to be awake now. The woman processing me takes a long hard look at my 1-day visa (gee, they must not get many mileage runners here!) but finally stamps my passport and sends me on my merry way. Security check is another mess, but at least we get a bit of a fun for bashing Moscow with the nice girl there.
Again through the duty free store where I buy some Armenian stuff, including the very nice Ararat brandy, although the girls there are a little suspicious whether I can take it through transfer security at SVO (for the record they couldn't care less there...).
Access to the lounge is interesting - the lift and the stairs are located right in the middle of the duty free store - no doubt another effort to try to increase casual spending by us filthy rich (as the common misconception seems to be) folks flying in premium classes and having lounge access... Upstairs two friendly girls are waiting at the reception - one of them doesn't seem to speak any English but the other one is very nice and takes my invitation and welcomes me in.
This place is quite large but narrow as it runs pretty much the whole length of the departure hall:
There are no other guests in the lounge when I enter, half an hour later a Japanese guy (who ends up being on the same flight as me) enters and later a couple of mafioso-looking Russian "biznismen" in suits who spend most of their lounge time having a heated discussion in one of the lounge meeting rooms.
For some reason they have a lot of French papers:
For Jonas: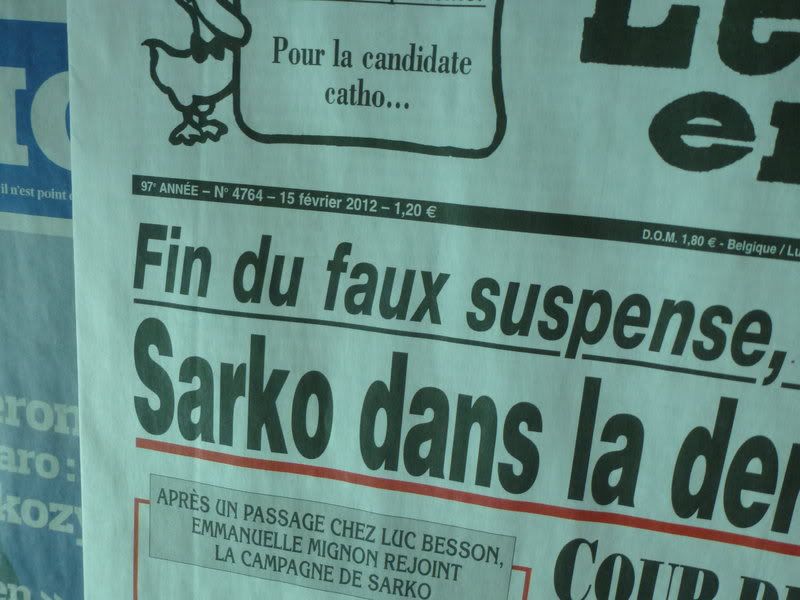 Easy chairs: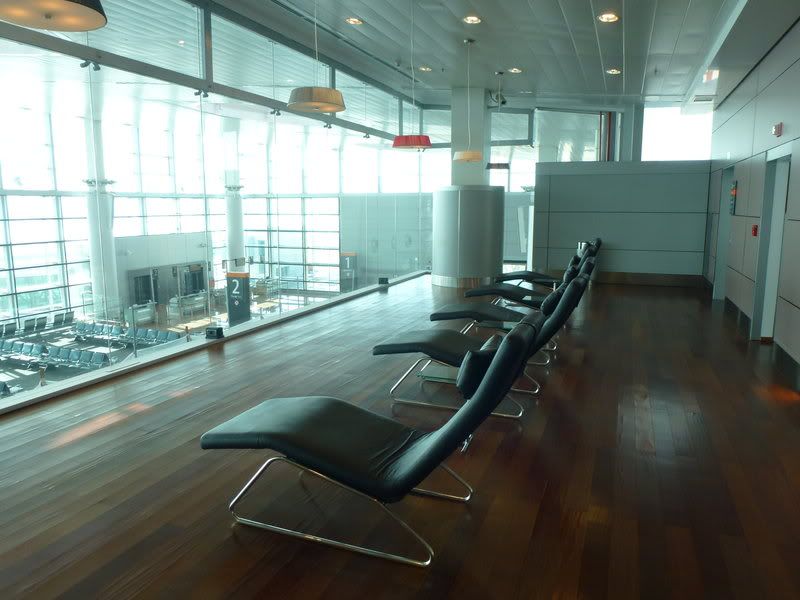 The offerings: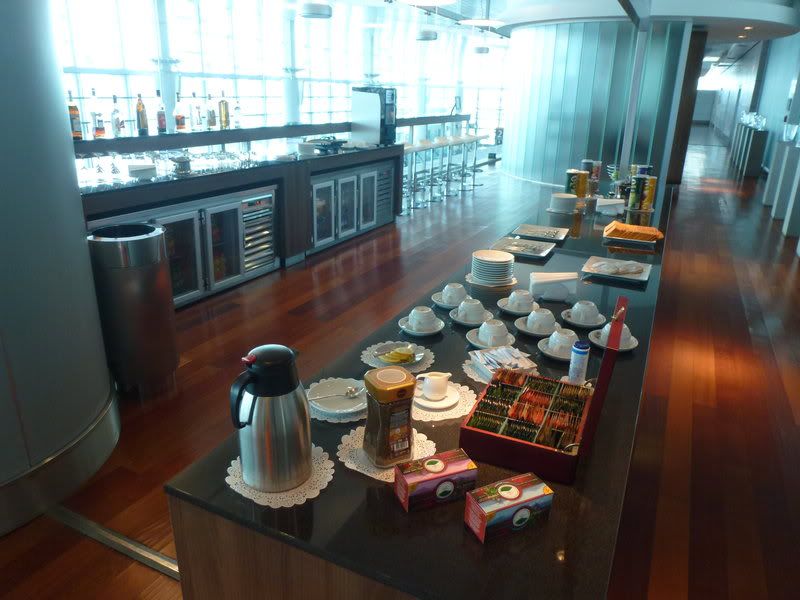 Drinks selection is good, nice to see some genuine Czech Becherovka on offer: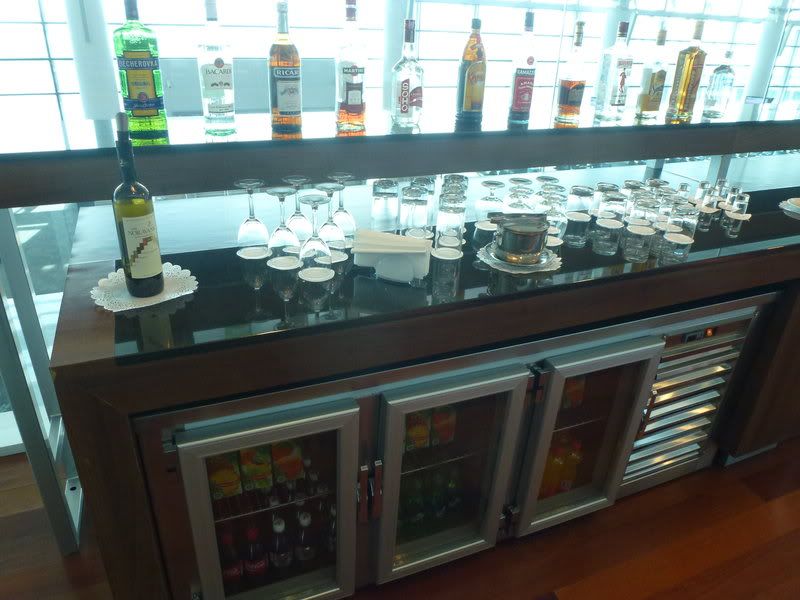 The Armenian wine they have is simply horrible, though. Not exactly my cup of wine. These prepackaged sandwiches are quite cheap and very basic - the cheese one has exactly two ingredients, white bread and (dodgy) cheese:
Vase display:
The lounge has decent views of the apron as there's plenty of glass everywhere, unfortunately the multiple layers of glass make photography a bit of a challenge. Here's the sistership of the bird that flew me to Dubai: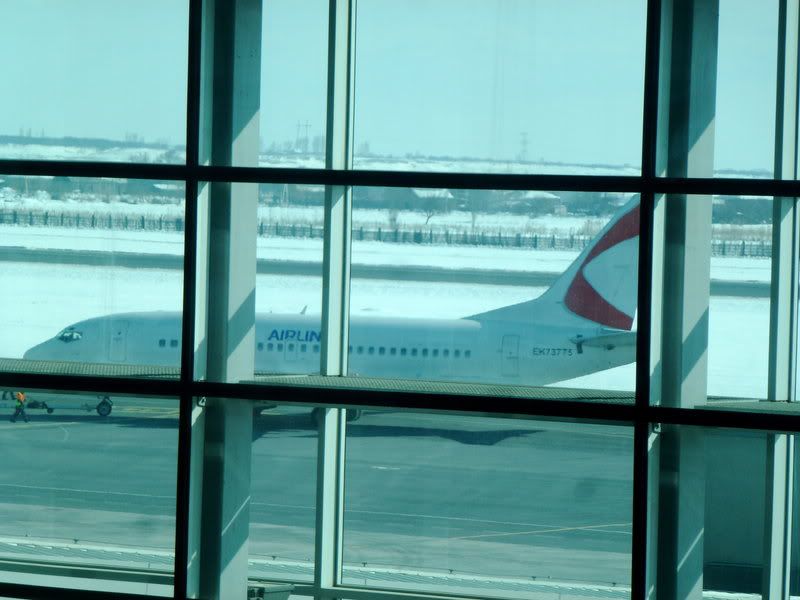 This sight took me by surprise - a lovely S7 767 arriving from DME: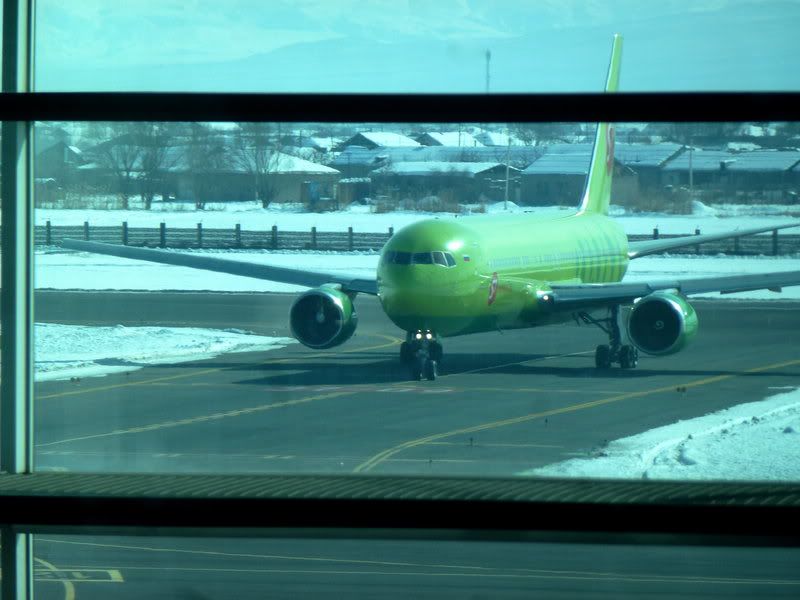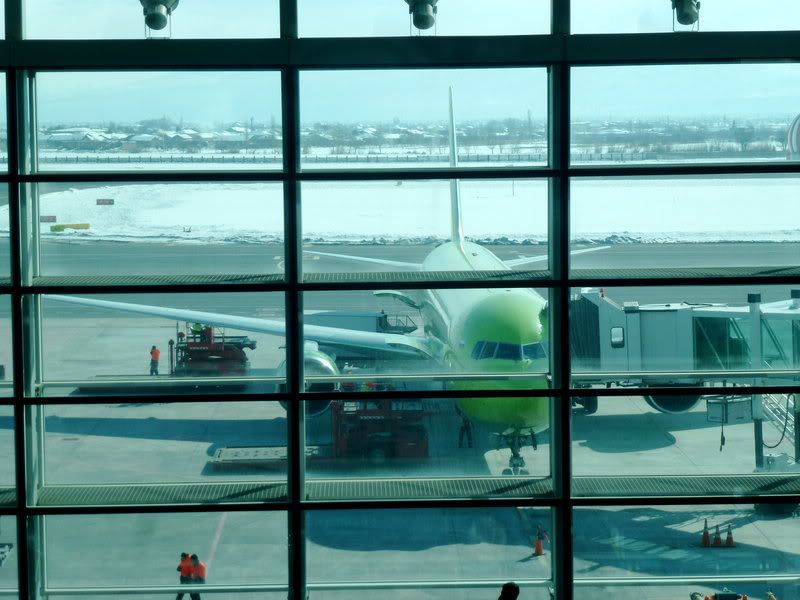 They had this kettle with the lid on top right there on the snacks table - I hoped there might be some sort of nice soup on offer but the truth is a little bit different: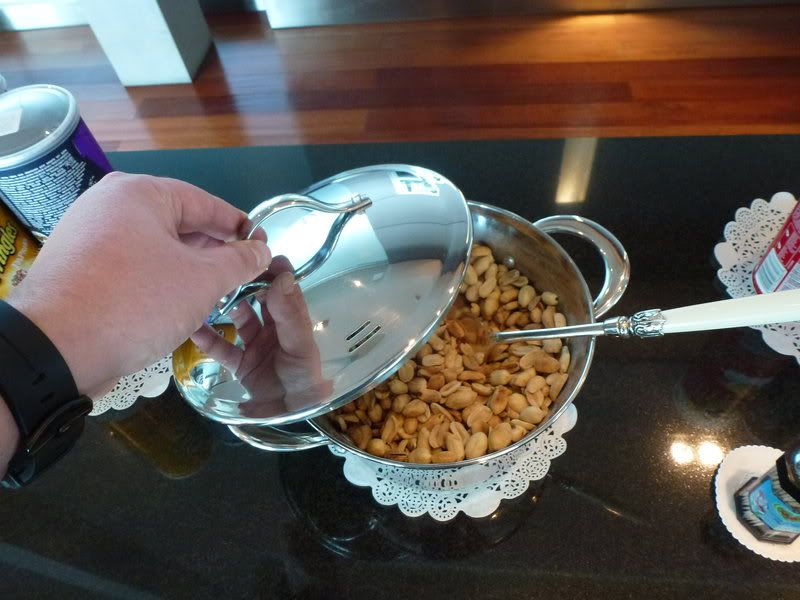 Wow: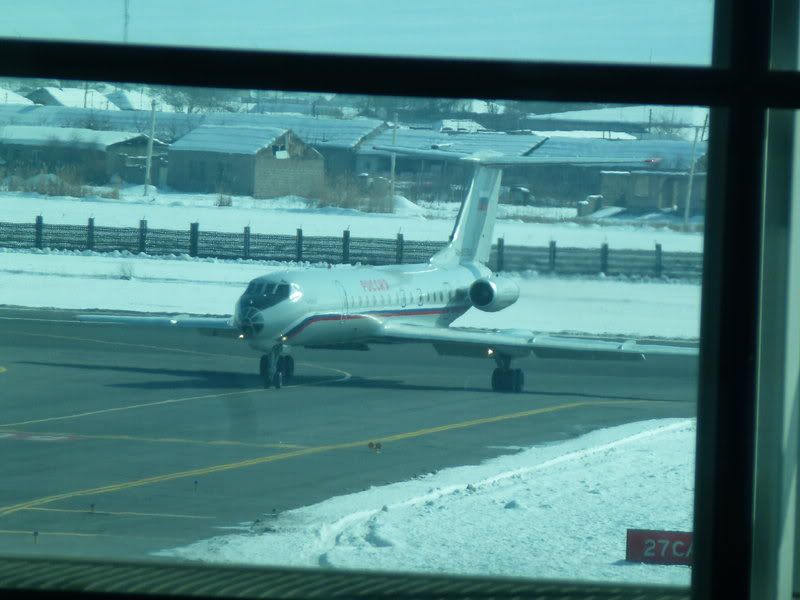 The whole terminal has free wifi so that, some drinks and plane watching (not to mention an epic luggage repackaging operation!) keep me well entertained until it is time to leave the lounge for the gate. Right then I spot this gorgeous livery arriving - interesting contrast with the white snow: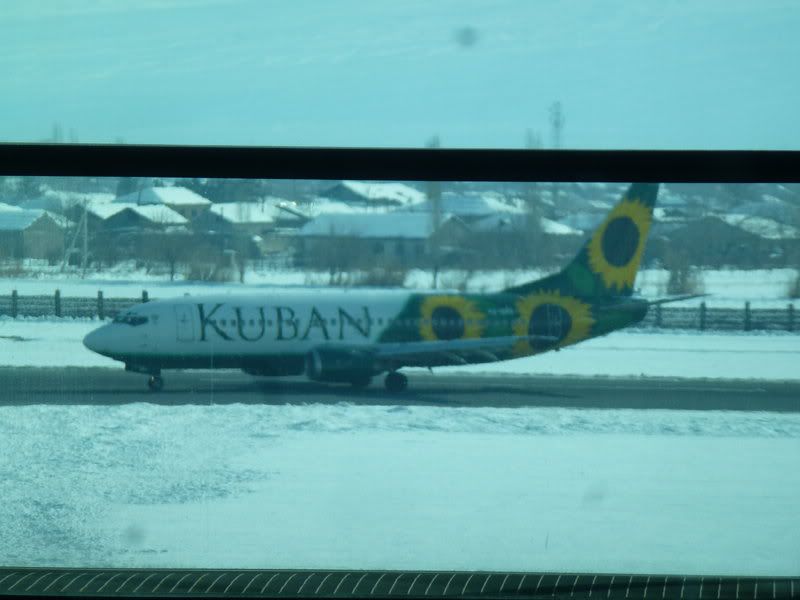 Downstairs to the gate I go, plenty of people waiting to go to Moscow: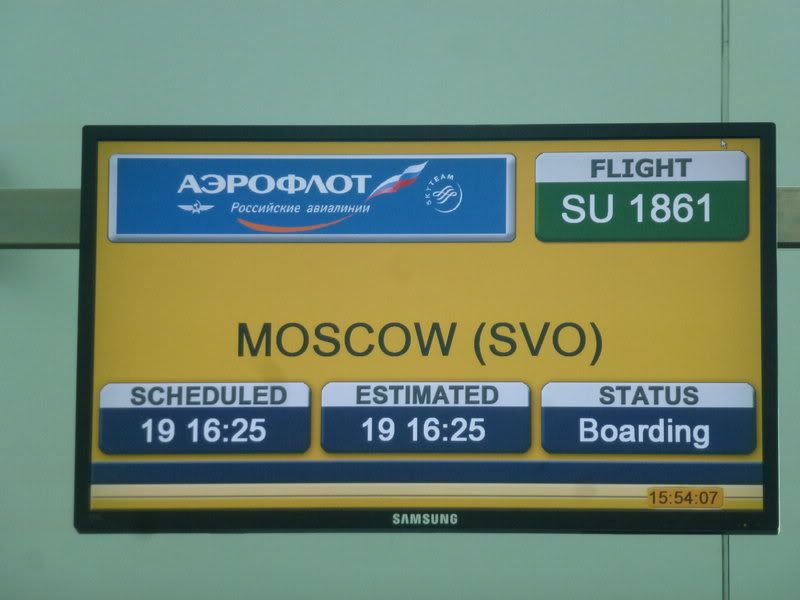 Or maybe here: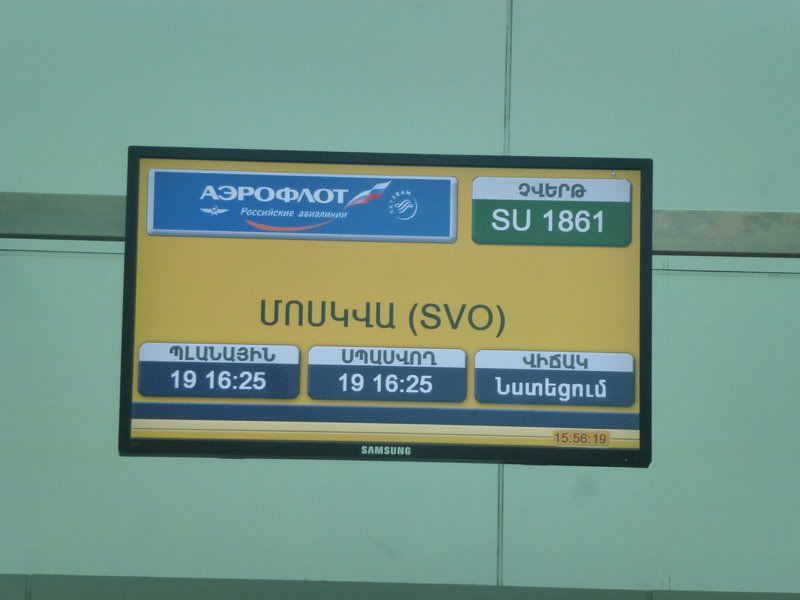 Boarding commences as soon as I get to the gate - I board among the first few ones. By the time I'm walking down the jetway the station manager (the guy who wrote me the lounge invitation at check in) comes walking the other way, spots me and asks for my boarding pass. I show it to him and he takes a look, shakes his head and tells me to wait here, heading towards the gate agents with my boarding pass... oh well, I think I know what is about to happen and am pretty happy about it! I actually can't stop smiling
.
While I wait there's the perfect opportunity to shoot a pic of my ride-to-be, the expected A320 VP-BRY which of course is a new reg for me:
Soon the manager comes back, gives me a new boarding pass and says: "Business class" - this is exactly what I expected but it still makes me feel all warm and fuzzy inside. I shake his hand (this seems to be an Armenian way and I'm definitely adapting!) and happily say "спасибо" to him which seems to confuse him a bit and then hop down the jetway with a new lightness on my stride.
EVN - SVO
SU1861
A320 VP-BRY
Seat 4A
16.25 - 19.13
A middle-aged, business-friendly to use Markus' term female purser is greeting us on the door. There's also Stanislav, a young guy who sports a very impressive mullet in the best Tampere fashion standing behind him - it turns out they will be serving the business class cabin on this flight, with the guy making some cameo appearances in economy as well.
As I mentioned on the outbound trip report, there are five rows of proper 2-2 business class seats on these birds: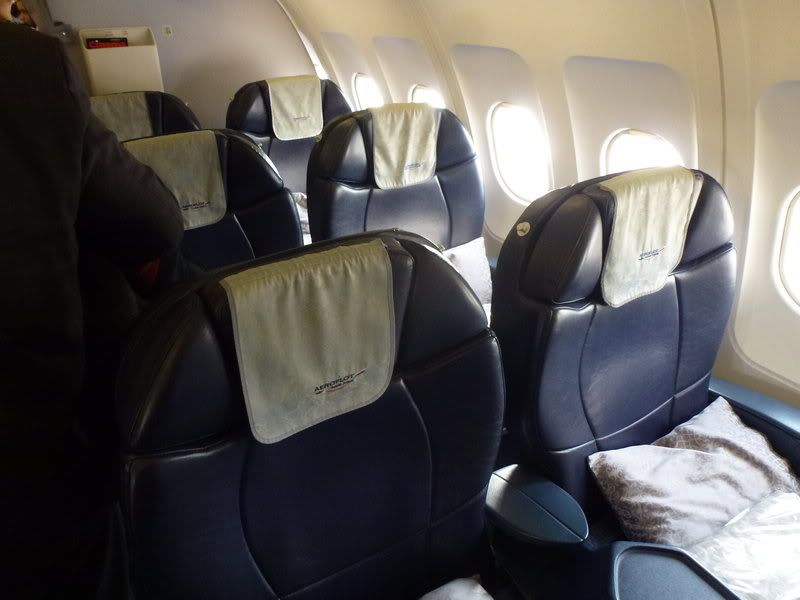 Legroom is of course excellent (notice the amenity kit in the seat pocket):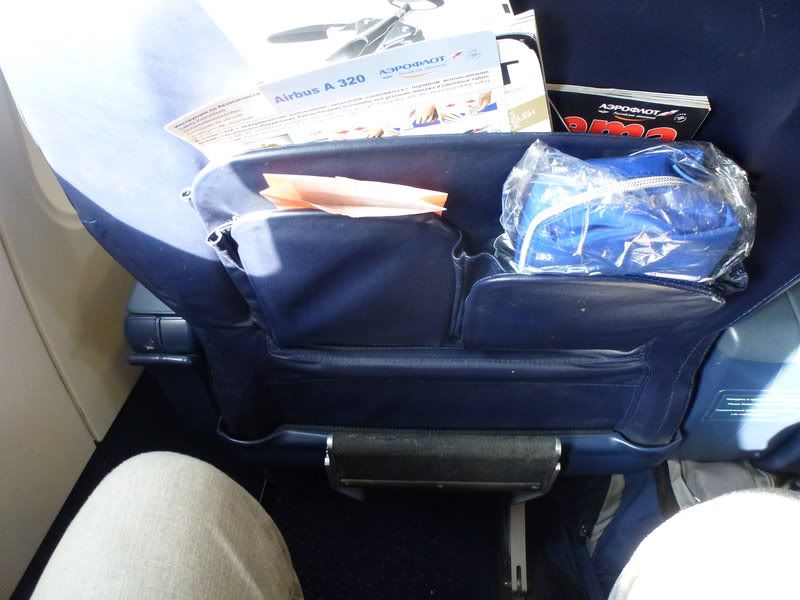 Legrest:
Since economy is overbooked (hey, I hold no false assumptions as to the cause of my upgrade, I'm sure the reasons are operational even though they actually did it wrong and I ended up getting the full business class mileage for it, nice!) there's a steady stream of passengers back there. Out of the 20 J class seats 18 are occupied, most of the pax are apparently upgradees as apart from the Japanese guy and the mafiosos I didn't see anyone else in the lounge...
I get a seatmate, a young Russian guy who is more interested in his IPad than greeting me, well fine with me.
Predeparture drinks are offered from a tray - only water and OJ are offered (where are the champers?!):
Push back is right on time, followed by a taxi towards the end of the runway 27, taking us past some nice birds. Here's the plane that flew me to DXB: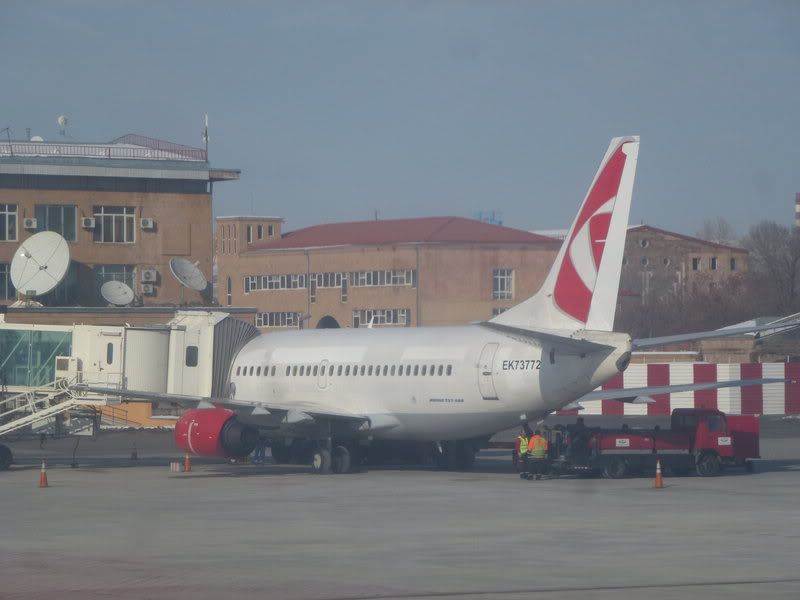 This US BBJ arrived while I was in the lounge: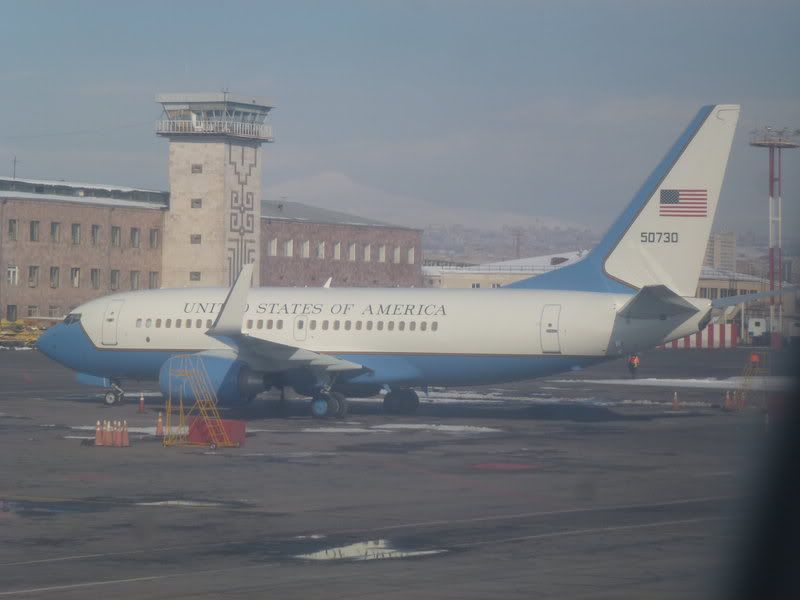 As is expected from any self-respecting ex-Soviet airport there are also some old plane carcasses around: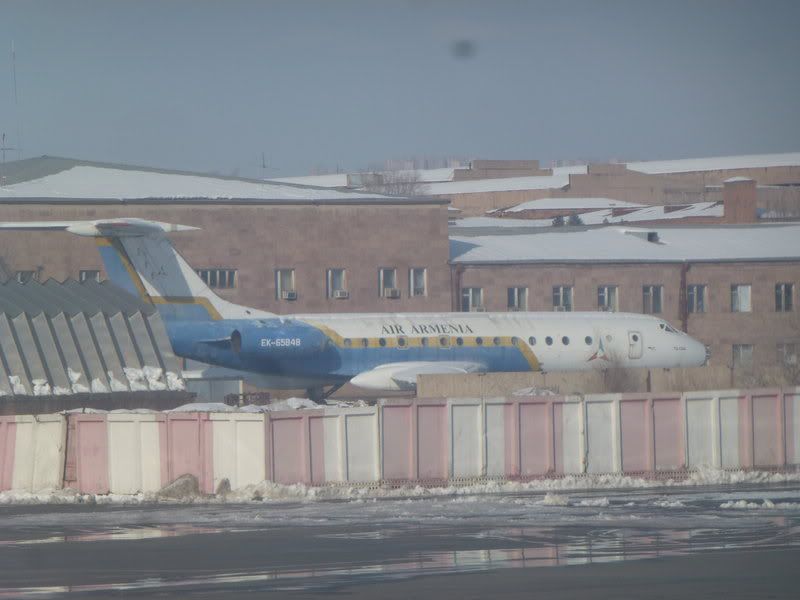 The ugly end of a Russian state IL-62: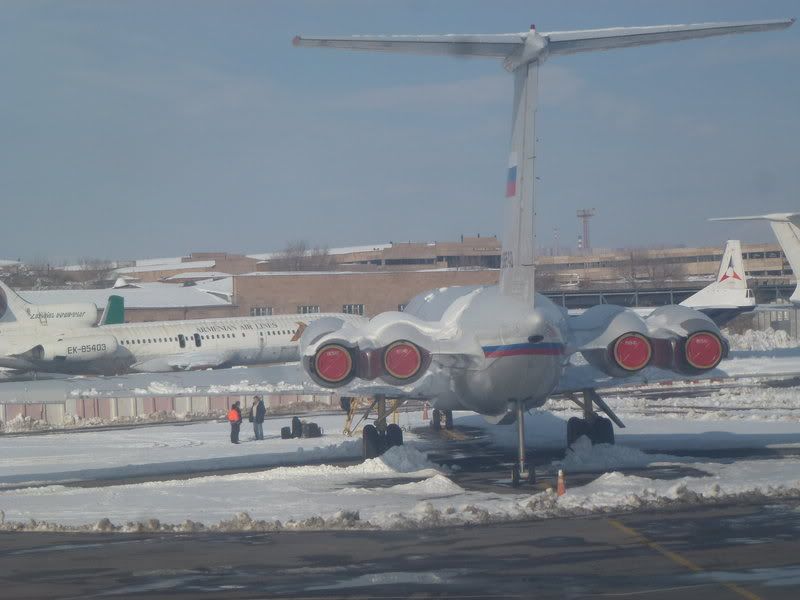 After take off there are quite stunning views of the snowy plain surrounded by the Caucasus mountains: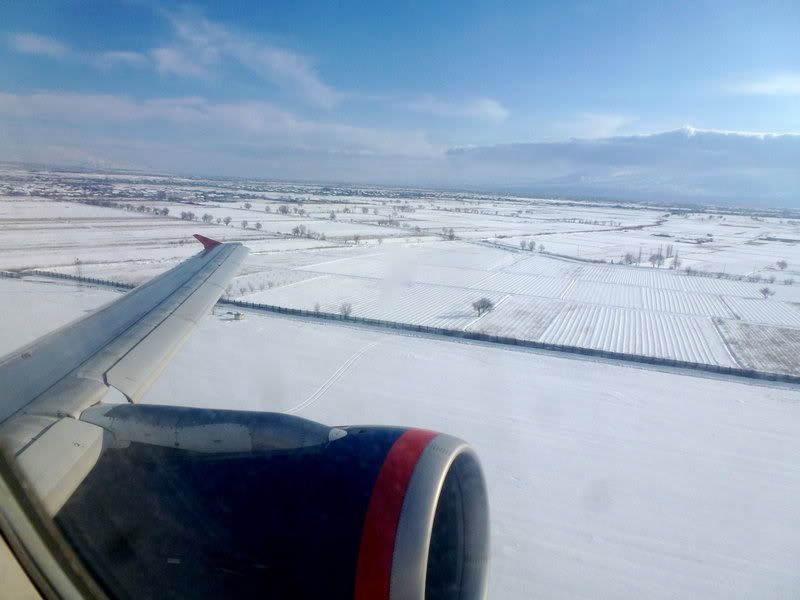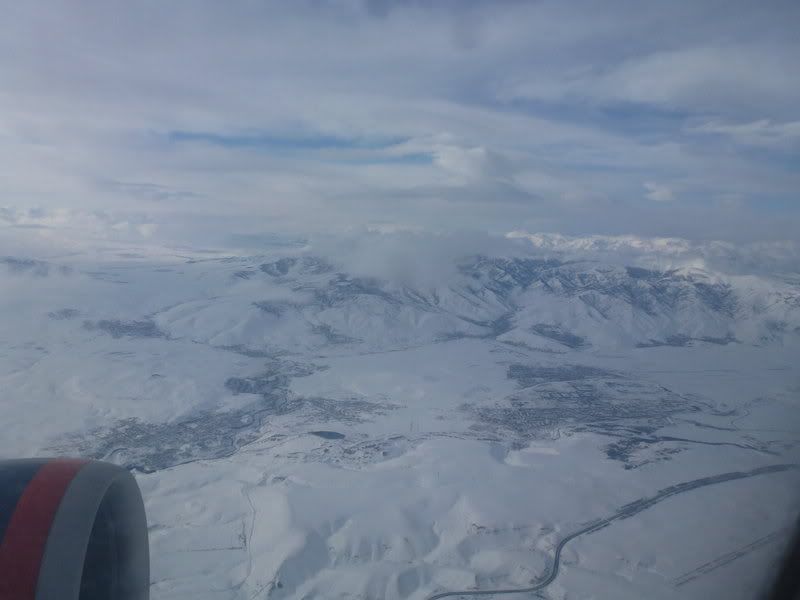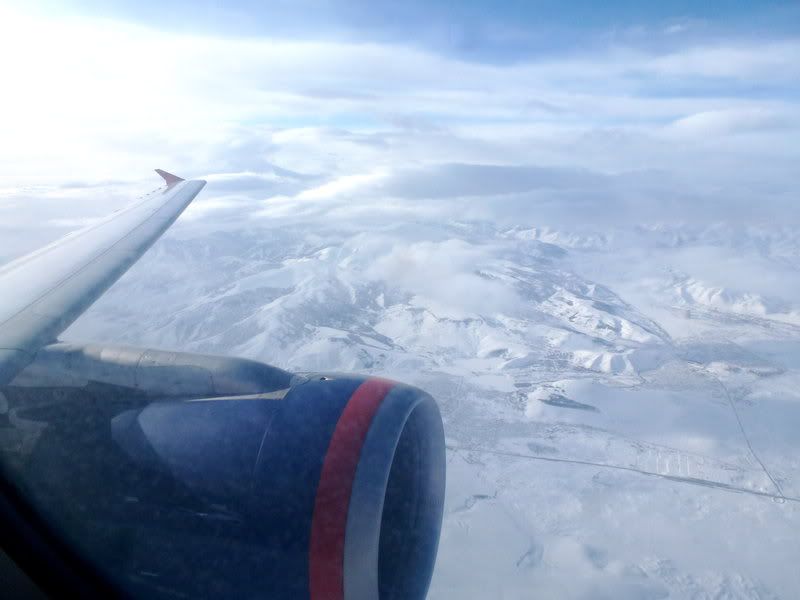 After take off we are offered digiplayers with a selection of movies and TV shows - I decline as I have plenty of reading material with me as always plus the views are far more interesting for me:
My seat mate does accept the player and spends the rest of the flight watching some movie which I don't recognize.
Town in a valley:
Soon we are offered hot towels by Stanislav: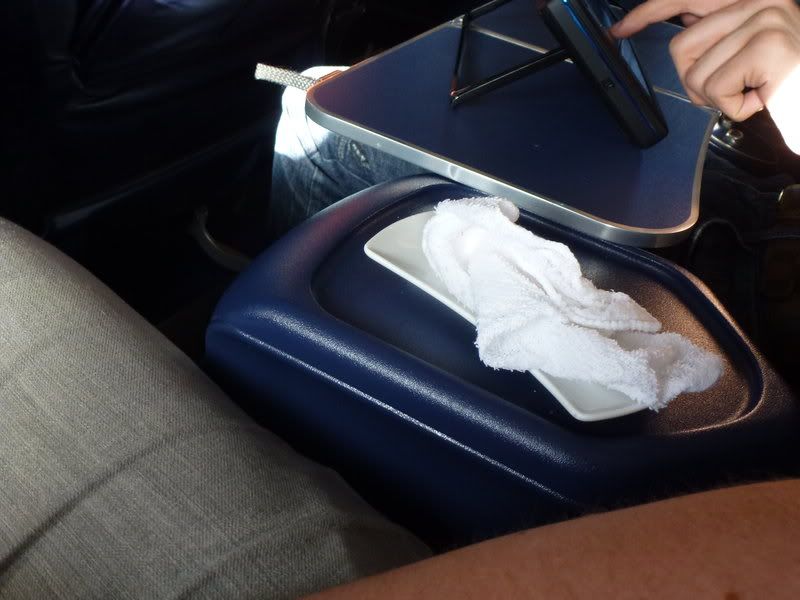 Next the purser comes to each of us individually, introduces herself as Elena and asks for my name. Since my first name would be too hard for him I use its Russian version and introduce myself as "Pjotr" which she seems to find quite funny. Anyway she asks for my choices for the food on this flight and offers a bowl of nuts and white wine after I request one:
Wait a minute, food choices?! Oh yes, I forgot to introduce the menu card that was placed on the seat pocket. Here are some pictures - these obviously were taken at home (somehow the menu cards found their way to my back bag...):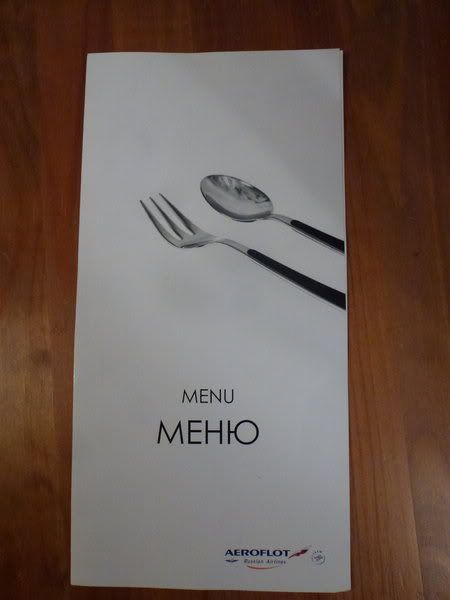 Russki - that Coca Cola advert looks a bit cheap:
English - ditto for the ad: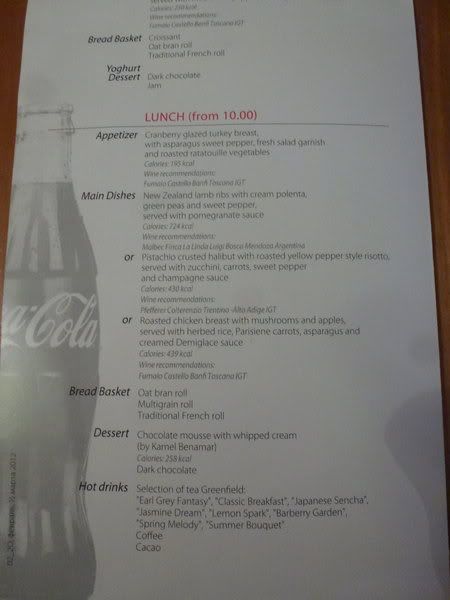 Note the calorie count for each dish - an interesting but a very nice touch.
I ask Elena whether they still have the fish available - she seems to be a bit surprised at the thought that they'd run out of a dish and says "Yes, of course" so that's what I order. Then I'm asked for drink choices. The menu listed wine recommendations for each dish so I try to explain that I'd go along with the selection from there but she doesn't understand me so I guess I'll just have to take a look at the wine menu as well:
I'll spare you most of the details but I settled for some very nice Pfefferer white. Here's the champagne: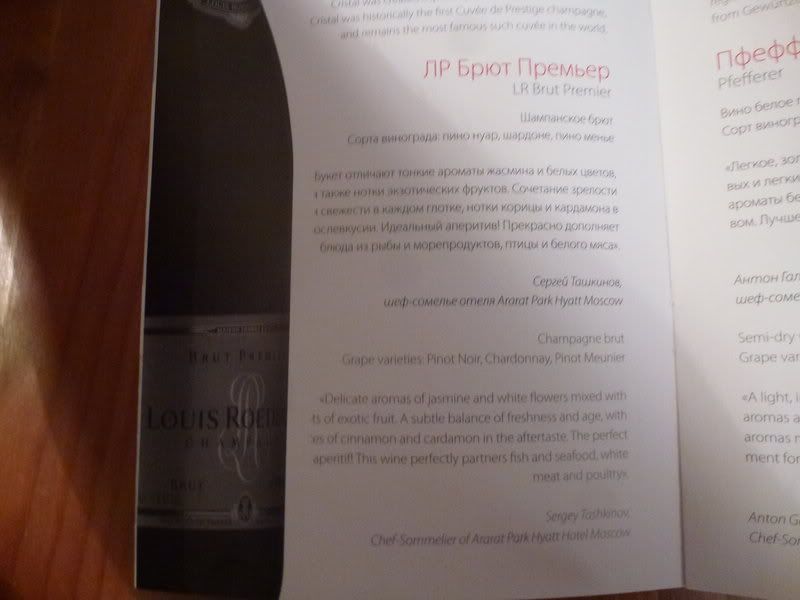 Soon the appetizer is delivered on a tray: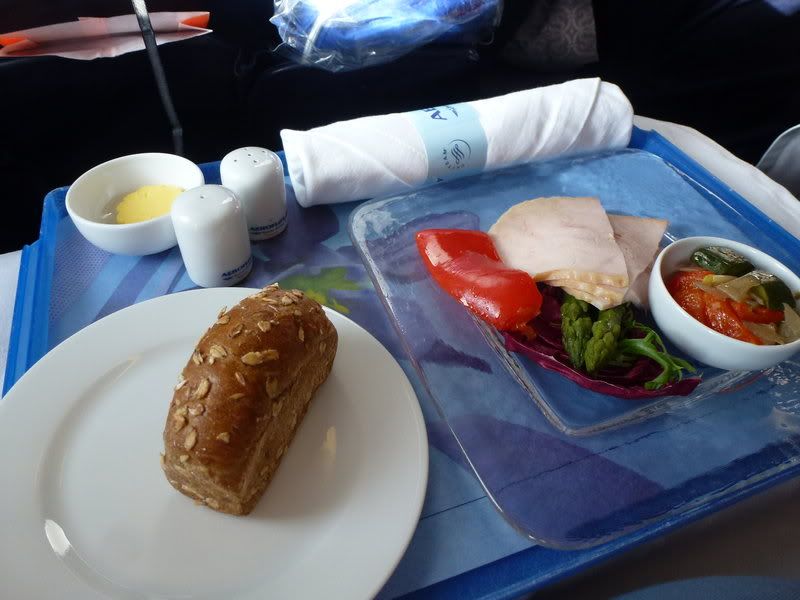 Notice the salt and pepper shakers - somehow those fell right in my bag and ended up being adopted by me. Here's another shot of them at home:
Well back to the meal - the slices of turkey are quite dodgy to be honest, but I still finish all of them. The other veggies are nice. Plenty of different breads are offered from the basket - the one roll I take is very nice.
Good to see the classic hammer and sickle on the utensils:
Frequent refills for the wine are proactively poured by Elena, no need to request them.
Onwards to the main course:
This dish is absolutely delicious! The halibut is very nicely cooked, soft and moist and the pistachio crust fits the taste perfectly. Likewise the risotto is fabulous - so tasty, enhanced by the nice sauce (which doesn't really taste like champagne to me but that is okay). A good sized portion as well, it only leaves me yearning for...
...dessert: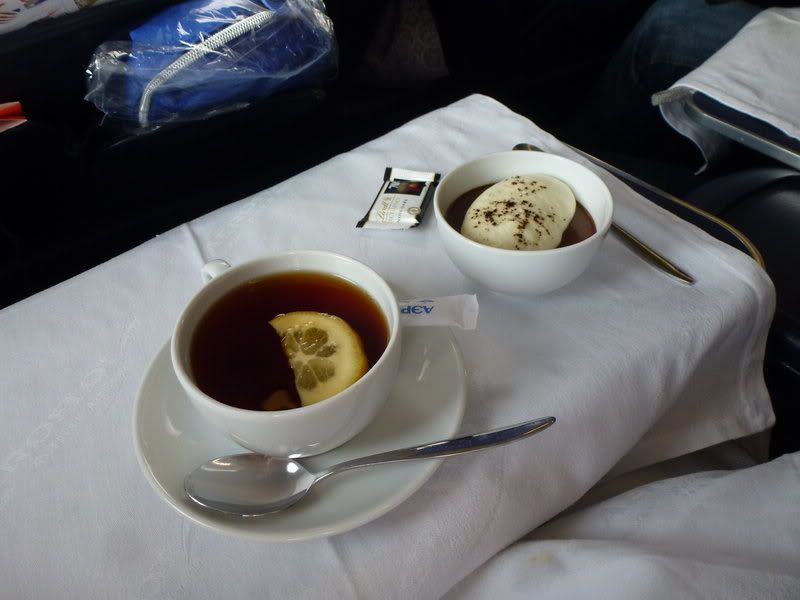 It is Russia after all so definitely some nice tea with the chocolate mousse which is sinfully good.
All in all an excellent meal for a three hour flight.
After the meal leftovers are cleared we are asked for any additional drinks - I decide to try the champagne which is a bit of a disappointment and served in such a small glass: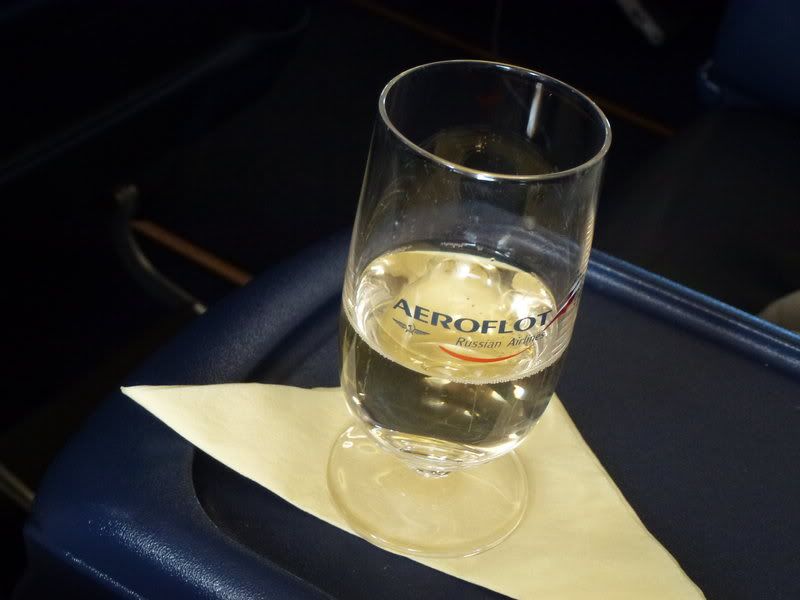 This time refills are not proactively offered, instead I have to ask for them. Anyway I lean back, sip my nectar, listen to some nice tunes from my IDevice and just sort of zone out reflecting on this whirlwind trip I'm finishing and various things in life. Being on the western side of this northbound aircraft of course means that I have some nice views of the setting sun at my disposal as well: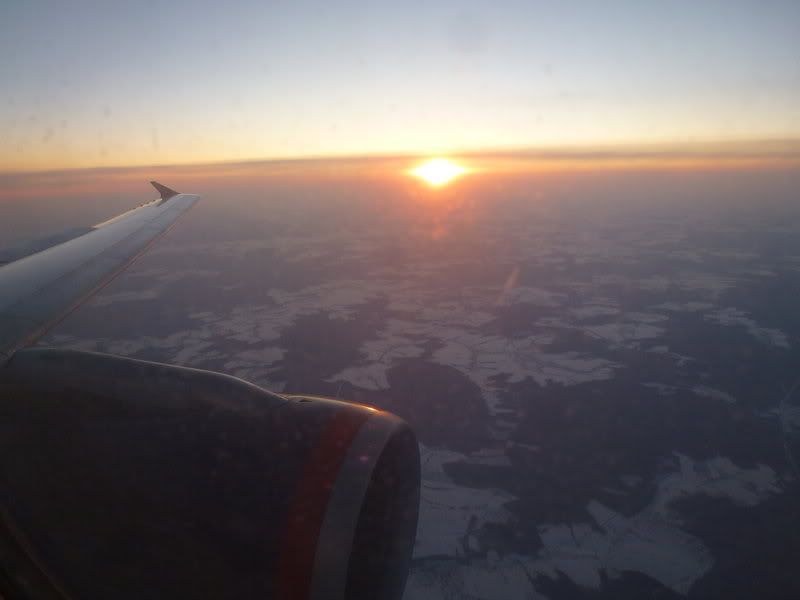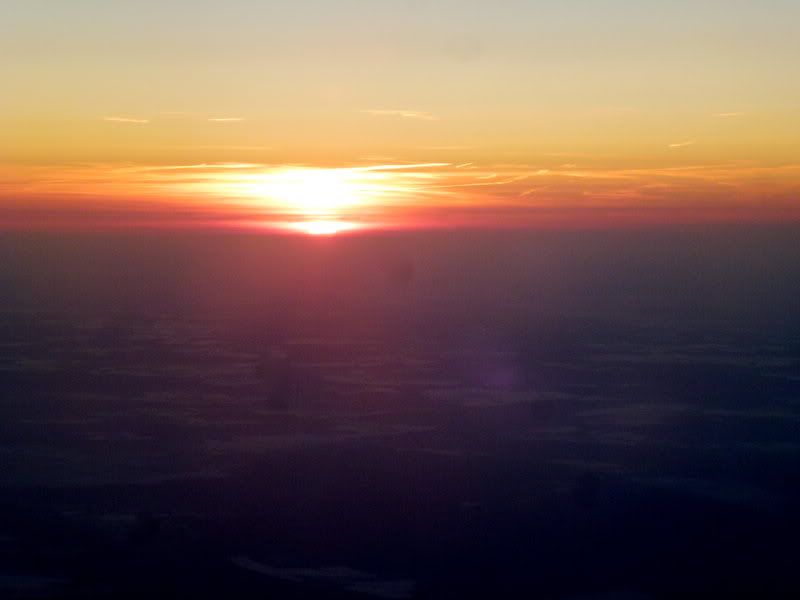 Let's take a look at the amenity kit (again photos taken at home):
Inside there's a shoehorn, a wet wipe, an eye mask, earplugs, a pen and a small notebook (hear that, Mark!), "DND" and "Wake up for food" stickers and a pair of slippers: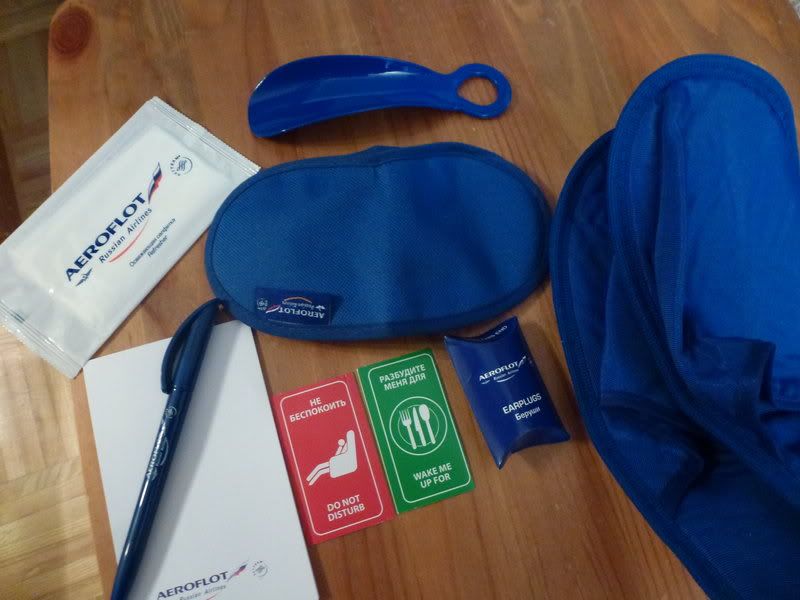 The slippers were the only amenity I used on this flight - quite nice for getting to the loo without my winter boots.
Well, time flies when you're in business class as the old saying goes and it seems like in no time at all the captain announces our imminent descent for SVO. I shake myself out of my wandering thoughts and take a look outside and am glad that I did as we are overflying VKO airport right at that moment: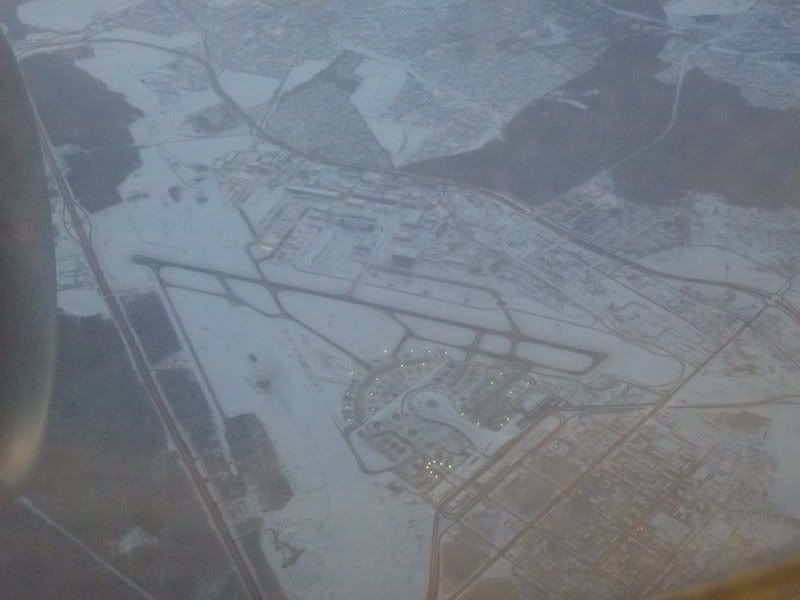 From here we fly over the western outskirts of Moscow towards SVO: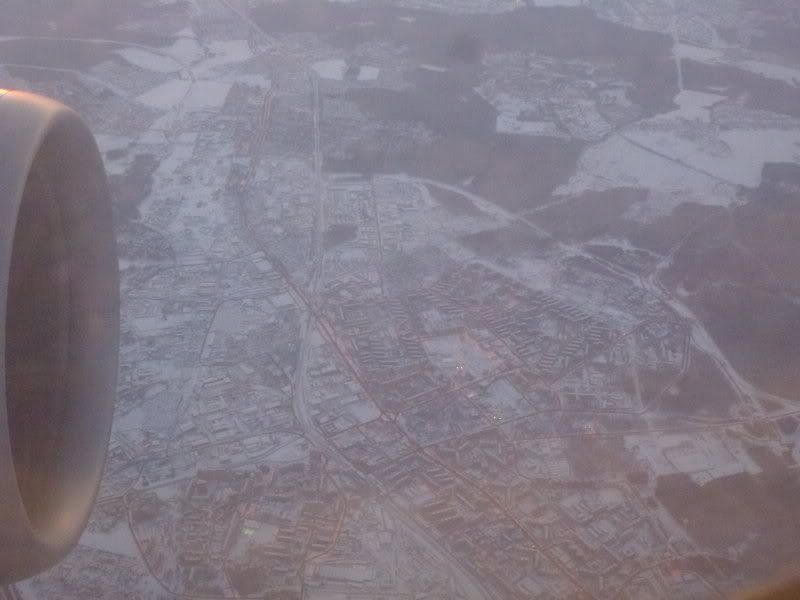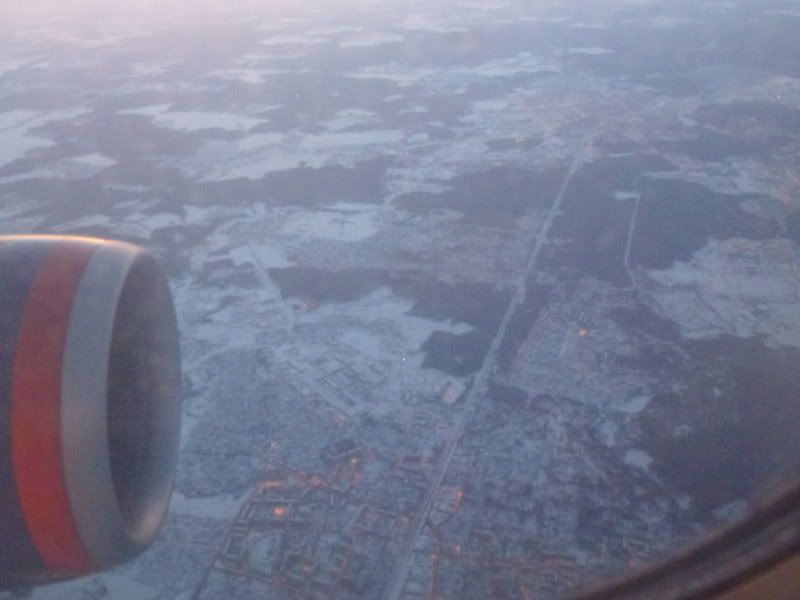 More views of the dusk over the western horizon: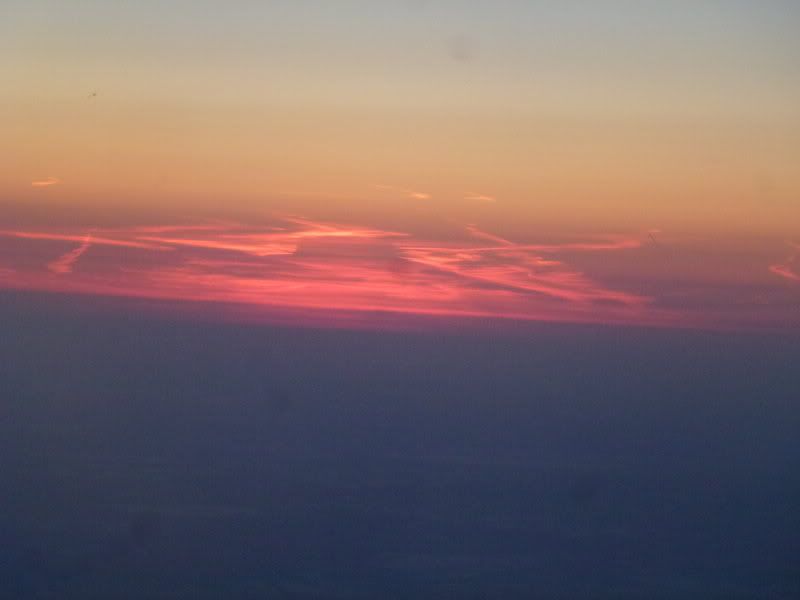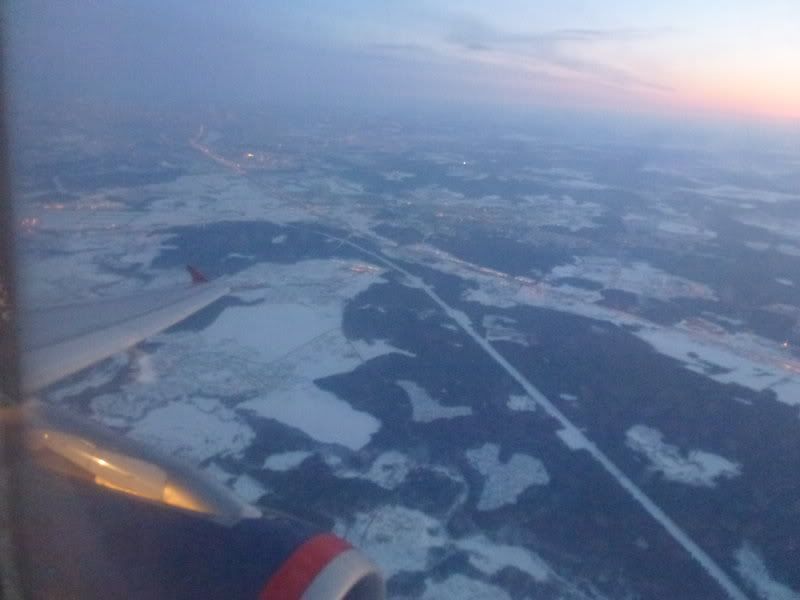 We fly almost directly overhead of SVO before turning towards the northwest (and Finland, yay!) - here's SVO:
We fly a bit away from the airport before turning back over some quintessentially Soviet suburbs: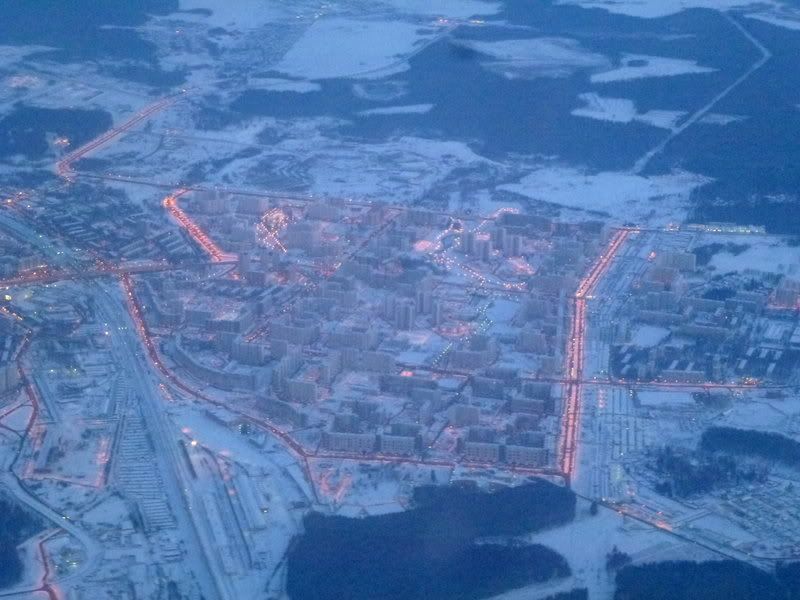 Stanislav hands out Fast track immigration cards - I take one just in case I might need it at some point in the future: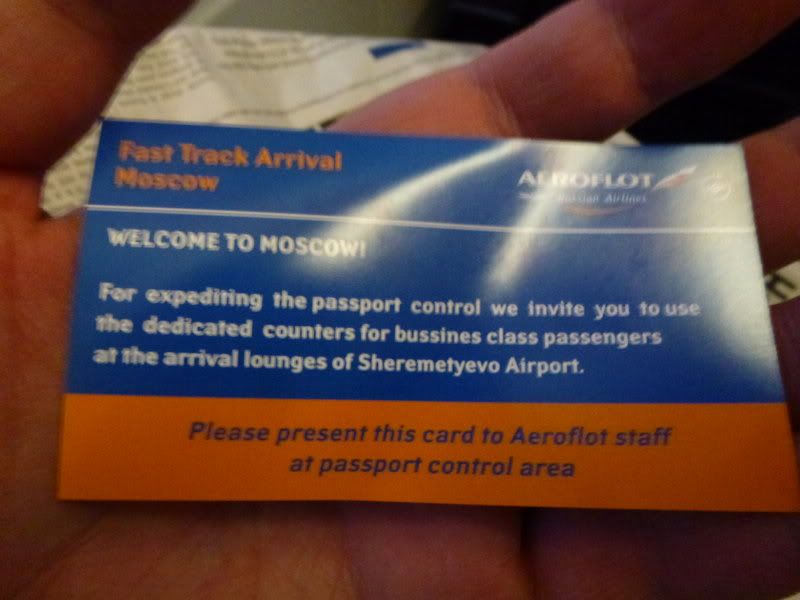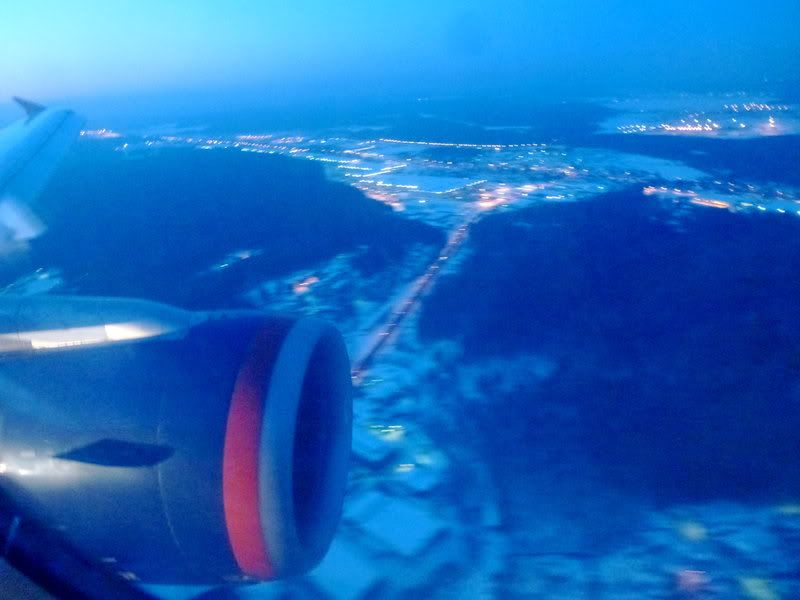 Landing is on 07L after around 2h45mins of flight time.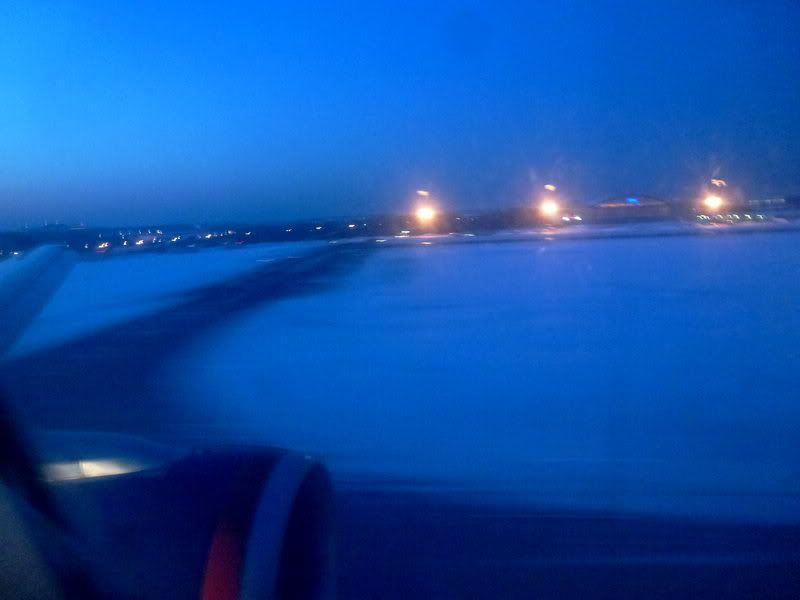 That ugly cube is Terminal F, built during the Soviet times (as you can tell from the "functionalist" design):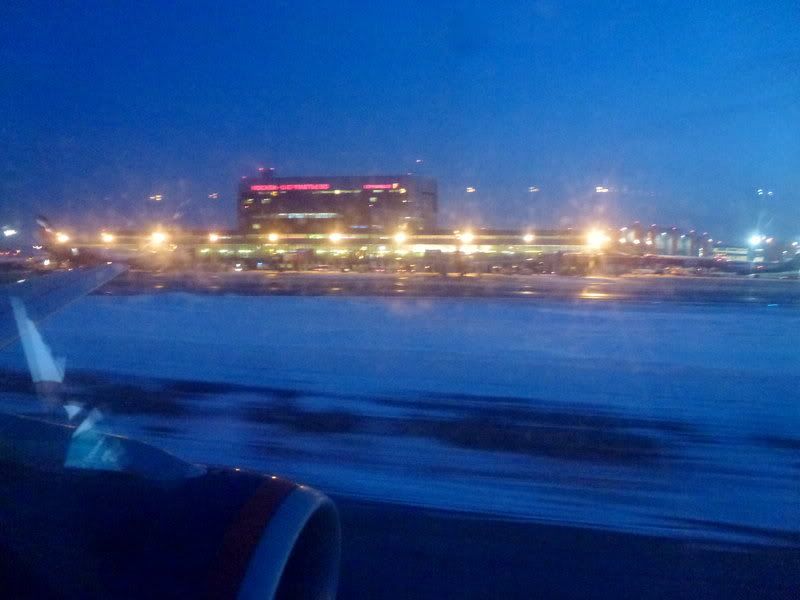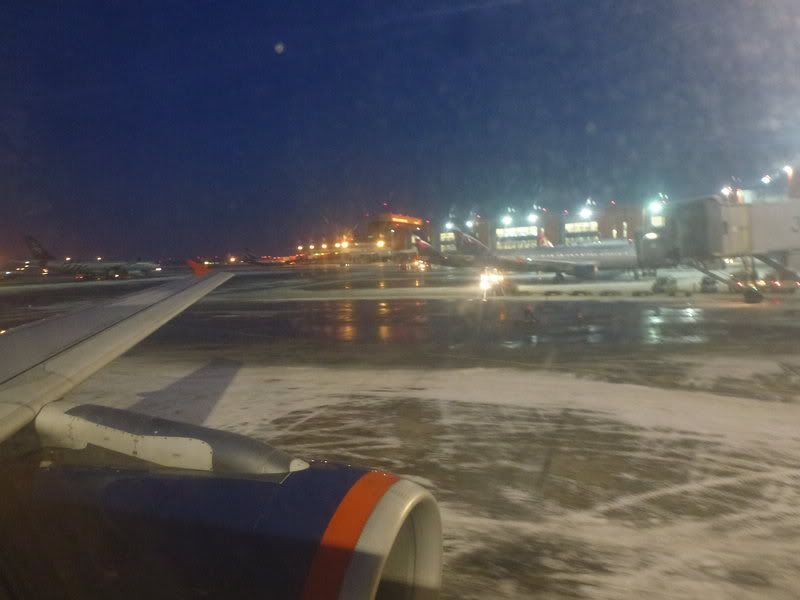 Quite surprisingly we end up at the very same jetway where my AY flight docked just four and half days prior (although it sure feels like an eternity!).
Moscow Sheremetyevo Airport
I retrace my steps from a few days earlier to the transfer centre. As a matter of fact the whole transfer experience causes a major feeling of deja-vu for me as the guy who hands me my already preprinted boarding pass at the transfer counter is the same one as before and half of the security screeners are the same as well! This time the older woman checking my passport has some issues with it and takes it and my boarding pass, walking back to the transfer counter (but doesn't mutter a word of explanation to me at all), exchanges a few words with the agent, comes back and hands me the stuff, again without a word and unlocks the door. Gee, thanks.
Another pointless and rather cursory security check (they couldn't care less about my Ararat brandy) and I'm back at the departure level, again right in the middle of the duty free area. I hit the shop for some dirt cheap, high quality vodka and decide to check out the other Aeroflot lounge, "Blues" this time.
Well another feeling of deja-vu comes when I step out of the dedicated lounge elevator - this place is an exact mirror image of the "Jazz" lounge on the other side of the duty free area! Major lack of imagination by the designers (or maybe they decided to embezzle half the funds somewhere else and simply copied the only design - wouldn't surprise me at all!). Anyway the front desk agents are kinda confused whether I'm allowed entry or not (they keep asking for an invitation which I of course don't have), especially as my boarding pass is printed on genuine AY stock - luckily the transfer counter guy had scribbled "Aeroflot" and the SU flight number on top of it and after a couple of phone calls I'm invited in.
Yes, the same cheap and tacky lights are here as well - I told you it is a full mirror image: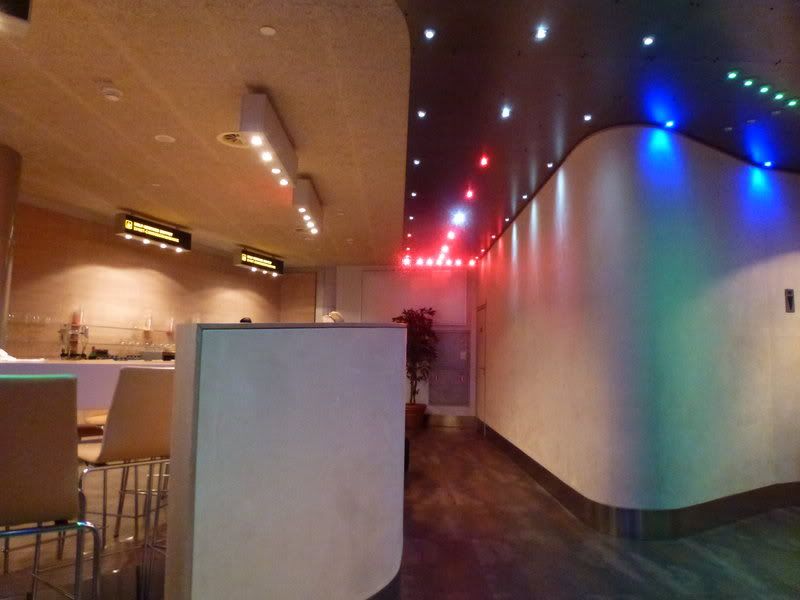 I don't have too much time here - and frankly at this point I'm really getting quite tired and wouldn't mind being home already! Anyway a couple of drinks and some wifi time later I make an unsuccessful raid of the newspaper stand in the vain (and false, everything is only in Russian) hope that they might be carrying some Finnish papers and then decide to head to the gate.
My eerie feeling of deja-vu only grows stronger as this time the Helsinki flight is departing from the very same gate where I departed for EVN! This is getting downright scary!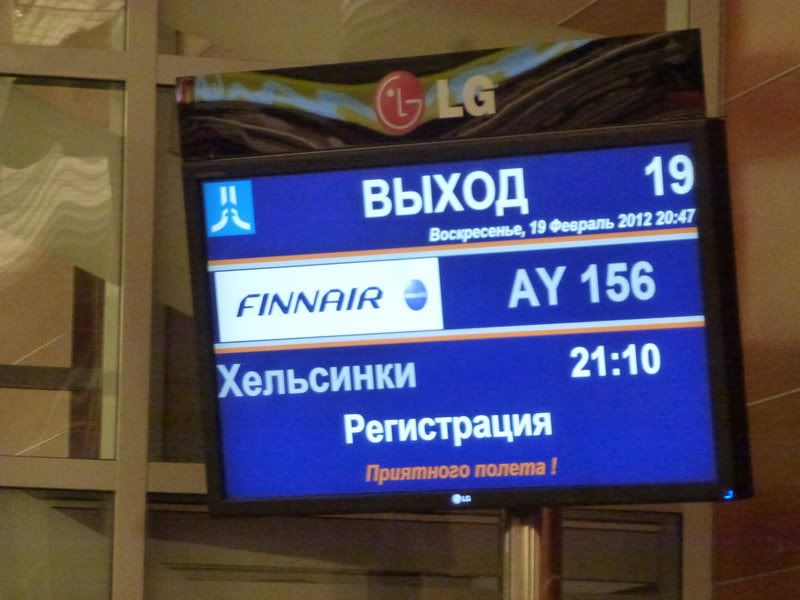 Anyway it is a bit past the designated boarding time but no plane is to be seen. After some time I finally spot the expected Embraer 190 pulling in - looks like a small delay is on the cards today.
Some 25 minutes later boarding commences with the usual scrum - at this point I'm nodding off and am ready to crash while onboard.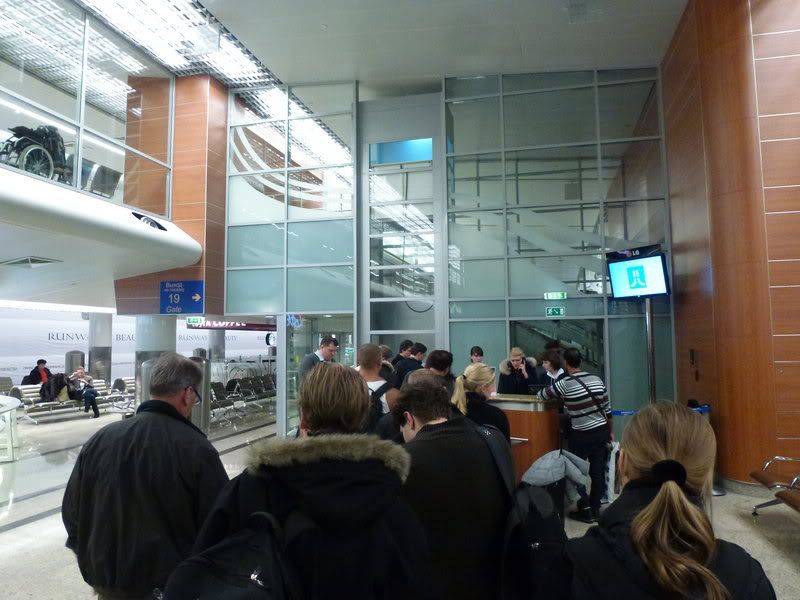 SVO - HEL
AY156
E190 OH-LKO
Seat 7A
21.40 - 21.35
From a window in the jetway I'm finally able to spot the registration: "Knock Out" means that this is OH-LKO, luckily a new Embraer to add to my log: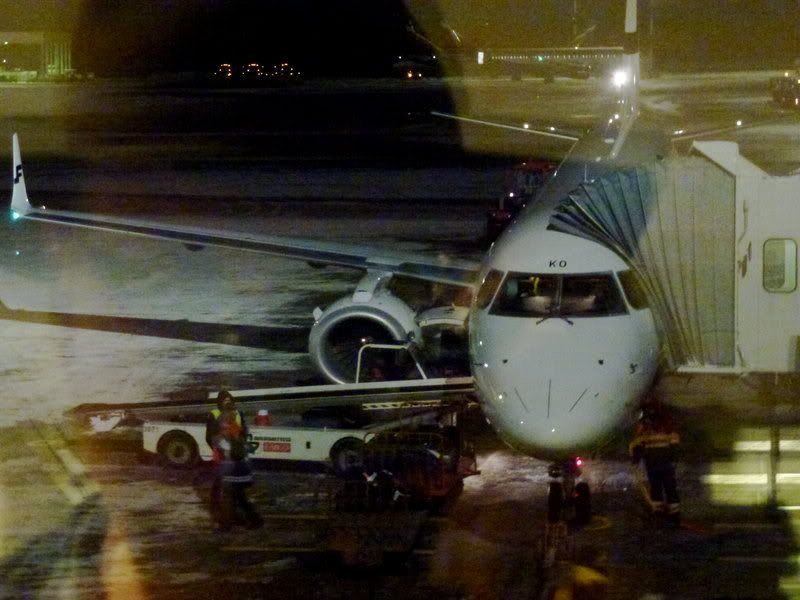 Both the cabin crew girls are rather young this time - a nice change from the usual AY grandmothers (although to be fair they still are some 20 years younger on average than on SAS) - not terribly friendly, they appear to be quite tired actually.
The captain makes the usual welcome speech, explaining the delay by heavy snowfall at HEL which is slowing everything down - and the snowfall is expected to continue well into the night so there might still be some troubles ahead. Anyway should we allowed to go for a straight-in approach the flight time will be around one and half hours.
I think there's a single passenger in business class, economy being around half full. The outbound flight seemed to have a far healthier passenger load.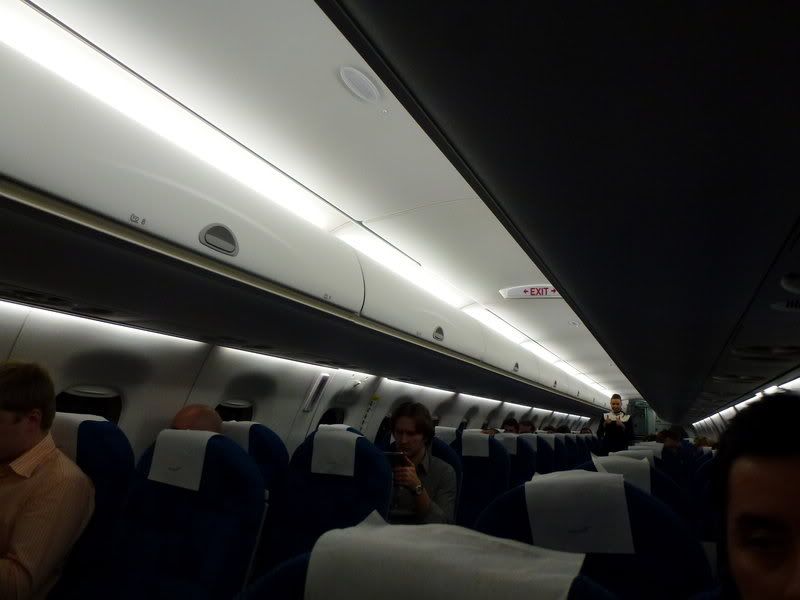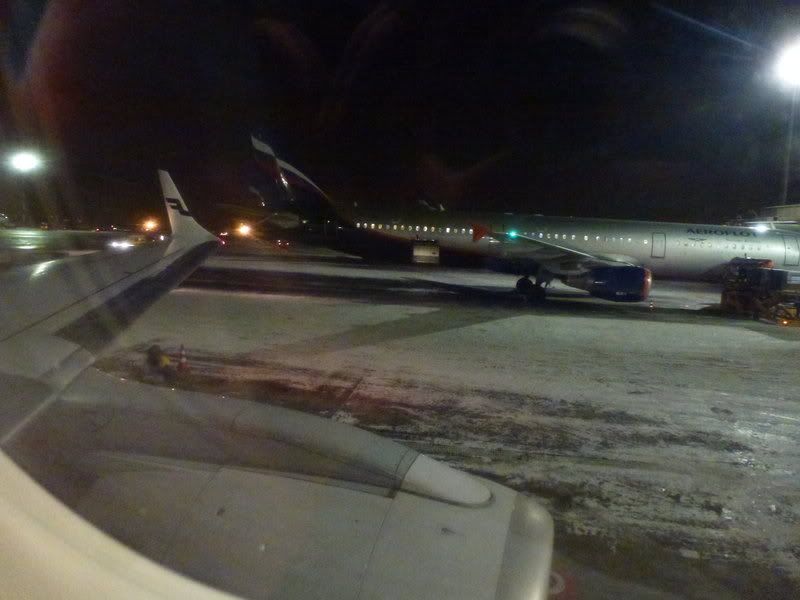 Push back is half an hour late, but again there's quite a long queue for take offs on 07R (more deja-vus...) so I think we take off some 20 minutes later, hard to tell because I think I zonked out during the slow taxi...
Anyway I'm awake for the take off - some nice views of the lights of the northern outskirts of Moscow but not many good pictures - here are a few: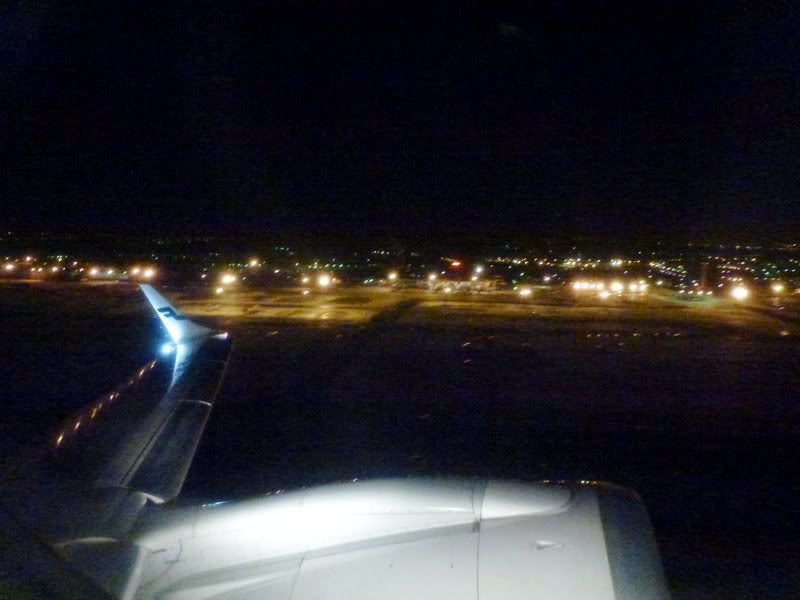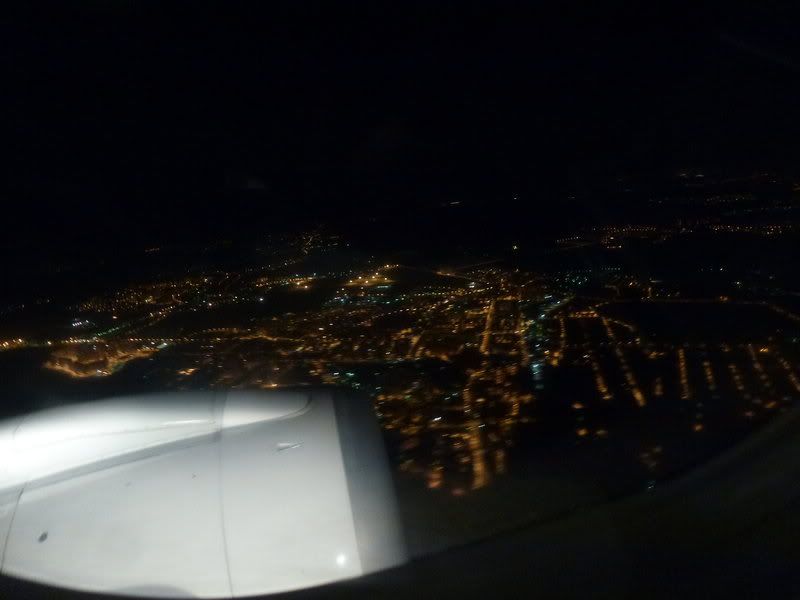 After leaving the sphere of light that is the Moscow Oblast behind it is pretty much complete darkness everywhere - perfect for sleeping. The sounds of the service wake me up - this time there's a very nice and large ham and cheese sandwich - I ask for some water to go with it: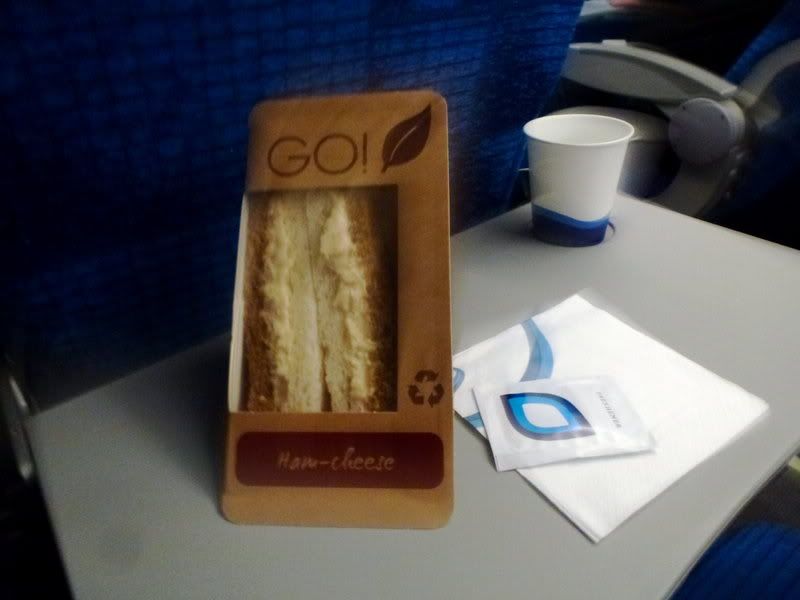 Cabin view from a toilet run: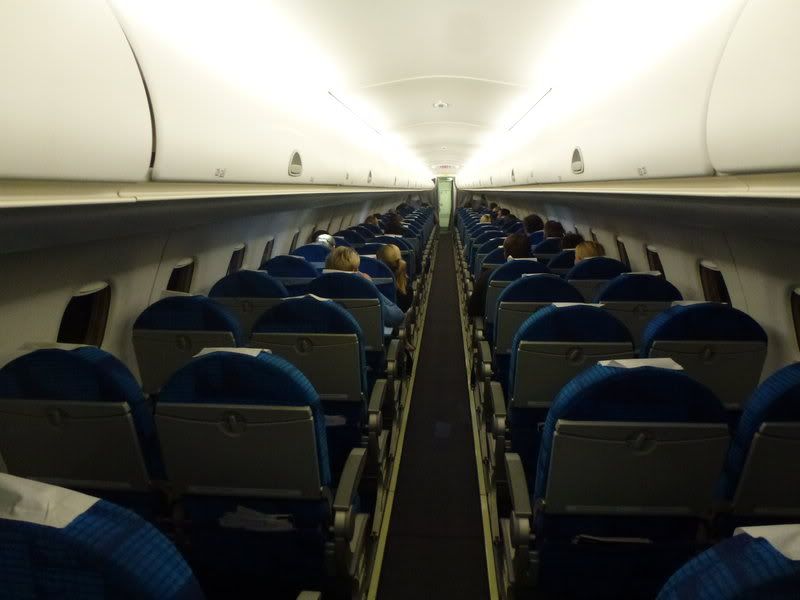 Duty free sales are conducted next - surprisingly quite a few people seem to be getting something. I doze on and off for the rest of the flight. Over St. Petersburg the captain announces that we will soon commence our descent for HEL and should be allowed a straight in approach despite the weather conditions still being very snowy.
Landing at a very snowy HEL is on runway 15 after around 1h35mins of flight time, still five minutes earlier than our push back time, thanks to the intricacies of timezones and daylight saving times...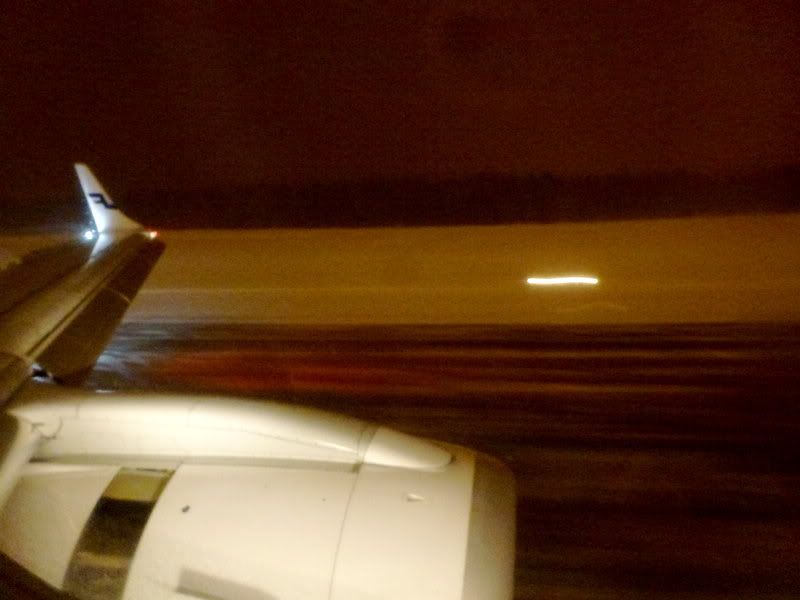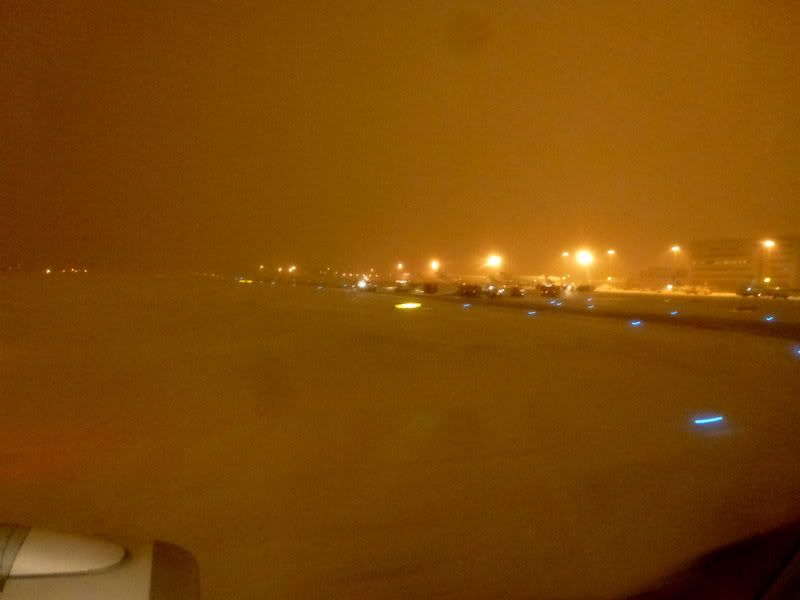 I'm a little itchy as I actually still have one more flight to go today, to KUO on the "Midnight FlyBE" departing at 23.55 and would very much like to go home, dump most of my stuff there and maybe even take a quick shower - at this point it's around 40 hours since I last had a proper wash and a complete change of clothes - a good thing I didn't have a seatmate on this flight! So it is rather frustrating watching our sloooooow