Part 2: Valuair SIN-MES, Garuda MES-BTJ
Welcome to the second part of my spring trip to Asia! This report covers my Valuair (Jetstar Asia) flight from Singapore to Medan, in northern Sumatra, my time in Medan and the Bukit Lawang jungle, and my continuing flight up to Banda Aceh with Garuda Indonesia, and my stay on Pulau Weh, a tropical island at the tip of the Indonesian empire.
When I was planning my trip, I really wasn't sure where to begin. Indonesia is such a vast country I wasn't sure where I wanted to include in my two weeks. I initially wanted to fly down to Bali, then go over to Lombok and Komodo, before hitting the sights of Java. Flights didn't work out very well, however, so I asked a friend who'd spent two years in Indonesia what he'd advise. He recommended northern Sumatra, namely the jungle of Bukit Lawang, Bukitingi and Lake Toba. I liked the idea, but decided to add in a trip to Banda Aceh in the very northernmost tip of the country. Banda Aceh was very hard hit in the 2004 tsunami, killing around 200,000 in the province. There has been a lot of redevelopment work since then, as well as the province becoming more open after decades of civil war and restrictions on foreign travellers. Still, it's quite a long way off the usual backpackers route which is probably why it appealed. Aceh province has recently introduced Sharia law and is the home of South East Asian Islam. Of interest for us a.netters is the frequent A330 flights linking Banda Aceh with Jeddah by Batavia, as well as a host of other regional links.
The entire map:
This report's map:
Previous flights:
easyJet London Luton-Barcelona (LTN-BCN)
Singapore Airlines Barcelona-Singapore (BCN-SIN), Business Class on the 77W
Flights to come:
Sriwajaya Air Banda Aceh-Medan-Jakarta (BTJ-MES-CGK)
Lion Air Jakarta-Singapore (CGK-SIN)
Singapore Airlines Singapore-Calcutta (SIN-CCU)
JetLite Bagradora-Calcutta (IXB-CCU)
Biman Bangladesh Calcutta-Dhaka (CCU-DAC)
Biman Bangladesh Dhaka-Kathmandu (DAC-KTM)
Thai Airways Kathmandu-Bangkok (KTM-BKK)
Thai Airways Bangkok-Frankfurt (BKK-FRA)
Lufthansa Frankfurt-Dusseldorf (FRA-DUS)
Sun-Air (British Airways) Dusseldorf-Billund (DUS-BLL)
Sun-Air (British Airways) Billund-Manchester (BLL-MAN)
British Airways Manchester-London Heathrow (MAN-LHR)
Carrying straight on from my excellent flight with Singapore Airlines from Barcelona, I picked up my bags and headed over from Terminal 2 to the older Terminal 1 where Jetstar/Valuair operate from. Valuair was bought by Jetstar Asia to operate their Singapore-Indonesia flights. For some reason, they were unable to operate flights on their own.
Waiting for the inter-terminal transit
As the previous flight was a bit early, I had nearly four hours to wait for my next flight. Online it says that check in only opens 2 hours before departure. Thankfully there was an "Early check in" desk, so I was able to drop off my bag, and go through security without having to hang around.
T 1 departures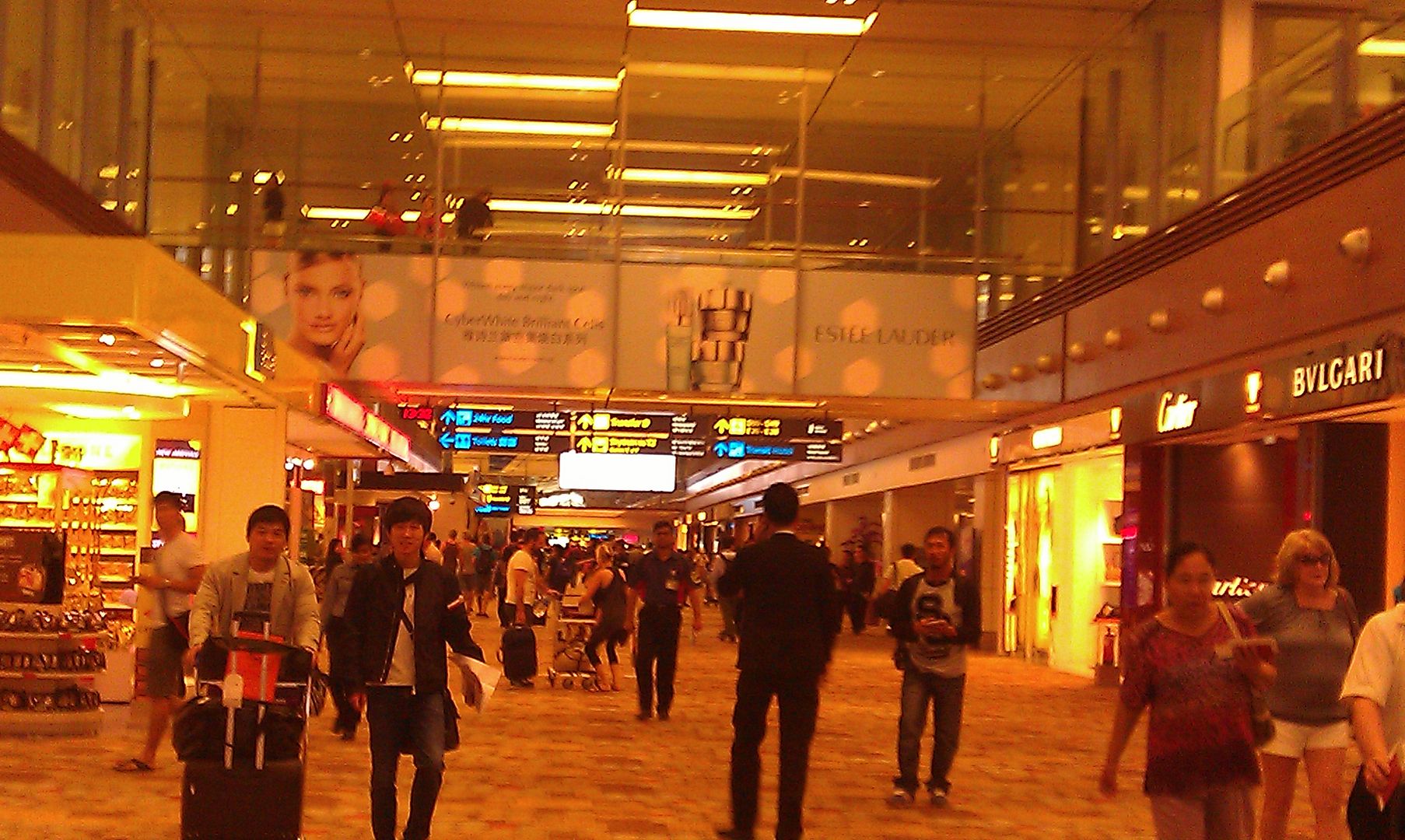 As I had a nice long layover, I was planning on using the pool in the transit area. I got up there but decided not to swim in the end as it was pouring with rain.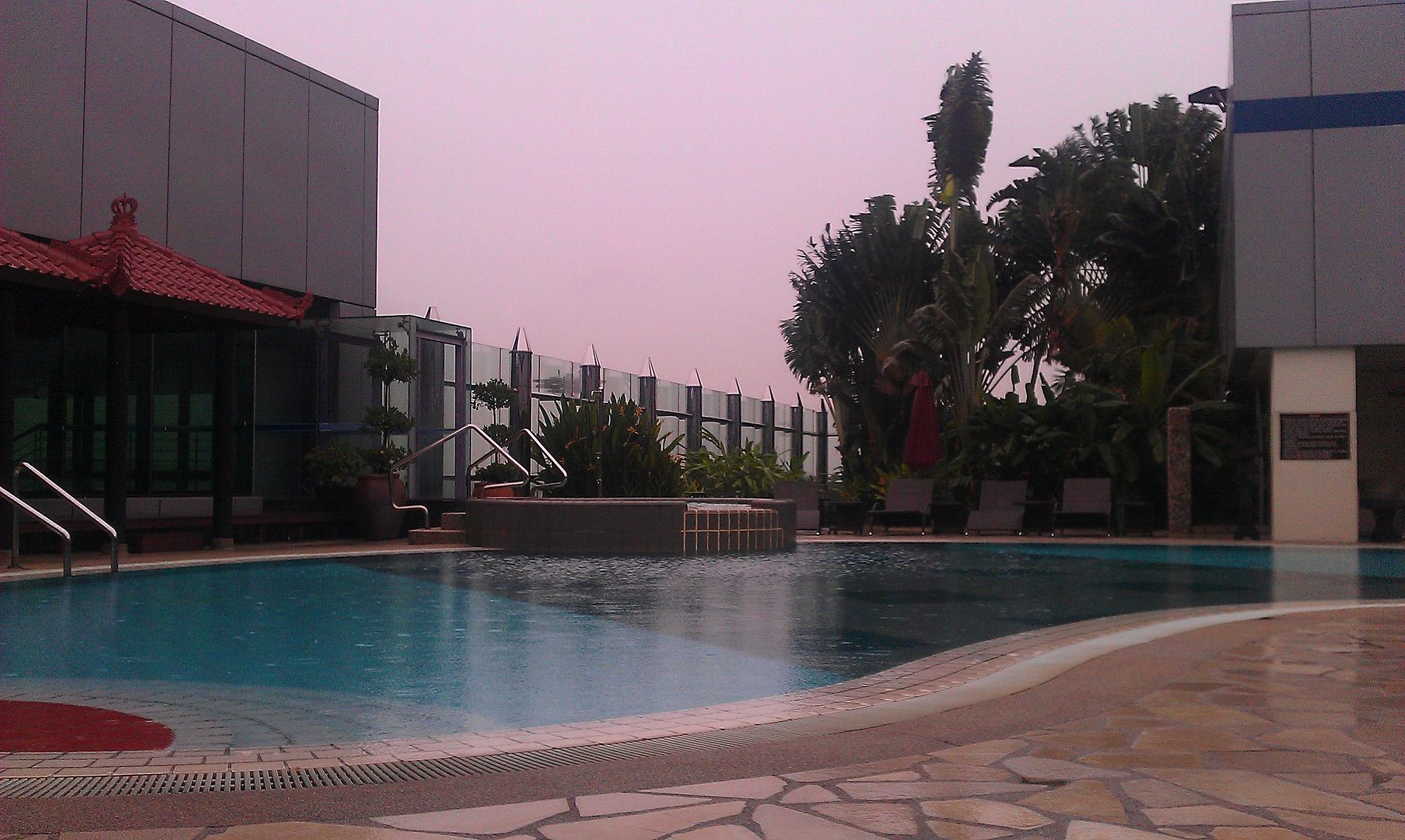 Instead I found a bench in a quiet area and slept for two solid hours.
Feeling a bit more lively after my sleep, I get up and go and see what there was to see. A newly delivered (less than 5 months old) Biman 773ER S2-AFO was just pushing back for Dhaka. Hopefully my scheduled A310 and DC10 next month will go ahead and not be subbed by something "less interesting". Having said that, I'd love a ride in one of these new machines.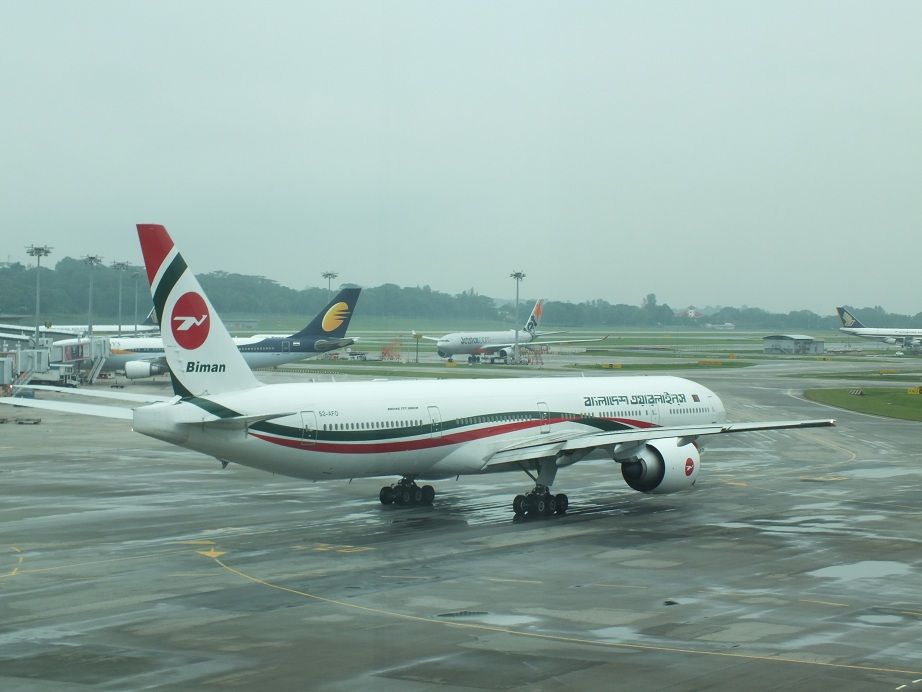 Xiamen Airlines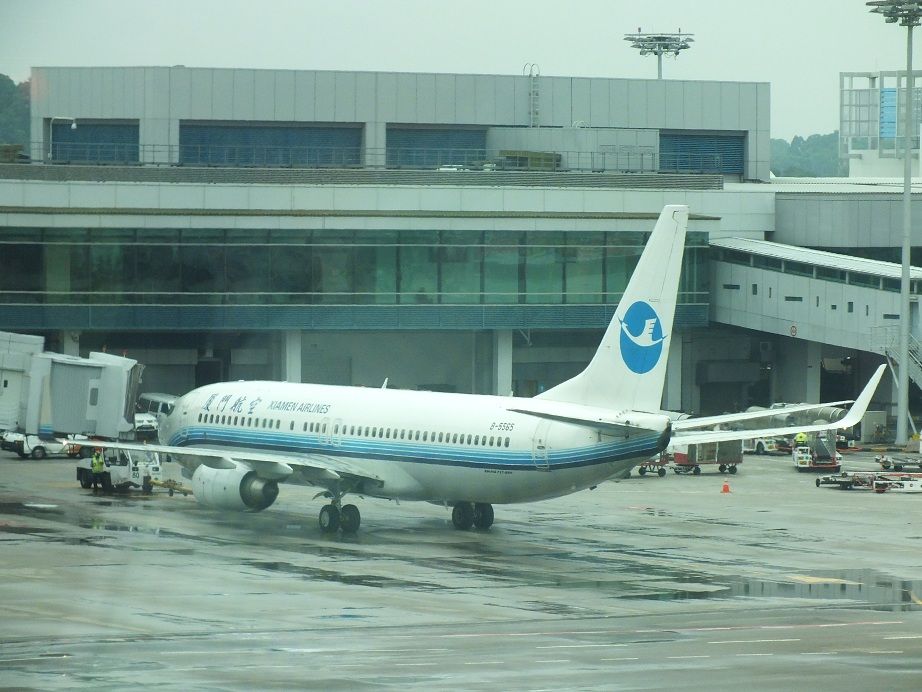 Low cost end of the terminal with Jetstar and Air Asia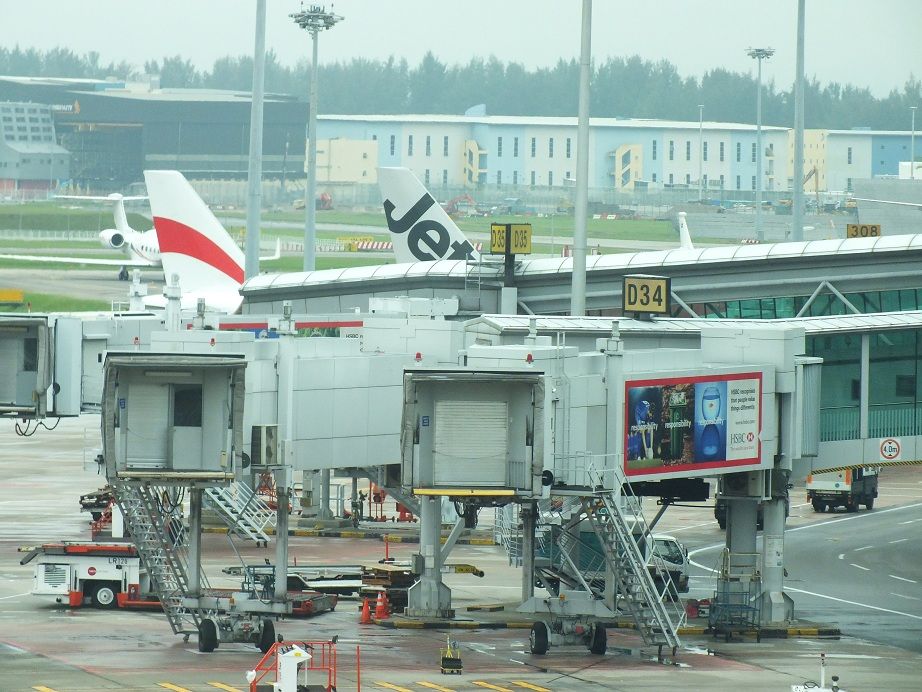 Indian subcontinent reps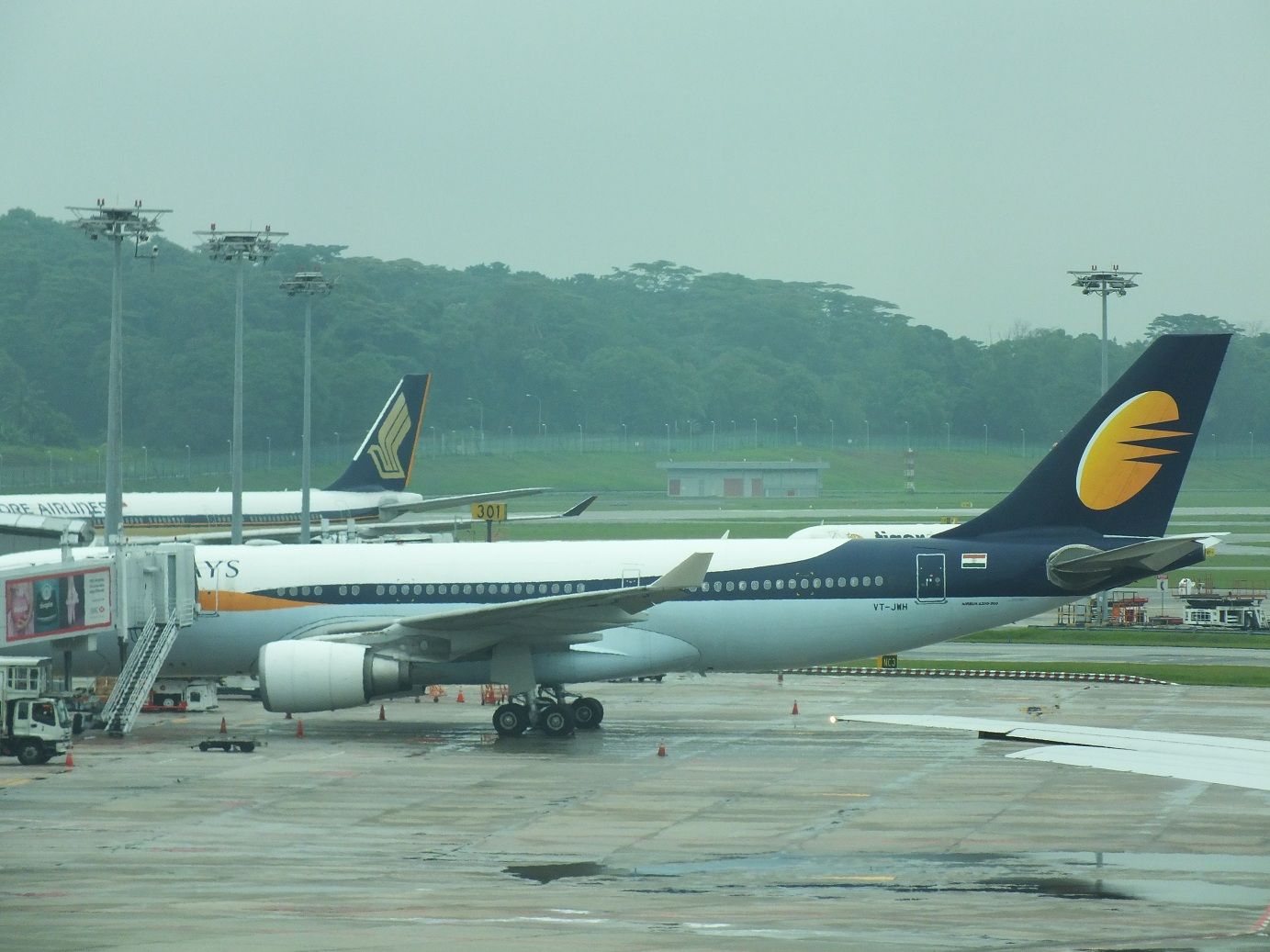 A food court area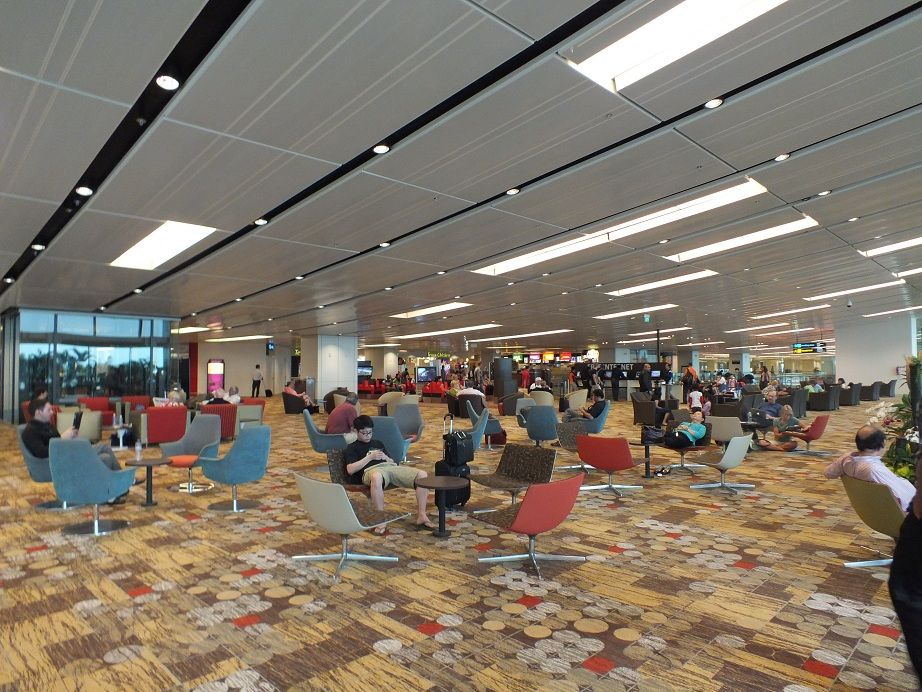 I quite like this shot – CX heading to HKG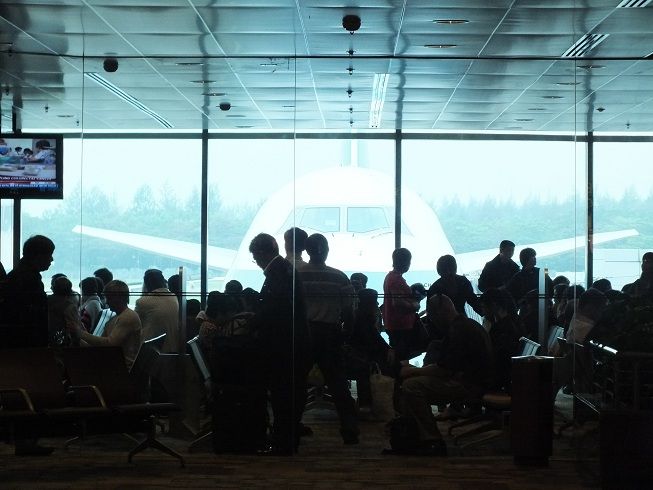 Walking down to the gate
FIDS. The flight was shown as boarding despite the fact that most passengers weren't even at the gate, and boarding had definitely not started.
In SIN security is performed at the gate. As the flight was shown as boarding, a lot of people were quite stressed about missing it, so there was quite a lot of pushing and shoving. I told the gate woman about my thoughts about the deliberate misinformation, but she just shrugged it off.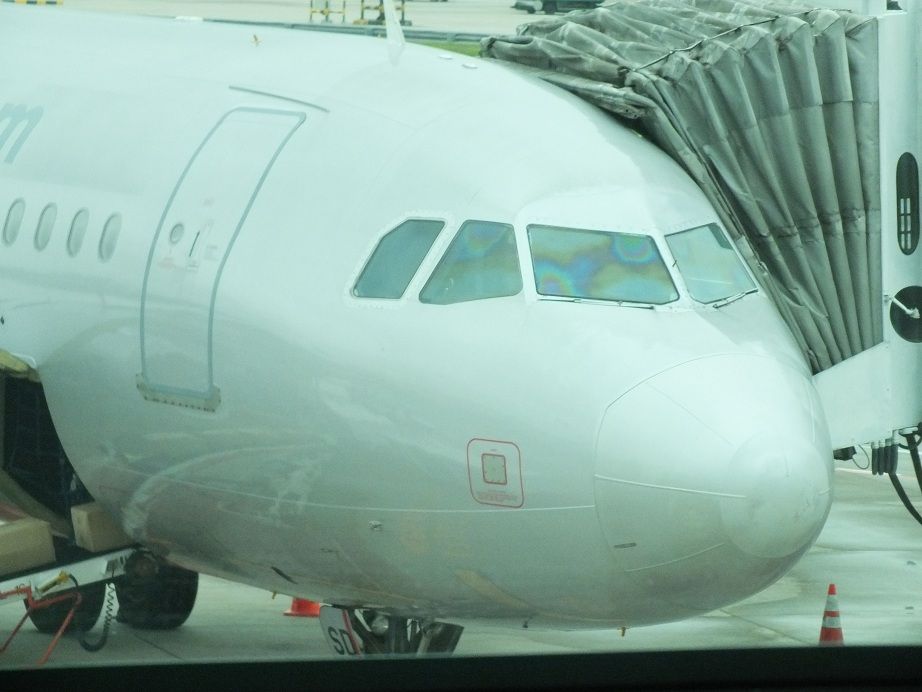 I was a bit surprised to see Jeju Air here – I thought they only did Korean domestics?
LH inbound from MUC, bound for CGK
The staff were VERY strict in allowing people to board. First was 30-20, the 30-10, then a big long gap, then finally rows 30-1
March 2012
Singapore (SIN) – Medan (MES)
Jetstar Asia, operated by Valuair VF 283
Scheduled: 1650-1715 (1h25m)
Actual: 1715-1713 (0h58m) – one of the few flights where I've arrived before I've left
Airbus A320 9V-JSD
Economy
Legroom was better than anticipated, and certainly ok for a 1 hour flight.
The flight gradually filled until every seat was taken. Of course the final two passengers were destined to be my neighbours.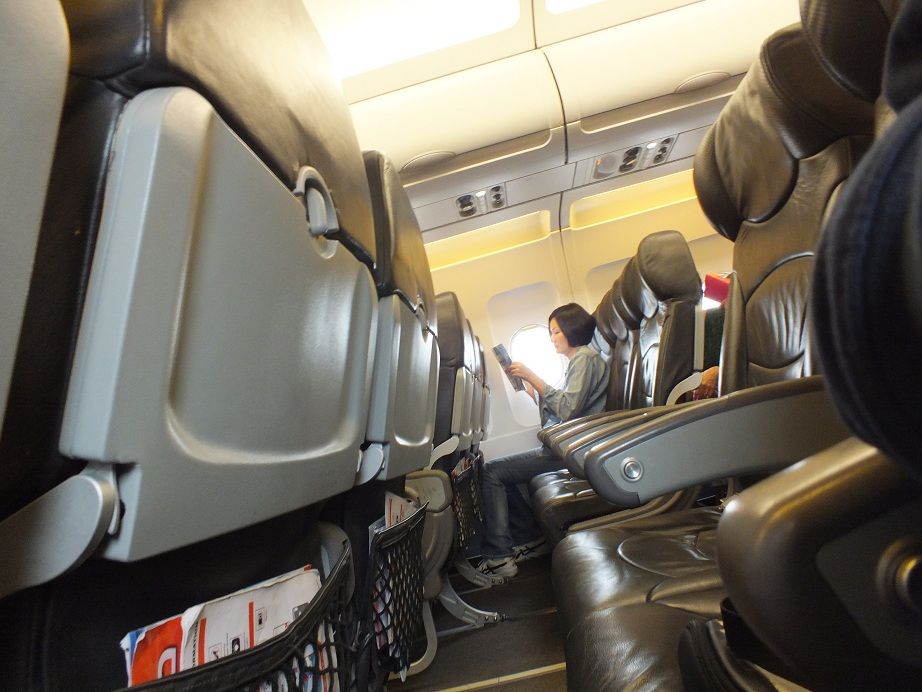 The seat back pocket was full. Magazine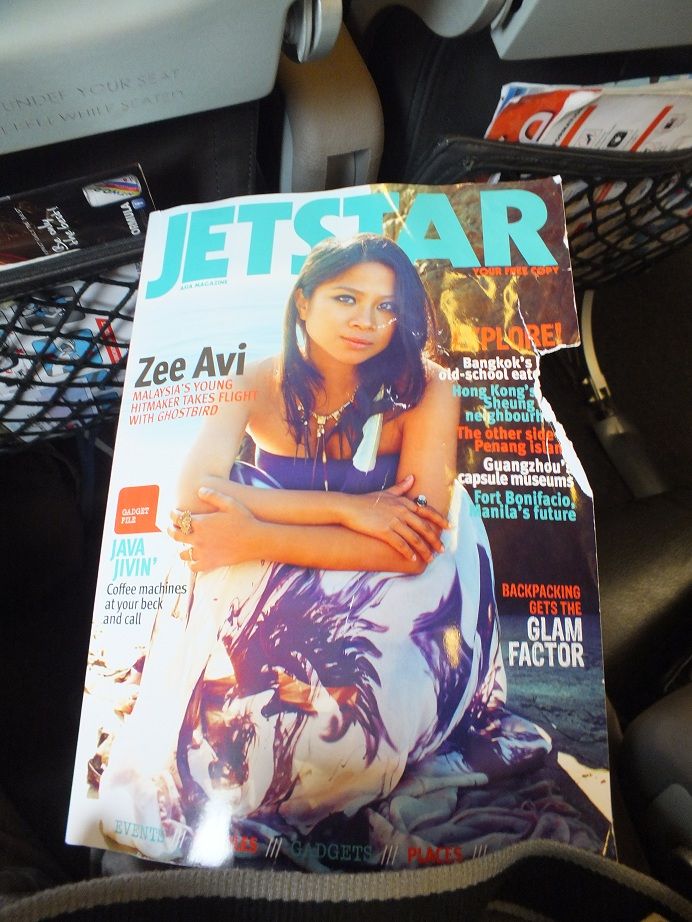 Menu
Shop
Safety card
Route map for Asia, then the entire network
We taxied past –SWD on the way to the runway. My seat was by the first 3 windows in the block of 4, under the A.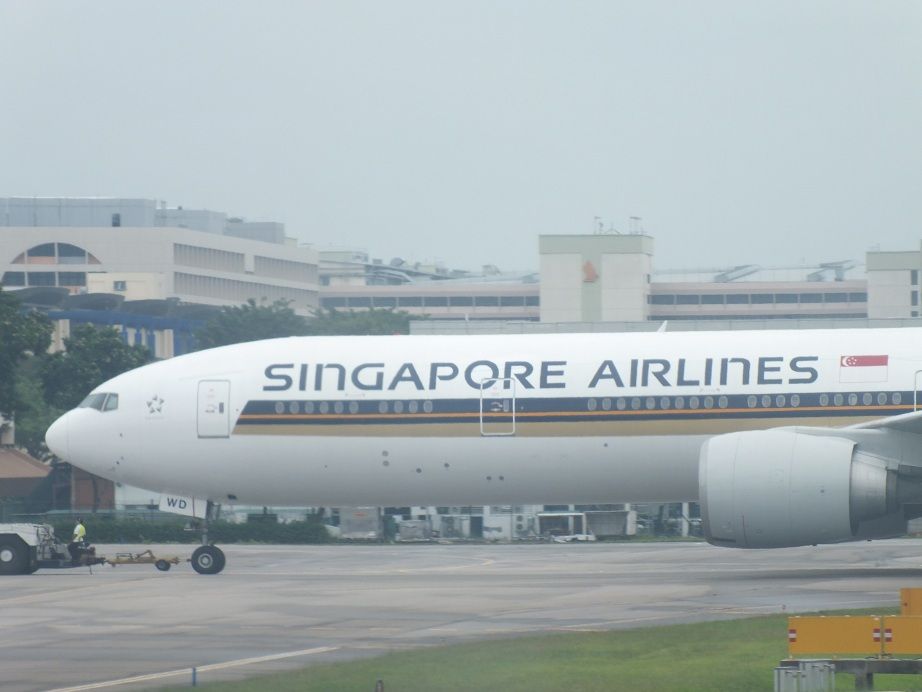 BA inbound from LHR, enroute to SYD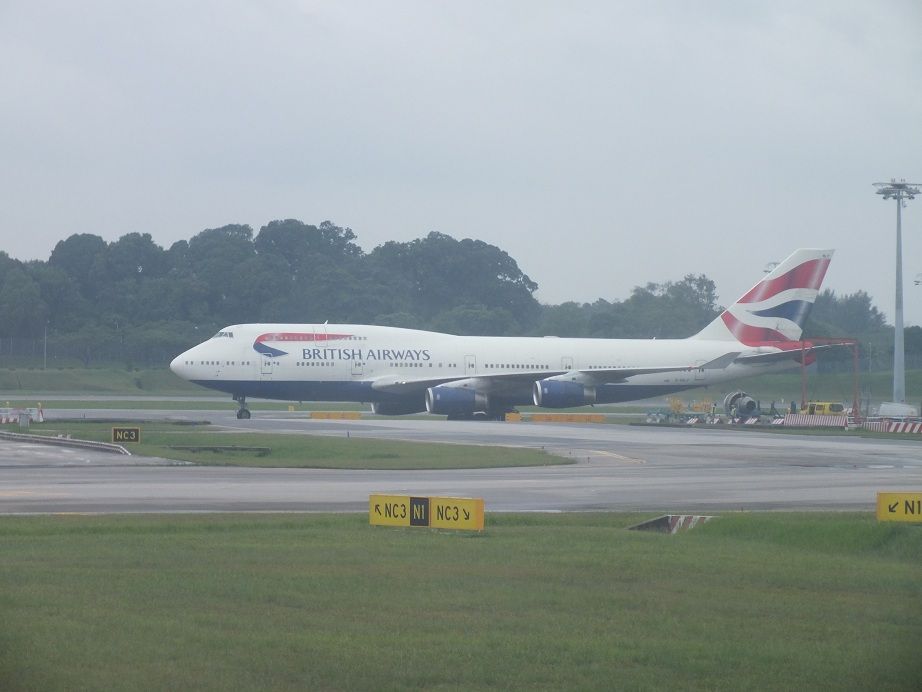 Silkair
China Southern to CAN
Cathay to HKG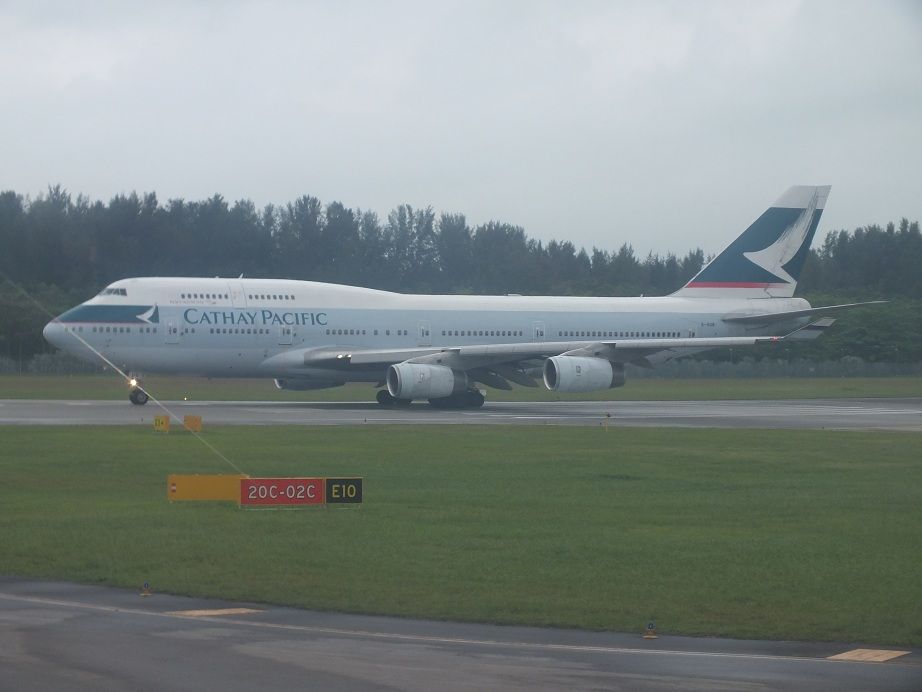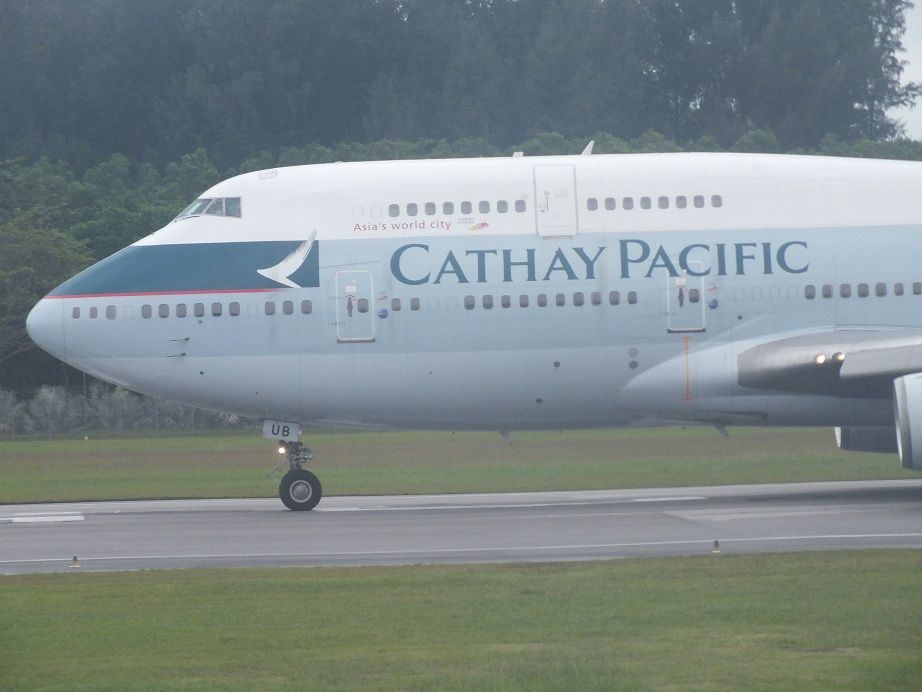 IndiGo
Rush hour Changi-style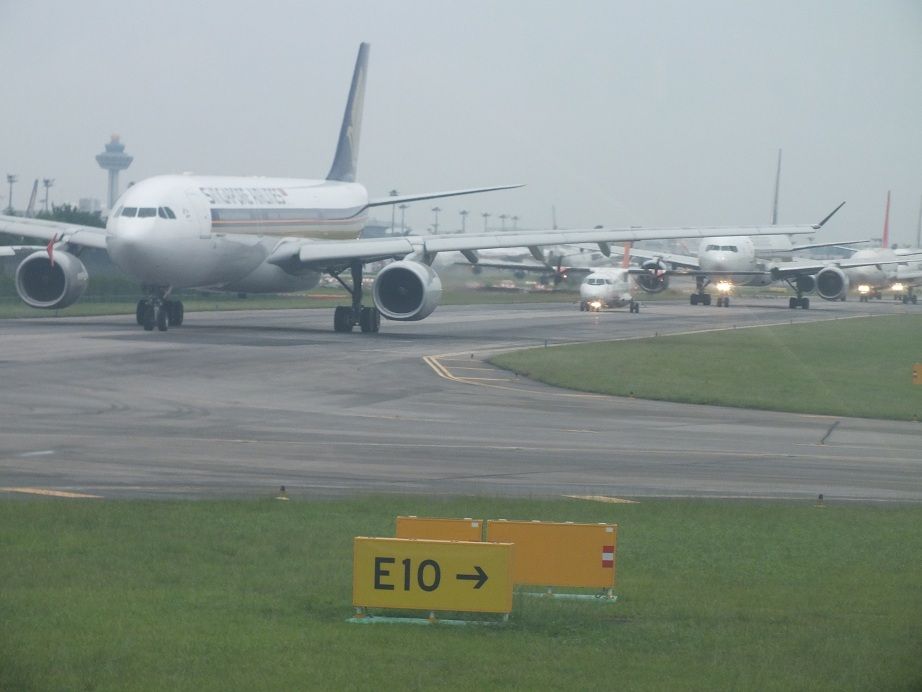 IndiGo on the active
SQ A330
Air Asia
Firefly
TK also heading to Indonesia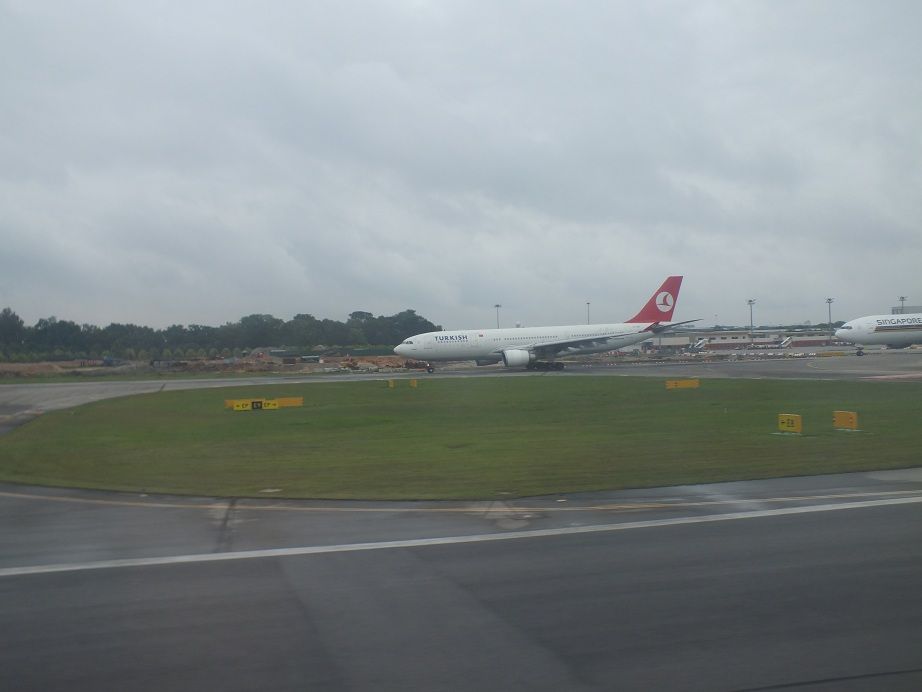 We finally took off half an hour late
Maintenance – a QF A380 in residence
Climbing out over Malaysia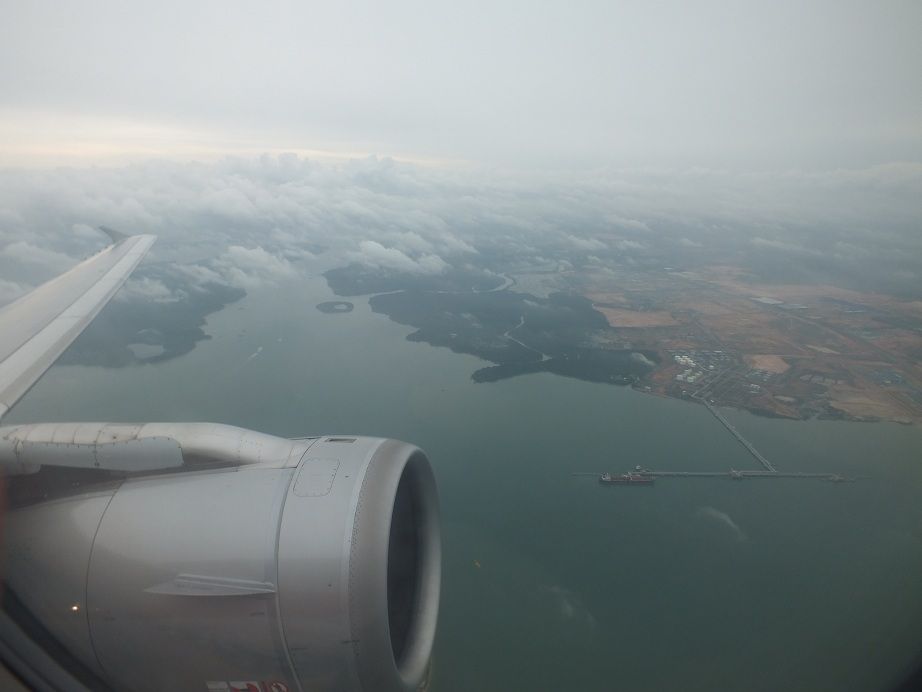 Nice clouds en route
The Valuair schedule
Landing cards were handed out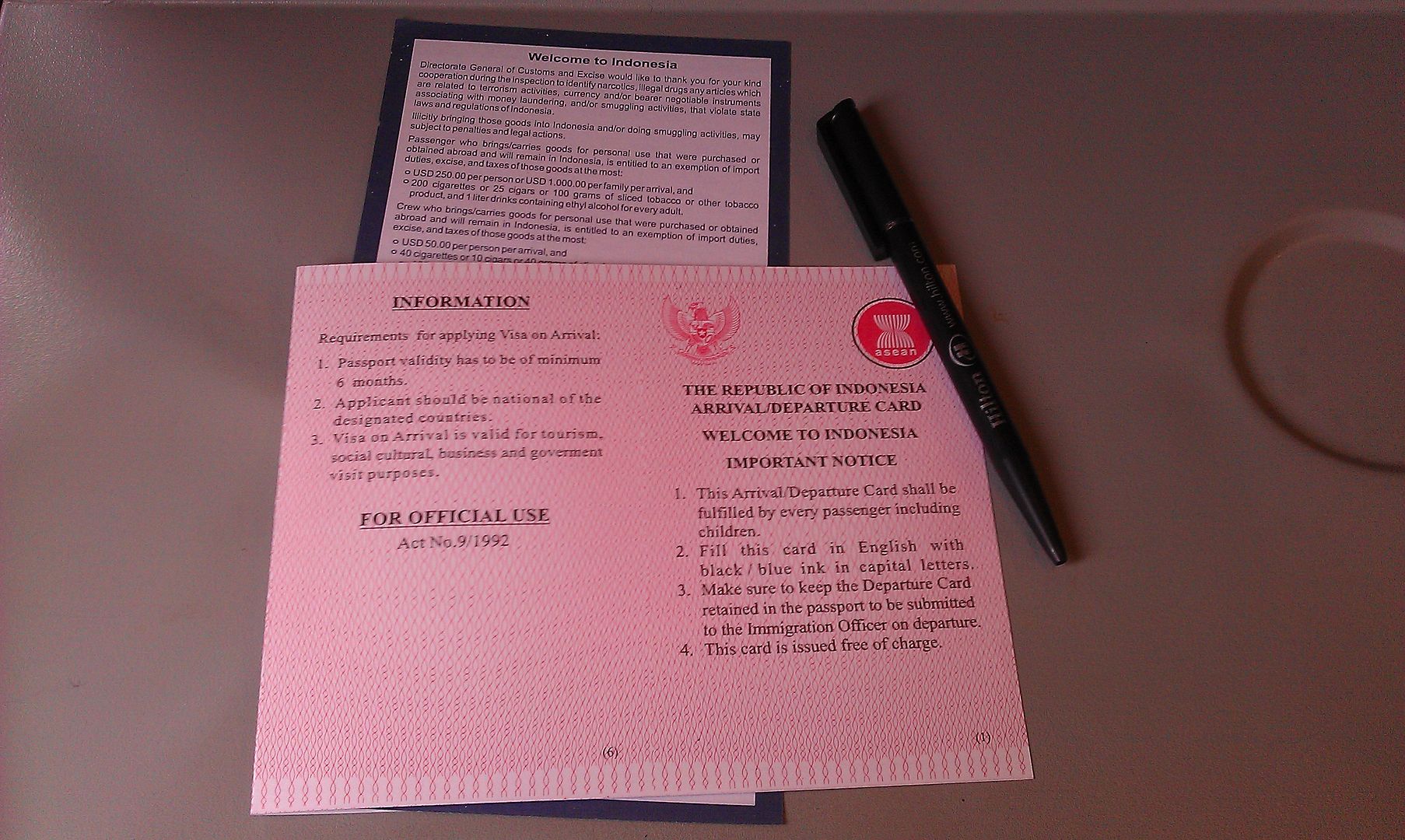 Researching the flight beforehand, it seemed that before the merger, Valuair offered free catering, but now offered BOB. I was quite surprised to see the crew handing out free snacks: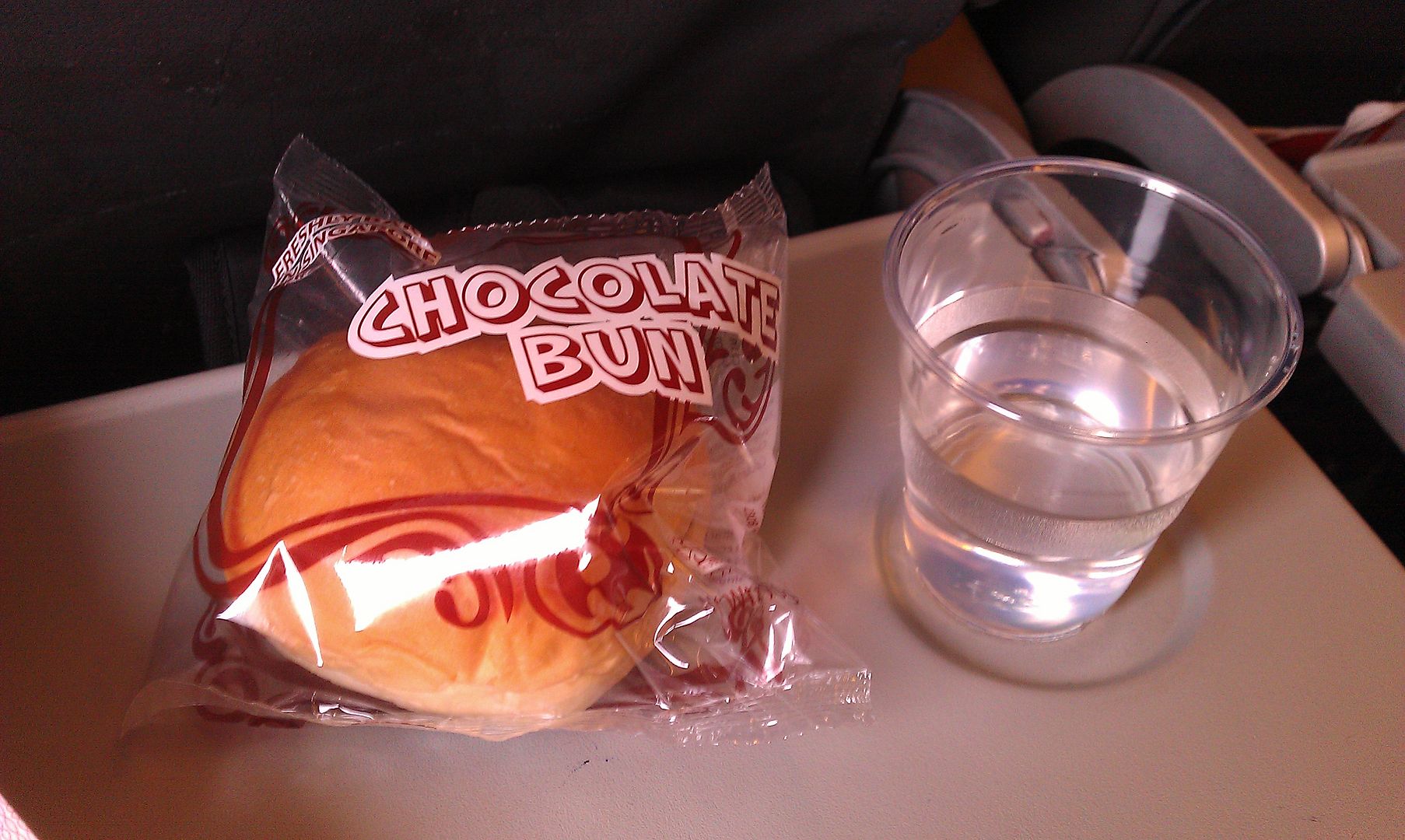 Not the best catering ever, but perfectly adequate for a short flight. I was surprised to see them do a BOB straight afterwards – can't imagine many people bought stuff.
Approaching Medan
Garuda B737
Arrival was a couple of minutes early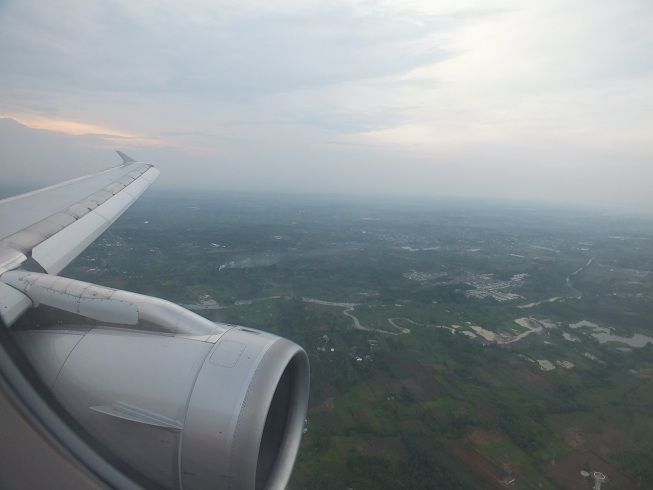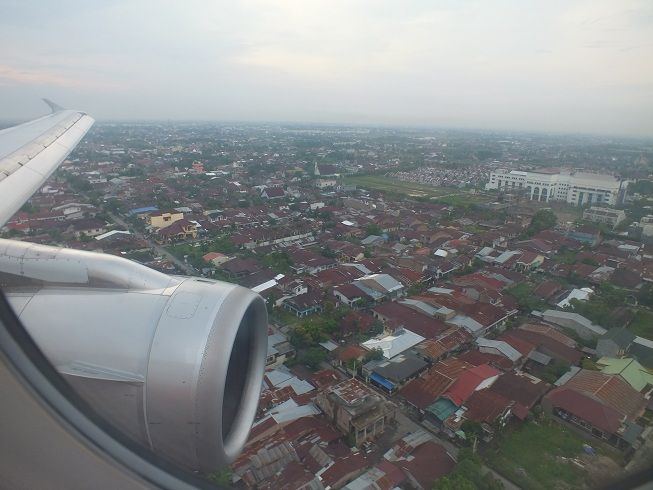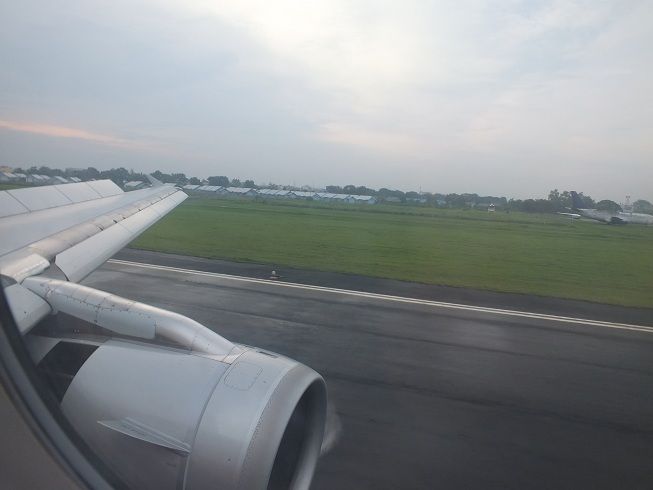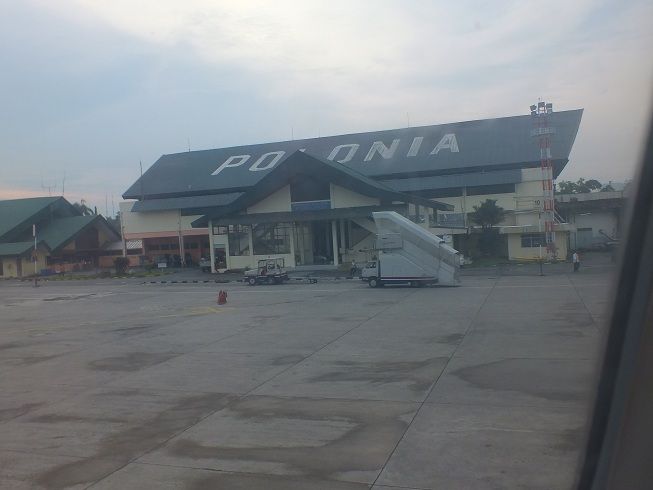 As so often happens outside of Westernised areas, as soon as the wheels touch the ground, everyone was clamouring to get off. The aisle filled whilst the seat belt sign was still on. The crew tried repeatedly in English, Mandarin and Indonesian (which i'm sure 99% of the passengers understood) to get everyone to sit down, but to little avail. For the amusement of those still sat down, we carried on taxiing. I'm not sure if a) the pilot was checking the breaks, b) someone was in the way on the ground, c) the pilot nearly overshot his parking position or d) he was doing it for fun, but suddenly there was a REALLY sharp breaking sending a good 30-40 people crashing to the aisle floor. Hahaha. The American children in the row behind were doubled up with laughter, as were quite a few people along the cabin. Hopefully it finally taught some people to obey the crew, but I have my doubts. The crew made a sarcastic comment about listening to them, but I fear the message was lost on most of those still picking themselves up from the floor. Ironically, a lot of people just stood back up in the aisles afterwards despite the crew telling them to sit back down. These were some of the participants aspiring for a Darwin Award:
Finally we stopped, the seat belt signs were turned off, and we disembarked into the humid air.
We were directed to walking to the terminal, so I managed a few shots of my mobile.
As I walk quite quickly, I was first in line for applying for my Visa. You hand over $25 and a few minutes later you get a full page sticker-type visa. I'm now down to the final 2 full blank pages in my passport, so I think I need to tone down the long-haul travel for a while. I'm hoping the Nepali visa can be plastered over my Larnaca stamp. With immigration sorted, and my bag back in my possession, I headed into the city.
My bag tag – how small is the 'MES' font!
Compared to SIN/BCN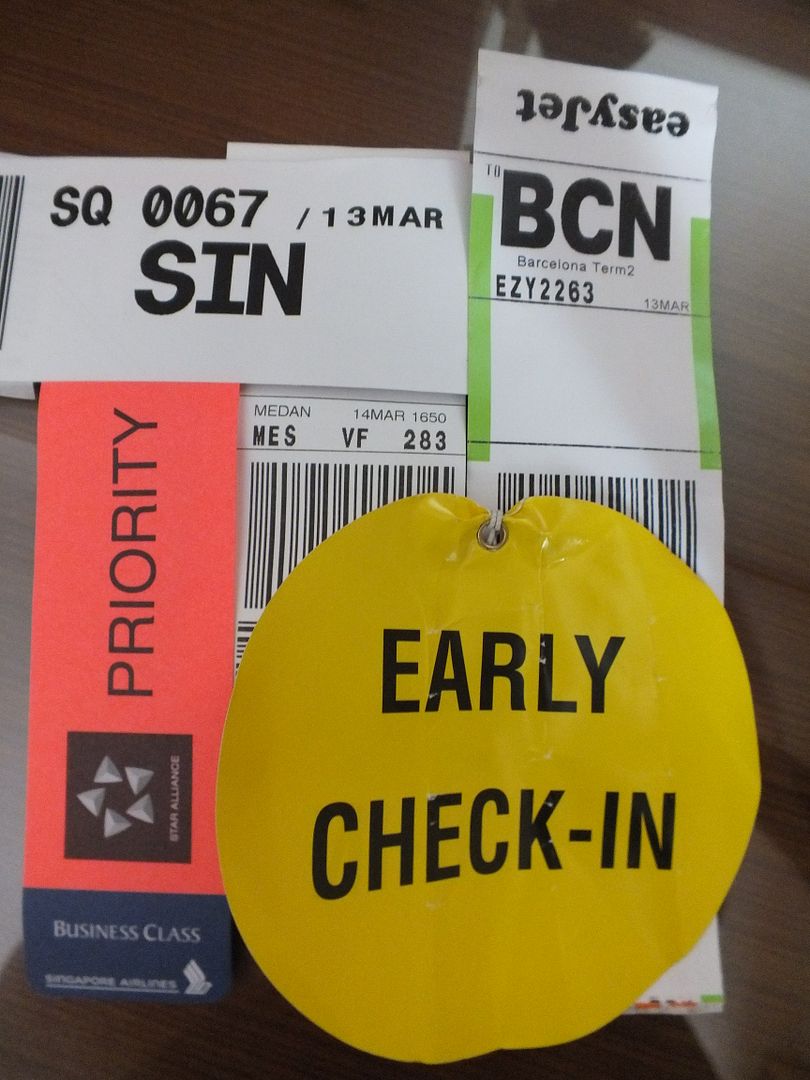 Jetstar tag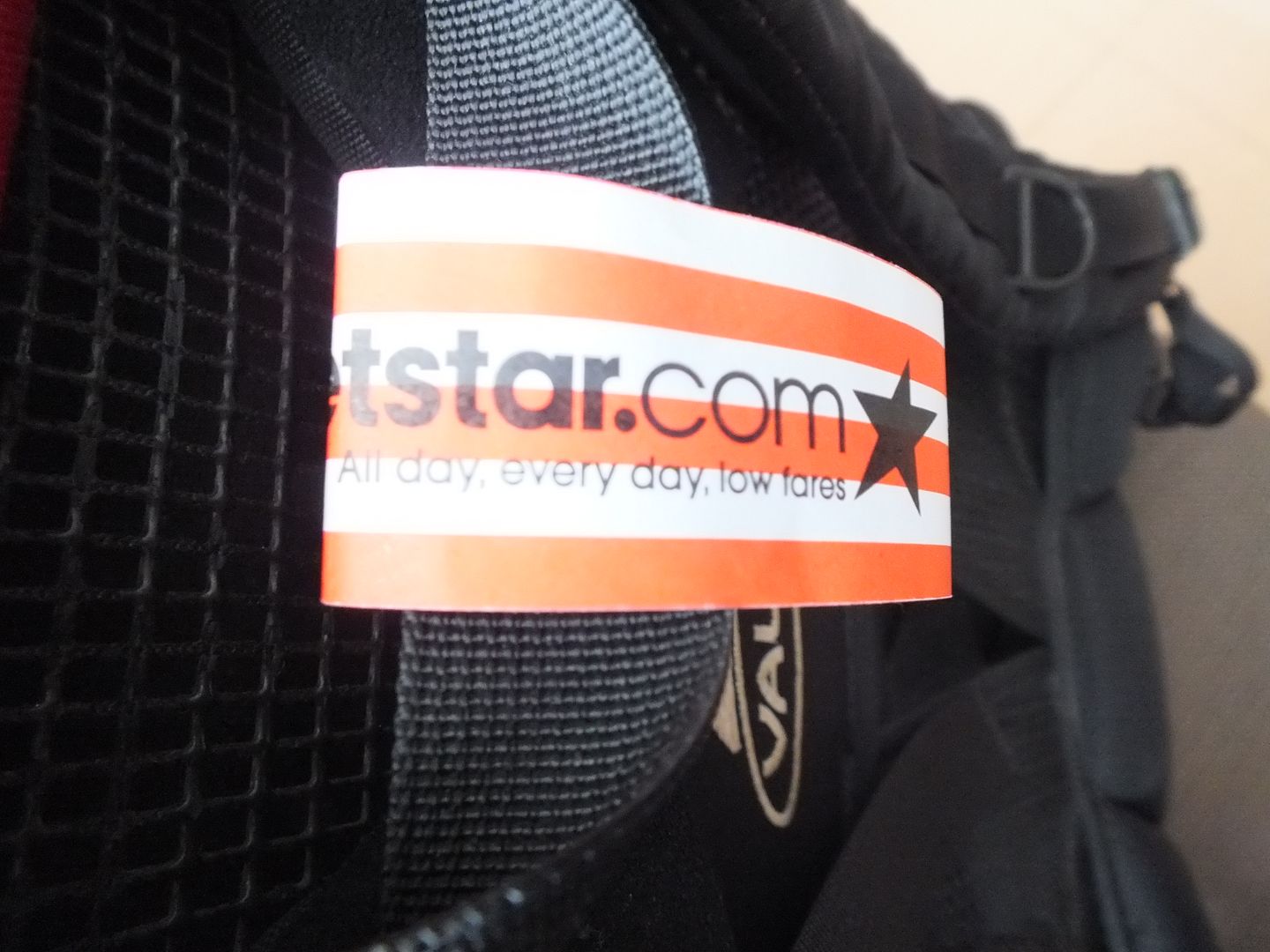 A few photos from my night in Medan: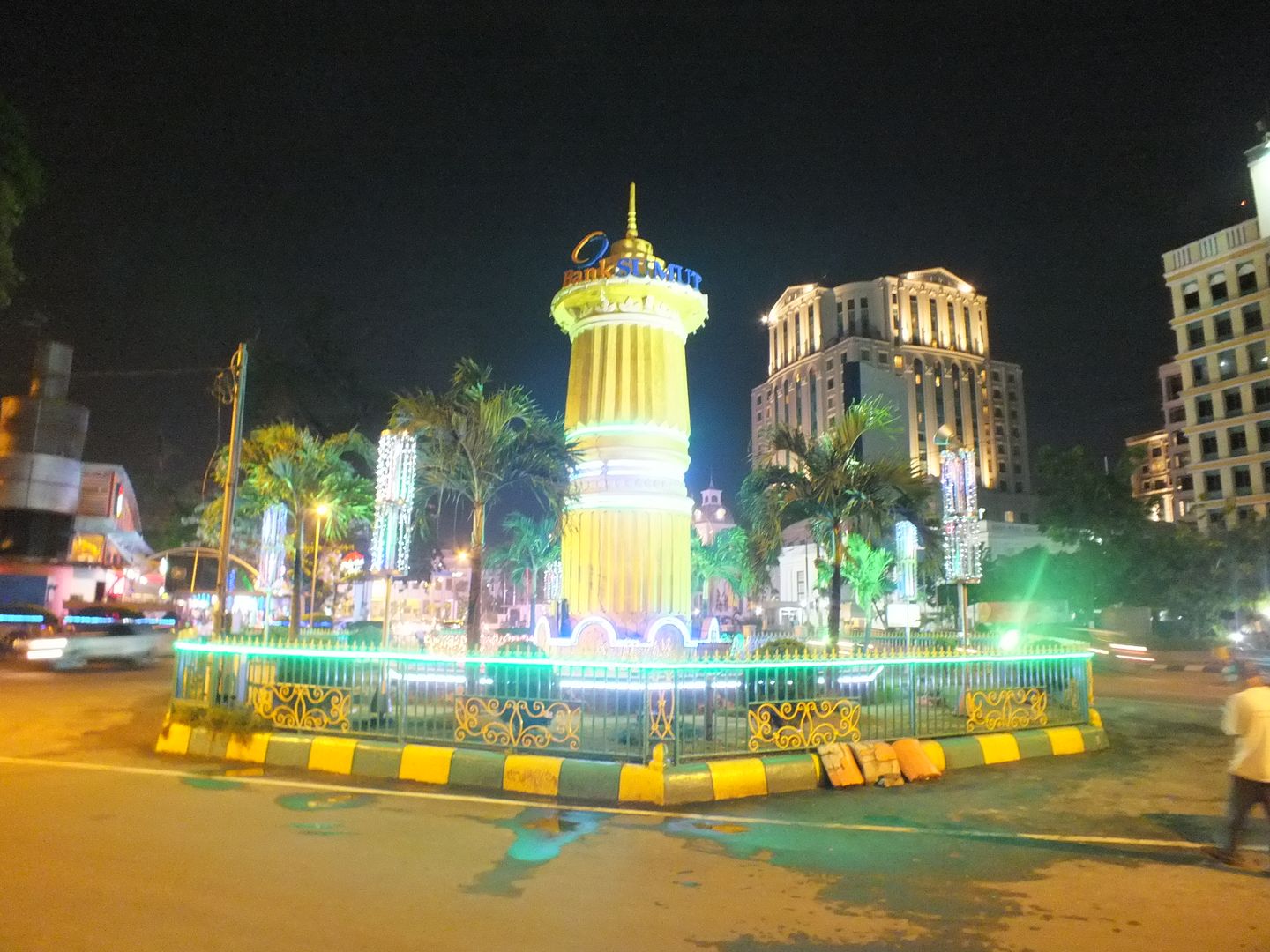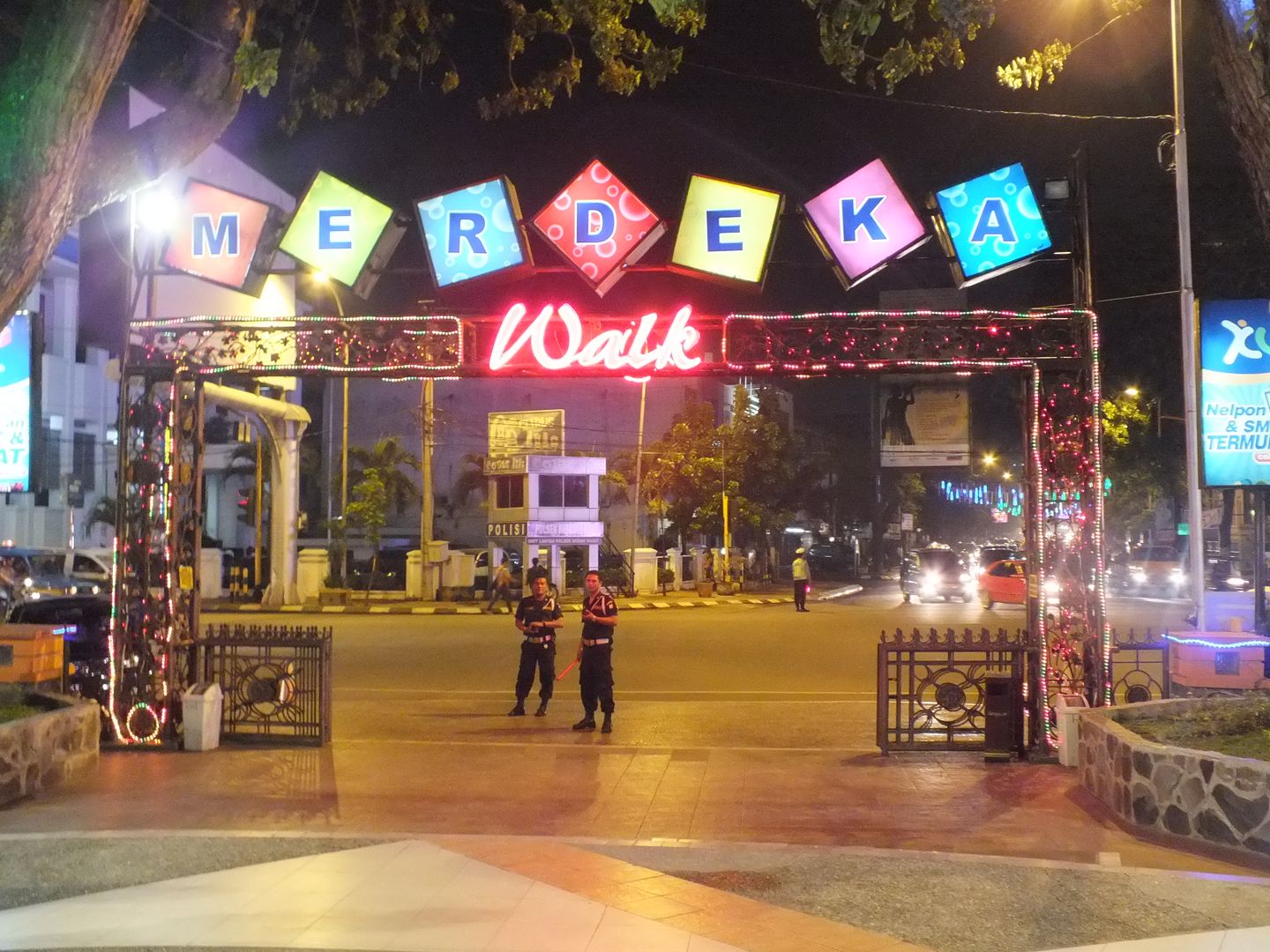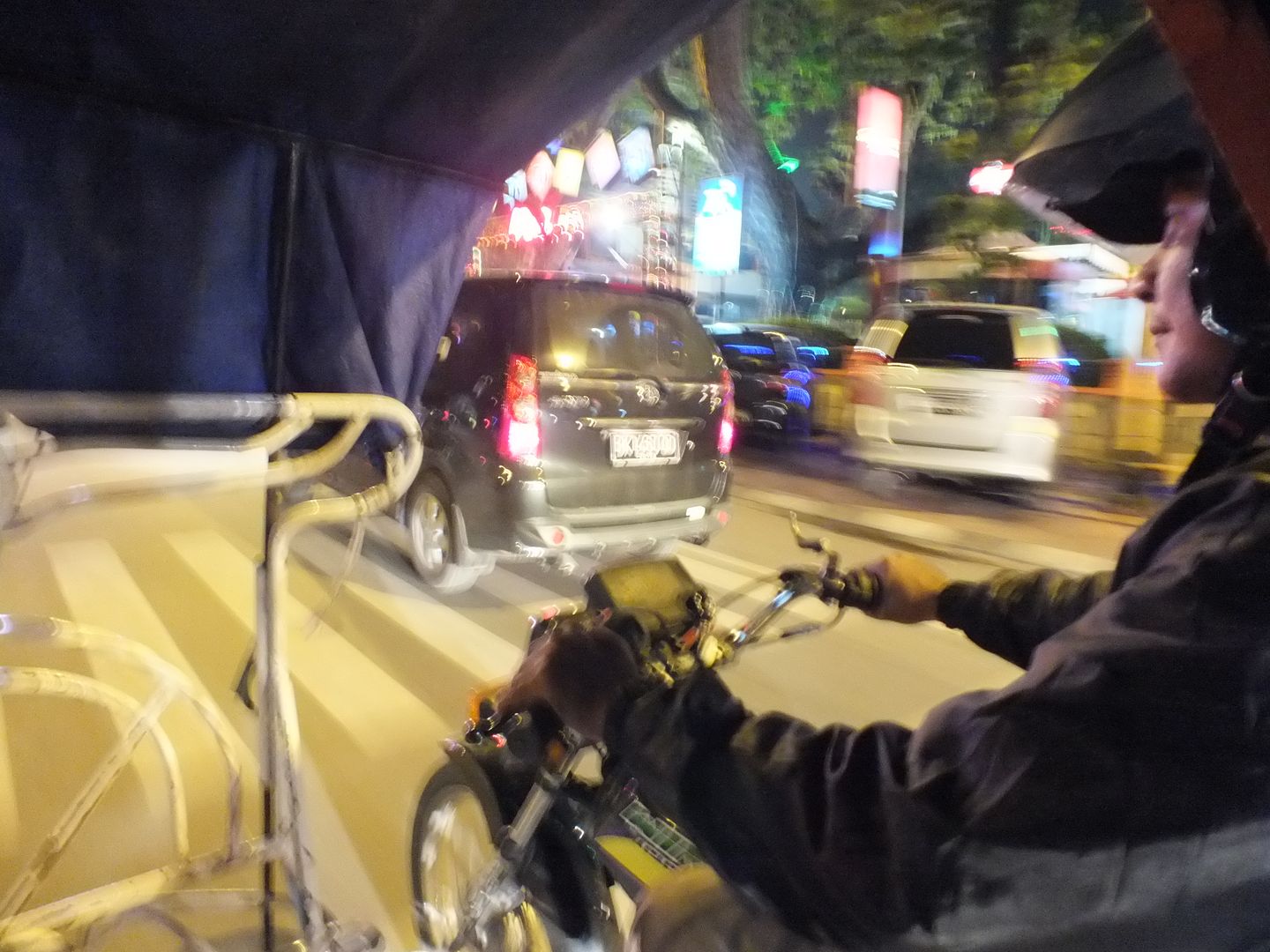 The next day I took a bus the 3 hours to the jungle of Bukit Lawang.
Tasty nasi goring (fried rice) for $1
Bukit Lawang
Writing my report with the help of some Smirnoff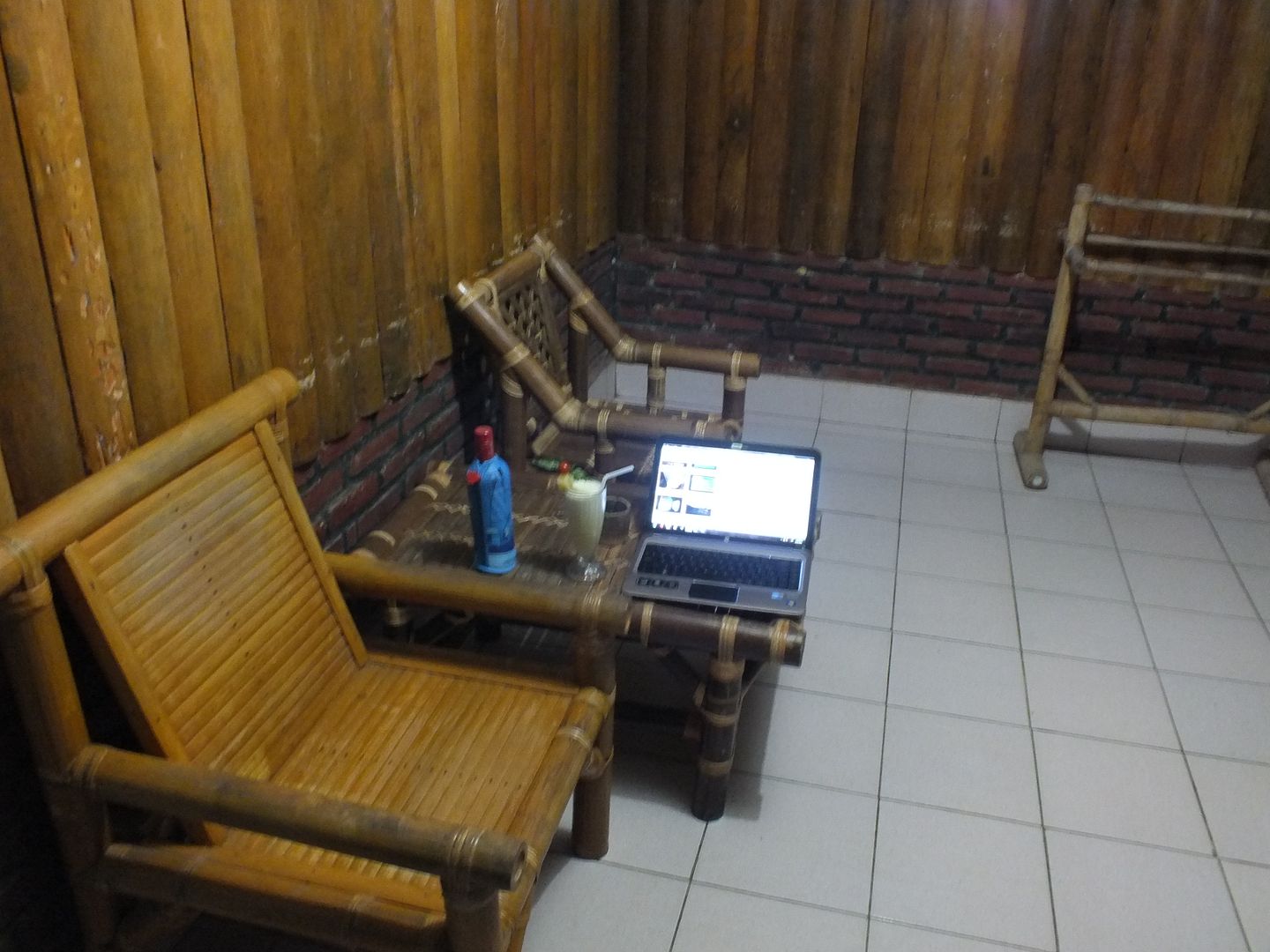 After a night in the village, I headed off with a group for a night in the jungle with the aim of seeing some orang-utans.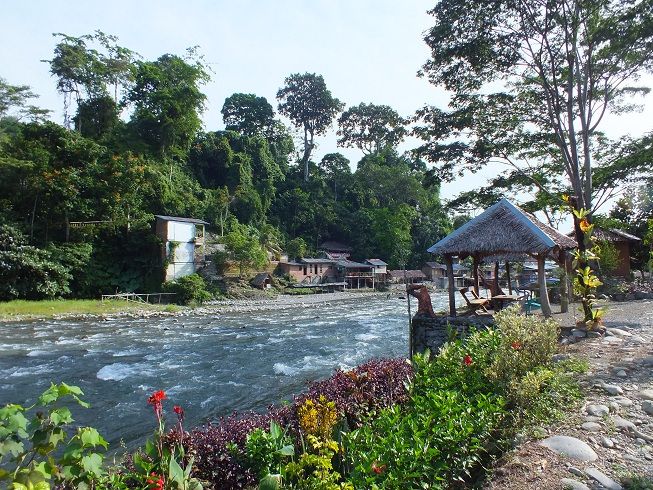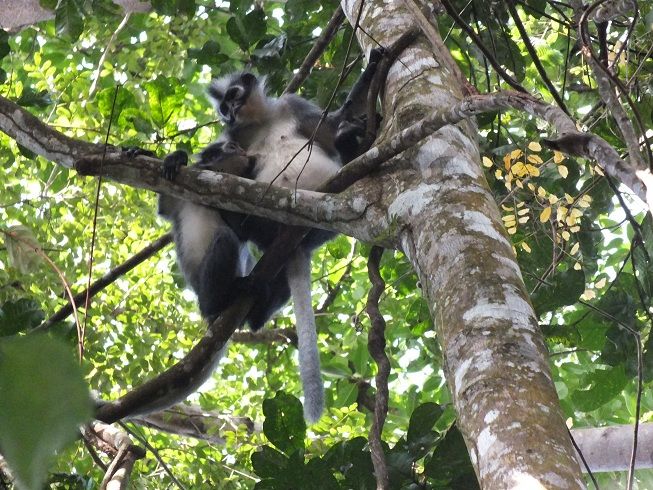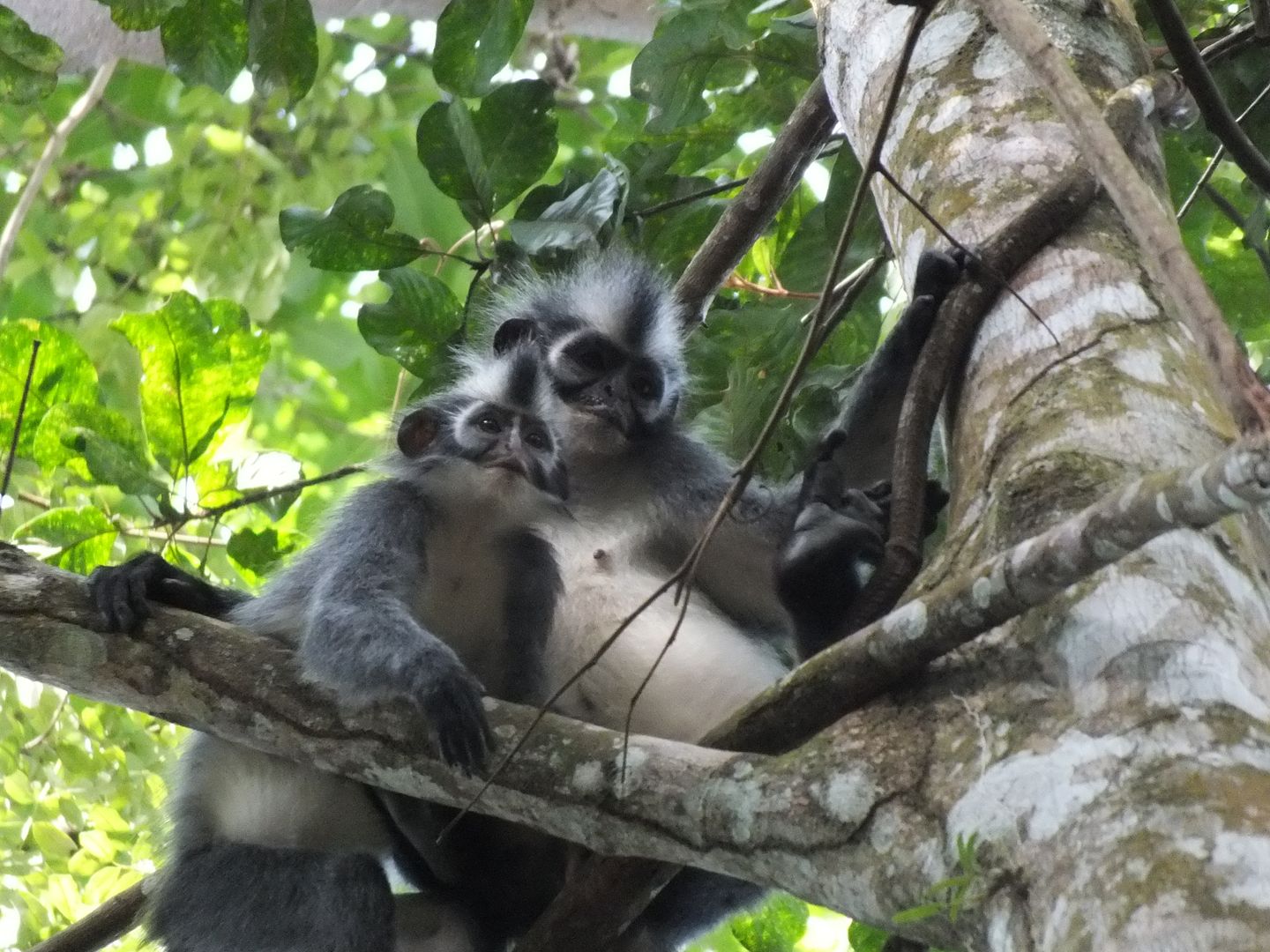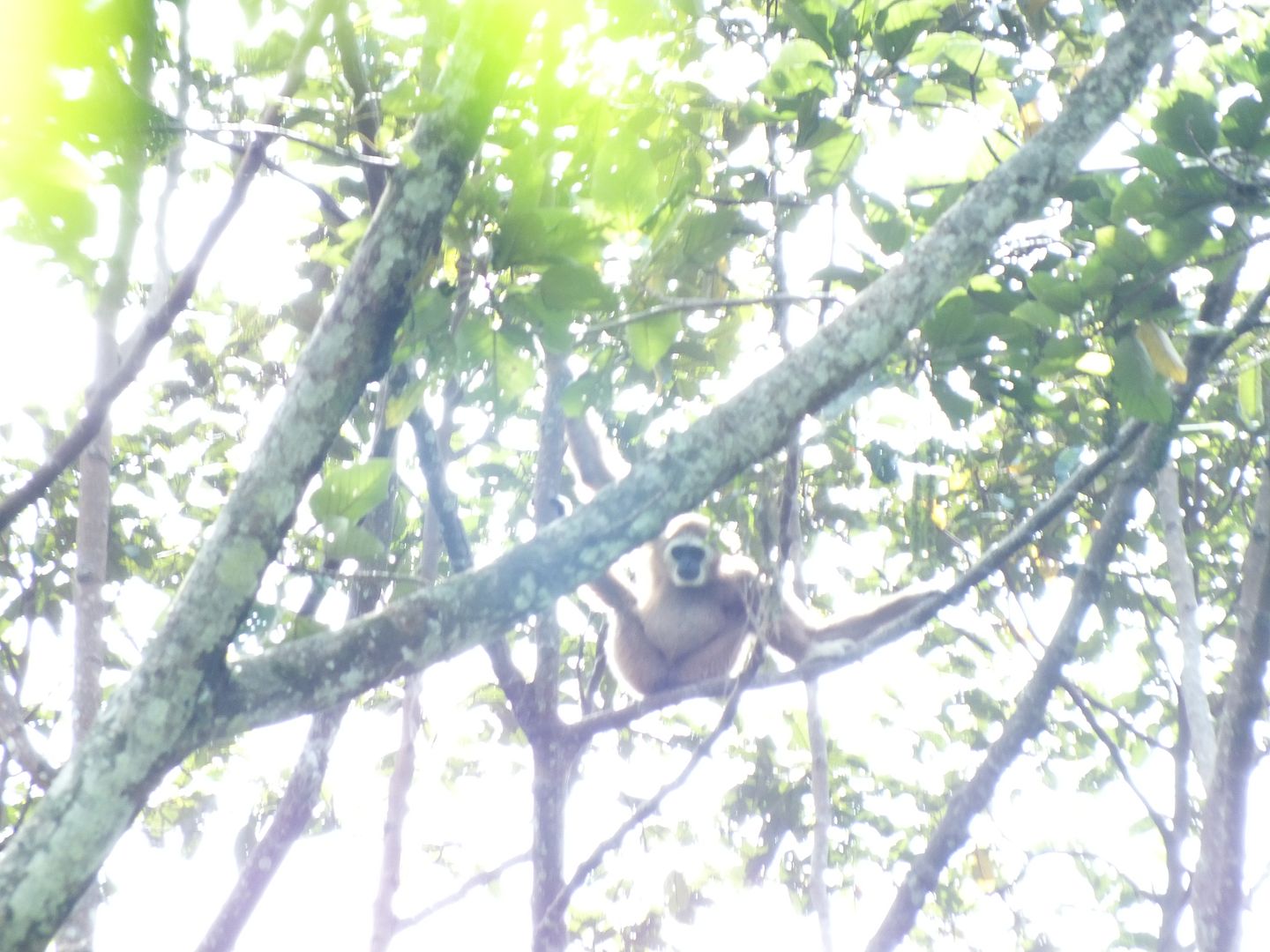 A leech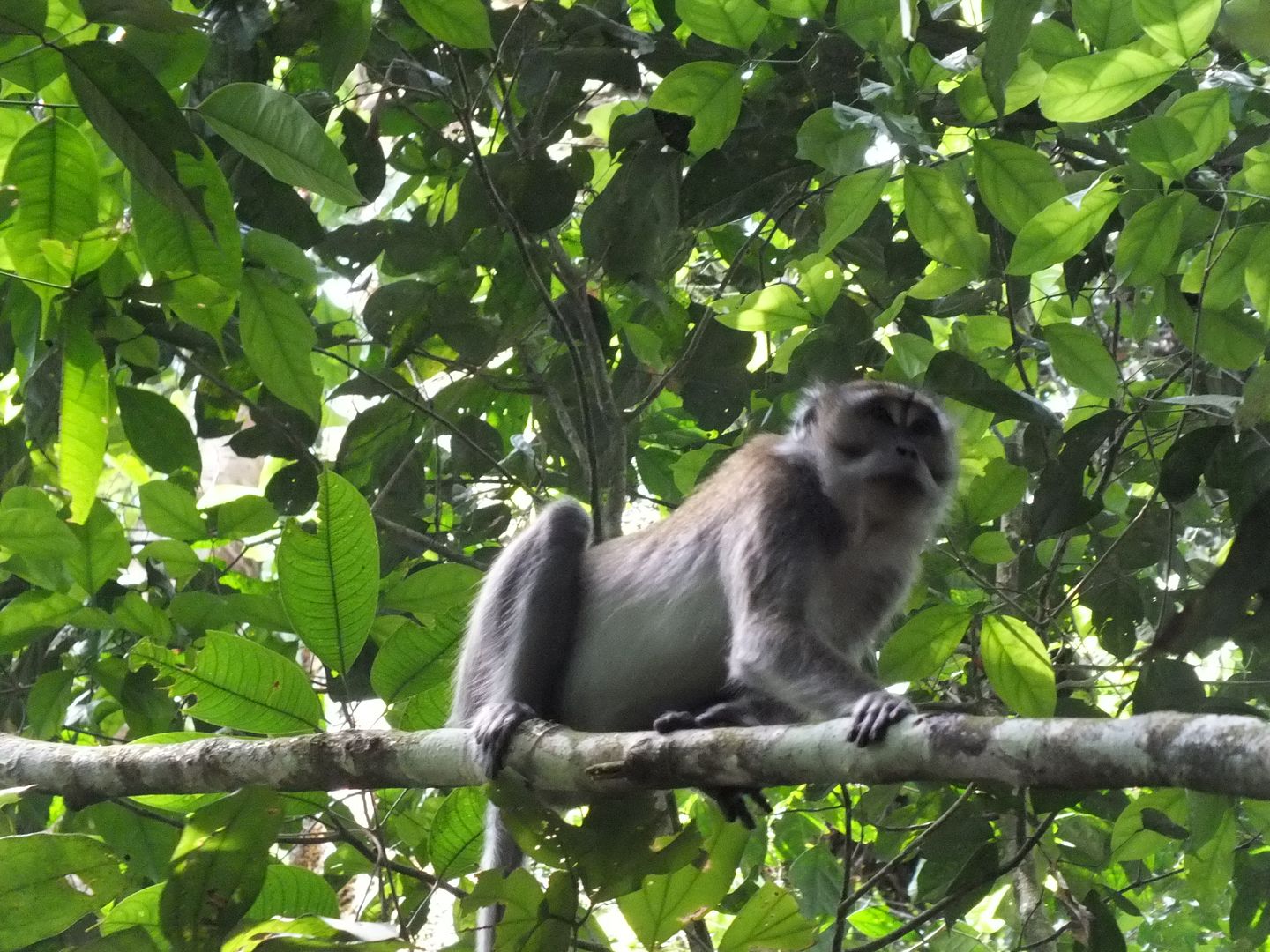 Finally, we found some!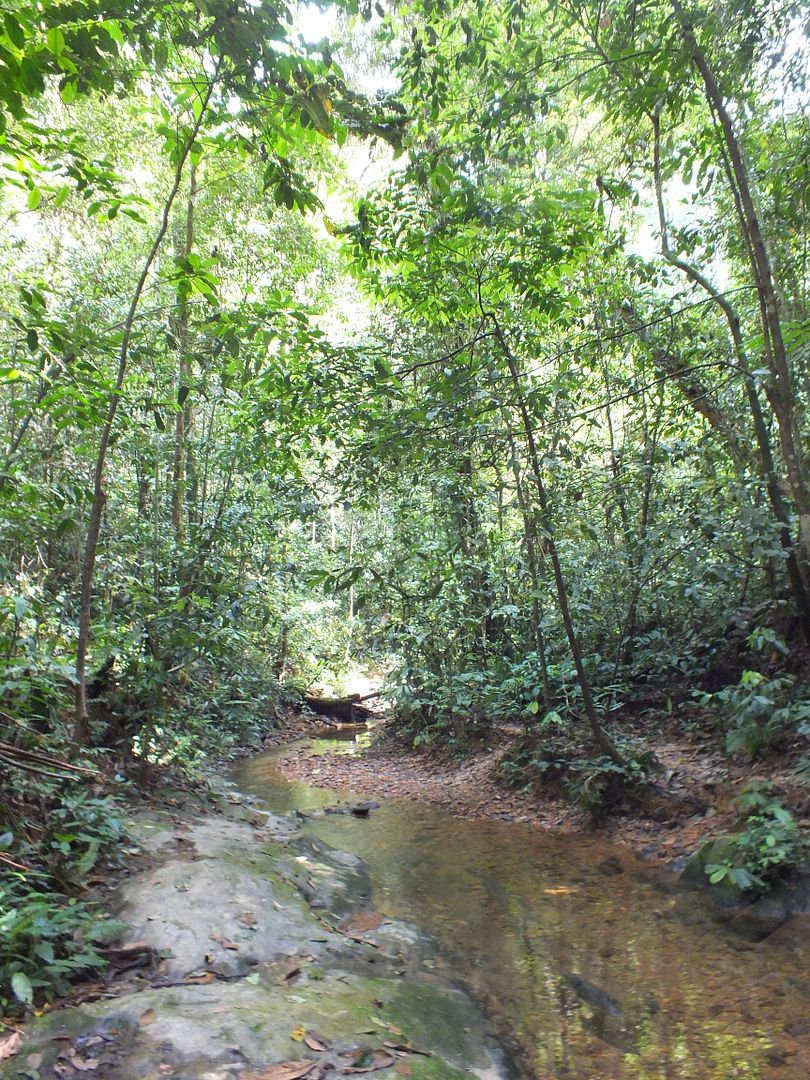 After a day trekking, we spent a night in a small camp next to the river – it was great to have a swim after the pretty exhausting trek through the jungle. Night-time activities included eating, and playing a lot of cards. There were five tourists (me, another Brit, a Finn, and Italian and a Frenchman) and four local guides, whom were pretty funny.
A guide making dinner – food was excellent and there was plenty of it.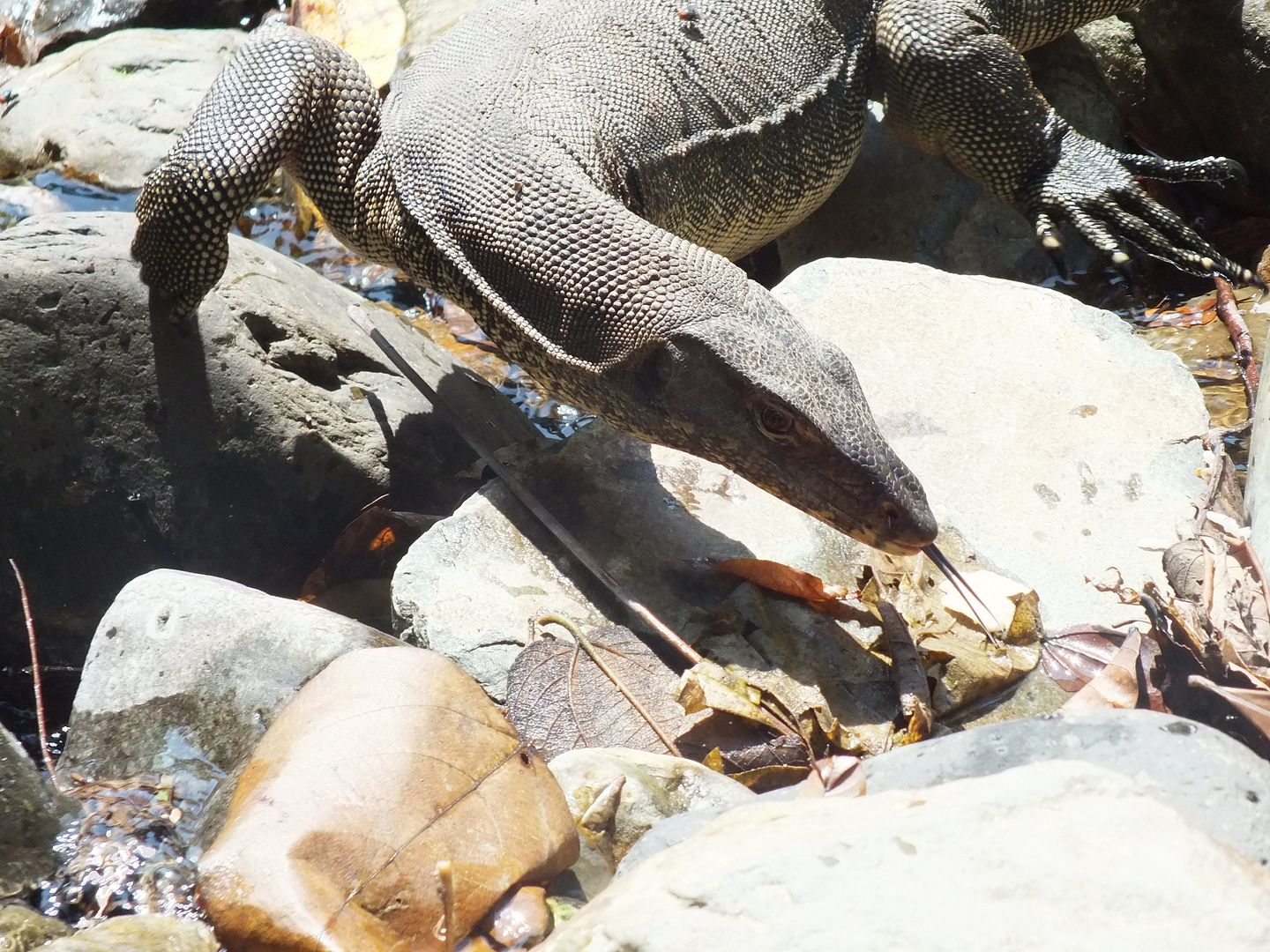 Instead of the hard slog through the jungle back to camp, we rafted back. This was possibly the best spent EUR 10 ever – if you ever go to Bukit Lawang, go rafting! Health and safety takes a very distant second to enjoying the river, so keep your wits about you.
Back at the Ecolodge, it was time for a tasty nasi goring (again)
Walking back to the car park for my journey back to Medan
I ended up getting a minibus back – whilst cheap, comfortable it certainly wasn't. I would normally say a vehicle was full when all the seats were taken. In Indonesia, it's full when no one can move anymore. As you can see, not even the driver/manger/boss is saved the squeeze. Four people in 3 small seats: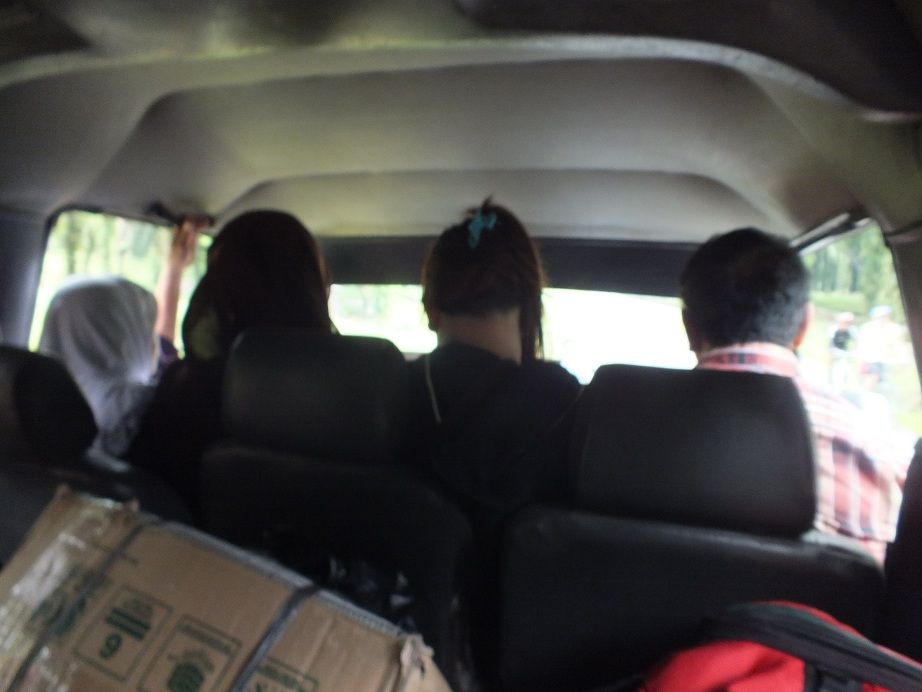 Thankfully I made it back to Medan fairly easily. The next morning I headed back to the airport for my flight up to Banda Aceh on flagship carrier Garuda Indonesia. I remember reading an article about GA many years ago in an Aviation magazine, and just falling in love with their beautiful Garuda livery (the national emblem of Indonesia is the Garuda, the bird type thing). A flight with GA was a must!
I initially thought I was in a shopping mall when I got to the airport…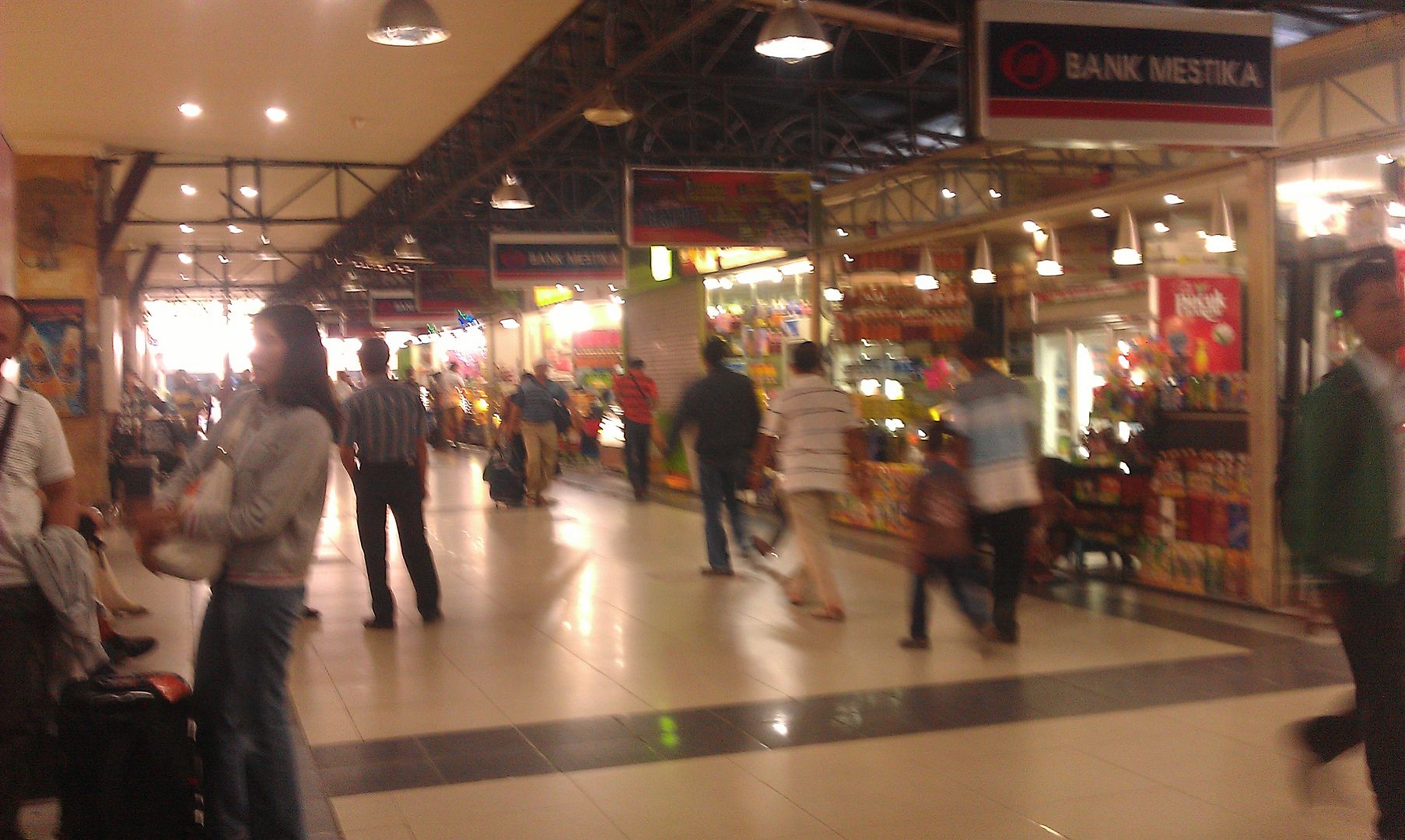 Eventually I found the check in area, with only a short queue for the GA 142 up north. I was given a window without issue, but told that I would have to get a yellow tag put on my bag (free of charge) before I could check in my bag.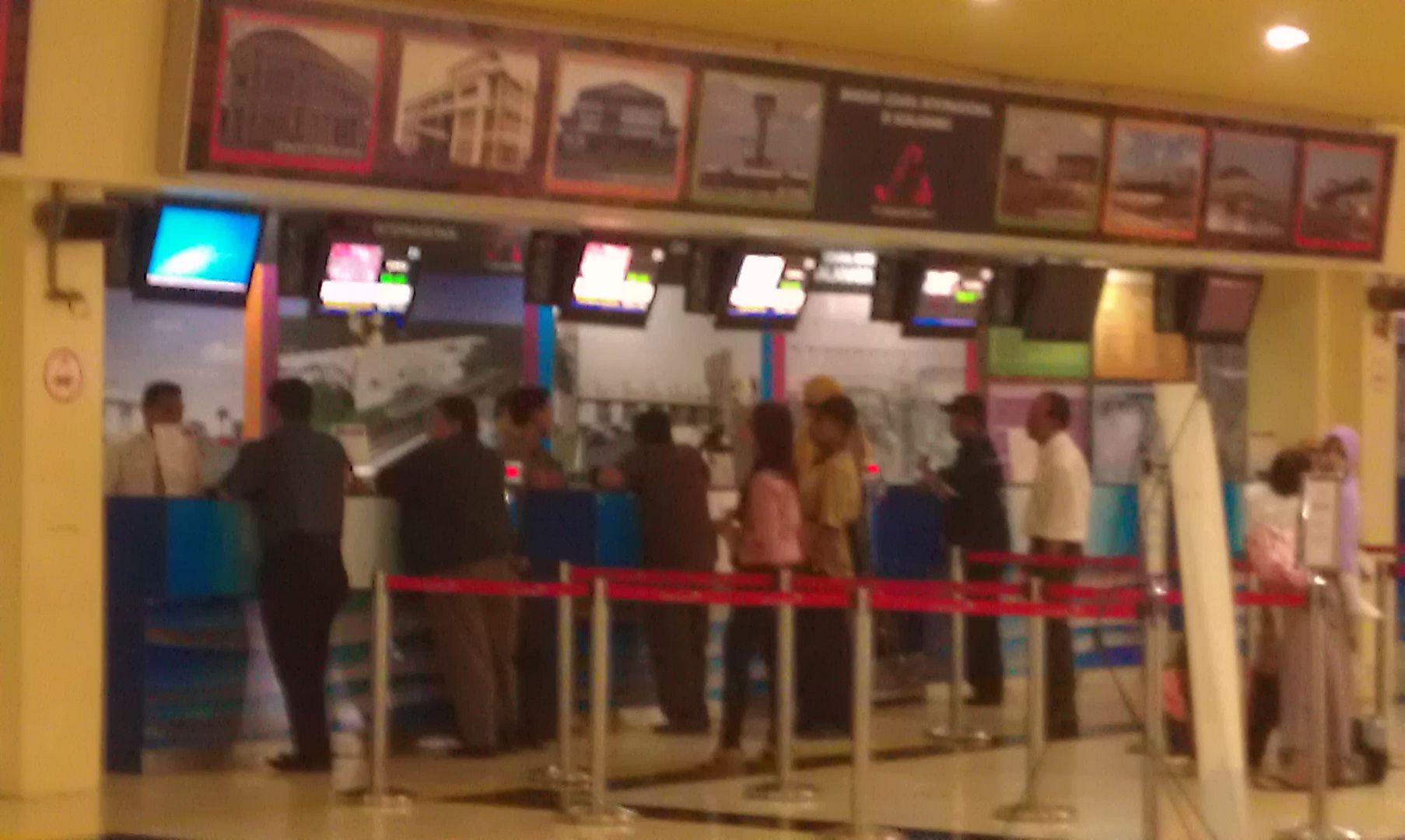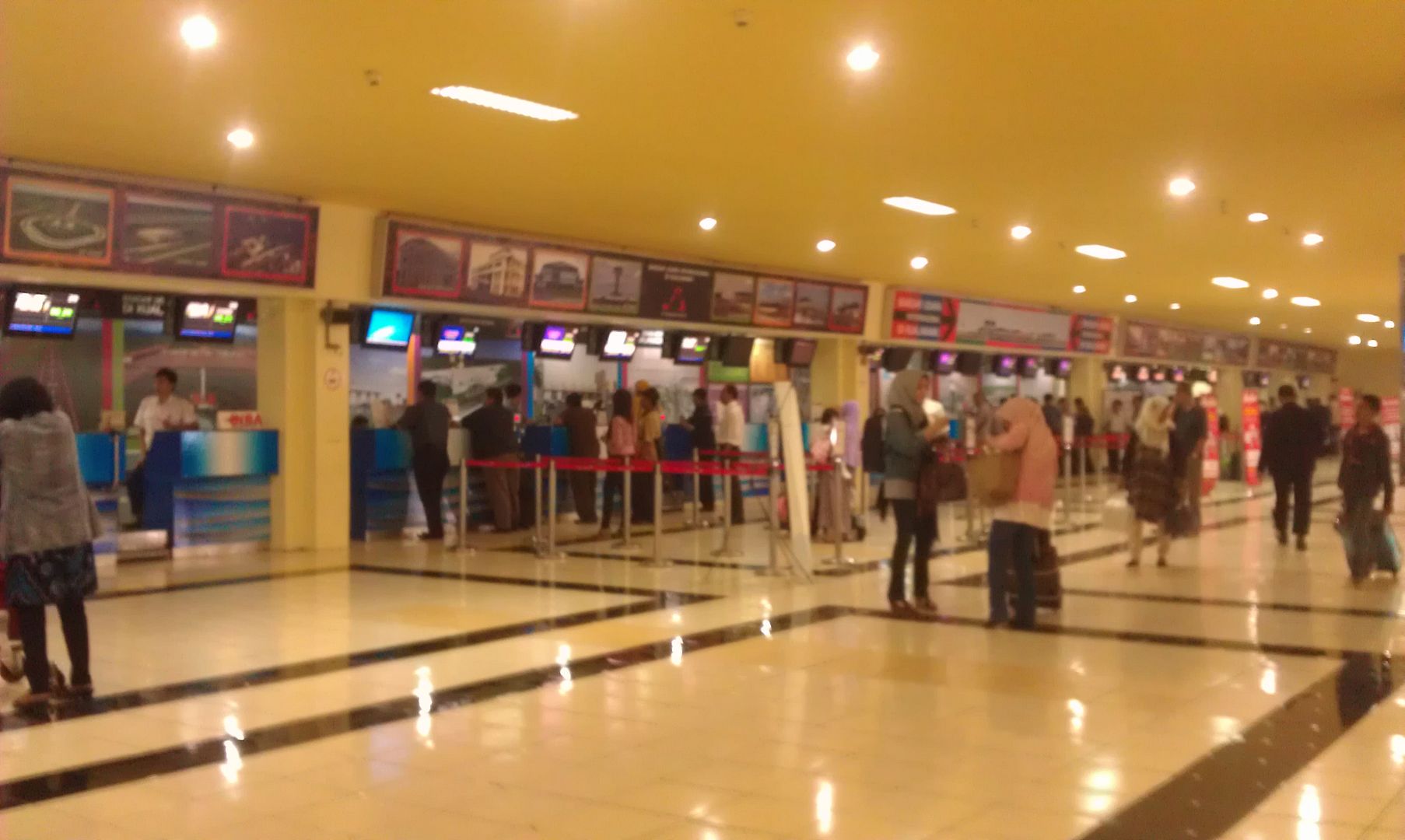 After paying the RP 35,000 ($3.80) departure tax, I walked on into the departure lounge, via the security check.
The lounge – only £4 to get in, but I didn't bother
Departures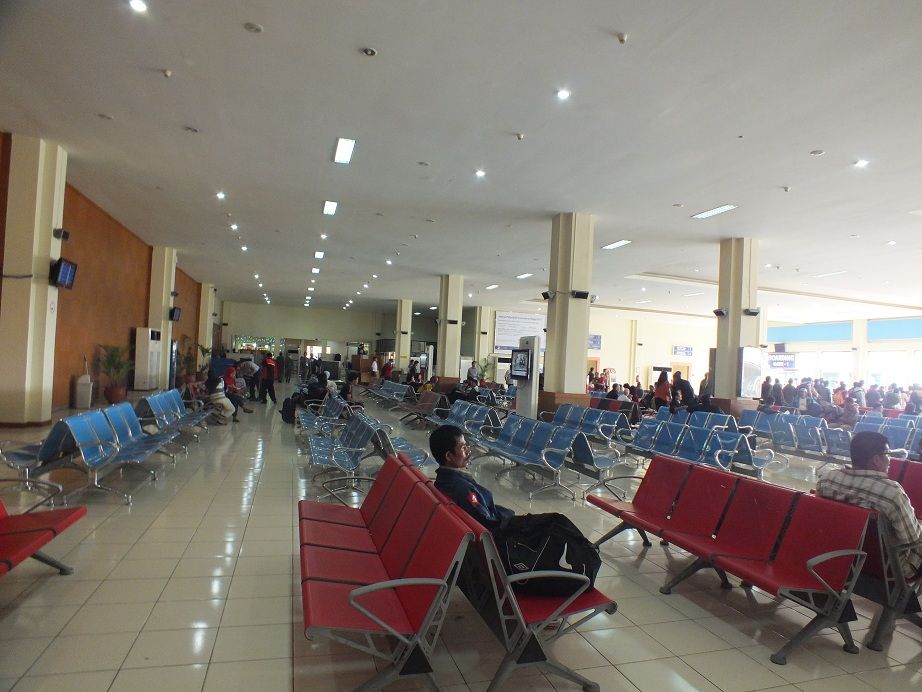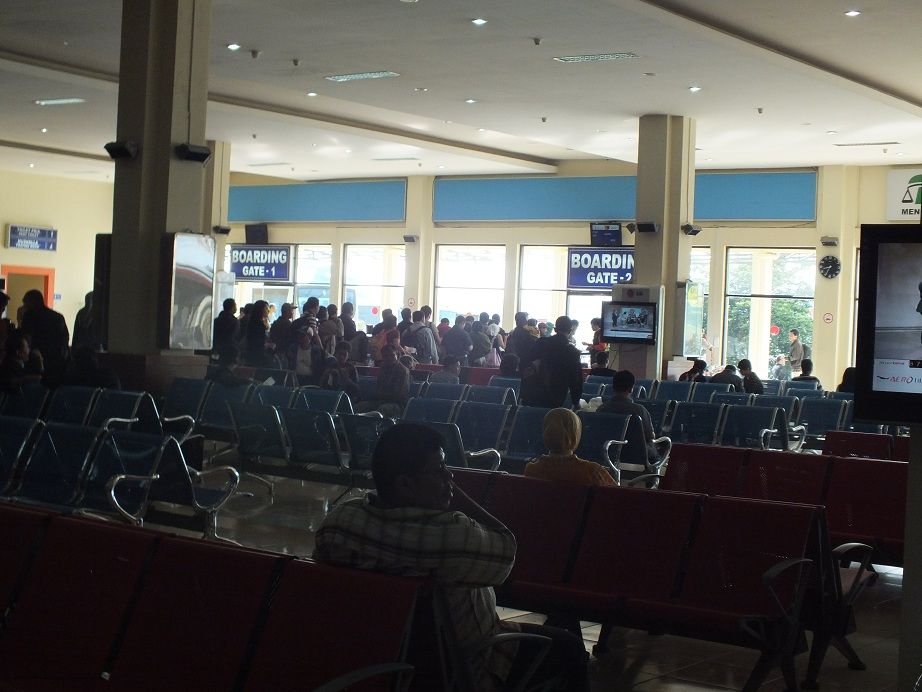 FIDS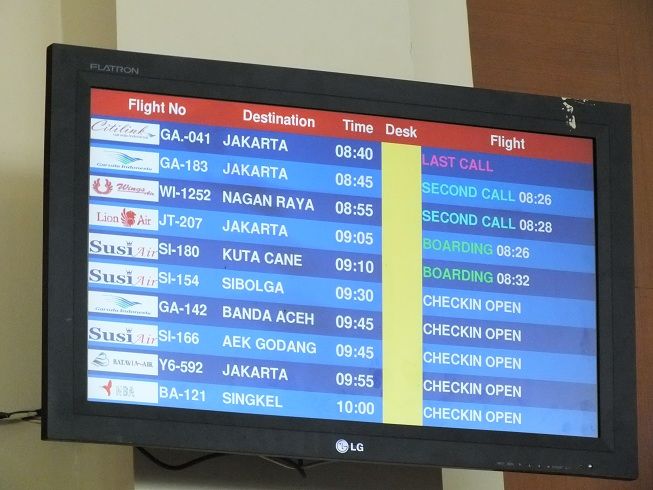 I didn't know GA has a split off company, Citilink?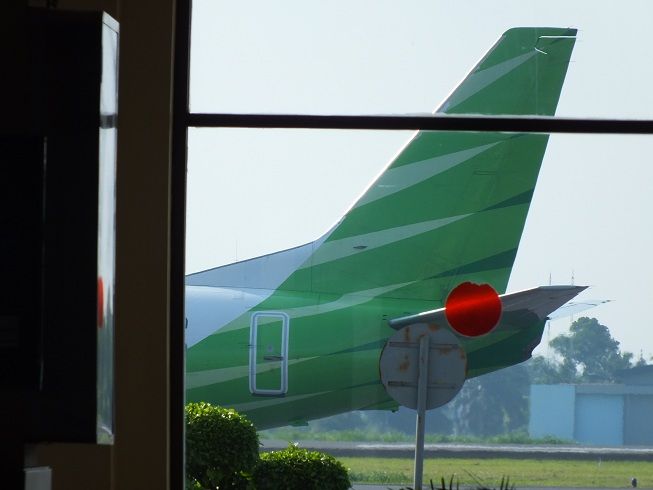 Five minutes after Citilink, there was a normal GA flight down to Jakarta. I think it's such a shame they have the bland 'thing' on the tail now.