Introduction
I have been promising myself a visit to the Dominican Republic for a long time. Add in the fact that I have a friend who lives there who I would like to visit and so a plan is born to make a trip there in February 2012. The added bonus would be to avoid a week of the evil British winter weather.
Background
I would be heading to the inland city of Santiago. The city is well served by both DL and AA (airport code STI). However searching for flights seemed to bring up some crazy routings, and much as I love flying, a routing like MAN-ATL-JFK-STI would be like covering the same ground three times as well as about an 8 hour wait in JFK overnight. All flights from MAN seemed to arrive in the US too late to connect to STI the same day. There was a BA/AA option of MAN-LHR-MIA-STI-JFK-MAN, however the connection times in both LHR and MIA were tight and left too much scope for things to go wrong. The alternative was to fly direct, non-stop to Puerto Plata with TOM, then catch a coach to Santiago. This was the cheapest option, though it was only about £50 more for AA. The thought of a Thomson flight to the Caribbean did not appeal to me, as I had flown MAN-SSH-MAN on their 738 in May 2011 and I had found the seat pitch rather uncomfortable for a flight time of around 6 hours. However, their website promised 2-3-2 accommodation and a 33" pitch on their 763. Well that's more like it, even more space than you get on BA, so I thought I would give it a go. So, on 16th September 2011 I made a booking on TOM's website. The price including 1 item of baggage up to 20 kg and payment card fees came to GBP£572.95.
MAN-POP
Fast forward to 2nd February 2012. It was my original intention to get to the airport using public transport, however the week before departure I had an email from MAN promising amazing deals on car parking. So I booked the 'Shuttle Park' at a very reasonable price of GBP£21.15 for 8 days. This particular car park is on the opposite side of the runway from the terminals, though the transfer only took about 10 minutes. I arrived in Terminal 2 at MAN approximately 3 hours before the flight. Thankfully there was no queue for check in. OLCI is not an option with TOM so seat selection can be a bit of a lottery. The system employed at MAN is that you must use a self check in machine which spits out a boarding pass with a random seat selection. Then you proceed to the 'bag drop' desk which is more like a standard check in. I checked my bag and asked if it was possible to move to a window seat. Apparently all window seats had been taken. Really, what time had these people checked in? Anyway it wasn't so bad, at least I had an aisle seat, 25C. Security was a breeze at this hour, and with still plenty of time to kill I went to Servisair's 'Styal Lounge', I relaxed there for almost 2 hours until boarding of my flight had started, about 40 minutes prior to departure.
Styal Lounge MAN T2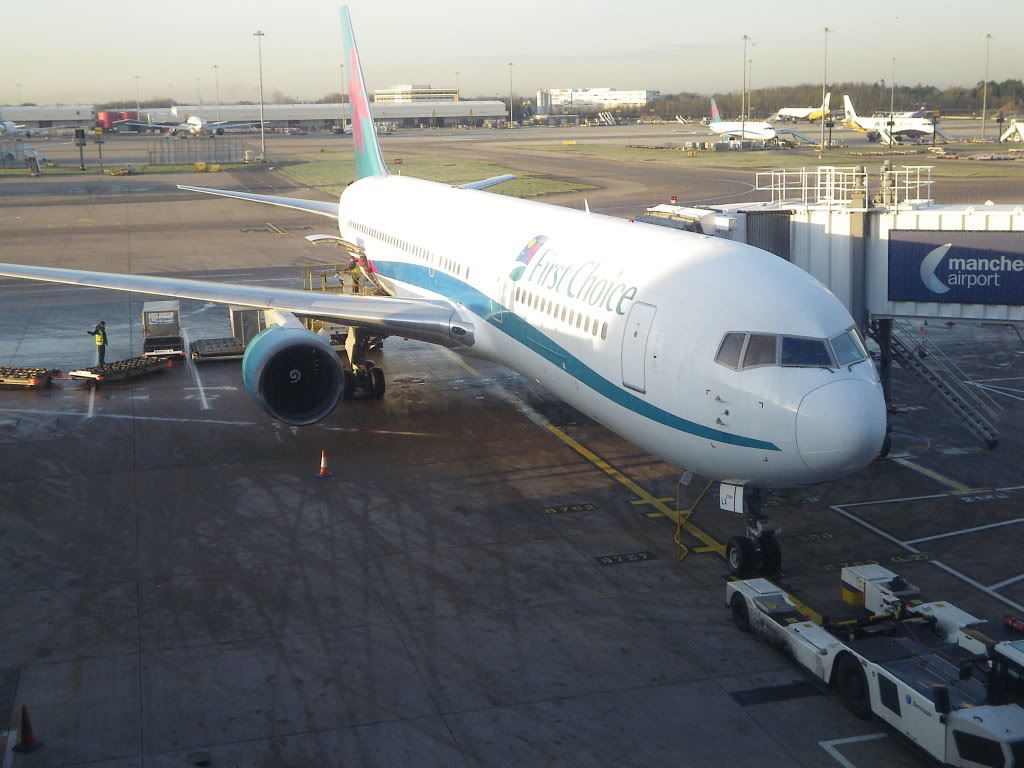 G-DBLA waiting for me at the gate.
This aircraft still wears the livery of First Choice, with a sticker by the door which states 'Operated by Thomson Airways'.
Boarding underway for flight TOM162.
Boarding seemed to take quite a while, and we eventually pushed back from the gate some 15 minutes behind our scheduled departure time of 0930. We made our way to runway 23R, which I thought unusual. Most departures were leaving from 23L. We took off at 0955, and an expected flight time of 9 hours would mean an on-time arrival at POP.
My view for the next 9 hours. The entertainment is not available until about 15 minutes after take off. There is an upgrade of film choice available for GBP£5, though the standard selection including the map was good enough for me. Headphones are included free of charge, although passengers are warned that they should keep them for the flight home as replacements may not be available.
The clean tidy cabin belies the age of this aircraft - it is now 20 years old. Load Factor appeared to be 100%, despite fares not being particularly cheap.
An early trip to the bathroom was required after my hours in the lounge:
Everything is clean and in good order.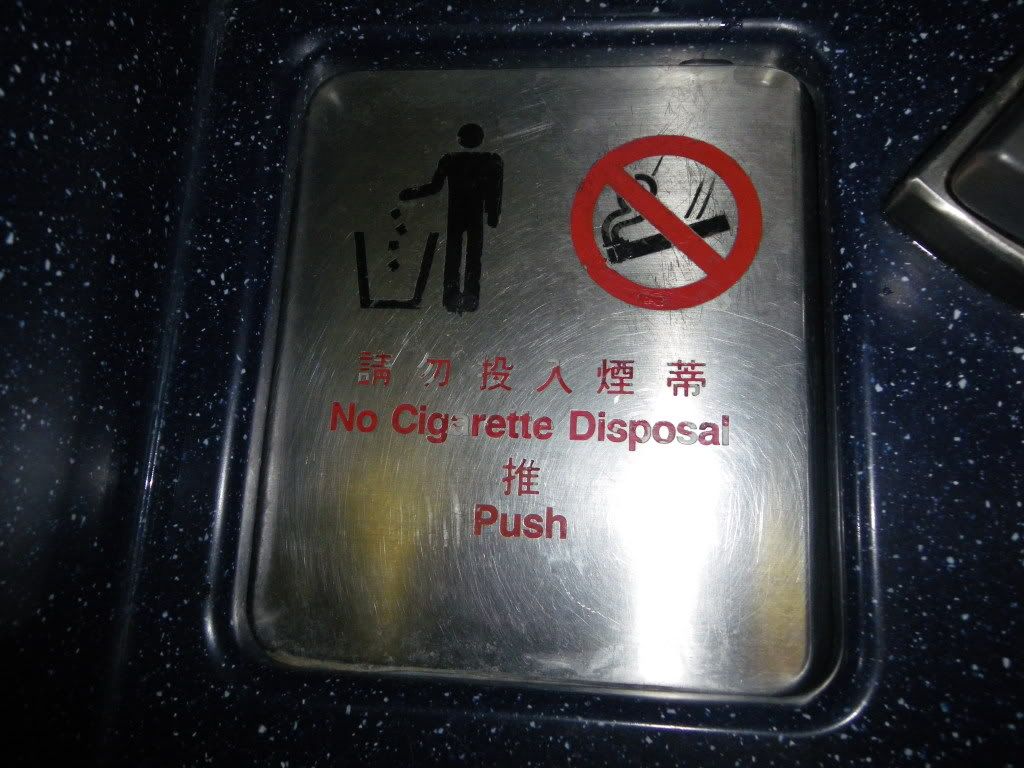 Oriental writing, revealing a little of the history of this aircraft. It was previously with EVA Airways of Taiwan for 14 years before being sold to First Choice.
It was approximately 2 hours into the flight before the first meal service. The choices were Barbecue Chicken or Steak Stew. I was going to have the Chicken, however my seat-mates who were being served from the other aisle got theirs first. I noticed that the chicken was served with sweetcorn which I hate, so I went for the Steak Stew:
I did not regret it, it was really delicious.
I attempted watching a few tv programmes on the IFE, though it wasn't AVOD, but an older style loop system. I mixed this with reading a book and listening to music on my iPod.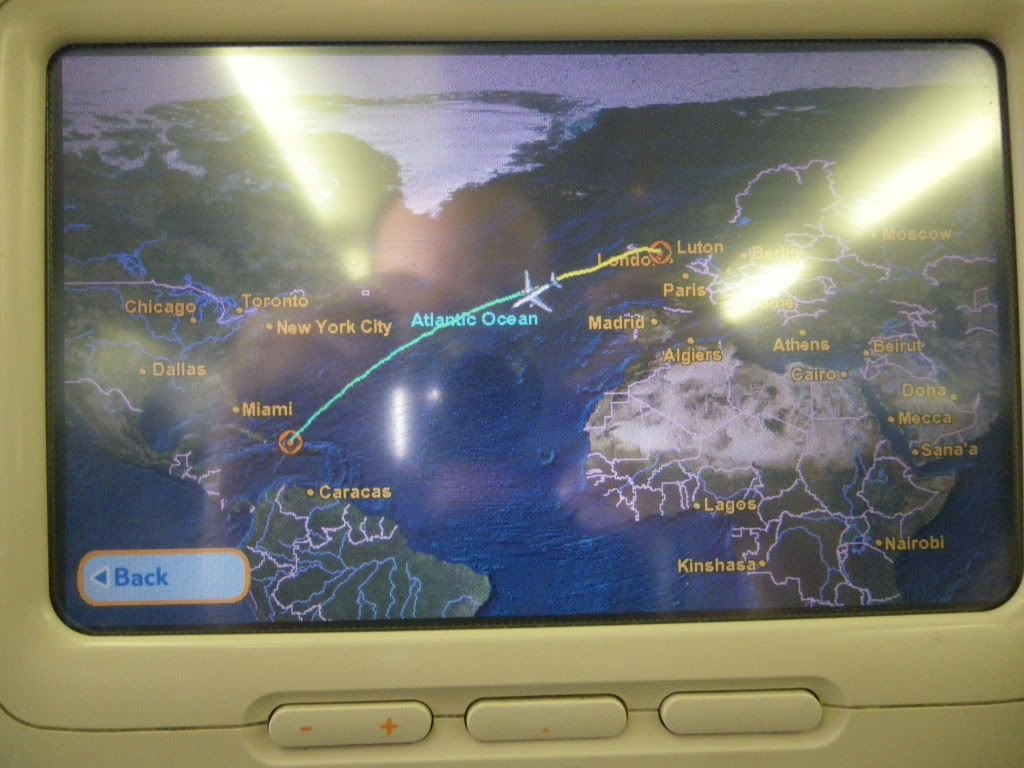 Our routing took us over the south western coast of Ireland, passing 400 miles north of the Azores and we would be over water all the way from Ireland to the Dominican Republic.
One hour prior to landing this snack box was served, with a sandwich and a scone with butter and jam.
Due to me having an aisle seat in the middle section, I wasn't able to take pictures through the window of the approach and landing. We landed exactly on time. With the 2-3-2 configuration the aircraft emptied quite quickly. There was quite a walk through construction areas at POP, eventually arriving into the Immigration area. It is necessary to purchase a 'tourist card' for USD $10, for which there was a slight queue, though it only took a few minutes to get to the front. Having the correct money ready certainly helped.
Tourist Card:
I couldn't help being a little disappointed with the tourist 'card' as it was printed on thermal paper like a supermarket receipt. As the queue for the tourist card caused a bit of a bottle-neck, there was no queue for Passport Control. My passport stamps showing entry and exit stamps, as well as stamps from previous trips to Turkey and Egypt on the same page:
Some luggage was already arriving at the baggage carousel when I arrived at the baggage reclaim, though I had to wait a little while for mine. My baggage tag: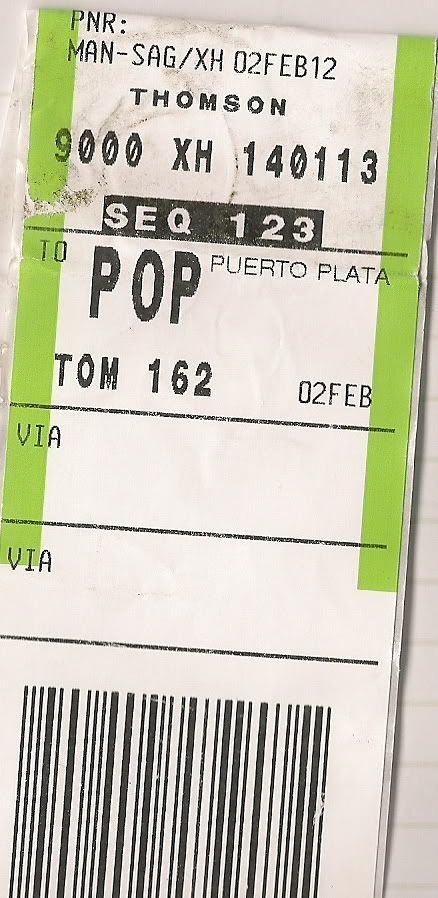 A few photos from my week in Dominican Republic:
Travelling around town in vintage Japanese cars was very cheap and an amazing 'experience'
The beautiful Monument in Santiago.
The beach at Sosua, a short drive from POP.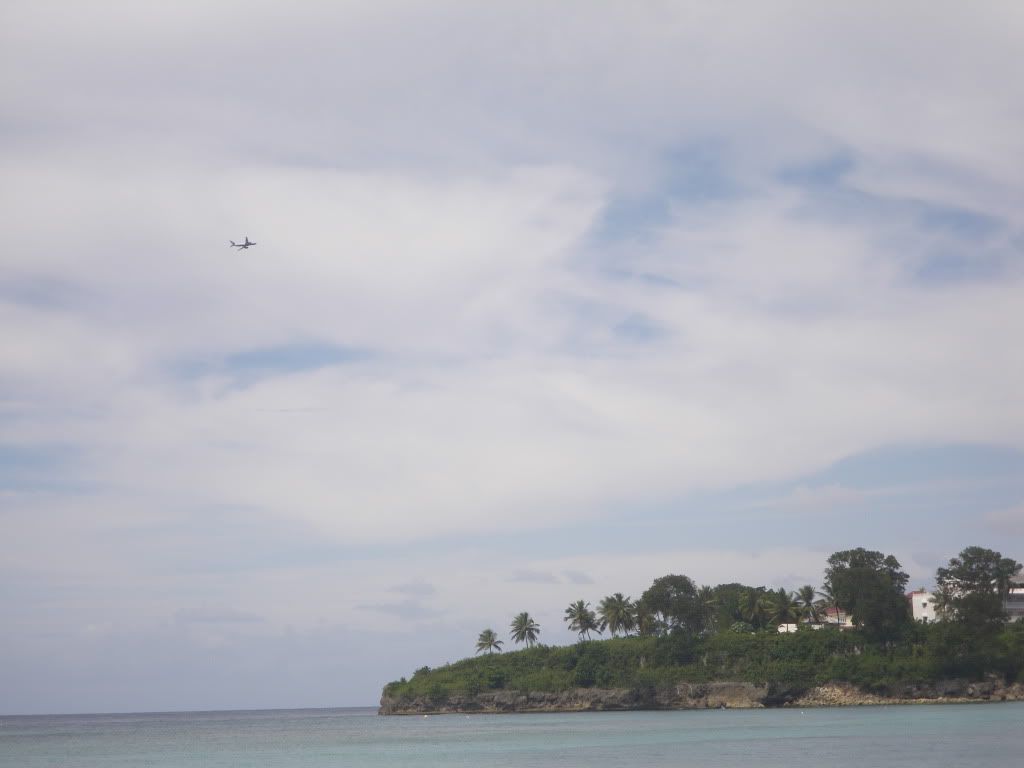 Sat on the beach watching an occasional departure from POP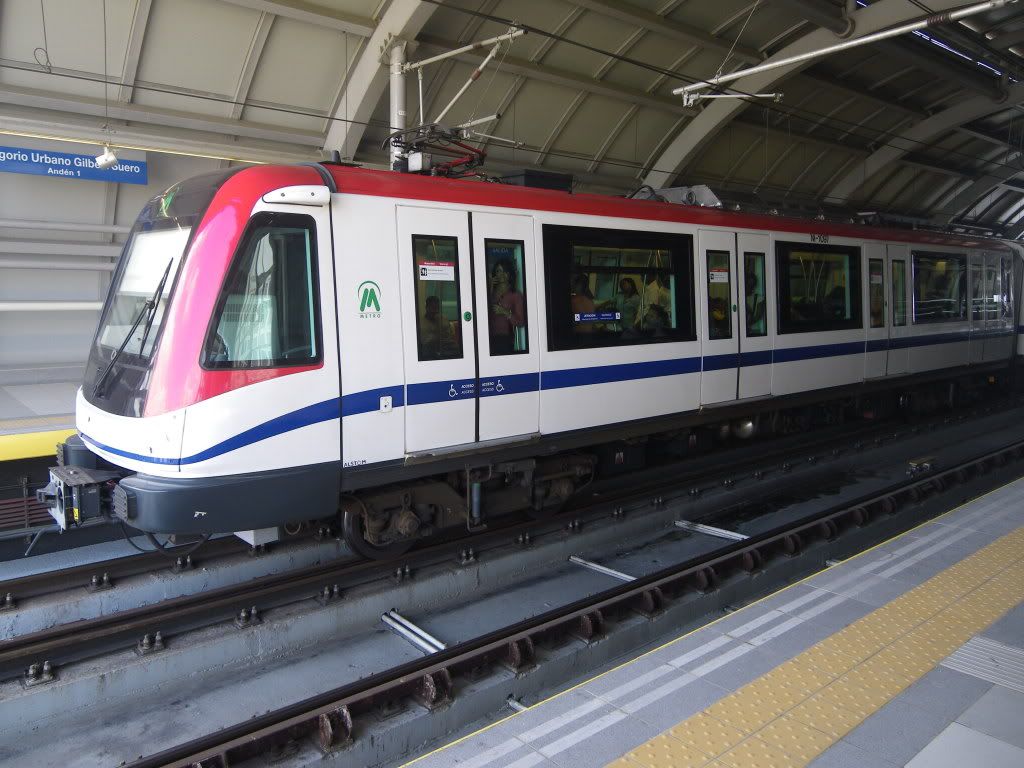 Travelling on the new Metro in Santo Domingo
Santo Domingo
All to soon it was time to head back to POP for the flight home.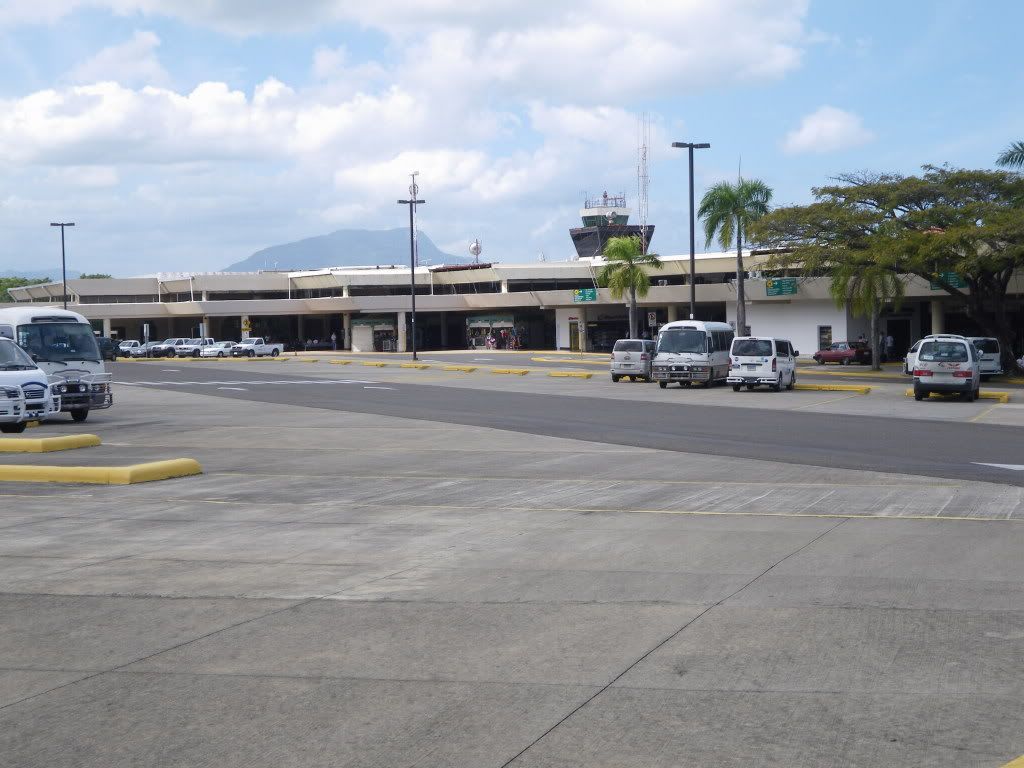 Approaching the check in area at POP, which doesn't have any walls, doors or windows. You just walk straight in!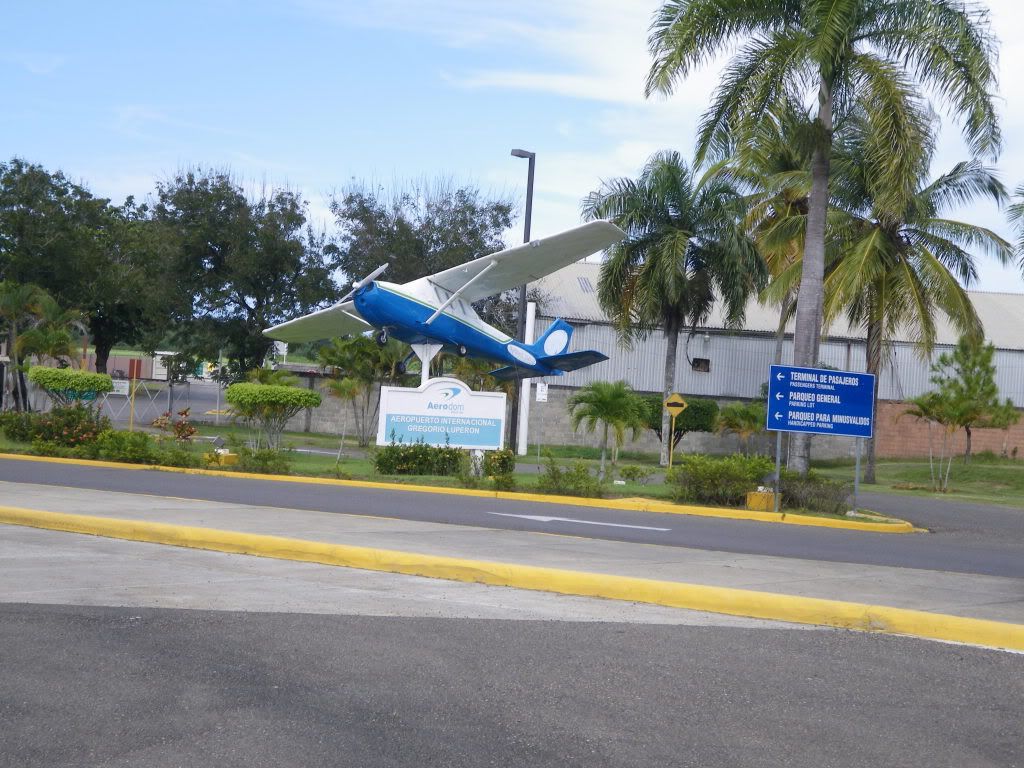 I arrived at check in just before the counter opened and ahead of any coaches arriving full of package holidaymakers. This time I achieved a window seat.
Outbound passengers have to go through Passport Control in the Dominican Republic, this was achieved with about five minutes of queuing followed by security check. Security required belts and shoes off for everyone. I then proceeded to the 'Salon Ambar' lounge to relax for a while before the flight, and to make use of the free wifi.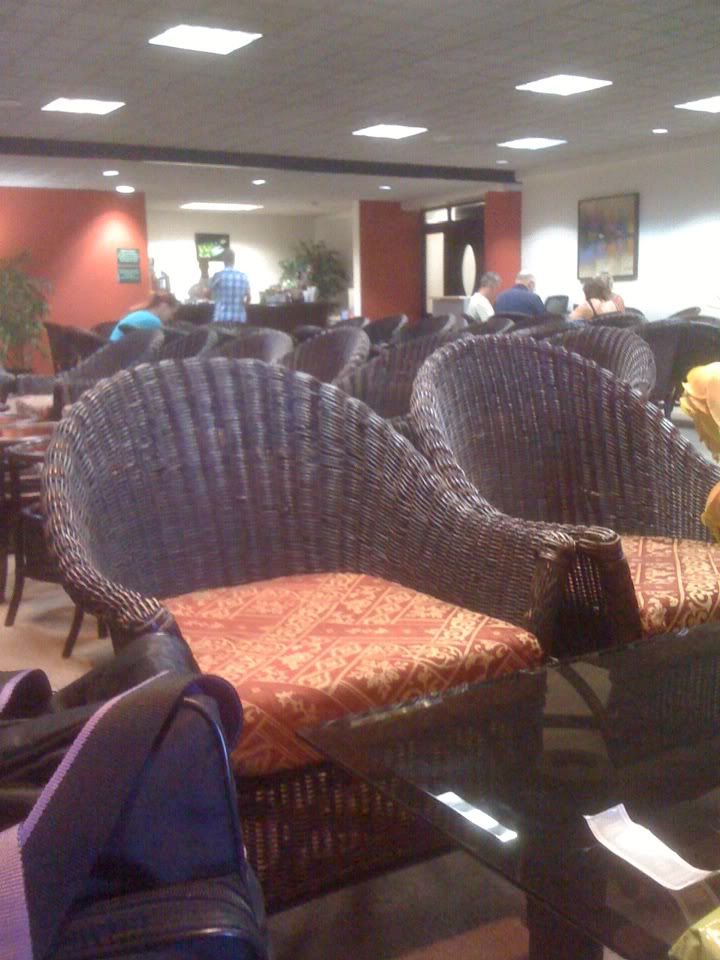 Lounge almost to myself.
This lounge operated the 'token' system where you are restricted to four alcoholic drinks by means of coupons given to each guest by the lounge 'dragon'. However, after the first visit to the bar, the barman was not interested in collecting any more of my coupons. In fact, after I had four drinks, he came to my table asking if I would like more.
Food options were limited to ham or cheese sandwiches and crisps. I had a few beers and also a vodka and coke. The lounge had it's own toilet facilities, which were very clean. An announcement came over the loudspeaker system advising passengers flying with Thomson Airways to Manchester to pay their USD $20 departure tax at a kiosk in the departure lounge before boarding the aircraft. I didn't hear this announcement for any other airlines, so I assume all the other airlines operating out of POP that day included the tax in the cost of the ticket.
There wasn't the best view from the small lounge window: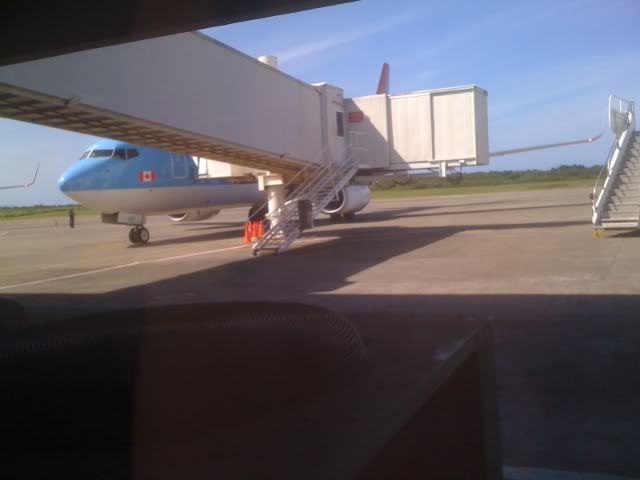 The TOM 763 arrives from MAN.
Some aircraft in POP that day: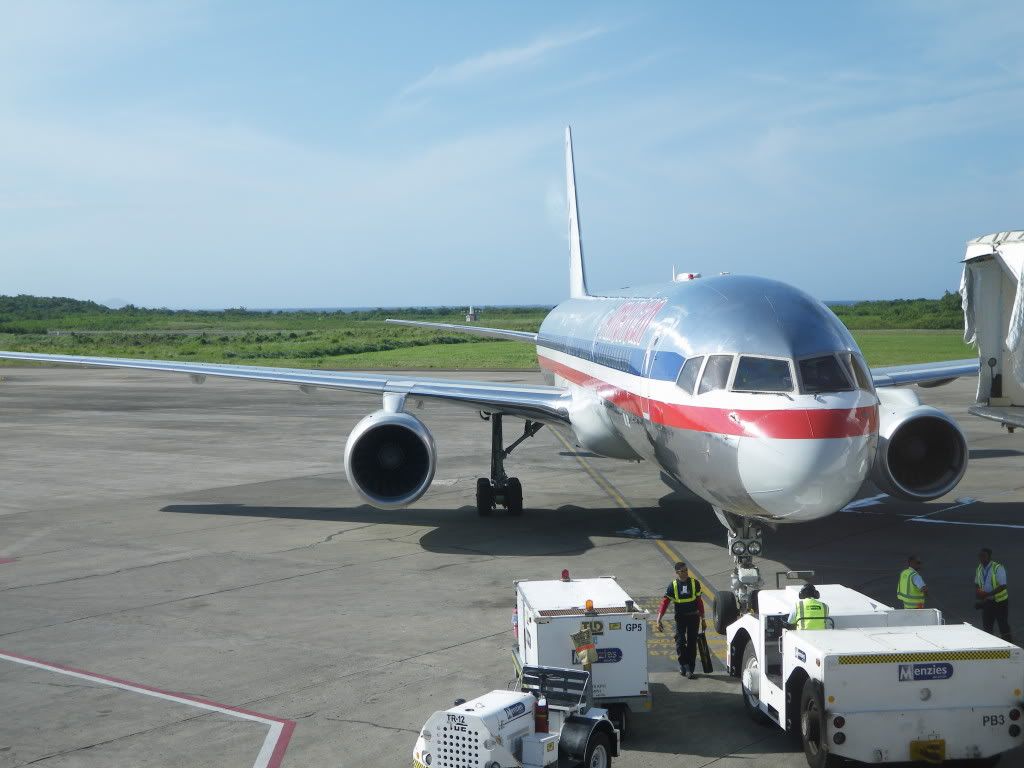 AA B752 to MIA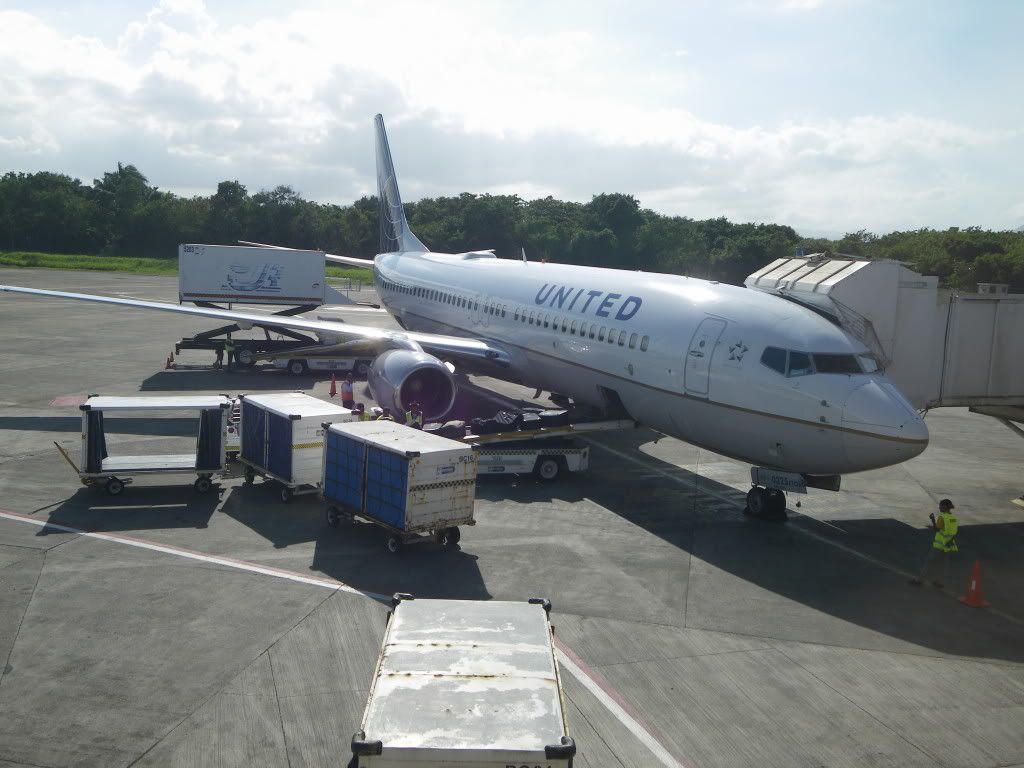 CO/UA B737 to EWR
TOM B763 to MAN
I noticed that the 767 taking me home was fitted with winglets, whereas the aircraft operating my inbound flight did not.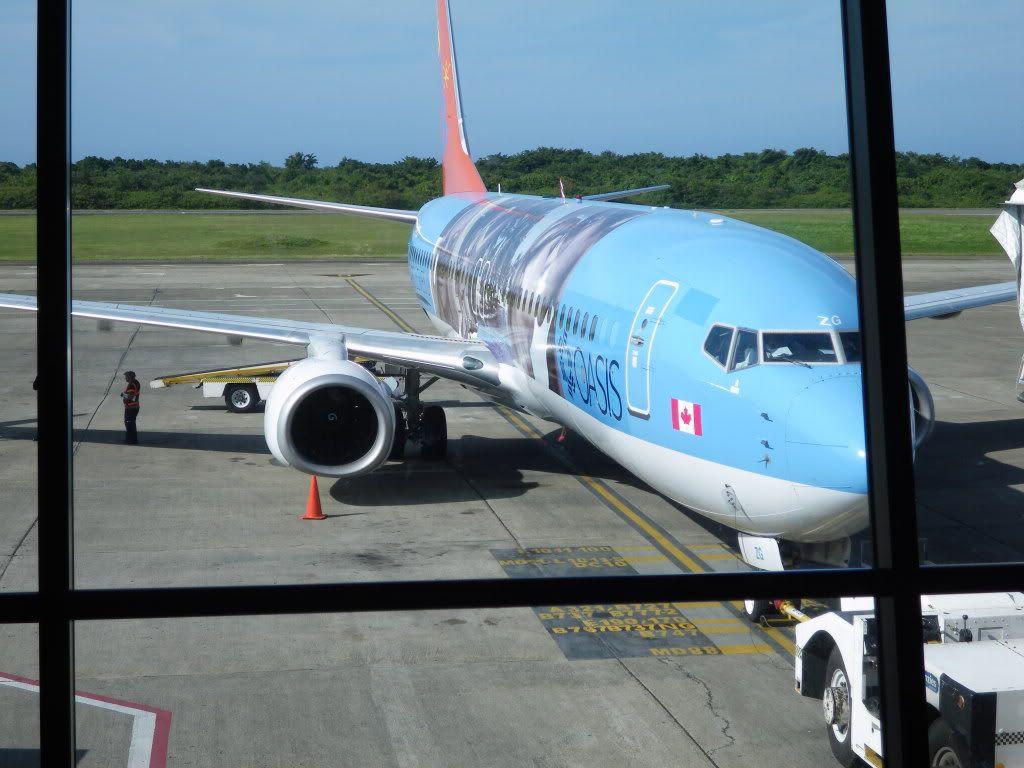 WG 738 to YUL - looks like a winter lease from TOM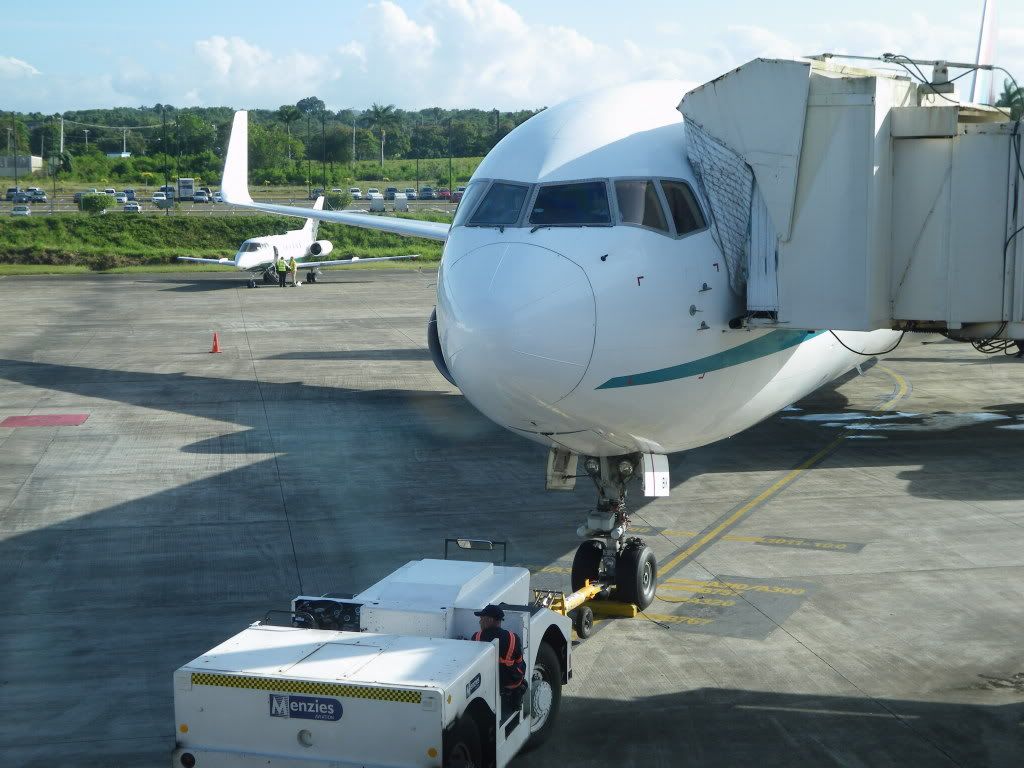 Another view of G-OOBK
FIDS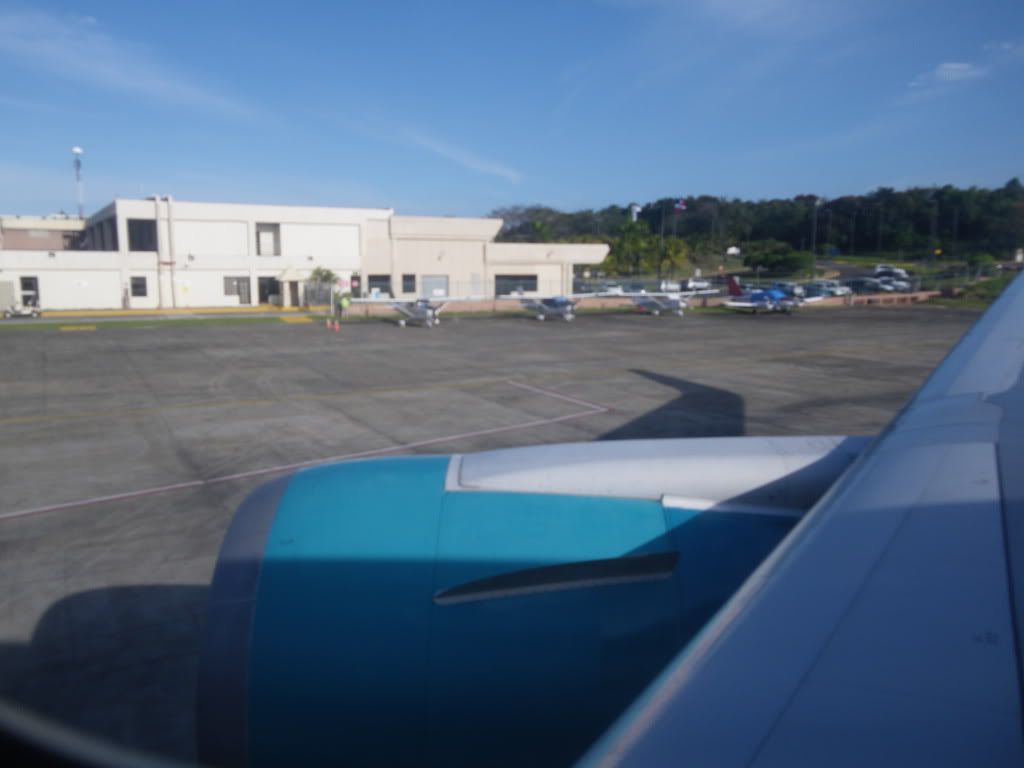 View from my seat.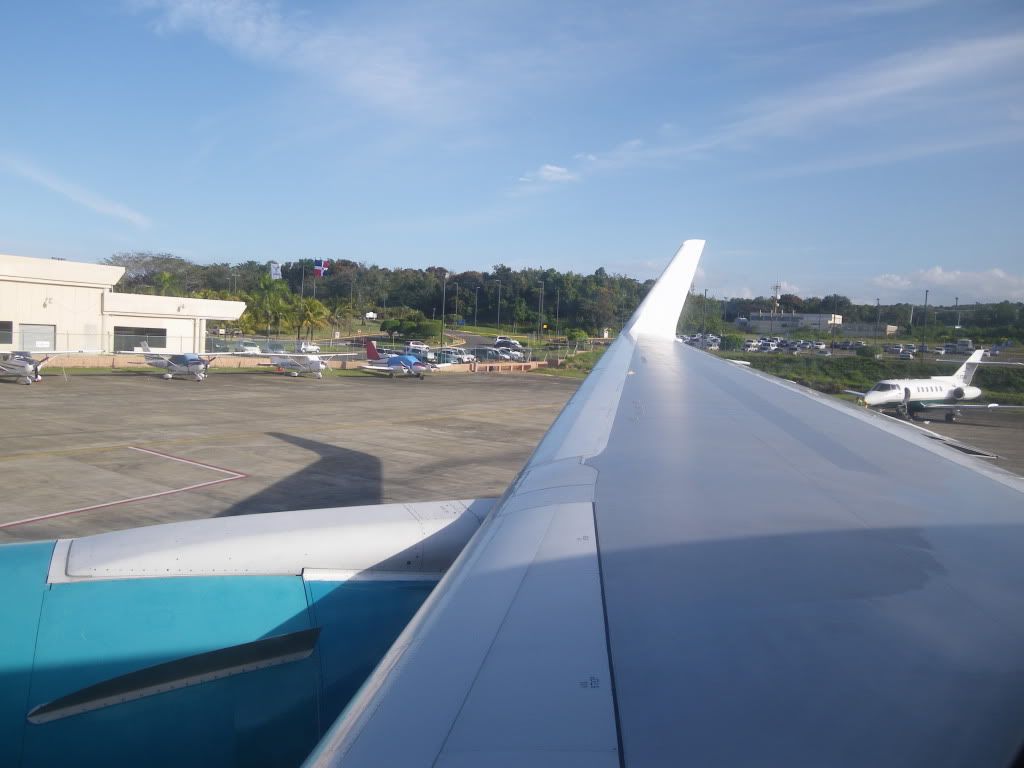 Wing view - with that huge winglet.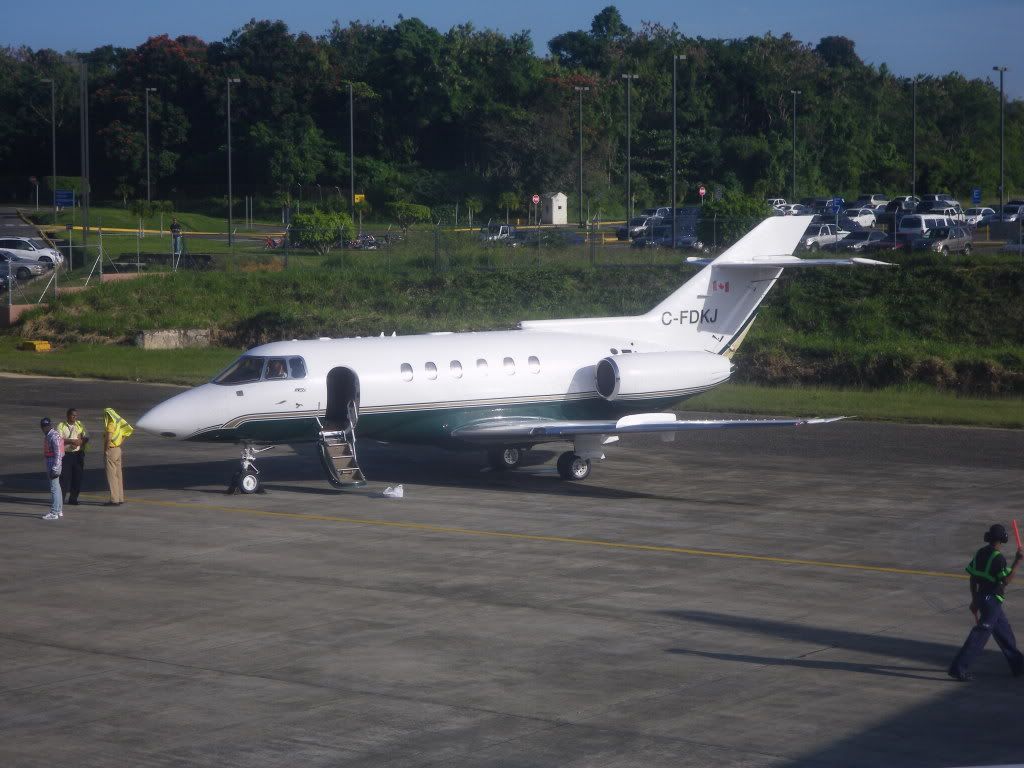 Canadian registered private jet - now that's the way to travel to the Caribbean!
My boarding pass. The red stamp indicates that my departure tax has been paid. Boarding was by seat row number, which as per usual most people seemed to have difficulty understanding, or chose not to understand. When my row was called I just walked straight up to the gate and by-passed the queue of people whose seat row hadn't even been called yet.
We pushed back for an on-time departure and taxied the short distance to POP's runway. We entered the runway at a mid-point and backtracked to the end then did a 180 degree turn.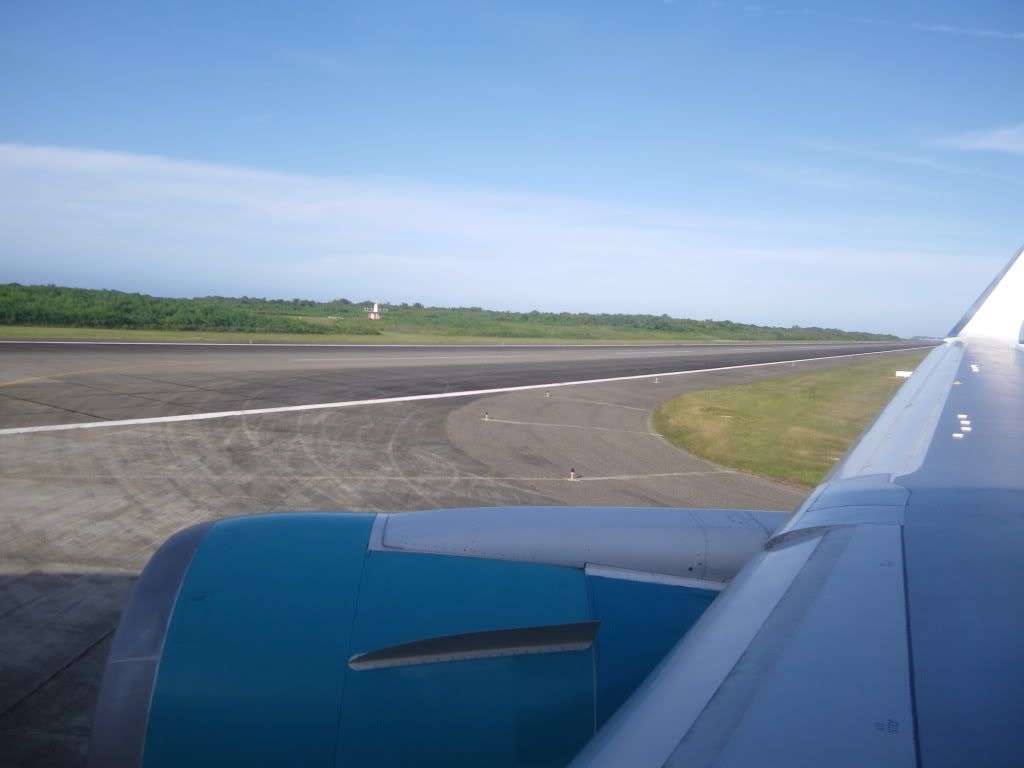 Entering the runway.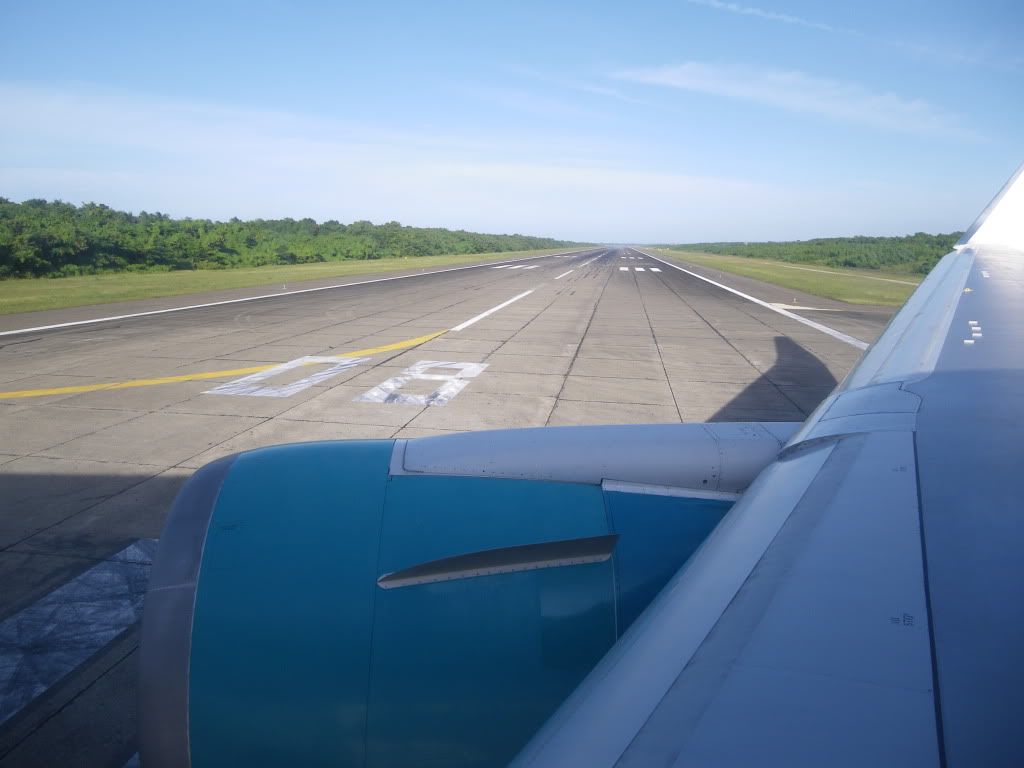 Completing our 180 and cleared for take off runway 08.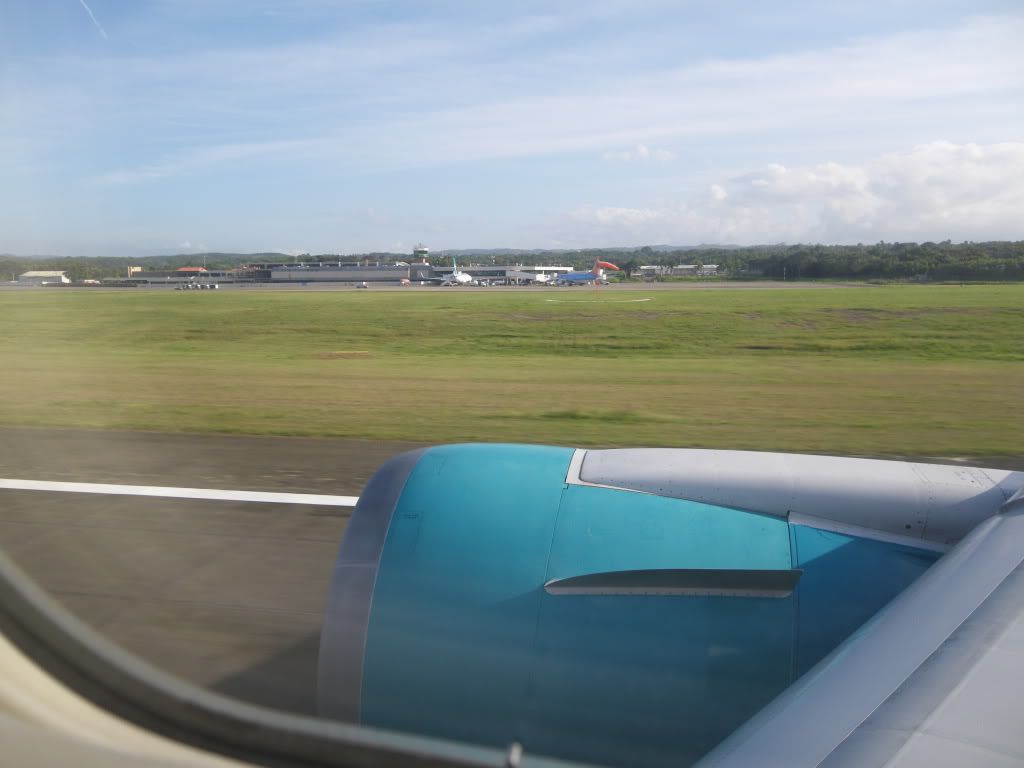 Taking off
Looking down at the beach I was on a few days before!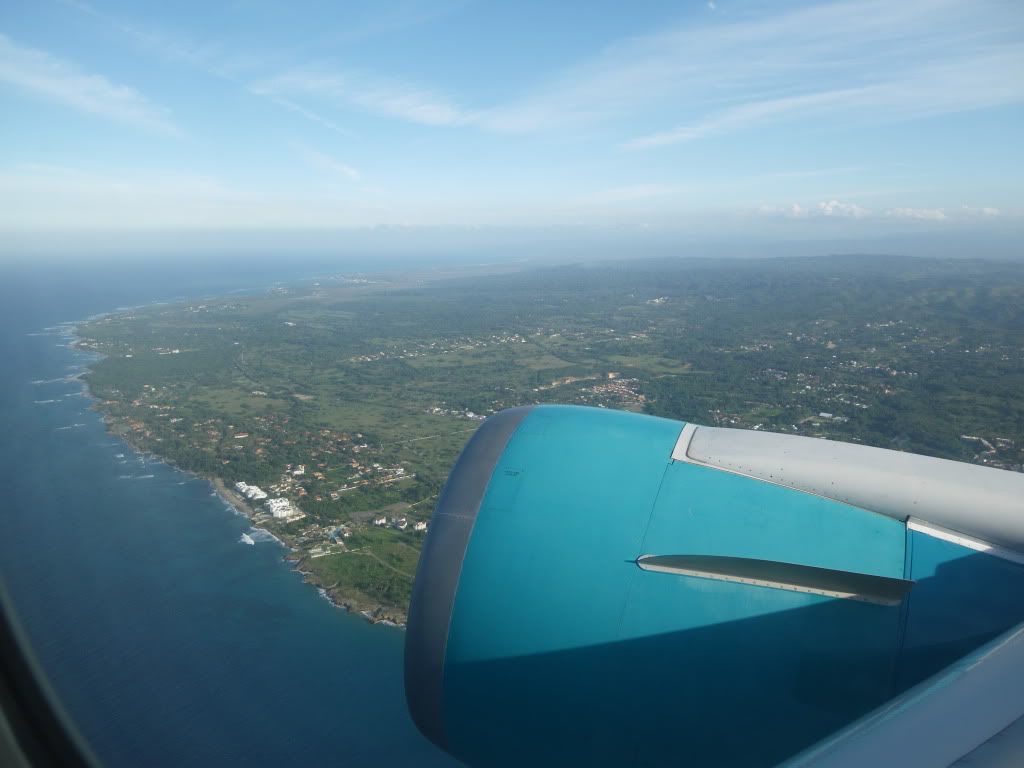 Goodbye Dominican Republic, I hope to be back soon!
Legroom shot. 33" and very comfortable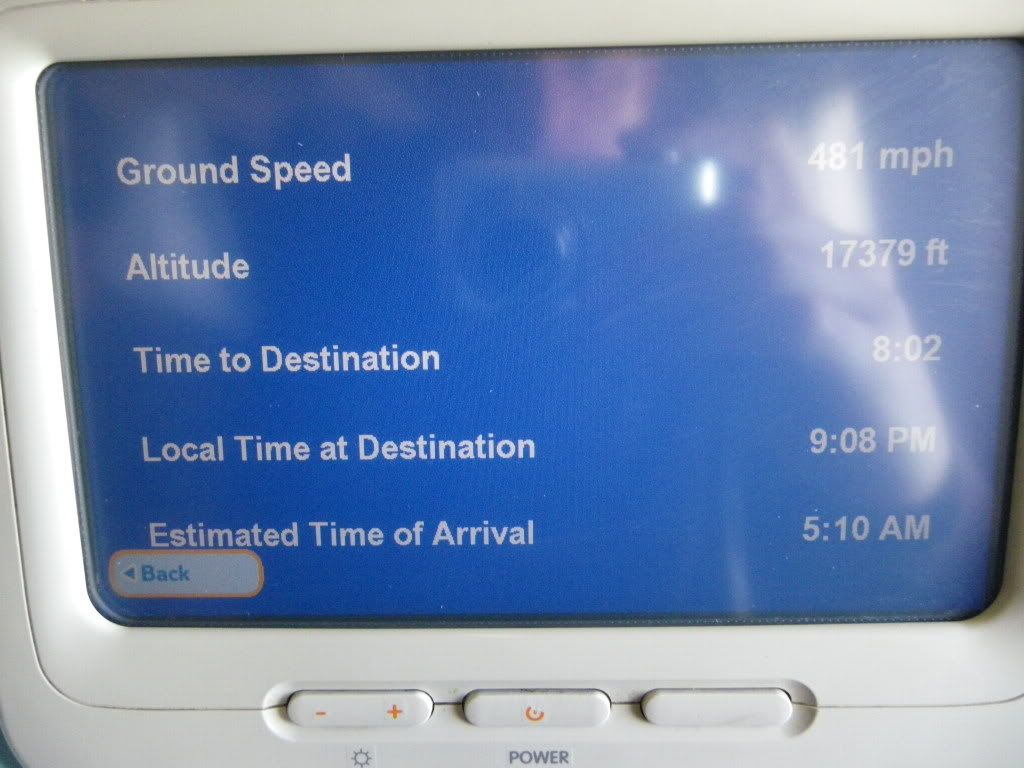 Reaching our cruising altitude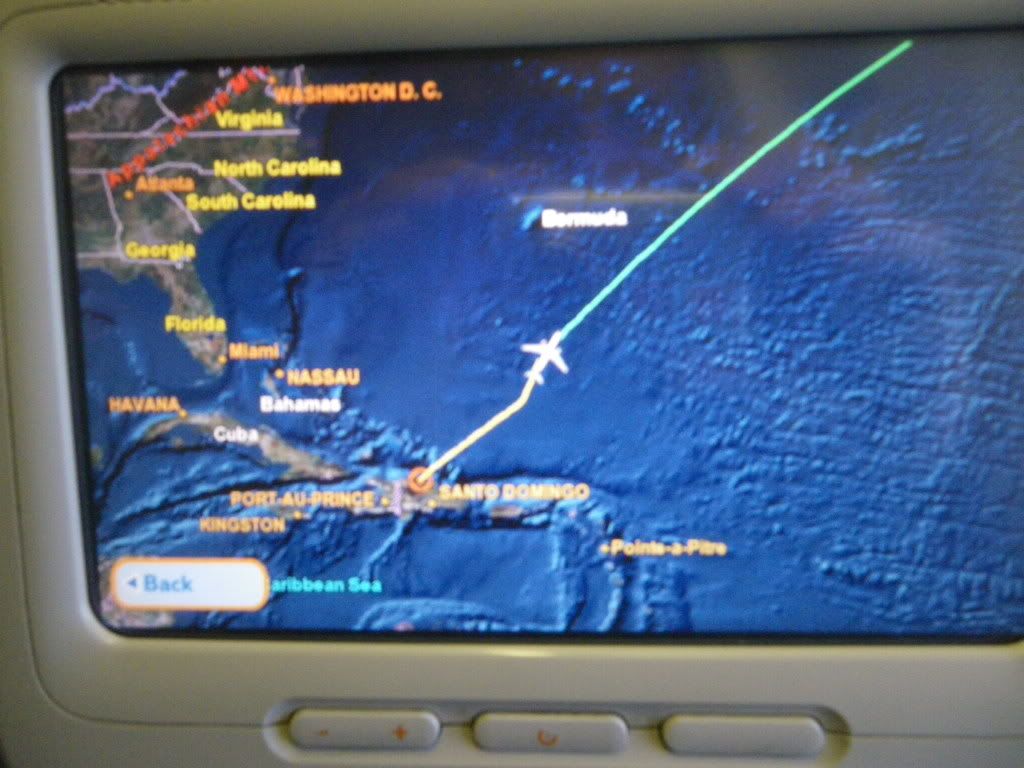 Another oceanic routing. We were completely over water from Dominican Republic to south west Ireland just south of SNN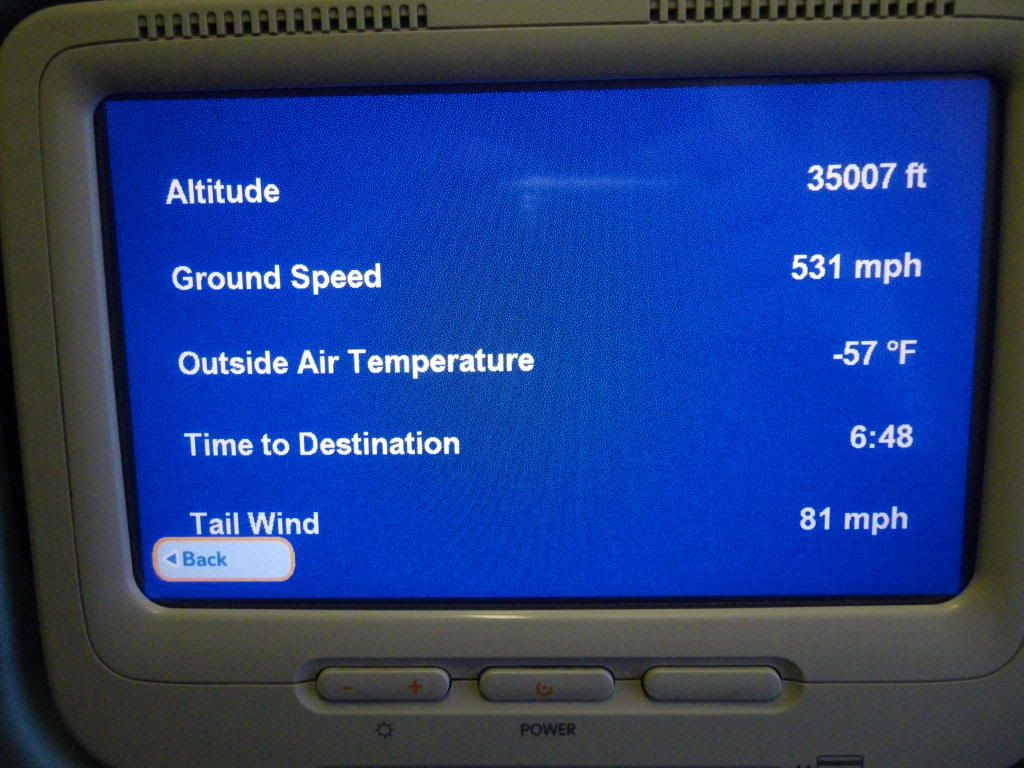 One hour after take off the crew came around with a (chargeable) bar service. I didn't have anything, as I had had enough to drink in the lounge! It was again almost 2 hours into the flight before the meal service. I was offered Sausages & mash potato or Chicken curry & rice. I went for the curry, and it was really tasty.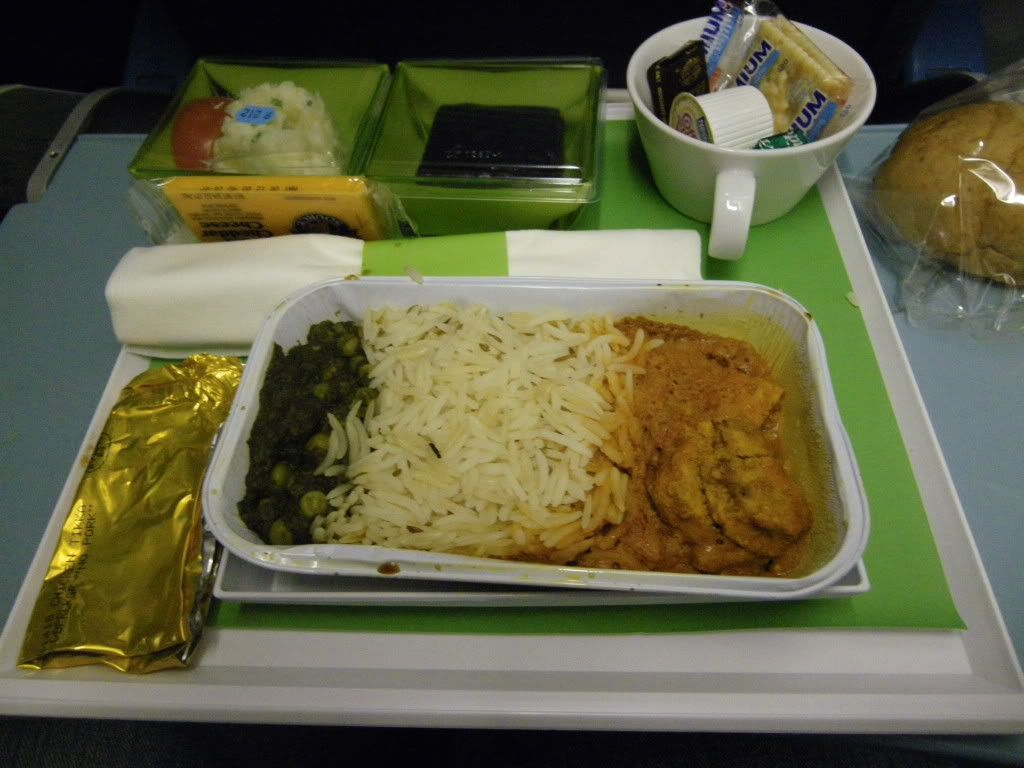 After dinner there was a duty free run before the lights were dimmed. I passed the remainder of the flight reading my book, watching the map and trying to get a little sleep. As we approached the Irish coast lights were switched on as the crew passed through the cabin with a snack box containing a cold breakfast with Croissant, Orange Juice and a cereal bar.
Before I had finished my breakfast we were beginning our descent into MAN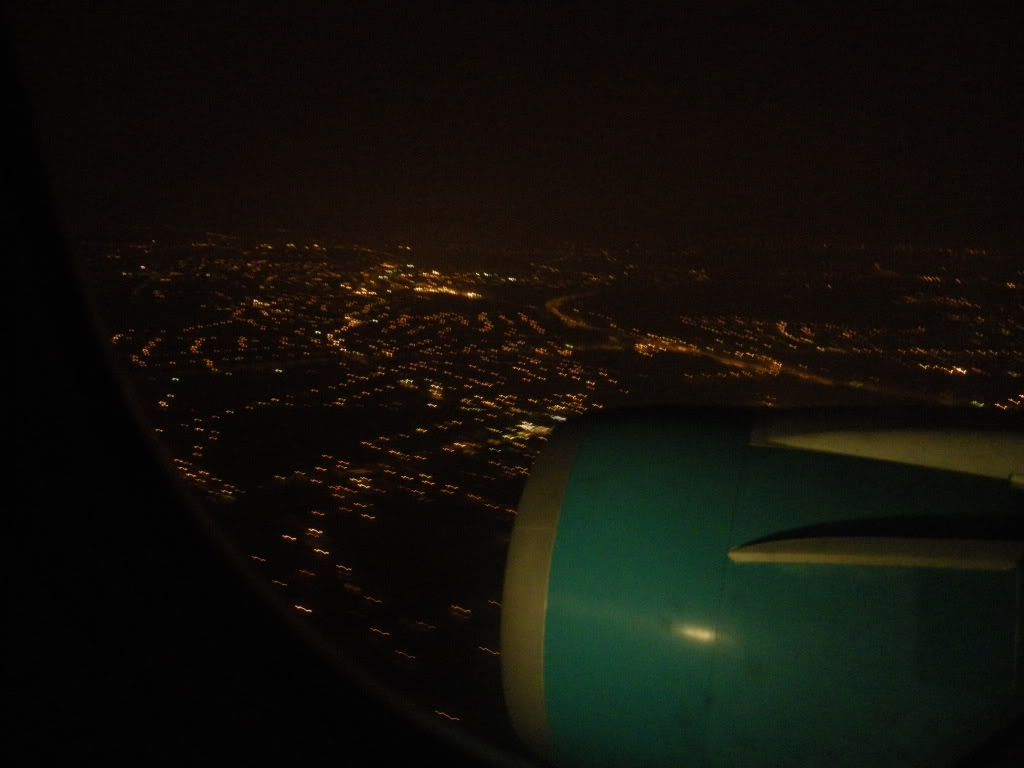 Landing at MAN, runway 23R:
Vacating the runway, a little snow at the side:
Arriving on stand at terminal 2:
Baggage reclaim:
I breezed through Immigration and Customs at MAN, my flight was the only one to arrive into terminal 2 at this time - 0510!
I had a short wait for the bus to the car park, during which I observed many passengers already arriving for flights departing that morning.
Summary
I had been wary about taking a long haul flight on TOM, however I was pleasantly surprised. The seat was comfortable, the food was good, the crew were friendly and professional and the flights were on time to the exact minute.
Did I make the right choice choosing the TOM option over AA? Well it wasn't the wrong choice as TOM did everything I expected plus more. The only clear advantage of the AA booking would have been the miles earned as I have another transatlantic trip in April which is on AA, I might have been closer to a better status level.
I hope you enjoyed my report, comments and criticisms welcomed.