Hello everyone and welcome to my 3rd trip report!
This trip report will cover a day trip I made on Thursday the 22nd of March. After hearing lots of different stories, both negative and positive, about Vueling I decided to give them a try myself in spite of knowing that they have a very tight seat pitch. Upon looking on the internet I found some decent fares and booked: AMS-BCN-MAD-BCN-AMS. Todays map: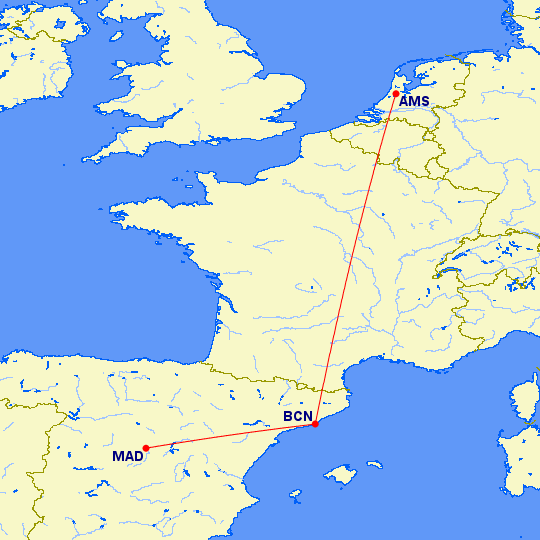 AMS-BCN
VY8323 // 25F
A320 Vueling // EC-KCU
07:20-09:40
Again an early flight, so after a good 3 hours of sleep my alarm clock went off at 04:30. A quick shower and off I was to Amsterdam Lelylaan station to catch the 05:17 train. When I arrived at the platform an announcement was made that due to a technical fault there will be now trains coming to and going from the station. Argh there's always something wrong with the trains here in Holland! Being a bit mad about it I walked down the stairs and decided to take the taxi to Schiphol as I had no other choice! A 15 min drive later and I arrived at Schiphol. Paid the taxi driver and walked straight inside to check-in area 1.
I had checked in online the night before. No problems with checking in for the AMS-BCN-AMS sector, upon checking in for the BCN-MAD-BCN sector I had to pay an extra 6 EUR. No idea why actually, anybody?
Anyway I went over to the check-in desk as there is no self service kiosk, asked for my BPs and got them. Went straight to security, quite a long row at security but was through it within 15 min. After passing security I realized that I had only received my BPs for the AMS-BCN and MAD-BCN sector not the other 2. I decided to get the other 2 at the gate. Gate for today is B13. While waiting at the gate, 2 personnel arrived at the gate desk. I approached them and 5 min later I had my BPs for the other 2 sectors as well. Not too long after that boarding commenced at 06:40. While boarding the plane I was greated by a female flight attendant. As expected when I found my seat the seat pitch was very, very tight! Flight was almost completely full, only saw 1 or 2 empty seats. Had 2 dutch guys sitting next to me. Boarding was completed and after a little welcome from the cockpit we pushed back right on time. Runway for today is the "Polderbaan", also known as 36L. That meant a 20 min taxi:
The other tower: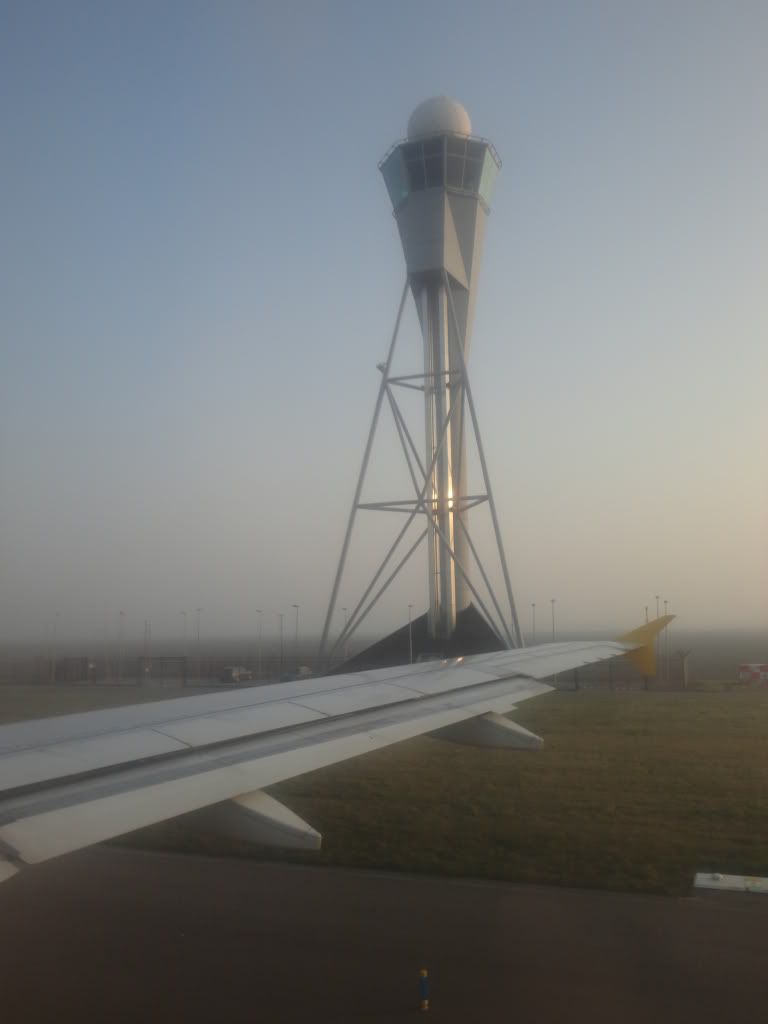 Lining up on the runway: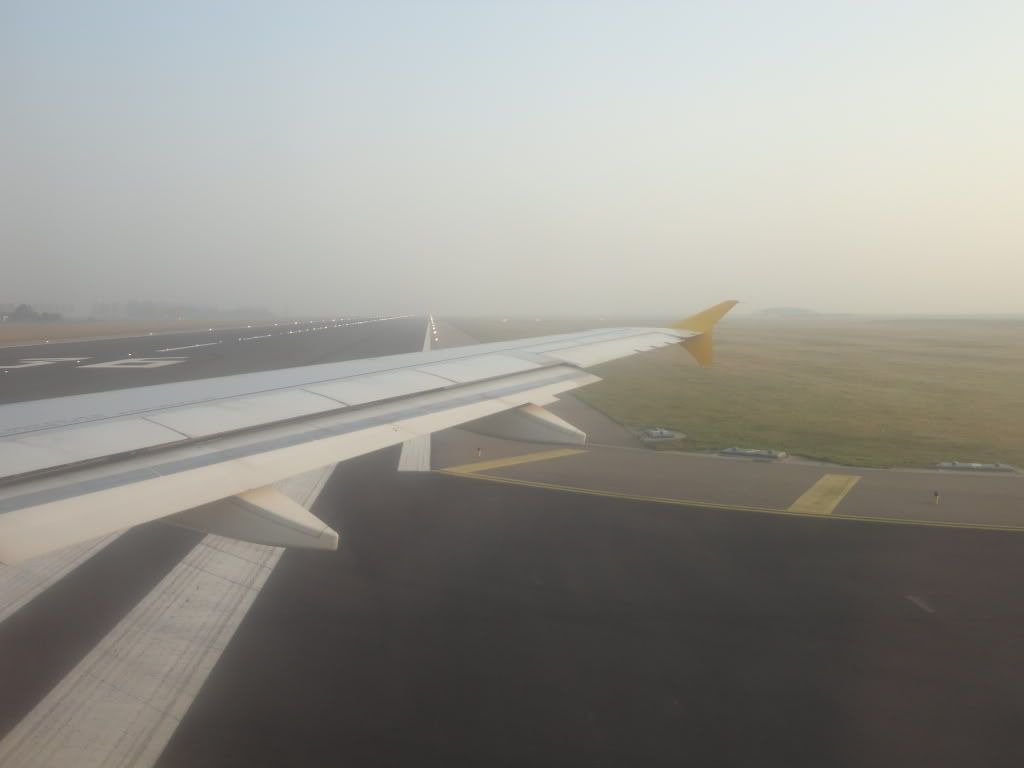 It was a smooth take-off and right after we made a very sharp turn to the right:
Even though it was quite foggy it gave us a nice overview of Schiphol, none of the pictures turned out well though. Soon we reached our cruising level and as it was a clear day we got some pretty nice views for most of the flight: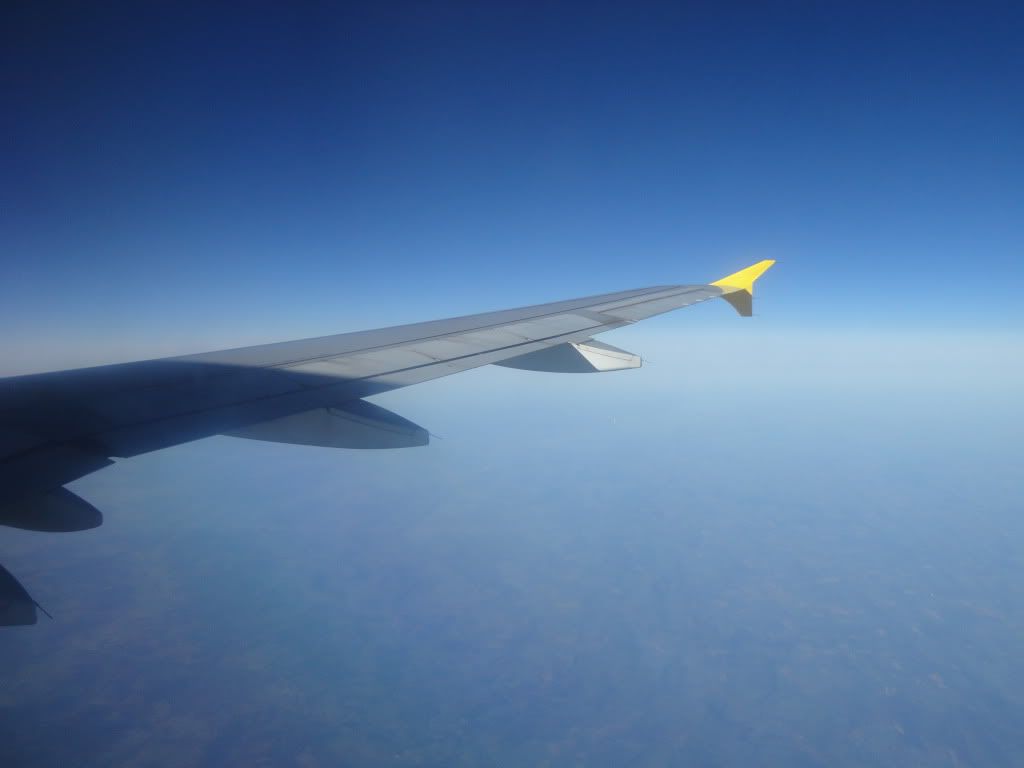 Which airport is this?: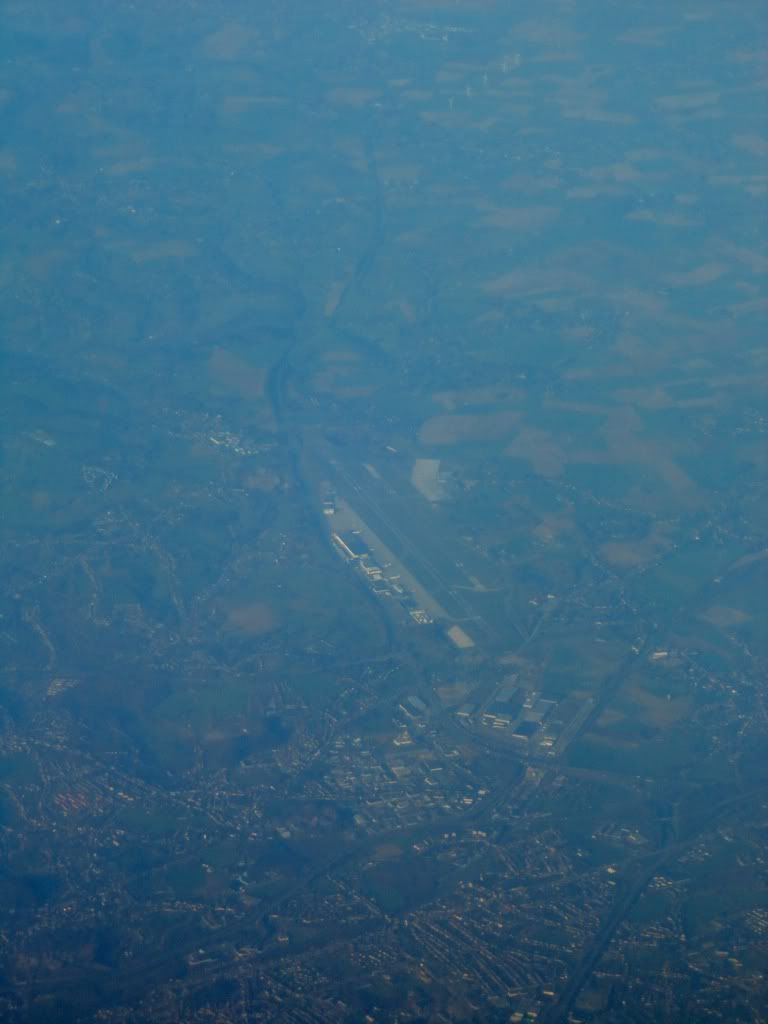 Vueling menu: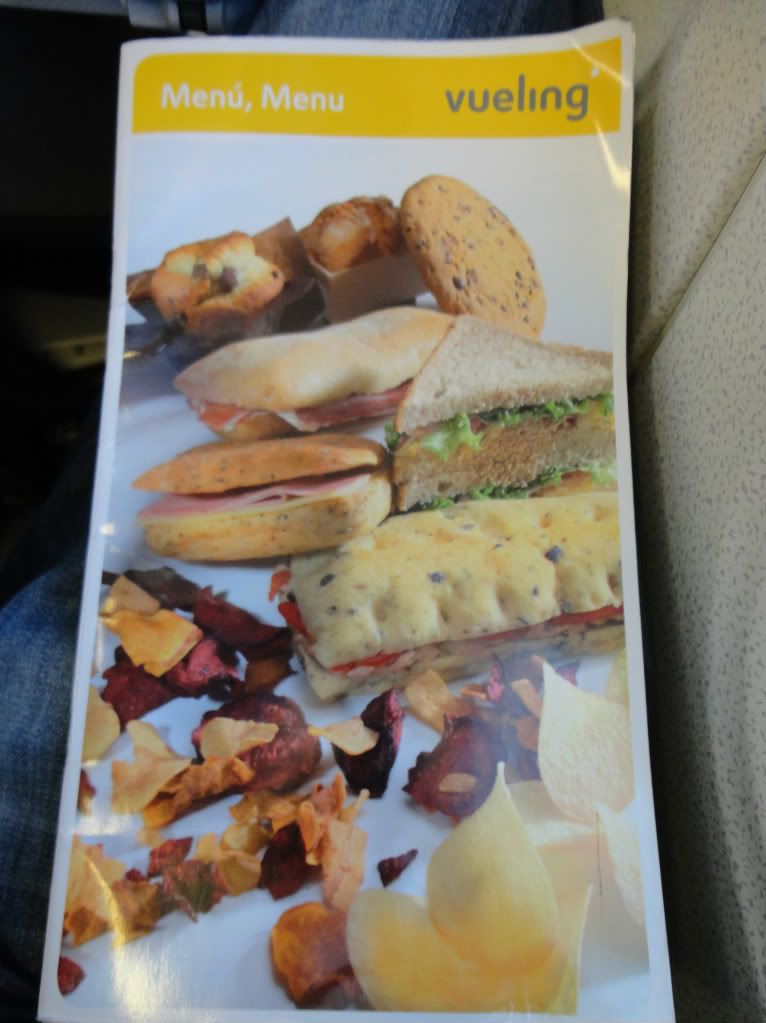 Safety card for all Vueling A320s: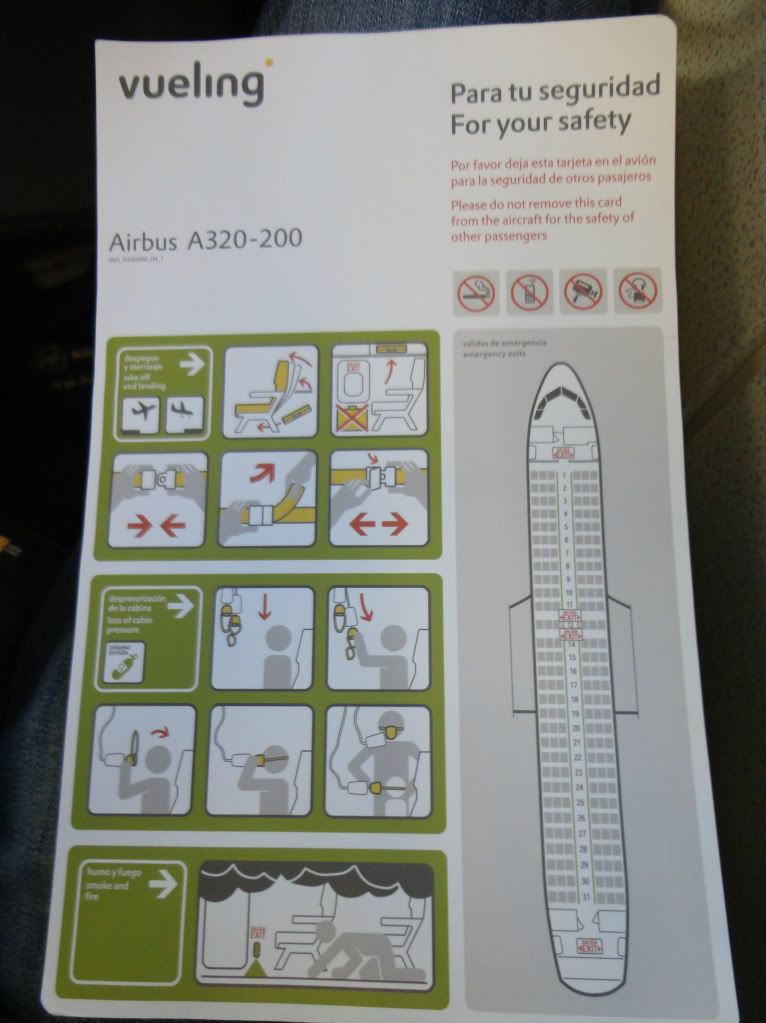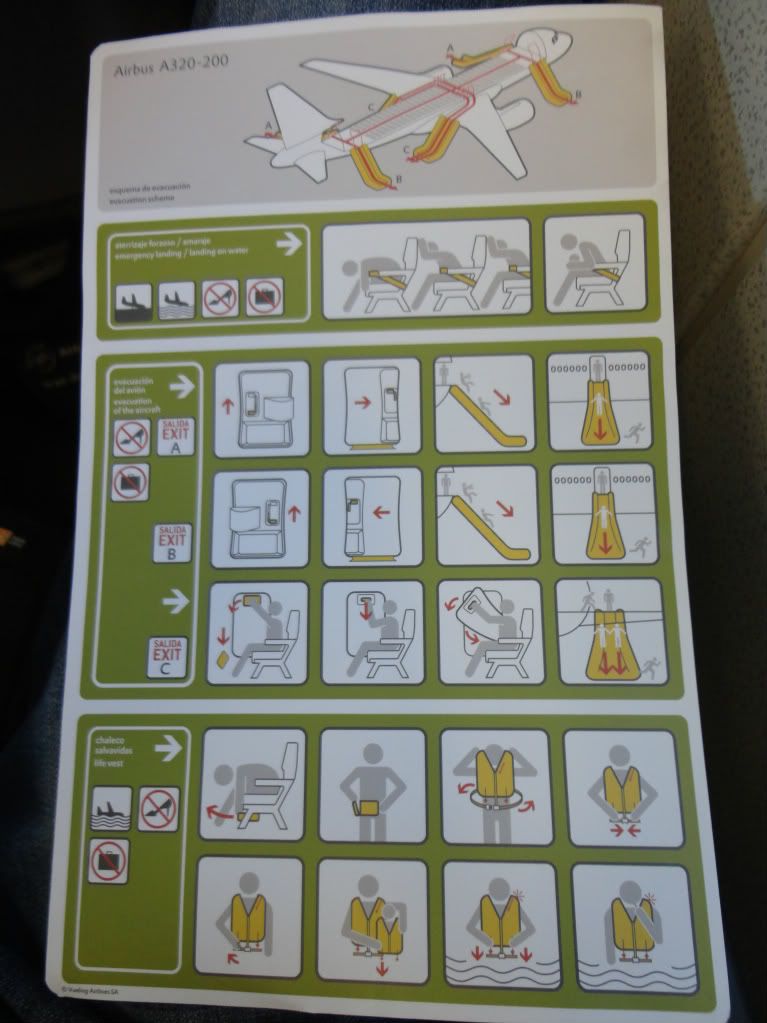 "Ling" magazine March 2012: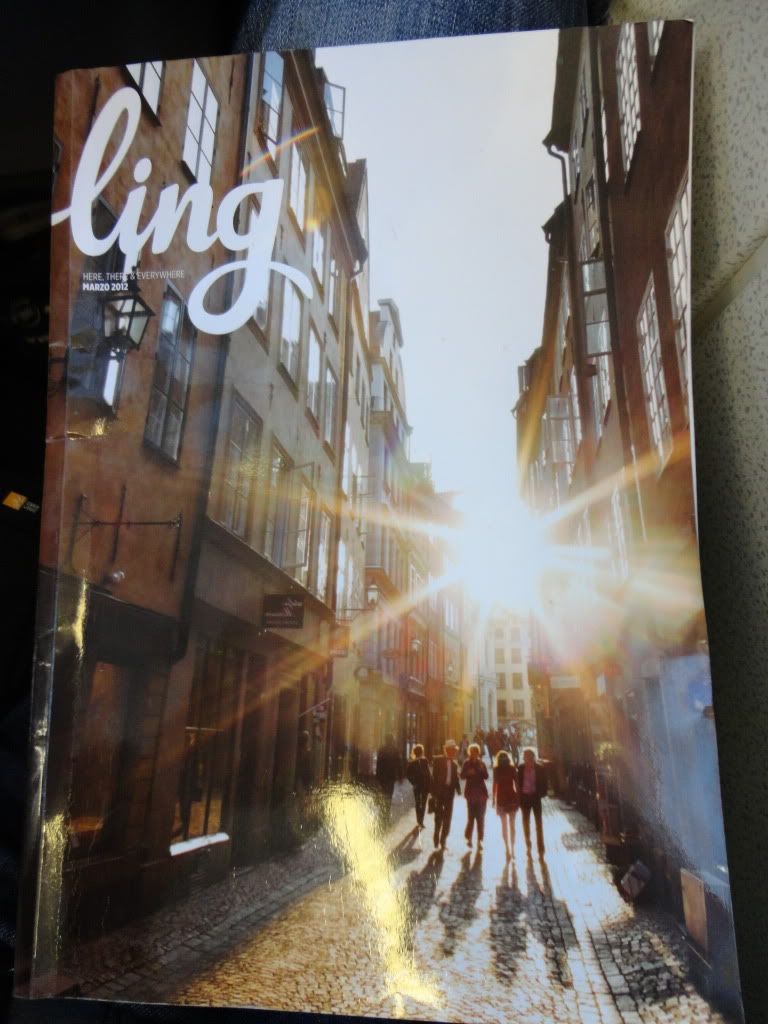 The very tight seat pitch: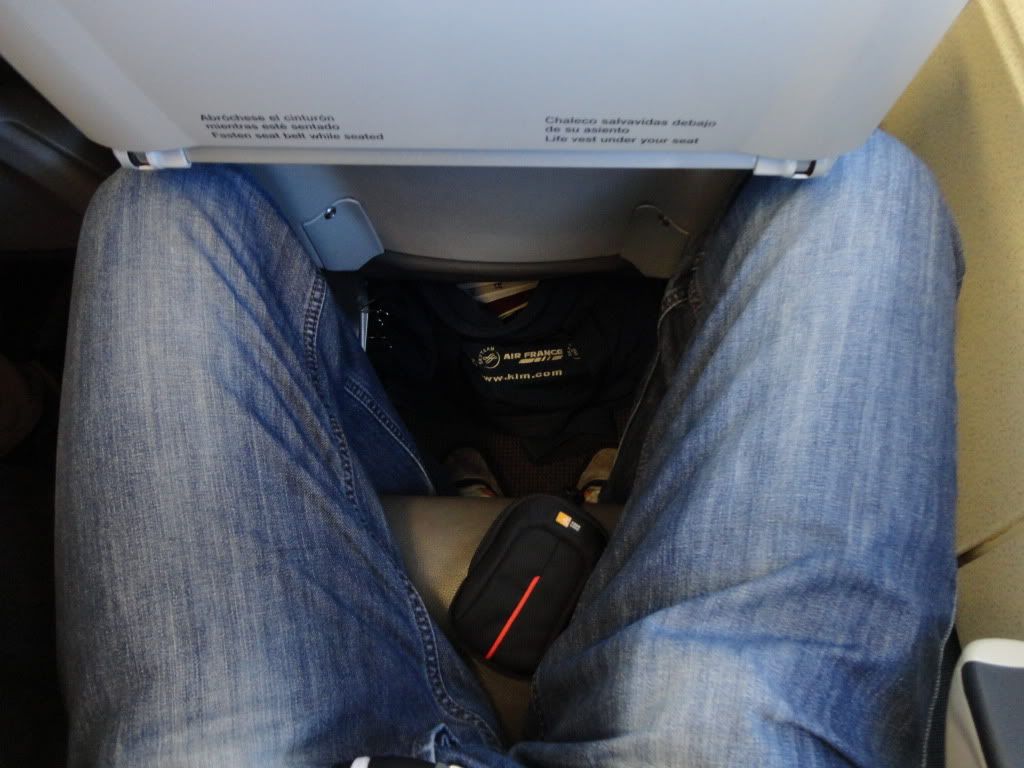 The seatback: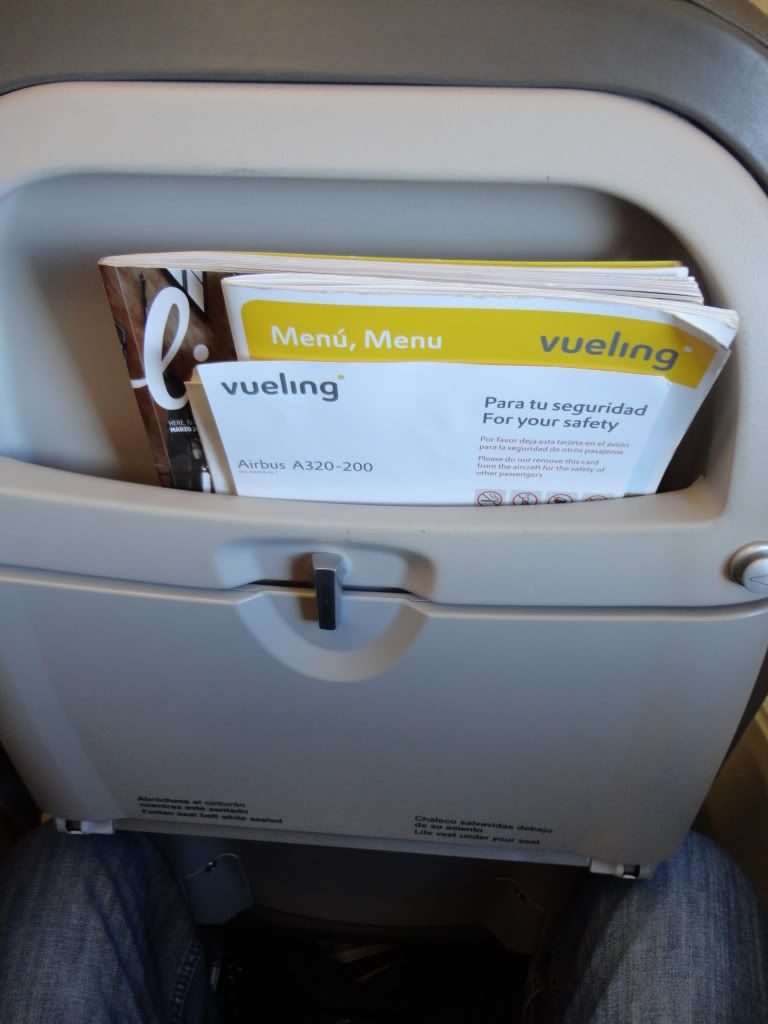 The flight crew consisted of 1 female purser, 2 female flight attendants and 1 male flight attendant. Soon enough the BOB passed by and I got myself a "sweet breakfast menu", cost was 5.50EUR:
Close-up on the winglet: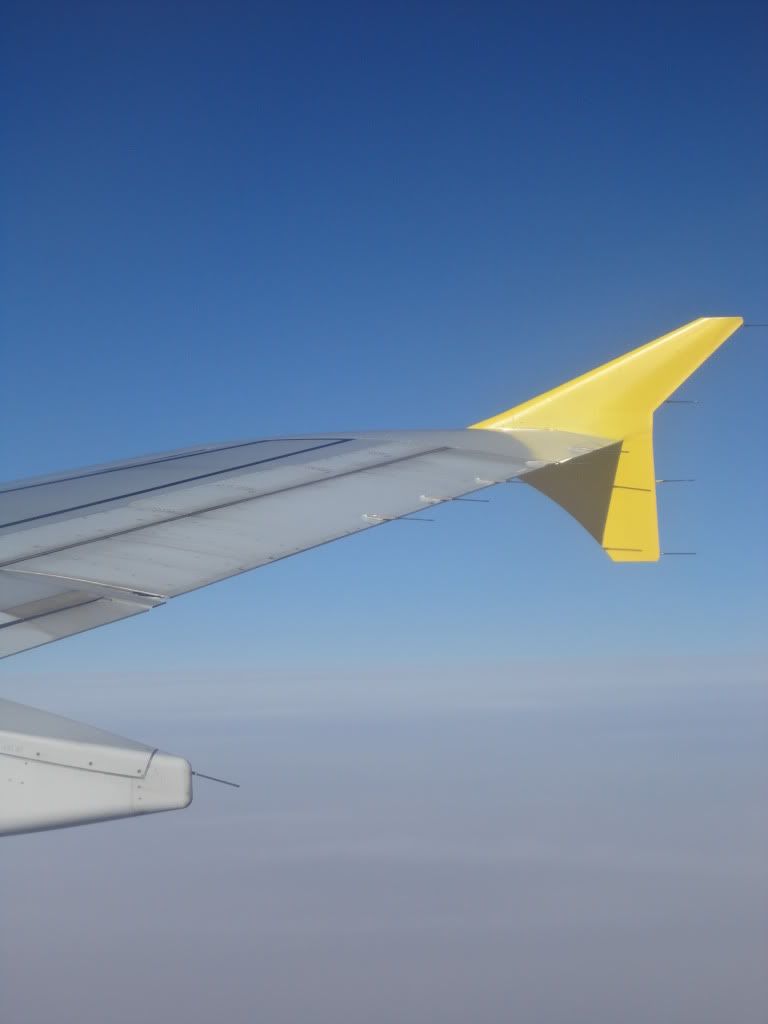 After visiting the lavatory I took a picture of the cabin before returning to my seat. After doing that I got tapped on my shoulder by the male attendant telling me not to take pictures of the cabin and forced me to delete the picture. Did get this shot after arriving at my seat though: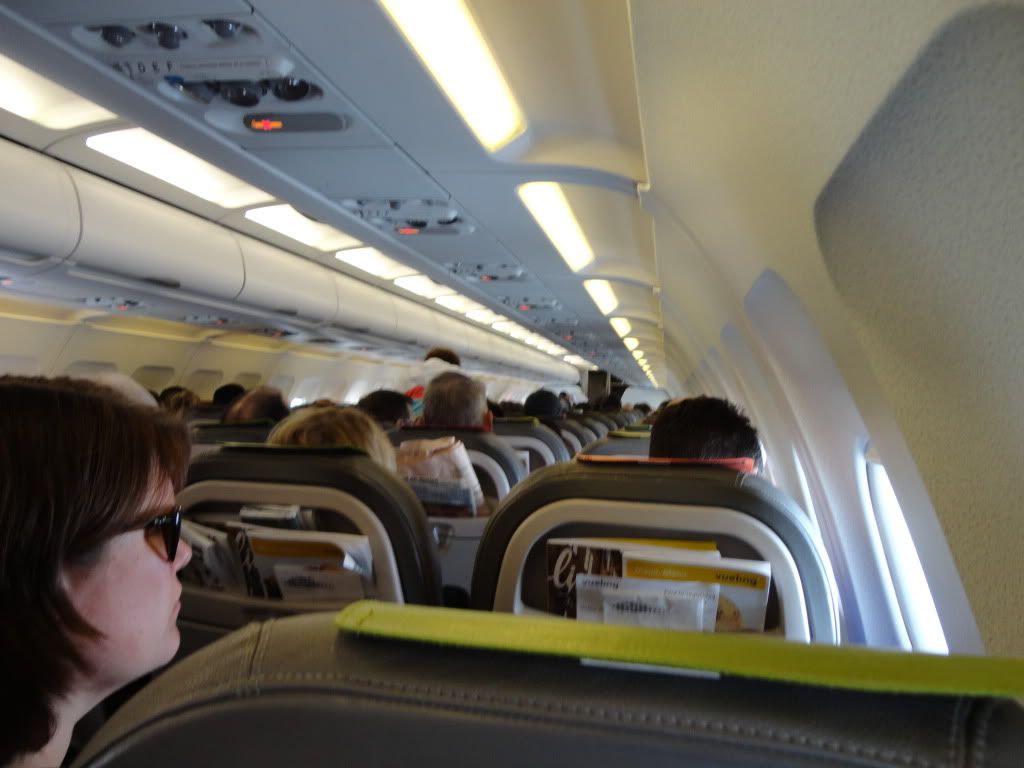 We passed some snow topped mountains: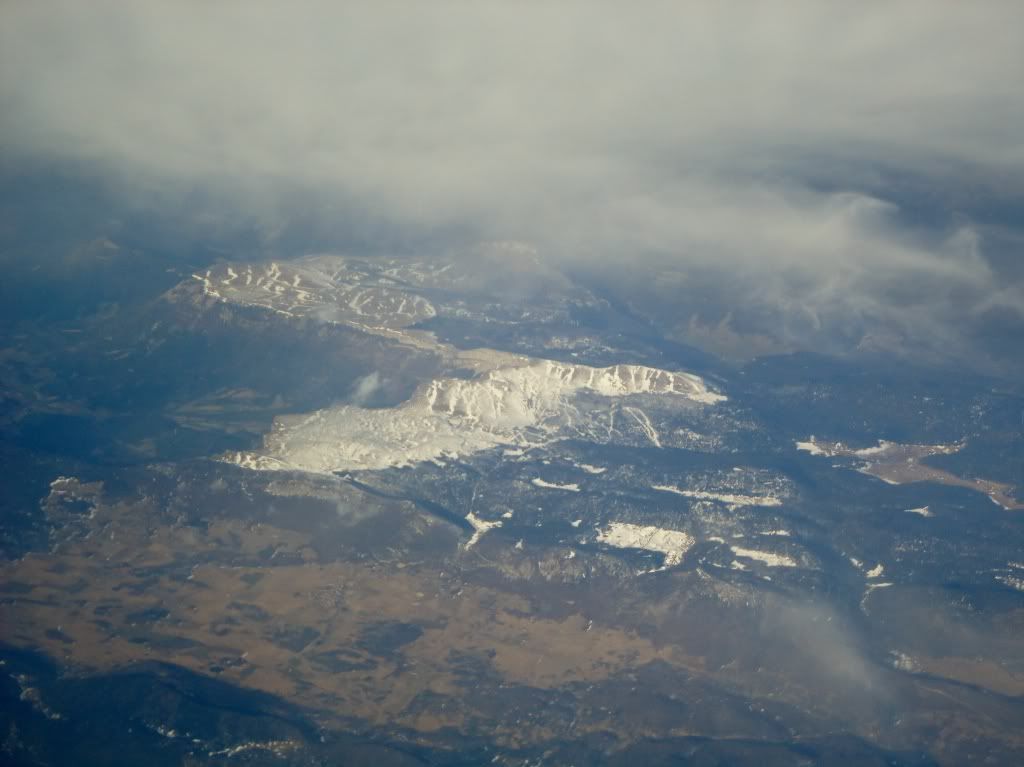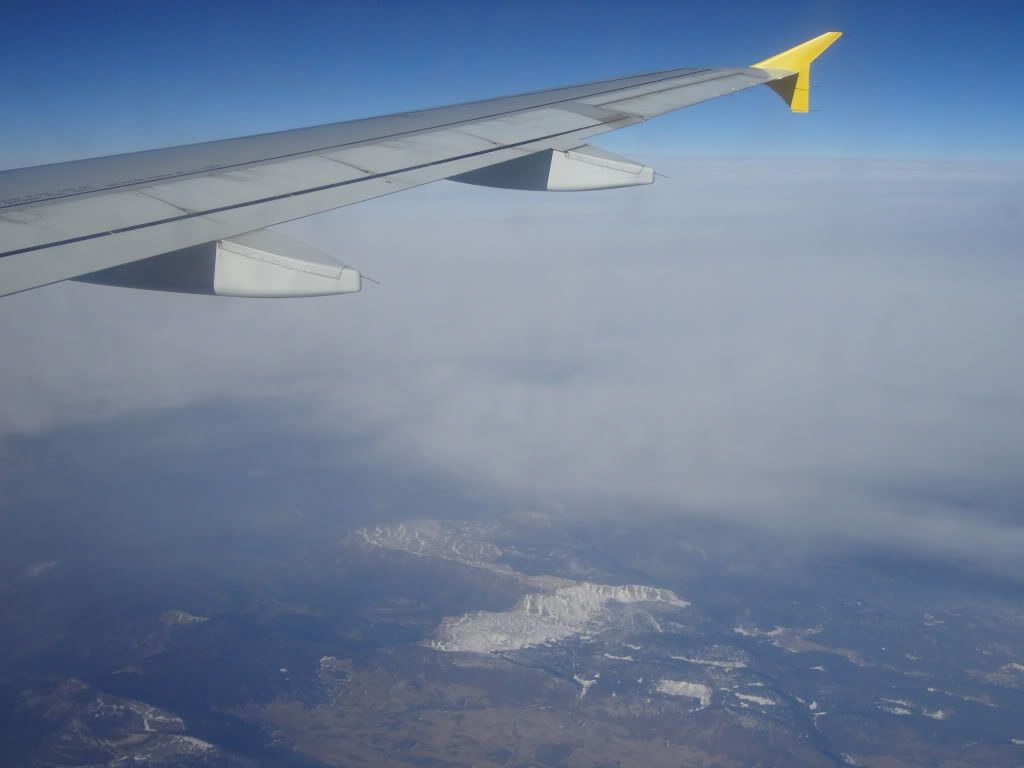 And over the coastline which meant we we're soon going to start our descent: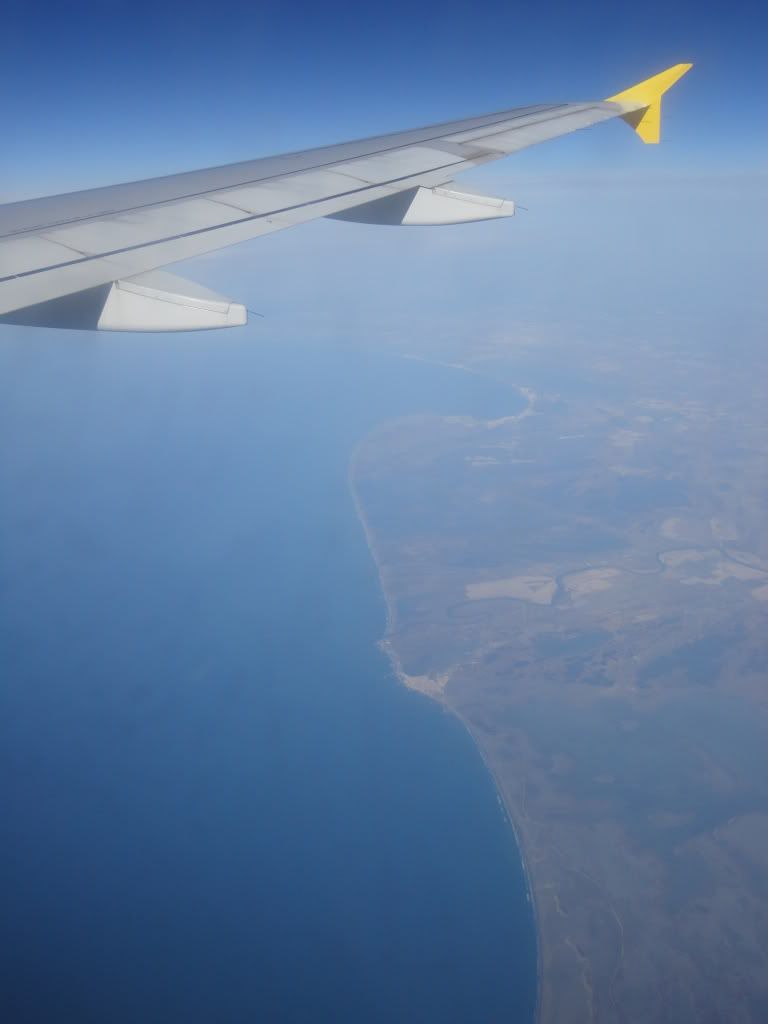 And soon enough we started to descend: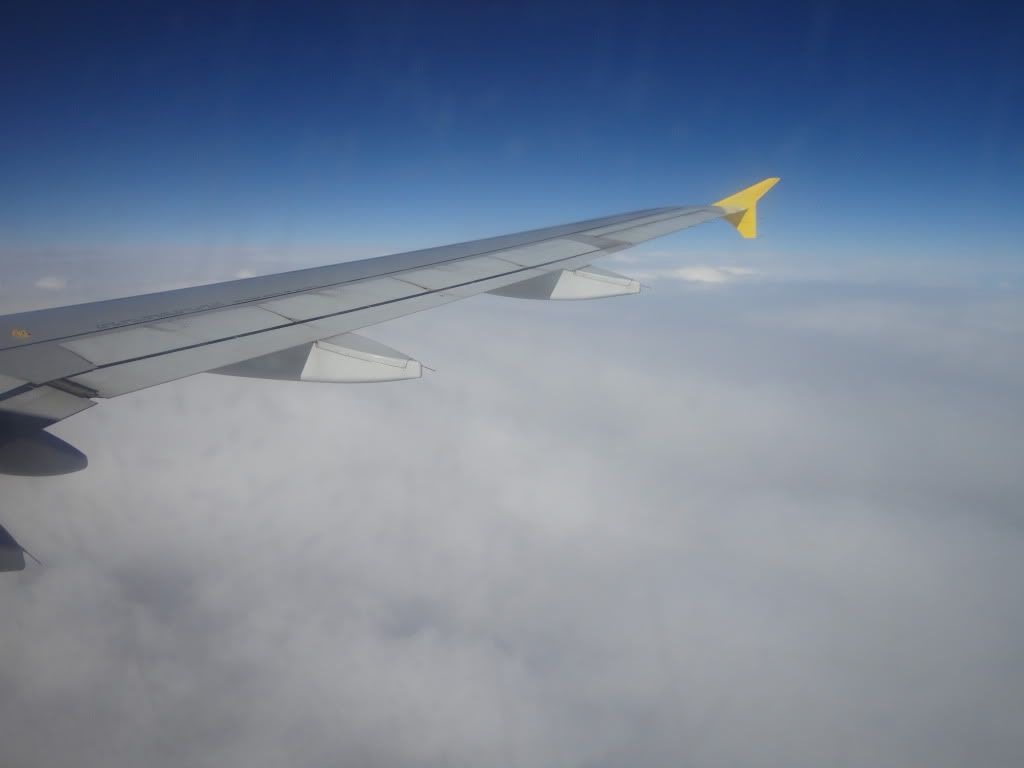 Through the clouds and into final approach: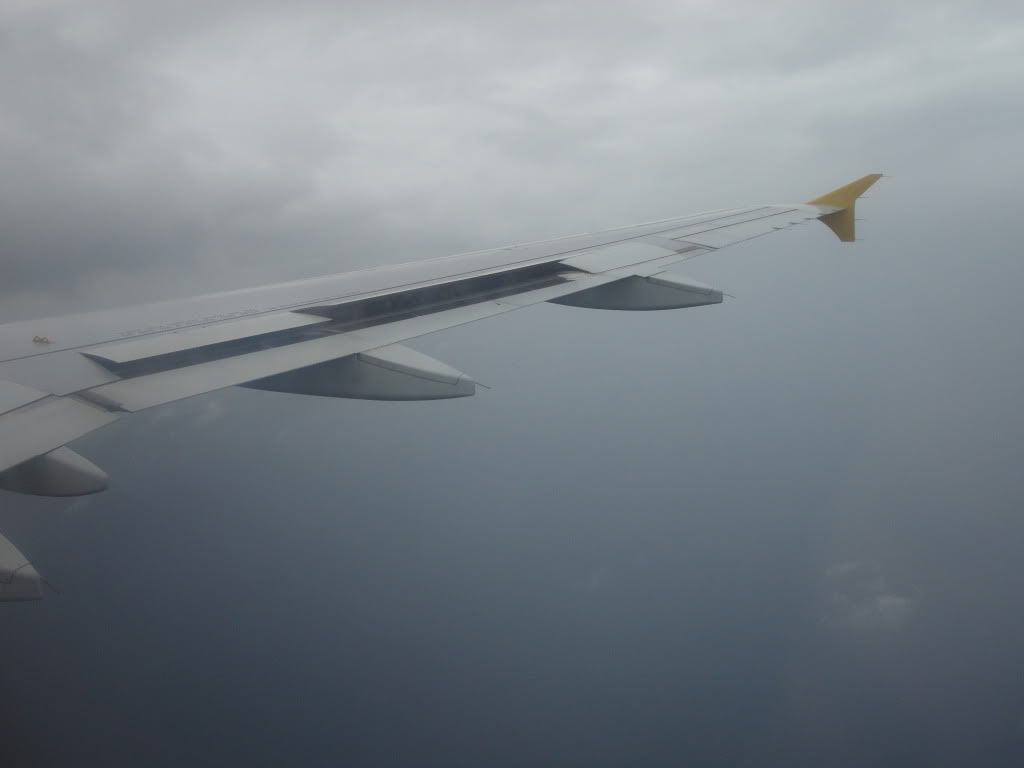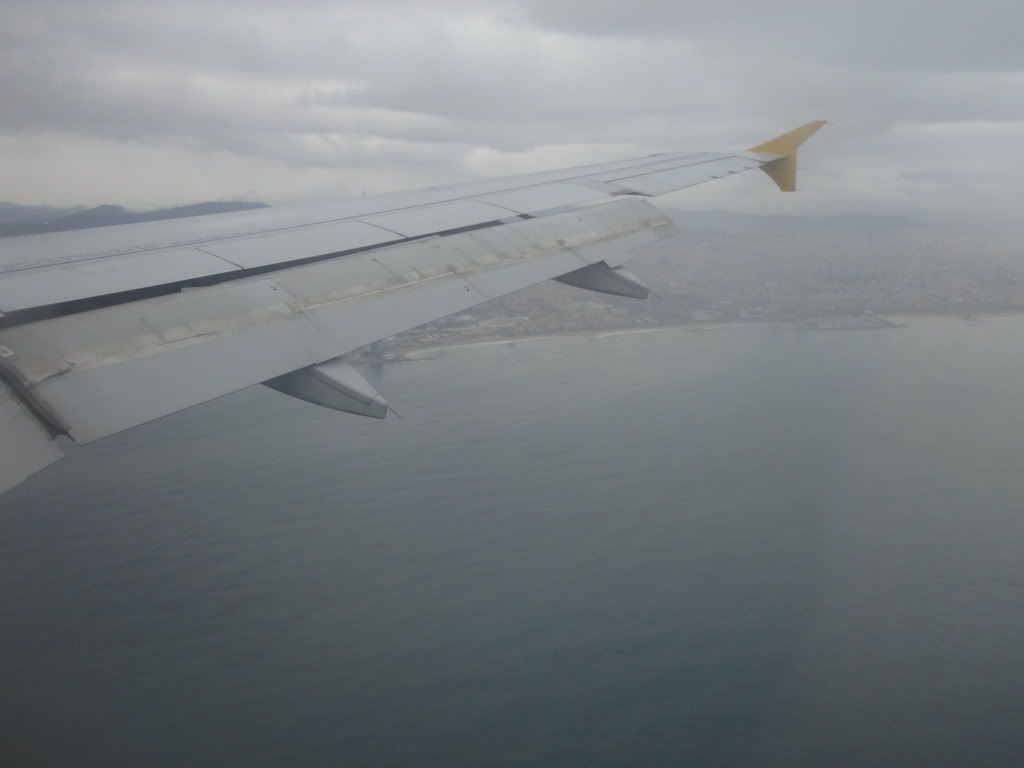 Nice view of Barcelona: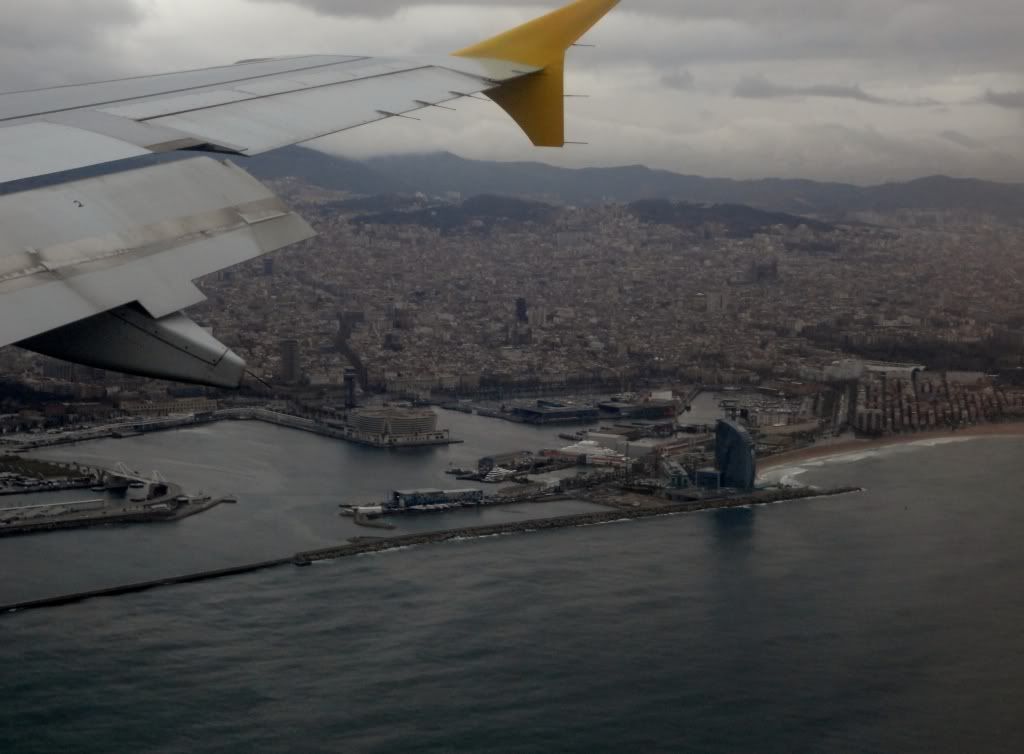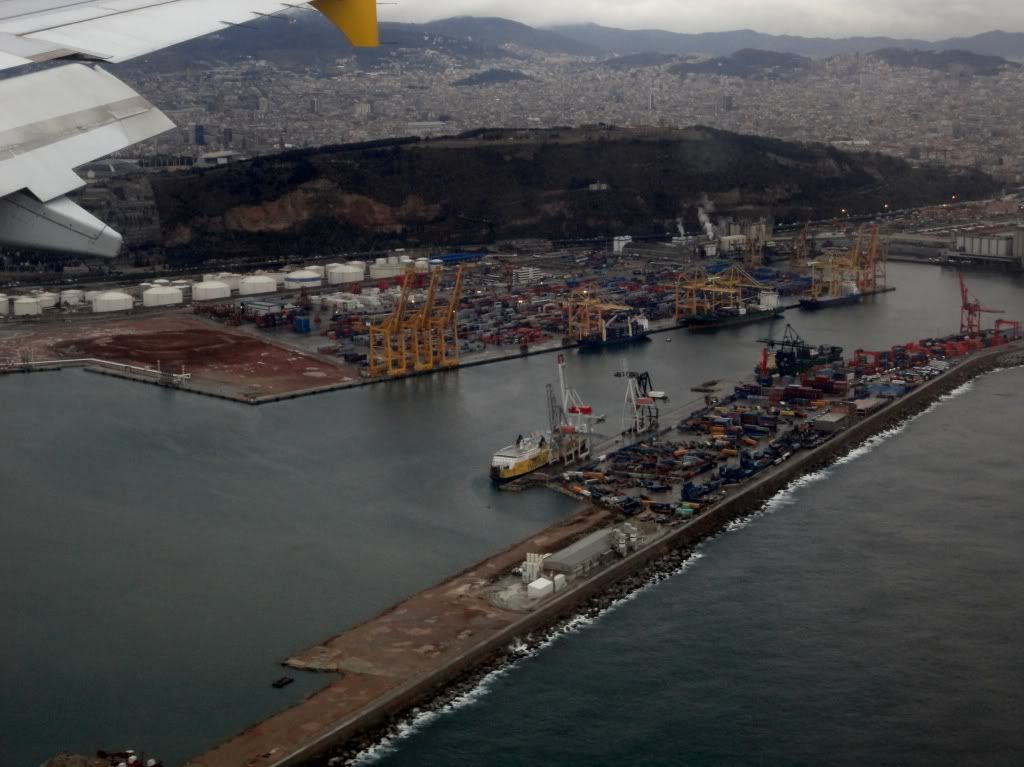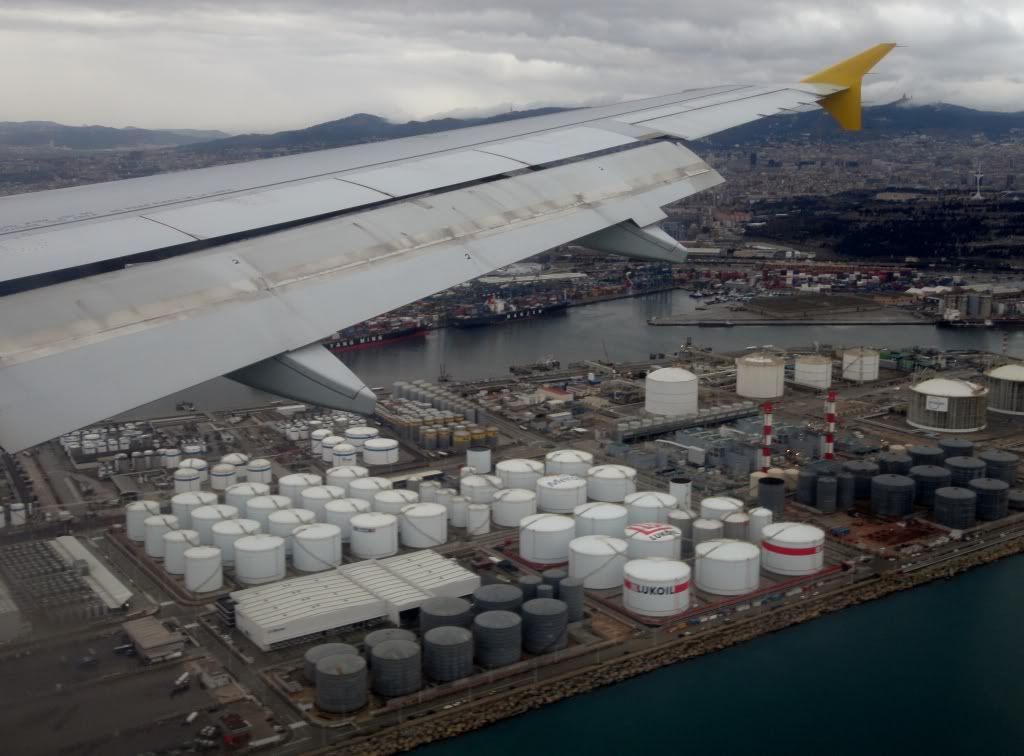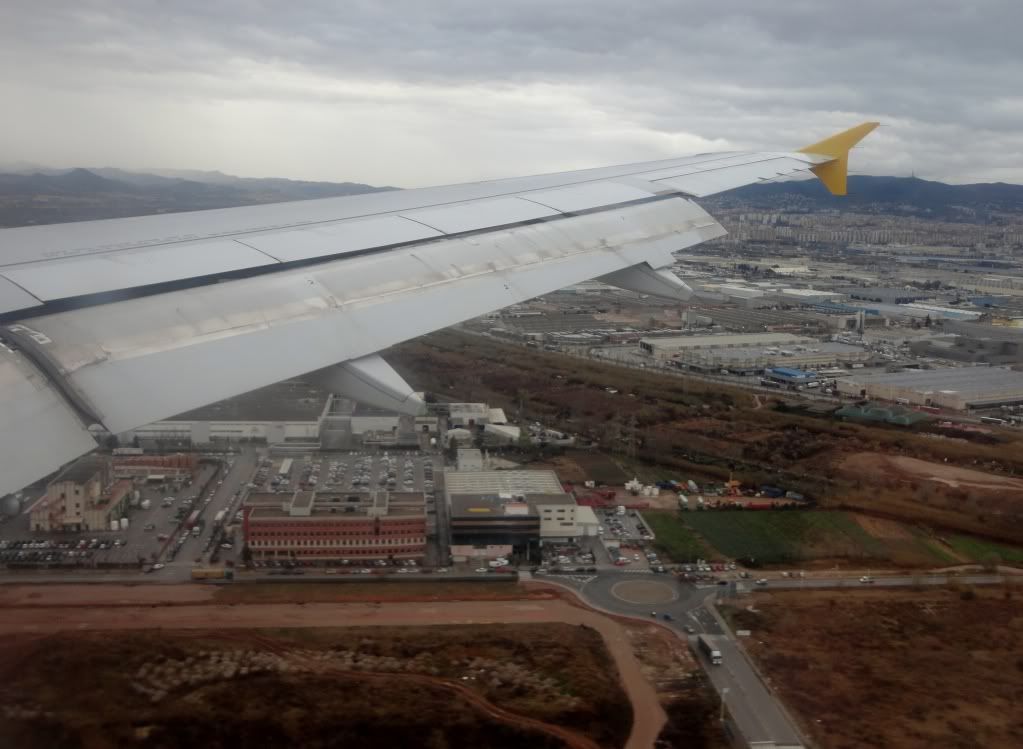 And touchdown into rainy Barcelona!:
3 Ryanairs at the gate and a Monarch A320 taking off:
We took a left hand turn straight to our gate: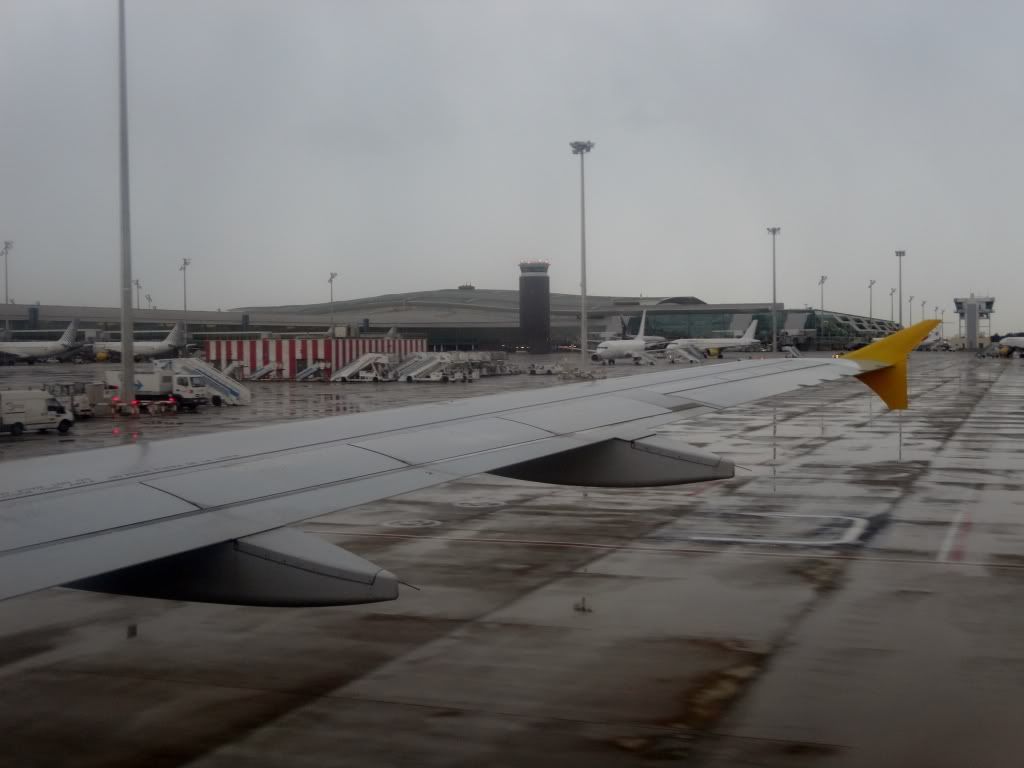 Parked at the gate, at this point after this picture it began to rain very very hard:
After deplaning I decided to go landside for a bit, as I had some time to spare. The baggage claim area: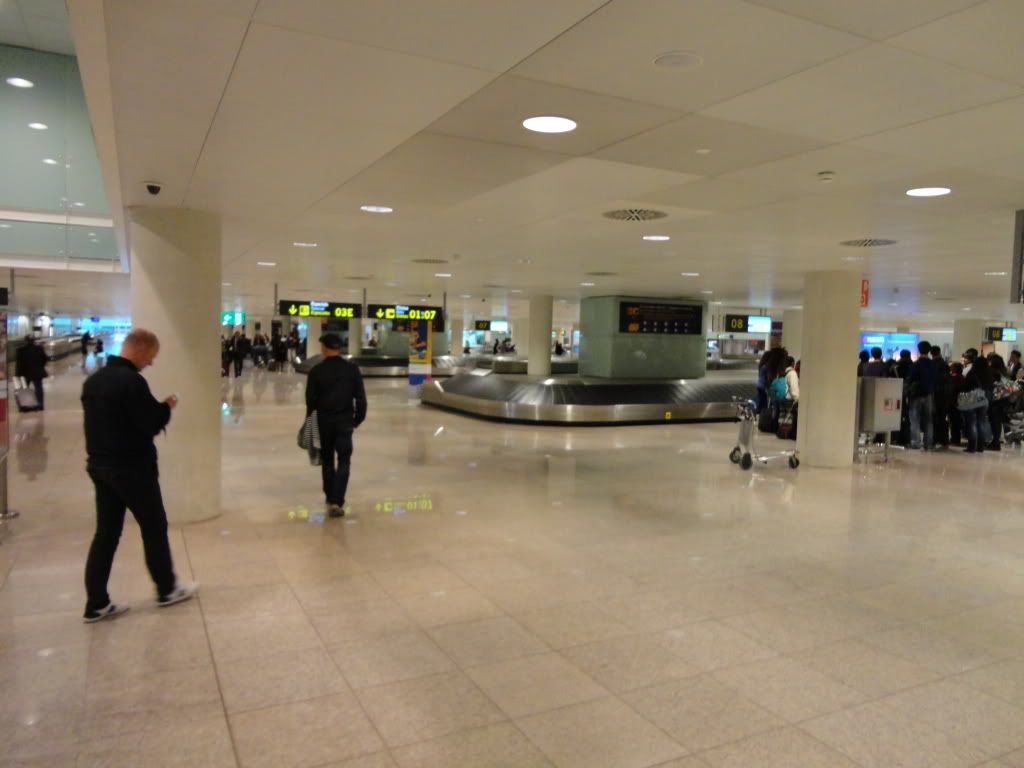 From the arrivals hall I went back up to the departures hall:
Check-in area: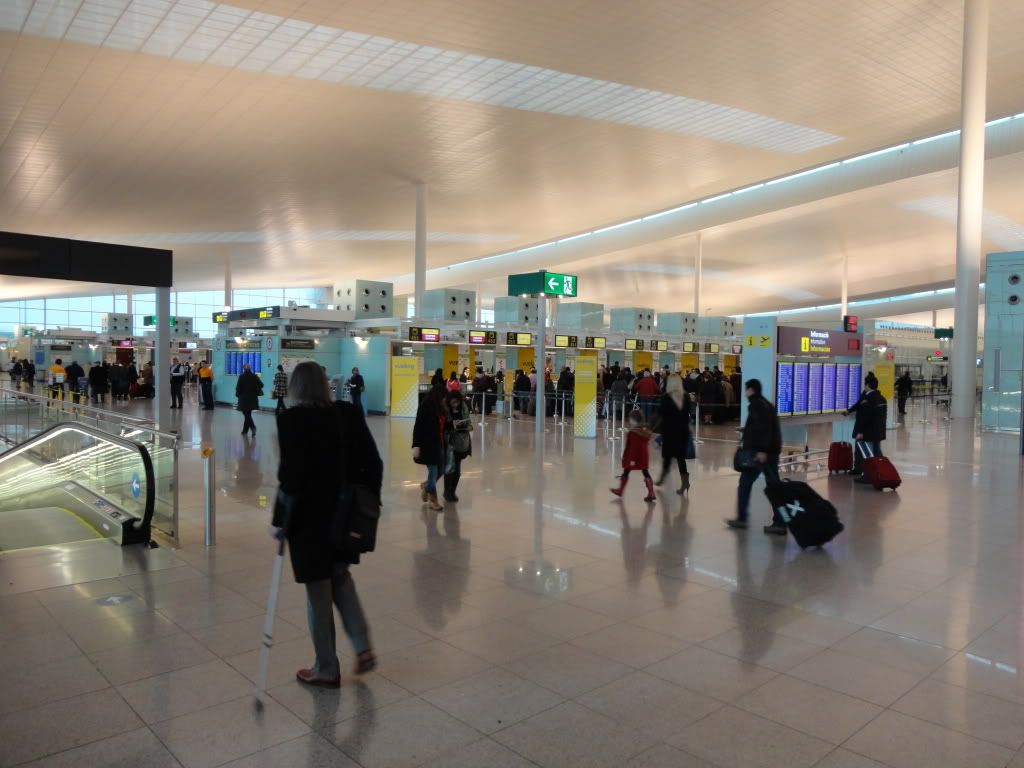 Headed straight through security in 5 min: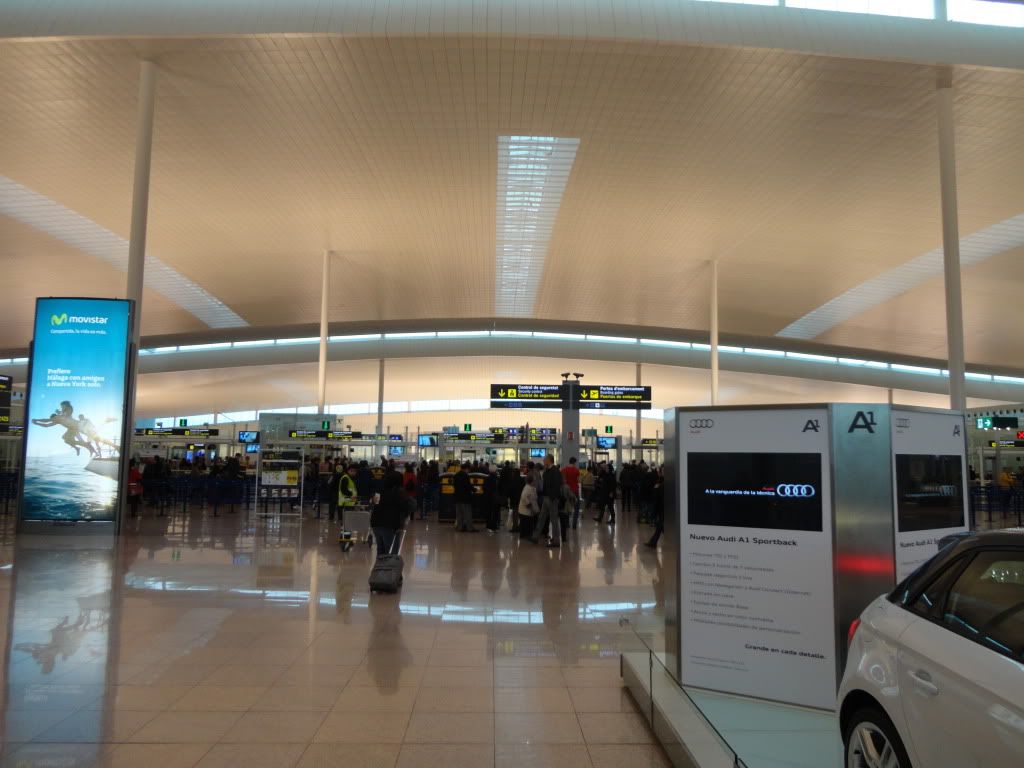 After passing security I decided to do a bit of spotting before proceeding to my gate: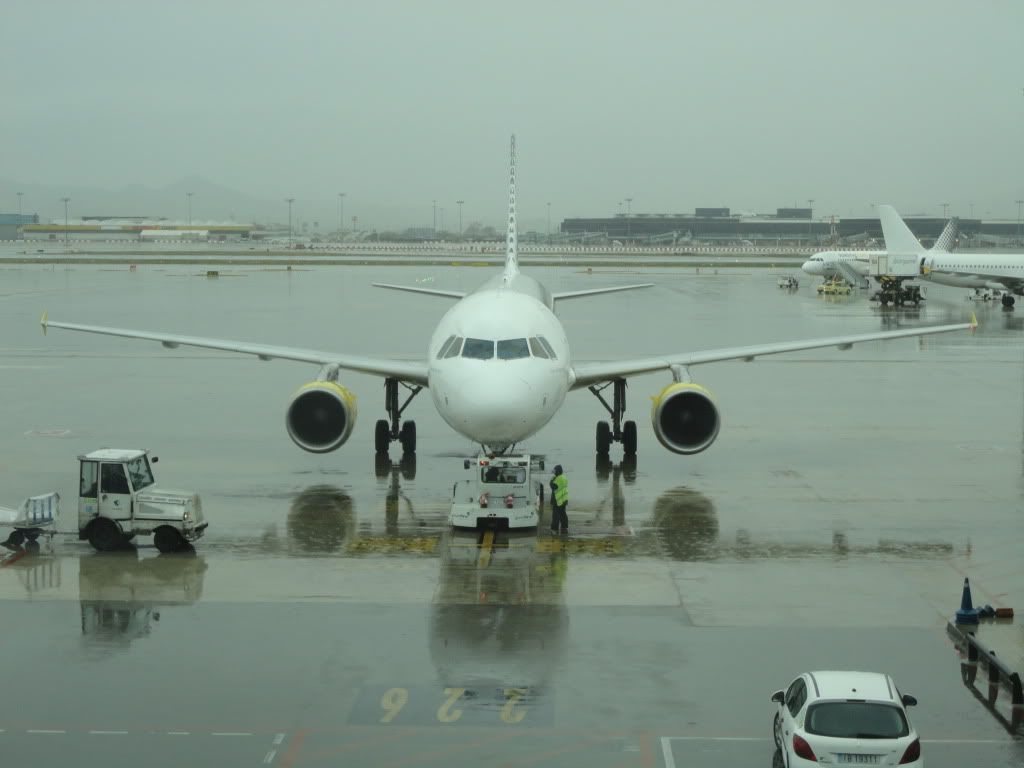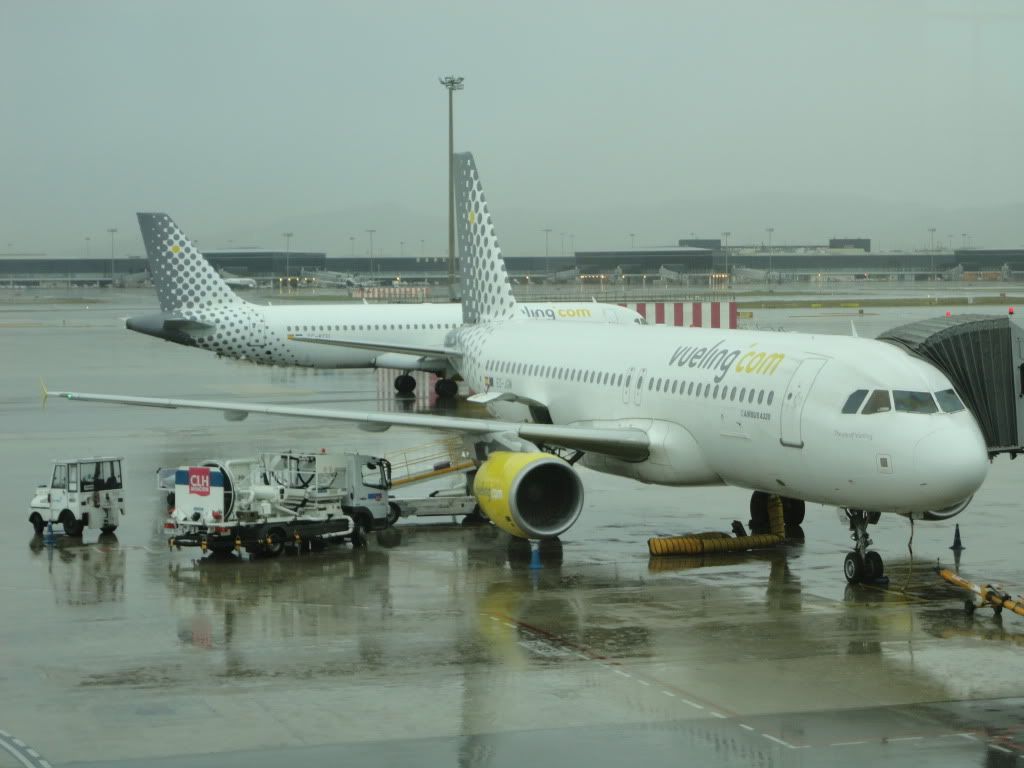 All white 737: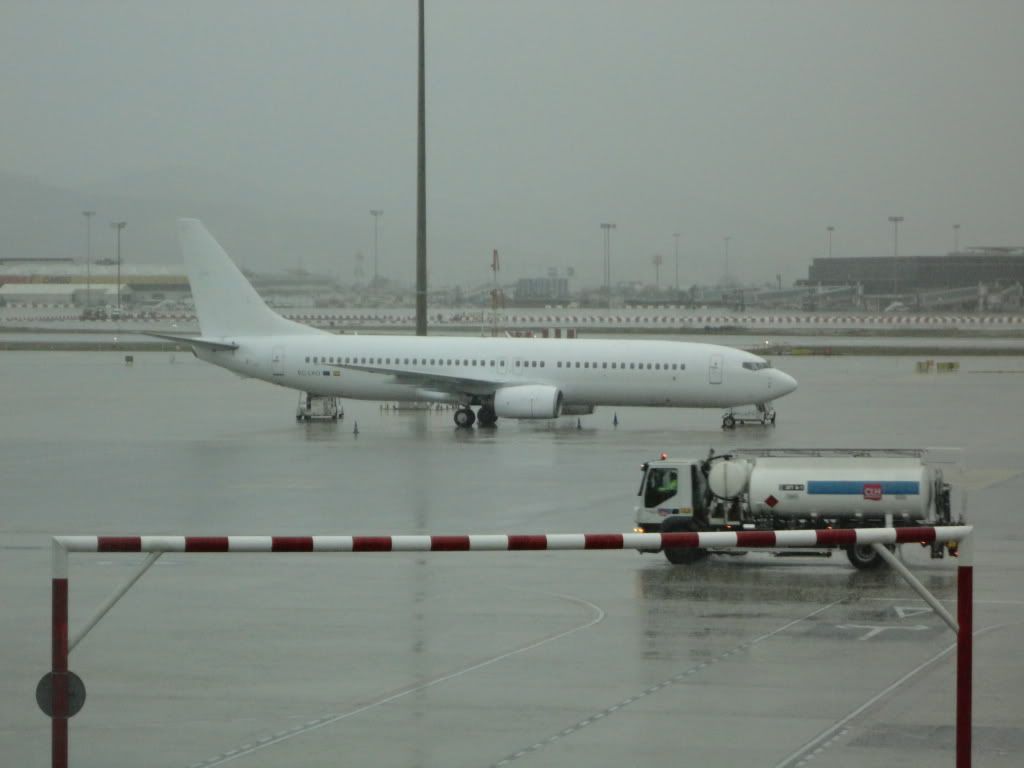 Qatar and Tunisair at the Int'l gates: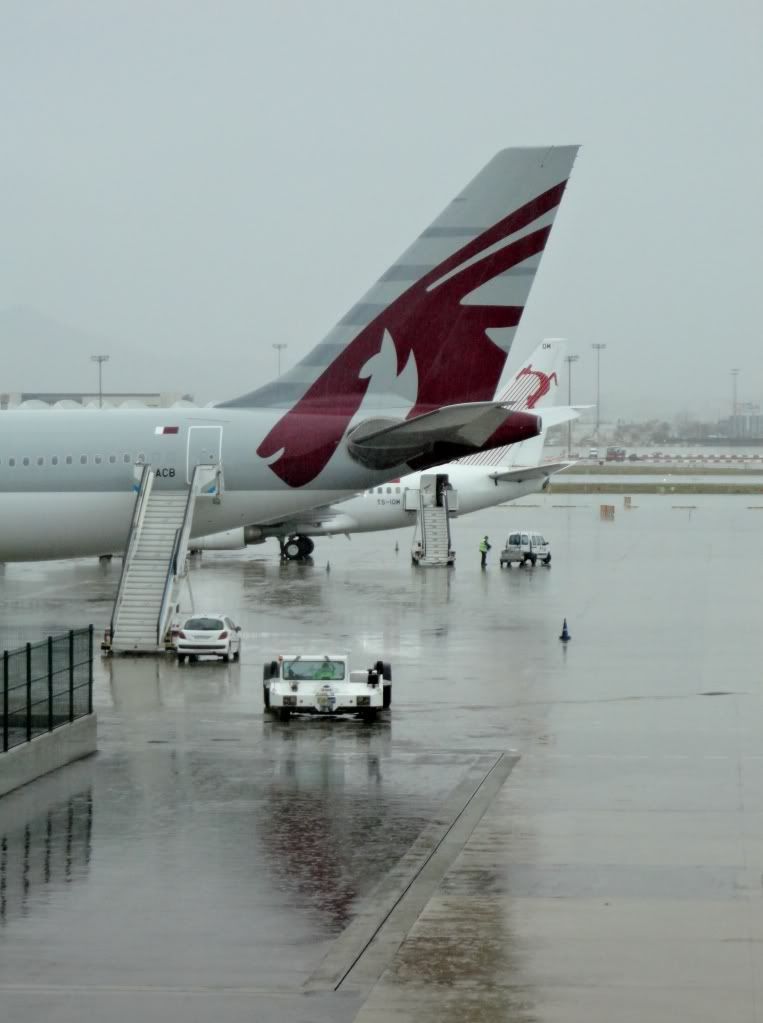 The nice looking terminal: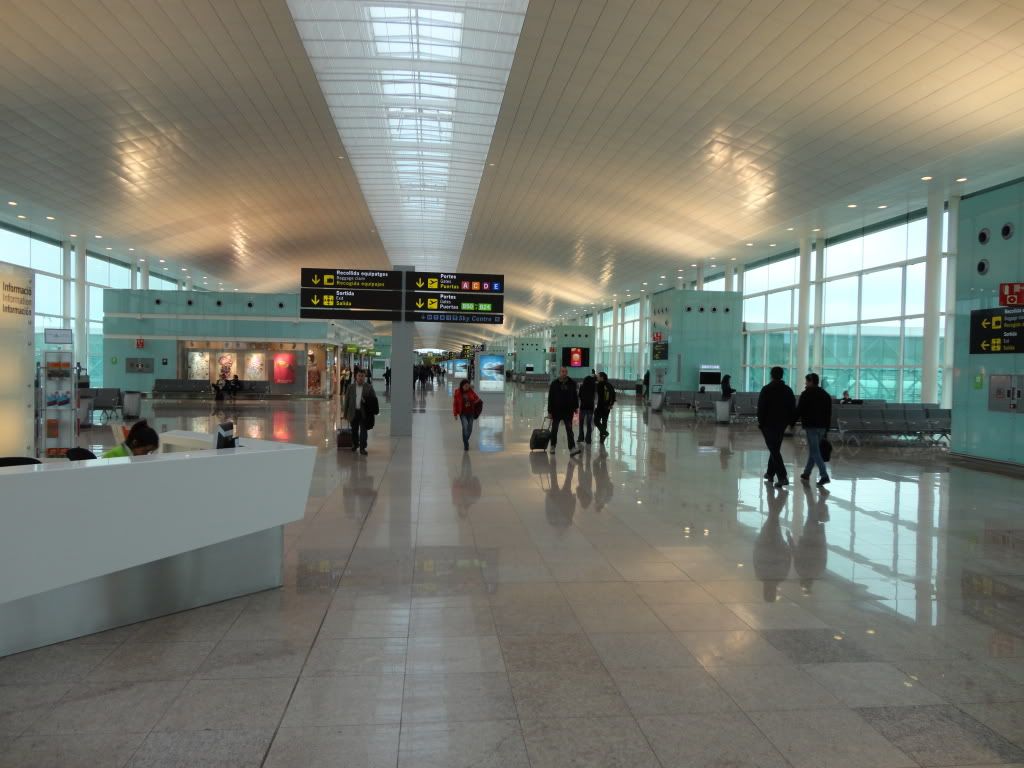 FIDS: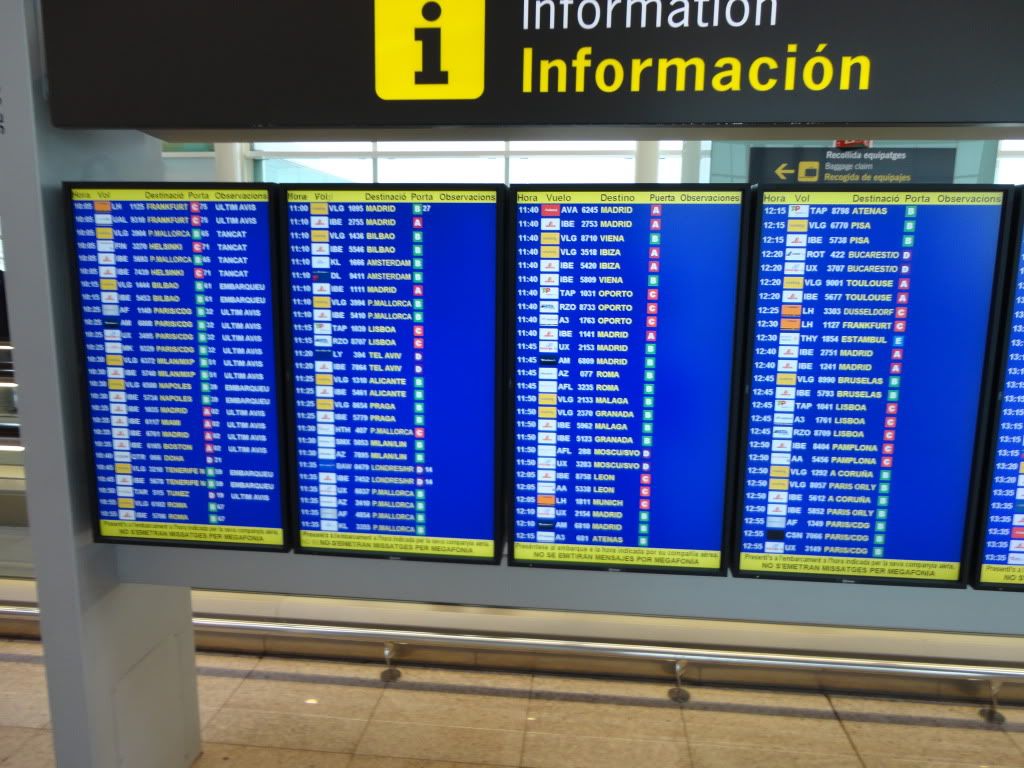 BCN-MAD
VY1095 // 21A
Vueling A320 // EC-ICQ
11:00-12:05
I proceeded to my gate, gate B27 in this case and already saw a long line for boarding while we were still 5 min short from boarding time. I always find it very amusing how at a lot of Spanish airports people always line up way ahead of boarding time which give an amusing sight. Boarding started at 10:30 and I was one of the last to board: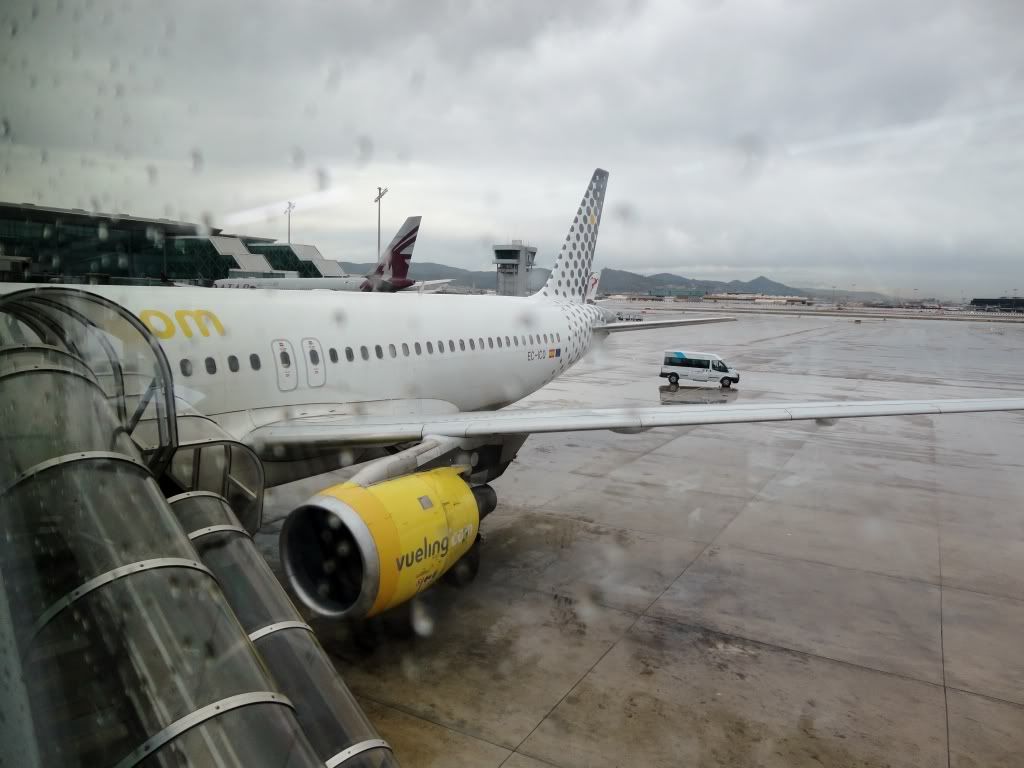 Flight was about 60% full, luckily enough I had the 2 seats next to me empty. Our neighbor: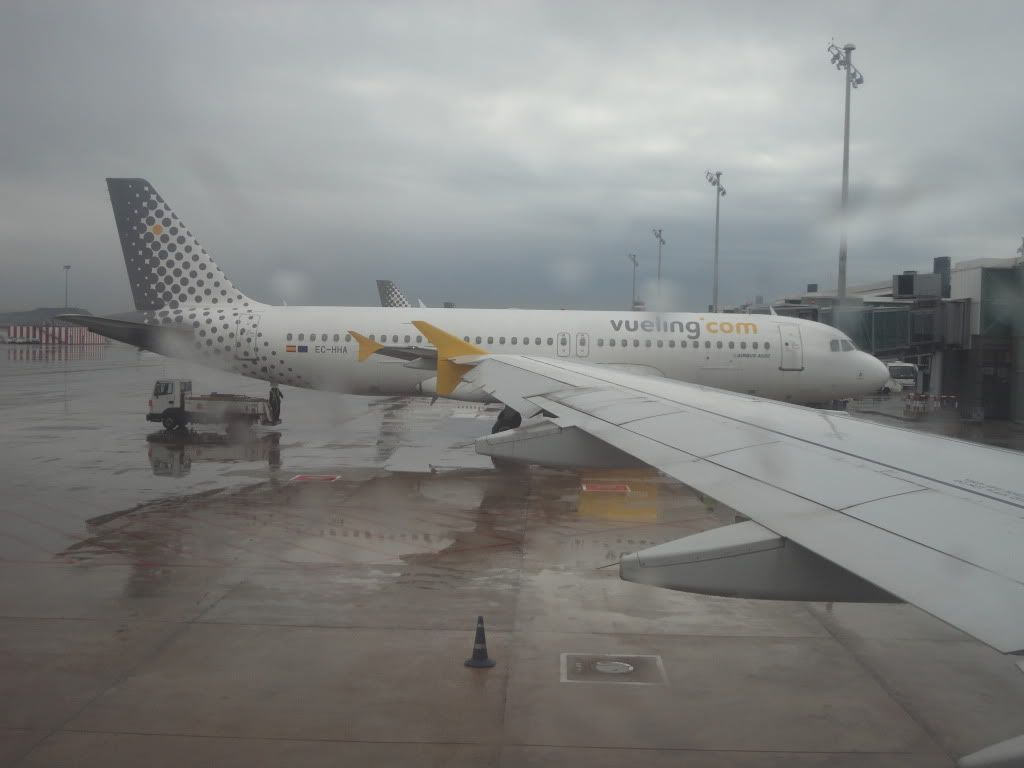 We pushed back on time and taxied to the active. A lot of Vueling at BCN: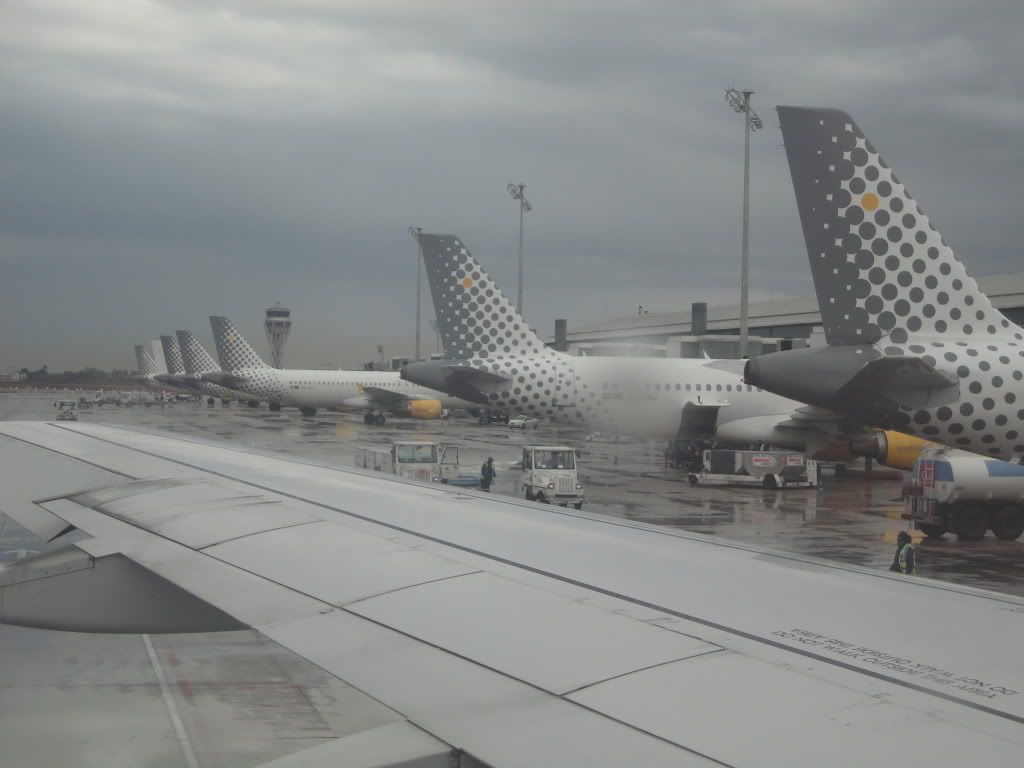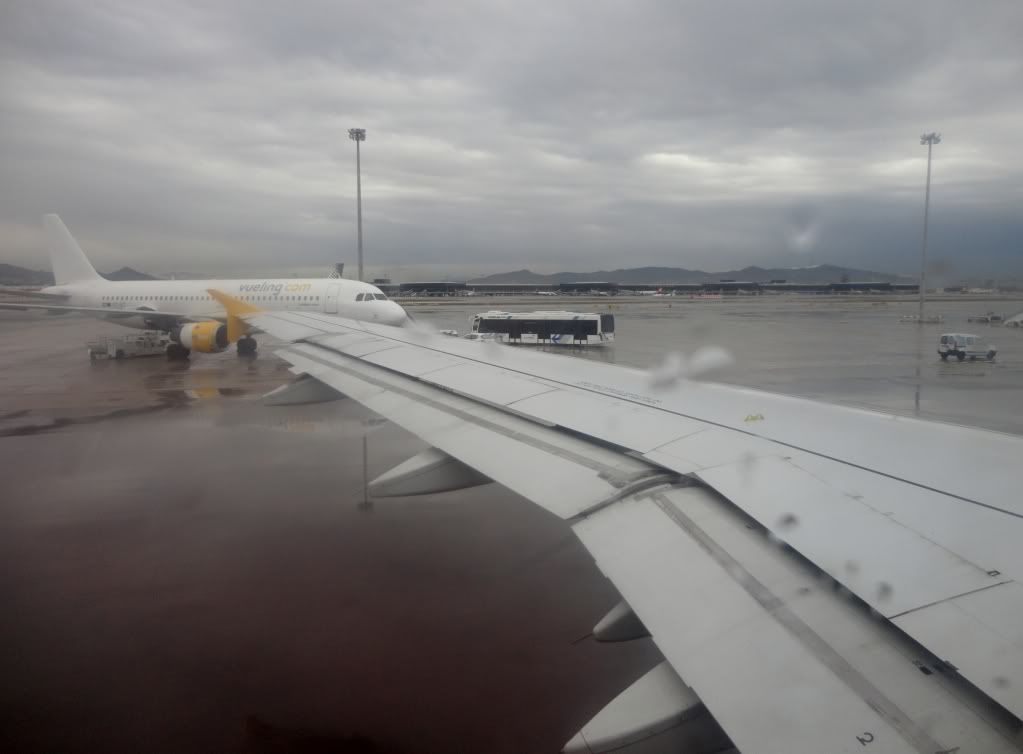 PIA 777 at the other side of the airport: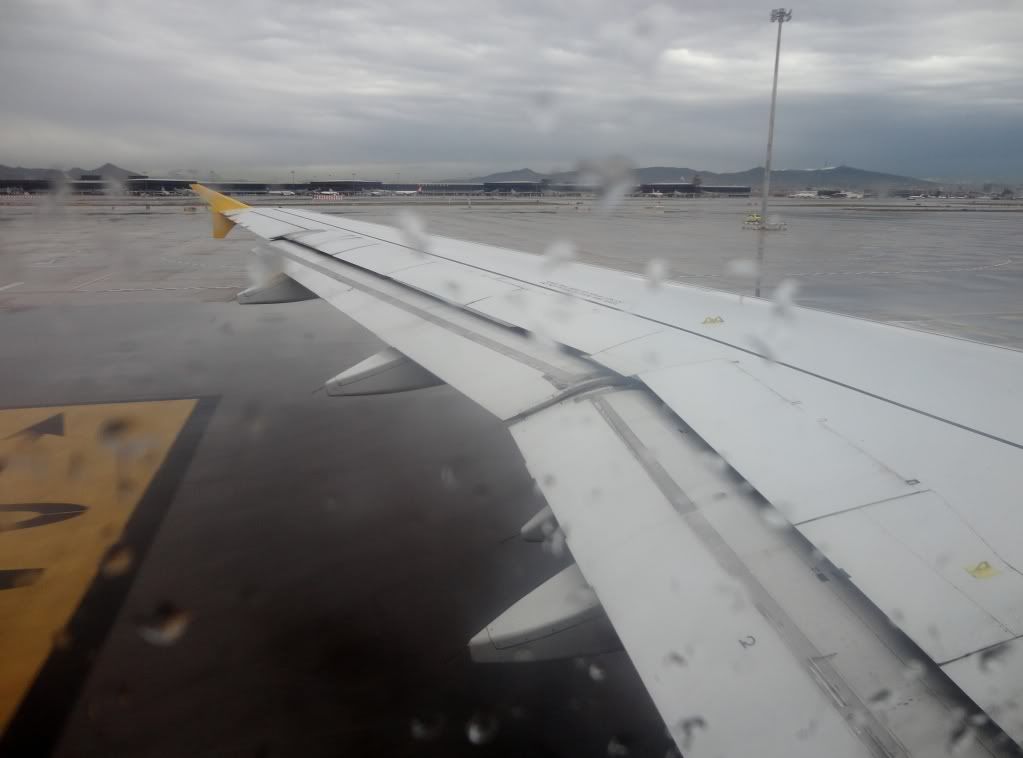 The tower: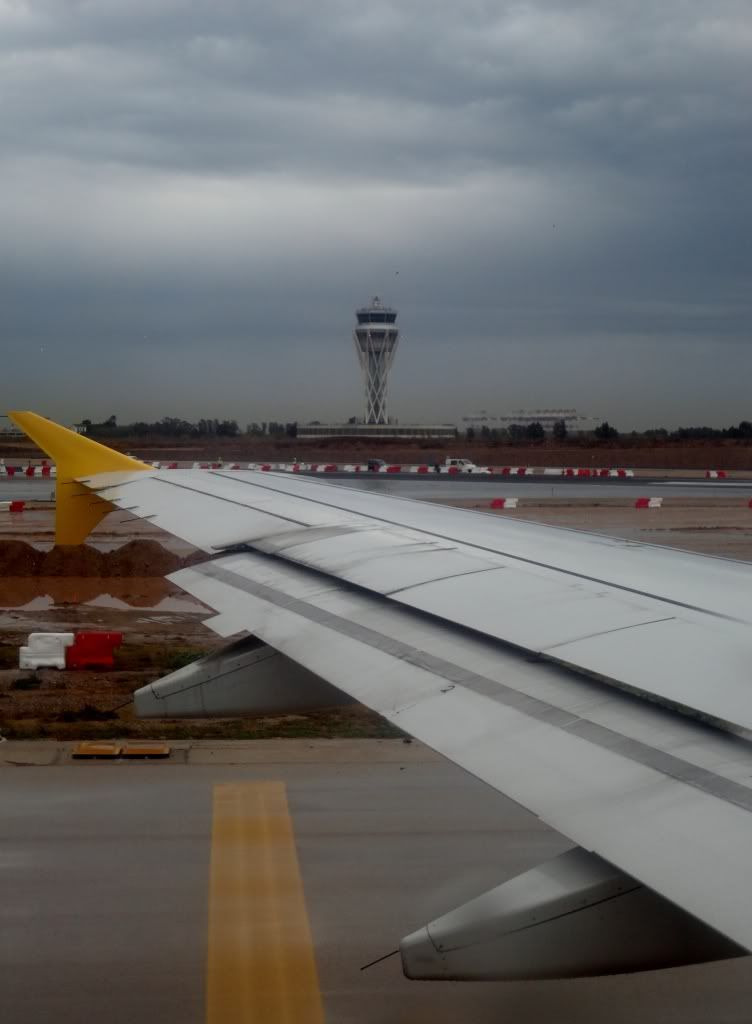 They're working on a runway here:
Starting take-off roll: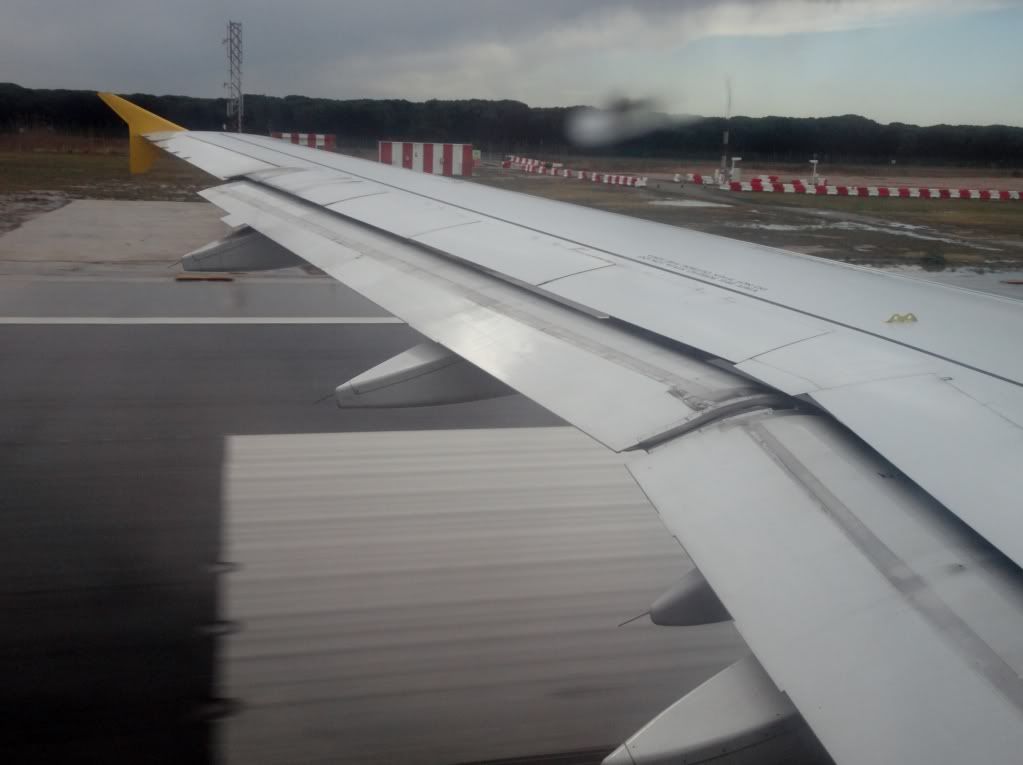 After take-off we took a sharp turn to the left: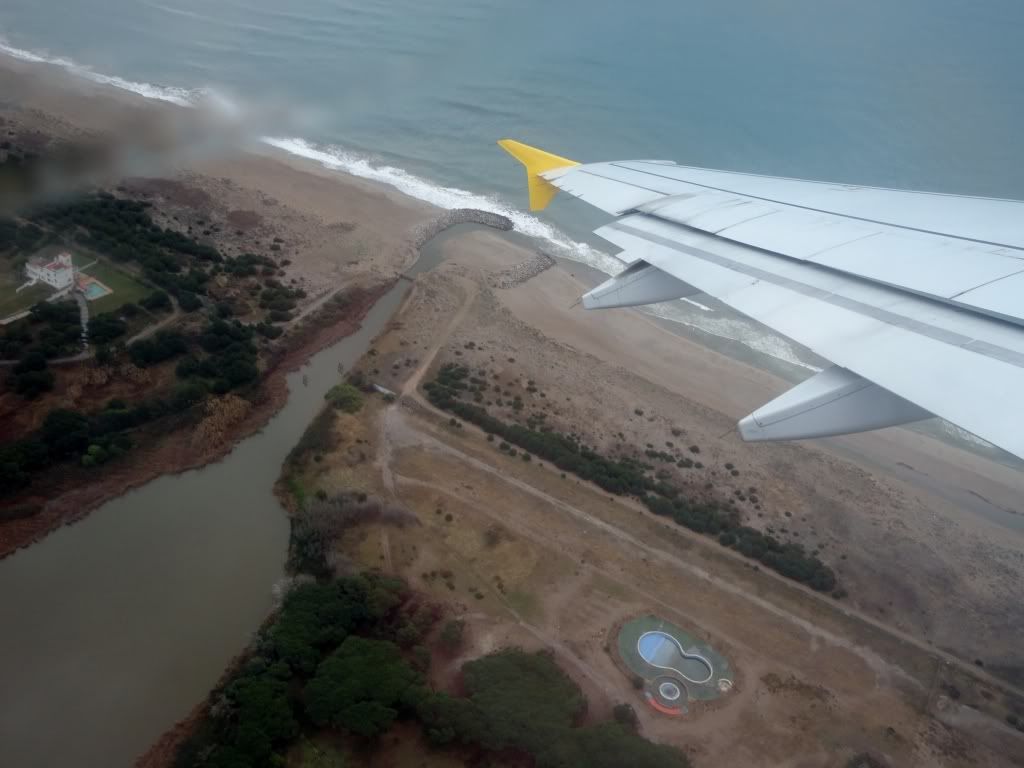 Which gave a nice view of BCN: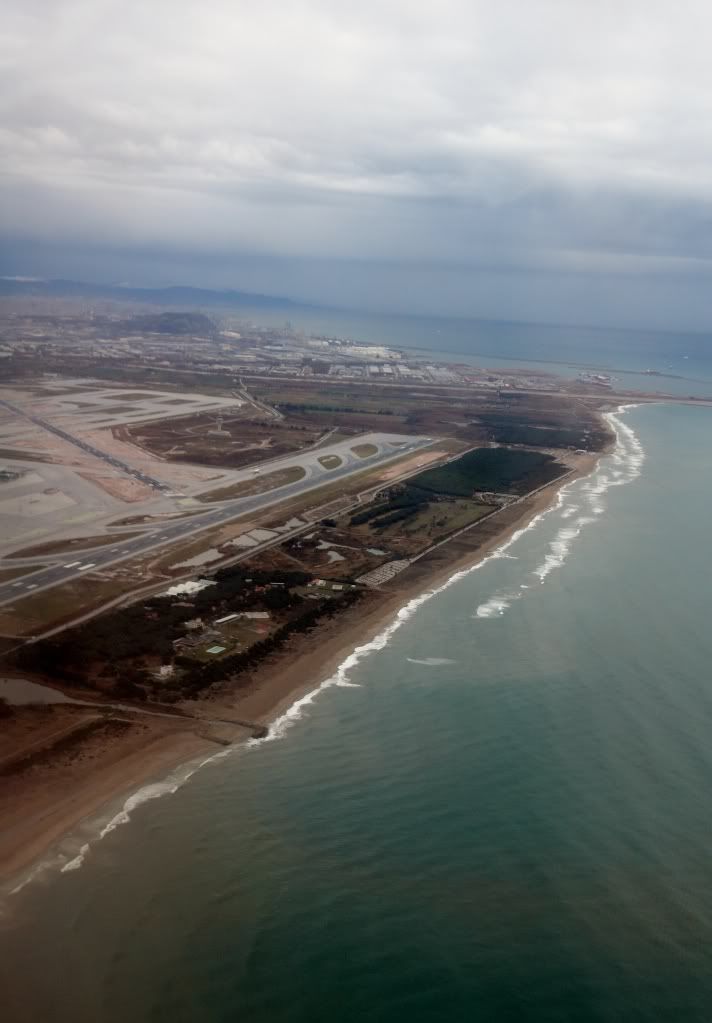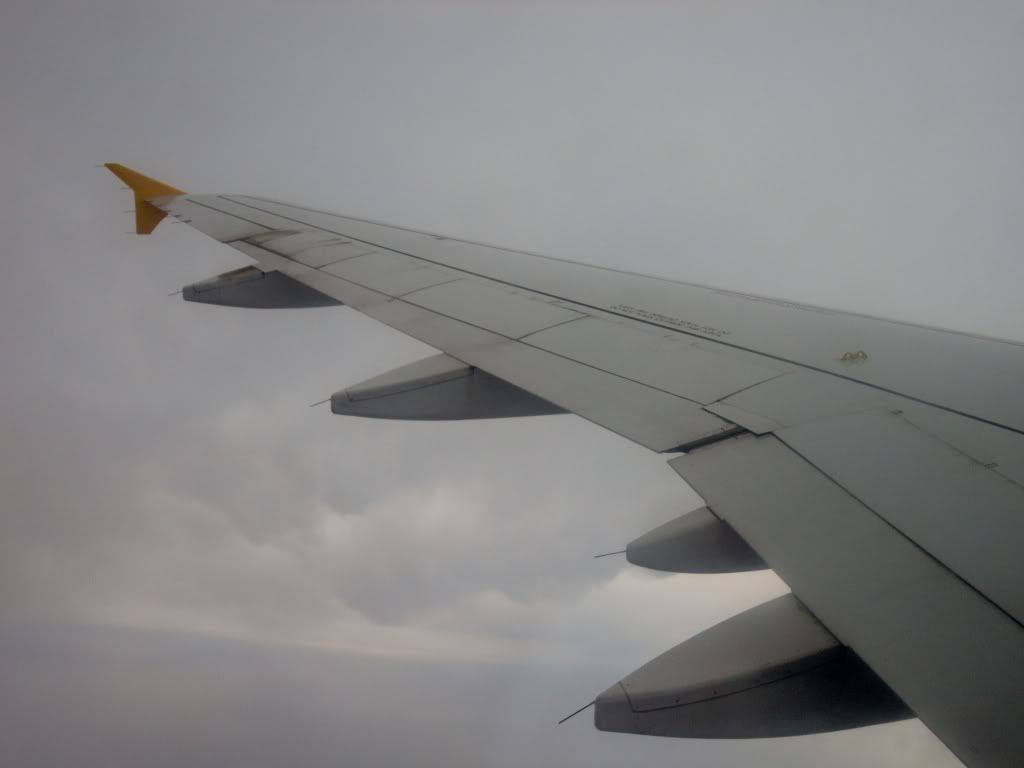 The nice looking seats with tight seat pitch: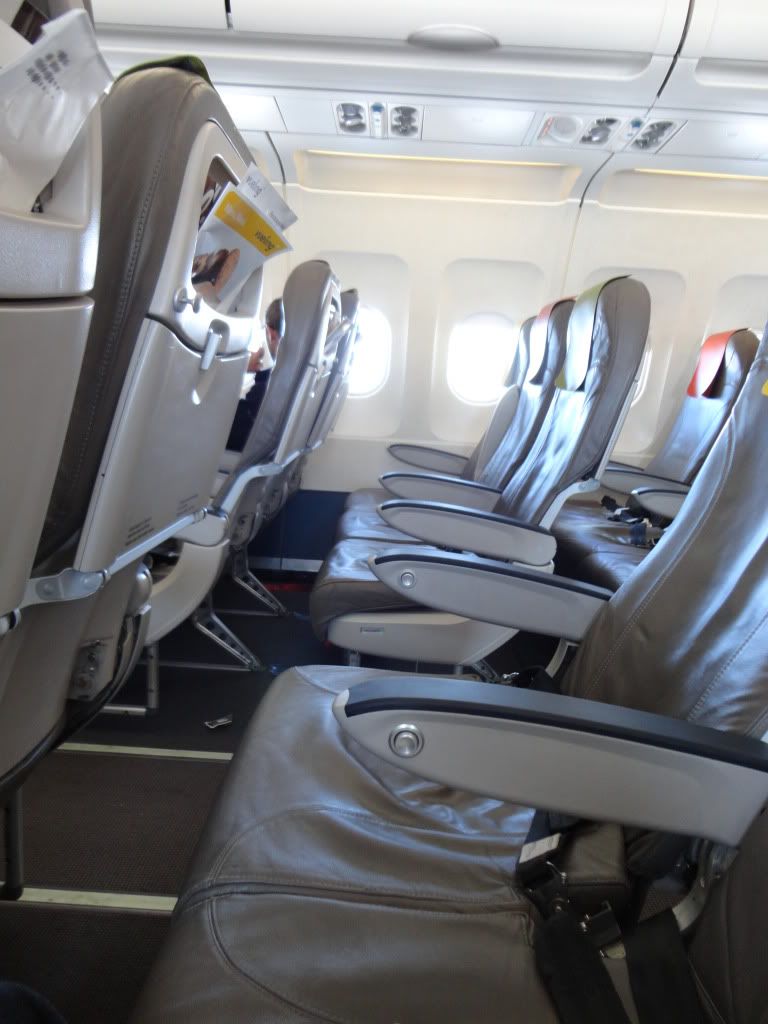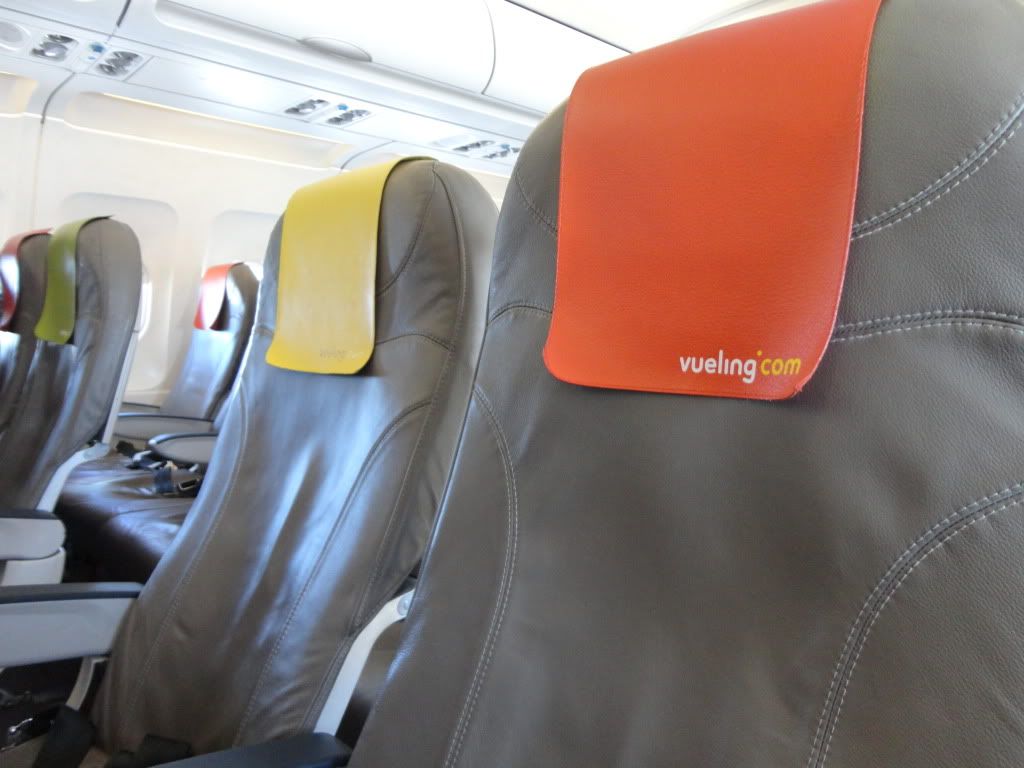 As I had the seats next to me empty I was a bit more comfortable on this flight: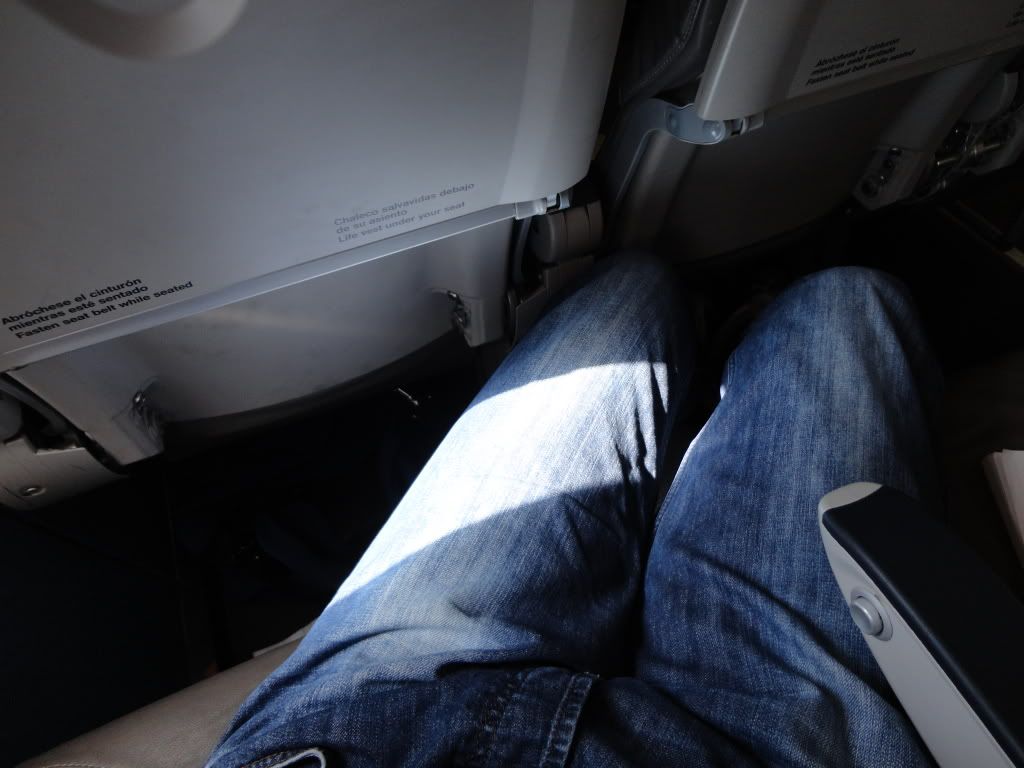 The flight crew consisted of 1 male purser and 4 female flight attendants. Soon enough the BOB passed by and I got myself a coke and a KitKat: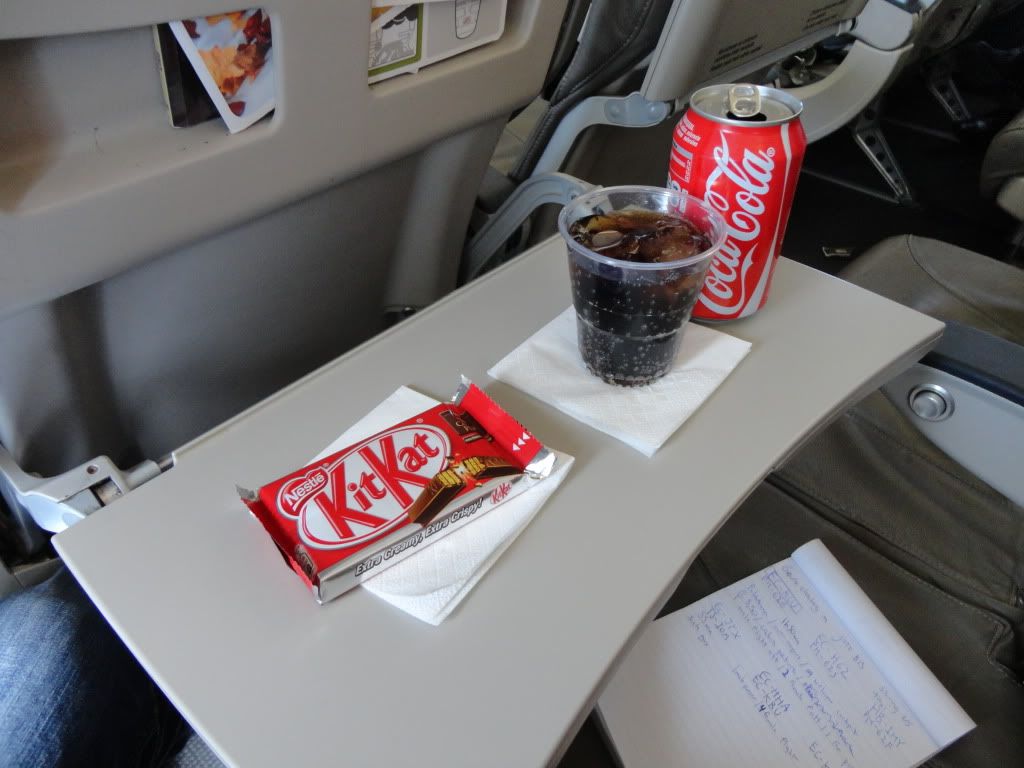 The cabin: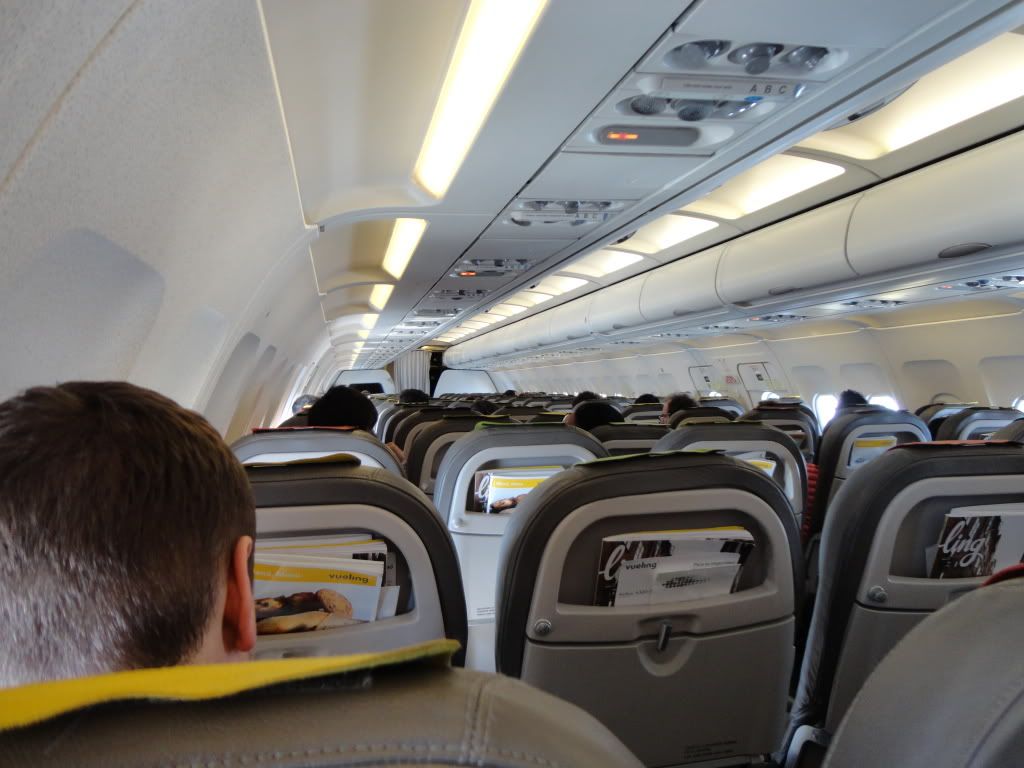 Some nice views on the way: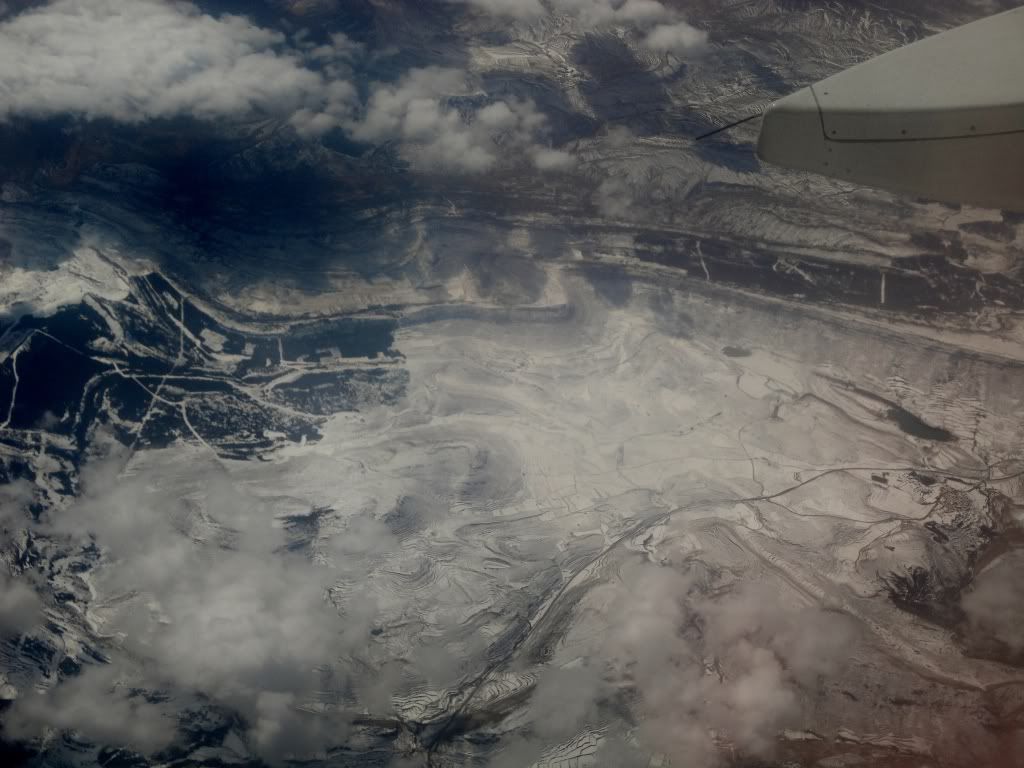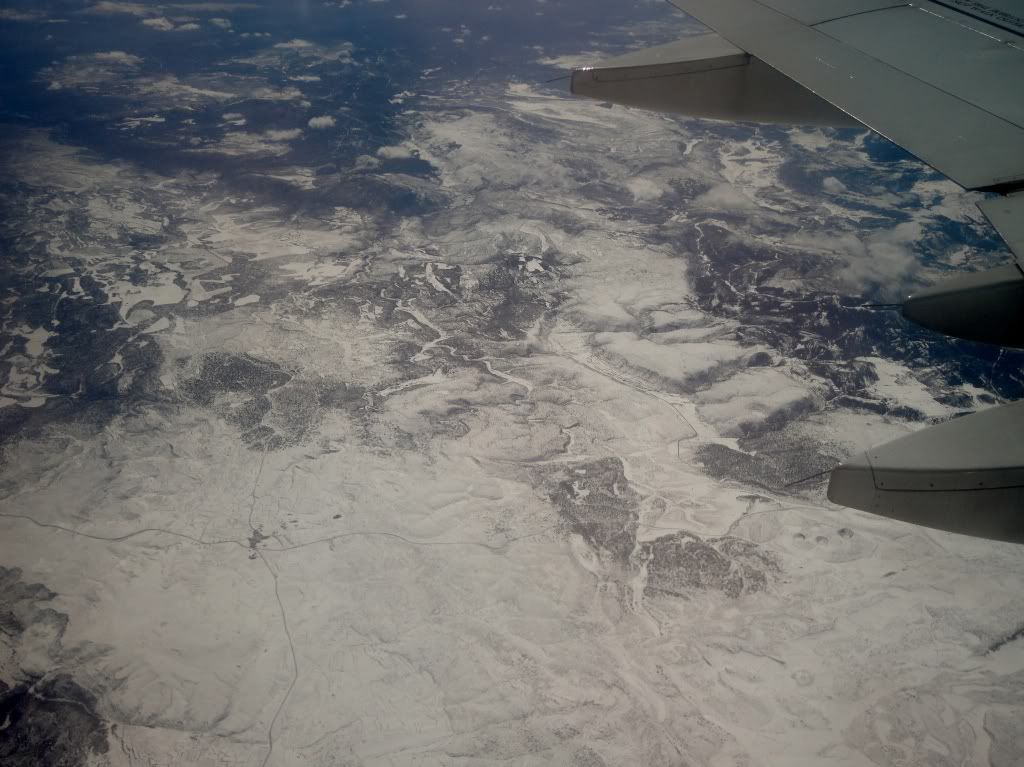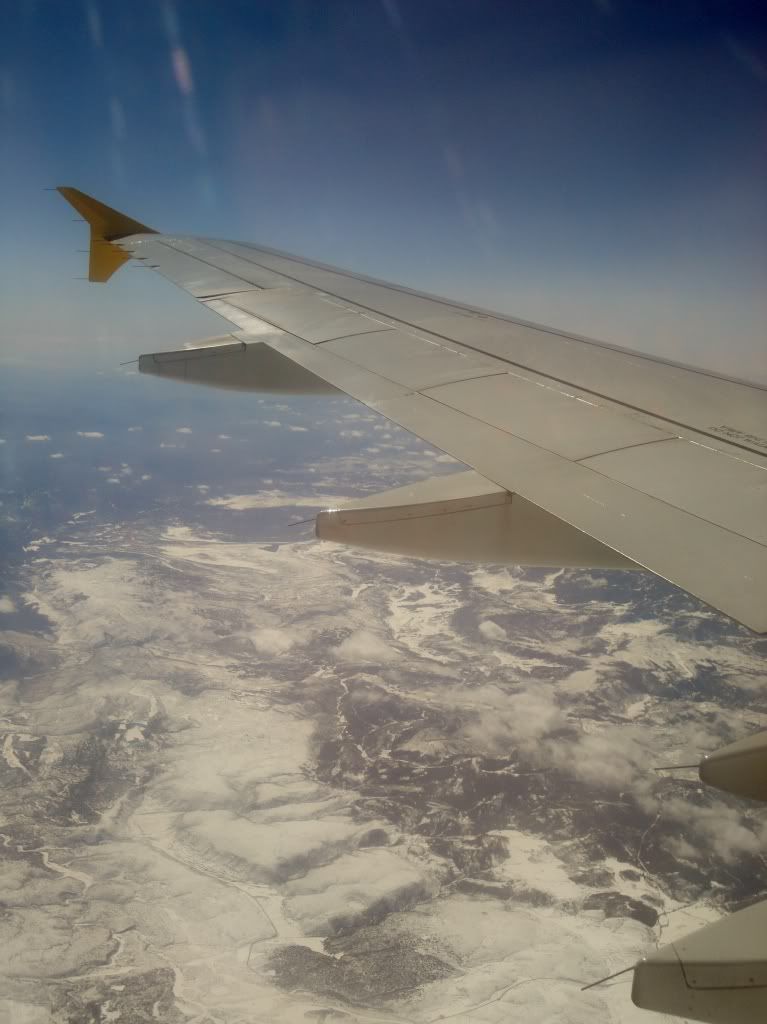 Soon enough we started our descent: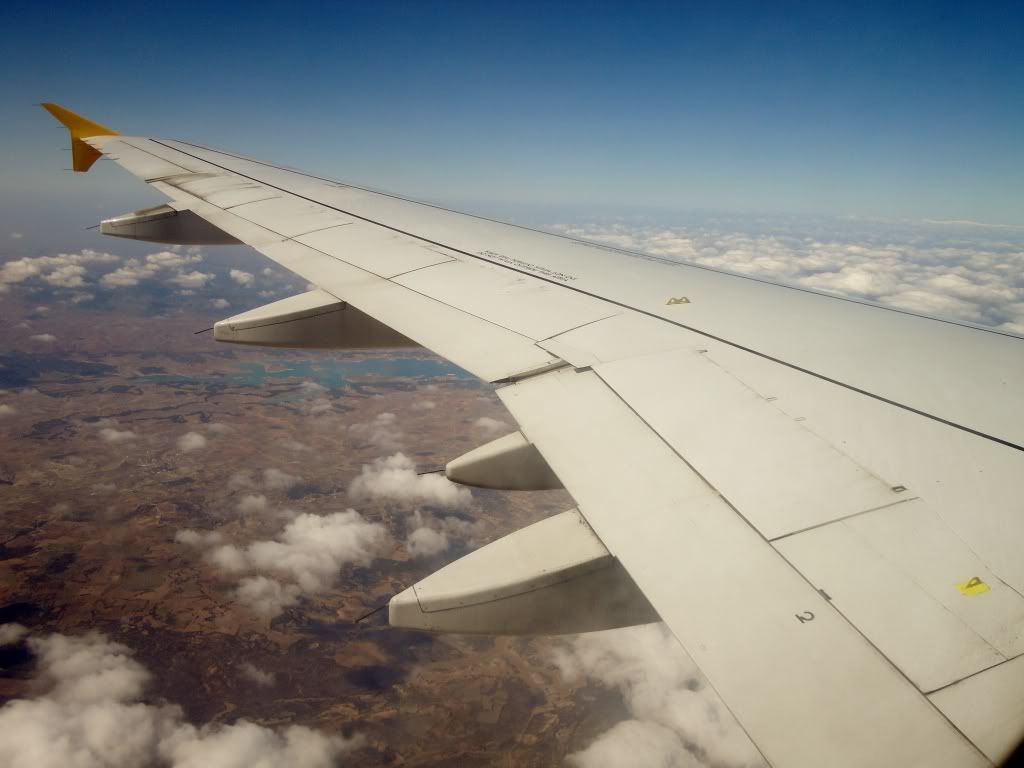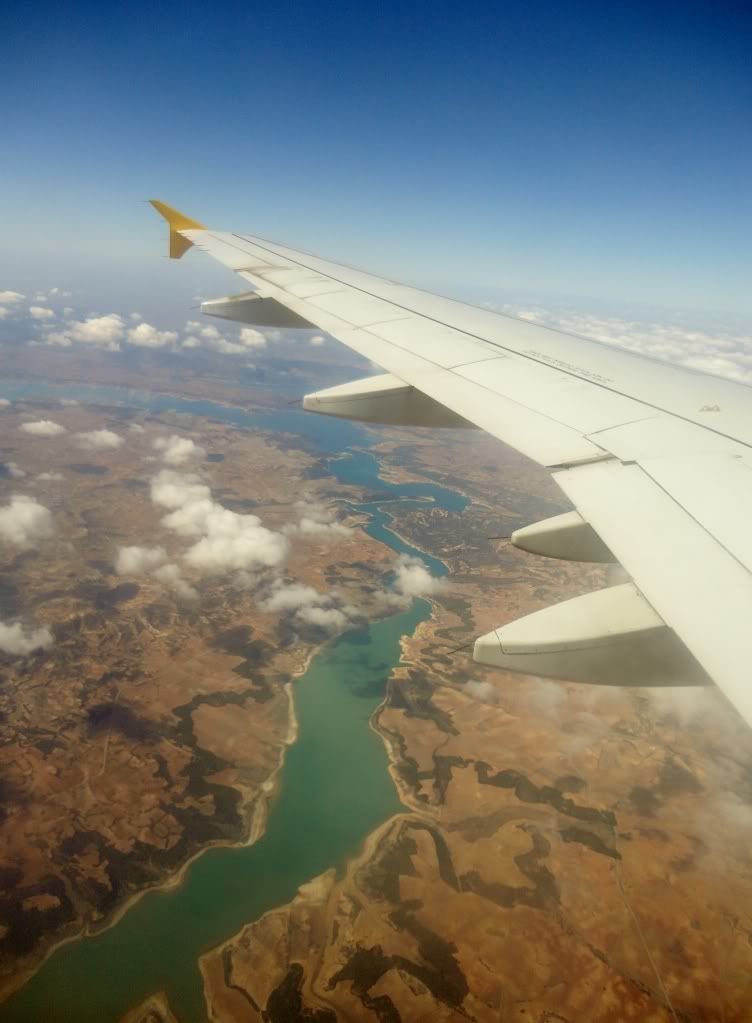 A dam: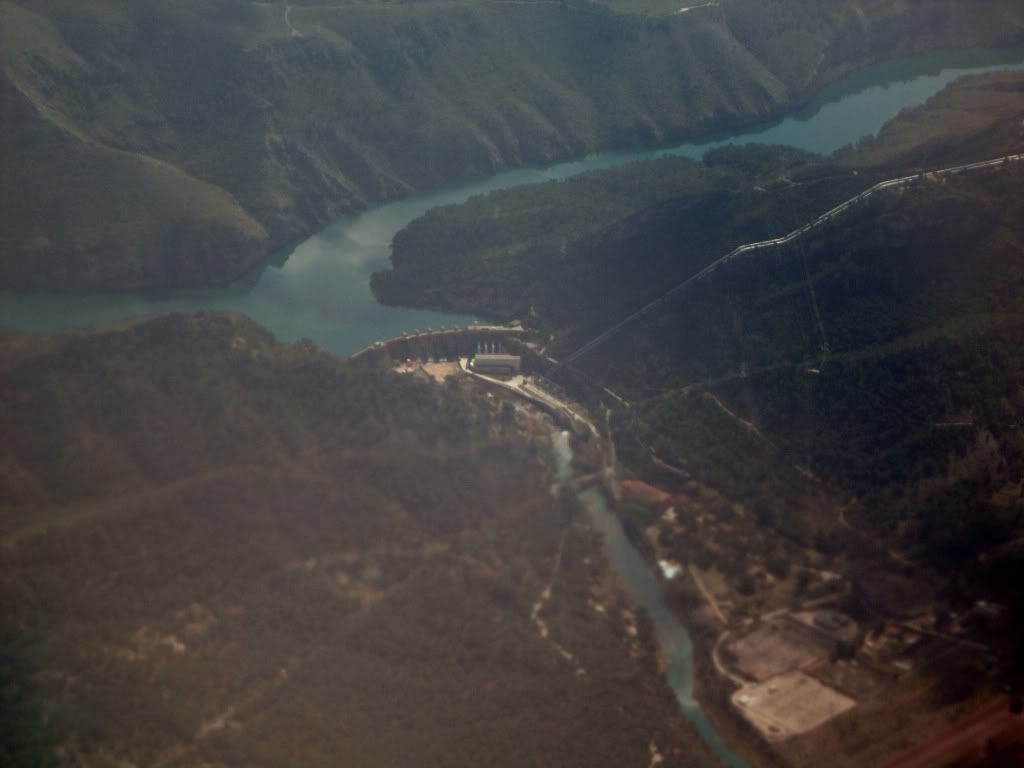 And into final approach: