Hi guys,
it is time to write another TR, this time intra-Peru.
Background:
It was time to do another trip, since I have not travelled from Lima since New Year. I was checking the internet pages of LAN Perú, TACA Perú, StarPerú and Peruvian Airlines for offers. I was open to the destination, just looking for a great deal. What I found was an excelent fare of USD 102 with LAN to Iquitos. Me and my parents are Peruvian residents, so our fare was that. My grandma, who is just visiting us from Czech Republic had to pay USD 255. LAN favors Peruvians and residents on their national fares.
Iquitos is located in the hearth of the Peruvian Amazon, and it is the LARGEST city in the world with no road connection. The city has about 350k inhabitants, and all people and/or goods must be delivered there either by boat or by air. This sure promised for an adventurous experience. We booked a tour and hotel one hour off Iquitos by boat on the Sinchicuy Lodge.
Check-in:
I did the online check-in, so mine and my family´s bags were checked in a few minutes. No problems, no hastles, nice check-in staff, as usual in this wonderful country.
At Airport:
Lima Jorge Chavez has won many awards after it´s reconstruction. Its a very friendly airport, with friendly staff. The national terminal is a little bit more dated than the international, and there are fare less amenities. However, for the little wait one does there, its fine. There is even a lounge.
The national terminal:
Britt Perú shop: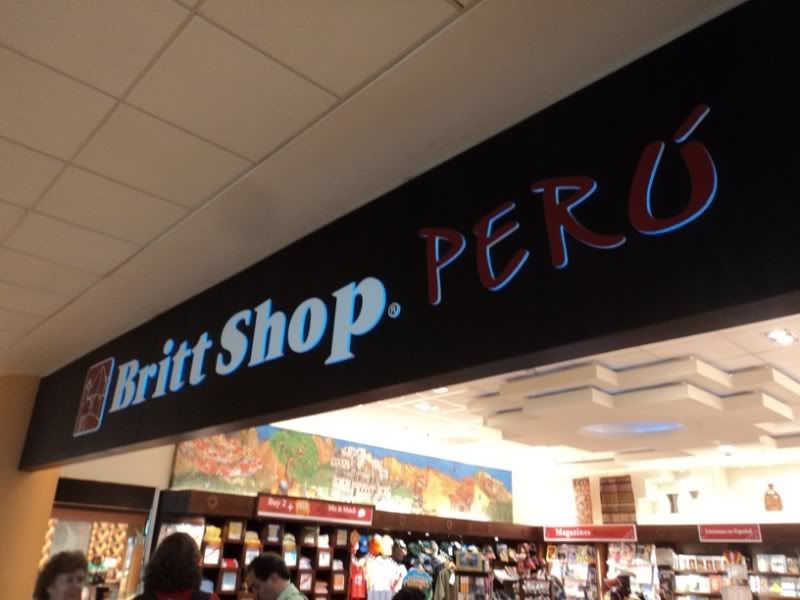 TACA Embraer will be flying to Piura today: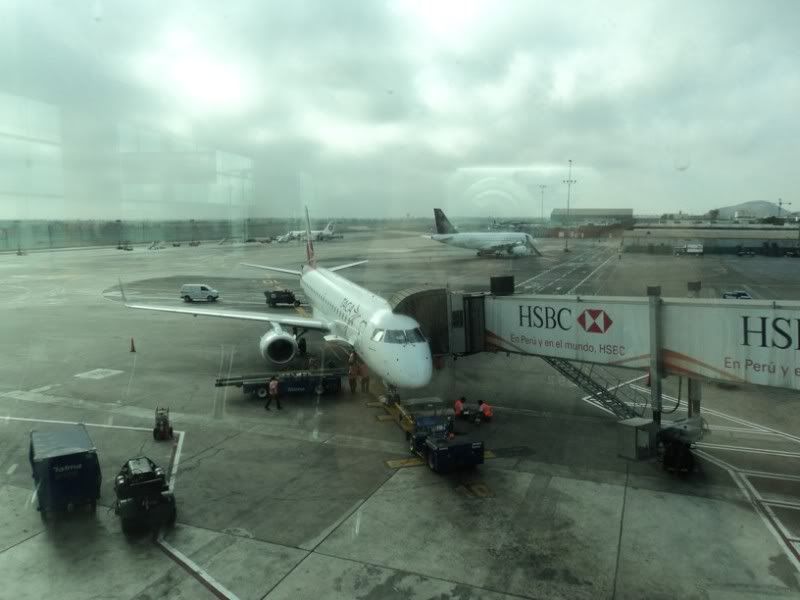 Friends, TACA and Avianca: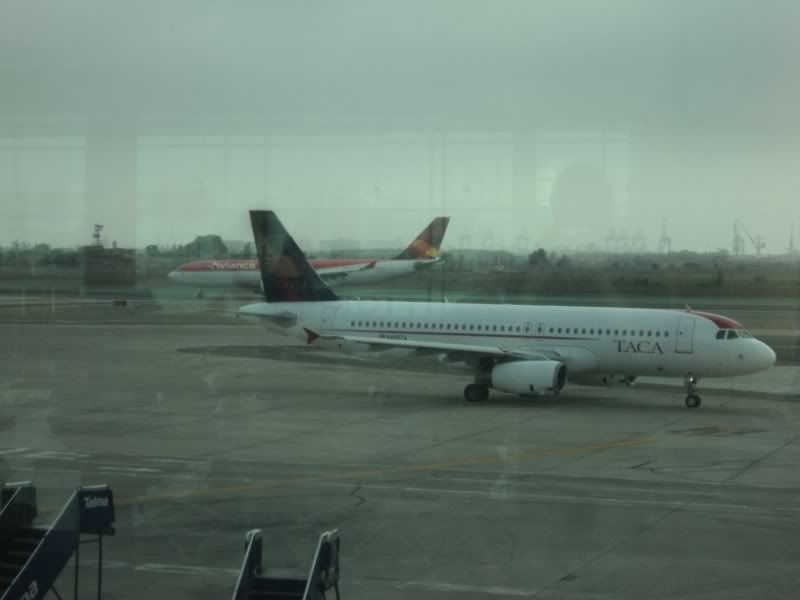 Usually AV flies A320s into LIM, this must have been and equipment change: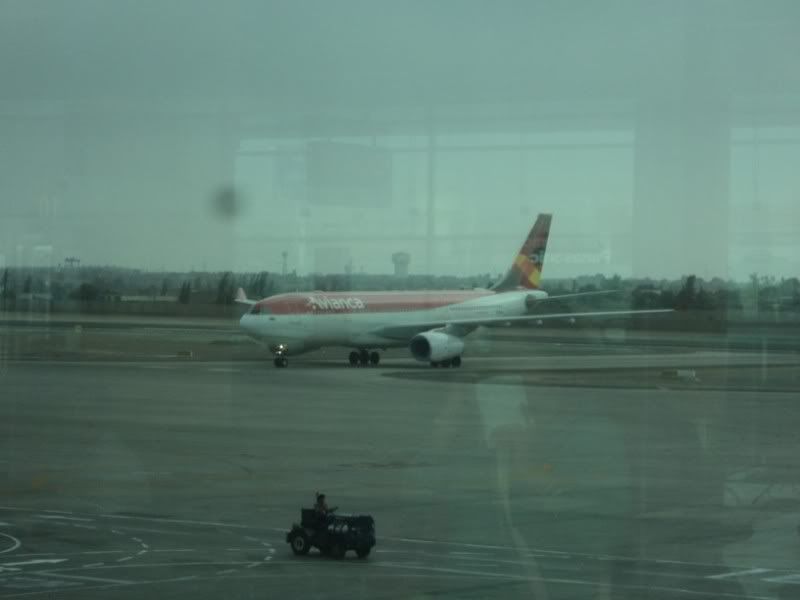 Departures today: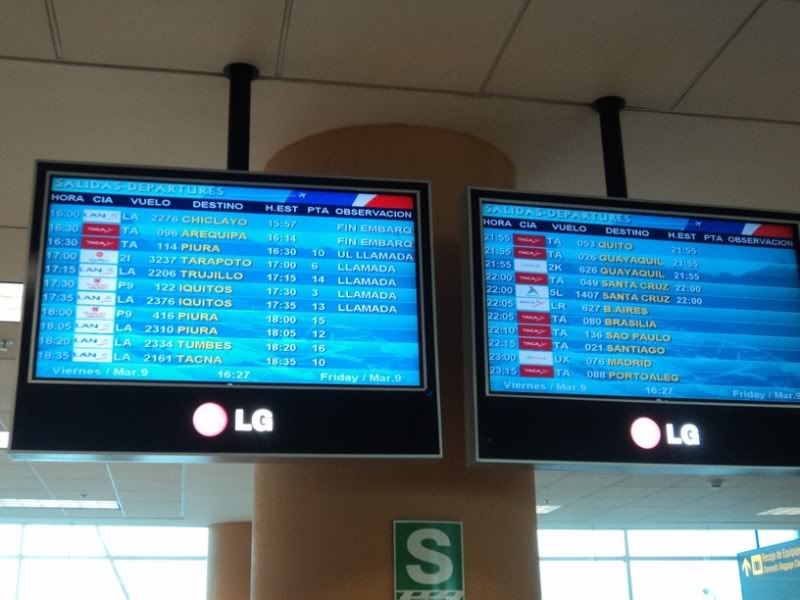 Our flight into Iquitos:
Our A319: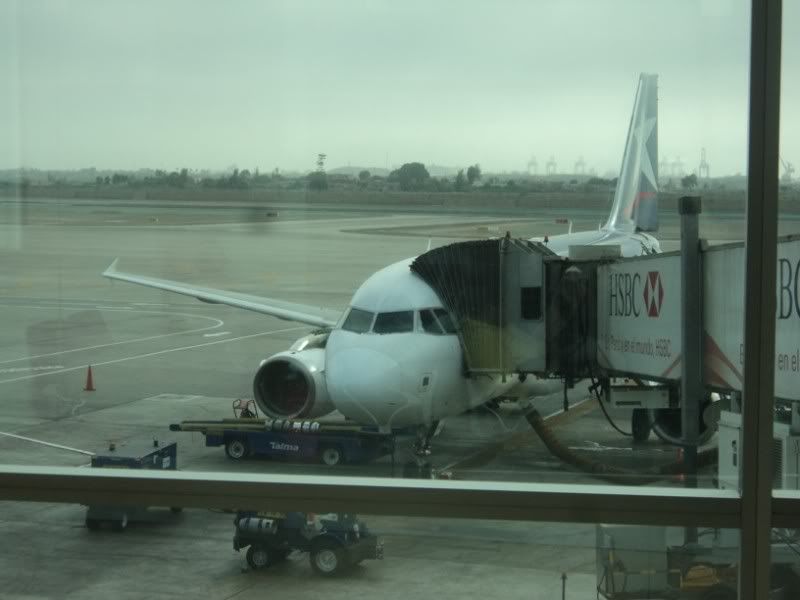 Flight:
09.03.2012
LAN Perú
Lima Jorge Chavez Intl - Iquitos Coronel FAP Francisco Secada Vignetta Intl
Flight LP 2376
Scheduled Departure: 05:35pm
Scheduled Arrival: 07:25pm
Actual Departure: 05:40pm
Actual Arrival: 07:25pm
Equipment: A319
Load Factor: about 90%
Seat: 12A
Boarding was very organized and efficient, rows 12 to 24 were invited to board first, then all rows. Pre-boarding was accesible to families travelling with small children, handicapped people and those holding a LANPass elite card. No bussiness sections on LAN Perú national flights.
Cabin while boarding:
Knee shot: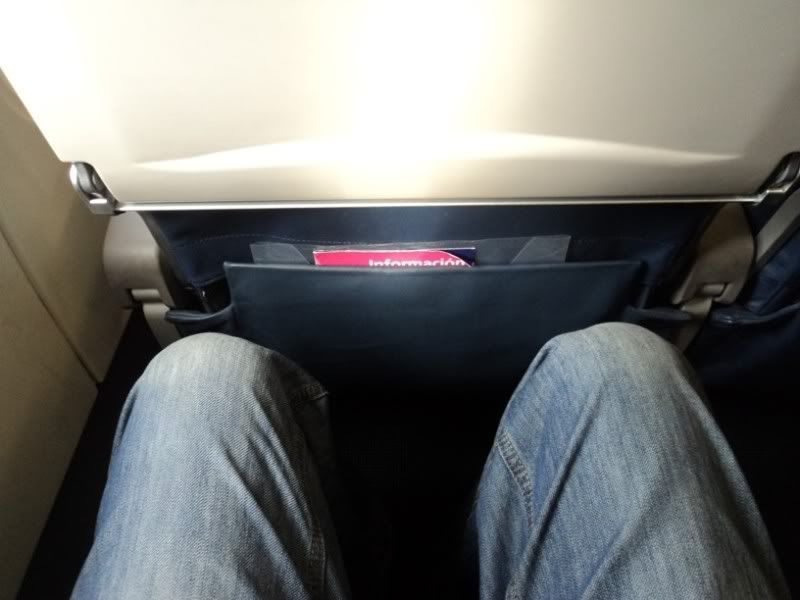 Cabin: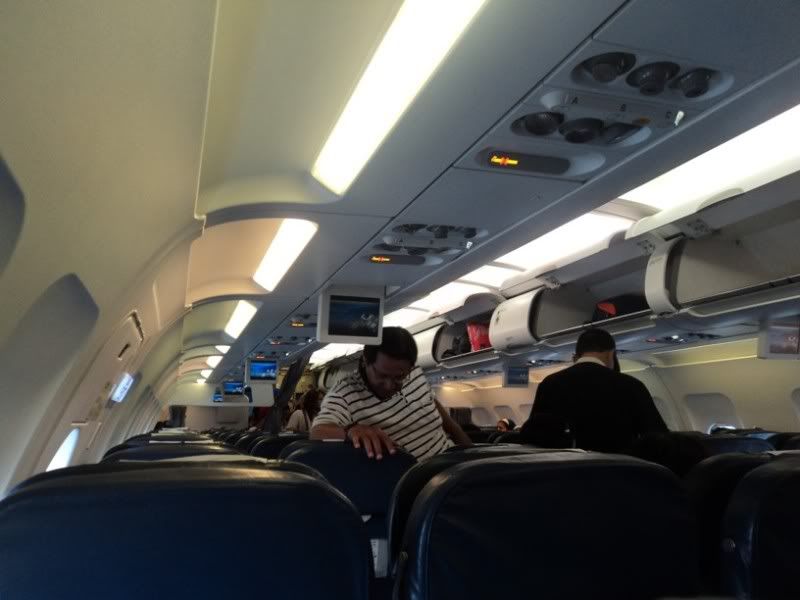 Soon, boarding was completed, the safety demo was played and with a slight delay we taxied and departed Peruvian skies.
Big rivals (un-officially, LAN is accused to being behind the temporary shut-down of Peruvian airlines):
Overhead: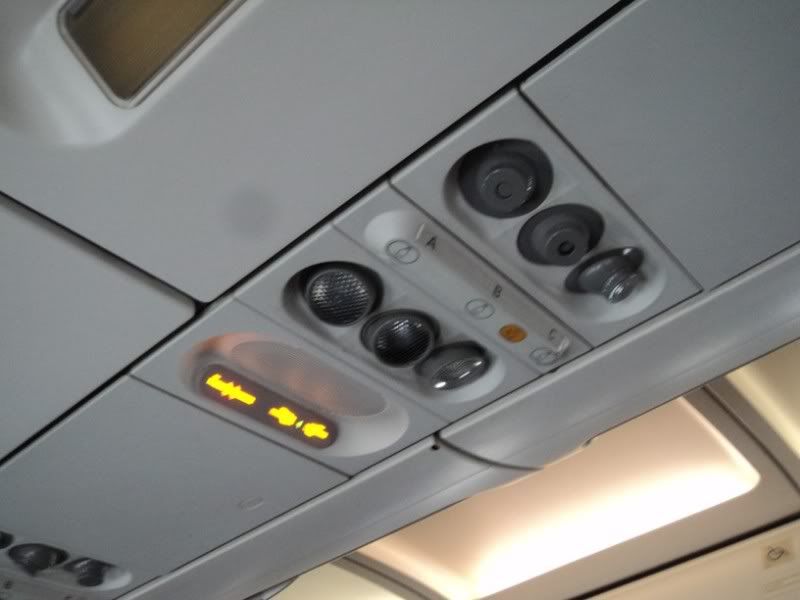 Bye bye hazy Lima (note the AV ready to depart back to BOG):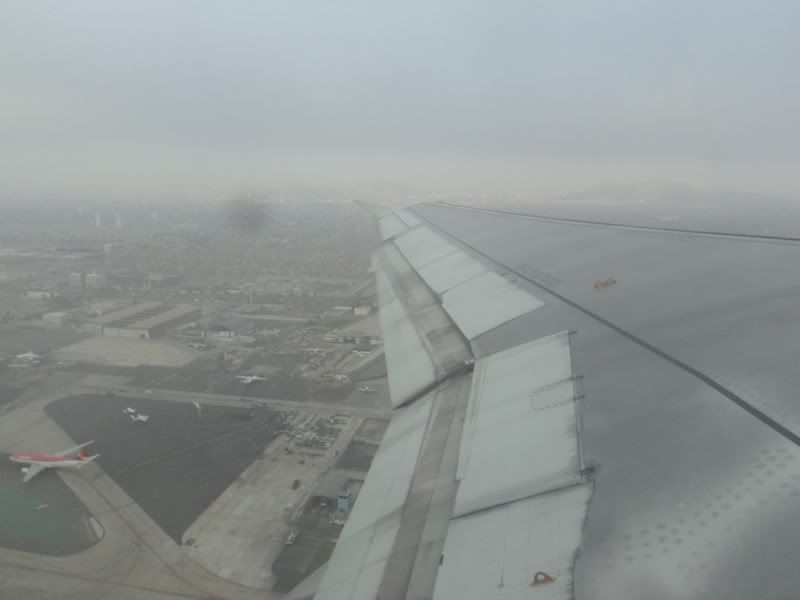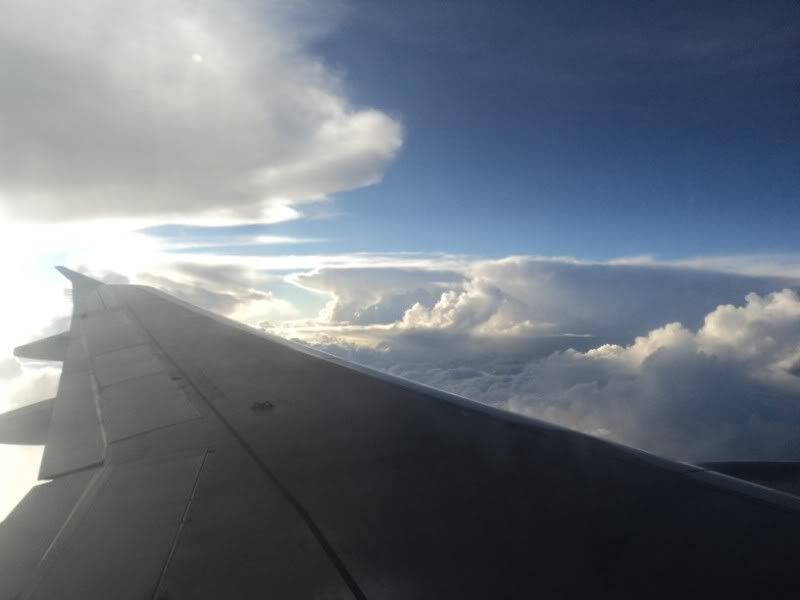 Soon, the service started. It consisted of a snack box, plus soft drinks. Out of alcohol, only beer was available. Crew consisted of two FA´s , one male, one female.
Snack box, celebrating the Paracas National Park: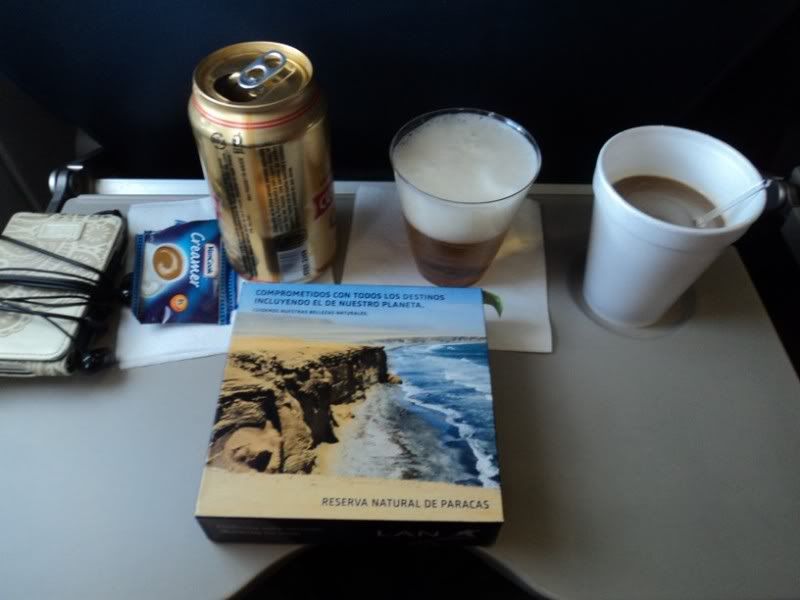 Close-up: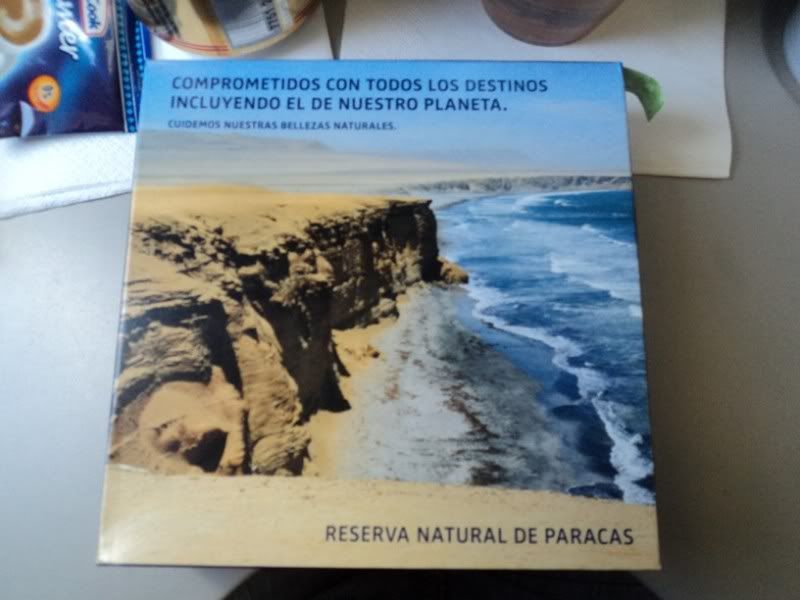 Content (a chocolate cake, cookies and a chocoteja):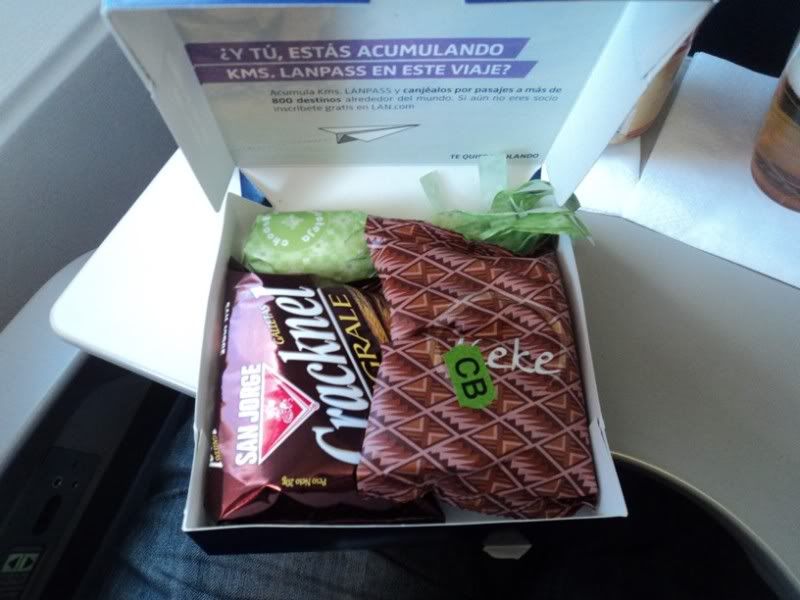 I got beer and coffee, weird combination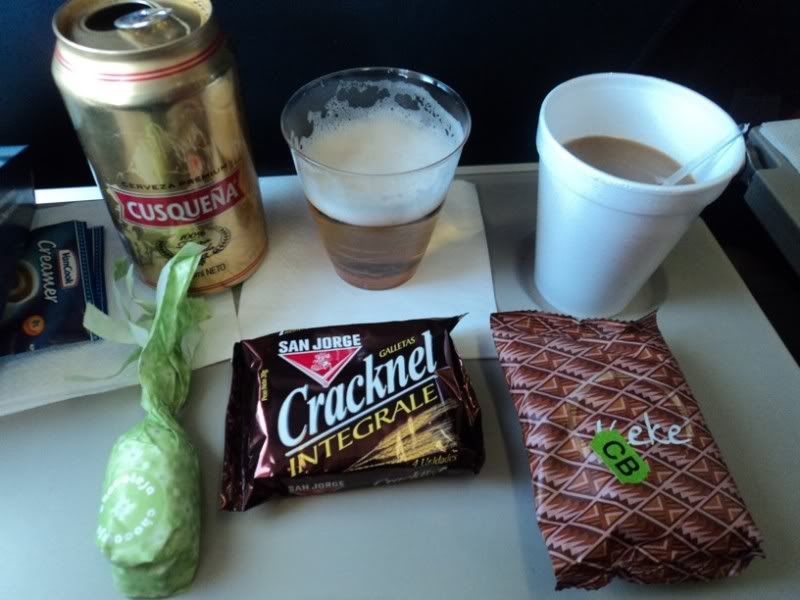 Very nice sunset over the Andes: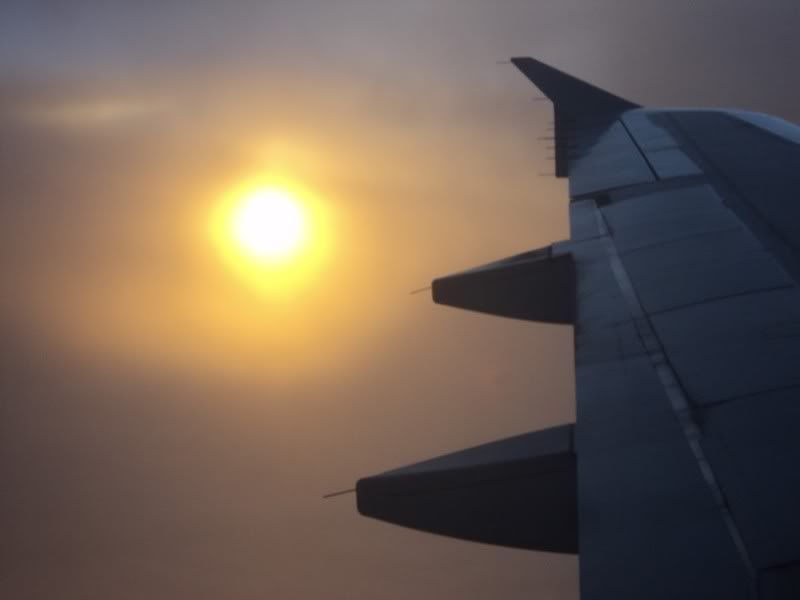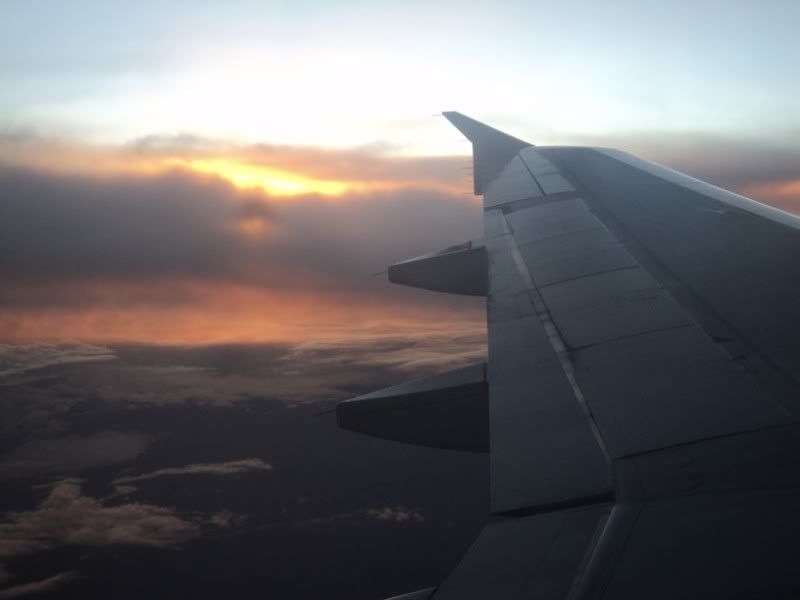 The rest of the flight was uneventful. When the crew collected the trash, they dissapeared for and hour and so, and emerged after landing to prepare the cabin.
We landed in total darkness at Iquitos airport on time. It was interesting, because you see no light at all only seconds before touching down. It was a little scary
De-planing was via stairs, which I always like
Our bird: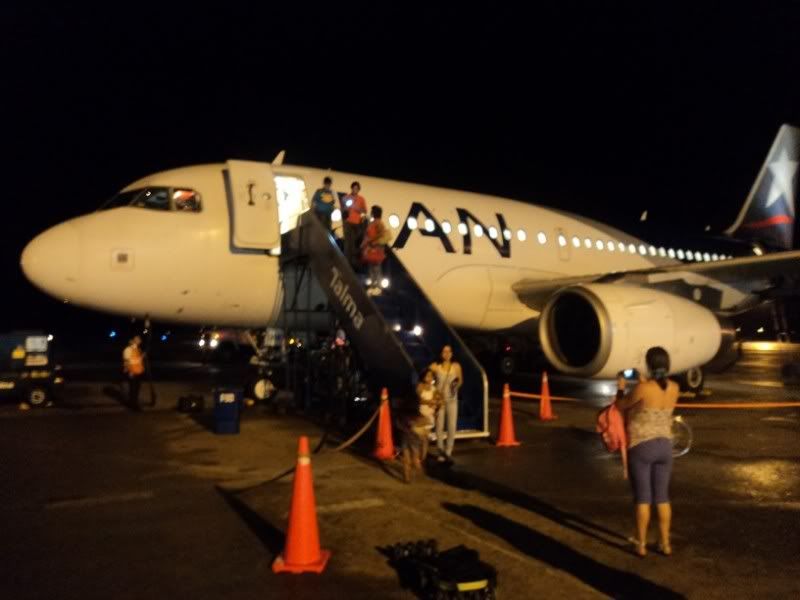 Virtually the same shot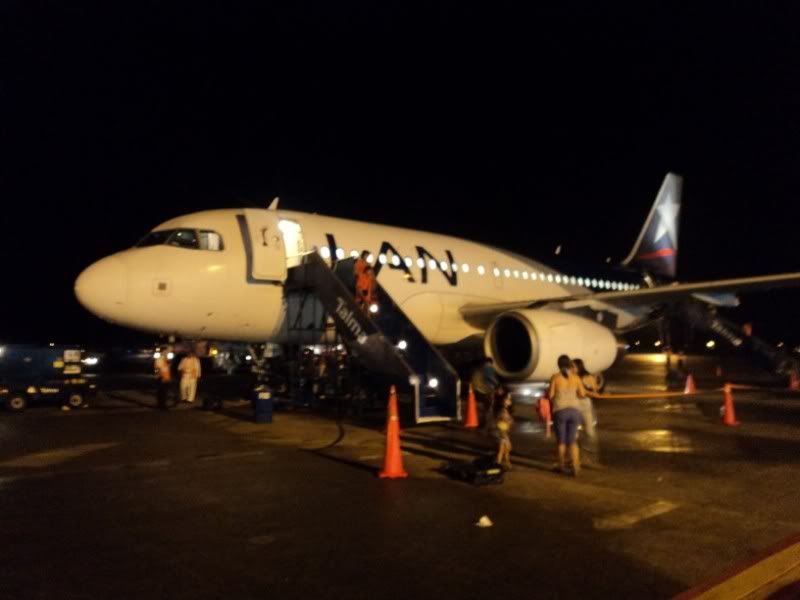 Iquitos Airport: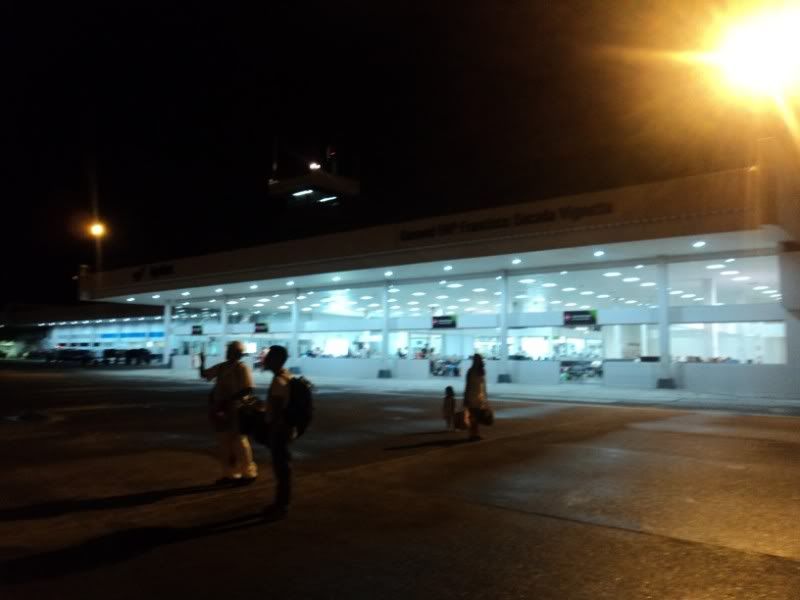 Bye LAN:
What I love about this amazing country is that people is super friendly. Usually, nothing is a problem. The staff let everyone take their pictures, they did not hastled or harassed anyone. Super!!
The baggage colection area: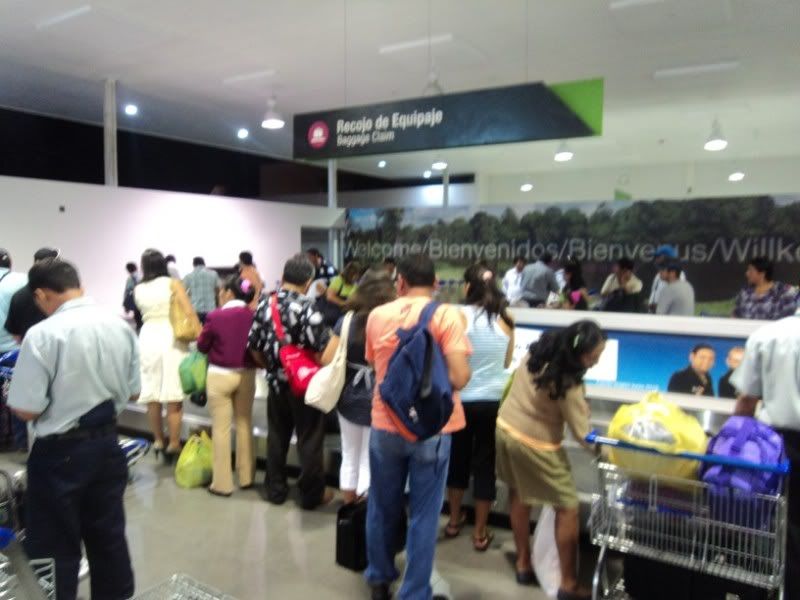 The exit: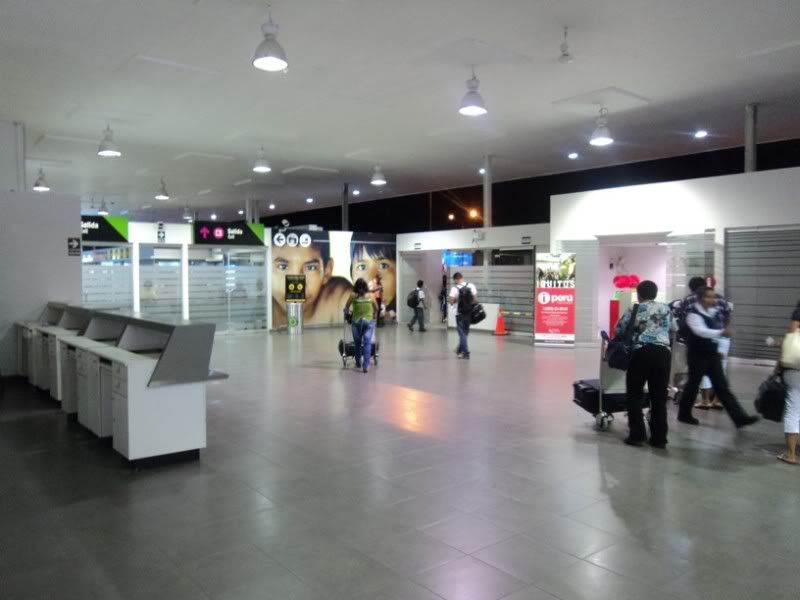 The airport: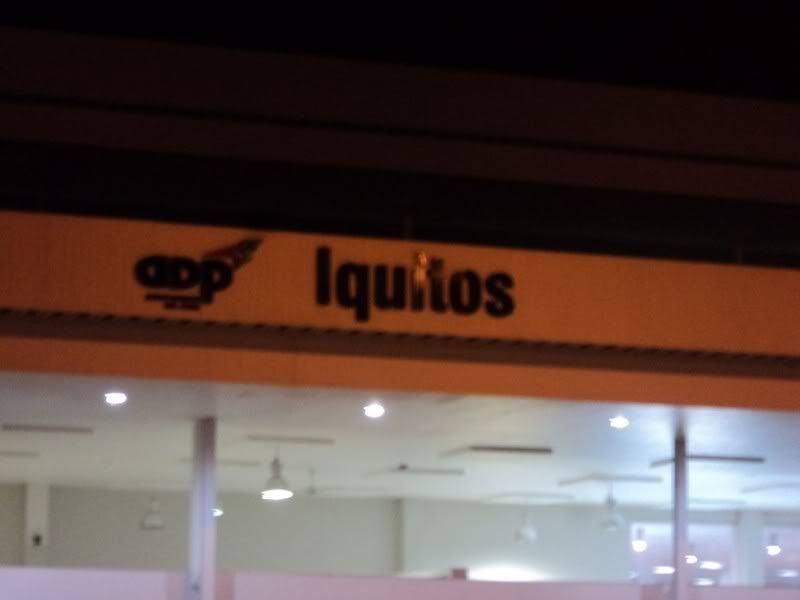 Iquitos:
We stayed one night in Iquitos and the next day we boarded a boat that took us one hour into the Amazon, to the Sinchicuy lodge. Here are some destination pictures.
The HUGE Amazon river: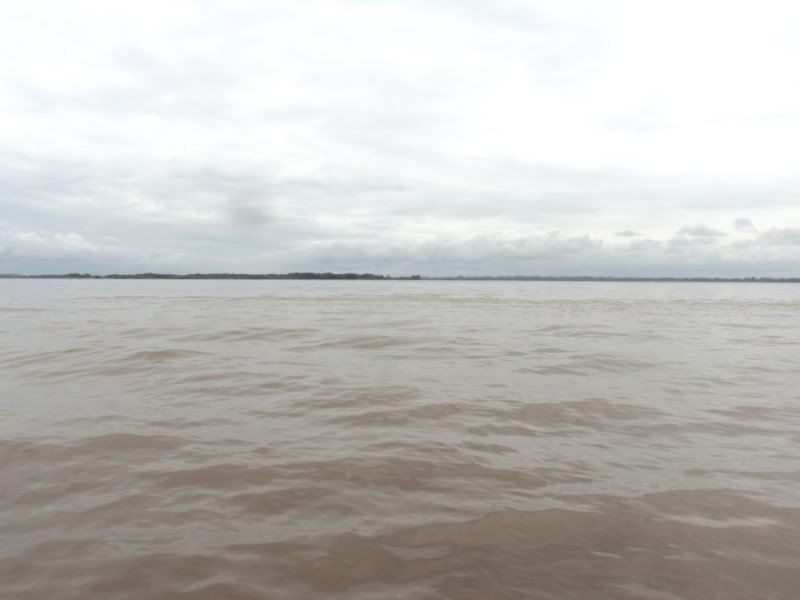 Our little friend at the lodge: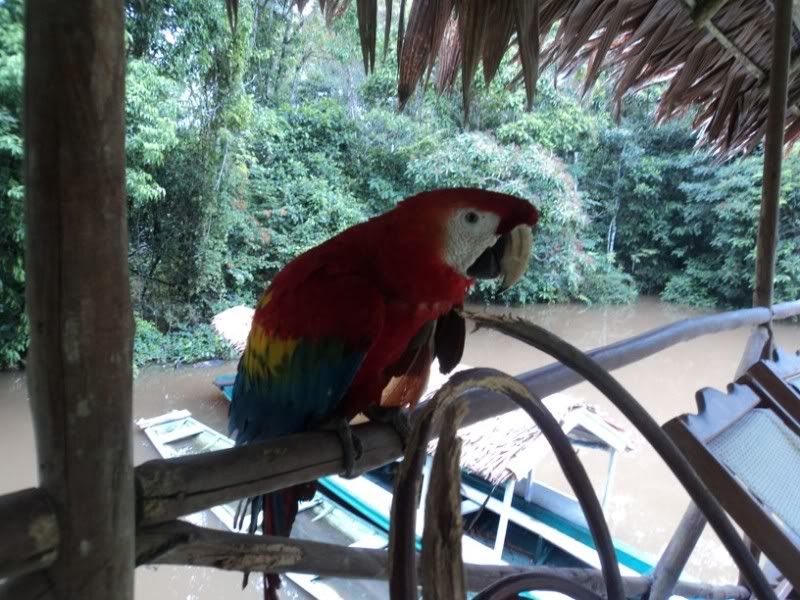 A visit to the Yagua community:
That is how people live here, the river can grow any day, regular houses stand no chance: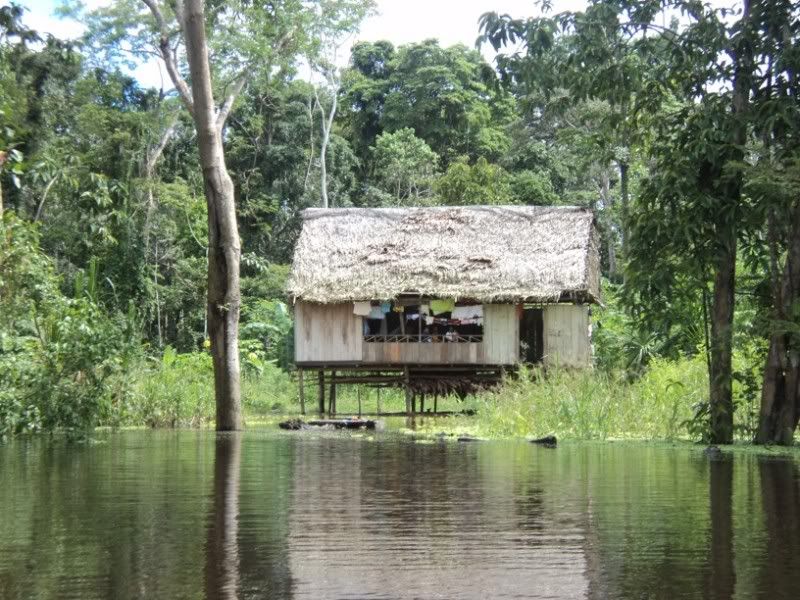 Me and the gigantic tree on of the jungle expeditions:
A cute sloth we saw very near us, poor baby was all wet from the rain: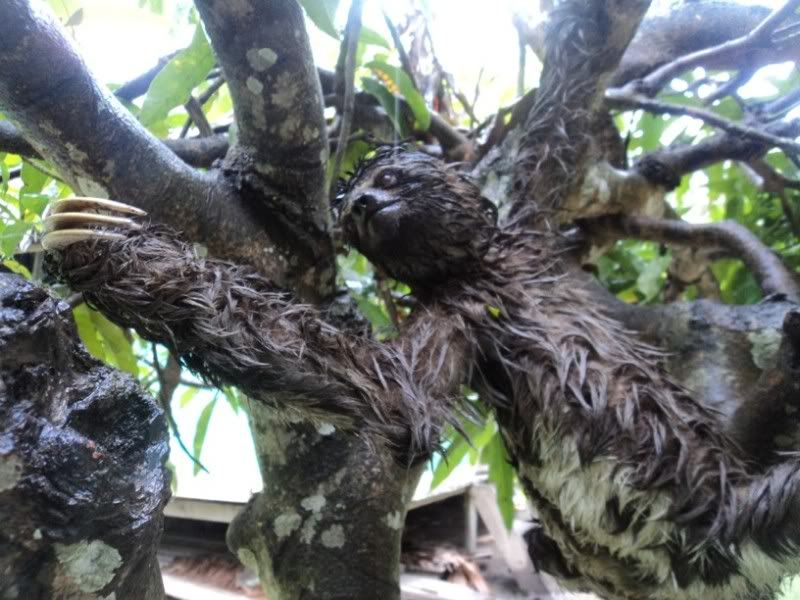 Now this was scary, this super big Anaconda was moving past us like nothing happened
A Mata-Mata prehistoric turtle: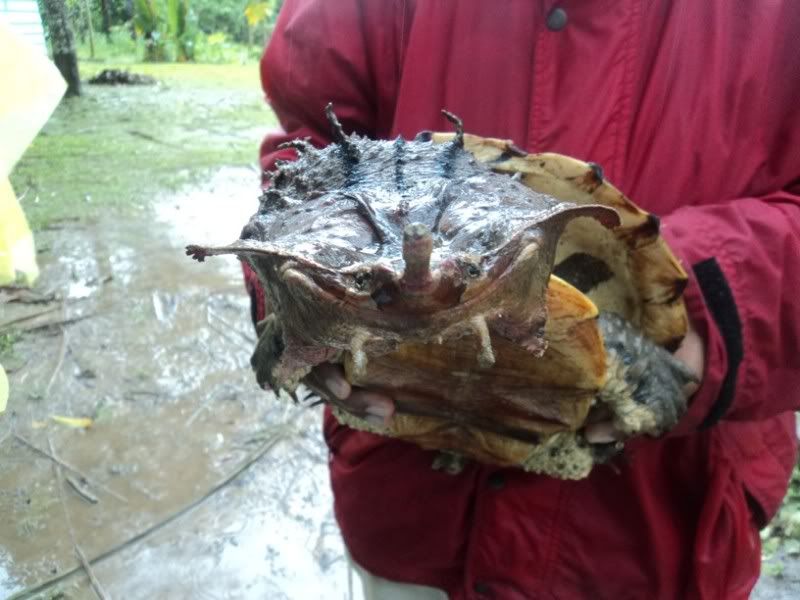 Another Anaconda, this time a baby, resting in a tree: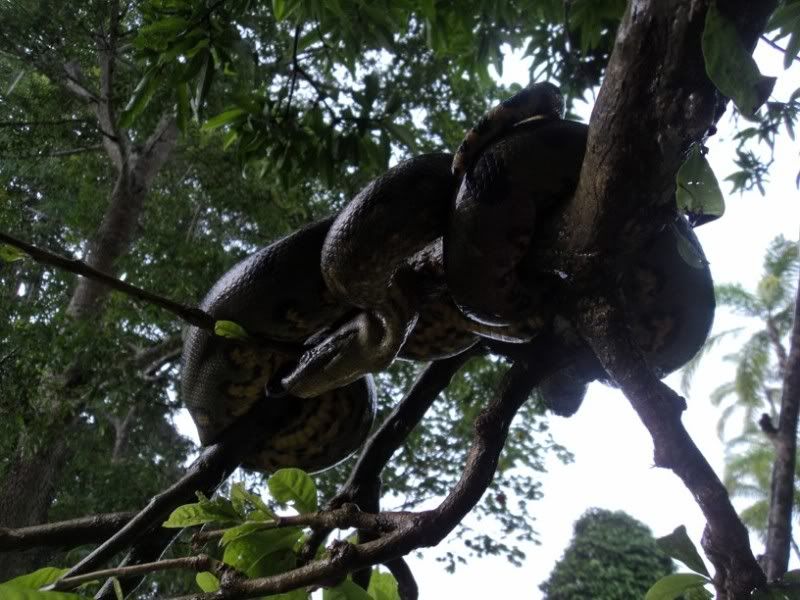 Back in Iquitos at the local market. Guess what fish is this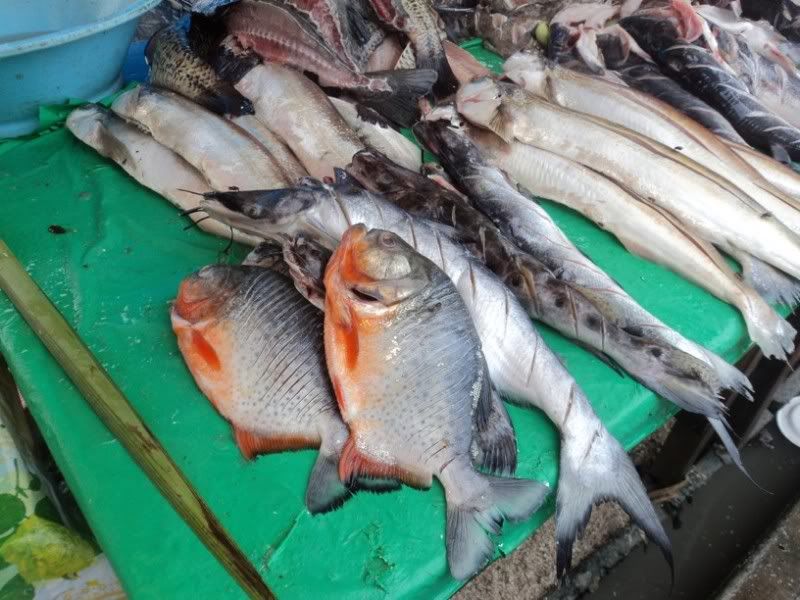 We visited the Manatí saving center:
One of the cutest and most peaceful animals I ever saw: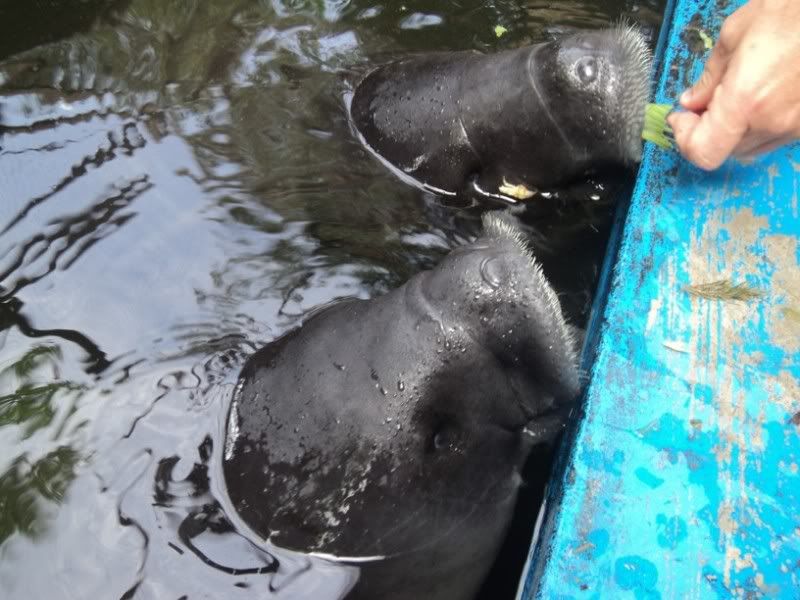 Iquitos: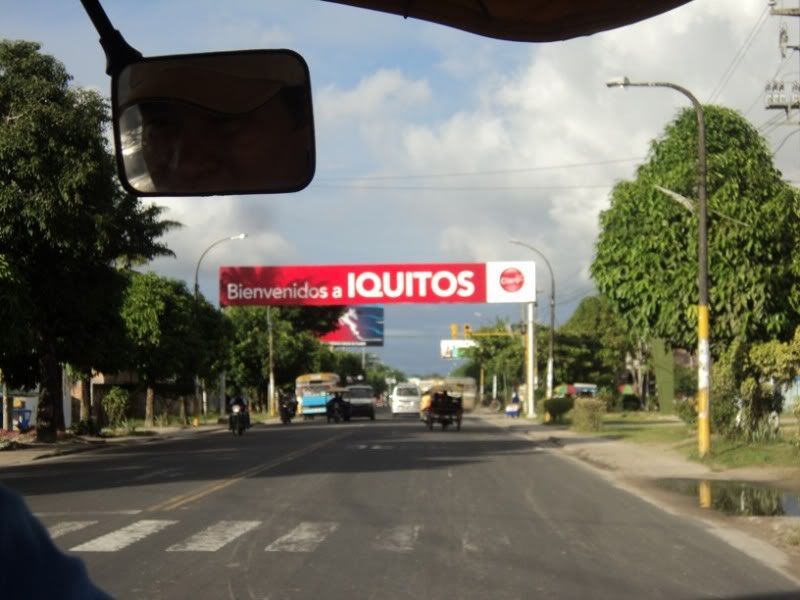 The Belen neighborhood, called "The Venice of the Amazon":
Interesting: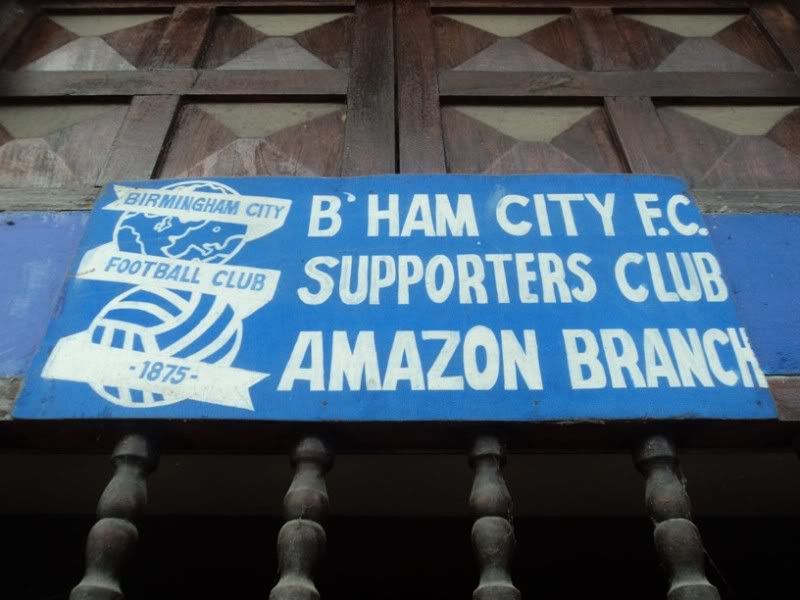 Would you try them???: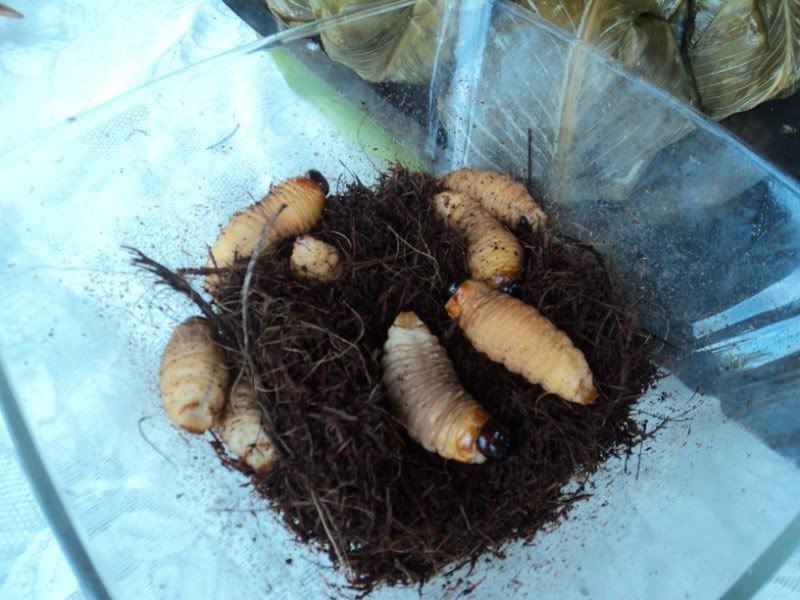 I ate them, but they did not taste any good:
12.03.2012
LAN Perú
Iquitos Coronel FAP Francisco Secada Vignetta Intl - Lima Jorge Chavez Intl
Flight LP 2377
Scheduled Departure: 08:05pm
Scheduled Arrival: 09:50pm
Actual Departure: 08:15pm
Actual Arrival: 10:00pm
Equipment: A319
Load Factor: about 95%
Seat: 17D
After some wonderful experience and days in Iquitos, it was time to head back to Lima. We were pre-checked again, so it was a question of minutes befiore our bags were checked and we proceded to security.
Check-in area: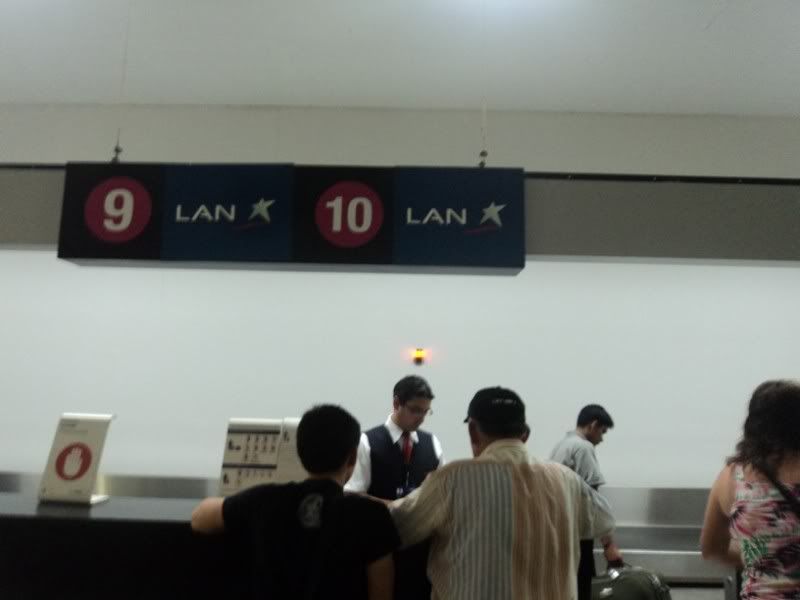 Just as we entered the transit area, a Peruvian Airlines B733 arrived from Lima: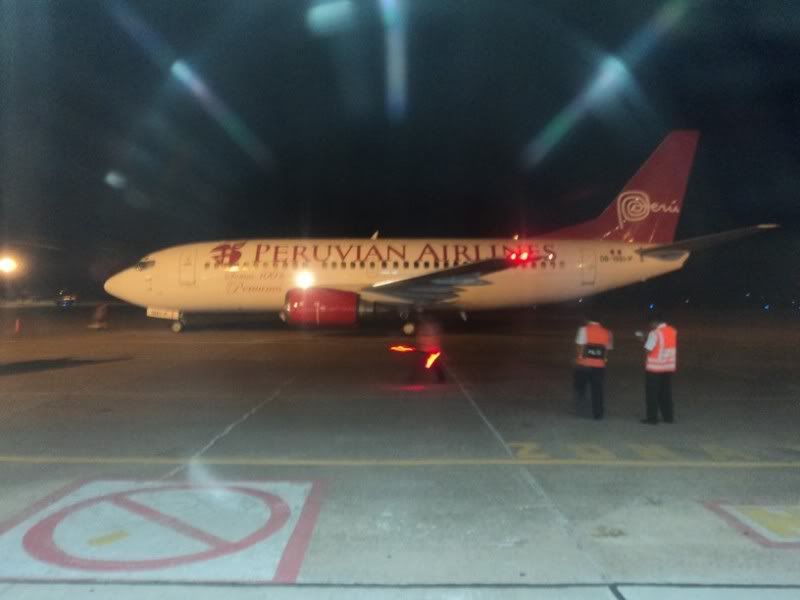 The waiting area (left side):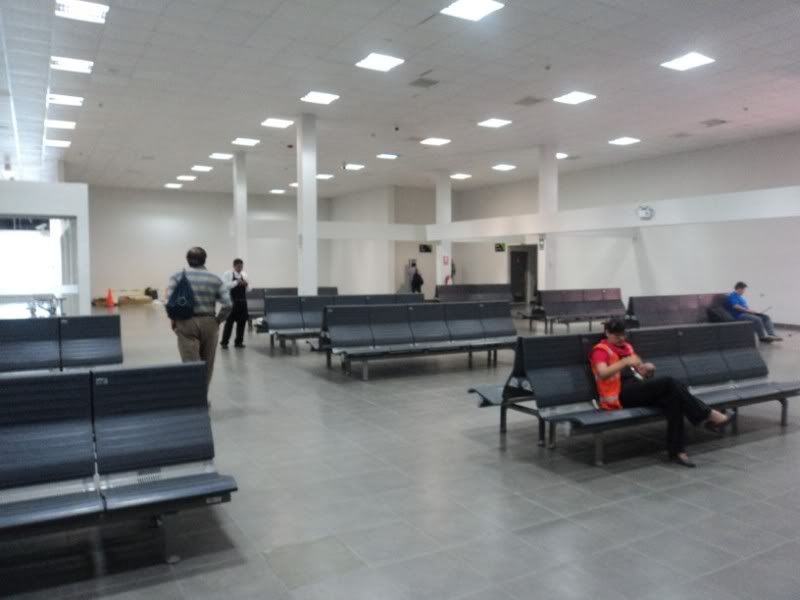 Right side was more crowded:
Close-up on the Peruvian tail: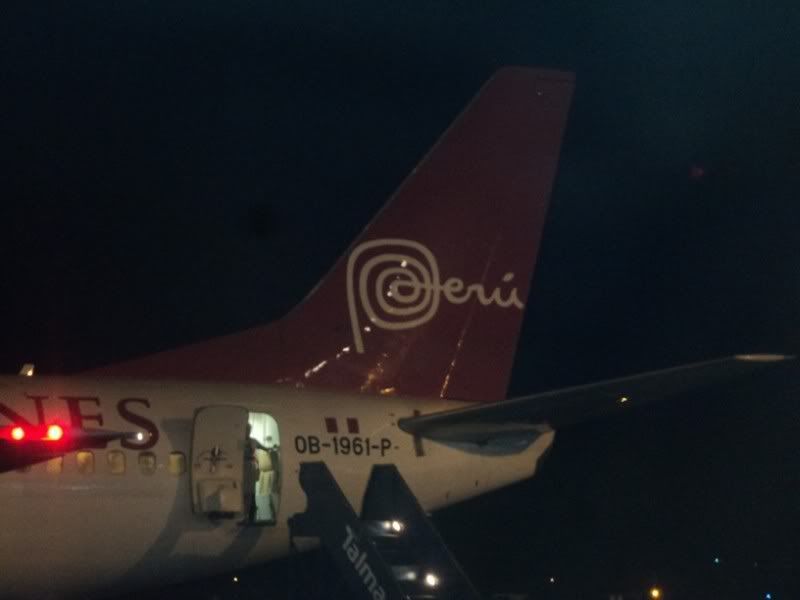 Nice bird: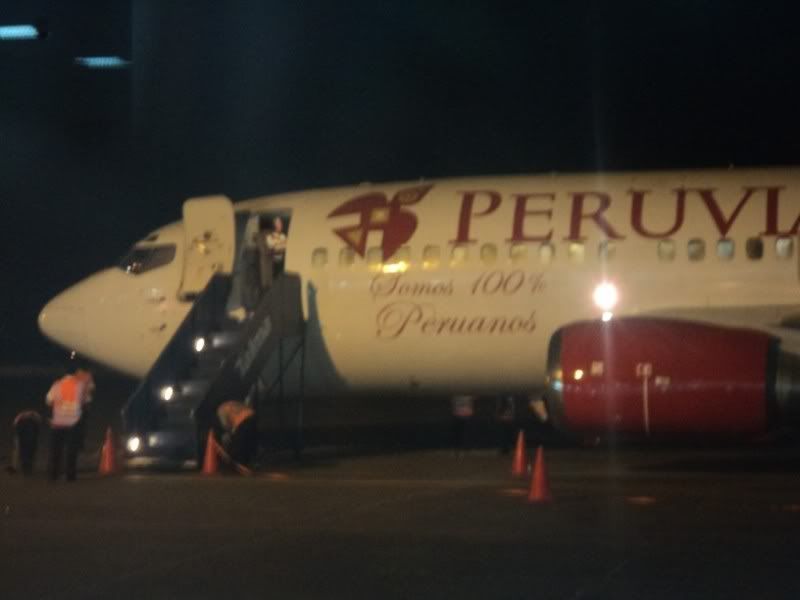 Lima featuring all traffic tonight: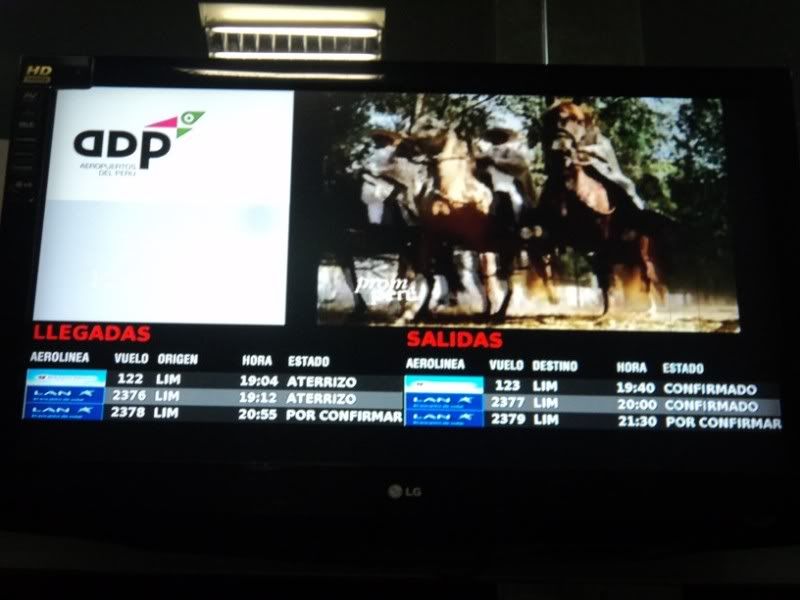 Soon, our flight was called and we boarded our A319 via stairs. I used the back door:
Before take-off, the aisle: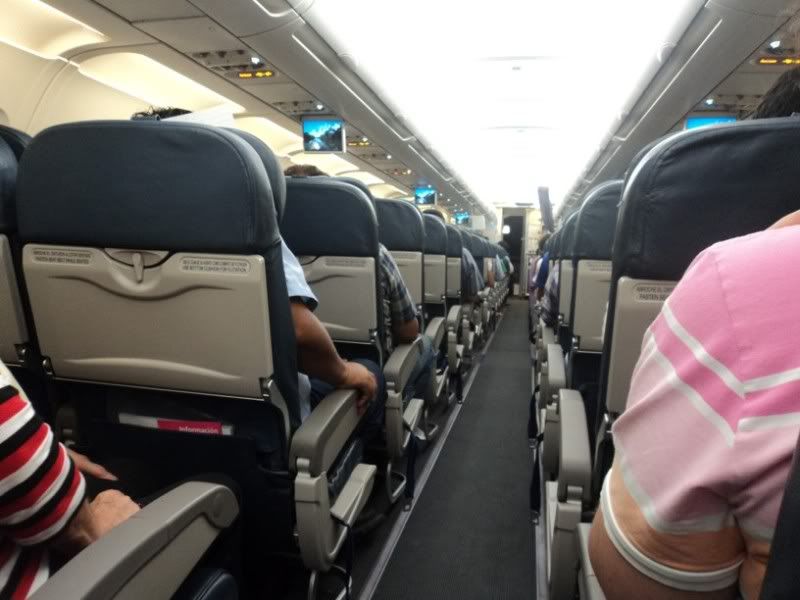 Take-off was quick and we were soon in the night skies. The same snack box and on the way to Iquitos was distributed.
Today, two female crews were in charge. One was excelent, friendly and smiling, the other was kind of bitter.
I opted for Inca cola: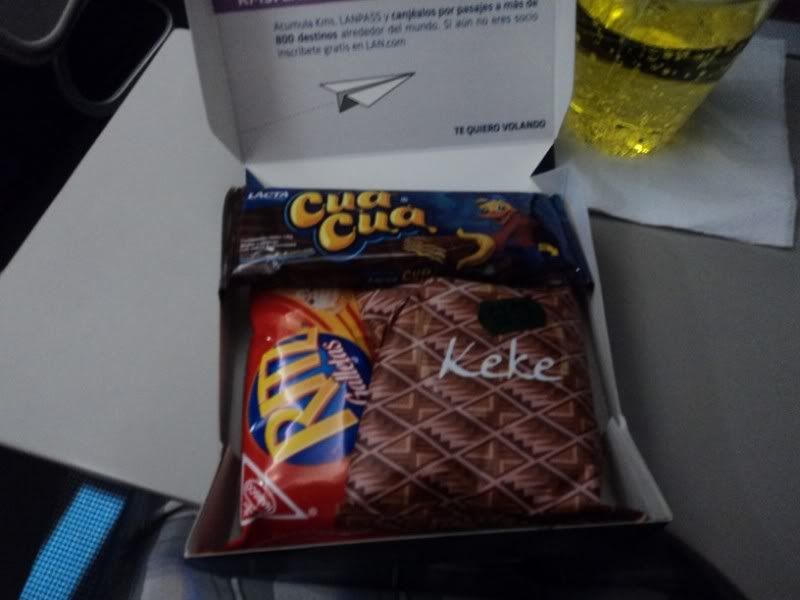 The same design:
I visited the bathroom which was cleand and contained a decent amount of things one might find useful: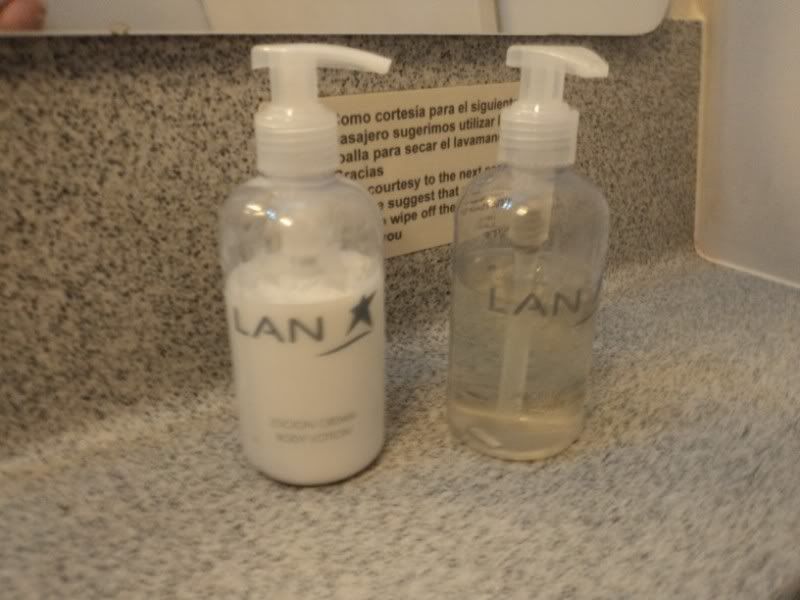 To my utter surprise, the stupid IFE (Just for Laughts) was changed to the Airshow, YES!!!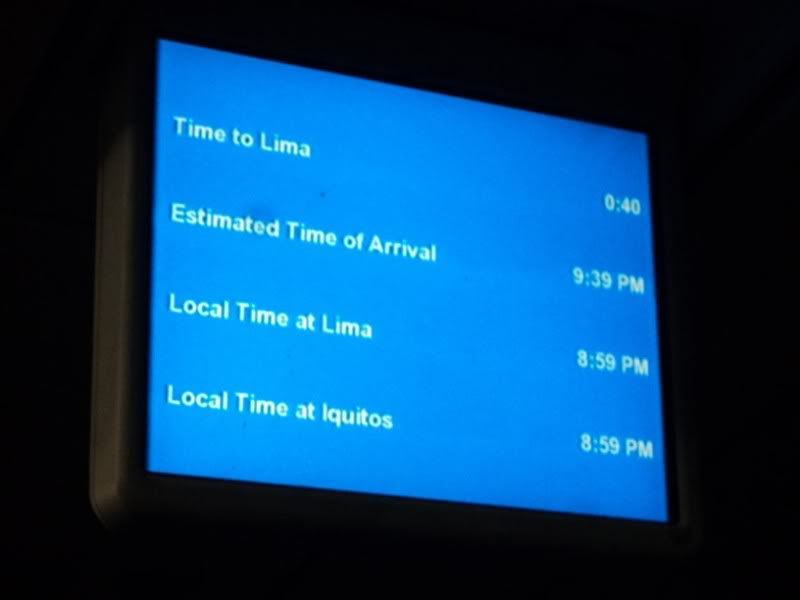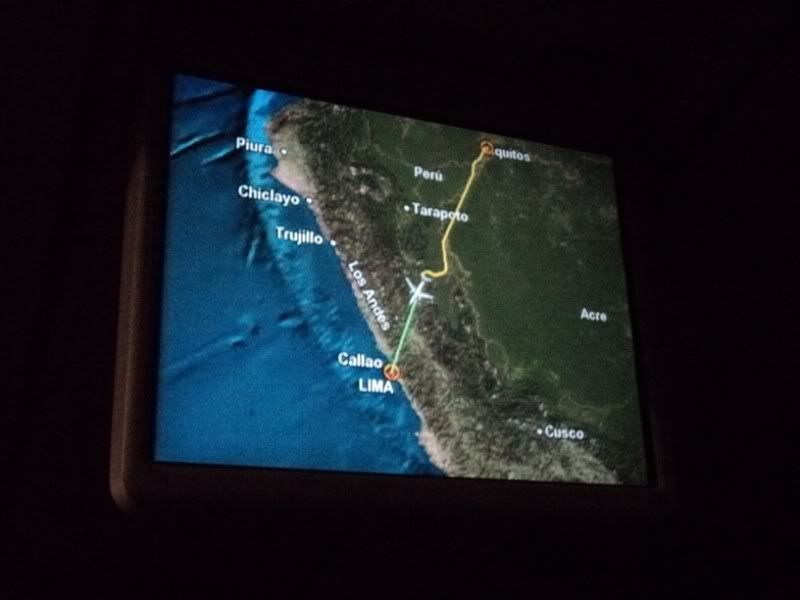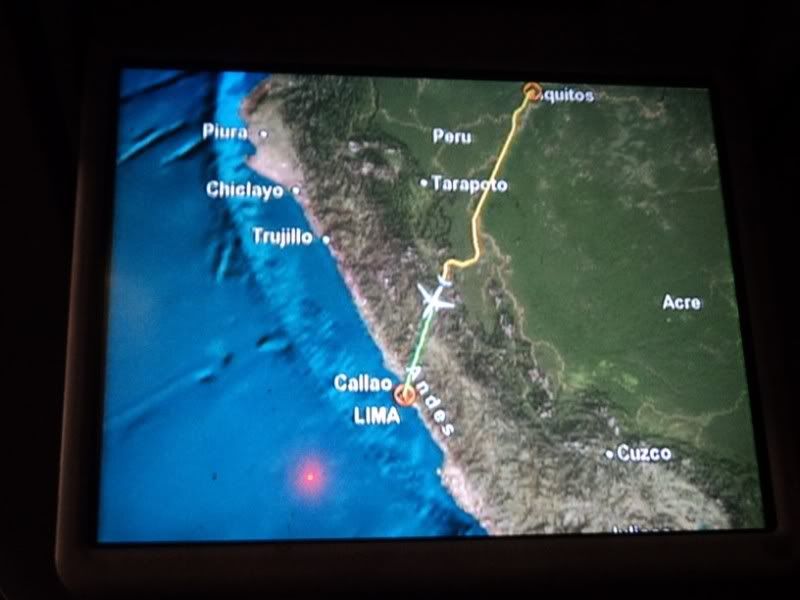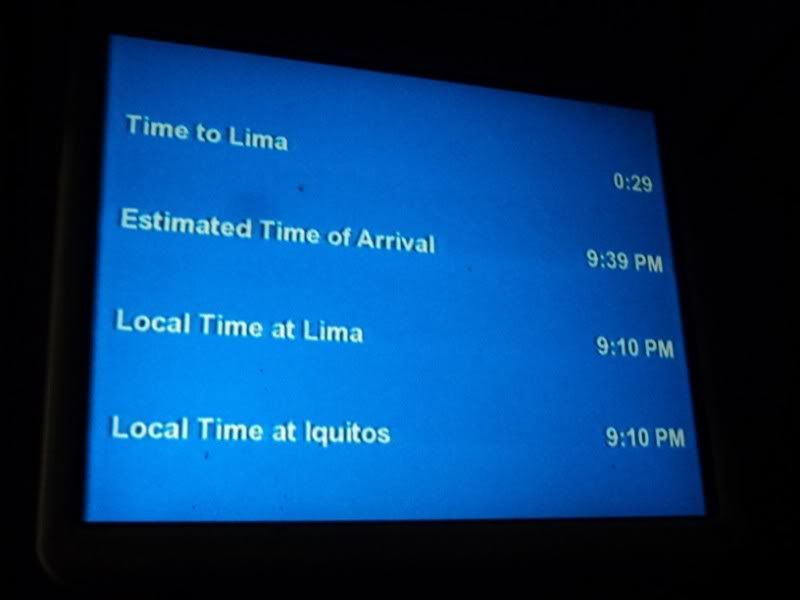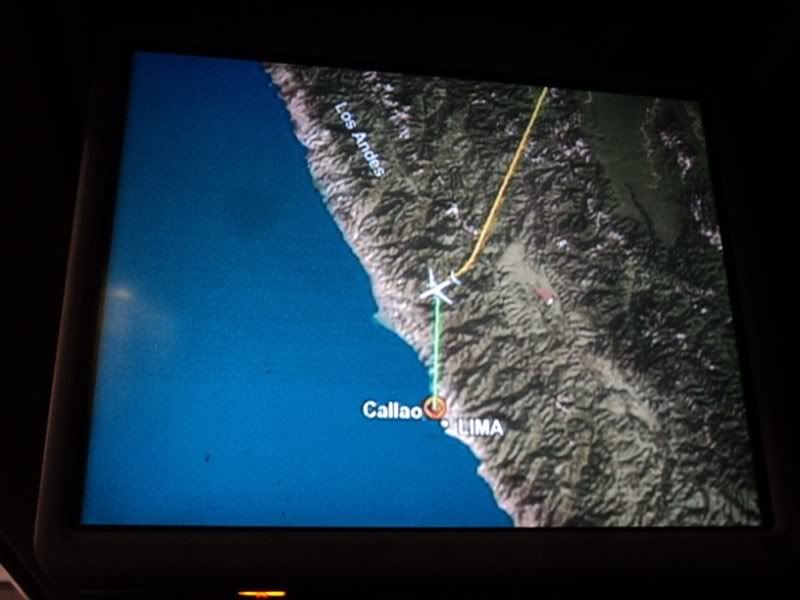 Soon after, we landed into Lima and deboarded via stairs again. A bus took us to the terminal. We collected our bags and grabed a taxi back home.
Seats: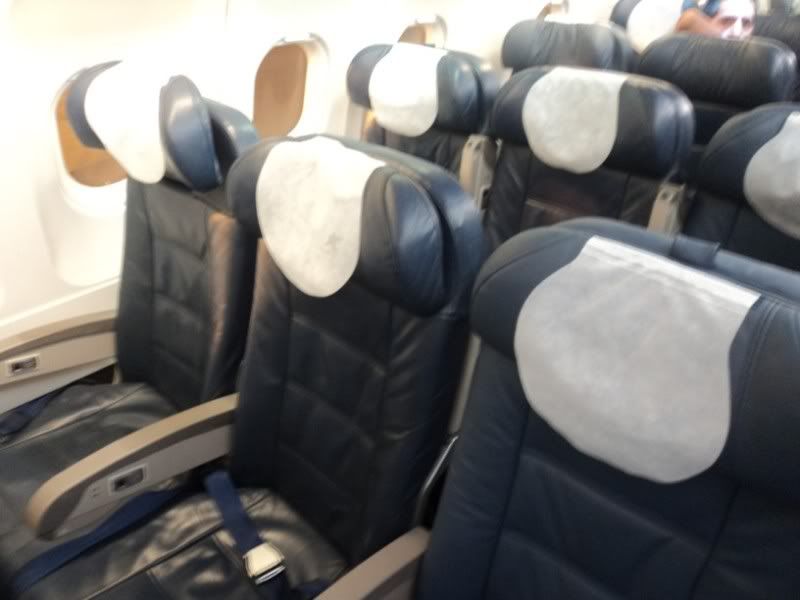 Our plane in Lima: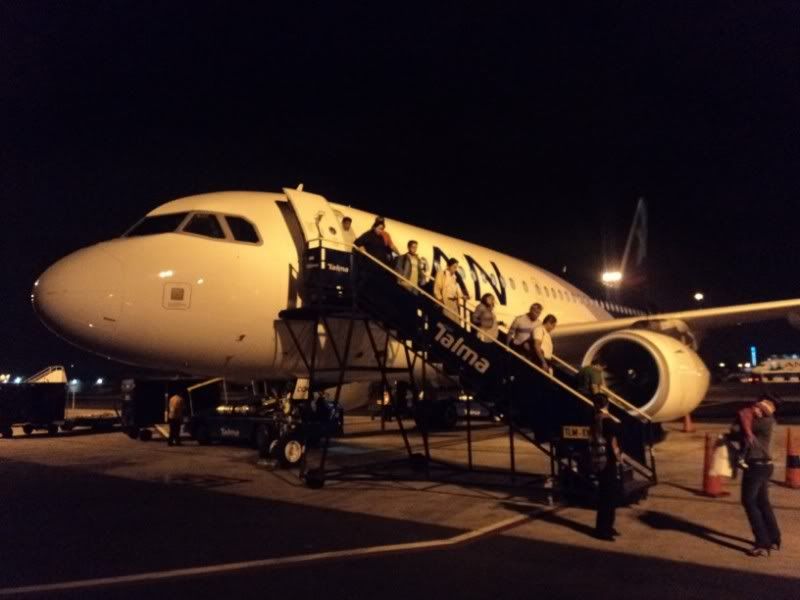 Conclusion:
LAN Perú showed a consistent product with a decent fare. However, nothing special stood out and can be pointed. The planes were nice, seats confortable, service was good for a 1.5hrs long flight (no way we would get a snack in the US). Crew was doing their job, however showed no real interested in the pax. It was an efficient transportation from point A to B, however, nothing really special. I prefer Peruvian Airlines, as you will see in the TR I will write soon on my flight to Cusco.
If you have any questions or comments, I will be very happy if you leave them
Regards,
Adam
[Edited 2012-03-25 12:57:35]