Hi all,
A short tripreport comes in between, from a recent trip taken with fellow member and tripreporter Parton87 also known as Robert, from Sweden.
He visited my country for about 4 days in early March and we met up a few times. We did some sightseeing together on his arrival, unfortunately weather in The Netherlands wasn't that great. I still believe that he had an enjoyable time, also with some other a.netters who were available to meet.
Well, to keep things short, we had some chatting before his trip and discussed his possibility to score an affordable ride on the Fokker 70, which was in my opinion easily doable on the -soon to be axed- LPL-AMS service. We picked a date which was also available for me, and proceeded with our bookings.
Where Robert firstly decided to fly out on easyJet, he later changed his mind and booked himself also seats on my flights with BA, giving him another new airport (LGW) and complimentary lounge access on my
one
world Sapphire status on BA.
The routing was to be as follows:
.
Great Circle Mapper
-copyright ©
Karl L. Swartz
Robert was now hoping to get a ride on BA's ageing Boeing 737-400, since they are basically the only equipment operating the LGW flights. But here, unfortunately BA changed their mind and scheduled an Airbus A319 on this service. Moreover, also the flight out of LGW to MAN was already forecasting the an Airbus as well, so it didn't look really good for him.
Comparing BA with KL? LGW-MAN/LPL-AMS

In the drizzle of the morning, Thursday 01th March, we agreed to meet on the all-stop trainservice from my village via Hoofddorp (where Robert was staying in the hotel). It was rushhour and quite busy but Robert was just in time to jump on the 08.06am service to the airport.
At the airport we walked up to Terminal 3, where BA has it's counters and where I picked up my 2 boarding passes at the desk. I was served immediately by a friendly agent.
We were able to use both the priority lane for passport control hence my status, a welcome benefit since it was quite busy. But the airport staff to coordinate things was not really keen on her job; a lot of regular travellers jumped over to the shorter priority lane. It didn't take too long in the end, and the staff (Military Police) were friendly.
We had a pleasant walk toward the BA Terraces lounge in AMS, visit the 'Rijksmuseum' exhibition on our way showing some great work from many years ago. Winter landscapes was one of the themes. Just beautiful to look at, and full of details.

.
Annex of the famous Rijksmuseum in Amsterdam. A small exhibition in the terminal
The lounge staff was welcoming us, we showed our boarding pass and he advised that our aircraft was already arriving and we couldn't stay too long. He promised to make a boarding call, which is common practise in this louge anyway.
Robert had some looks around, we got our morning coffee, a muffin, and some views on the apron where a handfull of DL aircraft were parked at the E-concourse. A daily happening in the morning hours in AMS, quite impressive to say at least.

.
BA Terraces Lounge in Amsterdam. This lounge is also used by CX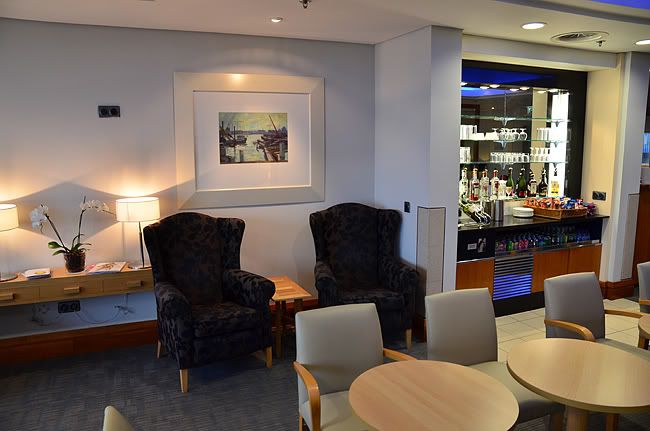 .
Comfortable seating inside the BA lounge

.
Standard offerings; some cookies or muffins plus the usual selections
At 0845am we left the lounge, 45 minutes prior departure. It takes about 15 minutes to reach the BA gates at the end of the D-concourse. It's recently refurbished, with a 'own' security checkpoint for several gates, used by BA. We meet with Martijn aka CrimsonNL, on duty for another flight that day. One more chat before boarding, plus the neccesary pictures from the awaiting plane. Meanwhile boarding was called for… time to head off!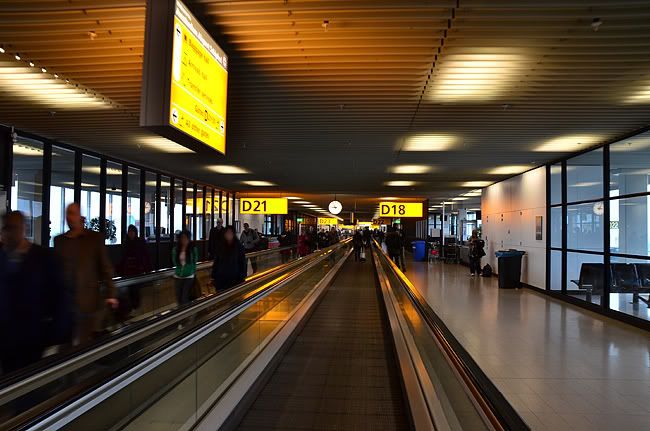 .
On our way to the gate. The D-concourse is loooong!

.
The new generalized security checkpoint at the end of the D-concourse

.
The expected Airbus A319 waiting at gate D28
| | |
| --- | --- |
| Date | 01.03.2012 |
| Flight | BA2759 |
| Route | AMS-LGW |
| Aircraft | Airbus A319 |
| Registration | G-EUOH |
| Scheduled Departure Time // Actual Departure Time | 09:30 // 09:27 |
| Scheduled Arrival Time // Actual Arrival Time | 09:35 // 09:23 |
| Class of Service | Euro Traveller |
| Seat No. | 07F |
Doors closed early when about 68 passengers were onboard, definitely a load which could be better. The neccesary welcome announcements were made and meanwhile a safety demo was shown on the overhead screens. I was seated in row 7, with great legroom and a middle seat remains empty. A female business type lady on the aisle seat.

.
The 'old' BA seating onboard. But very comfortable!
We pushback early, and taxiing was zero to nothing. We taxied for about 100 meters and were welcomed by the runway already. First, some other traffic was departing in front before our turn. Takeoff was followed and we climbed into the overcast grey skies over AMS.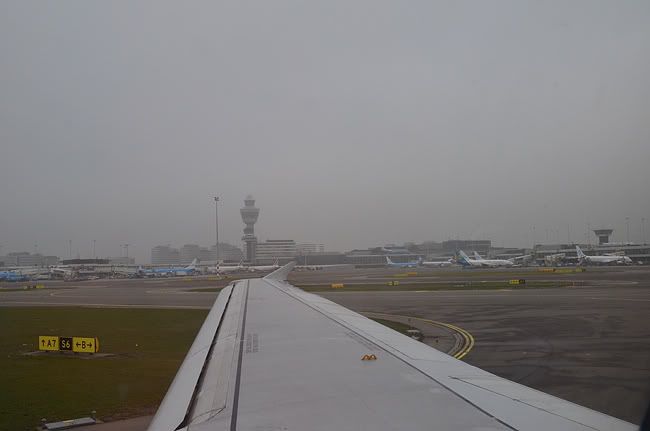 .
Taxiing out under the grey sky, with a lot of other traffic in the background

.
Airborne from runway 24
Soon we reached a level in clear skies, at which time the crew came in action. The purser closed the curtain seperating the classes of service on this flight. Immediately after, 2 friendly females came to deliver a sandwich.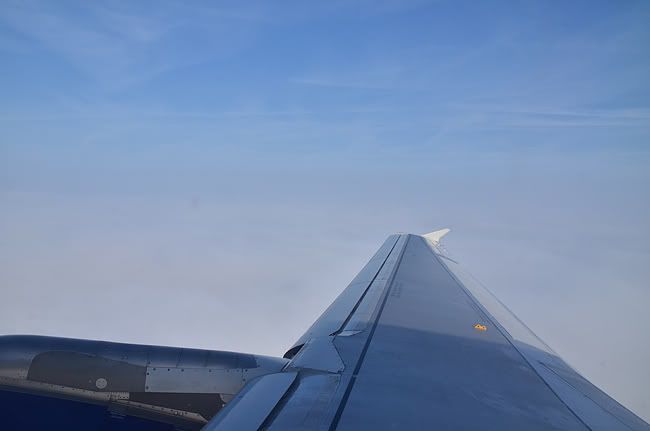 .
Always nice to reach the blue sky again…
As usual on my BA flights from AMS they have a sandwich on offer in Economy Class, despite so many people mentioning that this is not common. I don't really know, but I honestly never got something else afaik
The sandwich was filled with salami, not really my taste, so I ask if there is a vegetarian option. The flight attendant friendly took back the original offering and handed me a vegetarian/Gouda cheese sandwich.
.
To drink, basically anything was on offer. I decide to ask for OJ, which was served in the small pre-packed cup. A bit of small quantity in my opinion, but more then adequate for this short flight.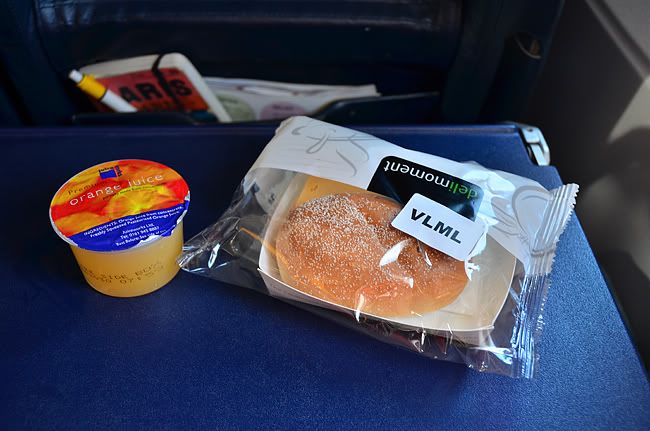 .
The (vegetarian) sandwich I got on this short flight

.
Dropdown overhead screens with relevant informations
Weather clears up when we near UK airspace and the crew announce a 20 minutes before landing, descend started. The crew cleaned up the cabin. Weather announced for LGW; fair but slightly misty condition with 7°C air temperature.
But a few minutes later the flightdeck announces light traffic for LGW and a shortcut was received, resulting in a direct heading for landing. This resulted in a more rapid descend and about 10 minutes later we touched the concrete of runway 26L in Gatwick.

.
Approaching LGW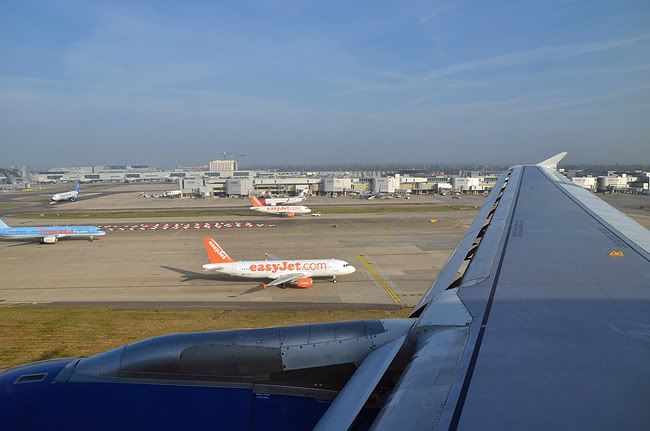 .
A nice view on LGW just seconds before landing
The crew does the usual welcome speech and we slowly taxi to our parking stand, with fingergate, on the satellite terminal. More then 10 minutes early, which is a good achievement here.
I disembark following the flow of passengers, say thanks to the crew and halfway down the jetty I wait for Robert.
This was the first time for Robert to visit LGW, and he got lucky with our way towards the main building, since we had to cross the taxiway by the famous bridge. It is really impressive, and a joy to walk over the aircraft taxiing below you.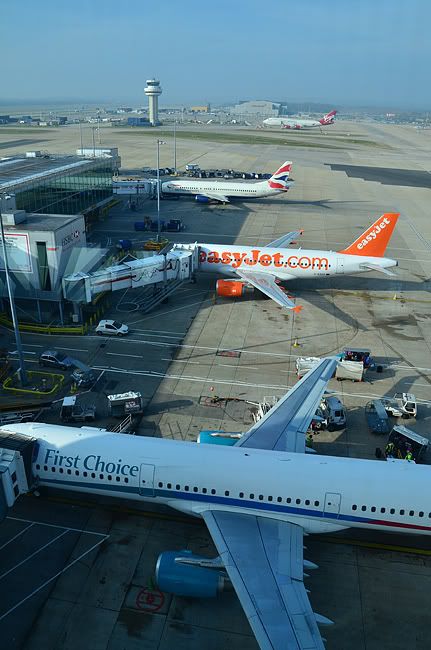 .
View from 'the bridge'. Just stunning!

.
Our A319 which flew us in from AMS is visible at the gate, below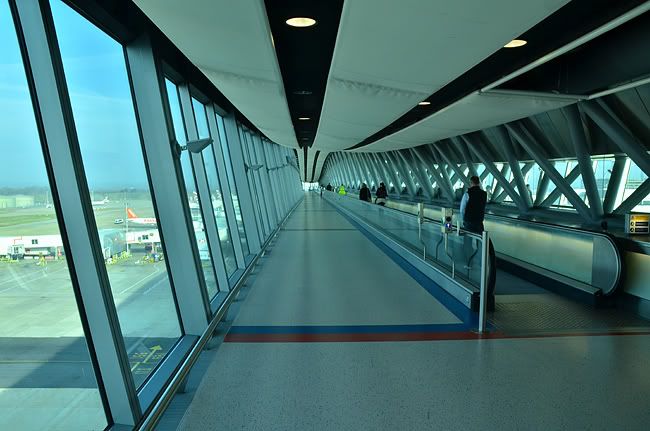 .
Time to walk further… on our way to immigration
Since our next flight was to a domestic airport from LGW, we had to clear immigration here first. There was nobody at the immigration counters, so we were done in 30 seconds, by a friendly female officer.
Then we had upstairs by several escalators, and head to security again. Also here, no waiting time, and, very friendly officers. My camera bag was found save enough to travel,… but now my jacket seemed suspicious. The officer probably confused herself, and it was all found OK by another officer. We had a good laugh about it when I said it's usually my bag which causes concerns.
We now head off to the BA Terraces lounge, for a more substantial breakfast. We were addressed very friendly, typically BA or British, dunno… we felt welcome from the moment the greeted me and Robert.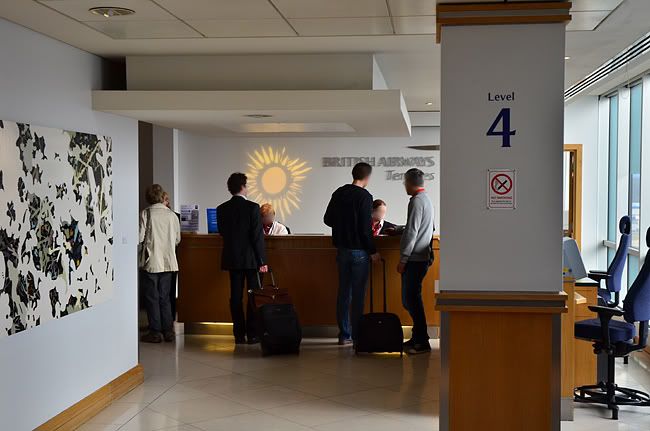 .
LGW BA Terraces Lounge - Entrance
The lounge itself is very convenient, has very good views on the apron, but at this time of the day, most seats at the window were taken. We decided to take a table in the middle and helped ourselves with some food.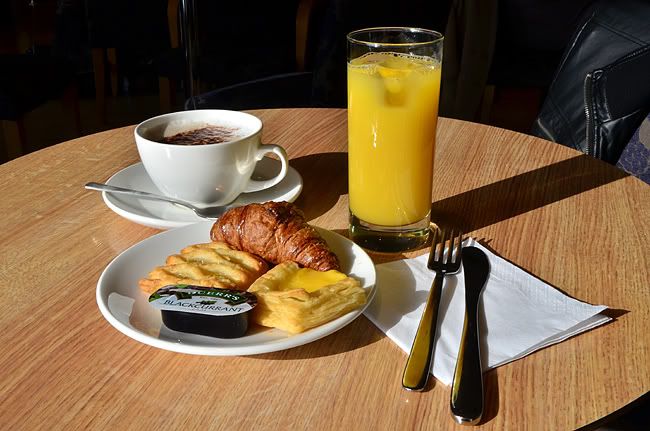 .
Breakfast in the lounge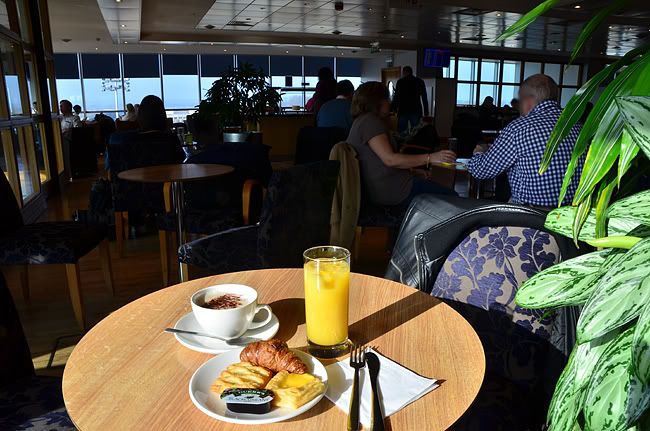 .
A view from our table
We couldn't stay long, while boarding was called soon. Next destination: Manchester!
The gate was 55D, just turn right once you get out of the lounge and you're there. Boarding pass was checked before we were let into the waiting area. The aircraft waiting for us was indeed another A319 which are now based at Gatwick.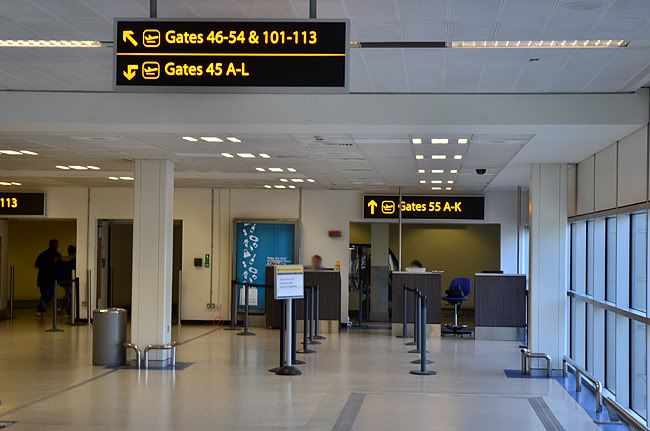 .
Towards the gate
Once we arrived at the gate boarding started immediately, so we were able to continue straight away.
Luckily enough the fingergate had some windows, to snatch a picture of the aircraft and catch the registration.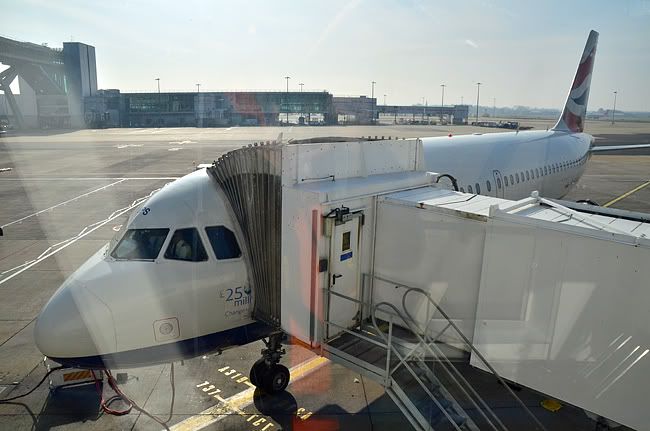 .
Up close with G-EUPS

.
One more view, with 'the bridge' in the background. Impressive!
| | |
| --- | --- |
| Date | 01.03.2012 |
| Flight | BA2904 |
| Route | LGW-MAN |
| Aircraft | Airbus A319 |
| Registration | G-EUPS |
| Scheduled Departure Time // Actual Departure Time | 11:00 // 11:01 |
| Scheduled Arrival Time // Actual Arrival Time | 12:00 // 11:56 |
| Class of Service | Domestic |
| Seat No. | 03A |
At doorside I was friendly welcomed by the purser, checking my boarding pass. It wasn't far for me to reach my seat, all 3 seats still free, but later the aisle seat would be taken. Again, a female business style traveller, laughing sponteneously throughout the flight once she read some cartoons in the Daily Mail. Not really the type of paper you would expect at this type of traveller though. Upon boarding, relaxing classical music is playing. I like it.
The cabin is more bright then on 'EUOH' earlier that morning, so maybe this ship got a recent cabin maintenance check or so. Everything in good conditions so far, drop down screens from the overhead panel showing the safety video.
Also the captain welcomes us for the short jolly to Manchester today. Sit back, relax and enjoy… Well, let's go. Ontime departure so far, a few minutes to reach the runway, but not without the usual waiting time at Gatwick. Several other aircraft in front, and with the single runway operation, we also have to wait for landing aircrafts. One by one,… maybe it takes 15 minutes in total before we fire up and climb out of a runway 26L departure.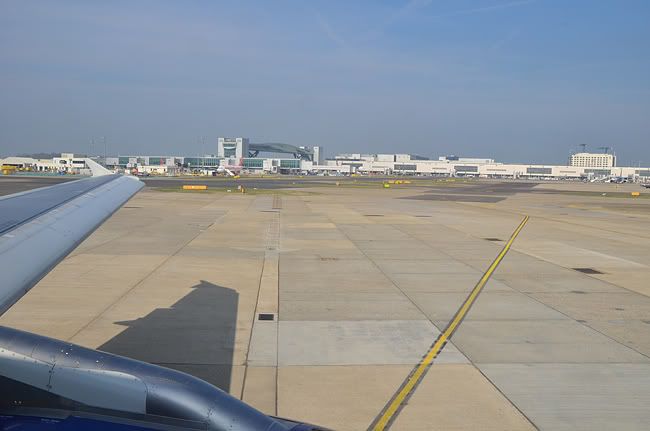 .
Taxiing out for departure

.
B777-200ER G-VIIA and B737-400 G-DOCT under maintenance

.
And airborne again, turning towards the Northeast
Suddenly, some moderate turbulence, a few heavy bumps, quite amusing hehe. Not sure how others thought about it. It was followed by the nearly 180 degrees turn towards the East (to avoid LHR traffic), always interesting when the engines seem to reduce to idle for a while, and spool up again soon after.
We fly around the city which is kept on our left, some good views though the layer of haze makes taking pictures difficult. We finally climb to 24,000 feet for this flight.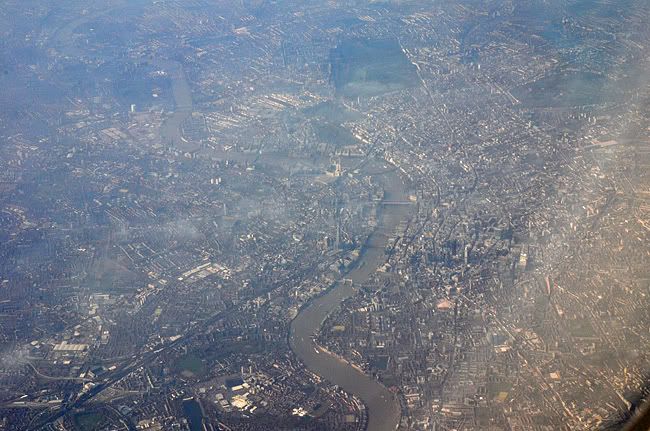 .
A view on the city of London
Enroute a bar service is given, I get myself a G&T, and choice for cookies or a bag of crisps. Definitely BA is top-class for such a short flight, so I enjoyed it and had some pleasant views on the British countryside below.

.
Great service on this short domestic, G&T + crisps. Perfect!
It doesn't last long to be at cruising level. I noticed our descend, and also the flightdeck informs about MAN arrival weather. It was said to be quite foggy in the morning but clearing up now, mostly sunny weather was to be expected. The captain thanked us for flying BA (well, my pleasure).

.
Bruntingthorpe Airfield; used for FAA explosion test on an Air France 747-100 and other interesting things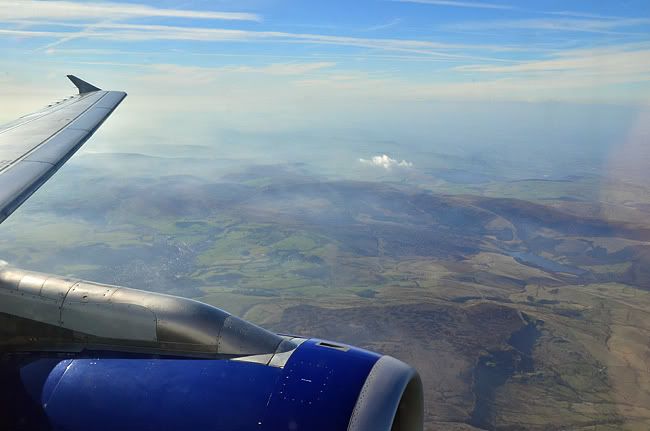 .
Beautiful green British landscapes below
Arrival checks were done by the cabin crew and soon we came in from the East, landing on runway 23L at MAN. This was followed by some strong brakes applied, we vacated the runway quite quickly.
On my left I see hordes of people at the Viewing Park.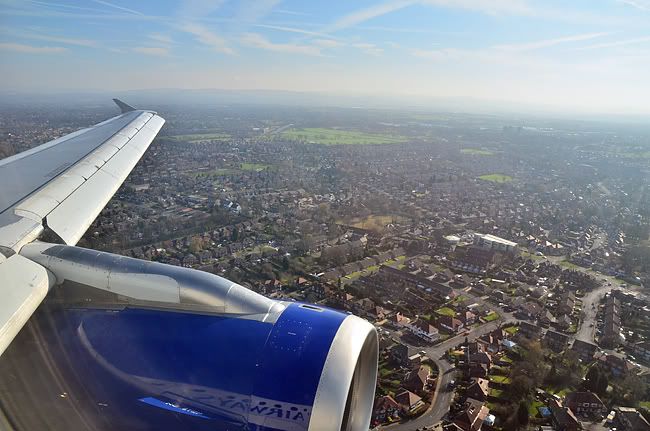 .
Overflying suburban areas prior to landing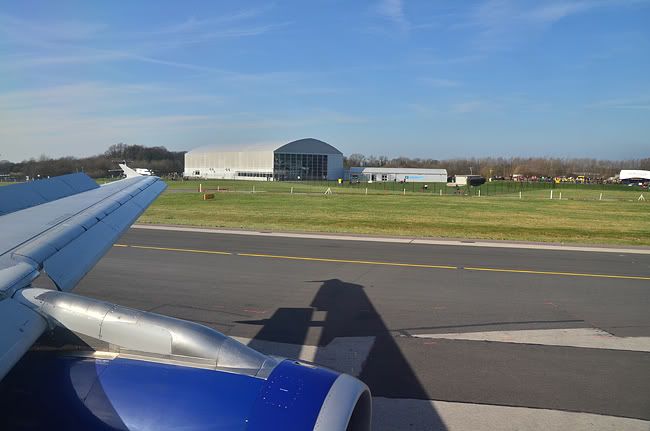 .
Landed. Manchester Viewing Park in the background
A TK Airbus A320 is leaving for IST. Soon this flight will be operated by the new B737-900ER's TK recently got. Maybe it's something to do for me, since this (sub)type is missing so far.
Other traffic, mostly charters and a few other BA's around our final parking position.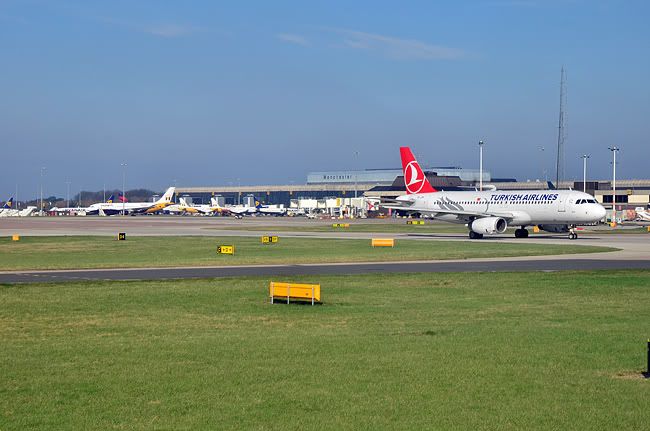 .
A lot of (holiday) traffic here, and TK taxiing out

.
After disembarking. A final close up with G-EUPS at the gate
We arrive early, so I am thankful to the crew again. Also the captain is here to say goodbye.
Since we arrive from London, there was no need to clear immigration anymore. We walk through 'nothing to declare' and there was Lee (AlwaysOnAPlane), waiting for us. We recognized eachother immediately.
We had a nice chat and meanwhile walked from Terminal 3 towards the busterminal. On our way we called in at the planeshop where I supported them a bit by buying a 2012 registration book. I will hardly use it, but I feel sorry for those 2 men sitting all day long in the tiny shop with almost no buying customers.

.
Some interesting aircraft visible during our walk over to the bus terminal
Anyway, the bus terminal was about 10 minutes walk from terminal 3, and since we arrived early, a cup of quality coffee at Caffè Ritazza was imminent. To avoid creditcard surcharges we decided to take something to bite as well. Plus good aviation talk… what else you need on such a day!

.
Good coffee at Ritazza
Our bus was leaving from downstairs, where long distance buses are leaving from. National Express coaches had a conveniently timed "280" service heading for Birkenhead with an intermediate stop at Liverpool Airport. After the driver checked the prebooked reservation we were let in and all had 2 convenient seats for ourselves. The layout of the bus was modern, clean and comfortable, with good legroom as well. And, via the M56, it took just 1 hour to reach LPL.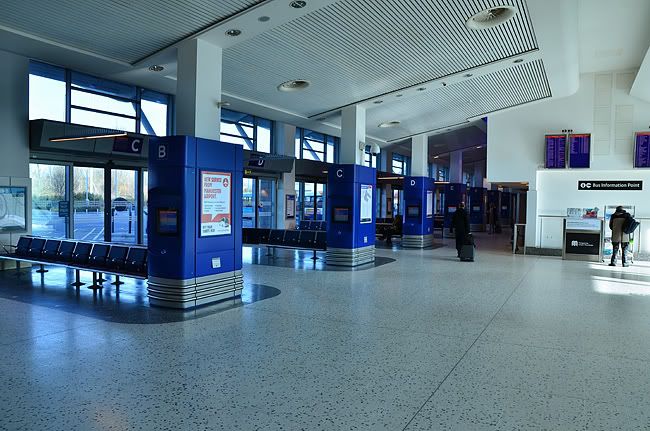 .
MAN Bus Terminal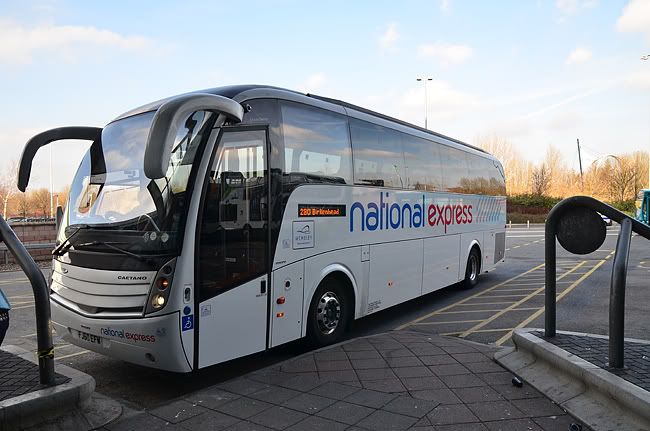 .
This coach took us to LPL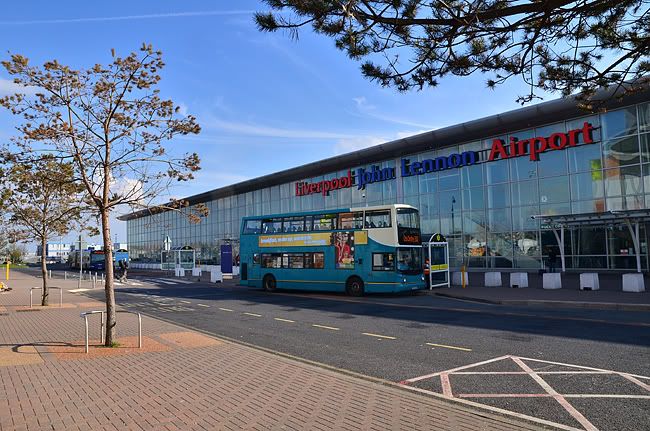 .
And finally we reach John Lennon Airport
At LPL the aviation talk continued, on the parking lot next to the terminal buidling. The sun was shining, spring was in the air, planes taxiing out in the background. This was no waste of time but just a relaxing moment in between flights.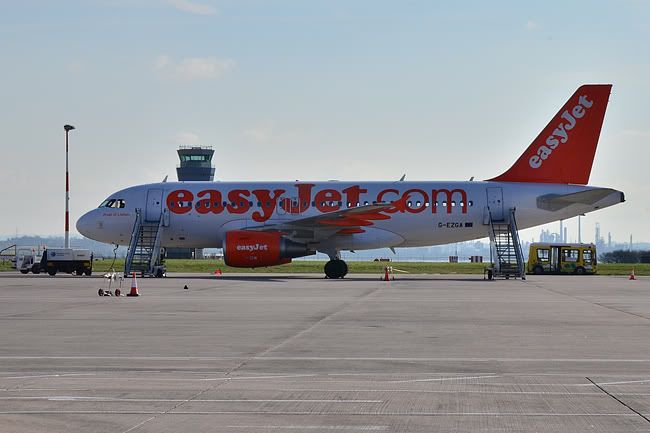 .
"Pride of Lisbon" resting on LPL's apron
After a while we had to go back to the terminal to receive our boarding passes. 3 counters were open for the KLM service to AMS, I went to the priority counter and requested the printout of my boarding pass.
This was done and I noticed my seat was at row 18, definitely not my choice. I checked in on seat 03A, and was quite surprised. I told the lady to change me back to 03A, but she refused since 03A was taken already. Well, why do you relocate me?
Finally the best she could offer was 05F, the row of '3' seats on the Fokker. She promised to try her best to keep the middle seat free. Well, not the best impression so far.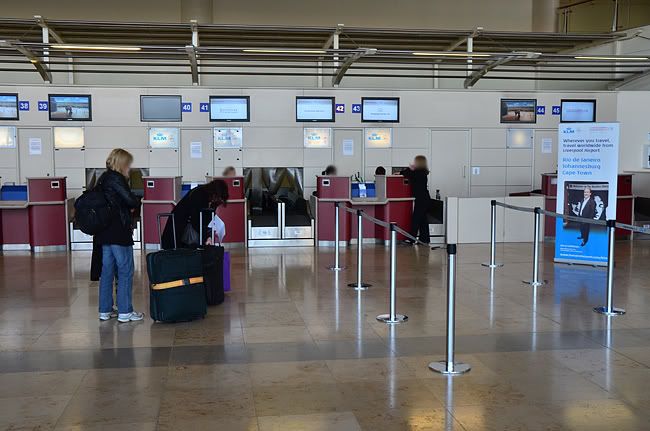 .
KLM's check-in desk at LPL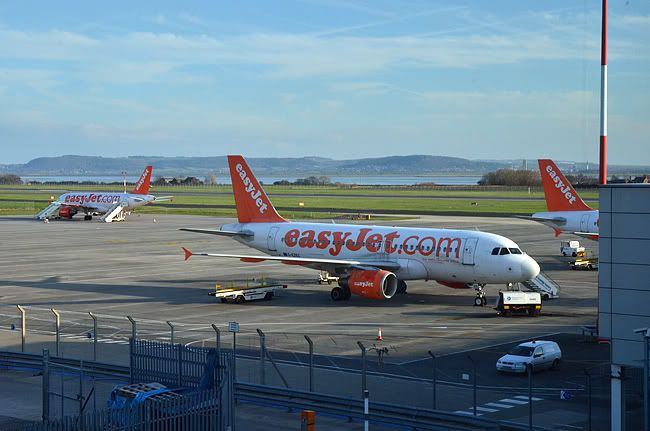 .
When you walk to the security check, you have a good view on the apron
Security seemed busy, but since my ultrathin piece of boarding pass did not show any status not airline logo etc, I was wondering if I was able to receive some special treatment here.
They do sell a GBP 3,00 entrance fee to use the fast lane. But I thought I deserve it also, and ask the lady who made a picture of my face. She agrees, and manually opens the fast lane entrance. Thanks for that, very kind of her.
So, I was let in in front of the crowd of mostly FR and EZY public, watched the scene going on, which was quite a show here in LPL. Officers seemed strict, many people do their shoes off, many bags beep and people as well. Hmm… not my style. Also I do not like to take my shoes off.
I proceed in my usual way, iPad out of the bag, shoes on, … then the officer looks down and checks. He says 'well, those trainers are fine, leave them on!'. Thank you! No beeping in the end, also my bag with camera equipment is not a problem here.
Now I had about 15 minutes to wait for Robert and Lee, both in the normal queue but seperated from each other. At least I was able to watch the whole scene which is actually quite entertaining. I know security is really important and neccesary, but sometimes those officers just to 'strange'. And passengers, well… they just follow up their orders. That's the way we travel in 2012.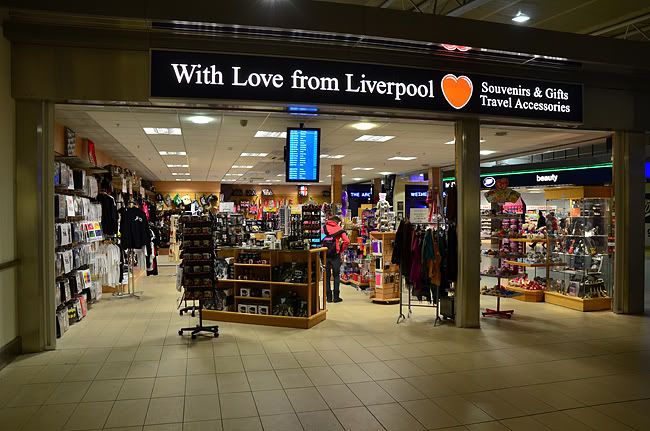 .
Your usual (souvenir) shop immediately behind the security checkpoint
So far no good impression of LPL, and when we walk inside the terminal, the shock got even bigger. What a DUMP! This airport is, in my opinion, ready to be demolished. I check out a few of the shops and the usual WH Smith do not have the travel book I was looking for.
Other details to mention are the worn carpet on the floor, with parts missing, so don't stumble over when walking. The windows overlooking the tarmac are dirty on the outside, the waiting area at the gate are way to small and stains are on the wall. Swissport groundhandling staff are sitting on the floor and chewing gum, waiting for their next job. Aside from that, it's Ryanair signage all around.

.
Gate Area. At least there is 1 KLM advert on the wall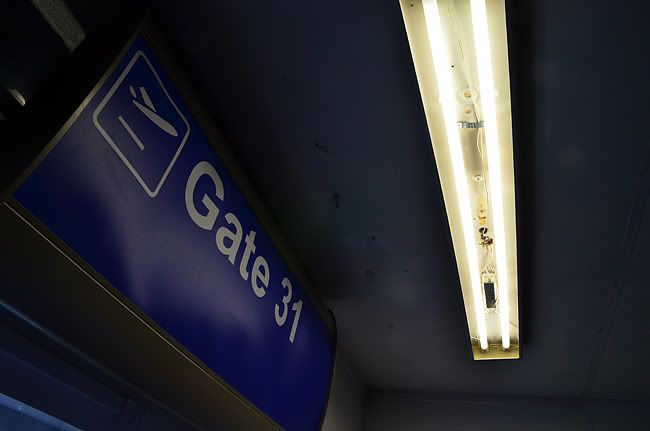 .
Also very sophisticated light systems they have…

.
Not really safe is it? I can open the window at the apron side.

.
Let's put the vending machine here, look the electric wire and the stains on the wall …
Our gate is number 30 apparently, this number was written in the middle of my boarding pass. And yes, it's confirmed when the 'wait in lounge' changes to 'go to gate 30' at some point. Very interesting again, because the aircraft wasn't even in. It still had to land and disembark. It's pure nonsense to be at the gate at this small airport. Plus, there were not enough seats.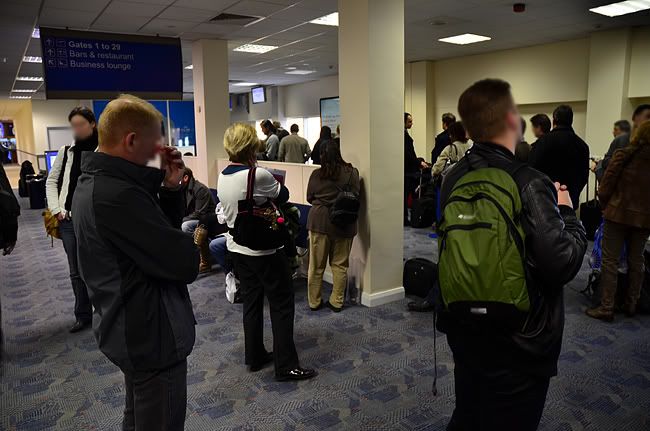 .
No plane yet, but let's go to the gate already. Here's the result!
But at least, there was a window, so I was happy to be there when the Fokker 100 came in. I make some pictures until the 'Swissport chewing gum girls' come over with a Ryanair branded string. "Step back aside now, you have to wait BEHIND this line!" The already small area is reduced in space now even more when the girls take their position behind their wooden desk. But this is KLM I said, not Ryanair or whatever airline…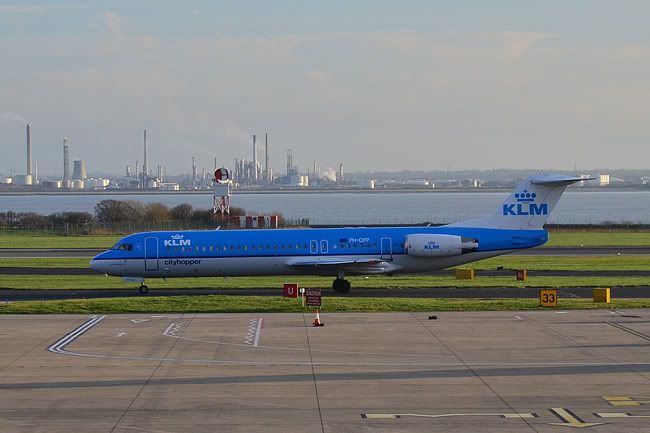 .
KLM and the expected Fokker is finally arriving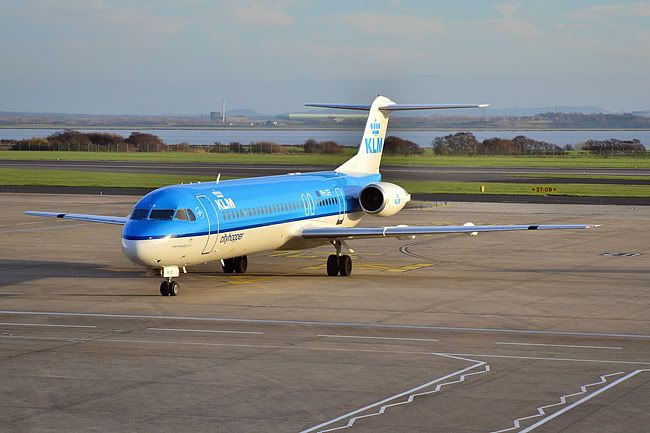 .
A good looking Fokker 100 arriving from Amsterdam
Anyway, the whole thing was quite shocking for me. This is not the way KLM wants their passengers to be treated, and moreover, those ladies working for Swissport and in charge, are not capable for this kind of job when full-service airlines are around.
But did I say Fokker 100? Yes… hmm an equipment change. I knew already in the morning that this was going to happen, so 'mission Fokker 70' fails here for Lee and Robert. For me it wasn't really a big deal. I got a least a new registration on this flight, as somebody at KL was able to swop around 2 planes. Thanks Pieter!
They got back some confidence when boarding was starting and they were yelling through the area for 'cardholders'. Whatever 'cardholders' are, but that's what she said. It was quite a hassle to work myself forward but at least I received priority boarding (not really important, but just for the sake of it). I ask the girl if the middle seat remains empty, but she said that she couldn't check because it's another system. Hmm… at every other airport and where I ask a question, staff is helpful and checking it out. Not in Liverpool. Shame again!
Well, let's get myself onboard now, a few steps on the tarmac, walking up the Fokker 100s own stairs.

.
Boarding the Fokker 100 for Amsterdam

| | |
| --- | --- |
| Date | 01.03.2012 |
| Flight | KL1042 |
| Route | LPL-AMS |
| Aircraft | Fokker 100 |
| Registration | PH-OFP |
| Scheduled Departure Time // Actual Departure Time | 17:25 // 17:29 |
| Scheduled Arrival Time // Actual Arrival Time | 19:45 // 19:53 |
| Class of Service | Economy Class |
| Seat No. | 05F |
I come in and say 'Hello' in Dutch, and continue, 'well, I'm happy to be onboard with you since the airport is a dump'. The purser looks at me and doesn't understand. So I didn't get it at once but she was a UK native and doesn't speak a single word Dutch. Apparently we had to deal with the old AirUK/KLMuk crew. I say 'never mind' and want to continue my way.
But then, 2 men come back from the cabin and have a seating issue about seats in row 5. Double assigned. Hmm… strange, I say I had an issue with row 3 also, but that was solved. One of the 2 men was reseated in the back of the cabin. Again not the best impression here, plus, not the 'KLM welcome' I am used to and which makes this airline so 'unique'?
When I sit down I notice the fantastic seat pitch on these Fokker 100's, it's 35" maybe, very generous. And comfortable seating too. The window shade is halfway down and won't stay in 'up position', which is of course to be expected from these older aircraft and soon to be retired.
Passengers were all on board soon, the middle seat remains empty. Well, I'm happy again. Let's go now. But then the audio tape used for the safety demonstratoin is not working. And with 2 crewmembers on this flight, and the overwing exit on this airplane, it's impossible to do the safety demo now.
So, one crew does the vocals, while the other does the manual demo. This is repeated for the second half of the cabin later on.
Meanwhile we taxied out, and the crew was pretty late. They finished the demo and (very quick) cabin check just when we are to line up the runway. The overall impression I got was that this crew was stressed, maybe caused by the short turnaround they had, some boarding issues and the broken audio system.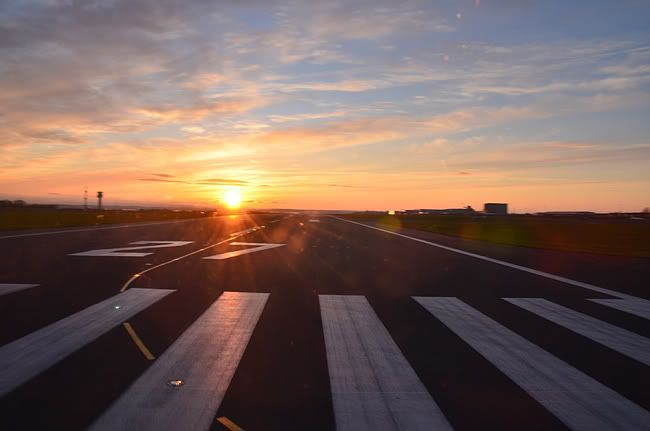 .
Lining up for departure. Runway 27 if you didn't notice the sign.
We have a nice takeoff roll, and upfront, this aircraft is very quiet also making sure for a comfortable hop to AMS. We take the skies and I was offered some great views on the airport, it's surrounding areas, beautiful evening light with a setting sun. We had a very smooth climb out under this beautiful conditions.

.
Airborne again. Note the several Ryanair 737-800's parked on the apron (jobless?)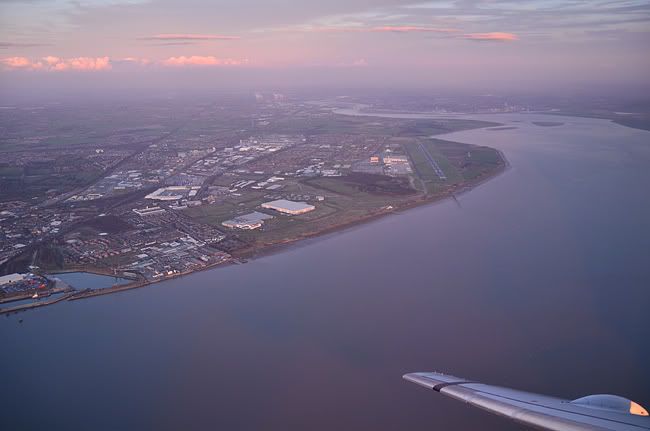 .
Turning away, runway visible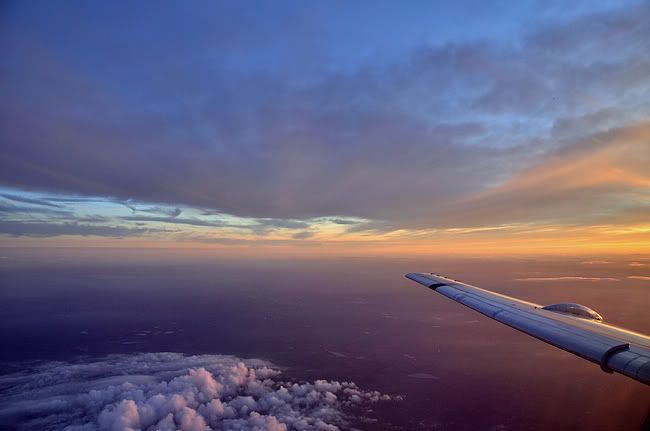 .
Climbing to higher levels in this beautiful evening light
Service on this flight was 1 drink and choice of a granola bar or a small bag of salty snackbites. I take the usualy white wine, which drinks quite pleasant on KL, and get the granola bar.
No further coffee/tea was offered. In my opinion, this service is sufficient, but on the other side, I have mixed feelings and would've expected a small sandwich hence the time of the day. Plus, coffee/tea can be offered and is mostly the case on KLM mainline flights I take. I was not totally satisfied, and even BA serves more on a short domestic service between LGW and MAN.

.
KLM cityhopper - little service: one granola bar and a drink
Outside is a setting sun to enjoy, and I listen to my music for the duration of this flight.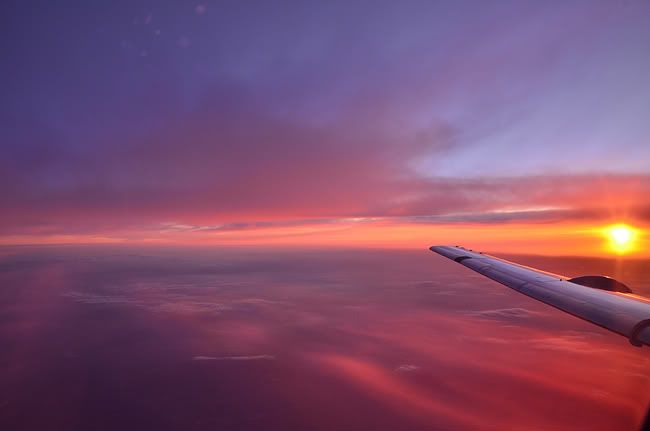 .
I enjoy beautiful views with a gorgeous sun…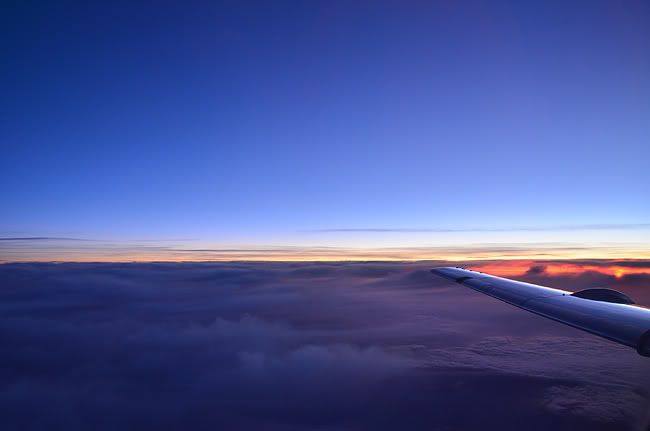 .
… the sun is finally setting when the night comes in
During descend to AMS, the captain informs about the weather; misty condition, 9°C and Southwesterly wind. During approach the cabin crew switched off all cabin lights completely, so total darkness in the cabin. Usually, one of the lights is reduced or kept on. But, it is nice to experience the landing in darkness this way. We had a smooth touchdown on runway 18R, also wellknown as the 'Polderbaan', located somewhere 'in the farm fields', resulting in 15 more minutes taxi time.
Blockin was on the commuter apron, about 10 minutes late. 2 buses were waiting to pickup the passengers. At least one more picture moment for me.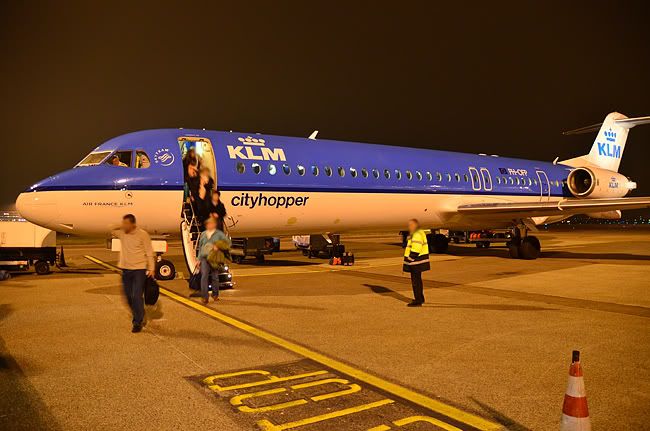 .
Disembarking. One more view to PH-OFP, which is due for retirement in late 2012
I meet up with Robert and Lee again in the arrival hall, since they came on the other bus. We walk towards immigration, proceeded quite quickly, and delivered Lee back to the departure level and the security gate for his onward connection on easyJet to BSL. Next time, you make sure to spend the night in Amsterdam Lee! Btw, don't miss out his report:
Flying Before Route Axing
(by
AlwaysOnAPlane
Mar 8 2012 in Trip Reports)
Robert decides to have a late dinner at the airport, where I catch my train home. It was a nice flying a.net meeting, good company of the guys, sunny weather in the UK, great flights on BA with very good service performance. KLM was an experience also, especially seeing the terrible airport called LPL, the groundstaff… well, once onboard it was ok, but also not the KLM I want to see and usually get. KLM gets my business again next week and they can do their best again to get me satisfied.
Thanks for reading, and I hope you like the pictures again.
Regards
Eric
Next: Part 3 of my Indonesia travels… Leaving Lombok including pictures from the island