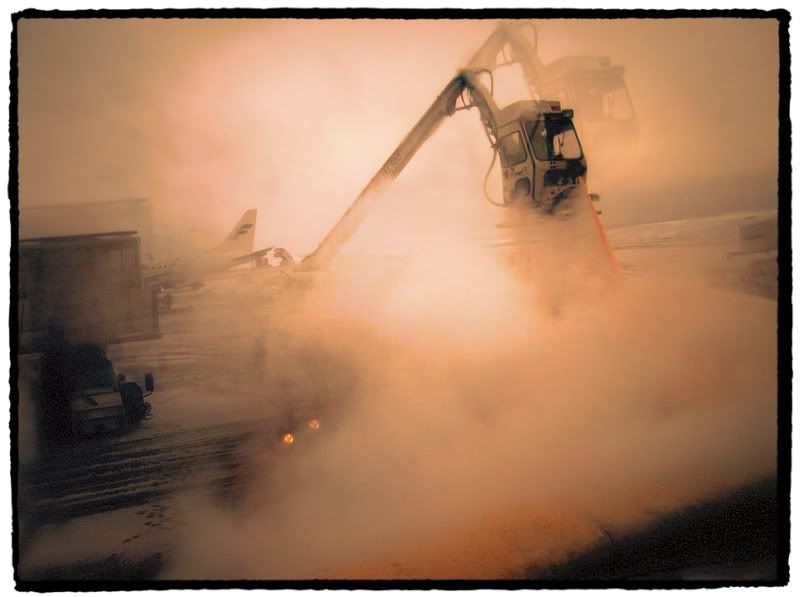 Introduction
The Finn Tero Taskila earned his reputation as an airline man by being at the right spot at the right time. The spot was senior management of airBaltic and the right time the airline's "crazy years" 2009-2010 when nothing seemed impossible and they were opening new routes left, right and centre and growing at exponential rates. Well, too bad the exponential rates also applied to their losses. Fast forward a bit and in 2011 the airline was in serious trouble, but seems to have managed to find enough funding (mainly from the Latvian state) to survive, for another couple of years at least.
Envious of their Latvian neighbours to the south, Estonian Air wanted to try to pull a same kind of stunt - that company resembled airBaltic before the crazy expansion years in many ways - it was a small regional carrier with a small fleet, struggling to stay afloat and mainly focusing on flying passengers between TLL and their limited network of destinations, relying on their parent company SAS to feed more passengers to them via their established hubs at ARN, CPH and to a lesser degree OSL. So what would be the perfect solution to put them on the fast track to becoming a major regional player? Yes, you guessed it: hire a headhunter to lure Mr. Taskila to relocate to Tallinn and sign up as the company's CEO! Oh, you didn't actually guess it? Well never mind, nobody would've!
So in June 2011 it was announced that Mr. Taskila would be the new CEO of the Estonian Air, which soon would be a new airline by itself. Things were a bit slow to start, but soon enough it was announced that to support their growth they would start offering "seamless" connections via TLL with real short MCTs (hmm, haven't I heard this one before - RIX and its 25 minute MCT, anyone?) and a range of new destinations. Funnily enough all of those destinations seemed to be in Finland though - the main market of the airBaltic of yesteryear and one which has seen some serious expansion in the last few years.
These plans involved resurrecting (for the third or fourth time I think) the short HEL-TLL hop with three daily Saab 340 flights - last time OV served this route was around 2008 and they also codeshared on the very short lived Blue1 service. In addition to that they announced flights to four regional airports in Finland, carefully picked to be the ones where BT didn't fly from RIX. These airports were Kokkola (KOK), Kajaani (KAJ), Joensuu (JOE) and Jyväskylä (JYV). Later it turned out that most of these airports were actually offering them "financial guarantees" ranging in hundreds of thousands of Euros for opening the new routes - so yes, Mr. Taskila was trying to pull another airBaltic stunt, it seems!
For me that meant more work to log these routes. Thanks to their great sale during OVs 20-year anniversary back in December 2011 I managed to book all of these routes at very good rates. The first one I managed to schedule was Jyväskylä, the "Athens of Finland" located almost smack in the middle of the country, famous for its university and as the hometown of the greatest ski jumper of all time, Matti Nykänen who nowadays has turned into a full time mediaperson cum wife beater cum alcoholic cum reality TV star... but I'm rambling again here. The flights would start at 25th of March and I was able to book myself onto the inaugural TLL-JYV flight on that day, for the decent price of 57 EUR.
The rest was of course pure logistics - so I added a flight to Tallinn via RIX with airBaltic as the direct OV service wouldn't start until the next day. BT was the cheapest option at 49 EUR, so a bit of a no-brainer really.
Finally to get back from Jyväskylä I thought about taking the train as air connections are nowadays quite sparse, especially on weekends - thanks to Nokia shutting down its sizable operation at Jyväskylä which reduced business traffic a lot and the introduction of faster trains on the main railroad to Tampere and onwards to Helsinki. Finnair actually stopped their flights to JYV last year, but of course Finncomm errr... FlyBe Nordic (sorry, I still have a hard time coming into terms with the new name) stepped in and opened up this new route. The fact that apparently there would be no bus service to the city on weekends (meaning I would have to take an expensive taxi to catch my train) meant that it would actually be cheaper to fly back with BE, so I bought a ticket for 43 EUR. As mentioned flight options on a weekend are seriously lacking so I had to settle for an evening flight which meant I had an almost 4 hour layover at JYV, a place with not much going for it but what the heck - there's the free Finavia wifi at least!
So this is how I imagined my itinerary for the day would look like - the reality might be something different though: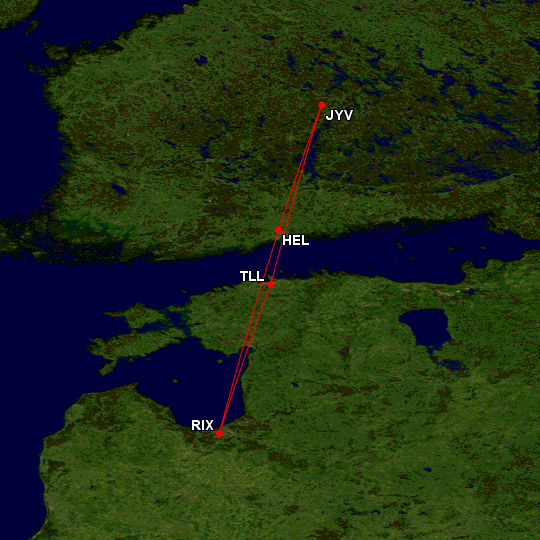 .
Sunday 25.3.2012
This morning doesn't get to a good start as for whatever reason the morning newspaper fails to get delivered by the time I have to leave for the airport. I need my news fix in the morning! I guess I should've taken that as a bad omen and just crawled back under the sheets for another couple of hours of shut-eye...
It might be the first day of the so called "Summer time" as the (utterly pointless) switch to DST was done during the night but as I trundle out still very much asleep just after seven in the morning the weather definitely doesn't look very summery: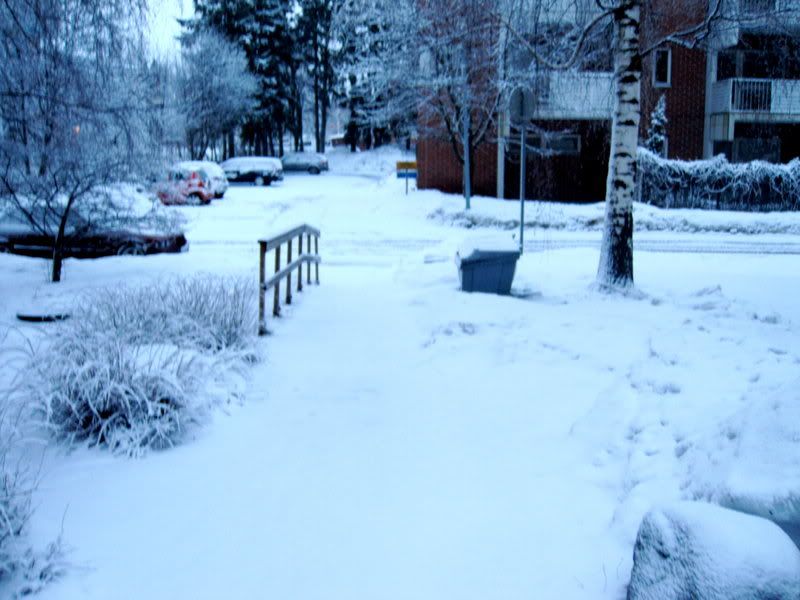 Yes, there's been quite heavy snowfall during the night and a thick blanket of extremely wet (the temperature being above zero) snow is covering everything.
I doze the very quiet bus ride to T1, clear the empty security checkpoint in a jiffy and notice something I haven't seen before: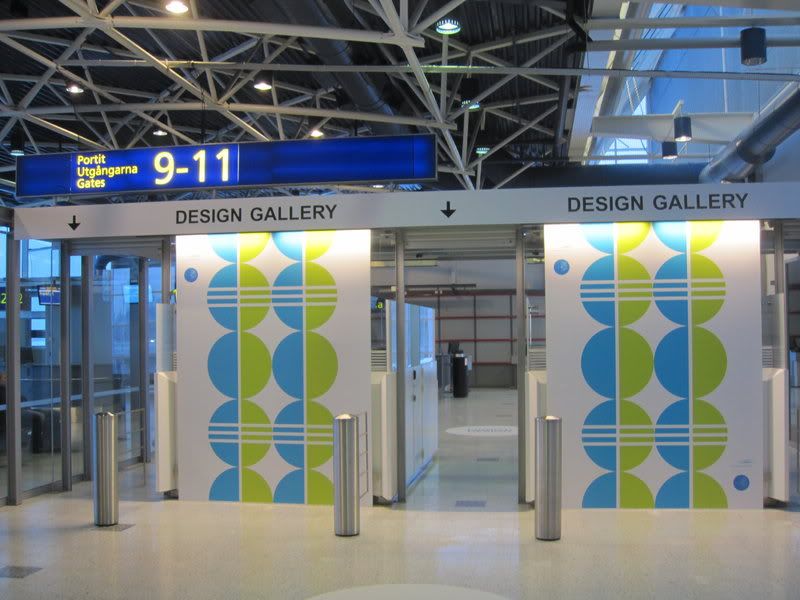 This is the tiny non-Schengen holding pen of T1, nowadays unused after KF stopped their Heathrow flights so it has been turned into an exhibition space for Helsinki, World Design Capital 2012 (a fact they nowadays always announce on KF flights upon arrival at HEL).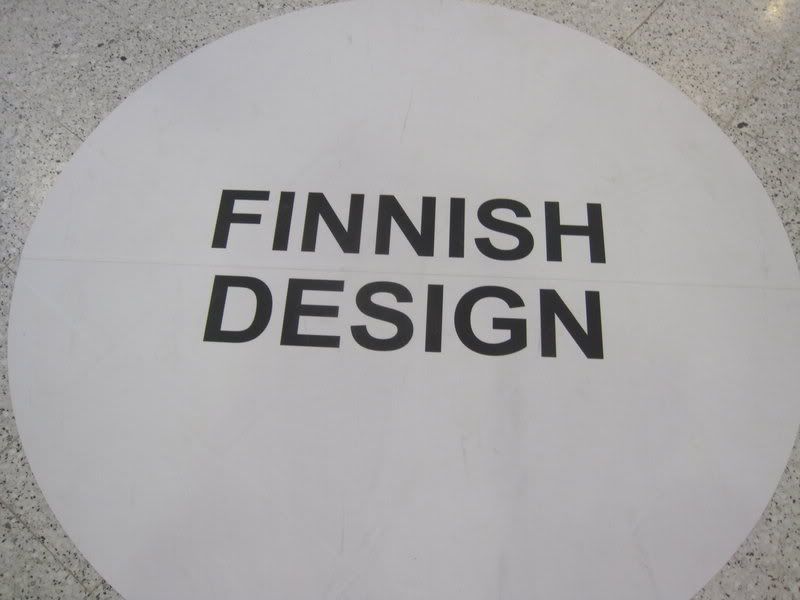 This time they are hosting an interesting design showcase: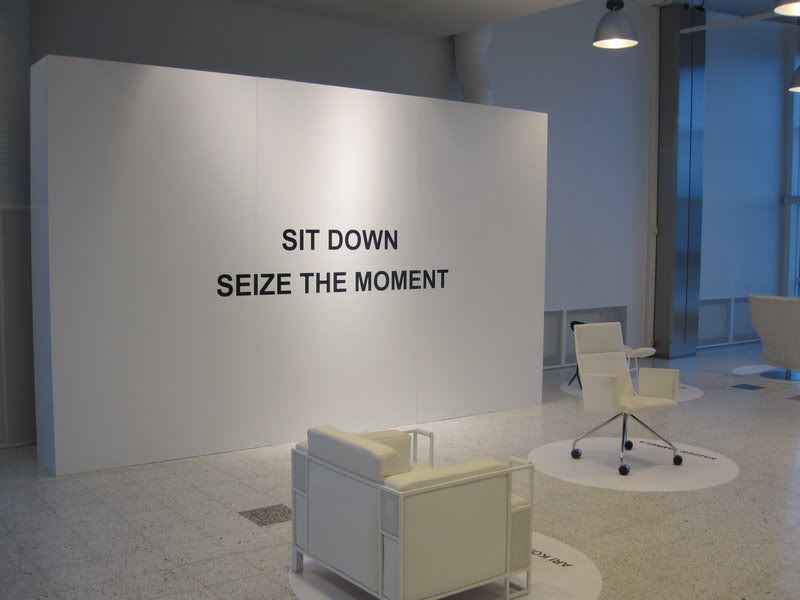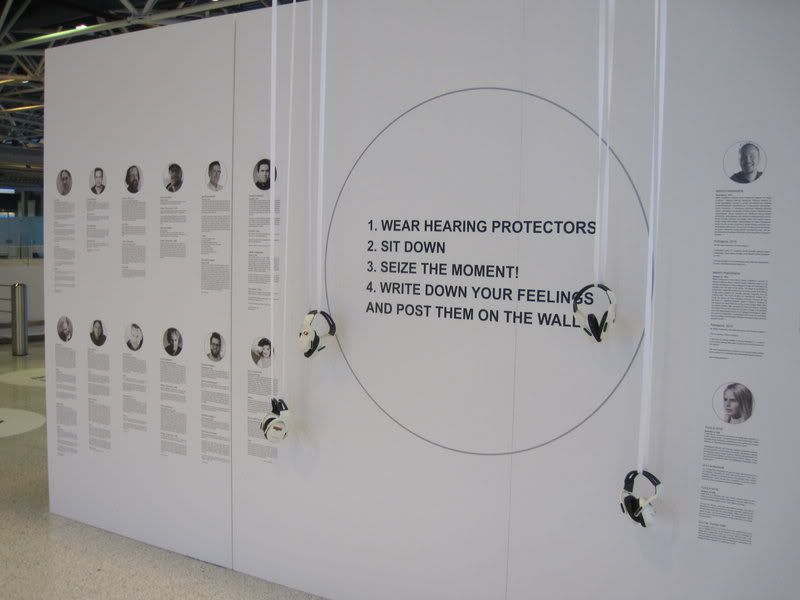 I have to admit this is my kind of art - functional and comfortable.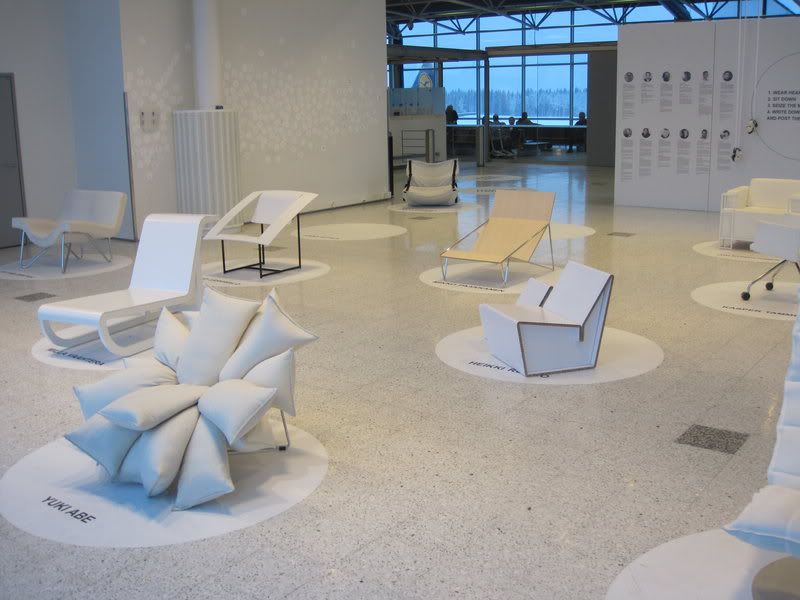 Some of the impressions: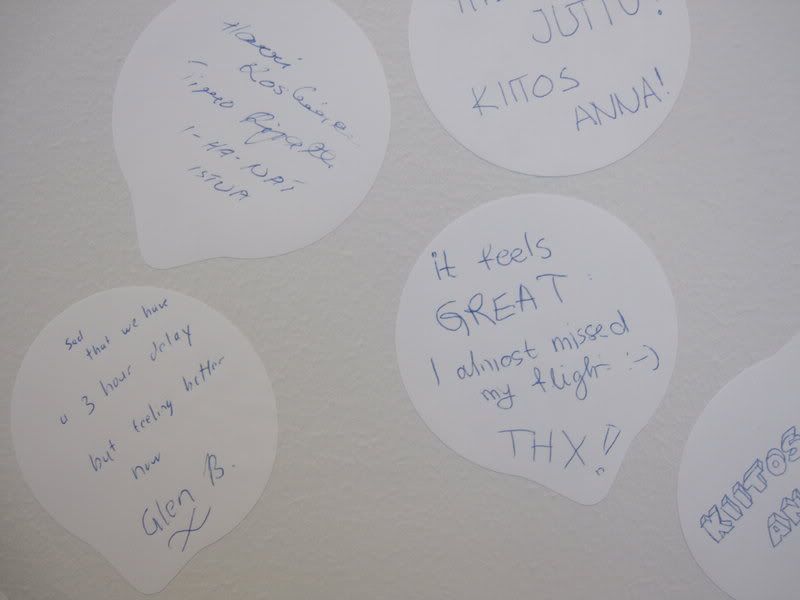 I pick a chair and manage to doze around 15 minutes there before it is time to head to my gate, a bus gate as usual with this BT morning flight. Boarding commences as soon as I get to the gate - perfect timing. My boarding pass beeps, I suggest there might've been a seat change to the friendly girl but she shakes her head and says she doesn't think so. Well, her colleague is more aware and hands her (and transiently, me as well) a new boarding pass for 4F instead of my original 3A - so indeed there was a seat change!
I like the small dash of snow on the tail of this LH A320 whose boarding queue blocked the whole passageway through T1 - who the heck designed this lousy terminal anyway: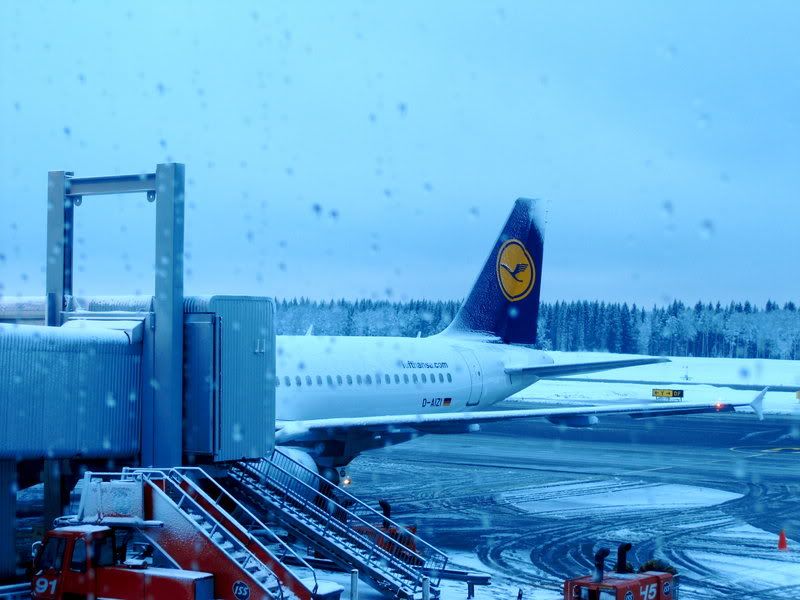 While walking downstairs to the bus my mind starts wondering... this flight was supposed to be a Dash and the seatmap on the OLCI yesterday certainly showed one. But the Dashes have seats AB and CD and no F seats. So I think there has been a last minute equipment change to a 737.
This is confirmed a minute or two later when the bus stops in front of a 737-500, YL-BBP. Considering that I've done a few flights with airBaltic it is quite remarkable that this is actually a previously unflown bird by me - I think the last one of their 737s actually. Looking very snowy this morning: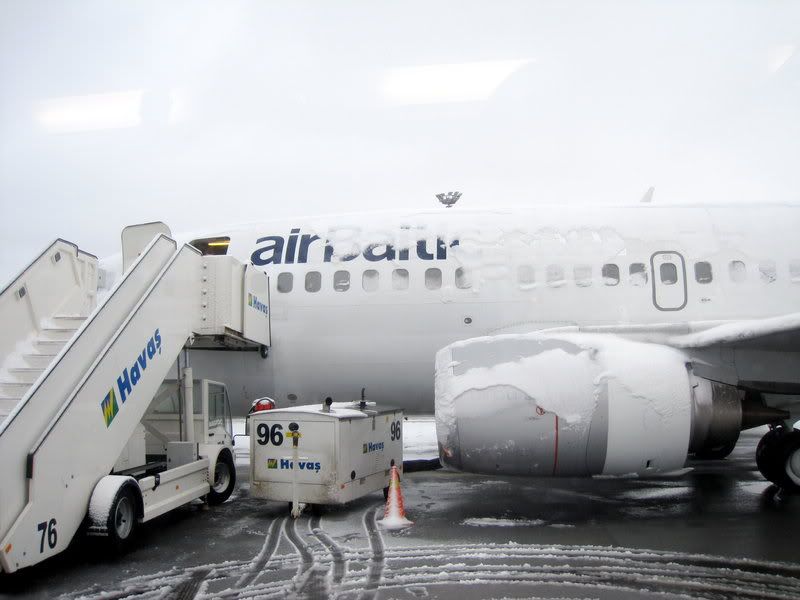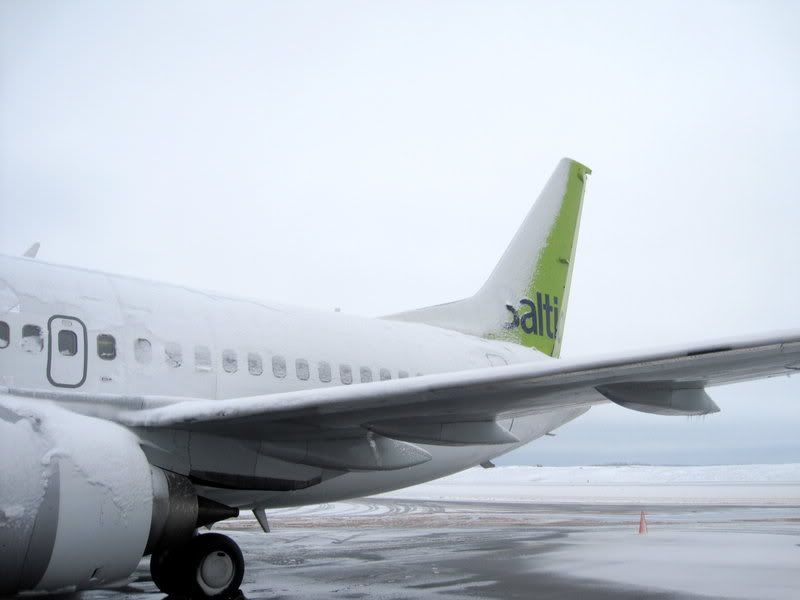 HEL-RIX
BT328
B737-500 YL-BBP
Seat 4F
9.32 - 10.20
I ask the very sweet and friendly girl in the front galley what happened to the original Dash - she doesn't quite get the question after I repeat it around four times but in the end she says "I guess there was a last minute equipment change". Seat 4F is a great seat, first row of economy class and plenty of legroom up here. The view outside could be improved, though: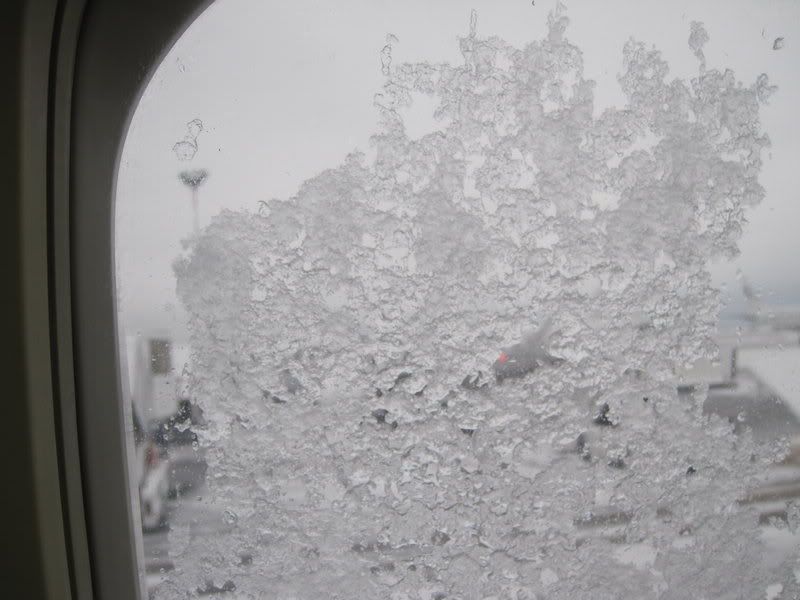 As mentioned there are three rows of business class, completely empty on this flight. Economy load is quite light as well, the Dash would've been more than sufficient to carry the 50 or so pax on this flight: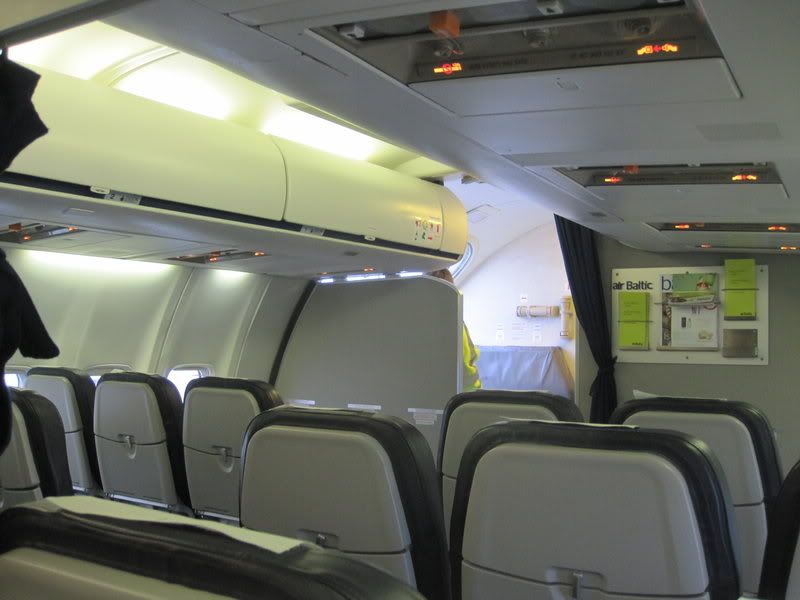 Boarding is fast and soon the captain announces that we will be a bit delayed as we still need to wait for the snow removal and deicing crew to arrive. Once we get underway we are having some nice tail wind which should get us down to RIX in 40 minutes so we are still looking to be arriving on schedule (the block time being an hour). It is plus five degrees with rain at Riga.
Well, still feeling far too tired I nod off on my seat. A quarter an hour later I wake up and notice that something has indeed happened outside: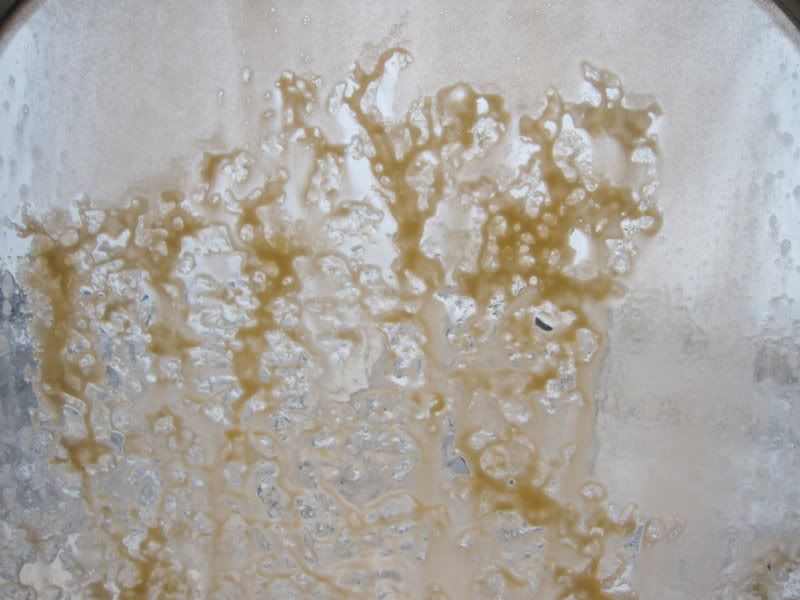 I wonder if flying through a dense flock of birds would leave the window looking like this...
The deicing process seems to drag forever - I keep nodding on and off during it.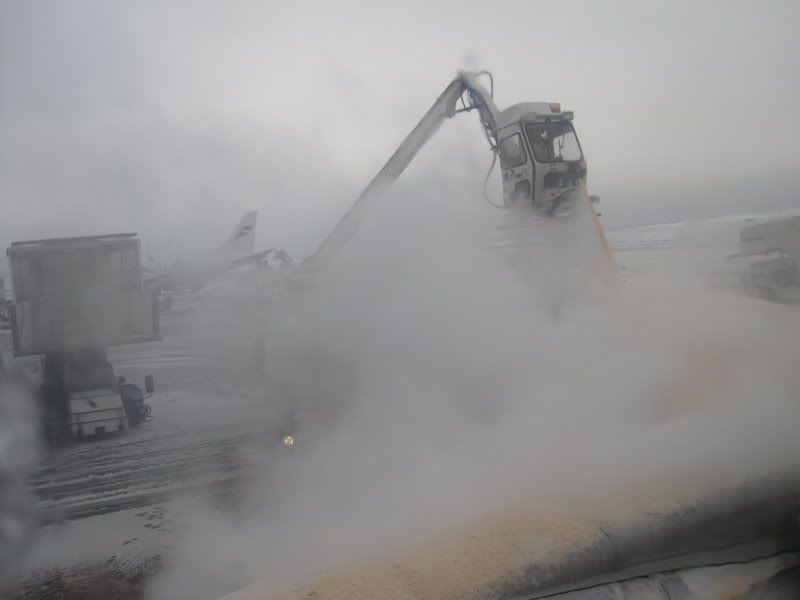 Finally more than half an hour late the process seems to be finished but we don't make any attempt at engine startup which seems a bit weird to me. Finally the captain comes on and quite sheepishly explains that our APU was blasted full of deicing fluid during the process and so we can't get our engines started. They have summoned for a ground power unit to help the process and it should arrive in ten minutes or so.
Very surprisingly the cabin crew actually starts offering drinks (for free) due to the delay - coffee, tea or juice is offered. Somehow I never expected BT to do this, but looks like they are really trying hard. The coffee doesn't taste too good and is very weak (if I were Jonas and shared his view of the world being full of malevolent people and corporations who only want bad things to other people I'm sure I'd assume it was weak on purpose in order not to spend too much money but alas I'm not that cynical yet!) but it is hot and contains caffeine which really hits the spot with me.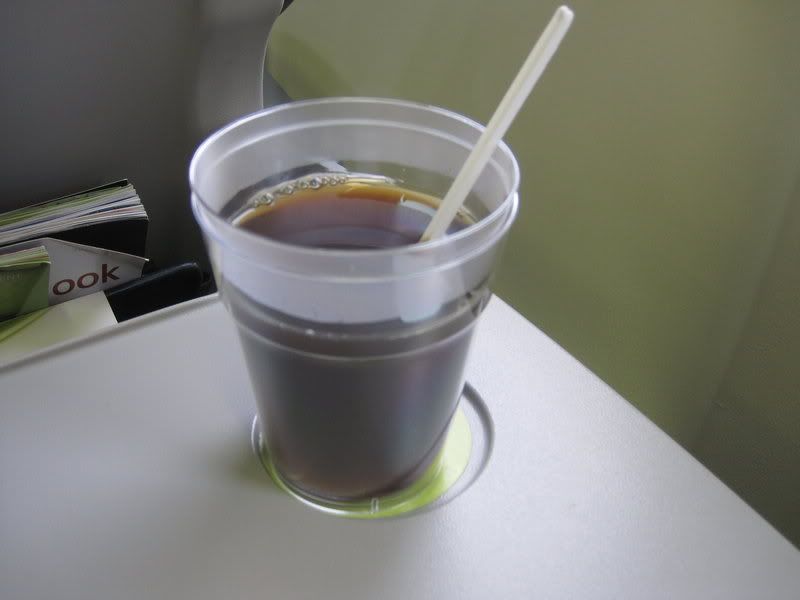 It definitely takes longer than ten minutes but finally a Finnair paddy wagon pulls in: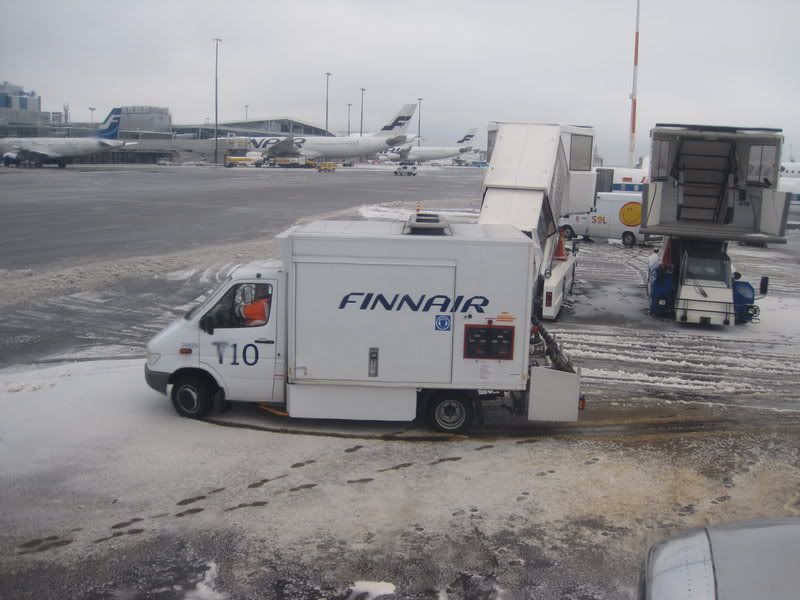 We're not the only one this morning - wonder how many gallons of deicing fluid were spent this morning: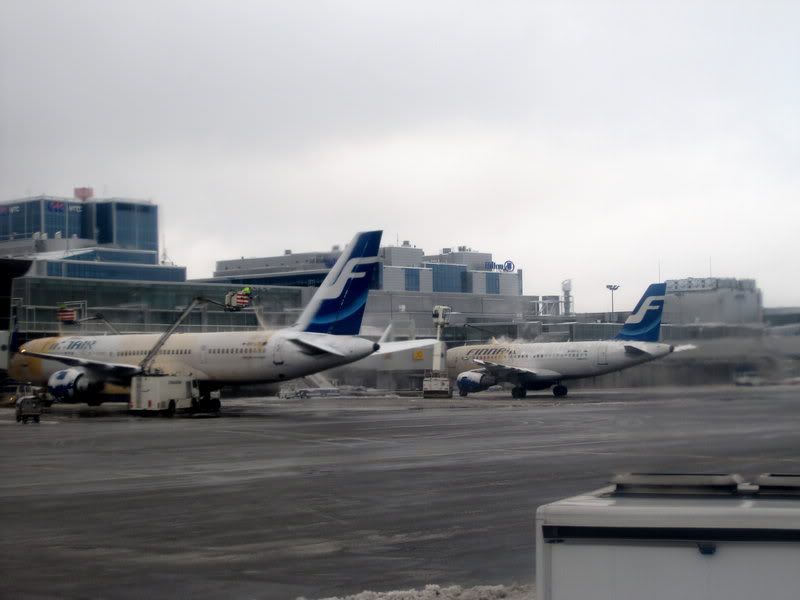 The two guys who look like perfect examples of union folks attach two umblical cords to our plane's hydraulic ports (whereever they might be located), start up the unit and soon the familiar low rumbling sound of a jet engine being started up fills the cabin - music for my ears this morning! It is exactly one hour after our SDT that the engines are started.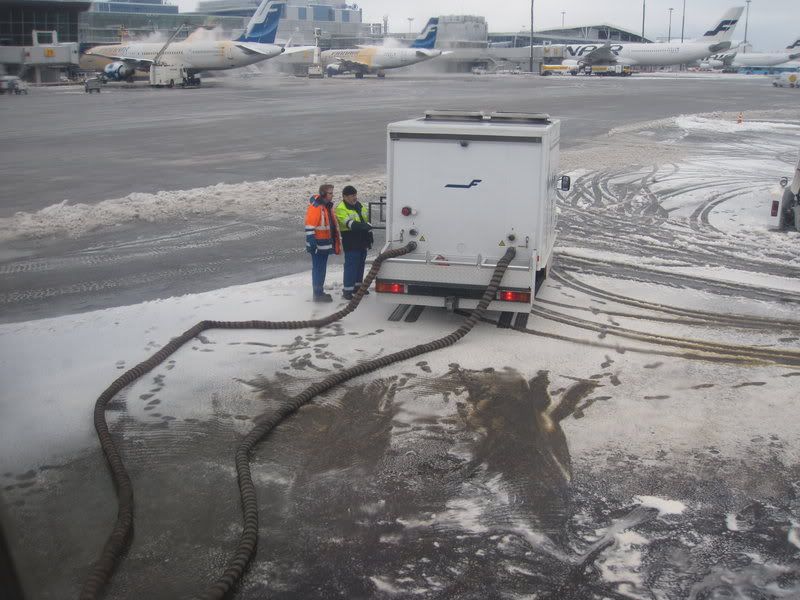 Another seven minutes are somehow wasted before we finally leave our parking position. An interesting bird next to us - I should be flying one of these beauties in July: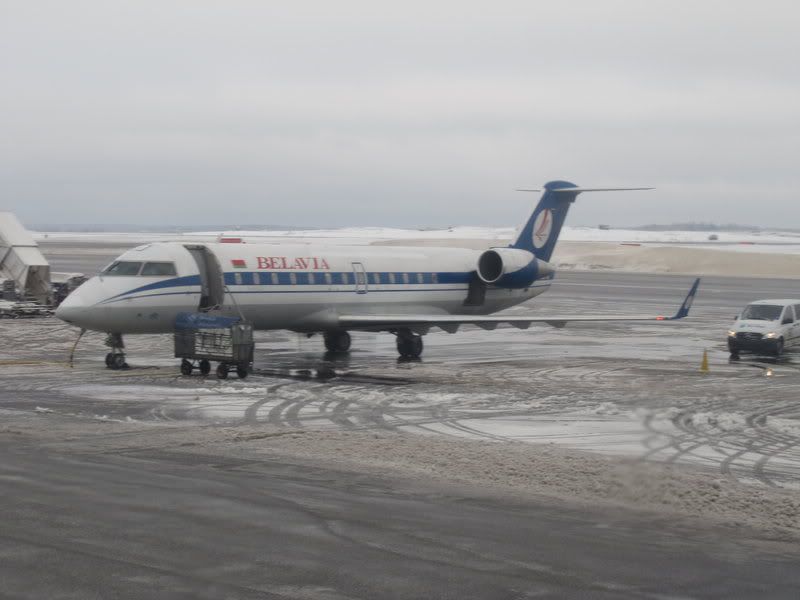 Warrants a second shot, doesn't it:
The Russian babushka on the aisle seat (the middle seat stayed of course free) makes the sign of the cross before we push back. Well, not for me thanks, I prefer to trust the laws of physics and good old American engineering more!
At this point I'm starting to worry a bit about my 1h10min connection - but not too much as the 40 minute flight time sounds okay and the ground folks at RIX are usually pretty good about getting passengers to their connections.
A slave galleon heading to somewhere warm and nice: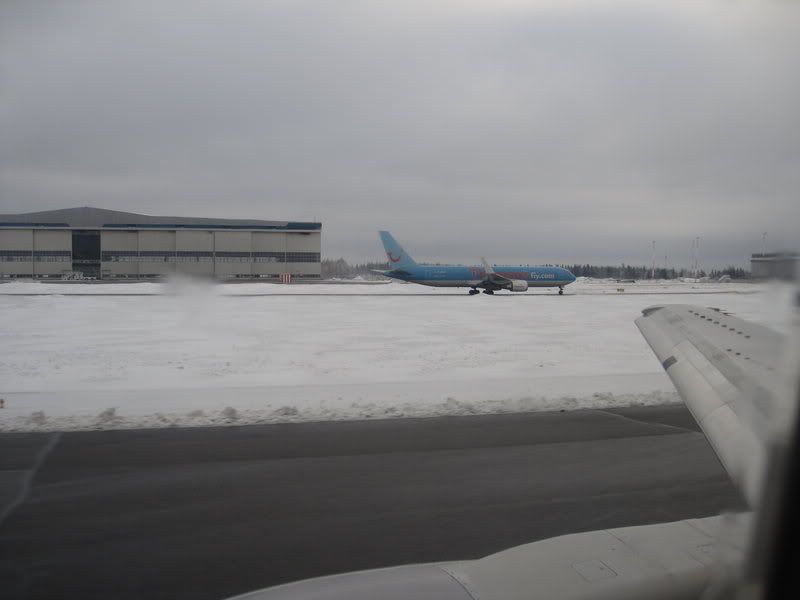 Take off is from 04R, the water released by our acceleration makes this picture of the terminal while we rotate look like a water color painting: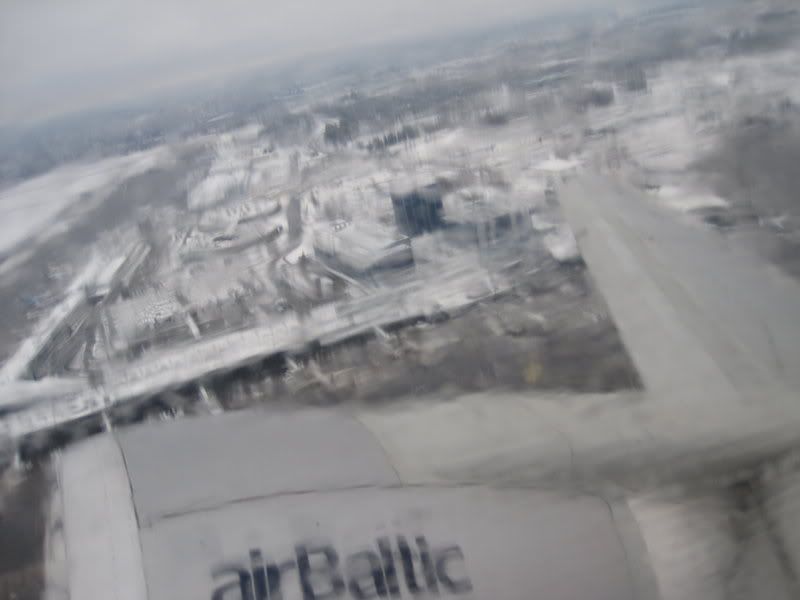 No views of the ground at all on this flight - thick clouds everywhere. I kinda like the way our fuselage is reflecting off the engine shield: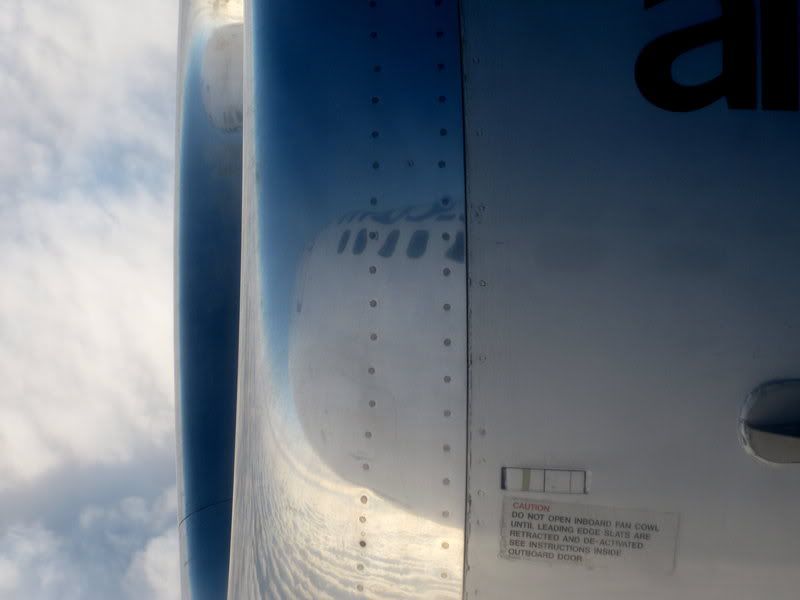 Well, Lee's favorite past time is a good way to spend this flight: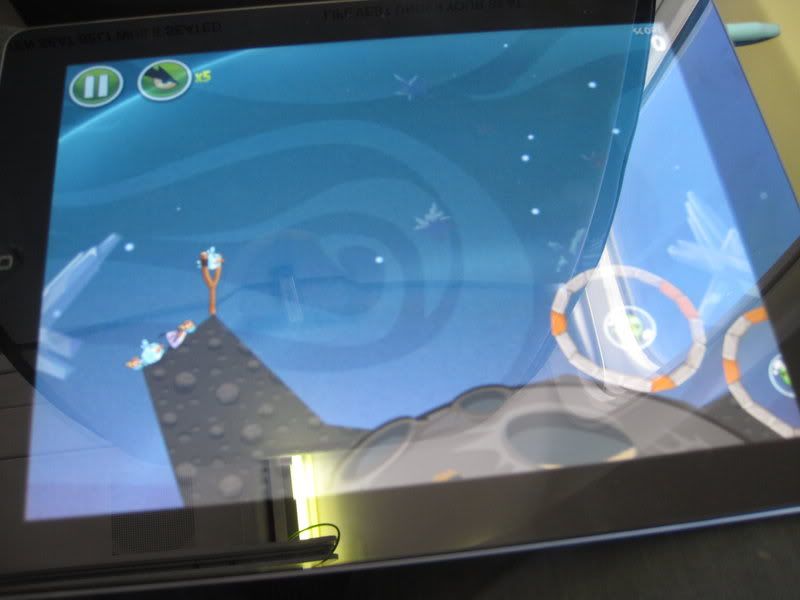 A number of passengers are worried about their connections - there seem to be an especially large number of people continuing to BCN. The FAs tell them to wait and they will announce further info just before arriving at RIX. This is indeed done, and among the connections they mention gates for the flights to FCO, IST and my flight to TLL going out of gate B10 - so far so good. All pax to BCN are asked to take seats in the front part of the plane to speed up their disembarking - in practice this of course means the business class cabin. There are at least 15 pax all together being reseated there.
The flight itself is fast but our descent seems to take almost forever, and by the time we finally break the clouds we are already very low and the reason becomes apparent - we did the full flypast and approach from the south and are now on finals for runway 36, another five minutes were lost for this maneuver at least, bugger: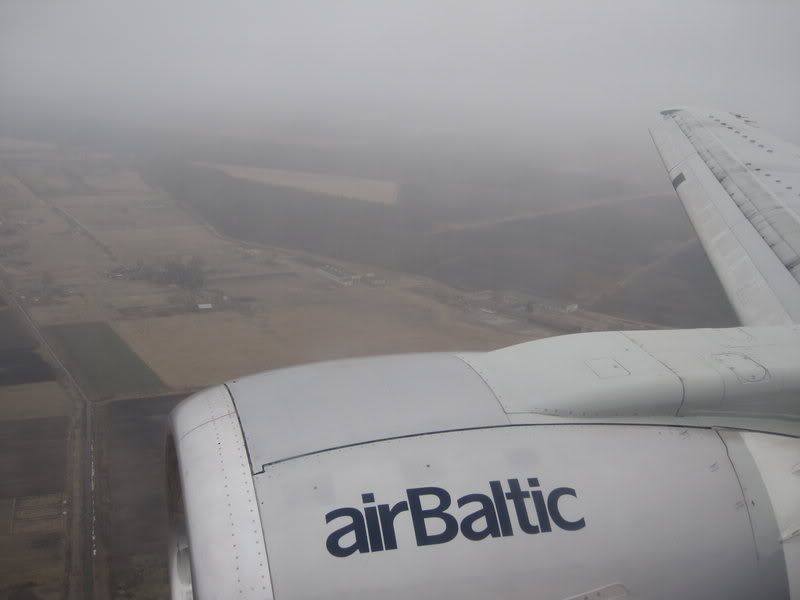 The finals are very shaky with the plane swaying from left to right like Shakira's hips - this feels what I imagine an aircraft carrier landing would feel like on rough seas.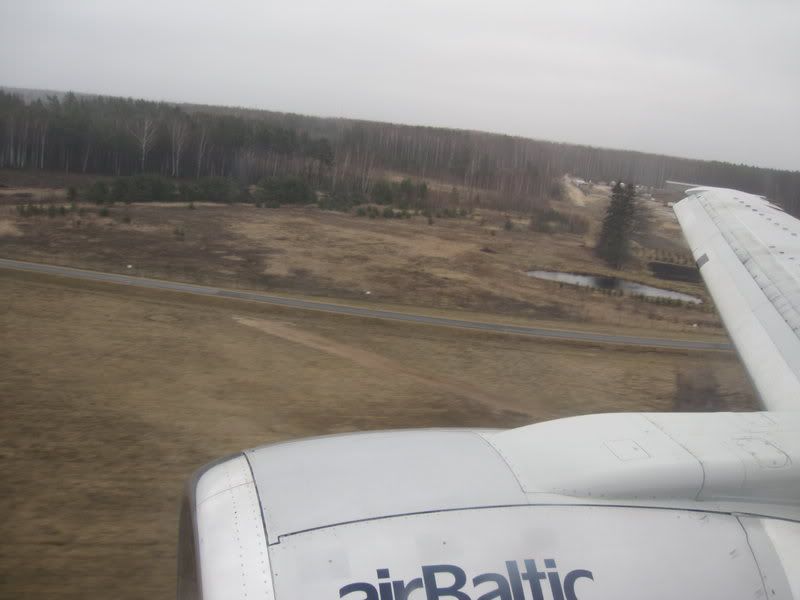 The captain performs a textbook landing on hard crosswind - i.e. coming in as fast as possible followed by such heavy braking that I'm afraid the engines might break off the wings and continue on their merry way as ballistic missiles. Luckily nothing like that happens.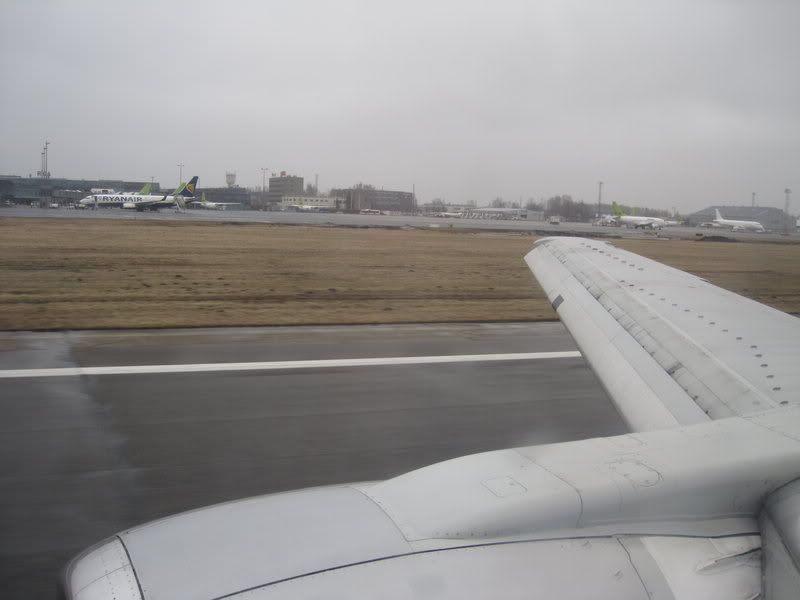 Total flight time was around 40 minutes as promised. It is 20 minutes till the scheduled departure of my TLL flight.
With a good number of fast connecting pax I fully expected us to get a jetway position to speed the transfer, especially considering they were asked to sit in the front. Well imagine my surprise (and disappointment) when after a lengthy taxi we end up in an apron parking position sandwiched between a 757 and another 737, far away from the terminal!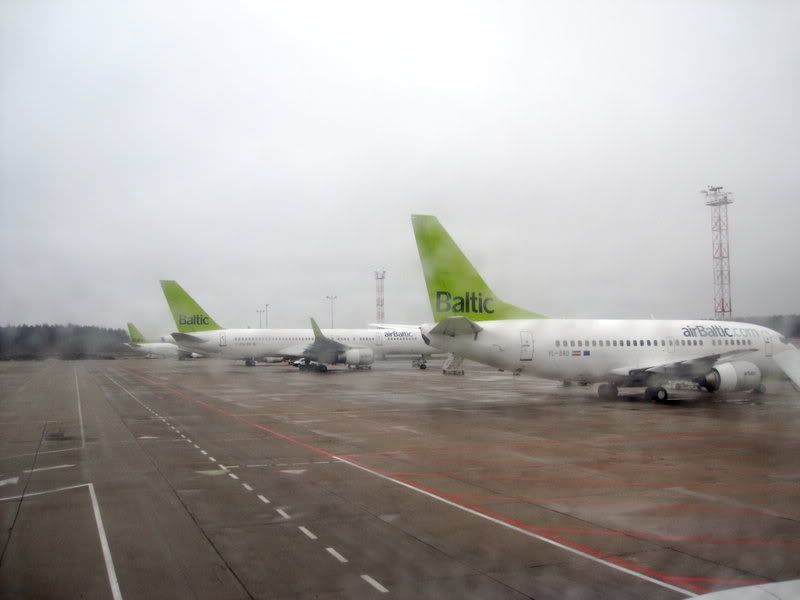 Everybody hurries to the waiting bus - I joke with somebody going to BCN that "we ended up in the same bus anyway". Well just at that moment another bus pulls up and a ground agent yells "Everybody going to Barcelona to that bus!". I guess they are getting a direct transfer service then.
Lost in Riga Airport
A bit later we end up in arrivals - well transfers actually since I don't see any single person from our flight actually entering Latvia! I hurry to my gate B10 with a sinking feeling in my stomach, reaching it right at 10.35, around five minutes before the original SDT. Guess what?
Yes, you guessed it. Gate closed. Everybody gone.
The gate agent is still there, I beg and plead him to call the plane and get me a special transfer there, but no. No dice. It cannot be done. It is already closed. Verboten. Not going to happen. Sod off, sucker, you lost. Game over.
Oh dear, now I'm REALLY starting to sink. So to the nearest FIDS to ponder my options - hmm, the next flight to TLL is not until 13.20. Not good considering my JYV flight is leaving at 13.55. But I guess that'll have to do, maybe they will have a delay on the OV flight - too much celebration of the inaugural flight, overdosing on the cake, who knows. It has been known to happen.
The transfer desk has a queue so I head to the lounge next doors instead. The agent is apologetic but after I complain I will probably miss my business in Tallinn he says I can always take the bus - gee is that supposed to make me feel any better??
Now here's a photo of something that REALLY made me angry - notice two things:
1) This photo was taken in the lounge. The time is 10.38, which proves I was in the gate around 10.35.
2) It shows that BT313 actually departed five minutes EARLY!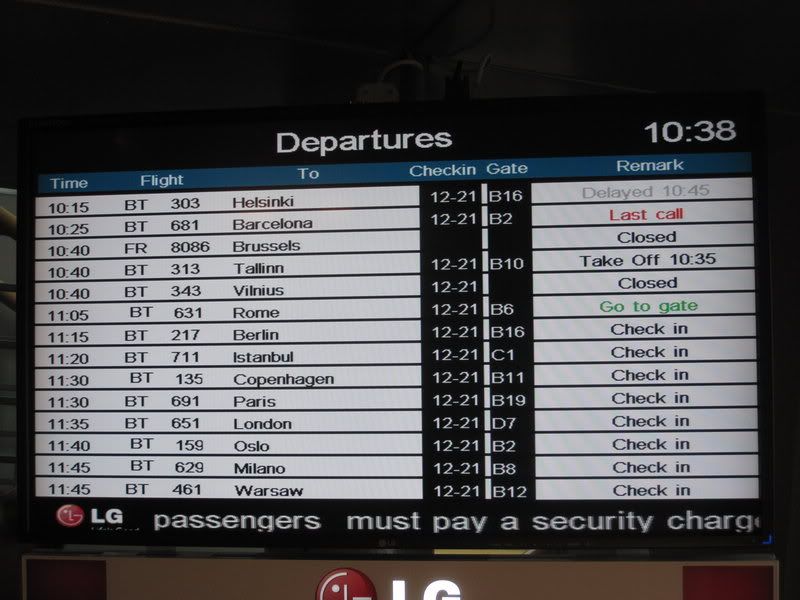 So instead of maybe delaying the flight by five or ten minutes to accommodate me BT decided to dispatch it five minutes *early*. They knew I was on my way and knew the approximate time I would be there but still they did this. Doesn't sound right in my books. Not at all.
Oh well, angry I might be but I'm also starving - the original plan was to enjoy the nice hot breakfast in this lounge, something I had already kissed mentally good bye to reach the flight on time but looks like I'll have plenty of time to enjoy it, so here goes: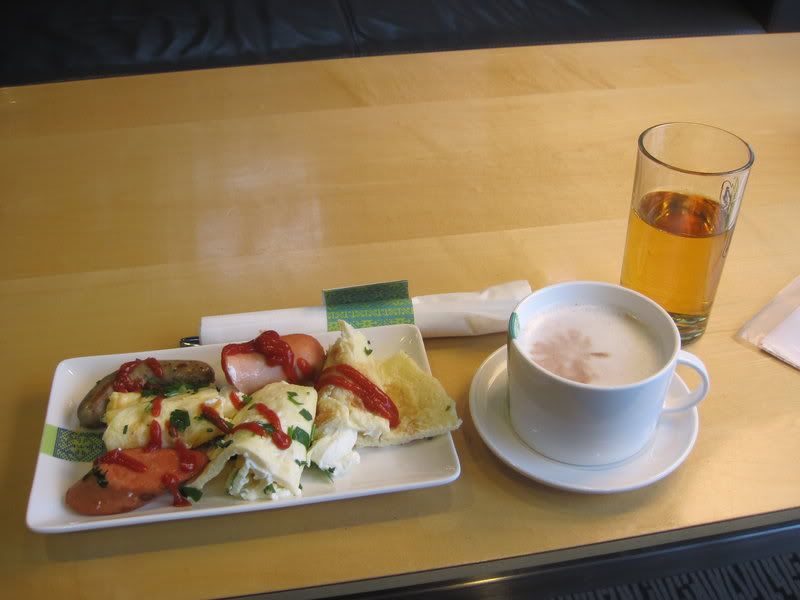 A full stomach makes a man somewhat happier so after taking care of that I drop by to the transfer desk to pick up a new boarding pass for BT315.
The lounge is rather packed but after the ZRH flight leaves it becomes quite empty - must be all those Swiss bankers enjoying their Latvian hideaways...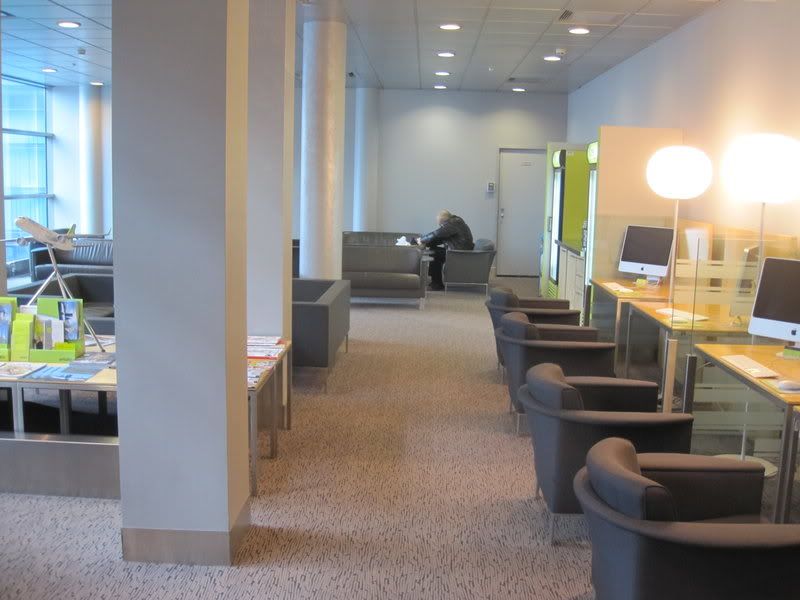 I love cheese: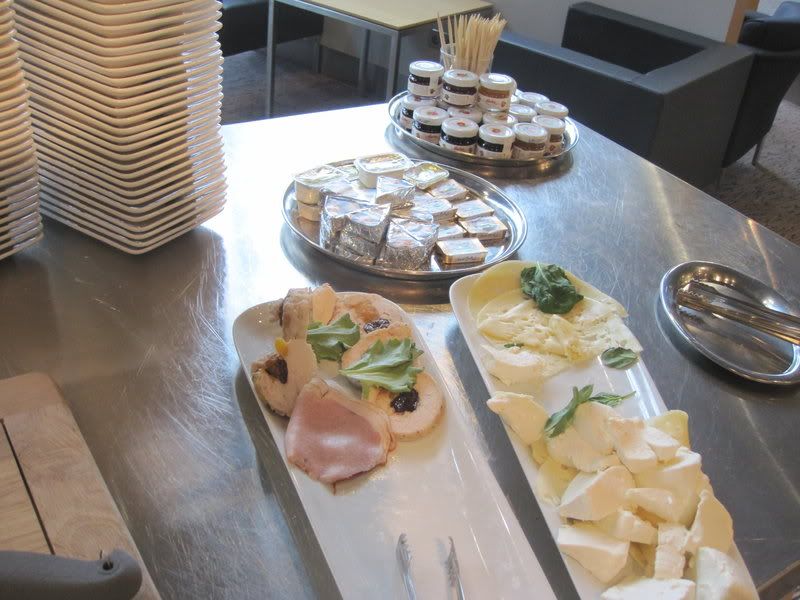 I wonder what those flights without a flight number are - CIA prisoner flights anyone:
Well, I hatch plans B and C, mainly looking up the ferry timetables and fares from the recpective websites and calm my nerves with a couple of G&Ts. I'm still hoping for a small delay on the JYV flight - 20 minutes would be enough for me I reckon.
Time flies and soon the flight status changes to "Go to gate" - I definitely do so right away as I certainly want this flight to go out as early as possible!
Downstairs the gate area is packed with some kind of Ukrainian sports team - mainly teenage girls in rather nice "Ukraine" jumpers and their boyfriends, coaches or whatever. They take up three quarters of the passengers on this flight, alltogether some 30 pax I think. It looks like this might be their first trip abroad as they definitely are goofing and acting like only teenage girls can...
We board the bus and drive to another trusty Fokker parked in front of the A gates bunker. I can't quite figure out why we had to take the bus in the first place, considering that they usually board planes at this position by walking from the A gates. Must be an union thing.
So another ride on a Fokker which were supposed to have been retired from the fleet half a year ago - I even did a farewell trip back then - how's that. My 12th flight on YL-BAR in fact: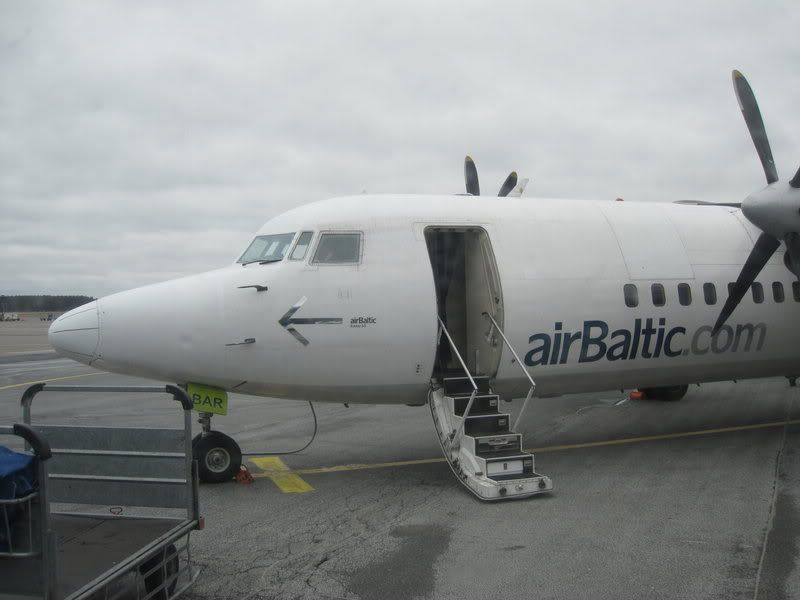 The Ukrainians goofing around with photos of the propeller: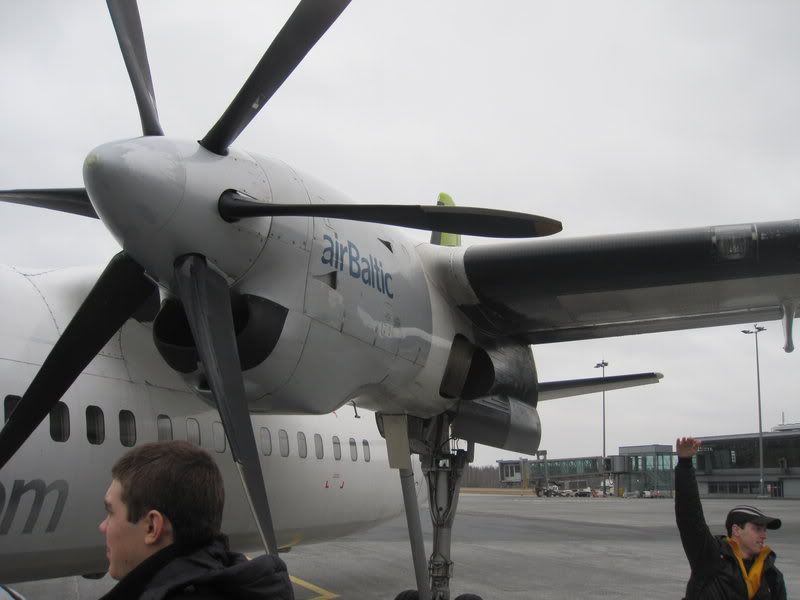 I have to admit the ground staff were really tolerant of photographs, one of the Ukrainian coaches even walked quite far to get a heads on shot of the Fokker!
RIX-TLL
BT315
F50 YL-BAR
Seat 2A
13.15 - 14.10
Well, it's a 23-year old airBaltic Fokker. That means it smells like shite inside, "eau de Fokker" the French call it. Me? I'd rather call it "eau de seats that have been in contact with every fluid the human body can produce far too many times for their own good".
I'm seated right next to one of the Ukrainian girls. She is skinny as only an Ukrainian teenage athletic can be (during the Soviet times you couldn't say that as they had muscles larger than your usual heavy weight champions plus had to shave three times a day - the women that is. See, socialist victory is more important than fair play. Besides a little hormones never hurt anyone) so that doesn't bother me, but her duffel bag seems to weigh more than she does and makes our legroom to be quite cramped. I try to gesture her to move to the other side of the aisle as those two seats are completely empty but either she doesn't understand, thinks it is some kind of scam I'm running or is just strangely attracted to me.
After take off she actually moves to seat 1C as the first row (business class) is completely empty - the crew doesn't seem to have a problem with this. They even almost serve her champagne before it turns out she's too young. No sorry, wrong article - I'm writing a series on my fantasies at the same time and can get a little carried away!
Things get on a nice start as we depart five minutes early. T-40 minutes before the SDT of my JYV flight.
Finnco... sorry, FlyBE with an albino plane: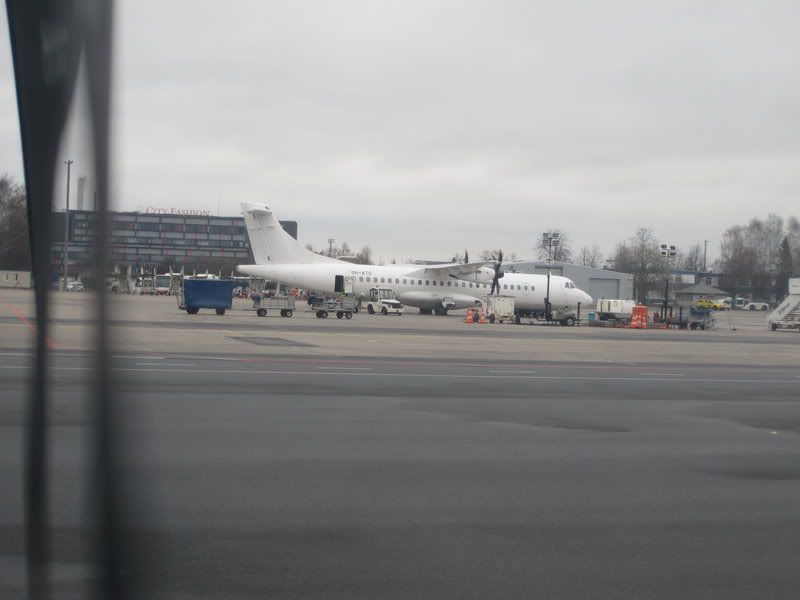 Looks like white is the new black in Latvian high fashion this year: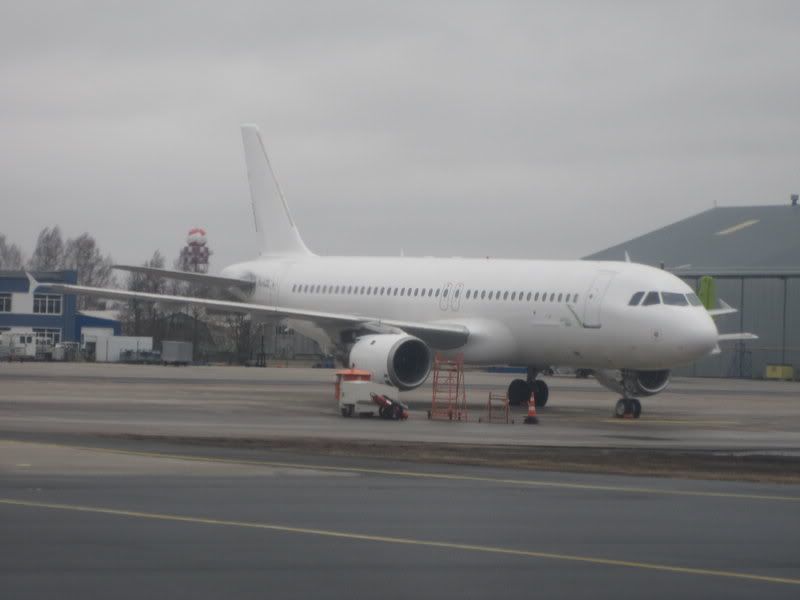 The crew announces the flight time as a lengthy 55 minutes, probably due to those same winds that sped us down earlier today. My hopes go down.
We take off towards the north. If you ever need to get to RIX, just point yourself to this VOR beacon: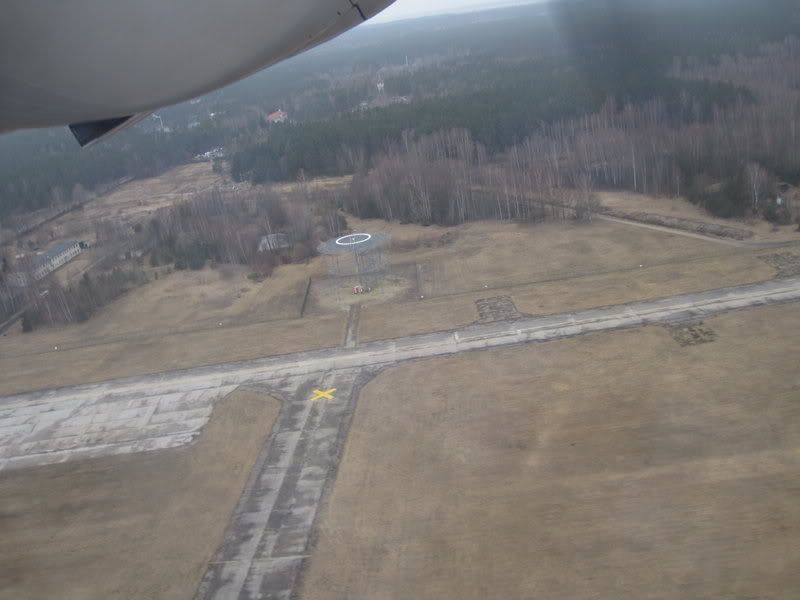 See, Eric's prediction was right - the two IL-76s that were parked here for ages have suddenly disappeared:
I decide to follow gabrielchew's example and pick up a comment card and complain about BT's decision not to hold the earlier flight for a bit to allow me to reach it. I hand this to a crew member, he looks a bit on the edge upon receiving it - maybe he thinks I'm about to say something bad about him.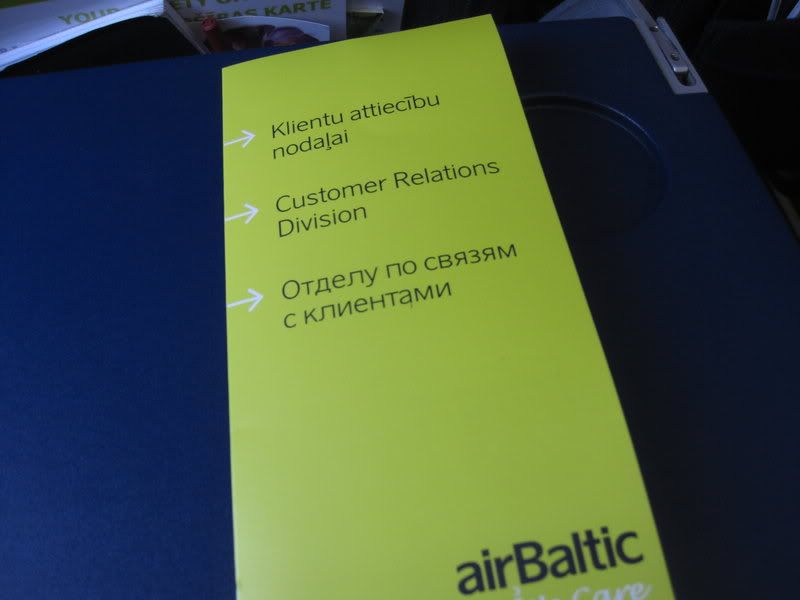 In what seems like no time at all the British captain announces that we are descending soon for Tallinn and promises a bumpy ride due to the strong winds around. My hopes go up.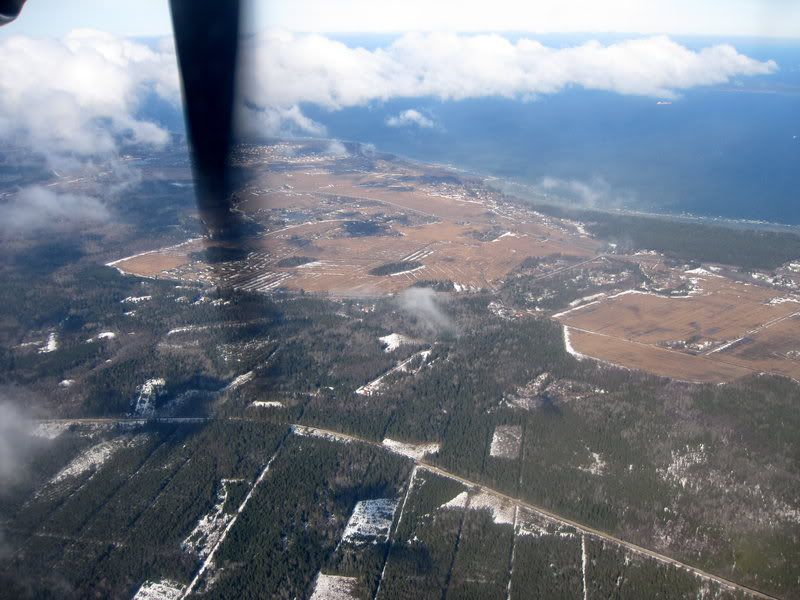 Looks like we are going in for a straight in 08 approach - meaning I will get some nice views of the city and we save some precious minutes. My hopes trundle down after I realize it is around 14.00 already.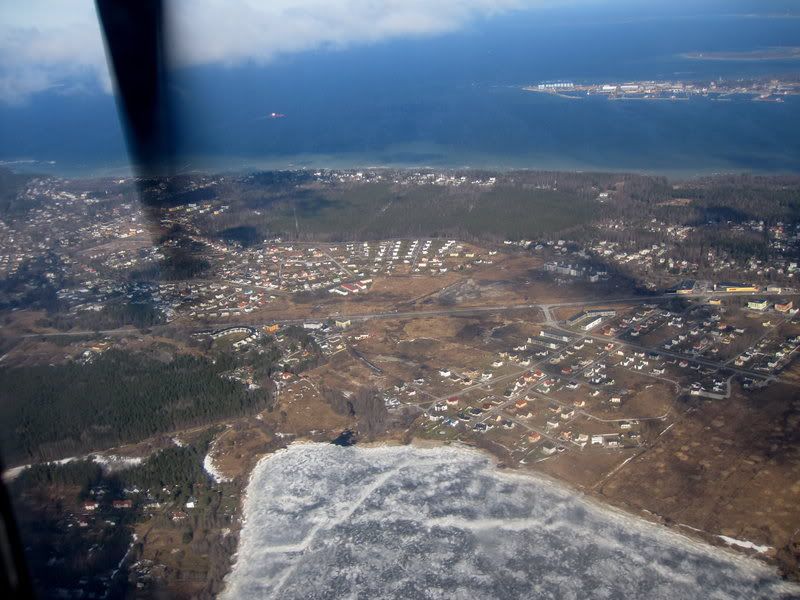 Hannah, can you spot the Marks & Spencer sign (Estonia's only one) here at the Rocca al Mare shopping centre: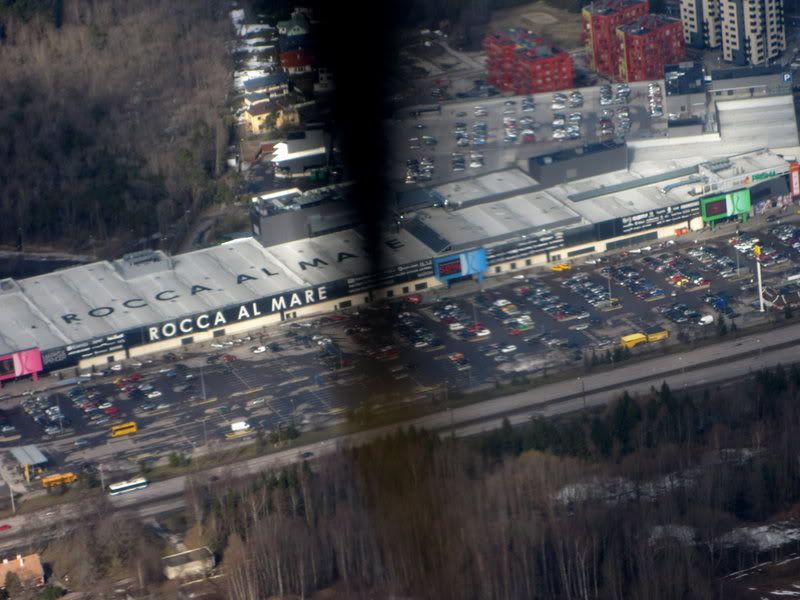 Is this the Estonian Pentagon: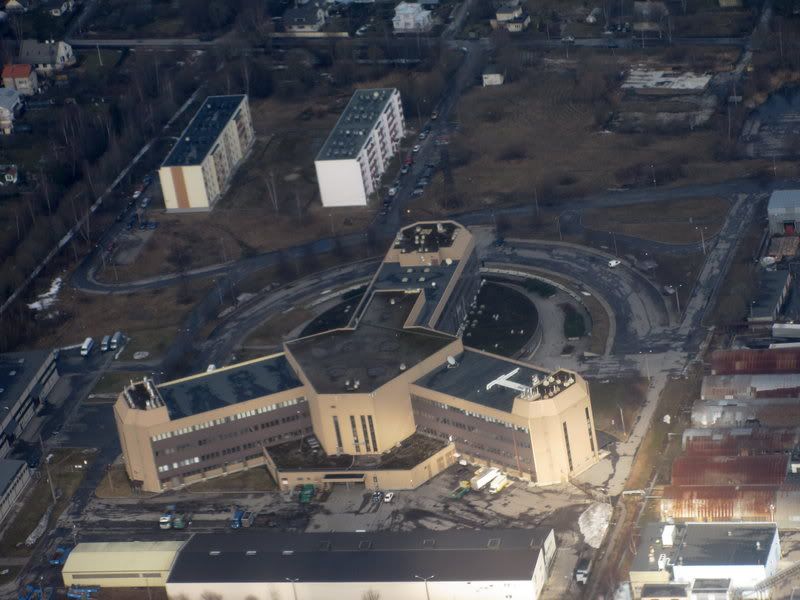 Beautiful views just as I expected: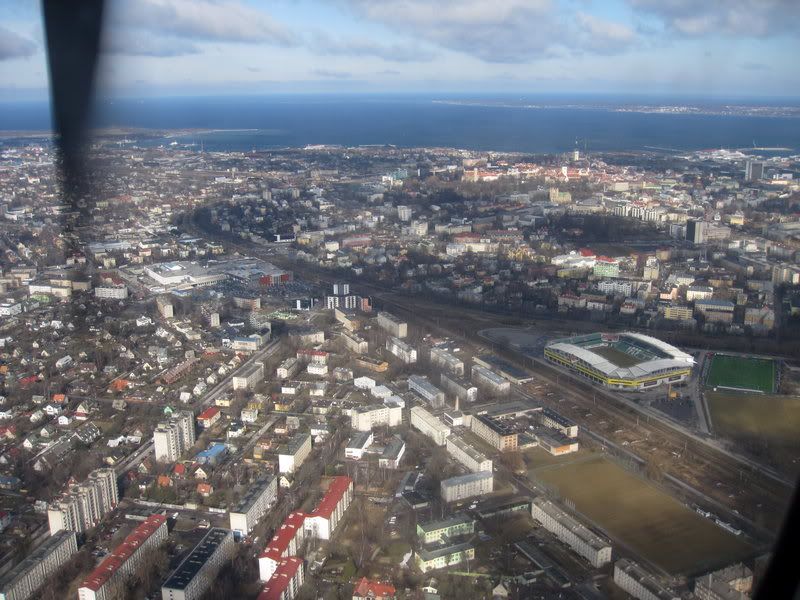 The Old Town with its red roofs: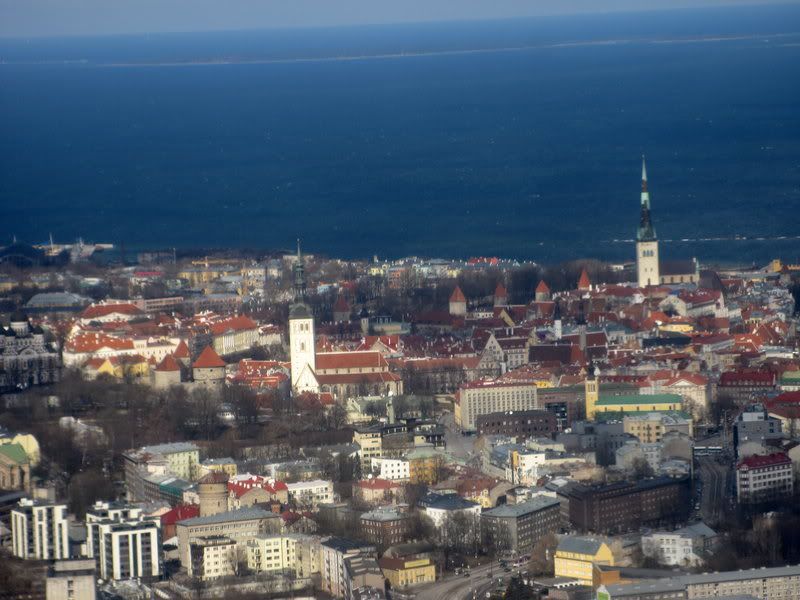 Followed by the New Town and the high rises of the CBD: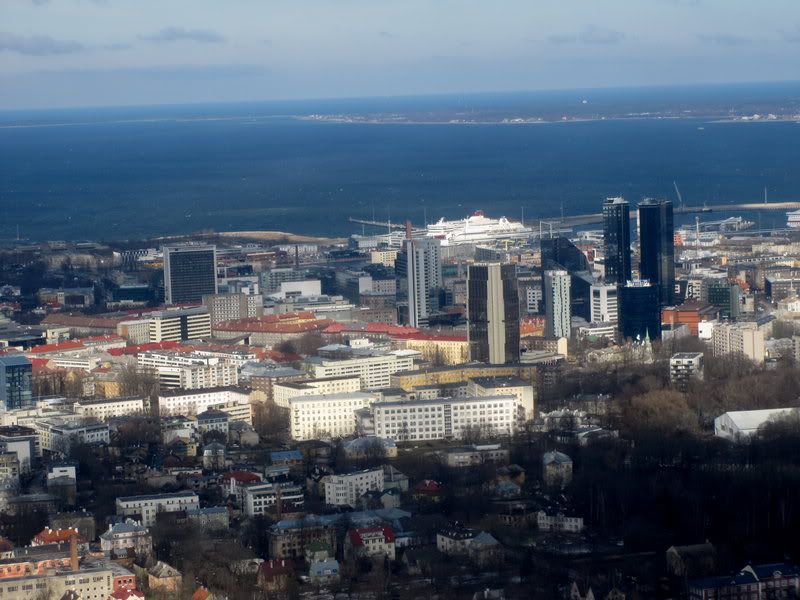 Lake Ülemiste frozen over: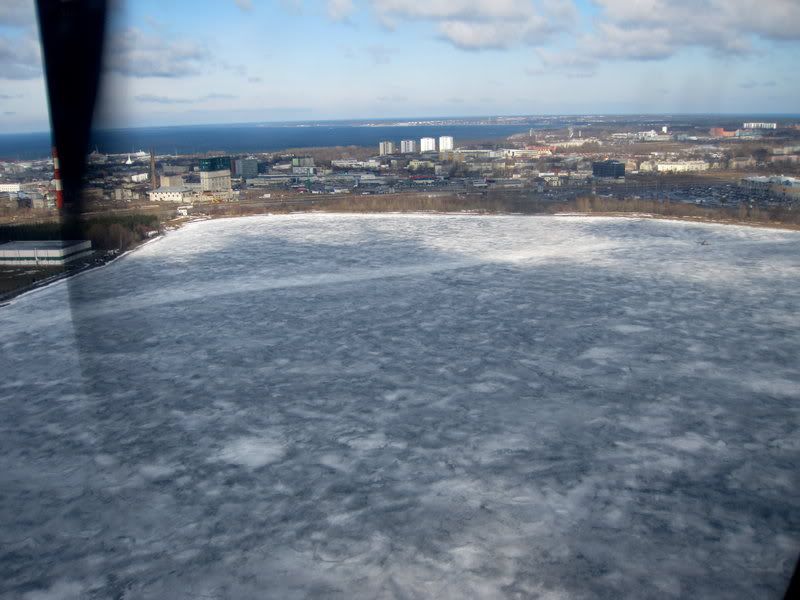 Our shadow on the ice: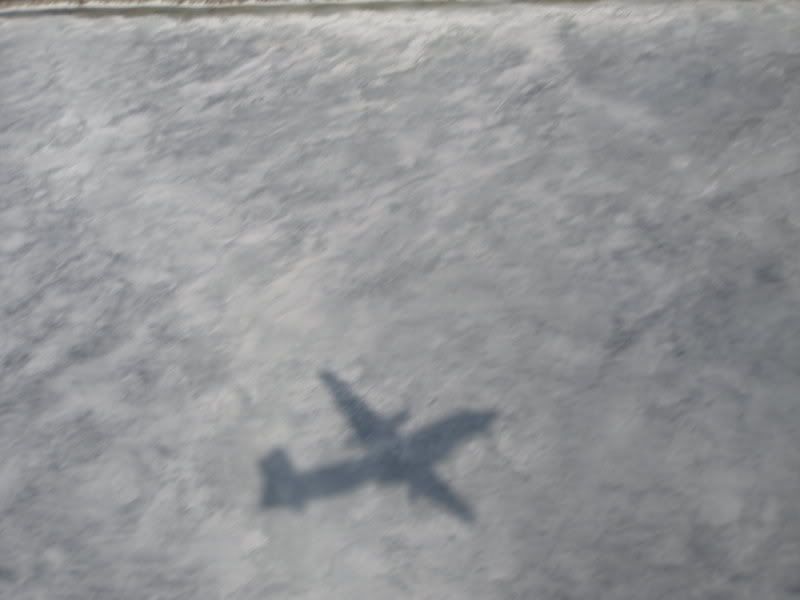 The approach is a bit bumpy but nothing like the rollecoaster landing at RIX earlier. That Cityline E195 looks huge for some reason: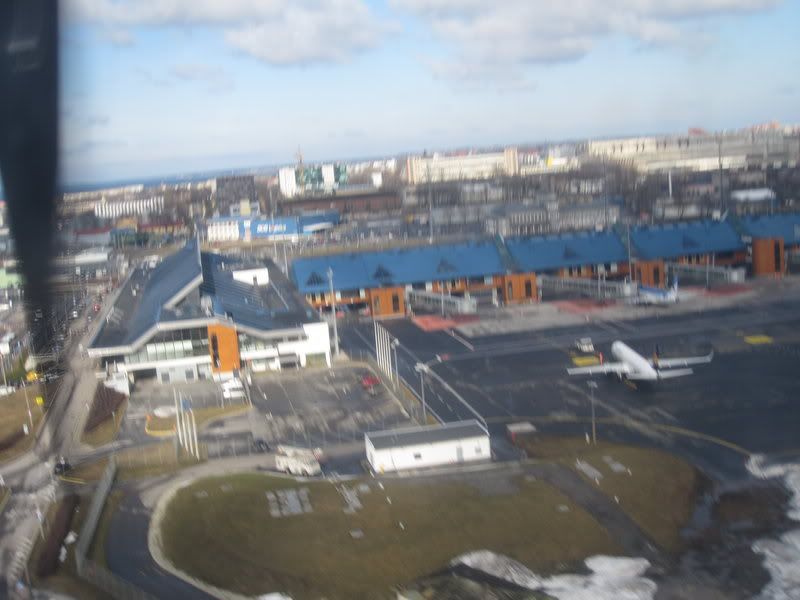 We land on runway 08 ten minutes past two in the afternoon, or fifteen minutes after the SDT of my flight. I didn't see any OV Regional Saabs on the apron so my hopes sink down thru the floor and cause a minor FOD alert at the runway.
We park next to this beauty - OV's second E170, ES-AEB, ex-Finnair. I have a few flights coming up with these birds in the near future: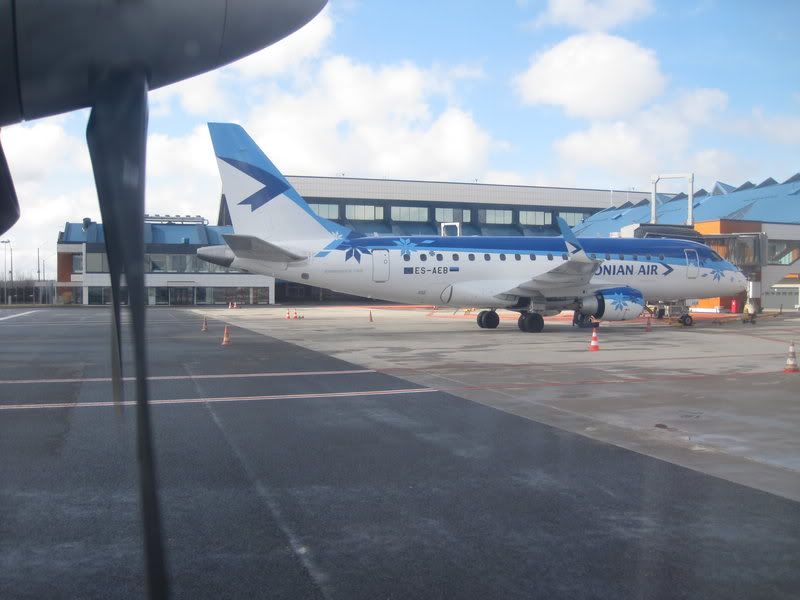 Determined to beat the odds and to be the first one out of the plane I head to wait in the galley as soon as possible. I notice something funny - this emergency torchlight was originally with Braniff:
I think about asking the FA about that but then again she is so young that she probably has no idea what an earth Braniff was. Isn't that an American cookie or something?
Pretty soon we are allowed out into the sunshine (but it is very windy here as well - I have to hold on to my hat in order not to loose it) so I make my way up the stairs in the jetway and into the terminal and the nearest FIDS only to see this: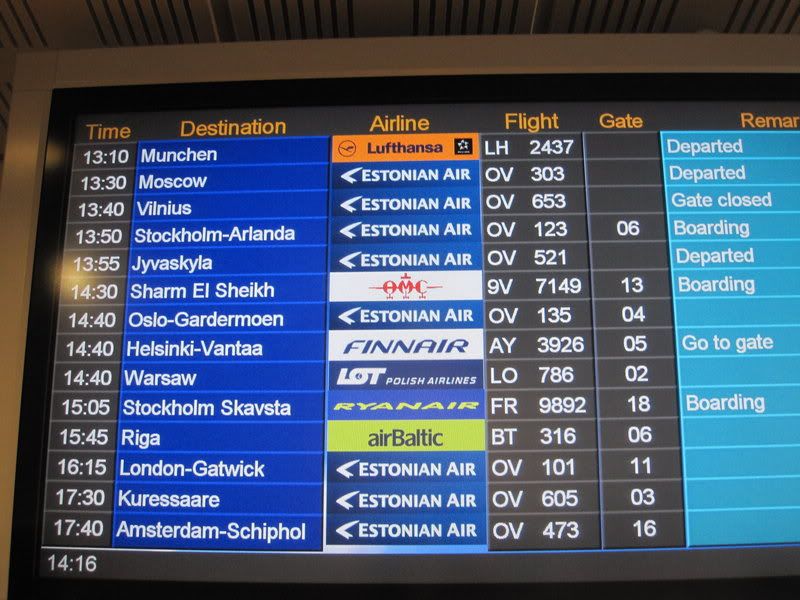 "DEPARTED" - that pretty much sums it up.
The Journey Home
Ok, let's sort out my options. I head to makeree's favorite watering hole at the airport, order a pint of their house beer and whip out the laptop: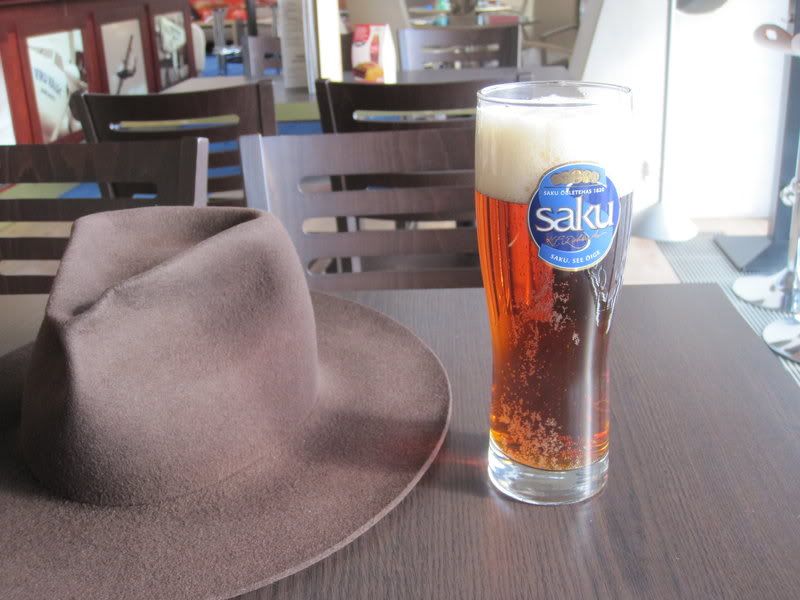 I figured out on the plane that I should try to see if AY has some award seats available for flights later today. That way with some luck I could even fly to JYV to return on my originally scheduled flight. Unfortunately there's no availability - or at least that's what I assume their new bling bling website tries to tell me. That website was overhauled a couple of months ago and I have to say the new one is a horrible mess - some overeager new technology salesmen from India probably got AY's chief IT officer drunk and to sign the contract for this utterly useless piece of shite that is the wet dream of some pimple faced (Java-)script kiddie. The old websites just were so much better...
Well that didn't work out then. Just for the heck of it I check the prices for paid (shudder) tickets. Too bad the OV route doesn't start until the next day - they are still selling tickets for 40 EUR. AY wants 106 EUR for a ticket - quite reasonable for a one-way AY ticket, quite unreasonable for a 15-minute flight!
So the ferry it is then. I had earlier decided to take Viking Line to support a Finnish company despite it being all of 2 EURs more expensive than the main player, Tallink with identical schedules. Well looks like they haven't really grasped this e-commerce thing as apparently two hours before departure is too late to book online, up yours! So Tallink finally wins my business and for 40 EUR I get a ticket for the next ferry departing at 16.30.
Out I go, but not before shooting a photo of this interesting bird operating a charter flight to SSH: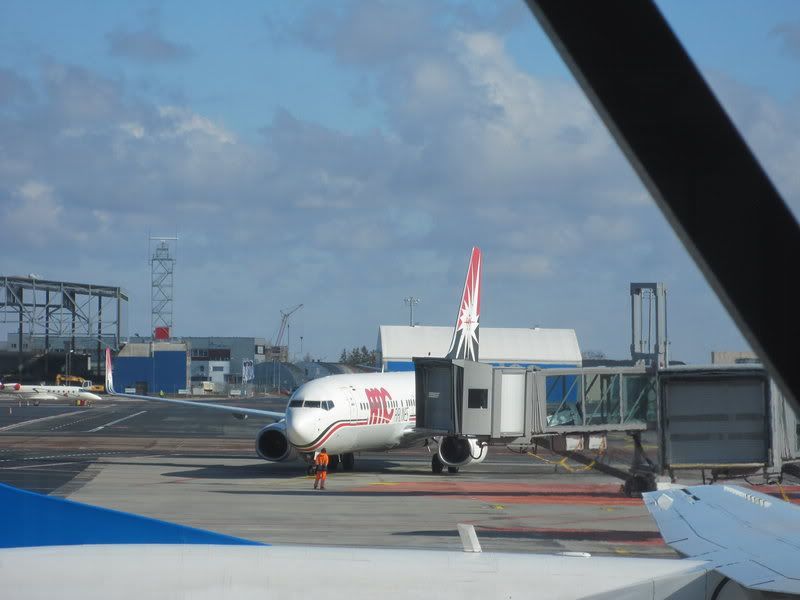 I decide to splurge on a taxi instead of the slow but dirt cheap bus. Seven Euros and 15 minutes later I step off in front of the Tallink Terminal D: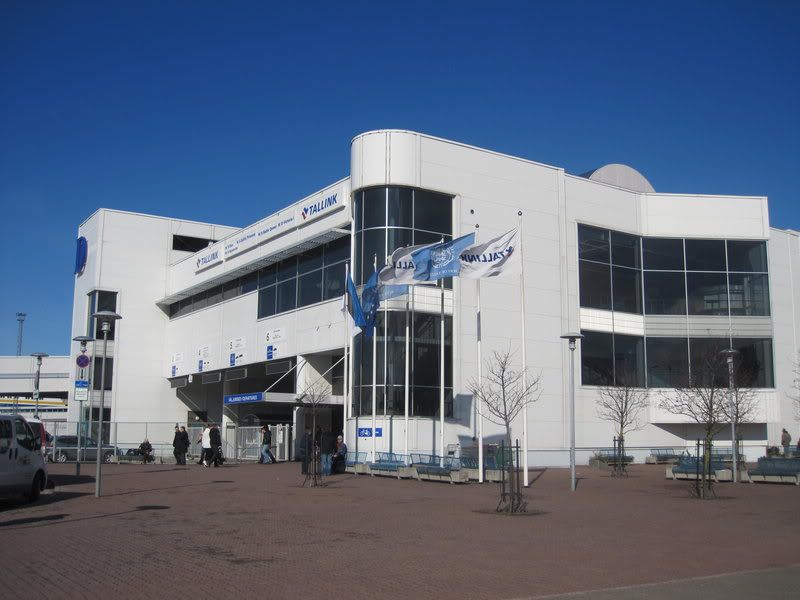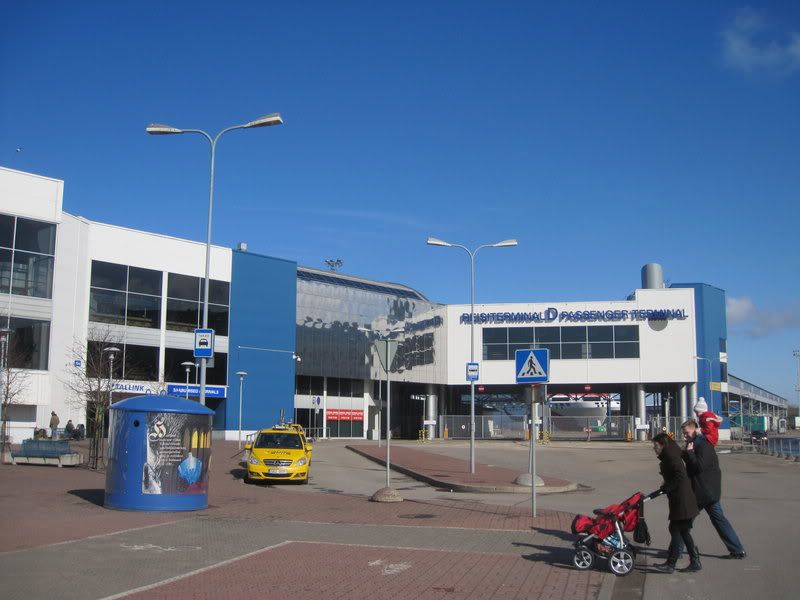 Fancy a pink limo ride: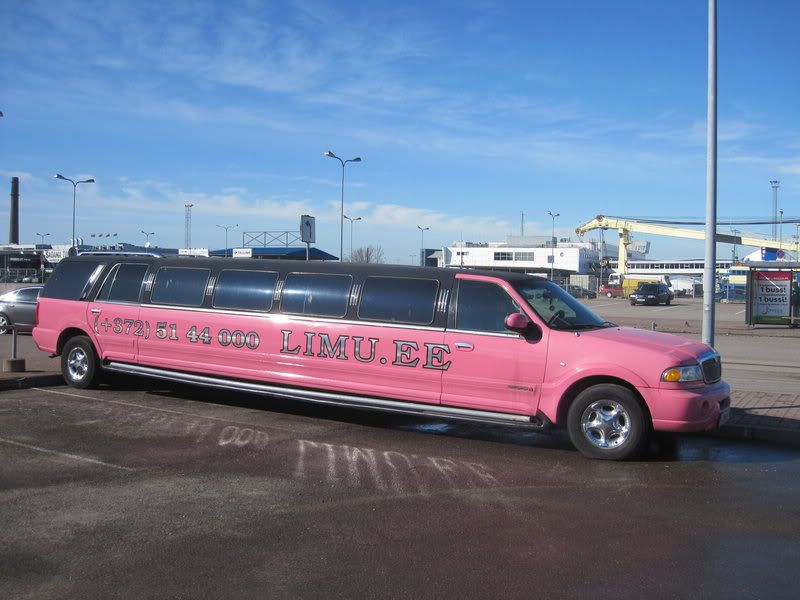 I head upstairs to check in and then outside to the touristic Russian restaurant opposite for some food: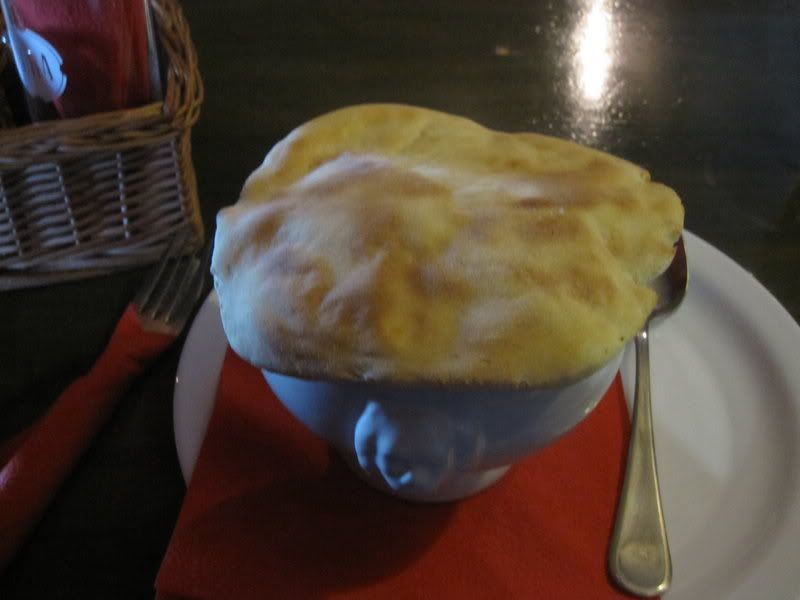 The Port of Tallinn is a weird wasteland of the largest liquor stores you have ever seen and dubious restaurants offering cheap beer and pepper steaks for thrifty Finnish tourists who flock here by the busloads: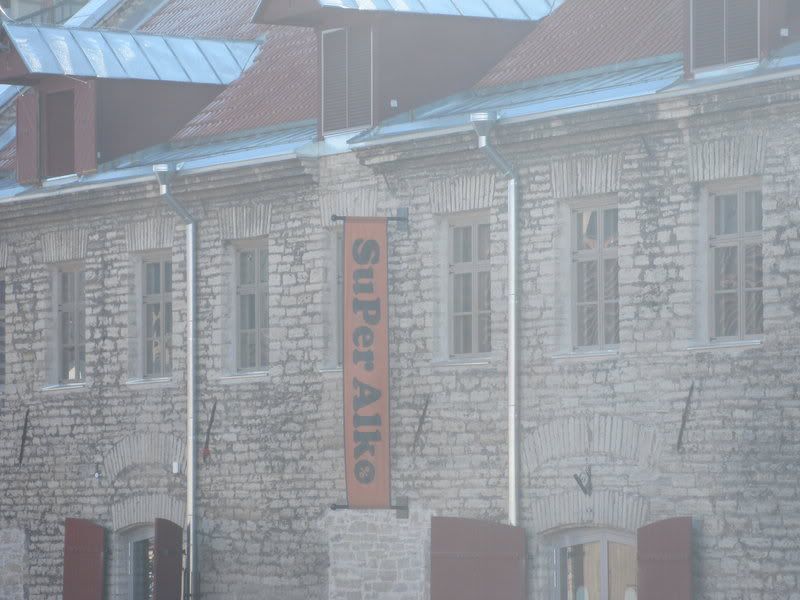 Another liquor store inside the terminal: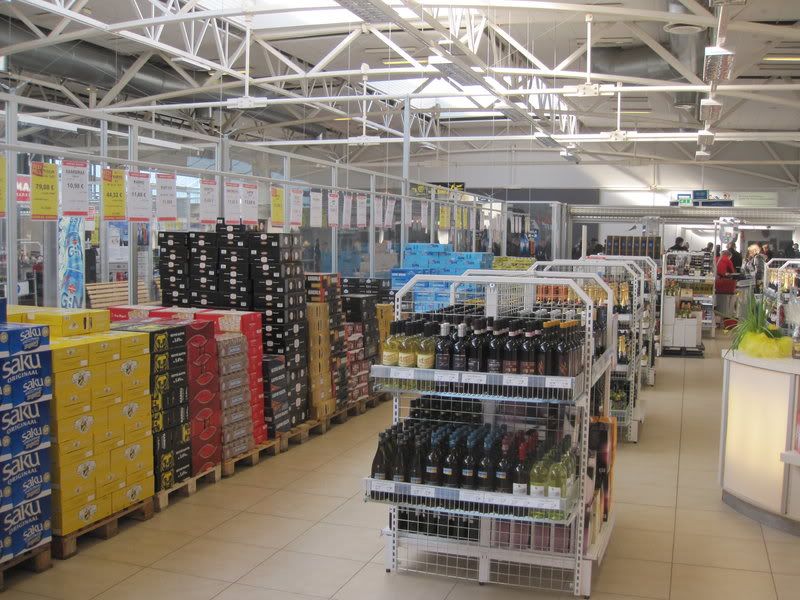 10-pack of vodka, anyone: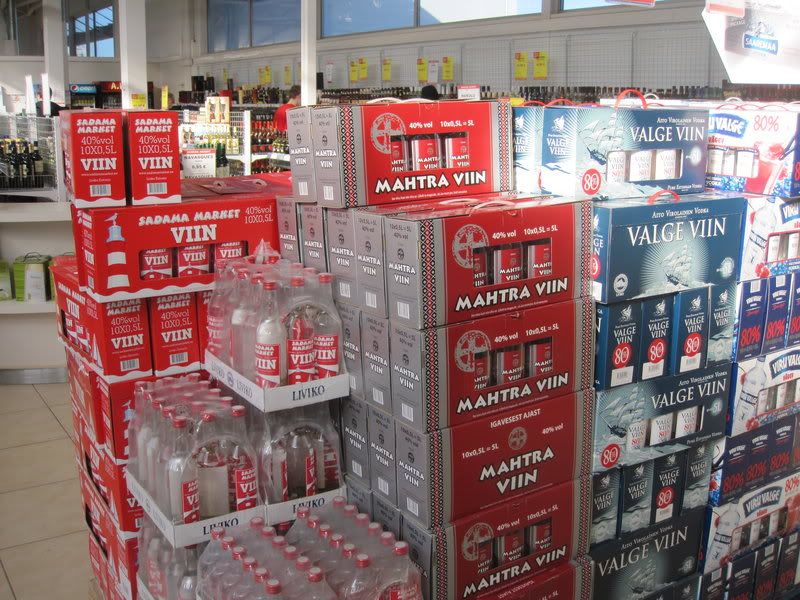 Like brothers, like sisters:
Top