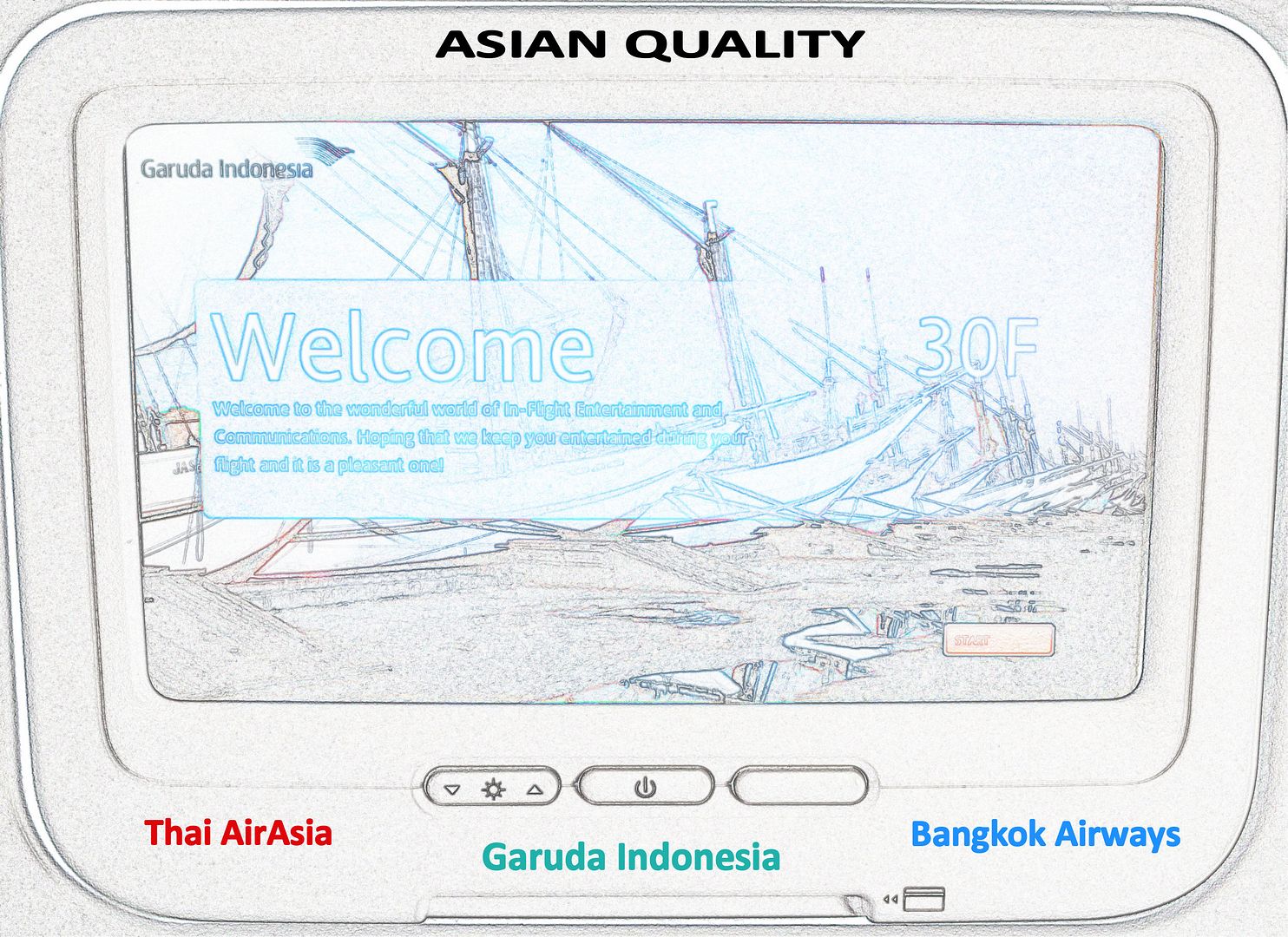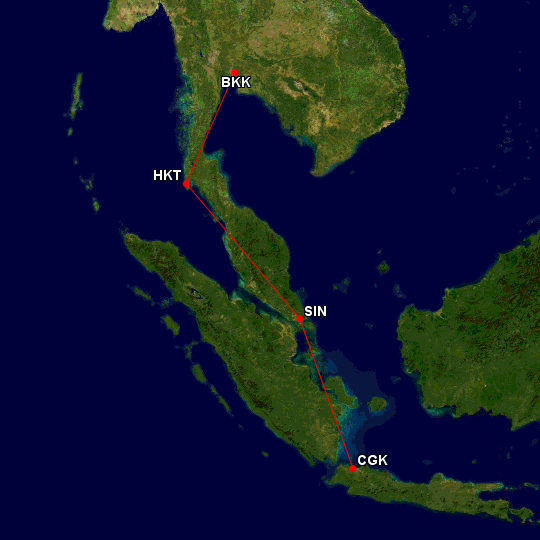 Map generated by the Great Circle Mapper - copyright © Karl L. Swartz
Background
I early 2011 my friend Satchmo and I decided to go on a spotting trip to Asia in late October. We had been planning to visit Singapore and Kuala Lumpur from the very beginning and focused on getting on Qantas' A380 between LHR and SIN. I had flown Qantas before, but I wanted to increase the number of A380 carriers in my log to five. At a later date, we also decided to include Jakarta where we had never been before. Of course we tried to get as many new airlines and interesting types as possible and it took a while to create an exciting itinerary. Finally, we booked 10 flights operated by 8 different carriers (including four new ones) and reserved hotel rooms in Singapore (one night), Kuala Lumpur (one night), Jakarta (two nights) and Bangkok (one night). We exclusively combined one-way flights and one-way combos, so we had eight different flight reservations in the end. Here's what the preliminary itinerary looked like:

Munich-London
London-Singapore
Singapore-Kuala Lumpur
Kuala Lumpur-Jakarta
Jakarta-Singapore
Singapore-Phuket
Phuket-Bangkok
Bangkok-Mumbai
Mumbai-London
London-Munich

While Satchmo was planning to use our entire time at Jakarta for taking pictures, I decided to squeeze in a domestic day trip. I found an interesting combo on two new carriers and added three more flights:

Jakarta-Semarang
Semarang-Surabaya
Surabaya-Jakarta

Now I was looking forward to 13 flights on 10 different carriers - including 6 new ones - and 4 widebodies (details to follow). At that point of time I couldn't imagine that I would end up on 14 flights, 7 new airlines and 5 widebodies.
Parts I, II and III can be found here:
QF A380 Grounded, Bags Lost - LHR-SIN, TK A330/340
(by
PlaneHunter
Jan 30 2012 in Trip Reports)
Widebody Hopping & KUL Spotting: SIA A330, KLM 77W
(by
PlaneHunter
Feb 21 2012 in Trip Reports)
Blast From The Past: Sriwijaya 732 & Lion Air 739
(by
PlaneHunter
Mar 7 2012 in Trip Reports)
Thursday, November 2011
Jakarta (CGK) - Singapore (SIN)
Garuda Indonesia GA822
Scheduled times: 06:25-09:05
Actual times: 06:23-09:06
Flight duration: 01:16 (hrs)
Distance: 546 miles
Economy Class, seat 30F
Boeing 737-86N
PK-GFC (s/n 3348)
Delivered in 07/2010
1st flight on PK-GFC
25th 737-800 flight
36th 737 NG flight
64th 737 flight
127th airline
After checking out from the
Jakarta Airport Hotel
(conveniently located at Terminal 2E), we only had to walk a short distance to the Garuda Indonesia check-in area. The whole process took less than 20 minutes, getting seats in the back hadn't been a problem at all. We also quickly passed security and went straight to our departure gate. The Terminal 2 airside layout is similar to the one at Terminal 1, but windows were installed throughout the pavilions and corridors, separating the interior spaces from the gardens. Consequently, it's much cooler in the whole building. Here's our waiting area:
Picture by Satchmo
Our plane was
PK-GFC
- getting special treatment by the flight crew: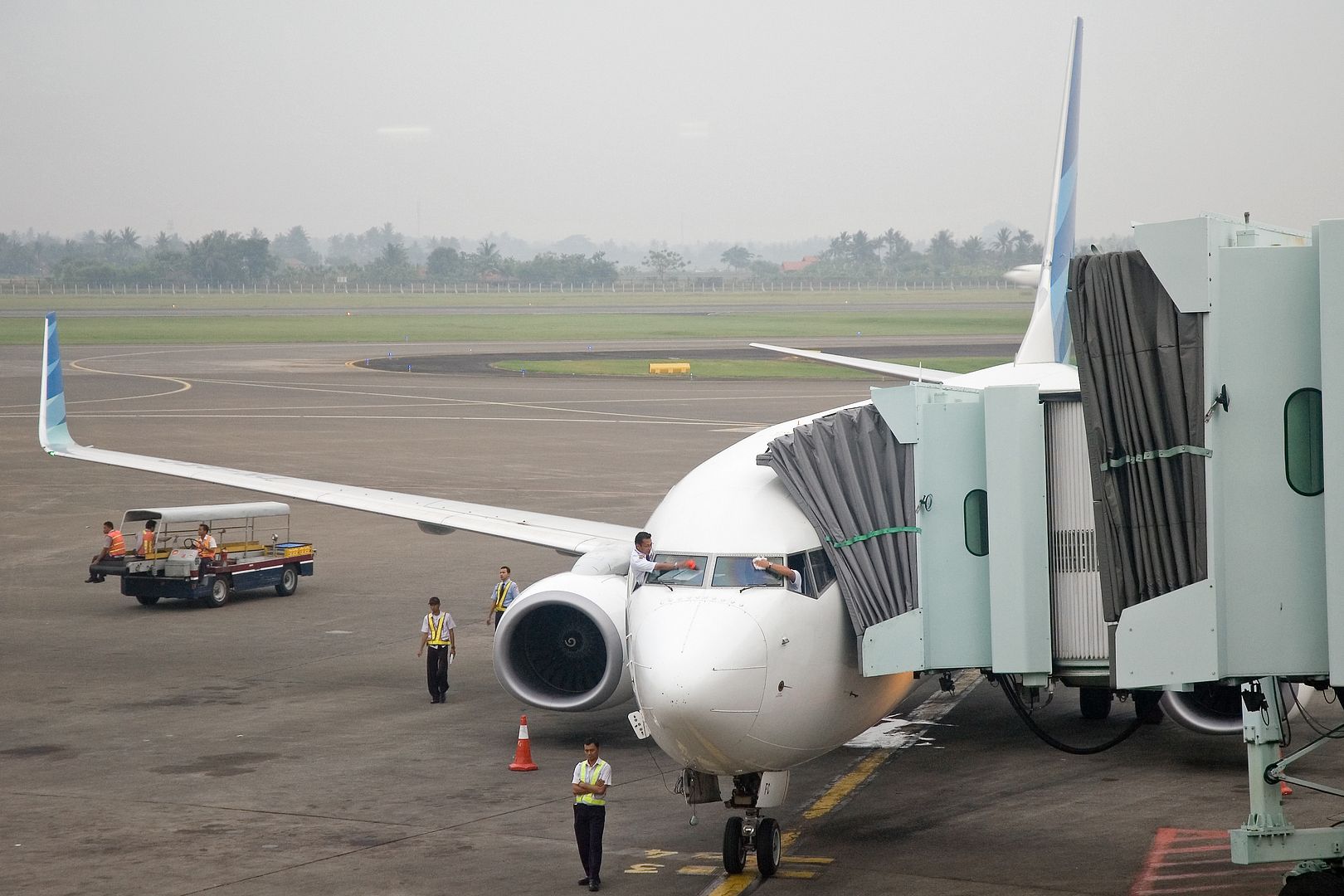 Picture by Satchmo
PK-GFC
, delivered factory fresh in July 2010, is one of 53 737-800s in the fleet. Garuda Indonesia chose an advanced interior for the new planes, but there are also 14 used frames (registered PK-GEE to -GER) with basic interiors. Those are almost exclusively used on domestic routes.
Very friendly flight attendants in nice dresses and uniforms welcomed us on board. The tasteful combination of colors in the (spotlessly clean) cabin really impressed us:
Picture by Satchmo
The comfortable new-style seats are equipped with large TV screens: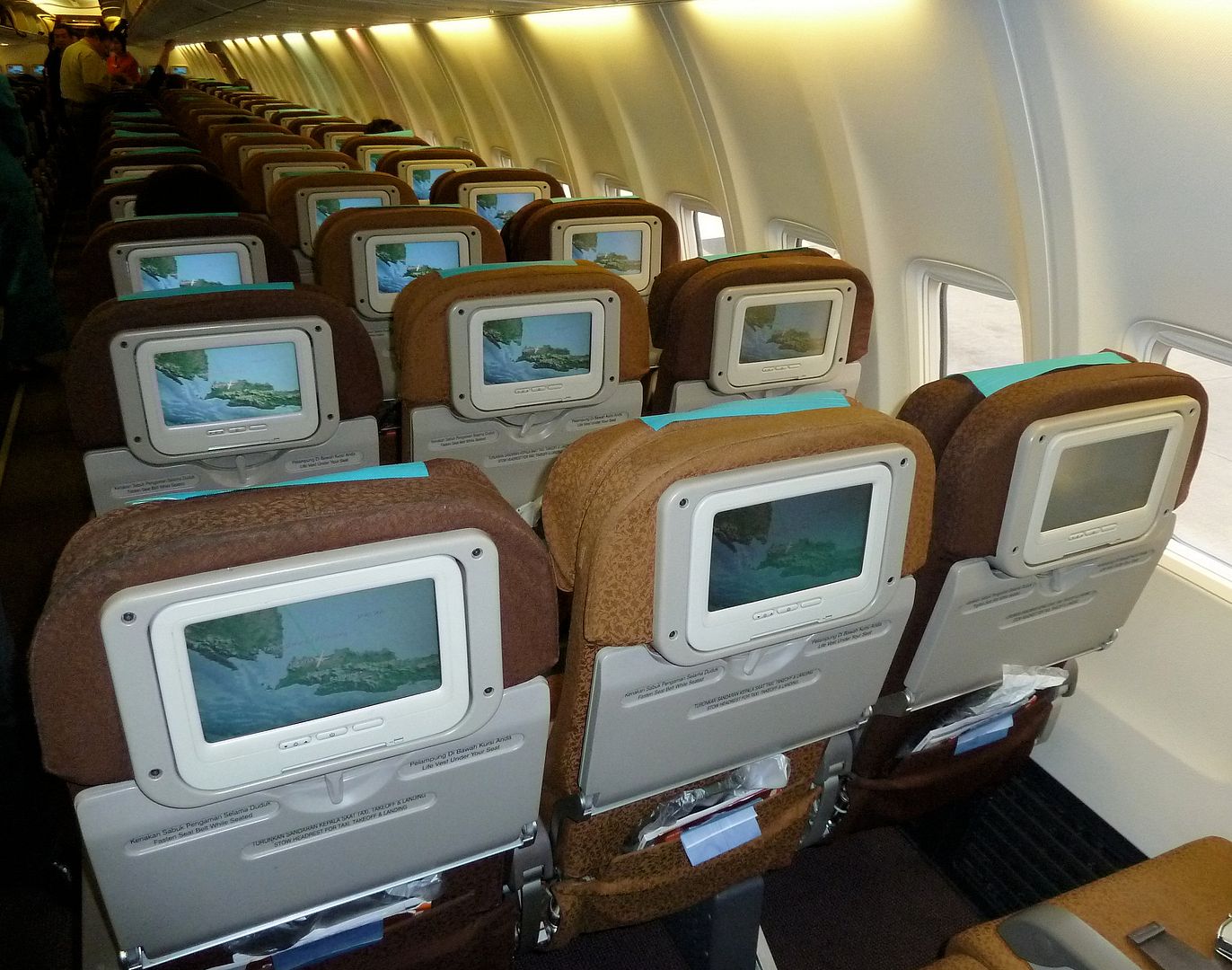 Legroom was generous…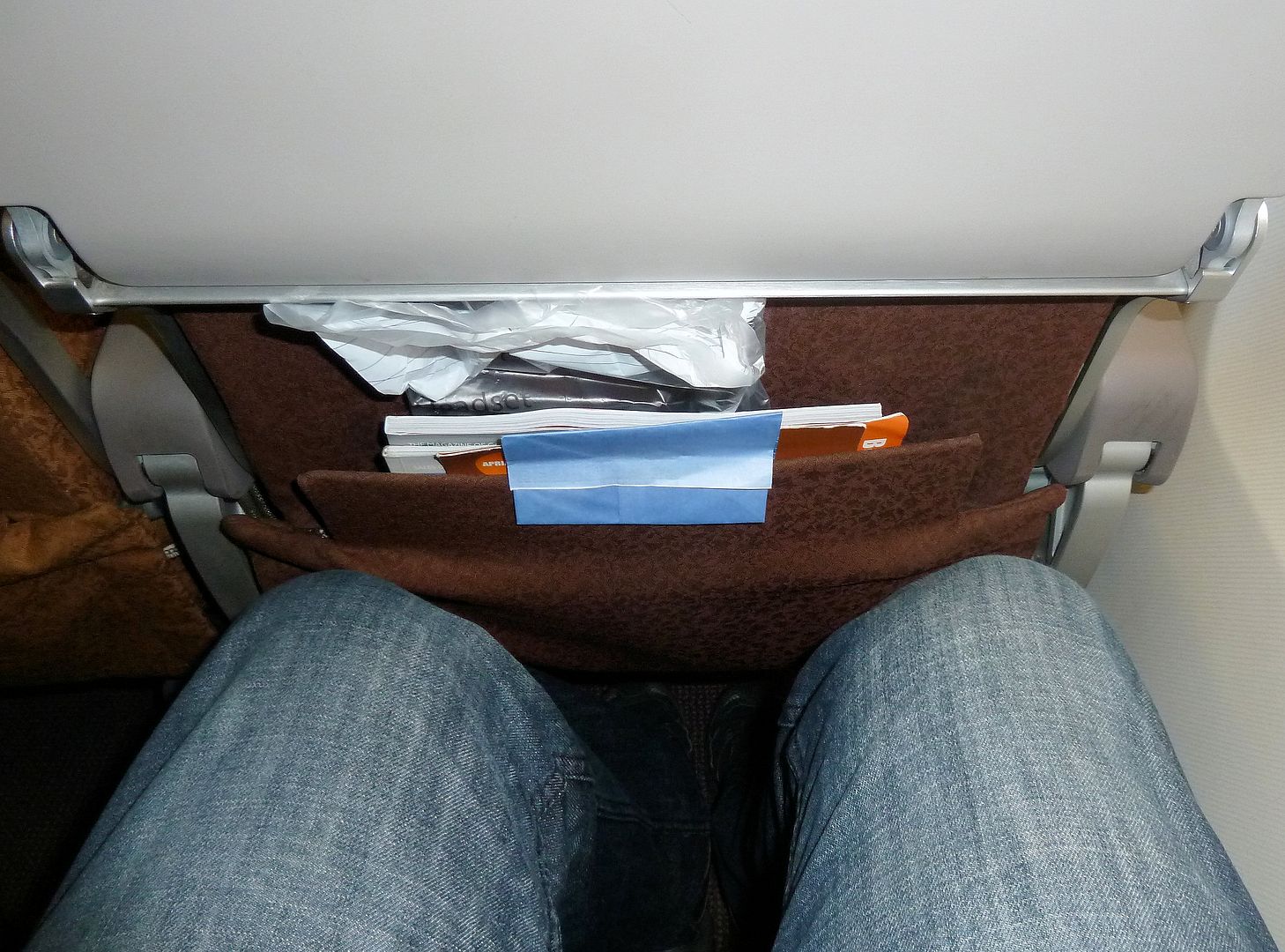 …and the IFE boxes didn't take away much space:
Welcome screen: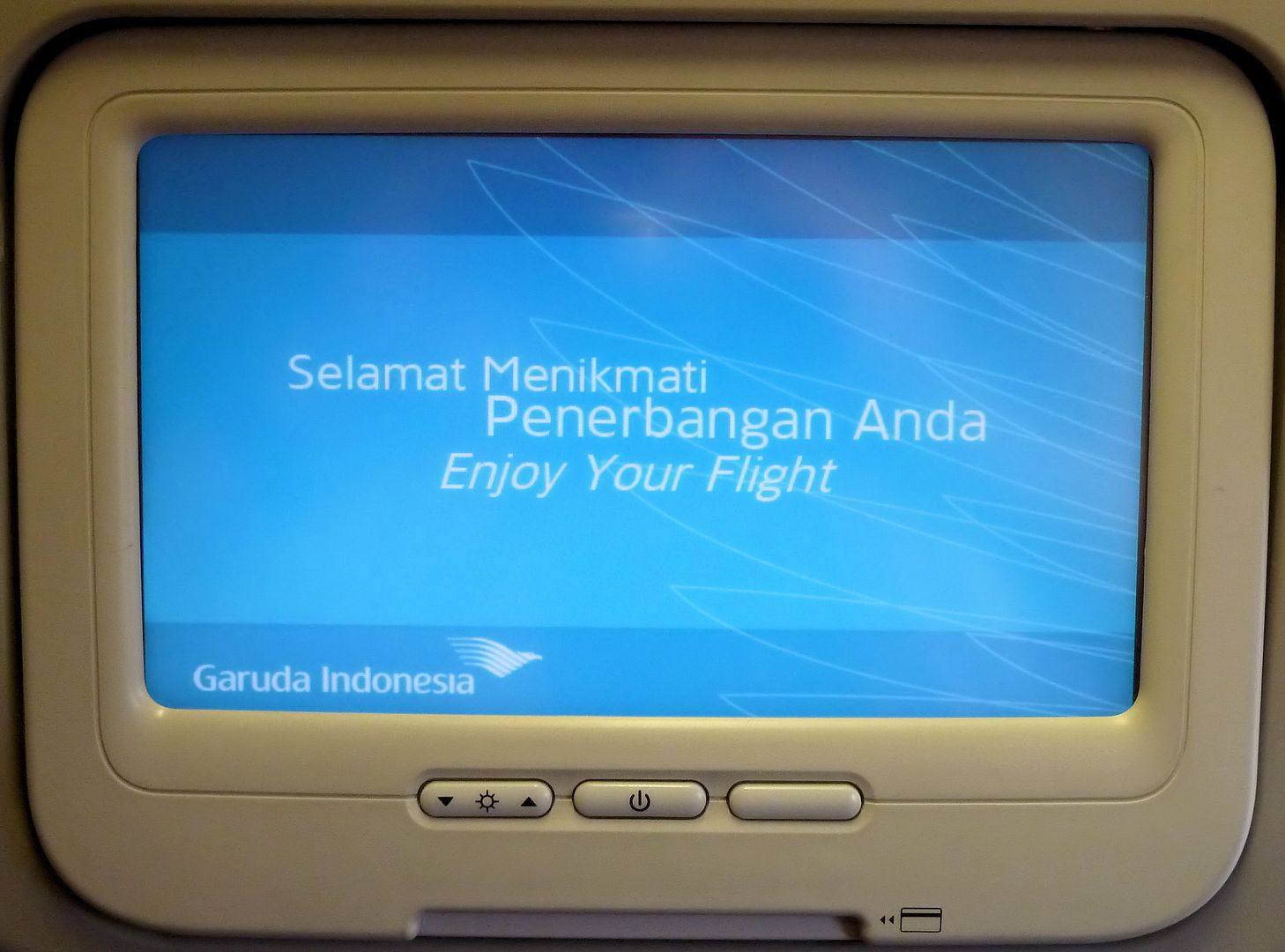 The new-style airshow had already been activated: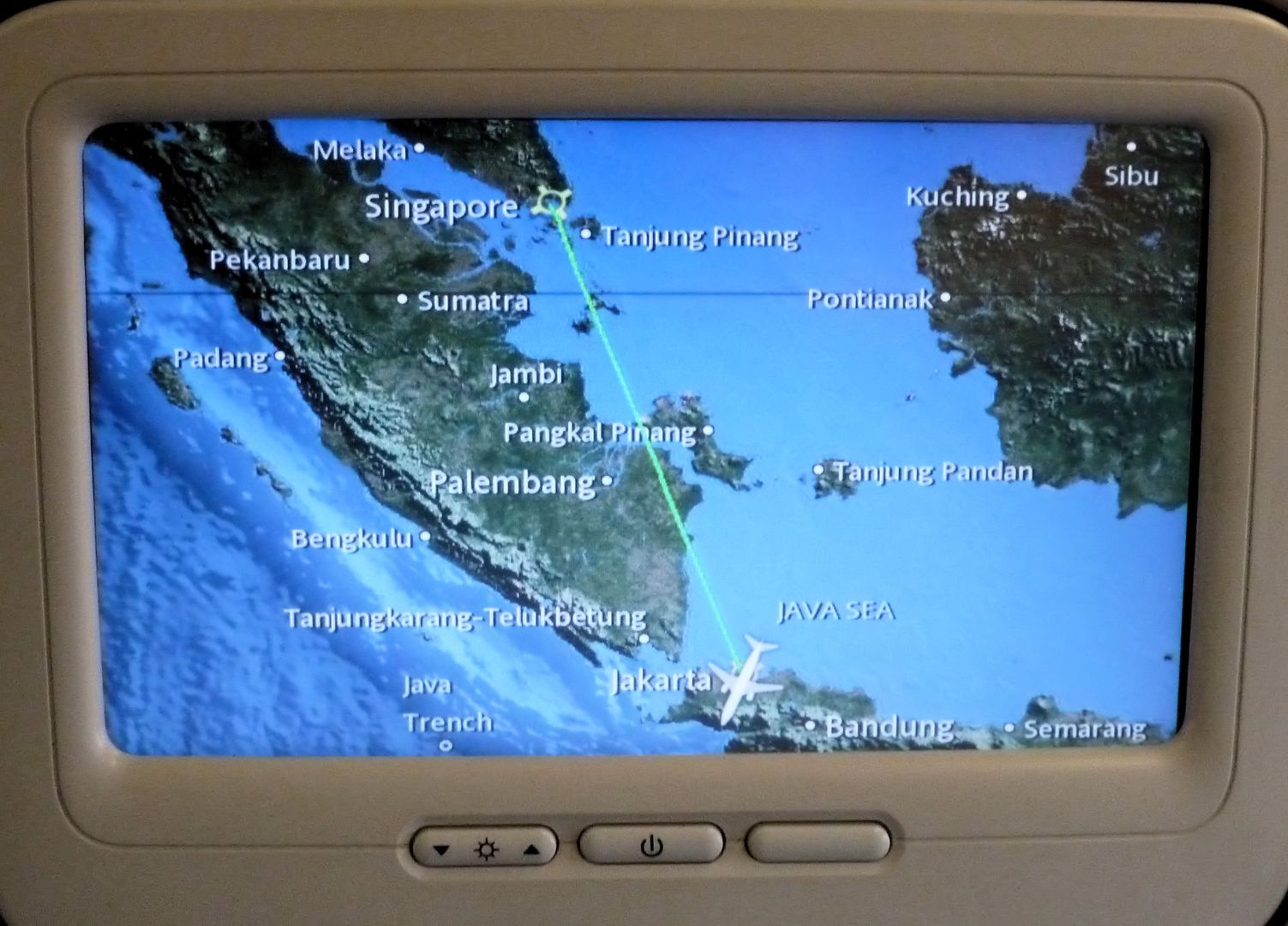 In-flight and shopping magazines:
Absolutely correct fleet information: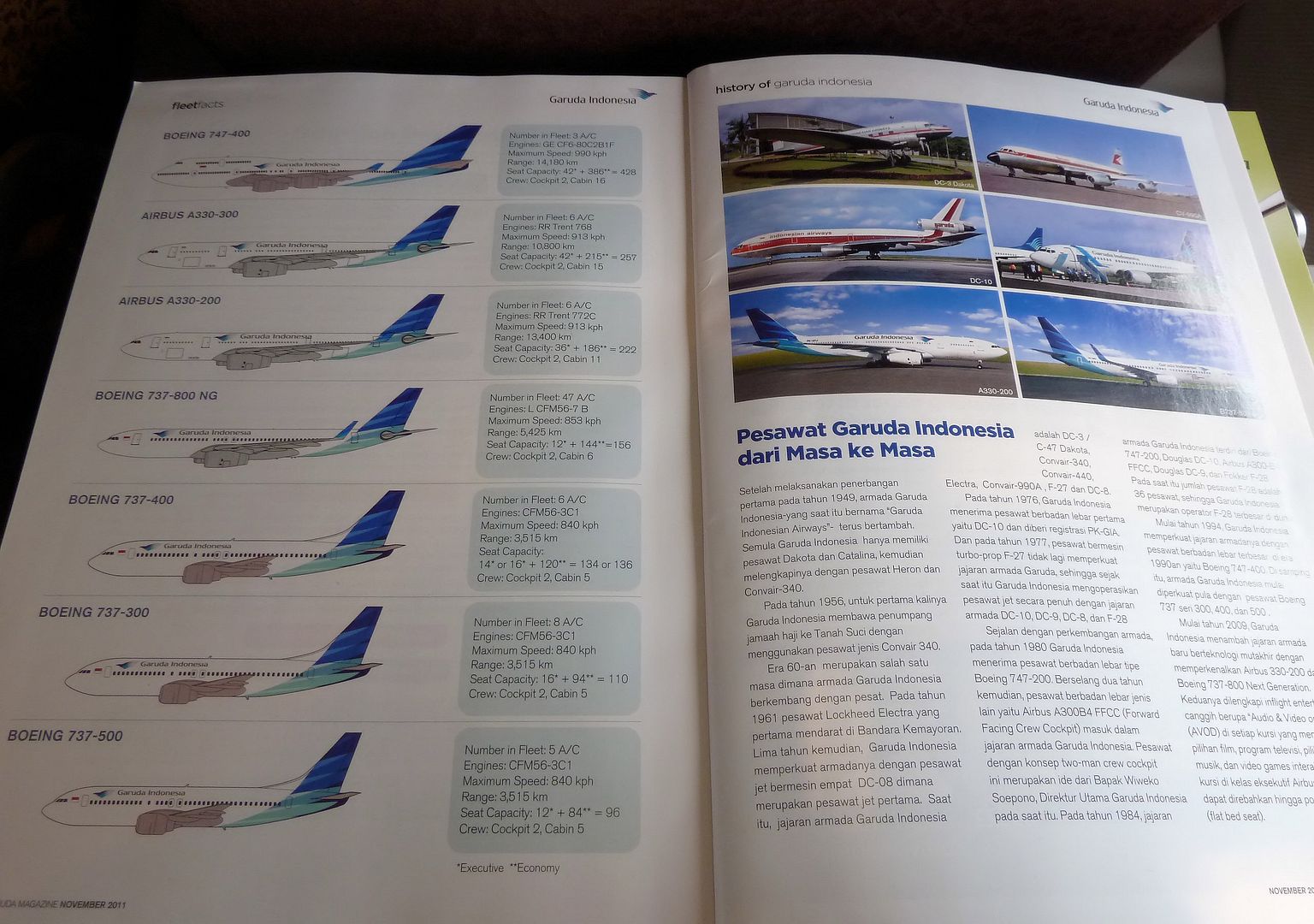 Safety card and IFE guide: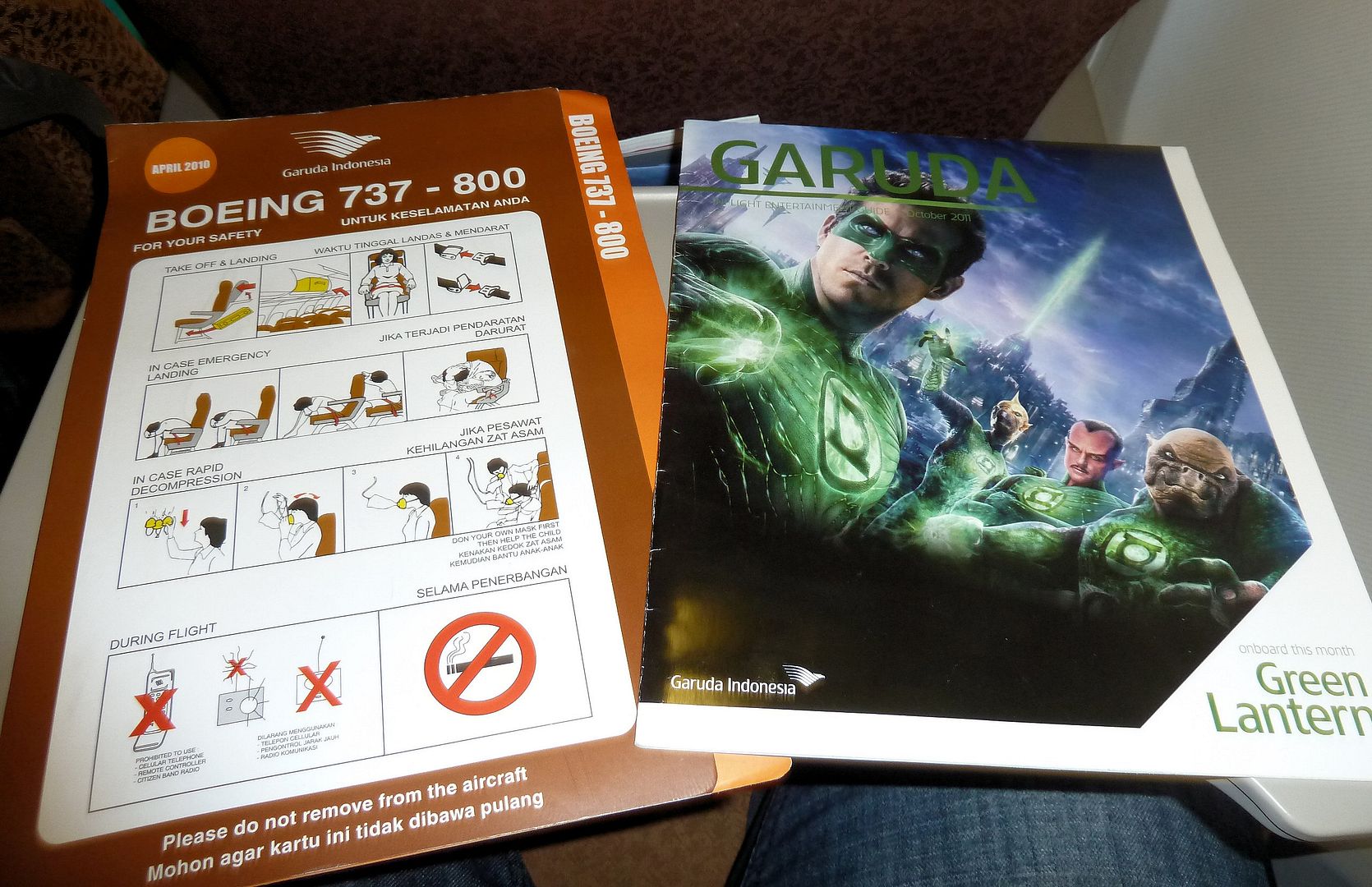 Parked next to us was sister ship PK-GMF, Lion Air 737-900ER PK-LHQ was about to leave: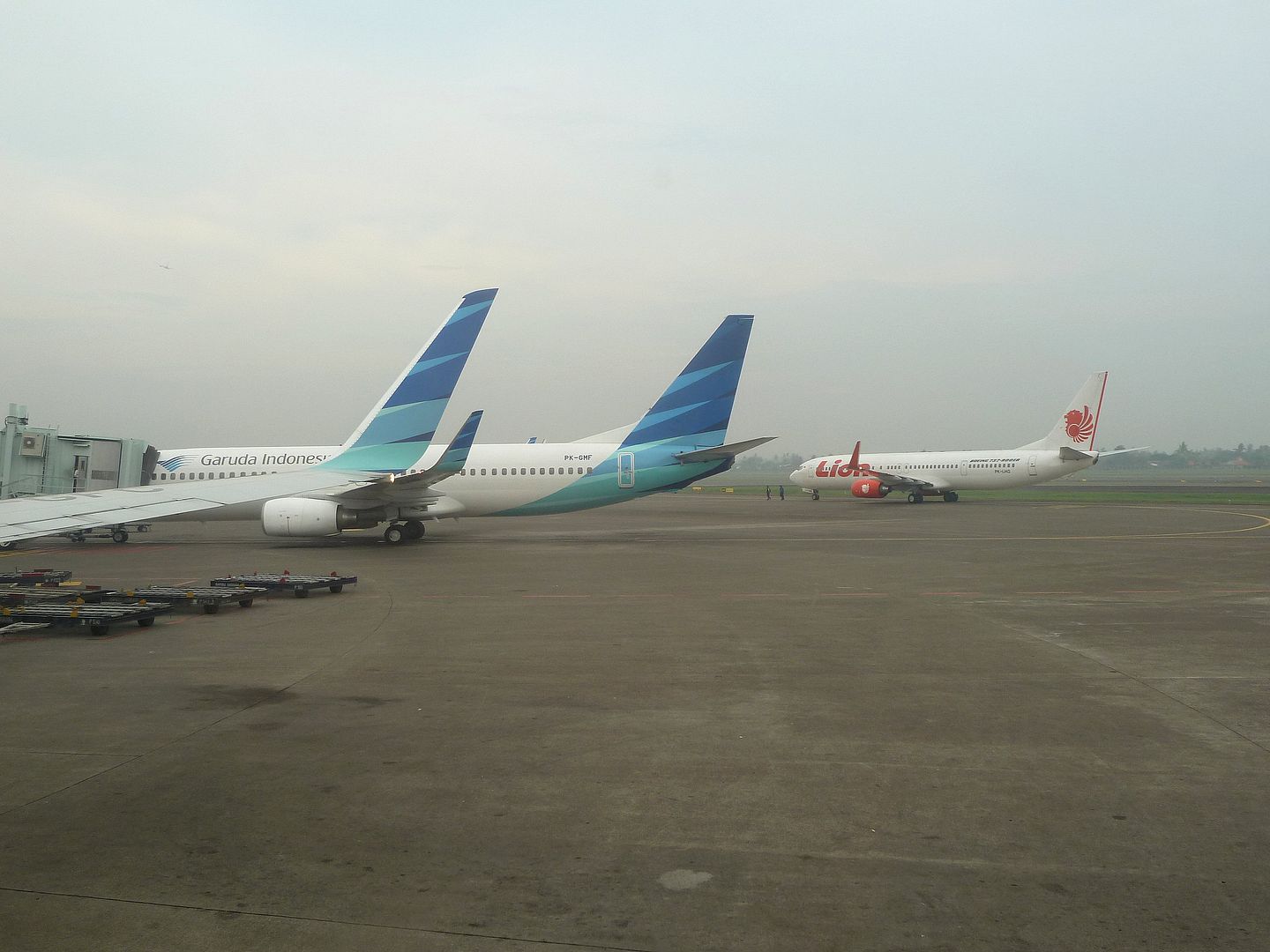 Numerous seats remained empty, including the aisle seat in our row.
PK-GFC
left the gate two minutes ahead of schedule…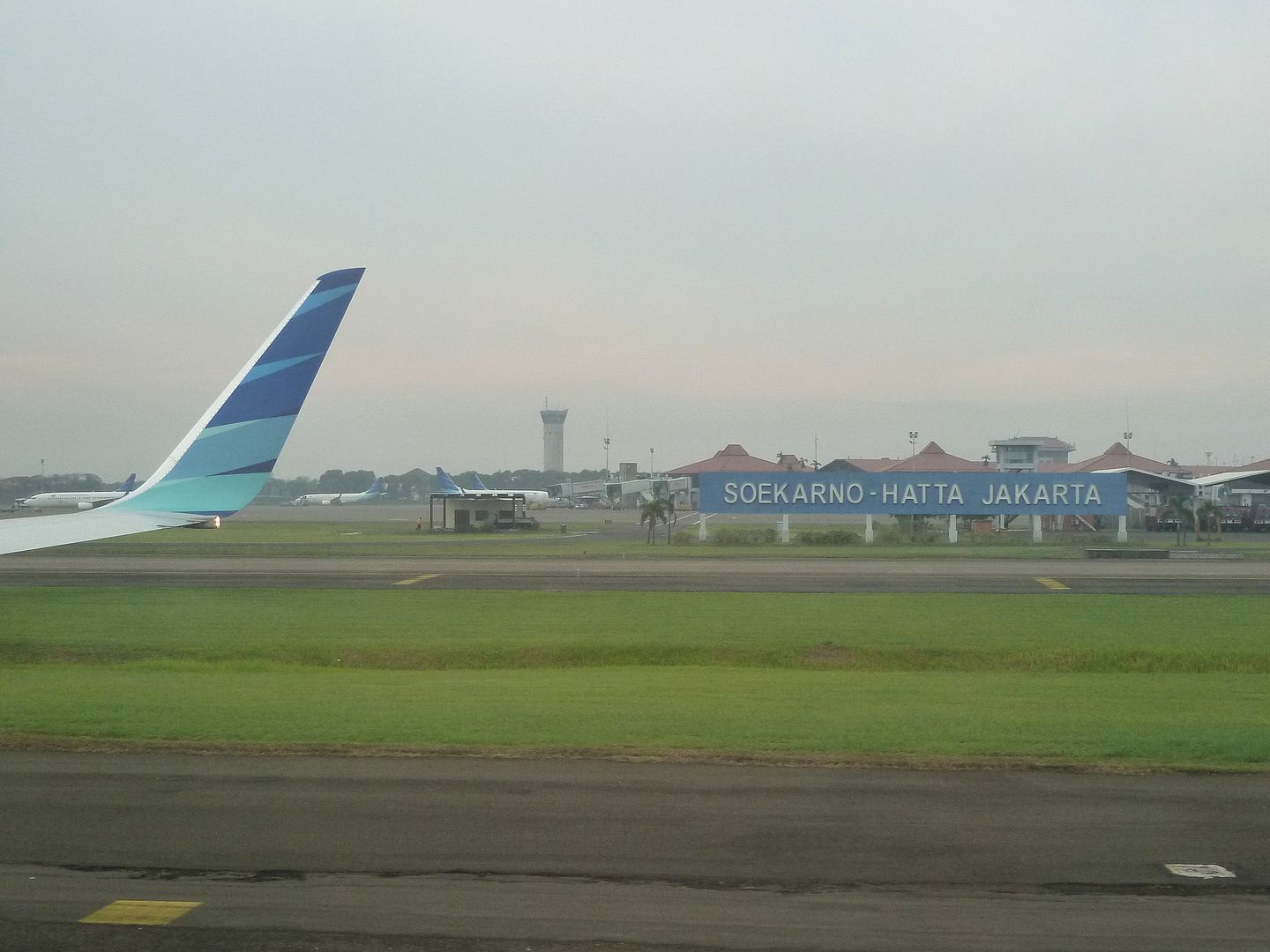 …and soon started a powerful takeoff roll. Goodbye Jakarta, I'll be back: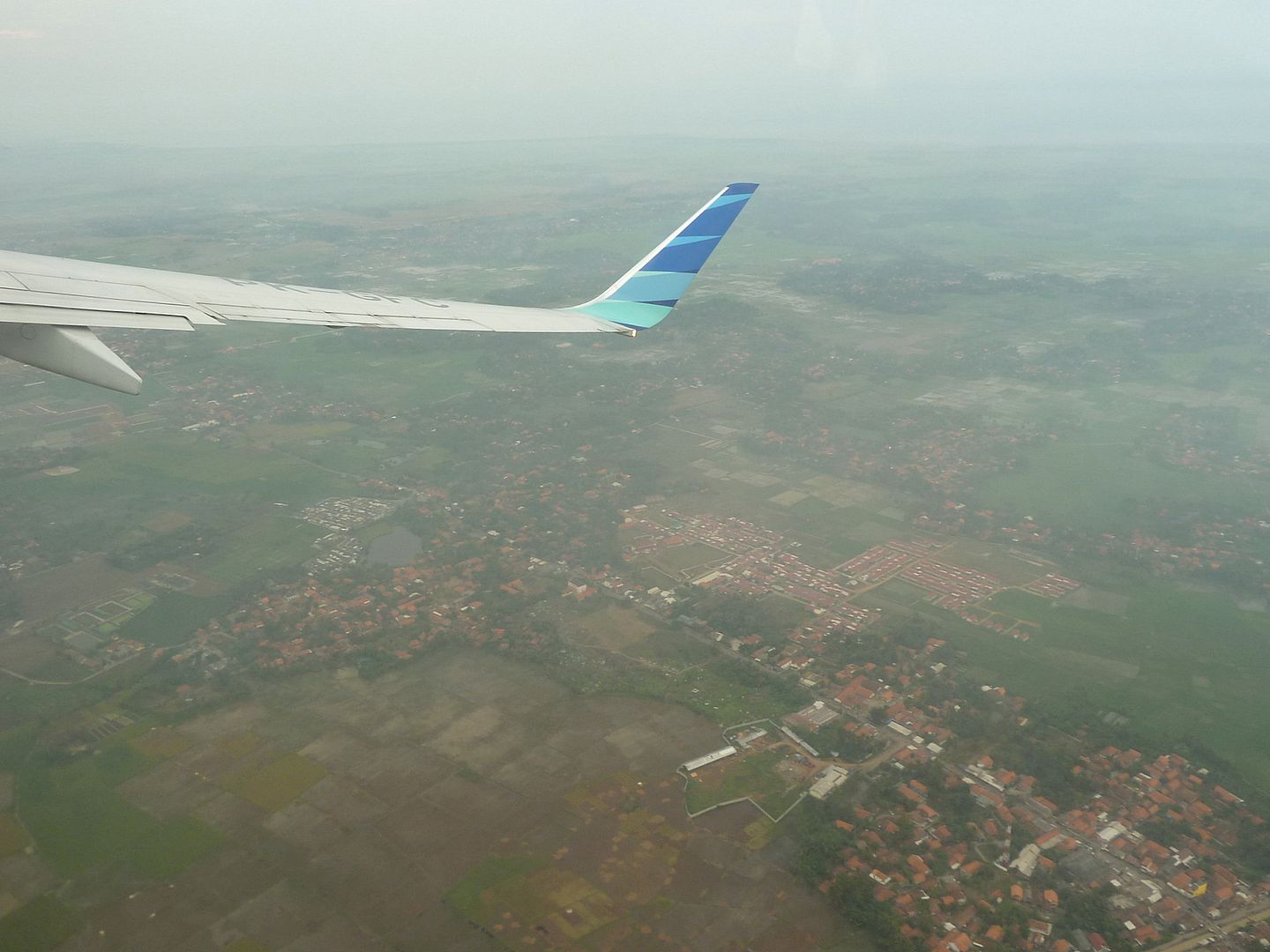 Shortly after takeoff, I had a look at the touchscreen IFE system. I really liked the varying welcome screens: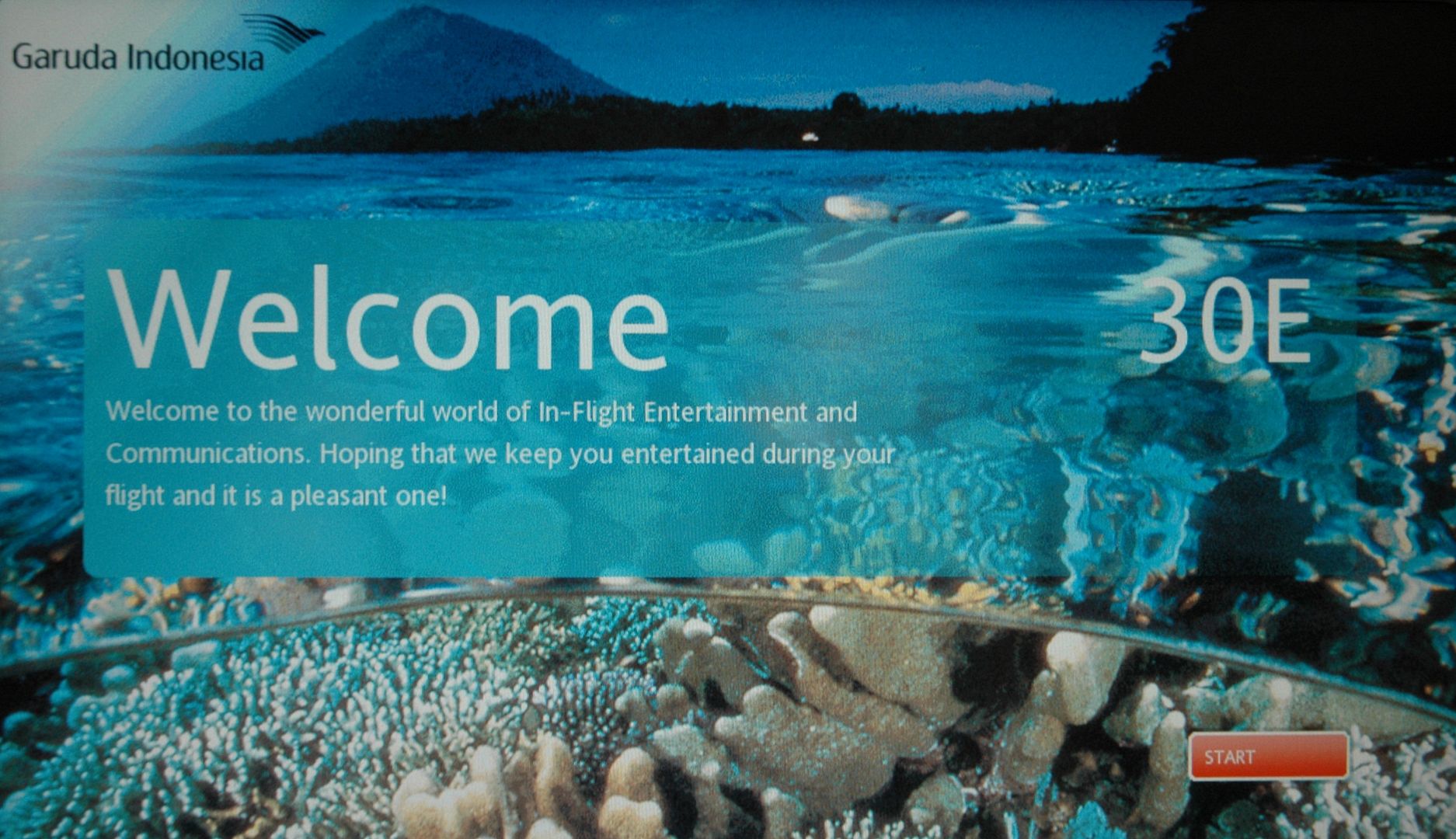 Picture by Satchmo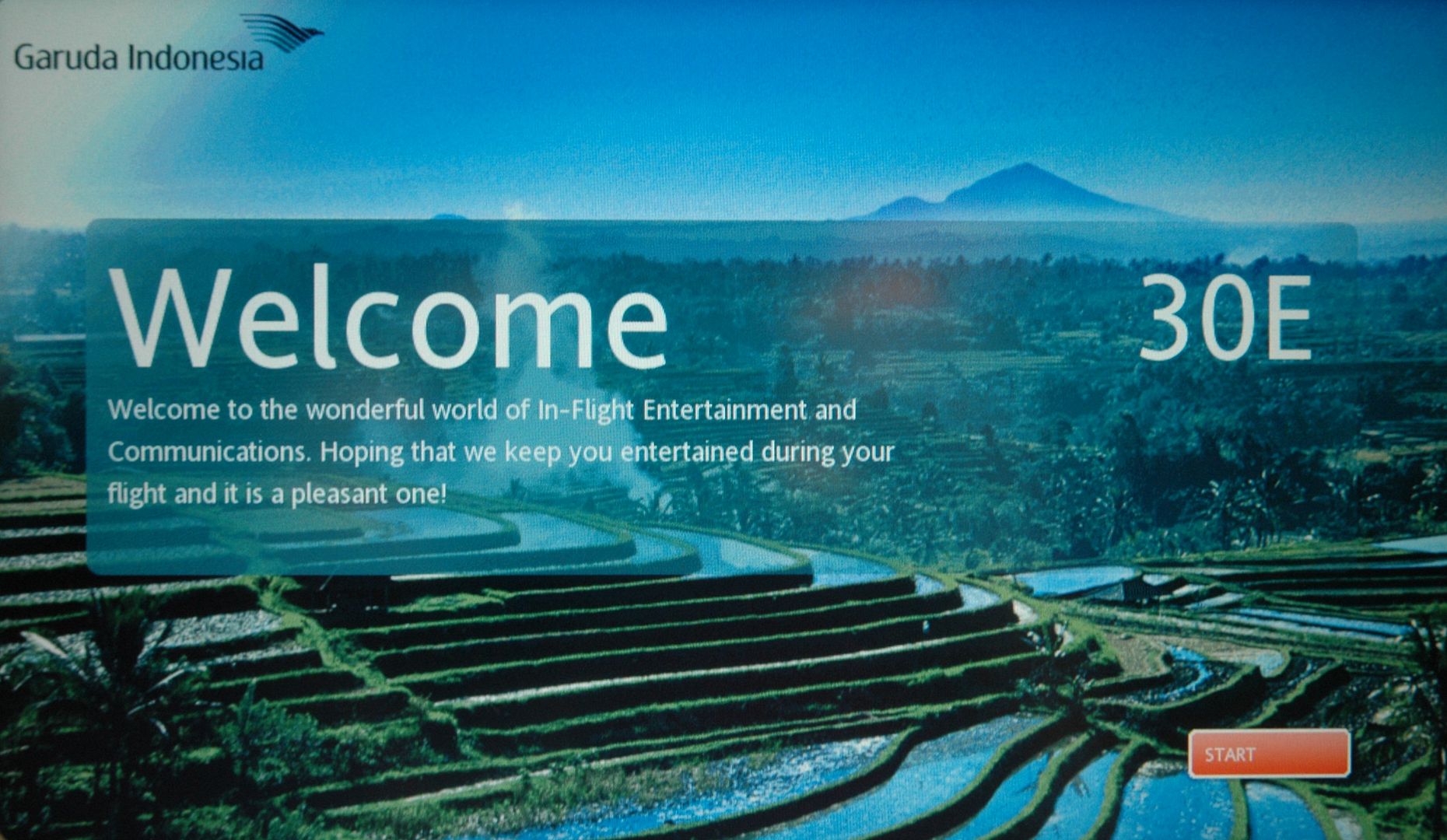 Picture by Satchmo
Main menu:
Garuda's audio/video on-demand system offers a choice of 56 movies, 32 TV features, 9 radio channels, 130 music CDs and 25 games - and there's an airshow channel which is the most important feature in my opinion.
The flight attendants soon started serving a hot breakfast. We could choose between an Asian meal with fish and a Western meal with egg, potatoes and sausage.
Satchmo
ordered fish…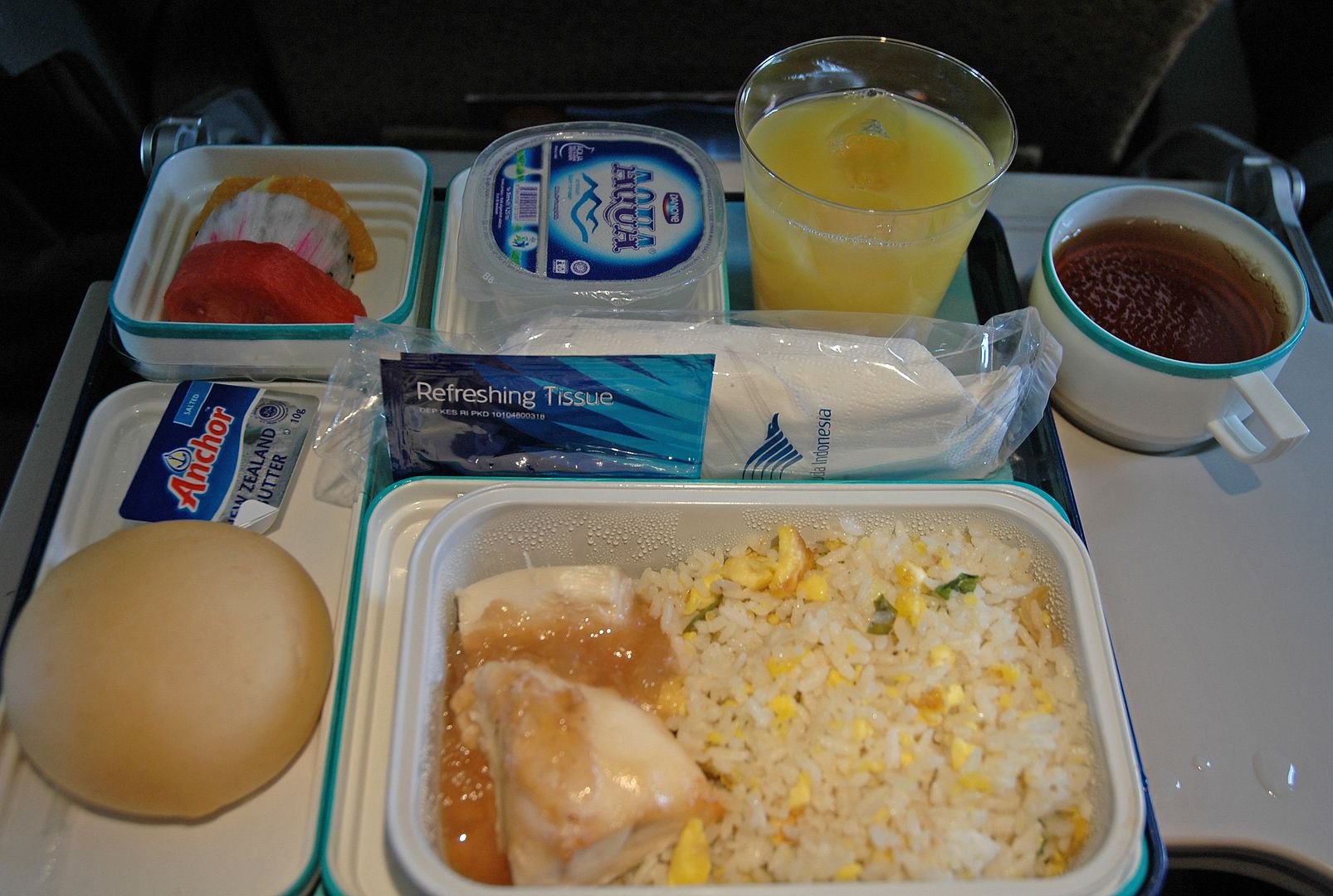 Picture by Satchmo
…while I opted for the alternative: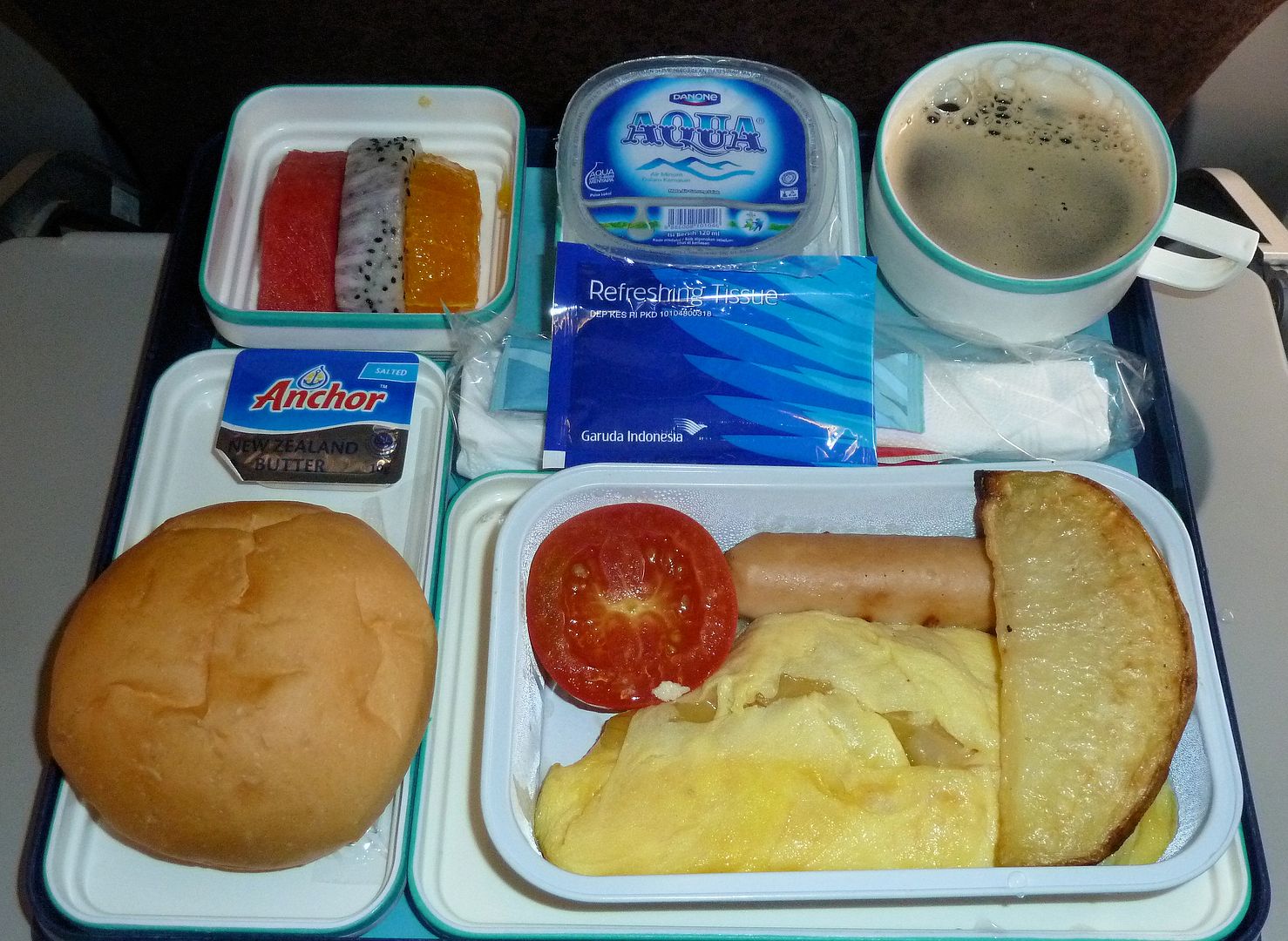 We really enjoyed these generous and well-presented meals, everything tasted very good. After all meals and drinks had been served, the flight attendants started a second drink run. No doubt, Garuda Indonesia exceeded our expectations on this 76 minute flight.
What a pleasant looking cabin: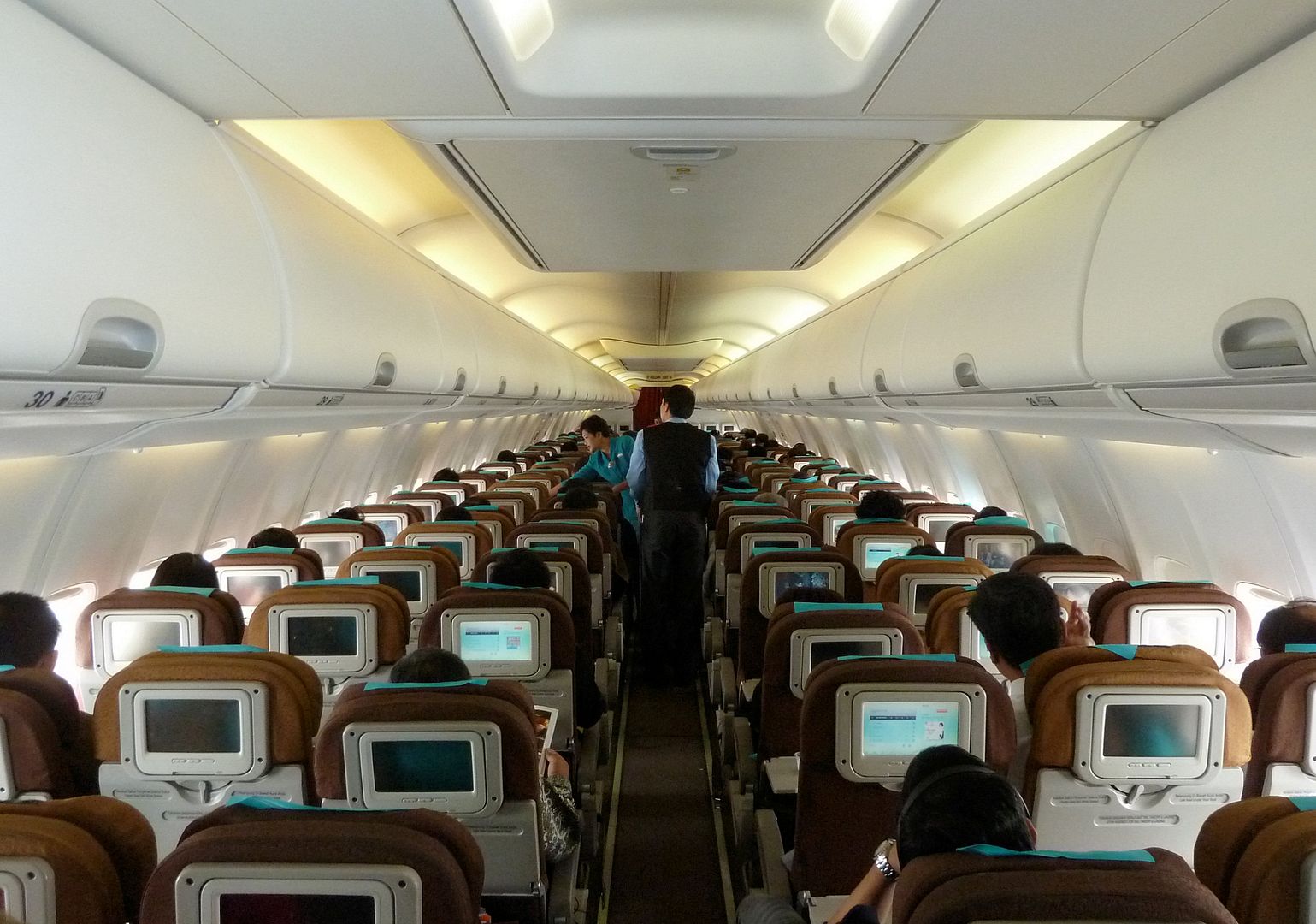 Lavatory amenities: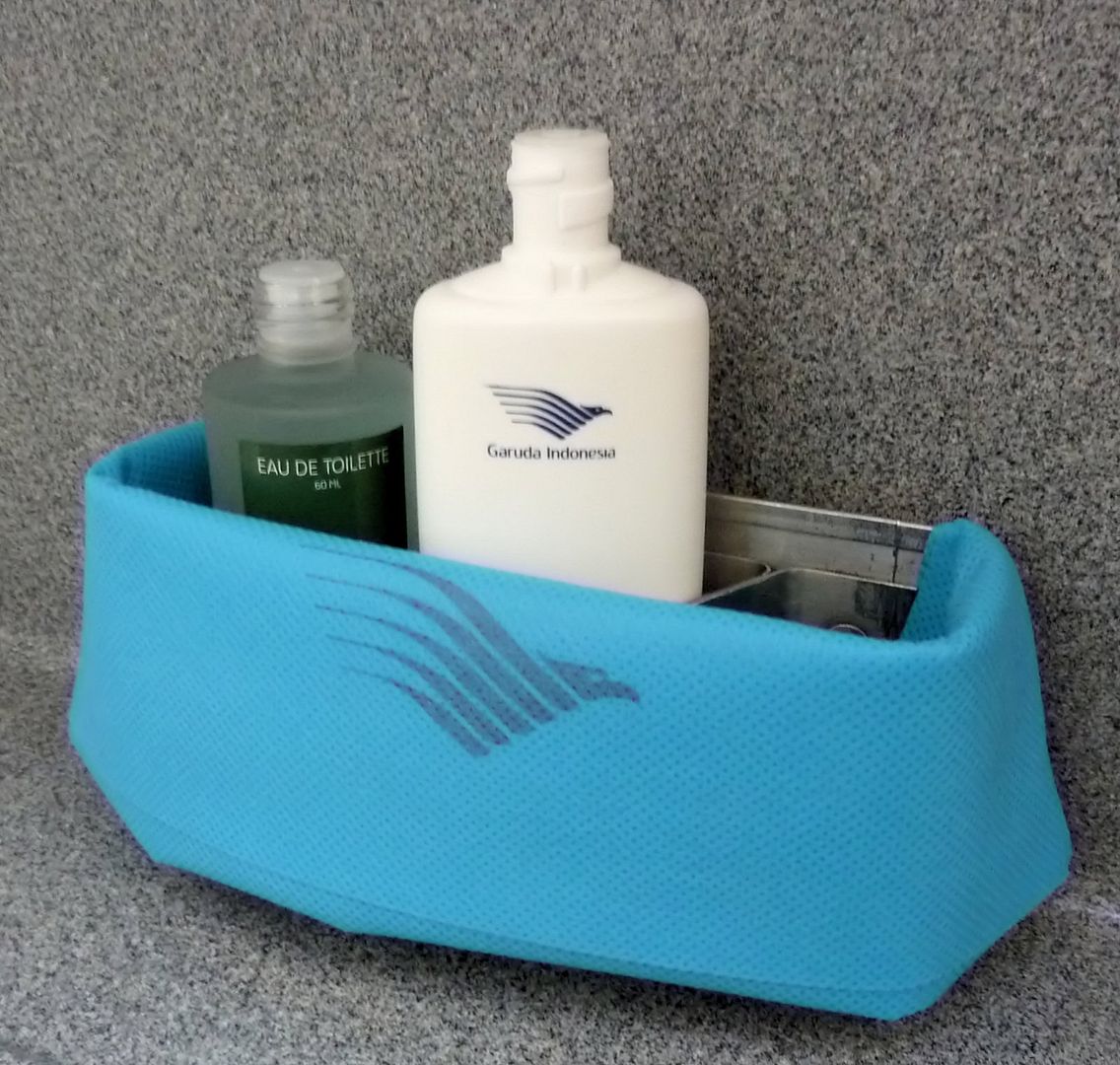 Approach commenced less than an hour after takeoff.
Satchmo
moved to the empty opposite row so that he could take approach pictures, too: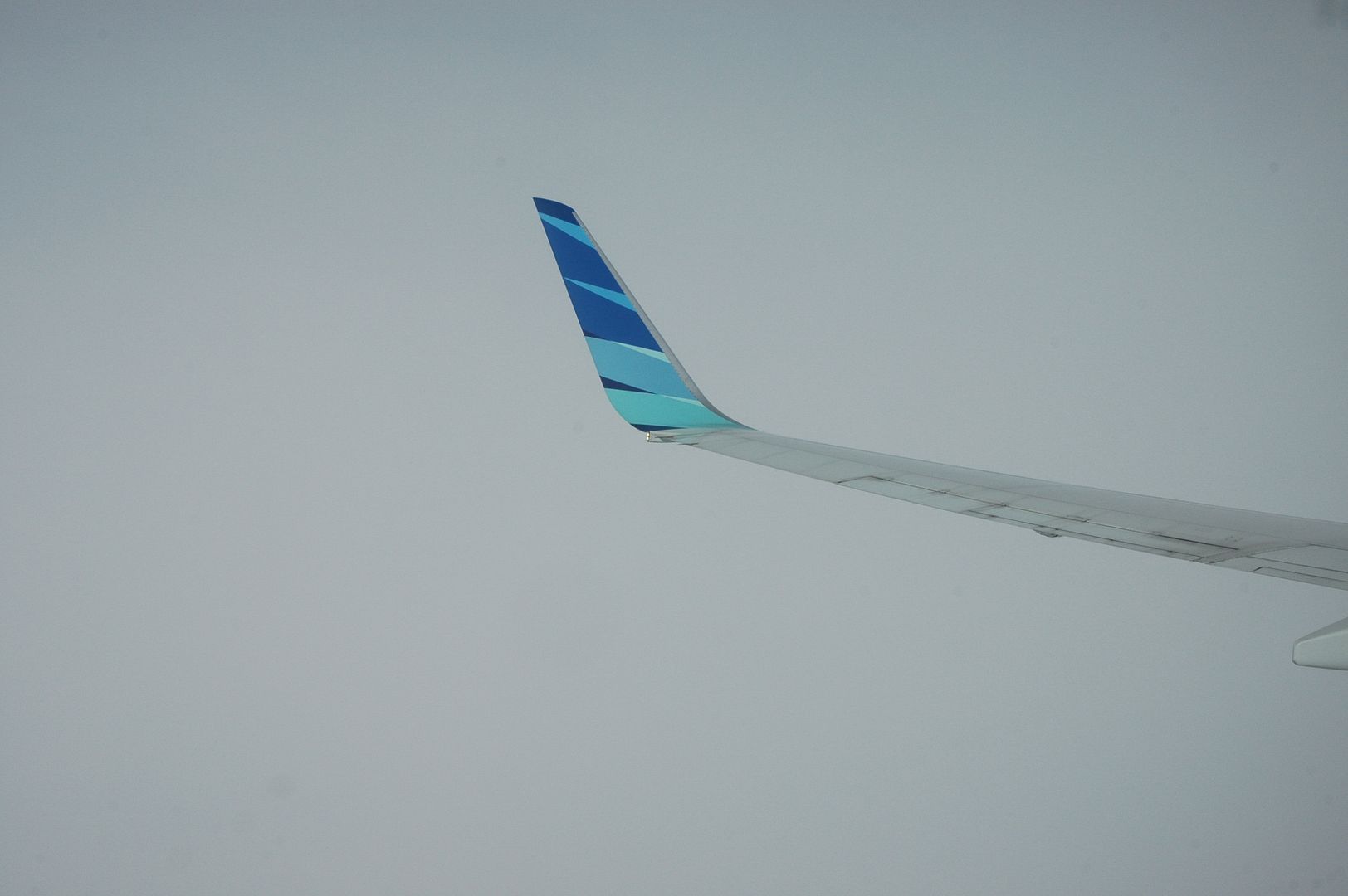 Picture by Satchmo
Beautiful winglet, isn't it?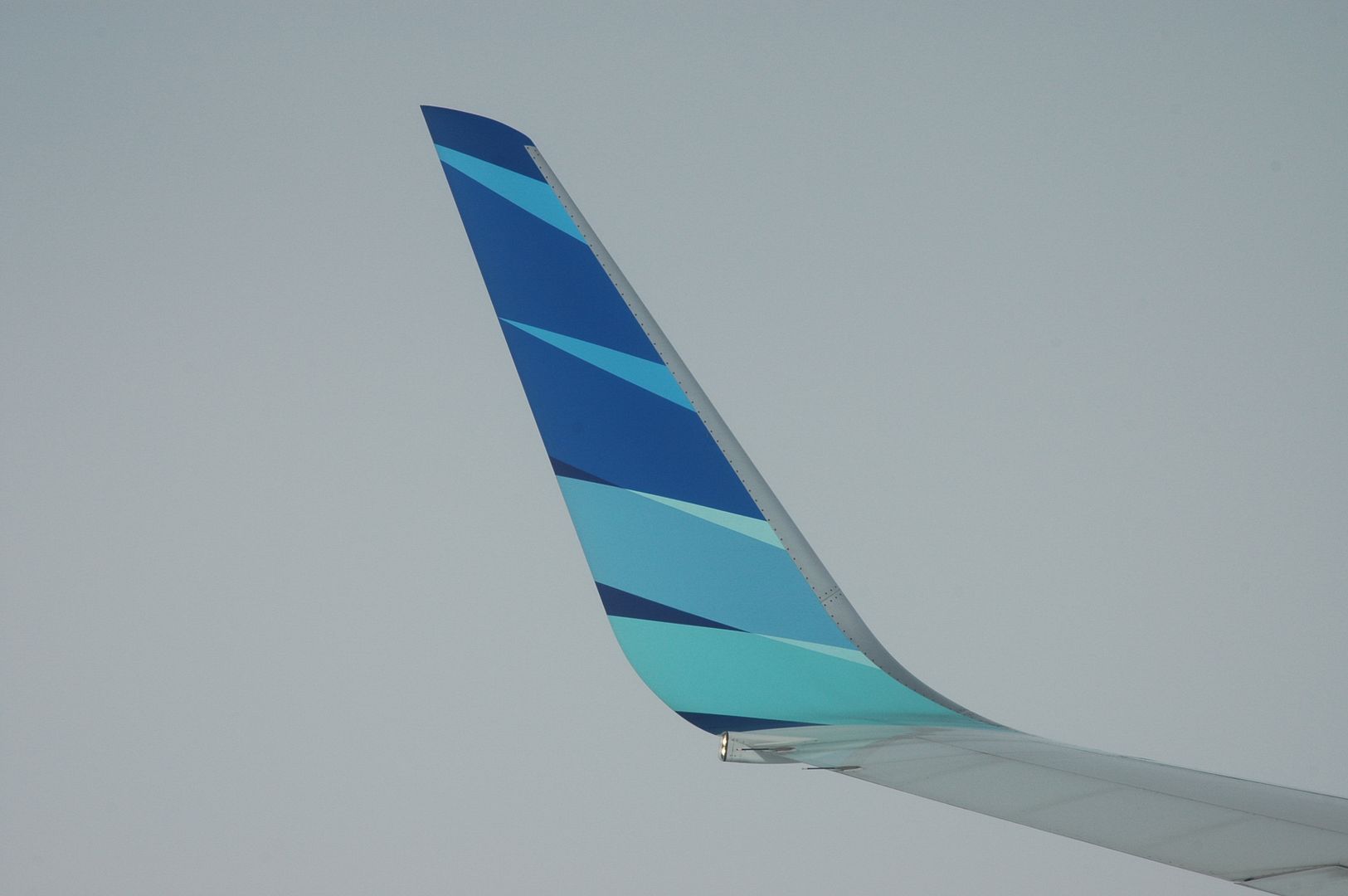 Picture by Satchmo
Nice scenery: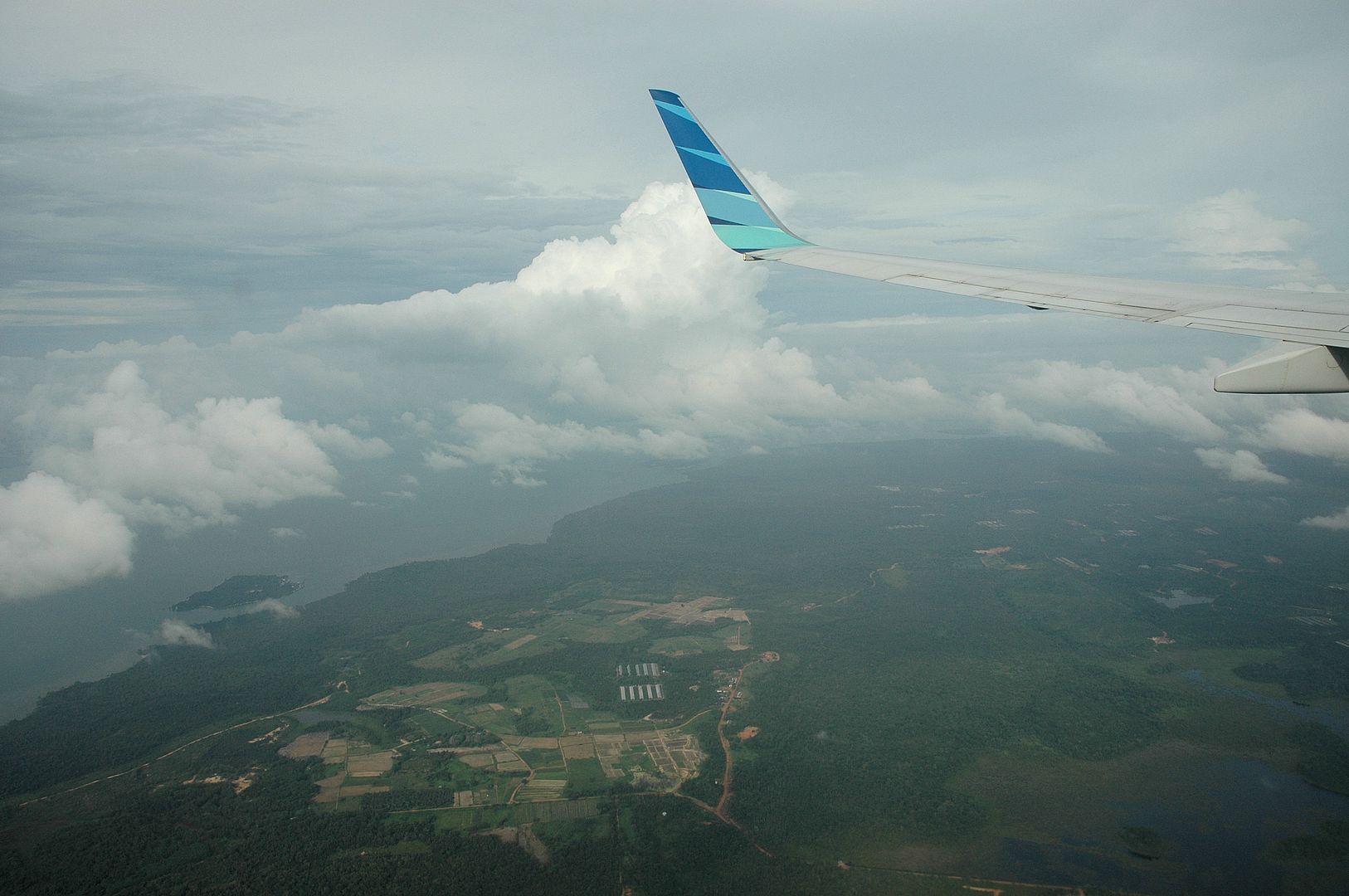 Picture by Satchmo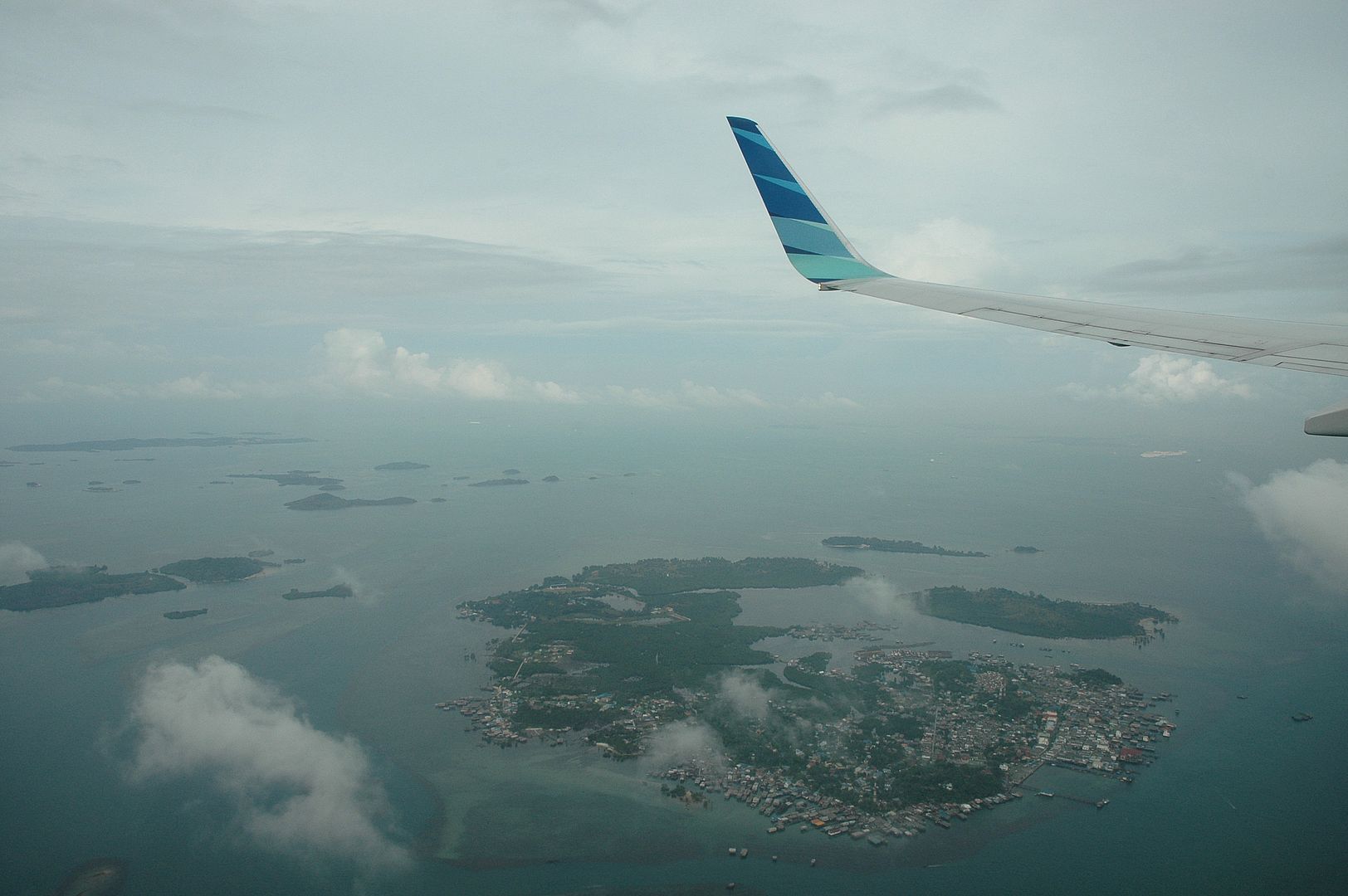 Picture by Satchmo
Singapore's skyline and countless ships: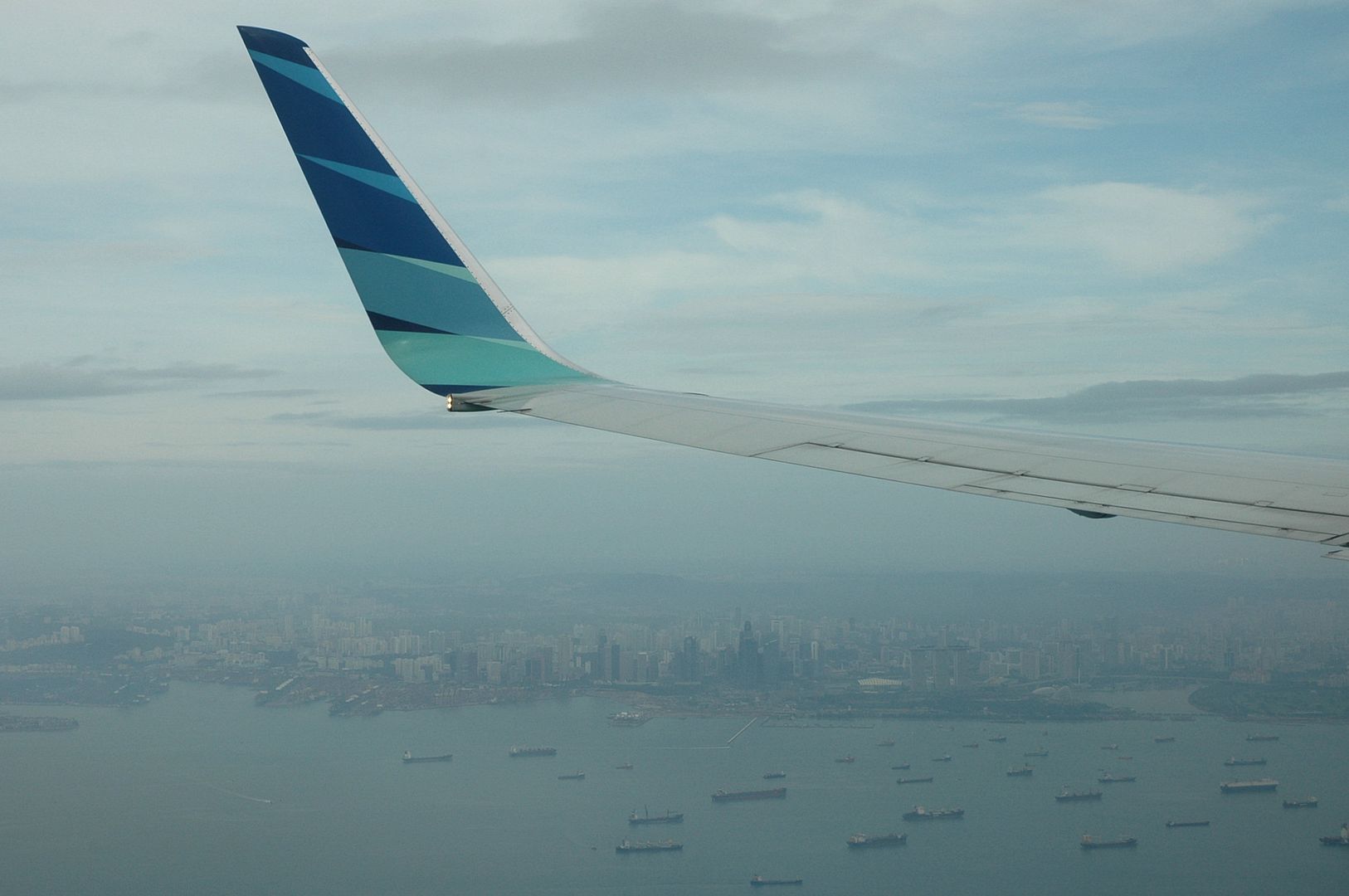 Picture by Satchmo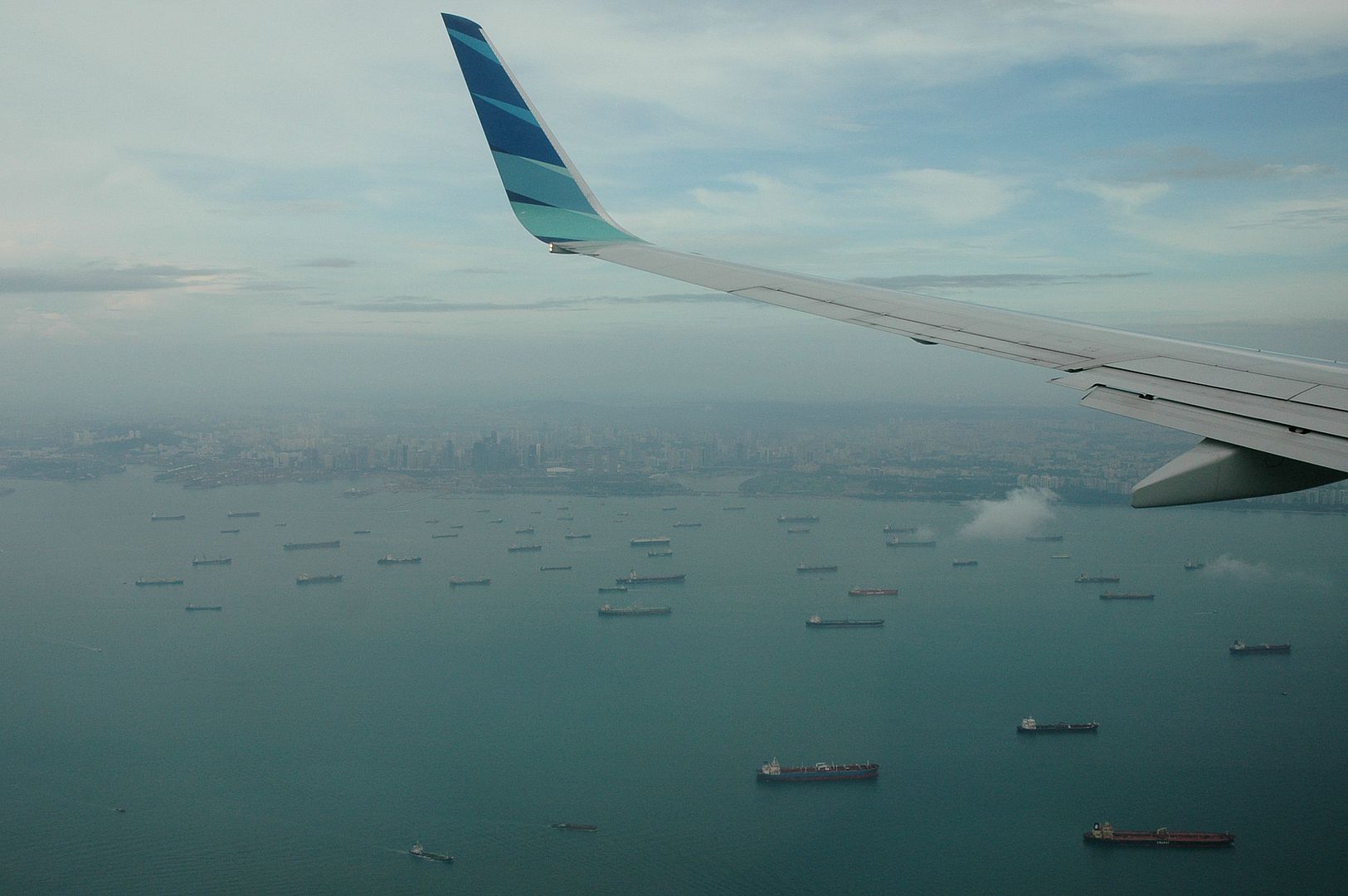 Picture by Satchmo
The famous
Marina Bay Sands
stands out: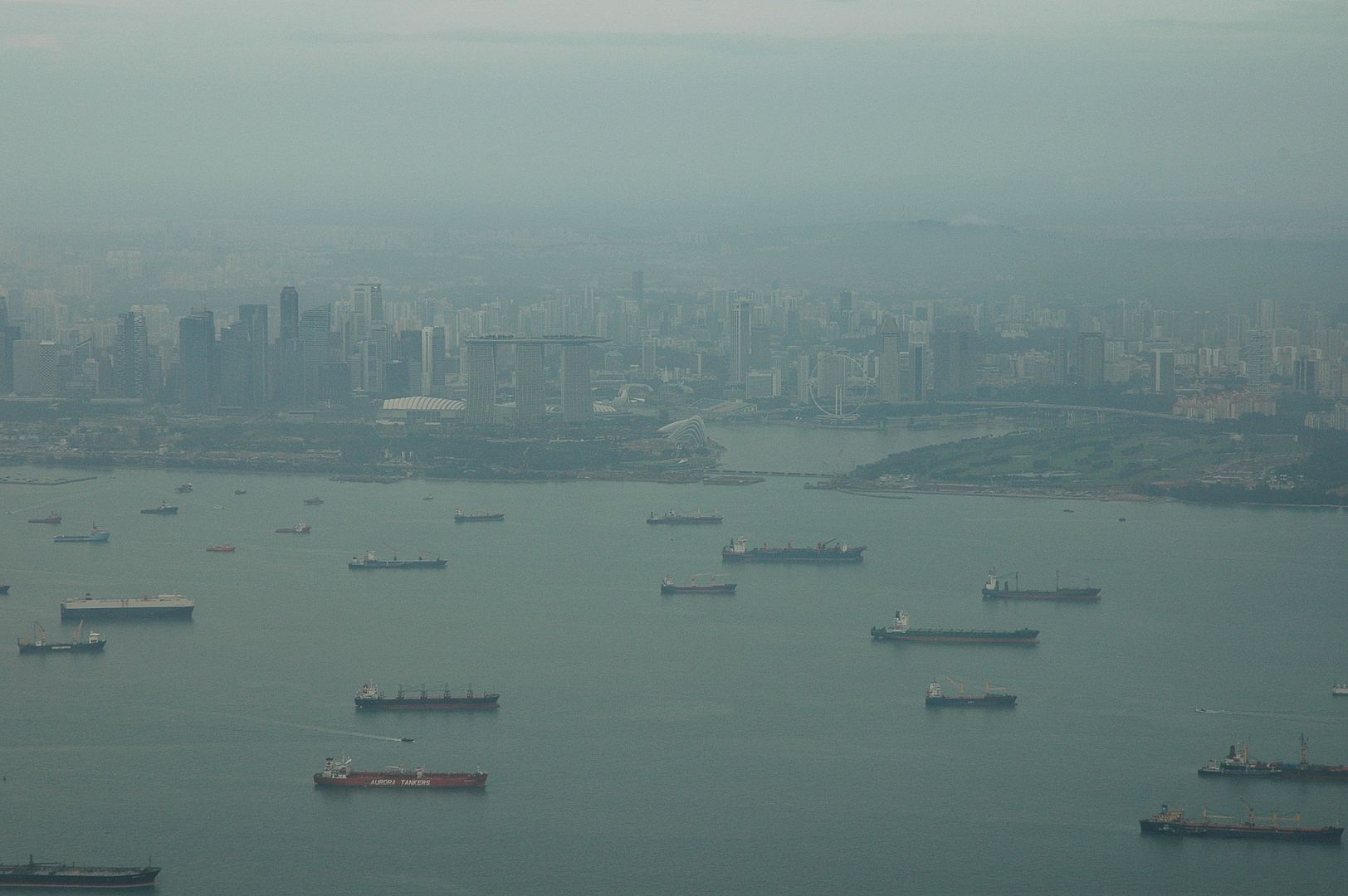 Picture by Satchmo
Tankers, tankers, tankers…
Picture by Satchmo
Densely populated areas: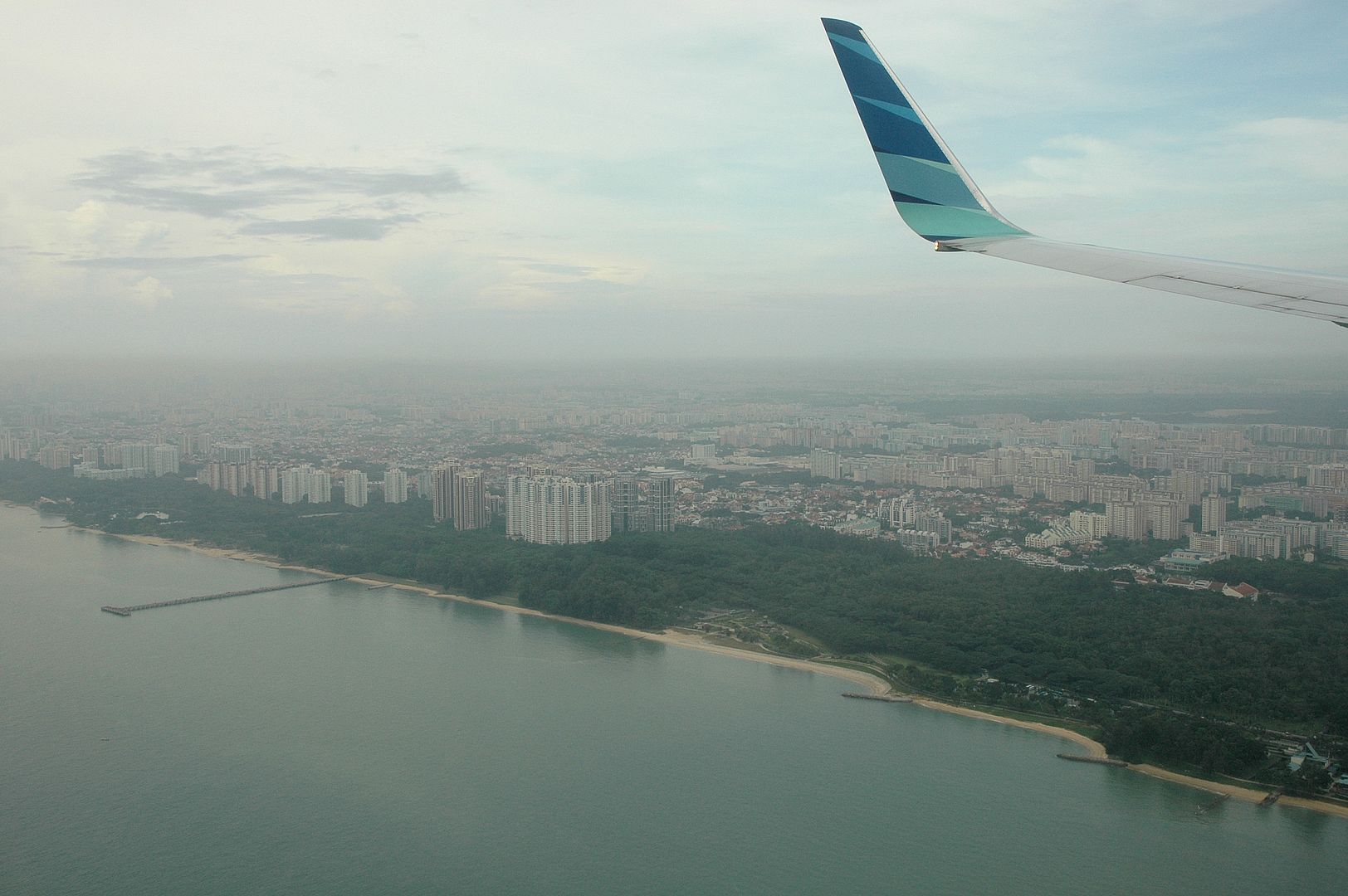 Picture by Satchmo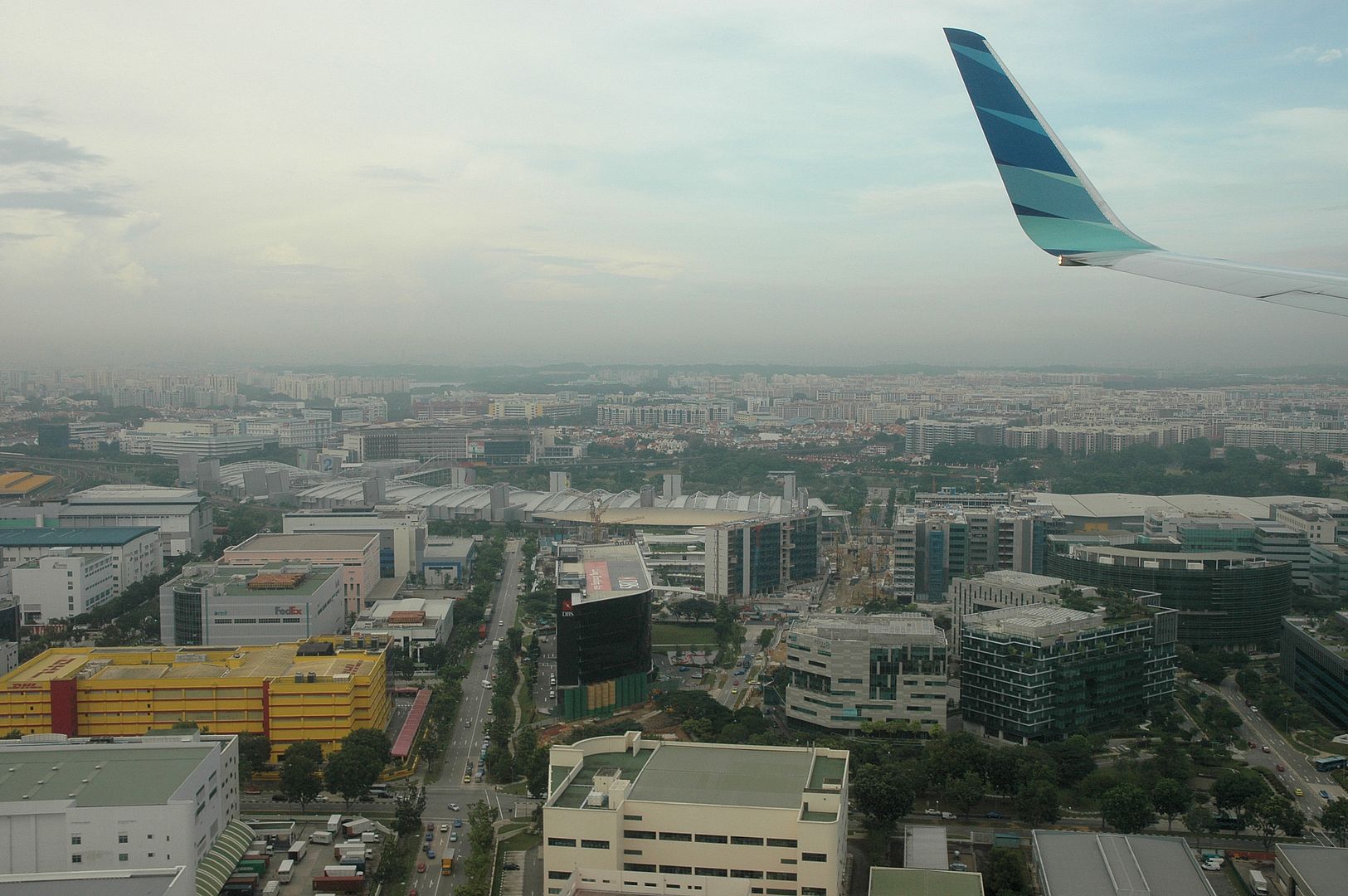 Picture by Satchmo
Now let's quickly switch to my side: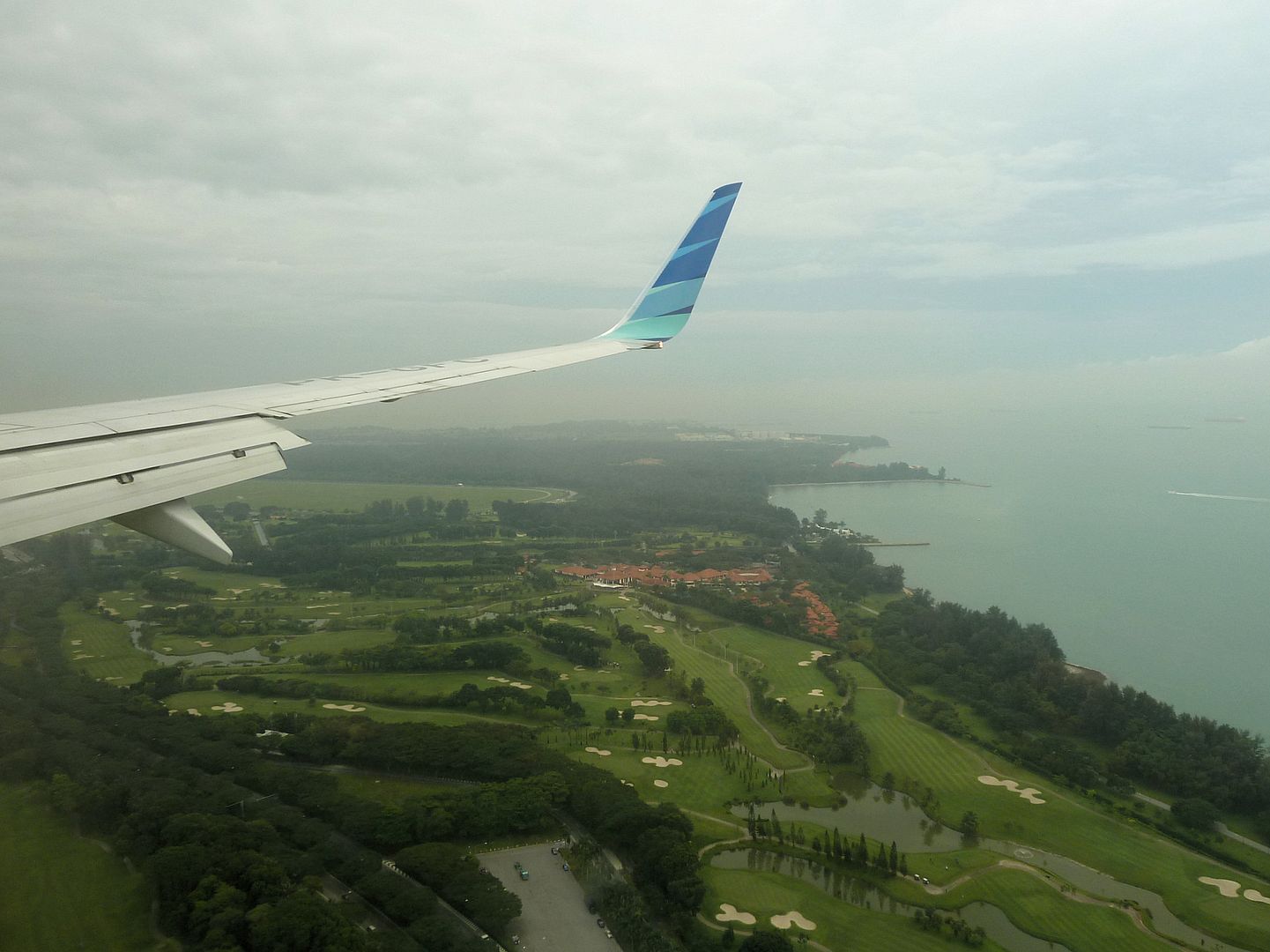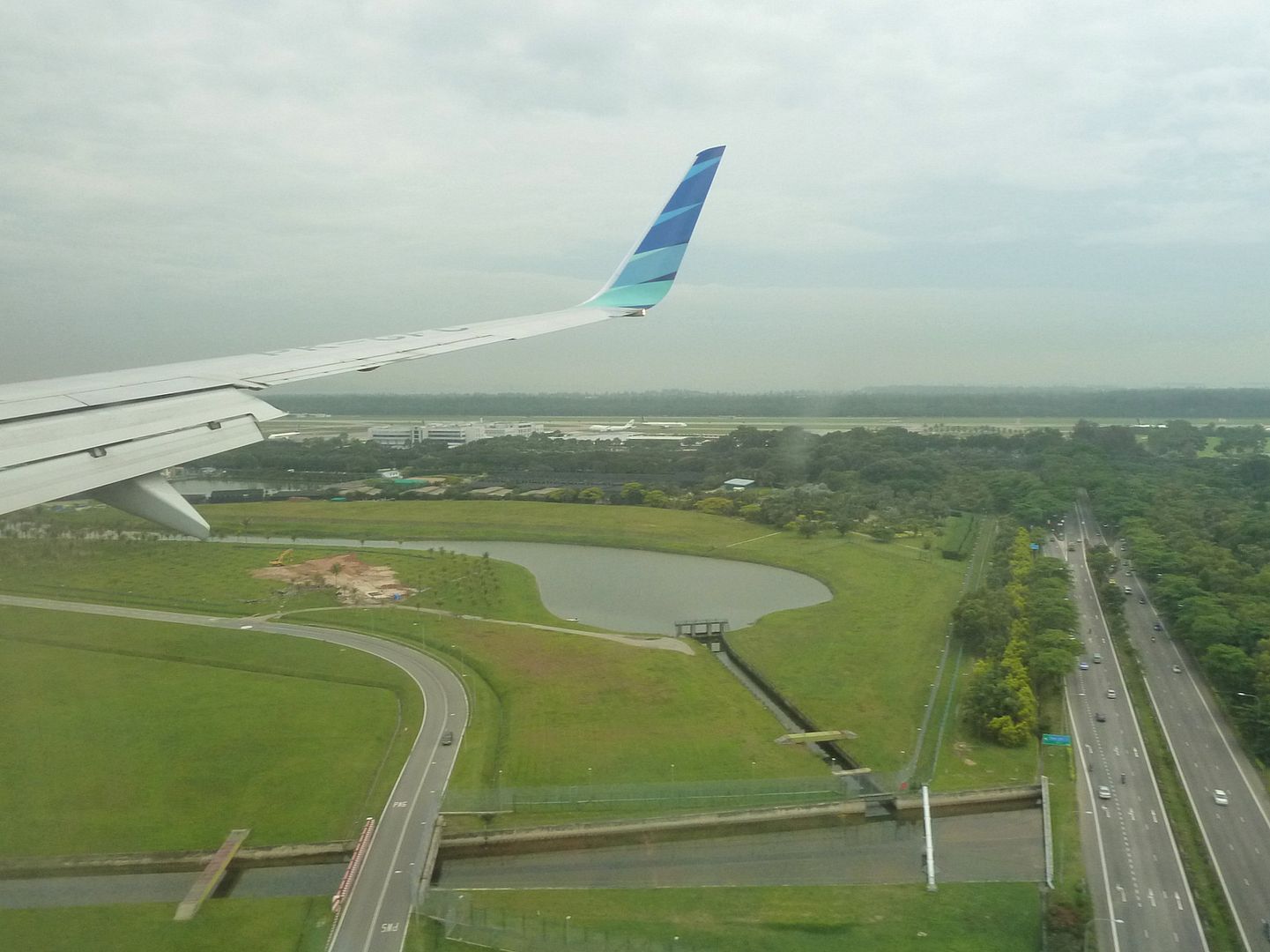 Can you see the K-Mile 727?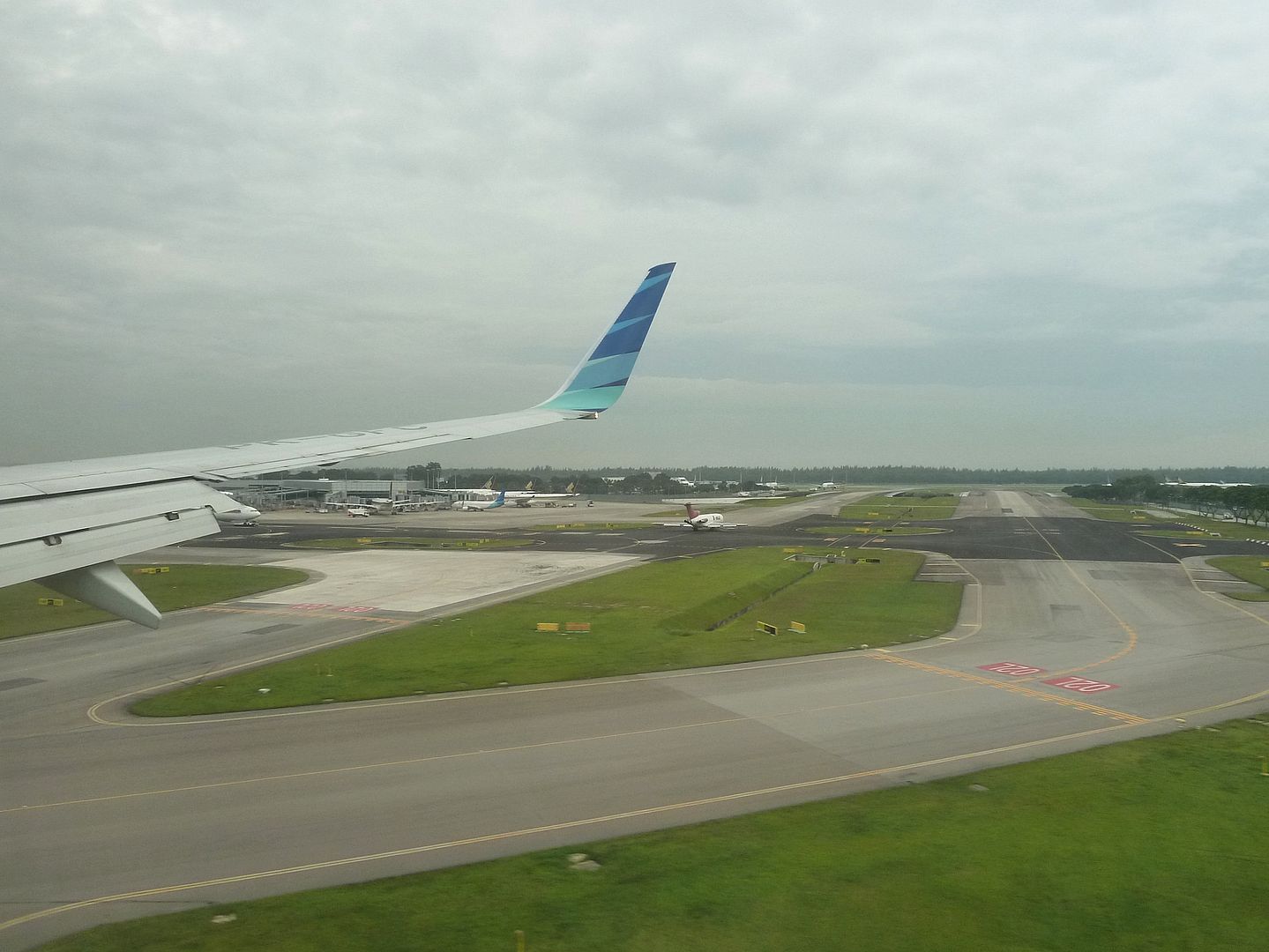 We touched down after a flying time of 1 hour and 16 minutes…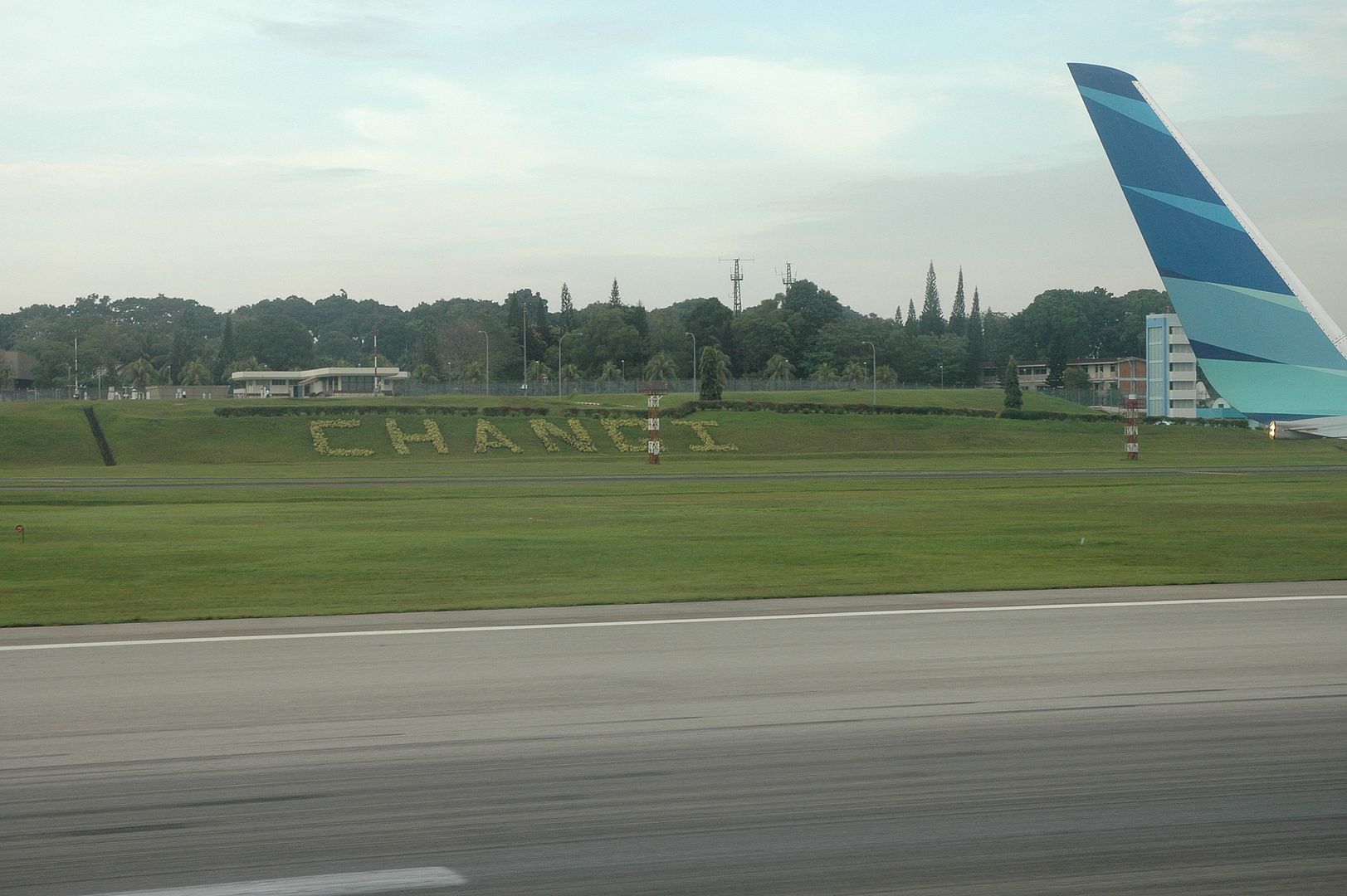 Picture by Satchmo
…and arrived at our Terminal 3 gate almost exactly on time. Parked next to us was SIA A330-300 9V-STG: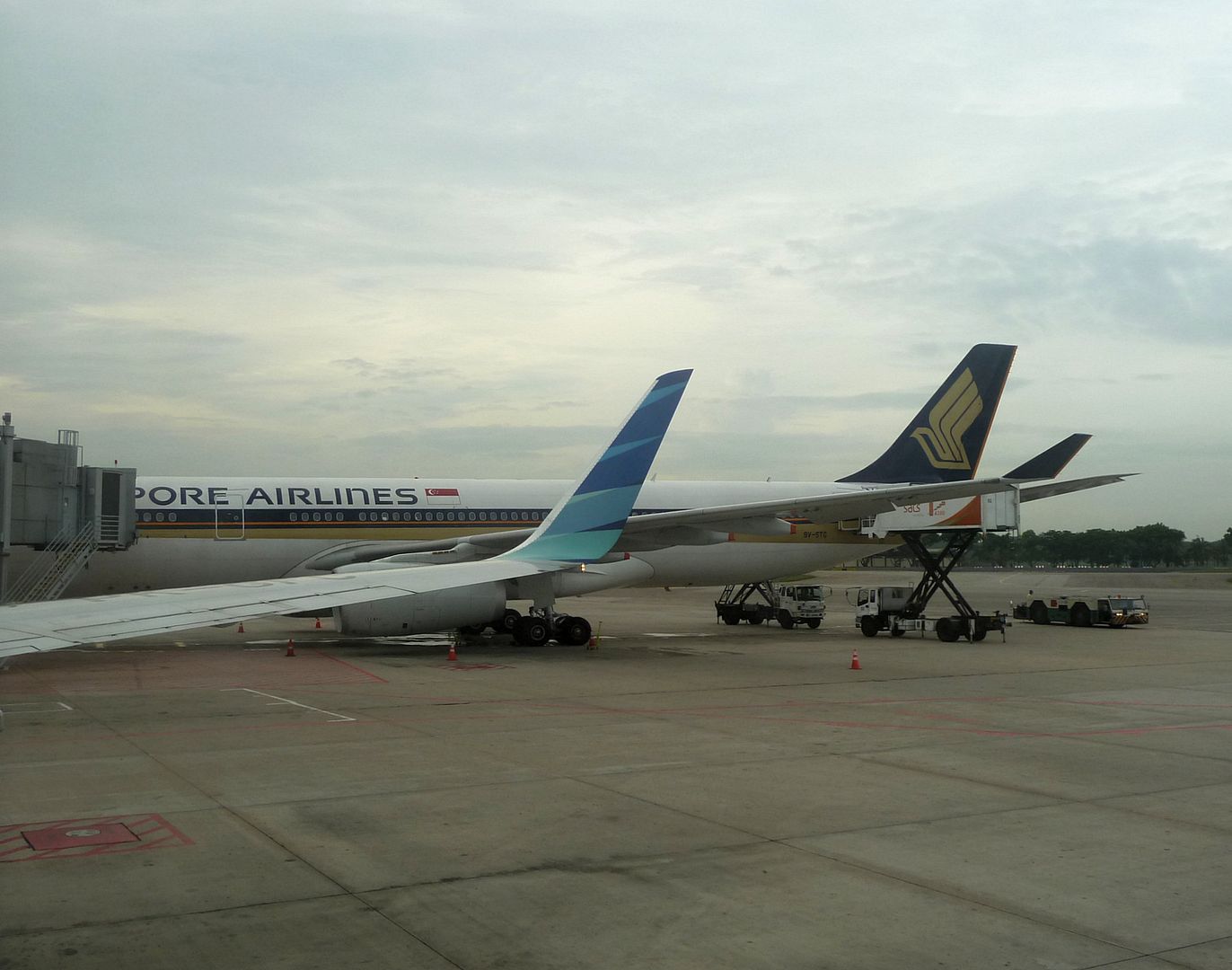 [Edited 2012-03-27 04:16:04]