China Southern Airlines A380 Trip Report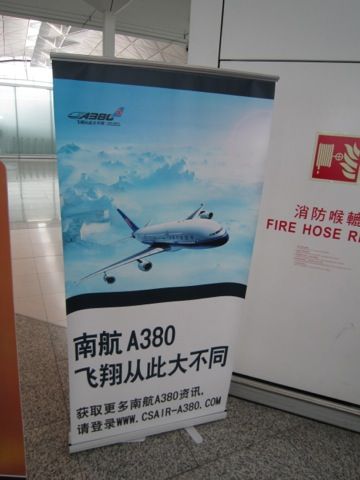 Hi all,
China Southern Airlines has taken the delivery of its third A380, B-6138, on February 29, and announced that it would use its third A380 exclusively on its solo Hong Kong to Beijing flight. CZ has traditionally running this single daily flight using an A321 and is quite a risky move to use an A380 on this flight. But I guess it wants to use the A380 as a way to attract new passengers and hopefully to build up some traffic on this heavily traveled flight. It is also good for training in terms of ground service, in-flight service, and to add some much needed hours for the cockpit crew. Terminal Three seems to be ready for the A380, and Terminal Two, the Skyteam terminal, is now also ready for Air France and China Southern's A380 service. I can't imagine a daily utilization rate of six hours will be profitable for CZ. Yes B-6138 is used exclusively on the HKG rotation now. CZ has long offered some very affordable "D" fares on this flight - $5820HKD plus tax (two days minimum) or $7332HKD (1 day minimum). With the opportunity to add a fifth A380 operator to my list, I soon booked a ticket to Beijing.
Booking:
I used a travel agent to book the ticket but the process seemed to be fine. However I was not able to retrieve the reservation online. But my agent was able to get me a seat assignment and entered my Delta mileage number with no issue.
Check-in:
China Southern Airlines uses Aisle J at HKG's Terminal One. There is no special setup for the A380 flight, but there are a few promotional cardboards on the side. There are separate lanes for first and business class passengers, as well as a priority line for Skyteam elite plus members and CZ own elite members flying in economy cabin.
Here is the check-in area!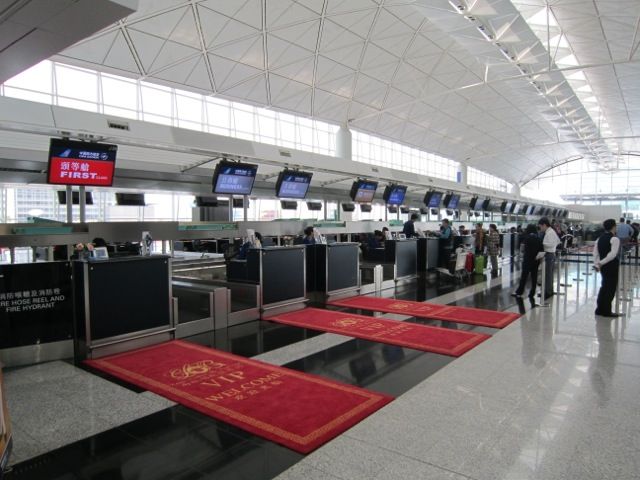 Here is the Premium VIP carpet for first and business class lanes!
The agents were friendly enough and the whole process took less than five minutes.
No pictures for return flight check-in, since there is a checkpoint before entering the general check-in area and I have never been to the PRC, so I did not take any pictures. Plus there is nothing special about the check-in areas. But compared to the nightmare at the checkpoint, the check-in area is more civilized. CZ uses Counters C areas and is well staffed with separate priority lines with the familiar red carpets again. J counters are quite busy but there is a leading agent that directs people to various lines. I was helped next and the trainee was efficient enough with the supervisor reminding her about telling me the directions to the lounge and reaffirming my seat assignment. The experience was very good and the agent was friendly and smiling. Customer service seems to be taken very seriously here in the PRC.
Lounge:
In Hong Kong, China Southern and most Mainland carriers use the CNAC VIP Lounge near gate 16 and 17. I have been here before – Emirates used this lounge prior to the opening of its own lounge a few years ago, and many second-tier airlines, like Sri Lankan, Philippine Airlines, and Pakistan Airlines use this lounge as well. There are plenty of seats around and complimentary wifi is available. Newspapers are limited to those who are pro-PRC (no Next Media papers or magazines here). The lounge was not busy this morning, so there were plenty of spaces. Buffet is limited to sandwiches, light snacks, dim sums like dumplings, soups – Cream of Chicken and Corn Soup, salad bar, cheese crackers, bread, and other light snacks, as well as a small liquor selection, including wines and hard liquors but no champagne. There is no fancy spread, but I manage to make myself a light lunch. Boarding announcements are available.