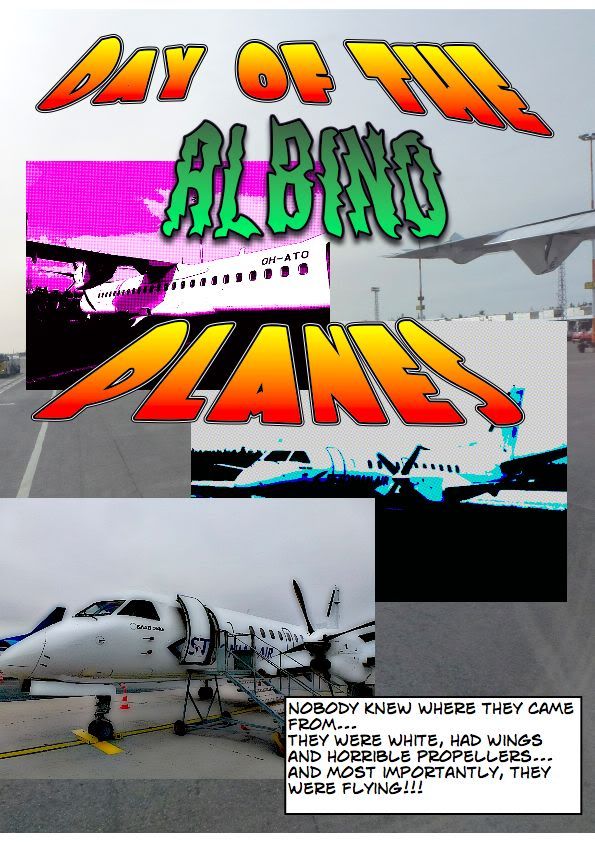 .
Introduction
As I described on my earlier report Estonian Air has been on a bit of an expansion spree over here in Finland this spring. So here is my story about my second trip to log their new regional Finnish routes, this time out of the eastern city of Joensuu - hopefully this trip will turn out to be a bit more successful than the fiasco last time:
How Not To Deice A Plane: HEL-RIX-TLL
(by
FlyingFinn76
Mar 26 2012 in Trip Reports)
The bookings were quite simple - I booked both OV segments during their sale in December 2011. JOE-TLL was 35 EUR, TLL-HEL an hour later (which should be plenty of time for TLL) 30 EUR.
To get to Joensuu I first thought about taking the train as I've never traveled with train there and nowadays VR is offering some nice special fares if you book early enough. Besides with only AY (mostly operated by BE) flying to JOE one-way ticket prices are of course astronomical. But then two things happened: firstly AY introduced their 69 EUR domestic roundtrip fares to several destinations, including JOE and I figured out that the fare rules on these cheap fares also allow them to be combined as open-jaws. Since I needed a way to get from KOK to HEL (pretty much exactly on the opposite end of Finland from JOE) in April and the flight situation there was similar I booked an open jaw HEL-JOE/KOK-HEL ticket for around 59 EUR (the fares are cheaper when you book using other sites than Finnair's as their TSC is a ridiculous 20 EUR). More on that return segment on a later trip report, but let's focus on Joensuu for now.
So here's another simple itinerary for a (half) day trip:
.
Wednesday 28.3
With my flight departing not until eleven I had some time to run a few long overdue errands during the morning before leaving my car at the parking place of a shopping mall near the airport - they have free parking with no time limits on the outdoor lot and Finavia parking charges are ridiculously high - and catching a bus for the five minute ride to the airport.
T2 is quite empty with the morning rush already way behind - and besides it is Wednesday, the slowest travel day of the week. I get into an argument with one of the security agents as she says I have to take both my laptop and Ipad out of the bag despite me passing through quite a few checks with the Ipad there during the last weeks... I'm with Eric here - I wish the rules would be clear and consistent instead of being made up on the spot!
With plenty of time on my hands I do some shopping - need to add a more partner credits to my AY Plus account for the 20K point challenge and actually buy a pair of noise cancelling headsets as an impulse purchase - well sort of as I need new headphones anyway.
A Baltic Phoenix about to depart: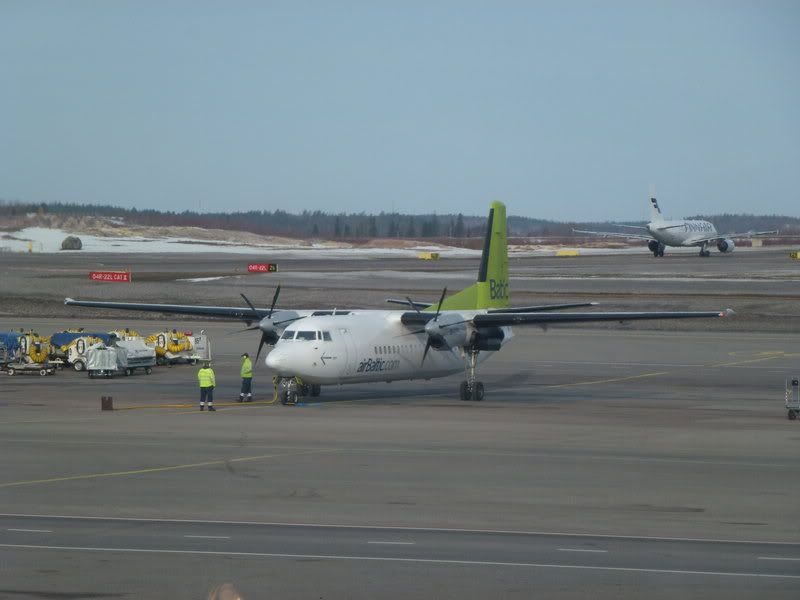 That queue on the background is the boarding one for DY's RVN flight - thanks to the terminal design on the old part of HEL and Finavia's decision to cram all the available floor space full of retail establishments many gates, including this one lack any real waiting areas, thus a full flight will block the walkway - stupid and very annoying: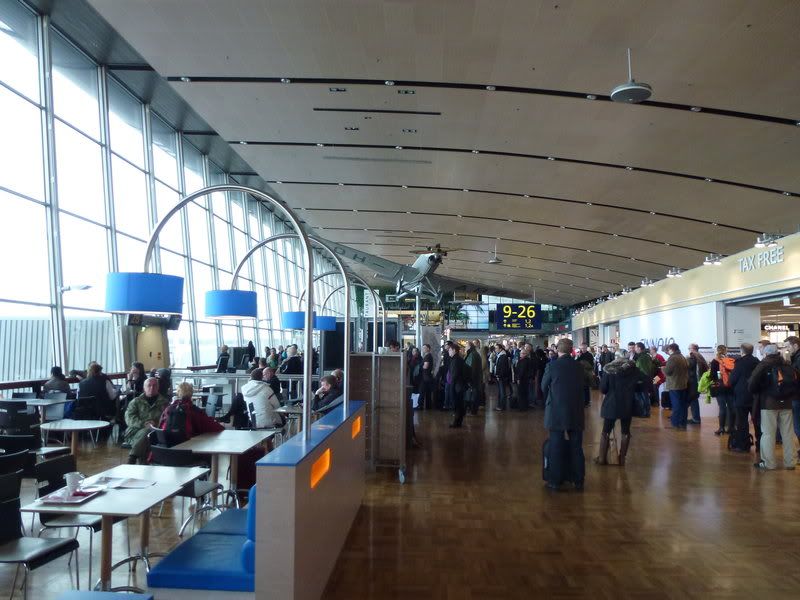 Some time ago I complained about there being hardly any toilets (as they had been replaced by... yes, more retail space). Here's Finavia's revenge - move toilets upstairs as nobody will shop there anyway:
I wanted to head to the new O'Leary's for an early lunch but it doesn't open until eleven so I go to another cafe instead: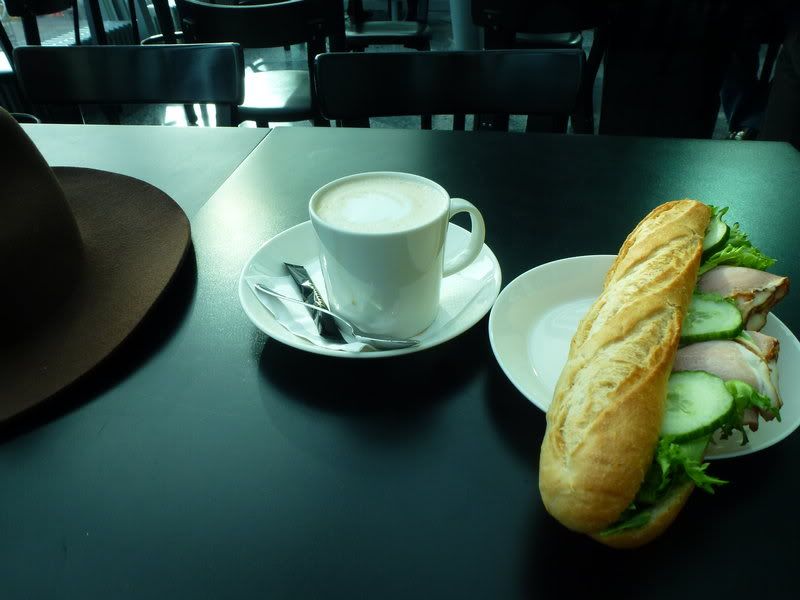 Time to check out the new headphones: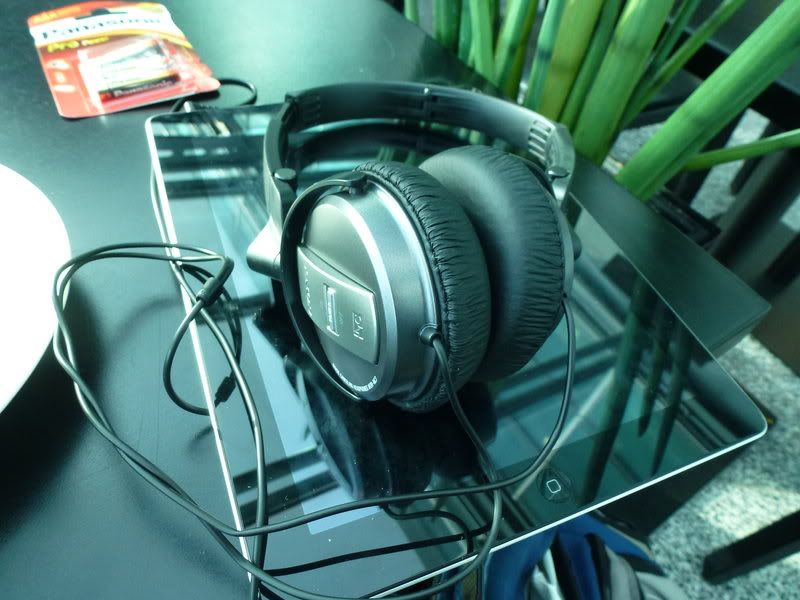 Near the boarding time printed on my OLCI boarding pass I mosey over the (bus) gate 20B where boarding starts right at the indicated time. I count 16 passengers in the holding pen downstairs including one child - quite a low load for the scheduled ATR 72, but this is domestic flying in Finland, especially mid-week - nothing strange there.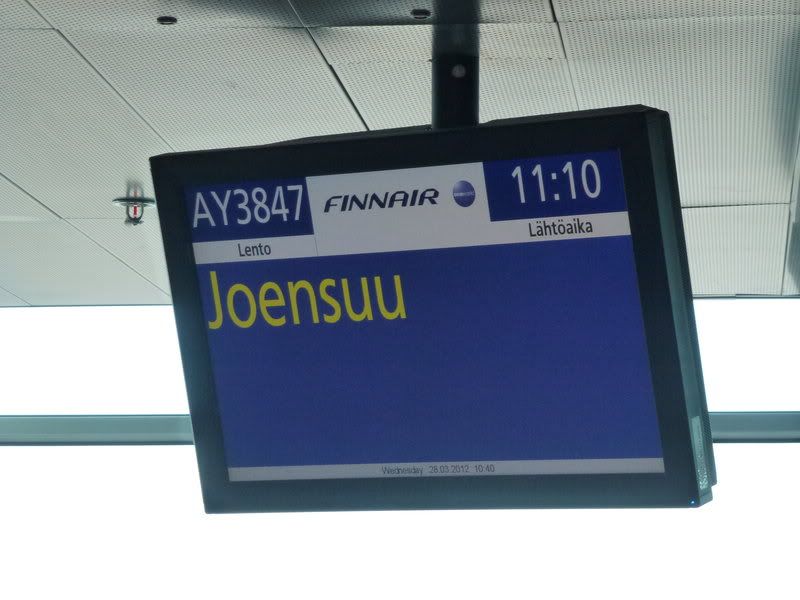 Looks like Finavia has gotten some of these roomy Cobus buses: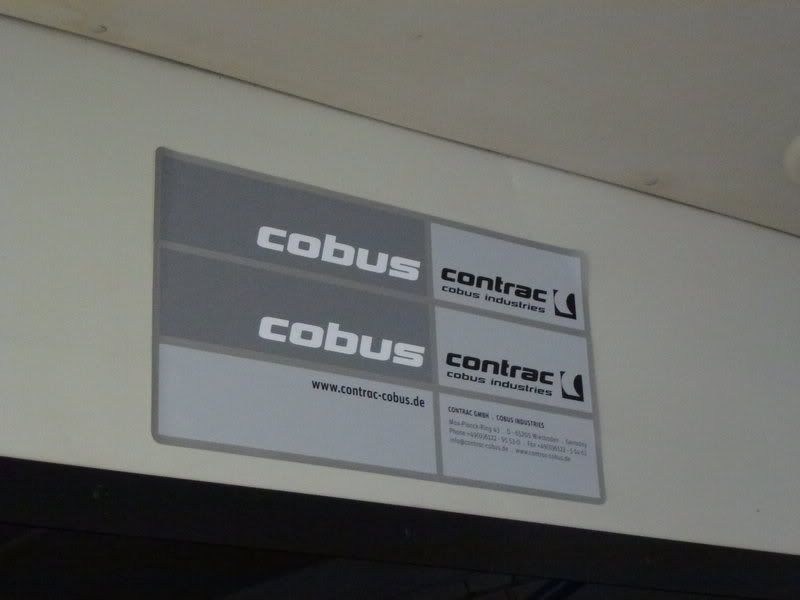 I'm pretty happy to see that we pull in front of OH-ATO, the newest plane on the flyBE Nordic fleet and less than five months old - and a new entry for my log as well: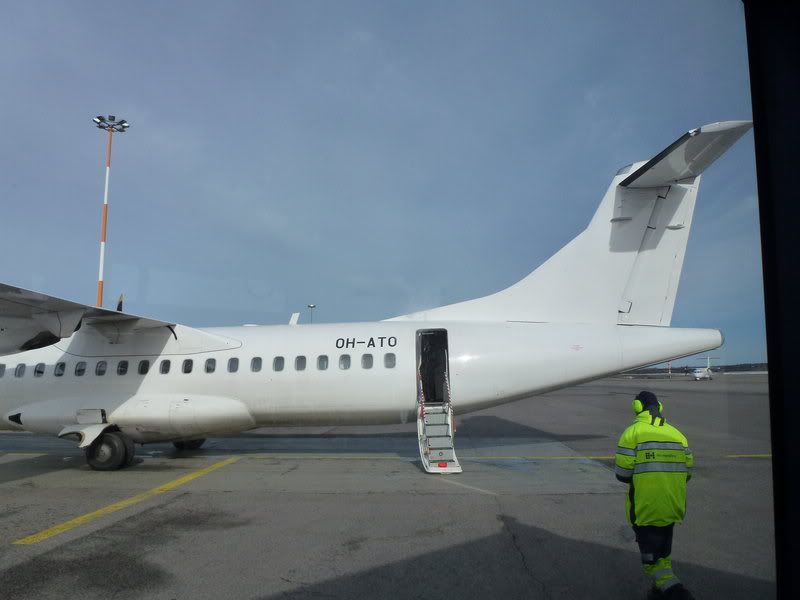 Albino - maybe they should christen her "Silas":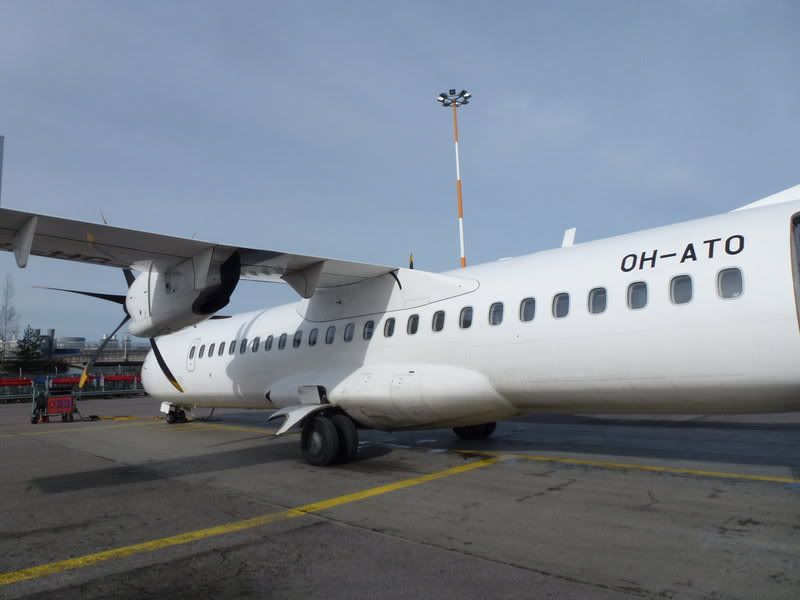 HEL - JOE
AY3847 Operated by flyBE Nordic
ATR72-500 OH-ATO
Seat 18A
11.04 - 12.04
Two young, blonde and very nice FAs on this flight. I manage to be the first one boarding and quickly take my seat on the penultimate row. A woman boarding after me asks the girl "Is this flight going to be absolutely full?" - come on, there were just a handful of us in the bus so do you expect the extra 56 passengers to perhaps be teleported ("Beam me down, Mr. FlyBE") straight to the airplane!
The cabin looks very fresh as it should on a new bird like this: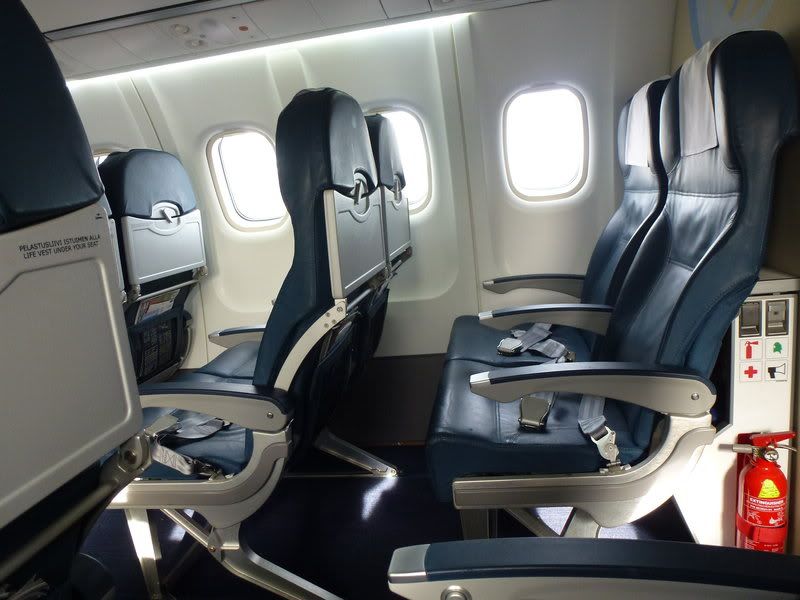 Thanks to the extra row compared to the older examples in the legroom isn't exactly stellar, but okay since it is just me on the block of two: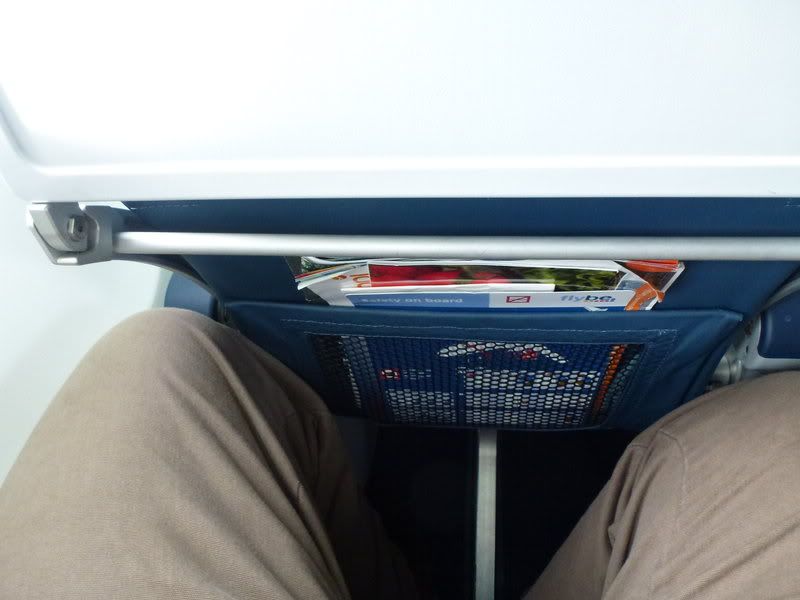 Normally I'd get annoyed by the Estonian accent in the prerecorded safety and departure announcements - it just feels so wrong - but today it seems appropriate considering what my main objective on this trip is.
Flight time today is announced as 55 minutes and push back (under our own engine power as pretty much always, yay!) is six minutes ahead of schedule.
Next door the second oldest -72 on the fleet, OH-ATF is being prepared for her next flight - let's just hope there won't be any alcohol, tobacco or firearms onboard:
Over at the gate 12 an Air Finland 757 is parked - this can only mean one thing: another KF 717 has been substituted by this (it happens on and off, thanks to the KF schedule having precious little slack for any irregulars):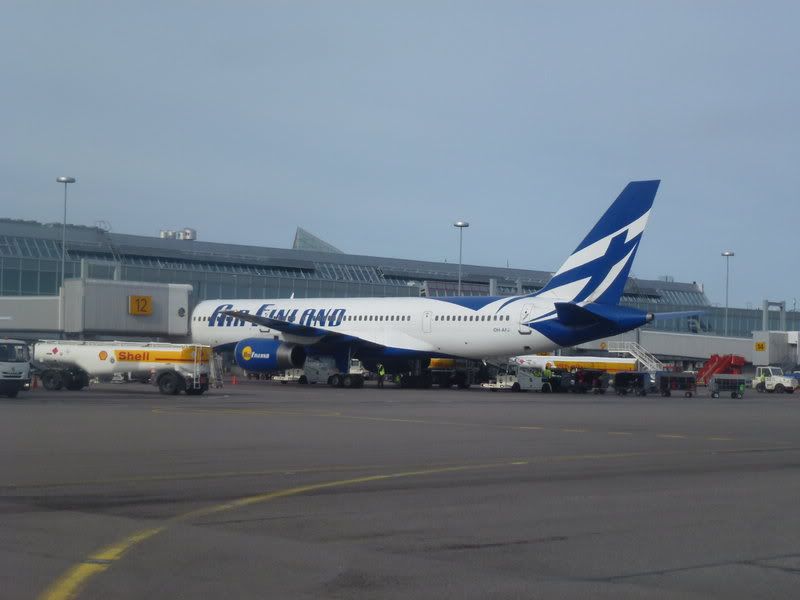 I later found out that it was operating the busy flight up to KTT, apparently they were overbooked by such an amount of pax that getting this bird to operate the flight was a sensible option.
Must-have-an-717-in-a-report: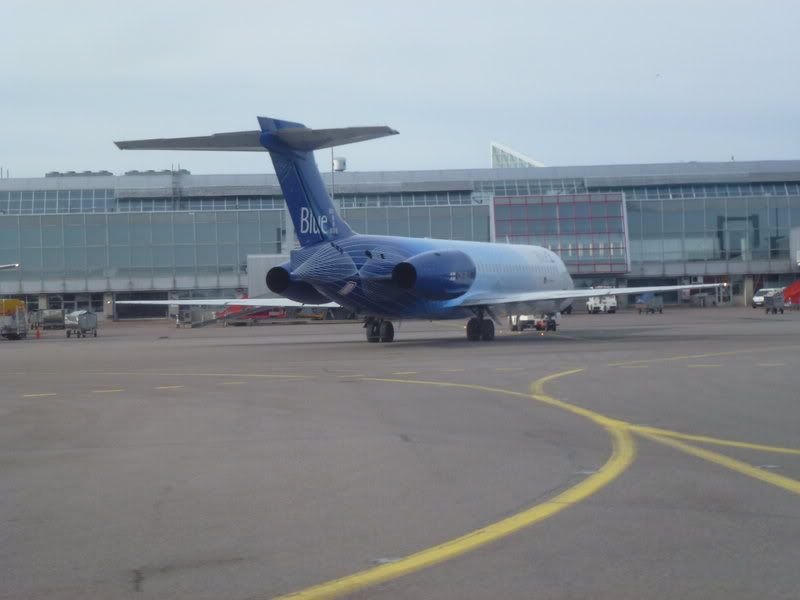 What's that red stripe on the base of the tail of this LOT E170 - I haven't seen it before: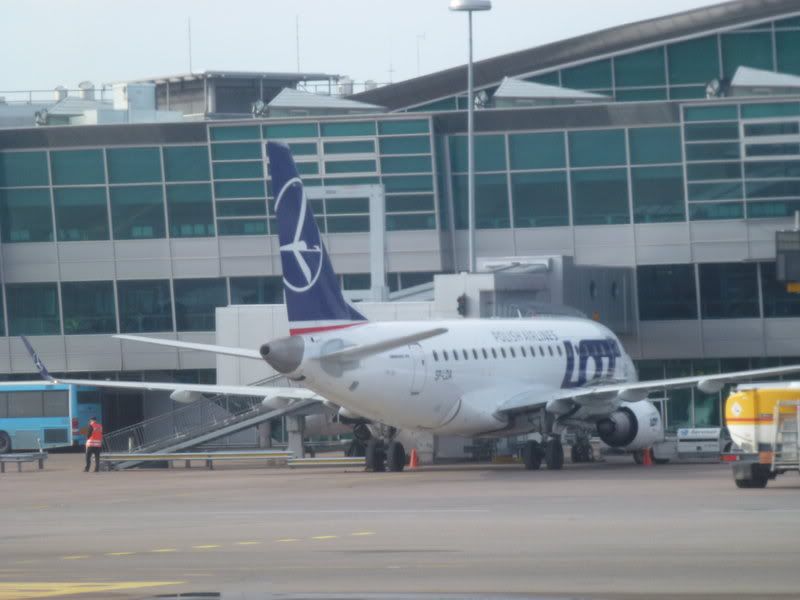 Take off is from 22L so we are spared some taxi time:
The fair city of Vantaa, home to me: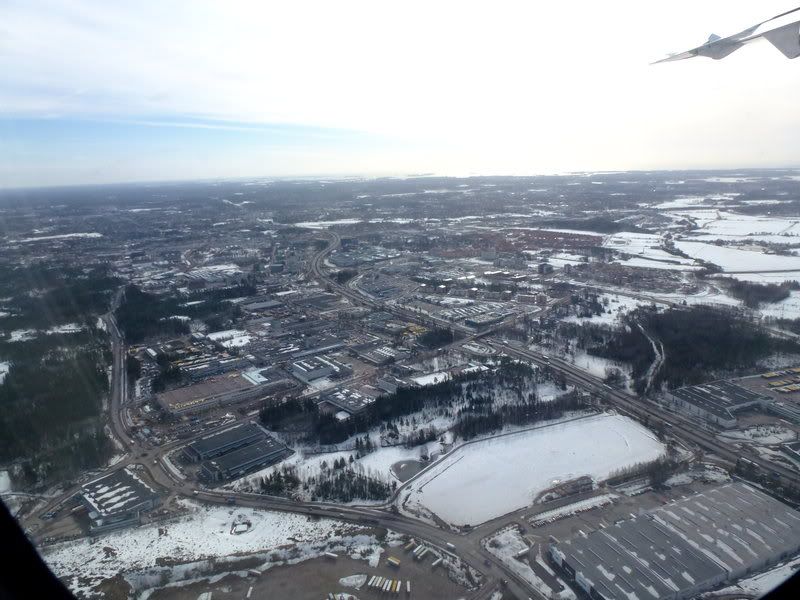 Next we do something which only happens with turboprops - turn left and fly over the northern outskirts of Helsinki and the city of Vantaa: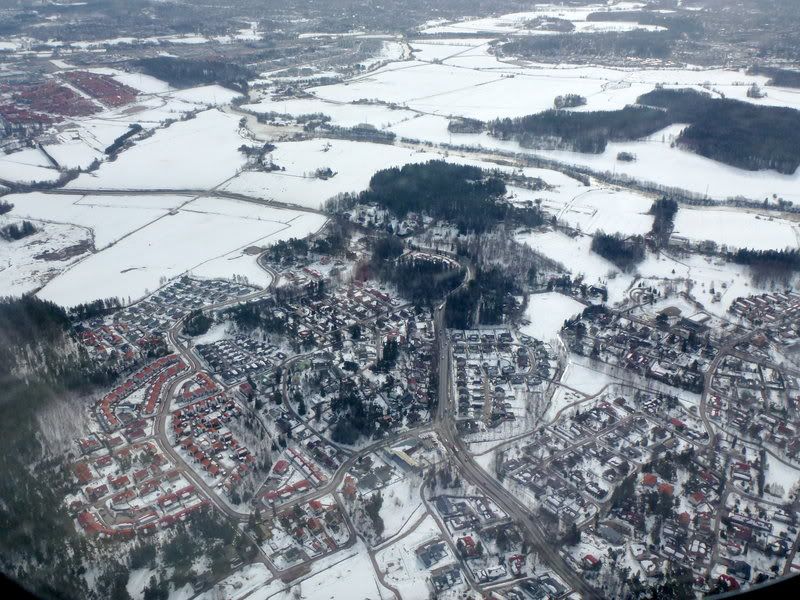 Notice the airport in the distance: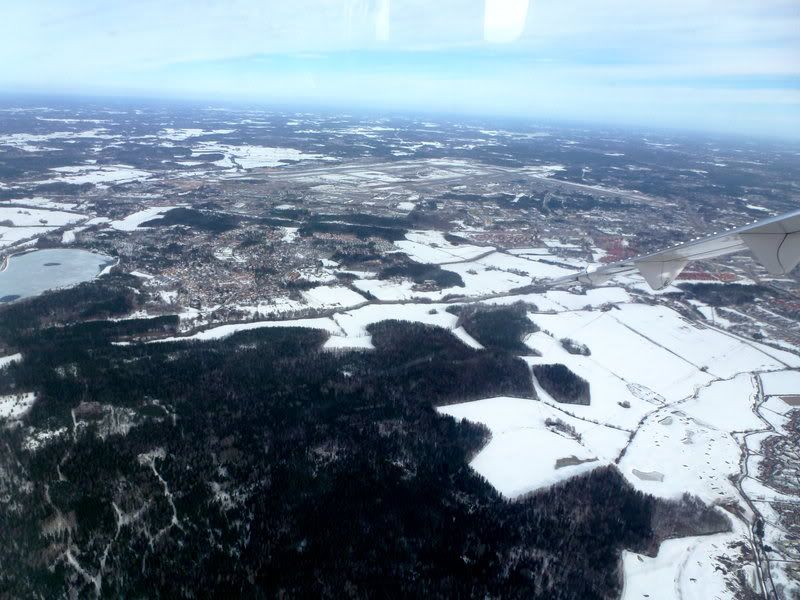 This spaghetti junction just happens to be the busiest road intersection in the whole country - not too busy this time of the day: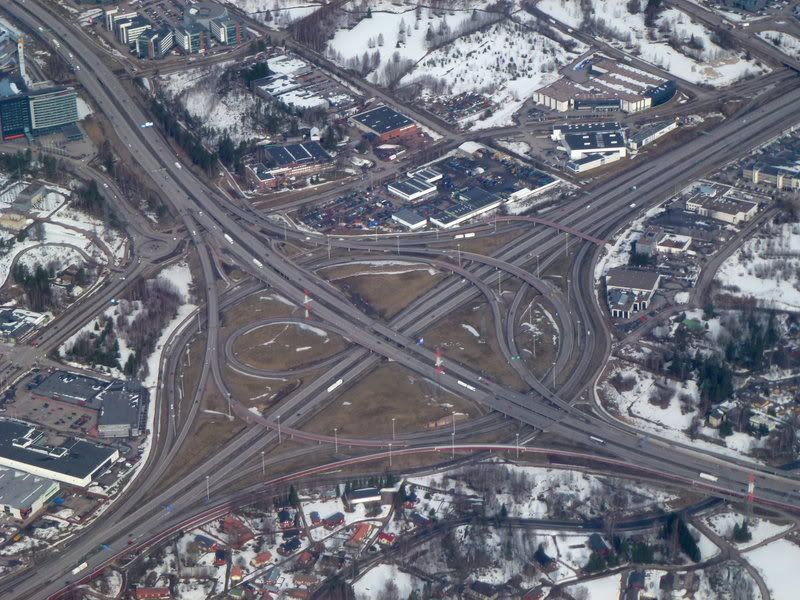 Nice overview of HEL: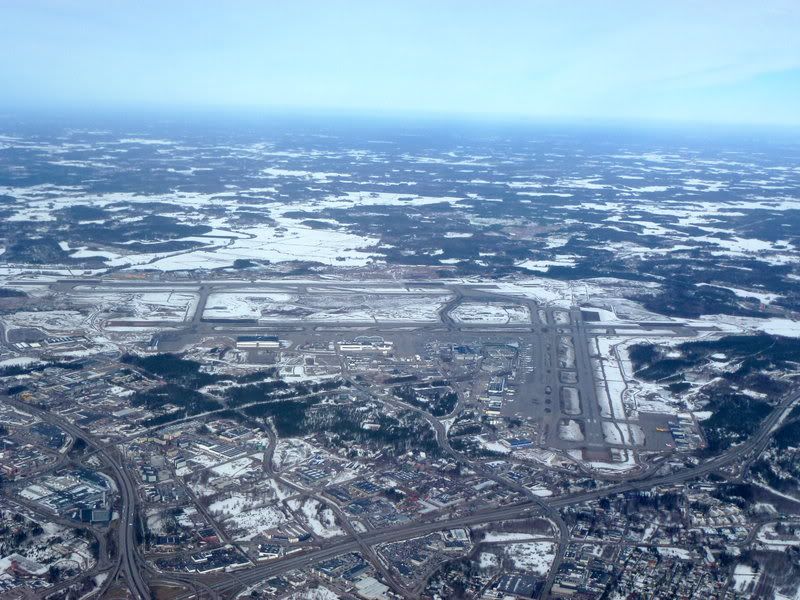 This picture shows quite clearly how the built up area of the Capital Region ends at the airport: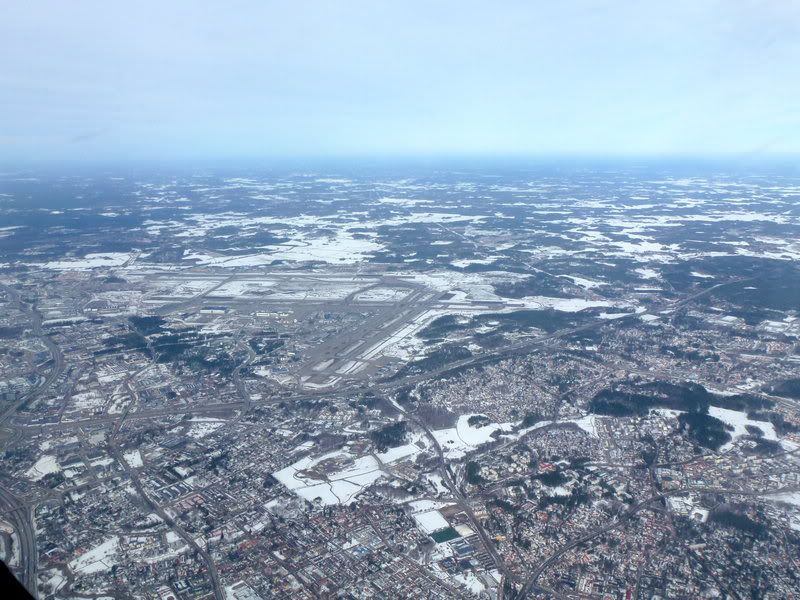 This is where the loop rail line to the airport will split off the mainline - so typically Finnish to build this about 15 years too late and in a completely messed up way: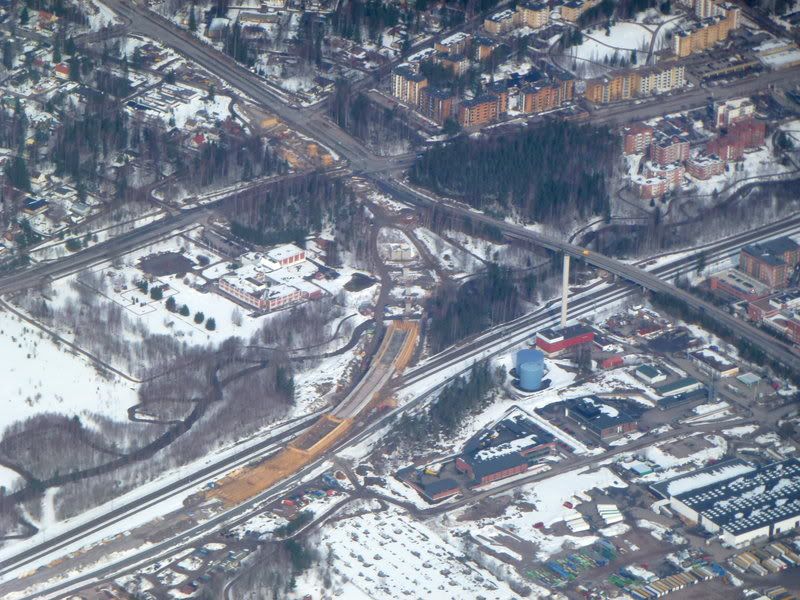 Even though this flight carries only an AY code and tickets can only be bought via AY the service is still pure flyBE - BOB for everything. That is very bad and misleading in my opinion, just another scam AY seems to be so fond of running in recent times. Anyway I decide to splurge 3 EUR for a coffee - and am very disappointed to get some instant Nescafe crap instead of a good drip coffee like FC used to serve: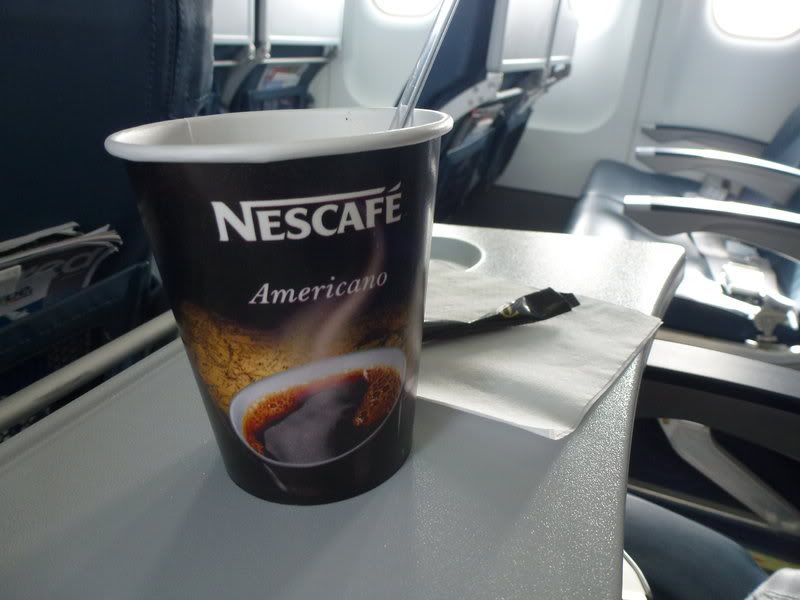 The weather is very nice with clear skies so there are plenty of nice views of snowy landscapes below: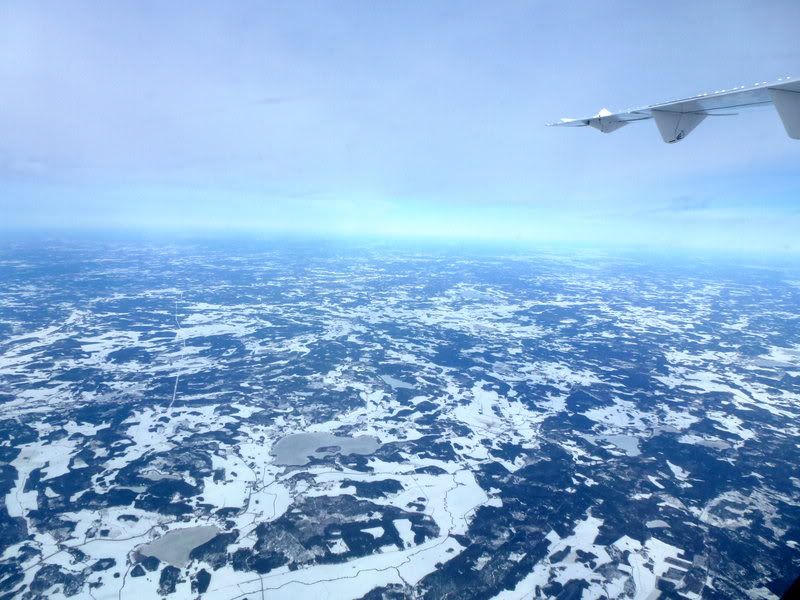 This is the city of Kouvola, well known to a certain a.net legend and certain to make a top position if they ever decide to come up with a Finnish version of the book "Crap Towns":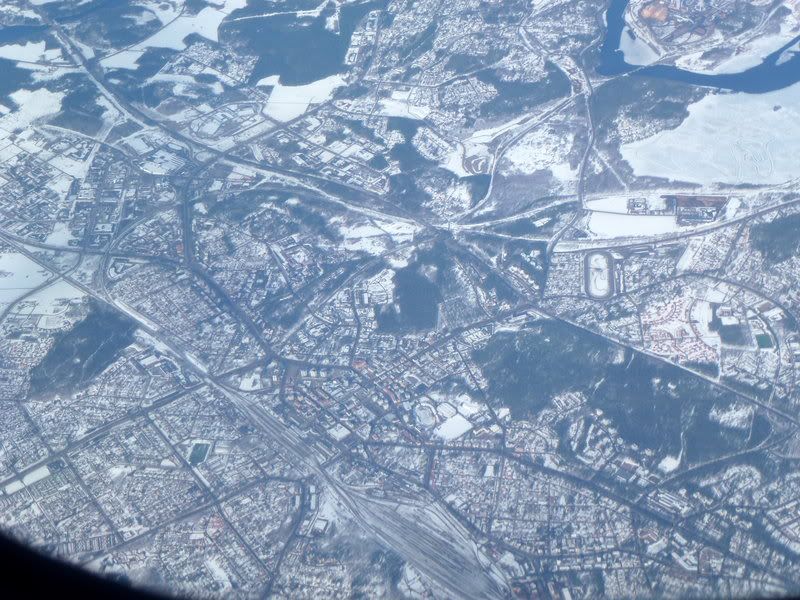 The snaking river is Kymijoki, the cradle and nexus of the Finnish heavy forest industry for the last 150 years - a factory can be seen in the middle of the picture. Unfortunately most of these factories are being run down nowadays - like Bruce Springsteen put it: "These jobs are going, boys, and they ain't coming back":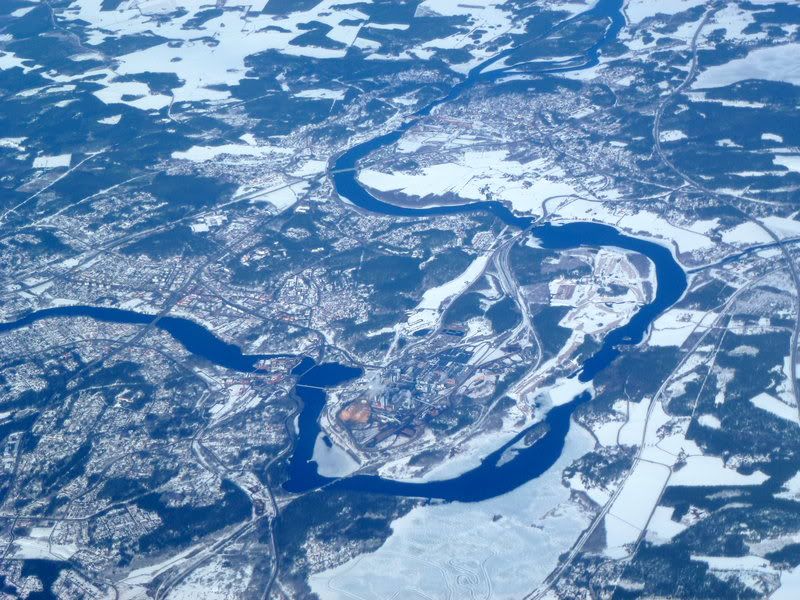 That X in the middle of the forest is the Selänpää airfield (EFSE), used mainly for paragliding:
This is the garrison at Vekaranjärvi - the largest army training unit in the country and where a lot of people I know were stationed at:
City of Mikkeli in the distance - I am quite surprised to see the runway of its airport having been cleared of snow as there haven't been commercial flights for many years now (the last time I flew there was in 2004 I think). But I think the military is running some kind of staff shuttle flights nowadays: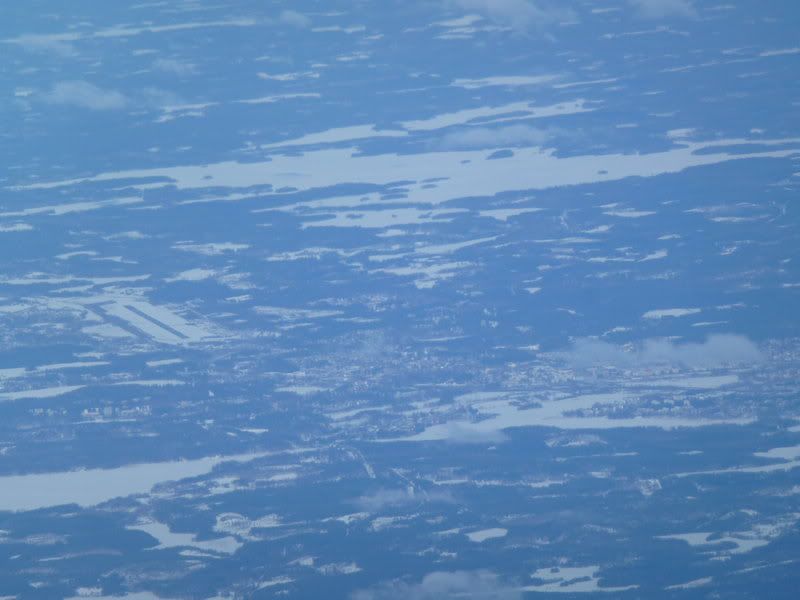 Unfortunately the skies get progressively more cloudy when we get closer to Joensuu: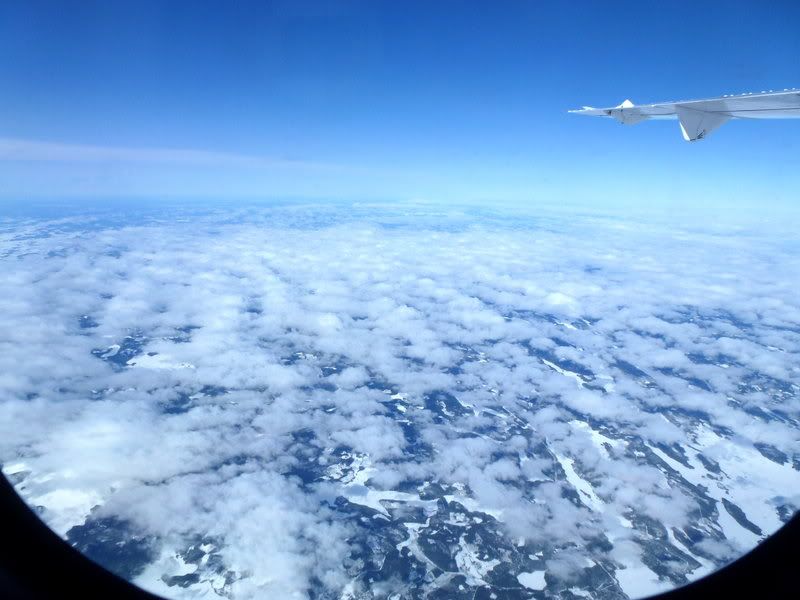 Soon we are descending through very thick clouds with some bumps as well. I chose a seat on the A side since usually the approach path goes right over the city and the views on this side are excellent - but today I can only catch a few glimpses thru the murk: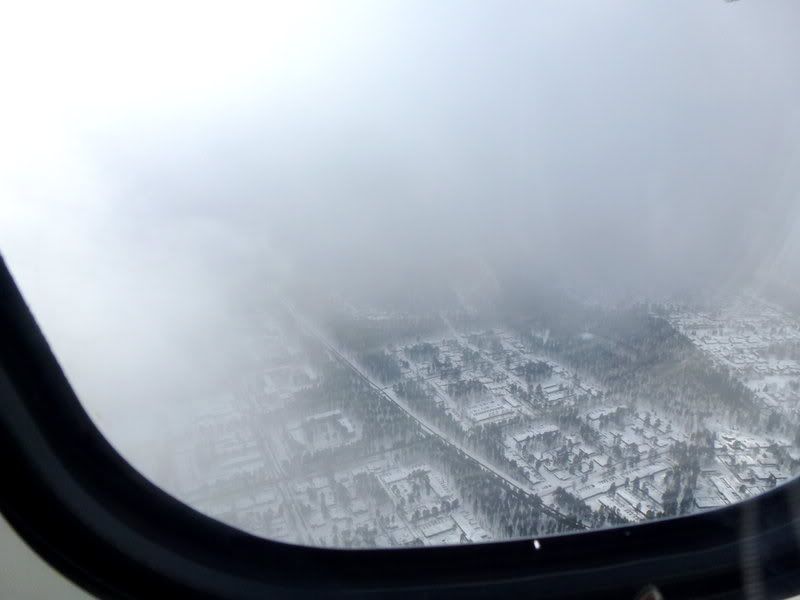 On short finals: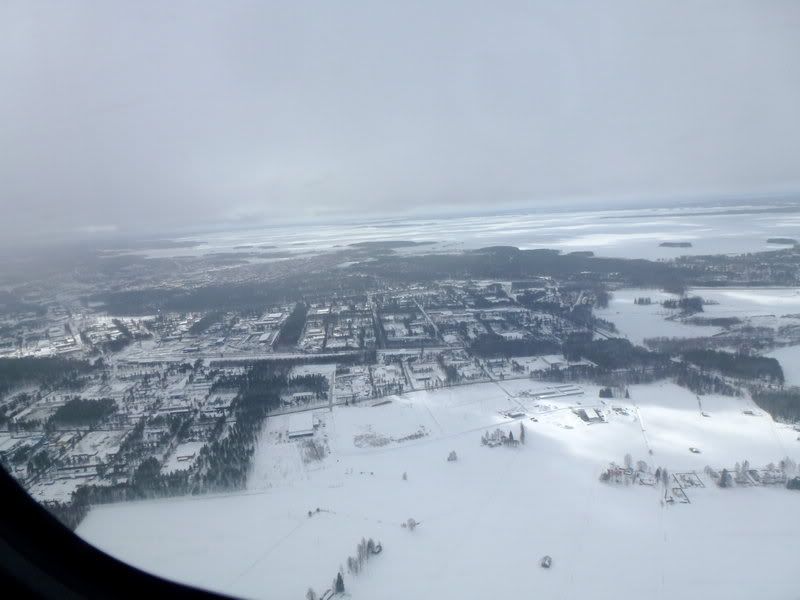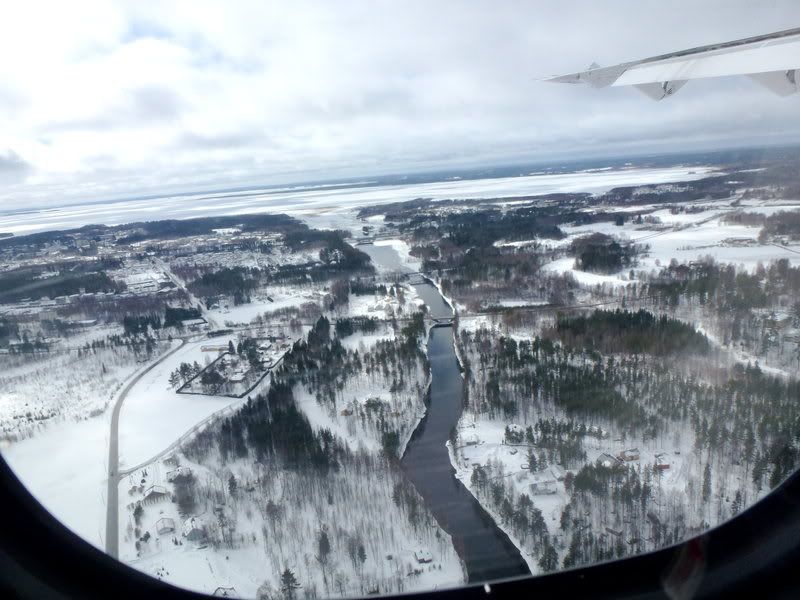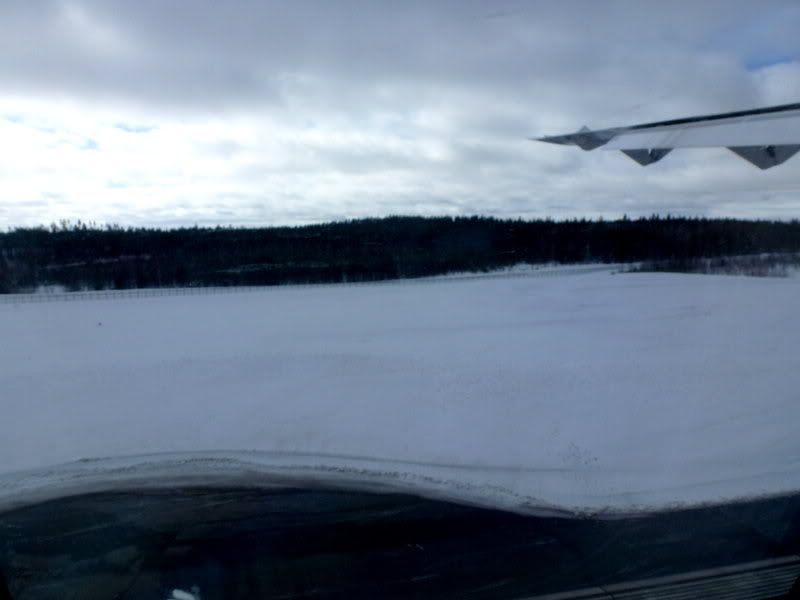 Landing is on runway 28 exactly an hour after departure, total flight time being around 55 minutes as announced.
Not exactly busy up here: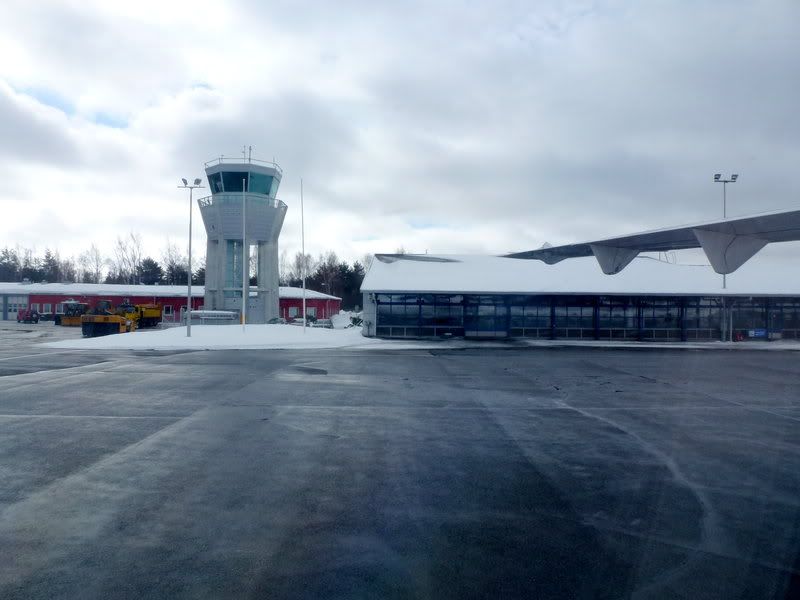 Joensuu Airport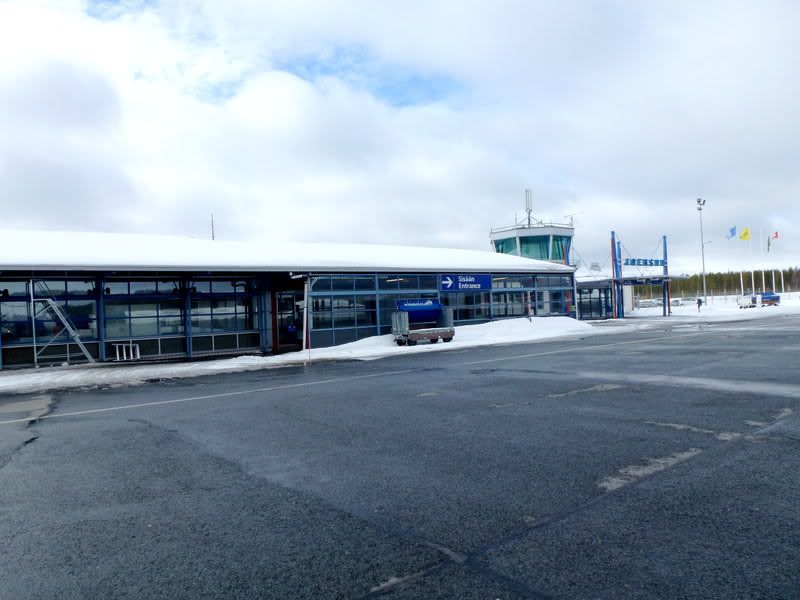 Bye, pleased to meet you: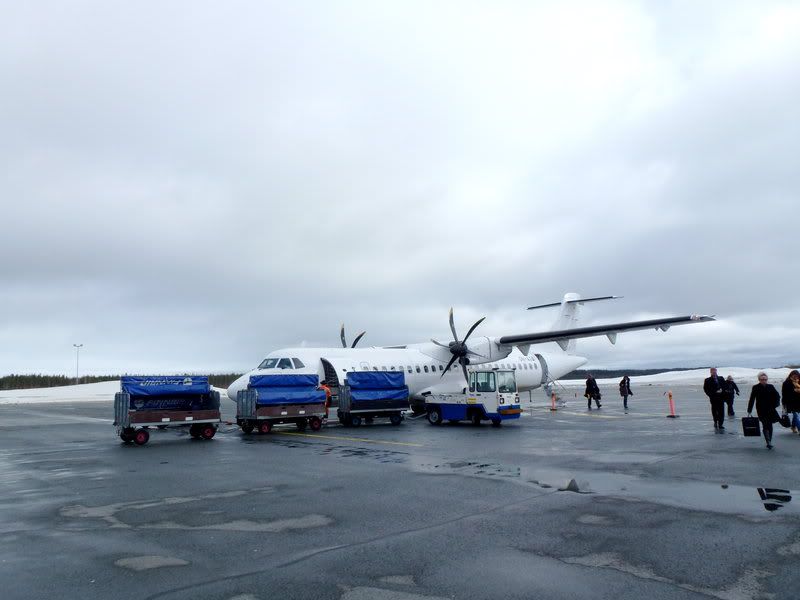 The captain announced the outside temperature as two degrees and it certainly feels so. I walk quickly inside and shoot a few photos of the terminal: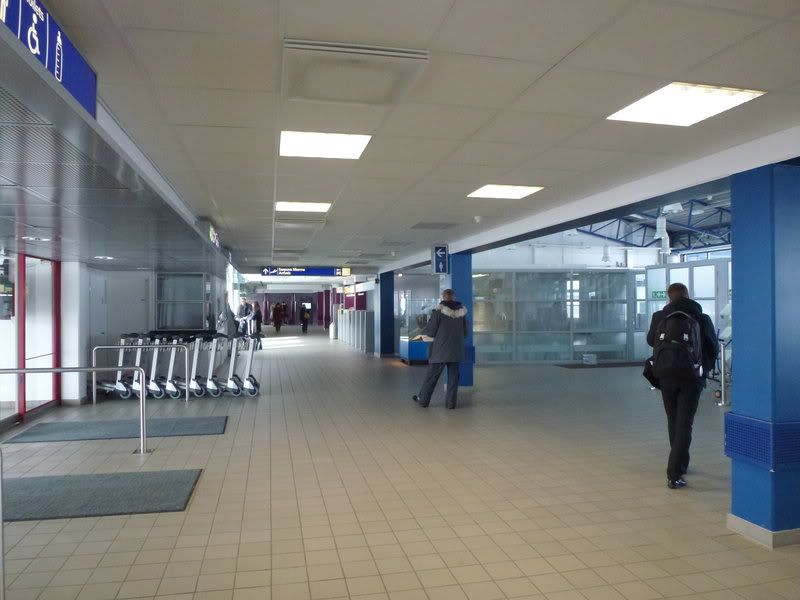 Have they gotten a new tower recently: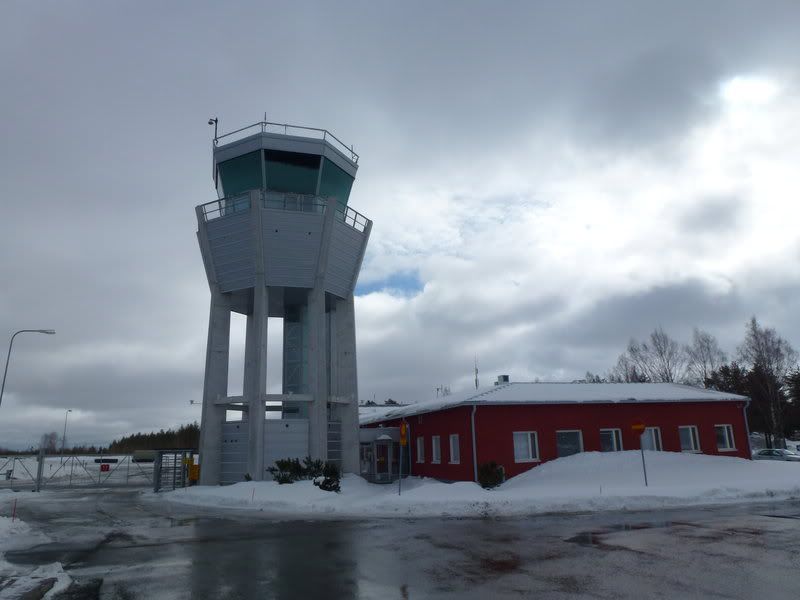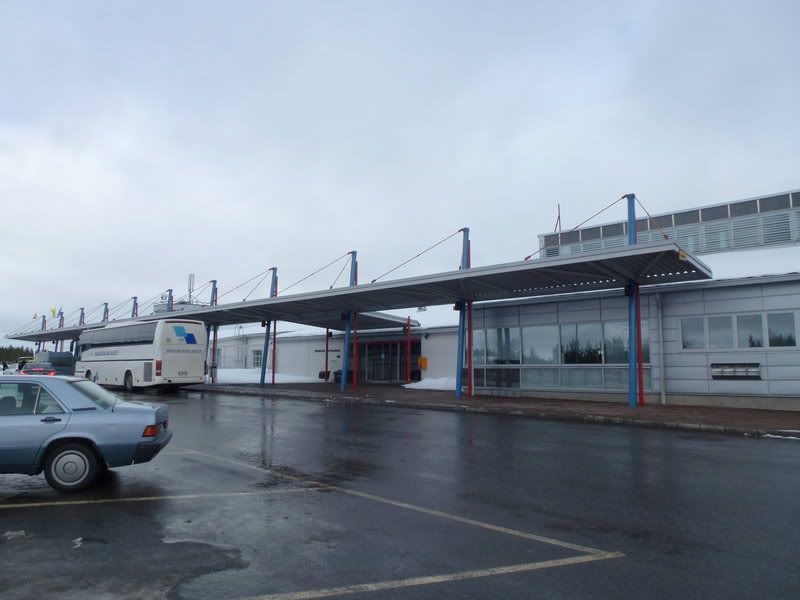 Quite surprised to find a Turkish ad here - maybe JOE is their next destination in Finland: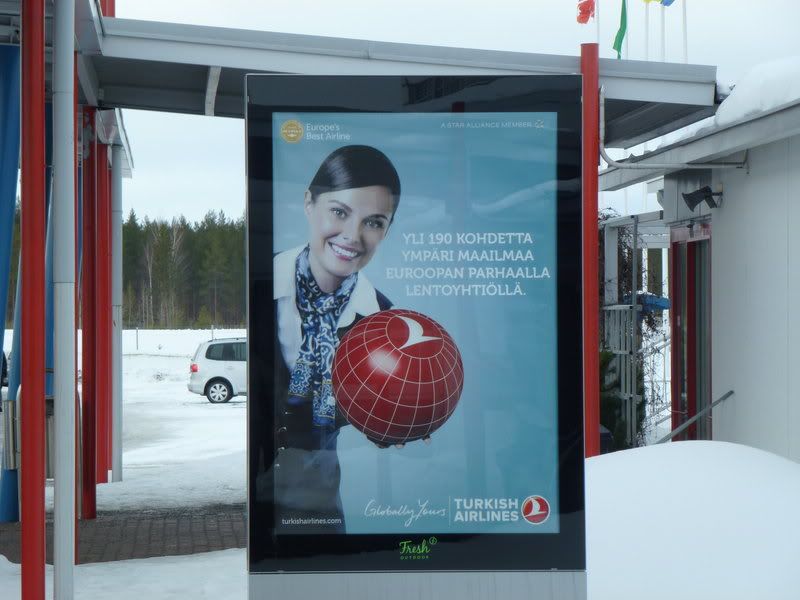 Inside this container is left on the baggage belt from our flight - it contains donated blood, most likely destined to the local hospital or emergency services:
This airport started its life as Onttola airfield (Onttola being the place where it is located, surprisingly). During the war it was the main bomber base of the Finnish Air Force - here's a propeller hub from a crashed JU-88 to commemorate that history: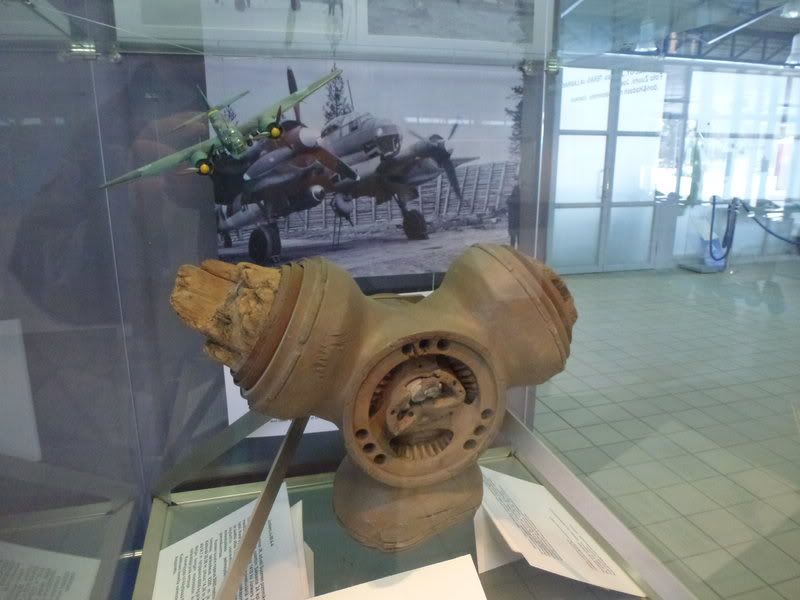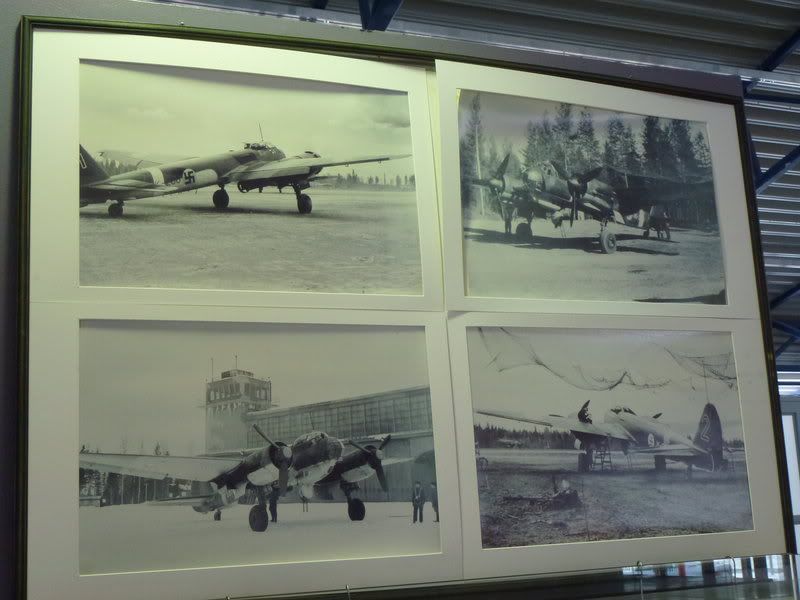 I watch OH-ATO departing back to HEL, with a far better load this time. Yes, this guy is wearing only a T-shirt. Must be heading to BKK or something like that: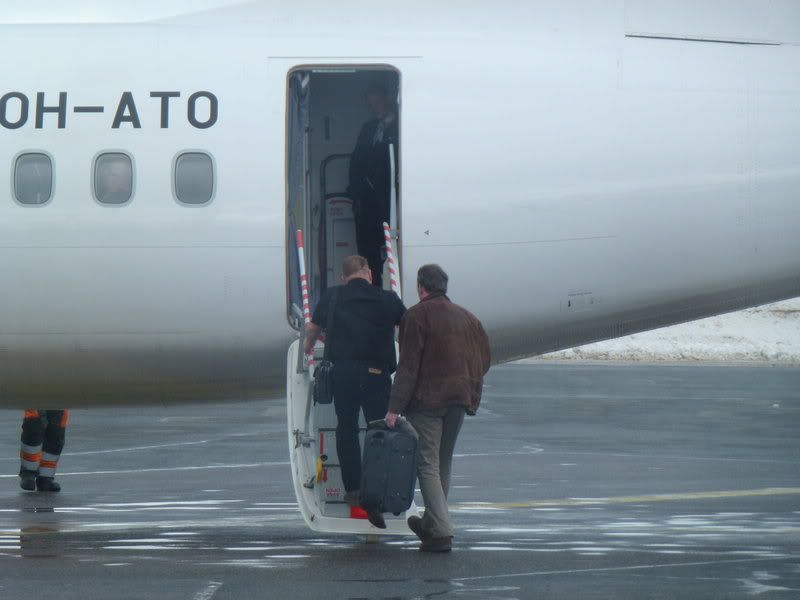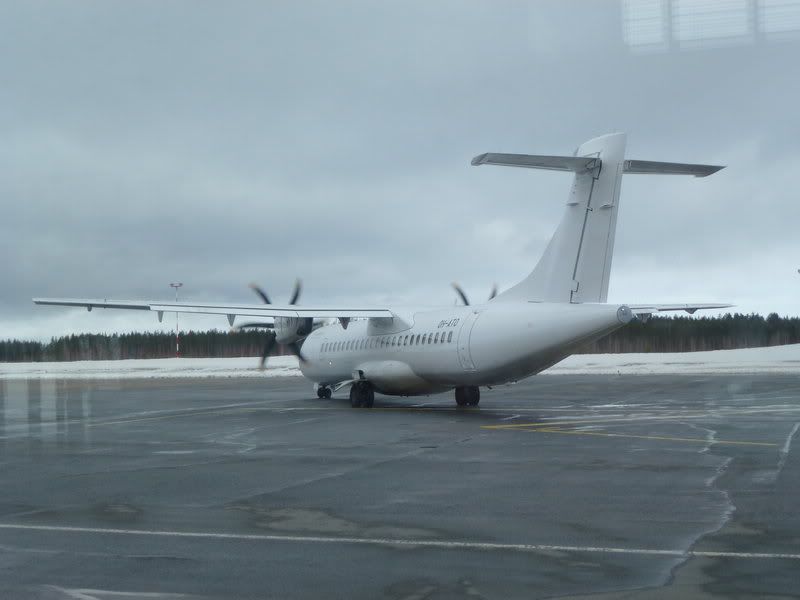 I have more than three hours and a lot of work to do so I buy a softdrink from the cafe, find a nice table with a power socket nearby and let it loose, thanks to the free Finavia wifi.
I make good progress and get to close a lot of things that have been hanging around. At some point passengers start trickling in - since there aren't any other flights these must be my fellow pax on the TLL flight.
Since I'm in Karelia I of course have to try a local delicacy, a Karelian pie (with egg butter on top of it) - well it isn't as good as my grandma made but still nice: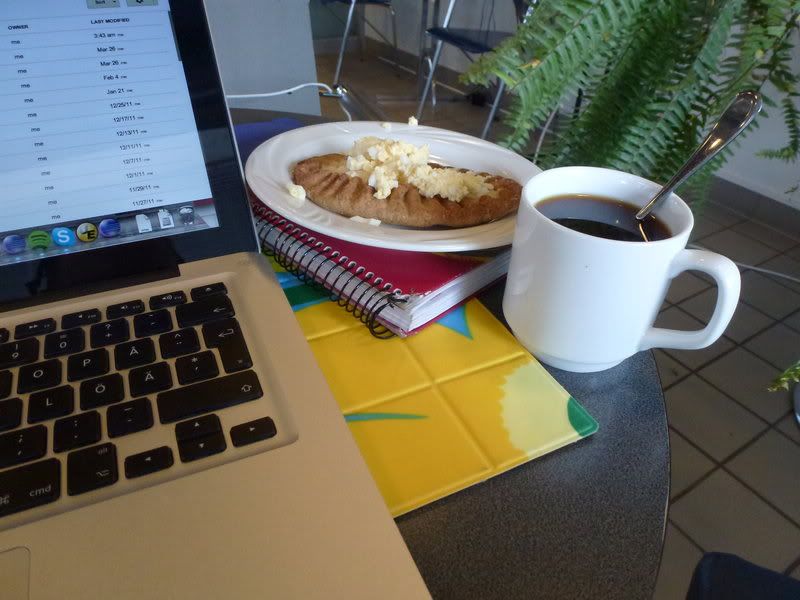 Hmm - my trivia knowledge has failed me this time - I didn't know JOE is the easternmost airport in the EU (well at least if you don't count the faux overseas
départements
the French are so fond of. At least I'll be remembering this tidbit the rest of my life: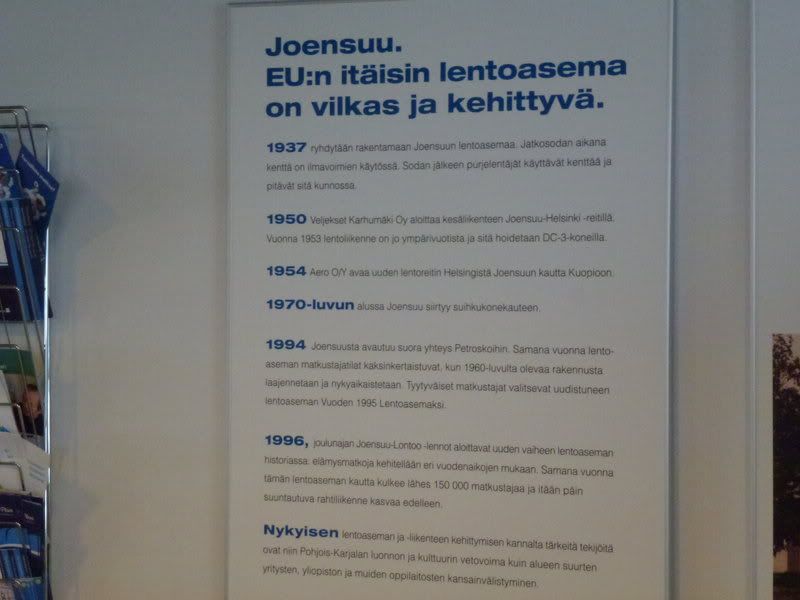 Kinda cool thinking that Finland has both the northernmost (IVL) and easternmost airport of the Union.
I was quite surprised that OLCI for Joensuu worked just fine on the OV website, so no need to visit the check in for me. I check the inbound flight from the Tallinn airport's website - departed 18 minutes late and expected to arrive here ten minutes late. Around five minutes before that time they open up the security checkpoint so I head there - no problems with my OLCI boarding pass (to be honest the guy in front of me has one too).
The holding pen seems to have been improved since the last time I was here - I don't remember there being this much seating space: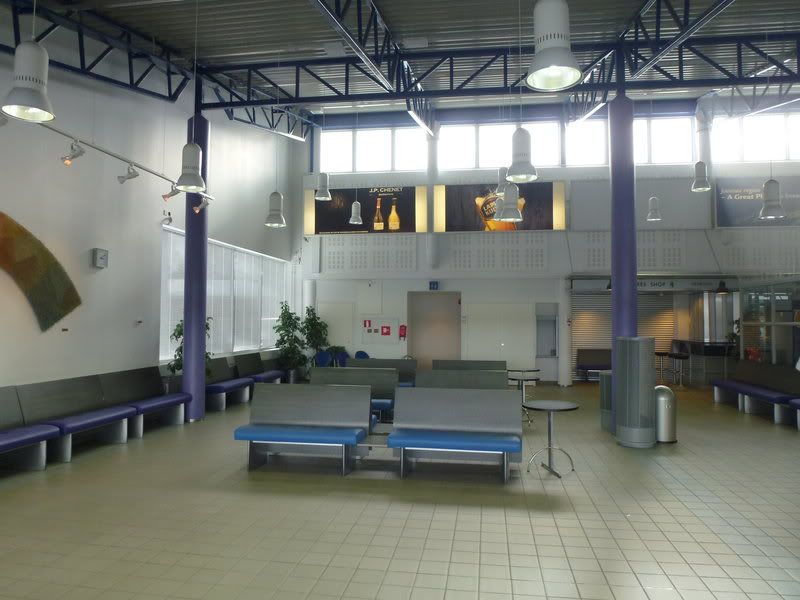 I strike up a small conversation with the other OLCI guy - turns out he came from Moscow on Monday on the inaugural flight and says there were only eight pax on the inbound flight but a full welcome committee with "men in suits and speeches" at JOE. That flight was actually operated by a leased Fokker 50 from Denim Air (I wish they'd leased an BT F50 instead - that would've been the ultimate irony!) - the official reason given by Estonian Air on a press release was "too much demand for all pax to fit on a Saab 340" - maybe they had a huge delegation of officials flying back or something...
Soon enough I spot a familiar shape over the horizon, and once the plane has landed and breaks to make off the runway exit i notice it doesn't look like the usual blue-colored OV one:
Looks like this is turning into a day of the albinos: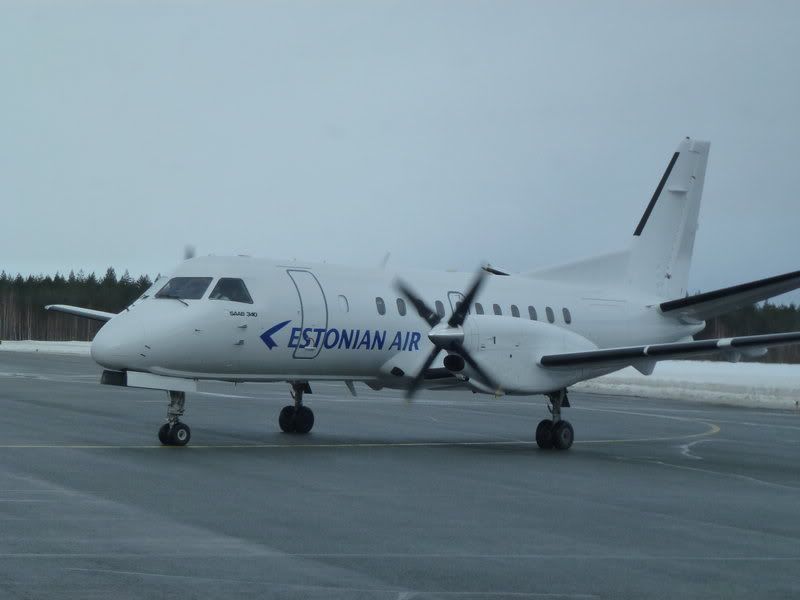 ES-ASO is Estonian Air Regional's newest plane, only delivered some two weeks prior after spending quite some time grounded. This bird is quite a globetrotter - during its 22 year life it has spent time (among others) with Skyways in Sweden, Kendell Airlines and REX Regional Express Down Under, City-Air of Germany, and even OLT Express, likewise in Germany. Oh and Finns might find its prior (and original) Swedish registration quite funny: SE-KSI: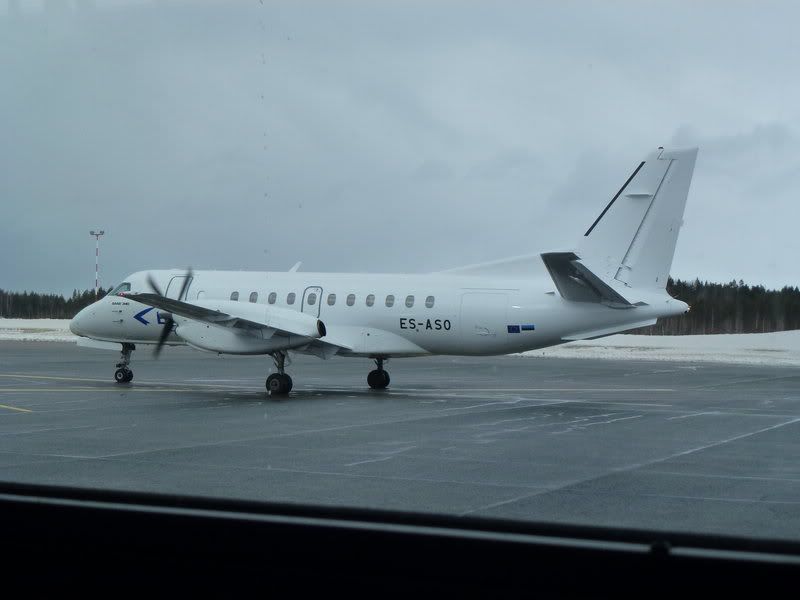 A warm welcomed new bird for my log.
I'm starting to feel a bit like 717flyer as I obsessively count both the disembarking (29) and about-to-board (21) passengers. Quite nice loads considering it is only the second flight on the route and there are 33 seats on that Saab.
Despite the plane arriving ten minutes late there doesn't seem to be any hurry to start boarding. They refuel the plane and when the bowser pulls off I'm sure they will start (why delay it - heck most airlines I know are happy to fuel their planes with pax onboard) but no. It still takes a while before a ground agent emerges with a bag full of trash and radios our gate agent to start boarding - the reason for the delay will soon become apparent.
By being at the right place at the right time I'm of course the first one to walk to the apron. No problems with my OLCI boarding pass here either - pax names are simply ticked off a list. I ask the agent "21, did I get it right?" and she confirms that yes, this is the load today.
It has started raining outside - a horrible cold drizzle of supercooled water that coupled with some wind makes you feel miserable the second you step outside.
JOE - TLL
OV526
Saab 340 ES-ASO
Seat 11A
16.05 - 17.10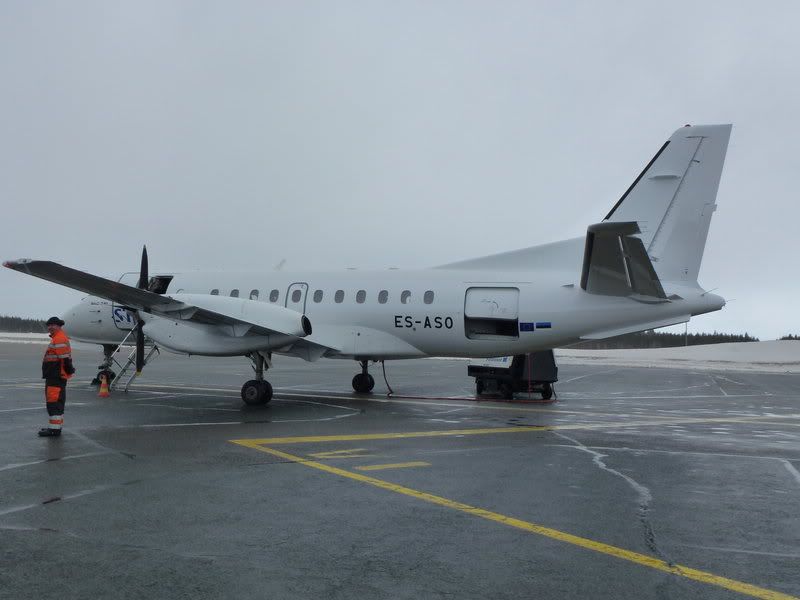 Inside I say "Horrible weather" to the FA greeting (or more like just staring and smiling at) me. The response sounds weird, "Yes it is, yes it is" like it echoes or something. Then I realize that there are actually two FAs - standing behind the first one is the same blonde girl that served the honors on our January ARN-TLL a.net flight - a very nice girl who some of our entourage called hot but in my opinion she's more of a neighbourhood girl type. Anyway I continue with "Hope the weather is better in Tallinn" which gets another "Yes it is, yes it is!" reply which reminds me of an old record player getting stuck...
I picked a seat on the last row because I enjoy the smell of the chemicals from the lavatory. The seat is a tight fit (and inflight the seat in front of me has an annoying habit of reclining even without the guy there doing it on purpose):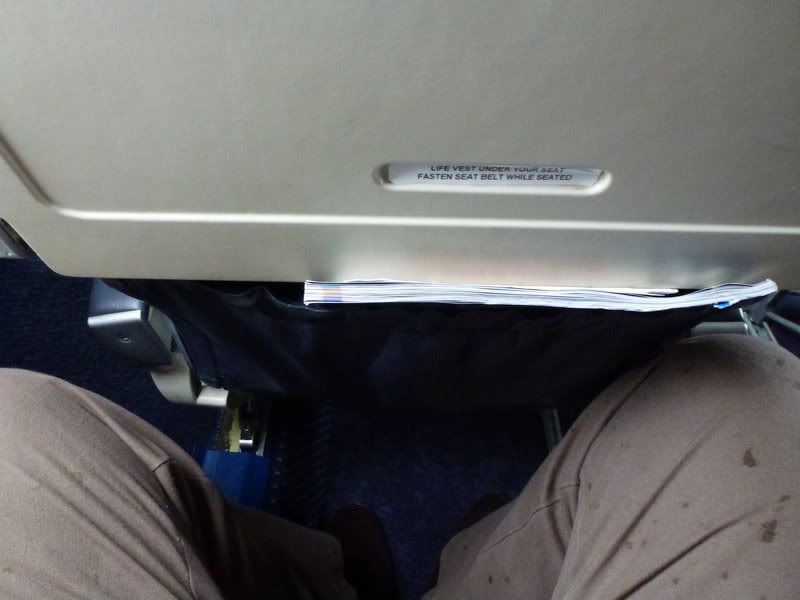 For the record, I didn't pee my pants - it's the rain.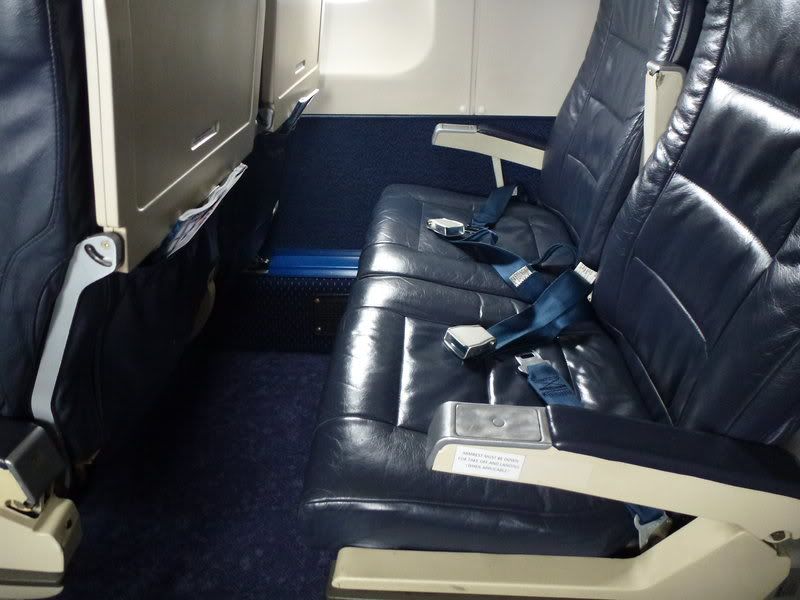 I expected the two seats on the other side to stay empty and they do, so I stash my back bag under 11D and the guy in front of me's rollaboard under 11F. He is very delighted at my offer to do this - well it doesn't exactly fit into the tiny overhead either. It turns out he is actually on his way to get an eye operation in Tallinn - well considering the sorry state of public healthcare in this country I can hardly blame him for choosing the affordable and quick option...
Cabin checks seem to take forever - the process is like this:
- The new FA walks through the cabin very slowly, checking all seatbelts and bags.
- She walks back to the front.
- She comes back to the back.
- She locks the lavatory door next to me and is about to turn back.
- She realizes something, unlocks the lavatory door and takes a peek inside. No boogeymen there.
- She locks it again and walks back towards the front.
- She has a word with the younger FA.
- The younger FA performs the same cabin checks again, this time much faster.
When she reaches my row I say "Don't you trust your colleague?" - she looks like she doesn't know what to say, smiling confusedly. I decide to let her off the hook and say "But she is new, isn't she?" to which she smiles and relaxes and says "Yes, she is.". Later I notice the other FA is indeed wearing a "Trainee" badge -which is kinda weird as her name is not listed there. Maybe OV expects the attrition rate among trainees to be so high that it doesn't bother spending money on name tags for them...
Still with the cabin check completed nothing much seems to be happening - so time to take a look at the inflight magazine - luckily they have a new issue since my last flight with OV a month ago: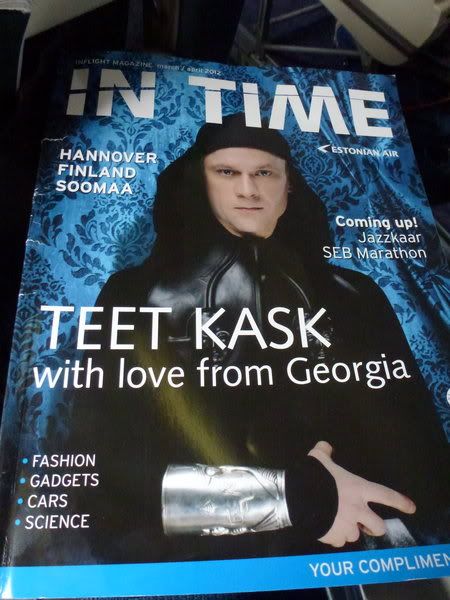 Mr. Taskila's soapbox: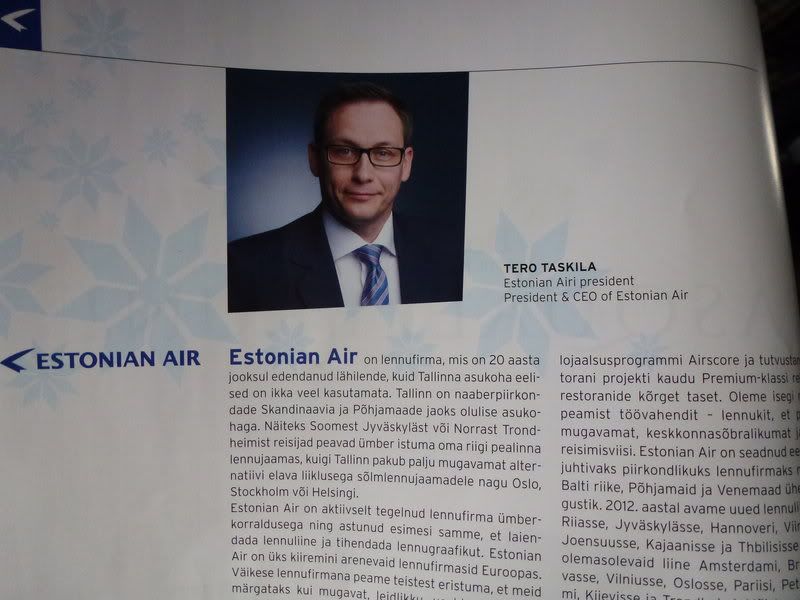 I tend to agree with this: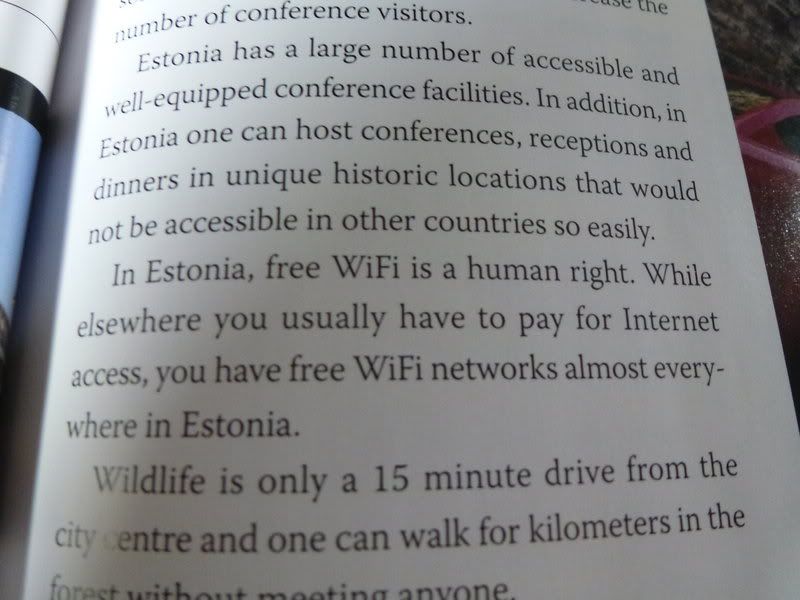 So here are the new Finland routes - so where's KOK I hear someone ask? Find out the answer in a TR near you in a couple of weeks: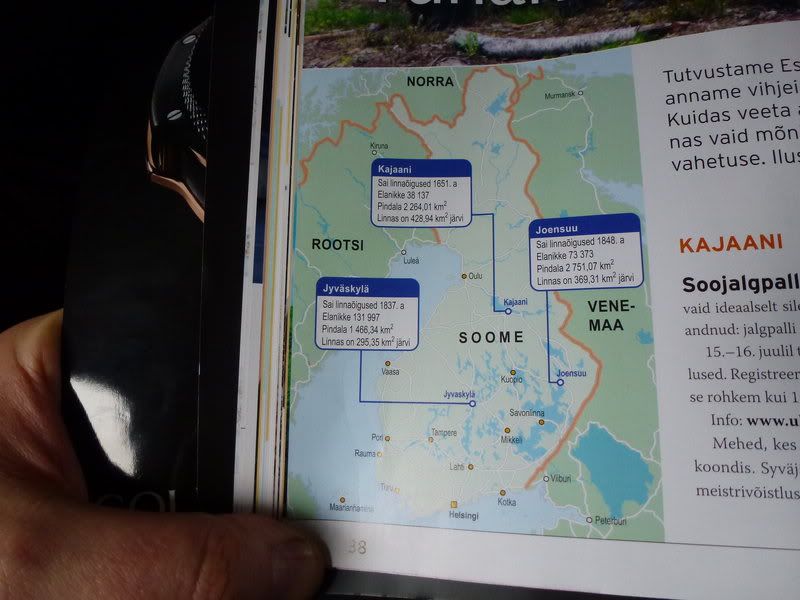 Finally at four, 20 minutes late the engines are started and five minutes later we leave the parking position, taxi to the end of runway 28 and take off.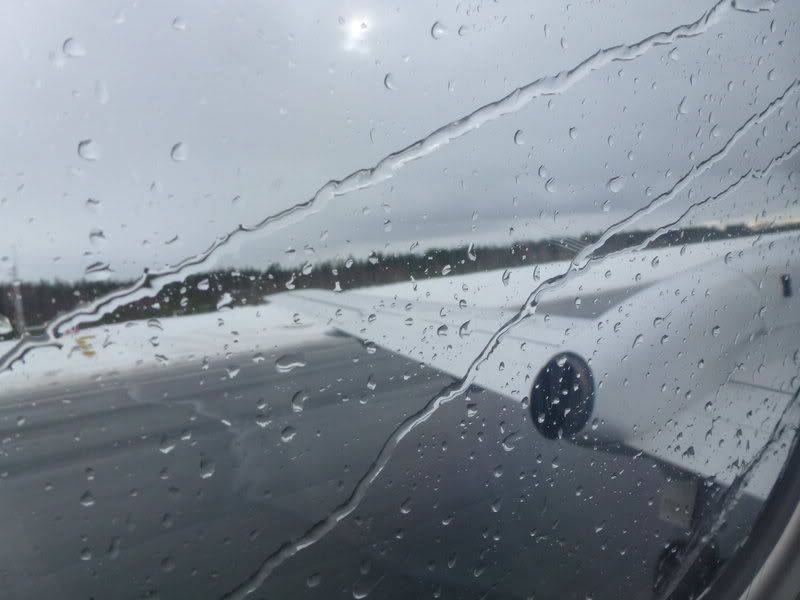 Wheels up © Jonas: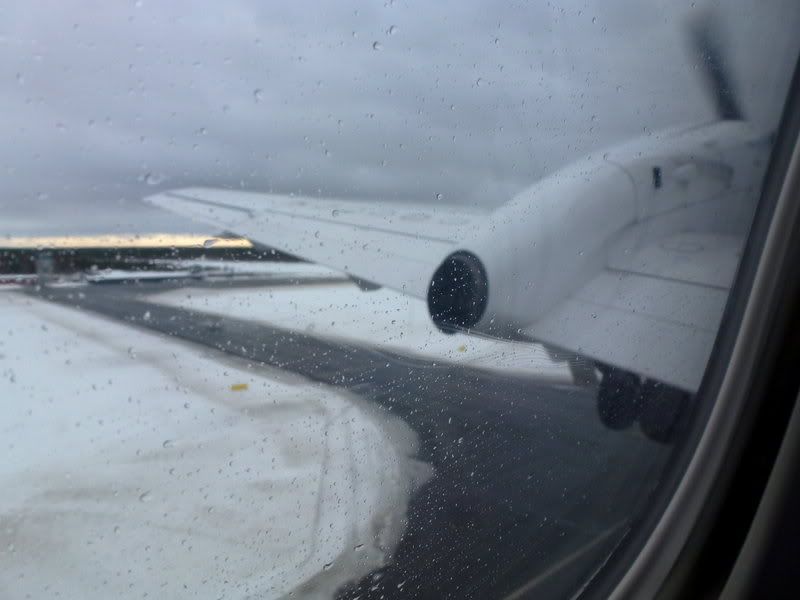 The terrain around here is like this - lots of rolling hills covered with evergreens (and today snow). I grew up less than 150 kilometers from here so this all is very familiar to me: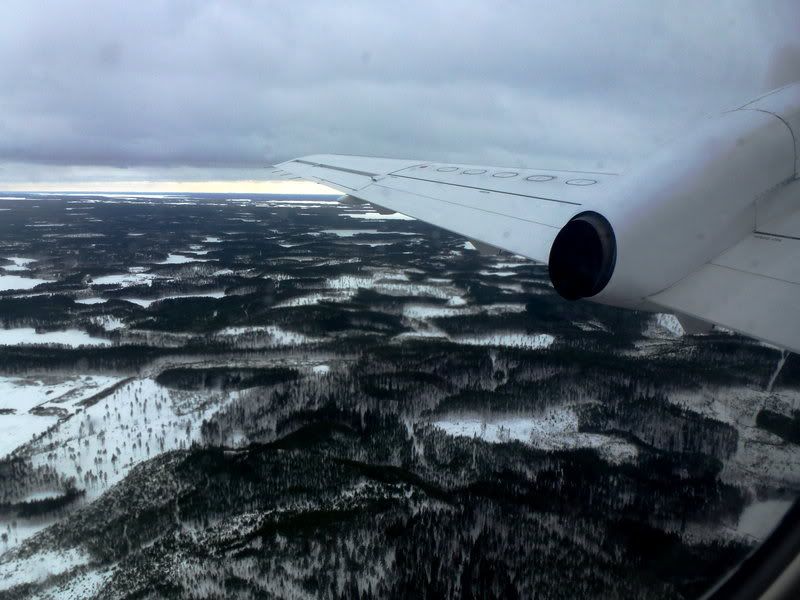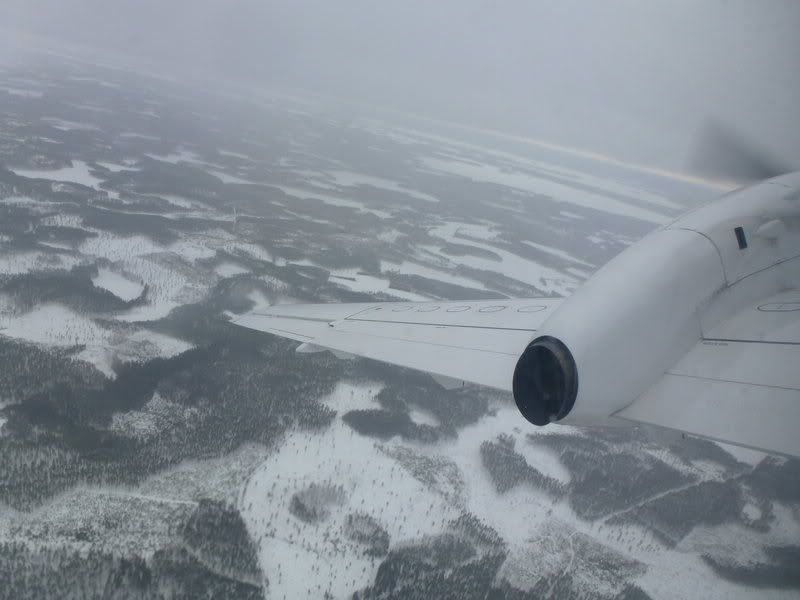 Into the murk we go - that albino color acts as a nice camouflage: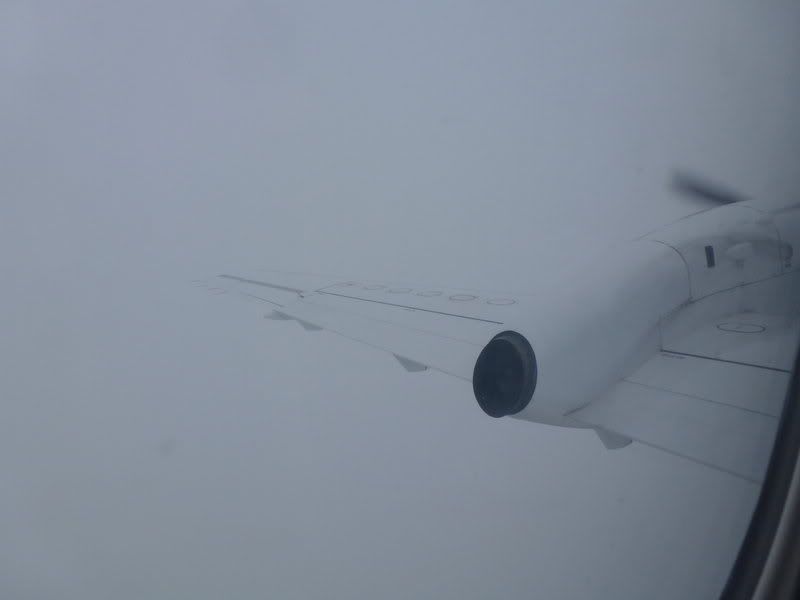 And the moment we all love about flying - emerging into sunshine: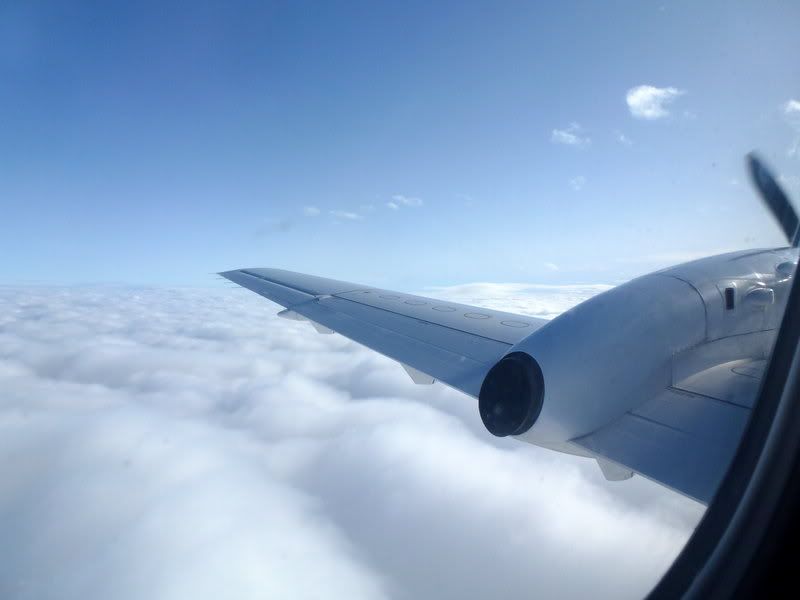 Yes, those are two holes on the engine exhaust shield - the temperature changes are enormous there so no wonder corrosion happens: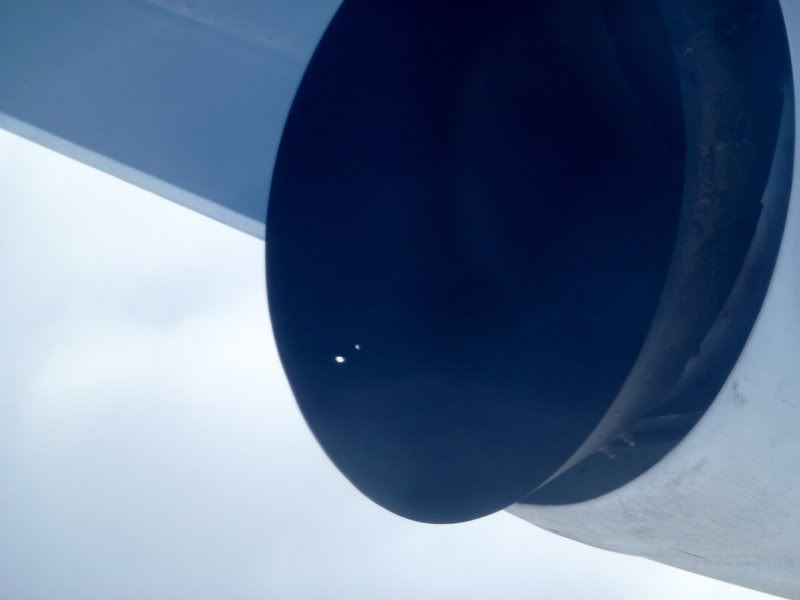 Cabin view: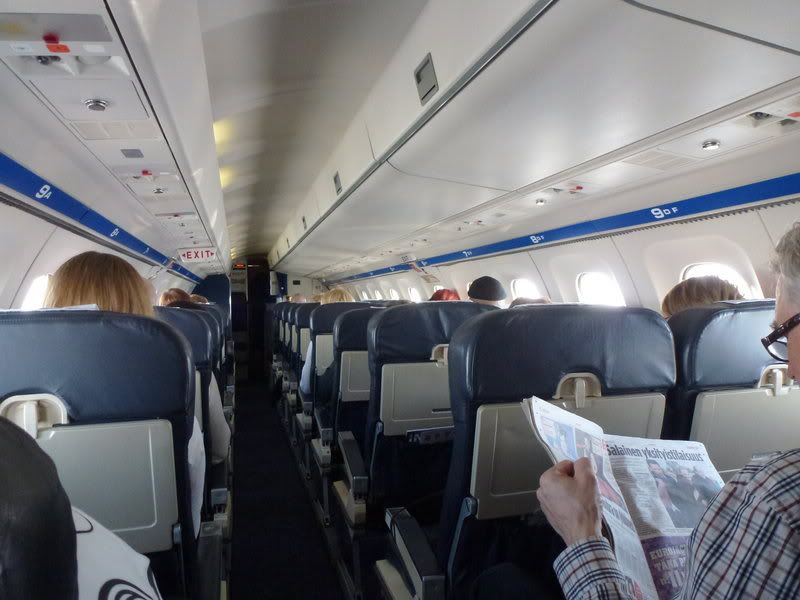 Quite soon it becomes apparent what the crew's modus operandi is - the regular FA tells the trainee what to do and she does everything by herself when the trainer is probably enjoying the latest issue of "Modern Estonian Woman" or whatever is it that Estonian young women nowadays read. This has the nasty side effect of making everything happen on slow motion - I'm not blaming the trainee as we all have been there at some point in our careers but I think these things could be done in a bit more sensible way.
So preparing the inflight service takes a VERY long time - well I'm not really craving anything urgently so I listen to some nice tunes (Iron Maiden seems to be fitting today's mood just fine) and enjoy the weather clearing up:
I was buggered that I missed a certain view when flying up - but luckily I'm on the right side for that now:
This is the airport at Utti (EFUT), near Kouvola. It is operated by Finavia, although the only user is the military - the helicopters of the elite unit of our army are based there. There actually has been some talk about trying to lure Ryanair to use it, but hopefully they won't - LPP should be enough for them.
Finally the trainee FA reaches the back row with the service cart and efficiently traps me onto my seat: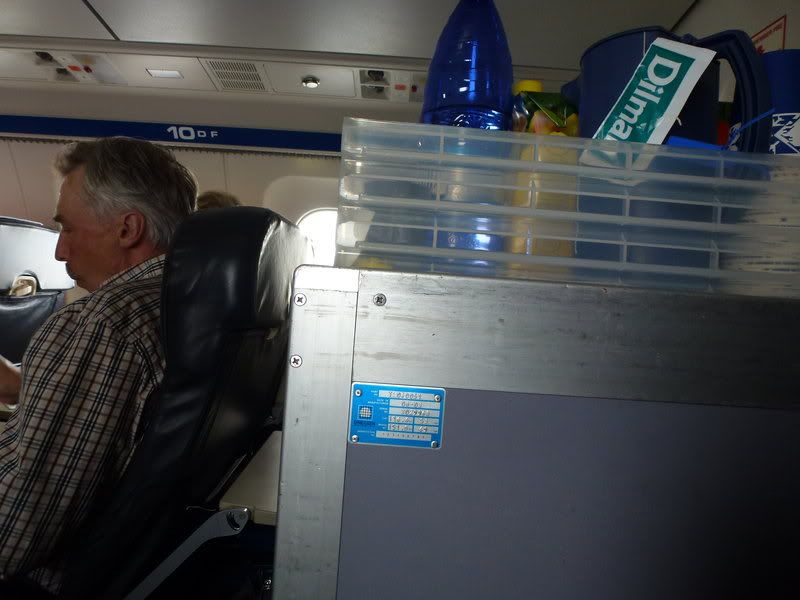 She has a hard time understanding that I want want her to place my coffee and the muffin on the tray table of 11D instead of my tray, but finally I get her to understand: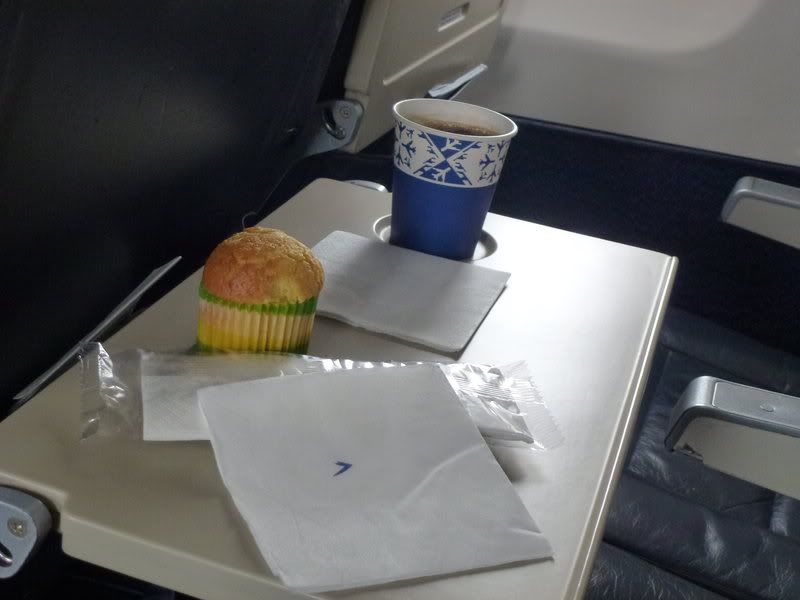 717flyer now perks up - did I say "muffin"? Yes, this is the standard OV Regional service - a warm (nice!) muffin with drinks. After asking for coffee the FA offers me water or juice as well but I decline.
The service certainly was quite slow as I'm halfway through my cup of coffee when the captain already announces descent and arrival in 15 minutes. Quite murky over the Gulf of Finland - looks like the good weather of the morning has disappeared somewhere: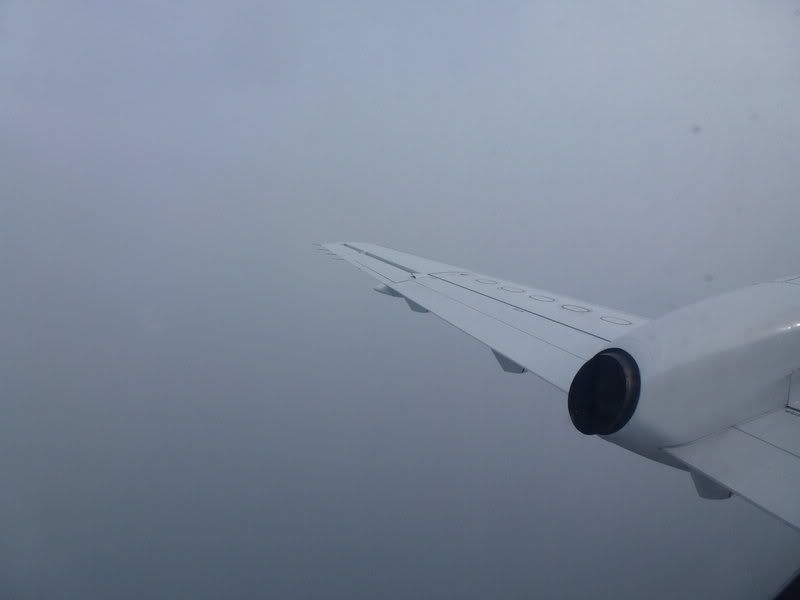 Soon the Estonian north coast comes into view: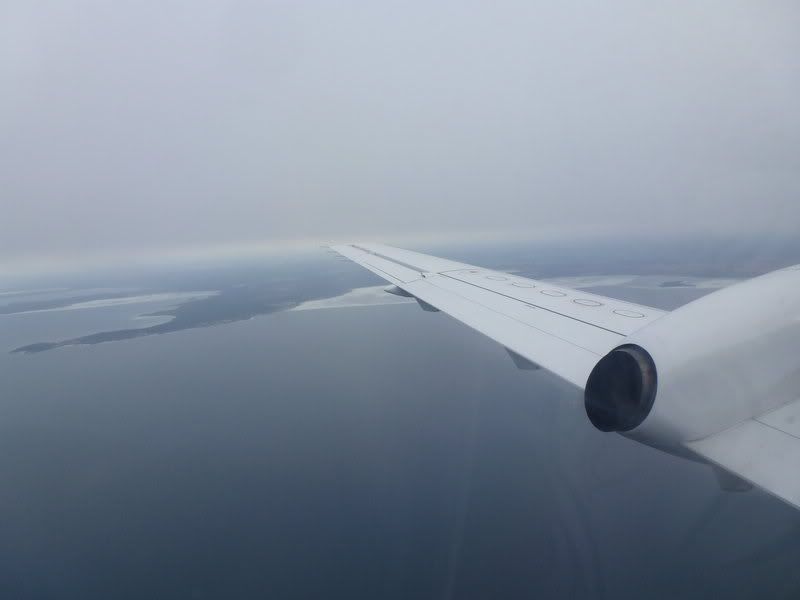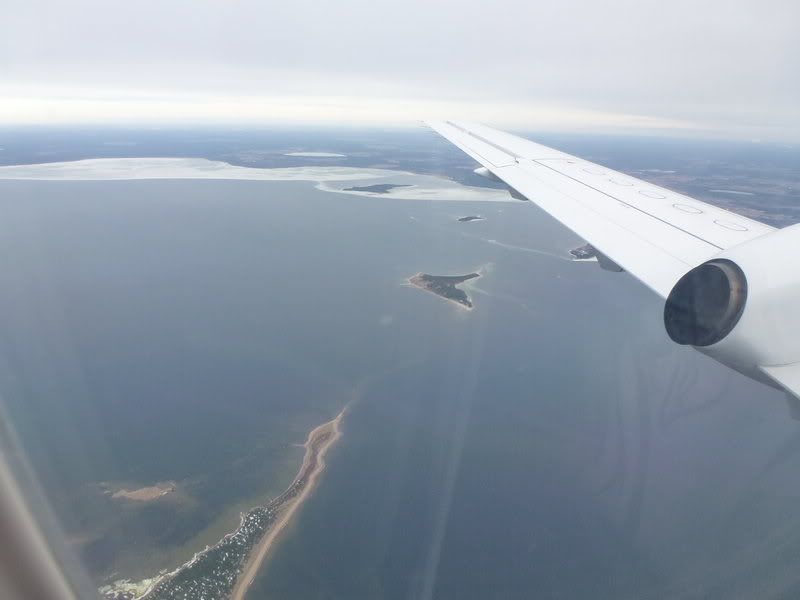 Top