Dear readers,
Welcome to my first trip report of 2012. I apologise in advance for the poor quality of some of the photos – all the flights featured were evening ones and the fading light & murky weather made it less than ideal.
This year has got off to a rather slow start aviation wise. I did a ZRH-MAN hop in early January, then had a daytrip to DUS on AB booked with a friend from work. Sadly her plans changed and she couldn't make it on that day, so we ended up rebooking for the summer. In February I had an exciting Sion-STN-Sion rotation booked with Titan Airways, but a nasty case of the flu put an end to that.
After reading the following report:
In Before The Axe: LPL-AMS-MAN On KLM
(by
DanTaylor2006
Jan 20 2012 in Trip Reports)
….I discovered that KLM were stopping their AMS-LPL flights at the end of March. This route had been on my to-do list for some time and after hearing this piece of news I wanted to try and log it before it was too late.
Long before I'd ever heard of this website, I used Liverpool airport a lot. First of all on the GVA route and then, from 2005, the BSL route, both with easyJet. Sadly flights to BSL stopped in 2008. Therefore, I hadn't flown into the airport in 4 years. When visiting my family, Liverpool is closer distance-wise, but Manchester obviously has far more flights.
Anyway, I found a decent deal on klm.com, dearer than travelling direct with LX into MAN, but still a fair price for 4 flights. If I was lucky, I would log the F70 on the LPL legs, a type I've never flown on before.
I didn't realise that KL start their online check-in 30 hours before departure, a nice touch. There wasn't much choice of seats, most of them were blocked off and exit rows were available at a cost of 25E. I took advantage of being at the airport and checked-in my case after my late shift. It was rather exciting to receive a baggage tag with LPL on it in Zurich!
Sunday 11th March
Before I could fly anywhere, I had an 8hr shift to do. By this time I was a little on edge about making the connection in AMS. I had an hour and only a couple of days previously the same flight I was taking from ZRH was over 60 minutes late leaving and the connection would have been missed (last flight of the day to Liverpool). Anyway, all the KLM flights were behaving today so I hoped that was a good omen.
I finished work at 3.30, had time to get changed and sort my hand luggage out before heading through security. I made a purchase in the duty free for a friend and the usual difference of opinion regarding the staff discount at the till ensued. We are entitled to a higher rate than other companies at ZRH, but this is rarely honoured as the staff claim they don't know about it. It annoys me. On top of that, a new queuing system has been introduced. I actually had to rub my eyes, because I thought I had suddenly been transported to the UK & was standing in a branch of Boots. A number lights up and a very English sounding voice tells me "Cashier number 3 please".
KL1962
ZRH-AMS
STD 1730 / ATD 1800
STA 1920 / ATA 1913
E190 PH-EZP
Seat 12A
2nd flight on the E190, 1st on this aircraft
After a quick chat with my colleague I headed for the gate. Having already cleared security makes things much more relaxing. My flight was leaving from a bus gate, B08.
The inbound was only 5 mins late landing. Boarding started nice and early at 1700. One young chap who tried to board was sent away again, only to run like the wind out of the gate area. I suspect he was booked on the LX flight to AMS, which rather confusingly also leaves at 1730. I will never understand why airports give two competing airlines slots to the same destination at the same time. I took the first bus out to the aircraft. I had deliberately chosen a seat not too far back incase it was tight at AMS. Load on this leg was 82 pax. I even saw my case being loaded on, always a good sign.
First sight of my aircraft, on the the way to the gate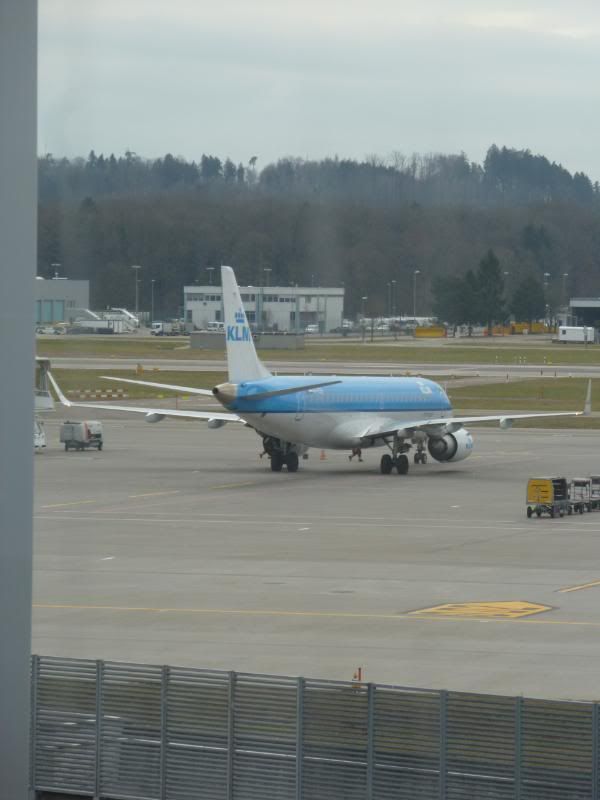 Not many flights from B01-10 this evening.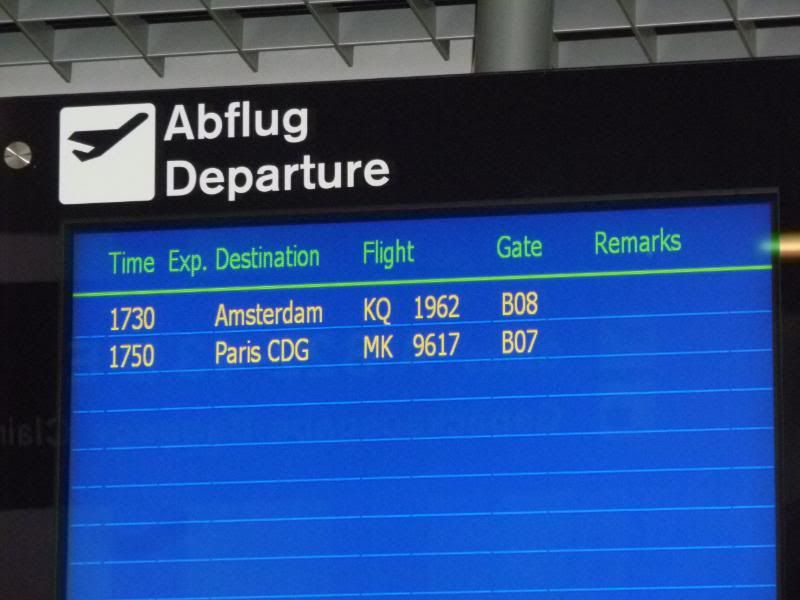 Boarding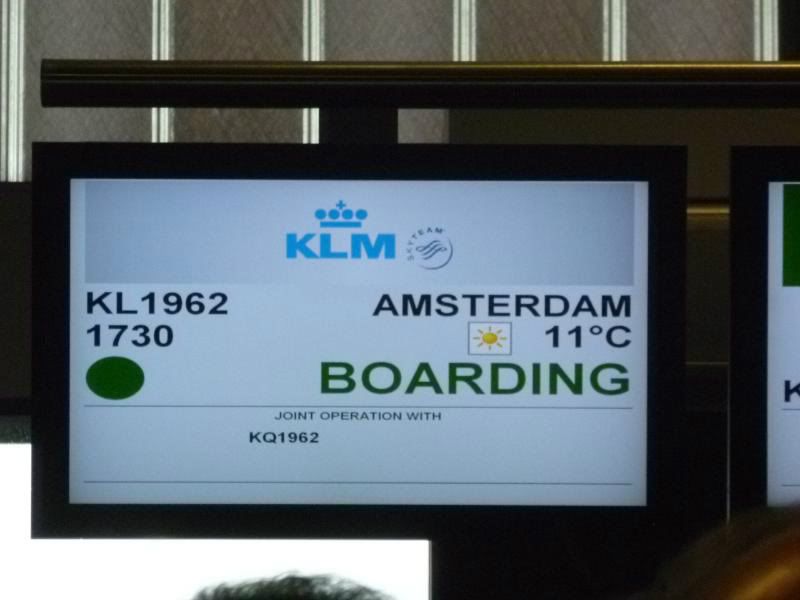 Interesting to see two sets of stairs for boarding, Swiss never manage this.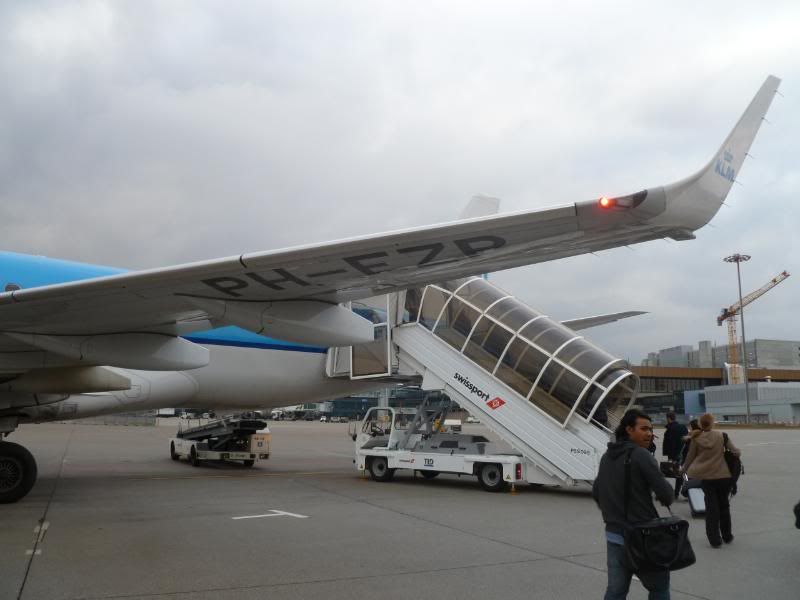 My first KLM flight
.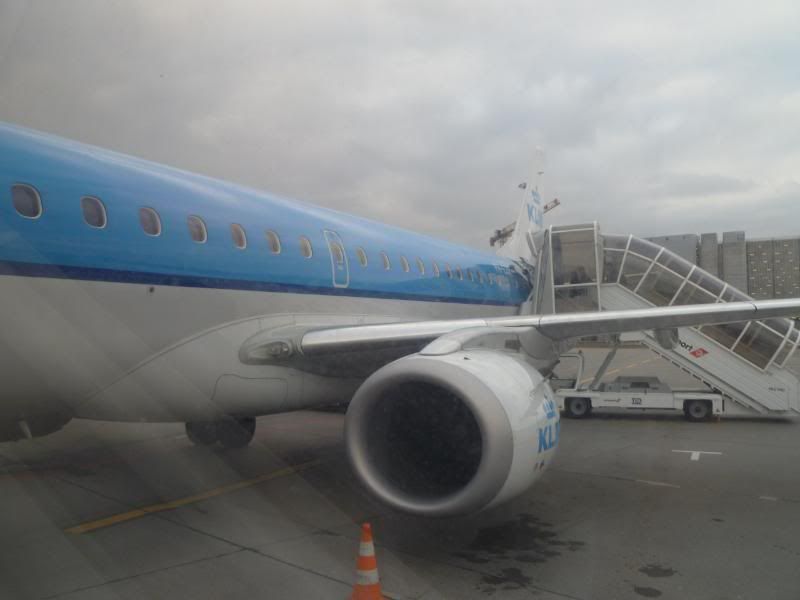 An unusual visitor, any ideas?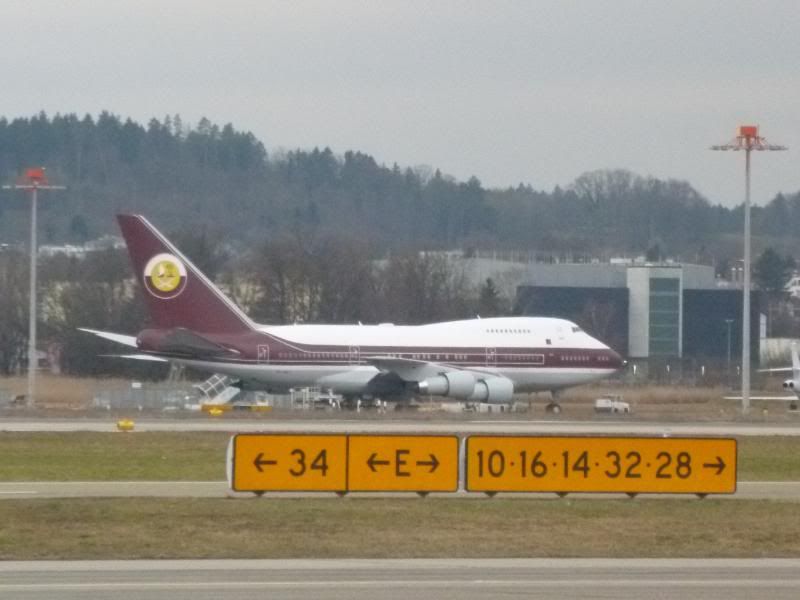 There were some quite lively young Swiss guys sitting behind me who were cracking lots of jokes and had the people around grinning. There were two female members of cabin crew, one of whom in particular stood out. She had such a bubbly personality, an infectious smile and took her time explaining how the exit row works to the gentlemen who were sat there. She created a very good impression.
Boarding was completed quickly and the doors were closed about 1720. However, then the UK pilot then told us that we had to wait until 1740 for our slot. This, combined with an estimated flying time of 1hr15, erased any benefit we had from the early boarding.
Eventually, at 1745, the engines sprang into life. We taxied round to runway 28, where there was already a queue of traffic waiting to take off. After what seemed like an eternity, we eventually took off bang on 1800.
Big queue in front of us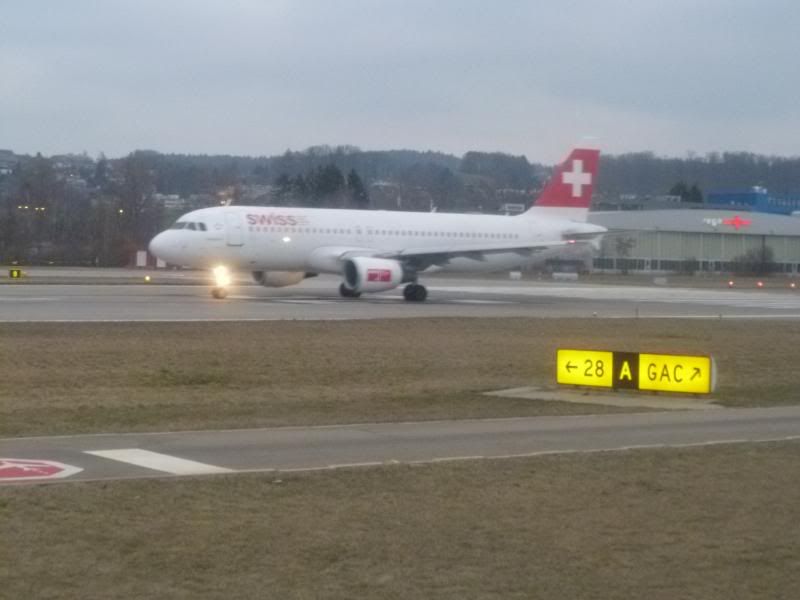 For Markus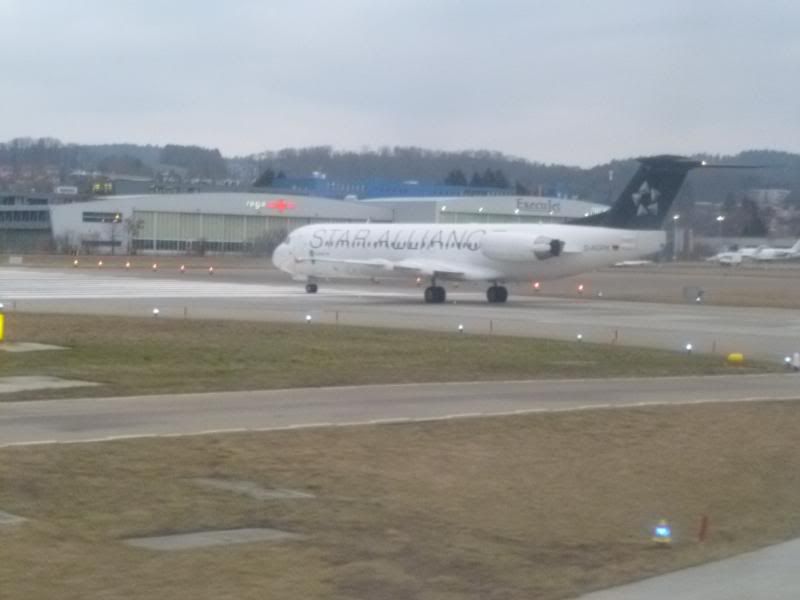 Our turn now
More aircraft waiting behind us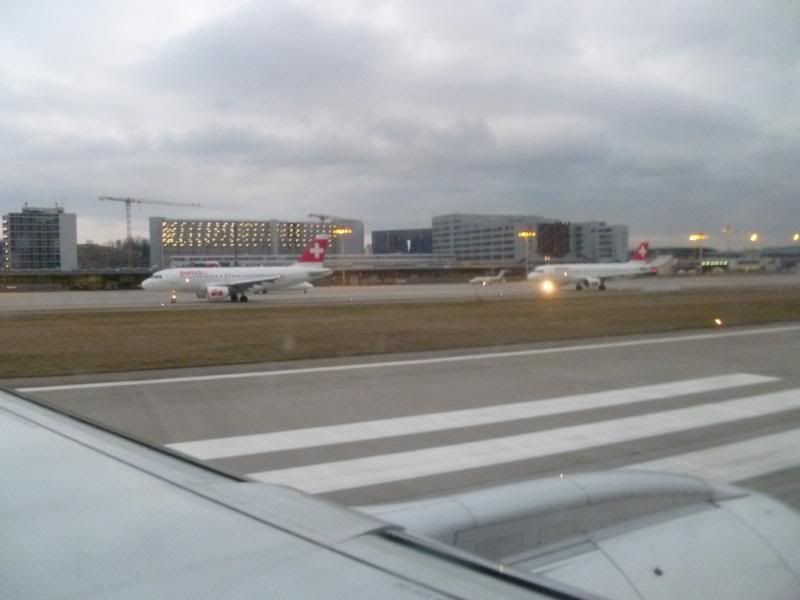 Take off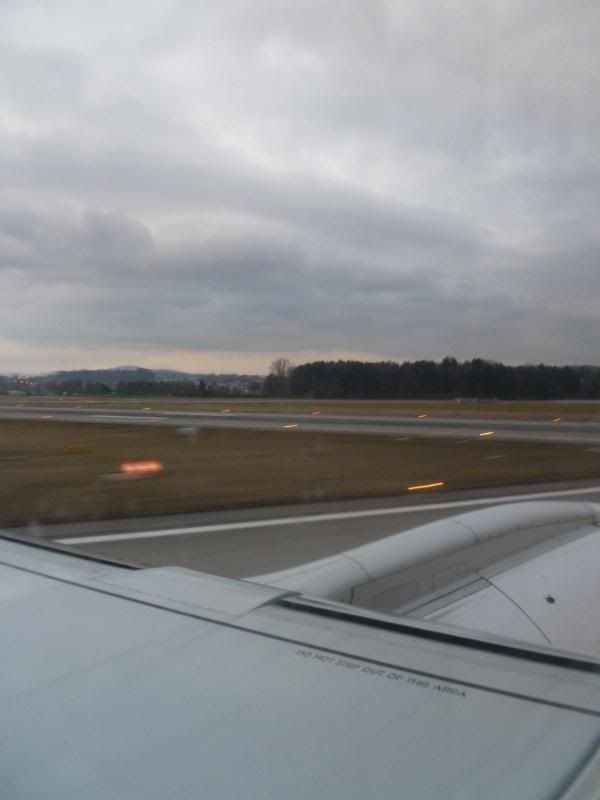 I love the winglets, although they seem huge!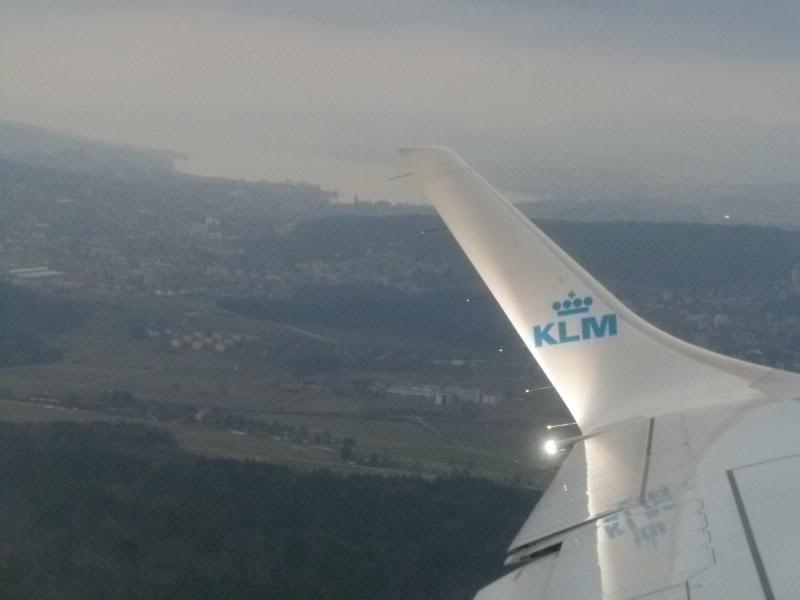 Banking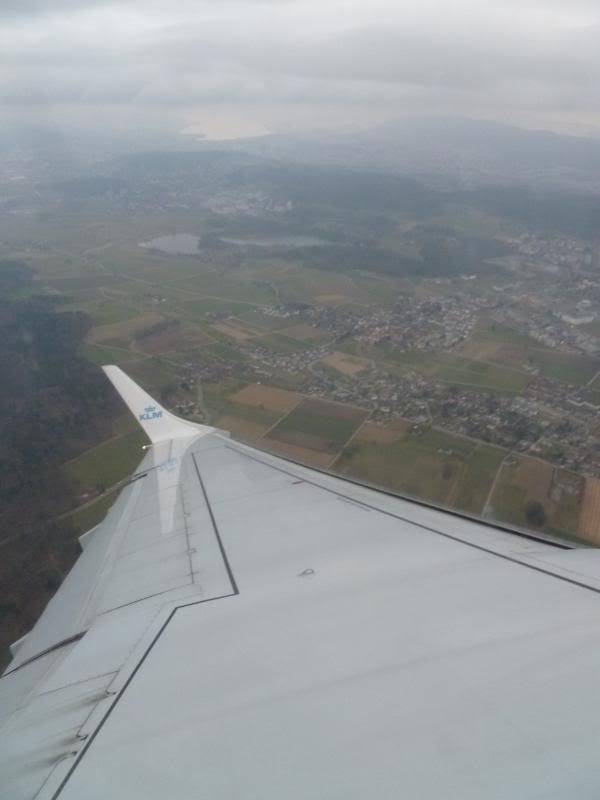 Breaking through the clouds
I spy with my little eye…..
This is my favourite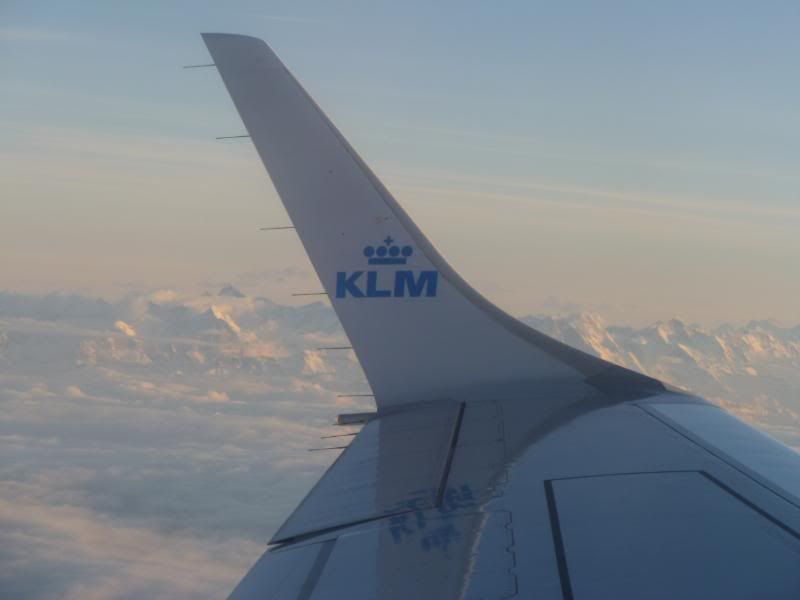 Drinks service started promptly, a choice of a sweet or savoury snack. I guess this would be my only complaint on KLM – on a flight of over an hour it's not very substanstial.
There was some light chop at one point during the drinks service, the pilot put the seatbelt sign on immediately and I was impressed to see the blonde member of cabin crew walk down the aisle checking that everyone had indeed got their seatbelt fastened.
Cabin shot
My snack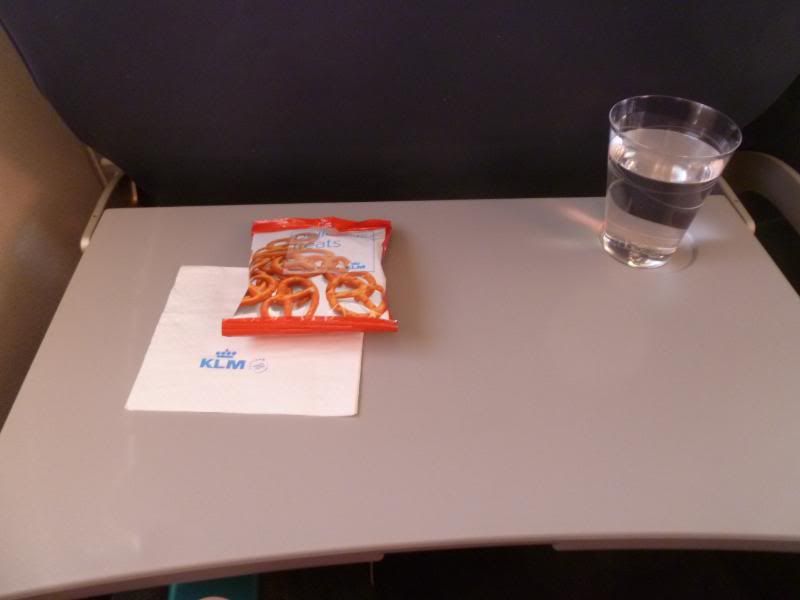 Sunset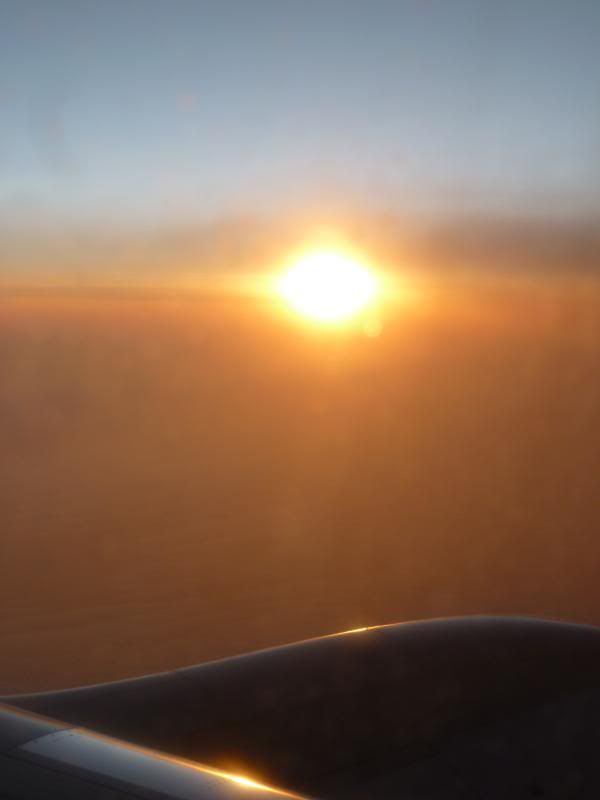 .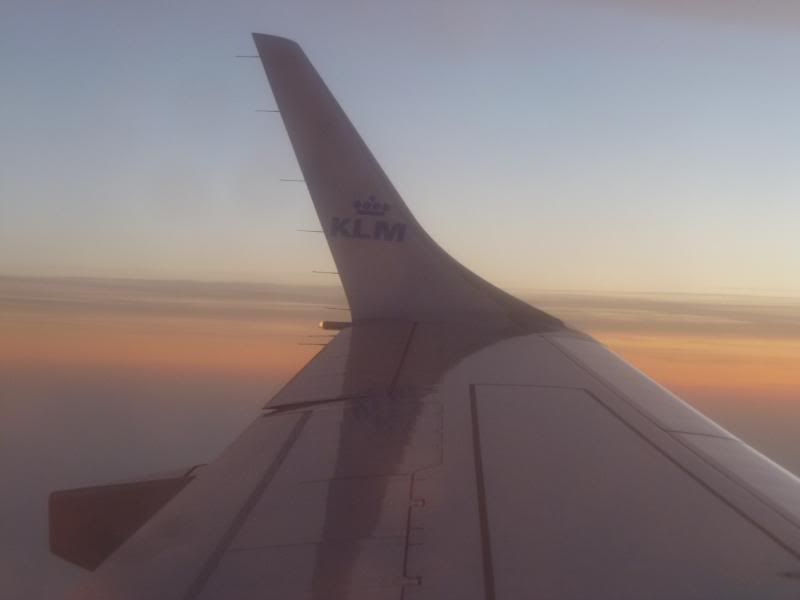 .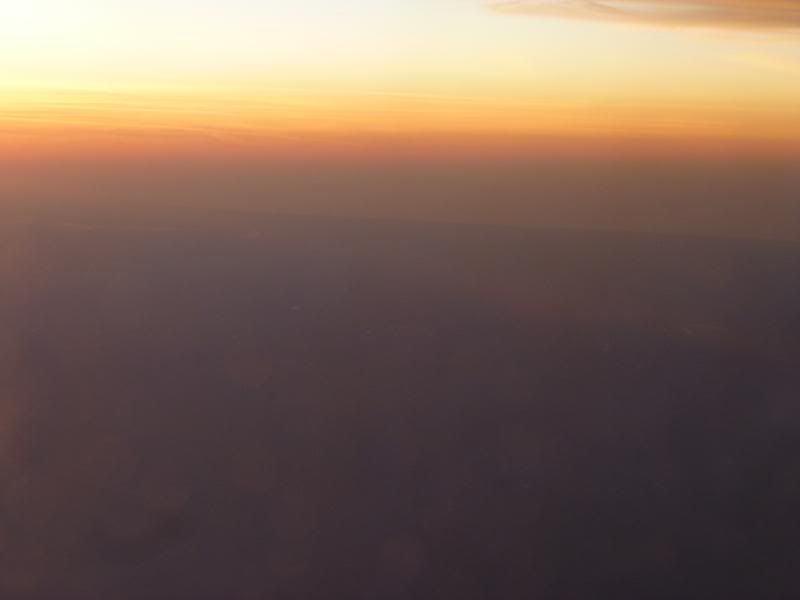 When the coast was already in sight, our female F/O gave us some information about the flight. We were currently near Brussels, would be continuing on to Rotterdam and then Amsterdam, where we should land on time. She also assured us we would have a short taxi from the runway, which was just what I wanted to hear.
Port of Zeebrugge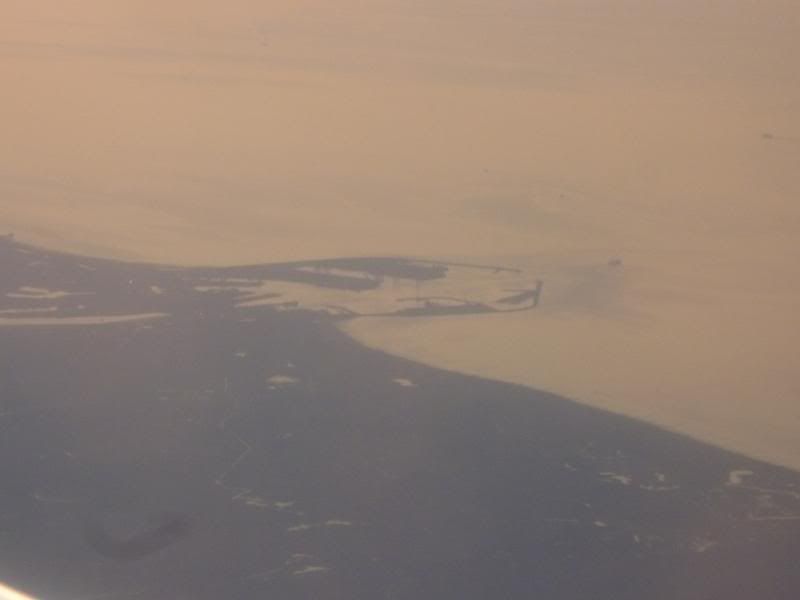 .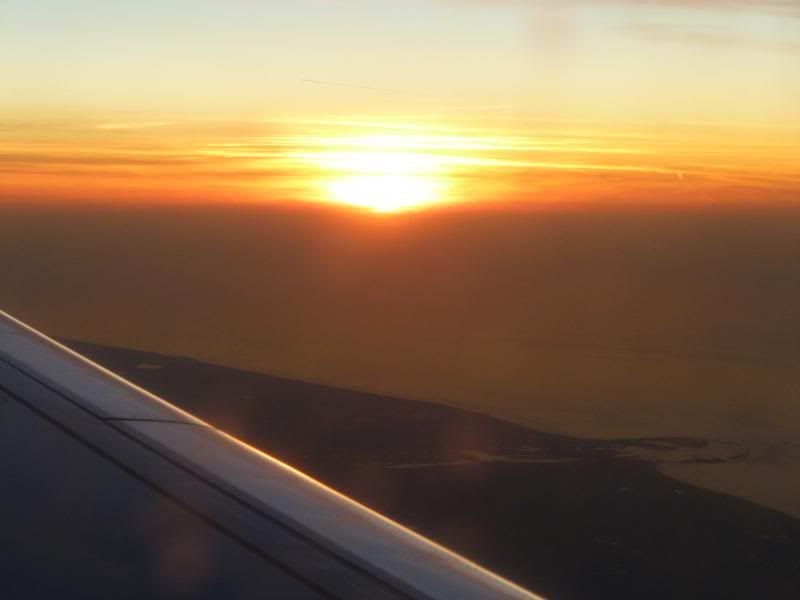 Think this is between Breskens & Vlissingen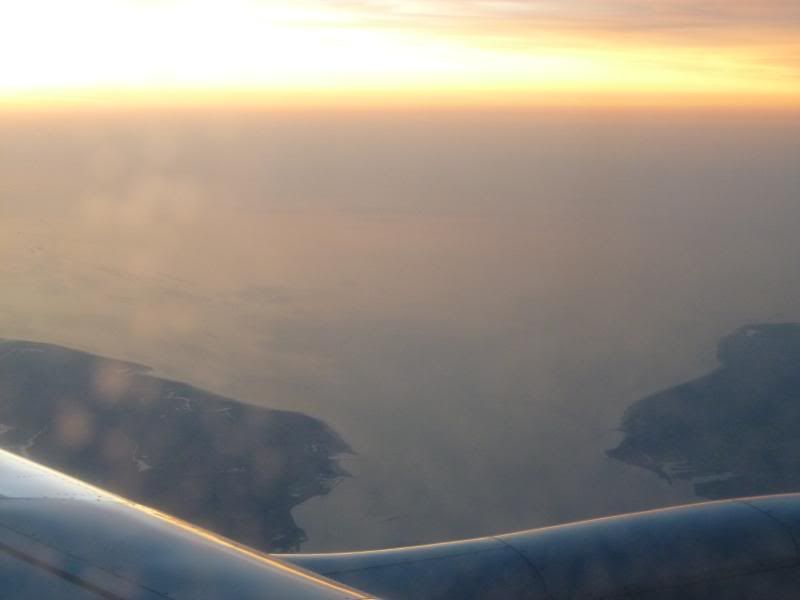 Interestingly no gate information was given for connecting passengers, we were just told to check the monitors in the terminal. Swiss for example usually announce the gates if there are no screens on the aircraft to display the info.
We landed at Amsterdam on runway 06 at 1913 and docked at the B terminal just a couple of minutes later. You can see just how much padding there is in the schedules – we were early despite the late pushback.
Amsterdam
I was able to get off the plane fairly quickly. I'd studied the map on Schiphol's website and had a rough idea of where I had to go. The clear, yellow signage was excellent.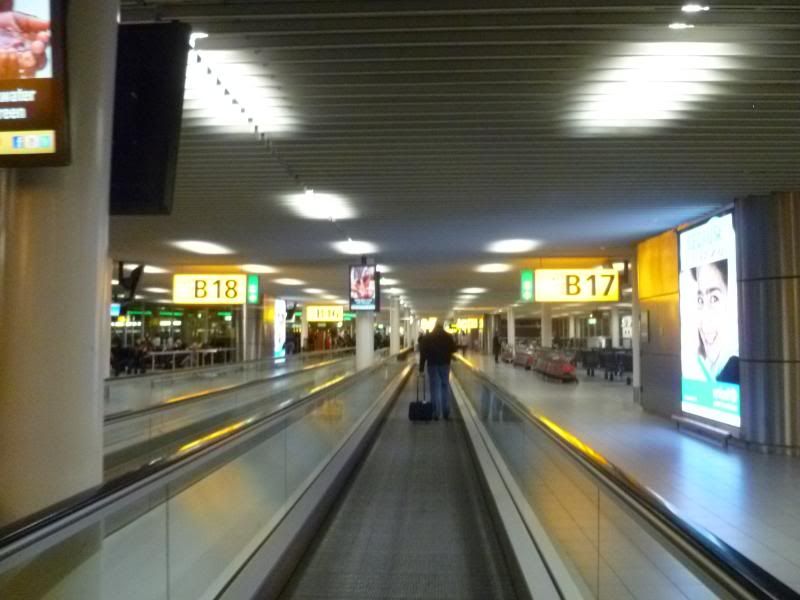 I emerged in the huge shopping area and now understood why fellow member FlyingFinn said this was his favourite airport to shop at. I had a little peek in one shop, but decided I wanted to get through immigration as I didn't know how long the queue might be. The D terminal is divided into Schengen & Non-Schengen, so passport control it was for me. I'd read about a short connections line, this was indeed in operation although it took longer than the other lanes! The officier was very friendly, he asked me where I was flying and after I told him Liverpool he looked at my place of birth and said "Aha, and then on to xxx?". I was so surprised that I just laughed and told him yes, he was indeed correct, he wished me a good flight and I bid him goodbye.
Shopping galore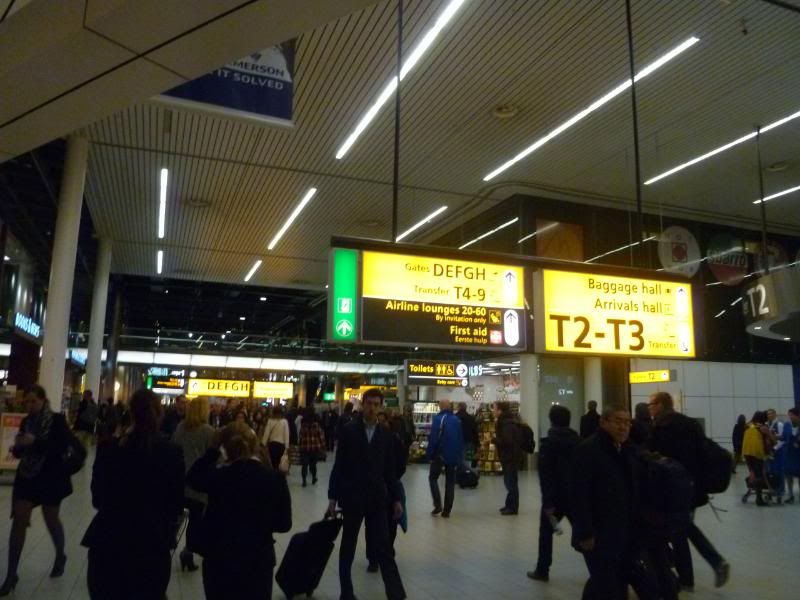 .
FIDS. Note the whopping 33minute walk to the LGW gate.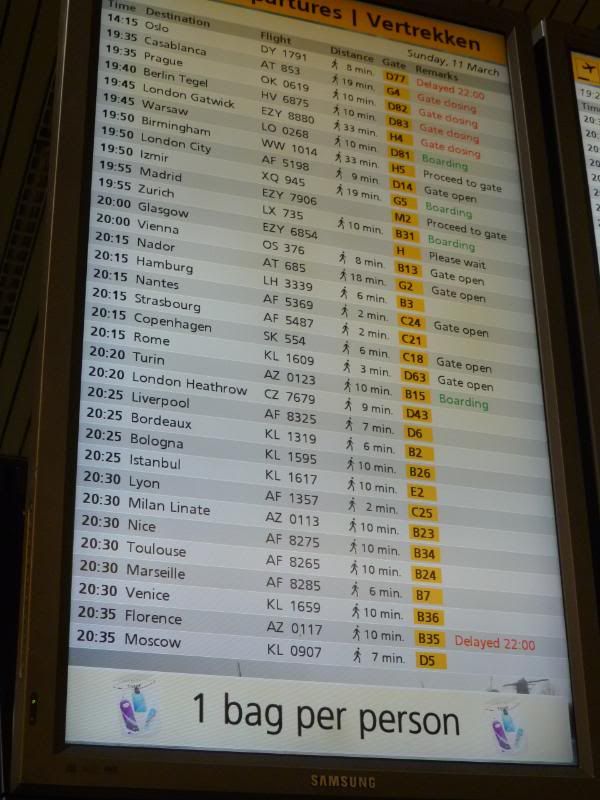 Nearly there
I was soon at the D gates and saw that I had to proceed down a staircase. This took me to a kind of subgate, all D6 but with different exits and all handling UK flights. There was a boarding pass & passport check, followed by security (with Eric's favourite body scanner) and again, all the staff were so friendly. After I cleared all this I had about 5 minutes to sit down before boarding began for Liverpool, perfect timing.
Departures D6. I like the way I took the picture right at the moment when the message changed from Dutch to English.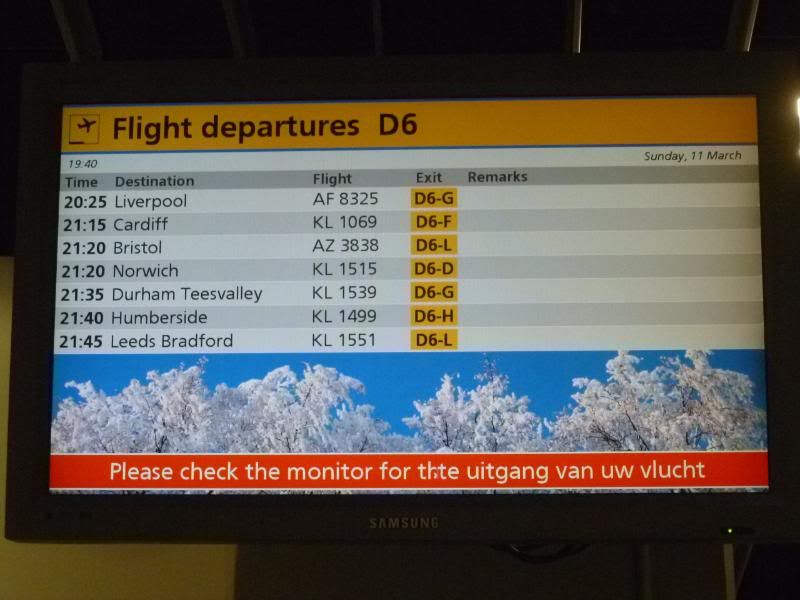 This area reminded me of the old B22-29 Non-Schengen gates at ZRH - not the most inspiring of places.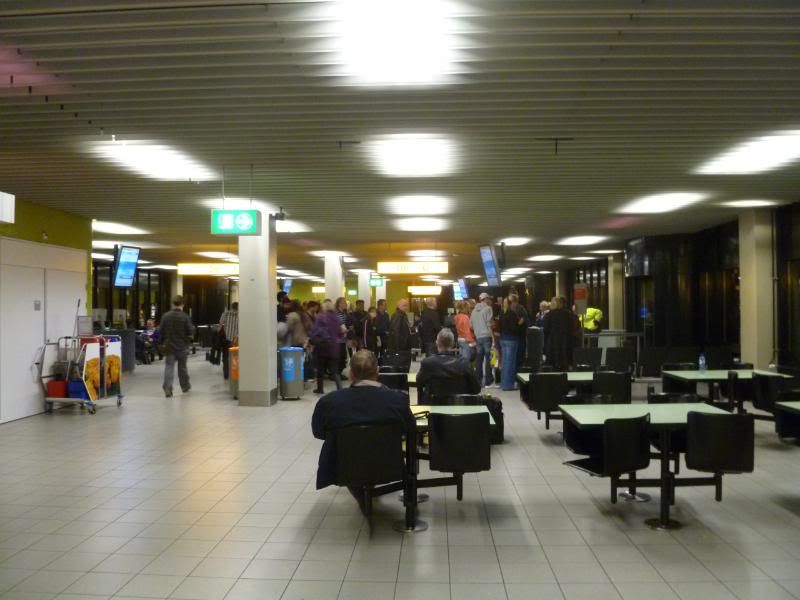 AMS-LPL
KL1045
STD 2025 / ATD 2036
STA 2045 / ATA 2037
F70 PH-KZL
Seat 7A
1st flight on the F70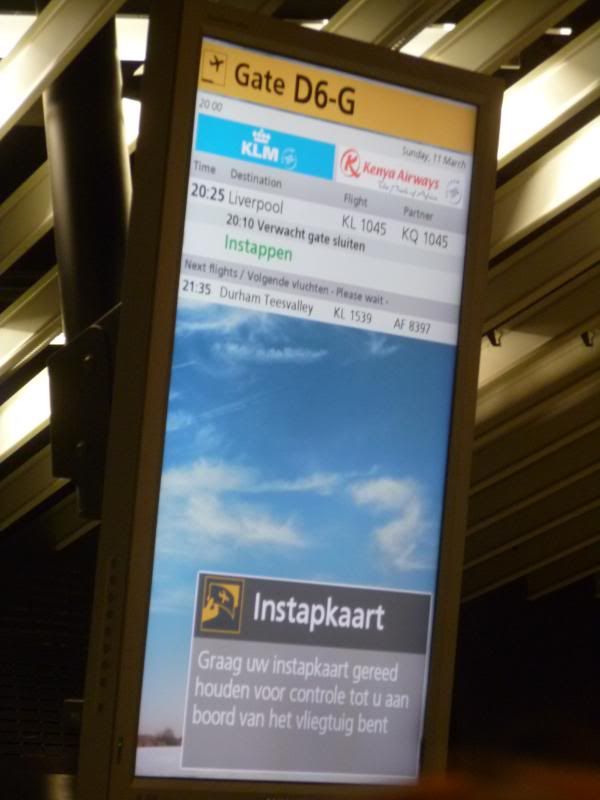 During the boarding procedure, quite a few passengers were given a new seat. I overheard one woman being reseated to 17A and I stood there, trying to remember whether the F70 has 16 or 17 rows and hoping this didn't mean I was about to board a F100, of which I have logged a few.
We were bussed out to the plane, a quick text to my Mum to let her know all was ok and before I knew it we were deposited onto the tarmac amongst a sea of cityhopper aircraft. I thought all the Swiss planes look cute at ZRH, but I loved the sight of these blue Fokkers and Embraers against the night sky. It makes you realise what a huge operation Schiphol is.
I boarded at leisure, taking in the coveted F70, that Lee, Eric & Robert sadly missed on their recent LPL-AMS hop. I never take the back rows on the Fokker, prefering the quietness you get up front, so row 7 it was for me.
Hurray, the F70!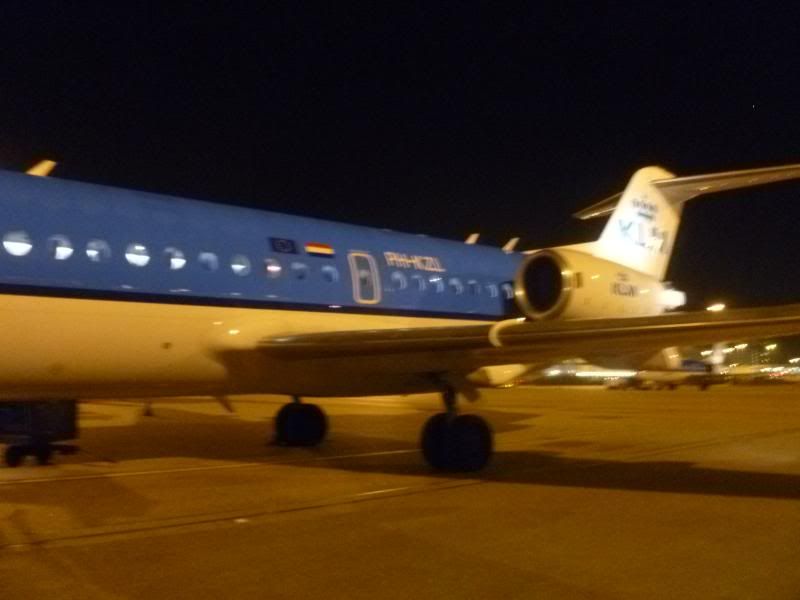 .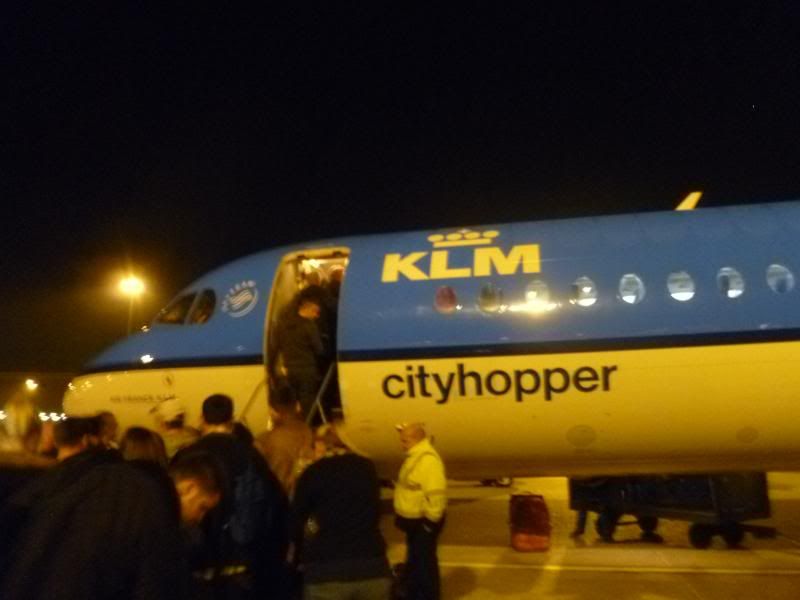 The second bus arrived and the aircraft filled up. A man sat down next to me, one of a group of Russian sailors, no doubt going to board a ship at Liverpool. They had caused quite a delay at the boarding pass check, as the staff needed to see their letter of declaration. The aircraft was about 80% full, not bad for a route about to be axed.
Cabin shot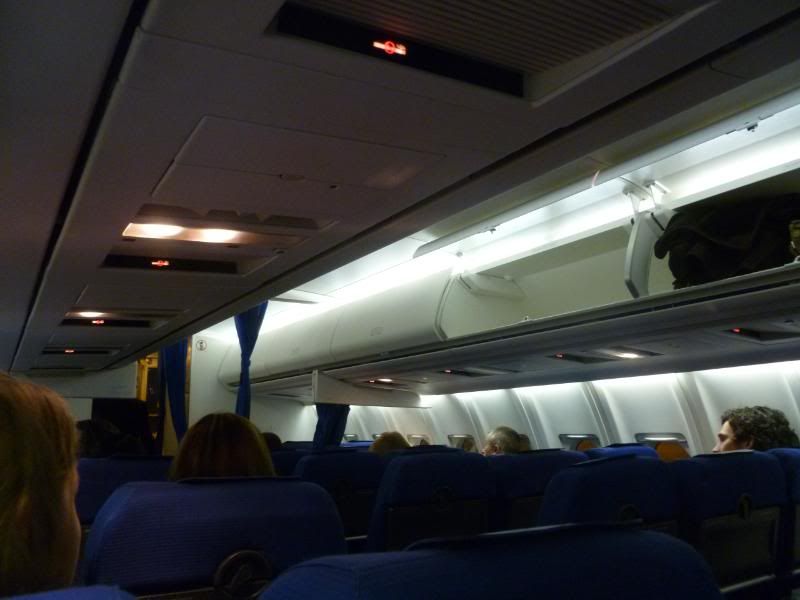 One male & one female member of cabin crew who welcomed us on board. We pushed back at 2025 and taxied at a pretty high speed to a runway far away. I won't even try and work out which one it was, perhaps Polderbaan? During this time the pilot gave us a brief speech. We took off 10 minutes later and the seatbelt sign was switched off an incredible 3 minutes after take off.
It was a clear night and we flew out over the North Seas, the ferries and tankers out and about were lit up and looked beautiful from above.
Leaving Amsterdam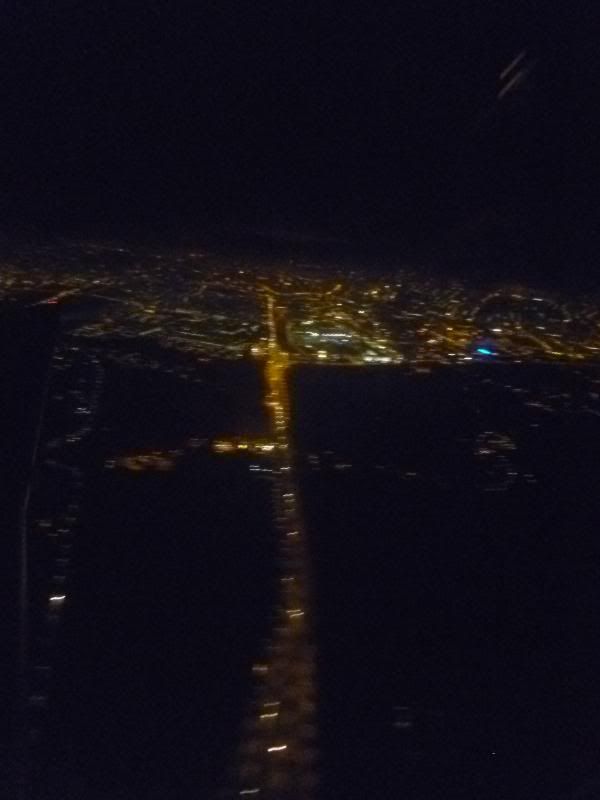 The service began, it was the same offerings as on the previous leg.
Legroom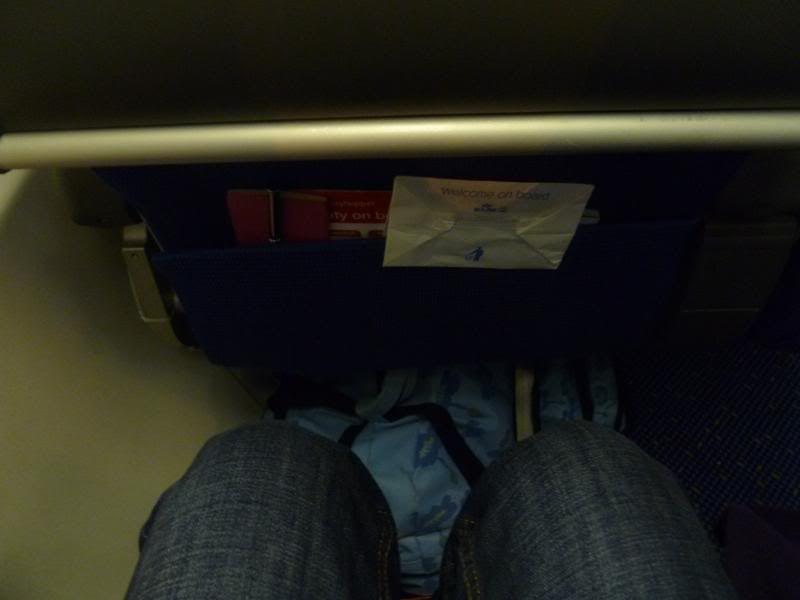 I listened to my ipod, dozed on and off until the pilot gave us some more info about out route, saying that we would soon be passing over Manchester and had already started out descent. Unfortunately the cloud cover built up and there were no more views to be had.
My family home is under the flight path for some of the aircraft arriving into Liverpool. Mum and I have developed a habit of shouting "easy" everytime an orange coloured aircraft passes over the house. KLM cityhoppers have also been spotted. Sadly, today there would be no waving as we emerged out of the murk and touched down about 10 seconds later. Thanks to the time difference, I had landed in Liverpool 1 minute after leaving Amsterdam.
It was nice to arrive at LPL again after 4 years. Some ladies further back were obviously even happier, as they started chanting "Liverpoool, Liverpooool"!
A short taxi to the stand and an even shorter walk to the terminal and passport control. Well, this part of the airport hasn't changed since I last used it, the immigration hall, no, portacabin would be a better description, was as uninspiring as ever.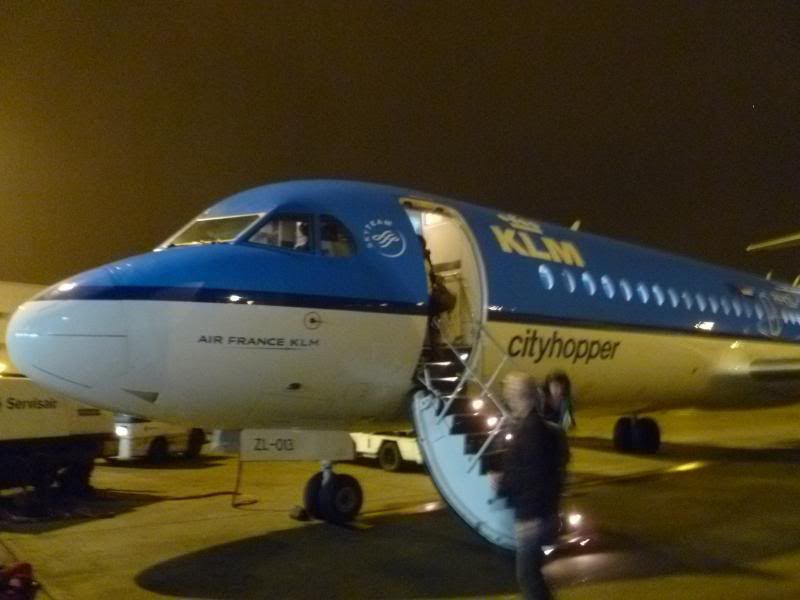 .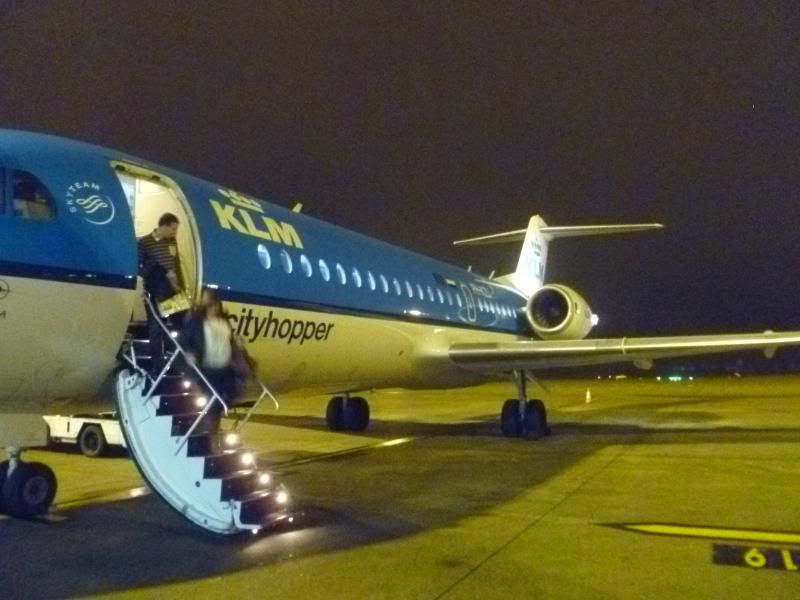 Baggage claim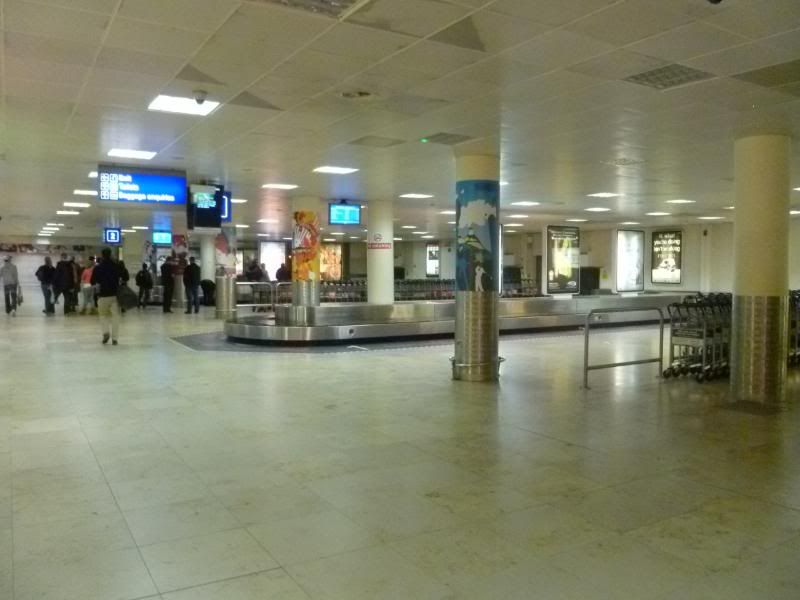 In baggage claim the belt was clearly marked as number 2 where eveyone had congregated, when eventually the bags appeared on number 1! Anyway, I was delighted to see my suitcase appear, I was convinced it was going to get lost in the catacombs of Schiphol.
Liverpool arrivals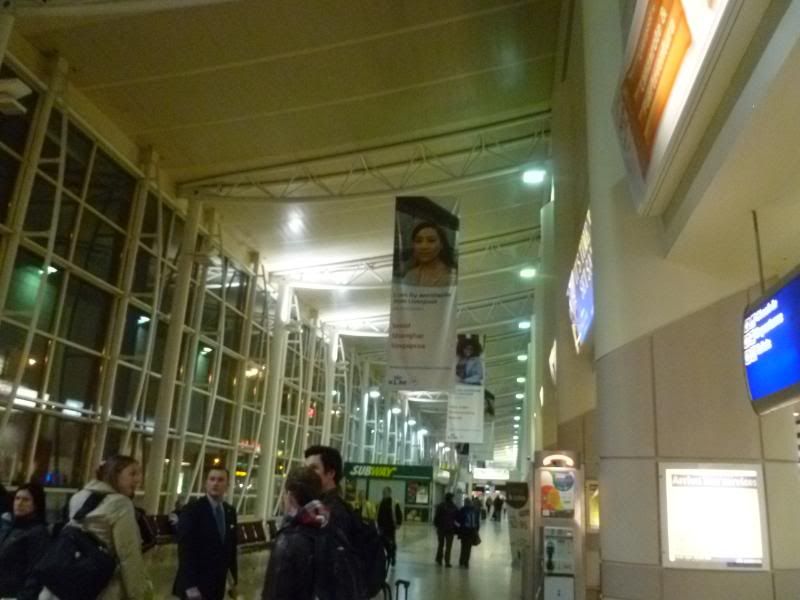 My ride was waiting for me and I was at my destination 59 minutes after landing, that has to be a record.
Not often I have a via tag on my bag