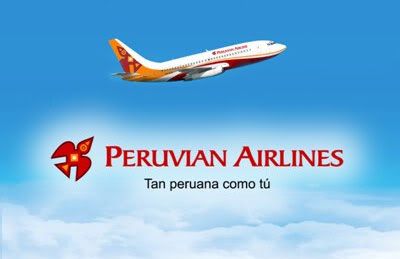 Hi guys,
I just recently published another internal Peru flight, if you like, check it out here:
Amazon Adventure- Lima To Iquitos With LAN Perú
(by
Checo77
Mar 25 2012 in Trip Reports)
1.5 years back, I took the exact same Peruvian Airlines flight to Cusco and made a TR too, so those of you who did not read it back them can do it now here:
Rare TR: Peruvian Airlines 737-200Adv LIM-CUZ-LIM
(by
Checo77
Feb 9 2011 in Trip Reports)
Introduction:
As many of you already know, I am Czech but live in Lima for a year now. I really love it here. Its a wonderful city and country. Peru is the 6th country in Latin America I live in and by far its my favorite.
Since I really love helping and have been a volunteer many times before (plus it will help me in my Masters Degree thesis) I decided to go to Cusco for a week long volunteering at local rural schools far away from the city.
After checking fares on LAN, TACA, StarPeru and Peruvian, the cheepest option was LAN for about USD 125, Peruvian was around 150 dollars. However, I realized that I can use my credit card points to redeem national air tickets, so I contacted Scotibank where I keep my account and confirmed it. Soon, I was holding a ticket at hand which an employee from the bank brought me home with a smile. The bank also told me they will check me in online and email me the boarding pass, which indeed happened. What great service, not possible in Europe at all. Another reason why I love South America, everything is so personal.
Peruvian Airlines is a nice Peruvian owned airline operating a mix of 737-200Advs and 737-300s only on national routes. They serve Lima (duh!), Cusco, Piura, Tacna, Iquitos and Arequipa. Last year, the goverment shut them down for about two weeks because there were reported mechanical issues with the airplanes. The license was given back but only to planes that undertook heavy manteinance checks. That is why Peruvian reduced its number of flights and destionations, they dropped Ilo, Pisco, Trujillo as I remember (they might be more, not sure where exactly they flew before the closure). The CEO of Peruvian accused LAN lobby for the closure, which he never prooved though. But its true that LAN hated (and still hates) Peruvian from the day they started, because Peruvian never charged double to foreigners which quickly became popular and Peruvian was taking away pax from LAN, which they did not like.
Check-in:
My flight was leaving Lima 9:30am, so I arrived at the airport around 8am. Traffic was bulding up, but I still made it quickly from my home in Miraflores which is pretty at the other side of the city and the airport is.
As I was already checked-in by my bank, I just flashed my BP and the agent checked my bag in less than a minute and I was off to security in no time. Great that there were no lines, counters of LAN and Taca were full of people, so I was really happy to be flying Peruvian today.
Flight:
14.03.2012
Peruvian Airlines
Lima Jorge Chavez Intl - Cusco Alejandro Velasco Astete Intl
Flight P9 216
Scheduled Departure: 09:30am
Scheduled Arrival: 10:40am
Actual Departure: 09:45am
Actual Arrival: 11:00am
Equipment: Boeing 737-200Adv
Load Factor: 100%
Seat: 5A
Lima domestic terminal was pretty busy this morning, with lots of flights departing, especially to Cusco. I am always amazed how LAN does it: their planes depart one after another to Cusco, like a metro. Incredible. Plus, there was Taca to Cusco too, flights to Piura, Trujillo and Chiclayo as well.
The nice DASH belonging to LC Perú, another airline I MUST try: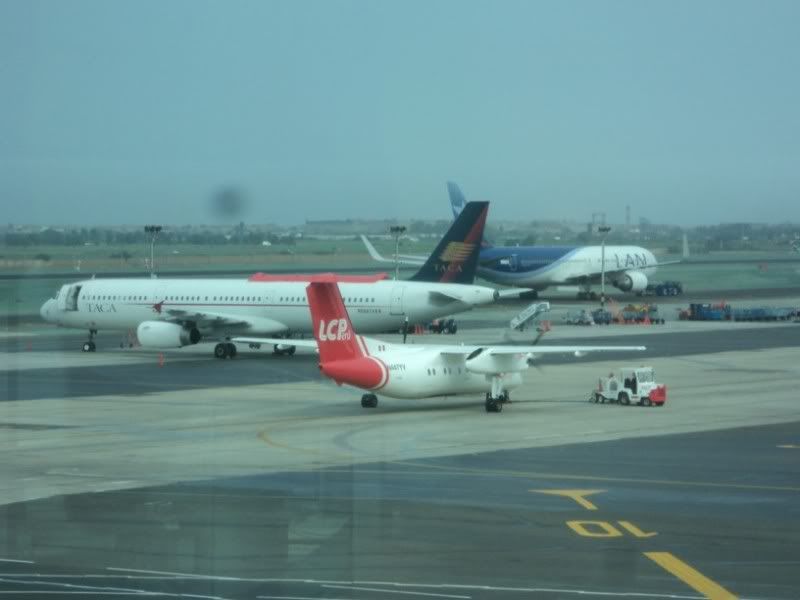 This Taca Embraer 190 was getting ready to CUZ and left just a little before us:
StarPeru off to CUZ as well: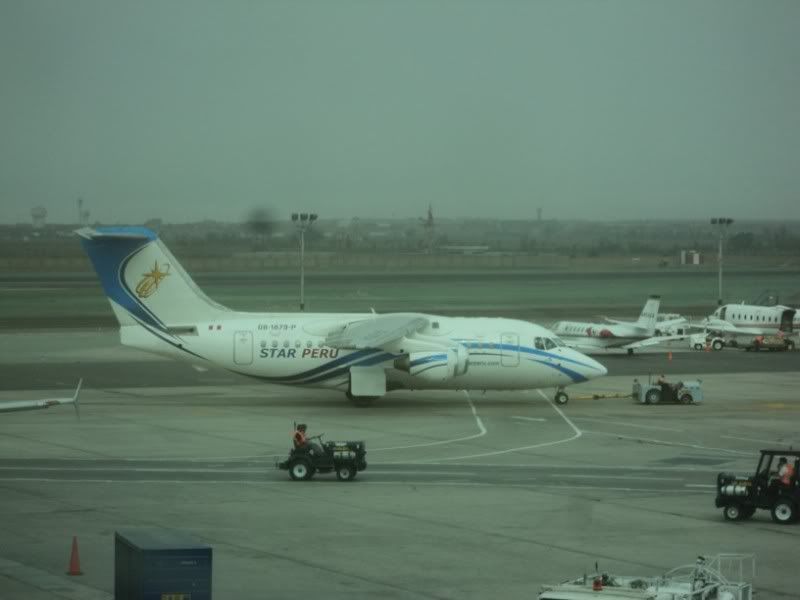 Boarding was called a little late, about 15min before scheduled departure. What I loved was that there was a gate change and we will board via bus, which is amazing!!!
Taca A321 in the old colours: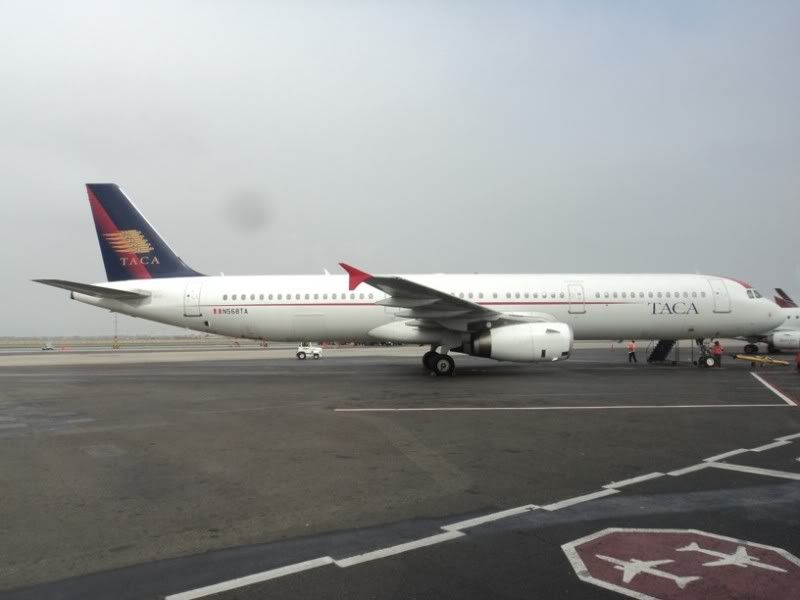 Taca Embraer in the new colours: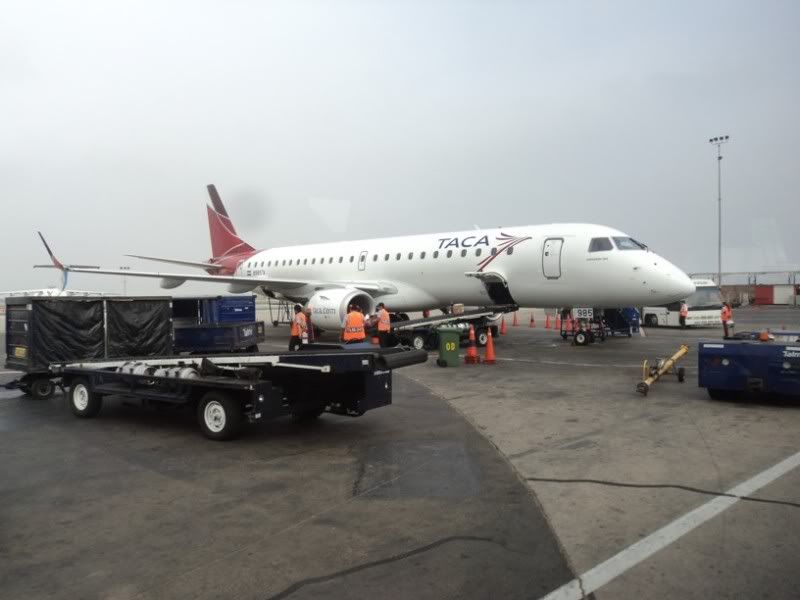 Our plane parked aside a StarPeru plane in old colours: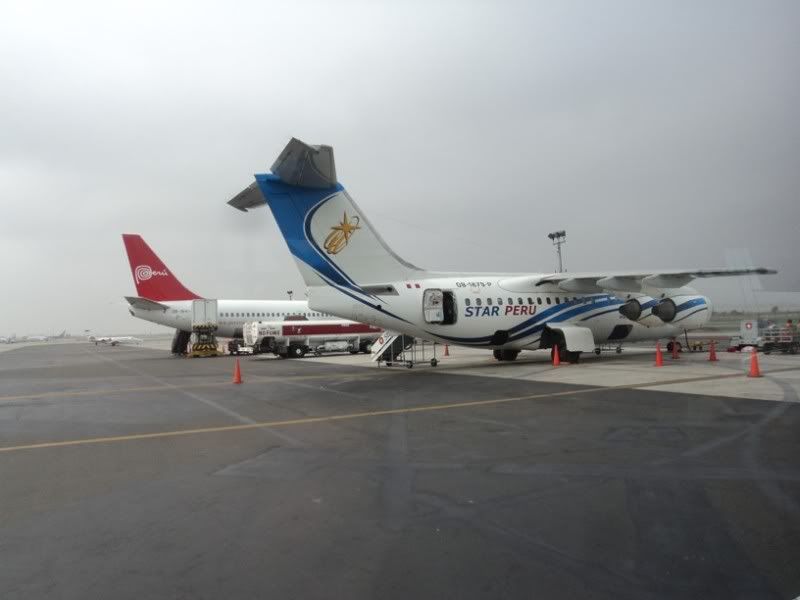 Our beast: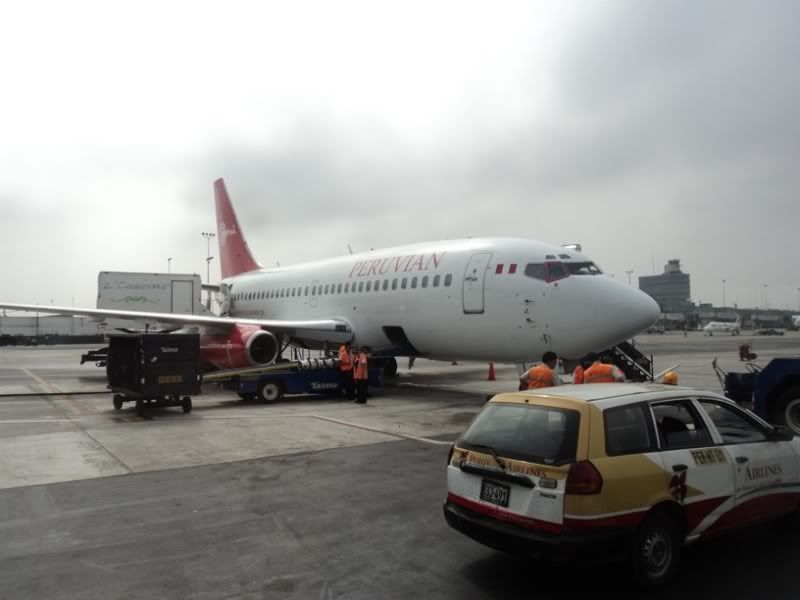 I just LOVE these engines!!!!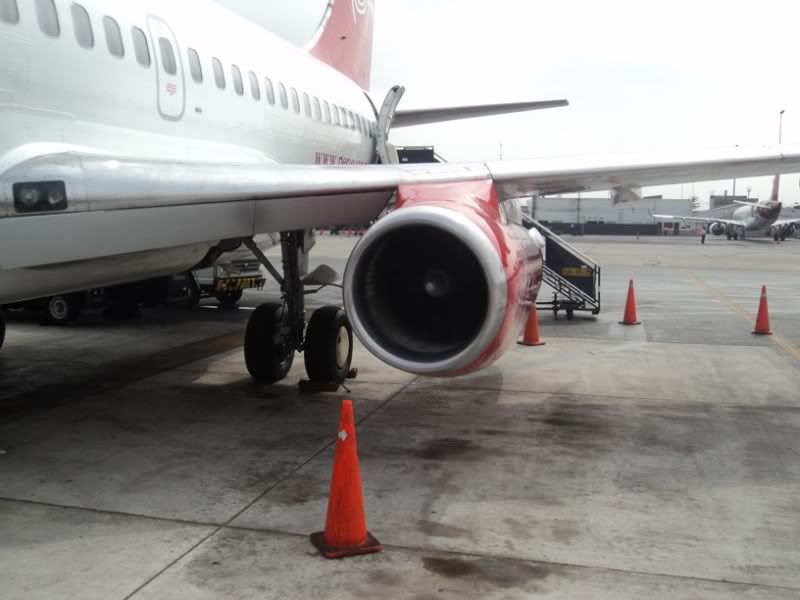 The fuselage: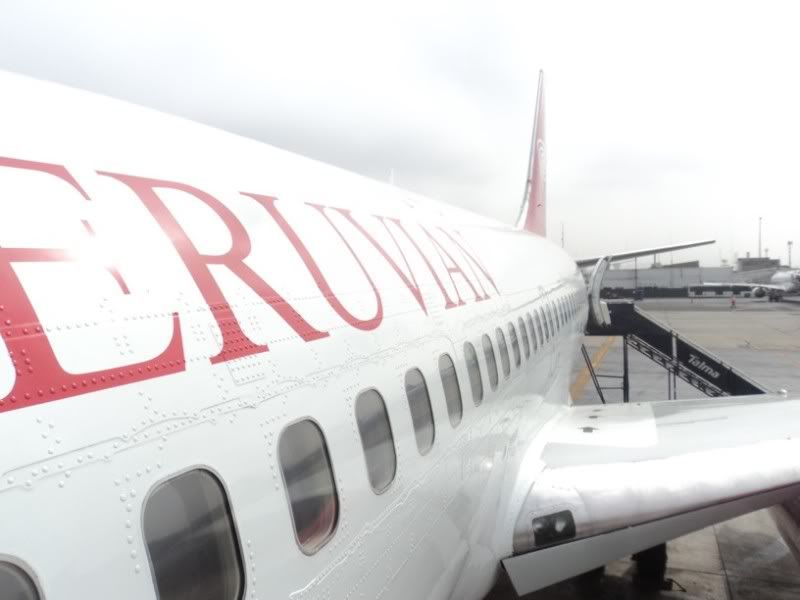 The lightning was very bad for taking pictures, plus the mass of pax boarding did not allow me to take any more, since they were constanstly moving and I if stoped, they would run me over. Sorry guys.
Smart looking, VERY confy leather seats: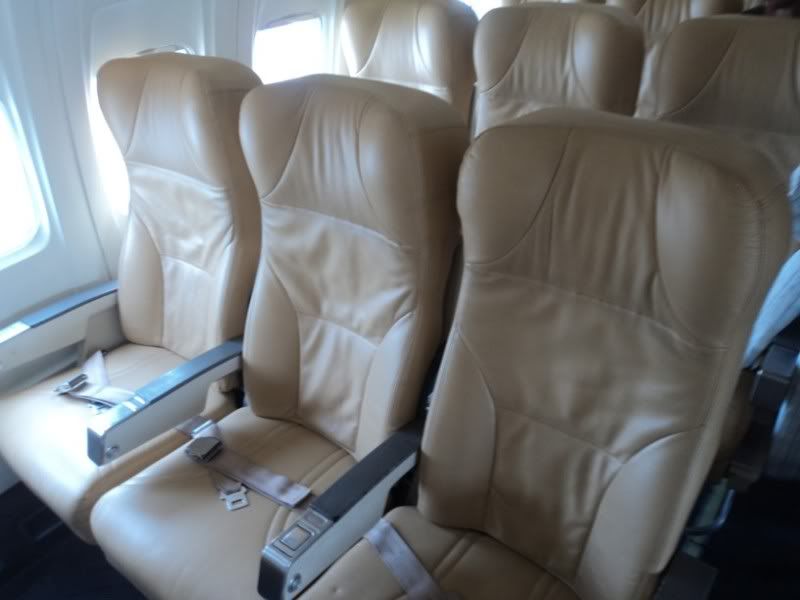 People boarding: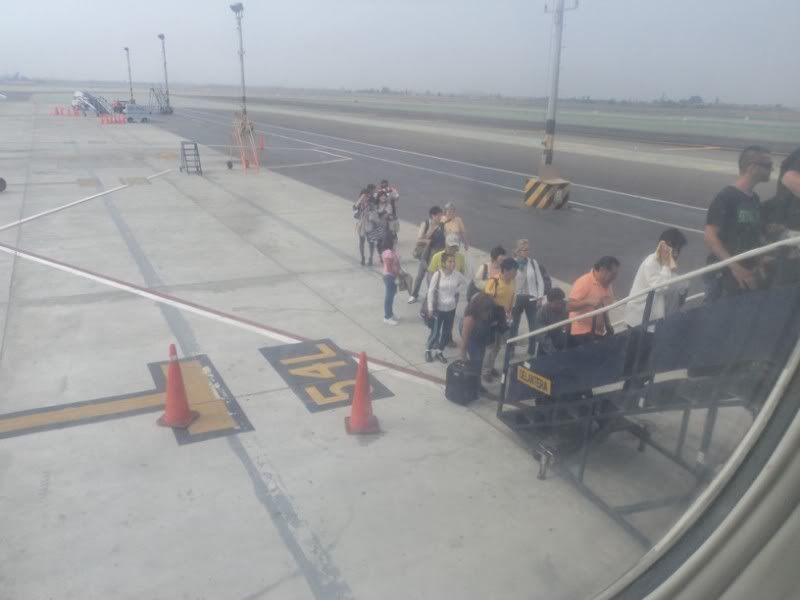 I am in love!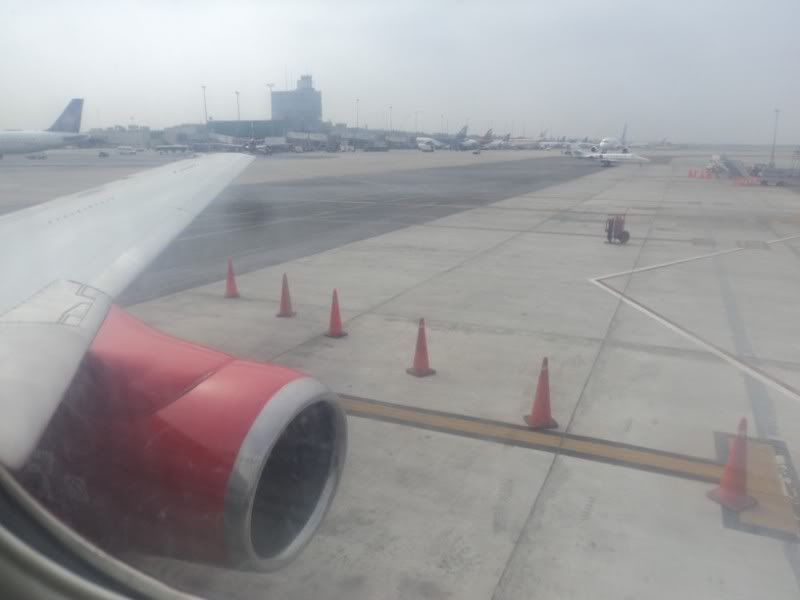 Classical Boeing overhead panel: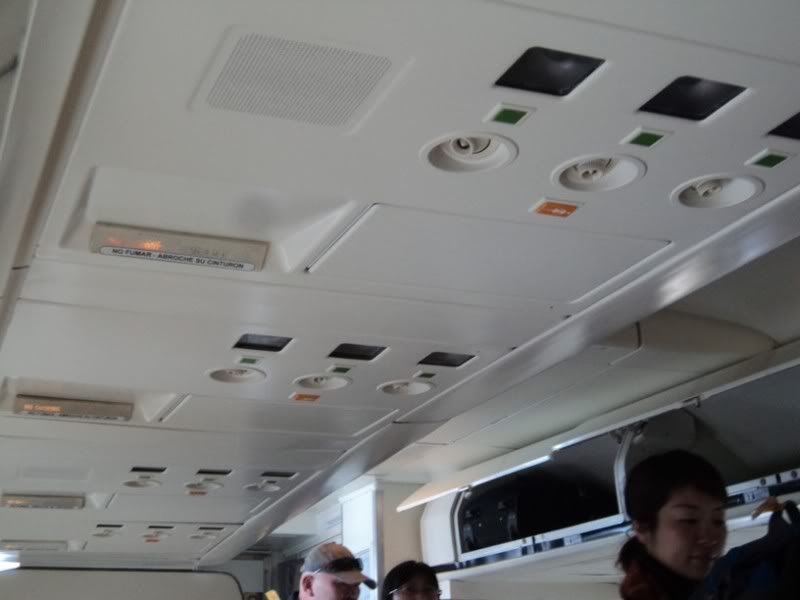 Do not smoke!!
Knee shot, very good pitch:
The seat was very very confortable. I would not mind at all flying like this trans-atlantic, not even trans-pacific. And I am fairly tall (compared to Peruvian people) with about 190cm, but still I did not felt cramped. Much better than my TAM Brazilian experience on the FRA-GRU flight on their 77W.
The crew was super nice and consisted of two female and two male flight attendants. Pretty nice! On the LAN flight I took to Iquitos a few days back, on an A319 there were only two FA´s. Not sure if LAN deploys more FA´s to CUZ, but definitely 4 FA´s for a 732 is a great number (seen from the pax point of view).
I love the fact that a lot of foreigners fly with Peruvian. I was seated next to a French guy, there were lots of Americans, even Japanese (or Chinese or Korean, not sure). But most of the pax were Peruvians.
The flight turned up to be completely full. The doors were closed at the time we were supposed to be taking off already, but I was not in a hurry so I didn´t mind. The capitain welcomed us on board and apologized for the delay, but no explanations as to why this happened was given.
The crew performed the safety demo in both Spanish and English, however, the English of the FA speaking was not very good, so I did not understood a thing. But I speak perfect Spanish, so no problem, plus I fly a lot so I know the procedure very well.
The 737-200Adv roared off LIM airport behind schedule. The take-off was amazing, the engines even though they are slim are very powerfull, plus they have this nice sound, which is very different from the newer engines.
Leaving the world´s second largest desertic city behind: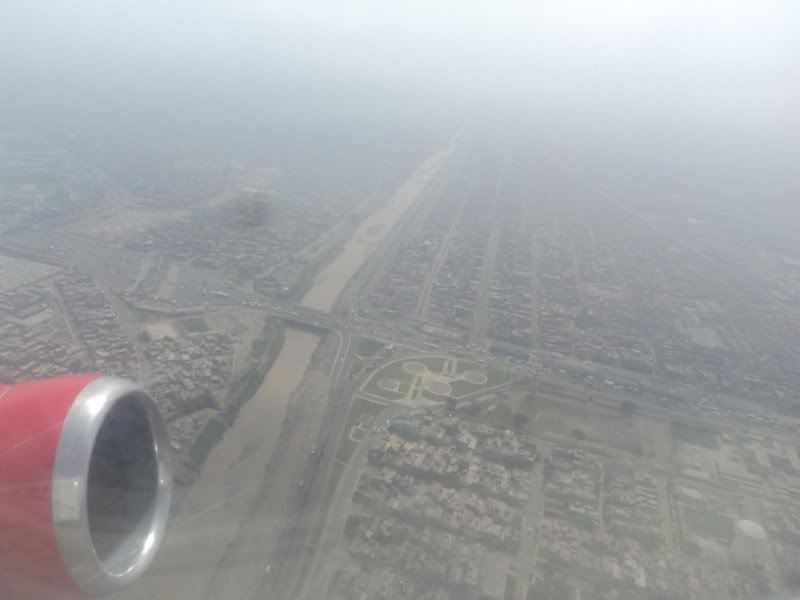 Nice views as we approach the Andes: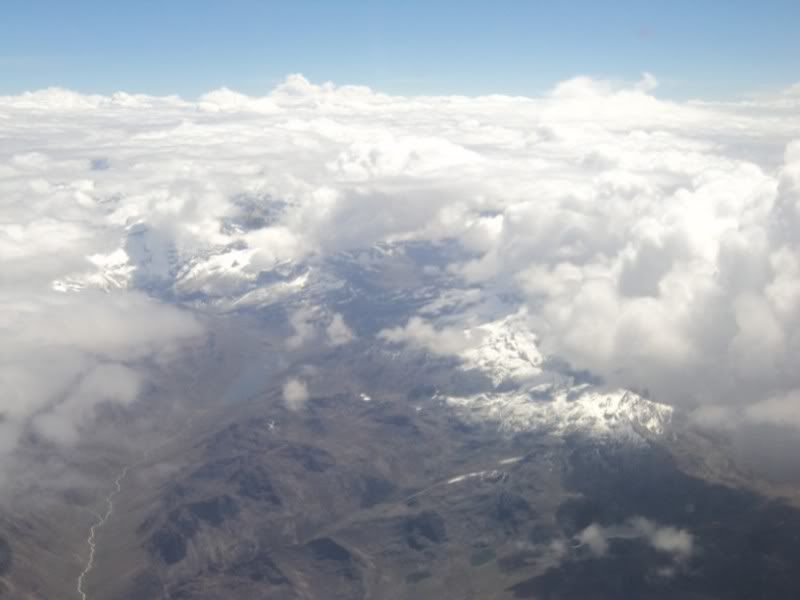 Very soon after takeoff, the service starts. Since it´s only an hour long flight, the crew must be quick and efficient. And they were, but never forgetting to smile. Very nice!!
Snack boxes were distributed: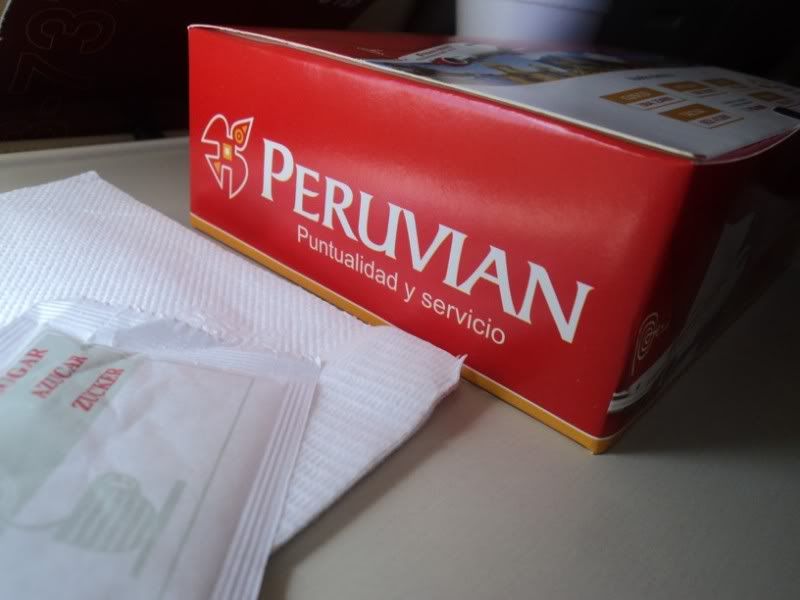 It contained a fresh and nice cheese sandwich and a delicious piece of chocolate cake: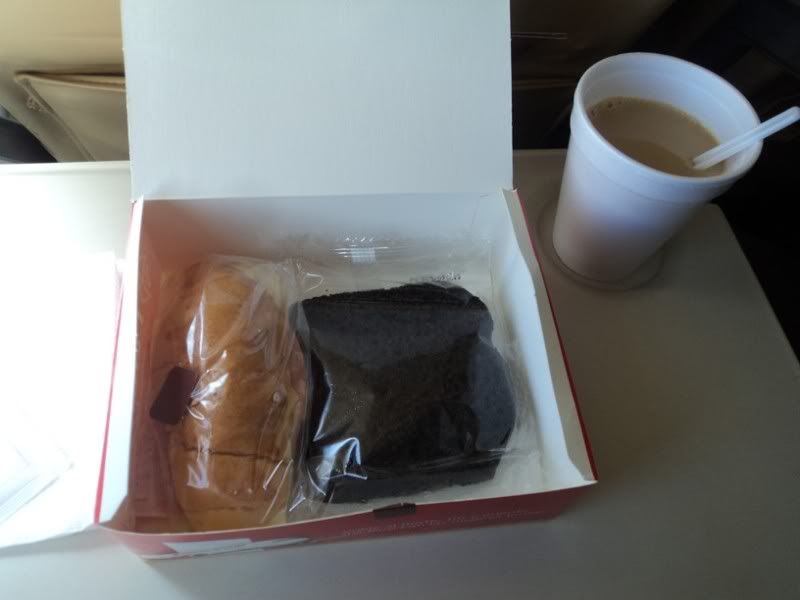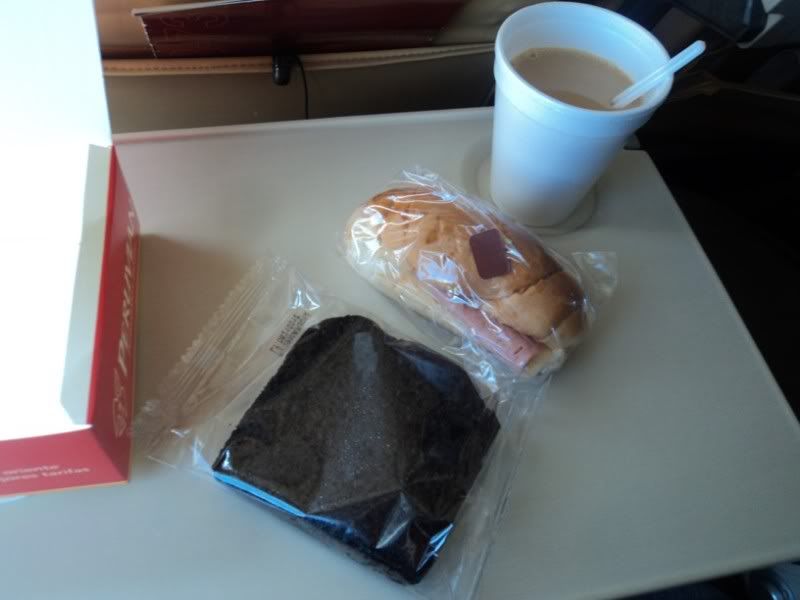 I was very very satisfied with the snack. The sandwich was fresh and the cake was spectacular (looks very indiferent, but trust me, it was heaven!). Much better than what LAN offered us on our flight to Iquitos.
For the rest of the flight, I listed to my ipod and enjoyed the amazing views of the Andes. It was cloudy, but from time to time one could spot a snow-capped mountain or a beautiful lagoon, but picture-taking was difficult, because the sun was very strong and the pictures came out very very white
Soon, the boxes were collected and the plane started its descent. The capitain informed us of nice landing conditions and that we will be arriving soon and will have an airbridge available at CUZ.
The views were spectacular: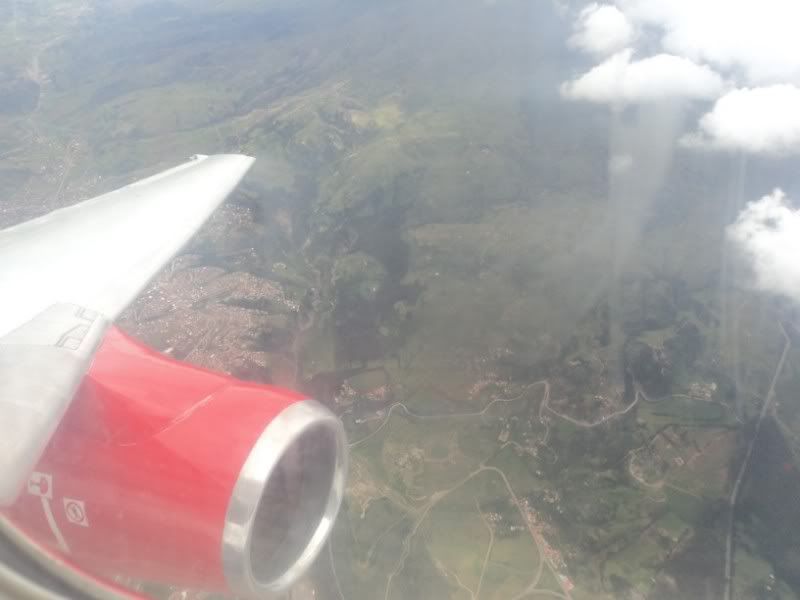 I am not sure if you are familiar with the approach to CUZ, but the plane basically overflies the city and the airport before making a very tight bank to the left quickly descending around a mountain, alingning to the runway just a few minutes before touchdown. Its not the most dangerous, nor the most exciting approach on Earth, but at least in Latin America, I think it earns its spot in the TOP 10.
Downtown Cusco with the main square clearly visible: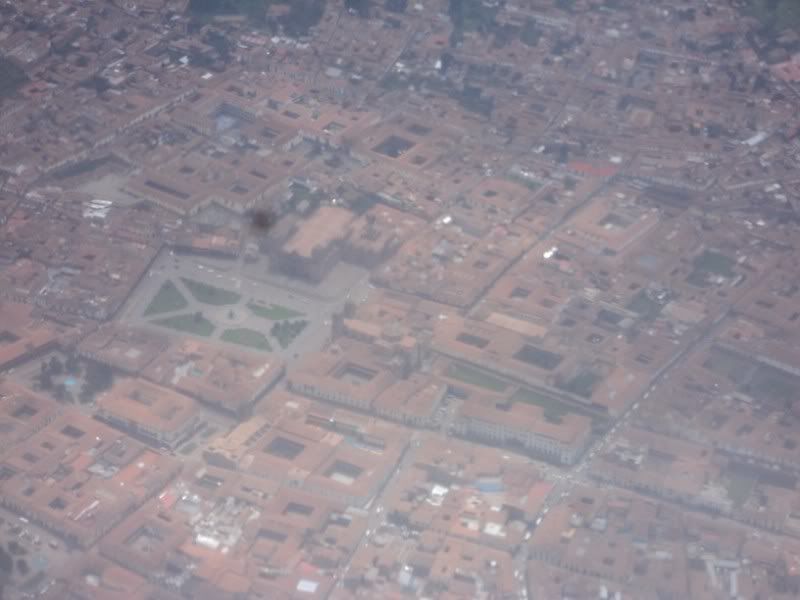 Alejandro Velasco de Astete Intl: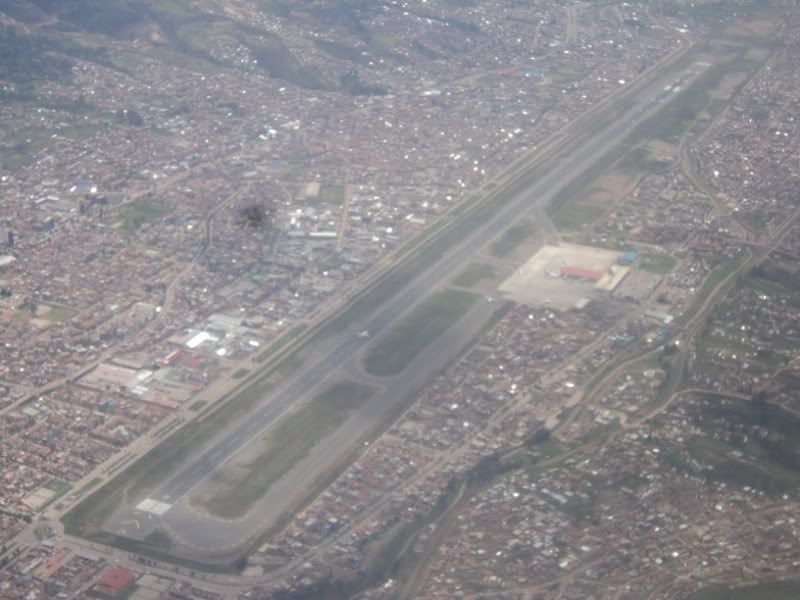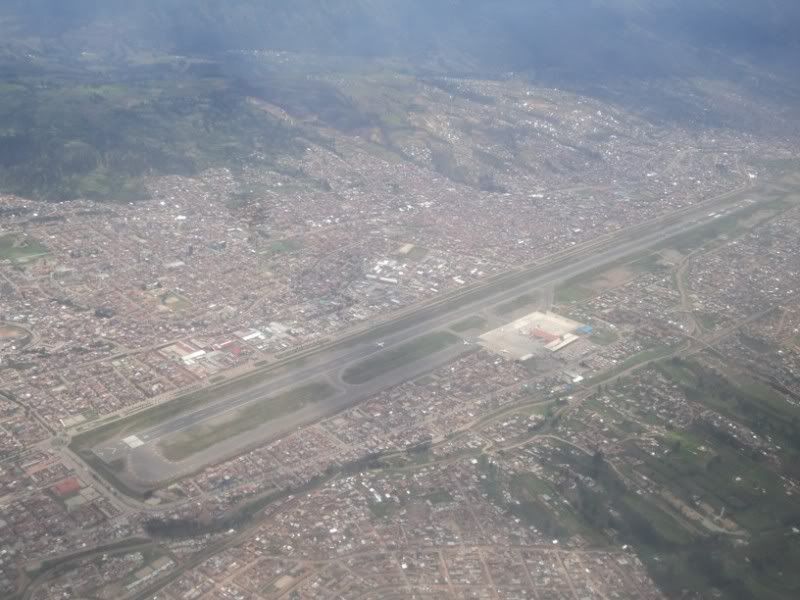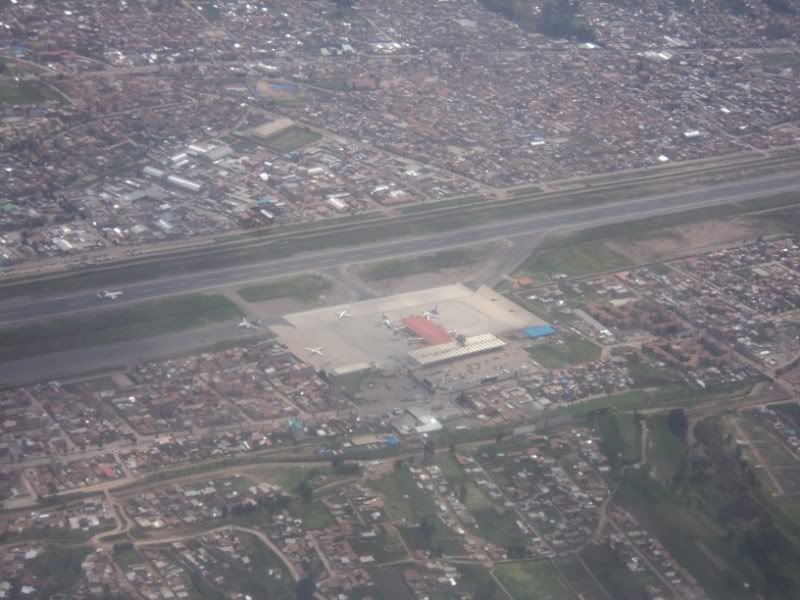 The turn begins with a steep bank while quickly descending: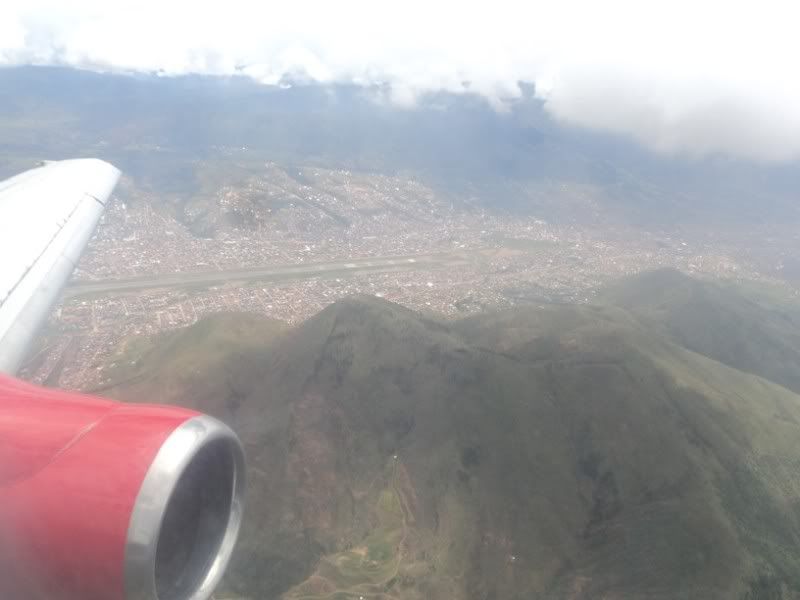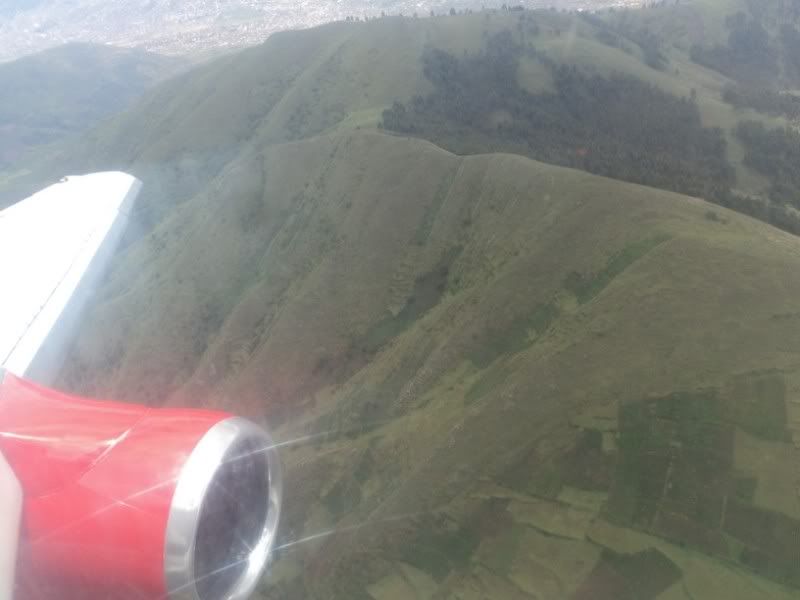 Can you spot the threshold of the runway?:
Seconds from touchdown: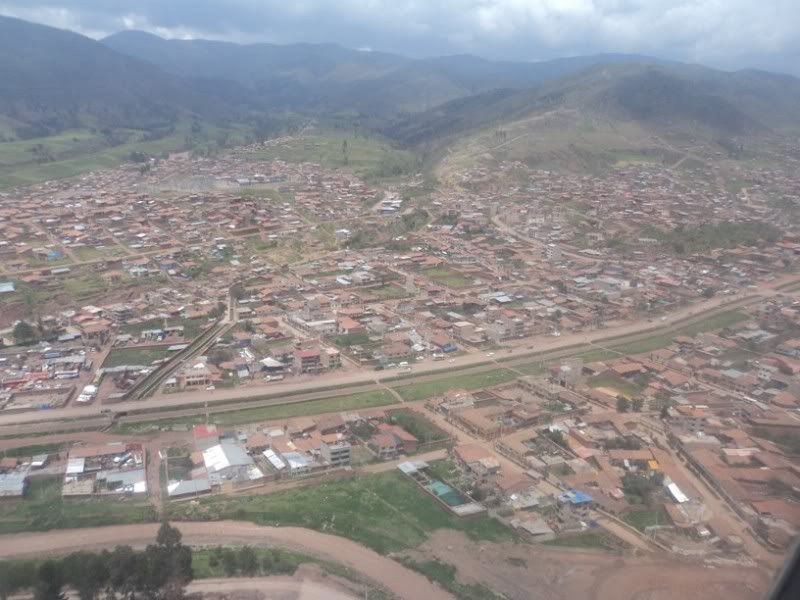 Welcome to Cusco: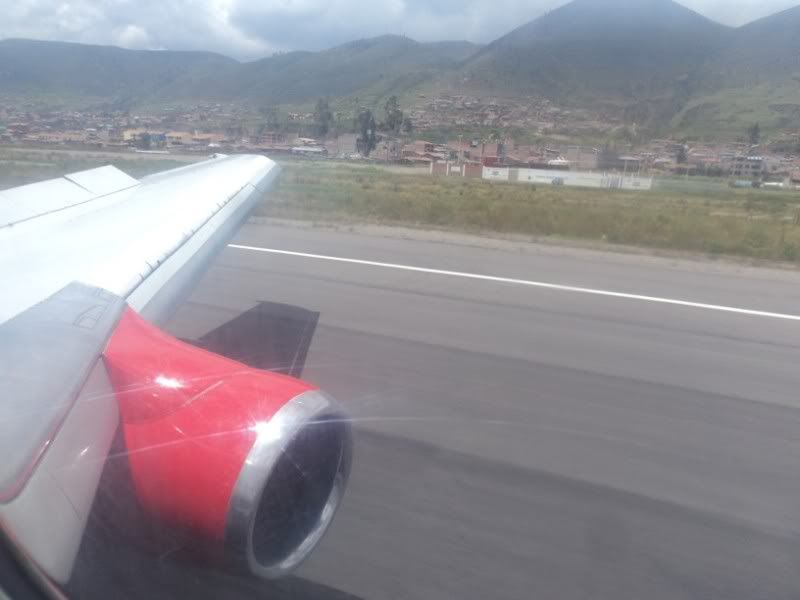 What stiked me odd was that seconds before touchdown, the capitain increased speed significantly, which I never felt so strong as that day. The engines roared and I though we are going around, but we landed smoothly. Is this a need when landing in high-altitude airports? Maybe somebody who knows more can tell me
We made our way to the gate: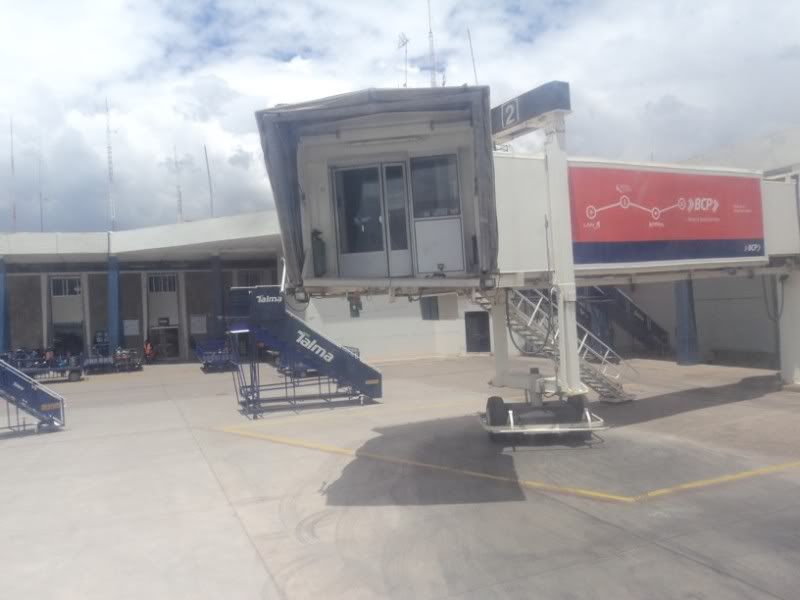 I was determined I wanted to see the cockpit, so I waited until almost everybody was out and I asked the capitain who was standing at the door biding farewell to the pax if I can take a peek. He told me "absolutely, why not, feel at home". Oh God, I never get tired of the warmth of Peruvian people.
Cockpit pics: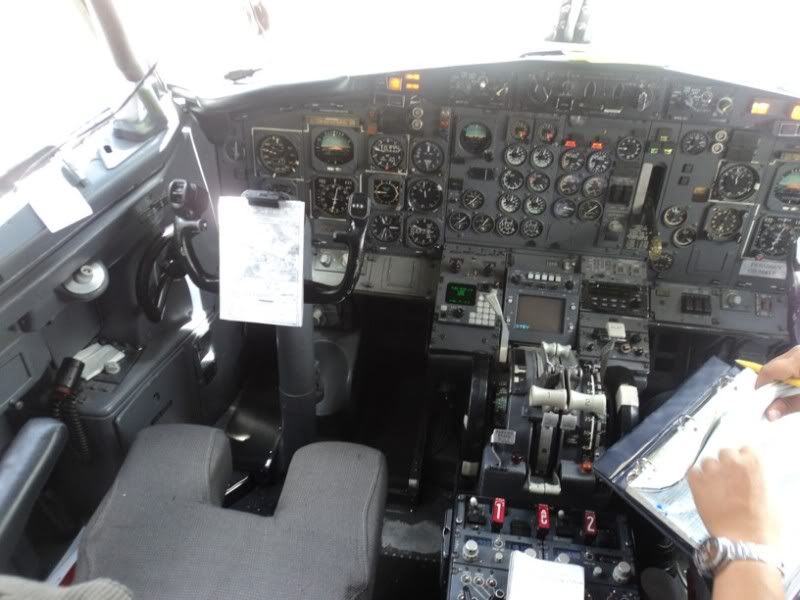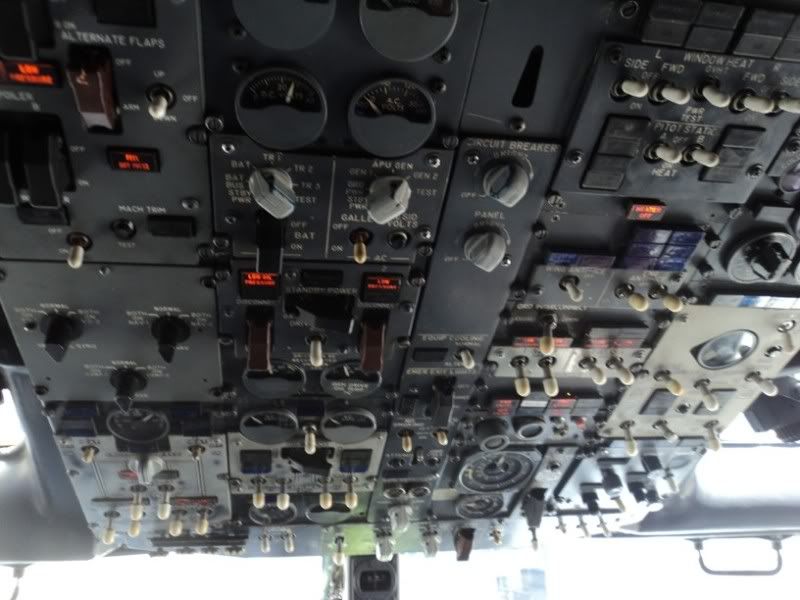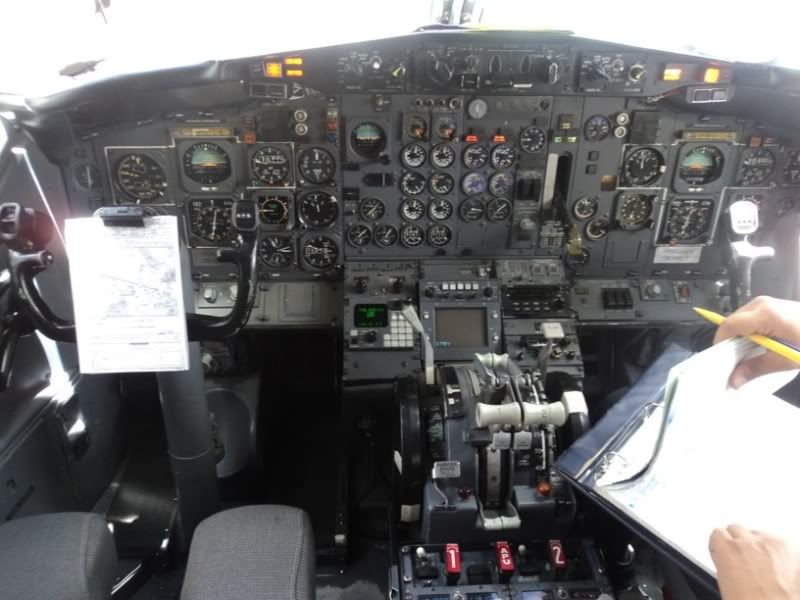 Its not very much visible, but the altitute indicator is stucked at 10800 feet, altitude of Cusco: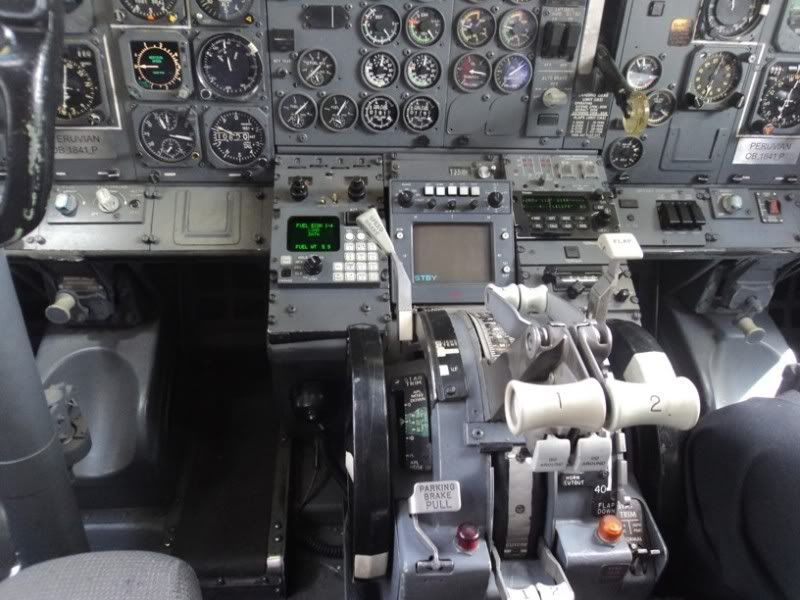 I had a very nice chat with the copilot. I told him about my hobby and about this site, which he was very interested in. He told me he loves the 732, because to use his words "it´s a plane you feel you fly, its not as automated as newer versions". I liked that. He told me Peruvian is slowly phasing out the 732s (Oh noooo
) and introducing more 737-300s and also (which I was suprised to hear) buying second-hand 737-400 and even 737-700NG!!! Does anybody (maybe Ragazzo) have any info if this is true? I doubt the pilot is lying. If this is true, I hope Peruvian starts international flights as well.
Our beauty, featuring a "marca Perú" or "Peru brand", Peru uses for marketing: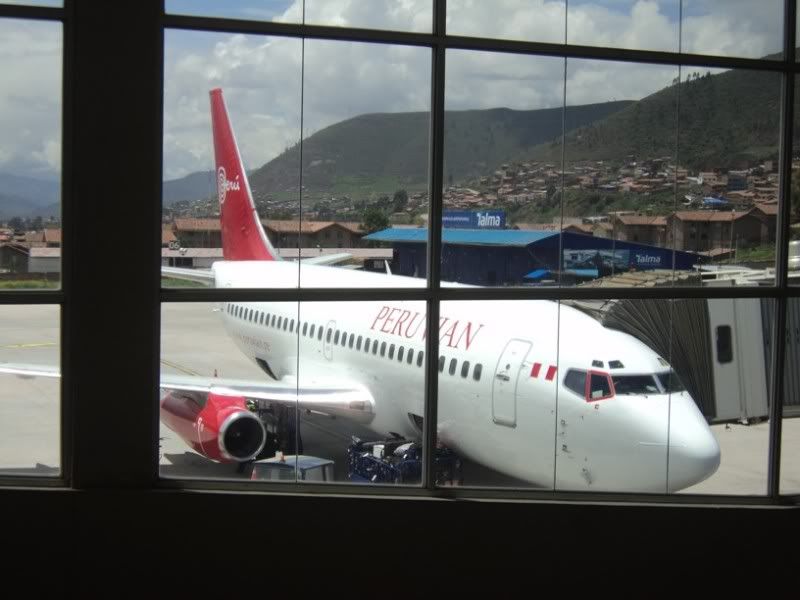 Actually the Peru brand is a very intersting thing, it has a unique design that dates back to the Inca times. Also, the idea of the brand and the campaing is that every Peruvian person or Peruvian company (or product) is the EMBASSADOR to the country. They have this wonderful slogan "everybody is invited to be the embassador of our country". It is supposed to evoke national pride in Peruvians and working on the premise that a proud person will represent its country better than a million-dollar campaing.
This is how the brand looks like:
If you have time, watch this 15min spot the Peru brand made when they iniciated their campaing. It was a great hit in Peru, I really encourage you to watch, you will learn a lot about Peru in a very funny way:
http://www.youtube.com/watch?v=MGATPOPKy7Q&NR=1&feature=endscreen
Another Peruvian 732 at the gate with its great rival taxiing: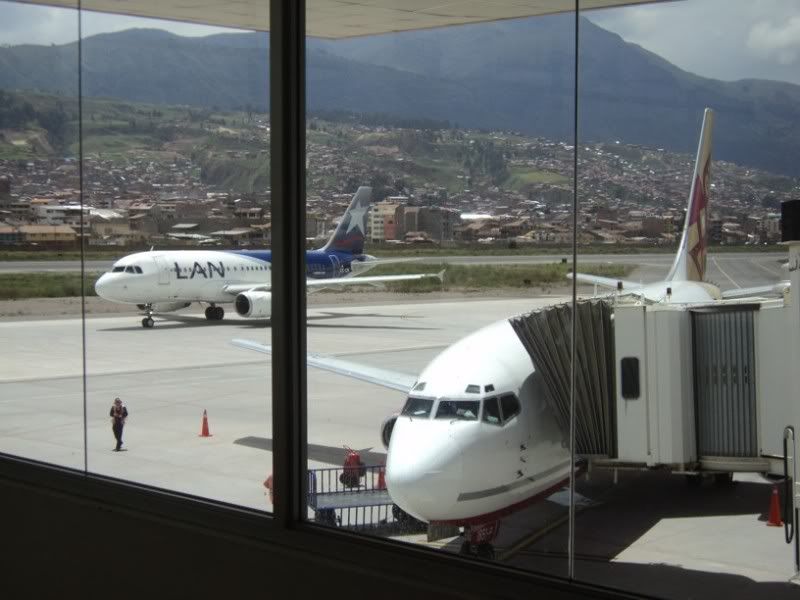 A StarPeru at the gate: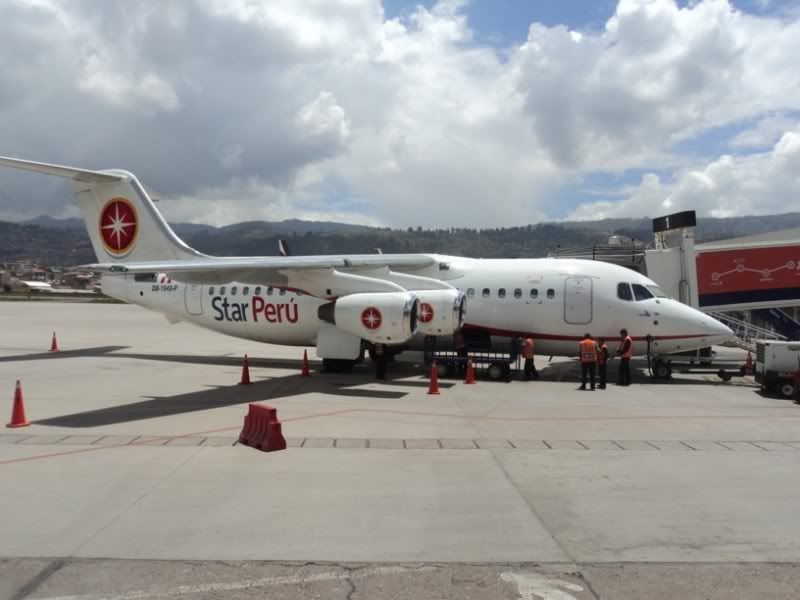 Destination pictures:
As told at the begining, I went to Cusco as a volunteer. I met Walter, this super friendly Dutch guy who runs his own NGO called HoPe (Foundación Holanda-Perú) which helps schools that are heavily under-financed by the state in the rural areas of the region.
If you get interested in the foundation, they have very nice web pages and if you fancy more info, send me an inbox
Cusco cathedral: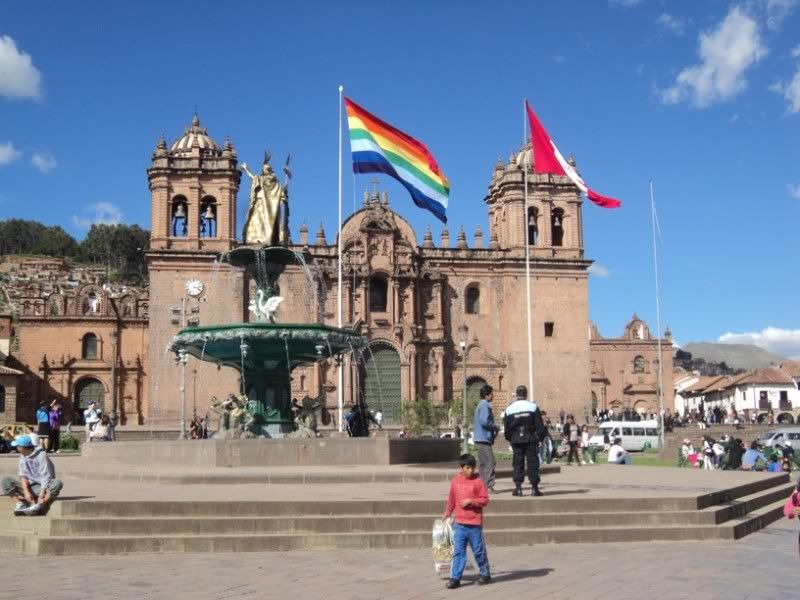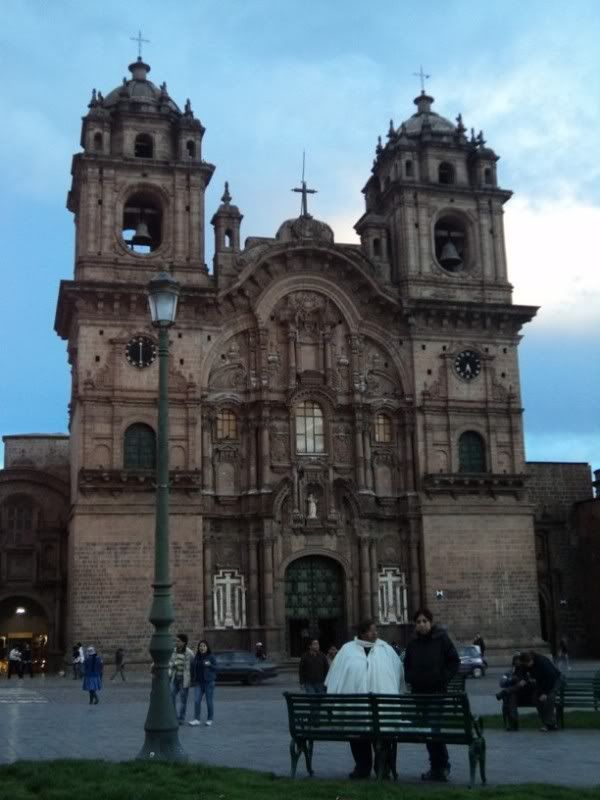 Smallest church ever?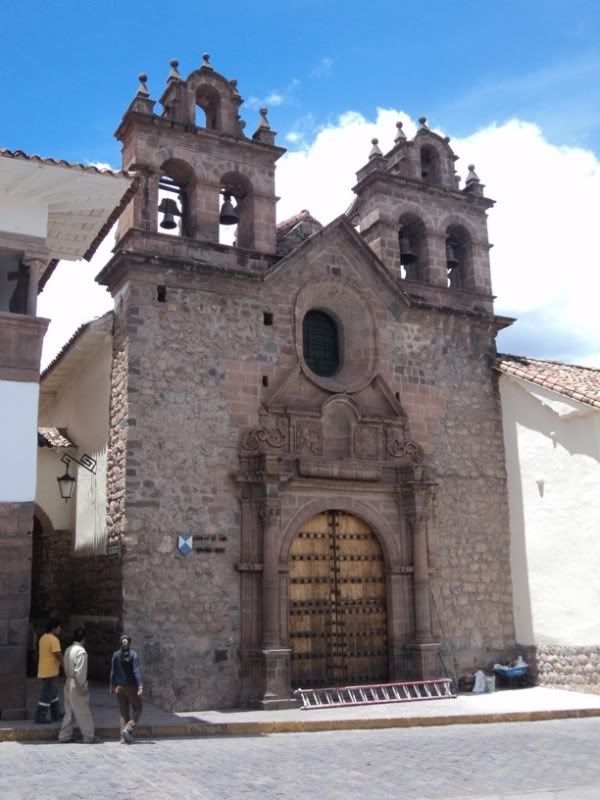 Kusipata square:
Cusco from heights: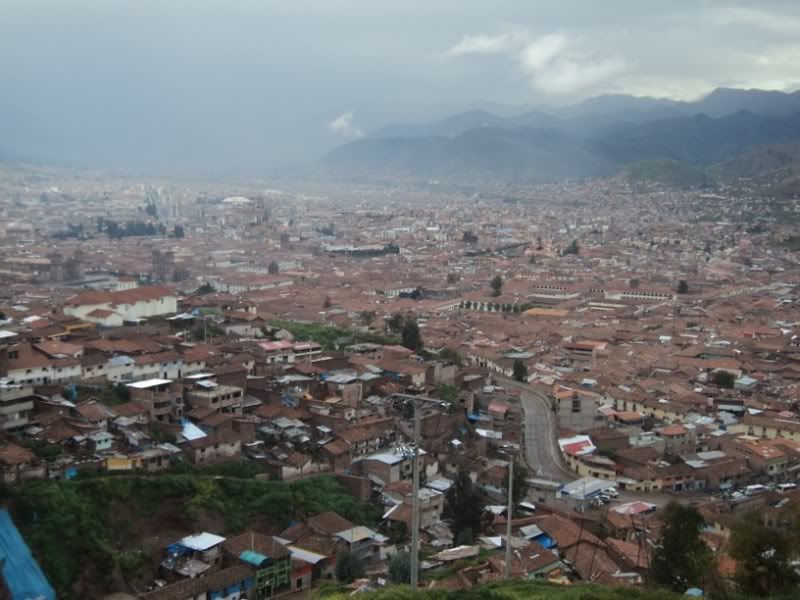 Maras salt mine, where they extract the finest pink salt in the world: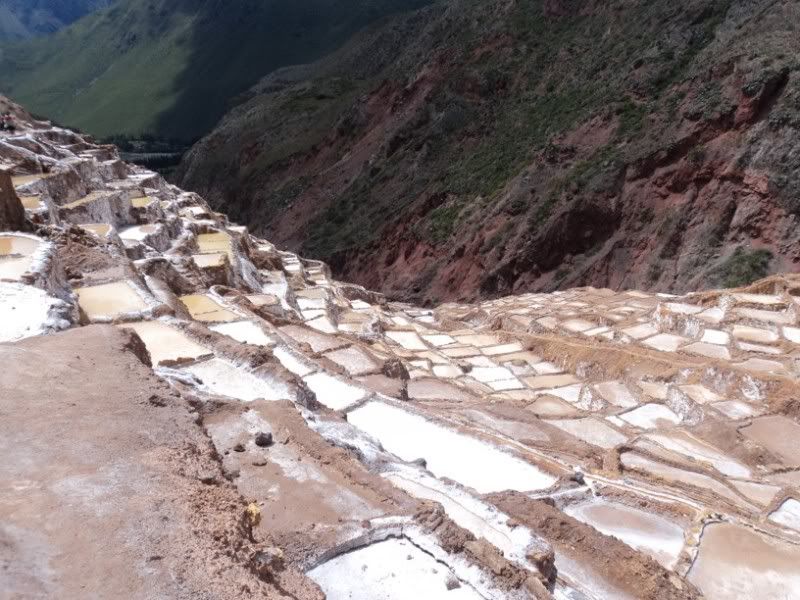 Sacsayhuaman above Cusco: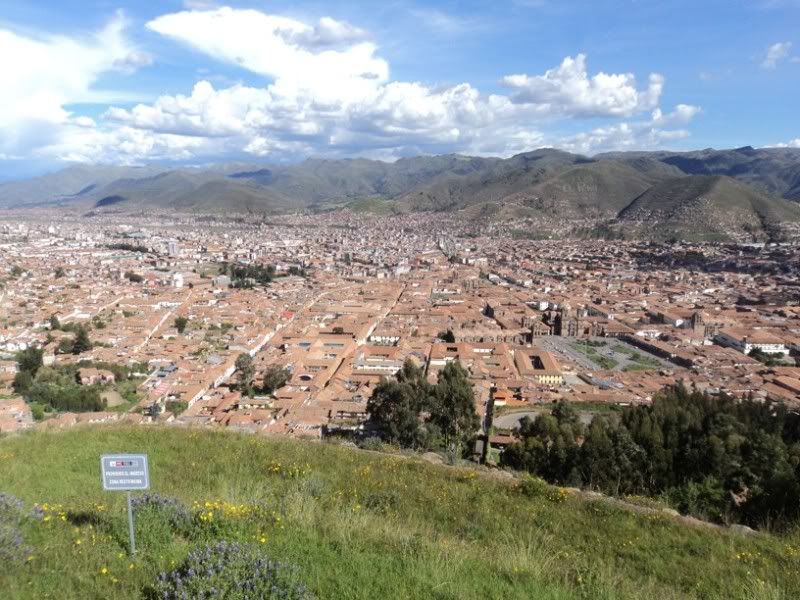 San Blas square: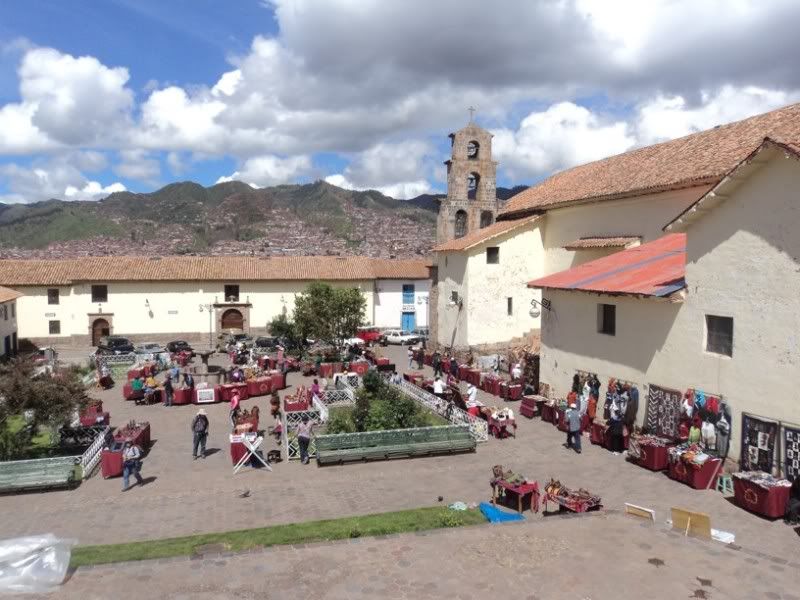 Coca ice-cream, really yummy!!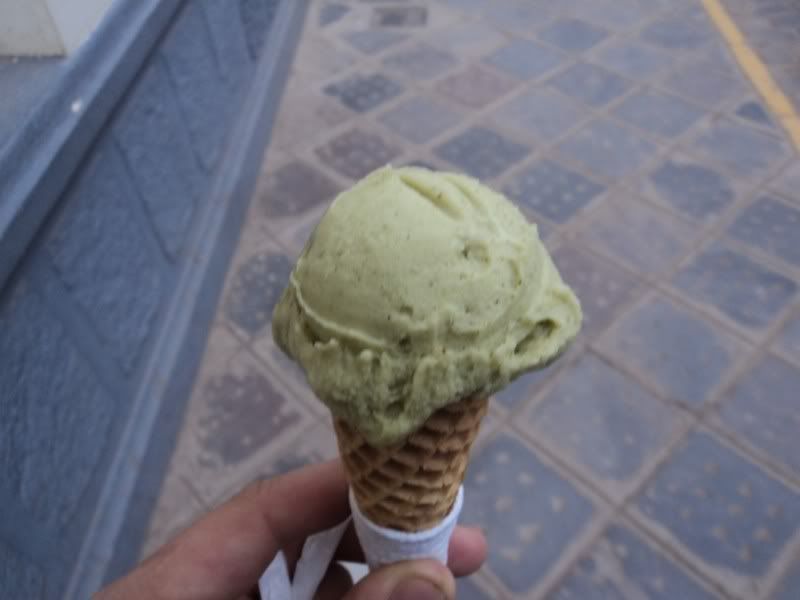 Coca tea, the only remedy to altitude sickness: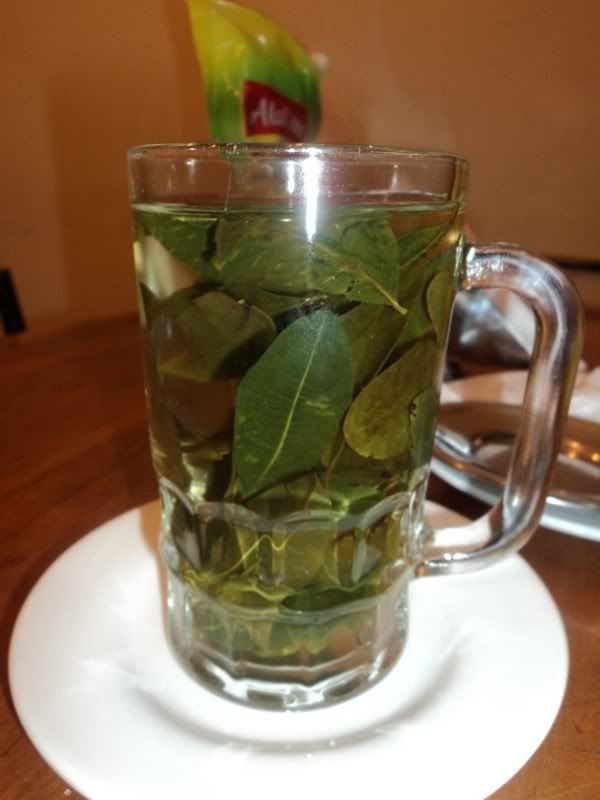 On my way to Tiracancha, a community 3hrs off Cusco to visit the local school:
Tiracancha school:
Chumpe-Poques school, 1.5hrs off Cusco:
Bacaleurate students at Chumpe-Poques: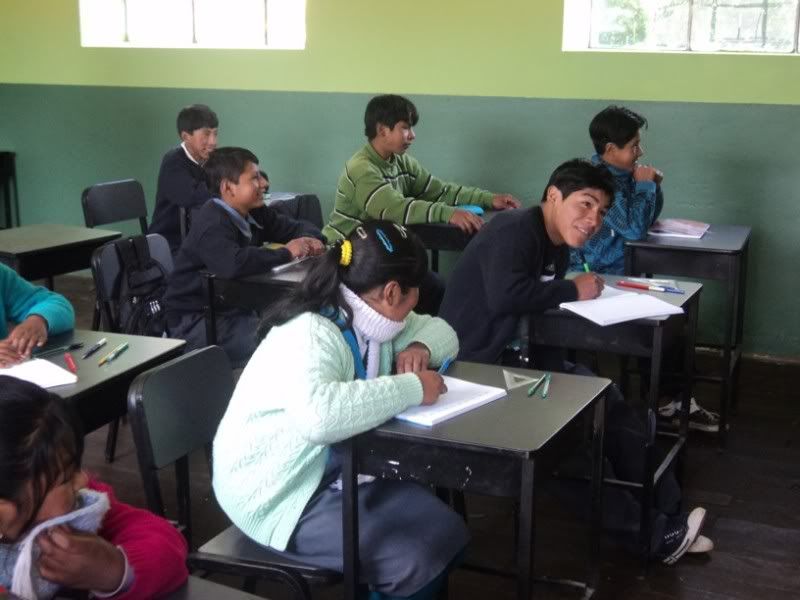 Little kids:
Patacancha school, the most isolated school I visited, 5hrs off Cusco deep in the Andes: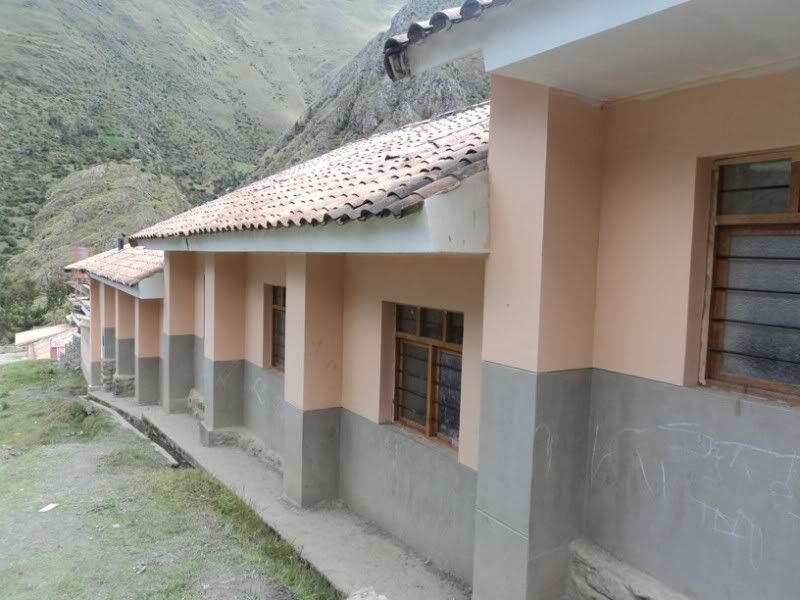 The surroundings are breathtaking: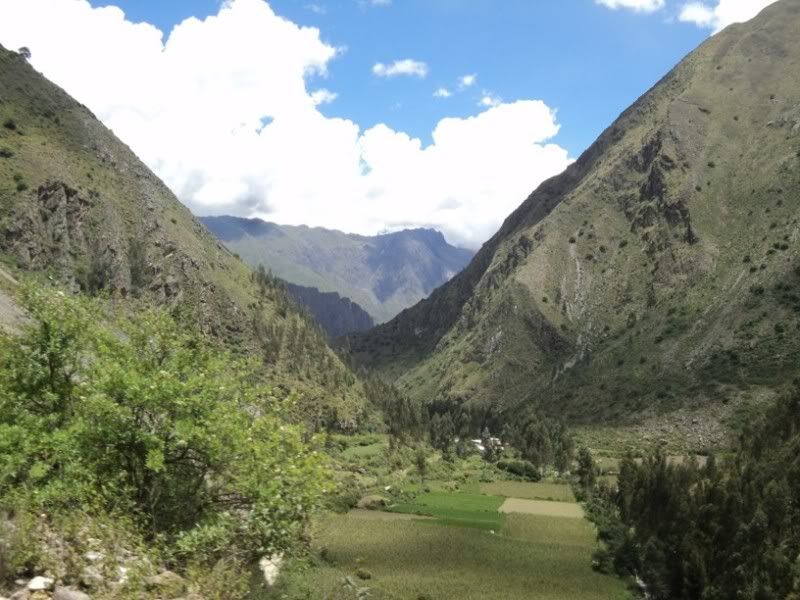 Their chemistry lab:
Little Patacanchan kid curious as to what tall white person came to visit them:
The community still dresses like their ancestors did: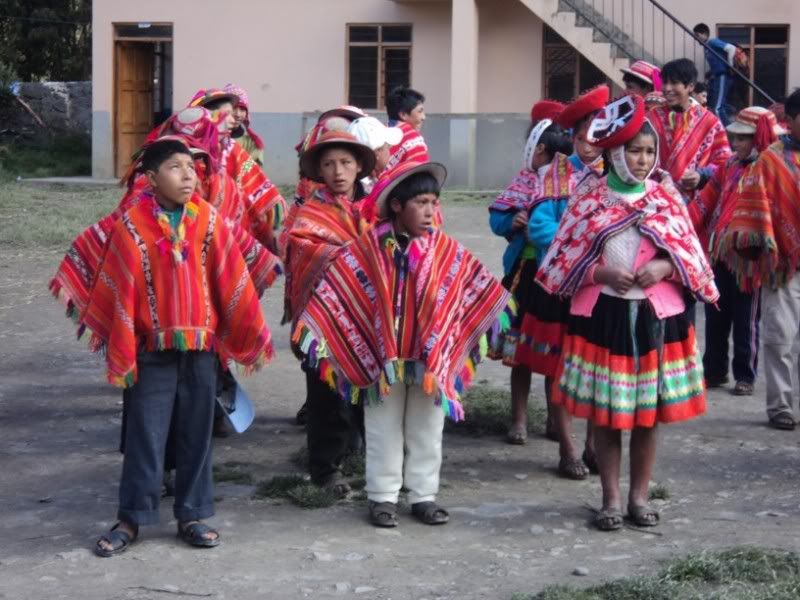 Girls were very shy: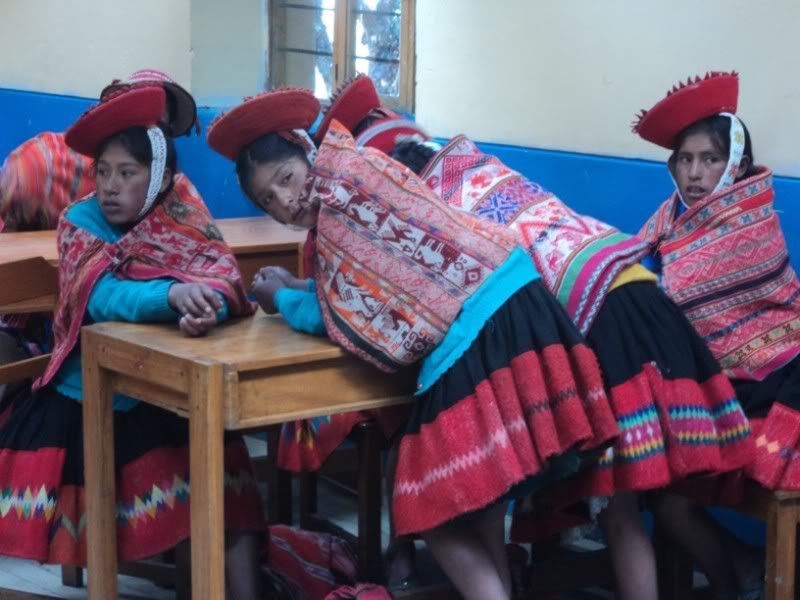 Boys were more easygoing: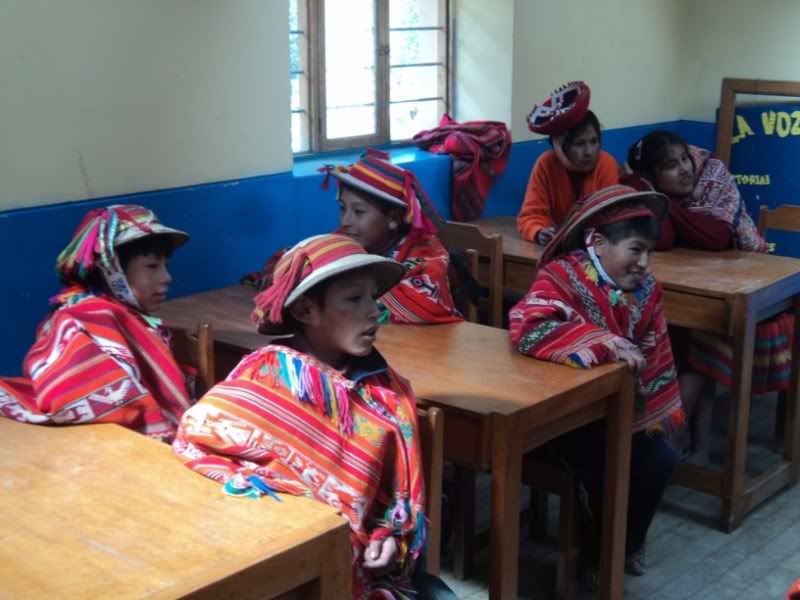 A class in Patacancha: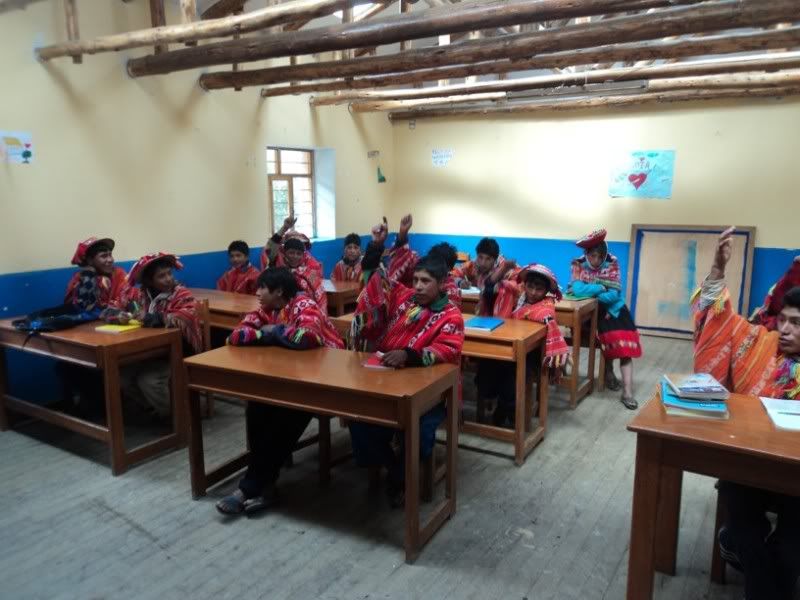 Me, with a bunch of kids in Cusco: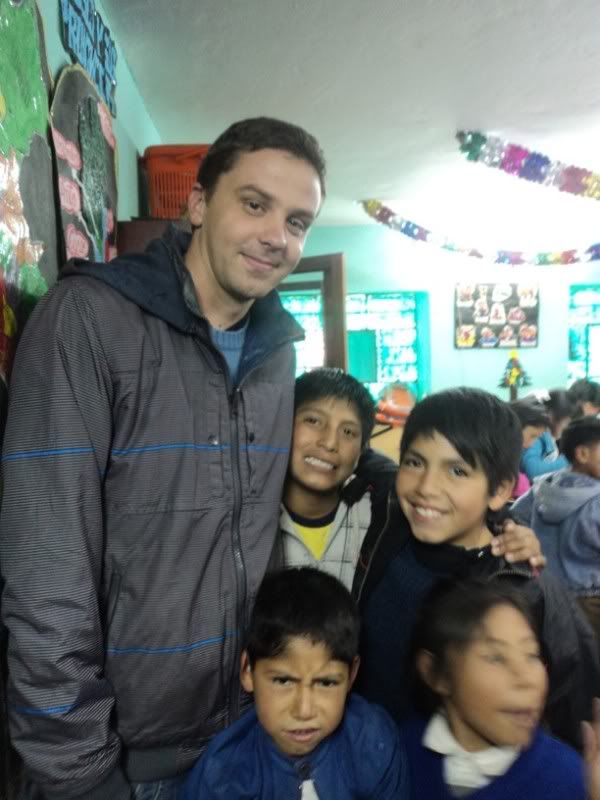 Helping this girl with her math homework:
Sweetest kids ever: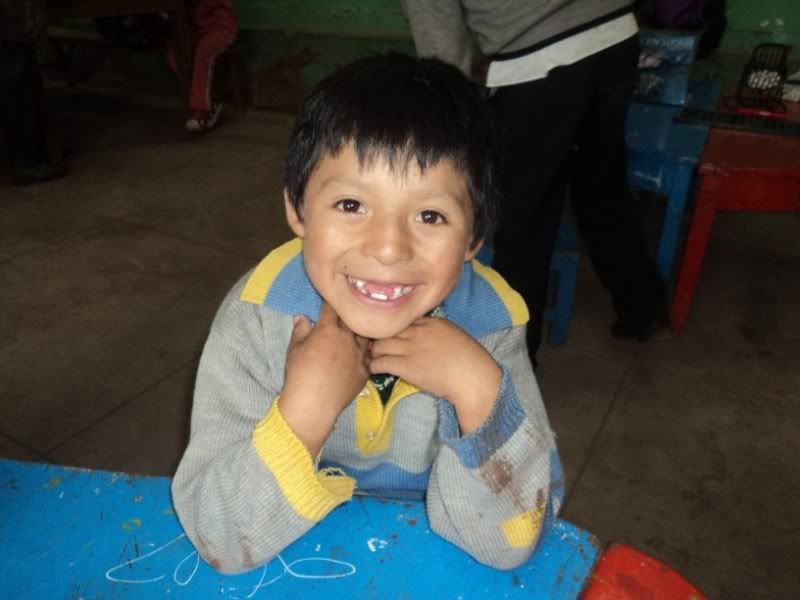 Now this lama needs to be trimmed for the ultimate sweater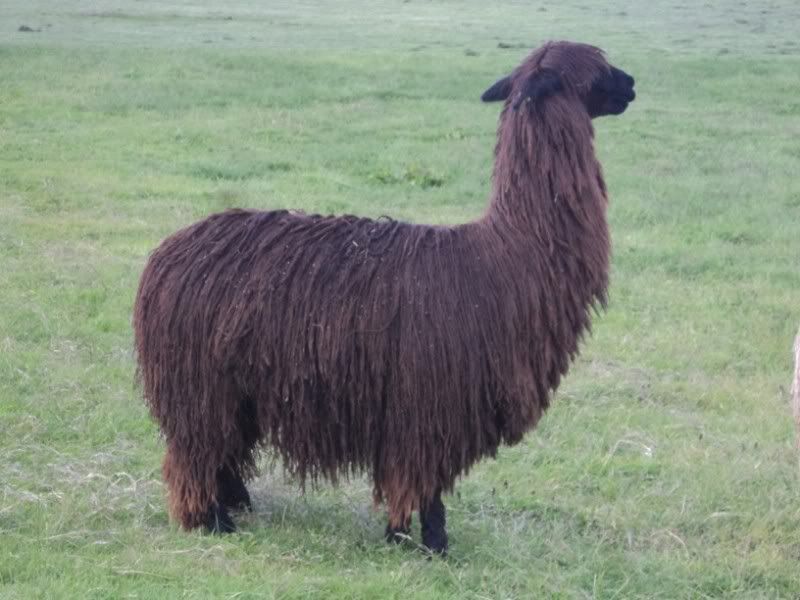 Flight back:
21.03.2012
Peruvian Airlines
Cusco Alejandro Velasco Astete Intl - Lima Jorge Chavez Intl
Flight P9 217
Scheduled Departure: 11:10am
Scheduled Arrival: 12:20pm
Actual Departure: 11:15am
Actual Arrival: 12:20pm
Equipment: Boeing 737-200Adv
Load Factor: 100%
Seat: 5A
After a wonderful week in Cusco, it was time to head back. Check-in was quick and nice, security a breeze. I will keep this part of the trip shorter, since the flight was very very similar to the first leg. Enjoy!
Cusco airport, after security: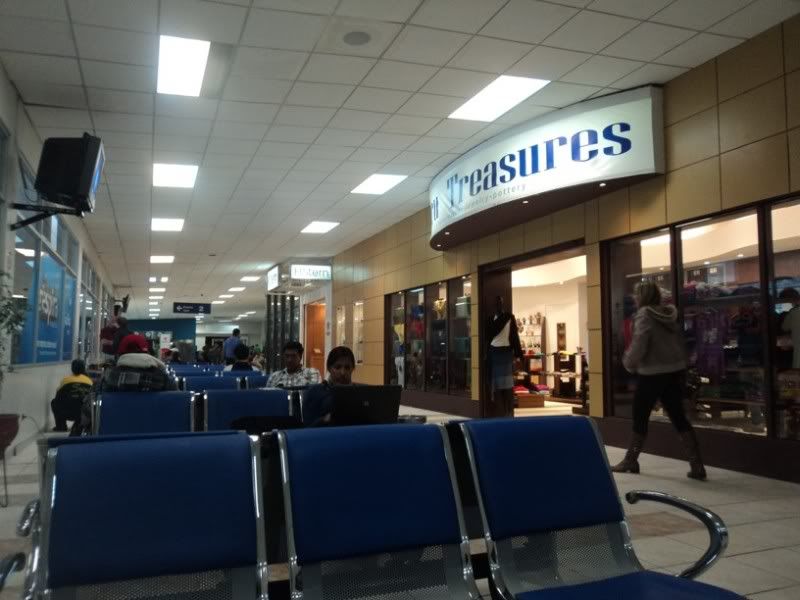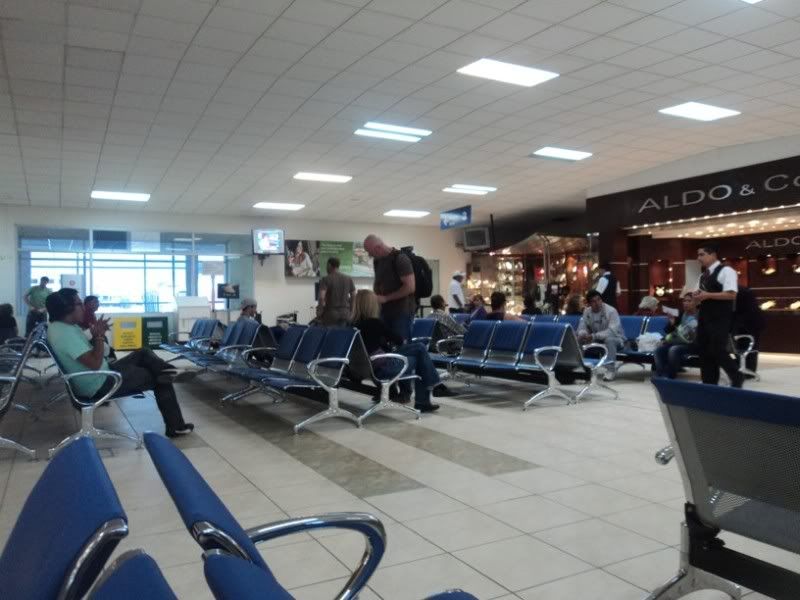 The airport is not very spotting friendly, since it has a double window and all pictures are just horrible.
Boarding was announced on-time and was very efficient. We boarded the 737-200Adv and I was very surprised by the interior of the plane. It was much newer than the flight I took a week back. Seat had adjustable head-rest, were very confy and even featured a legrest. Way to go Peruvian!!! Crew consisted again for four FA´s, two males, two females.
Seat: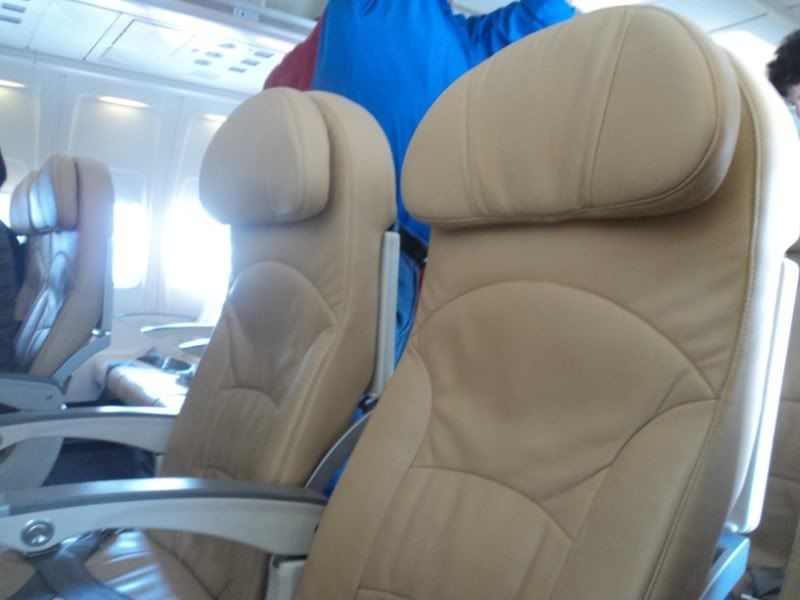 Seats (after landing):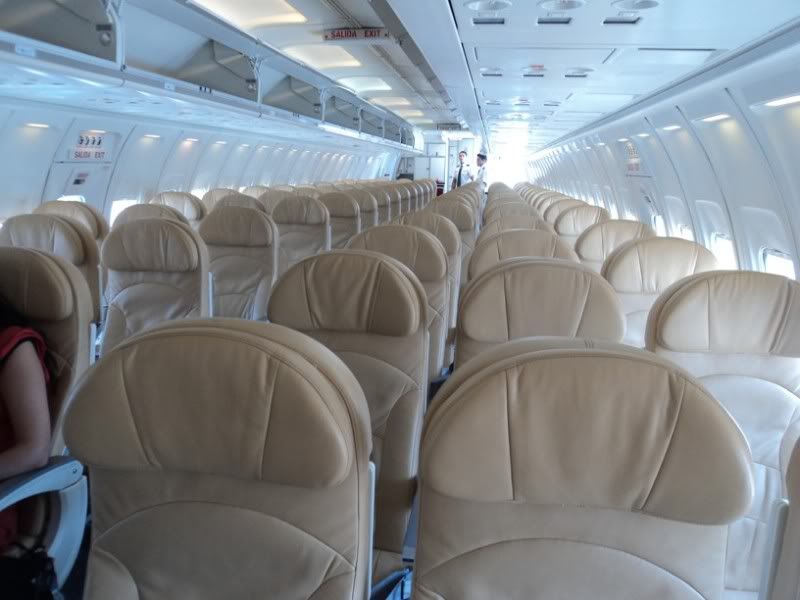 Overhead panel:
Competition in CUZ: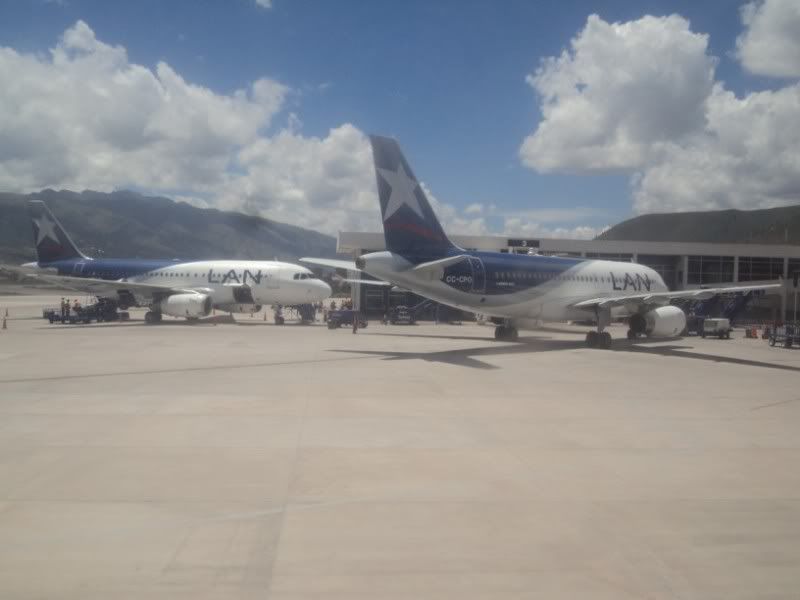 Bye Cusco, will be back soon: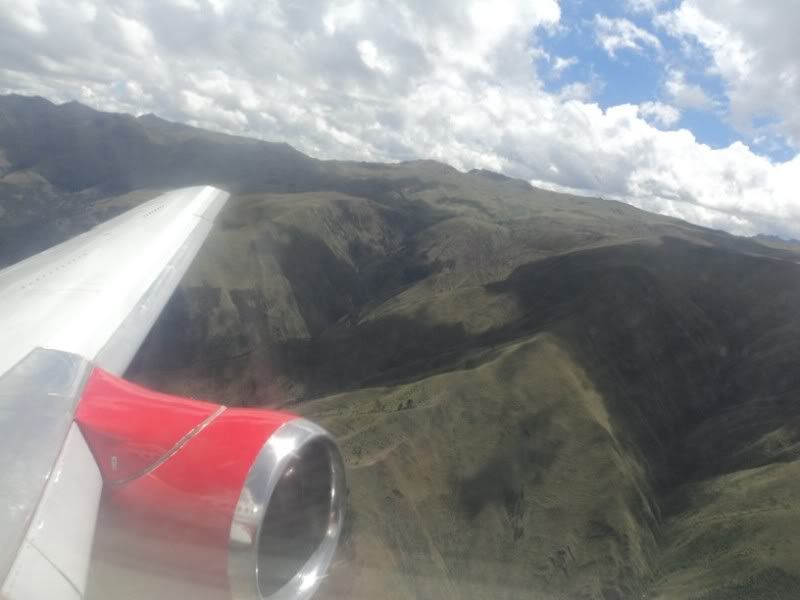 Same snack box: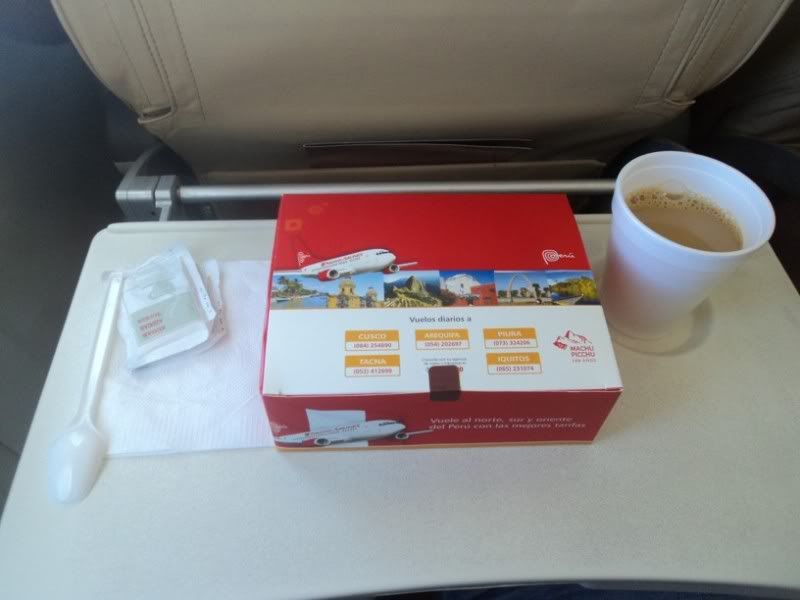 With a different, but equally yummy choices:
Desert indicated we reached the coast: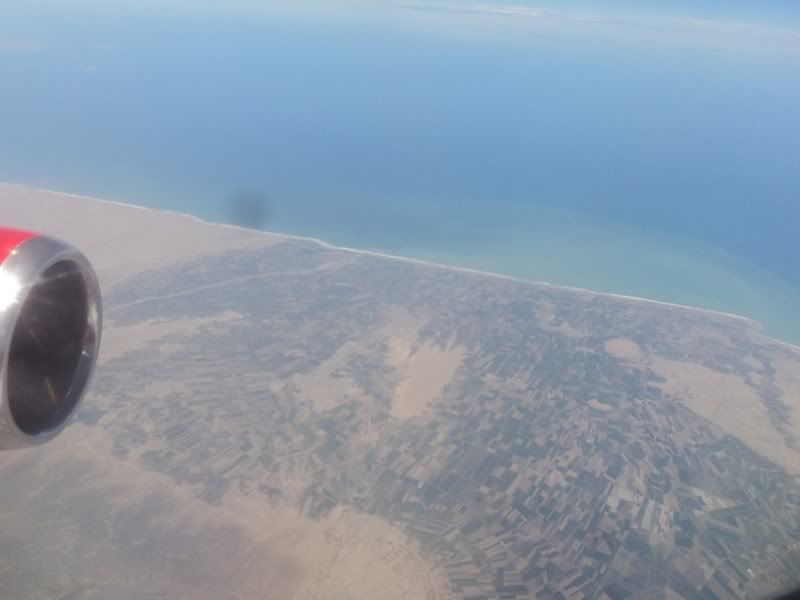 These are the San Lorenzo Islands infront of Lima:
We made a 180 degree turn and aligned to the runway:
The same Taca A321 as when I left a week ago:
Before leaving the plane: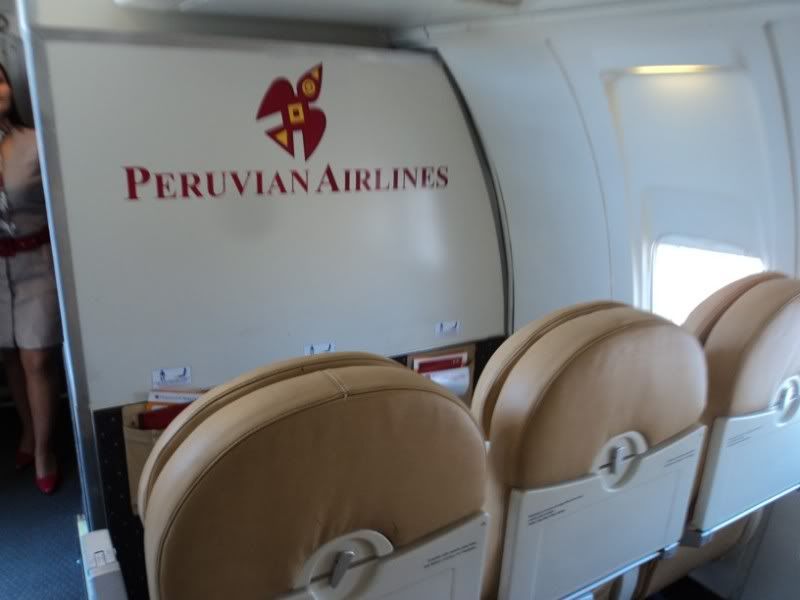 YES! We were de-boarding via stairs and bus: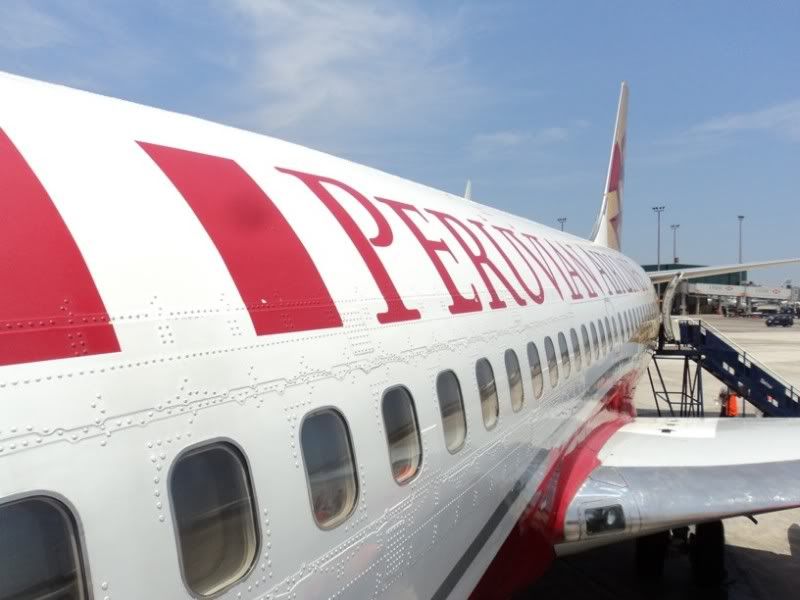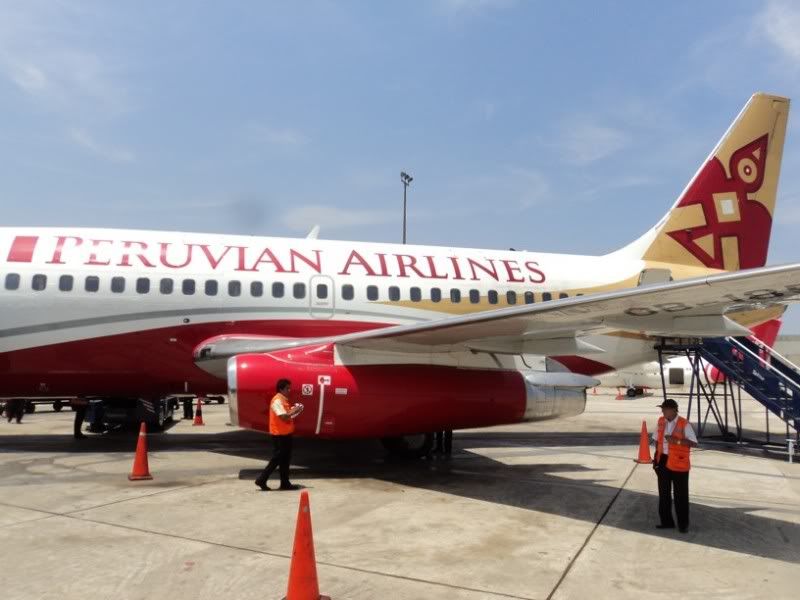 I am really in love!: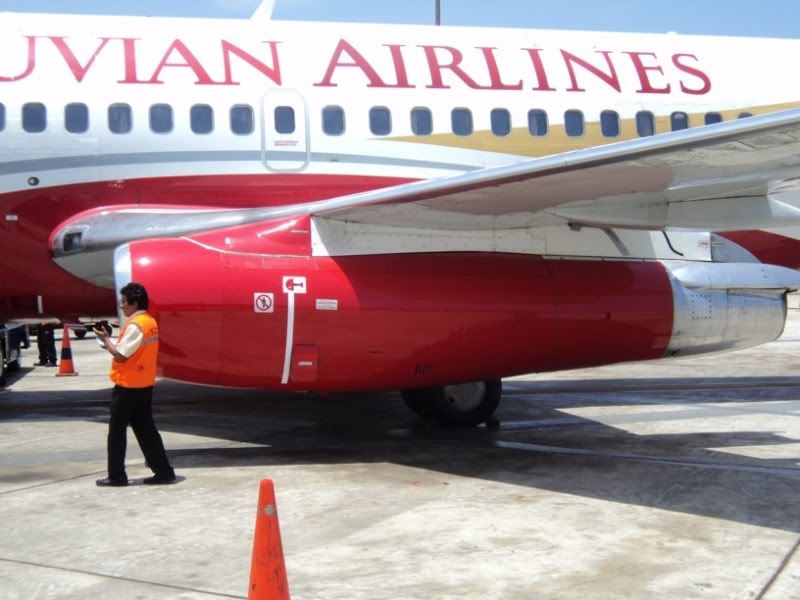 Great livery featuring the "Ave Mística" or "Mystic bird" of the Moche culture in nothern Peru: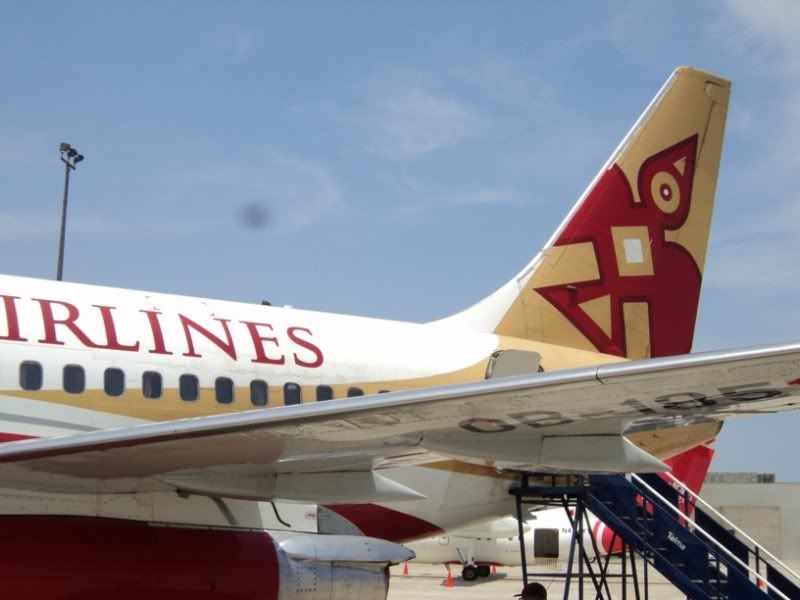 Baggage claim area: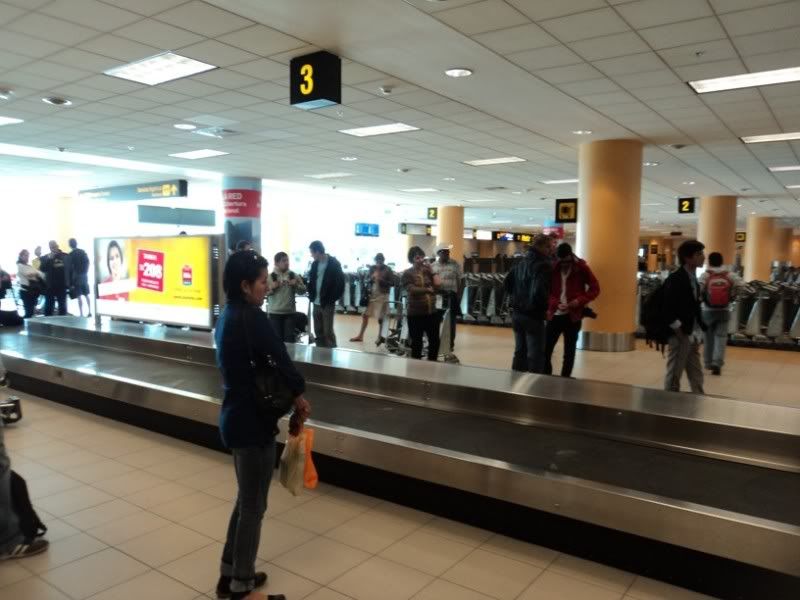 My bag was there in no time and I quickly took a taxi back home.
Conclusion:
I haven´t flown StarPeru yet, but Peruvian is my number one choice when flying domestically in Peru. Much nicer crews than LAN, service is a little better, the seats are very confortable, plus the prices are not drastic (besides, they don´t charge double for foreigners, like LAN does).
I loved the volunteeing experience so much that I will be returning to Cusco on April 21st to spend this time 2 weeks at local schools, spending a total of one week at Patacancha itself helping the English teacher with her clases. I am very much looking forward. I do not have a ticket yet, but I really want to fly Peruvian again, but their prices are higher than LAN (LAN is currently having a sale). Not sure what to do, but I will probably pay the extra fare to fly Peruvian again.
Thanks for reading and every comments will be appreciated
I really recommend you to watch the Peru brand video, its just funny and great
If you have any questions, feel free to ask, I will more than happy to respond.
From Lima with love,
Adam
[Edited 2012-04-01 18:39:32]
[Edited 2012-04-01 18:43:58]