Part 3: Sriwijaya B734 BTJ-MES-CGK, Lion Air B737-900ER CGK-SIN
Welcome to the third part of my spring trip to Asia!
The entire map:
This report's map: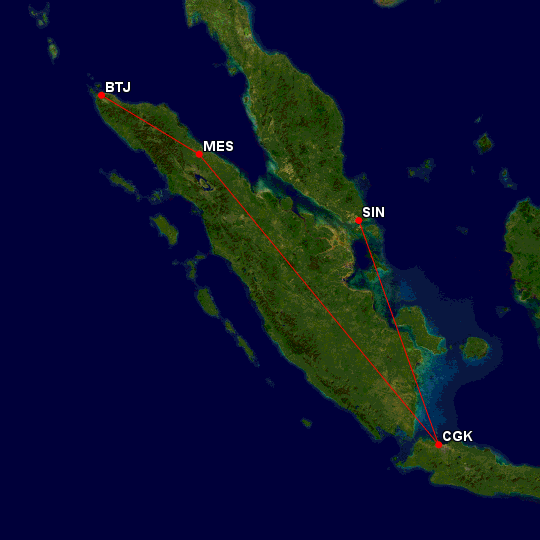 Previous flights:
easyJet London Luton-Barcelona (LTN-BCN)
Singapore Airlines Barcelona-Singapore (BCN-SIN), Business Class on the 77W
Valuair/Jetstar Asia Singapore-Medan
Garuda Indonesia Medan-Banda Aceh
Flights to come:
Singapore Airlines Singapore-Calcutta (SIN-CCU)
Spicejet Calcutta-Bagradora (CCU-IXB)
JetLite Bagradora-Calcutta (IXB-CCU)
Biman Bangladesh Calcutta-Dhaka (CCU-DAC)
Biman Bangladesh Dhaka-Kathmandu (DAC-KTM)
Thai Airways Kathmandu-Bangkok (KTM-BKK)
Thai Airways Bangkok-Frankfurt (BKK-FRA)
Lufthansa Frankfurt-Dusseldorf (FRA-DUS)
Sun-Air (British Airways) Dusseldorf-Billund (DUS-BLL)
Sun-Air (British Airways) Billund-Manchester (BLL-MAN)
British Airways Manchester-London Heathrow (MAN-LHR)
I'll pick up where I left off on the lovely island of Pulau Weh
I did a dive with these guys – the reefs had lost their sparkle in the past two years according to the instructor
After my 3 nights on the island, I took the boat back to Banda Aceh. First class with no body in it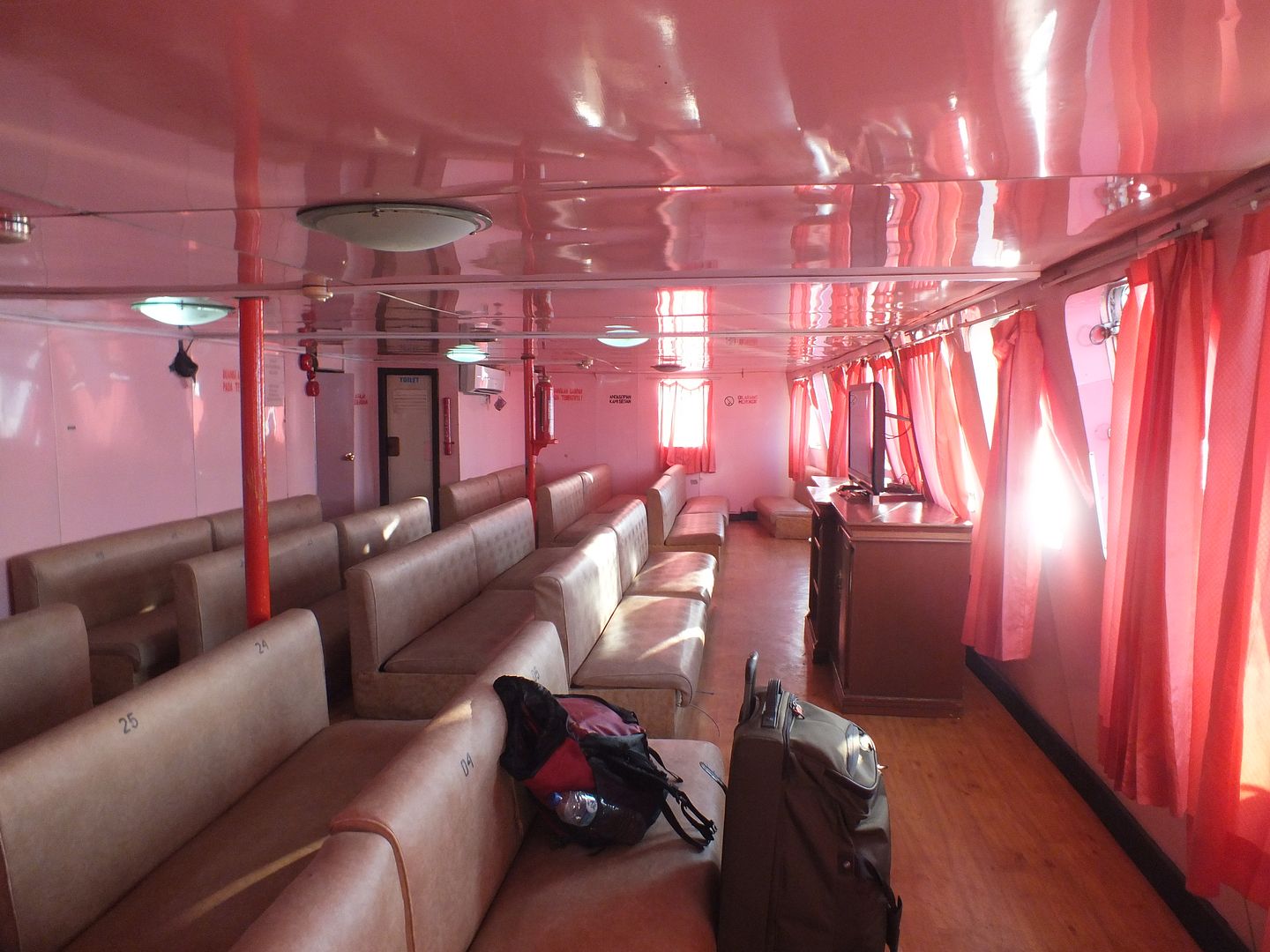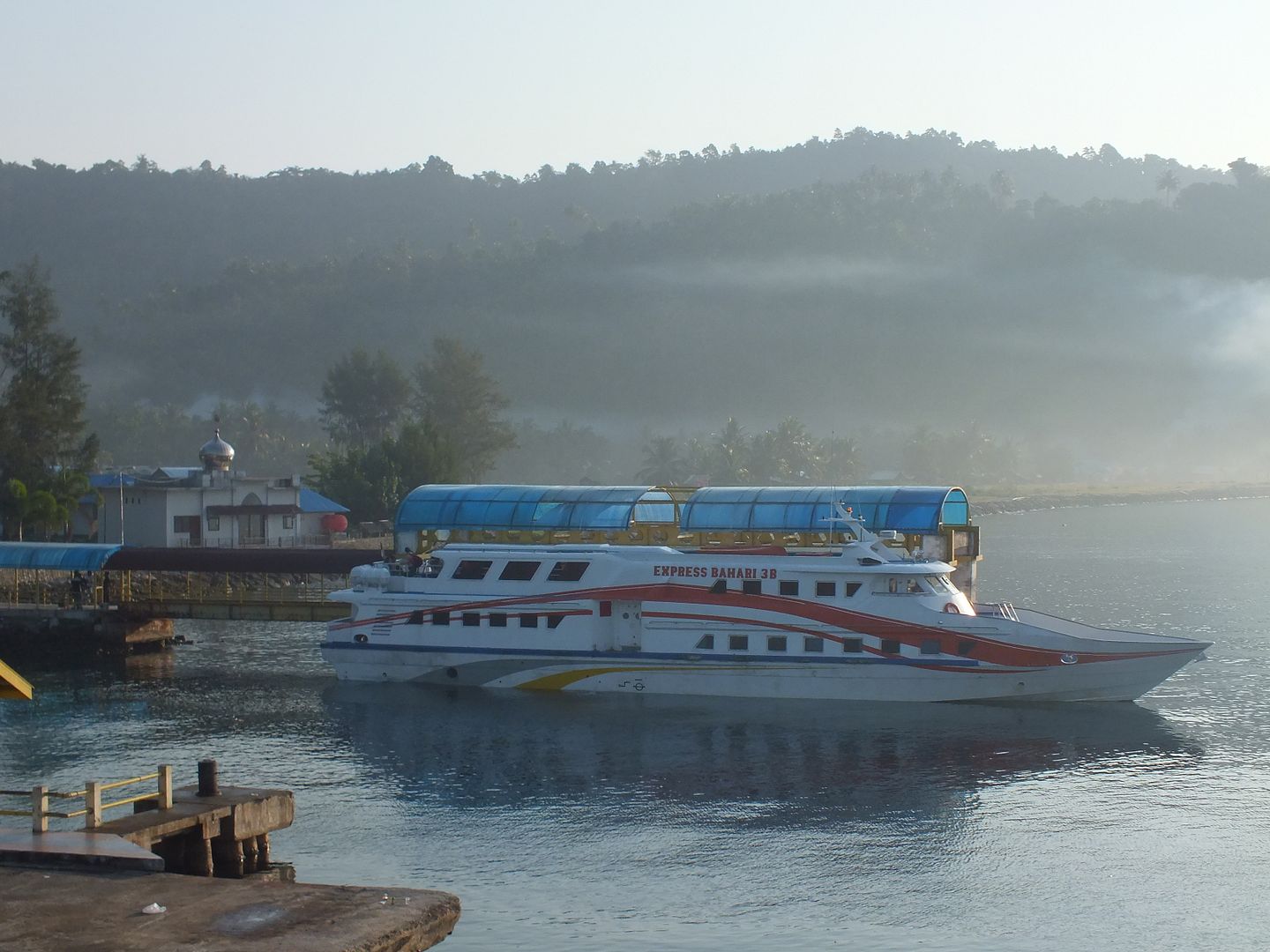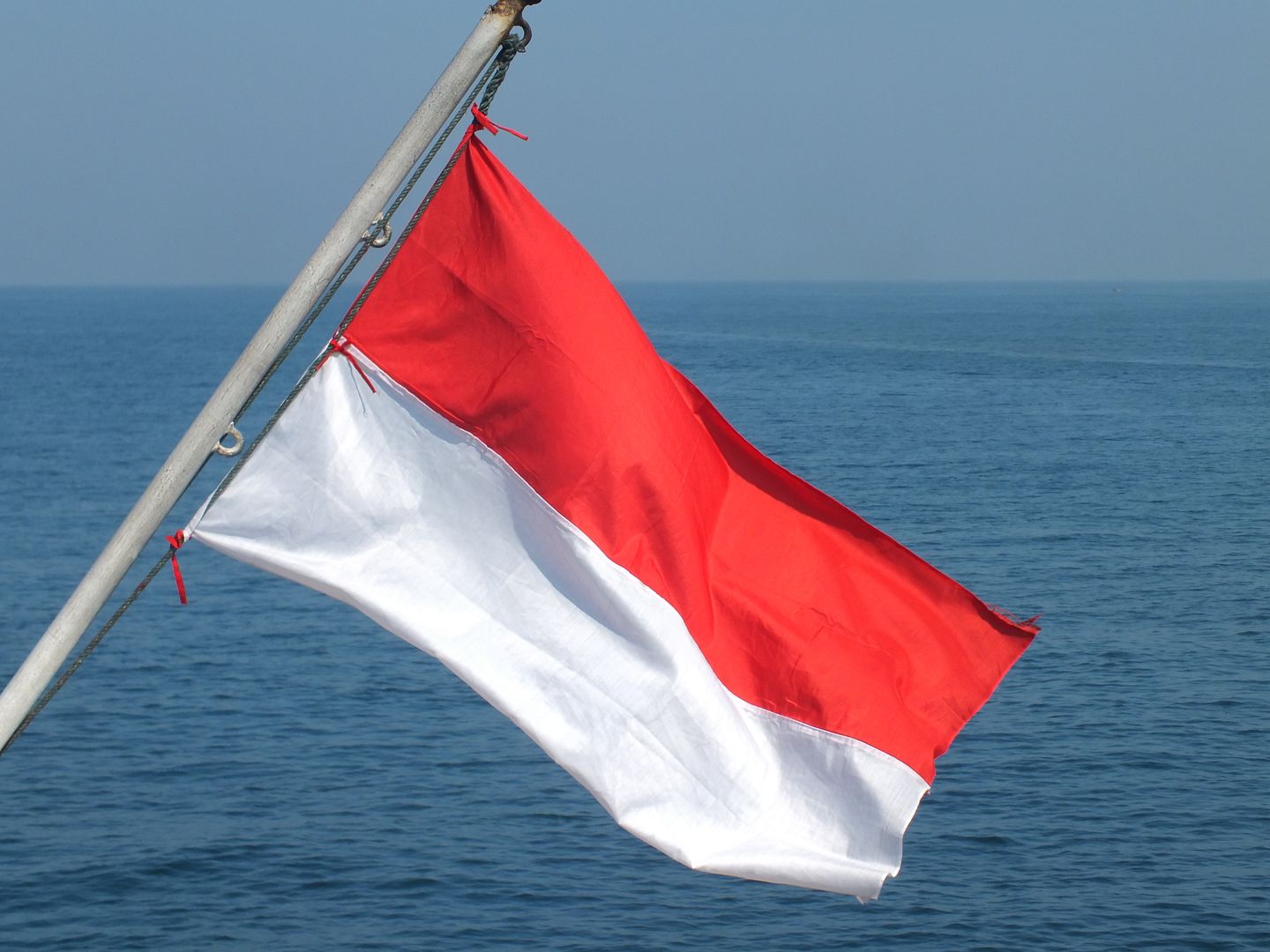 From the port I got a tuktuk type thing into the city
The main thing to see in Banda Aceh is the tsunami museum. It's a big place, with some interesting exhibits. It didn't seem terribly well planned out, but the air con worked well, so I was happy for a few hours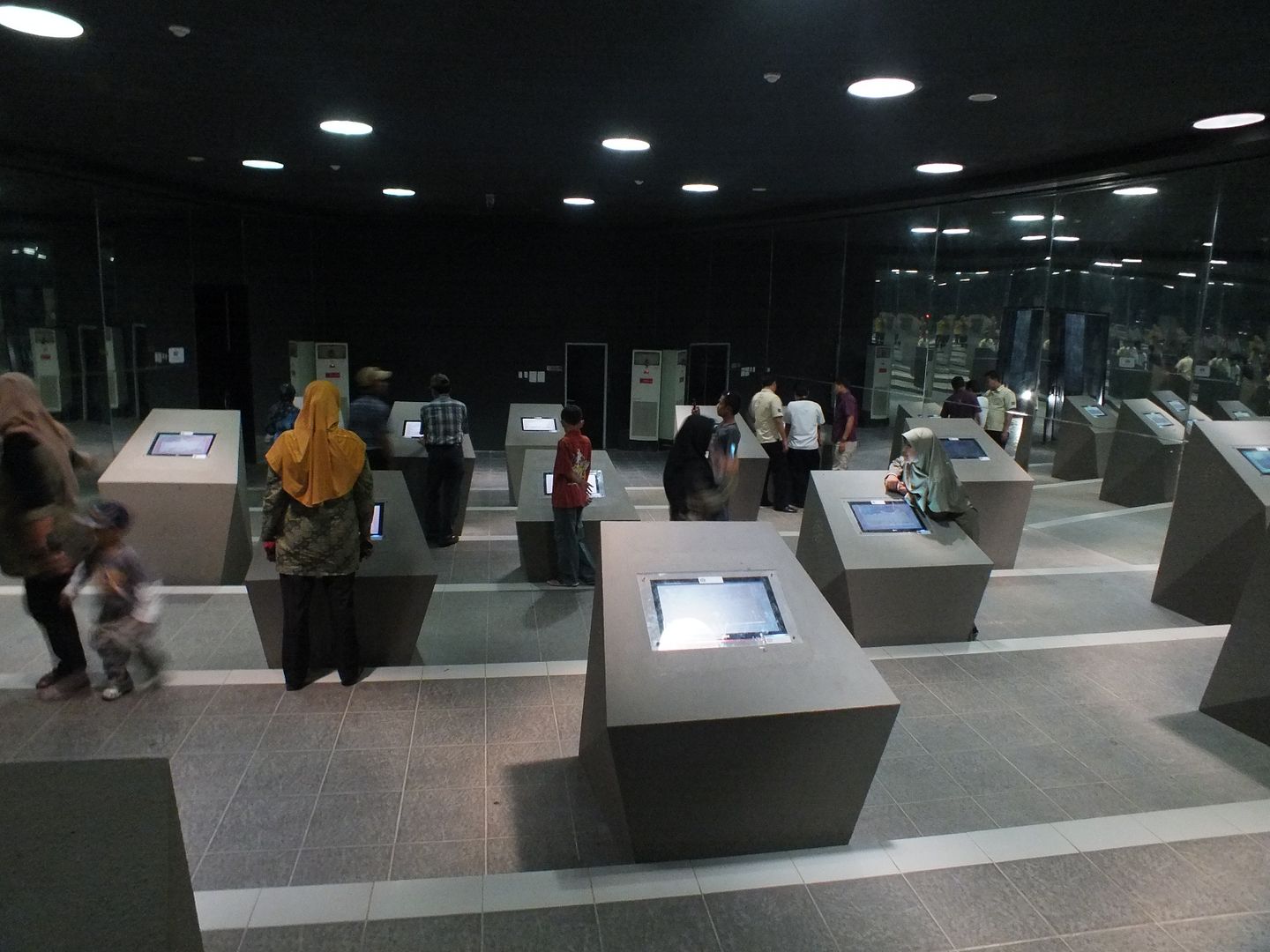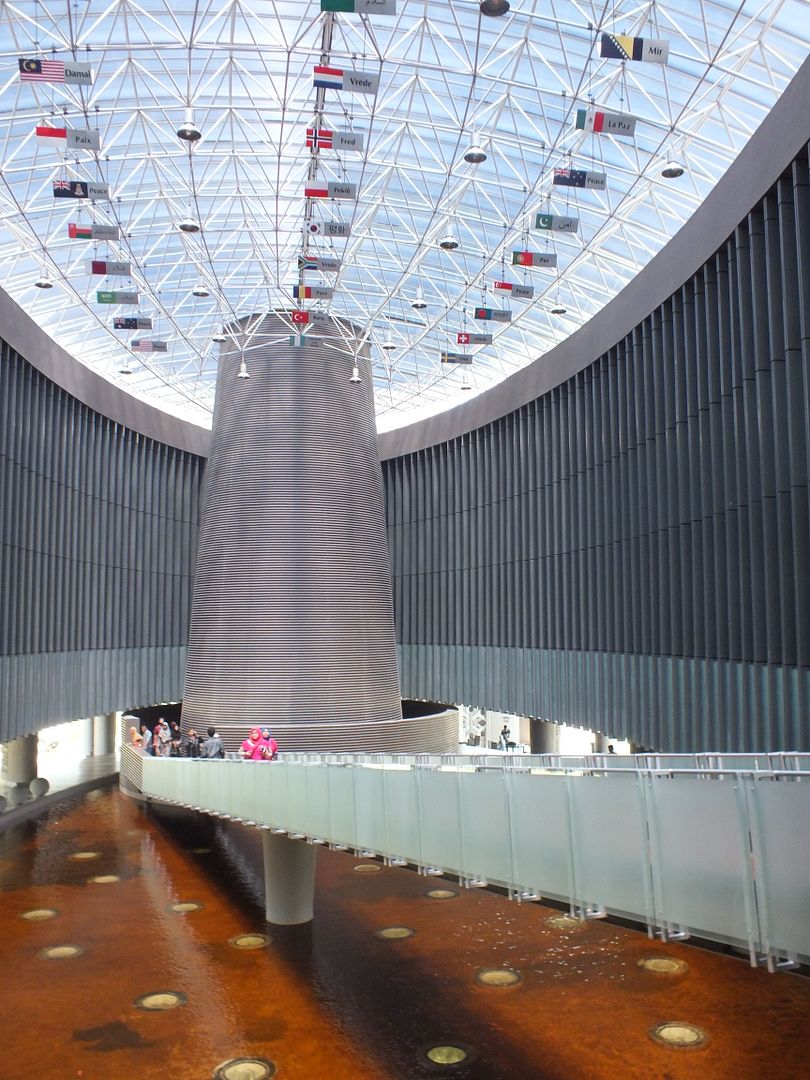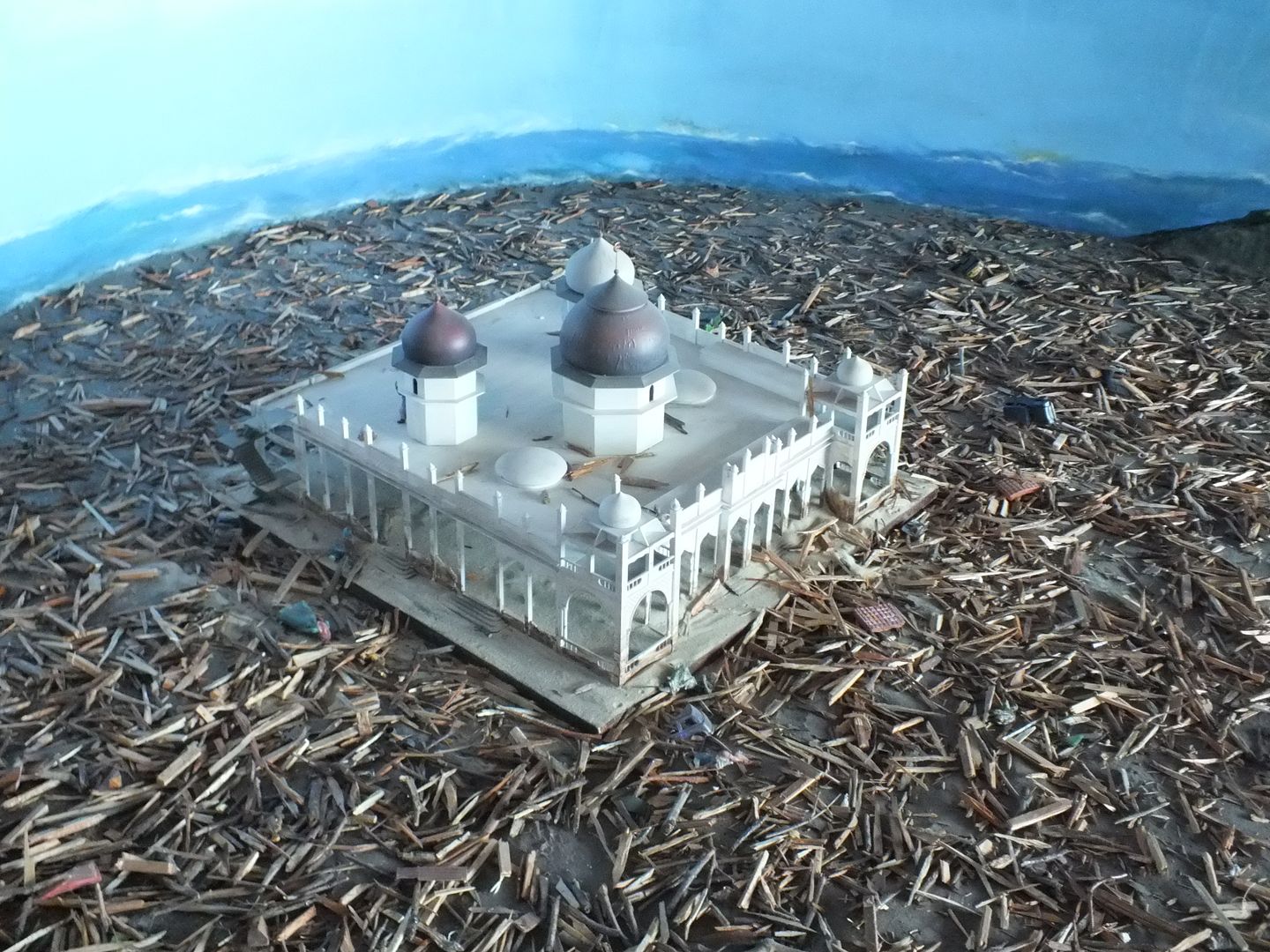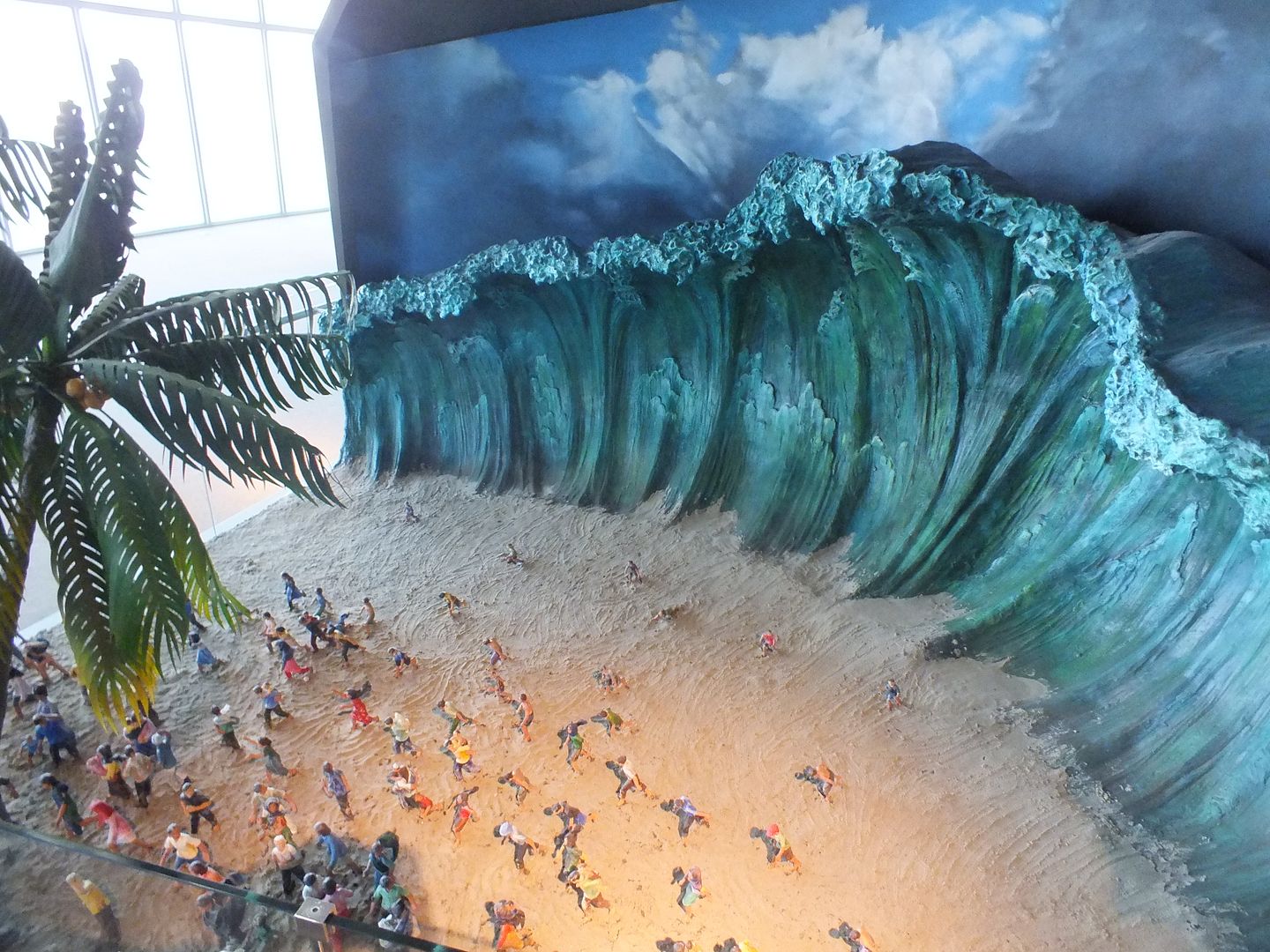 This giant ship was washed 5km inland!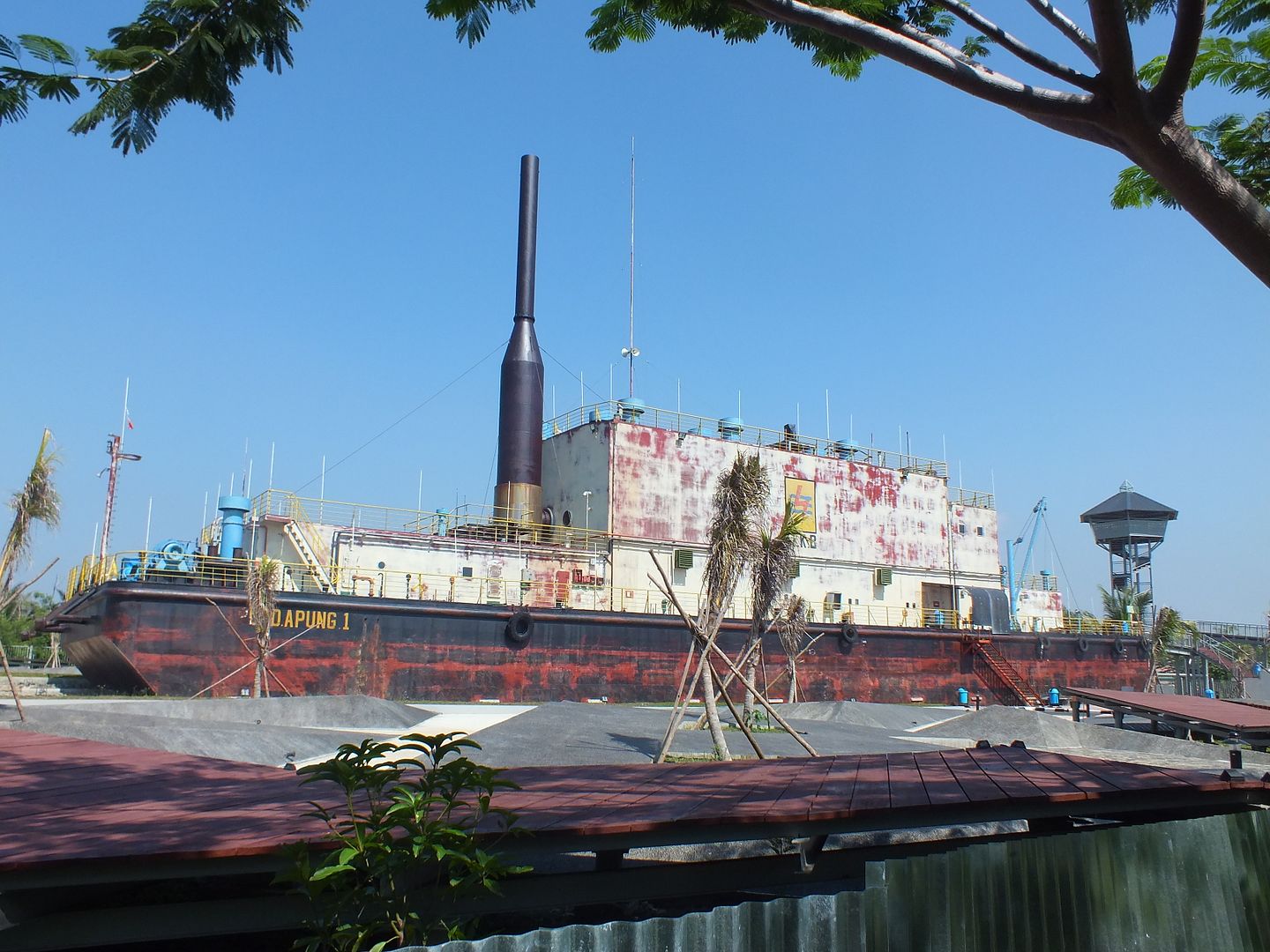 This smaller one ended up on a house 2km inland
Boats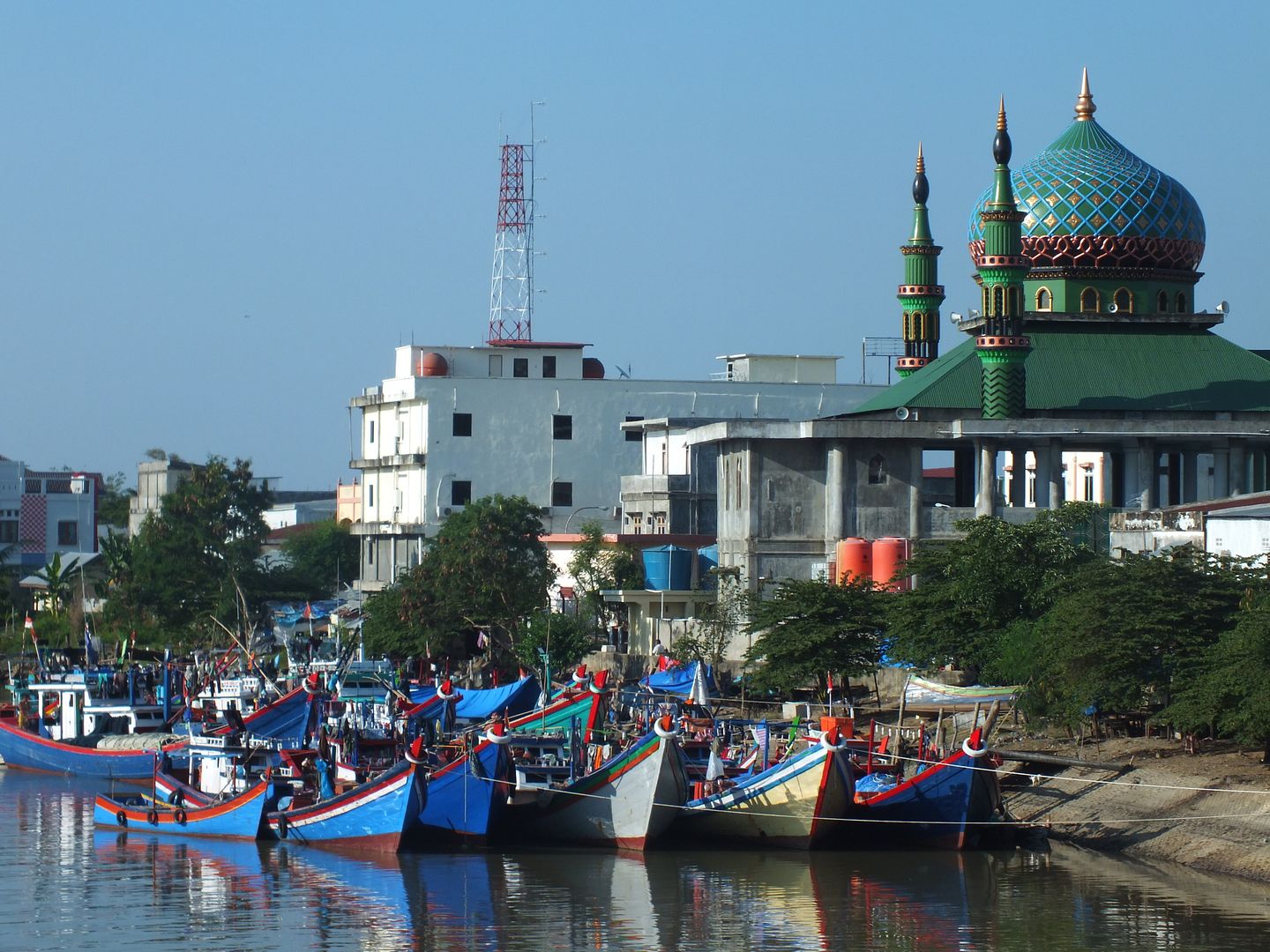 Mosque
My hotel back in 2004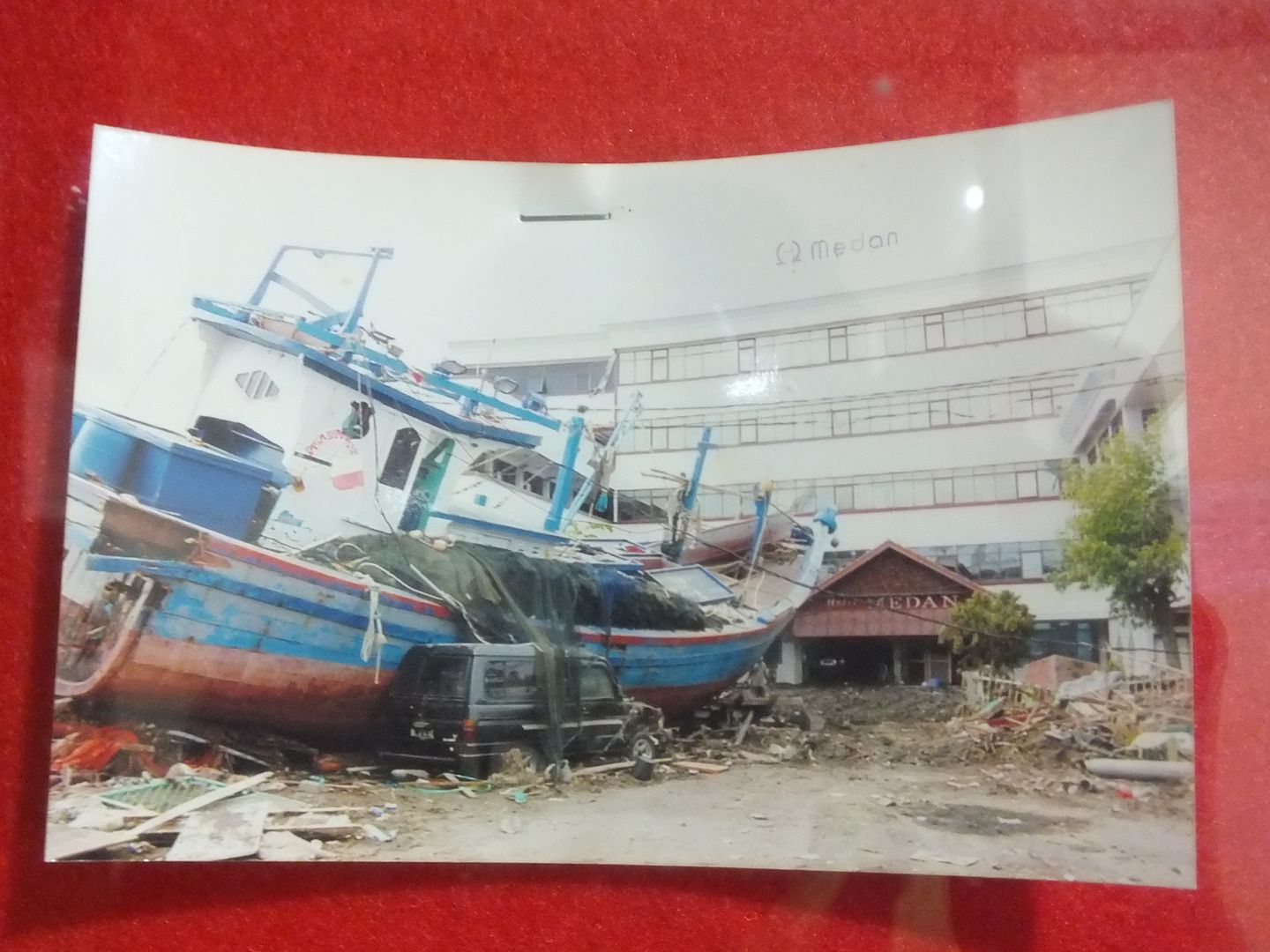 Visit Banda Aceh!
Street market food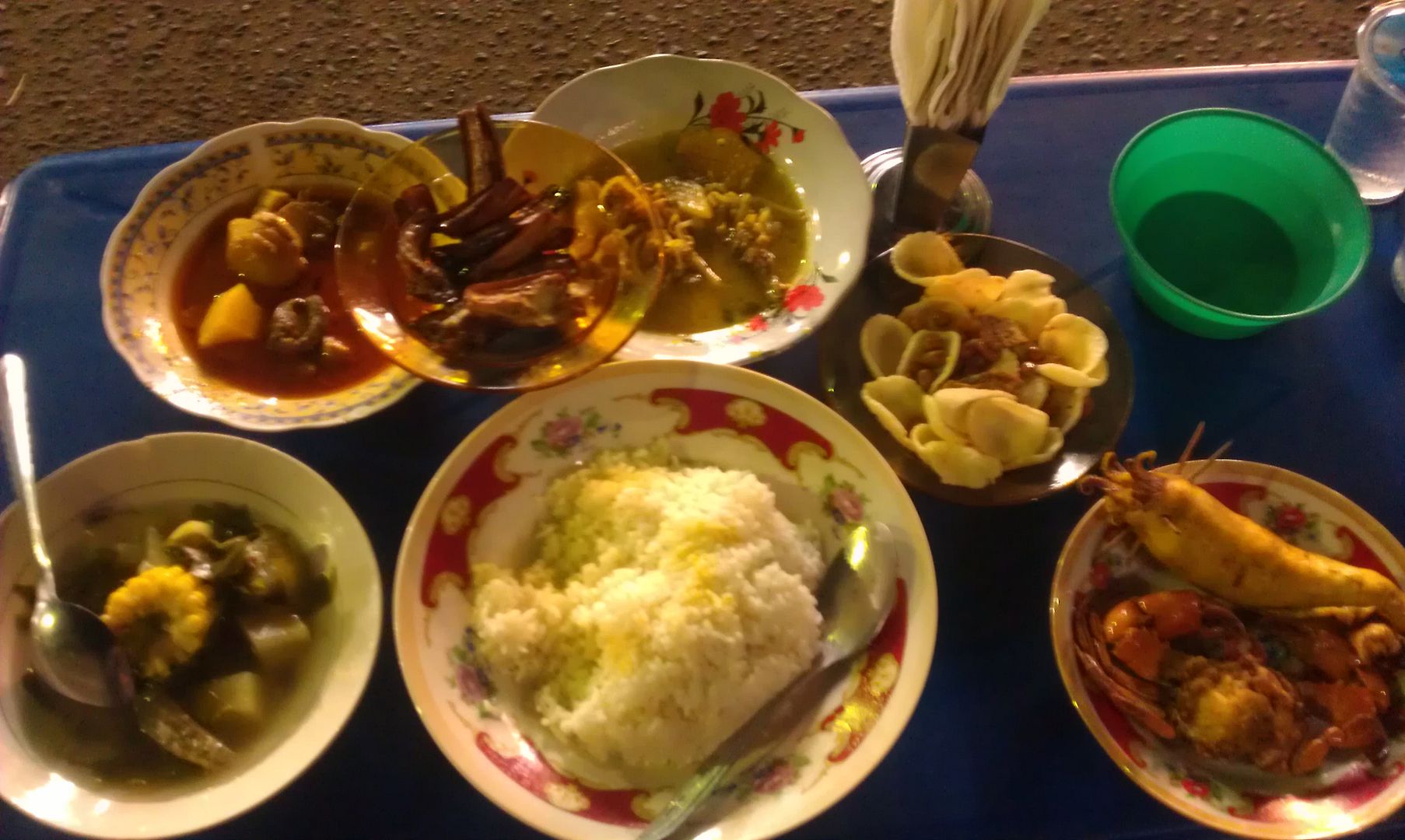 For this sector I had a choice of a direct flight on Lionair, or one stops via Medan on Sriwijaya or Garuda. The SJ flight was slightly better timed, and was cheaper, so I went with that. Batavia might have been an option if their website worked.
The day before travelling, I checked the SJ website to see that the minimum check in time was. I was quite alarmed to see this written: "Passengers have to finish check in process 1 hour and 45 minutes prior to flight schedule to prevent flight delays."
Hmm, that sounds like a long time. Thankfully a quick check of my e-ticket revealed this: "Check-in counter will be closed 45 minutes prior to departure." That sounds much better. With a 1325 departure, I set off my Hotel Medan at 1130.
International Airport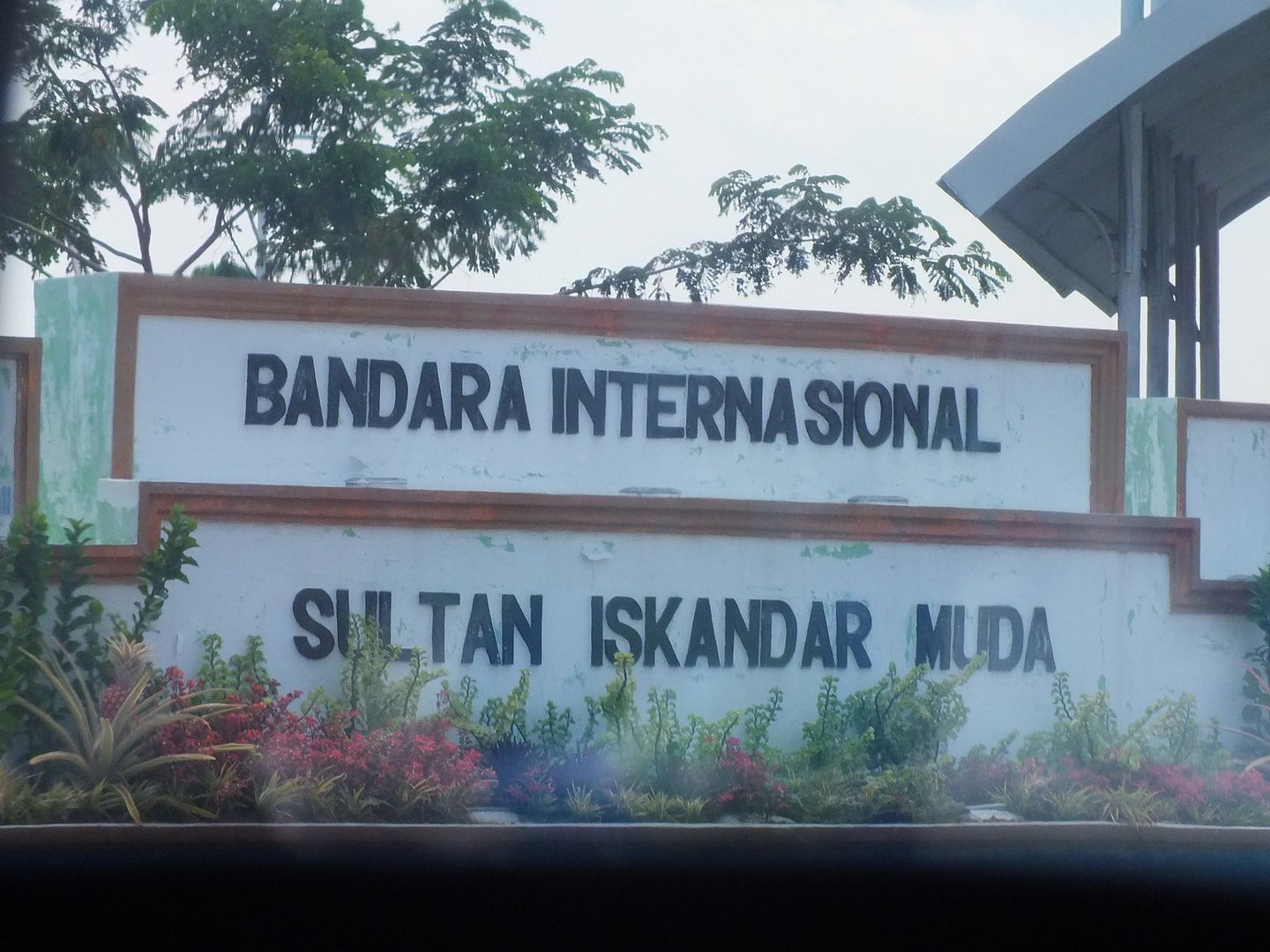 Before security
Once I'd have my documents checked, I went through to the check in area. There was only a short line for SJ – Lion Air next door had a long queue.
My bag was tagged, and boarding pass (emergency exit window) issued. I paid the departure tax, then headed upstairs to domestic departures.
SJ desks were on the far right
Before going through security, I noticed a lounge off to the right. A quick enquiry revealed it only cost RP 40,000 (£4) to get in. As I had over an hour to wait, I thought I'd pay up. Obviously being in Sharia State Aceh, there was no booze, but there were plenty of snacks and soft drinks.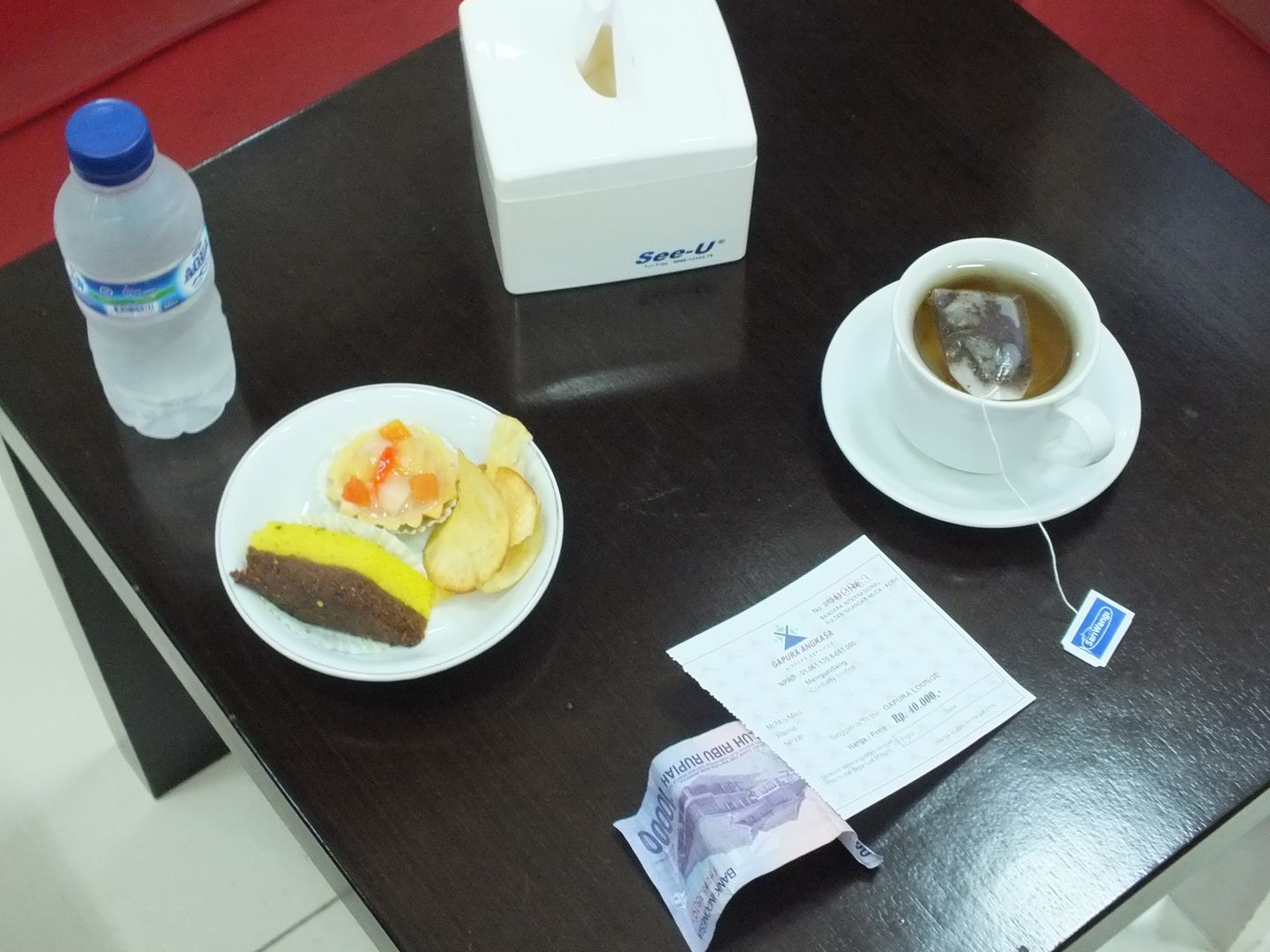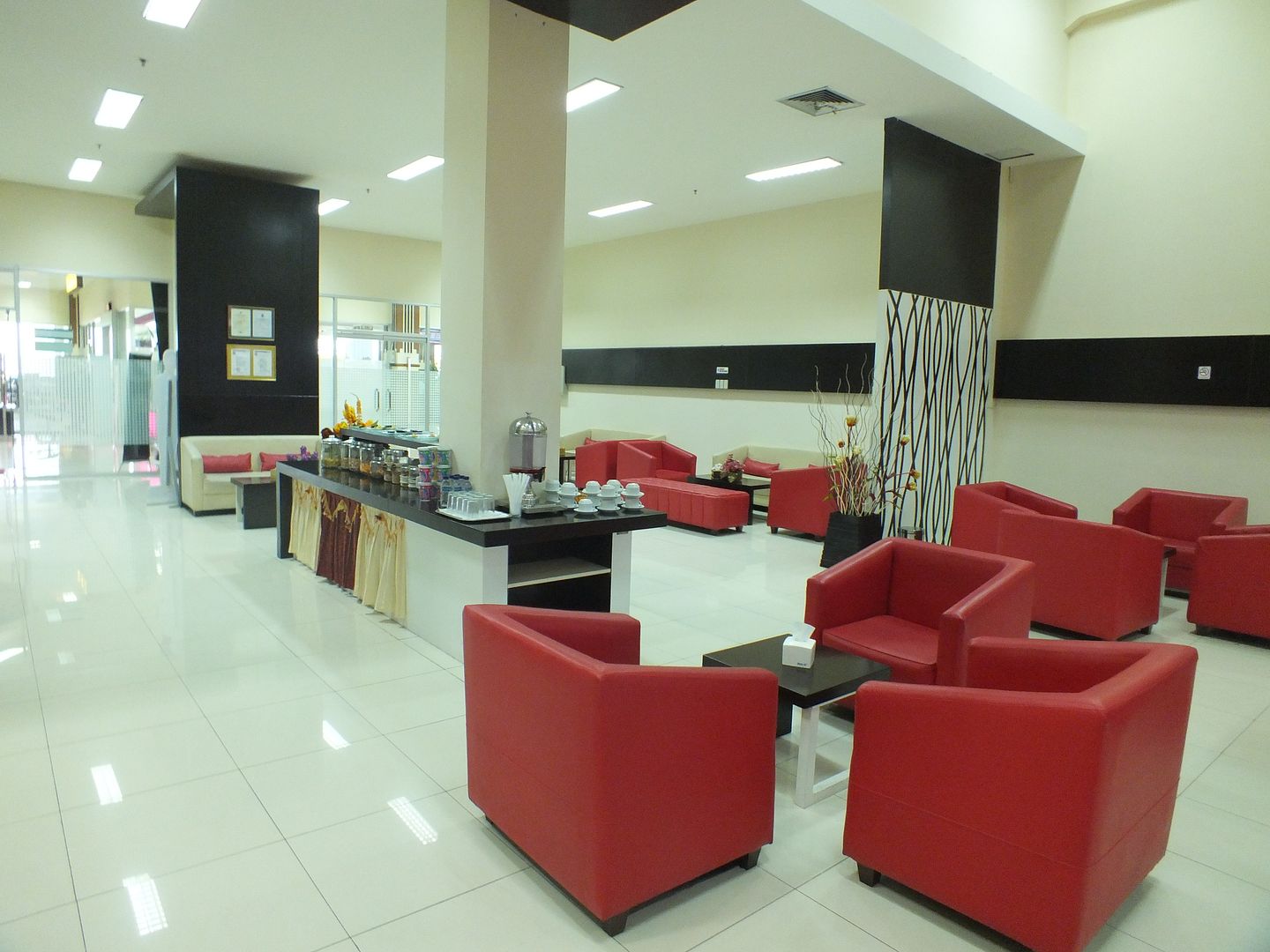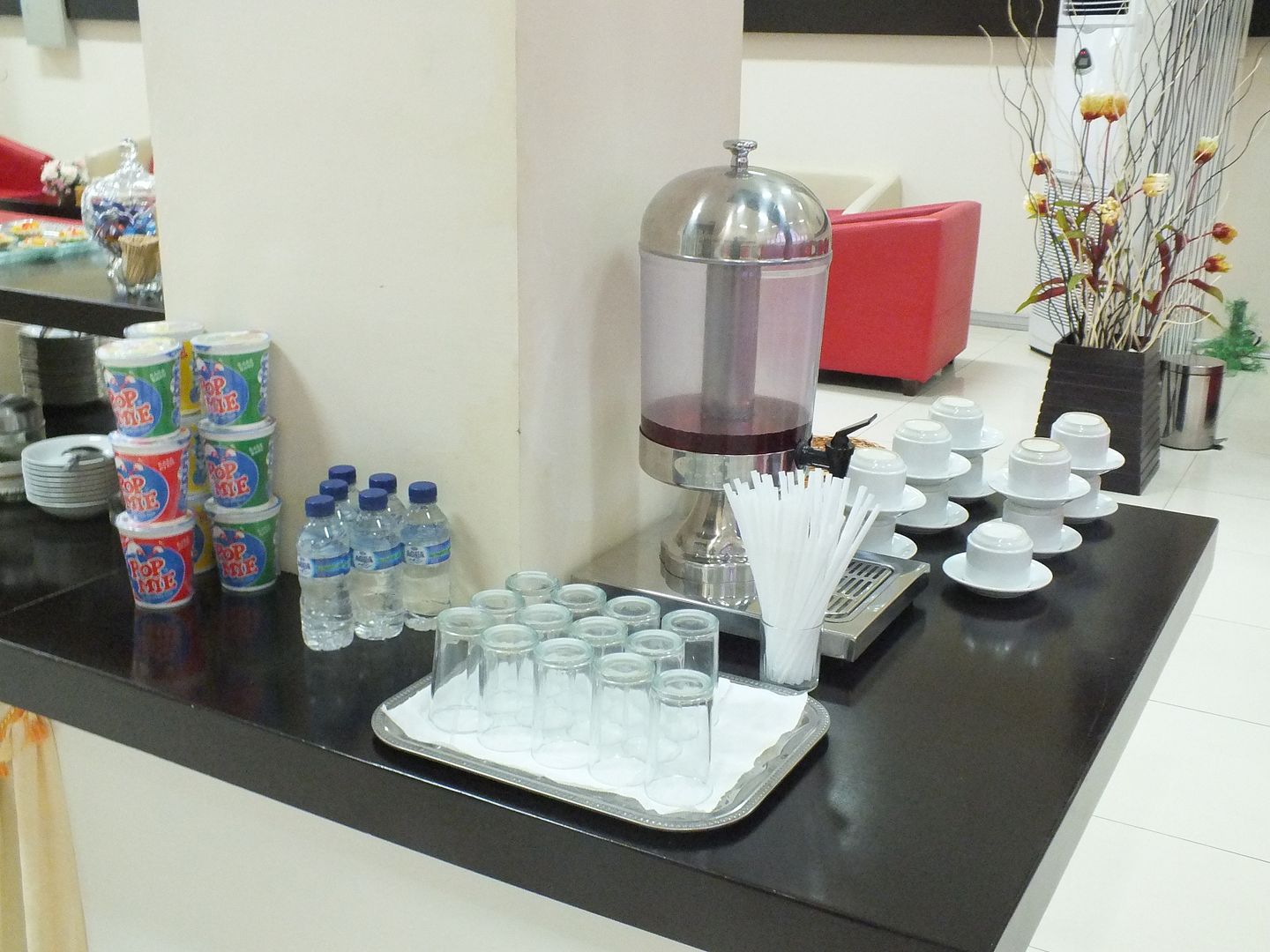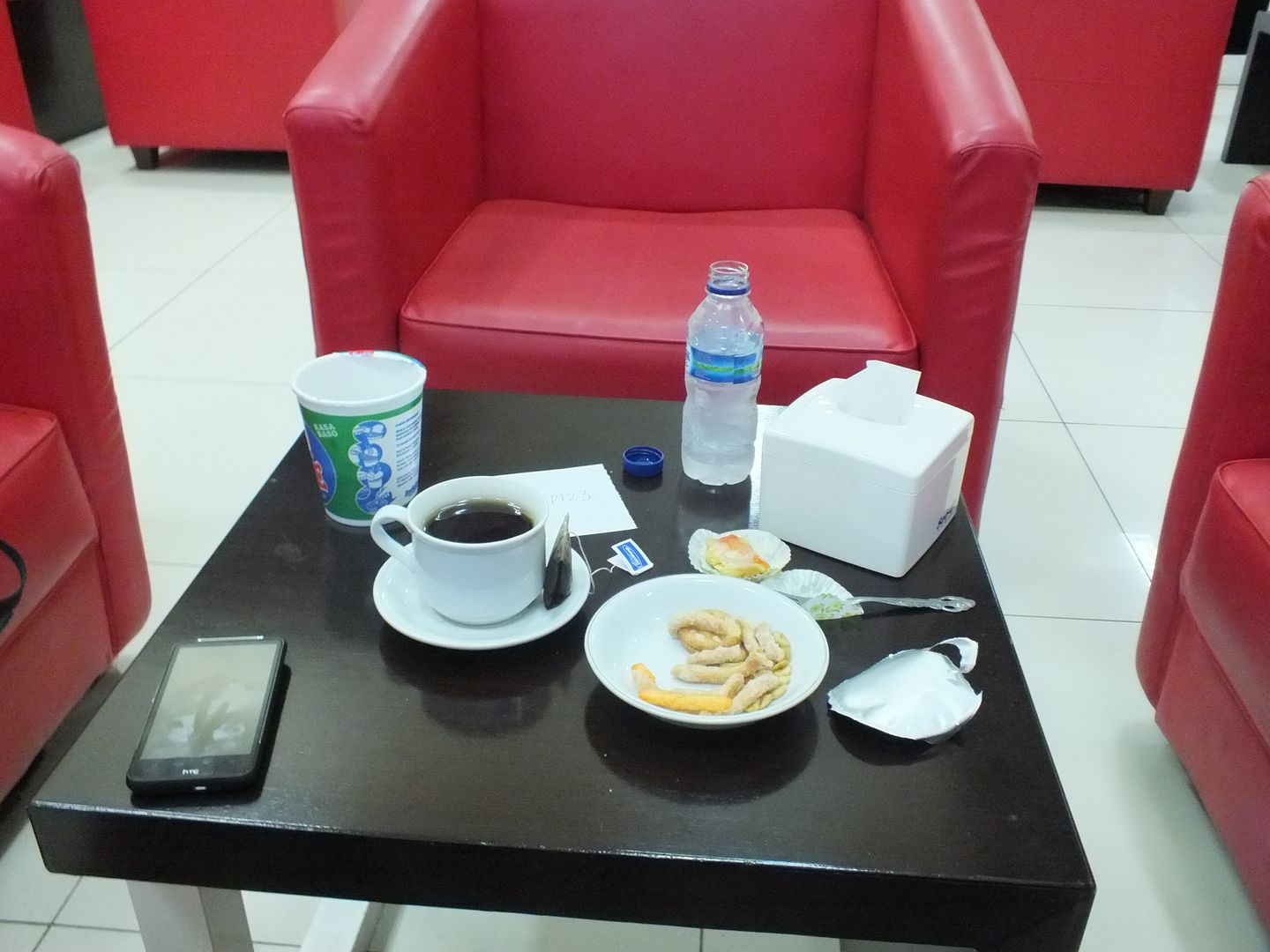 Airport tax and boarding pass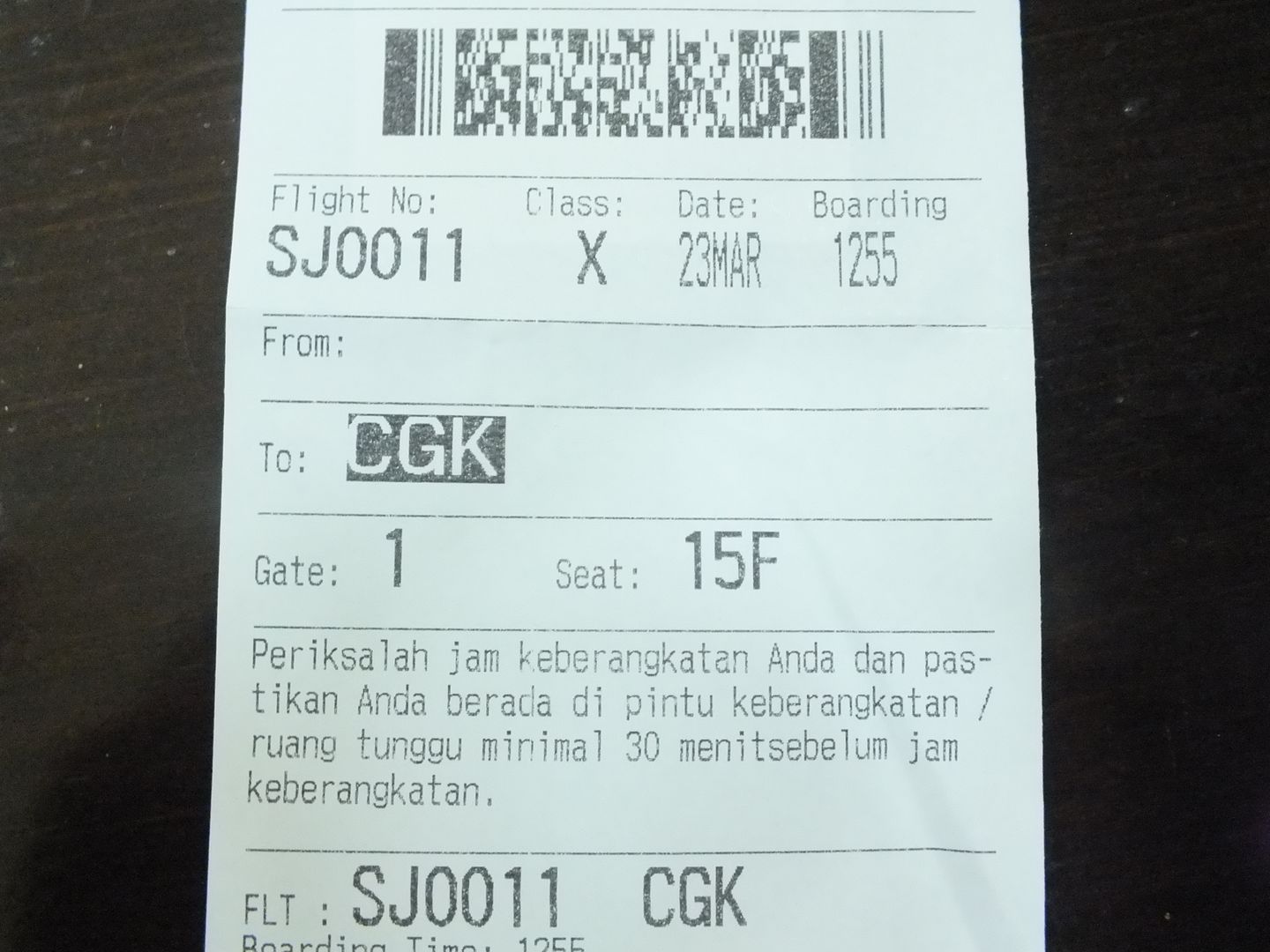 FIDS. Looks like we've been delayed. After a while the flight disappeared from the screen….hmm, what's happened? No cancellation, thankfully.
After about 20 minutes, the plane landed.
Tarmac scenes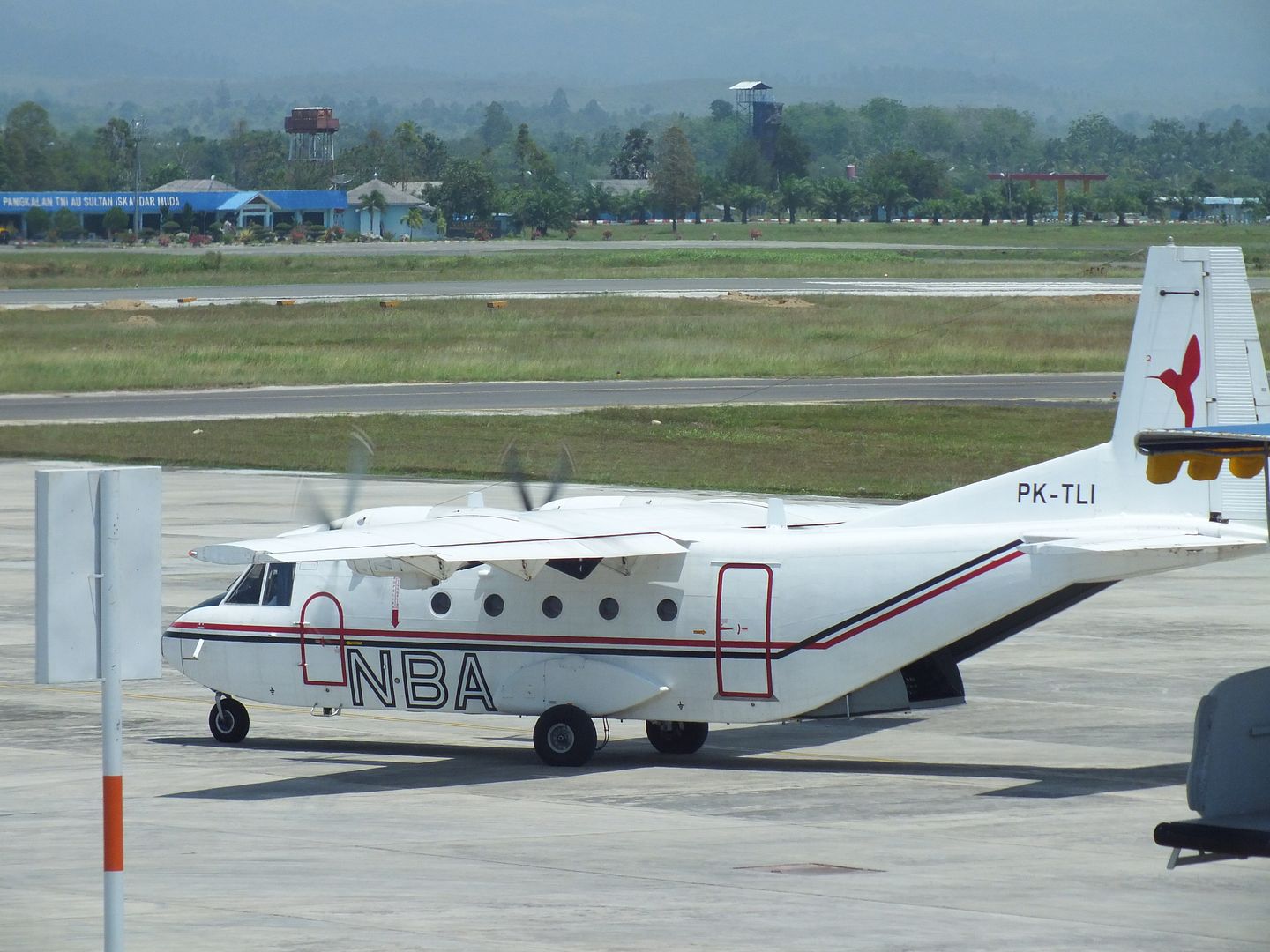 Finally we boarded 20 minutes after STD.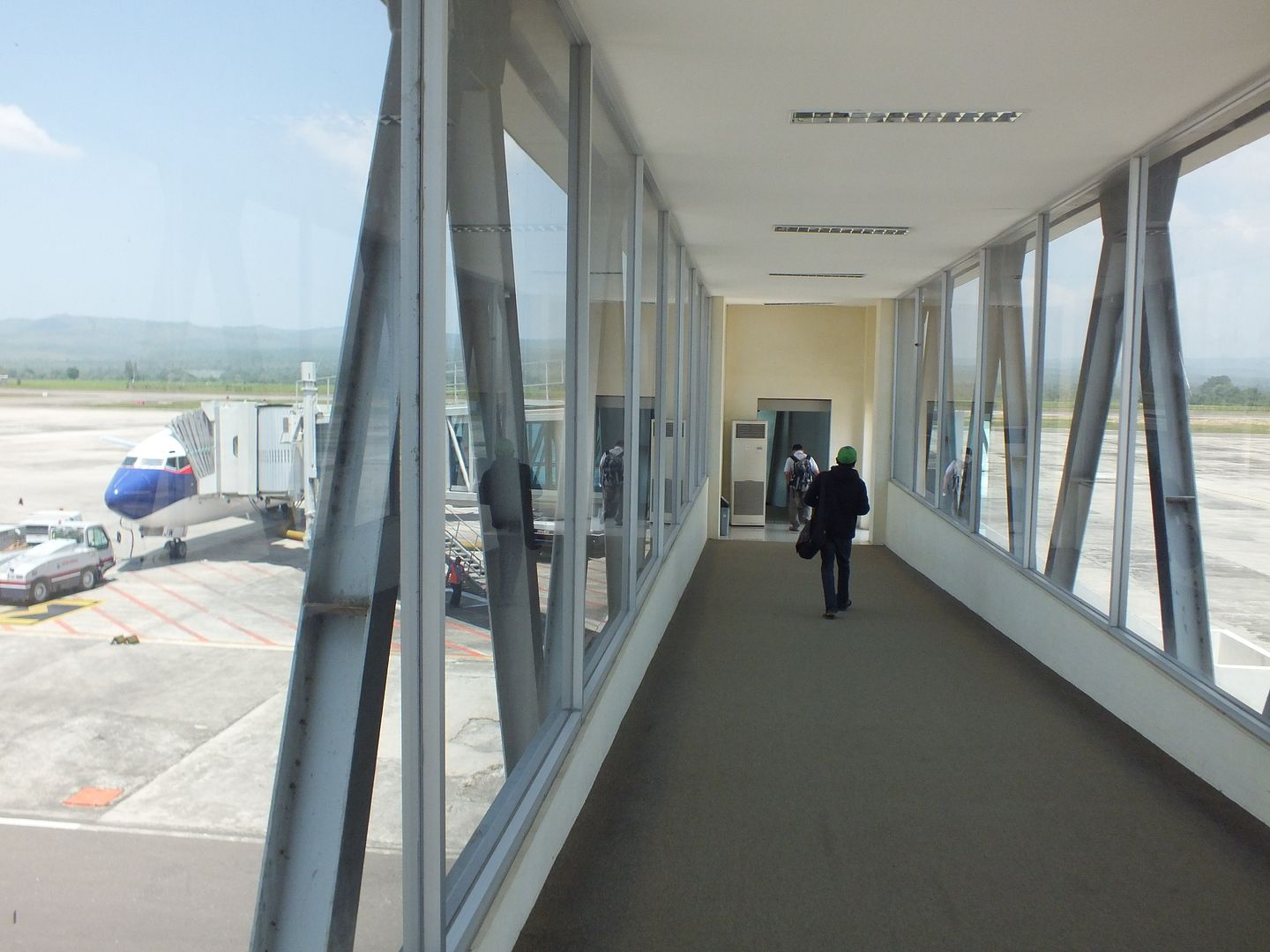 March 2012
Banda Aceh (BTJ) – Medan (MES)
Sriwijaya Airlines SJ 11
Scheduled: 1325-1425 (1h00m)
Actual: 1406-1450 (0h44m)
Boeing 737-400 PK-CJW "Anugrah"
Economy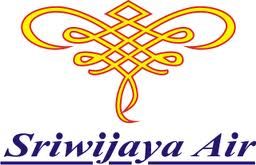 I was greeted with a friendly smile at the door, and found my way down to my seat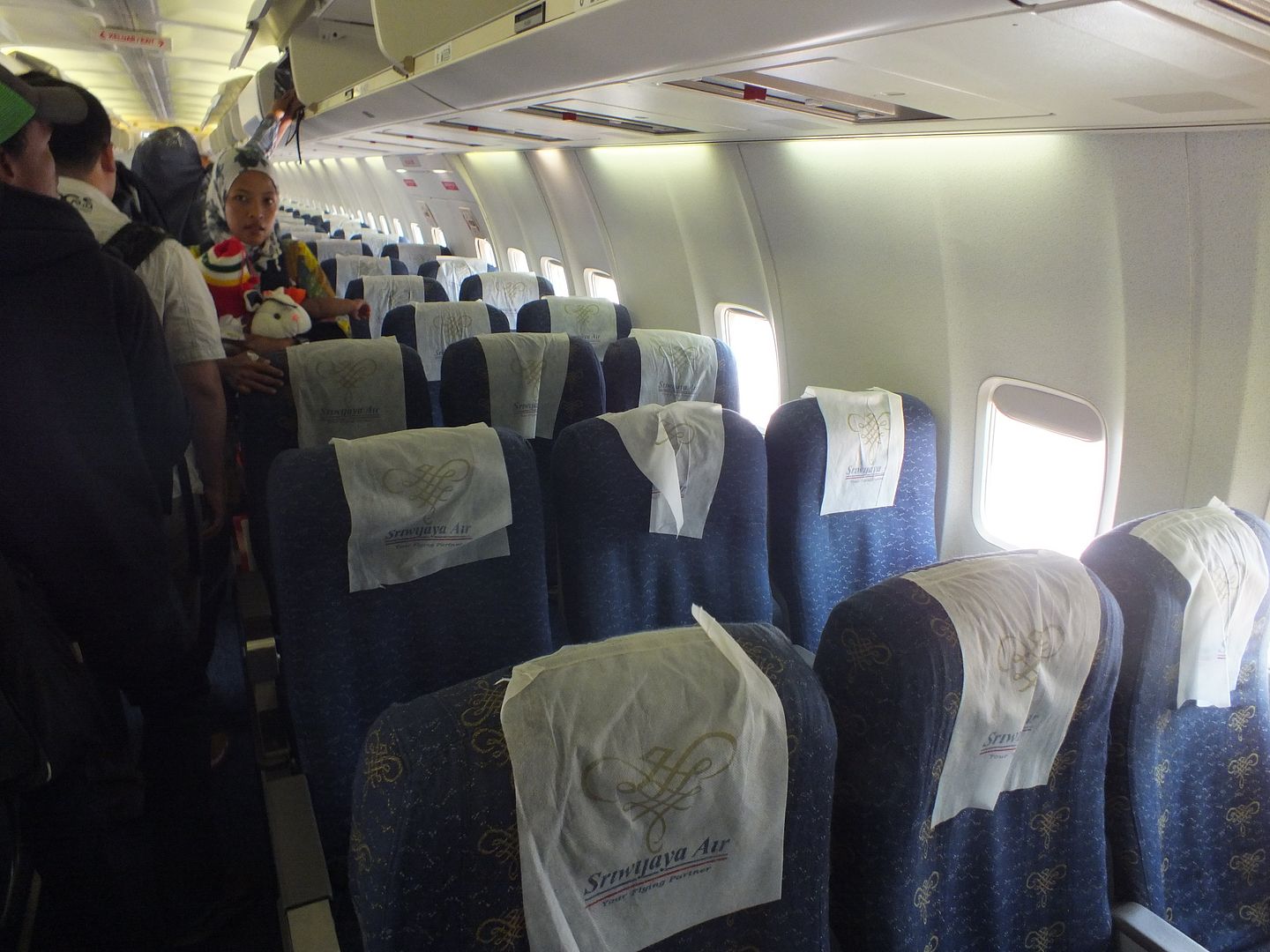 Lots of space, but the padding on the edge makes it a rather uncomfortable seat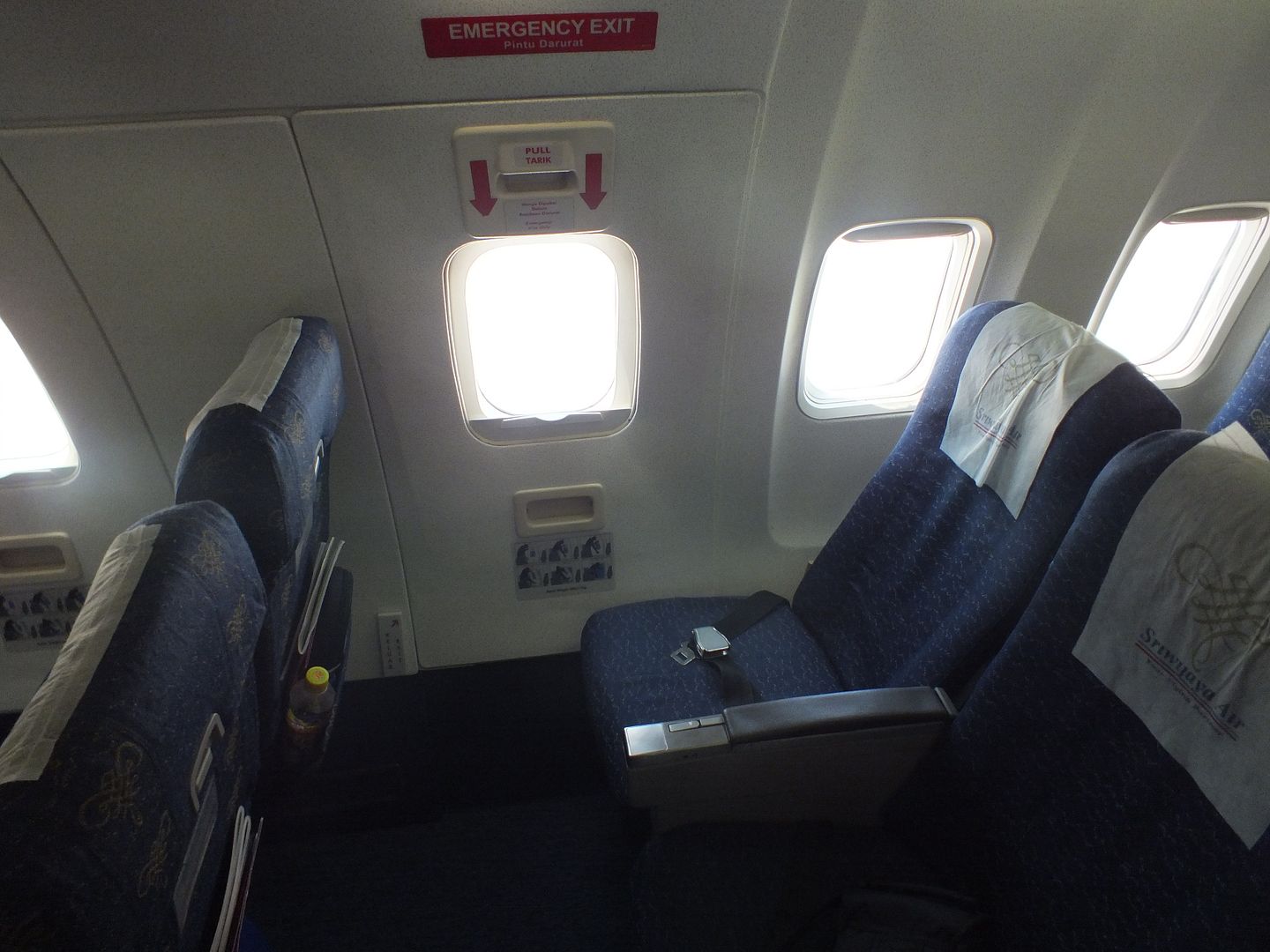 Fireflyz off to Penang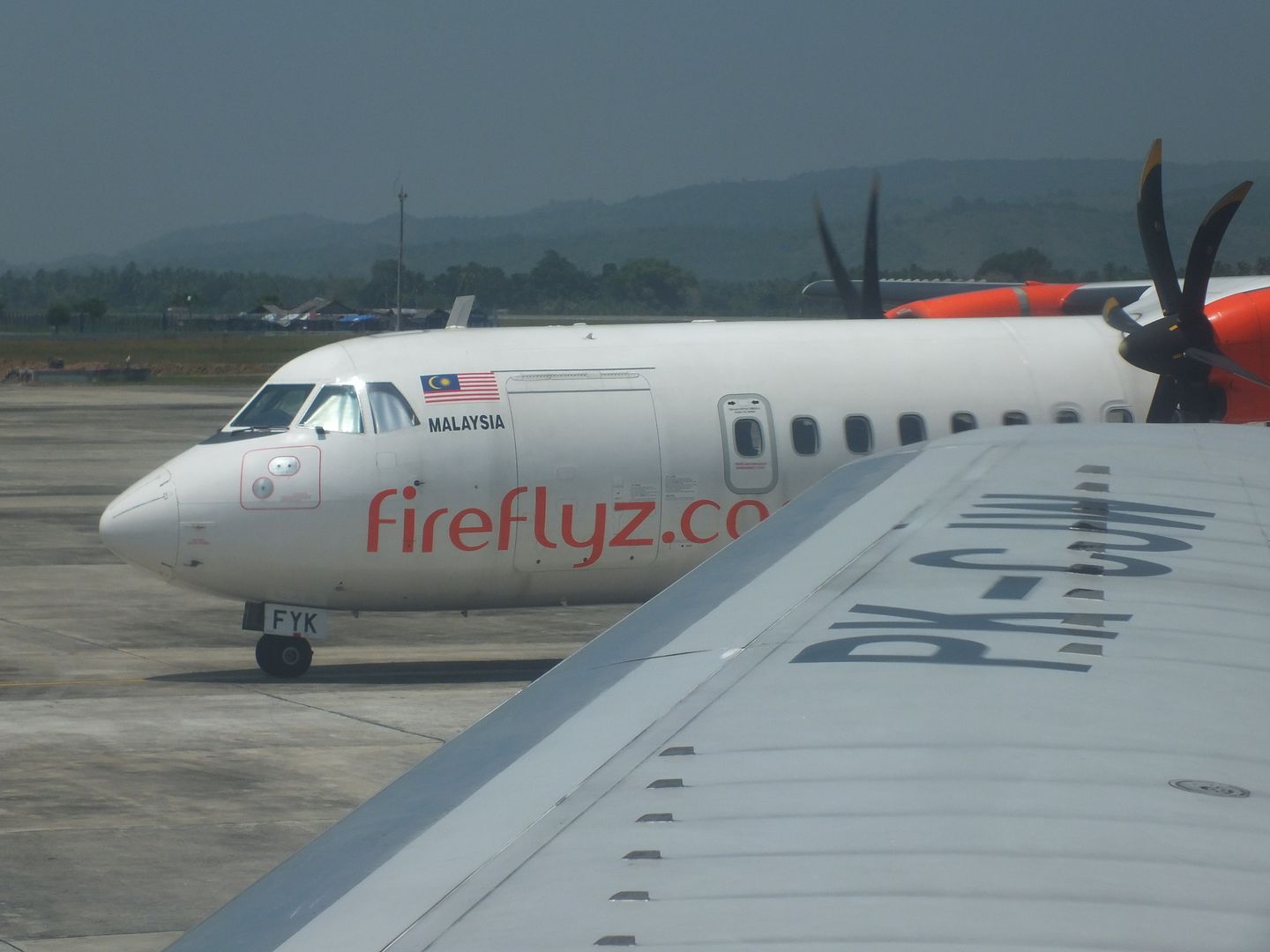 Safety first!
Inflight shopping
There was some interesting stuff on offer, all pretty cheap. None of it really appealed though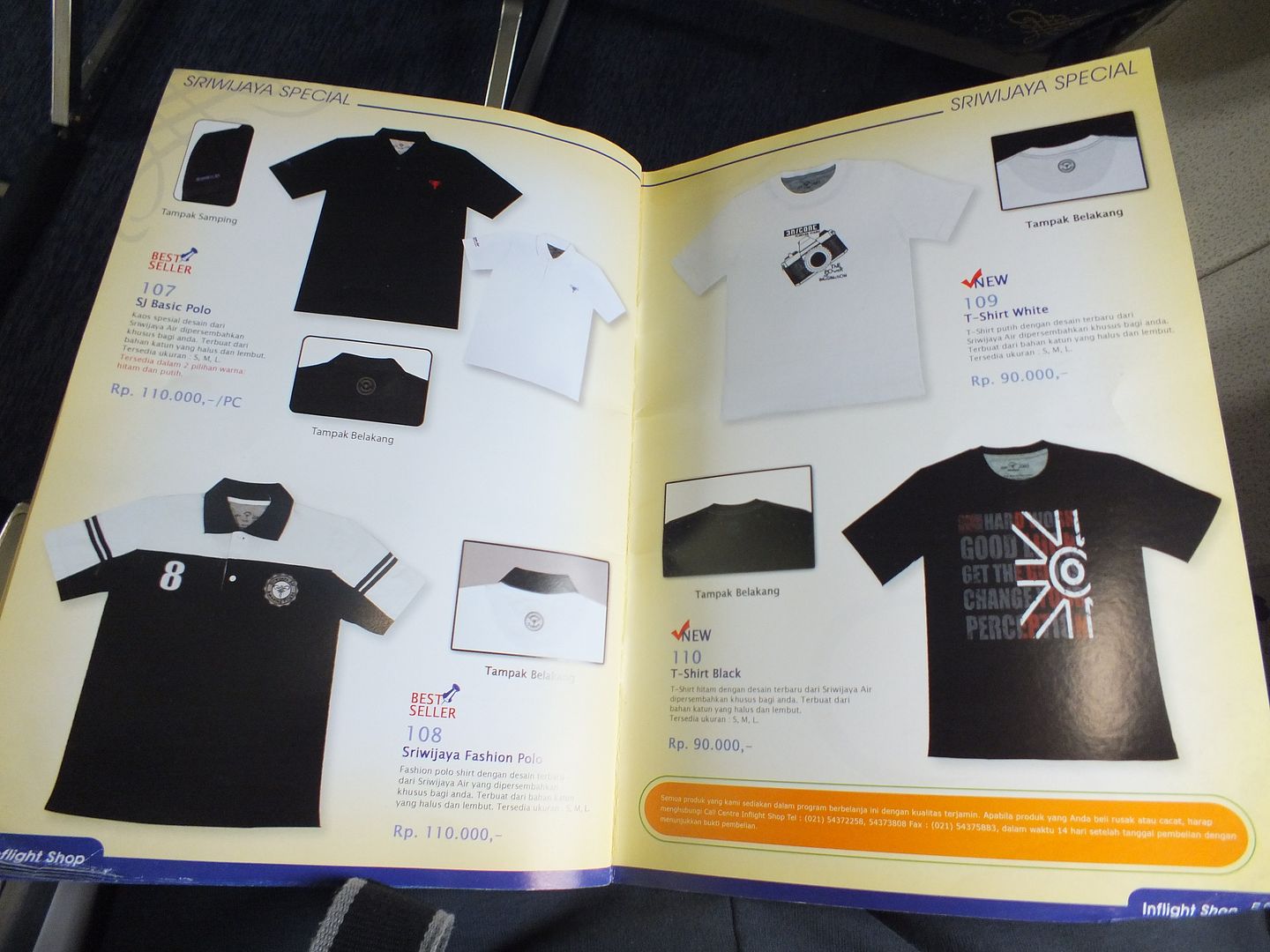 Looking for a perfect gift for your better half? How about a bag that turns into a hijab!? Many colours and styles available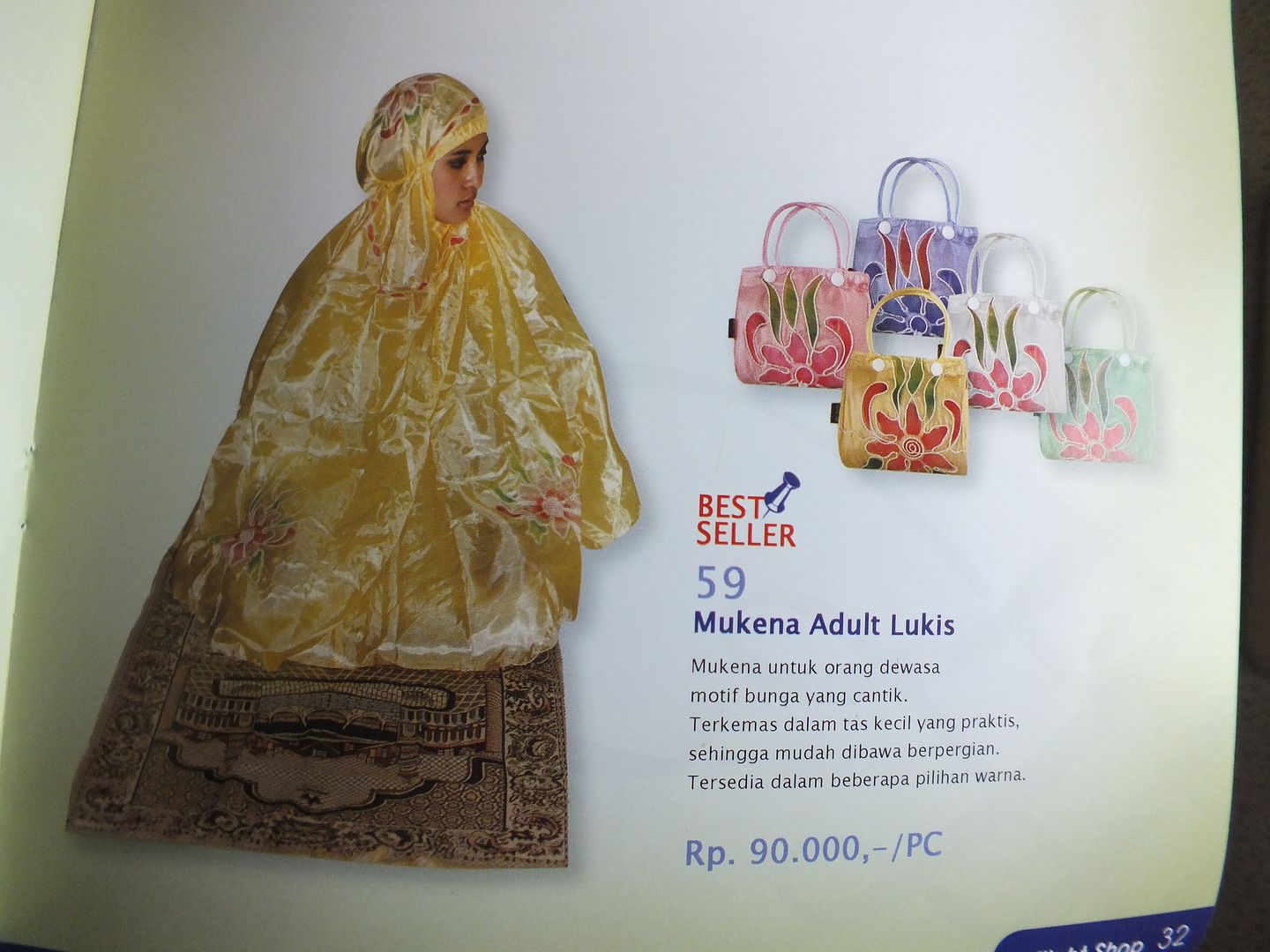 I guess the model is a friend of the CEO or something? Never seen a model with braces grinning so manically in a shopping magazine before.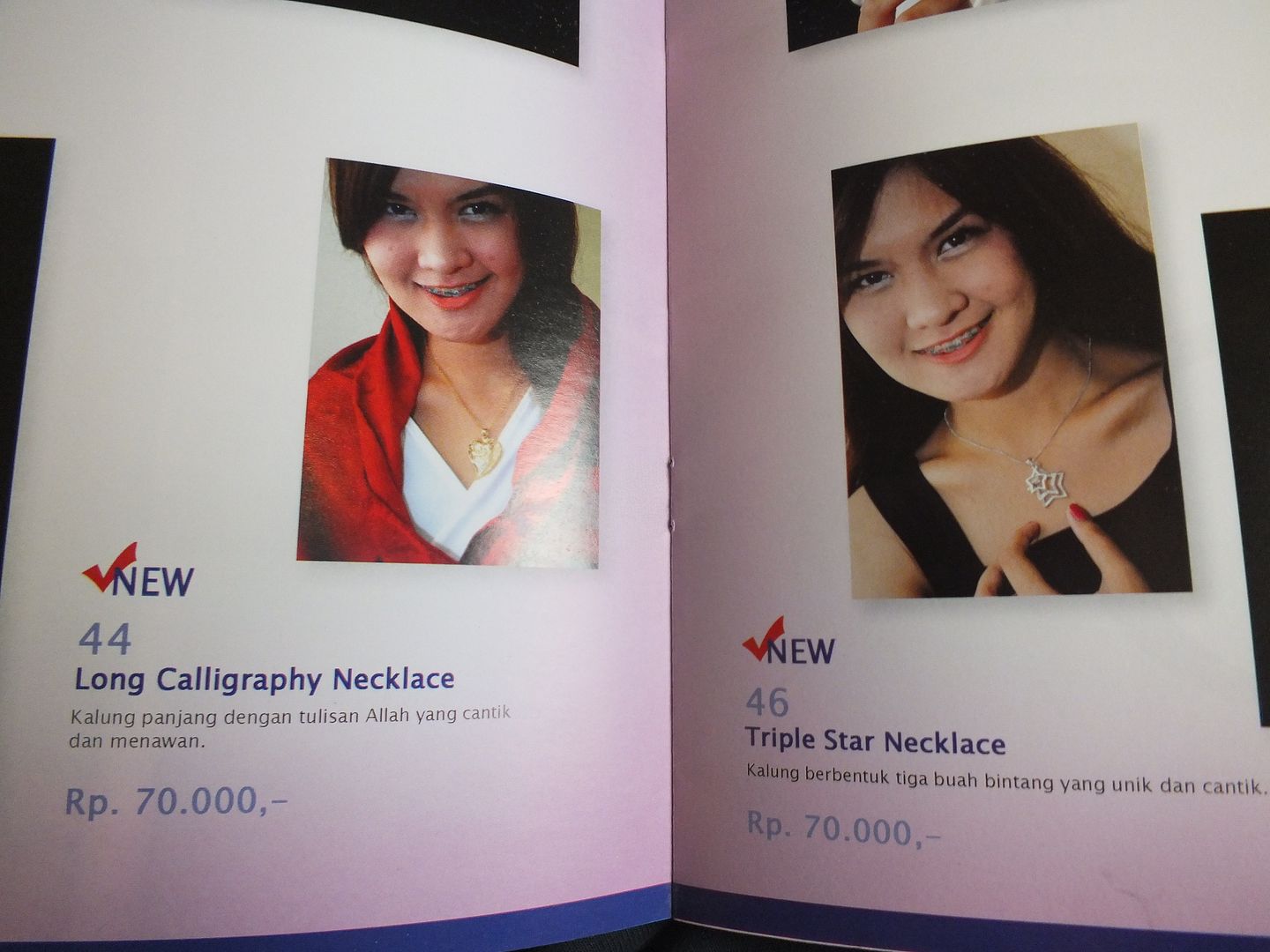 Magazine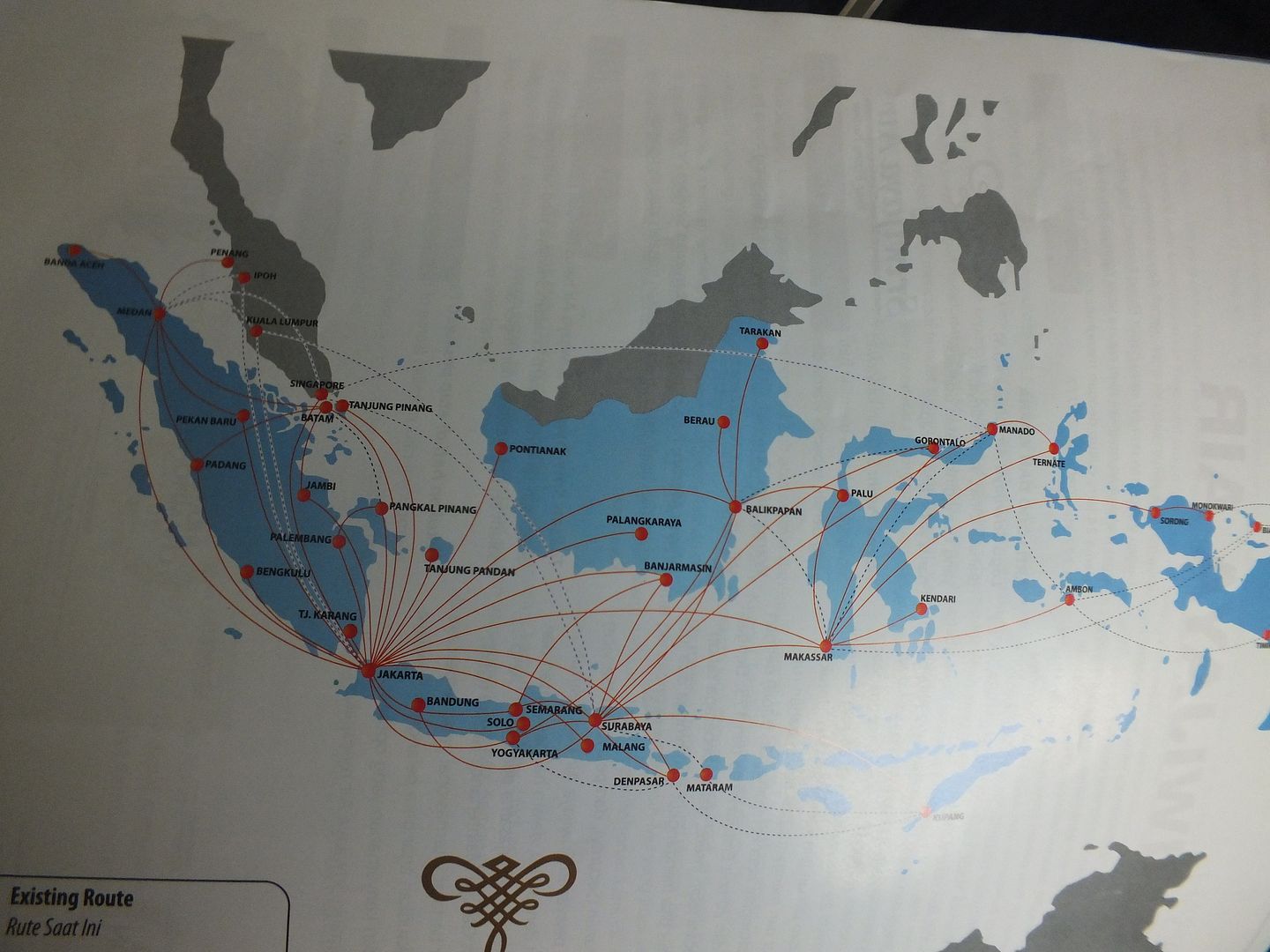 Once everyone's aboard (its a full flight) we head off, taking off 40 minutes late.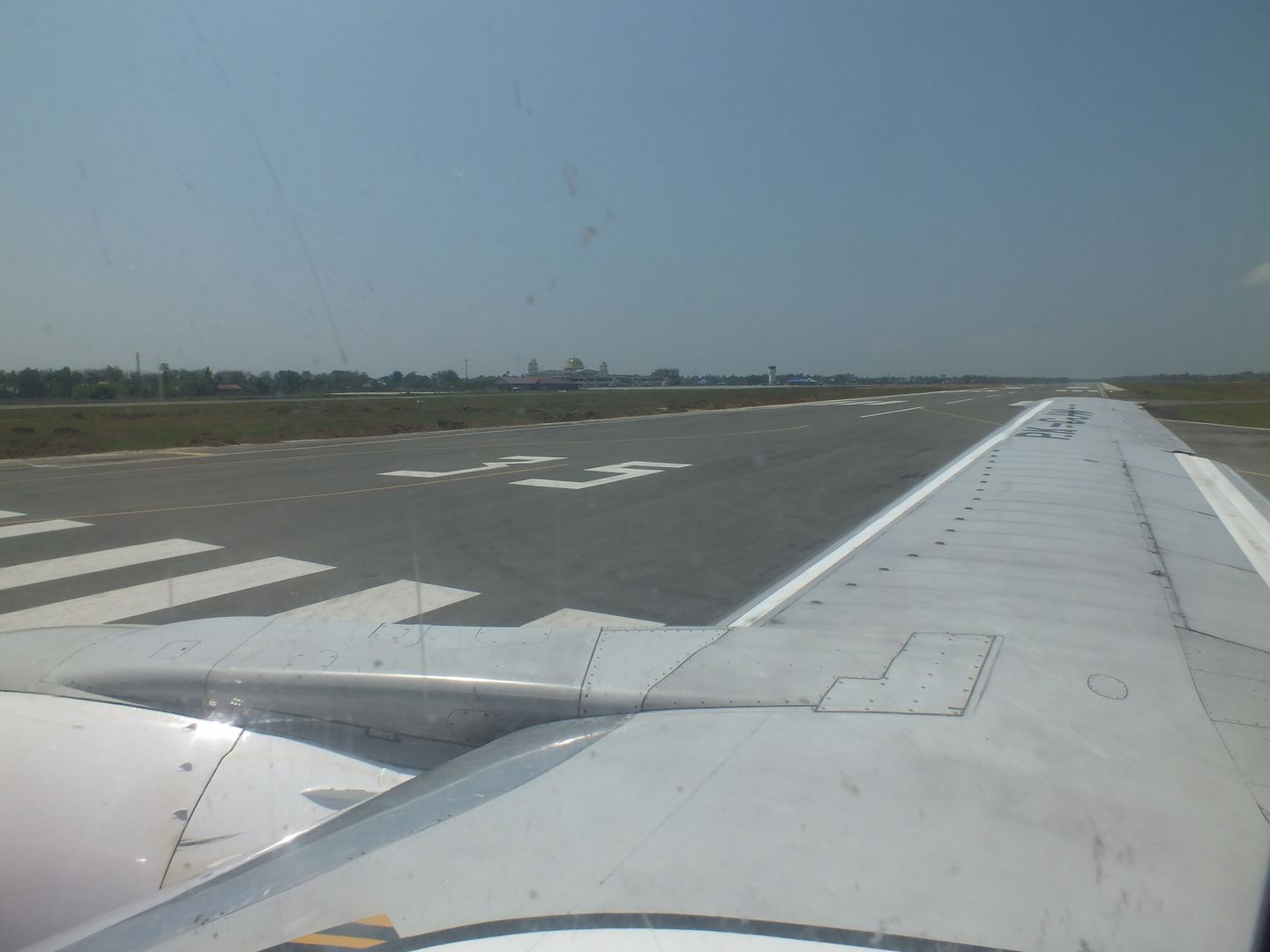 Before long I get handed a snack box. Water and some cakes, which tasted better than Garudas.
Before long we start our approach to Medan
Despite having plenty of time, the snack boxes are not collected, making my seat pocket rather full quite the opposite to my experience on Spice Jet (coming soon!)
Touchdown!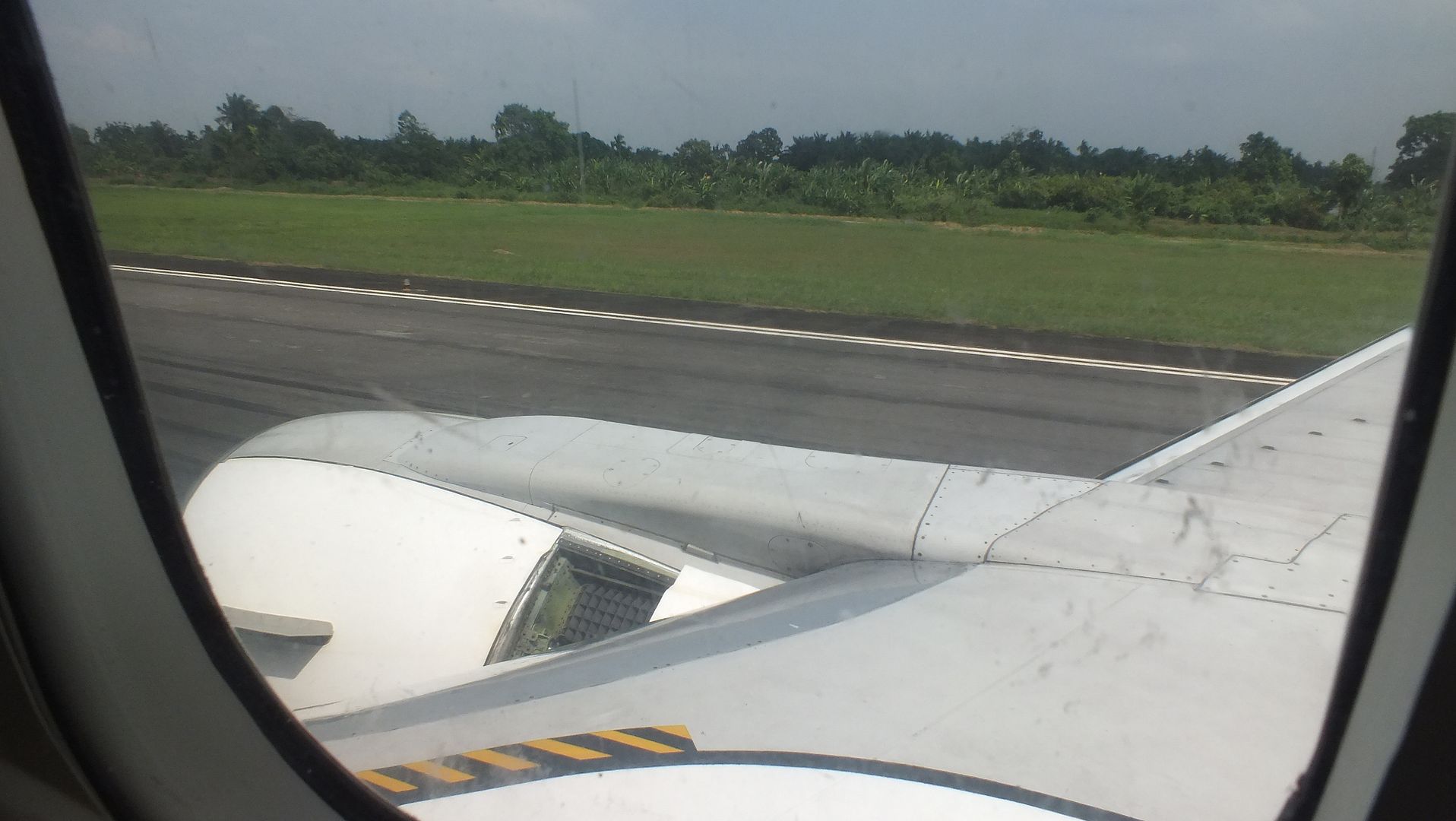 A Lion and Air Asia on the tarmac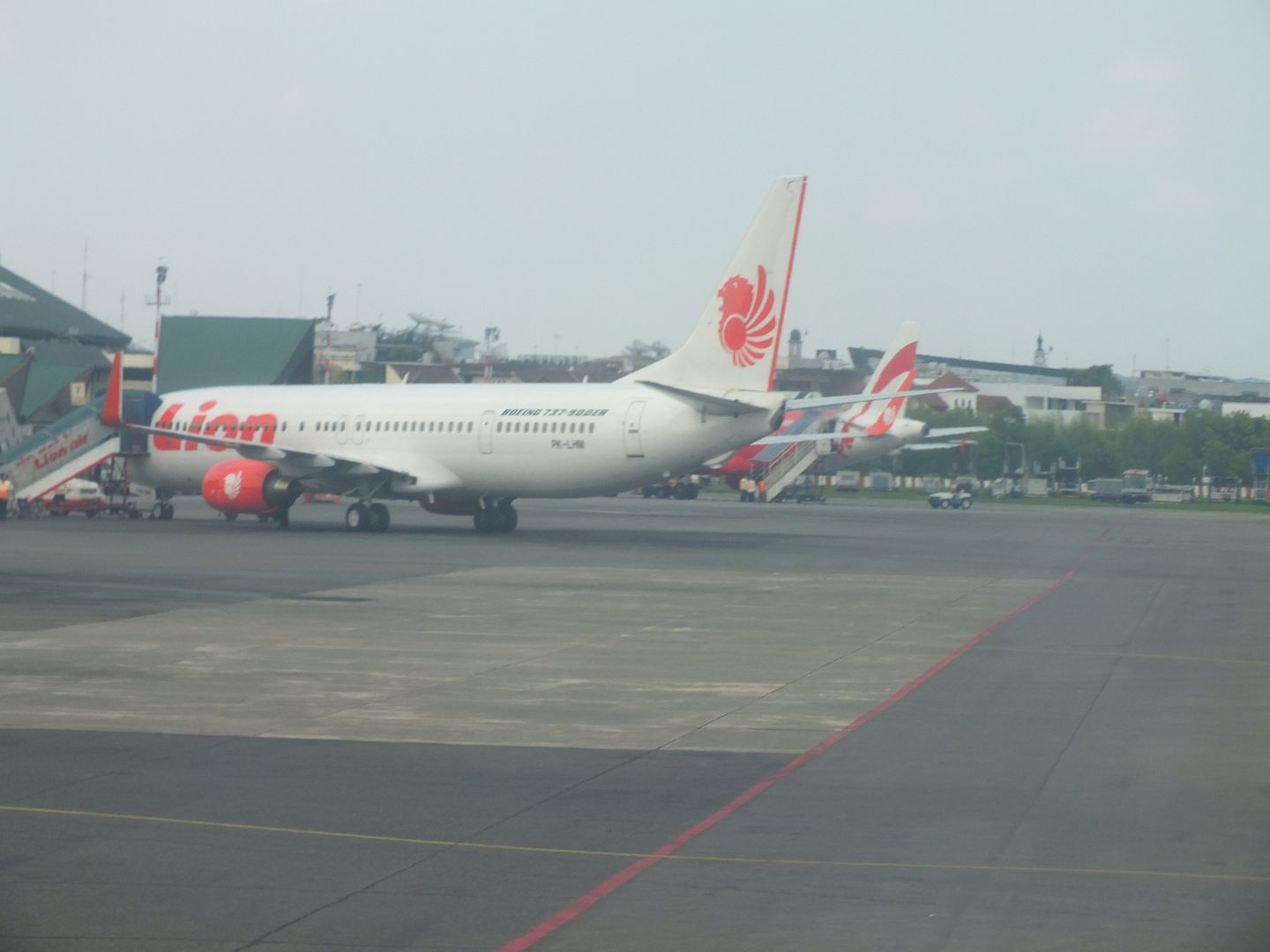 And Garuda pushing back
Quite a few people disembark here. Passengers continuing to CGK are asked to stay put. Thankfully my overly chatty middle seat neighbour moves to another seat.
Refueling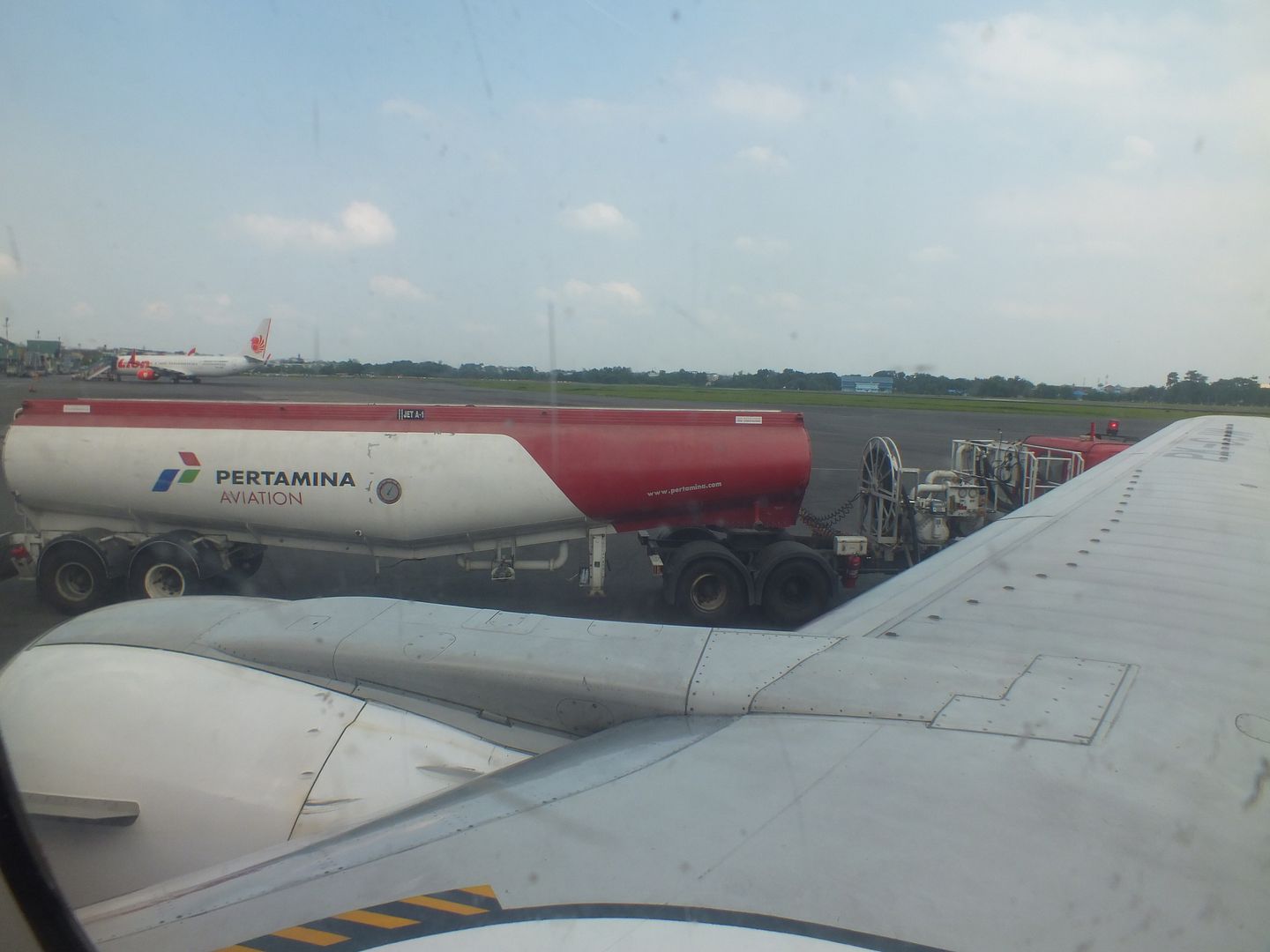 Cabin during the stoipover
Soon the cleaning crew came aboard and tied up the empty boxes. Before: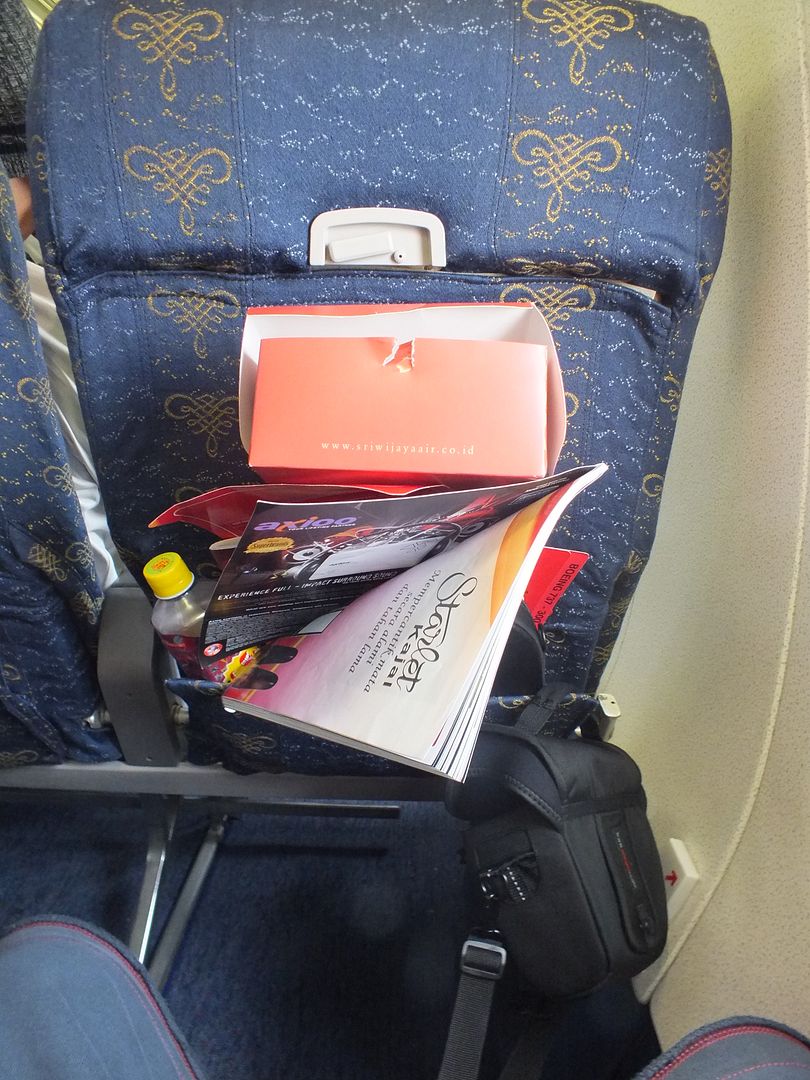 After:
March 2012
Medan (MES) – Jakarta (CGK)
Sriwijaya Airlines SJ 11
Scheduled: 1500-1715 (2h15m)
Actual: 1552-1800 (2h08m)
Boeing 737-400 PK-CJW "Anugrah"
Economy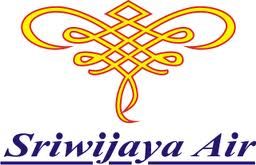 Once everyone had boarded, sweets were handed out
For a short while the tarmac was empty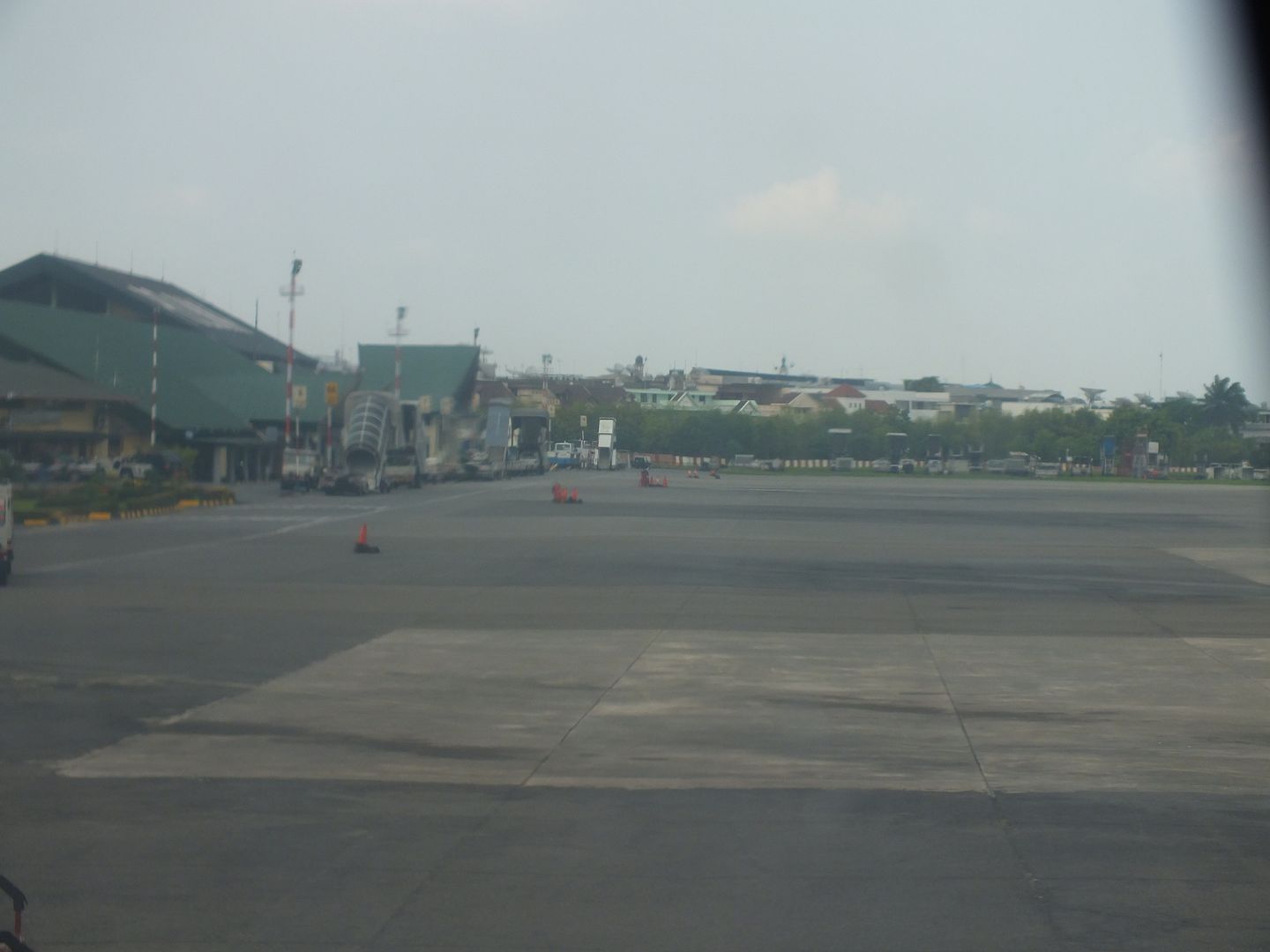 Before filling up again
Another lovely Batavia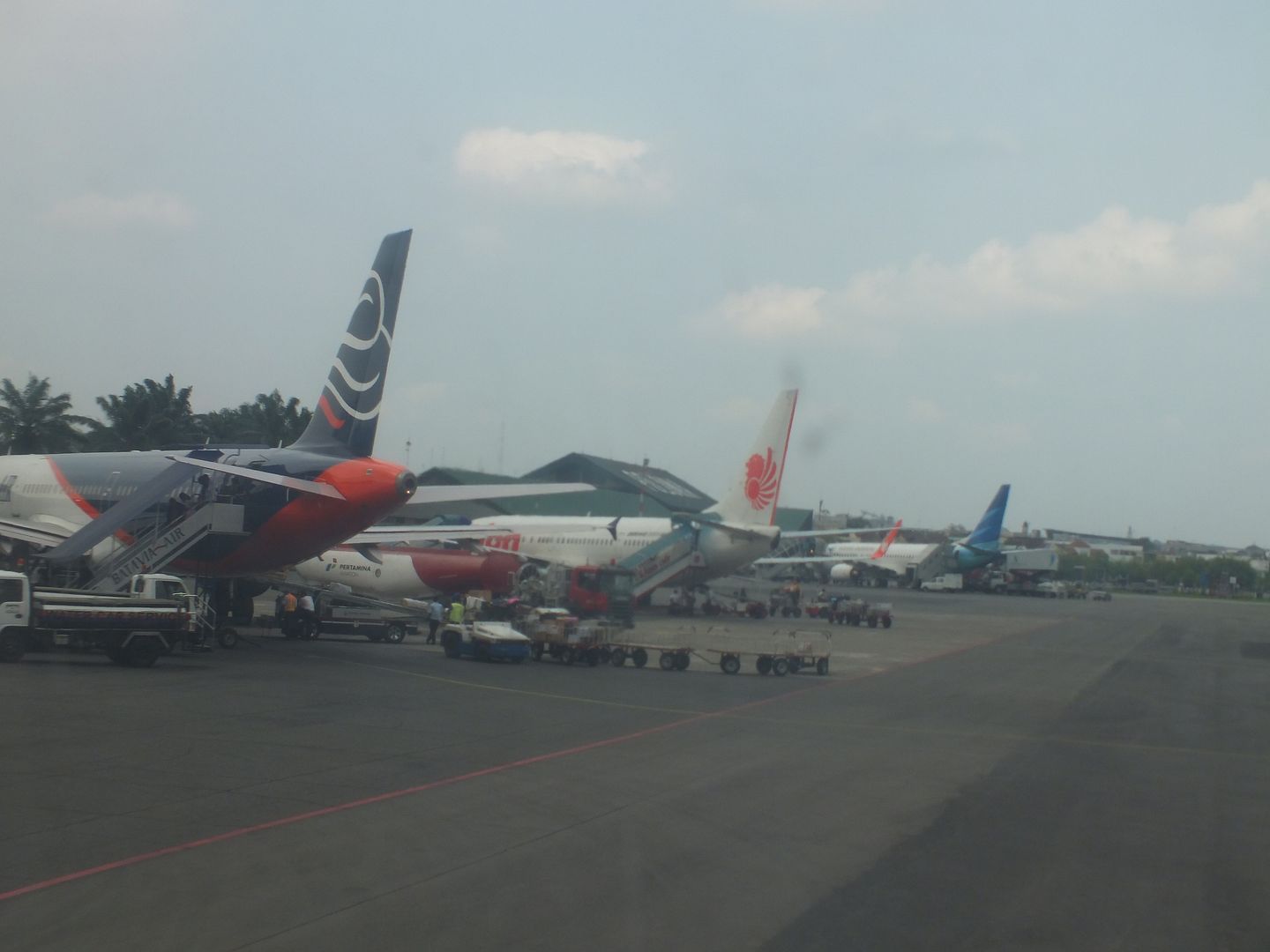 And some Sriwijaya brothers
Some working, some not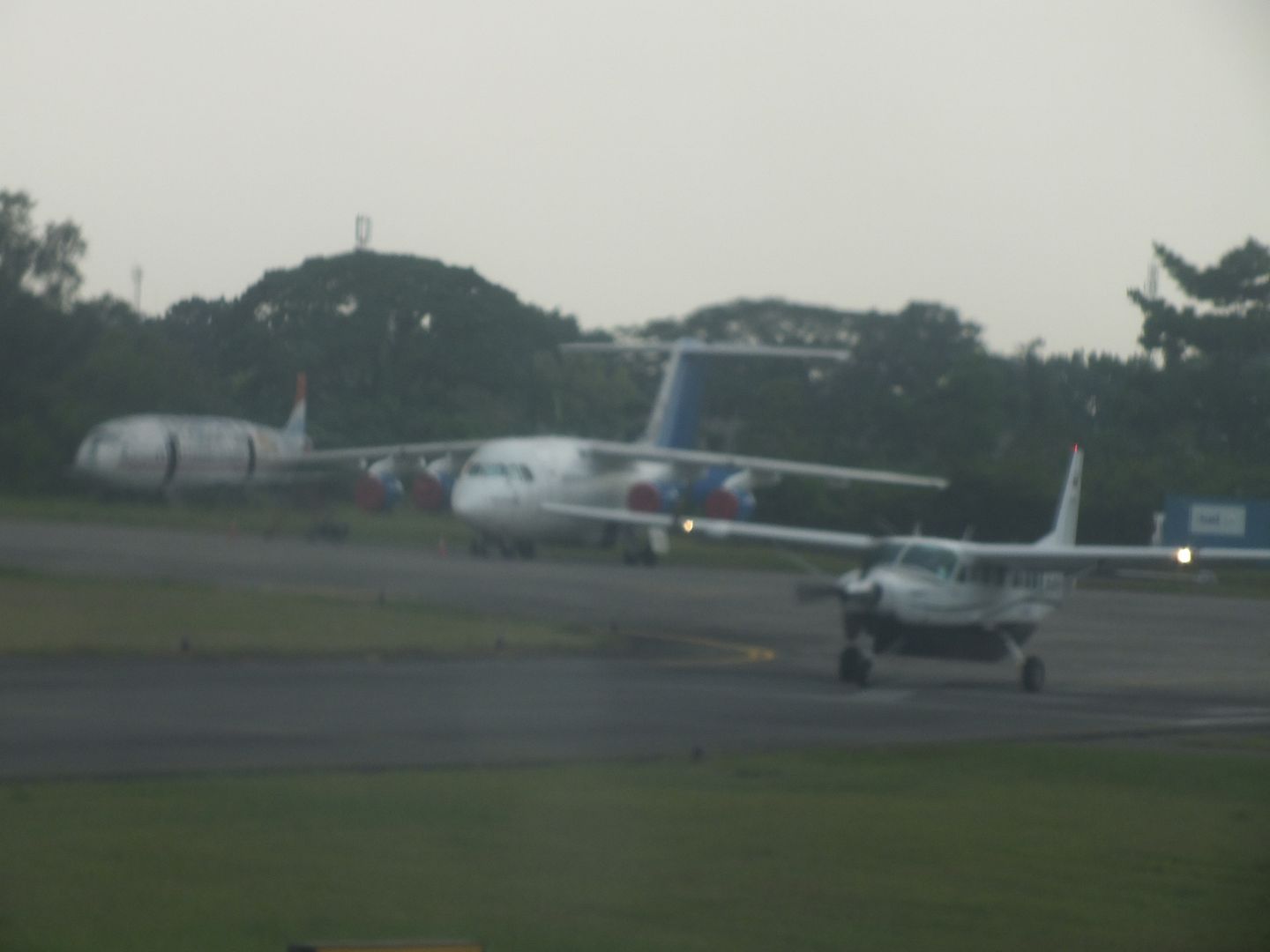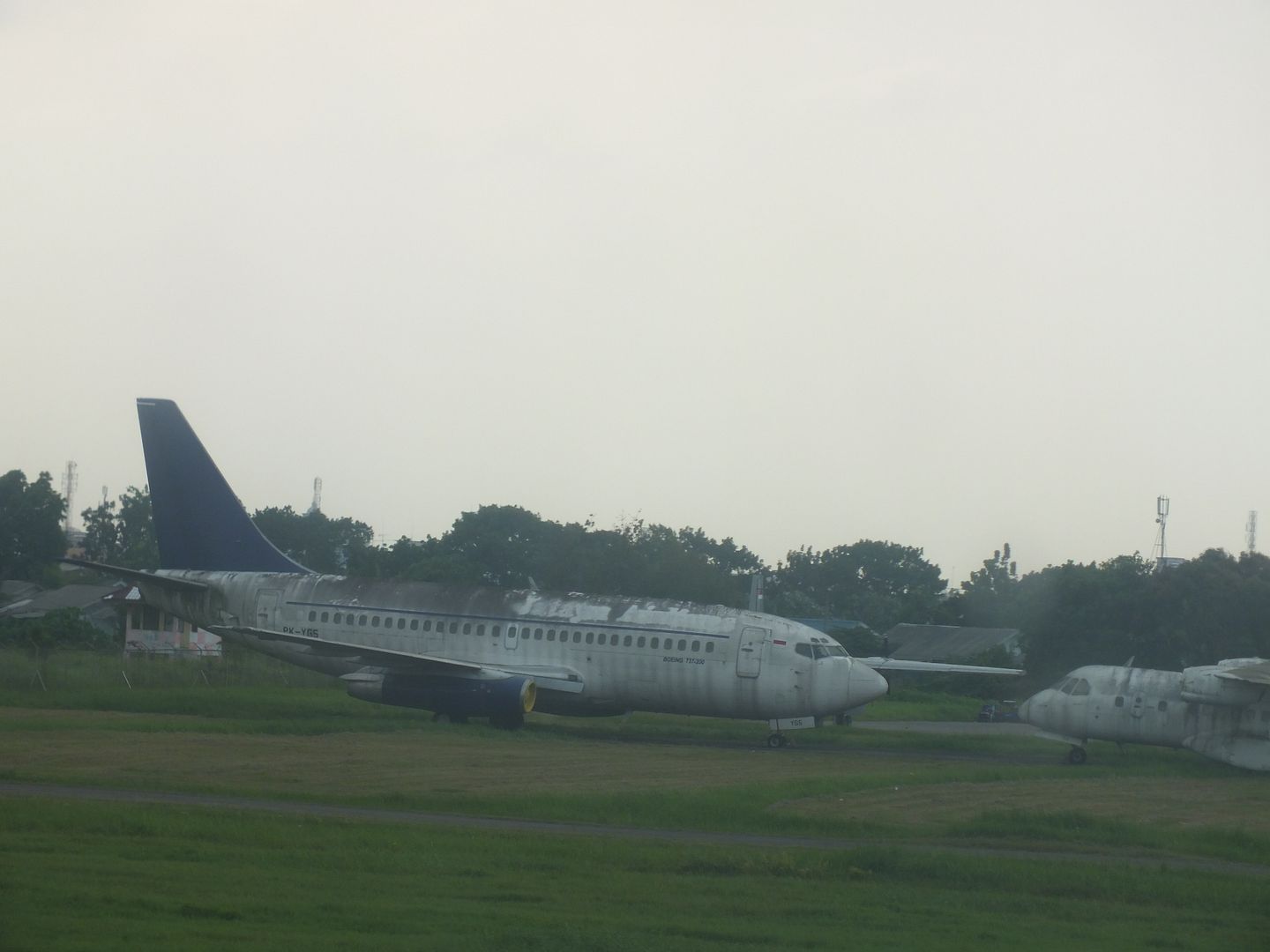 Off we go!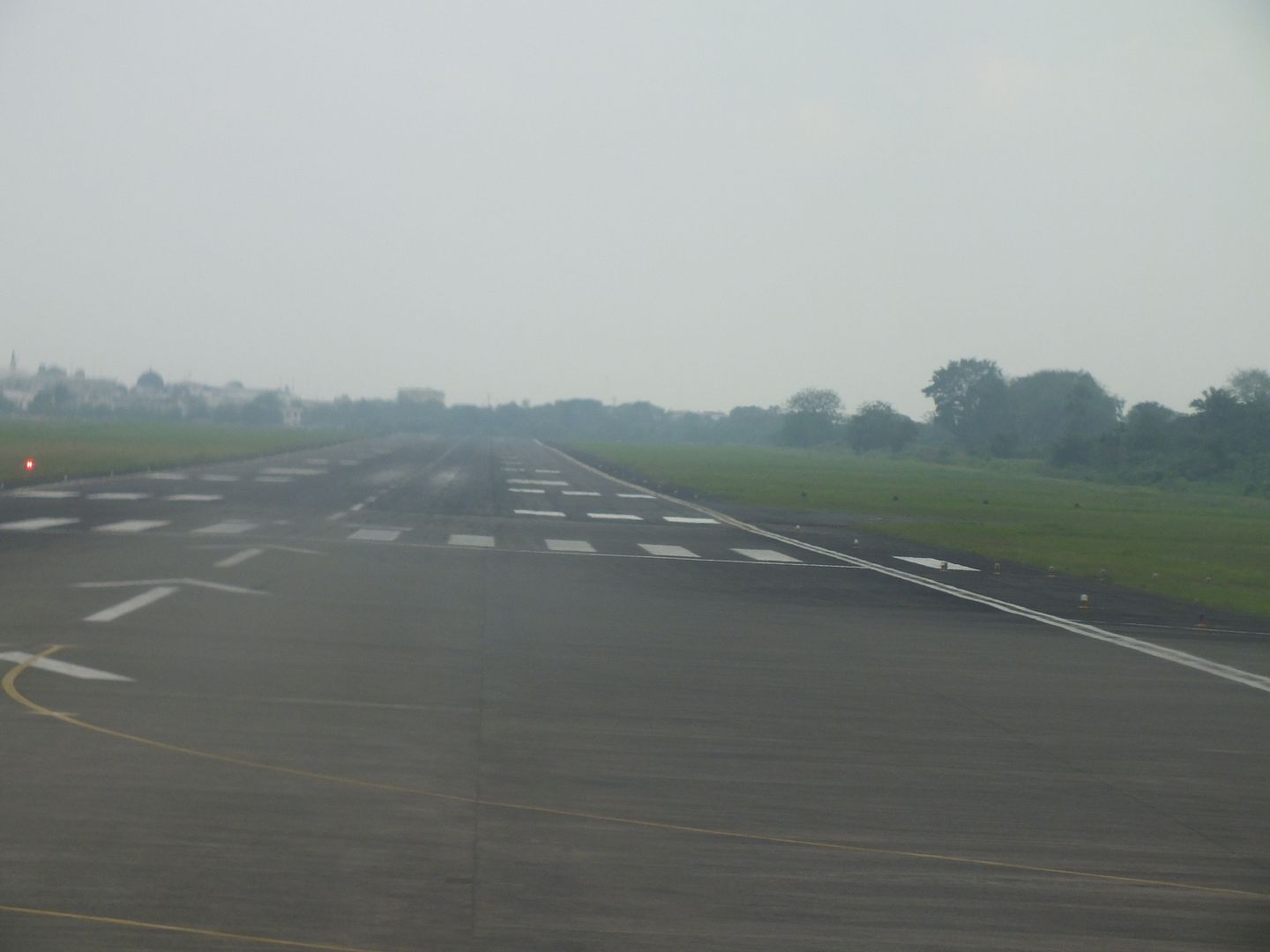 Like my last departure I took a take-off video. This one I will post…have a look if you will:
http://youtu.be/WqYYMFobwb8
Photos from take off
What's that coming out of the end of the wing?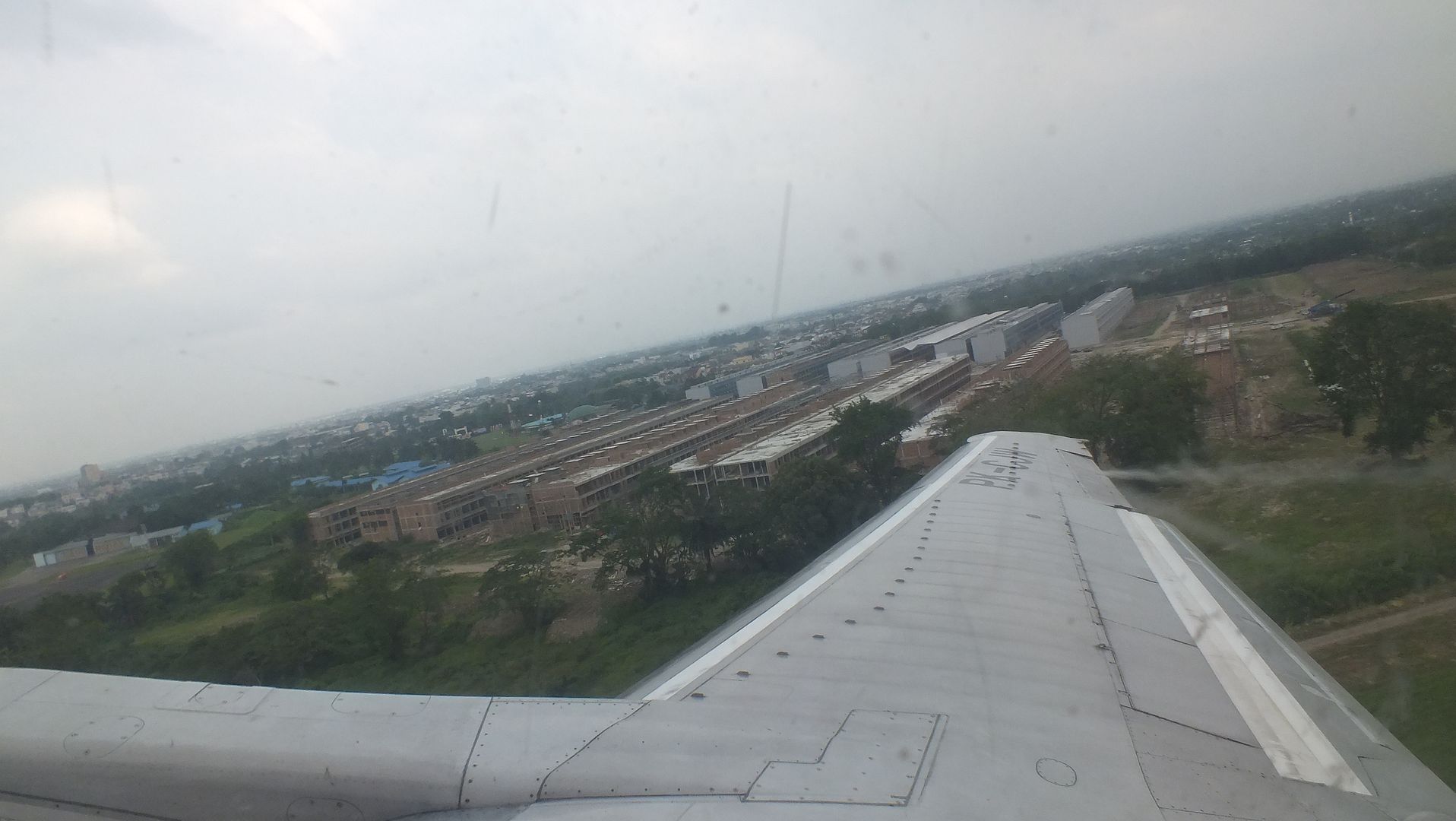 Hmmm, that would appear to be a liquid….2 minutes into the flight, and the liquid is still pouring out of the wing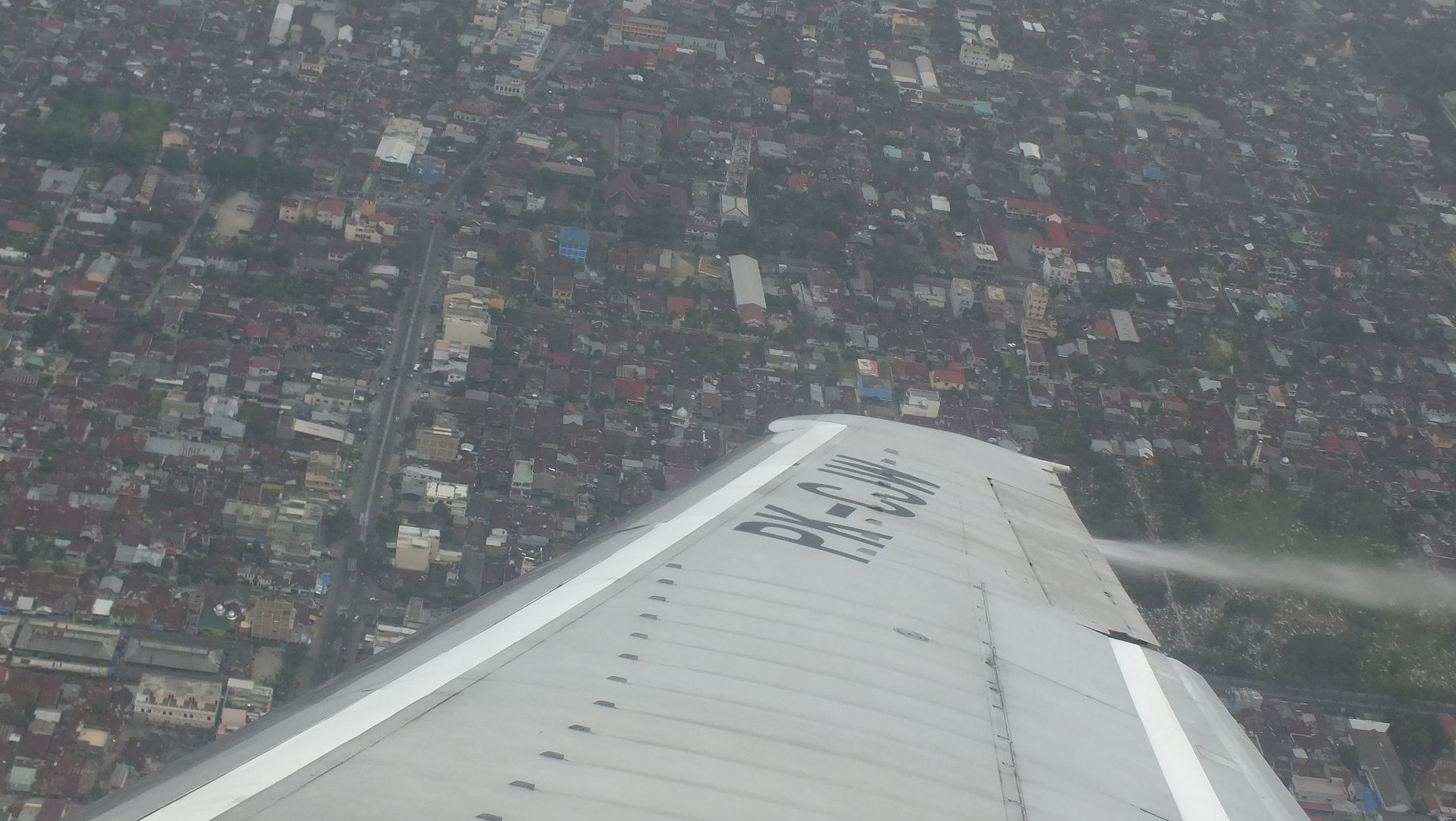 With images of numerous Indonesian plane crashes rushing through my head, I press the call button. A flight attendant appears. I explain the situation. She looks out of the window and says "it's just air". I reply "No, no, it's liquid!". She looks rather concerned and gets the purser. I re-explain the situation, and show her the video I shot. She says she'll show it to the captain. In the meanwhile, the liquid has stopped gushing, and is now just dripping steadily. My conversations with the crew seem to have alarmed a few of my fellow passengers, but there we go. A few minutes later, the purser comes back with my camera and says something like: "Yes, it was fuel, but this is totally normal. The captain explained it to me, but I can't translate it into Indonesian. But don't worry, the captain knows about the situation and everything is fine….. >". Well, I'm satisfied that the captain knows what's happening (and that the fuel is no longer pouring out of the plane), but rather concerned that dumping fuel from the plane at take off for a few minutes whilst climbing over one of Indonesia's largest cities is "normal". Can anyone shed any light on the situation?
Oh well, with the drama over and done with, it's time for "lunch". Another lunch box. I am a bit surprised to see I have a special box with my seat number on it.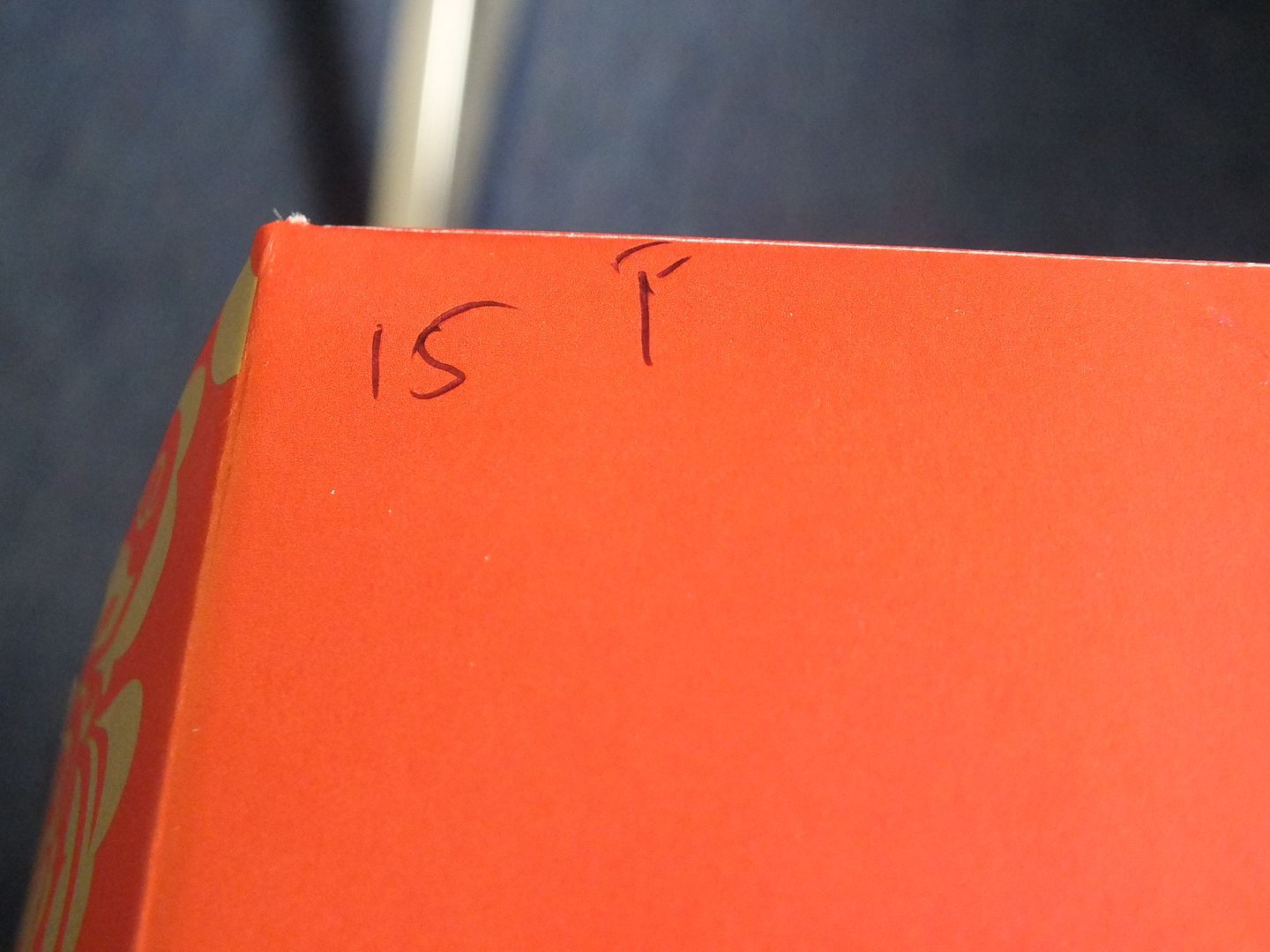 Not a very interesting box, but there is a little note!
I'm rather confused by the random string of letters and numbers. I'm left wondering for a while until I'm handed a second lunch box a few minutes later. Now, this one I understand!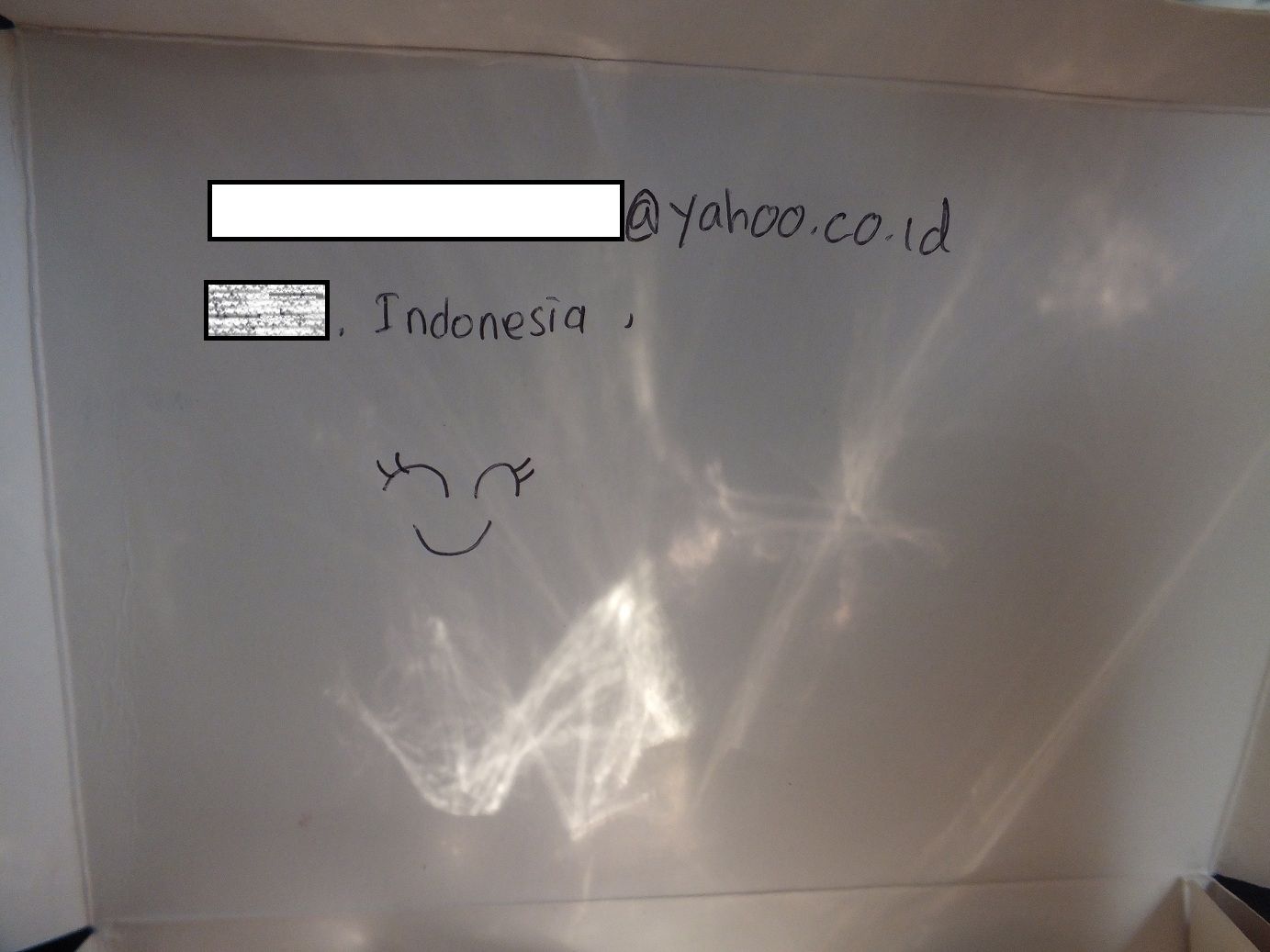 I seem to have found an admirer amongst the crew! Going back to the box itself, there was nothing terribly interesting. A cup of water and two cakes.
Continuing over Sumatra, and into the Southern Hemisphere
Nothing much happens for the next hour or so. The crew do their Sky Shop sales whilst I listen to my music with my noise cancelling headphones. I was a bit oblivious to the crew trying to talk to me. Eventually they get my attention (along with the surrounding few rows) and ask me where I'm from etc etc etc. Rather amusing, what with all the stereotypical Asian embarrassing/hysterical laughing. When their service is done, I'm presented, along with my neighbour, with a cup of tea. I'm a bit unsure of where the situation is leading, but decide to throw caution to the wind, and head to the back galley.
I'm glad I did as I spent a very interesting half hour chatting to the crew, and getting shown around the galley. I also learnt that the cryptic message I got earlier was a Blackberry access code – every day's a school day!
After a brief photo session, I headed back to my seat as the crew prepared the cabin for arrival.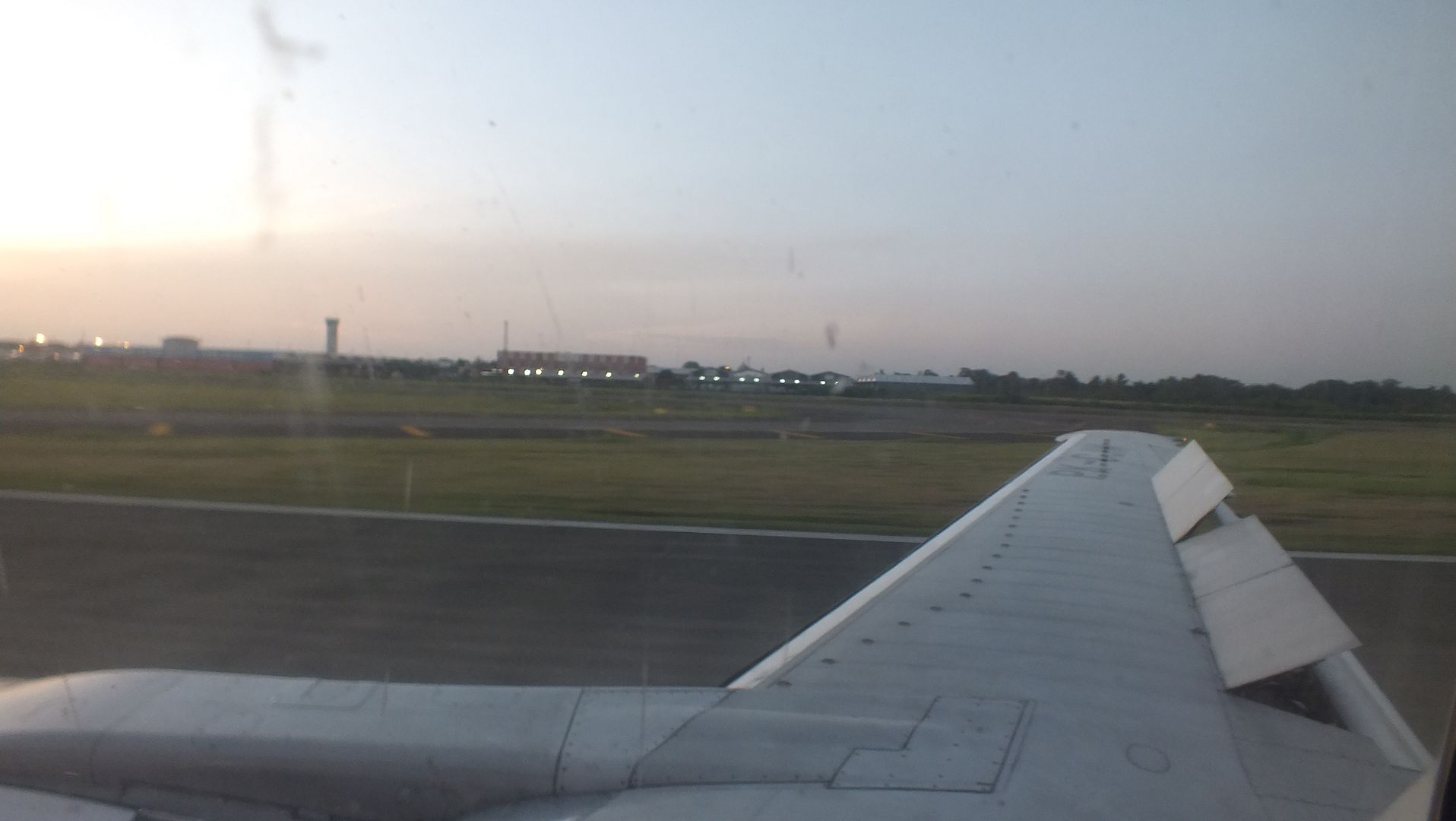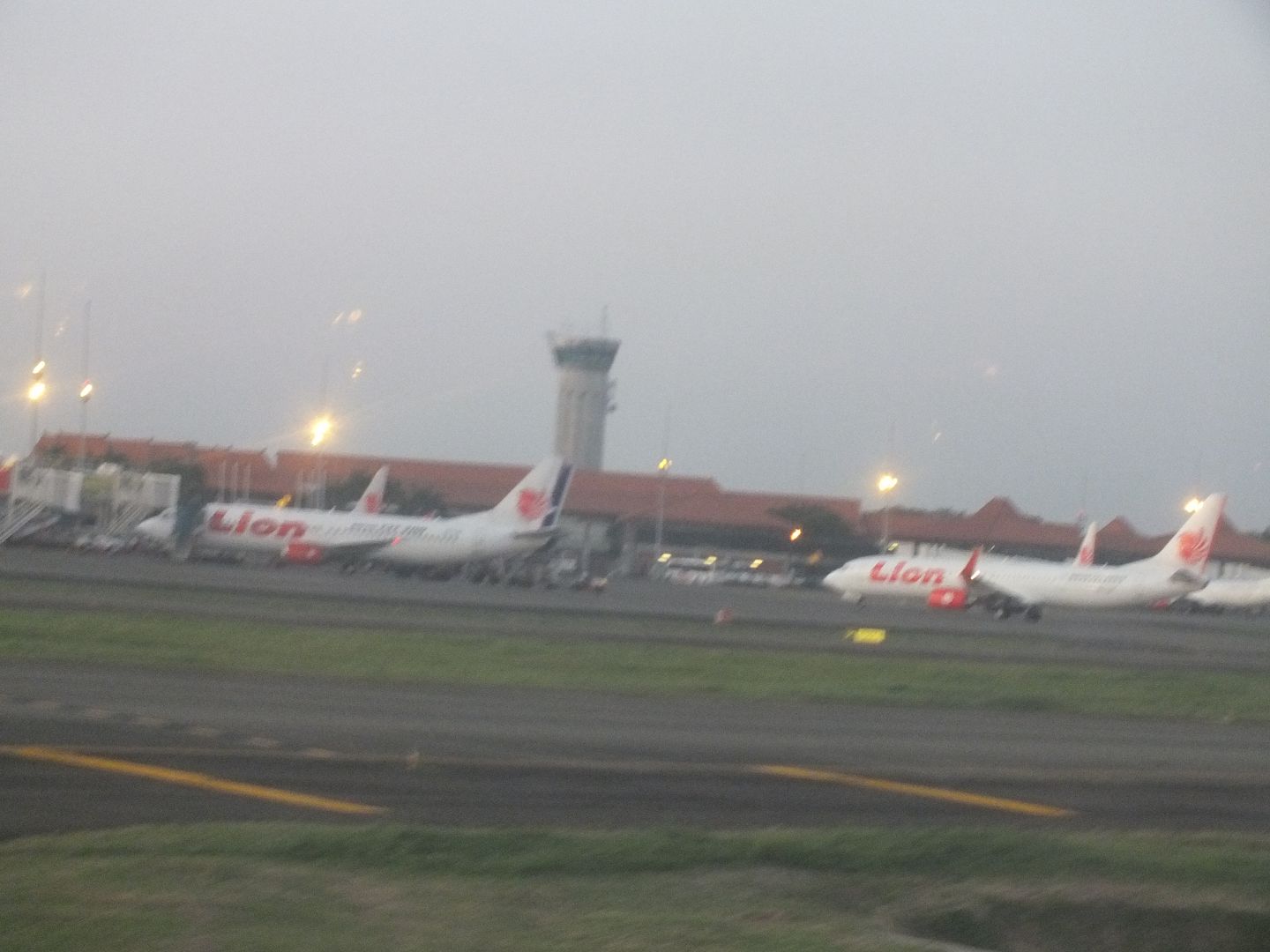 I was quite impressed with the amount of traffic at CGK – I was expecting something along the line of KUL, but CGK was far busier. I guess it's a much larger country, and one with a lot of islands.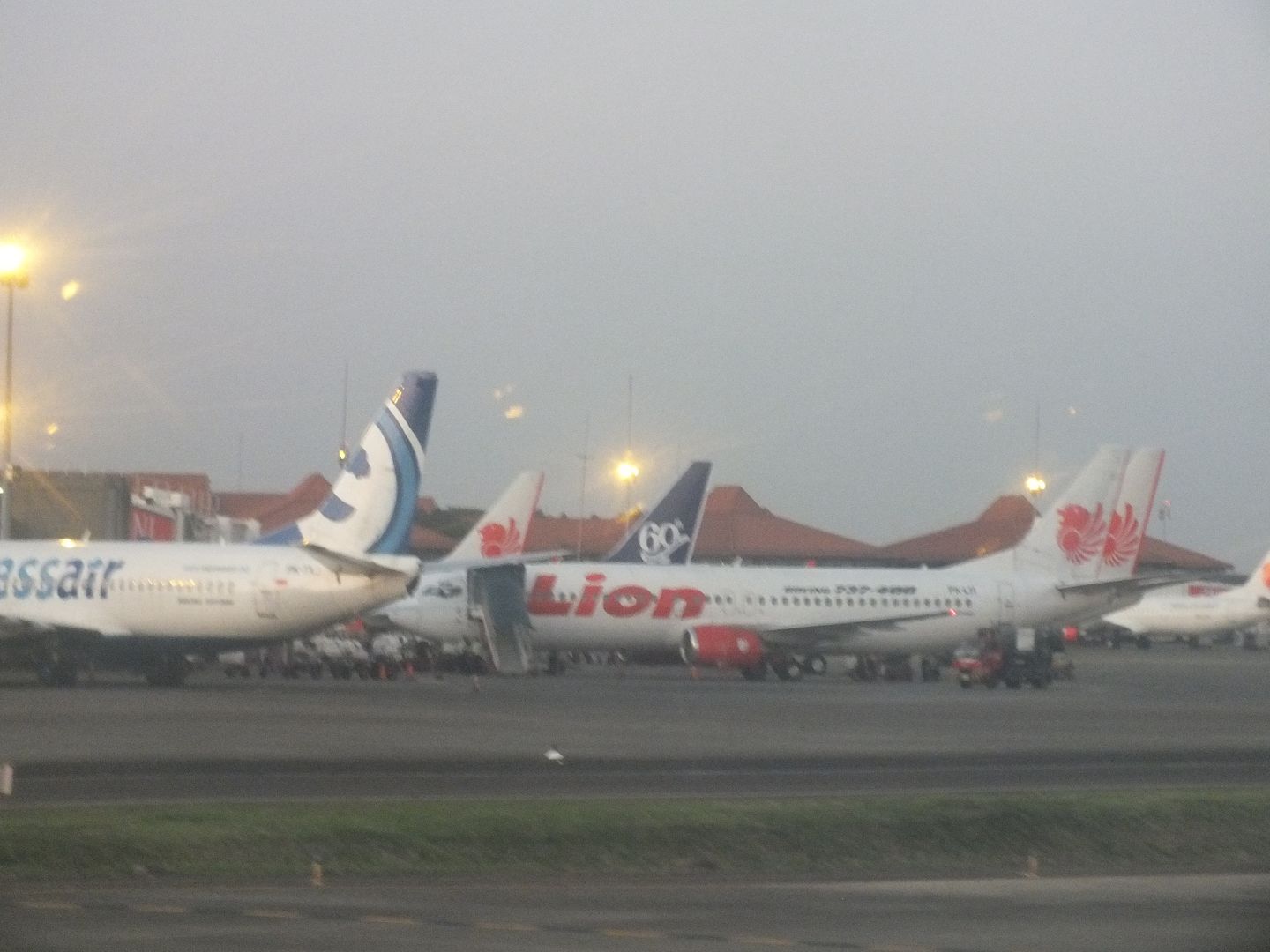 Disembarking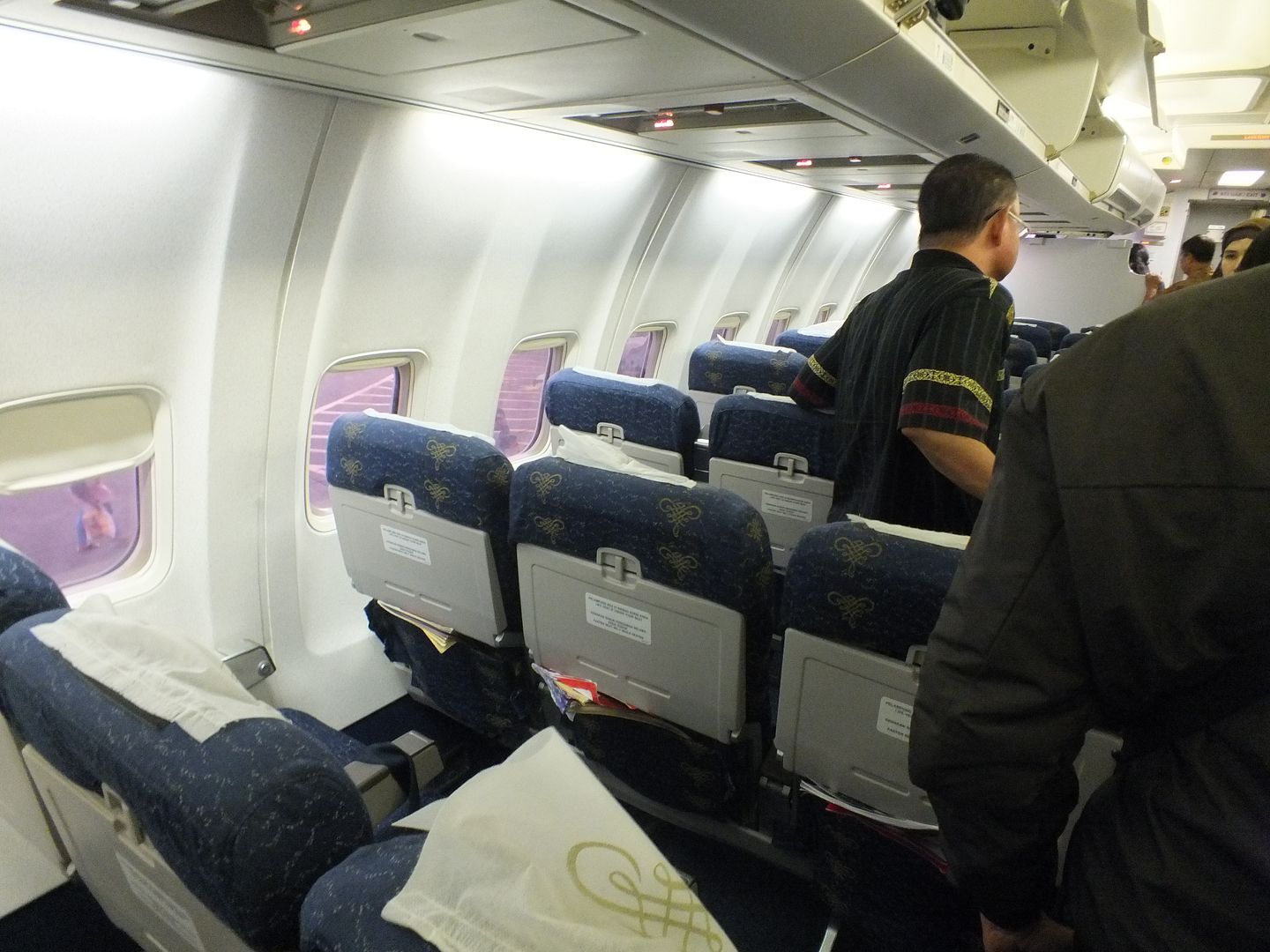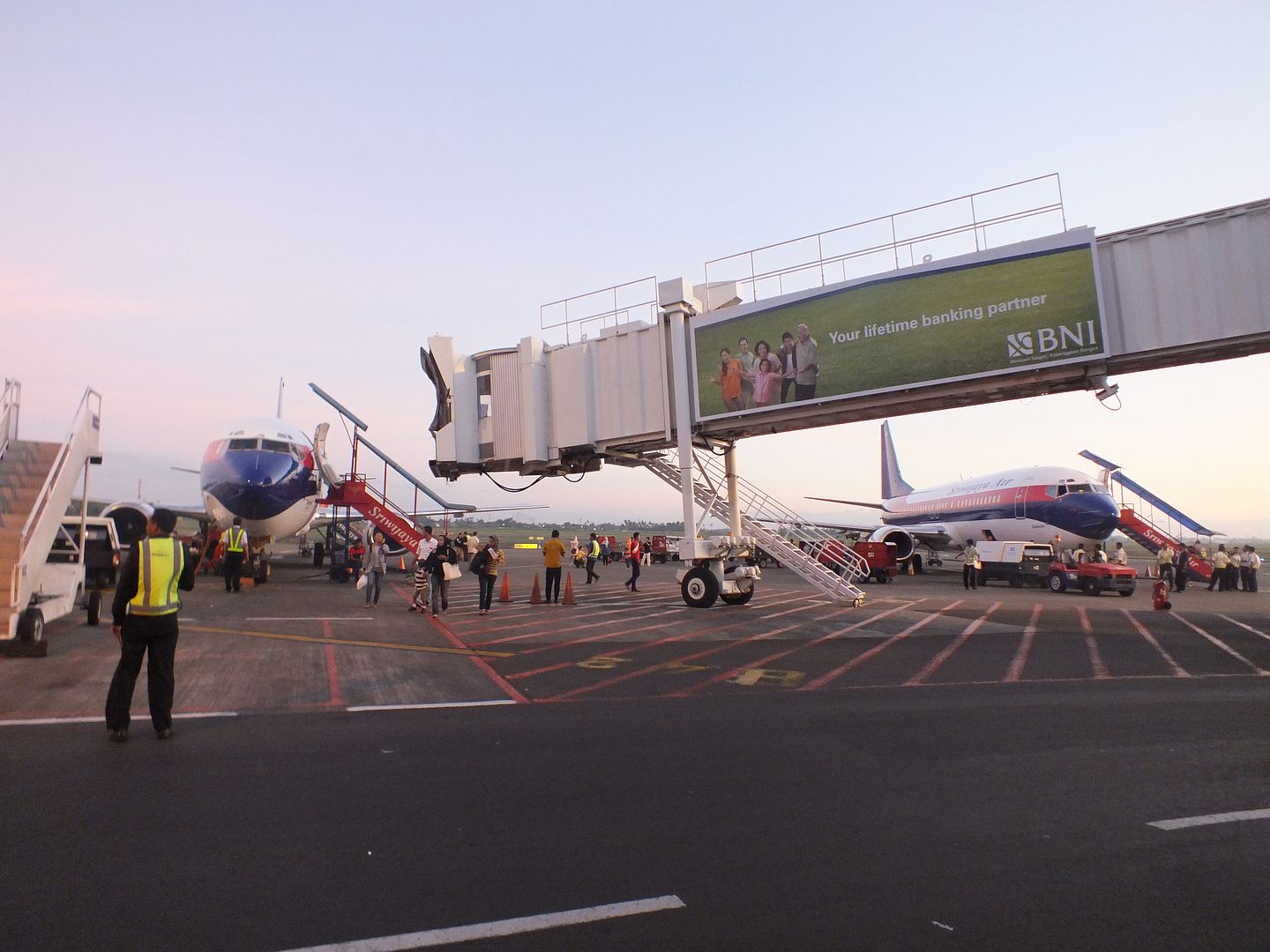 Walking to baggage reclaim
Baggage Hall. My bag didn't take too long to come out, although it wasn't as fast as in SIN.
Connecting flights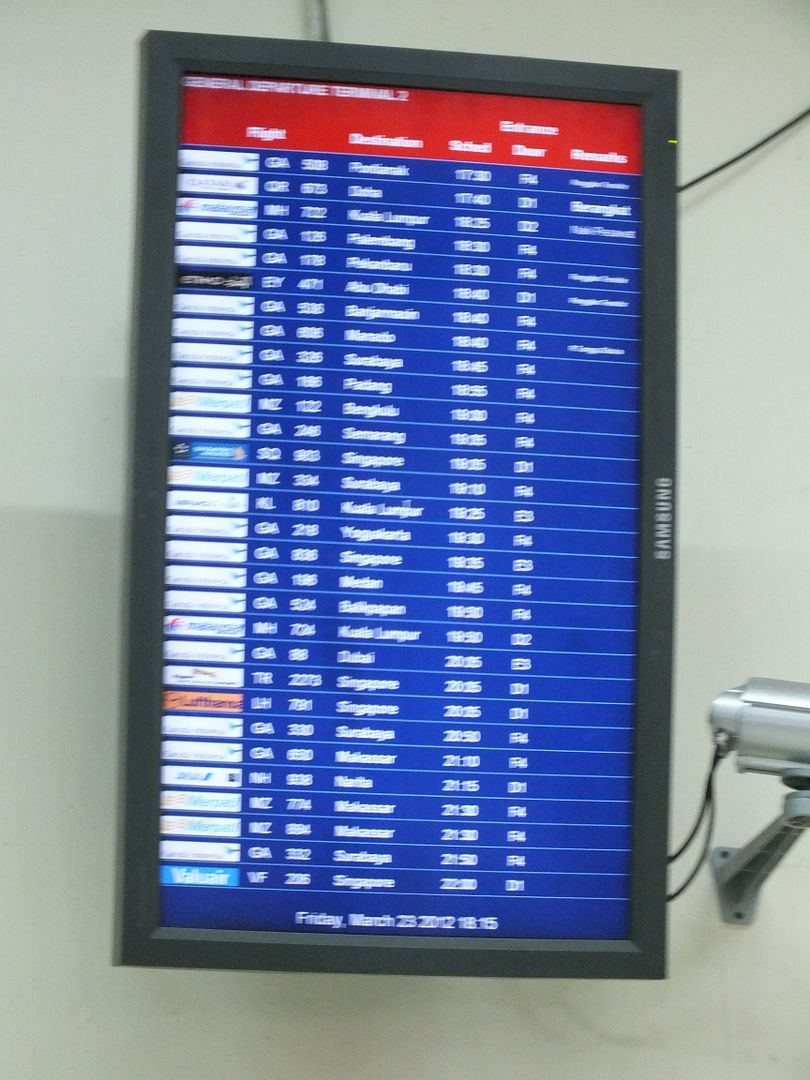 With my bags collected, I headed off to find a taxi to meet my friend in the mass of humanity that is Jakarta.
Outside the terminal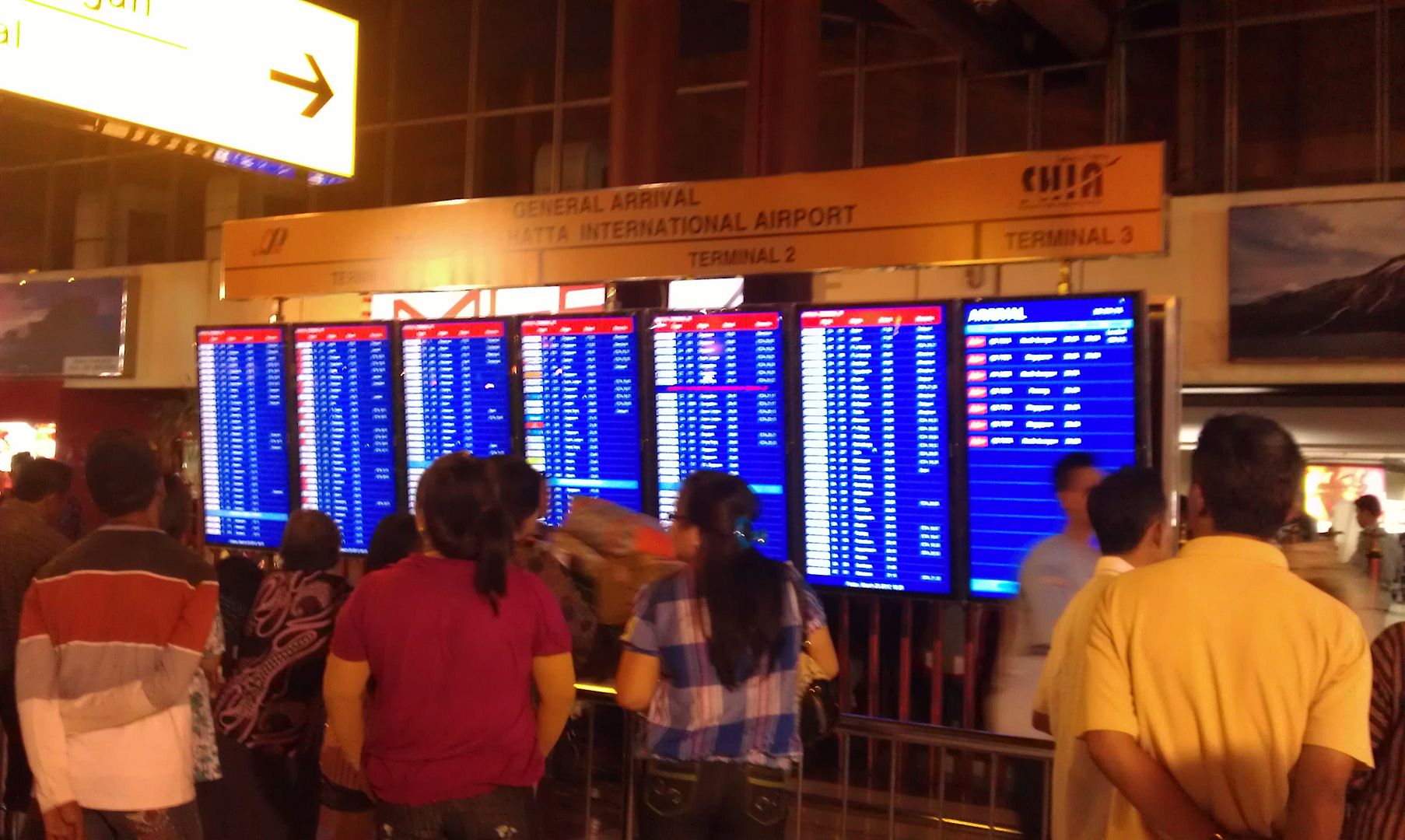 On my first morning in Jakarta, my friend and two of his colleagues set out for the nearby island of Pulau Tidung, part of the "Thousand Islands" chain. (Google Map this: -5.802515,106.511866. You'll need the Satellite version as it doesn't exist on maps!), in the Java Sea. That exact locati