Hello and welcome to my 7th trip report,
This trip was a weekend getaway trip and we (my brother, mother and myself) decided to spend it in Hong Kong with Thai Airways. Hope you enjoy reading.
At first, only me and my brother would be going on the trip. So I planned to travel on airlines which I haven't been on. Those on the list were Kenya Airways, Ethiopian Airlines, Sri Lankan Airlines. These airlines, especially Srilankan Airlines, offer quite an attractive fare on BKK-HKG-BKK. As soon as my mother decided to join us on the trip, she said she would rather fly with Thai Airways. Around 4 days before the planned trip, the flight was booked and seat selected on Thai Airways website.
Date: 31 March 2012
Airline: Thai Airways International
Flight: TG600
Route: BKK-HKG
Aircraft: Boeing 747-400
Registration: HS-TGZ
Class: Economy
Arrived Bangkok Suvarnabhumi Airport very early in the morning at door 1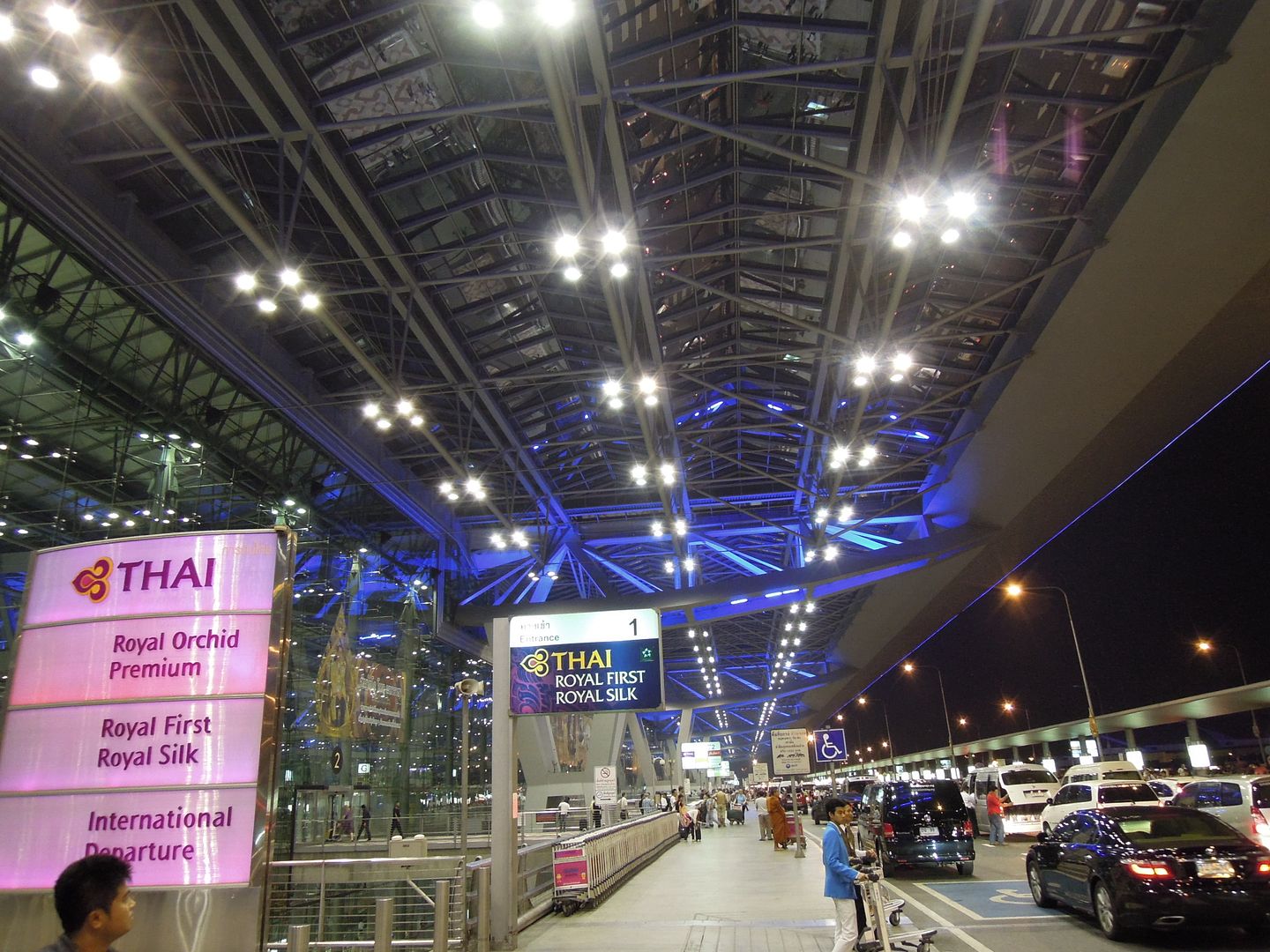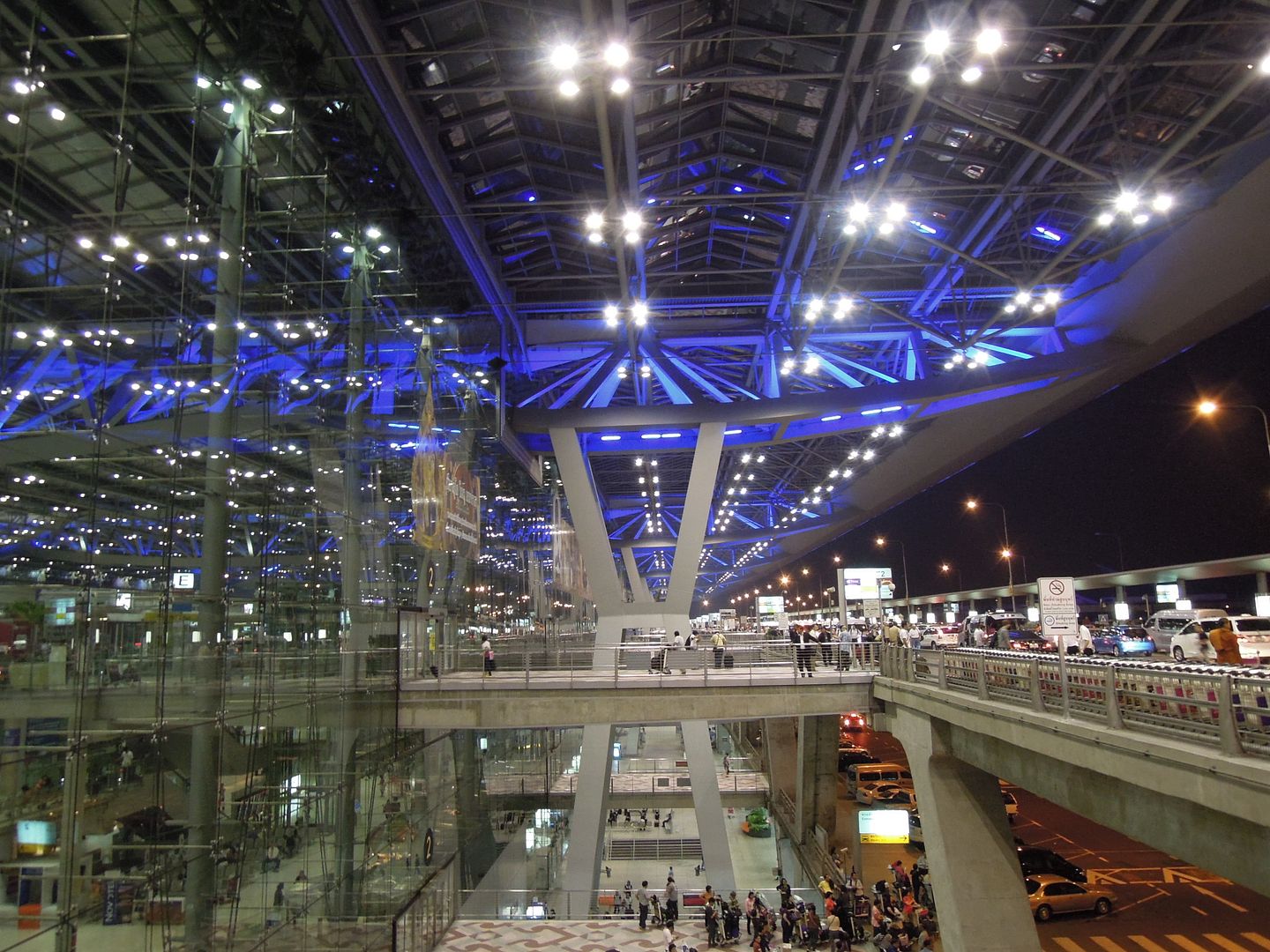 Check-in was very quick. We were told that the flight was quite full, only around 10 seats out of 325 seats in Economy class were empty.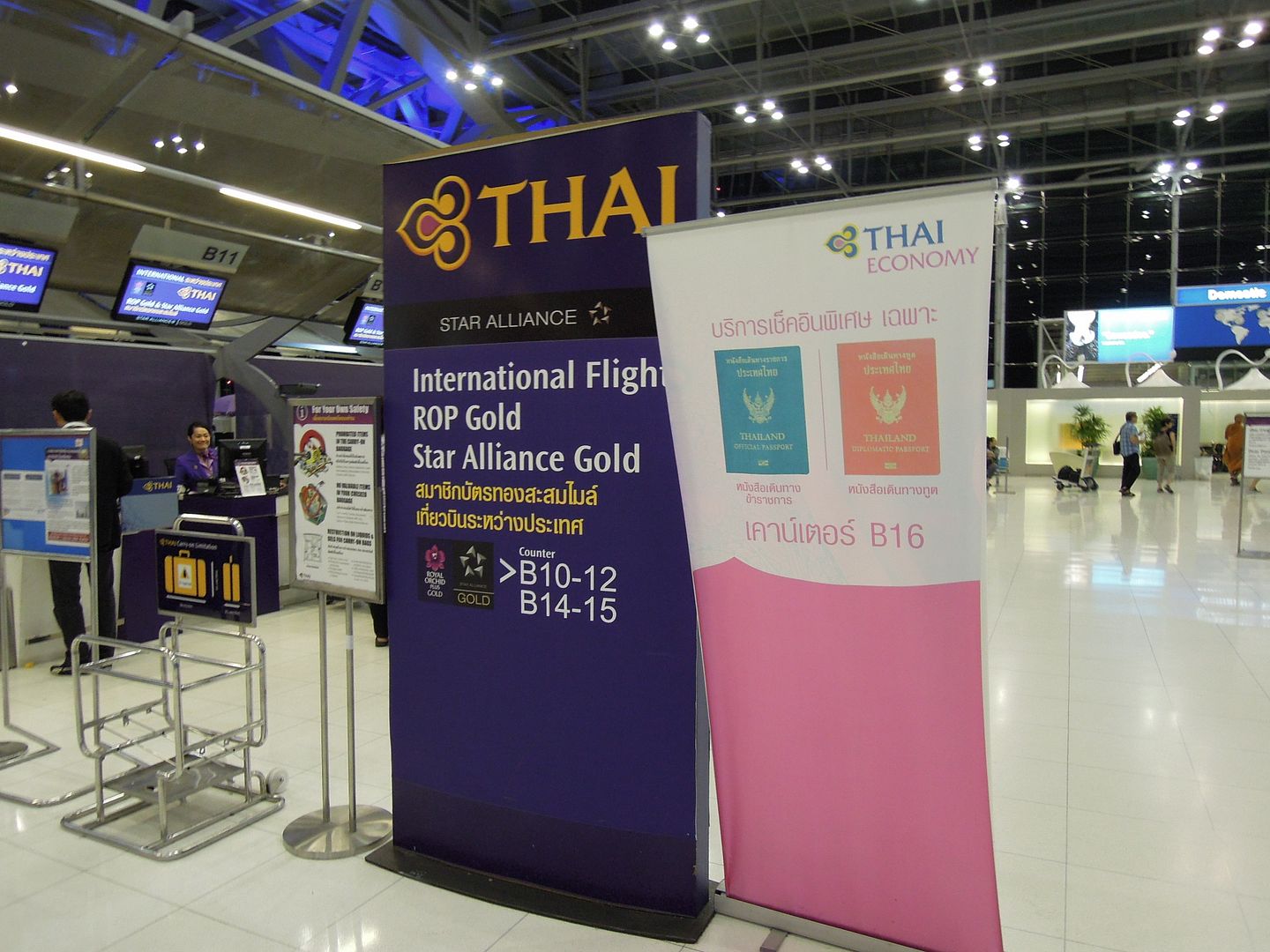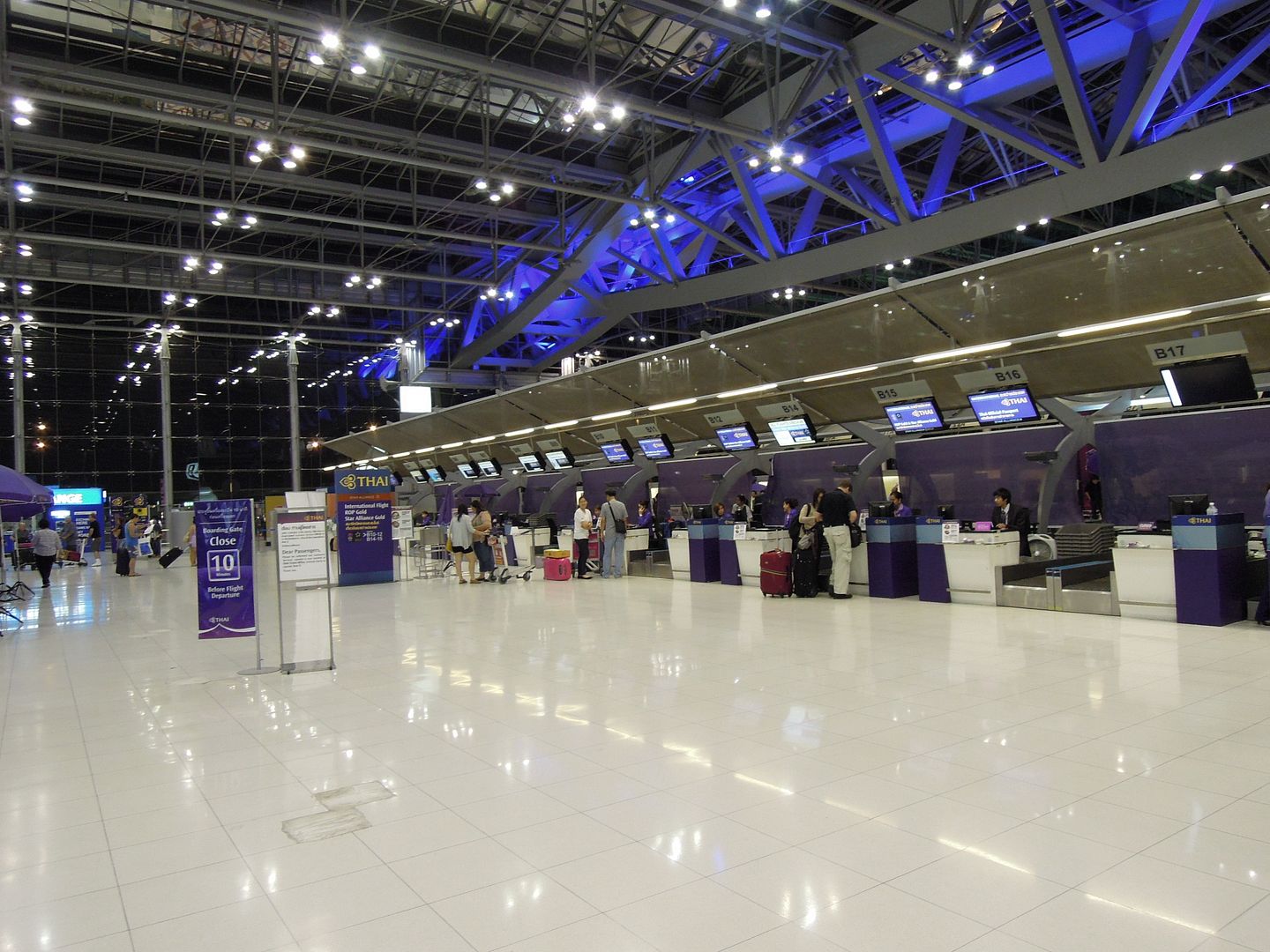 Then we proceeded directly to passport check and security screening which took around 20 minutes altogether.
a few airside pictures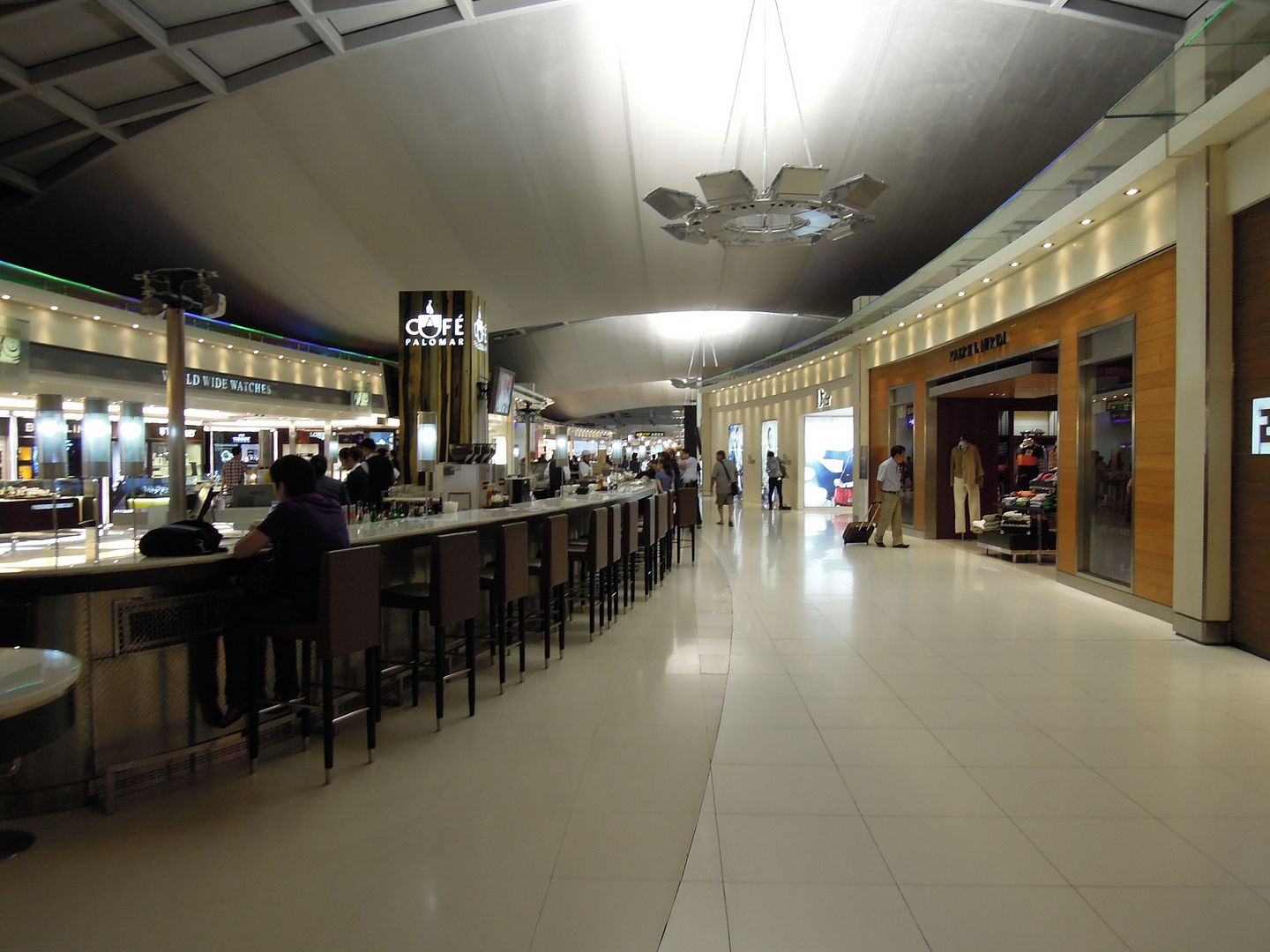 Then we went straight to TG lounge in concourse C which was the closest one to our boarding gate. We were amongst the first group of people in the lounge, entered shortly after it was opened.
Seatings in the lounge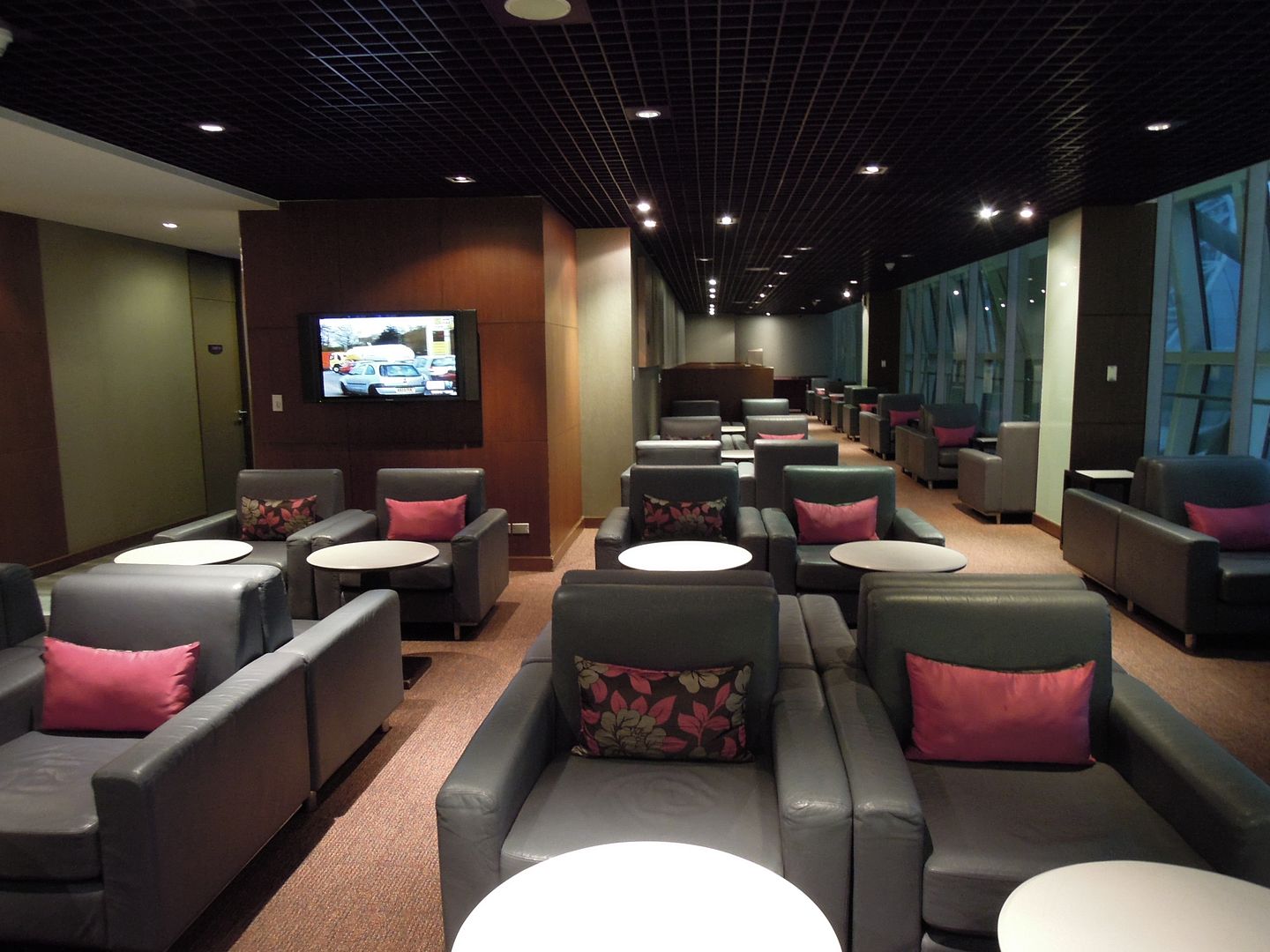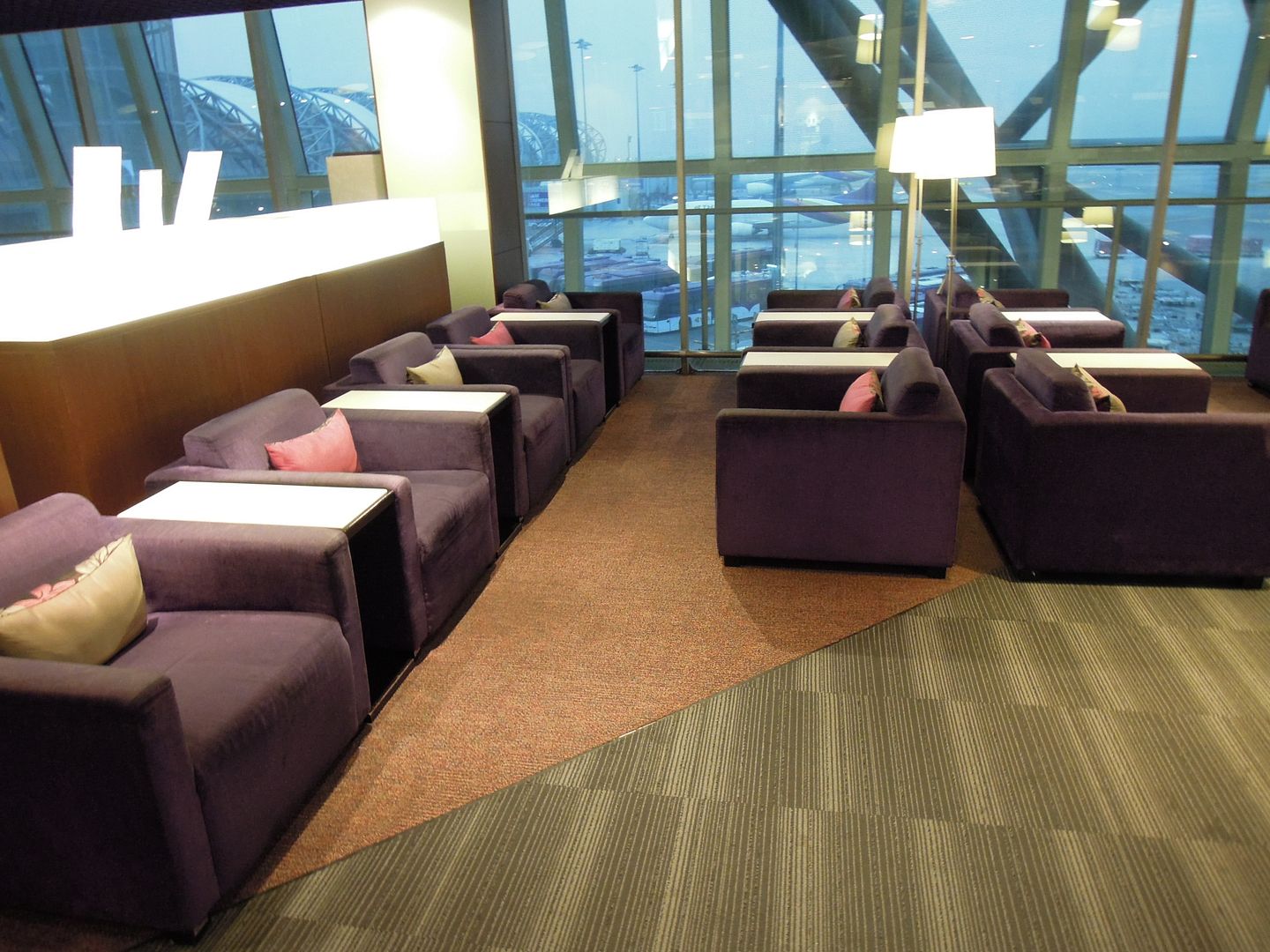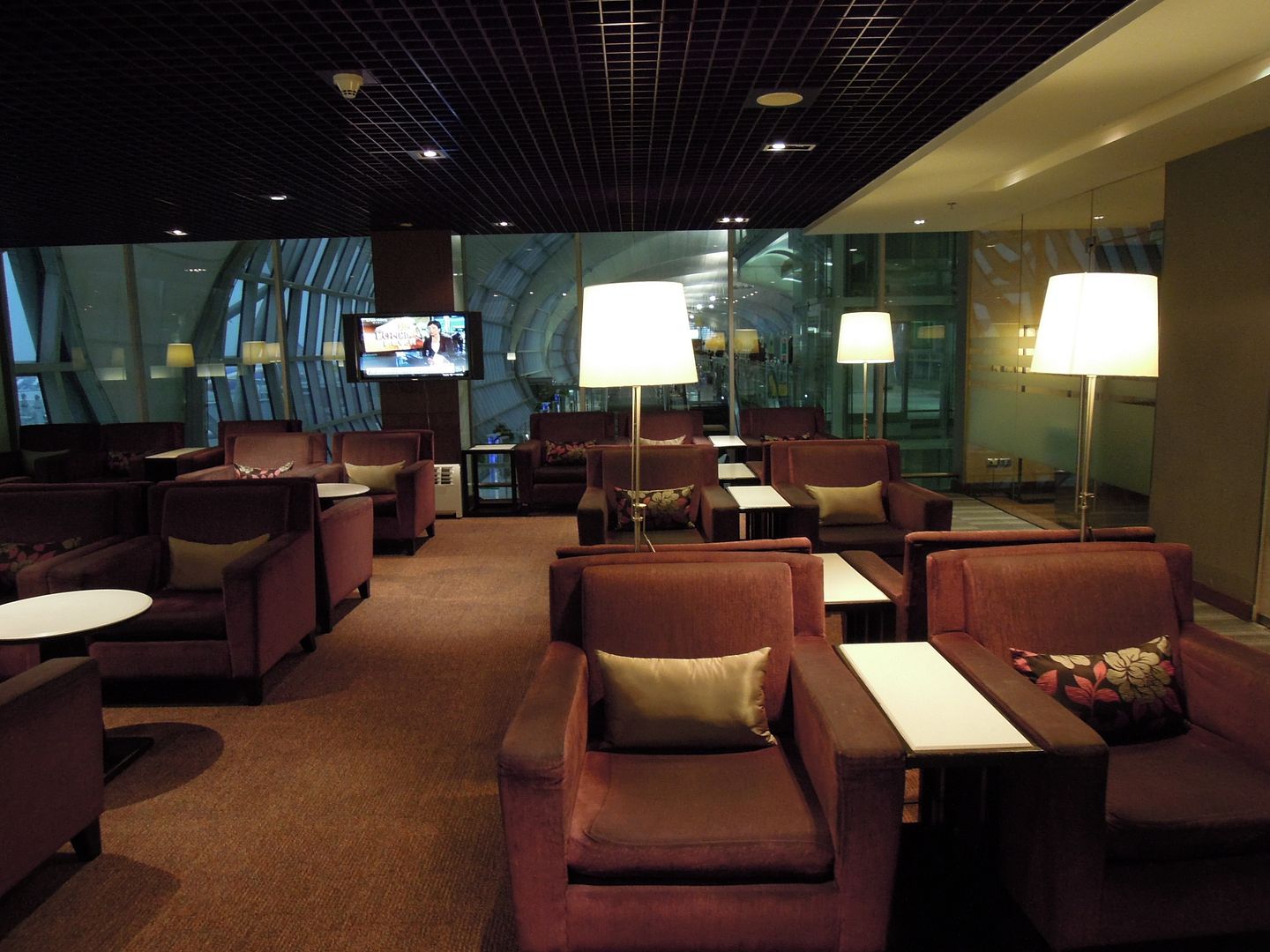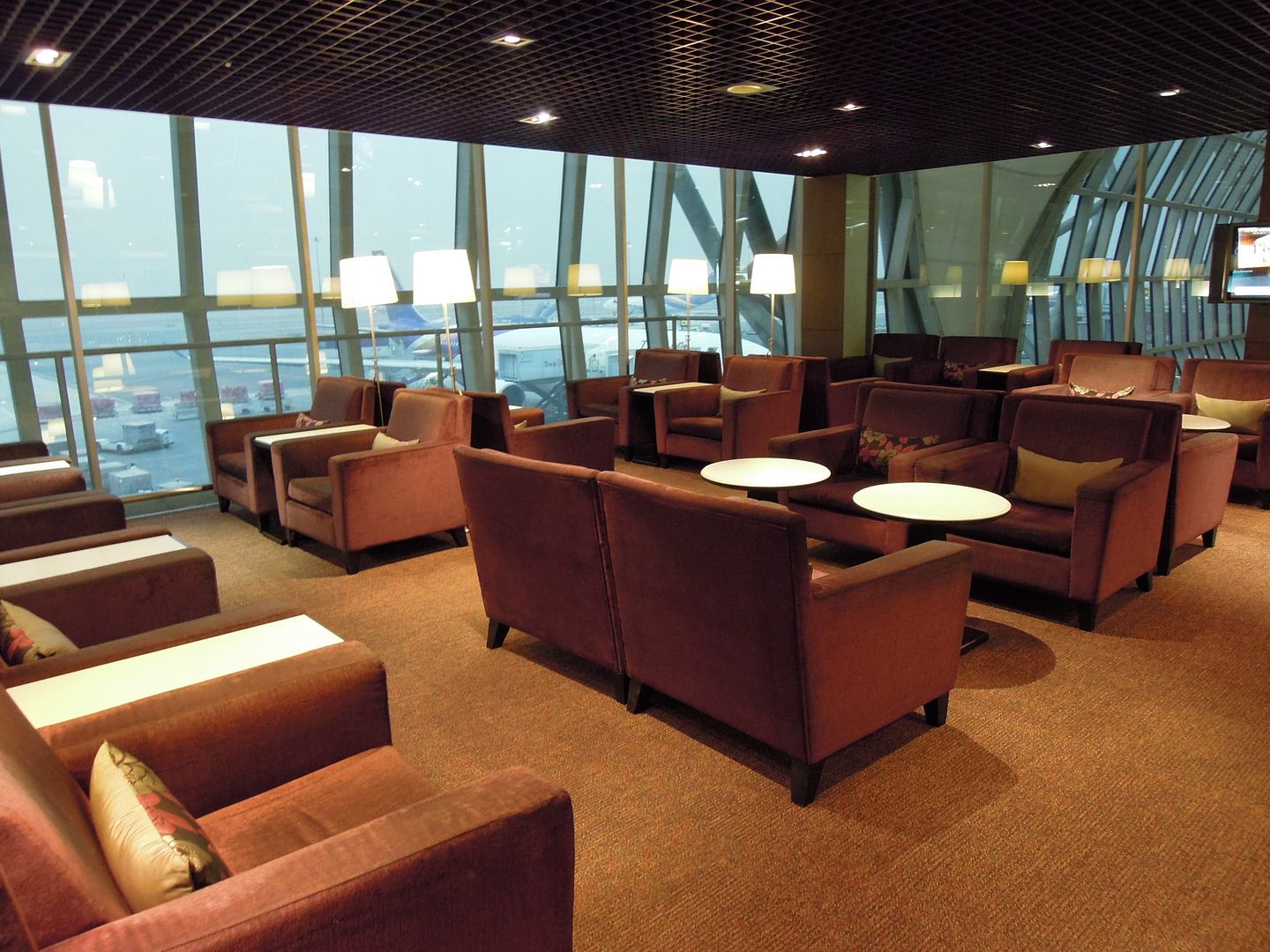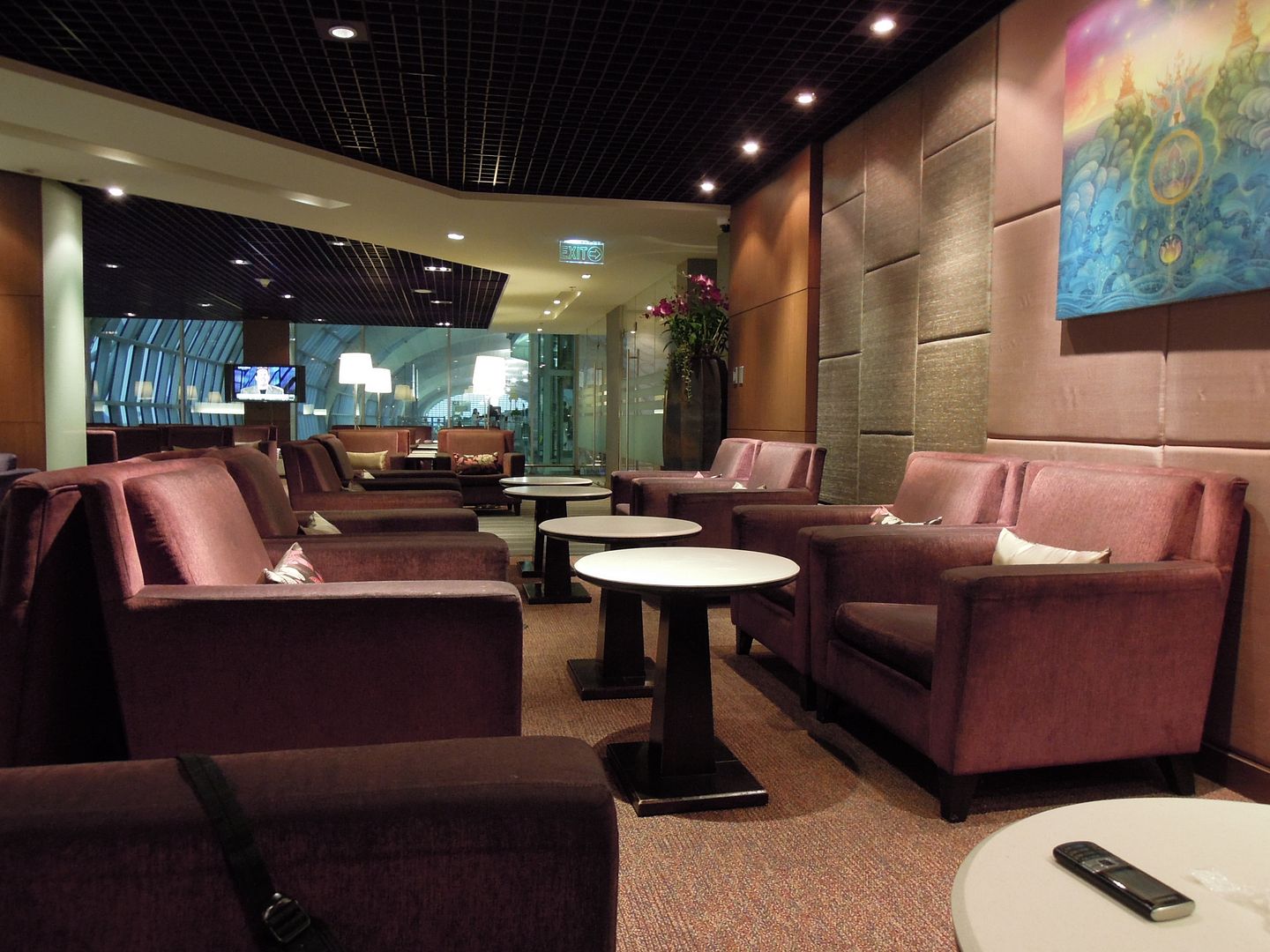 I really like the variety of food offerings: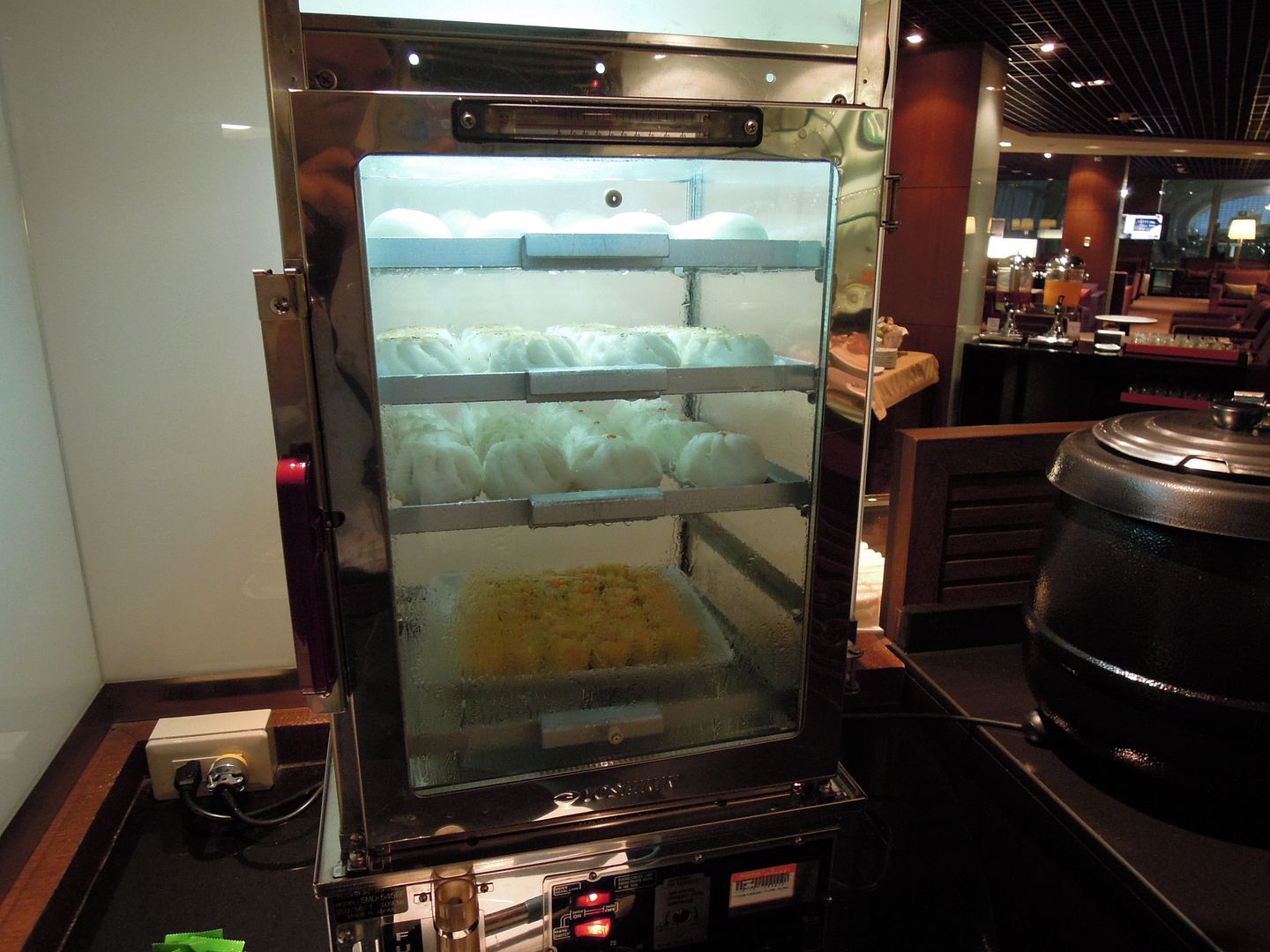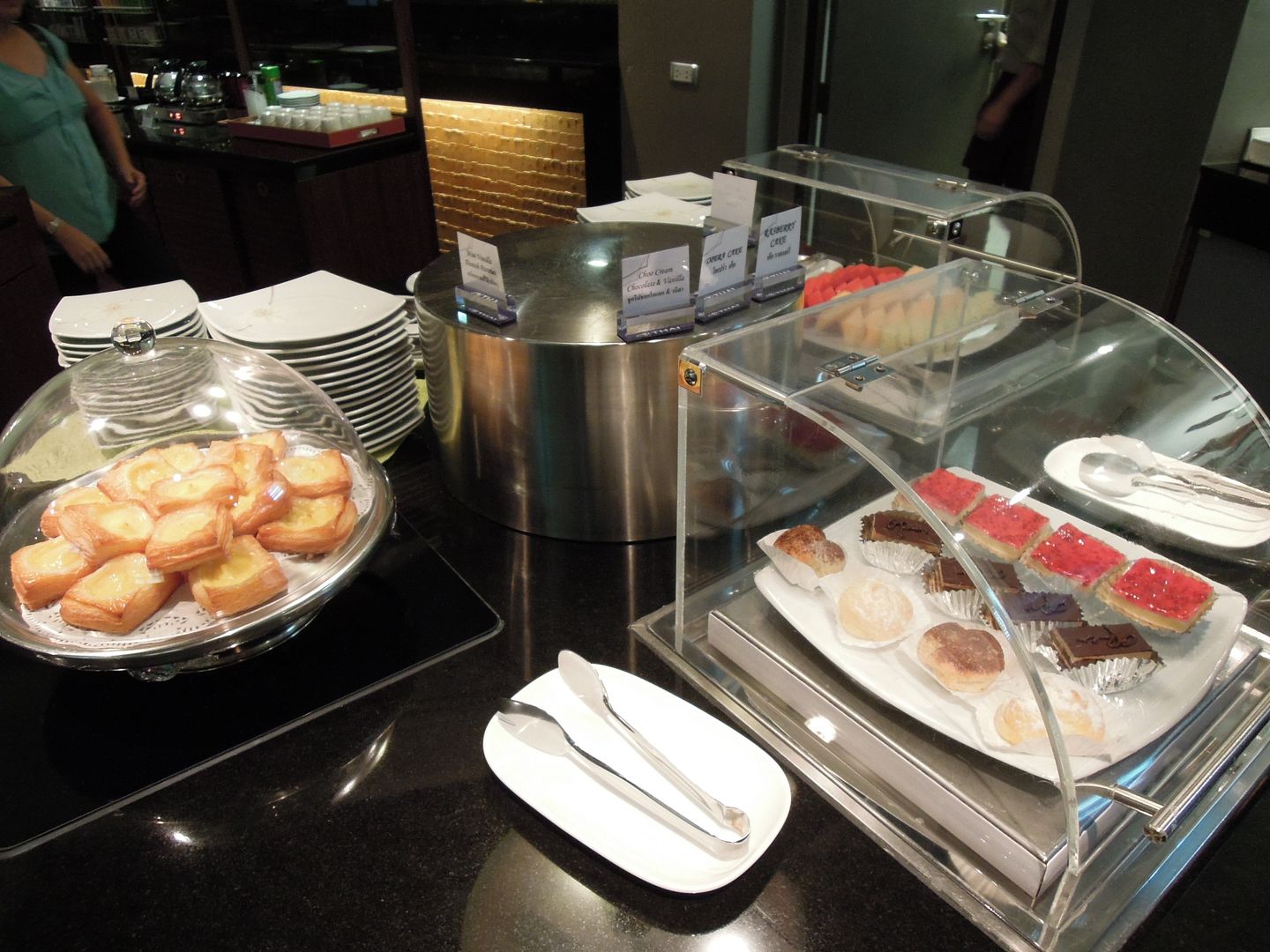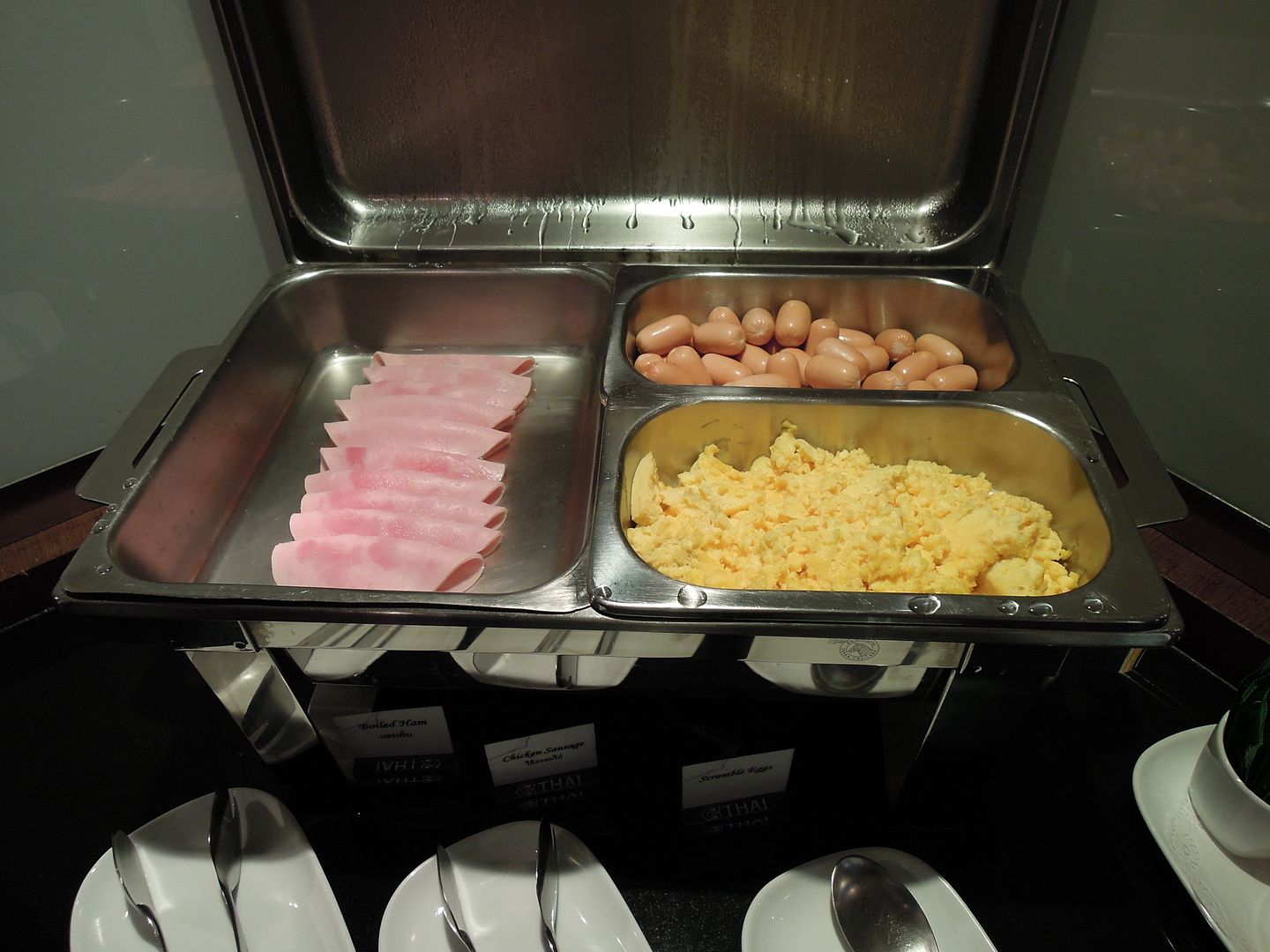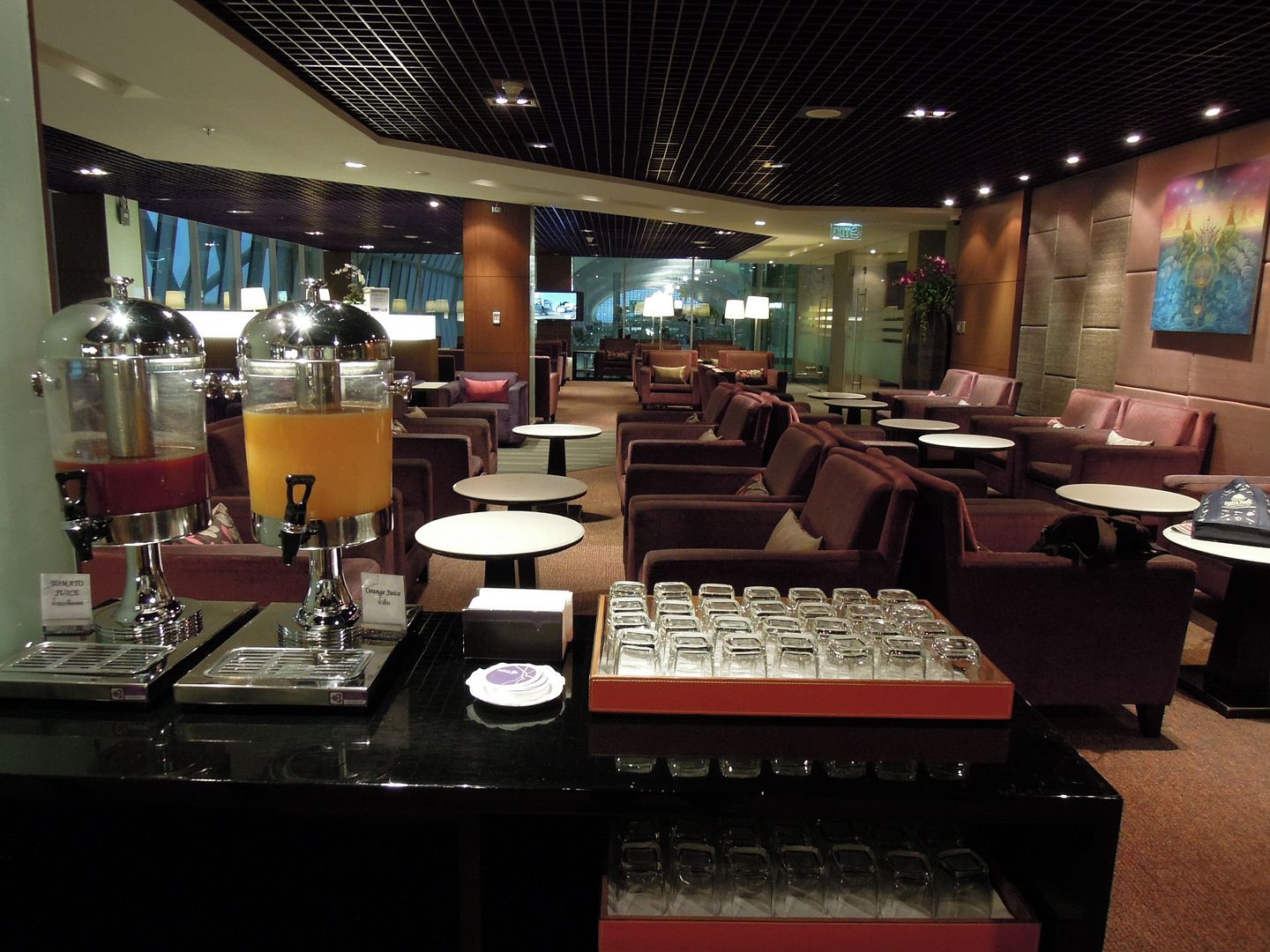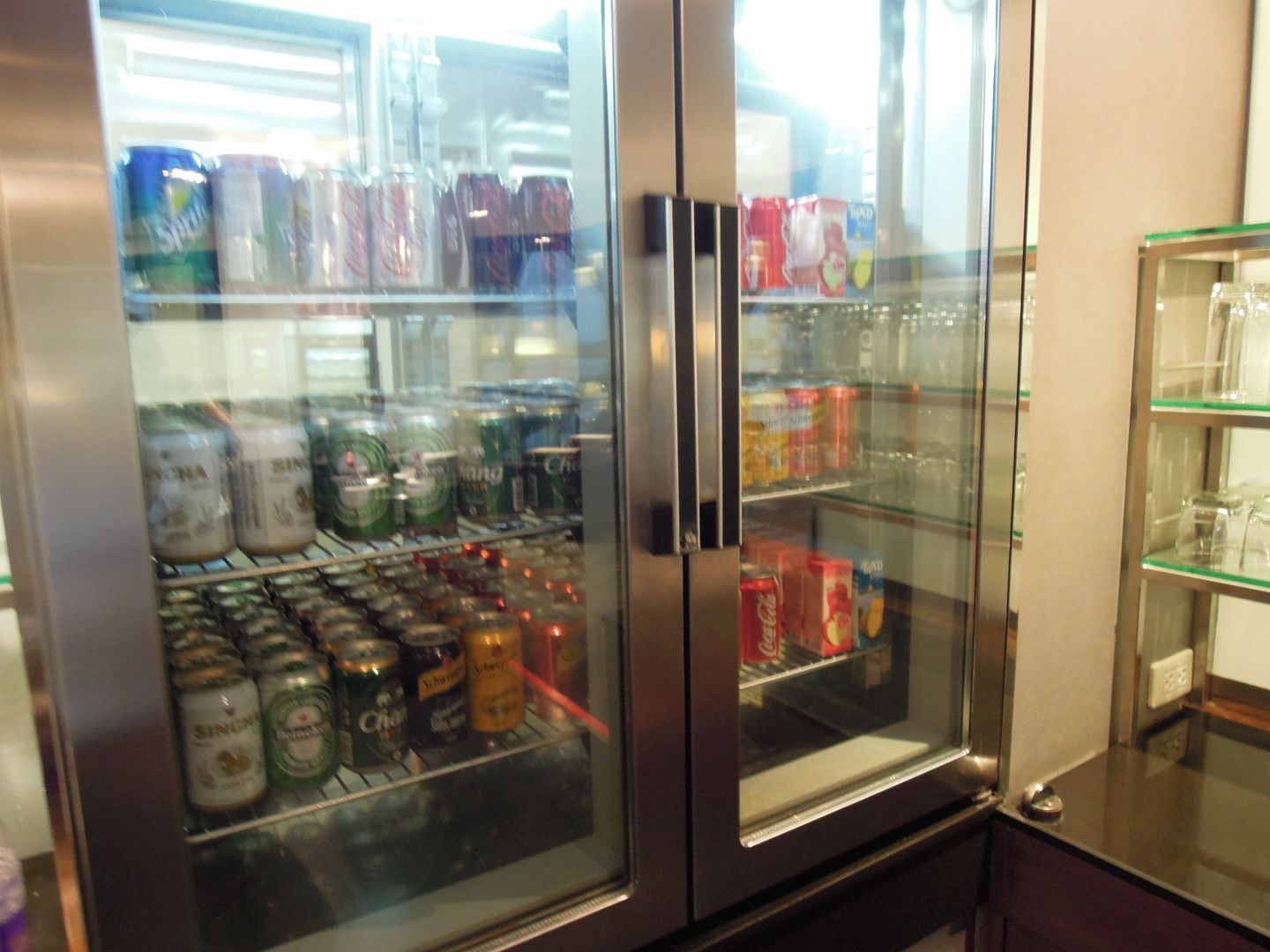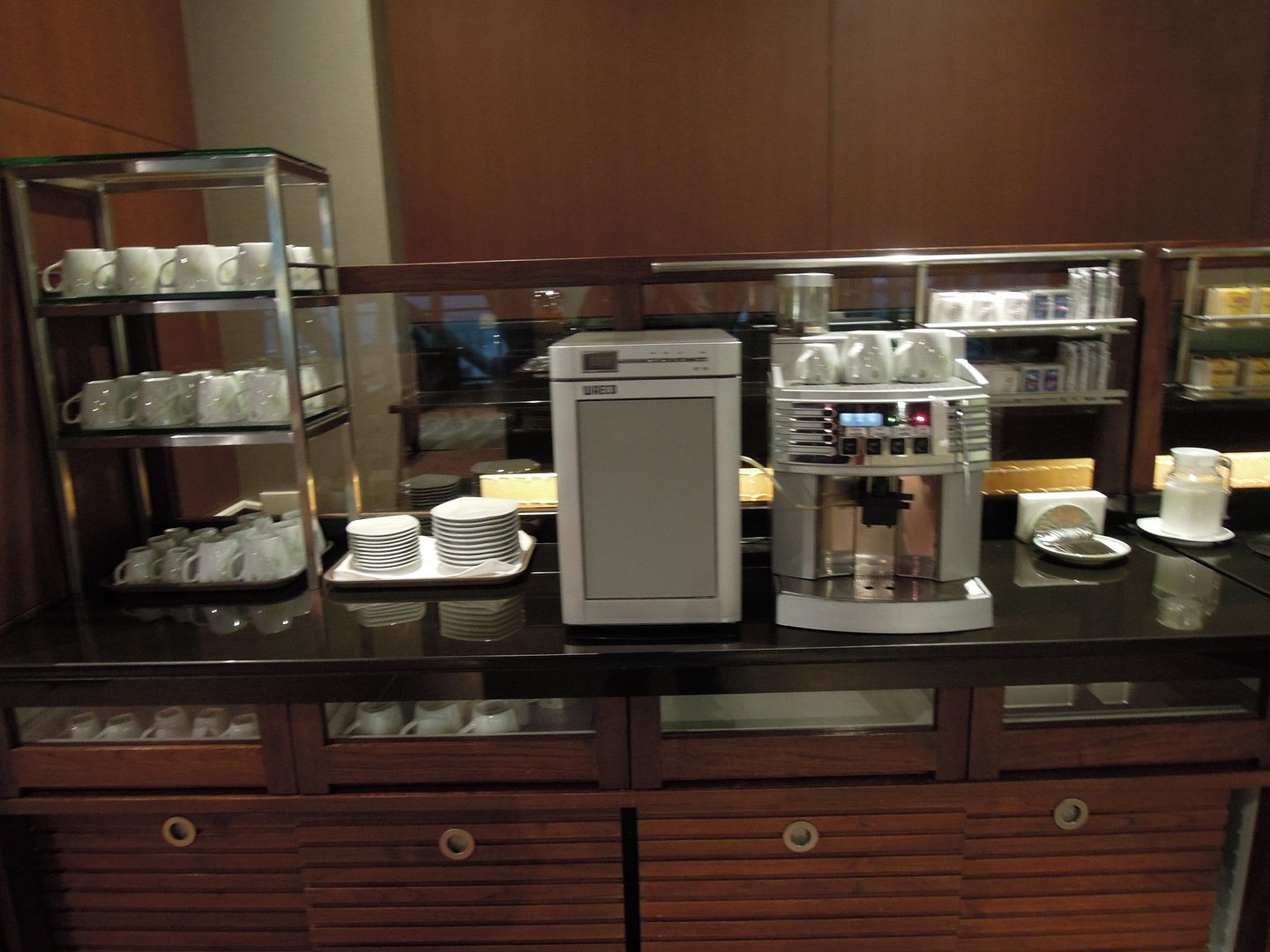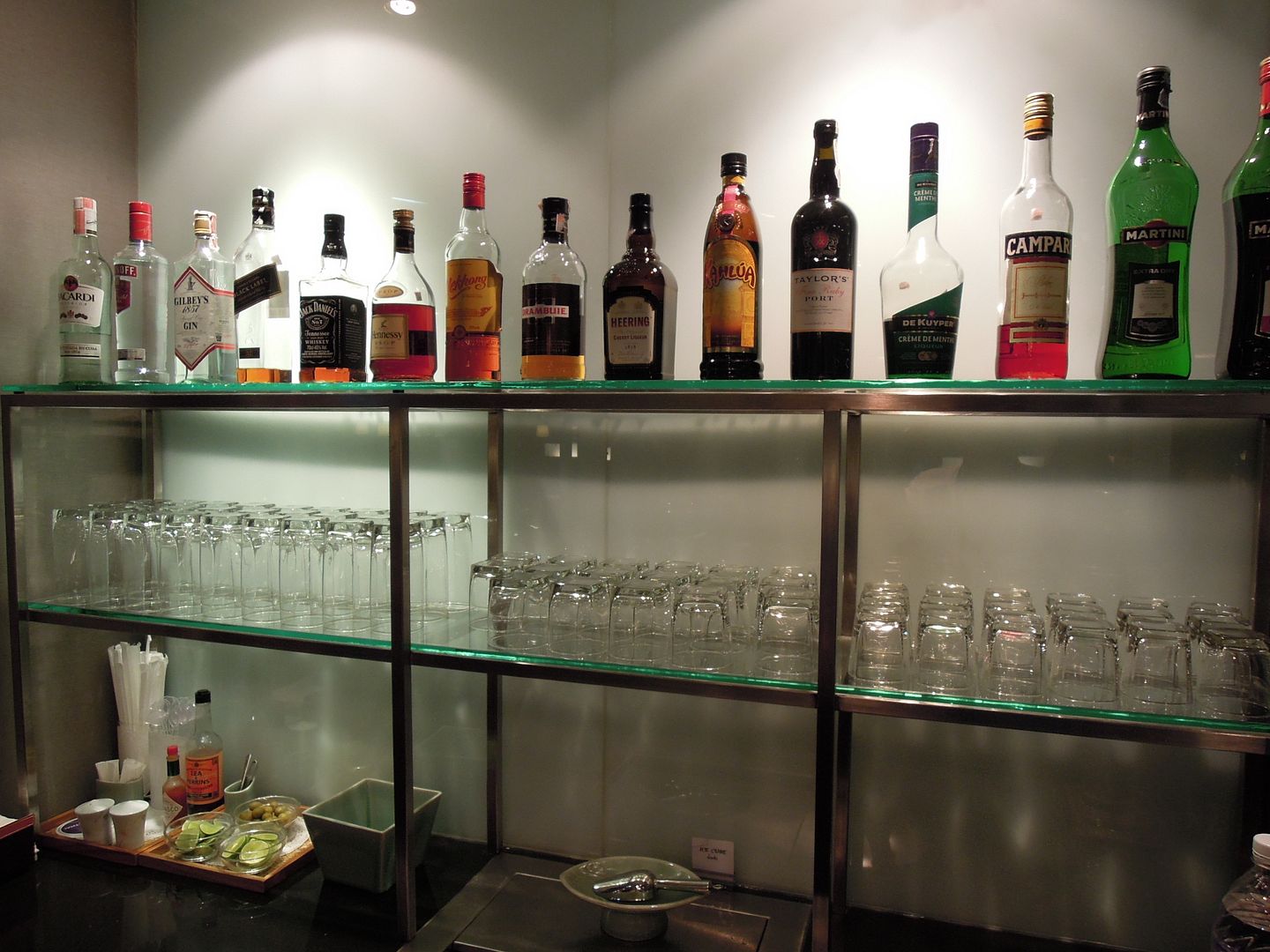 At 7:10am, after a good hour at the lounge, we were off to the gate for a 7:20am planned boarding time.
Rest area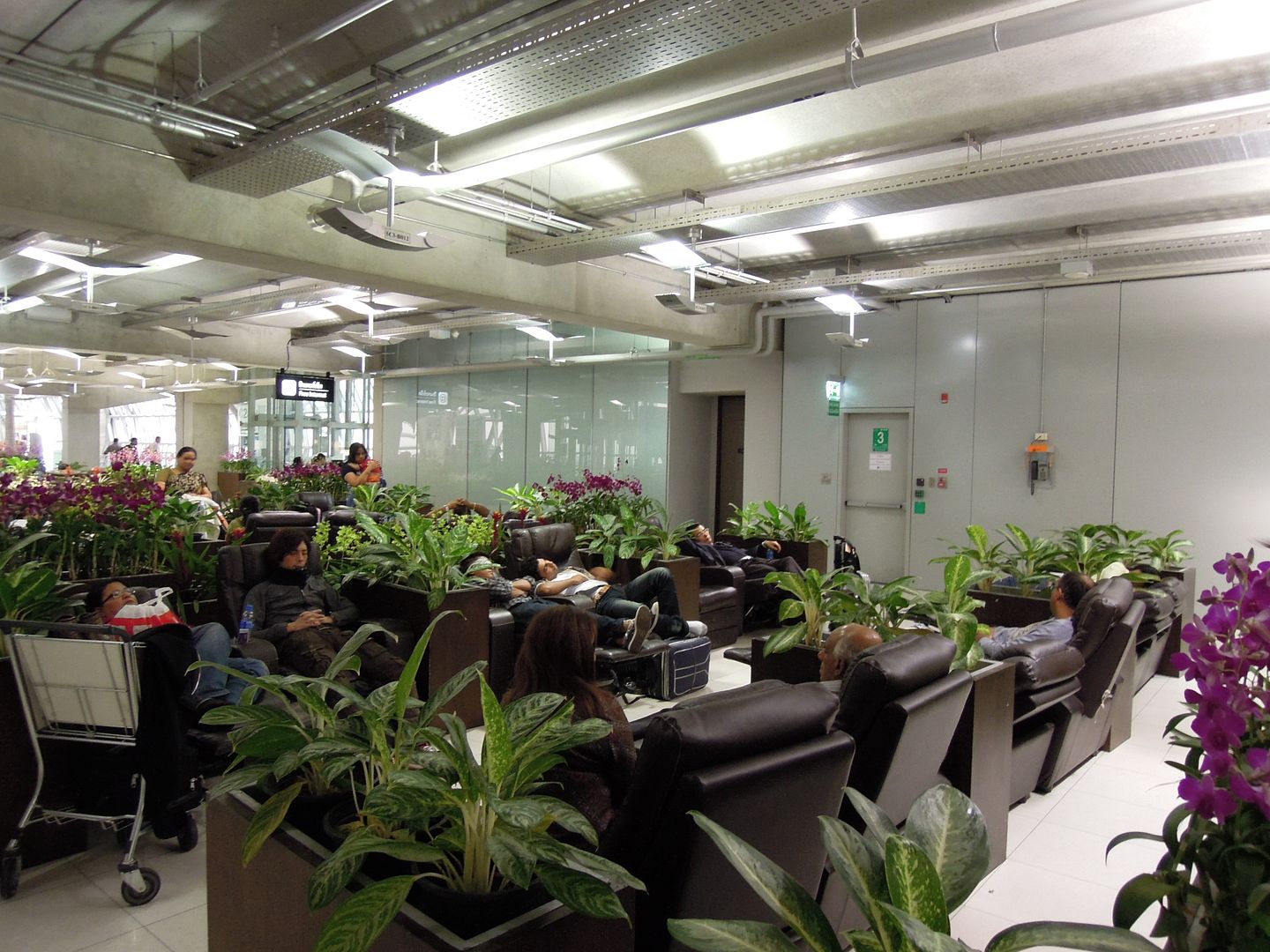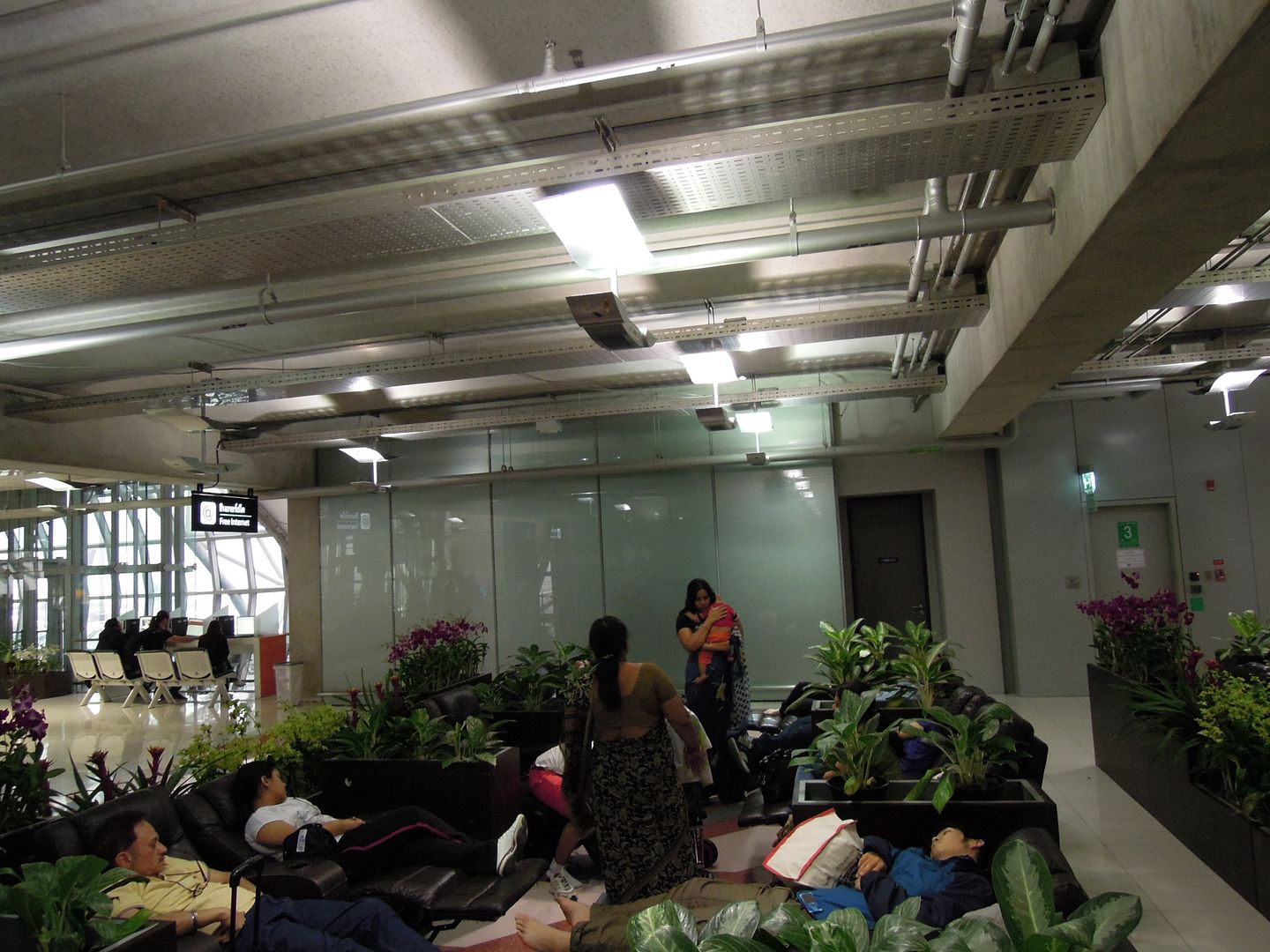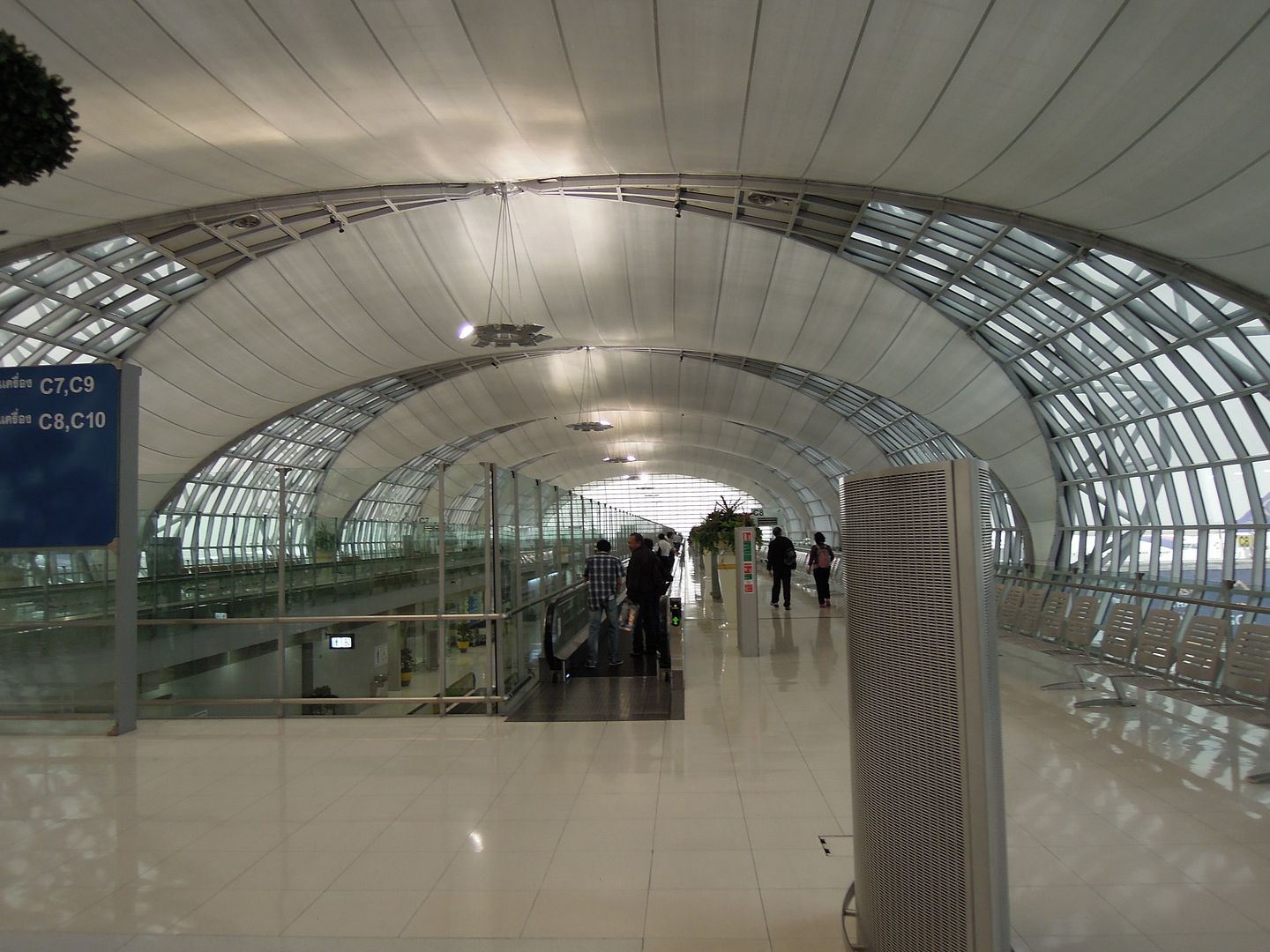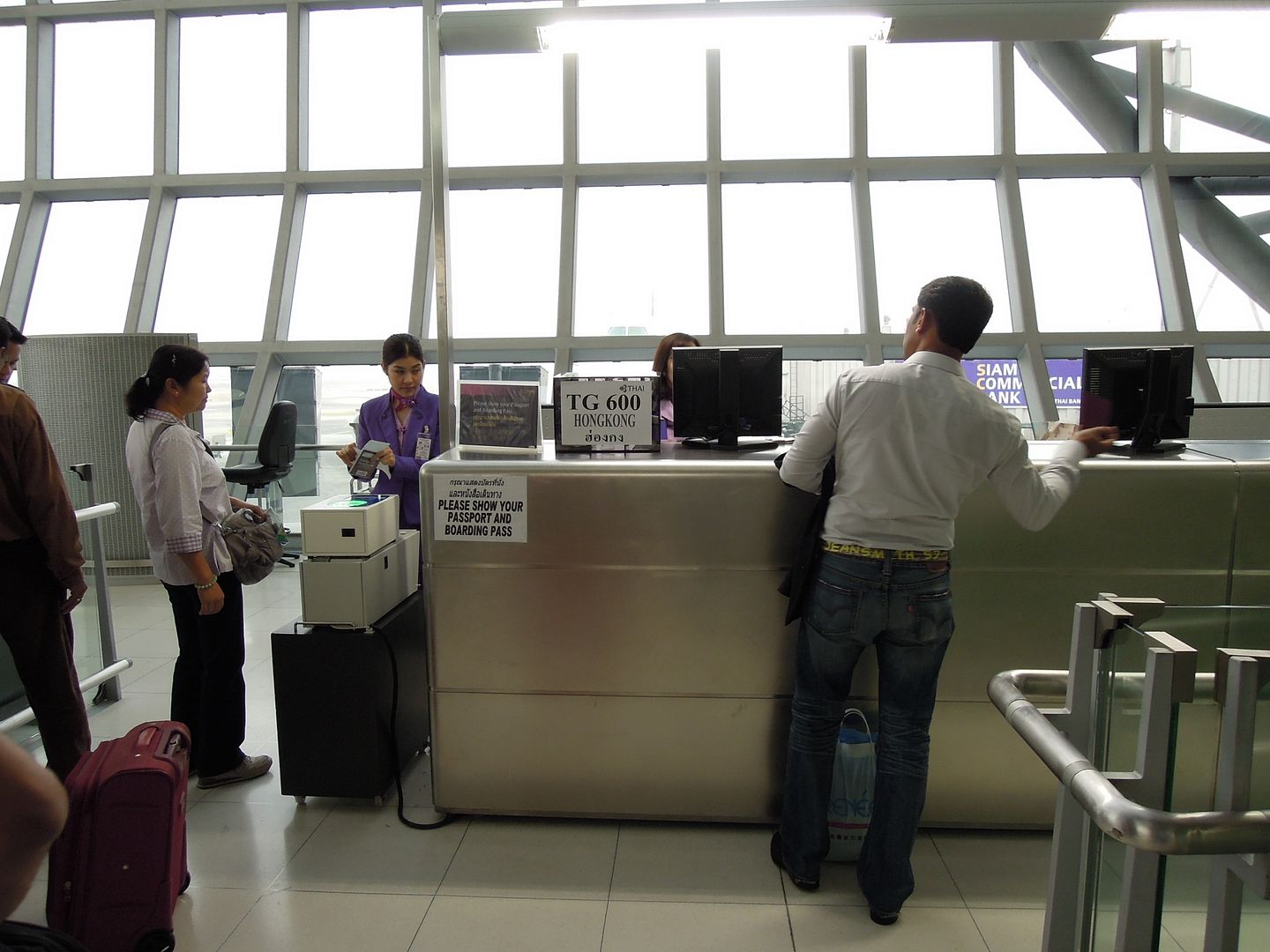 Boarding gate: not so busy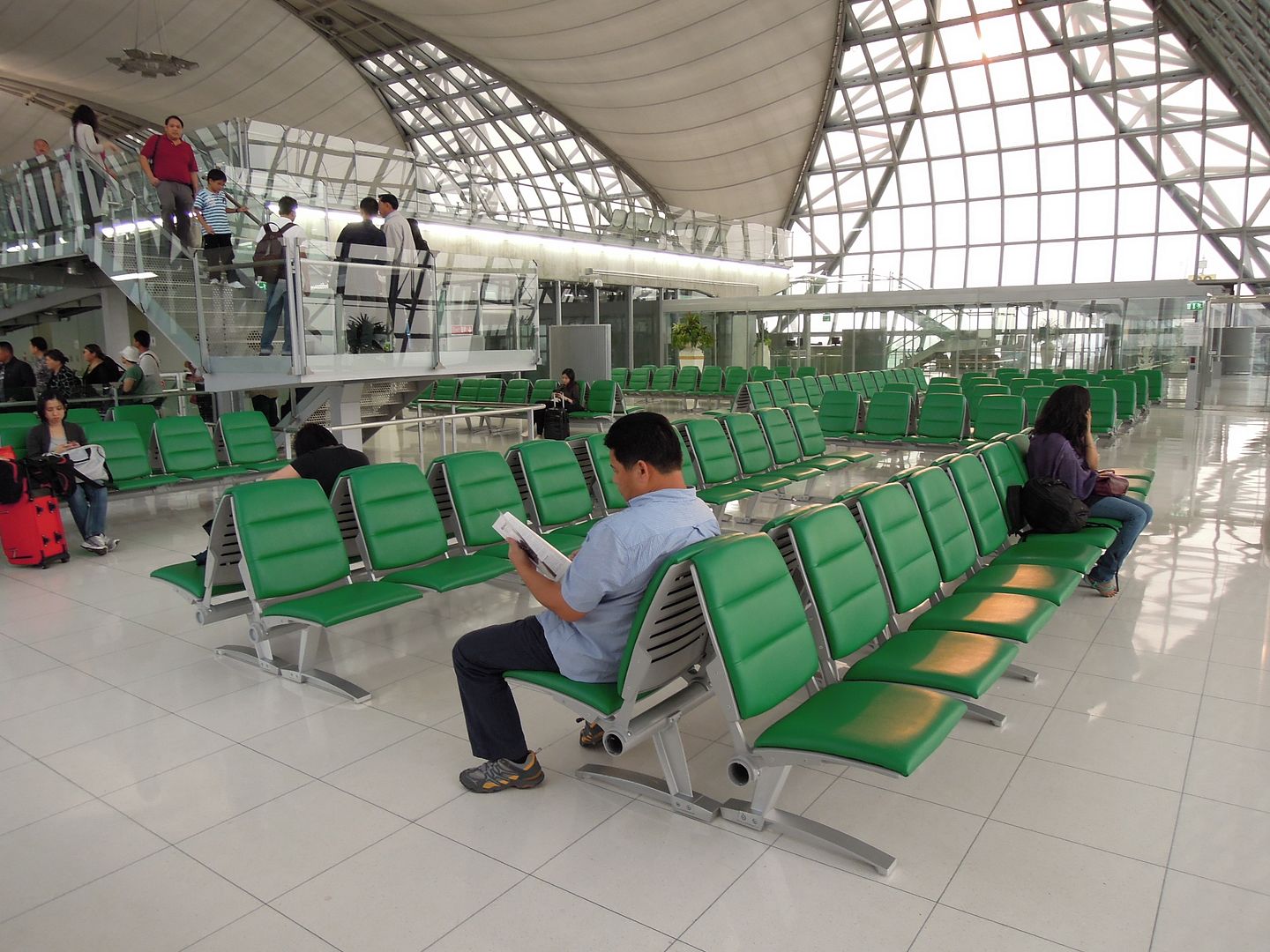 The aircraft that would take us to Hong Kong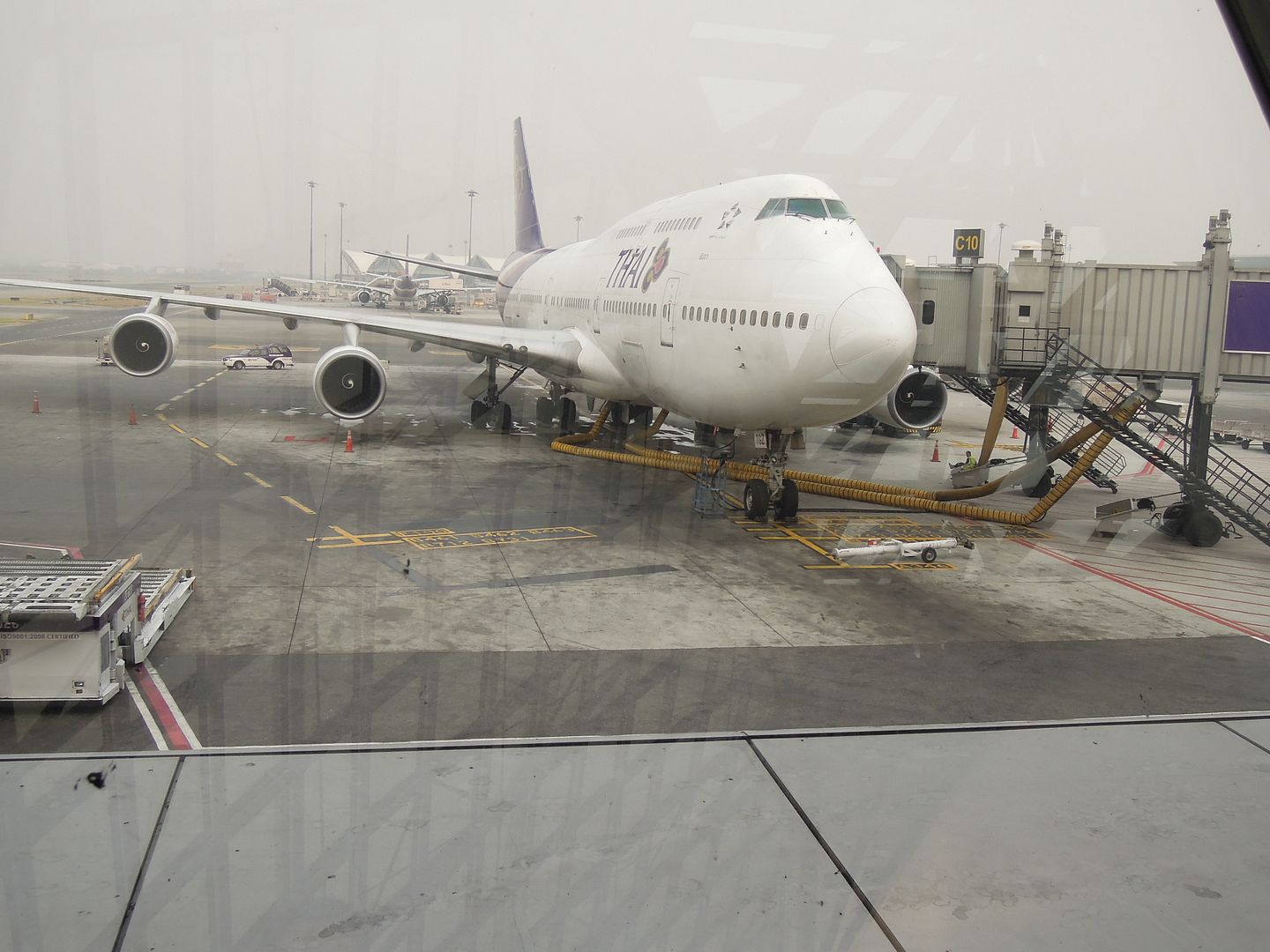 Boarding started, a little bit behind schedule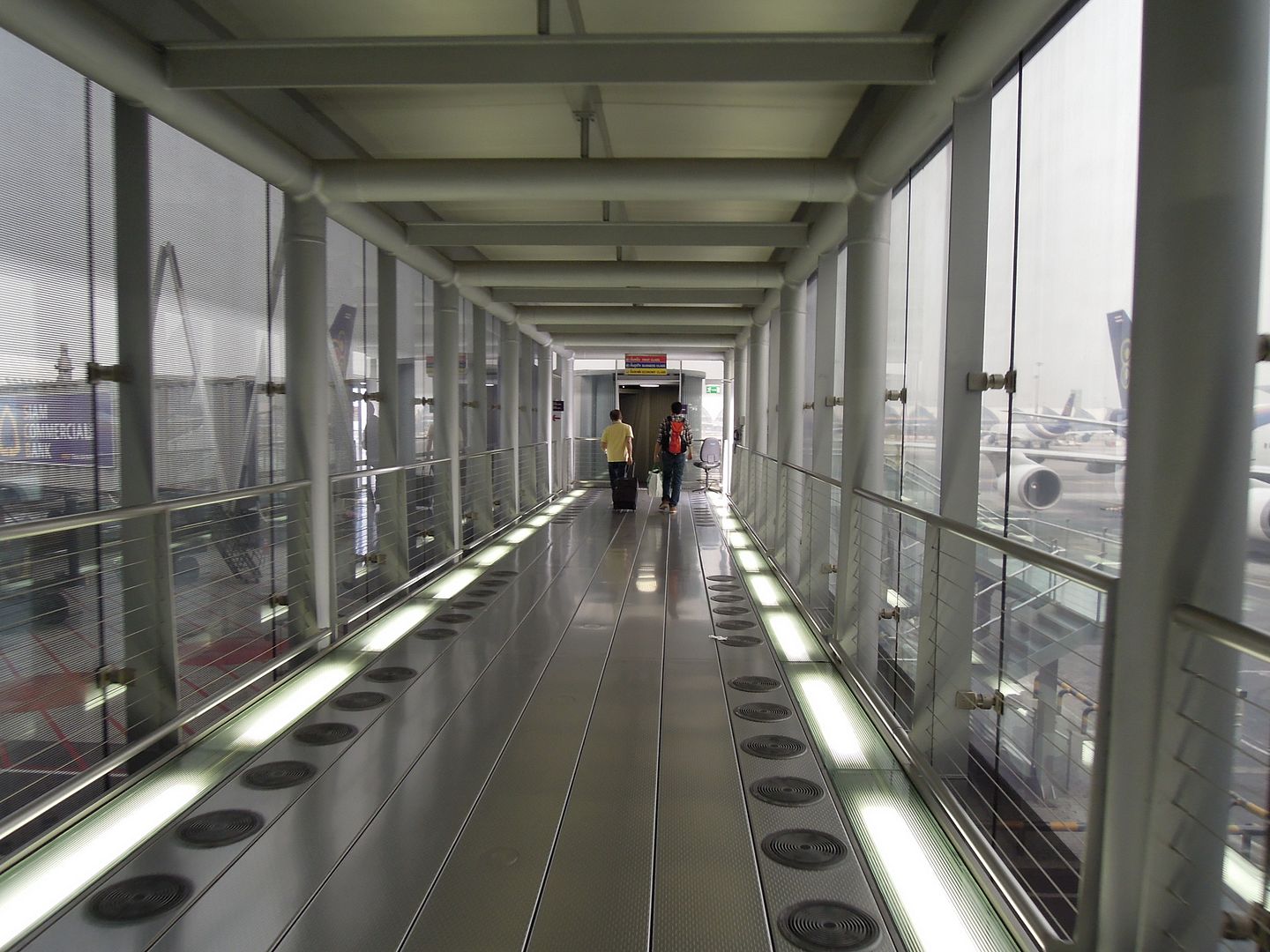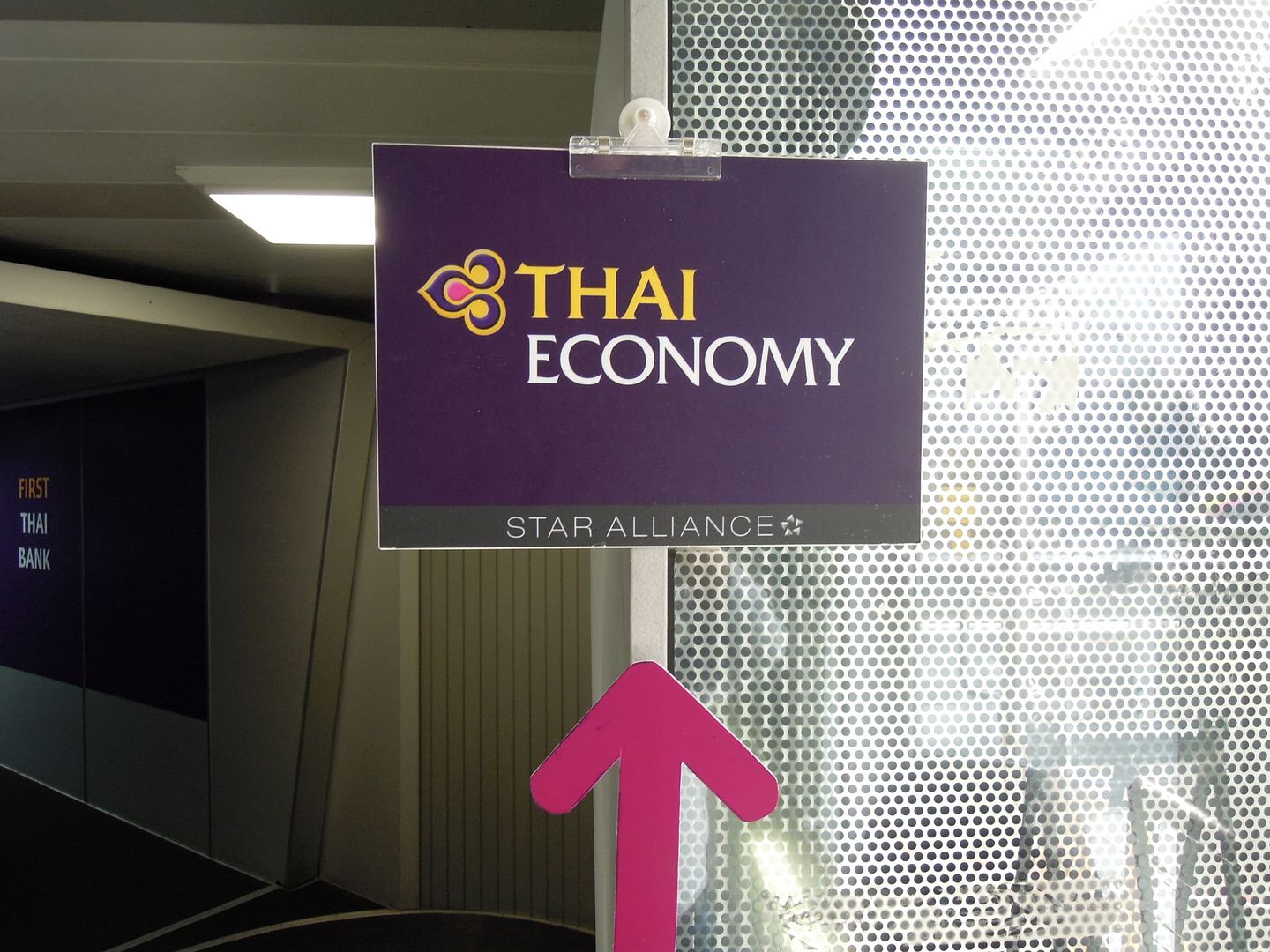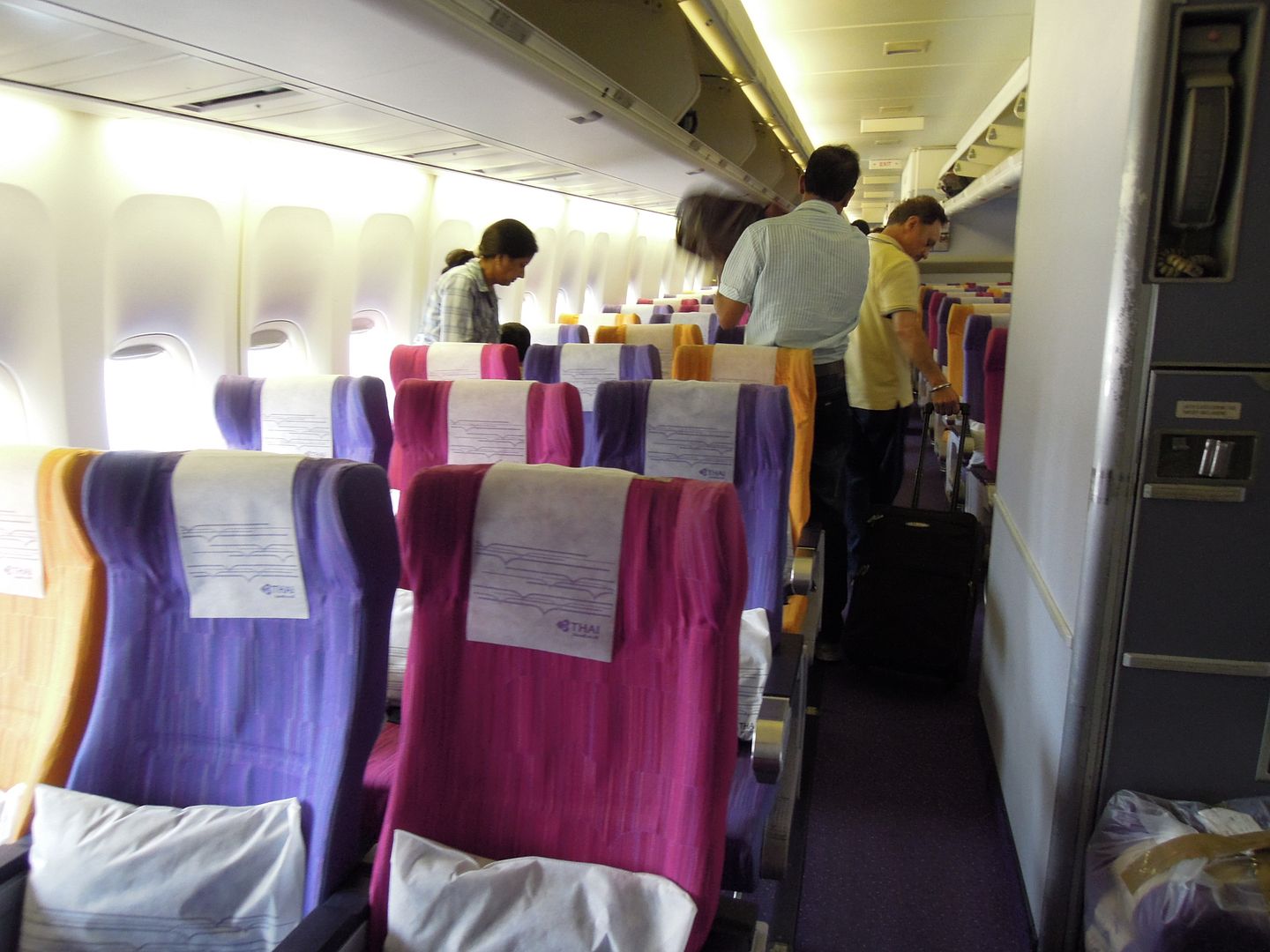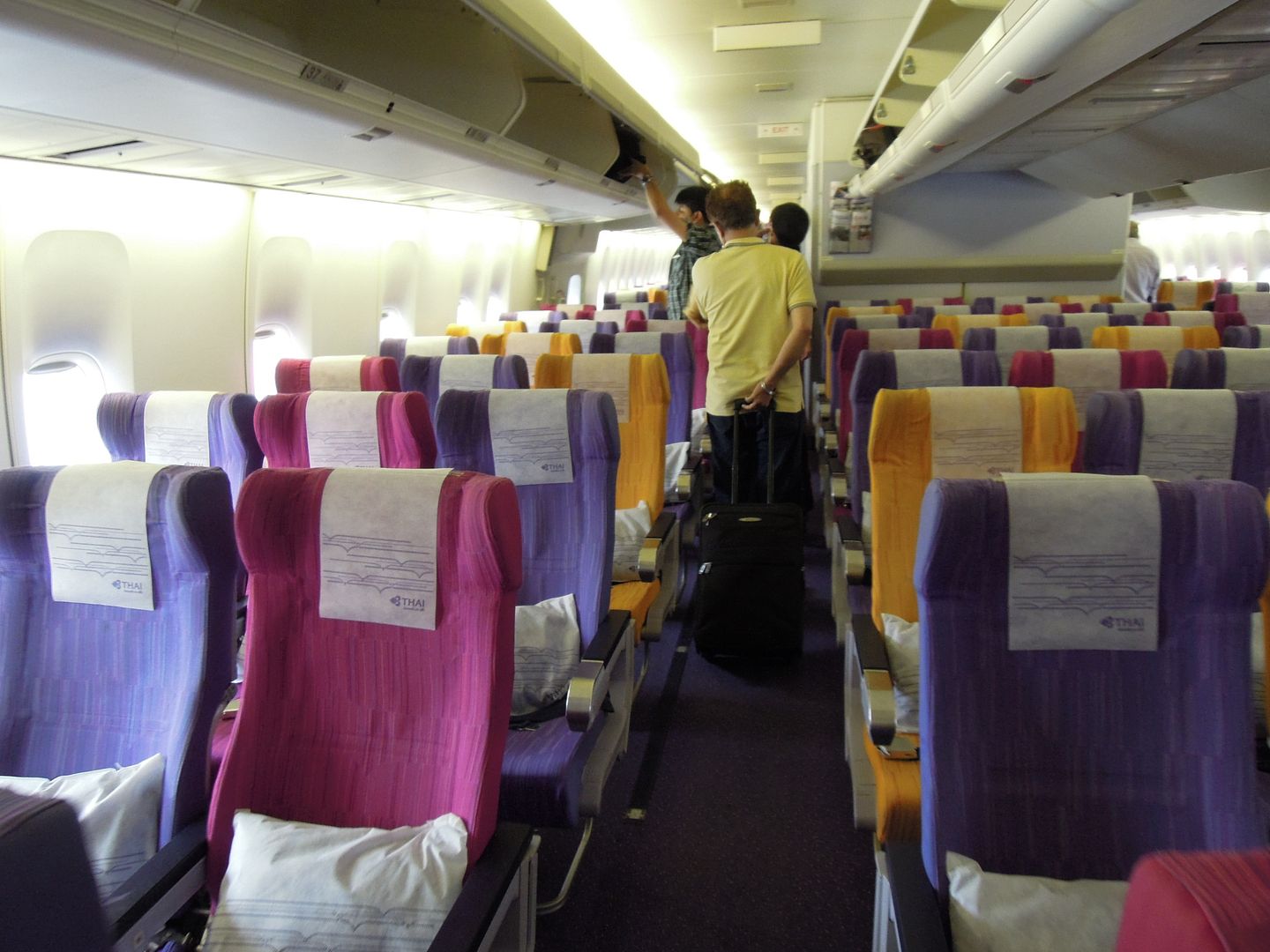 Settled in my 40K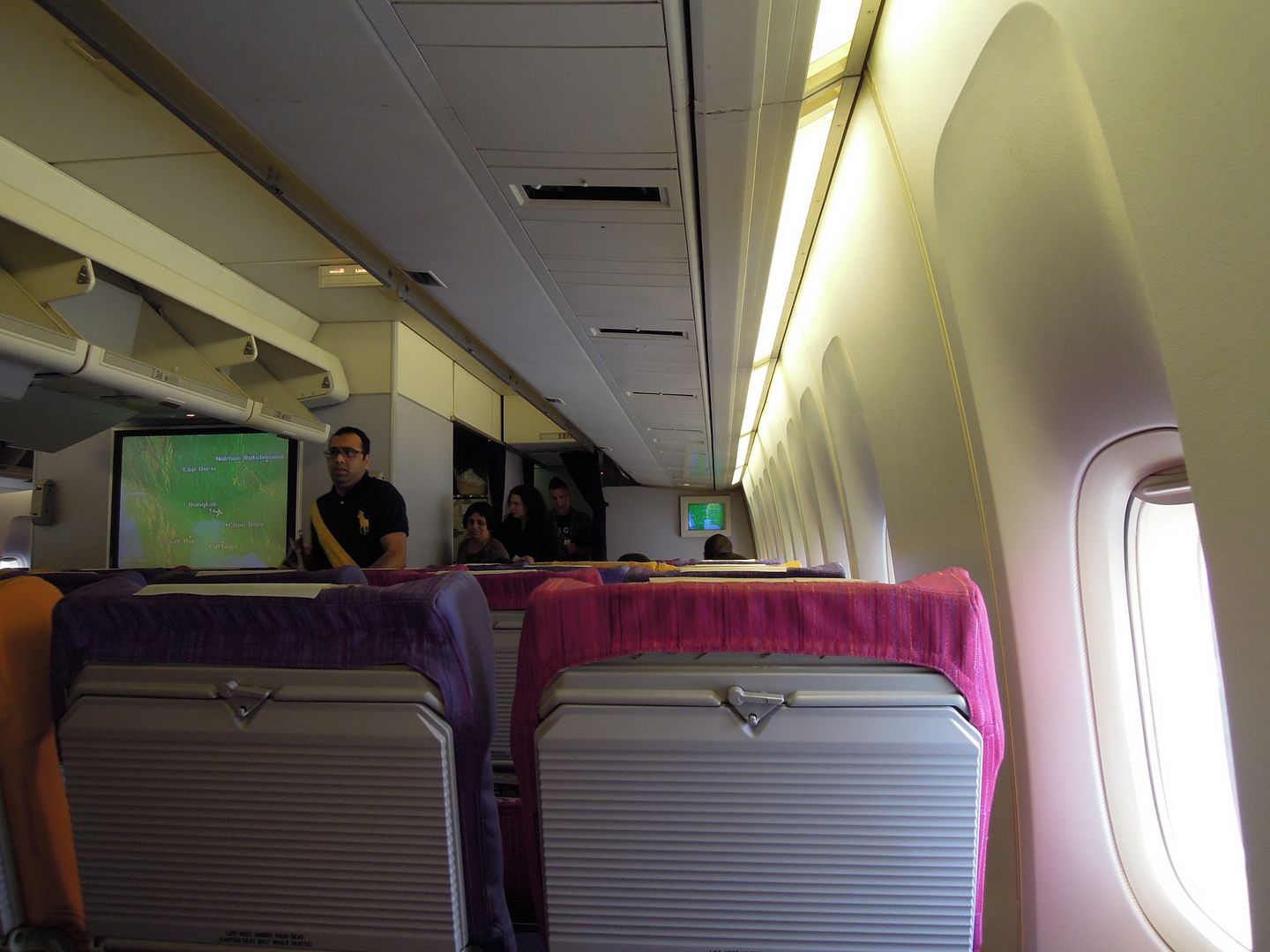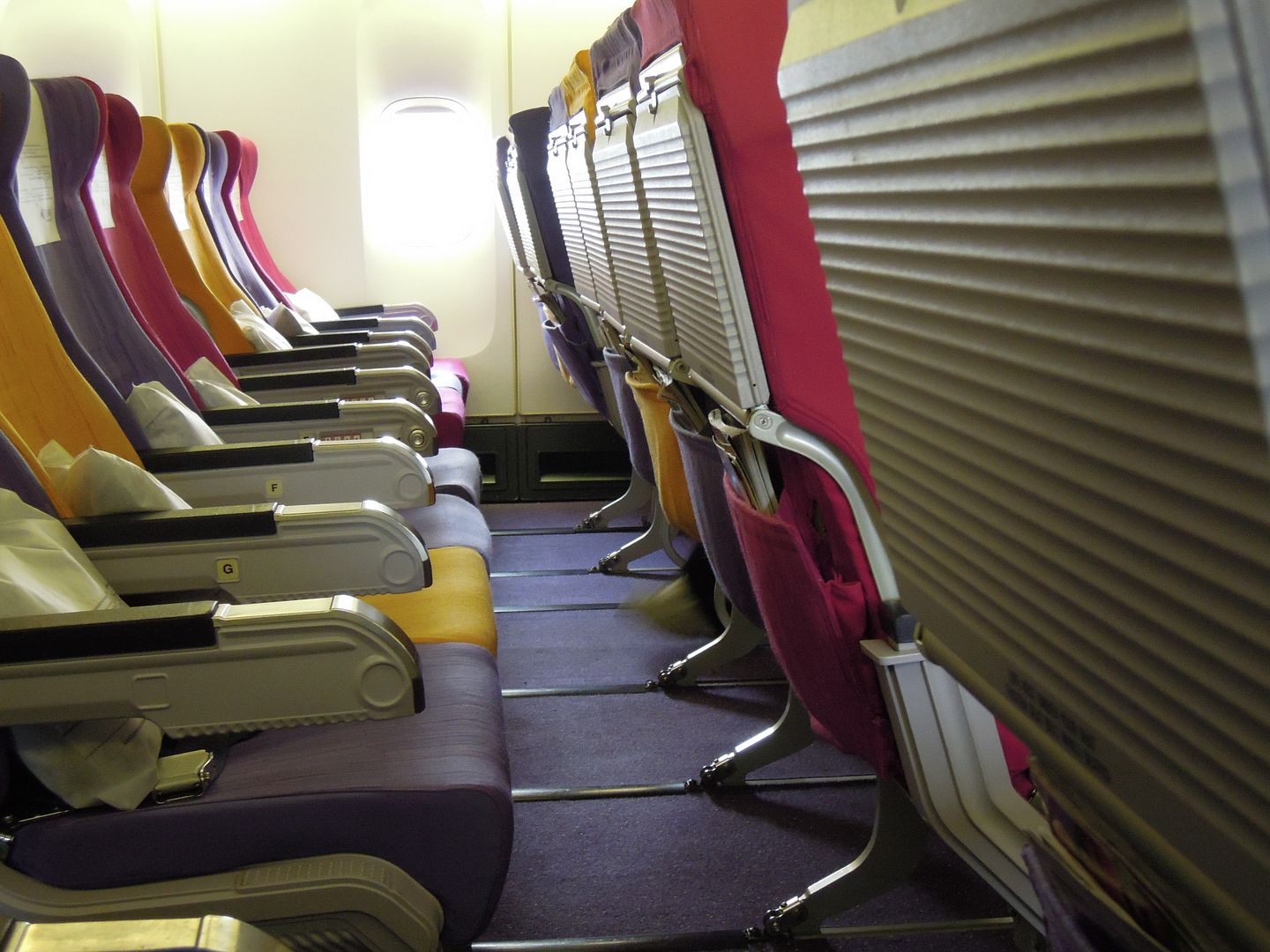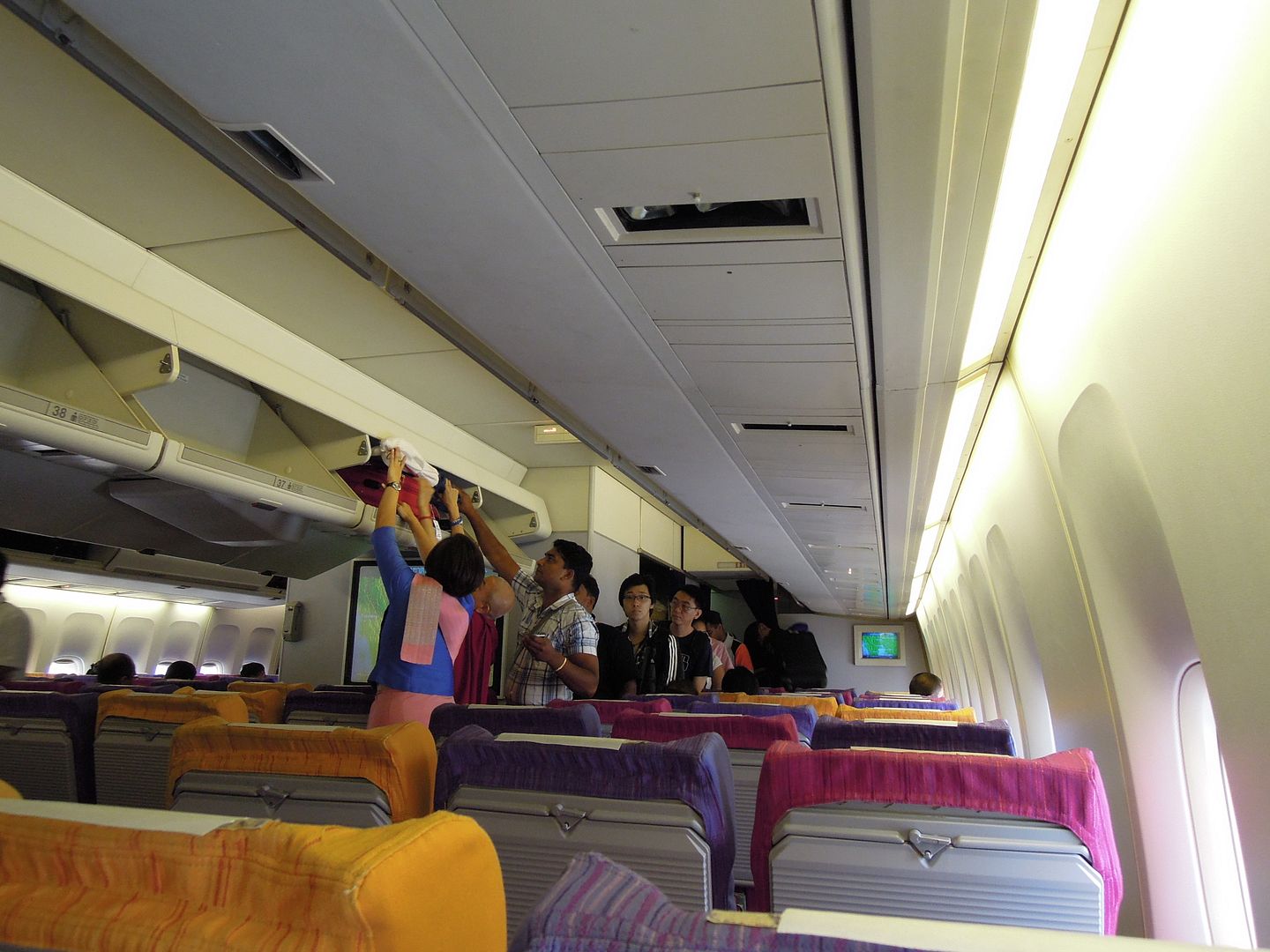 Crew distributing blankets and headphones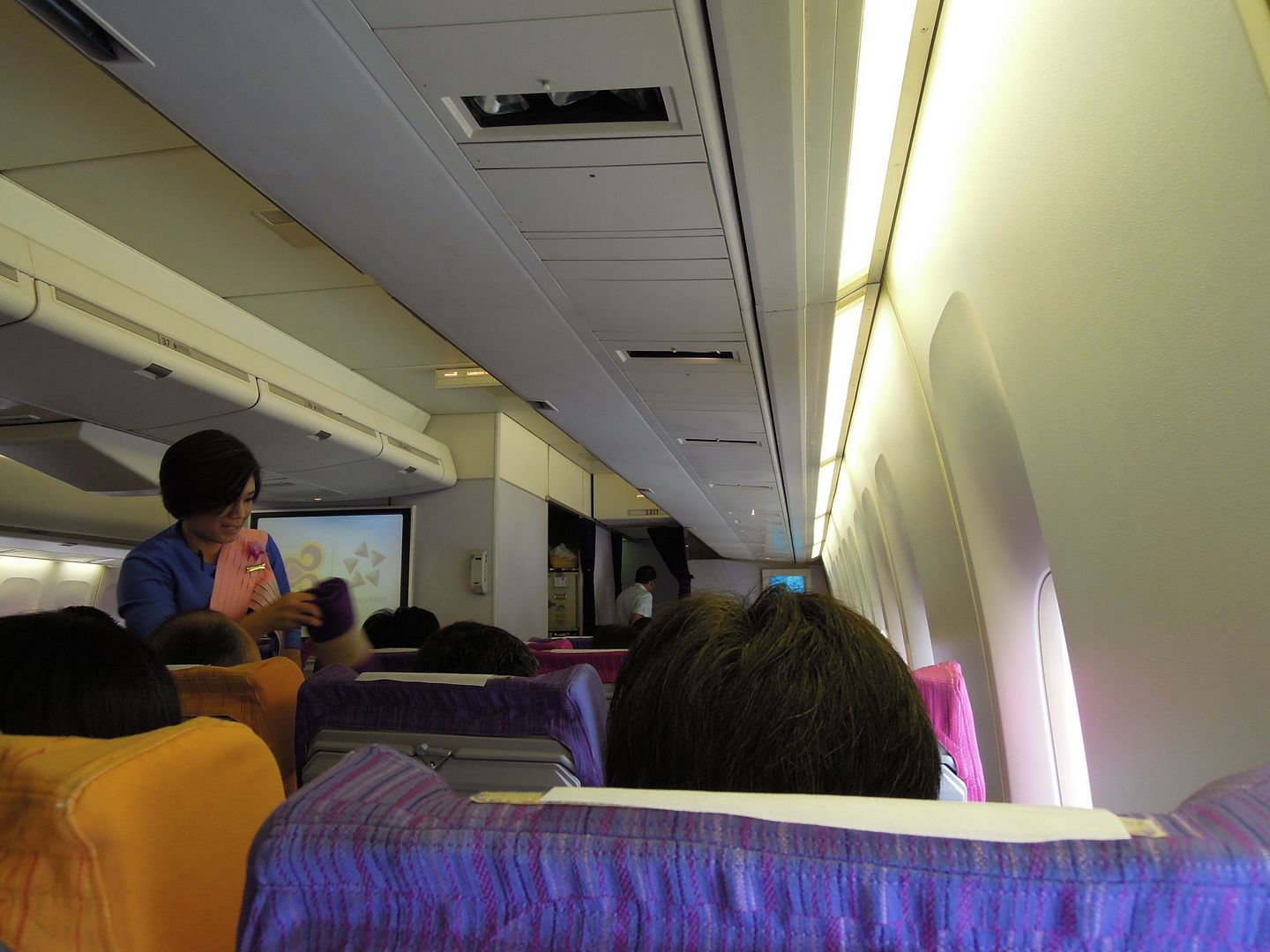 Safety demo. Then the crew came to greet us as gold members and offered us 2 options for breakfast: pork congee or omelette, the meal was served at the same time the crew served special meals. It was good that my mother who has Silver status also get to choose her meal preference early as well.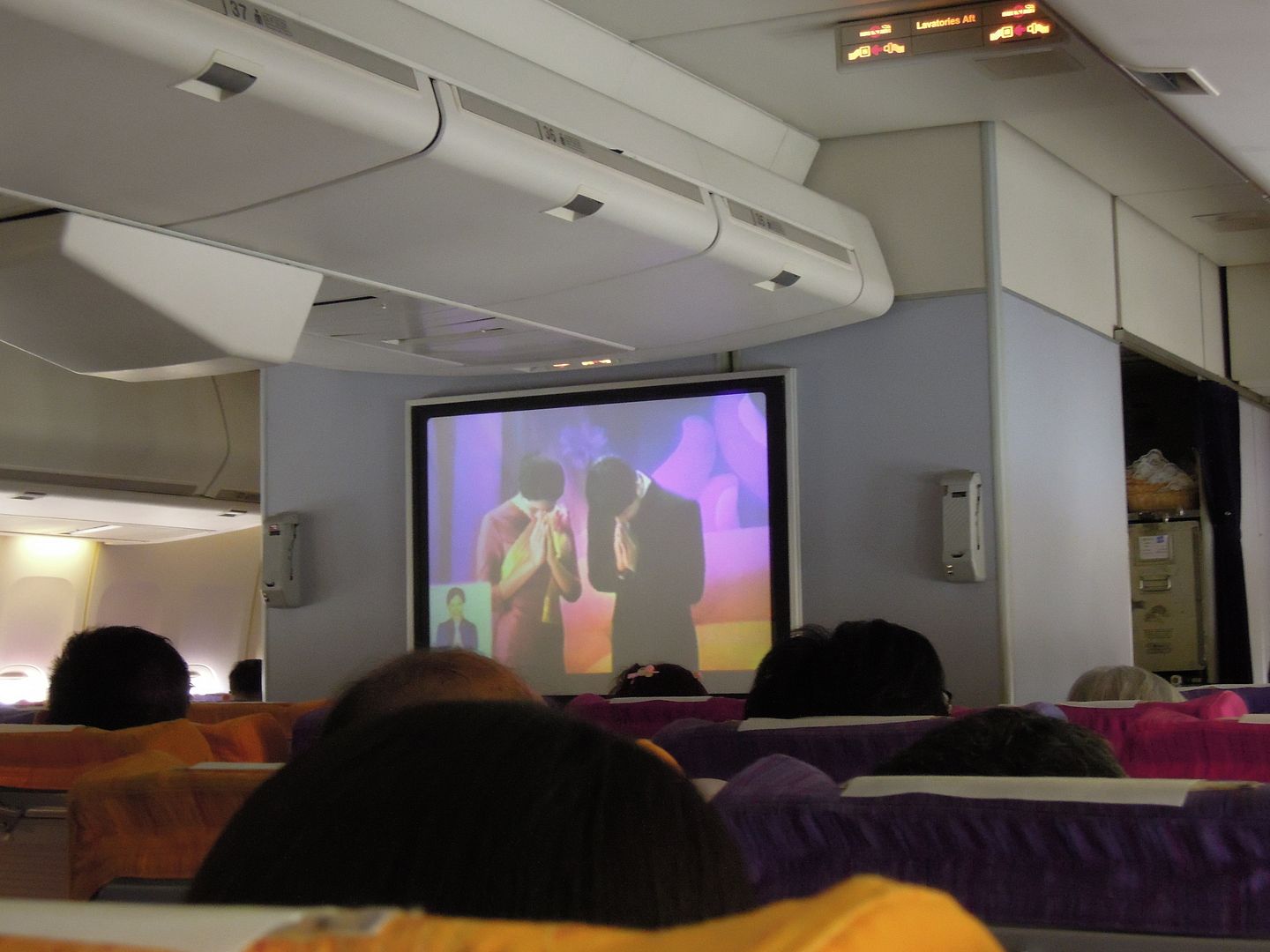 Pushed back at 8:05, 5 minutes behind the scheduled departure time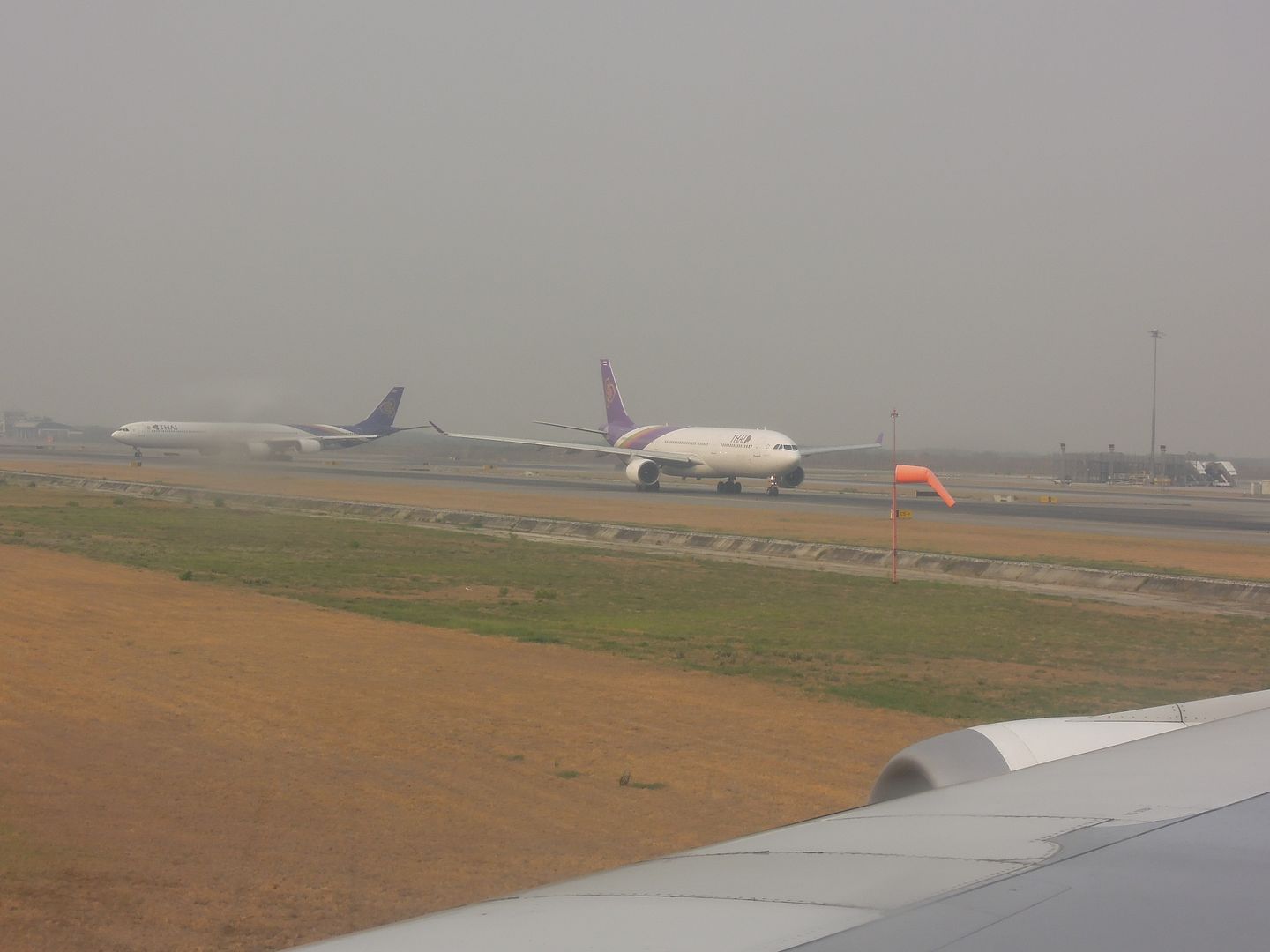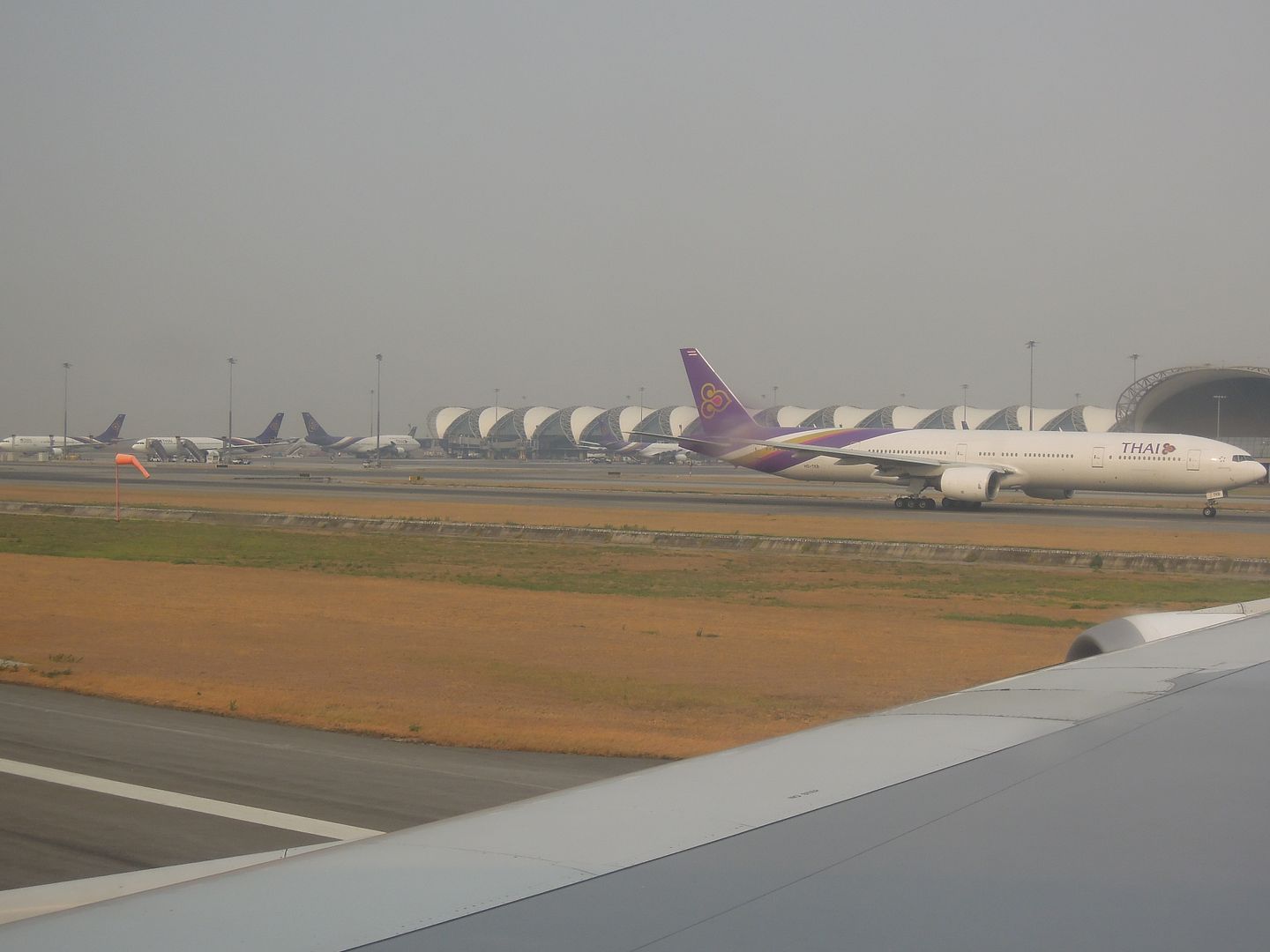 Took off at 8:15am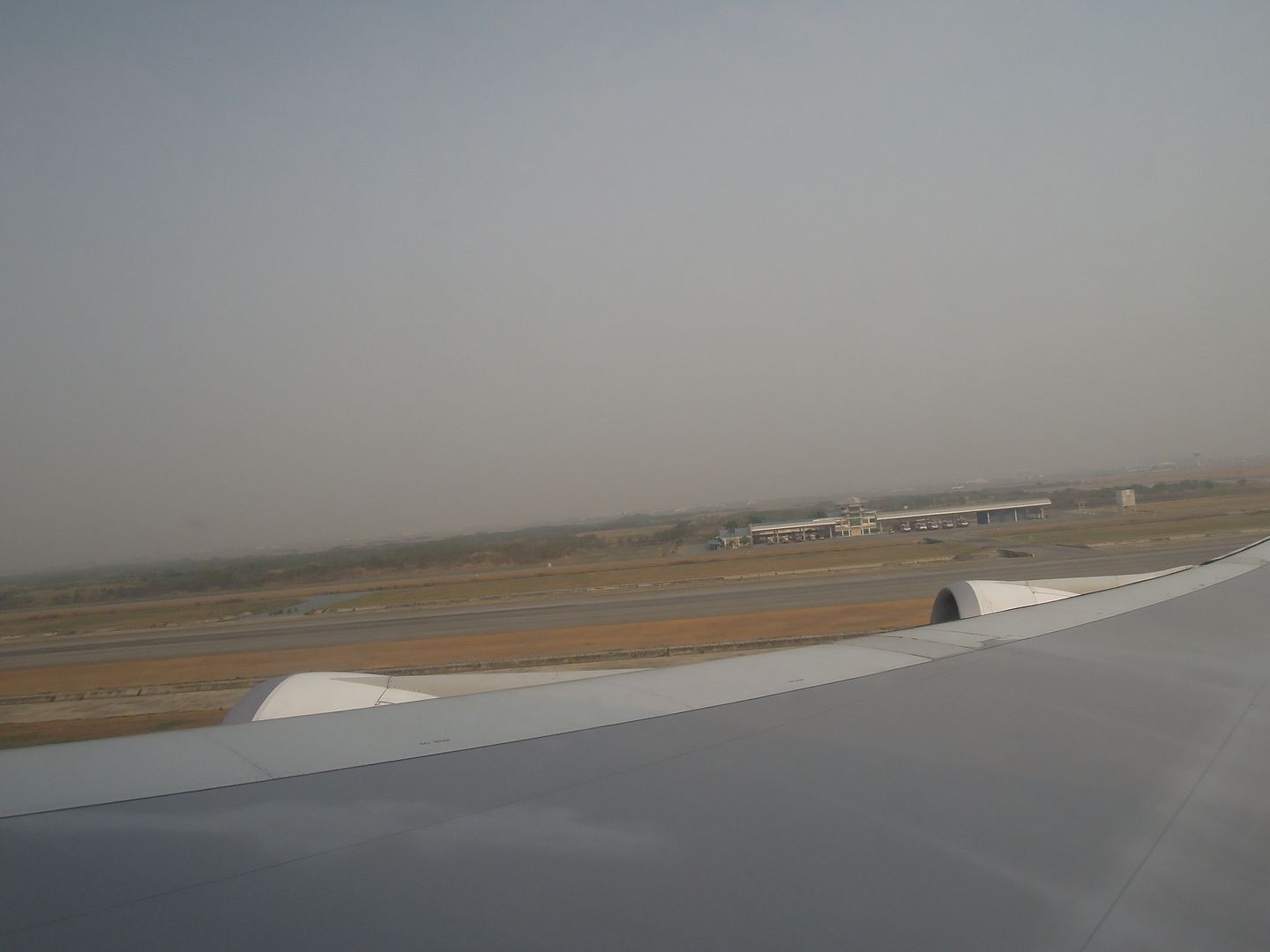 As soon as the safety belt sign was turned off, the crew came and gave out landing cards, then hot towels then drinks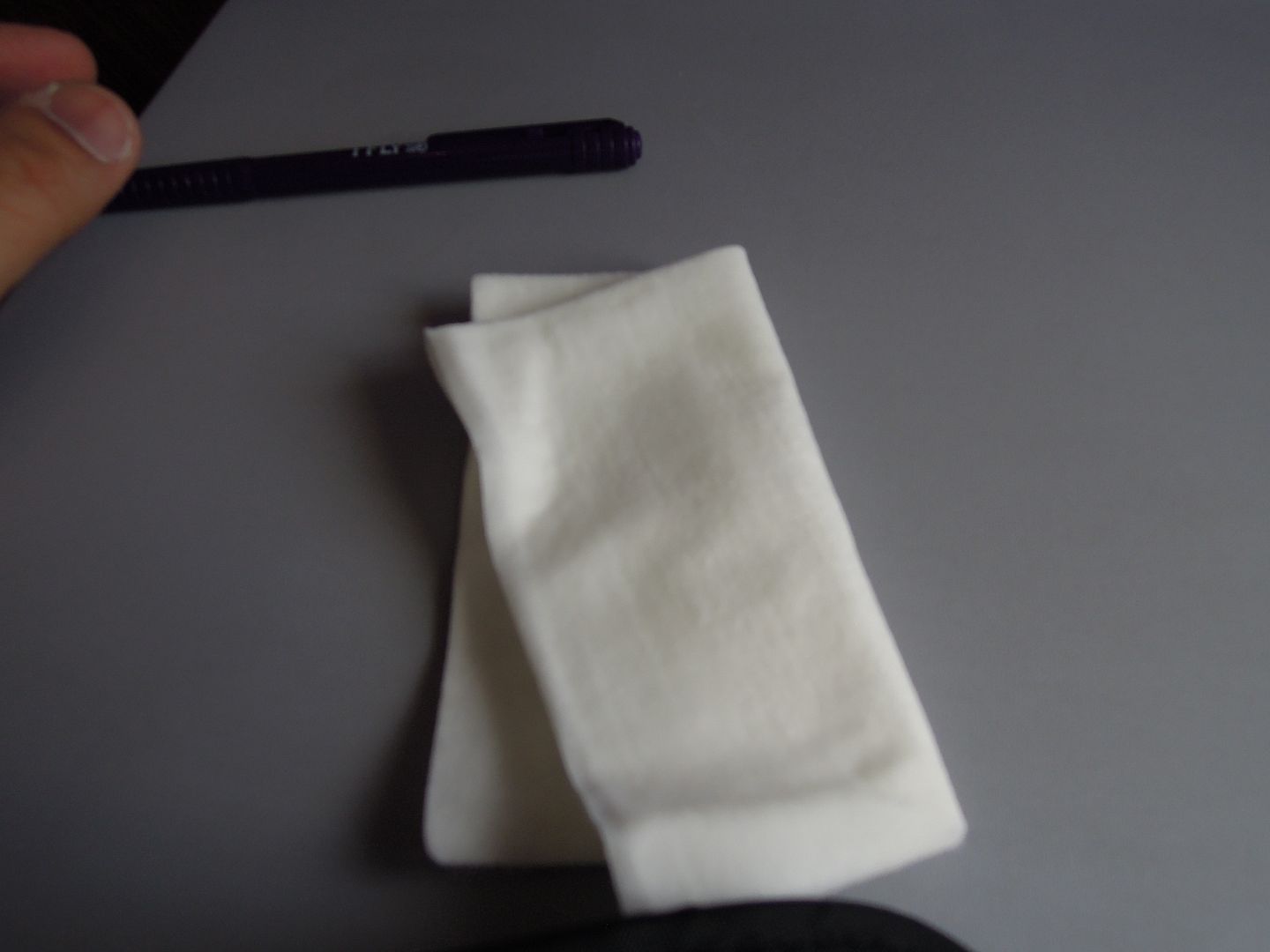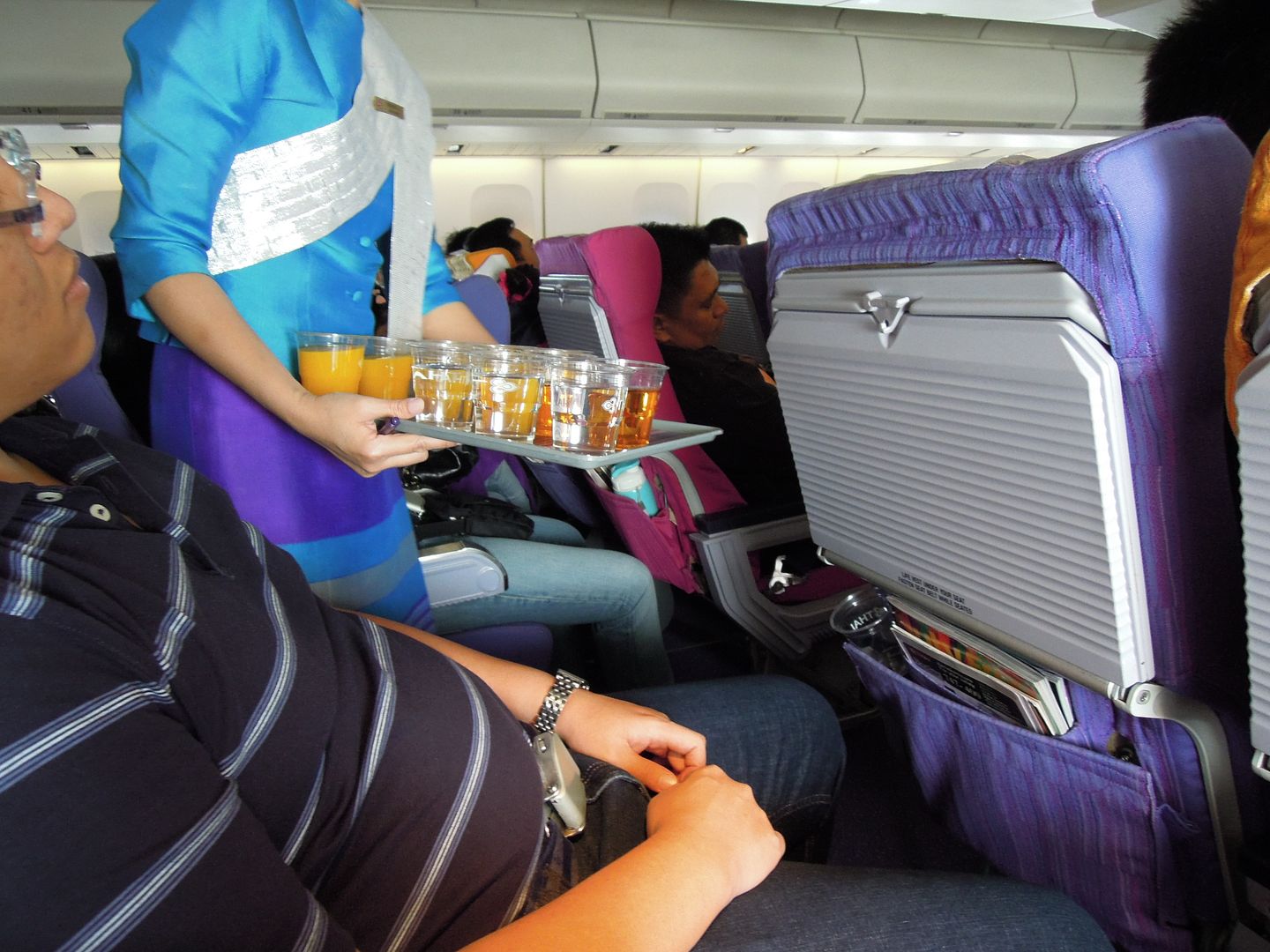 A very generous leg room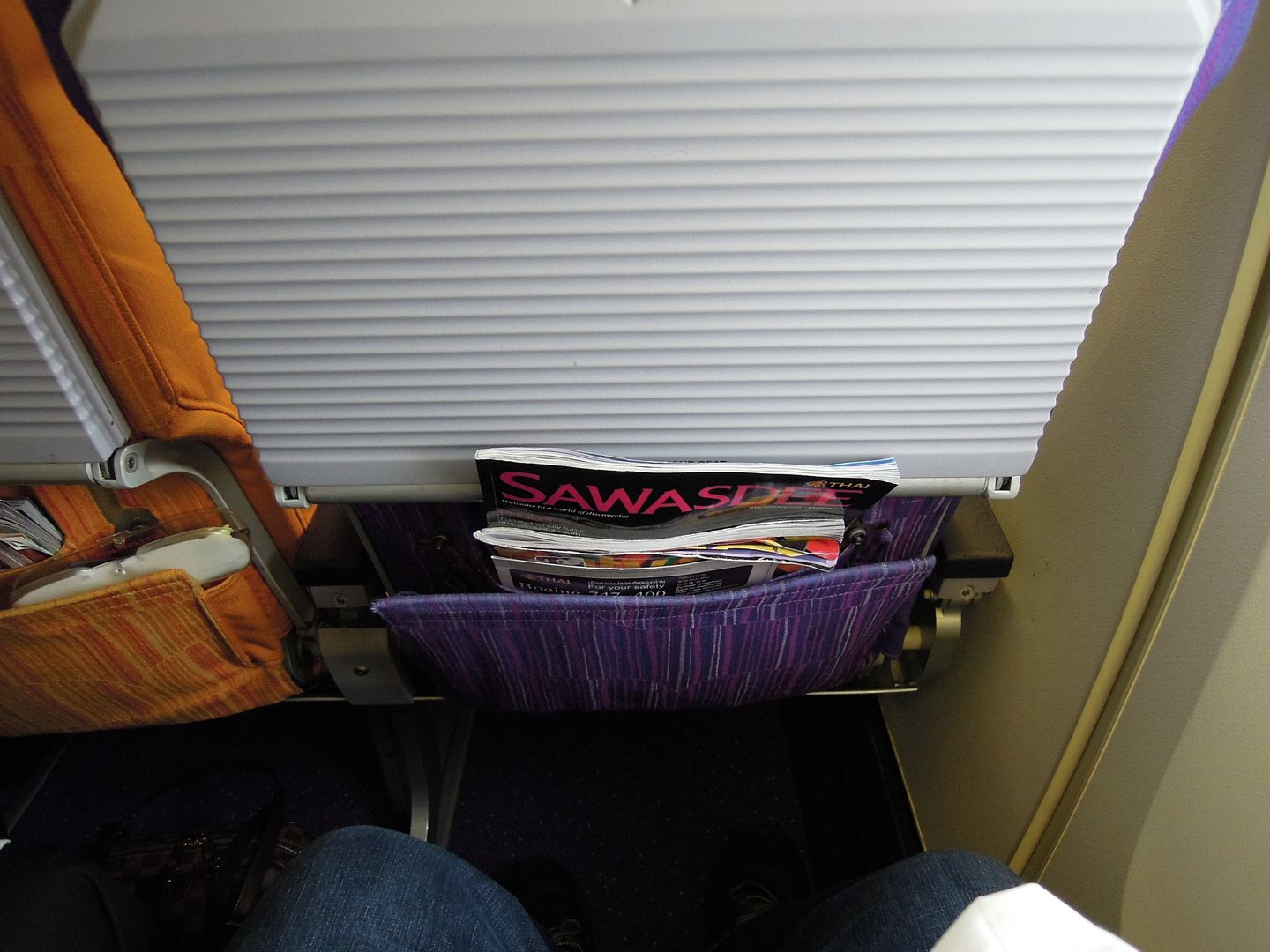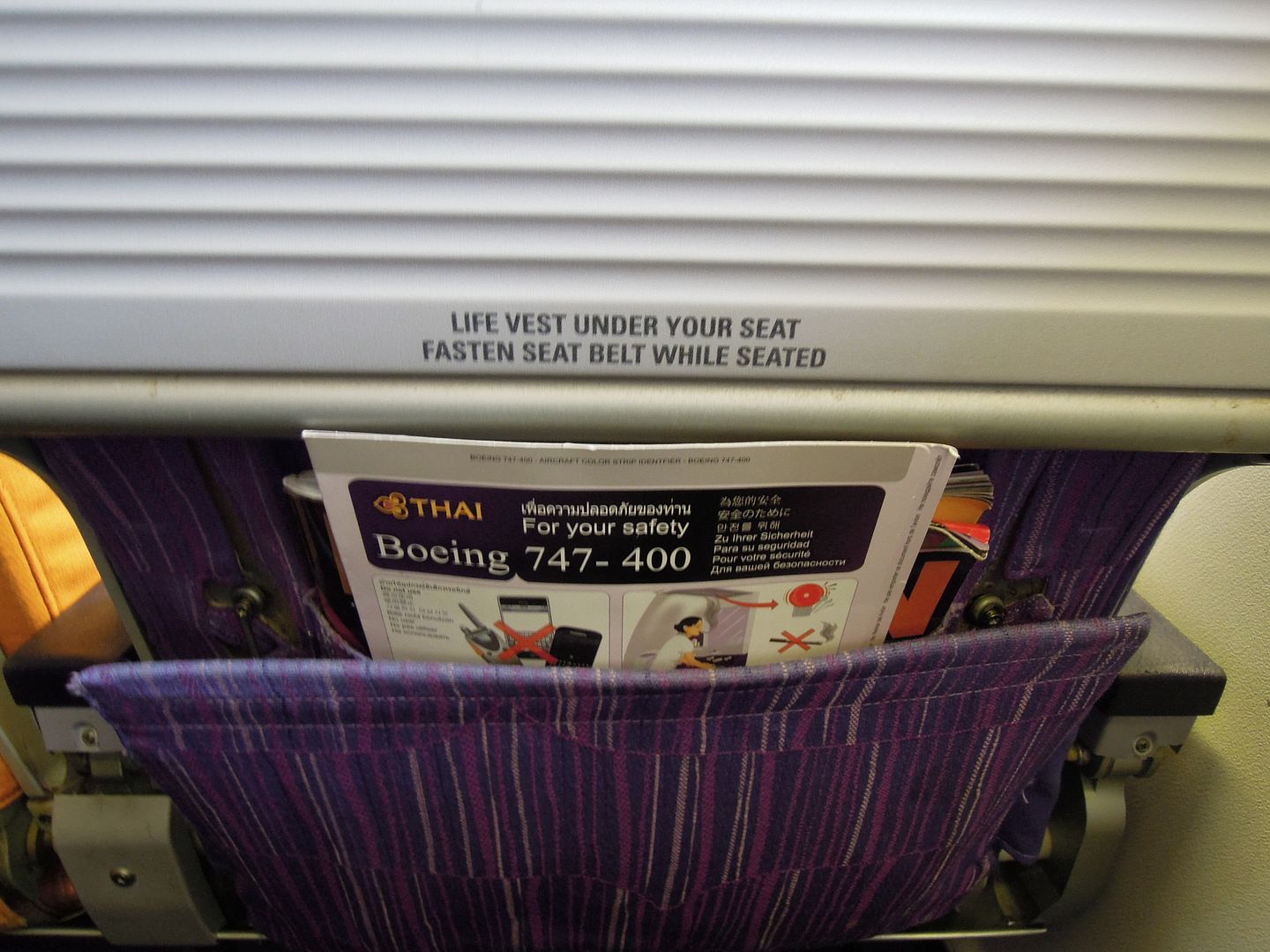 Interesting ads on sawasdee inflight magazine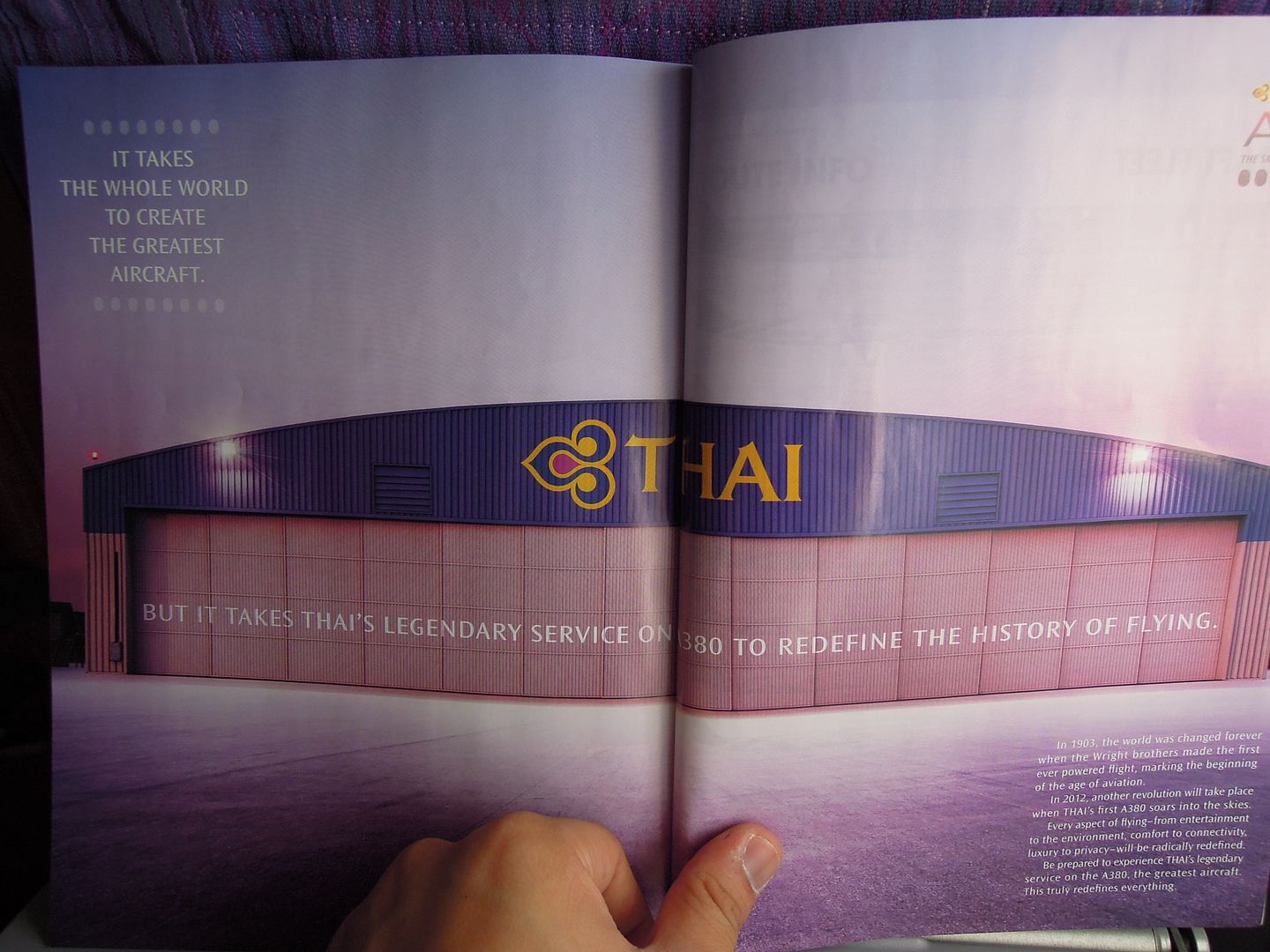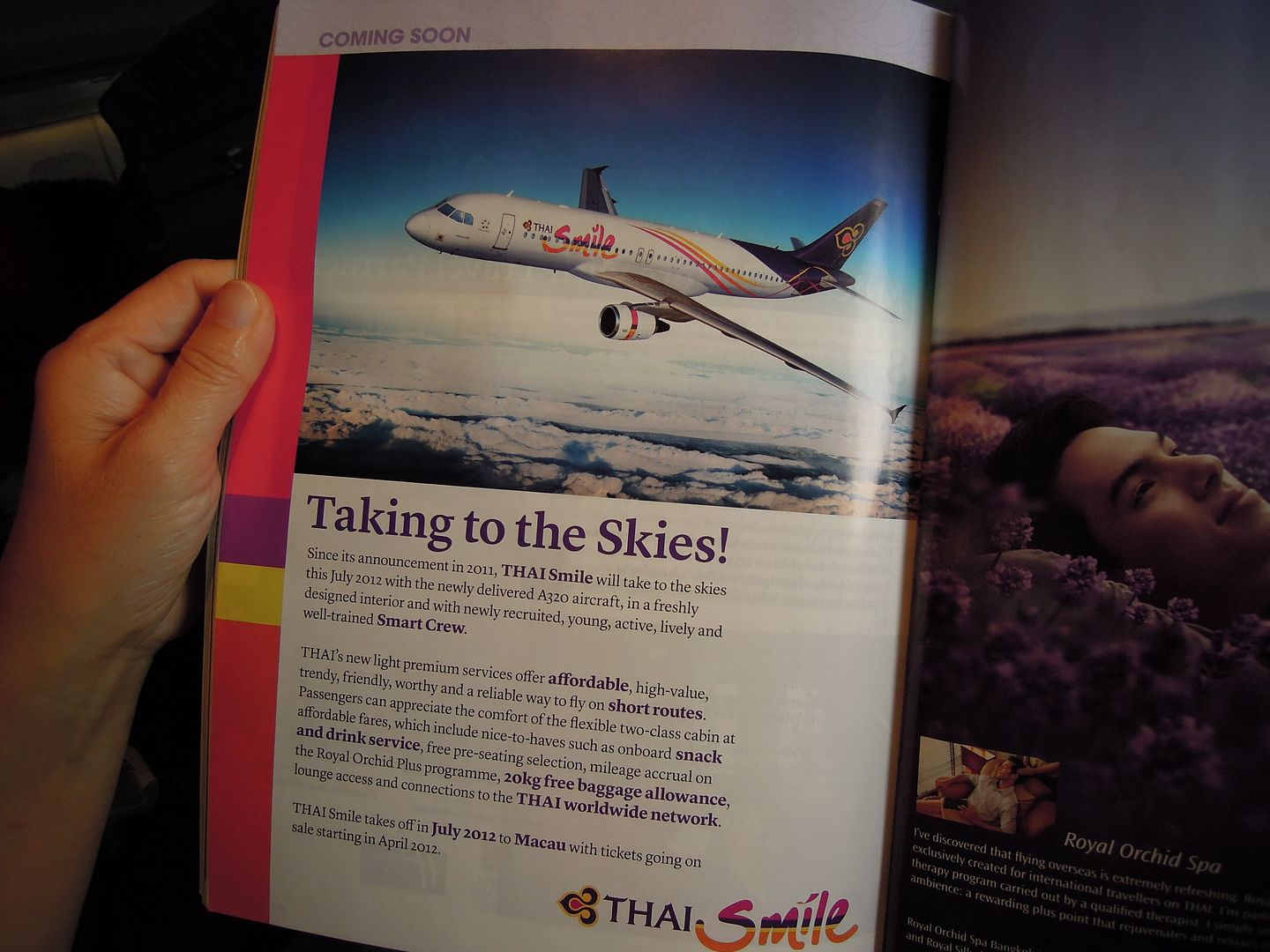 Then shortly after, breakfast was served. Pork congee
As my brother didn't eat, I took his food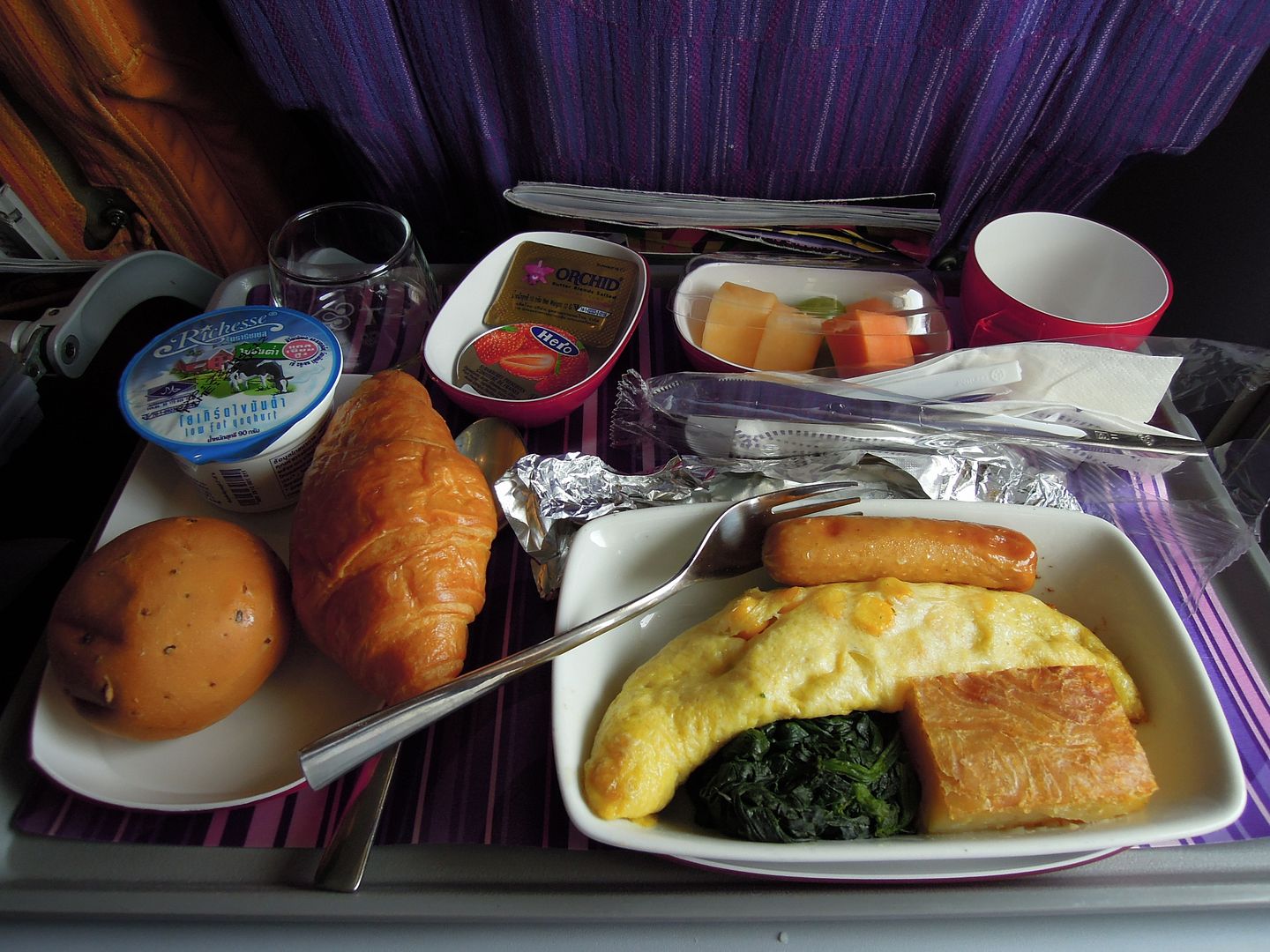 Crew came and offered drinks several times during the meal service. For hot drinks, coffee, English tea and Chinese tea were offered. Hot towels were given once again after food service.
2 hours into the flight, and we started our descent. The captain announced that due to high traffic at Hong Kong Airport, we would need to circle around for a few moments.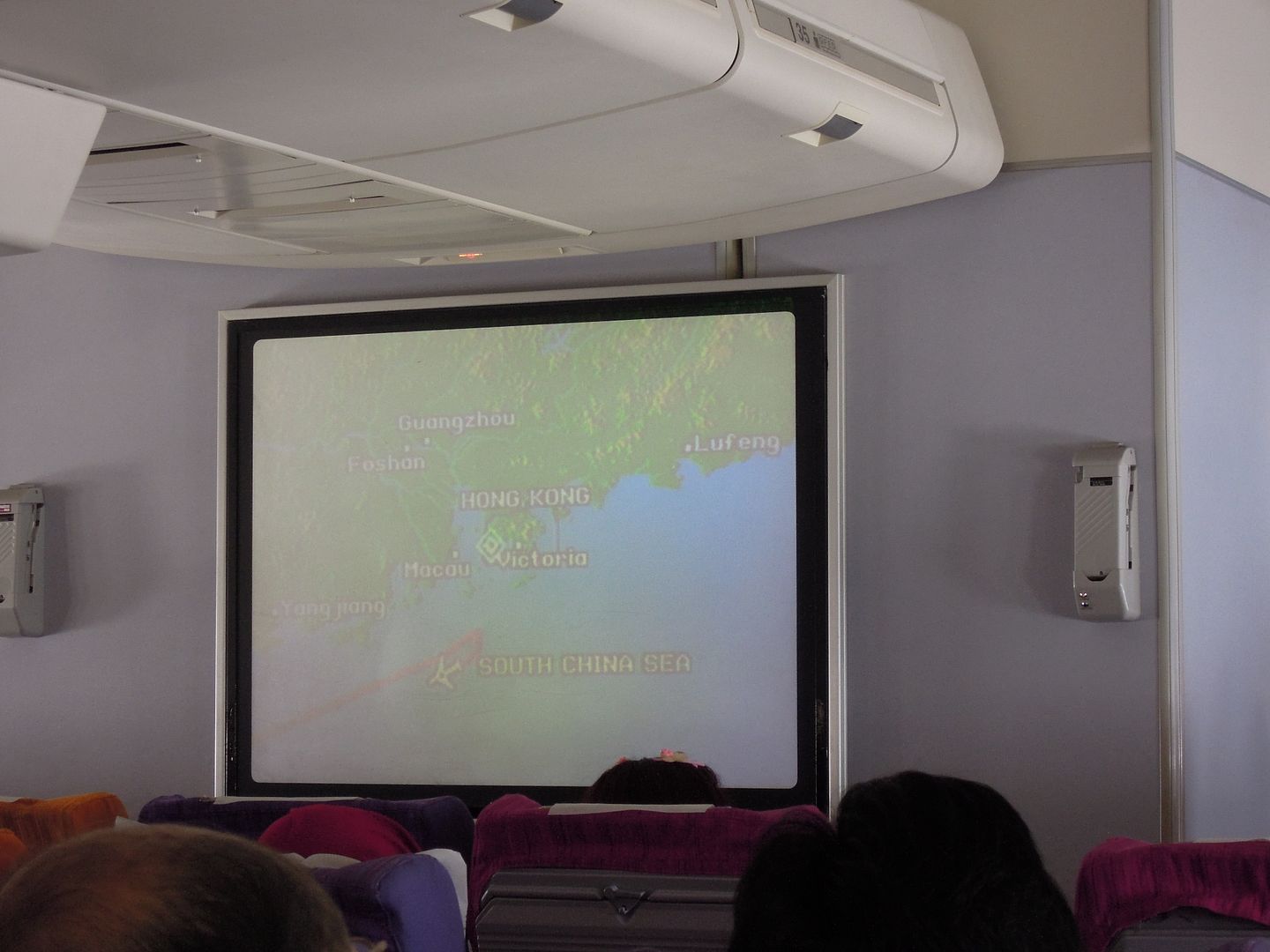 Descending to HKG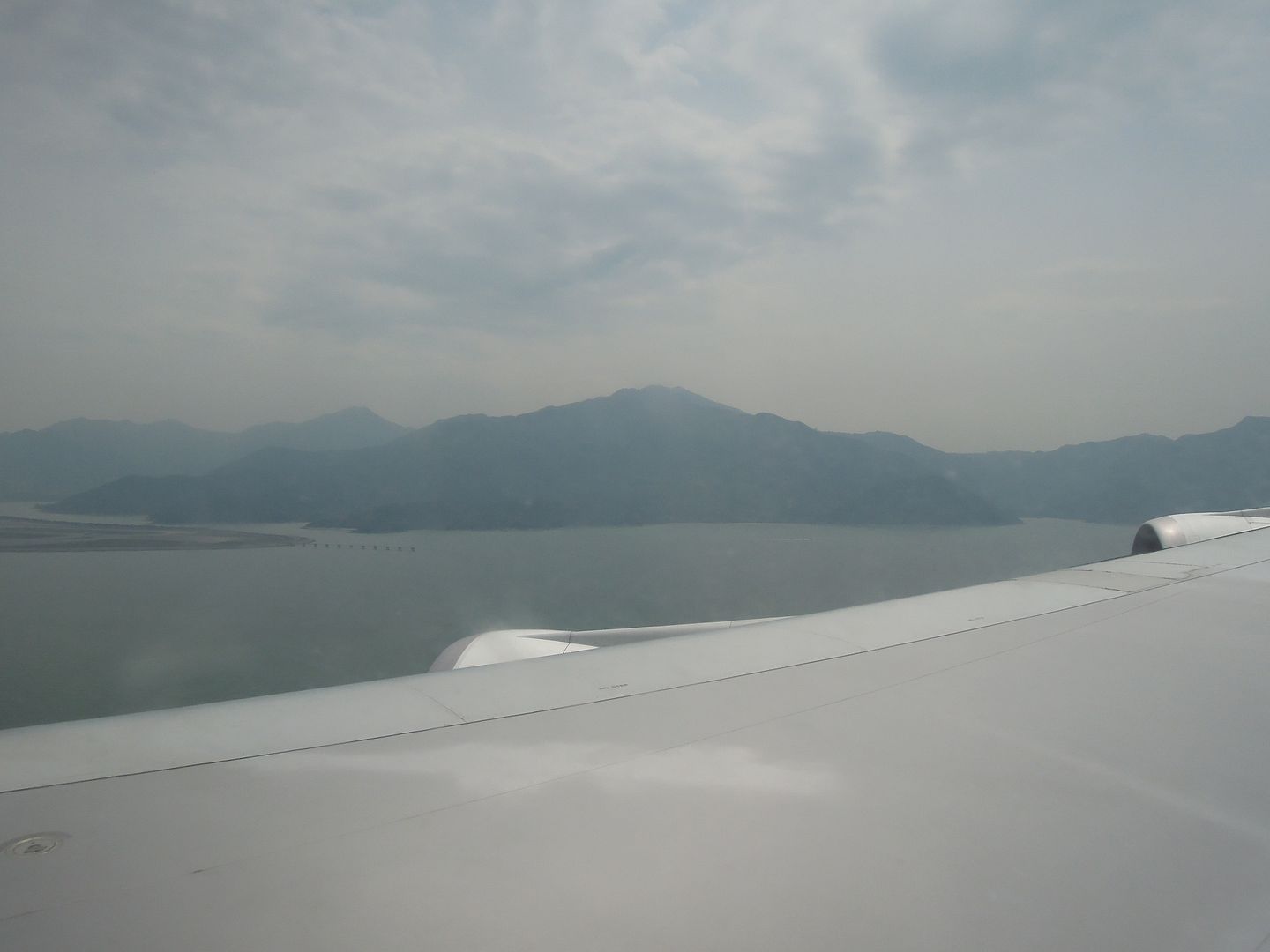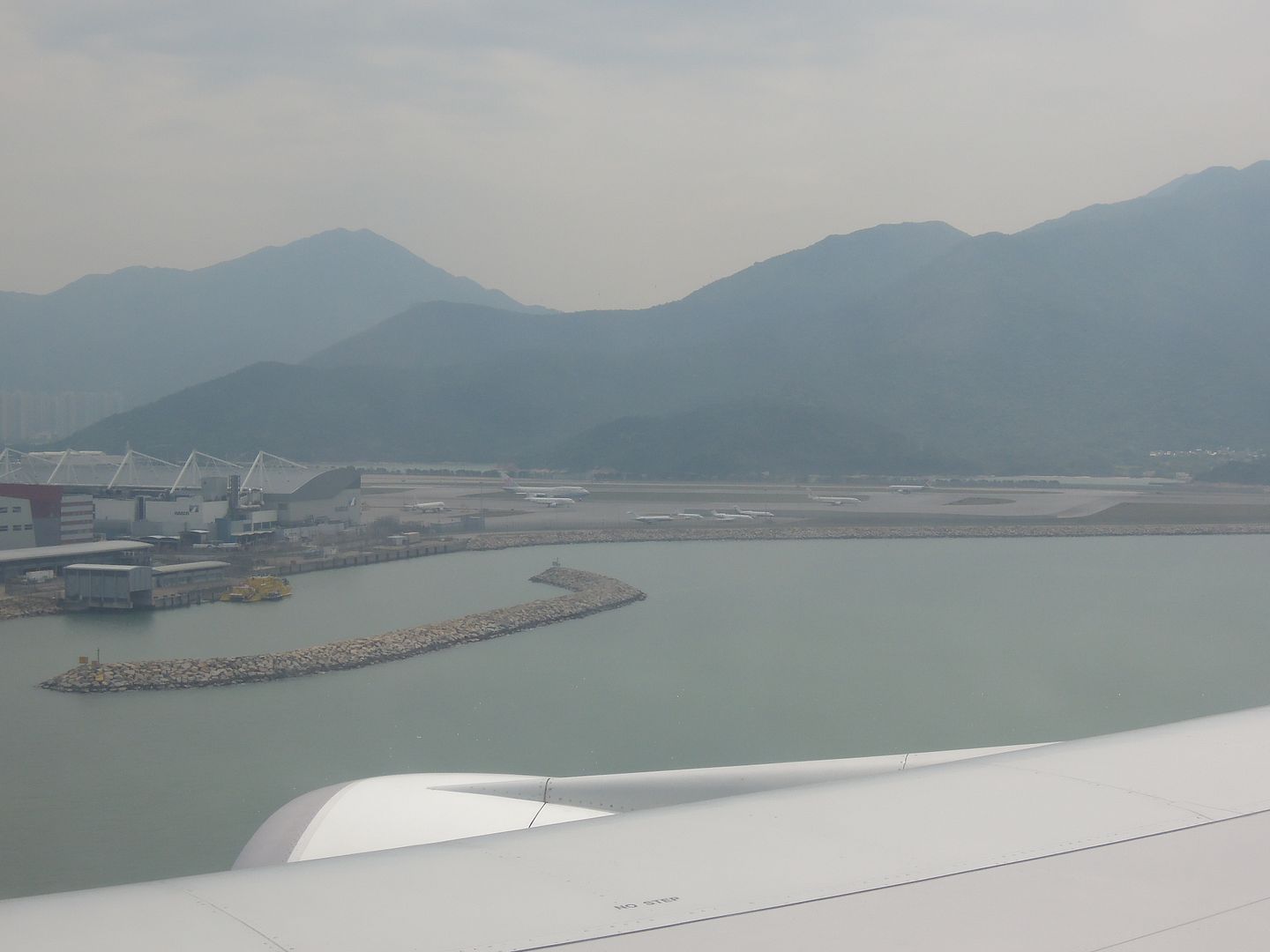 Landed at 11:35 am local time.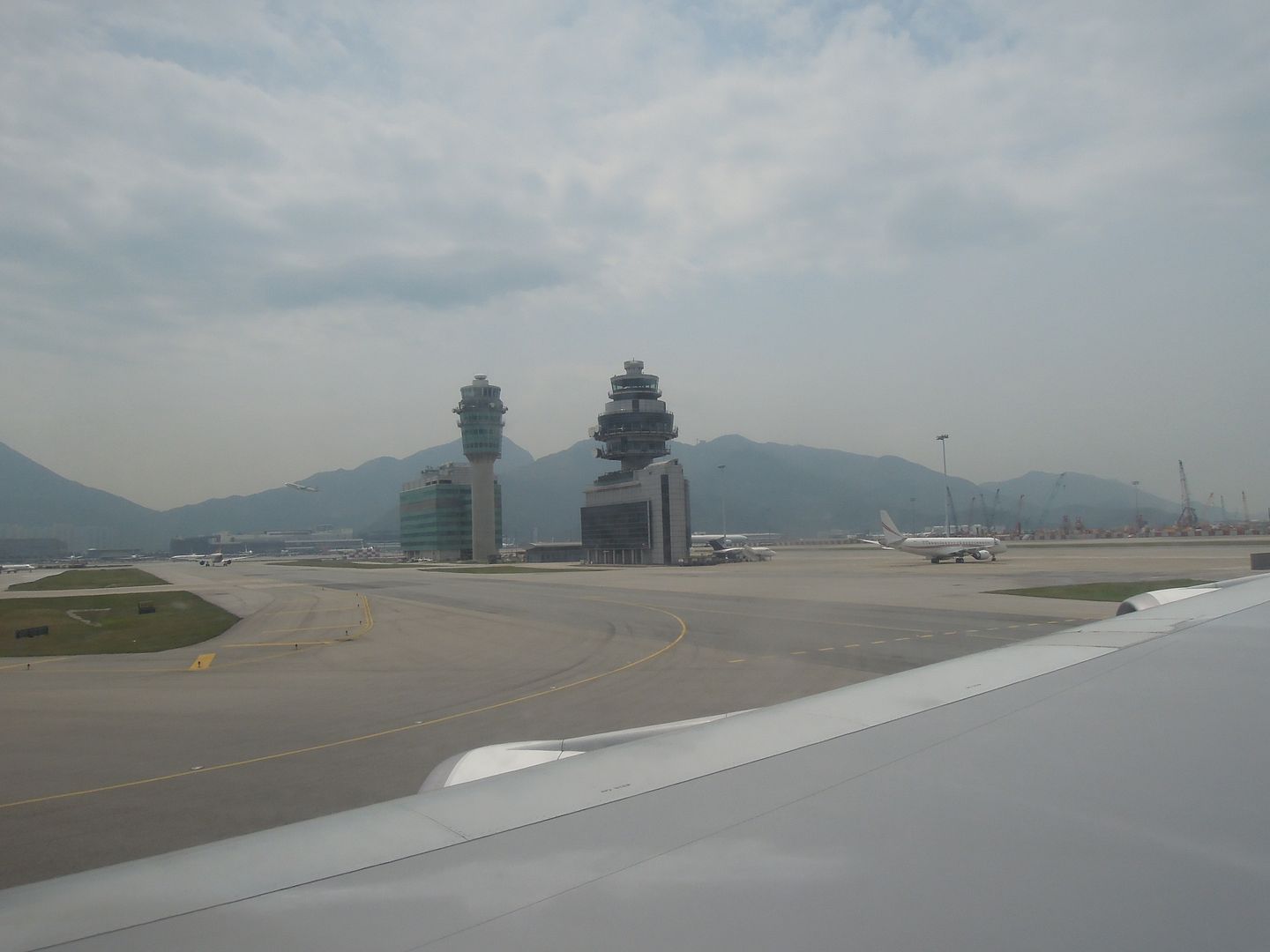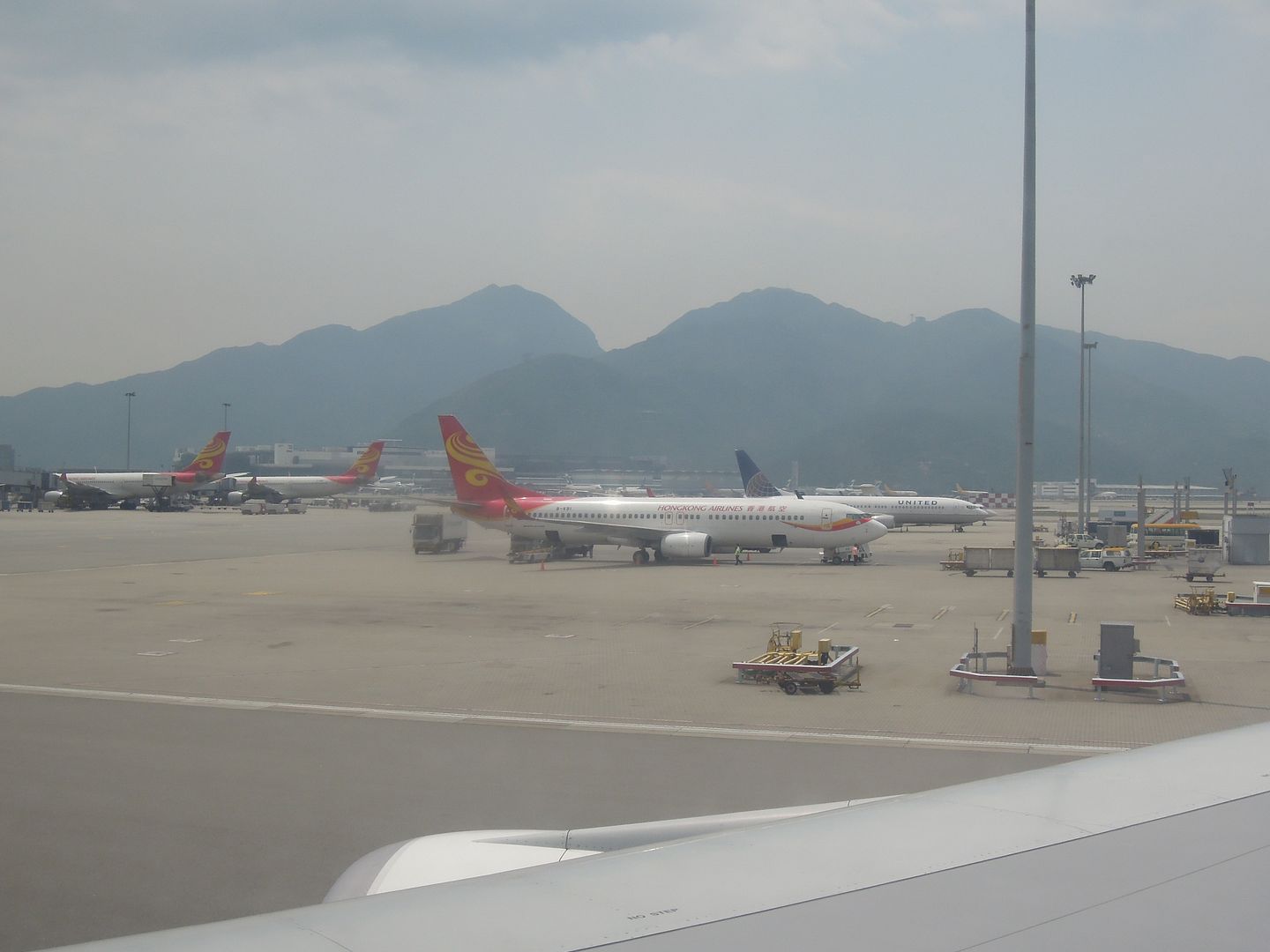 My seat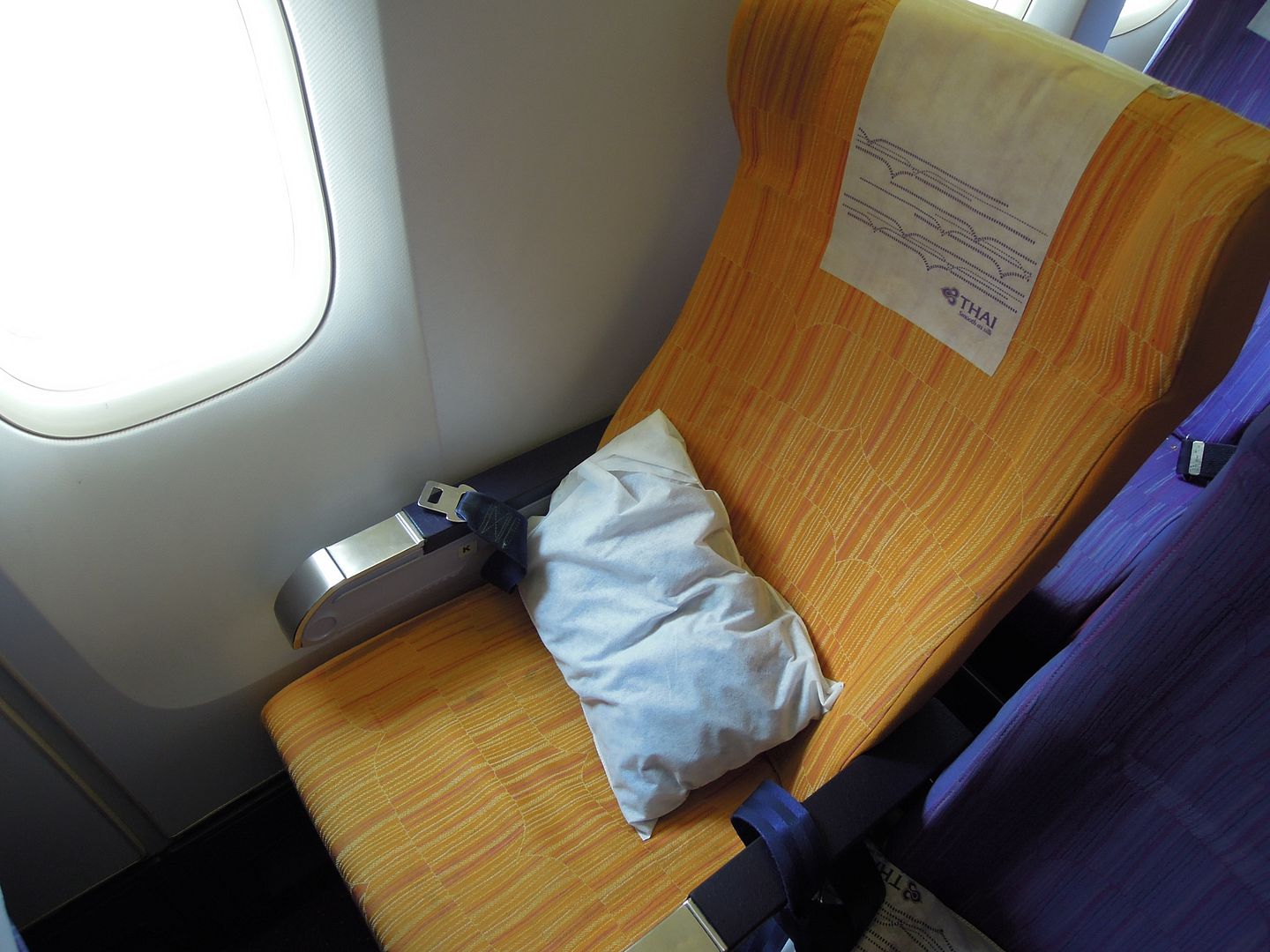 Disembarking the airplane: the long galley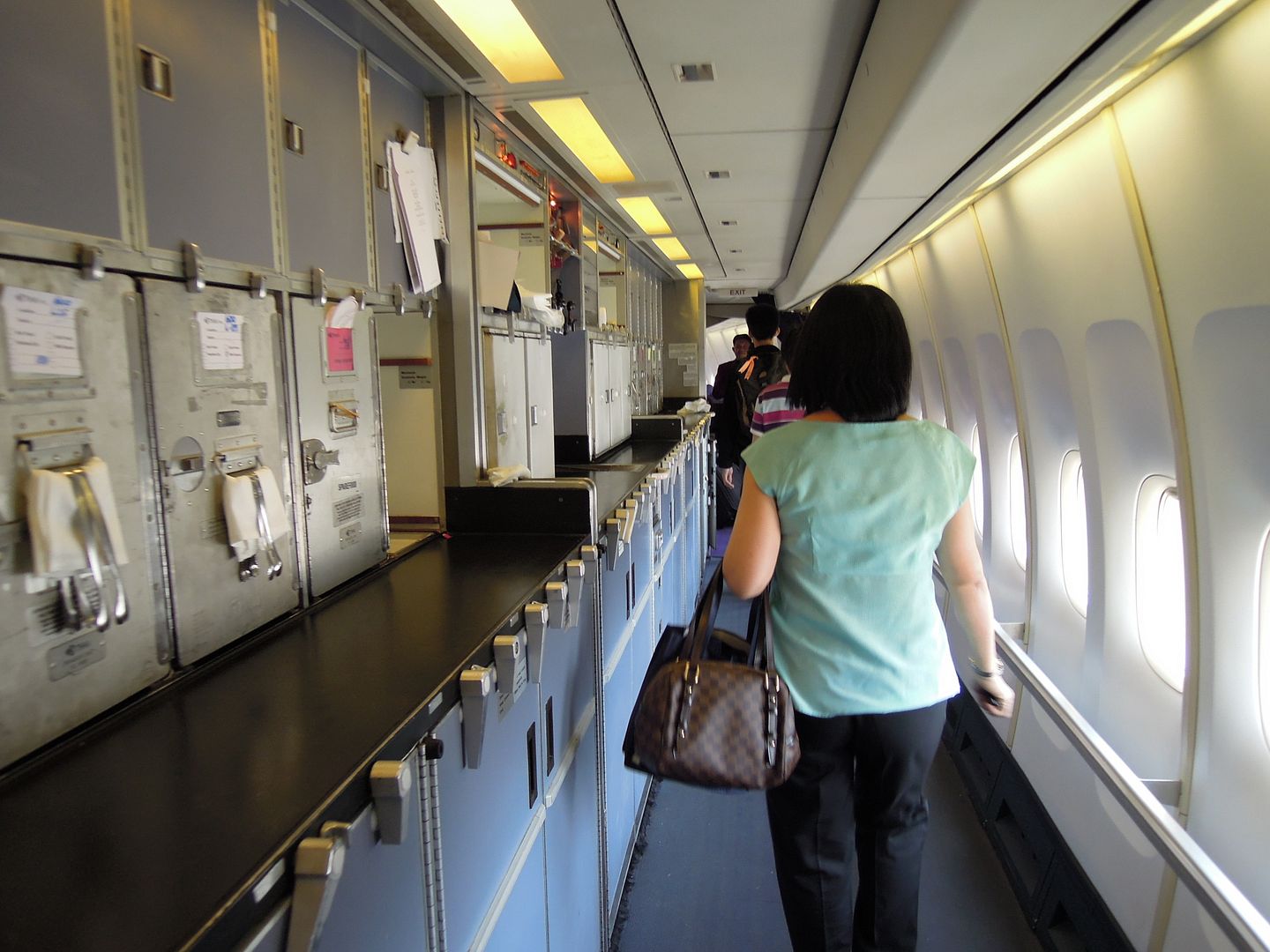 Old First class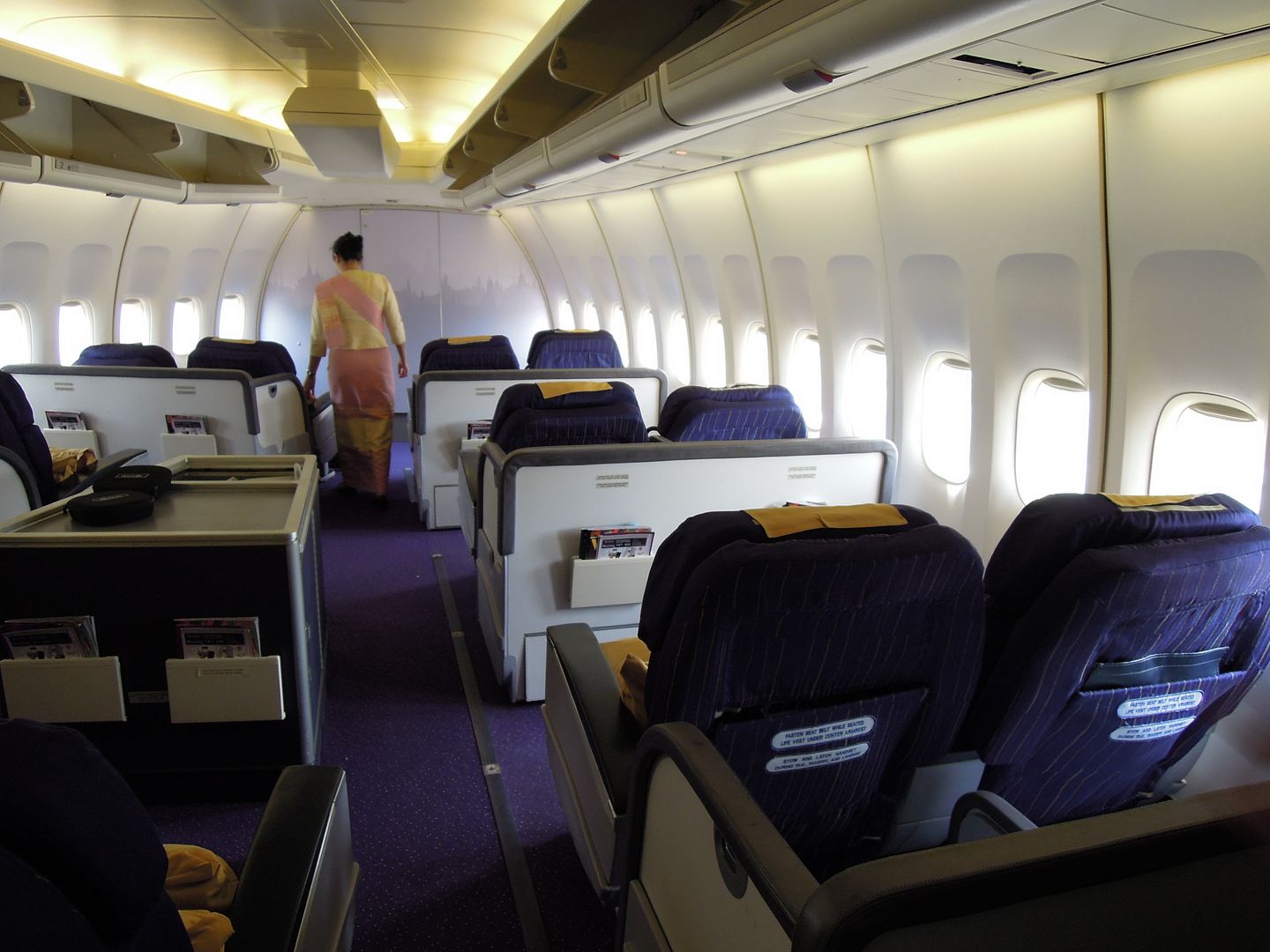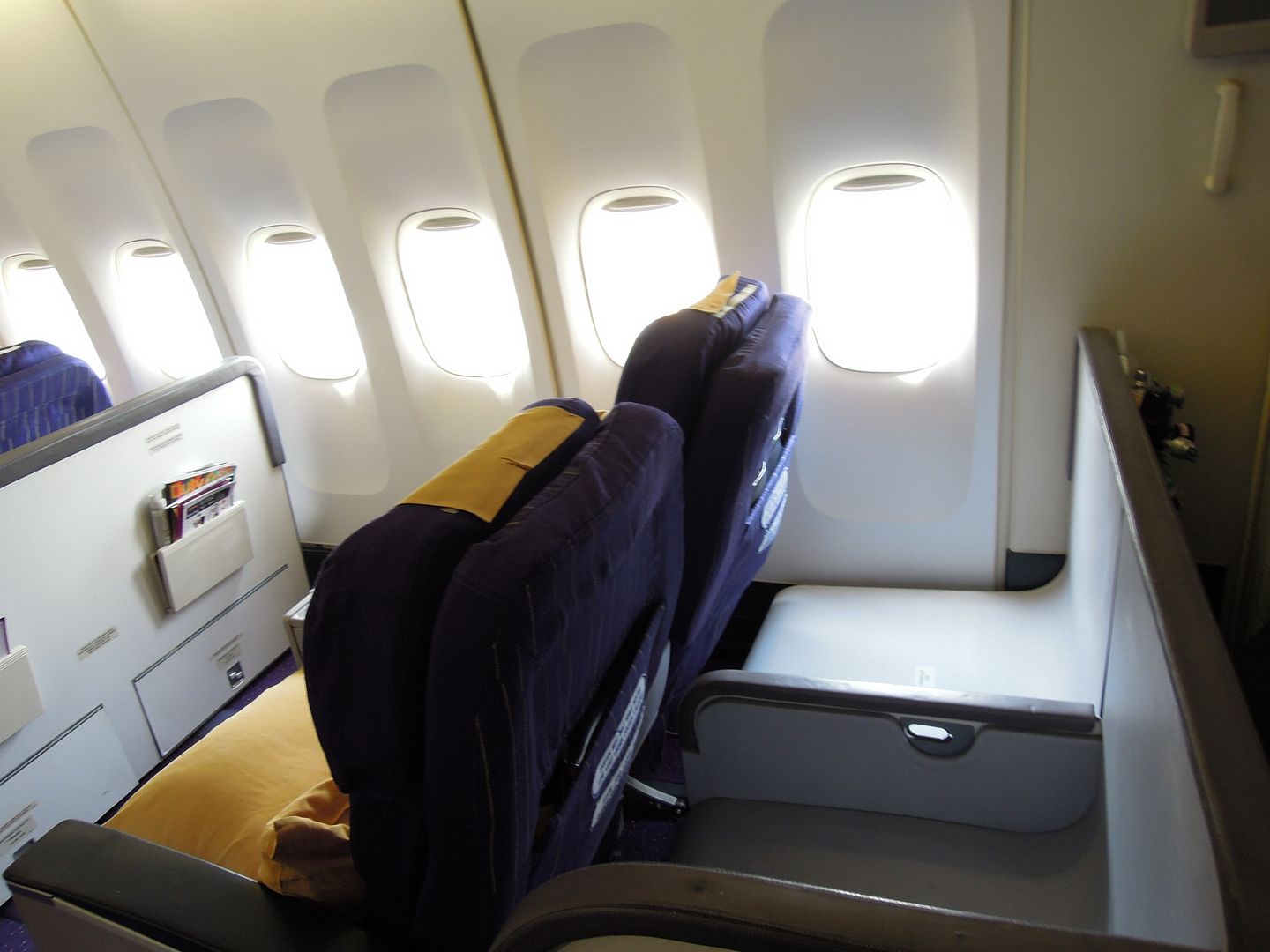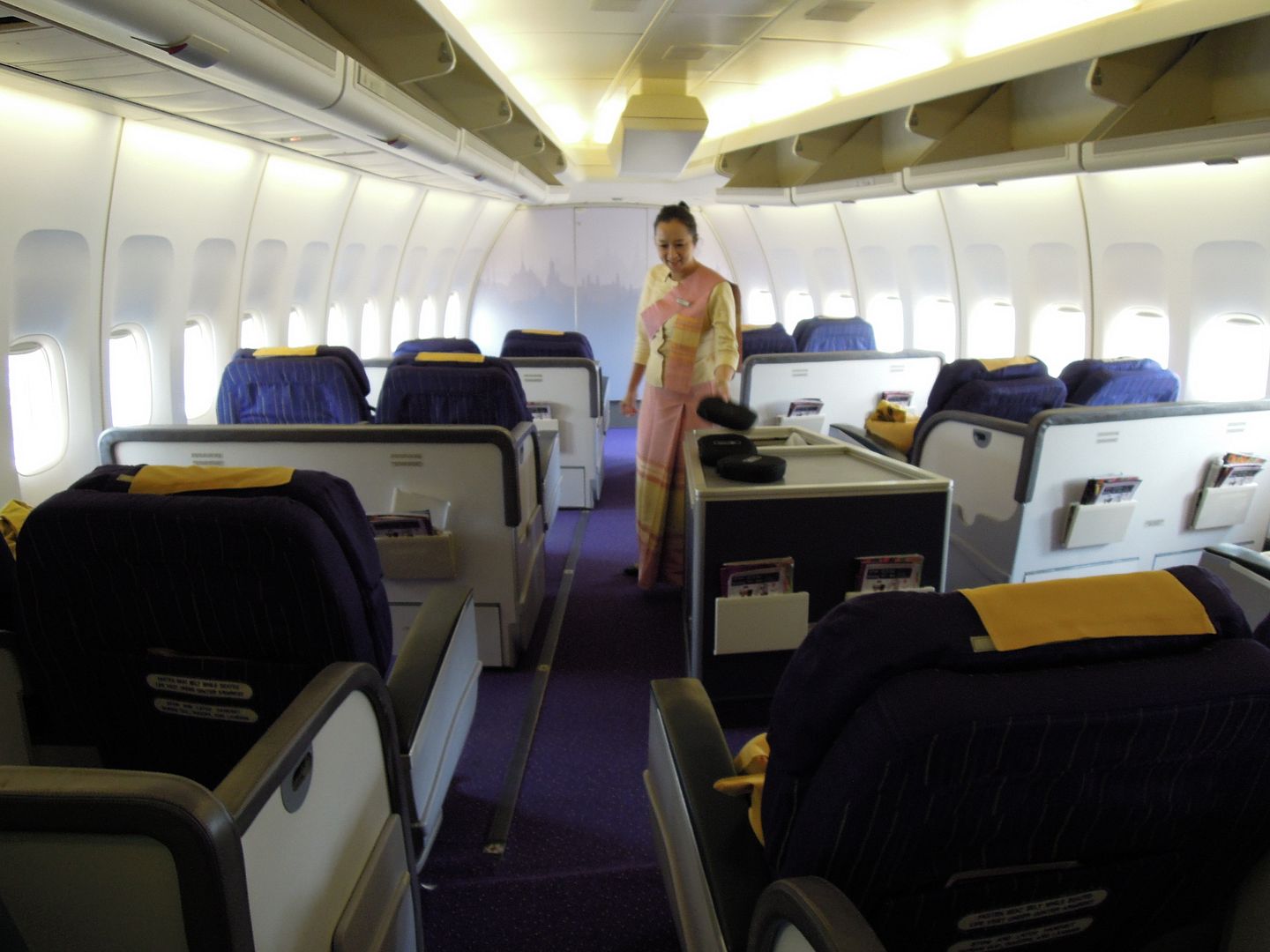 Business class on the lower deck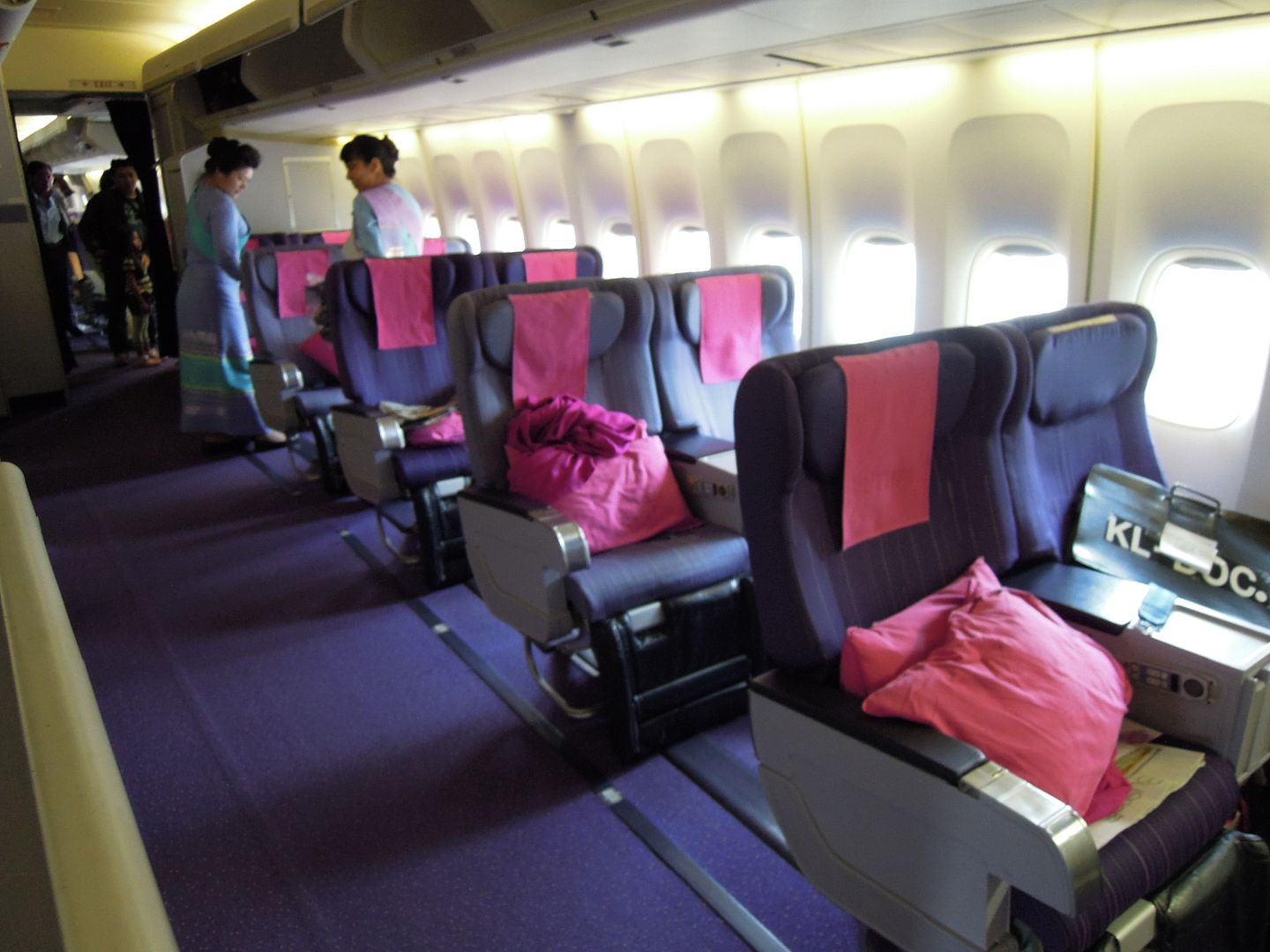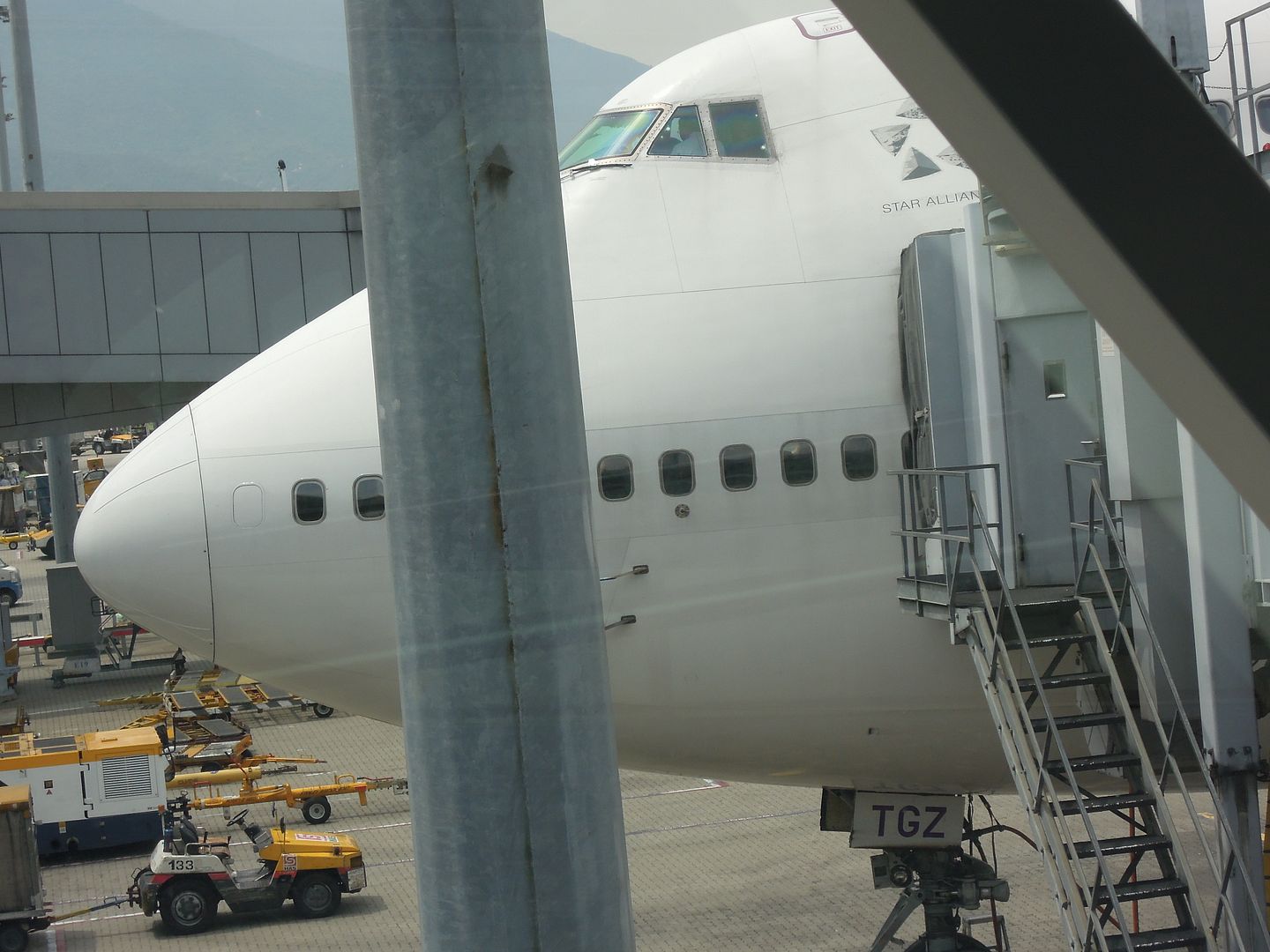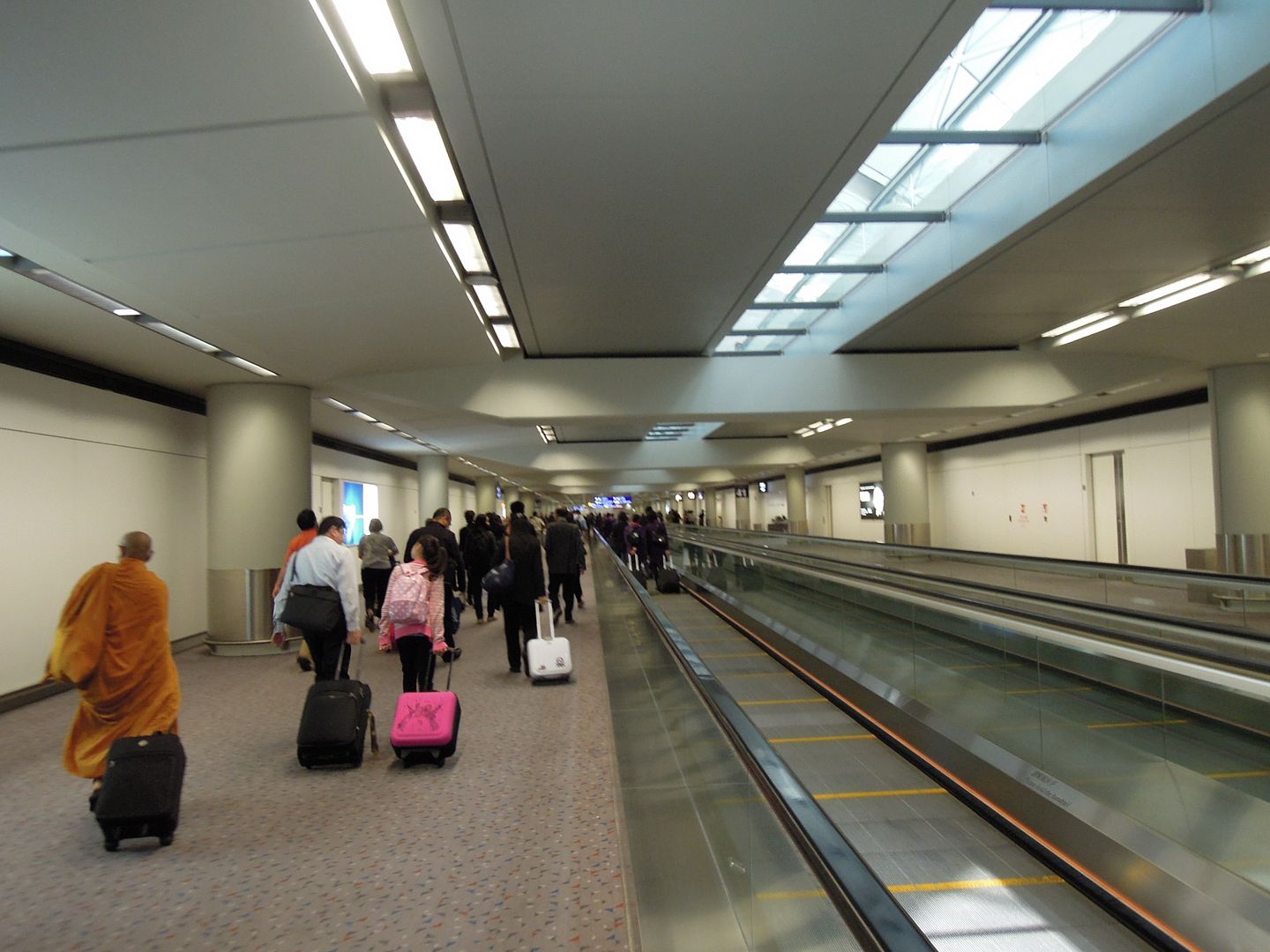 Took a train to passport control. It was a very long queue there, fortunately when we got there, they opened a new line and a lot of people rushed in that line, but still it took us around 20 minutes to clear.
Baggage was already on the belt when we got there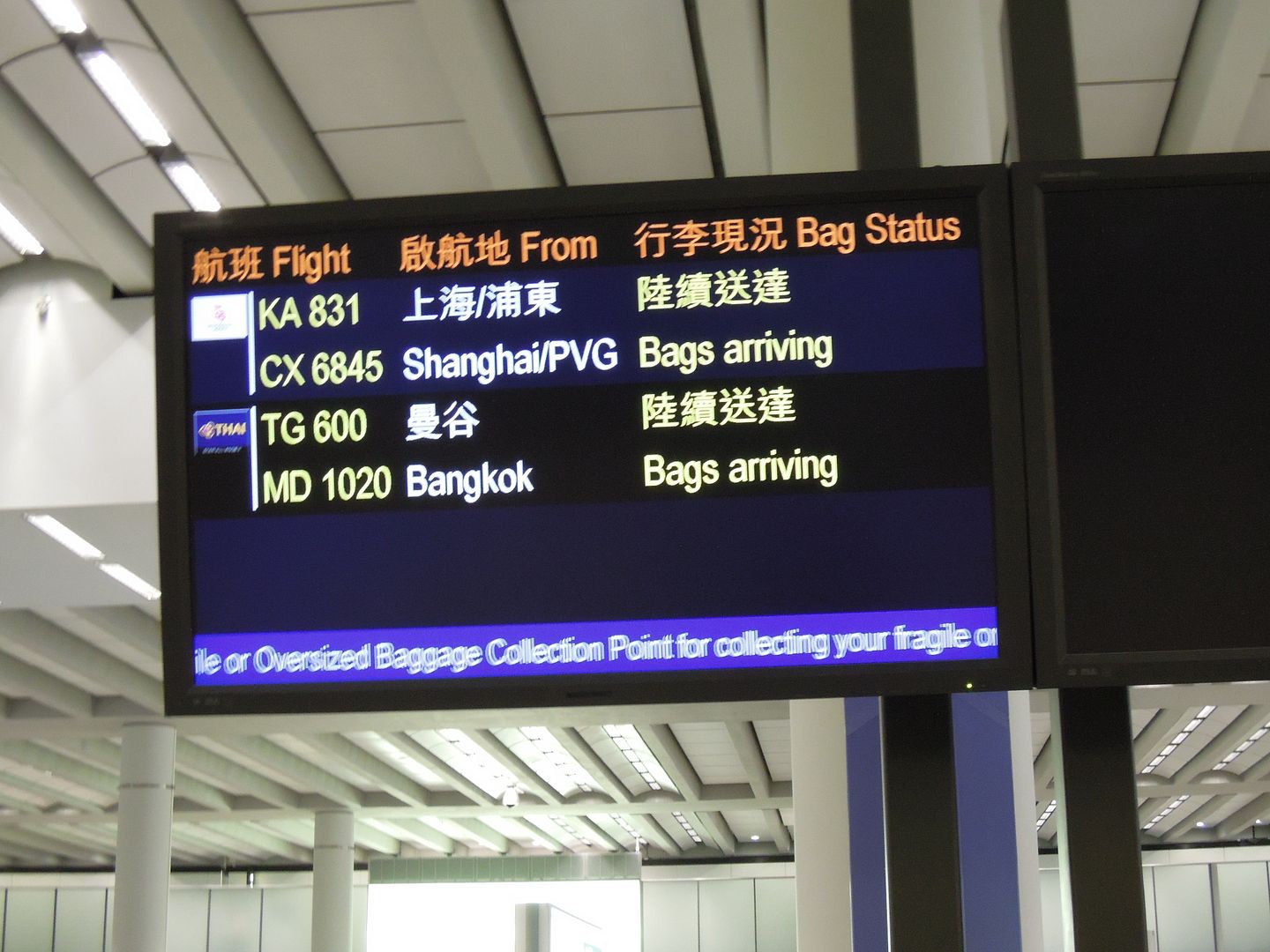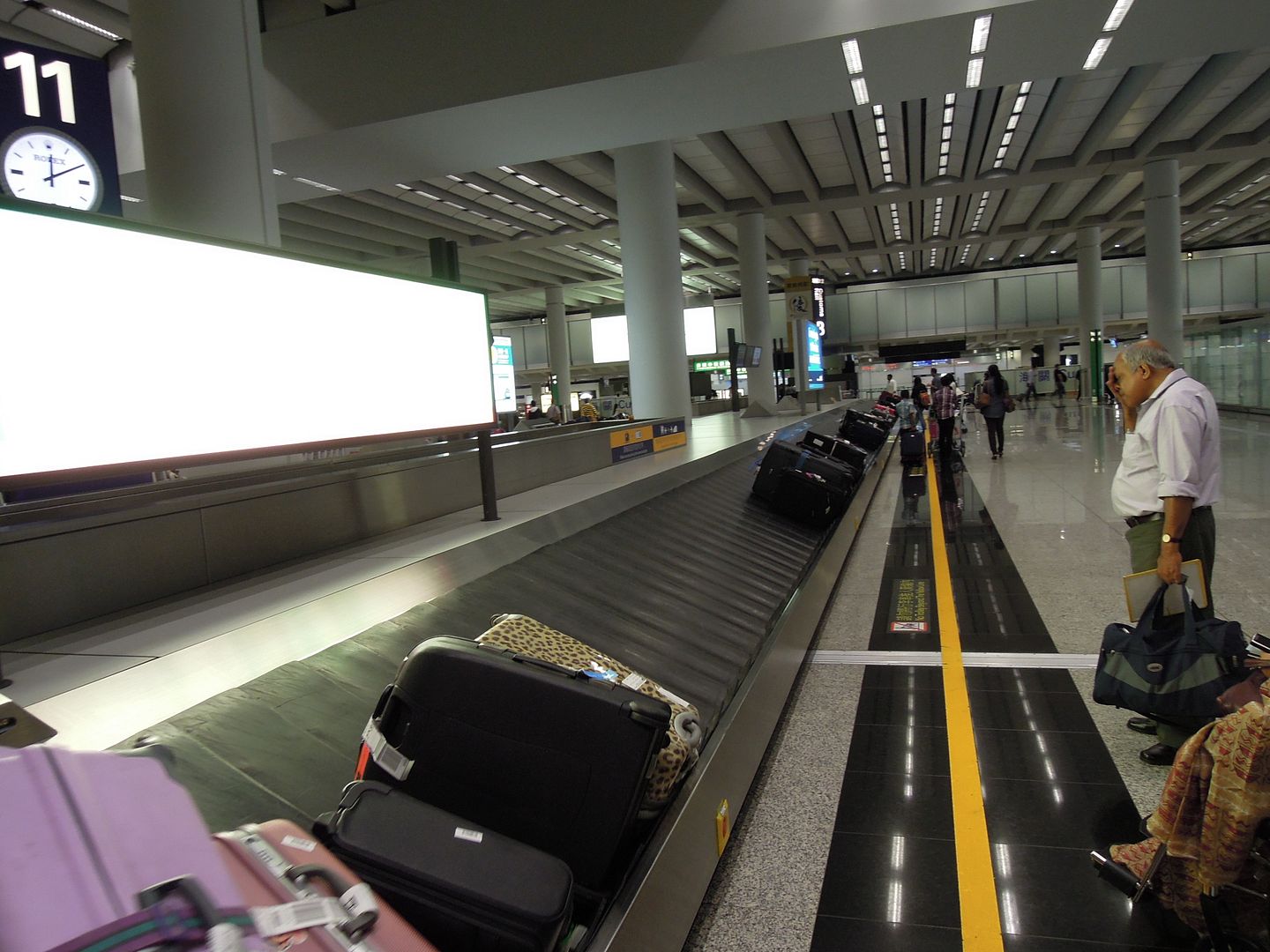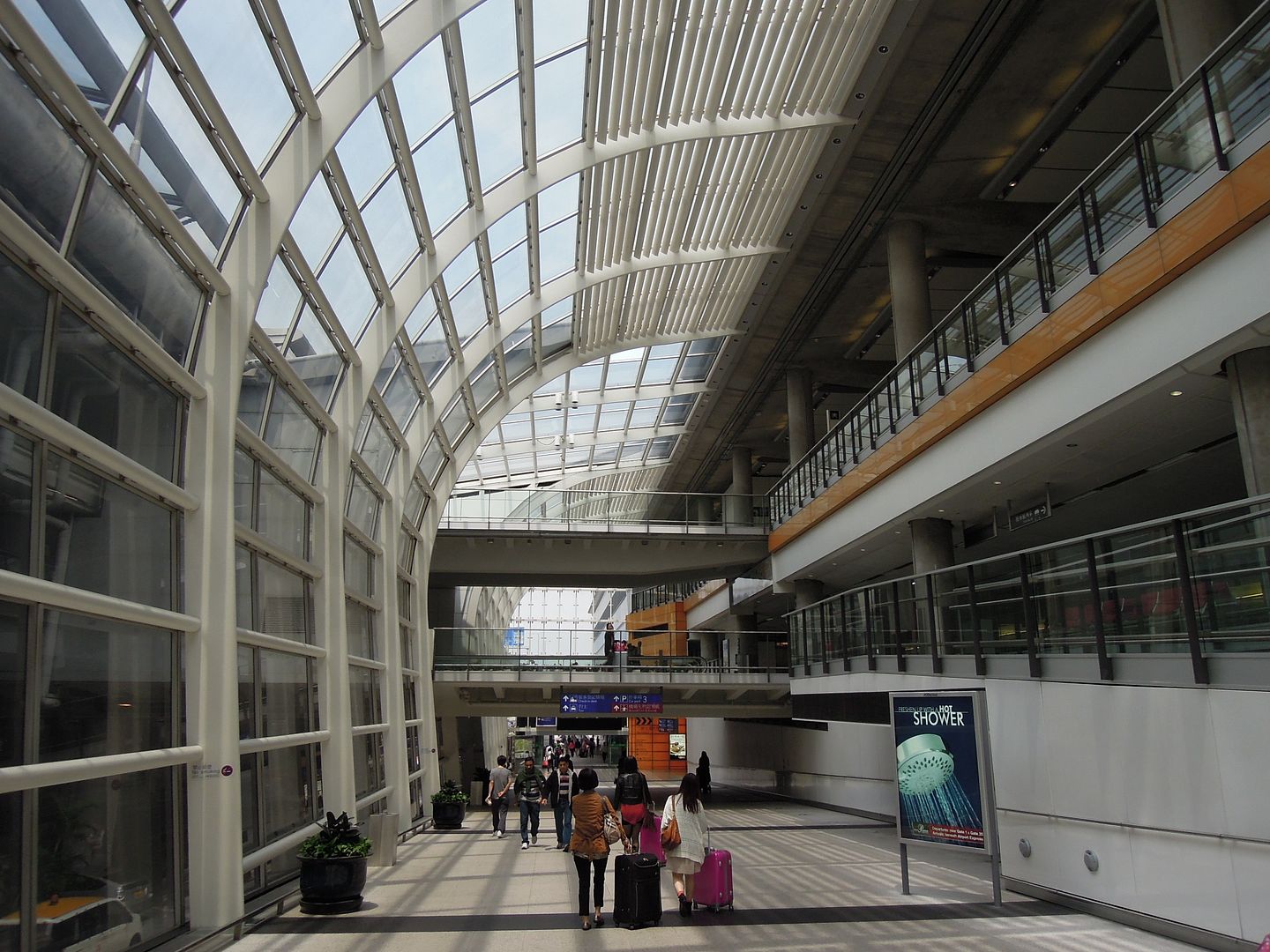 Then we took a taxi to the hotel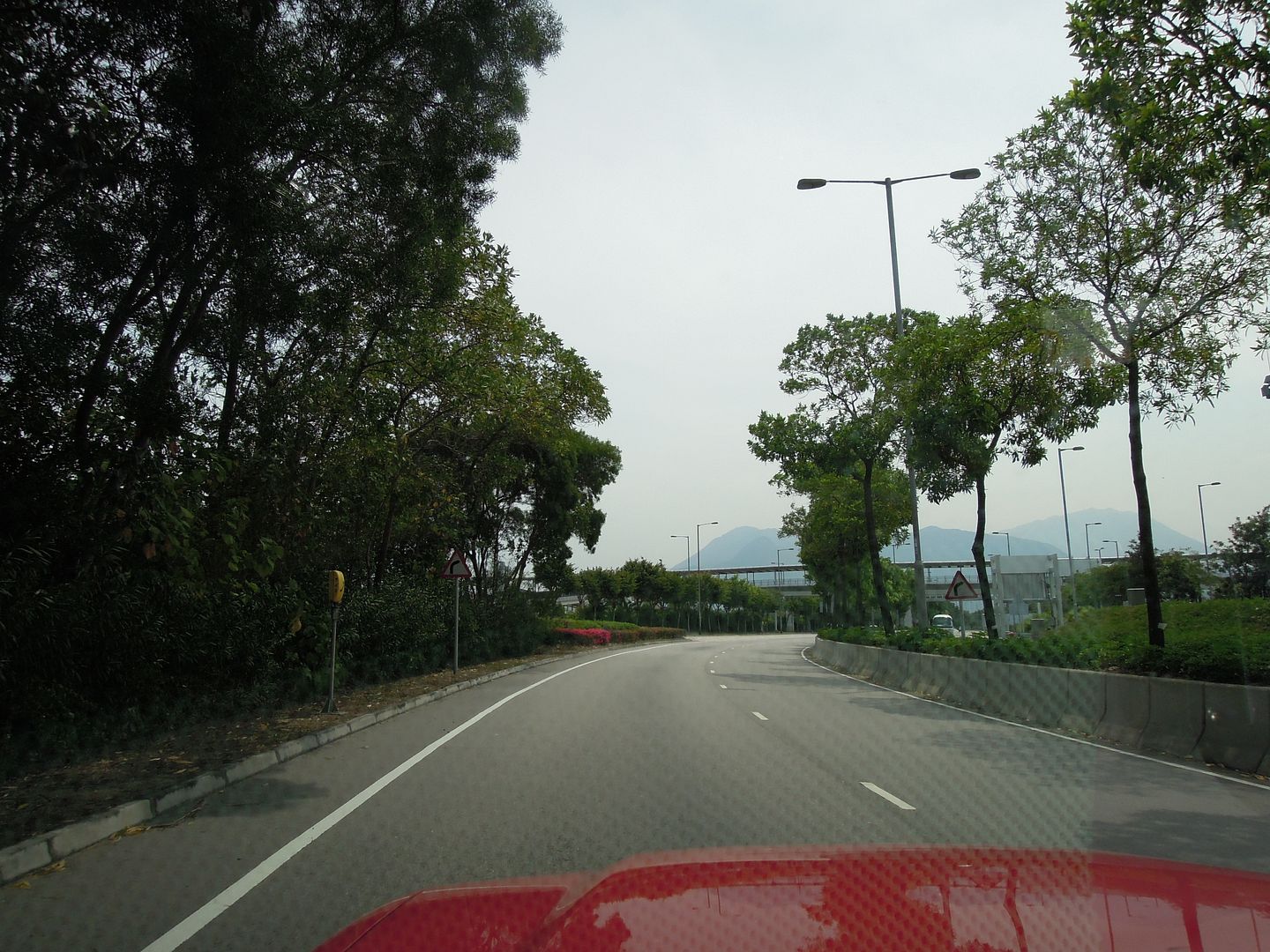 View from hotel window
This is the detail of the returning flight
Date: 1 April 2012
Airline: Thai Airways International
Flight: TG607
Route: HKG-BKK
Aircraft: Boeing 747-400
Registration: HS-TGB
Class: Economy
Arrived Hong Kong Airport Terminal 2 at around 5:30pm for a 8:45 flight
Went to use the *G counter
Check-in was quick. As this was a full flight, we couldn't have 3 seats together. So me and my mother will have 2 seats together and brother will be on the bulkhead seat. We got ask a question that should TG select to upgrade gold pax from economy to business, would be accept it if only one or two of us get upgraded (me and brother are gold and mother is silver). Of course, we gladly accepted it, although it never happened
.
It was the first time I got a lounge invitation when travelling in Y.
We headed off by trains to the passport / security check point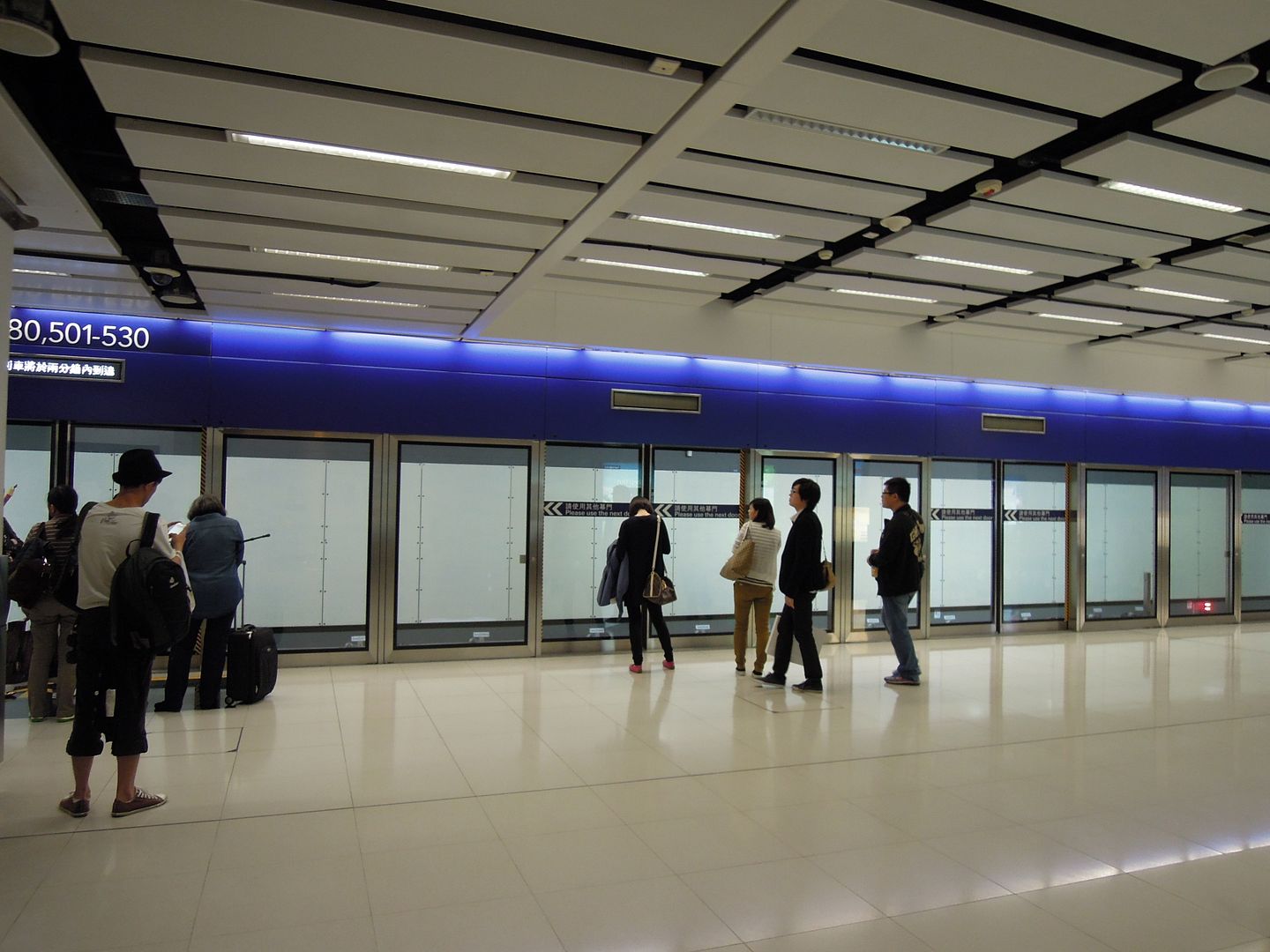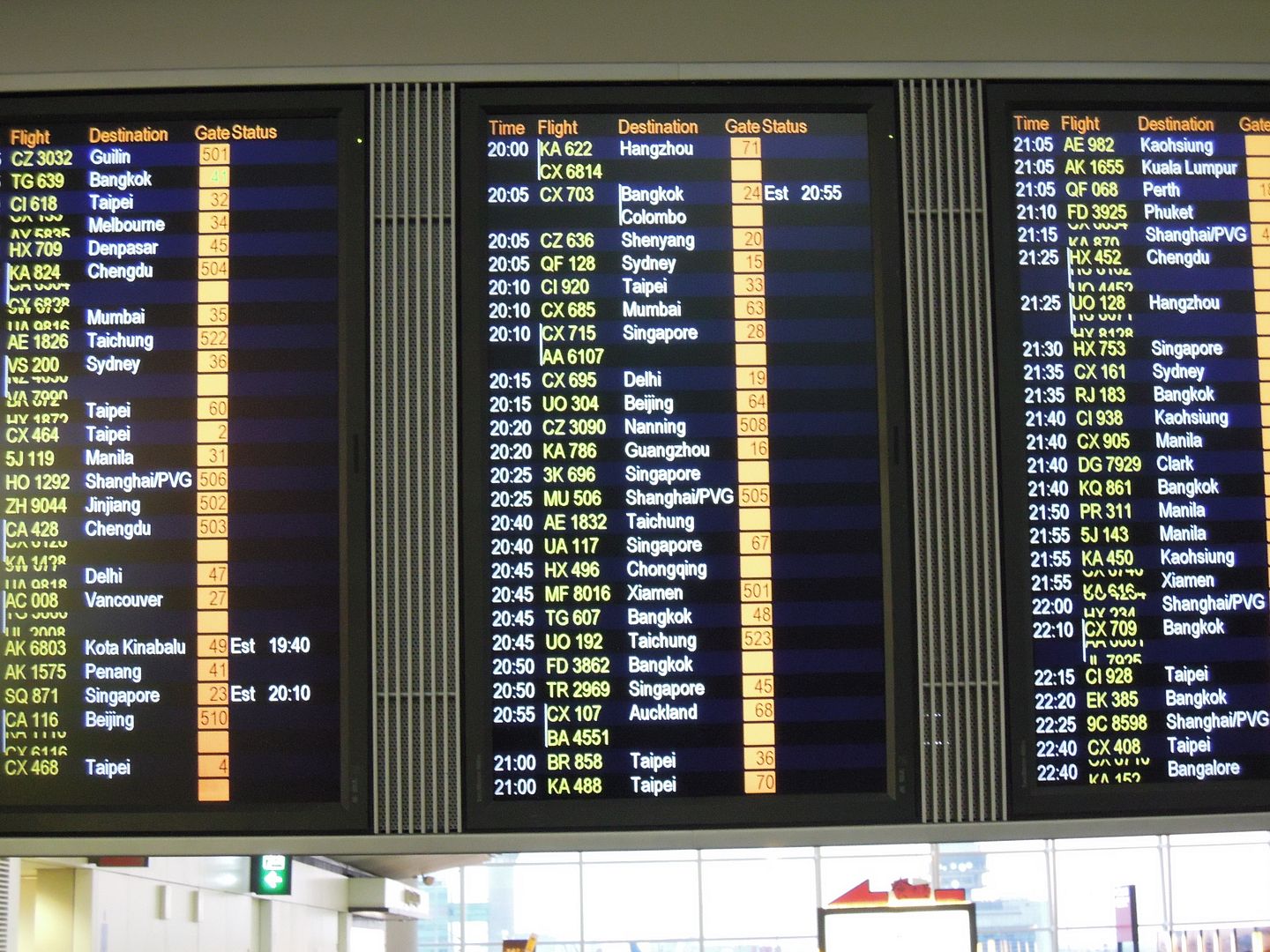 Some aircraft at HKG on a Sunday afternoon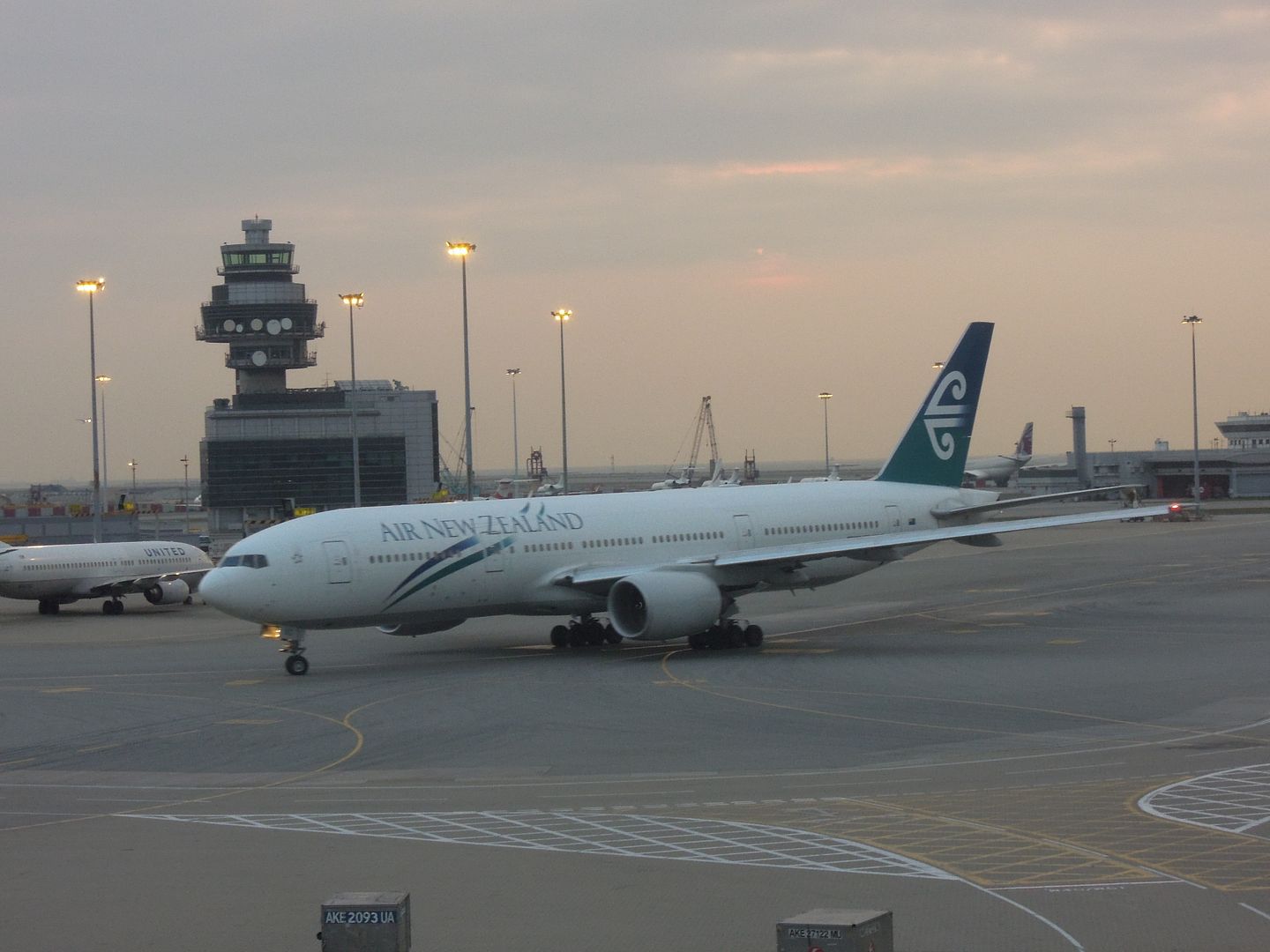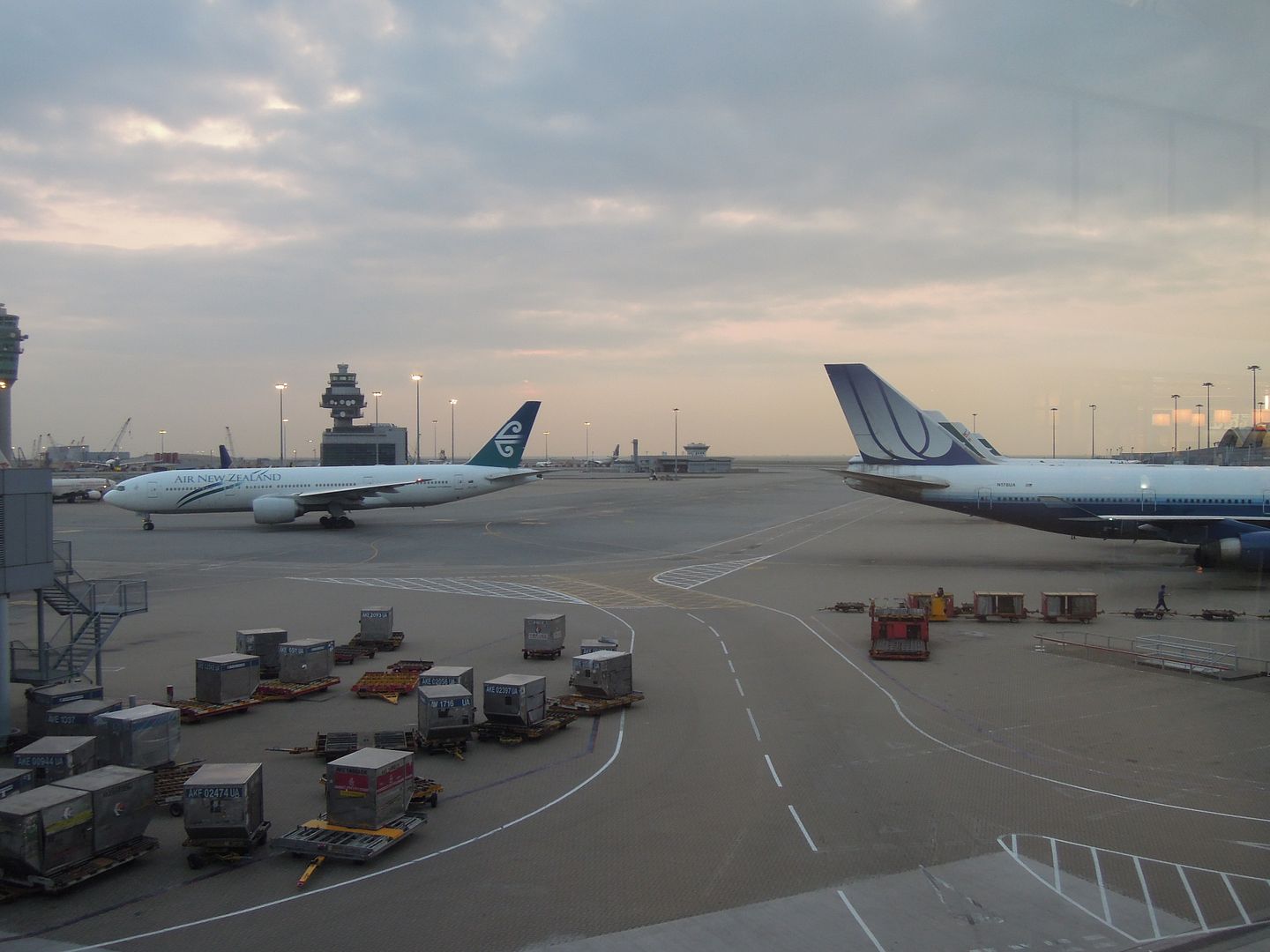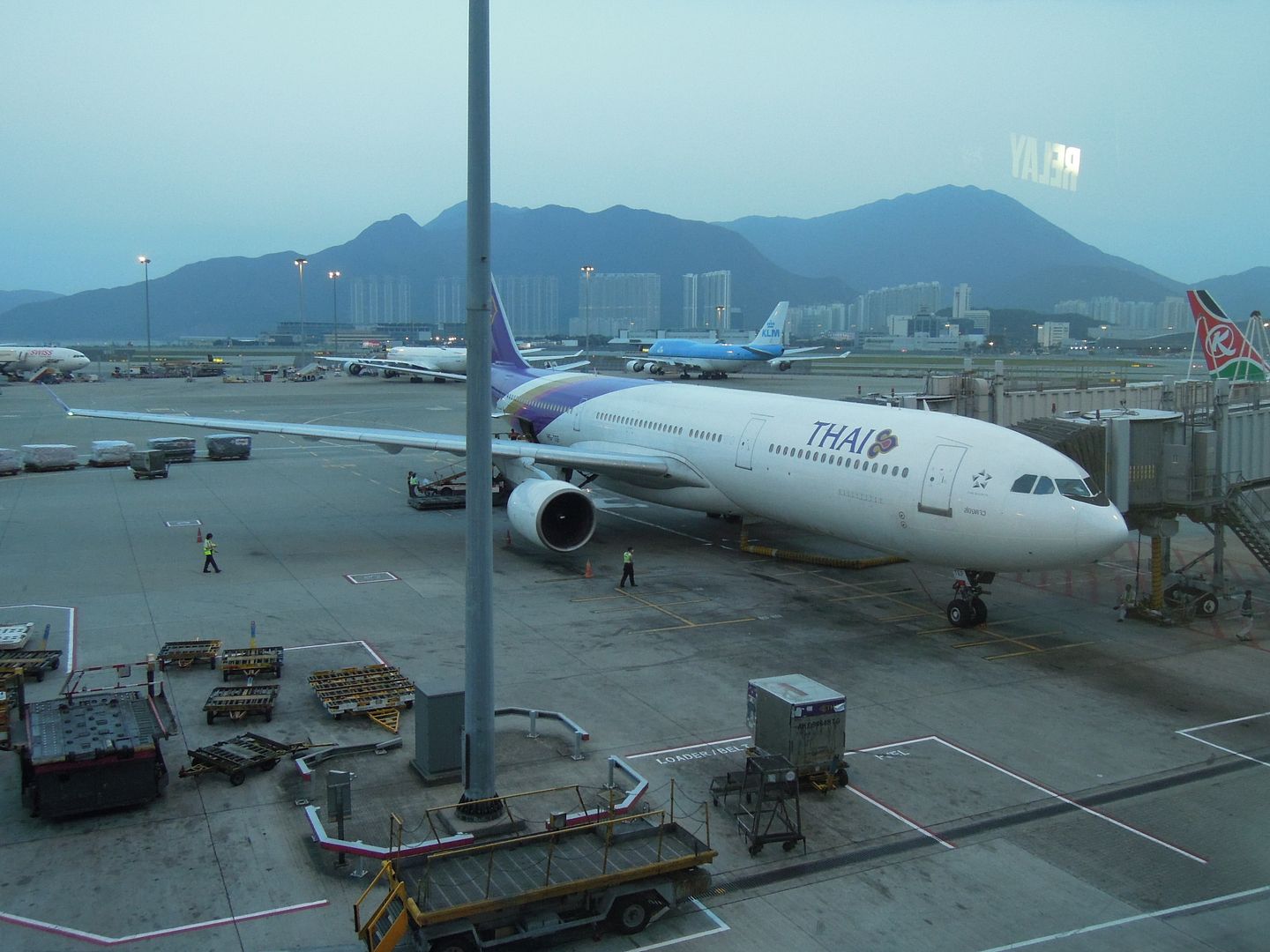 Then we went to the Royal Orchid Lounge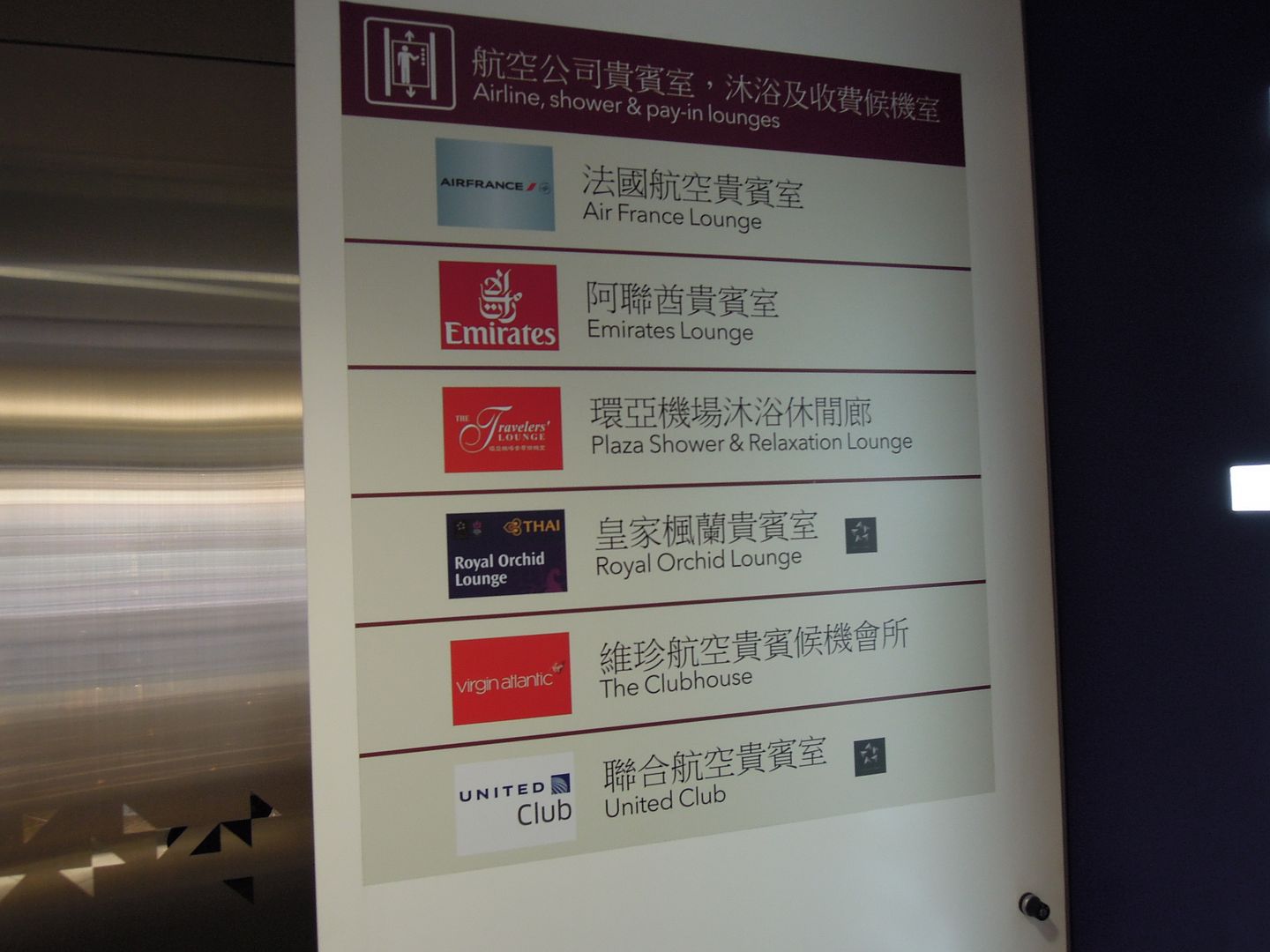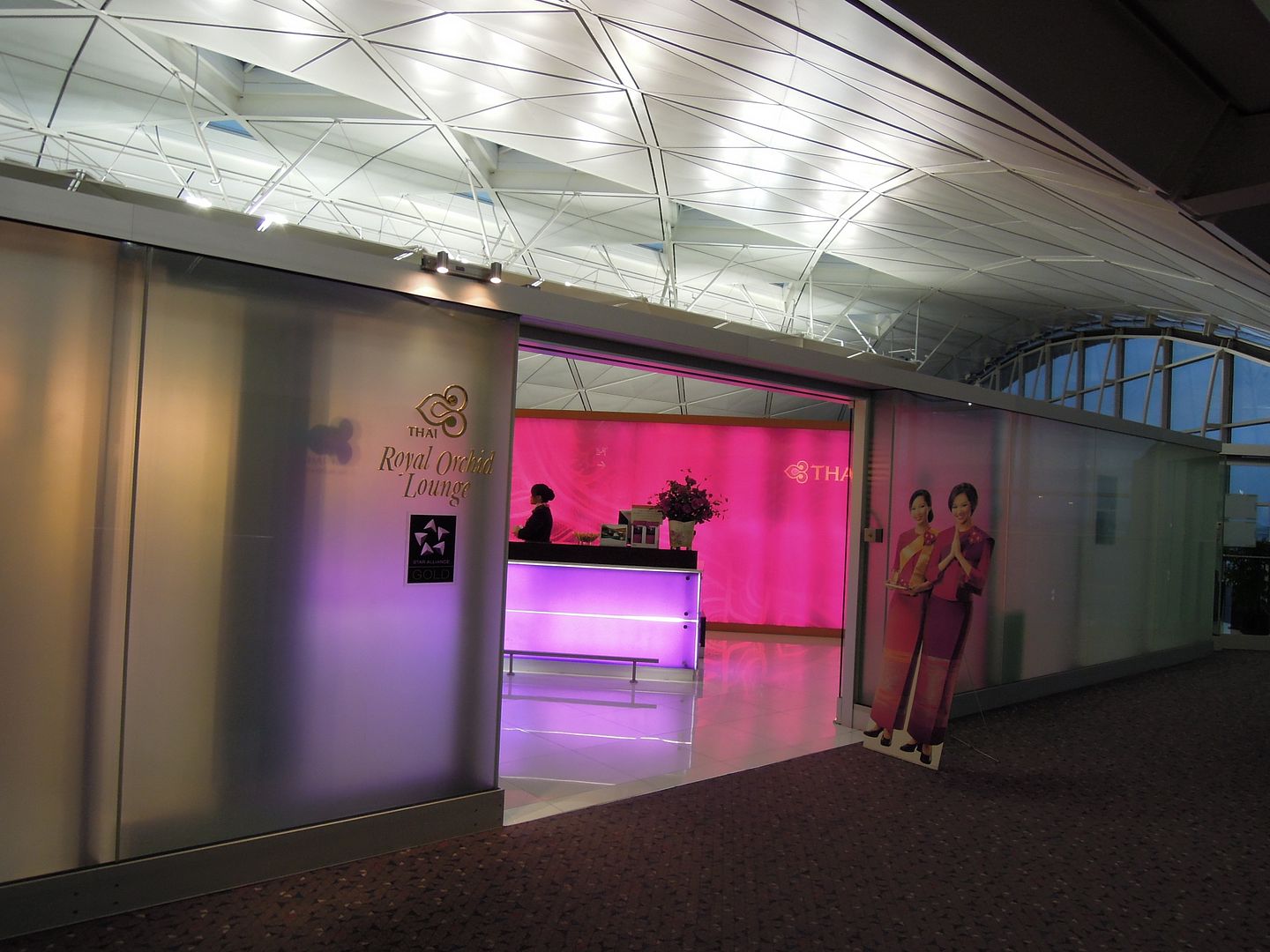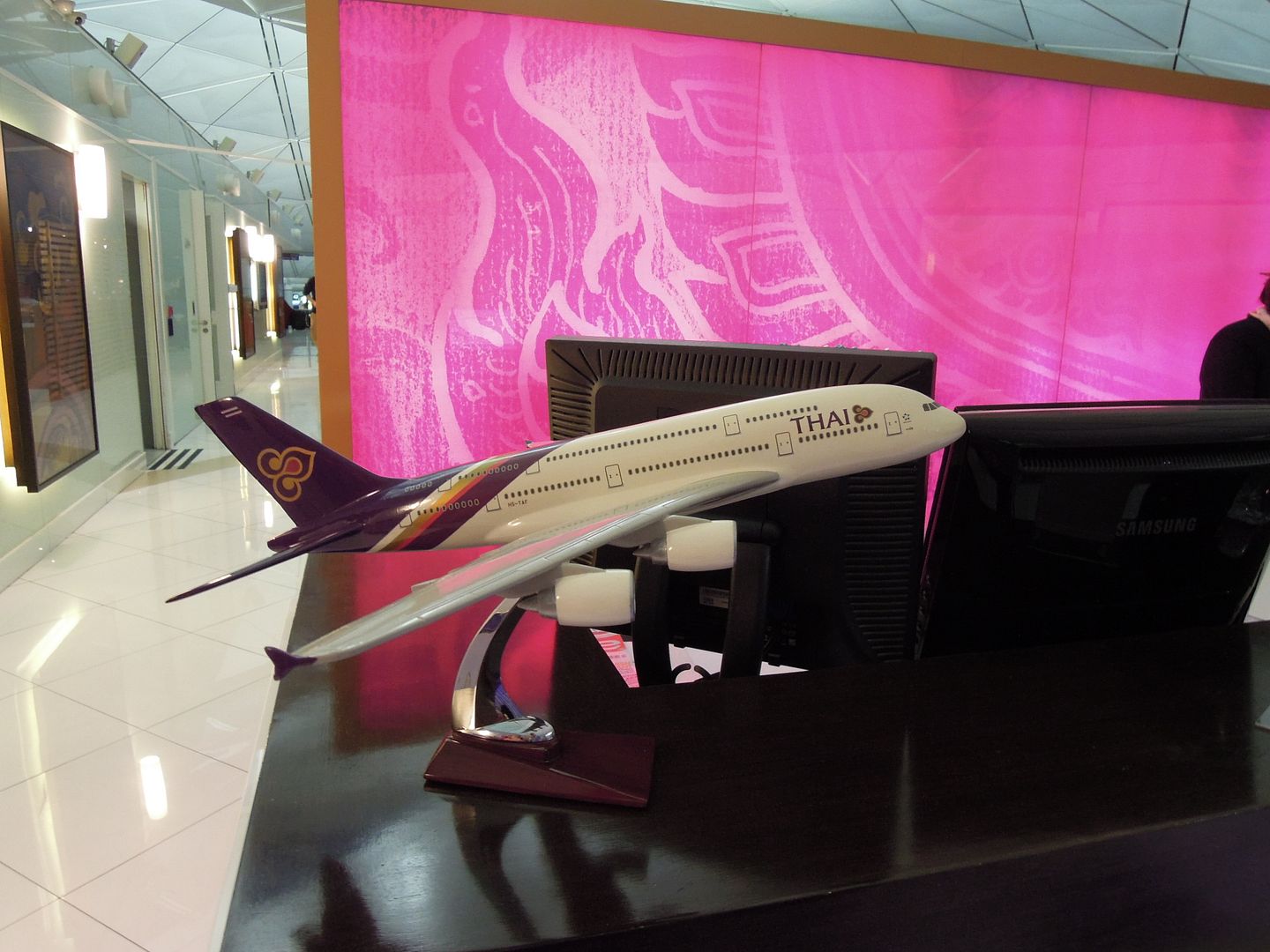 Here are some lounge impressions and the food offerings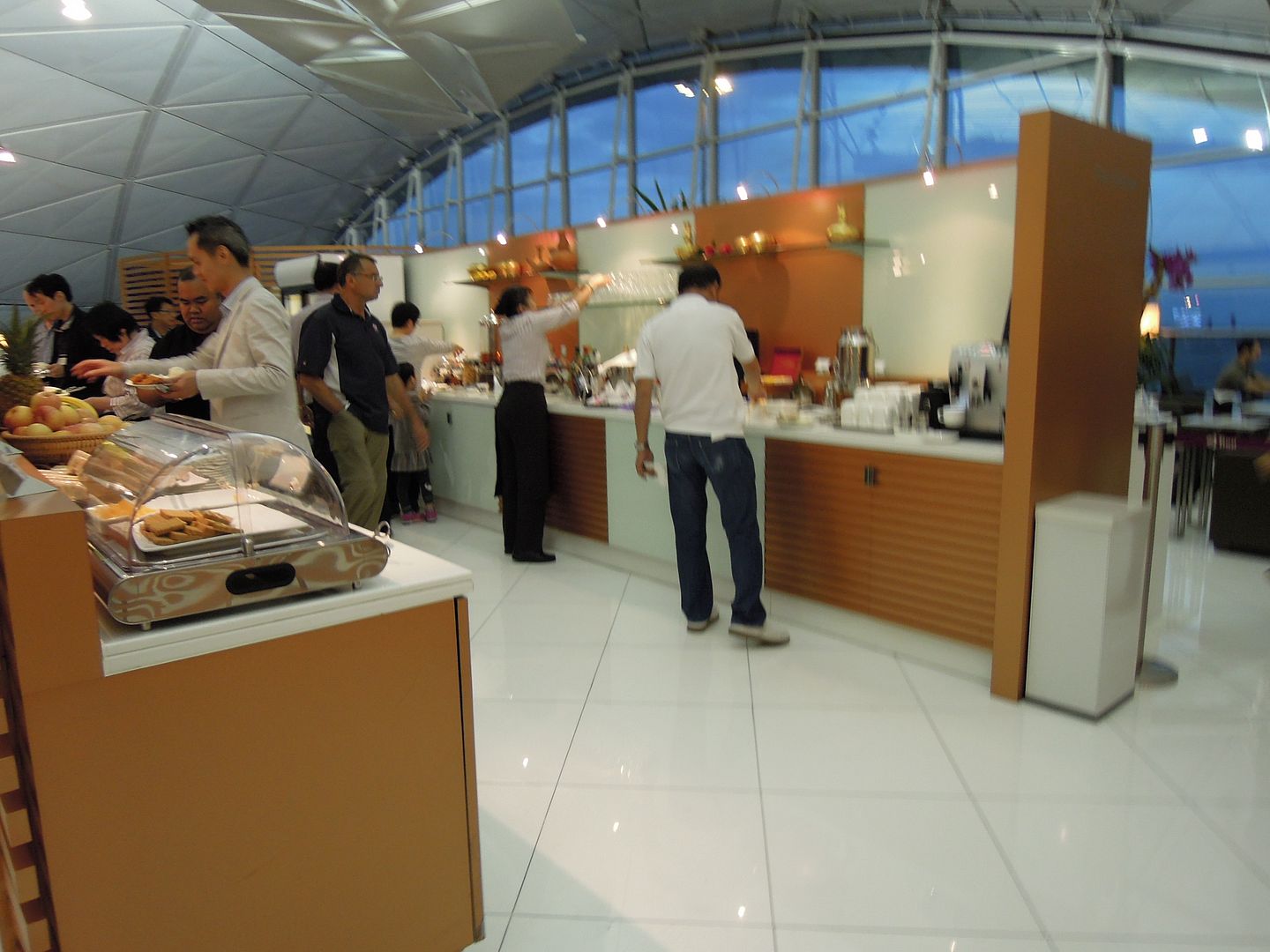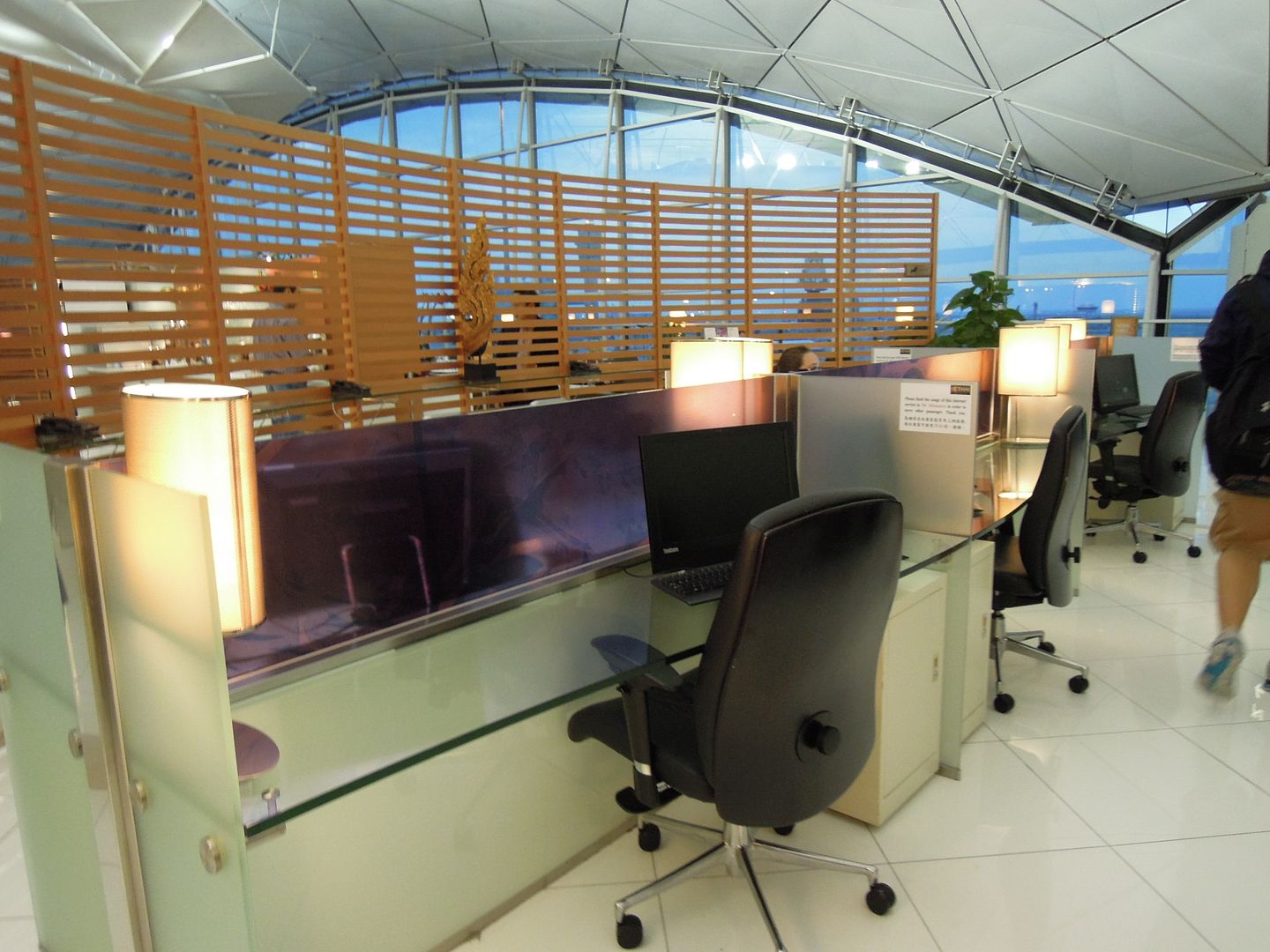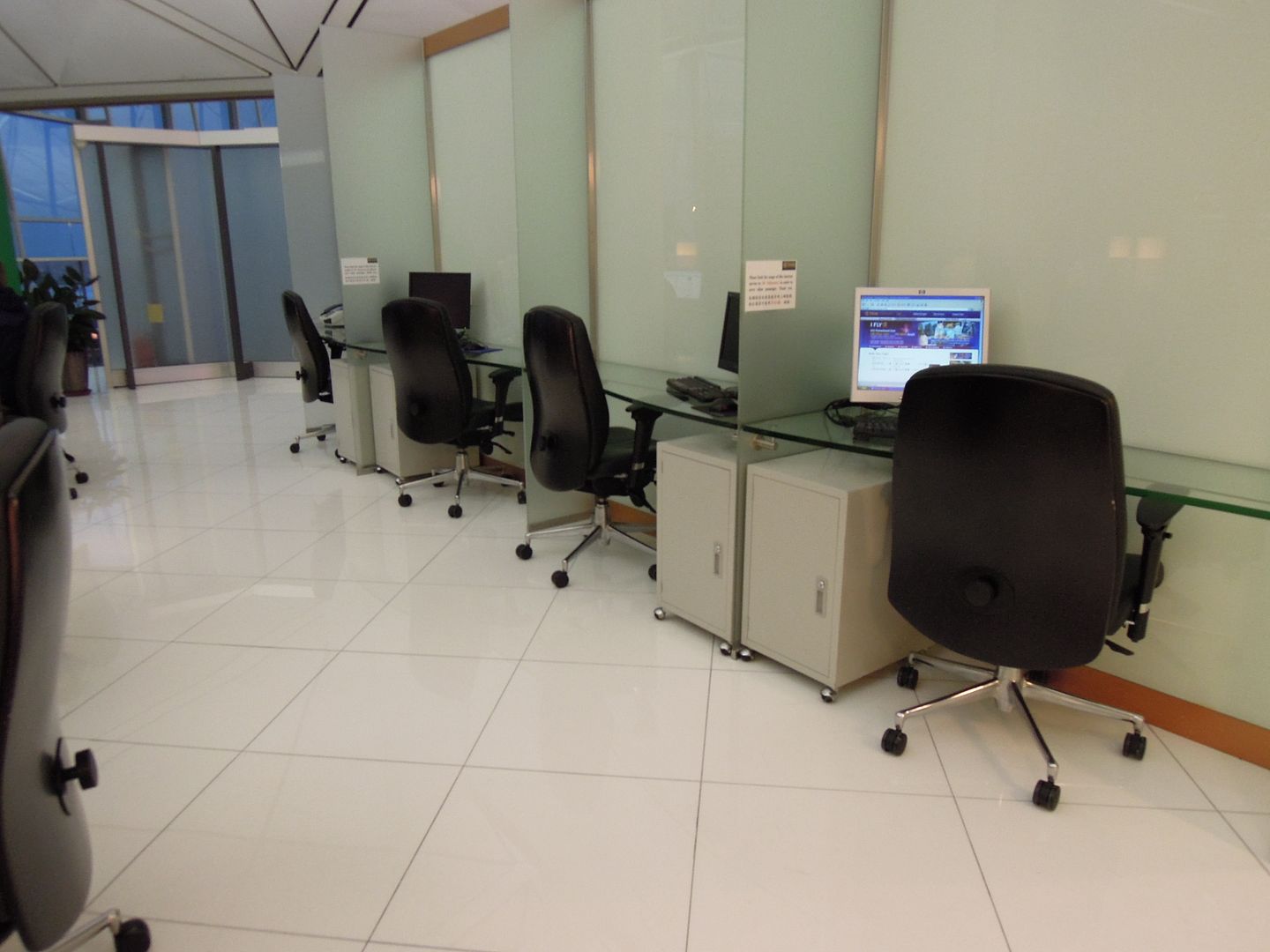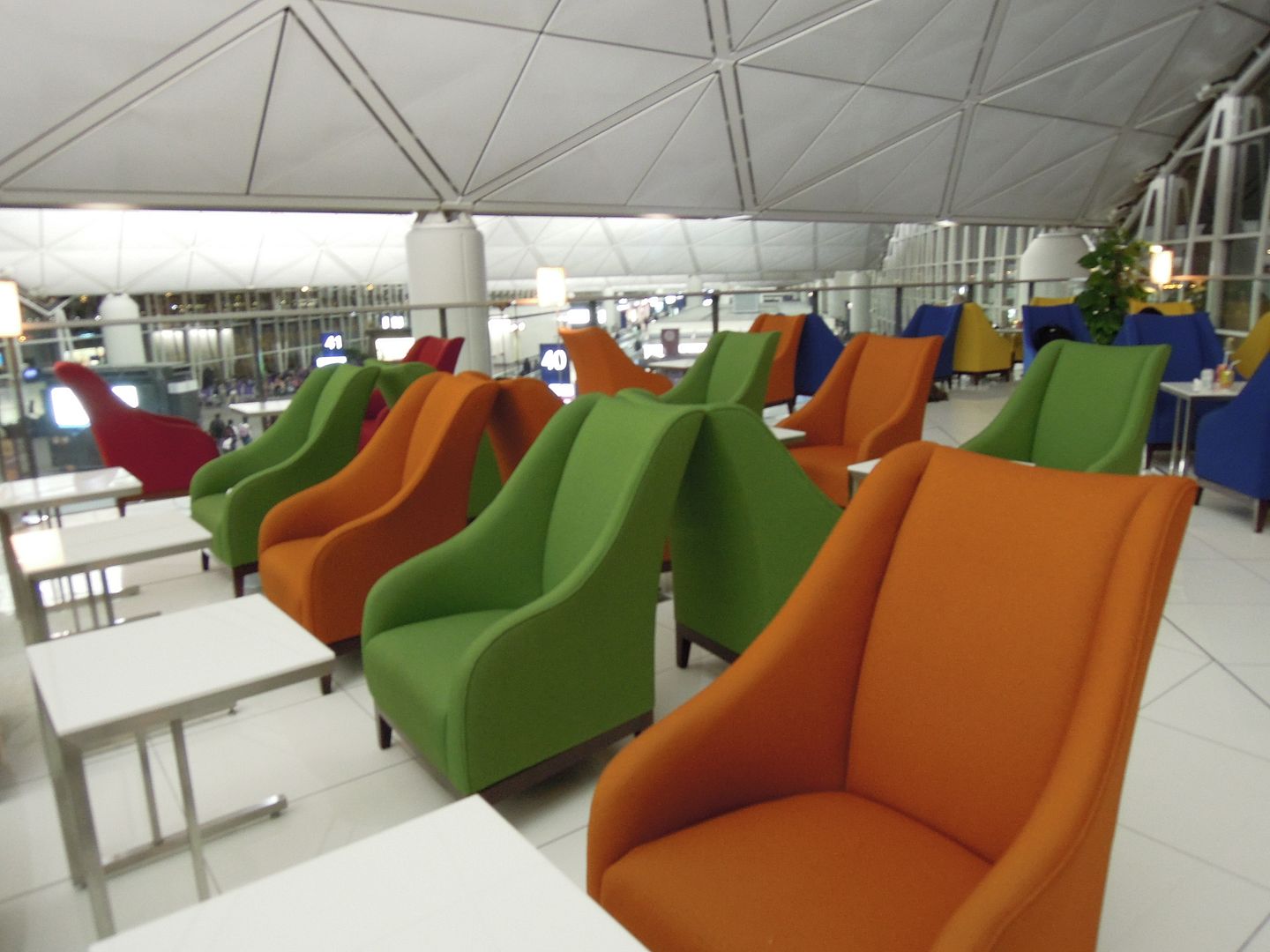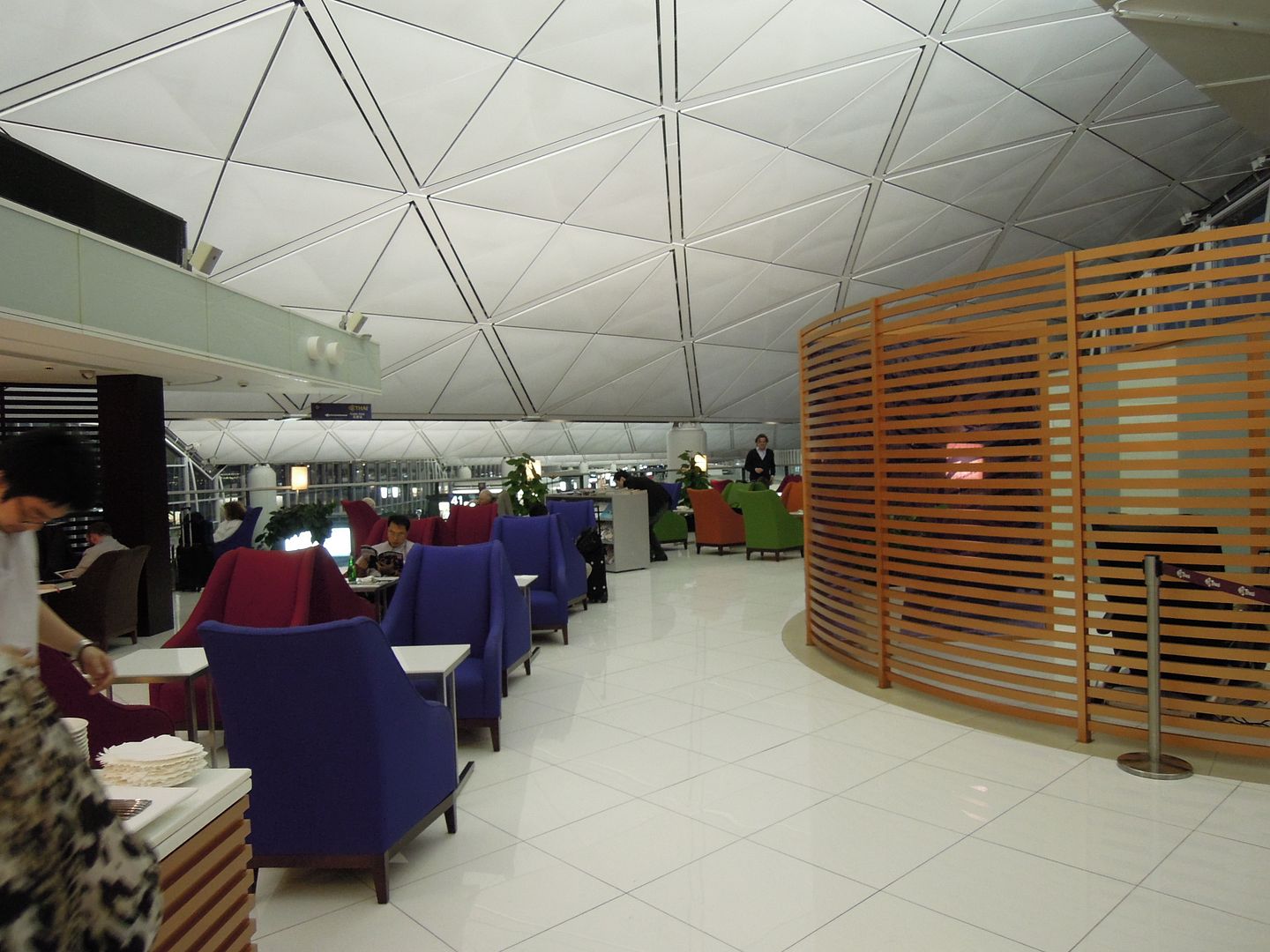 Massage seats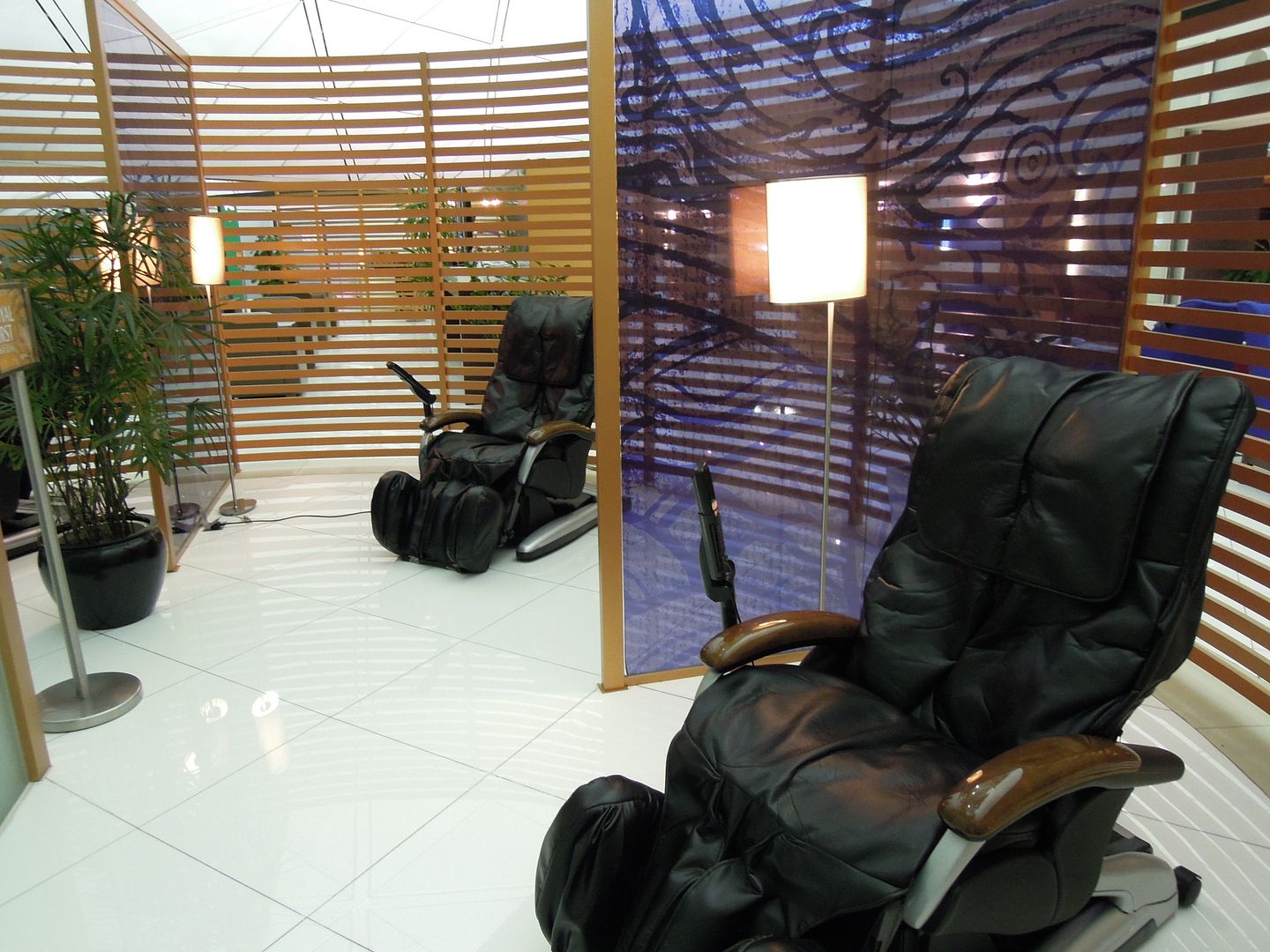 Game zone
A great offering of Thai food. Not in the picture was a famous Tom Yum Soup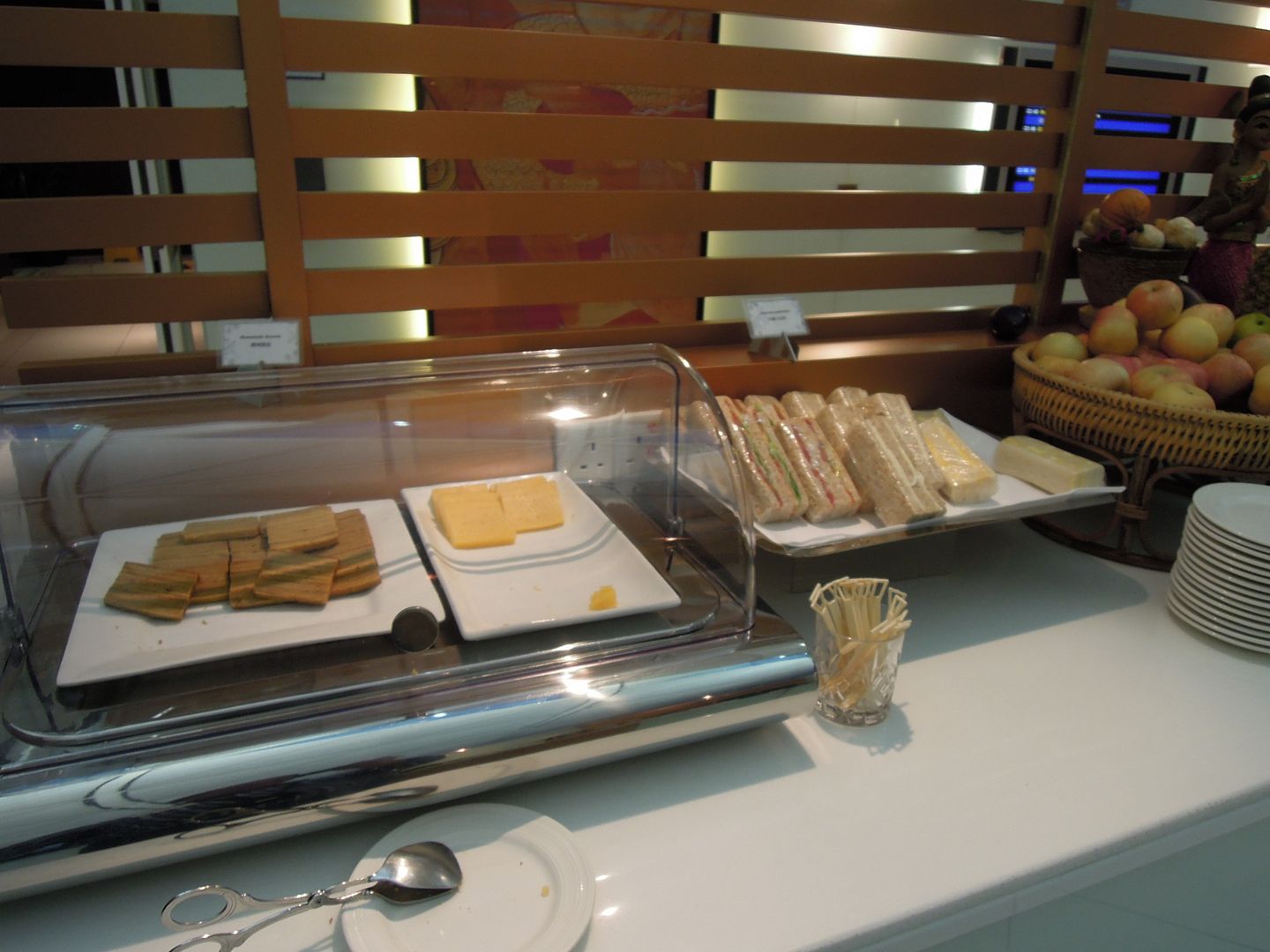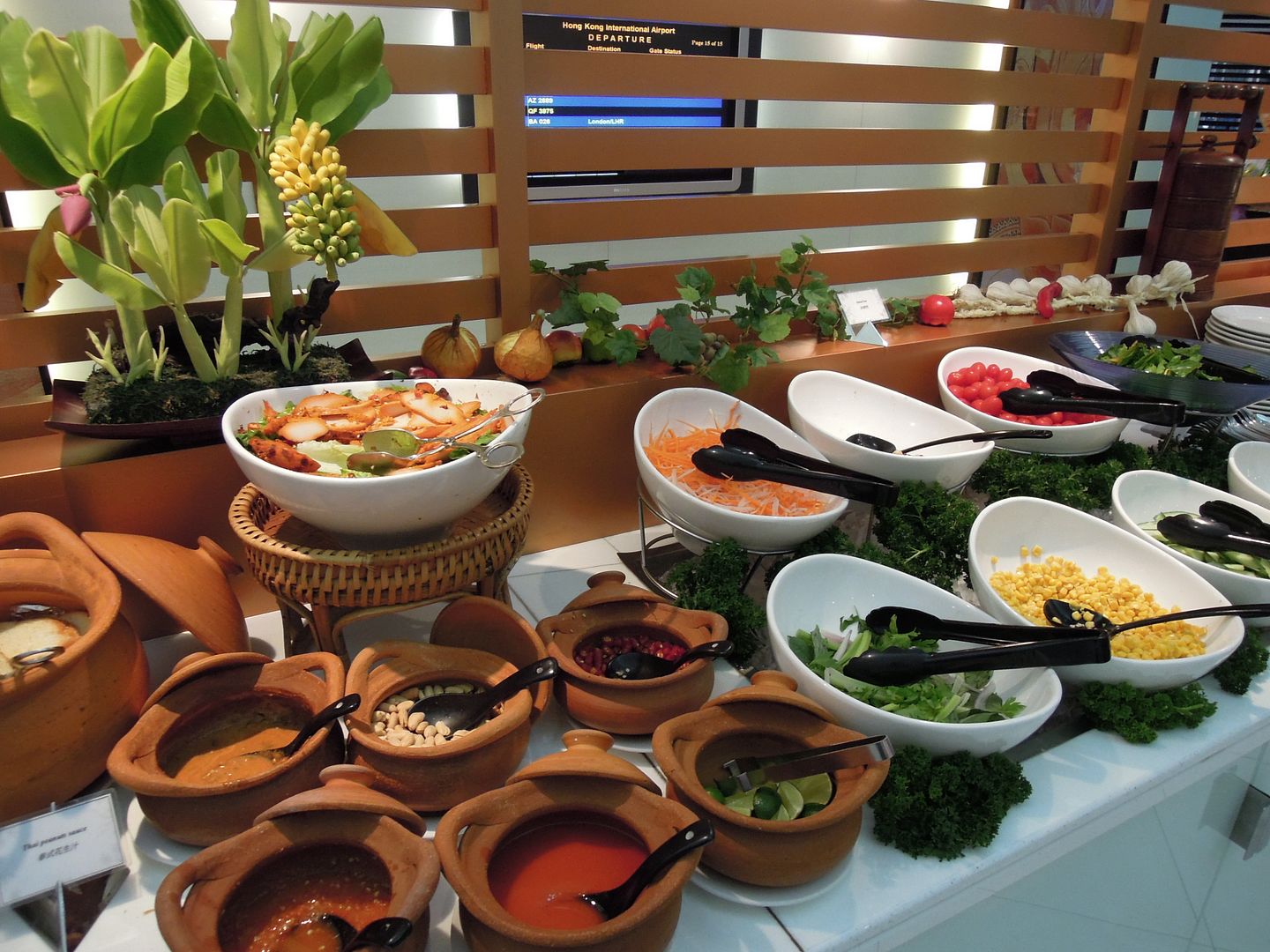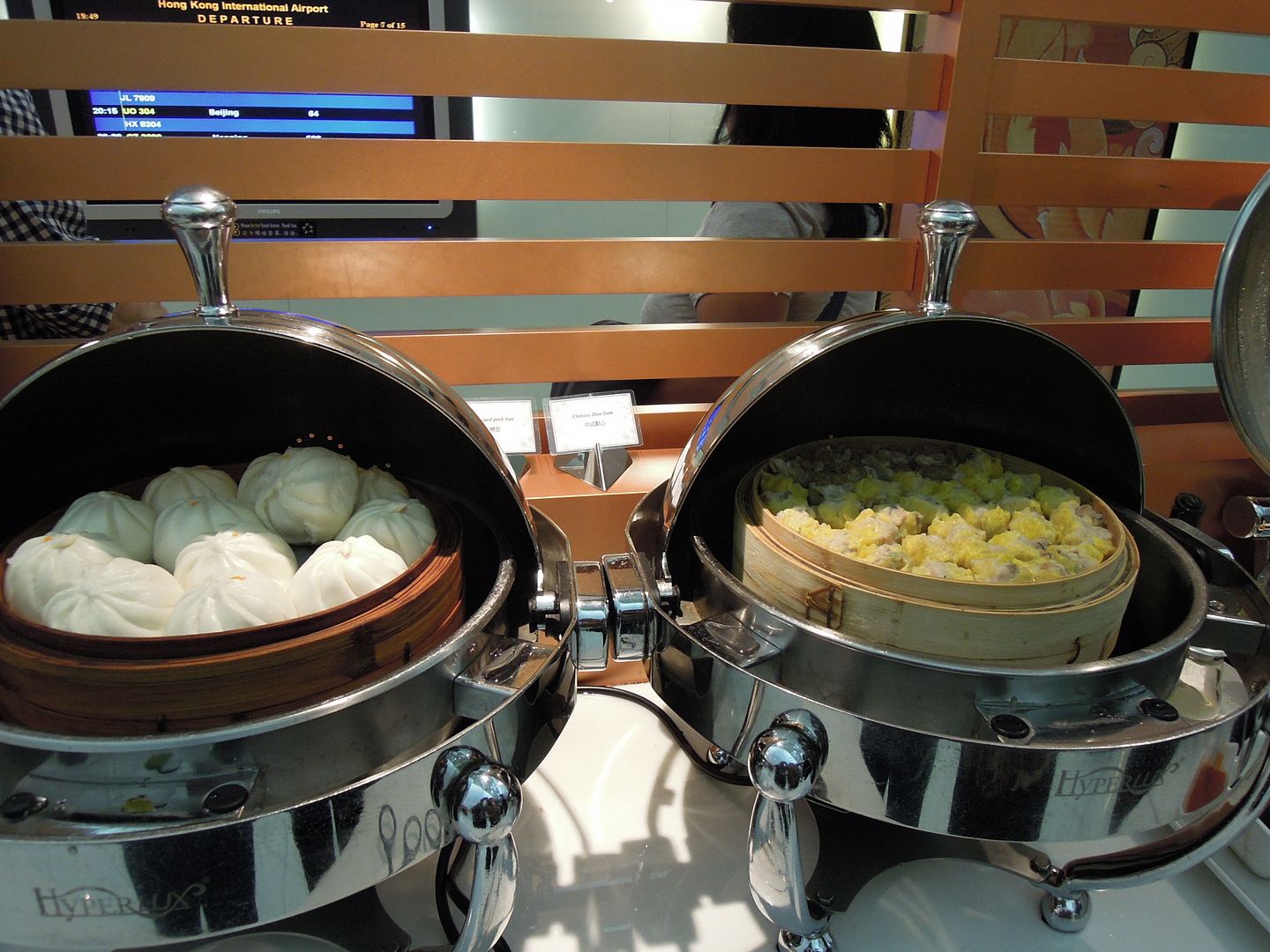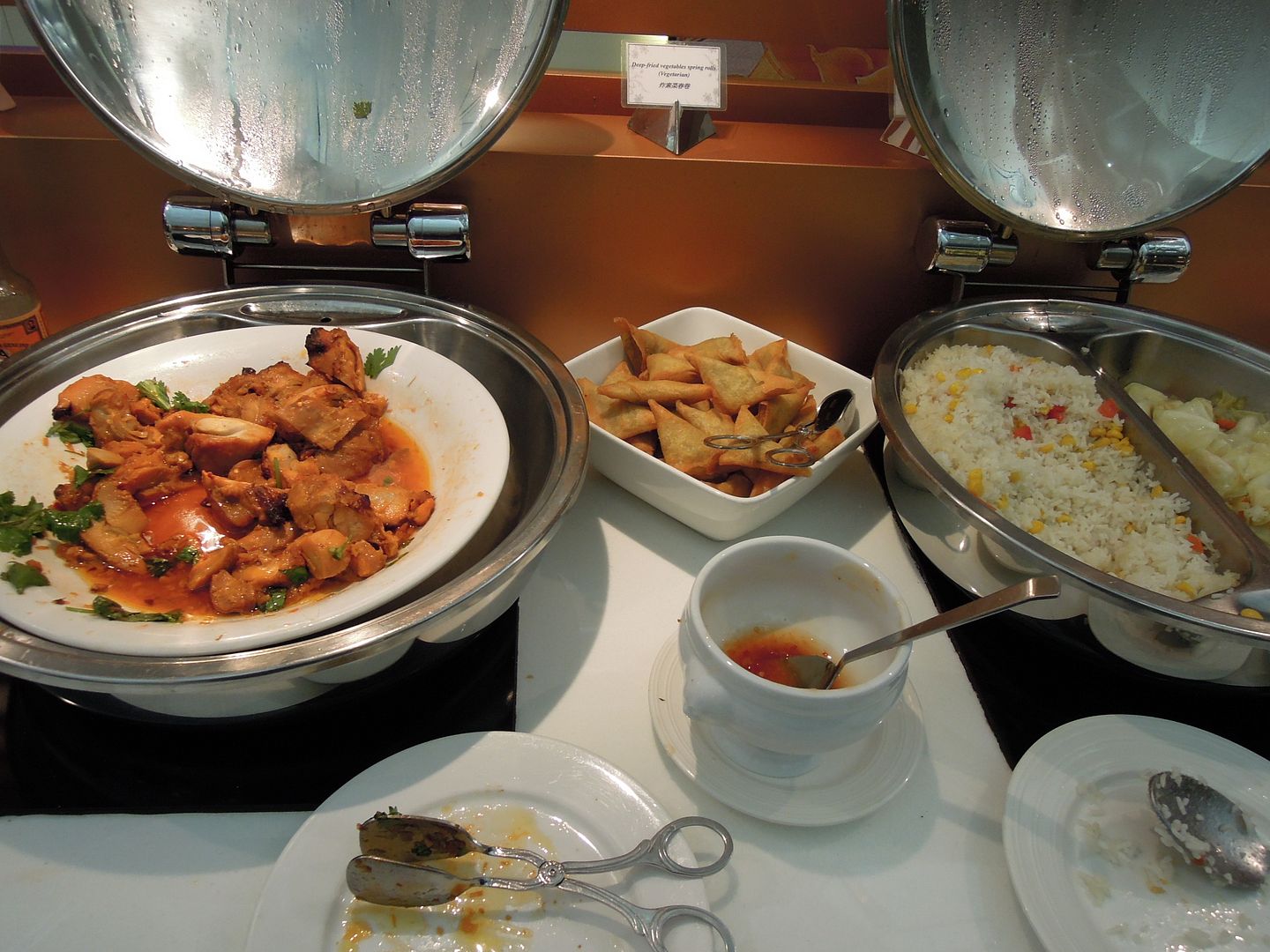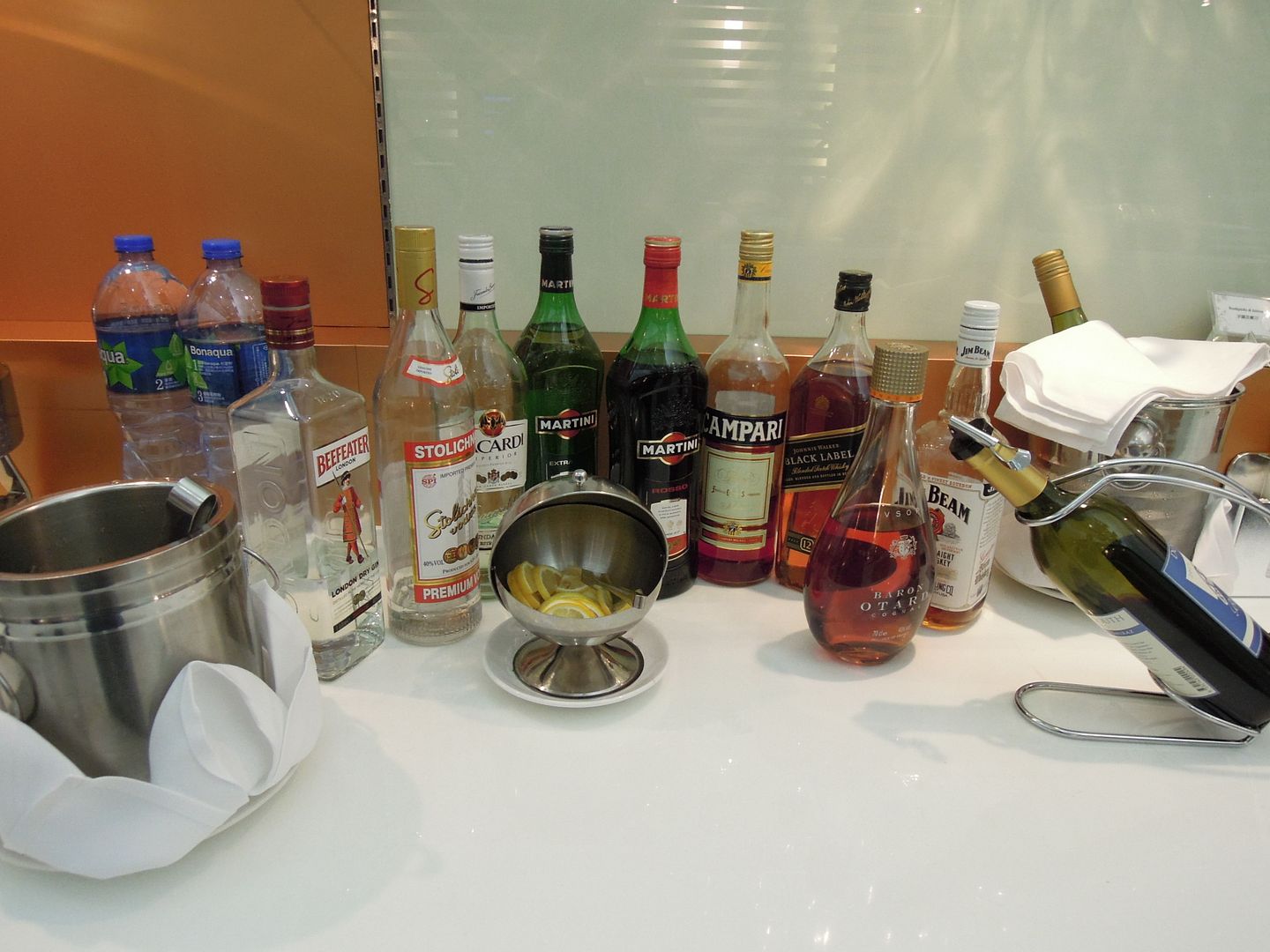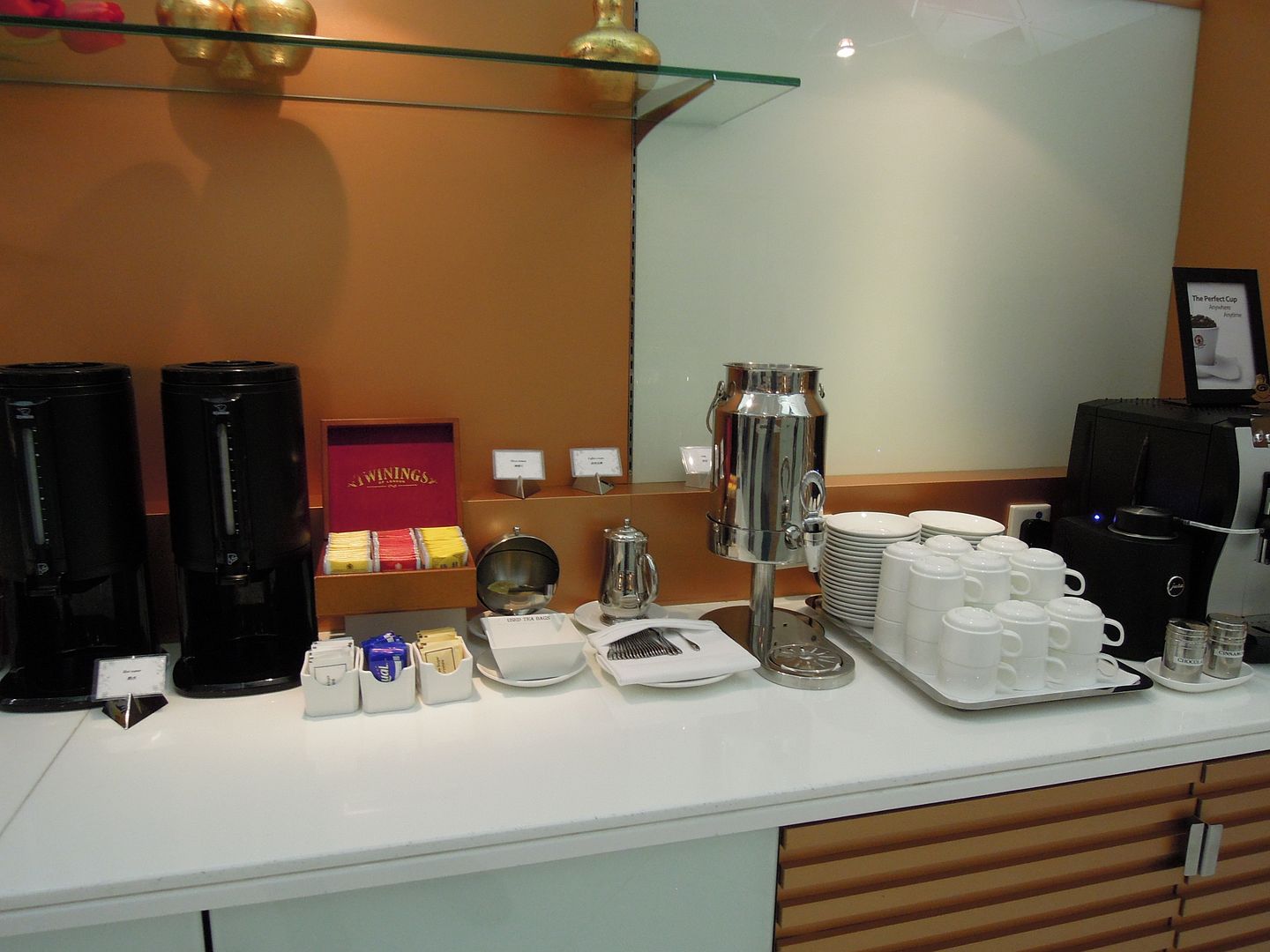 Always love the ice creams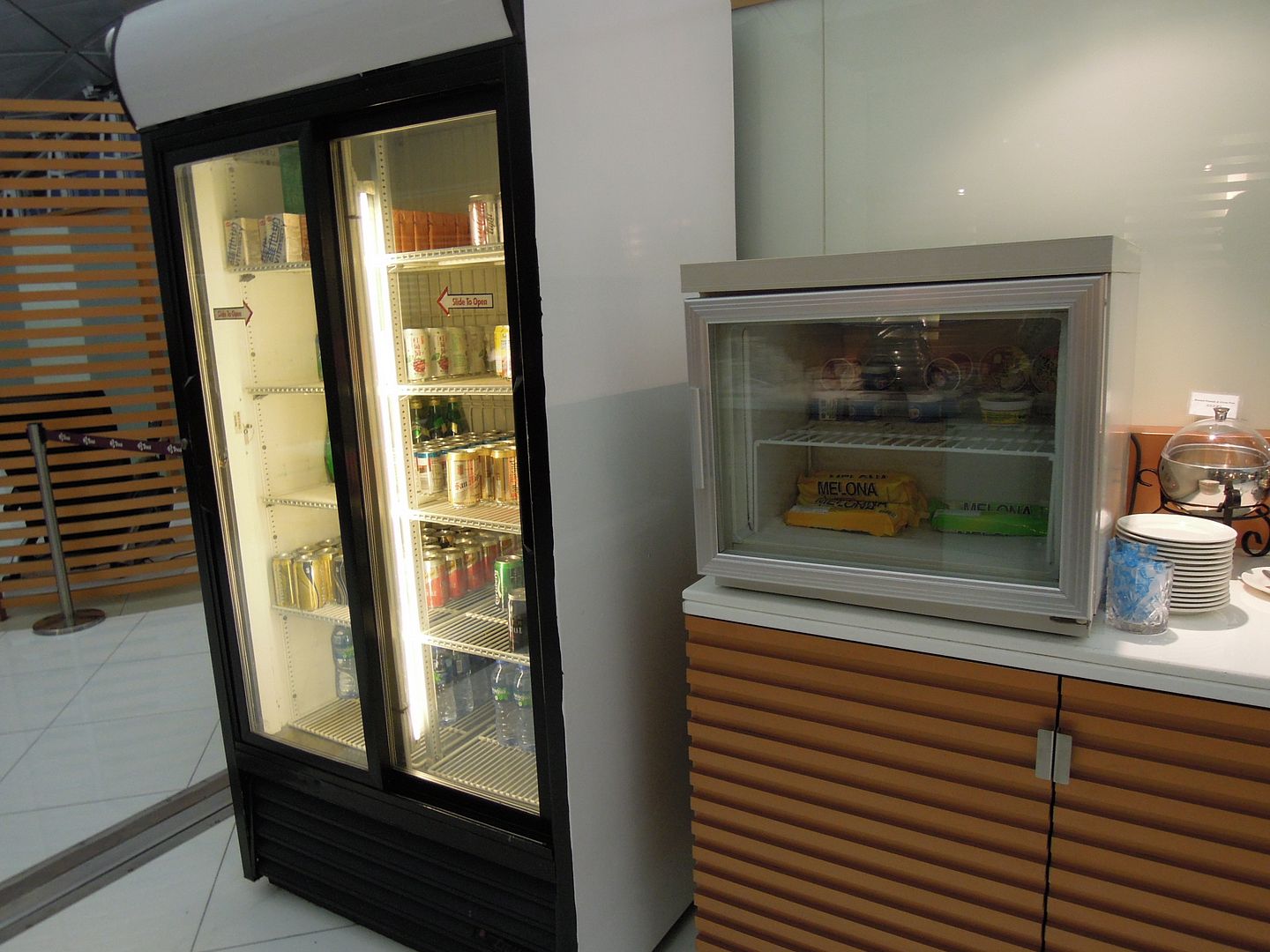 Then we were off to the boarding gate 48, quite busy but it was expected as the flight was a full 744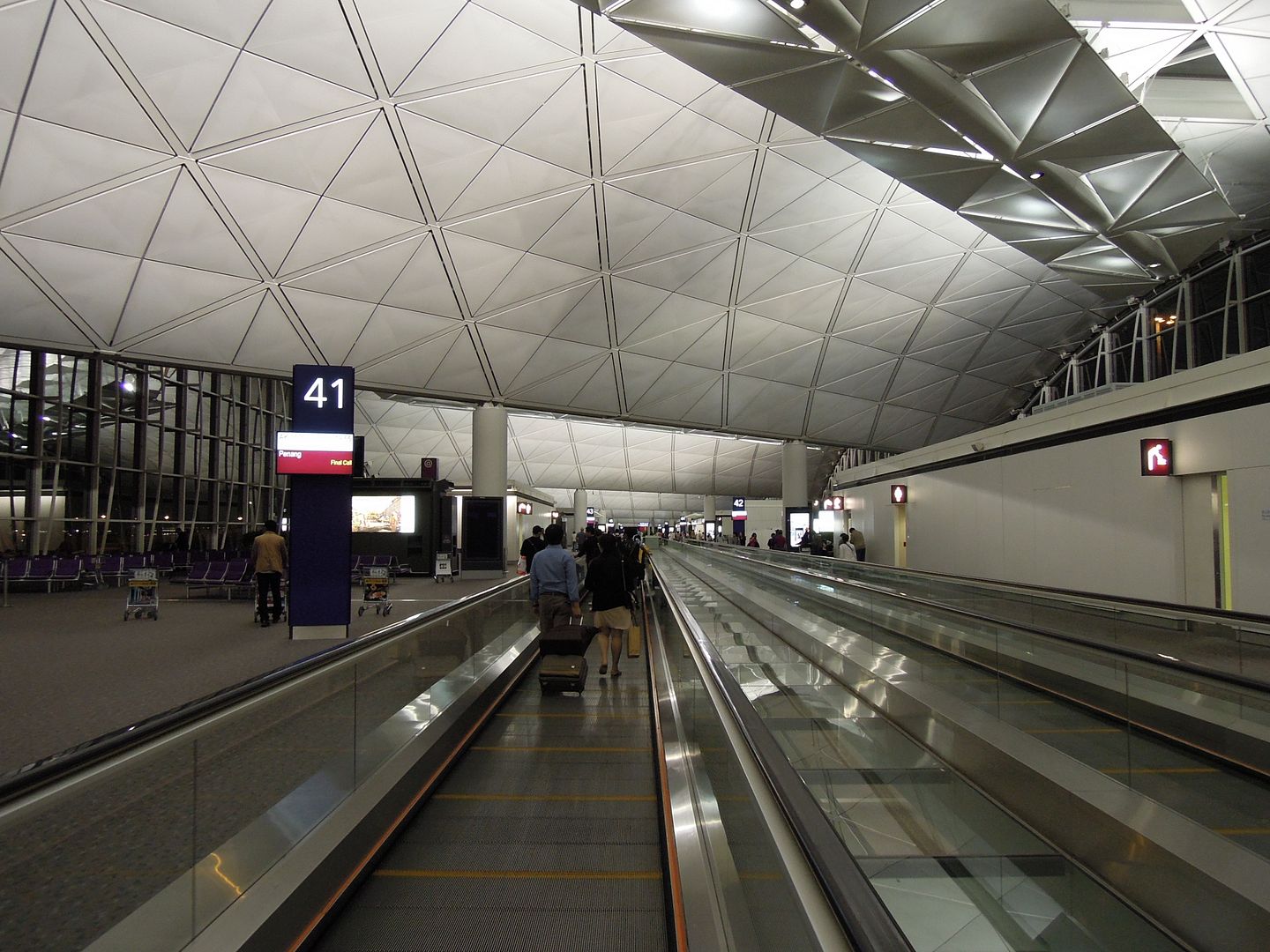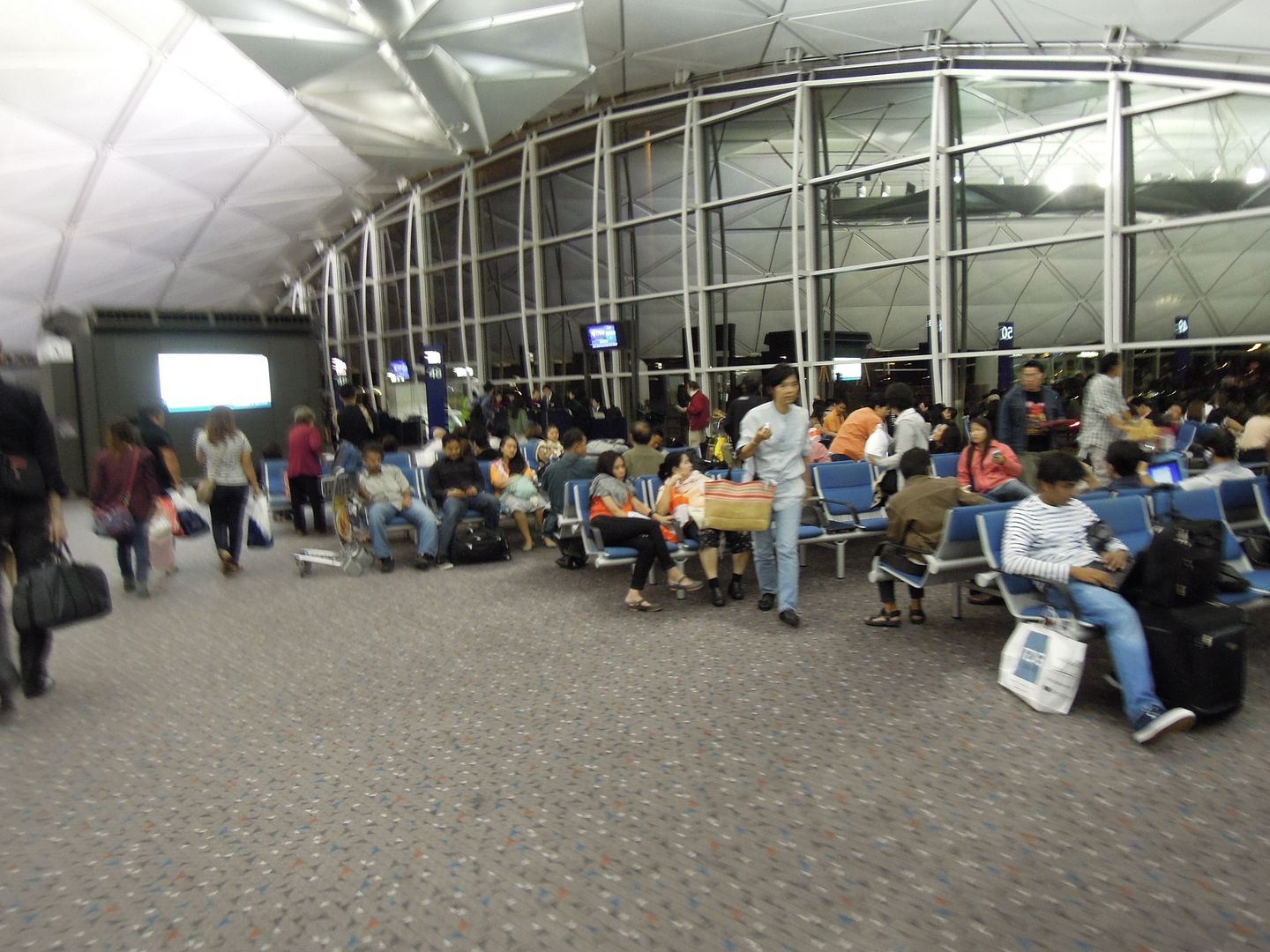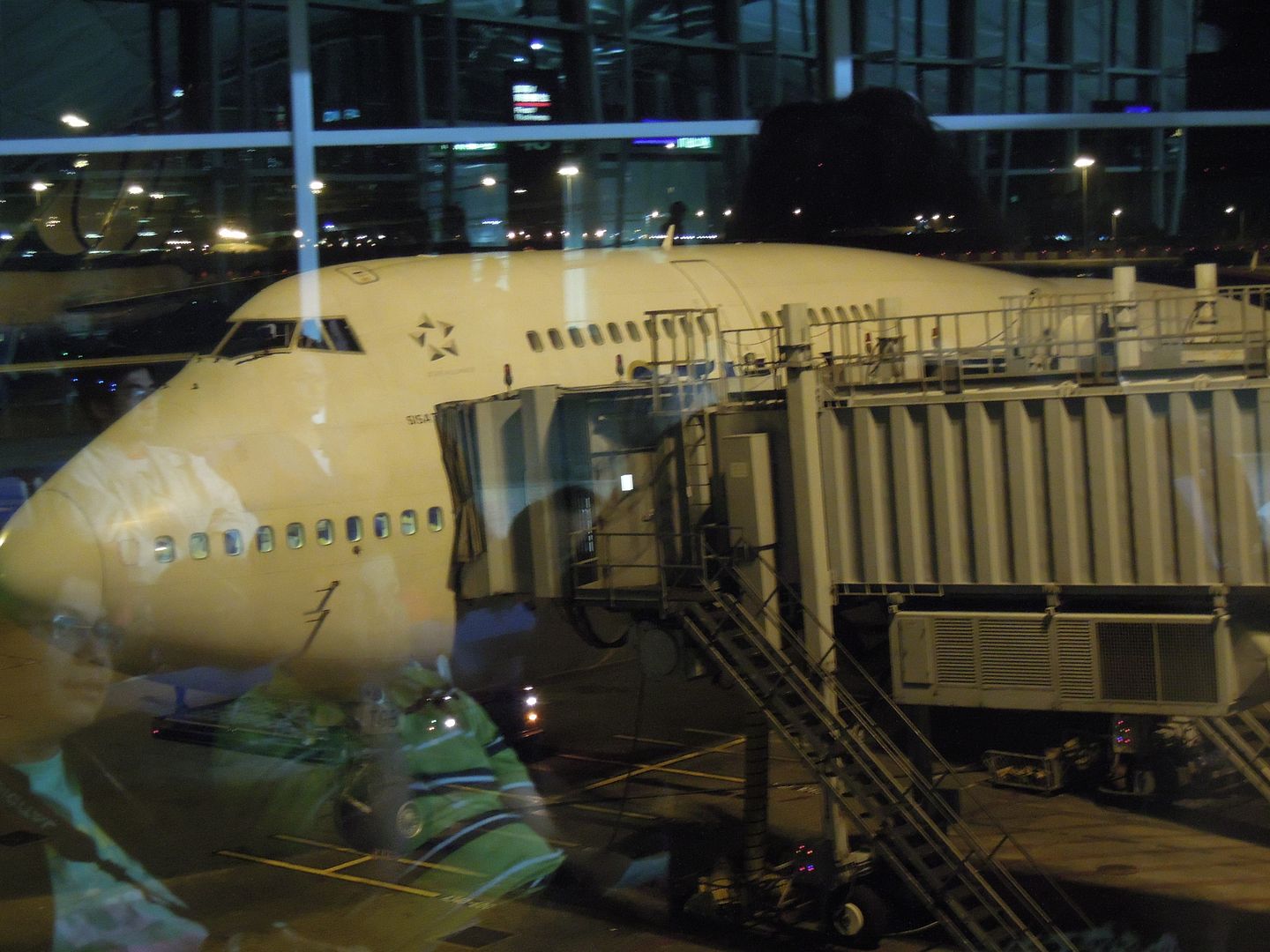 When pre-boarding call was made, people started to queue, one line for Business and First class and another line for economy class. When boarding started, it wasn't done by seat row number.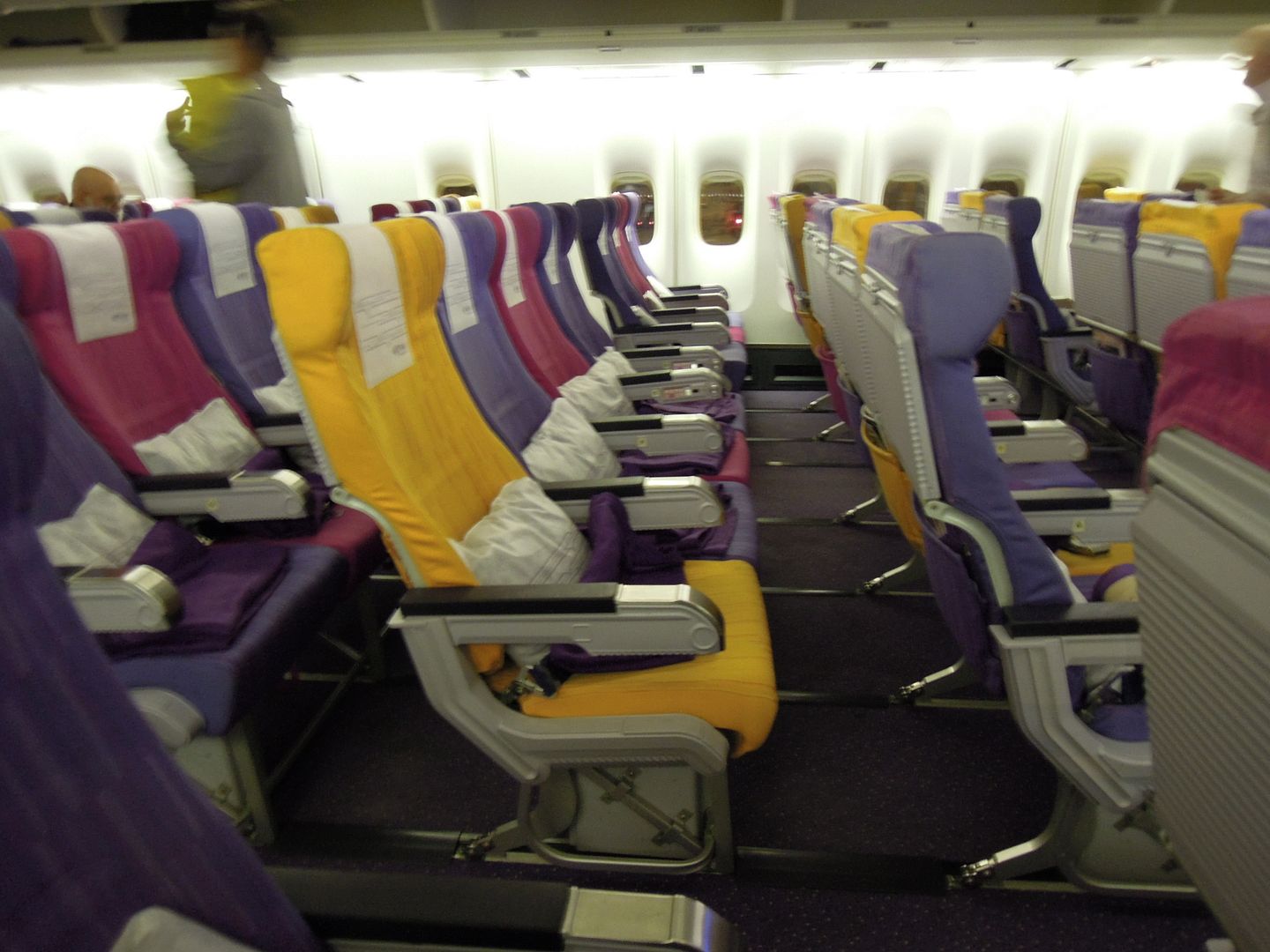 Then came Orient Thai HS-UTV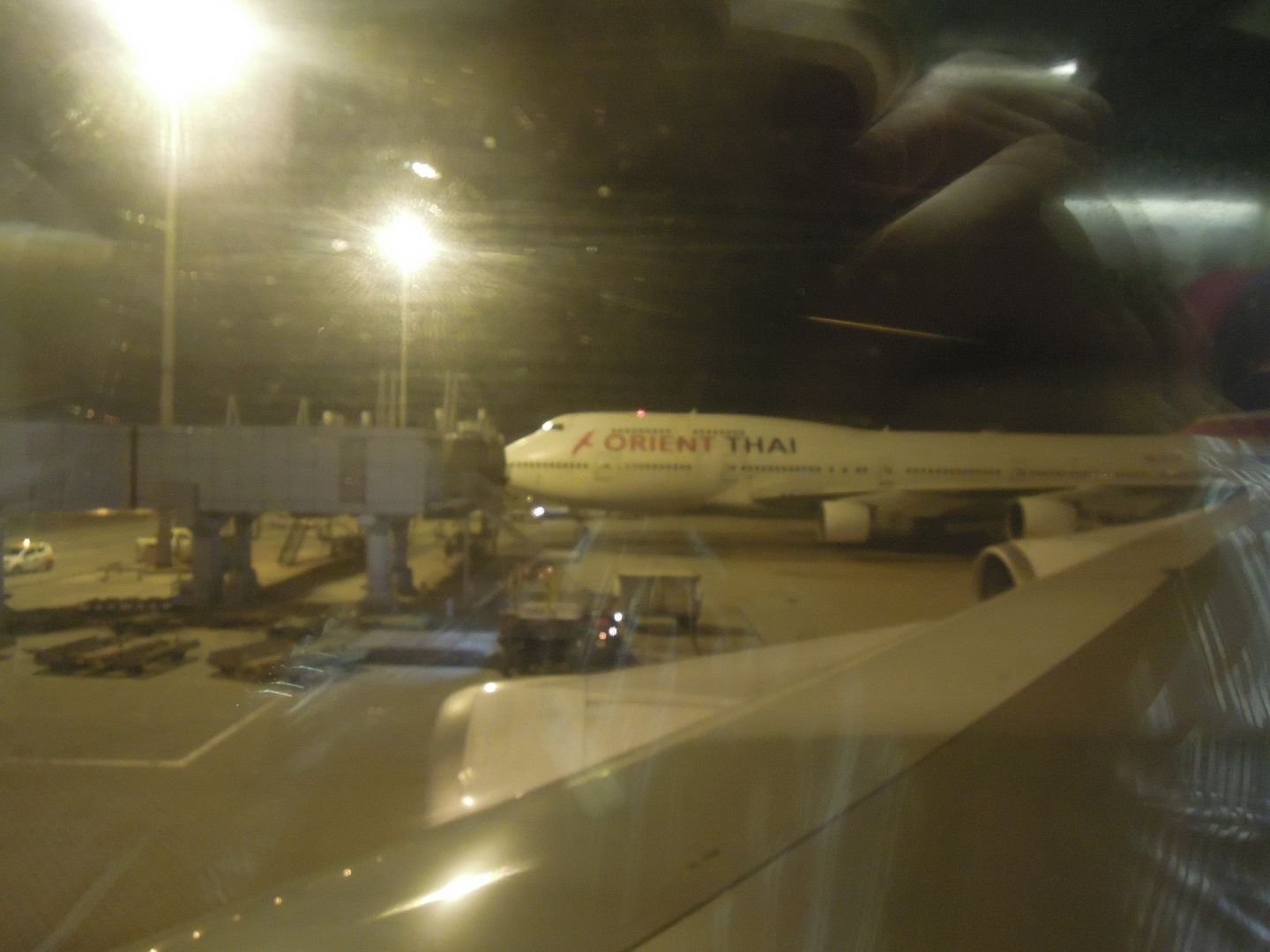 This flight was very similar with the outbound flight. The crew came before took off, offering 2 options of dinner: pork with rice or chicken with rice. This time, my mother didn't get offered to choose the meal early.
Pork with rice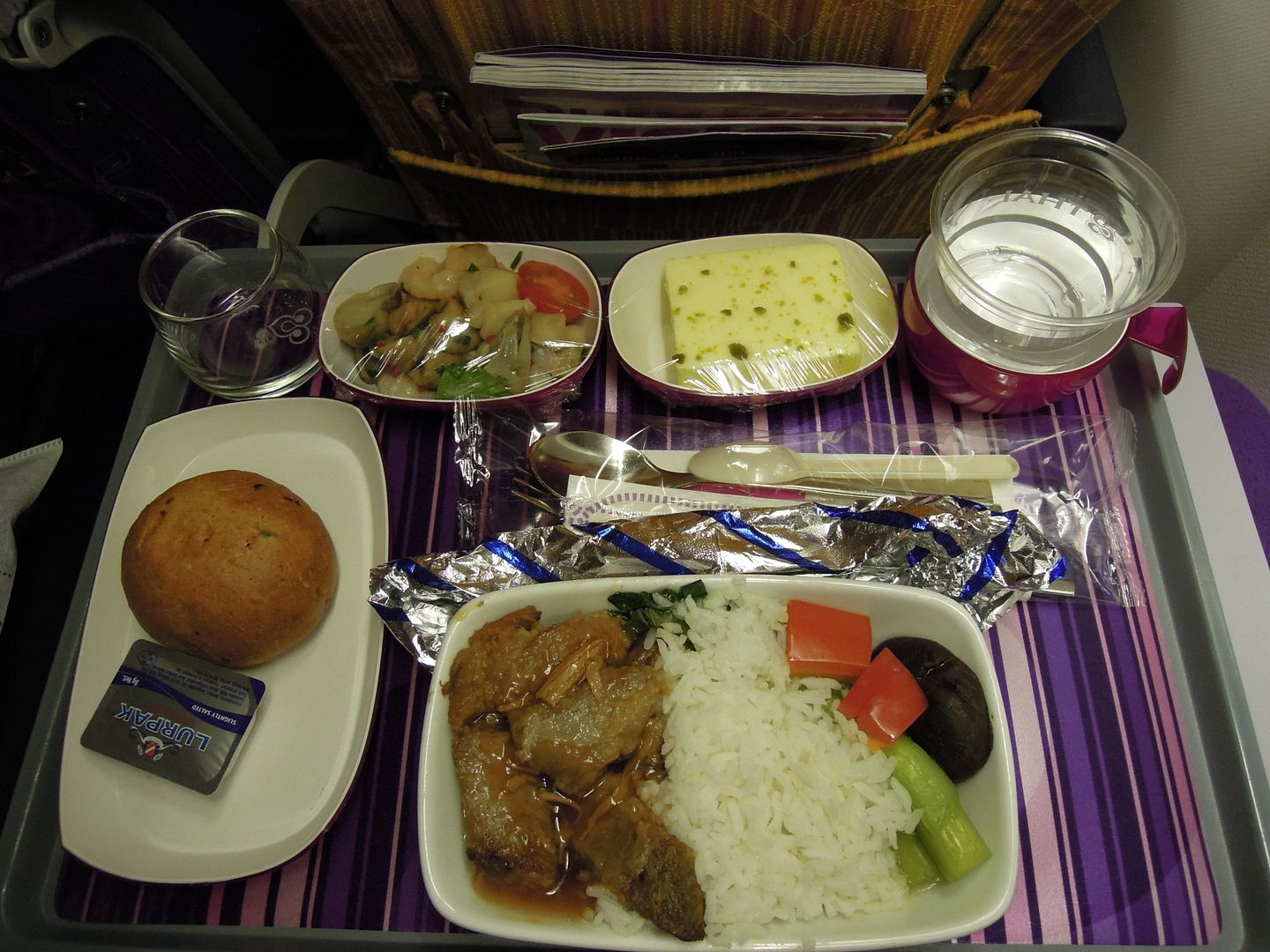 Chicken with rice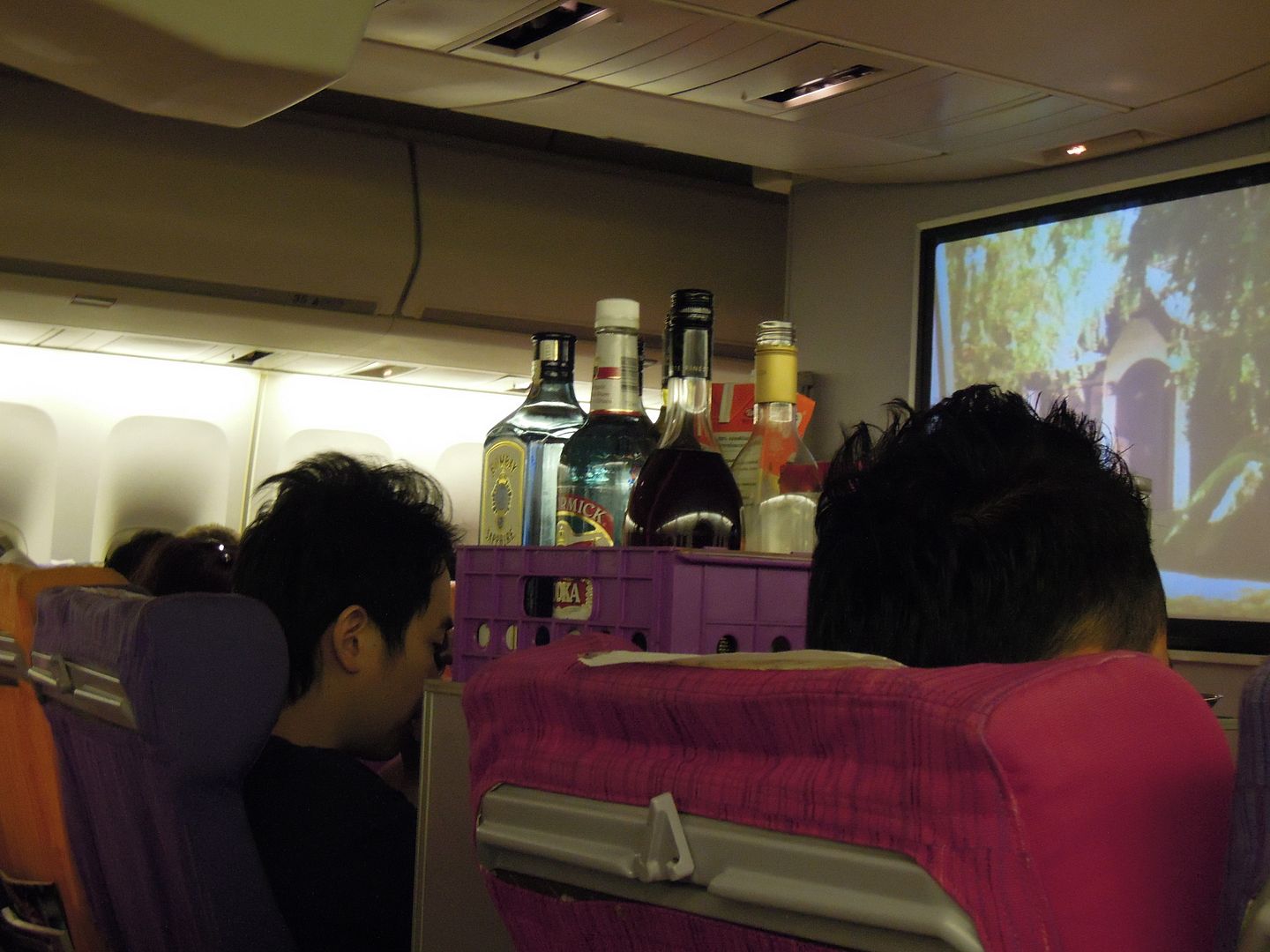 Sawasdee magazine and another A380 ad and Thai Smile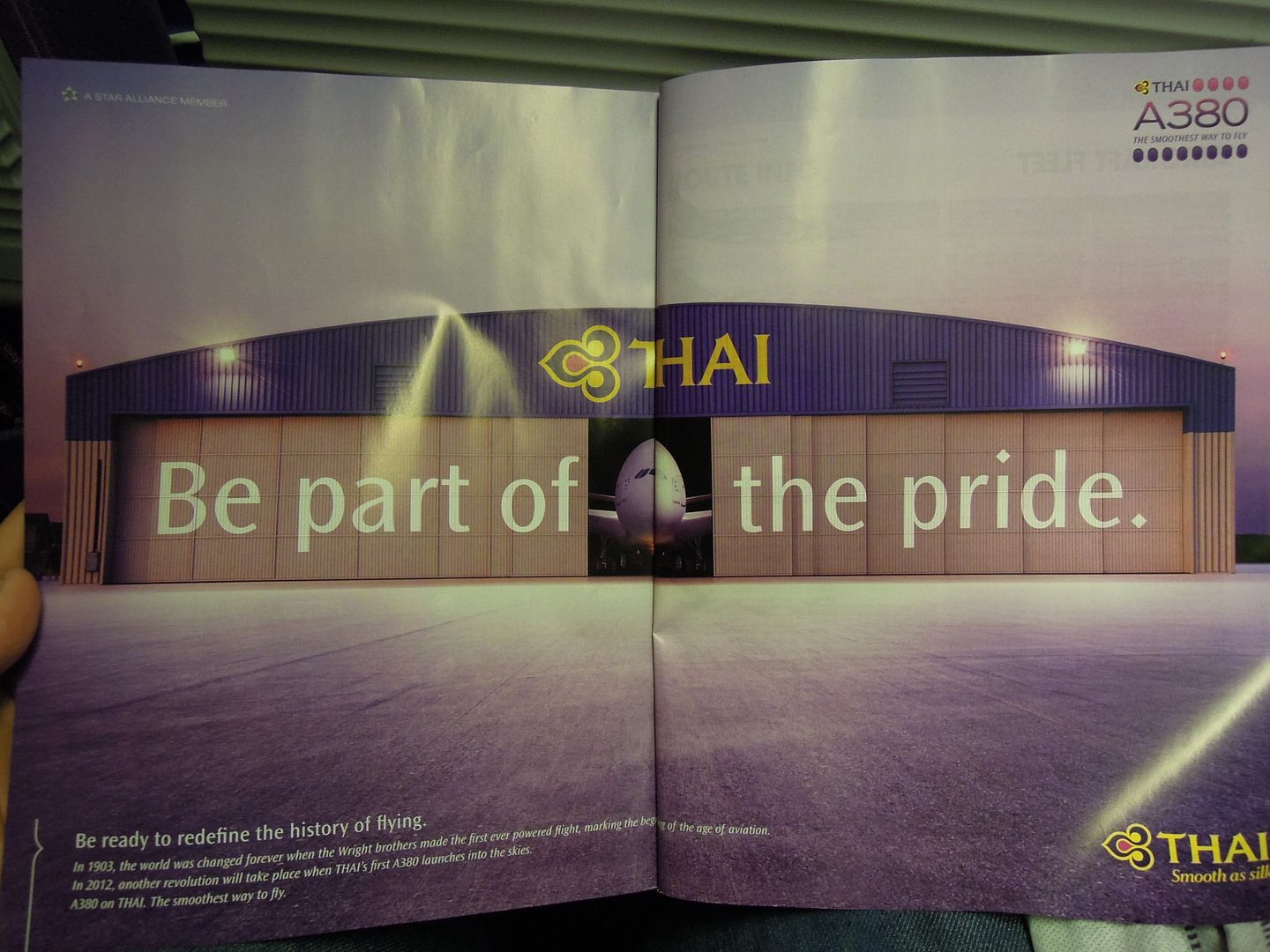 Very comfortable space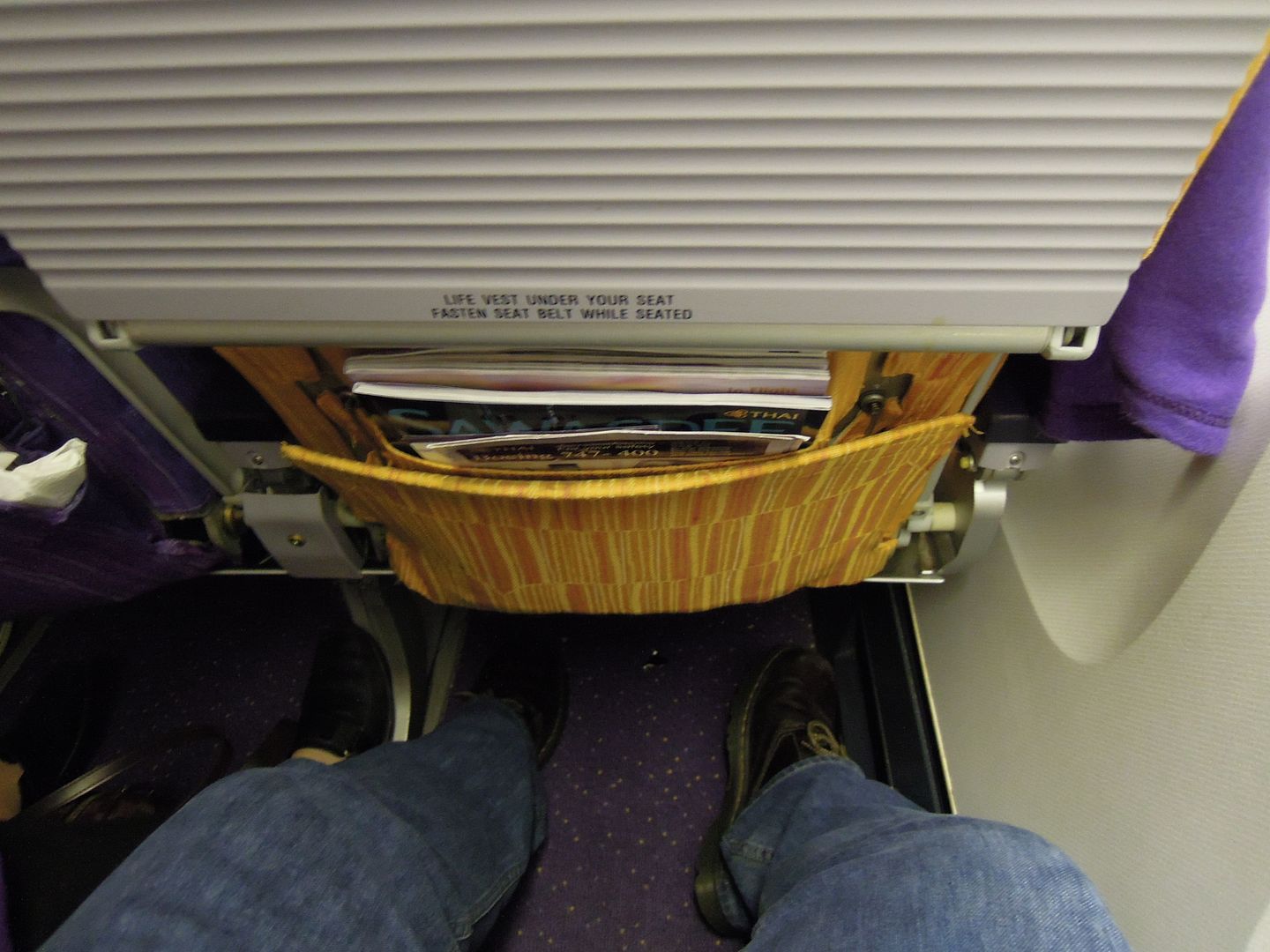 After 2 hours and 30 minutes, we landed at Bangkok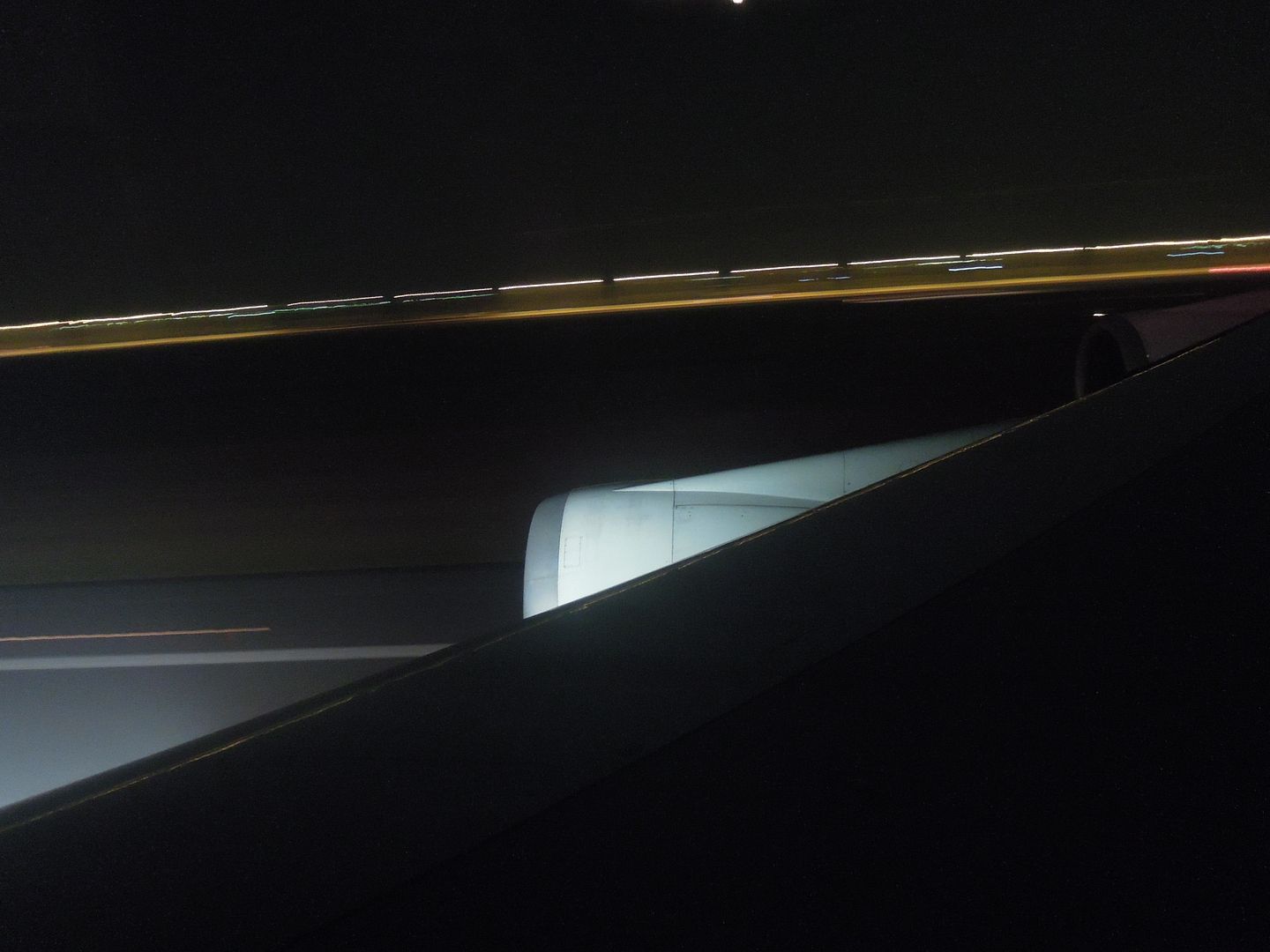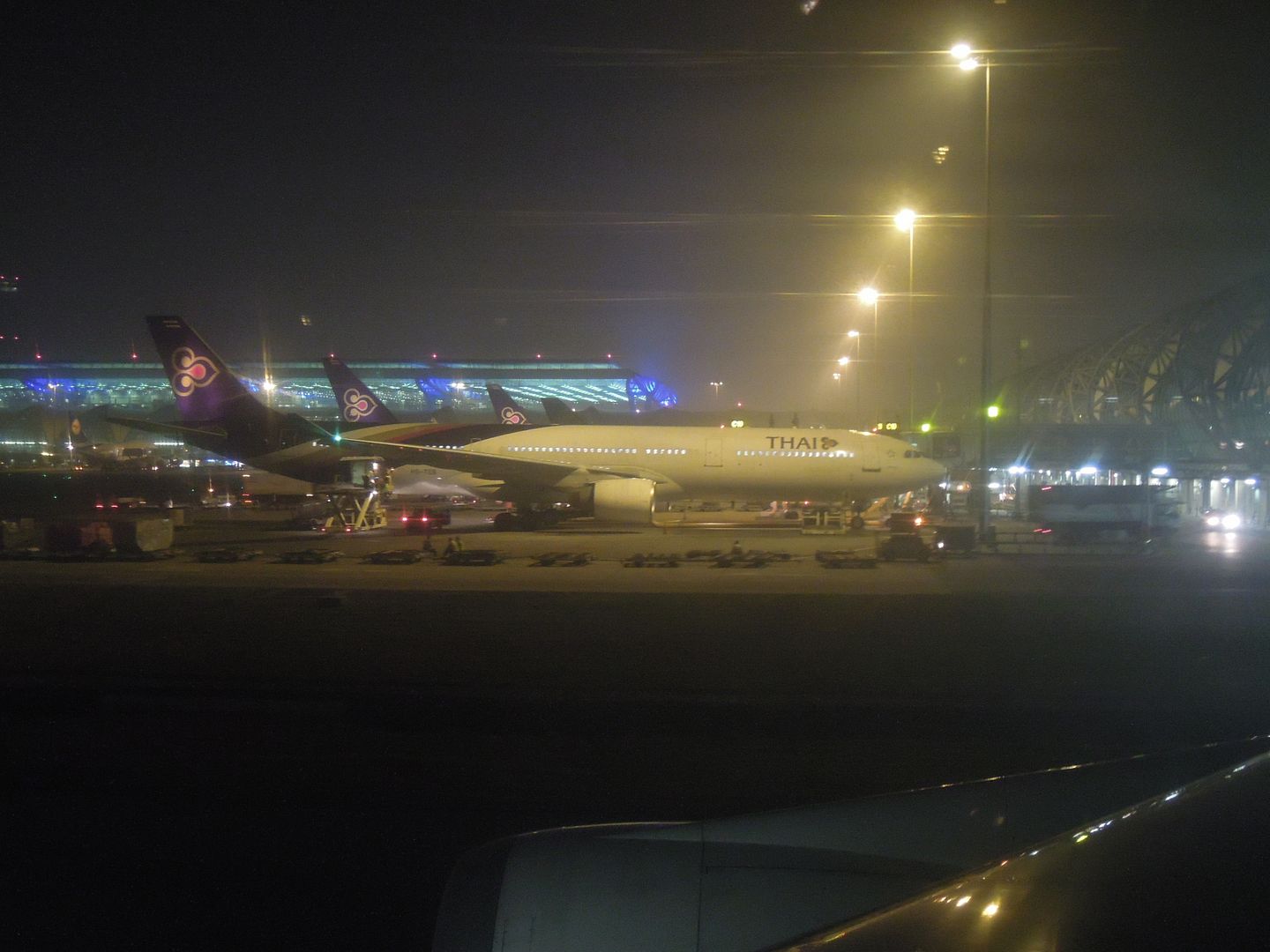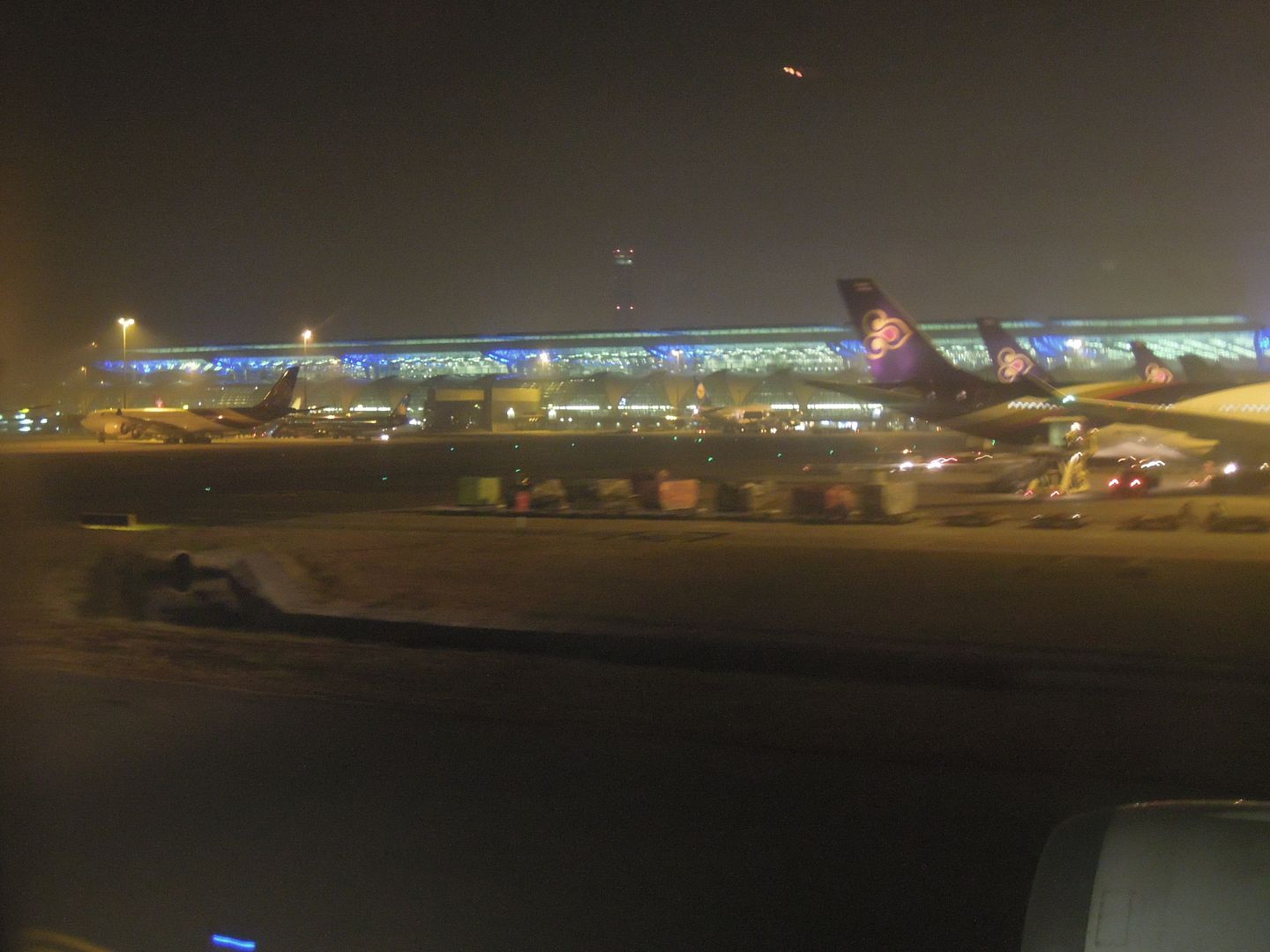 Parked in concourse D which was very close to passport check counters
My seat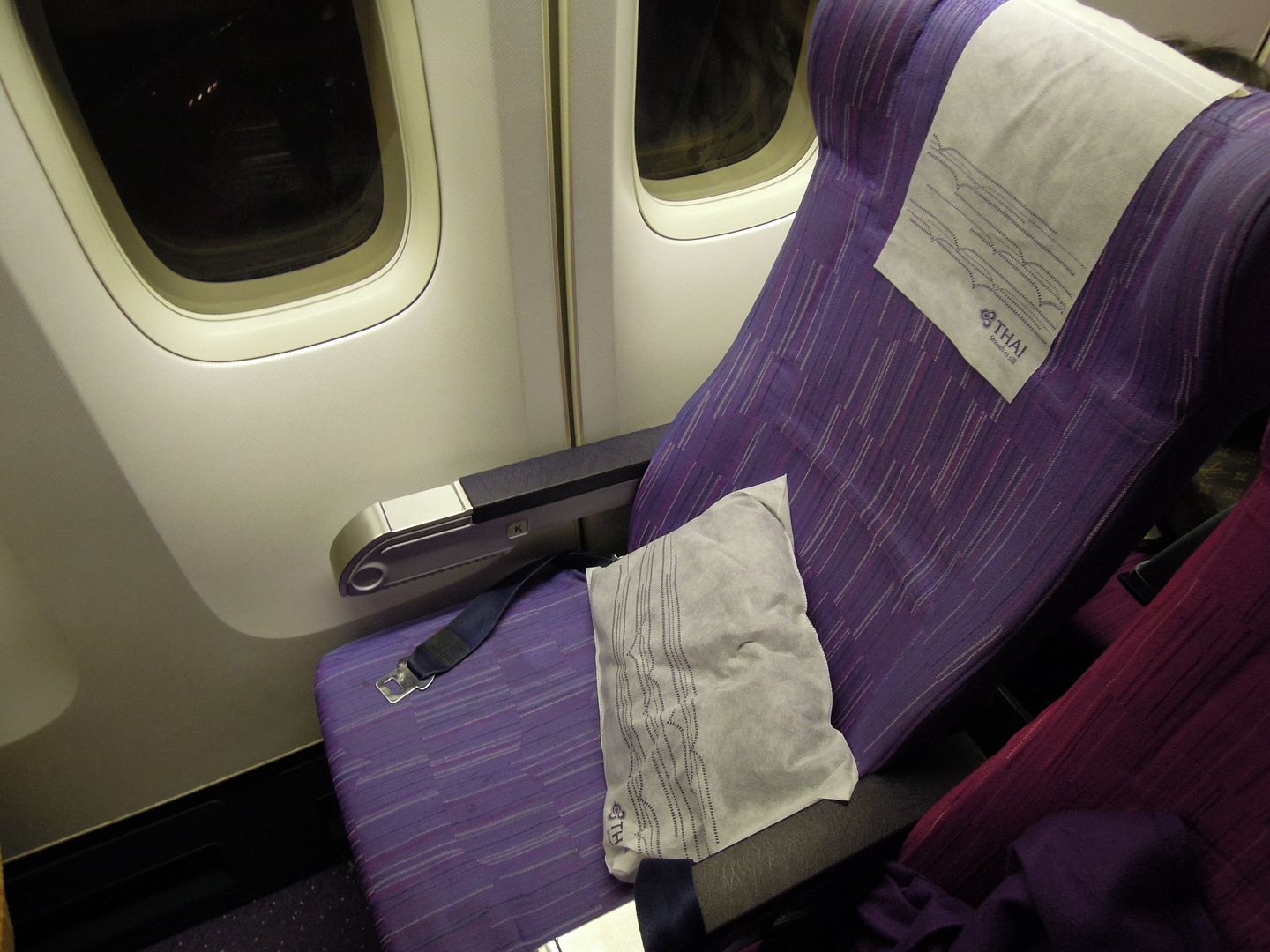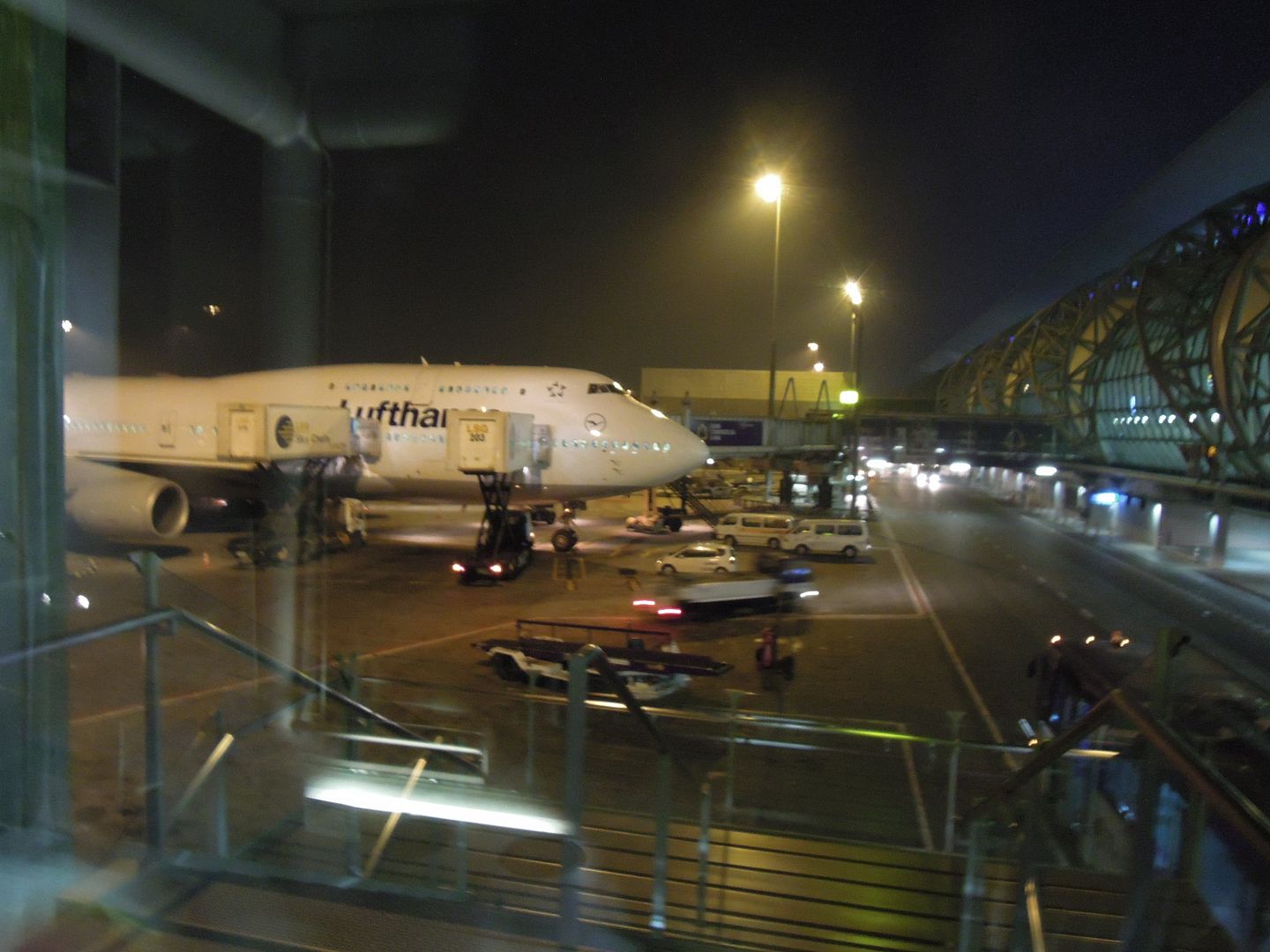 I was surprised to see there was no queue at all at passport control. It only took a few minutes to clear. and not long after, our bags came on the belt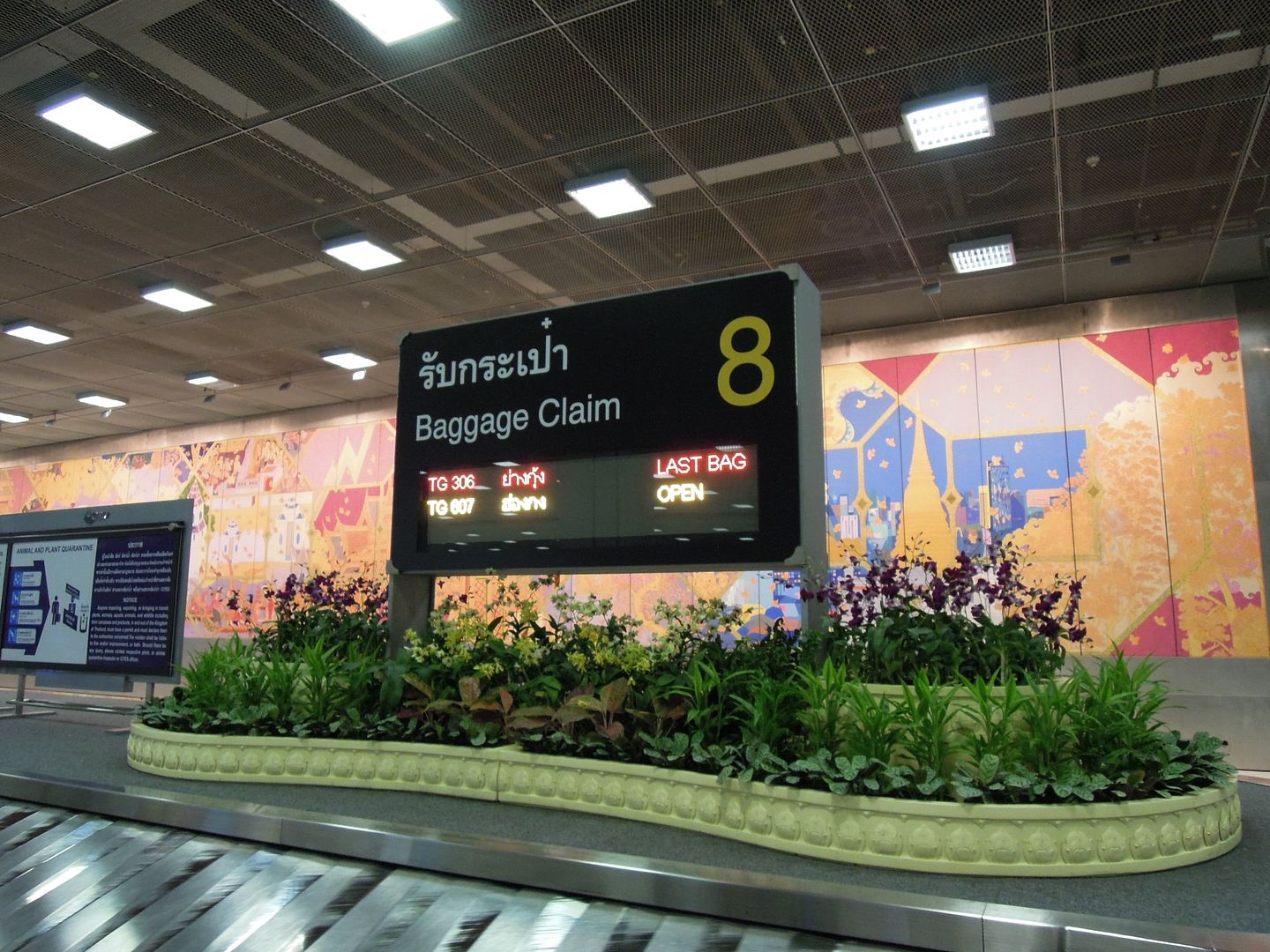 This would conclude my Hong Kong trip report. Overall, I am once again happy with TG service. Both flights were more or less on time. Crew were very nice and friendly. I must say though that I found the crew on the outbound to be slightly better than the ones on the inbound, as on the inbound fight, crew seems to disappear straight after food service while on the inbound the crew walked up and down the aisles regularly to see if they could offer anything. Food was once again good. TG lounges at both airports were good. I noticed an improvement on Business class lounge food/snack offerings at breakfast time. Finally, its always great seeing TG is doing so well on this regional sector.
Thanks for reading. As ever, all comments/feedback are very much appreciated.
Win