This is my Trip Report of my Recent Trip from New York JFK to Vienna VIE with Austrian Airlines in Business Class.
It is my first Trip Report, I hope I do it correctly.
Two weeks ago I travelled from Vienna to New York and back. I took no pictures of the flight from Vienna to New York, so I will concentrate on the trip back home.
Some pictures of my trip:
South of Manhattan: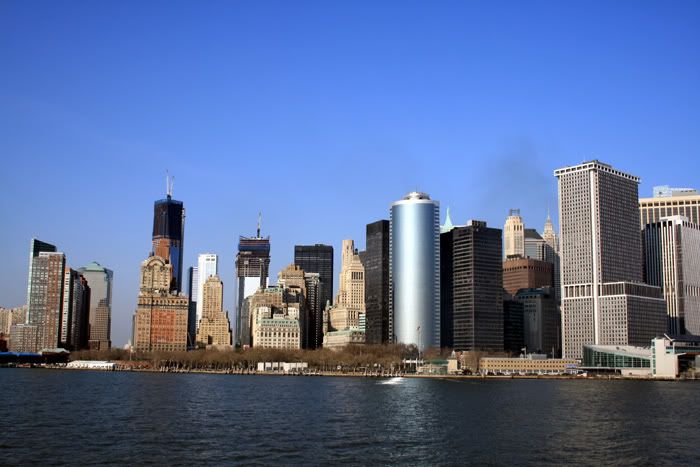 View from my hotel Room (Millenium UN Plaza):
Niagara Falls:
From the Empire State Building: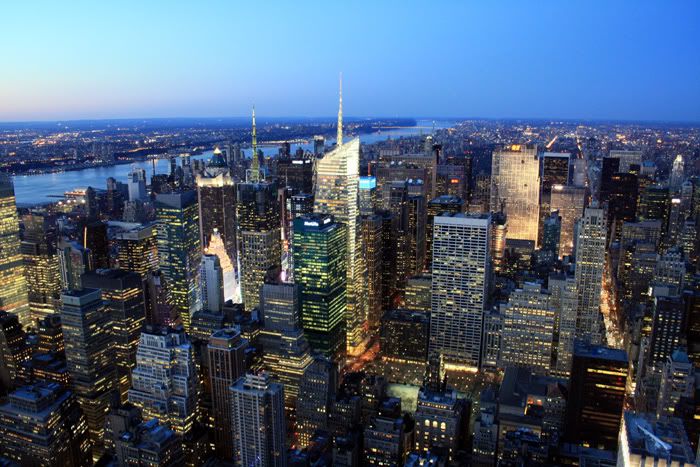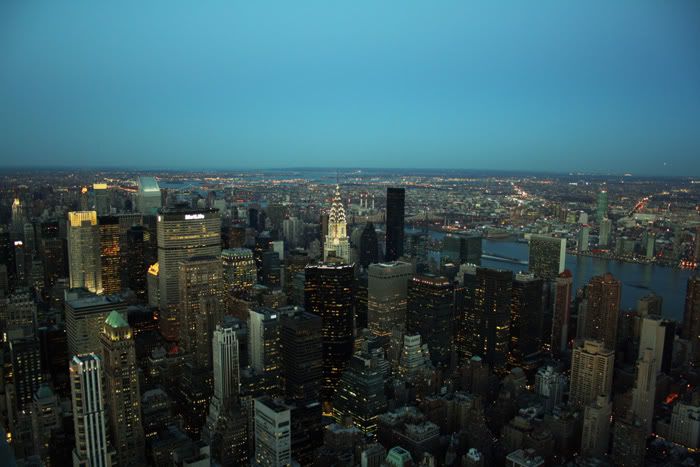 Flight Austrian Airlines OS 88, B-777-200 OE-LPC from JFK-VIE, Flight Time 7:40 hrs (Strong Tailwind).
After Check -In (I just dropped my bag, I printed my boarding pass at the hotel business center) I proceeded to the security screening. The lines where long but acceptable (there was a special line for business passengers).
After recollecting my items I walked around the gate areas, and browsed the shops. I bought a pen as a gift for a friend, afterwards I watched some parked aircraft. There was an A340-600 of China Eastern and one of Lufthansa and an A330 of Air France. The Austrian B-777 was allready parked at the gate: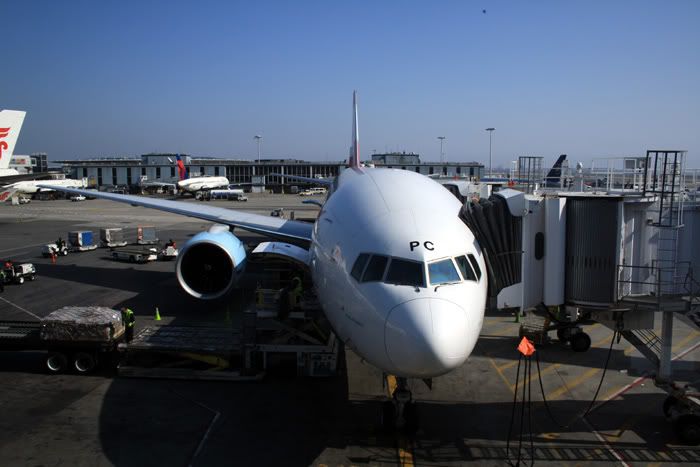 Then I went to the Business Lounge of Lufthansa to spend the time until boarding. It is quite a nice lounge, with nice light colors. As a snack I took a soup of carrots and ginger, and a brezel, tomato juice and a coke light to drink.
From the lounge I had a nice view of our aircraft: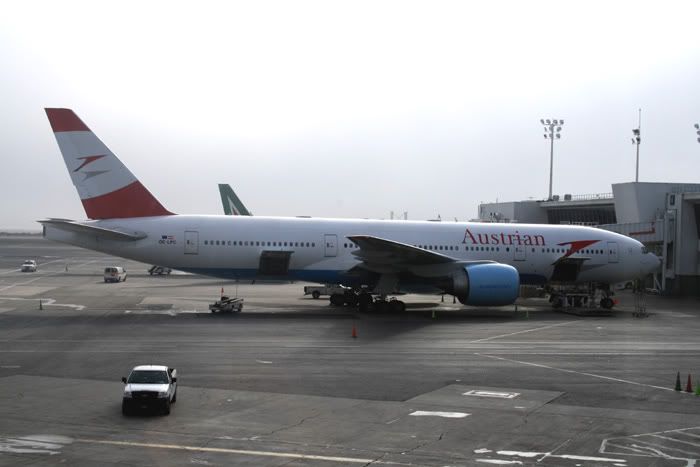 After reading my book (on my kindle - I love those things) for some time the boarding process started.
I got to my seat, seat 5A rather quickly. On the flight to New York a had 1E, next time I will try to reserve a seat in row 1 for both flights, it had a bit more space.
My seat: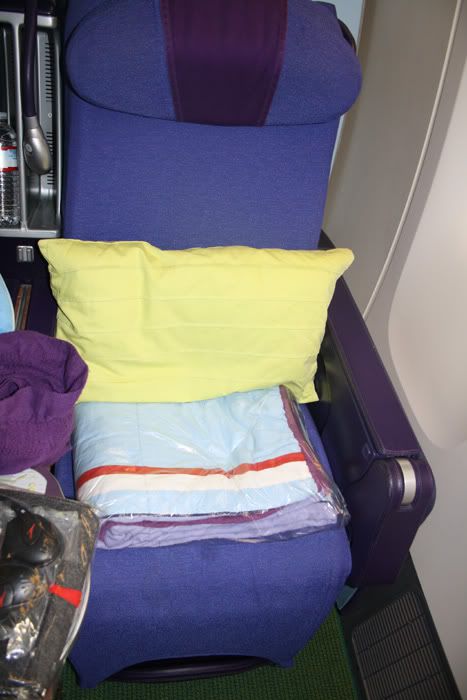 The seat is great, it is electrically adjustable, has a massage function, storage space left of the seat-rest, an adjustable reading light, a folding table and large adjustablea and storeable LCD Monitor.
It is a 180° lie flat seat, with footrest etc., but the flat seat position is slightly angled downward. It has 3 quick acces positions "seating" (upright), "relaxing" (in a kind of tv-relax-chair position) and "sleep" (lie flat). All other positions in between can be adjusted with the control knobs.
We had a bottle of mineral water at each seat:
The seat adjusting panel on the right: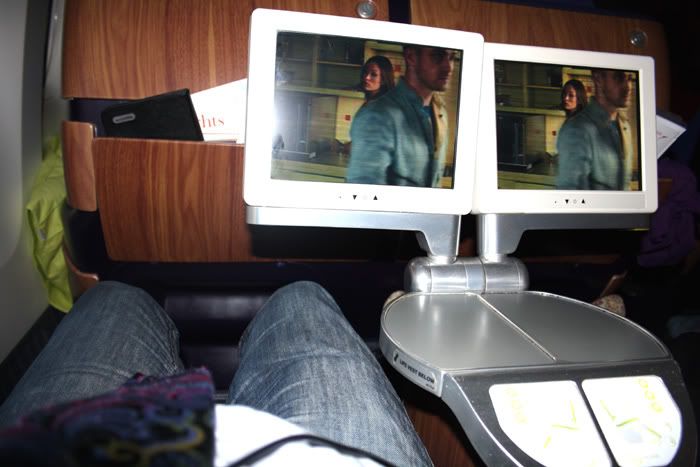 After boarding we got hot towels, and a drink.
I watched a movie that I had not seen before, "In Time" with Justin Timberlake and Amanda Seyfried - a kind of science fiction movie where people used "life Time" instead of money.
Me watching the movie: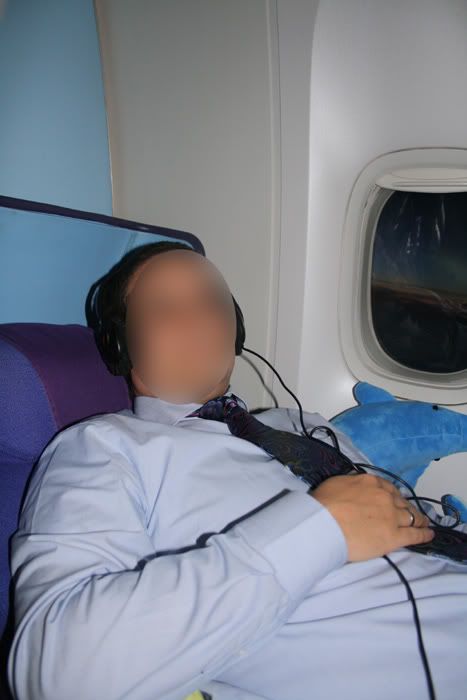 There is enough legroom under the front seat for a guy like me:
Some time later dinner started; there is a cook on board, he takes the dinner orders (choice of three main courses, special wishes are possible, appetizer served from a trolley with various choices and a soup bowl.
First course for me was salmon enchiladas (tasty):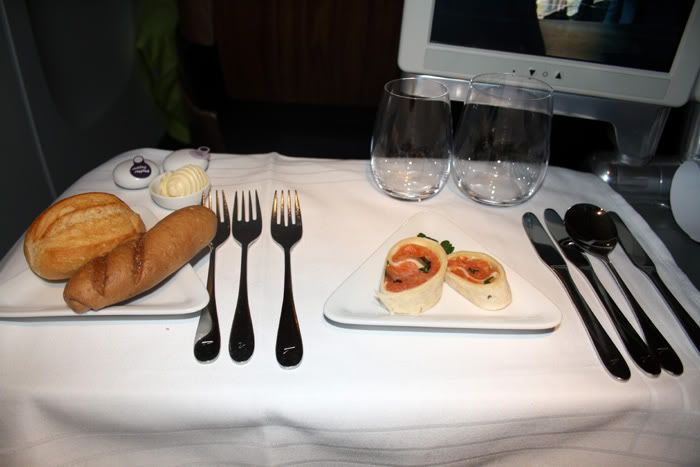 Second course was veal carpaccio or some kind of vitello tonnato and a vegetable cream soup that was great:
(left the soup, on the triangle shaped dish the vitello tonnato).
My main course was lamb with veggies and polenta (corn), and a rich dark red-wine sauce.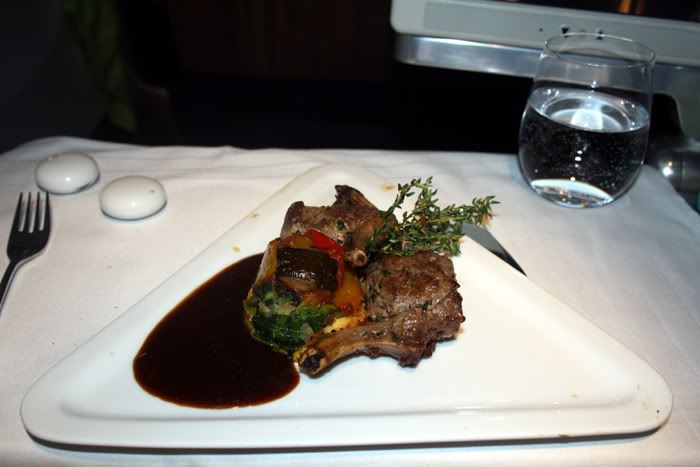 The lamb was done medium (as I like it), it tasted great and the sauce was superb.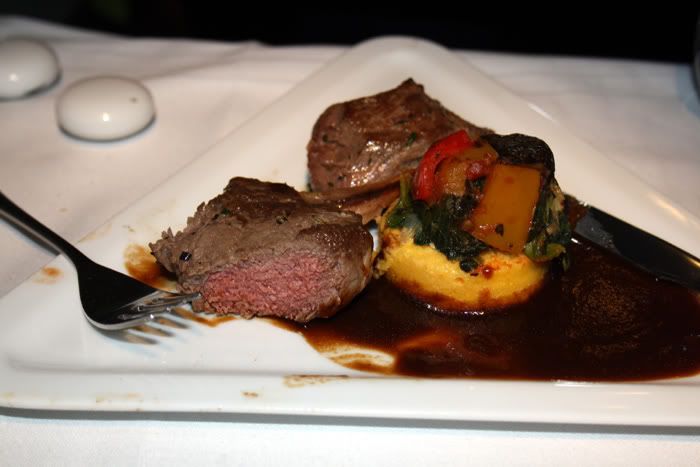 After the main course assorted cheeses where served from the trolley, with rolls and fruit, but I did not take one (even if they did look great) - I had a lot to eat that day and cheese would have been to much.
The sweet desert I did take, I could not resist, one of the choices was chocolate fondant (lava) cake, with milk ice cream - one of my favorite deserts. It was perfect, the center was fluid and creamy and it tasted fantastic: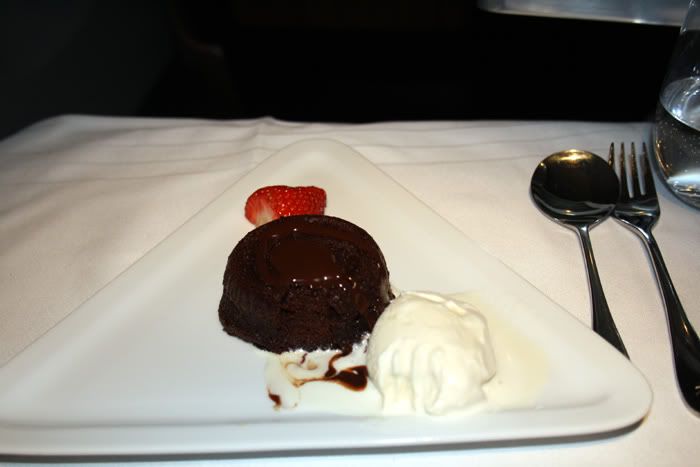 The food was as good on my flight from Vienna to New York, I think right now Austrian really has a great catering concept.
After dinner I watched my movie to the end,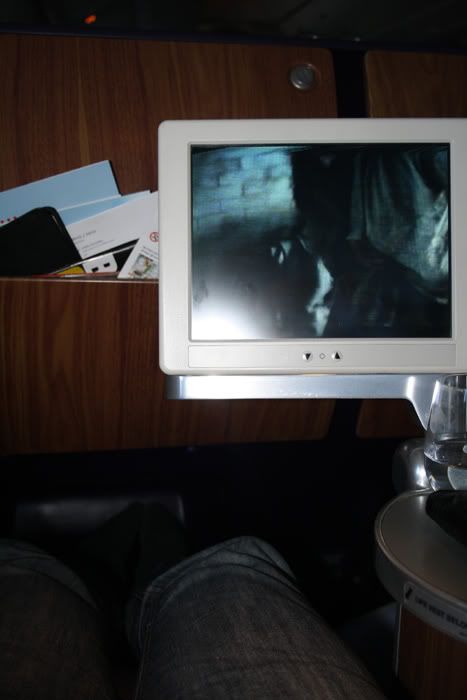 and went to sleep afterwards.
Due to the lie-flat position it is possible to sleep on ones side, I liked that very much. I can only sleep lying on my left side, so this was very helpfull for me. Of course a true flat bed would be better, but for a business seat I got what I expected.
Next morning came quickly, we had a lot of tail wind.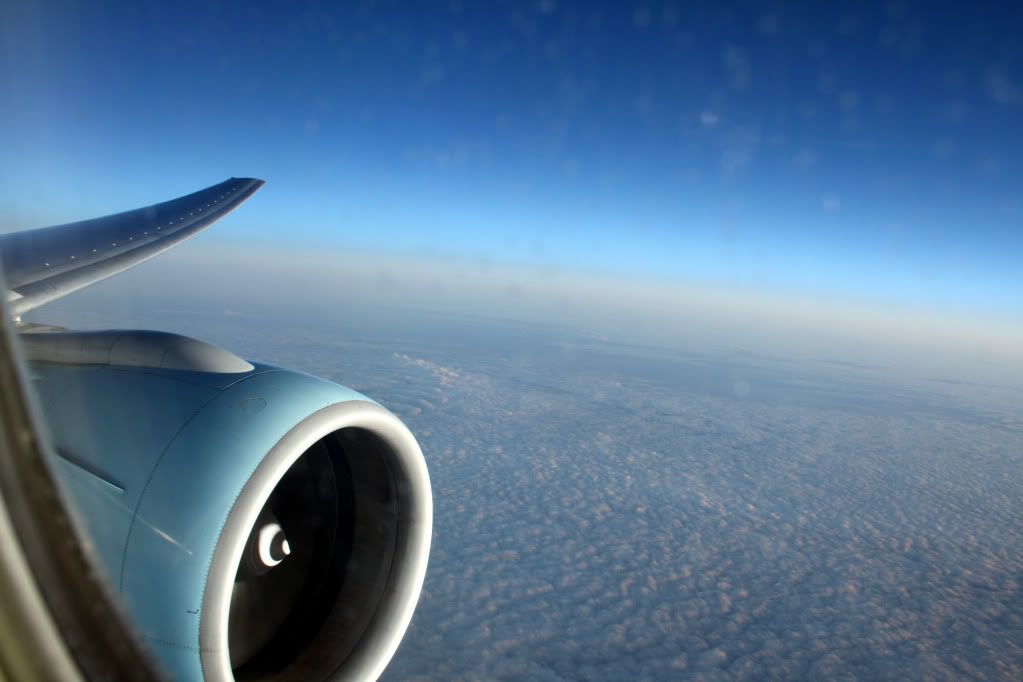 One hour twenty minutes before landing the attendants began serving breakfast. You could order your preferred breakfast at the cook before going to sleep, so after wake up it was ready to serve.
We had the choice of continental breakfast, american breakfast (with ham or bacon, eggs to your liking - scrambled, sunny side up, fried, boiled etc), muesli (with milk or yoghurt) etc., warm beverages like a lot of different coffees, various teas, hot chocolate.
I ordered: American Breakfast with crispy bacon, two sunny side up eggs, whole grain toast and croissant, swiss muesli with yoghurt, assorted fruits, darjeeling tea and banana milk shake.
Before breakfast we got hot towels again, and a friendly wake up from the flight attendants.
This is what I got in the morning: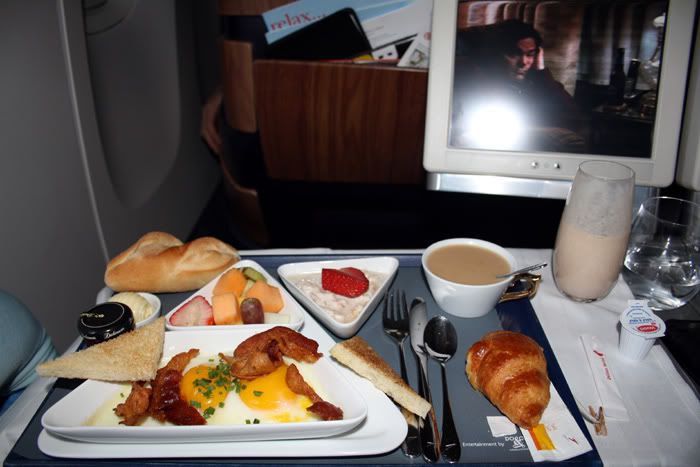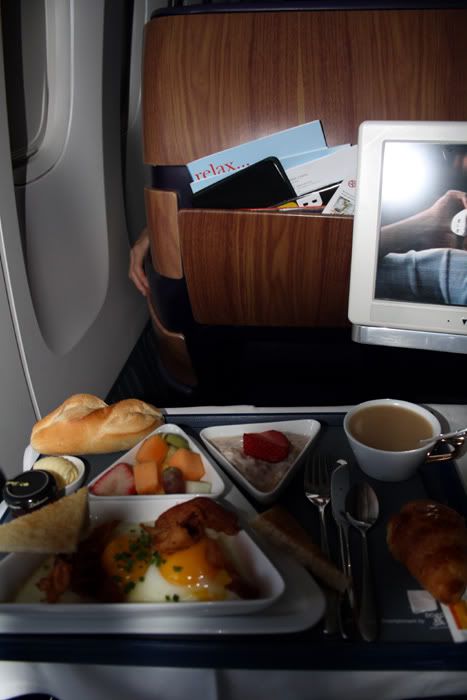 Exactly like I ordered. The eggyolks where warm and liquid - just as I love them, the bacon crispy, the banana milkshake freshly blended, the croissants and bread warm and tasty and cross. What more can you want - it would not have been better in any hotel.
After a flight of about 7 hours and 35 minutes we landed in Vienna, I have to say that I felt fresh an relaxed.
After proceeding through customs I went to the baggage claim area, where my bags allready waited for me.
I went to work right after the flight - an easy thing for me working in the office park at the airport.
It was a great flight, there is no better way across the atlantic if you want to go to vienna.
The crew was friendly and professional, the catering exceptional, the seat was good and what one could expect, the IFE is slightly dated (no video an demand), the cabin was clean an nice (i like the colors and the fake wood, they look better in real life then on pictures. In real life the cabin looks stylish), all in all a great flight. Would do it again any day.
[Edited 2012-04-03 07:49:12]