Dear readers and fellow tripreporters,
Let me present part 3 of the trip to Indonesia. The previous parts can be found here:
1)
Malaysia Airlines Longhaul In Y: AMS-KUL-DPS
(by
airbuseric
Feb 29 2012 in Trip Reports)
2)
Bali Scenes & The Avic Xian MA-60 To Lombok
(by
airbuseric
Mar 5 2012 in Trip Reports)
---
Since this is the continuation of the trip after arriving at the new airport of Lombok, I would like to continue this tripreport with first a couple of pictures from the island of Lombok. I will finish this tripreport with a detailed view on the new airport and the flight on Garuda Indonesia.
So different! Lombok, new airport & Garuda 737-800
---

Lombok Introduction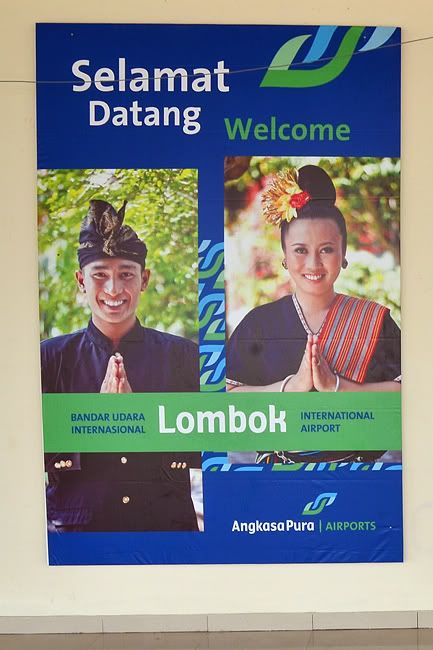 .
Welcome to Lombok
The island Lombok is located not far east from Bali and has a complete different culture and history, compared to Bali. More wide open landschapes, untouched beaches and less traffic then on Bali. Changes are made to attract more tourist to Lombok, but so far the authentic character of the island has not been touched.

Lombok has about 2,5 million citizens, mainly of islamic origin. Roughly 10% is Balinese and live mainly on the west part of the island (where we find the touristic areas also).

The island measures 80x70km and is a little smaller then Bali. In the North we find the mountain range of 'Gunung Rinjani' (3,726m), one of the highest peaks of the whole Indonesian archipel. In the central zone of the island we find mostly flat landschapes for agricultural use. This is also the area where most people live. More in the South we find another range of hills, up to 500m towards the coast.
Very touristic are the 'Gili Islands' (Meno, Trawangan and Air) along the northwesterly coast of Lombok. They can even be reached directly from Bali by speedboats.
Lombok cultivates especially rice, cassave, cotton, chili pepper and soy beans. Tobacco is important for export from this island.
Though, compared to Bali again, climate is different on this island resulting in a less productive agriculture. For example rice, which can be harvested 3x per year on Bali. Some parts on Lombok only manage to harvest once per year.

For tourists this island can be interesting for hiking near 'Gunung Rinjani', or surfing on the world famous beaches near Kuta in the South. Of course, the few accomodations on this island go up to 5-star ratings, so just a relaxing holiday in your resort or on a beach is very well recommendable too.

Though remember that you will not find so many restaurants, shops and nightlife on this island, except some in Senggigi, which is basically the only touristic centre on the island.
When you take a holiday in e.g. the Novotel Resort Lombok, basically 'nothing' can be found in the surrounding vicinity and you are also very far away from e.g. Senggigi.

Besides that, the locals are not always used to tourists and language can be cause problems in some areas. English is not always spoken more inside the island. Beware also that you will probably face a lot of poverty also, so be prepared when you come along with your belongings. It's not unheard of that locals rob tourists at some remote locations. Just be prepared, especially when you organize a sidetrip from your easy-going holiday on Bali. Lombok is different! Different and also very beautiful!
Lombok – Trip & Pictures
As mentioned in the previous part, and our arrival on Merpati's Xian Avic MA-60 aircraft, a personal guide and driver was waiting for us, with a large sign stating
Mr. Eric
on it. He was arranged online via very helpful and attentive people from an agency called
Lombok Reisen
(lombokreisen.com). Their founder and contact person
Nuryadi
was always very attentive during emailing, making agreement on the price and even send us an sms to ask if all was OK during the time we were on Bali and if we were ready for our visit to his island.
Well, our driver was
Ipul
, a relaxed guy, English reasonable spoken and a nice aircondiotioned darkgrey van for us with even cooled drinks in the small fridge in the back of the van.
After we met and talked for a while about our intentions for the tour, we went off. First to Sade, a small traditional village in near the South. The village is build up out of buffalo droppings mixed with mud. Local people are more then welcome to show you around and explain a bit. We visited inside one of the houses where a family lives. It's very small, dark (no windows), basic and with a very low ceiling/roof. You should not have claustrofobia here.
We walk further and get the impression of this very poor village and the people. The soil was bone-dry, like it has not been raining for months. A young girl is washing herself with some dirty water from a watering can. And we see a very elderly women working on her spinning wheel to process the cotton.
The people are very friendly here, and since we were the only foreigners around, we got a lot of attention ourselves too. We buy some little handmade souvenirs from the children before we continue our journey.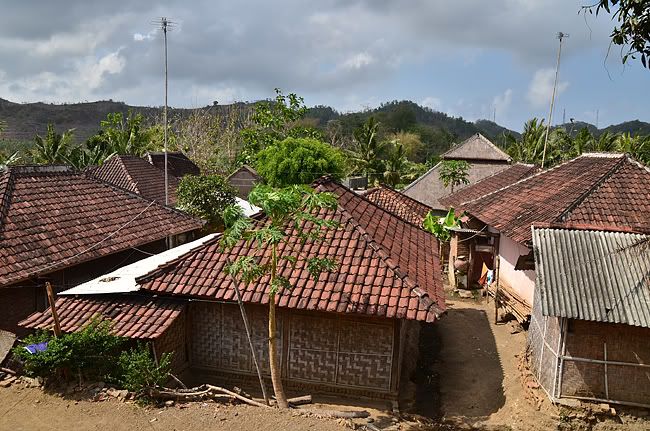 .
Sade village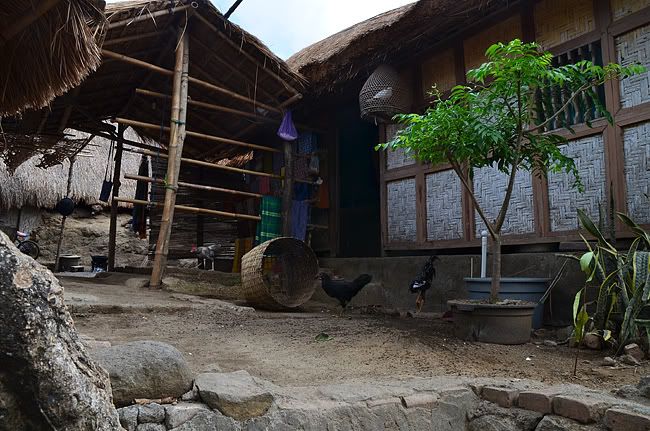 .
Sade village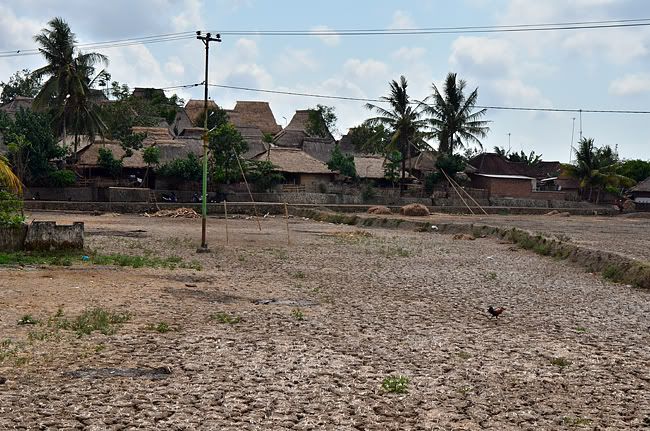 .
A view on Sade. It's difficult to get some agriculture done here…
It was also interesting to see the military preperations for the visit of 'Mr Presiden' (President of the Republic Indonesia Dr. H. Susilo Bambang Yudoyohno). The intentions were that the President was coming in to Lombok 2 days later after our visit, for the main reason to officially open the new airport. Aside from that - it was expected by the locals - would he visit some other villages or areas on the island, but it was unknown which places exactly. Hence the preperations every here and there.
Locals filling the potholes in the (sometimes really bad) roads for example. Because maybe the President will pass this road and he would be in trouble. Hmm… I've my opinions on this, it was weird to see the military official watching the locals when they were working on these projects. Hard work, maybe for nothing? I can't tell but it gave an interesting impression.
Next was a drive along Kuta (Lombok). Famous with surfers, and famous for the beaches and of course, the waves. Kuta itself is described in the travel books as one of the few areas developed for the tourists.
Well, place 'developed' between brackets here. The surfdude type of travellers is maybe ok with daytime surfing and nighttime crashing in a beachhouse, but don't expect anything else. Nightlife does not excist here, and the only Live music can be enjoyed on Saturday evening in 'The Shore House' until 2am (highseason only). Accomodation is not wide spread and only the Novotel is near offering luxury. Basic accomodations can be found along the coast but we also noticed that surfers came on their motorcycle all the way from Senggigi (a long drive!).
I must admit, the beaches are beautiful. And so quiet. A few surfers play on the waves and with the treacherous breakers. The light breeze, the sounds of the waves rolling onto the shore, the desolation… it gave very special feeling.

.
Beautiful sandy beach at Kuta beach. No tourists or locals at all here

.
A bit more towards the Southeast coast, the beaches turn heavenly white!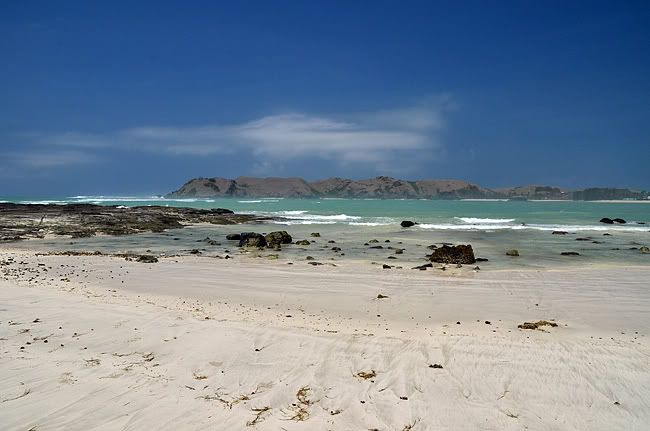 .
So lonely, so white, so beautiful!

.
Very few windsurfers come to these remote spots, famous for their great waves
After our visit to the Southcoast, we decide to go through the center of Lombok and drive along small villages. We see the local life passing along our way. Lombok is dry, very dry, but suddenly halfway (?) the colour changes from 'brown' to 'green'. A kind of line excists and above the line it seems to rain more often or at least regularly. The landscape is total different, the ricefields are green.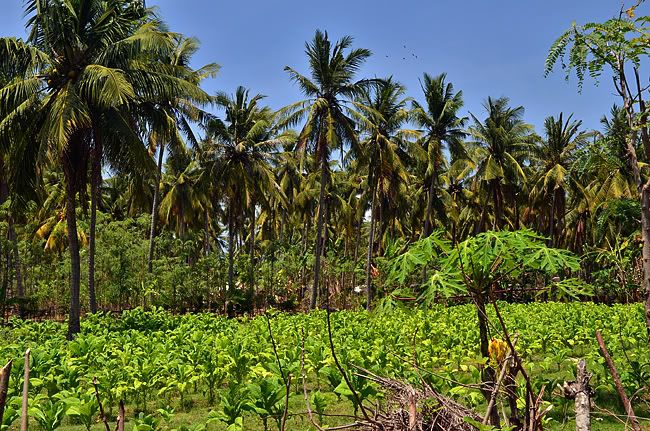 .
Tobacco culture

.
On the road again… Lombok transport!

.
Green ricefields also here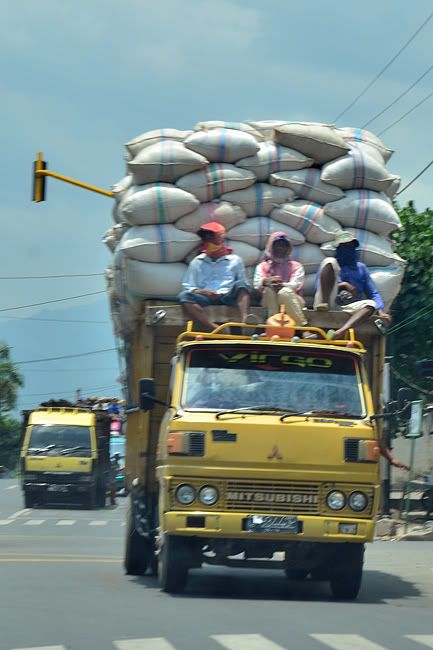 .
When we harvest the rice, then it needs to get to town also… A bit overloaded maybe?
At the village of Gunungsari we have to turn North. First we stop at the local market. Hmm, not really the place where we would like to leave our car. It's very dusty, dirty, smelly and we didn't feel very safe to go out with the camera in this area. Traffic is a chaotic scene here, where a large part is by horse carriage. Interesting to see nevertheless.

.
Gunungsari Marketplace – for us no reason to stop

.
The children go to school, and we go further our way into the forrest
We drive onto the small but paved road into the forrest. It goes uphill and soon nothing but forrest was to be seen. The temperature becomes much cooler, and we hear birds of unknown kind, and smell the fresh air. We encounter a large group of wild monkeys here, not hostile at all and therefore rather interested in our visit. Of course we are prepared for monkeys, and take out some peanuts for them. It was a nice stop our way and we soon drove slighly downhill again towards the village of Pemenang.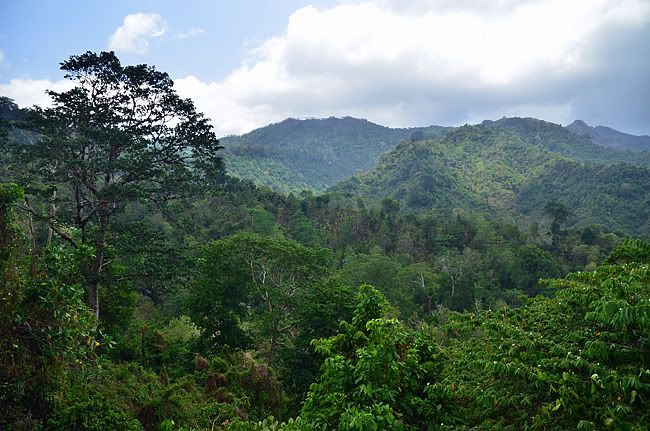 .
Beautiful panorama
At Pemenang we turn left and follow the coastal road offering fantastic views on the ocean. At some point it is possible to see the Gili Islands. Very small islands they are, but very popular (it seems, according the guidebooks and travel agencies). Personally I do not feel the need to go there, and enjoy the view so far. But when I look in the skies it will soon start to rain. Massive clouds are working towards a nice production. Time to get into Senggigi for a late lunch at
Yessy Café
. We give our driver money to have lunch himself, and we are taken out of the car with staff holding an umbrella for us. No luxury and definitely needed! For about 1 hour, perfect for lunch, it was raining strongly and thunder all around, while we enjoy various freshly squeezed fruit juices and a lovely Nasi Campur.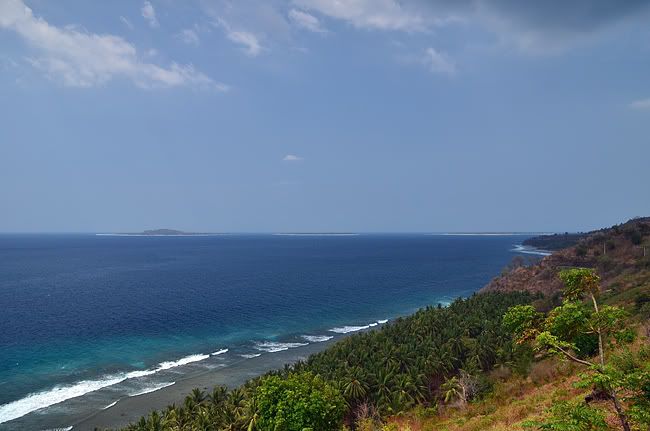 .
Black beaches now, and a view on Gili Islands (left to right: Terawangan, Meno, Air)

.
Desolated beaches, when dark clouds are building up for a good shower

.
Just in time for lunch when the rain comes!

.
Jessy Café, Senggigi…. I recommend this place for good quality food
After lunch, which was already halfway afternoon, it was time to drive slowly towards the airport, via traffic jams around Mataram. In Mataram, the old airport was located, which was closed in early October 2011. The new airport is located near Praya, actually in near the village called Tanak Awu. The drive takes close to 2 hours including traffic, but the driver tries to minimize where the speed can go up. Indonesia does not have speed limits (some exceptions). Finally around 5.30pm we are dropped off at the airport. We settle the payment with the driver, we say goodbye to him and thanks for the wonderful journey.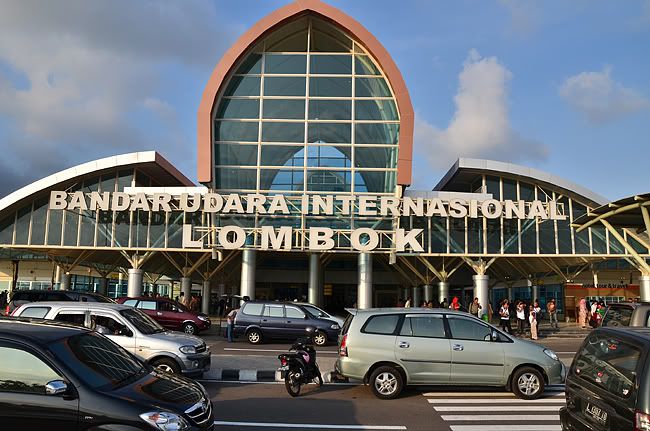 .
Lombok Airport
The new airport building looked nice from the outside. But definitely not finished. Construction work on the outer wall was still ongoing. Also the road towards the airport building, the surrounding area, parking space etc. It was one BIG mess. The amount of locals was impressive, and to be honest, it almost felt like being one of the few Westerns walking in one of the African relief camps (ok, imagination of course). The locals were watching us when I said to my partner to join them in front of the fence, because I wanted to make a few pictures. I noticed children just going under the fence and walked onto 'airside', where the aircrafts were parked and the taxiway was located. Hmm… this is of course not done, and nobody took care. Typical? I think so! That's probably one of the reasons why Indonesian aviation does not have the safest reputation so far.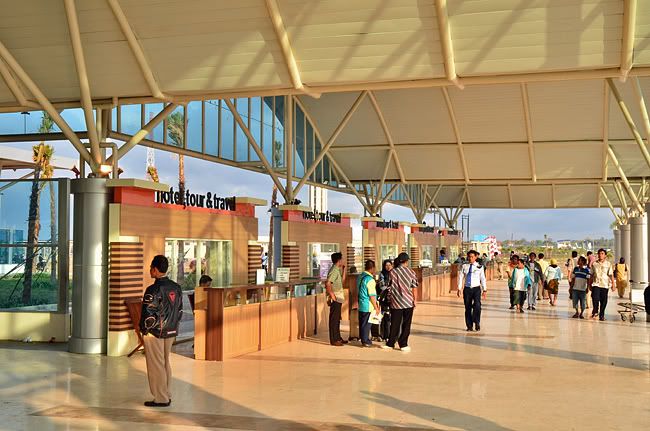 .
New information counters, plenty of them. Looking good!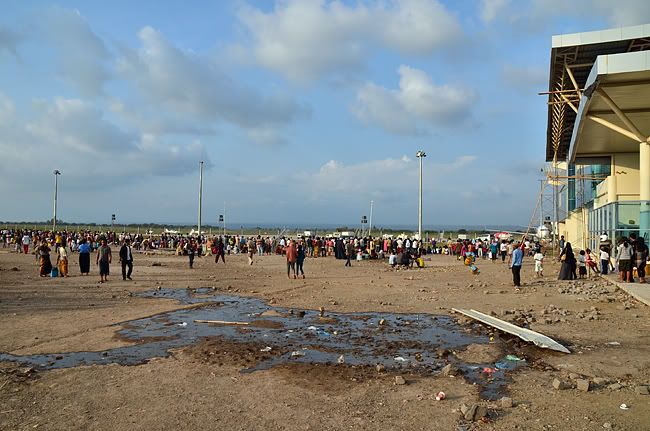 .
This dusty area is the other side, looking less good

.
Planespotting, anybody?

.
Lion Air is around and very active; MD90 (PK-LIP), B737-900 (PK-LHK) seen here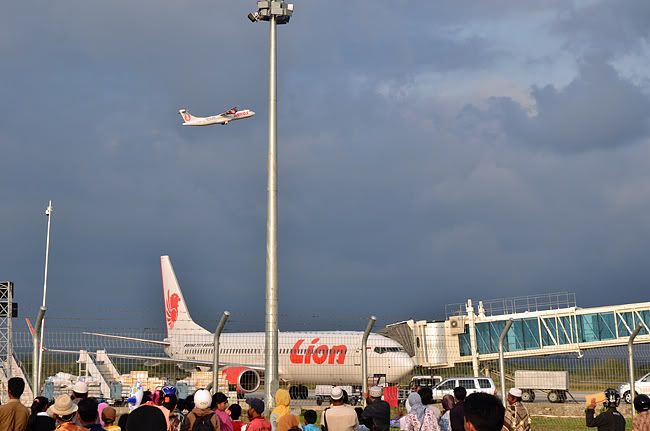 .
Wings Air, subsidiary of Lion Air is departing with ATR-72 PK-WFS

.
Children trespassing the fences, causing danger to safety here
Well, it was very dusty on the small terrain next to the building and we still had to do check-in, so we walked towards the building, where a group of cleaners tried to get the shine back on a marble floor under the open roof. A difficult job, I think, with all the sandy terrain around the building and the strong blowing wind.
Before entering the terminal we were asked by officials to show a proof of your intended flying, so show the e-ticket or whatever you hold and we're waived through to a basic security checkpoint for your hold luggage (and handluggage was also asked to get it checked). This whole happening looked like a 'big joke' to me, since the officers where - in my impression - not really watching the screens but more in relax mode haha. More pictures of the airport after some info about the airline we will fly:
Garuda Indonesia
Booking for the flight was done on the good looking website of Garuda Indonesia
http://www.garuda-indonesia.com
The website gave a good fare immediately and we were able to perform the check-out and payment with my Dutch mastercard (Amex not accepted).
Though, a confirmation e-mail I am used to to get after the confirmation screen appears didn't come.
Since booking were done in the evening we went to bed, and were very unimpressed by a wake-up call at 3am that night. I wondered… something happened with my family? Who else is calling me at 3am these days? I got out of my bed and checked the phone with was an unidentified number. Hmm,… seems to be some official organisation then which usually have a shadow over their outgoing dials.
I got myself on the line, said hello, and was returned some 'hello?', 'hello?'… I asked, who is this? Then finally somebody said 'Garuda Indonesia ticketoffice Jakarta'. Phew…what the hell?
Anyway to make a long story short this many called me to confirm my name (on which I replied 'yes'), my birthday (I replied 'correct') and he ask which company is issuing my creditcard (so I gave him the name of my bank, which he probably didn't understand anyway). Then he replied all my flight details, and I ask if there are any problems? I got the reply 'yes, OK!'. Haha!
Well, actually I was not amused at this time for these nonsense calls and went back to bed.
The next morning, when checking my e-mail, an incoming mail from Garuda was in stating 2 links, directing me to both e-tickets which I printed out. Finally all was OK.
Just one more thing about the flight schedule. We booked the flight with a departure time of 20:30hrs but 2 weeks before we left AMS for the trip to Indonesia, I checked myself once again and noticed the departure time was changed to 18:55hrs, a 'little' 90 minutes forward, but without any information by the airline. This was not the biggest problem but of course we had to reduce our time on the island slighly to ensure being on time for our flight back (there was no back up either, since there is only 1 daily GA flight on this route).
Lombok Internasional Airport (LOP)
The building is a square kind of building inside, with in the middle 2 rows of check-in desks.
Counters 07-11 were serving the GA flight, one of them for Business Class passengers. We called at the desk and were promptly served by the friendly agent. "No luggage Sir?" No, just this handluggage, we replied. "Here you go Sir, seat 27A and B for you, like you wished". Yes, I almost forget about that, but the seat selection was possible during booking without additional charges. Good job, GA!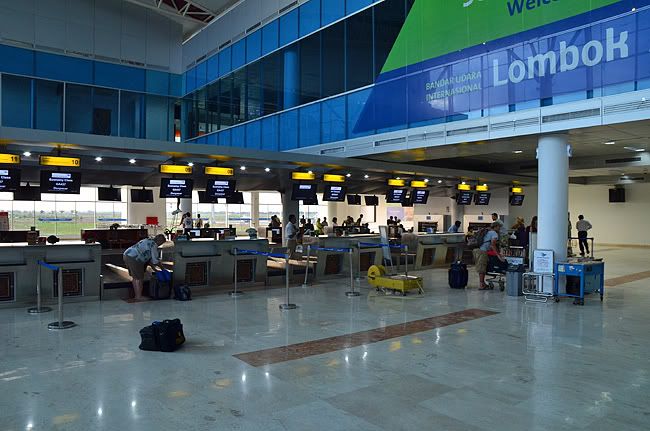 .
Garuda check-in desks (5 open for a single 737-800 flight, impressive!)
We go on to explore the terminal further;
On the sidewall is a small office where you have to pay your departure tax, prior continuing to the security checkpoint. Departure tax for domestic flight is IDR 25.000 per passenger.
The floor was quite dirty by dust, and cleaners were working on it. It was quite funny to see one guy with some 'blower engine thinghy' on his back, spraying some shine on the floor. The engine was diesel driven and used inside the closed building, so you can imagine that the air quality was not really good here. We watched the scene for a while, and this is the way how to do it in Indonesia.

.
Cleaning the floor
Near the backwall we found a maquette of the new airport, which have a good impression about the progress. Construction was definitely not finished yet, but Mr. President was coming to open officially in 2 days. It seems there is a lot of work to do.

.
Nicely created maquette of the new airport
Let go to the lavatory for example; no soap dispensers, electric wires coming out of the wall, broken tiles on the wall. Hmm… it doesn't look so new after all, and these details are still unfinished.

.
Really a new airport? These details tell me something different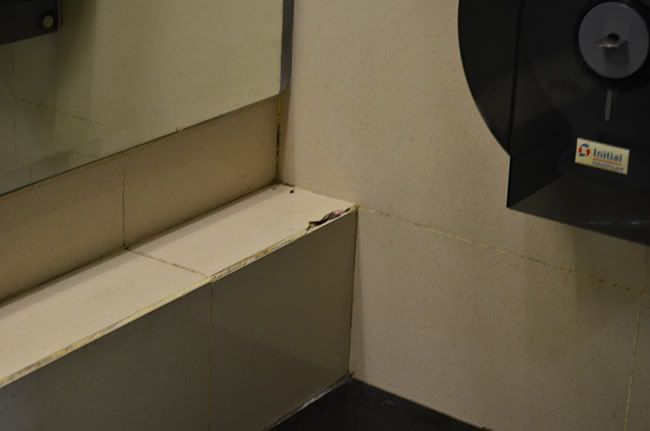 .
Seems to be here already for a long time in this bad shape
On the first floor (before security) are some small shops of which quite a few where still empty. A few small places to have a drink or snack as well. Overall it's quite boring to spend here some time.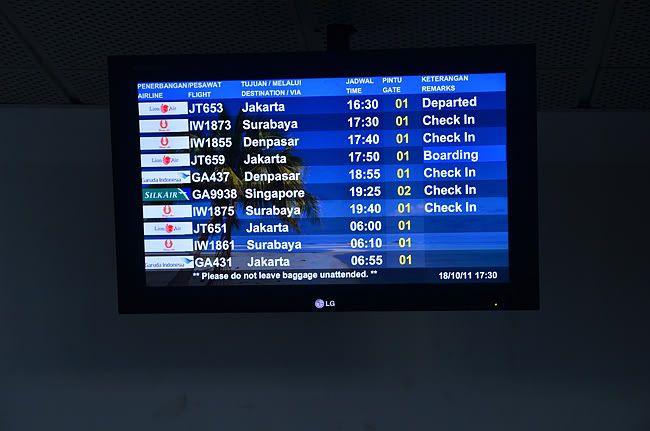 .
Fllight Informations – not too busy at night

.
What is 'New Zealand & Co.' kind of eatery?!

.
Some more small shops are here as well
The security checkpoint for domestic flights is easy to cross. Staff is super friendly here and asked if we enjoyed Lombok. Bringing a water bottle is also no problem here (should not give problems on any domestic Indonesia flight), and the 'departure tax receipt' is checked for.
Behind security are no further shops, just a waiting lounge with a lot of seats, offering great view onto the platform and single runway.
We walk around a bit more and find an escalator to one floor up, reaching an area which was definitely not finished yet. Apparently nobody here cares about closing down this area, and it was not the right place to be for us. But I think that this floor might get some more shops/food outlets.

.
Up the escalator, and we find this construction side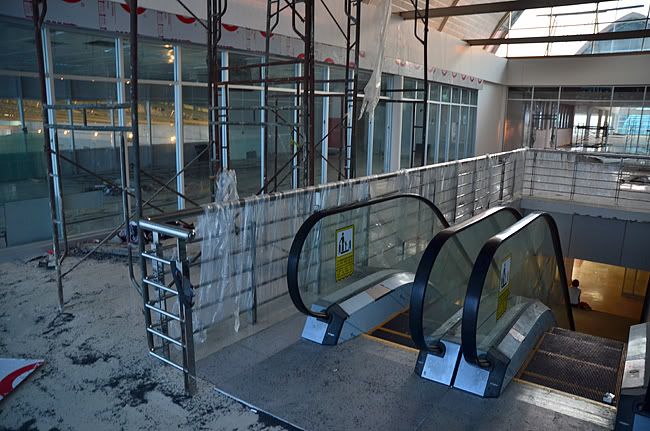 .
Should all be finished in 2 days? The the President comes to open this place hehe
Before our flight departure we took a seat in the rather busy departure lounge, and watched some traffic. For example the ATR72 of Wings Air (Lion Air), or TransNusa Fokker 50 PK-TNA which came in as well. Further away I noticed the tail of a Merpati MA60 but it was not in 'active mode'. Silk Air's A319 also arrived and was being served at the gate. Soon also our expected Boeing 737-800 came in, unfortunately spotting the old colourscheme, and judging from the registration, also the old interior.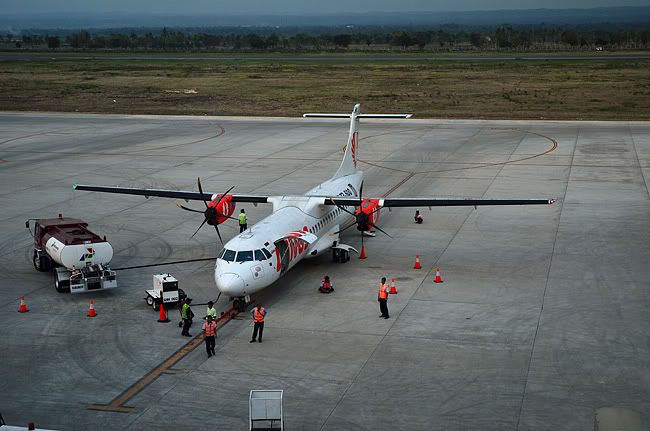 .
Wings Air ATR72 PK-WFI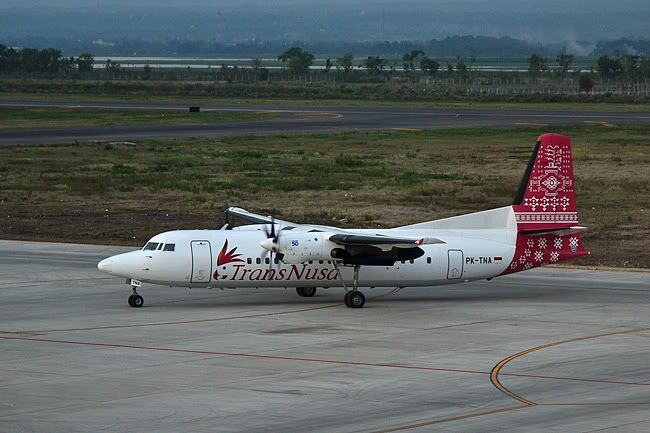 .
TransNusa Fokker 50, good to see this 'made in Holland' prop at this airport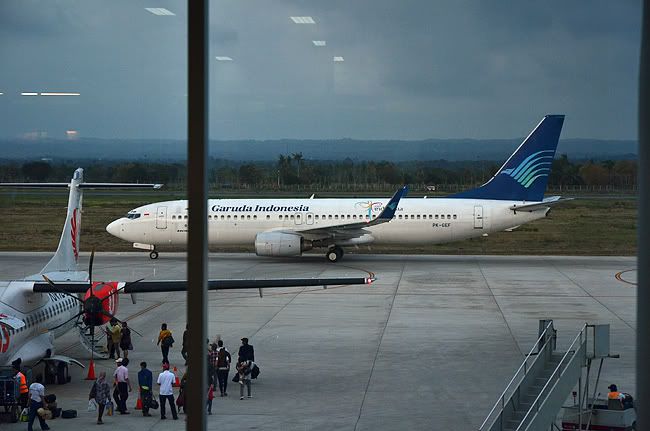 .
Garuda's 737-800 arriving from DPS
Just minutes before boarding from gate 1 was commenced, a power outage resulted in a completely dark building for a few minutes, but as soon as it came, the power returned. I felt sorry for the staff now, since they had to restart their computer system before boarding could start.
The boarding pass was scanned and we were allowed to walk down the stairs, leading to the apron. Nobody seems to take care for the passengers here, it's freedom all around. We make some pictures on the apron, and also the Silk Air which was parked next door.

.
Silk Air boarding for Singapore (A319 9V-SBG)

.
On our way to this Garuda 737-800

.
Boarding via the rear entrance
Flying - Garuda Indonesia
| | |
| --- | --- |
| Flight | GA437 |
| Date | 18.10.2011 |
| Route | LOP-DPS |
| Aircraft | Boeing 737-8CX(WL) |
| Registration | PK-GEF |
| Scheduled Departure Time // Actual Departure Time | 18:55 // 18:44 |
| Scheduled Arrival Time // Actual Arrival Time | 19:30 // 19:15 |
| Class of Service | Economy Class |
| Seat No. | 27A/B |
PK-GEF is one of the aircraft which were not originally delivered to Garuda Indonesia. This particular example flew in Turkey as TC-IEB for Inter Airlines from 2002-2006 and I have seen this frame many times at AMS, operating for Dutch touroperator 'Kras Reizen'.
Boaring was via both doors, and of course we took the rear entrance, where we were friendly welcomed by a female cabin crew member. The interior we were facing now, was indeed not the newest one as recently featured in some other tripreports, but instead of the brown colours, the colour blue was making an impression here. Overall, a well maintained cabin; seat covers were made of cloth and spotting different patterns and tints of blue, the carpet must have been recently renewed since it looked really 'fresh' too.
Legroom was OK, I guess it was 32". There was an audio IFE in the armrest but not active during this short flight, so I can't comment on this feature.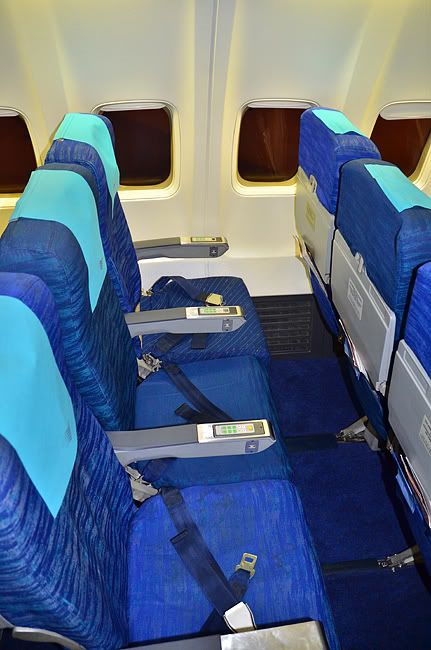 .
Economy Class seating on PK-GEF (old interior, no PTV's)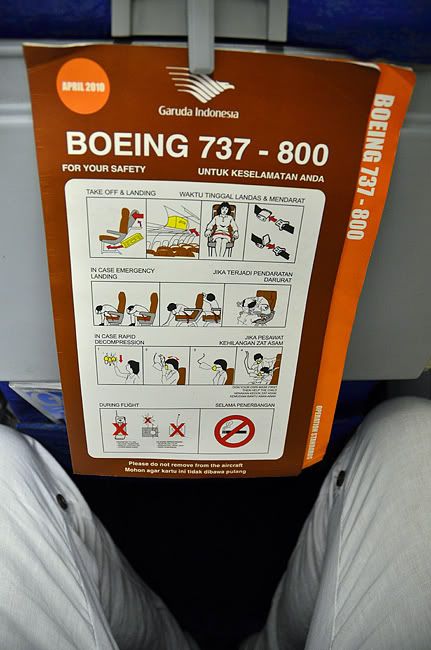 .
Legroom and safety card
Furthermore I was very impressed by the groundhandling in LOP. Despite the high load (I estimate a load of 90%), boarding finished really quickly and doors closed very early too. This resulted in more then 10 minutes early departure! Wow,… did you expect that to happen in Indonesia?
At the moment of pushback the cabin crew performs a manual safety demo in both Bahasa and English language, and they finished quick compared to what I'm used to in Europe. The cabin was checked and they took seats. Just prior before takeoff also the captain came on the speaker welcoming us on board and he estimated a flying time of only 25 minutes.
We lined up on runway 13 and took off in darkness. Plus the fact that nearly no lights were seen on the island (not so much houses etc) it was a bit of strange feeling.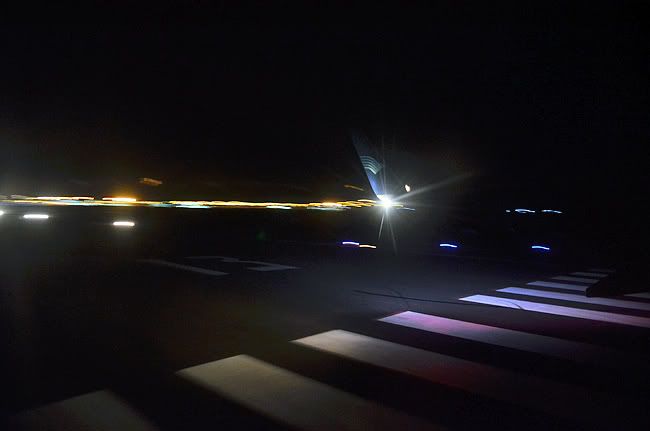 .
Lining up runway 13
When we levelled (not so high altitude) the cabin crew came around; one of them had a basket with boiled sweets, the other flightattendant offered a carton package containing jasmine tea (cold, nearly frozen).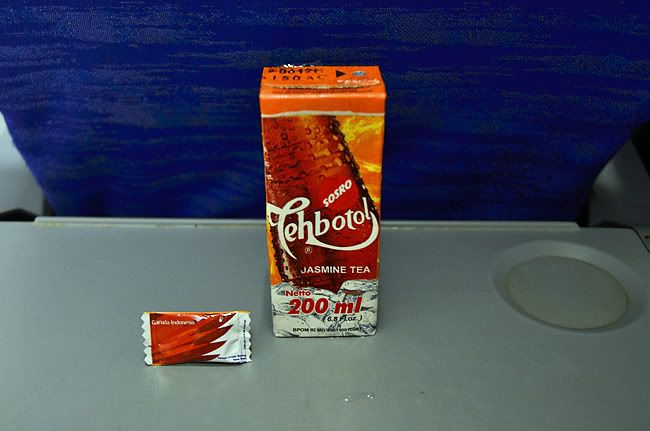 .
Catering offering on this short flight
Taxfree sales were not conducted on this flight, and the only other time the crew was seen was during the collection of waste prior to landing.
Soon we overflew the South of Bali, I recognized some areas around Nusa Dua, and we made some righthand turns to final approach for runway 09, where we landed about 20 minutes early.
It was obvious that the Boeing 737 jetengines are quite a bit faster then the props on the MA60.
Parking was next to a Garuda A330-200, bound for some Australian destination later that evening, and I noticed several other A330's around for the evening flights down under. QR was around with a beautiful 77W from DOH, and some other 737's by GA and Indonesia Air Asia were seen too.
We disembark, via the rear door again, say thanks to the crew and walk at a slow walk towards the arrival building, giving me some more possibilities for some photos.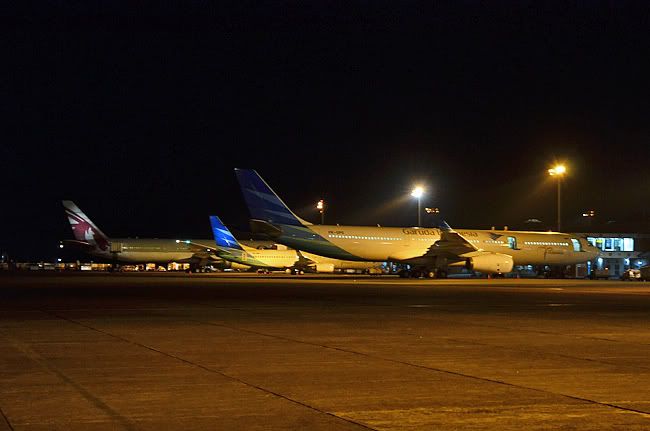 .
Garuda PK-GPG (A330), PK-GMD (B737) and Qatar Airways

.
Singapore Airlines also around with 9V-SRL, a B777-200

.
On final view on the 737-800 that brought us into here, PK-GEF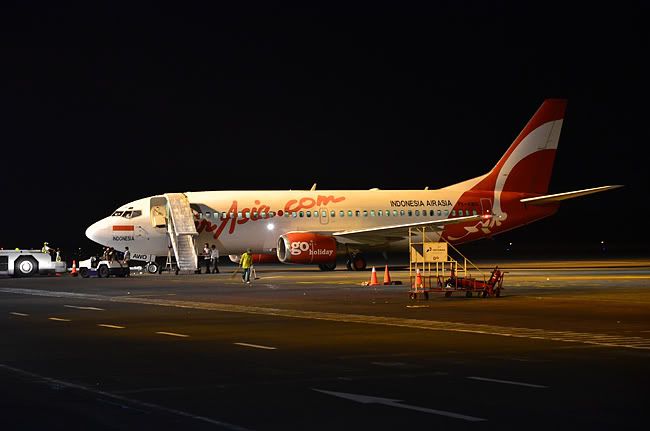 .
Old generation 737: PK-AWD of Indonesia Air Asia
Arrival procedures are were not excisting here, and within minutes we were on the busy streets of Bali again, where we grabbed a taxi to drive us back to Nusa Dua!
Well, that was Lombok for you, and Garuda. I had the impression that this tripreport is more about the island then about the flight, especially since it was such a short hop and nothing special to write about.
Nevertheless I hope you enjoyed this report again, giving you some good insight on the island also. It's is so 200% different then Bali and definitely an experience to do again!
Thanks for reading, and don't be shy; you're welcome to leave a comment or ask further questions to me. I would appreciate it
Regards,
Eric