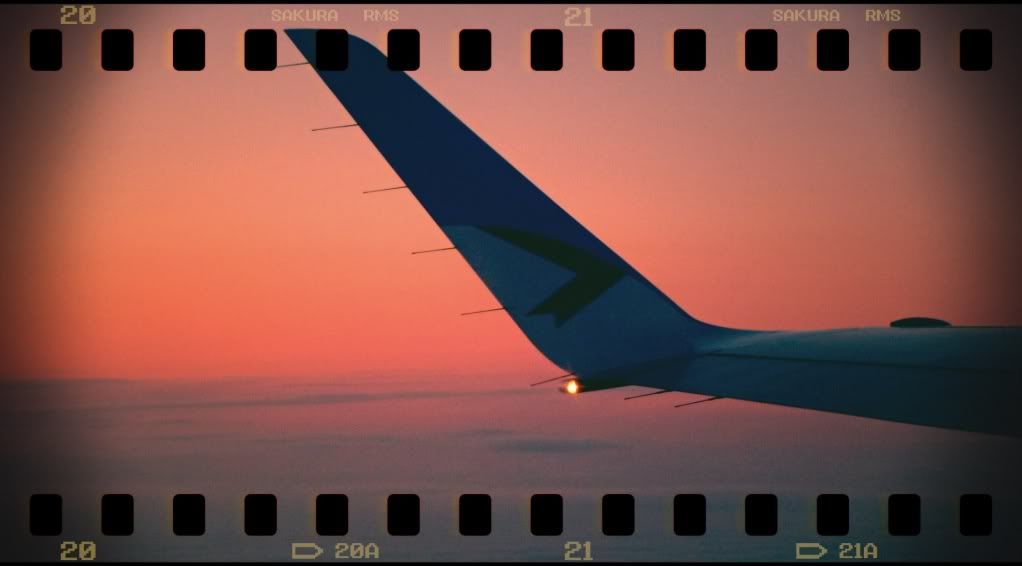 Introduction
Here's another new route thanks to the Estonian Air's recent expansion spree here in Finland. Here are a couple of my recent reports about the new flights (or attempts to log them...):
-
How Not To Deice A Plane: HEL-RIX-TLL
(by
FlyingFinn76
Mar 26 2012 in Trip Reports)
-
Day Of The Albino Planes: HEL-JOE-TLL-HEL
(by
FlyingFinn76
Mar 29 2012 in Trip Reports)
So this time the target was the Kajaani - Tallinna route. Again, I booked during OV's great sale back in December 2011 and managed to snatch a very nice 35 EUR fare and even on the inaugural flight, not too shabby.
With the flight departing at 6 AM (yawn!) it obviously meant that I had to get up to Kajaani the previous evening. Back during the booking phase Kajaani was an AY stronghold which of course meant no dice for scoring any nice one way fares, so I thought a bit out of the box and grabbed a flight to OUL with Norwegian for 20 EUR - gotta love the price war going on on this route! This left me enough time to make my way to the city centre and connect with a regional train to Kajaani, two hours away. Thanks to VR's new pricing model that train trip cost a meagre 20 EUR.
Of course some time later AY finally announced that they will stop flights to KAJ as unsustainable - they keep dismantling their domestic network which considering their amazingly high cost base and far too large planes is probably a sensible thing to do anyway, businesswise at least. As usual, flyBE Nordic stepped in, quickly announcing three daily flights on the HEL-KAJ route. So now there would've been a sensible one way option - but considering everything (taxi cost at KAJ, BE fees galore etc.) it still was a bit cheaper to travel via OUL.
To come back from TLL I figured out this would be the perfect opportunity to try out the regional Finnish routes (TKU, TMP, VAA and OUL) ex-TLL launched by BE in late 2011. The schedules for the OUL flight worked the best so I decided to get back home via OUL as well, keeping things nice and symmetric. So I bought a ticket for 49 EUR for the noon departure.
Finally to get back down I chose another Norwegian ticket for another 20 EUR for the evening flight - the plan was to have enough time to go to downtown Oulu to enjoy a meal in one of my favorite restaurants.
So here's our planned route: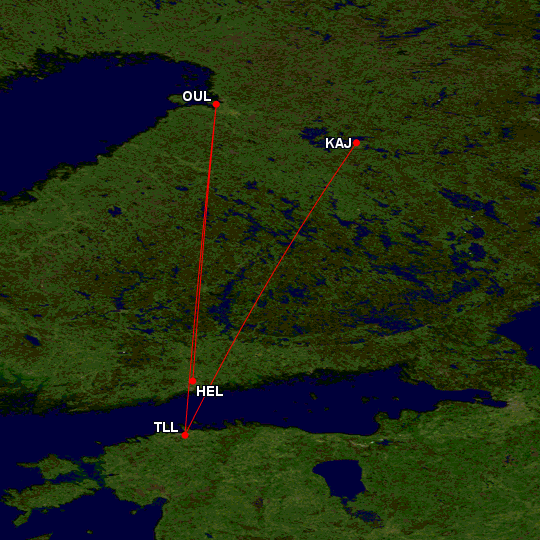 But things haven't been very smooth recently, so of course this trip would have to have its fair share of issues - fortunately pre-departure this time! In early February 2012 BE suddenly announced that all the regional Finland routes to Tallinn would be stopped in a few weeks - something which didn't really surprise anyone (at least me), but the swiftness of that decision did (at least me). I expected them to run these routes at least half a year or so, but their patience lasted only for three months.
So I got on the phone and called the Finncom.. oh sorry, flyBE Nordic Finnish customer service, got a very nice girl on the line who was only working her third day on this job but was very accommodating and nice and managed to sort out the perfect replacement plan (full refund was also offered) - TLL-HEL on the morning flight and HEL-OUL with AY with the 16.00 flight which was actually great as it meant I would only miss half a day of work instead of the full day. At the same go I managed to take care of another rebooking for a cancelled VAA-TLL flight but more on that on a later report...
So here's what the route map had been transformed into - not that different, really: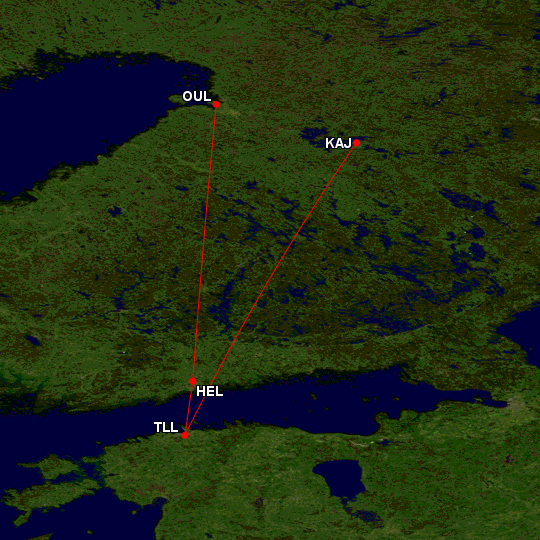 Enough blabbing, let's go.
Tuesday 3.4.2012
The outbound positioning trip was nothing special so I will just include some pictures of it and be done.
The ride was LN-DYA - unfortunately not the first "Famous Finns" tail I hoped for but at least a new one for me plus it had the onboard wifi so I was a happy camper: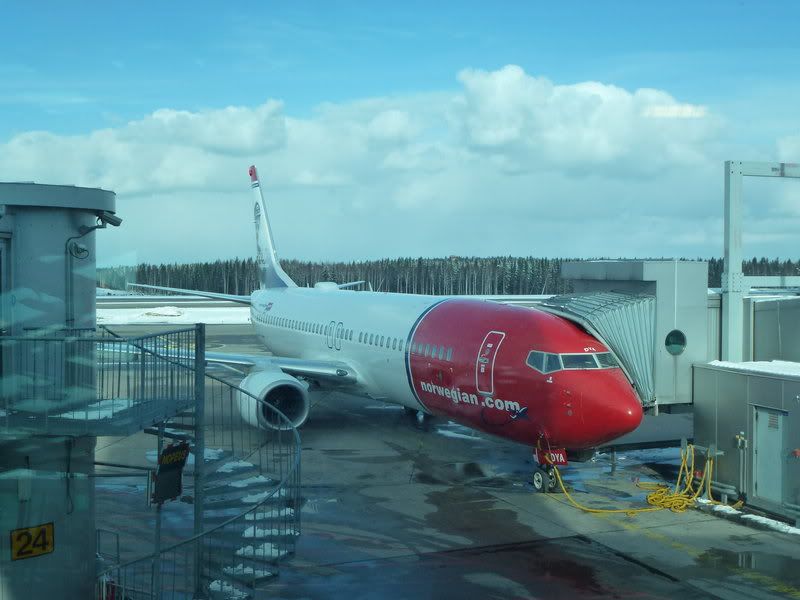 Was really surprised to see OY-RCC here - an ex-Swiss bird that LX M83 knows well. Looks gorgeous in that new RC livery: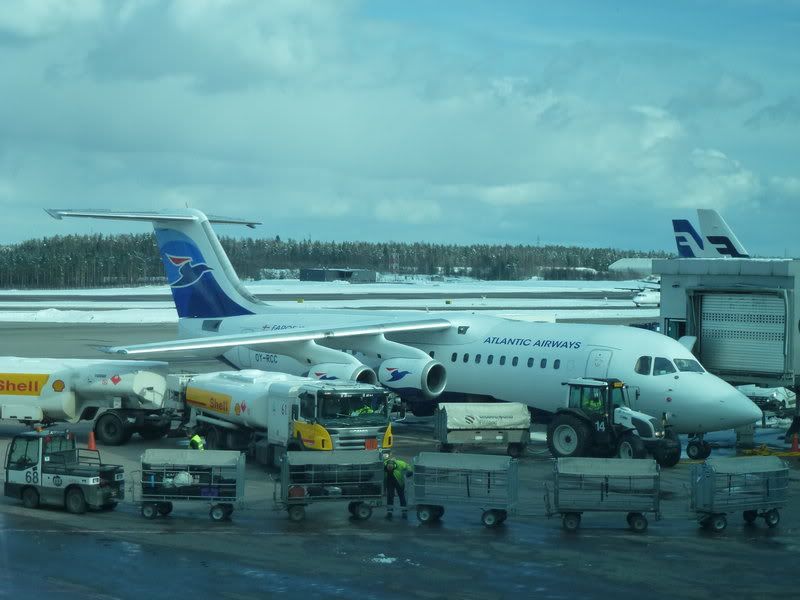 Of course it was operating for Blue1, who else (see my theme report on this topic:
Atlantic Blue: HEL-OSL
(by
FlyingFinn76
Mar 25 2011 in Trip Reports) ). Had a bit of a chat with the gate agent who told me that KF actually had *three* (count 'em) 717s that had gone tech at the moment).
Well thank you too: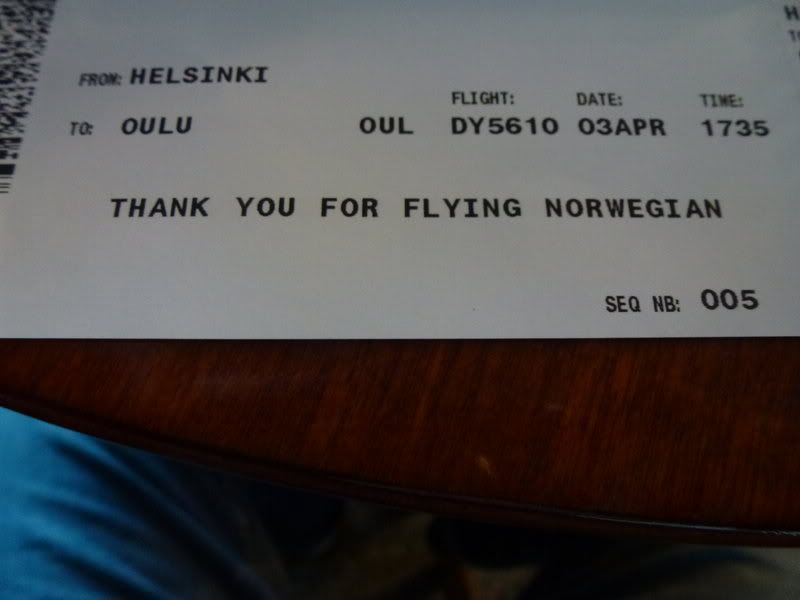 A pint of very nice beer from Åland - the most expensive pint I've ever had in Finland, though:
Love 1F - these seats seem to get assigned the last so most of the time you get a block of three for yourself and the legroom is unbeatable plus you get out of the plane very fast: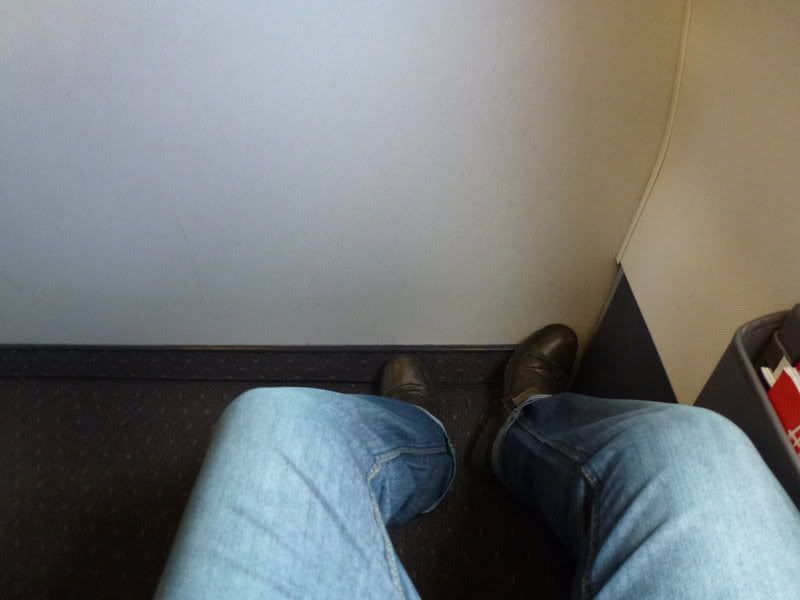 Here's the DHL depot for Jani: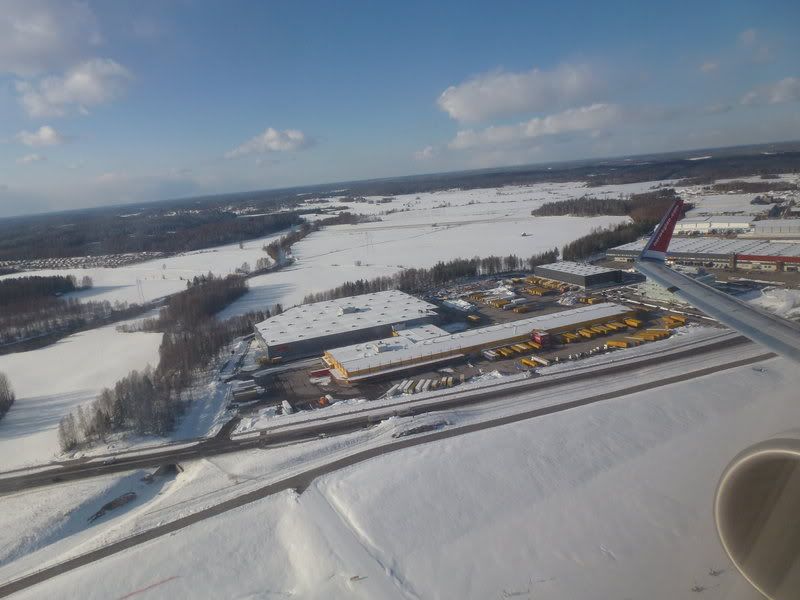 Nice weather: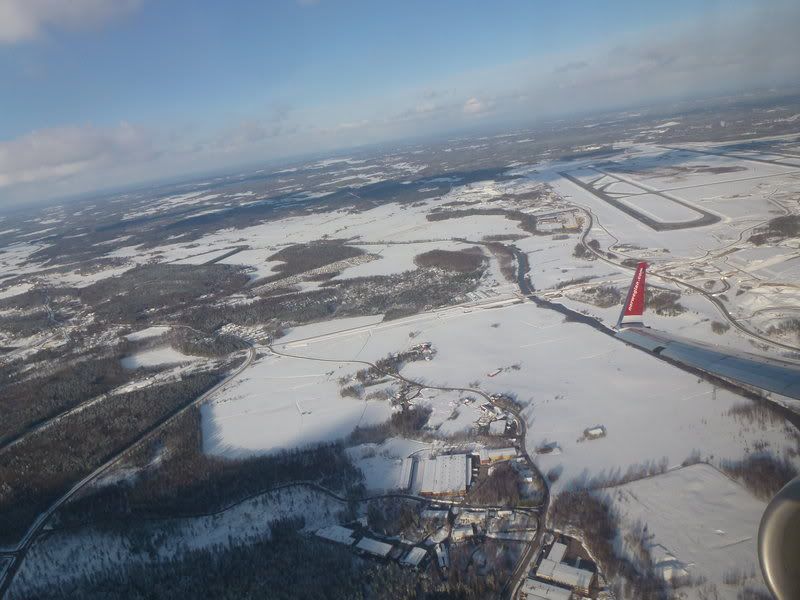 Since I missed the Estonian Air inaugural flight to JYV here's at least a shot of that airport: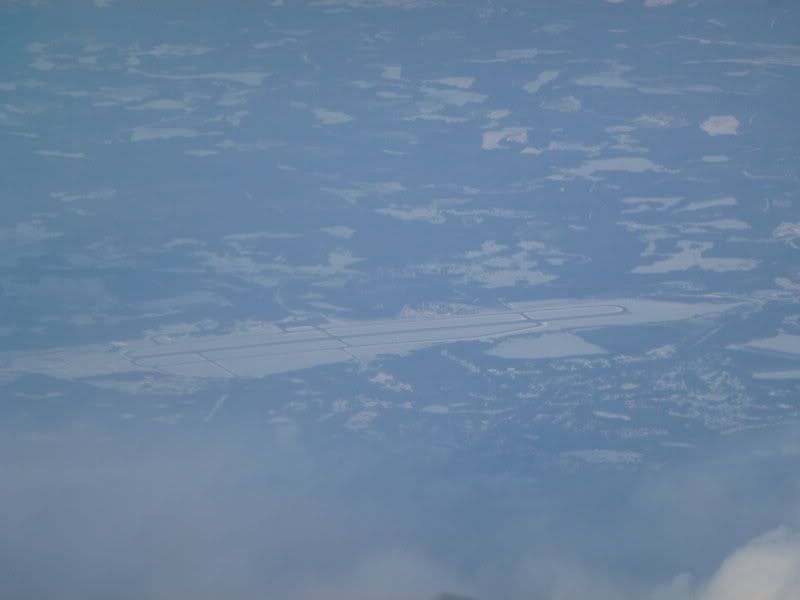 Approaching OUL over the endless flat fields of Botnia, "Texas of Finland":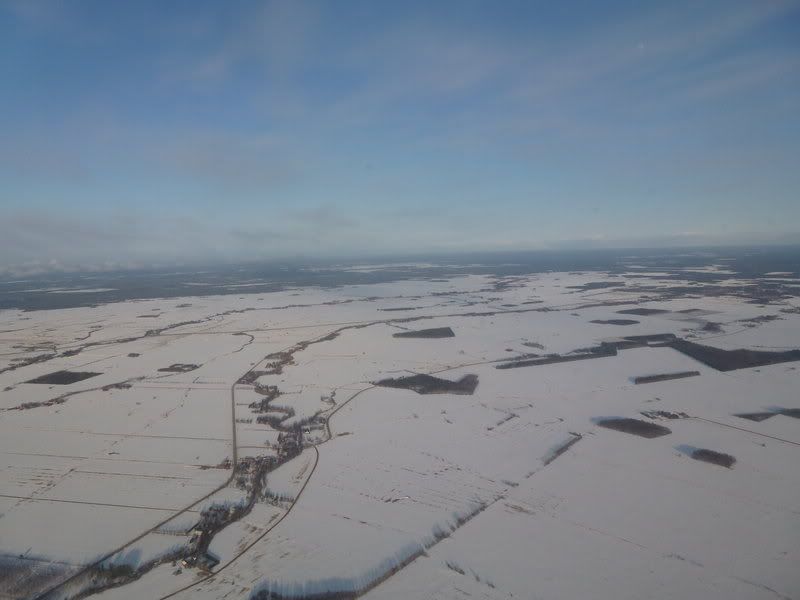 The Zeppelin mall in Kempele: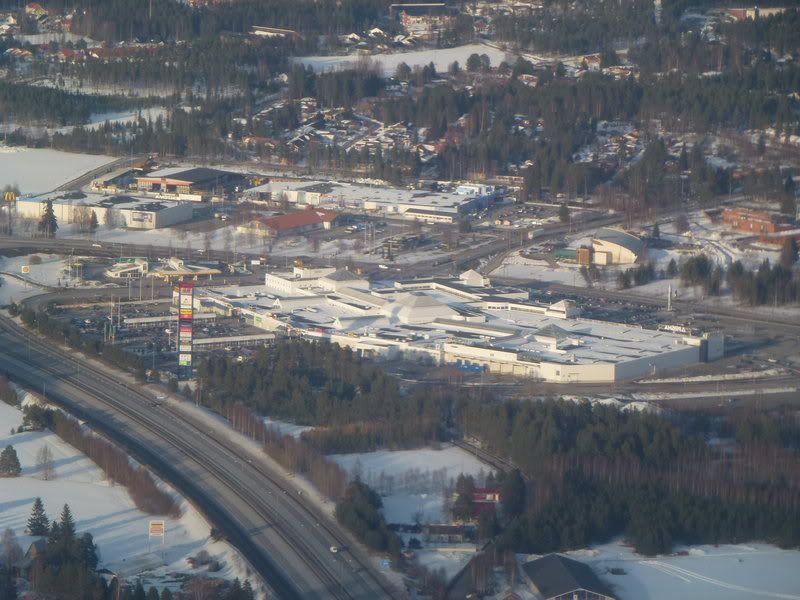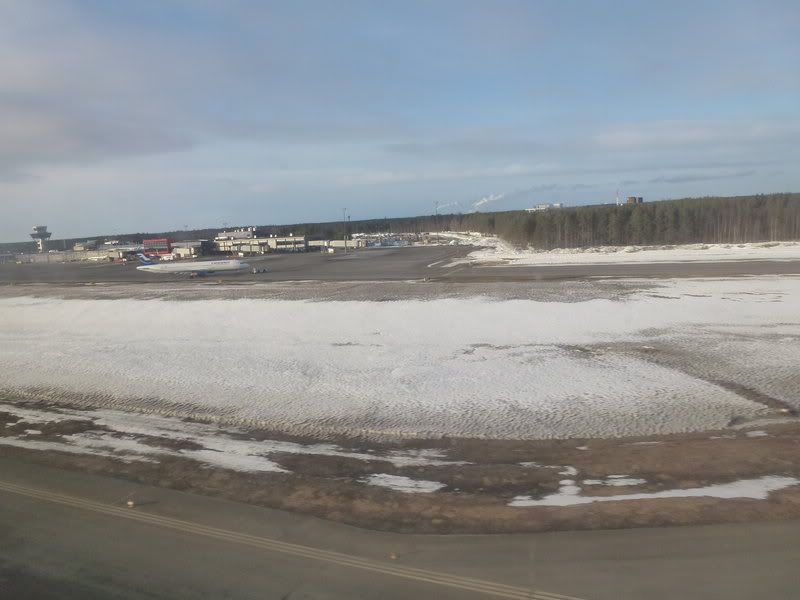 Something about the use of "mate" here gives me the creeps: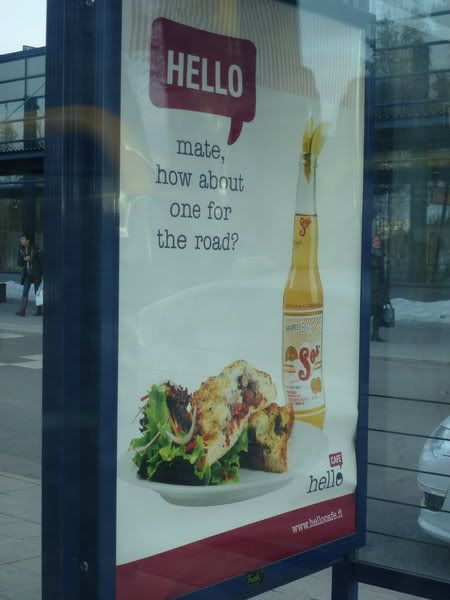 Oulu station: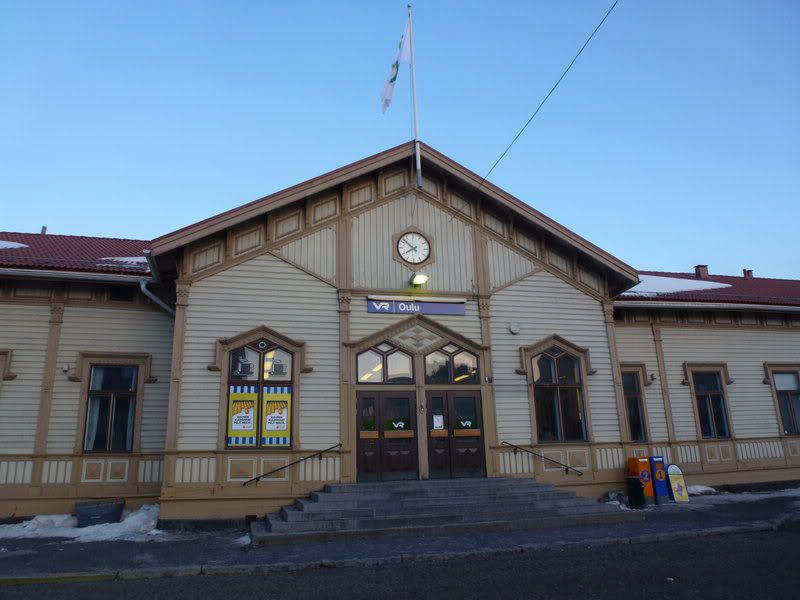 A very empty, old fashioned train for me today: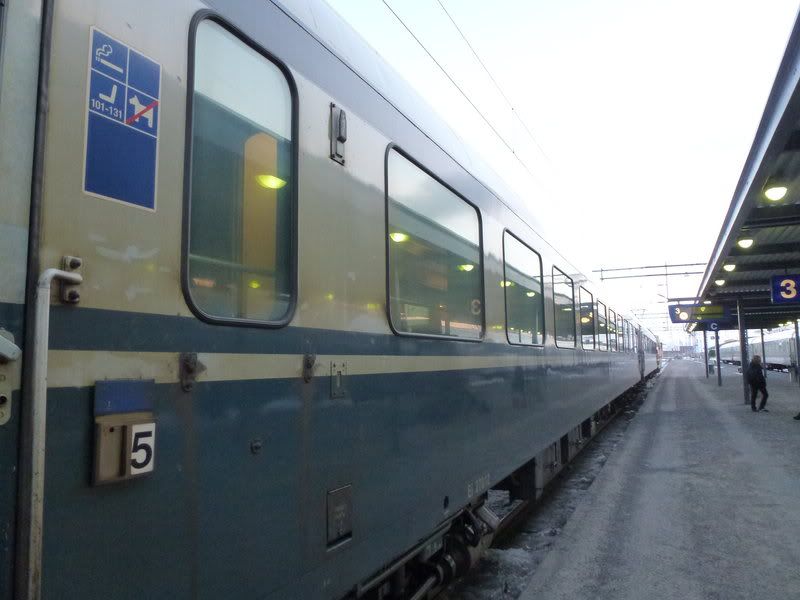 Chillin':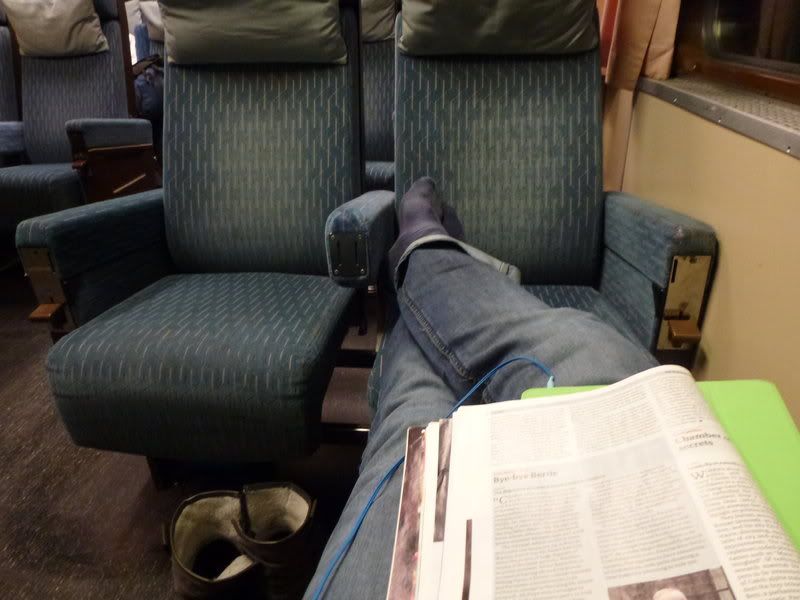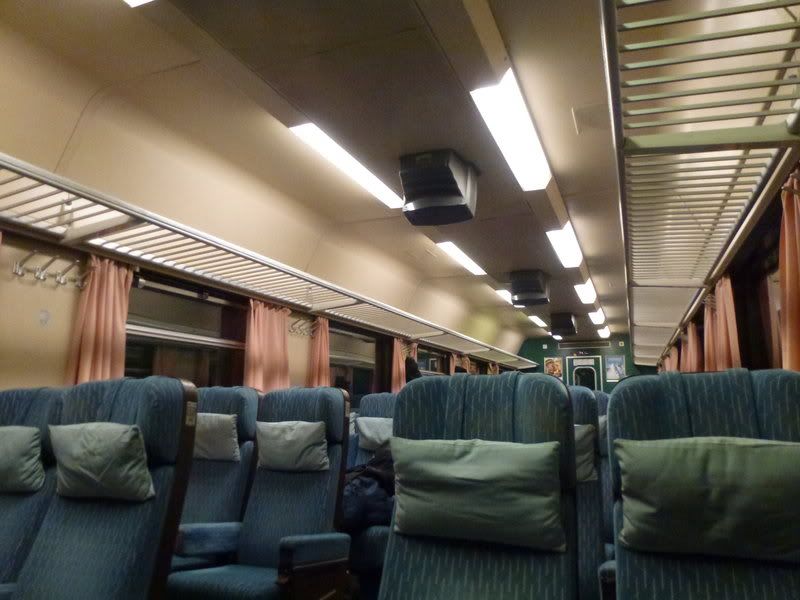 Almost there, just going round the huge Oulujärvi lake: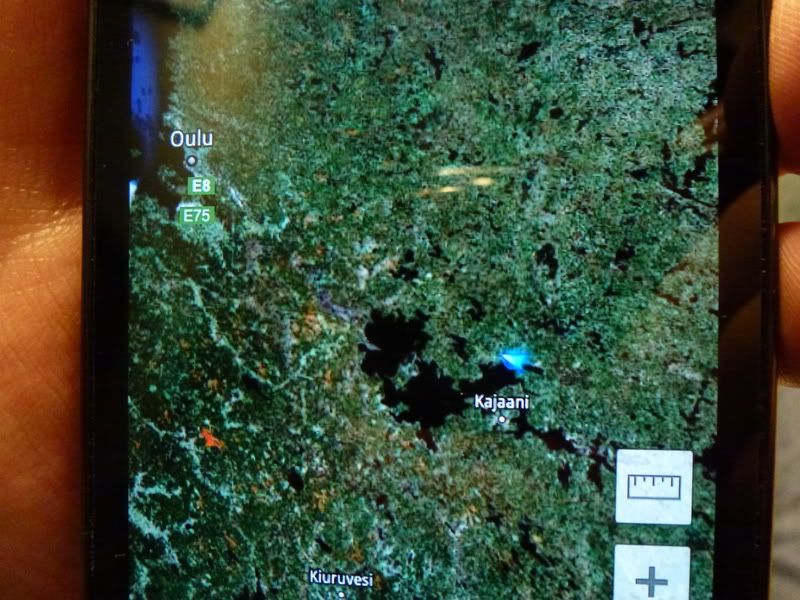 Kajaani station: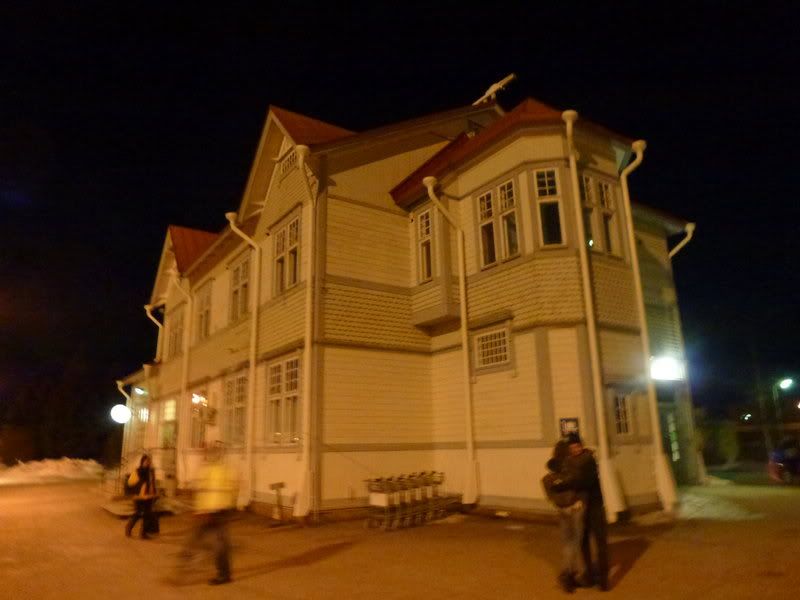 There are not too many towns which have a hydroelectric power plant smack middle of town (well actually there's another one in Finland):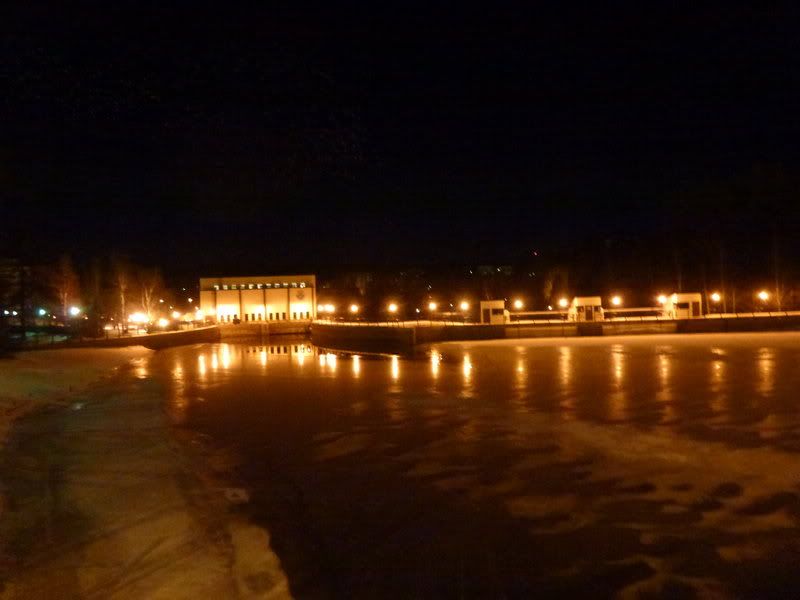 Hotels in Finland are generally very expensive. Bargains are few and hard to find, especially on these regional towns. I ended up staying at the Scandic - bad value for money for 93 EUR for the night but at least it was another partner to qualify for the AY promo. The cheapest hotel I could find was a mere 20 EUR cheaper and looked like youth hostel.
They were in the middle of renovation - about time I might add!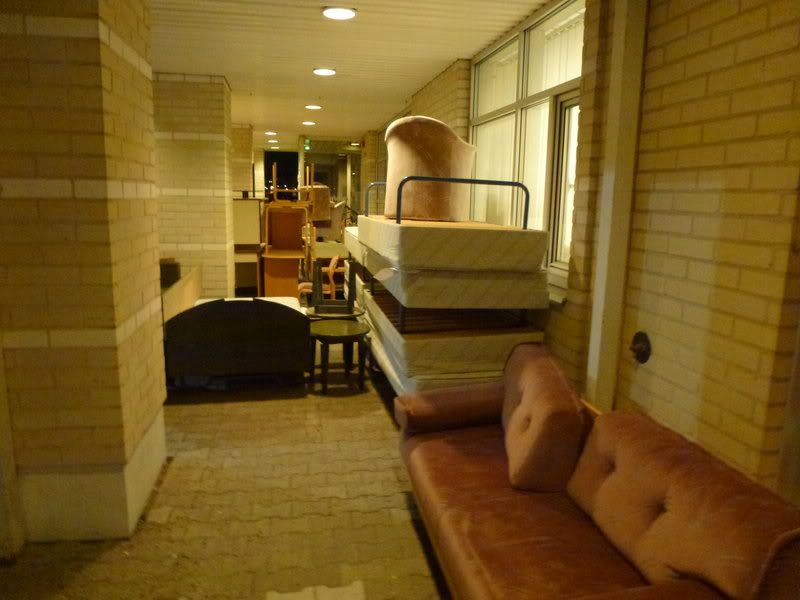 Your standard Nordic hotel room - positioning the twin beds this way was kinda weird, though: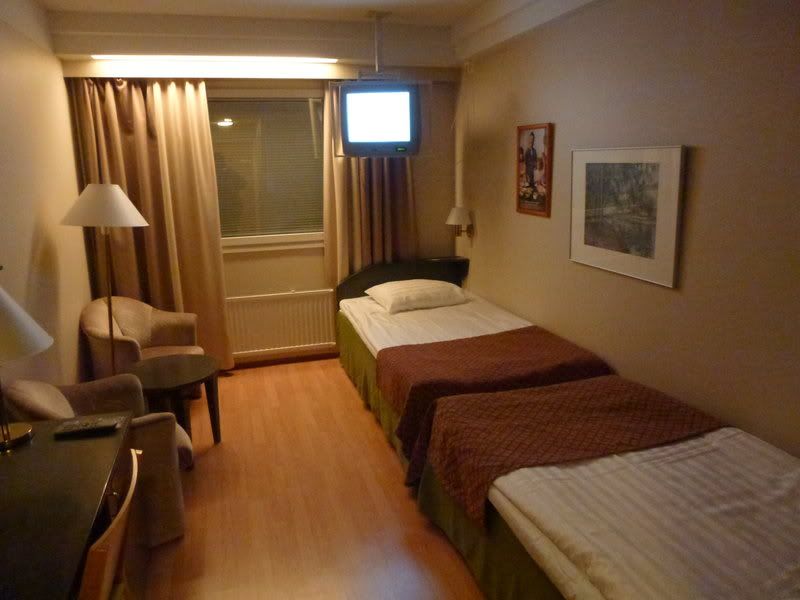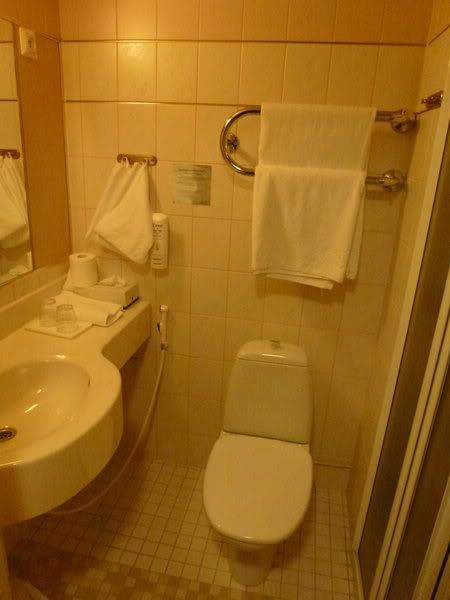 Scandic stills has these silly paper laundry bags - don't like them at all: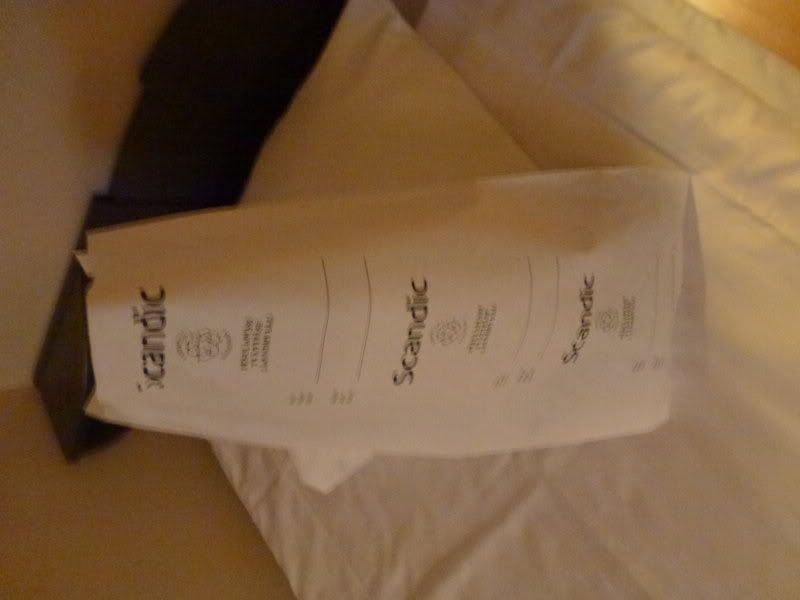 Apparently Scandic has some sort of partnership with the Naked Chef: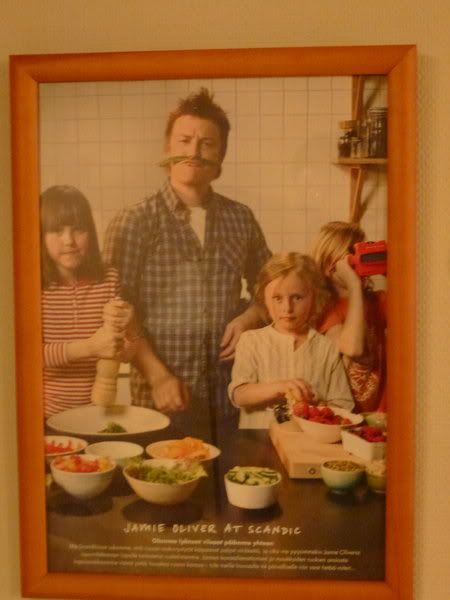 .
Wednesday 4.4.2012
Wake up is at 4.45 - after less than six hours of sleep - oh dear, here we go again. Shower, pack up and downstairs to check out of the hotel. As the breakfast will not be served until six and the kitchen didn't have time to prepare me a breakfast bag the very nice reception girl offers me to grab something to eat and drink from their lobby shop - actually very nice since the shop stocks some rather pricey and nice food items - I grab a large chicken sandwich.
The preordered taxi is already there so I hop in, have a bit of a chit chat with the friendly driver and soon enough get dropped off in front of the terminal building. Interesting to see that the taxi fare has gone up around 50% since I was here the last time, and that was only four years ago...
The check in desks are completely empty - I had thought about getting a paper boarding pass for my collection but decided to stick with my mobile one:
Looks like some photographers at least are attending this special event - all the pax are already in the glass aquarium holding pen: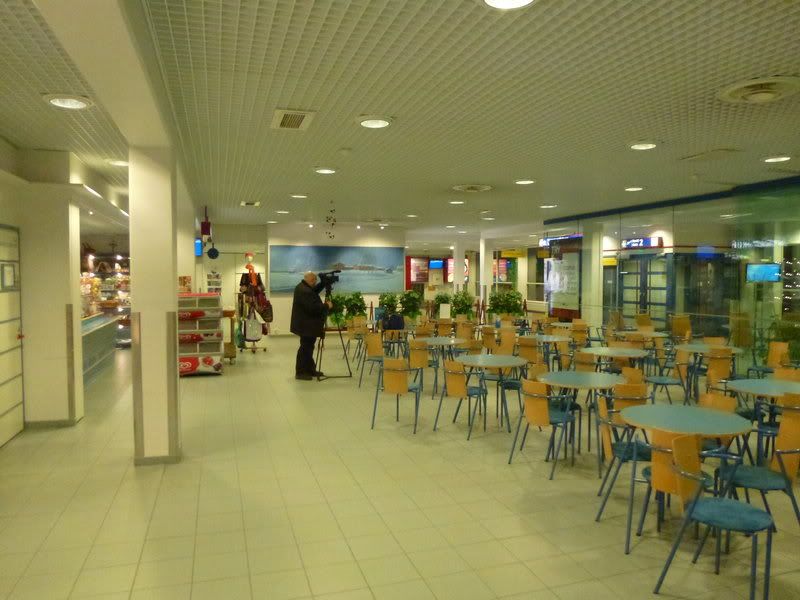 At least there's some variety in the destinations: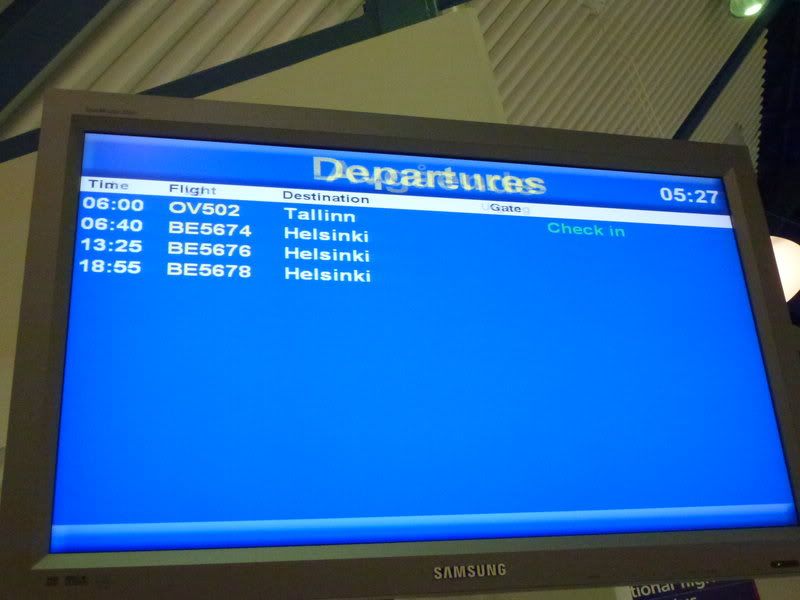 The security girl is fine with my mobile boarding pass. I get a random beep out of the WTMD and me and the security guy (who I remember from my earlier times here - used to come up here for business quite a few times) have a bit of a chuckle at the can of tuna they had to confiscate from the guy in front of me.
The holding pen - I count around 21 pax on this inaugural flight. The local paper the next day quoted "almost thirty":
Once the gate agents show up I ask about any celebrations - they don't seem to know anything. I point out towards the photographers and say "At least the press is here".
Soon the airport manager shows up and escorts the press guys to airside: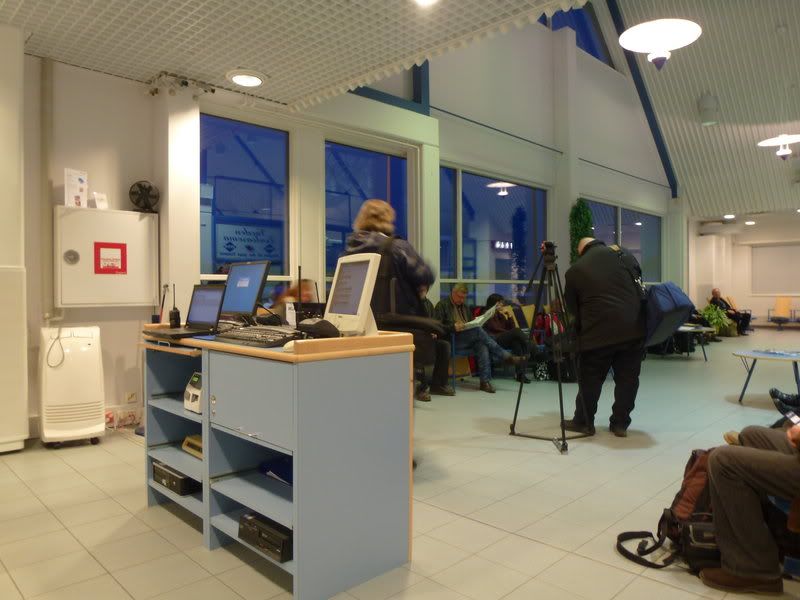 Right after shooting a few photos they go outside and boarding commences. I offer the younger gate agent my mobile phone for the boarding pass - she looks confused and keeps looking at my ID instead of the phone. The conversation gets quite funny:
(Upon realizing I am not holding the distinct, handwritten boarding pass the other pax have):
- You didn't go to the check in desk?
- No, there was nobody there and besides that I'm already checked in, sequence number 1.
(types on the computer)
- I see you are already checked in - seat 19A?
- Yes, I told you, sequence number 1.
- You must always go to the check in desk here.
- But there was nobody there.
- …
- Thanks.
A bit less smooth than with the printed OLCI BP at JOE...
So outside to the cold tarmac and yes, it is my first OV E170 there: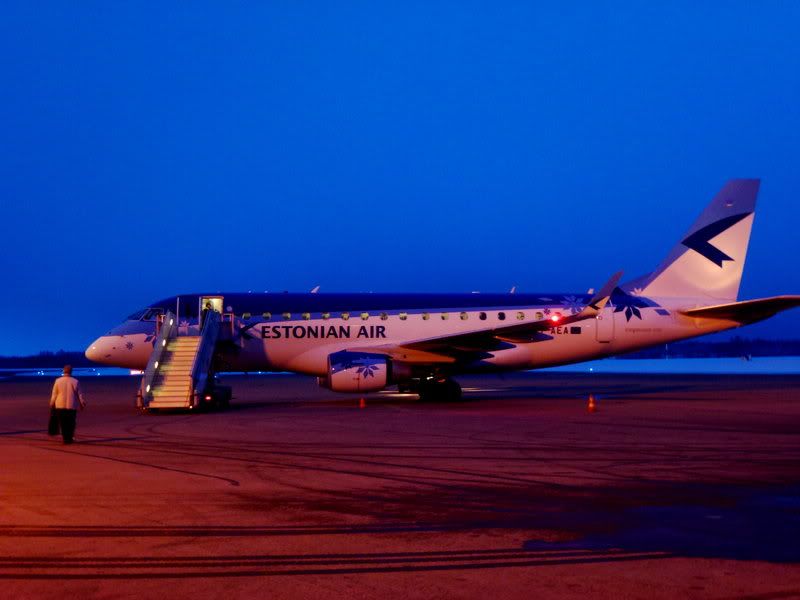 This flight was originally scheduled on a CRJ-900 but at some point got switched over to the new E-jet, very much appreciated. So today ES-AEA, their first E170 will be doing the honors. This bird is ex- OH-LEE (alwaysonaplane must like this reg), AY's first E170. So this is my first time flying ES-AEA, but fifth time with this actual plane. And not even my first time departing KAJ with her as I did fly KAJ-OUL(-HEL) with OH-LEE for work in 2008.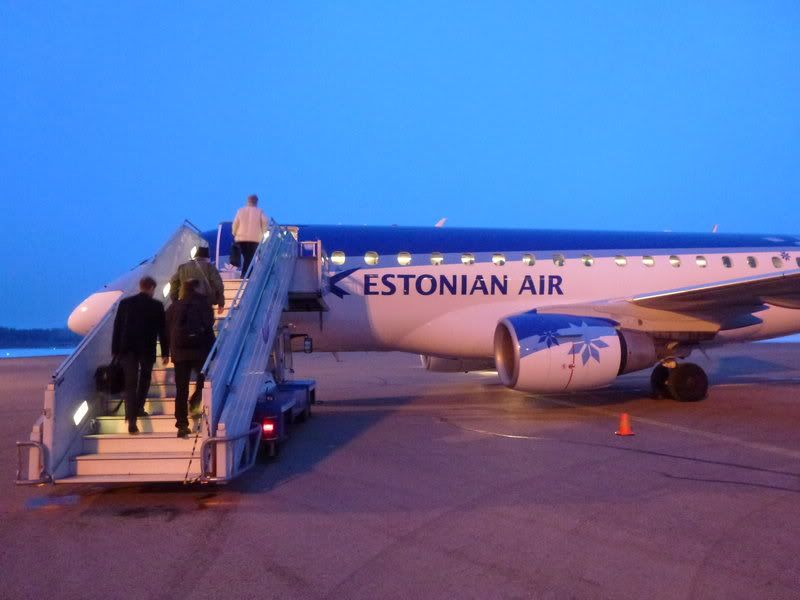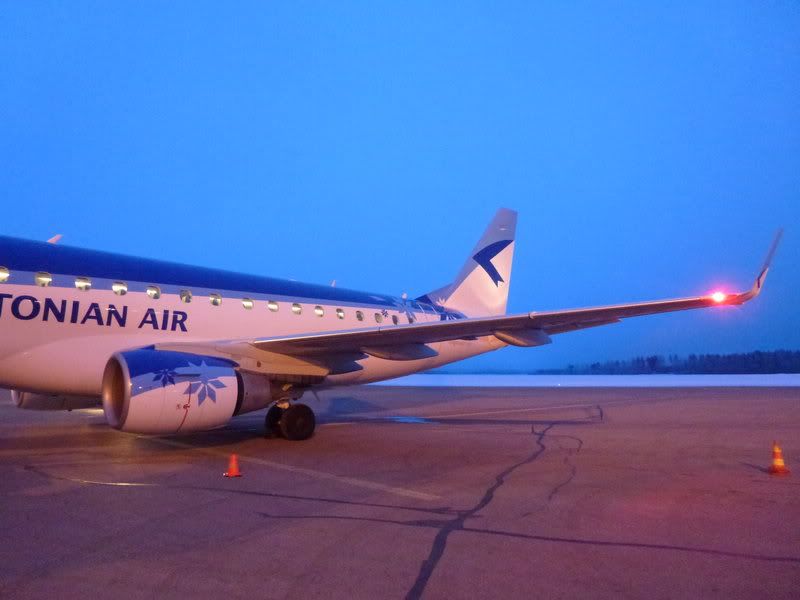 KAJ - TLL
OV502
E170 ES-AEA
Seat 19A
6.08 - 7.05
Inside a bit reserved blonde purser (with that silly OV purser hat) greets me. I wasn't sure what OV had done with the cabin interiors but first glance at the seats tells me: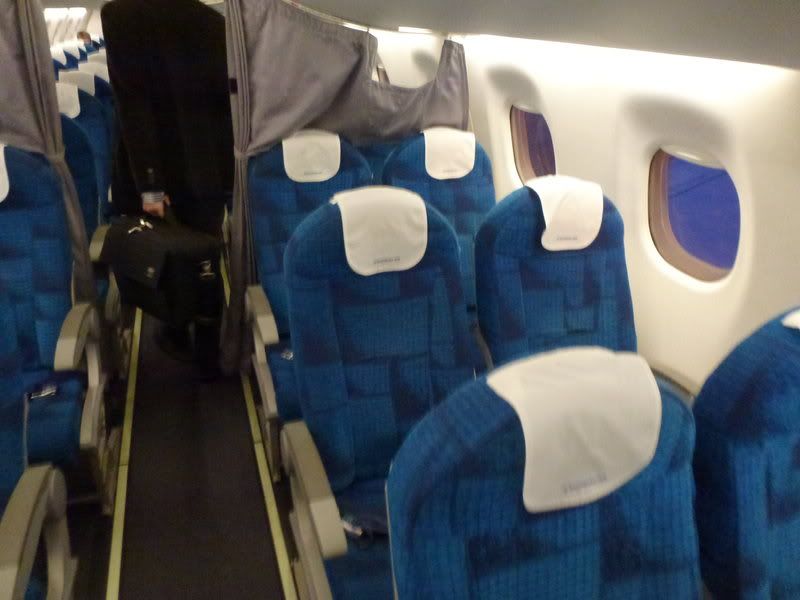 Yes, this is the genuine AY cabin: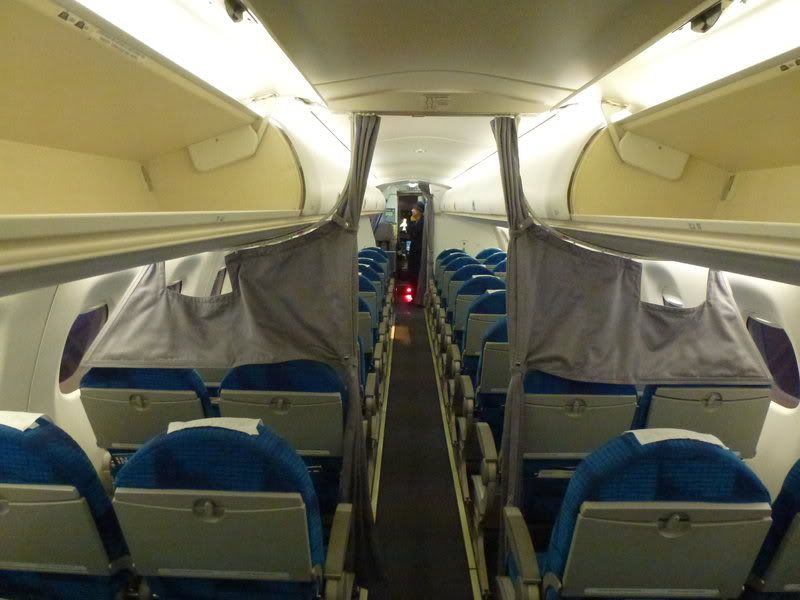 I make my way to the last row, commenting on the seats to the much nicer and friendlier (and younger and prettier) FA there. We chat a bit - she says she has mostly flown with the 737s and the CRJs but "must get used to" the Embraers. A very nice and adorable FA, maybe not as cute as "THE FA" like AYA333 put it but great in other ways. I ask about the inaugural celebrations and she says that "We do have sparkling wine service for you later on" which is like music to my ears.
The weird pyramid shape of the terminal building: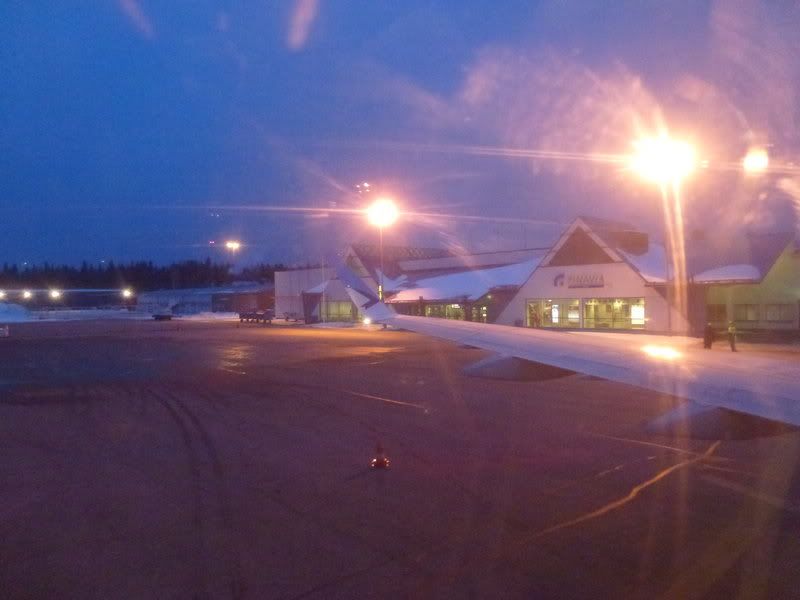 The overnighting BE bird: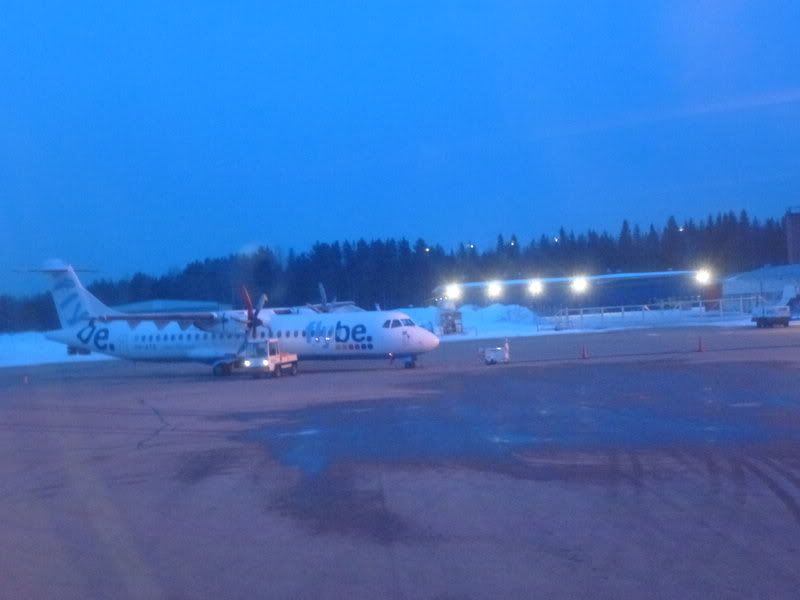 Finavia station manager with the photographers: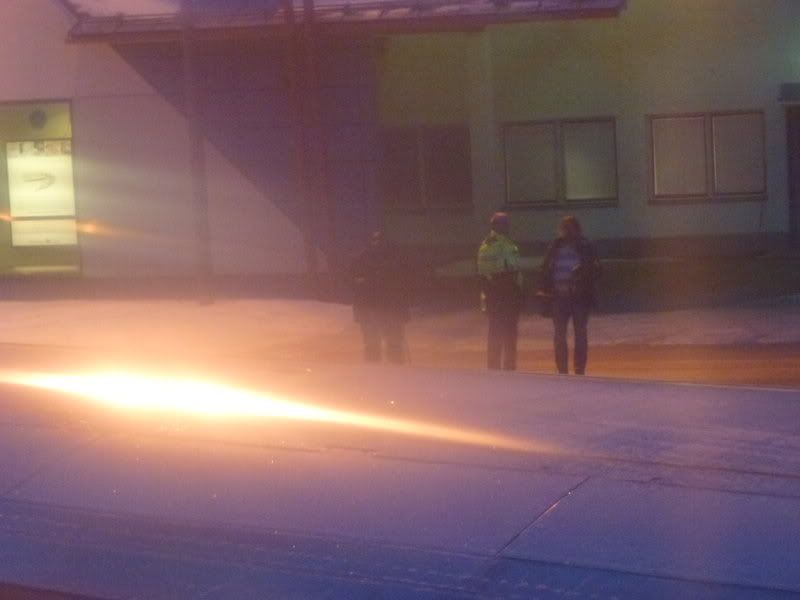 Cabin view: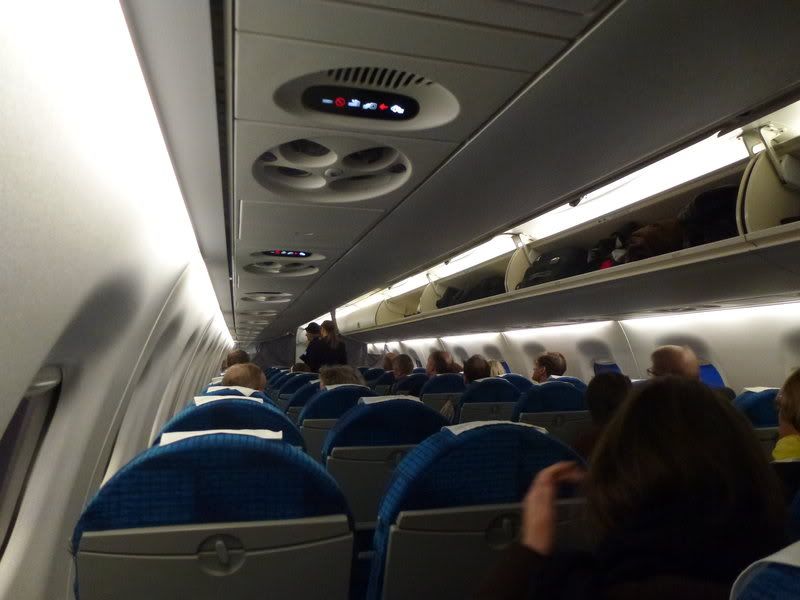 The last row on this side has no wall between it and the back galley:
As the nice FA is seated on the jumpseat right behind me I fully expected her to tell me to put my camera away but it never happened - all through the take off and landing - tha'ts a good sport:
Some other brass: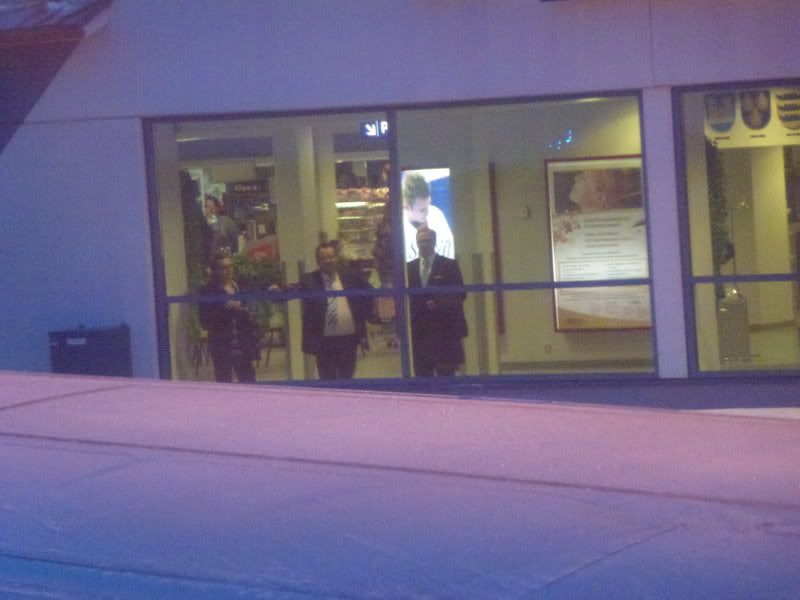 Be careful with the APU, please: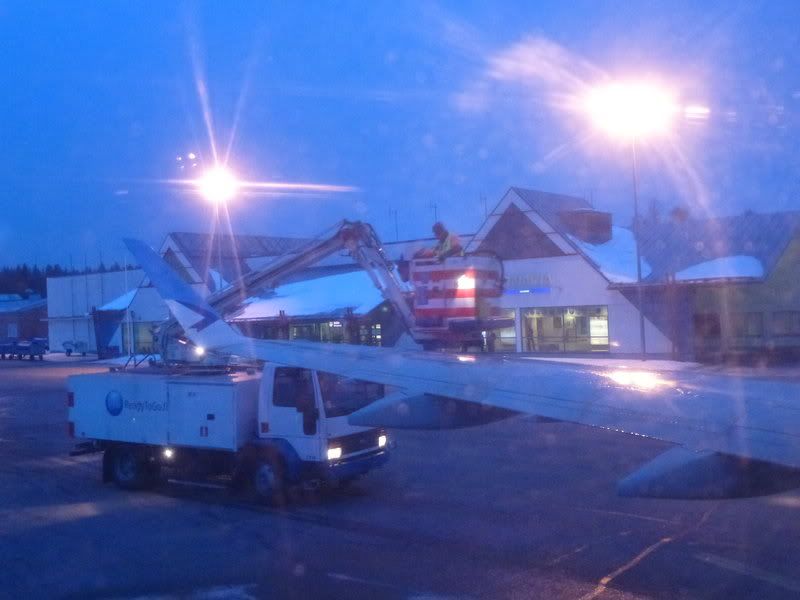 The cabin divider is set around halfway down the cabin - there seems to be one passenger in Premium or whatever they call that product nowadays.
The purser's welcome speech mentions the inaugural status of this flight, very nice. Flight time is announced as an hour.
Departure is eight minutes late, probably due to the deicing process taking its sweet time. Take off is from 07 - daylight is fast approaching: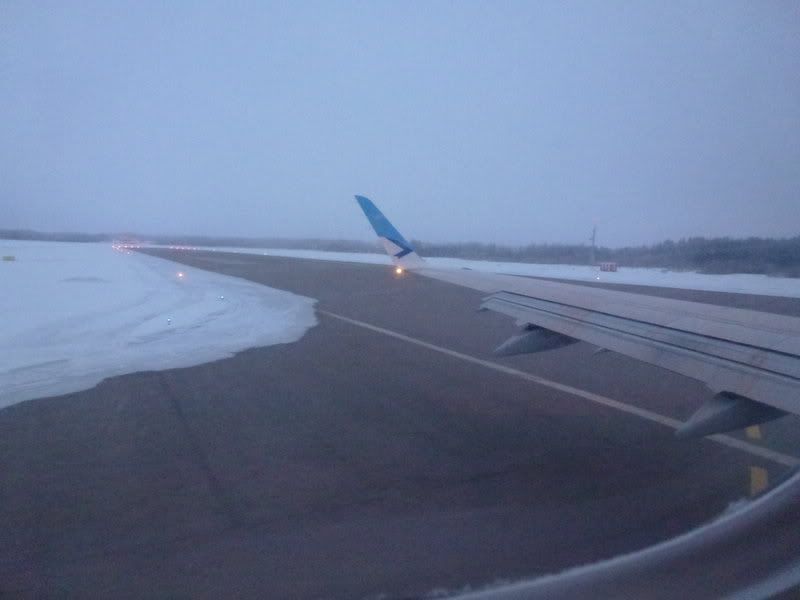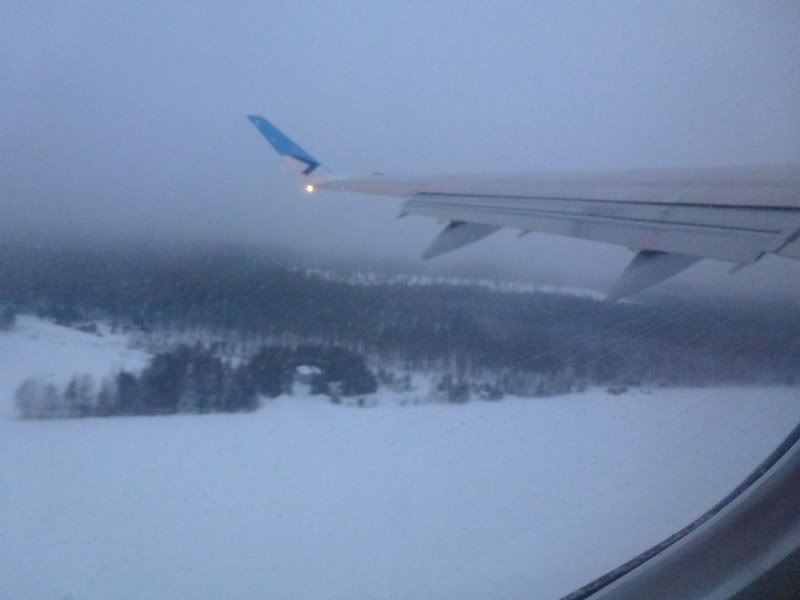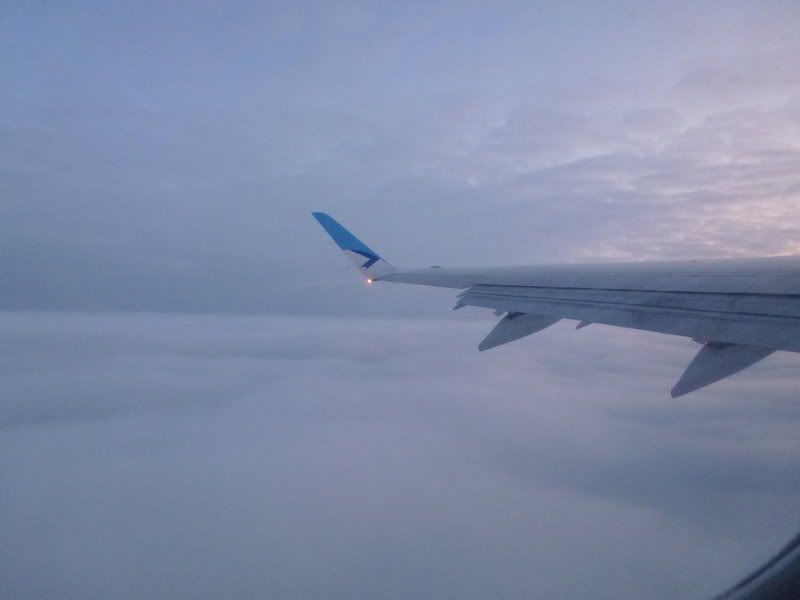 Nice sunrise over the eastern horizon: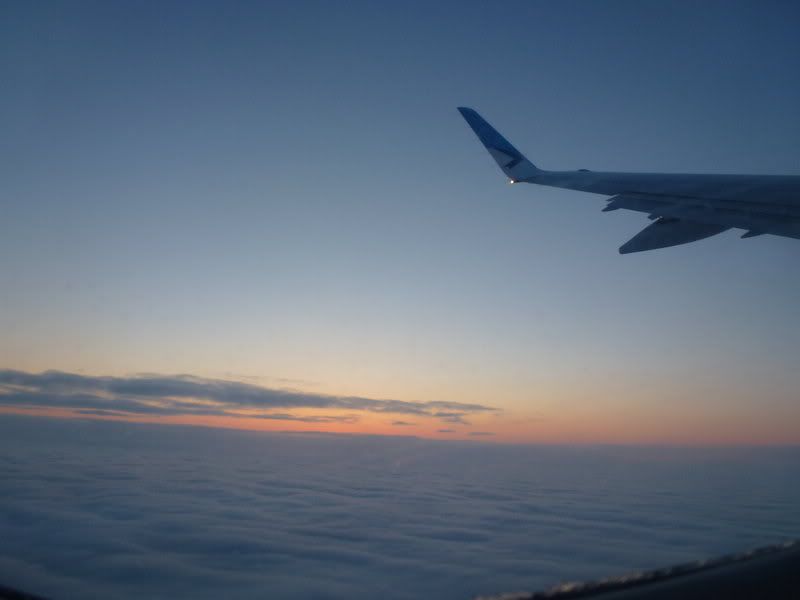 That winglet is very classy: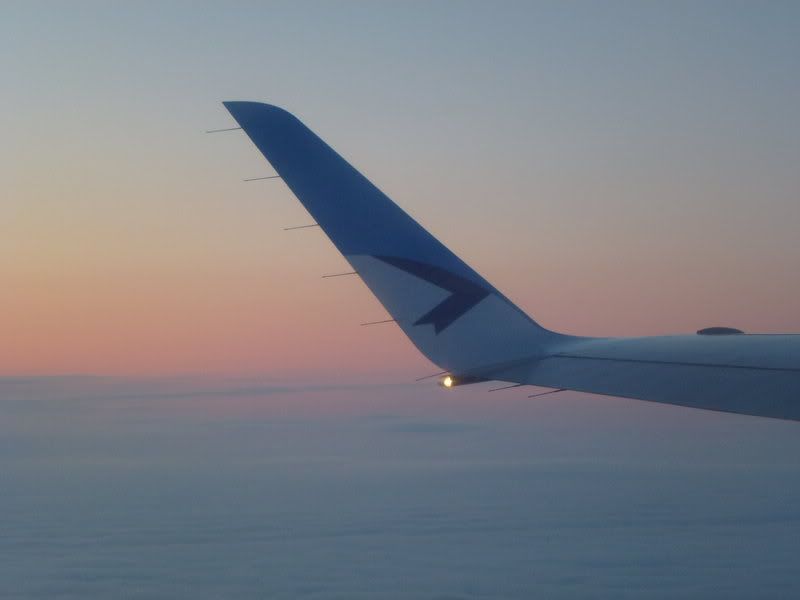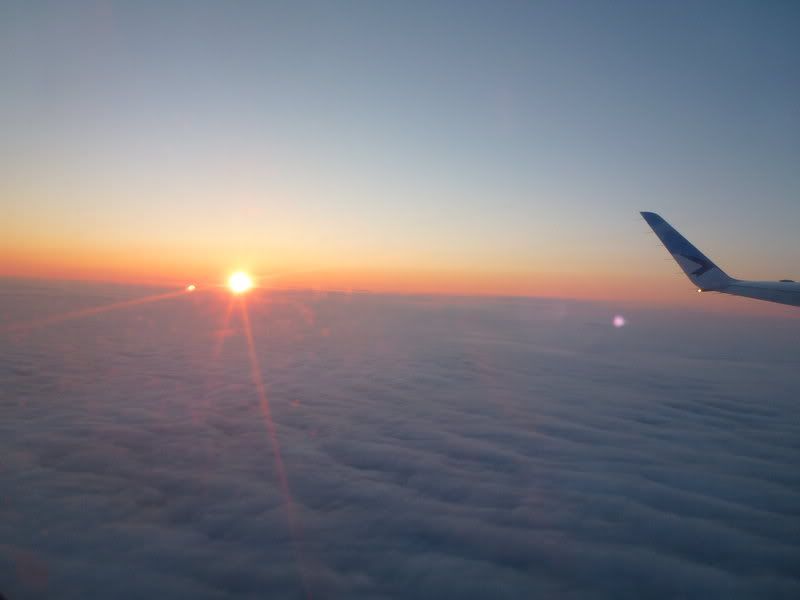 It soon clears up: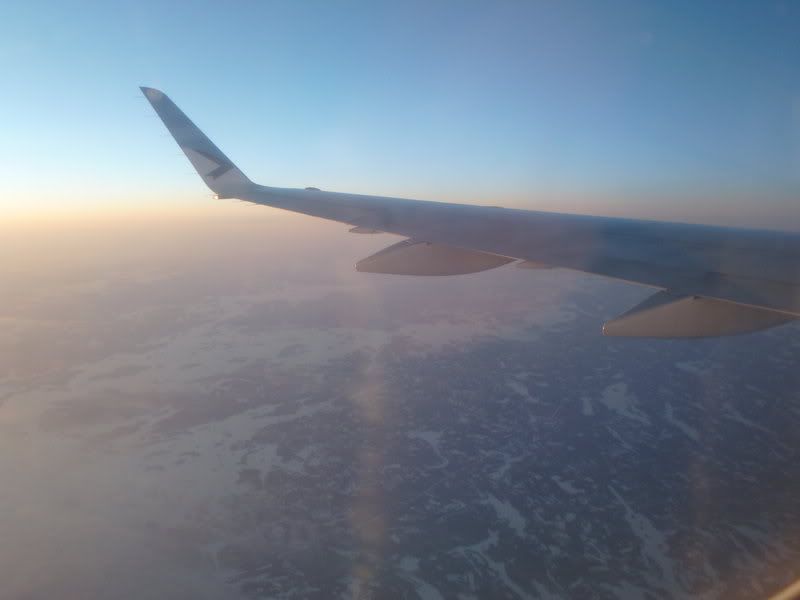 Right after reaching our cruising altitude the FO makes another announcement, mentioning the inaugural flight and doing a bit of a rap on how the people can now reach Europe much faster and blah blah. He also mentions that "Our cabin crew were specially selected for this first flight" which is a nice touch and at least on the younger FAs part is so true.
Service starts with a nice chocolate praline: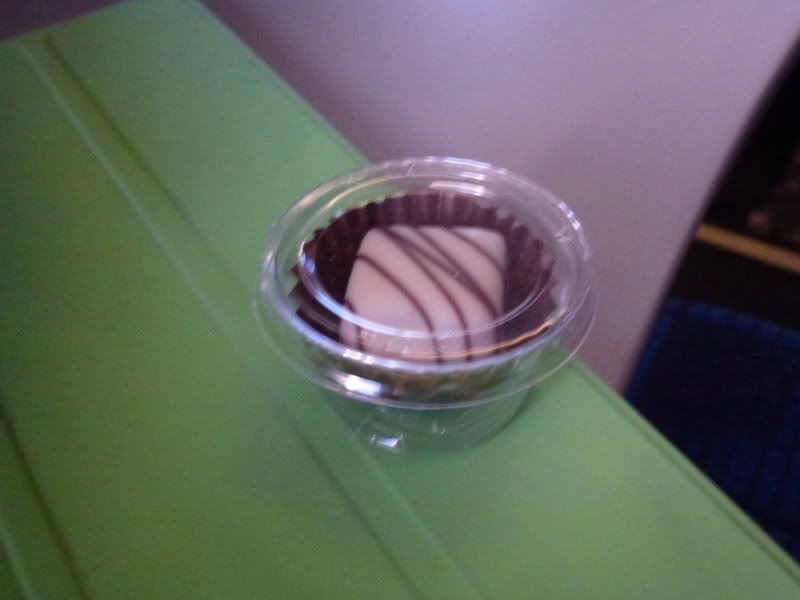 Followed by the by-now-standard OV muffin with the promised sparkling wine (very surprised to get a full mini bottle instead of a glass!) and coffee: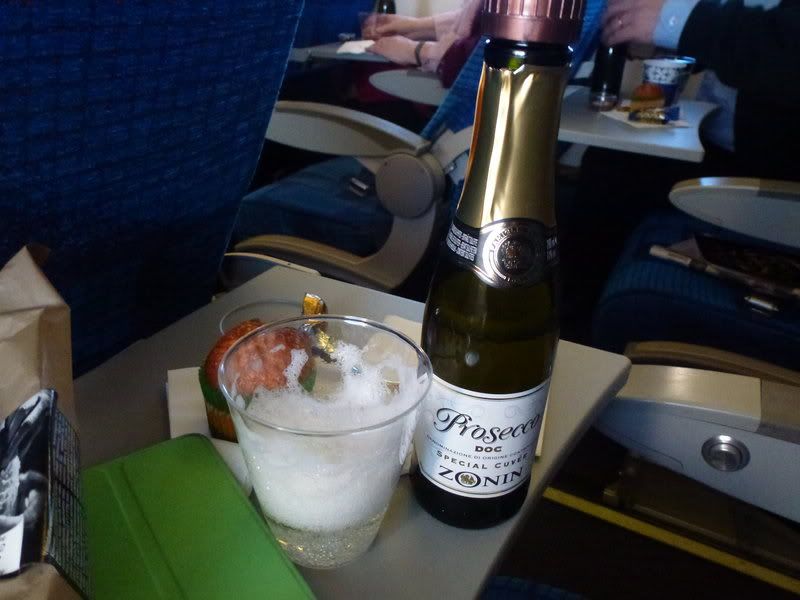 I eat my Scandic courtesy sandwich which doesn't leave any room for the muffin: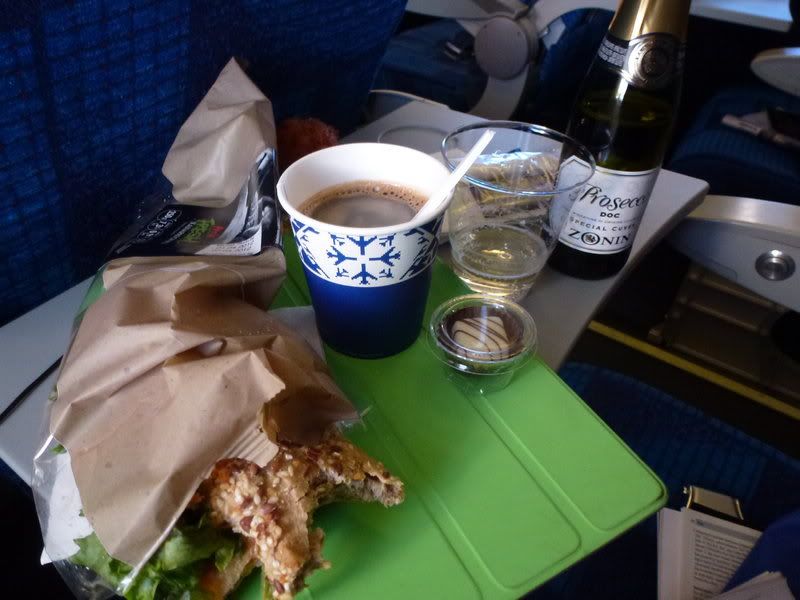 All in all a very nice spread for a flight of this duration and something even Jonas would be quite satisfied with, I'm sure.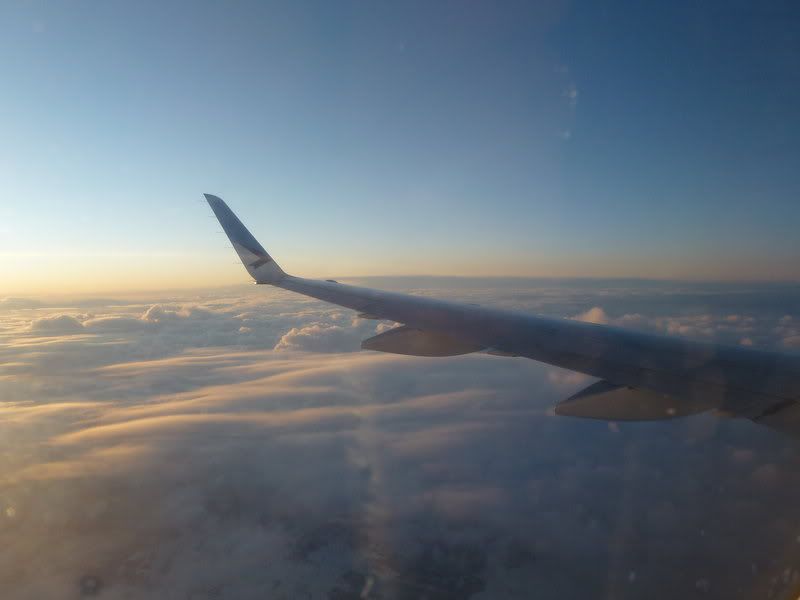 Around forty minutes after departure the captain already announced descent for TLL, and eventually the Estonian coastline comes into view:
AYA333 will be happy to see that Estonia has regained some snow: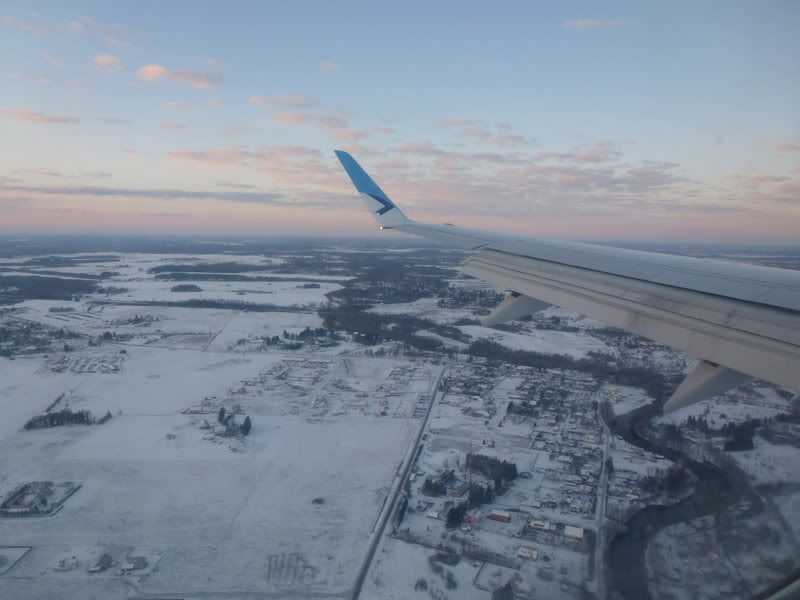 I saw some floods here last week: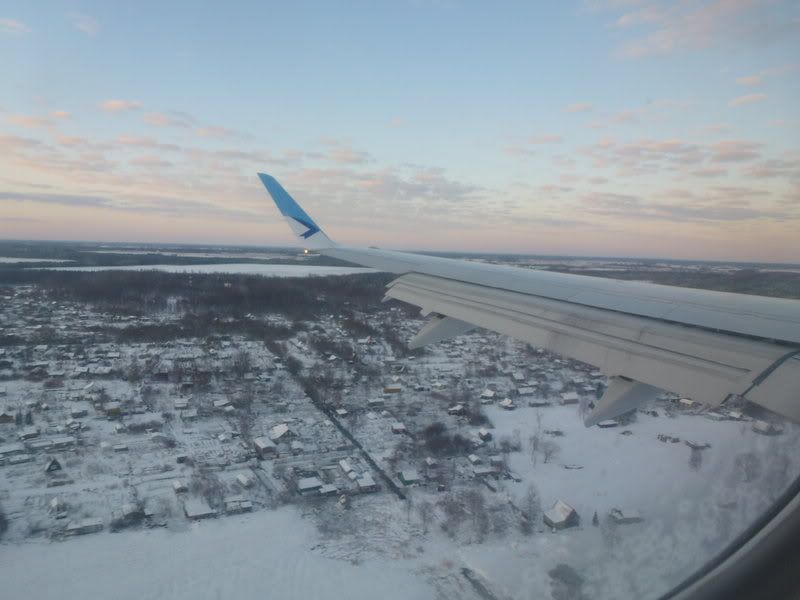 Landing on 26 after less than an hour's worth of airtime: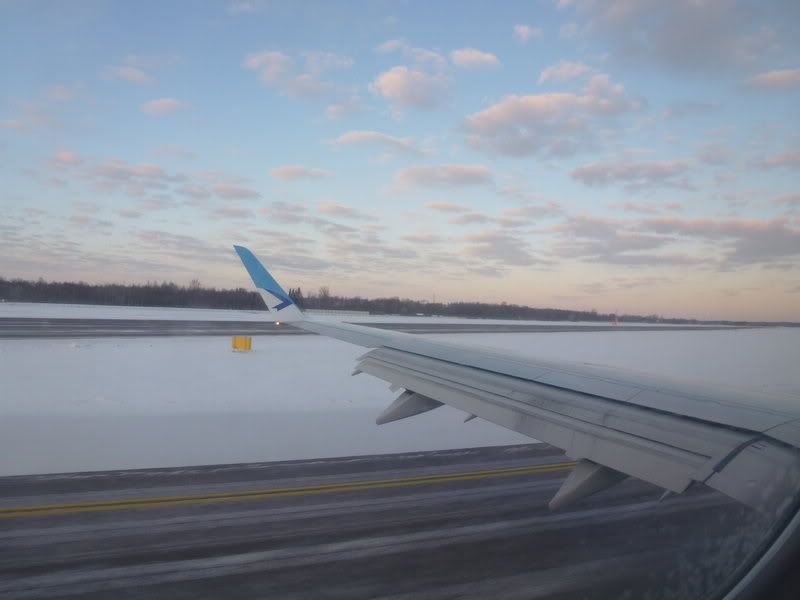 Estonian line up: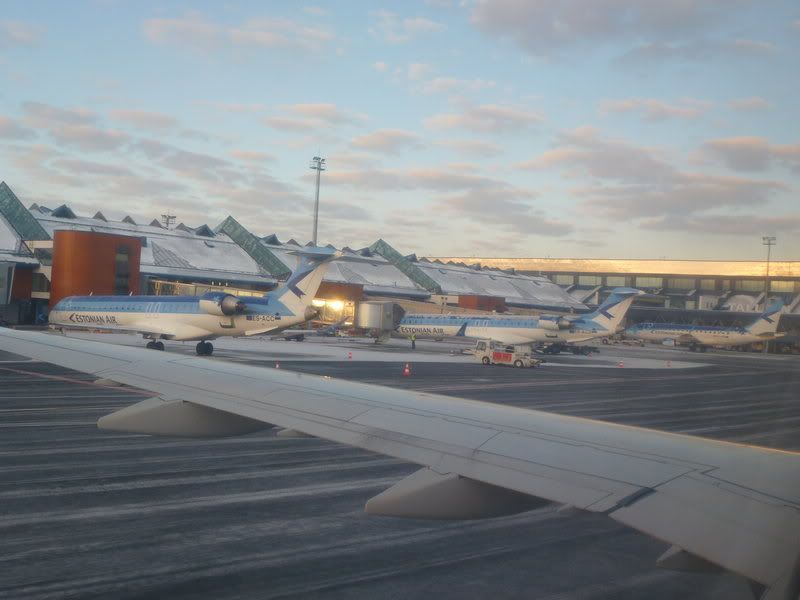 Bye, thanks for the nice ride: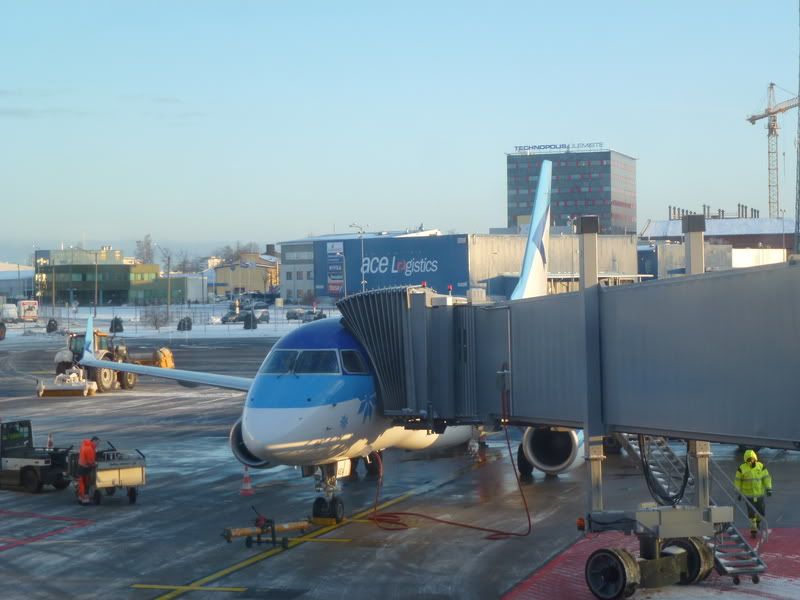 This time the TLL airport experience is far smoother. A jetway gate, not too many people in the terminal and straight to the lounge. This is the way it should always be like.
The Aftermath
Again more pictures than words for the rest of the flights.
Copious amounts of coffee & some water during my short stay in the Linda Lounge - no Swedish business traveller horde this time (phew!) but some Russian mafiosos this time: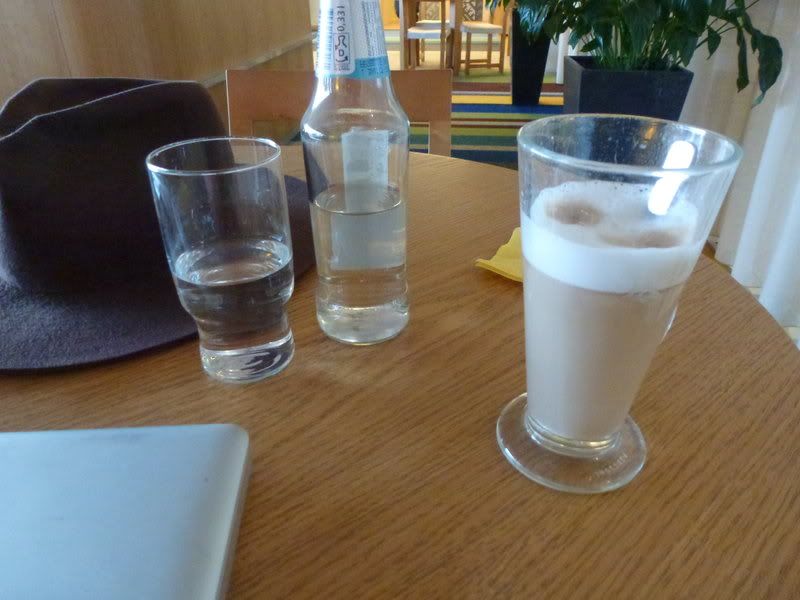 The FIDS was saying "Go to gate" for a long time so I gave in and went - of course no plane yet. But discovered these VERY nice ball chairs, almost felt asleep here: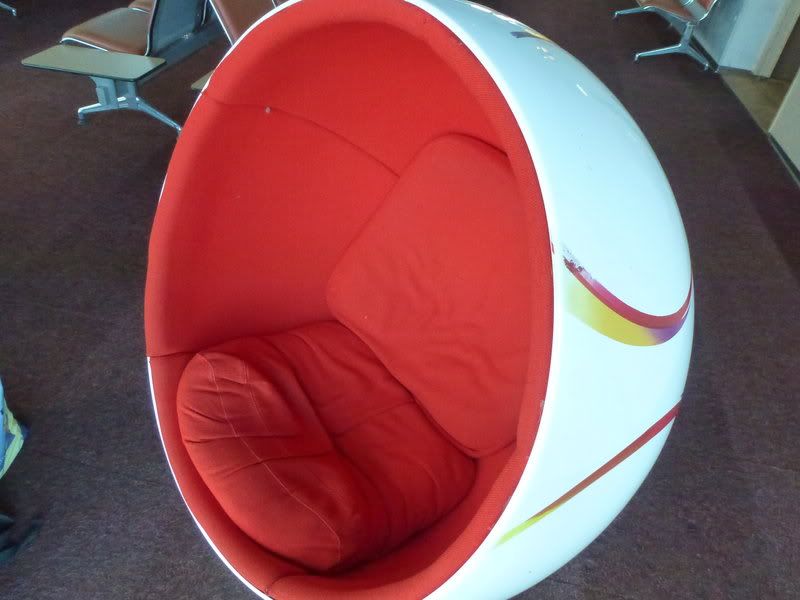 ALBINO! The horror, the horror: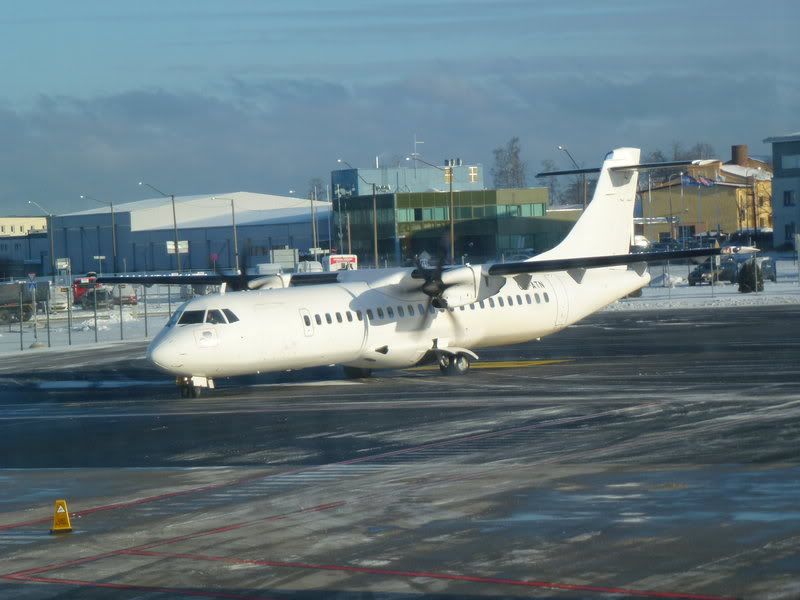 Second flight with OH-ATN: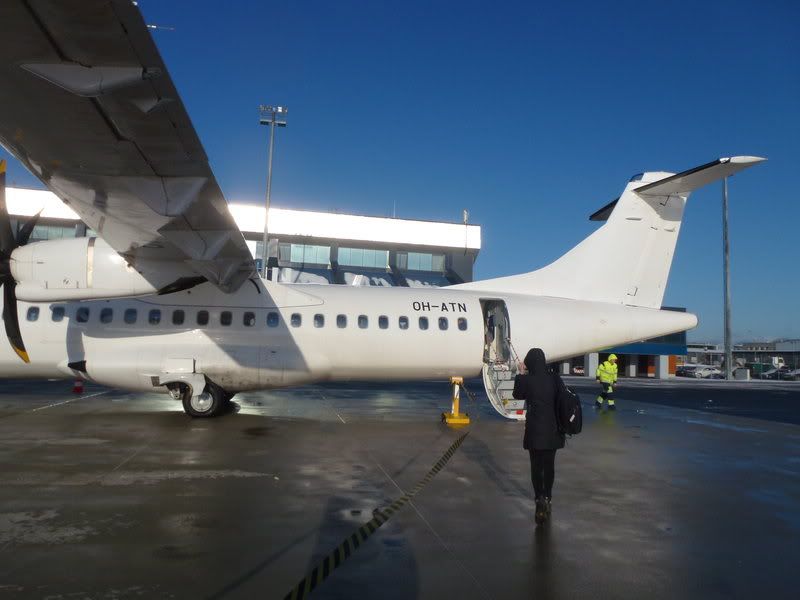 I thought the BT base was closed almost two years ago (just a few months after being opened...):
The windows on these FC... sorry, BE ATRs are always in appalling condition: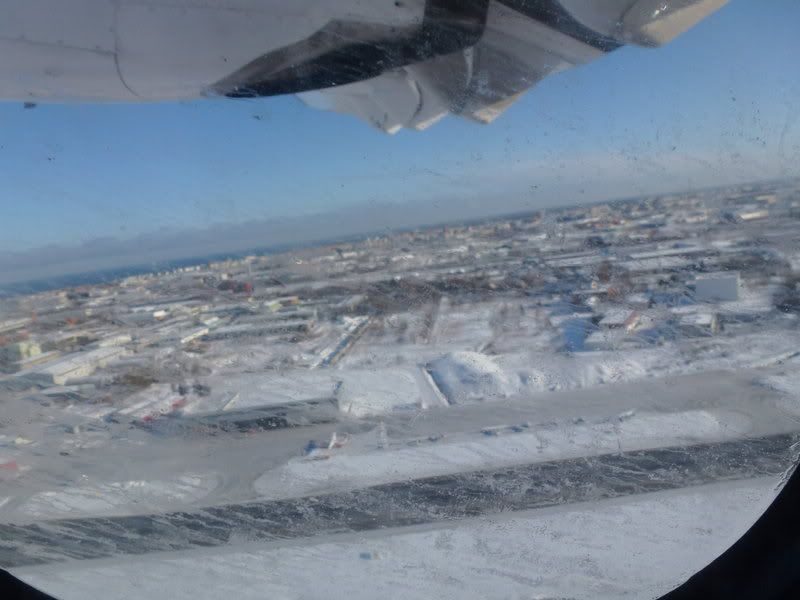 Hello homeland, how are you doing: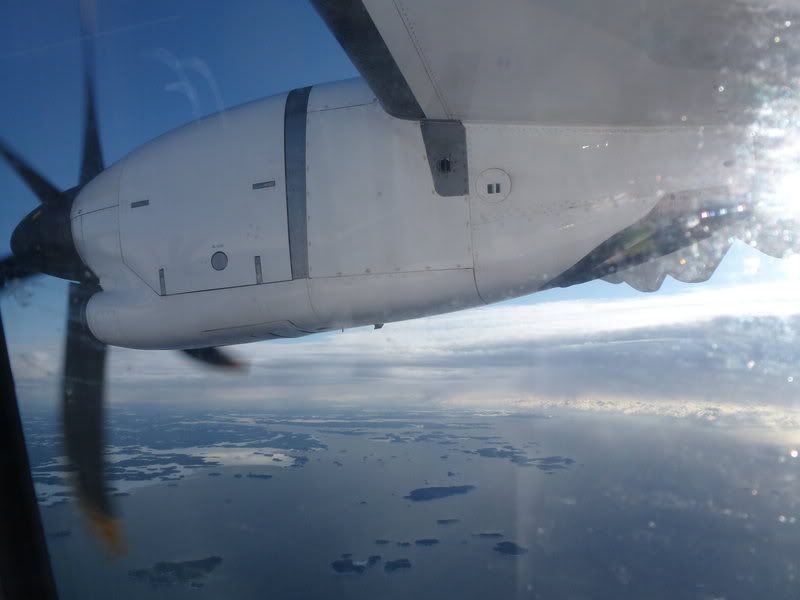 The Vuosaari port - the empty berths and piers a testimony to the country bleeding money left and right: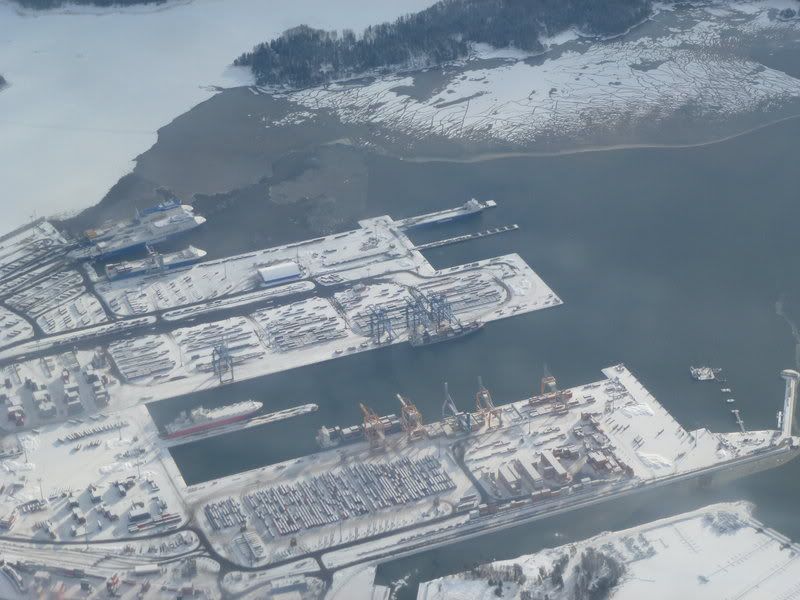 About to touch down at HEL runway 15: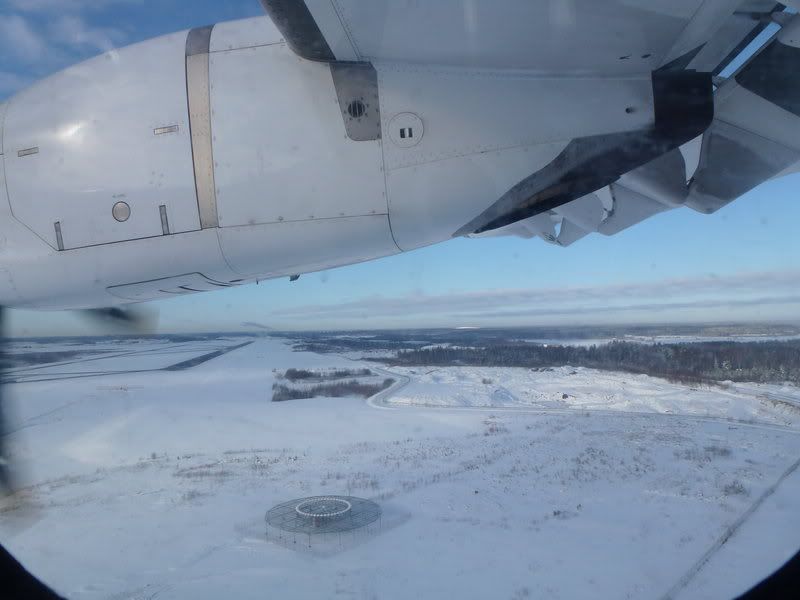 Back at the airport after causing major chaos in the office. Yes, my Finnair flight is indeed departing from gate 13 in T1 - go Finavia: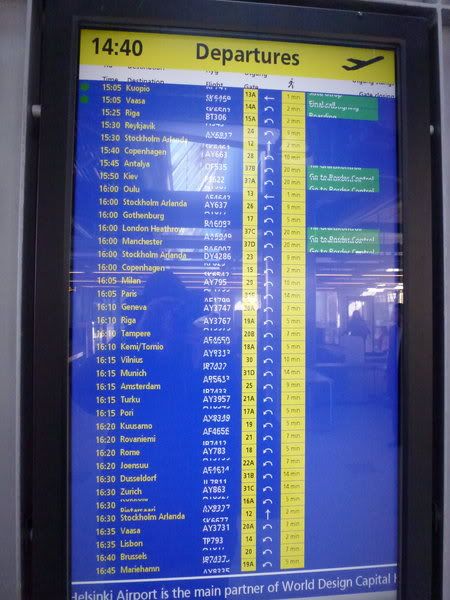 I really like this shot: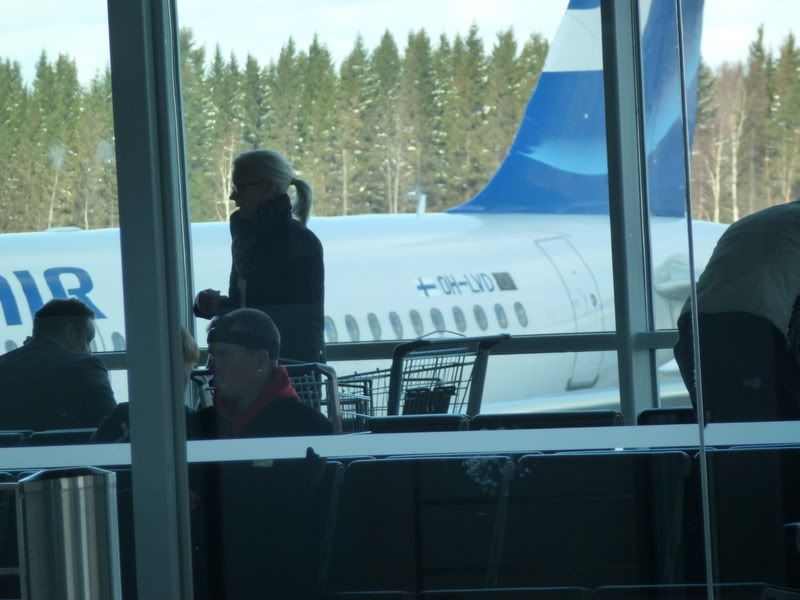 A319 as expected, my fifth flight aboard -LVD.
"Don't forget me":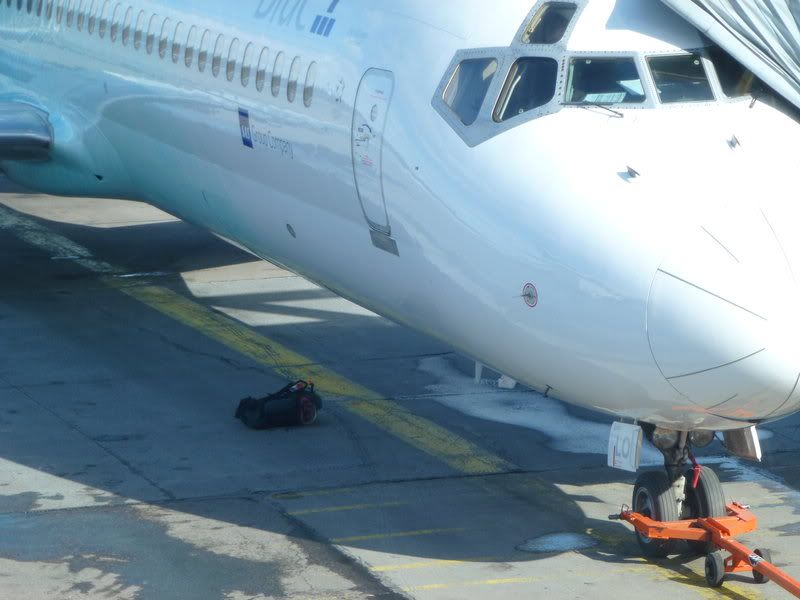 Love these classic Finnair seats - so comfortable. Commented on this to the nice FA on the back galley (for some reason I ended up on the last row...) and after I started complaining about the slimline Recaro seats she said "Oh I see you know more than me!"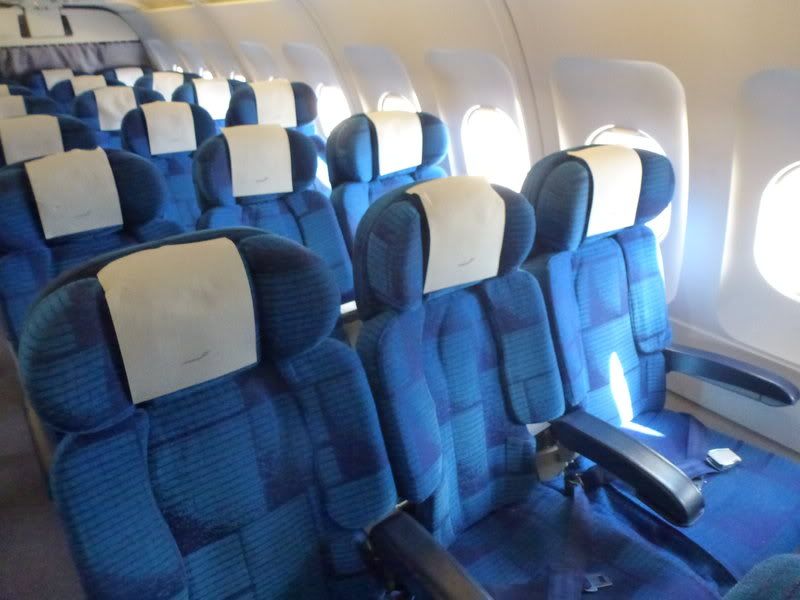 Slept through the flight apart from the coffee service: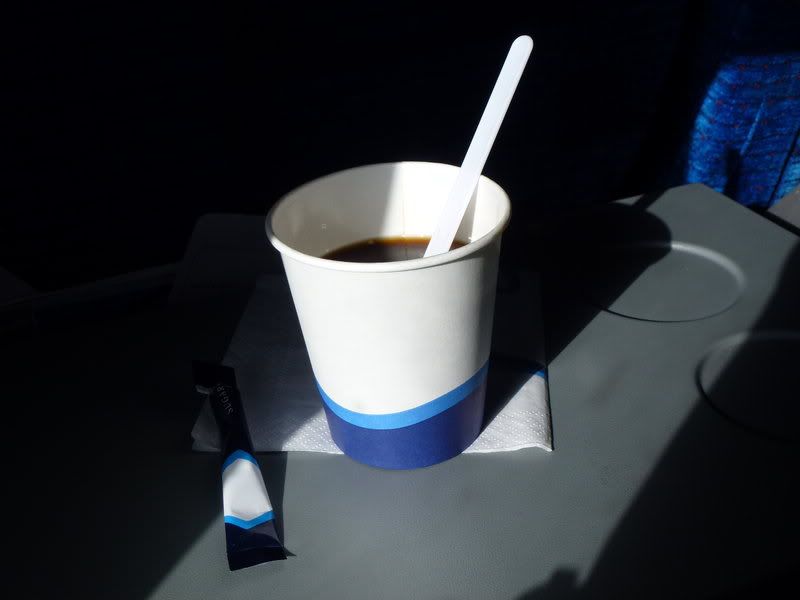 Up in OUL the DY machines were having a bad day: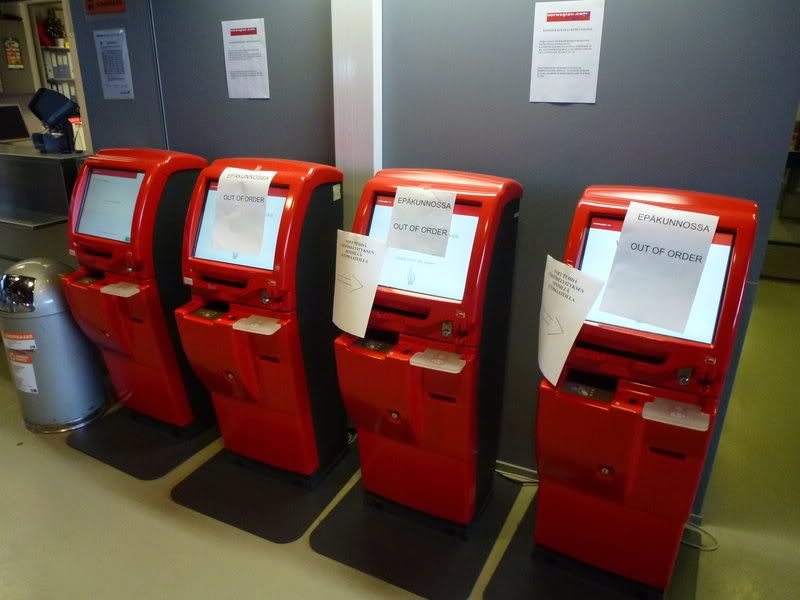 The new terminal is finally finished - downstairs there are a couple of bus gates: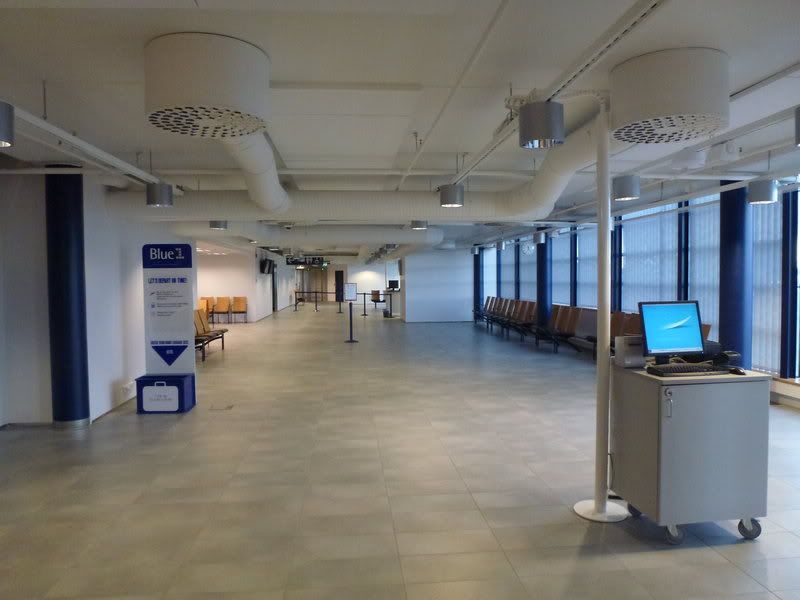 Ok AYA333, I now believe you (actually I saw one of these at HEL as well, I think these are new):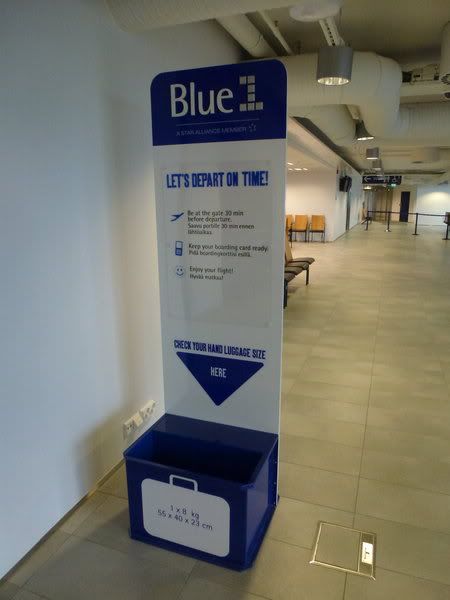 Kudos to 717flyer: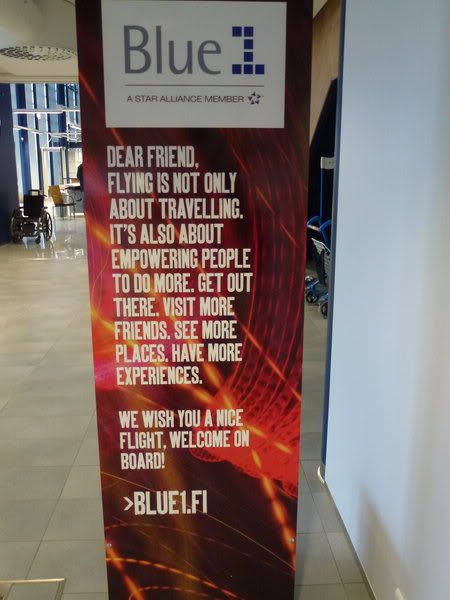 .
Special Bonus Intermission
You know how the new Oulu terminal used to have that weird empty cul-de-sac space on the second floor right next to the cafe and the shop? The one where AYA333 suggested we should try our luck as entrepreneurs and open up a lounge? Well, somebody beat us to it:
Yes, Jonas is now all intrigued - a FREE (as in "free beer") lounge?
Well this one has been put up by some local companies and the airport. Facilities include a mini gym: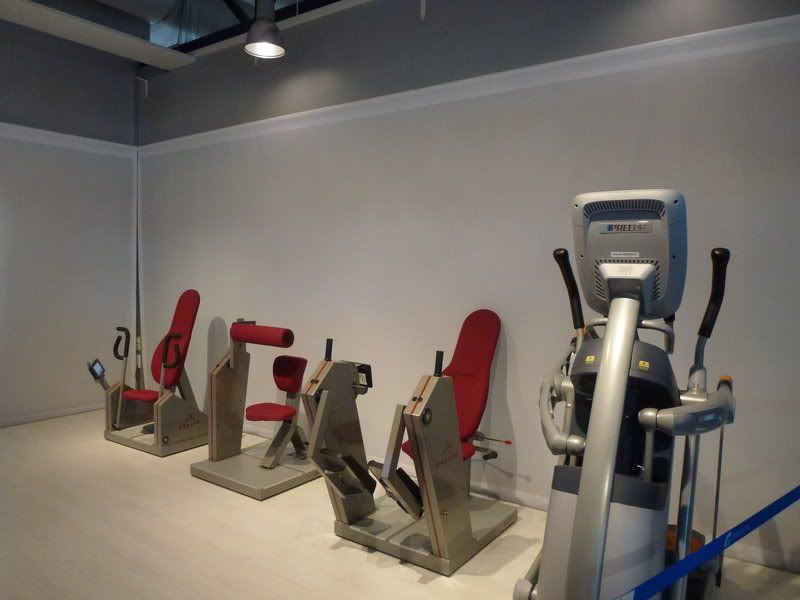 Now closed (with bad English) but it was open the previous day when I arrived, not sure if I'd want to have someone fresh off the gym with eau de sweat sitting next to me on a flight: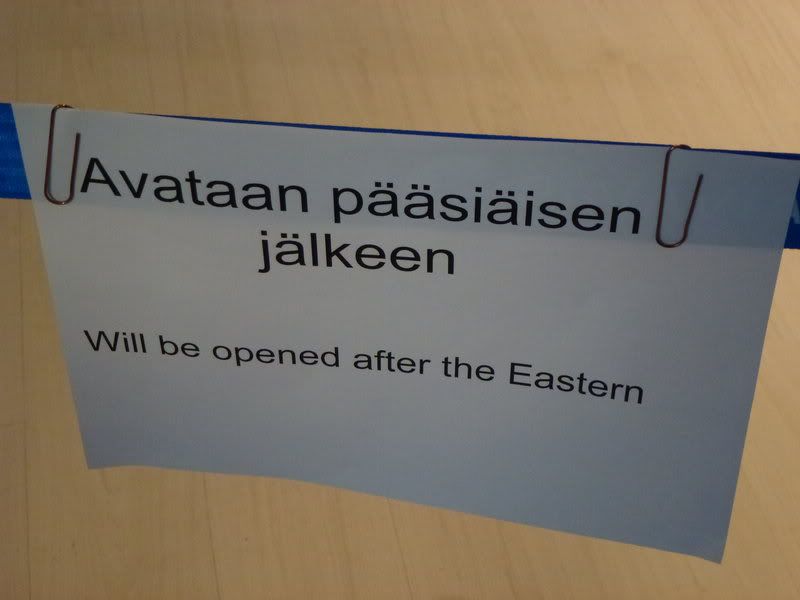 Free massage with an unhappy end: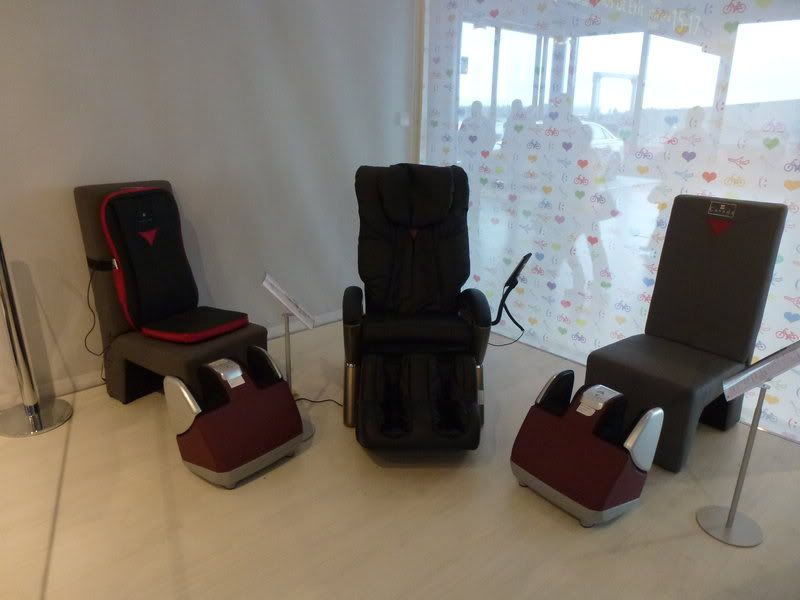 Comfy seating area: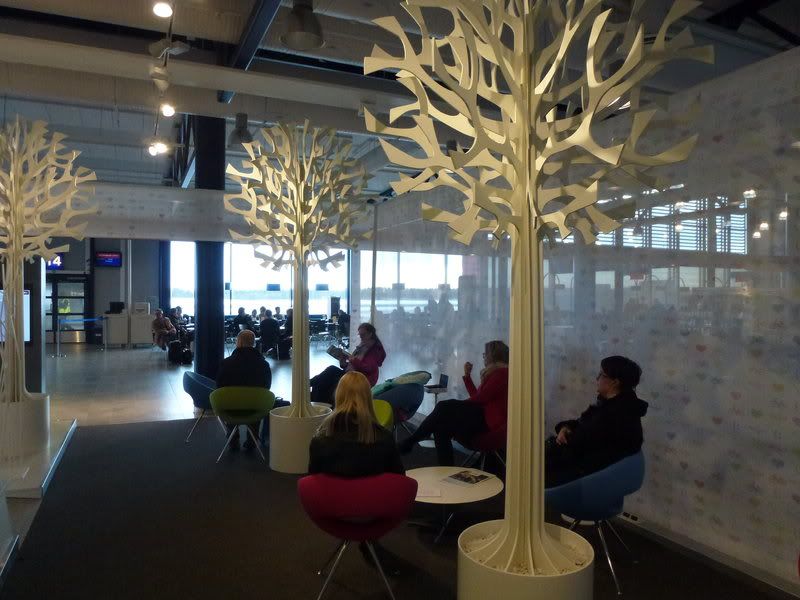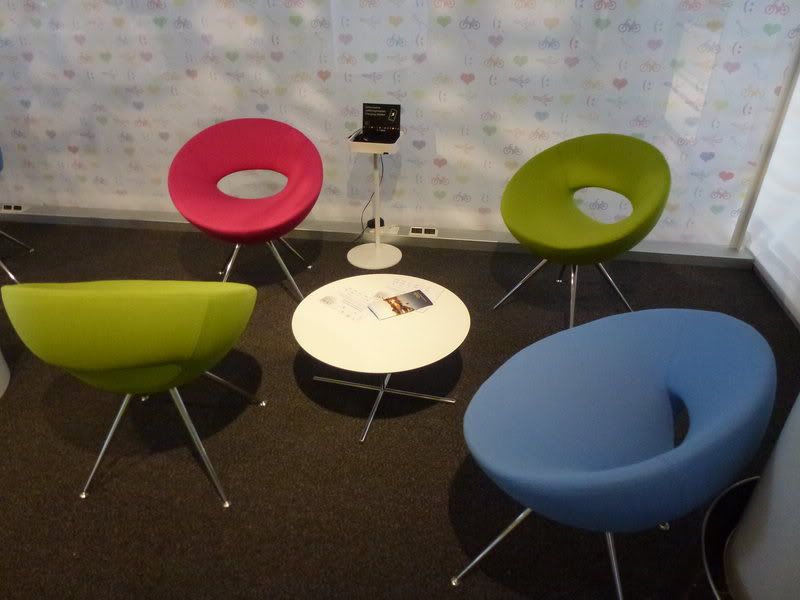 Free reading material - propaganda from the area companies: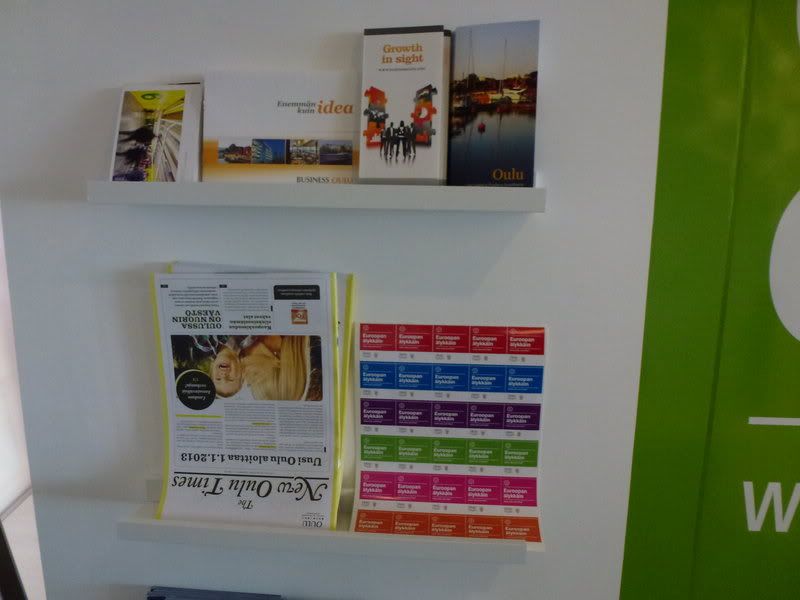 Nice idea: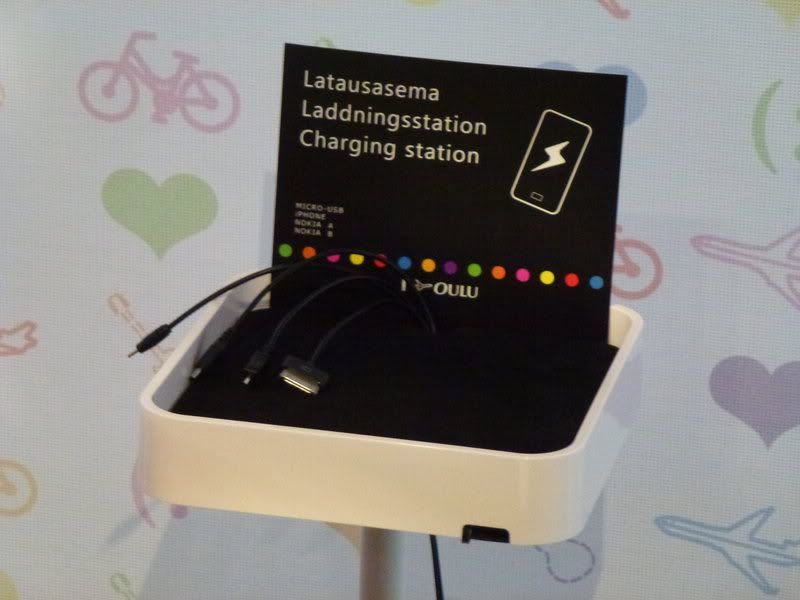 Kind of buggered to see that the next AY flight, just an hour later was operated by OH-LVI, the only AY A319 missing from my log: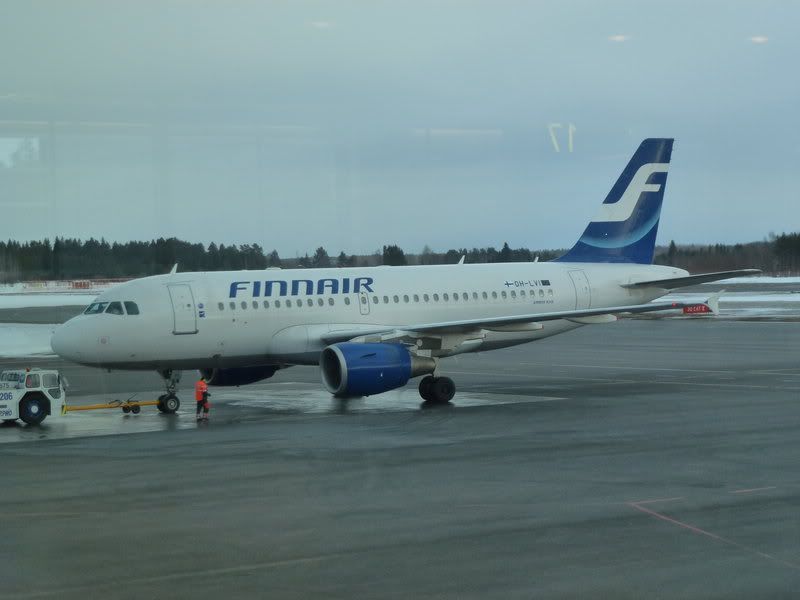 I cheated a bit and spyed from flightradar24.com that LN-NIA was heading up to OUL for my flight. What's so special about it? Well, it is the first plane in the "Famous Finns" series, carrying a picture of a … well a famous Finn on the tail. Here it comes: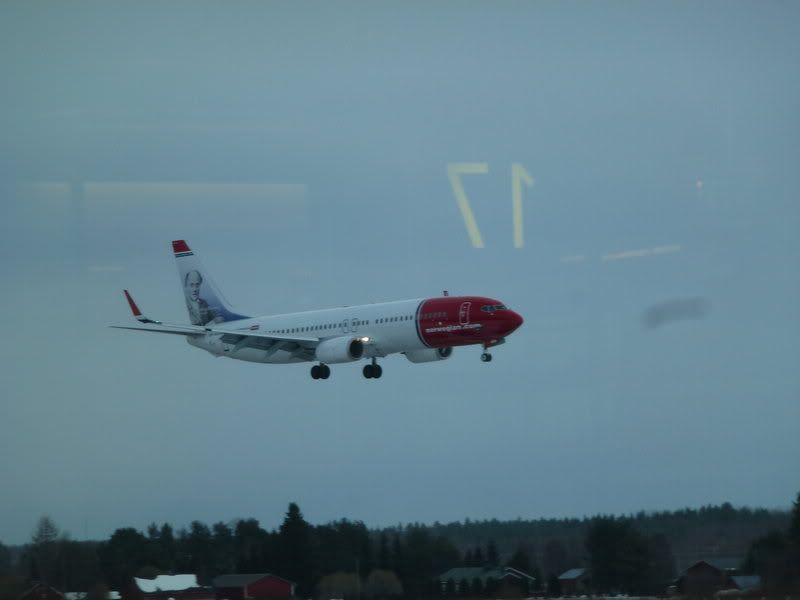 Bugger, I thought there would be a picture of me on the tail but nope, it's Runeberg, our national poet: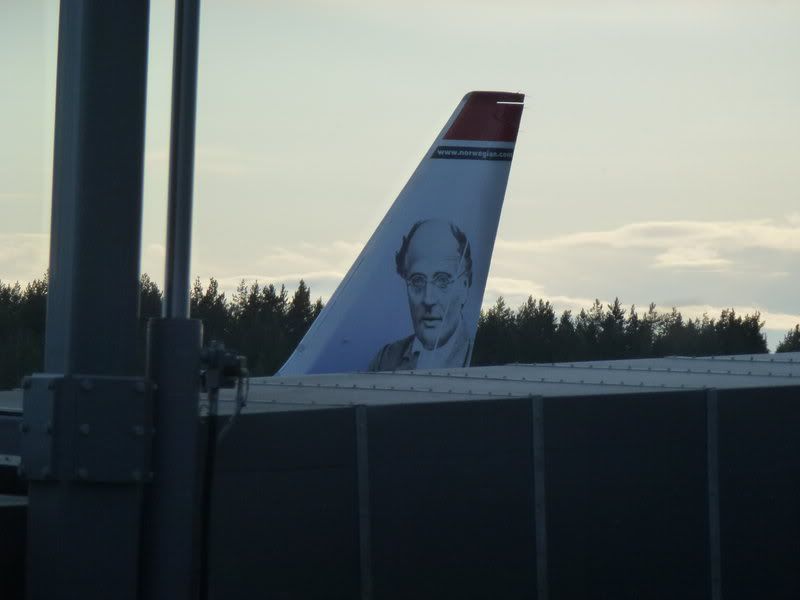 You might disagree on their choice of hero material (I certainly do!) but still it is quite nice: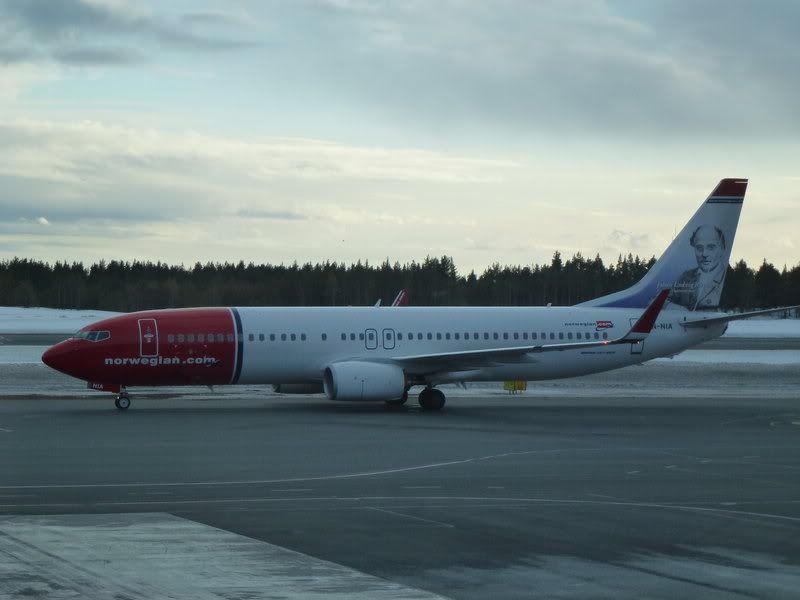 Once more: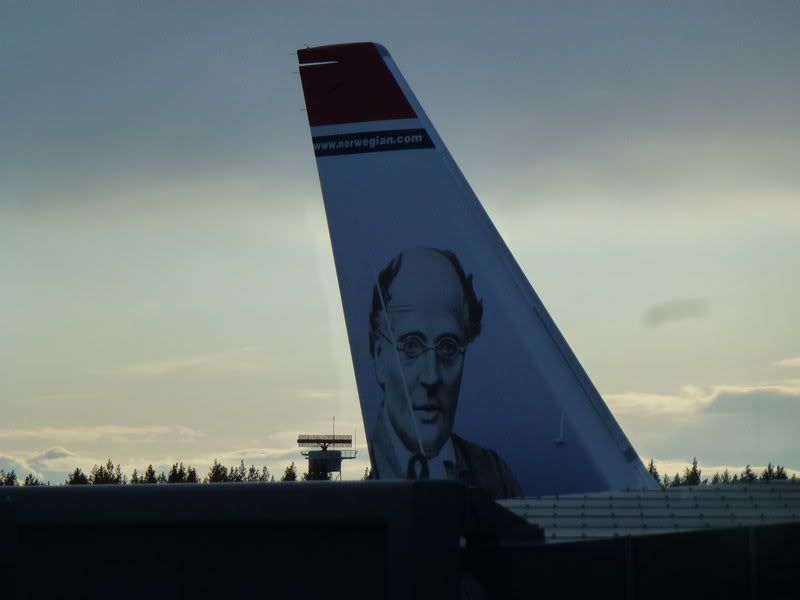 The very same (Estonian) cabin crew as on the inbound yesterday, the purser recognized me (well speaking the usual phrases in Estonian might have something to do it with it) and laughed when I told her "So nice that you chose Runeberg this time!"). Same seat as well - love 1F (and yes, on a flight with a 90%+ load factor I got all three for myself):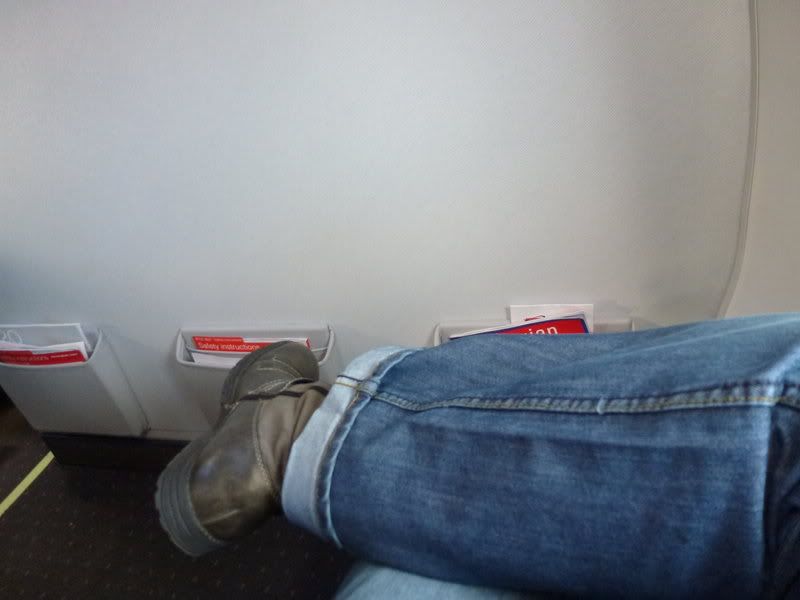 Blue1 performing good today - this one arrived after LN-NIA but departed earlier - but then again that might just be an indication of their low load factor. Loading 160+ passengers takes some time: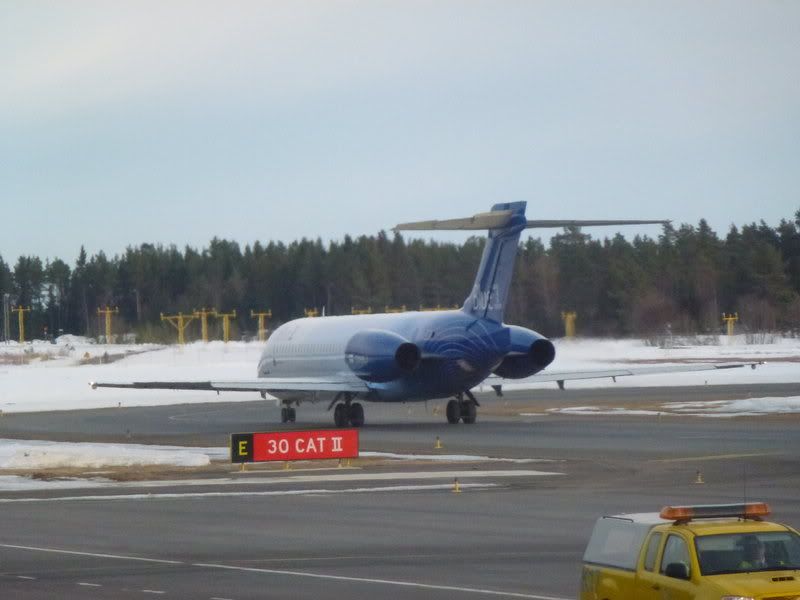 Top