Domestic Turbopropping around New Zealand on NZ
Background:
Welcome to my 2nd Trip report on Anet. For those who haven't seen it here it is
Emirates A380 -Hop Across The Tasman SYD-AKL
(by
byronicle6
Dec 17 2011 in Trip Reports)
For those that know Air New Zealand well, will know that have a website called Grabaseat. (www.grabaseat.co.nz) Every day between about 4-10 routes (mostly domestic, with the occasional international ) fare is offered at below usual price for a one week period on certain dates.
However, in the lead up to Christmas they also have another special promotion called the 12 days of Christmas. So 12 days till Christmas, there are $12 fares, 11th day, there are $11 fares, right down to... Yes, You guessed it $1 fares. (including all taxes)
I had been particularly interested in grabbing flights from the airports closest to me (TRG, ROT, or WHK) which offer flights to AKL, WLG & CHC on Beech 1900D, Dash 8 or ATR72 turboprops depending on route. Or otherwise flights from AKL (about 2 hours drive) to the South Island tourist haven of Queenstown (ZQN) or southern city of Dunedin (DUD) on B733/A320
After getting several of these "cheapies" before, I knew I had to be quick, and hang on website , sometimes for hours waiting for the fares to go from "try back later this morning/afternoon" to being able to book.
After the 12 days I had ended up booking 3 return trips from WHK-AKL-WHK, TRG-WLG-TRG & ROT-WLG-ROT for $8 return , $22 return & $10 return respectively . With the $8 fee for using a credit card on top of that, I was all ready to go . Seems as though the "our fares have nothing to hide" promo has long gone out the window, as Air NZ now have a $10 charge to take a checked bag on domestic flights and a $4 credit card fee for each domestic one way sector. 2 of these bookings would be day trips and one would be an overnighter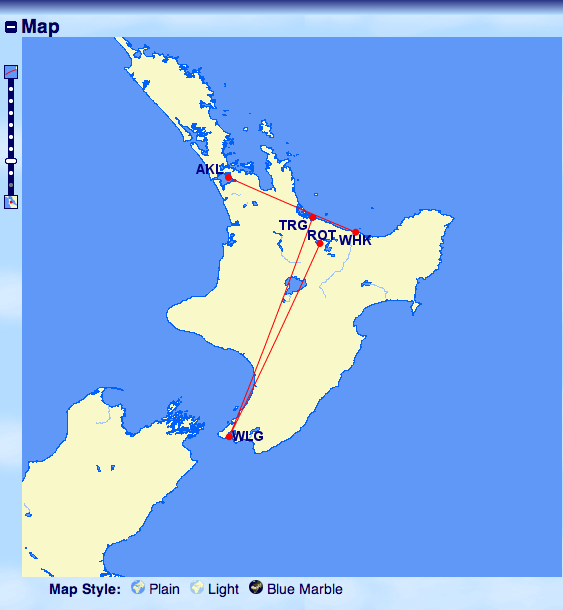 The routing for the 6 flights
Saturday, 10 March 2012
NZ2546
Whakatane (WHK) - Auckland (AKL)
Scheduled Departure: 11:45am
Actual Departure: 11:46am
Scheduled Arrival: 12:30pm
Actual Arrival : 12:22pm
Flight duration (scheduled) 0:45
Flight duration (actual) 0:41
Distance: 115 nm/ 133 mi / 213 km
Seat : Economy 9A
Registration: ZK-EAL
5th Beech 1900D flight
29th NZ flight
1st flight on ZK-EAL
2nd WHK-AKL flight
Load Factor: 10/19 ( 53% )
The day started earlier than usual for me, and we left around 9:30am for the drive to WHK. The day was not the best for flying being very overcast and spitting with rain but it improved as we neared Whakatane. We arrived at the airport at 11.00am (45 mins prior to departure) and parked right outside the terminal which has unlimited free parking (oh how I wish all airports were like this. The joys of small regional airports eh?). The very unusually shaped building was designed by Roger Walker and built in the 1970's. It has a simple check in counter and waiting area off to the side. There is no cafe or other facilities except for bathrooms and an upstairs viewing deck. Baggage reclaim consists of a trolley brought round into the side of the carpark area.
WHK serves flights from Auckland (AKL) 3x daily and seasonally to Wellington (WLG) 1x daily, and strangely due to the weather I overheard a conversation about an AKL-GIS flight which had to be diverted to WHK that morning due to the fog in Gisborne.
The arriving aircraft touched down early at 11.25am, and was quickly turned around and re-fueled and we were invited to board at 11.35am. NZ Aviation law does not require aircraft with fewer than 90 seats to have security screening, thus all routes operated by Beech 1900D, Dash 8 & ATR72 do not have any screening whatsoever, so after boarding passes being checked, we were straight out onto the tarmac and onto the aircraft.
An automated voice recording (no video or demonstration) was played indicating the safety features of the aircraft.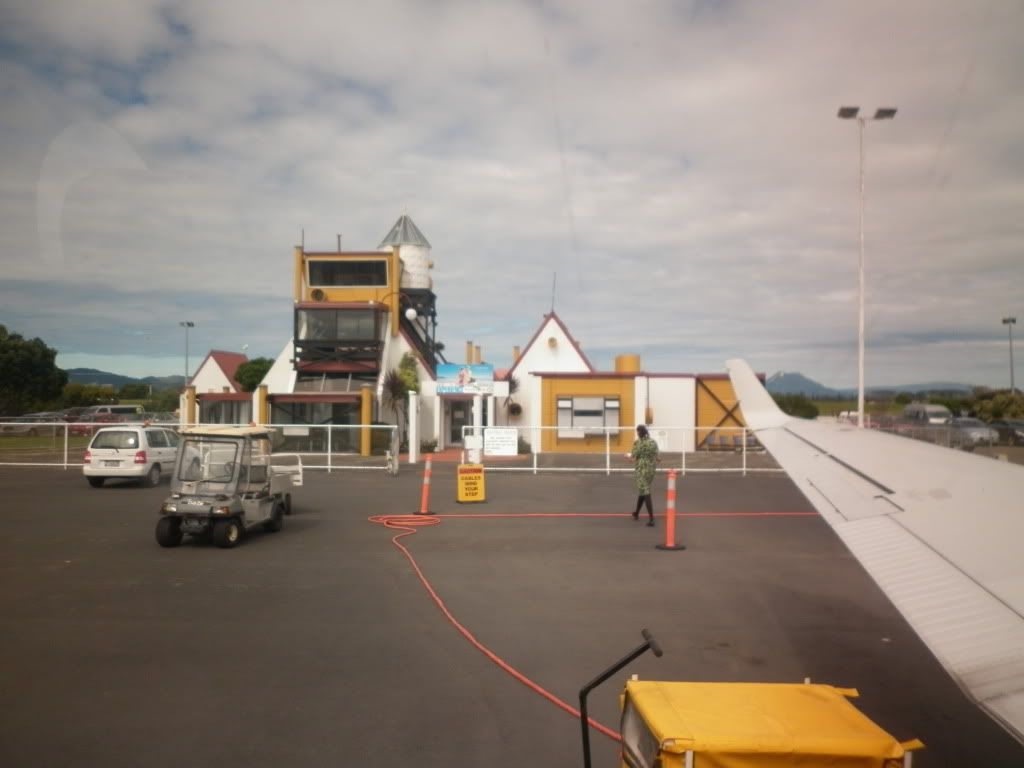 Odd terminal building
Just turned onto the active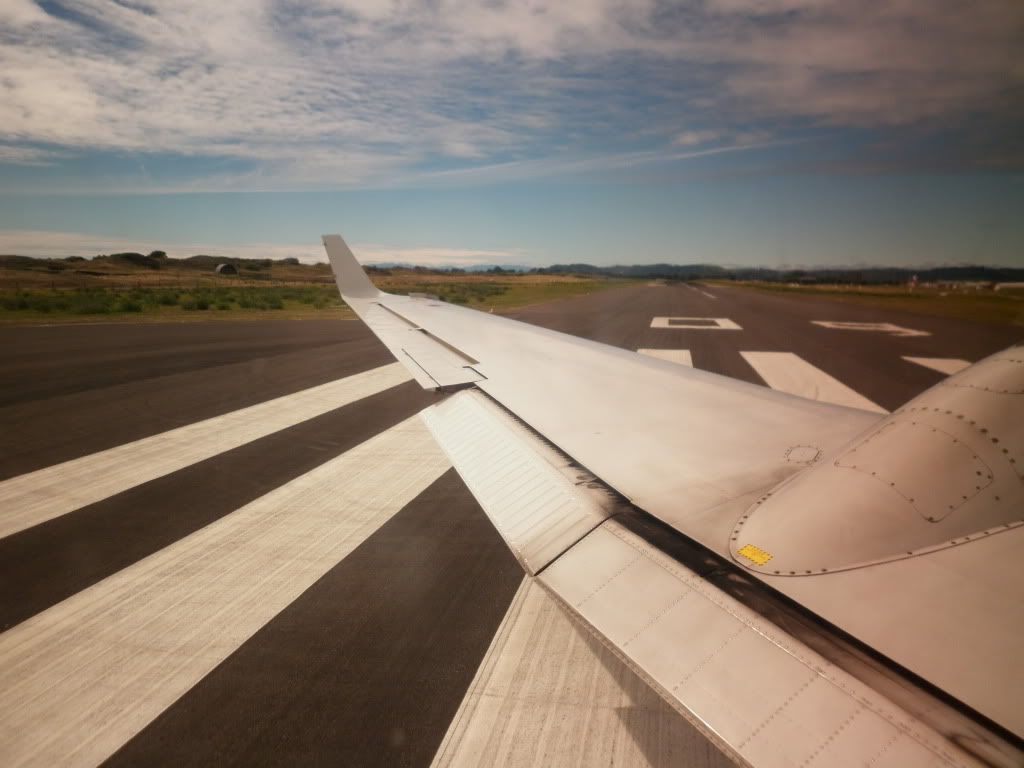 Turning around at the end of the runway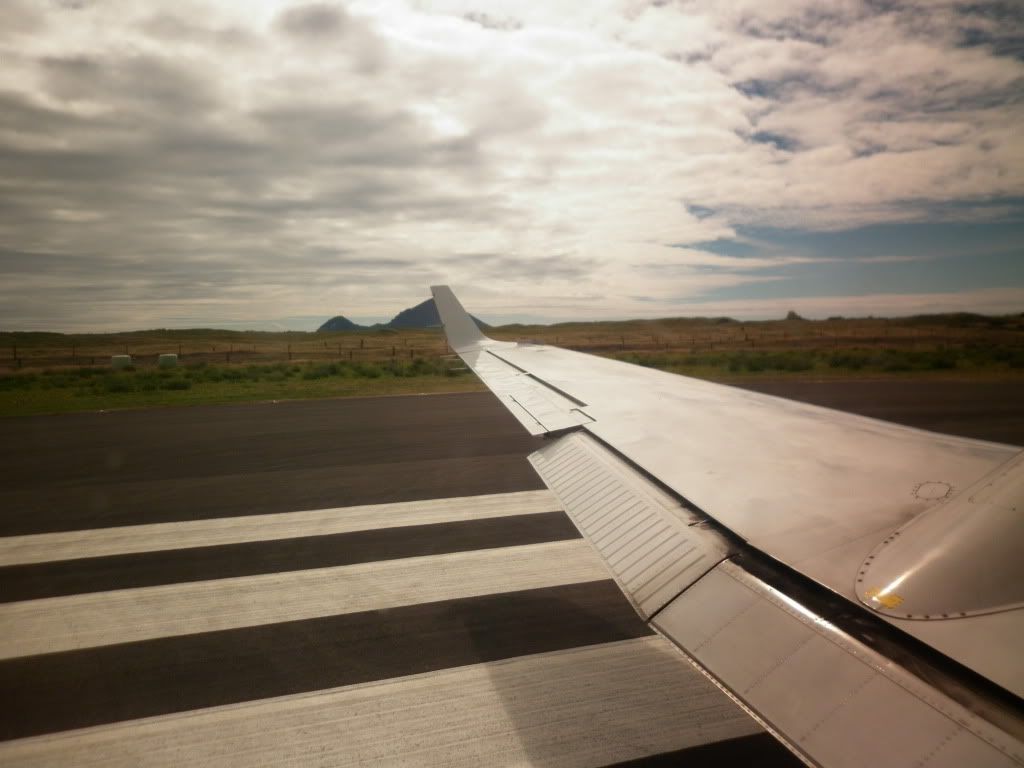 Start of the take-off run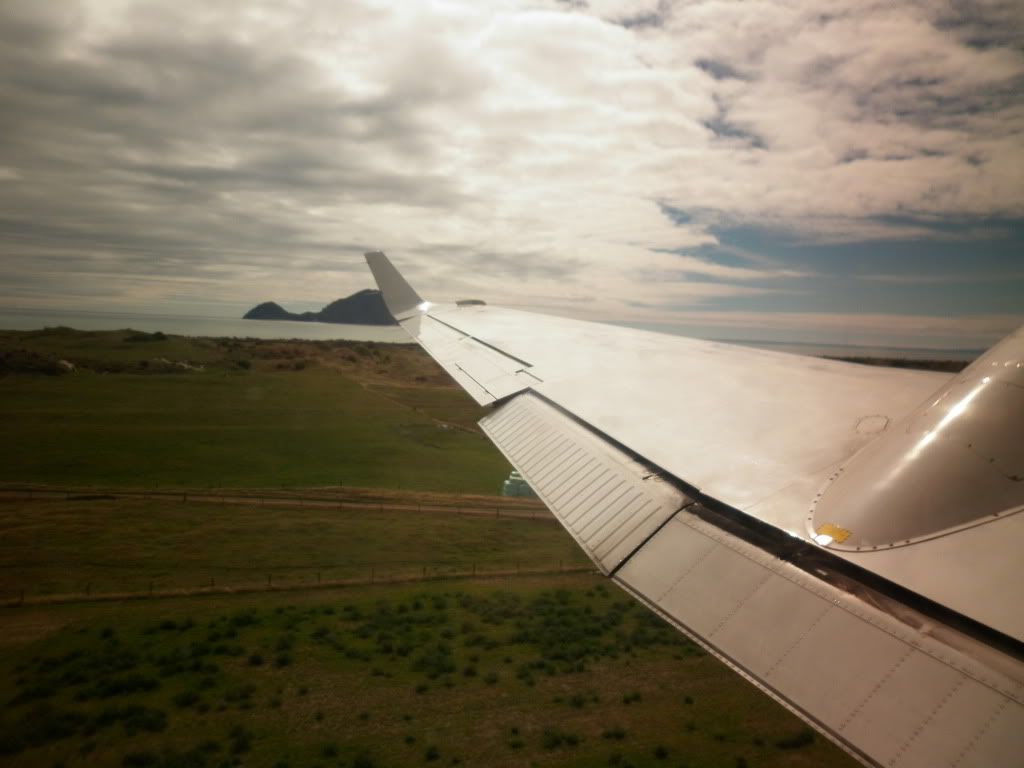 Up in the air!
Whale Island just off the coast (Looks more like a turtle though)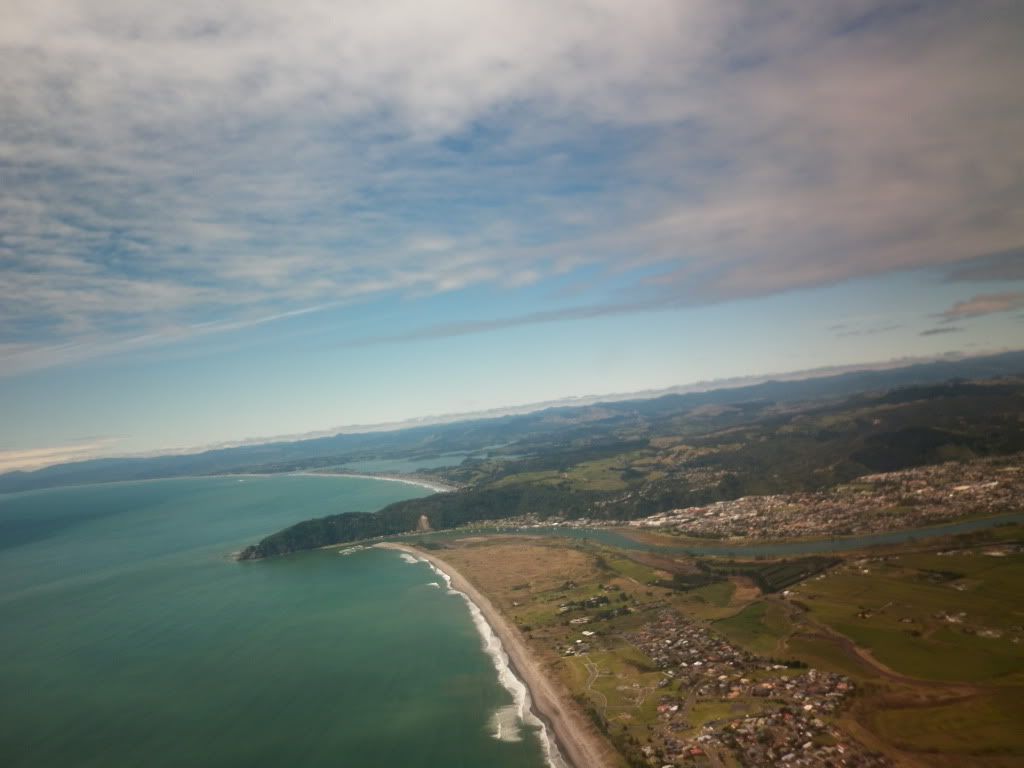 Part of Whakatane township over the river, Coastlands at the bottom and Ohope Beach over the other side of the heads
WHK runway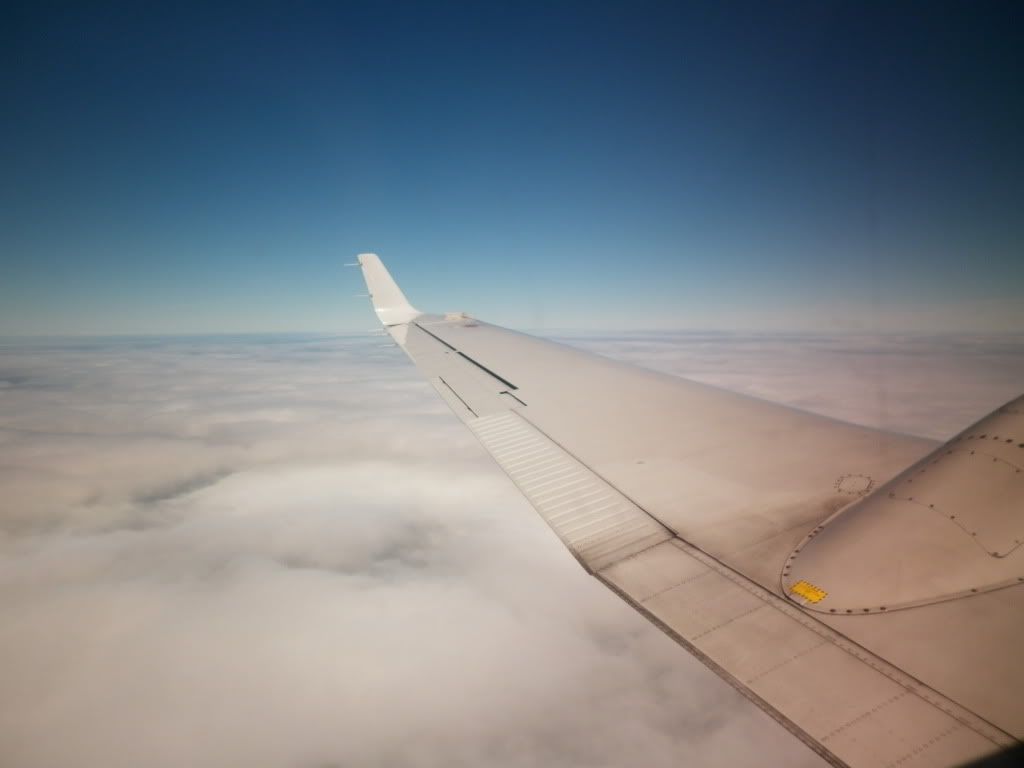 Up above the clouds. There is a reason the Maori translation of Aotearoa (New Zealand) means "Land Of The Long White Cloud"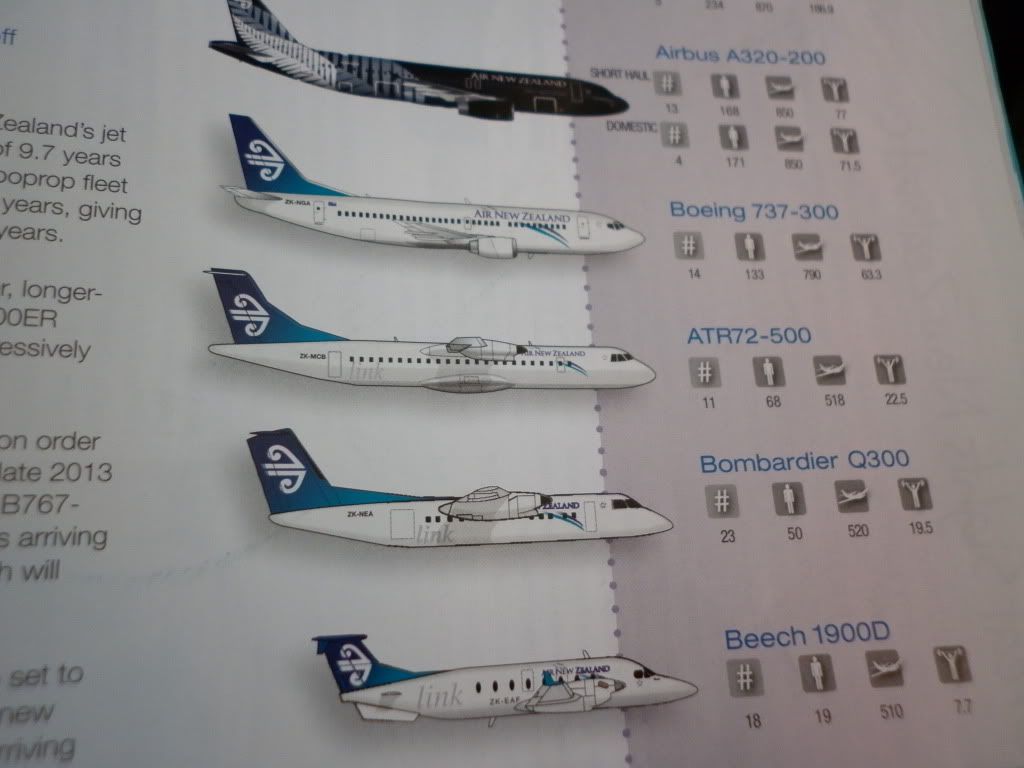 NZ fleet. Today we are the smallest of NZ's fleet operated by Eagle Airways with 19 passenger seats
There are no cabin crew onboard the Beech 1900D's, and so no snacks or beverages are served on this short hop to AKL
I decided to take a look at the lavatory, but it was far to small to even stand up in let alone take any half decent photos. One thing I found strange was that it had a slide door
A small break in the clouds with the town of Omokoroa down below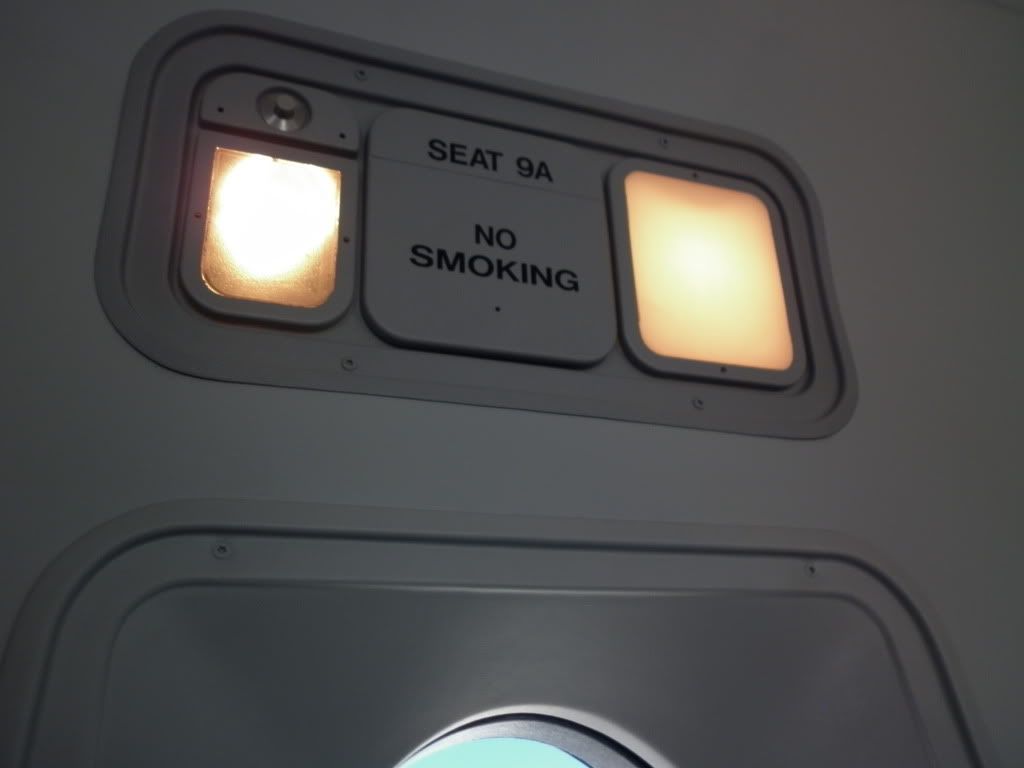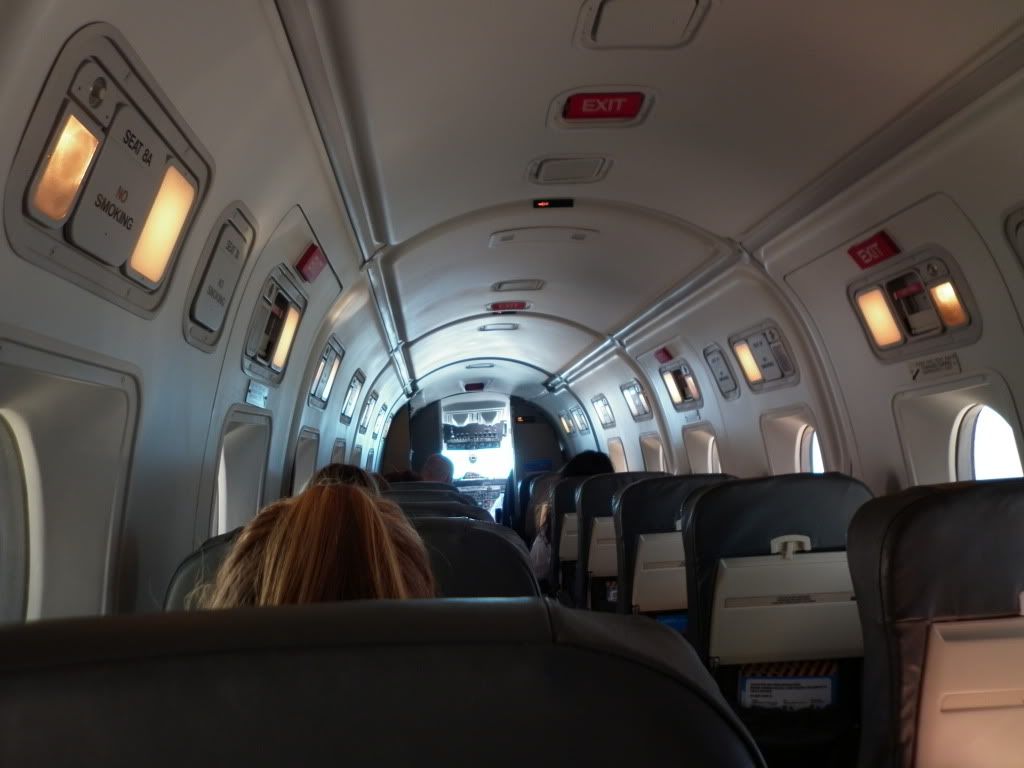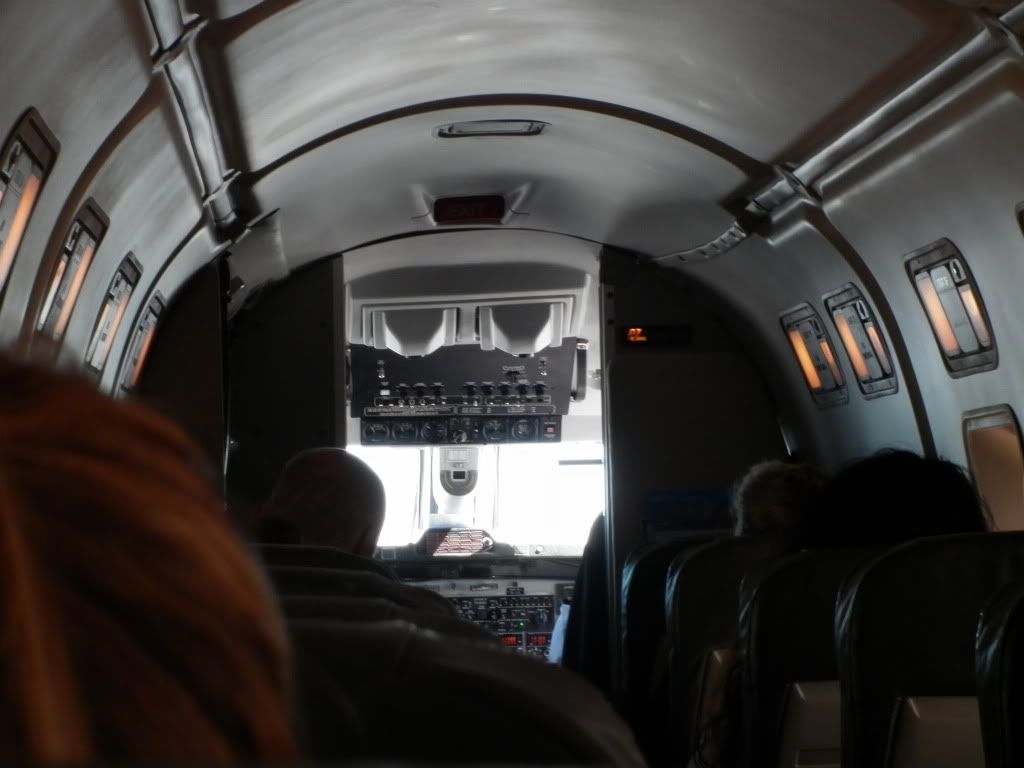 The NZ Beech 1900D's have no doors separating the passenger cabin from the cockpit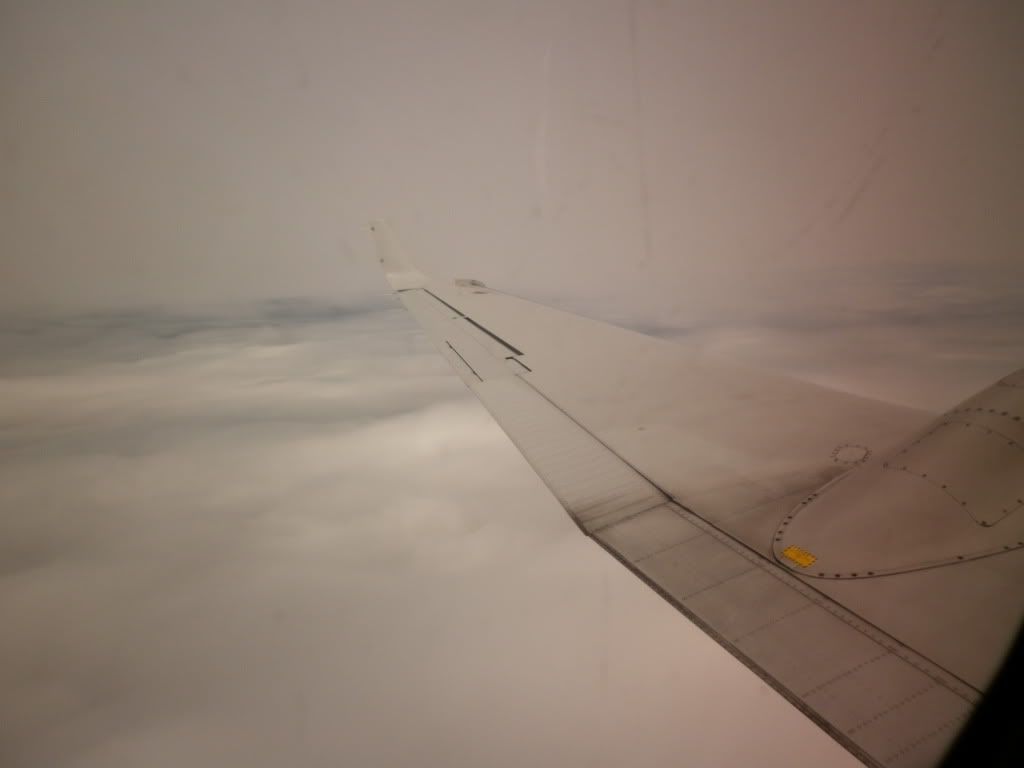 Starting our descent into AKL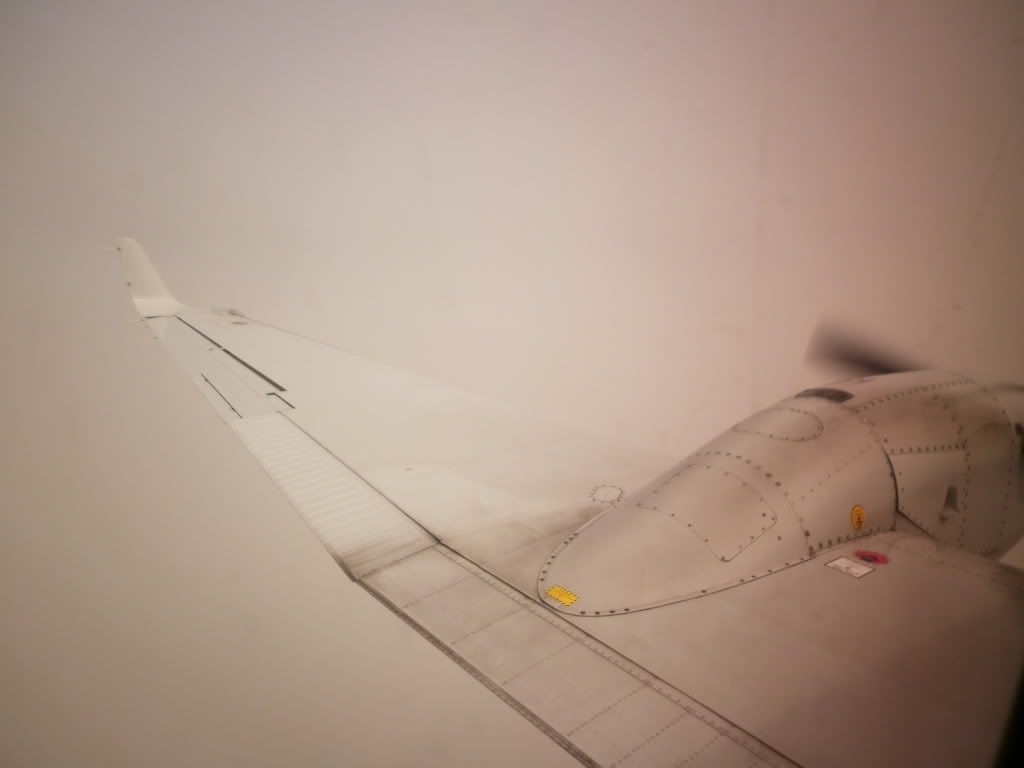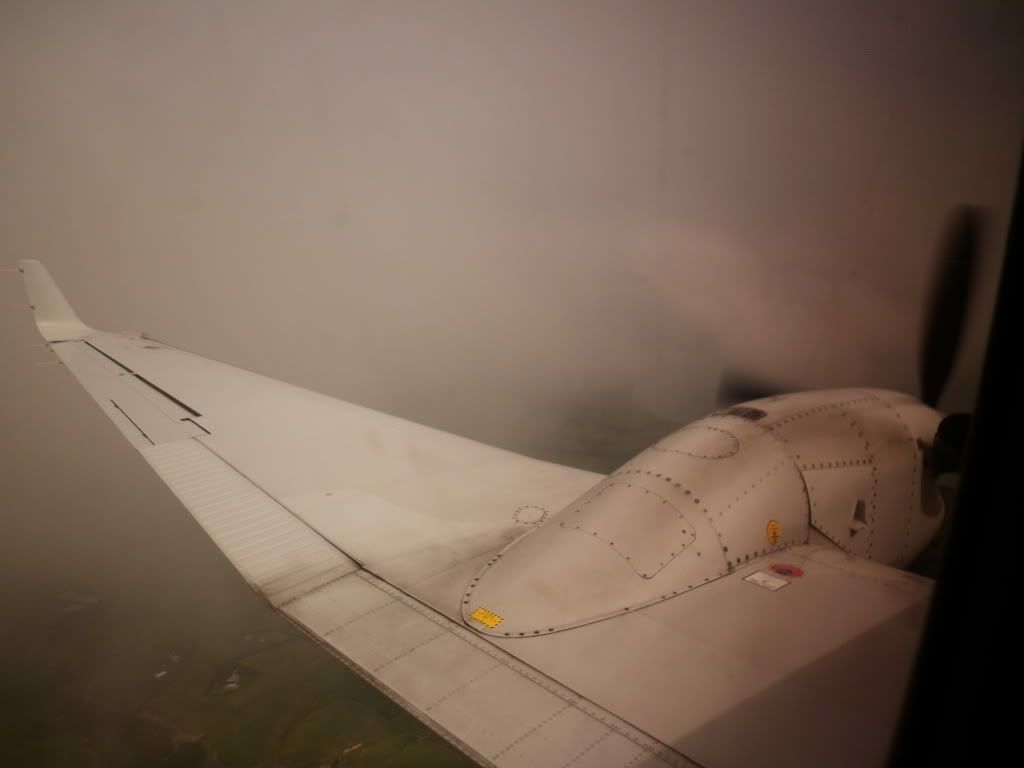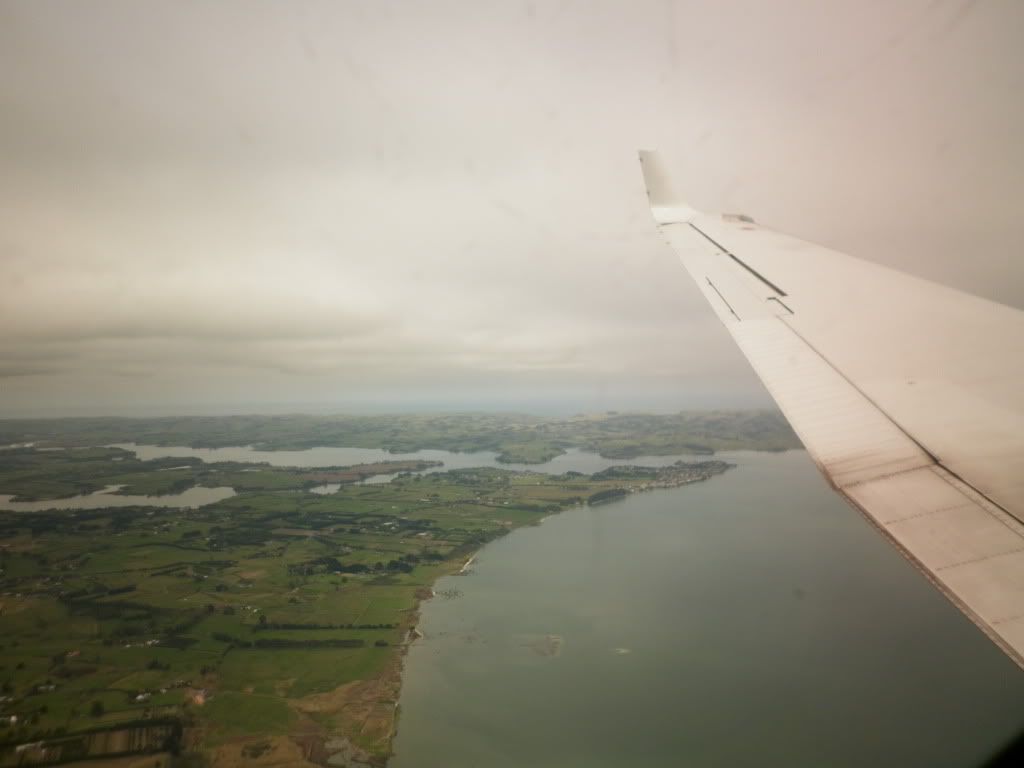 Down through the clouds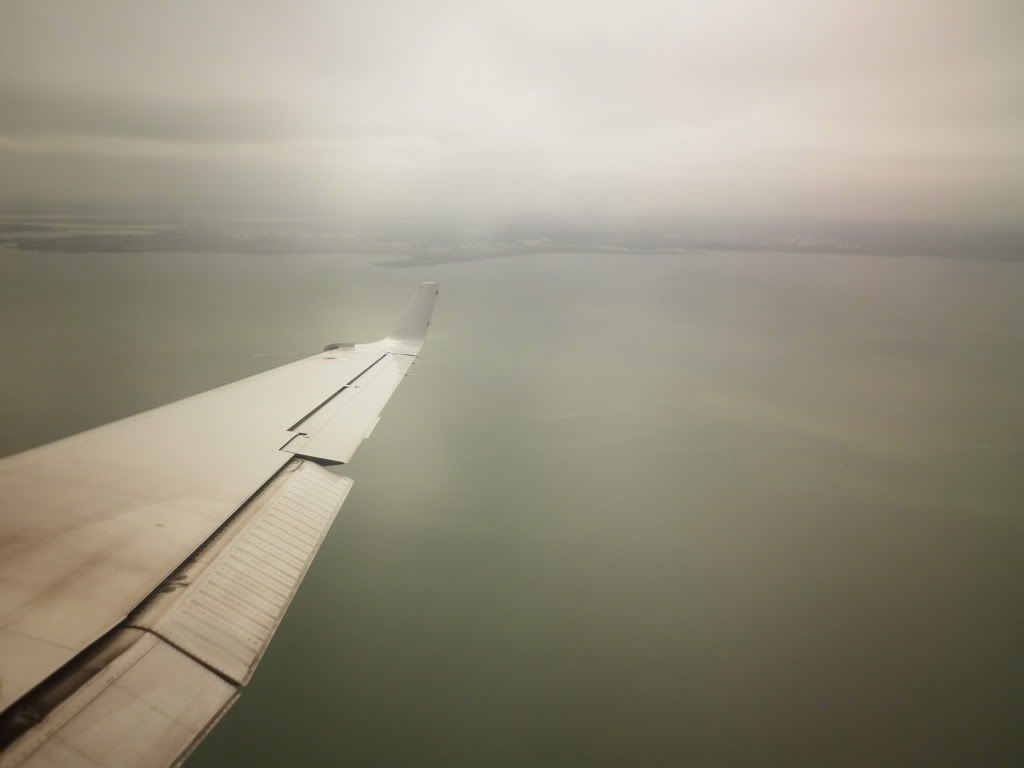 Taken out the right hand side. You can see the Auckland Airport vicinity as the bit of land poking out of the harbour
Wheels down
Finals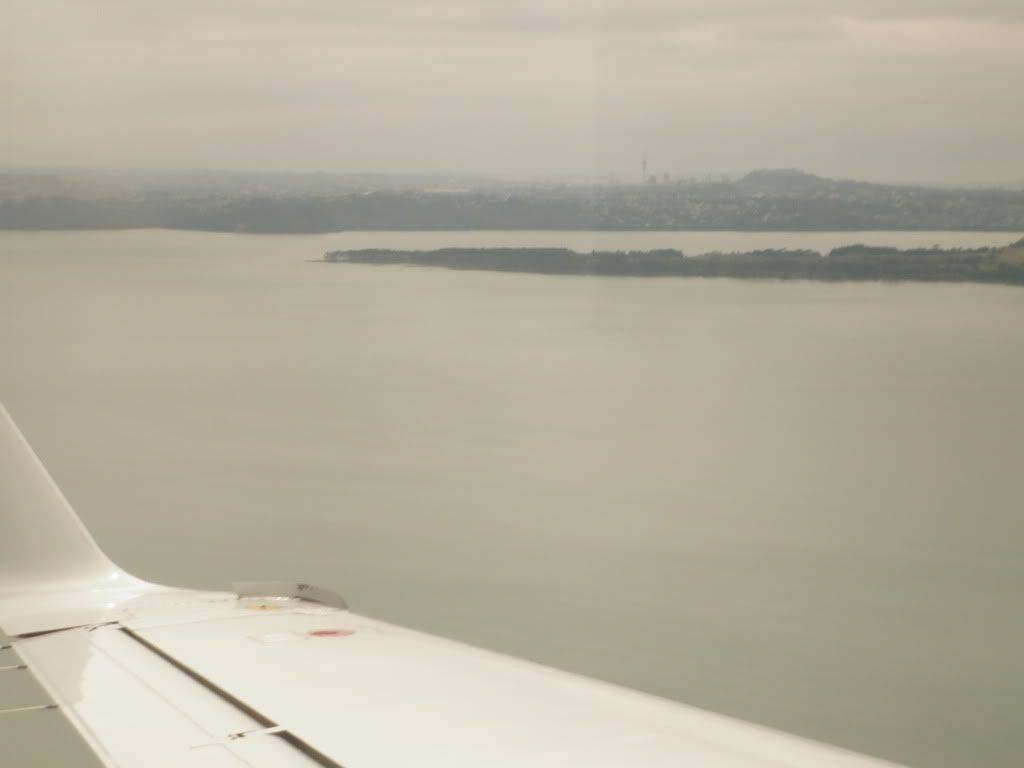 Auckland CBD high-rises in the center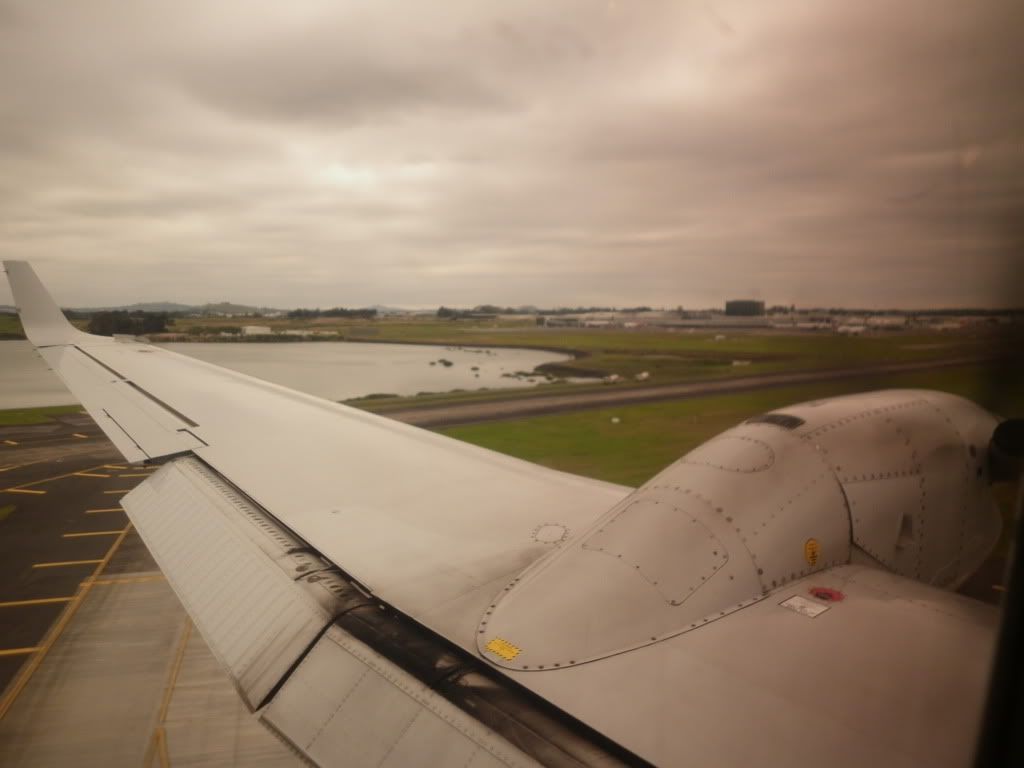 Touchdown; AKL international terminal behind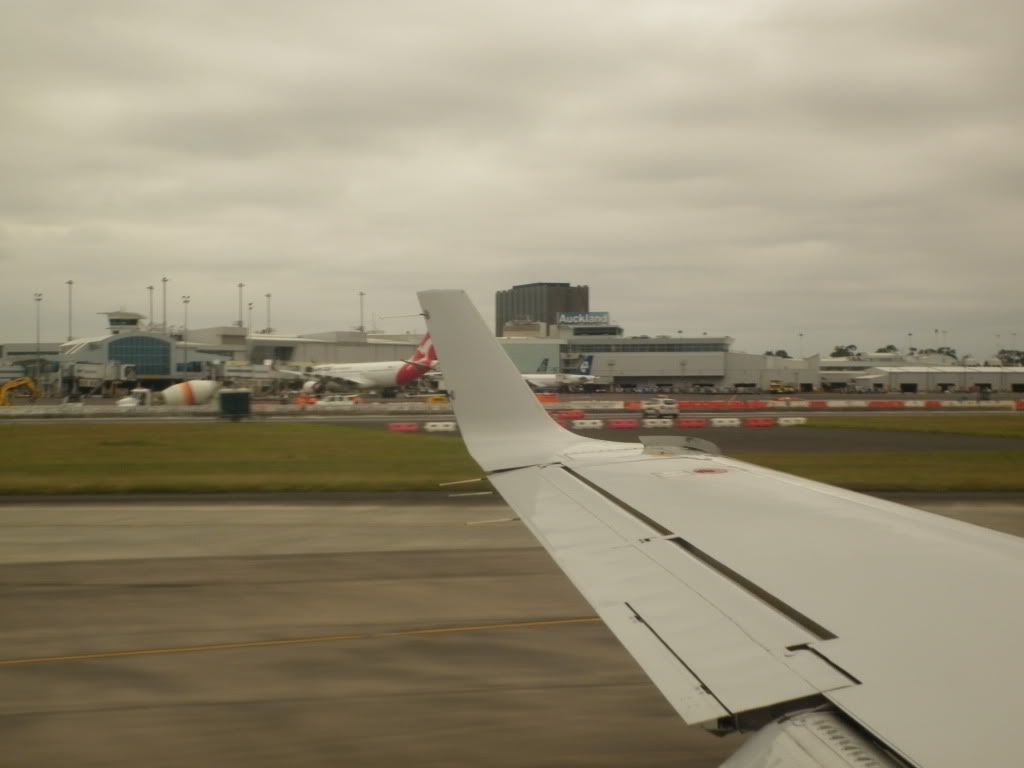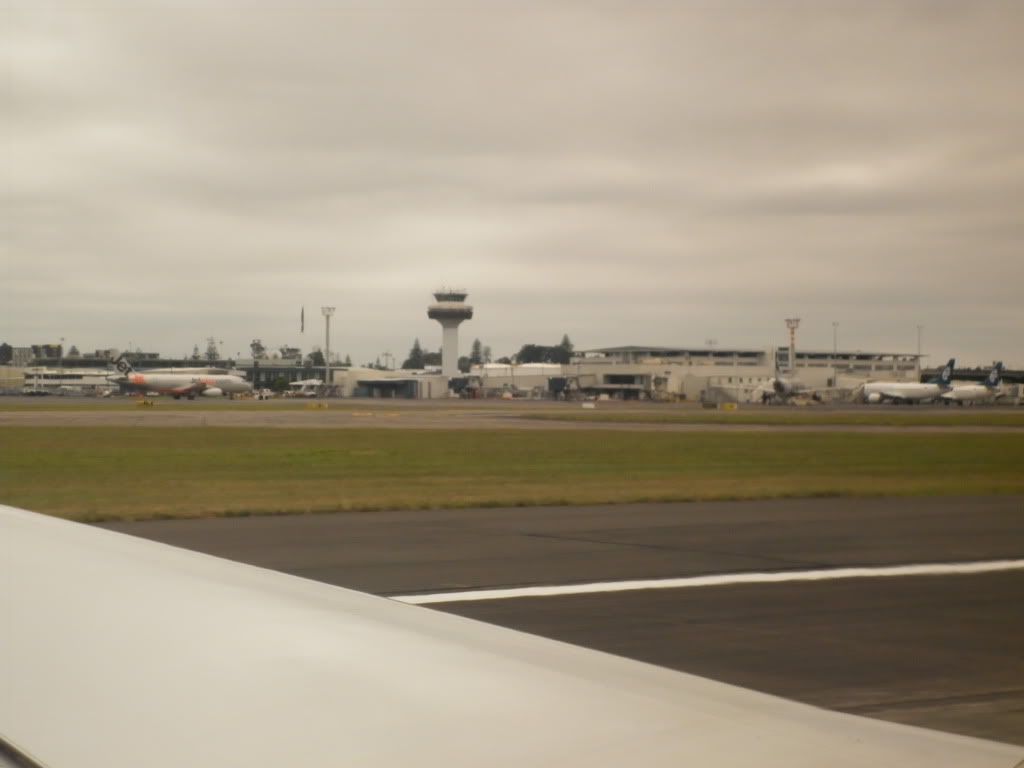 AKL domestic terminal
All Blacks A320 ZK-OAB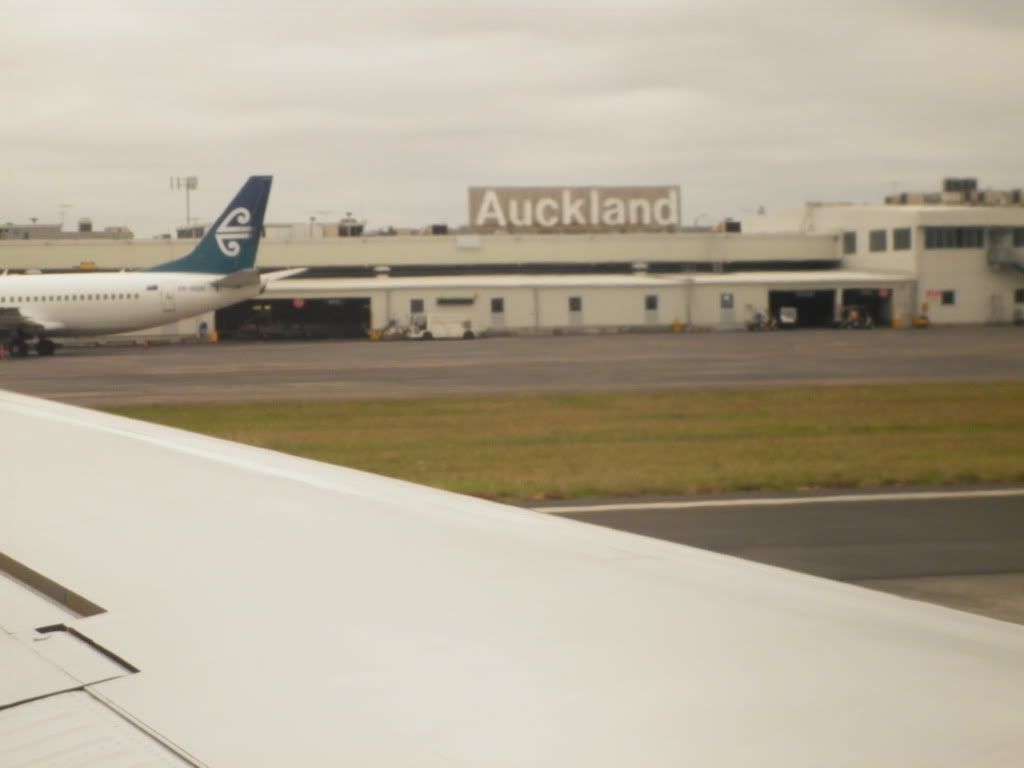 Parked up at the gate
Spotting at the observation deck. EK 77W A6-ECD just arrived from DXB via BNE; NZ A320 ZK-OJM ; LA A343 CC-CQE arrived from SYD and later bound for SCL & QF A332 VH-EBL bound for LAX
EK & QF tails
The Return:
Saturday 10 March 2012
NZ2535
Auckland (AKL) - Whakatane (WHK)
Scheduled Departure: 3:30pm
Actual Departure: 3:35pm
Scheduled Arrival: 4:15pm
Actual Arrival: 4:09pm
Flight Duration (Scheduled) 0:45
Flight Duration (Actual) 0:34
Distance: 115 nm/ 133 mi / 213 km
Seat: Economy 7A (Emergency Exit Row)
Registration: ZK-EAR
6th Beech 1900D flight
30th NZ flight
1st flight on ZK-EAR
3rd AKL-WHK flight
Load Factor: 14/19 (74%)
One of 3 Beech 1900D's in the All Black livery ZK-EAG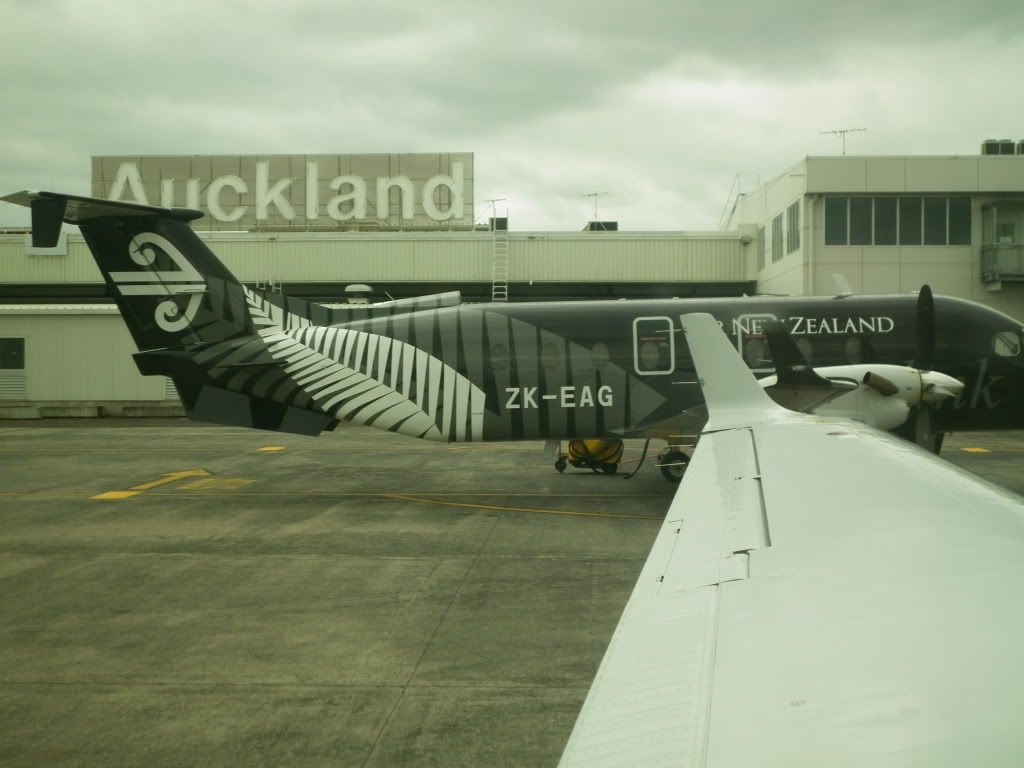 The weather certainly looks better in the Bay of Plenty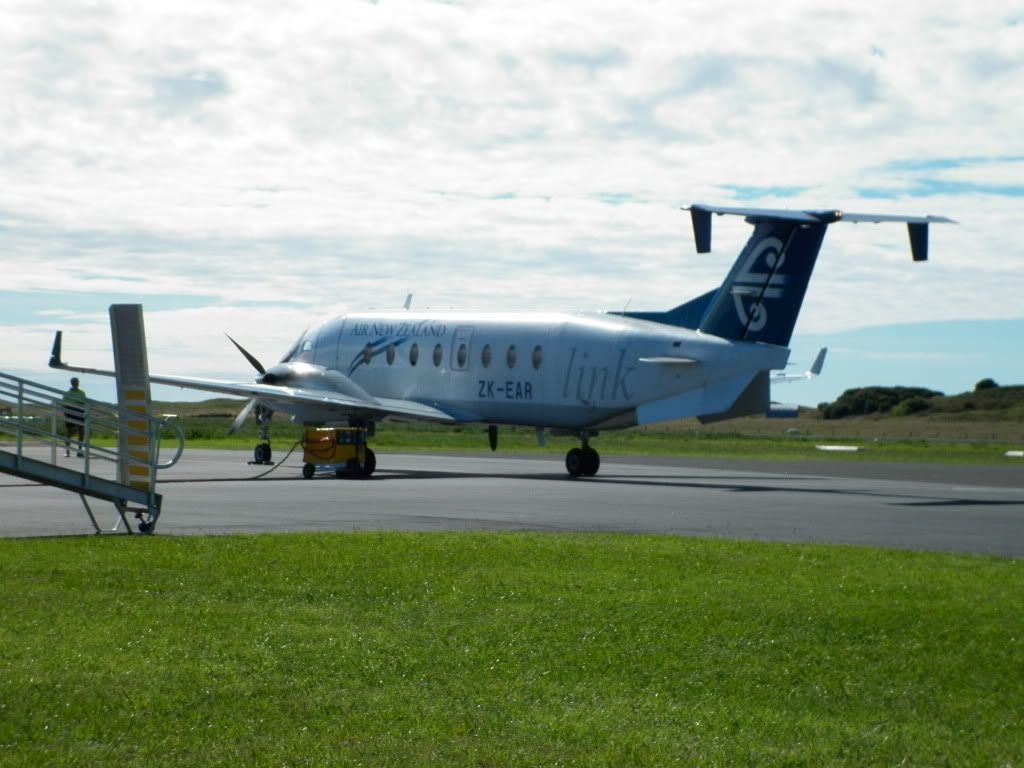 Our aircraft from the carpark at WHK