DISCLAIMER: This a very long Trip Report, read at your own risk!
After years of lurking around these parts of Airliners.net, it is time that I contribute by throwing in my share into the A.net trip report cooking pot. I do apologize first and foremost if some of the photographs look like screen captures – they are! I was trying to juggle both photography and video on the same DSLR. Nevertheless, I do hope you guys would enjoy this Trip Report as much as I had traveling in it.
THE BACKSTORY
Some time in the 2nd half of 2011, my pal Aaron asked me what did I think about a trip to Japan. Naturally, I said why not? This was soon followed by his suggestion of going on a trip to the Land of the Rising Sun. How can I not resist? For months have I been complaining to my colleagues back at camp that I NEED to get out of the country for a while because serving the compulsory two years of National Service (conscription, in other words) really bears you down after a while. Finally a reprieve, it seems!
The initial round of talks saw us coming up with a plan to tour Osaka. Aaron suggested Osaka because of AirAsia X's relatively cheap round trip fares to KIX. The only catch is that we have to catch that D7 flight from KUL although this would be the least of our problems as there were plenty of carriers plying the SIN-KUL route. To this end, we ended up choosing to fly SIN-KUL (subsequently KUL-SIN at the end) on Jetstar.
Months went by and we saw our humble Osaka plan burgeon into an elaborate cross country trip that spans from Kagoshima in the South all the way up North to Wakkanai. Being citizens of a South East Asian city-state found just 85 miles North of the Equator where it's usually hot and humid, I had wondered what are we getting ourselves into by venturing into the Japanese winter – much less one that is found in close proximity to the Russian island of Sakhalin.
PROLOGUE
16th February 2012, Thursday
Enter the day of departure! Me, Aaron and two other friends managed to snag tickets to the Trade Days of the Singapore Airshow 2012. Yes I know.. two students from National University of Singapore, a Trumpeter and a conscript hardly classifies as traders but hey, me and Aaron would already be in Japan by the time the Public Days of the show takes place.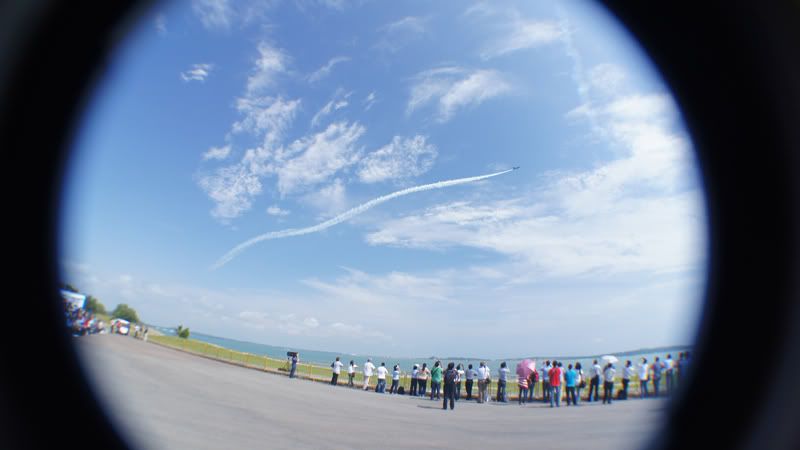 Aerial display by one of Republic of Singapore Air Force's F-16
RSAF's F-16 and F-15 meets in mid-air
After the aerial display segment, we proceeded to the center stage of the Airshow. Business jets after business jets after business jets.. make no mistake, this is where the big boys do their shopping (in my opinion, at least).
This is the reason for my attendance at the Airshow!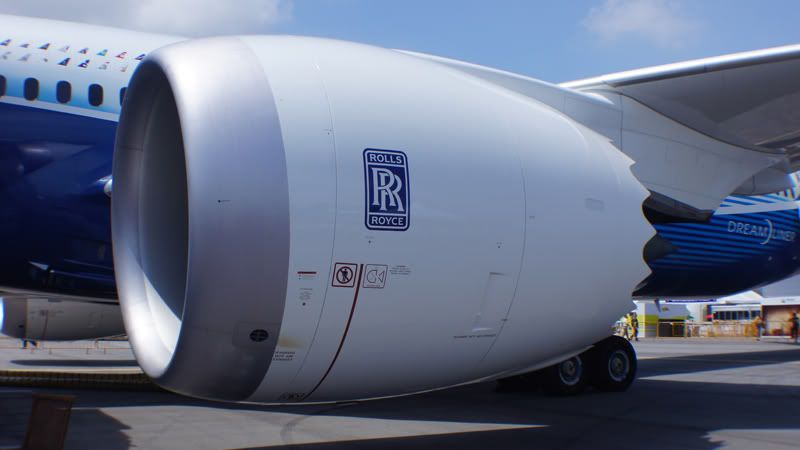 Rolls Royce engines are all up in my face
Boeing's take on Business Class in the B787-800
Economy Class in 3-3-3
As we made our way out of the Dreamliner, Boeing staff dished out Dreamliner paraphernalia. This sure set the mood for travel right, as I'll be flying in a certain B787-800 during the course of the trip.
CHAPTER 0: Plotted Our Escape Part 1
SIN-KUL
Carrier: Jetstar Asia Airways (3K)
Flight: 3K 687
Aircraft: Airbus Industrie A320-232 (9V-JSL)
Seat: 2A/2B
Terminal: 1
Gate: D38 (previously C11)
Estimated Departure: 1925hrs
Estimated Arrival: 2025hrs
It was Aaron's idea to do an online check-in that morning, so all we were required to do is check our luggage in at 3K's counter. We arrived at Terminal 1 by taxi at about 1745hrs-ish. Plenty of people were milling about the bright Departure Hall of Terminal 1. By now, revamping works were largely completed and things were looking sprightly. I'll make this clear though.. I do miss the iconic huge Departure Boards of Terminal 1, the ones with flipping panels with changing information.
After having our last dinner at Burger King down at the Arrival Hall below, we bade family and friends farewell as we went past security at about 1825hrs.
For Aaron, this is the traditional departure shot. I shall adopt it as well!
Thankfully, renovation works airside was completed because the last time I was there in January 2009, the whole place was boarded up. It was at this time we discovered that our departure gate has been changed to D38. When we first arrived, the FIDS stated that we would be boarding from C11. Alas, what we thought would be a short leisurely stroll to C11 became a somewhat brisk walk over to the other side of Terminal 1 where D38 was located.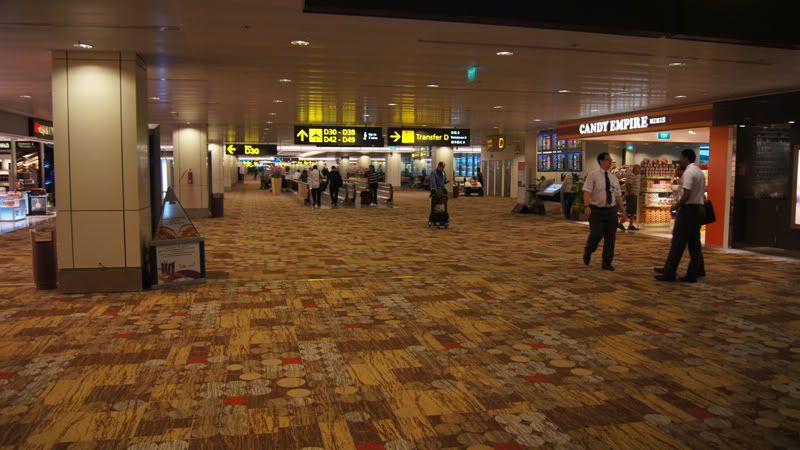 What's an International Airport without duty free?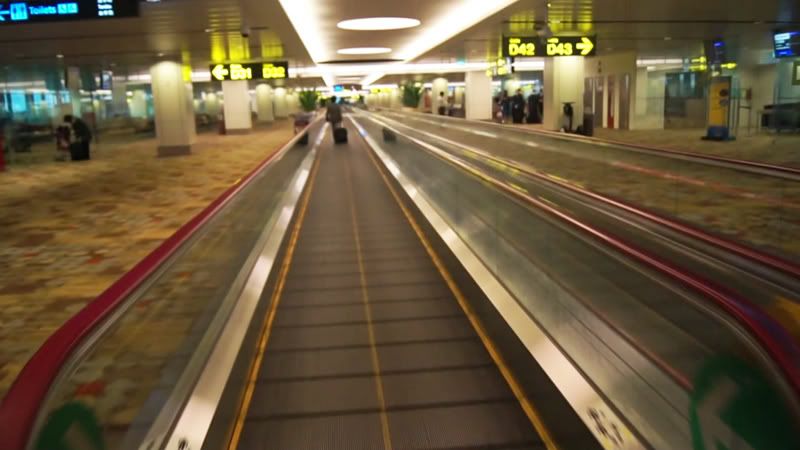 I'm thankful for these contraptions
When we reached where we were supposed to be, the waiting area of Gate D38 was quite empty. Security agents beckoned us to shuffle along to X-ray our carry-ons after ditching our luggage trolley, presumably that we were one of the last ones to board. I forgot that I had a whole chunk of Singaporean coins jingling in my pocket as I scrambled to place my belongings in the basket. This prompted me to start a conversation with the Malay agent.
Me: Kak, coin pun nak letak sekali? (Miss, do I have to take out the coins as well?)
Agent: Takpe, tak payah! (It's okay, no need!)
Remind me to pre-pack my metallic currency in Ziploc bag next time I fly.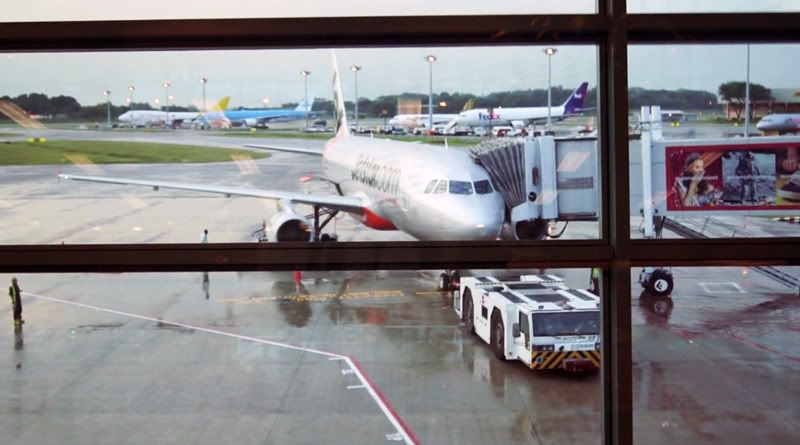 My ticket to ride – 9V-JSL
Aaron tells me that 9V-JSL is a relatively new airframe. Running a search on A.net, there's only one photograph of it in the database!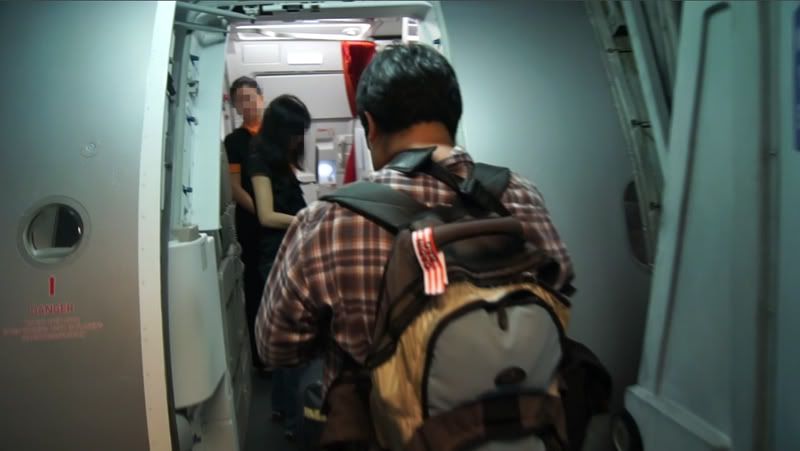 All aboard!
Upon entry, the plane looks quite filled with a few seats such as 1A and 1B unfilled. The pilot soon came on the PA stating the usual information about the flying time and such, ending with a claim that they're waiting for a few stragglers to catch up.
For tonight, we had three Flight Attendants with us – two female, one male. One of the female FA took to the PA to make the usual pre-departure announcements from the front. As I was seated in 2A, I had a view of what she was doing - reading off a script! She was speaking in a bizarre accent though. I would guess that she's a Singaporean but still, what came out of her mouth puzzled me.
Some moments later, doors closed and we commenced pushback.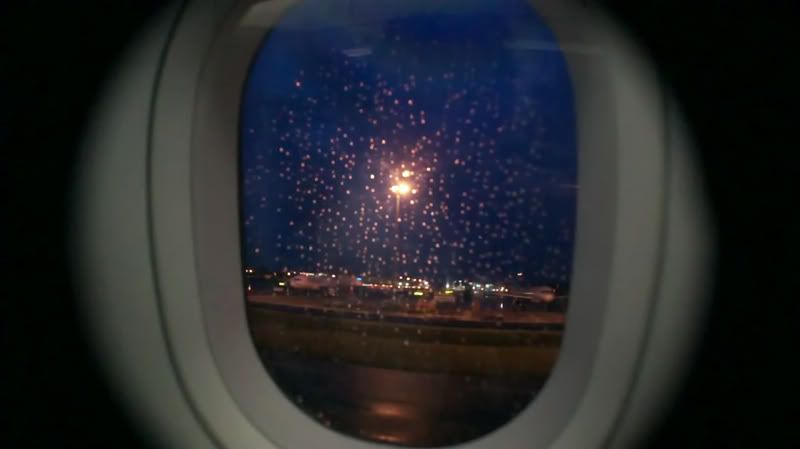 The view from 2A
The plane slowly taxied its way to the end of 02C with a queue of planes in front and before 3K 687. We soon turned into 02C, the soft hum of the engines revved up into a loud whine and the plane rapidly lurched forward. Takeoff at about 1950hrs!
http://www.youtube.com/watch?v=sbf00WZoYds
Unfortunately, this takeoff roll continued my consistent track of taking off into the night sky every time I fly out of Singapore! We were treated into the lighted streets of the Eastern end of Singapore as we climbed. Knowing how small Singapore is, we were already in Malaysian airspace after making a left turn.
When the seatbelt lights pinged off, the FAs promptly swung into action. As Aaron had selected the Jetstar Plus Bundle for the both of us when making the booking, we were served a cold sandwich and a can of Pepsi.
The items in question
It's nice to see 'standard-sized' 330ml cans to be given out as I remembered being served a shorter and squat version of a Coca-Cola can during my flight on QF82 to ADL back in December 2007.
Now, I know that it's common knowledge that the SIN-KUL/KUL-SIN flight would be short. Experiencing it first hand, the flight seems even shorter than we were told! I haven't even finished my second sandwich when 9V-JSL began its descent. It must've been raining earlier in the day because as we were descending, we treated to a nice display of lightning flashing in the distant dark sky. The FAs made their final pass of collecting whatever disposables the passengers had. After that, the two female FAs obediently strapped themselves in their seats at the front all the while bantering about Kate Spade products.
I have absolutely no bearings of where we were as it was quite dark outside, even with the faint streetlights. At least until we drifted close enough to the perimeter of WMKK.
http://www.youtube.com/watch?v=y559C8xnFaI
Landing wasn't as gentle as I had hoped it to be. I would wager a guess that we turned into the next possible taxiway and lumbered towards the satellite terminal.
MH territory feat. 9M-MXD
The same female FA once again took to the PA and welcomed passengers into Malaysia in that bizarre accent of hers. Maybe she was just having public speaking issues?
We finally reached our assigned gate. As expected, passengers surged upwards for their stuff in the overhead compartments and hogged the aisle even though the doors weren't even unarmed yet. Really now, people!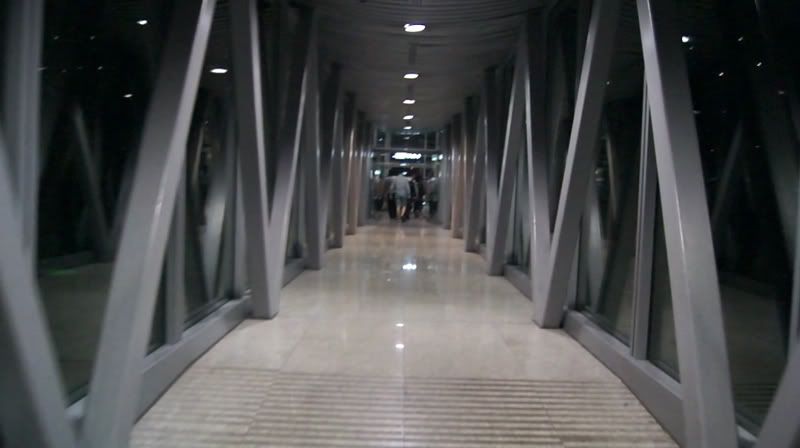 My virgin entry into KLIA!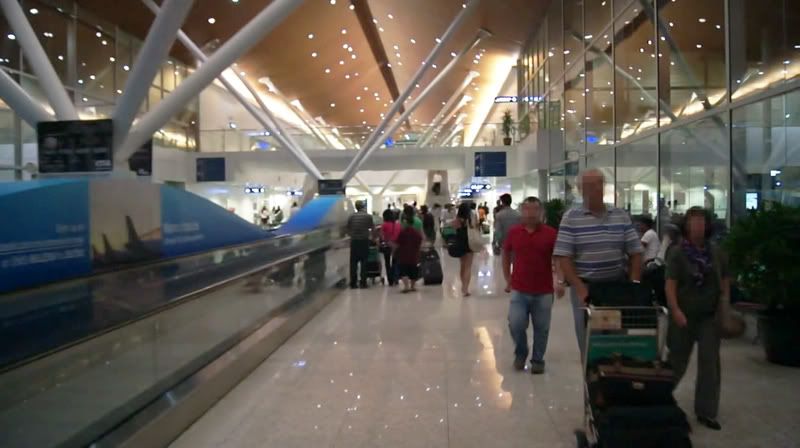 We were finding ourselves a luggage trolley here
No sooner had we reached the end of this wing, we were greeted by – what else? DUTY FREE. We continued on in the dark and drab terminal. By then, I was starting to miss the bright interiors of Changi Airport!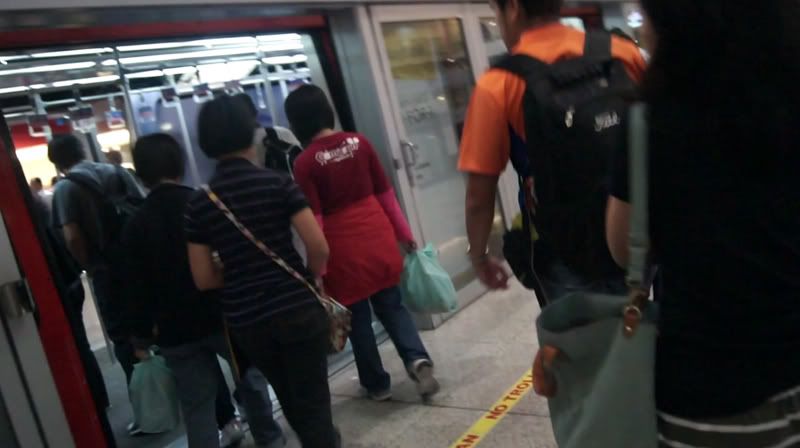 We found KLIA's version of the Skytrain - the AEROTRAIN
Aerotrain route map
I have to say that I enjoyed KLIA's Aerotrain ride more than Changi's. Too bad that it was dark outside and I couldn't really spot anything interesting outside! The Aerotrain soon halted to a stop at the Main Terminal. The minute we walked out of the doors.. more duty free.
Immigration was a nasty affair because it seemed like the entire world is there queuing up for processing left and right. What's more, all of them had the familiar immigration cards dished out to foreign visitors. Aaron and me didn't have one so I asked one of the staff there about where can we get some for us. She said there isn't a need to which kind of surprised me because in all of my experience entering Malaysia by car or coach, we always had to fill in that white card. After getting a second opinion from another staff, we found out there reason why there wasn't a need was because they "ran out of stock" of the white cards. Comments?
We were waved through the other side and started for the baggage claim area.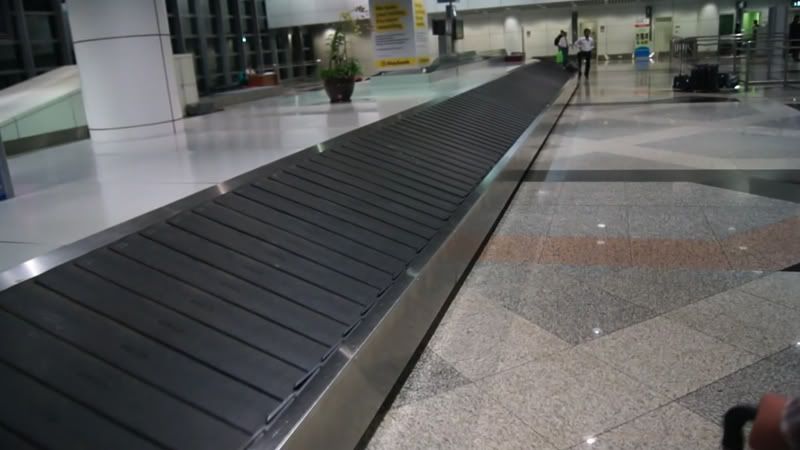 I've always wanted to get one these carousels and just go around in circles!
We were finally reunited with our checked luggage and went out into the arrival hall. After some trekking through the dark corridors and hallways, we located the bus bays where we were supposed to take an airport shuttle to Tune Hotel, which was located just outside KLIA Low-Cost Carrier Terminal (LCCT). It was quite an apprehensive ride to the hotel as the bus sped along the dim light road/expressway the entire time and I just have a not-so-hot thing about speeding through dim roads at night. So sue me.
Eventually we reached Tune Hotel and checked ourselves in. The room itself is quite claustrophobic as we barely had any room to place our luggage and carry-ons and still have room to move about. But it's just for the night, and it'll have to do!
----
CHAPTER I: Plotted Our Escape Part 2
17th February 2012, Friday
KUL-KIX
Carrier: AirAsia X (D7)
Flight: D7 534
Aircraft: Airbus Industrie A330-301 (9M-XAA)
Seat: 2D/2K
Terminal: Low-Cost Carrier Terminal (LCCT)
Gate: T16
Estimated Departure:
Estimated Arrival:
We woke up at about 0500hrs to get ready for checking out. Didn't really have a good night's sleep because it was just a little too claustrophobic for me!
Tune Hotel's lobby
We then headed over to the hotel's carpark to catch the early morning shuttle bus to the LCCT so kilometers away. When we arrived, it seems that LCCT was bursting at the seams with both passengers and airport staff alike.
Aaron managed to get us upgraded to Premium Class via Optiontown. As such, we were able to check-in at the AirAsia Premium Counter. Being early in the morning, he just mumbled through things and wasn't really coming off as friendly. He said nothing more and then whisked our luggage away on the conveyor belt. Our boarding passes looked somewhat indistinguishable than a normal receipt from a supermarket. Breakfast is in order! We walked around for a bit around the terminal until deciding to eat at Marry Brown.
MB Porridge! It tastes nicer than it looks
There was nothing else to do than to go through immigration and screening. While walking, I just felt that LCCT could use a little more lighting as it just looks dreary and dim!
Seats are nearly a rare commodity here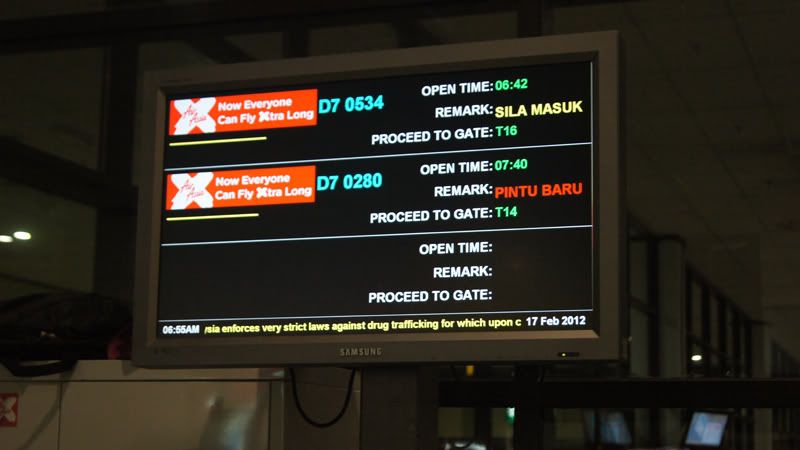 Our flight status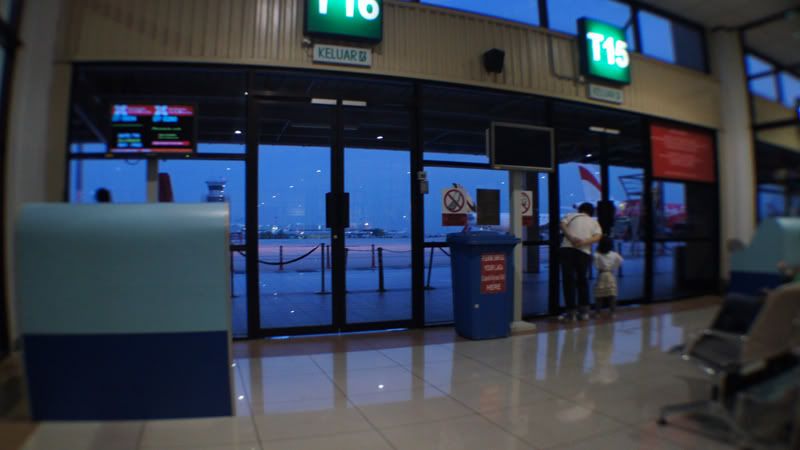 View of the apron from our waiting area
We had to wait for quite a bit before airport staff assigned to our gate began walking around our waiting area.
People taking the chance to catch forty winks on the bench
Staff: Premium passengers! Premium passengers first!
The few of us marched out of the door and into the apron towards our plane. I must say it was nice to once again walk to our aircraft because the last time I did that was a Silkair flight at LGK.
9M-XAA, our plane
We were greeted with smiles and were ushered to our seats. I took 2K and Aaron took 2D.
Sister A330
The Premium cabin of D7 534
Check out the legroom on this one
The doors soon closed after the usual customaries of FAs making sure everyone has settled into their seats. The pilot came on the PA to brief us passengers on the flight details. As we taxied out into the active runway, the FAs performed the usual safety demonstration in the aisle. For some reason, I always enjoy watching the safety demonstrations!
http://www.youtube.com/watch?v=s9sZY35l39E
We gracefully rose into the morning Malaysian sky with oil palm plantations flanking WMKK left and right. Sparsely distributed buildings dotting the landscape became miniature versions of themselves as climbing progressed. Pardon me; I always have no awareness for time when I'm inside a plane so I'm not sure how long it took us to get to our cruising altitude.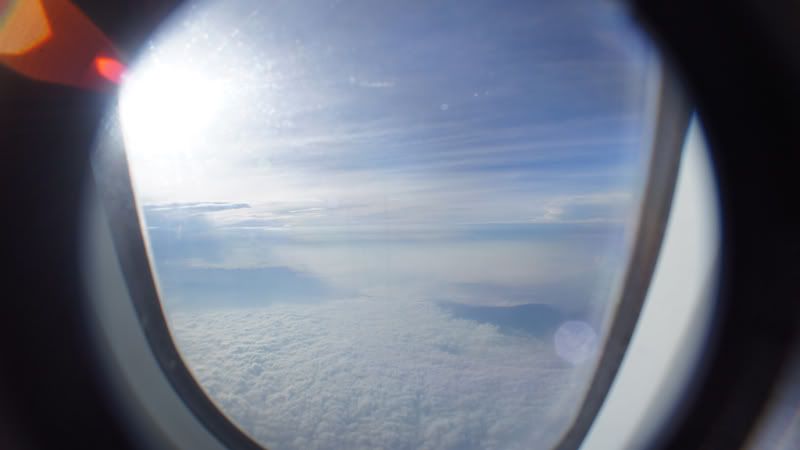 Breaking through a layer of cloud, still underneath another
We're in cloudland
The pillow and duvet issued to Premium passengers. They're very comfortable, I have to admit
Some time after leveling off, the FAs began making their rounds of handing out embarkation cards to passengers.
Arrival cards of Japan
We got these filled up pretty fast and stowed it away. I noticed that the man seating in 2G started to speak to Aaron in Japanese. Suddenly, both of them got up and they switched seats. Aaron told me that he got to know that the two of us were traveling together and kindly offered to switch seats with Aaron. What a nice man!
Not long after, meal service started for the Premiumites.
More cabin views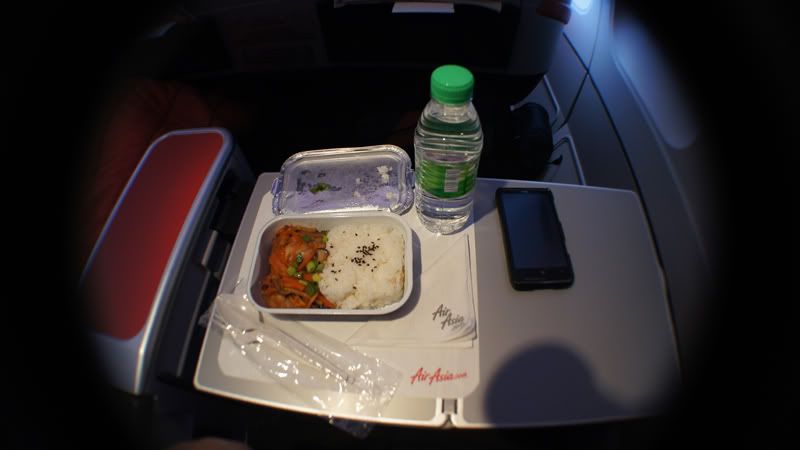 My meal.. reheated Fish Teriyaki with Rice!
Meal was a nice affair because I was feeling a little hungry despite the breakfast of Marry Brown porridge earlier that morning. I downed it all in no time, stowed away my table and set my seat into full flat mode. Even though there was some degree of incline, I still found it quite comfortable as I was able to stretch out and curl up into the fetal position at any time with ease. The Premium seat had a width of 20", so there was plenty of space to move about.
The next few hours were spent taking occasional photographs or listening to Nigella Lawson talk about food recipes on my iPod Classic.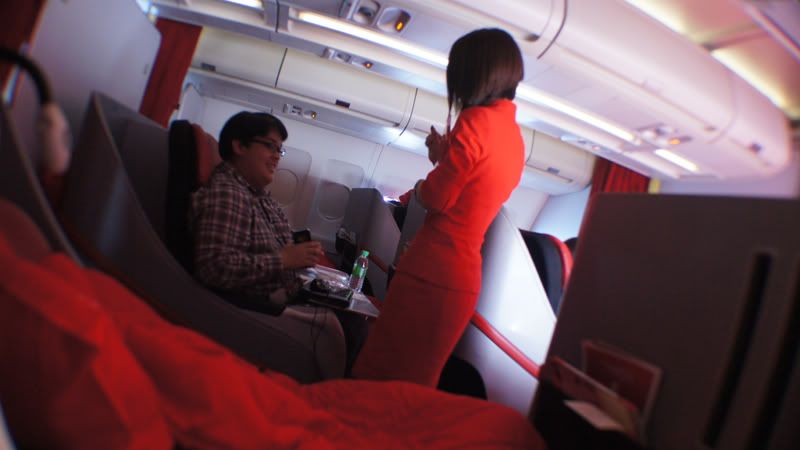 The best FA I have ever encountered since first flying
This particular FA was quite friendly and frequently made her rounds to ensure that we were all okay. As Aaron had some degree of ability in conversational Japanese, he attempted to speak to her in said language. Unfortunately, I admitted to her that I could not understand much less speak Japanese. She herself said that sometimes she has troubling understanding some Kanji characters, so it's all good.
I was feeling for some munchables by then so I consulted the BOB card.
.. and got away with these. Comfort snack!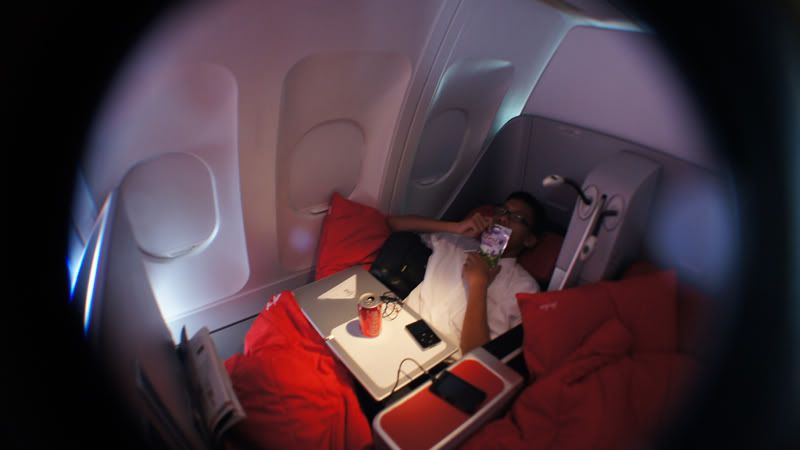 Three windows all to myself with Ribena!
Somewhere at the second half of the flight, I finally couldn't resist the siren call of duty free anymore and hence rang up our favorite FA to place my request for an AirAsia travel organizer. She happily obliged and emerged from the galley with the box of the stuff that I wanted.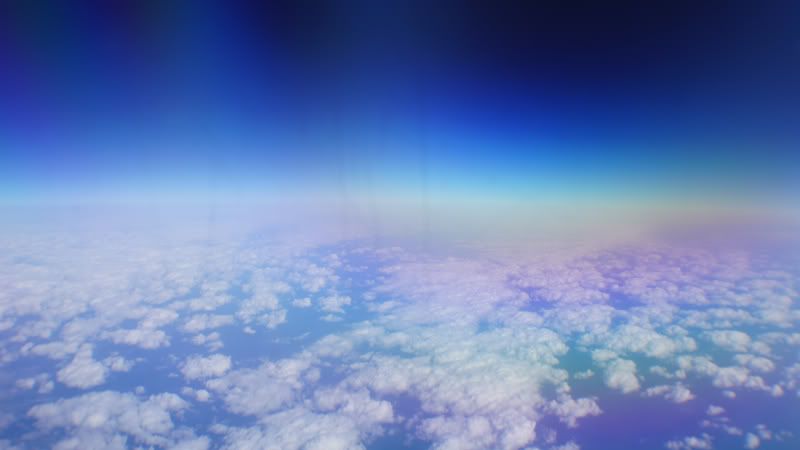 More clouds
At some point, I fell asleep for a while only to be roused by the smell of alcohol. The woman beside me in 2H was having a good time drinking, it seems. She was happily chatting away with Aaron, alternating between English and Japanese. Goodness knows what they were talking about.
And then magically, she too offered to switch seats with Aaron (now this, I understand). What are the odds? Not long after the switch, the pilot came on the PA and announced that we were on our way to descending.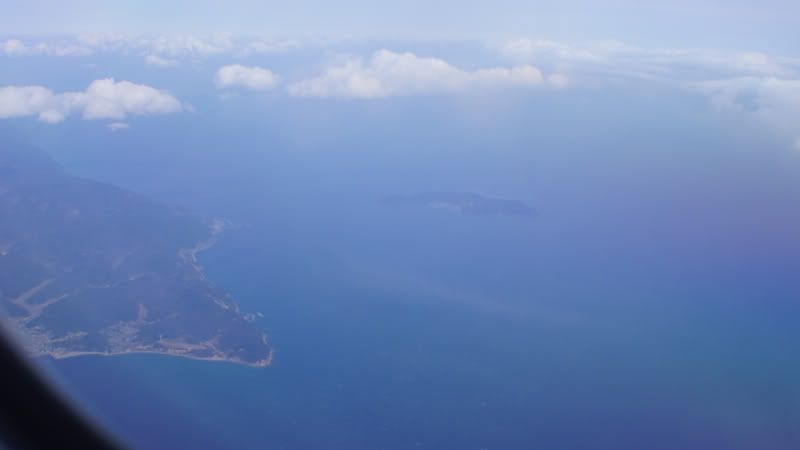 Japanese islands popping into sight
Descent was a pretty standard affair with occasional turns and checks by the FA. Before we knew it, KIX came into view and the crew was told to take their seats and strap in.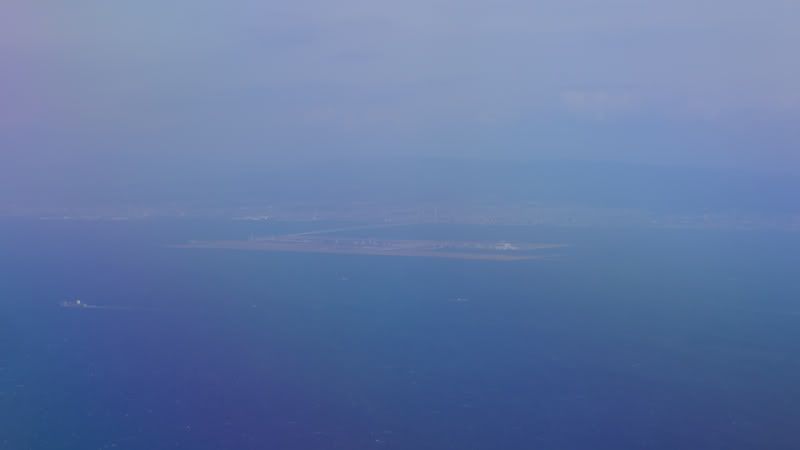 Kansai International Airport in the distance
We made two more turns and drifted lower and lower. For a moment, it seemed that we're going to do a water landing!
http://www.youtube.com/watch?v=OfqJfqSwT5E
The post-landing announcements were made as we taxied out of the runway and made a long trip to our gate. Meanwhile, we were treated to a view of planes parked at KIX gates.
Part of the bridge that connects KIX to mainland Japan
The plane soon parked, doors unarmed and passengers began to disembark. When most of the passengers had left, I sheepishly requested for a photo with our fabulous FA. Amazingly, she agreed to it!
Thank you for the wonderful experience
Both Aaron and I wrote our praises for her hospitality during the flight. I do hope that AirAsia X rewards her in some way or another!
As we were quite far away from the main terminal, we took the Wing Shuttle and caught sight of the plane we were on just an hour ago.
9M-XAA!
Wanting to avoid the fiasco of immigration crowds like that back in KUL, we zipped our way through the terminal and thankfully beat the crowd. What I find interesting about the Japanese immigration is that the machine that takes your mugshot talks to you! The friendly counter girl waved me through after stapling on the relevant documents into my passport.
After claiming our luggage on the carousel, we decided to get a Softbank 3G SIM card for Aaron's iPhone 4S. That went on smoothly so we proceeded to find the Japan Railway (JR) ticket office in KIX so that we can submit our Exchange Orders and receive our Japan Rail Passes. I swear, the Japan Rail Pass is a God-send!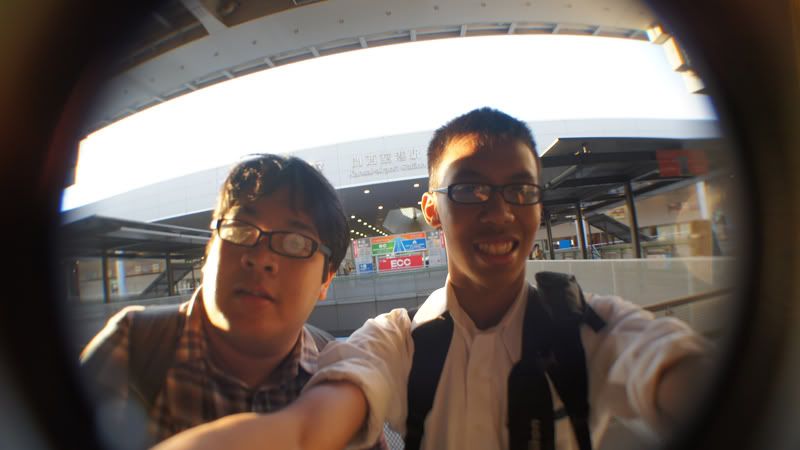 We made it to the front door of KIX!
While at the Ticket Office, Aaron had also reserved for us seats (Green Seats) on the next possible Express train service, Haruka 30, to Shin-Osaka. There, we would continue our journey onwards on our very first Shinkansen of the trip to Hakata,
Route: Kansai Airport → Shin-Osaka
Service: HARUKA 30
Train: 281 Series
Seat: 6A/B (Green Car)
Departure Time: 1716hrs
Arrival Time: 1807hrs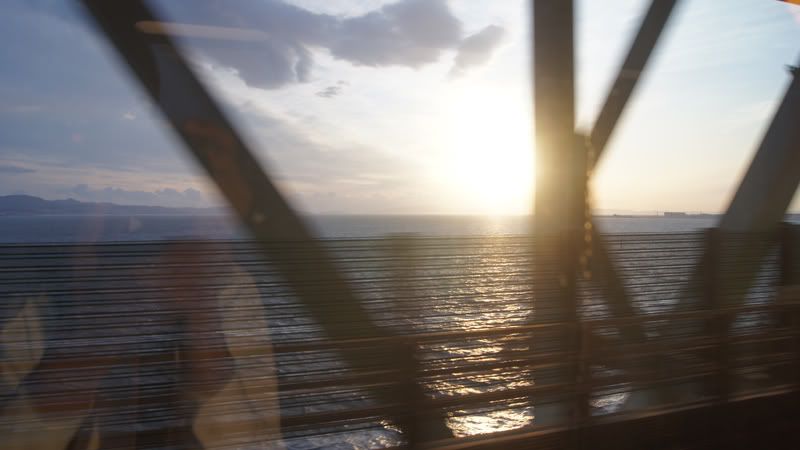 Speeding on the bridge connecting KIX and Osaka
En route to Osaka
After a journey of about half an hour, we reached Shin-Osaka Station and proceeded to the Shinkansen platforms to catch our connecting train.
Route: Shin-Osaka → Hakata
Service: HIKARI 577
Train: N700-7000 Series
Seat: 14C/D (Green Car)
Departure Time: 1822hrs
Arrival Time: 2106hrs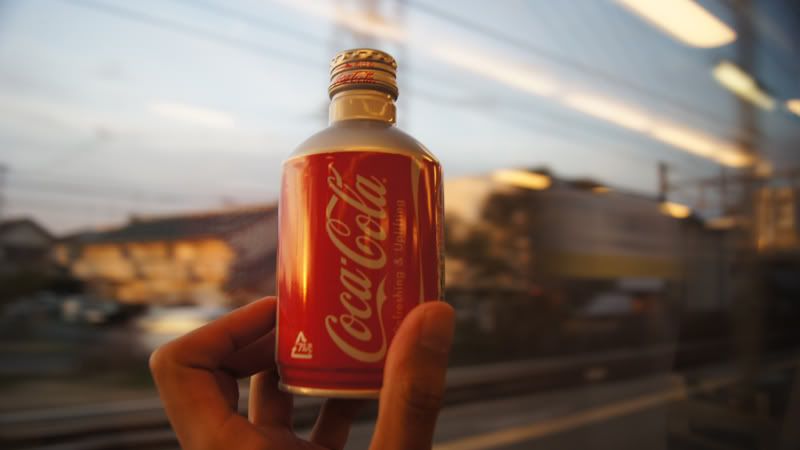 These costs ¥120 from the vending machines onboard
Yes, they do have vending machines onboard the Shinkansens. Pity they don't have snack vending machines though! The female cabin attendant entered, made a bow to us passengers and pushed her trolley along the aisle asking if anyone wanted to get snacks or the like.
My first few purchases in Japan!
After two hours or so, Hikari left the island of Honshu and dived into the undersea tunnel. Eventually we emerged into the open and that told us we're already on the island of Kyushu. How's that for a Superexpress service?
We reached Hakata station in the city of Fukuoka and yet again navigated our way through the escalators and lobbies of the station to locate our connecting Sakura service, which would take us even southwards to the end of line in Kagoshima.
Route: Hakata → Kagoshima-chuo
Service: SAKURA 431
Train: N700-7000 Series
Seat: 11A/B (Green Car)
Departure Time: 2109hrs
Arrival Time: 2248hrs
Check out the Green Car of JR Kyushu Shinkansens!
The wood-walled hallways between the cabins. Posh or what?
It was really something else to experience the level of service provided by JR Kyushu staff onboard. Every time they enter or leave a cabin, they would graciously bow to the passengers with a smile. Needless to say, I was quite impressed and can't help smile every time they entered, left or bowed. Keep up the good work!
Time passed and we soon began slowing down in preparation for our arrival at Kagoshima-chuo Station, the southernmost station of the JR Kyushu line. As we alighted, the attendants thanked us profusely for choosing JR Kyushu. Call me crazy, I just can't stop smiling then!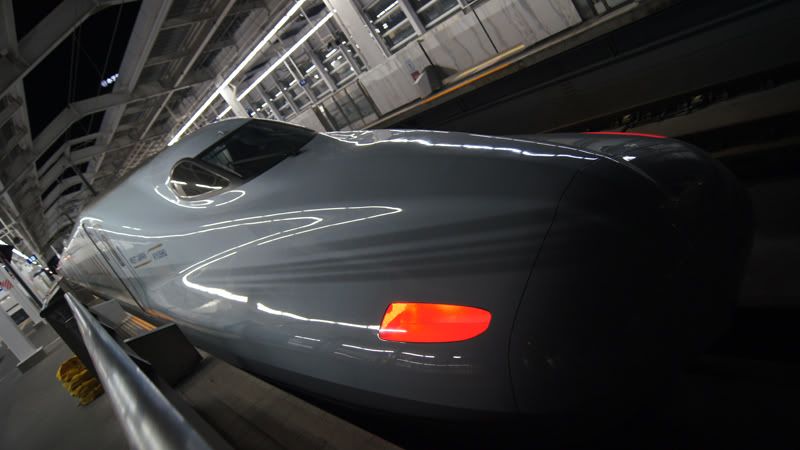 Our N700-7000 Shinkansen that took us from Hakata to Kagoshima-chuo
End of the line, folks
Boy, was it COLD! So sue me, I live near the Equator. We made our way out of the station and after consulting Aaron's iPhone, we got to know that Toyoko Inn (our hotel for the night) was located just down the street from the station. Checking in was a funny affair because I got watch Aaron try to keep up a conversation in Japanese with the counter girl. We entered our room for the night and settled in for some much needed rest after long day of traveling.
[Edited 2012-04-09 04:57:46]
[Edited 2012-04-09 05:14:54]