Hi guys! Thanks for reading my 4th Trip Report, which consist of 3 airlines, Tiger Airways, Sriwijaya Air and Lion Air.
.PAST TRIP REPORTS-
To Jakarta (CGK) With AirAsia QZ7783 (09Sept09)
"Thank You For Flying Cathay Pacific"
Emirates EK 432 SIN-BNE
.PLANNING-
Selamat Datang! I started planning for this trip back in February. After reading past trip reports from sia744's Trip Report-
Batavia Air B733 And Sriwijaya Air B732 CGK-TKG
and I decided that my safer bet would be to fly from CGK to TKG. With that online booking done, I decided to go for Tiger Airways' from SIN to CGK, because it was offering the cheapest flight at S$89 and it departs from Changi's Budget Terminal. I have never take any flights that departs from Budget Terminal, so it was really nice to try so. (And Changi's Budget Terminal will close on 25 September 2012, which would be demolished for Terminal 4) Flying back to SIN is much easier to decide, with Air Asia out of my choice (due to high fares), I chosen Lion Air, which had 6 flights daily. It cost about S$50 for the return flight, which is cheaper than Tiger Airways!
.BACKGROUND of Indonesia-
I love Indonesia, especially their warm hospitality. This would be my 3rd time visiting Jakarta, and my 5th time in Indonesia. Since it was my semester break, I wanted to have a short vacation, which my friend, who stays in Indonesia, invited me to stay at his place. It was a nice stay throughout, and I am really thankful of his parents who gladly showed me Jakarta, the local street food, the culture and the history and job opportunities in Indonesia. Indonesia is a safe country, and despite that, mum kept reminding me that I must be aware at all times because *blah blah blah*. Nonetheless, she wouldn't be coming with me to Jakarta, as I will be flying alone in all my 4 flights. (while she flies to Seoul, SouthKorea for her holiday)
.FLIGHT PLAN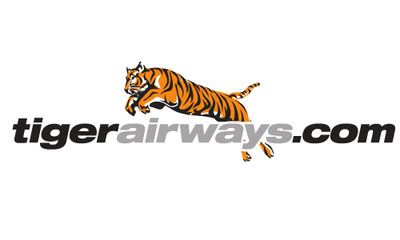 1st April 2012
Aircraft: Airbus A320-232 (c/n 4181)
Registration: 9V-TAM
Flight No: TR2274
Flight Load: 40%
Route: Singapore Changi Budget Terminal (SIN) to Jakarta Soekarno-Hatta Terminal 2D (CGK)
Seat: 5A
Scheduled Time of Departure/Arrival: 0810/0855
Actual Time of Departure/Arrival: 0815/0850
Aircraft History: 9V-TAM (Tiger Airways)
Del Date: 23-JAN-10
Woke up in the morning, 515, washed up and prepared my belongings! After I said goodbyes to my dad, I took a cab to Changi's Budget Airport. (Train services on a sunday runs slightly later than usual) When I reached the airport, around 605am, the airport was already busy. Flights to Phuket and Bangalore were in full-swing. Tiger airways dominated this early morning check-ins, and with the common check-ins, it is even crowded. I checked on the screen and the counter for my flight have not opened yet. 5 minutes later, the screen started flashing, Counter 15-18. But that means that I have to queue with passengers going to Phuket, which made the queue endless to reach.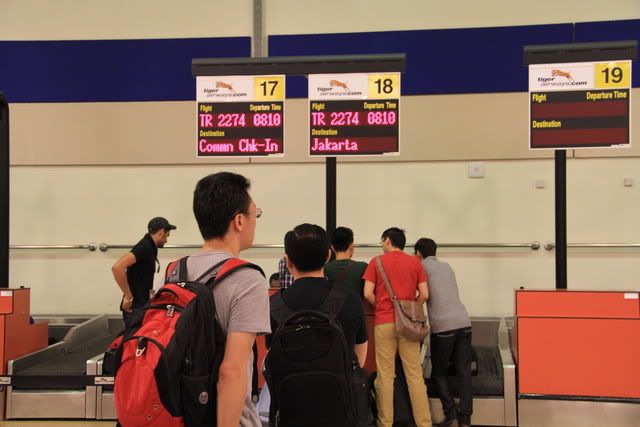 Common check-in counters at Budget Terminal
The long queue
Early check-in by Tiger Airways!
After 20 minutes of waiting, it was my turn. As I have no check-in baggage, getting my boarding pass printed was fast. I settle down at Macdonalds, which is located outside the Departure side of the terminal and had my breakfast. And after a quick breakfast, I went in to the departure gate, had my passport scanned and went into the common holding terminal. Inside had a lot of shops, DFS, Kopitiam, Coffee Bean, etc. Nothing caught my attention so far, except I went to buy a small padlock to secure my bag. It wasn't long before boarding calls were made and I had to start boarding the aircraft at the gate around 720am.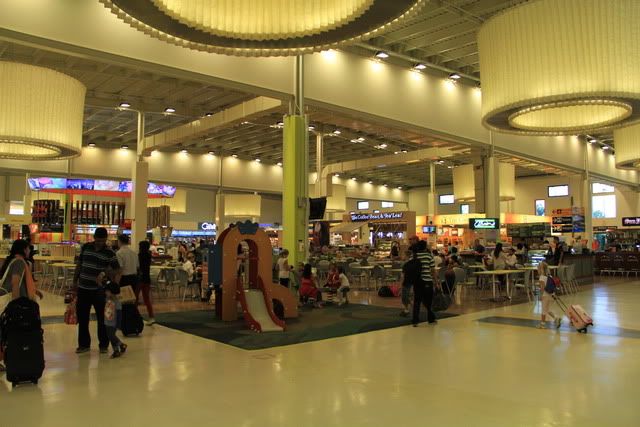 Kopitiam, Children's Playground and nice lightings on the Budget Terminal
Kopitiam (Coffee Shop)
Busy Sunday departures
Common Boarding Gates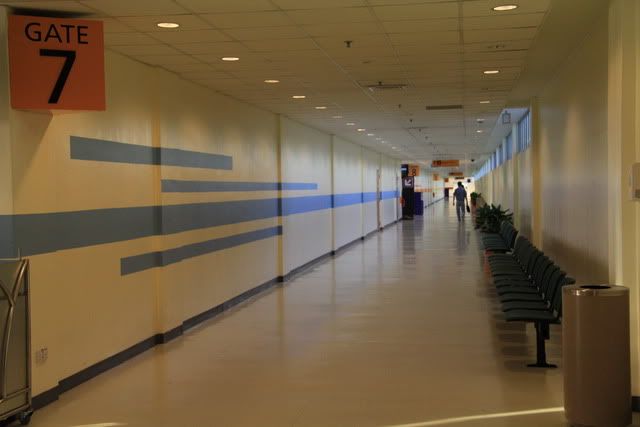 My flight departs from Gate 7
Reaffirmation
It even had a sign board to tell you you're on the right flight
Small window showing our aircraft, 9V-TAM
Now, we had to queue orderly while one of the ground staff checks our passport and scan our boarding pass. Next, we were separated into 3 different rows, according to the seats you're assigned to. As a precaution, I pre-selected my seat, 5A which I had to pay $8.
After 10mins, the ground staff gave those who were seated at the rear to go up the aircraft, and mine was the last. As I was carrying a DSLR to take photos, the ground staff had been watching me. When it was my turn to board, they reminded us to switch off our camera, in a rude, broken-english manner. (Disappointing) However, there was an Indonesian family who was in-front of me. He saw me snapping photos while waiting, and so, he also took out his DSLR. While we were walking on the tarmac, he started snapping photos on the planes. An auxiliary police came swiftly and told him not to take photos. Apparently, he didn't heed, and after a while started to snap again. The police said in a angrily manner "Sir, stop taking photos. Last warning, or I can stop you from flying this aircraft."
I rolled my eyes in displeased, he's just trying to take some photos which I think, was normal. Security in Singapore is really, really strict.
Nonetheless, I snapped this photo sneakily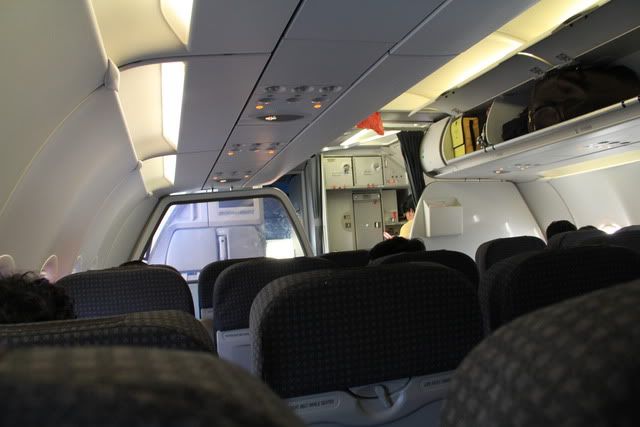 Cabin view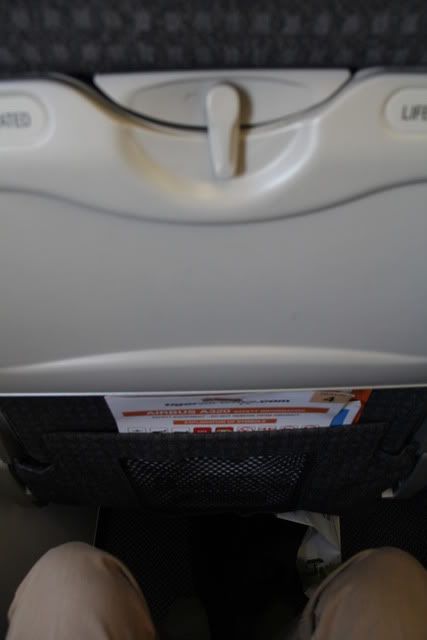 Seat pitch is really comfortable for me. (I'm 173cm tall)
Morning fog on the aircraft windows (9V-TAS)
I was warmly greeted by the chief pursuer of the flight, who was lively and cheerful. Down the row, a male FA, Gilbert, came and asked me where my seat was. He checked, and direct me to my seat which was a row behind him.
After 5 minutes, all the passengers settled down and the pilots were doing final paper work. While on the ground, Gilbert started to hand out immigration cards to Indonesia and I counted that this flight had about 40% load. At 0815, the FA closed the door, and we started push-back. Flight Safety demo was manually done, and after reading trip reports, were done professionally. Everything went smoothly and quick, and in less than 10 minutes, we taxi to our runway and take off. The take off was uneventful. The chief pursuer made an announcement 10mins after we take off. She told us that we will be flying at 39,000 ft and BoB (Buy on Board) will commence soon. Then, the curtains covered the pilot's door as they were preparing for the BoB service.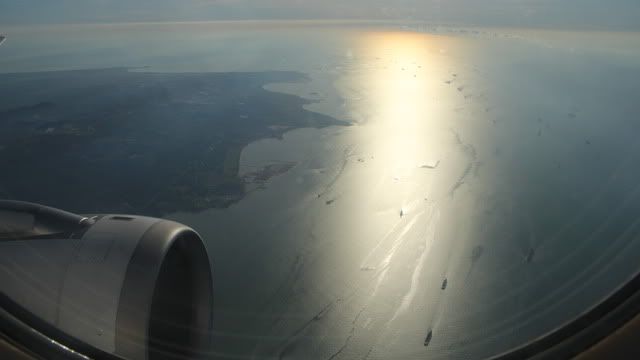 Passing an island while cruising over the morning sun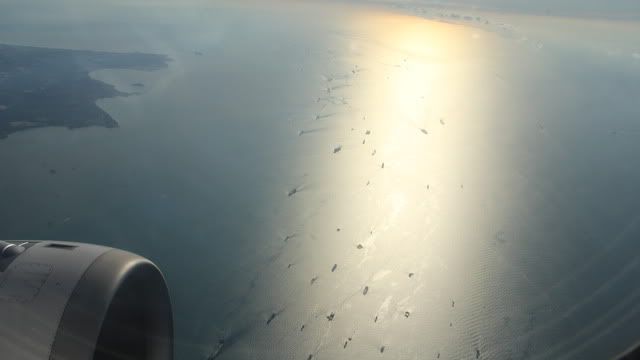 Ships can be seen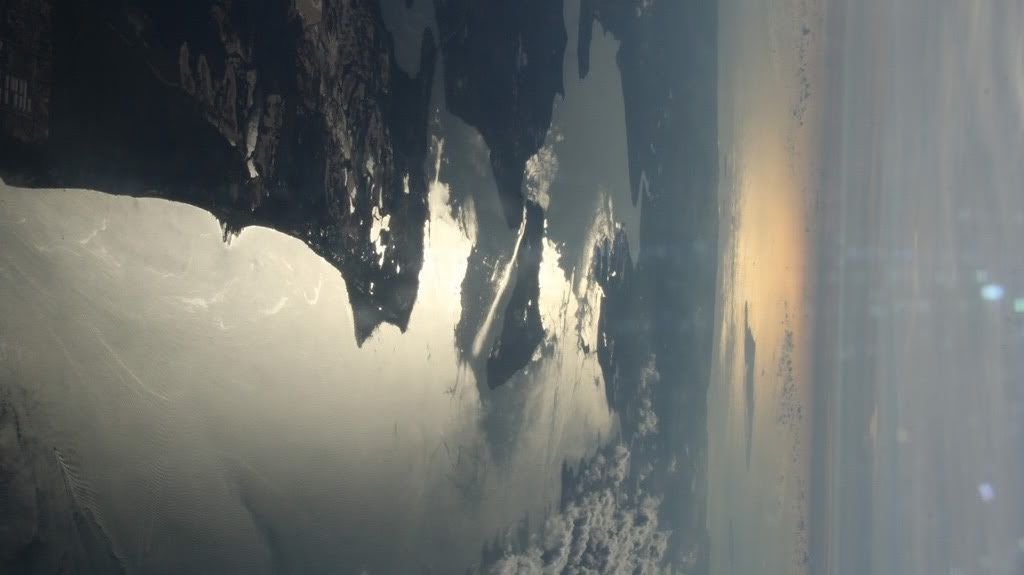 Overview of the long stretch of islands
BoB commenced and I took a look at the menu. Since its a short flight, I only needed a bottle of water, as I was starting to thirst. To be honest, I think the drinks are overpriced, as a 300ml water cost me $3. However, I was pleased that after Gilbert passed me a packet of Roasted Peanuts as a compliment. Well, at least there's food to chew. While on board, I visited the toilet. The toilet seat was in bad condition. I could see brown stains, and dirts that had been there for quite a while. In addition, the front cabin had water droplets leaking in mid-flight. Perhaps this plane needs to visit the hanger soon!
Tiger tales (in flight magazine) with the BoB I had bought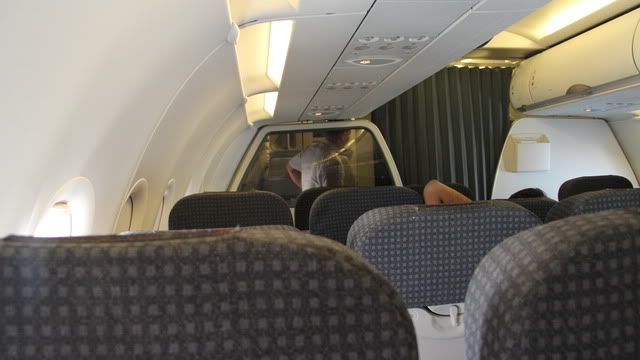 Co-pilot Annan Susilo chatting with flight attendants while Captain Kim was on the helm
I spent most of my time taking photos from my window seat, as there were no clouds and there was the vast blue ocean and white sandy beaches and green islands. Other than that, I spent my time reading the articles on Tiger tales, which had interesting articles. Soon, the crew made an announcement that we were starting to land at 820am (Jakarta Time). We landed at about 0850am, 5mins earlier than scheduled. Landing was uneventful, and I had a quick chat with a lady, who lived in Jakarta, about my visit in Indonesia. After most of the passengers had deplaned, I asked the flight attendant and chief pursuer if I could take the cabin photo, and they gladly accepted. They also helped me to take one. I thanked the flight and ground crew and left the aircraft.
Garuda Indonesia (PK-GFO) and Sriwijaya Air (PK-CJV)
Lion Air's (PK-LHG) B744 to Jeddah (Formely Oasis Hong Kong and Singapore Airlines plane!)
Japan Airline's B773 in a distant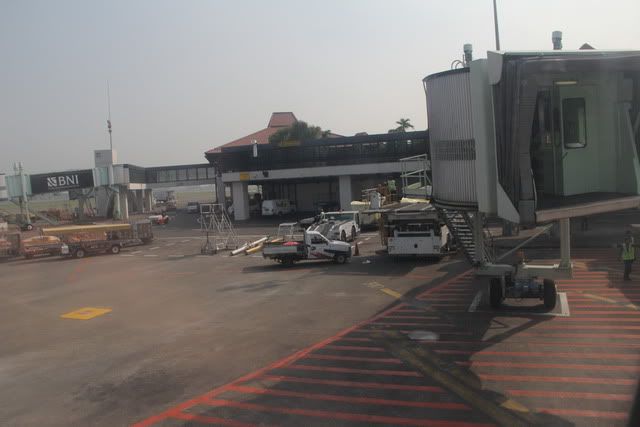 Aerobridge
Cabin shot

3rd April 2012
Aircraft: Boeing B737-4Q8 (c/n 26281)
Registration: PK-CKN
Flight No: SJ096
Flight Load: 80-90%
Route: Jakarta Soekarno-Hatta Terminal 1B (CGK)- Bandar Lampung Airport (TKG)
Seat: 7A
Scheduled Time of Departure/Arrival: 0940/1020
Actual Time of Departure/Arrival: 0948/1020
Aircraft History: N401KW (Carnival Airlines), SX-BKN (Olympic Airways), E3-NAZ (NasAir), D-ABRF (BremenFly), PK-CKN (Sriwijaya Air)
Del Date: 20-OCT-92
After 2 days of sightseeing, I decided to visit Bandar Lampung. I am really excited about this trip as it will be my first time flying on a Boeing 737-200. For me, who is under 18, doesn't speak the local language and going alone, was a big thing. My parents had been worried for my safety, and so was my friend. However, I was determined to fly, and to understand the local culture at Bandar Lampung.
We set off from my friend house at 6:30am and took us about 20 mins to reach the Domestic Airport. After saying my goodbyes to them, I went into the airline office at the terminal and asked if this flight was cancelled. Well, the staff, speaking basic English said I could proceed to the airline check-in counter to get my ticket. The counter was rather empty, and I soon found an empty check-in counter. I approached the lady with my basic Bahasa Indonesian language and she quickly printed my traditional boarding pass. She mistaken me and thought I was the local! Which was very embarrassing for both of us, as I couldn't understand what she was saying. Nonetheless, I said thank you to her and went to take some snapshots.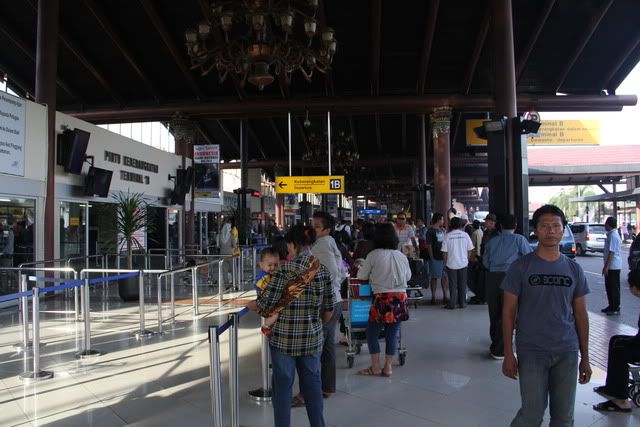 Outside the terminal
Sriwijaya Office
The stairs on the right leads you to the viewing gallery
Busy Tuesday
Check-in counters were many and empty for Sriwijaya Air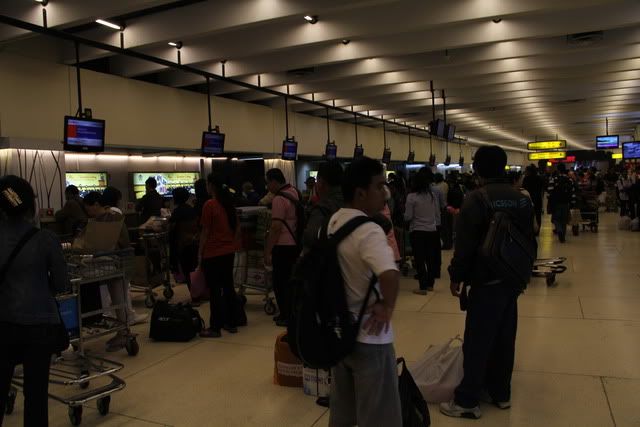 Compared it to the Lion Air counters, which were crowded and beside Sriwijaya Air!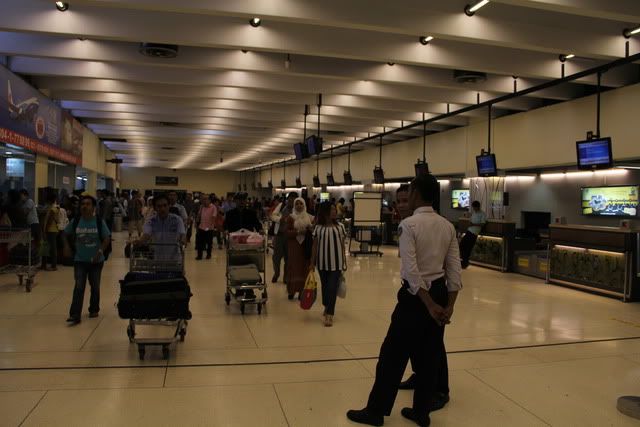 Rather well-maintained domestic terminal, a refurbishment should commence this year
As usual, I had to pay 40,000 Rupiahs (S$5.70) for the airport tax. After that, I went up to the 2nd floor which housed many local shops and a local lounge. The interior is spectacular!
The wooden ceiling, red bricks, gigantic lights, keeps it traditional to the local culture. Unlike PlaneHunter, I didn't feel that the place was hot and humid (maybe because I'm used to it) His trip report can be found here:
Blast From The Past: Sriwijaya 732 & Lion Air 739
Terminal's structure
Local lounge
Passengers check-in with their tickets scanned and bags checked
Busy day today, but I couldn't see my flight! :O
It seems to be a busy day for the airport, with so many passengers flying in the morning and countless of flights throughout the day. There were a lot of businessmen too and some were going back to their hometown.
I waited at the common seating area, waiting for my flight to appear on the display at Gate B6. At 8:10, it didn't show. Then at 8:30, the screen was completely blank. I was worried that my flight would be cancelled, and so I approached the Sriwijaya Air representative to ask if my flight had been cancelled. Luckily, I entered the gate, which had card sized plates that says B. Lampung on the left. I had forget to take one of the lunch box from the Sriwijaya personnel as they were nowhere to be found. The flight looks full, with around 80-90% full. I waited for the flight, and looking through the glass doors, I saw a parked Boeing 737-400. Worried, I asked the counter about the aircraft used for Bandar Lampung. It took quite a while for them to understand what I meant and sadly, their affirmation that this flight would be a Boeing 737-400. Disappointed? Yes. I couldn't help but to think that my return flight would be this same aircraft. At the same time, a Sriwijaya Air's 737-200 push back, heading towards Jambi (PK-CJF), and it was my first time hearing the sound to the engine!
While waiting for the start of boarding, I met this Australian guy who was the few foreigner boarding this flight to Bandar Lampung. He took a picture of my shirt initially, because I was wearing a tribute shirt to Darren Lockyer, a legend in the NFL Rugby who's career was mostly with Broncos and Australia. He approached me and gave me a firm handshake, saying that "Darren Lockyer is a legend", and we continue to chat until we board the aircraft.
Finally, boarding calls were made at 0930am.
Which gates am I gonna go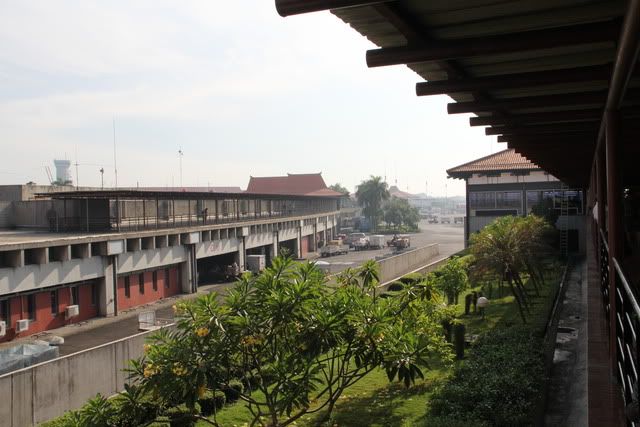 Batam to your right, Bandar Lampung to your left
The Aussie that I met while waiting at the gate!
View of this 20 years old interior!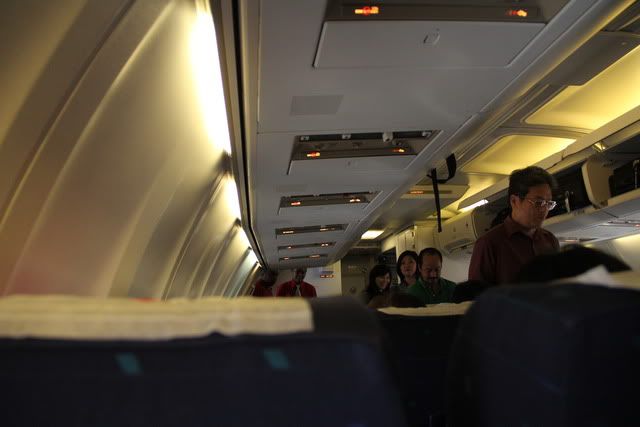 Well-maintained interior
Beside us was the company's sister ship, (PK-CJA), which I would take that for my return flight
Close-up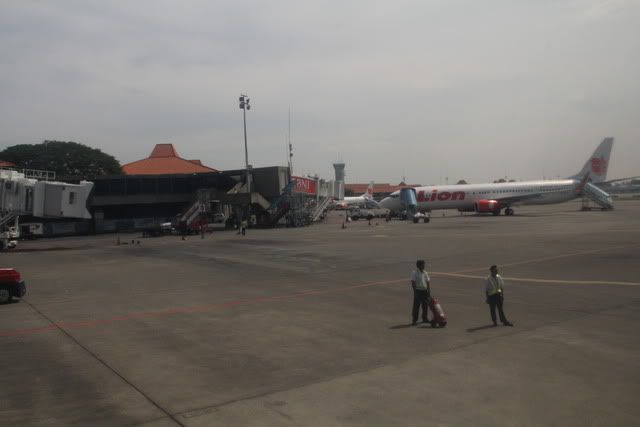 Lion Air's B737-900ER on the other side
Take-off
Turning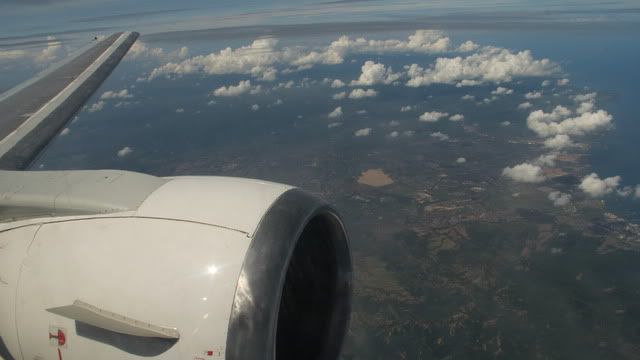 Nice view!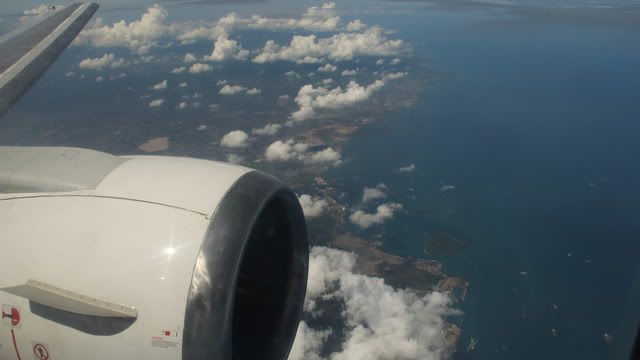 Reaching Bandar Lampung and crossing towards Sumatra island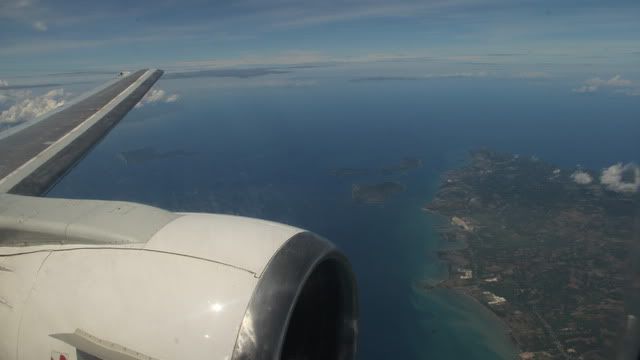 Reaching Bandar Lampung!
Seat pitch is comfortable and generous
Prior to landing
We boarded the aircraft and we were quickly greeted by warm and cheerful Flight Attendant. The chief pursuer (Rondine) was really nice and the Aussie guy went to tell her that I was very interested in planes. Down the rows, a male Flight Attendant (Brava) came and asked about my seat. I gladly pointed to him that my seat was at 7A. He looked fine, cheerful and lively. We pushed back at 0948am and took off 10minutes later. On board this aircraft was also a manual safety demo, in Bahasa Indonesian then in English. I could understand it clearly and it was professionally done. Once we were airborne, Rondine made an announcement saying that this aircraft was flying at 14,500ft and the flight would be 30minutes. Also to note that Sriwijaya Air gives out sunkist sweets before take off, which is really a good and appreciated small treats. In addition, they do give out local newspapers for free. The aircraft, 20 years old, showed signs of age but it is still clean and well maintained. I was seated with a middle aged local guy who gave me the stern face throughout the flight and occupied the handrest. (Which made me really uncomfortable at times because its so squeezy!) In the air for only 20minutes, Rondine then made another announcement that we will be landing in 5minutes and I looked at my watch, which was 10:15am. (Now, that's quick!) The cabin lights were switched off, the crews did a last safety check, and soon, they went to their jumpseat. We landed at 1020am and in 5minutes, most of the passengers had deplaned.
However, I stayed on and had a chat with the flight attendants and the pilots. The FAs helped me to ask the ground crew about my next flight's aircraft, and I was re-affirmed that it will be a Boeing 737-200!
Landing at Bandar Lampung (City view)
At the background you can see a mountain (Gunung Ratai)
Parked next to me was a Merpati's Xian MA60 (PK-MZC)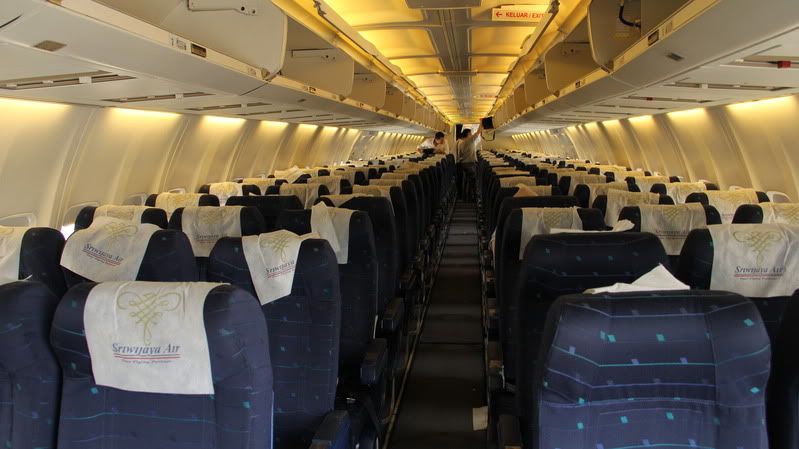 Overview of this spacious cabin
Rondine and Brava!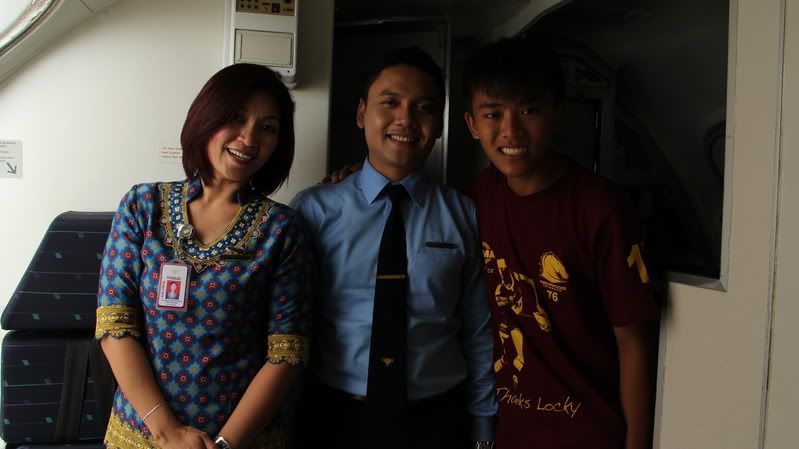 With me included
Great pilots on the helm!
Tarmac scenes (only our aircraft and Merpati)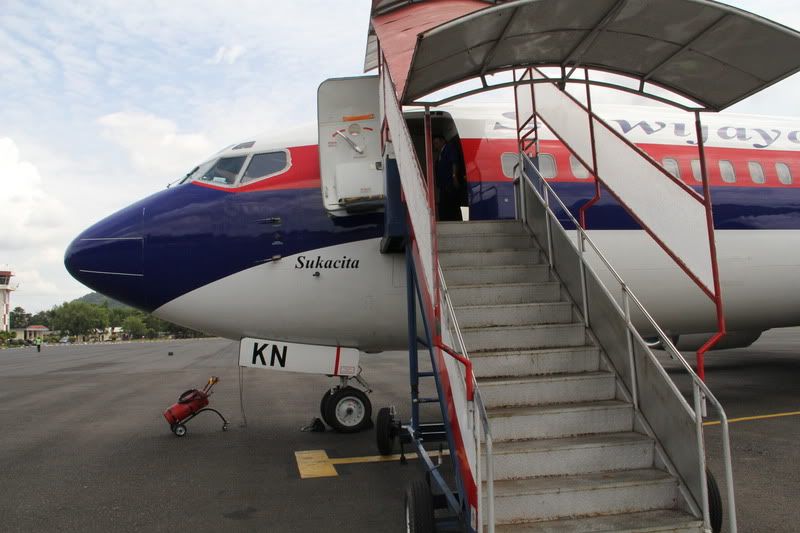 'Sukacita'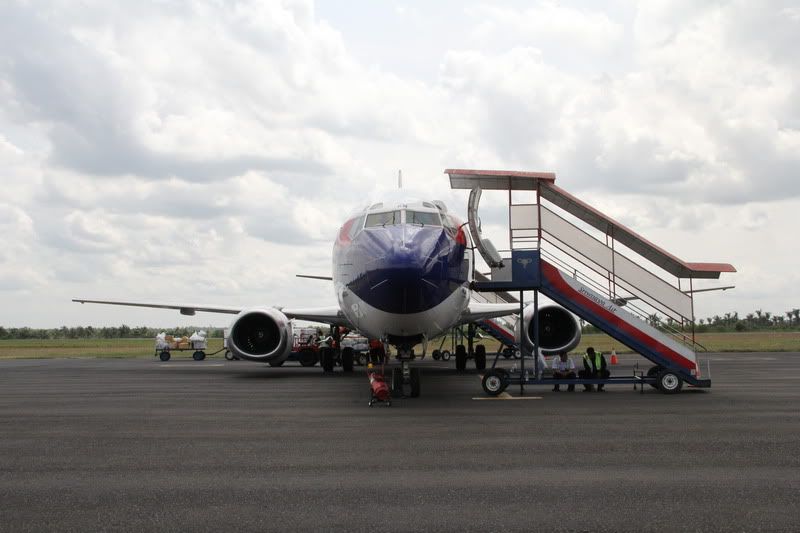 Front-view
Selamat Datang!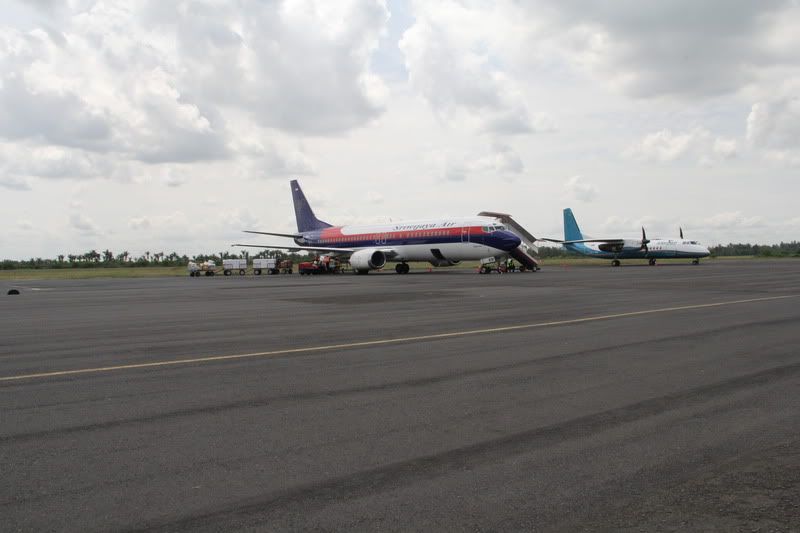 Empty on a domestic airport, most of the flights drops off passenger and gets new passengers and fly to another destination. Turnaround process for Sriwijaya Air
Outside the domestic airport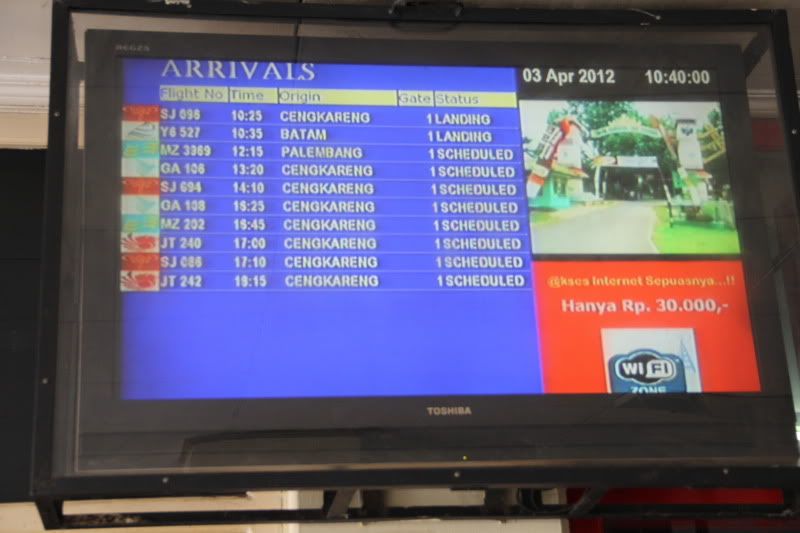 Flights for today, not much on this airport
I thanked the crew after taking photos with them. The ground crew were now on board and turnaround process had began. This plane will pick up new passengers and will be flying back to Jakarta. Walking on the tarmac was no issue, and I could snap photos easily as security wasn't that strict compared to my encounter at Singapore Changi Airport. Since I had no baggage, I was out of the terminal in no time, as the airport was small and I only had to walk from one end of the terminal to the other end. I went up to the observation deck (2nd floor), and greeted this nice elderly security guard. I was shocked to see so many people crowded in a small, but unobstructed view of the tarmac. It seems like their family members are departing/arriving, and it gives me the homely feeling. (How I wished I could have that back home)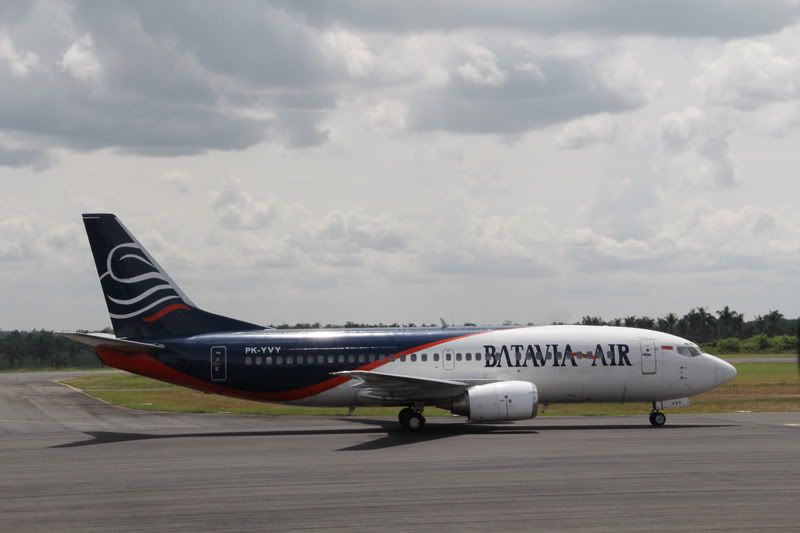 Batavia Air soon landed at this airport (PK-YVY)
Young ones enjoying the view on the tarmac, while waiting to see their family members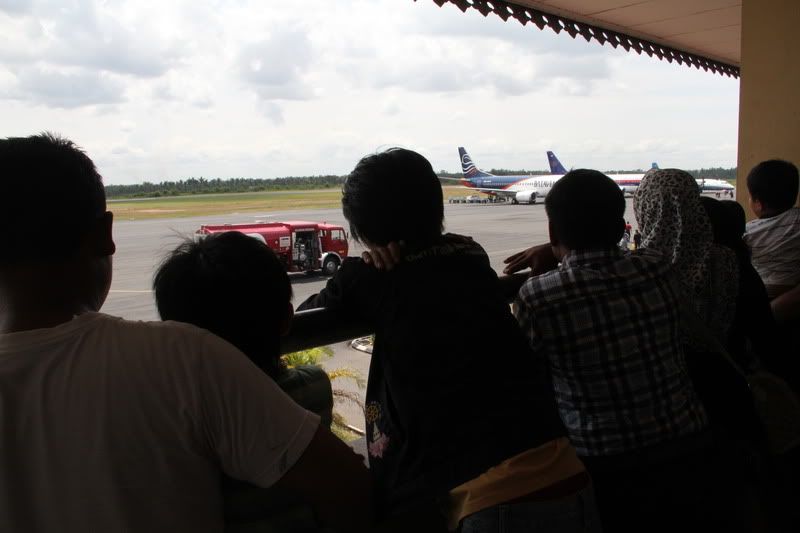 Enthusiastic crowd, no matter if you're too young or too old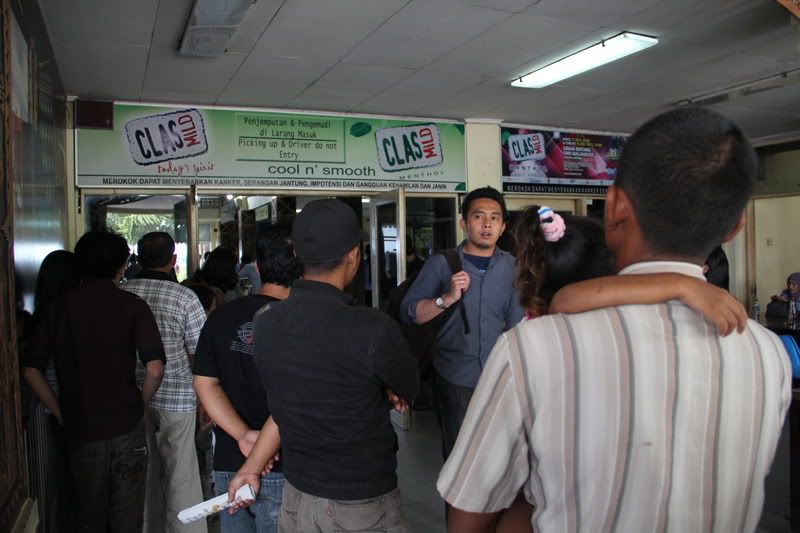 A crowd gathered outside the arrival gate, waiting for their family members.
Outside the terminal (Highway and a zebra-crossing)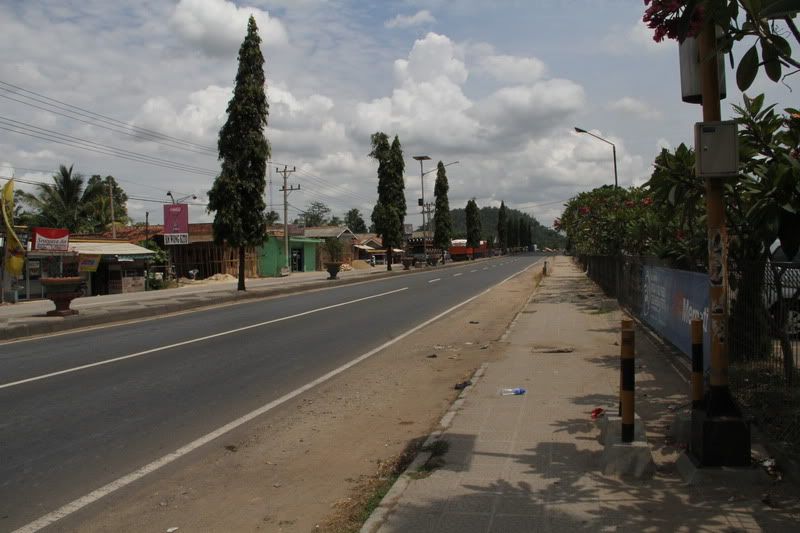 Lovely weather too!
There were nothing much outside the airport except airline office, some mini-mart shop beside the airport, carpark, taxi stands. With 3 hours to kill, I head out of the airport, and saw some street-side food house. I went towards there, dashing across the deadly zebra-crossing, with the cars not stopping at all. There, I went to an eatery, that sells Indonesian food. I opted for Ayam Goreng (Fried Chicken). It was very nice, and they were very nice as well. We had a small chat after I finished my lunch. After lunch, I went back to the terminal and spent most of my time on the viewing gallery. I also bought wi-fi access at the airport, which caused me 30,000 Rupiahs to get the user and password.
A complete set meal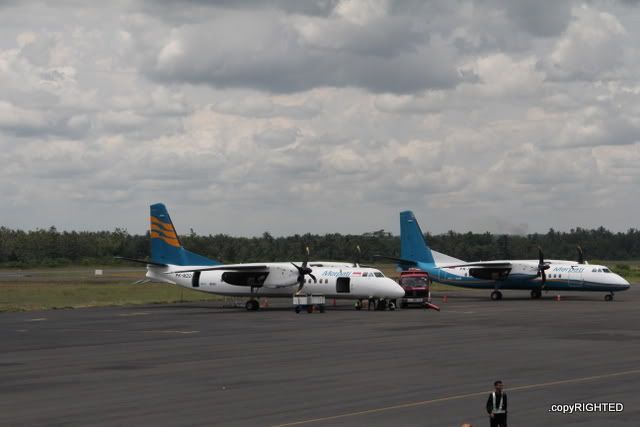 Sriwijaya and Batavia left, and there were 2 Merpati's Xian MA60s
She's leaving!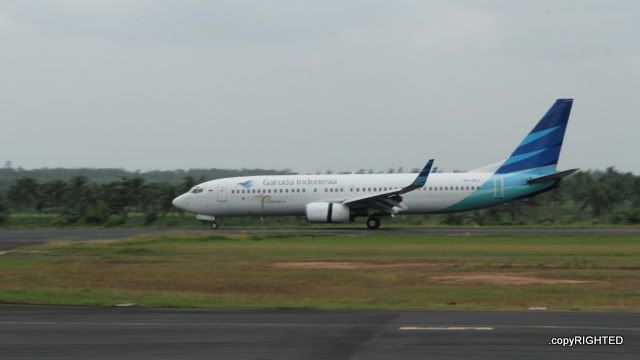 And a Garuda's B737-800 came (PK-GEJ)
Parked next to Merpati
After close to 2 hours, I was bored and decided to check-in. It's rather hassle free. First, I had to scan my belongings and then proceed to the respective airline counters. You can also buy some local food inside here! There's a shop to the left of the Sriwijaya check-in counter that sells delicious fried banana crisp. (Keripik Pisang by Yen Yen at 20,000 Rupiahs. The boarding pass that I got was a printed receipt and I received my snack box from the counter.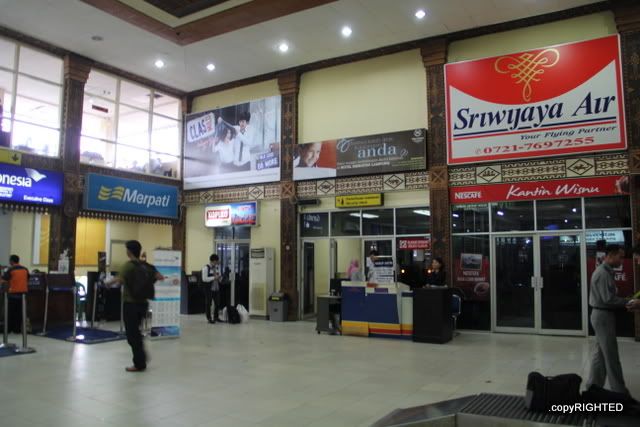 At the check-in counters
Garuda next to Sriwijaya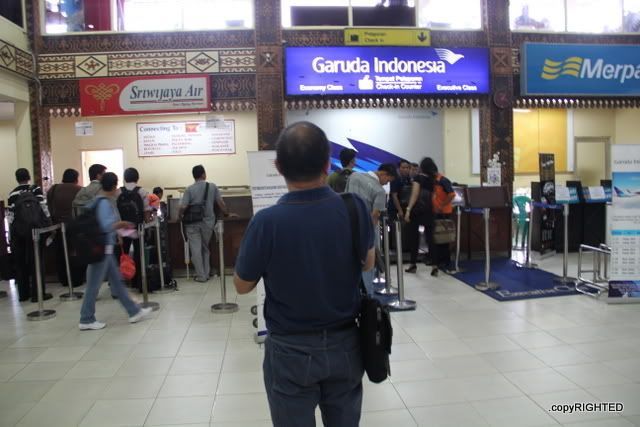 Inside the snack box, and the muffin and bread tasted fine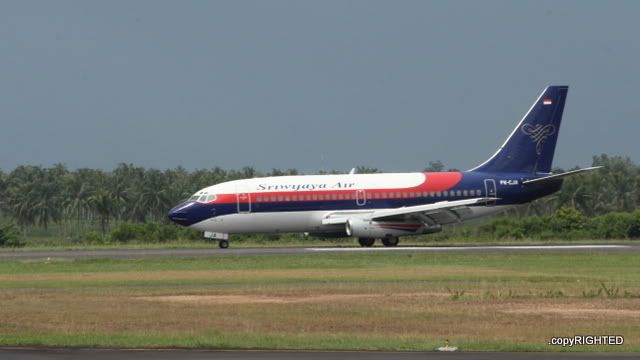 My sudden urge to go up the viewing gallery paid off! I managed to take my plane landing! And despite heavy security these days, I was allowed to enter the terminal with no issue at all!
Sriwijaya's B737-200 (PK-CJA) taxi to park while Garuda's B737-800 taxi for take off
Boarding calls were made at 2:10pm.

3rd April 2012
Aircraft: Boeing B737-284Adv (c/n 22301)
Registration: PK-CJA
Flight No: SJ095
Flight Load: 100%
Route: Bandar Lampung Airport (TKG) - Jakarta Soekarno-Hatta Terminal 1B (CGK)
Seat: 8F
Scheduled Time of Departure/Arrival: 1440/1530
Actual Time of Departure/Arrival: 1430/1520
Aircraft History: SX-BCF (Olympic Airways), PK-IJS (Bouraq Indonesia Airlines), PK-CJA (Sriwijaya Air)
Del Date: 24-JUL-80
Boarding calls were made at 2:10pm, and there was an orderly line ready for boarding. The terminal didn't boast any high-tech gadgets, only some ground crews wearing Sriwijaya uniforms, tearing our tickets, accompanied with some of the local security staff. Once you had passed through, you are free to roam around the huge and empty tarmac.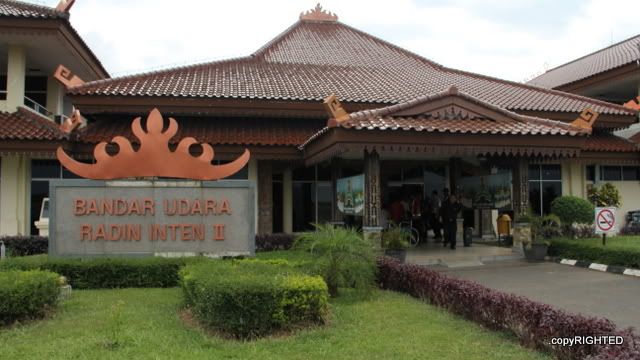 Bandar Lampung Airport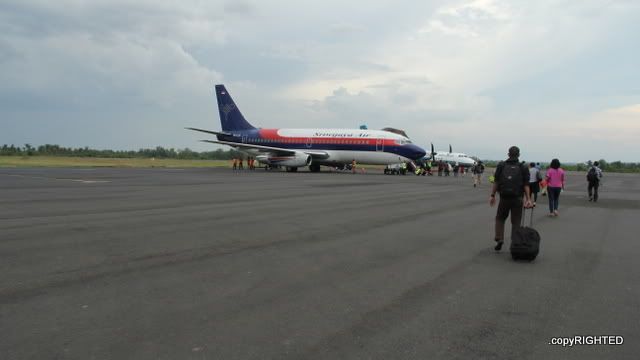 PK-CJA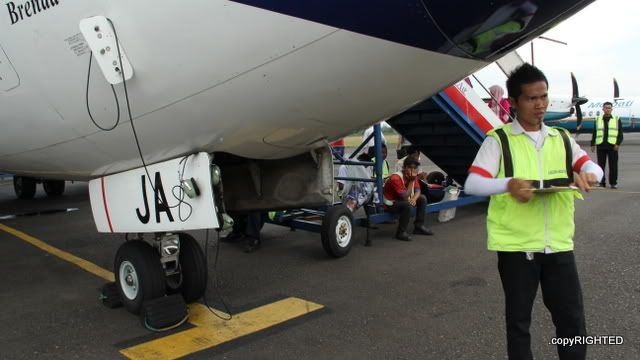 Ground crew preparing for final checks
Had to take this shot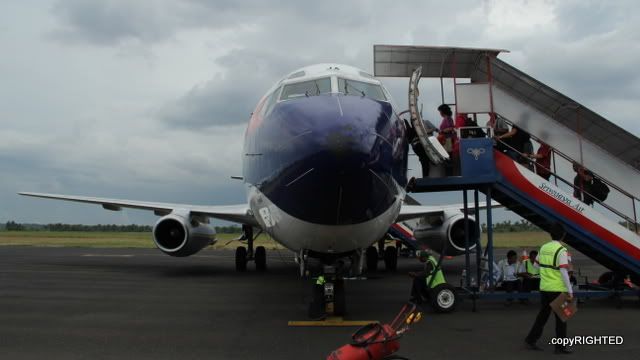 Boarding through stairs, with the skies looking gloomy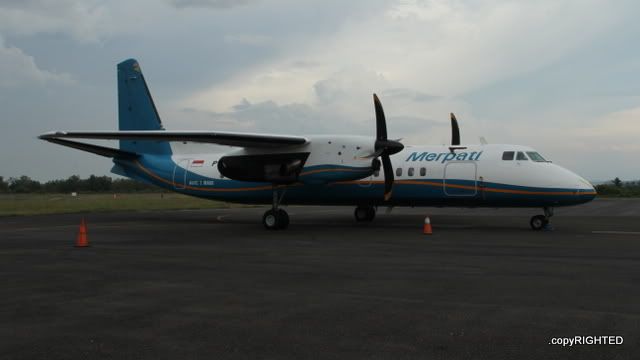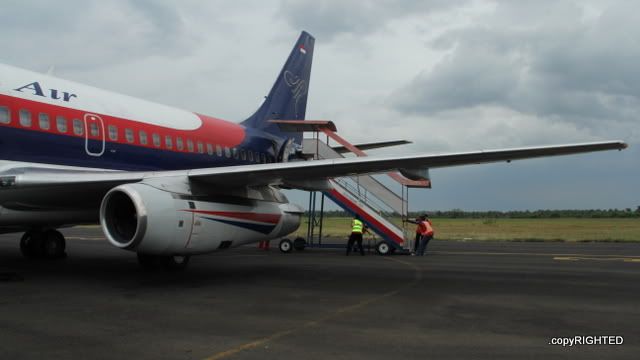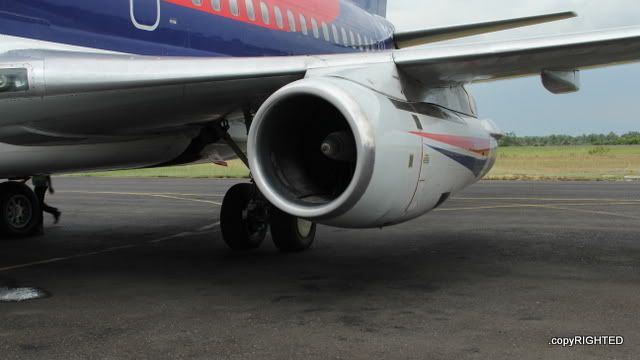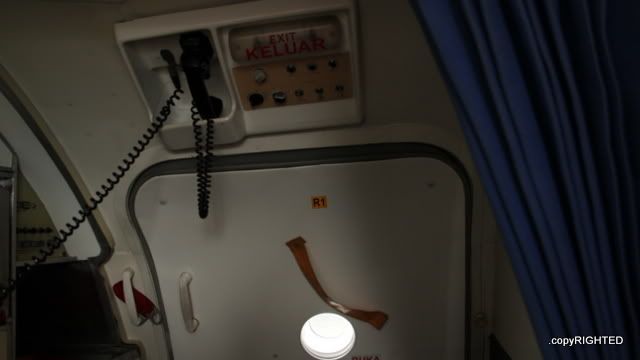 Old school
Lots of hand carry items to bring
Welcome to the good old days of '80s style cabin
Peeping through the window
I was the last few passengers on board, and once we had settled down, the crew did a final check, ground crew left the aircraft, the door was shut, and seat belt sign was turned on. The cabin crew in no time prepared their manual safety demo, after giving out sunkist sweets and welcomed us on board. Push back was done by the plane itself as the airport did not have the equipment to do so. The sound of the Pratt was fired up, and we started our taxi to the runway. Safety demo was done in a professional way as well, and the voice was audible. (Oh, I had to ask the flight crew for a window seat. She checked on my ticket, which my seat, 8F was occupied by the passenger who came on board earlier. The flight attendant kindly asked him to exchange seats with me, which I was apologetic, and explained that I loved airplanes and this aircraft meant a lot to me)
Taxiing
Runway
Take off with the skies looking gloomy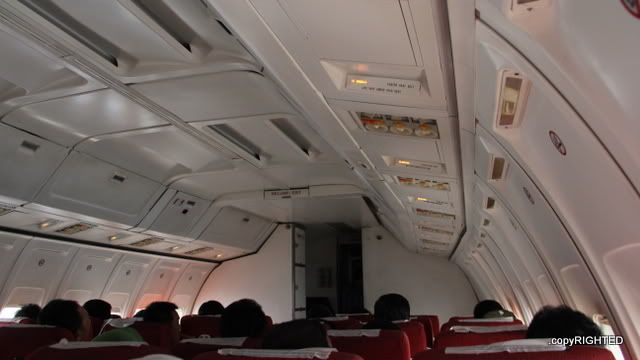 With the lights switched off
Heading back to Jakarta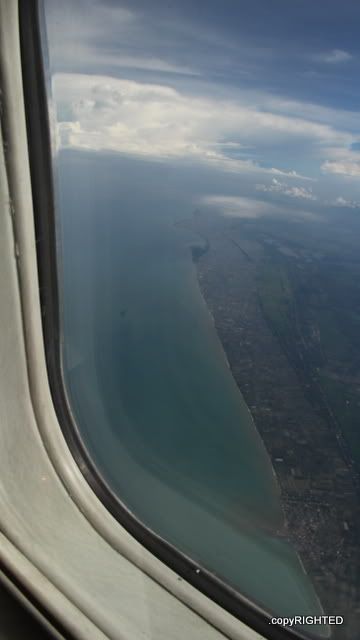 Overview of the huge island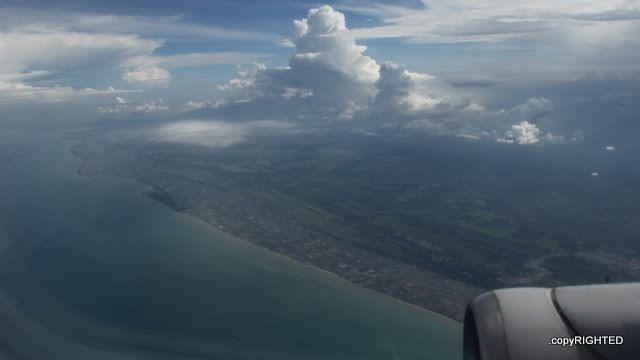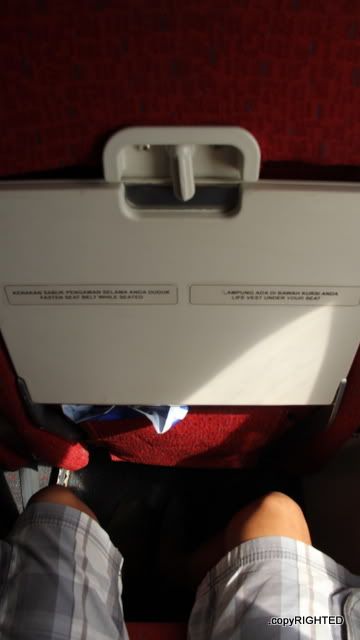 Seat pitch was alright
Landing at Jakarta Airport under light rain condition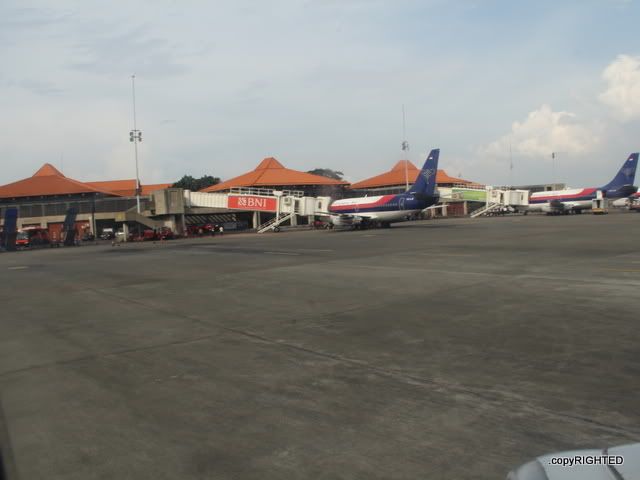 Parked at an apron at Terminal 1B
Sisters parked at the side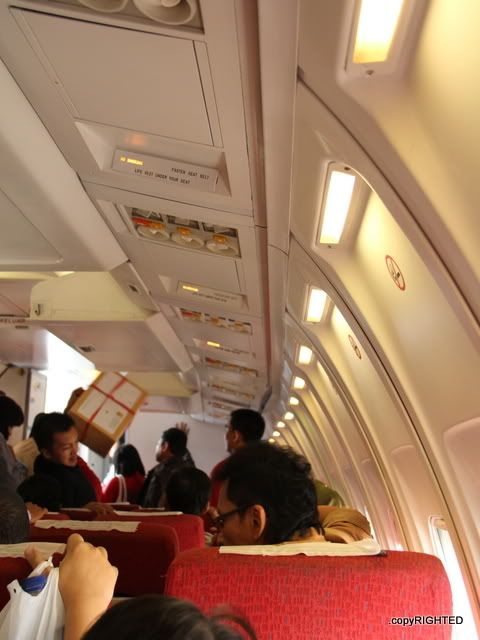 Bright and well-lit interior, signs of ageing, but still well maintained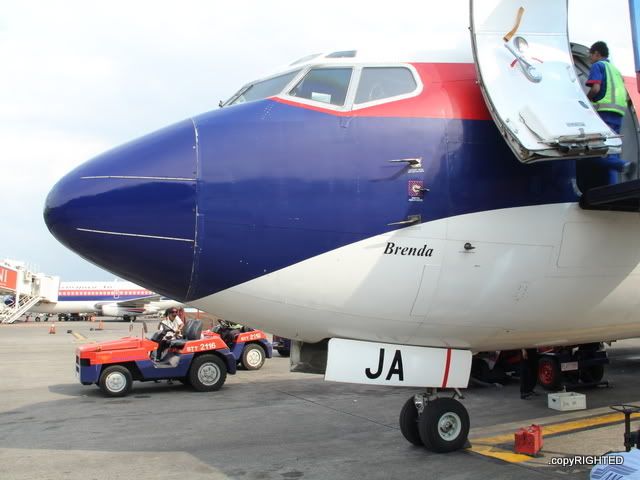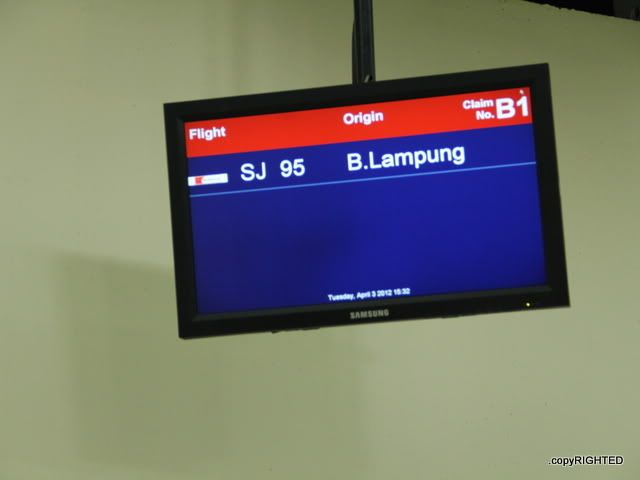 Flight departed at around 14:40pm with a bumpy take-off. The captain of this flight was Captain Tengku, and flight time was about 30 minutes. The FA made an announcement that we will fly at 16,000ft. The skies over at Jakarta looked overcast, and there were light showers when we were approaching there. On this flight, there were no free newspaper, or sales of food/drinks. There were announcement for us to have a look at the in-flight store. Throughout the flight, the lights remained switched off. When the captain turned on the fasten seat belt sign over at Jakarta, the ride was mostly bumpy. As we were approaching, the engine power was reduced, then suddenly, we met with turbulence, and then the aircraft pitched up, then down, then banked to the right, then left, and lastly, I heard the power of the engine again. *Phew* Landing was at 3:20pm, and we alighted at the airline's apron.
4th April 2012
Aircraft: Boeing B737-900ER (c/n 37287)
Registration: PK-LJG
Flight No: JT160
Flight Load: 90%
Route: Jakarta Soekarno-Hatta Terminal 2E (CGK)
Seat: 27F
Scheduled Time of Departure/Arrival: 1510/1755
Actual Time of Departure/Arrival: 1520/1759
Aircraft History: PK-LJG (Lion Air)
Del Date: 08-NOV-11
I arrived at the airport early as my friend advised me to leave early because there was a massive traffic jam (due to the day before rain) in Jakarta. We rushed to his car and left his house at around 12pm, but the traffic wasn't that bad at all and I arrived at the airport early. I checked in my baggage and got my boarding pass shortly and went to explore Terminal 2.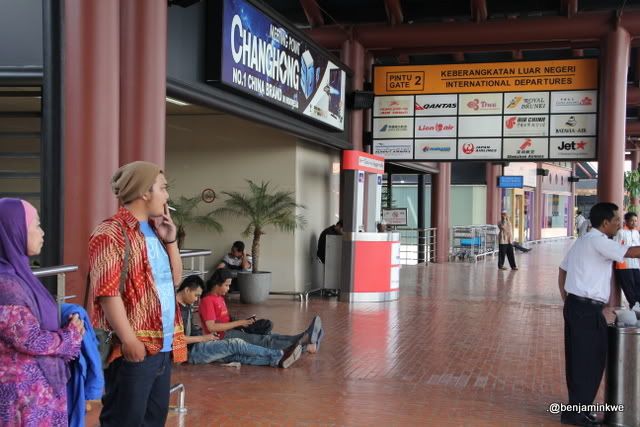 Outside the terminal
Parts of Terminal 2 is under renovation
Many people today
Check-in counters for Lion Air
The view of this huge terminal 2
-
Malaysian Airlines on the other hand looks empty
Garuda's check-in counters
After taking some photos of the terminal, I passed through immigration. Since there were a lot of flights departing at this time, I took quite a while to pass through the immigration. There's a video on the big screen showing about the future of Jakarta Soekarno-Hatta Airport, which includes a Terminal 4, upgrading Terminal 1 and 2 and an addition of a runway. Impressive! I went to Starbucks to get a drink and I was rewarded with great views on the tarmac.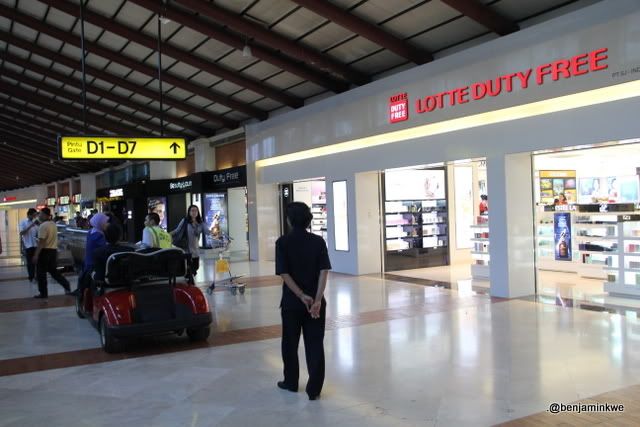 Duty free shopping
-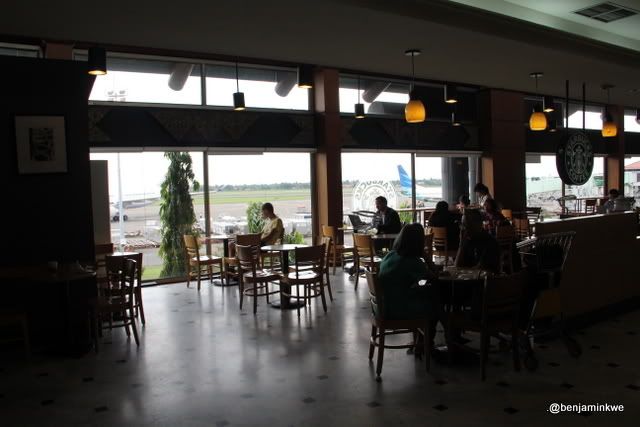 Starbucks and the great view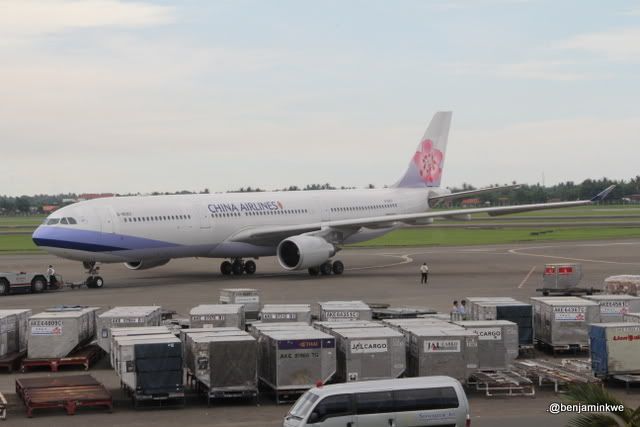 China Airlines A330-300 (B-18357)
Jetstar (Valuair) A320-200 from Singapore (9V-JSH)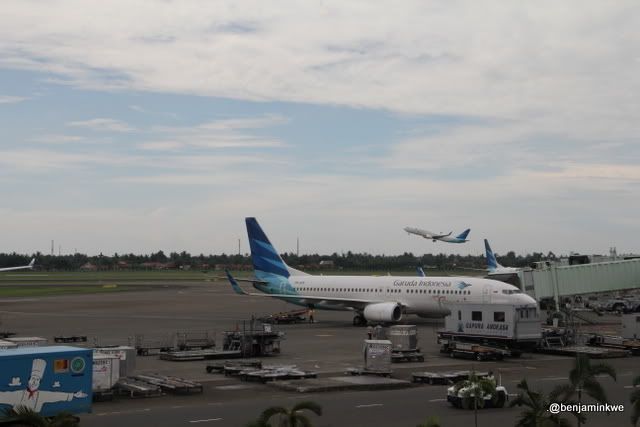 Garuda Indonesia's B737-800 (PK-GFK)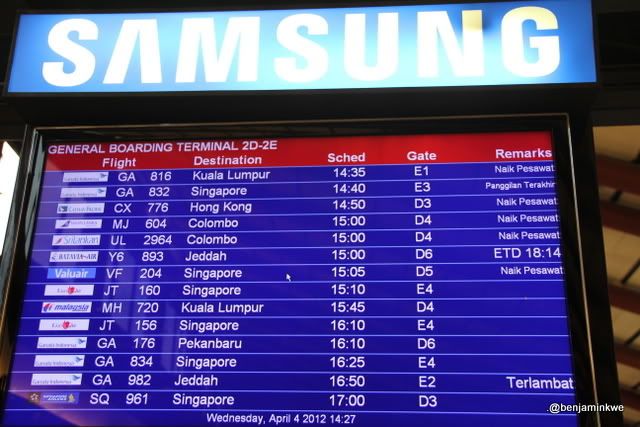 JT160 to Singapore
I spent about 15 minutes on Starbucks admiring the view and scenes on the tarmac. The view is fantastic! After that, I went to shop around for souvenirs. Announcement was made for passengers on flight JT160 and I made my way to the gate, E3.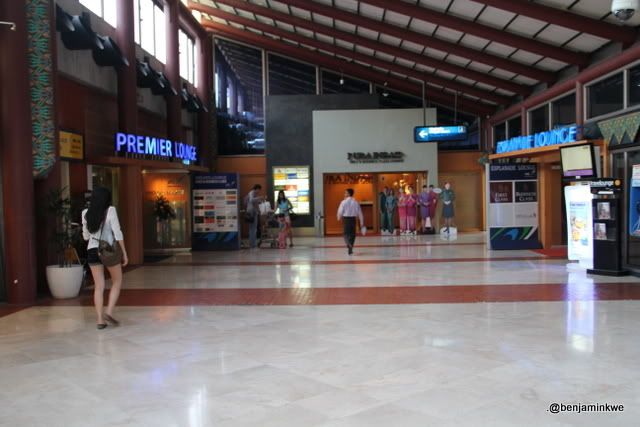 Airline lounge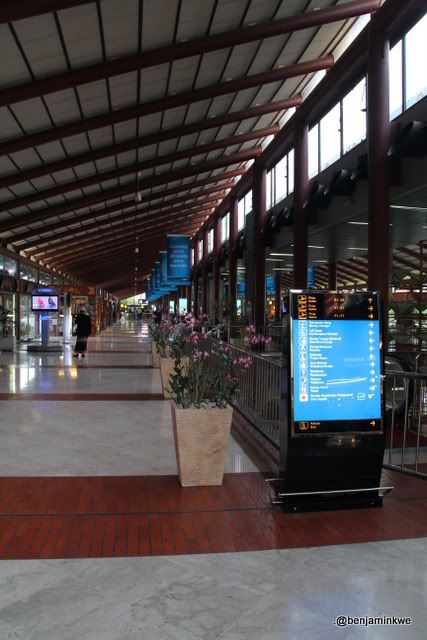 -
The airport master plan
The gate E3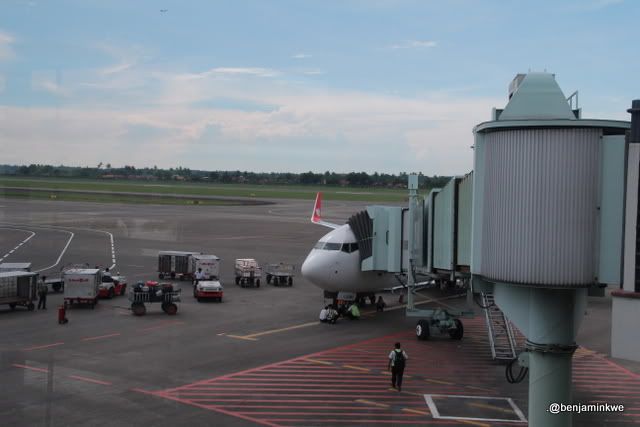 Our aircraft, B737-900ER (PK-LJG)
Boarding calls were made and group E and F got to board the aircraft first. We were warmly greeted by the FAs, and they are really helpful, nice, cheerful and lively. This aircraft was delivered from Boeing in November 2011, which is still a new aircraft that boast the Boeing Sky Interior! I could smell the new interior too. On board, there were pop music in Indonesian and in English, which was a real treat. This flight was rather full, and we pushed back at around 3:20pm. Pre-recorded announcements were made in Indonesian then in English, and it did so when the captain turned on the fasten seat belt sign or when there is an announcement. (Very systematic) The FAs did a manual safety demo, which again was done professionally, and then the cabin lights were off as we prepared for our departure. It took us about 15 minutes to take-off as it was a busy day at the airport.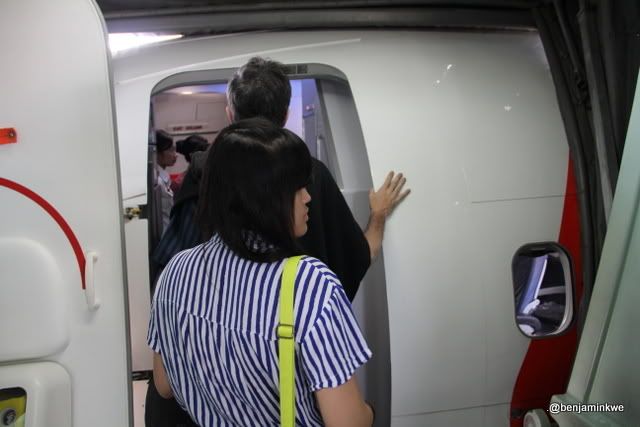 The blueish-LED lights of Boeing Sky Interior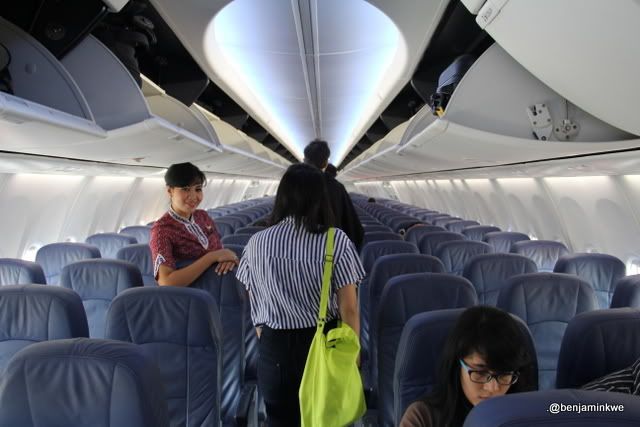 She posed for the photo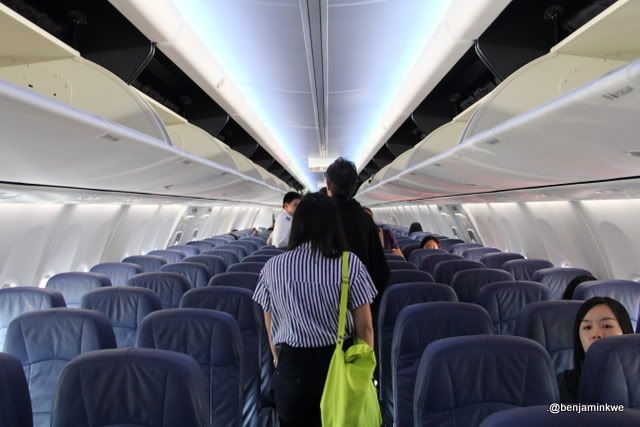 -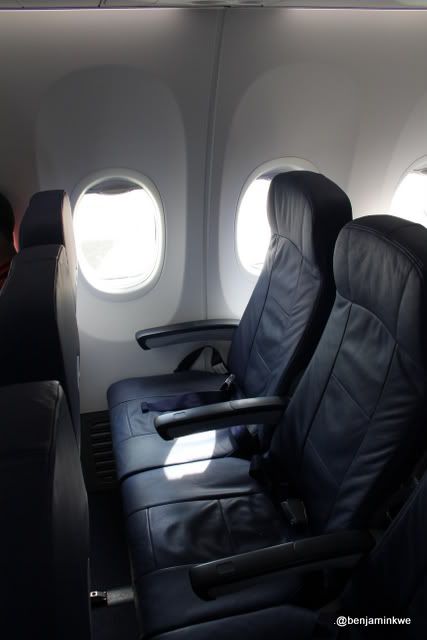 Comfortable blue leather seats
Window view
Overhead Passenger Service Units
Seat pitch and legroom was comfortable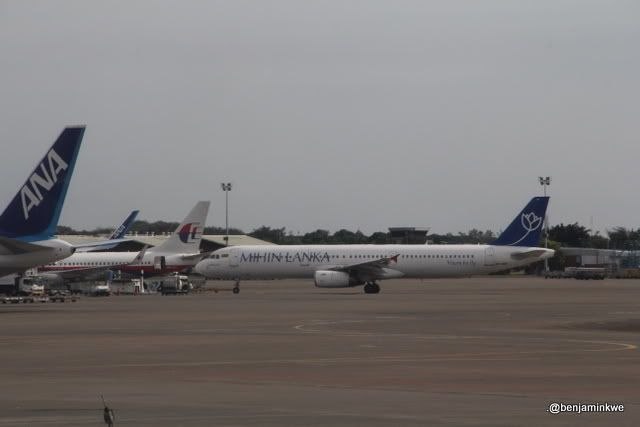 Mihin Lanka A321
LED lights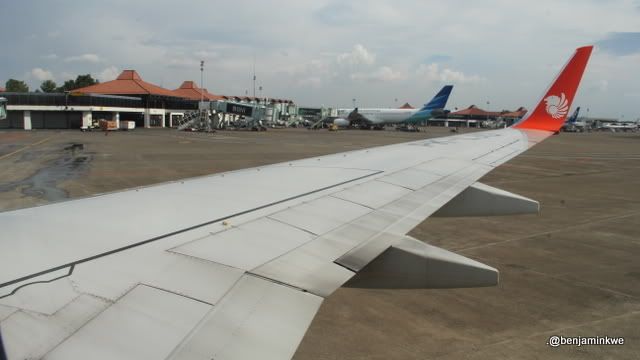 -
Ronaldo demonstrating the safety demo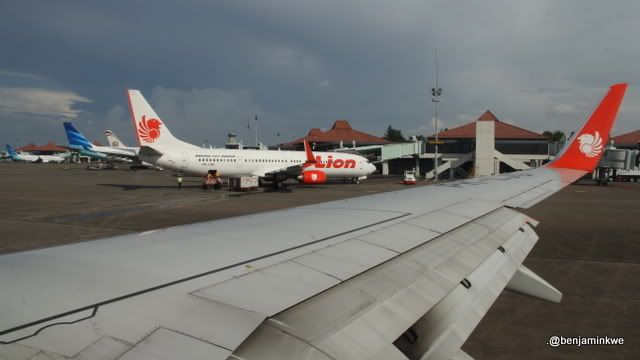 Lion Air Boeing 737-900ER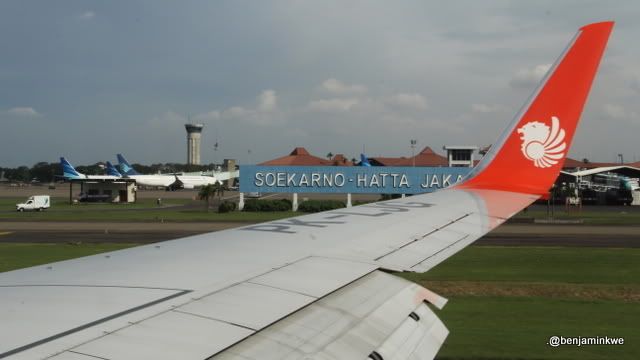 Bye Jakarta
The new terminal 4?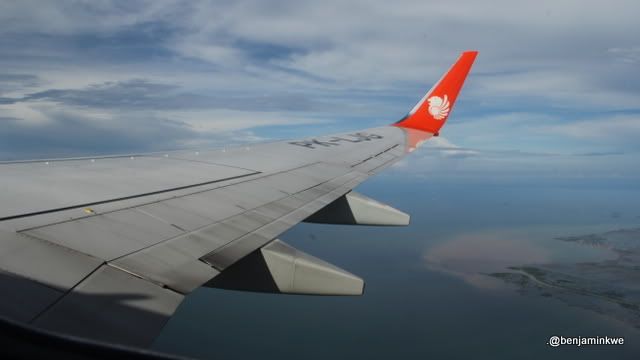 Amazing view of the island
Isn't it like paradise looking from the skies above?
-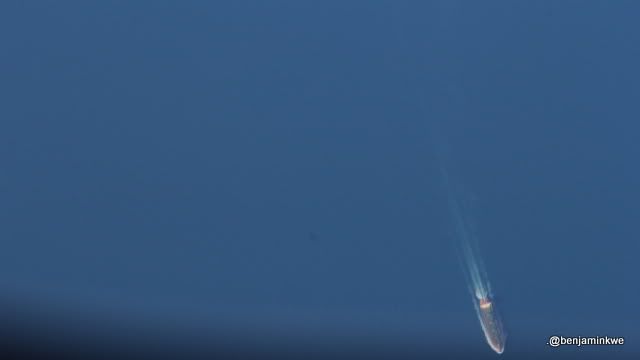 Tanker ship
Take off was uneventful and once we were on cruising altitude, the fasten seat belt sign was turned off. As this was a no-meal flight, the FAs pushed out the cart and started selling tidbits, drinks and merchandise. Then, the pilot made an announcement that we were flying on 36,000ft at 850km/h. I spent most of my time reading the in-flight magazine (LIONMAG), taking photos and videos. Cabin lights remained switched off after the sale of BoB. I visited the washroom, which was very clean. In fact, before I got into the washroom, there was a FA cleaning it. (Woah!)
-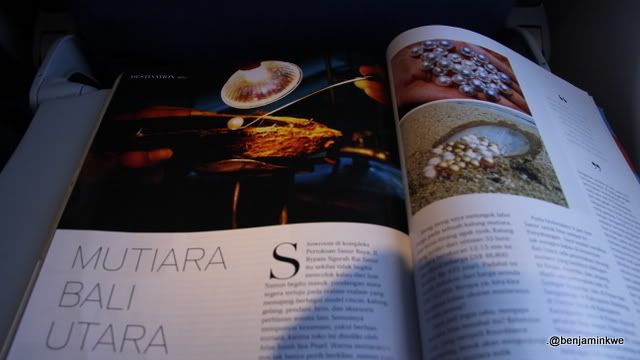 LIONMAG has interesting articles in English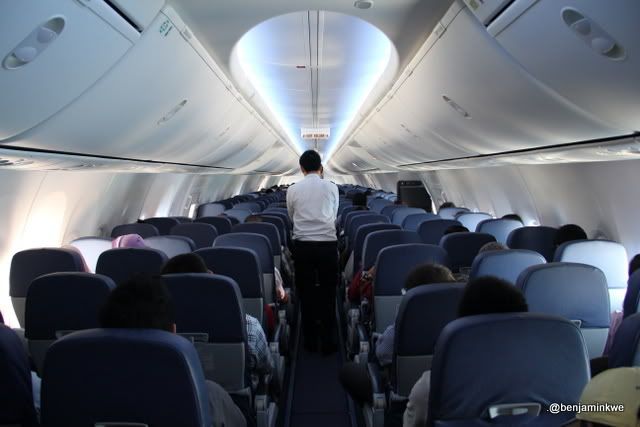 Such a nice interior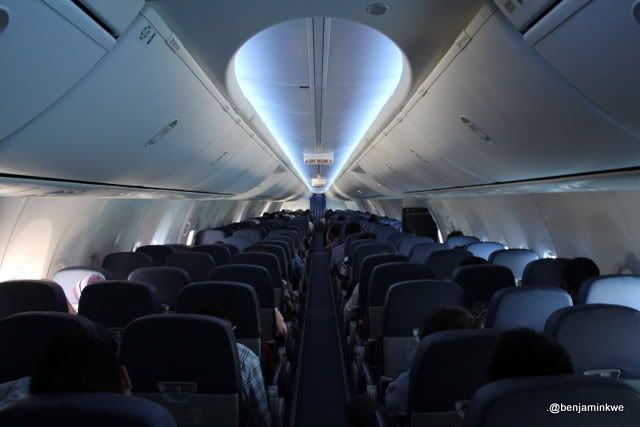 The blue lights fits the blue ocean
Child playing with the lights
The captain then made another announcement that we were landing at 1759hrs, and then the fasten seat belt sign was switched on. The flight crew did a final round of check before returning to the jumpseat, and landing was bumpy and we met with several turbulence. Eventually, we landed at 6pm.
I got a cup of Starbucks and an Airliner magazine inside the terminal and took a cab home after I got my luggage.
I hope you enjoyed my 4th Trip Report, and though there are many photos and words, I hope you have experienced the Indonesian experience like I do!
Thanks for reading
Benjamin