THE BACKSTORY
As per the previous Trip Report, we each got a $15 Jetstar travel voucher because we purchased the Plus Bundle. Aaron and me decided to have a weekend trip to Kuala Lumpur on yet another 3K flight.
PART I: Return to Kuala Lumpur
31st March 2012, Saturday
SIN-KUL
Carrier: Jetstar Asia Airways (3K)
Flight: 3K 683
Aircraft: Airbus Industrie A320-232 (9V-JSG)
Seat: 22A/22B
Terminal: 1
Gate: C15
Estimated Departure: 0710hrs
Actual Departure: 0711hrs
Estimated Arrival: 0810hrs
Actual Arrival: 0823hrs
We left his place in the East at about 0508hrs. It was raining fairly heavily as we drove along the East Coast Parkway expressway to Changi Airport and reached Terminal 1 at 0521hrs. The Departure Hall was relatively sparse, and there weren't many people at Row 8, so check-in was a breeze. We then went airside.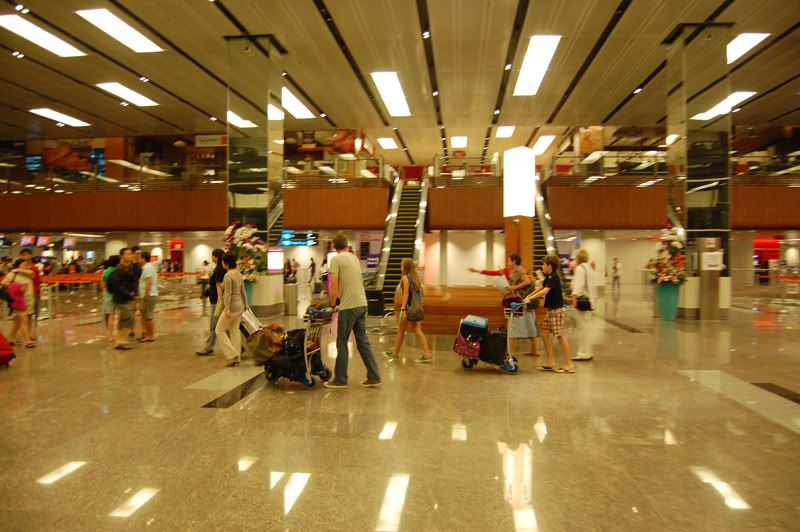 Not many people around
Row 7
T1 airside after remodeling
SIN is not spotter friendly with the highly reflective glass, a CX 777-300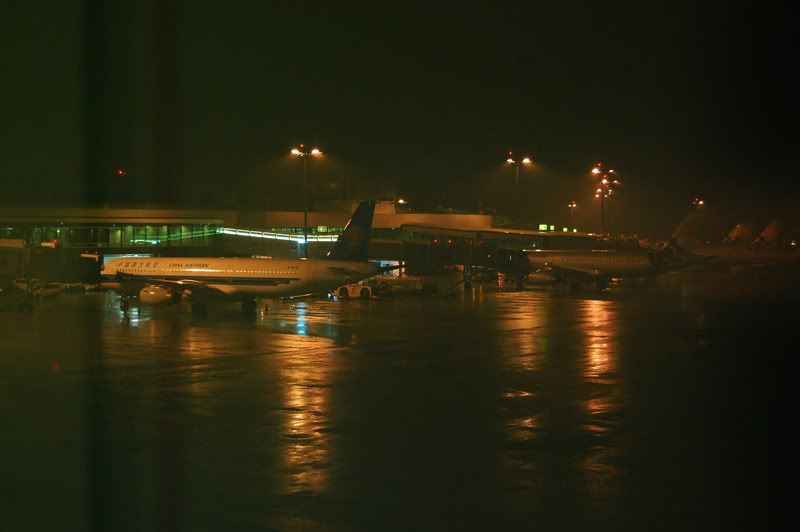 China Southern Airlines A321-231 (B-6270) followed by five 3K A320s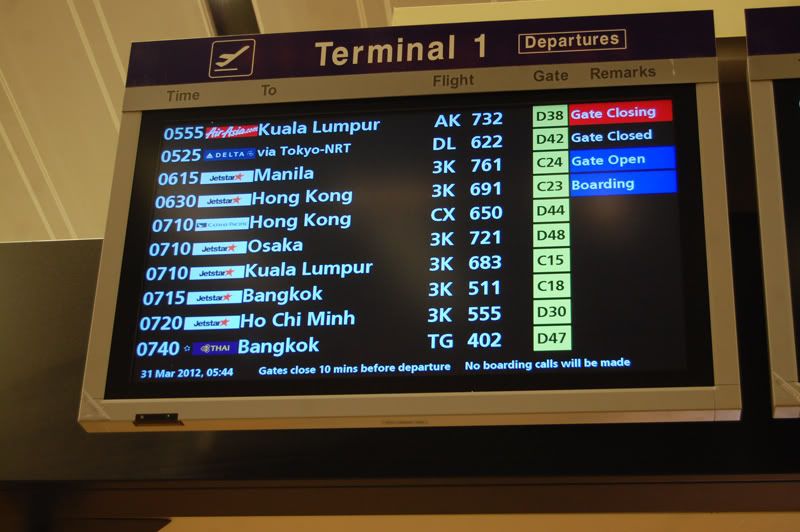 Flights out for that morning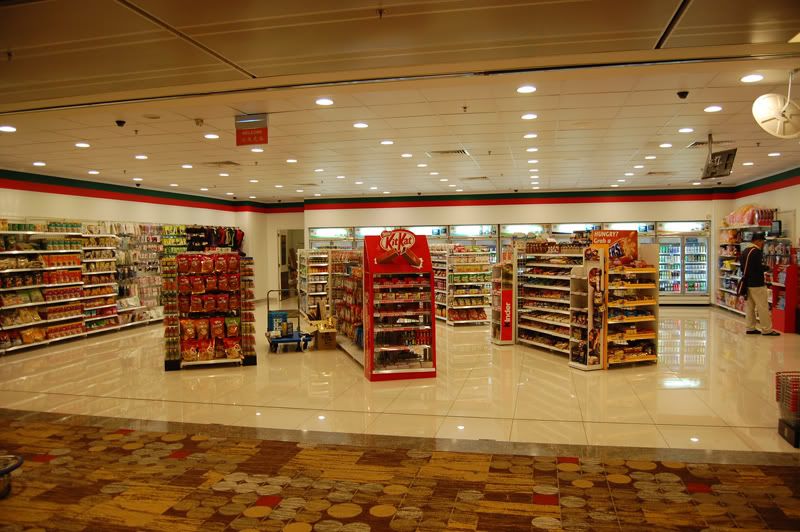 In my opinion, the most boring 7-Eleven outlet in Singapore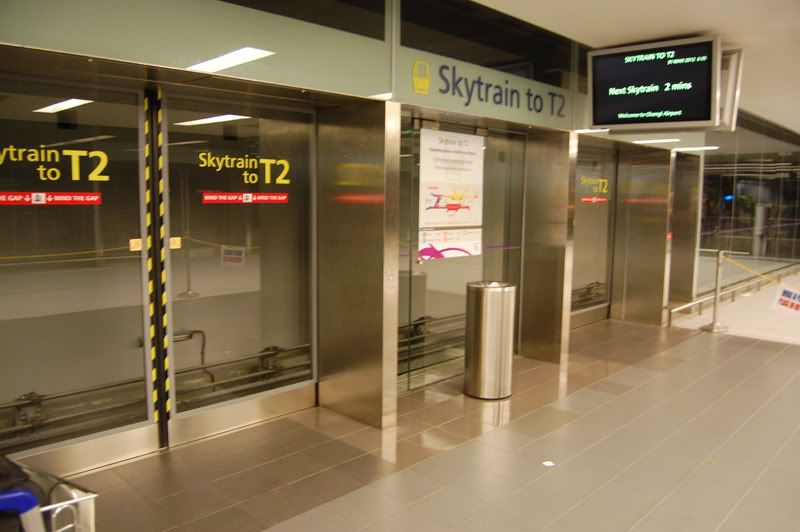 Usually I'm on the other side
We then took the Skytrain over to Terminal 2, to see if there's anything interesting going on over there, but we didn't find much. Save for a ANA ladies speaking in Japanese as they walked past. Gosh, I miss ANA already!
Departures from Terminal 2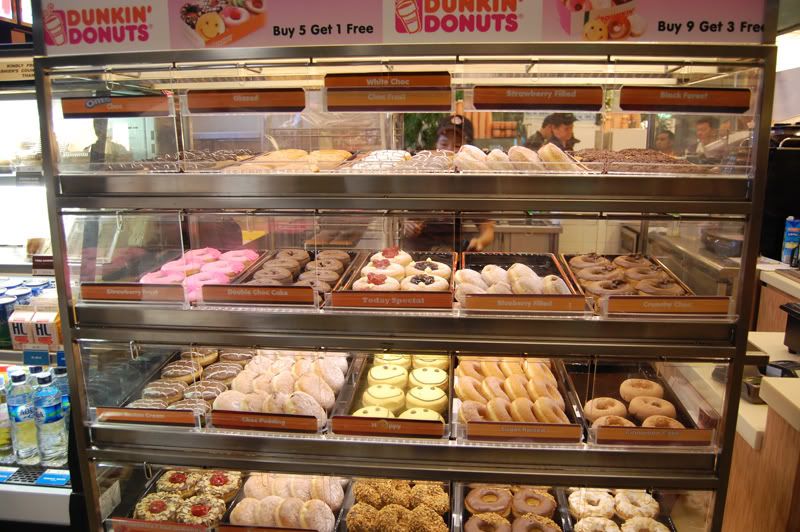 Dunkin Donuts for breakfast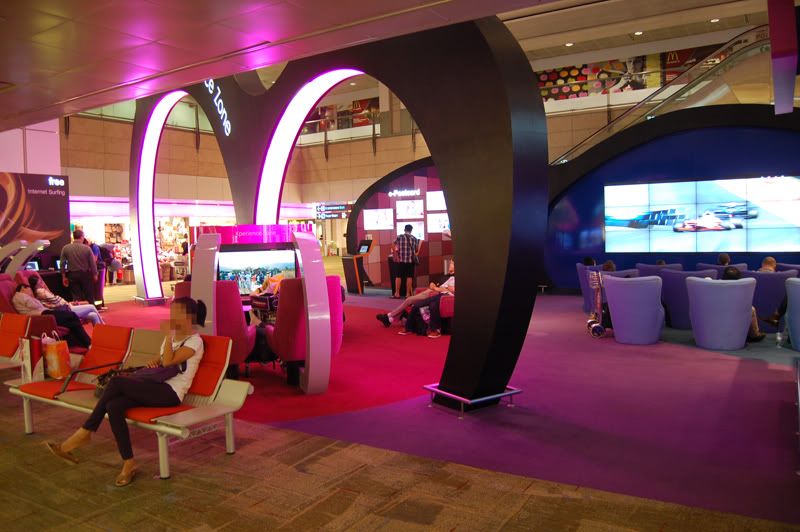 Entertainment center in Terminal 2
We then took the Skytrain back to Terminal 1 and headed over to our gate. The waiting area was as empty as the last time we boarded a 3K flight.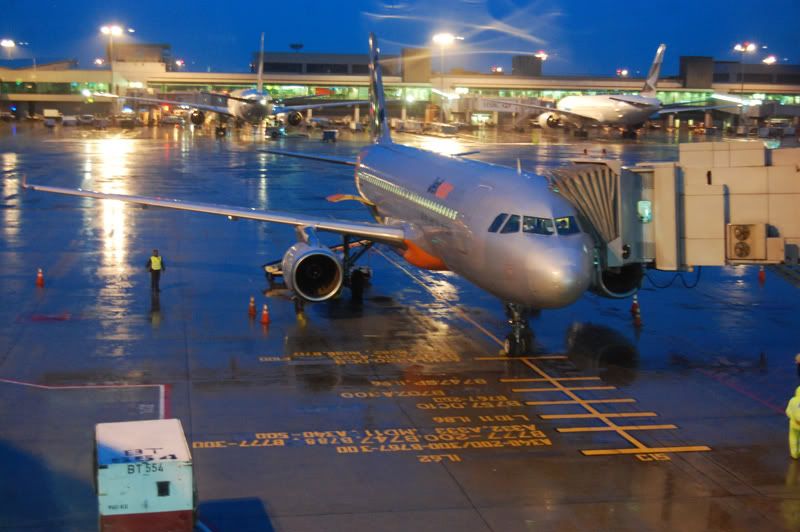 Our plane for today, 9V-JSG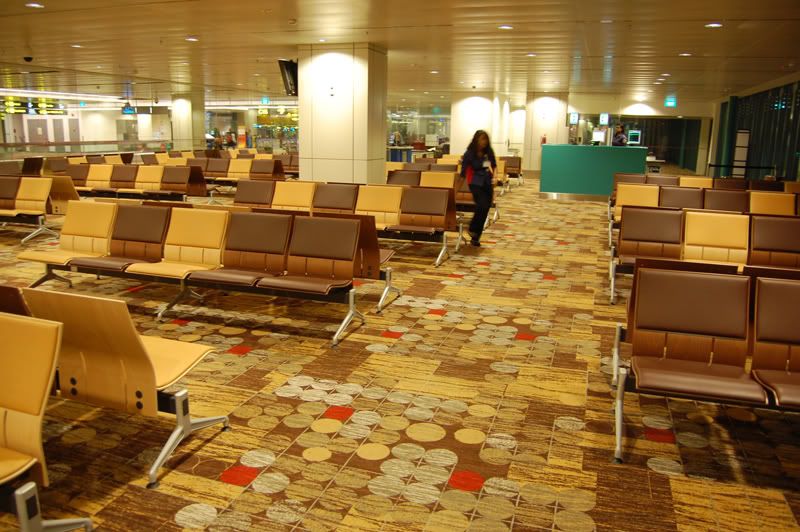 The empty waiting area
Only to find out the whole world was in the jetbridge
Chirpy Flight Attendants at the door who directed everyone to their seats greeted us. Unfortunately, the overhead compartments were completely full throughout and thus we had to put all our stuff underneath the seats. Oh well.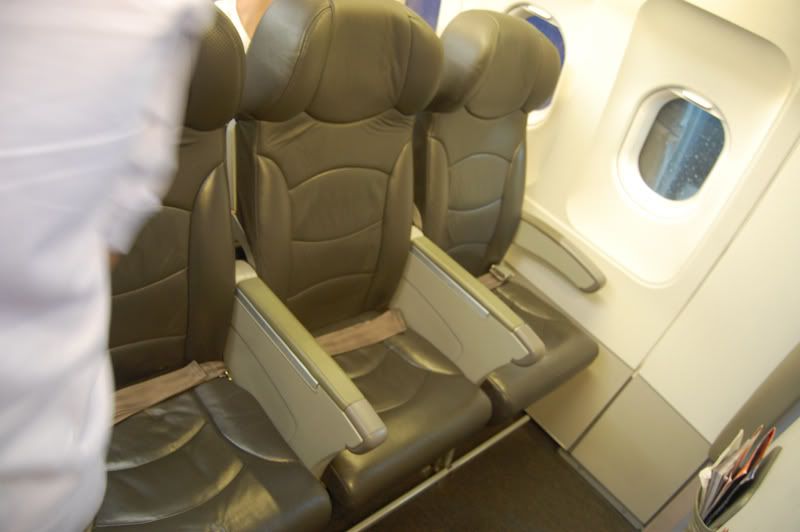 Seats 1A, 1B and 1C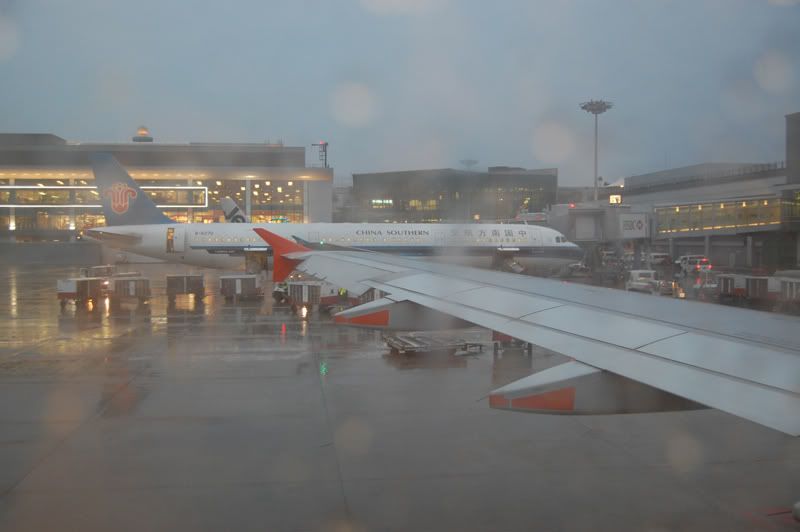 The China Southern Airlines A321 earlier on
The doors were closed and armed after some time. Pushback commenced at 0711hrs and we taxied out to Runway 20C in the grey and drab weather outside. There wasn't much of a queue in the takeoff department so we got on 20C fairly quick. We were airborne at 0731hrs!
http://www.youtube.com/watch?v=rmDbr_Jnki8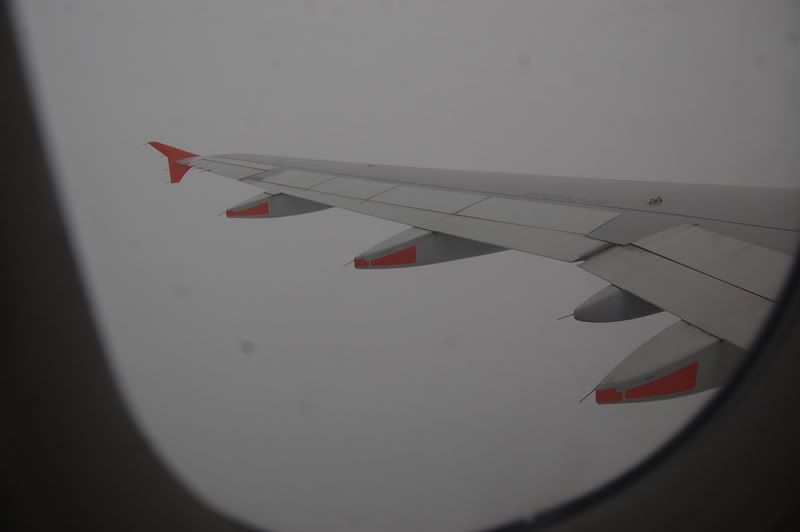 Climbing into the grey abyss
We flew through the grey for the most part of the flight. Pity though, but since it was such a flight views didn't really matter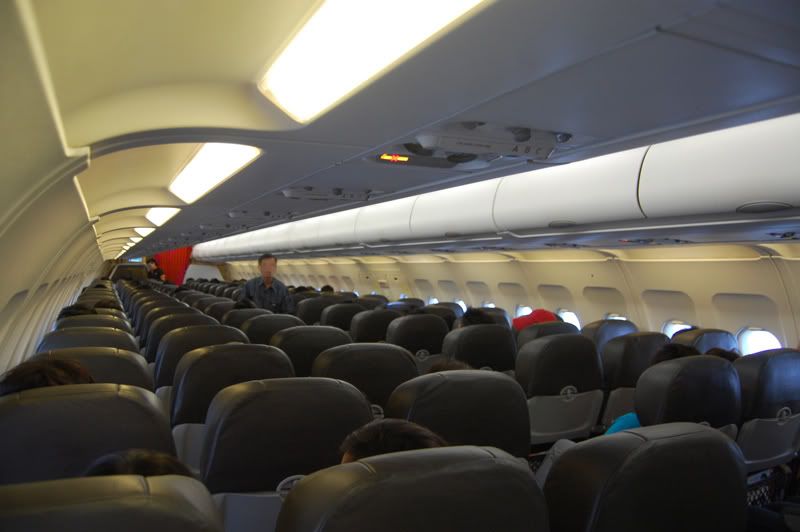 The cabin in mid-flight
Legroom of 22A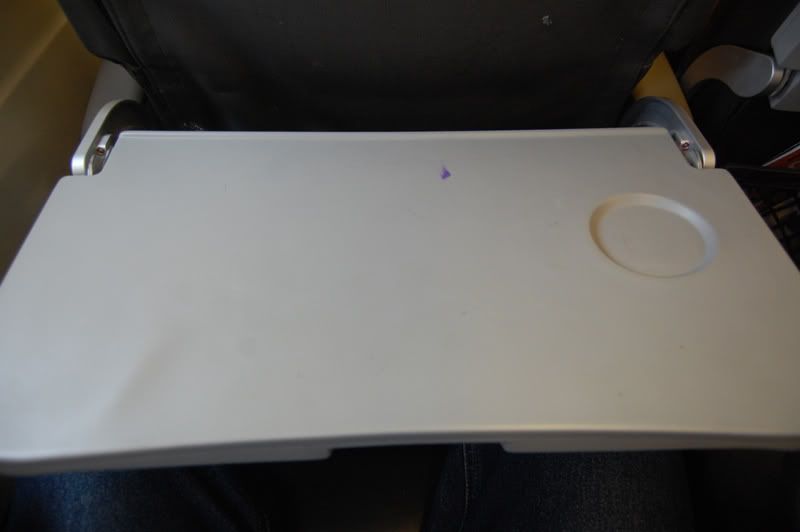 Vandalized tray table, unsightly!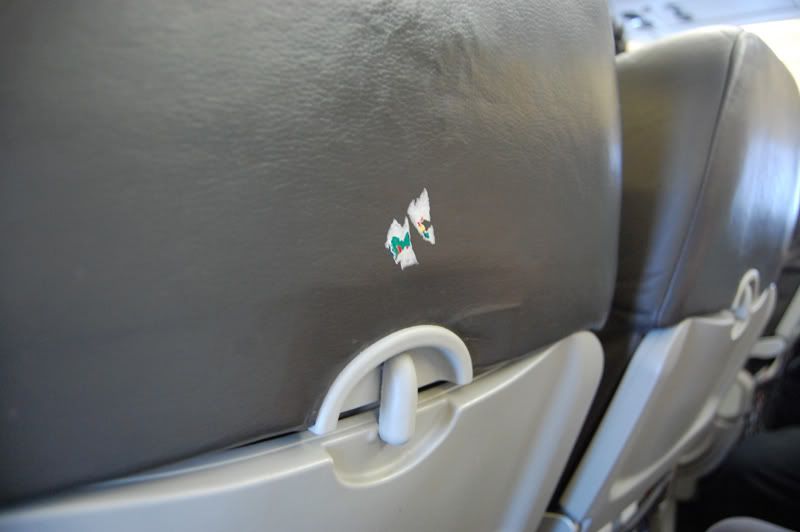 Another unsightly thing
The safety card was in a nice state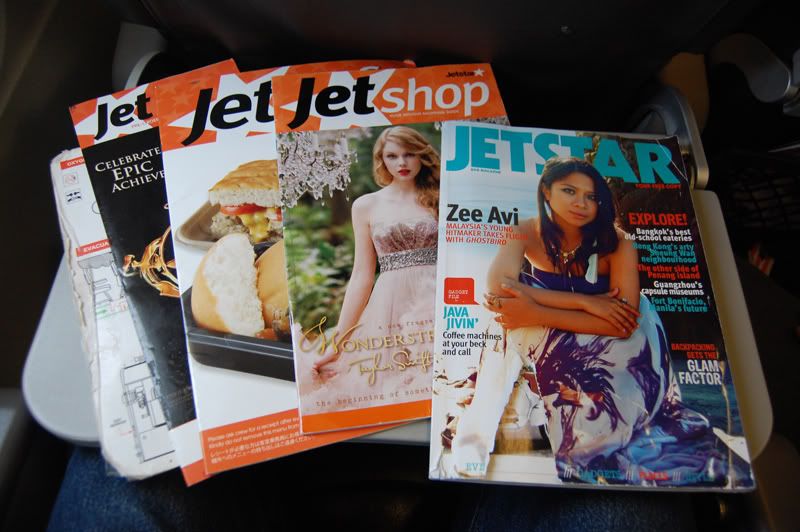 Seat pocket contents, featuring Taylor Swift & Zee Avi
The flight attendants promptly went up and down the aisle with the trolley calling out for anyone who wants to purchase any drinks and such. Being such a morning flight, everyone seemed like they'd rather have some shut-eye.
We commenced descent at 0748hrs. For the first time since takeoff, views other than grey clouds popped into view.
The West coast of Malaysia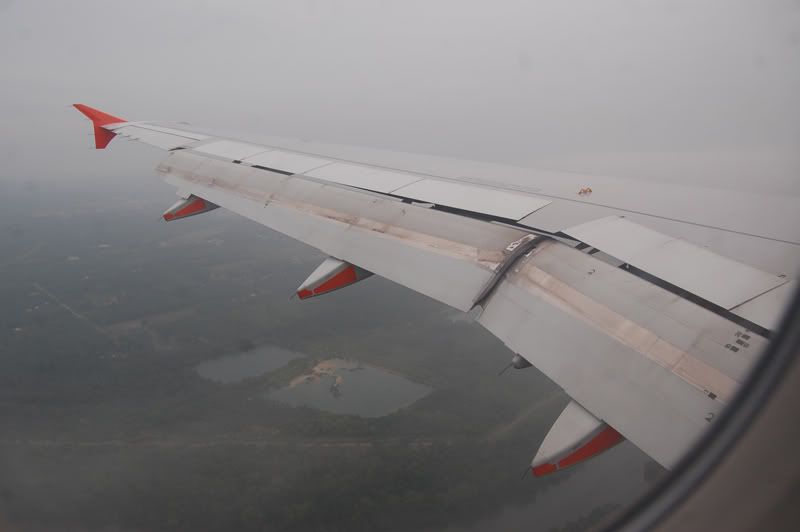 Drifting closer and closer
http://www.youtube.com/watch?v=QaWVAX4C0cA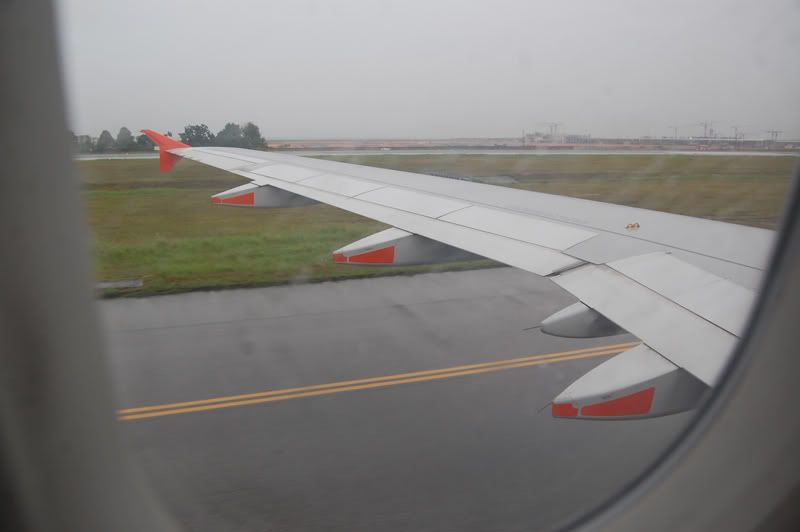 Turning into a taxiway
To me, it was quite a leisurely taxi and we were treated to plane eyecandies.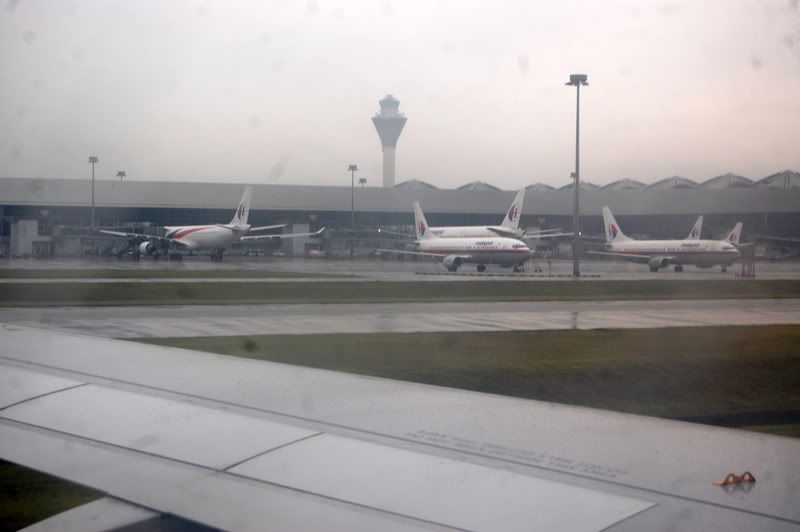 MH planes aplenty
MH widebodies
This Airline, I've never seen before
Malaysian Airlines Boeing 747-4H6 (9M-MPK)
As expected, the mad rush to get off even before the doors are disarmed
From this point on, we roamed about airside of both the Satellite and Main Terminals. KLIA definitely is better place to spot than Changi!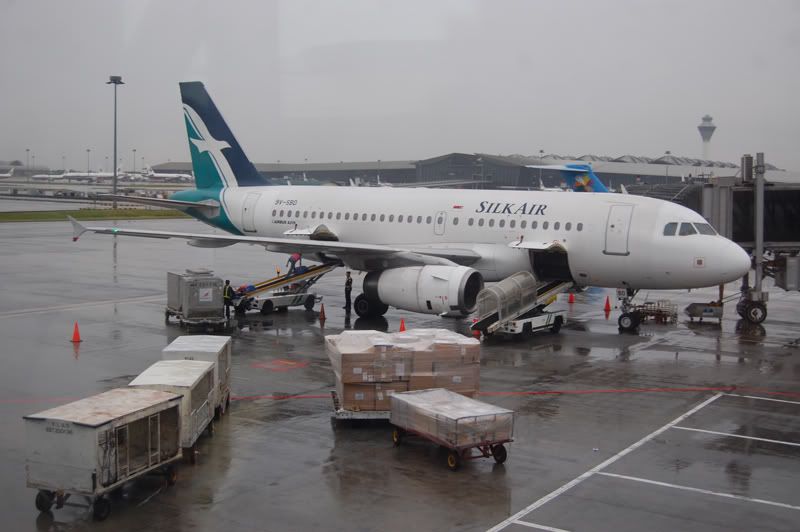 Fellow Singaporean ship, Silkair Airbus A319-132 (9V-SBD)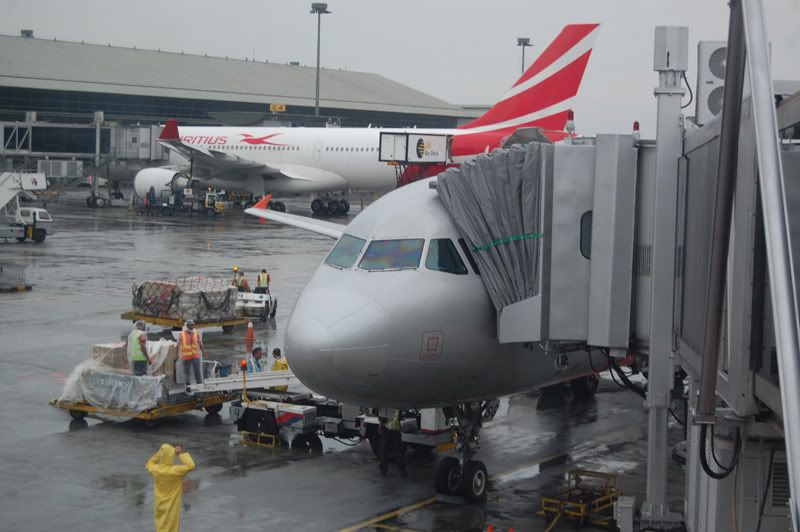 9V-JSG's nose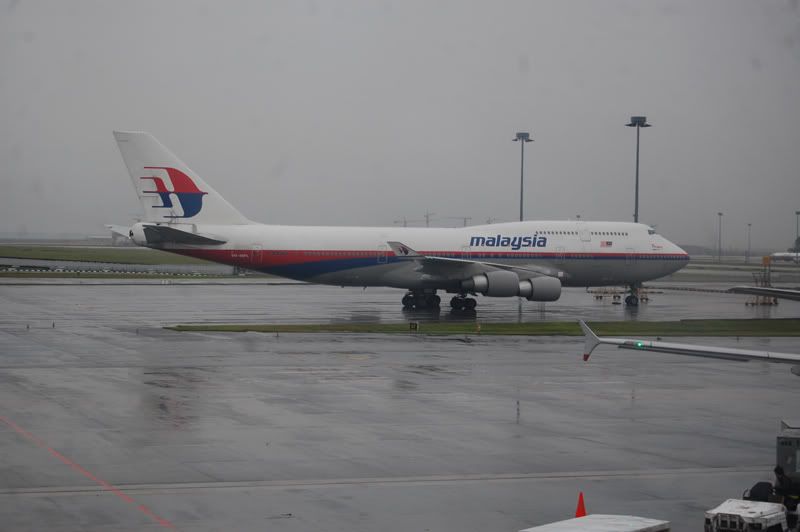 Malaysian Airlines Boeing 747-4H6 (9M-MPL)
Departures that morning from the Satellite Terminal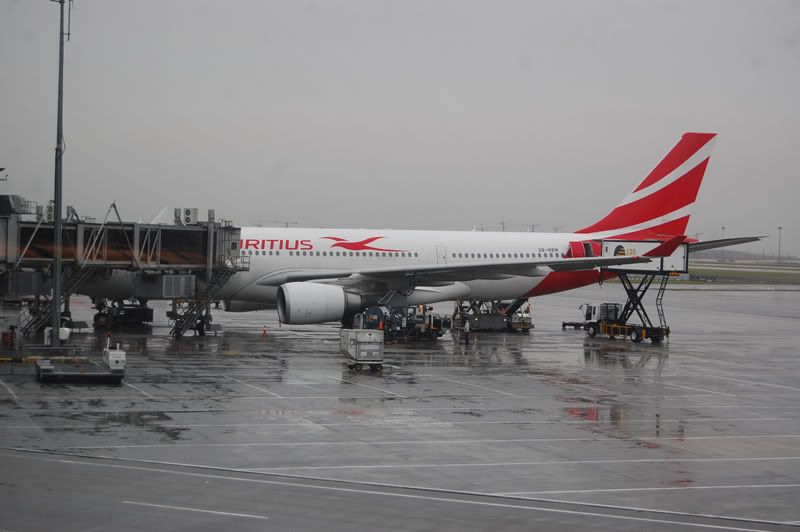 Air Mauritius Airbus A330-202 (3B-NBM)
Malaysian Airlines Airbus A330-223 (9M-MKV)
Cathay Pacific Airways Boeing 777-367 (B-HNH)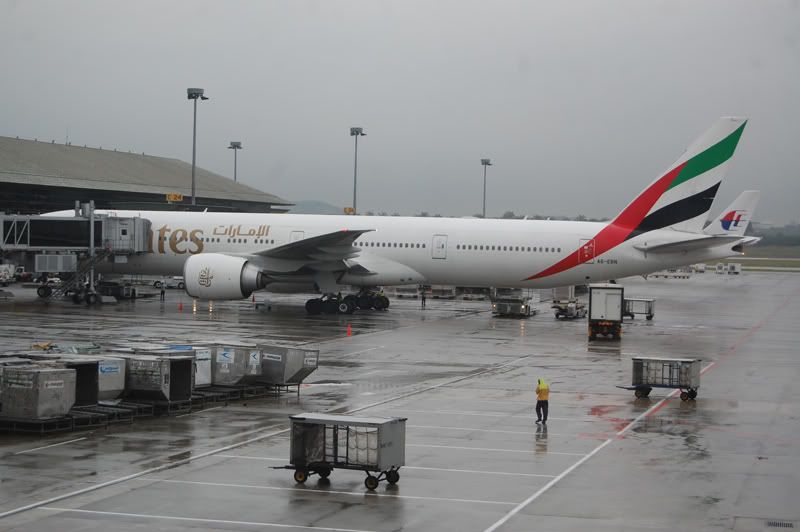 Emirates Boeing 777-36N/ER (A6-EBN)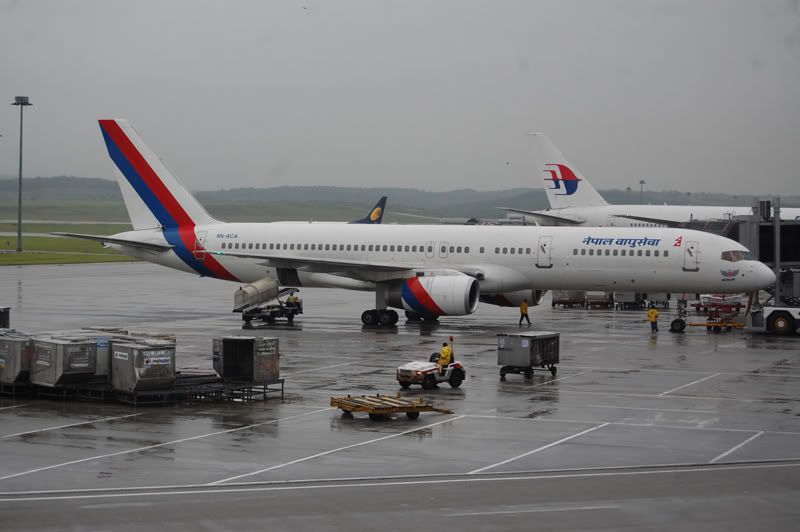 Nepal Airlines Boeing 757-2F8 (9N-ACA)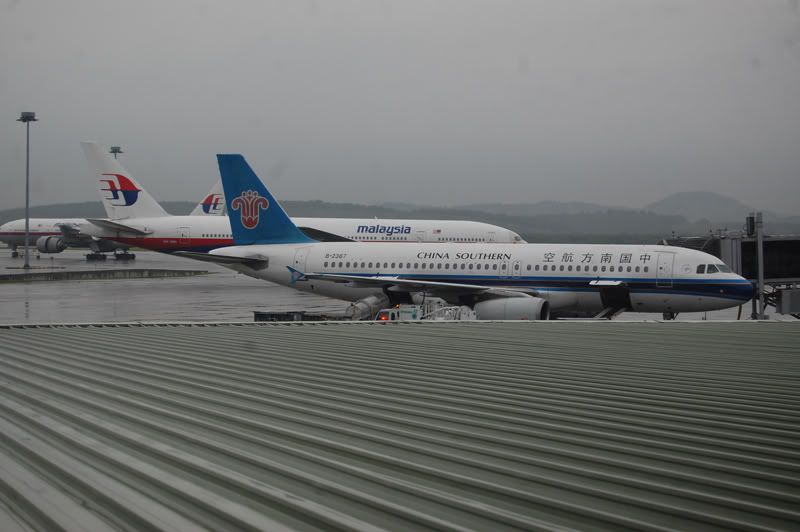 China Southern Airlines Airbus A320-232 (B-2367)
Taking the Aerotrain over to the Main Terminal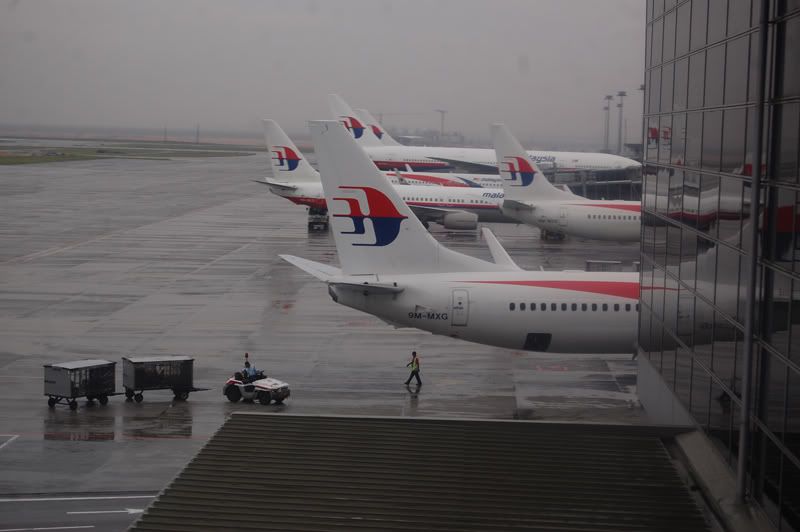 Malaysia Airlines Boeing 737-8H6 (9M-MXG, 9M-MXE), 737-8FZ (9M-MLG) and others in the back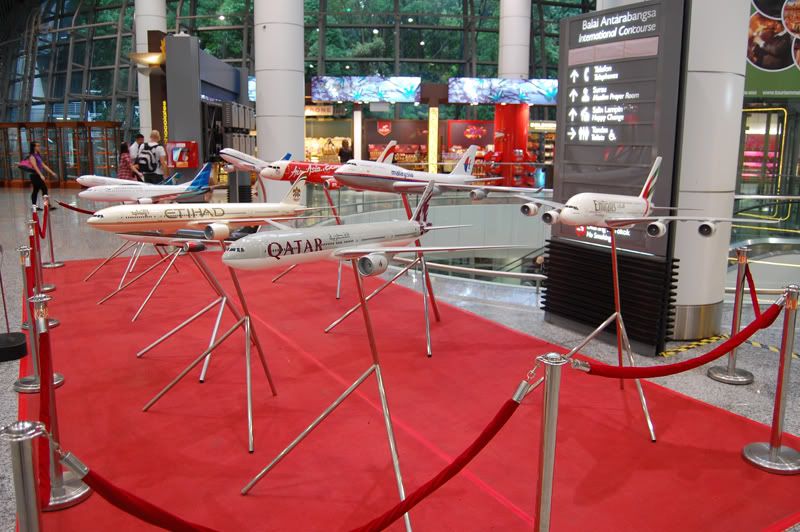 Scale models on display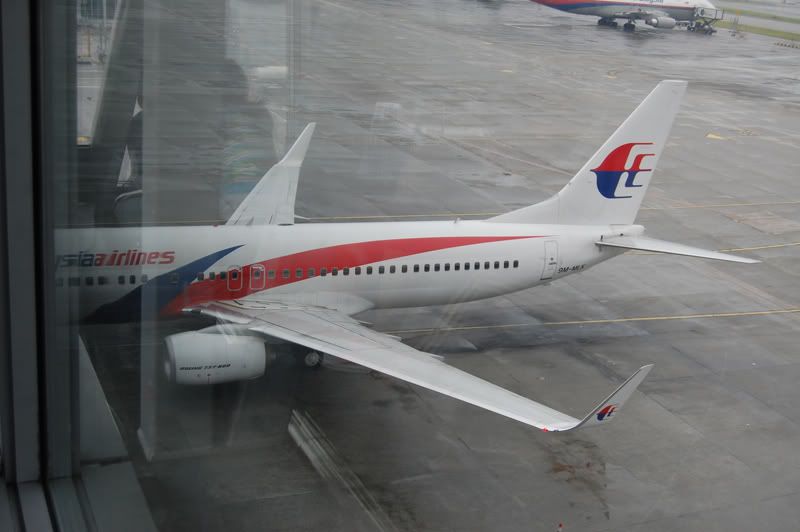 Malaysia Airlines Boeing 737-8H6 (9M-MLK)
After getting our fill of plane spotting, it was time to go take the KLIA Express out to KL Sentral. Except that works were being carried out on the existing train tracks and as such, only KLIA Transit services were being run. The difference between the two is that Transit stops at intermediate stations while Express speeds straight to KL Sentral.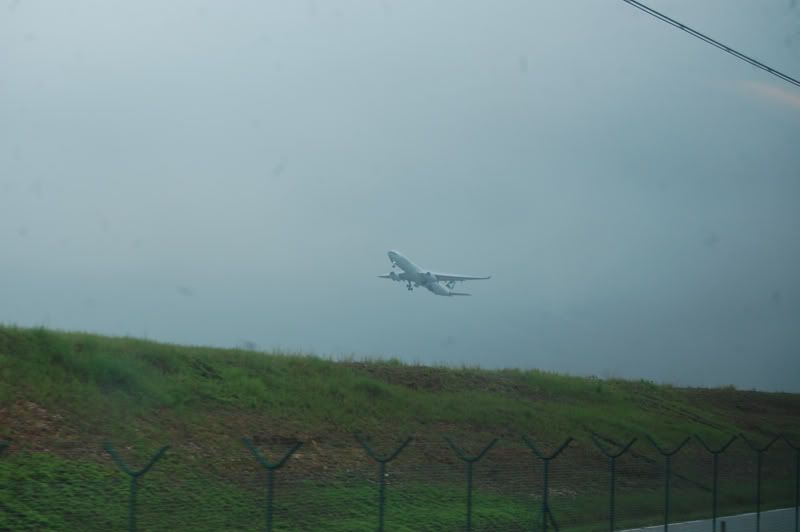 The race is on! A CX Airbus A330 decided to compete with our KLIA Transit train. We lost, obviously!
----
TO BE CONTINUED
[Edited 2012-04-10 07:19:10]