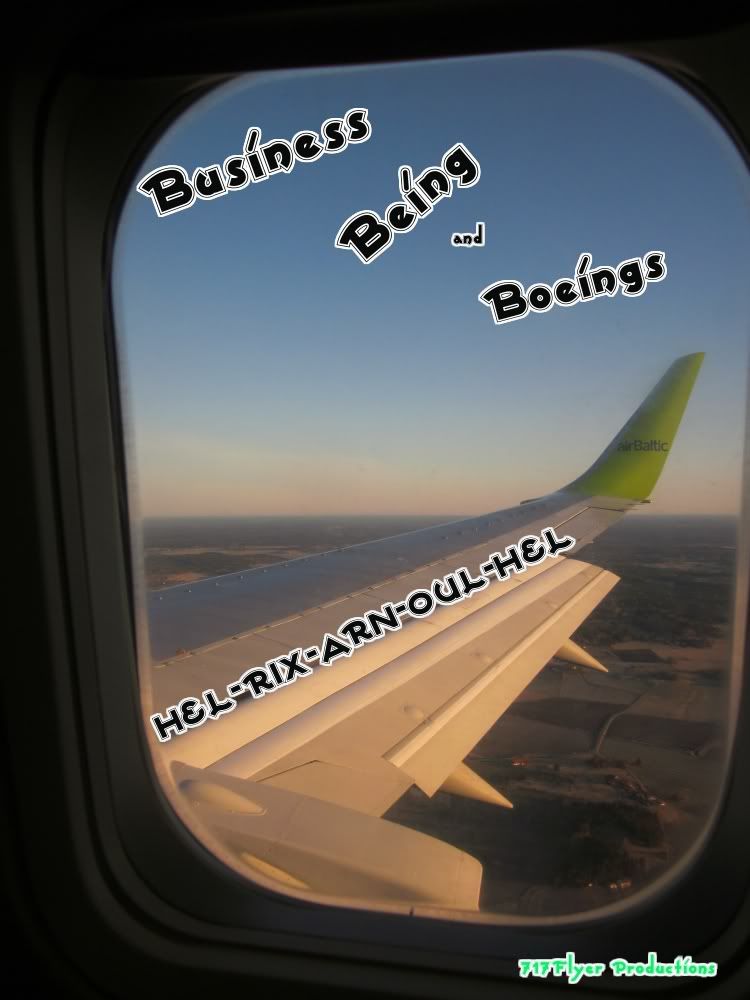 Background
Back in the distant past in the middle of a dark and depressing Finnish autumn last year I made the decision to spend my Christmas in Lapland. You can also find proof that I did so here on the forums (here to be exact:
Flying North On The ATR! HEL-OUL/KEM-HEL
(by
717Flyer
Dec 30 2011 in Trip Reports)). As a part of that trip I booked HEL-OUL on Blue1. Lacking any better ideas I decided to book a return flight ideal for the Easter holidays. So there I was, having OUL-HEL booked on a Golden Air ATR.
In January I got an email from Blue1 saying that flight schedules had changed and that my booked 14.40 flight was no longer operating and that I was booked on a 13.15 departure instead. This wasn't exactly the best news as it would force me to take an earlier train and waking up around 4. a.m. which seemed terrible (read on to find out that worse timings exist!). The email did contain a phone number to Blue1 (not one of those terribly expensive pay-us-6-EUR-per-minute numbers but a completely standard one) and as I called them the same day I didn't have to wait 20 seconds. After explaining my issue a friendly girl asked no further questions except for "Would a 16.15 flight suit your schedule better?". And indeed it did.
The good news did not end here - I also asked her if the 16.15 is another one of those flights operated by Golden Air - but her answer saying it was "of course" a Boeing 717 was music to my ears. The very same evening I decided to try my luck with an Optiontown upgrade to Blue1 Premium - and with 29 EUR less in my wallet I had a chance of flying upfront on the 717 for the first time ever.
Now I of course did not intend to take the train up there - absolutely not - and my booking department soon approached me asking about how I was planning to get there. As I asked them about HEL-OUL fares they immediately replied "No way José, we won't do that booking, too much HEL-OUL runs lately - think outside the box!".
Thinking outside the box turned out to be trying out the new ARN-OUL route that Blue1 introduced a couple of weeks ago. I quickly secured the flight on my desired Thursday for a 55 EUR youth ticket. I was thinking about trying to upgrade that flight as well - but it must be the novelty factor of the route or something - that it was not possible to submit an upgrade.
This left me with a problem: I had to be at ARN well before 10 a.m. on that Thursday. And a closer look revealed that I had two choices:
1) fly the early morning 717 to ARN on that day - the flight had a price tag of 75 EUR though...
2) fly HEL-RIX-ARN on Air Baltic that day - the price tag was 60 EUR on this one.
I quickly went with the latter option, but looking at my booking confirmation I didn't feel well seeing the scheduled 05.05 a.m. departure time. And sure enough, more was still to come:
Online checkin for my Air Baltic flights worked just fine, actually I could pick my seats and print my boarding passes already early Tuesday evening despite the advertised timing that online checkin opens at midday for all flights during the next day.
Those of you that were too lazy to read the background can also view my route on this map: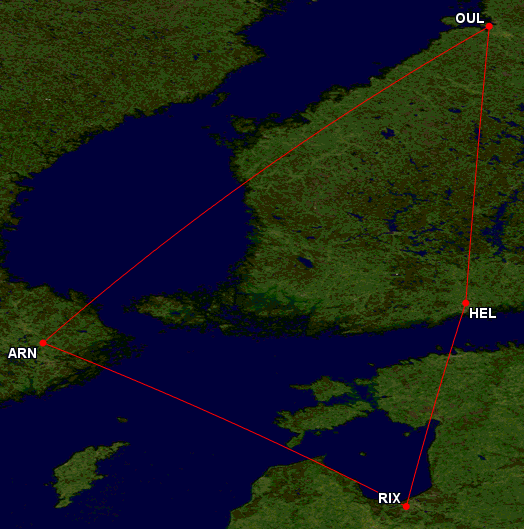 Maps generated by the
Great Circle Mapper
- copyright ©
Karl L. Swartz
.
Thursday 05.04.2012
Having went to sleep already around 9 p.m. the evening before (and yet I immediately felt asleep like a child!) I felt somewhat humane when I heard my double wake up call coming on at the delightful hour of 02.00 a.m. (I always have two alarm bells on in the case of a sudden equipment failure). I get up, shower up, eat a sandwhich and wonder about how quiet the streets are at this hour.
When I step outside on the backyard of my house I spot a full moon: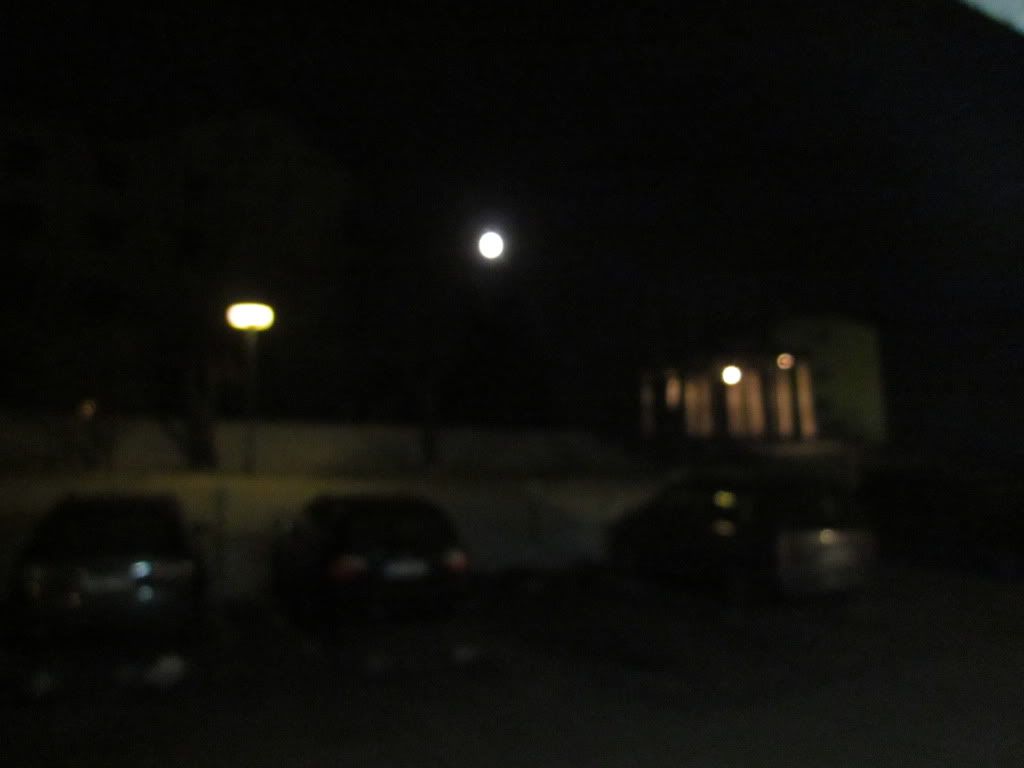 A moment after snapping the photo above I see a neigbour of mine and we exchange a couple of phrases. It is obvious he has been drinking a few (seriously, quite many) beers and he tells me "You are such a good fellow, but why are you up this late?". I try to tell him that I'd prefer the expression of being up early, but he continues by wishing me a good night so I wish him a good morning which makes him, well, surprised.
Public transportation doesn't run to my house yet (why?) and as I am definitely not in the mood of paying some 40 EUR for a taxi ride my father and I (yeah, I don't know what made him travel the same routing with me - he was well aware of the flight schedules) come up with the idea of driving by car to the airport instead. It is quite creepy to see how empty the city is at this time - you only see airport taxis and cars with drunken bar flies at this hour. Anyway this means the ride to the airport takes only around 30 minutes but it takes another 10 minutes to find the parking lot (Finavia once again showed what they go for - at one stage all signs for P4 (the cheapest outside parking located in the middle of some industrial area near the airport) disappear - but we find our way at the end, park the car and start walking to the airport.
The time is 3.30 a.m., my holiday has just started, I am walking in the middle of nowhere and I am very excited? Yeah, it was quite a surreal feeling, I must admit. Finavia has done a good job placing out signs for those el-cheapo travellers (like me) walking to the terminal - but recent construction work has closed down all of those routes so I end up climbing over a few fences and crossing some private parking lots.
On my way to the terminal I spot this colorful car - well hello:
After the nice walk I am fully awwake and as I enter terminal 1 I notice how deserted the place is (note the combined Blue1 & Wolksvagen ad):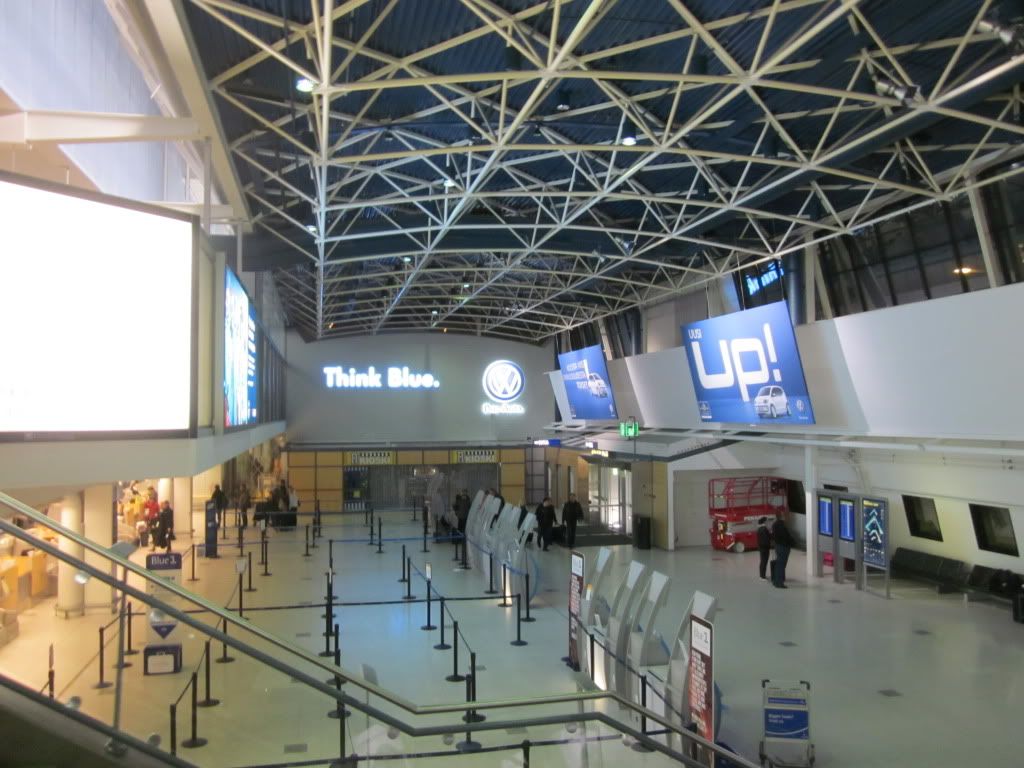 I would have liked to print out a boarding pass (read: receipt) from one of the kiosks to have someting for my collection, but apparently Air Baltic does not use any of them so I have to stick with my home-made printout.
There's quite a bit of a queue for security and it takes quite some time to get through - I get the feeling the majority of the passengers on my flight are such that travel once a year and have never heard of thing such as weight restrictions.
Eventually I get through and look at the FIDS. Hong Kong or Riga?: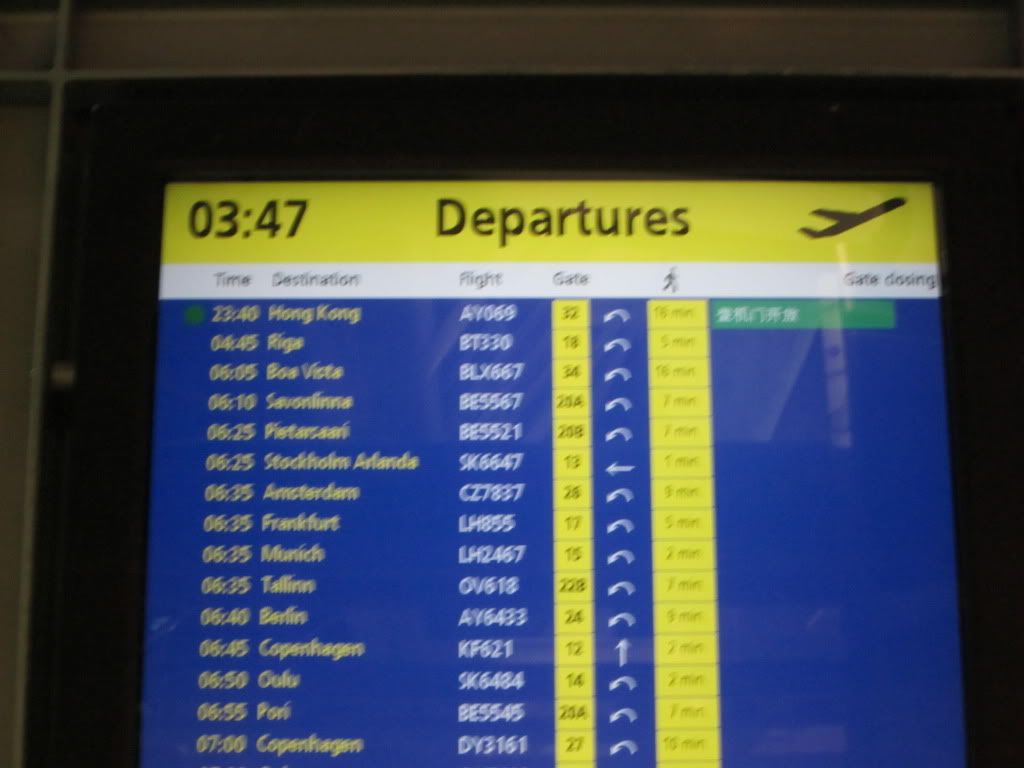 With some 20 minutes until boarding I slowly start walking towards gate 18 (not located in the other end of the airport building, well done Finavia!)
Boarding is announced on time at 04.15 (ugh, what a timing!). Surprisingly only a couple of passengers line up (including me) but the fun starts when the passenger ahead of me is about to board the plane.
Passenger: Good morning
(his boarding pass shows a red light)
Agent (shouts to another agent): Hey, you there, xxx is here now, where is his boarding pass?
Passenger: Well obviously I gave it to you a second ago?
Agent: Of course not, you have been reseated.
Passenger: I hope not, I chose the aisle seat, actually I paid for it upon booking the flight.
Agent: Your boarding pass is here, seat 23B.
Passenger: But..
Agent: Next please!
Mr 20A (that's me!) boards the plane with a green light but my father gets a red light.
Agent: (shouting again) Hey the other passenger is here, where do you keep hiding these boarding passes?
My father: Why does all these passengers need to be reseated?
Agent: You are reseated to 20C, boarding pass here.
My father: But we booked seats together with my son?
Agent: How would I know about where your son is sitting?
(other agent mentions that we are still on the same block of seats)
Agent: Next please!
First impression of Air Baltic: boo!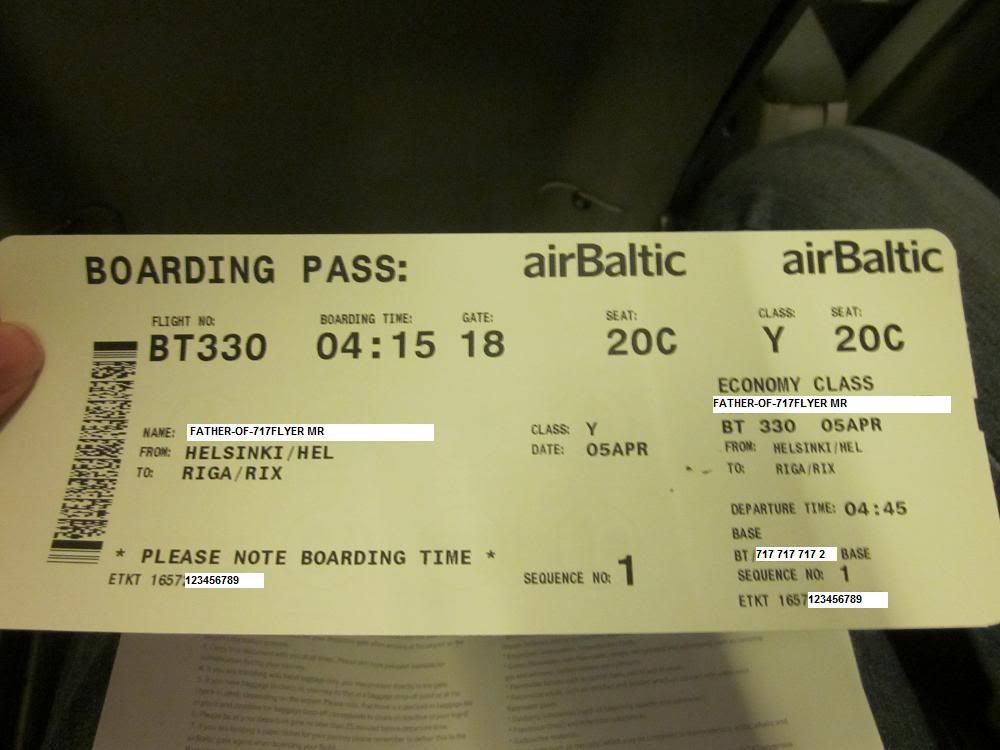 As we are walking down the jetway we are very puzzled - why on earth would they move us so that someone else could get the middle seat? Obviously a disabled passenger (or other) would prefer an aisle seat? That is why we decide to sit down according to our standard seats of 20A and 20B and offer 20C to anyone arriving later.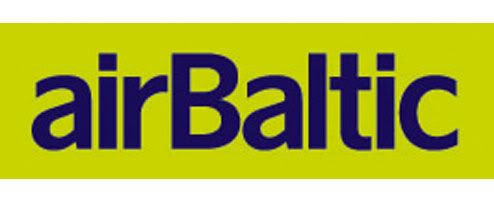 Thursday, April 5th, 2012
Helsinki (HEL) - Riga (RIX)
Airline:
Air Baltic
Flight:
BT330
Scheduled times:
04:45-05:50
Actual times:
04:40-05:38
Seat: No idea, keep reading...
Class:
Economy
Equipment:
Boeing 737-300
Reg:
YL-BBR
I am (not) welcomed onboard by quite a senior female FA standing at the door, not that she greets anyone (why would she need to do that?) but after staring at her and saying "Good morning" I get an irritated "Hello" as a greeting. Not very impressed.
The leather seats looked worn out, yet quite modern: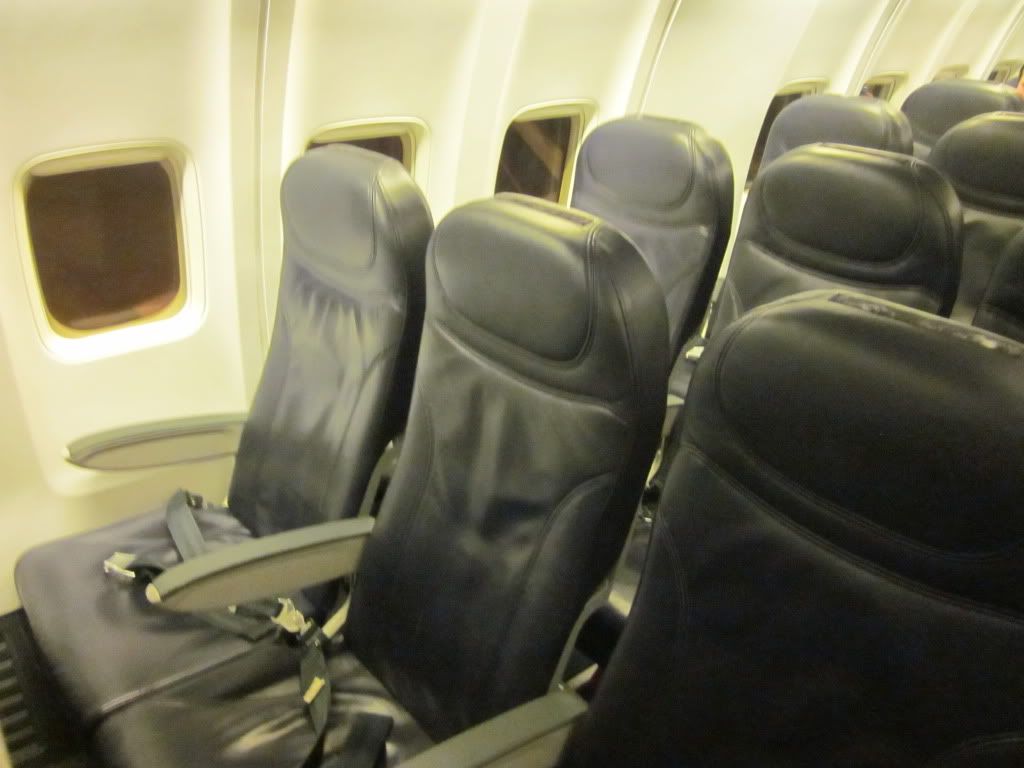 Legroom is alright for me, but the pitch is very tight for my father: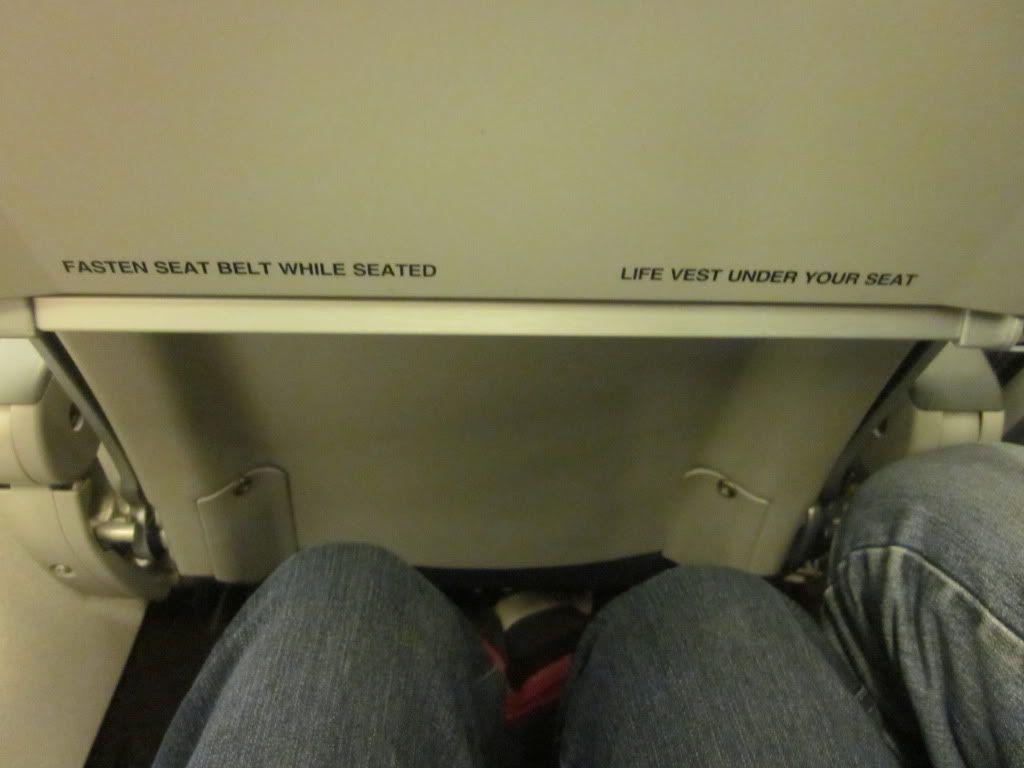 Cabin view during boarding: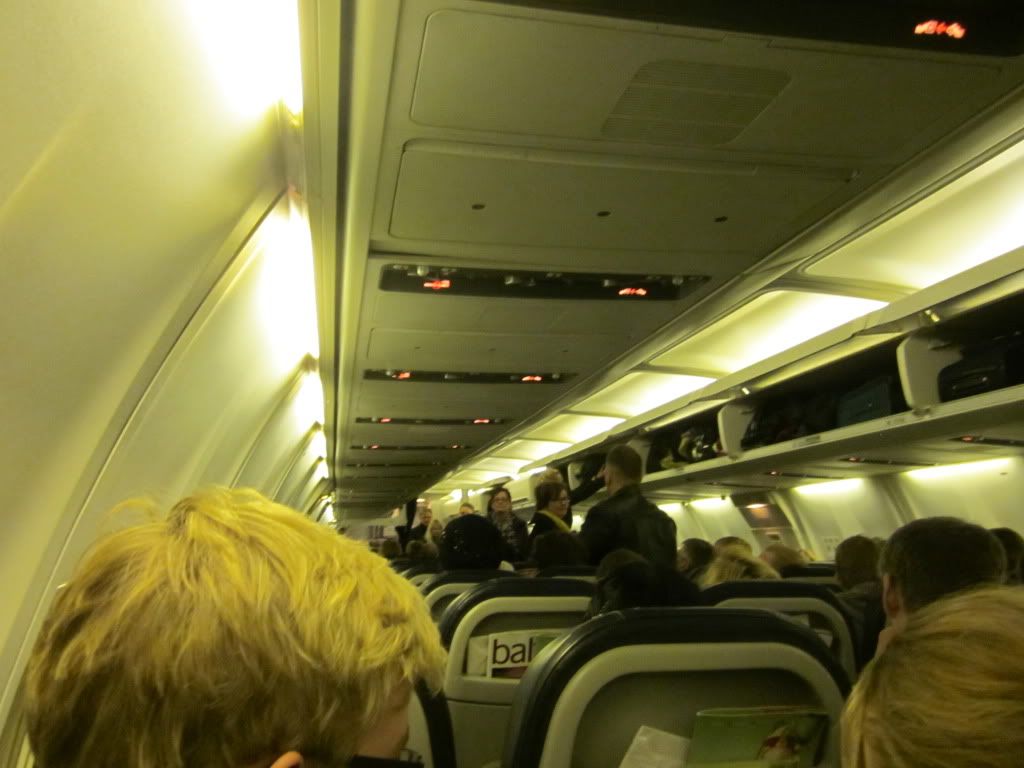 Boarding completed is announced some 10 minutes before scheduled departure time and ironically the very last passenger boarding the plane stops at our row.It is a young French girl travelling with a small dog. She politely asks that she has a seat on this row and is not sure where she should be sitting. I explain the situation and she says "I definitely would like the aisle seat". Yet alarm bells start ringing when I see her boarding pass - she is assigned 20A - definitely not 20B as we got to know earlier.
Another senior female FA soon appears (no, not the one I woke up during boarding) and she immediately spots the dog in its cage in the aisle.
FA: "You cannot have your dog there"
French girl: "No problem, I can put it under my seat".
FA: "No you cannot do that show me your boarding pass"
(she shows the FA her boarding pass with seat 20A)
FA: *sigh* Why you not sitting in 20A? The paper clearly says you sitting where!!!
French girl: But the boy in 20A also got that seat assigned.
(FA says nothing, leaves. Soon the FA I woke up during boarding comes to our row)
FA nr 2: You there (points at me), show me your boarding pass. And you in 20B as well!
(she looks at our documents in a very susipicious manner and she stares at us every now and then - jeez I feel like a criminal!)
FA nr 2: This is no good! She with the dog must sit in the window seat.
French girl: But why? I want an aisle seat!
FA nr 2: Is safety regulations! Of course!
(she leaves)
At the same time we hear a welcome announcement in the background. Flight time is announced as 45 minutes for this short hop and a special welcome is made for all BalticMiles members (that makes me feel a little bit better already!)
Soon the plane pushes back five minutes early at 04.40 despite some passengers are still searching for things in their bags and standing in the aisle. And soon our drama continue as FA nr 2 returns with the passenger manifest.
FA nr 2: I don't understand. And why is problem with you?
French girl: I want space for me and my dog.
Me: I specially chose the window seat because I love flying and Air Baltic was my preferred choice for this flight. Plus I want to take pictures!
FA nr 2: *sigh* Is I don't understand, I will come back to you soon okay?
French girl: Sure.
We have a really nice chat with the French girl - she is apparently continuing to Paris from Riga and travelling to meet relatives in France during her Easter holidays. But most interestingly, as we take off from runway 22R at 04.50 we notice that the FA never came back. The french girl suggests that "let's forget Air Baltic company regulations and just enjoy the flight?". And she is quite right.
Oldfashioned overhead panels: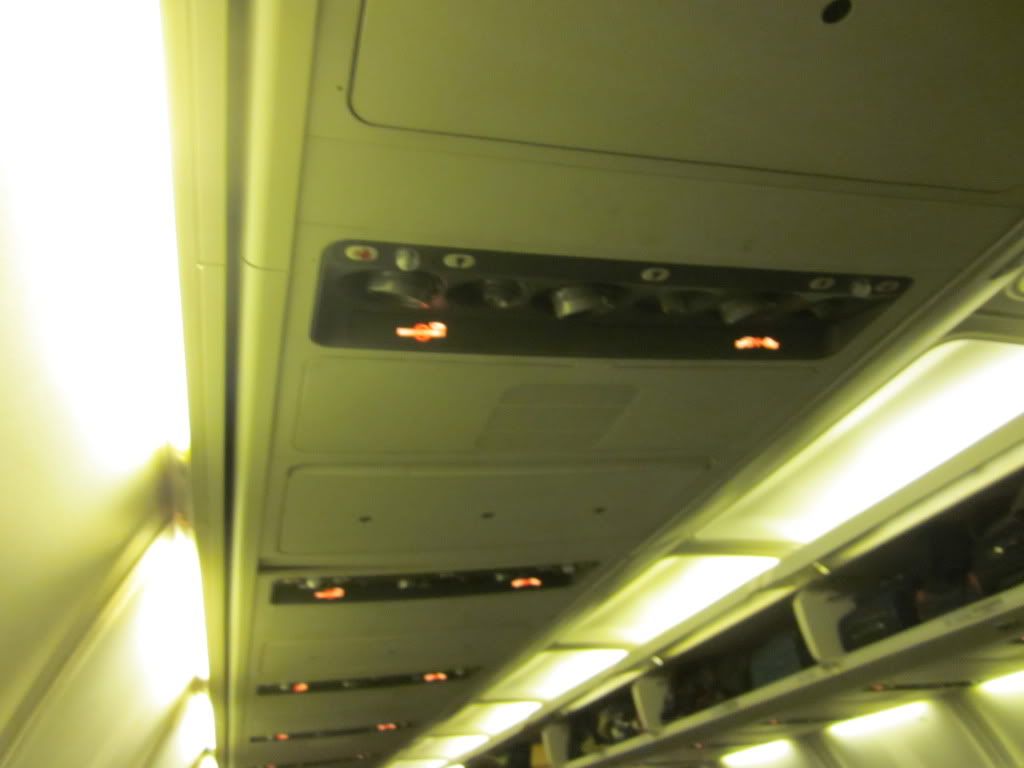 Safety card (accidentally reported missing after my flight
):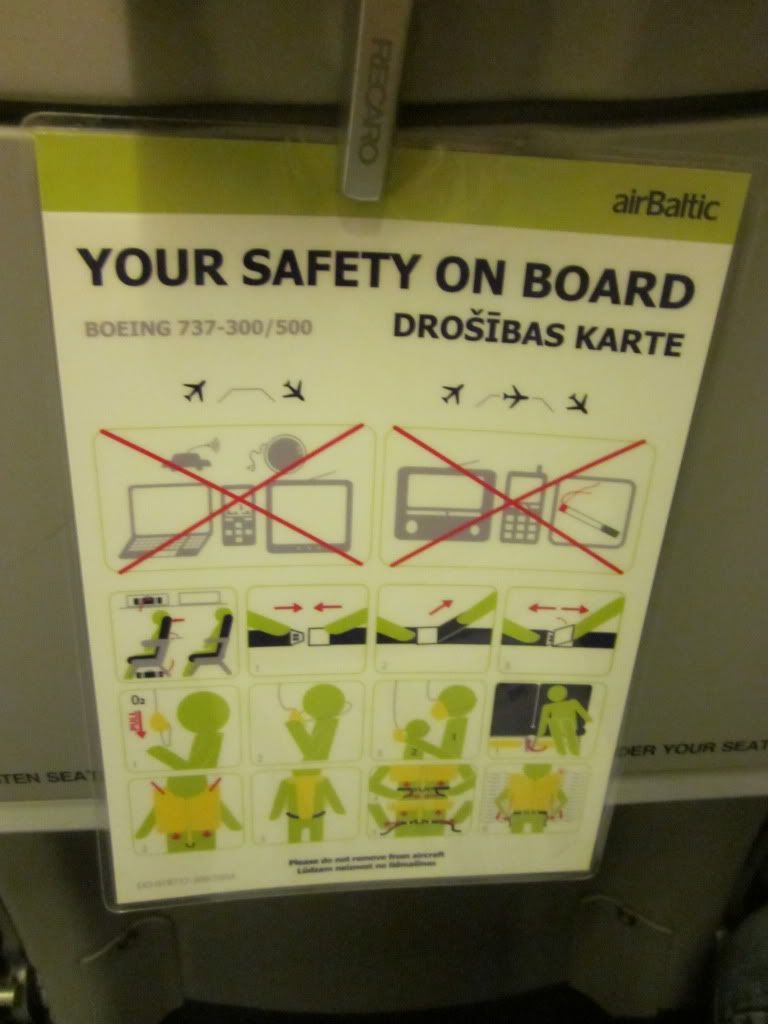 The safety instructions card is most likely the smallest one I have ever seen - apparently Air Baltic takes cost cutting measures quite literally.
And the inflight magazine (also missing, hmm, what might have happened):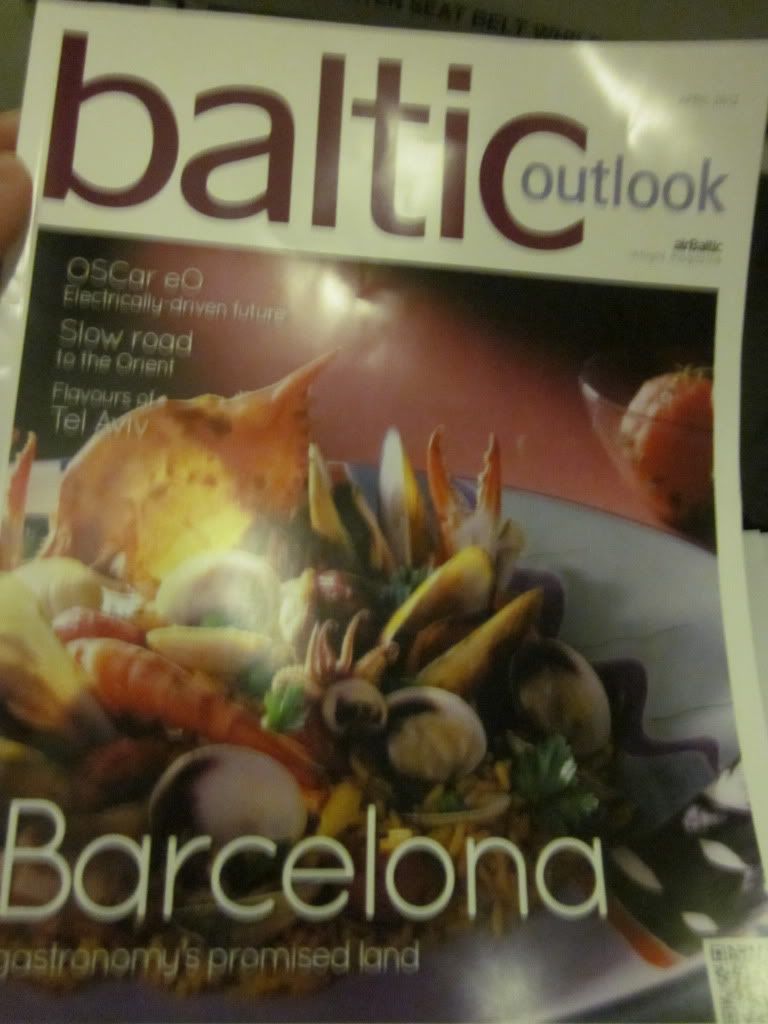 It is pitch dark outside, but at least some of Helsinki lights are visible:
After climbing the seat belt sign is turned off quite soon and the FAs (Mrs. Sorry-I-woke-you-up-at-the-door and Mrs. Dont-understand-the-company-regulations) start BOB service. I hadn't planned to buy anything on this (too) short flight - after all the treatment I had received had made me lose all appetite.
Anyway the load is very good, around 95 %, empty seats are only available in business class. We Finns really are quite weird, travelling at such a crazy hour!
Cabin view: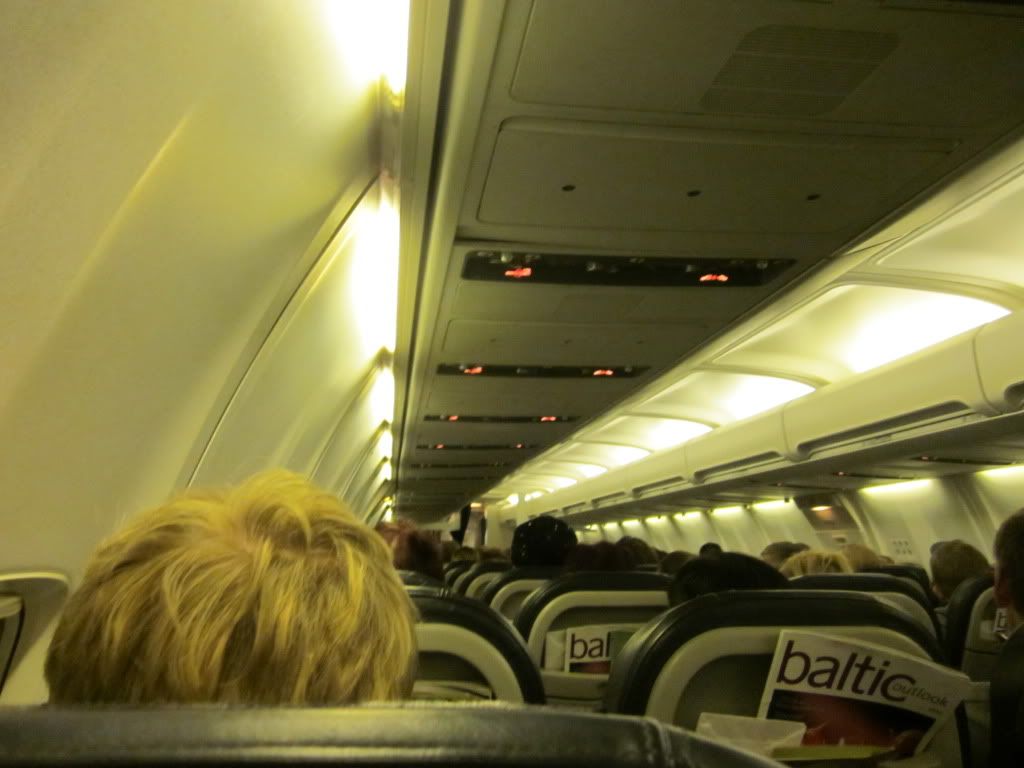 We hear nothing at all from the flight deck during the flight but the seatbelt sign is turned on moments before the FAs are about to reach my row, still some young Finnish guys in the row behind me want to purchase some of the smokeless cigarettes available in the BOB sortiment.
FA: "You know you won't be allowed to smoke anymore during this flight?"
Passenger: "No proplem"
FA: "And you know they don't work like real cigarettes?"
Passenger: "Cigarettes, yes, please!"
A moment after the transaction is completed one of the guys start smoking anyway and as the FA spots this she rushes over.
FA: "WHAT DID I TELL YOU ABOUT CIGARETTES?"
Passenger: "Is special. Smokeless?"
FA: Grrr.. YOU PUT IT AWAY!
Passenger: What?
FA: "NO SMOKING!"
Passenger: Relax, no proplem."
I stare at the FA, wanting to hear some comments about safety regulations and why I should be sitting somewhere else but after stopping at my row and thoroughly inspecting I really have fastened my seat belt and done everything else right she just gives me a quick stare and disappears.
Lights of Riga: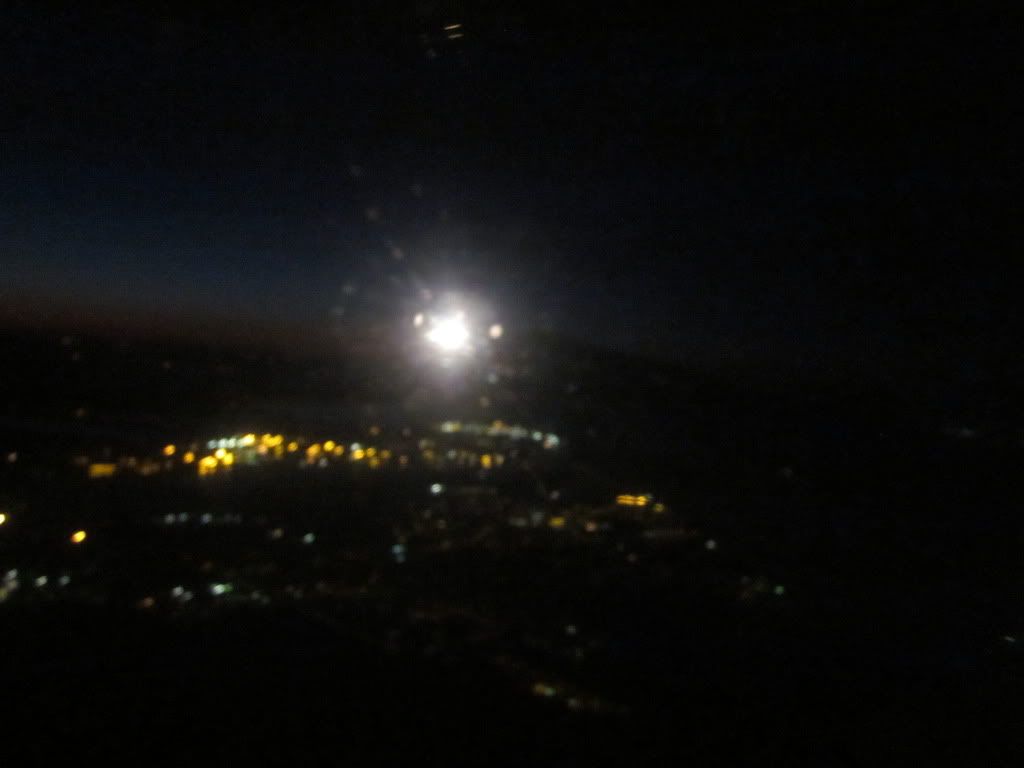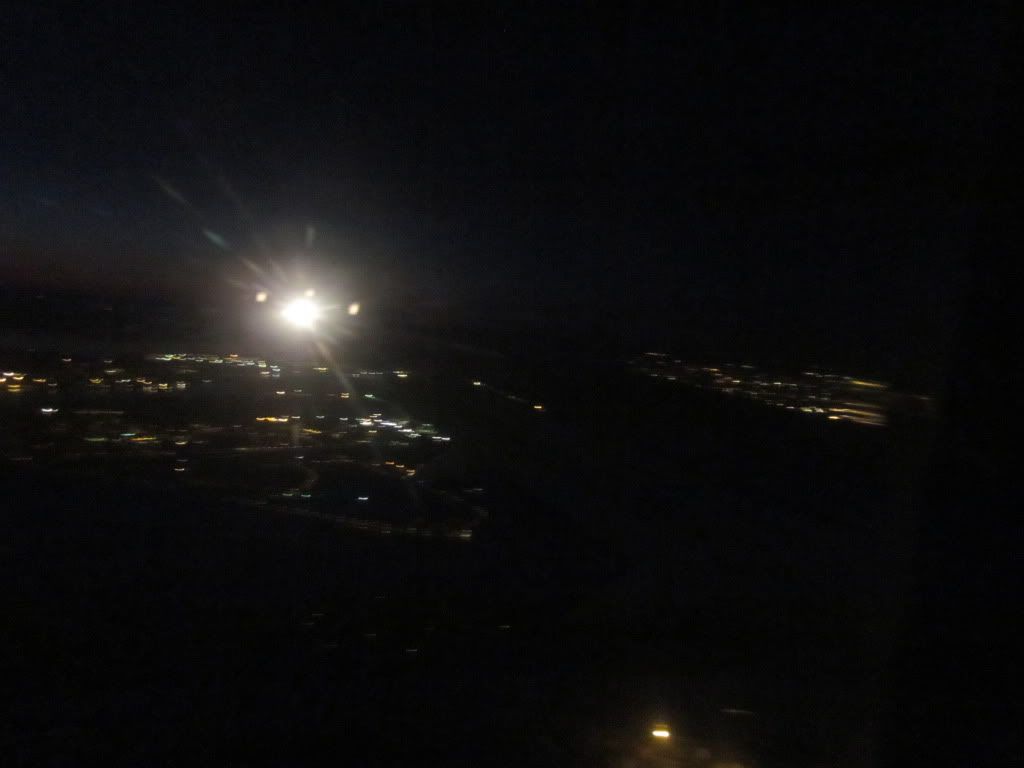 Hey, I can almost see some light: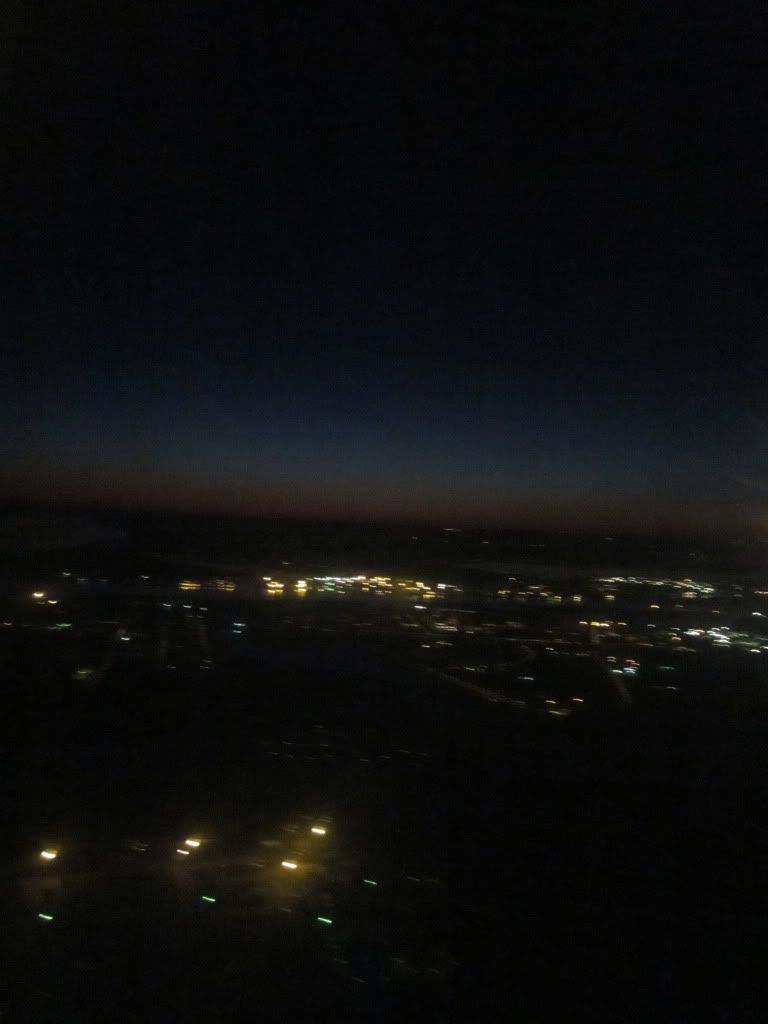 Soon we make quite a bumpy landing at runway 36 which surprisingly is not followed by any applause from the other passengers. We vacate the runway quickly with some heavy braking and the reason soon becomes clear - an Air Baltic Dash dashes down on the runway (sorry, I couldn't resist) moments after us.
We park next to Lufthansa: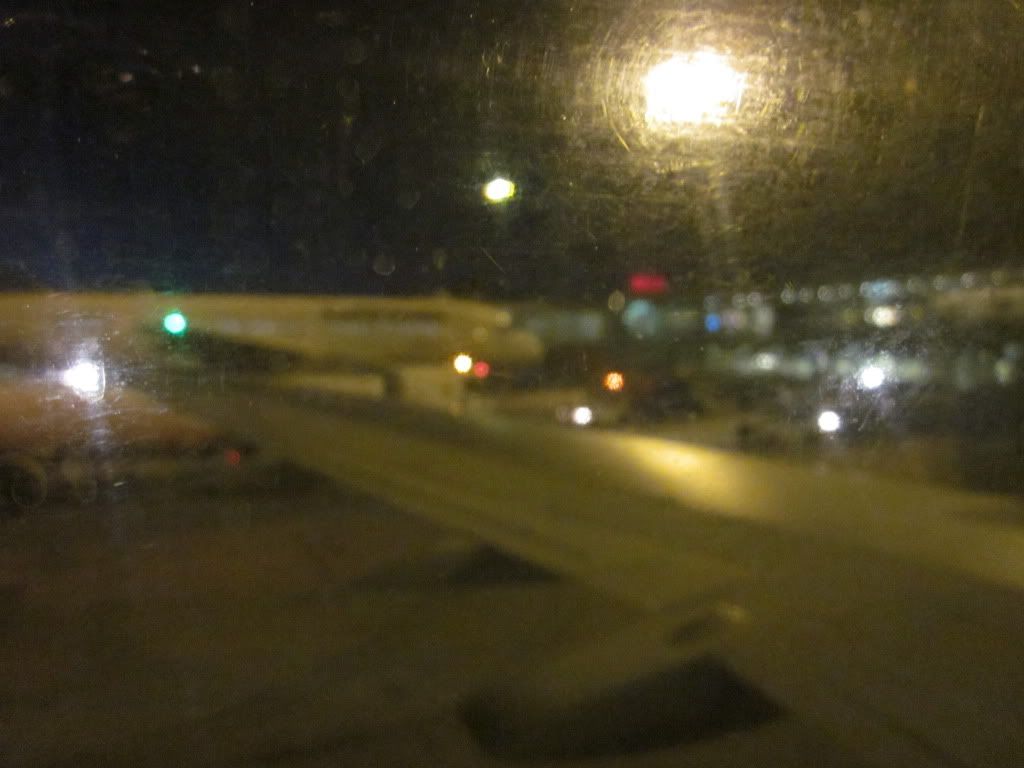 Knowing that it was pitch dark outside and Flightradar doesn't always log Air Baltic flights I decide to ask one of the flight attendants about what reg is operating this flight. I feel a bit reluctant towards asking one of the babushkas I had encountered earlier but when I spot the third FA in the back - a cute young Latvian girl - I know what I have to do.
Me: "Hi, can I ask you something?"
FA: "Well, you can ask me almost anything".
Me: "This plane is a 737-300, right?"
FA: "No, hmm.. it is 737-500, or wait, no you're right".
Me: "Yes, so could you tell me what reg we are on right now?"
(FA starts laughing)
FA: "Sure I can, but why would you ask me something like that?"
Me: "Well, let's just say that I love flying and I like to keep track of what planes I have flown on".
FA: "That sounds fun! So this plane is Bravo Bravo Romeo, YL-BBR.
Me: "Thank you!"
FA: "No, thank you for flying with Air Baltic! And have a great day!"
From the first moment I started talking to her I wondered where she had been during the whole flight, the other FAs could definitely learn something from her. But I am brought back to earth at the door where Mrs. Sorry-I-said-hi nods as I say "Bye". Hmm.
Bye:
Riga Airport Experience
The first thing I do once on Latvian ground is to pay a visit to the loo. That is something I later would regret: all I can find is a facility that is shared by both genders and is in terrible condition. But it did the job, I guess.
After this I grab a somewhat overpriced water bottle from a nearby cafe, stroll around a bit and listen to my father's concerns about how he could have accepted to join me on this route. Eventually I locate the next gate as B10, a bus gate downstairs, not a big surprise considering the flight is supposed to be operated by a Dash.
So I sit down near the gate, read the Air Baltic inflight magazine I nicked from the earlier flight and enjoy a sandwhich I made at home.
Gate area:
There is quite a good number of passengers at the gate but after the Brussels (cheers Nils and Marc!) flight has left from the opposite gate there isn't many people left waiting.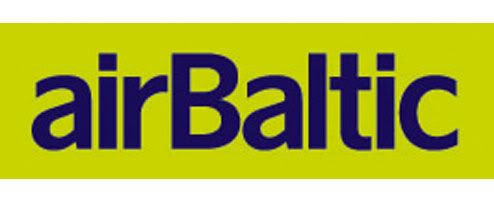 Thursday, April 5th, 2012
Riga (RIX) - Stockholm Arlanda (ARN)
Airline:
Air Baltic
Flight:
BT101
Scheduled times:
06:55-07:10
Actual times:
06:45-06:48
Seat:
18F
, window
Class:
Economy
Equipment:
Boeing 737-300W
Reg:
YL-BBX
Boarding is announced on time at 06.25 and we are directed into an old, but most of all, freezing cold bus where we wait... and wait ... and wait ... and see some last minute passengers running to our gate ... and wait ... and wait some more ... and then we drive off. (I smell some connecting passengers missed the flight!)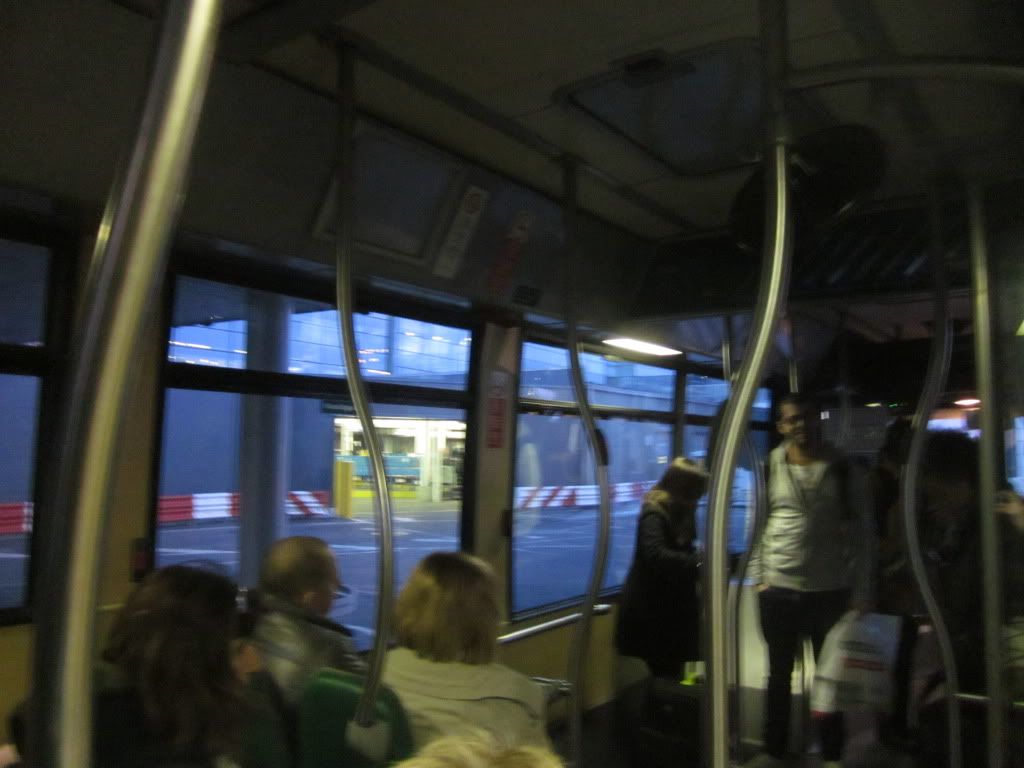 I count 31 passengers including myself in the bus - not a very impressive load factor this morning.
Will that Dash be my plane?: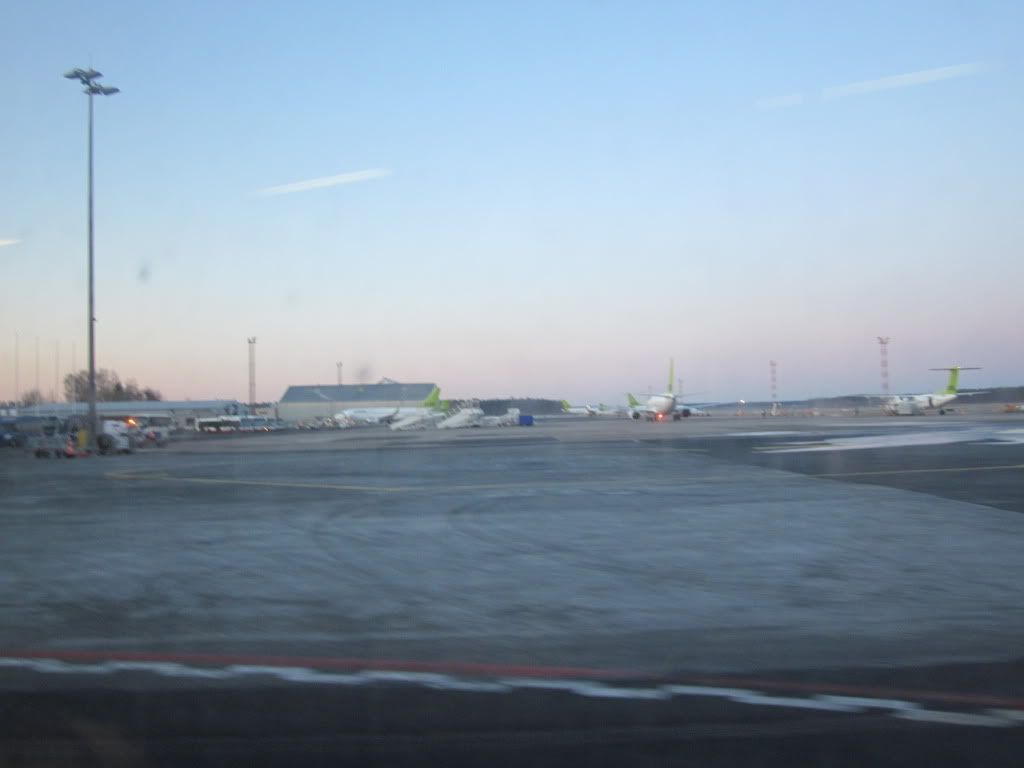 Fortunately that is not the case as it is YL-BAQ, one that I have already logged twice before. We also drive past the yummy plane, YL-BBQ but that isn't our ride either.
The surprise factor is always guaranteed when flying Air Baltic and this time we end up stopping in front of YL-BBX:
When booking the flight the equipment was shown as a 737-300, later it changed to a Dash and now we stopped in front of a 737-300W! My first ride on a winglet-fitted classic 737 and YL-BBX is of course a new one for my log. I take the chance to snap some photos: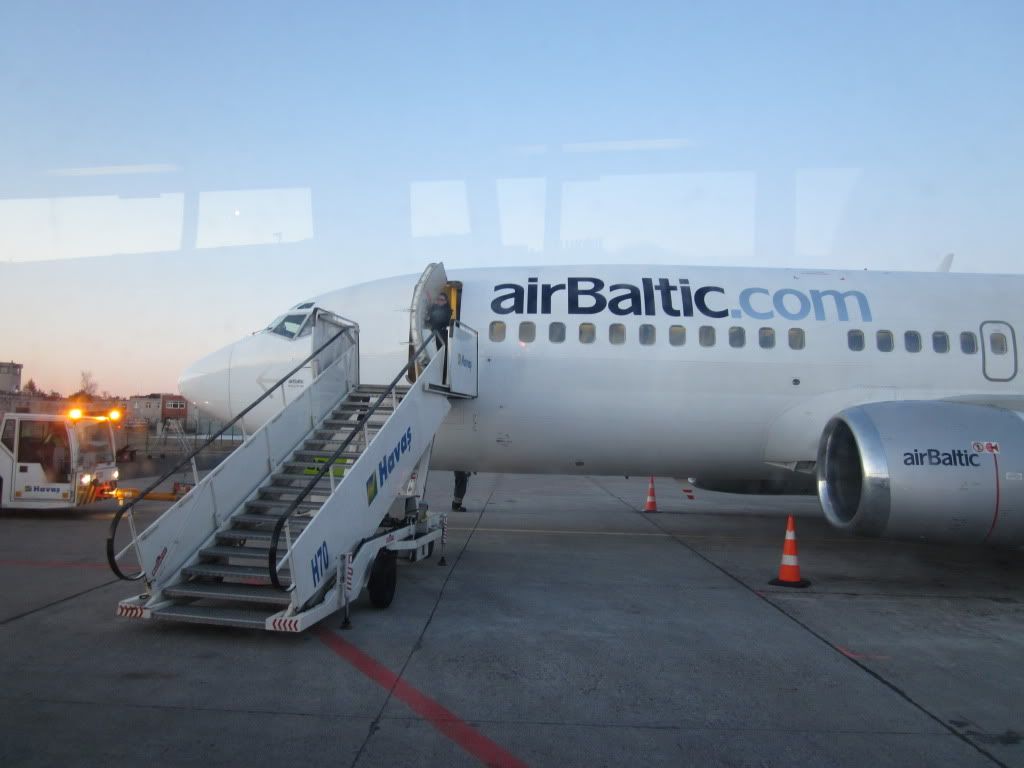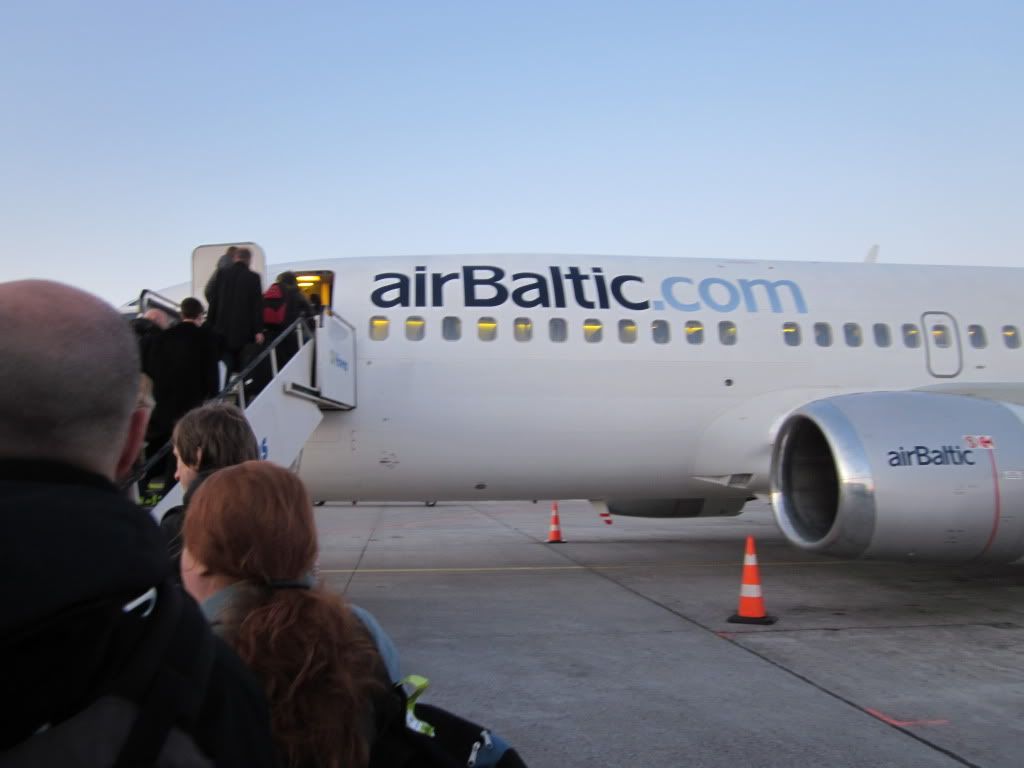 Our member of the ground staff liked throwing things: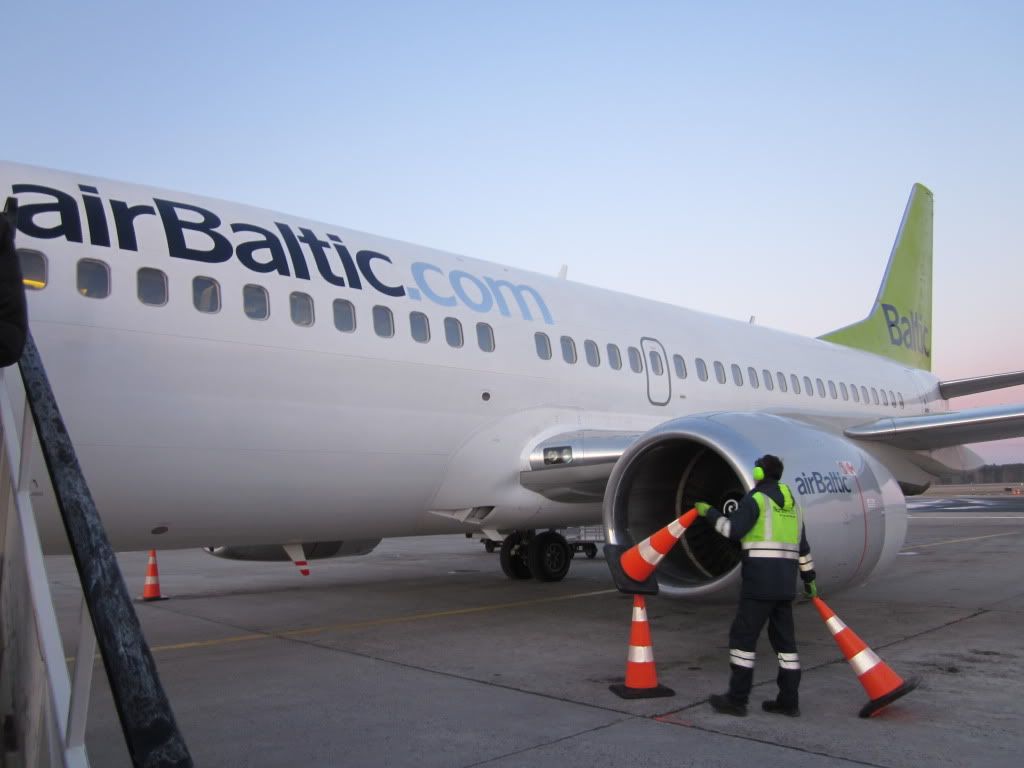 Just to be sure, we really are boarding an Air Baltic plane: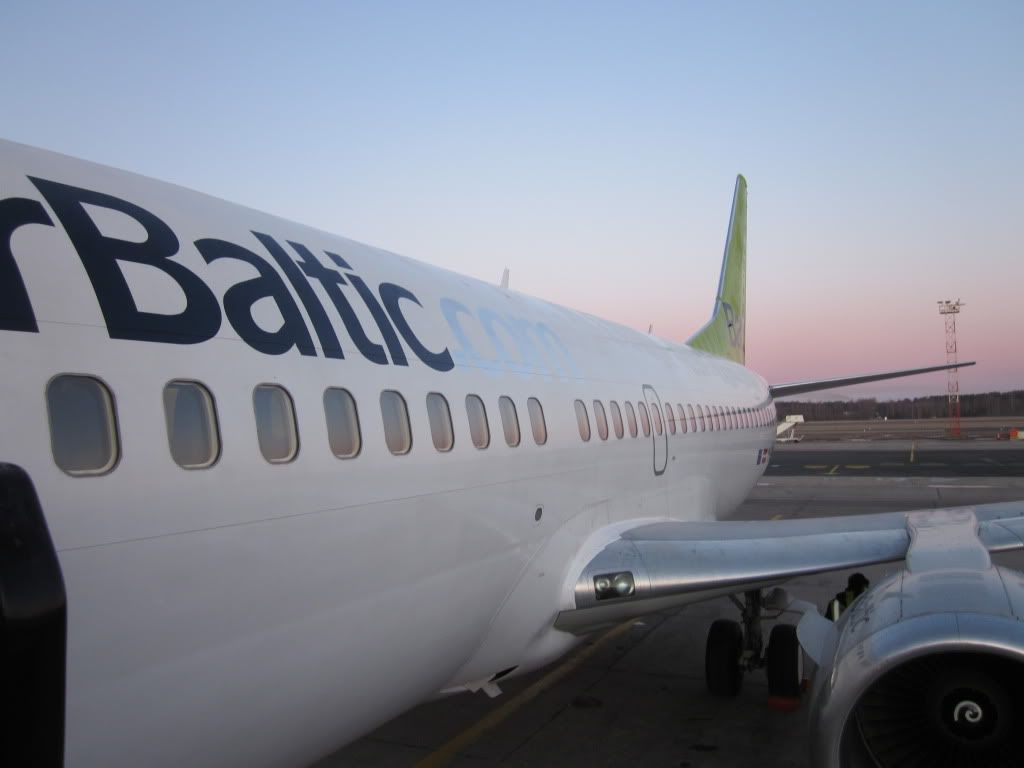 A nice welcome from the biz friendly purser at the door, sure a much better first impression this time!
Business class seating: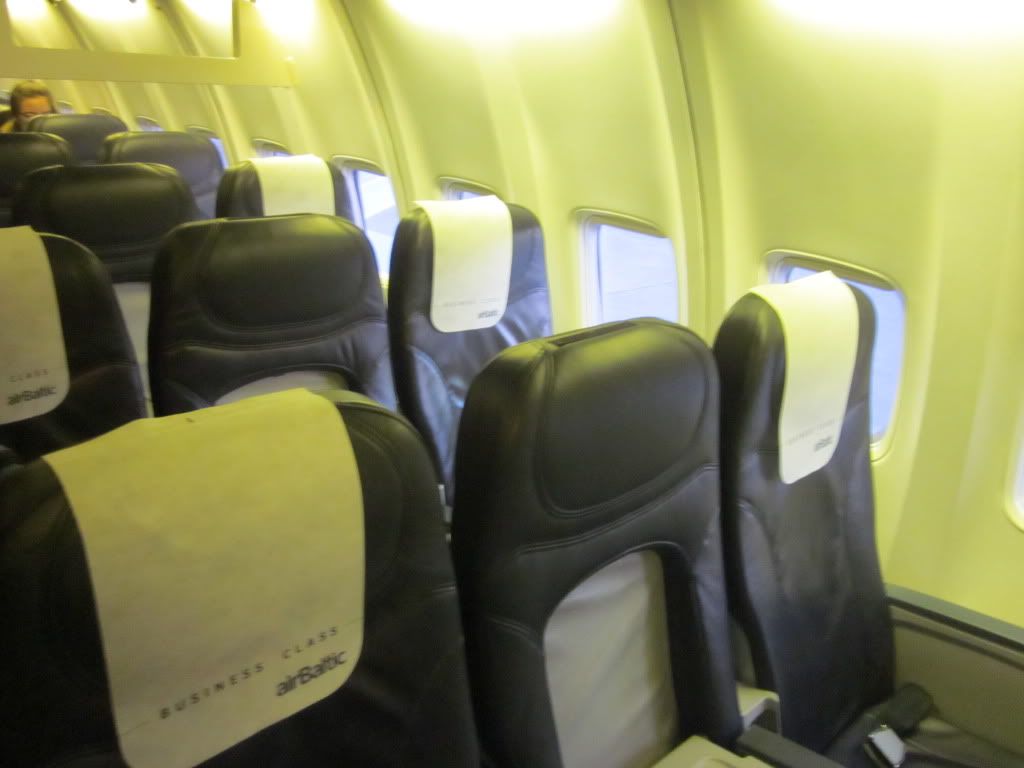 I sit down at my selected seat 18F and moments later they announce boarding completed. The load is very low indeed, only some 20 %. Almost everyone is seated in the front of the aircraft and I have the last 10 rows for myself.
Enjoying the personal space: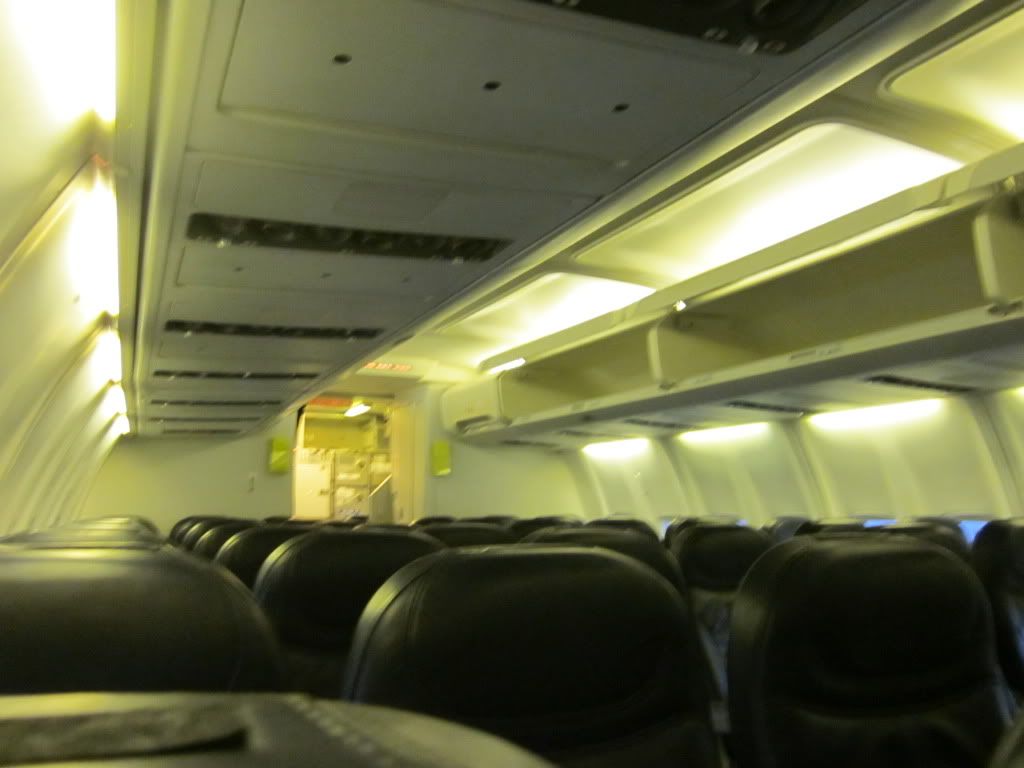 Wing view, nicely spiced with a good-looking winglet: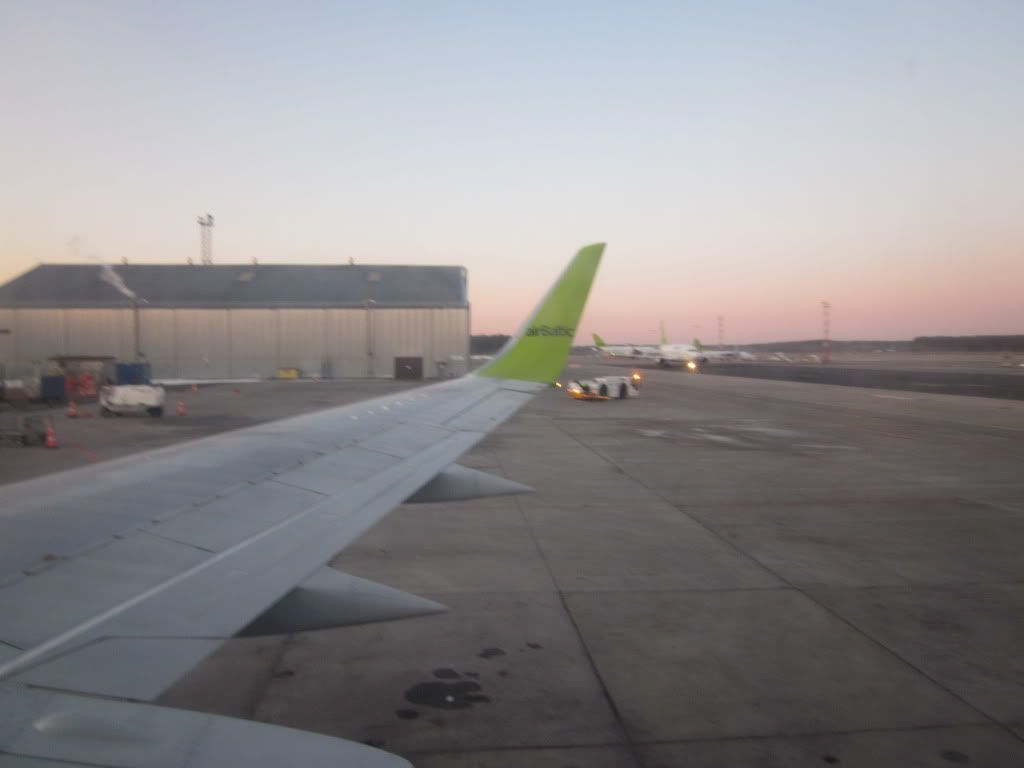 It feels like the leg room is worse on this example, but it must be my imagination:
'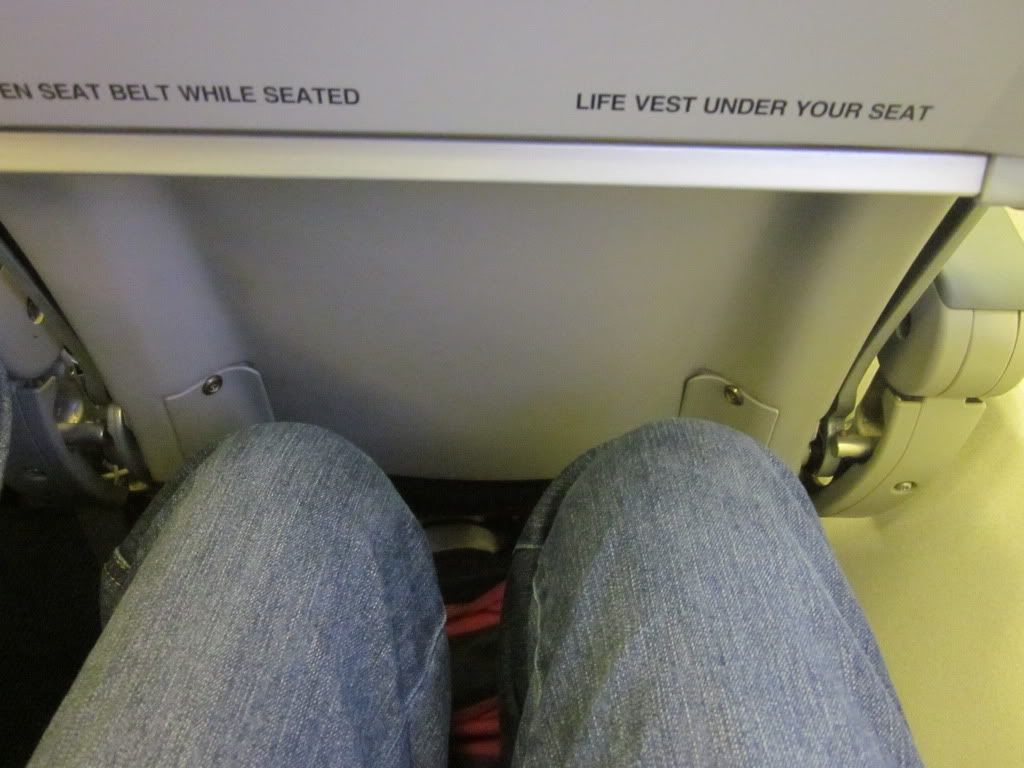 We are welcomed onboard "this airBaltic flight operated together with Skyways and Scandinavian Airlines" and flight time is announced as a short 55 minutes. Pushback is a nice 10 minutes early at 06.45 (but it sure wasn't as nice for the connecting pax that missed this plane - exactly as Petteri's experience some weeks ago)
I wave at this guy but he doesn't notice me: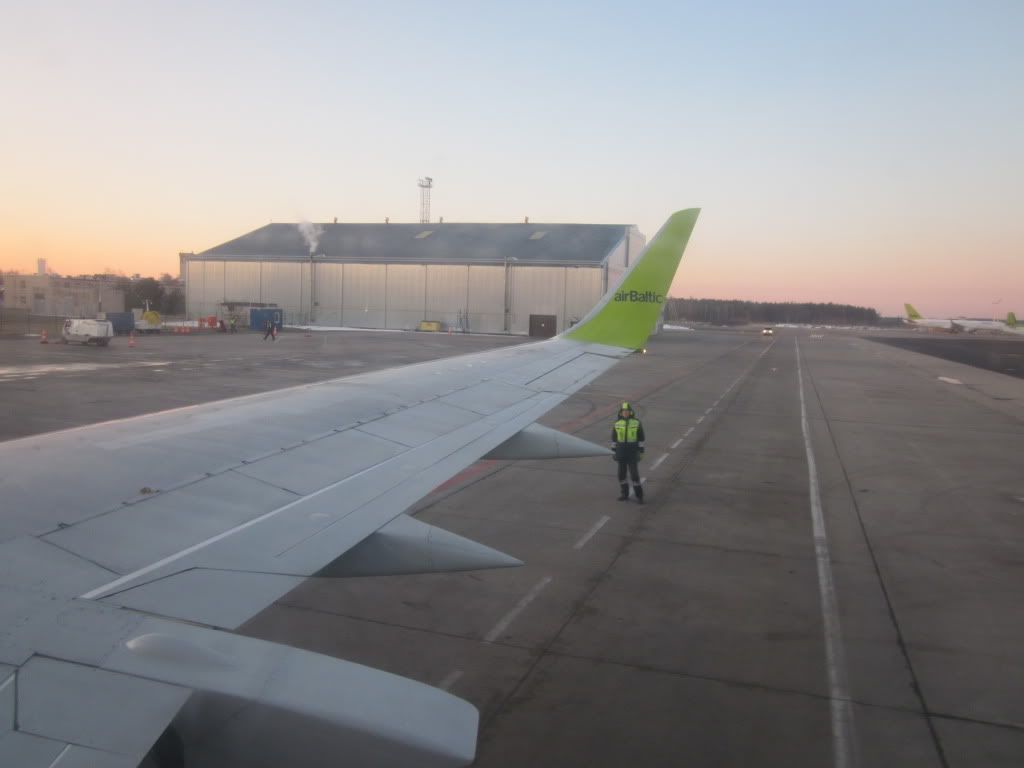 During our short taxi we pass by a (mother) Fokker - yes Jonas, I will read your report soon.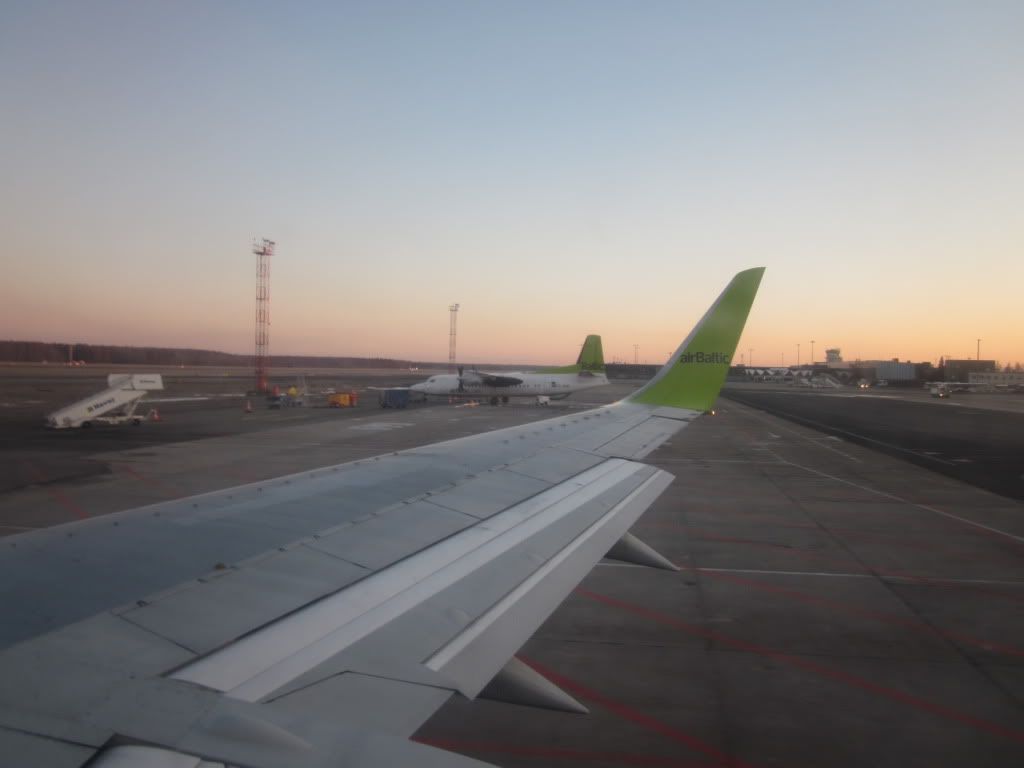 On our way to runway 18: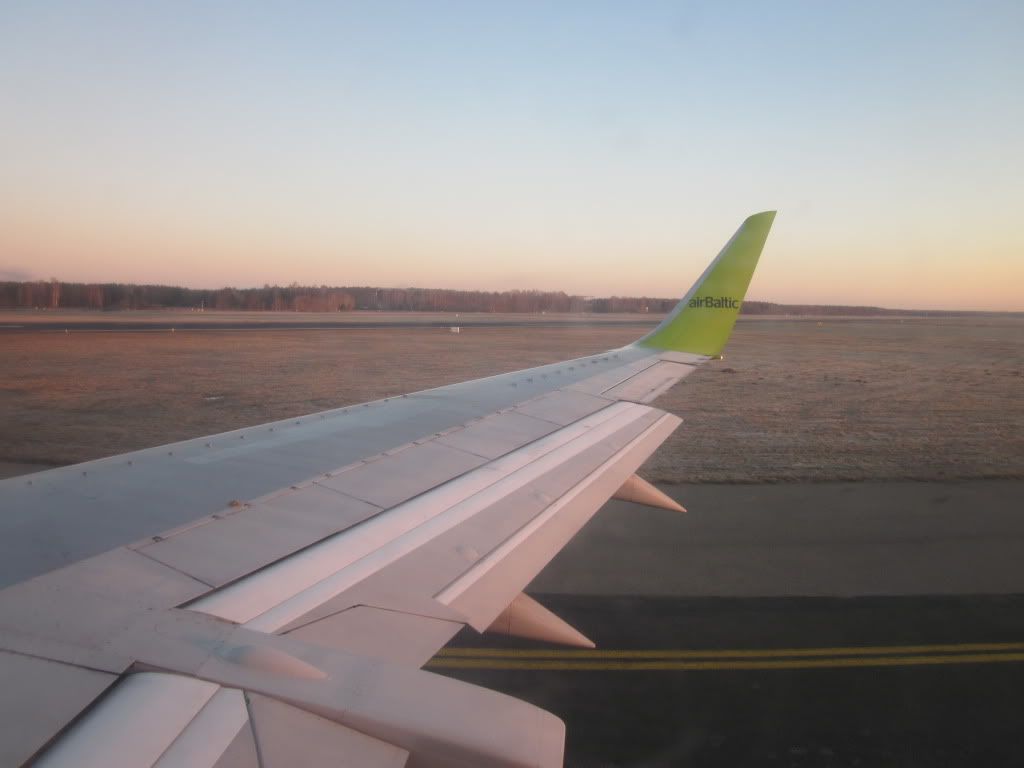 Here's proof that Riga Airport is very busy and international: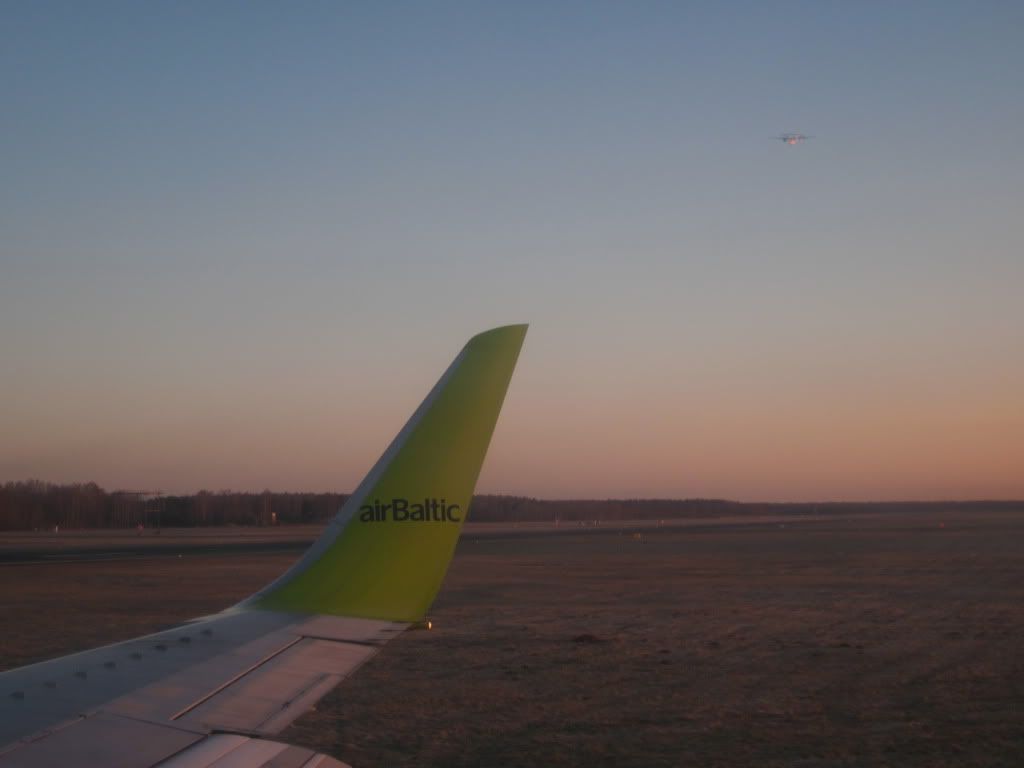 "Airbaltic 101, cleared for takeoff, runway 18"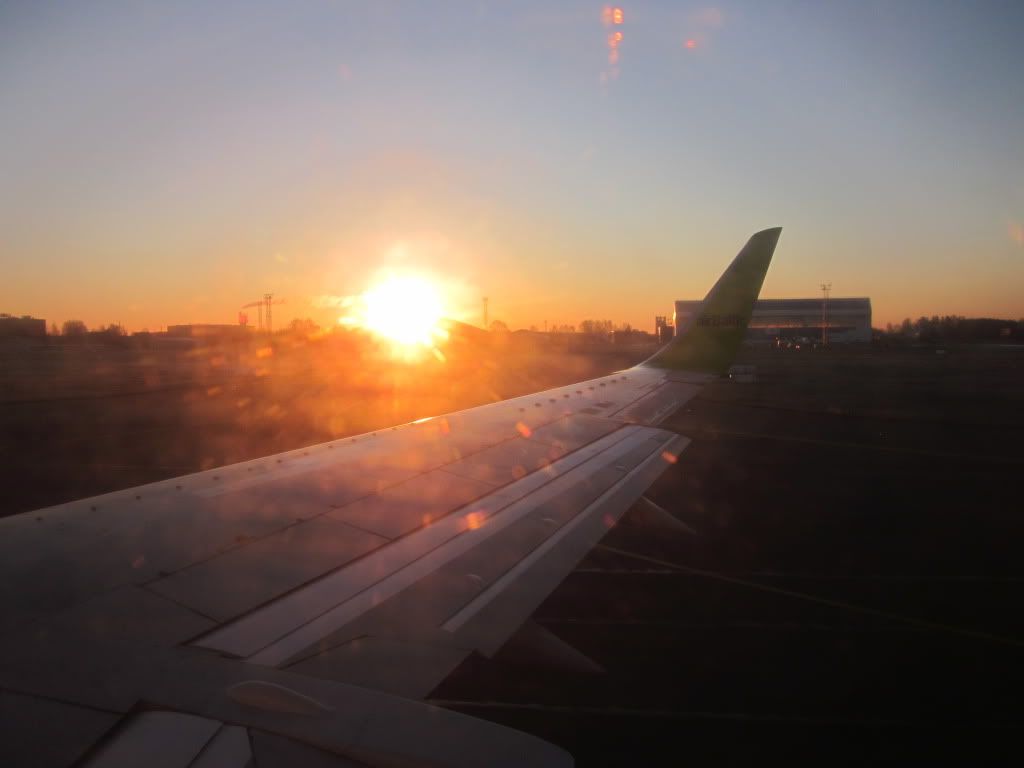 With the low load it doesn't take long before we dig into the skies:
At this time I realize the splendid IFE available onboard: listening to a very drunken Spanish passenger. In the row behind him an older Swedish gentleman that also had visited the bar before boarding the plane soon opened a conversation - one that all the plane could enjoy. Higlights include comparing who owns more properties and who has a younger wife.
The Recaro seats aren't exactly comfortable but at least they do the job :
We are treated with beautiful views during climb: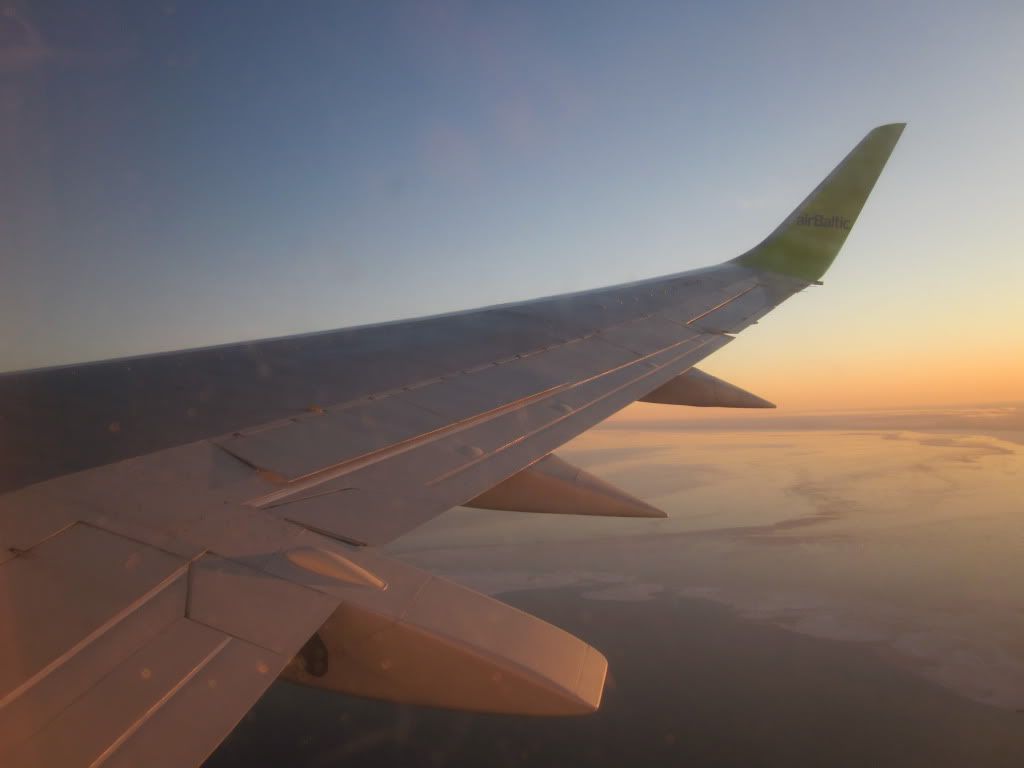 Cabin view:
This flight really does show a whole new dimension of Air Baltic as there is even an announcement from the flight deck about 20 minutes inflight. I learn that we are flying on a height of 10 000 metres and that we are starting our descent in 10 minutes, with remaining flight time being 30 minutes. Weather in Stockholm is expected to be clear and sunny, temperature -2 °C.
Service on this flight is BOB: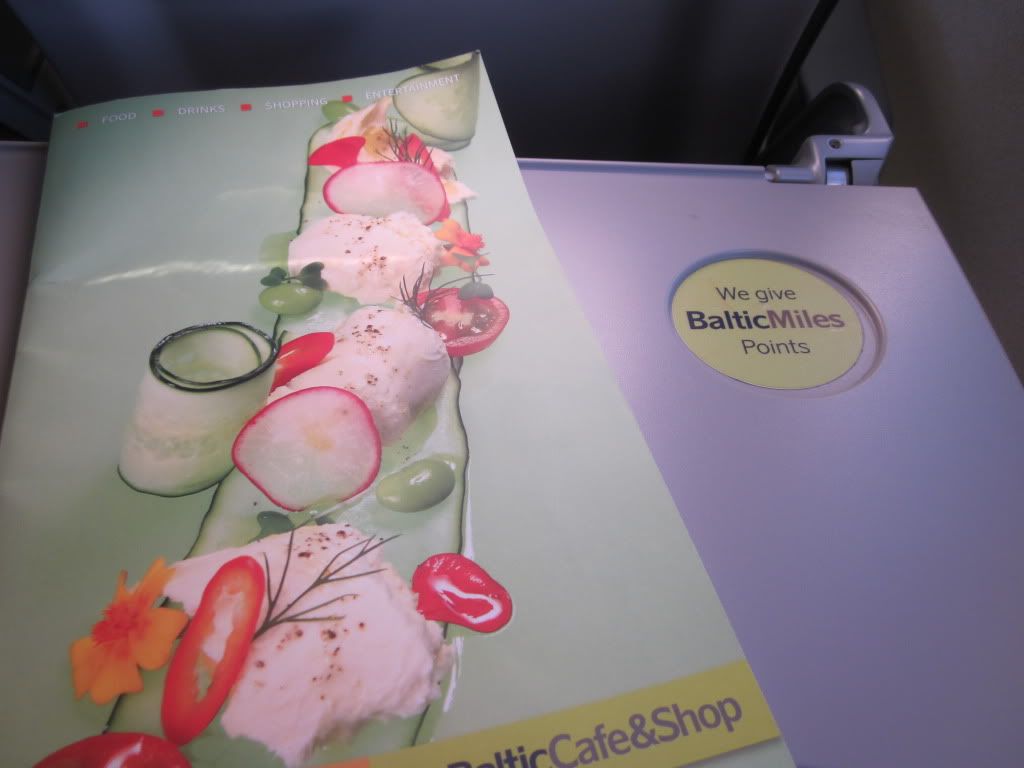 The BalticCafe & Shop selection features drinks, snacks, sandwhiches, muffins and hot meals available for purchase. Wait a moment, did I say muffins?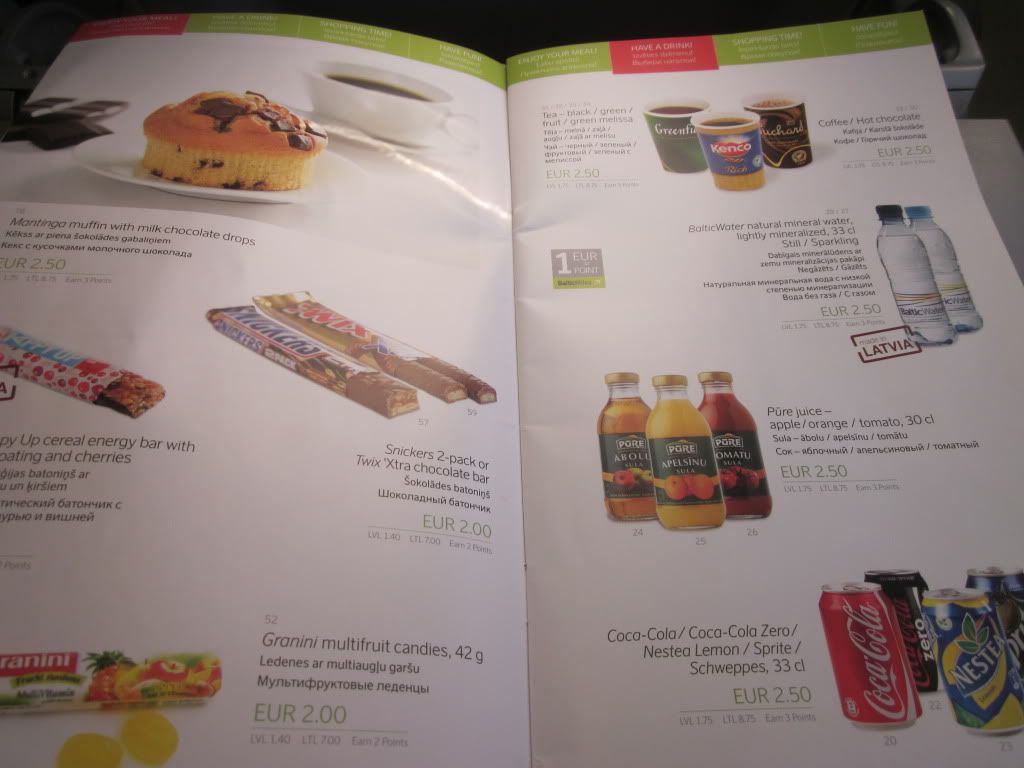 When quite a young and good-looking Latvian flight attendant gets to my row (hey, this is starting to become a trend!) she immediately asks
Would you like anything to eat?
and sure I want a muffin. As I hand her my BalticMiles card together with the cash (whee, I scored 3 whole BT points with my large purchase) I suddenly feel like a VIP.
Thank you for your purchase, Mr. 717Flyer. Would you like to have anything to drink?
. I feel like saying "Sure, if it's on the house" but I just decline her offer. Finally the experience is complete as she says
Enjoy the muffin!
. Very nice!
717Flyer's Big Official Buy On Board Muffin Test (TM)
Product reviewed:
: Light Muffin with Chocolate Drops, 85 g, Mantinga, made in Lithuania
Price:
2,50 EUR
Seller:
airBaltic (BalticCafe & Shop)
1. Price
2,50 EUR is an acceptable price for such a large muffin.
Rating:
J J J J (4/5)
2. Looks
Does the job, but packaging could be more attractive. Anyway the bakery is clearly visible and kudos to airBaltic for selling a local product onboard!
Rating:
: J J J (3/5)
3. Texture
The mixture of the muffin is great: it is moist but still has a crunchy taste to it.
Rating:
J J J J J (5/5)
4. Taste
The muffin tastes great and there is a lagom amount of chocolate drops in it. Mmhmm..
Rating:
J J J J (4/5)
Overall impression
Rating
4.5/5
As a bonus we would like to attach a slogan that airBaltic marketing is free to use when promoting this product (we will only cash in a roalty of 0,717 cents per sold muffin):
A muffin that is sold onboard a 737 can't get any better!

Please refer to this report for the inaugural muffin test as well as my guidelines:
Flying North On The ATR! HEL-OUL/KEM-HEL
(by
717Flyer
Dec 30 2011 in Trip Reports)
Previous 717FBOBOBMT™s
1. Air Baltic (you are reading it right now), average score 4.5/5
2. Flybe, Mont Mabel's Milk Chocolate Muffin, average score 4/5
Unwrapped: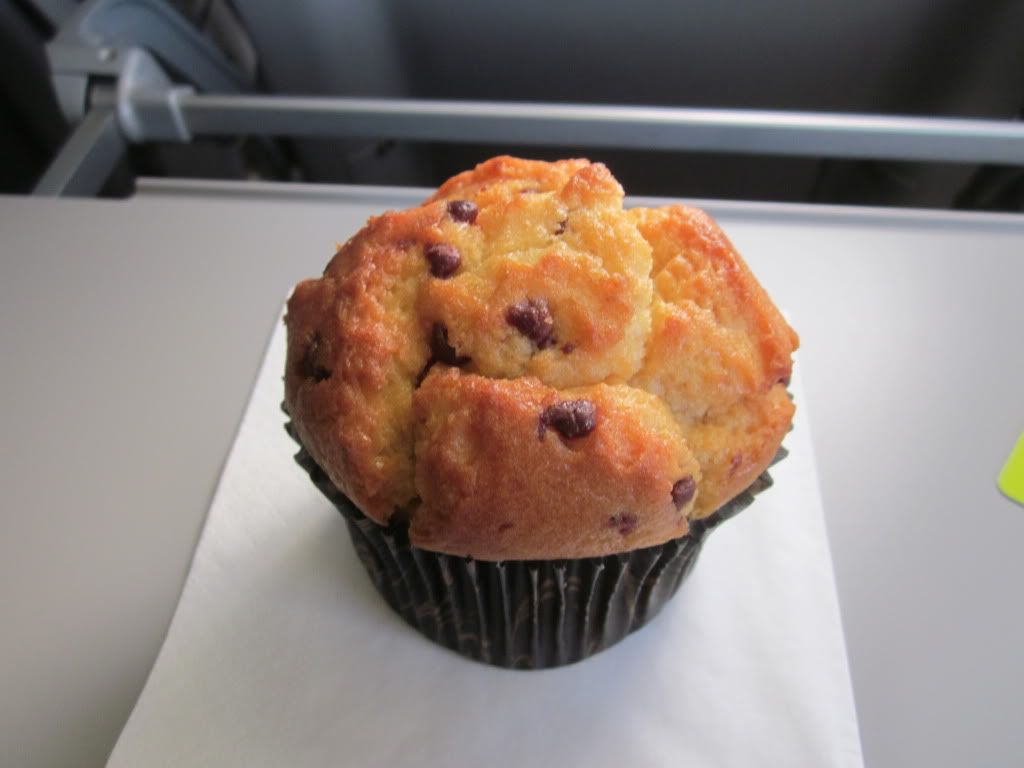 Moments after serving my muffin the nice FA notices our Spanish gentleman (he refers to himself as Sheikh, don't know why) starts to get quite loud and quite a number of Swedish passengers start whining about this: "Oj. Han måste ha druckit. Oj. Oj" so she tells him
Let's try to be a little bit more quiet, okay?
. He finds this as an expression of affection so he tells her
I think you are beautiful too. Let's get married!
. Kudos to her for handling the situation well - I know many FAs that would just have left but she says something in style with "Well, let's see after the flight".
Soon our 737-300W becomes a disco as Sheikh starts playing Lambada (a very catchy song, BTW) from his iPod on full volume. This if something scares the crap out of most of the other pax, still the FA remains friendly and in the end the Music Moment (TM) comes to an end.
An artistic impression of the cabin: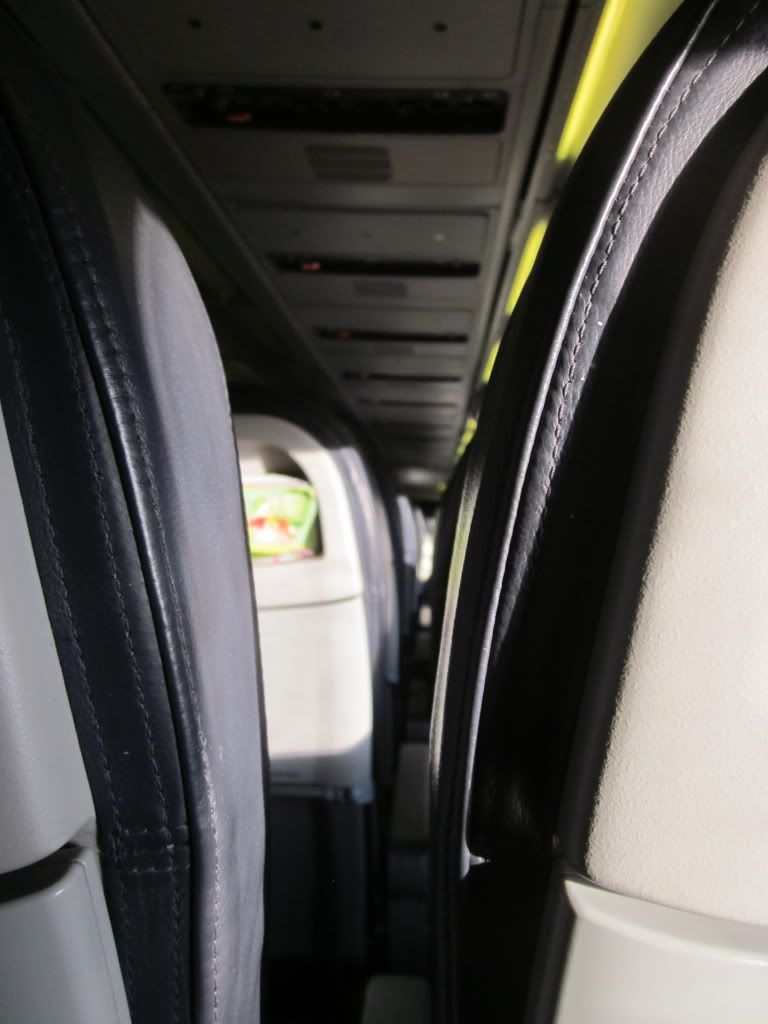 It is only now that I really understand how scratchy the window is:
Starting our descent: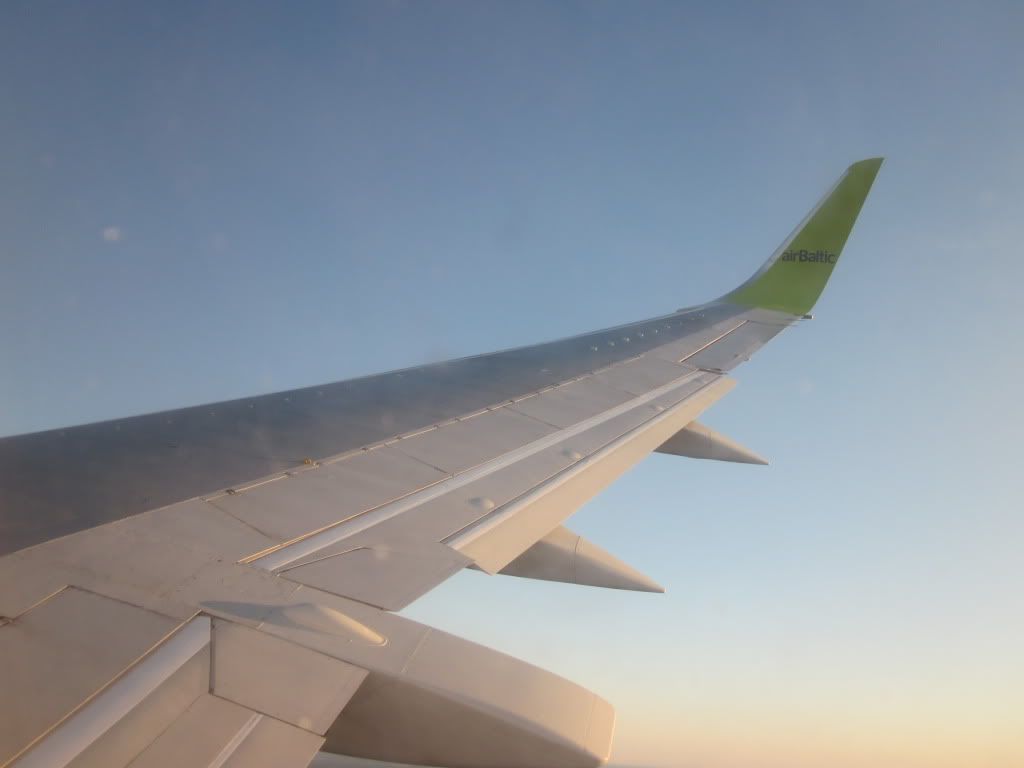 Swedish land in sight: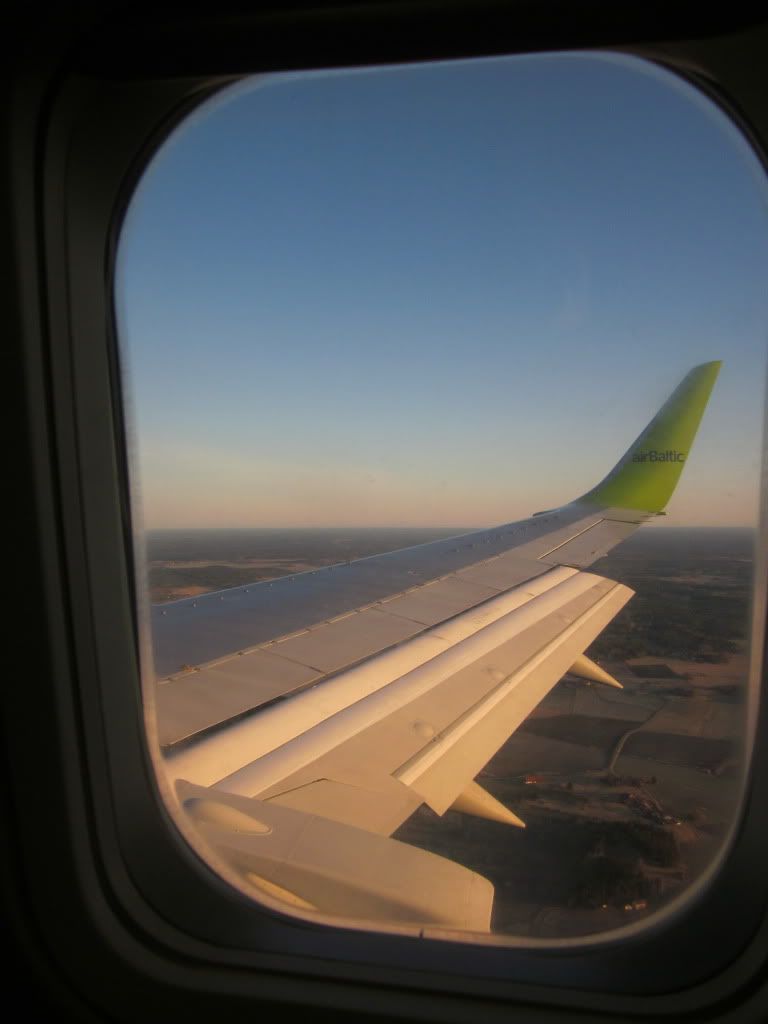 Moments from touchdown on runway 26:
Brakes: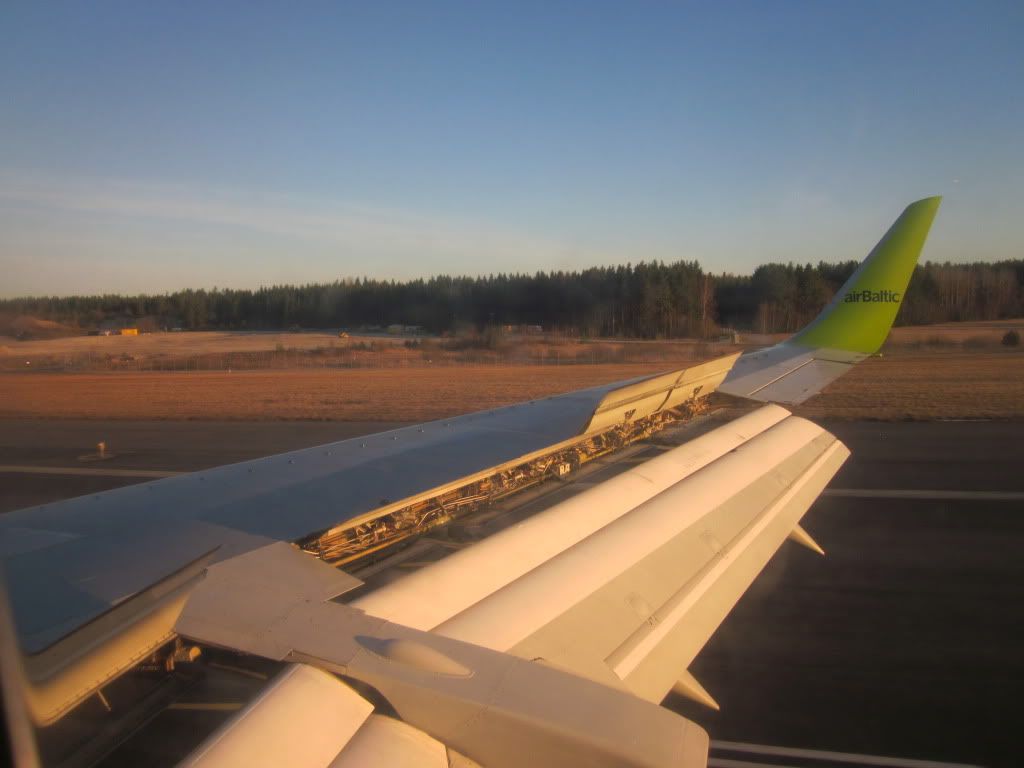 I cannot think of a more appropriate machine to wish me welcome to Stockholm than this cute little 737: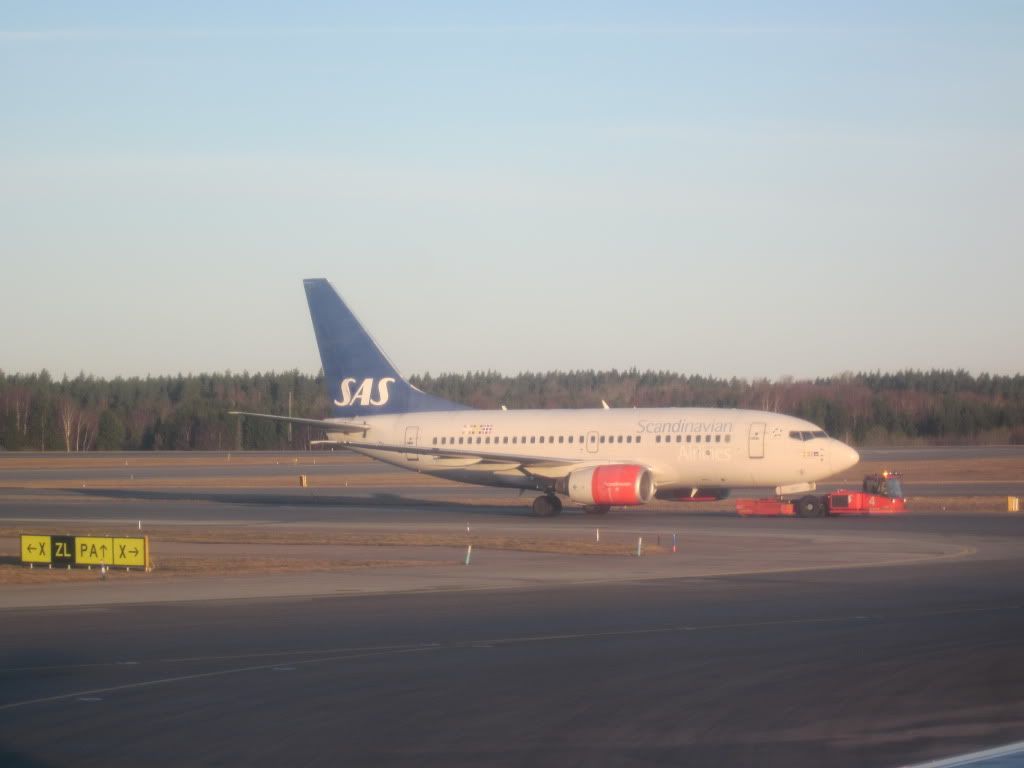 Moments after snapping the photo above our purser is on the speakers, slowly and very proudly announcing that
Ladies and gentlemen, we have just landed at Stockholm Arlanda International Airport and the time is 06.45 a.m. so we have arrived 25 minutes ahead of scheduled. Thank you for flying airBaltic.
. Still they don't play any on time-jingle so I guess Ryanair is still worst?
Ugh, two planes in very roomy charter configurations: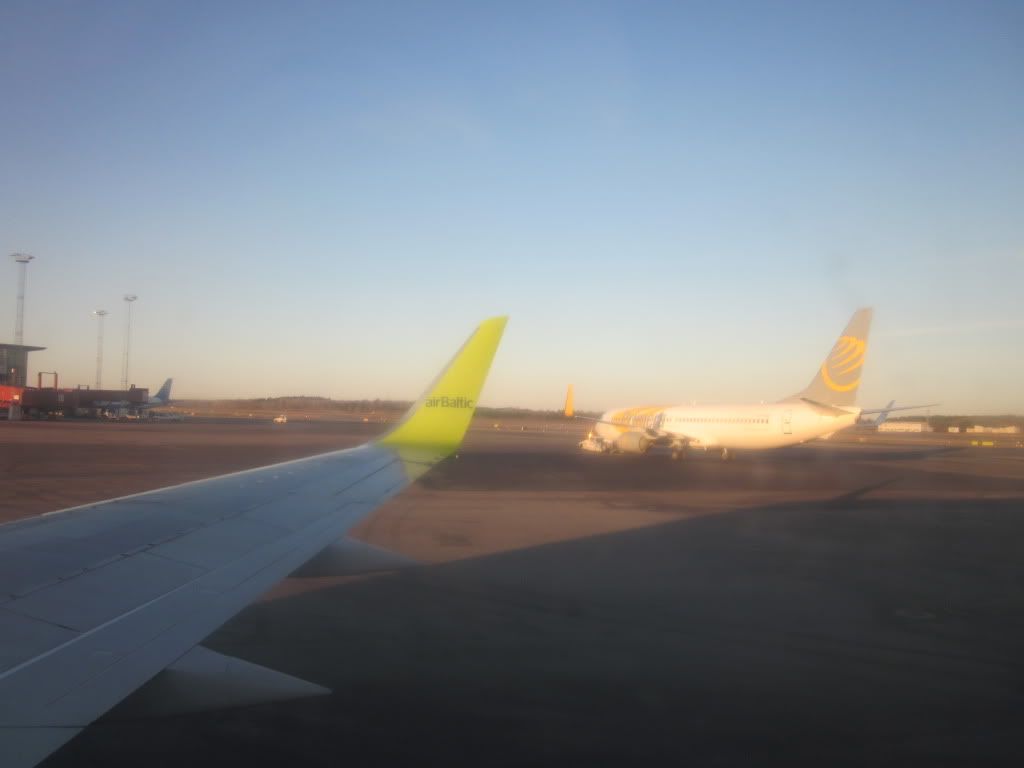 We dock to a jetway (thanks, airBaltic!), gate 5A to be precise and we park next to this E-jet: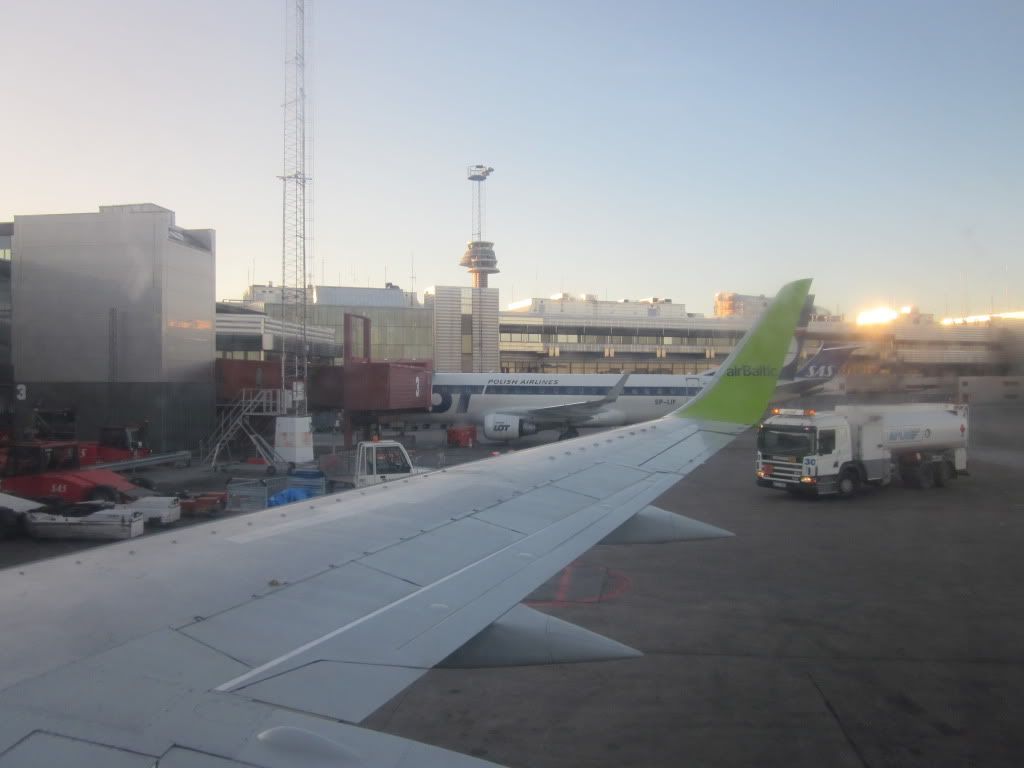 As I turn my head to the left I notice a FA standing in the aisle, staring at what I am doing - but she just smiles and nods that I can take as many photos as I want - nice!
A last look at the seats: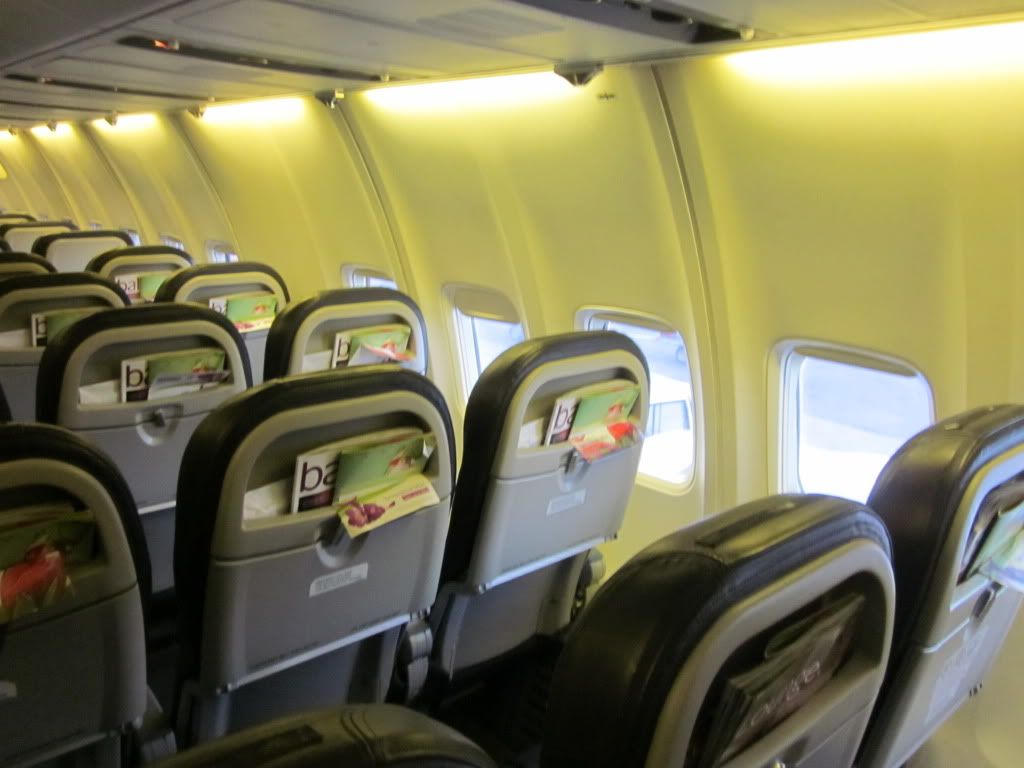 Hmm, what's this? Two different kinds of seats on one plane?:
On my way up the aisle I see something going on between the legendary Sheikh and the cute FA. Apparently he has asked for her phone number (why am I not surprised
) so I tell them
Why don't you give your number to her instead?
Both of them seem to appreciate the idea and a really friendly goodbye from the crew.
Thank you for a nice flight: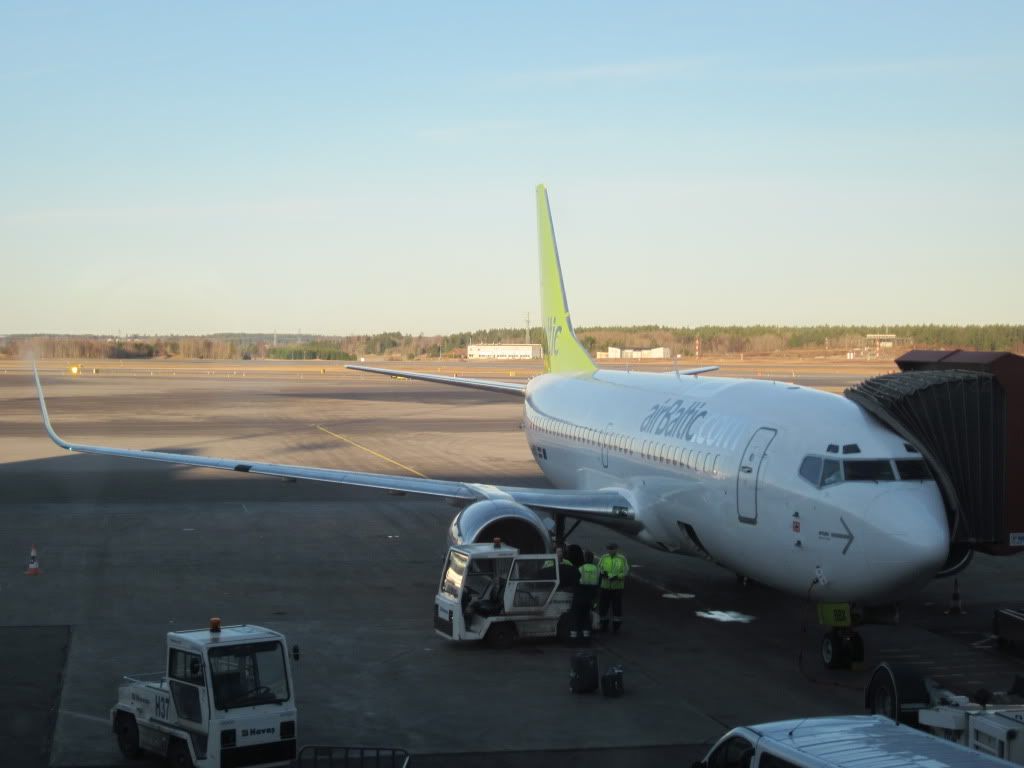 Stockholm Arlanda Airport Experience
or
What changing planes should be like
As your preferred airport we at Arlanda Airport have developed a very comfortable way of transferring from one flight to another at our very popular airport.
1.) Exit the plane you have arrived on

2.) Notice that your next flight is leaving from the same gate you just have arrived to.

3.) Have a cup of coffee at the nearby Starbucks until boarding time.

4.) Enjoy your flight!
Yeah, in the end this turns out to the most comfortable flight transfer I have ever made (sorry airBaltic) and as I start to feel my early wake up call I do not feel like exploring the airport offerings any further, I just sit down at Starbucks with a cup of coffee and some youghurt and soon find a table with a perfect view.
Rush hour at Arlanda: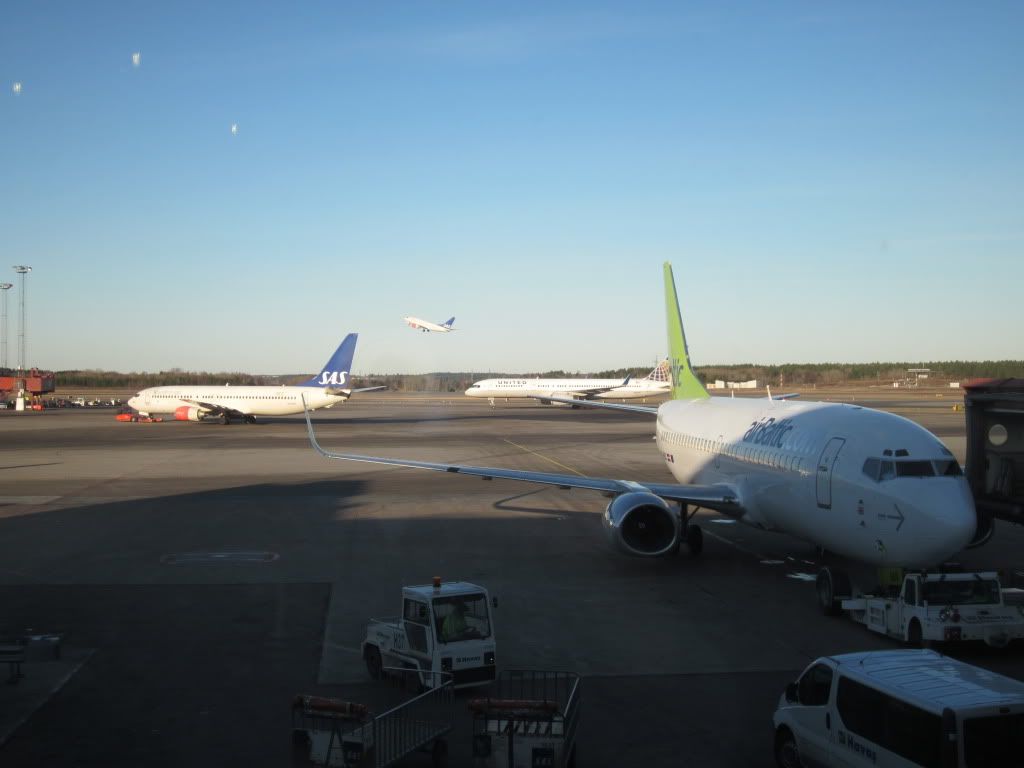 Soon my ride is ready to push back for a ride back to Riga, apparently carrying a better load this time (but still nothing stunning):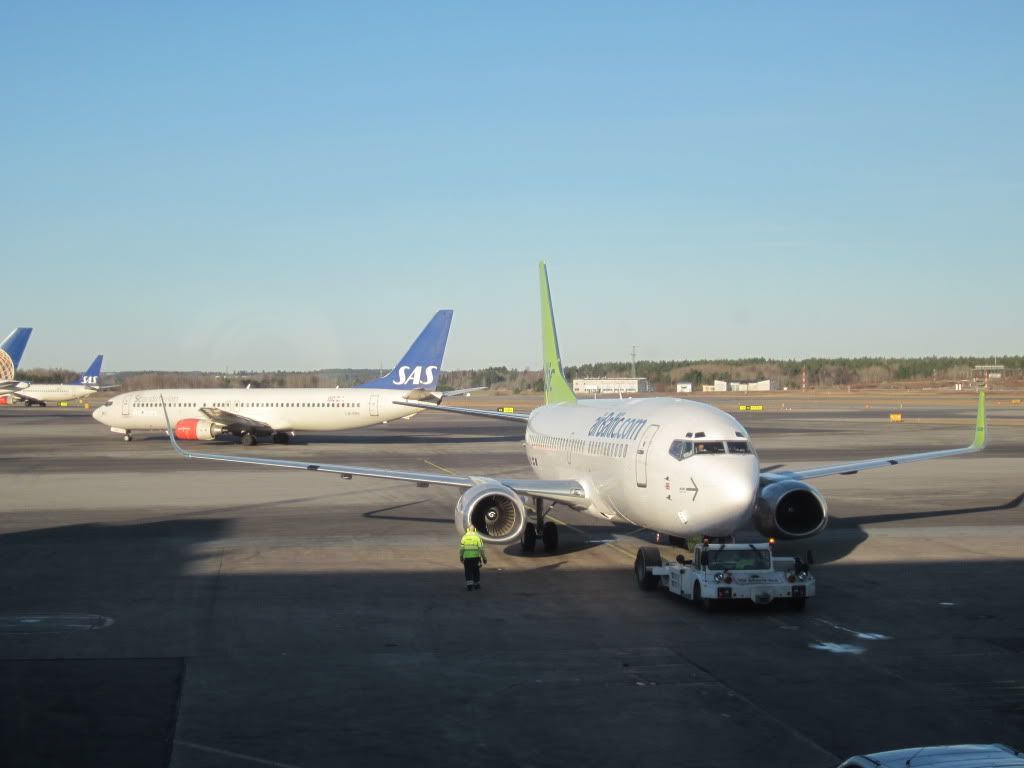 The next couple of hours are spent doing two things I love doing at a