3 April 2012
Aerolineas Argentinas AR1302 EZE-MIA
A340-312 LV-CEK
4372 miles/7037 km
Flight time: 8h45m
Scheduled departure: 11:25pm
Actual departure: 11:32pm
Scheduled arrival: 7:33am
Actual arrival: 7:37am
Economy Class, seat 46B
Approximate YC load: 90%
View Large
View Medium


Photo © Orlando G. Rivera Rivera - SJU Aviation Photography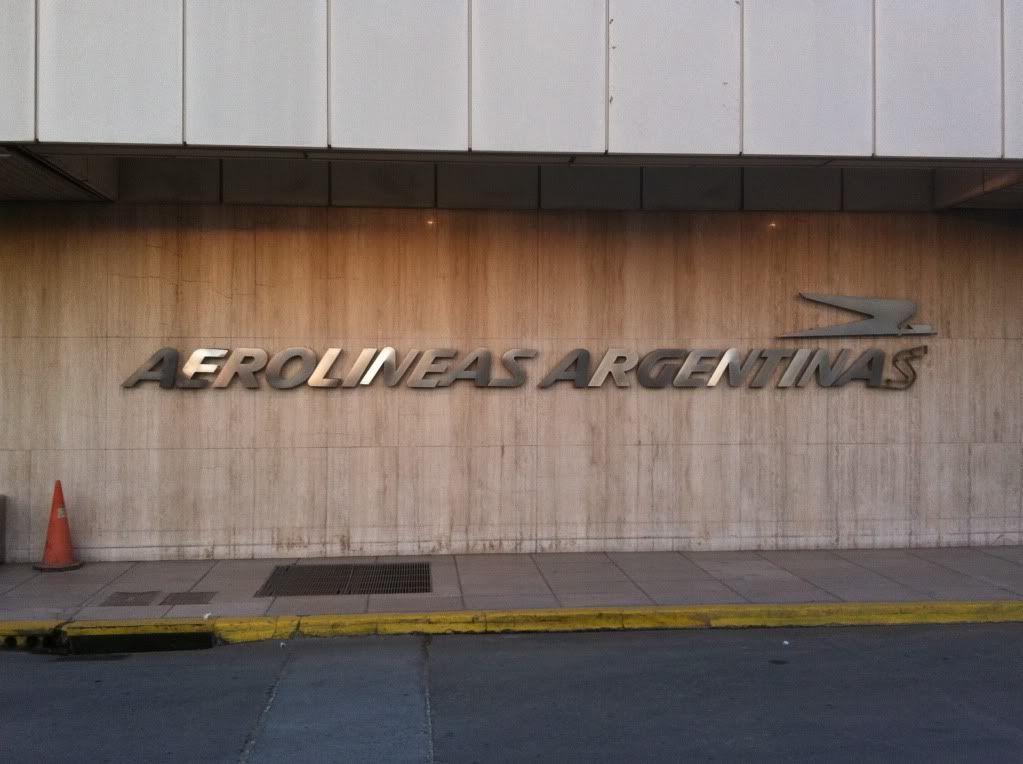 My travel partner was taking the 8:30pm Delta flight to ATL so I arrived five hours early for an 11:30pm flight. No problem since by checking in early if the AR staff said the flight didn't look good for standby travel I would still have time to try and get on the LAN or American flights that evening. I arrived so early that check-in for MIA wasn't to begin for yet another hour.
Since July 2011 AR has been operating out of the new Terminal C at EZE. Check-in area is bright and airy, but perhaps a bit to sterile. It was very quiet when I arrived but gradually got busier as passengers arrived to check-in for AR's long-haul flights that evening.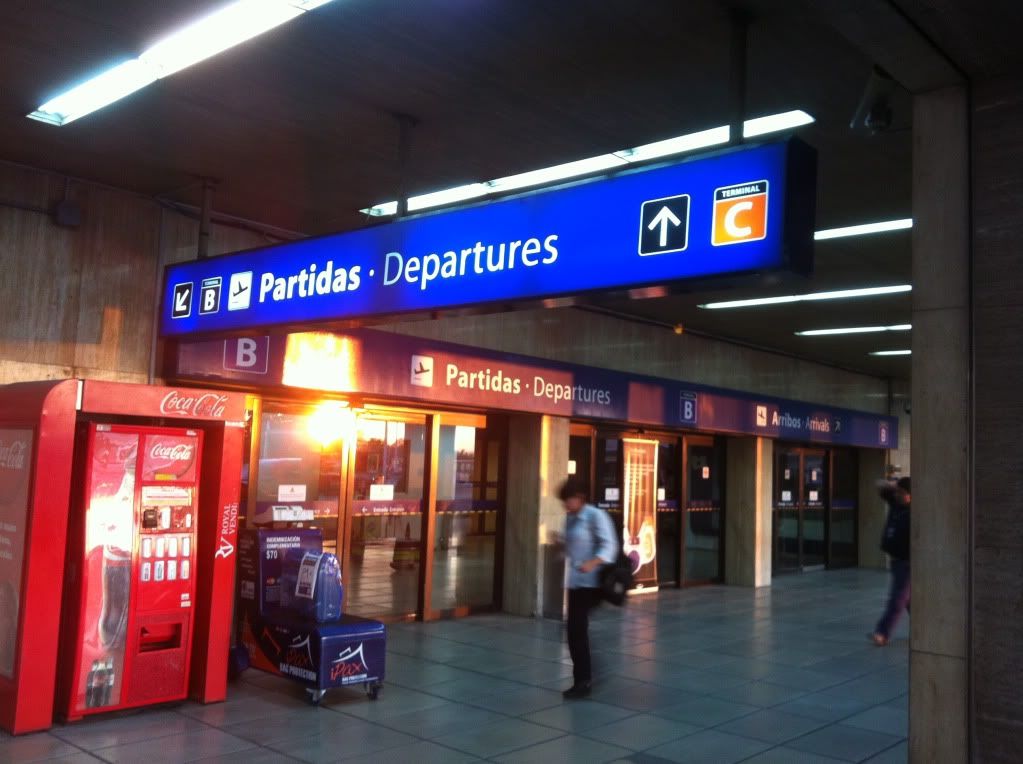 Around 7:30pm check-in for MIA started. Already a queue had developed but it moved quickly. The first step was to verify one's name on the passenger list. Although I was traveling standby my name was on it. My company's staff travel agreement with AR asks that we e-mail our requests for listing to them. I was happy to receive my confirmation that morning since it was a holiday in Argentina the day before. The next step was being reminded by airport personnel to ensure that any liquids, gels, or creams in my carry-on bags were in a quart size/one liter bag--a nice touch to avoid any surprises at security. Finally I got to the check-in counter where the agent initially had difficulty determining which boarding priority I was. That was quickly answered by a supervisor and the agent told me to come back in 90 minutes for a seat assignment. Although there were about 30 available seats on the flight he couldn't give me one quite yet. I thanked him for the information--so far so good.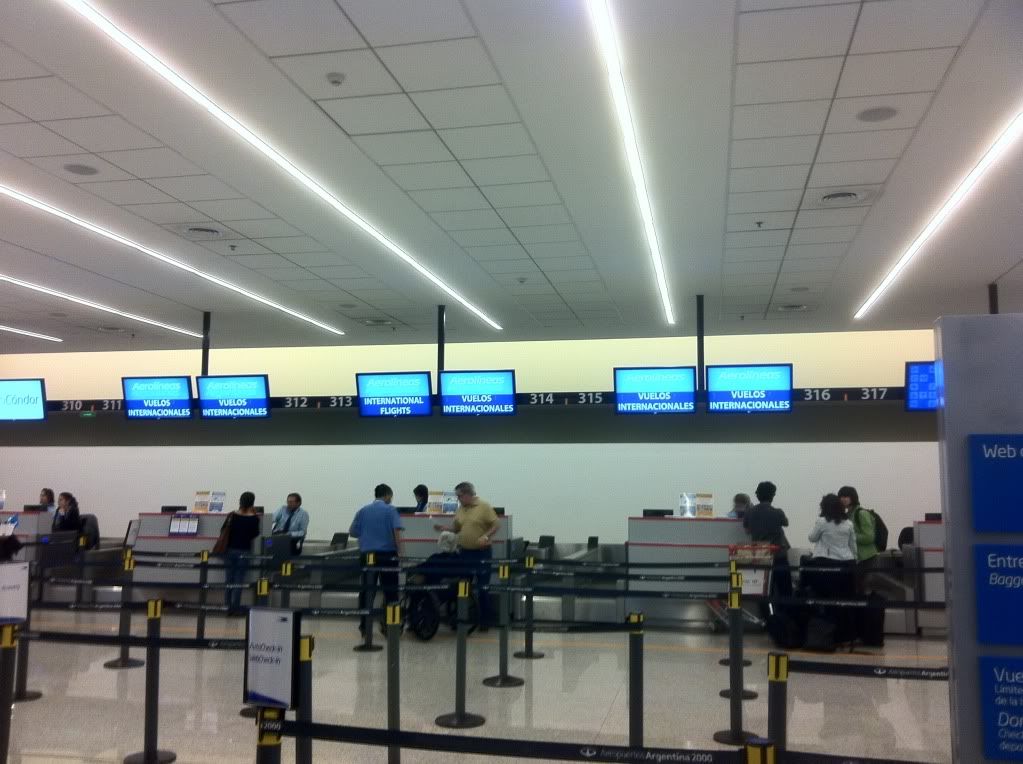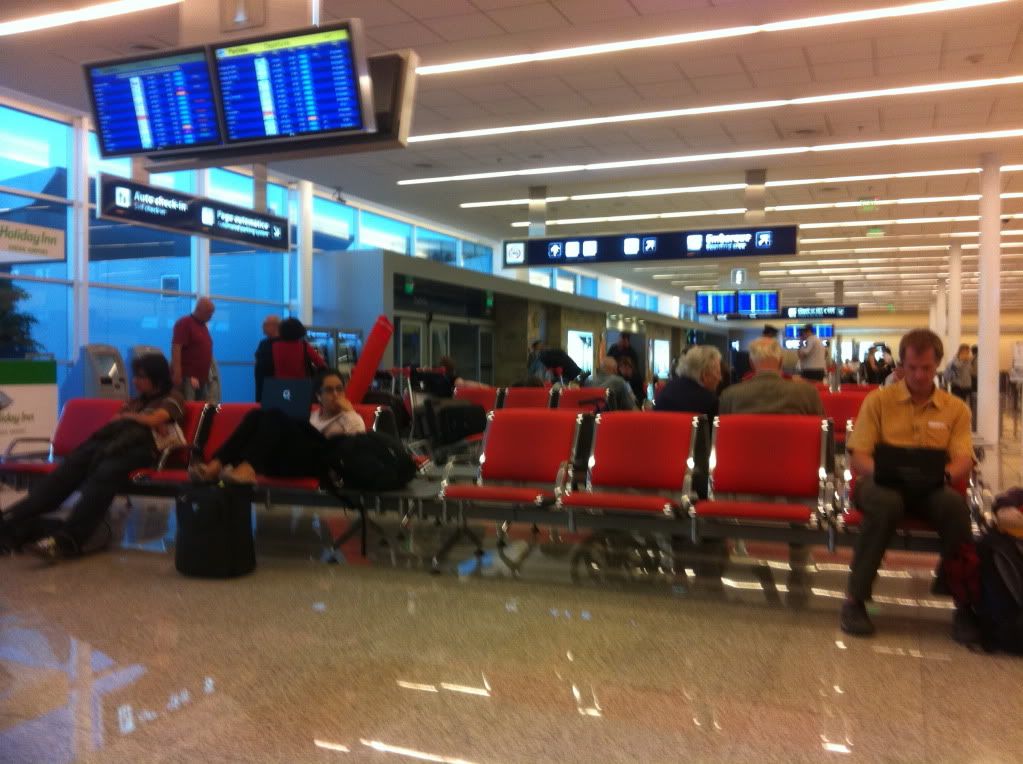 While I had a book to pass the time while waiting for my boarding pass, thank goodness for free wi-fi in the terminal:
Returned to check-in at 10:00 for some good news: accepted for the flight and boarding pass issued.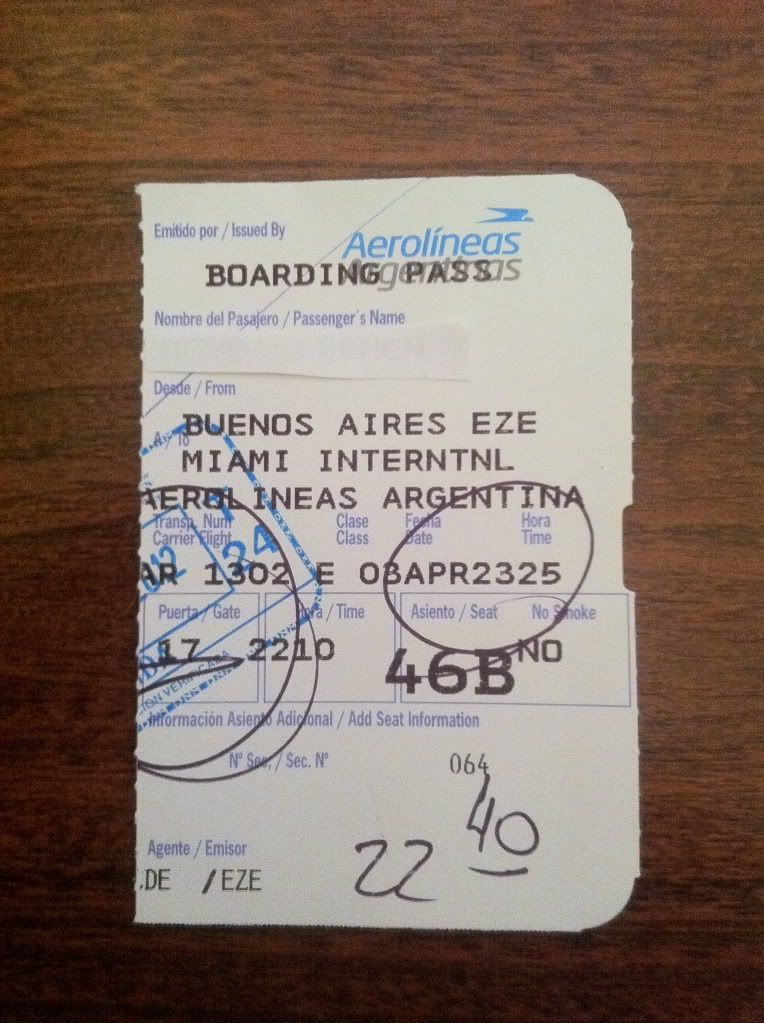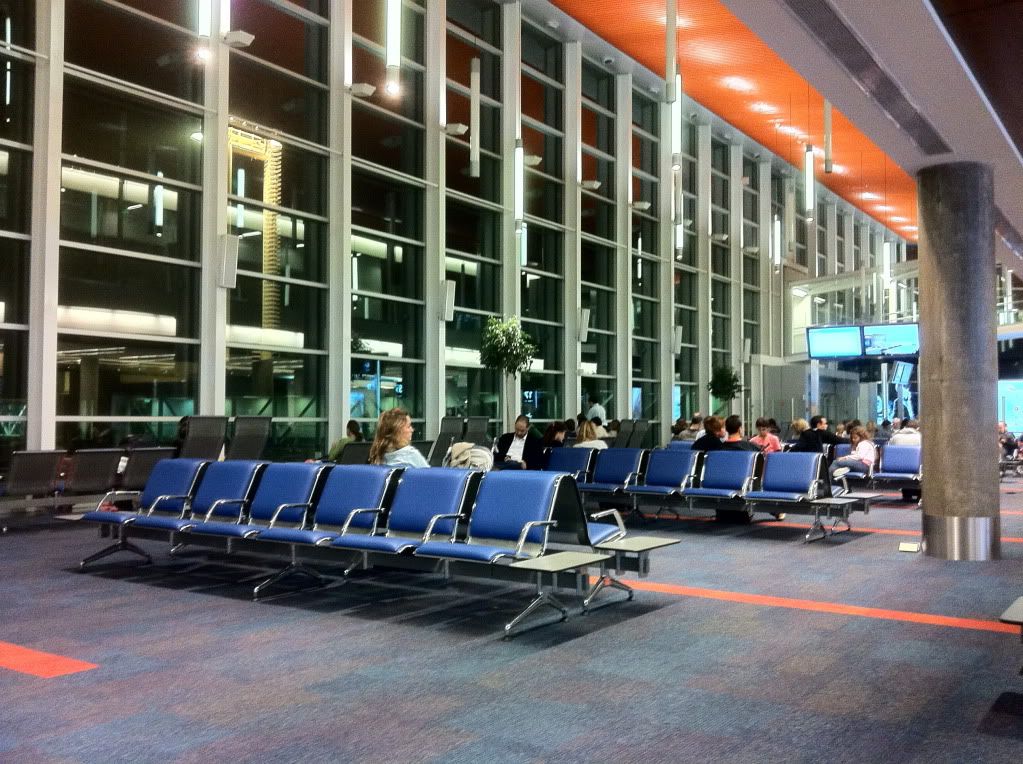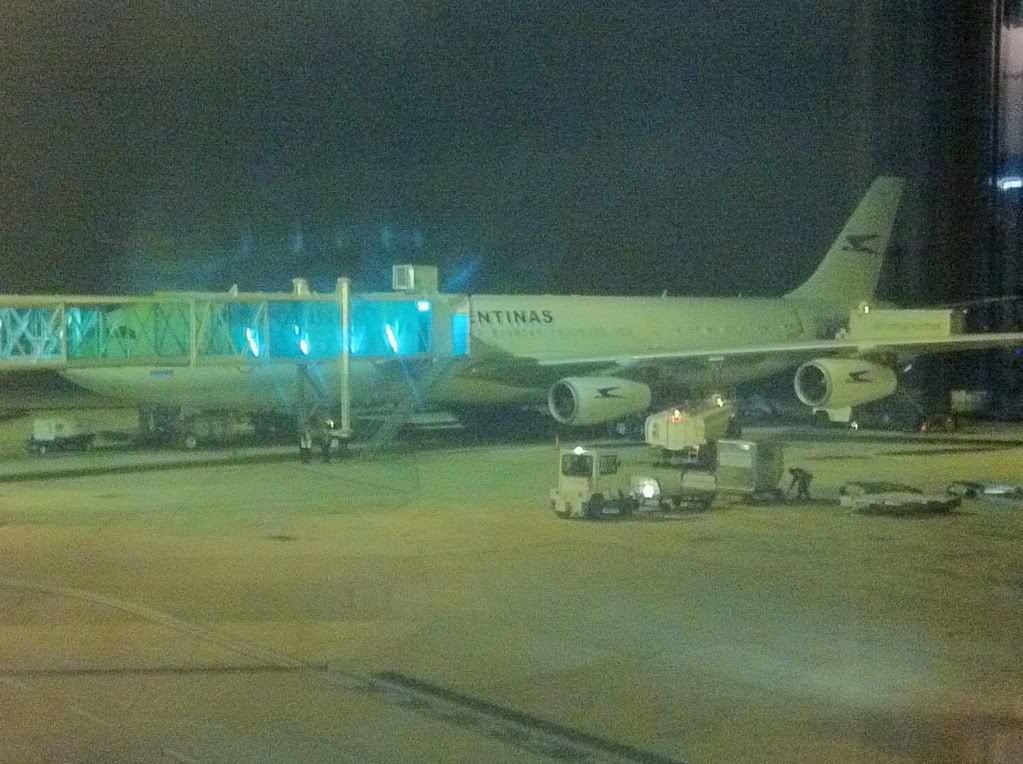 My ride to Miami: LV-CEK
Boarding was called at 10:40pm with passengers who needed special assistance and families with small children first. With Easter weekend fast approaching there were a lot of children on this flight. Next Business Class passengers were allowed to board followed by Economy Class passengers by row number. It appeared that a lot of passengers interpreted that as "all aboard" but the ground staff were checking everyone's boarding passes and row numbers. There was a secondary security check at the gate with all carry-on bags opened and inspected. The gentleman in front of me wasn't too happy having to open a wrapped present but unfortunately that's the nature of security.
At the boarding door we received a warm welcome from the senior Purser and a female Flight Attendant--a very positive impression. The bulkheads had a tropical island motif, suggesting this aircraft was previously operated by perhaps Air Tahiti Nui. When I reached my seat there was a wrapped pillow and blanket on it. Other seats had a headset on top of the pillow, but mine didn't.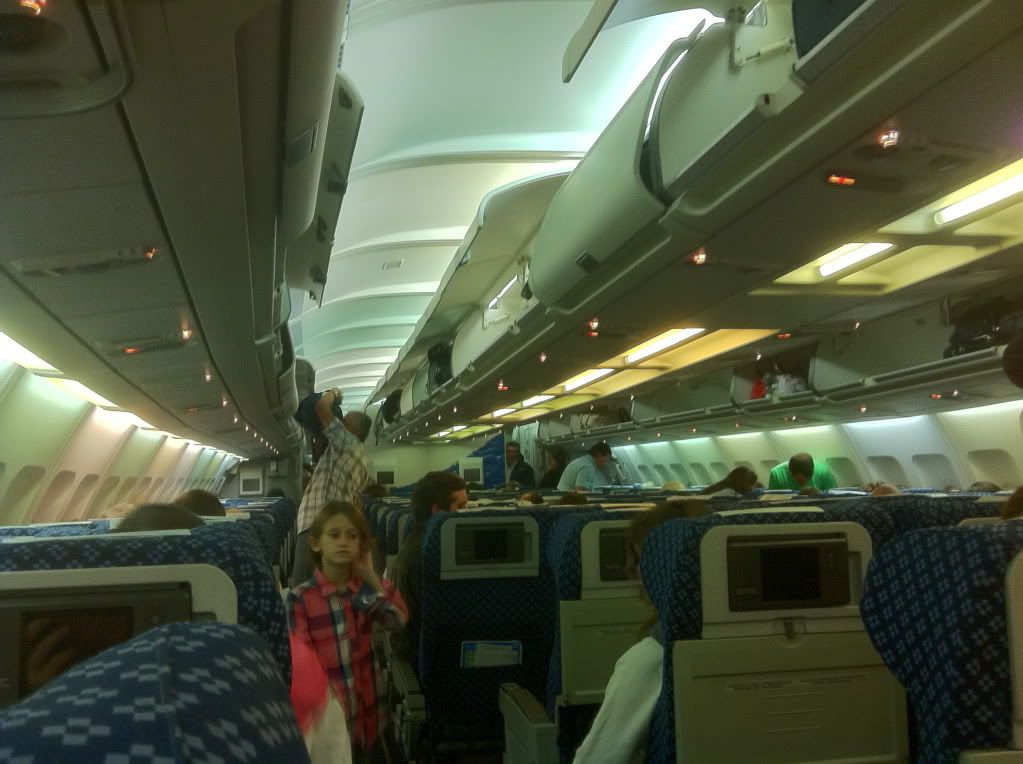 Lots of children on tonight's flight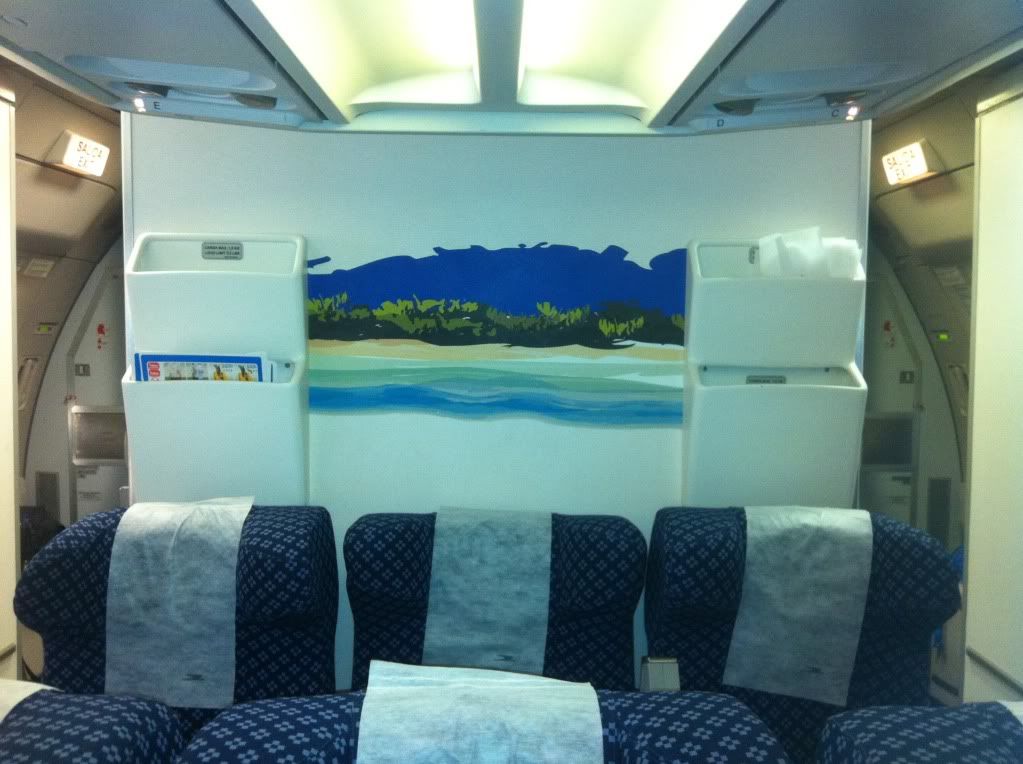 I wonder who was the previous operator of this aircraft?
The seat back pocket contained just the safety card and an airsickness bag. I had to "rob" another seat for the inflight magazine.
The obligatory knee shot--that's my backpack between my knees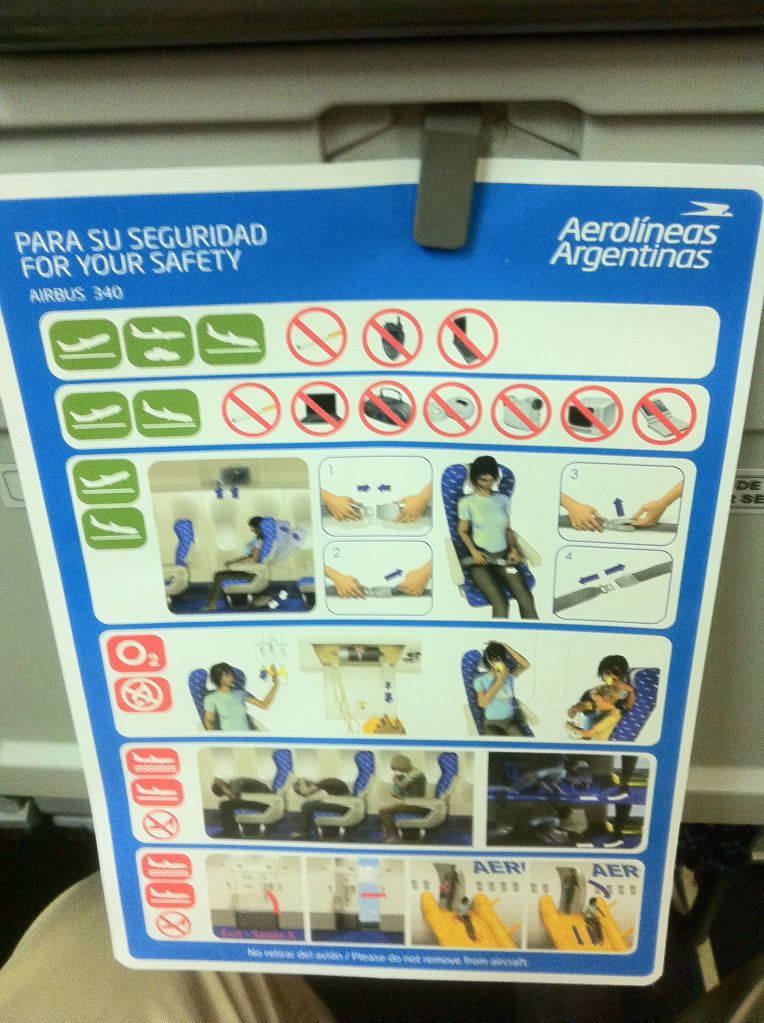 Safety instruction card featuring AR's new branding
Joint inflight magazine for Aerolineas Argentinas and Austral
I wanted to go to the lavatory to take off my contact lenses but they were locked and the Flight Attendant said I could use them once airborne. Company regulation, perhaps?
Spotless lavatory.
Despite the pandemonium at the gate boarding was orderly. We pushed back a few minutes late at 11:32pm. During the safety video the Flight Attendants stood at the bulkhead video monitors which I think looks more professional. The Captain made a welcome announcement and said that our flying time to Miami would be 8h 45m at an altitude of 37,000ft. Take-off was at 11:42pm.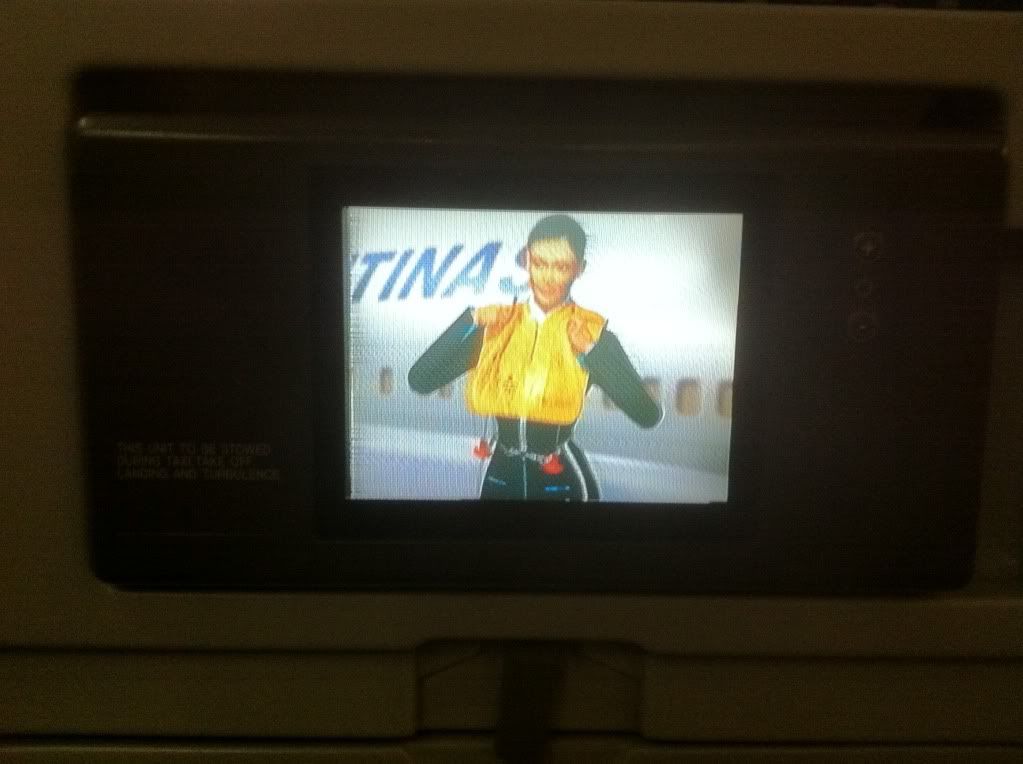 The safety video was the only time the majority of the PTVs were working.
Soon after take-off the senior Purser made his welcome announcement and described the service on our flight. After the seatbelt light went off he and the Economy Class coordinator handed out United States customs and immigration forms while the other Flight Attendants started preparing for the dinner service. About an hour after take-off meals were served. Due to the late departure no bar service was offered prior to the meal. By the time the meal cart reached my row only the pasta remained--I don't know what the other choice was: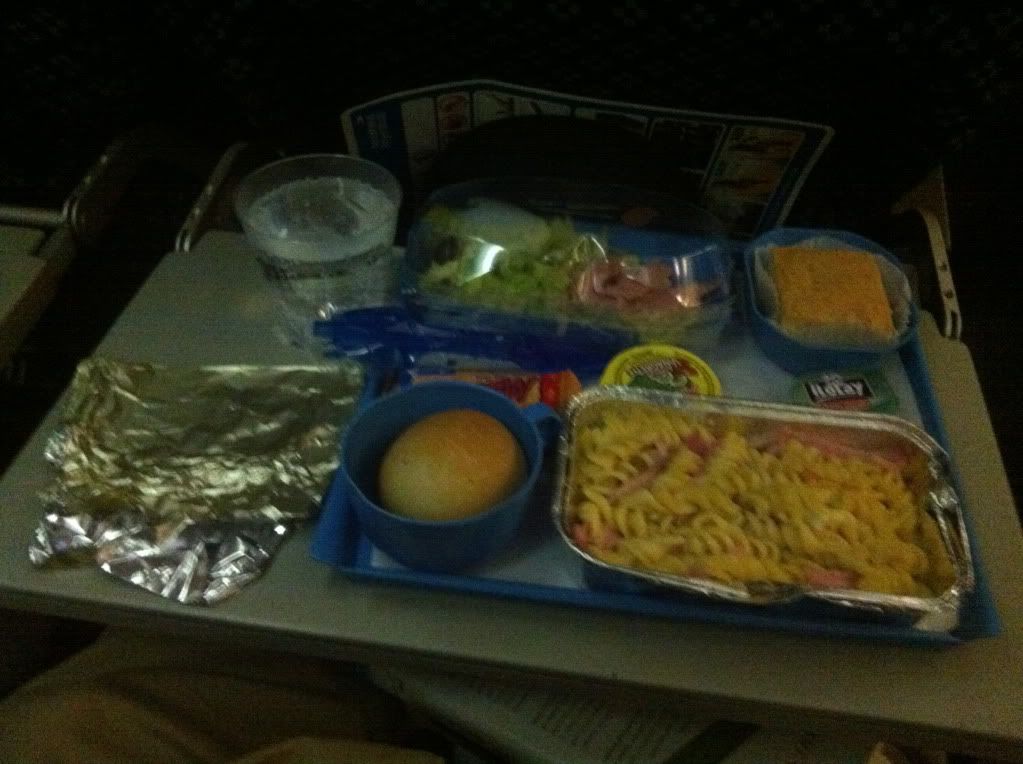 Starter: Iceberg lettuce salad with shaved ham and creamy vinagrette
Main course: Rotini pasta with cream sauce and ham
Soft roll (no butter), crackers, spreadable cheese
Dessert: Vanilla layer cake
A limited selection of beverages was offered from the meal carts: red/white wine, beer, still water, coke, sprite, sprite zero. There were no diet coke, fruit juices or spirits offered.
The pasta was a bit overcooked and there wasn't much sauce with it. It was unusual to have ham appear twice in the meal. I was hungry and not a fussy eater so I still ate all of it.
Flight Attendants offered coffee/tea and beverage refills before collecting the trays.
IFE consisted of older, non AVOD (audio/video on demand) PTVs. There was no moving map display on them or on the bulkhead video monitors. Unfortunately once we got airborne, most of the PTVs were not working (including mine)--they were working for the safety video, though. The crew first tried rebooting the system but to no avail. They then tried showing a movie on the bulkhead video monitors, but they were too small for those seated in the back of the cabin to see. A few lucky passengers had working PTVs but it was obvious the Flight Attendants were just as frustrated with the IFE situation as the passengers were. Too bad since there were a lot of children flying tonight. At least it was a night flight where the majority of passengers were trying to sleep.
Sales of duty-free goods were not offered. I also didn't observe any walk-throughs with water by the Flight Attendants during the night.
The lack of individual air vents made for a stuffy cabin which made it difficult to fall asleep. Eventually I managed a few hours.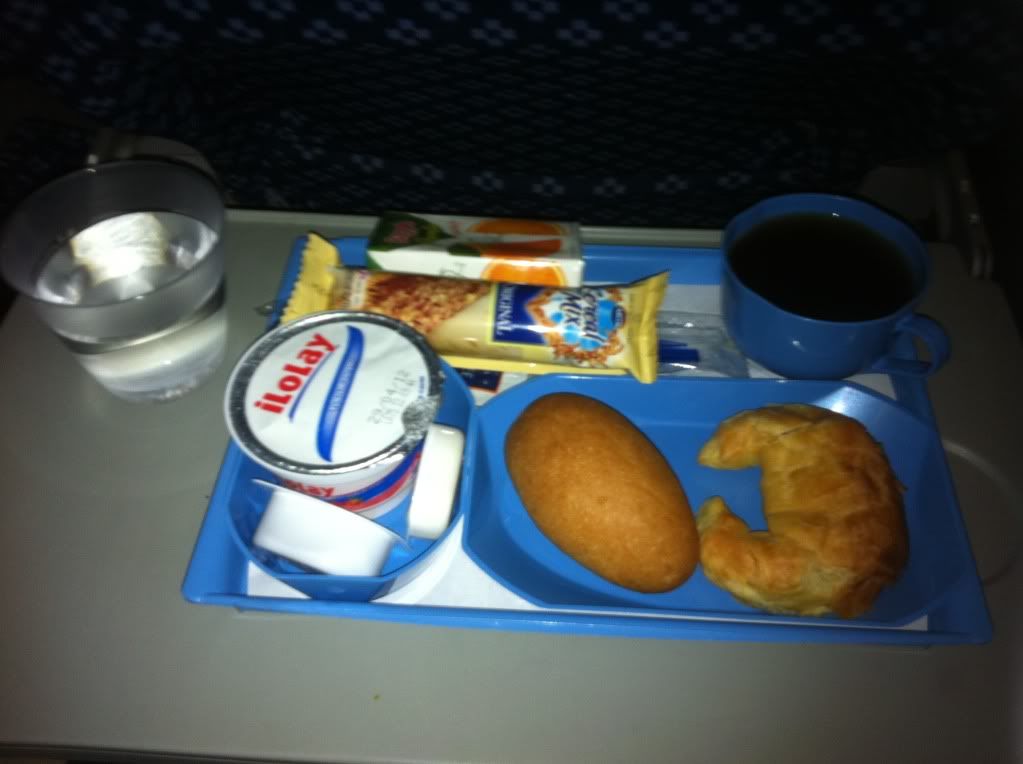 Two hours prior to landing the lights came back on and a continental breakfast was served with coffee/tea/orange juice/still water. As with the dinner service, beverage refills were offered before the trays were picked up. I asked the Economy Class coordinator for a second packet of dulce de leche (a sinfully rich Argentine caramel spread) and she brought me three more--another positive impression.
Flight Attendants, while not bubbly, were still warm, professional and engaging with the passengers.
We landed at 7:23am Miami time to a round of applause. After a few minute wait on the taxiway waiting for other traffic to clear we arrived at the gate at 7:37am, a few minutes behind schedule.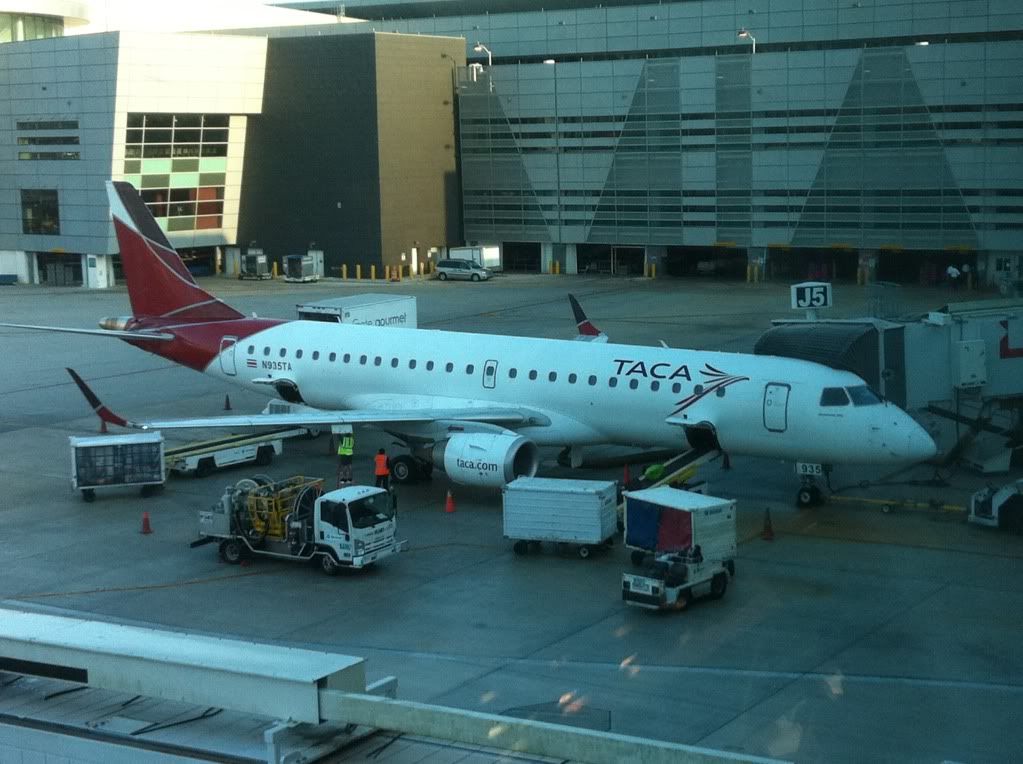 Spotted on my way to Customs and Immigration--TACA E-190 to San Jose.
I've always wanted to travel on Aerolineas Argentinas and was glad I was able to do so on this trip. The problems this company is facing are well documented on this forum and I was preparing myself for possible delays and rude staff. Despite the IFE problem (which can occur on any airline) I had a pleasant and uneventful journey. I do apologize for the quality of some of the photos--my usual Canon Rebel is being overhauled and I only had my I-Phone camera for this trip.
[Edited 2012-04-11 19:00:02]
[Edited 2012-04-11 19:01:32]
[Edited 2012-04-11 19:05:14]