Part 5: Calcutta to Bagdogra (Darjeeling) with Spicejet and Jet Konnect
Welcome to the fifth part of my spring trip to Asia!
The entire map: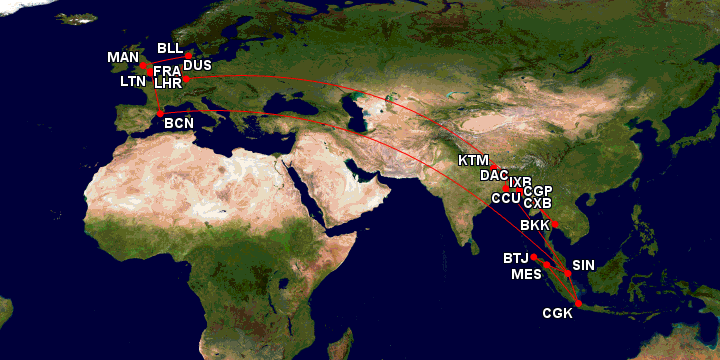 This report's map: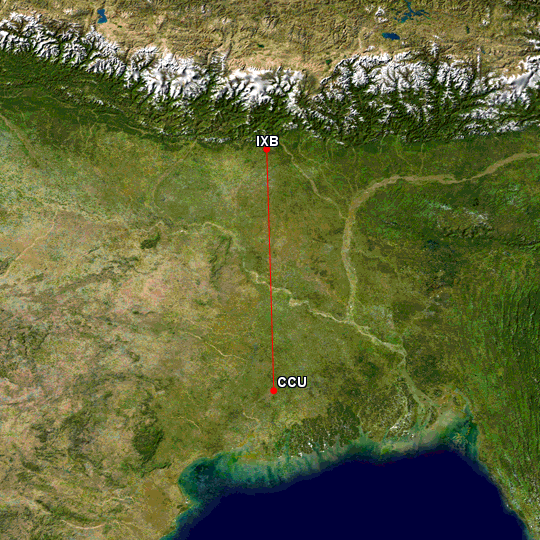 Previous flights:
easyJet A319 London Luton-Barcelona
Singapore Airlines B77W Business Class Barcelona-Singapore
Valuair/Jetstar A320 Asia Singapore-Medan
Garuda Indonesia B738 Medan-Banda Aceh
Sriwijiaya Airlines B734 Banda Aceh-Medan-Jakarta with a fuel "expulsion"
Lion Air Boeing 737-900ER Jakarta-Singapore
Singapore Airlines A330 Business Class Singapore-Calcutta
Flights to come:
Biman Bangladesh Calcutta-Dhaka (CCU-DAC)
United Airways Dhaka-Cox's Bazar (DAC-CXB)
Regent Airways Chittagong-Dhaka (CGP-DAC)
Biman Bangladesh Dhaka-Kathmandu (DAC-KTM)
Thai Airways Kathmandu-Bangkok (KTM-BKK)
Thai Airways Bangkok-Frankfurt (BKK-FRA)
Lufthansa Frankfurt-Dusseldorf (FRA-DUS)
Sun-Air (British Airways) Dusseldorf-Billund (DUS-BLL)
Sun-Air (British Airways) Billund-Manchester (BLL-MAN)
British Airways Manchester-London Heathrow (MAN-LHR)
I left you with a few photos from my first few days in Calcutta. Being my first trip to India, I wasn't really sure what to expect, and I experienced just that…a bizarre mishmash of experiences. With my one week in the country, I needed a second place to visit. In that next of the woods the obvious attraction is the old British Hill Station of Darjeeling. Everyone's heard of the tea, and the cool average temperatures (as opposed to the sweltering conditions on the plains) were enough to convince me.
When I put "I'm off to Darjeeling" as my Facebook status, an old colleague of mine messaged me asking what dates I'd be there. As it turned out, our stays coincided….a second fortuitous turn of events. He's a native Darjellinger, so perfect as a guide.
My initial plan was to take the overnight "Darjeeling Mail" train up to New Jalpaiguri station, however, when it was time to book, every train was sold out. Never mind, I'll have to fly both ways! There wasn't a lot of choice on the route….Spicejet or Jet Konnect (formerly Jet Lite), two Indian no-frills carriers. Both bookings were made on the rather creaky "Make My Trip" website. My CCU-IXB flight would be with Spicejet, and the return on Jet Konnect.
From my hotel in Calcutta, I took another ancient yellow taxi back to the airport.
Sights on the way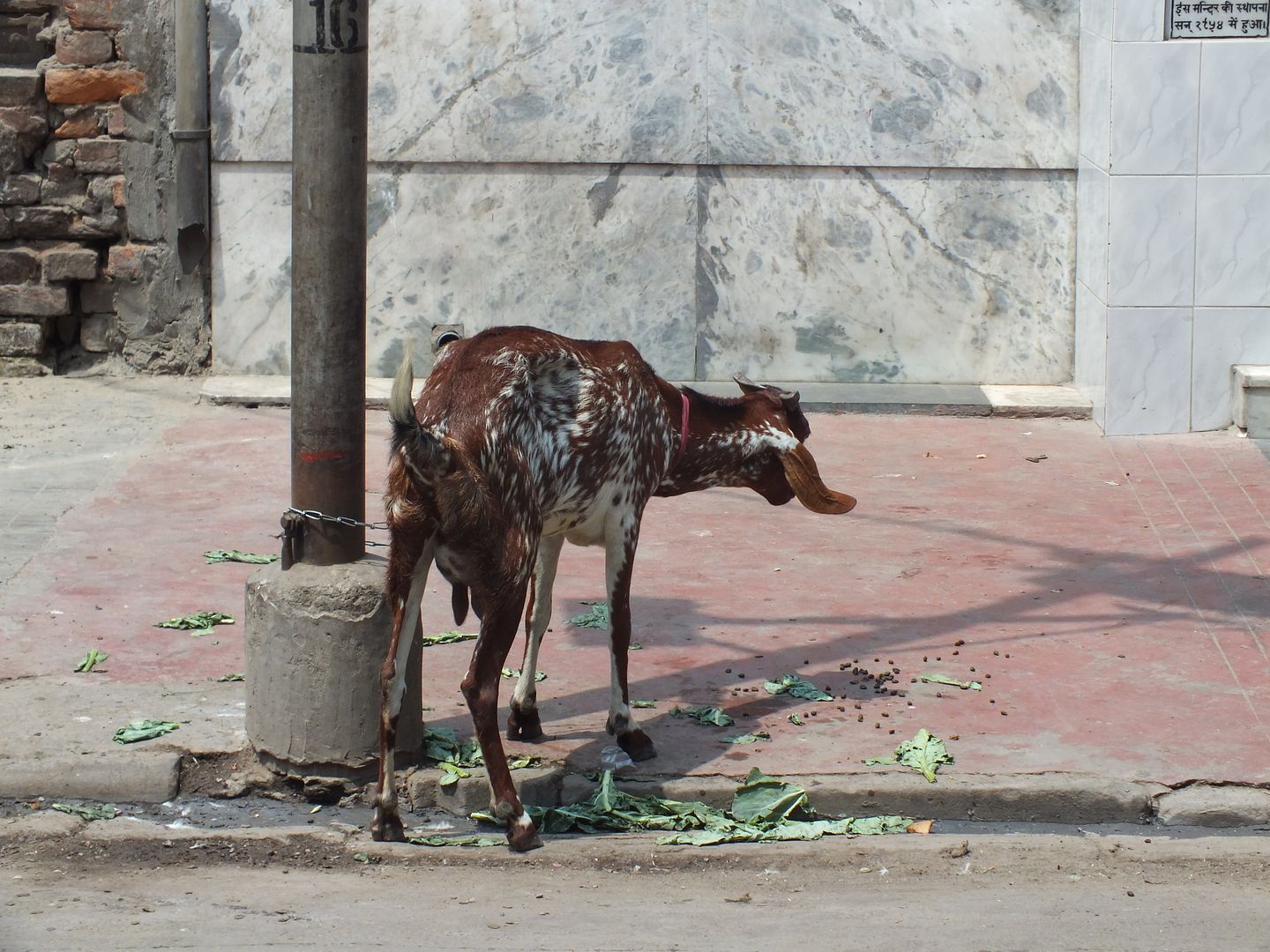 As I was still rather cautious about photography in Indian Airports, I took most of this reports photos with my phone on the sly.
I was dropped off outside the domestic terminal, and made my way to the baggage check point after showing a print out of my flight details (it seems this is essential to get into any terminal building in the country). There was a separate baggage scanner for each airline – there was no queue at the Spicejet one. The scanner person asked if I had any open bottles of spirits in my bag. I had two half bottles of vodka. I was told that opened bottles of spirits were a safety hazard, so wouldn't be allowed. However, as it was my first time, they would just "seal up the bottle for me". Hmm, thanks for not confiscating it, but really, is a half drunk bottle of vodka in a suitcase the biggest hazard you can find?
Not unexpectedly, the second bottle of vodka proceeded unnoticed. Next step was check in. Despite having arrived nearly 2 hours before departure, I was told that there were no window seats left. Damn. I was offered the exit row, however, which turned out to be seat 28E. I was told this was "sort of" a window seat, leading me to believe we were on a strangely numbered B737 old generation with a missing window seat. My bag was tagged, and I was dierected towards security.
At security my cabin bags were both given a tag, and stamped with the date. It seems these are also incredibly important for travel in India, and vital to flight safety.
With my bags tagged and stamped, I was through. As it was lunchtime, I bought a sad looking chicken roll,a nd sat staring into space.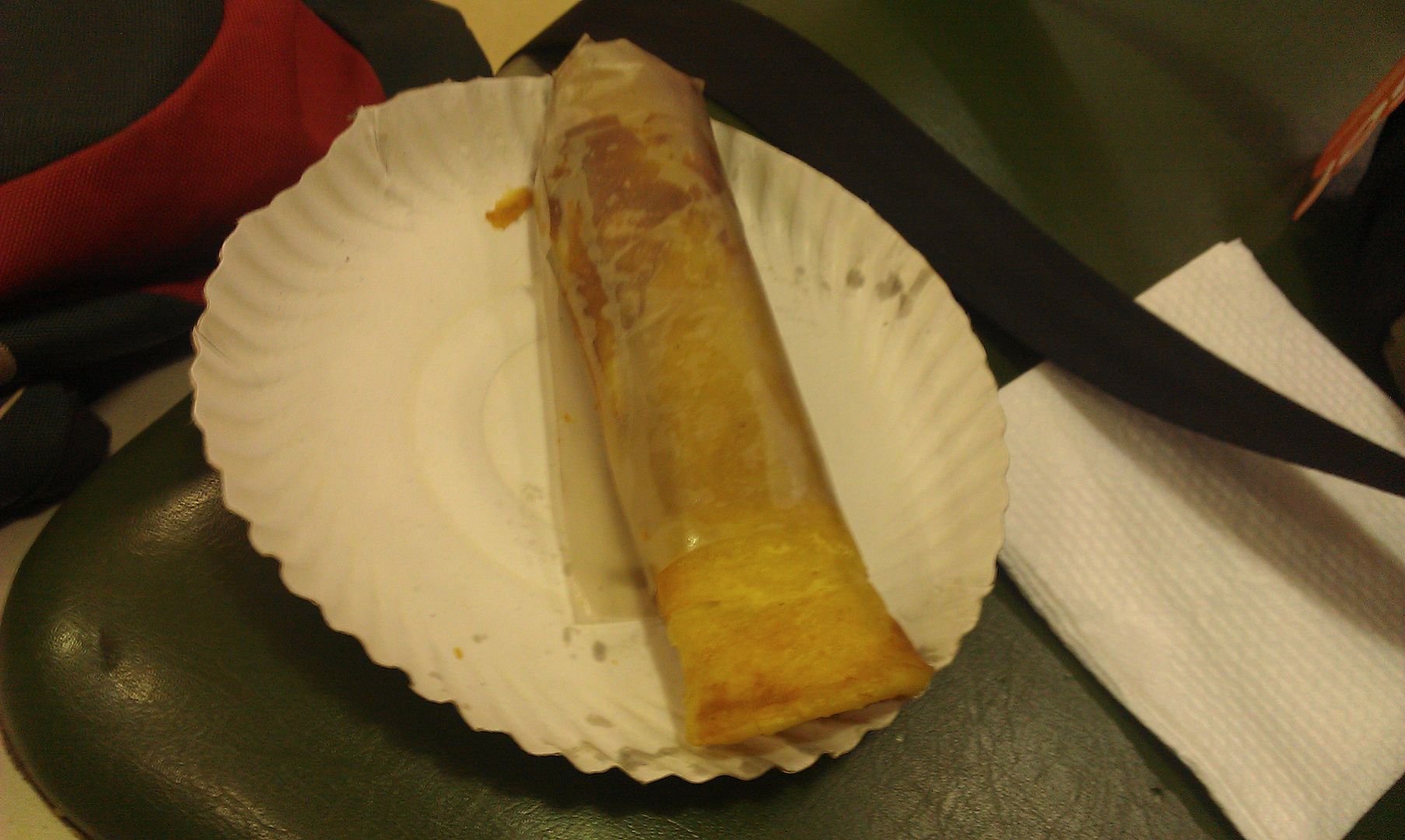 FIDS, Calcutta style
With an hour to go before boarding, I proceeded upstairs towards gate 3A. Sights on the way, through some nicely tinted glass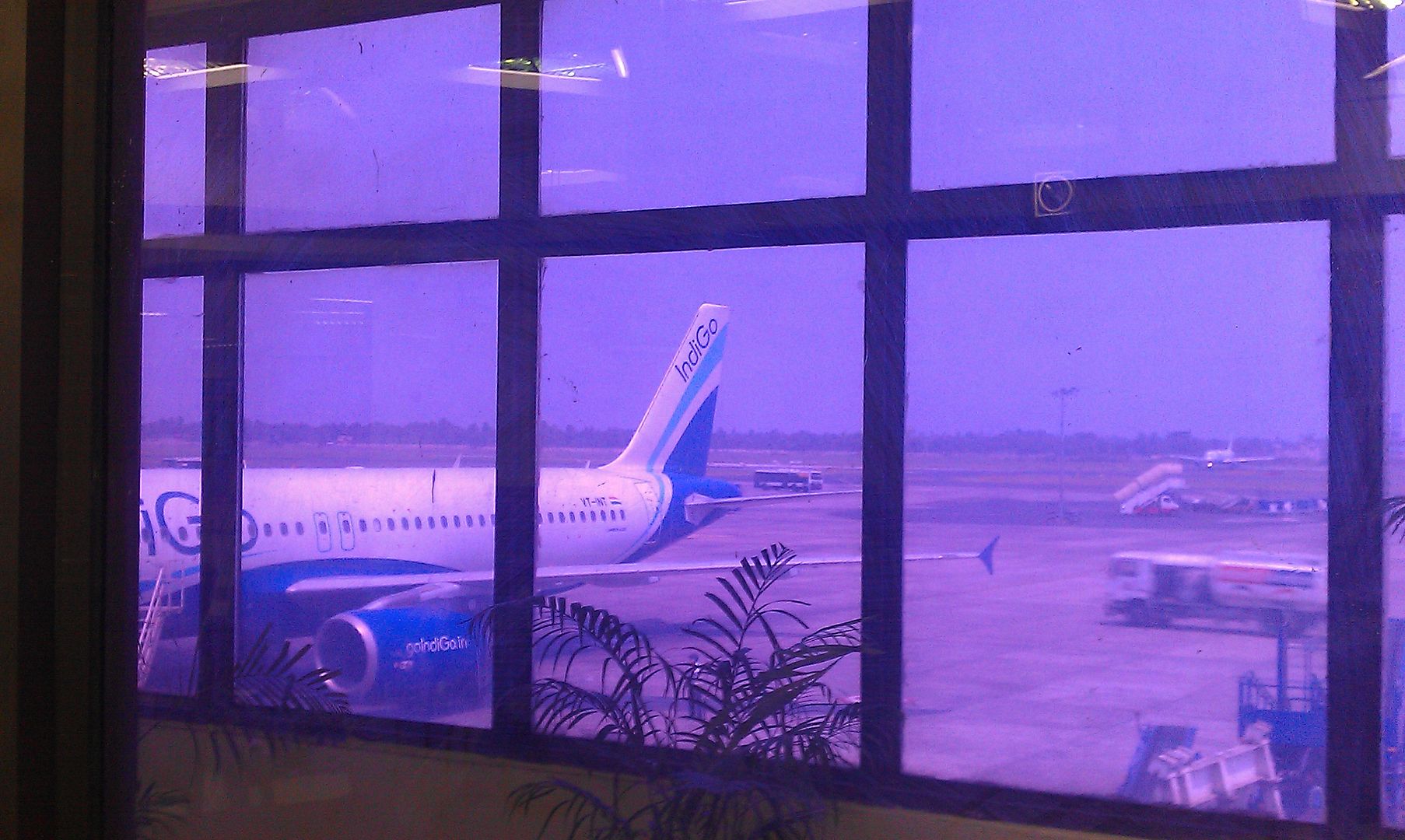 Waiting room – fairly comfy seats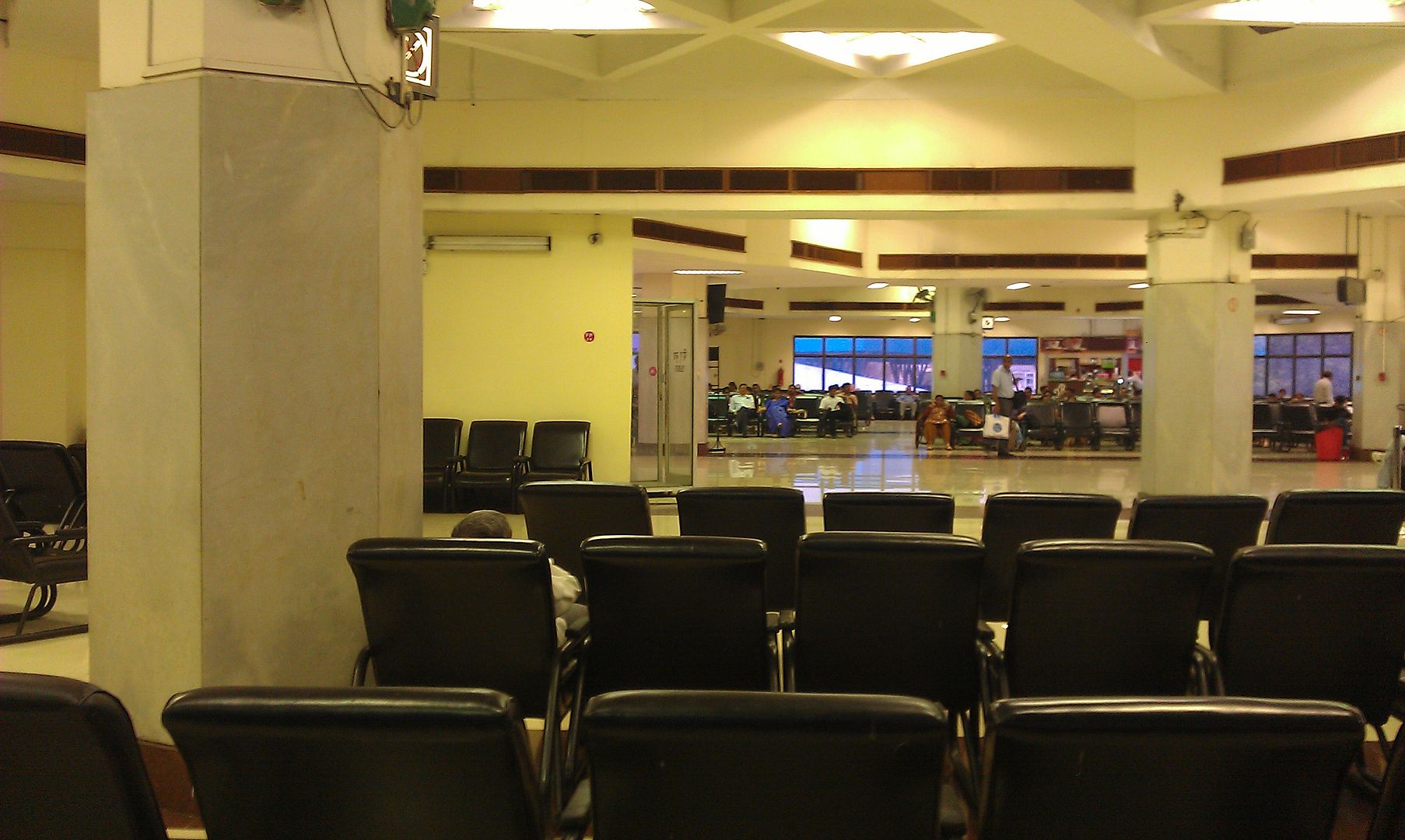 After an hour or so, boarding started, although I didn't realise at first. They decided to board two flights simultaneously through the same door, which caused quite a bit of confusion.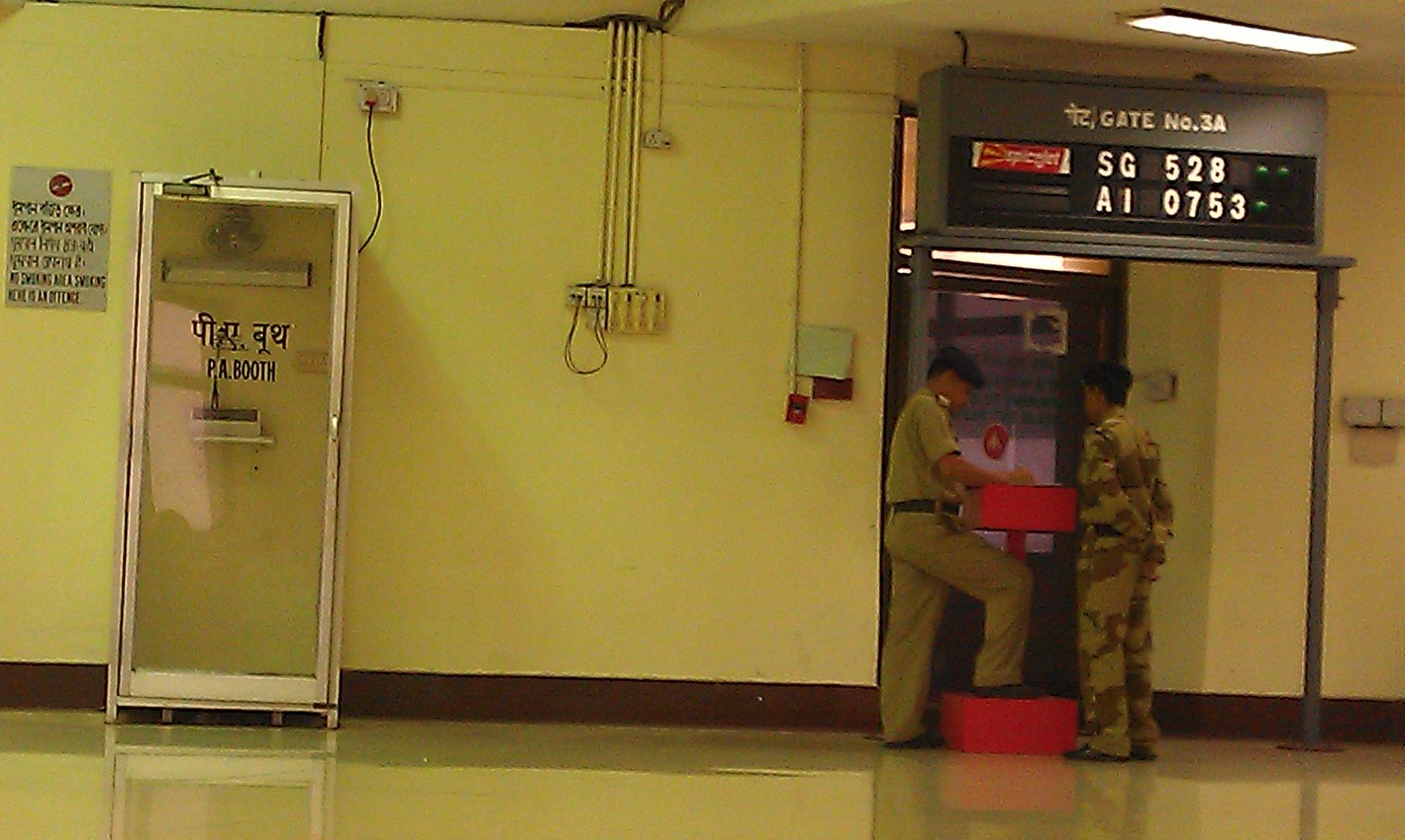 We were loaded into buses, and set off to the far side of the airport
March 2012
Calcutta (CCU) – Bagdogra (IXB)
Spicejet SG 323
Scheduled: 1355-1455 (1h00m)
Actual: 1402-1445 (0m43)
Boeing 737-900 VT-SPU
Economy
This aircraft was involved in a tail strike (http://www.hindustantimes.com/News-Feed/SectorsAviation/Tail-strikes-ground-SpiceJet-aircraft/Article1-733116.aspx)
I was quite surprised, and secretly delighted, that we pulled up next to VT-SPU, a Boeing 737-900. Having managed to not fly one of these for many years, I'd managed to log two in just 3 days (the other being the Lion Air example). Wonderful. This also explains my very high seat number.
Of all the places I wanted to sit on the 739, row 28 was in the correct area. I say area, rather than row, as row 27 and 28 had possibly the narrowest seats I've ever had the misfortune to have to squeeze into. They were around 2 inches narrower than the other seats. Row 28, at least, had the benefit of extra legroom, and a quasi window view. Row 27 was unquestionably the worst row of the plane, with narrow seats, normal legroom, no view, and having the FA sat next to you enforcing the rules. From 28E I was sat practically face to face with the FA. I commented on the seat width to which she commiserated, and pointed out the good legroom.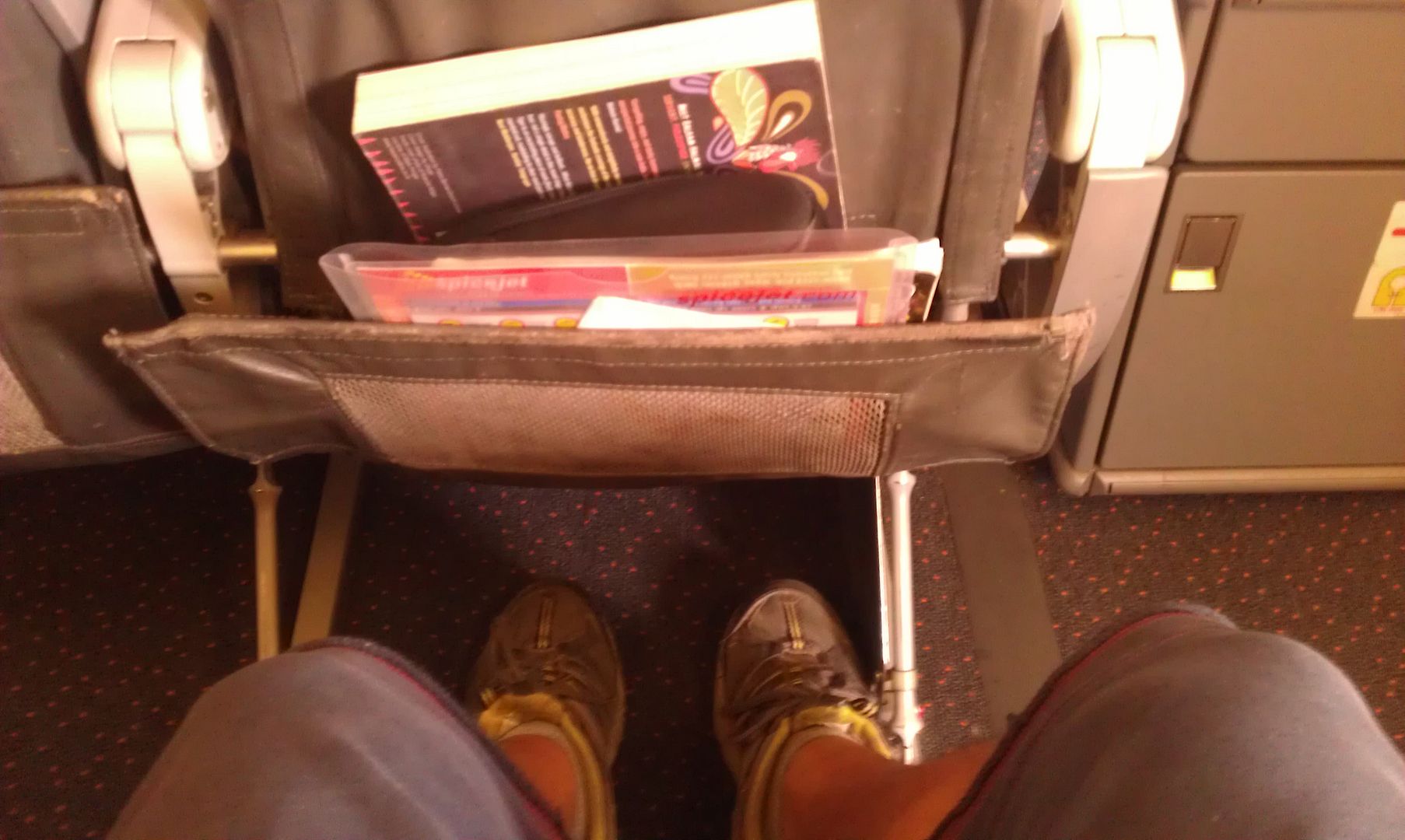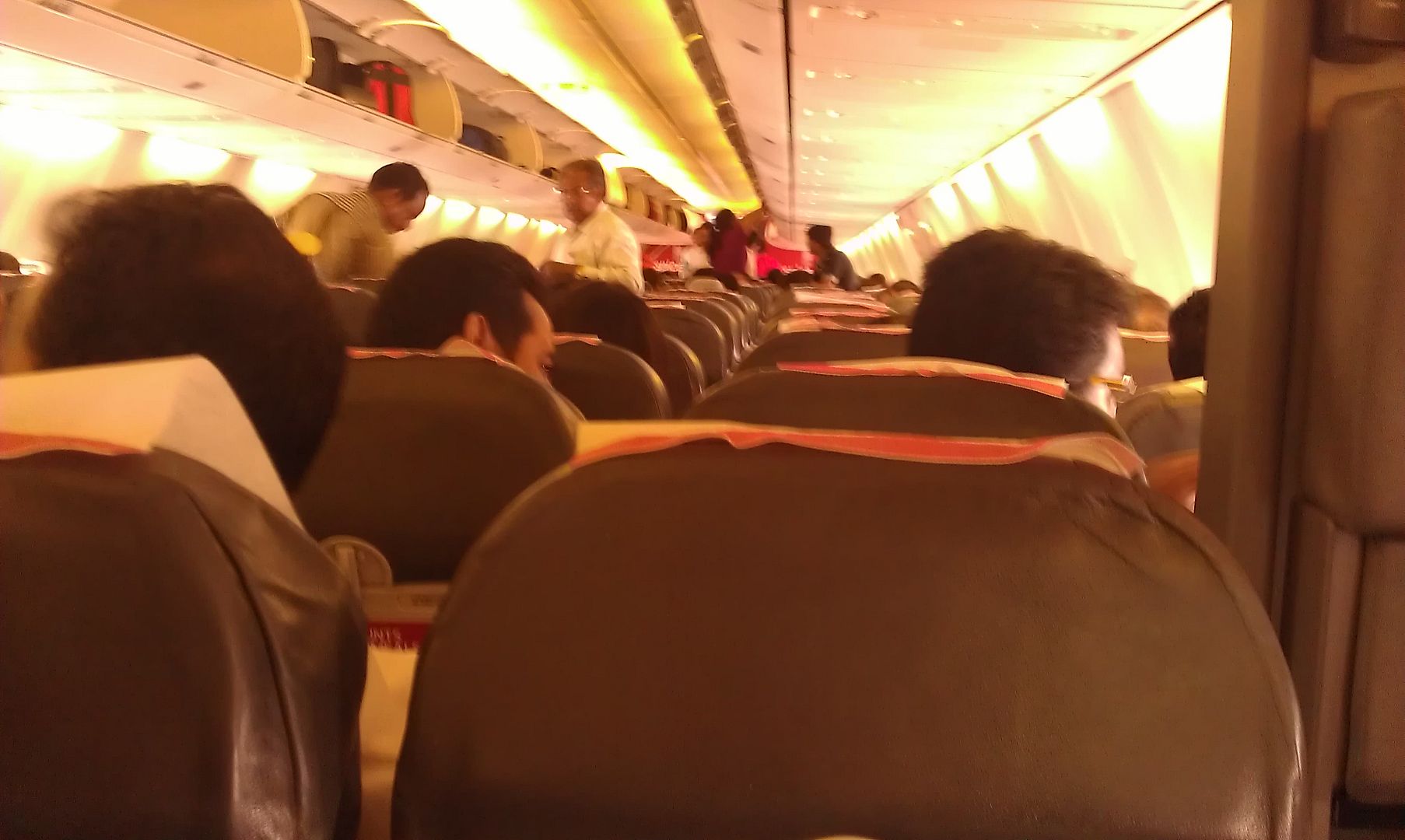 Row 29 A and F are the seats to go for, with the A seat having the added benefit of no watching FA. As you can see if the photo above, I put my book and headphones in the pocket. Unfortunately a very grumpy FA came stomping down the aisle, and said that I couldn't have anything in there for take off or landing. Hmmm, first time it's ever been an issue on any airline. I was now left with a half view out the window, and the rather uninspiring magazine (which apparently was ok for the seat pocket).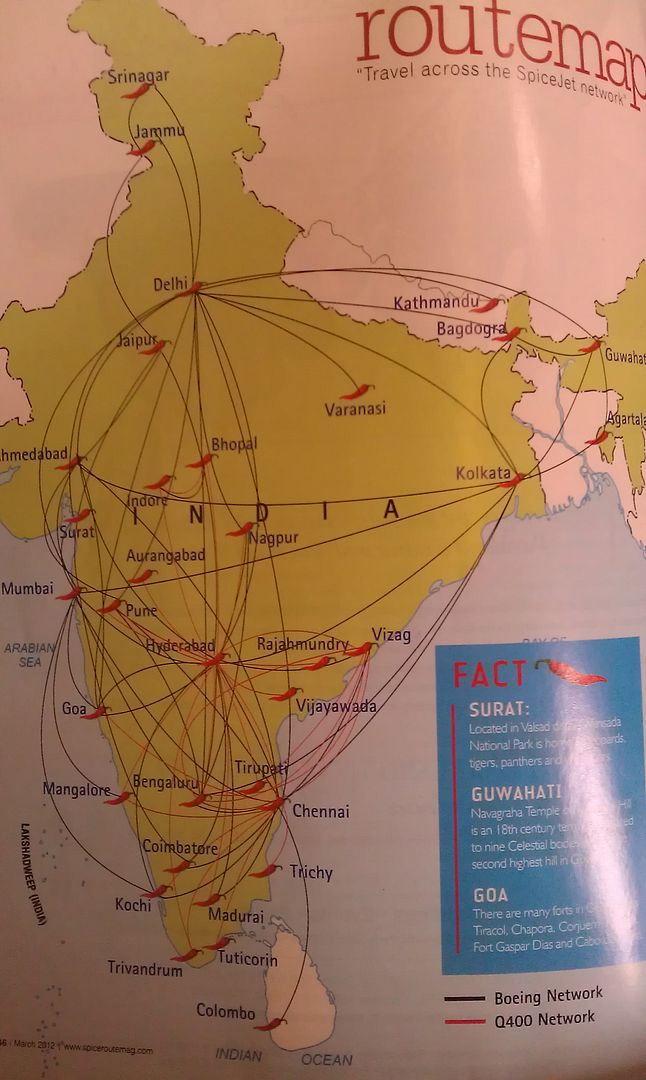 Row 28 window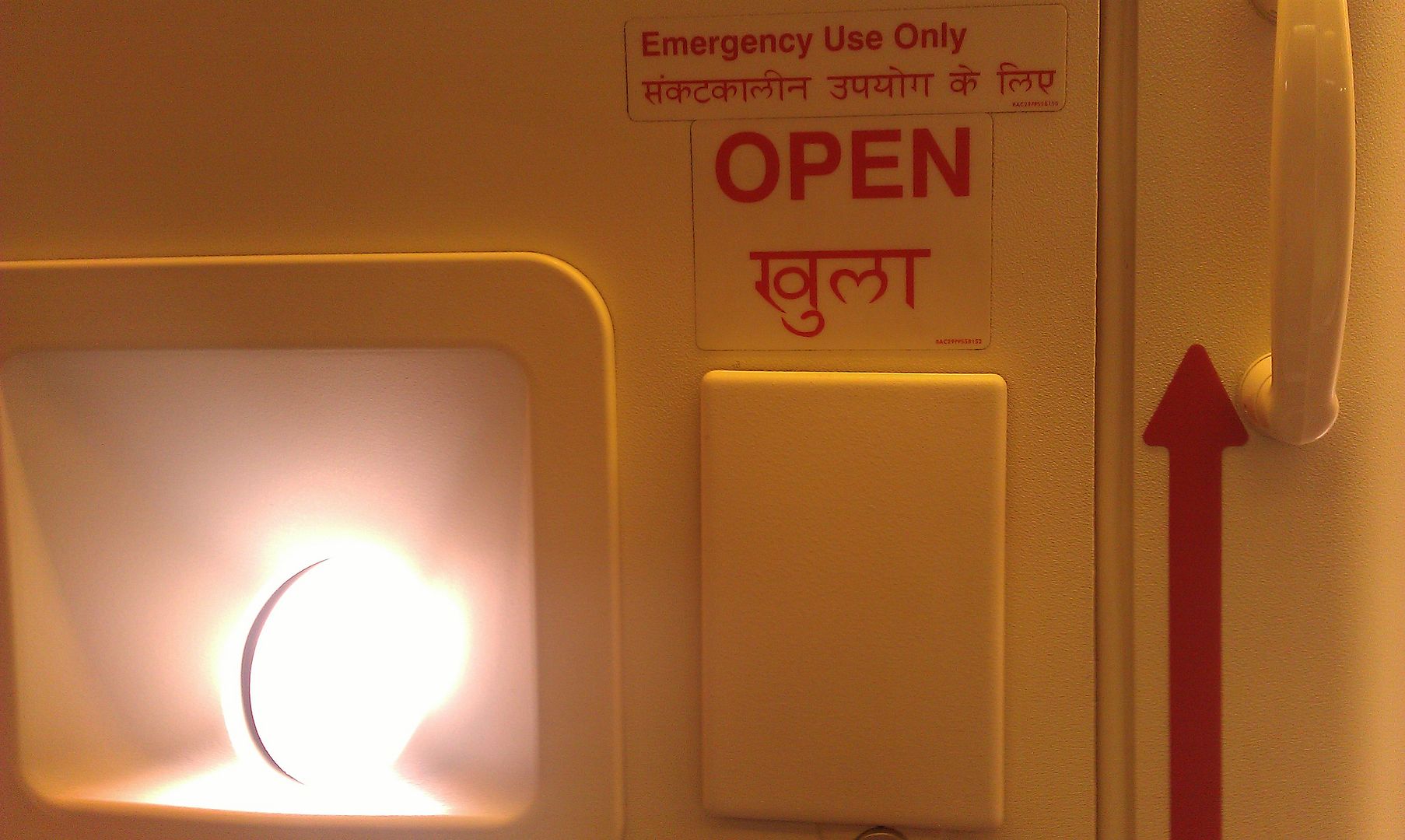 Row 29 window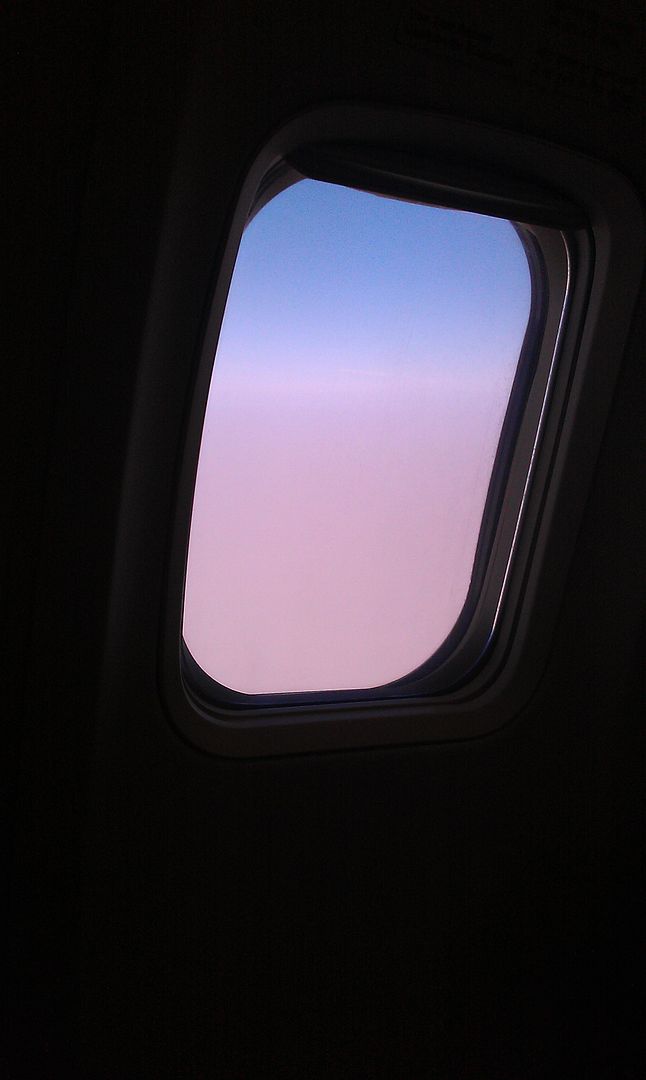 Yup, definitely the 739
Obviously, no photos from take off. With the flight time announced at a mercifully short 45 minutes, the grumpy crew sprang into action distributing preordered meals
BOB menu
With the preordered stuff having been doled out, the crew flogged the rest of their preheated meals to those hungry enough to try the gruel for the galley. I must say, these crew were really not the friendly types. Some were quite hot, but it couldn't have been more different to the wonderful SQ crew.
We landed early into Bagdogra Airport. There was an announcement informing everyone that this was a military airport, and photography was forbidden. Also, as soon as we were off the runway, a further announcement that mobile phones could now be used.
Being a Western deviant, the first thing I did was take a photo upon disembarkation (from the safety of the bus).
Bag tag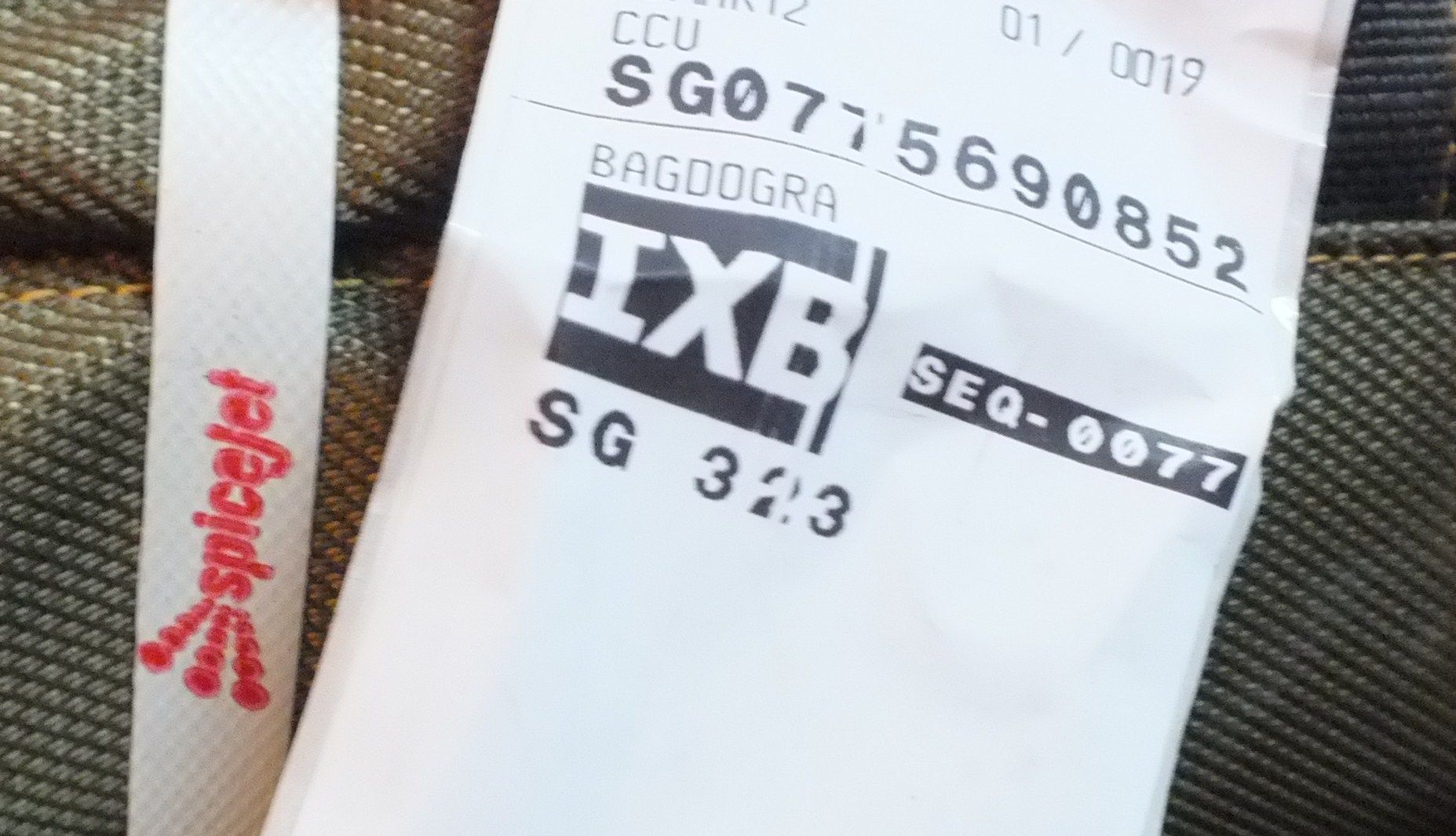 Having learnt my lesson of Calcutta Airport taxis, I went straight to the pre-paid desk, and got a voucher for a taxi up to Darjeeling.
The tea fields of lower Darjeeling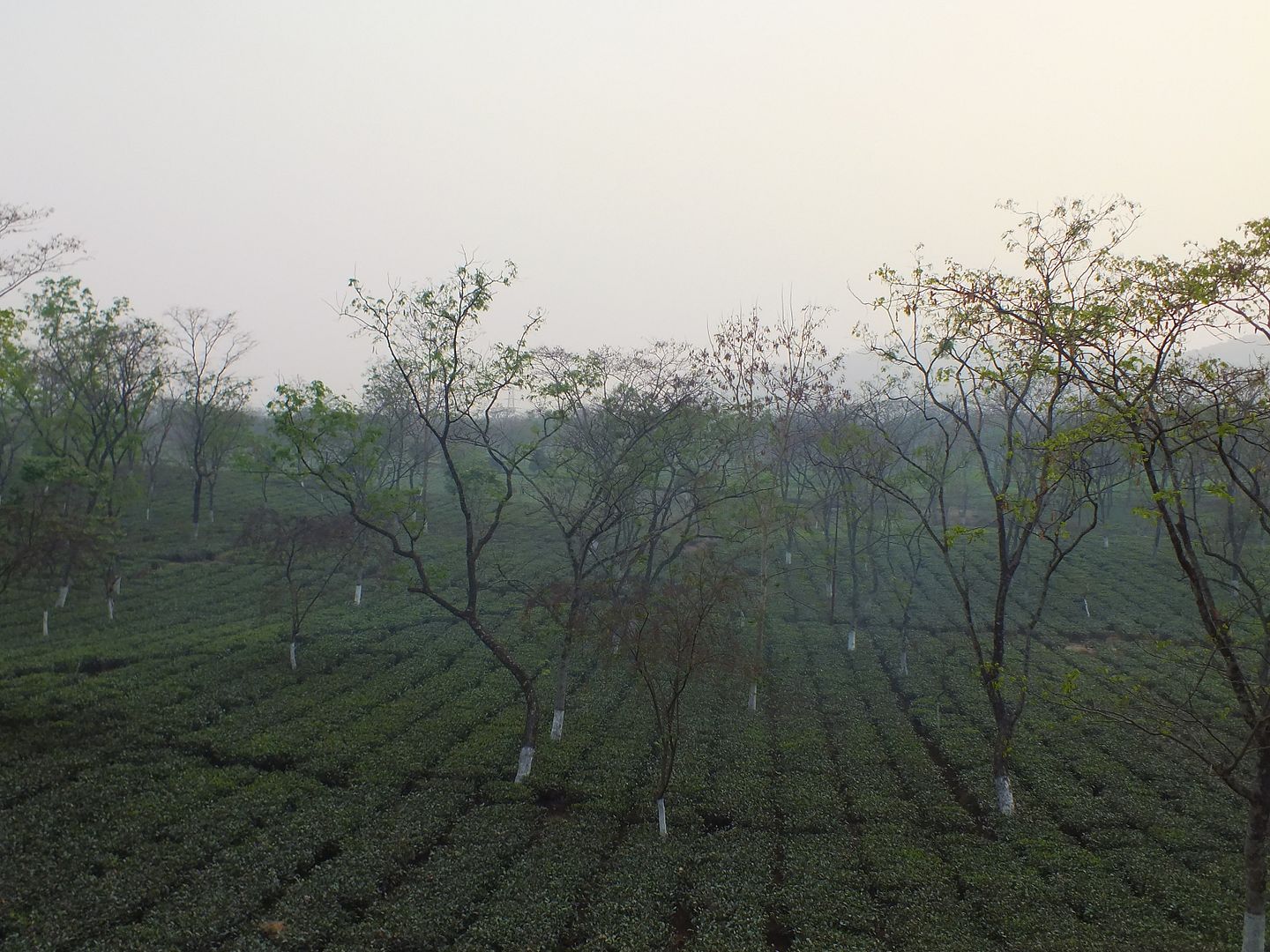 Traffic jams on the way up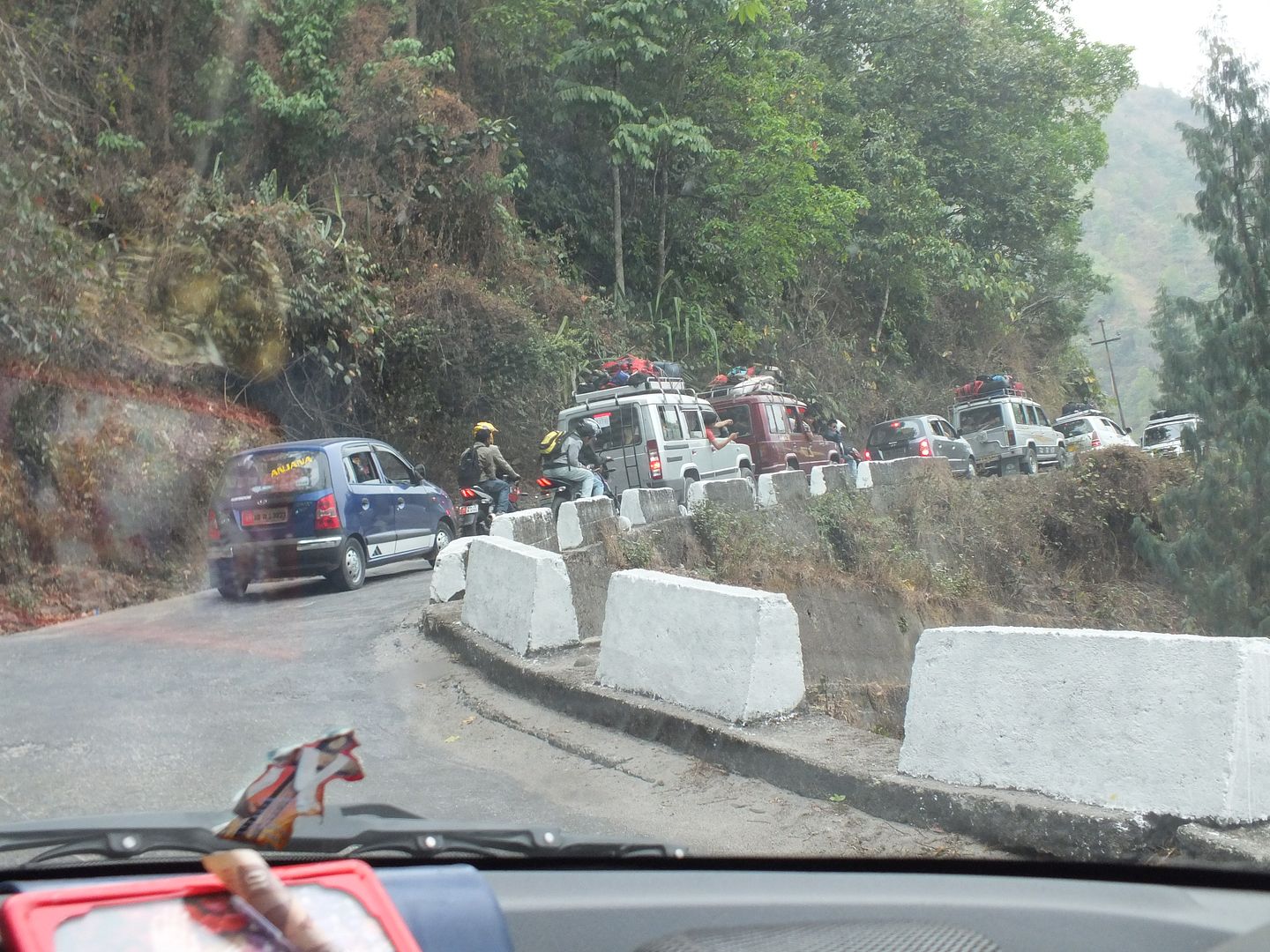 My cosy room at the Dekerling Hotel
Lounge
From my hotel window. I was lucky to see the mountains…they were only visible for a few hours during my 3 days through the fug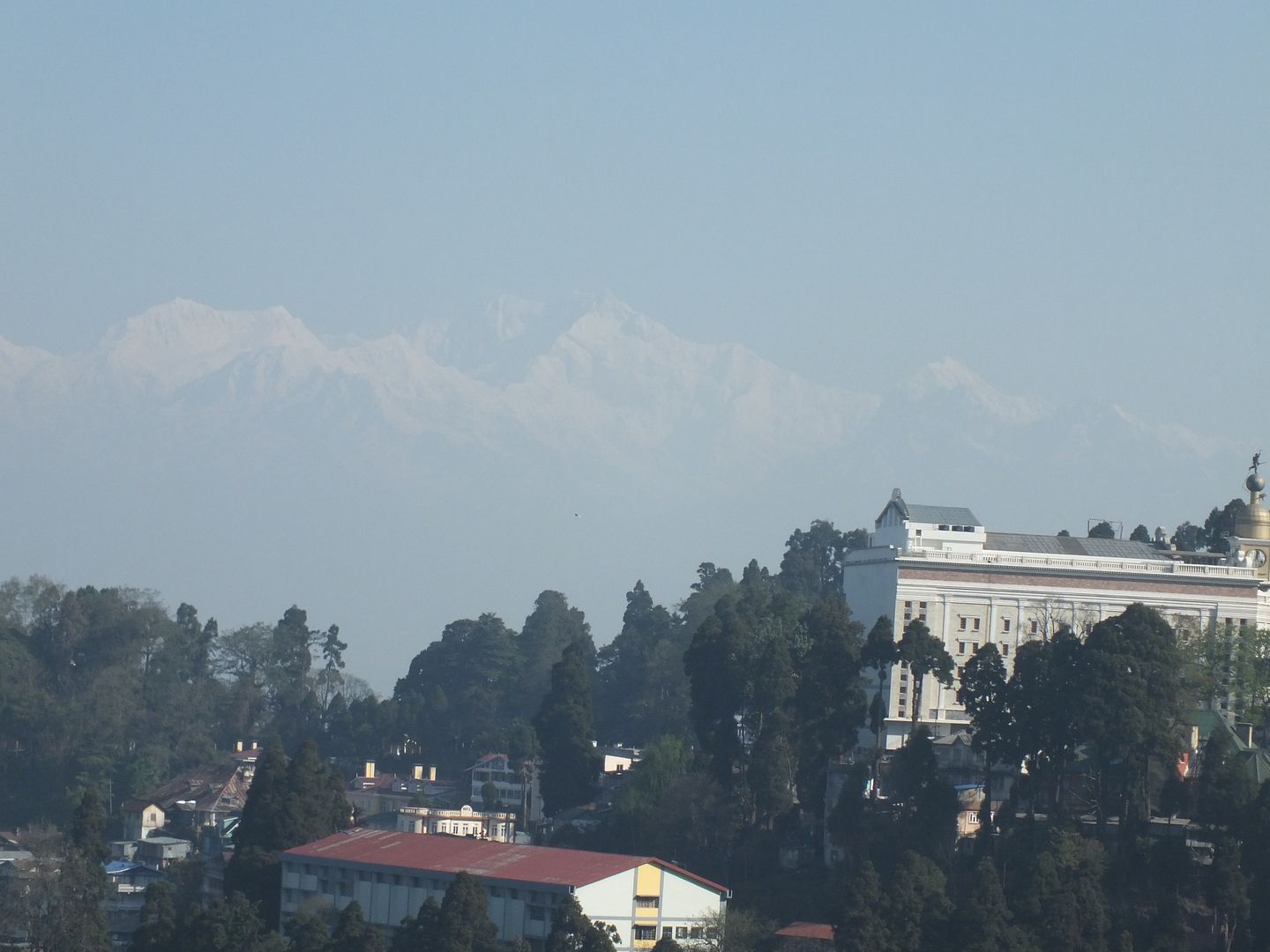 It was great catching up with my friend in Darjeeling – we did a nice walking tour the first day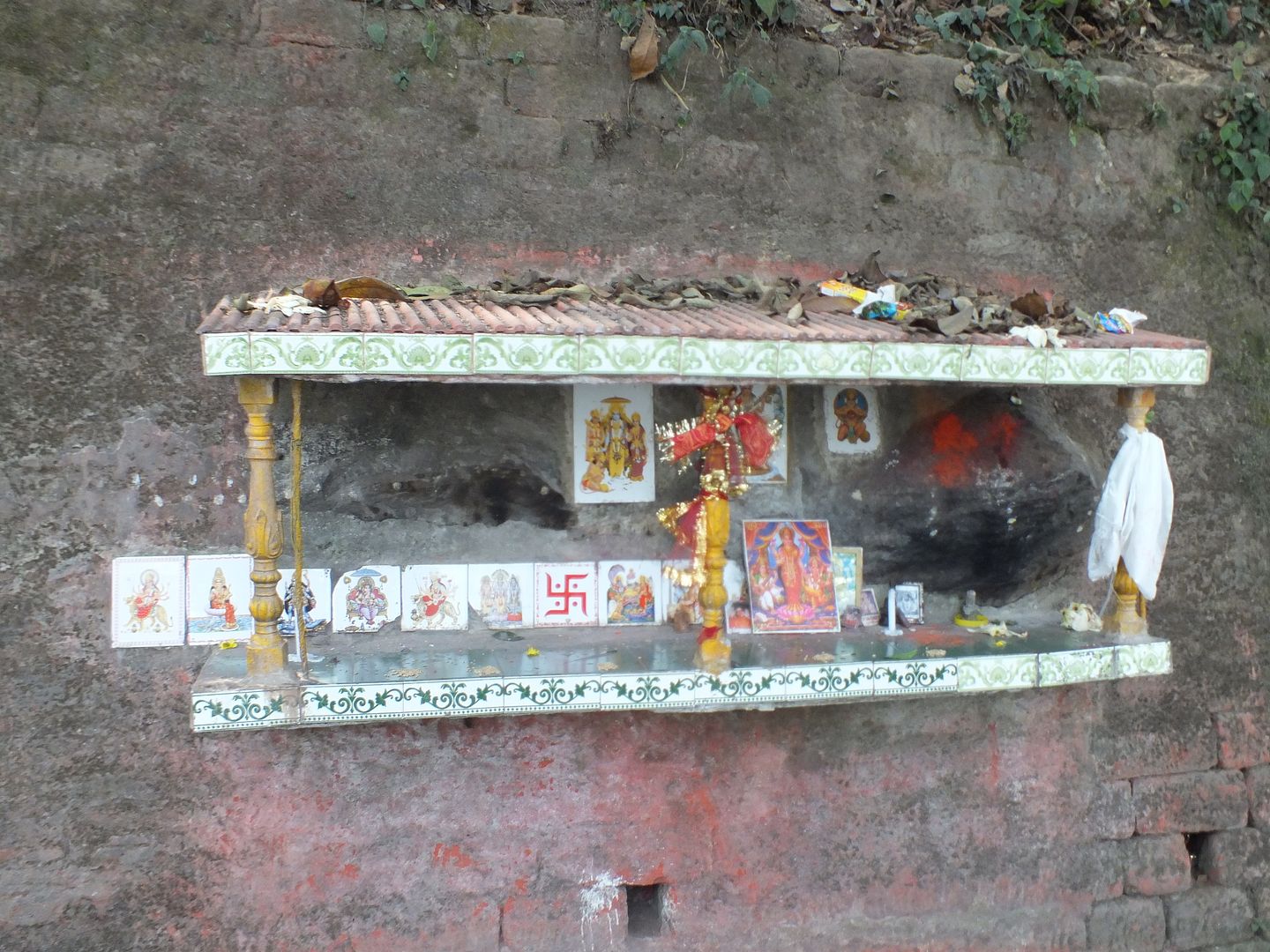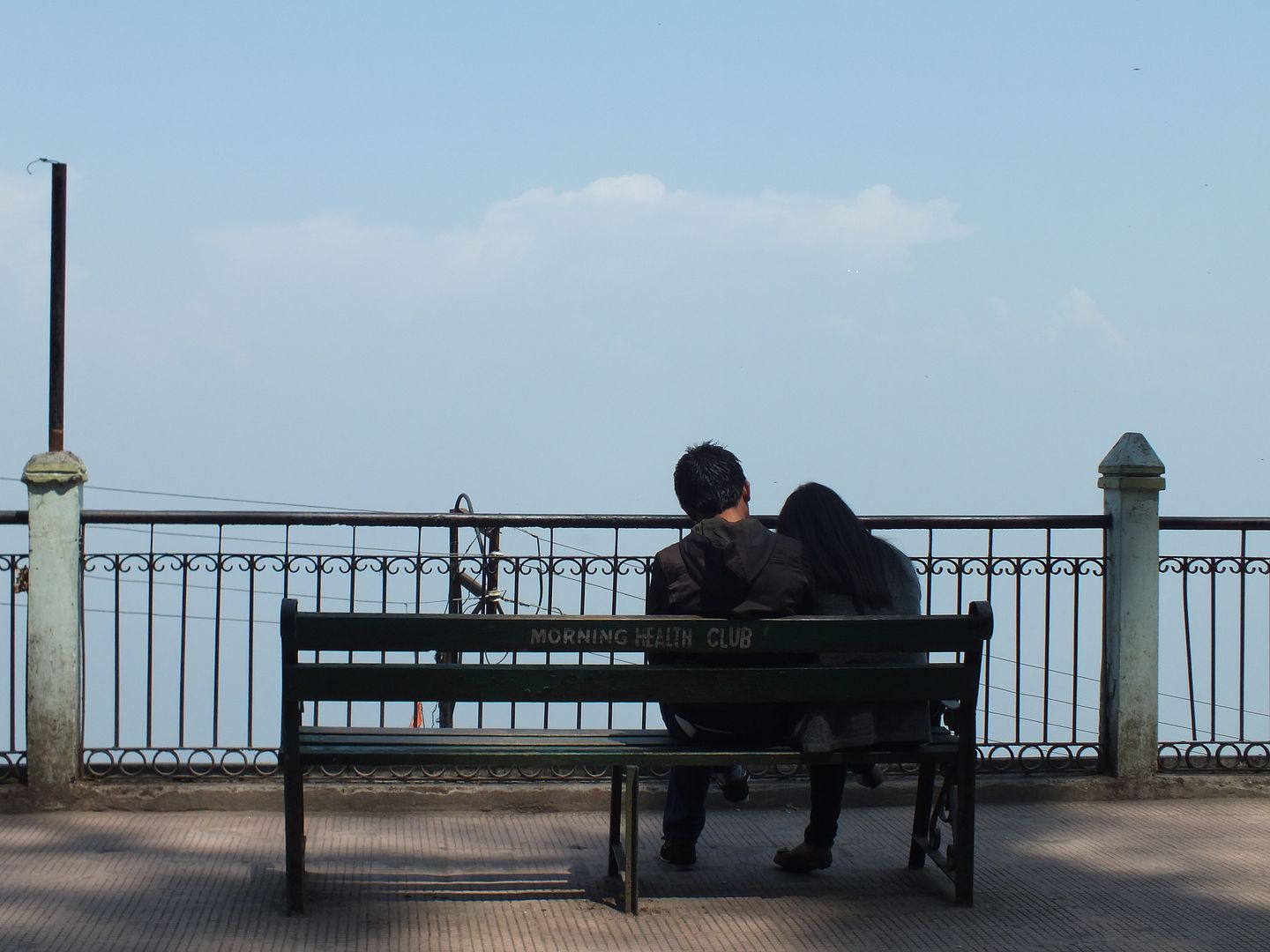 Tenzing Norgay at the Himalayan Mountaineering Institute, which had a very interesting museum about the Everest ascents. My friend regaled me with interesting stories of meeting random multi-ascent climbers from his hometown. Once he chatted up Tenzing Norgay's son's wife without realising who she was.
The Himalayan Zoo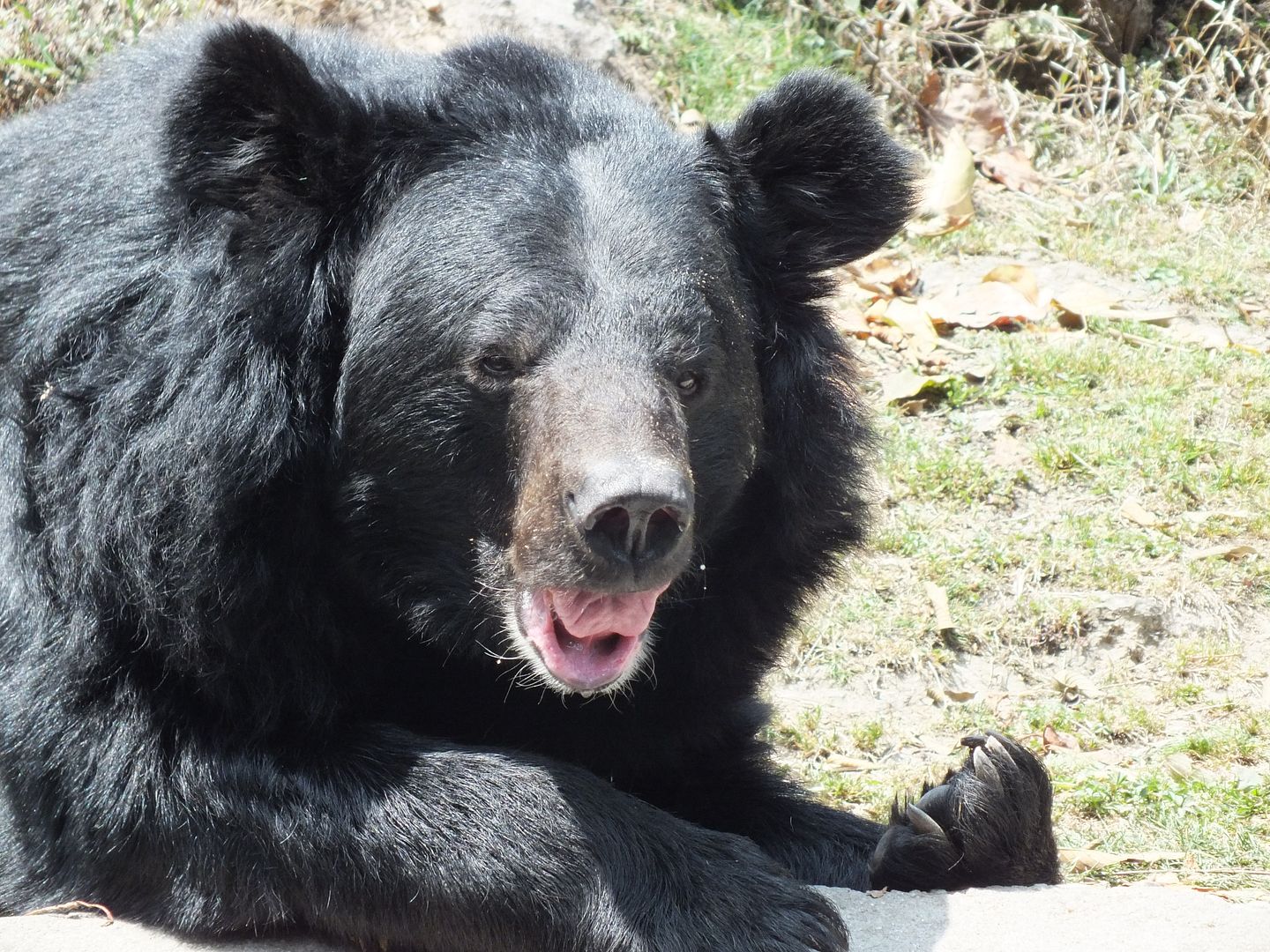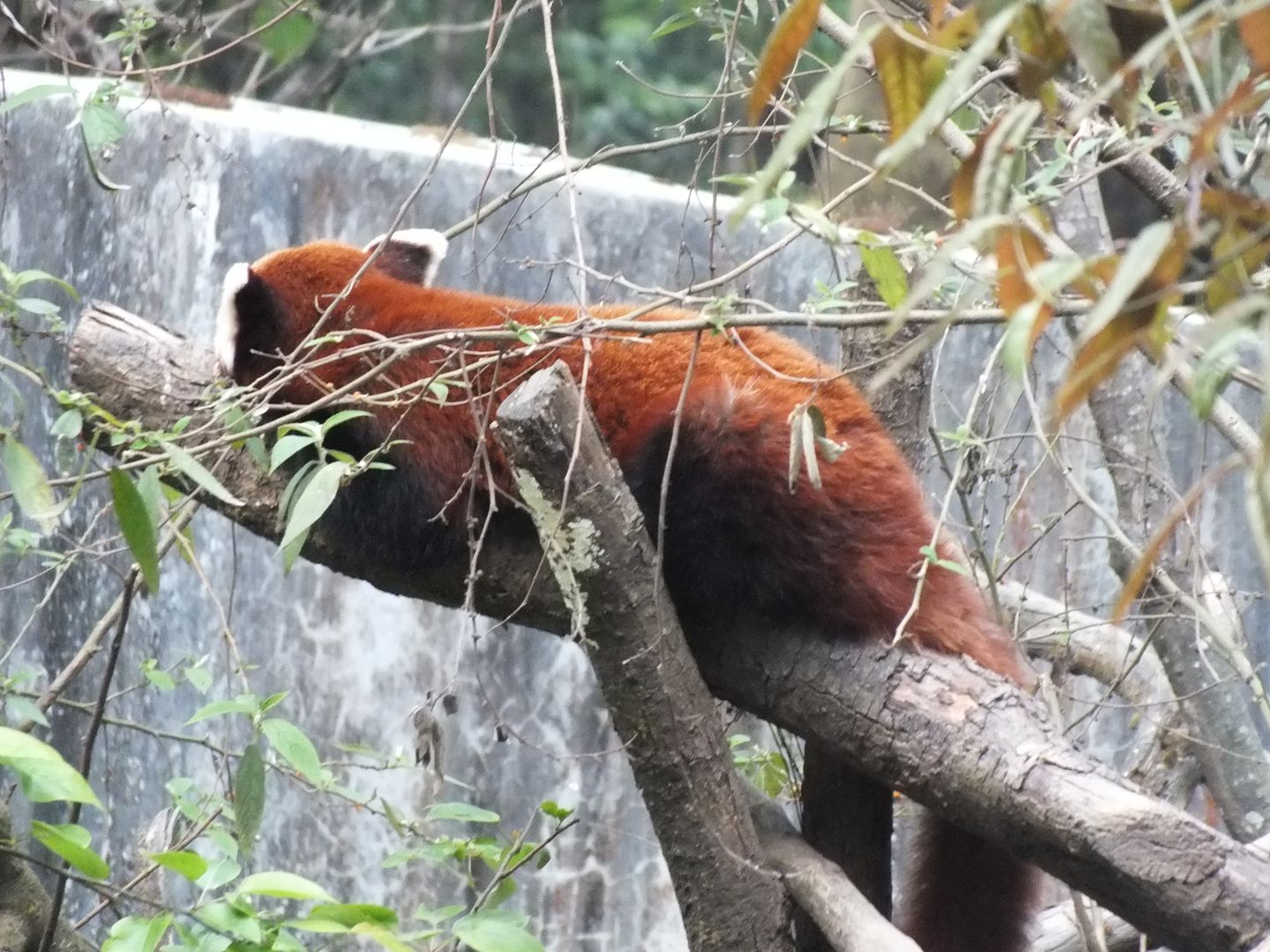 Terribly British – street cricket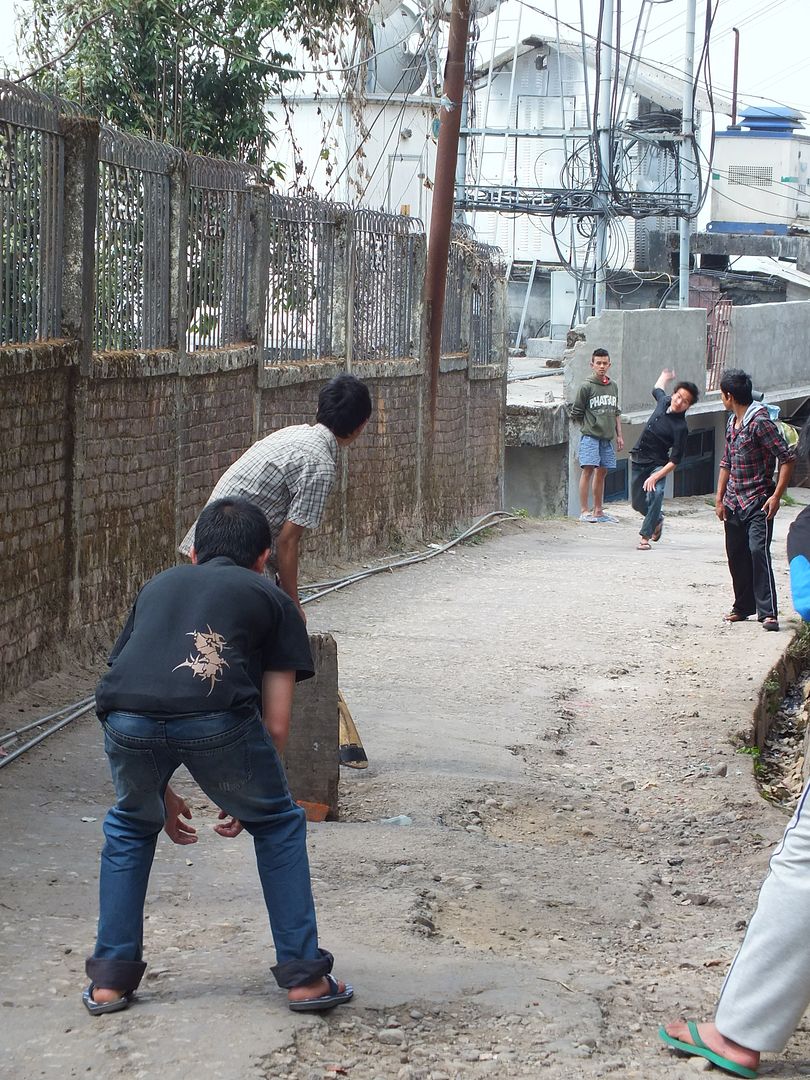 And my friends ex-boarding school – doesn't look very Indian, does it?
Local beers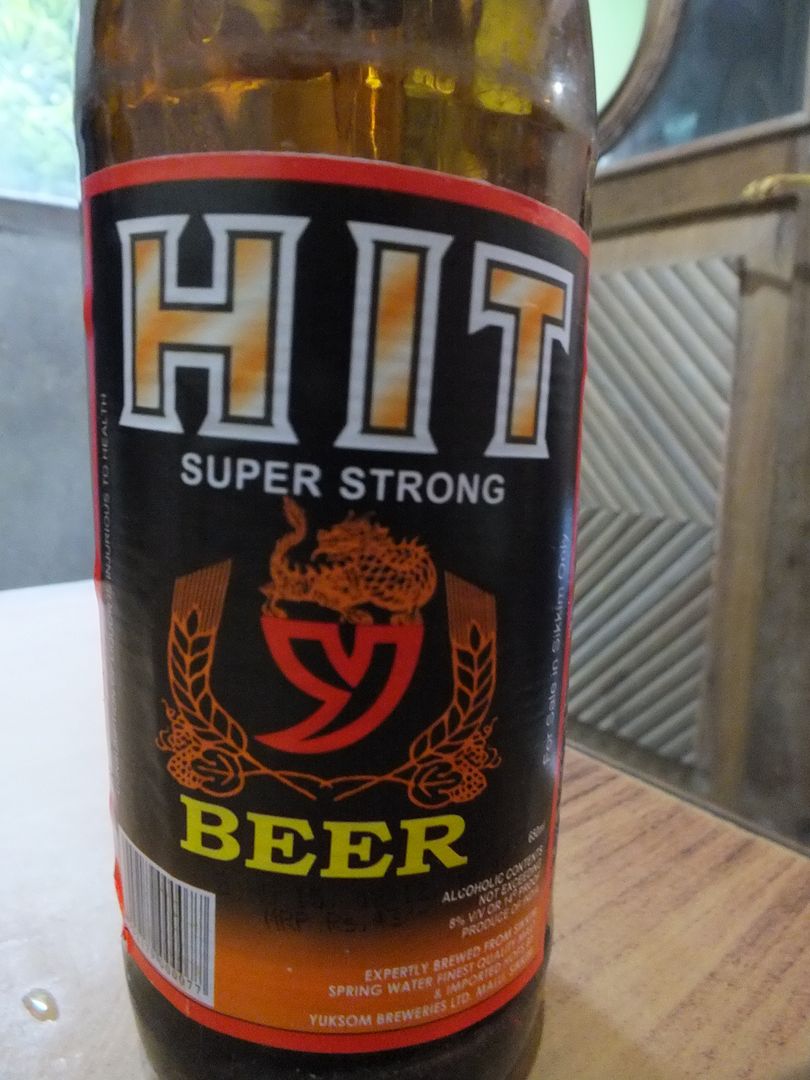 Tibetan food
Nepali food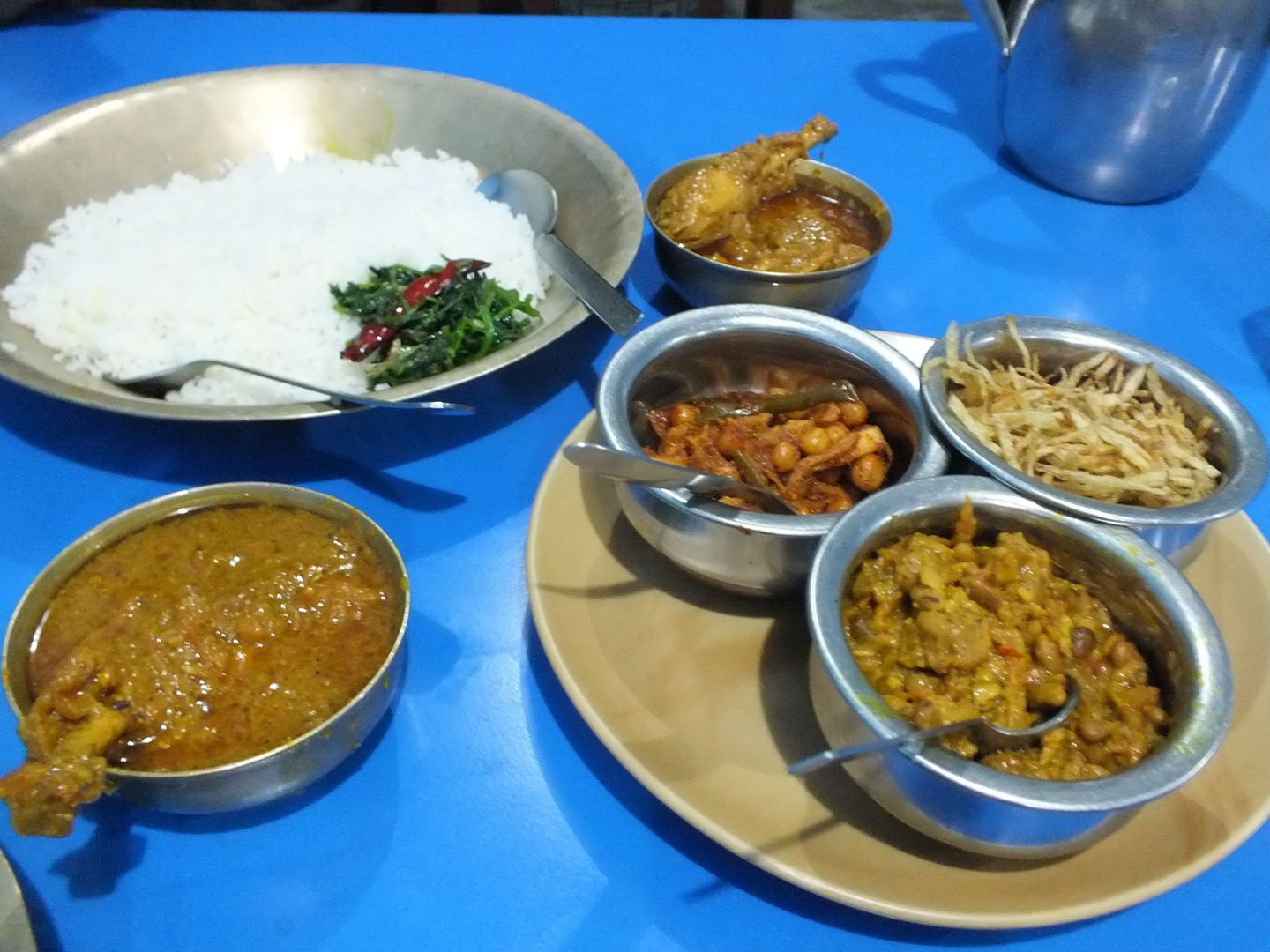 Some acceptably tasty Indian red wine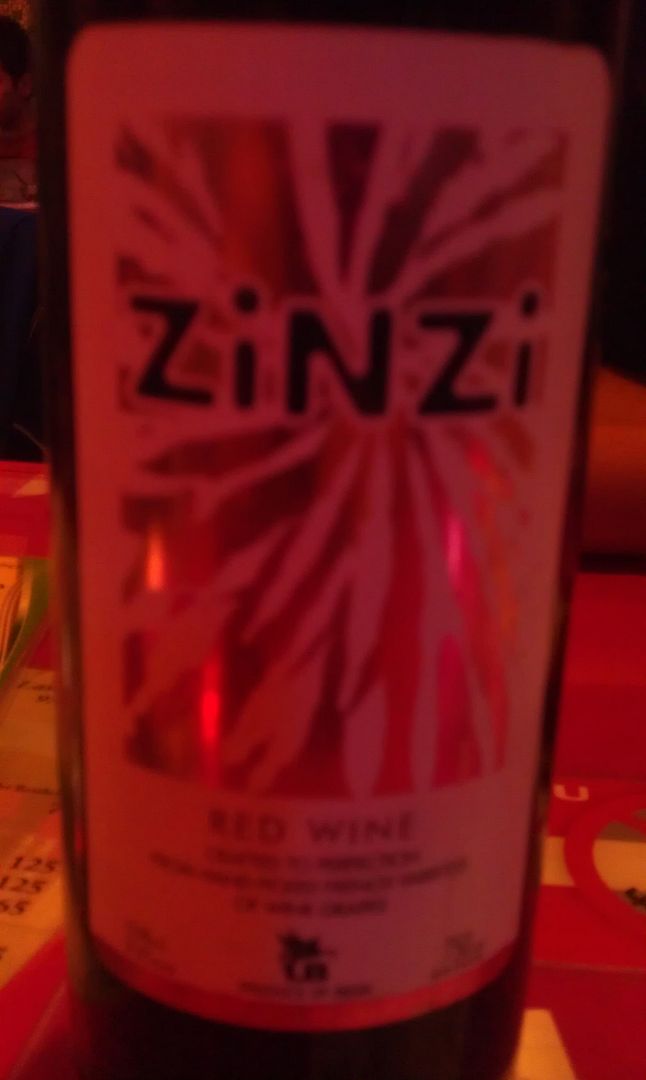 Curry!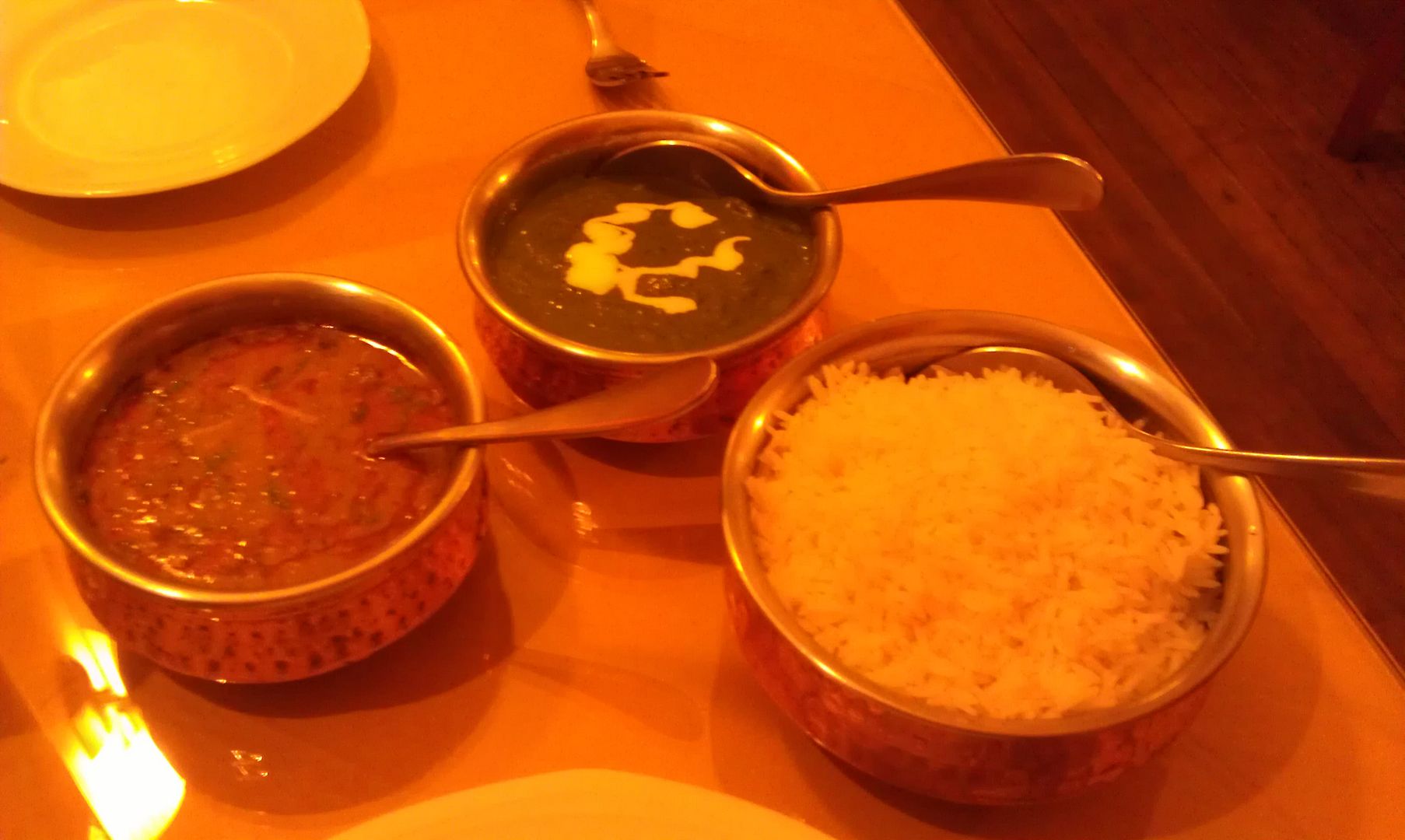 More photos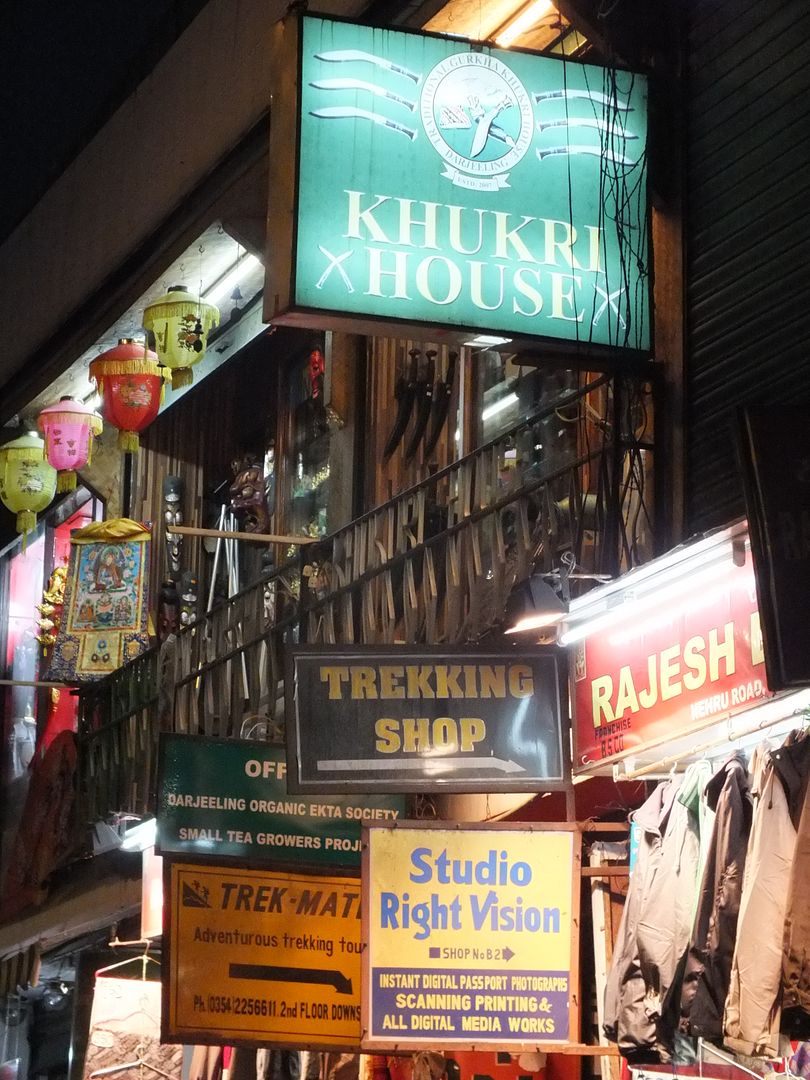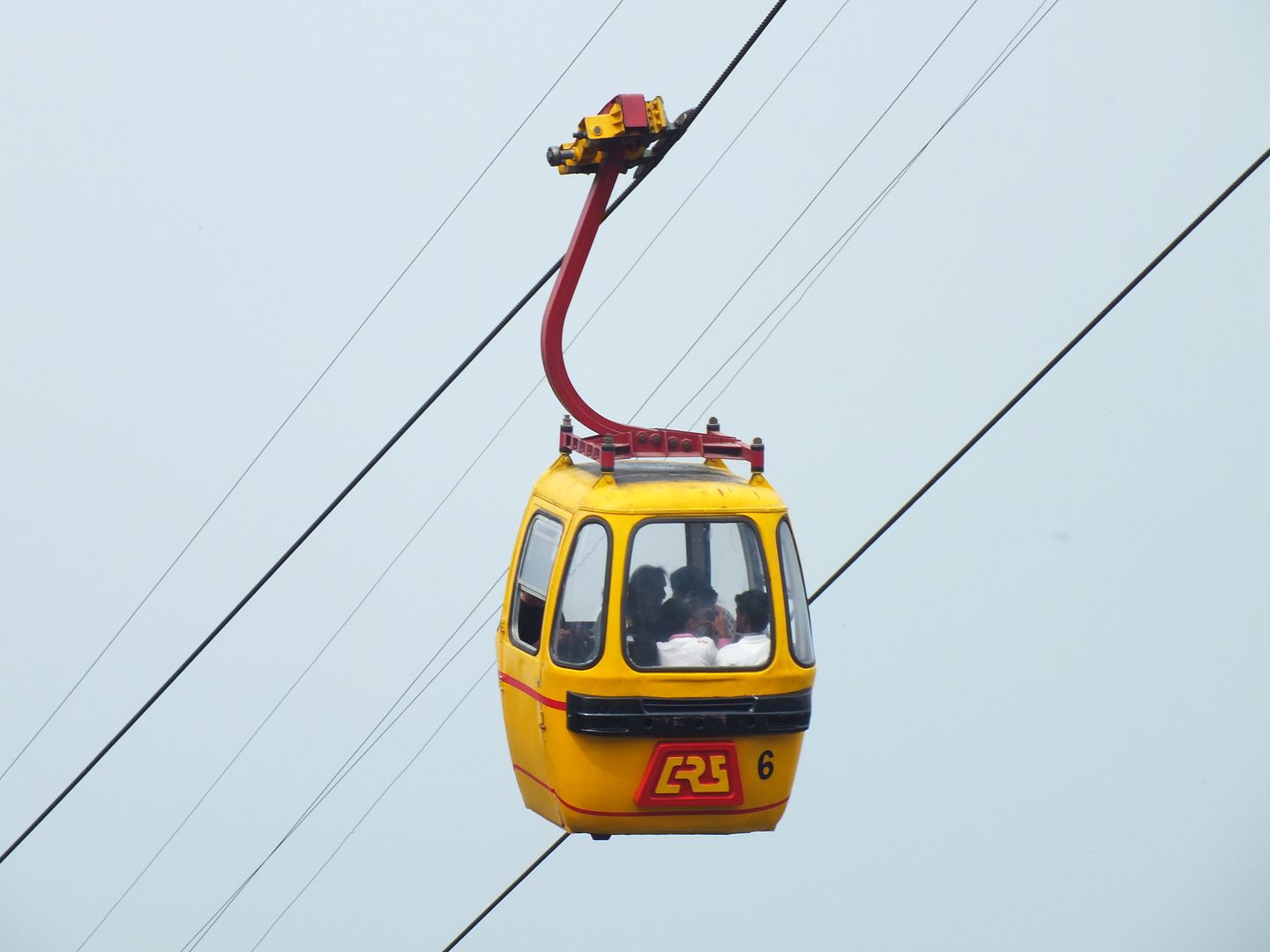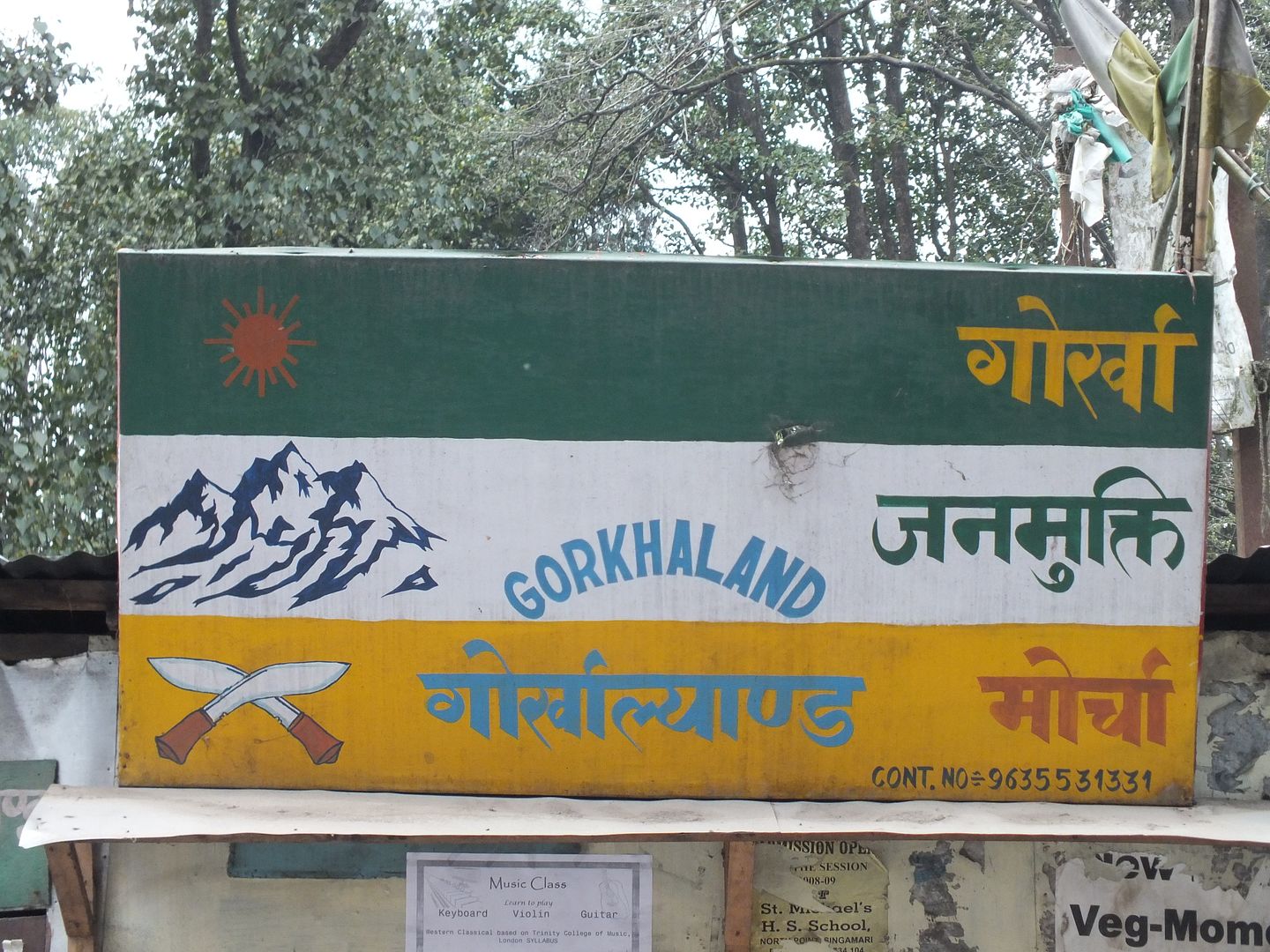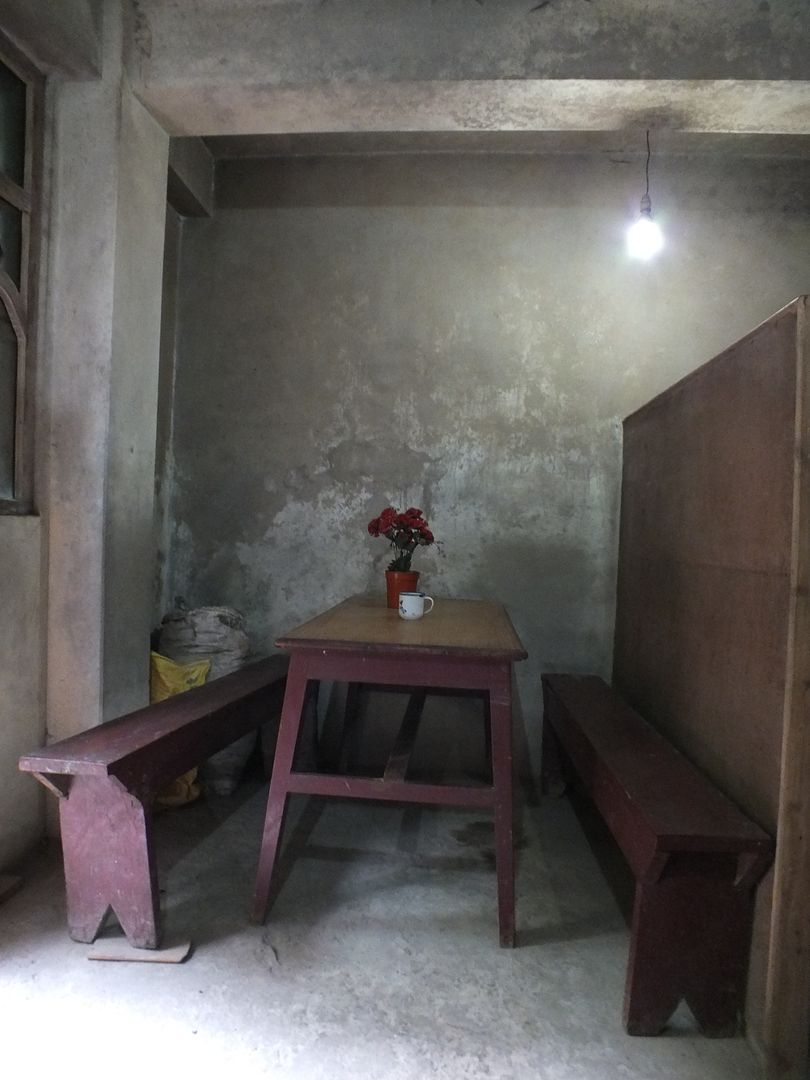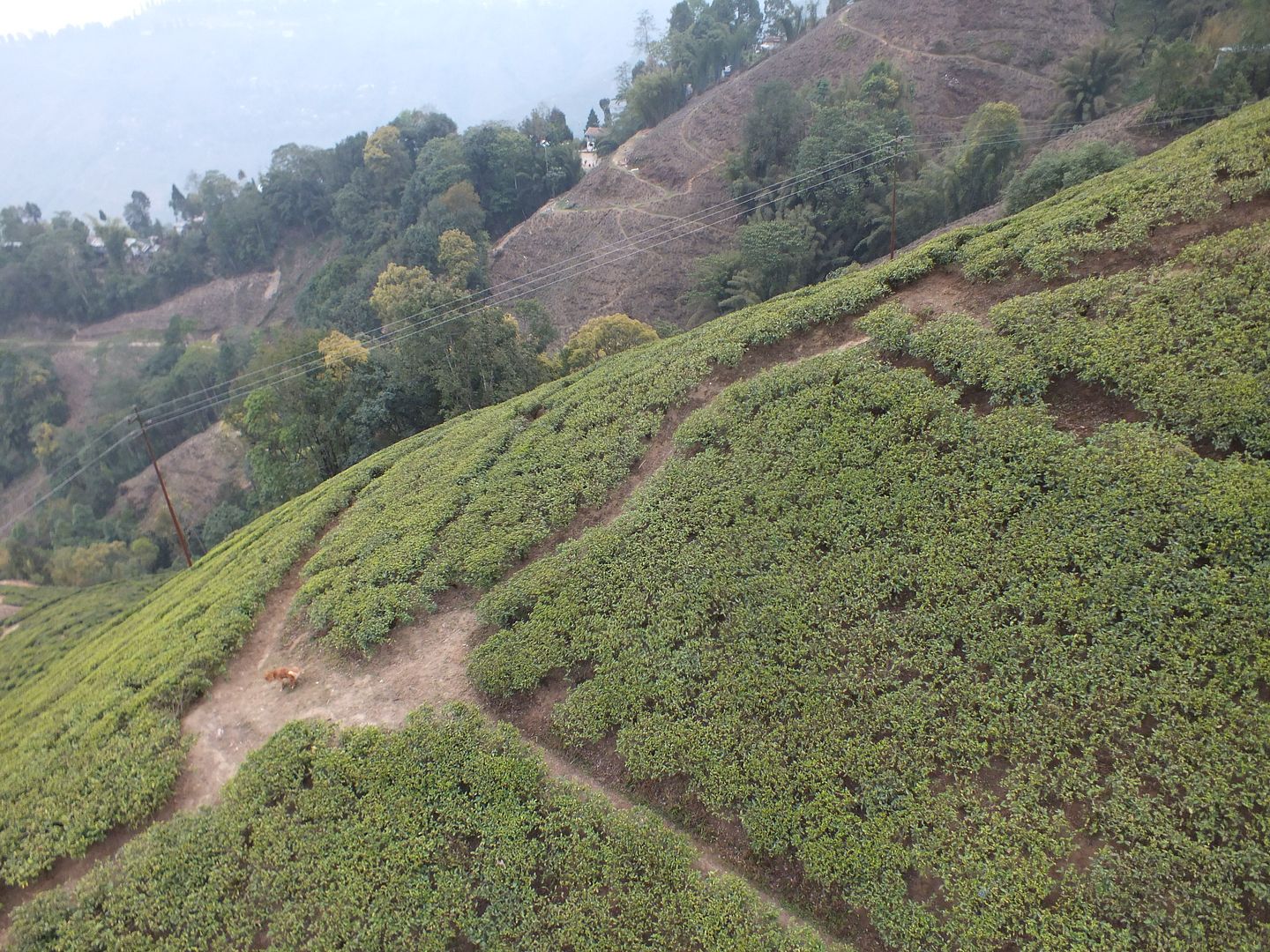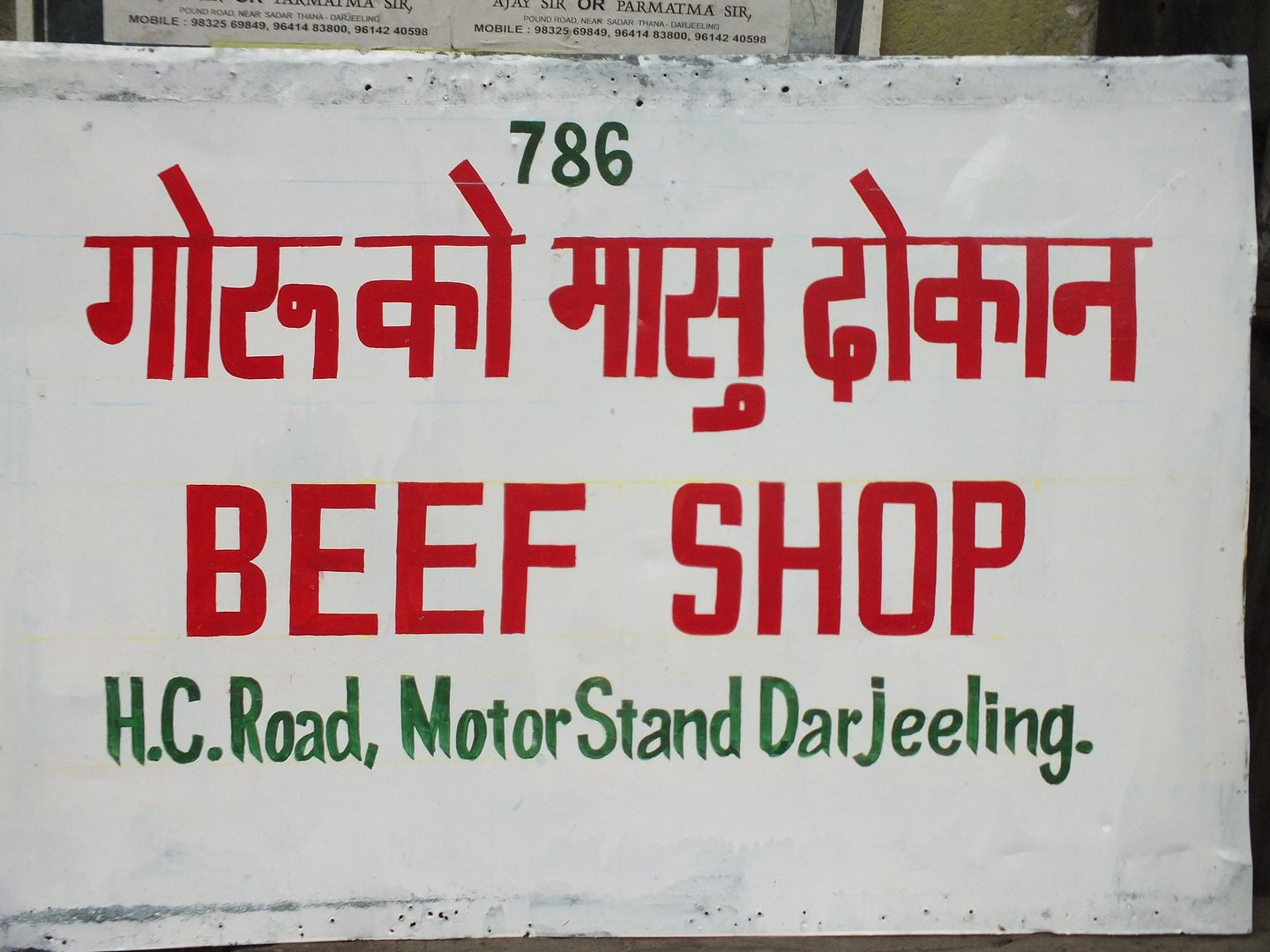 A lot of people come up to Darjeeling to have a ride on the Toy Railway. This feat of engineering runs from the plains all the way to Darjeeling on a spectacular track, weaving in and out of towns and villages on the way. It was built in the 1880s by the Brits as an easy way to get out of the heat of Calcutta, and into the more temperate climate of Darjeeling. If you take the train from the bottom (New Jalpaiguri) it take a bone rattling 8 hours. The road takes 3. An easier proposition is either a joy ride (book a few days in advance) or a seat on the normal train just only going a few stops (my choice).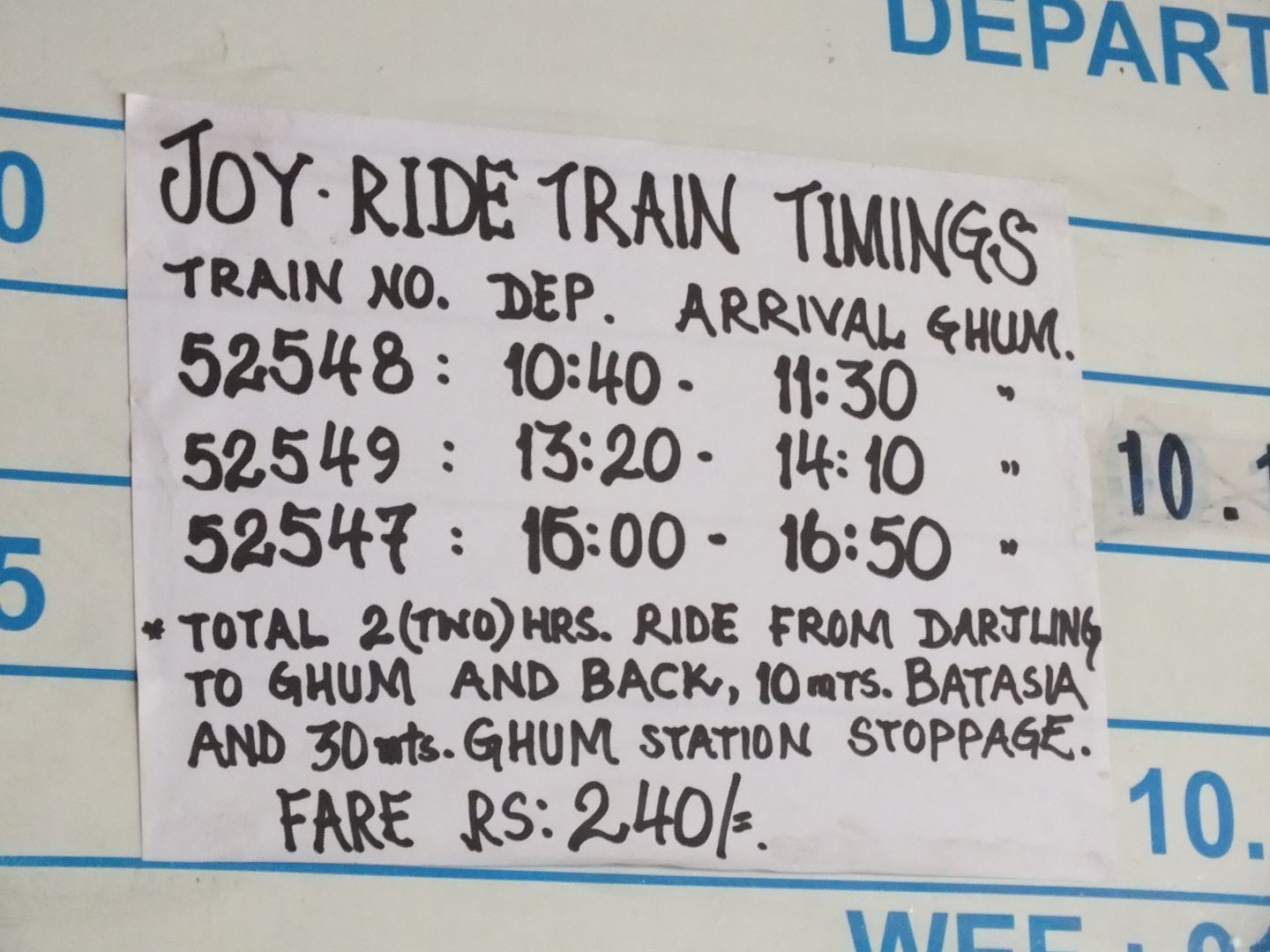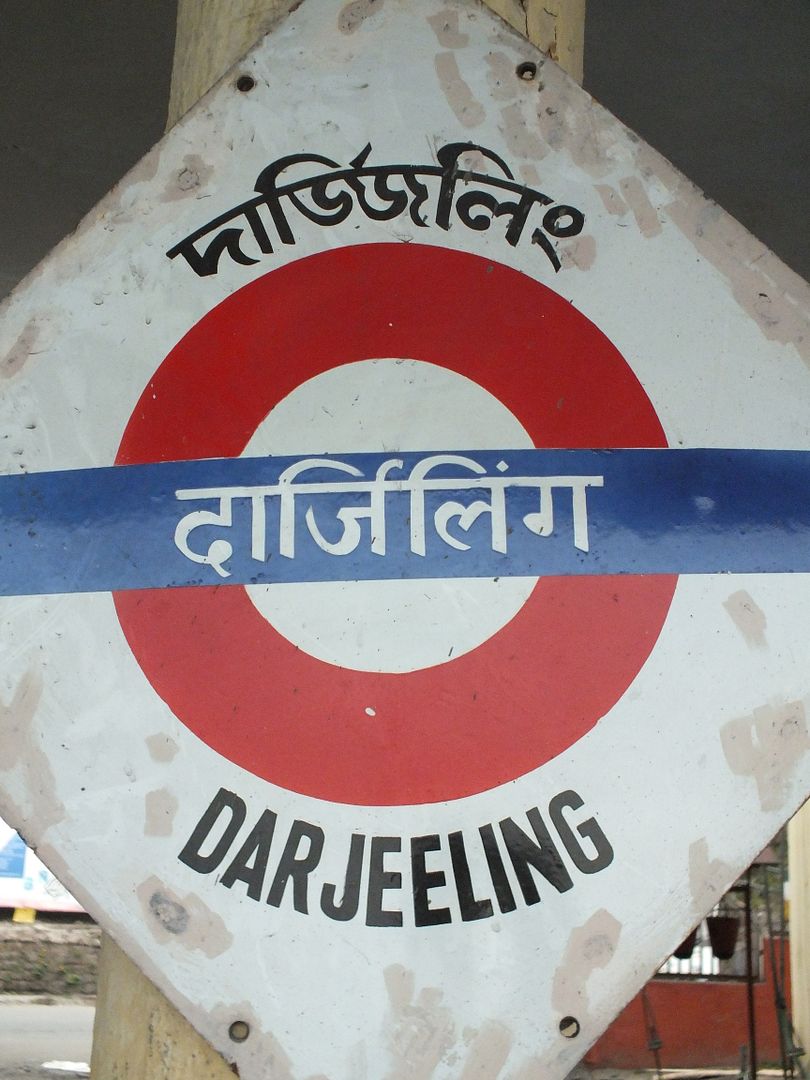 Ghum station, India's highest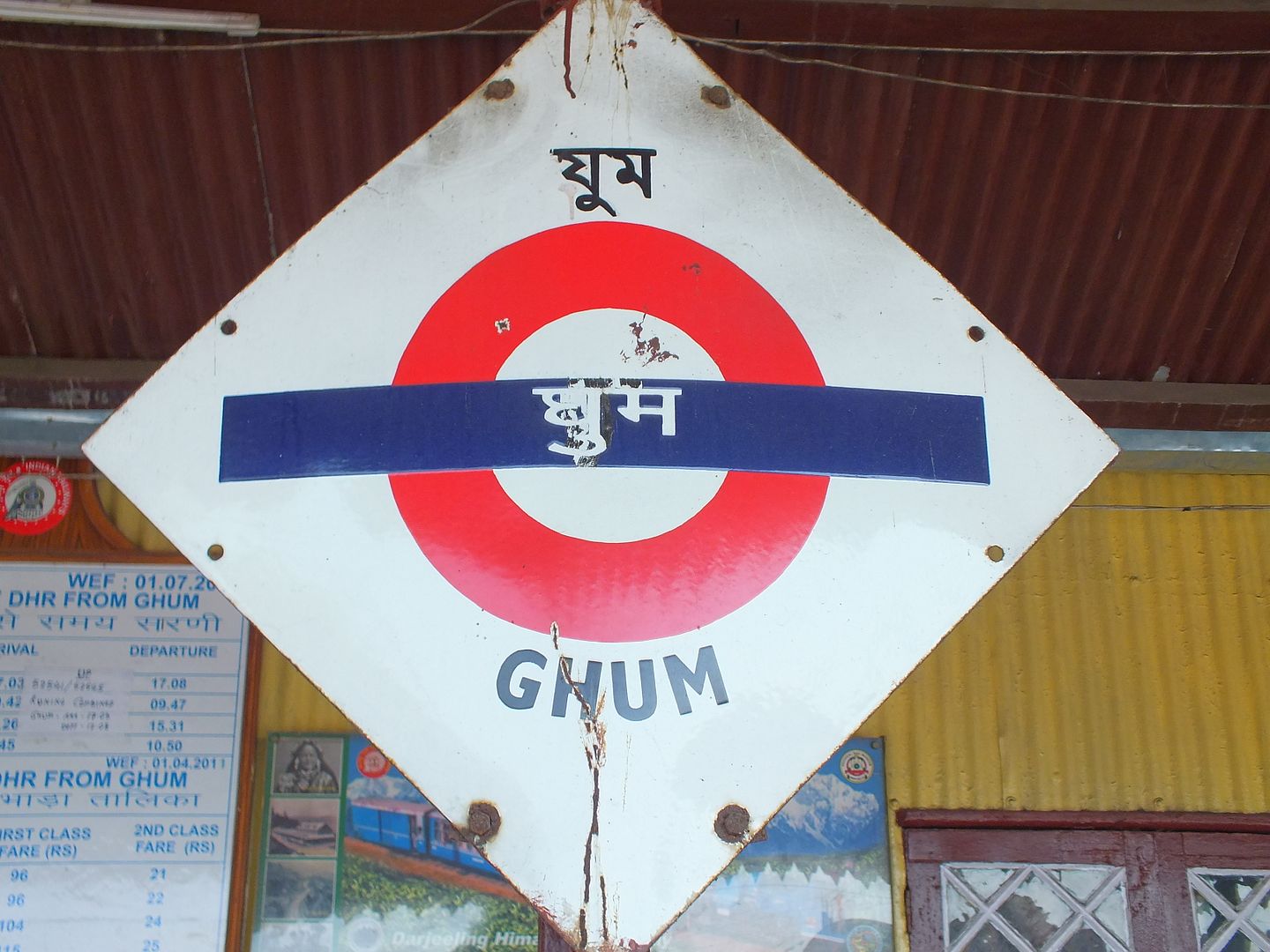 Ghum train museum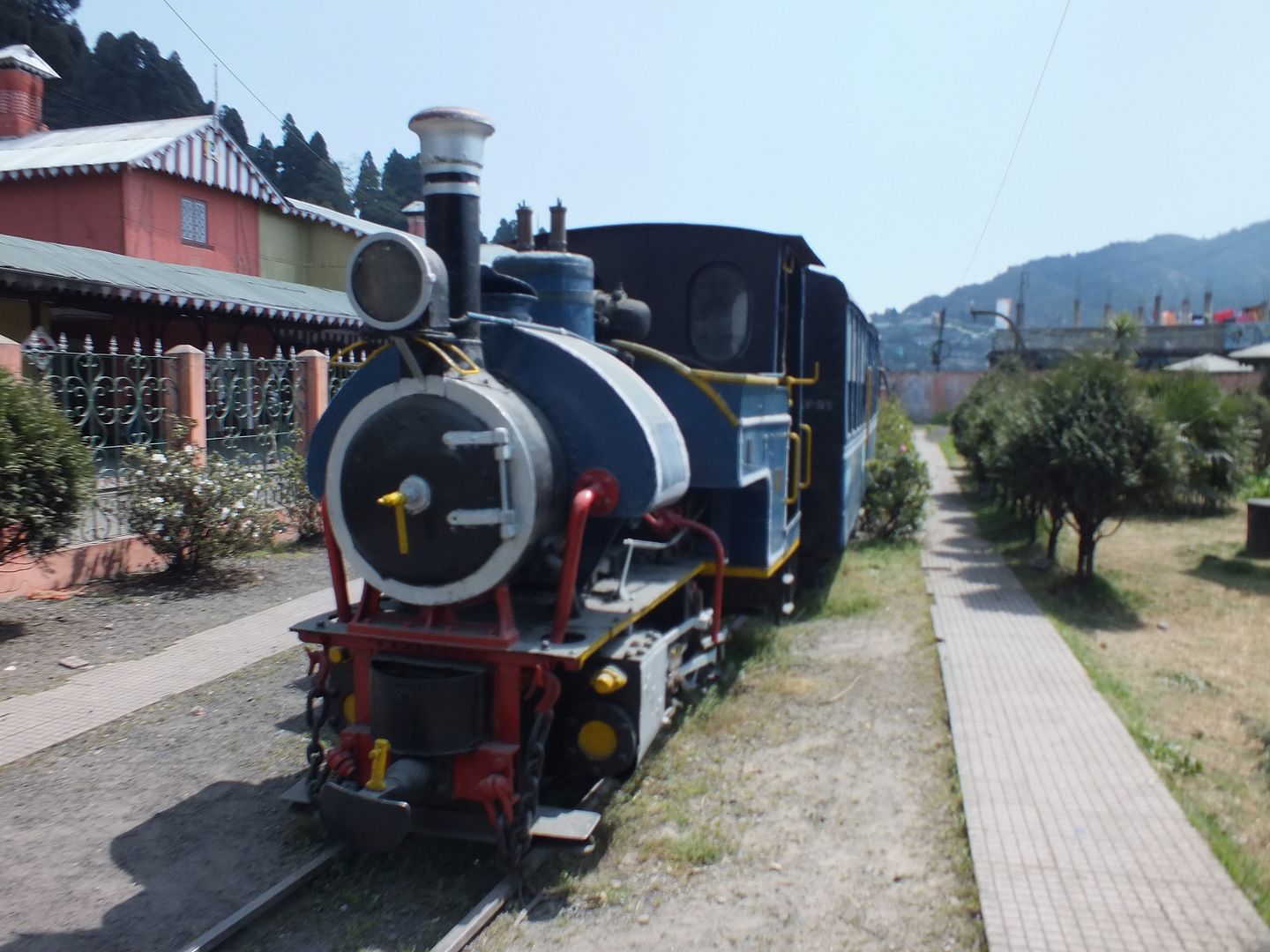 Here she comes!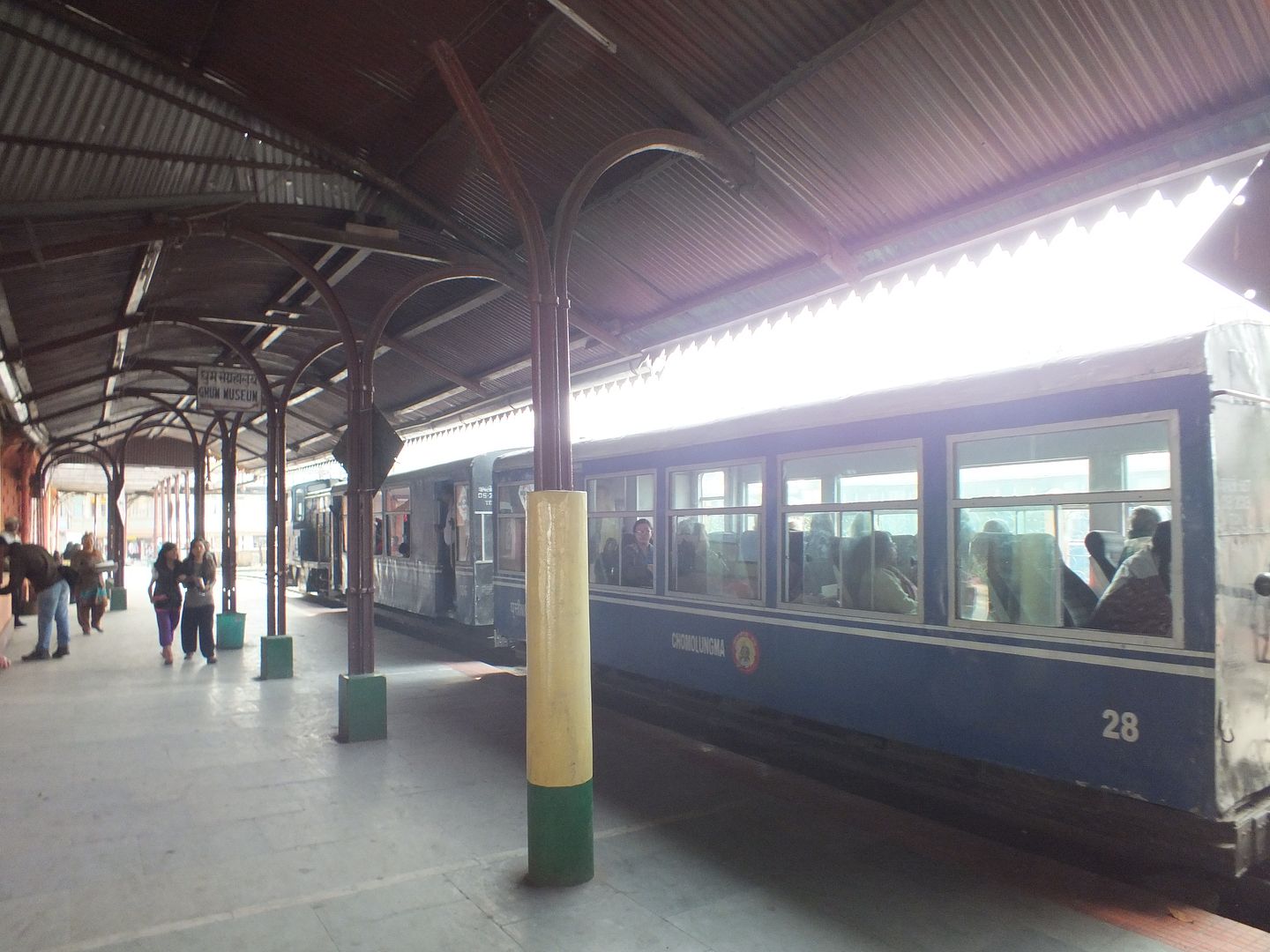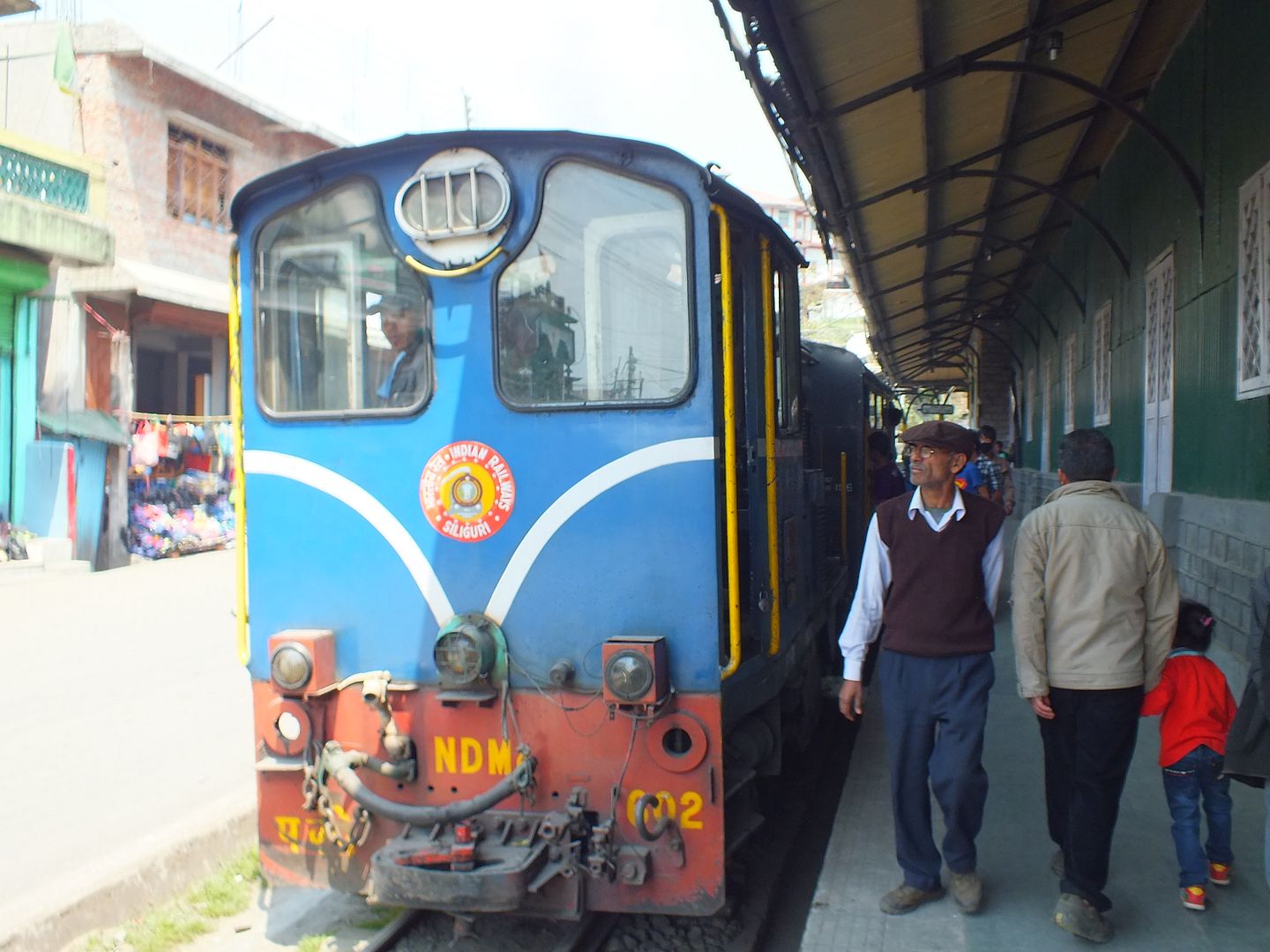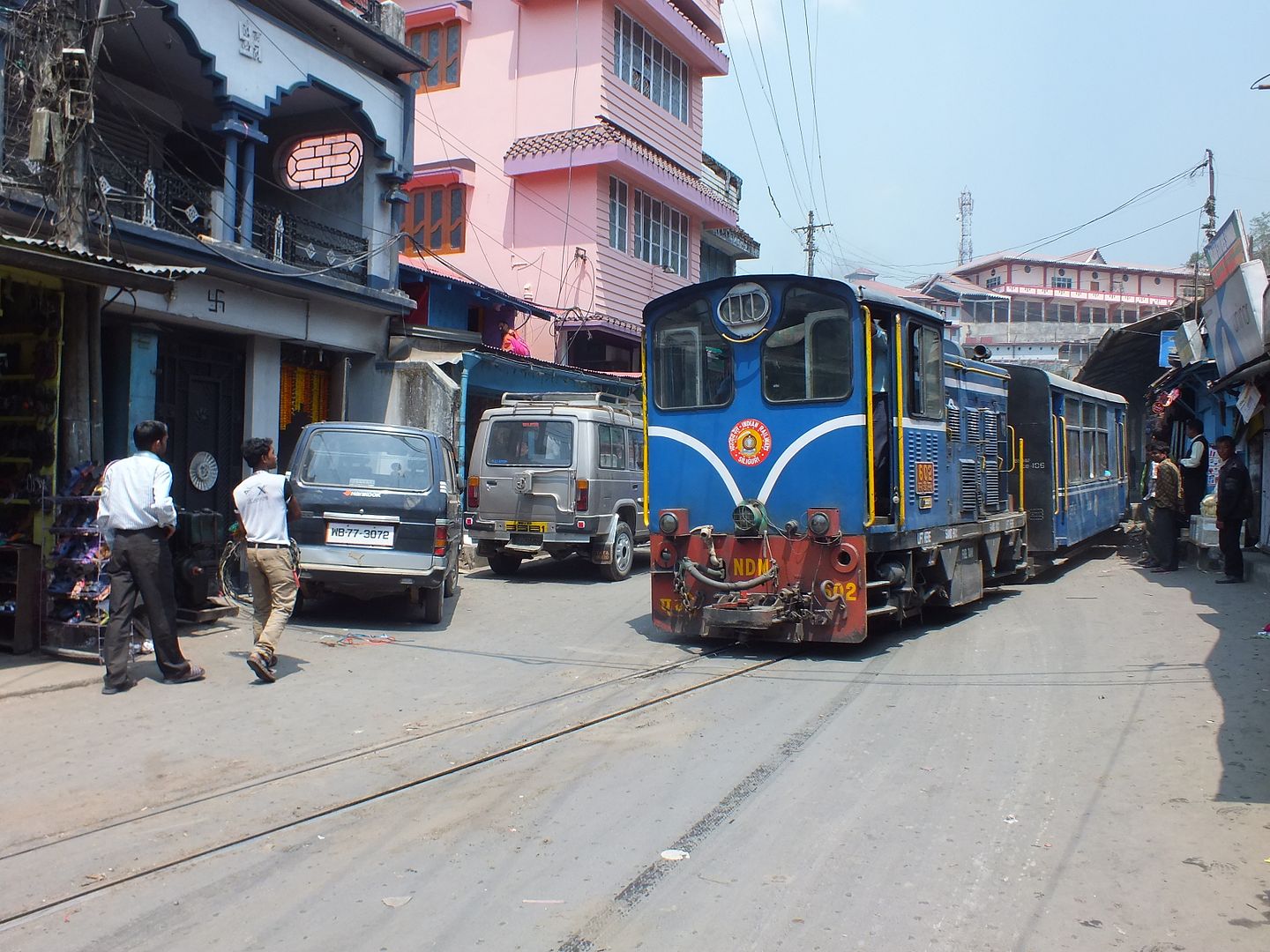 What is this exotic parade? Oh, it's just palm Sunday. How boring.
A monastery in Ghum
Funeral pyre ready to go
After 3 nights in Darjeeling, it was time to head back down the mountain, and re-join the heat and squalor of Calcutta. Traffic jam down….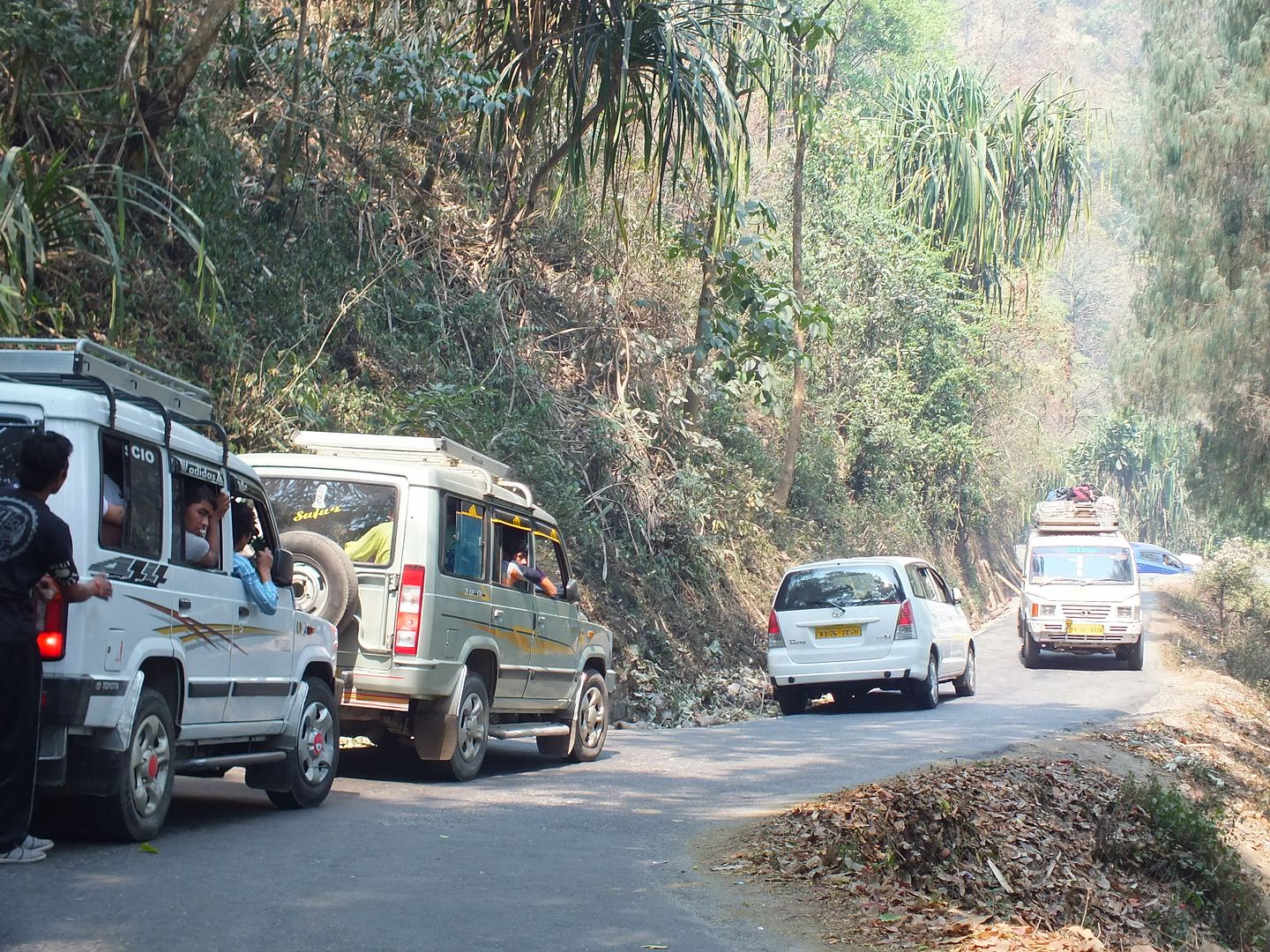 Back at Bogdogra Airport, I decided to get a print out of my itinerary form the Jet Airways desk, rather than hunt around in my bag for my print out. Seems my quest for a print out was worth it, as everyone with their own print out seemed to been sent to the desk to have it "verified" with a stamp.
Queuing to get into the terminal
There was a long swaying line leading to the Jet/Spicejet baggage scanner. It took around 15 minutes to get o the front. Fully expecting the person to question my vodka bottles, I was quite surprised when I was asked what electrical items I had in the bag. After a lot of digging around, the mystery object causing the lady so much distress was found….an AAA battery floating around on the bottom of my bag. Clearly the vodka issues only exit in Calcutta!
With my bag approved for airline carriage, I was proceeded to check in. this time I was actually offered a emergency row window seat, but declined it for a regular window, with the hope of being able to take some photos. Druk Air fly between Bangkok and Paro with a stop in Bagdogra apparently.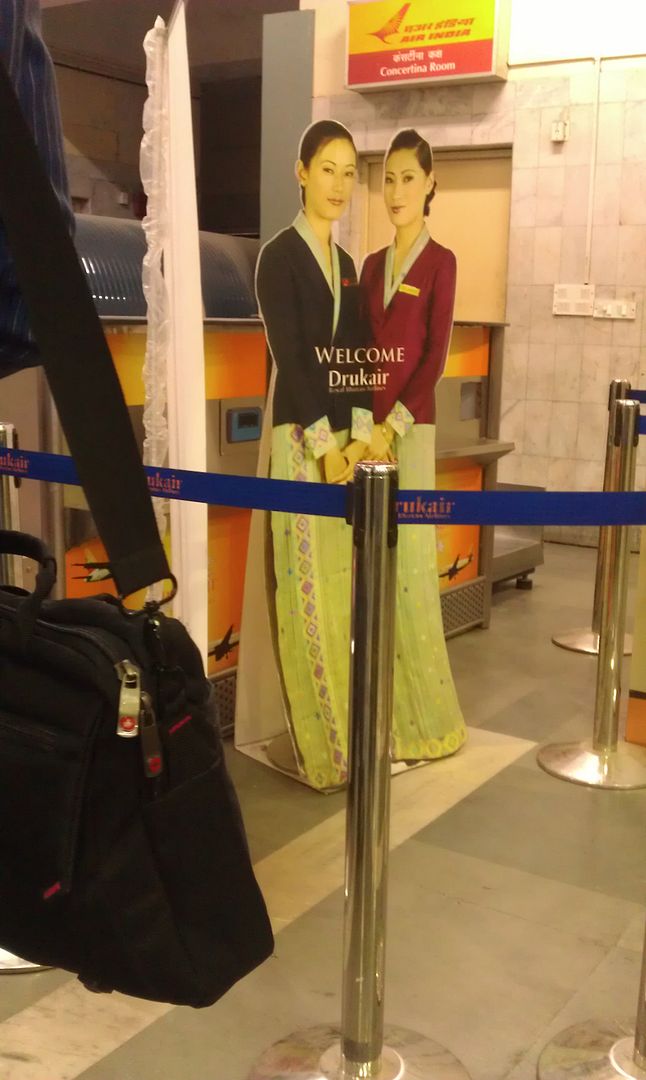 With my bags tagged, and my boarding pass issued, I proceeded upstairs to the nice tarmac view restaurant (no planes to be seen though) for some lunch and a lime soda.
With lunch eaten, I went through security (more hassles, and very slow) and into the departure lounge. When I saw a few other people taking photos, I seized the opportunity to take some too. Safety in numbers and all that.
The Jet Konnect flight to Delhi. The FAs on this plane wore the nice yellow jackets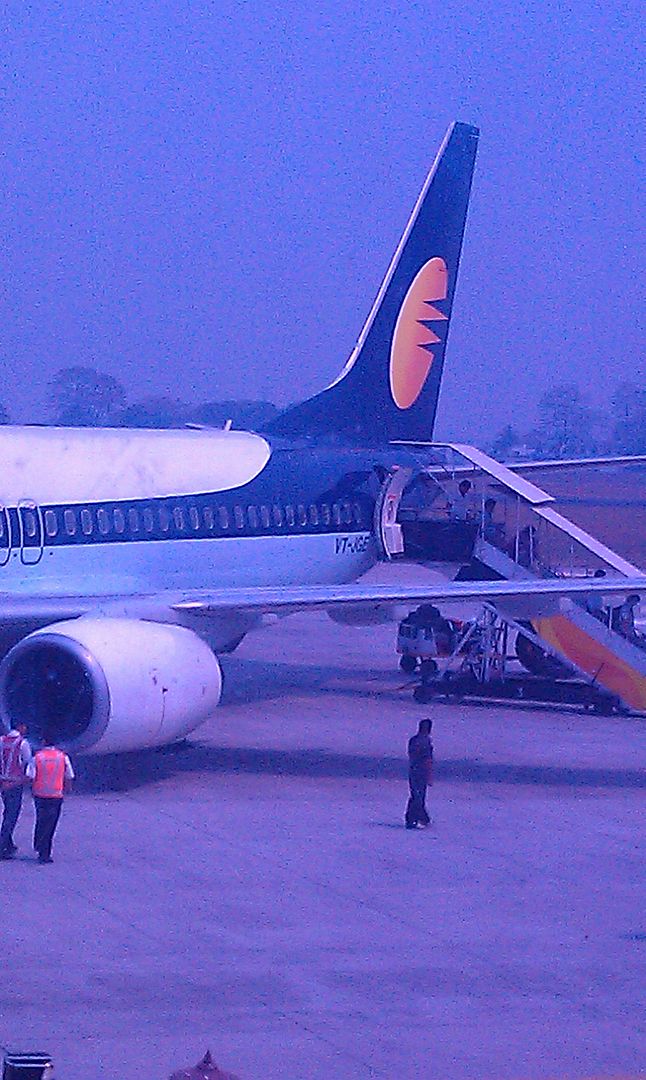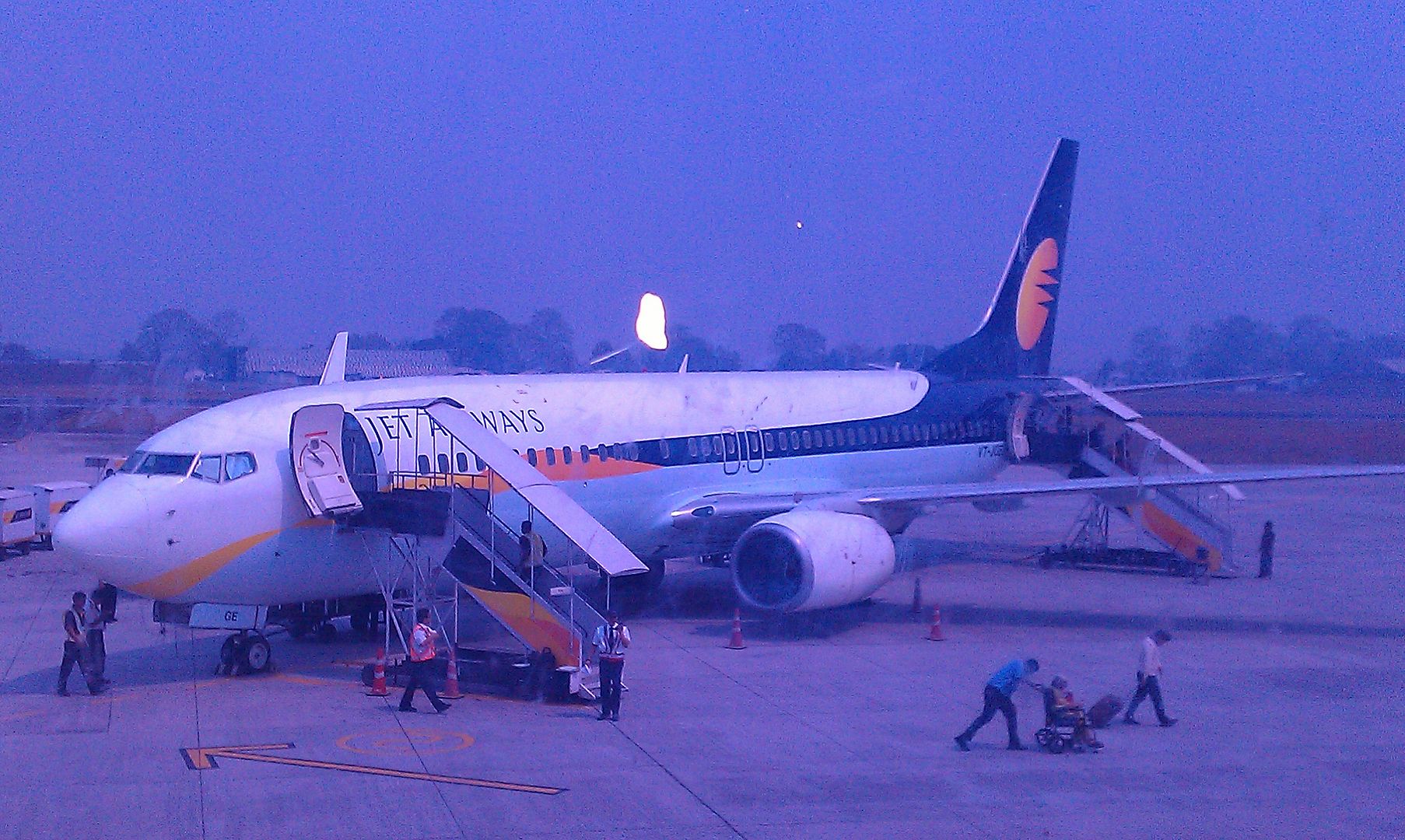 My Spicejet landing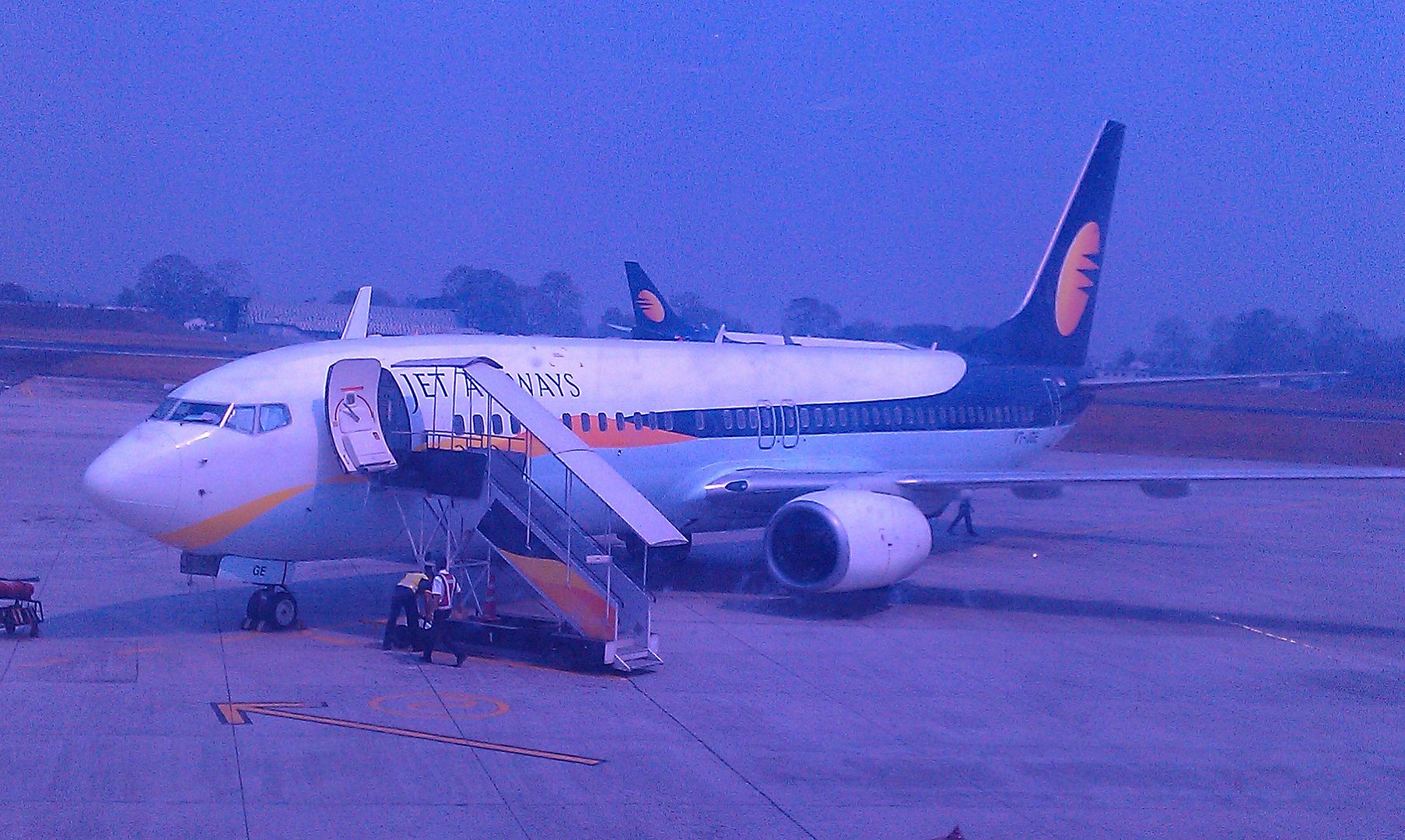 Departure lounge as seen from the Delhi queue. Yes, I joined the queue as there was no FIDS to check, and the announcement was incomprehensible other than "Jet flight……"
That's my plane!
Lovely Air India A321 – love their livery, shame they didn't fly the route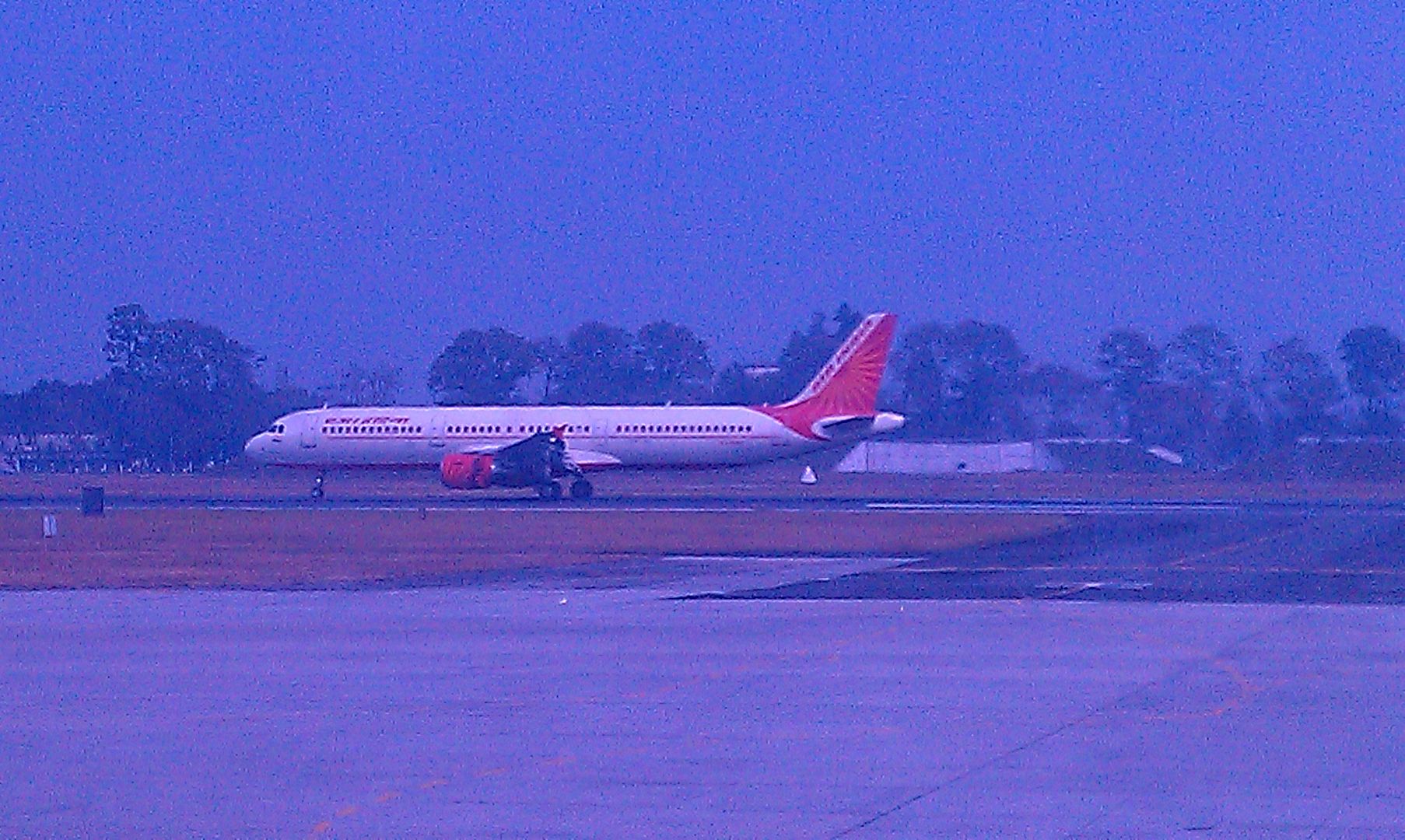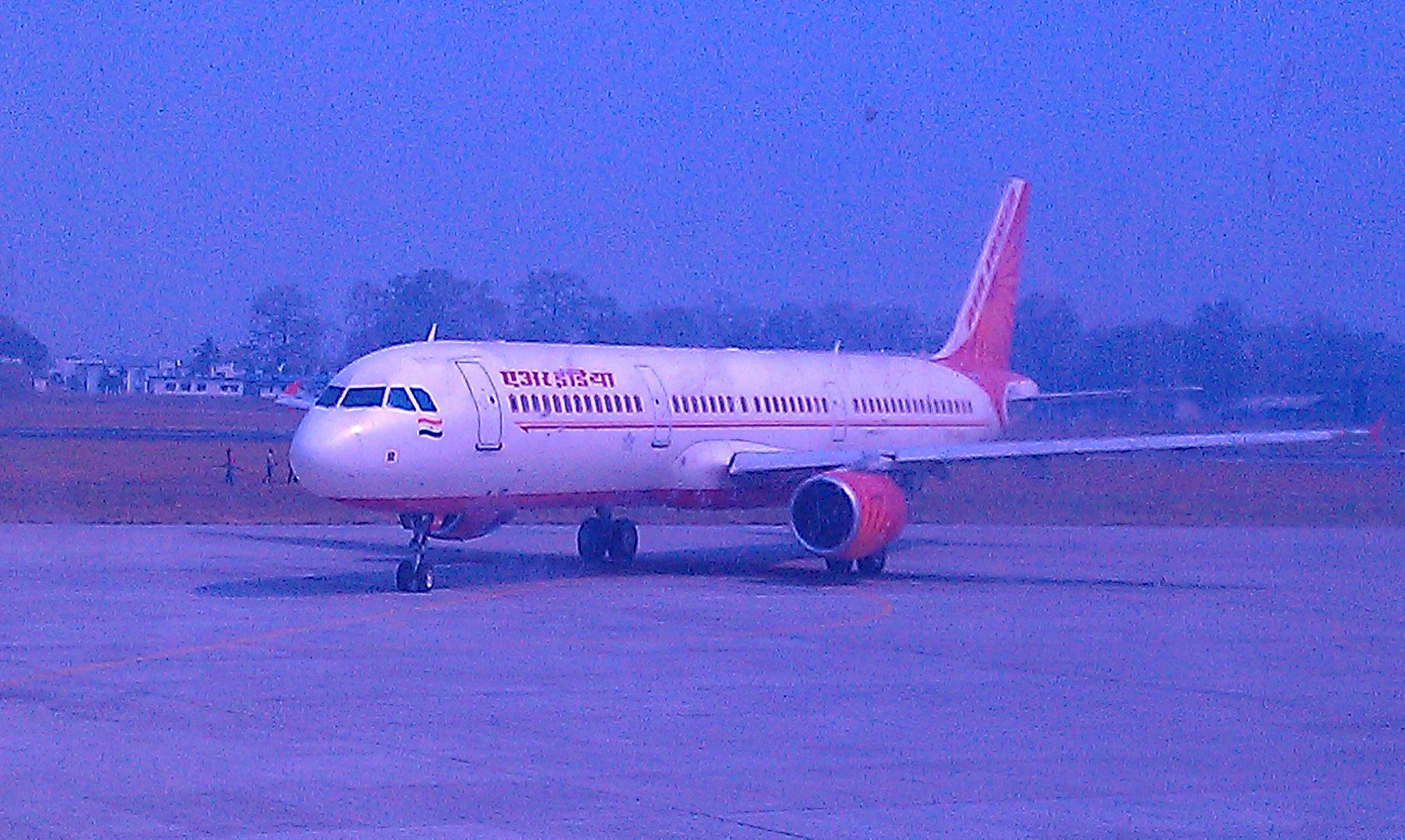 2nd time lucky!
After the tags on my bags were checked, there was a further check on the walk downstairs where everyone was frisked. Security was onerously tight. We were once again bussed to the plane. I was fortunate enough to be the first off, and up the steps.
April 2012
Bagdogra (IXB) – Calcutta (CCU)
Jet Konnect S2 3481
Scheduled: 1415-1515 (1h00m)
Actual: 1421-1512 (0m51)
Boeing 737-900 VT-JGJ
Economy
I had higher expectations for this quasi Jet Airways flight. The staff were an enormous let down through. There were two FA in the F class galley – neither acknowledged me.
Cabin
On my way down to my seat, a "lady" FA (not wearing the nice yellow coat) pushed her way past. Nice.
The Jet Magazine
Jet network
Much larger domestic network of Jet Konnect. Interesting how they have switched from being a full servicer carrier on all routes, to a majority no-frills carrier.
Fleet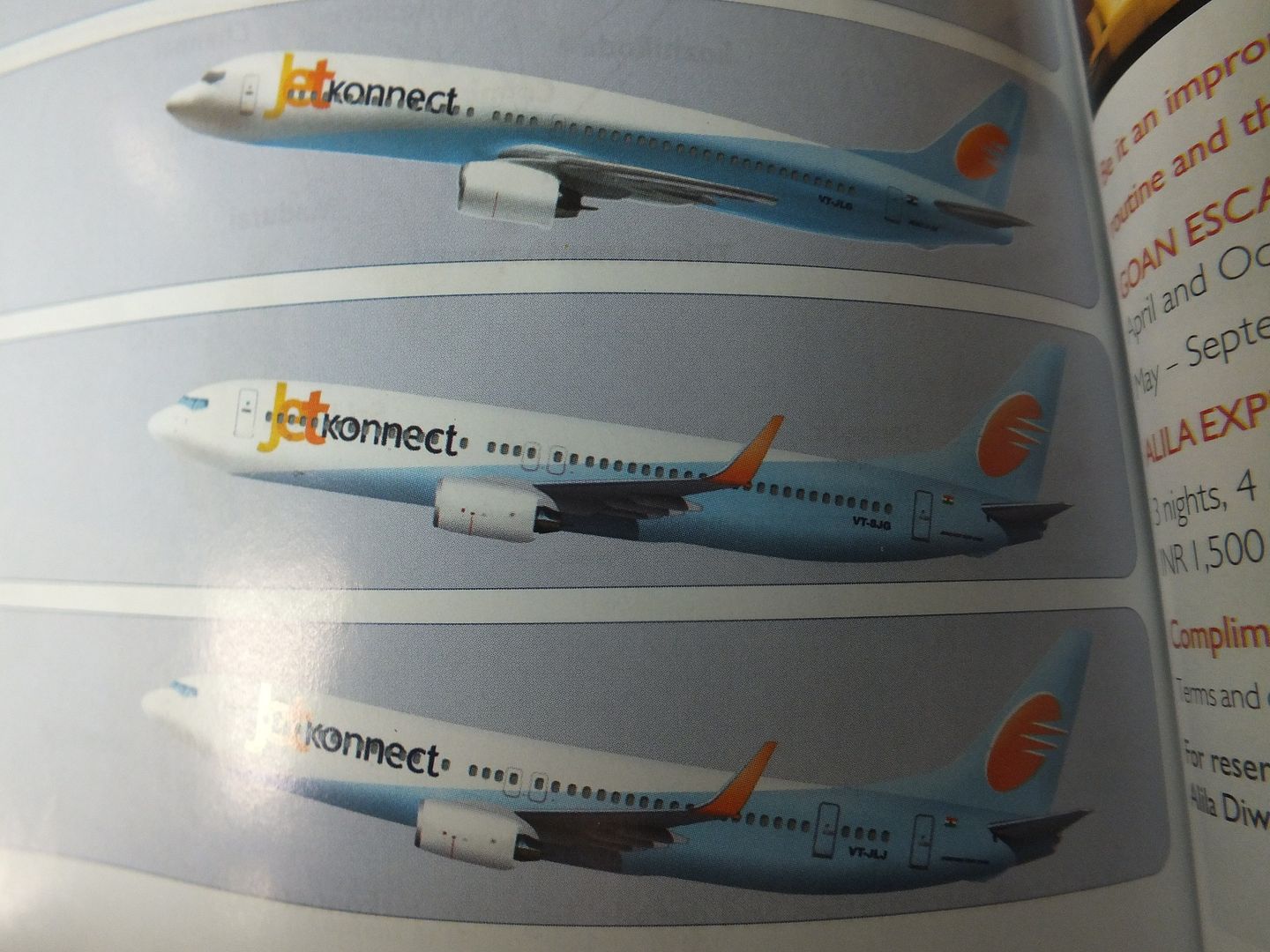 The F cabin on the 77W – I'll be on one of these operated by TG in a few weeks
Jet Café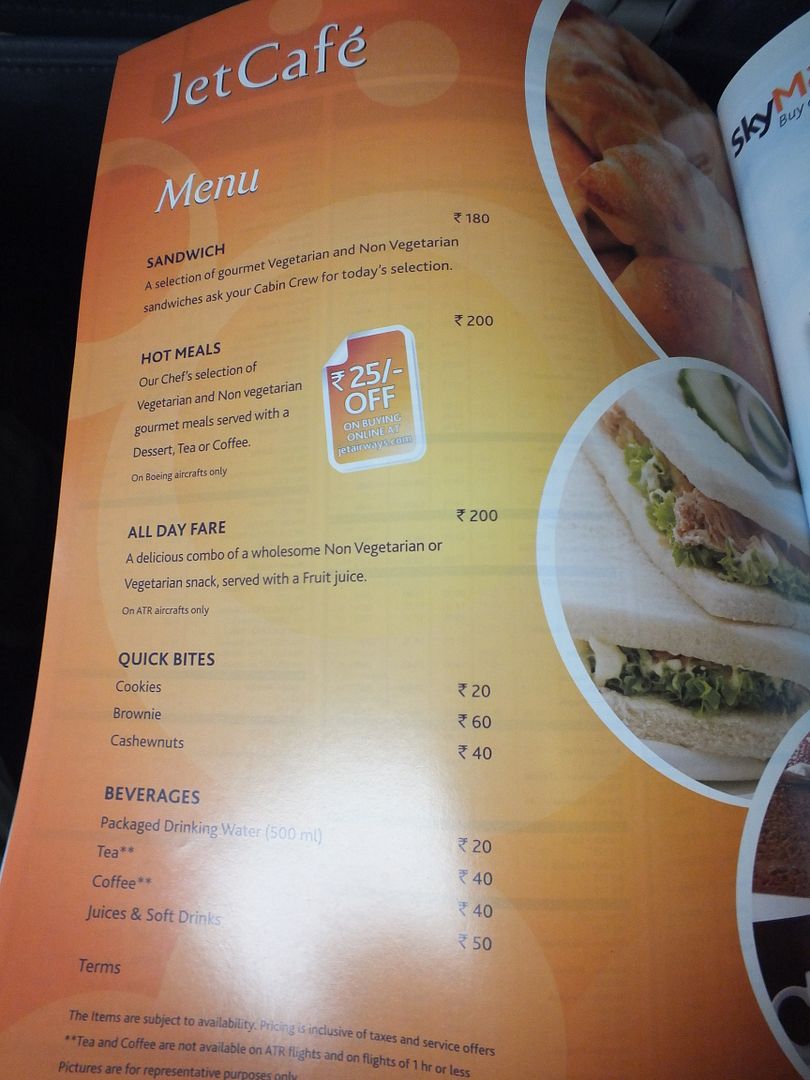 Boarding underway
Tarmac. The guy in the aisle seemed to take offence at my photo and told me not to take photos
Taxiing past the terminal
This was the last photo I got before I was again reminded by the angry guy on the aisle not to take photos.
Cruising over the plains of northeast India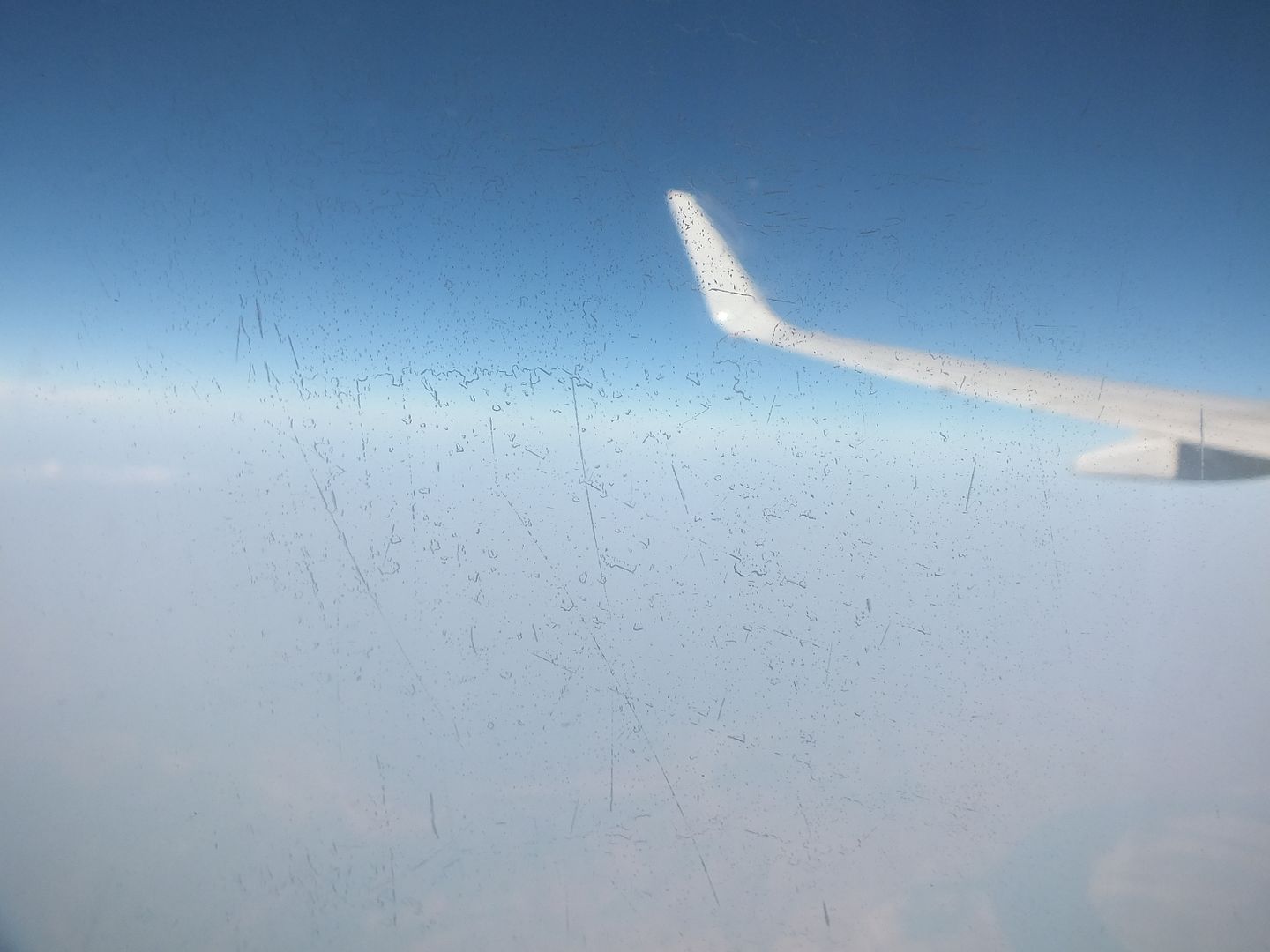 Unlike on Spicejet, Jet Konnect offer free water – it was a bit hard to get the crew's attention, however. This crew were about as bad tempered and suited to front line customer contact as Spicejet.
Approach to Calcutta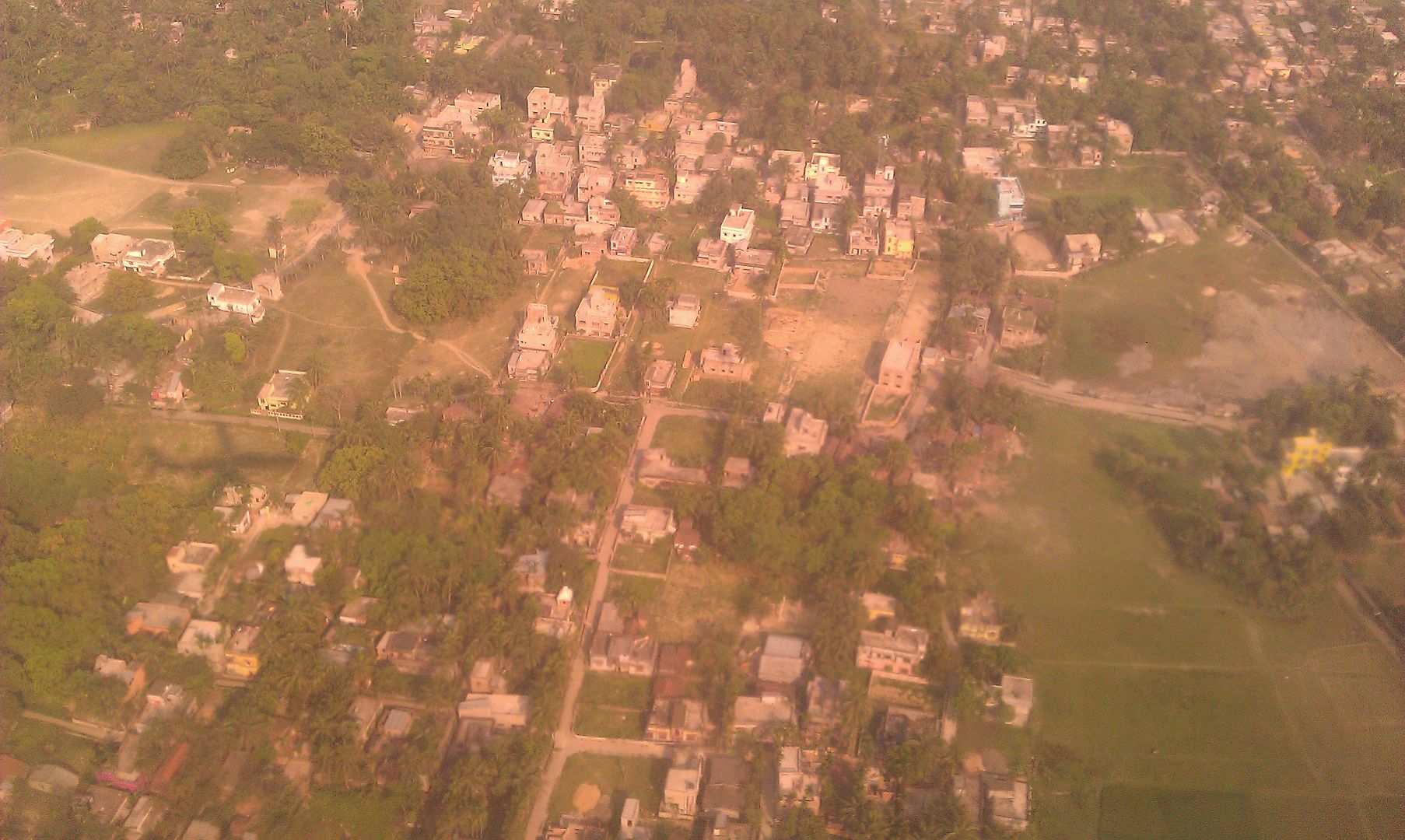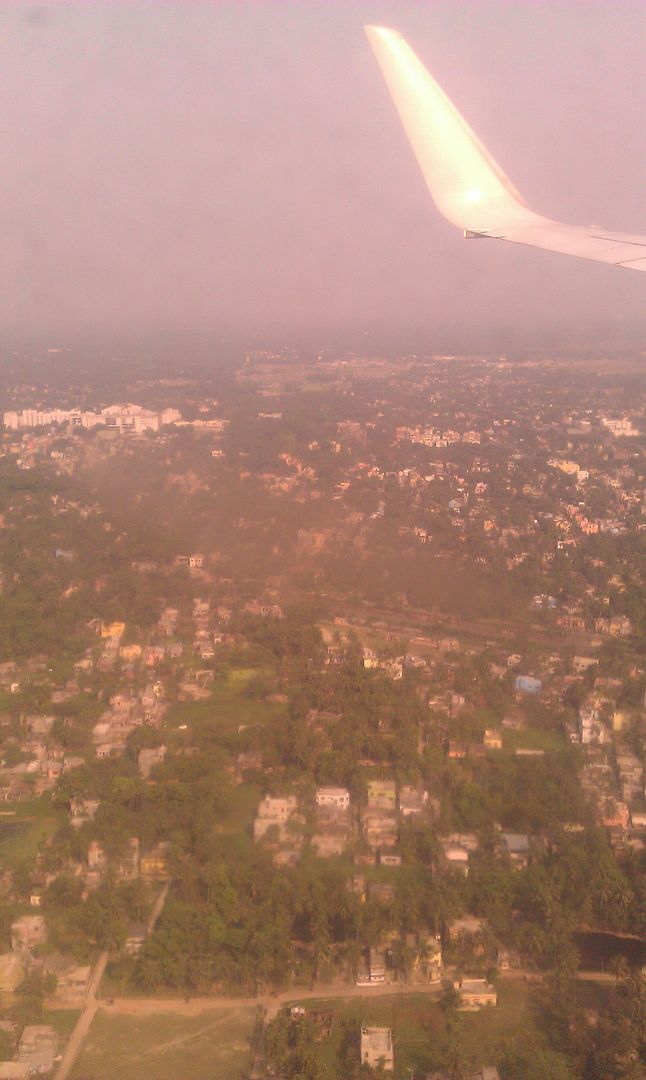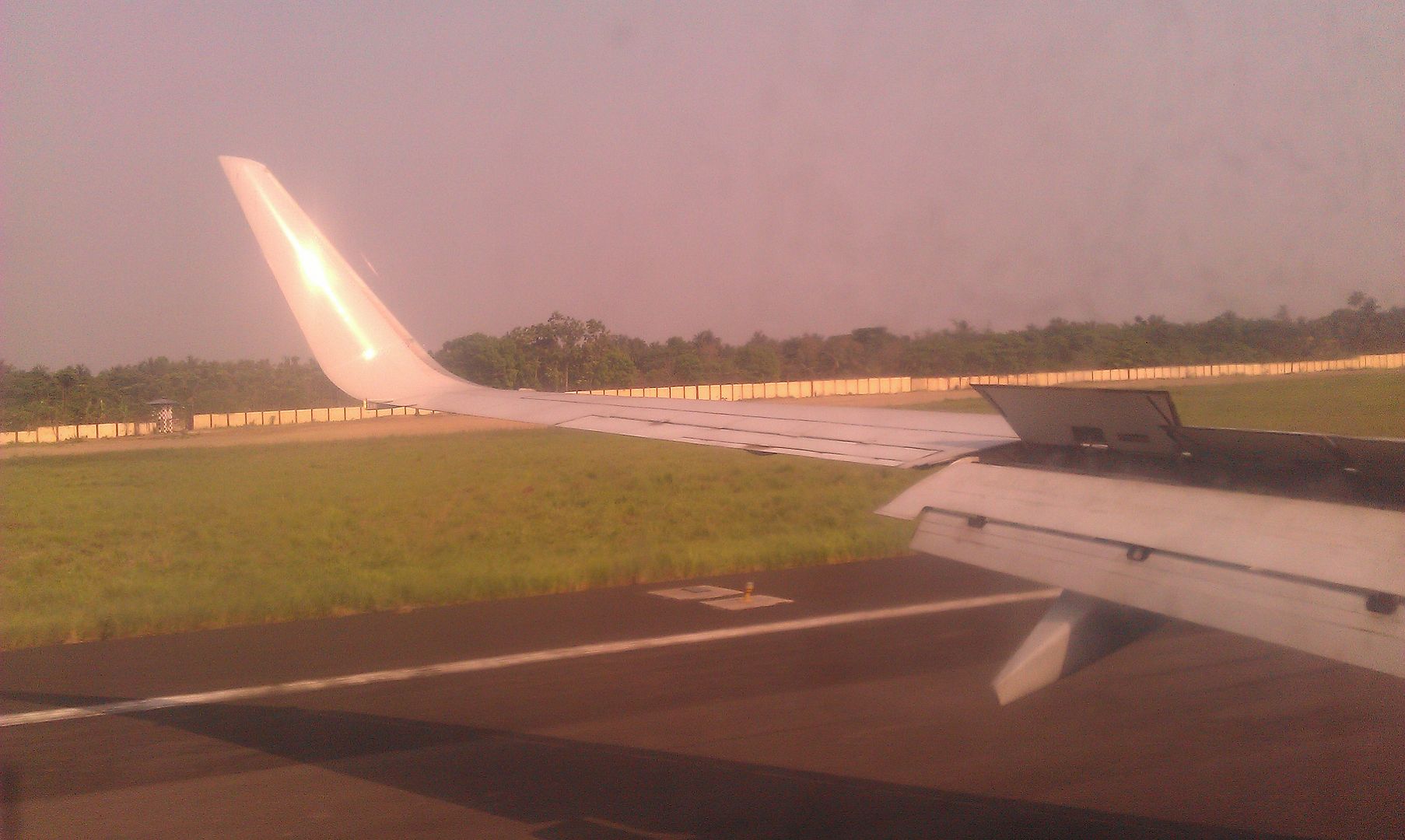 The new terminal in progress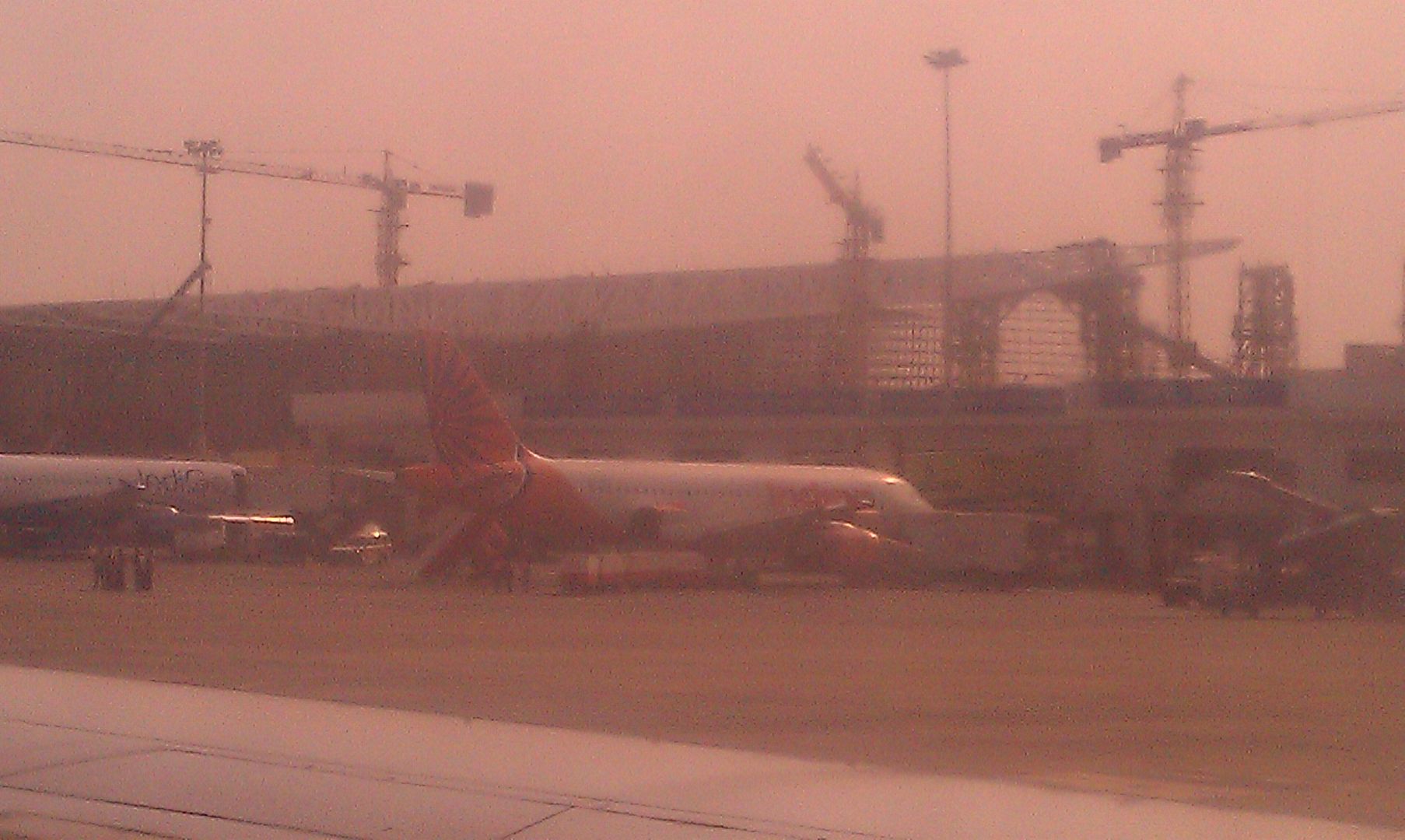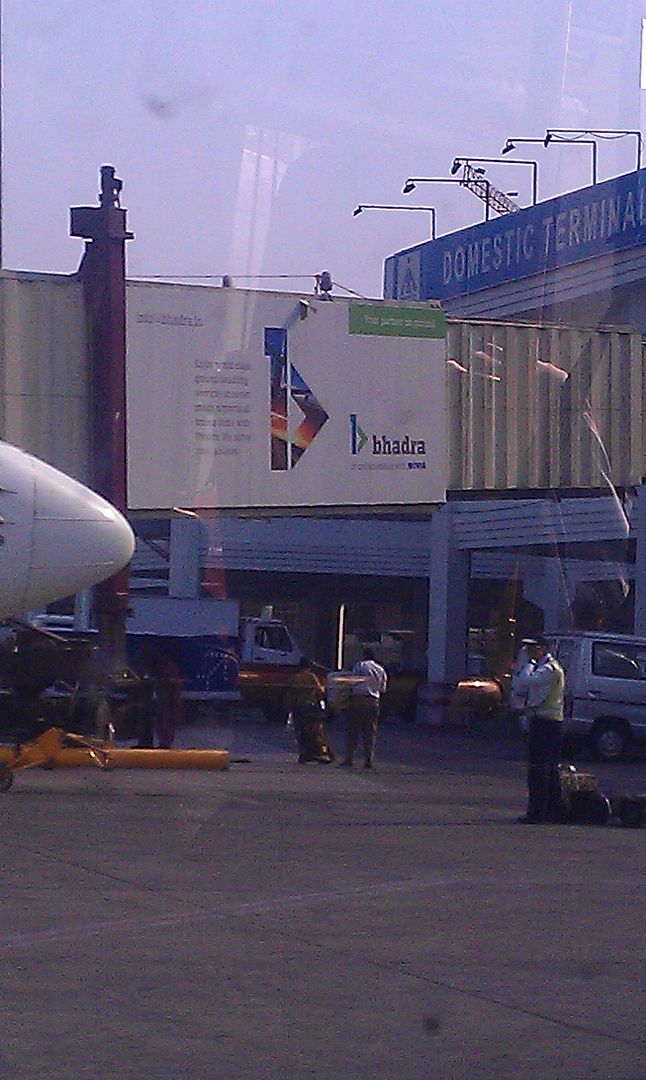 My bag doesn't take too long to arrive. The domestic arrivals area is much more spacious than the international terminal.
Now accustomed to Calcutta, taxis are getting a bit easier to organise. This time I'm lucky to get a taxi with a comfy seat, although the driver has no idea where he's going…
I've prebooked tonight accommodation via Hostelbookers as it looked like the place had a bit of character, something lacking form the Expedia hotels. Indeed, the Bodhi Tree is lovely – a Buddhist retreat in the middle of the city (albeit in the far south, so a bit far from the action).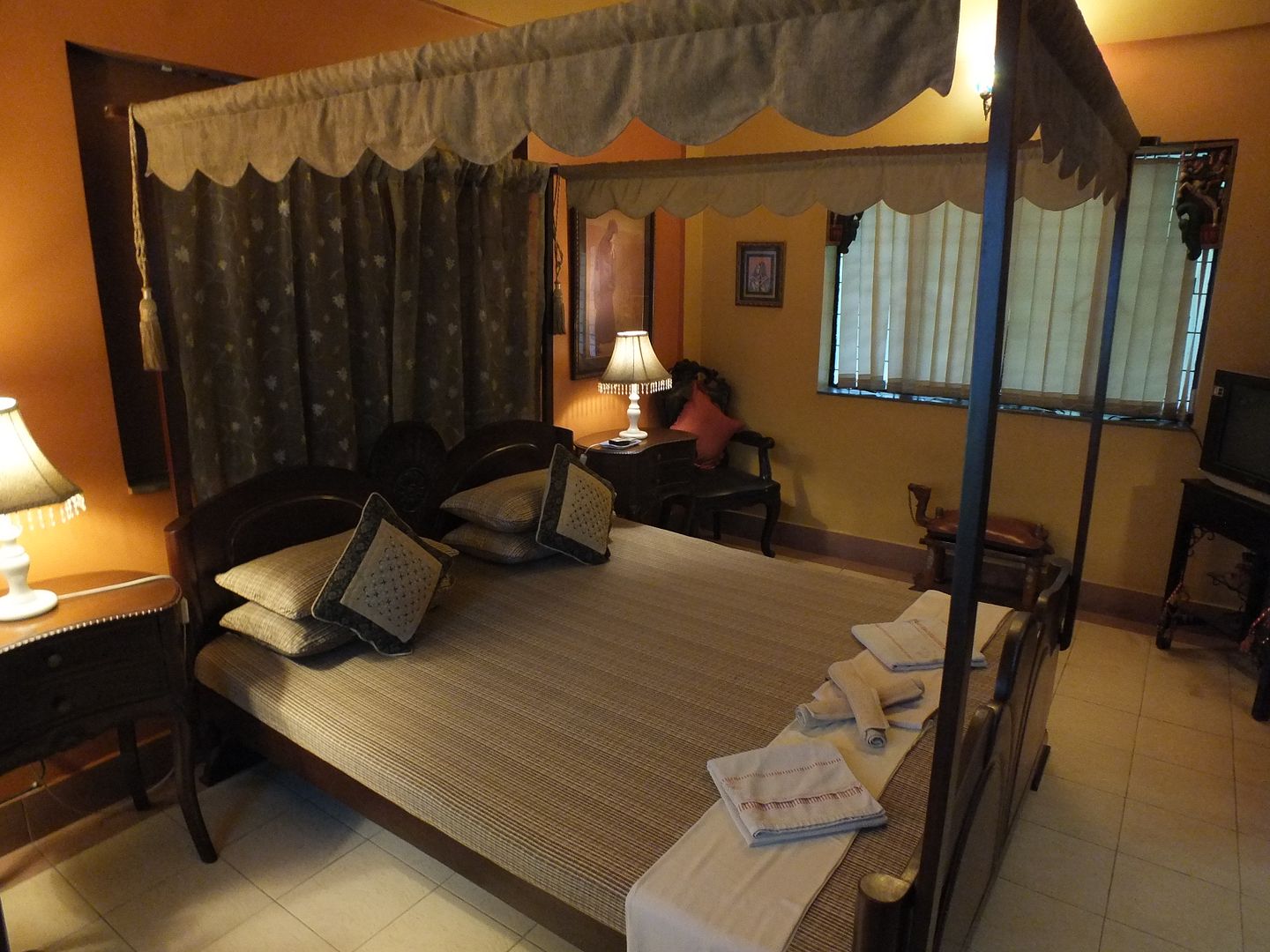 I head out to the Bawa Walson Hotel to pick up some stuff I left there before Darjeeling, and have dinner in a place nearby…my first lassi!
I then take part in a quintessentially Calcutta activity, taking a ride on a 100% man powered rickshaw. Apparently, Calcutta is the last bastion of this sort of transport. Needless to say I was overcharged (for being a tourist), and give him a tip. For the record he wanted about $1 for the 10 minute journey. It was quite the ride.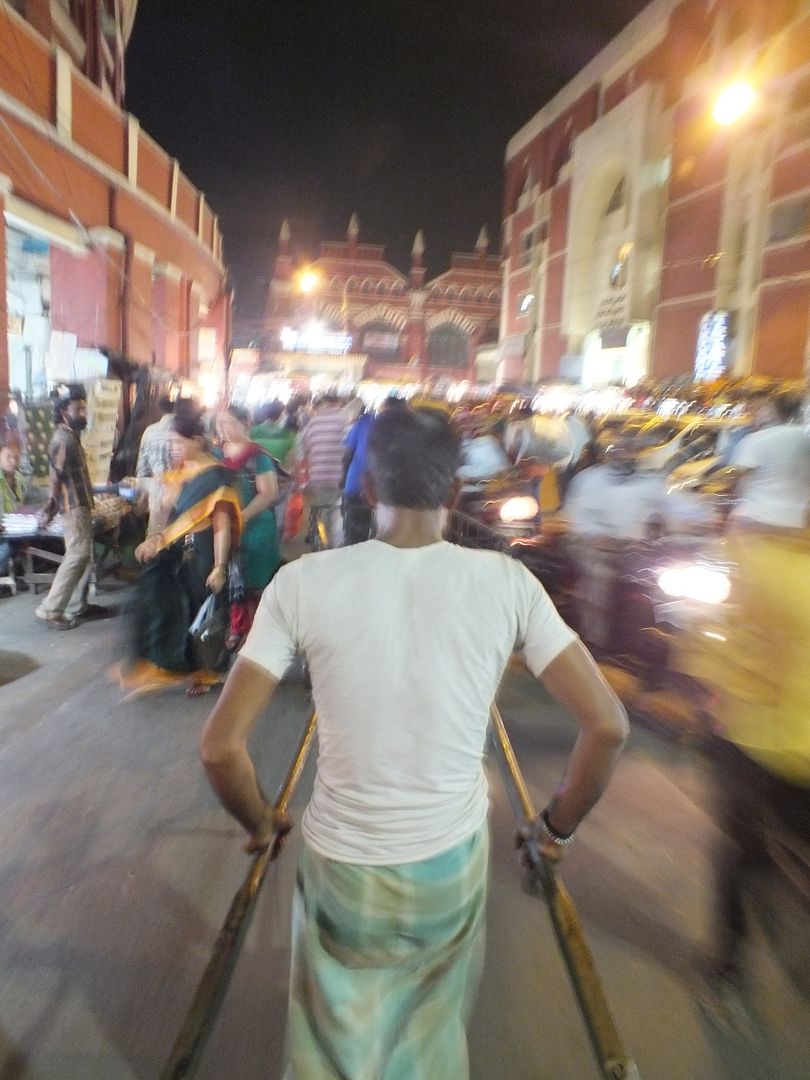 And no shoes!
Whilst it's hard to say that these jobs are suitable for people to do, banning these rickshaws will simply make more people destitute. It's the same as legalised child labour. If it's legal, the children can work in registered factories etc. If it's made illegal, the children will still have to work, just in unlicensed factories , and without any protection….
It's my last night in India, so time to start the book I should have read before I came, with a Kingfisher in the Buddhist garden.
So, what did I think? Flying in India is a right hassle, much akin to travelling in the USA. However, even the Americans aren't as continuously as pointlessly as anal as the Indians when it comes to applying bizarre and archaic rules. A few touches of common sense could go a long way. How about using some of that tensa-rope stored in the corner to make a proper area for people to queue, rather than make with own zigzaggy queues all over the place? Why not spend a few hundred pounds of a proper set of FIDS rather than those virtually useless flip boards? Why are the staff so insistent that you don't take photos? I mean any spy worth their salt would have something a bit more high tech to record their flight than a SLR, right?
And Darjeeling was a nice break from Calcutta. It was fantastic to catch up with my friend in his hometown as it had been such a long time since I'd last seen him. It's just a shame the mountain views weren't a bit clearer.
So, if you like flying in an atmosphere of fear and never ending queues, do some Indian domestics!
All comments and questions welcome!
Some of my other TRs:
Part 2: Valuair/Jetstar Asia SIN-MES and Garuda MES-BTJ
Part 1: U2 LTN-BCN, SQ BCN-SIN 77W Business
Africa Part 7: British Airways Club Europe B767, LCA-LHR
Africa Part 6: LX ZRH-ATH, A3 ATH-LCA. A Greek Tragedy
Africa Part 5: Dar es Salaam – Nairobi – Zurich with Swiss First
Africa Part 4: Fly 540 DAR-ZNZ in Y, and Zanzibar photos
Africa Part 3: ET KGL-EBB-ADD-DAR-ZNZ, A to Z with Ethiopian Airlines in C
Africa Part 2: SN BRU-BJM, SA BJM-KGL, Business to Burundi and Rwanda
Africa Part 1: BD LHR-CMN, TP CMN-LIS, SN LIS-BRU in Y and C
A.net meeting in snowy Tallinn. U2/FR STN-TLL-LTN
easyJet and bmi up to Aber