Dear fellow A.Netters, welcome to my latest set of travels.
The route planner looks like this
After having achieved a flight on the Korean Air A380 in 2011 I my sights turned to the latest operator of this huge machine, China Southern.
Unlike previous A380 flights, this would be a first for me, flying an A380 on a domestic route.
I set up Kayak up to keep me informed daily of flight costs to various destinations in China and the surrounding areas. I had initially planned to take China Eastern to PEK via PVG, however it dawned upon me I could actually get to PEK via HND on a 787, assuming the things we actually delivered!
Given the uncertainty of the 787 deliveries and if services would actually happen, I took a while to book it, but eventually on January 21st I bit the bullet and bought the tickets on LH.com, they were significantly cheaper than booking the same flights through ANA.
Once booked, a raft of other bookings followed to get me where I needed to be, funnily enough the main object of the trip was one of the last flights to be booked.
To visit China you of course need a visa, rather than take a day off of work and head to London, I enlisted the help of Trailfinders to sort the visa for me, whilst not the cheapest way of getting one, they are efficient and a few days later I had my visa.
Fast forward to February 22nd.
Mrs BA319-131 was one again kind enough to drop me off.
Terminal 5 today as BA were taking me to FRA the night before.
There are two flights that leave LHR with sufficient time to check-in for the flight to HND, but I figured a slight delay and I could be in trouble, especially as they were on different tickets, so I felt it best to get there the night before.
I had used some IHG points and secured a room at a Holiday Inn which was located close to FRA.
Check-in for BA914 had been done early in the day on my phone, security was quick and painless and there's was no queue at the money exchange in the BA lounge, all good.
I decided to visit the South lounge today, I'm usually in the North since 99% of the time the BA domestic flights operate from the gates below it, I spend quite a bit of time heading to Scotland during the year.
Validity of my access checked and I'm welcomed by name to the lounge, I've noticed the use of name increasing as of late, is this a new customer service enhancement?
The lounge is quite busy, as usual the decent window seats taken by people completely disinterested by what's outside them.
A few nibbles, drinks and after locating the ice cream, it's quite hidden, I was off to gate 6 for the flight, typical, right under the North lounge!
I'll spare you the flight details, you've read enough BA TR's! - left early, landed early, a few G&T's, nice flight.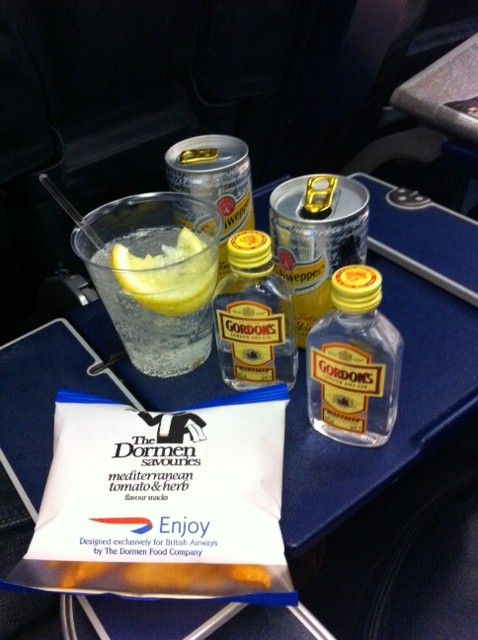 And outside to wait for the shuttle to the Holiday Inn Frankfurt North.
No idea why, but I got up at 06:00, seemed like a good idea the night before, the journey to the airport was what, 5 minutes? - oh we'll, here is FRA lower level at 07:05, a tad chilly but quite refreshing compared to the stuffy hotel I had previously been in.
Lots of flights on the board but I'm here too far ahead for my flight to appear yet.
I had a look at the LH self service check-in machines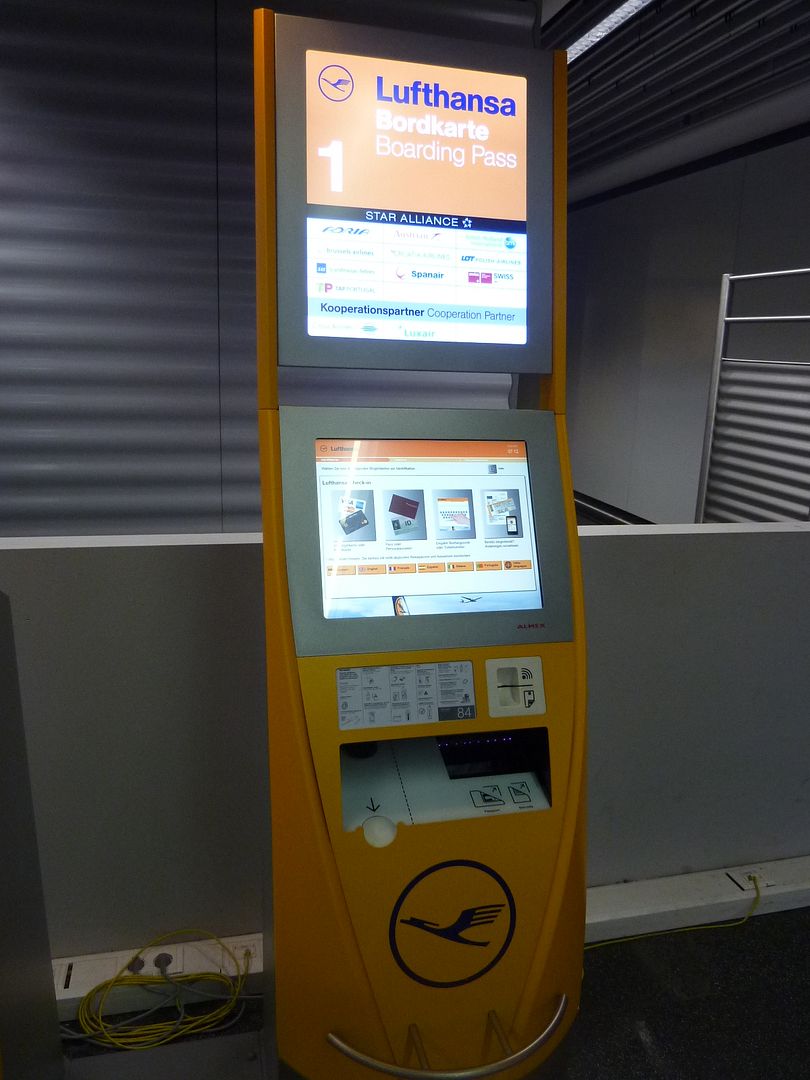 No use for my flight today though
The Lufthansa travel shop, nothing I fancied here today and what I did was too expensive.
I decided to wander around and see if I could find a Starbucks…………..
No luck in T1 (though I later found one lurking close to the B gate area) so I headed over to T2 to check there plus I could have a look outside and see if I could see her.....
Yep! There she is, I was a bit slow with the camera, but there in the back behind the US Airways A330 tail she sits,JA805A, at this time of writing still the only international configured 787 flying.
Being the only one, I had been concerned with here going tech, as had happened on a couple of occasions, but today, looks good so far.
Not much going on in T2, no Starbucks either, so decided to go to McDonalds for a small brekky, not for the food you know
but because of the big glass windows with views outside, though rather dark when I first appeared.
It's was quite murky outside, not much activity either so I nursed the coffee before heading back to T1, I figured that check-in would be opening soon.
On the train back I managed to get some better pictures, well not much but I was ready this time!
These were taken with my trusty Panasonic DMC-ZS3 rather than a proper DSLR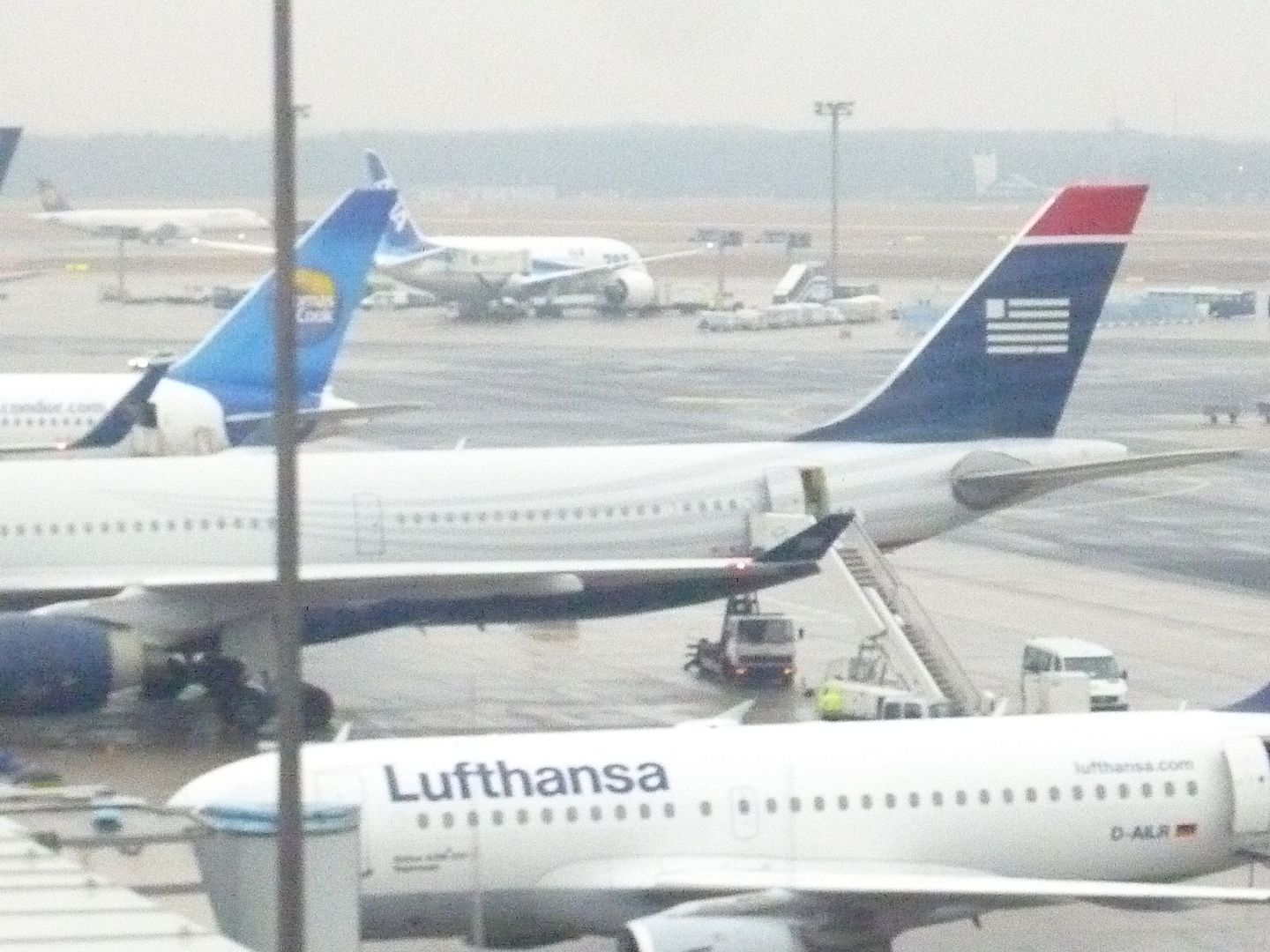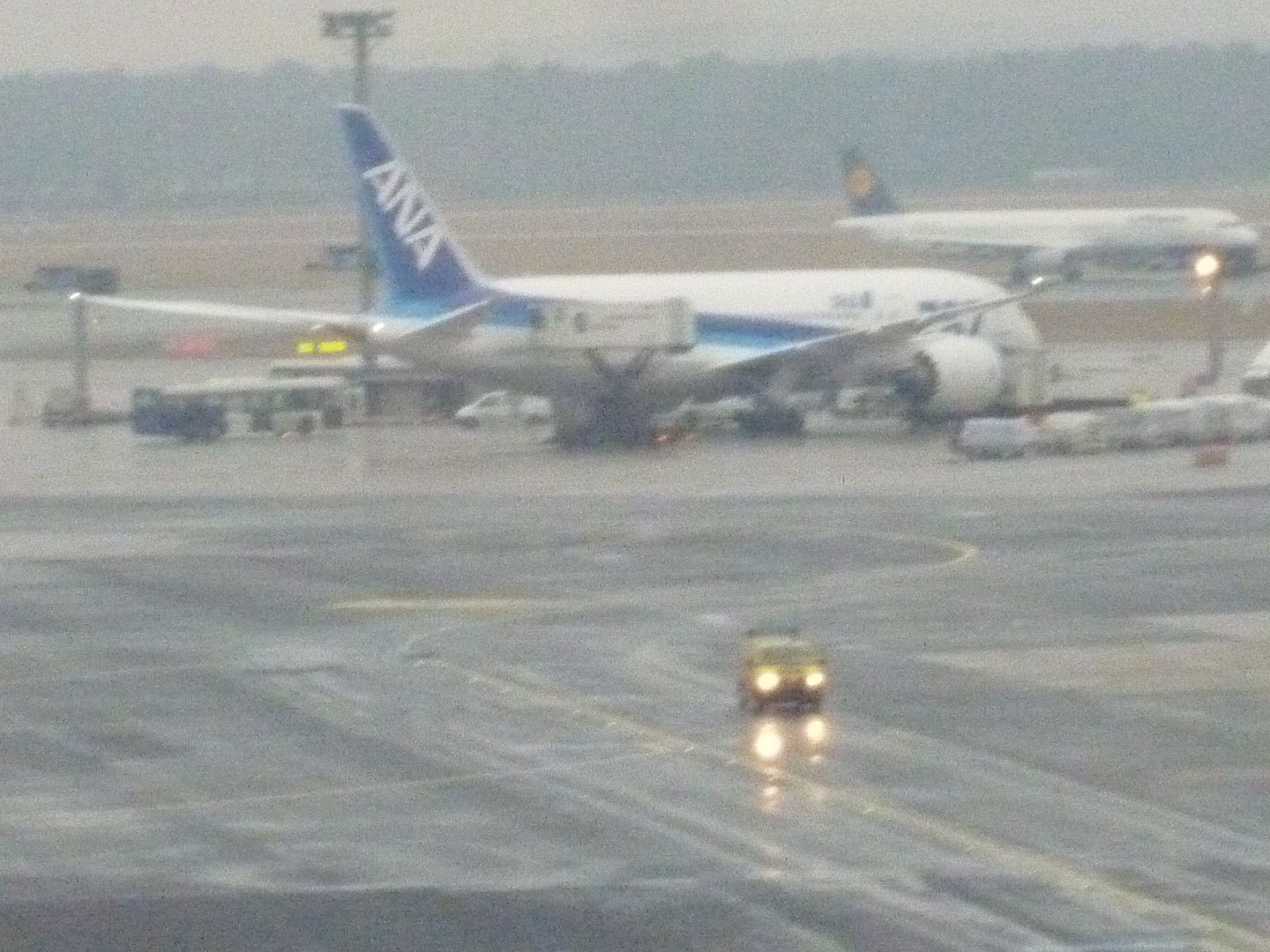 Back in T1
Not a bad looking motor, for an Opel!
The ongoing strike is still affecting FRA operations, with the worlds economy in the state it's in, people should be thankful for a job, not looking for more money and benefits, wait until things improve and don't hold innocent people to ransom over it! – ok rant over!
heading over it was indeed open but quite deserted, though had 3 counters open, with no body ahead I was seen to straight away, a welcoming good morning, passport checked and moments later by boarding pass appeared with 29A still allocated to me.
I planned to take a picture of the check-in desks but there were so many staff and no customers, it just felt kind of wrong.
ANA 787 advertising in the terminal.
With plenty of time ahead and nothing much to do I headed through security, this was quite a painless affair, I was through and airside, 08:50 local time.
No guess who owns this airport!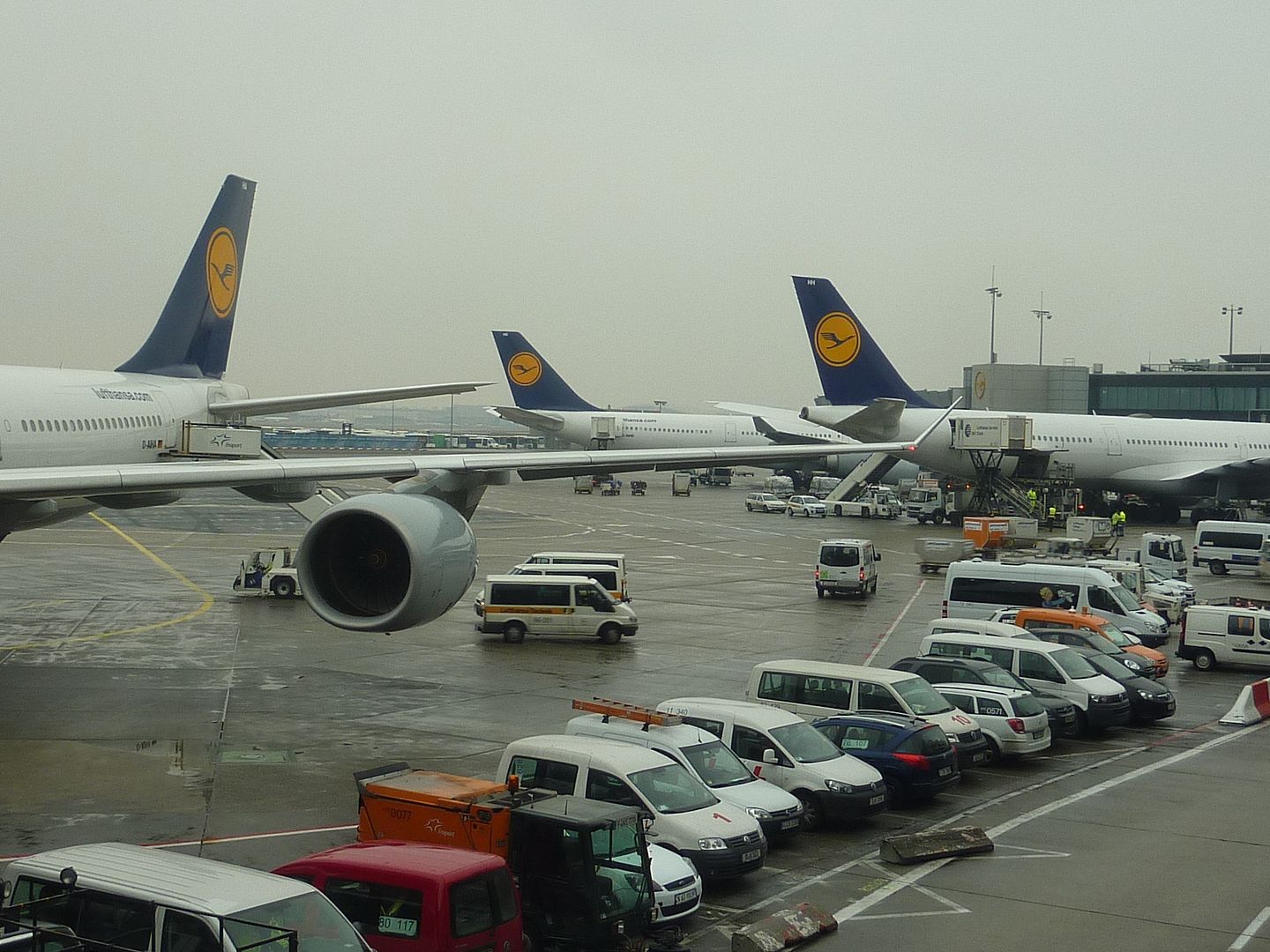 I had a good walk around, the B gates area is quite dull really, not a great selection of places to eat or drink, several high end shops that don't really appeal, all in all not a great place to spend time.
In the distance my first 748 sighted, G-GSSE – thanks to Brewox for checking
My 787 still on it's remote stand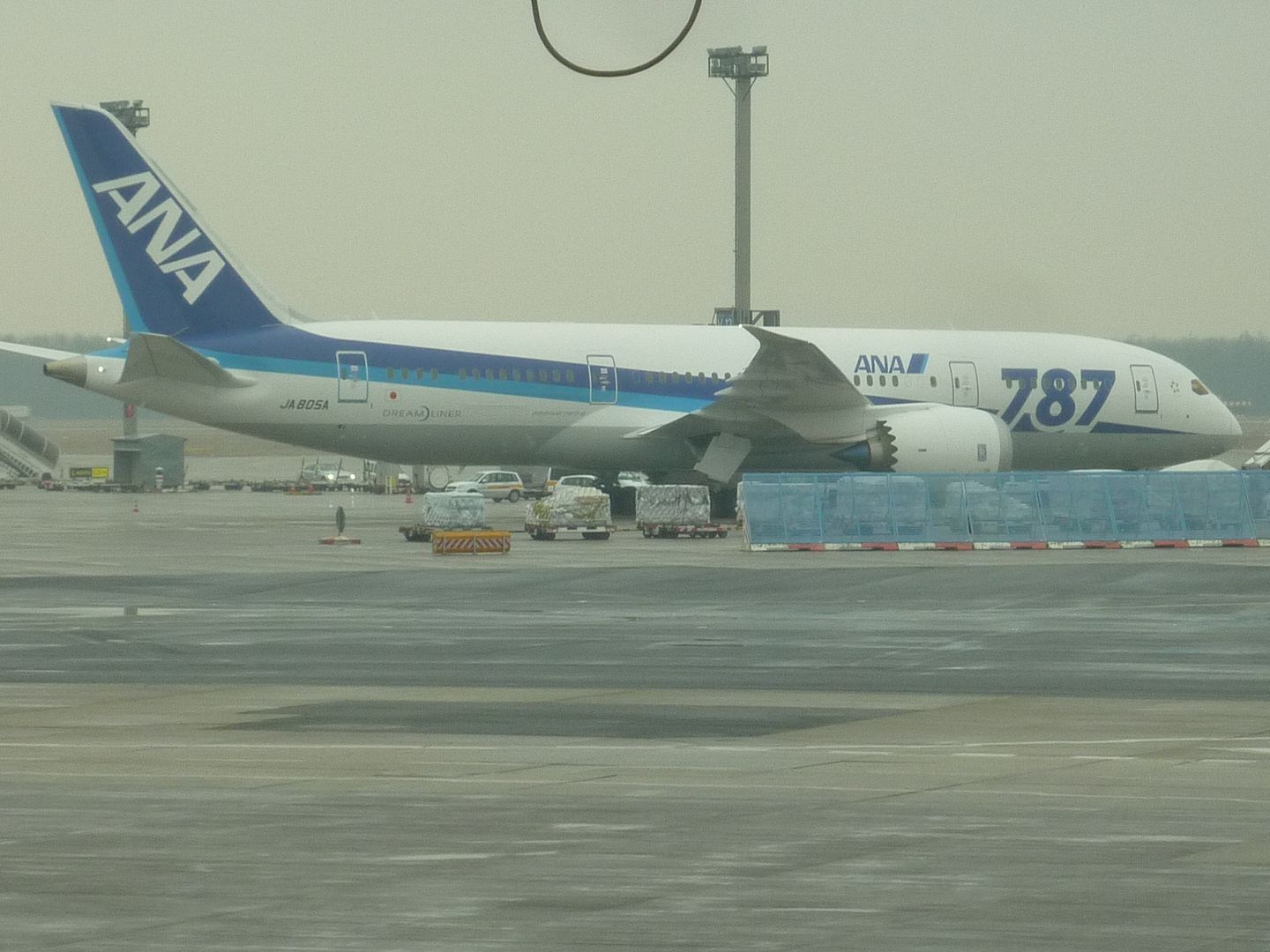 Here is my gate
a LH A340-600 currently occupies it.
I decided to find a bar, en route I passed a casino, check out the advertising/branding - quite odd and unexpected!
So I found a bar and decided to nurse a beer, after, I'm on holiday right? - err actually no,I don't call it a holiday as that won't please the wife, I call it a quest or work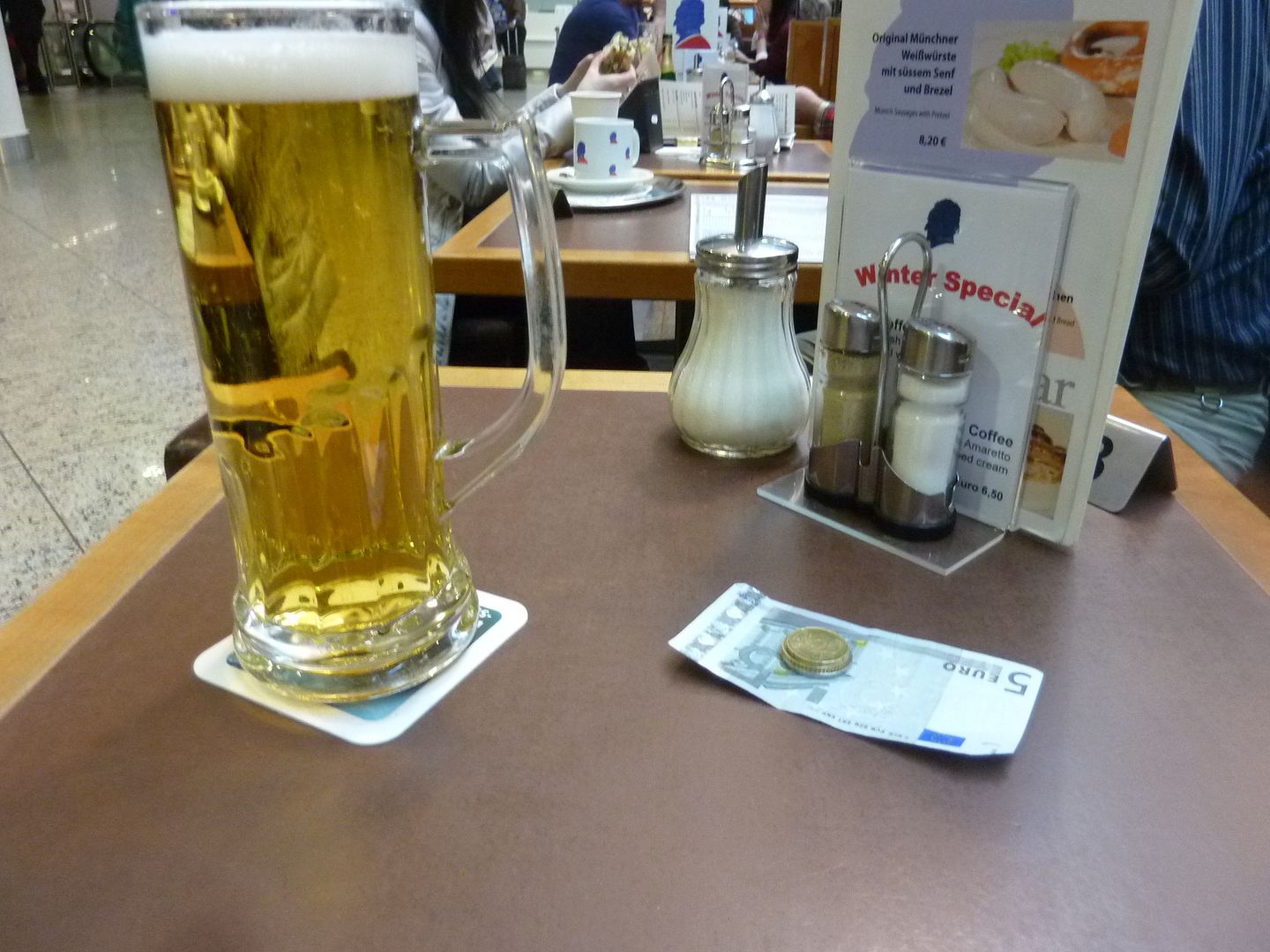 So sat here nursing this beer and continuing with this report, I must say I don't ever recall seeing so many attractive women in Germany before, it's quite impressive here today…..
Whilst nursing the beer I fired up my iPhone to send some work e-mails, I send two and got a text saying I had spend £20 on data roaming already, bugger, I'll be invoicing for that!
Beer finished, well I had another as the first was so good, I headed towards the gate, stopping en-route to pick up some refreshments before finding somewhere to sit in the gate area.
Refreshments and my 787 behind
I was not alone drinking beer at this hour, lots of what I presumed to be fellow passengers were swigging back beer as if today was their last on the planet.
Gate area seating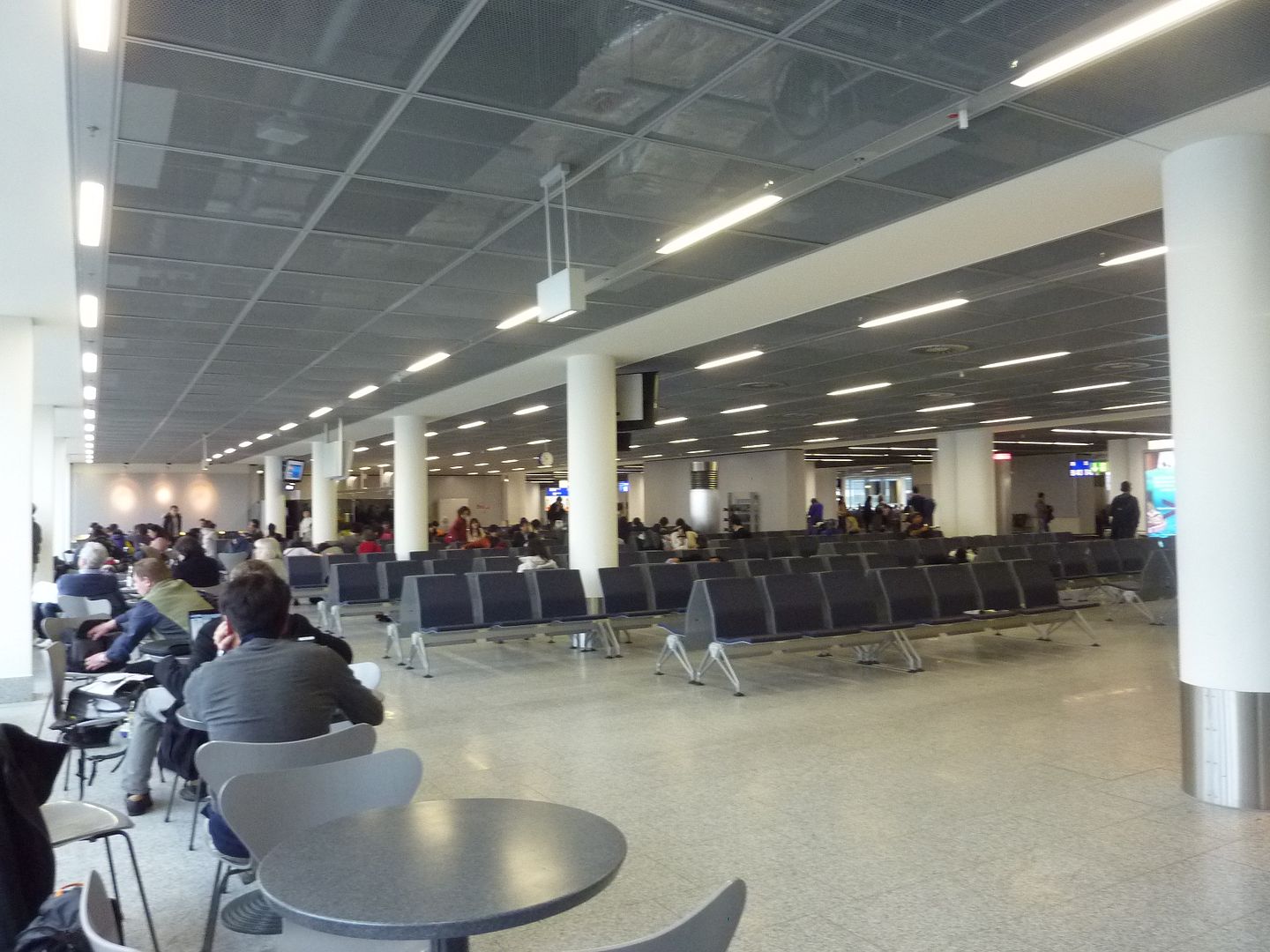 Outside views
Head on she is not a bad looking girl.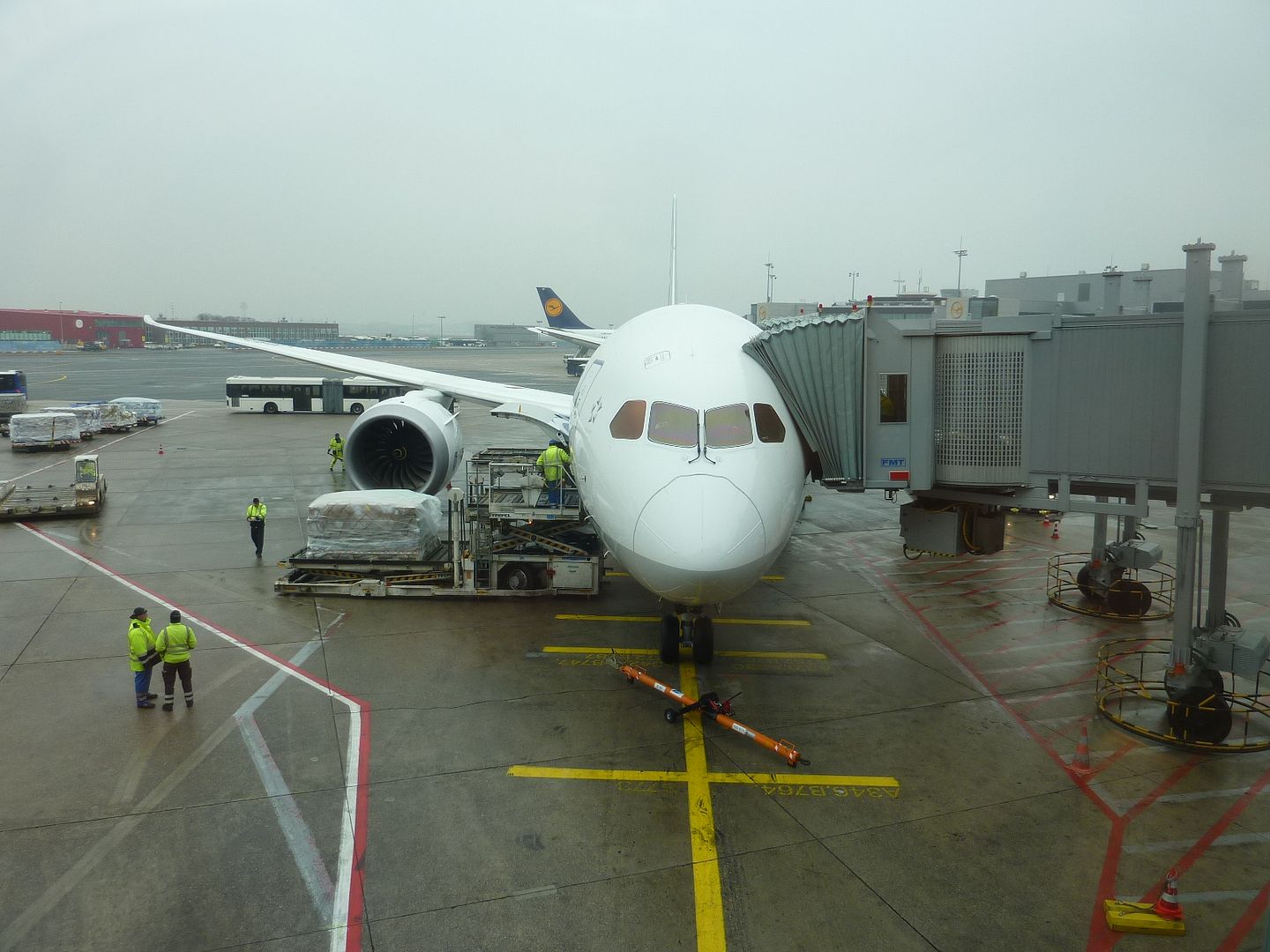 As a contrast, AC A330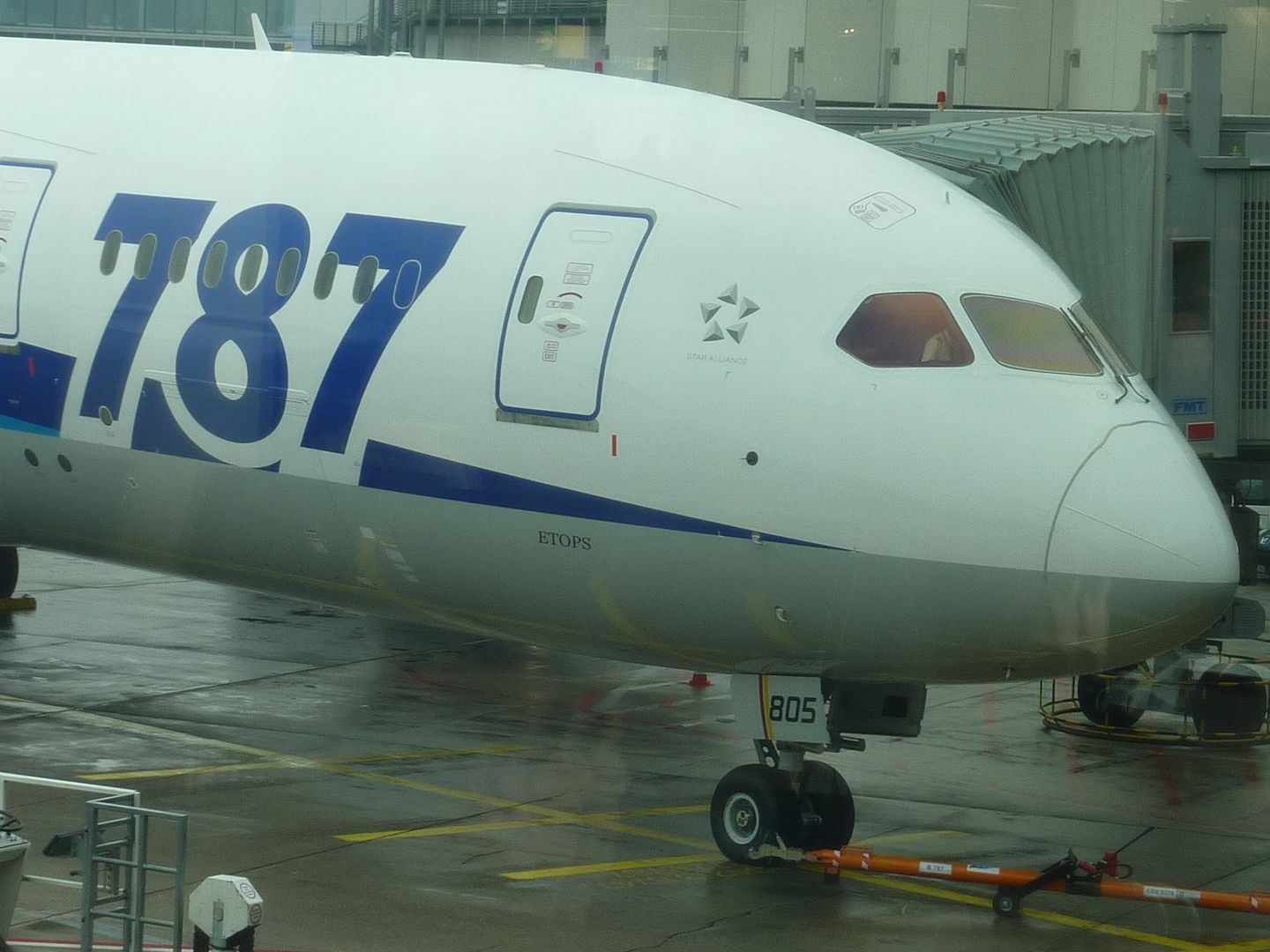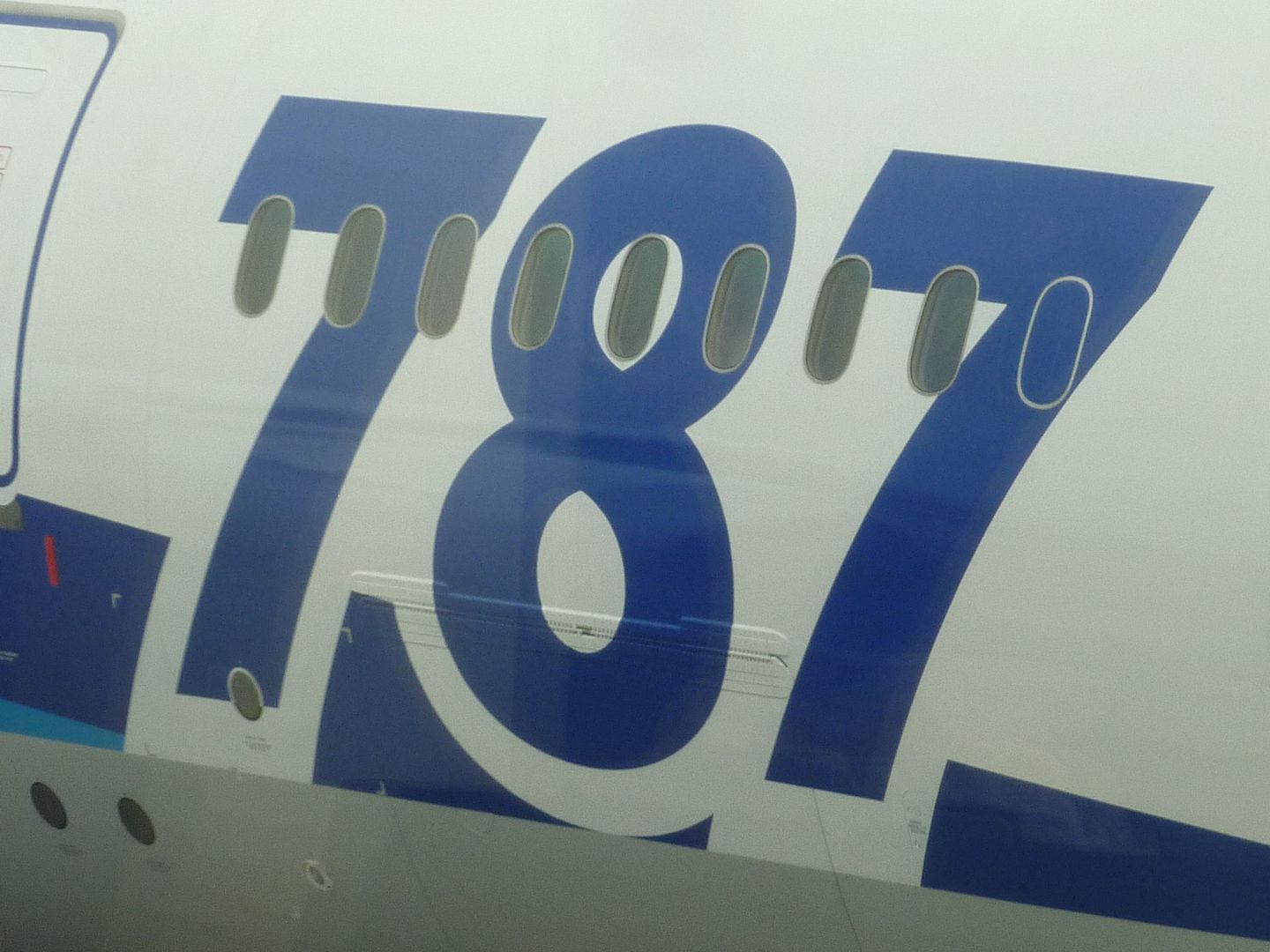 23-02-2012
NH204 / LH7236
FRA-HND
787-881 JA805A
Seat 29A Economy
1st Flight on this aircraft, 1st 787 flight flight
Sch Dep 11:15 Sch Arr 06:45
Act Dep 11:16 Act Arr 06:21
At 10:40 there was a pre-boarding announcement in Japanese, German then English, along with boarding protocol, it advised boarding would start at 10:50, it actually started 5 minutes earlier than that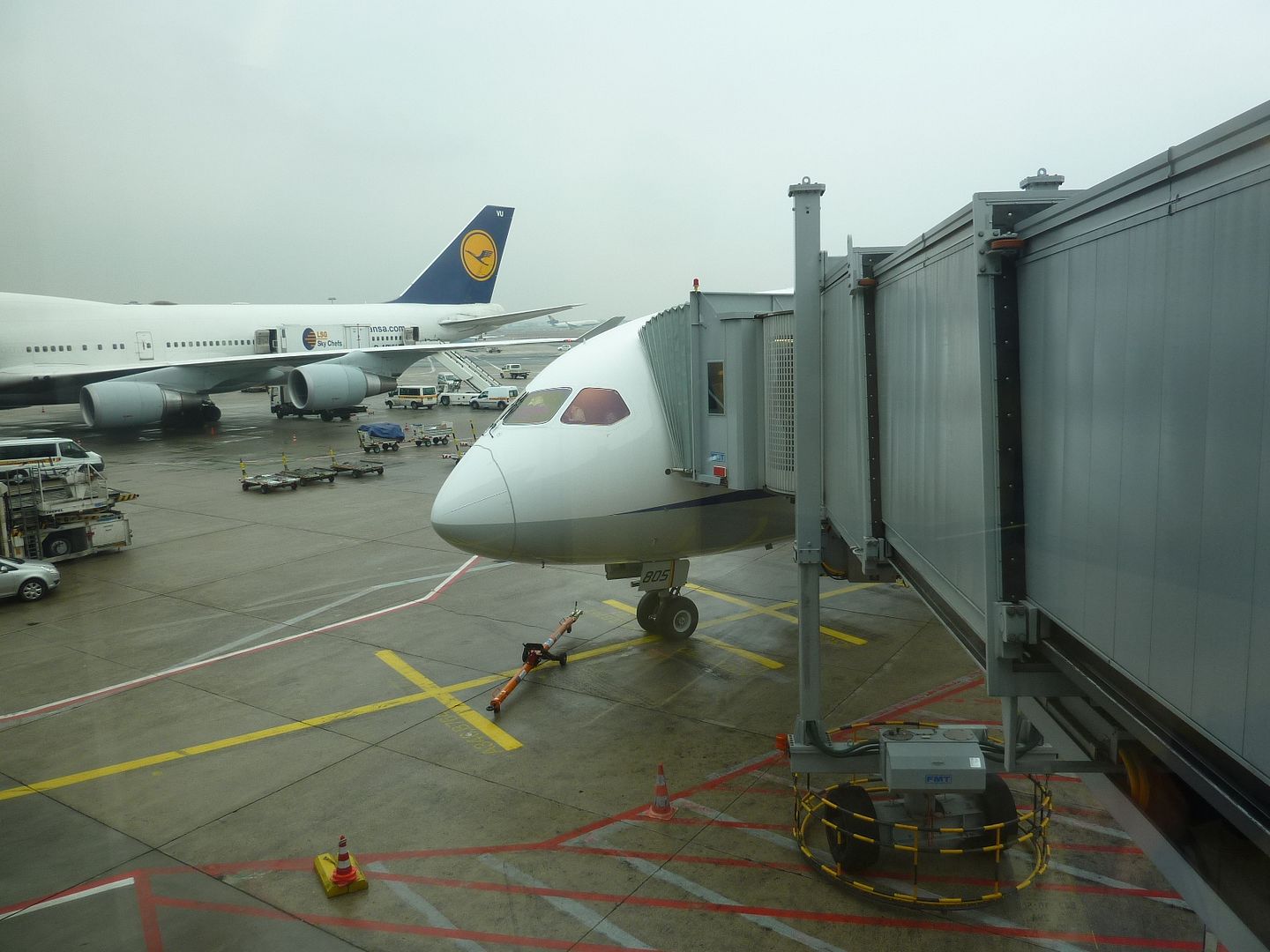 Dual airbridges in use for JCL & YCL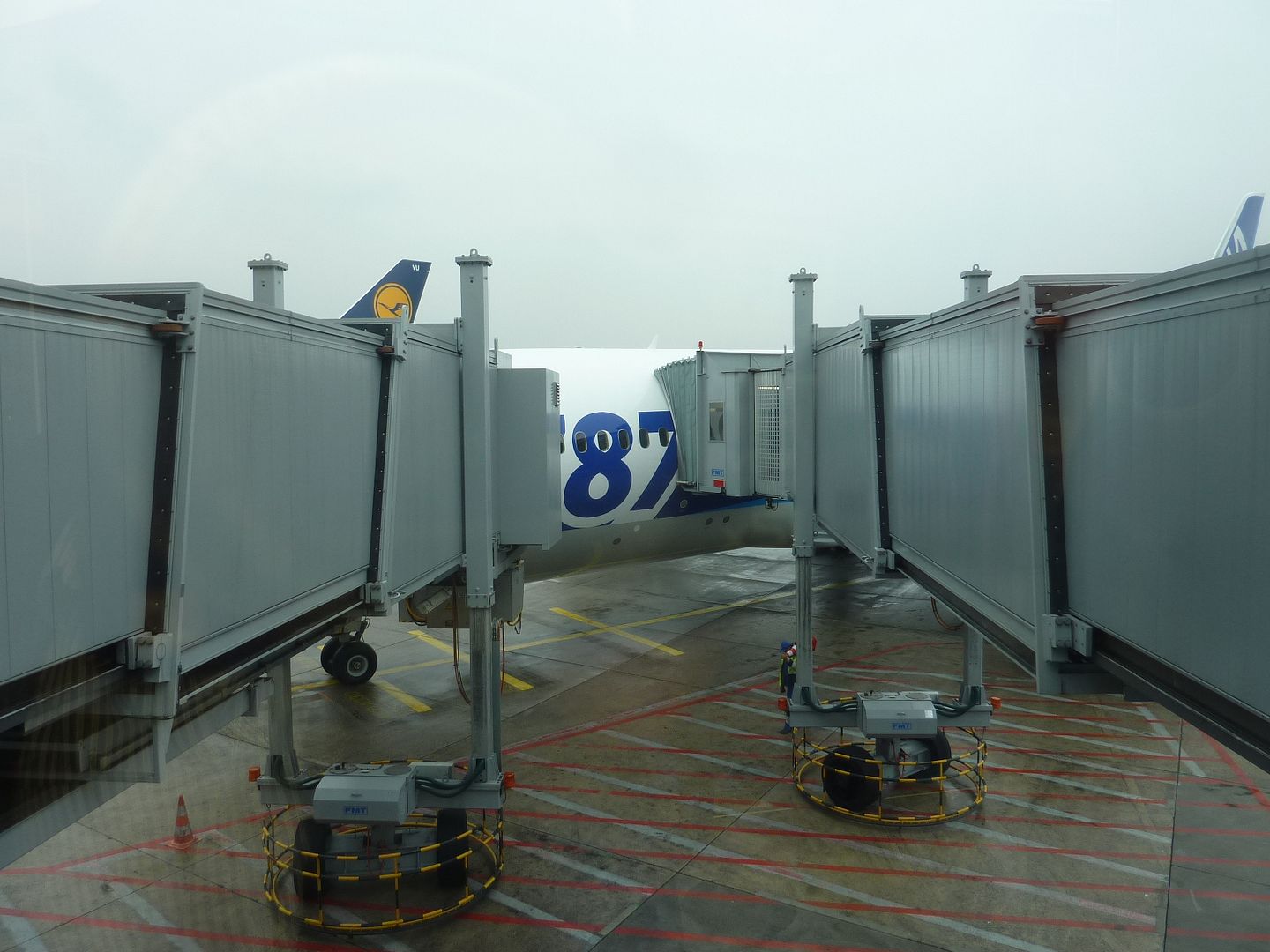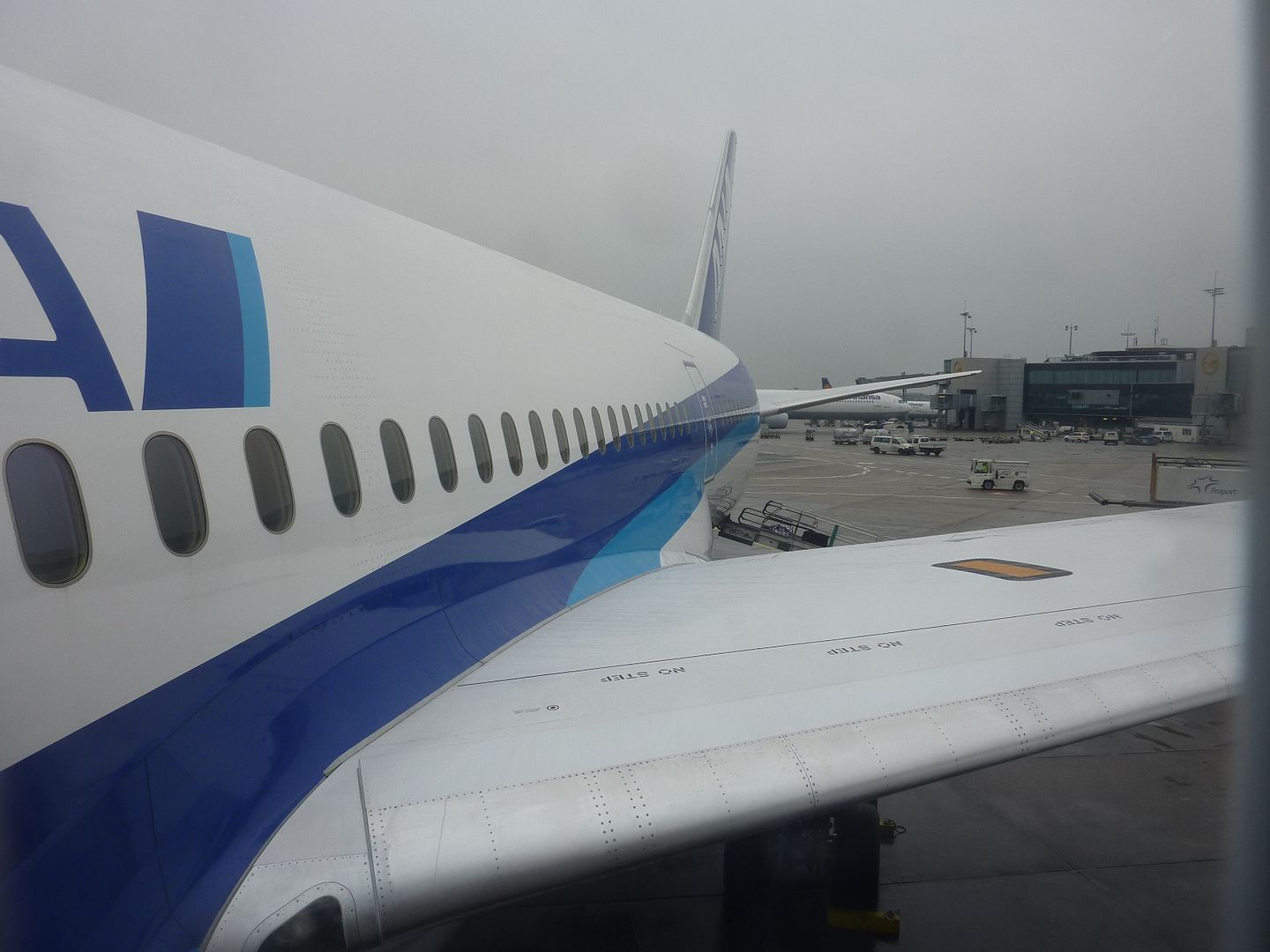 I was aboard about 5 minutes later.
Views en-route to my seat
JCL seat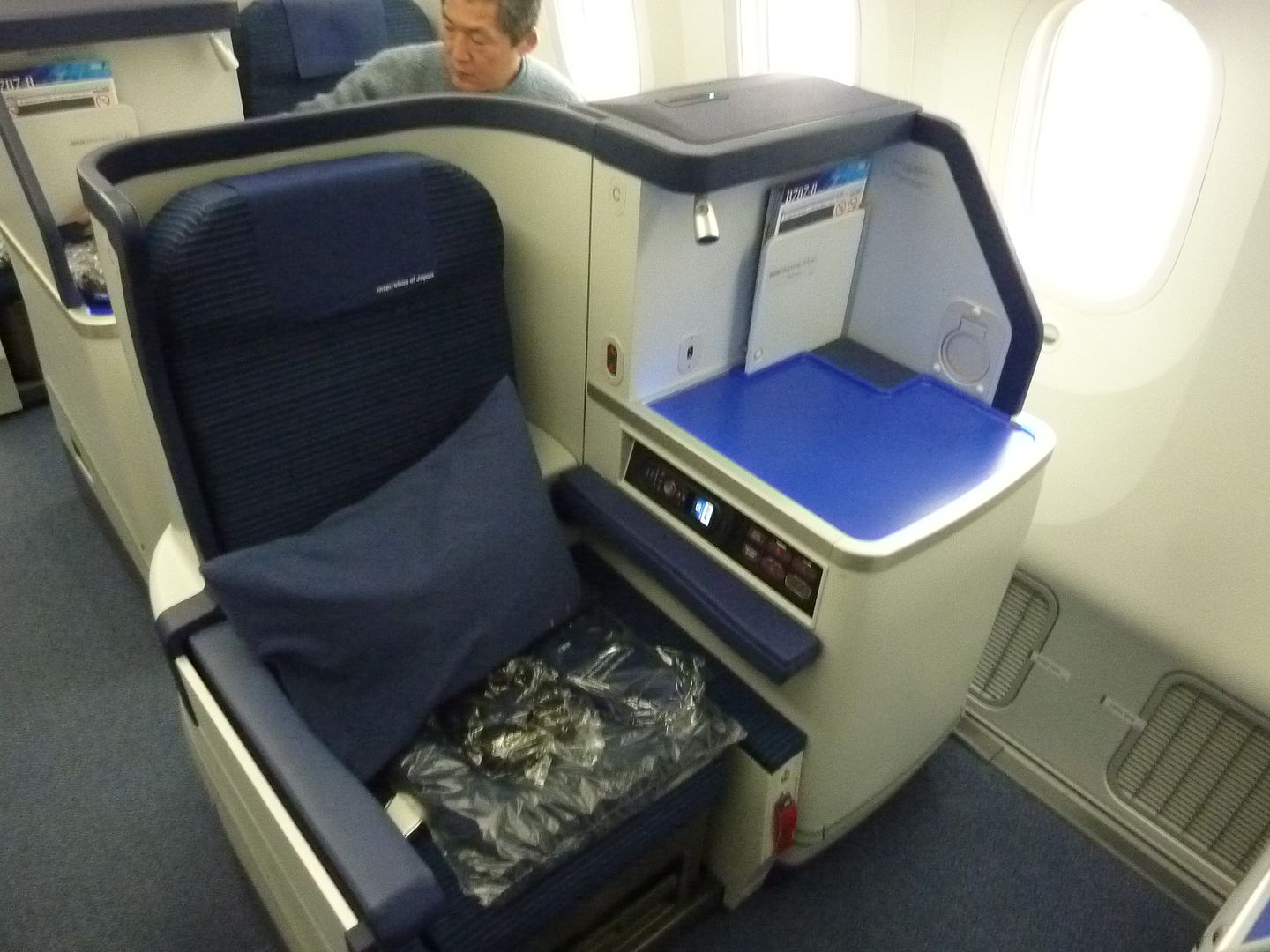 JCL Cabin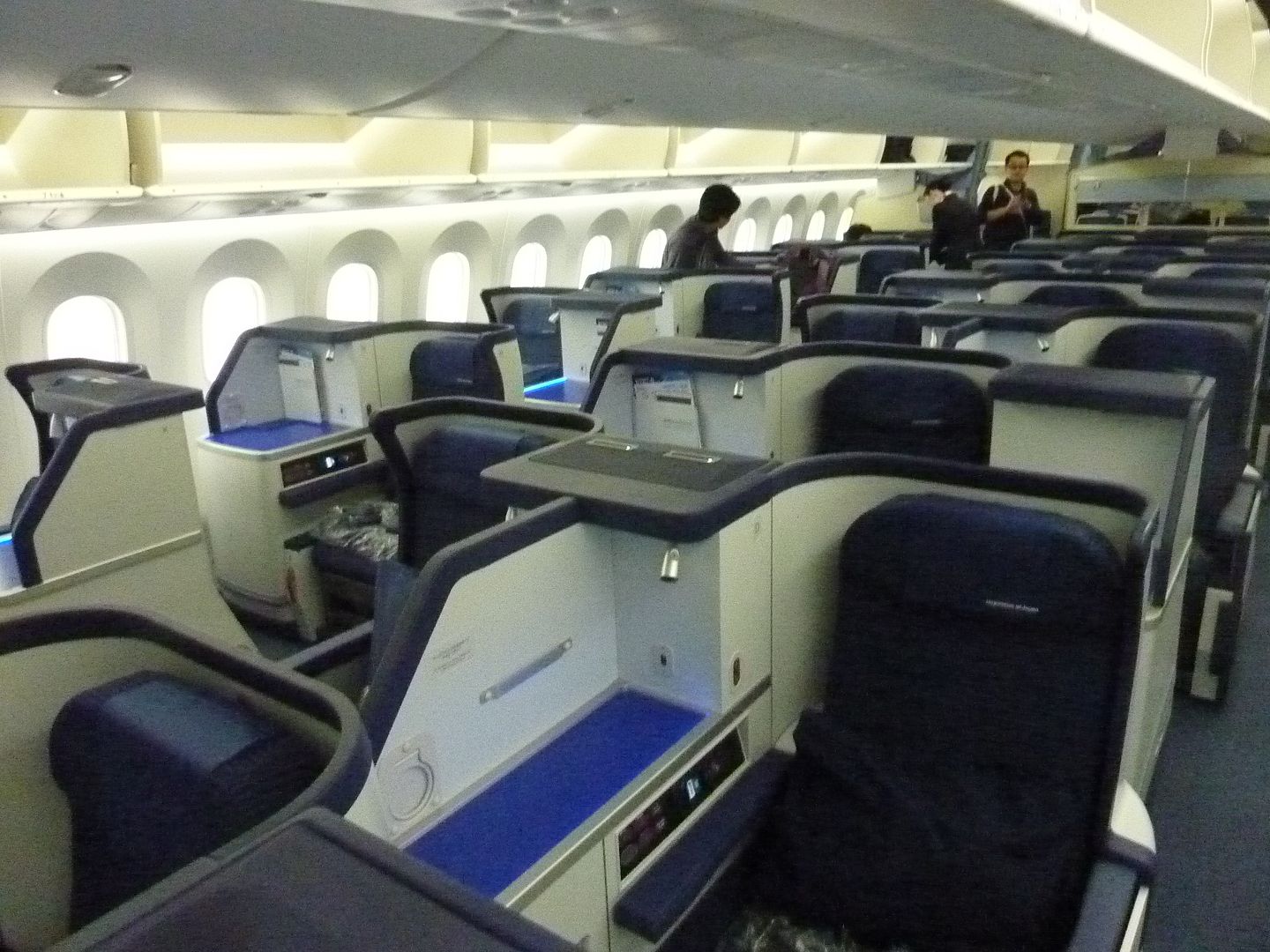 Emergency Exit YCL seats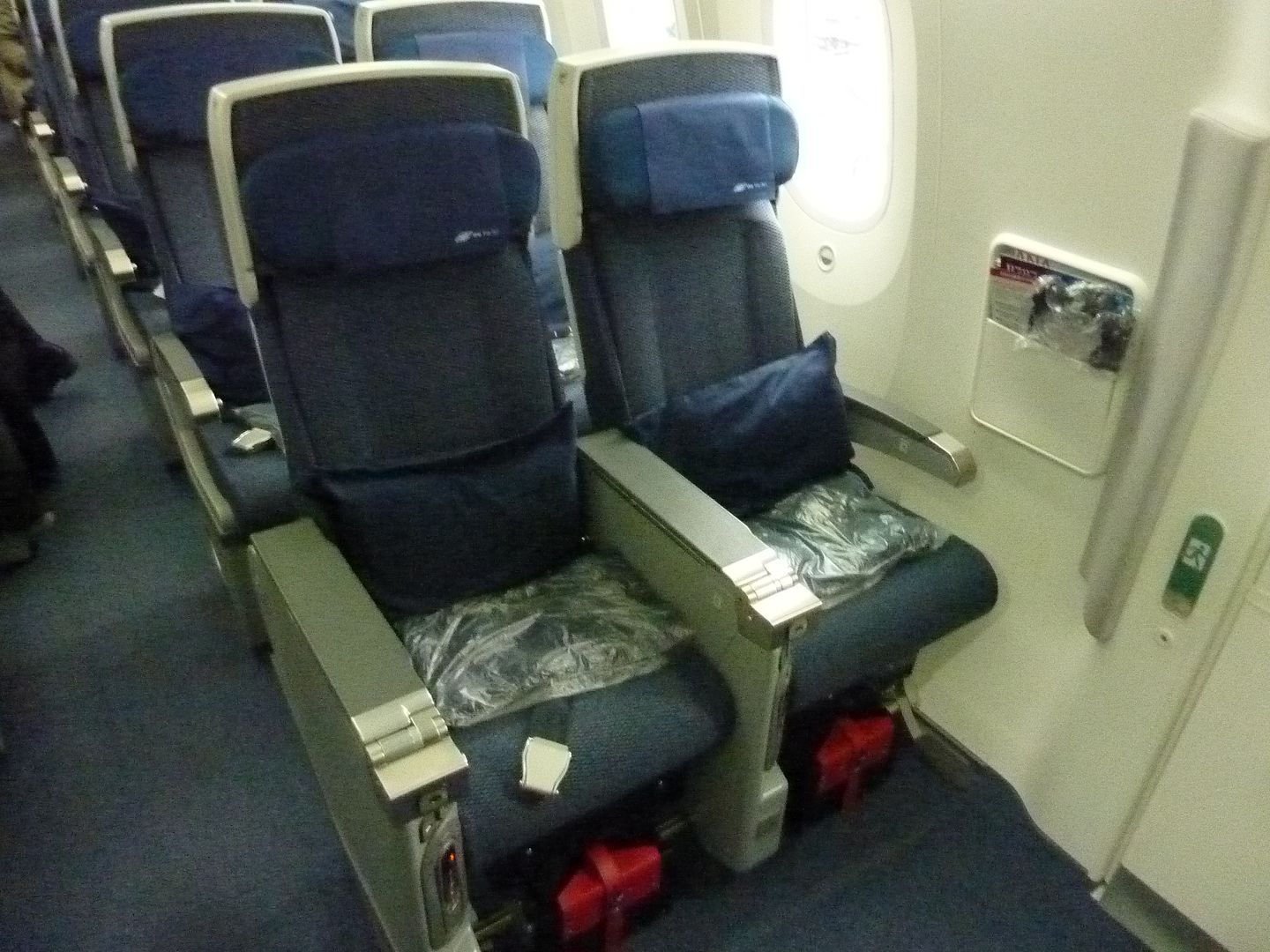 My seat mate was already seated when I arrived, will have to wait for a seat shot until we arrive @ HND.
Initial impressions are good, a nice clean designs, fabric colour and pattern is easy on the eyes, cabin as you can see is bright and airy - windows are huge, really noticeable bigger than anything else out there, very impressive!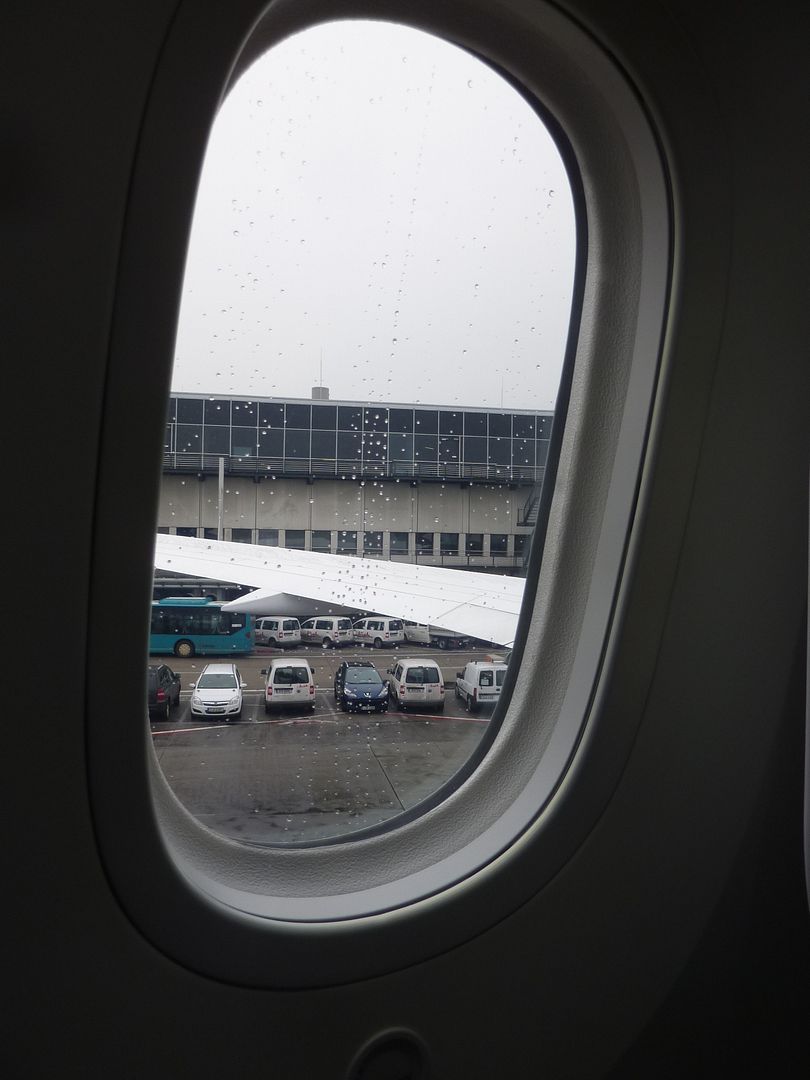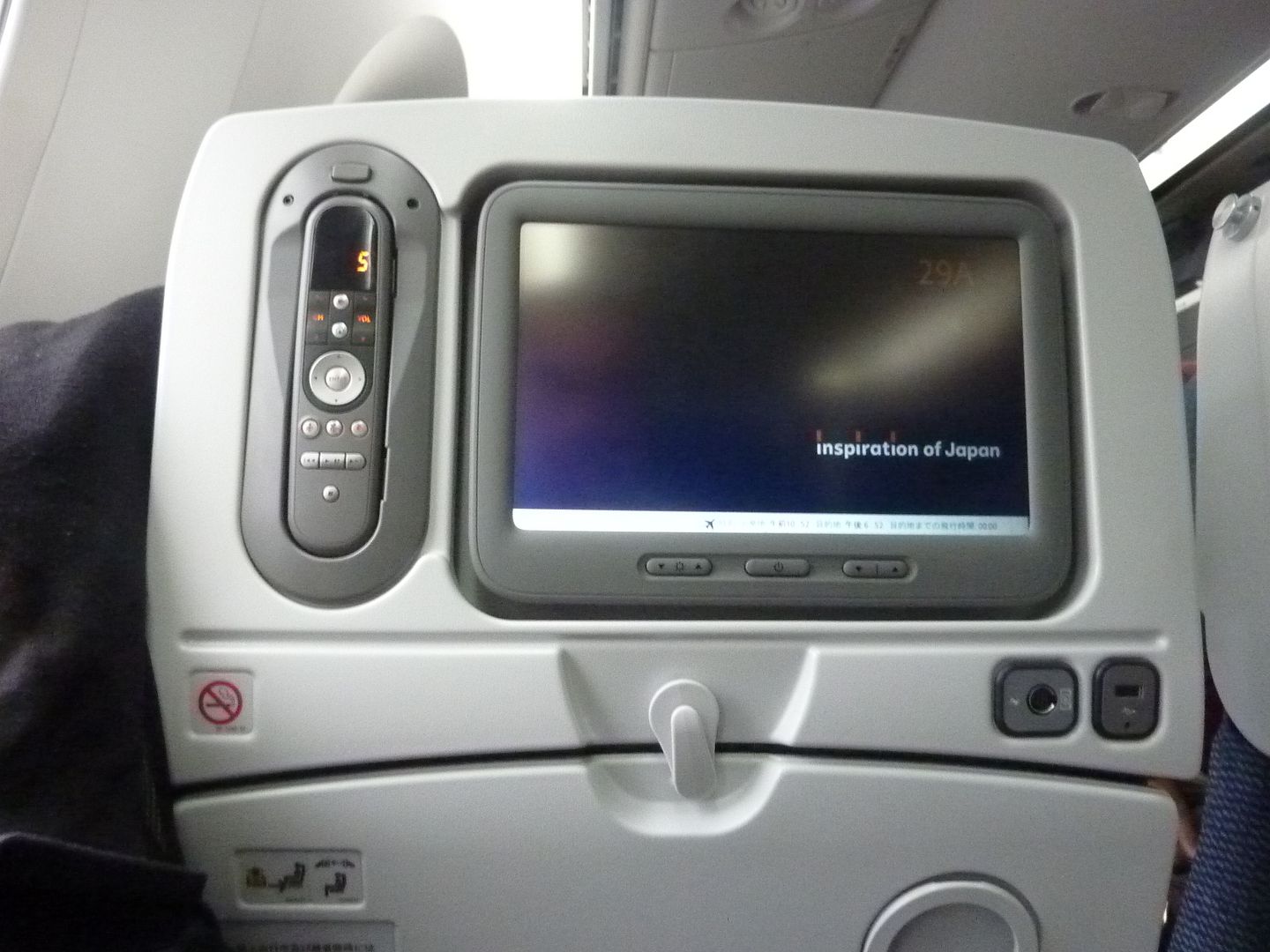 Legroom seemed pretty decent though it was only 31"
Useful
Seat controls etc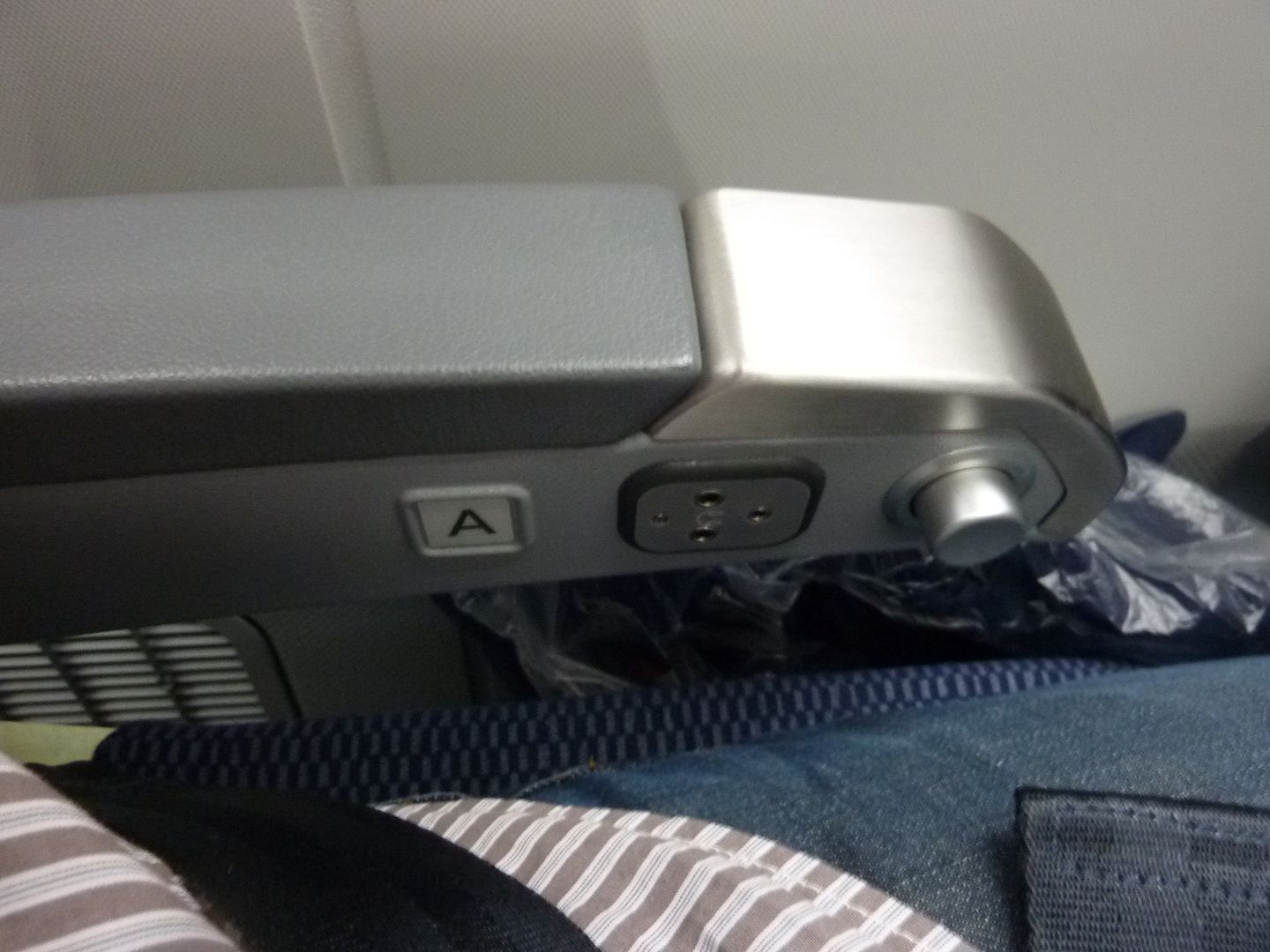 Overhead vents and lights, nice to have vents on a wide body
Cabin during boarding, ANA operate their international 787 fleet (1 at the moment!) in a 2-4-2 layout
Looking up to the overhead bins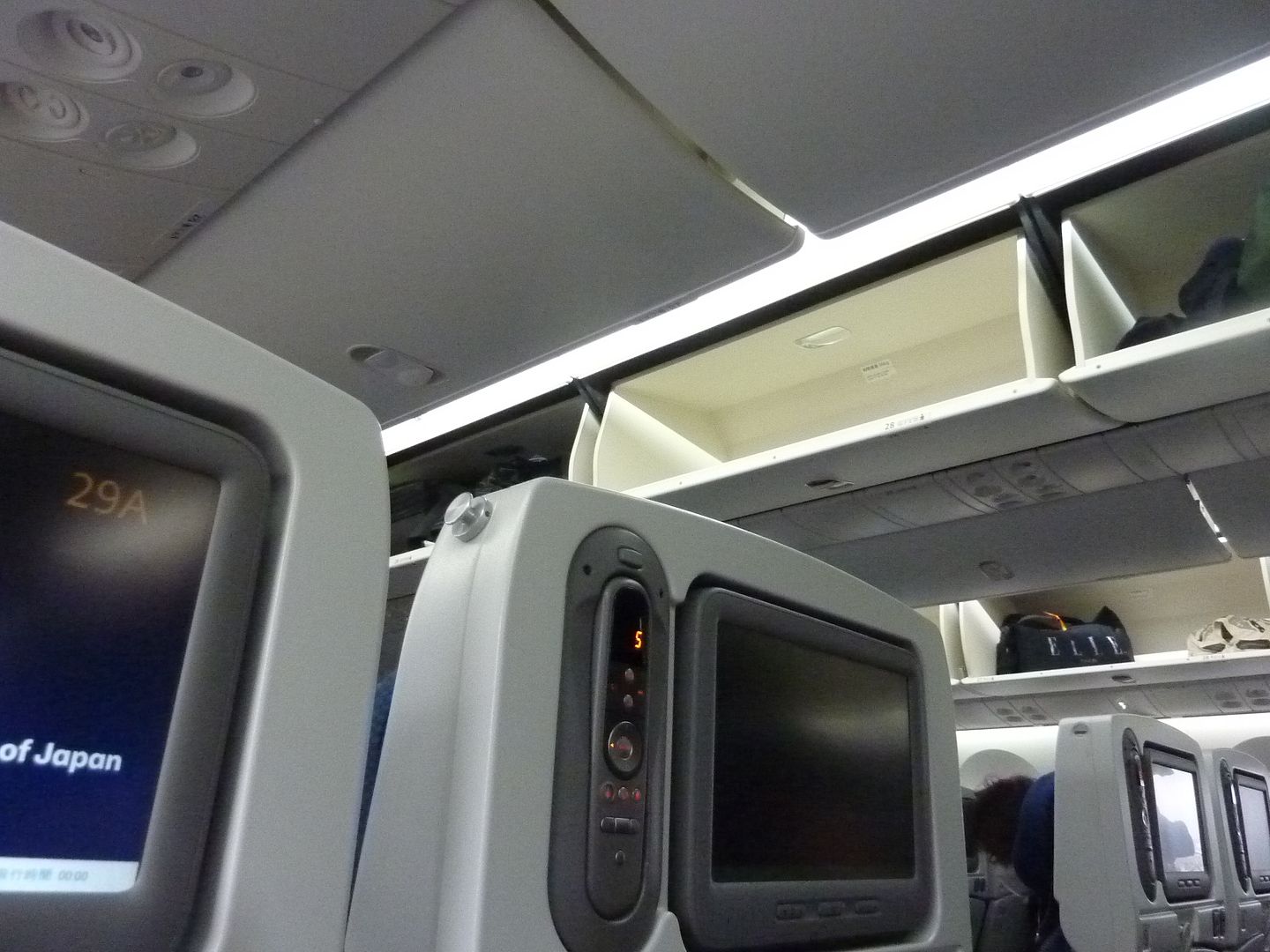 Here and there
Tint
No tint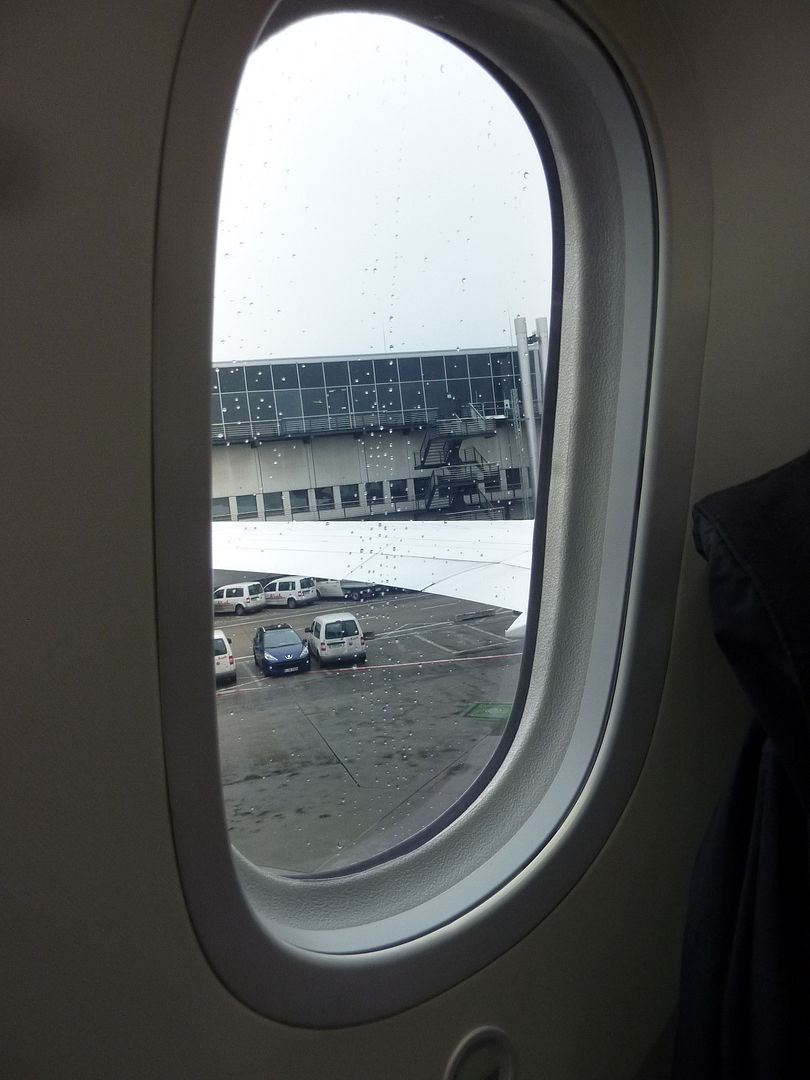 Ceiling detail
More seatback view
The doors were announced as closed at 11:11 and cell phones were requested to be turned off for the duration of the flight.
Landing cards distributed
What type of plane? – they all look the same inside….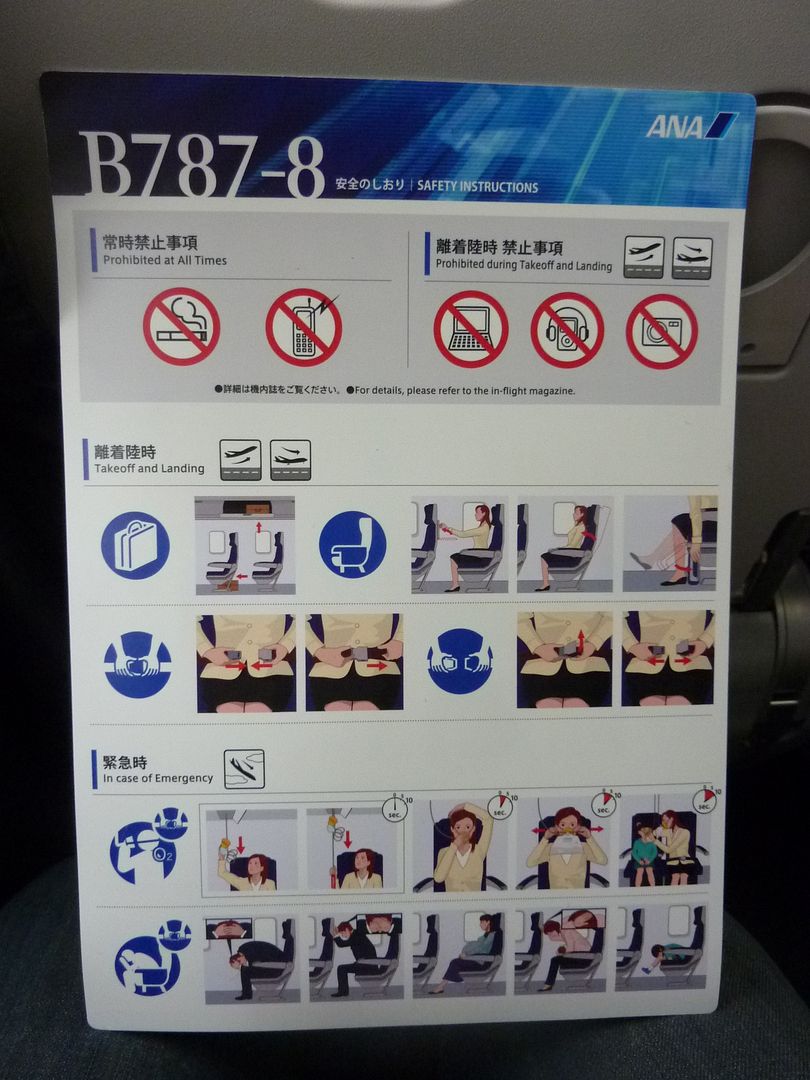 Prior to the safety demo, the names of the flight crew were announced, I'm afraid I never managed to catch them.
The safety demo commenced just prior to push back, 11:16.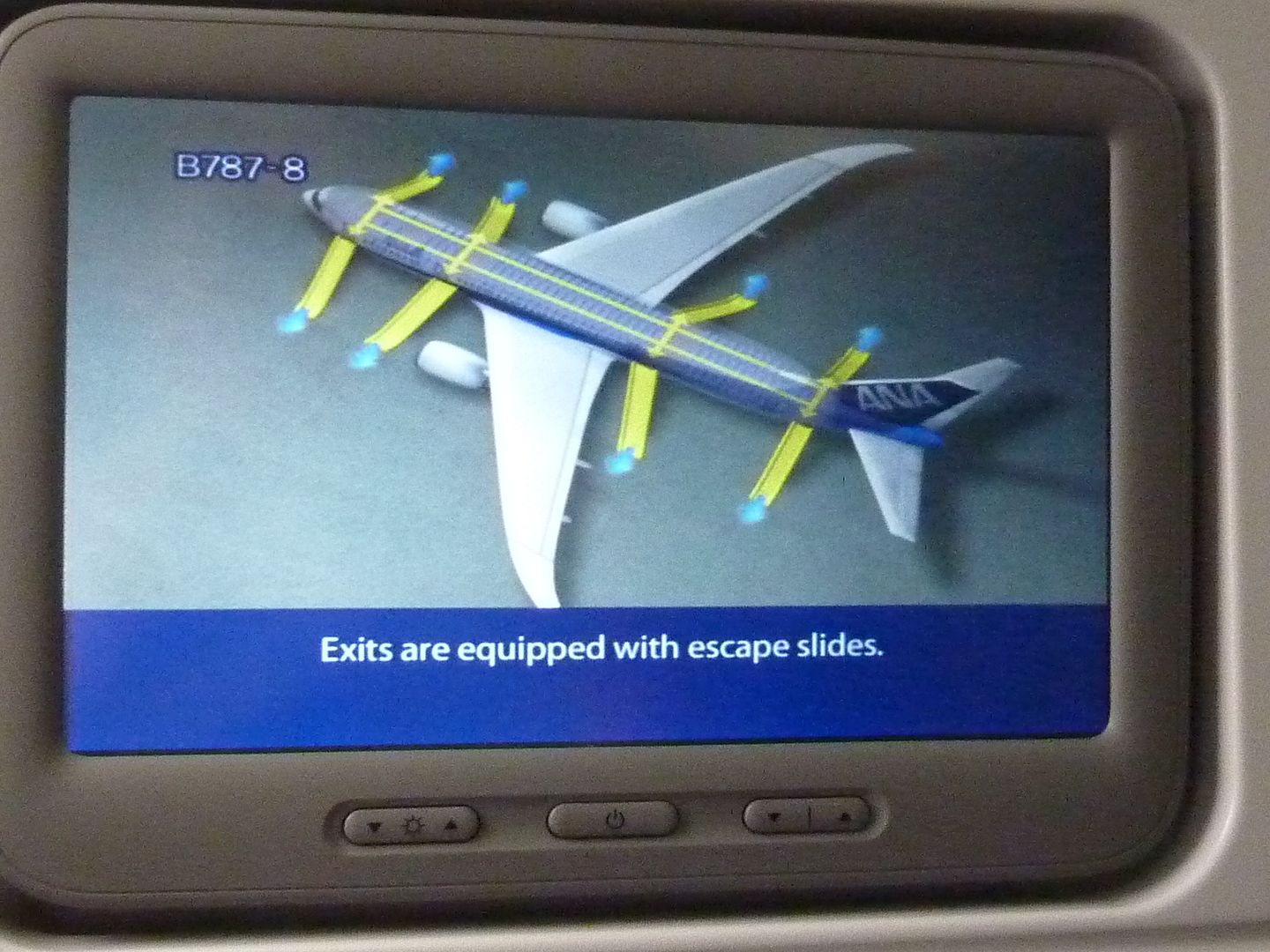 A short taxi and hold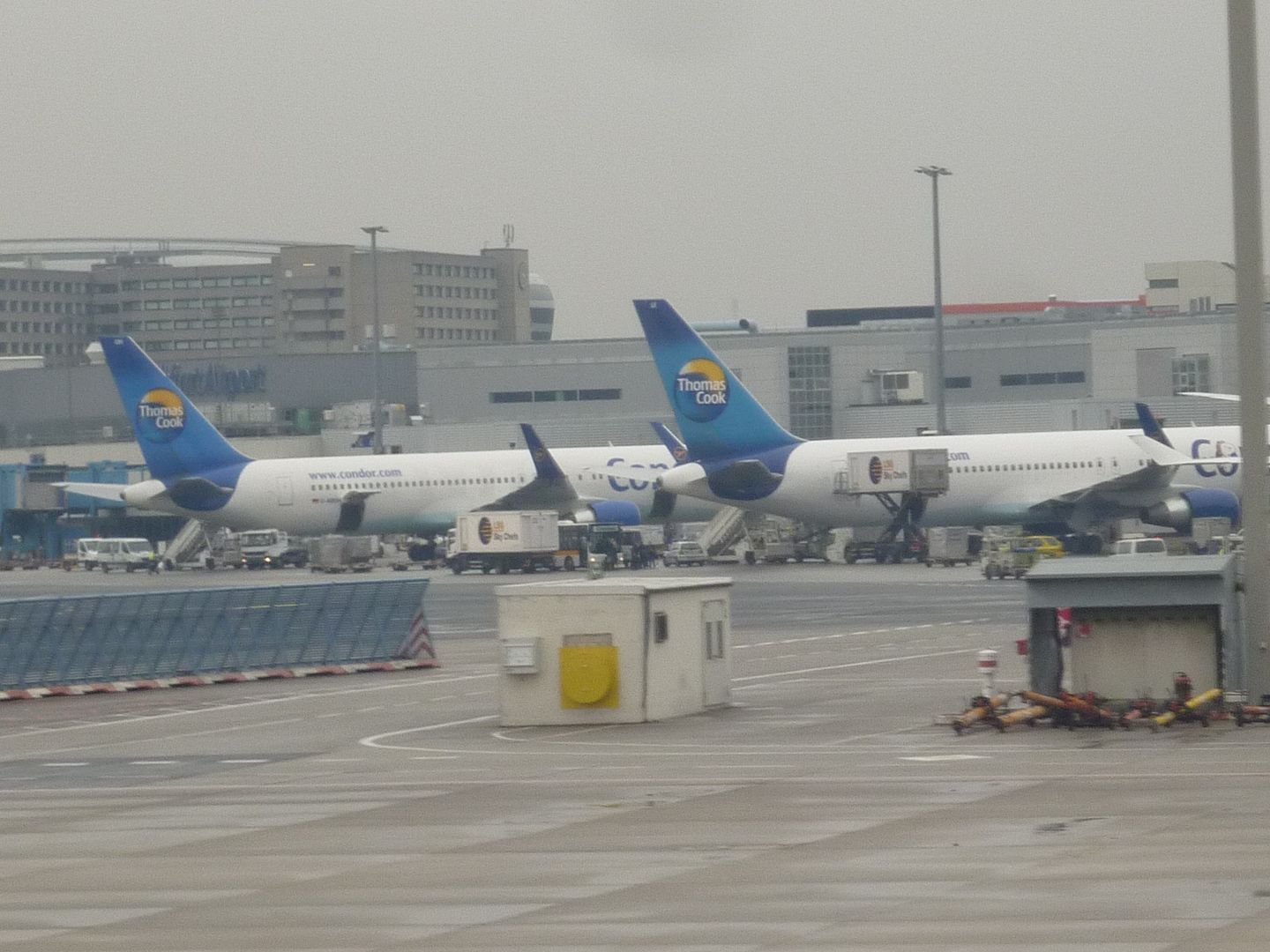 Seems odd seeing planes approaching the new runway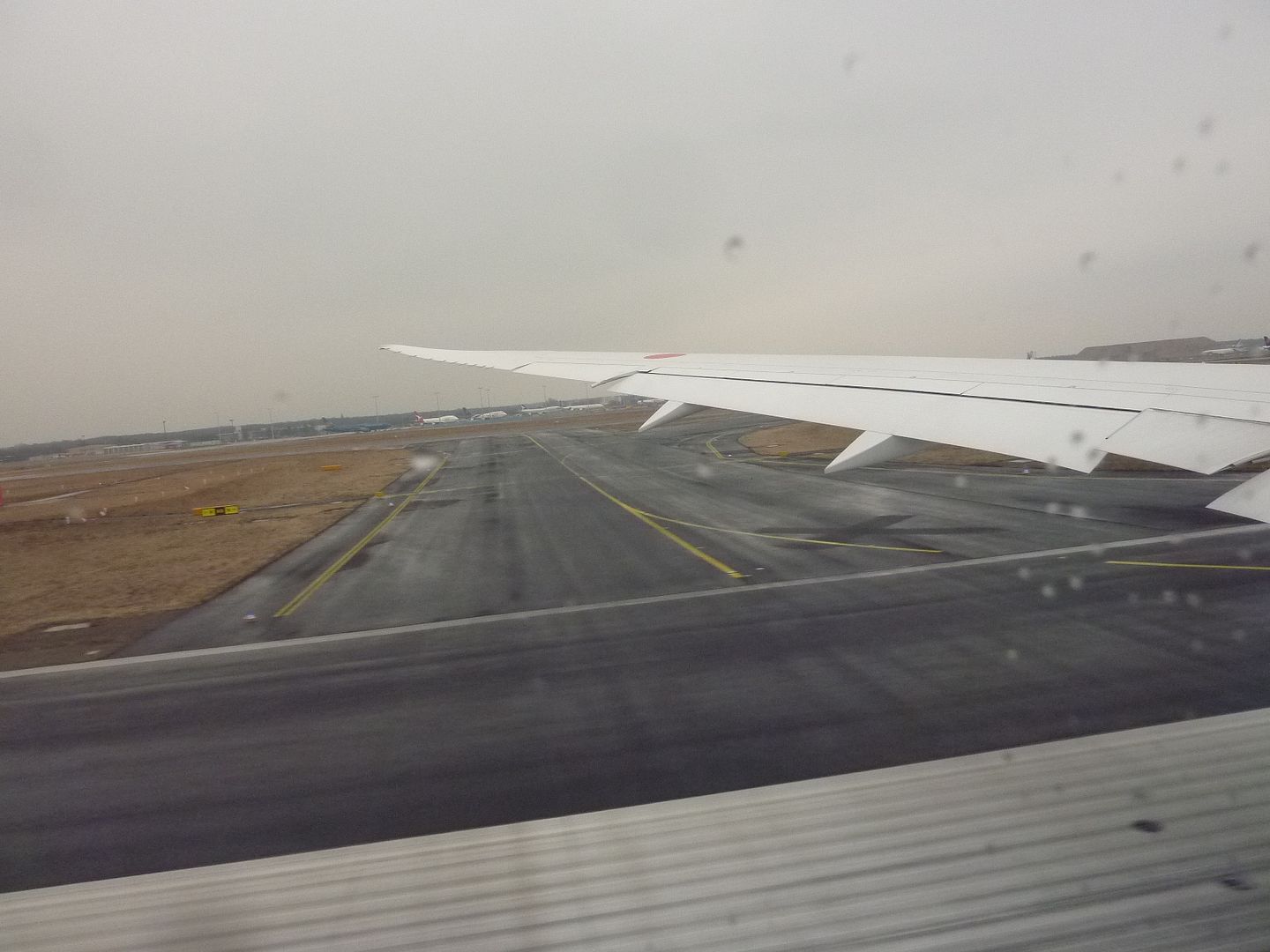 before out turn to depart, when the juice kicks in she really leaps forward, you can feel the power in those wonderful RR engines, oh, and the noise, not as bad as a 777 mind.
Wet out there!
Wheels up at 11:30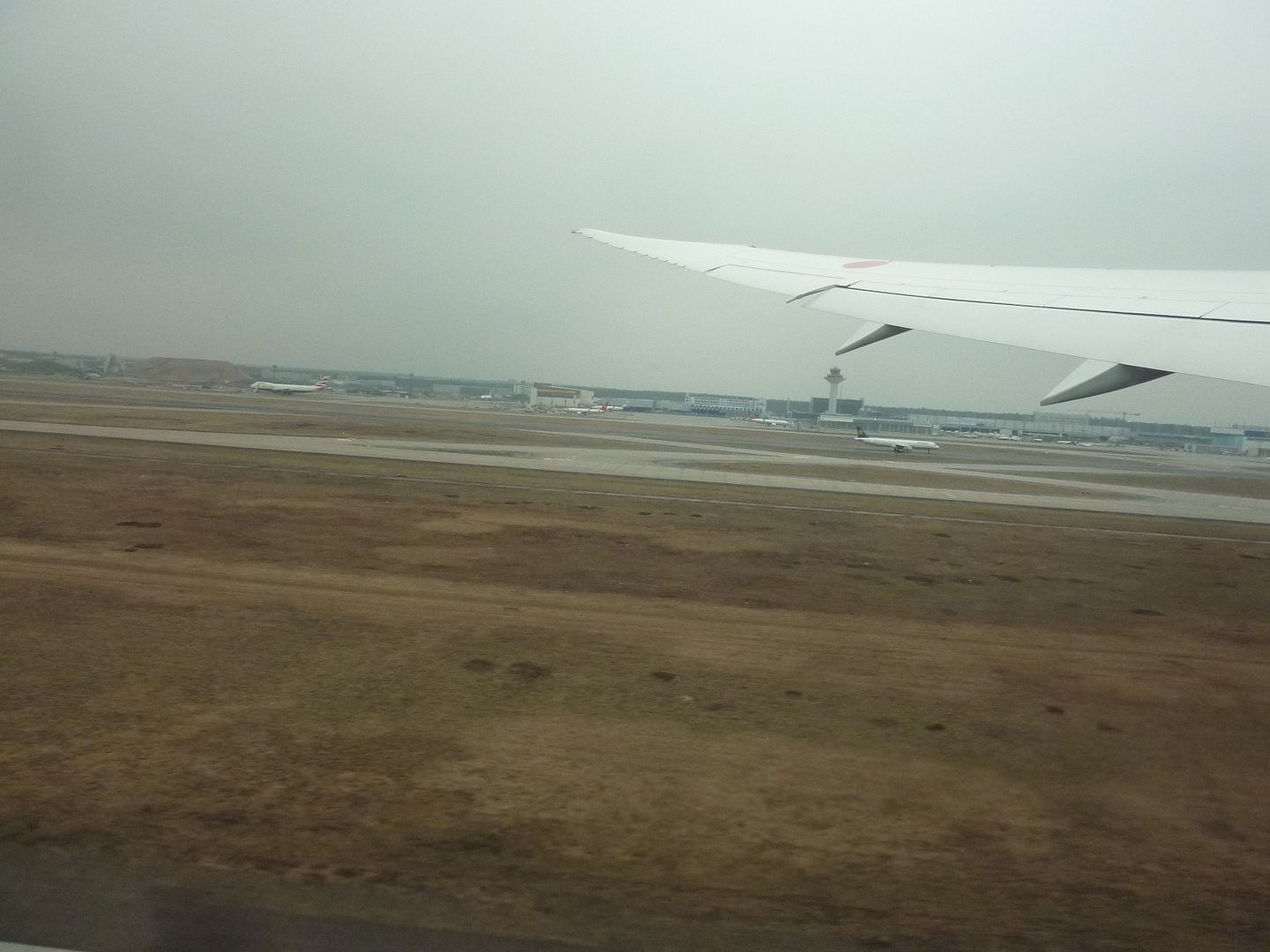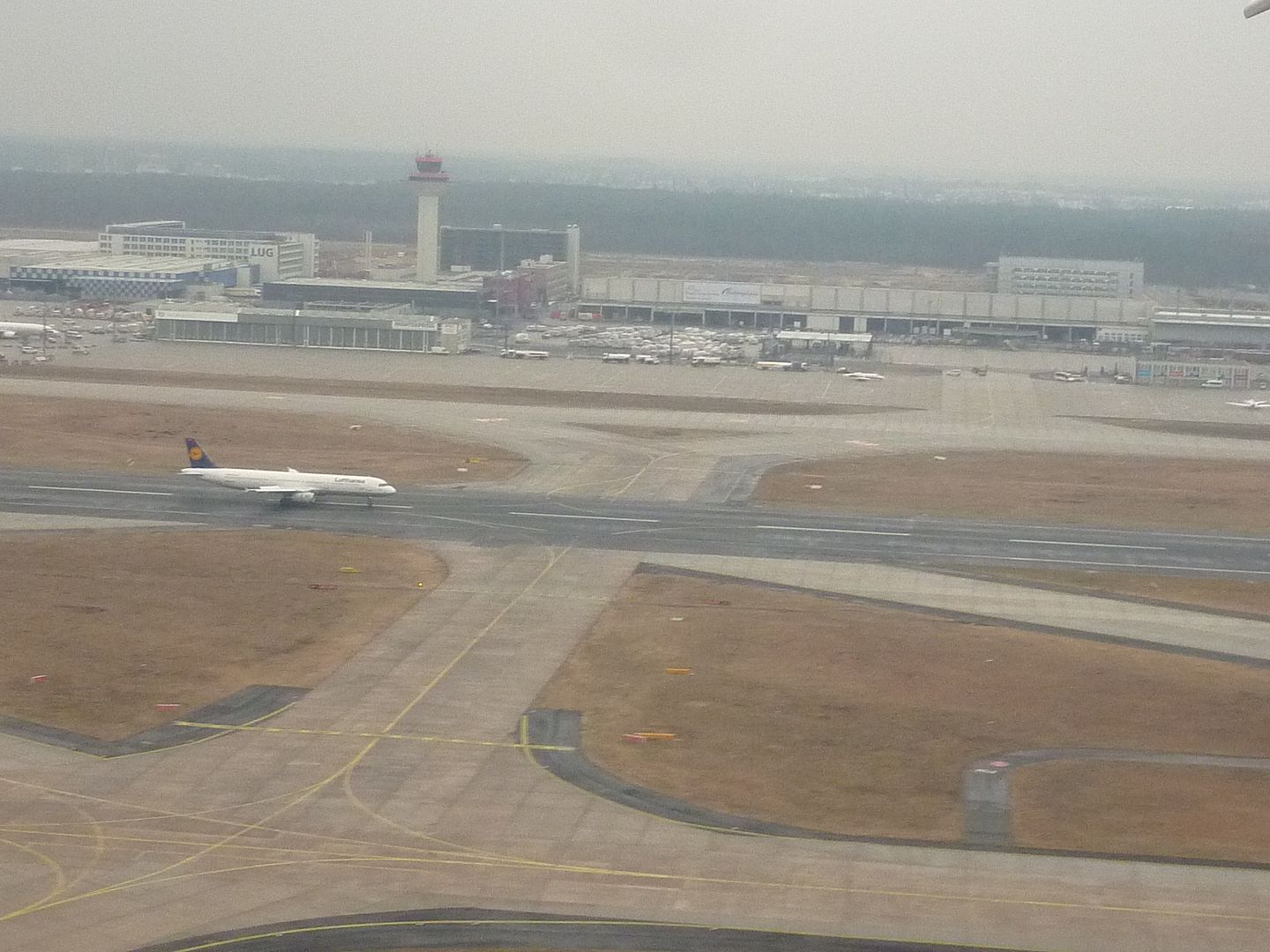 Into the gloom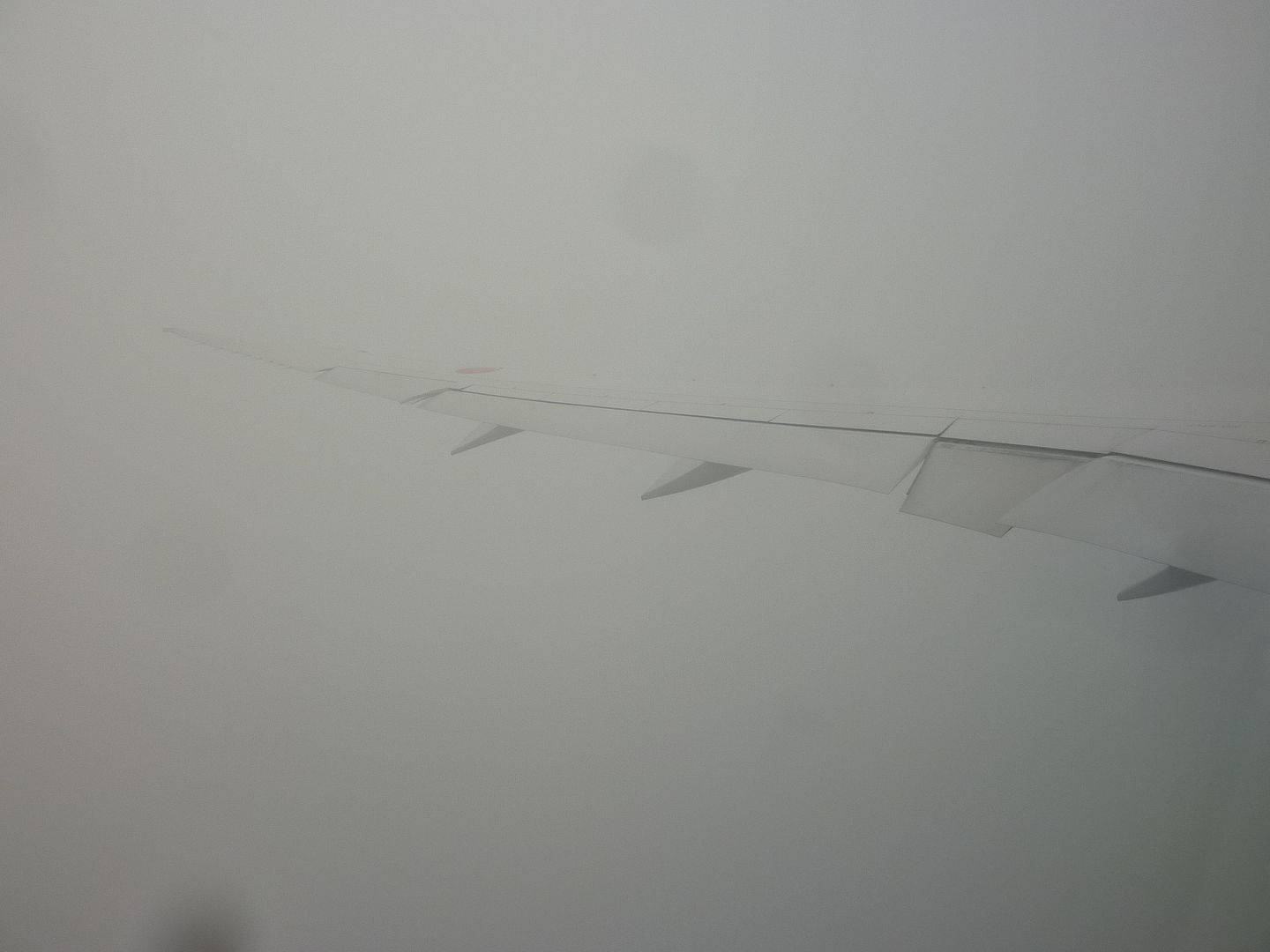 More ceiling detail
Inflight magazine detail
The seatbelt sign was extinguished 15 minutes after departure, que the crew to head to the galley and passengers to use the facilities, me included.
There are no toilets at the rear of the aircraft, well there is one, but that is for crew use only, I assume it's a loo, there are three toilets located at the front of the rear Y section, and behind the small Y section of 3 rows, quite a nice little cabin that.
Whilst out of my seat it was a good opportunity to check out the load, in Y I saw perhaps 6 empty seats, so not bad and these direct flights are a dime or two more than a one stop.
Legroom for emergency exit seats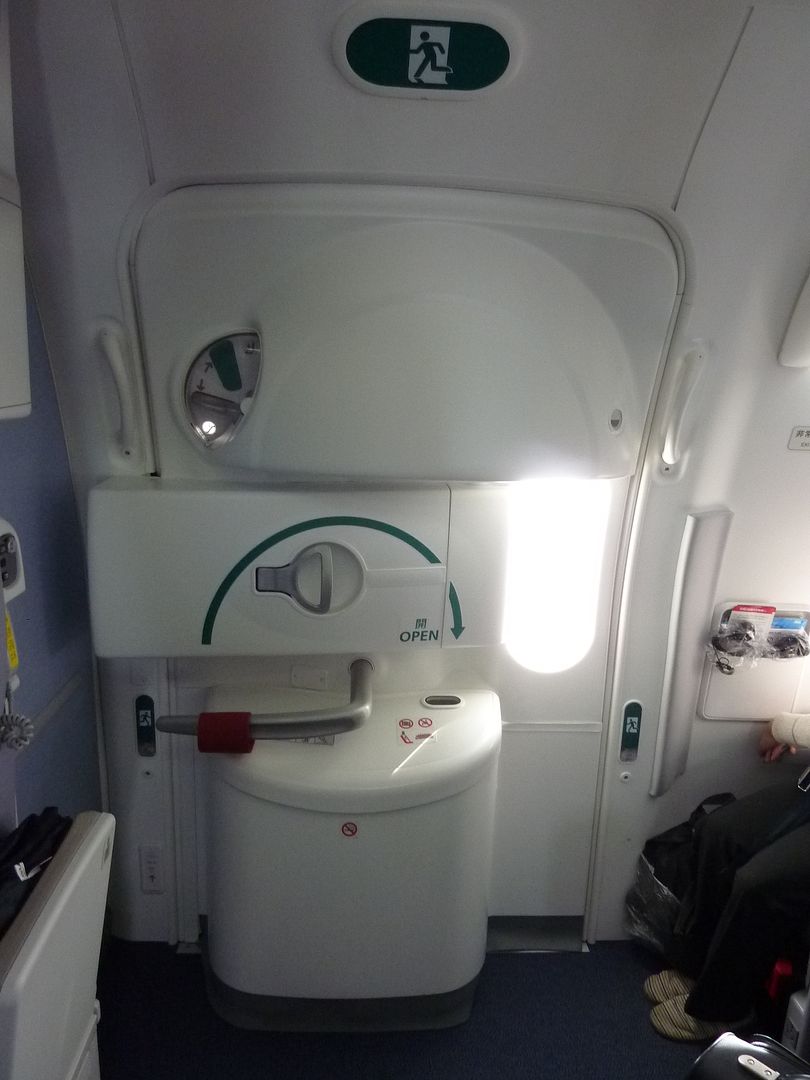 One interesting and read good feature is the toilet door, it swivels when you open it, so rather than taking up space opening out or in, it kind of glides open taking up less space, great idea, no idea why nobody thought of that until now – not that you can really tell in this pic!
Also, the handles built into the toilet seat are a great idea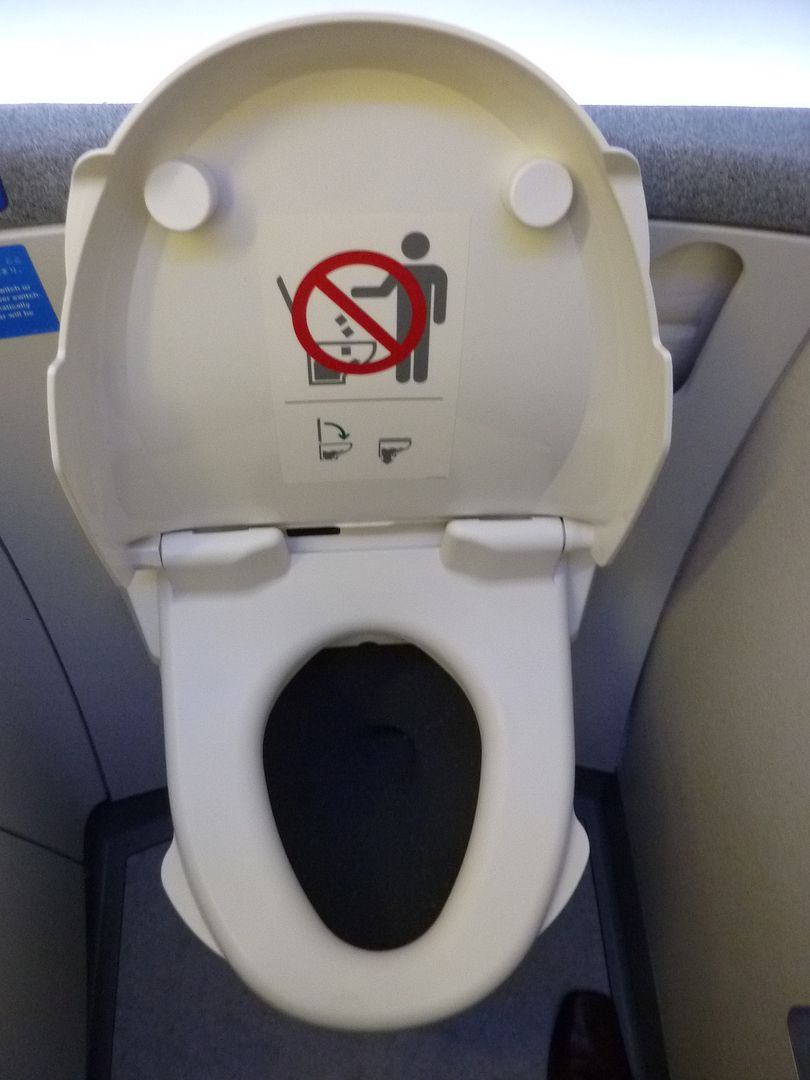 Sink
Cabin shots in flight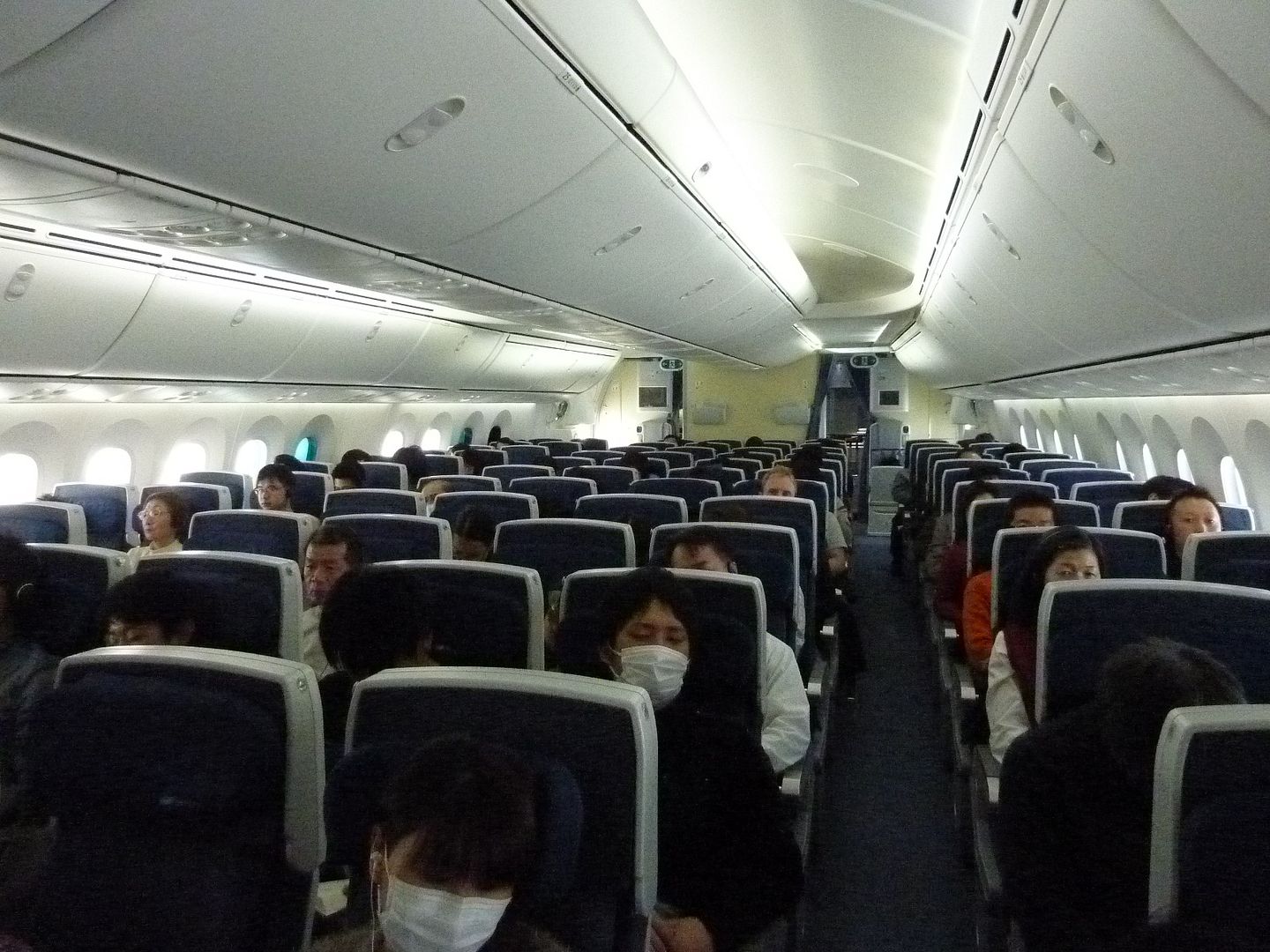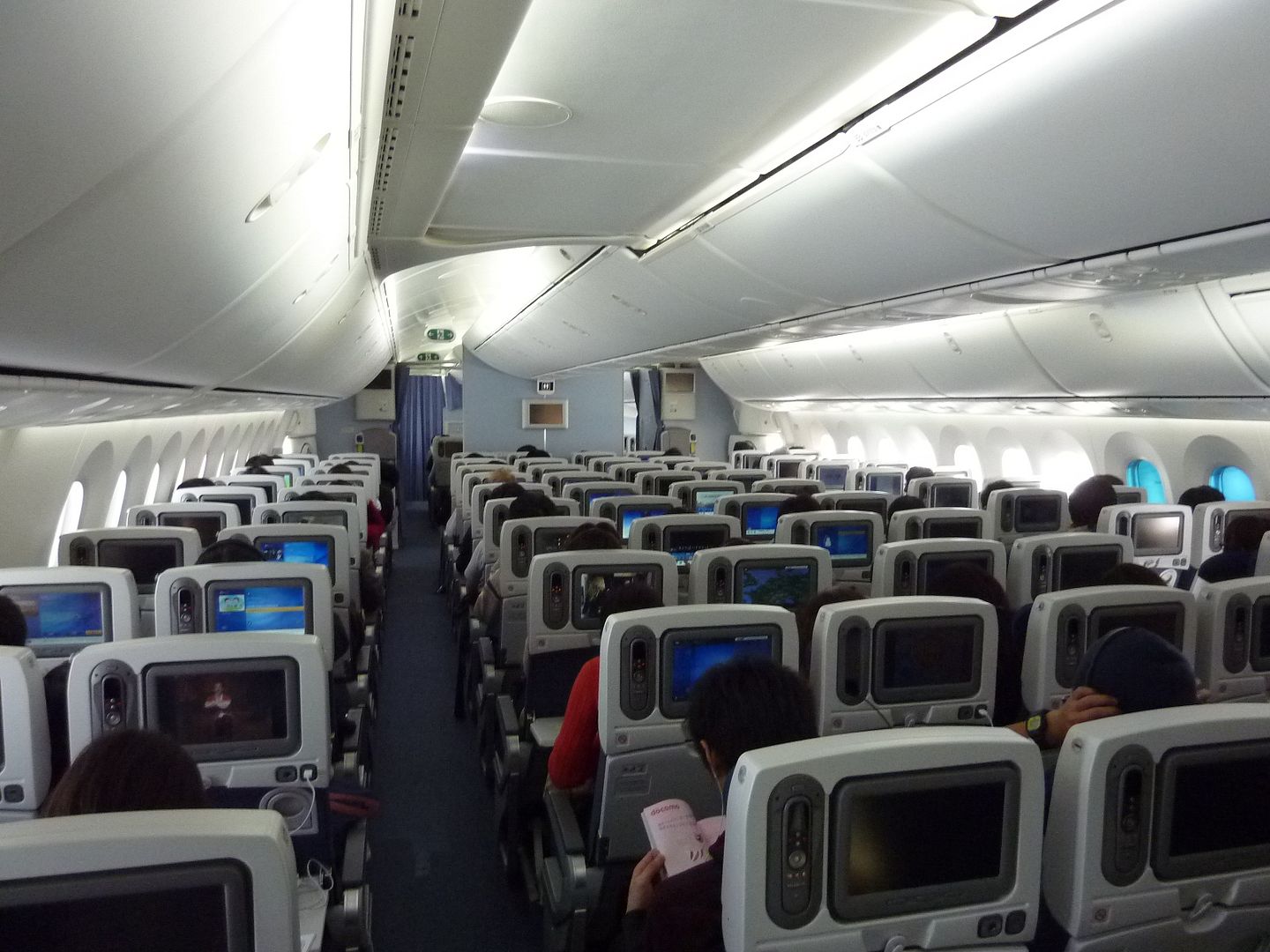 The front office gave some flight and weather info, but his English was not that great so never managed to catch our cruising altitude, however according to the map were now at 37,000ft.
Outside
Shortly after returning to my seat some lovely smelling hot towels were distributed, I assume they were hot, it was just damp by the time I got mine, still, smelt nice!
Let's have a quick play with the IFE to see what it has to offer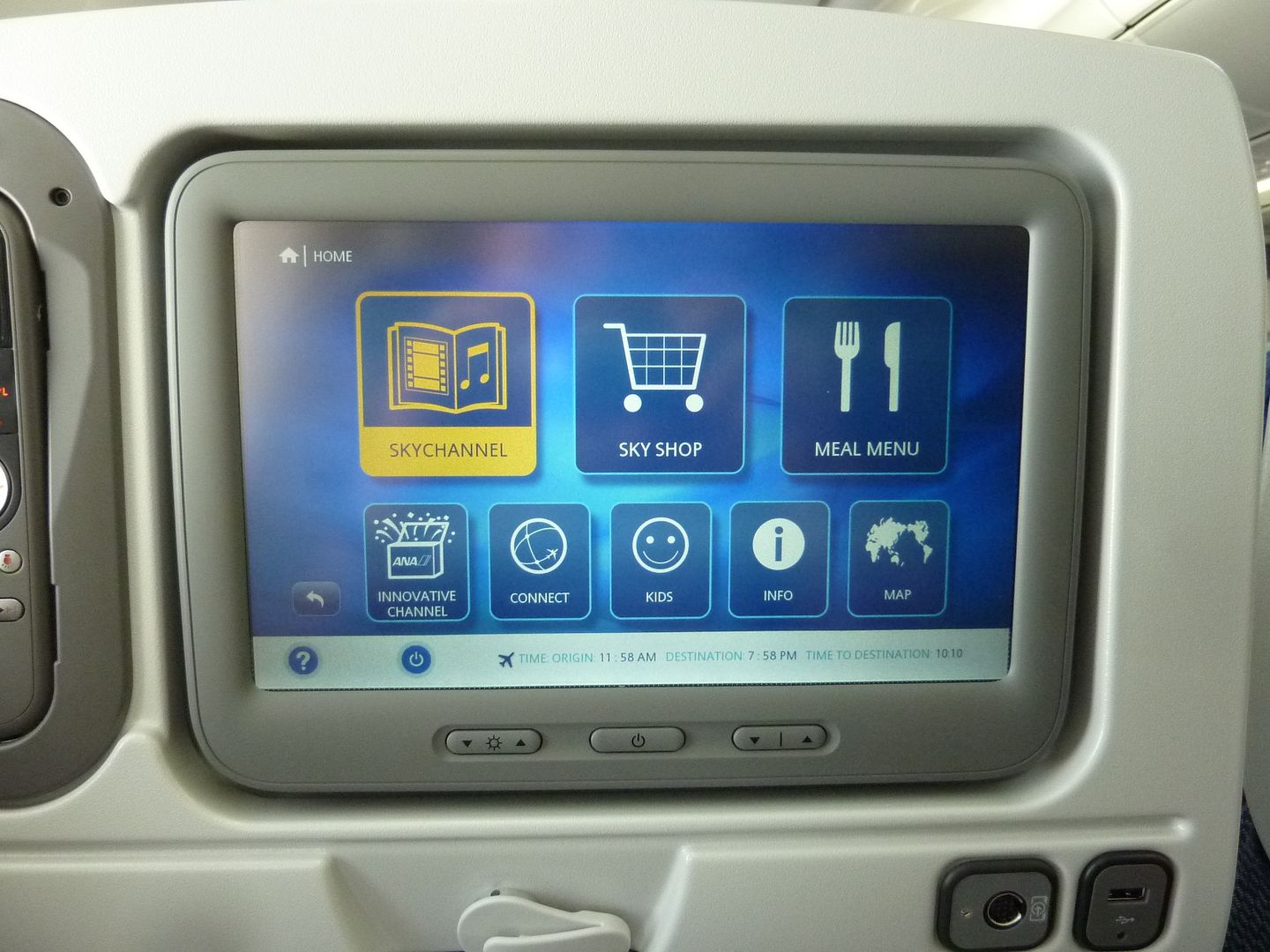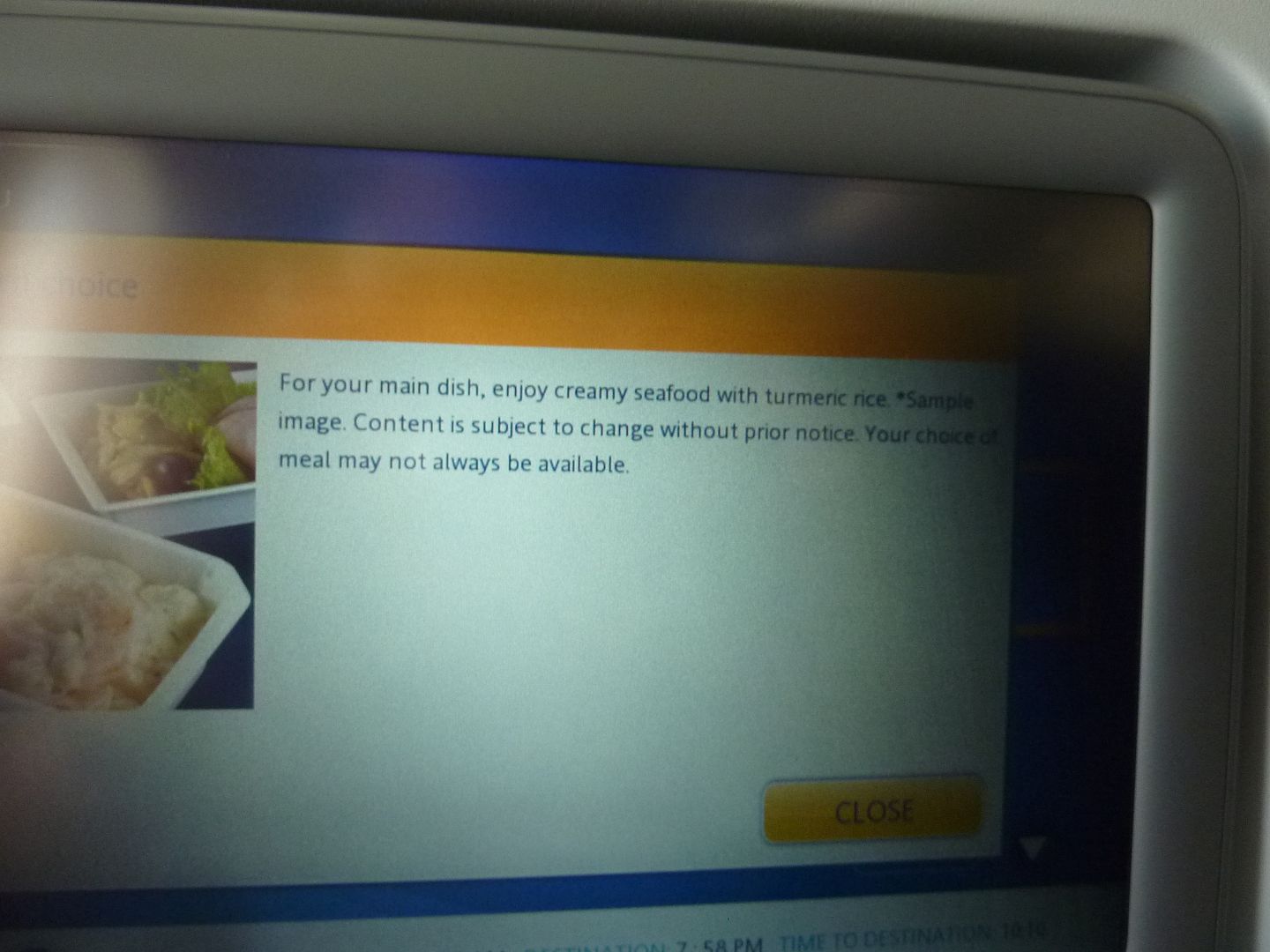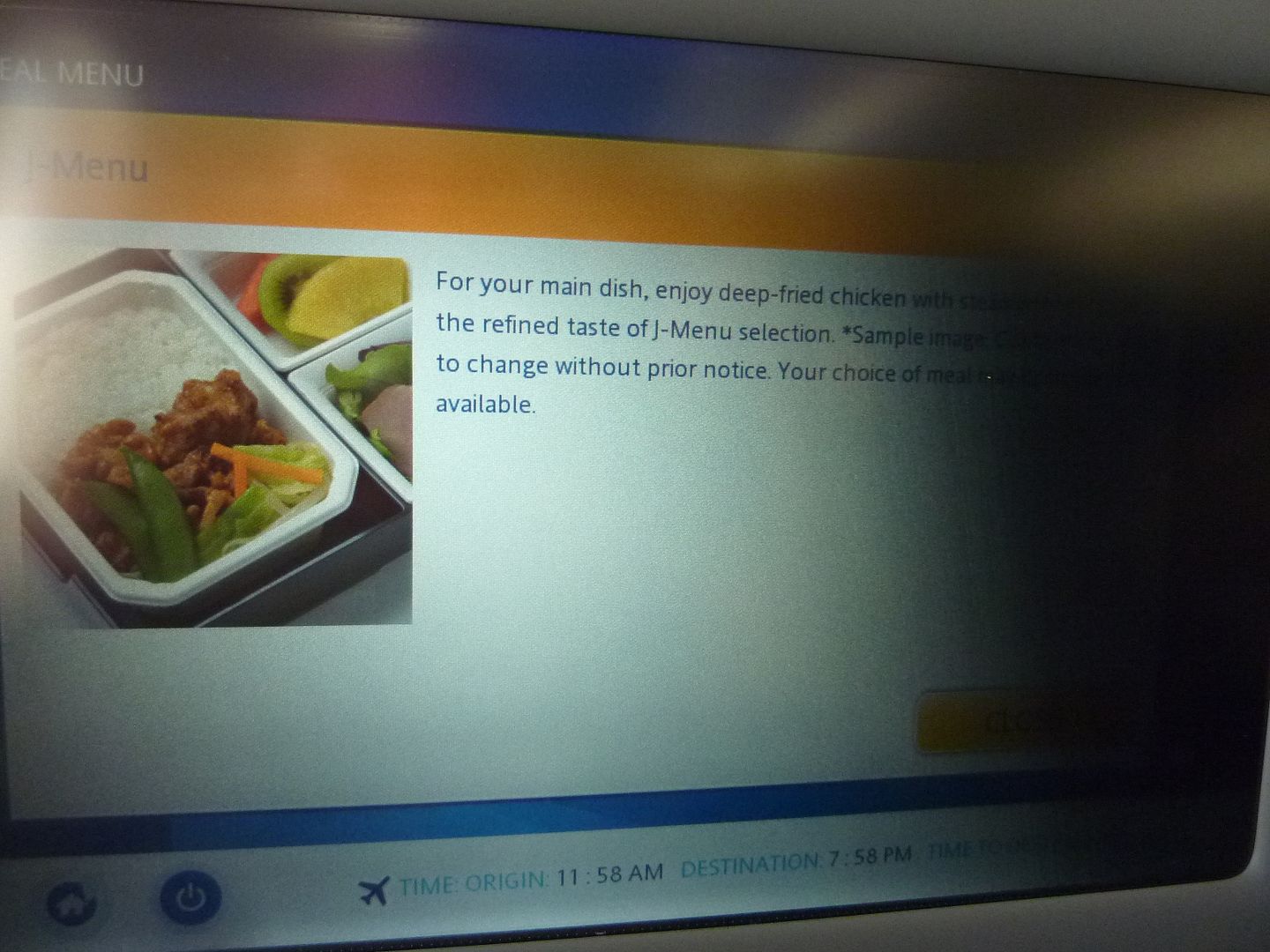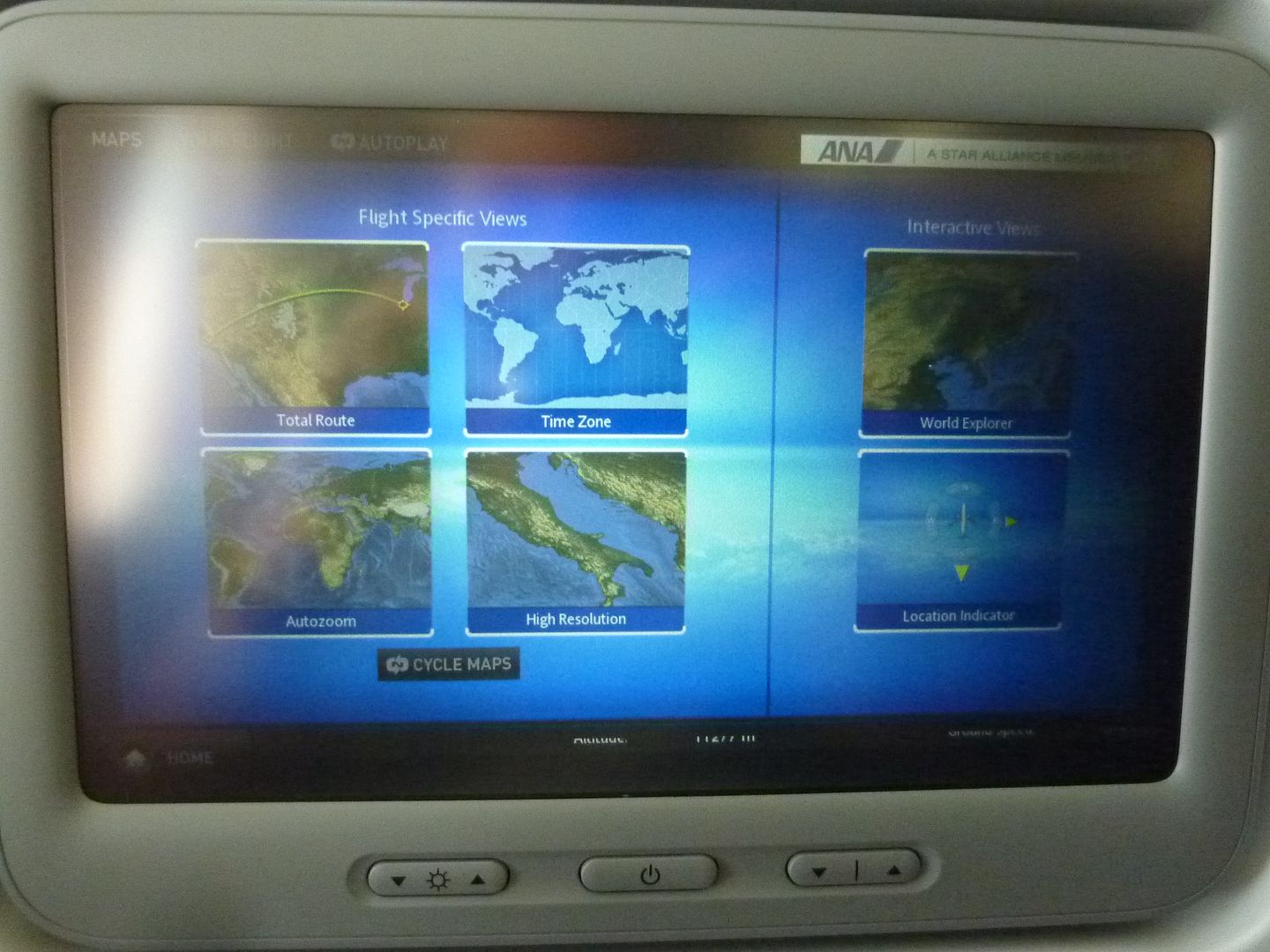 Great view outside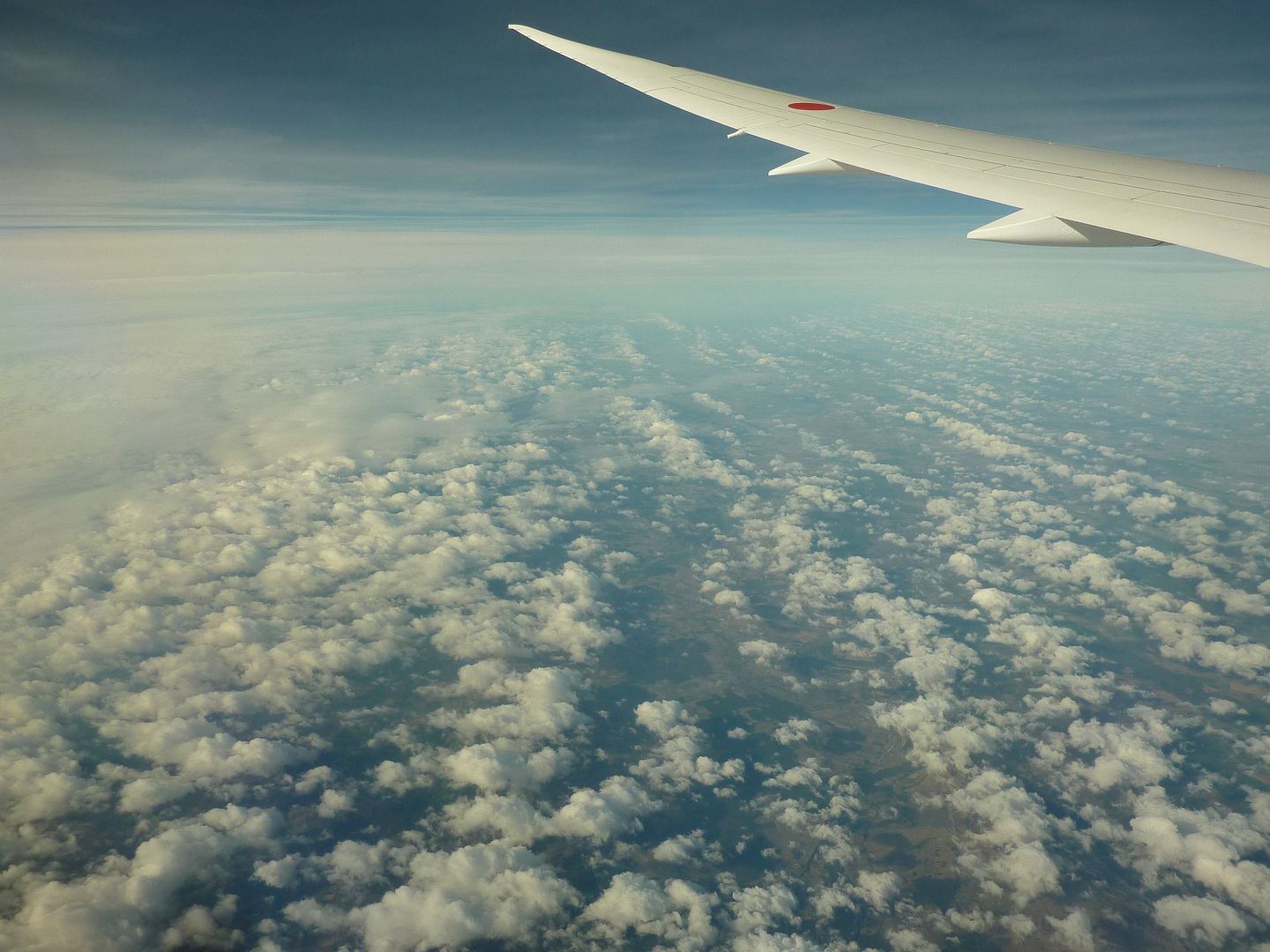 Time to start work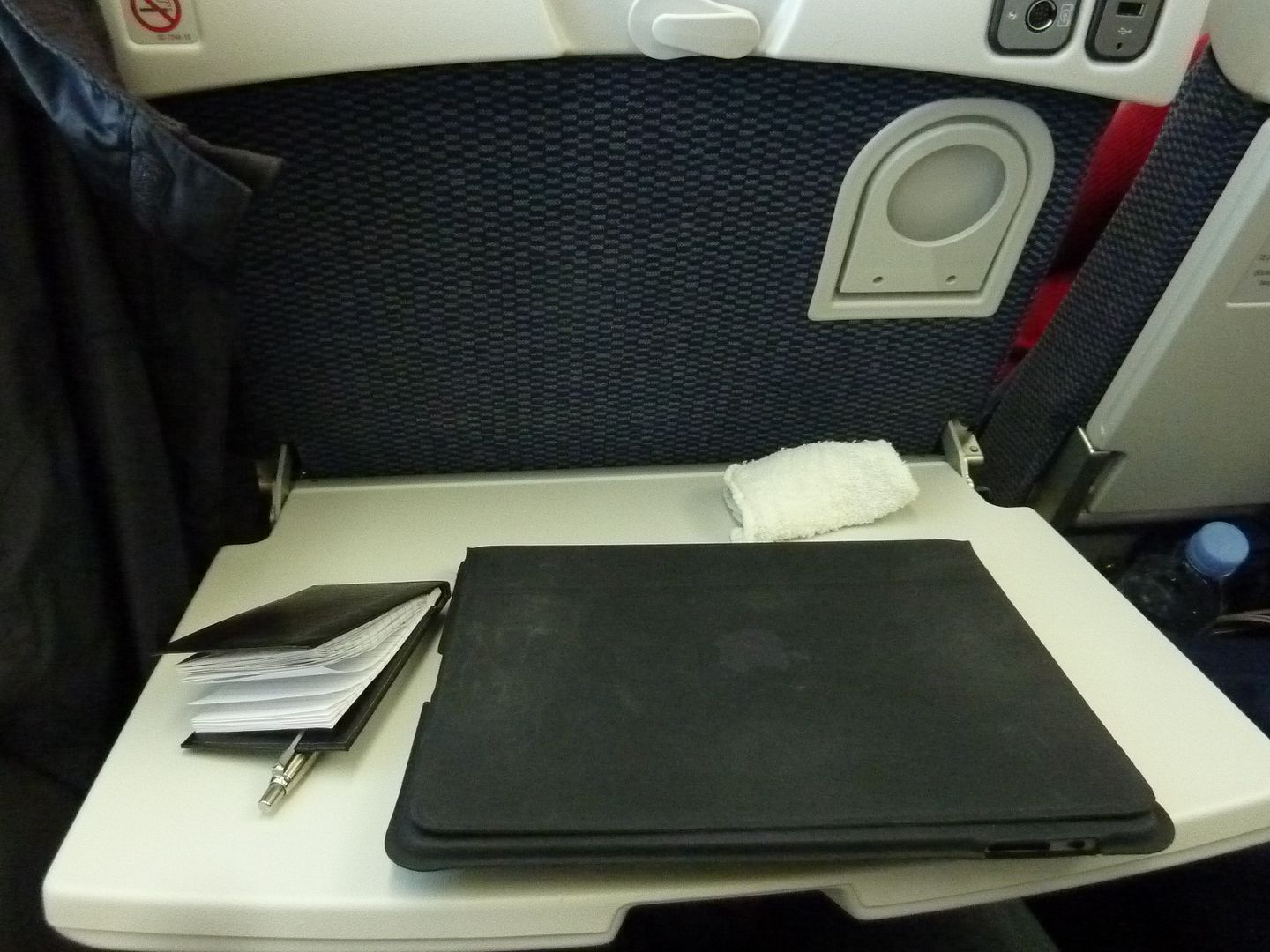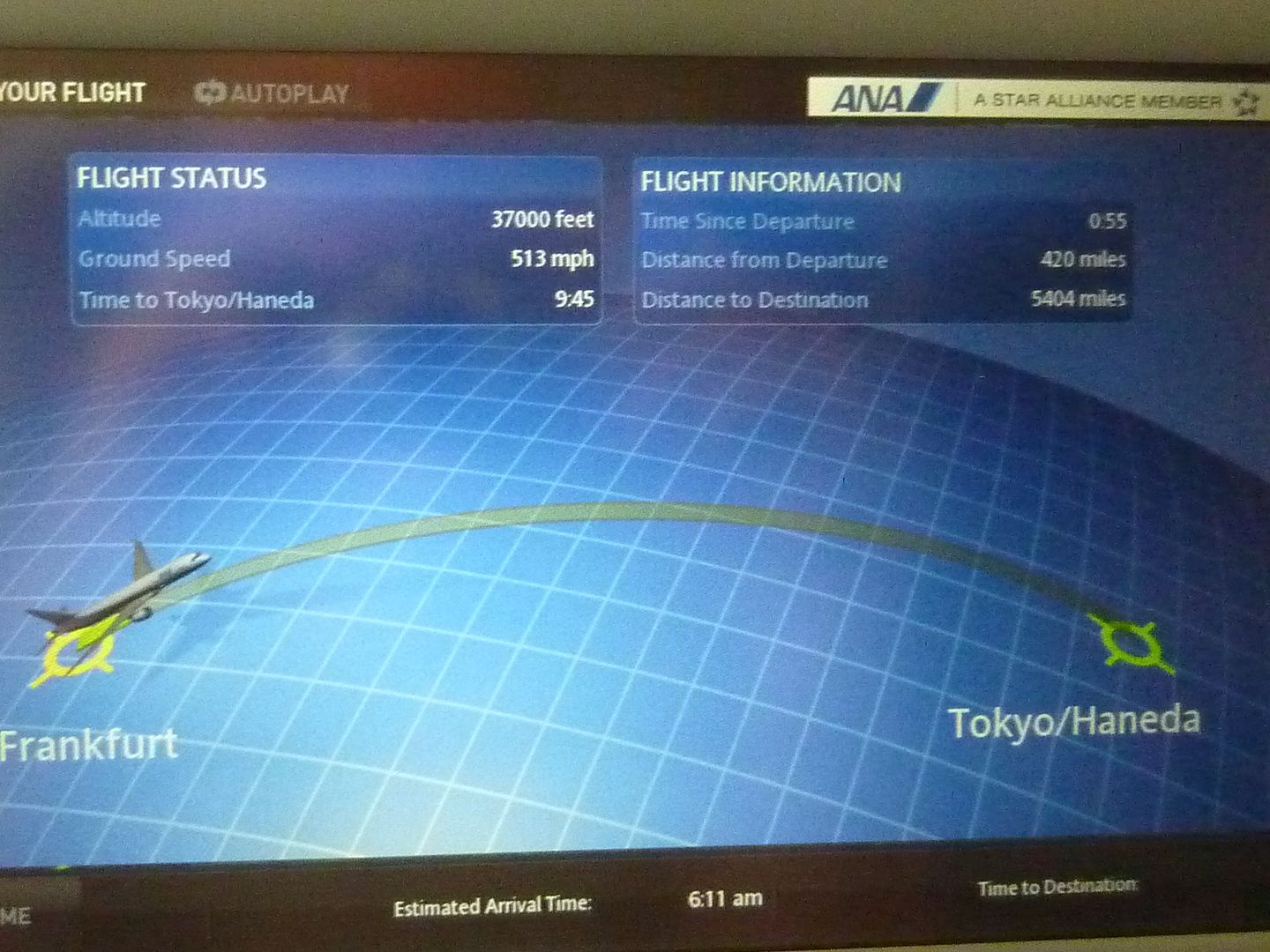 View outside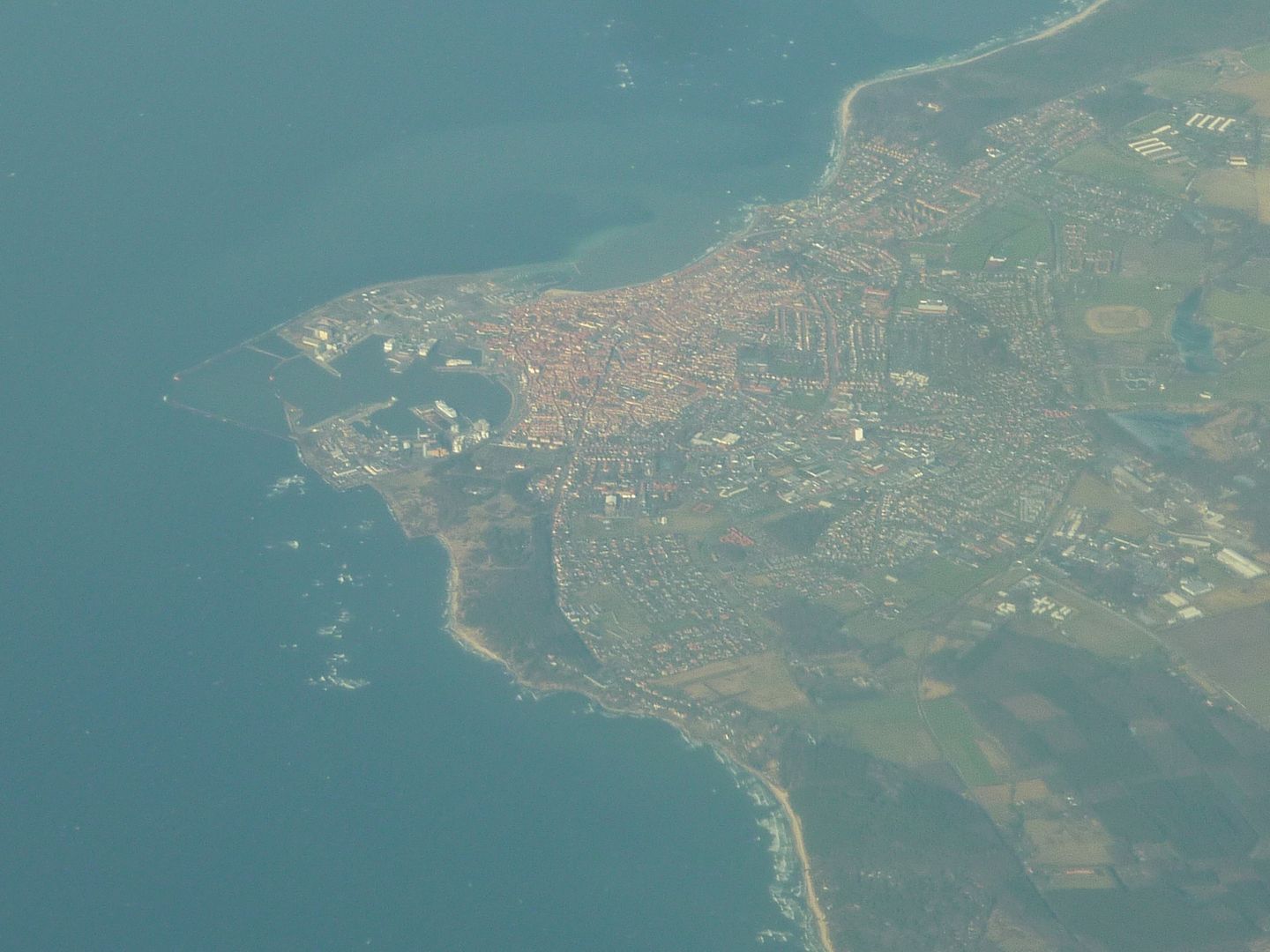 Drinks and a bag of snacks were soon service, I took a G&T, note the gin is poured from a bottle, looked like Beefeater, a pre cut lemon is added then tonic poured in and a stirrer is added, this is located in a tub, all very organized, thankfully it was a decent 'shot' of gin.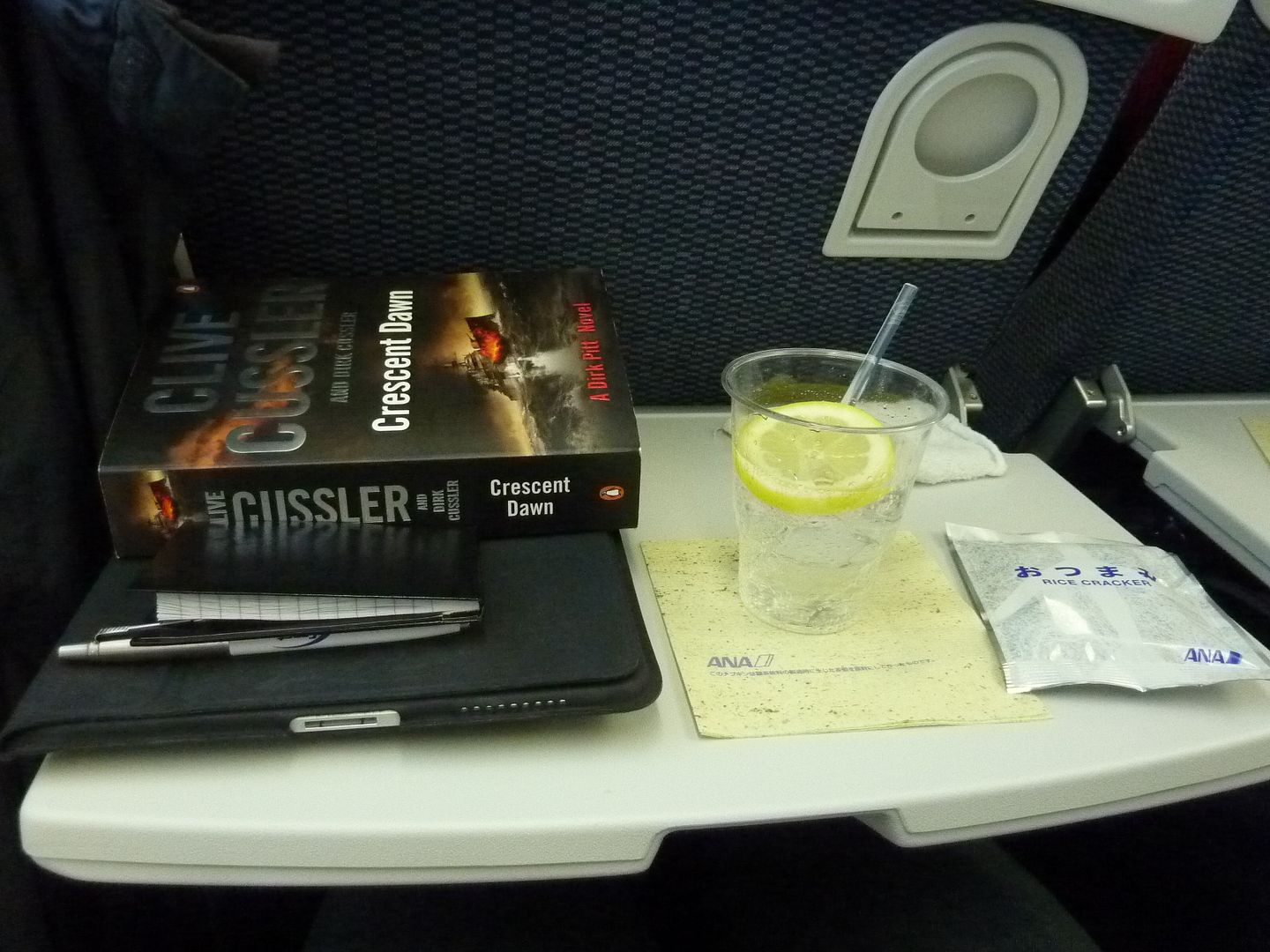 The plastic 'glass' is quite sturdy, much better than the ones BA use.
Beautiful day outside for flying, this is the Oland Island off to the left, I'm sure P has been there…
So far I'm enjoying this ANA 787 experience, the seat is comfortable, the pitch is comfortable enough and I love the recline as you don't affect the person behind nor does the passenger in front affect you, I tell you, this should be standard in economy, helps make it more bearable.
Note the USB point is a great feature, it will charge an iPhone but not the iPad, so bear that in mind.
Things got a bit bumpy over the Baltic sea and beyond, I'm surprised the seat belt sign never came on, drinking your drink was getting quite interesting.
Trash was collected then dinner service started, looking at the options, just two, the Japanese option looked best for me, who wants seafood in a creamy sauce? Yuck!
Dinner was offered along with a drink, the meals offered as chicken or seafood, I took the chicken along with red wine.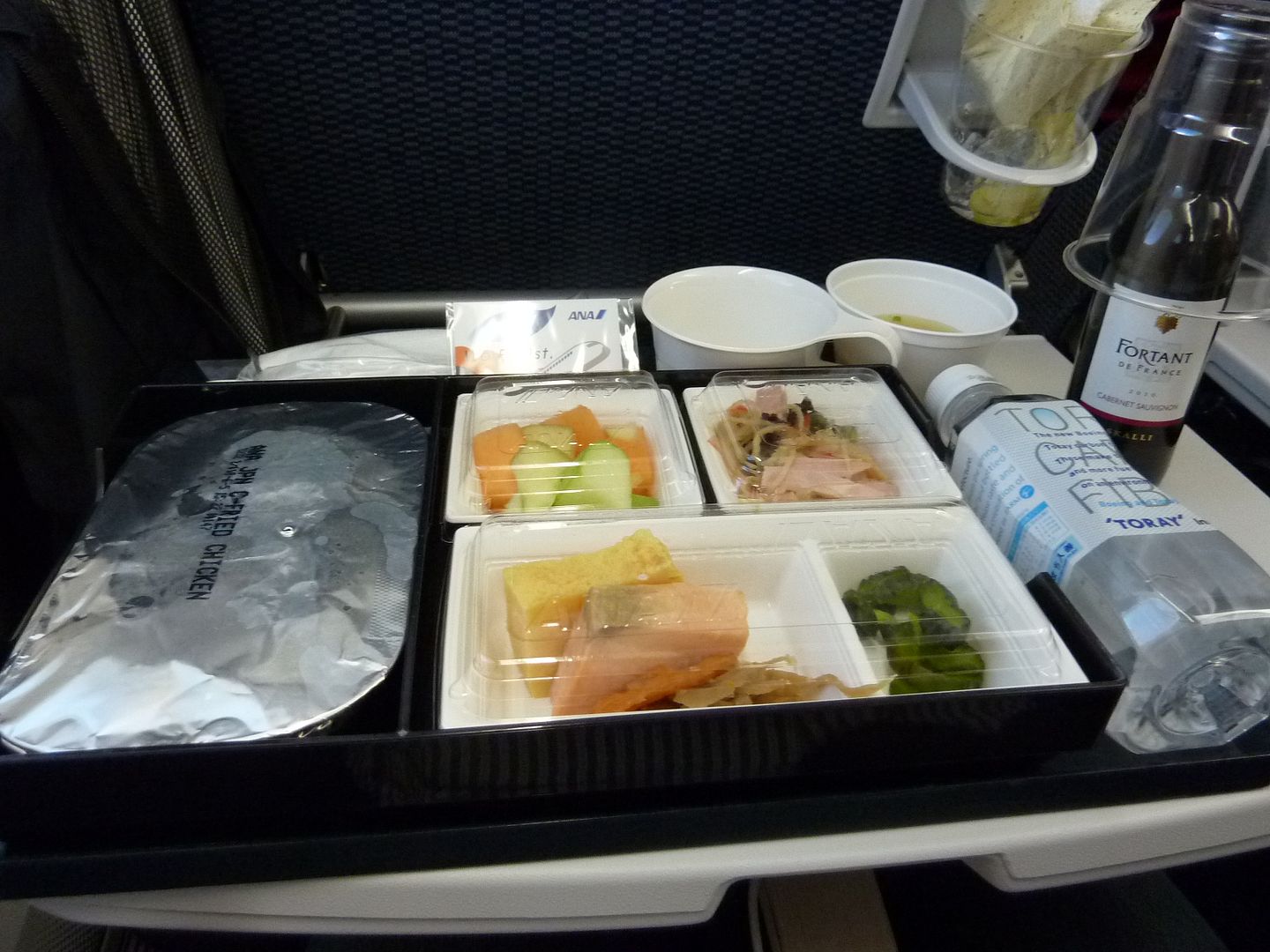 Presentation was excellent, through that is expected from ANA. The food itself was pretty tasty. I ate pretty much everything, found it to be quite enjoyable.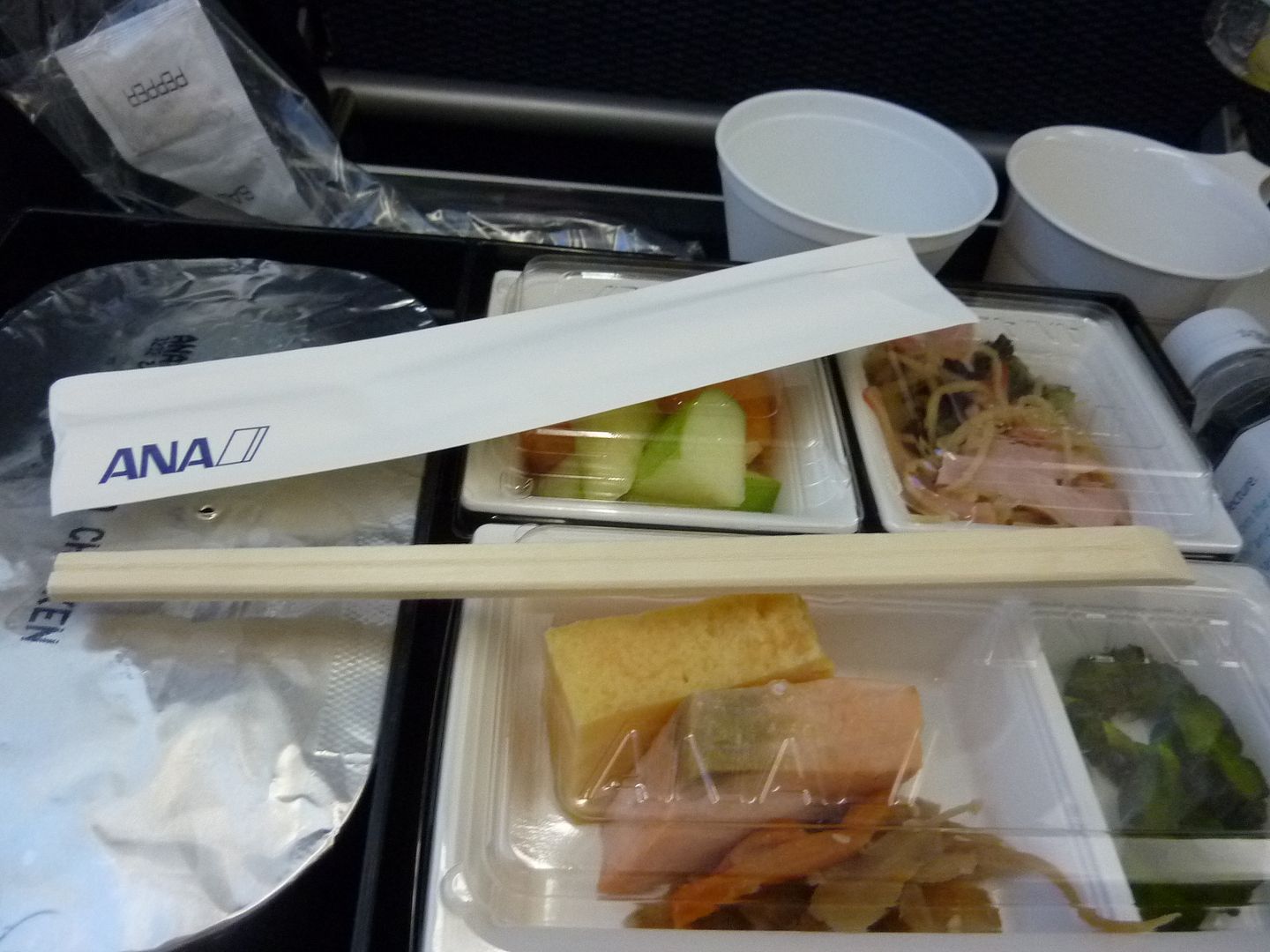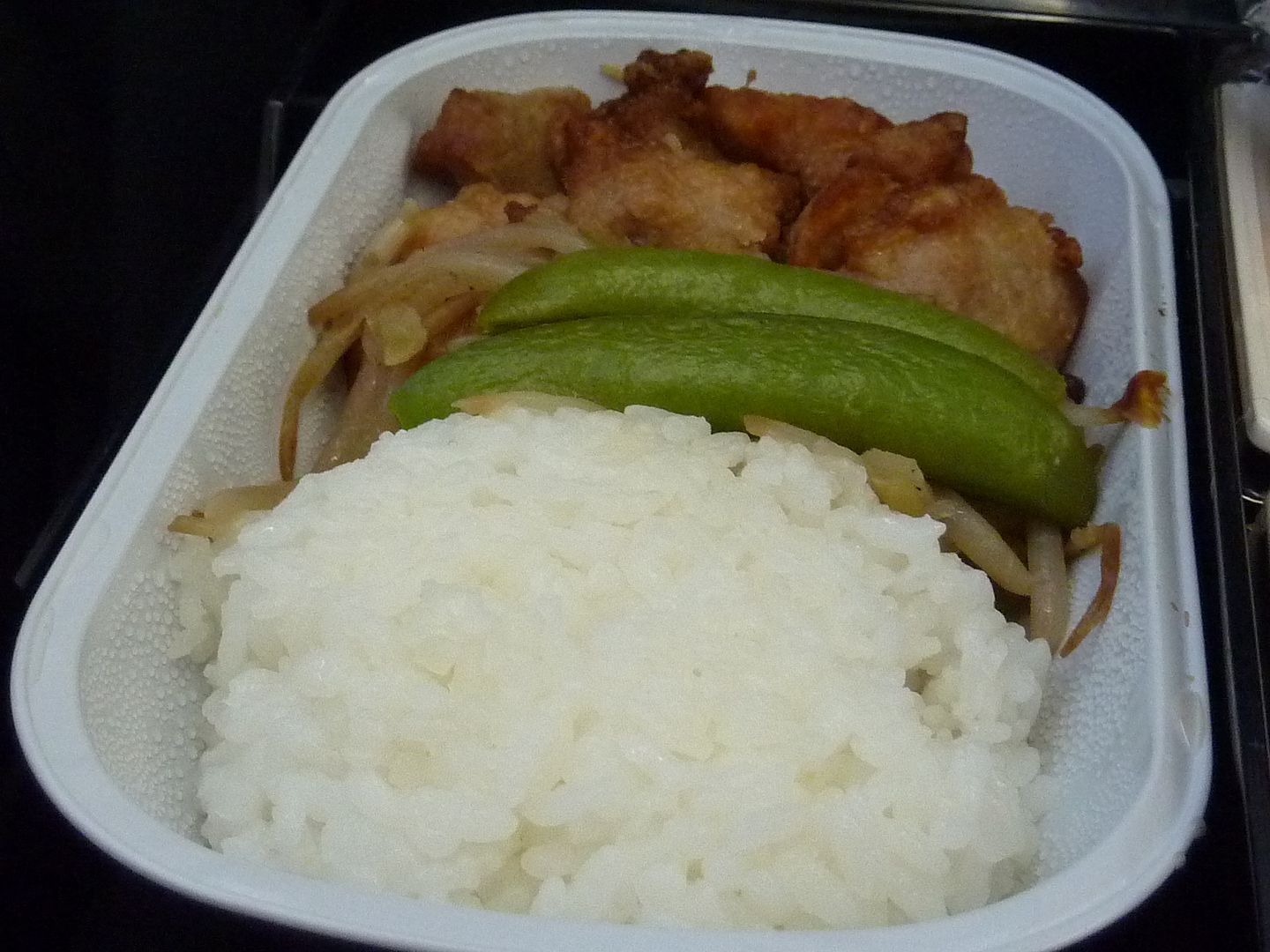 Our location at meal time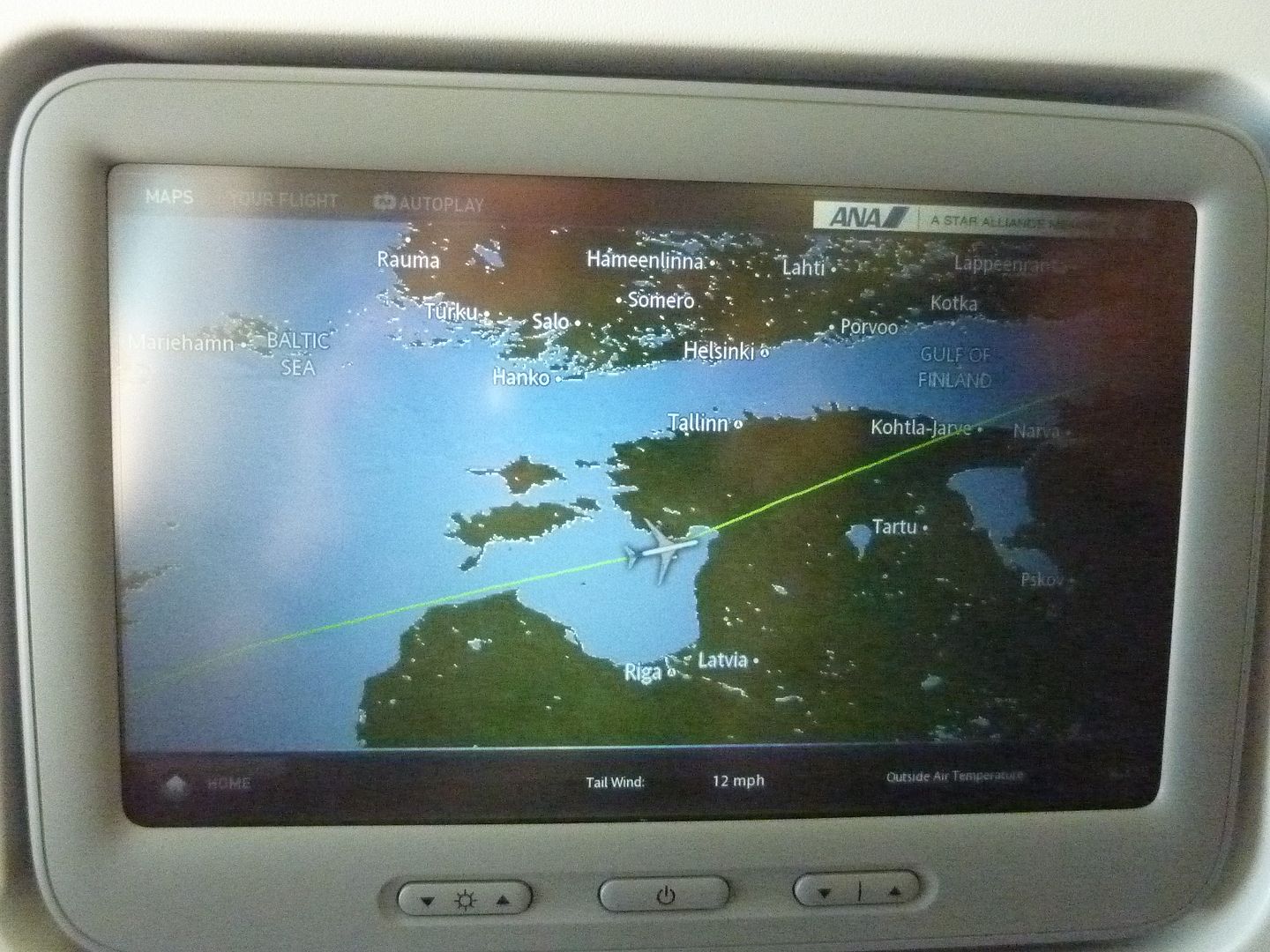 Interesting reading on the water bottle
When the trays were cleared away ice cream was offered, quite hard to start but once softened up, most enjoyable.
Wing view
Tea and coffee had been offered during the meal.
Service items cleared away I reclined and dropped off for a while...........awaking just over 3 hours our of FRA, finding the cabin in darkness and the windows dimmed, must admit I'd not expected the windows to be dimmed quite so early, after all it was early afternoon with 7 hours still to go!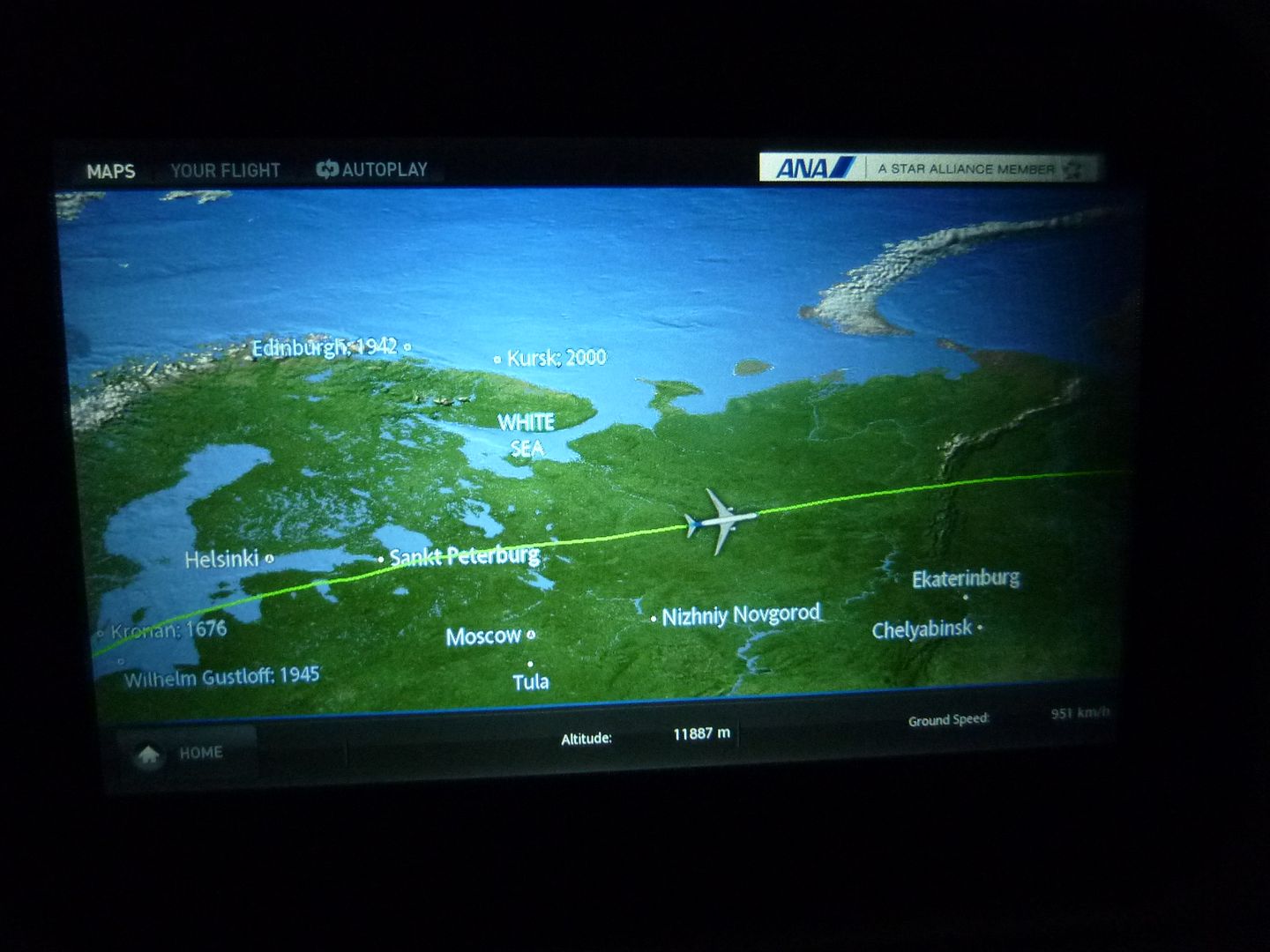 With regard to the windows being dimmed, they really get dark, so much so you have trouble seeing the lights on each end of the wingtip. I myself am not so keen of this feature, one of the greatest pleasures of sitting in a window seat is looking outside at the cloud formations and the land far below, even at night, looking down on the lights in the cities below, so bright, is brings me great pleasure, this new technology takes that away from you, a simple pleasure it used to be, is this the price of this revolutionary new plane?, sad.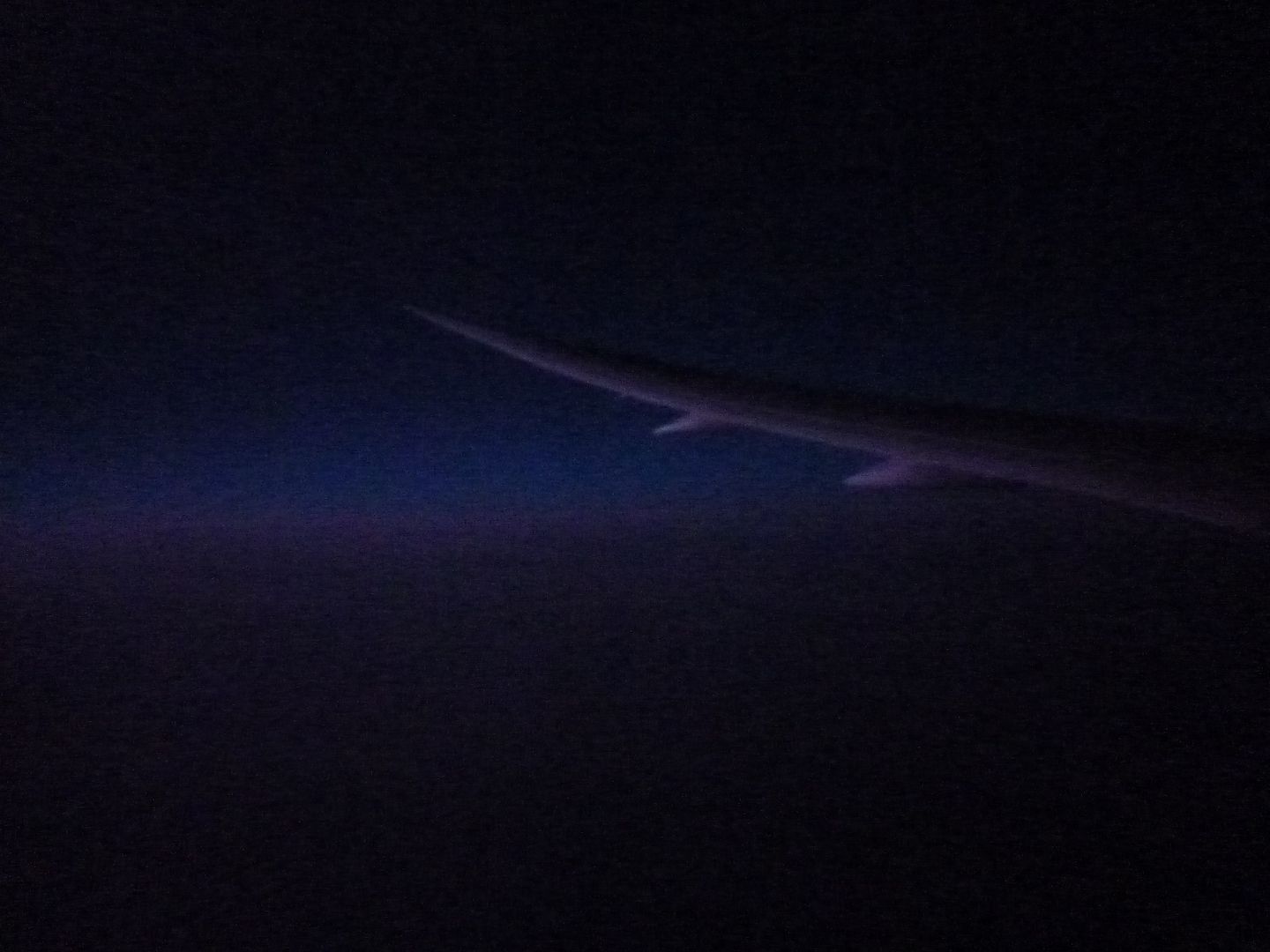 My seat mate took a toilet break, I took the opportunity to find red wine in the rear galley, it was curtained off so I poked my head through the gap I created, it seemed to cause some amusement to the two FA's who were having their break, wine in hand I thanked them and returned to my seat to write up the latest before a few pages of my book, the reading lights are very bright, I suspect they could annoy fellow passengers.
Through the flight the crew were quite attentive, regular drinks runs along with prompt answering of call bells, I never used one myself, but the chap in 28A did, several times, there was an FA the in a matter of seconds, most impressive!
As Markus wood say, the crews were business friendly, but with plenty of smiles and they seemed pretty genuine too, nice to see as nothing worse than a fake smile.
Reading and red wine are my IFE
I dropped into the galley again mid flight for another bottle of wine, there were a few snacks set up for passengers to help themselves, bananas, some small chocolate bars, Pringles and the same snack that had been handed out during the first drinks run.
I spent most of the flight reading my book, looking at the map, jotting comments of this TR and also managed a film on the IFE, I forget what it was called, directed and starred George Clooney, a film about the Ohio nomination for the Democratic party, pretty good film actually.
The mood lighting through the cabin is quite low key, there is a very light blue that runs atop of the overhead bins, it looks brighter in the picture than in reality.
Now I'm not sure if it was me or my imagination, but there seemed to be a gentle background electrical noise, it's not something I have come across before but I'm sure I could hear/sense it during the duration of the flight, it would be interesting to see if others notice this on their 787 flights, if not, I must be cracking up......
The most obvious lighting comes from the toilet area, when a toilet is occupied the lighting changes from green to red. The cabin mood lighting on this flight was pretty minimal, I've seen more on a few year old QR A330-200.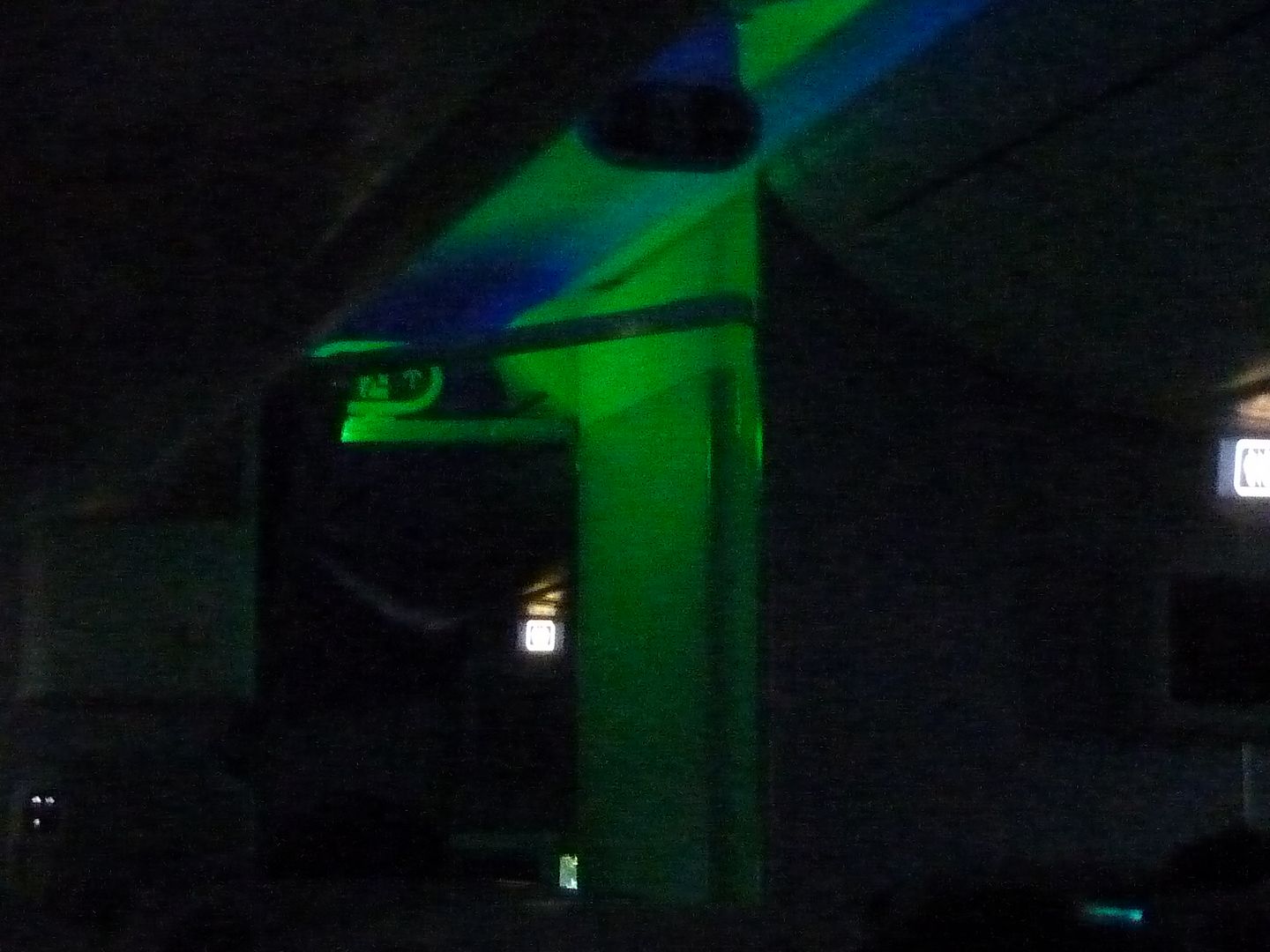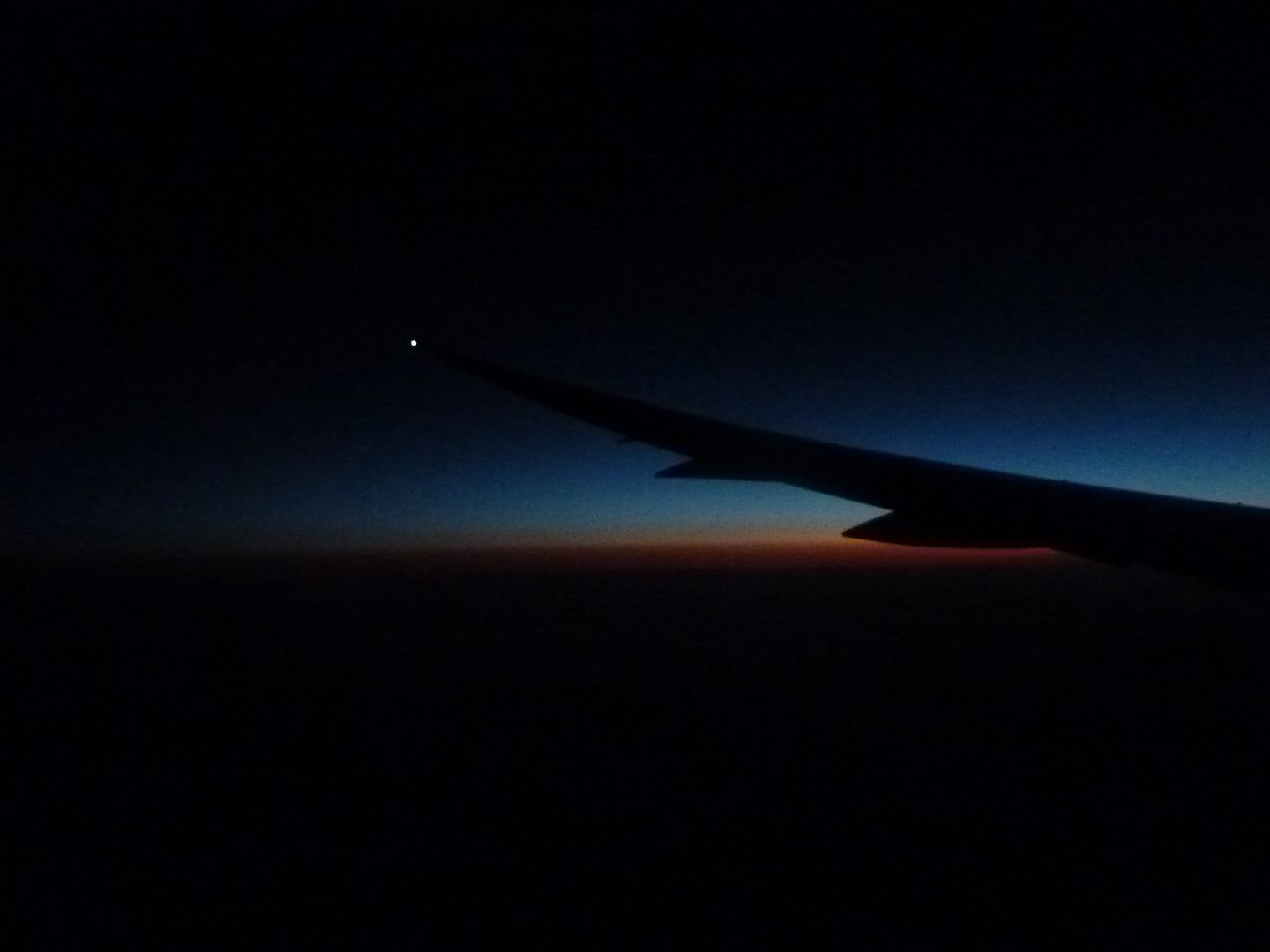 With just over 2 hours to go, the cabin lights were gently turned on, slowly increasing in brightness, a nice feature over the quite harsh instant lighting in planes of an older generation.
The turning on of the cabin lights was quite welcoming as it meant breakfast was not far away, I was feeling a bit hungry so it would be quite welcome.
The nice smelling hot towels were again distributed, this time they were hot.
Small cups of OJ were passed out after the towels.
Breakfast turned out to be pretty decent, in addition to some fruit, strawberry yoghurt and a roll there was a decent cheese omelette with portions of potato, broccoli and a kind of ratatouille of mushrooms, tomato sauce and what looked like courgette, all in all it was quite tasty and hit the spot.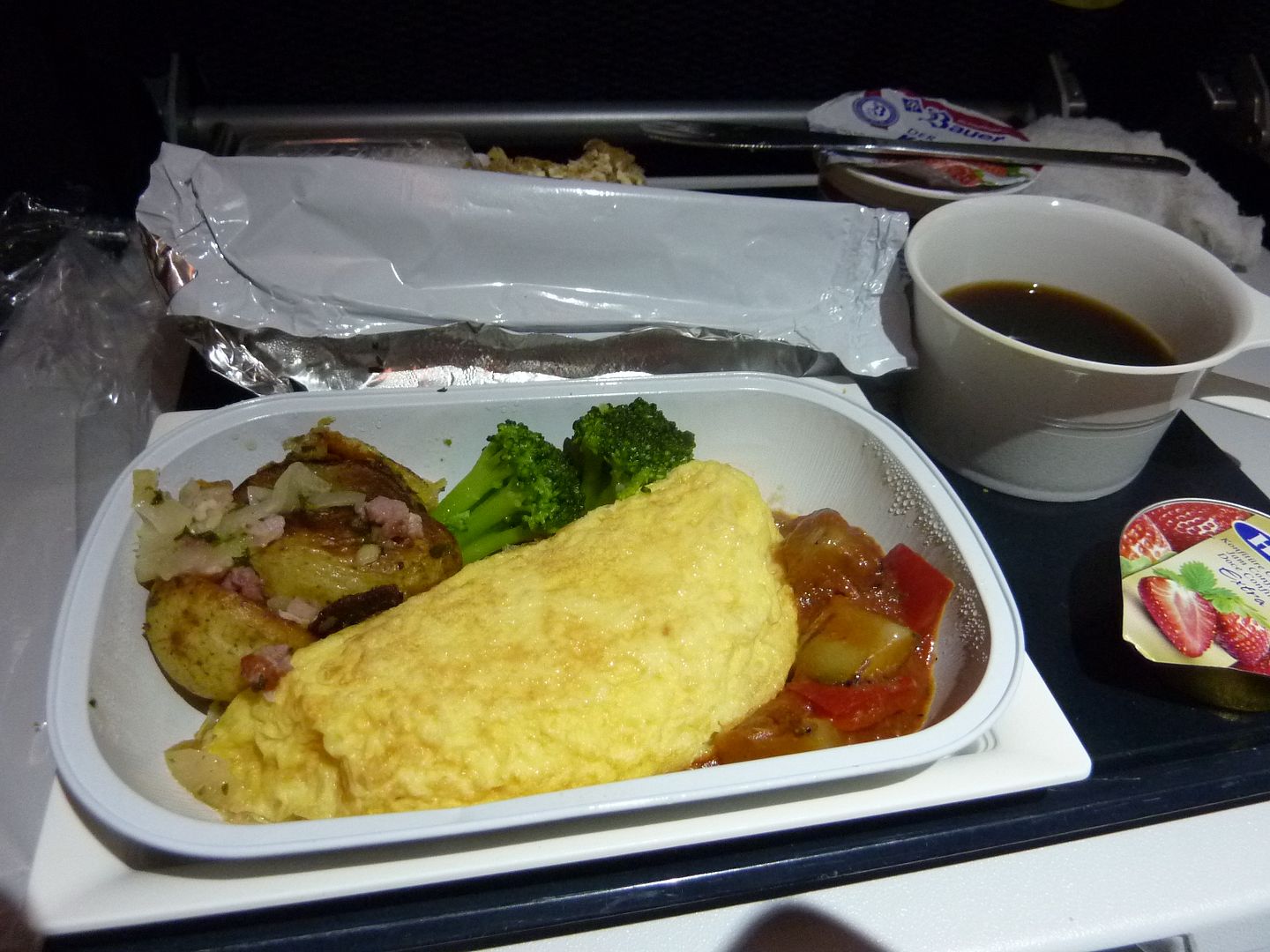 Location during meal service
The coffee was decent enough to have a second cup.
Indeed, I was hungry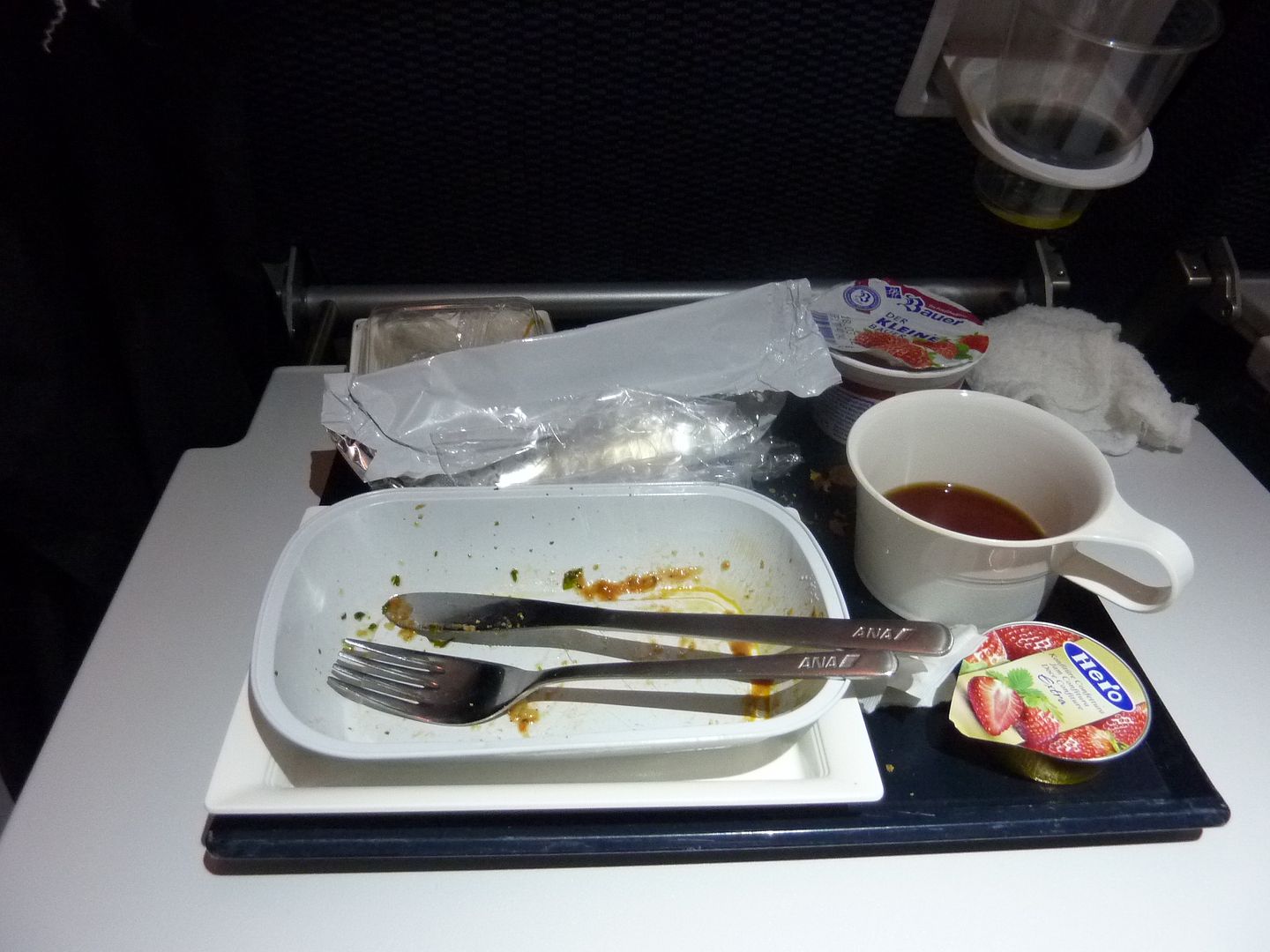 Meal trays were cleared away promptly, now cruising at 41,000 ft and just over an hour and a half to go before our arrival, I think breakfast could have been served later.
It seemed to take quite a log time before we finally dropped some altitude and headed into HND, this may have been due to the arrivals sequence.
So descent started some 180m out of HND, the seat belt's on sign came on at 06:05.
Simple but nice touch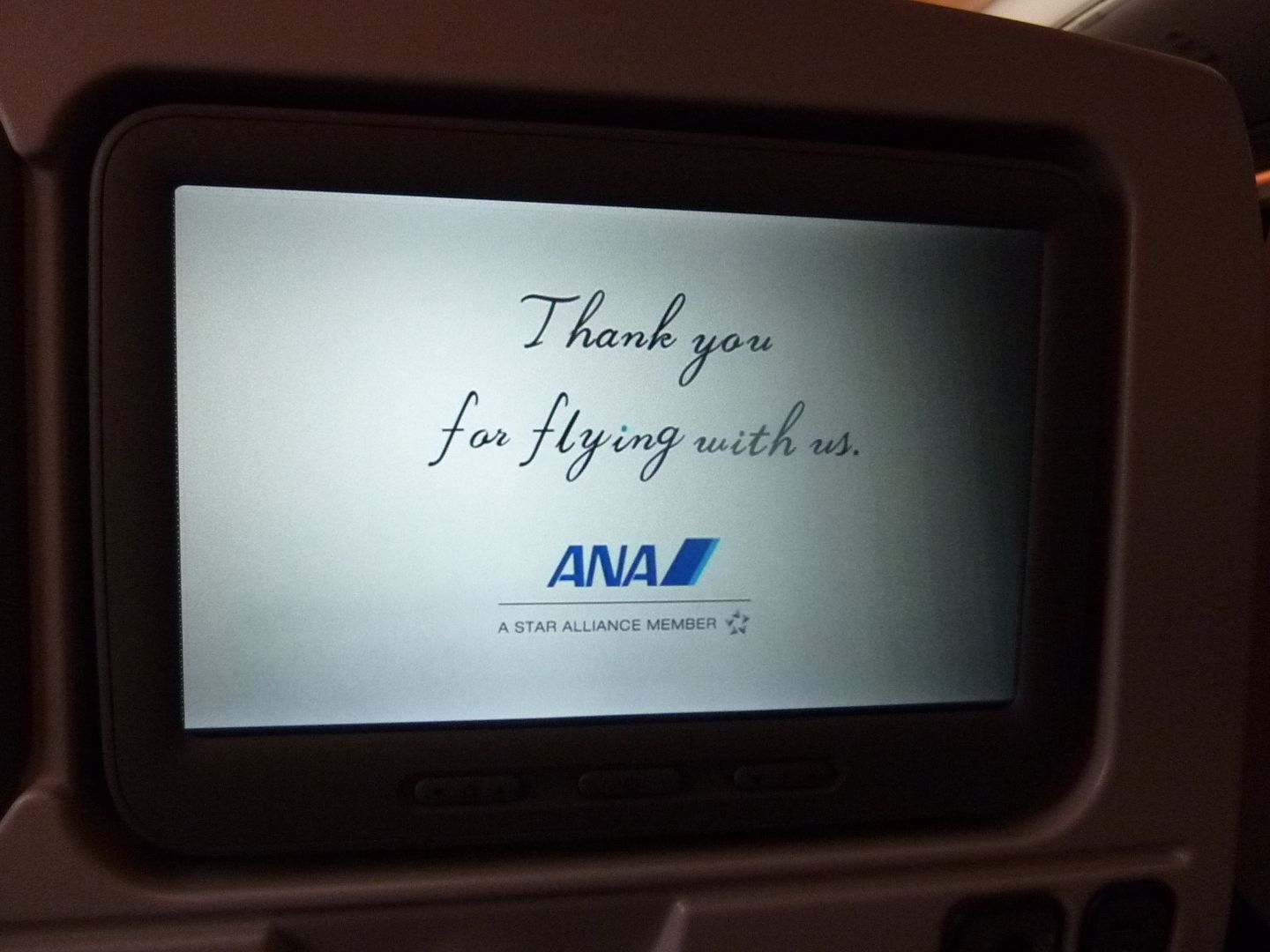 Almost there
On the ground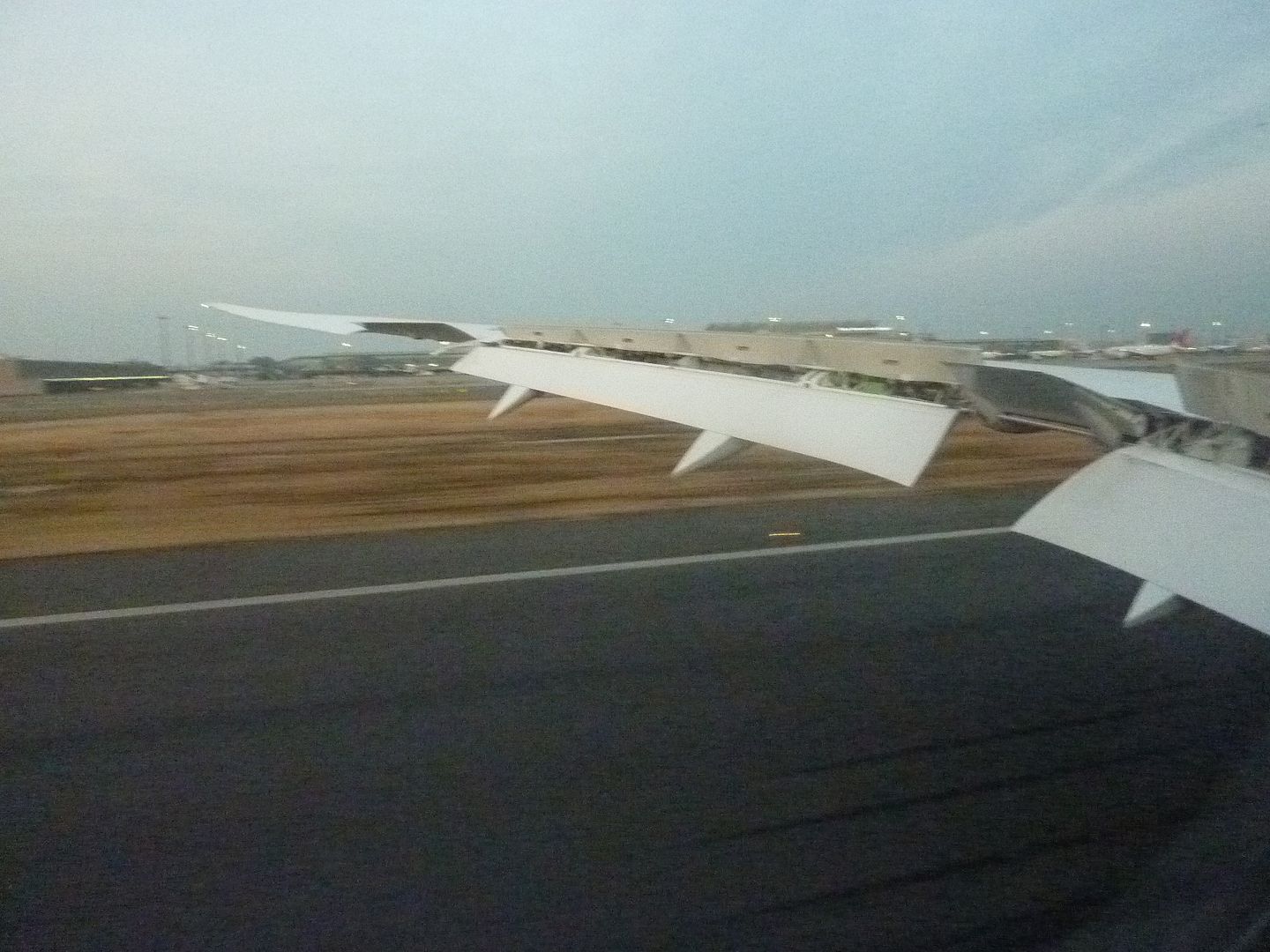 Once on stand I was one of the last to leave the plane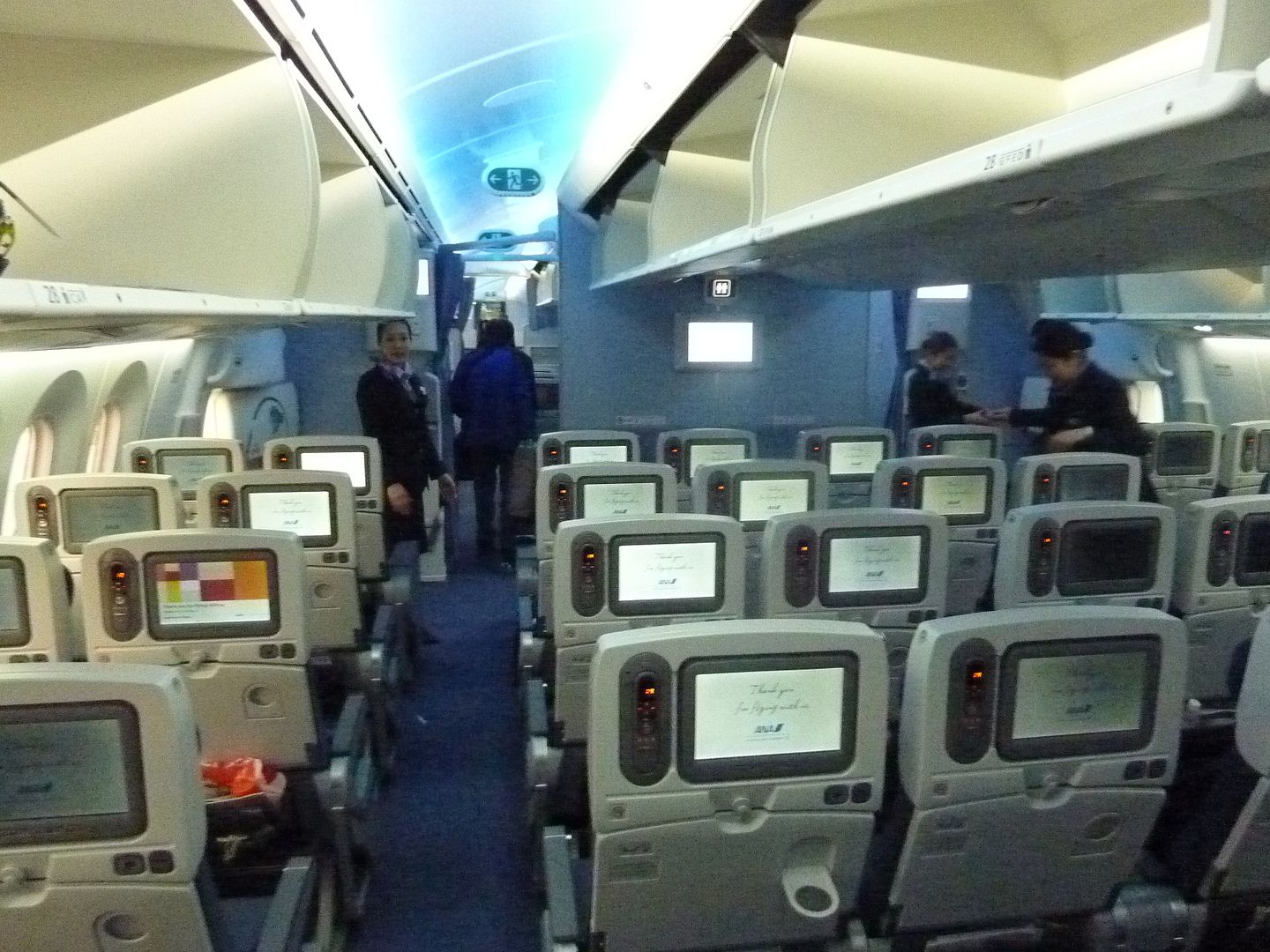 At the gate in HND
Off to arrivals
Another shot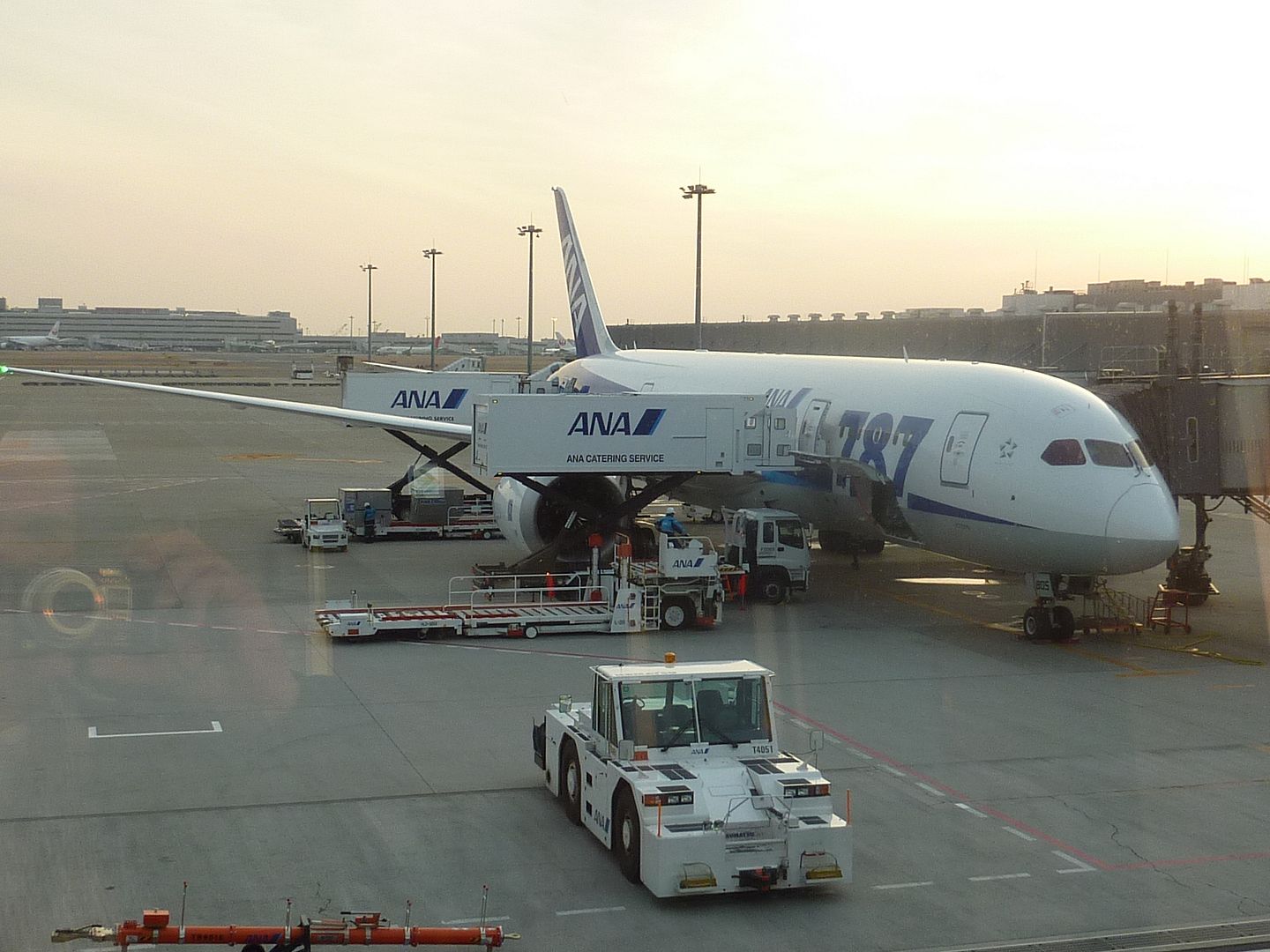 After clearing immigration I headed out and took the shuttle bus to the domestic terminal for some spotting before heading to NRT later in the day for my flight to PVG.
So the burning question, is this plane the revolution it is made out to be?
It depends.
She may be lighter, more fuel efficient and thus greener, always a good selling point, but the lower running costs won't equate to cheaper airfares, let's face it, the A380 has the lowest CASM out there, do you see cheaper