Continuing from:
Wonders Of Malaya (1): TK (lux) BRU-IST (J)
(by
SR4ever
Apr 14 2012 in Trip Reports)
Contents:

X. Transit in IST
XI. Flight IST-KUL
XII. Amenities - Misc
XIII. Arrival in KUL
XIV. Journey KLIA - Melaka
XV. Impressions
X. Transit in IST
As I had been unable to check-in for the IST-KUL leg as it was operated by MH, I had no choice but to queue up at the Transit desk on the arrivals floor. Those like me bound for KUL had a special line to a dedicated agent, doubtless a nice treat.
Check-in was quick, but the agent was sorry to tell me that there was not a single window seat left, sadly... A real pity, as I would be missing interesting daytime hours above Istanbul, the Taurus Mountains and the middle East until the near end of the Gulf...
The agent was however kind enough to allocate me to seat 1G, i.e. on the 1st row next to the right-hand corridor, and told me that none would be seating in the middle seat.
Boarding pass + ID checks down the escalator up the departure floor took some time, something should be done quickly, as it is likely to become a very serious bottleneck, as TK develops its IST hub.
Once in the departure floor, I headed to the Millenium Lounge: although TK code-shares with MH on this flight, there is no access to the CIP Lounge.
The Millenium Lounge isn't a bad place, but it tends to be often crammed, and on that day, it was more like a packed canteen than a genuine premium lounge. As a result, I was unable to make pics in good conditions.
XI. Flight IST-KUL
Boarding was to start from 12.45, but from past experiences at IST, it wouldn't start any earlier than 13.15, and this was again confirmed when I finally left the Millenium Lounge.
The flight would have a lot of low-yield custom. Some priority boarding was enforced, although not strictly.

Flight: TK 8000 (operated as MH 031)
IST 14.00 (14.05)
KUL 05.40 (05.30) +1
Aircraft: Boeing 777-200
Seat: 1G (Business)
View to the frame:
Only door 2L was used, meaning no Y boarding flows through the main J Cabin. Once on board, it was like entering another world, stepping into Malaysia from very first instant. I indeed had a warm welcome from the purser, who took my coat to the hangers, gave me details as to the IFE and the seat controls, and asked me which soft pre-flight drink I would want. I went for guava juice. Another world, really.
Boarding took quite a while, but the J cabin felt very exclusive, with a refreshing, relaxing blue ambiance, and proper longhaul seats.
The J cabin was loaded round 80%. Only the very middle seats in the middle block were free. There was a good mix of Turkish, Asian and Western custom, but Westerners seemed to form a slight majority.
Another pre-flight drink was served, along with a hot towel. Amenity kits were also quickly distributed. This was going to be a good flight, even with no window seat.
Push-back took place at 14.05, and the 772 felt somehow noisier than 333s which I got used to flying over the past years.
Taxiing was a bit slow, but take-off was quite quick thereafter.
Drink service with cashew nuts started some 30min after take-off, with 2 runs (Champagne):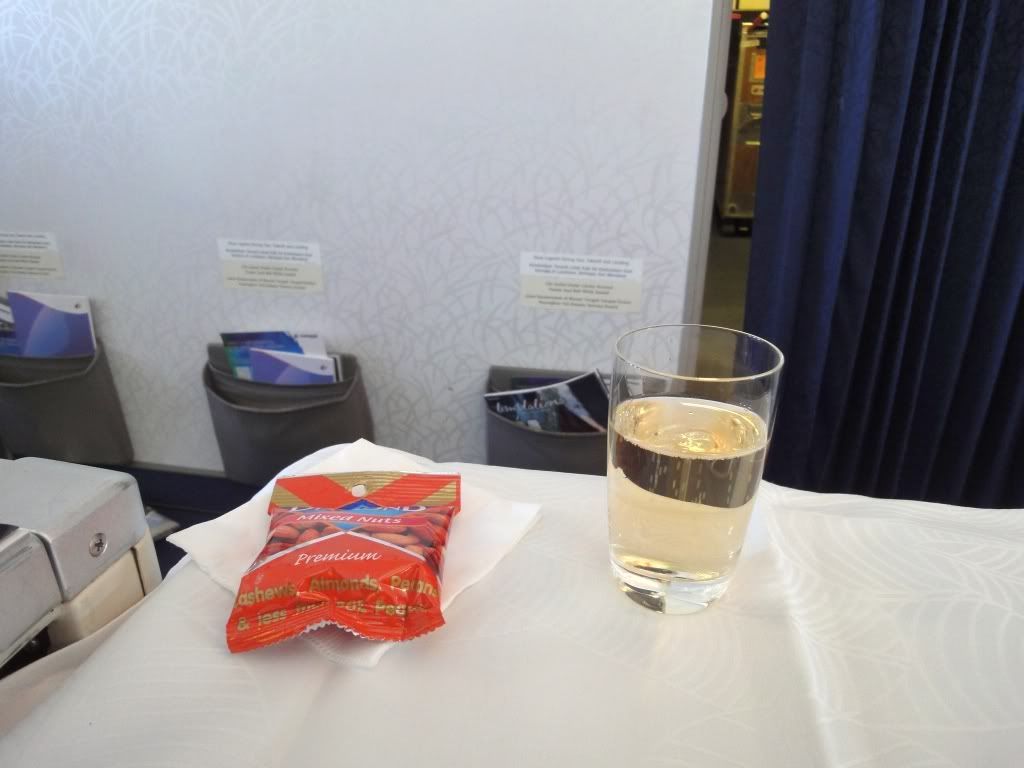 Then the award-winning signature dish: Saté skewered chicken (with a cold rinsing-towel), 1 hr after take-off:
Definitely yummy. The purser was quite surprised that I was keen on having all the side-ingredients. It just tasted superb.
The first course came about 1 1/2 hrs after take-off:
Sadly, no menus were given.
Then the main course. I went for the lamb kebab, with some Shiraz red wine:
Yummy main course, really.
Dessert: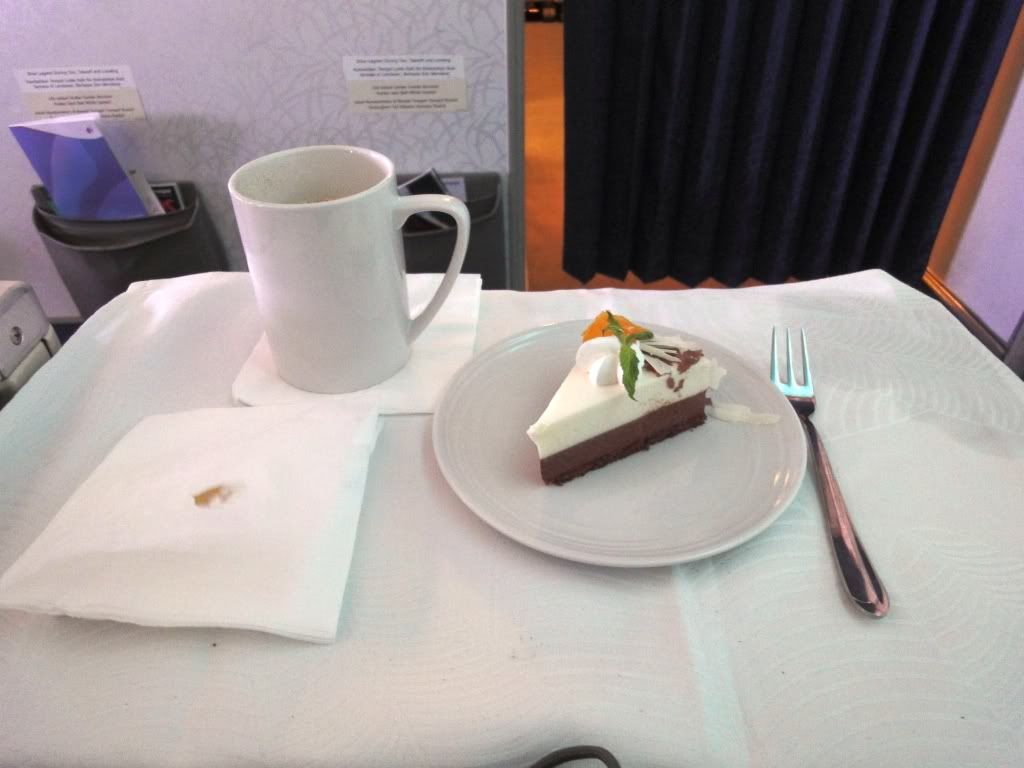 2 Coffee runs. Lunch service ended some 2 1/2hrs after take-off, and stretched over 1 1/2hrs. Neither too slow nor too quick, with just enough time to enjoy the different courses.
1 hrs later, sunset was nearing, as we were flying somewhere North to Qatar. Pity that I hadn't had any window seat.
In the meantime, I toured the IFE offer. In the end, I went for a pop French-Belgian film,
Rien à déclarer
... A bit boring, but helped falling asleep.
Flying Eastbound from Noon, there would be no genuine night at all, after a short night in Brussels, and an exhausting, stressful experience from Brussels to BRU, so I needed to have some decent sleep.
I slept for some 2 1/2 hrs, but got awake with turbulence announcements above the Oman Sea.
There were discreet drink runs on a regular basis.
I slept again while above India, but once above the Andaman Sea, turbulence announcements put an end to my rest.
Wake-up drink service (apple juice), 2 1/2hrs prior to landing:
Breakfast was served some 2 hrs prior to landing: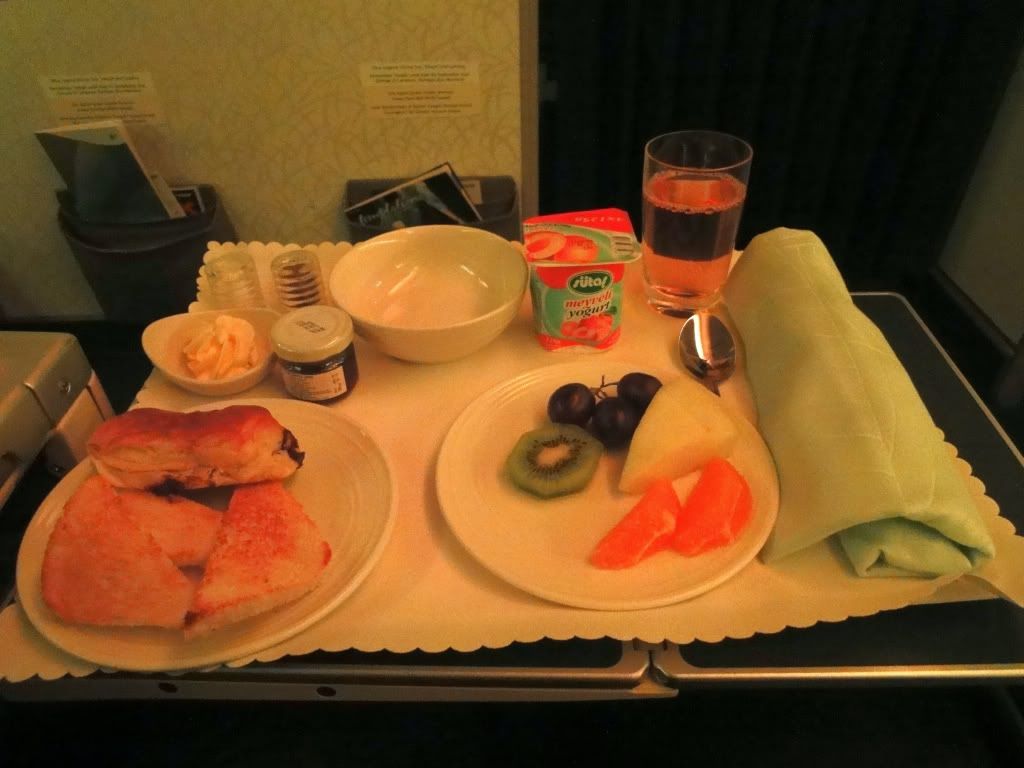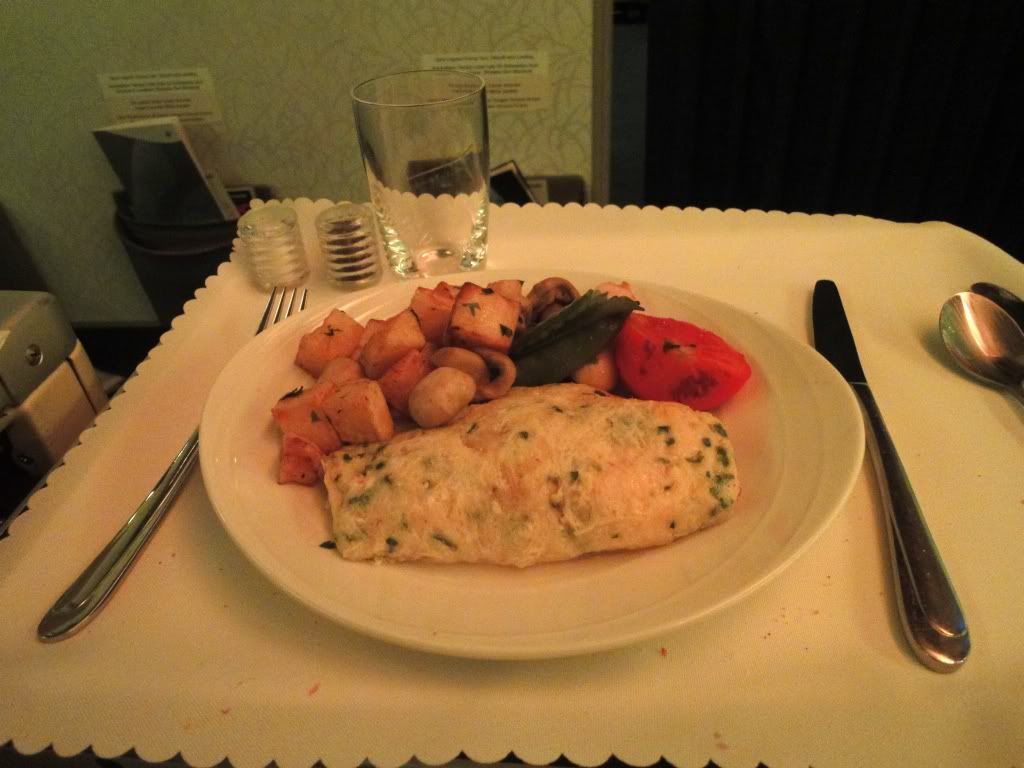 Coffee and Tea service was delayed, owing to persistent turbulence.
The cabin was prepared for landing, and the descent was rather slow. Taxiing to the Satellite was very quick.
View to the 777-200 from the Satellite Gate: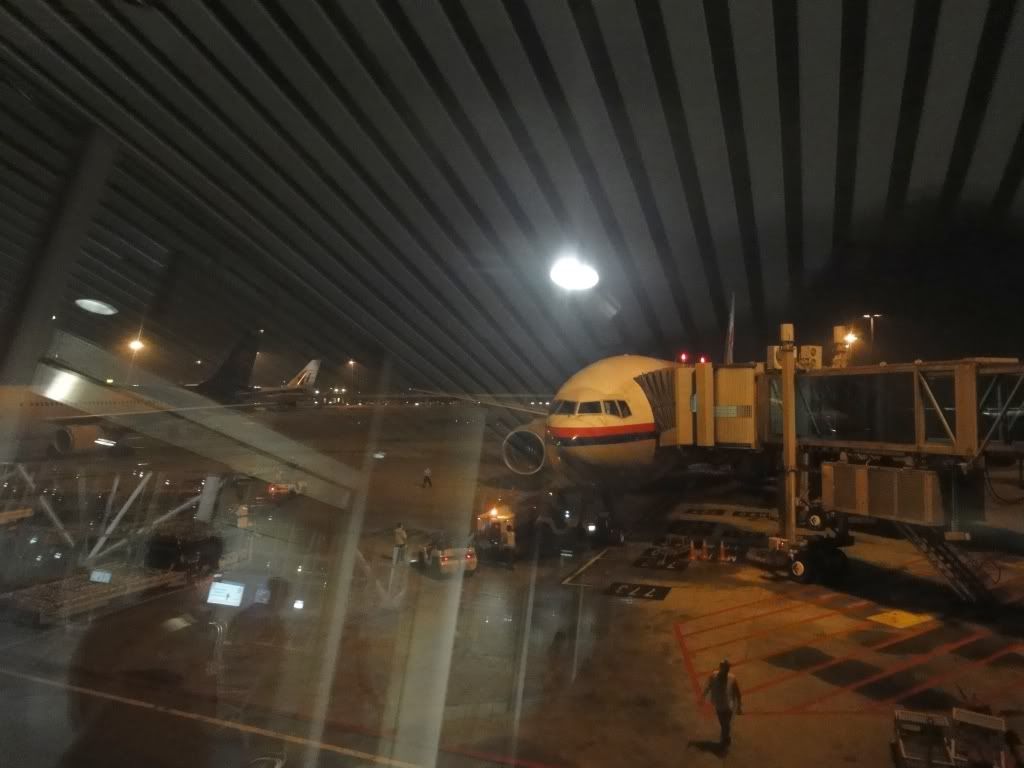 Routeing:
Originally-intended route:
Route actually flown (diversion further South from Iran...)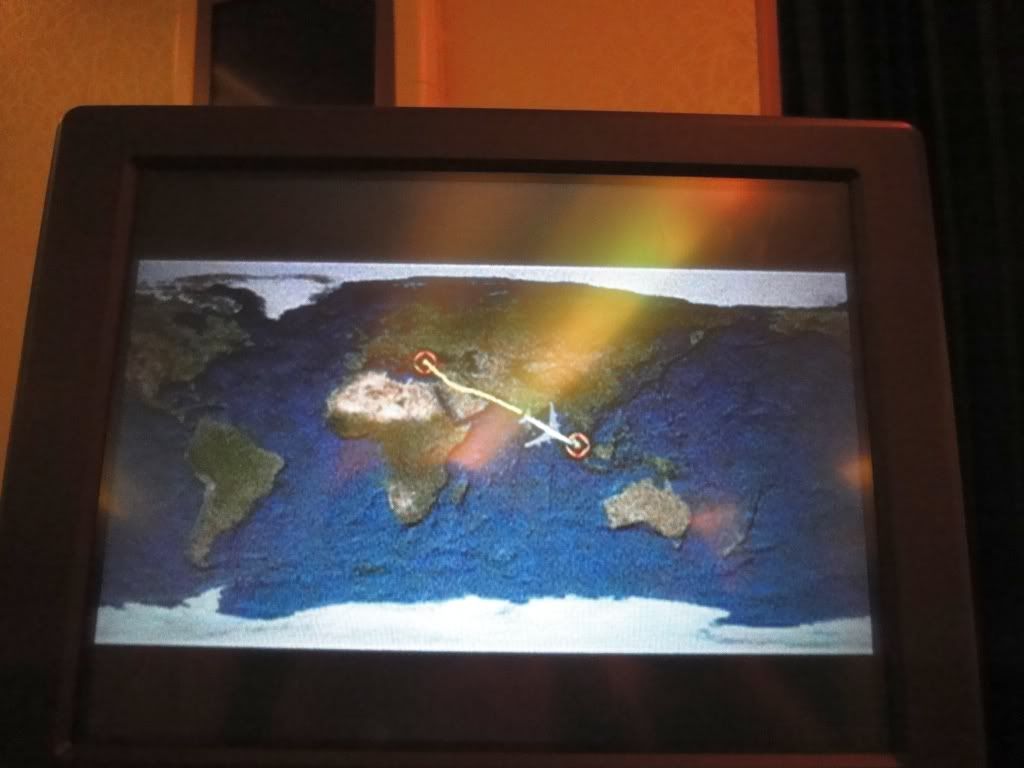 XII. Amenities - Misc
Nice amenity kits: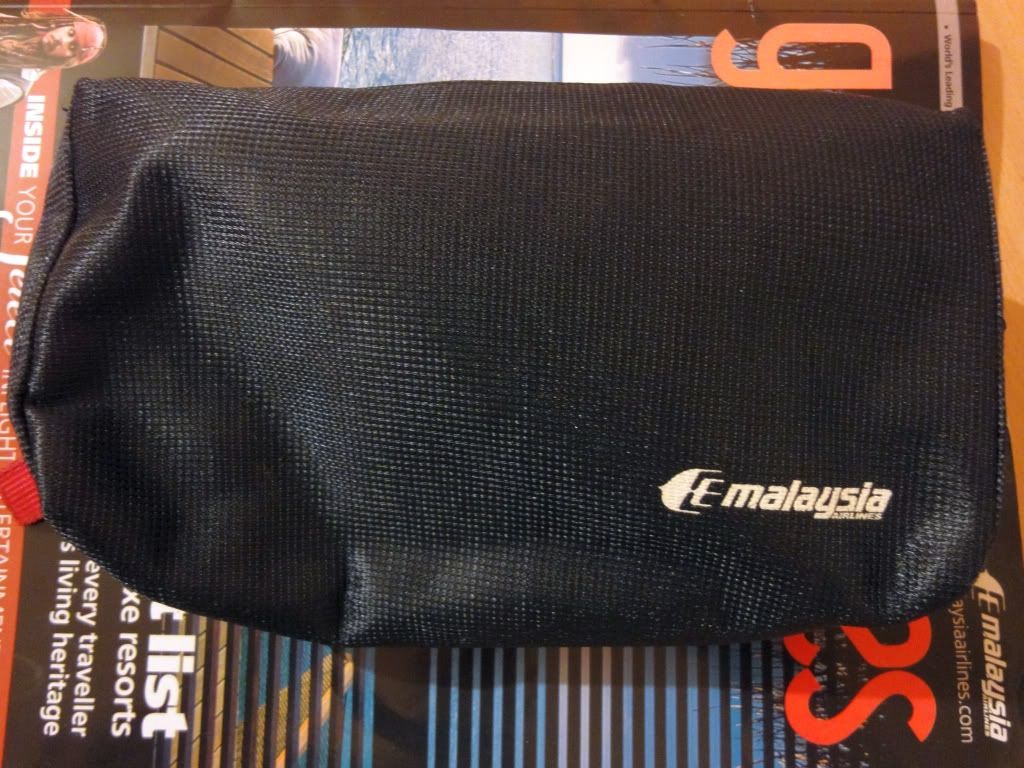 MH Magazine:
XIII. Arrival in KUL
MH 031 is one of the very first flights landing at dawn in KUL. The Satellite was vacant, with all shops closed and locked down, a very weird feeling. The Skytrain ride was quick, as well as luggage reclaim and immigration checks. A priority lane was available, and I was the very first one to use it, as it opens at 6.00am sharp.
I changed some EUR into MYR, but the rates practised by the money changer at KUL are just extortionate, sadly.
KLIA definitely looks modern and clean, but it was so quiet at that time.
XIV. Journey KLIA - Melaka
Melaka would be my first stop in my Malayan tour. While there are some direct, quick bus services from KLIA to Melaka, I didn't want to wait for 3 1/2hrs at KLIA. I needed to move, and defer the time when I would fall asleep, and I also wanted to have a quick first glance at KL.
As a result, I took KLIA Express to KL Sentral. A pleasant, quick ride, with nice views to Putrajaya/Cyberjaya at night.
Inside KLIA Express:
Modern and comfy, but some areas poorly kept (dust and filth):
KL Sentral too, was emerging out of the night, with loads of shops still closed. I took KL Commuter rail service to the old KL station (for the Coach station). At 7 am something, I could already feel the heat and the damp atmosphere, quite a change from Luxembourg and Brussels, where the weather was already getting very fresh.
Walking from the Platform to the Coach station wasn't that easy, with stairs only (no lift/escalators).
View to the KTMB (Malaysian Railways) Headquarters, facing the Coach station:
Coach station operated with Nice Executive Coaches: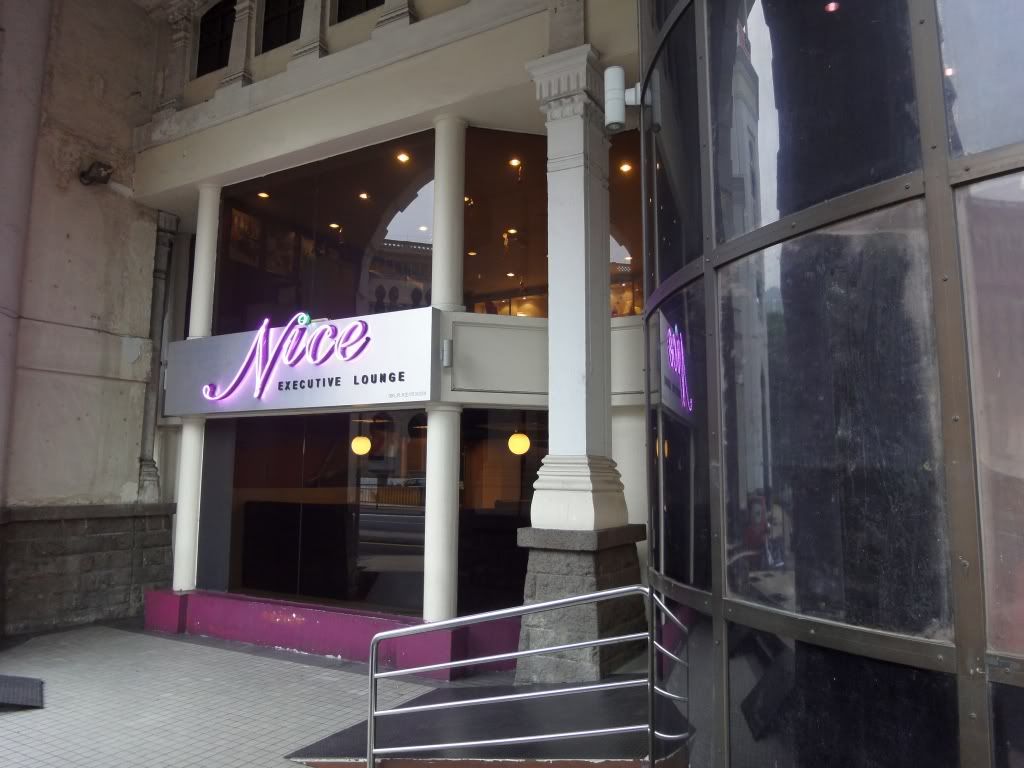 Private waiting lounge, where complimentary coffee and tea was served: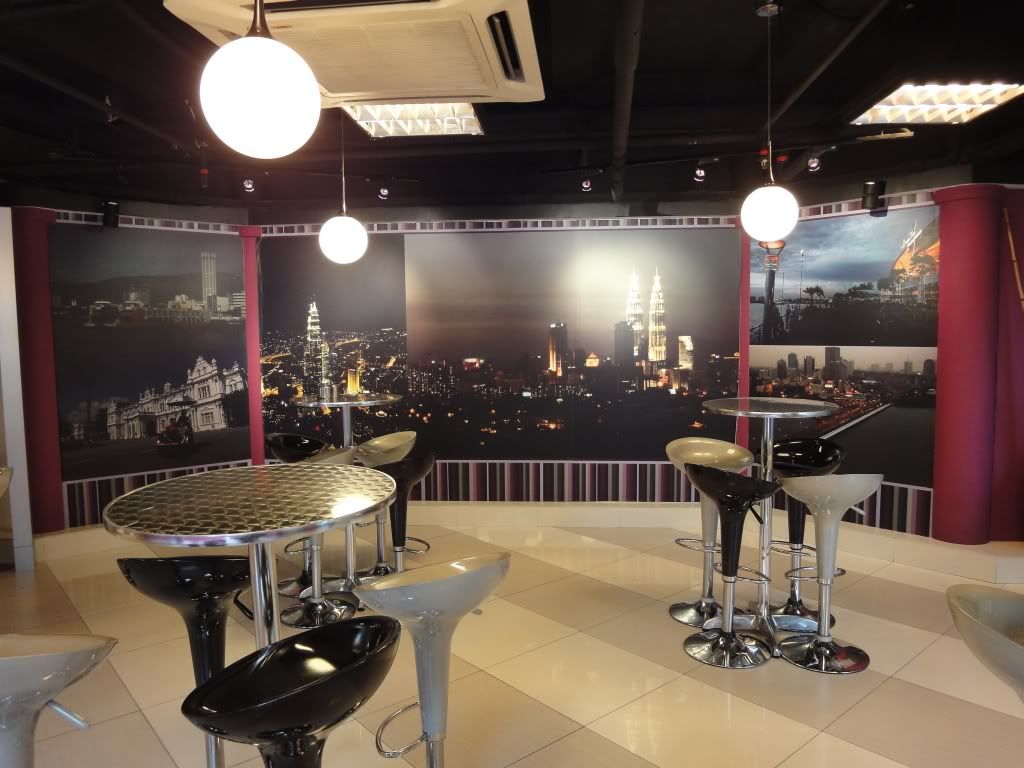 Interior of the Premium coach which I travelled in to Melaka. Only 4 people on board. Packaged juice was also offered.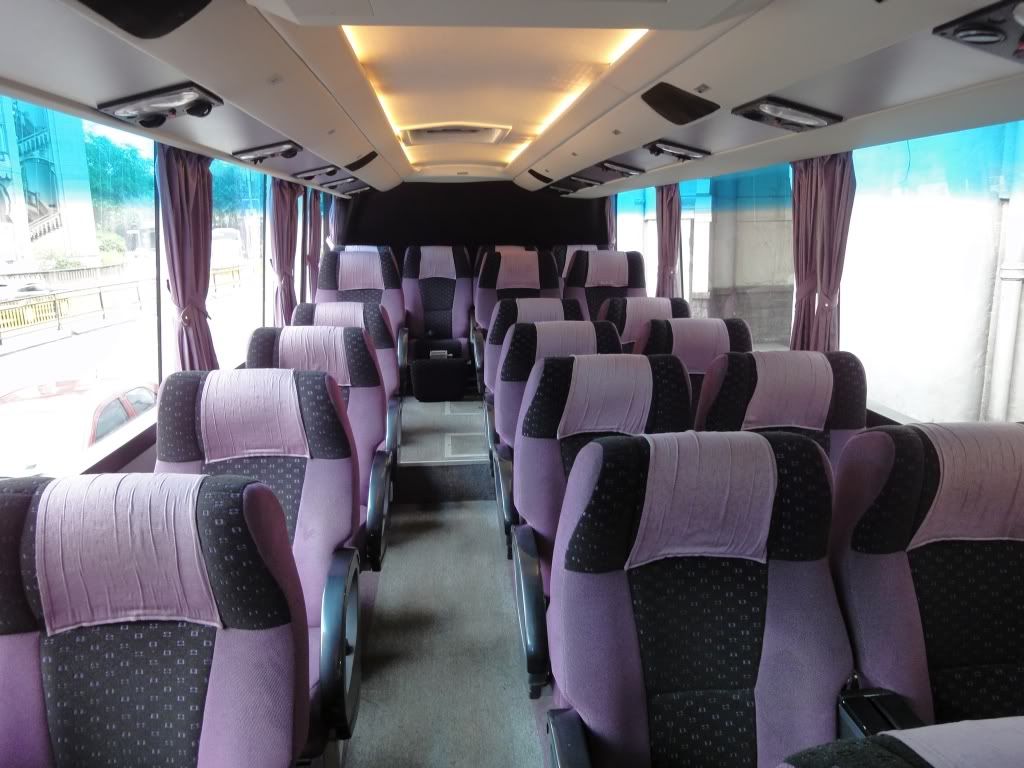 The journey lasted 2 hours. Got some nice view to MKZ shortly before the Coach station.
XV. Impressions
MH undoubtedly lived up to its reputation and 5-star rating: tasty and generous food, warm and profesional crew, pleasant and comfortable cabin.
It took me a little while to get used again to lie-flat seats as I had got used to flat beds, but overall, I was able to rest and get some decent sleep. Not so pleasant was the noise in the 772 cabin, higher than in the 333s which I also got used to. Thankfully, MH provides noise-cancelling headphones, which turned out to be very useful.
With hindsight, I just can't understand why AF vetoed MH's application for SkyTeam Membership. Doubtless good news for OW.
To be continued...
(pics of Melaka and JB to be added into this thread later)